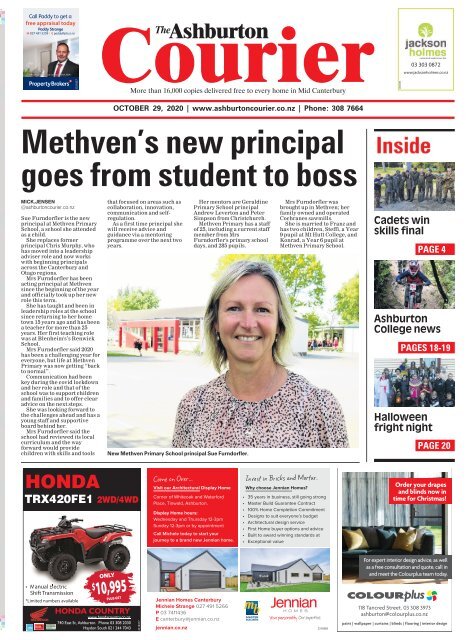 Ashburton Courier: October 29, 2020
Create successful ePaper yourself
Turn your PDF publications into a flip-book with our unique Google optimized e-Paper software.
free appraisal today

03 303 0872

www.jacksonholmes.co.nz

2321857

2300283

OCTOBER 29, 2020 |www.ashburtoncourier.co.nz |Phone: 308 7664

Methven's new principal

goes from student to boss

MICK.JENSEN

@ashburtoncourier.co.nz

Sue Furndorfler is the new

principal at Methven Primary

School, aschool she attended

as achild.

Shereplaces former

principal Chris Murphy,who

has movedinto aleadership

adviserroleand now works

with beginning principals

across the Canterbury and

Otago regions.

MrsFurndorfler has been

acting principalatMethven

sincethe beginning of the year

and officially took up her new

role this term.

She has taughtand been in

leadership roles at the school

sincereturning to herhome

town 15 yearsago andhas been

ateacher for more than25

years. Her first teaching role

was at Blenheim's's Renwick

School.

Mrs Furndorfler said 2020

has been achallenging yearfor

everyone, butlife at Methven

Primary was now getting ''back

to normal''.

Communication had been

key during the covid lockdown

and her role and that of the

school was to support children

and families and to offer clear

advice on the next steps.

She was lookingforward to

the challenges ahead andhas a

young staff andsupportive

board behind her.

Mrs Furndorfler said the

school had reviewed its local

curriculum and the way

forward would provide

children withskillsand tools

that focusedonareas such as

collaboration, innovation,

communication and selfregulation.

As afirst timeprincipal she

will receive adviceand

guidance viaamentoring

programme over thenext two

years.

Hermentors are Geraldine

Primary School principal

Andrew Levertonand Peter

Simpson from Christchurch.

Methven Primary has astaff

of 25,including acurrentstaff

member from Mrs

Furndorfler's primary school

days,and 285 pupils.

New Methven Primary School principal Sue Furndorfler.

Mrs Furndorfler was

brought up in Methven;her

family owned andoperated

Cochranes sawmills.

She is married to Franz and

has two children, Steffi, aYear

9pupil at Mt Hutt College, and

Konrad, aYear 6pupil at

Methven Primary School.

Cadets win

skills final

PAGE 4

Ashburton

College news

PAGES 18­19

Halloween

fright night

PAGE 20

HONDA

TRX420FE1 2WD/4WD

Come on Over...

Visit our Architectural Display Home

Join us for the Grand opening of

Corner Jennian's of Whiteoak New Display and Waterford home

Place, Tinwald, Ashburton.

Display Home hours:

Wednesday and Thursday 12-3pm

Sunday 12-3pm or by appointment

Call Michele today to start your

journey to abrand new Jennian home.

Invest in Bricks and Mortar.

Why choose Jennian Homes?

• 35years in business, still going strong

• Master Build Guarantee Contract

• 100% Home Completion Commitment

• Designs to suit everyone's budget

• Architectural design service

• First Home buyer options and advice

• Built to award winning standards at

• Exceptional value

Order your drapes

and blinds now in

timefor Christmas!

• Manual Electric

ShiftTransmission

*Limited numbers available

$10,995

ONLY

PLUS GST

HONDA COUNTRY

www.hondacountry.co.nz

740 East St, Ashburton. Phone 03 308 2030

Haydon South 021 244 7043

2318377

Jennian Homes Canterbury

Michele Strange 027 491 5266

P 03 7411436

E canterbury@jennian.co.nz

jennian.co.nz

2318382

Forexpertinterior design advice, as well

as afreeconsultation and quote, call in

and meet theColourplusteamtoday.

118 Tancred Street, 03 308 3973

ashburton@colourplus.co.nz

paint |wallpaper |curtains |blinds |flooring |interior design
---
NEWS

2 Ashburton Courier, October 29, 2020

www.ashburtoncourier.co.nz

BUSINESS OWNERS

Build customers,

sales and profits

with us ...

Over 16,065

copies delivered to

EVERYhome,farm,

RD and lifestyle

blocks in

MidCanterbury

news

Linda Clarke

Editor

308 7664

linda.clarke@ashburtoncourier.co.nz

Reporters

Mick Jensen

mick.jensen@ashburtoncourier.co.nz

Toni Williams

toni.williams@alliedpress.co.nz

advertising

Jann Thompson

Sales Manager

308 7664

027 587 6351

jann.thompson@ashburtoncourier.co.nz

Karen Gane

Sales Account Manager

308 7664

021 510 804

karen.gane@ashburtoncourier.co.nz

getintouch

Editorial

linda.clarke@ashburtoncourier.co.nz

Advertising

info@ashburtoncourier.co.nz

Production

murray.thompson@ashburtoncourier.co.nz

Accounts

accounts@alliedpress.co.nz

Distribution/Deliveries

mary.summerfield@ashburtoncourier.co.nz

Office

office@ashburtoncourier.co.nz

03 308 7664

199 Burnett Street,Ashburton

www.ashburtoncourier.co.nz

2309905

2318004

Politics inspired artist Sue

MICK.JENSEN

@ashburtoncourier.co.nz

She's usuallyarealist painter and

favours watercolours, but Sue

Simpson's award­winning artwork

into this year's AshburtonSocietyof

Arts (ASA) annual exhibition is more

of an abstract and paintedinacrylics.

Called Breaking Point, the painting

is influenced by politics andthe

tensions between parties leading up

to the recentGeneralElection.

It features the colours of the main

political parties, but the bottom

quarterswitchestofeature

miniatures of thehigh country, rivers

and lakes, and sea.

Theartist brings out her tensions

and frustrations with the angle of

lines she uses.

Emotive wordingonthe canvas

includessuppression and regression,

recovery, business, enterprise,

freedomofspeech and farming

matters.

The painting tookfour days to

complete and some originalideas

were pushedtothe side and replaced

with new ideas,she said.

''I startedoff with the idea of

politics andwhatwas going on, and

then movedthrough to incorporate

aspects of farming.''

Abstract painting allowed you to

express your feelings much better

than realistworks,she said.

Sue andhusband Bob ranadeer,

sheep, beef and cropfarm north of

Ashburton for anumber of years

before retirementand theylived

Christmas Shop

NOW OPEN UPSTAIRS

HUGE SELECTION

of inspirational Christmas decorations,

including trees, wreaths, garlands,

baubles, bows, and figurines.

Bring the family and check out our

Christmas wonderland.

OPEN 7DAYS

until Christmas Eve

UPSTAIRS AT ...

212 East Street,Ashburton. Phone 308 8309

Local artist Sue Simpson with her thought­provoking work Breaking Point.

overseasfor anumberofyears before

that.

She startedpainting as achild and

worked in her father's architect

business for awhile.

During lockdown, she did little

painting,instead using her skills to

frame family records and

memorabiliabeingcollated by her

husband.

Sue has been amemberofthe ASA

for 30 years andthis year won the

Rosebank Village local award, worth

$1000, andanaward she has also won

previously.

It was afruitful awards evening for

her family,with her brother Gray

Leonard winning the Trustpower

water and nature award for hiswork

Stormand sister­in­law Lyn Leonard

winning the Emmily Harmer

Photography and Framing miniature

award.

Theannual exhibition is on at the

Ashburton Art Gallery until

November13, with 250 worksof arts

on displaybylocal, national and

guest artists.

Carter's Creek has big issues

LINDA.CLARKE

@ashburtoncourier.co.nz

CleaningupCarter's Creekisproving

toughand acommunitygroupthat

planned to plantnatives and

generally improve the areahas

pressedpause,saying the issues are

bigger thantheycan deal with.

Flooding is amain concern,

followedbywater quality, andthe

grouphas askedthe Ashburton

District Council and Environment

Canterbury to help sort those issues.

''Oncewehave that sorted,wecan

startthe fencing andplanting,''

CartersCreekEnhancement Project

spokesperson WillyLeferink said in a

letter to Ashburton Water Zone

Committee chair BillThomas.

Theletter was part of awider

discussion about the creek whenthe

water zonecommitteemet this week.

The creek is apriority area because

of contaminationfrom various

sources; the water drains down to

LakeHood, aprimespot for water

recreation.

Faecalsourcetracking showed

contamination was most likelyfrom

sheep, cows andbirds, though human

faecal sources were also detected.

Theenhancementgroup was

planning to fence the creek to keep

stockout and do riparian planting.

Landownerswerealso to be targeted

for education.

Thecreekisspringfed and startsat

the west of Tinwald; it alsotakes

stormwater.

Retired hydrologist John Waugh

said one solutioncould be diverting

creek water to alarge constructed

wetlands whereitcouldthen be

discharged intothe Ashburton River.

Butothers said the solution should

work withnature, ratherthan

engineer it.

Ashburton District Councillor

Stuart Wilson,who is part of the zone

committee,said cleaning the creek of

rubbishand vegetation would be a

good start.

Ecan landadviser Lachie Ashton

said Carter'sCreekhad been a

problemkickeddown the roadsince

2003.People had been dumping

rubbish in it and theyneeded to think

abouthow they treated it.

Theregional and districtcouncil

both had responsibilityfor it, as well

as the community, he said.

Thecreekwill be partofa

workshop discussion that could

include targeted rates for the

Tinwald community.
---
www.ashburtoncourier.co.nz

NEWS

Ashburton Courier, October 29, 2020

3

Netherby Four Square changes hands

TONI.WILLIAMS

@ashburtoncourier.co.nz

Netherby FourSquarehas a

new owner.

Kim Woods will take over

from Taryn and Shaun

McFadden on Monday.

The McFaddens are moving

with their sonsTyler and Jesse

to Mapua, near Nelson. Mrs

McFadden has familyinthe

area.

They will take on alarger

Four Square store whichhas

growthpotential followingan

extension and refit.

It's abittersweet decision,

onlymade possible in recent

months after the store, with its

currentowner for 13 years, was

put on themarketwithin the

group.

''It was not on our radar to

move but unexpectedly the

opportunity arose and we were

not able to say no,'' MrsFadden

said.

It wasa''very hard,very

tearful'' decision.

The Ashburtonstore staff had

becomean''unexpected

family'' and wouldbemissed.

Miss Woods, whohas been

working in Christchurchbut

livesatMayfield,has asupply

backgroundand spent many

years in thegrocery trade. She

used to work with Mr

McFadden,inChristchurch.

Her work history includes

time at Fonterra, DB Breweries

and Cerebos Greggs. She,along

with her partner Scott Murphy,

Shaun and Taryn McFadden have sold their Netherby Four Square to Kim Woods, of Mayfield.

have owned abach at Lake

Clearwater foraround 30 years,

andshe is already seeing afew

familiarfaces in store.

Shehas worked in the

Netherby store for thepast

eight weeks, getting to familiar

withthe staff and processes as

well as meeting the locals. And

she is lookingforward to

puttingnamestothose faces.

MissWoodsisveryexcited

about the future in the store

and plans to carry on the good

work setupbythe McFaddens

and their well­established

team.

''I'm taking on averycapable

team,'' she said, which made

the changeover alot smoother.

Theopportunity to buy the

business has been adream

come true for MissWoodswho

has, for along time, wantedto

own the Netherby store.It's the

only store she has ever wanted.

She was in the runningfor the

businessatthe time the

McFaddenstookitonfour

years ago.

The McFaddens' last day in

store is Sunday.

Ashburton's

• 14 placesettings –standardsize

Cutlerytray –Createsmorespace

forlarger items

• Half load option –

Wash in just

toprack

• H845

W598

D600

Dishwasher

Was$1349

$

998

$6.84 weekly

• Glassshelves –Easier to clean

• Frost free freezer–Nodefrosting,savestime

• Optimal fresh zone –adjust to storefruit,

veges,drinks or meat

• H1700

W595

D663

specialistsists

Fridge Freezer

Was$1299

$

1098

$7.29 weekly

Fridge Freezer

• 329 litres (225 fridge/104 freezer)

• Non-plumbed water dispenser

• Frost free freezer –savestime and hassles

• H1700

W595

D663

Was$1599

$

1297

$8.79 weekly

Frontloading Washer

Vertical Freezer

Fridge Freezer

• 8.5kg –large family size

• "Addwash door"–Items canbe

added to wash

• 1400max. spin speed –

reduced drying time

• H850

W600

D620

Was$1699

$

1298

$8.79 weekly

• 346 litres –Great storage space

• Frost free –Nohassles,easy to clean

• Reversible door –position where

best foryou

• H1853

W595

D694

Was$1999

$

1644

$11.06 weekly

WatchTV

and play

music from

your fridge

• 657 litres(410 fridge/247 freezer)

• Non-plumbed icemaker andwater

dispenser

• Family Hub –for full home

connectivity

• H1780

W912

D716

Was$5799

$

4897

$32.31 weekly

2324730

2324730
---
NEWS

4 Ashburton Courier, October 29, 2020

www.ashburtoncourier.co.nz

BUTCHER SHOP SPECIALS

BUTCHER SHOP SPECIALS

2kgfreeflow frozen $27 .99

for

Lamb ShoulderChops 2kg

Christmas Hams $14 .95

(on the bone)

Whole and Half

kg

ORDER YOURS NOW!

OPEN TO THE PUBLIC

7:30am -4pm Monday-Friday

73 WinslowRoad.

Phone 308 3464

Baby Done

ReviewedbyRowenaHart

This sweet, funny and charming movie

stars Rose Matafeo asasomewhat reluctant

mother. Rose and her boyfriend are rushing

to tick off all the things they should do before

the babyarrives.

Rose Matafeo from Auckland isthe lead. She

is afresh new face and her quirkiness isvery

infectious.

At the ripe old age of 26 she won the 2018

Edinburgh Comedy Award and has been in

London filming the first season ofher new

BBC comedy,"Starstruck"...WOW!'

Taiko Waititi produced this movie so you can

guess itisnot your normal kind of romantic

comedy,muchmuch morethan that!

Onceagain he has chosen averydifferentcast,

including the "Dad to Be", Matthew Lewis. He

is an unusual, rather grumpy looking English

actor who starred asNeville Longbottom in

the Harry Potter series.

Amust see be it alittle raunchy...

bookings ph 307 1230

www.regentcinema.co.nz

Delivered to over 16,065 homes everyweek

Phone 308 7664 l office@ashburtoncourier.co.nz

199 Burnett Street,Ashburton

2322225

PANHEAD –

SUPER CHARGER,

PORTROAD,

QUICK-CHANGE

CHANGE

330ml Bots 6pk

$

21 99 ea

2317555

The Ashburton Cadet Unit and support staff after the testing mud run activity.

PHOTO SUPPLIED

Army cadets win skills title

Ashburton army cadets have taken

out anational area skills

competitionand returnedhomein

style fromthe North Island on board

aNZAir Force C130 hercules.

The teamofnine spentthree

gruelling days beingputting through

their pacesand facedaseriesof

challenges that testedskill, stamina,

teamwork andcadet knowledge.

Firstupwas anavigation practical

wherecadets used amap and

compass to reach defined points.

Next up wasacadet force

knowledge theory test, followed by

THIS WEEK'SSPECIALS

GORDONS 1L &

GORDONS PNK PINK

700ml

$

35 99 ea

TEACHERS

1L

$

34 99 ea

SMIRNOFF

1L

$

35 99 ea

an unexpectedfirstaid scenario

where theywere confrontedwitha

chainsaw accident sitetomanage.

An observation challenge,

initiativeactivity,equipmentcarry,

observation lane and memory map

drawing test all featured on the first

day.

On Sunday therewas asmelly mud

runthatsaw teams carry afull water

jerrycan throughacourse that

forced themtoleopardcrawl,

monkey runand wade through

streams.

After another navigation theory

MALFY GN GIN

RANGE

700ml

$

51 99 ea

JMBEAM JIM 1.75L

$

64 99 ea

JAMESON 1L &

CHIVAS12YO

700ml

$

49 99 ea

test, drill anddry firingtraining test

followed.

Ashburtoncadet unitleader Major

Cezarne Rodgers said the area skills

competitionwent down to thewire,

with the topthree placingsineach

activityannouncedone after the

other.

Consistencywas key,she said, and

when thefinalplacings were known

the Ashburton team almost leaptout

of the paradeground.

''Thiswas ahardfought win and

the teamshould be veryproud taking

itsfirst everynational skillstitle.''

Ice-breakerevent for jobseekers

The numberofwork­ready

jobseekers in MidCanterbury

jumped from 334 in February to 540

in September, but ajob event next

weekmight helpsomefind

employment.

People whohavelost theirjobsor

had hours reduced as aresult of covid

are being encouraged to comealong

to an employment exchange

organised by the AshburtonDistrict

Council. People looking for work and

employers looking for workers will be

able to connect.

Theemployment exchange willbe

held at the AshburtonClub and MSA

on November 4, from9am to 12pm.

Council ran asimilar exchange a

yearago andendedupemploying

four people whocame alonglooking

for jobs. Otheremployersalso found

workersas aresult of the event.

Therewill be advice abouthow to

change job paths and retrain, as well

as inspirationand plentyof

motivation. Apanel of local

employers will also speakaboutwhat

theylookfor whentheyreceive job

applications.

Thepanel includes Mercedes

Walkham fromAnzco, JaneJolly from

ACL,farmer Chris Ford, Nikita

Moore fromCleaversCornerand

McIntosh Group ownerAlistair

McIntosh.

Employers who come alongwill

also be able to hearabout support

and advicetohelpnavigate the postcovid

world, and aboutfunds to give

jobseekersand apprentices ago.

MayorNeilBrown will speakabout

his experience with the Limited

Service Volunteer programme. The

free six­week motivationaltraining

course is runbythe DefenceForce

and aimstohelp youngpeople

entering employment by improving

theirself­discipline, self­confidence,

motivationand initiative.

Council communityservices

manager SteveFabish saidthere

wouldbemanypracticaltakeaways

from the exchange.

''Lastyear's eventwas a

tremendous success becauseitwasn't

just anotheremployment expo. The

exchangegivesrealworldadvice

that's catered to MidCanterbury's

unique employment environment.

''You'll be able to meet the very

people who wanttowork in your

organisationorconversely, whoare

looking for job candidates with your

attitude or skill set.''

Registerfor theevent at www.

ashburtondc.govt.nz/aee.

DANIEL

LE BRUN

BRUT

$

22 99 ea

LONG WHITE 4.8%

4.8%

320ml Cans Range 10pk

2 FOR

$

50

CODYSORKGB 7%

250ml Cans 18pk

$

29 99 ea

19 CRIMES

&PENFOLDS

KOONUNGA

'RANGE

1.75L

$

14 99 ea

STELLAARTOISS

@STE STEINLAGER PURE

330ml Bots 24s

$

45 99 ea

ASAHI SUPER

DRAFT

330ml Bots 12

$

23 99 ea

SPEIGHTS

330ml Bots 15s

$

24 99 ea

CLUB SETTER

SELTZER

330ml Cans 10pk

$

25 99 ea

PURE PRANA PIRANA

SELTZER

330ml Cans 10pk

$

23 99 ea

CAPTAIN

MORGAN

DARK/SPICED

1L

$

43 99 ea

ABSOLUT &

BALLANTINES

NES

$

40 99 ea

JACK DANIEL'S 4.8% 330ml,

NO SUGAR 375ml

&PARTTME &PARTTIME RANGERS

RANGE 6% 330ml Cans 10pks

$

24 99

TUI 7% 250ml

BOURBON &VODKA

AND SODA Cans 12pk

$

19 99 ea

WITHER WTHER HLLS HILLS

WHITES &ROSE

RANGE

$

14 99 ea

ASHBURTON

MSA

266 Havelock Street,Ashburton

Telephone 308 7149

www.ashburtonclub.co.nz

HOURS

Monday

Tuesday-Thursday

Friday&Saturday

Sunday

10:00am -6:00pm

10:00am -8:00pm

10:00am -9:00pm

10:00am -6:00pm

SPECIALS AVAILABLE

from October 29

to November 1

2326313
---
www.ashburtoncourier.co.nz

Coding club expands

Ten­year­olds Ben Hughes

andAsher Cavill are among

aselect groupofkids who

have taken up microbyte

coding at theAshburton

Public Library.

It's partofaone­houra­week

coding clubset up by

children'slibrarian

Jonathan Nixon.

They useMicrosoft

Makecode Arcadewhich is a

freeonline programwhich

gave more optionsand

workedbetterwith the

computer hardware at the

library, Mr Nixon said.

Most of the up to 15

members asessionwere

familiar with the blockbased

visualprogramming

language and website

Scratch, although some

were newtocoding.

MrNixon hasbeen

overwhelmed by interestto

jointhe club, which was

intended to be aMicrobytes

on Mondays session for

those aged 10 to 14 years.

Butdemandwas so strong

there is nowaTuesday

session too. At one point Mr

Nixonhad awaitinglist.

The club has been going

nowfor around five weeks,

running during theschool

term. Thelibrary has 15

chrome books for members

to use during sessions which

allowed them to each work

on their own programming.

Ten­year­old Ben Hughes enjoys learning code during a

Microbytes on Monday session at Ashburton Public Library.

They were continuing with

sprite animation and

working on game

development.

Thereare plans to upload

each of the completed

programstothe library's

mobile kitronic arcade

systems, which areshared

withvisiting class groups to

get children interested in

coding.

New home-buyers meet

Abusyproperty market has

led to alunch witha

difference next week.

Ray White salesperson

Cheryl Fowler is hosting a

lunch for house­buyers new

to theareaand shehopes

the newcomers willbecome

friends.

Shesaidthere was high

inquiry from firsthome

owners wanting to take

advantage of low interest

ratestoborrowand get on

the property ladder, as well

as from Kiwicouples

returning from overseas or

wanting to relocate from

other partsofthe country.

Somewanted tolive in the

homes they bought while

others were looking to

invest and rent.

''Ashburtonisagreat

place to invest your money.'

Cheryl said the November

2lunchwas forwomen who

hadrecently bought in the

area, through herorother

realestatecompanies.

Eightwerebookedtoeat

at TasteCafe andshe hoped

theywould become friends.

She is workingonanother

eventtoinclude the men.

The newcomers had come

fromas farnorth as

Auckland, Kerikeriand

Tauranga andasfar south as

Dunedinand Invercargill.

''It canbehard integrating

intoanew community. It

will be nice to get together

andget to know eachother

andstart to make

friendships.''

All the newcomers had

movedtoAshburtonwithin

the pastcoupleofmonths.

Cherylsaid Kiwis

overseas were also looking

at homes in Ashburton via

the internetand sometimes

sendingfriends and family

to checkthem out at open

homes.

She had an offer recently

from aKiwi in Europe who

was wantingabolthole or

safe place to return with his

family. ''He missed out

because he did not puta

high enough price in but I

am stillactively lookingfor

him.''

Cherylsaid house prices

in Ashburtonwere not as

high as in cities, so were

attractivetobuyers.

There was gooddemand

forresidentialsections at

new subdivisions.

NEWS

Ashburton Courier, October 29, 2020

Request for siren

The South RakaiaBach Owners

Association has askedthe

AshburtonDistrictCouncilfor

$5000 to replace its emergency

siren.

Theassociation bought and

restoredanold emergency siren

to use at the settlement15years

ago.Theyfelt it necessary to

protectresidents and home

owners from the range of

potential events thatcould impact

the settlement and require

alerting people.

Mid/South CanterburyContinuous Spouting

TM

TM

TM

TM

Askabout our large capacityspouting for

commercial and farmbuildings

Residential –fascia, gutter and downpipes

Snowprotection our specialty

5

Thesiren has deteriorated in

the harsh environmentand is no

longerworking.

Theassociationsays it cannot

be repairedand the huts are now

without an emergencysiren.

The funding request has fallen

outside council's grants calendar,

butit is considered urgent.

Thesettlement's recent

emergencymanagement plan

highlightsthe needfor an

emergency sirentowarn

residents and anyvisitors.

The Original

Spouting Specialists

Serving

Mid/South

Canterbury

for over

26 years

Your new spouting proudly installed by

Craig or Josh

John Tull ...providingoutstandingservice,

afterinstallation care and pricing requirements!

Phone him on 021 288 8290

Email: john@canterburycontinuous.co.nz

www.continuous.co.nz Freephone 0800 50 1993

2263153

Euro Modular Suite

was $4,299

NOW $3,499

save $800

from

from

Ranfurly $3,999 Seddon $2,699

Burnett Street,Ashburton Phone (03) 308 5269 www.redmonds.co.nz

2320027
---
NEWS

6 Ashburton Courier, October 29, 2020

www.ashburtoncourier.co.nz

Hinds hall needs new blood

LINDA.CLARKE

@ashburtoncourier.co.nz

Some of the original

volunteers who helped bring

the HindsCommunity Centre

to fruition 40 years ago are

hopinganew generation of

villagers will pick up the

mantle.

Stuart Wilson and his wife

Betty, Rosa Bennett, Lorraine

Baughan and Ruth Sheppard

have been on the hall

committee or supporting the

hall since 1975.

Theyare looking to retire or

ease back from the group,

along with Jo Luxton. The

Rangitata MP livesatHinds

has been secretary­treasurer

for the groupand her husband

Matt president, but more

duties as electorate MP will

leave little time for her to be

on the hall committee.

The community hall has

been wellused over the years.

It was built in two parts,the

smallersupper room first,

followed by the larger hall and

meeting room.

Mr Wilson said the complex

had regular users and was

hired for private functions,

like weddings. It had been

built with funds raised mostly

in the community,including

$300,000 fundraised by agroup

known simply as the Hinds

The Hinds Community Centreneeds anew generation ofhelpers.

ladies'catering group.

The supper room was

openedin1978 and the main

hall in 1983.

Mr Wilson said Hinds was a

naturalgathering spotfor the

southern part of the district.

The complex, which also

included asmaller meeting

room, were used by the

adjoining squash club, the

Lions service club, Women's

Institute and adinnerclub. It

was also booked for events

hosted by Fonterra, MHV

Water and Environment

Canterbury. It was also used

regularly by Hinds School.

He said the complex was in

good condition though afew

jobs neededattention.

Manyofthe original

committee membersare now

in their 70s and have moved to

Ashburton and Mr Wilson is

hoping some new faces will

Fresh outlook for hairdressers

TONI.WILLIAMS

@ashburtoncourier.co.nz

Flowers and congratulatory

messages this past week have

reinforced BestDirection Hair

Studio's shift to Allentonasthe

right move.

It has moved to astand­alone

premises at the busy shopping

centre.

Owner Judy Begg said seven

weeks of no income due to

Covid­19 had been hard and

increasing rentalcosts were

the final straw.

BestDirection has had a

presence in the CreekRoad

shopping centre since it was

openedbyoriginal owner

Dean Kingan, in the mid­1970s.

At the new site, Mrs Begg is

joined by hairdressers Maree

Robertson, who has been with

Mrs Begg at Best Direction for

the past 24 years,and Robyn

Stockdale, who is renting a

chair in the new premises.

She said it was sad to have

been put in aposition to move

–she has owned the studiofor

the past 25 years ­but looking

to the future it was apositive

change.

They are looking forward to

welcoming new and existing

clients.

The new facilitiesare warm

and modern and deceptively

big inside;there are eight

chairs plus three bay wash and

mirror on both sidesofthe

room, with natural lighting

openingupthe space.

Right: Hairdressers(from left)

Robyn Stockdale, Judy Begg

and Maree Robertson, at Best

Direction HairStudio,in their

new premises.

come alongtothe committee's

annual general meeting on

Friday nightat7pm, or make

themselves known as willing

helpers.

Whilethe older committee

members remained passionate

about the village, new

enthusiasm was needed from a

new generation of people who

had made Hinds and the

surrounding districts home, he

said.

IN BRIEF

CHOIR INTEREST

There hasbeen goodinterest

shown after arecent opennightby

Mid CanterburyChoir.

Adozenpeople attendedthe

evening, with interest fromtenors,

sopranos,altos and basses, said

choir manager Carol Gunn.

Newcomerswereabletoshare

themusicofacurrent memberto

sing alongwith for the eveningand

would attend thechoir for three or

four more weeks beforeanaudition

and possible membership.

Mrs Gunn said it was hoped new

memberswould join the choir for

Christmas concerts in Ashburton on

December 11 and Geraldine on

December 13.

FREECLASS

Stafffrom the EA NetworksCentre

willrun afree bodybalanceclass in

Baring SquareWest on Monday, as

part of WellnessWeek. Alimited

number of exercise matswill be

available but people who havetheir

own are encouragedtobringit

along. Theclass willstart at

12.30pm.

FAVOURITEBIRD

Forest andBird is asking New

Zealanders to vote for their five

favourite native birdsinan annual

competitionthat aimstoraise

awareness of the threats facing

somespecies.Birds thatmight

captureMid Canterbury voters

include the kea,spotted on Mt Hutt

skifield; the bandeddotterel, a

toughlittle bird trying to establish

nests at Wakanui Beach; andthe

black-billed gull, which nests in the

Ashburton River.The last two birds

are in serious populationtrouble.

Go to www.birdoftheyear.org.nz

to check themout. Votingis

November 2-15.

WATER CONSENTS

Half the 88 consentstotake water

from the Ashburton Riverunder

compulsory review havebeen

granted.Forty-twoconsent-holders

have beengranted an extensionof

the processtoMarch31sothey can

further assess theimpact of

proposed new minimum flowsand

request changes; some farmers are

drilling deepbores or looking at

switching to irrigationscheme

water.

NATIONAL SEAT

Last week's storyabout the election

should havesaid Mary Griggwas

the country's first National woman

MP, not the first woman MP.That

honour,ofcourse, went to Labour's

Elizabeth McCombs in 1933,who

representedLyttelton.
---
Get set for a

SIZZLING SUMMER

Huge range of BBQ's to meet your style, budget

and outdoor dining requirements.

Hurry only while stocks last.

949 949

$ $

Masport

Classic 6Gas BBQ -6Burner Black

Astunning looking BBQ finishedinagloss piano black powder-coated

paint, with attractivestainless steel trim. Removable chopping board.

Masport

304517 320987

$ $ $

$

Classic 6Gas BBQ-6Burner White

LPG. Features 1side burner &1infraredrear burner. Full twin door

cabinet. Removable chopping boardand stainless steel bin.

189 199 229 409

Gasmate

Adventurer Portable GasBBQ

1Burner

336912

Morrison

Weekender Portable GasBBQ

229498

EXCLUSIVE

LPG. Manual light forquick light up.Fold out legs.

Stainless steel lock

down latch and

fasteners.

4Burner Option available for $749

Meteor

Hooded GasBBQ 4Burner

LPG. 4stainless steel tube burners heat up quickly

and rust resistant. Wheels foreaseofmobility.

335923

Weber

BabyQ1000 GasBBQ

317366

EXCLUSIVE

LPG. Black finish. Cast aluminium lid and body.

Removable drip tray.

Weber 5year limited warranty.

LPG. Powerful10MJ/hstainless

steel burner. Convenient carry

handles.Generous cooking area.

$

449

Nouveau

Hooded GasBBQ 3Burner

LPG. Powder coated steel hood &body.Wooden

and steel trolley.Storage shelf &side tables for

additional prep space.

289049

$

499

NEW PRODUCT

Meteor

Hoba GasBBQ 4Burner

Stainless steel burners.Electronic ignition.

Convenient sideburner.

353226

599 699

$ $

Weber

Master-Touch

Charcoal BBQ

57cm. Black.

Gourmet BBQ system

plated steel

hinged cooking grill.

Lid handle with

heat shield.

Removable,high

capacityash

catcher.

Charmate

Smoker &BBQ - Black

Designed forcharcoal or wood.Durable

high-temperature powder-coated solid steel

construction.

Sturdy legs

and heavy

dutywheels.

320981

EXCLUSIVE

348304

$

969

$

999

$

569

Q2000Gas BBQ

LPG. Titaniumfinish. 2thermoset swing out work surfaces.

Lightweight castaluminium lid and body.Removable drip tray.

Cart sold separately.

318399

Weber

Weber

Family Q3100

GasBBQ

LPG. Titanium finish.

2thermoset swing out

work surfaces.

Lightweight cast

aluminium lid and body.

Heavy dutycartwith

storage space included.

Removable drip tray.

318131

NEW PRODUCT

Gasmate

GasBBQ 4Burner

Stainless Steel

Durable &efficient stainless

steelburners and flame

tamers improve

heat distribution.

Electronic ignition for

quick lighting.

353762

ASHBURTON MITRE 10 MEGA

West Street, Ashburton

PHONE 03 308 5119

TIMARUMITRE 10 MEGA

23 Bank Street, Timaru

PHONE 03 687 2033

OAMARUMITRE 10 MEGA

DeeStreet, Oamaru

PHONE 03 434 9860
---
NEWS

8 Ashburton Courier, October 29, 2020

LETTERS TO THE EDITOR

Secondbridge

Some years ago Iwas talking to

along­serving councillorand the

conversationturned to the second

bridge(beforethe final public

announcement of location) which

he saidthat therewas acoupleof

factors why thebridge will never

continueonfrom West Street.

1. Thedecision and planning

wasmade many years ago, whena

by­passwas first decided.

2. Transit NZ (orwhoever they

were back then)said theywould

not support abridge at the end of

West Street or anyotherTransit

roadasthey would have to

maintain it.

3. With the buildingofthe new

industrialarea north or

Ashburton,one major

requirement from Transit NZ was

that only 20 per centofthe heavy

trafficexiting from the mainroad

wasallowed to enter backonto

the main road, Chalmers Avenue

is to takethe bulk of thistraffic as

it is in direct line of the industrial

areaandother industries.

2300196

Imentioned thistosome others

in aconversationwho saidthatit

is probably correctasSprayMark,

before theybought the building

they are in now,weretold by the

council thatthe bridge would

never go at the end of WestStreet,

and this again is waybefore the

"socalled"finaldecision.

Is the councilgoingtowaittill

all the protest is worn outbefore

starting on the bridge, which will

never happen,orisitafunding

issue which Iwonder if aprivate

company had been consideredto

fundand build bridge/by­pass and

makeitatoll bridge.

S. Paulson

National party

Could Isay, throughyourpaper,

abig thankyou to Alison Driscoll

andthe National party office in

Ashburton forall their help over

the years, whether it was with Jo

or Andrew, they always responded

quickly,and mostly with a

successful outcome. So again abig

thankyou.

RobertSpencer

LPG Refills &Deliveries

• Domestic • Commercial • Industrial

ARTHUR

LPG Deliveries from the

Rangitata to the Rakaia –

From the

foothills

to the sea.

CATES

LIMITED

LPG Refills at:

26 McNALLYSTREET,

RIVERSIDE INDUSTRIAL

PARK,ASHBURTON

TEL 308 5397

www.arthurcates.co.nz

www.ashburtoncourier.co.nz

Marie by son Kieran's

side on election night

Ashburton residentMarie

McAnulty couldn't takethe

smile off herface when news

filteredthrough onelection

night that her son Kieran

had won the Wairarapa

electorate.

She wasbyhis sideand

withhusband Mikeatthe

WairarapaBush Rugby Club

for the vote count and

celebrations that followed.

It wasthe third timeof

asking for Labourcandidate

McAnulty, whowas defeated

atboththe 2014 and2017

elections by National's

Alastair Scott.

He, likenewly elected

Rangitata MP Jo Luxton,

enteredParliamentvia the

party listthree years ago.

Again, like Luxton, he

overturnedasizeable

majority from 2017, in his

case2872 votes, to romp

homewitha5411majority,

based on provisionalresults.

Marie McAnulty, originally

fromthe Wairarapa, has

livedinMid Canterbury for

the last seven years and is

the co­ordinator of the

SEEDS (sharing everyday

experiences anddrawingon

skills)programme.

She saidshe wasvery

proud of herson's

achievement.

''When hewas akid he

always said he wantedtobe

Prime Minister one day.

''He'sworked veryhard

over theyears andI'm so

pleased for him.''

She saidher onlychild had

become interested in

Marie McAnulty, right, with son Kieran, left, Kieran's cousin

Katie McAnulty and Mike McAnulty.

PHOTO SUPPLIED.

politics at collegeand had

studied politicalscience at

Otago.

''Helooked at what all the

partiesoffered andwent

with Labour.''

Mrs McAnultysaid there

was amix of political views

on herside of the family, but

herhusband'ssidewere

staunch Labour.

She saidher son wasvery

downtoearth, approachable

andloved connecting with

hiscommunity.

He had workedasabookie

after astinttravelling

overseas andwas later an

economic development

adviseratMasterton District

Council.

The35­year­old is a

regular MC at the Golden

Shears and is expectedto

stopoff in Ashburton soon to

seehis parents.

CLOSINGDOWN

SALE

Allstock reduced

Limitedstyles andsizes

Getinquick

cash or eftposonly

www.stylefootwear.co.nz

177 Burnett Street, Ashburton. 03 3087620

2325983

New locum dentist puts

down roots in Ashburton

Osvaldo Gonzalez has put

down roots and is calling

Ashburton home.

The locum dentist has not

only boughtahomeonOak

Grovebut also opened Oak

Grove Dental fromhis home,

offering affordable, general

dentistry services.

It is on the corner of Oak

Grove and Elizabeth Street.

Dr Gonzalez, originally

fromChile, trained in

dentistry in Australia and

movedtoNew Zealand to

work andcompleted post

degreestudyatOtago

University.

He completed amasterof

dentalsurgery,aswell as a

graduate diplomainclinical

dentistry/advancedgeneral

dentistry in 2018.

Since then he hasworked

around NewZealand

including most recently at

Greymouth buthad also

spent timeinAshburton,

where he fell in love with the

town, its weather, foodand

people.

He is open to walk­ins and

offers afriendly and relaxed,

professional service.

He looks forward to

becomingpartofthe

community and continuing to

set up his home/business; he

Dr Osvaldo Gonzalez has opened up his new dental practice

from his home on Oak Grove.

has already put in an array of

fruit trees aroundhis

property including apple,

cherry, plums, pear and

nectarines as well as a

vegetable garden.
---
NEWS

Ashburton Courier, October 29, 2020

9

People are our true

community assets

In my first column as the

electorate MP for Rangitata, I

wanted to say thank you. Thank

you for voting for Jacinda Ardern,

for Labour, and for myself.

I've spent some time since the

election reflecting on the last

week, and indeed, the last few

years. What sticks out to me most

throughout this crazy ride is the

people.

He aha te mea nui oteao. What

is the most important thing in the

world?

He tangata, he tangata, he

tangata. It is the people, it is the

people, it is the people.

My husband and my family,

whom have been my sounding

board and carers. My team of

volunteers and supporters, whom

have backed and encouraged me.

And of course, the people of

Rangitata. You have put your faith

in me, and this is not something

that Iwill ever take for granted.

Thank you.

This area has not had an elected

Labour Member of Parliament

since Horrace Herring in 1935.

The enormity of the result on

election night is not lost on me, I

am humbled in the support of this

electorate.

Ilove this place. Having lived

here for over 24 years, raising my

children here, owning businesses

here, it is home. Iwant to see the

people here thrive and grow, and

be the best they can be.

Isee the huge potential, the

success stories that happen every

day, and Isee the challenges that

we face too. There is no doubt,

there is work to be done. As

Jacinda Ardern said in her speech

on election night, the Labour

Party will be aparty that governs

for every New Zealander. This is

my intention for Rangitata ­we

need representation for every

person in this electorate, from

every walk of life.

It is going to be hard work, but

Iamabsolutely up for the

challenge and committed to this

place and our people.

This Friday Iwill be attending

my first event in Ashburton as the

MP for Rangitata –and Ican't

think of amore perfect event

than the presentation of the

Community Honours Awards,

celebrating Mid Cantabrians that

make significant contributions to

our community voluntary sector.

These are people that go the

extra mile, work hard on the

ground, and are true assets to our

community. It will be apleasure

to attend and acknowledge them.

Iamlooking forward to

continuing on with the ground

work that Ihave already done as

aList MP, to continue building

relationships with the

community in order to be astrong

advocate in Wellington. Iwant to

hear your stories, your

challenges, your successes.

Iaminthe very beginning

phases of establishing my

Ashburton office, hiring staff and

gearing up to be the best MP Ican

be, at the heart of Government, to

deliver for Rangitata.

If you have any queries in the

interim, please contact jo.

luxton@parliament.govt.nz

Davidall setfor

scootersafari run

Thescooter's been serviced and

DavidOakleyhas abright

daffodilcostume to wear when he

takes on theTranz Alpine

ScooterSafari on November7.

TheCancerSociety fundraiser

will see 250 riders headfrom

Christchurch to Hokitikaona

scenic 250kmtrip.

Mr Oakley's 49cc scooter,a

Yamaha Riva Razz, was

generously serviced for free

recently by localbusiness McKay

andDonaldson,who also chipped

in withadonation.

He hassofar received pledges

of over $600,but is hoping to raise

closer to $1000 before safari day.

Mr Oakley said hewas looking

forward to the safari andwas

stepping out of his comfortzone.

''Weather wisethere could be

anything on theday,but

whateverthe weather, it'sgoing

to be slowprogress overPorter's

Pass.''

He said he was more used to

drivinghis vintagecar and was

hopingfor an easterlytopush

him over the hills to theWest

Coast.

Hisusual drivingpride andjoy

is a1926Austin12.

To supportMrOakley's scooter

effort go tothe scootersafari.co.

nz website andsearch for his

name underthe 'donate' page.

David Oakley is ready for the

Tranz Alpine Scooter Safari.

FRESH

FOODS WEEK

PamsFresh Lettuc

or Carrots Bunched

Product of New Zealand

Pams Fresh Asparagus

250g Bunch or Cherry

Tomatoes 250gPrepack

ce $

2 99

ea

$ 3 49 ea

Famous FourSquare

Pizzas or Pams Fresh

CookedChicken Large

Avaliable at selectedstores$

12 99 ea

SEE INSTORE

FORMORE INFO

WIN

aHellersBBQ tools

prize pack!

Fresh NZ Skinless

ChickenBreast Fillets$

12

Fresh NZ Quality

Mark Beef Mince 500g

Fresh Strawberries

250g Prepack

Product of NewZealand

www.foursquare.co.nz

$

12 99

99 kg

$ 7 99 ea

rawberries $ 4 99

pk

Share a

with Four Square

WIN

BE TO

AWEBER SMOKEY JOE BBQ

VALUED AT $139

#shareacoke

SEE INSTORE

FOR MORE INFO

facebook.com/FourSquareNZ

Specials availableSouthIslandonly from Monday19th October until Sunday1st

November 2020 or while stocks last. Wine andbeeravailableatstores with an off

licence.Wineand beer purchases restricted to persons aged 18 years old and over.
---
NEWS

10 Ashburton Courier, October 29, 2020

Deaths

BARTLETT, Lettie Keriana,

on October 21, 2020. Passed

away peacefully in her sleep,

aged 60 years. Much loved

partner of John. Dearly loved

mother and mother- in-law

of Anthony, John, Nicole

and Moose, loved stepmum

to Raewyn, Matthew,

Adam, and Erica, and a

much loved Nannie to all

her grandchildren and greatgrandchildren.

Messages

to Lettie's family c/- POBox

24, Hinds 7747. A service

to celebrate Lettie's life has

been held.

Paterson's

Ashburton

FDANZ

03 3077433

GILL, Jillian Dawn (Jilly):

At home at Lake Hood,

Ashburton on October 27,

2020 aged 66 years. Bloody

good soul-mate of Geoff,

cherished mum and motherin-law

of Kirsty and Tom

Moffett, Jason and Kylie, and

Hayden. Best nan in the

whole wide world to Joel,

Isla, and Luke; Georgia, Elise,

Freja, and Scarlett; and Grace,

and Eva.

Messages to: The Gill Family,

c/- PO Box 6035, Ashburton

7742. In lieu of flowers

donations to the Cancer

Society ofAshburton would

be appreciated and can be

made at the service.

A service to celebrate Jill's

life will be held at the Hotel

Ashburton, Racecourse

Road, Ashburton on

MONDAY, November 2, at

1.30pm followed byprivate

cremation.

0800 2MEMORY

027 637 1229

Family Notices

Birth notices listed by

parents will continue

to be free in the Family

Notices column. The

initial death notice

lodged by a funeral

director will be listed

without charge. There

will be asmall charge

of $15 for subsequent

notices related to the

same death, up to a

maximum of 35 words

and on aper-line basis

after that. The same

low charges apply to

other family notices,

such as engagements,

acknowledgements, in

memoriam notices and

anniversaries.

Supporting thecommunity

96 Tancred Street, Ashburton.

Phone 307 8317

In Memoriam

BruceGlossop–

23.4.1943 –29.10.2019

Nothing can ever take away

the love and whatthe heart

holds dear,

Fond memories linger

everyday,

and all the beautiful

memories Bruceleftbehind.

Lovedbyall

Allie,Denise,Richard, Jason

&Paul

Family

Notices

Enquiries phone

Mary,Jann or Karen

on

308 7664

or call into

199 Burnett Street.

Real Estate MidCanterburyProperty Limited Licensed (REAA 2008)

Family owned,

locally owned

Advertising thatworks!

22 MooreStreet,

Ashburton

0800 2636679

Talk to Jann or Karentoday

about ways youcan reach

potential customers or

advertising with that

special difference-professional servicewith asmile.

Phone: 308 7664

office@ashburtoncourier.co.nz • 199 Burnett St, Ashburton

2289133

www.ashburtoncourier.co.nz

NoviceFox wins major titles

TONI.WILLIAMS

@ashburtoncourier.co.nz

Ashburton's JustineFox

wonthe South Island ATV

Women's Championshipon

Saturday.

It is arecord feat.

Not only was it on her

26th birthday, but it's her

firstseasonofcompetition.

She only startedracing

in March this year.

It was also aNew

Zealand ATV Motocross

nationalrace; sheplaced

second in afield of eight.

SheridesaSuzuki

LTZ400.It's arecent

purchase having borrowed

other clubmembers' bikes

duringthe season after her

firstbiketurned outtobe

''a bitofadud''.

"It'sthe slowestbike in

our grade pretty much,I'm

on the smallest cc bike,"

she said.

"Mainly everybodyraces

450s –that's the size of the

engine ­it'sjustwhatI

picked to go with atthis

stage, because it's only my

firstseason."

Foxgot into quad racing

through aclose friendwho

had moved from

ChristchurchtoAshburton.

Shejoined the

Canterbury ATV

Association, which sees

around50to60 riders

gather every second

weekend at various

locations around

Canterbury, forgrass

racing or speedway racing.

The nationals were held

at Dirt Farm,near Pleasant

Point. It was aclaybased

trackand themud was

flying.

The meetingsare run by

national ATV icon Ian

Fftich, of Amberley, who

also thankfully sponsored

many of theevents, Fox

said.

Shetriestoget outonher

bike at leastonceaweek to

train.

"I try to just keep it fun,"

Justine Fox in action during the South Island ATV Women's Championship on Saturday.

PHOTO KATRINA PARISH

she said.

In her youth shewas

interestedin horses, and

had recently boughta

horse float to get backinto

it.

However now the float

operates as amotorbike

carrier. Shehas plansto

selland buy an enclosed

motorbike trailer butno

planstoupgrade her

motorbike just yet.She

wants to make sureshe is

properly equipped to

handle the extra power.

Most of the time she races

in third or fourthgear (of

five).

The longest track she has

raced on was 1.6km.Itwas

the Canterbury

Championshipgrass TT

seriesand whereFox got

her first racing trophy;she

placedthird.

"It's kindofabigjump in

some aspects. If you'rein

the wronggear goinground

thecorner, you'll stall it,

whereas on a400 it will just

tick away by itself and it

won't stall."

Shedid agriculture

classesathigh school

whichincluded an ATV

sectionbut had onlyhad a

coupleofpastrides on

motorbikes,including one

manymoons ago whereshe

canned off.

Fox worksatEA

Networks as acable layer,

whereshe has beenfor the

Bands in the Park set for public tunes

Four musical groups are

lined up to entertain at the

annual Bands in the Park

concertinAshburton

Domain this Sunday.

The AshburtonCounty

ScottishSocietyPipe

Band, AshburtonSilver

Band, Ashburton

Electronic OrganClub and

the MSA Orchestra will

play from 2pm on the long

lawn of thedomain

gardens, near the

sculptures via the West

Streetentrance.

The free concert is

organised by the

AshburtonCivicMusic

Council and there will be a

collection for band funds.

Bring apicnicand a

chair andenjoythe

musical interlude on show

by some of Ashburton's

great musical talent.

The Ashburton pipe band

will be among those

performing on Sunday.

past18months.

Sheencourages anyone

interested to give ATV

racing ago.

"It's not aboutwhatyou

have, it's the peopleyou

are around, (in theclub)

everybody is willing to help

out,"she said,whichoften

included lending

motorbikes to those in

need.

"There is always

somebody there to help

out. You could buy the

flashiestbike on the

market, it doesn't mean you

are going to win. It's like

with me being on the

smallestbike, it justproves

that it's not what you have,

it's how you ride it."

Complete

Local Care

Since 1982
---
Spring

SAVINGS

with Smiths

SELECTED

Sleepyhead Beds

Sunbeam MultiFunction

Oven +Air Fryer BT7200

RIGHT ON

less

$ per

than 7 52 weeks

on EasyCard**

week for

TriesteFabric Sofa Bed

Available in Silver (pictured),

Charcoal and Steel

$

299

16

$ than 10

50 % OFF #

less

$ than 10

per week for

50 months

on Interest Free*

than

less

$ 12

per week for

50 months

on Interest Free*

$

1679

SAVE$1120

less

per week for

50 months

on Interest Free*

Phoenix Leather Sofas Saddle

Available in arange of colours.

2seater

$

1699

SAVE $800

3seater

$

2299

SAVE $1000

Shop with financeand pay when youget paid!

30 % OFF #

SELECTED

Outdoor Furniture

50months

interest free

on beds &furniture $999 &over *

24months

interest free

on everything $499 &over *

smithscity.co.nz 0800 SMITHS(0800 764847)

38 Kermode Street, ASHBURTON

Someproducts on display in selected stores only –pleasecall your local storetocheckfor availability. Sale pricing inthisadisvalid untilTuesday 3rdNovember2020, while stockslastorunless otherwisestated. #Discount is off our full retail price, notinconjunction with any

other offer. *Apple products, selected computers, game consoles, giftcards,clearanceitems and some promotionalitems arenot availableinconjunction with interestfreeoffers.Flooring availableonamaximum of18months interestfree. Exclusions,fees, terms,conditions

and credit criteria apply.Available in-store only.Equal instalment amountsinclude one-offbooking feeof$45.00, annual fees of$45.00p.a., and securityregistration feeof$8.05,and exclude insurance. Current interestrateof23.95% appliestoanyunpaid balanceafter

expiryof(any) interestfreeperiod. Seein-storeorvisit smithscity.co.nz fordetails.**Weekly equal instalmentsare basedona52week financeperiod commencing 7daysfromthe datecharged.Werecommend setting up an Automatic Payment authoritytoavoid missed

paymentsand additional interest charges. Available in-store andonline.Current interestrateof23.95% applies. There areno set-up,annual, or account maintenancefees–a$19 notification feemay apply in circumstances of default. Terms,conditions,and credit criteria

apply.See in-store or visitsmithscity.co.nz/easycardformoredetails or to apply foryour EasyCard.
---
FEATURE

12 Ashburton Courier, October 29, 2020

Focus on

Rakaia

www.ashburtoncourier.co.nz

Salmon Tales Cafe

Always Servicewith aSmile

on Elizabeth Avenue,Rakaia

2326513

TRADING HOURS:

8am -7pm

7daysaweek

RAKAIA FOUR SQUARE SUPERMARKET

ElizabethAvenue ~Phone 3027307

Salmon Tales Cafe offersgreat

homemade style foodwhich is all

made on site, so is fresh and tasty.

We have plenty of space including

an outsidediningarea with a

relaxing pond complete with fish

you can feed and eels.

There is alsoacraft shopwith

somegreat gift ideas and an exciting

range justintime for Christmas.

Our cafe,inRakaiaalong State

Highway Oneright next to the iconic

salmon, is open from Tuesday to

Sunday between 8amand 3pm.

We also openinthe evenings for

private functions by prior

arrangementandweare taking

Christmas bookings now, so call

Melissa to secure your preferred

date.

SalmonTalesCafeisasmall

family operated business with a

team of friendly staff andwelook

forward to seeingyou.

Right: Salmon Tales Cafe has an

outside dining area with arelaxing

fish pond.

Specialisinginembroidery&stitchery

BeautifulLibertyfabrics,needlework,

cottonsand linens

Hours: Wed &Fri 10am -3pm (or by appointment)

Kelly 0274 225 426 calicodesignsnz@gmail.com

2326500

Calico Designs

www.calicodesigns.co.nz

Salmon Tales Café

Quality homemadefood

with excellentservice.

8am-3pm, Tuesday-Sunday

303 5450

9Railway Terrace East

www.salmontales.co.nz

2326401

IN CANTERBURY

Full automotiveworkshop

servicing thelocaland

farming community

Cars

Road bikes

MotoX

CanterburyMotorcycles

23 Bridge Street,

Rakaia

Trucks

Farm bikes

Trailers

03 302 7156

kawasakicanterburyltd@hotmail.com

2326413

The rise is needlework popularity makesCalico Design well worth a

visit.

Calico Designs

Since May 2019,Calico Designs

(formerly Calico Dreams), has

occupied asmall area behind

theHarveys bakehouse dining

room in Rakaia.

Theentrance to the

needlecraft business is through

arustic dooroff acourtyard and

inside is atiny roomfull of

colour.

Needlework, cross stitch,

sewing patterns, hand dyed

cottons, asmall collection of

quilting fabrics and linens,

includingthe famous Liberty

range, occupy thissmall space.

Samples adorn the walls,

showing whatcan be made with

aneedleand thread.

Duringthese uncertain times,

through lockdownand covid,

manypeople have picked up

needlework again, and if this is

an area of interest for you this

business is wellworthavisit to

seekout materials.

It is agreatplace to browse

and pickout anew sewing

projectortwo!

Hours havebeen reducedto

two daysaweek,Wednesday,

and Fridays from 10amto3pm,

with an occasional Saturday

morningadvertised via the

business Facebook page.

If thesehoursdonot workfor

you,Kellyishappy to openby

arrangement. Online salesare

available and craft groups are

welcome.
---
www.ashburtoncourier.co.nz

Focus on

FEATURE

Ashburton Courier, October 29, 2020

Rakaia

13

Sue and John's Little Red Cafe

Little RedCafewas established in

September 2019,afterarebuildofan

existing areainthe Red Shed

Rakaia.

Located opposite the iconic

salmon, this rebuild and opportunity

to have acafeinthe Red Shed

alongside Jenny's fabulousgift shop

wasonly made possible by the

kindness and co­operation of their

dearfriends Jennyand Graham

Baker.

Both businesses (cafe and gift

shop)complement each other

extremely well.

Thecafe has been quite

deliberately setuponasmaller

scaletosupport the locals.

With unique decor andambience,

and with what has happened this

year, thecafe is grateful to have set

up in this manner.

Thelocals have beenextremely

supportive, andcafe owners Sue and

John Moorren are so thankful for

this. The regulars love the coffee

(Coffeeworx)and thehome­made

cabinetfood.

LRC's main business is cabinet

food and takeawaycoffee, withthe

cafe having aseatingcapacity of 24

Little Red Cafe cabinet food is made on site with locally sourced ingredients.

plus(under AlertLevel 1) which is

always wellused, especially on the

weekends, when the cafe has cooked

breakfasts until midday.

The cabinet foodismade on site,

with locally sourced ingredients, the

foodislovedbythe locals, with the

traditional sausage, cheeseand feta/

spinachrollsflying out the door.

Deborah Roberts, RENZ

Imoved to Rakaia over 15 years

ago from atownoutside of

Manchesterinthe North Westof

England. You get more for your

money outhere.

Aquarter­acre section,space

between the houses, an

outstanding view of theSouthern

Alps from thefront gate andno

traffic jams.

It was like I'd won the lottery;

completely different from where

I'm from.

I've raised two girls in Rakaia,

it's agreat place for kids with a

great school.

Icameback into real estate

almost three years ago after a

nine­year break,servicing Rakaia,

Ashburtonand the surrounding

areas.

My main goal in real estate is to

makesurethatbothpartieshave a

pleasant experience,and go away

thinking "that wasn'tasbad as I

thought it was going to be!"

After all, your home is your

biggestasset and if Ican take most

of the stress away and you're

happy withthe buying/selling

process,then I'vedone my job.

WhenIsell ahomeinRakaia, I

don't just sellahouse,Isellthe

townaswell.

Rakaia is agreat place to live,

it's central to everywhere. It'sa

well­serviced townand there's

lots to do forall agegroups.

Rakaia has agreat community,

the people are friendlyand

helpful.

So if you want to get out of the

hustle and bustle of city life, think

Rakaia.

And if you're thinking of selling,

thinkDeborah at RENZ.

Right: Real Estate New Zealand

sales consultant Deborah Roberts

in action at the Rakaia MX track.

Thecafeoften caters for local

businesses andhasestablisheda

very well supportedfresh andfrozen

roast meal optionfor Fridays(which

has free delivery.)

Sue and John look forward to

continuing to support the Rakaia

and wider community over the

comingyears.

Kawasaki motorcycle specialist

Kawasaki Canterbury Ltd trading as

Canterbury Motorcycles is Mid

Canterbury's only Kawasaki

franchise.

It is located on the main road of

Rakaia.

Owner Clint Collett has worked at

the garage for many years and

bought the business from former

owner David Chapman in July last

year.

It has specialised in Kawasaki

motorcycles for more than20years.

Clint has decadesofexperience

and, along with his team of

enthusiasticmotorcycle and motor

vehicle mechanics, is able to offer

repairs and maintenance to all

makes and models of vehicles and

motorcycles.

Clint has extensive product

knowledge and is able to help match

client's to the rightbike.

The motorcyclesworkshop,atthe

rear of the premises, does all types of

motorcycle repairsand maintenance,

servicing all makesand models.

The vehicle workshop, located at

the front,offers all types of car

servicing and maintenance and

people can book in for theirWOFs.

They also havequick and efficient

puncture repairservice but havean

extensive arrayoftyres for sale at

competitive prices.

Canterbury Motorcycles also have

an on­farmservice truckand are

prepared to get your farm bikes ­all

makes and models ­serviced and up

to scratch.

The Kawasaki dealership,often

one of the top farm bikesellersinthe

South Island, has abroadrange of

motorbikes for sale. Theyincludethe

popularfour wheeler side­by­sides

or Mules, the two wheeler Kawasaki

Stockman, KLX and KX motor cross

and cross country ranges.

Canterbury Motorcyclesalso have

arange of fullyserviced second­hand

trade­ins for sale. Call in and see the

friendly team.

•Great coffee

•Cabinet food

•Weekend

breakfast

•Takeaway

roast –

Fridayonly

Just

LIST

to be in the draw!

8am -3pm Wed-Mon

Sue 0274 341 088

the red shed

rakaia

jennybaker florist

•giftware •wallart•homeware•jewellery•crafts

•flowers&alittle bit of somethingwonderful

•weddingflowers

the redshed

rakaia

0274849959

Christmas wreath classes

starting earlyDecember. Book now!

Real EstateNew Zealand

$5,000

3D Spring Competition!

Just LIST with us, and you're in the

draw to WIN....Simple!

Be Quick! Limited time only!

"Keeping it real" estate

Deborah Roberts

Sales Consultant

021 075 2180

deborah@renz.net.nz

T's&C's apply

Having lived in Rakaia for the last 15 years

Deb knows the market well, so if you're

wanting to buy or sell, giveher acall!

We offer FREE no-obligation appraisals,

FREE 3D marketing of your property, and

the chance to win $5000...why would you

go anywhereelse!

2326416
---
NEWS

14 Ashburton Courier, October 29, 2020

www.ashburtoncourier.co.nz

Satisfaction in helping, caring for others

Volunteer of the month Alison Donald.

Fromanearly ageAlison

Donald, theVolunteering Mid &

South Canterbury and the Hotel

Ashburton Volunteer of the

Month, has wanted to helpand

carefor others.

It brings her alot of

satisfaction.

''I like helping othersand I

guess it's always been like

that,'' she said.

Alison's daysare busy

whetheritisthrough formal

volunteeringwith avariety of

organisations, serving through

her involvement with the St

Stephen'sAnglicanChurch or

helping in amoreinformal way

like helping aneighbour.

Alison's various voluntary

roles included one she started

through the suggestion of a

friend who said to her one day

that district nurses had Red

Cross volunteers accompany

them on their evening rounds.

Her friendsuggested this

might be agood volunteering

role for Alison.

Alison,who wantedtobe a

nurse, thought it would indeed

be agood rolefor her so signed

up. She did it foreightyears

beforethe hospital decided to

discontinue the programme

earlierthis year.

Alison's firstvolunteer role

wasasadriver forwhat is now

Elizabeth St DayCare. It's a

volunteer role shereally

enjoys, and she says she has

metsome lovely people through

thisvolunteering.

In her informal volunteering

she also takes awoman to

Hearing Association meetings

andatanannual meetingtwo

years ago, her name was put

forward to join thecommittee,

which she agreed to do.

Alison also has apassionfor

dahliasand her gardenis

testament to this. She is the

secretaryand treasurer forthe

localdahlia group.

And volunteers as adeliverer

forMeals on Wheels.

She is also thesecretary and

treasurer forInner Wheel. It'sa

groupthat helps balances her

life as she says it is something

she does for herself.

She also gets immense

satisfactionvolunteering with

St John, and just acouple of

weeksago was making and

bagging hundredsoftruffles for

theStJohn gardenparty.

But she wearstwo hats with

theorganisation; as the local St

John co­ordinator forcaring

caller and as avolunteer on the

health shuttle.

Caring caller is atelephone

friendship programme. This

matches acallerandaperson

who needs social contact.

They arelookingfor more

people with abitoftimeand a

friendly manner to give

someoneelse acall and

brighten theirday. If there are

folks who do not have many

visitors or family locally thenSt

John caring callerscould be a

service to help them.

Alison took up the health

shuttle role about seven years

and thoroughly enjoys her

regularstint.Inpairs, the

volunteers transportpatients to

medical appointmentsin

Christchurch.

The volunteers provide

support, companionship, a

smile and oftenalistening ear

for folk at what can be an

anxious time. Alison does not

just drop her passenger at the

door but ensures they arein the

right place, feel safeand

connects them with the facility.

Alison gets as much out of her

volunteeringasthe people she

helps. For Alison volunteering

isn't about be rewarded for

doing her work,but she is

gratefuland thankful for the

nomination to be volunteer of

the month.

''So many peopledosomuch;

the community justcouldn't

operate unlessthere were

people volunteering,'' shesaid.

Organisations andgroups are

encouraged to get nominations

in for the Volunteering Mid &

South Canterbury &the Hotel

Ashburton Volunteer of the

Month. Nomination forms are

available by contacting

VolunteeringMid &South

Canterbury, Community House,

44 Cass Street Ashburton, ph

3081237 ext 240 or email

coordinatormc@vmsc.org.nz or

pick up acopy at Four Squarein

Rakaia.

Day and

Boarding places

now open to

both boys and

girls from years

4to8

Waihi Open Day

Sunday 1st November 1.30pm

An Education for Life

Providing inspirational learning, cultural, sporting andoutdoor educational

opportunities for your child, with small class sizes and specialist teachers.

611 Temuka-Orari Highway,

SouthCanterbury.

Formore information or to register your interest:

Phone Wendy03687 8071 or

email: executive@waihi.school.nz

Find out how we can provide your child with an education for life - www.waihi.school.nz or ph 03 687 8071
---
www.ashburtoncourier.co.nz

RURAL

Ashburton Courier, October 29, 2020

15

Left: Ascreenshot of

the Hyperfarm

programme in action.

Farmers can see the

impactoftheir

practices over 15

years, in 10 seconds.

ANDREWDUNNE FARM SERVICES

FARM SERVICES BY THE HOUR

20+ years'experienceinthe sheep, beef,

venison, and dairysupport industry

• Highly skilled and experienced farmlabour

• On-farmfirewood processing

• Agricultural welding repairs and maintenance

• Farmminding -staff support

• Agricultural explosives –land operations

• Jobs of all sizes,casual or ongoing

• Available forfarmorlifestyle block

Call me anytime forafriendly 'NO OBLIGATION' chat.

COMPETITIVE RATES/EXCELLENT SERVICE

Call Andrew on 0272 475 577

2325871

Animation helping

farmers adopt change

LINDA.CLARKE

@ashburtoncourier.co.nz

The Dunedin animation

company that brought

thrillingcomputer graphics

to America's Cup racing and

other major world sports is

helping Mid Canterbury

farmers see how their

changing land management

practices are impacting the

environment long­term.

Animation Research

founderIan Taylor says

farmers will be able to use

the technology to easily see

the effects of different crops

and stocking rates on thesoil

and waterways and how it

impacts farm budgets.

Mr Taylor was in

Ashburton recently to talkto

farmers about how they

could make best useofthe

digital highway.

He usedhis own company

as an example.

Animation Research

started in 1989, usingdigital

data off the back of the

America's Cup boats to

create images for spectators.

It expanded to produce

graphics for other sports,

like golf and American

football, but those contracts

were cancelled whencovid

hit andthe company's crews

came home to Dunedin.

There, over acouple of

months, theyfigured out how

they could do those same

jobs remotely,saving money

on international travel and

accommodation.

Mr Taylor said the idea had

beendiscussed prior to the

pandemic butcustomersdid

not see acompelling reason

to change.''It took Covid­19

to make people realise you

could do it, andnow

everyone wants to do it.''

The company has been

workingonavisualisation

project with AgResearch for

overayear: Hyperfarm was

previewed to farmers at last

year'sFieldays but is not yet

ready forcommercial use.

It uses data collected from

farms, science and

regulators like Environment

Canterbury, to model

changes.

Mr Taylor said Animation

Research turned the data

into pictures so farmers

could see the effects of their

decisions over 15 years in

just10seconds.

While 15 years was ashort

timeframe to dealwith

farmingissues like nitrate

leaching and water quality,

the animation technology

was atool that could give

themapositive start to

change.

He said food producers

like farmers were important

for thecountry. ''This is a

hugeopportunity that covid

has given us. Food willbethe

verylast thing people stop

buying and the lockdown

provedthat.''

He said it wasasmart

move to combine sustainable

practices and technology.

''We needtostop fighting,

look after the landand be the

best at high value food

production.''

AgResearch senior

scientist Seth Laurenson

said Hyperfarmhadbeen

progressed steadily since

last year.

''Central to this is

achieving the best

integration between the

science platform andthe

visual technologies on offer.

We've also beenlooking

further afield to new

partnerships to growand

share the potential of this

tool, including with iwi

around the country.''

Aprototype version could

be available to aselectgroup

of userstotrial in June 2021.

He said humans were

visual creatures and that

presented an opportunity to

show in visual form what

decision­making would mean

for their land,the

environment and their bank

balances.

''We thinkthis is atool that

will make our science more

accessible to peoplewho

want to improve their

practices and environmental

footprint, but are unsure

about best to do that.

Carefully balancing the

visual representation and

the right level of scientific

information to enable

decision­making is acentral

focus for our team.''

Purpose.Environment.

Partnership.Innovation.

Excellence.

• DairyNZ accreditedEffluent

Pond Design andConstruction

• Pond Constructionand

Irrigation Development

• Hedgeand StumpRemoval

• Farm Conversions

Lawn &Garden

Mowing

Pruning

Weeding

Nga Manu

Property Maintenance

Planting

Spraying

Hedges cutting

Garden design and

landscaping

• DairyTracks–

Lime or Gravel

• PumpHire

• Wellsand Galleries

• Bulk Earthworks

• Subdivisions

Oneofftidy ups or

regular visits

Pre sale tidy/rentals

WaterBlasting

Houses

Sheds

Roofs

Driveways/decks/pathways

Dairysheds

• Site Works

• Tree Shear

• Transportation

2318256

Glass back on DairyNZ

Colin Glass and Jim van der

Poelhave been re­electedon

to the board of DairyNZ for

anotherthreeyears.

Mr Glass, and wifePaula,

own a670­cow dairy farm and

two other irrigated

properties rearingand

finishing bull beef at

Methven.

He is the chiefexecutive of

Dairy Holdings Limited,

which has extensive

operationsthrough the South

Island.

He is alsoadirectorof

severalagri­business

companiesand is chairman

of Ashburton Lyndhurst

Irrigation Limited.

Mr van derPoel is adairy

farmer who, withwife Sue,

has farming interestsin

Waikato, Southland,

Canterbury and in the United

States.

He hasalongassociation

withDairyNZ, includingasa

farmer­elected director and

chair of DairyNZ's board.

He wasonthe Fonterra

board,and was an inaugural

directoronthe Fonterra

Shareholders Fund,aswell

as servingonthe board of

NewZealandco­operative

Dairies and hasalso

received numerous industry

awards.

Thepair werere­elected at

lastweek's annual general

meetinginAshburtonand

will be two of five farmerelected

directorsand three

board­appointeddirectors

who contribute to DairyNZ's

strategy andpriorities on

behalf of dairy farmers.

The AGMfocusedon

DairyNZ's highlights and key

activitiesduringthe 2019/20

dairy season.

As DairyNZchair, Mr van

derPoel said it hadbeen a

busy and challenging year for

thesector, with Covid­19 an

unexpectedeventwhich

affectedmanyKiwis.

''This alsoprovided the

opportunity to highlight the

value and importance of our

sector to New Zealand's

future," said Mr van der Poel.

2322610

MatthewBird

033083226308 3226 l 0276083226083 226

ngamanufuture@gmail.com

•Locally owned and operated

•WINZ registered
---
NEWS

16 Ashburton Courier, October 29, 2020

Shop around to get the

best electricity prices

BY ROGER SUTTON

EA Networks CEO

Theelectricityindustry and

howmuchyou pay for your

power can seemalittle

complicated, so I'd liketomake

it simple.

The keything to remember is

YOUthe customercan make big

savings. Here's how...

First thingsfirst, EA

Networks is ownedbyyou, the

customer. We areacooperative.

We ownthe poles,

underground cables and

substations thatkeep the power

flowing aroundthe district.

Profits we make are either

reinvested in thenetwork to

improve its reliabilityor

returned to you as adiscount on

your electricity charges.

So, thisishow it works. The

generatorssell power to the

retailers who billyou.Our costs

make up about 40 percentof

your power bill.

Earlierthis year we reduced

ourpricesby14 per centasour

costs camedown.

Frustratingly for us, many

electricity retailers didn't pass

ourdecrease in pricesthrough

to you.According to the

Governmentagency (MBIE)

thatmonitorselectricityprices,

themargins electricity

retailers makeinMid

OPINION

Roger Sutton

Canterburyfromresidentshere

are amongst the highestinthe

country.

Wedon't thinkthatisvery

fair andthishas led us to look at

how muchcustomerswould

savebyswitching retailers.

Weasked ourstafftoshow us

theirpower billsand the results

werevery surprising.Some of

ourstaffwho have beenwith

the same retailer for many

years could save$700 ayear

justbyswitching. These were

residentialcustomersthatused

about theaverageamount of

energy.

Largercustomers saved

more,smallercustomers saved

less.One of our stafftalked to

his hairdresserKim Reed

about power prices.Kim is a

smallerresidentialuserwith

average monthlybill of $100,

even Kim is forecast to save

nearly $300 ayearjust by

switching.

Findingthe cheapest

electricity retailer isn'thard.

The websitePowerSwitch.org.

nz is easy to use. Thewebsite is

runand managed byConsumer

NZ. It allows youtoenter your

information and then bingoit

tells youwho you can switch to

andanestimate of how much

youwill save.

Electricityisall thesame

whoever youbuy it from.

Whether you buy your

electricityfrom company Aor

company Bwhenyou turn your

lights on it all comefrom the

same powerstation.Noneare

''greener'' than the other.

Switchingiseasy.It's either a

quick phone callorentering

your details on yourchosen

company's website.It takes

about5minutes max.

So get on PowerSwitchand

start saving.I'm passionate

about energy useand working

hard for ourcustomer, feel free

to callme307 9800 oremailme:

RSutton@eanetworks.co.nz

www.ashburtoncourier.co.nz

The Warratahs

set to play here

KiwimusiclegendsThe

Warratahs and specialguest

Jackie Bristow will perform at

agig in Ashburtonon

November 6.

TheWarratahs are led by

singer Barry Saunders and

are etchedinto New

Zealand'slandscape, having

travelled andperformed

aroundthe countryfor more

than 30 years.

To date, the Warratahshave

eightalbums behind them and

songs that paint apictureof

New Zealand, from the

nostalgia andmajesty of the

provinces and the cities, to

the heartbreak of the

Christchurch quake.

The band has appeared

with JohnnyCash,June

CarterCash, BillyJoel,

Lucinda Williamsand Leann

Rimes,amongother

internationalstars.

The Warratahs are Barry

Saunders on vocals, guitar

andharmonica, NikBrown on

violin and mandolin, Mike

Knapp on drumsand Nick

Theobald on bassand vocals

Special guest Jackie

Bristow is acriticallyacclaimed

singer/songwriter

fromGore andnow basedin

the USA.

Ticketsfor the event centre

gig are available fromthe

venue or venue's website.

Zero pollution nights

There have been no high

pollution nights recordedin

Ashburton this winter,

continuing atrend that has

seendirty air nights allbut

disappear her over the last

few years.

Ahigh pollution day is

when the averagelevel of

PM10 over 24 hoursexceeds

50 g/m3.

The highest concentrations

usually occur on cold, still

evenings during winter and

the main sourceofemissions

is from theburning of wood or

coal for home heating.

From mid July to mid

October the PM10level only

exceeded 31 fourtimes in

Ashburton, the highest on

July 15 when 41 was recorded.

In 2018 here were two high

pollution nights in

Ashburton, but in 2006 there

were 28.

The entireCanterbury

region has vastly improved

its air quality performance

over the last decade or so.

Awardwinning winesfor

your occasion andbudget.

now!

IN-STORE

UNDER

$ 15

Banrock Station

PinkMoscato 2019

Fresh, frothy, frivolous

&alittlesparkly

Club Deal $9.99

RapauraSpringsClassic

SauvignonBlanc 2020

Riper style classic Sauv

&great forgifts

Club Deal $11.99

Church Road

Hawke'sBay Merlot

Cabernet Sauvignon 2018

Big,intense &boldwith

texture&tannins

Club Deal $14.99

Giesen Estate

PinotGris 2019

Polished adaptable wine

burstingwith ripestone fruit

Club Deal $11.99

Champion

Sauvignon Blanc

TwoRiversConvergence

SauvignonBlanc 2020

ChampionSauv–

captivating flavoursofred

capsicum &nectarine

Club Deal $19.99

MIDDLE-EARTH

PinotMeunier Rosé 2020

Anew style vibrant Rosé,

smells of strawberries

Club Deal $19.99

Leveret Estate

Hawke'sBay

Chardonnay 2019

Flawless, harmonious,

impressiveand

flatteringly classy

Club Deal $18.99

WoodsCrampton

BarossaValley

Shiraz 2018

Strong pedigree wine that

lovesget-togethers

Club Deal $19.99

UNDER

$ 20

Champion RedBlend

UNDER

$ 25

Borthwick Paper

Road PinotNoir 2019

Arich polished Pinot

from Gladstone

Club Deal $21.99

ClearviewEstate

Beachhead

Chardonnay 2019

From coastal Hawke's

Bay, power packed &

delightfully complex

Club Deal $23.99

Paritua Stone

Paddock Syrah 2018

Sensational seductiveSyrah,

youthful yetmature

Club Deal $22.99

The HuntingLodge

Expressions Lavish

MerlotMalbec 2019

Twoapproachable wines

blended to create anew

dimension –Champion!

Club Deal $22.99

FIND OUTMORE… Explorethe TopDrops at newworld.co.nz/wineawards

Visit newworld.co.nz/winesampling to find complimentarysamplingatyourlocalNew World

Specials available South Island only,price valid until Sunday8November 2020 or

while stocks last.Due to current Licensing Trust laws, liquor not availableat

Elles Road, Windsor &Gore. Club Deals areonly available to ClubcardMembersat

New World South Island stores when theyscan their Clubcardatthe time of purchase.
---
www.ashburtoncourier.co.nz

Garage book remembered

MICK.JENSEN

@ashburtoncourier.co.nz

Arecent photo of theformer Mid

Canterbury TransportbuildingonMoore

Street in thispaper has rekindled

memories for local historybuff John

Carter.

Mr Carter was partofahistory group

set up 20 years agotodocumentgarages

in the district.

He laterco­wrote andedited abook

calledAshburtonGarages with Viv

Hanson.

Garages had come and goneinthe

district overthe last 100 or so years, said

Mr Carter, andthey helped tell their own

story.

He said the garage book had come

about after the formationaninterest

groupofretired garageownersand

mechanics.

Those with garage history in their

veinshad included CliffHorrell, Bruce

Smallbone andTom Pearsonand others

who had submitted photos and shared

stories.

TheAshburton Garage History Group

had held meetings at the Ashburton

Vintage Car clubroomsand regular

gatherings, he said.

Thegrouphad set up garagelocation

maps of the districttogether with an

indexshowing who had owned the

garagesoverthe years, said Mr Carter.

''A lot of knowledge waspooled at

thosemeetingsand it formed the basisof

the book, which followedanearlier

pictorial history book.

''Viv and Iresearched things over a

coupleofyears andtalkedto peopleand

there was alot of good support behind

us.''

Some of the photos in the book are

from 1914/15and showAshburton

businesses were quick to adapt to the

change from horseorcycleand to motor

vehicles, withgarages starting at various

businesses such as cycle dealers, livery

stablesand blacksmiths.

Local historian John Carter flicks through old garage photos used in the book.

Mr Carter said there were not too many

of the old mechanics and garage owners

left alive these daysand if thebook had

notbeen compiled at the time, alotof

knowledge would havebeenlost.

The garage book had been re­printed

twice becauseofdemandand still

provoked memories for local people.

Mr Carter said 300 original garage

related photos submitted for thebook

had been giftedtoAshburton Museum

for safe keeping andpreservation.

NEWS

Ashburton Courier, October 29, 2020

Community

awards

ceremony

17

Seven Mid Cantabrians and one

group who have contributed to the

district through their significant

volunteer pursuits will be

celebrated at the Ashburton

District Council's Community

Honours Awards ceremony on

October 30.

Five residents will each receive

the prestigious mayor's award for

public service, the highest civic

honour bestowed by council, while

three civic awards are to be

presented for substantial voluntary

service.

The recipients of the mayor's

award for public service are John

Fleming, Maxine Hooper, Robin

Kilworth, David McKimmie and

Darryl Nelson, while the recipients

of the civic awards are Litter Free

Ashburton, Yvonne Lister and Judy

Skevington.

Ashburton Mayor Neil Brown

said the awards selection

committee was impressed by all the

nominations received and

delighted to be recognising some

outstanding people and groups.

The awards recognised the

immense contribution of selfless

volunteers and celebrated their

exceptional commitment to our

community.

The awards ceremony will take

place in the Bradford Room at

Ashburton Trust Event Centre at

2pm on October 30.

Council is inviting members of

the public who would like to attend

the awards ceremony to watch their

family, friend or colleague be

presented their award to RSVP to

council by emailing info@adc.govt.

nz or phone 307 7700.

Christmas market

Ashburton's Merry Little

ChristmasMarket is all set to run

again on November 29.

The seventh annual indoor

market at the Ashburton Trust

Event Centre goesfrom11.30am

until 4pmand will include

around60stalls.

Stallswill be set up in the

foyerand main auditoriumand

somewill have afestive theme.

Eventco­ordinator Casey Rose

said the market wasagreat

opportunity to shop before

Christmas.

It was achance to shopunder

one roof and to viewawide

variety of items.

Stallholders wouldbeselling

everythingfrom art,craft and

clothing, through to jewellery,

fruitcake and funky woodwork.

Filipino culture

An afternoon learning about Filipino

peopleand culture is being organisednext

month.

Hosted by the Learning Exchangein

conjunction with UNIFIL, UnitedFilipinos

ofMid Canterbury, the November 8event

will include aFilipino lunch and will offer

an insight into the country's culture through

aformal presentation and an activity.

There willbeopportunitiestoask

questions andtomix and mingle with local

Filipinos. Lunch tickets can be purchased

from the eventbrite.co.nz. The Ashburton

venue willbeadvised to those registering.

There werealsostalls selling

fabric art,skin care products,

herbal productsand otheritems.

Shesaid there were anumber

of new stallholdersthisyear,

includingsellers fromGeraldine

and Christchurch.

Theysaw the Merry Little

Christmas Market as an

opportunity to showcase and sell

products aftermonthsof no

markets becauseofcovid.

The market was alsoan

opportunity for community

groups to fundraise, andfor the

eventcentretoshow off its own

greatfacilities.

Those payingagold coin

donation on the door will

receive adrinkonentry.

Contact CaseyRose on 307

2010 forstallholder information.

www.auricelectrical.co.nz

• Domestic electrical services

• New house wiring

• House rewiring &maintenance

SUPPLIERS AND INSTALLERS OF LEADING BRANDS

• TV &Datawiring

• Solar installation

• HeatPumps

Call todayfor an obligation free quote

0800287 423

2291188 2316297
---
Ashburton College

Individual Excellence in aSupportive Learning Environment

News

Issue 31

29 October 2020

Message From ThePrincipal

Red Carpet Evening

Last Thursday we had our annual Red Carpet

Evening. This is ahighlight ofour musical year,

where our top performers are invited to present

to their whānau and our community. As we all

appreciate, there have been few opportunities

for any kind of performance that involves even a

limited audience this year. Itwas agreat night. I

wouldlike to thank all ourperformers and,most importantly,the Music

Departmentstaff,itinerant musicteachersand thestudent'sown music

teachers.Withoutthem, such an evening would not be possible.

Te WhareManaaki

As partofour consideration of our College campuswehaveundertaken

arebranding exercise with our Student Learning Support Unit. This

facility, awelcome part ofour College, has always been known asthe

SLSU. After due consultation, we have decided that amore relevant

name is 'Te Whare Manaaki'. Mythanks gotoour students and their

parents/caregivers for their input into this decision. Aspart ofour

new build the students will, inthe future, enjoy apurpose-built facility,

however the name Te Whare Manaaki will be retained within the new

facility.

College Charterand Strategic DocumentReview

We have undertaken arecentreview of ourCollege Charter andstrategic

documents. These areobviously key documents forAshburton College

as we look towards thefuture.

At itssimplest form thereare twofuture trends thatweare preparing our

studentsfor. The first of these is thatthe worldofworkand employment

is likely to be very different for asignificant portion of our population.

Soft skills such as collaboration, creativity and oral communication will

become increasingly important. We are working towards achanged

future. This year, the widespread use of Zoom technology was aclear

example of howquicklyfuture changes mayarrive.

The second recognition is that our Mid Canterbury and global

communities are becoming increasingly diverse. Inthe future, tobe

good global citizens, people will need to be more culturally responsive

and acceptingofdiversity. Inboth cases we areplanningfor adifferent

future.

College Roll

Ourrollcontinuestogrow. Ournumber of students means that we are

able to offer afull and wide range of academic and vocational courses.

This trend is,inpart, recognition thatthe employmentprospectsinMid

Canterbury are healthy and that housing is affordable in comparison

with other regions. Partofthe rationale forour new build is recognition

by MinistryofEducation thatthis trendwill continue, and will mirrorthe

growthinmanyofour localprimaryschools.

Final Assemblies

This term is always frantic with many scheduled events, deadlines

and recognitions. Wealways enjoy the final assemblies, especially our

Year 13 Graduation. We look forward tohaving you join us for this

celebration on 5November 2020 at the Ashburton Trust EventCentre.

Ross Preece

Principal •Tumuaki

Information

DanceShowcase 2020

Open to thepublic,freeofcharge.

Today, Thursday29October

and tomorrow,Friday30October.

1:30pminthe College Auditorium.

Differentperformances each day.

Thursday features HipHop,Stepping,

Māoridancestyles andContemporary.

Fridayfeatures Jazz,MusicalTheatre

and Contemporary.

This is an opportunity for the College

dancers to showcase their work

from throughoutthe year,

in aperformance setting.

AshburtonCollege Year 9

Academic Scholarships

Criteria and application forms arenow available from

your child's school.

TheClosing Date forapplications is

next Thursday05November 2020, 3:30pm.

Theacademic examinationswill be held at AshburtonCollege

on Monday16November from 9:00am–11:15am.

Enquiriesand applications to be made to

SheenaTyrrell,Management Administrator,

Email: ts@ashcoll.school.nz

Phone:308 4193, extension 812; 027247 8003.

Please note thatthese Scholarshipsare

AcademicExcellence Scholarships.

Information

Annual AshColl Quizco –

Tomorrow,Friday30October,7:00pm

DeputyHead GirlMaria Costas advised thatthis year the annual Student

Executive-planned Quizco is being held alittle laterthan in previous

years,given the COVID-relatedconstraintsaround events.

However, the Executivewas committed to not breaking

with the annual tradition.

Come along, bring your family,and friends

to be in the runningtowin someamazing hampers.

Refreshments and food provided.

Tickets: $20 -for ateam of four.

Register: At the College Office,with your team name.

Or –Messagethe gram@ashcollstudentexec

Venue: Collegiate RugbyFootball Club,Smithfield Road,Ashburton.

AshburtonCollege

BoardofTrustees

Mid-Term Parent Election 2020

NOMINATIONS ARE INVITED FOR THE ELECTION OF

THREE PARENT REPRESENTATIVES FORATHREE YEAR TERM

NOMINATION FORMS

If youare on the College ElectoralRoll aNomination Form,Cover Letter

and EligibilityCriteria, hasbeen emailed to you,

and posted to those without email.

Otherwise,forms maybeobtained from the AshburtonCollege Office

or from the Returning Officeratthe College.

NOMINATIONS CLOSE AT NOON, THIS SUNDAY 01 NOVEMBER 2020.

Nomination formsmay be returned by hand delivery, email,post or fax.

ELECTORALROLL

Theelectoralroll is held at the College Office and can be viewed

during normal school hours.

CANDIDATES'NAMES

Therewill also be alist of candidates' names,asthey come to hand,

forinspection at the College.

Note: Anyone can stand forelection as aparentrepresentative.

Acandidate does NOTneedtobeaparent

or caregiver of astudentenrolled at school.

Aperson on the electoralroll maynominate themselves.

Aperson not on this roll must be nominatedbyaperson who is on the roll.

Sheena Tyrrell,Returning Officer

Phone: 027 247 8003; or (03) 308 4193, Ext812;

Email: ts@ashcoll.school.nz

Aoraki Junior TournamentWeek

16-20 November

This is newto2020

Each daycomprises of twodifferent events,including championship and

festival grades with the focus on having ago

without the pressureofcompetition.

Alleventsexcept forSmallbore Rifle areopen to all Year 9/10 students.

Available are: Monday16November: Tennis and Touch Rugby;

Tuesday17November:Caroline BayRelays and Football 6s Festival;

Wednesday18November:Smallboreand Hockey;

Thursday19November: LawnBowls andVolleyball;

Friday20November: Badmintonand Beach Net (ball).

More information is available from your Coach or Darion

in the College Sports Office.

Entries to Darion tomorrow, Friday 30 October.

Coming Events

October

29 Year 13 PED Golf assessment

Year 11 Japanese class,Koji Japanese Restaurantvisit,

Creek Road,Ashburton

30 Mustang CarClub visit –Chessboard, lunchtime

Year 11 OUE Mountain Biking,AshburtonRiver track

Year 12/13 Japanese class,Koji Japanese Restaurantvisit,

Creek Road,Ashburton

CommunityEntry Programme Abseiling trip,

Peel Forest Outdoor Centre

November

03 Final whole-College Assembly,Chessboard, 11:25am

04 Year 9Attitude programme,atCollege

Year 10 Attitude programme,atCollege

05 Year 13 last dayofclasses

Year 13 Graduation Ceremony, AshburtonTrustEvent Centre,

7:30pm

08 MidCanterburyCombined Cricket, Willows

09-12 SADD (Students Against DestructiveDecisions) Week

10 Year 11 and Year 12 last dayofclasses

Year 11 and Year 12 Prize-giving,EANetworksCentre, 7:00pm

11 9X Museum trip,AshburtonMuseum

13 CanterburyAnniversaryDay,Public Holiday

16 Year 92021 Scholarship exams,atCollege,9:00am-11:15am

16-20 Aoraki Junior Sports Week,various venues

16-09 Dec NZQA Exams

Events

Staff vStudents Chess Match–

Fourth ConsecutiveVictory to the Staff!

Held on the ChessboardonFriday, 16 October,this annual eventwas again

held according to apre-drawn historical set game ofChess but with the

shifting and removalofchess players aided by copious amounts of water!

We are assured that this annual end-of-year event started asavery formal

affair,with players wearing'boards'depicting their positions. At somestage

it morphed into the event itistoday, always alot of fun, and providing

wonderful opportunities for students todouse staff and vice versa. Itcan

be challenging to distinguish between staff and students when it comesto

enthusiasm and water skills.

As is also traditional, the staff moves are made by astaff member who is

leaving College. Jason Vannini, Master of Ceremonies, said this person is

usually along-serving older staff member, well-respected and leaving

College at theend of the year. Mary-Anne Evers fittedthe last twoofthese

criteria!

(Pictured right, far left):

Jason Vannini orchestrating

proceedings (front, left and

right): Year 13 student Aidan

Soal College Senior Chess

Champion; and Mary-Anne

Evers –teacher of English, and

Senior Dean.

Staff dress standard held

some sartorial splendour (belowleft): Peter Lee and PPE gear (belowright):

Michael Clarkleading theline-up).

(Pictured below left):

Staff member Mel Evans

receives asolid dousing

fromaStudent Executive

member.

(Pictured below, right):

Defence mechanisms

by Patrick Sandrey,

ensuring the brain cells

areprotected.

(Pictured below): The two teams combined for the post-match photo, with

Mary-Anne Evers (back row) triumphantly holding the trophy aloft. There

will doubtless be double security for next year's chess match draw, given

this wasthe fourth consecutivevictory forthe staff side!

Staff Acknowledge Pink ShirtDay

Friday 16October was Pink Shirt Day, amovement started inthe USA

to promote acceptance and anti-bullying. This is atheme which has

been continued in other countries, with our staff keen to support

and to wear something pink to highlight this message.This was wellsupported

atCollege and (pictured above) is asample group of staff,

in varying levels of pink, proud to promote acceptance, inclusiveness

and anti-bullying.
---
Ashburton College

Individual Excellence in aSupportive Learning Environment

News

Issue 31

29 October 2020

Events

Flagpole LegacyProjectby

2020 StudentExecutive

'The Year 13'sLegacyProjectFor 2020isup' wasthe announcement!

Each of thefour flagpoles (pictured below), sited on the Chessboardin front

of the library, now fluttering in the various wind directions, represent a

House at AshColl –Blue,Green, Orange andRed.

Theflags will be adjustedtothe height of whoever is in 1st,2nd,3rd or 4th

placeatthe time.

Amassive shout-out is given

to Ashburton Contracting

Limited (ACL) for installing

the poles, and to Head

Boy Henry Chapman for

organisingthis project.

This year's Student Executive

has issued a challenge for

2021 when a competition

will be held to design each

House's unique HouseFlag.

Congratulations

BronzeMedal Outcome at Cycling

NewZealand Schools'Mountain Bike

Championships

TheCollegeMountainBike team of (pictured below, backrow lefttoright):

Riley Blundell and Brad Blundell (front row, left toright): Oli Nicholls,

Kayne Johnston and MyaJohnston enjoyedatriptoWellingtonfor the

2020Cycling New

ZealandSchools

MountainBike

Championships,inthe

school holidays from

02-04October. They

were accompanied by

Jocelynand

Michael Johnston in the

Coach/Managerroles.

Theeventswereverycompetitivewith high total entries overall,being 225

in the Downhill,246 inthe Cross-Country, and 425 in the Enduro.

BronzeMedal forMya Johnston

The Downhill event was held atMaidstone Park in Upper Hutt on agrade

five trail, which required more pedalling than most downhill tracks. Mya

gained the BronzeMedal,competing in the Under 17 Girls'race, while Kayne

and Oli both had top10finishesintheir age groups.

BalanceofEvents

Riders faced windy conditions at the Waiu Trail Park in Wainuiomata forthe

Cross-Country, with Oli having agreat ride to finish 7th. Unfortunately,

Kayne had acrash towards the end of his race which took him out for the

rest of the weekend.

The Enduro was also held at Waiu Trail Park, with the event split into

morning and afternoon racestocaterfor the huge entries of 425 riders from

around the country.

5th Placing forOli Nicholls,and 7thfor MyaJohnston

Oli had afantastic race to finish 5th in the Under 15 Boys and Myarode well

to finish 7th in the Under 17 Girls.

The Blundell boys also had very creditable results with Brad 23rd inthe

Under 20 Boys out of 54 riders and Riley 32nd in the Under 16 Boys out of

78 riders.

With the size ofthe fields, all results gained by the riders were well-earned

and commendable.

The Individual FinalResults Summary was-

MyaJohnston 3rdand BronzeMedal Under17Girls'Downhill

7th

Under 17 Girls'Enduro

OliNicholls 5th Under 15 Boys'Enduro

7th

Under 14 Boys'Cross Country

10th

Under 15 Boys'Downhill

Kayne Johnston 9th

Under 14 Boys'Downhill

Brad Blundell 12th Under 20 Boys'Downhill

23rd

Under 20 Boys'Enduro

RileyBlundell 24th Under 16 Boys'Downhill

30th

Under 16 Boys'Cross-Country

32nd

Under 16 Boys'Enduro

Congratulations

South Island and National Schools'Track

Cycling Championships –6th National Placing

Maddi Lowry, Year 11 College student, competed successfully at the South

Island and National Schools'Track Cycling Championships held at the SLT

Indoor Velodrome in Invercargill during the school holidayperiod,on06-07

October.

The schools' event attracted over 150 riders from forty six schools, and

incorporated the South Island Schools' Championship. This year was the

second National Schools' Track Championships, following the inaugural

eventinCambridge last year.

Racing was held over two days and was run in an Omnium-style (multiple

race event) points system, where points were allocated on finishing

positions in each race,across the events of Scratch, Points and Keirin (where

cyclists sprintfor victoryfollowing aspeed-controlled startbehind apacer).

Results

Maddi, competing in the Under 17 Girls' age group, raced hard and was

competitive inall of her races, finishing very creditably in 4th place in

the South Island competition and 6th placeinthe National competition

overall.

(Pictured above, leftand right):

Maddi in the ScratchRaceand

the Points Race.

NewZealand Squash Junior Nationals

Another sporting eventtobeheld in the recent schoolholidayperiod,from

01-06 October in Christchurch, were the above Championships.

Two Ashburton College students, Year 13 Isaac Bazley and Year 11 student

Brooke Cornish-Madden, who both play for the Ashburton Squash Club

within the Midland Region (Ashburton toOamaru) were selected and

involved as partofthe Midlands Junior team comprised of fivefemales and

fivemales).

(Pictured above): The Midlands Team with Brooke Cornish-Maddon (front

row, second from the right) and Isaac Bazley (fourth from the right, back row).

Players can enterasindividuals without aqualifying standardbut teams are

required to qualify, achieved through being in the top five in their district.

Isaac and Brooke both entered inthe individual competition also, inthe

Under 19 Boys and Under 17 Girls respectively.

Results

Isaac placed 25th in the B2 Grade, and Brooke 9th in the Under 17 Girls

grade.

There were ten teams in each of the team's grades Isaac and Brooke were

involved in. The boys'team finished last, including losing atop player to

injury, which meanteachplayerhad to playupalevel. The girls'team placed

6th from the tenteams.

This wasIsaac's first time at theevent in theteam'sevent, having previously

entered asanindividual only, while Brooke played inboth the individual

and team competition last year. Both loved the tournament saying it was

good experience, and fun.

(Pictured below,leftand right): Brooke and Isaac in action on the courts.

Last of the 2020 House Sports Competitions

The build-up to revealing the winning House for 2020 draws closer, asthe

final count ticks down to the final whole-College Assembly scheduled for

Tuesday03November.

House Netball

After the long lay-off from House Competitions due to the COVID

restrictions, House Netball was the first to take place towards the end of

Term Three, playedinthree levels –Year 9/10,Year 11/12 and Year 13.

Thefirst roundtook placeonThursday 17 September, forYear 11/12 players,

with Blue House emerging winners over Orange House (11-4), and Red

House over Green House(6-3). On Friday18September the Year 9/10 teams,

repeatedthe Year 11/12drawand took the court, withwins to Redand Blue

Houses. Year 13 players then had their rounds on Tuesday 22 September,

with Green emerging winners over Red, and BlueoverOrange.

FinalsOutcomes from play on Tuesday22September and

Thursday24September

Year 13 BlueHousetook thehonoursoverGreen House (6-1).

Year 11/12 Brought anarrow5-4 win to RedHouse, over BlueHouse.

Year 9/10 In a repeat of the Year 11/12 final the score was 5-4 to

RedHouse,overBlueHouse.

(Pictured left): Close

competition for the loose

ball in the Year 11/12 Final

between Redand BlueHouses.

(Pictured below): Year 9/10

House Netball final between

Red and Blue (don't be fooled

by the yellow bibs!), with a

successful Centre Pass just

taken.

House Volleyball

The Volleyball matches –Junior Girls, Junior Boys, Senior Girls and Senior

Boys -were played from Tuesday 13–Thursday 15October, with finals day

drawing good crowd numbers around the Chessboard and strong House

support.

In linewith Term Four protocols,House points andresultsnow remain under

wrapsuntil announcementday.

(Pictured above): At the start ofthe boys' final between Blue House and

Green House,with the Blue House supporters visibly in place, while (below)

the crowdgathers,and the new flags oversee the action.

(Pictured left): The

Girls'Final takes

placesimultaneously

on the second court,

with PrincipalRoss

Preeceofficiating as

referee.

(Pictured above): MyaJohnston

on her waytoher BronzeMedal

in theDownhill event.

(Pictured above): Oli Nicholls

negotiating the Cross-Countrycourse.

Acknowledgement

Ahuge acknowledgement goes to Jayne Cornelius for her work, with the

College Sports Committee, inco-ordinating these events throughout the

year,and rearranging them as wasrequired during this year.
---
NEWS

20 Ashburton Courier, October 29, 2020

www.ashburtoncourier.co.nz

Actors prepare for halloween script

MICK.JENSEN

@ashburtoncourier.co.nz

There's halloween Fright Night

fun at thePlains Museumin

Tinwald on Saturday and30

young actors from Big Little

Theatre Company (BLTC)will

be there to share their horror

skills.

Fright NightisaBLTC

fundraiser for next year's

production and was first held in

2018.

There aretwo sessions, one

from 6pm until 7.30pm, aimed

at junior halloweenfans,and

another for adults that runs

from 8pm until 10pm.

Those brave enough to come

along will follow apath through

the Plains Museum andwill

encounter scares and creepy

occurrences along the way.

Some30youngBLTCactors

will be on site to add to the

horror experience.

Junior entry is $5 andit's $10

for adults. There is also acashonly

sausage sizzle.

Right: Big Little Theatre

Company actors at arehearsal

for the upcoming Fright Night

event.

PHOTO SUPPLIED

Hunt on for Christmas families

Santa's little helper, Carol Johns, is

callingfor people from all corners of the

district to enter in the AshburtonSanta

Parade on December 5.

The annual event,which draws

thousands of peopletodowntown

Ashburton, has anew route this year due

to ongoing revitalisationwork in the

centralbusiness district.

''This year dueto Baring Square

closure we will be going round the block

from Mona Square, down EastStreet on

to Havelock into CassStreet andback to

Mona Square,'' Mrs Johns said.

It starts from MonaSquareat12.30pm.

Mrs Johns is also callingfor family

entries this year and theywill havea

chance to win $500 for thebestfamily

entry.

''I have hadentries already from

families but would love lots more,'' she

said.

Peoplewanting to register candoso

via theAshburton Santa Parade

Facebook page, or email Mrs Johns at

johns.mmmm@xtra.co.nz

Right: Action from last year's parade.

Learn to be

fraud savvy

Ashburton's SeniorNet is marking

fraud awareness weekwithanopen

event on November24tohelp

peopleidentify scams.

SeniorNet chairman John Burns

said most people were aware of

scams but with newer andmore

sophisticatedscams doingthe

rounds, it was timely foranupdate.

The openseminar would tell

peoplewhat to look outfor, not only

on the internet but also phone,

email, post and thosetrying to sell at

yourdoor.

''The seminar is opentoeveryone.

Bring your friends,relatives and

tell your friends in any

organisationsyou belong to, to come

and learn.''

The seminar will be in the main

hall at the Sinclair Centre and there

will be asound system andimages

projectedontothelargest screen

the group can get its hands on.

Information will be presentedby

Westpacbank's fraud experts.

The seminar starts at 1.30pm.

NOW AVAILABLE FOR IMMEDIATE PURCHASE

NEW VILLA CARE SUITE • Spacious, modern

• Spacious, modern 2

bedroom villas

• Generous open

living/dining areas

• Master suites with

en suite and walk-in

wardrobe

• Full optioned kitchen

• Laundry

• Single garage

• Purchase on an ORA

care suite

• Tea making facilities

• Fully serviced and

care packages

available

• Well appointed

separate bathroom

• Private outdoor area

• Occupational Rights

Agreement

For more information or to arrange aviewing, contact Donna Coxshall,

Facility Manager on 307 6140 or email manager@terraceview.co.nz

37 Carters Terrace, Tinwald, Ashburton l www.terraceview.co.nz

2323107
---
www.ashburtoncourier.co.nz

NEWS

Ashburton Courier, October 29, 2020

21

Film fundraiser

Proceeds from the screening of thefilmI

am Woman in AshburtononNovember 19

will go to support operations at the Life

EducationTrust Mid &South Canterbury.

IamWoman is an Australian

biographical filmabout singer Helen

Reddy, who is best known for her1972 song

of the same name.

Tickets for the 6pmscreening at the

Regent Cinemaare available by calling 027

203 5991. There will alsobe raffles and spot

prizes on the night.

Checking out the new planter boxes in Ashburton Hospital grounds are (back from left) Ian Knight (Ashburton Menz

Shed) Ian Johnson (Ashburton Hospital) Mel Selwood, John Fahey (Elizabeth Street Day Centre clients) day centre

co­ordinator Sue Hopkins, (front from left), Marlene Crequer, Barbara Behrnes (Elizabeth Street Day Centre clients)

day centre staff member Jenny Sanders and Ashburton Menz Shed president Jim Armstrong.

Timberreusedfor planters

November

Ashburton

9, 10, 11, 12, 16, 17, 18

Surplus timber from renovations

around AshburtonHospital has been

re­purposed andmade into planter

boxes that will help beautifyan

outdoor area to be used by people

attending Elizabeth StreetDay

Centre.

The treatedpine planking has

been crafted into raised planters by

members of Ashburton MenzShed

and will sit under alarge tree near

the day centre meetingrooms.

Theday centershifted from Park

Street to AshburtonHospital 18

months ago because thenew location

offered more space.

Elizabeth Street Day Centre gave

referredmembers socialisation

amongtheir peers and avaried

programme, said co­ordinatorSue

Hopkins.

Members enjoyed day trips,

entertainers, speakers, activities and

games.

She said aramphad beenbuilt

from the back door of the day centre

and intoafenced, green area in the

hospitalgrounds.

Alarge hand railwould be fitted

and thenmembers could enjoy the

outdoor space,which hadlargetrees

for shade, and now, smartnew

planters.

2322755

Patricia McLaren's jams are among the popular home­made product she sells at the Saturday

morning market on West Street.

Patriciabackat market

Patricia McLaren is back

selling herjams, chutneys,

preserves andother products

at AshburtonFarmers'

Marketthisseason.

She has been aregularat

the marketfor the last few

years and enjoys the

camaraderieand the chance

to share her home­made

goodieswith the community.

Profits from market sales

all go to Ronald McDonald

House in Christchurch,a

cause closetoher heart.

As aone­off, proceedsfrom

this Saturday's market day

will be giventoanother

cause she is supportive of,

the AshburtonStJohn

Shuttle.

Approachingher 84th

birthday, Patricia intended

taking things abit easierthis

season and was going to stop

selling at the market, but

becauseshe has so much

product and regular buyers,

has optedtocontinue for a

while longer.
---
NEWS

22 Ashburton Courier, October 29, 2020

www.ashburtoncourier.co.nz

Dave gets creative with sewing machine

Ashburton granddad Dave

Stewarthas got creative and

handy coming up with aunique

gift for his grandson.

He hasused aSinger sewing

machine bodyasthe main

component for ahand­crafted

mini traction engine andthe

wheelshave beenrecycled

from an old lawn mower. It has

acopperaxle, acoal bin, and

thehub caps feature penny and

half penny coins.

Thewhole thing has been

carefully lacquered.

Theenginewill be presented

to hisChristchurch­based

grandsonTobie on his seventh

birthday next month.

Tobie received an impressive

hand­made pedalcar in the

shapeofavintage plane from

hisgranddadfour years ago.

Dave said he had spotteda

similar tractionengine at afair

in Geraldine andhad been

inspired to findcomponentsto

build his own.

He hasenjoyedthe project so

much that he waspartway

through asecond and

considering athird.

He boughtthe pedal­powered

1902 Singersewingmachine off

Trade Meand it was built into

an ageing cabinet with drawers.

Thecabinet has beensanded,

re­varnished and brought back

Dave Stewart working on his second traction project in a

workshop at Ashburton Menz Shed, right, the traction engine he

has made for his grandson on top of the refurbished Singer cabinet.

to life.

Dave, aformer electrician, is

afoundingmember of the

AshburtonMenz Shed and

enjoyspottering about in a

workshop at thegroup's

William Streetheadquarters.

Fellow shedmember Dalvyn

Burrowes has lent ahand with

thewheels on Dave's second

engine, which is still aworkin

progress.

Free bowel screen

Mid Canterbury people between

the ages of 60 and 74 willbegin

receiving freebowelscreening

kits frommid­November.

It is part of the national bowel

screeningprogramme and in

Canterbury some 90,000people

will be eligible to takepart in the

firsttwo years.

Underthe programme,thosein

the 60­74 age group with a

birthdayonaneven date (2, 4, 6

etc ­ofthe month)will receivea

test kit on or neartheirbirthday.

People with odd­date birthdays

will receive theirtest kit during

the second yearofthe

programme.

Thetest kit itself is about the

size of alargeUSB stick,iseasy to

useand accompaniedbyclear

instructions.

It is designed to pick up tiny

traces of bloodinyour faeces

(poo)and to catchcancersbefore

they becomeadvanced and more

difficult to treat.

Dr AndrewBrant, acting

CanterburyDHB chief, said

investigations prompted by

returnedtestswouldenable the

treatmentofaround 1000 precancerous

growths and 100 or so

cancers in the firstyear.

Finding and removingthem at

an early stage will dramatically

increase people's chance of a

successful outcome.

DELIVERYPEOPLE

wanted

to deliver the Ashburton Courier

and Realty every Thursday in the

Hampstead (Beach Road) area.

Phone Mary on

308 7664 or email

mary.summerfield@ashburtoncourier.co.nz

2326054

Speaker shares advice

on dealing with suicide

Suicide and prevention

specialist Dr Annette

Beautrais wasinAshburton

last week to speak at aLives

Worth Living­organised

emergency services

workshop.

Dr Beautrais is considered

aworld authority on suicide

and prevention and has spent

many yearsresearching best

practicedealing with suicide.

LivesWorthLivingsuicide

prevention co­ordinator Paul

'Pup' Chamberlain said as a

result of her considerable

experience, the programme

had adopted Dr Beautrais's

material as asound,effective

approach to post and

prevention education.

More than 120fire,

ambulance, police staff and

partners gathered at the

workshop, held at the

AshburtonTrust Event

Centre, to listentoanevening

of facts and best practiceon

how to look after the public

they serve, he said.

Mr Chamberlain

specialises in prevention and

is available for grouptalks

and specific training for

workplaces andother groups.

''Large or small, this

training canbeplanned to fit

topics and time restrictions

involved. Topics covered

include wellbeing, how to

have conversations with

people you are concerned

about, mental first­aid on

keeping well, usefultools,

resilience, online risk, where

to get help, self­careplans

and more,'' he said.

Emergency crews at the

workshop werereminded

that in their roles they were

dealing with situations many

of the public were protected

from and, as aresult, they

Suicide and prevention specialist Dr Annette Beautrais at last

week's workshop.

had aresponsibilitytolook

after their own health and

wellbeing.

Mr Chamberlain said the

post workshop evaluation

showedanoverwhelming

appreciation of the

informationpresentedand

DrBeautrais's ability to

answer the audiencesmany

questions.

Lives Worth Living (Safer

Mid­Canterbury) has been

operatingfor twelve months

as aresult of generous

fundingfrom many groups,

especially TheLion

Foundation, McKenzie

Charitable Foundation,

TrevorWilson Charitable

Trust,CommunityTrustof

MidandSouth­ Canterbury,

Advance Ashburtonand the

Mayfield Lions.

Mr Chamberlain's

colleagueissuicide

preventionco­ordinator

Connie Quigley who

specialises in navigation of

services, and Post­vention

wrap­aroundand response.

Shealsoruns andcoordinatesprogrammes

such

as OCEANS whichdeals with

grief andloss and WAVES

which is an eight week

programmefor those

directlyimpactedby

Suicide. Theservices are

freetoMid Cantabrians.

Anyone wantingtocontact

theco­ordinators candoso

eitherbyphoneoremail.

Connieisat027 4500742 or

email connie.

quigley@safermidcanterbury.org.nz

andPaul

(Pup)Chamberlainat027 382

6501 or emailpaul.

chamberlain@safermidcanterbury.org.nz

Anyone in need of help can

contact their GP, or phone or

text 1737. In an emergency

contact the Ashburton

Community Psychiatric team

on 0800 222 955or111 for

emergencyservices.
---
www.ashburtoncourier.co.nz

NEWS

Ashburton Courier, October 29, 2020

23

Invitation to get creative

Anyone needing inspiration and

wanting to get morecreative is

invited to come along tothe

Ashburton ArtGallery this

Sunday.

The GetCreative session will

featurepractical demonstrations

from members of the Hakatere

Ceramics andPottery Groupand

members of the Ashburton

Society of Arts.

Families are welcome at the

free session being run by

TimeBank Learning Exchange

and Ashburton ArtGallery.

Register at the eventbrite.co.nz

website because places are

limited.

TheWarratahs with Special Guest Jackie Bristow

Candles were lit at the start of the Ashburton Diwali event.

FestivalofLight celebrated

Music,danceand food were

all part of alocal event

celebrating the Hindu

festival of Diwali on

Saturday.

ADiwali, or Festival of

Light,celebration has been

held here annually fora

number of yearsand around

200 people attended the

Tinwald Memorial Hall

event.

The event is run by the

AshburtonIndian

Multicultural Charitable

Trust and Hakatere Multi

Cultural Council andstarted

with theopportunity to

sample vegetariancurry.

Trust member Bikash

Sukul welcomed everyone,

including invited guests

Ashburton mayorNeilBrown

and district councillor Leen

Braam.

The significance of Diwali

was explained, beforethe

symbolic lighting of candles.

The word Diwali comes

from the sanskrit word

'deepavali', which means

rowsoflighted lamps.

The entertainment

programmefeatured a

number of dancers and

singers,most from

Christchurch.

The Festival of Light is the

most important celebration

on the Hindu calendar and

celebrates the triumph of

goodover evil.

AEDs can be life savers

Bystanders can be the

difference between life or

death when someone goes

into cardiac arrest andit's

important immediate action

is taken.

Restart aHeart Day,

organised by St John

nationwide recently,was to

raiseawareness thatquick

actions wereneeded,

especially as theycan

happentoanyone,regardless

of age or medical history.

St Johnmedicaldirector

Dr Tony Smith said the

organisation'smost recent

Out of Hospital Cardiac

Arrest Report showed at 76

per centofcardiacarrests

bystanders perform CPR,but

only use an automated

external defibrillator(AED)

four per cent of the time.

''While thereisagrowing

awareness of the importance

of getting CPR started, the

use of AEDsand accessto

theminthe community

needs to increase.''

St John wants everyone to

havethe confidence to

perform the threesteps that

can savealife;call 111 for an

ambulance, startCPR and

use an AED.Itcan help

double the chance of

survival.

In Mid Canterbury there

are at least 87 AED unitswith

seven Ashburtonbusinesses

with24­hour accessand 10 in

the surrounding areas.

They are at ANZCO on

Seafield Road, Ashburton

BridgeClub on AlfordForest

Road,Ashburton GolfClub

on Golf LinksRoad, at

Ashburton Hospitalon

ElizabethStreet, at

Ashburton Trust Tennis

CentreonOak Grove, St John

office on TancredStreet and

ZAshburtononWest Street

andincludeCarewPeel

Forest School, Hinds Squash

Club, Ruapuna Hall,Ealing

Hall,Wakanui School,

MethvenGolf Club and

Mayfield GolfClub.

"Using an AEDiseasy,and

we want people to be

comfortable to takeaction,''

Dr Smith said.

''TheAED will tell you

what to do so youdon'tneed

anytraining to makea

difference. If youcan use a

cell phone, youcan use an

AED."

The simple actofusing an

AEDwhen needed increases

survival rates by over35per

cent.

"Thechainof survival

starts with bystanders. Their

actions can allow skilled

ambulance officers and

hospitalclinicians to give

patientsthe bestpossible

chance of survival."

FRIDAY,6TH NOVEMBER, 7:30PM, ATEC CENTRE

2324265

Name:......................................................................................................................................

Address:..................................................................................................................................

Phone:.....................................................................................................................................

Simply fillinyour details and drop into the AshburtonCourier,199 Burnett Street.

ENTRIES CLOSE 12 NOON, WEDNESDAY,4NOVEMBER. Please note: One entryper person.

2325399

FOR ALL YEAR ROUND COMFORT

Ducted heatpump/ air conditioningunit

•Whole home centralheating

and cooling

•Cost effectiveand energy

efficient

•Whisper quiet with discreetly

positioned ventsintorooms

•Can be installed in new homes

or retrofitted into existing

homes

PHONE 308 7182 ON CALL 021 597 517

211/D Alford Forest Rd,Ashburton

MAJORSUPPLIERS OF

HEATPUMPS

2325891
---
SPORT

24 Ashburton Courier, October 29, 2020

www.ashburtoncourier.co.nz

RESULTS

Wastebusters owner Brent McLaren with Mid Canterbury Rugby chief executive Ian Patterson.

Green waste to help junior sport

Wastebustersisencouraging

gardeners to bring green waste to its

Ashburton facility andhelp the

district's juniorsports at the same

time.

Forevery $8 spent discarding

green waste, Wastebusters is giving

customers atoken to put towards the

sport of their choice. When the token

box is full, the sport receives $500.

Wastebusters owners Brent

McLaren said rugby's box wasfull

just beforelockdown and wasfilling

fast asecond.

Mr McLaren handed over a

cheque for $500 to Mid Canterbury

Rugby Union boss IanPatterson,

with the money to be used

specifically for junior development.

Netball would receivethe same

amount next month and hockey$500

in December, he said.

Mr McLaren said he was keen to

see the green waste flow in to

Wastebusters, so thathecould then

continue to support local junior

sport.

There are 14 token boxes near the

weigh station each supporting sports

like football, cycling,rowing,

cricket, tennis, softball, swimming,

hockey andathletics.Someboxes

double up sports with less

participation numbers.

Mr McLaren saidseveral

commercial operators regularly

bought green waste to Wastebusters

and plenty of households had done

so after lockdown.

He said it was great to be helping

junior sport, especially when some

fundraising sources had dried up.

He was keen to see more businesses

jump on board with him, like Best

Signs haddonerecently.

MID CANTERBURY SOCIAL WHEELERS

McGee Summer Series No 1training ride:

1st Kyle Gray 23m 14s. F/T, 2nd Michael Gallagher 23m 14s. 2f/t,

3rd Mark Summerfield 23m 15s 3f/t, 4th Jelle Henriksen 23m 15s 4f/t,

5th Michelle Knight 25m 16s, 6th Don Morrison 28m 39s, 7th Anthony

White 27m56s, 8th Paul Summerfield 28m 31s, 9th Rachel Reid 28m

36s, 10th Brent Hudson 32m 37s, 11th Matt Marshall 25m 38s, 12th

Tony Ward 23m 49s, 13th Nick Grijns 25m 42s, 14th Brad Hudson 23m

55s, 15th Andy Skinner 30m 00s, 16th Debbie Skinner 30m 01s, 17th

Emma Hudson 27m 15s, 18th James Reid 34m 36s, 19th Chris Reid

34m 37s, 20th Nigel Chatterton 31m 34s.

ASHBURTON GOLF CLUB

Midlands Seed Friday teams results October 23

Top Team: Hunter &Collectors 92 -Lou Soal, Larry Watson, Denis

Stoddart, Brian Nuttall

Men: One Man Handicap 91, Hole in Nunes 90, Keith's Kids 89

Women: Lynn's Lassies 87

Mixed: Morning Wood 90, Ruralco 288

Top lady: Rhonda Gallagher 32

Top man: Denis Stoddart 35.5

Nearest the Pins:

Columbus Coffee –Andy Fallaver

Mac &Maggies –Denis Stoddart

Paul May Motor –Stewart Bennett

Gabites Ltd –Marilyn Walker

Twos: Warren McKenzie

ASHBURTON 9­HOLERS

Last week's play on Thursday was sponsored by Hotel Ashburton.

We played at Tinwald course because Ashburton Golf Club was closed

for maintenance work. The winner ofaHotel Ashburton voucher, with

the best nett score, was Colin Fleming (28).

On Saturday, Elaine King won the Harvey Bakehouse Stableford

match on countback from runners-upHughie Murchie and Sam Prince.

They all scored 18 points. Gavin Johnson came 4th with ascore of 17.

This week's sponsor on Thursday is Sega Golf -putting and next

week on November 5we'll play astroke round sponsored by Flowers

@the Gate by Tone'e. Saturday afternoon Stablefords are sponsored

by Harvey Bakehouse.

WAIREKA CROQUET CLUB

Waireka Croquet Club was well represented at SI Masters in

Timaru.

Medal winners:

Golf Croquet Singles: Bev Blair Gold, Eva Kircher Silver, Colin

Lamb Silver, Bill Allnutt Bronze, David Galvin Bronze

Golf Croquet Doubles: Bill Allnutt and Pat Alston Gold, Brian

Goodwin and Joy Hayes Gold, Sue Lamb and Eva Kircher Bronze, Bev

LePoidevin and Pauline Scott Bronze

Association Croquet medal winners:

Association Singles: RaylenePhillips Gold,Gail BensemanBronze

Association Doubles: Raylene Phillips and Jill Wilce Gold, Gail

Benseman Silver
---
www.ashburtoncourier.co.nz

TENNIS DRAW

NEWS

Ashburton Courier, October 29, 2020

25

Junior tennis -Round 2

Saturday 31 October 2020

All games to start at 9am sharp

Junior AGrade –Duty Team Allenton Moas

Hampstead Yellow vDorie Aat Hampstead;

Allenton Kiwis v Southern Shakers at Allenton;

AllentonMoas vSouthern Stars at ATTC;Methven

Silver vMethven Gold at Methven Domain; Dorie

Hampstead -BYE.

Junior BGrade

Southern Stormers v Allenton Fantails at

Hinds; Methven White v Allenton Kokakos at

ATTC; Allenton Wekas vMethven Black at ATTC.

Junior CGrade

Southern Skyrockets vAllenton Keas at ATTC;

Southern Strikers v Methven Red at Mayfield;

Allenton Rurus vMethven Blue at ATTC.

Please phone any defaults through to 308

3020 as soon as possible.

LOCAL LISTENING

International squash pro Daniel Sharplin and his wife Caroline and children Millie and Jacob

are looking forward to spending summer in New Zealand.

PHOTO SUPPLIED

Squashpro returning

homewithhis family

Hoops l 6am to 10am

TONI .WILLIAMS

@ashburtoncourier.co.nz

Covid­19 has forced internationalsquash

pro Daniel Sharplin to rethinkhis shorttermoptions.

The formerHindslad is returning to New

Zealand from the UnitedStates, along with

his British wife, Caroline, and children

Jacob, 15 and Millie,13, to take time out over

summer away fromthe globalpandemic.

They arrive in NewZealand on November

12 and will quarantine until November 26.

The familywill be based in Christchurch

andhavealreadylined up activities of

interest for the teens in thecity.

''The kids have not been at their school

since March (currently 100per cent online),

andthe school courts Iwork out of arestill

closedaswell.''

The childrenwereonthe computer each

day from 7.30am to 2.15pm, he said.

''We were in lockdownfrom March­July,

so Iwas unabletowork, at all, overthat

period.Although we are only 40 minutes

north of Boston, the rules vary from state­tostate

and the covid rates in NewHampshire

are nowhere near as bad as they are in

Massachusetts (Boston).

''Our socialactivitieshavedefinitely

declined and with many businesses closed,

or working at areduced capacity, it is all

verysad and depressing,'' Danielsaid.

''I am fortunatetobe working outofthree

local clubs right now, butitis definitely

challenging.Wehavebrutallycold and

snowywintershere. Fluseason is coming

and covid numbers are rising steadily each

week, with an expected second surge

approaching,''hesaid.

Daniel,aformer NewZealand

Commonwealth Games representative, has

beenliving in thestates for the past 19 years.

The familynow liveinAtkinson, New

Hampshire,population 7000.

He opened the SquashfitAcademyin2016,

coaching junior players from beginner

through to some of the elite players in the

country but also coachesthe Boys Varsity

Team at Nobel andGreenough School.

In recent years he has been contracted by

the US Squashtobeheadcoach of the New

England junior squad, madeupofthe best

junior players in thefive states ­

Massachusetts, Rhode Island, Vermont,

NewHampshire and Maine.

''The main focusofthe academy is to help

seriousplayers get recruited to play college

squash on teams at someofthe most

prestigiousuniversities in thecountry, such

as Harvard, Yale andPrinceton,'' he said.

''I am proudtosay we have helped many,

many playersrealise their dream of playing

college squash.''

Daniel has spent more time lately

coaching squash up to 30 hours aweek

rather thanplaying; his last competitive

tournament was theWorld Masters Champs

in 2018.

''I made it to the last 16, butthen pinged

my gracilis muscle in my leg and my

tournamentwas over,'' he said.

Buthedoes like to test himself in match

playagainst histwobestplayersaround

twice aweek.

''I am managing to hold them off, butitis

definitely getting harder,''hesaid.

It will be hischildren's first timetoNew

Zealand.

''They arenow at an agewhere they are

very interested and excited so we are really

looking forward to it. We feel like it will be

agreat life experience for us all to enjoy as

afamily,'' he said.

''Millie is anational­level artistic

swimmer who was asked to trial for the US

National U15 team. We have already found

acompetitive programme in Christchurch

for her and she is verymuch lookingforward

to competing in theNZNationals in mid­

December in Hamilton.''

''Jacobmadethe NewHampshire State

U15 soccer team this year,but basketball is

his number one passion. ''Heplays in year

round AAU Leagues and was recently

invited to attend acollege showcase event

that waslivestreamed to respectivecollege

coaches aroundthe country. He is also adiehard

BostonCeltics fan andwenormally go

to quite afew games, which is so much fun!

''Taking in all of these factors and having

not hadaNew Zealand summersince 1990,

we thought it was agreat opportunity for us

to expose thekidstodifferent training

philosophies and competition, meet new

and old friends, and basicallyjust enjoy the

New Zealand way of lifefor awhile.''

The Sharplins plan to be backinNew

Zealand over summer and will reassess

early next year.

''I will be running some summercamps

and trying to getout to some clubs in a

coaching rolefor MidlandsSquash while I

am home. We will be keeping an eye on what

is happeningback in the US and will

reassess things in February,'' he said.

They have chosen to base themselves in

Christchurch,asachance to have a''totally

different lifestyle for awhile''but are

already planning regular trips to visit

grandparents Dawn and NeilinAshburton.

''Welive in the woods in New Hampshire

so Carolinethought it would be fun to live in

the city and have atotally different lifestyle

for awhile.''

Daniel and Carolinemet in Luxembourg

in 1997 when he was the nationalcoach of

Luxembourg.

They got married in thecityinDecember

2000 and ayearlater moved to New York

beforeDaniel took ajob in Boston. Jacob

and Millie were born in the UnitedStates.

Featuring a Kiwi Gardener Magazine 6or12-month

subscription full ofadvice, gardens of the month, community

gardens and more and the Star Garden Book 18th

edition -trusted by South Island gardeners for over 100 years

this gardening combo is amust for any green thumb.

Save over10% on the RRPand get growing

with ourultimategardeningbundle!

2304063
---
CLUB NEWS

26 Ashburton Courier, October 29, 2020

www.ashburtoncourier.co.nz

LIONS CLUB OF

ASHBURTON

President Roger Paterson presided over a

good attendance for our club's annual quiz

night.

Special guest was Sir Richard Hadlee,

who joined us for tea at our usual venue Hotel

Ashburton. The meeting stood for aminute's

silence for the passing away of club member

Graeme Hathaway and President Roger

spoke of other club members' welfare.

Bruce Ferriman reported on the upcoming

golf tournament. Lists circulated included; club

visits, Guess Who's Coming to Dinner, playhouse

raffle and the use of the club's food

trailer being hired on Saturday 7November by

Talleys.

Ash Shah gave his three-minute speech

and commented on how he could not believe

to be dining with one of his icons Sir Richard

Hadlee. Coming from India, he took great

interest in his two other iconic Kiwis Sir

Edmund Hilary and Rachel Hunter!

The quiz, organised by Colin Morgan

proved very successful with club members

and Sir Richard Hadlee really enjoying the

relaxed atmosphere and fun component.

The Big Smoke Rural Folk sub-committee

met for apreliminary meeting regarding next

year's event. The Social Committee are

organising asocial gathering at the Hot Rod

Club on November 1.

The big ticket on the agenda for this month

was the club's annual golf tournament. Sir

Richard Hadlee's address was tremendous in

terms of content and amusing anecdotes

surrounding the game of cricket and players

especially at international level.

Two signed cricket bats were auctioned at

the breakfast and made avery good profit.

Following the breakfast Sir Richard was taken

to the Ashburton Aviation Museum and

received a personalised tour by museum

stalwart Warren Janett and Owen Moore

before Sir Richard played in the golf tournament

itself.

The golf tournament consisted ofapproximately

130 players and got under way at

11am with the rain 'holding off'. Organisers

John Richards, George Brown, and Bruce

Ferriman, along with agood backup committee,

were delighted withthe way the day went.

The beneficiaries, the Chris Ruth Trust,

the Mountain Bike Park, and the Ashburton

Lions Club Charitable Trust would each

benefit approximately $5000.

Players came from all over Canterbury to

participate in the tournament which was won

by Emily Wilson on45Stableford points, with

Murray Wackrow and Sam Luscombe second

equal on 39 points.

Richard Hadlee teamed up with John

Richards, tournament sponsors Darryl Philips

from Darryl Philips Motors and Peter Lund of

Midland Seeds. There is ashort video about

the golf tournament available on the Ashburton

Courier website.

ASHBURTON

WOODWORKERS

Dave Strong welcomed guest demonstrator

Adriaan Slooten from the Timaru

Woodworkers Club along with the 20 club

members.

Show and Tell

Geoff Brown: mulberry bowl.

Dave Strong: aDspade handle.

RogerScammell: two jewellery boxes, one

with inlaid sections.

Kevin Challis: bowl, ash table.

Chris Thompson: two examplesofaLionel

Jeffcote items to be re-furbished.

Adriaan Slooten: several examples of a

wavy vase, egg cups.

Wim Melchers: a completed laburnum

bowl with mushrooms.

Adriaan Slooten then demonstrated how

he creates egg cups, vaseswith awavy line at

some point inablock of wood. He cut acurve

in a block of wood then a thin section of

contrasting wood on the band saw.

Placing a moist paper towel this thin

section was placed in the micro wave for

approximately 20 seconds sothat it's more

flexible then glued between these two blocks

and clamped tight, overnight.

For the purpose of the demo he had

another on hand which he proceeded to place

one end in achuck and turn as normal.

Using a gouge with a steep bevel he

hollowed one end with the aid of a small

cardboard template until the correct shape

was created. Having the measurements of a

previous egg cup he transferred those onto

this example and proceeded tochisel away

the unnecessary wood.

To get the desired diameter calipers were

used, as shown in the photo below. Asimple

method to create interest and wonder. Wonder,

how wood you do that to achieve a

container like that? Thanks Adriaan, asimple

solution for an effective look.

ALLENTON BOWLS

Another busy week at the club, and for its

members as they played tournaments on other

greens. We have double highlights this week

for the men the O'Connor brothers playing so

well for Cory to win the colts singles, and Jock

to be runner upinthe junior. Very well done

lads.

The ladies also did well with winningofthe

sevens and the junior fours. The highlight for

the ladies would be Melva Middleton's team of

Linda Osborne, Marg Tonks and Donalda

Watson winning the Murton Cup at Rakaia

only two team had three wins. Fantastic effort

ladies.

Our Friday triples was played on a

beautiful sunny afternoon and the green ran

beautifully; half of the teams drew the allweather

green and the rest the grass, agreat

afternoon ofbowls was had by all.

Winners were JSmart, JRyk, AMcKenzie

3wins 19 ends, 2nd GDowie, BHoldom, M.

Foggo 3 wins 39 points, 3rd D Kinvig, D

Prendergast ,PQuinn 3wins 30 points, 4th G

Eder, M Eder, W Lee, 5th M Anderson, J

Kewish, G. Crack.

We are delighted to see the Ashburton

club enjoying our greens and thank you for

your support. The school pupil have returned

twice and the improvement in their play was

amazing thankstothe men for giving their time

so willingly.

Progressive pairs again was well supported.

Leads winner was Steve Bradshaw 3wins

16 ends, 2nd Des Schmack 3wins 15 ends.

That was close!

Skips John Bruce 3 wins, 2nd Doug

Thorne 2wins.

Keep those championship games going.

The date line appears to be working.

The Cartwright club drawn triples has

been rescheduled to Thursday October 29,

12.30 start, names to go on the board please.

The women's fives start this Wednesday,

teams have been notified. Good bowls to you

all and enjoy this competition.

Men's interclub starts Saturday October

31, as does the under 5s triples and women's

2x4 pennants these are all 9am start.

So great bowling to you all.

ASHBURTON

BOWLING

CLUB

Avery busy week has passed, finishing

yesterday at Hinds.

The Ashburton Ladies Championship

fours was won this week by DGutberlet, D

King, WSuttie, SMaw with two lives and the

runners up were played for over 11 ends on

Tuesday. The runners up for the Championship

Triples (winners reported last week) will

be played for at alater date.

Friday Triples onOctober 23 was played

at Allenton in bright sunshine. Ashburton

teams just about swept the board, taking all

but 2nd place. 1st - J Smart, J Ryk, A

McKenzie, 3wins; 3rd –DKinvig, PQuinn, D

Prendergast, 3wins; 4th –GEder, MEder, W

Lee, 2 wins,1 draw; 5th – M Anderson, G

Crack, JKewish, 2wins. Well done everyone.

Also on Friday, Ashburton's DGutberlet

and WSuttie, with DCallaghan (Methven),

were second in the Papanui Club ladies triples

in Christchurch.

On Saturday (a cracking day!) we had our

in-house Ingold Tray Club competition, on our

one available green, and overseen by our

President, Diane. The winners were JSmart's

team with HGoodall, MWatson, OGray, 3

wins, 16 ends, 33 points. 2nd were AHill's

team of JKewish, CCross, GCrack, 2wins,

16 ends, 33points and 3rd were RHerriott's

team of ABlain, KMuir, JMills, 2wins, 11

ends, 28points. Well done everyone! And so

agood time was had by one and all!

On Labour Weekend Sunday in the Gill

Trophy FoursatHinds, three Ashburton teams

took part, plus one of our ladies was in a

composite side. My goodness did that nor'wester

blow! But struggling through to 3rd place

with 3wins were GEder's team with JSmart,

H Goodall, W Lee. So more success for

Ashburton during the past week!

The thing is to keep it up! Good bowling

everyone!

NEIGHBOURHOOD

SUPPORT

The Annual General Meeting of the

Ashburton District Neighbourhood Support Inc

was held recently. The President, Veronica

Rabbitt welcomed all the people present.

The minutes of the annual general meeting

held on Thursday 24 October, 2019 at 2pm

were read and confirmed as a true and

accurate record.

Chairperson's Report: The report was

read out by Veronica Rabbitt. It was adifferent

year with Covid19. Christine Richard retired as

co-ordinator in August. The new co-ordinator

will be beginning in December.

The Reviewed Financial Accounts for 12

months ended 30 June 2020 were presented

by Rae Magson.

Appointment of Officers:

Kevin Clifford took the Chairand asked for

nominations.

Veronica Rabbitt, Jill Newton, Noel Batty

and Roger Lake were nominated and reelected

to the board.

The following representatives were reelected:

Safer Ashburton District Representative -

Kevin Clifford

Civil Defence Representative, still to be

advised

There were no further nominations.

The Secretary/Treasurer is Rae Magson.

Kevin was thanked for chairing the Appointment

of Officers.

The guest speaker, Pup Chamberlain was

introduced.Hespoke on Lives Worth Living, a

suicide prevention initiative. 18-24 year olds

are the biggest group for taking their own lives.

He works in partnership with Connie Quigley

and this works well. He has a Police

background. Thecommunity is very generous,

at the present time trainers are being trained.

Representatives from social, health and

other community agencies and groups came

together in July to sign acharter and to launch

the Mid Canterbury Suicide Prevention/

Postvention Network. The charter commits

agencies to working together on promoting

wellbeing and resilience and ultimately on

reducing the incidence of suicide in thedistrict.

Veronica thanked Pup for his address and

thanked everyone for attending.

Awards, guest speaker

at vintage car club dinner

The AshburtonVintage Car Clubannual

dinnerwas atriumphafterayearthat

saw covid putadampener on many of its

activities,including theannualswap

meet thattraditionallykicks offWheels

Week.

Membersgathered to feast andhear

fromguest speaker Greg Roadley,who

recounted his experience of competing

in and completing the6633 Arctic Ultra,

oneofthe coldest and longest

ultramarathonsonearth.

He alsohad the privilege of presenting

awards to three vintage car club

members.

Ron Galletlyand Ian Johnsonboth

received long service awards.Ron's

membershipspans an incredible 60

years and Ian hasbelongedtothe club

for 25 years.

The workdonebyRon Winchester on

his 1969 Rover3.5 Coupe earned himthe

Restoration of the Year Award.

Arctic adventurer Greg Roadley (left)

presents an award to Ron Galletly,

honouring 60 years service with the

Ashburton Vintage Car Club.
---
LANDLORD

ACADEMY

SERIES

As landlords' legislativerequirements continue to

increasesotoo does the risk of potentialfines that

are possible –and these fines arebecoming more and

more significantaseach new changecomes into force.

The first step towardsremoving your riskand

meetingcomplianceisthrough education and

understanding –and that'swhere we are here tohelp.

Across NewZealand we manage more than 19,000

propertieswithanassetvalue of over$12 billion–it's

our jobtoknowwhat's coming andtohelp prepare

our landlords for change.

The waywesee it, if we canhelp providefree

education and tools to help landlords manage this

change, then not only is your risk removedbut your

tenants alsosee betteroutcomes themselves –it'sa

win-winfor everyone!

Register Today

landlordacademy.co.nz

November2020 -EveryThursday at 7:00pm

Register for the RayWhite LandlordAcademytojoin, watch,

and participate in your free LandlordAcademy education series!

RayWhite Property Management

Ashburton

96 TancredStreet

Ashburton

03 307 8317

rwashburton.co.nz

ashburton.nz@raywhite.com

Tinwald

117a Archibald Street

Tinwald

03 307 8317

rwashburton.co.nz

ashburton.nz@raywhite.com

Methven

4/36 McMillan Street

Methven

03 303 3032

rwashburton.co.nz

ashburton.nz@raywhite.com

Real Estate Mid Canterbury Property LimitedLicensed (REAA 2008)
---
SATURDAY 31ST OCTOBER

4/260 Cameron Street,Ashburton 9:45-10:15am 2 1 1 AHB22954

794 East Street,Ashburton 10:00-10:30am 3 1 3 AHB22885

9Wakanui Road, Ashburton 10:00-10:30am 3 1 2 AHB22038

74 Melcombe Street,Tinwald 10:15-10:45am 3 1 3 AHB22942

10 Rolleston Street, Rakaia 10:30-11:00am 3 1 2 AHB22940

68 Cambridge Street, Ashburton 10:30-11:00am 3 1 2 AHB22921

8Galbraith Street,Ashburton 11:00-11:30am 3 1 4 AHB22935

4Blackford Street, Methven 11:00-12:00pm 7 3 3 AHB22671

47 Johnstone Street,Tinwald 11:15-11:45am 3 1 2 AHB22913

61 Bridge Street,Ashburton 12:00-12:30pm 3 1 3 AHB22931

15 Cambridge Street, Ashburton 12:15-12:45pm 2 1 2 AHB22932

16 Cross Street,Ashburton 12:45-1:15pm 3 1 1 AHB22918

58 Creek Road, Ashburton 1:30-2:00pm 3 2 2 AHB22514

18 Wakanui Road, Ashburton 2:15-2:45pm 3 1 3 AHB22929

SUNDAY 1STNOVEMBER

NO OPEN HOMES TODAY

8Galbraith Street, Ashburton

*Large 12m X9mgaragewith toilet and storeroom

*3double bedrooms plus office

*Separate lounge, Compliant log fire

*HRV and heat transfersystem

*Double glazing throughout except fortwo bedrooms

Lovely family home that has three double bedrooms,

aseparate office, newkitchen and lovely large lounge

with acompliant log fire. Ample storage throughout plus

awalk-in storage room handy to the back door forall

those larger items. Renovated bathroom with wet floor

area &tiling.

rwashburton.co.nz/AHB22935

Real Estate Mid Canterbury Property Limited Licensed (REAA 2008)

ForSale

Enquiries over$442,000

View

Saturday11:00 -11:30am

3 1 4

BruceMcPherson

027 438 4250

Denise McPherson

027 242 7677

Real Estate Mid Canterbury Property Limited Licensed REAA (2008)

View our listings online at: rwashashburton.co.nz

Open Home

18 Wakanui Road, Ashburton

What awonderful option here for first home buyers or

rental investors.The vendor has moved on&has left this

lovely home in super presentation. It has had the fixed floor

coverings replaced, with NewCarpet &Vinyl throughout.

TheRoofand guttering have beenReplaced, the Kitchen updated

including amodern under bench oven.

rwashburton.co.nz/AHB22929

Real Estate Mid Canterbury Property Limited Licensed (REAA 2008)

ForSale

Offers over $329,000

View

Saturday2:15 -2:45pm

3 1 3

Armand vander Eik

021 597 527

10 Rolleston Street, Rakaia

22 Nixon Street, Tinwald

3 1 2

Home buyers opportunity-Don't delay!

Priced to attract instant attention.

*Brand newcarpet, Newwood panelled kitchen floor

*Spa bath (there isaWOW factor)

*Repainted interior. Mostly aluminum windows

rwashburton.co.nz/AHB22947

Real Estate Mid Canterbury Property Limited Licensed (REAA 2008)

ForSale

Offers over$290,000

View

Saturday10:30 -11:00am

Mike Grant ncre

021 272 0202

*Packed full of living spacewith bonus conservatory.

*CompliantWoodfire, floor heatpump, Heat transfer,

Double Batts.

*3 double bedroom, master with walk in Robe and attached

bathroom.

*Cooks kitchen with Wall oven, ceramic hob, Huge Pantry.

rwashburton.co.nz/AHB2924

Real Estate Mid Canterbury Property Limited Licensed (REAA 2008)

ForSale

Price onapplication

View

by appointment

Chrissy Milne

027 290 6606

Kim Miller

Sales Consultant

027 236 8627

Denise Russell

Sales Consultant

0274 329 717

ChrissyMilne

Sales Consultant

027 236 8627

Cheryl Fowler

Sales Consultant

027 461 2614

Margaret Feiss

Sales Consultant

021 751 009

ShirleyFitzgerald

Sales Consultant

027 220 1528

Denise McPherson

Sales Consultant

027 242 7677

Janene McDowell

Property Manager

027 287 3388

Armand vander Eik

Sales Consultant

021 597 527

Lynne Bridge

Sales Consultant

027 410 6216

Mike Grant ncre

Sales Consultant

021 272 0202

Mark Totty

Sales Consultant

021 664 113

BruceMcPherson

Sales Consultant

027 438 4250

JustinWaddell

Sales Consultant

027 437 1111

Carey VonLubke

Property Manager

027 697 6948

96 TancredStreet, Ashburton 03 307 8317 Main Road,Tinwald 03 307 8317

rwashburton.co.nz

36 McMillan Street,Methven 03 303 3032
---
trusted

2020 GUIDE

trades &services

To book your spaceinthis guide,phone KarenGane 308 7664 or email karen.gane@ashburtoncourier.co.nz

2317576

Need storage?

we CAN STORE it!

Convenient, affordable

self storage solution

Phone 307 0213

•185 Alford Forest Road •behind

2291039

FREE LEGAL HELP

Helpinperson by appointment

Thursday9.15am -1.45pm

Ph 0508 CANLAW

(0508 226 529) to makean

appointment.

Helpbyphone Infoline

03 371 3819 or 0508 226 529

215 Tancred Street,Ashburton

2291052

RESIDENTIAL &

COMMERCIAL SPECIALISTS

Phone Quentin andPhilon

027 282 8908 or 027 2828909

Interior and Exterior Painting

Interior Plastering

Wallpapering

2291026

PROFESSIONAL

PORTRAIT AND

COMMERCIAL

PHOTOGRAPHER

PICTURE FRAMING

GALLERY &STUDIO

179WEST STREET

0800 881122

emmily@emmilyharmer.co.nz

www.emmilyharmer.co.nz

2326656

JukeBox Hire

Weddings,21st,

PrivateFunctions

Sound Systems &Lighting Hire

Phone DJ Dave

03 308 5106

027 251 0015

www.soundmanagement.co.nz

2305407

Lubes WOF

Allmechanical repairs

TRIANGLE

GARAGE LTD

Victoria Street,

TheTriangle,Ashburton

Phone: (03) 308 6772

2291183

GODSELL

BRICKLAYING

•Houses

•Feature Walls

•Fences

•Blocklaying

Chris Godsell

027 274 2533

AH 308 7117

godsell@xtra.co.nz

2291204

BUS WITH ATOMIC&SAVE

CHC CHC ASH DN

Book online

atomictravel.co.nz

Phone021-0867-6001

Bus Service-Charters

2318478

FOR ALL YOUR

ADVERTISING

REQUIREMENTS,

GIVE

Jann or Karen

acall on

308 7664

We offer the following:

• Gutter and DownpipeCleaning • Weed Spraying

• Moss,Mould andLichen Spraying • Spider Proofing

• Gorse and BroomSpraying • FenceLineSpraying

• Chimney/Flue Cleaning $75 • Heat Pump Service$90

MENTION THIS AD WHEN BOOKING FOR A10% DISCOUNT

ON GUTTER AND DOWNPIPE CLEANING

Call Allan on 027 209 5026 an let us know howwecan help

2290907

115 Archibald Street,Tinwald,Ashburton

Phone /Fax: (03) 307 2354

Email tincanup@xtra.co.nz www.tinwaldcanvas.co.nz

2293200

2297507

•

•

•

•New builds •Renovations

•All types of engineering

•Small or large projects

Rob021 124 4268 l Sam022 5428927

email: robsue@hotmail.co.nz

Restoration

2287935

Modifications Repairs

16 Cass Street,Ashburton l 03 308 0387

johnsons.panelpaint@gmail.com

Shane James Contracting

•FIREWOOD

TREES WANTED

•Hedgerow removal

•Rootraking

•Conversions

•Money backonmillablelogs

PHONE SHANE 027611 3334

2306712

2319700

ASHBURTON

GLASS LTD

Experts in glass

308-3918

214Wills Street

Ashburton

www.ashburtonglass.co.nz

office@ashburtonglass.co.nz

UNDER NEW LOCAL OWNERSHIP

ALL THINGS CANVAS &PVC

*Awnings/Shade sails/Dropblinds*Auto seat covers &repairs

*Hay &bin covers *PVC covers &repairs

*Ute tonneau covers *Furnitureupholsteryrepairs

*Commercial

PHONE TRAVIS HOWDEN 027 922 4544

2291092

Your Digital

TV Experts

• Aerial/Dish installations and repairs

• Prewirefor TV/Audio and controlsystems

• TV wall mounting • Cell phone aerials

• Home theatreinstallation

• Authorised SkyTVtechnician

Servicing

Ashburton Geraldine

Methven Rakaia

andeverywhereinbetween

ASHBURTON

TV &AUDIO

PH 308 7332 /027 277 1062

ashburtontvandaudioltd.co.nz

2300244
---
trusted

2020 GUIDE

trades &services

To book your spaceinthis guide,phone KarenGane 308 7664 or email karen.gane@ashburtoncourier.co.nz

2291175 2291153

NEATGARDENS

Does your garden need monthly

maintenancetokeep it tidy and

looking good through the seasons?

Or perhaps just need aone off tidy

or pruning completed?

We can help!

Allgarden wasteremoved

ContactCAROLYN Phone: 027 2675403 or 3082333

Email: cccolt@xtra.co.nz

2291098

We service and repair all makes and models

of sewing machines and overlockers

Your local Bernina

service team

John Robbie Rachel

OPEN 7DAYS9.30am -4.30pm

Main South Road, Tinwald Ashburton | Phone 307 6277

www.anniesquilts.co.nz

2293205

"we clean to a

standard,

not aprice"

UNDER NEWAshburton

OWNERSHIP

Same exceptional CleaningServices

level of service

&quality cleaning

• regular full house cleans

• one off spring cleans

• farm houses

• builders cleans

•

100% LOCAL

03 307 2656

www.ashburtoncleaning.co.nz

2300233

Ashb

hbut

rton,R Rolles

leston

ton&Ch

Chrit

ist chu rch

•Paving •Irrigation •Lawns

•Planting •Fences •Pergolas

•Water features •Outdoor fires

•Raised planters •Decks

•Stonework•Brick &blockwork

•Artificialgrass and more...

Email –Aaron@theoutdoorspace.co.nz

Phone0800 688 365 /021 542 402

www.theoutdoorspace.co.nz

2299882

4WD Diesel &ElectricScissorlifts

Rough terrain and electric lifts available

On site collection or deliveryavailable

Nowat6Range 403 West Street St,Riverside

PO Box 60, Ashburton 7740

Phone: 03 308 8155

Mobile: 0273 529909

Email:sales@nee.kiwi.nz

FOR ALL YOUR ADVERTISING

REQUIREMENTS, GIVE

Jann or Karen acallon

308 7664

2291143

Forall your tyre requirements,

see the localexperts

•Wheel alignments

•Wheel balancing

197 Wills Street,Ashburton l www.neumannstyres.co.nz

Phone 03 308 6737 (24 hrs –after hours call out applies)

WILSONS

WINDSCREENS

WE WELCOME ZEK

FROM WINSTONES

TO JOIN OUR TEAM

We areyour one stop glass shop for

AUTO and HOUSE

2306405

Diamond Painters and

Decorators Ltd

Qualityinterior and exterior

painting and decorating

• Wall papering • Airless spraying

• Waterblasting • Residential and small commercial

• Roof painting • Freenoobligation quotes

Gutterguardinstallation and gutter cleaning

Phone Duncan 027 370 2453 l Jeanette 027 318 5055

email: diamondpaintersdecorators@gmail.com

Letthe team at

Insideout takecareof

all your painting and

property maintenance

• Painting

• Carpentry

• Renovations

• Projectwisdom

• Maintenance&repairs

2309399

REPAIR or REPLACE 152 Wills Street,

"Your placeorours"

2291191

Ashburton

Ph.308 8485

2010 LTD

Call Shanetodayon03307 7071

2319703

GREAT

RATES

PC Repairs, Set-up and Tutoring

Icome to youday or evening!

NewPCs

and Laptops

forsale

•PCRepairs/Sales •Networks/Servers

•Firewalls/Security •Spyware Clean-up •Training

20 YearsExperience Microso Cerfied Professional

NETWORKS FIREWALLS AND PCS LTD

Robin Johnstone 67 Aitken Street, Ashburton

P: 03 308 1440 C: 027 768 4058

robinbj@xtra.co.nz

2291109

ashburtoncranes2015@gmail.com

Solar powerwhenyou need it most

We are experts at installing solar

power systems for motorhomes.

• SOLAR PANELS • BATTERIES • DC MANAGEMENT

• CAMERAS • TV SATELLITE • PUMPS • REFRIGERATION

AAA

Solar

&SUN POWERPLUS

South Island

4McGregorLaneAshburton

03 307 4777 -027 4423103

ashsolarpower@xtra.co.nz

aasolarsouthisland.co.nz

2291014

2290923

Once younoticeit,

ovus it

On-sitecameracalibration

Courtesy car available

Stone chips while youwait

Mention this advertatyour next repair and receive

Novus glass cleaner FREE

65 South Street,Ashburton7700

Phone 307 4413

ashburton@novus.co.nz

2302792
---
www.ashburtoncourier.co.nz

Wearable arts

at Netherby

Senior students at

Netherby School

have created and

paradedsome

impressive

costumes at a

wearable arts

showcase.

The event was

heldin the school

hallandstudents

spent many hours

creating, writing

and orating their

magnificent

costumes.

The wearablearts

showwas

postponed because

of covid, butdrewa

afull house last

week.

The event

included music,

dance andaproper

catwalkfor all

senior studentsto

showcase their

clever creations.

They drew on the

curriculum and

focused on

elements like

language,pose,

dance and

movement, rhythm

and beat, oration,

design and

measuring.

Schoolprincipal

PhilWheelersaid

the wearable arts

projecthad been

highly engaging for

all children.

The theme was

based on re­using,

upcycling

discarded clothing,

paper andplastic

waste and creating

wearable art with it.

The children had

thoroughly enjoyed

the entireprocess,

he said.

ECan still dealing

with legacy issues

Dealing with arange of historic

legacy issues is one of the most

difficult tasks Environment

Canterbury (ECan) faces

around the region, says chair

Jenny Hughey.

They were problems

Cantabrians and councils had

been unable to sort out and

caused by actions taken some

time ago.

They are stilltickingaway in

the background and,

unfortunately, are unlikelyto

go away any timesoon, she

said.

''By legacy issues, we mostly

mean sites thatpose an

environmental and/or safety

and health risk to others,

especially hazardous or

contaminated sitessuch as old

community landfills, tyre piles,

and toxic substance dumps.

''The soils and wateraround

thesesites may be highly

contaminated by poisonous

substances that have been

leaching from old paint tins,

enginebatteries, animal

Anya Walker walks down the catwalk in her

wearable arts costume.

In this Eiffel Tower creation is Ruby

Bartlett.

carcasses and the like over

many decades.

''There are also sites where

dangerouschemicals were

once used in the forestry and

horticulture industries, or

whereold asbestos has been

dumped, at whichthe ground

remains poisoned and posesa

potential health risk.

Mrs Hughes said there were

good recordsofwherethe

legacy issues and sites were

across the region.

The ECan websiteincluded a

listed land use register and a

series of technical reports on

contamination –information

whichhas been collected and

verifiedfor manyyears.

However there are always

goingtobesome nasty

surprises as new legacy­issue

siteswere revealed while

others were resolved.

''We are working hardon

resolving all our known issues,

but it will be along timebefore

we can say, with any great

confidence, "case closed".

ALTERATIONS. Sewing,

mending and trouser hemming,

curtain alterations

and curtain making. Call

Michelle on 027 352 7248.

BUILDER - specialising in

home renovations and

repair work. We also do

decks, fences and retaining,

plastering and painting,

gardening, landscaping

and tree removal. Call

Gavin 021 267 1979

BUILDING and property

solutions. For your complete

alteration or renovation.

We project manage

the whole process. Home

and small commercial.

Qualified tradesmen.

Phone Kiwi Building &

Maintenance Ltd. Ph Cawte

027 418 7955 or Gary 308

4798, 027 207 1478.

CARPET cleaning. Powerful

equipment and fast drying.

Upholstery, mats and rugs.

Experienced owner/operator.

Phone John Cameron

at Supersucker. 027 435

1042 or 308 1677

CARR'S Chimney Cleaning,

servicing Ashburton and

surrounding districts, $60

per chimney. Phone

Rodney on 03 324 2999

and leave amessage.

CHARLIE'S Blind Cleaning

Service -same day service

and repairs. Charlie can

supply new blinds and

tracks, will hang drapes. Ph

03 307 1936 or 020 4169

0342

COMPUTER Problems? For

prompt reliable computer

servicing and laser engraving,

contact Kelvin, KJB

Systems Ltd, 4 Ascot

Place, Ashburton. Phone

308 8989. SuperGold discount

card accepted.

COMPUTER repairs, sales,

training, setup wirelessnetworks,

spyware

cleanup. On-site day or

evening. Low fees. Call

Robin Johnstone, Networks

Firewalls and PC's Ltd, 308

1440 or 027 768 4058

CONCRETE pavers direct to

you - Best prices, many

sizes, textures and colours

- Paveco, 13 Robinson

Street, Industrial Estate.

CONCRETE Services -

Driveways, paths, patios,

mowing edging. Decorative

Concrete specialist 30

years servicing Canterbury.

Free quotes. No job too big

or small. Phone Paul 021

152 1966.

DEMOLITION Commercial,

Industrial, Residential. Also

country wide farm buildings

and houses. No charge for

farmers. Phone 027 4052

391

SPACE available for next

weeks Courier -bequick!

Talk to us about your advertising

requirements. Phone

308 7664 or call into our

office at 199 Burnett Street,

Ashburton.

CLASSIFIEDS

Ashburton Courier, October 29, 2020

www.coffeys.co.nz 0800 263 339

31

METHVEN:LARGE FREEHOLDPROPERTYINTHE HEART OF THE VILLAGE

LAND,BUILDINGS ANDBUSINESS:PRICE BY NEGOTIATION

Opportunityknocks here. Overseasvendorswantsold! 4,918sqm siteontwo titles,zoned Business Cinthe heart

of the village.Along-termregistered lease in place, offered as apassiveinvestment. Thebusiness is also available,

so the freehold going concernoption opens up morepossibilities.

Operating successfully as alodge and campground,thereappears to be untapped potential in the land and

buildings currently not all fully utilised.Construction has startedonthe new Methvenhot pools and waterpark

facilities.https://opuke.co.nz.

Ph: John Connelly DDI: 03 550 0520 M: 021 880 881

Ref #1993

2327662

DENTURES; Dr Peter

Rumping repairs existing

dentures and also provides

new dentures. Phone 027

220 9997

ENGINEERING repairs, fabrication,

farm equipment

service and maintenance,

WOF repairs, machining

and welding. Odd jobs a

speciality. Mobile workshop.

Can collect. Phone

Malcolm 0274 754 241

FLY control and spider

proofing. For all domestic

and industrial pest control

needs phone AJ Kerr at

Ashburton Pest Control on

03 308 8147 or 027 432

5447.

FURNITURE Removals. For

all your household removal

needs - urban, rural lifestyle,

office relocations -

call Nudges Furniture

Removals, phone 027 224

0609

TRADE &SERVICES

GARDENING, mowing,

pruning, fertilising, projects

or general spruce ups? Call

Andrew at Spruce Gardens SMITHY'S

to get the job done right.

027 765 2899 or 03 307 1693.

sprucegardens@xtra.co.nz

GUTTER cleaning. Book in a

clean now and tell me when

you want the job done. You

may have trees around.

Call Allan 027 209 5026

LOOKING to earn extra

money, even while you're

out walking? Delivery

people required. Phone

The Courier 308 7664.

INTERIOR

PLASTERING

New or existing,

level 4finish, full skim

plaster or repairs

The Finishing Company

03 307 8870 2318400

LAWN Mowing. No job too

small. Call Les Smith, From

The Ground Up, for a

competitve quote. Ph 027

840 0201 or 03 308 1500

LOCKSMITH/Door repairs.

Keys/locks, sliding and bifold

door roller repairs.

Mobile service. Call Nigel at

Doors and More. Ph 027

516 7104

PAINTER for all your painting

needs. No job too small,

inside or outside. Professional

friendly service.

Phone Pete 03 308 1672 or

027 200 1619.

Watchmaker,

clock repairs, 60 years in

the trade. Free pick up and

drop off in town boundary.

Please note: cell phone

number only 0274 078 574

SUN Control Window Tinting:

Privacy, UV, glare, heat

control for homes, offices

and cars. Phone Craig

Rogers 307 6347, member

Master Tinters NZ. www.

windowtinter.co.nz

TINT-A-WINDOW, fade, UV

block, glare, heat control,

safety, security, privacy,

frosting films, solar protective

window films. Free

quotes, 20 years local service.

Phone 0800 368 468

now, Bill Breukelaar, www.

tintawindow.co.nz

Do youwantyour advertising

to have

IMPACT?

Contactone of our

friendly advertising

consultants to

arrange display

advertising that

can give your

business aboost!

Jann Thompson

Phone (03) 308 7664

E: jann.thompson@ashburtoncourier.co.nz

KarenGane

Phone (03) 308 7664

E: karen.gane@ashburtoncourier.co.nz

TRAVEL

DAY Outing, November 4;

Visiting Gemstones,

Fossils Mueseum, Birdlings

Flat. Includes caoch,

pickup, lunch, admissions.

John and Kathleen Lawler,

Rakaia. Ph 302 7328

NELSON, Picton, January

10-14; DBB hotels; Farewell

Spit, Founders Park,

Broadgreen House, Queen

Charlotte Sound Mailboat,

Omaka Aviation Centre,

John and Kathleen Lawler,

Rakaia. Ph 03 302 7328

GARAGE SALES

NEWLANDS Truck Bay, 80

Kermode St, Saturday 31

October, 8am-12noon.

Bargains from $2. Automotive

parts and accessories,

Tools, Cables,

Lighting, Power tool parts

and accessories.

MAKE money selling your

unwanted items. Up to 24

words for only $8. Can't get

better than that. The Courier.

2279628
---
CLASSIFIEDS

32 Ashburton Courier, October 29, 2020

BUSINESS OWNERS

Build customers,sales and

profits,with us ...

Over 16,065 copies delivered everyThursday

PRINT, ONLINE ANDMOBILE 24/7

ENTERTAINMENT

THIS SATURDAY

ELVIS

www.ashburtoncourier.co.nz

FOR LEASE

AWESOME office space for

lease, rent or hire. Parklike

setting. Indoor and outdoor

areas. North West

town boundary. Must view.

Phone 0274 754 241

RENT ME!

2322207

CROSSWORD

QUICK PUZZLE NO. 8589

ACROSS

1. Scented (8)

6. Vessel (4)

8. Needy(4)

9. Rhyme (8)

10. Thieve (5)

11. Leisure (6)

13. Seem (6)

15. Kind (6)

17. Purchased (6)

19. Sudden (5)

22. Rather (8)

23. Soggy (4)

24. Rhythm (4)

25. Inclination (8)

DOWN

2. Perch (5)

3. Rubbish(7)

4. Competent (4)

5. Fruit (8)

6. Fragment (5)

7. Tooth (7)

12. Note (8)

14. Intend (7)

16. Nonsense (7)

18. Wonderful (5)

20. Funny (5)

21. Daze (4)

CRYPTIC PUZZLE NO. 8589

ACROSS

1. Got the boat tied up at one end, somehow (8). 6. Play

for the singer (4). 8. What'sinthe trunk, would you say?

(4). 9. Quickly change mine round? Not I(2,2,4). 10.

Hides fromthe relations on board(5). 11.Get back flushed,

Ihave toadd (6). 13. It's through getting stuck in arut,

man! (6). 15. May be stingy, which does annoy one (6).

17. "End of drought" put in big headlines (6). 19. Are too

tight, but only avery little (5). 22. Oil, Oil! What asurprise!

(4,4). 23. The buffet is abig disappointment (4). 24

Utter fool to make by hand (4). 25. Lessen when you put

in an order (8).

DOWN

2. Stand in the water (5). 3. Slow, also, to pay up (7). 4.

Catch the man up at leatherhead (4). 5. In such abattle,

cananyone chime in? (4-4). 6. The relations started to get

agitated afterwards (5). 7. Deduction as to what the van is

for (7). 12. He is coming in to attend finally (2,3,3). 14. A

petmenucompiled for hosts (7). 16. The belt wound round

him is aprotection (7). 18. Give out when atax is raised

(5). 20. Grumpy when you thwart? (5). 21. Pa took him

out to see the palace (4).

SUDOKU

EASY No. 5240

5

6 2 8 3 7

4 5 1

6 1 4

1 8 2 6

2 9 8

9 2 7

3 7 2 1 6

3

Solution to previous Sudoku

Howto

solve

Sudoku!

Fill the grid

so thatevery

rowand every

3x3 square

contains the

digitals 1to9

6 1 5 4 3 9 8 7 2

2 3 7 8 6 5 9 4 1

9 4 8 7 1 2 3 6 5

7 6 1 3 9 4 5 2 8

4 5 9 6 2 8 1 3 7

3 8 2 5 7 1 6 9 4

8 9 3 2 5 7 4 1 6

5 7 6 1 4 3 2 8 9

1 2 4 9 8 6 7 5 3

Solution to previous crossword

QUICK PUZZLE NO. 8588 -SOLUTIONS

Across -1,Cock. 7, Incorrect. 8, Alas. 9, Mend. 10, Ball.

11, Seep. 14, Understand. 16, Negligible. 19, Rock. 22,

Stir.24, Vine. 25, Mere. 26, Gibberish. 27, Stud.

Down -1,Class. 2, Chafe. 3, Intend. 4, Wonder.5,Drub.

6, Icelandic. 12, Eccentric. 13, Pull. 15, Tier.17, Govern.

18, Banish. 20, Overt. 21, Knead. 23, Ruby.

CRYPTIC PUZZLE NO. 8588 -SOLUTIONS

Across -1,Ac-RE. 7,T-wo h-alves. 8, Iris (anag.). 9,

(La)Plan(d). 10, Taut (taught). 11,Uses (anag.). 14, The-

RE the-RE. 16, Spirit lamp. 19, Eats. 22, Left. 24, Pack.

25, T-r-I-o. 26, Look after.27, Den-Y.

Down -1,Adieu. 2, Rh-in-e. 3, Twelve. 4, Change. 5,

Plot. 6, Re-current. 12, Simple-ton. 13, Star. 15, Hope.

17, Tip-off. 18, Arc-her. 20, Agree. 21, Stony. 23, Take(ep).

ContactJann Thompson 03 308 7664 jann.thompson@ashburtoncourier.co.nz

TheTeMoanaGlowShow2020

Friday November 6th 10am and 11-30am

This giant scale puppet show is magical with

glow in the dark puppets under UV lights in a

black box theatre environment. Rich in Te Reo

Maori this upbeat show will have it's audience

buzzing from the onset. This masterful 45

minute show has catchy music that engages

the audience immediately.

Tickets $12.50 (fees apply)

Rail Land –ArtsOnTour

Thursday 19th November –

Tickets from the Ashburton Trust Event Centre.

Venue: The Plains Railway &

Historical Museum, Tinwald

Departs 6:30pm followed by the show at

7.30pm at Plains Railway,

Ajourney ofthe mind, through song and story,

about New Zealand's on-and-off again love

affair with passenger rail.

Sponsored by the Ashburton District Council.

BOOK

NOW

For more information

www.ateventcentre.co.nz

TheWarratahs with Special Guest Jackie Bristow

Friday 6th November 7-30pm

From the Far North to The Bluff and all points

in-between, hundreds of thousands of New

Zealanders have packed pubs, theatres, barns

and dance halls and have literally grown up

with The Warratahs. Join the Warratahs and

Jackie Bristow in an evening you won't forget.

Standard Ticket $39 /Gold Card $35 (fees apply)

TheMerryLittle Christmas Market

Sun 29 Nov, 11-30am until 4pm

This is aday where we open our venue,

showcasing talent from our locals and also the

wider regions. If you wish to give agold coin

donation, this will get you awee something

to sip onwhile you browse awide variety of

stalls.

If you would like astall at this great event,

please email casey@ateventcentre.co.nz

Gold Coin Donation

03 307 2010 211A Wills Street, Ashburton 7700 admin@ateventcentre.co.nz *Service fees apply

2308477

BA

TWO SHOWSINONE

Presented by DnD Showband

SATURDAY31st OCTOBER 2020, 8PM.

Pre sale tickets $25 on sale now

Tickets dated Saturday 22 August 2020 valid for this show.

Door sales $30. Doors open at 7pm.

GARDEN SUPPLIES

MUSHROOM COMPOST

Nowisthe time to dig in our topqualitymushroom

compost to your vegetable garden. Ideal to replenish nutrients

used by previous crops and improvethe soil structure.

It also adds beneficial micro-organisms to thetired soil.

$50 per cubic metreor$10 bag.

Freedelivery within town boundary.

Open 6daysaweek at our Tinwald yard,

208 Maronan Road. Phone 021 129 8936 or 03 308 3331

Ashburton

Plains Rotary

DELIVERED

$

6.00

per bale

LINSEED STRAW

Small bales

Phone or txt Ian 027 432 0438;

Alisdair 027 410 6882;

Owen 027 434 4797.

2316729

FIREWOOD

SCREENED SLAB

FIREWOOD

FIREWOOD

SLABWOOD

3cordgreen

$330

1cordgreen

$110

1cordscreened

$140 cord

OFFCUTS

$140 cord

C.O.D.intown

Adams Sawmill

Malcolm McDowell Rd

Phone

308-3595

MOTORCYCLES

2302580

ORNSBY Motorcycle Training.

CBTA licensing and

training (Ashburton). Ride

Forever courses in Ashburton

and Geraldine. Call

0508ORNSBY(0508 676

729) for more info or visit

motorcycletraining.co.nz

BA

2299919

WANTED TO BUY

FIREWOOD logs wanted. 25

-400 tonne, anything considered.

Cash royalties

paid. Ph Rob 027 297 7563

METAL, heavy etc. Free

light-grade metal in-yard

dumping 9am-5pm weekdays

&9.30-11.30am Saturdays.

Ashburton Scrap

Metal Recyclers, 117 Alford

Forest Rd, (behind

PlaceMakers). Phone 03

308 8033 or 027 249 6625.

HIRE

SCISSORLIFTS for hire.

4WD and slab lifts available

for daily or weekly hire.

Pickup or delivery. Phone

North End Engineering 308

8155 for abooking.

FRUIT &PRODUCE

POTATOES; Nadine, Red

Rascal and Agria. $1.00

per kilo, 10kg bag $10.00.

Seed potatoes $2.50 per

kilo. Phone 308 3195 or

027 531 9103. 81 Elizabeth

Street.

SPORTING GOODS

FISHING the Canals? Drop

Shot Sinkers; 2g, 4g, 6g,

8g, 10g. Packet of 8$4.99

each. Phone Grant 027 611

1889

WHAT better place for a

public notice than Ashburton's

The Courier! Simply

clip the form for a run-on

advert like this or telephone

us on 308 7664 if you

require adisplay advertisement.

Ideal as an extra

bedroomoroffice.

Fully insulatedand

double glazed forwarmth.

Threeconvenientsizes:

Standard3.6m x2.4m,

Large 4.2m x2.4m

Xtra-large 4.8m x2.4m.

Visit our displaycabin

418WestStreet or callfor a

freebrochure.

www.justcabins.co.nz

2289121

0800 58 78 22

STORAGE available, Ashburton.

Self storage, variety

of sizes. Phone Rainbow

Storage 03 307 0401

STORAGE Unit available;

9m x3m, individually keyed

unit. Suitable boats, classic

cars, camper vans etc.

Security fenced and 24hr

camera monitoring. $50

weekly incl. GST. Contact

Jo on 021 180 8361

STORAGE:Secure self storage

units available, long or

short term. Ashburton Storage

Facilities. Contact us

on 0274 362 636 or www.

ashburtonstoragefacilities.

co.nz

TO LET

HOMESITTERS required

Christchurch from 20

December 2020. Beautiful

homes/pets. Phone Lisa

021 547 262. www.

townandcountryhomesit.

co.nz

WANTED TO RENT

URGENTLY Needed by 6

November; Flat or House to

rent. Preferably with a

garage. Phone 03 307

0236 leave to ring, or Cell

022 104 8229.

SELL

BARGAIN Buy. High quality,

showroom kitchen for sale.

Complete with top and sink.

Kitchen Express, 606 East

St, Phone 307 7131

LPG REFILLS

9kg cylinders

$27.50

Askaboutour

deliveryservice

Anysizecylinder filled

17 Grey St,Ashburton

Phone 307 2707

LPG

REFILLS

Small LPG cylinders

Off Street Parking

Available

Arthur Cates Ltd

26 McNally Street

Ph 308 5397

Riverside Industrial Estate

2300293

2316285

SELL: Television 42inch

Panasonic Plasma, nice

condition $250. ono. Caravan

electric power leads

and awnings. Builders

trestles. Phone 03 308

5193 or 027 204 9709.
---
www.ashburtoncourier.co.nz

Sales Representative

Pluck's Engineering Ltd are anestablished agricultural engineering business

in Rakaia, mid-Canterbury. We design, manufacture, install and service alarge

range of products,specializingindairyeffluent systems andfarmmachinery.

We are expanding our sales team and require an experienced sales specialist

to promote and sell our products. This is to be done both directly to regional

customers and nationally through our distributor network. Key aspects of the

role include;

• Visiting customersonfarmworksites

• Processing salesenquiries andsubmitting proposals

• Conducting productdemonstrationsand exhibiting at trade shows

• Supporting and developing our nationaldistributor network

• Engaging the market through advertising,websiteand social media

This is acritical frontline role within the sales team with the key purpose of

growing our sales. Ours is ahighly competitivetechnical market so it is essential

forthis role thatyou;

• have previous working experience in technical sales, preferably in the

agricultural/engineering industry.

• possess sound engineering understandingtoquicklylearnthe technicalities

of our products and their applications.

• are strongly sales/customer focused and driven toactively seek out and

pursue opportunitiesand securethe sale

• beanexcellentcommunicatorwith superbrelational skills to engage across

people types andbusiness levels.

• are creative inyour thinking when it comes toadvertising and promotions,

andconfidentininteractingonsocial media.

• becomputerliterateand skilled in usingMSExcel/Wordtoprepare costings

andquotations

• have afull driver's licence and are flexible to travel regularly with overnight

stays.

Forthe rightcandidate we offer stable employmentonacompetitivepackage,

and the opportunityfor ongoing training and personal development.

To apply for this position, please email your CV with covering letter to

jobs@plucks.co.nz or contact the General Manager on03-302 7031 for further

information.

Applicants must have NZ residencyorvalid work visa

EA Network Centre Roles

Full-Time, Part-Time and Casual

To be aLifeguard youwill need to be 16 yearsold,hold or be willing to obtain a

Pool LifeguardPractising Certificate,beabletoswim200m in under sixminutes

andhold or be willing to obtainafirstaid certificate.

To join theRecreationAssistant team youwill needtobe16years old,creative and

motivating and able to ensure participants are safe atall times. The successful

candidates will receiveafull induction and training.

To find out moreabout this vacancy and what the Ashburton District

Council has to offer you-gotoour website.

Applications close Sunday,4November 2020.

www.ashburtondc.govt.nz/careers

MID CANTERBURY

Realty

Look out for

your copy

every week!

SITUATIONS VACANT

2327735

2279419

Warehouse Pick/Packer/Assembler

CM Trailer Parts–anALKOCompanyare seekingareliable,physically fit,team

playertojoinour busy distribution warehouseteam, basedinAshburton.

Thefocus of this role is picking andassembling/packing fordespatch, along

with generalwarehouse duties. Due to the natureofthis role youwill needto

be able to liftheavy objects and be on your feet all day.

CLASSIFIEDS

Ashburton Courier, October 29, 2020

Ourideal candidate is:

• Ateam playerwho prefers avarietyofwork within afun andsupportive

environment

• Able to maintainaccuracyinafast paceddistribution warehouse.

• Aproactivethinker whohas good numerical skills with excellentattention

to detail.

• Willing to get their hands dirty andisphysically fit and consents to apreemployment

medical check. Must be able to pass adrugscreentodayand

possibleongoing randomchecks

• Someonewho performswellunderpressureand is anatural at multitasking

• Anexcellentcommunicatorwho can followinstructions.

• Must be able to passaCriminal Convictionscheck

Previous experienceasastore person/warehouse assistantwould be an

advantage butnot essential. This is apermanent, full timerole,

MondaytoFriday.

Applicants forthis positionshouldhave NZ residency or avalidNZworkvisa.

Email applications to our Customer ServiceManager, Alex@cm.net.nz

ASHBURTON COLLEGE

'Individual ExcellenceinaSupportive

Learning Environment'

First XV Boys'(UC ChampionshipTeam)

&Girls'RugbyCoaches

Expressions of Interest Sought

Ashburton College, in association with the Mid

Canterbury Rugby Union, is seeking to further

enhance the sport ofRugby inthe College and

invites expressions of interest in key voluntary

roles in the Ashburton College Rugby Programme.

The persons appointed are required to maintain

positive relationships and links with the College

and ensurestudentmanagementisconsistentwith

College Policies and Procedures. The coaches once

appointedwill have the ability to appointtheirown

managers.

The successful applicants will beresponsible for

leading the preparation and coaching,onand off the

field,ofthe 1st XV to astandardofexcellencethatis

required of teams participating in this prestigious

competition, while embracing the Values of the

College and the MCRU.

Key attributes sought in the appointees include:

• Strong technical knowledge of the modern

game, combined with sound coaching and

analytical skills.

• Experience in coaching sport at teenage

representativelevel or higher.

• Special interest in College sport, balancing the

objectives ofsuccess in the short-term, with the

development ofindividual athletes in ateam

environment.

• Anabilitytoworkwith and challenge agroup of

aspiring rugby players.

Applications close noon,

Tuesday10November2020

Expressions of interest or enquiries about

commitments canbemadevia email to Ross

Preece, Principal,atprincipal@ashcoll.school.nz.

Pleaseprovide abrief rugbyCVand referees.

2328162

WANT TO EARN

SOME EXTRA

INCOME

Reliable distributors wanted

for part time work

delivering catalogues and

mailers into household

letterboxes, in the Ashburton

area.

You'll be delivering for

Reach Media - an established

National Distribution Company

Visit www.snowy.co.nz

or Call/txt 027 4147271

Advertising

that works!

Talk to Jann or

Karentodayabout

ways youcan reach

potential customers

or advertising with

thatspecial difference

-professional service

with asmile.

Phone:308 7664

199 Burnett St,Ashburton

2279656

2326754

HOME SERVICES

ROOF COATINGS: All roof

types, specializing in

Decramastic and Long Run

Iron, Coloursteel etc, steep

roofs not a problem. —

Spraymaster 027-433-7780.

MEETINGS

PERSONAL

EDUCATIONAL

33

RAFFLE RESULTS

MID-CANTERBURY Golden

Oldies Hockey raffle result.

1st; Alan Smith, 2nd; Lyn

King, 3rd; 027 311 1227.

Winners have been notified.

Thank you for your

support.

ARE you looking for a

flatmate, somewhere to

rent or a boarder? What

better place to advertise

than The Courier.

MEETINGS

Mayfield

Collie Club

AGM

Tuesday10th

November at 7:30pm

Mt Somers Tavern

All welcome

Ph.027 366 6055

Hinds

CommunityCentre

AGM

Friday30October

2020 at 7pm.

In the Davison Room

Hinds

CommunityCentre

MAYFIELD Scout Group,

Notice of AGM: The Annual

General Meeting of Mayfield

Scout Group is to be

held on Wednesday 18

November 2020, at 7.30pm

at the Mayfield Scout Den.

All Welcome, Alison

Fleming(Secretary)

ANNUAL GENERAL MEETING

WEDNESDAY 18 NOVEMBER 2020

MEETING ROOM

BASKETBALL MID CANTERBURYSTADIUM 7.30PM

BUSINESS: •Adoption of Annual Report

•Adoption of Financial Report

•Election of Officers •General Business

Expression of Interest formsfor 2021 Coaching

Positions available from undersigned

P. Paterson, Secretary021 745 749

Mid Canterbury Independent Irrigators Inc.

Wednesday 4th November 2020, 7.00pm

Federated Farmers Boardroom (upstairs)

163 West Street, Ashburton.

Speaker -Roger Sutton.

EA Networks Chief Executive.

Topics will include long term energy and line

charges and how these will affect you.

Any farmer/irrigation user or new members welcome

Inquiries please call

Peter Lowe 027 223 3784

Brent Schmack 027 440 1388

2327671

Farmer Looking forCompanionship!

Semi-retired farmer, 65, fit and active, with fair

hair and hazel eyes. Heloves the country lifestyle,

bush walks, camping, fishing, sports and agood

conversation.

He is looking foragenuine lady to sharehis life with.

To meet,please call 0800 446 332

www.countrycompanionship.co.nz

Forkliftand Dangerous GoodsCourses

NZTAApproved Course Provider,MITO&Competenz Assessor

Classes 2&4,Endorsements F&D

ForkliftF&OSH, Saturdays and other days as requested

Dangerous Goods Course,½day Mondaymornings

CommunityHouse,Ashburtonoryour work place

Forfurther information

Phone Christine 027 245 2563

2325909

2327656

2328003

2327823

2291237
---
HEALTH &BEAUTY

URGENT CARE CLINIC

WEEKEND DUTYDOCTORS

IN THE EVENT OF AN EMERGENCYPHONE 111

Forall othermedicalassistance outside of normal

hoursplease phone your generalpracticeteam,24/7,

to speak withahealth professional whowill giveyou

free health advice on what to do or where to go if you

need urgentcare.

If youdon't have aregular generalpractice, call any

GP team 24/7 forfreetelephone health advice.

All non-residents and visa holders please bring your

passporttoyour surgeryappointment.

New Zealanders'tobringsome form of ID.

TheAshburtonDutyPractice for ...

Saturday31st October is

Tinwald Medical Centre,33Archibald Street.

Consultations will be by appointmentonly.

To make an appointmentcallyour regular GP 24/7.

Sunday1st November is

Eastfield Health, 135 Tancred Street.

Consultations will be by appointmentonly.

To make an appointmentcallyour regular GP 24/7.

Methven and Rakaia: Formedical attention on the

weekend and public holidays please telephone

MethvenMedical Centre on 03 302 8105

or Rakaia Medical Centre on 03 303 5002.

Details foraccessing the afterhours services will be

on the answer phone.

PHARMACIES

Wises Pharmacy,CountdownComplex,

East Street will be open on ...

Saturday from 9.00am until 1.00pm

Sunday from 10.00am until 1.00pm

At Geraldine: TheGeraldine Pharmacywill be open

normal trading hours during the week,and on

Saturdaymorning from 9.30am to 12.30pm.

Closed Sundays and Public Holidays

Forfree24hour Telephone Health Advice

Phone the healthline on 0800 611 116

Brought

toyouby

CountdownComplex, East Street, Ashburton

Phone: 03 308 6733 Fax: 03 308 6755

DebraCurtin

Chiropractor

03 308 9516

www.ashburtonchiropractic.co.nz

Feminine Health &Wellness Coach

• Reiki

• Massage

• Nutritionals

• Skin and Body Care

• Self Hypnosis

• Weight Management

Phoneortext 027 282 1585

FARMING NOTICES

PUBLIC NOTICE

Annie

2021 Health Studies Bursary

Altrusa International of Ashburton Inc.

invites applications for this bursary

valued $1,000.

For full criteria and an

application form, please email

president.ashburton@altrusa.org.nz

Applications close 25 November 2020

2318325

2318627

WANTED ...

Standing Grass or Lucerne

Competitiverates.

ContactCharlotte0274977 299

2323559

2322950

The AshburtonCivicMusic Council

proudly hosts

Sunday 1 st November

AshburtonDomain

Long Lawn (West Street) 2pm

Collection forparticipating bands will be taken.

Featuring the AshburtonSilverBand,MSA Orchestra,

AshburtonDistrictPipe Band and the Ashburton

Electronic Organ &KeyboardClub.

Bring along your chair,hat and sunblock

and enjoyanafternoonoflocal music.

2325501

6WEEK CHALLENGE

Get yourself ready for the

Summer Festive Season with our

6week Weight Loss Challenge

1st Prize - 2Transformation Hypnosis sessions

with The Elite Superpower with nutrition

coaching valued at$800

2nd Prize - 3months FREE membership at

Figure Fitness Ashburton valued $180

3rd Prize - 6weeks FREE nutrition coaching and

abag of Protein powder valued at $150.

Are you up for the Challenge??

For more information

contact Debbie on

027 291 8070

(formerly SPCA)

We arenolonger

accepting wild cats.

Barncatsavailable.

Food donations appreciated.

Kindly sponsored by

Adrienne Patterson

Ph308 4432

TANCREDSTREET

DISPENSARY

NOWOPEN

•Dispensing of PrescriptionMedicines

•Healthcareand Advice

•Monday–Thursday8.30 am –6.00 pm

•Friday8.30am–5.30pm

SteveWise

Community Pharmacist

Phone307 9244. Fax307 9243

Enquiries to admin@tsd.healthcare

2322852

180216

2316270

Eastfield Health Building,135 TancredStreet

2316927

2262328

PUBLIC NOTICE

Being in business

and not advertising

is likewaving in the

dark....

....youy

know you're therebut

no-one else does!

Don't be leftinthe dark,

TheCourierNewspaper

has the key to your event,

productor

business advertising.

Phone Jann or Karen on (03) 308 7664

Email: office@ashburtoncourier.co.nz

FAIRTON SCHOOL

OPEN DAY

Wednesday 4th November, 10am -6pm

We're the small school only afew minutes out

of Ashburton with the BIG country heart.

Great family atmosphere

Low student/teacher ratios

Fantastic Staff

Stimulating learning activities

Heated swimming pool

Spacious grounds

Heated swimming pool

Spacious grounds

Modern resources and facilities

Come along and visit our school.

Everyone welcome!

*School Information packs will be

available onsite*

HospiceMid Canterbury

Dealing

with alife

limiting

illness?

We can help with:

2313260

2328089

•Sittingand companionship

•Counselling and bereavement

support

•Biographywriting

•Massage,reiki and reflexology

•Activityand support

programmes

Phone 307 8387 or 027 227 8387

email manager@hospicemc.nz www.hospicemc.nz

Allservices

arefree

Thurs 29th

10.30 23 Walks

10.45 Greenland

12.20 Baby, Done

1.00

2.10

2.45

4.10

4.30

6.00

6.15

8.15

8.15

Fri30th

TheCraft Legacy

TheBroken Hearts Gallery

An Honest Thief

Hope Gap

100% Wolf

Greenland

An Honest Thief

TheCraft Legacy

Baby, Done

10.40 23 Walks

12.30 Baby, Done

1.10

2.10

2.50

4.10

4.30

6.00

6.15

8.10

8.15

TheCraft Legacy

TheBroken Hearts Gallery

An Honest Thief

Hope Gap

100% Wolf

Greenland

An Honest Thief

TheCraft Legacy

Baby, Done

Sat31st &Sun 1st

10.00 100% Wolf

10.00 PawPatrolJet to the Rescue

11.10 Cats &Dogs Paws Unite

11.45 TheWar With Grandpa

12.45 Four Kids and It

1.30 Baby,Done

2.40 Hope Gap

3.05 TheCraft Legacy

4.25 An Honest Thief

4.45 Savage

6.10 Greenland

6.30 Baby, Done

8.15 An Honest Thief

8.20 TheCraft Legacy

Mon2nd,Tues 3rd,

Wed4th

11.00 Baby, Done

11.00 Hope Gap

12.40 23 Walks

12.50 An Honest Thief

2.25 Savage

2.35 TheBroken Hearts Gallery

4.10 100% Wolf

4.30 TheCraft Legacy

6.00 Greenland

6.15 Baby, Done

8.00 An Honest Thief

8.15 TheCraft Legacy

PG

R13

M

M

M

M

M

PG

R13

M

M

M

PG

M

M

M

M

M

PG

R13

M

M

M

PG

G

G

PG

PG

M

M

M

M

R16

R13

M

M

M

M

M

M

M

R16

M

PG

M

R13

M

M

M

NO COMPS

Baby, Done,The Craft Legacy,

An Honest Thief

Mr Kool icecreams is

back in town, available

forbirthdayand

Christmasparties,

school fairs,corporate

and social events.

Will also be carrying out

street sales,solisten

out forthe bells!

Please text me on

0210 467 467.

garage sale

relocation sale

Allpaint $10 perlitre.

Hardware, timber,tools,

demolition materials etc.

9am -4pm Saturday31October

South Street –nexttoCountdown

2327778

2325945
---
SKIP-2-IT

CARPET • VINYL • TILES • LAMINATE • BLINDS www.flooringxtra.co.nz

SKIP-2-IT FLOORING XTRA 68 Cass Street, Ashburton P: 03 308 0266 Book your free in-home measure and quote
---
QUALITY USED VEHICLES

@AFFORDABLE PRICES

WARRANTIESAA APPRAISEDFINANCEBIGGEST YARDBEST SELECTIONTRADE-INS

Oneowner

2007 TOYOTA BLADEG

ABS, air con, body

kit, rear spoiler,2400 cc,70,500 kms

$10,995

2014 TOYOTA RACTIS X

1500 cc,ABS, climate control, cam chain,

hatchback,AAappraised,67,000 kms

$12,995

2013 MAZDADEMIO 13-SKYACTIVE

1300cc, alloys,ABS, air con, hatchback,

lowkms,AAappraised

$10,995

2012 TOYOTA VITZ F

1300 cc,air con, ABS, climate

control, 19,000 kms

$11,995

2013 SUZUKI SWIFTXG

1200cc, ABS, air con, CD changer,

rear spoiler,34,000 kms

$11,995

HONDA

2006 HONDA INSPIREAVANZARE, 3000 cc,4door,abs,air

con, cruise control, climate control57,500 kms $9,995

SUBARU

2015 SUBARUIMPREZAG4, 1600 cc,auto, ABS, air con, 27,000

kms ............................................................................................. $13,995

2011 SUBARULEGACY –2500 cc,ABS, 4X4, AA Apraised

38,000 kms.....................................................................$17,995

HYUNDAI

2011 HYUNDAI i30, 1600 cc,auto, hatch, high kms...................SOLD

SUZUKI

2013 SUZUKI SWIFT XG, ABS, air con, climate control, hatchback,

34,000 kms................................................................................ $11,995

MAZDA

2010 MAZDACX-7, 2300 cc,ABS, air con, cruise control, body kit,

59,000 kms............................................................................... $17,995

NISSAN

2006 NISSAN CUBE15M, 5door,petrol,air con, ABS, CD

changer,42,300 kms, 1500cc...................................................SOLD

2014 NISSAN LATIOB,auto, idling stop,twin air bags,ABS, 4

door,petrol,air con, 31,100kms........................................... $9,995

2006 NISSAN BLUEBIRD SYLPHY20S, 2000cc, ABS, air con,

climate control, 11,800kms.................................................... $9,995

TOYOTA

2014 TOYOTA AQUA,1500 cc,auto, hybrid,ABS,

79,000 kms................................................................................ $12,995

2014 TOYOTA RACTIS,1500 cc,alloys,cruise control, ABS, 33,000

kms ............................................................................................. $11,995

2007 TOYOTA BLADE G, 5door,ABS, air con, body kit, rear

spoiler, push button start, 70,500 kms, 2400cc.................SOLD

2009 TOYOTA ESTIMAHYBRIDX4WD, 5door,8seater, ABS, air

con, auto, rear spoiler,cruise control, 133,450 kms, 2400cc,

alloys.............................................................................................$14,995

2013 TOYOTA PRIUS L, 5door,ABS, air con, petrol,parking

sensors,rear spoiler,auto, 71,810 kms, 1800cc........... $16,995

1999 TOYOTA RAV4,3door,petrol,ABS, air con, rear spoiler,

1800cc...........................................................................................$7,995

2008 TOYOTA WISHXLIMITED, 5door,petrol,ABS, air con, auto,

climate control, 72,500 kms, 1800cc.................................. $9,995

2012 TOYOTA VITZF,1300cc, hatchback,air con, ABS, climate

control........................................................................................ $11,995

2014 TOYOTA RACTIS X,1500 cc,ABS, air con, cam chain, push

start............................................................................................. $12,995

2008 TOYOTA BLADE, 2400cc, 6air bags,ABS, auto,

118,000 kms................................................................................ $7,995

DUE NOVEMBER

2015 NISSAN NOTE 2011 MAZDADEMIO

2011 NISSAN SERENA 2013 TOYOTA SPADE

2013 SUZUKI SWIFT

Ph: 308 1396

Selling nice cars to nice people!

ENQUIRE NOW

-about our range of rental vehicles

AUTOSLTD &RENTALS

470 West Street,

Ashburton

A/H Keith Drummond

0274 367 646

Family,Sports, School or Social Trips

We have 8, 10 &12seaterminivansavailable.

Cars and 3trucksforsmall or bigloads alsoavailable.

23159032