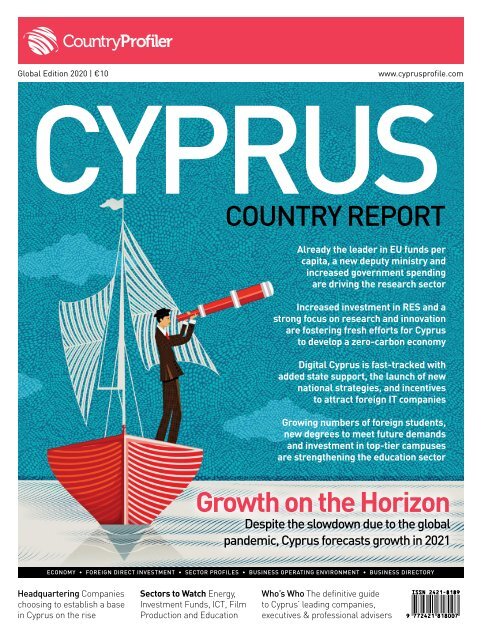 2020 Cyprus Country Report
The 2020 Cyprus Country Report features in-depth articles on the economy, foreign direct investment, international trade and headquartering as well as detailed sector profiles and insights from Cyprus' 100 most influential political, economic and business leaders shaping the future of their country and its industries.
The 2020 Cyprus Country Report features in-depth articles on the economy, foreign direct investment, international trade and headquartering as well as detailed sector profiles and insights from Cyprus' 100 most influential political, economic and business leaders shaping the future of their country and its industries.
SHOW MORE
SHOW LESS
Create successful ePaper yourself
Turn your PDF publications into a flip-book with our unique Google optimized e-Paper software.
CountryProfiler

Global Edition 2020 | €10

www.cyprusprofile.com

CYPRUS

COUNTRY REPORT

Already the leader in EU funds per

capita, a new deputy ministry and

increased government spending

are driving the research sector

Increased investment in RES and a

strong focus on research and innovation

are fostering fresh efforts for Cyprus

to develop a zero-carbon economy

Digital Cyprus is fast-tracked with

added state support, the launch of new

national strategies, and incentives

to attract foreign IT companies

Growing numbers of foreign students,

new degrees to meet future demands

and investment in top-tier campuses

are strengthening the education sector

Growth on the Horizon

Despite the slowdown due to the global

pandemic, Cyprus forecasts growth in 2021

ECONOMY • FOREIGN DIRECT INVESTMENT • SECTOR PROFILES • BUSINESS OPERATING ENVIRONMENT • BUSINESS DIRECTORY

Headquartering Companies

choosing to establish a base

in Cyprus on the rise

Sectors to Watch Energy,

Investment Funds, ICT, Film

Production and Education

Who's Who The definitive guide

to Cyprus' leading companies,

executives & professional advisers
---
First class

legal services

focused on

results

L Papaphilippou & Co LLC offers legal services to businesses, individuals,

and public organizations. We have a strong litigation team handling

also all forms of commercial dispute resolution and have considerable

experience in arbitrations. Furthermore, our Immigration Department is

well respected and renowned for leading by example in the field and our

high calibre and experienced lawyers ensure first class service and results.

Additionally, being a full-service law firm, L Papaphilippou & Co LLC is

capable of delivering secure and compliant cross-border legal and wealth

management solutions, as well as to coordinate international business

structures, trusts and private banking matters for our clients.

17 Ifigenias Street, 2007 Strovolos, P.O.Box 28541, 2080 Nicosia - Cyprus

T: (+357) 22 271 000 • F: (+357) 22 271 111 • E: info@papaphilippou.eu • www.papaphilippou.eu
---
DESTINATION

DEVELOPMENTS

BY CYBARCO

More than a property

A member of the reputable Lanitis Group, Cybarco has been

shaping Cyprus since 1945. Celebrating decades of innovation

and creativity, the island's leading luxury property developer

continues to push the boundaries, delivering iconic developments

that transform lives and communities. Landmark projects like

Aphrodite Hills Golf Resort, Sea Gallery Villas, Akamas Bay

Villas, The Oval, Limassol Marina and Trilogy Limassol Seafront

are part of Cybarco's impressive portfolio, the foundation of a

proven track record in property sales and customer satisfaction.

Continuing to set new standards for property development

in Cyprus, Cybarco combines world-class

architecture, unique designs, and outstanding views

in the finest locations to create "more than a property".

Michalis Hadjipanayiotou, CEO of Cybarco Development

Ltd and Chairman of the Cyprus Land and Building

Developers Association, shares the company's vision: "We

believe the perfect property isn't just an object of desire or

a financially savvy transaction, it's something much more

meaningful. We create homes and offices that are part of

a destination and connect customers with the local community."
---
Limassol Marina is just one example of a success story

that saw a run-down part of Cyprus' most vibrant city

transformed into an award-winning and highly sought-after

superyacht destination with its own residential community,

dining, shopping, cultural and leisure facilities. Almost all

properties have now been sold, exceeding a sales total of

€500 million, and the project is nearing completion with

its last phase apartments in the sea at Castle Residences -

surrounded by the azure waters of the Mediterranean.

A few kilometres to the east of Limassol Marina, Trilogy

Limassol Seafront is the latest mixed-use destination by

Cybarco. With financing secured, it offers the ultimate

investment in a prime location and at great value across three

shimmering beachfront towers. It is the only place to live,

work and play in Cyprus, boasting offices and apartments

with sea views from every window, dining, shopping, and

leisure facilities. The two front towers' construction is

progressing apace, and piling of the North Tower has been

completed. Sales and reservations for its luxury properties

have now exceeded €170 million with interest still strong,

despite the challenges of the pandemic.

Just a few minutes from Trilogy, Cybarco's boutique

Aktea Residences offer an address for coastal living in one

of Limassol's up-and-coming areas. And from the vibrant

shores of Limassol to the most serene and picturesque part

of the island, Akamas Bay Villas is the developer's private

haven of natural beauty located near the Akamas Peninsula.

Construction of its masterplan's second phase is underway

following the successful sales and completion of phase one.

Undisturbed views of the sparkling blue sea and boundless

sky, blend with harmonious architecture and outstanding

design across a dozen newly released villas on fully

landscaped plots, with show homes available for viewing.

Michalis Hadjipanayiotou, is optimistic about the

future: "We are particularly proud of our pioneering

projects. We feel we have managed to raise the bar for

development in Cyprus over the years. Projects like

Limassol Marina and The Oval are landmarks in more ways

than one. They have set the benchmark for future projects

of their kind and given Cyprus much-needed exposure in

markets we previously had no product to offer. We are very

excited about the coming years and we strive to continue

finding creative and unique ways to bring change for the

better to Cyprus."

Trilogy Limassol Seafront

Limassol Marina

Shaping Cyprus since 1945

For more information, contact 8000 50 30 or visit

cybarco.com

Aktea Residences

Akamas Bay Villas
---
Publisher's Information

CountryProfiler

Global Edition 2020 | €10

www.cyprusprofile.com

CYPRUS

COUNTRY REPORT

Already the leader in EU funds per

capita, a new deputy ministry and

increased government spending

are driving the research sector

Increased investment in RES and a

strong focus on research and innovation

are fostering fresh efforts for Cyprus

to develop a zero-carbon economy

Digital Cyprus is fast-tracked with

added state support, the launch of new

national strategies, and incentives

to attract foreign IT companies

Growing numbers of foreign students,

new degrees to meet future demands

and investment in top-tier campuses

are strengthening the education sector

Growth on the Horizon

Despite the slowdown due to the global

pandemic, Cyprus forecasts growth in 2021

ECONOMY • FOREIGN DIRECT INVESTMENT • SECTOR PROFILES • BUSINESS OPERATING ENVIRONMENT • BUSINESS DIRECTORY

CountryProfiler Ltd is a specialist publisher of country

information that assists corporations managing operations

across national borders with trade, investment and

relocation decisions. CountryProfiler is recognised by

senior business executives, government representatives,

institutions and global organisations as a leading provider

of informative and insightful country intelligence.

EUROPE

16, Elia Papakyriakou, Suite 101, Engomi, 2415 Nicosia, Cyprus

NORTH AMERICA

21-2123 Walkers Line, Burlington Ontario, L7M 4Z9, Canada

Email: cyprus@countryprofiler.com

Website: www.countryprofiler.com • www.cyprusprofile.com

RESEARCH AND CONTRIBUTIONS

CountryProfiler staff

Headquartering Companies

choosing to establish a base

in Cyprus on the rise

Sectors to Watch Energy,

Investment Funds, ICT, Film

Production and Education

Who's Who The definitive guide

to Cyprus' leading companies,

executives & professional advisers

PHOTOGRAPHY

Heidi Marttinen, Jo Michaelides, Alan Carville, Mehdi Ezzitouni,

Manos Botrini, Sara Zanardelli

PRINTING

Laser Graphics Ltd

PUBLICATION DATE

October 2020

Kristina Ernst

REGIONAL DIRECTOR

ernst@countryprofiler.com

Heidi Marttinen

EDITOR

marttinen@countryprofiler.com

Victoria Vasiliou

ADMINISTRATIVE MANAGER

vasiliou@countryprofiler.com

Ramon Micallef

ART DIRECTOR

ram@box-design.net

The information included in this publication is for information

purposes only and is subject to change. With regard to the licensing

of a business, income generation or any other legal or accounting

matters, the Publisher strongly recommends that the reader

seeks the advice of an appropriately licensed professional.

All rights reserved. Reproduction in whole or part is strictly

prohibited without written permission. Opinions expressed in this

publication are not necessarily those of the editor or publisher.

All reasonable care is taken to ensure truth and accuracy, but the

editor and publishers cannot be held responsible for errors or

omissions in articles, advertising, photographs or illustrations.

4 Country Report CYPRUS 2020
---
The Minthis Property Collection is a diverse

range of contemporary customisable Residences,

secluded neighbourhood Villas and exclusive Suites,

situated in a destination lifestyle resort.

VIEW THE PROPERTY COLLECTION AT MINTHISRESORT.COM

To book an appointment, virtual tour

or live property viewing please contact us on

+357 26 842 244 sales@minthisresort.com

Pafos, Cyprus
---
Contents

Contents

10

12

16

18

26

32

34

40

42

46

FOREWORD President of the Republic of

Cyprus, Nicos Anastasiades

CYPRUS AT A GLANCE Key Facts & Figures

GOVERNMENT & POLITICS A Key EU Outpost

ECONOMY Growth on the Horizon

FOREIGN DIRECT INVESTMENT FDI Destination

FDI INSIGHTS Why did you choose to invest in Cyprus?

HEADQUARTERING East Med HQ

HQ INSIGHTS Why did you choose Cyprus?

INTERVIEW Minister of Energy, Commerce

& Industry Natasa Pilides

INTERNATIONAL TRADE Quality Exports

6 Country Report CYPRUS 2020
---
Expertise

Solutions

Value

www.pwc.com.cy

© 2020 PricewaterhouseCoopers Ltd. All rights reserved.
---
Contents

Sector Profiles

50 AGRICULTURE & FOOD Fostering Sustainable Farming

56 BANKING Bolstering the Banks

62 CAPITAL MARKETS Building a Dynamic Market

66 CONSTRUCTION & REAL ESTATE Location Cyprus

74 EDUCATION Educating a New Generation

79 ENERGY: OIL & GAS Harnessing the Hydrocarbons Potential

84 ENERGY: RENEWABLES A Greener Future

88 FILM PRODUCTION Joining the A-List

92 HEALTH Streamlining Health

98 INSURANCE Mitigating Risk

102 INTERNATIONAL FINANCIAL SERVICES

Towards a Diversified Future

108 INVESTMENT FUNDS Ready for Bold Moves

112 MANUFACTURING & INDUSTRY Modernising Manufacturing

116 MARITIME & SHIPPING Navigating High Seas

122 RESEARCH & DEVELOPMENT A Future of Innovation

128 TECHNOLOGY & START-UPS An Era of Disruption

132 TELECOMS & SATELLITE COMMUNICATIONS

Building a Gigabit Future

136 TOURISM The New Age of Tourism

144 TRANSPORT & LOGISTICS East Med Transport Hub

150

158

170

BUSINESS OPERATING ENVIRONMENT

Doing Business in Cyprus

TRAVEL & LIVING CountryProfiler Expat Guide

WHO'S WHO Cyprus Business Directory

8 Country Report CYPRUS 2020
---
Foreword

Foreword

Nicos Anastasiades

President of the Republic of Cyprus

10 Country Report CYPRUS 2020
---
Foreword

Without any doubt, the Covid-19 pandemic has caused unprecedented

challenges for all the countries around the globe with severe socio-economic

consequences.

In dealing with this, unfortunately, ongoing crisis, my Government

has been assertive in its decision-making and proactive in providing

medical and economic support to our citizens, workers and enterprises.

Like many other countries, Cyprus had to take harsh, painful, but necessary

measures, in order to deal in a timely and effective manner with this unprecedented

public health crisis.

We immediately acknowledged, however, that, beyond saving lives, we also had to

safeguard livelihoods and address the potential economic and social disruption the

lockdown measures would cause.

We needed to ensure the sustainability of businesses, preserve jobs, maintain

the income of our citizens, protect the rights of workers and provide the necessary

support to our economy to recover as quickly as possible once the lockdown restrictions

would gradually be eased and eventually lifted.

To this end, we adopted one of the most comprehensive fiscal

support packages within the European Union, without risking the

long-term sustainability of public finances. This is due to the fact

that the Cyprus Government accumulated the necessary fiscal surpluses

in the past that could be used in emergency cases such as the

current pandemic crisis.

As regards the economic outlook, following the unavoidable

recession of economic activity in 2020 due to the imposed lockdown

measures, we expect a significant rebound in 2021, with

positive growth rates, drop of unemployment, budget surplus and

a reduced public debt.

Our motto in Cyprus is that with every challenge there is opportunity.

In this regard, the Government's broader strategy for economic

recovery also includes the implementation of much needed

structural reforms for the further development of key economic

sectors, fully exploiting newly established European mechanisms

such as "SURE" and "Recovery and Resilience Facility".

Reforms, amongst others, as regards the pension, welfare and

labour market system, the judicial and health care systems, and the sectors of digital

transformation, tourism, research and innovation and green economy.

We will also continue the sound governance of public finances, complemented

by a business-friendly investment environment, moving forward with a comprehensive

government strategy for investment facilitation and fully reforming the public

service so that it facilitates growth in a modern, knowledge-based, scientific, hightech

and innovative economy.

We envisage that the Cyprus economy will be eventually transformed in such a

way, in order to become even more competitive in the global economic stage. It's up

to us to make this happen and I am certain that we will deliver.

In concluding, I wish to extend my deepest appreciation to the editors and publishers

of the Cyprus Country Report for providing all these years essential insight

on the Cypriot economy and the attractive investment opportunities in our country.

"We adopted

one of the most

comprehensive

fiscal support

packages within

the European

Union, without

risking the

long-term

sustainability of

public finances"

Nicos Anastasiades

President of the Republic of Cyprus

Country Report CYPRUS 2020 11
---
Publisher's Cyprus Information

a Glance

CYPRUS at a Glance

Lying at the crossroads of Europe, Asia and Africa, Cyprus

has long served as a major eastern trading post. It is a small

country, but the third largest island in the Mediterranean

Sea and shares a maritime border with Egypt 300km to the

south, Lebanon 108km to the east and Turkey 71km to the

north, while inland Greece lies 800km to the north-west. With

10,000 years of history, the island's strategic location has

long made it a jewel in the crown of the powers of the day.

Cultural influences have come from all directions, with many

civilisations leaving their mark on the island, contributing to

the development of a rich and diverse cultural heritage.

TOTAL POPULATION

875,900

Republic of Cyprus

Non-

Cypriot

18%

Cypriot

82%

OFFICIAL LANGUAGES

Greek &

Turkish

(business generally

conducted in English)

INDEPENDENCE DAY

October

1st

MEMBERSHIPS

EU & Eurozone

World Trade

Organization

United Nations

Council of Europe

Commonwealth

World Bank & IMF

CURRENCY

Euro (€)

MAIN MEDIA

Cyprus Mail

Phileleftheros

Politis

CyBC

12 Country Report CYPRUS 2020
---
35ºN 33ºE

Publisher's Cyprus at a Glance Information

Nicosia

(Lefkosia)

Population:

341,700

Famagusta

(Ammochostos)

48,200

Paphos

94,100

Paphos

International

Airport

Limassol

244,900

Larnaca

International

Airport

Larnaca

147,000

TIME

+2 Hours

ahead of GMT

SUNSHINE

340 Days

of sunshine / year

AREA / SIZE

9,251 km 2

(3,355 km 2 in the occupied area)

POPULATION DENSITY

128.7

(PERSONS PER KM 2 )

RELIGION

89.1%

Greek

Orthodox

AVERAGE TEMPERATURE

Winter

+13ºC

Summer

+34ºC

ANNUAL RAINFALL

790.1 mm

average

MEDIAN AGE

37.9

2.9% Roman Catholic

2.0% Protestant/Anglican

1.8% Muslim

1.7% Unknown/Atheist

1.4% Other 1.0% Buddhist

Country Report CYPRUS 2020 13
---
Publisher's Cyprus Information

a Glance

Business FIGURES

GDP BY SECTOR

TOTAL GDP

€21.9 billion

(2019)

CORPORATE TAX RATE

12.5%

TIME TO START UP A BUSINESS

1-3 days

GDP PER CAPITA

INFLATION

ACCOUNTING STANDARD

13.1%

Taxes &

subsidies

71.9%

Services

€24,925

(2019)

0.5%

(2019)

IFRS

6.1%

Construction

6.9%

Mining,

manufacturing,

electricity & water

2%

Agriculture,

forestry & fishing

37th

Economic Freedom Index 2020

Heritage Foundation

(out of 186 countries)

GDP GROWTH

3.2%

(2019)

INTERNATIONAL RANKINGS

29th

Global Innovation Index 2020

INSEAD and the World Intellectual

Property Organization

(out of 131 countries)

UNEMPLOYMENT

6.9%

(July 2020)

45th

in World Happiness

Report 2020

(out of 153 countries)

CRIME

0.9 per

100 persons

Cyprus is the safest

country in the world for

young people out of 184

countries across the globe.

(World Health Organisation

WHO 2017)

Enforcing

Contracts

Dealing with

Construction

Permits

Overall Doing Business ranking: 54th

(out of 190 economies)

Starting a

Business

Getting

Electricity

Registering

Property

Getting

Credit

Protecting

Minority

Investors

Paying

Taxes

Trading

across

Borders

Resolving

Insolvency

50 th 125 th 75 th 71 st 80 th 21 st 29 th 50 th 142 nd 31 st

STANDARD

& POOR'S

BBB-

(September 2020)

FITCH

BBB-

(September 2020)

MOODY'S

Ba2

(September 2020)

UK

Germany

Italy

France

Greece

MAIN TRADING PARTNERS

Israel

China

14 Country Report CYPRUS 2020
---
Fast is

too slow.

Is the rapid pace

of innovation passing

your company by?

By building innovation into your business and

operating models, KPMG professionals can help your

company increase its bottom line by continually

delivering new value to your customers.

Learn more at kpmg.com.cy

Anticipate tomorrow. Deliver today.

©2020 KPMG Limited, a Cyprus limited liability company and member of the KPMG network

of independent member firms affiliated with KPMG International Cooperative ("KPMG

International"), a Swiss entity. All rights reserved.

The KPMG name and logo are registered trademarks or trademarks of KPMG International.
---
Government & Politics

A Key EU Outpost

As the European Union's easternmost member state, Cyprus has established

itself as a geostrategic EU outpost at the crossroads of three continents.

As an international business centre and with global cooperation in

multiple sectors, Cyprus' reach goes far beyond its borders, with 2020 also

bringing new efforts to finally reach a solution for this divided island.

The Republic of Cyprus is a unitary presidential

representative republic, where the

President of Cyprus is both head of state and

head of government, and executive power is

exercised by the government. Legislative power

is vested in both the government and the parliament,

and the judiciary is independent of the executive

and the legislature. The seventh president

of the Republic of Cyprus, Nicos Anastasiades,

was re-elected for another five-year term on 4

February 2018. The conservative candidate and

head of the DISY party won his second term

following a run-off presidential election with a

majority of 55.99% of the vote. Embarking on

his second term in office, the President called for

unity to address future challenges.

At the start of his first term, Cyprus suffered a

major financial crisis, and President Anastasiades

had to take robust measures to steer the country

back on track from one of the most challenging

economic times in the island's history. The

economy bounced back swiftly returning to

growth in 2015, investment grade rating in 2018

and recording an average GDP growth of 5.4%

in 2016-19, making Cyprus one of the fastest

growing economies in the European Union. In

2020, this growth momentum has been stalled by

the consequences of the Covid-19 pandemic, but

with strong action and robust support packages

in place the country has fared better than many

of its European peers.

The division of Cyprus remains one of the

most long-standing and prominent issues in the

political arena. UN-brokered peace talks between

the Greek and Turkish Cypriot leaderships,

which first began in 1968, had gained significant

momentum in 2015 only to collapse in 2017.

In October this year, following the presidential

election win of Ankara-backed Turkish Cypriot

leader Ersin Tatar, the 'Cyprus Problem', which

led to the de facto division of the island between

the mainly Greek-speaking south and the mainly

Turkish-speaking north for over four decades,

may have become a tougher puzzle to solve. The

change in leadership comes amid rising ten-

sions between Cyprus, Greece and Turkey over

hydrocarbons explorations in Cyprus' Exclusive

Economic Zone (EEZ) and the controversial

partial reopening of the coastal city of Varosha

in Famagusta. However, the new Turkish Cypriot

leader has already accepted Cypriot President

Nicos Anastasiades' offer to resume talks, backed

by the encouragement from the UN and the EU

to show "constructive engagement".

DIVIDED ISLAND

In 1960 Cyprus gained independence from

Britain and became a unitary state of both Greekand

Turkish-Cypriots (respectively around 80%

and 20% of the population). In July 1974, a rightwing

coup backed by the military junta in power

in Greece overturned the democratically elected

government, forcing the Cypriot President

Archbishop Makarios to flee. This prompted

Turkey, one of the guarantor powers, which also

include Greece and the UK, to send its troops

into the island to support the Turkish Cypriot minority.

Fierce fighting followed and the ensuing

ceasefire line – known as the Green Line and patrolled

by United Nations troops – has effectively

partitioned the island ever since. However, visitors

can safely access either side through various

checkpoints along the Green Line. Today, Nicosia

is the world's last divided capital, since the fall of

Political Parties

Constitution, Institutions

and Administration

The 1960 constitution provided

for power sharing between

the Greek Cypriot and Turkish

Cypriot communities. Votes

on important issues required

separate parliamentary

majorities, and the Greek

Cypriot president and the

Turkish Cypriot vice president

both had the right of veto

on important decisions.

The system of government

is presidential, with the

separation of powers between

the executive and the

legislature. The presidential

term lasts five years, with the

next presidential election due

in 2023. Ministers, who are

appointed by the president,

cannot hold seats in the

House of Representatives.

The House of Representatives

is elected by proportional

representation. Its normal

term is five years.

Dominant Political Parties:

Democratic Rally (DISY), a right-wing party led by Averof Neophytou

Progressive Party of the Working People (AKEL), a left-wing party led by Andros Kyprianou

Democratic Party (DIKO), a centre-right party led by Nicolas Papadopoulos

Movement of Social Democracy (EDEK), a social democratic party led by Marinos Sizopoulos

Smaller Political Parties:

Ecologists Movement, also known as the Cyprus Green Party, led by Charalambos Theopemptou

Allileggii (Solidarity), a nationalist party led by Eleni Theocharous

Citizens' Alliance (Symmaxia Politon), a centre-left party led by Giorgos Lillikas

National People's Front (E.L.A.M.), an ultranationalist party led by Christos Christou

16 Country Report CYPRUS 2020
---
Government Structure

President of the

Republic of Cyprus

Nicos Anastasiades

Minister of Foreign Affairs

Nikos Christodoulides

Government & Politics

Minister of Finance

Constantinos Petrides

Minister of Interior

Nicos Nouris

Minister of Defence

Charalambos Petrides

Minister of Health

Constantinos Ioannou

Minister of Education

and Culture

Prodromos Prodromou

Minister of Transport,

Communications and Works

Yiannis Karousos

Minister of Energy,

Commerce and Industry

Natasa Pilides

Minister of Agriculture,

Rural Development

and Environment

Costas Kadis

Minister of Labour, Welfare

and Social Insurance

Zeta Emilianidou

Minister of Justice

and Public Order

Emily Yiolitis

Government Spokesman

Kyriacos Kousios

Under Secretary to

the President

Vasilis Palmas

Shipping Deputy Minister

Vassilis Demetriades

Deputy Minister for Tourism

Savvas Perdios

the Berlin Wall. The population of the southern

two-thirds of the island, controlled by the government

of the Republic of Cyprus, is almost entirely

Greek Cypriot, while the population of the northern

third, controlled by the breakaway Turkish

Republic of Northern Cyprus (recognised only

by Turkey) comprises Turkish Cypriots, settlers

from the Turkish mainland and around 42,000

Turkish troops.

FROM FOREIGN RULE TO THE

REPUBLIC OF CYPRUS

Colonised by the ancient Greeks in 1400 BC,

Cyprus has had a succession of foreign rulers

through the centuries, including the Romans, the

Byzantines, the Franks and the Venetians, whose

300-year rule ended in 1571 when the island

became part of the Ottoman Empire. After almost

250 years of Ottoman rule, Cyprus was placed

under British administration in 1878. The island

finally became independent in 1960 after a protracted

and violent struggle against the colonial

power between 1955 and 1959. After lengthy negotiations,

Britain, Greece and Turkey drafted a

constitution for the new state, along with Treaties

of Guarantee and Alliance. The Republic of Cyprus

came into being in August 1960. The constitution

and the two accompanying treaties established a

complex power-sharing structure between Greek

and Turkish Cypriots, which precluded partition

of the island, or union with Greece or Turkey. Both

countries, along with Britain, were also designated

guarantors of the independence, territorial integrity

and security of the Republic. The constitution

provided for a Greek Cypriot president and a

Turkish Cypriot vice president, while the Turkish

Cypriot community was granted three ministerial

positions out of a total of 10, and 15 out of

the 50 seats in the House of Representatives. After

intercommunal strife between the two communities

in 1963, Turkish Cypriots vacated their seats.

Since then, ministerial positions have increased to

11, all duties carried out by Greek Cypriots and

the number of parliamentary seats has extended

to 80 of which 30% (24) are allocated to Turkish

Cypriots as per the constitution but remain vacant.

INTERNATIONAL RELATIONS

Cyprus joined the EU on 1 May 2004 together

with nine other European countries. Under the

terms of its accession the entire island is considered

technically to be a member of the European

Union, despite its continued division and the fact

that the government of the Republic has no effective

authority in the northern part of the island.

However, the terms of the acquis communautaire,

the EU's body of laws, have been suspended

in the north. Cyprus has historically followed a

non-aligned foreign policy, although it increasingly

identifies with the West in its cultural affinities

and trade patterns, and maintains close relations

with Greece. Turkey refuses to recognise the

government of the Republic of Cyprus, arguing

that the latter – as established by the Constitution

of 1960 – ceased to exist when the intercommunal

violence that broke out in December 1963 ended

Turkish Cypriot participation in government.

As a result, Turkey still refuses to allow Cypriotflagged

vessels access to its ports, despite pressure

from the European Union. Cyprus is a member

of the United Nations and most of its agencies,

as well as the Commonwealth of Nations, World

Bank, International Monetary Fund and Council

of Europe. In addition, the country has signed the

General Agreement on Tariffs and Trade (GATT)

and the Multilateral Investment Guarantee

Agency Agreement (MIGA). n

Discover more at www.cyprusprofile.com

Country Report CYPRUS 2020 17
---
Economy

H

18 Country Report CYPRUS 2020
---
Economy

GROWTH ON

THE

ORIZON

Following the banking crisis of 2013, Cyprus exceeded

expectations and propelled itself into a front-runner as one of the

fastest growing EU economies. Implementing critical reforms,

strengthening investor confidence and launching new incentives

were key to achieving this success. With the break of the

coronavirus pandemic the economy has taken a severe hit along

with many other countries, but early action has proved key in

Cyprus' efforts to secure a sustainable and competitive economy.

Country Report CYPRUS 2020 19
---
Economy

The small, open economy

of Cyprus is known for its

resilience, having enjoyed

uninterrupted expansion

for more than 30 years

until the global financial

crisis pushed the country

into recession in 2009. The

economy bounced back

swiftly after the banking

crisis in 2013, returning to

growth in 2015, investment

grade rating in 2018 and

recording annual average

real GDP growth of 5.4% in 2016-19. During this

period the banks took the opportunity to consolidate,

boost and diversify their capital base and cut

non-performing loans by over two-thirds. At the

same time, the government reformed its public

finances, brought debt back below 100% of GDP

and paid off its debt to the IMF five years early.

The medium-term focus is on continuing

structural reforms that will encourage investment,

raise the economy's competitiveness and

leverage the eurozone economy's highly educated

population. The immediate impact of the Covid-

19 pandemic on the economy has of course been

significant, but the government has marshalled

considerable domestic and eurozone resources to

support business activity. Early signs of returning

confidence suggest that the country's legendary

resilience will prevail.

KEY SECTORS

The Cyprus economy is dominated by services,

which accounted for 82.7% of gross value added

in 2019, while industry accounted for 8%, construction

7% and agriculture, forestry and fishing

2.3%. Over the past two decades the economy

has diversified. While tourism remains one of the

most significant sectors, especially because of its

wider impact on retail, transport, construction

and employment, its value-added contribution,

when narrowly defined as accommodation and

food services, has now been overtaken by professional

services, financial services and real estate.

Diversification has been made possible by the

growing importance of Cyprus as an international

business centre. Information and communication

services are also expanding rapidly from a

low base, as the country takes advantage of its ge-

In addition to the upheaval it caused to peoples' lives

and its continued health threat, unavoidably, the Covid

pandemic also has a momentous impact on businesses

and the economy. From the onset of the crisis, maintaining

positive epidemiological conditions was at the cornerstone of

government policy response. Having achieved to contain the

spread of the virus helps us now to enter the recovery phase

with more confidence despite the uncertainty that still lie ahead.

In the economic front we responded with early and frontloaded

economic measures to address the effects of the pandemic, adopting a generous fiscal stimulus

package mainly based on short term income support and liquidity measures for the employees

and the businesses affected by the pandemic. Those measures have delivered and we can

now focus on the broader recovery strategy for the medium and long term. A strategy which

includes the use of the medium-term budget and the EU recovery fund to achieve two main

recovery goals: to strengthen the resilience of the Cypriot economy and to give a new impetus

to its transformation. A transformation through structural reforms, into the era of a digital,

green and sustainable economy. Taking into consideration the demonstrated flexibility of the

Cypriot economy, I am confident that by following the correct policies through the necessary

political consensus, we will also emerge strong from this crisis as we did in the near past.

Constantinos Petrides

Minister of Finance

20 Country Report CYPRUS 2020
---
Economy

Real

GDP

Growth

Source: European

Commission,

European

Economic Forecast,

Summer 2020

GDP in

€ Billions

Source: Cystat

19.4

19.8

19.4

18.0

17.4

17.8

18.9

20.0

21.1

21.9

4.1% 3.2% -7.7% 5.3%

2018 2019 2020

(forecast)

2010

2011

2012

2013

2014

2015

2016

2017

2018

2019

GDP per

capita in €

Source: Cystat

23,402

23,273

22,502

20,877

20,421

21,031

22,163

23,315

24,294

24,925

2021

(forecast)

ographic location at the crossroads of three continents.

Administrative services are also rising fast,

boosted by the growing compliance industry. As

in many advanced countries, the largest single

sector is wholesale and retail trade, serving the

general population as well as incoming tourists.

CHALLENGES AND OPPORTUNITIES

The immediate challenge for the economy is to

limit the impact of the Covid-19 pandemic. By

September 2020 the government had committed

€1.3 billion (6.4% of GDP) to businesses, mainly

to support salaries and another €1.9 billion in

liquidity support to the banking sector. The

country will also be eligible for €479 million of the

EU's Support to mitigate Unemployment Risks

in an Emergency (SURE) programme and €968

million from the EU's Recovery and Resilience

Facility, while the European Central Bank (ECB)

is also providing support via the Public Sector

Purchase Programme (PSPP) and the Pandemic

Emergency Purchase Programme (PEPP).

Dealing with the short-term crisis has not distracted

the government from pursuing structural

reforms. A new Deputy Ministry of Research,

Innovation and Digital Policy was established in

March 2020 and was key to accelerating digitisation

of the public sector at the height of the pandemic.

The government approved the Fast Track

Business Activation Mechanism for non-EU nationals

in September 2020, building on the Fast

Track Headquartering scheme introduced in

2019.

Key prospects lie in energy, interconnectivity,

tourism and headquartering. Energy prospects

arise from offshore natural gas finds, further

electricity liberalisation and investment in renewables,

while opportunities for interconnectivity

will come from the submarine electricity

cables that will link Cyprus to the European and

African continents. Investment in expanding and

upgrading the island's tourism offering will continue,

while prospects for headquartering have

been boosted by the government's early public

health interventions to rapidly contain the pandemic.

This has further enhanced the country's

reputation as a safe eurozone location in which

to do business. n

Country Report CYPRUS 2020 21
---
Economy

7.6%

Financial Services

8.9%

Public administration

& defence

10.9%

Wholesale &

7.9%

Manufacturing,

electricity,

gas & water

2.4%

Agriculture & mining

retail trade 7.0%

Accommodation

& food services

Key sectors

as % of total

Gross value added

(GVA)

Source: Cystat

8.2%

Professional

services

7.0%

Construction

40.1%

Other services

Gross public debt

as % of GDP

Source for 2018-19: Ministry of Finance

Forecast source: Sapienta Economics,

Country Analysis Cyprus, August 2020.

100.6 95.5 117.6 114.9 108.1

2018 2019 2020

(forecast)

2021

(forecast)

2022

(forecast)

Current account

balance (% of GDP)

Source for 2018-19: Central Bank of Cyprus

Forecast source: Sapienta Economics, Country

Analysis Cyprus, August 2020.

-4.4 -7.6

-1.0 -4.1

22 Country Report CYPRUS 2020
---
Harmonised Consumer price inflation (%)

Source: European Commission, European Economic Forecast, Summer 2020

0.8 0.5 0.8

Economy

2018 2019

Credit ratings September 2020

2020

(forecast)

-0.5

2021

(forecast)

BBB- BBB- BBB (L) Ba2

Standard & Poor's

Stable Outlook

Fitch Ratings

Stable Outlook

Unemployment rate

Source for 2018-19: Cystat

Forecast source: Sapienta Economics, Country

Analysis Cyprus, August 2020

DBRS

Stable Outlook

8.4% 7.1% 9.8% 9.1%

Moody's

Positive Outlook

The priority of the

Ministry's policies is

to address the immediate

issues arising as a result

of the pandemic and

the challenges that will

be posed, in the best

possible way for the

benefit of the whole of

society. Τhe Government

and the Ministry of

Labour, Welfare and

Social Insurance, in

parallel with the gradual

upgrading of social

benefits and the provision

of care to citizens in

need, closely monitors

developments in the

economy and business

and makes every effort

to strengthen businesses

and, by extension, the

economy, so that we can

return to positive growth

rates as soon as possible,

safeguarding jobs and

workers' rights. We will

use the resources of the

European Social Fund

to launch new Incentive

Plans for the recruitment

of the unemployed, as

well as new projects

combining training with

employment subsidy

and other measures

aimed at preventing

a large increase in

unemployment.

2018 2019 2020

(forecast)

2021

(forecast)

Zeta Emilianidou

Minister of Labour,

Welfare and Social

Insurance

Country Report CYPRUS 2020 23
---
Economy

The challenges of maintaining

economic prosperity in a

Covid-impacted world is a key

inflection point for countries

and requires really significant

changes in the way governments

and businesses will need to adapt. The rate of

digital transformation has never been higher and

will be maintained. EY will invest substantially

in our strategic advisory capabilities in Cyprus

and we will look to attract the best and most

diverse talent into our Firm to help our clients

thrive amidst all the current uncertainties.

David Barker

Country Managing Partner

EY Cyprus

Exports of goods by economic destination

in 2019 €/million (includes re-exports)

Transport

equipment

1,018

Machinery &

electrical equipment

239

Mineral

products

666 Chemicals

405

Base metals

& products

95

Vegetable

products

78

Live animals

& products

270

Unclassified

78

It is no secret that Cyprus'

economic activity in 2020 has

been significantly affected as a

result of the global outbreak of

Covid-19 and the confinement

measures that followed.

Even though Cyprus' performance in containing

the spread of the virus has been remarkable,

the contraction of the economy is expected to

be over 7% of the GDP. The outlook for 2021

is quite encouraging though, with growth

rates that are expected to be between 5-6%

of GDP. Various reforms are already under

way, while the country has embarked on an

ambitious programme of digital transformation

that will increase further its efficiency and its

international competitiveness as an established

business and services centre in the area.

Source: Cystat

Netherlands

Food, beverages

& tobacco

135

Libya

Other

171

TOTAL EXPORTS

3,146

Top export markets for goods in

2019 €/million (includes re-exports)

Greece

United Kingdom

Hong Kong

Marshall Islands

Christodoulos Angastiniotis

President

Cyprus Chamber of Commerce and Industry (CCCI)

The main question for the

economy in the next 12 months

is whether the legendary

resilience of the Cyprus economy

will prevail. There are some

signs of life outside tourism,

but this will not prevent negative growth rates

in 2021. I am currently forecasting a real GDP

contraction of 5.0% in 2020 and growth of 1.8%

in 2021 but with the caveat that all forecasts

are subject to more uncertainty than usual.

Fiona Mullen

Director

Sapienta Economics

406 315 235 189 81 71

Top suppliers of goods in 2019 €/million

Source: Cystat

UK 588

Germany 496

Italy 844

Greece 1,669 Israel 489

Source: Cystat

China 412

24 Country Report CYPRUS 2020
---
Foreign Direct Investment (FDI)

FDI Liabilities (Investments in Cyprus)

FDI Assets (Investments abroad)

Economy

53,807

57,985

19,586

22,539

38,828

49,707

26,118

39,939

7,722

5,699

16,216

14,835

4,684

-2,617

21,174

12,068

2012 2013 2014 2015 2016 2017 2018 2019

Cumulative inward FDI

stock by country €/million

Russian Federation 45,191

Jersey 33,708

British Virgin Islands 18,856

Netherlands 18,071

United Kingdom 16,219

Germany 8,216

Bermuda 6,047

Poland 3,223

Marshall islands 3,188

Ireland 2,408

Inward FDI flow by country

in 2018 €/million

Russian Federation 5,224

China 165

Germany 136

Other Near and Middle East countries 99

Greece 98

Israel 44

Lebanon 29

Ukraine 22

Jordan 20

Vietnam 8

Total including others

€374,172m

Source: Central Bank of Cyprus

Total including others

€5,478m

Source: Central Bank of Cyprus

Imports of goods by economic destination in 2019 €/million

2,325

1,857

1,980

Consumer goods

Intermediate inputs

Transport equipment & parts

of which ships & boats

489

1,468

117

Capital goods

Fuels & lubricants

Unclassified

TOTAL IMPORTS

8,236

Source: Cystat

Country Report CYPRUS 2020 25
---
Foriegn Direct Investment

FDI Destination

Cyprus has attracted formidable foreign investment over the last five years

with billions of euros flowing into multiple sectors. Although the coronavirus

pandemic has slowed down the global economy, the country has forged ahead

with the launch of new incentives and reforms that continue to offer interesting

opportunities to investors with capital and interest in the East Med region.

The growth performance of Cyprus over

the last five years has been exceptional

and even exceeded international expectations,

while successive credit

rating upgrades and new incentives

have attracted billions in foreign investment

since 2015, with significant

inflows from the US, Asia, Russia and

the Middle East. Cyprus' return to an investmentgrade

credit rating in 2018 gave both the economy

and investor confidence a much-needed boost,

and the successful recapitalisation of its major

banks and numerous large-scale projects, have all

contributed to the resurgence of Cyprus as a top

foreign direct investment (FDI) destination. The

sectors that have seen the most significant FDI

are banking, shipping, retail, tourism, pharmaceuticals

and energy, while new luxury and infrastructure

developments are underway across the

country with significant foreign investor backing.

A fast-track system is also encouraging international

companies to set up international and

regional headquarters on the island, which is becoming

an increasingly attractive gateway to both

established and emerging growth markets.

DIVERSIFIED INVESTMENT OPTIONS

For the last few years, Cyprus has been a hive of

activity with several notable projects already implemented

or in the pipeline, strengthening the

country's image and appeal. Foreign investment

flows have been significant. In the ten-year period

2010-19, inflows of FDI averaged €24 billion per

year, while cumulative net FDI reached €17.3

billion. This investment was driven by equity,

with the shipping and real estate sectors playing

a significant role.

New large-scale real estate projects, luxury

marinas and tourism infrastructure, coupled with

exciting opportunities in the energy and shipping

sectors have all reinforced Cyprus' status as an interesting

investment location. An added benefit

of Cyprus is its secure and stable EU environment

in a turbulent region, which provides an ideal

base for regional headquarters or ancillary and

support services for investors with clients in the

wider Eastern Mediterranean region.

Already renowned as a popular holiday destination

and a thriving business hub servicing

international companies with multinational

26 Country Report CYPRUS 2020
---
operations, the island is sharpening its competitive

edge by streamlining processes, modernising

legislation, introducing incentives and

speeding up licensing procedures to better cater

to investors. Special schemes and incentives are

in place to facilitate headquartering, which covers

the sectors of technology, asset management, investment

funds, shipping and higher education,

'Olivewood' for the international film industry,

the Startup Visa for non-EU nationals and a

Fast Track Business Activation Mechanism for

non-EU nationals approved in September 2020.

PRIVATISATIONS AND LARGE-

SCALE PROJECTS

Cyprus' FDI appeal has been on an upward trajectory

with the economy posting a healthy 3.2%

growth in 2019 and following improvements in

its macroeconomic and financial environment,

factors that have also revived international interest

in around 30 major development projects on

the island. Investment opportunities in Cyprus'

large-scale projects span various sectors, including

high-value tourism and housing developments,

projects with a special focus on golf

courses and luxury marinas, as well as education,

energy and, more lately, the international film

sector.

The liberalisation of markets in which stateowned

entities used to dominate presents new

opportunities in terms of FDI. The 2017 commercialisation

of the country's largest port in

Limassol marked a new era for Cyprus as a commercial

hub. The privatisation deal with Eurogate

International GmbH and DP World Limited is

expected to boost state coffers with €2 billion

over the next 25 years, while the new port operators

are injecting millions in upgrading services

and infrastructure. The coming full liberalisation

of electricity is also presenting new opportunities

in the natural gas and renewables sectors.

PERFECTING THE TOURISM PRODUCT

Tourism has long been a driving force of the

Cypriot economy and a concerted effort to diversify

its offering in recent years has paid off.

Ahead of the global pandemic, expansion of capacity

as well as quality upgrades saw both arrivals

and expenditure break new records for four

years running. Cyprus has been attracting new

interest by developing conference, sports, health

and wellness and by extending the tourist season.

The construction and investment in multipurpose

projects and mixed-use developments such as

luxury marinas, golf courses and more recently

the island's first-ever and only integrated luxury

casino resort, are all part of the ongoing strategy to

upgrade Cyprus' tourism product. The temporary

casino has started operations and the full integrated

casino resort, City of Dreams Mediterranean,

will have extensive facilities and five-star status

by 2021. The casino resort is Hong Kong-based

Melco's first expansion outside of Asia and will be

the biggest casino of its kind in Europe, with the

investment for this mega project at €600 million.

Following the success of Limassol Marina,

there has been a swell of interest in these types

of projects. The €300 million luxury Ayia Napa

Marina – which is transforming the area – has

graduated to its second phase, with berthing facilities

now fully operational. The marina offers

capacity for 600 yachts of up to 60 metres, a shipyard,

and a range of luxury villas and facilities.

With significant Egyptian investment backing

the innovative project, the seafront residences,

which will be completed by 2023, are already

being marketed to investors worldwide. In addition,

the €110 million Paralimni Marina project

is well under way, with additional development

incentives approved by the government in 2020.

The tender for Larnaca Marina received approval

in August 2020 and is expected to attract €1.2

billion in construction and real estate development,

while plans are in place for a luxury marina

in Paphos.

The number of foreign investors closing

multimillion-euro deals in the last few years

underlines the fact that tourism-related real

estate and infrastructure continues to be one of

the most attractive investment opportunities in

Cyprus. With solid and continuous interest in the

tourism sector, the country's investment promotion

agency Invest Cyprus has set up a dedicated

and specialised unit, TourInvest, to promote investment

opportunities in the tourism and hospitality

sector. In cooperation with the Deputy

Ministry of Tourism and other stakeholders, the

unit focuses on attracting investment into largescale

infrastructure projects that exist in diversified

thematic areas.

Worthwhile investments have already been

made in the hospitality industry with acquisitions

and the construction of new luxury hotels of wellknown

hotel management chains. These include

the prestigious Sun City Spa and Residences by

Chinese group Jim Chang Global with an initial

investment of €100 million to construct a fivestar

resort hotel and exclusive beachfront residences

in cooperation with the Giovani Group.

The Radisson Hotel Group, one of the largest and

most dynamic hotel groups in the world, has big

plans to grow its existing portfolio in the country

to six hotels and almost 1,000 rooms by 2025.

In 2019, the Luxury Collection, part of

Marriott International, opened the Parklane

Luxury Collection Resort & Spa resort in

Foriegn Direct Investment

Country Report CYPRUS 2020 27
---
Foriegn Direct Investment

Limassol. Owned and operated by Parklane

Hotels Limited, the property marks Marriott

International's entry into Cyprus. Another major

international deal in recent years was South

African Atterbury acquiring two of the country's

flagship Nicosia retail outlets, the Mall of Cyprus

and the Mall of Engomi, for €200 million.

In July 2020, Hyatt Hotels Corporation announced

a management agreement with Anolia

Holdings Limited for the launch of the first Hyatt

hotel in Cyprus. The 300-room luxury resort

Grand Hyatt Limassol is expected to open in

2025. The new beachfront resort will also be a

key element of Zaria Resort, a mixed-use luxury

development, comprised of residential apartments

and private villas totaling more than 80,000

square meters. The announcement of Grand Hyatt

Limassol follows a significant expansion in Hyatt's

brand footprint in Europe over the last year, and

Cyprus has proven to attract travellers from Hyatt's

key strategic markets including the UK, Russia,

Greece, Germany and the Middle East.

EXPANDING PROPERTY MARKET

Cyprus continues to be on the top of the list for

investors, holiday-home seekers, expats and retirees,

with the traditionally popular areas of

Paphos and Limassol leading the way. One of

the latest projects is the Sofitel Resort & Spa, a

joint venture between Singapore-headquartered

Oxley Holdings and Planetvision on the Limassol

beachfront. The project will be the first Sofitel

Resort with branded residences in Europe and is

expected to be completed by 2022.

Health and wellness developments are increasingly

popular, and a prime example of

this is the Eden Seniors Resort in Larnaca

which opened its doors in 2018. The project,

developed by the Cypriot-Lebanese joint

venture Eveningfall Investments Ltd, is a wellness

and rehabilitation centre, with spa and

relaxation facilities for the elderly. In 2021,

Paphos is due to see the first dedicated retirement

village in Cyprus – a segment that has

much potential in Cyprus along with rehabilitation

related projects. The €16 million retirement

village, branded Lazaris Mill, will consist of 82

individual apartments, ranging from studios

to larger flats and a small 24-room hotel, and

provide both necessary and bespoke facilities.

Until now, no retirement villages were available

on the island and whilst common in many other

countries, this project is a first for Cyprus.

The high-end residential property segment

accounted for 20% of the total transaction value

of real estate in Cyprus during the first half of

2019, with a keen interest from foreigners. For

the whole of 2019, 66% of properties were acquired

by non-EU buyers.

NEO, Pafilia

FDI LIABILITIES (INVESTMENTS IN CYPRUS) Source: Central Bank of Cyprus

8,511

47,099

23,419

28,909

53,807

19,586

38,828

26,118

7,722

16,216

4,684

21,174

2008 2009 2010 2011 2012 2013 2014 2015 2016 2017 2018 2019

28 Country Report CYPRUS 2020
---
A GROWING ENERGY SECTOR

Since US company Noble Energy made the first

natural gas discovery in 2011 with estimated

resources of 4.5 trillion cubic feet (tcf) in the

Aphrodite field, Cyprus' hydrocarbons discoveries

have captured the attention of several global

energy giants. ENI, Kogas, ExxonMobil, Royal

Dutch Shell, and Total have all secured exploration

licences and conducted exploratory drilling

while US giant Chevron will be taking a stake in

Block 12 after announcing its intention in July

2020 to buy out Noble Energy Inc. ExxonMobil

announced the discovery of an estimated 5 to 8

tcf in Block 10 in early 2019 and ENI announced

a promising discovery in Block 6 in early 2018.

More drilling is expected in the next few years

and in 2019 Cyprus agreed to build a subsea pipeline

connecting Aphrodite to Egypt's liquefaction

plants and concluded a production-sharing

deal with Noble Energy and its partners over the

Aphrodite gas reservoir.

New opportunities are being created for

a range of energy investments, including gas

imports for power generation, the expected liberalisation

of the electricity market by 2021,

the growing share of renewables, the EuroAsia

Interconnector project to connect Cyprus, Israel

and Greece via submarine electricity cable, the

related EuroAfrica Interconnector to connect

Egypt, and the potential for the world's longest gas

pipeline from Israel via Cyprus to Italy. The discoveries

have boosted the development of a new

energy industry in the country, which is also well

positioned to offer a multitude of auxiliary services

to companies operating in the wider region.

A floating storage and regasification unit (FSRU)

terminal in Vassilikos, which will transform domestic

power production, attracted finance in

2020 from the European Investment Bank (EIB)

and the European Bank for Reconstruction and

Development (EBRD).

A LEANER BANKING SECTOR

In the era of globalisation,

boundaries between

international politics

and international

economic relations have

become even more

blurred. The outbreak

of Covid-19 pandemic

has posed additional,

unprecedented challenges

on governments and

businesses alike and

has accelerated the

changes that were already

underway. Overcoming

these challenges

successfully will

ultimately depend on how

countries are able to adapt

to the new environment.

I am confident that our

new strategy for Economic

Diplomacy will stand us in

a strong position to bring

into play all elements

that make Cyprus an

attractive investment

destination: membership

of the EU with easy access

to a market of 500 million

consumers, a modern

legal framework, an

attractive tax system,

an extensive network

of more than 60 Double

Tax Treaties, a highly

skilled workforce

and high-quality

professional services,

to mention but a few.

Nikos Christodoulides

Minister of Foreign Affairs

Cyprus banks maintain high levels of capital adequacy

and liquidity. The gradual restructuring

of the banking sector after 2013 has attracted important

institutional investors and fresh foreign

capital, and encouraged accelerated sales of nonperforming

loans. These developments have substantially

reduced risk and enabled the financial

system to operate on a more sound basis.

The island's biggest lender, Bank of Cyprus,

secured €1 billion of investment from worldrenowned

investors in 2014 and issued another

€220 million in Additional Tier 1 (AT1) capital in

December 2018. The bank listed on the London

Stock Exchange in January 2017, which has substantially

opened up access to large foreign investors,

such as Morgan Stanley.

Hellenic Bank completed a capital increase

of €150 million in March 2019 to support its acquisition

of mainly performing loans from the

former Cyprus Cooperative Bank. The acquisition

boosted the bank's assets to €16 billion and

raised market share for loans to 30%. The capital

raise brought in new international investors, such

as US-based Poppy Sarl (PIMCO), with the other

major shareholders being Demetra Investments

Ltd, Wargaming, Third Point and investment

fund 7Q Financial Services Ltd.

Mergers and acquisitions in the past few years

have transformed the landscape somewhat with

strategic new investment entering the sector from

the sale of the majority stake of the Cyprus subsidiary

of Greece's largest lender Piraeus Bank, to

Lebanese Holding M. Sehnaoui SAL – which injected

€40 million in fresh capital into the bank in

2017, now renamed AstroBank. In January 2019,

AstroBank went on to acquire the locally based

USB Bank for €40 million and agreed to buy

NBG Cyprus in late 2019. The deals are expected

to contribute to the further consolidation of the

Cyprus banking sector and highlight potential

investment opportunities in Cyprus.

The banking sector has seen more activity

and investment in recent years, providing opportunities

for new players to enter into the market

to encourage healthy competition and a wider

scope of services. Investment opportunities that

could be tapped into by international banks and

financial groups are mergers and acquisitions,

private equity and venture capital projects via the

budding funds sector, as well as financing of large

infrastructure projects.

WORLD-CLASS SHIPPING HUB

One of Cyprus' most successful export services

has been the maritime industry, which now has

its own dedicated deputy ministry. The growth

of Cyprus' resident shipping sector over the past

50 years has helped develop a strong maritime

cluster that includes Cyprus-based banking, professional

services, insurance and IT. The cluster

has gone from strength to strength over the

years and is consistently attracting more quality

tonnage and shipping-related companies to its

shores.

The decision in July 2018 by leading London

ship insurer P&I Club to open a post-Brexit EU

subsidiary in Cyprus, reaffirmed the island's position

as one of the top global hubs for shipping.

Another coup came in early 2019, when British

shipping firm P&O Ferries decided to register

its English Channel operating fleet under the

Cyprus flag to take advantage of the benefits and

Foriegn Direct Investment

Country Report CYPRUS 2020 29
---
Foriegn Direct Investment

security it provides.

Two of the industry's most highly respected

privately-owned shipmanagement companies,

Columbia Shipmanagement and Marlow

Navigation – both based in Cyprus – merged in

2017 to form Columbia Marlow, creating one of

the world's largest ship and crew-management

companies. Another transaction constituting FDI

was the 2018 buyout of Limassol-based Songa

Offshore SE by Transocean Ltd, the world's

largest offshore drilling contractor for oil and gas

wells, in a deal worth US$3.4 billion.

In the past six years there has been an increase

of more than 65% in the number of shipping

companies that have registered with Cyprus'

specialised shipping taxation system, boosting

the sector's revenue by around 25%. In addition,

natural gas finds within Cyprus' EEZ and efforts

to exploit it in cooperation with neighbouring

countries have expanded opportunities for the

island's already thriving shipping sector.

EXCELLING IN EDUCATION

Cyprus has seen a rapid expansion of tertiary

education in the past few years, and is well on

its way to develop the island into a regional education

centre and knowledge hub. Cyprus has

already attracted cooperation and synergies

with international universities, most notably the

University of Nicosia launching the island's first

degree programme in medicine in collaboration

with St George's Medical School at the University

of London, and University of Central Lancashire

– Cyprus (UCLan), being the first British university

to establish a campus on the island. The

number of foreign students choosing Cyprus for

their studies has almost tripled in the last five

years, representing over 60 different countries

and supporting the growth of Cyprus into a true

global educational centre. This fact underlines

the great opportunities that exist in Cyprus for

the establishment of new universities, colleges

and research institutes.

FOCUS ON INNOVATION

A new Deputy Ministry of Research, Innovation

and Digital Policy was established in March

2020 to leverage Cyprus' potential for innovation

and to support digitisation in the economy,

which has accelerated during the Covid-19

pandemic. In addition, a range of initiatives

are under way to support start-ups, including a

Startup Visa scheme to attract more international

talent to establish ventures with high growth

potential. Opportunities are therefore opening

up for business angels and venture capitalists

looking for innovative start-ups, and to invest

risk capital in exchange for equity in promising

business ideas and products. Recent changes to

taxation on intellectual property (IP) also supports

innovative research.

The technology and communications sector

in Cyprus has become fiercely competitive, with

a number of players deploying cutting edge solutions

to both increase their local market

share and generate growth through the launch

In the ten-year period 2010-19, inflows of FDI averaged

€24 billion per year, while cumulative net FDI reached

€17.3 billion. This investment is driven by equity, with the

shipping and real estate sectors playing a significant role.

The new

reality has

brought

significant

changes

globally with

FDI flows expected to drop

at least by 40% as predicted

by UNCTAD. Clearly the

pandemic crisis has affected

all countries, which are now

paving the way for recovery

and mobility. According to

the EU Commission forecast,

real GDP in Cyprus, will

contract by 7.75% in 2020 and

recover in 2021 by 5.25%.

George Campanellas

CEO

Invest Cyprus

2021 will

be a year of

challenges.

The

uncertainty

caused by

Covid-19 will continue to affect

businesses both in Cyprus and

internationally and the extent to

which Cyprus will be adversely

influenced depends on the

measures taken to alleviate the

loss of GDP from the reduction

of tourism and overall

Covid-19 impact. As Cyprus

has gone through a similar

shock in 2013, it is our belief

that the same determination

exhibited then will enable

Cyprus to recover quickly.

Doxia Nikia Hadjivassiliou

President

Cyprus International

Businesses Association (CIBA)

30 Country Report CYPRUS 2020
---
The sectors that

have seen the most

significant FDI

are banking, shipping,

retail, tourism,

pharmaceuticals

and energy,

while new luxury

and infrastructure

developments are

underway across

the country with

significant foreign

investor backing.

Foriegn Direct Investment

Professional

services are

constantly

being

upgraded

in order to

meet the emerging needs of

businesses, investors and the

society in the post-Covid-19

era. Technology and the

provision of remote services

are now key, increasing the

likelihood of saving time while

creating economies of scale.

I expect that the sector will

adapt once again to the new

business environment, as

the country's professionals

foster their efforts towards

the recovery of the sector.

Christos V Vasiliou

Managing Director

KPMG Cyprus

of new technology and products. The sector

saw new investment in July 2018, with South

Africa's telecom MTN Group – which entered

the Cypriot market 11 years ago and has around

one-third of the market – selling its Cyprus

operations to Monaco Telecom S.A. in a €260

million deal. In 2019, the company was rebranded

Epic, and the group announced strategic cooperation

with China's Huawei on developing a

5G network in Cyprus.

CAPITALISING ON OPPORTUNITIES

Time and again, Cyprus has proven its resilience

as an economy and FDI location. Having endured

a challenging economic climate earlier this

decade, and now tackling the effects of the global

coronavirus pandemic, Cyprus has nevertheless

exceeded expectations and the transformation its

economy is going through today, presents many

opportunities for serious investors.

To further enhance investor interest, the government

is making staunch efforts to improve its

FDI framework and has vowed to cut through

red tape. Reforms accelerated in 2020 include a

specialised commercial court and upgrades to

the judicial system, as well as targeted incentives

to better facilitate investment. These efforts have

been recognised, with Cyprus seeing an increase

in FDI and the registration of new companies

setting up on the island.

Cyprus' open economy, European Union status

and established role as a regional business hub

between three continents continue to appeal to

investors. The island also hosts a thriving forex industry

with many global giants basing their operational

headquarters in Cyprus. In addition, the investment

funds sector has grown exponentially in

the last few years with continuous upgrades to the

regulatory framework. Assets under management

have more than tripled from €2.1 billion in 2012

to €7.97 billion in the second quarter of 2020, recording

a 5.3% increase over the first quarter of the

year. If recent growth rates are sustained, industry

experts predict assets under management could

reach €20 billion in the next five years.

Cyprus' liberalised FDI Policy, both for EU

citizens and investors from third countries, along

with its favourable tax regime makes it one of the

most attractive investment targets in Europe. At

12.5% Cyprus' corporate tax rate is one of the

most competitive in the EU, and its extensive

network of double taxation treaties with 65 countries

have strengthened its position as a business

gateway and a preferred location for corporate

headquarters. The country's skilled talent, low

cost of doing business, top-tier professional services,

and high quality of life renders Cyprus

not only a wise business choice but also a great

relocation destination. As work progresses on

implementing structural reforms to bolster the

business environment, the attractive incentives

and the ever-expanding opportunities will continue

to attract foreign investors. n

Discover more at www.cyprusprofile.com

Country Report CYPRUS 2020 31
---
FDI Insights

WHY DID YOU CHOOSE TO

invest in Cyprus?

Oxley Planetvision

Country of Origin: Singapore

AstroBank

Country of Origin: Lebanon

We believe in Cyprus, its potential and its future.

We believe in Cyprus, as a country, as a promising

economy and as a privileged gateway between the

East and Europe. We are confident that the Cypriot

banking sector in particular, after weathering the

storm, is gradually stabilising and offers interesting

investment opportunities. In addition to that, the

seriousness and commitment of the Central

Bank of Cyprus to maintain a solid and supportive

regulatory environment which provides stability and

sustainability was a decisive factor. For us Cyprus

is a perfect illustration of the saying "never let a

good crisis go to waste", which means that a crisis

often offers the opportunity to do things you could

not do before. It is this reasoning that made us

invest in Cyprus and we look forward to becoming

a channel for others to invest in Cyprus as well.

Maurice Sehnaoui

Vice Chairman

AstroBank

We see a renewed vigour and enthusiasm in Cyprus, driven by robust economic growth,

political stability, a resurgence in tourism, and a stable and growing financial sector. We

have great confidence in Cyprus' overall economy and its property market. This improved

economic backdrop has encouraged direct foreign investment into Cyprus for large-scale

projects and provides a solid platform for future investments. Therefore, the time is

right to invest in Limassol's future as the country embraces its

evolving role on the international economic scene. As the local

market is experimenting with multi-storey towers, Oxley will

apply its vast international experience to provide Limassol

with a distinguished landmark which will offer a genuinely

new lifestyle experience everyone will want to be part of.

Atterbury Europe

Country of Origin: South Africa

There are various reasons for companies

such as Atterbury and Attacq – both

originating from South Africa – to invest

in Cyprus. Our recent acquisition of The

Mall of Cyprus and The Mall of Engomi

indicates a strong relation between two

countries in different hemispheres. With

both countries former British colonies,

the influence is evident in legal and

land ownership structures that provide

significant common ground. As an added

benefit, investments in Cyprus provide

much sought-after exposure to the Euro

currency. Infrastructure is world class and

professional service providers are highly

skilled and reliable in their responsibilities

and communication with clients. There

are lucrative tax benefits for companies

investing in Cyprus, making it much

more than a beautiful and culturally

rich destination. From an economical

perspective, Cyprus is rapidly recovering

as can be seen in the recent upgraded

credit ratings and positive progress on

various issues that further improve the

reputation of Cyprus as an investment

destination on the world stage. We intend

to establish a long-term presence in

Cyprus with further investments in our

existing portfolio as well as other

locations on the island.

Raoul de Villiers

Managing Director

Atterbury Europe

Ching Chiat Kwong

Executive Chairman Oxley Holdings Limited,

Oxley Planetvision Properties Ltd

32 Country Report CYPRUS 2020
---
Melco International

Country of Origin: Hong Kong

Cyprus is an ideal location for Melco's initial plans for expansion

beyond Asia. It is a fitting site for what will become Europe's

largest integrated casino resort, 'City of Dreams Mediterranean'.

Cyprus is the only jurisdiction in the region to have successfully

passed legislation and complete a transparent RFP for a largescale

integrated resort; and has a great history of implementing

the rule of law. Furthermore, Cyprus' location, with its proximity

to Europe, the Middle East, and Africa is hugely appealing.

Developments in infrastructure and hospitality means Cyprus

has huge potential for tourism expansion. Our investment of

€550 million for the integrated casino resort project aims to

create a unique world-class development, which will support

important advances to Cyprus' economy and touristic product.

UCLan Cyprus

Country of Origin: United Kingdom

The University of Central Lancashire (UCLan), the fourth

largest University in the UK, through its strategy of developing

educational satellites around the globe, showed strong

interest in choosing Cyprus as the first step in expanding

its presence, primarily due to the geopolitical position and

large local demand for UK higher education in Cyprus.

After researching the best location for their branch campus

and the local procedures for setting up a University,

UCLan chose Larnaca as the ideal strategic location to

establish the first British university on the island.

Floros Voniatis

CEO - Chair of the Council - Founding Partner

UCLan Cyprus

M.M. Makronisos Ltd

(Ayia Napa Marina)

Country of Origin: Egypt

We invested in Cyprus right after its

financial crisis of 2013, as we saw it

as a big opportunity, it could only go

upwards. This, coupled with one of

the most attractive and transparent

tax systems in Europe, which is

fully compliant with EU laws and

regulations, as well as a modern and

business-friendly legal system, have

proven Cyprus to be an attractive

destination for a foreign investor

interested in Europe. Our experience

as investors in Cyprus has been

very positive. The government and

authorities are welcoming and don't

spare any efforts to facilitate hurdles

faced by foreign investors, and have

been efficient in providing necessary

permits for our project. The Cyprus

Permanent Residency Programme

is a great incentive for foreigners to

invest in real estate and is helping

to create a big opportunity for us to

develop a huge project like Ayia Napa

Marina, which we envisage to change

the face of the Cypriot coastline and

become the best luxury destination in

the Eastern Mediterranean. Finally, I

am very happy to acknowledge that

construction is progressing very

well, with the Marina being in full

operation since June of 2020 and the

Commercial Area will welcome the

first guests in the Summer of 2021.

FDI Insights

Lawrence Ho

Chairman and CEO - Melco International

Naguib Sawiris

Chairman

M.M. Makronisos Ltd.

Monaco Telecom

Country of Origin: Monaco

Cyprus was our destination of choice. It is one of the most

dynamic economies inside the EU, providing a stable and

clear regulation, and promoting open competition. Monaco

Telecom is building a Group of independent operators in

the European Mediterranean environment with Cyprus,

Malta and Monaco as its major geographies. Our two

shareholders, the Government of Monaco and French

entrepreneur Xavier Niel share a long-term view to provide

high end and innovative telecommunication services at

great value. We have invested here two years ago and we

are very proud of the growth and progress of Epic. It is

now recognised as the best mobile network in the country

and it is attracting more and more customers. We are

now focused on building a high-quality fiber to the home

network to provide a full range of services, at home and

everywhere. We really feel privileged to operate in Cyprus.

Martin Peronnet

CEO

Monaco Telecom

Country Report CYPRUS 2020 33
---
Headquartering

EASTMEDHQ

Cyprus' appeal as a convenient international headquartering

location is gaining momentum. Its stable business environment

and emerging prospects in multiple sectors, strategic EMEA access

and excellent quality of life are just a few of the many reasons why

companies are relocating their strategic operations to Cyprus.

The Oval, Cybarco

A

key attraction to set up headquarters

(HQ) in Cyprus is the country's good

relations in the region and its convenient

access to both the EU's single market of

over 500 million people and markets of

the Middle East, Asia and Africa. The country's

government and private sector have recognised

the growing appetite of companies and have been

expanding the list of incentives to attract more

headquarters to its shores and establish the island

as the ideal East Med HQ base.

An added boost has come from the strong

economic growth and investor confidence of the

past few years, and emerging prospects in the

real estate, investment fund, shipping and energy

sectors. Another area where Cyprus ticks all the

boxes for companies seeking a regional base, is

its efficient and transparent legal and regulatory

framework, modern banking sector, and its competitive

EU-approved corporate tax regime. This

coupled with the relatively low set-up and operational

costs, convenient time zone and various

tax breaks for expat executives have created a

winning combination for decision makers.

GLOBAL REACH

Cyprus' can-do attitude, easy access to decision

makers, and wide range of services make running

a multinational business a smooth task. Its geographical

location in the Eastern Mediterranean

at the crossroads of three continents has long

played a pivotal role in influencing the country's

destiny and prosperity – and has fostered close

cultural and business relationships with countries

in the region. The island has good air connectivity

through two international airports and

sophisticated ports to support operations, as well

as excellent satellite and telecommunications infrastructure.

34 Country Report CYPRUS 2020
---
Headquartering

Cyprus' entry into the EU in 2004, and the eurozone

in 2008, was welcomed by the international

business community, who saw it as a new opportunity

for foreign companies to use Cyprus as a convenient

entry point into the EU marketplace. As

part of the European Single Market, Cyprus enjoys

the free movement of goods, services and capital

with other EU member states and members of

the European Free Trade Association. This comes

without tariffs, complex bureaucracy or regulatory

obstacles allowing companies to benefit from the

more than 40 EU trade agreements and double tax

treaties with 65 countries.

Multinationals from a range of different

sectors have already cherry-picked Cyprus as the

location for their regional headquarters. Global

companies such as NCR, Kardex, Wargaming,

eToro, 3CX, TSYS and Amdocs are just some of

the corporations that have based operational or

corporate management functions on the island.

An added benefit of Cyprus is its secure and

stable EU environment in a turbulent region.

Prominent news organisations, such as AFP, have

capitalised on this aspect and use the island as

their base between Europe and the Middle East

due to its security, convenient time zone and

travel times, reliable communication infrastructure

and availability of multilingual support staff.

Cyprus is an especially ideal base for regional

headquarters or ancillary and support services

for investors with clients in the wider Eastern

Mediterranean and Middle East region.

Two prime examples of this are Sykes and

Whipper. A global leader in business process

outsourcing, Sykes Enterprises, picked Cyprus

from 20 other competing jurisdictions as its base,

citing the right work-life balance as a key reason.

High-tech and entertainment start-up Whipper,

led by a founding team of executives and advisors

who hail from Riot Games, Netflix, Swiftkey,

Amazon, Echo UK, Omnicom, and Viber, also

established its global headquarters in Limassol

– adding more gravitas to the growing start-up

culture in Cyprus.

Major multinational firms in the ICT industry,

including consulting, fintech and regtech

firms, set up a base in Cyprus to use the country

as a gateway into and out of the EU for various

corporate services, such as sales and marketing,

project management, software development,

systems integration, testing services, training

and development, disaster recovery and business

continuity, as well as joint R&D among countries

in the region. Also, international giants such as

Microsoft, Oracle, SAP and IBM have been based

in Cyprus for many years, supporting the country's

tech evolution.

A crucial element especially when it comes to

the ICT and tech industry is guarding intellectual

property (IP), and Cyprus offers strong IP protection

through domestic legislation and a network

of EU and international agreements. Cyprus'

regime applies to a wider range of income than

that of other IP Box regimes – as most focus exclusively

on income derived from patents and

offer less exemptions on capital gains on the disposal

of IP assets.

The main feature of the Cyprus IP Box regime

is the 80% deduction of revenue earned from

the use of intangible assets. This four-fifths exemption

from profits means that only 20% of IP

income is taxed at the corporate tax rate of 12.5%.

After applying the calculations, Cyprus-resident

companies can see an effective tax rate as low

as 2.5% – the lowest in Europe. The IP regime

of Cyprus is largely responsible for the growing

interest in the jurisdiction. Digital goods are increasingly

more valuable and the favourable tax

and business environment in Cyprus has made it

a hub for digital business goods, IT software, and

related services.

As a former British colony, Cyprus has also

proved a convenient alternative for global companies

in the post-Brexit world. Its modern and

forward-looking legal and regulatory framework

based on English Common Law principles offer

companies the advantage to continue operating

in an EU jurisdiction with a familiar UK legal

framework.

A first point of contact for investors is the

country's investment promotion authority Invest

Cyprus, which is a key player supporting foreign

investors interested in setting up business functions

on the island.

Country Report CYPRUS 2020 35
---
Headquartering

CORPORATE COMPETENCE

Doing business in and from Cyprus is easy and

straightforward. Home to a major international

business and financial services sector, the country

is an ideal base for region-wide corporate coordination

and central management functions,

sales, marketing and customer service. As a probusiness,

neutral, cost-effective and politically

stable country, Cyprus offers companies a perfect

climate to successfully compete in the region and

beyond.

Decades of experience as a successful international

business centre means Cyprus has a vast

talent pool in the corporate and financial services

sphere. The country has more than 4,000 registered

accountants and 700 registered accounting

firms – which include all major global firms

– and more than 3,000 registered lawyers and

around 160 law firms.

Cyprus has also taken a strong approach in promoting

its digital agenda and research and development

by utilising EU funding. Supporting these

efforts are its booming higher education sector

with innovative programs in computer science,

software engineering and ICT to produce tech

savvy talent, as well as incentives for start-ups and

entrepreneurs. Foreign companies already based

in Cyprus comment positively on their experiences

with local employees in terms of productivity,

language skills and dependability. The business

language is English and the country has one of the

youngest and most highly educated workforces in

the EU. In addition, the EU has a workforce of 240

million people and Cyprus offers visa-free access

to this talent pool – allowing companies to attract

the best of the best into their ranks.

TOP SHIPPING HUB

Cyprus is one of the most influential global hubs

for ship owning and shipmanagement services.

Today, Cyprus is the largest third-party shipmanagement

centre in Europe and the largest

crew management centre in the world, while

the island's international ship register is the

third largest in Europe and the 11th largest in

the world. Thanks to its advantageous legislative

framework the island has attracted some of the

world's most influential names in shipping for

the last 50 years, with most headquarters located

in Limassol – the island's maritime capital. The

country's Shipping Deputy Ministry is determined

to maintain Cyprus' competitive edge by

further expanding the island's registry and maritime

cluster, strengthening international relations,

and upgrading available services.

Cyprus is the EU's largest shipmanagement

centre, with one in five vessels under third

party management controlled from Cyprus.

With more than 200 ship-owning, management

and other shipping-related companies based

in Cyprus, such as Columbia Marlow and BS

Shipmanagement, the success of the sector has

developed clusters and auxiliary services, which

is a model that could be successfully replicated

in other sectors, such as the growing oil and gas

sector. Cyprus provides a secure and convenient

base for operations for various ancillary services

to the oil and gas industry as well as for company

headquarters to support activities in the EMEA

region.

One of our

strategic

priorities is

to promote

Cyprus as an

international

investment hub and

headquartering centre. We

are happy to see that when

it comes to choosing the

right location to establish

international and regional

headquarters Cyprus

is increasingly gaining

momentum as a prime solution

in the minds of decision

makers of multinationals. In

recent years, a number of tech

companies have expanded

or re-located to Cyprus. Our

targeted promotional activities

are dedicated to proving that

Cyprus is an attractive location

that could be used as a gateway

for international companies

wishing to gain access into

the EU. Cyprus can also serve

as a strategic location for UK

companies, choosing to retain

a presence in Europe following

Brexit. Human talent, attractive

IP regime, alongside a thriving

professional services industry,

means that Cyprus is able to

offer significant benefits to

businesses seeking to build

headquarters in Europe.

George Campanellas

CEO

Invest Cyprus

3CX Headquarters, Nicosia

36 Country Report CYPRUS 2020
---
Headquartering

CONNECTING WITH THE WORLD

In addition to its geographical proximity to

major markets, Cyprus has good connectivity.

The country is connected by its two international

airports with major cities in Europe and key destinations

in Asia, North Africa and the Middle

East. In the last two years, connectivity has seen

further improvement with new airlines adding

Cyprus to their schedules and existing airlines increasing

the frequencies of their flights. Naturally

the current coronavirus pandemic has forced

Cyprus to take strict measures at the moment in

terms of airline traffic, but the measures are being

continuously assessed and modified as the situation

evolves.

Thanks to its location, Cyprus enjoys business-friendly

time zones, enabling international

companies to do business with the East in the

morning, Europe throughout the day and with

the West in the afternoon. The country also has

long-established links with Russia and Eastern

European countries with many Cypriot professionals

having in-depth knowledge of these

markets, and often acting as key business introducers.

LUXURY OFFICE SPACE

Wargaming Headquarters, Nicosia

The flood of new companies setting up in Cyprus

and seeking top-tier real estate has driven the

development of new luxury multi-use office

complexes in Limassol and Nicosia. With the

completion of the office developments currently

under construction, Cyprus should reach a staggering

260,000 square meters of office space in

its market by the end of 2020. Among the major

office projects that are planned to be delivered to

the market in Nicosia are the signature lifestyle

commercial development Nicosia City Centre

(NCC), the Capital Gate and the Asteroid Tower,

as well as upcoming projects like the Cymiva

Office Tower.

Over the years, the coastal city of Limassol has

steadily grown to become the main international

business hub, while the inland capital city Nicosia

attracts multinationals that require closer access

to government. The majority of international

companies choose Limassol, due to the cosmopolitan

seaside lifestyle, the large expat community

and the short distance to both Larnaca and

Paphos international airports.

Landmark commercial buildings like The

Oval and Trilogy have raised the bar for prestigious

commercial addresses in Cyprus. As some

of the tallest office buildings in Limassol these

projects offer large open-air balconies and uninterrupted

views across the Mediterranean – an

enviable working environment for mixing business

with pleasure. A number of other mixed-use

buildings are springing up across the city offering

residential, commercial and retail space and are

changing the skyline of Limassol, offering stunning

views and luxury living.

For companies requiring proximity to ministries,

embassies and government departments,

the capital Nicosia is also expanding its stock of

state-of-the-art offices. For jet-setters, Larnaca

– located on the sea and adjacent to the airport

– might be the right choice. Cyprus caters for

companies of all sizes, and smaller organisations

or those new to Cyprus can easily find companies

offering serviced office rental on a short-let

or permanent basis. Regus, with offices across

the world, have locations in both Limassol and

Nicosia, and have been joined by numerous local

companies offering turn-key spaces.

COSMOPOLITAN AND SAFE LIFESTYLE

Boasting one of the lowest crime rates in the EU

and ranked as one of the top five safest countries

in the world by Value Penguin, a superb

Mediterranean climate, competitive personal tax

rates, as well as excellent educational and healthcare

systems, Cyprus is an easy sell for expats and

in particular to those with families. Cyprus is an

ideal location to achieve work-life balance, and

to make business both pleasurable and profitable.

A stable business environment and excellent

quality of life are just a few of the many reasons

why companies relocate operations and other

strategic functions to Cyprus. In the long term,

the country has great prospects to benefit from

growth in the region and become an increasingly

popular choice as a location for international

and regional headquarters and act as a strategic

springboard into neighbouring markets. n

Discover more at www.cyprusprofile.com

Cyprus is an

ideal location to

achieve work-life

balance, and to

make business

both pleasurable

and profitable.

38 Country Report CYPRUS 2020
---
A I F M / 3 5 / 5 6 / 2 0 1 3

Full Service Fund & AIFM Services

Oneworld Plus Management is a dedicated Alternative Investment Fund Manager (AIFM) providing third

party AIFM services and fund formation to fund initiators, promoters and fund managers of private equity,

real estate, infrastructure, debt, fund of funds, transferable securities as well as other alternative asset

classes. We have all the tools you need, whether it be a stand-alone fund, a segregated sub-fund on our

existing 'White Label' fund platforms, or even your own fund platform with multiple sub-funds.

Our services include setup and formation of your fund, including preparation of offering documents,

procedures and lodging with relevant competent authority, portfolio and risk management, compliance,

reporting and distribution services to the fund.

We offer services in

• Migrating your non-EU fund to an EU domicile

of your choice

• Setting up a new fund as a stand-alone fund in

various jurisdictions, including Luxembourg,

Cyprus, Malta, Cayman Islands and Ireland or on our

QIAIF platform in Ireland and AIF platform in Cyprus

• Setting up non EU-funds

• Setting up EU-based funds that mirror the

performance of offshore funds

• Company Formation and Fund launch

• Corporate Management

• Fund Administration

• Third Party AIFM Services

• Accounting and Consolidation

• Corporate and Legal Compliance

• Tax Compliance

• SPV Services

• AIFMD Services

www.oneworldaifm.com

info@oneworldaifm.com

75 Prodromou Avenue, Oneworld Parkview House, Floor 2, 2063 Nicosia, Cyprus +357 22 507 723

Oneworld Plus Management Ltd is licenced by CySEC under license no. AIFM35/56/2013.
---
HQ Insights

WHY DID YOU CHOOSE

CYPRUS?

NCR has been doing business

in Cyprus for 64 years, and

we have been a significant

contributor to the Cyprus

economy and the evolution

of the local IT industry.

Cyprus is an excellent host

for our investments and our

headquarters for the Middle

East and Africa region. We

have always maintained

a significant share of the

IT market in Cyprus in the

sectors of retail, banking,

and government. There are

many reasons why NCR has

been investing in Cyprus

for decades. The country's

high number of IT-educated

people from top universities

allows us to find young

high-flyers and turn them

into revenue generating

professionals for NCR. The

strong financial sector and

upgraded airports and ports

support our financial needs

and we can easily import

our products – also our

executives can travel with

ease. Last, but not least,

Cyprus is one of the safest

countries in Europe, with

low crime rates, and less

effort and cost to ensure the

wellbeing of our employees.

Kyriakos Kyriakou

General Manager,

NCR Cyprus Ltd

In July 2017, SYKES

opened a new

service delivery

facility in Larnaca

as the result

of conducting

a thorough

investigation and

due diligence

looking at about

20 locations in

southern Europe.

SYKES Cyprus

operation has

augmented and

strengthened

its multilingual

customer

engagement

capabilities.

Given the growth

opportunities

in certain key language segments of the EMEA

market, Larnaca is well situated geographically and

serves as an optimal place for commerce given its

diverse multilingual human capital talent pool and

its competitive operating model. Worth mentioning

that the Cyprus investment promotion agency Invest

Cyprus provided us with remarkable proactive

support in getting this effort off the ground.

Christian Schaffer

Senior Vice President

SYKES Central & Northern EMEA

Amdocs is a leading provider of software and services

for communications and media companies with 25,000

employees serving customers in 85 countries. Our

development centre in Cyprus opened more than 20

years ago and is a strategic centre for the company

and the European HQ of corporate services such as

finance and learning. The centre has continuously

employed a highly skilled, multinational workforce,

offering a variety of languages and cultures onsite,

empowering great communication at ease. In addition

to its excellent education infrastructure, there are

numerous advantages for foreign companies to

establish presence in Cyprus. The island offers

quality of life and climate, a welcoming social

environment for expats, and is a safe destination

for our employees and their families due to the low

crime rate and political stability. English is widely

spoken and there is a good immigration process and

support system for emerging country nationals.

Yiannis Tinis

Head of amdocs Cyprus

Cyprus combines numerous advantages as a

business base with quality of life. Our decision

made good business sense and we remain

committed to the country, having relocated a

large number of our top executive employees

and invested in a local bank and property.

Cyprus' geographical location allows us to serve

our operations in Europe, Asia, the CIS region

and US, while retaining a significant presence

in Belarus, where half of our employees are

based. Cyprus' business advantages include

political stability, EU membership, and a free

market economy with a favourable tax regime, a

modern and transparent legal and tax framework

and a highly developed professional services

sector. The infrastructure and communications

network is well developed, while the workforce

is highly educated and multilingual. Cyprus

is welcoming to international business and

recently enacted reforms and offered additional

incentives to attract foreign investment. The

excellent living conditions, including the climate

and low crime rate, are also an important factor.

Victor Kislyi

CEO - Wargaming.net

40 Country Report CYPRUS 2020
---
Cyprus has been an important

base of operations for 3CX

to enter the European and

Middle Eastern markets.

The country's emphasis on

creating a business-friendly

climate has meant that we

have been able to quickly

grow our operations in Cyprus

to a team of over 100. Our

team benefit from the great

climate, friendly people

and the safety and security

that Cyprus provides.

Nick Galea

CEO - 3CX

For Whipper, Cyprus has aggressively set

itself up to be a strong, next-level, start-up

destination. There really was no comparison

to where we would headquarter Whipper.

The favourable Cypriot tax legislation

benefitting innovative businesses made it

highly rewarding as an R&D, investment and

taxation environment. Look out California

and London! What are the most important

metrics? 326 to 284 to 224 – that's the number

of sunny days Limassol vs. Santa Monica vs.

London, and the average commute – 6 min in

Limassol, to 25.5 min in Santa Monica to 74.2

min in London. By basing our HQ in Cyprus,

Whipper gets to apply more of every euro it

makes into scaling into a global behemoth

and enjoy the sun whilst doing it. Ask a

Java Script engineer if they'd like to work in

London or Limassol, Cyprus near the beach?

For a company with a vibrant culture and an

innovative product, they'll choose Cyprus every

time. The Cypriot Government has proactively

given the tech industry every reason to

storm the gates and take up residence.

Clark Westerman

CEO - Whipper.live

Bernhard Schulte Shipmanagement (BSM)

was the first shipmanagement company

incorporated on the island as Hanseatic Shipping

Co in 1972. Cyprus was chosen due to its ideal

geographical location as a 'gateway' to Europe

and the Middle East. Foreign investors benefit

tremendously from the availability of very

educated local personnel as well as the high

quality of life for expatriates. In addition, foreign

companies benefit from the ease of doing

business which is enhanced by the island's well

developed infrastructure. Another key factor is

the strong support provided to investors by the

government and local industrial associations

such as the Cyprus Shipping Chamber.

Cyprus is one of the key ship management

clusters in the world and a global company

like BSM benefits a lot by being part of this

advanced and dynamic business community.

HQ Insights

Ian Beveridge

CEO - Bernhard Schulte Shipmanagement (BSM)

Kardex export HQ for MEA area has been based

in Cyprus since 1980 and is the Kardex Group

company responsible for the sales, marketing,

technical and software support services to our

distributors in the Middle East, Gulf, Africa, Balkans

and Central Asia. After over 35 years in Cyprus, we

will definitely stay on the island, as time has proved

that we made the right decision to have Cyprus as

our base. We still maintain the same advantages

of operating in an efficient business environment

with experienced professionals, an attractive tax

framework and overseas market proximity to

Africa, the Middle East, Gulf, Europe and Asia.

Demetris Kouloundis

Regional Sales Director MEA - Kardex Systems Ltd

When we came to

Cyprus back in 1988, we

were first attracted by

Cyprus' location and

proximity to the

Middle East, which

was our main target

market at the time.

We remained in

Cyprus because it has

matured into a solid

international business

centre offering many

benefits, such as its

advantageous and

EU-compliant tax and

regulatory framework,

good access to various

markets and an

excellent quality of life

Johny Abuaitah

CEO - Windsor Brokers

Country Report CYPRUS 2020 41
---
Interview

Natasa Pilides

Minister of Energy, Commerce and Industry

SAFEGUARDING

THE FUTURE

42 Country Report CYPRUS 2020
---
Cyprus' position

as a competitive

investment

destination and

international

business centre is

constantly being

upgraded. Excellent

investment

opportunities exist

in both new and

existing areas,

and the island's

growth efforts have

been streamlined

with the EU's

policy for greener

and smarter

development

– with a strong

focus on boosting

productivity,

innovation and

access to markets.

You took over as the

new Minister of Energy,

Commerce and Industry in

July 2020, what key targets

have you set out to achieve

in your new position?

Our government's immediate priority is to minimise,

as much as possible, the adverse effects of

the 2020 global health crisis and to create the

conditions necessary for the economy to return

to a path of sustainable growth. In this light, the

Ministry of Energy, Commerce and Industry,

with the broad range of economic activity that

falls under its competence, is at the frontline of

our recovery and growth efforts, which have been

streamlined with the EU's policy for greener and

smarter development.

To achieve our main objectives, we are now

working towards final approval of our new

Funding Schemes for businesses and households,

totalling around €270 million and covering the

Programming Period 2021-2027. We are also

in the process of enhancing and modernising

the industrial sector, based on the guidelines set

out in the new and cohesive National Industrial

Policy 2030 developed by our Ministry. Our aim

is to increase, in the next 10 years, our industry's

productivity, innovation and exports through

digitisation, development of new skills and the

upgrading of existing competencies, improvement

of the business environment and enhancement

of access to finance and markets.

Moreover, to support entrepreneurship in

Cyprus, we are planning to create a dedicated

business service centre at our Ministry, intended

to facilitate the process of setting up and scaling

in Cyprus, through the provision of expedited,

one-stop services, as well as personalised guidance

and information on available funding tools.

Other key targets of our Ministry include intensifying

our efforts for hydrocarbons exploration

and exploitation in the Exclusive Economic

Zone (EEZ) of the Republic of Cyprus, transitioning

to a 100% competitive electricity market

in 2021 and further promoting the use of green

energy on the island. Measures for the transition

to green energy include, inter alia, the simplification

of procedures for licensing large commercial

Renewable Energy Sources (RES) projects, the introduction

of Energy Efficiency Funding Schemes

and the installation of energy storage systems

and public charging points for electric vehicles.

In addition, we are aiming to end Cyprus' energy

isolation and strengthen its security of supply

by actively pursuing three Projects of Common

Interest – the liquefied natural gas import terminal

at Vasilikos, to be completed by 2022, the

Israel, Cyprus and Greece electricity interconnection,

known as EuroAsia Interconnector, and the

EastMed gas pipeline, which will connect Eastern

Mediterranean energy resources to continental

Europe.

The energy landscape

in Cyprus has seen

much activity over the

past few years in both

the hydrocarbons and

renewable energy sectors.

How do you see these

areas developing and what

opportunities are there

for foreign investors?

Energy is one of Cyprus' most promising sectors,

with a number of investment opportunities in

new and existing projects, in both the oil and gas

industry and in renewable energy and electricity

production.

In the area of hydrocarbons, the first exploitation

licence was granted to the 'Aphrodite' gas

field consortium back in November 2019, and

in 2021 a new round of exploration work will

begin in the Cypriot EEZ. Our aim is to have a

clear picture of our EEZ's energy potential and,

subsequently, proceed with the first transfer

of gas to Egypt for liquefaction and export by

2024-2025.

Specialised firms are already operating in

Cyprus, servicing regional hydrocarbon activities.

Depending on the discoveries made, a

number of multibillion-euro infrastructure projects

will be undertaken, which apart from the

direct underwater pipeline to Egypt for transport

of the 'Aphrodite' gas, may also include an

onshore liquefaction terminal at the Vasilikos

Energy Centre. The EastMed gas pipeline,

another project of regional significance, is currently

at the stage of final FEED studies (Front

End Engineering Design) and is intended to

connect Eastern Mediterranean resources to continental

Europe.

Regarding renewables and electricity production,

we are focusing our efforts on the operation,

by the end of 2021, of a fully competitive

electricity market, whilst also making concrete

steps to end our country's energy isolation and

moving towards green energy and storage installations.

Notable projects in this regard are the

€289 million LNG import terminal mentioned

earlier, as well as the EuroAsia and EuroAfrica

Interview

Country Report CYPRUS 2020 43
---
Interview

Interconnectors. The Ministry also plans to

create a One-Stop Centre for commercial renewable

energy projects, as well as to facilitate

the construction of the projects proposed in the

framework of our last two funding schemes – 222

commercial RES projects in total. In addition,

we are funding households and businesses for

Energy Efficiency and the installation of photovoltaics

and other RES systems for net-metering,

net-billing and self-consumption.

Cyprus has a longstanding

reputation as a solid

international business

centre and its professional

services sector has become

a key economic pillar.

How can Cyprus sharpen

its competitive edge and

ensure this sector sees

further sustainable growth

and diversification?

Professional services have been the backbone

of Cyprus' economic model for decades and,

consequently, key to maintaining our country's

position as a competitive investment destination

and international business centre. With

their high level of expertise and qualifications,

Cypriot lawyers, accountants, auditors and other

specialists, provide value-for-money, top quality

services, to many businesses within a range of

fast-growing economic areas, including the hospitality

industry, shipping and shipmanagement,

finance and investment funds.

The professional services sector itself consistently

shows strong growth each year, building on

the island's many comparative advantages that

include, inter alia, a business-friendly environment,

a legal system closely aligned to English

common law, strong protection for investment

and intellectual property, incentives for investment

in start-ups and tailor-made provisions for

industries such as shipping, investment funds

and filming. As an EU and Eurozone member,

Cyprus also offers investors preferential access to

markets in Europe, the Middle East, North Africa

and Asia.

The Cyprus Government is committed to

safeguarding and further enhancing the Cypriot

business environment, by facilitating large investment

projects, offering incentives for tourist

development in specific areas of the island and,

as I have mentioned earlier, by moving forward

with our decision to set up a dedicated business

service centre at our Ministry, to actively support

entrepreneurship.

Cyprus' handling of the

Covid-19 outbreak has

been hailed a success,

but the pandemic has

undoubtedly had an

impact on the global

economy. What are

your expectations for

Cyprus and its economy

in 2020-2021, and what

message would you

like to convey to the

international community?

A huge part of our government's successful management

of the pandemic has to do with the

targeted budgetary measures promptly taken

to support workers, businesses and vulnerable

groups of the population. Α comprehensive,

three-phase, Economy Support Programme of

almost €3 billion, one of the largest of its kind at

European level, is currently being implemented,

benefiting an estimated total of 190,000 citizens,

26,000 businesses and 22,000 self-employed

persons.

As such, not only does Cyprus remain a relatively

safe destination for travel, but we have also

been very effective in minimising the pandemic's

impact on our economy, despite the initial

lockdown and the ongoing restrictive measures.

According to the Ministry of Finance's estimates,

2020 will close with a 7% drop in GDP,

whereas 2021 should mark a return to normality,

with an expected 6% GDP growth rate.

In conclusion, my message to the international

community is that all the conditions and

factors that make Cyprus an attractive investment

and business jurisdiction are still in place

and are constantly being upgraded. Moreover, the

Republic's government, in dealing with the 2020

health crisis, has ensured that the island stays on

course for a positive outlook, proving, once more,

our hands-on approach to supporting businesses

and the economy. Certainly, excellent investment

opportunities exist in both new and existing

areas, notably in energy, shipping, investment

funds, tourism and hospitality, innovation and

start-ups, real estate, filming and education. n

Discover more at www.cyprusprofile.com

Α comprehensive,

three-phase,

Economy Support

Programme of

almost €3 billion,

one of the largest

of its kind at

European level,

is currently being

implemented.

44 Country Report CYPRUS 2020
---
International Trade

Quality

Exports

Cyprus' strong track record of producing quality and soughtafter

exports, coupled with the island's strong EU trade links and

unique position along key Mediterranean trade routes are further

strengthening its longstanding reputation as a service centre

providing exporters strong competitive advantages. Long-standing

relationships with international export partners have also supported

the development of the island and its transport infrastructure into

a modern and efficient regional trading and transhipment hub.

Potatoes

73,635 tonnes

€48.3 million

Fruit & Veg

Juices

€36.3 million

Star-Performing Exports (Volume / Value 2019)

Pharmaceutical products

increase by 36%

Pharmaceuticals

7,250 tonnes

€300.9 million

Fish

5,896 tonnes

€34.0 million

Halloumi

33,437 tonnes

€223.6 million

Meat

4,086 tonnes

€3.7 million

Fastest Growing Exports (2015-2019)

Halloumi

increase by 117%

Citrus Fruit

20,787 tonnes

€11.5 million

Mineral Fuels

634,131 tonnes

€345.6 million

Mineral Fuel and Oils

increase by 270%

Cyprus

domestic

exports

registered a

steady and

remarkable

increase reaching 131.3%

from 2010 to 2019. Domestic

exports of products (excluding

petroleum products) marked

a growth of 3.7% compared to

2018, reaching €965 million.

The total export of services

marked an increase of 4.1%

reaching €12.3 billion in

2019, revealing the positive

future prospects of the Cyprus

services sector. The current

world health crisis reduced

economic activity and has had

significant negative impact on

trade flows worldwide. Cyprus

export performance for 2020

is unavoidably affected by the

pandemic and a decline is

expected on trade flows. Any

estimation for the year ahead

is subject to a high degree

of uncertainty linked to the

duration of the outbreak. The

immediate goal is to mitigate

damages with effective,

rapid and vigorous policy

decisions and measures,

laying the foundations for the

recovery. The government

is fully committed to

support export promotion

and development aiming at

increasing growth, employment

and competitiveness.

Panayiota Patsali

Trade Director

Ministry of Energy,

Commerce and Industry

46 Country Report CYPRUS 2020
---
Total Exports

€3.15 billion

Domestic Exports

€1.31

billion

Re-Exports

€1.84

billion

Total Imports

€8.24 billion

0.3%

Minerals

Export of Domestically

Produced Goods (2019)

7.5%

Agricultural

products (raw)

citrus fruit, grapes,

melons, vegetables

and aromatic herbs

1.1%

Unclassified

International Trade

Export of Goods (2019):

€3.15 billion

Export of Services (2019):

€12.32 billion

22.7%

Industrial products of

agricultural origin

fruit and vegetable juices,

fish and meat products.

Ratio of Goods and Services

Exports to GDP (2019):

70%

38.9%

Industrial products of

manufacturing origin

29.5%

Industrial products

of mineral origin

Cyprus Trade Centres (2019)

New York

United States

London

United

Kingdom

Paris

France

Berlin

Germany

Athens

Greece

Cairo

Egypt

Vienna

Austria

Warsaw

Poland

Beirut

Tel Aviv

Lebanon

Israel

Dubai

United Arab

Emirates

Moscow

Russia

Tehran

Iran

Beijing

China

Exports by Main Regions (2019)

European

Union

41%

Other European

Countries

4%

America (North,

South, Central)

6%

North

Africa

12%

Other African

Countries

3%

Near and

Middle East

8% Asia

8%

Oceania

3%

Country Report CYPRUS 2020

47
---
Sector Profiles

Sector

Profiles

Agriculture

& Food

Banking

Capital

Markets

Construction &

Real Estate

50 56 62 66

Insurance

International

Financial Services

Investment

Funds

Manufacturing

& Industry

Maritime &

Shipping

98 102 108 112 116

48 Country Report CYPRUS 2020
---
Sector Profiles

Education

Energy:

Oil & Gas

Energy:

Renewables

74 79 84 88 92

Film

Production

Health

Research &

Development

Technology &

Start-Ups

Telecoms & Satellite

Communication

Tourism

Transport &

Logistics

122 128 132 136 144

Country Report CYPRUS 2020 49
---
Agriculture & Food

Sector Profile

FOSTERING

Sustainable Farming

Innovative thinking focused on quality and sustainability is filtering into Cyprus

agriculture, supporting the growth of superfood crops, the fight against climate change

and the development of unique exports which are all helping to transform the sector.

Over the last two years, Cyprus has

introduced a number of initiatives to

boost the agricultural sector in areas

such as water and waste management,

smart farming, environmental

protection and new measures

to ensure better animal welfare. In

addition, the country is focusing

on protecting and promoting quality traditional

products worldwide, which will soon be marked

with a new national and official 'seal of origin' to

identify products made by the local agricultural

sector using local raw materials.

Nurturing resource-efficient farming and focusing

on quality rather than quantity are key

aims going forward into a new decade. The government

has invested heavily in modernising and

reorganising the overall agricultural sector with

the help of generous EU funds and provided additional

support to the sector through various

programmes and subsidies. This overhaul of the

agricultural sector is being conducted with the

rural development programme co-funded by

the EU and Cyprus, 52% and 48% respectively.

More than €485 million is expected through the

Common Agricultural Policy (CAP) between

2014 and 2020, with further funds for modernisation

and development under the new CAP

from 2021 to 2027. The programme is open to

all sectors for investment in the primary and

secondary sectors, including organic farming,

training, promotion, agritourism and applying

for Protected Designation of Origin (PDO) or

Protected Geographical Indication (PGI) status.

Cyprus agriculture is definitely seeing a revival

into a more efficient and value-added industry

with the help of innovation and investment in renewable

energy and smart tech, and with a business-minded

younger generation keen to capture

new markets around the world and capitalise on

the future potential of this sector.

HIGH-VALUE PRODUCE

With today's strong focus on healthy eating

trends, Cyprus has seized the opportunity to

achieve commercial success in niche markets

by the systematic cultivation of long-overlooked

fruit and vegetables – and bring back traditional

local varieties of grapes to expand its rapidly developing

wine industry. Long renowned for its

citrus fruit, potatoes and olives, Cyprus is also

becoming associated with high-value produce

such as prickly pears, pomegranates, carobs, aloe

vera and others that grow well in the island's dry

climate.

KEY

contacts

Ministry of Agriculture,

Rural Development

and Environment

www.moa.gov.cy

50 Country Report CYPRUS 2020
---
Over 50% of agricultural exports go the

EU, followed by other European countries, the

Middle East and Asia. Although unlikely that

Cyprus' agricultural sector will ever regain its

high-performing levels of the 1960s, when it

contributed 20% to the GDP, there is no doubt

that its economic significance is steadily growing.

The value of agricultural production plunged

during the 2012-2014 economic crisis but picked

up again in 2015 and grew by an impressive 12%

over the next two years. In 2017, the value of agricultural

production exceeded pre-crisis levels,

reaching nearly €740 million, accounting for

2.1% of GDP compared to 1.8% in 2014. Niche

crops and traditional products unique to Cyprus

are leading the way in this revival, with exports of

halloumi alone showing a strong upward swing

over the past decade.

HOME OF HALLOUMI

Halloumi is one of the country's most unique

trademarks worldwide. The value and quantities

of halloumi shipped around the world has grown

every year, and currently totals over 30 million

kilos worth more than €200 million a year and

is exported to over 40 countries. With the popularity

of halloumi rising and more markets steadily

being opened, producers predict that exports

could reach over €300 million by 2023.

To protect the heritage of the cheese, the name

'halloumi' is now registered in the European

Union as a Community Collective Trade Mark.

Cyprus also retains the trademark in a number

of other countries, including the US. It holds

this classification in Jordan, and the Ministry of

Commerce is in the process of registering it in

other Middle Eastern countries. Cyprus is also

working towards achieving the classification of

halloumi as an EU PDO, which could further

boost the brand appeal of the product.

Identified as a key agricultural product and

export, the government is investing €35 million

to increase production of sheep and goat milk

from which halloumi is traditionally made. The

number of sheep and goats is to be increased by

35,000, boosting milk production from three to

14 million cubic litres a year by the end of 2020.

Grants of €20,000 are available under an EU programme

for first-time farmers aged between 18

and 40 who raise these animals, in a bid to attract

educated young people back into agriculture.

Today, the production of the famous squeaky

cheese is associated as much with high-tech labs

as it is with a rustic lifestyle, with many boutique

producers also making organic versions to cater

to discerning market demands.

The conservation

and sustainable

management of our

natural and biological

resources is of paramount

importance for the

overall well-being of

our environment and

our citizens. In Cyprus,

the preservation of our

natural environment

has been set as

our top priority, for

environmental, social,

economic, and ethical

reasons. Recently, Cyprus

has approved the National

Biodiversity Strategy and

the Action Plan 2020-

2030, which includes

a broad framework of

objectives aiming to

address the threats to

biodiversity and a series

of measures to meet

these objectives, with a

budget exceeding €22

million. There is no

doubt that the future

holds many challenges.

Protecting nature and

the environment is a

prerequisite for building

viable societies that

address the needs of

their citizens. No form

of development can

be sustainable, if the

natural wealth of our

country is sacrificed for

short term benefits.

Costas Kadis

Minister of Agriculture,

Rural Development

and Environment

CORONA IMPACT

The coronavirus pandemic has had a significant

impact on global trade and in Cyprus it has affected

multiple sectors. Agriculture has felt the

crunch and the government has rolled out measures

to help struggling farmers. With a virtually

non-existent tourism sector at the moment, there

is a complete loss of demand from restaurants

and hotels forcing farmers who had exclusive

cooperation with catering companies to dump

much of their produce. Farmers are losing out big

time as they have already invested in cultivation

based on previous orders by suppliers, who are

now buying only a fraction of the orders placed

earlier in the year.

The pandemic lockdown has coincided with

the harvest of many crops and the sharp drop in

demand is proving devastating for many. Also

the blanket commercial flight ban has hit hard as

there are virtually no planes flying fresh produce

abroad. Other affected groups include sheep and

goat breeders due to reduced demand and a lower

price of meat, vegetable and herb growers, as well

as florists and producers who sell their products

at public markets. So far, top exports like halloumi

and potatoes have not been adversely affected

by the Covid-19 pandemic

In March 2020, additional support for farmers

came from free water supply from governmental

water works, but farmers are demanding more

substantial support, such as electricity-use subsidies,

to ensure the sector survives this difficult

time. In May 2020, Cyprus approved an additional

€4.6 million in support funds to ensure farmers

can continue to produce safe and quality products.

Part of this financing will be covered by a

redistribution of European co-financed resources

taking advantage of the CAP provisions. Another

boost came in June 2020, with the European

Commission approving a €1.8 million scheme to

support farmers and address the liquidity needs

of agricultural holdings to help them continue

their activities during and after the coronavirus

outbreak.

SUCCESS IN NICHE CROPS

Due to its small size, Cyprus cannot compete

with countries that produce huge volumes at low

cost, but what the country can excel at is quality,

organic farming, bioproduction and superfoods.

The decades-old success of the famous Cyprus

potato provides a good example of what can be

achieved by combining quality produce with

strong marketing campaigns in key markets.

The delicious flavour and quality, as well as their

early harvest, make Cypriot potatoes one of the

island's most important agricultural export prod-

Sector Profile

Country Report CYPRUS 2020 51
---
Agriculture & Food

Sector Profile

ucts constituting around 40% of total raw agricultural

products. They get their winning flavour

from the distinctive potassium-rich red soil of

Cyprus. Around 96% of potato exports are to the

EU, with main markets being Greece, the UK and

Germany.

Today, there is less cultivation of various

types of citrus fruit. Exports of these were hit

around a decade ago after the EU reduced tariffs

on imports of citrus from third countries in the

Mediterranean such as Morocco, Egypt and

Turkey – where labour costs are far lower and

production volume significantly greater. Farmers

dedicated to citrus were encouraged to shift to varieties

that perform well in export markets, such

as the tango orange and lemons. Government incentives

are also in place to substitute citrus trees,

which require a lot of irrigation and expensive

pesticides, with hardy crops that naturally thrive

in dry climates, such as vitamin-rich fruit like

pomegranates and prickly pears. The medicinal

oil from the seeds of prickly pears can sell for up

to €40,000 a litre, proving that developing these

types of fruit can be a highly specialised and lucrative

business. In addition, aloe vera cultivation

holds much potential in making beverages, skin

lotions and cosmetics.

Demand for such products in niche export

markets is steadily rising because of the increased

interest in well-sourced, nutritious food and the

growth of European vegetarian and vegan communities.

Cyprus has a clear advantage as many

of these foods come from hardy plants that thrive

in Cyprus' climate and wider cultivation of such

crops will help to address the challenge of water

scarcity. Farmers have enjoyed greater water security

in recent years thanks to the latest desalination

and recycling technology. Also, many of

these crops do not require large land holdings,

which again suits Cyprus where around 90% of

holdings are under five acres and most farms are

owned and run by individual families.

For centuries, olive oil has been hailed for its

health benefits and one Cypriot farm has taken

cultivation to the next level, garnering worldwide

attention for its oil. The positive effects come from

the number of phenolic compounds, and Atsas

olive oil has by far the highest number of these

compounds ever recorded worldwide. The oil,

which is exported to Russia, Canada and the US,

has attracted the attention of the scientific world

who are researching the benefits of high phenolic

olive oil in lowering cholesterol and combatting

cancer. California's UC Davis research institute is

now running clinical tests in the anti-inflammatory

effects of the oil, and the University of Athens

school of pharmacology started clinical tests on

Alzheimer's. More recently, the prestigious Yale

University announced its interest in researching

the Cypriot oil. The philosophy of the organically

certified Atsas farm is to use agroecology

design to create agricultural systems which have

the diversity, stability and resilience of a natural

ecosystem. The idea is part of the new regenerative

agriculture movement which is gathering momentum

around the world, and the Cyprus- olive

oil producer is a pioneer in the field.

Innovation has helped revitalise traditional

minor crops, or ones that were set aside by the

advent of high-intensity cropping systems.

For instance, a current joint effort spearheaded

by the University of Cyprus (UCY), the

Agricultural Research Institute (ARI) and the

Central Chemistry Laboratory, is screening the

indigenous carob genetic resources and developing

food, beverages and medicinal products

of high added value. Once dubbed 'black gold',

but gradually abandoned over the decades,

carobs are making a strong comeback. Under the

UCY project, 6,000 carob trees were planted in

November 2017, with another 34,000 to follow

on land leased from the forestry department

in Orites, Paphos, for what will be the island's

biggest organic carob plantation.

52 Country Report CYPRUS 2020
---
u Cyprus cannot compete

with countries that

produce huge volumes

at low cost, but what

the country can excel

at is quality, organic

farming, bioproduction

and superfoods

u To promote the quality

of Cyprus' agricultural

products, the government

has pushed to register

more PDOs and other

international quality logos

that attest to specific

traditions and qualities

of food, agricultural

products and wines

u Around 70 wineries

produce award-winning

wines in the foothills

and high-altitudes of

the Troodos mountains

– establishing some

as the highest altitude

vineyards in Europe

u Younger educated

people are now entering

what is seen as a

cutting-edge sector

u Farmers have enjoyed

greater water security in

recent years thanks to

the latest desalination

and recycling technology

u Aquaculture activities

in Cyprus are expected

to treble by 2023,

contributing to food

supply, environmental

protection and

employment.

The ARI, which cooperates with numerous

international organisations and has five experimental

stations in Cyprus, is also conducting

research on how Cyprus can produce a bigger

biodiversity of crops while improving yield,

quality, resilience and taste. The objective is to

increase the biodiversity in agricultural ecosystems

by looking at traditional species no longer

grown in Cyprus, as these old species – genotypes

– have suitable characteristics to diversify

crops and also improve the quality of products

that can be enjoyed by consumers. Scientists

from this European research project are testing

an experimental breeding technology aimed at

identifying plants adapted to Cyprus' scorching

heat and lack of water. In an experimental field

that covers some 11 hectares, more than 20 varieties

are grown, including corn, barley, ancient

wheat, chickpeas and cowpeas. The more promising

candidates will be naturally crossed among

them to produce drought-resistant varieties. The

project's aim is to help local farmers expand their

offering to potential new markets, and researchers

predict that new crops could become a market

reality in Europe by 2023.

DEVELOPING AQUACULTURE

Cyprus has a longstanding fisheries tradition and

history despite its limited contribution to GDP.

However, aquaculture is an important activity

constituting around 80% in terms of both value

and volume of the total fisheries production.

The aquaculture sector has nine marine offshore

farms and seven inland farms located in Troodos

mountain area, as well as three marine fish hatcheries,

one shrimp hatchery and two other inland

units culturing ornamental fish.

Marine fish production (mariculture) in open

sea cage farms accounts for some 90% of the total

sales value, and steady growth in this sector due

to strong marketing on both a local and international

level is likely to attract further investment.

The main commercially cultured marine

species are the gilthead seabream and European

seabass, accounting for around 70% and 30%

respectively of total production. Around 65% of

the total national production of marine species is

exported to markets in Europe, the Middle East

and the US, with the rest consumed domestically.

The main factors favouring the development

of the aquaculture sector are the good environmental

and climatic conditions of Cyprus,

availability of adequate sea areas at a reasonable

distance from the coastline, and the existence

of appropriate infrastructure, skilled human resources

and access to research facilities in Cyprus.

Financing from the European Maritime and

Fisheries Fund (EMFF) supports the aquaculture

sector's competitiveness and environmental

sustainability, mainly through the development

of joint support facilities and infrastructures, investment

to increase the efficiency of aquaculture

units, promotion of aquaculture products in new

markets and the development of maritime spatial

planning. According to the EMFF, aquaculture

activities in Cyprus are expected to treble by

2023, contributing to food supply, environmental

protection and employment.

REVITALISING VITICULTURE

Cyprus has been producing wines since 3,500

BC which were widely traded in the Eastern

Mediterranean region and the Aegean Sea.

Perhaps the best known ancient variety of

Cyprus wine is Commandaria, a unique dessert

wine made from sun-dried Xynisteri and Mavro

grapes and reputedly enjoyed by Richard the

Lionheart on his way to the crusades. The wine

holds the distinction of the world's oldest named

wine still in production and is documented as far

back as 800 BC, while the name Commandaria

dates back to the 12 th century crusades. In the

1980s the country embarked on a campaign to

eradicate local grapes in favour of foreign varieties,

such as Chardonnay, Sauvignon, Merlot,

Grenache and Syrah in the belief that they would

be more exportable. Fortunately, the trend was

reversed after Cyprus joined the EU in 2004

and with the Union's focus on highlighting local

produce of its member states. A programme was

adopted to save native varieties that have been

grown for centuries and were in danger of becoming

extinct.

Efforts to save the heritage of Cypriot viticulture

has seen enormous success, and with the

country now producing interesting vintages, the

reputation of Cyprus wine and this new territory

is growing rapidly worldwide. Four different

wine regions have been designated as producing

their own unique product with controlled appellations

of origin. In each case, different proportions

of indigenous Cypriot red grapes such as

Maratheftiko, Ofthalmo or Mavro, or the white

grape Xynisteri, are blended with smaller quantities

of specified foreign varieties such as Cabernet

Sauvignon, Cabernet Franc, Syrah or Merlot. The

unique native varieties and local character of

Cyprus wines reflect the country's terroir – which

is also one of the few places left in the world that

is free from phylloxera, the pest dreaded by winemakers

worldwide.

The wine scene has developed dramatically in

recent years, with around 70 wineries producing

award-winning wines in the foothills and highaltitudes

of the Troodos mountains – establishing

some as the highest altitude vineyards in Europe.

Sector Profile

Country Report CYPRUS 2020 53
---
Agriculture & Food

Sector Profile

The government has recognised the budding

success of this sector and announced €23 million

would be made available to the local industry

through the National Viticulture Support

Programme for the period 2019-2023. Many

vineyards today are run by young entrepreneurial

Cypriots with solid training in viticulture and

oenology from famous winemaking regions such

as France, Italy and Australia. This along with the

establishment and promotional work of an association

of 11 leading Cypriot wineries – branded

the 'ambassador wineries' through the Evoinos

partnership programme – are definitely putting

Cyprus' wine territory on the map for international

wine connoisseurs.

Showcasing the rich viticulture of the island,

Cyprus has created a wine trail project, offering

six different organised routes for visitors to

tour the island's wine-producing regions. The

reputation of the annual Limassol Wine Festival,

launched in 1961, has also spread beyond the

country's borders and attracts over 100,000 visitors

every August to the city's municipal gardens

to discover the wine portfolios of one of the

world's oldest wine-producing countries.

OPPORTUNITIES AND CHALLENGES

Climate change is undoubtedly one of the biggest

challenges facing Cyprus and the entire region,

and the agricultural sector has felt the effects first

hand. For example, €11.2 million in compensation

has been paid for damages suffered to certain

types of crops due to extreme weather conditions

– this figure exceeds by far the average compensation

of the last 20 years. This reality has placed

research at the heart of finding solutions to fight

the effects of global warming. To this end, Cyprus

along with 15 other countries has launched an

initiative to create a new climate change action

plan. The research and recording of relevant

measurements in the region will be led by the preeminent

and globally renowned research organisation

the Cyprus Institute (CyI), and the data

gathered combined with the scientific expertise

is expected to result in new ideas and solutions.

Currently there are around 55 research projects

in various stages of completion in Cyprus thanks

to the numerous research centres and universities

leading the way in innovation.

New trends in farming methods and produce

are helping to address another challenge that

Cypriot agriculture has long faced, the everincreasing

average age of farmers. Younger educated

people are now entering what is seen as a

cutting-edge sector and many also have the marketing

skills to make their agribusiness a success

– changing the image of farming. The University

of Central Lancashire (UCLan), the first British

university to establish a campus in Cyprus, now

offers a popular diploma programme in agriculture

and animal husbandry, and the numerous

private and university-led research projects and

initiatives are also enticing the younger generation

to explore opportunities in the sector.

Another interesting initiative is the recent legislation

allowing for the cultivation and trade of

medical cannabis. Apart from the benefits it would

bring patients – a number-one priority – it would

also bring a boost to the economic development

of the island, as well as attract significant foreign

investment for the entire production chain.

To promote the quality of Cyprus' agricultural

products, the government has pushed to

register more PDOs and two other international

quality logos that attest to specific traditions

and qualities of food, agricultural products and

wines. Like the PDO, the PGI denotes a specific

link to a region's product while the third logo, the

Traditional Speciality Guaranteed (TSG), highlights

a traditional production process. Cyprus

has five food products already registered as

PDOs, and four products have PGIs, with more

applications for both PDO or PGI certification in

the pipeline. In the wine category Cyprus boasts

the famous Commandaria, which is said to be the

earliest known wine brand in the world. In addition,

Zivania and Ouzo are potent alcoholic beverages

listed as PGI products since 2004. There

is growing interest to gain these unique badges

of quality because they bring added value to any

produce, especially as European consumers are

prepared to pay more for well-sourced food and

ingredients. Achieving more certifications for

Cypriot products is a good opportunity to help

rebrand Cyprus and its agricultural sector.

DIVERSIFICATION IS KEY

Cyprus is determined to become cleaner and

greener by adopting principles of sustainability,

and with increasing input from scientists and researchers

agriculture is diversifying with its boutique

wineries, aquaculture and farmers cultivating

nutritious and medicinal plants. Agri-tech

and smart farming methods are on the rise and

start-ups and research centres are working more

closely with farmers for fresh ideas to transform

agribusiness. With a winning mix of resilient

and resourceful farmers, increased government

support and cutting edge research, Cyprus agriculture

is experiencing a transformation that will

allow it to respond to the fast-changing trends in

the European market and to ultimately become a

more sustainable sector in the future. n

Discover more at www.cyprusprofile.com

54 Country Report CYPRUS 2020
---
TASTE OF

CYPRUS

Ministry of Energy, Commerce and Industry

6 Andreas Araouzos street, CY-1421, Nicosia - Cyprus

T: +357 2286 7100 • E: ts@mcit.gov.cy • W: www.mcit.gov.cy
---
Banking

Sector Profile

Bolstering

THE BANKS

A strong focus on going

digital, implementing

more innovative banking

solutions and integrated

products are supporting

the industry and enhancing

competitiveness, as well as

bringing fresh opportunities

to support sustainable

development in a post-

Covid era of stiff competition

and increasing costs.

The Cyprus banking sector has taken

big strides in correcting fundamental

weaknesses in the financial system,

cleaning up balance sheets, successfully

raising private capital and maintaining

strong capital positions over

the last few years. Until the end of

2019, and before the coronavirus outbreak,

banks were showing strong performance

with decreasing non-performing debt and an

increase in deposits, a total of €3 billion in fresh

loans provided during the last year, as well as continuous

credit rating upgrades boosting market

and investor confidence in Cyprus.

Technological advancements, new market

demands and growing funding needs of both

households and businesses have been driving

developments in the banking industry, and the

sector is focused on introducing services to com-

KEY

contacts

The Central Bank of Cyprus

www.centralbank.cy

The Association of

Cyprus Banks (ACB)

www.acb.com.cy

56 Country Report CYPRUS 2020
---
Although key

indicators

are under

pressure at

the moment

due to the

pandemic, Cyprus banks had

strong performance in 2019,

are stable and well capitalised,

and the sector has shown

overall improvement during

the last years. Banks are

now focusing on providing

the widest possible support

to the economy to minimise

the pandemic impact and

to safeguard the banking

sector's performance

in the years ahead.

Michael Kammas

Director General

Association of Cyprus

Banks (ACB)

30+

BANKS

panies, start-ups and ventures with high growth

potential. At the same time banks have been instrumental

in expanding lending to key sectors

such as shipping, tourism, real estate and professional

services – which are significant economic

drivers for Cyprus.

The reforms and increased European supervision

have already produced more agile and

future-proof banks – and with the industry embracing

digital innovation the sector is bolstering

its adaptability and competitiveness. If Cyprus

continues to display the same level of resilience it

has shown over the last five years and continues

to efficiently restructure its institutions, it will be

well-equipped to overcome the challenges and

emerge stronger as a true international financial

centre.

COVID SLOWING MOMENTUM

Supported by the healthy growth of the Cyprus

economy over the last few years, the banking

sector was showing positive results in 2019.

However, the outbreak of the global coronavirus

pandemic struck a severe blow to the momentum

achieved. With growth-driving economic sectors

heavily affected by the ramifications of Covid-19,

the Cyprus banking sector implemented extraordinary

measures during the first months of the

pandemic to minimise the impact on households

and corporations. Key measures included a loan

repayments suspension until the end of 2020 and

the postponement of foreclosures for a period

of almost six months to support the economy,

society and bank clients.

In these unpredictable times, Cyprus banks

have been working hard to evaluate the circumstances

in an effort to clarify the real picture of

the economy in real time. The situation is very

challenging but manageable, according to the

Central Bank of Cyprus, who has stated that

apart from the low-interest rates debilitating eurozone

banks' profitability, Cypriot banks face

the additional challenge of the still high level of

non-performing loans (NPLs). Going forward, it

will be absolutely crucial for banks to keep cleaning

up their balance sheets and focus on tackling

non-performing debt to safeguard the sector's

performance in the years ahead.

STRONG FOUNDATIONS TO

OVERCOME CHALLENGES

Although the pandemic is currently shaking

up the world economy and putting pressure on

banks, Cyprus has shown improvement in the

sector. Local banks are stable and have reorganised,

developed capital strength and invested

in corporate governance – establishing strong

foundations to move toward a more sustainable

future. According to 2019 Q4 key aggregate

financial indicators released by the Central

Bank of Cyprus (CBC) the Core Tier 1 Capital

of Cyprus banks amounted to 17% at the end of

2019, compared to 15.1% at the end of 2018. This

is the highest level of CET1 capital in the CBC's

time series since December 2010. Deposits in

the banking sector of Cyprus were up to €47.9

billion in August 2020, an amount which equals

less than 250% of the local GDP, while total loans

stood at €31.8 billion.

In addition, progress has been made in reducing

the NPL ratio, which is now less than 30%

in comparison with more than 50% some years

ago. This was achieved through loan restructurings,

sale of loans, debt-to-asset swaps and foreclosures.

Another key part of NPL reduction

has been through specialised units taking over

NPL management and new international players

buying up distressed asset portfolios from local

banks.

All core banks in Cyprus have passed successive

and rigorous European Central Bank

(ECB) stress tests and reforms in the country's

legal and judicial framework have given banks

more avenues to reduce the burden of problematic

assets and economic imbalances, a legacy of

the 2013 financial crisis. Significant initiatives

include a new state programme – Estia – for supporting

the most vulnerable borrowers, a major

set of laws passed in 2018 substantially strengthening

the legal framework and allowing for

the securitisation of loans and speeding up loan

recovery rates – developments that were welcomed

by credit rating agencies. However, even

before these laws, the drop in NPLs in Cyprus

was proportionately the fastest in the EU.

Challenges do remain and banks will need

to tread carefully and adopt a more proactive –

rather than reactive – approach in order to stay

on track and maintain competitiveness. With

global uncertainty due to the pandemic, fluctuations

in international markets, and external

risks such as trade wars and changes in monetary

policy, the banking sector must make provisions

to ensure it has the ability to respond to any new

potential crises.

KEY PLAYERS

Key players in the Cyprus banking landscape

are Bank of Cyprus, Hellenic Bank and RCB

Bank which are under the direct supervision of

the ECB, with the rest of the market made up of

smaller banks and foreign subsidiaries such as

AstroBank, Eurobank and Alpha Bank.

The island's largest lender is the Bank of

Cyprus (BoC) with a market share of 41.7% as

Sector Profile

Country Report CYPRUS 2020 57
---
Banking

Sector Profile

TOTAL DEPOSITS

€47.9

billion

(August 2020)

of June 2020, and the bank has come a long way

since the 2013 financial crisis. Since the 2014

peak, BoC has reduced its stock of non-performing

exposures (NPEs) by €12.4 billion or 83% to

€2.6 billion and its NPE ratio is now reduced to

22% on a pro forma basis, from 30% as of yearend

2019. The lender remains committed to

further de-risking and its capital and liquidity

position remains good and in excess of regulatory

requirements. A considerable boost to BoC's

balance sheet came in August 2020, with the sale

of almost €1 billion in NPLs to investment firm

PIMCO. The sale is expected to be completed in

the first half of 2021, and will reduce the bank's

NPE ratio by five percentage points, a credit positive.

The Cyprus Cooperative Bank (CCB) was

one of the top three banks, until the healthy

assets of the state-owned lender were acquired by

Hellenic Bank in June 2018. As part of the deal,

Hellenic Bank (HB) acquired CCBs total deposits

amounting to €9.7 billion and took on €10.3

billion in assets consisting of performing loans,

bonds and cash, and around €500 million in nonperforming

loans. While assets worth approximately

€8.2 billion were transferred to the state,

with the so-called bad assets managed by stateowned

Cyprus Asset Management Company

(KEDIPES), which is managed by the Cyprus

arm of Spanish company Altamira.

The acquisition strengthened Hellenic Bank's

status as a major player in the market. Following

the 2013 financial crisis, Hellenic Bank was successfully

recapitalised through private funds, and

also led the way in 2017 in becoming the first

financial institution to join forces with an asset

management company, APS Holdings, to manage

its NPLs. The agreement with the Czech debtservicing

specialist, whose clients include Merrill

Lynch, Bank of America, Unicredit, Fortis Bank,

Banco Populari and Deutsche Bank, is of strategic

importance for HB and is part of the group's

strategy of reorganising and transforming its

business model. APS Cyprus currently services a

portfolio of NPLs and real estate assets of around

€2.6 billion that consists of non-performing loan

assets and real estate assets.

RCB Bank has been a solid player in the

Cyprus banking landscape for 25 years and

has maintained a very low level of non-performing

exposures and high level of coverage.

Headquartered in Limassol, RCB has sound

capitalisation and good asset quality according

to credit ratings agency S&P, giving the bank a

strong position to weather the macroeconomic

effects of the Covid-19 storm.

With the European Central Bank (ECB)

calling for more consolidation in the EU banking

sector, one Cyprus bank in particular has been

making moves in the local market. Consolidation

and strategic new investment came in 2017 with

a group of international investors led by Lebanese

banker Maurice Sehnaoui acquiring the majority

stake of the Cyprus subsidiary of Greece's largest

lender Piraeus Bank. Now rebranded AstroBank,

the lender, who cites growth as a top priority in its

strategy, has taken bold steps to expand its opera-

Sector Structure and Regulation

The key

opportunity is

our country's

transition

to the era of

the fourth

industrial revolution. The

digital revolution is no longer

an abstraction. Bank of Cyprus

is constantly upgrading and

expanding its range of digital

products and services and

cultivating digital culture

among its staff and customers.

Our actions come under of the

philosophy "CYON" (Cyprus On)

and go beyond banking. Beyond

Banking is about services and

products that traditionally

were not associated with

the industry however recent

technological innovations open

up a variety of opportunities

through Digital Channels.

Panicos Nicolaou

CEO

Bank of Cyprus

Cyprus' banking sector is comprised of two tiers: domestically-oriented banks

and international banks. International banks have long been attracted to the

island for its fiscal regime and to use the country as a launch pad into high-growth

and emerging markets. The list of banks of foreign origin in Cyprus consists

of over 30 institutions, which mainly carry out international banking business

and have limited interaction with the domestic economy. Beyond the traditional

deposit and lending services to households, corporations and SMEs, banks in

Cyprus operate under the 'universal banking model' and offer a diverse range of

products and services. Deposits from customers have traditionally been the main

source of funding for banks. Banking in Cyprus is regulated by the Central Bank

of Cyprus and is fully harmonised with EU legislation and directives. Changes

introduced by the EU's Single Supervisory Mechanism (SSM) saw the transfer

of supervision of all the eurozone's largest banks to the European Central

Bank (ECB) in 2014, harmonising the landscape for all big banks in Europe.

58 Country Report CYPRUS 2020
---
CyprusProfile

EVERYTHING YOU NEED

& EVERYONE YOU NEED

TO DO BUSINESS IN CYPRUS

www.cyprusprofile.com

Country | Economy | Trade & Investment | Sectors | Doing Business | Who's Who
---
Banking

Sector Profile

tions. In 2019, it acquired the operations and staff

of USB Bank for €40 million, followed by another

agreement to acquire 100% of the National Bank

of Greece's Cyprus subsidiary. These deals were

financed by AstroBank's own resources and supported

by a capital increase primarily from its

existing shareholders. The Bank kept up the takeover

momentum in 2020, by reaching an acquisition

agreement to purchase the banking business

of the Arab Jordan Investment Bank (AJIB)

in Cyprus. However, the deal was terminated in

August 2020 citing challenges brought by the coronavirus

pandemic, with the two parties continuing

to support the market independently.

DEBT MANAGEMENT BUSINESS

A key development in Cyprus changing the

banking landscape – and the real estate sector in

the long term – has been the entry of debt acquiring

companies (DACs) that have bought assetbacked

NPLs worth €14 billion from Cyprus

banks. There are currently seven licensed DACs

according to the CBC.

The Norwegian B2 Holding Group signed an

agreement with the Bank of Cyprus to acquire

a portfolio of non-performing loans, with a

face value of €400 million, consisting of consumer

and small business loans without collateral.

This is the group's second deal in Cyprus,

following B2 Kapital Cyprus, a subsidiary of

Norway's B2 Holding, acquiring an NPL portfolio

worth €144 million from Hellenic Bank in

2018. Since obtaining its Cyprus license in 2019,

APS has acquired a small NPL package worth

€245 million, and is also known for taking on

Hellenic Bank's 'bad' loans and real estate management

business.

Also on the list of licensed companies are

Cac Coral, which has acquired a €400 million

NPL package from the National Bank of Greece

(Cyprus), while CYMC III and Gordian Holdings

have acquired an NPL package sold by BoC

known as Helix 1 with a gross book value of €2.8

billion – of which €2.7 billion related to non-performing

loans. The list also includes the Cyprus

Asset Management Company (KEDIPES),

which is a subsidiary of the Co-operative Asset

Management Ltd (SEDIPES), the successor entity

of the former Cooperative Bank of Cyprus. NPLs

of the former Coop Bank is owned by SEDIPES

and managed by KEDIPES, through Altamira

Asset Management Cyprus. Alpha Bank signed

a long-term partnership agreement with Italy's

biggest loan recovery specialist doValue for managing

the bank's portfolio in Cyprus, which includes

bad loans and real estate assets with a total

value of €3.2 billion. Reportedly, doValue is to establish

an NPL management company which will

take on Alpha Bank's NPLs.

With a large proportion of these NPLs relating

to real estate assets, and European Banking

Union directives dictating banks cannot hold on

to a property they acquire through foreclosures

or debt-to-asset swaps for more than three years,

analysts have raised concerns banks will offload

their properties either by directly selling them to

the market through asset management companies,

bringing property prices further down, or packaging

more asset-backed loans to investment funds.

Further uncertainty in this market is being caused

by the pandemic, and once the foreclosure freeze

is lifted in October 2020 and loan repayments reinstated

in 2021, the Central Bank has warned that

NPLs could increase and shrink the value of the

assets – causing further losses to bank portfolios.

The business

world is facing

a new socioeconomic

reality due to

the Covid-19

pandemic. The unprecedented

crisis brought a number of

significant challenges, but

for RCB Bank human life had

to be placed in the epicentre

of both business and society

at large. RCB Bank, as a

responsible business, stepped

in without delay to continue

offering a high level of service

to corporate and individual

clients via its digital channels

and tools which are the future

of banking during and post the

pandemic. At the same time, it

acted quickly in securing and

donating 12 medical ventilators

to the health authorities

which are lifesaving when

dealing with Covid-19 and

have empowered the medical

services of the country.

Kirill Zimarin

CEO

RCB Bank Ltd

Core Tier 1

Capital of

Cyprus banks

15.1%

16.6%

17.0%

2018 Q4

2019 Q3

2019 Q4

60 Country Report CYPRUS 2020
---
The unfolding

of Covid-19

into a global

pandemic

will inevitably

lead to

unprecedented changes to the

global economy which clearly

impacts the banking sector

worldwide. In this rapidly

evolving economic environment

the management of banks

had to adapt their strategy

accordingly in an effort to

mitigate risks and plan ahead

for the future. The fact that

the impact is asymmetric,

per sector, clearly leads to

new opportunities for growth

and changes in strategic

priorities. With the above in

mind, areas for growth for the

year ahead include: digitisation

drive, liquidity management

solutions, focus lending in

growth sectors, expansion of

disintermediation and drive

in wealth management.

Costas Argyrides

CEO

cdbbank

BALANCING THE REGULATORY BURDEN

In the past five years, EU banks have been faced

with an ever-increasing regulatory burden with

stricter ECB guidelines and compliance requirements

– forcing institutions to grapple with

finding a balance where financial stability can

be safeguarded without suppressing economic

growth.

The global challenges sparked by the Covid

pandemic have brought a welcome, but temporary,

respite as regulators have decided to postpone

deadlines, the enforcement of upcoming

regulations, and even provided some temporary

simplification of regulations to give flexibility to

capital markets and the banking sector. However,

the landscape remains complex in terms of

banking regulatory and supervisory standards,

with no comprehensive long-term initiative to

permanently reduce the regulatory burden by focusing

on better regulation, rather than just more

regulation.

Some key changes now under discussion

relate more to capital markets. Instructed by the

European Commission, the High-Level Forum

(HLF) published a report where it sets out a series

of clear recommendations aimed at moving the

EU's capital markets union forward. This initiative

was welcomed by the European banking

sector as it will help remove regulatory obstacles

and would allow for market-based financing and

banking finance to work better together – rather

than being mutually exclusive – to meet the needs

of companies and investors, and to promote economic

growth in the EU.

DIGITAL SOLUTIONS THROUGH FINTECH

The regulatory pressures are a global challenge

for financial institutions, and part of the solution

is to invest in new tech to enhance efficiency,

profitability and prospects. A well-functioning

banking system is a precondition for

the sustainable development of every economy

and embracing a digital future with more transparency

will certainly help to achieve this goal.

The last decade has seen a surge in new tech,

solutions, tools and platforms coming into the

market, but in its wake have also come concerns

regarding transactional security and trust –

aspects that are increasingly crucial in the world

of financial technology (fintech) and achieving

healthy competition in banking for consumer

benefit.

Banks are currently working on new and

cost-effective services, while tackling various

other issues and challenges operating in a rigorous

regulatory, supervisory and legal framework.

Crucial to succeeding in this new reality

is better cooperation between the two main

channels of service provision, banks and tech

companies. This would bring the best solutions

for the clients, high-end digital platforms

and fully compliant procedures at every level of

payment or transaction – through tech such as

blockchain.

A silver lining of the pandemic has been that

the implementation of many digital strategies

have been accelerated in Cyprus due to the circumstances.

Almost every aspect of the economy

can be faster and more efficient with the use of

better tech solutions. These developments have

also opened up more interesting investment opportunities

and growth prospects for the Cyprus

economy, not only in banking but in key sectors

such as education, health and tourism, as well as

the start-up ecosystem and technology sector in

general.

FOCUS ON SUSTAINABILITY

The broad-based economic recovery of Cyprus

continued straight through to 2019, significantly

exceeding eurozone dynamics, and the country's

banks had gone from strength to strength until

the pandemic hampered this strong performance

with widespread economic disruption and the

Cypriot economy expected to contract by around

7% in 2020, before returning to healthy growth

rates in 2021.

The reforms and firm steps to strengthen its financial

institutions in the past few years have not

been in vain and have bolstered the sector, and

multiple assessments have proved a high level

of compliance across the banking industry, with

some statutory requirements even more demanding

than in other EU member states. Despite the

current unpredictability of the global economy,

Cyprus banks remain stable and the country continues

to offer interesting investment opportunities

that can be tapped into, such as distressed

assets and loan portfolios, mergers and acquisitions,

private equity and venture capital projects,

as well as financing of infrastructure projects,

such as tourism development and oil and gas

projects.

Although there are challenges ahead, a fresh

focus on digital solutions and strong corporate

initiative, coupled with the supervisory authorities'

more accommodative policy to give banks

flexibility to support the economy, there is

ample reason to believe that sustainable growth

is possible in the banking sector in the next few

years. n

Discover more at www.cyprusprofile.com

Sector Profile

Country Report CYPRUS 2020 61
---
Capital Markets

Sector Profile

BUILDING A

Dynamic Market

The capital markets landscape in Cyprus has seen development over the

last few years, supported by the country's strong professional services

sector and a growing investment funds industry. As a regional market

with personalised service, Cyprus' offering is increasingly sought after by

international businesses seeking a cost-effective way to diversify their portfolios

and tap into the capital markets of the EU and emerging niche markets.

Cyprus' appeal as a listing jurisdiction

is steadily growing due to its

cost-effectiveness, investor-friendly

and transparent tax framework,

European 'passport' for issuing,

euro currency, and the free transfer

of funds and offer of securities. The

country has set its focus on building

a reputation as a key listing jurisdiction for

other emerging markets and to establish itself as

a convenient gateway into the European capital

market. At the heart of these efforts is the Cyprus

Stock Exchange (CSE). The Exchange has positioned

itself as an essential growth lever for the

further development of the Cyprus economy,

and has continuously been launching initiatives

and new boutique services to attract more participants

and satisfy discerning market demands.

Taking into consideration the need for local

companies, and the Cyprus economy in general,

to recover from the negative effects of the Covid-

19 pandemic, the key goal for the CSE in 2020

is to strengthen its role within the economy as a

vital capital raising tool to enable companies and

institutions to expand their activities. Equally important

in this quest is to attract new companies

to list their securities on the CSE's markets thus

providing new investment opportunities. The

CSE has numerous strengths and offers multiple

advantages. The Exchange provides all basic securities'

operations, such as listing, trading, clearing

and settlement, as well as registry services.

The Exchange also operates within an advanced

legal and regulatory framework, complying with

all EU Directives and internationally accepted securities'

practices.

TAPPING INTO MARKETS

The Exchange currently operates a Regulated

Market and a Multilateral Trading Facility – the

Emerging Companies Market (ECM) – for shares

KEY

contacts

Cyprus Securities and

Exchange Commission

www.cysec.gov.cy

Ministry of Finance

www.mof.gov.cy

Cyprus Stock Exchange

www.cse.com.cy

62 Country Report CYPRUS 2020
---
and bonds, which operate under the Cyprus

Securities and Stock Exchange Law and the

Investment Services and Activities and Regulated

Markets Law (MiFID). Shares, rights, warrants,

corporate bonds, government bonds/ treasury

bills, collective investment schemes and Global

Depositary Receipts (GDRs) can be traded on

the CSE, with the most popular being shares and

bonds. Currently, CSE participants include 20

Members (Broker Firms), 13 Custodians and 56

Nominated Advisors.

The Main Market, Alternative Market,

Corporate Bonds Market, Government Bonds

Market, Collective Investment Schemes Market

and the Depository Receipts are all segments of

the Regulated Market, which currently lists 65

International Securities Identification Numbers

(ISINs) for shares, 21 ISINs for bonds and 21

ISINs for funds.

The ECM also accepts listing of shares and

bonds for companies whose registry is not kept

by the Cyprus Central Securities Depository

and Central Registry (CSD) – with 44 ISIN's for

shares and 24 for bonds listed in total. The ECM

offers simplified listing criteria at a low cost and

is successfully attracting companies both locally

and internationally. It has evolved from being

mainly focused on small domestic companies,

to a growing international market offering opportunities

to companies from around the world

– and allows for a more personalised service at

competitive fees, particularly to companies that

are too small to list on a larger exchange or wish

to gain their first experience of listing securities

within the EU. The ECM has proved resilient and

successful in the last years, despite the adverse

economic climate and offers companies with an

attractive commercial proposition the opportunity

to attract funds.

Additionally, the Exchange has the responsibility

for the establishment and management of a

Central Depository and Central Registry (CSD).

The majority of the securities listed on the CSE

are also registered in the CSD. Furthermore,

issuers of non-listed securities that wish to have

their registry maintained by the Cyprus Stock

Exchange may assign this job to the Cyprus CSD.

DIVERSIFICATION AND EXPANSION

In an effort to expand its business, the CSE is

focusing on sectors that are showing strong performance,

such as funds, shipping, and energy.

The aim is to ensure that the securities' market

can provide the necessary tools and prospects

to participants to achieve their targets, and also

provide regional market participants and companies

a convenient venue for listing and investing

in a transparent, efficient and business-friendly

environment.

With regards to funds, the Cyprus Stock

Exchange has taken several initiatives. CSE operates

two markets for listing funds, the Market for

Tradable Collective Investment Schemes and the

Market for Non-Tradable Collective Investment

Schemes. Listing provides visibility and transparency

to investors, and the Exchange provides fast

and simple listing procedures and a competitive

pricing policy. In addition, the CSE has launched

a new service in order to offer registry services

to fund managers, which means maintaining the

registry of unit holders of non-tradable funds

at the CSE's Central Depository and Central

Registry in a dematerialised form, and handling

redemptions and transfers of funds' units.

In the energy sector, the CSE holds a 10%

stake in the Hellenic Energy Exchange (HEnEx)

– which was founded as part of the EU's target

model to create a single energy market and is expected

to launch operations in accordance with

the new target model as set by EU within 2020.

The CSE is also examining other opportunities

regarding the energy sector which are expected

to be published in the near future.

TRADING VOLUME

For 2019, the turnover amounted to €85.3

million, which represents a year-to-year decrease

of 35.40%, compared to the turnover of €132.1

million in 2018. The daily average turnover for

2019 was €0.35 million per trading day, compared

to €0.53 million in 2018. At year-end, the

equity market capitalisation, amounted to €1.89

billion, compared to €1.93 billion at the end of

2018, thus registering a decrease of 1.99% from

the previous year. The financial sector was the

largest economic group as far as market capitalisation

of the equity market is concerned, with

56.75%, followed by the industrials services with

12.68% of the equity market capitalisation.

STRONG FUNDS INDUSTRY

A sector that was nearly non-existent a few

years ago, Cyprus catapulted itself into recognition

by overhauling and modernising its investment

funds regulatory framework. There has

been growing interest from fund professionals

around the world, but most notably from Europe,

Asia and the Middle East, whose fund managers

are increasingly seeking access to the EU market.

Assets under management (AuM) in Cyprus have

increased by 200% from €2.7 billion in 2016 to

€8.3 billion in 2019, demonstrating that Cyprus is

able to compete with Europe's longer established

fund domiciles.

A CSE listing provides a number of advantages

for fund managers and investors. The CSE

is an EU-regulated and recognised Exchange,

Sector Profile

Country Report CYPRUS 2020

63
---
Capital Markets

Sector Profile

Financials

56.75%

Industrials

12.68%

MARKET

CAPITALISATION

VS ECONOMIC

GROUP

Consumer

Discretionary

11.53%

Consumer Staples

5.06%

Technology

5.01%

Corporate and

Government

Bonds: 0.97%

BREAKDOWN

OF TOTAL

TURNOVER

Shares

traded:

99.03%

FAVOURABLE

TAX REGIME

Corporate tax rate

12.5%

Basic Materials

0.21%

Energy

4.76% Real

Estate

3.99%

2019 TOTAL TURNOVER

€85.3

million

(A YEAR-ON-YEAR INCREASE OF 35.4%)

2019 TOTAL MARKET CAPITALISATION

(INCL. BONDS MARKET):

€5.0 billion

2019 DAILY

AVERAGE TURNOVER

€0.35

million

PER TRADING DAY

EQUITY MARKET CAPITALISATION:

€1.8 billion

No capital gains

tax on securities'

transactions

No fee (transfer levy

on sale) imposed

on securities'

transactions

No withholding tax

for dividends that

are paid to non-tax

residents of Cyprus

Wide network of

Double Tax Treaties

1.

Hellenic Bank

Public Company

Ltd

5 TOP SHARES IN 2019 (MOST TRADED SECURITIES BY VALUE):

2.

Bank of Cyprus

Holdings Plc

3.

Interfund

Investments Plc

4.

Vassiliko Cement

Works Public

Company Ltd

5.

Logicom

Public Ltd

International Memberships

WFE (World Federation of Exchanges)

FESE (Federation of European Securities Exchanges)

ANNA (Association of National Numbering Agencies)

ECSDA (European Central Securities Depositories Association)

FEAS (Federation of Euro-Asian Exchanges)

64 Country Report CYPRUS 2020
---
CSE's goal for

2020 is to be

recognised as

an essential

growth

lever for the

development of the Cyprus

economy. The aim is to attract

new companies to list on CSE's

markets, so they may develop

and expand their activities

and provide new investment

opportunities to investors.

CSE is also focusing on new

alternative areas and sectors

to enhance our markets,

services and products.

Nicos Trypatsas

Acting General Manager

Cyprus Stock Exchange

which provides a transparent fund profile and

credibility to investors. It has fast and simple

listing procedures with minimum bureaucracy,

advanced technology, infrastructure and effectiveness

at a low cost. There is great potential for listing

Collective Investment Schemes, of both UCITS

and Alternative Investment Funds (AIFs) on the

CSE, allowing fund promoters to attract greater

interest from institutional investors. The favourable

environment provided by Cyprus attractive

tax regime, the legal framework which is harmonised

with EU Directives, and the vast pool of

skilled professionals provide the necessary prerequisites

for enabling the future growth of the funds

industry. The Cyprus Stock Exchange has already

accepted listings for 17 non-tradable Collective

Investment Schemes – more specifically, two

single scheme UCITS funds and 15 sub-funds of

one UCITS umbrella scheme. Additionally, two

AIFs are also listed on the non-tradable Collective

Investment Schemes, one single scheme and one

umbrella scheme with two sub-funds.

The island is positioning itself as a cost-effective

alternative to the larger European fund

centres like Luxembourg and Ireland, and many

in Cyprus believe the sector has a great future

ahead, estimating that AuM could reach €12

billion in the next five years.

CROSS-BORDER CONNECTIONS

A key strategy of the Cyprus Stock Exchange

is one of regional growth and collaboration

with neighbouring stock exchanges, by signing

Memorandums of Understanding with other exchanges.

The CSE offers fully computerised online

trading, clearing and settlement. Investors have

access to the Securities listed on the CSE Market

as well as to the securities listed on the Athens

Exchange Market (Athex Group) through the

Common Trading Platform established between

the two Exchanges. Through this platform, Greek

market participants (members and custodians)

have access to view and trade the securities listed

on the CSE and vice versa. The CSE also provides

a successful service to non-listed companies that

wish to submit their registries for handling by the

Cyprus Central Depository and Central Registry.

Additionally, the Exchange also introduced

a regulatory framework for the operation of

the Depository Interests (DIs) to facilitate the

clearing and settlement of cross-border trades

between the CSE and London Stock Exchange

(LSE) for dually listed companies.

The CSE has also been appointed by the

Cyprus Securities and Exchange Commission

(CySEC) as the Officially Appointed Mechanism

for the Storage of Regulated Information (OAM)

for Cyprus, according to the provision of the

Transparency Directive – a system that makes use

of digital signatures. Regarding digital signatures,

the CSE has been assigned the role of a Local

Registration Authority (LRA) of an authorized

Registration Authority (RA). The CSE, as an LRA

of an authorized RA, mediates for the issue of:

Qualified Certificates for Electronic Signatures

(natural person), Qualified Certificates for

Electronic Signatures (natural person associated

with legal person) and Qualified Certificate for

Electronic Seal (legal person). Organizations or

Companies can obtain from the CSE qualified

certificates for electronic signatures/ seal, which

they may use in their operations. An increasing

number of organisations and companies choose

to adopt the use of qualified electronic signatures

to replace procedures requiring documents in

printed form (ratified by seals and signatures).

In addition, the CSE acts as the auctioneer of

Greenhouse Gas Emission Allowances (EUAs) in

the Republic of Cyprus. The Exchange is responsible

for the supply of allowances to be auctioned

in the primary market on behalf of the Cyprus

government.

The CSE issues Legal Entity Identifier Codes

(LEI) to interested legal entities. This service

is provided by the CSE in cooperation with the

London Stock Exchange/Unavista, and the issuance

of LEI codes is done through the Unavista

platform. The CSE also continues to successfully

provide the FISN, ISIN and CFI codes to interested

market participants as the official national representative

for Cyprus, as appointed by ANNA.

RAISING FUTURE FUNDS

Unfortunately, the economic consequences of the

global Covid-19 pandemic cannot be easily assessed.

Even though the majority of listed companies

announced to the investing public the

effects of the pandemic on their businesses, there

remains uncertainty about the future. The CSE

has an important role to play in the recovery of

the Cyprus economy and as such it has the necessary

tools to attract new companies to raise funds

through the listing of their securities thus providing

investors new investment opportunities.

Over the years, Cyprus has time and time

again proved its resilience, and armed with numerous

comparative advantages – such as its

geostrategic location, EU membership, investorfriendly

environment and strong professional

services sector – there is much potential to be

harnessed in developing a stronger and more

dynamic market and cement the country's foundations

as a key EU player in the wider region. n

Discover more at www.cyprusprofile.com

Sector Profile

Country Report CYPRUS 2020 65
---
Construction & Real Estate

Sector Profile

LOCATION

CYPRUS

360, Cyfield

The last few years have been the start of a boom time for the Cyprus construction

and real estate sector with multiple high-end residential and commercial

developments under construction and growing property sales to foreign buyers.

The 2020 pandemic has undoubtedly had a big impact, but the industry is

ready to adapt with hopes this will be a temporary setback for the sector.

With new high-rise and luxury

developments springing up

in city centres and along

the coast, and large-scale

projects worth around €8

billion seeking investors, the

Cyprus construction and real

estate market has been on an

upward trajectory over the last couple of years.

New residential and commercial properties, an

increasing demand for top-tier office space and

sales driven by foreign buyers have boosted the

sector and Cyprus' cosmopolitan appeal both as a

second-home location and headquartering destination

for multinational companies.

The island has long been a firm favourite for

property hunters worldwide thanks to its ideal

Mediterranean climate, high quality of life and

one of the lowest crime rates in Europe. Other

key factors are its EU member status, its thriving

international business centre and strategic position

between three continents, which have been

appealing aspects for companies looking for a

location to set up a regional base to service their

clients in the EMEA region.

Cyprus has steadily been laying the foundations

to further develop its real estate sector and

showed strong market performance until the

end of 2019, but like in many other countries

the global coronavirus outbreak and subsequent

KEY

contacts

Department of Lands

and Surveys

https://portal.dls.moi.gov.cy

Cyprus Land and

Building Developers

Association (LBDA)

www.lbda.com.cy

66 Country Report CYPRUS 2020
---
In this last year the

Ministry of Interior, as

the most polythematic

Ministry of the Republic

has faced a lot of

challenges. The rapid

growth of recent years

has necessitated reforms

in many areas of the

Ministry's competence

in an effort to improve

and enhance the

citizen's quality of life,

whilst also reinforcing

overall development

in the country. Within

this framework we are

proceeding with radical

reforms in the fields

of urban planning and

licensing, and the local

authorities' model,

expecting to enhance

the urban and rural

development of the island.

Nicos Nouris

Minister of Interior

national lockdowns have struck a severe blow to

the industry. Sales and construction ground to a

standstill for several months and many projects

are experiencing delays and set-backs despite the

local lockdown measures having been lifted. The

general insecurity and uncertainty in the global

market due to the pandemic has decreased the

appetite of investors to invest in foreign markets

and industry experts forecast that the sector will

not see signs of a rebound until 2021 – which may

also result in price reductions across the market

spectrum.

UPWARD SWING IN 2019

Developments and figures from 2019 underline

the fact that Cyprus remains a desirable investment.

The real estate market has constantly been

developing and introducing more innovative

projects that are upgrading Cyprus' offering to

global investors and house hunters. The upward

trend in Cyprus real estate sales has been steadily

rising since 2014, when property sales first picked

up following the 2010 peak of the European sovereign

debt crisis, and in 2019 annual property

sales were the highest on record since 2008 with

sales rising in all districts.

Most notably, there was increased demand for

grade A offices at prime locations in city centres,

apartment units within close proximity to employment

hubs, and housing units in specific

suburbs, which has pushed the industry to diversify.

The residential market has seen a big leap

forward from years of stagnancy following the

global financial crisis with a substantial number

of large residential complexes currently under

construction in all major cities by top developers

such as Cybarco, Cyfield and Pafilia, adding to

the supply of new luxury residential space.

In the first half of 2019, investment activity

levels were high. Total transaction value in the

real estate sector reached €2.5 billion representing

an increase of 25% compared to H1 2018,

while construction activity expanded with the

total value of building permits doubling. This

significant boost was fuelled by foreign capital

flowing into the residential property sector.

Although there was a sharp 35% decrease in Q3,

the number of sales contracts dropped only by

3%. Interest from foreigners, and predominantly

from non-EU buyers, continued to be the key

driving force in the market, representing approximately

45% of total transaction value during H1

2019. The high-end residential property segment

continued to be critical during the first half of the

year, with total transaction value of properties

with a price tag of over €1.5 million increasing by

46% compared to H1 2018.

SLOWDOWN IN 2020

In the first four months of 2020, 45% of all

properties sold were purchased by foreigners,

with Limassol and Paphos being by far the most

popular locations and the districts with the largest

share of luxury residential property transactions

– proving there continues to be global interest in

Cyprus. However, as expected, there has been a

reduction in the foreign buyer interest due to the

flight and travel restrictions to Cyprus.

Following the coronavirus outbreak, the

trends in the local real estate market are similar

to global ones. Commercial property and in particular

hotels and retail have been hit hard, as

have offices due to the increase in working from

home. Residential units and plots of land, on the

other hand, appear to be more resilient to the

effects of the pandemic.

Sector Profile

View from 360, Cyfield

Country Report CYPRUS 2020 67
---
Construction & Real Estate

Sector Profile

NEO Penthouse, Pafilia

Pafilia is

focused on

conceptoriented

premium

projects

that appeal to high-net-worth

individuals for both lifestyle

and investment. Cyprus has

a new, more discerning,

type of client that expects

world-class finishes, facilities

and service in addition to an

outstanding property with

exceptional construction

quality and specifications. This

has been our focus, reflective

in our flagships large-scale

developments Minthis, ONE and

NEO, as well as our extensive

range of classic projects.

We will continue to deliver

outstanding resorts that offer

long-term value to our clients.

In the first seven months of 2020, property

sales were down by 37% compared to the same

period in 2019, with sales falling in all districts,

according to official figures from the Department

of Lands and Surveys. However, considering

there was an 80% fall in April, 71% in May, 10%

in June, and only 8% in July compared to July

2019, the trajectory of the figures is encouraging

given the on-going Covid-19 situation.

DEMAND FOR OFFICE AND

COMMERCIAL SPACE

Following the success of the Oval project, there

has been much action in the office space segment,

with an important change happening as many

companies are now increasingly interested in

downtown locations for business. With the completion

of the office development schemes currently

under construction, Cyprus should reach

a staggering 260,000 square metres of office space

in its market by the end of 2020. Among the

major office projects that are planned to be delivered

on the market in Nicosia are the signature

lifestyle commercial development Nicosia City

Centre (NCC), the Capital Gate and the Asteroid

Tower, as well as upcoming projects such as the

Cymiva Office Tower.

The industrial and land sector is also set to experience

expansion in the future. In 2019, more

than 10,000 square metres of modern industrial

and logistics facilities have been completed, with

the current total supply in Cyprus of over 340,000

square metres.

The retail sector is also seeing a revival with

significant investments and 2020 will bring new

shopping destinations such as the Neo Plaza in

Nicosia and the Metropolis Centre in Larnaca.

Once these facilities are completed, Cyprus will

have 450,000 square metres of modern retail

space, which will facilitate the entry of many new

brands to the market.

Evangelia Eliadou

Executive Director

Pafilia Property Developers Ltd

Vida Apartments, Pafilia

68 Country Report CYPRUS 2020
---
A development by
---
Construction & Real Estate

Sector Profile

TOURISM REAL ESTATE

With tourism one of the key economic drivers of

Cyprus, there is no doubt that hotels and tourism

infrastructure continue to be a very promising

market and play a vital role in the sector –

albeit the current challenges tourism is facing

due to Covid-19. In this segment, the additions

of new Radisson hotels and a Sofitel, as well as

the soon-to-be-completed Ayia Napa Marina will

strengthen market. The €220 million Ayia Napa

project features twin skyscrapers and a yacht

marina for 600 vessels. Backed by Egyptian business

magnate Naguib Sawiris, the project is set to

transform the status and interest in the Ayia Napa

region. Following the success of Limassol Marina,

marina projects are redefining luxury and the

scope of real estate in Cyprus and plans for

new marinas in Larnaca, Paralimni and Paphos

are also in the pipeline. The tender for Larnaca

Marina received approval in August 2020 and is

expected to attract €1.2 billion in construction

and real estate development.

Investors are now keeping a keen eye on

Larnaca, as it is a city expected to flourish on

par with Limassol in the near future. The coastal

city, home to one of Cyprus' two international

Melco Resort

airports, is already seeing its share of new highrises

and hotels springing up. The city is revealing

plenty of investment opportunities with its

marina set to be completed in the next few years

and the increasing demand for real estate is supporting

the industry to diversify and develop

more apartments, houses and office space.

A serious game changer in Cyprus' tourism

product will be the island's first-ever and Europe's

largest integrated luxury casino resort. The

almost €600 million casino – which is being run

by the consortium of Integrated Casino Resorts

Cyprus (ICRC) which includes global gaming

giant Melco Resorts & Entertainment Ltd – will

have 500 rooms, extensive facilities and exceed

five-star status. The resort project is Hong Kongbased

Melco's first expansion outside of Asia and

will be the biggest casino of its kind in Europe.

We believe

that we will

see a shift in

the foreign

investments

of properties

into assets that provide yields,

compared to sun and beach

destinations. We anticipate

the high demand from locals

to continue, as the banks

are willing to keep lending

money for mortgages. In

the contracting business,

the next few years will be

extremely busy given the

government's policy to release

more infrastructure projects

to increase fiscal spending

and expand the economy.

George Chrysochos

Executive Director

Cyfield Group

Petra Villas, Minthis, Pafilia

In 2019 annual

property sales

were the highest

on record since

2008 with

sales rising in

all districts.

70 Country Report CYPRUS 2020
---
Construction & Real Estate

Sector Profile

The gaming area at the casino is set to span across

7,500 square metres, over 9,600 square metres

will be for convention, meeting and event spaces,

and a 1,200 square metre retail area will replicate

the feel of the old Nicosia city centre. The resort

is expected to contribute around €700 million

annually to the economy. The project will also

support the local construction industry as it is

expected to create around 4,000 jobs each year

during the construction period. In addition, it

will contribute an estimated 6,500 direct and indirect

full-time positions in Cyprus when fully

operational in 2021.

The number of foreign investors closing

multimillion-euro deals on new projects and

acquisitions of existing assets such as five-star

hotels, malls and luxury marinas is evidence of

the appeal of tourism-related real estate. In this

area, the country's investment promotion agency

Invest Cyprus has also set up a dedicated and

specialised unit, TourInvest, to promote investment

opportunities in the tourism and hospitality

sector. The unit focuses on attracting multimillion

investment into large-scale infrastructure

projects, that exist in diversified thematic areas,

such as nautical tourism, cultural tourism, sports,

conference, health and wellness, as well as rural

tourism in cooperation with the Deputy Ministry

of Tourism and other stakeholders. TourInvest

acts as the first point of contact to international

investors, and provides valid and useful information

on projects of their interest.

POST-CORONA REALITY

No country has come out unscathed by the coronavirus

outbreak, including Cyprus, and it is still

difficult to assess the long-term impact it may

have on the real estate and construction sector.

For the last few years, the industry in Cyprus

has gone full steam ahead but a new reality has

emerged since the pandemic and insecurity in

the global economy.

All sectors of the real estate market came to a

temporary standstill with a multitude of projects

that are unfinished and many transactions already

agreed in principle or even midway through

were frozen or postponed. Many developers

had already been scaling down activity during

2019, but others who got into the development

of residences late, and particularly in multi-unit

towers, have a large stock of unsold units. Though

the pandemic brought construction to a halt for

several months, work quickly picked up where it

left off. Construction sites were amongst some of

the last to close when lockdown measures were

announced but the first to reopen, highlighting

the importance of the sector to the economy.

Our

authorities'

excellent

handling of

the recent

pandemic

managed to raise our profile

and created a lot of interest in

purchasing property in Cyprus.

Buyers on the high end of

the market are continually

looking for opportunities

to invest, particularly in

destination developments

with high returns, offering an

exit strategy. We have every

reason to remain optimistic

and expect demand to

continue to be strong in 2021,

especially for ready to move

in properties and projects

approaching their delivery.

Michalis Hadjipanayiotou

CEO

Cybarco Development Ltd

The number of foreign investors closing multimillioneuro

deals on new projects and acquisitions of existing

assets such as five-star hotels, malls and luxury marinas

is evidence of the appeal of tourism-related real estate.

Limassol Marina, Cybarco

72 Country Report CYPRUS 2020
---
To adapt to this new reality some developers

are now planning to change use from residential

to office or hotel accommodation, which they

hope will be in greater demand when the market

starts to move again. Industry experts say the

prominent marina, casino and Larnaca port projects

will all suffer delays in the short to medium

term. These unexpected events will result in a

reduction in pricing through the market, but

quite how low prices will fall remains to be seen

and will also depend on when the demand will

start again and what additional incentives the

Cyprus government may introduce.

With foreign buyers constituting such a large

proportion of all transactions, the residential

market is certain to take a hit, as investors will

be revising their investment plans and reluctant

to invest in foreign markets due to the general

insecurity and problems in their home countries.

This could also have an effect on FDI interest

in large-scale infrastructure projects.

Demand for office space could see some

changes too, as companies and organisations

reconsider their plans for new offices after the

lockdown forced a universal remote-working

trend with many employees working from

home. On the other hand, logistics, warehouses

and industrial operations have benefited from

this crisis due to the massive increase in e-commerce.

A key challenge, which remains a legacy

problem for Cyprus and could have longstanding

effects on the real estate market is the local

banks' growing property portfolios acquired

through repossessions and debt-for-asset swaps

to restructure the burden of non-performing

loans – an unfortunate by-product of the financial

crisis. The question remains what effect the

gradual unloading of these properties into the

market will have on today's fiercely competitive

environment.

BUYER SAFEGUARDS

Changes to the law relating to title deeds have

ramped up protection and peace of mind for

prospective buyers, with additional legal safeguards

streamlining processes and efficiency.

These types of measures have also paved the way

for increasing confidence to invest in Cyprus

real estate. As in all markets, prospective buyers

are advised to seek independent legal advice

before purchasing real estate. The island has

mainly been on the radar of British buyers, due

to the countries' historical ties, strong tourist

market and attractive tax treatment – an incentive

that may disappear with Brexit. The

Immovable Property Tax (IPT), which was significantly

reduced in 2016, has been abolished,

while temporary reductions in property transfer

fees introduced in 2015 have been made permanent.

Purchases that include VAT incur no

property transfer fees, while VAT-exempt purchases

incur only 50% of the previous fees. In

addition to the UK and Europe, interest from

investors in China, Russia, the Middle East, and

beyond has also grown – though on hold temporarily

due to the pandemic.

MOVING UPMARKET

Cyprus has confidently forged ahead into the

luxury market direction – a fact evident in the

number of extravagant residential developments

rapidly rising up along the coast and most exceeding

the half million price tag. These range

from apartments in architecturally unique highrises

to exclusive villas in five-star complexes, golf

course and seafront developments as well as boutique

townhouses.

HOME IN THE SUN

Since 2001, there has been an overall expansion

of the real estate market and the arrival of large

global companies and private investor-residents,

which have changed the image of Cyprus and

its property sector. More recently the industry

has seen fast expansion and made bold moves

to upgrade and diversify its offering, and also to

bring more 21 st century innovation to its projects

to build a more sustainable sector.

Cyprus has one of the highest home ownership

rates in Europe and also has a longstanding

market for second homes and holiday

villas, making the economy heavily reliant on

the sector. The growing appetite of foreign

buyers and investors is raising confidence in

the Cypriot market, and renewed interest in

large-scale projects in Cyprus has seen a rush of

foreign investors looking into the acquisition of

entire complexes and projects that are both in

the planning stages and already under construction.

The coronavirus pandemic might delay

some of these developments, but the significant

investments into real estate of the past few years

have certainly once again raised this sector to be

a key driver of growth in Cyprus. Adaptability,

diversification and sustainability will be absolutely

key moving forward and to secure the

future. n

Discover more at www.cyprusprofile.com

Sector Profile

Country Report CYPRUS 2020 73
---
Education

Sector Profile

EDUCATING A NEW

GENERATION

Cyprus is fast becoming a new generation education

hub attracting growing numbers of both foreign

students and acclaimed academics to its universities

with the introduction of new degrees meeting future

market demands and investment in top-tier campuses.

T

he Cyprus education sector has

seen a veritable boom in the last

few years. It has become a key

sector the country is determined to

further develop and promote with

the goal of establishing Cyprus as

an international education and

research centre of excellence. The

country's universities are competing

with each other in introducing

new programmes to fit future industries, building

state-of-the-art facilities and developing strong

partnerships with renowned universities and institutions

around the world.

Cyprus has always placed strong focus on educating

its population. Public spending on education

and training was around 5.7% of GDP in

2018, well above the EU average of 4.6%. Cyprus

also has the second-highest tertiary educational

attainment rate in the EU at 57.1% – clearly

surpassing the EU average of 40.7% – and at

64.4% women have a considerably higher attainment

rate than men at 49.2%, according to the

European Commission.

Naturally there is still room for improvement

in the outcomes and efficiency, but with the increasing

number of Cypriots choosing to enrol

in local universities instead of going abroad, and

with the growing number of foreign students

choosing Cyprus, it is clear that the quality and

versatility of the country's higher education offering

is a strong pull factor.

KEY

contacts

Ministry of Education

and Culture

www.moec.gov.cy

Cyprus Higher Education

(Ministry of Education

and Culture)

www.highereducation.ac.cy

Cyprus Agency of Quality

Assurance and Accreditation

in Higher Education

www.dipae.ac.cy

74 Country Report CYPRUS 2020
---
Education

main priority of the

A Ministry of Education,

Culture, Sport and Youth

for 2021, gaining urgency

after the experience of

the global health crisis,

is the further integration

of digital technology in

Cyprus' public education

system. Within this

context, our plans for

the new school year took

into account the latest

epidemiological data and

adhering to the advice

of public health experts.

Already, electronic

enrolment to secondary

schools has been

completed successfully

for the 2020-21 school

year, whereas legislation

is underway to establish

and safeguard distance

learning. Additionally,

efforts are made to

develop an e-Learning

Database, as well

as to implement a

comprehensive roadmap

for digital sufficiency

in schools, both in

equipment and, through

systematic training,

teachers' digital skills.

A GROWING SECTOR

The island's first university – the University of

Cyprus (UCY) – was established as recently as

1989, yet even before that only the US and Canada

had more graduates per capita as Cypriots sent

their children to universities abroad. Today the

landscape is vastly different with eight rapidly

expanding universities, five of which are private,

that have forged links and cooperative agreements

with reputable universities across the

globe.

Cyprus has steadily established itself as a hub

for quality higher education (HE). Over the last

decade, the sector has grown by more than 80%

in student numbers, exceeding 47,000 students

during 2017-2018. In 2016 alone the education

sector is estimated to have contributed around

€900 million to the local economy and was responsible

for approximately 9,500 jobs in HE and

its supporting industries.

The number of foreign students choosing

Cyprus for their studies has almost tripled in

the last five years, representing over 60 different

countries and supporting the growth of Cyprus

into a true global educational centre. A major attraction

for students from non-EU countries is

that compared to many other countries, Cyprus

offers a value-for-money education and qualifications

recognised by EU members and validated

by accreditation agencies of various countries.

But more than affordability, it is the high academic

standards that are attracting a growing number

of students from prosperous countries such as the

United States, Canada, Australia and even New

Zealand.

The number of overseas students at the island's

accredited universities soared from fewer than

400 in the 2004-2005 academic year to 17,601 in

2015-16, and exceeded 50,000 in 2018-19. Some

50% of overseas students were from Greece and

the EU, but the range of countries that foreign

students come from is rapidly expanding. A 2018

EY report estimated that if the current level of

HE activity in Cyprus is sustained and complemented

by a moderate growth in international

students and research expenditure, the sector's

economic contribution could grow by a further

€400 million by 2023.

CLIMBING UP THE RANKINGS

The academic reputation of Cyprus universities

has also been growing, with institutions climbing

up international rankings. UCY is currently

among the world's top 400 universities and the

67 th best of institutions that are under 50 years

old, according to the Times Higher Education

World University Rankings, an influential data

provider in Britain that assesses university

performance globally. In 63 rd place is another

public institution, the research-focused Cyprus

University of Technology (CUT/Tepak), established

in Limassol in 2004. CUT is also ranked

as the 17 th best university in the world with fewer

than 5,000 students in 2019. In addition, Cyprus

claimed two of the top three spots on the 'New

Europe' table of the best research-intensive universities

within the 13 nations that have joined

the EU since 2004, in which CUT ranked first

for citation impact, while UCY led on industry

income and international outlook measures.

Sector Profile

Prodromos Prodromou

Minister of Education,

Culture, Sport and Youth

UniHalls Premier

Country Report CYPRUS 2020 75
---
Education

Sector Profile

Both UCY and the University of Nicosia

(UNIC) have received great accolades in the 2020

QS World University Rankings in the Emerging

Europe and Central Asia (EECA) Region, with

UCY making it to the top 100, at 96 th place

and UNIC close behind at 106 th . The landmark

ranking success of both universities is noteworthy

in a region characterised by dynamic growth

in higher education, particularly when contrasted

against the large number of universities counted

in the broader EECA region, which includes 26

countries. UNIC was also ranked the 42 nd university

in the world in the core area of quality

education, according to the 2020 Times Higher

Education University Impact Rankings and among

the top 301-400 universities globally in terms of

its overall social and economic impact.

Building its international reputation and facilitating

greater prospects for development, in 2020

UNIC signed a Memorandum of Understanding

with the University of London, one of the largest

universities in the UK. This marks the highest

international recognition of UNIC, furthering its

strategy to enhance cross-border education.

COVID-19 IMPACT

So far, 2020 has been a challenging year for many

countries and sectors due to the coronavirus

pandemic. Cyprus acted early and fast, and has

managed to contain the spread successfully, but

there is no doubt the lockdown has also affected

the education sector. However, despite having to

undergo a major transformation in a short period

of time, education in Cyprus quickly switched to

digital, facilitating distance learning, a testament

to the dedication of experts aiming to provide top

quality learning to students both in government

and private schools as well as higher education

institutions.

Universities across the island were working

around the clock to ensure their students did not

fall behind on any material, quickly shifting their

teaching online, allowing international students

to return back to their home countries while enabling

them to continue with the same standard

of education. Preparations were also made for

exams to take place online, ensuring this did not

come at a cost to quality.

Secondary Education

University of Cyprus library

The success of the island's universities is matched by its private secondary schools, which mostly

offer an English-language education and boast high academic standards. Many of their pupils win

places at the best universities in Britain, the United States and other countries. The oldest of these

is the English School in Nicosia, established in 1900 to provide English-speaking clerical staff for the

British colonial administration. Today, many of its alumni hold senior positions in the government and

private sector. There are numerous private schools across Cyprus following different curricula – British

and American systems as well as International Baccalaureate – and offering education in various

languages, such as Greek, English, Russian and French, to cater to the ever-expanding community of

professional expatriates and their families on the island. In addition, although the generously-funded

Greek-speaking public secondary schools have to date not performed as well, they are also now set

to improve after a recent government overhaul of an outdated system for recruiting teachers.

76 Country Report CYPRUS 2020
---
Cyprus has steadily

established itself as a

hub for quality higher

education (HE). Over the

last decade, the sector

has grown by more

than 80% in student

numbers, exceeding

47,000 students

during 2017-2018

Cyprus' impressive handling of the pandemic

is also highlighted in the island's forward planning.

As far as the upcoming academic year is

concerned, many institutions have already prepared

to offer teaching on campus and online for

students who may be unable to travel until the

situation becomes clearer.

CUTTING-EDGE CURRICULA

There is stiff competition for places at Cyprus'

public universities, which enjoy growing international

prestige and levy no charge on undergraduates

from EU countries and very competitive

fees for postgraduates. However, many Cypriots

continue to choose to study abroad, a trend that

has long ensured fresh ideas are successfully imported

back to Cyprus with returning local talent.

This international outlook has been increasingly

strengthened with the growing number of both

international students and faculty at universities.

The public universities, which mainly instruct

in Greek, have persuaded the government to allow

them to offer more courses in English to attract

more foreign students. Unlike the private universities,

which teach mostly in English, their aim is

not to generate revenue through tuition fees but to

ensure they become truly international.

Underlining the state's commitment to lifelong

learning is the government-funded Open

University (OU), founded in 2002 and which now

has over 4,000 students. It has flexible, modular

learning programmes that provide career and

personal development opportunities for students

already in the workplace. The OU developed 37

programmes of study for the 2020-2021 academic

year. The official teaching language is Greek,

but currently offers five Master programmes in

English.

All of Cyprus' universities design programmes

to meet current business trends and

future employment needs. Many of these focus

on the island's status as one of the world's leading

shipping centres and the discovery of significant

gas reserves in Cypriot waters.

UCY's new Larnaca-based Faculty of Marine

Sciences and Technology began its first classes

in 2018, all in English, and according to Lloyd's

Register, is set to provide the local and global

maritime industry with high-quality human

capital and research capabilities. In 2016, UNIC

launched the Cyprus Maritime Academy, which

collaborates with renowned shipping companies

and supports the local industry by providing

qualified crew. UNIC also offers the island's first

BSc programme in energy, oil and gas management

and was the first university in the world to

accept Bitcoin for tuition payments and to offer a

master's degree course in digital currency, available

in English both on campus and online.

Online higher education is a significant and

still relatively untapped opportunity for Cyprus,

with the potential value of the global market estimated

anywhere between €1 billion to €4 billion,

for which Cyprus will be competing against anglophone

countries such as Australia, Singapore,

and Ireland.

The European University of Cyprus (EUC), a

private institution also in Nicosia, offers a master's

degree in civil and environmental engineering,

a course which incorporates the impact on

construction of climate change and earthquake

risk.

Frederick University, based in Nicosia and

Limassol, is also attempting to maximise the

potential of Cyprus' natural geographical advantages.

Its existing course in maritime studies

now offers a new combined MA/LLM master's

degree in maritime law and shipping business.

Meanwhile, the University of Central Lancashire

Cyprus (UCLan Cyprus) offers a degree in cyber

security.

A key aspect of the rapid development and

recognition of Cyprus universities has been the

strategic partnerships they have forged with

top institutions around the world. For example,

UCY's successful collaboration with London's

Imperial College – ranked one of the 10 best universities

in the world – is set to be expanded this

year with a new MSc programme that began in

September 2019 to teach highly innovative and

intelligent systems from emerging ICT to tackle

challenges in monitoring, control and security in

critical infrastructure systems. The collaboration

of the two institutions in several research projects

has already produced more than 900 joint publications

over the last five years.

Sector Profile

Country Report CYPRUS 2020 77
---
Education

Sector Profile

Cyprus' public and private universities, all

part of the Erasmus programme, have rapidly

expanded their offering and continue to forge

new links and collaborative agreements with renowned

universities abroad. Distance learning

is another growth area, with UNIC a pioneer in

this field. Its medical schools offer busy working

doctors worldwide the opportunity to take master's

degrees online in family medicine and in

public health.

MEDICAL SCHOOLS

Medical schools are a relatively new and growing

aspect of the Cyprus educational sphere. In the

last decade, Cyprus has gone from no medical

schools to three programmes offered by Cypriot

universities. These are proving popular with both

local and international students, as academic

standards in Cyprus rival those of well-established

British and American medical schools and

students graduate with qualifications recognised

across the EU and beyond.

UNIC, which established the island's first

medical school in 2011, did so in partnership

with London University and its prestigious teaching

hospital, St George's. It offers a four-year

programme for graduate-level entry students,

knowing this would appeal particularly to students

from the US, which is the world's biggest

exporter of medical students, but also to regional

markets such as Israel and Lebanon which have

decent numbers of graduate-entry students.

UNIC has since launched a second medical

school, with a six-year programme for high

school leavers. The approximately 650 students at

UNIC's two medical schools come from almost

60 countries, proving its international appeal.

Following suit, EUC established a medical

school four years ago with a six-year course that

has attracted students from Israel, Germany,

Iran, Austria, Greece and Cyprus, among others.

In 2017, it also launched a dentistry school. The

mostly state-funded UCY established its medical

school six years ago and graduated its first students

in 2019. It also offers parallel courses in

English to cater to 100 students a year.

Cyprus' main competition for medical students

comes from eastern and central European

countries where tuition fees and living costs are

often lower, and some of the universities have

hundreds of years of heritage. However, many

of these universities sign up overseas students

knowing that after four years they cannot provide

enough clinical training slots for all students to

complete their courses. Whereas, according to

UCY all the medical schools in Cyprus operate

on the basis of having clinical training spots for

all students right from the beginning.

INVESTING IN EDUCATION

The location of Cyprus as the EU's easternmost

outpost and bridge to Asia and Africa also gives

Cyprus a natural advantage in attracting overseas

students and investment from foreign universities.

For example, keen to recruit more students from

Russia, the Middle East and China, the aforementioned

British UCLan chose Cyprus as the site for

its very first overseas campus almost a decade ago,

built near Larnaca at a cost of €53 million. The potential

for further growth and foreign investment

is reflected in the building boom of the last few

years of universities expanding and creating new

departments, building new luxury and high-tech

accommodation to house increasing numbers

of students with facilities unlike anything seen

in Europe so far, featuring rooftop pools, restaurants,

gyms and private gardens. For example, the

UNIC residences are the result of a €60 million investment

constituting the largest university infrastructure

investment to date in Cyprus – and once

completed claims to be one of the most functional

student hubs in Europe.

However, in order to maintain the momentum

of attracting foreign students Cyprus must

improve its cumbersome visa application for

non-EU nationals. Otherwise, the universities

have few complaints and value the government's

assistance in forging new academic and research

links and organising visits from international accreditation

agencies.

The global market for anglophone higher education

geared at internationally mobile students is

estimated to be up to €50 billion, and it is growing

at 5% per year. Cyprus is well placed to capitalise

on this provided it continues to develop its educational

offering. Part of this effort is the government's

dedication to support this sector along with

its investment promotion agency, Invest Cyprus,

who in cooperation with the Ministry of Education

and Cypriot universities launched a new campaign

in 2019 branded 'Study in Cyprus'. The campaign

is a concerted effort to promote Cyprus as an educational

centre of excellence and provide information

on studying, living and working in Cyprus.

Cyprus has always valued, and continues to

invest in, education and today the innovative drive

of Cyprus' universities is enriching the island's

human capital and enhancing its attraction as an

international centre for business and education.

With expanding global links, spin-off projects and

business ventures in multiple sectors, these institutions

are bringing together a multinational and

multidisciplinary community that is supporting

the development of Cyprus into a veritable knowledge

hub. n

Discover more at www.cyprusprofile.com

I see more

programmes

transitioning

into online

delivery

methods.

Several education institutions,

including universities, have

increased their online offerings

opening new possibilities to

attract a global audience. The

online approach also provides

solutions to individuals

who lack the time to attend

face-to-face classes or who

cannot combine education

with working hours. For

certain, the use of technology

in education will continue

to play an important role for

local education institutions.

Marios Siathas

CEO

European Institute of

Management & Finance

PUBLIC UNIVERSITIES

The University of Cyprus

The Open University

of Cyprus

The Cyprus University

of Technology

PRIVATE UNIVERSITIES

European University - Cyprus

Frederick University - Cyprus

Neapolis University - Cyprus

University of Nicosia - Cyprus

University of Central

Lancashire - Cyprus

78 Country Report CYPRUS 2020
---
Energy: Oil & Gas

Publisher's Sector Profile Information

Cyprus has ambitions to become a strategic energy hub with energy giants investing

in the region following significant gas-deposit discoveries in the last decade. Inevitably,

KEY

contacts

HARNESSING THE

HYDROCARBONS

POTENTIAL

the impact of the Covid-19 pandemic on the global economy has also affected

exploration plans in Cyprus by delaying drilling, but the country is

strengthening its role as a key player in the Eastern Mediterranean.

Ministry of Energy,

Commerce and Industry

www.mcit.gov.cy

Cyprus Energy Regulatory

Authority (CERA)

www.cera.org.cy

Cyprus Energy Agency

www.cea.org.cy

Cyprus Hydrocarbons

Company (CHC)

www.chc.com.cy

Natural Gas Public

Company (DEFA)

www.defa.com.cy

The discovery of vast natural gas

reserves in both the Exclusive

Economic Zone (EEZ) of Cyprus

and its immediate neighbourhood

in recent years has sparked

an exploration race in the region

and a new industry in Cyprus.

The involvement of multinational

oil and gas companies in

Cyprus' EEZ has strengthened

the island's ambition to become

an important hydrocarbons player in the Eastern

Mediterranean, and the developing industry

has become a new opportunity for business and

foreign investment.

Cyprus' strategic location in the East Med,

at the southeast tip of the European Union and

close to the Suez Canal, makes it ideally suited

not only as an important fuel hub and headquartering

location, but also as an energy interconnection

node, connecting the electricity grids of

the Eastern Mediterranean and North Africa to

those of Europe.

Cyprus has completed three successful offshore

licensing rounds, awarding the majority

of its offshore blocks to some of the world's top

international oil companies. Global energy giants

such as Italian ENI, South Korean Kogas, French

Total, American ExxonMobil, Qatar Petroleum,

American Noble Energy, Israeli Delek Group and

Country Report CYPRUS 2020 79
---
Energy: Oil & Gas

Sector Profile

Royal Dutch Shell, have all secured exploration

rights in Cypriot waters.

In July 2020, Chevron Corp announced an

agreement for the acquisition of Noble Energy

Inc, including its shares in Cyprus' Aphrodite gas

field. This is a positive development improving

project realisation prospects, as after ExxonMobil,

Chevron is the second biggest international oil

company in terms of market capitalisation.

Although the global energy sector is undergoing

dramatic change due to the impact

of the Covid-19 pandemic and currently delaying

exploration plans around the Eastern

Mediterranean until 2021-2022, the commitment

and interest remain strong to capitalise on the full

hydrocarbons potential of this region.

DEPOSIT DISCOVERIES

The first natural gas discovery in Cyprus' EEZ

was made in 2011 by US firm Noble Energy and

Delek Group in the Aphrodite gas field in offshore

Block 12, which is estimated to have 4.5

trillion cubic feet (tcf) of gas. Following a successful

appraisal programme, Aphrodite was declared

commercial in 2015.

The next discovery was made by the consortium

of Total and ENI at the Onesiphoros prospect

in Block 11 in 2017. But it was a small, technical

and non-commercial discovery. This was followed

by the discovery of the Calypso gas field in

Block 6 by Italian ENI in late 2017. The discovery

is currently under appraisal.

The most recent success was the discovery

in February 2019 of the Glaucus gas-field in

the promising Block 10 by the ExxonMobil and

Qatar Petroleum consortium, estimated to hold

5 to 8 tcf of gas. This was great news because

Glaucus, Calypso and Onesiphoros were discovered

in geological formations similar to the giant

30 tcf Zohr gas field discovered by ENI in 2015 in

the Egyptian EEZ and adjacent to Cyprus' Block

11. These more recent discoveries confirm that

the Zohr geological model extends more widely

in the Eastern Mediterranean region.

These results bode well for Cyprus and the

region, adding to its reputation as an emerging

gas region. Combined with other discoveries, they

are rousing interest amongst major players hoping

to secure a piece of the action in the Eastern

Mediterranean. ExxonMobil has already extended

its interests with licences for two blocks southwest

of Crete and in Egypt, where it has secured Block

3 in Egypt during the recent licensing rounds. It

is eyeing more prospects, including opportunities

in Israel. Chevron has also extended its interest in

Egypt, gaining rights to three offshore blocks, and

in Israel taking over Noble Energy's shares in the

Tamar and Leviathan gas fields.

Our aim is to have a

clear picture of our

EEZ's energy potential

and, subsequently,

proceed with the first

transfer of gas to

Egypt for liquefaction

and export by 2024-

25. Specialised firms

are already operating

in Cyprus, servicing

regional hydrocarbon

activities. Depending

on the discoveries

made, a number of

multibillion-euro

infrastructure projects

will be undertaken, which

apart from the direct

underwater pipeline

to Egypt to transport

gas, may also include

an onshore liquefaction

terminal at the Vasilikos

Energy Centre. The

EastMed gas pipeline,

another project of

regional significance, is

currently at the stage

of final FEED studies

(Front End Engineering

Design) and is intended

to connect Eastern

Mediterranean resources

to continental Europe.

Natasa Pilides

Minister of Energy,

Commerce and Industry

Re-analysis of seismic survey data using the

knowledge gained from these discoveries has

shown good prospects for new, potential discoveries

also in Cyprus' EEZ. As a result, ENI

and Total plan to drill at least three more wells in

their licenced blocks in 2021-2022. ExxonMobil

is also planning to drill one more exploration

well and an appraisal well at Glaucus in Block

10, likely in 2021-2022. Any new discoveries

would further strengthen potential exploitation

of Cyprus' gas resources.

FUTURE REVENUES

The oil and gas sector is certainly set to become

a key driver of economic growth, with Cyprus

actively considering options to exploit its natural

gas, hoping for high revenues in the future.

Cyprus' Energy Minister confirmed in March

2018 discussions with Shell to buy around 8

billion cubic metres (bcm) of gas per year, over

a 15-16-year period, from Aphrodite for liquefaction

at the Idku plant in Egypt and to export

this to European and global markets. These discussions

have since progressed, with the signing

in 2018 of an inter-governmental agreement

between Cyprus and Egypt to build a subsea

pipeline connecting Aphrodite to Egypt's liquefaction

plants, and a revised production-sharing

agreement with Noble Energy – soon Chevron –

and its partners over the Aphrodite gas reservoir.

The plan provides that the consortium will

be responsible for the extraction platform at the

site of the field. Analysts describe the deal as a redistribution

of profit, increasing the share of the

companies when oil prices are low, but conversely,

when global oil prices rise, Cyprus' share will

increase. Based on the plan, first gas was expected

in 2025, and according to the Energy Ministry it

would be the biggest infrastructure project ever

undertaken in the Republic of Cyprus. Even

though the plan may experience some delays due

to the coronavirus pandemic, Cyprus and Egypt

are committed to it.

Since then, the Cypriot and Egyptian governments

have intensified discussions on the

gas pipeline and Chevron, the new operator of

Aphrodite, reaffirmed the importance of developing

the gas-field and intention to proceed with

plans on how to exploit it as soon as possible.

The recent discovery of Glaucus in Block 10

by ExxonMobil and Qatar Petroleum could also

become a game-changer. ExxonMobil has repeatedly

stated that should more discoveries be made,

its preferred option is to build a gas liquefaction

plant at Vassilikos for liquefied natural gas (LNG)

exports to Europe and Asia. This would require

total gas discoveries to approach 15 tcf and global

gas prices to justify commercial viability. All eyes

80 Country Report CYPRUS 2020
---
Recovering

from the

impact of

the Covid-19

pandemic our

expectations

are for the intensification of our

exploration and exploitation

activities in the coming period.

The discovery and exploitation

of Cyprus' natural gas offshore

resources will be key in

unlocking cleaner energy for

Europe, the region and beyond.

With the upcoming Cypriot

offshore activities and regional

projects, Cyprus will continue

its growth as a safe and reliable

hub for hydrocarbon activities.

Demetris Fessas

Acting General Manager

Cyprus Hydrocarbons

Company Ltd

As a

fundamental

link in the

oil supply

chain in the

East Med,

VTTV provides logistics and

storage solutions to cater

for international and local

customers. Given the sectors

we service, the opportunities

and growth are in oil ship-toship

and LNG. The expectation,

despite the challenging and

uncertain global environment,

is to explore further these

sectors to offer safe, efficient

and cost-effective solutions

whilst also being able to

provide business opportunities

for our customers.

George Papanastasiou

General Manager and

Managing Director

VTTV

are on the results of the next drilling campaign,

expected in 2021-2022. Such a development

could completely transform Cyprus' fortunes.

Currently, Cyprus is reliant on heavy fuel oil and

diesel imports for its electricity needs and spends

over 8% of its GDP to cover the costs. The option of

an LNG plant at Vassilikos would not only tip the

gas balance of the region, but would also come with

major add-on benefits for Cyprus – not just profits

from the sale of LNG, but advantages such as new

employment, more support industries and service

companies, the development of a downstream industry

using cheap gas as feedstock, and low-price

gas to the Electricity Authority of Cyprus (EAC)

bringing electricity prices down.

IMPROVING PORT FACILITIES

In order to support the increase in offshore drilling

activities resulting from the old and new

licences, a new support base has been set up in

Limassol Port to cater to the expanding needs

of the international exploration companies. The

government has also committed to establish a

dedicated industrial port at the energy centre at

Vassilikos, to become operational by 2023. The

port will operate as a service centre for the oil and

gas industry in Cyprus and the wider region, and

it will cost around €250 million to set up.

The decision to build the port was taken in

response to increasing demand from oil and gas

companies and those providing support services

to the industry, not only in Cyprus, but also

in neighbouring countries. It is an essential step

to support Cyprus' drive to become a regional

centre providing support services to the Eastern

Mediterranean oil and gas industry.

EAST MED GAS FORUM

Given the geopolitical challenges the region

faces, respect of international law, and particularly

the United Nations Convention on the Law

of the Sea (UNCLOS), is crucial to the peaceful

exploitation of hydrocarbons in the East Med.

With this goal in mind, the energy ministers

and representatives from Egypt, Cyprus, Greece,

Israel, Italy, Jordan and the Palestinian Authority

met in Cairo in January 2019 and set up the

East Mediterranean Gas Forum (EMGF) – with

European Commission and World Bank representatives

attending the meeting as observers.

The Forum is based in Cairo, with the aim

to be an international organisation that respects

the rights of members in regard to their natural

resources in accordance with the principles of

international law, and supports their efforts to

benefit from their reserves and use of infrastructure.

This also includes a commitment to pave the

way for fruitful cooperation in the technical and

economic fields, with a view to efficient exploitation

of the gas potential in the region.

East Med countries who agree with the

Forum's interests and objectives will have the

right to join the founding members. It will be

open to other countries or regional and international

organisations as observers, and will

work with non-members to help create dialogue,

mutual understanding and mutual benefit.

EMGF also underlines that the private sector has

an important role to play in these efforts.

EMGF could benefit regional gas development

through dialogue on natural gas policies,

including environmental considerations, leading

to the development of a regional integrated

market in a way that maximises the utilisation of

gas resources and transport infrastructure in the

region, and would contribute to further cooperation

in the East Med.

Gas export projects could also benefit from

such cooperation, especially with regards to

ensuring a conducive regulatory environment,

putting in place the required inter-governmental

arrangements and removing political risk.

Natural gas could make a crucial contribution

to the future of East Med countries and any

such initiatives that could promote its development

can only be helpful. The large gas discoveries

in the East Med could also have a major impact

on energy security and economic development

through the exploitation of the gas regionally. This

could be in power generation, but also in downstream

and petrochemical projects. Given global

energy developments, exploitation of natural gas

resources regionally is gaining increasing importance

– the Forum is well placed to facilitate this.

TRANSHIPMENT TERMINAL

Cyprus is fast developing into a regional fuel hub

for Europe, Asia and Africa, thanks mainly to

the successful operation of the sophisticated oil

storage terminal by Netherlands-based global oil

terminal company VTTI. The company's €300

million project in Vassilikos became operational

in 2014, and was one of the biggest infrastructure

projects constructed in Cyprus in recent years

and put the island on the global energy map.

The company uses Cyprus as a transhipment

terminal, blending its raw materials and then exporting

them to the rest of the world, but mainly to

Lebanon and Israel. With large refineries operating

and more being built in the Middle East, the

international market expects more product-vessel

traffic through the Suez Canal, bound for European

and Mediterranean markets. These cargoes need

to be resized or blended with other products to

change specification and meet regional require-

Sector Profile

Country Report CYPRUS 2020 81
---
Energy: Oil & Gas

Sector Profile

ments. VTTV's strategic location makes it the first

terminal of its kind in the Eastern Mediterranean

offering these services and connecting Europe and

the Black Sea with markets in the Middle East and

Asia. The industry has tremendous growth prospects

with Cyprus' determination to establish itself

as a key energy hub and a stronghold of stability

in the region.

LNG IMPORT TERMINAL

Until it is able to develop its own gas, Cyprus is

planning to import LNG to replace heavy fuel oil

and diesel in power generation. Not only is this

expected to bring the cost of electricity down,

but it will also lead to a substantial reduction

in carbon dioxide emissions, helping Cyprus

achieve its Paris Agreement pledges.

In December 2019, Cyprus signed a landmark

deal with a Chinese-led consortium to build a

€290 million LNG import terminal at Vassilikos.

The project has secured a €101 million grant from

the EU under the Connecting Europe Facility

(CEF), with the EAC contributing €43 million

securing a 30% stake.

The terminal will include a floating storage and

regasification unit (FSRU), a jetty for mooring

the FSRU and related infrastructure. The attractiveness

of Cyprus to gas companies is confirmed

by another offer to import LNG. This is under

consideration by the Cyprus Energy Regulatory

Authority (CERA). Construction of the terminal

started in July 2020, with completion expected by

2022. It is Cyprus' largest project.

CONNECTING POWER GRIDS

Another important regional energy project is

the EuroAsia Interconnector, which will link the

power grids of Cyprus with Greece and Israel via

an undersea cable. The 2,000-Megawatt (MW)

Interconnector, is the only North-South electricity

interconnection in the Central Eastern

and South Eastern Europe Priority Corridor.

Licenced Blocks

Block Licensors Year

2 ENI, Kogas 2013

3 ENI, Kogas 2013

6 ENI, Total 2017

7* ENI, Total 2019*

8 ENI 2017

9 ENI, Kogas 2013

10 ExxonMobil, Qatar Petroleum 2017

11 Total, ENI 2013

12 Noble Energy, Delek Drilling,

BG Cyprus Limited 2008

* Formal licence approval still pending

The permitting procedure started in 2019 and

is expected to be completed by December 2020

for the construction of the first power 'corridor'

with a capacity of 1,000 MW costing €3.5 billion.

The Crete-Attica link is expected to commence

in September 2022, and the Cyprus-Crete and

Cyprus-Israel links in December 2023.

The Interconnector will end the energy isolation

of Cyprus and contribute to achieving the

EU Energy Union's goals of connecting European

energy networks, achieving the electricity interconnection

target for 2030 of at least 15%. It will

also contribute to the internal energy market integration,

increase security of energy supply, and

support sustainable development by integrating

renewable energy sources across the EU.

The project is progressing to plan, with the

selection in March 2020 of Siemens AG as the

preferred bidder for the award of the contract for

the construction of the 'VSC Converter Stations'

of the EuroAsia Interconnector.

An important milestone was achieved in

July 2020, when the government of Cyprus

issued the Interconnector with the final building

permit to construct a high voltage direct current

(HVDC) converter station in Cyprus, with a capacity

of 2,000 MW. Construction is planned to

start before the end of 2020.

This has since been followed by a framework

agreement to also set up an EuroAfrica

Interconnector to link the power grids of Egypt,

Cyprus and Greece through subsea HVDC cables

with the capacity to transmit 2,000 MW. The

Interconnector is a VSC-HVDC scheme which

will allow the bidirectional transfer of 1,000 MW

(Stage 1) between the converter stations, with an

estimated cost of €2.5 billion. Completion of the

project is planned for December 2023.

KEY ENERGY HUB

Cyprus is well positioned to further strengthen its

role as a stable and attractive location in which

to base energy infrastructure projects and headquarters

for international companies servicing

the region. The country's EU status and beneficial

business operating environment provides the

island with unique advantages to establish itself

as a strategic player and facilitator in the EMEA

energy market. With increased regional cooperation

and the unfolding discoveries in the Eastern

Mediterranean, the growing potential of the developing

oil and gas sector offer expanding opportunities

for investors, and has established

Cyprus as a stable and secure location for companies

to manage their operations from. n

Discover more at www.cyprusprofile.com

This year we

have the start

of the Cyprus

LNG Import

Project. A

significant

transformational project

for Cyprus that will have a

broader impact on the Eastern

Mediterranean region. Through

the project, we will achieve

the opening of the power

generation from conventional

sources with the activation

of IPPs. Competition coupled

with a cleaner and lower cost

fuel will drive a reduction

of electricity costs for all.

Symeon Kassianides

Chairman

Natural Gas Public

Company (DEFA)

New

discoveries

and the

plans for

more drilling

bode well,

prospects for more

discoveries are excellent

and hopefully increasing

gas reserves will bolster

export viability, especially

through a liquefaction

plant at Vassilikos but

also to regional markets.

The longer-term future of

hydrocarbon development

in Cyprus looks good,

despite regional geopolitical

challenges. With unit costs

continuing to drop, including

those of storage batteries,

the potential to expand

development of renewables is

strong and can bring Cyprus'

high electricity costs and

carbon emissions down.

Charles Ellinas

CEO

E-C Natural Hydrocarbons

Company Ltd (e-CNHC)

82 Country Report CYPRUS 2020
---
Energy: Renewables

Sector Profile

A GREENER

FUTURE

Although still heavily reliant on fossil fuels, increased investment in

renewable energy sources and a strong focus on research and innovation

are fostering fresh efforts for Cyprus to develop a zero-carbon economy.

Cyprus has been making concerted

efforts to diversify its energy

landscape over the last several

years with the government

placing more focus on subsidising

green initiatives and international

companies investing

in installations to harness the

island's 340 days of sunshine a

year. The country's top-tier universities

and research institutes

are also playing a pivotal part in these efforts to

create a more sustainable energy mix through innovation

in smart tech and research in ways to

battle climate change.

Supporting the development of Renewable

Energy Sources (RES) and creating a more energy-efficient

future is high on the agenda for

Cyprus. Its EU 2020 Renewable Energy goal is to

achieve 13% of its energy consumption coming

from renewables. Cyprus achieved that with two

years to spare. In 2018, the percentage of renewables

in the gross final energy consumption rose to

13.78%, helping Cyprus exceed its target.

Given Cyprus' electricity isolation and in a bid

to introduce more flexibility to its power system,

the country aims to introduce new and disruptive

smart grid technologies, as well as state-ofthe-art

control and storage methods to be used in

parallel with new electricity market approaches.

KEY

contacts

Ministry of Energy,

Commerce and Industry

www.mcit.gov.cy

Cyprus Energy Regulatory

Authority (CERA)

www.cera.org.cy

Electricity Authority

of Cyprus (EAC)

www.eac.com.cy

84 Country Report CYPRUS 2020
---
Renewables have

the potential to

create between

11,000 and

22,000 jobs

in Cyprus by 2030

The Cyprus Institute's PROTEAS Facility in Pentkomo

Cyprus has the highest potential for solar

power of any European Union country, and the

island is already one of the highest users per capita

in the world of solar water heaters in households,

with over 90% of households equipped with solar

water heaters and over 50% of hotels using large

systems of this kind.

Cyprus submitted its final National Energy

and Climate Plan (NECP) for the period 2021-

2030 to the European Commission in January

2020. Among other things, its 10-year roadmap

and 2030 targets focus on for example the implementation

of a more sustainable transport sector

through electric cars and on further promoting

the use of RES in electricity production. It also

proposes a 23% share of energy from renewable

sources in gross final consumption of energy in

2030. According to the €1.3 billion roadmap,

Cyprus plans to reduce greenhouse gases by an

ambitious 24%.

Energy is one of Cyprus'

most promising sectors,

with a number of

investment opportunities

in new and existing

projects. Regarding

renewables and electricity

production, we are

focusing our efforts on

the operation of a fully

competitive electricity

market by the end of

2021, whilst also making

concrete steps to end

our country's energy

isolation and moving

towards green energy

and storage installations.

The Ministry also plans to

create a One-Stop Centre

for commercial renewable

energy projects, as

well as to facilitate the

construction of the

projects proposed in the

framework of our last two

funding schemes – 222

commercial RES projects

in total. In addition, we

are funding households

and businesses for

energy efficiency and

the installation of

photovoltaics and other

RES systems for netmetering,

net-billing

and self-consumption.

Natasa Pilides

Minister of Energy,

Commerce and Industry

SUPPORTING RES SYSTEMS

Cyprus currently operates a scheme for the production

of electricity from RES for own use,

which includes installations of net-metering

photovoltaic (PV) systems with capacity up to 10

kW for all consumers, net-billing RES systems

(mainly PV and Biomass) with a capacity up to

10 ΜW for commercial and industrial consumers,

and off-grid RES systems with no limit in

total capacity. For the installation of net-metering

PVs in households, the government is offering

subsidies intended to encourage further RES installations

by reducing the recuperation period of

their investments.

In addition, two successful support schemes

for the installation of RES systems that will

operate in the competitive electricity market

have been implemented in the period 2017-

2019. In the first scheme 114.5 MW PV systems,

2.3 MW Biomass systems and 12.5 MW from

a wind park have been approved, and in the

second scheme 259 MW from PV parks. The

RES systems that enter these schemes are expected

to be operational before the end of 2021.

Cyprus' energy policy has created financial

support for RES projects, and a special fund

was created aiming to support RES and energy

saving investments in Cyprus, with revenue

derived from consumers paying a 'green tax'

levied on electricity bills (currently at €0.005

per kWh and €0.0025 per kWh for vulnerable

groups).

The country's national grid system needs

upgrading as it has certain intrinsic and technical

limitations affecting RES penetration and

reliability. However, studies by the International

Renewables Agency (IRENA) concluded that

using the existing system, renewable energy

and mostly solar, could provide 25% to 40% of

Cyprus' total electricity supply in 2030 and bring

costs down significantly. This can be increased

further by implementing RES installations with

storage capability through competitive bidding.

The country is also exploring ways to introduce

smart grids in the national network and is

on the look-out for projects that could facilitate

energy storage, and ventures that have production

on a 24-hour basis. In addition, the prospective

EuroAsia and EuroAfrica Interconnectors

could bring more solutions down the pipeline.

FOSSIL FUEL RELIANCE

A key challenge for Cyprus is its high dependency

on fossil fuels for energy – with the biggest

share within the EU. This makes it crucial for

the country to develop both its natural gas, the

cleanest of the fossil fuels, and renewable energy

Sector Profile

Country Report CYPRUS 2020 85
---
Energy: Renewables

Sector Profile

sources. The potential of the latter is enormous,

both in terms of clean energy and low electricity

prices.

Cyprus is reliant on heavy fuel oil and diesel

imports for its electricity needs and spends over

8% of its GDP to cover the costs. However, the

country has embarked on a plan to import LNG

for power generation by 2022 over a 20 to 30-year

period so that it can reduce carbon emissions in

line with EU targets, and until it can exploit its

own gas reserves. The EU agreed in January 2018

to partially fund the cost to build infrastructure at

Vassilikos for this purpose to the tune of €101.5

million, constituting about 40% of the eligible

amount.

The Natural Gas Public Company (DEFA), as

the sole importer and distributor of natural gas

on the island, announced tenders in 2018 for the

construction of the required infrastructure at

Vassilikos. This was successful and in December

2019 DEFA signed a landmark deal with a

Chinese-led consortium to build a €290 million

LNG import terminal at Vassilikos. Construction

started in July 2020, and has been followed by a

separate tender for the procurement of LNG with

23 companies expressing interest to participate.

Tenders are under evaluation. Progressively, the

project will include the introduction and use of

natural gas by the transport, industry and energy

sectors in Cyprus.

HARNESSING THE SUN

Solar energy is increasingly becoming a boom

segment for Cyprus. The European Bank for

Reconstruction and Development (EBRD) alone

has financed five solar parks across the island

with an investment of €10.85 million in a bid to

increase photovoltaic capacity in Cyprus by 12%.

Scandinavian Solar Parks, a Cyprus company

with Swedish investors, has established nine solar

power generation parks with a capacity of around

1,300 KW of energy. Local Cyfield runs a 3 MW

PV park in Ayios Ioannis, while the Electricity

Authority of Cyprus (EAC) operates its own PV

park in Tseri with a nominal capacity of 3 MWp,

generating some 5,000 MWh per year and avoiding

3,600 tonnes of carbon dioxide emissions per

year. The state power company also has an ambitious

project planned to self-finance and operate

a 20 MW photovoltaic (PV) power station inside

the Sovereign Base Area (SBA) of Akrotiri. In

addition, PROTEAS, a solar field on the island's

southern coast in Pentakomo aims not only to

generate electricity but to provide fresh water by

powering energy intensive desalination plants.

The research facility is a result of a partnership

between the Commonwealth Scientific and

Industrial Research Organisation (CSIRO) and

the Cyprus Institute (CyI), which is pioneering

research in renewable energy systems.

In addition, the EAC forged a deal with the

country's Archbishopric in July 2018 to develop

two photovoltaic parks in Nicosia, producing

around 66 MW. The project is set to be the largest

PV system in Cyprus, contributing to the island's

national renewable energy sources targets.

These are all positive developments, but there

continues to be untapped potential in terms of

renewable energy production, and international

interest in developing the sector in Cyprus is expected

to increase considerably in the coming

years. This investment is also crucial in order for

Cyprus to achieve its targets – and further open

up the field for companies with expertise in renewables.

Cyprus' largest PV park, an 8 MW facility,

started subsidy-free operations in February

2020. This was developed by the Vassiliko

Cement Works Company Ltd to supply around

10% of the annual electricity needs of its cement

factory. Under subsidy-free rules, the power will

be bought by the EAC at a 'cost-avoidance rate',

based on the average price it would have paid if

the electricity had come from fossil fuels.

STORING POWER

A limitation in realising the full solar power potential

of the island is lack of electricity storage.

There is a drive to increase use of battery

systems, to store excess energy and create a

'powerbank'. The first energy storage system,

30 kW/50 kWh, was connected to the electricity

system in Nicosia in 2018. Cyprus became

the testing ground for an innovative community

project delivered by a German electric utility

company Autarsys, where 30 kW/50 kWh was

connected to a conventional distribution substation

in Nicosia. The project provided the opportunity

to interact with real battery systems and

gather knowledge about their operation, branding

the efforts as a success. State-of-the-art highvoltage

lithium-ion batteries were used, and the

battery system provided services to the distribution

network, such as power balancing, network

and frequency support, as well as services that

stabilise and protect the seamless operation of

the network and are considered essential for

modern power networks. The project received

funding from the European Union's Interreg

Mediterranean research and innovation programme

under the project StoRES.

An innovative EU project, also under the

StoRES project, involving Cyprus, Greece, Italy,

Spain and Portugal is supporting the development

of optimal policy for the effective integration

of energy storage systems. It aims to boost

Cyprus needs

to invest in

drawing up

a longterm

consolidated

sustainable energy strategy.

Now is the time to invest in

new sustainable technologies,

to manage our energy resources

and needs in an optimal

way, to reduce the impact on

the environment and to ensure

our future energy security. We

need to start working right now

for a more sustainable Cyprus

by 2050. We need to accelerate

the country's transition

towards a hydrogen economy.

Andreas Poullikkas

Chairman

Cyprus Energy Regulatory

Authority (CERA)

A key aim is to

make Cyprus

a hub for solar

innovation,

technology

transfer, industry

start-ups and job

creation where

ideas can grow

and achieve their

full potential

86 Country Report CYPRUS 2020
---
To decrease

dependence

on heavy

fuel oil for

electricity

generation

and to diversify our energy mix

we are investing in renewable

energy sources and preparing

the infrastructure for the

use of natural gas. We also

aim to meet national targets

on clean, efficient energy and

to upgrade technologies to

decrease our carbon footprint.

Our aim is to deliver a steady

and secure supply of cleaner,

greener, more affordable

energy to the people of Cyprus.

Panayiotis Olympios

General Manager

Electricity Authority

of Cyprus (EAC)

photovoltaic (PV) self-consumption in the

Mediterranean region, while solving market,

technical, grid and tariff issues without compromising

grid stability and reliability.

The University of Cyprus (UCY) is developing

a 10 MWp photovoltaic park inside the United

Nations buffer zone in Nicosia, supported by

European funds. The first stage of the project will

include 5 MWp of PV capacity with 2.35 MWh of

battery storage, with plans to conduct testing for

a blockchain program.

SUSTAINABLE INNOVATION

The University of Cyprus (UCY) is set to construct

its second solar panel park 'Apollon' with

assistance from the EAC to establish UCY as

completely energy self-sufficient. Set to become

the island's first 'green area', the photovoltaic

park will have a peak output of 10 MW coupled

with battery storage of 2 MWh capacity, making

it the island's largest self-sufficient renewable

energy facility. The University already covers

around 15% of its electricity needs through

photovoltaics with around 400 kWp already installed

on a number of university buildings and

the 'Phaethon' PV park made up of 1,645 solar

panels with the capacity to produce 632,000

kWh of electric energy annually.

Central to this flagship project is the work

of the University's FOSS Research Centre for

Sustainable Energy, which carries out cuttingedge

research in the field of renewable sources

of energy, with emphasis on solar energy, smart

grids, smart buildings, grid integration and enabling

technologies. FOSS has been highly successful

in competing for funds, so far securing

€16 million from more than 50 EU, national

and industrial-funded projects. Well-known

international players in the field of energy

such as Honeywell, Hanwa Q Cells, Gantner

Instruments, IBM amongst other leading international

brands are already collaborating with

FOSS and are testing their products in Cyprus.

FOSS strives to promote cooperation

between academia, industry and business

sectors, as well as contributing to the transfer of

knowledge from advanced European clusters to

the region. A key aim is to make Cyprus a hub

for solar innovation, technology transfer, industry

start-ups and job creation where ideas can

grow and achieve their full potential.

ELECTRICITY MARKET LIBERALISATION

Authority (CERA), to ensure that the electricity

market in Cyprus is liberalised. CERA has

worked towards the full opening up of the energy

market and granting consumers the right to

choose their own supplier. CERA's proposition

is a 'net pool' model, where the operations of the

state power company, EAC, are unbundled and

the production and supply operations separated.

EAC production would then enter into bilateral

agreements with suppliers for the sale of energy

at regulated prices. CERA foresees establishing

an electricity exchange where suppliers' bids for

quantities of electricity will be updated every

half hour. The exchange will match supply and

demand and fix the price for a contract. This

will be operated by the Transmission System

Operator (TSO). The target date to achieve electricity

market liberalisation is December 2021, a

move which will further open up the market for

renewables, clean energy and lower prices.

FOCUS ON EFFICIENCY

Apart from the increasing foreign investment

and a competitive energy market unfolding over

the next few years, actions are being taken for

the promotion of electric transport. This constitutes

one of the cornerstones in the development

of a zero-carbon economy, by encouraging

greater use of electric cars and installing vehicle

charging stations on roads across the island.

Moreover, in 2021 the Ministry of Education,

in cooperation with EAC, will proceed with

thermal insulation of rooftops, as well as installations

of PV systems in all public schools in

Cyprus. The total capacity of those PV systems

will be around 4.9 MW.

Cyprus already has the resource of the sun

and with new investment and projects in the

pipeline, along with a government determined

to develop renewable solutions, the country can

truly harness its natural potential and become

far more energy efficient in the years to come.

Another economic benefit from high RES penetration

is that according to estimates renewables

have the potential to create between 11,000

and 22,000 jobs in Cyprus by 2030. This is a

significant number of new jobs in a country

the size of Cyprus and would be a sign of a

thriving new industry on the island with multiple

positive knock-on effects in the economy.

Decarbonisation is high on the agenda globally,

and Cyprus is certainly making serious moves to

reach its targets in the next decade. n

Sector Profile

Currently, Cyprus is in a transitional step before

full electricity market liberalisation, which is

being spurred on by the publication of a binding

timetable by the Cyprus Energy Regulatory

Discover more at www.cyprusprofile.com

Country Report CYPRUS 2020 87
---
Film Production

Sector Profile

JOINING

THE A-LIST

Cyprus has attracted significant interest from the global film community

in the last two years, following the launch of its fiscal incentive scheme.

Despite the devastating impact of the coronavirus pandemic on the

international film industry, the future of Cyprus film and the appeal of

the island as a versatile filming location continues to look bright.

Cyprus has set its sights on claiming a

stake in the international film industry

by providing the right incentives

to maximise its untapped potential

as a filming location, along with the

multitude of other competitive advantages

it offers as an investment

destination.

The country has garnered the attention of international

film producers and placed itself firmly

on the world cinematic map as an interesting and

cost-effective film location. The official launch of

its long-awaited incentive framework in 2018 established

the island as a new Mediterranean film

location branded 'Olivewood' and promptly attracted

multimillion-budget movies headlining

Hollywood stars such as Nicolas Cage and William

Baldwin. These films employed more than 400

Cypriot film professionals proving the scope of

crew and talent available in the country to cater to

international big-budget film productions. Since

then, producers from Hollywood, Bollywood and

many other European countries have been eyeing

up the island for future productions thanks to the

significant perks provided by the scheme.

The local industry, albeit small in size, is also

flourishing with talent and ideas. Films shot

and produced in Cyprus have been screened at

the Cannes and Venice Film Festivals, and have

won awards and acclaim at the Tribeca, Quebec

and Palm Springs Film Festivals over the last few

years.

Due to the Covid-19 pandemic, 2020 has seen

major film release dates and many film festivals

cancelled or postponed, both local ones like the

Cyprus Film Days Festival and prestigious international

ones like the Cannes Film Festival, and

productions all over the world have ground to a

halt. There is no denying these are challenging

times for the creative industry, but the long-term

future remains bright. Cyprus has long been on

the radar of the international film community

and hosts a solid local industry with international

expertise to support the growth of this sector.

This, coupled with the introduction of one of the

most advantageous fiscal incentive schemes, presents

a new opportunity for Cyprus to promote

itself as a top filming destination and to enter the

international audiovisual market with an attractive

proposition.

KEY

contacts

Invest Cyprus

www.investcyprus.org.cy

Cyprus Film Commission

www.film.investcyprus.org.cy

88 Country Report CYPRUS 2020
---
The multiplier

effect to the

local economy

by developing

the film

industry is

quite remarkable. It can first

of all create jobs, promote

our country worldwide and

act as a driving force for

the development of other

industries. Invest Cyprus

undertook the responsibility

of developing this industry

and promoting Cyprus as

a unique film destination,

starting basically from point

zero and today we are very

happy to see active interest

from many producers. Our

goal is long-term results; to

support the industry and the

Cyprus economy as a whole.

PACKAGE OF PERKS

A key achievement of the last two years was the

Council of Minister's approval of the Cyprus film

incentive scheme, which is run by Invest Cyprus

– the country's investment promotion agency –

with an annual budget of €25 million for reimbursement

purposes.

This development was crucial for the growth

of the Cypriot audiovisual industry, and will

also provide a boost to the overall economy with

significant investments and multiple benefits to

promote the country worldwide.

The package has a number of benefits aimed at

both local and foreign producers that opt to film in

Cyprus, one of which is a cash rebate or tax credit

of up to 35% on qualifying production expenditures.

Production houses can also benefit from tax

allowances of up to 20% for investment in infrastructure

and equipment, as well as Value Added

Tax (VAT) returns on expenditure in scope.

The first international film exclusively shot

in Cyprus using the 35% film incentive scheme

was Jiu Jitsu starring Nicolas Cage. It was directed

by Dimitris Logothetis and produced by Martin

J. Barab and Dimitri Logothetis. The film was

picked up by Highland Film Group (HFG), and

successfully completed shooting on the island in

August 2019. The feature is currently in post-production

and is expected to be released in 2020.

Within the scheme, the qualifying production

categories include feature films, television

films, series and mini-series, creative documentaries,

digital and analogue animation, television

research programmes and natural history

programmes. In addition, trans- and crossmedia

productions and reality programmes that directly

or indirectly promote the Republic of Cyprus

can also apply. Productions will also score extra

points if they satisfy a number of cultural criteria

such as hiring local actors in leading roles, highlighting

local or international cultural elements

and using the local language.

The new Cyprus Film Commission, which is

chaired by Invest Cyprus, also consists of representatives

of the Ministry of Finance, Ministry of

Education and Culture and the Deputy Ministry

of Tourism. The Commission is the responsible

body for examining all applications, while the

remit of Invest Cyprus is to promote the incentive

scheme abroad, facilitate productions and foster

connections with the local industry through

an online platform branded Film in Cyprus.

Interested parties can submit their applications

for the scheme through the portal, which also

provides more detailed information on qualifying

criteria. In addition, continuous support is

provided by Invest Cyprus in cooperation with

the relevant ministries and governmental departments

in matters such as permits, importing and

exporting equipment and other necessary instructions.

CREW AND PRODUCTION SUPPORT

Cyprus has a strong pool of multilingual professionals

working in the film and television sector

with international training and experience. An

added benefit is that English is almost universally

spoken on the island. Production and post-production

crew such as directors, producers, DPs,

camera operators, sound technicians, editors,

location managers, photographers, grips, gaffers,

production assistants, fixers, as well as wardrobe,

hair and make-up professionals can be found

relatively easily.

Sector Profile

Michalis P. Michael

Chairman, Invest Cyprus

Country Report CYPRUS 2020 89
---
Film Production

Sector Profile

Cyprus also has production equipment rental

companies with high-end and reliable kit to

support foreign teams filming on the island, or

to hire second unit crews. These companies have

a strong track record in working with both local

and international crews and networks on productions

of all sizes, ranging from feature films and

documentaries, to music videos and TV ads.

Although the country does not yet have big

studios or sound stages, there are a number of

smaller studio owners that can cater to the needs

of foreign producers. In fact, the government has

identified this niche as a potential investment opportunity

as the sector grows further.

In the summer of 2019, Hollywood producers

visited Cyprus and declared their interest

in the possibility of also building a film studio

in the coastal city of Paphos. The International

Chairman of the Producers Guild of America

Kayvan Mashayekh, Oscar-winning producer

Mark Foligno, Emmy award winner for animation/special

effects Nassos Vakalis, and Demetris

Anagnostou, CEO of Los Angeles-based Declare

Productions, met with key stakeholders and expressed

their interest in shooting in Cyprus.

A YEAR-ROUND DESTINATION

A key advantage of Cyprus for film production

is the predictability of its climate. With over 300

days of sunshine a year the island is a true yearround

destination. The abundance of natural light

is a key aspect of film production and it should

be noted that Cyprus and Los Angeles are almost

on the same latitude. The hot and dry summer

is from May to October, and the mild and green

winters with occasional rain are from December

to February. There are clear distinctions between

the two seasons, which are separated by a short

autumn and spring when the island's flora is in

full bloom.

CINEMATIC LANDSCAPES

Dubbed a natural film studio, Cyprus certainly

has much to offer despite being a small island.

It has a rich historical and cultural landscape

featuring various historical periods, ranging

from archaeological sites to quaint villages and

modern cities.

Cyprus offers endless opportunities for film

makers with its ruins of ancient city kingdoms

with pillars and amphitheatres, Venetian bridges

tucked away within the forest hills, ancient aqueducts,

Byzantine art and architecture, as well as

the unique 16th century Venetian city walls and

heart-shaped bastions of Nicosia that protect the

labyrinthine streets of the vibrant old city.

The coastal city of Limassol is currently undergoing

a transformation with multiple skyscrapers

being built along its beach-front promenade

offering a modern and more cosmopolitan

city scape. The luxury Limassol Marina juts into

the sea adjacent to the old town and the medieval

Limassol Castle, where according to legend

Richard the Lionheart married Berengaria of

Navarre and crowned her Queen of England in

1191. Also near Limassol is the Kolossi Castle,

which is a former Crusader stronghold of the

Knights of the Order of St John of Jerusalem and

was briefly taken over by the Knights Templar in

1306.

Cyprus also provides much variety in terms

of its natural landscape. Its 648 km of coastline

presents rocky coves, stretches of beautiful pebble

and sandy beaches, light houses, ports both big

and small, as well as some of the cleanest beaches

and waters in the Mediterranean Sea. In Nicosia,

the flat plains look like a desert in the peak of

summer, but are transformed to a lush green

during winter months. In the centre of the island,

the pine-clad Troodos mountains provide stunning

hilltops, valleys, waterfalls and picturesque

vineyards and traditional villages, with its peaks

covered in snow in the winter. Larnaca offers cityscapes

and salt lakes teeming with flamingos in

the winter, while Paphos – the legendary birthplace

of Aphrodite – has more historical sites,

beautiful beaches and hills, the Akamas Nature

Reserve and banana plantations scattered along

its coast.

CONNECTIVITY AND INFRASTRUCTURE

Cyprus' advanced infrastructure is constantly

being upgraded and offers road, air and sea

transport solutions and services. The Republic of

Cyprus has two multipurpose deep-sea ports and

two international airports, Larnaca and Paphos,

which are served by over 70 airlines, operating to

120 destinations in 40 countries. Located at the

crossroads of three continents, Cyprus is a short

flight away from some of the most prominent

transit hubs in the world. Direct flights are available

to Cyprus from all the major cities of Western

and Eastern Europe, as well as the Middle East

and Gulf region. This is a key factor for productions

with multiple locations in Europe and the

Middle East.

Due to its small size, internal distances are

short between all cities, which are also all under

100 km from one of the two international airports.

For example, within an hour's drive it is

possible to go from a snow-capped mountain

to a sunny beach. The island's road network is

well mapped and signposted in both Greek and

English, and navigating across the country is easy

and safe. There are multiple companies that rent

Cyprus Filming

Scheme Incentives:

Cash rebate of up to

35%

on qualifying production

expenditures

Variety of tax

incentives for

corporates and

individuals

Attractive

IP regime

90 Country Report CYPRUS 2020
---
BENEFITS:

Diverse landscapes never

seen on screen

Ideal weather conditions

for year-round filming

Short internal distances and

good global air connectivity

Modern infrastructure and

advanced telecoms

Centuries of history, art and culture

Access to local talent pool

Sector Profile

The island's natural beauty, local talent, great climate, and versatile locations that could

double-up as various destinations from virtually anywhere in the world offer boundless

creativity and opportunities for film directors, with only the imagination setting the limits.

a variety of vehicles on both a short- or longterm

basis, and thanks to the island's status as a

popular holiday destination Cyprus offers every

conceivable type of accommodation – ranging

from low-budget hotels and a growing number of

five-star luxury resorts, to villas and agritourism

houses.

NURTURING OLIVEWOOD

Although Cyprus made its official entrance onto

the world stage only recently, the country has

in fact attracted attention and interest over the

decades from big producers and directors worldwide.

Unfortunately, many of these prospective

projects never came to fruition due to a lack of

incentives and official single body to represent

the industry and aid in tackling bureaucracy and

permits. With a new government-backed framework

in place, the country can now turn this interest

into real action.

The island's natural beauty, local talent, great

climate, and versatile locations that could double-up

as various destinations from virtually anywhere

in the world offer boundless creativity and

opportunities for film directors, with only the imagination

setting the limits. Cyprus offers a truly

cinematic environment and has set the scene for

those with vision.

However, industry professionals and producers

have warned Cyprus not to rest on its

Olivewood laurels, as to develop the sector into a

true international industry and economic driver

more investment is needed in crucial infrastructure

such as purpose-built studios, and in educating

the professional crews and technicians to

support the industry in the future.

Knock-on effects of fostering this sector will

create jobs, develop new infrastructure and

equipment that will further support the industry,

and indirectly also enhance complementary

sectors such as cinema tourism, professional services,

land development and investment funds

related to film.

Cyprus certainly has all the pieces of the

puzzle to develop a thriving film sector, what is

needed now is the right kind of investments and

strategies to support the growth of the industry

and attract major international players to captialise

on the immense potential of this beautiful

and versatile island. n

Discover more at www.cyprusprofile.com

Country Report CYPRUS 2020 91
---
Health

Sector Profile

STREAMLINING

HEALTH

The combination of a robust private health sector with internationally

acclaimed medical research and health professionals, and the roll-out of a

new national health system has brought Cyprus on par with its European

peers. This crucial evolution has boosted Cyprus' efforts to encourage more

investments in areas such as e-health, medical tourism, rehabilitation

services and medical schools to further develop its health sector.

For decades, the Cyprus health sector

has been primarily known for its

excellent private healthcare with its

highly trained and internationally

experienced professionals, specialised

medical services and globally renowned

research. The majority of its

medical professionals are educated at

top-tier universities in the UK, Greece, Western

Europe, the US and Russia, and international

expertise and specialisation have been key

factors in the development of Cyprus' formidable

private sector with 75 private hospitals and

clinics, along with numerous smaller private

practices.

However, 2020 marks a milestone in this

sector with the long-anticipated national health

system (NHS) coming into full effect with the

promise to modernise and upgrade healthcare

into a more streamlined, transparent and costeffective

system.

International rankings further underline the

strength of the health sector with Cyprus rated as

the 21 st healthiest country in the world, according

to Bloomberg's 2019 edition of its Healthiest

Country Index. Cyprus also has good access to

quality health services, ranking 24 th out of 195

countries in the Healthcare Access and Quality

Index (HAQ) – a study funded by the Bill &

Melinda Gates Foundation. In the index Cyprus

ranks higher than Germany, Israel and the US,

which rank 25 th , 28 th and 37 th respectively. With

the new NHS, the aim is to offer the public equal

access to a healthcare sector that boasts excellent

professionals, technology and innovation.

COVID-19 IMPACT

2020 has been a year scarred by the coronavirus

pandemic and its effects on the global economy.

Cyprus took staunch measures before several of

its European partners, taking a proactive stance

KEY

contacts

Ministry of Health

www.moh.gov.cy

The Health Insurance

Organisation (HIO/GESY)

www.gesy.org.cy

State Health Services

Organisation (SHSO)

www.shso.org.cy

Cyprus

Healthcare Tourism

www.cyhealthservices.com

92 Country Report CYPRUS 2020
---
Having managed to

bring to Cyprus'

citizens a health system

that gives universal and

equal health coverage,

we are now moving on

to a holistic approach

of healthcare via other

major reforms. In the

fight against cancer,

Cyprus fully aligns

with the EU strategy.

The five pillars of the

National Cancer Strategy

allow us to provide a

comprehensive treatment

protocol, thus putting

cancer patients in the

centre of our attention.

We aspire to achieve

this, inter alia, through

the establishment of

the National Cancer

Institute. Moreover,

apart from normalising

the new health system,

we take actions to

encourage investments

in healthcare sector, in

areas such as e-health,

medical tourism,

rehabilitation services,

medical schools and

pharmaceutical services.

Constantinos Ioannou

Minister of Health

and carrying out some of the highest test rates

in the world. Compared to many of its European

counterparts, Cyprus fared much better with

around 2% fatality rate, the lowest compared to

Greece, UK, Germany, Spain and Italy. Cyprus

had roughly a similar number of resources, compared

to Italy and Spain.

The island's efforts were praised by the

European Centre for Disease Prevention and

Control while doctors from both the public and

private sector joined forces to fight the spread

of virus. Patients from Cyprus also took part in

a global trial of Japanese antiviral influenza drug

Avigan (favipiravir) while the governments of

Cyprus and Israel worked together sharing expertise

and training methods. Renowned Cyprusbased

pharmaceutical manufacturer Remedica,

imported five tons of chloroquine from India to

be processed and subsequently sent to Israel in

return for 50 ventilators.

A vaccine is expected to be available by

January 2021, which will be made available for

free by the government, according to the Health

Ministry. The government has specified it will

need 1.2 million vaccines. Cyprus has dealt significantly

better with the pandemic than other

countries, as a result of the early adoption of

measures and the lower density of its population.

THE NATIONAL HEALTH SYSTEM

The roll-out of the new NHS has been a painstaking

yet crucial task in bringing Cyprus on

par with its European peers in terms of public

healthcare. The first phase concerning outpatient

care provided by GPs, specialist doctors, pharmacies

and labs was introduced in June 2019, while

phase two concerning inpatient care was rolled

out a year after that in June 2020. Two bodies

have been set up in a bid to allow the NHS to

materialise. The Health Insurance Organisation

(HIO) – known locally as GESY, which is tasked

with reimbursing healthcare expenses including

pharmaceuticals and the State Health Services

Organisation (SHSO), which will be responsible

for the management, control, supervision and

development of public hospitals and primary

healthcare centres.

The NHS was expected to have a surplus of

€80 million in 2020 after a year of operations,

though the unexpected Covid-19 pandemic may

further increase the €969.6 million forecasted

expenses. One of the many advantages the comprehensive

NHS has brought about, is reduced

waiting lists which have plagued the sector for

years. The passing of the NHS bills in 2017 was

an enormous victory for the government of

President Nicos Anastasiades, who has likened

this major development in the health sector to the

adoption and introduction of the social insurance

system in the 1960s.

Health services in the public sector are provided

by five district hospitals and one paediatric/

gynaecological hospital, three small rural hospitals

and 38 health centres, along with 230 subcentres

with a touring medical team. Additionally,

the Ministry implements a sponsored patients'

abroad scheme under specific conditions and

terms. Substantial investment in the state sector

has meant that procedures such as kidney transplants

and open-heart surgery, which once necessitated

a journey overseas, are now routinely

carried out within Cyprus. The private system is

financed mostly by out-of-pocket payments and

to some degree by voluntary health insurance

(VHI). It largely consists of independent providers,

and facilities are often physician-owned or

private companies in which doctors are usually

shareholders.

ADOPTING TECH SOLUTIONS

Part of its ambitious plans to upgrade the health

sector, the Health Ministry is focused on digitising

medical provision and developing an integrated

e-health monitoring system. This involves

the introduction of digitised health records, the

expansion of medical services to remote areas

via telemedicine and robotics, and access to international

medical data banks. Also part of this

evolution is to take actions to encourage further

investments in areas such as e-health, medical

tourism, rehabilitation services, medical schools

and pharmaceutical services. A key organisation

supporting investors and encouraging FDI is

also the country's investment promotion agency

Invest Cyprus, who acts as the first point of

contact for foreign investors looking to enter into

the Cypriot market.

Meanwhile, the advantages of blockchain

technology have become obvious to the health

sector with Mediterranean Hospital adopting

a Cyprus-made blockchain. The first phase has

already been implemented in the emergency department

with blockchain-enabled medical data

management. It allows patients to have a digital

healthcare passport and an encrypted NFC card

which allows patients to automatically identify

themselves at the registration desk, check

their queue using their mobile device and safely

manage their medical records. Using blockchain

allows hospitals to collect data on their efficiency

and as such, the global healthcare market spending

and investment on blockchain-based technologies

is expected to hit $5.61 billion by 2025

according to a report by BIS Research.

Only a few weeks after the Covid-19 pandemic

reached the island, top health and technology

Sector Profile

Country Report CYPRUS 2020 93
---
Health

Sector Profile

researchers came together to develop a series of

apps and portals. The University of Cyprus along

with the recently formed Deputy Ministry for

Research, Innovation and Digital Policy, created a

portal recording all reports of confirmed Covid-

19 cases in real time, along with geographical data

and risk assessment, which the Health Ministry

utilised to make key decisions.

Engineers also created the CovTracer app, allowing

people to trace their location and contact

history to notify people in case the user tests positive.

Another app born from the corona crisis was

WaitLess, which has the ability to show people realtime

traffic in supermarkets, in a bid to avoid

large groups of people and reduce the spread of

the virus.

Technology will also be at the forefront of

helping forecast the needs of medical, nursing

and paramedical personnel. The number of graduates

from the top-tier medical schools in Cyprus

are also expected to provide more medical personnel

in the sector and fill the gap of potential

shortages in the coming years.

INTERNATIONAL COOPERATION

Cyprus is signatory to multiple Memoranda of

Understanding (MoU) with various countries to

facilitate more cooperation in the medical field. For

example, Cyprus and Israel have signed an MoU

for cooperation in the field of kidney transplants.

It will allow people who seek to donate kidneys to

their loved ones to have a better opportunity to do

so through paired donations, as it creates a larger

pool of potential donors and increases the chances

for successful organ exchange between donor-recipient

pairs. The memorandum was the result of

a joint effort between the specialists in the area of

transplantations from the two countries, as well as

of the Transplant Centre of the State of Israel and

the Transplant Council of Cyprus.

In addition, Cyprus and the Canadian

Commercial Corporation (CCC) – a Crown

Corporation of the Government of Canada –

signed an MoU in 2017 on health to foster cooperation

in the fields of medicine, research and

education, and to develop projects of mutual

benefit. In 2018, Cyprus and Jordan signed a

number of bilateral agreements including one on

public health and medical science, with a similar

protocol also signed with Russia.

Marking a significant role on an EU level,

Cyprus has one of its own in the role of EU Health

Commissioner, Stella Kyriakides with extensive

experience working at the Health Ministry and

working towards helping cancer patients.

An important asset in the provision of highquality

healthcare was the founding of the

German Oncology Centre in Limassol in 2017.

Established through private funding, the centre

covers the whole spectrum of services from prevention

and diagnosis, to treatment, rehabilitation

and support for patients, offering modern

radiotherapy techniques. Previously, the Bank

of Cyprus Oncology Centre in the capital city of

Nicosia was the sole provider of radiotherapy, but

the new private radiology unit complementing

state health services is a welcome addition catering

to the needs of patients in both Limassol and

Paphos regions. The German Oncology Centre,

along with numerous other private hospitals,

are in pending discussions with the Ministry of

Health to join the new NHS.

CROSS-BORDER MEDICAL SERVICES

The presence of numerous prestigious private

healthcare facilities significantly enhances the

island's reputation as a centre for medical excellence

and highlights the opportunities available

to foreign investors. The island has also opened

more opportunities for foreign doctors to carry

out procedures in the country, a move that is fostering

greater cooperation in the international

medical field.

Doctors from Israel, the United States and

other non-EU member states are now allowed to

provide services in Cyprus, under certain conditions,

with procedures overcoming bureaucracy

and delays. This decision not only promotes

medical tourism and generates income mainly for

private hospitals, but also promotes further training

and knowledge exchange for Cypriot doctors,

with a number of hospitals becoming centres of

excellence for the Eastern Mediterranean region,

the Middle East and Europe.

PRIVATE SECTOR

75

hospitals

and clinics

PUBLIC SECTOR

5

district

hospitals

1paediatric/

gynaecological

hospital

3small rural

hospitals

MEDICAL

TOURISM

Popular treatments in Cyprus:

check-ups &

diagnostic tests

elective surgery

dentistry

cosmetic &

plastic surgery

fertility

treatments

eye surgery

rehabilitation

38

health centres and

230 sub-centres

with a touring

medical team

94 Country Report CYPRUS 2020
---
Cyprus ranks

24th

(out of 195 countries)

for access to quality

health services in

Healthcare Access and

Quality Index (HAQ)

The majority of the

doctors are educated

at advanced and

reputable universities

both in Cyprus

and abroad from

countries such as

the UK, Greece,

Western Europe,

Russia and the US

Over the past three

decades, Cyprus

has made highly

commendable

achievements

in the fields of

medical research

and innovation

TAPPING INTO GLOBAL MEDICAL TOURISM

Cyprus was one of the first entrants into the

European medical tourism sector, and established

a national initiative to promote medical tourism

thanks to its extensive private healthcare offering

and longstanding status as a tourism destination.

The global medical tourism market is expected

to reach US$179.6 billion by 2026, with positive

future growth prospects according to a report by

Grand View Research Inc – however the global

Covid-19 pandemic is expected to affect these

figures.

Cyprus has excellent medical infrastructure,

hospitals, laboratories and other diagnostic

centres making it a prime destination for medical

tourism. Services are affordable and easily accessible,

and this coupled with its large pool of highly

educated healthcare professionals and expert services,

are positioning the island as a key centre

for medical tourism in the Mediterranean region.

A vast array of quality medical treatments

for patients from all over the world are offered

in Cyprus, from basic check-ups and diagnostic

tests to major surgery, kidney haemodialysis,

transplants and cardiothoracic surgery procedures,

orthopaedic, musculoskeletal surgery

and many more. In early 2018, the President of

Cyprus inaugurated the new heart centre at the

Mediterranean Hospital in Limassol saying it

would contribute to the greater goal of making

the island a regional hub for medical services.

The country's ideal year-round climatic conditions

make it an attractive destination, where

patients can combine treatment with a holiday,

and recovery with relaxation. The majority of

medical tourists come from the UK, Germany,

the Netherlands, Russia and the Middle East and

most seek either dental or cosmetic procedures.

However, increasing numbers now visit Cyprus

for fertility treatment, while the island is gaining

a reputation for other specialist procedures.

Prior to travel restrictions as a result of Covid-

19, Cyprus was also fast becoming a popular wellness

destination with new luxury spa resorts and

rural retreats springing up across the island, with

holistic therapies and beauty treatments readily

available. Fresh and saltwater pools, whirlpools,

saunas, steam rooms and hammams, are all

present in abundance in hotels around the island

for the growing number of wellness orientated

and health-conscious tourists.

Investment in both medical and wellness

tourism continues to be a serious opportunity

for investors, as this sector has been earmarked

by the government as one with immense development

potential with growing demand from

European tourists. According to the state's strategic

report, the development of wellness centres

should be considered an integral element of

future new resorts or added to existing assets in a

bid to upgrade and enhance their value proposition.

This is also highlighted through TourInvest,

a specialised unit operating under the auspices

of Cyprus' investment promotion agency Invest

Cyprus, and aimed at promoting tourism-related

investment opportunities on the island.

MEDICAL CANNABIS

An interesting initiative is Cyprus' plans to introduce

the cultivation and trade of medical cannabis.

Apart from the benefits it would bring patients

– a number-one priority – it can also boost

the economic development of the island, as well

as attract significant foreign investment for the

entire production chain.

In February 2019, Cyprus took a step forward

and passed a law allowing for and regulating the

cultivation and distribution of medical cannabis.

Initial plans outlined three licenses will be

granted to private companies at a cost of €500,000

each for 15 years to grow medical cannabis and

distribute it to pharmacies. The annual cost of

renewing the license was €30,000 however there

has been a call for re-examination of the fees with

other options being touted such as a percentage

of revenue due to the high profit margins the

business is expected to yield.

The law regulates the import of cannabis seeds

and plants, the cultivation, production, import

and export of pharmaceutical cannabis and its

use for research for medical purposes. Before

the NHS comes into full force in 2020, medical

cannabis will be available in state pharmacies,

however, once the ball is rolling with the health

system it will also be available for distribution by

private companies. The move is expected to put

Cyprus on par with many other states such as

Israel and Germany, where medical cannabis has

Sector Profile

258

average number

of people

per doctor

290

average number

of people per bed

187

average number

of people

per nurse

114

average number

of people per

ICU bed

Country Report CYPRUS 2020 95
---
Health

Sector Profile

The New NHS

Hospital autonomy will be the biggest step to the full NHS roll out and by the end of 2020, hospitals are

expected to be 90% autonomous. Among the overall objectives is improving the quality of service and access

to services for patients and delivering the financial stability the health service needs. Eventually, the State

Health Services Organisation will replace the Health Ministry in providing services. Those eligible for the

NHS are Cypriot and EU citizens, as well as third country nationals legally residing in Cyprus and refugees

or persons with supplementary protection, legally residing in the Republic. The health system in Cyprus

was exclusively financed by the state budget, with services provided through a network of hospitals and

health centres directly controlled by the Ministry, but NHS contributions as a percentage of salary or pension

started on 1 March 2019 and initially covered only outpatient care. This is set at 1.70% for employees and

pensioners, 1.85% for employers, 1.65% for the state, and 2.55% for the self-employed. In 2020, contributions

rose respectively to 2.65%, 2.90%, 4.70% and 4%, and cover both outpatient and inpatient care.

been legalised and offers patients more options

for treatment, though the law stipulates the

drug can only be offered after all other available

options have been exhausted. North Americanbased

company Tilray has already announced it

has been cleared for distribution of cannabinoid

formulations for patients in Cyprus.

We are

optimistic

that once the

pandemic is

over, tourism

to Cyprus

shall pick up very fast. Cyprus

was one of the few countries

that effectively faced the

coronavirus pandemic, thanks

to the prompt government

action, but also the quality of

its healthcare system and its

climate. Health and wellness

tourism shall benefit more,

as people realise the need to

boost their immune system

to protect themselves or

recover from the disease

Nitsa Kiliari

President

Cyprus Healthcare Tourism

MEDICAL RESEARCH AND EDUCATION

The Cyprus education and research sector has had

a significant boost over the last few years. The establishment

of medical schools on the island was a

strategic move in the ongoing process of improving

the sector, as well as fostering international

research and innovation. Today, Cyprus has three

medical schools – one public and two private – all

of which are affiliated with hospitals throughout

Cyprus and with prestigious international

medical institutions, such as St George's Hospital

(University of London), Barnsley Hospital NHS

Foundation Trust as well as other medical centres

and hospitals in Greece and Germany.

Over the past three decades, Cyprus has made

highly commendable achievements in the fields

of medical research and innovation. Pioneering

research work has been undertaken at the Cyprus

Institute of Neurology and Genetics, which developed

a ground-breaking, non-invasive prenatal

test for Down Syndrome. And in 2017, doctors

at the Institute discovered a genetic mutation,

which is common only in Cypriot families, that

is responsible for most cases of hereditary breast

and ovarian cancers on the island. Research in

the biomedical field has also had a remarkable increase,

especially in the field of genetic diseases,

hereditary cancer and biotechnology. These ambitious

research projects, funded by both local

and foreign sources, but mostly through the EU,

resulted in data and new knowledge benefitting

both the local and international community.

In 2017 a new strategy was also drawn up to

deal with diabetes, another growing disease on

the island. The strategy plans for the development

of a central research body on health issues and

a central research database connected with other

European international centres.

This kind of top-quality academic work in

Cyprus is evidenced by the securing of important

European funding such as Horizon 2020,

hundreds of high-impact publications in international

peer-reviewed journals and invitations to

present their work at major medical conferences

around the world.

A HEALTHY FUTURE

Cyprus' formidable private healthcare sector now

complemented by a new and streamlined national

health system is sure to bring much-needed

modernisation to the overall sector. This upgrade

and razor sharp focus from the government in

achieving an efficient and productive industry

will ensure equal competition between private

and public health providers and attract new investment

in the health sector – be it in tech solutions,

research or world-class medical facilities.

As with most countries in the world, the coronavirus

pandemic will inevitably have an impact

on progress as the global economy grapples with

this new reality. However, Cyprus is well equipped

to tackle challenges thanks to its vast pool of

medical professionals and facilities as well as its

education and research institutions. There continues

to be much untapped potential in Cyprus and

investors and innovators should keep a keen eye

on the country to capitalise on opportunities in the

health and medical landscape. n

Discover more at www.cyprusprofile.com

Legal

cannabis is

one of the

fastest upand-coming

growth

sectors for Cyprus. The

necessary legislation is in place

allowing for the production of

industrial hemp and medical

cannabis. It is apparent from

the high level of activity and

serious interest expressed

locally and internationally by

foreign investors that Cyprus

has a massive opportunity

to position itself as a centre

of excellence in production,

research, genetics, and

intellectual property in

the legal cannabis sector,

which combined with a

transparent regulatory and

compliance framework make

it an attractive country for

the industry to flourish.

Andria Andreou

President

Cyprus Cannabis Association

96 Country Report CYPRUS 2020
---
Insurance

Sector Profile

MITIGATING

RISK

The Cyprus insurance sector remains strong and resilient with

companies registering another year of growth in 2019. The highly

developed sector has been on an upward trajectory for three years

expanding its range of services and products, but now faces new

challenges and opportunities as a result of the coronavirus pandemic.

The Cyprus insurance industry has

shown strong growth over the last

few years with revenues surpassing

even pre-banking crisis levels. 2019

was no different in this respect, with

companies posting healthy figures

across all insurance classes, highlighting

consistent growth in the sector.

The insurance industry, which is one of the

largest institutional investors in Cyprus managing

assets well over €2.5 billion, has successfully

tackled challenges and expanded its services and

product offering, while adapting to a new reality

of digitalisation and the ever-increasing burden

of regulation.

Cyprus' economy is predicted to shrink in

2020 due to the coronavirus pandemic, with the

hit bearing some resemblance to the 2013 Cyprus

banking crisis, throughout which the local in-

surance sector remained remarkably resilient.

However, a worst case scenario could potentially

have serious repercussions for insurance companies.

The coronavirus is not expected to have a

serious impact on insurance undertakings from

a claims perspective, as most products usually

exclude pandemics and public health threats

from insurance coverage. However, companies in

France and the UK, for example, are now working

with governments to explore solutions for providing

at least some cover for exceptional events such

as the Covid-19 pandemic.

Although the domestic insurance market

in Cyprus is small and has faced challenges,

the sector is highly developed and has a proven

ability to overcome external shocks and quickly

adapt to new market realities. As a jurisdiction,

Cyprus continues to offer international insurance

firms many opportunities as a cost-effective

KEY

contacts

Government:

Ministry of Finance

www.mof.gov.cy

Regulator:

Ministry of Finance

Insurance Companies Control

Service (ICCS) - Supervisor

www.mof.gov.cy

Industry Association:

Insurance Association

of Cyprus (IAC)

www.iac.org.cy

98 Country Report CYPRUS 2020
---
We are

confident

that the

insurance

industry will

once again

prove its resilience in the

face of the strong headwinds

caused by the Covid-19 pandemic.

Although a contraction

is highly likely for 2020,

we expect this to be smaller

than that of the general

economy and succeeded by

a return to growth in 2021.

Andreas Stylianou

Chairman

Insurance Association

of Cyprus (IAC)

and business-friendly base to launch and manage

products, services and operations in international

markets. A number of foreign insurance

operators have been successfully operating in

Cyprus for many years, attracted by the island's

EU member status, its straightforward legal

framework, ease of doing business and advantageous

tax regulation. EU passporting has attracted

major international industry players to

the country, and Cyprus is particularly well positioned

as a centre for companies doing business

in the EU and Middle East region.

The over 30 insurance companies operating

on the island account for more than 99% of the

annual gross premiums written in the domestic

market, with a handful of these companies

dominating the industry. A continuously evolving

market and increasingly specialised demand

have opened up new opportunities in creating

innovative services and products, and using the

country as a launchpad to expand business into

new regional markets.

CONSISTENT GROWTH

The insurance sector has seen steady growth in

the last three years bouncing back to pre-crisis

level revenues, which is evidence of a strong recovery

from the downturn of the 2013 financial

crisis. Insurance was a major financial sector in

Cyprus that managed to safeguard its employment

numbers and contribution to the labour

market. In 2019, the growth momentum continued,

with premiums on the life side increasing

0.7%, compared to 8.8% in 2018. On the

general side (non-life), 2019 saw a 6.1% increase

compared to 5.8% in 2018, according to figures

released by the Insurance Association of Cyprus

(IAC).

Today, the domestic insurance sector is considered

to be highly competitive due to the large

number of insurance suppliers on the island in

relation to the size of the population. There are

currently 32 insurance undertakings in Cyprus

that are licensed and supervised by the Insurance

Companies Control Service (ICCS), which is

part of the Ministry of Finance. In addition, eight

companies are operating under the freedom of

establishment (FOE) and well over 500 EU insurance

companies have exercised their freedom to

provide services (FOS) right by registering with

ICCS to carry out business in Cyprus. Leading

figures from the industry estimate that this type

of business will see further expansion in the

coming years.

SHARPENING THE COMPETITIVE EDGE

Continuously improving its offering and upgrading

its services, Cyprus is on par with international

industry standards. The insurance sector

in Cyprus is market driven and although perhaps

moving at a somewhat slower pace than the rest

of Europe due to its size, demand for more sophisticated

products is rising. The slower pace

also offers the benefit of learning from the experience

of bigger and faster moving markets

that lead the way in development. Furthermore,

numerous Cypriot insurance firms are partnerships

with international heavyweights, enabling

them to tap into the in-house expertise of these

powerhouses and use it to adapt products for the

Cypriot market.

For example, products such as director and

officer liability, are now offered and sought out

and new products, such as cyber and drone insurance,

are emerging as new tech rolls out into

the market. In addition, the wave of cutting-edge

Sector Profile

500+

European insurance/reinsurance

undertakings operating under the

freedom to provide services (FOS)

32

Insurance Companies

Country Report CYPRUS 2020 99
---
Insurance

Sector Profile

fintech coming into the market is diversifying

insurance covers into products, such as the employment

of telematic devices, for instance. As

demand has been rising for these and other types

of policies, the Cyprus insurance industry has

been quick to broaden the spectrum of services.

The industry is also experiencing fresh momentum

in the provision of second pillar occupational

pension schemes as a result of a change in

the law that enabled life companies to offer these

types of products and clarified that the associated

contributions are tax deductible. There has

also been a resurgence in demand for insurance

investment products. Insurance firms have been

offering pillar II occupational pension schemes,

known as Class 7 schemes, which are similar to the

traditional provident funds but with more benefits,

according to the IAC. These new schemes were introduced

in Cyprus for the first time in 2016, and

are growing to be a very promising alternative for

pension-related saving and investing. The Class 7

funds resemble classic provident funds set up by

associations of professionals, unions and companies

for their employees, but are managed by insurance

companies and are governed by the legal

framework regulating insurance companies. They

can be flexible and more cost-effective products,

suitable to all types of organisations regardless of

size and sector. The evolution of class 7 products

has brought drastic changes to Cyprus' occupational

pensions sector and is set to make an even

bigger impact in the future, as they offer a convenient

and hassle-free way to complement future

social insurance pensions and constitute a taxadvantageous

investment vehicle at a time when

having money in the bank could prove to be costly.

Another developing segment that is currently

being refined is insurance coverage for high-rise

developments, which requires more specialisation

particularly now as Cyprus is experiencing

a construction boom of skyscrapers, new luxury

marinas, and big hotels. Insurance has an important

role in these types of complicated projects

with multiple phases and subcontractors, and

insurers need to be involved in the entire process

from start to finish to maintain the integrity of

the cover and mitigate potential risks.

ROBUST REGULATORY FRAMEWORK

Cyprus is fully aligned with EU law as well as with

legal frameworks stemming from other supranational

organisations, such as the OECD, and

offers a simple, straight-forward and transparent

framework for business. However, increased

pressure from new and complex regulation over

the last several years has been a challenge faced

by the financial services industry around the

world. The surge of regulatory changes such as

Solvency II, MiFID II, GDPR, PRIIPS Regulation

and the Insurance Distribution Directive (IDD)

meant that insurers had to use a great deal of their

resources for regulatory compliance purposes. In

addition, the immense task of the future implementation

of IFRS17 by 2023, will place serious

pressure on firms in terms of time, cost and

human resources.

The Solvency II 2020 review is on the agenda

across the EU this year, pushed forward by the

European Insurance and Occupational Pensions

Authority (EIOPA). The Solvency II Directive

is designed to face difficult situations of financial

stress, by setting minimum solvency capital

requirements and strict rules on the calculation

of technical provisions. Although the industry

in Cyprus is well equipped to appropriately

transpose and implement new regulation to stay

competitive in the EU market, the intense margin

pressures and expense of regulatory burdens

could give impetus to more consolidation in the

market through mergers, acquisitions and strategic

partnerships in the years ahead – especially

due to the high number of companies competing

in the local market.

CHALLENGES AND OPPORTUNITIES

Just like in many other economic sectors, digitalisation

is key to staying competitive in the

cut-throat insurance landscape. Traditional insurance

companies have already completed, or

are in the process of completing, their digital

transformation, as they face growing competition

from online insurance providers. Similarly to

other industries, traditional big firms are placing

strong emphasis on streamlining processes and

implementing more efficient systems.

On a macro level, Cyprus insurance experts

would like to see a more defined long-term vision

from the government on how the sector could

be developed in the future. This would help the

industry focus on building more niche segments

that could attract further business and investment

to Cyprus and facilitate sustainable development

in the future. For example, Cyprus has not made

much progress in developing reinsurance business,

perhaps most importantly because the legislative

changes to reform the market structure

and make it more competitive and appealing for

reinsurers – such as cell company formation –

have not yet taken place. Creating a reinsurance

industry in Cyprus would have multiple positive

outcomes for the economy since it would create

jobs and keep millions of euros in reinsurance

premiums in Cyprus, which are currently paid to

reinsurers abroad.

A challenge the insurance industry has faced

over the last year is the ongoing implementa-

0.7%

2019 growth in

life premiums

Cyprus offers multiple

fiscal benefits for

international business,

such as easy market

access and the

services of a vast

pool of professionals

in the insurance

and financial

services industry.

100 Country Report CYPRUS 2020
---
The insurance

industry, which is

one of the largest

institutional

investors in Cyprus

managing assets

well over €2.5 billion,

has successfully

tackled challenges

and expanded

its services and

product offering,

while adapting to

a new reality of

digitalisation and

the ever-increasing

burden of regulation.

6.1%

2019 growth in

non-life premiums

tion of the new National Health System (NHS).

The industry supported the introduction of the

NHS, but advocated for an NHS that would also

involve private insurers. However, the industry's

position was not accepted, and the legal framework

voted through by Parliament is based on a

single-payer system that excludes private insurers.

The implementation presents challenges to

the existing private health insurance business and

especially group policies, which are an estimated

46% of total health business. Some companies

are cancelling or downsizing group health insurance

policies for their employees in a bid to avoid

paying for two covers, the obligatory employer

NHS contribution and private health insurance

premiums. This has essentially been a cost-cutting

exercise for companies, however, on the flip

side the number of new private health insurance

policies has been growing over the last year.

Cyprus' fledgling oil and gas sector, and in

particular its formidable shipping industry and

developing ship financing business could also

bring more marine insurance opportunities. Hull

and cargo insurance is still not a very large part of

insurance activity in Cyprus, but is a specialised

area that has strong potential to see growth and

further development in the future. Following the

protracted uncertainty caused by Brexit, many

UK companies looked abroad to set up subsidiaries

or fully fledged offices to secure their future

business – and for many, Cyprus proved an advantageous

location. A prime example of this was

the recent arrival of a new P&I Club member,

Steamship Mutual Underwriting Association

(Europe) Limited, which has decided to underwrite

all of its European business through its

Cypriot entity.

Another development that will facilitate more

opportunities, is the announcement from the

Cyprus Ministry of Finance to reform the pension

framework – a positive and welcome move. The

reform includes a plan to merge the two separate

authorities supervising insurance undertakings

and occupational pension funds under a single

independent supervisory authority, which will

be based on the model of the Cyprus Securities

and Exchange Commission (CySEC). This will

facilitate better supervision within these sectors

and help modernise and reboot the pension fund

market in Cyprus. Although a legislative proposal

has already been submitted to Parliament, negotiations

are expected to be lengthy and the result

is uncertain.

LOCATION OF CHOICE

Equally attractive to both EU and non-EU based

insurance companies and managers, Cyprus'

insurance sector is an interesting area of the island's

diversified financial services industry. The

jurisdiction offers multiple fiscal benefits for international

business, such as easy market access

and the services of a vast pool of professionals

in the insurance and financial services industry.

Another attractive aspect is Cyprus' tax system

and its network of double tax agreements, rendering

it a serious contender as a location of choice

for regional headquarters for cross-border insurance

operations and as a launch pad into the EU

and surrounding markets of the Mediterranean

region. n

Discover more at www.cyprusprofile.com

Sector Profile

Country Report CYPRUS 2020 101
---
International Financial Services

Sector Profile

TOWARDS A

DIVERSIFIED

FUTURE

Cyprus' re-emergence as a Mediterranean business champion

has been marked by a rapidly diversifying financial services

sector. Moving well beyond banking and corporate formation, the

island is today positioning itself as a home for investment fund

managers, crowdfunding platforms and fintech entrepreneurs.

Cyprus is forging a reputation as a

quality-efficient and cost-competitive

choice for regional and global

financial services firms and is gaining

ground as a management hub in selected

segments. With a strong trackrecord

in cross-border finance and

investment, Cyprus' financial services

sector has significantly expanded in recent

years. The island has worked hard to regain the

investor trust which was damaged during its 2013

banking crisis. Regulatory reform, coupled with

economic restructuring and the identification of

new growth drivers, has radically transformed

Cyprus' financial market.

Today, the country delivers world-class fund

management and trust administration services

in line with international best practices. From

a regulatory point of view, the country has pioneered

the foreign exchange sector and is positioning

itself as a major player in the wealth

management industry. Besides its longstanding

ties with Russia and CIS countries, investment

into Cyprus is increasingly coming from other

regions of the world, including Asia, the Middle

East and Africa, a trend that is expected to accelerate

further in the coming years.

Meanwhile, the island is developing new

areas of opportunity. Fintech and digital finance

are fast developing into thriving segments of the

finance sector, while Cyprus has brought in a new

crowdfunding law in order to position itself as an

ideal EU jurisdiction in which crowdfunding

platforms can be established.

KEY

contacts

Cyprus Securities and

Exchange Commission

www.cysec.gov.cy

Cyprus Bar Association

www.cyprusbarassociation.org

Institute of Certified Public

Accountants of Cyprus (ICPAC)

www.icpac.org.cy

Association of Cyprus Banks

www.acb.com.cy

Cyprus Fiduciary Association

www.cyfa.org.cy

Association of

Cyprus International

Investment Firms

www.aciif.org

102 Country Report CYPRUS 2020
---
The financial

services

sector is a

significant

contributor

to the Cypriot

economy and has maintained

its status as one of the most

consistent growth sectors. I

expect to see some mergers

and acquisitions within the

sector, and I certainly see

further growth in the funds

industry. We will also see more

of fintech, blockchain technology,

crowdfunding and other

technology-based innovation in

Cyprus. At CySEC, we are committed

to promoting innovation

and the benefits it generates,

whilst simultaneously maintaining

investor protection.

Demetra Kalogerou

Chairwoman

Cyprus Securities and

Exchange Commission (CySEC)

The

professional

services

sector is

currently

facing

multiple challenges as a result

of the Covid-19 pandemic while

new worldwide developments

are affecting international

business and foreign

investment. To maintain its

dynamic profile as a key pillar

of economic growth, the sector

should focus on providing

quality services, driving

innovation and leveraging

the unlimited potential of

digital and new technologies

as well as on building the

necessary skills for the future.

Evgenios C Evgeniou

CEO

PwC Cyprus

A REFORMED INDUSTRY

Just six years ago, Cyprus' financial sector was on

the brink of collapse as a result of the European

debt and banking crisis. The country experienced

financial difficulties following the breakdown

of the Greek economy, where Cypriot banks

had huge investments. Cyprus became the fifth

country after Greece, Ireland, Portugal and Spain

to turn to the eurozone for financial help during

the region's debt crisis and was eventually bailed

out to the tune of €10 billon by the European

Commission, the European Central Bank and the

International Monetary Fund.

One condition of the bailout was a reform of

Cyprus' financial system, which in combination

with other measures such as creating solid investment

opportunities that attract foreign interest,

led to a strong economic recovery in the years

that followed. For many years, the sector focused

on banking and corporate structing, particularly

facilitating investments into Europe, the Middle

East and Africa, as well as Russia and Eastern

Europe due to a fiscally attractive tax regime and

wide network of tax treaties. However, in the aftermath

of the island's debt crisis, Cyprus sought

new economic drivers and placed greater emphasis

on diversifying its financial industry by adding

sectors such as investment funds, fintech and investment

migration to its portfolio.

WELL-ROUNDED SECTOR

Cyprus' financial services sector has grown significantly

since its early days and has been growing

at a commendable rate of 6.5% per annum. In

2019, financial activities and professional services

contributed 7.6% and 8.2% respectively to Gross

Value Added (GVA). The Cyprus Securities and

Exchange Commission (CySEC), the country's

financial services regulator, supervises more

than 760 entities which employ together close

to 20,000 people. Activities today centre around

three strategic areas: corporate services, financial

services and fintech/digital finance.

Foreign businesses have long been attracted

to Cyprus due to its cost-effective services and

preferential access to high-growth markets.

Corporate services and corporate structuring

continue to play an important role. Investment

funds, trust services and private wealth are today

growing elements of the island's financial sector,

and all have potential for further expansion.

Facilitating the next steps in the finance sector's

evolution, Cyprus has established an innovation

hub that provides a safe space for fintech entrepreneurs

who are developing the business models

of the future. These initiatives show that Cyprus

today has a well-rounded financial services sector

that developed a diverse portfolio of services and

bears little resemblance to the industry of just a

few years ago.

BASED IN CYPRUS

Cyprus is today home to a unique blend of

financial services firms. Key players in the

banking scene are Bank of Cyprus, Hellenic

Bank and RCB Bank. However, in addition,

many foreign banks, which carry out international

banking business, have a presence on the

island. Cyprus' booming fund sector has attracted

a host of fund management companies,

including Citigrade Capital, Hanseatic Capital

Management, GMM and many more. Fund

platforms such as KMG Capital Markets and

Fortified Capital operate as third-party providers,

while an array of fund administrators such

as Alter Domus, IQ-EQ and Vistra complement

the sector.

Foreign exchange trading is probably one of

the most active segments in Cyprus' financial

industry. CySEC issued its first forex brokerage

licence to Windsor Brokers in 1988, but with

the emergence of online retail trading interest

in setting up in Cyprus intensified significantly.

Today, some 40 forex firms are based on

the island, including companies such as FXPro,

OctaFX, FXTM and BDSwiss. The professional

services segment is headed by the 'Big Four' as

well as a range of top-tier legal, accounting and

corporate services providers with plenty of international

expertise.

REGIONAL BUSINESS AND MANAGEMENT HUB

Corporate formation remains one of Cyprus'

areas of specialisation. Blue-chip corporations

and corporate planners continue to establish

holding, trading and investment companies

on the island to channel investments into key

markets worldwide. Cyprus' stable EU environment

and neutral political stance, coupled with

its low corporate tax rate at 12.5% and tax treaties

with 65 countries, have made the island a prime

destination for the structuring of investments

into Europe, the Middle East and Africa, as well

as Russia and Eastern Europe.

More recently, Cyprus has also begun posting

growth as a regional and international headquartering

location. Over the last five to 10 years, the

island's advantages as a business hub became ever

more ingrained, with many multinationals basing

operational or corporate management functions

on the island. Companies such as NCR, Kardex,

Amdocs, Bernhard Schulte Shipmanagement

and Wargaming have all established headquarters

on the island.

Sector Profile

Country Report CYPRUS 2020 103
---
International Financial Services

Sector Profile

STRONG BANKING AND INSURANCE

Cyprus' banking sector is a symbol of the island's

reform process following the 2013 crisis.

The industry was forced to restructure and

consolidate; and today the country has a much

stronger national banking sector than a few

years ago. Cypriot banks enjoy strong capital

ratios, and the rate of non-performing loans

has been reduced by half. International banks

continue to use the island as a launch pad into

high-growth and emerging markets. More

than 30 foreign banks are operating in Cyprus,

which mainly carry out international banking

business and have limited interaction with the

domestic economy.

Cyprus' insurance sector is performing

well; posting premium growth year-on-year.

However, insurance in Cyprus focuses mostly

on domestic business. While the island is home

to 30 insurance companies, only a small number

of them are writing business outside of Cyprus

and taking advantage of EU passporting rights.

Industry experts are of the opinion that this

segment of the financial sector could be developed

further, highlighting that Cyprus is particularly

well positioned as a base for companies

wishing to do business in the EU and the Middle

East region.

A EUROPEAN CONTENDER IN FUNDS

Cyprus' investment funds sector has surprised

the global asset management community with

its fast growth. A sector that was nearly nonexistent

a few years ago, Cyprus catapulted itself

into recognition by overhauling and modernising

the sector's regulatory framework. Assets

under Management (AuM) have increased by

200% from €2.7 billion in 2016 to €8.3 billion

in 2019, demonstrating that Cyprus is able to

compete with Europe's longer established fund

domiciles. Cyprus offers both EU-regulated

Undertakings of Collective Investment in

Transferable Securities (UCITS) and Alternative

Investment Funds (AIFs), and has become a

firm favourite of fund management companies

and fund platforms.

Cyprus has experienced growing interest

from fund professionals around the world, but

most notably from Europe, as well as Asia and

the Middle East, whose fund managers are increasingly

seeking access to the EU market. The

island is positioning itself as a cost-effective alternative

to the larger European fund centres,

Luxembourg and Ireland, and many in Cyprus

believe the sector has a great future ahead, estimating

that AuM could reach €12 billion in the

next five years.

PRIVATE WEALTH HUB

Cyprus is also rising to the fore as a wealth management

and family office destination. There is

little doubt that Cyprus' wealth management

sector benefited from the island's longstanding

and close relationship with Russia and

other Eastern European countries. For decades,

Cyprus has been a financial base for ultra-highnet-worth

and high-net-worth individuals from

those countries, but it is also increasingly on the

radar of wealthy individuals from the Middle

East and Asia. With an extensive banking

network and the availability of a variety of investment

vehicles, a growing fund industry as

well as no taxation on capital gains or succession,

Cyprus is a natural hub for wealth management

firms and family offices.

Another key reason for Cyprus' appeal as

a private wealth hub is the island's modern

trust regime, which is a unique combination of

English and Cypriot law, and hence renders the

island's trust legislation very unique. A Cyprus

Trust can be used in a range of international

structures because it is flexible enough to accommodate

the objectives of the most demanding

client. The income of an international trust

is tax exempt as long as it is earned outside of

Cyprus.

On the back of a comprehensive package

of wealth management solutions, the island's

wealth and asset managers are optimistic that

they will be able to maintain their robust growth

in client numbers and assets in the years ahead.

FOREX CAPITAL

For more than 20 years, Cyprus has been the

jurisdiction of choice for Foreign Exchange

(Forex) and Contracts for Difference (CFD)

brokers, and the country hosts a thriving industry

and headquarters for many global giants

in the field. Cyprus became popular due to low

corporate tax rates, excellent infrastructure and

an efficient regulatory framework under the supervision

of CySEC, which is fully aligned with

EU directives and European MiFID regulations.

Cyprus was the first country in the EU to regulate

the foreign exchange market, and CySEC is

credited with attracting foreign companies to

set up Cyprus Investment Firms (CIFs). With

years of expertise and advanced infrastructure

in electronic platforms, Cyprus offers strategic

advantages that have positioned it among the

most attractive destinations for international

forex business.

Volatility in

the market

will lead to

increased

demand for

well-informed

professional advice and reliable

solutions. The professional

services community will be

called upon to support the

economy on both sides of

the spectrum – the private

as well as the public sector.

The accountancy profession

and the Institute of Certified

Public Accountants of Cyprus

will continue to lead the effort

for recovery and emergence

of a stronger economy.

Demetris Vakis

President

Institute of Certified Public

Accountants of Cyprus (ICPAC)

850+

accountancy

firms including

all major

global firms

2,700+

registered

lawyers and

160+

law firms

provide a

competitive

market for

legal services

104 Country Report CYPRUS 2020
---
In light of

increasing

regulation

for providers,

and stricter

compliance

rules in an ever-changing

international tax environment

affecting the clients, I expect

the sector to consolidate. On

the flip side, in the aftermath

of the pandemic there may

be new opportunities arising

from states increasing taxes

to balance budgets. These

opportunities may come in

the form of new services

or new markets.

Chris Koutouroushis

President

Cyprus Fiduciary

Association (CYFA)

FINTECH & CROWDFUNDING

DRIVING GROWTH

The future of finance will be very much determined

by financial technology. Cyprus'

Innovation Hub has attracted start-ups and entrepreneurs

working on tools that are utilising

technologies such as Internet of Things (IoT),

Artificial Intelligence (AI), blockchain and cloud

computing for fintech and regtech purposes.

Other projects are involving big data and crypto

assets. While the 'Hub' only reviews and provides

non-binding feedback to the companies operating

under its umbrella, the initiative indicates

Cyprus' ambition to become a key player in the

digital finance field. In fact, Cyprus' innovation

agenda is wide-ranging, covering everything

from tax incentives for fintech firms, a Startup

Visa Scheme to attract and retain tech talent and

the establishment of a €20 million fund with an

emphasis on start-ups and innovative companies.

The island is also assessing whether it needs to

change existing legislation to account for the use

of new technologies.

Cyprus has also set out to attract crowdfunding

service providers and platforms. Crowdfunding is

increasingly seen as an alternative form of finance

for small and medium-sized enterprises and startups

which often find it difficult to access bank

finance. There are plans for an EU-wide regulatory

regime, which has yet to be realised. Similar to its

decision to be a first-mover in regulating forex

firms, in 2020, Cyprus introduced national rules

for investment-based crowdfunding, which allow

investment firms to offer crowdfunding services

under their existing licence without compromising

investor protection. The expectation is that

Cyprus' initiative will be met with significant interest

from crowdfunding service providers wanting

a head start in the European market.

CYPRUS' CREDENTIALS

There are several compelling features about

Cyprus as a business hub and service centre. The

island is part of the EU, the eurozone and the

Commonwealth and is strategically positioned

between three continents – Europe, Africa and

Asia – with regular flight connections, multicultural

business etiquette and a stable political regime. It

has an efficient and transparent tax system and its

legal system is based on English common law.

Sector Profile

Country Report CYPRUS 2020 105
---
International Financial Services

Sector Profile

CySEC, the regulator for all financial services,

has overhauled and improved many facets of its

operations in recent years to ensure the smooth

and safe operation of Cyprus' financial sector.

CySEC emphasises that financial crime has no

place in Cyprus and that the island's services

sector and its business models have changed in

recent years. Cyprus follows the International

Financial Reporting Standards (IFRS), has a

mandatory audit regime for all sizes and types of

companies, and its legal system is fully compliant

with the EU, the Financial Action Task Force

on Money Laundering (FATF), OECD, FATCA,

the Financial Stability Forum laws and regulations

and EU AML directives. The MONEYVAL

Committee of the Council of Europe also found

Cyprus to be compliant or largely compliant with

all its parameters, and CySEC highlights that it is

committed to the continued global fight against

financial crime.

CHALLENGES AND OPPORTUNITIES

Despite the current challenges posed by the

global coronavirus outbreak, Cyprus registers

continued interest from local and foreign entrepreneurs

and investors in setting up businesses

in Cyprus, with CySEC reporting in July 2020

it has some 100 applications for new investment

entities in the pipeline. The investment

funds and wealth management sector are poised

for further growth, and many believe there is

scope for more cluster activities. The success of

the shipping sector, an industry which contributes

approximately €1 billion each year to the

economy, has attracted auxiliary services, including

the set-up of investment funds specifically

designed for the sector – a model that could

be successfully replicated for other sectors, for

instance for the oil and gas sector. Impact investing

and sustainable finance are also on the

country's agenda and have been identified as

future growth areas.

However, in various segments, Cyprus positions

itself as a place that helps small businesses

grow into big companies. Currently, the island

is home to many start-ups and smaller firms, all

of whom are challenged by the costly introduction

of new and complex regulation. The coming

years will most likely see a series of mergers and

acquisitions in the financial sector. Fintech firms

might emerge as the big winner in this climate as

financial technology can drive efficiency up and

bring costs down. Cyprus should leave no stone

unturned in welcoming these financial disruptors

in order to benefit from the massive opportunities

that fintech presents.

IP PROTECTION

A crucial element especially when it comes to attracting

ICT and tech industry players is guarding

Intellectual Property (IP), and Cyprus offers

strong IP protection through domestic legislation

and a network of EU and international agreements.

The main feature of the Cyprus IP Box

regime is the 80% deduction of revenue earned

from the use of intangible assets. This four-fifths

exemption from profits means that only 20% of

IP income is taxed at the corporate tax rate of

12.5%. After applying the calculations, Cyprusresident

companies can see an effective tax rate

as low as 2.5% – the lowest in Europe with tax

rates for other IP Box regimes range from 2.5% to

10%. The IP regime of Cyprus is largely responsible

for the growing interest in the jurisdiction.

Digital goods are increasingly more valuable,

and the favourable tax and business environment

in Cyprus has made it a hub for digital business

goods, IT software, and related services.

Corporate services and

corporate structuring

continue to play an important

role, while investment

funds, trust services and

private wealth are growing

elements with potential

for further expansion

TOWARDS FUTURE GROWTH

There is no doubt that Cyprus' financial sector

will face a more challenging future than initially

anticipated. The coronavirus crisis has affected

markets worldwide and will certainly leave an

impact on the island's industry. However, the

face of the global finance industry is changing as

technologies play an ever more important role.

Cyprus' decision to gather experience and expertise

in new opportunity areas should help it

navigate more challenging times and find a way

towards future growth. Meanwhile, the fact that

confidence in Cyprus' fund sector is increasing

goes to show that the island can compete with

other European finance hubs in more established

industries. Cyprus' finance industry is definitely

one to watch. On the international scale, it is still

small but there are opportunities aplenty. n

The pandemic

has affected

the way

we work,

interact and

source new

clients. Closing a relationship

usually required a due

diligence visit to a client or

from a client involving crossborder

travel and sourcing

of new business was via

seminars and conferences,

which are both no longer

occurring. It is a challenging

time with a reduction in

business, with governments

and companies tightening

their belts to reduce costs.

Paul Pavli

Managing Director

Oneworld Plus Management

Growth will

come mainly

from wealthy

individuals

who use

Cyprus as

their family office hub. Our

services will need to be aligned

with these needs and be in

a position to serve clients

globally. We estimate that over

$15 trillion worth of assets

are set to pass to the next

generation over the next couple

of decades, and Cyprus needs

to participate in this wealth

shift by enhancing its private

wealth protection vehicles.

Cyprus' strategic location,

business friendly environment,

efficient tax system and

professional human capital

create an ideal environment for

the set-up of family offices.

Constantinos Meivatzis

Managing Director

IQ EQ (Cyprus) Limited

Discover more at www.cyprusprofile.com

106 Country Report CYPRUS 2020
---
Investment Funds

Sector Profile

READY FOR

BOLD

MOVES

Armed with a fully upgraded and modernised regulatory framework,

Cyprus is ready to compete for big fund business in the alternative

investment space even during the most unstable of times.

Cyprus' investment funds industry is

dusting off its newcomer status as increasing

numbers of medium-sized

funds and top-tier fund managers

decide to locate to the island. Assets

under management (AuM) have increased

by 200% from €2.7 billion in

2016 to €8.3 billion in 2019, showing that it is

not the sector's size but its fast growth that has

impressed, and is being recognised by, the global

asset management and investor community.

Although Cyprus has snatched up some

UCITS business, it looks to specialise in the

structuring of alternative assets in sectors where it

already has a strong global presence such as shipping,

energy, real estate and wealth management.

The island's cost-effectiveness, its flexible and recently

updated legislation, as well as its proximity

to the Middle East and Africa, and longstanding

preferential access to Eastern Europe, post-Soviet

states and Russia, are some of the key reasons

why market players started turning to the island.

In the short to medium-term future, it appears

the sector will not be able to retain its previous

performance level as the Covid-19 pandemic

has presented it with a new level of challenge.

Globally, the novel coronavirus has halted economic

activity like no other event, and markets

are only gradually reopening. While the pandemic

will certainly be a test of Cyprus' resolve

and ambition, the outlook for the longer term

remains positive as many believe the sector has

not even begun to realise its full potential.

LATE ON THE SCENE

To understand where Cyprus stands today, it's

important to chart the last few years of the country's

evolution. Although the Cypriot investment

funds sector dates back to the late 1990s, the

country only saw substantial inflows in the past

few years. Following the 2013 financial crisis,

Cyprus sought to create new opportunities for investors

by transforming a debt-driven economy

into an investment-driven one – and the investment

funds sector was identified as an economic

driver of the future.

Although Cyprus arrived somewhat late to the

party, it gained considerable ground after government

and industry began an extensive outreach

campaign to attract funds-related business. The

country updated and modernised its regulatory

framework to bring it on par with those of other

European fund domiciles and brought in new

procedures and products designed to speed up

time-to-market.

KEY

contacts

Cyprus Securities

and Exchange

Commission (CySEC)

www.cysec.gov.cy

Cyprus Investment Funds

Association (CIFA)

www.cifacyprus.org

108 Country Report CYPRUS 2020
---
Cyprus funds

have been a

platform for

investments,

attracting FDI

in all sectors

of the economy. We expect

that the introduction of tax

and redomiciliation incentives

for funds and fund managers

and the modernisation of

procedures will aid in boosting

the fund sector to even higher

growth rates. In addition, the

empowerment of the fund

ecosystem with the entrance of

additional international players

in the fund management

and custody space are a vote

of confidence and ratify the

industry's capabilities.

Andreas J Yiasemides

President

Cyprus Investment Funds

Association (CIFA)

Assets under

management

(AuM) have

increased by 200%

from €2.7 billion

in 2016 to €8.3

billion in 2019

Cyprus experienced

the highest Net Asset

Value (NAV) growth

rate at a pan-European

level in all fund

categories during the

fourth quarter of 2019

Major market players quickly recognised and

accepted Cyprus' refined fund framework. As a

result of growing client demand, international

fund platforms, including Clearstream, Refinitiv

and Bloomberg, began listing Cyprus funds in

2018 and 2019, which makes them visible and

easily accessible to global asset managers and

fund professionals.

EUROPEAN GROWTH LEADER

Cyprus offers both EU-regulated Undertakings

of Collective Investment in Transferable

Securities (UCITS) and Alternative Investment

Funds (AIFs). On the international scene,

Cyprus still has a comparatively small funds

industry. Europe's cross-border fund market is

firmly dominated by Luxembourg, with €4.7

trillion AuM, and Dublin, which had €3 trillion

AuM at the end of 2019. But there are other

domiciles used within the European zone, including

Malta, Gibraltar, the Isle of Man and increasingly

Cyprus which are successfully competing

for business. In fact, Cyprus experienced

the highest Net Asset Value (NAV) growth rate

at a pan-European level in all fund categories

during the fourth quarter of 2019 according

to the European Fund and Asset Management

Association (EFAMA).

A GROWING FUNDS CLUSTER

Cyprus' investment fund sector today is a vibrant

cluster. The Cyprus Securities and Exchange

Commission (CySEC) supervises more than

200 companies, including collective investment

schemes and fund managers. The majority

of funds operate in the alternative space, with

CySEC having around 100 externally managed

AIF products and only some 10 UCITS on its

books. The island is also maintaining a steady

pipeline of new business. CySEC reported in June

2020 that it is processing some 50 applications for

various fund structures.

Most notably, Cyprus succeeded in attracting

Alternative Investment Fund Managers

(AIFMs) and UCITS Management Companies.

Companies such as BAO Capital Partners,

Citigrade Capital, Blue Diagonal Capital,

Fiduserve Asset Management, MFO Asset

Management and Hanseatic Capital Management

Ltd are all licensed AIFMs, while Easternmed

Asset Management, GMM Global Money and

Wealth Fund Services are active in the UCITS

space. Fund platforms such as those of KMG

Capital Markets and Fortified Capital are open to

third parties, and fund hosting represents one of

Cyprus' fastest growing and most active segments

of the industry.

AIF SPECIALIST

Although Cyprus attracted some UCITS management

companies, many industry professionals

expect UCITS to remain more of a niche market

for Cyprus. However, foreign UCITS are widely

marketed in Cyprus, including ones promoted by

international heavyweights such as JP Morgan,

Merrill Lynch, UBS and Julius Baer.

The number of AIFs has seen consistent

growth and will continue to dominate the

Cypriot investment funds scene in the years to

come. Following the modernisation of the island's

fund framework, today there are three types of

AIFs that can be set up in Cyprus. In addition to

the Alternative Investment Fund of Unlimited

Number of Investors (AIFUNP), investments

can be structured in the form of an Alternative

Investment Fund of Limited Number of Investors

(AIFLNP), which is promoted to family offices

and high-net-worth individuals as an alternative

to a group holding company.

Then there is the Registered Alternative

Investment Fund (RAIF), which has become a

success story of its own. RAIFs, Cyprus' version

of Luxembourg's popular Reserved Alternative

Investment Fund, have truly taken off over the

past 18 months. RAIFs do not require a licence

from the industry regulator, the Cyprus Securities

and Exchange Commission (CySEC), but need

to be registered with CySEC by an already authorised

Alternative Investment Fund Manager.

There were already 26 RAIFs operating out of

Cyprus at the end of April 2020 – with the first

RAIFs only starting out in 2019.

Cyprus is strategically positioning itself as a

home for specialised alternative funds and investment

boutiques, with many of them primarily

dealing with private equity and investment in

areas such as banking, real estate, hospitality, and,

most prominently, in maritime and energy – two

sectors in which Cyprus has an outsized influence

on the European economy. For the shipping industry,

Cyprus has become a major European flag

state while it is hosting the EU's largest shipmanagement

centre. In the energy sector, Cyprus has

attracted a lot of attention following the natural

gas discoveries of recent years. Multinational oil

and gas companies today have significant operations

on the island and are investing at an unprecedented

scale in the Eastern Mediterranean.

A MATURING INDUSTRY

Thus far fund sizes vary significantly ranging

from €10 million to €1 billion, which goes to

show the diversity of fund business in Cyprus.

Currently Cyprus is ideal for regional players,

start-up funds, alternative funds, as well as larger

Sector Profile

Country Report CYPRUS 2020 109
---
Investment Funds

Sector Profile

entities looking to diversify into new asset classes

with minimum risk and cost. However, fund professionals

report that they are seeing more medium-sized

funds moving into Cyprus, and they

believe the sector has significant scope to grow.

In attracting new fund professionals to the

island, the Cypriot government has set its sights

on new markets, including Asia, particularly

India and China, Israel, Africa and the Middle

East, and the marketing initiatives of recent years

have ensured a steady pipeline of new business.

Asian fund managers are increasingly establishing

funds or fund management companies in

Cyprus in order to access the EU market. At the

same time, the island registered growing interest

from UK fund managers who set up in Cyprus to

retain their access to the EU market after Brexit.

PLATFORM PROVIDERS

Cyprus is also home to a number of third-party

management companies offering foreign fund

promoters plug-and-play solutions and easy

access to the European market. These fund

platforms provide investment managers with a

fully compliant UCITS/AIFM entity and thus a

European passport to market their funds within

the EU, without the need to establish their own

fund and/or management company substance

in an EU Member State. Platform solutions are

traditionally structured as umbrella funds, and

managers can benefit from the efficiencies provided

by the pre-existing structure of the platform

in terms of sharing costs, existing middle

and back office operating models, tried and tested

systems and speed to market.

MORE REGULATORY UPDATES

Although Cyprus has significantly enhanced its

regulatory framework for the sector, the global

asset management community can look forward

to additional changes aimed at elevating the

domicile's attractiveness even further. The island

is currently working on new legislation that will

provide for effective supervision of all local fund

administrators. The introduction of a fund administration

law is seen as a significant development,

which will add comfort to fund managers

and investors alike.

In addition, in June 2020, Cyprus finalised a

new regime dubbed the Mini Manager, which

governs a new type of fund manager and allows

for the provision of fund management services

to funds under the AIFMD thresholds. Mini

Managers are allowed to manage AIFs whose

assets do not exceed the threshold of €100

million, with the use of leverage, or €500 million

when unleveraged with a lock up of five years.

There is widespread belief that this regime will

appeal to fund managers who need a cost-effective

vehicle that will undertake limited investment

or to those fund managers who may wish to

use it as a first step before committing to a more

complex set-up.

Discussions are also underway to tweak the island's

RAIF framework further. Currently RAIFs

cannot be used for money market or loan origination

funds. However, there are plans to open

up this structure to loan origination funds.

POSITIVE PERCEPTION

Cyprus currently enjoys a positive market perception,

which has been a key driver of new business.

The island has impressed the world with its

economic turnaround since its 2012-2013 financial

crisis. The country has significantly strengthened

its regulatory infrastructure and supervisory

capabilities, instilling investor confidence in

the process.

CySEC, the regulator, has invested significant

resources, including investment in additional

staff, to ensure the application process is as efficient

as possible. Technology and new tools are

constantly being deployed, and CySEC is currently

working on a platform to allow fund promoters

to submit applications online. The regulator

is committed to maintaining an open channel

of communication with industry professionals

and address any obstacles to the smooth operation

of the funds industry without limiting its

supervisory capability.

Cost effectiveness also plays an important role

in attracting new fund business. The set-up costs

of a Cyprus fund are significantly lower than in

the more mature fund centres and range from

€20,000 to €30,000 – approximately one third of a

similar set up in Luxembourg and Ireland.

Besides, Cyprus offers one of the most attractive

fund tax regimes in Europe – for the fund

manager, investor and the fund. While the island's

advantageous tax regime, with double tax treaties

with 65 countries, has long been an important

element in investor attraction, Cyprus also introduced

new provisions to further enhance the

already competitive tax regime for fund managers

in 2018. One of the provisions is a taxation of

carried interest or performance fee for AIF and

UCITS fund managers. This essentially means

that executives of investment fund management

companies or internally managed investment

funds may opt for a new mode of personal taxation.

Additional benefits of domiciling in Cyprus

also include the country's stable political environment

and strong legal framework based on UK

common law, which provides flexibility, transparency

and reliability in business practices.

The Cypriot

investment

fund market

is a very

dynamic

market that

has seen impressive growth

in recent years. Between end

2015 and end 2019, net assets

of Cypriot domiciled UCITS

and AIFs grew by 121%, the

strongest asset growth of all

European countries. Cyprus is

also rapidly developing into a

European cross-border fund

centre, at end 2019, almost

half of Cypriot domiciled funds

were held by foreign investors.

On average, Cypriot funds

resisted well to the sharp

market downturn in recent

months. Net fund assets

dropped by almost 8% in March

2020, during the Covid-19

related stock market drop, but

bounced back strongly in April.

Tanguy van de Werve

Director General

EFAMA

2019 was a

good year for

the markets.

The mutual

funds we

manage

have performed very well

giving substantial returns

to our investors. 2020 was a

year of positive expectations,

however, the pandemic has

changed the landscape.

Markets experienced a

dramatic downfall in March,

then we had a sustantial

recovery, but uncertainty

still prevails. We believe that

the way the world will be

affected by the coronavirus

issue will also determine the

way markets will move.

Alexios Kartalis

General Manager

GMM Global Money

Managers Ltd.

110 Country Report CYPRUS 2020
---
Competitive

Tax Regime for

Fund Managers

Subject to conditions,

the variable employment

remuneration, which is

effectively connected to the

carried interest of the fund

managing entity, may be

subject to Cyprus tax at a rate

of 8%, with a minimum tax

liability of €10,000 per annum.

The new mode of taxation

is available for a period of

10 years in total, subject to

the annual election of the

individual. Also, according to

the law, each compartment

of an AIF or UCITS should

be treated as a separate

taxpayer. This further facilitates

the effective operation of

Cyprus investment funds via

multiple compartments, in

accordance with international

fund industry norms.

I see three

areas of

opportunity

and growth

in our sector.

The increase

of fund management and fund

administration engagements,

more head offices of

international companies

being set up in Cyprus and

the provision of back and

middle office services to them,

and to already established

international entities. In a

shrinking corporate services

market the above will be

the future for our sector of

business, in the middle of

a consolidation of the local

providers of such services.

Alkis Kailos

Country Executive Cyprus

Alter Domus (Cyprus) Ltd

FROM FRONT TO BACK OFFICE

Cyprus' main draw-card is the ease of doing business

and a very large network of support companies

and service providers. The country hosts

a number of recognised fund service providers,

ranging from global names to local independent