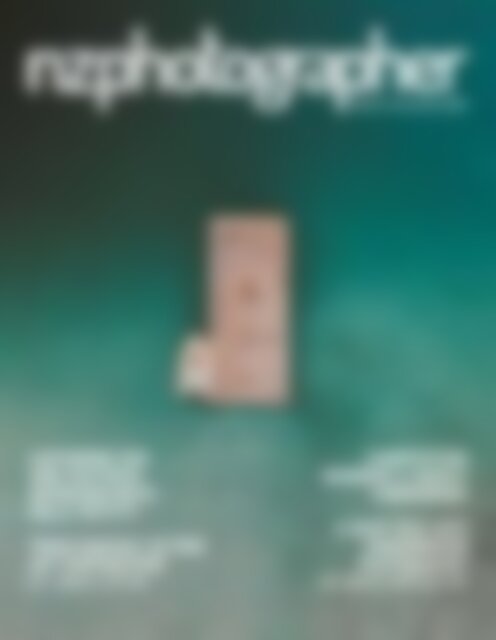 NZPhotographer Issue 37, November 2020
As of December 2022, NZPhotographer magazine is only available when you purchase an annual or monthly subscription via the NZP website. Find out more: www.nzphotographer.nz
As of December 2022, NZPhotographer magazine is only available when you purchase an annual or monthly subscription via the NZP website. Find out more: www.nzphotographer.nz
SHOW MORE
SHOW LESS
Create successful ePaper yourself
Turn your PDF publications into a flip-book with our unique Google optimized e-Paper software.
ISSUE 37, November 2020

CAPTURING FUR

AND FEATHERS

INTERVIEW WITH

KELLY PETTITT

FROM FANTASY TO FINE

ART PORTRAITURE

BY LINDA CUTCHE

COMPETITION

WINNERS & HIGHLY

COMMENDED

A DEEP DIVE INTO

UNDERWATER

PHOTOGRAPHY

BY IRENE MIDDLETON

NZPhotographer

November 2020

1
---
WELCOME TO ISSUE 37 OF

NZ PHOTOGRAPHER MAGAZINE

HELLO EVERYONE,

We're excited to announce the

winners of the NZ Photography

Competition in this bumper issue,

and also to showcase the highly

commended images. Judges had

a difficult time selecting 1 winner

for each category and then only 5

highly commended images so don't

feel bad if your image is not in the

magazine. To view all of the entries,

head to our competition album on

Facebook.

Competition aside, it's a great issue

for inspiration with Lorri Adams

inspiring us to give the zoom and blur technique a go, Linda

Cutche showing us her portraits, our interviewee Kelly Pettitt

giving us tips for bird and dog photography, and Irene Middleton

taking us underwater. In 4x4 we have a whole range of genres

too from family photography to landscapes and seascapes plus

urban photography.

In Excio Top 10 we're thrilled to be able to feature a photo of

a white tui by Vandy Pollard. Talking of Excio, whether you're

already a member or have been thinking of becoming a

member, take a read of Ana's article as there are some exciting

announcements!

Emily Goodwin

Editor NZ Photographer

NZPhotographer Issue 37

November 2020

Cover Photo

"They call this Silence,

We call this "Home"

Maria Ligaya Bumanglag

Publisher:

Foto Lifestyle Ltd

Website:

nzphotographer.nz

Graphic Design:

Maksim Topyrkin

Advertising Enquiries:

Email

hello@nzphotographer.nz

FOLLOW US

OUR CONTRIBUTORS

Brendon Gilchrist

Brendon is the man behind

ESB Photography. He is an

avid tramper who treks

from sea to mountain, and

back again, capturing the

uniqueness of New Zealand's

unforgiving landscape.

Richard Young

Richard is an award-winning

landscape and wildlife

photographer who teaches

photography workshops and

runs photography tours. He is

the founder of New Zealand

Photography Workshops.

© 2020 NZPhotographer Magazine

All rights reserved. Reproduction of any material appearing in this magazine in any form is forbidden without prior

consent of the publisher.

Disclaimer:

Opinions of contributing authors do not necessarily reflect the opinion of the magazine.

2

NZPhotographer
---
CONTENTS

5

8

15

16

22

30

48

52

60

81

83

BEHIND THE SHOT

WITH LORRI ADAMS

FROM FANTASY TO FINE ART PORTRAITURE

BY LINDA CUTCHE

INSIGHTS FROM

@EXCIO PHOTO COMMUNITY

EXCIO TOP 10

CAPTURING FUR AND FEATHERS

INTERVIEW WITH KELLY PETTITT

MINI 4 SHOT PORTFOLIO

TUMBLEDOWN BAY

BY BRENDON GILCHRIST

A DEEP DIVE INTO UNDERWATER PHOTOGRAPHY

BY IRENE MIDDLETON

NZ PHOTOGRAPHY COMPETITION

THE IMPACT OF SOCIAL MEDIA

BY RICHARD YOUNG

PORTFOLIO BEST READERS' SUBMISSIONS THIS

MONTH 'MINIMALISM'

BEHIND THE SHOT

WITH LORRI ADAMS

22

CAPTURING FUR AND FEATHERS

INTERVIEW WITH KELLY PETTITT

A DEEP DIVE INTO

UNDERWATER

PHOTOGRAPHY

BY IRENE MIDDLETON

5

52

MEMBERSHIP

FREE 12$ MONTH 120$ YEAR

• Online issue

• High res PDF download

• Access to all back issues

• Competition entry

($15 per entry)

• Readers gallery ($5 per entry)

• 4x4 gallery submission

• A chance to be featured

in interviews, cover photo,

behind the shot and articles

• Online issue

• High res PDF download

• Access to all back issues

• Competition entry

(1st entry free)

• Readers gallery (1 free entry

per month)

• 4x4 gallery submission

• A chance to be featured

in interviews, cover photo,

behind the shot and articles

• Online issue

• High res PDF download

• Access to all back issues

• Competition entry

(1st entry free)

• Readers gallery (1 free entry

per month)

• 4x4 gallery submission

• A chance to be featured

in interviews, cover photo,

behind the shot and articles

SUBSCRIBE
---
Remarkable Form,

Exceptional Function.

Meet the new standard in small format printing. With expanded gamut,

dedicated photo & matte black lines and a new 10-colour UltraChrome

ink set, the Epson SureColor P706 and P906 redefine A3/A2 image quality

in a compact, stylish form factor 30% smaller than the previous generation.

Experience exceptional. Experience Epson.

www.epson.co.nz/prographics
---
FANTASY TREE

REFLECTION

F22, 1/3s, ISO100

Behind The Shot with Lorri Adams

LORRI, TELL US WHO YOU ARE AND WHAT YOU DO!

Wellington born and bred, I was transplanted into

small town NZ, Kawerau in the Bay of Plenty. Down

from a busy, happy, noisy household of 5, it's now just

me and the cat.

Since retiring I have more time for the things I enjoy

including crocheting, sewing, walking (plenty of lovely

spots for walking here with the river only 2 minutes

from my home) but I do still miss the clients from my

last full-time job working in residential homes caring

for intellectually disabled folks – those guys were all

awesome to work with and support.

HOW AND WHEN DID YOU GET STARTED

WITH PHOTOGRAPHY AND HOW HAS THAT

DEVELOPED AS A HOBBY?

My dear mum had a Kodak Brownie 620, which

intrigued me, she first allowed me to take photos

with it, and I was so proud the day I "graduated" to

loading the film for her. I was given my first camera

for my 12 th birthday – a very happy day for me. Over

the years my interest in photography has waxed

and waned, but somewhere along the way, I began

taking a camera with me all the time. I have captured

some great candid photos of family, friends, and

workmates, some more embarrassing than others, all

because I had a camera with me.

I got my first digital camera in 2003, a little point and

shoot, and then a DSLR in 2011- I love digital for the

ability to process my own images, and have them

much sooner than in the film days.

Much the same as decades ago, I find I never go

anywhere without a camera these days, even if it is

just the one on my phone. The more things change,

the more they stay the same.

WOULD YOU SAY YOU HAVE A PHOTOGRAPHY

STYLE OR A PREFERRED GENRE?

While I do tend to take "standard" tourist photos when

I travel (although I do try to find a different angle,)

I find for my own personal satisfaction, I prefer creative

photography, where I can capture something that I know

NZPhotographer

November 2020

5
---
is completely original, and that when I share it with others

it gains attention. This "attention seeking" is the opposite

of how I am in "real life"- I am more a behind the scenes

type of person, preferring to just be "one of the crowd".

WHAT ARE YOU SHOOTING WITH?

At the moment I'm shooting with a Nikon D5000,

(still) using the kit lens I bought with my D3100 quite

a few years back. I also have a 70–300mm zoom,

and have just inherited a Canon FD35–105mm f/3.5

so I will be buying an adaptor so I can have a play

around with that too. I also have various filters, macro

extension rings, and a lensball. Oh, and a fish-tank

for water drop/splash photography – when I bought

the tank from a friend she asked me what sort of fish

I was going to get and was rather puzzled when I said

I wasn't, that it was going to be a photography prop!

TELL US ABOUT THIS PHOTO…

I had just discovered the zoom blur technique and

had a fun afternoon in mid-November playing around

with this technique. I had created a few images I was

pleased with in my front garden when I noticed the light

on the maple trees that are planted just over the fence

in the neighbouring property. It was a gorgeous scene

on a clear sunny afternoon, this shot actually taken at

3.45pm. I knew I had to capture the trees in all their glory

at this moment and had a feeling I could come up with

something with a fresh, clean, green feel to it.

The zoom blue technique is quite simple considering

the interesting results it provides – To achieve this shot

I focussed on the tree, made sure autofocus was off,

and zoomed the lens out while the shutter was open.

The trees have always provided such a glorious burst

of colour, especially when backlit by the setting sun,

from the reds and yellows of Autumn through to the

lush greens of Summer, but the light on this day was

just about perfect.

WHAT WAS HAPPENING BEHIND THE CAMERA?

I had to move my car from the carport so I could

get the image I was after and was hoping that my

(now ex) neighbour wouldn't decide to interrupt my

fun (he had ruined more than one evening attempt

of capturing moon/planet combinations and other

things of interest in the night sky!)

As I was new to this technique I realised it would be

trial and error, hopefully more trial and less error.

I have to admit to a bit of chimping as I was taking

these photos, I needed to know if I was on the right

track, that I was getting the correct amount of blur,

and that the colour feel was what I was aiming for.

In the end I was very pleasantly surprised with what

I had achieved, I knew I had a couple of images

I could definitely work with to get to the end result

I was envisaging.

TALK US THROUGH THE POST-PROCESSING…

The original photo was okay, but definitely needed a

bit of tweaking in GIMP as the carport roof showed

as a grey blur and the concrete driveway was also

quite evident but I knew I had the basis for something

quite interesting. It didn't take much in the way of

post-processing, I brightened the image slightly,

cropped to remove the shadowy carport roof, then

added a second layer, rotating that 180 degrees.

I added an alpha channel to the top layer, then

erased the lower half of that layer so I had a perfect

mirror image.

HOW HAPPY ARE YOU WITH THE FINISHED

IMAGE – ANYTHING YOU'D GO BACK AND DO

DIFFERENTLY?

I would like to try it from a different perspective,

lower down, higher up, different angle, not that

I am unhappy with this result, but I'm curious now

as to what else I could conjure up. I would also try

the reverse technique, instead of zooming (rotating)

the lens, I'd hold that steady and rotate the camera

body, I've done this with other subjects and have got

some fascinating results.

WHAT ELSE SHOULD WE KNOW ABOUT YOU?

To be honest, photography has kept me sane,

I suffer from depression, and have found that just

heading out with a friend with our cameras and

flasks of coffee plus snacks, just going where the

wind blows us, down random country roads to see

what catches our attention, these safaris have been

a godsend so many times. I always come back

refreshed and in a much calmer state of mind.

I suffered a little through the Level 4 lock-down

earlier this year, and had to content myself with solo

walks close to home, so, once back down to Level

2, a photo safari was one of the first things that was

organised.

WHAT'S NEXT FOR YOUR PHOTOGRAPHY?

My latest project is creative self portraits, trying

different techniques, although I'm yet to figure out just

how I can take a selfie using the zoom blur technique,

unless I involve mirrors.

WHERE CAN WE FIND YOU ONLINE?

http://excio.gallery/lorri

www.gurushots.com/random.diva/photos

www.viewbug.com/member/LA_Pix

6 November 2020 NZPhotographer
---
ONLINE

Portfolio & Processing

Masterclass

Online

Tuition

Ten

E-books

Video

Tutorials

Fine-Art

Prints

"You don't take a photograph, you make it"

Ansel Adams

This online—6 module course—guides you through

the process of creating a portfolio to showcase

your unique style and vision.

It opens up the world of expressive photography, using

an intent to guide the direction of your processing.

For more information click here

www.photographyworkshops.co.nz

NZPhotographer

November 2020

7
---
From Fantasy to Fine Art

Portraiture

by Linda Cutche

URBAN GODDESS

Model: Kelly O'Brien

F5, 1/500s, ISO100

8 November 2020 NZPhotographer
---
My journey into photography started when

I met my partner Peter, who always had

a camera wherever we went. He was not

only documenting our time together, but also

the surrounding landscapes of the places we

visited. Prior to that moment, I had dabbled with

taking photos of family events and holidays, but

nothing beyond the basics. My interest grew as I

was inspired by his work, so I picked up a camera

and started for the first time to take images with

purpose, mainly macros from nature.

Later, after a few years of depending on Peter's

advice on camera settings, and growing

in confidence, I decided to try my hand at

landscapes. My love of photography was ignited

but back then, I could never have dreamt that my

baby steps would one day be rewarded with some

international recognition – I have had honourable

mentions in the Black and White Spider awards,

bronze medals in the Epson Panorama Awards, and

the main ones like IGPOTY (International Garden

Photographer of the Year) where I was a finalist in

the Macro Project and commended in the Beautiful

Gardens category and part of the winners book.

Also, for the Sony World Photography Awards I

got third place in the National Award section, in

National Geographic, my landscape image was

chosen as one of five to promote their worldwide

Travel Competition and was later purchased for the

2018 National Geographic book "Spectacle" and

their 2020 calendar "Beautiful Landscapes"!

Portrait photography is a very recent addition to

my portfolio, but is something I have been drawn

to for a long time - my heart was always in it, but I

thought portrait photography was technically too

demanding and time-consuming so I put it on the

back burner until my retirement reignited the old

flame and gave me the opportunity to continue my

journey in this direction.

It has been a tough learning curve, with logistics

and planning that far surpasses landscape or

macro photography. When you think about it, a

landscape is always there, willing and waiting,

leaving only for you to rendezvous with a

favourable light. Portraiture is an entirely different

ball game, in a way like moviemaking - you come

up with a theme or idea, and translate it into a

sequence of actions, like a script which includes

everything from your model poses to choice of

location which is critical for your storytelling ability.

OLD LIGHT

Model: Scout Liu

F1.4, 1/100s, ISO360

NZPhotographer

November 2020

9
---
Early exercises of photographing family and friends

were not beneficial for my technique, I needed to

produce something that I felt was uniquely mine,

in style and substance and looking at work by the

famous portrait photographers like Annie Leibovitz

and Peter Lindbergh inspired me to explore new

avenues of visual expression.

I decided to join Facebook pages to ask if any

models would work on a TFP basis (Time for Prints,

where photographers and models agree on print as

payment for a shoot) and was lucky enough to get

a reply from Scout Liu who agreed to work with me.

My world changed, as I found someone to discuss my

ideas with and benefited from her insightful feedback.

I discussed with Scout my love of old paintings and

compositions, particularly the ones where the subject

is surrounded by colourful textures and illuminated

with a delicate light. We decided to do a modern

version of this, working on the outfit and layout to get

the desired effect. The image "Old Light" was the

brainchild of this creative collaboration.

As the story goes, a world of dreams and a practical

one are often out of step with each other, which

in my case resulted in a very clumsy start. Logistics

were a significantly bigger part of the endeavour

than I thought and I would find myself not completely

prepared for photoshoots. The leading idea was

there, but the operational difficulties made me rely on

my model to bring it to a satisfactory conclusion. After

that, I put extra focus on planning, including location,

costume, and makeup choices. With the first positive

results behind me, my pool of models got larger and

I was able to create different themes based on the

variety of their looks.

It is worth mentioning that this genre of photography

includes some costs with clothes, makeup, props and

sometimes locations themselves having to be paid for.

To remedy this I decided to use public spaces or my

home as a makeshift studio. I find that second-hand

shops are the best place for outfits, but if one is blessed

with sewing skills, they can make their own. Some

models do have a wardrobe which provides extra

options when trying to create different 'looks' too.

In my image 'Urban Goddess' I had the idea to recreate

a scene from Greek mythology within a contemporary

context. I searched for a location and found that

Massey Memorial in Wellington would be the closest to

what I wanted. With model Kelly O'Brien, I finalised the

details like makeup, hair, and outfit. The moody day

provided changeable light and a sense of drama which

perfectly complemented the scene in the image.

I often search for locations before the shoot which

involves photographing the places without the subject

just to find out how the delicate interplay between

shapes, shadows, and light looks on the screen. A good

example of this is the image 'White Fairy 101'. The outfit

was a result of a second-hand shop visit, while the

location needed to contribute lush vegetation with a

INDIGENOUS GLOW

forest-like background. I found one at Karori cemetery.

It was a kind of fantasy shot I like and the one my

model Kelly O'Brien wanted to have in her portfolio.

Finding the location is the foundation of the concept

with the rest of the creative endeavour revolving

around it. I find that this helps 'sell' the driving idea

behind the project to your model(s) helping them

understand costume and makeup choices as I

generally choose a style of makeup but rely on the

model to produce it exactly or as close as possible to

my suggestion. Knowing the theme and location also

motivates the models in that all-important acting role

in front of the lens.

I have found that this style of photography satisfies the

dreamer in me, cultivates my creativity, and inspires

me to keep advancing. In some way it brings out

the child in me, reminding me of a time when I was

young and played dress-up with my sister Christine in

our imaginary role-play! The images you've seen here

are a mature reflection of those memories, imaginary

worlds of childhood and nostalgia for the times in our

lives when you could have anything you wanted by

simply reshaping your dreams to fit your desires. Yes, it

can be challenging, but is also very rewarding when it

all comes together.

www.facebook.com/linda.cutche

F1.4, 1/100s, ISO2000

www.instagram.com/cutchelinda

Model: Kayla Tui
---
ABOVE IT ALL

MODEL KELLY O'BRIEN

F5, 1/400s, ISO100

WHITE FAIRY

MODEL: KELLY O'BRIEN

F2.8, 1/400s, ISO100

NZPhotographer

November 2020

11
---
WATER BABY

Model: Scout Liu

F2.8, 1/50s, ISO1100

12 November 2020 NZPhotographer
---
NO LOOKING BACK

Model: Melissa More

F1.4, 1/160s, ISO100

NZPhotographer

November 2020

13
---
PHOTO COMMUNITY

example

click to view

Showcase not just your services,

but your passion about

#PhotographyForGood too.

Professionally

designed web page

you can start sharing

straight away.

All your articles,

interviews and

publications in

one place.

Show your

potential clients

you have the same

values as them.

VIP MEMBERSHIP

14 November 2020 NZPhotographer
---
PHOTO COMMUNITY

Do Good. For Good. Feel Good.

TAKING THE LEAP: BUILDING

OUR EXCITING COMMUNITY

TOGETHER.

With Covid continuing to cause

chaos and uncertainty in our lives

many people experience uncertainty

due to a drop or total loss of income.

We encourage you not only to

continue to dedicate time to doing

what you love, but also to explore

new opportunities that move your

photography beyond being 'just'

a hobby. We have been busy

coming up with some exciting new

developments over the last month

after realising that the best thing

Excio can do as a community is to

join forces with you, the individual

photographer, to encourage

success. That's why we have

refocused our strategy on featuring

and promoting our members even

more – Here's what we've been

working on over the last month with

more exciting opportunities coming

soon!

1. LISTING YOUR

#PHOTOGRAPHYFORGOOD

SERVICES

Whether you are a professional or

amateur photographer, if you have

something to offer photographywise,

be that in that form of photo

sessions, workshops, prints or

products, you can now list your

services on Excio. Once you send

us your information by filling out a

form on Exciohub, we will create a

professional looking page for you

that lets people know what you have

to offer plus, links to all articles and/

or interviews you have taken part in

either on the Excio blog or here in the

NZP magazine.

2. PUBLISHING YOUR STORIES

All Excio members have the

opportunity to be featured on the

the Excio blog whether taking part

in an interview, sharing a recent

trip or project, or something else. By

showcasing not just your services

but the fact that you are passionate

about #PhotographyForGood you

increase your chances of getting

potential clients or sales from

people who want to work with a

photographer who has the same

values as them.

3. DOING #GOOD THROUGH

PHOTOGRAPHY

We celebrated Pink Shirt Day with

our members last month, our Feel

Good Photography online gallery

[https://feelgood.photography]

turning pretty pink! A huge thanks

to all members who submitted

their pink photos for display. If

you haven't heard of it, Pink Shirt

Day is all about uniting forces and

standing up against bullying in

whatever form it may take. We've

seen bullying in photography

groups and believe there should be

zero tolerance for it. Here at Excio

we are all learning, growing, and

celebrating #PhotographyForGood

achievements together.

4. EXCIO BI-MONTHLY JOURNAL

From January 2021 we will be

launching a bi-monthly journal to

help get even more wonderful

photographs and stories from Excio

members seen and heard by our

global audience.

Ana Lyubich

Co-founder of the Excio

Photo Community and

NZPhotographer Magazine,

Ana is a passionate

photographer and

photography mentor. She

loves exploring the unseen

macro world and capturing

people's genuine emotions.

Ana is always happy to help

other fellow photographers so

don't hesitate to get in touch

with her at ana@excio.io

@excionz

www.excio.io

We have redesigned our membership plans to make them more affordable - you can now join

us from only $39/year. We've also updated our website to bring more members' stories up front

for everyone to see. "We grow by lifting others" since we all learn from each other by sharing

our personal experiences, stories, and tips. We love discovering new talents and look forward to

sharing your photography journey too. Explore membership benefits here and join us to do #good.
---
PHOTO COMMUNITY

From more than 20,000 photographs published on Excio

by our members, these 10 made it to the top this month.

Top 10

16 November 2020 NZPhotographer
---
WERNER KAFFL

LONELY WAVE

Wellington south coast, one single wave

shooting out within some relatively calm waters.

http://excio.gallery/werner

JACQUI SCOTT

SUNRISE ON MT SEFTON

On a field trip with the camera club I was up early

to catch the sunrise. The sheep didn't seem to be

worried about me and decided to hang around.

https://excio.gallery/jacqui

NZPhotographer

November 2020

17
---
VANDY POLLARD

LEUCISTIC OR WHITE TUI

A rare Leucistic or White Native Tui

pondering what all the media fuss is

about as it fed on the yellow pollen

of Harakeke flowers this evening at

Mount Victoria in Wellington. Bird

Leucism is a genetic mutation that

results in a total or partial reduction

of colour in a bird's plumage. The

reduction of colour is due to an

inadequate deposition or fixation of

pigments only in the bird's feathers.

Other parts of the bird's body usually

have normal coloration but this Tui

has unusually light eyes, beak, and

legs.

http://excio.gallery/vandy

IVAN D

HONEY DROP

With a macro lens and honey you

can create beautiful macro art.

http://excio.gallery/ivan

18 November 2020 NZPhotographer
---
MELYSSA F.T.

A GUARDIAN OF THE PEOPLE

Black and White Series - Part 14.

https://excio.gallery/melyssa

CHARLOTTE E. JOHNSON

MEDUSA

Model: Elle Alexeenco

Makeup: Sinead Dudley

http://excio.gallery/cejphoto

NZPhotographer

November 2020

19
---
KIM FREE

FUR SEAL PUP

A very cute and inquisitive NZ Fur Seal pup at Kaikoura.

https://excio.gallery/kimfree

MARINA DE WIT

RED POPPY

A macro image of a Red Poppy

- I loved the dramatic feel.

http://excio.gallery/marina

20 November 2020 NZPhotographer
---
MICHAEL COOKSON

ST CLAIR

The famous poles at St Clair beach. I'm surprised these

have lasted so long taking a constant pounding from the

sea!

https://excio.gallery/michael

DHAIRYA

MACRO PHOTOGRAPHY

During the pandemic I thought about capturing

droplets so I tried macro photography with my mobile.

http://excio.gallery/dhairya

NZPhotographer

November 2020

21
---
Capturing Fur and Feathers

Interview with Kelly Pettitt

The photo of me that you see here was actually a

recent assignment from my Diploma in Professional

Photography course which required submission of a

self portrait revealing something about myself. Like

many photographers, you'll always find me behind

the camera and very rarely in front of it, so I chose to

'hide' behind a veil in a darkened room to portray my

reluctance at being in the spotlight and to show how

uncomfortable I am with being photographed, even

with just myself in the room and the camera on timer!

As for my 'day job' I have been in the same

administrative role for close to 12 years now, but that

role diversified several years ago to include graphic

design and typesetting, amongst other things, when

my employer became an author and needed

someone to design covers for her novels and prepare

them for print.

As much as my day job and general day to day

life allow, I am working towards creating my own

photography business and I hope to split my time

between dog and bird/nature photography.

KELLY, LET US KNOW ABOUT YOU AND YOUR

JOURNEY WITH PHOTOGRAPHY…

I live on the beautiful Kapiti Coast, an hour's drive

north of Wellington, with my partner and our two

greyhounds Casey and Fury. My love of photography

began in the 1980's with my first camera, a Kodak

Instamatic Pocket film camera, with which I took

many, many terrible photos. There's bound to be

several photo albums floating around somewhere to

testify to this! The purchase of a digital DSLR camera

back in 2008 reignited my interest in the creativity of

photography and the rest, as they say, is history!

I'm about to complete a Diploma in Professional

Photography through the Photography Institute which

I started just prior to the end of May this year. This has

been a great course to work through and has given

me a good solid base to start thinking about the next

stage of my photography career.

WHAT ARE YOU MOST DRAWN TOWARDS

CAPTURING?

I enjoy the challenge of photographing birds and

trying to capture something a little bit different. I also

love details. Seriously, love them. The closer I can

get to a subject to capture those details the better!

This has led to a love of macro photography, but

recently I've become obsessed with the feather detail

of birds – especially the delicate little filament neck

feathers of the tui, which many people have never

seen.

I have a busy nectar feeding station close to my

house and I've spent many hours watching the never

ending succession of tui and tauhou coming in to

feed. They both have a habit of flinging droplets of

nectar water into the air after each drink so capturing

this act has been its own unique challenge over

the past month or so and I've amassed quite a few

images of them 'blowing bubbles'.

Last, but not least, I adore photographing dogs –

whether my own or other peoples. Each dog has its

own set of quirks, so each session is never quite the

same – some only have eyes for their mum or dad,

some just want to sleep, and some will do absolutely

anything to get into my treat bag!

22 November 2020 NZPhotographer
---
DELICATE

F10, 1/250s, ISO1000

WHAT ARE YOU SHOOTING WITH?

I've been with Sony since my first and their first DSLR,

the A100. I then moved to the Sony A65. I now shoot

with the Sony A7iii which I love, paired with either the

24–70mm f2.8 GM for studio work or the 70–200mm f2.8

GM for birds and wildlife. I've recently acquired a 2x

teleconverter for the 70–200mm which has enabled

me to get even closer to capture the details that

drive me! I also own a 100mm f2.8 macro lens from my

previous kit and an A to E mount adapter, but I hope

to upgrade at some point to the native 90mm f2.8

macro.

WHAT HAS BEEN THE MOST DIFFICULT PART OF

PHOTOGRAPHY FOR YOU TO GET TO GRIPS

WITH AND HOW DID YOU DO THAT?

It took me quite some time to venture away from the

relative safety of Auto and delve into the complex

world of Manual. Once I had wrapped my head

around the theory of the exposure triangle and put

it into action, I've never looked back. I didn't always

get my settings right in the beginning though, and

even now I tend to push the boundaries from time to

time!

NZPhotographer

November 2020

23
---
Studio lighting is my latest challenge. It's a

complex beast to tame and I don't always

get that right either, but I'm learning with

each and every session and hope one day

to call myself proficient!

TELL US ABOUT YOUR STUDIO SETUP…

I have a small studio set up in a spare

room at home. I quickly outgrew the

first and smaller of our spare rooms and

made the decision that utlising the larger

room was far more advantageous for

me than leaving it for the occasional

guest! My basic set up includes a Godox

AD200 pocket flash in a 120cm octobox

as my main light and two Godox TT600s

speedlights in 80cm gridded octoboxes as

fill and rim lights.

I have a raised platform for my furry

subjects to stand on and several floor and

backdrop options. I'm constantly adding

to my studio in the way of accessories

and backdrops – of which you can never

have too many, something my partner and

I don't necessarily agree on!

TESSI

F8, 1/200s, ISO100

BARNEY

F8, 1/200s, ISO250

TELL US ABOUT THE DOG CATCHING

A TREAT PHOTO – HOW MANY

ATTEMPTS DID IT TAKE TO PERFECT

THAT SHOT?!

This is Barney, a Labrador cross who

I recently photographed. True to Labrador

form, he was a pro after only a few throws

and it took maybe half a dozen shots to

get the 'money' shot of him mid treat

catch. If it takes longer to get the perfect

shot, it often says more about my throwing

than the dog's catching ability!

ON YOUR EXCIO PROFILE YOU

HAVE A QUOTE BY RADITYA DIKA

THAT SAYS "YOU DON'T HAVE TO BE

BETTER THAN EVERYONE ELSE, YOU

JUST HAVE TO BE DIFFERENT" – WHY

DOES THIS RESONATE WITH YOU AND

HOW DO THE WORDS INFLUENCE

YOUR PHOTOGRAPHY?

I think we spend much of our lives trying to

keep up with, or get ahead of our peers,

and while we're striving to achieve this, we

lose sight of what sets us apart and makes

us unique. In the photography world what

sets us apart is our individuality, our vision

24 November 2020 NZPhotographer
---
and how we see the world around us, and I always try

to create an image that is unique to me.

So what I take from this quote is stop looking

at everything as a race and change your

perspective – you don't need to be better than the

next photographer, you just need to be different!

WHAT DID YOU GET UP TO DURING LEVEL 4

LOCKDOWN?

My day job is considered an essential service, which

meant I was required to work from home, but I did

manage to spend some quality time in my studio

when I wasn't working. It was a great chance to play

around with lighting and settings to try and achieve

different outcomes. Sadly, my dogs didn't appreciate

the practice time as much as I did, which became

obvious as time went on with their lack of enthusiasm.

There are only so many photos you can take of a

sleeping dog!

CAN YOU CHOOSE A FAVOURITE PHOTO? TELL

US ABOUT THAT…

Those who know me well will tell you I'm never 100%

happy with any of my photos because I always think

I can do better. This has the positive effect of ensuring

I work harder to achieve a better result, and the

negative effect of never having a long term favourite!

My current favourite is a studio photo I took just out of

lockdown of our elderly miniature fox terrier, Scooby.

We lost her quite recently at the grand old age of

16 years and 11 months, so it's very special to me

for sentimental reasons. As she was mostly blind and

deaf for her last few years, it was always extremely

difficult to get her to engage with the camera. I love

that I was able to capture the split second she looked

directly at me and also that it appears as though she

is sitting on a cloud – something I find now is quite apt.

My next favourite photo is one I haven't taken yet!

SCOOBY

F8, 1/200s, ISO100

NZPhotographer

November 2020

25
---
PORTRAIT OF A TAUHOU

F4, 1/1600s, ISO1000

26 November 2020 NZPhotographer
---
THE CALL OF THE KĀKĀ

F3.2, 1/250s, ISO100

KŌTARE SONG

F2.8, 1/1000s, ISO400

NZPhotographer

November 2020

27
---
WHAT TIPS CAN YOU GIVE OUR READERS FOR

TAKING PORTRAITS OF THEIR OWN PETS?

All pets are different, and some have more ability to

focus than others, so keep your sessions short and fun.

Make sure you have high value treats, or a favourite toy

just for photo time so your pet will be happy to model

for you.

Be patient! Things don't often go as planned, so

sometimes you need to just go with the flow. This can

sometimes have a much better outcome than what

you had originally planned.

Be prepared to make some weird and wonderful

noises to get your pet's attention. Calling their name

will often result in them coming to you, which is often

not what you want at all! Download an app with

animal noises if you're not comfortable making your

own sounds, you can get some great expressions with

a rooster call or a yowling cat for example. Make sure

to have any sound come from close your lens – you

want your pet looking at you, not the phone sitting on

the floor next to you. Don't use the same sounds too

often as your pet will get used to them and then ignore

them completely.

Praise your pet often. Stop every now and then, give

them a pat or a cuddle and tell them what a great job

they're doing. A happy pet is a photogenic pet!

Keep the eyes as your focal point. Unless you're trying

to achieve something else specifically, keep those eyes

as sharp as you can, this is something that can make or

break an otherwise great photo.

Lastly, just have fun! Pets will pick up on your vibe, so if

you're relaxed and enjoying yourself, so will they.

ANY TIPS FOR READERS TO CAPTURE THEIR OWN

IMAGES SHOWING BIRDS FLINGING WATER DROPS?

For those wanting to try this, a fast shutter speed of at

least 1/1000 and a tripod are a must! Photographing

the tuis in the rain has also occupied much of my time

recently and an unexpected ray of sunshine through the

clouds one wet day allowed me to capture an almost

magical moment I'm sure I'll never be able to recreate!

AS AN EXCIO MEMBER, WHAT DO YOU MOST

ENJOY OR VALUE ABOUT THE COMMUNITY?

There are so many wonderfully talented photographers

in the Excio community with such a wide range of

diversity. It's the perfect place to gain inspiration and

to lose yourself in another photographer's world, to

see through their eyes. Excio is such a positive and

supportive space for any photographer, at any level.

WHAT ELSE SHOULD WE KNOW ABOUT YOU /

YOUR PHOTOGRAPHY?

I'm always striving for that next great shot – one that

makes people go 'wow!' and perhaps shows them

something they've never seen before. I'm a firm

believer that if I ever stop learning and growing with

my photography, it's time to give it up, and I don't plan

on that happening anytime soon! Also, I'm rubbish at

naming photographs – as evidenced on Excio!

WHERE CAN WE FIND YOU ONLINE?

www.facebook.com/KellyPettittPhotography

excio.gallery/kelly

FOREVER BLOWING BUBBLES

F5.6, 1/1000s, ISO1000

28 November 2020 NZPhotographer
---
2017

2018

2019

2020

Digital Cameras

Digital Cameras

Digital Cameras

Digital Cameras

Digital Cameras

Digital Cameras

Digital Cameras

Digital Cameras

*1 When using high-speed continuous shooting (extended) with single-point AF, 12-bit lossless compressed RAW (L)

and a 128GB type-B CFexpress card. *2 HDMI external monitor/recorder required.

* In high-speed continuous shooting (extended), with 12-bit lossless compressed RAW (L) and Sony CEB-G128 CFexpress card in use.

NZPhotographer

November 2020

Learn more at store.mynikonlife.co.nz or your local Nikon NZ Authorised Retailer.

29
---
Mini 4 Shot Portfolio

Our 4x4 feature showcases 4 mini portfolio's of both

professional and up and coming New Zealand

photographers. The 4 images are linked in some way,

allowing you to get an understanding of what each

photographer is most passionate about capturing.

For a change to get your own 4x4 feature in a future

issue of the magazine, become a subscriber here.

DRAGAN KECA

On the West Coast Road

GEOFF HAGLUND

Perfect Morning

MATT JONES

City By Night

ZHANNA YASINETSKAYA

Childhood

30 November 2020 NZPhotographer
---
DRAGAN KECA

32 November 2020 NZPhotographer
---
An amateur landscape photographer from Auckland,

photography has been a part of my life for a long time. I used to

develop black and white prints in an improvised lab in the small

bathroom of my flat in Belgrade, Serbia. The development of

digital photography brought me back to photography and my

new country, New Zealand, is providing endless inspiration as I

look for ways to capture the nature and scenery.

@dragan.keca.7

ON THE WEST COAST ROAD

Images in this series were made during my recent trip to the

South Island. It was a grey and gloomy day, and I decided to

drive from Christchurch to Arthur's Pass - something that can

improve one's mood in any weather. A dusting of snow on the

mountains provided an interesting contrast and added life

into the colour scheme. Gold, brown, and grey are, for me,

the colours of the Southern Alps, an irresistible combination

that's harsh and rich at the same time.

All images were made with my Sony Alpha SLT-A99v camera

and Tamron 28-75mm F/2.8 lens, without filters, and edited in

Photoshop. The last image was only possible because of an

almost complete lack of traffic on the road that day.

NZPhotographer

November 2020

33
---
GEOFF HAGLUND

36 November 2020 NZPhotographer
---
I had been told that I have an eye for photography,

yet it was only in 2016 that I started to pay attention to

what I was doing. I was always traveling by myself and

photography was a way to share the beautiful things I saw

with family and friends. Recently I have discovered long

exposure photography which allows me to enjoy a dreamy

view of the world and living in New Zealand, I am blessed

with an abundance of photogenic opportunities.

@geoffrey_haglund_photography

PERFECT MORNING

It was 4am when I made it outside and noticed there were no stars.

I was not shooting stars, but no stars means clouds... perhaps I was

being a little adventurous for my first attempt at long exposure

photography.

Arriving at location, the clouds started to blow away so now I just

had to wait for the dawn. I started my first exposure 20 minutes

before first light, happy with how it was looking in camera. I panned

to the right and could not help myself, recomposing, another long

shot. I was keen to have a look at my shots on the computer so I

packed up, pleased with my first long exposure effort, and turned

around to go back to the car.

OMG how did I not see that! I unpacked my gear and set it up

again for the third great shot of the morning... Walking down the

wharf to the car there was another great shot waiting for me, no

long exposure this time.

The valuable lesson I learnt on this perfect morning is to take time

and look all around you, rather than "focus" solely on your original

objective.

NZPhotographer

November 2020

37
---
MATT JONES

40 November 2020 NZPhotographer
---
I am a final year high school student at Hutt Valley

High School, Lower Hutt and have been studying

photography for 3 years. I will be going onto Massey

University in Wellington next year, to study for the

Bachelor of Design with Honours, Visual Communications

Design course. I enjoy photo editing, particularly

overlays and light leaks. Outside of photography, I am a

keen football player and enjoy listening to rap music.

CITY BY NIGHT

These photographs are part of my final NCEA Level 3 Art Photography portfolio. They are

all urban images taken in Wellington city centre at night and include people, buildings,

and street scenes. I used a wide angle lens to capture as much of the city architecture as

possible.

The photographs incorporate different techniques such as motion blur, grain effects, and

vignetting. I used different overlays, light leaks, and post production filters to achieve a

rugged grungey look to the photographs.

I enjoy taking urban images at night, combining them with elements of streetwear,

and city life. I like to take photographs that include people, but that also maintain their

anonymity.

NZPhotographer

November 2020

41
---
ZHANNA YASINETSKAYA

44 November 2020 NZPhotographer
---
Like many other female photographers, I started looking into

photography after the birth of my children. In the beginning, I used

to photograph absolutely everything that surrounded me and tried

to get good at macro and long exposure shots. However, over

time I have focused on capturing children. I am not a fan of studio

portraits with a solid background, to me they feel dull and lifeless, so

kids in beautiful outdoor locations are my forte.

@zhannayasinetskaya

CHILDHOOD

My main goal when photographing kids is to show their real

emotions and innocence. Children grow very quickly, changes

happening in the way they look, their habits, and their hobbies.

Unfortunately, we cannot stop time to enjoy all the little things that

take place in all those stages. Therefore, I decided to save all those

precious and bright moments with the use of photography.

Through each photo taken I create a living album of the family

and the journey of growing up. The album is full of emotions and

memorable moments.

NZPhotographer

November 2020

45
---
Tumbledown Bay

by Brendon Gilchrist

BOAZ SEA-STACK

F9, 30s, ISO200

Banks Peninsula on a map, looks rather small but the

reality of the peninsula is that is it huge with 66 named

bays in total, many of them small and only accessible

by boat, but the ones that are easy to gain access to

each have there own unique features. Tumbledown

Bay is one of the smaller bays on the southern side of

Banks Peninsula. I had been here once before maybe 6

years ago when I was still using a very basic crop sensor

camera (Sony A57) with a simple wide angle lens. I had

a tripod back then but no filters so I'd been wanting to

return here for many years to recapture it.

Fast forward to this trip and I was more prepared –

I understand light more now, how filters work, and know

what I want to capture. That's not to say I know

everything though, something I truly love about

photography is the constant learning and understanding

of every aspect that goes into photography.

We set off late afternoon, the drive taking us 1 hour

13min. It is an easy drive but once you get to the turn

of from Little River, the road starts to become narrow

and winding as you climb up before descending

Te Oka Bay road. There wasn't a huge amount of

traffic on the road so we managed to get there in a

reasonable time, the sky was looking interesting but

the low cloud on the horizon told me that the sunset

wasn't going be great but I always have hope that

something will happen.

Before you drop into the bay there's a small car

park, we made this our first stop and walked the 50

meters or so to a cliff face that overlooks a very tiny

island called Jachin Island. It is a great subject to

photograph while watching the birds flying around

it. Stopping here was a bonus for me, especially with

filters so I could photograph this rock as well as the

surrounding views.

Next stop was the icon of Tumbledown Bay – the

weirdly shaped sea-stack that is called Boaz. The walk

here is over no formed track, more like a sheep track,

it's pretty easy when dry but I wouldn't recommend

walking it if it has been raining or is windy. The rocks

are well used by fishermen, one part has fixed ropes to

help people climb down easier as it is steep. Walking

towards the sea-stack is pretty easy too, a 15 minute

walk or so that is mostly flat with one downhill on the

way and an uphill on the way back.

Once you reach the big rock you realize how massive

it is, from a distance it seems tiny, but the reality is that

it is far from that. There are not many options to take

photographs here as there is a cliff face that leads

steeply into the ocean, you can either be level with it

or walk a little further down and be almost at its base.

48 November 2020 NZPhotographer
---
JACHIN ISLAND

F16, 30s, ISO64

I knew I wanted some long exposures shots – not

too long to completely blur the water to nothing

but enough to make it look like there was water

movement within the frame so that viewers can kind

of see movement but whilst still keeping the image

as real as possible which is my style – I try to keep

my images exactly how as I saw it and how others

will too, I don't want people to go to locations and

be disappointed that the real life scene is not the

same as the photo. Sunset was nearing by now and

although the clouds above me looked great, ready to

light up, there was too much cloud on the horizon to

allow that to happen.

We stayed until sunset just in case something

happened, but it didn't. I was still happy though, I was

able to capture something new and I could enjoy an

amazing place away from the city for a few hours.

Not capturing sunset gives me an excuse for another

trip here, maybe even a paddle around this area.

19th - 25th

November 2020

Seven day North Island Volcanic Photo Tour

Join Ken Wright and Shaun Barnett on this seven-day, round-trip

photography tour from Auckland. Take in many of the most magnificent

volcanic landscapes of New Zealand, including the World Heritage

Tongariro National Park and Mt Taranaki — arguably the country's most

shapely mountain — before looping back around to Auckland.

www.photographyworkshops.co.nz

info@photographyworkshops.co.nz

021 0845 7322NZPhotographer

November 2020

49
---
$120 / YEAR or

$12 / MONTH

SUBSCRIPTION BENEFITS:

High res PDF download

Access to all back issues

Competition entry (1st entry free)

Readers gallery (1 free entry per month)

4x4 gallery submission

A chance to be featured in interviews, cover photo,

behind the shot and articles

SUBSCRIBE NOW

50 November 2020 NZPhotographer
---
Subscribe

today

and

download all back

issues.

www.nzphotographer.nz

www.nzphotographer.nz

NZPhotographer

November 2020

51
---
A Deep Dive Into Underwater

Photography

by Irene Middleton

52 November 2020 NZPhotographer
---
SUNBEAMS

F8, 1/60s, ISO125

NZPhotographer

November 2020

53
---
An underwater photographer is a unique

combination of diver, marine biologist,

physiologist, engineer, oceanographer, lighting

technician, explorer, and artist. It is a challenging

genre of photography, but it is also, in my opinion, one

of the most rewarding to master.

10 years ago I snapped my first underwater images

with my little compact camera, they were blurry,

overexposed and out of focus but I was hooked! As

an avid scuba diver and marine scientist, underwater

photography seemed like a natural extension.

However, I didn't make things easy on myself, I

did things a bit backward by learning underwater

photography first and then applying the techniques

I mastered in the watery realm to my topside image

making. Thankfully, I was lucky to have my husband by

my side underwater, a fantastic mentor and teacher

he was instrumental in not only making me a better

scuba diver but also inspiring my photography.

Now it's my turn to pay some of my experience

forward and inspire photographers to delve into a

new realm of photography that lies at most New

Zealander's doorsteps!

When you think of underwater photography your

mind might conjuror up visions of sparkling tropical

reefs, whales in warm clear waters, or manta rays

gliding over a coral bommie. You would be right;

these are the types of images you would routinely

see on Instagram and are often an underwater

photographers dream scenario; but to be honest, the

marine environment around New Zealand is just as

exciting, more varied, and in these Covid affected

times, a more realistic place to look for underwater

photography opportunities.

As New Zealanders, we are privileged to have over

15,000km of coastline available to explore, and

over 90% of us live within 50km of this coastline.

Furthermore, our marine environment is varied

and spans from subtropical islands off northland

to sub-Antarctic bays on Stewart island, bringing

with it a huge variety of organisms and habitats to

photograph. Although there are challenges and

costs associated with diving and photographing our

local marine environment, the benefits and creative

opportunities are more than worth it.

BOTTOM OF THE

RAINBOW

F8, 1/100s, ISO125

54 November 2020 NZPhotographer
---
I am lucky enough to live in close

proximity to one of the most varied

marine reserves in our waters; the Poor

Knights Islands. Some of the most popular

macro subjects at these islands, and

around New Zealand, include brightly

coloured sea-slugs called Nudibranchs

and the delicate little fishes called Triplefins.

We also have a high diversity of

encrusting life soft corals, anemones,

and sea-squirts that rival the invertebrate

life on coral reefs. In Northern New

Zealand the fish life is incredibly diverse

with a mixture of tropical and temperate

species occupying the reefs.

The more time you spend in the water

the more likely you are to encounter

rarities and understand the behaviours

that allow you to capture exciting

images. As in the terrestrial environment,

capturing behaviour makes for dynamic

images, whether that is breeding,

predation or schooling behaviour.

Underwater photographers have been

encountering interesting and beautiful

underwater behaviours in New Zealand

for decades and in some cases, they

have even been able to pin down the

timing of these events. One example is

the anemone spawning event in the Bay

of Islands, this spectacle rivals the coral

spawning events seen overseas and the

local dive operators drop photographers

onto the dive site within minutes of the

spawning commencing. It's a stunning

sight to see despite the fact it happens

in the middle of winter.

By diving the same locations over the

last 10 years my husband and I have

also been able to anticipate where

and when we might encounter unique

species or behaviours. Nautilus shells

had been encountered sporadically

at the Poor Knights Islands but very few

people had photographed the live

animals, we spent time researching their

biology and the patterns of any known

sightings and decided that our best

chance was to head out to deep water

past the Poor Knights in the middle of

the night during a full moon. We turned

on our spotlights, dropped into the dark

waters and waited, at around 2am we

were rewarded with a swarm of over

50 Nautilus rising from the depths to just

below the surface offering a fleeting

opportunity to capture some rare

photographs.

CUP CORALS

F11 1/200s, ISO100

ANEMONE SPAWNING

F16, 1/250s, ISO100

GLASS CEILING

F6.3, 1/100s, ISO100

NZPhotographer

November 2020

55
---
MAUVE STINGER

F6.3, 1/100s, ISO100

You will also often spot us in areas other divers avoid

like the plague; often near the surface in the middle of

a raft of jellyfish or salps. These gelatinous critters get

stuck in your hair, dive gear and some pack a nasty

sting so why on earth are we here? Well, over the

years we started to notice that juvenile deepsea fishes

and squids are using these rafts of jellies for protection.

We have photographed species that were previously

only known from depths well past scuba dive limits

within a meter of the surface.

Although warm tropical seas and clear waters are lovely;

I will always prefer to dive close to home. As a marine

scientist the thing I love most is starting to know an area,

understand the ecosystem and start to recognise unique

species or behaviours. I genuinely think that the most

amazing images are captured when you are fully immersed

in your environment, and that the challenges of diving in

temperate waters pushes photographers to be creative

and truly show their appreciation for their homeland!

take a camera underwater you need to be confident

in your abilities as a diver, freediver, or swimmer.

Safety should always be your number one priority and

adding a technical task when you are unsure of your

ability to maintain your buoyancy, gauge your air

pressure, or undertake safety stops should not even be

an option. However, if you are comfortable as a free-or

scuba diver and you are looking at starting to capture

some of your underwater encounters there are several

pathways you can go down regarding gear.

THE PRACTICALITIES OF UNDERWATER

PHOTOGRAPHY

Just like any other form of specialised photography;

underwater photography requires time, experience

and monetary investment. Before even attempting to

56 November 2020 NZPhotographer
---
CASTLE ROCK

F6.3, 1/80s, ISO125

If you already own a DSLR, mirrorless, or compact

camera one of the most popular options is to buy a

waterproof case or 'housing' for your existing camera.

These housings range from simple plastic housings

rated to 10m depth to machined aluminium housings

that technical divers routinely take to over 75m depth.

New housings for DSLRs and mirrorless cameras can

cost upward of $10,000 so if you are unsure or unable

to lay out this much, a good place to look for housings

is online forums or second-hand online retailers.

Housings are camera specific so people will upgrade

often, and you can nab a bargain online if you are

willing to use a camera that might be one step down

from the top of the range. I have bought most of my

housings secondhand from overseas or from fellow NZ

photographers that were looking to upgrade.

If you are using a DSLR or mirrorless camera

underwater you will need to invest in specific 'ports'

for each of the lenses you will be using. Even many

compact cameras require additional 'wet lenses',

converters attached to the front of a housing to widen

the frame of view or focus more closely in macro

scenarios. Most DSLR or mirrorless shooters will invest

in a good macro lens and a wide angle or fisheye

lens; and there is no reason not to use lenses you

already use topside underwater. Many land-based

nature photographers will already have a macro lens

in their arsenal, and as an underwater photographer,

particularly in our often-greener temperate waters,

a shorter focal length macro lens like a 60mm is

easier to use. This lens can be used for anything from

photographing nudibranchs or tiny crustaceans to

stunning fish portraits. One other essential lens that

you might be less likely to own already is a fisheye

lens. These are the widest lenses available typically

covering 180 degrees; meaning you can easily

capture a whole reef scene, large animal or school

of fish. However, the main selling point for these

lenses is their ability to focus incredibly close to the

foreground, this allows the photographer to compose

an eye-catching shot that has depth to balance out

the incredibly wide field of view. If you are shooting

with a compact camera adding a supplementary

wide-angle waterproof 'wet lens' to the housing

can achieve similar results to a DSLR with a fisheye

lens however, you may encounter more distortion.

To keep your lenses safe underwater most housing

manufacturers make interchangeable 'ports' which

are specific to each lens, macro ports are often as

small as possible to allow you to get close to the

subject you are photographing and wide angle lenses

are housed in dome ports, half a sphere of acrylic or

glass that allows for the super wide field of view.

NZPhotographer

November 2020

57
---
As it is in all environments, light is the very essence of

underwater photography, unfortunately it is also one

of the most challenging aspects to master. Almost all

underwater images you have ever seen make use of

just two types of light, ambient light or sunlight and

artificial light from flash guns also known as strobes.

Ambient light photography is technically similar to

outdoor photography on land and because colour

is lost as you go deeper, ambient light photography

is often used to capture shallow reef scenes, schools

of fish or large megafauna near the surface. Macro

photography is the opposite end of the scale; to

achieve a suitable depth of field a narrow aperture is

required, this in turn further limits the available light. To

counteract this, underwater photographers generally

use paired strobes to illuminate the image. Strobes

are a powerful instantaneous light source; and their

impact on the image are controlled by aperture,

distance from the subject the angle of the strobes

and strobe power. Strobes bring colour back into

an image; red, pink, and orange light disappear at

depths over 3m, with blue and green light penetrating

much further. Without strobes images very quickly

become monochromatic and lose contrast and

impact. Although underwater macro photography

is reliant on artificial light; wide-angle photography

requires the photographer to balance ambient blue

hues with strobe lighting to create a dynamic high

contrast scene.

When using strobes in turbid conditions, which we

often encounter in New Zealand, the main enemies of

any underwater photographer are backscatter and

overexposure. Backscatter occurs when light from

the strobes bounces off particles in the water column

creating distracting specks of light in the image.

Although post-processing can take care of some

backscatter; moving close to your subject to minimise

the amount of water, and particles that can be lit up

by your strobes, and correct positioning of your strobes

to illuminate your subject and not the water column

are the most effective tools to minimise backscatter.

Another consideration is that you want to illuminate

your image to restore colour, but you still want to

maintain a natural look, to do this you will need to

balance ambient light with artificial strobe lighting.

The settings and techniques you use to achieve

this are context specific and down to your creative

preference so will require some pracitse – I suggest

you just get out there and play.

Researching your local area so that you can

anticipate what you might encounter and planning a

targeted dive to capture certain organisms, scenes,

or behaviours is productive particularly as you cannot

change your lenses mid dive! Of course, the marine

environment is changeable, so you will need to be

flexible underwater and use all your creativity to

capture stunning images if the organisms you were

hoping for don't turn up on the day.

Consider not only the photographic targets but also

the weather, your dive limits, and the water itself. If the

visibility looks uninspiring choose macro and get close,

you will be surprised by the fact you have not moved

from one patch of rock for a whole dive. If you are

diving an area known for currents, you might want to

do an exploratory drift dive without your camera and

take your camera with you when the tide has stopped

running. And if you are lucky enough to be diving the

stunning caves or arches of the Poor Knights, always

pack a fisheye lens but don't forget that you can get

close with this lens too!

If you're feeling inspired to capture our underwater

world, find a great buddy, a dive club, or trusted dive

operator then choose a local spot and start getting to

know it and the amazing marine creatures that call it

home!

Irene is a marine biologist who left her job in marine biosecurity to

complete a PhD investigating the effects of climate change on the

New Zealand Fish community. She was a finalist in the 2017 New

Zealand Geographic photographer of the year and won the novice

category in the international Ocean Art competition in 2015. Irene is a

freelance nature and underwater photographer and has been a regular

contributor to NZ Geographic magazine over the past 3 years along with

contributing to other international publications.

www.instagram.com/seacologynz.irene

www.seacologynz.com

58 November 2020 NZPhotographer
---
CHRISTMAS HOLIDAYS

READERS'

SUBMISSIONS

This month we want to see how

you celebrate Christmas and

summer (or winter!) holidays. All

styles and genres welcome!

Submit by 15 November for a

chance to be featured in the last

NZPhotographer issue of 2020.

Submit at www.nzphotographer.nz

NZPhotographer

November 2020

59
---
NZ Photography Competition

Creative & Fine Art Category

1ST PLACE

RYAN DE DOMINICIS

with "Lia's Bedroom"

HIGHLY COMMENDED:

Matt Davey with "Mt Cook Abstract"

Jason Retter with "Deep in Green"

Matt Davey with "Wanaka Basin"

Ann Kilpatrick with "All Mountains and Lakes"

Rach O'Carroll with "Blue Halcyon"

COMPETITION SPONSORS:

60 November 2020 NZPhotographer
---
1st Place

LIA'S BEDROOM

During lockdown, we embarked on a family project, photoshopping my

daughter's bedroom into various locations. This particular image shows a stormy

day in Fiordland. All images used were taken by myself.

Ryan De Dominicis

NZPhotographer

November 2020

61
---
MT COOK ABSTRACT

Arriving at Mt Cook I found the majority of the mountain was covered in

cloud so while waiting for the clouds to clear I experimented with some ICM

photography on the surrounding mountains.

Matt Davey

HIGHLY

COMMENDED

62 November 2020 NZPhotographer
---
DEEP IN GREEN

With ferns being a large part of New Zealand fauna, I have been itching to

capture them in all their glory. Viewing the plant in its entirety left me unsatisfied

and I started to find the most beauty in its parts. I found this, the space where

fern met fern intriguing, as if they sought companionship with kin.

Jason Retter

HIGHLY

COMMENDED

NZPhotographer

November 2020

63
---
WANAKA BASIN

Overlooking the Wanaka Basin from the Snow Farm road. I had a cloudless

evening which I find always makes for some great ICM photos.

Matt Davey

HIGHLY

COMMENDED

64 November 2020 NZPhotographer
---
ALL MOUNTAINS AND LAKES

This was taken on a walkabout around Queenstown after the recent Antarctic

blast that happened at the end of September 2020. I was experimenting with

multiple exposures, this was done in camera. There are so many mountains and

lakes in the South Island, so I thought why not put them together differently.

Ann Kilpatrick

HIGHLY

COMMENDED

NZPhotographer

November 2020

65
---
BLUE HALCYON

On a recent trip south, we stopped for the night at Twizel enroute to Aoraki Mt

Cook. We were up early to photograph the sunrise... unfortunately, it was misty

and we didn't even see it. As I looked out over Lake Pukaki with the misty blues and

the clear water over the rocks I decided I would make a fine art composite out

of what I could see. Blue Halcyon is a composite of two in-camera images, the in

focus foreground rocks and an ICM of Lake Pukaki with the misty mountains in the

background. My aim was to capture the still, peacefulness of the morning.

Rach O'Carroll

HIGHLY

COMMENDED

66 November 2020 NZPhotographer
---
NZ Photography Competition

Nature & Landscapes

Category

1ST PLACE

LEANNE SILVER

with "St Bathans Hoar Frost"

HIGHLY COMMENDED:

Sergio Acevedo with "A Remarkable Sunset"

Glen Thomson with "Gannet and Chick"

Léo Fontanel with "Jannie Seddon Shipwreck"

Mitchell Clark with "Post Australian Bush Fire

Textures on the Fox Glacier"

Léo Fontanel with "Roys Peak"

COMPETITION SPONSORS:

NZPhotographer

November 2020

67
---
1st Place

ST BATHANS HOAR FROST

In July this year many parts of Central Otago were plunged into a

visually spectacular hoar frost. This shot was taken on the shores of

St Bathans' Blue Lake (looking decidedly not blue!) in bitter sub-zero

temperatures as the fog momentarily lifted.

Leanne Silver

68 November 2020 NZPhotographer
---
A REMARKABLE SUNSET

This was my first time in the South Island and that landscape covered

with textures and golden colour really caught my attention. I was

freezing cold but knowing this could be my one-time chance to

capture it kept me outside waiting for the perfect moment.

Sergio Acevedo

HIGHLY

COMMENDED

NZPhotographer

November 2020

69
---
GANNET AND CHICK

First time out with a new 500mm prime lens, just hoping to get

some practice in before a trip to South Africa. The gannet colony

at Muriwai was teaming with chicks and I didn't have to wait long

before these two put on a show.

Glen Thomson

HIGHLY

COMMENDED

70 November 2020 NZPhotographer
---
JANNIE SEDDON SHIPWRECK

This photo of the Jannie Seddon shipwreck is a blend of two exposures

taken on a tripod in the exact same position. The first one was taken

at dusk to capture the foreground (F10, 1,3s, ISO50) and the second

one a few hours later to capture the milky way (f4, 30s, ISO 8000). I

then blended these exposures in Photoshop using luminosity masks and

adjusted the white balance to obtain a moody picture.

Scouting and planning were necessary to obtain this result: Weather,

tide, moon phase, and position of the milky way were all factors taken

into consideration.

Léo Fontanel

HIGHLY

COMMENDED

NZPhotographer

November 2020

71
---
POST AUSTRALIAN BUSH FIRE

TEXTURES ON THE FOX GLACIER

Mitchell Clark

HIGHLY

COMMENDED

72 November 2020 NZPhotographer
---
ROYS PEAK

This photo was taken at dawn on top of the iconic Roys Peak in

Wanaka. It is always very hard to make something different in a famous

location which is why I tried to play with the composition, including the

snow as a foreground element to lead the eye into the scene.

Léo Fontanel

HIGHLY

COMMENDED

NZPhotographer

November 2020

73
---
NZ Photography Competition

People & Portraits Category

1ST PLACE

Graeson Papuni-Mclellan

with "Kao wai au, Ko am I?"

HIGHLY COMMENDED:

Kirsty Wilson with "The Sullen Teenager"

Toni Webster with "Portrait of a Boy -1"

Nicky Foden with "A Winner's Smile"

Katie Fiedler with "Jump for Joy"

Tony Gorham with "The Sun Flower"

COMPETITION SPONSORS:

74 November 2020 NZPhotographer
---
1st Place

KO WAI AU, WHO AM I?

This photograph is of my beautiful cousin Tandi. I took her down to our local beach, Opape

where we have strong geological links to through our whakapapa. We had an amazing morning

shooting various different shots at this beach. As I photographed we shared korero about our

whenua and whakapapa who we are and where and whom we descend from, I explained to her

the importance of our whenua and whakapapa. I believe the korero we shared and the places

we shared them at gave her a sense of identity and belonging to our home Opotiki-mai-tawhiti,

although she did not grow up here, her mātauranga she attained during this shoot helped her get

that feeling. Therefore this image depicts that feeling of being proud of who she is a descendent

of Tutāmure, Muriwai among our other tipuna and atua, a mana wahine, and a proud indigenous

woman.

Graeson Papuni-Mclellan

NZPhotographer

November 2020

75
---
THE SULLEN TEENAGER

My teenage son hates having his photo taken so it was a privilege to capture this

in black & white which is a genre I have been working on.

Kirsty Wilson

HIGHLY

COMMENDED

76 November 2020 NZPhotographer
---
PORTRAIT OF A BOY - 1

A quick moment captured of my son as he enjoyed the

view out of a window in a lodge in Porter's Pass, South

Island.

Toni Webster-Young

HIGHLY

COMMENDED

NZPhotographer

November 2020

77
---
A WINNER'S SMILE

A friend of mine had just won her hockey game at the World Masters

Games in Auckland on 22nd April 2017.

Nicky Foden

HIGHLY

COMMENDED

78 November 2020 NZPhotographer
---
JUMP FOR JOY

A post-lockdown jump for joy!

Katie Fiedler

HIGHLY

COMMENDED

NZPhotographer

November 2020

79
---
THE SUN FLOWER

A group shoot to Franklin flower fields. Emma looked stunning in

the straw hat.

Tony Gorham

HIGHLY

COMMENDED

80 November 2020 NZPhotographer
---
The Impact of Social Media

By Richard Young

Social media has had a large (mainly negative)

impact in the individuality of photographers' work

today, especially in landscape photography. For

many, it seems the goal is not to create an image with

personal meaning, but to create an image that will

receive the highest number of "likes" on social media,

this the measure of its success.

A personal image that expresses our vision might

receive little attention on social media; it may not

deliver the instant 'wow' factor of the sweeping vista

everyone else is posting. Craving that magnificent

scene and the recognition that comes with its

capture, some photographers allow their portfolios to

become little more than a stamp collection of iconic

locations rather than a body of work encompassing

style and vision. Simply posting images to impress

others and get the most 'likes' is like trying to make

yourself happy by buying material items. For a time, it

may feel good, but it will not lead to lasting happiness.

Of course, there are many benefits to social media,

and it has certainly helped to raise the popularity

of photography as a hobby over recent years but it

should be used carefully. It is far from the best place

to view photographers' work as a collective body, nor

is it the best place to showcase your own style and

vision. For this purpose, books, exhibitions, and fine art

prints are the better mediums to pursue.

NZPhotographer

November 2020

81
---
THE IMPACT OF ICONIC LOCATIONS

When photographers visit well-known locations, their goal is

often to capture the perfect shot of an iconic view. They're

afraid to return without it. However, a true artist will be more

afraid to return without an image expressing their personal

vision, and the urge to capture popular scenes can be little

more than a distraction. This raises the question: should we

be photographing in famous locations if we really wish to

develop a unique body of work?

The popularity of landscape photography, as well as the

sharing of images on social media, affects both where

we shoot and how we capture such images. We may be

envisioning the image we want before we even arrive. For

a clear example of this, you only have to think about "That

Tree" on the shores of Lake Wanaka here in New Zealand.

The widespread nature of such images has opened up

a very real challenge for the landscape photographer. If

we choose to visit iconic locations, how can we capture

photographs that carry our own style or interpretation of

these landscapes? Simply going there and capturing a

technically-perfect image to represent it is not enough

and besides, it has already been done by so many

before us. When we make a photograph, we want it to

be about our experience, not just about the place.

This goal can be tricky in frequently-photographed

landscapes; if you're not careful, there will be little in your

image to make it stand out from all the others. I don't

mean to put you off with this reality, but rather, to ready

you for a good challenge. With enough creativity, there

will always be an opportunity for your style and vision to

shine. Where others may end up with the exact same

images as each other, strive to tell your own unique story.

EXPRESSIVE PHOTOGRAPHY - LEARN THE ART OF EXPRESSIVE PHOTOGRAPHY AS PART OF

RICHARD YOUNG'S ONLINE PORTFOLIO & PROCESSING MASTERCLASS. THIS ONLINE COURSE

GUIDES YOU THROUGH THE PROCESS OF CREATING A PHOTOGRAPHY PORTFOLIO WHICH

SHOWCASES YOUR UNIQUE STYLE AND VISION. IT IS A COMPREHENSIVE AND COHESIVE

COURSE COVERING EXPRESSIVE PHOTOGRAPHY AND ADVANCED POST-PROCESSING TO

DEVELOP YOUR SKILLS AND EXPAND YOUR CREATIVITY AND PHOTOGRAPHIC KNOWLEDGE.
---
PORTFOLIO

BEST READERS' SUBMISSIONS THIS MONTH

'MINIMALISM'

WALK WITH ME

By chance, the highway we were meant to be travelling detoured us to

Page, Arizona. Upon finding out the infamous Antelope Canyon was in

town it was decided we would stay a few days to take in all that was to

offer! I most certainly was not upset by the detour, it ended up being one

the most amazing parts of our trip.

Alexandre Bon

NZPhotographer

November 2020

83
---
BRIDGE

F25, 1/8s, ISO200, 110mm

One of my favourite photos, shot as we drove across the Rakaia I think.

Ann Kilpatrick

84 November 2020 NZPhotographer
---
FLYING AWAY

F5, 1/4000s, ISO100

I took this photo of a flying tern in the Bay of Plenty. I really like how

the bird has lined up with the blue in the sky.

Tanya Rowe

NZPhotographer

November 2020

85
---
I CAN'T, I HAVE A BOARD MEETING

F11, 1/1000s, ISO2500, 78mm

This was shot off the New Brighton Pier in Christchurch. I was there to take

some long exposure shots of the pier at sunrise. It was a beautiful late Autumn

morning and when I looked out to the water I noticed this surfer. The whole

scene was so beautifully calm, and at that moment I felt like I understood

surfing just a little bit better.

Dionne Solly

86 November 2020 NZPhotographer
---
MYSTIC MURIWAI

Muriwai Beach "painted with my camera", taken while attending a

workshop to learn about Intentional Camera Movement. I love the

results created with the long exposure and ICM, the smoothness,

mystery and opportunity for the viewer to finish the story.

Wendy Pemberton

NZPhotographer

November 2020

87
---
PINK REFLECTION

F8, 1/1200s, ISO400, 40mm

I had been playing around with different items that reflected or mirrored well

and really like the way this spoon reflected its surroundings.

Dionne Solly

88 November 2020 NZPhotographer
---
SILHOUETTE

F18, 1/500s, ISO100

I took this photo on my first overnight hike out to Cape Brett in Northland.

My friend went to sit on top of this hill to photograph the sunset and

unknowingly became the perfect subject of my photo.

Erin Cooksley

NZPhotographer

November 2020

89
---
STRENGTH AMID ADVERSITY

F5.6, 1/250s, ISO200

The sting of rain hurled into our face by hurricane-force winds. Shingles and shutters tore

away from homes, Trees bent nearly in half, the skies started to get dark and there was

poor visibility. Homes flattened, crops destroyed.

It has been just over three weeks since a category 4 storm - Cyclone Gita - ripped

through the island nation of Tonga, yet when we spotted these children spending the

afternoon trying to scoop out the water from their parent's boat, it gave us a sense of not

only resilience, but hope.

Maria Ligaya Bumanglag

90 November 2020 NZPhotographer
---
THE MAN ON THE BEACH

F6.3, 1/1000s, ISO100, 160mm

I was with a group of fellow female photographers hoping for a reasonable sunset when

I spied this man sitting alone in the middle of the beach one late afternoon. Although

there were plenty of people out walking, none were passing close to him so I grabbed

the photo opportunity.

Raewyn Smith

NZPhotographer

November 2020

91
---
EYEFUL TOWER

F25, 1/8s, ISO200, 110mm

The sculpture is an eye grabbing marvel on the landscape.

From all angles, up close or from a distance, it has a

unique attraction.

Derek Teague

92 November 2020 NZPhotographer
---
THEY CALL THIS SILENCE, WE CALL THIS "HOME"

As time lapses endlessly, We lie here, glaring at the brooding presence of the sky,

punching majesty above us. The amber lukewarm sun flashes elegantly in the pale

blue sky as clouds cascade to and fro. The swirling perfume of the time-worn forest

nearby was very sweet, The water was shimmering like sprinkled stardust. Above

us, are birds, gliding on the wind, zooming across the sky, tirelessly. It wasn't long

enough, Stillness took over, It lingered in the air, thick and heavy, like a blanket.

It was still, utterly still. It was an eerie sort of tranquility, But we like it. They call this

Silence, We call this "Home"

Maria Ligaya Bumanglag

NZPhotographer

November 2020

93
---
"THE TRUE MYSTERY OF THE

WORLD IS WHAT CAN BE SEEN,

AND NOT THE INVISIBLE."

OSCAR WILDE

94 November 2020 NZPhotographer