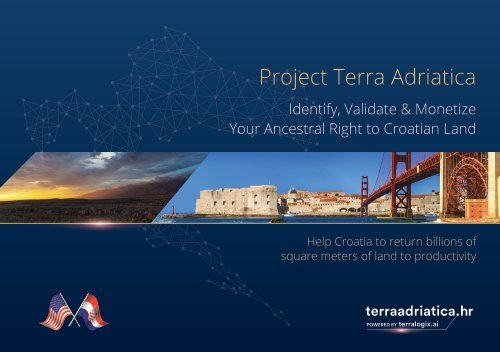 Terra Adriatica Intro to the US Diaspora
This booklet outlines the issue of vast tracts of Croatian land lying economically dormant as a result of unclear legal title - and how we can work together to solve it.
This booklet outlines the issue of vast tracts of Croatian land lying economically dormant as a result of unclear legal title - and how we can work together to solve it.
SHOW MORE
SHOW LESS
You also want an ePaper? Increase the reach of your titles
YUMPU automatically turns print PDFs into web optimized ePapers that Google loves.
Project Terra Adriatica

Identify, Validate & Monetize

Your Ancestral Right to Croatian Land

Help Croatia to return billions of

square meters of land to productivity
---
Welcome to Project Terra Adriatica!

As a team, we are passionate about achieving our mission to return produc ti vity to vast tracks of

unclaimed, ancestral land in the Republic of Croatia – land which is currently lying economically dormant

due to issues with establishing legal title.

In doing so, we will unlock tens of billions of euros in latent value for its rightful owners, and by extension

the Croatian economy which will benefit from the legitimate development and proper use of that land.

As such, our mission represents the single most effective program through which members of the

Croatian diaspora can help their motherland, while at the same time generating value for themselves.

To achieve this, we've developed a product called Locksmith. Locksmith facilitates the generation of

value from the sale of affected land at no upfront cost, or financial risk to you.

If you are of Croatian descent, you may have a valid claim without knowing it. We want to help you find

out. If you do, then congratulations! You are not only a part of the solution but also a potential candidate

for our Pilot Project to address a target 300 hectares of affected land.
---
This booklet outlines the issue at hand and how we can work together to solve it. Links to more detailed

explanations and additional resources are provided in the last chapter.

By working with us to identify, establish and monetize your rightful, ancestral claim to land, you will be

at the forefront of a movement that ultimately has the potential to transform the fortunes of Croatia

and its people.

I hope that this marks the beginning of a highly productive relationship. We look forward to working with

you to solve one of the most pressing problems that our country faces today.

Davor Lauc, PhD

Co-founder, Terra Adriatica
---
The Challenge

Successive waves of emigration, communist

rule and a history of conflict has resulted in at

least 10% of all Croatian land lying economically

dormant, due to missing, incomplete or outdated

land registry records.

This unclaimed land represents anywhere

between €5billion and €10billion in lost value for

its potential owners, such as you, as well as many

times that in lost productivity for the Croatian

economy.

An estimated 3.2m global citizens of Croatian

descent with a potential share in this claim hold

the key to resolving this issue - often without

even knowing it.

Those who are aware of a claim are rarely able

to justify the signifi cant cost and time required to

navigate the highly complex process of establishing

it in law.
---
The Solution

Terra Adriatica enables any

individual of Croatian descent to

identify, establish and ultimately

monetize their ancestral claim to

land at no upfront cost, or risk while

delivering 90% of the net proceeds

achieved at sale.

By entering into a "Locksmith"

agreement, you commit upfront

to selling the land we identify and

establish as yours. This commitment

enables us to then secure an

external investor willing to fund the

process, so you don't have to.
---
YOU

TA

INVESTOR

Following a sale, the investor

recoups their outlay, plus

a small return. The net

proceeds are then split 90%

to you and 10% to Terra

Adriatica as a commission

for facilitating the service.

The land is freed up for

legitimate development

and use to the benefit of

local communities and

the Croatian economy as

a whole.

Our mantra is that we act

at all times on behalf of

you, as the seller of land.

Our entire process ensures

full alignment between

all parties, at all times, in

achieving the highest price

for the land at sale.
---
How it works

We use specific technology to compare the family tree data you provide

with often imperfect records held in Croatia's land registries.

By connecting tens of millions of data records, we create an initial

picture as to what potential rights you may have to land. We provide

this initial assessment via a free report.

If you are happy for us to invest resources to further refine this list

and ultimately to sell any land to which we can prove you have a

valid claim, then we enter into a Locksmith Agreement.

To provide this service at zero upfront cost to you, we find investors

willing to lend the funds at their financial risk.

If and when we are successful and the land is sold, the investor

gets their money back plus interest. The rest is then split 90% to

you and 10% to Terra Adriatica.
---
Why work with Terra Adriatica?

We have developed unique technology, processes and financial

solutions to unlock significant, untapped wealth for Croatia and its

diaspora.

✓ ✓... land, potentially worth billions of euros, is waiting to be

claimed by rightful owners within the global, Croatian diaspora.

✓ ✓...after generations of frustration, there is now a sure-fire way

for members of the diaspora to achieve fair value from the sale

of family land.

✓ ✓...working with Terra Adriatica carries no financial risk, or upfront

cost.

✓ ✓... successful claimants will receive the vast majority of the proceeds

from sale.

✓ ✓… monetizing your ancestral claim to land benefits not only you

but the entire Croatian economy.
---
Join Our Community…

Your journey starts by registering an account with us

at www.terraadriatica.hr.

Once you fill out your family tree, we will provide you

with an initial report (at no cost) on the possible land

matches we find.

We then ask that you read our Locksmith Explained

document - a plain language, yet comprehensive

overview of how the Locksmith process works.

If, and only if, you feel that Locksmith

right for you, and you would like to join

our Pilot Project, we enter into an

agreement and start the process.
---
Join Our Pilot Project

We are currently assessing land for inclusion within our Pilot Project. If you do decide to

enter into a Locksmith Agreement with us, then we will examine the land we identify on

your behalf for consideration.

In the meantime, we encourage you to read through the following documents:

Locksmith Explained

This document will give you a

detailed overview of the Locksmith

process and the rationale behind it.

It has been written in clear language

in order to provide you with all the

information you will need in order

to be able to deterine whether

Locksmith is right for you.

A Sample Free Report

This sample report will show you

how, from using the informaiton

you provide in your faily tree,

we are able to provide an initial

assessment as to what land your

family may lay claim.

It is the first step in your Journey

with TA. If you enter into a Locksmith

Agreement, we will then work

to refine and assess these results.

VIEW ONLINE

VIEW ONLINE
---
If at any time, you have a question, or feel that any of our documentation

is unclear, then please contact us on hello@terraadriatica.hr

and one of our team will be happy to speak with you.