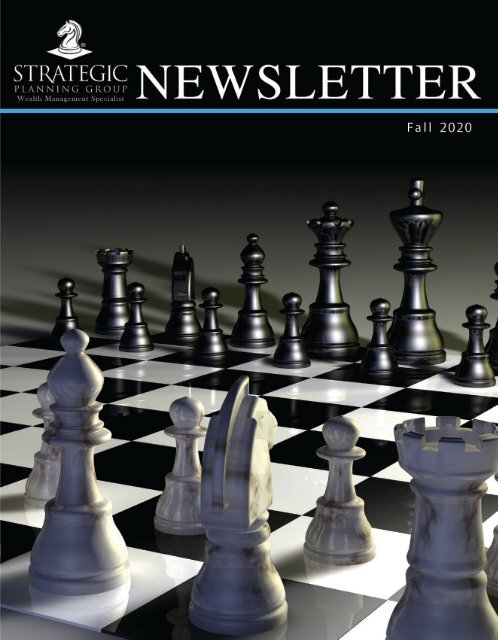 You also want an ePaper? Increase the reach of your titles
YUMPU automatically turns print PDFs into web optimized ePapers that Google loves.
Fall
---
C O N T E N T S

Ryan Craner

shares a

Special Note

to clients. pg. 4

pg. 3-4

2020, What a Year!

by Ryan Craner

Ryan shares some valuable lessons and a

message to our clients about the elections.

pg. 5-6

Investing in Today's Markets

by John Park

John gives insight to what we believe is key

to being successful investors.

pg. 7-8

Sharing is Caring

by Tom Craner

Tom relays some tips on how you can help

your friends and loved ones.

pg. 9

Facebook

Like us on Facebook to receive the most

current and up to date information.

pg. 10

Adventure Activity

Allow yourself some time to reflect with

this adventure activity.

pg. 11-13

Forbes Magazine

Strategic Planning Group was featured in

Forbes Magazine.

pg. 3

2020, What a Year!

pg. 14-15

Meet the Team

Introducing the new members of the office.

S T R A T E G I C P L A N N I N G G R O U P | 2
---
2020, What a Year!

By Ryan Craner

Taking the client advocate and consumer protection approach, Ryan has always viewed every client as

a long-term and very important relationship.

W ow, what a year it has

been! For the first five weeks

of 2020, we had impeachment

hearings on television every

day, Watergate style. Stock

markets hate things like

impeachment hearings. This

created a huge confidence

problem on Wall Street. The

very day the hearings

concluded, President Trump

shut down all flights from

China in a bold and

controversial move to protect

us from the coming

coronavirus threat.

Only a few weeks later, on

March 11th, the NBA

suspended their whole season

after learning that Rudy

Gobert and Donavan Mitchell

had tested positive for

COVID-19. This was shocking

news. We went on to see

virtually every sports

franchise and every

organization follow suit with

closures.

Soon after the declaration of

a pandemic was announced

and for the first time in world

history, we closed the entire

economy, nationwide and

worldwide. We have been

through many different

events and calamities

throughout history. We have

survived through many

different economic

conditions. If we use the

analogy of an internal

combustion engine, we have

run the economic engine dry

of oil, we have fouled the

plugs, and we have

overheated the engine. This

will be the first time we simply

turned the economic engine

completely off worldwide.

The emerging economic

uncertainty is astonishing.

Will the engine turn back on?

Will the engine run properly if

it starts back up?

STRATEGIC PLANNING GROUP 3
---
As we reacted to the COVID-19

pandemic and shut down

every single non-essential

activity and business, we

witnessed the fastest stock

market crash since 1929. We

experienced the largest and

fastest spike in unemployment

since the Great Depression. If

that were not enough anxiety,

on March 18th, 2020, Utah

experienced a 5.7 magnitude

earthquake. This rattled

nerves and created fear.

We then began to see racial

tensions, protests, and

"peaceful riots" break out in

nearly all our major cities.

Like I said at the beginning,

"What a year!"

As the stock markets hit

bottom in late March, the

losses and the speed of the

losses were astonishing. The

phones at Strategic Planning

Group began to ring off the

hook. Our clients were

worried, and many wondered

what to do next. Most of you

remember a flurry of Ryan

Reports addressing the crisis.

We continually reminded our

clients of the long-term

nature of our strategy.

Congratulations! You all

followed the advice and you

have been rewarded for that.

In February 2020, the DOW

Jones celebrated an all-time

high of just over 29,500.

Then on March 22nd, we all

watched the DOW hit bottom

at 18, 497. Wow, we all

wondered....how long will this

downturn last? How long will

it take to recover? To our

delight, it only took 5

months. By September 3rd,

2020, the DOW had risen

above 29,000 again.

I would like to use the

example of the stock market

volatility for another lesson.

The lesson is, do not react to

down markets. This is a

long-term strategy. Maintain

reason and logic through

these volatile periods.

Special Note to Clients

One other word of caution to

our clients: Please use the

above lesson and advice on

the political environment that

we find ourselves in. We are

in an election year. As you

know, you should never

change your long-term

investment strategy based on

short-term events like

elections. It is easy to get

concerned as to how the

economy and your

investments would perform if

your preferred candidate does

not win. This is all or

nothing, "Catastrophic

Thinking," and it is inaccurate.

Your preferred candidates

have lost in the past and

through it all, your

investment strategy has held

u p .

You should never

change your

long-term investment

strategy based on

short-term events

like elections.

The Lesson is:

Do not react to down markets.

This is a long-term strategy.

Maintain reason and logic through

these volatile periods.

In conclusion, we are eagerly

waiting for 2020 to be over and

2021 to begin. We are

optimistic, confident, and

grateful for what we have been

able to accomplish through

these troubled times.

STRATEGIC PLANNING GROUP 4
---
Investing in Today's Markets

By John Park

From investments to complicated retirement strategies, John works to educate and advice his

clients on making smart financial decisions.

T.

his year has been eventful

to say the least. We are still

dealing with economic

repercussions from the

quarantine. I hesitate to even

mention the political turmoil.

Part of me cannot wait to say

"bye" to 2020. Yet, this year

has been great in a lot of

ways. Despite going through

the worst market crash of the

last 12 years, we have once

again experienced new market

highs.

only matter if it is listened to.

Part of the reason we have

seen a strong performance

this year is our weighting in

the equity category to the

growth side of the spectrum.

As a quick refresher, stocks,

ETFs, and mutual funds are

often categorized as being

value or growth. Value

equities are those which trade

at relatively low prices when

compared to their

fundamentals such as

dividends, earnings, and sales.

They are usually undervalued

and hence are a good value or

discounted buy opportunity.

Growth equities tend to be

more innovative and

expansion-oriented

companies. They reinvest

profits in order to accelerate

expansion. They will also

have a key competitive edge

It is vindicating for

investors to exercise

patience and have it

quickly pay off.

such as patents, a unique

product line, or better access

to technologies.

Every stock market sector can

have growth or value-oriented

companies; however, in recent

times we tend to see a lot of

companies in the technology,

healthcare, and

communications sectors

categorized as growth stocks.

In August of 2019, we greatly

favored the growth side over

value and adjusted our models

accordingly. Not only were

those sectors resilient during

the quarantine and recession,

they actually benefited from

it. As we have seen such a

strong performance on the

growth side, it is now

tempting to switch gears and

overweight values.

We must be careful in chasing

sector and category

weightings. We do not want to

be guilty of overactive and

It is vindicating for investors

to exercise patience and have

it quickly pay off. I want to

congratulate you on the grit

and determination this year

has required. It has been a

perfect example of what

makes someone a wise

investor. Many of our clients

have been gracious to credit

us with their success this

year; however, it is important

to realize your part in it as

well. Good advice and

investment management will

STRATEGIC PLANNING GROUP 5
---
eactionary trading. While

there may or may not be an

outperformance on the value

side, it is important to

remember why we are

allocated a certain way to

begin with.

We are purposefully favoring

technology because of

previous and anticipated all

time low unemployment

rates. During low

unemployment, expanding

companies face an issue of a

tapped work force. An

increased utilization of

software and hardware

technology is often the

answer. Here we see the

awesome capitalism concept

where demand meets

innovation/solution.

As our country's largest single

population expansion (our

baby boomers) retires and

lives longer in retirement, we

see a positive increase in the

need for healthcare. We live

in an amazing time with

medicine and healthcare

advancing more than ever.

Once again, demand is met

with innovation.

The communications sector is

no exception. There are

exciting new advances in

high speed internet and

cellular data. More devices

than ever are connected to

the internet. Refrigerators

can give you weather updates

for crying out loud! Yet

again, demand has been met

with innovation. What a

beautiful thing!

It is important to

remember why we

are allocated a

certain way to begin

with.

While we will always watch

market and economic trends,

we will also strive to exercise

caution when managing

investments. Our goal is to

manage your accounts

successfully through time.

We do not want to "cash out"

while the going is good. We

also do not want to

continuously trade in and out

of various sectors. It is

important not to get caught

up in short-term trends and

activities.

Rather than worry about

shorter term trends and

market/sector timing, it is

imperative to watch for longer

term trends. We believe this

is key to being successful

investors through time.

STRATEGIC PLANNING GROUP 6
---
Sharing is Caring

By Tom Craner

With client relations and customer service experience going back nearly a decade, Tom has a proven

track record of genuine care for his clients.

S o far, 2020 has been the

most eventful year in my

recent memory. So much has

happened this year that many

of you may not remember that

we began this year with a

presidential impeachment and

subsequent aquittal. We have

seen riots burning down our

major cities for a plurality of

months. It has been a year

full of protests and

counter-protests, murder

hornets, and a 30% top to

bottom crash in the US stock

market. In Utah, we have had

the worst earthquake and

windstorm most of us have

seen in our lives. All of this

happened during an election

year and underpinned with

the COVID-19 pandemic which

has been wrought with fear,

uncertainty, misinformation,

and has caused the most

widespread global economic

shutdowns mankind has ever

witnessed.

I have heard from clients on

all these issues and more. I

have heard panic, fear,

anxiety, and the desire to

withdraw all investments until

we have more solid economic

footing. I understand exactly

why one might feel that

taking drastic action is

necessary considering the

disasters of 2020. However,

despite the various causes for

concern, we were able to keep

our wits about us and

properly advise our clients

that pulling out of the market

based on short-term media

stories, political winds, or

catastrophes could be

detrimental to your

retirement.

Most of you have probably

heard our firm's messaging

around COVID-19, especially

during February, March, and

April. You likely noticed that

our take on COVID-19

changed as the facts and

information did, but one

thing never changed - our

advice that staying put, and

not selling your investments

at the bottom of a

particularly scary period of

time, was and still is the best

way of handling these types

of events.

Since the early part of the

year, the 30% market rout has

but fully recovered, which

created unique opportunities

for investing. We cannot solve

all of the world's problems and

we, like all of you, are not sure

how everything will unfold.

Yet, in the face of uncertainty,

we hold fast to our investment

principles of liquid and

flexible investments,

diversification, and reacting

logically rather than

emotionally to market

downturns.

We hold

fast to...

reacting

logically

rather than

emotionally

to market

downturns.

STRATEGIC PLANNING GROUP 7
---
In times like these, it is

crucial to have good

investment advice. Volatility

in the market presents great

opportunities for investments

through quality management.

We would like to invite all of

you to refer your friends,

family, and co-workers. If you

have anyone in your social

circle that has struggled

through this time or has not

received the kind of

performance that you have,

then be sure to get them the

same great advice that you

receive.

If you would like to refer

someone, we have some tips

on the best way to go about

it. It is natural for people to

intend on calling when you

refer them, but

procrastination and hesitation

take over and people,

especially during times like

these, will put off calling and

scheduling themselves a

meeting until the "perfect"

time, which almost never

comes. In the meantime, they

are missing opportunities, or

even worse, unknowingly

making big mistakes.

Tip Number 1

The first tip is to ask and find

out when they can make two

hours available to spend in

Bountiful, or to speak with us

over the phone. At that

point, simply call and make

the appointment for them.

Get their permission to

provide us with their phone

number and email address.

This way we will call to

confirm the appointment and

send them the preliminary

information for their first

meeting. Then, if they need

to reschedule for any reason,

they will already be in contact

with us and we can ensure

that they get in to see us.

Tip Number 2

The second tip is to get their

permission for us to reach out

to them. Once you call or

email us with their details and

their phone number, we will

then quickly call your referral

and get them on the schedule.

Tip Number 3

The final tip is to schedule a

meeting for yourself and

bring them with you,

provided you are both

comfortable discussing your

finances in front of each

other. It is human nature to

delay and procrastinate on

meetings like this. Your

encouragement and

facilitation can accelerate the

process and enable them to

get our help sooner.

Your referral of your friends or

family is the greatest

compliment we can receive.

Being our client, you know how

effective and helpful our

advice and service is. Rest

assured that we will take great

care of those you refer to us,

and keep in mind that we have

the utmost standards in

confidentiality and

professionalism. I want to

thank each one of you for

being a client here and we

would love the opportunity to

help those you care for as well.

STRATEGIC PLANNING GROUP 8
---
Like us on

Facebook

Scan to connect

and discover more

facebook.com/StrategicPlanningUT/

S T R A T E G I C P L A N N I N G G R O U P | 9
---
Utilizing the images below.........

-Can you name all the places in each image?

- List the locations you have visited.

-Write down the locations you would like to

visit in your bucket list, then add additional

places not shown below to your list.

S T R A T E G I C P L A N N I N G G R O U P | 10
---
We are very honored to have

appeared in

Forbes magazine.

The article will also be available on our blog:

www.spgutah.com/blog

S T R A T E G I C P L A N N I N G G R O U P | 11
---
SALT LAKE CITY FINANCIAL

Special Advertising Section

Strategic Planning Group

Bountiful Utah Firm —

Pioneers of Wealth

Management Process

Ryan Craner got his start working in his father's insurance agency.

In 1985 His father, James L. Craner, taught him well and mentored him

on the importance of ethics and honesty. He was taught how to connect with clients

and demonstrate that the client always comes first.

At that time, the whole financial planning industry was going through many changes,

and even though his father taught him well, Craner realized that there was a disconnect

in being paid by commissions instead of directly by the client. He went to his father and

various supervisors at insurance and investment companies and told them that he wanted

to start his own firm and become a fee-only

advisor. Doing this would help remove any

For the forward-thinking

advisors of Strategic

Planning Group, what is

financial security without a

vision for savoring it fully?

conflicts of interest and ensure the clients best

interests were first and foremost.

These supervisors literally laughed at the

concept of starting an independent investment

firm and changing from a commission model

to a fee-only model. They asked, "How will

you ever survive and compete against

big institutions like us?" Craner's answer

came in the form of spending the next

10 years (aside from barely sur viving

with very low revenue at first) building

a wealth advisement firm that aligned

with his principles—something he could

be proud of and that would make a powerful

difference in his clients' lives.

Today, Strategic Planning Group is a

proudly independent, hometown wealth

management firm with a global reach,

managing nearly $250 million in assets

for about 450 client households. The company

boasts a transformative approach—

the creation of a two-part Strategic Plan

for each client family, a comprehensive

blueprint charting the best possible course

to financial security.

The firm offers a wide variety of

wealth management services, including

investment strategies, retirement

planning, tax reduction, family legacy

planning, estate tax elimination,

consumer education and consumer

protection, mentoring children and

grandchildren, family mediation, and

estate liquidation.

Getting Started

Whether working with young

wealth-builders who are just starting

(Left to right): John Park, Ryan Craner, Tom Craner, and Alex Craner
---
Forbes - June 2019

out or folks nearing retirement who are

unsure about next steps, Craner and his

team take their time to learn first-time

clients' hopes and dreams—and what's

keeping them up at night. "Our goal

from the very beginning is to create

a long-term client-advisor relationship

with a hands-on, personalized focus,"

says Craner. "We employ a fiduciary,

fee-based model rather than relying on

sales commissions. Most importantly,

we manage clients' assets in-house;

there is no middleman."

A comprehensive financial path is

crafted to dovetail with clients' needs.

When warranted, the firm coordinates

directly with the client's tax accountant

and estate planner. But even then, the

work is still only half done.

Second Steps, Second

Opinions

"Some people call it retirement; we call

it the Perfect Calendar," says Craner.

"Visualizing life after a career can be

stressful, particularly for people who've

loved their working lives. It's important to

clearly define this new life stage, and our

Perfect Calendar document does just that."

When couples neglect to set an intention

for life in retirement, he adds, they

can unwittingly become free daycares

Strategic Planning

Group has a long

history of hands-on,

proprietary

investment portfolio

management. The

heavily focused,

fiduciary, fee-only,

registered advisory

firm uses rigorously

tested and proven

methodology

combined with stateof-the

art institutional

resources to achieve

clients' long-term

financial goals. All

wealth management

is handled in-house.

There are no third

parties and no

middlemen.

for their grandchildren or fall into activities

and routines that simply don't fulfill

them. Craner works carefully with clients

to craft a clear, detailed, written version of

their unique Perfect Calendar.

Strategic Planning Group also has a

long history of advising clients on consumer

protection and awareness. "Fraud

and scams are at an all-time high in

Utah and nationwide," says Wealth

Management Advisor John Park, who

joined the company in 2015, drawn to

the firm's commitment to consumer education

and advocacy. "It's our responsibility

to help clients be diligent and discerning.

To that end, we offer a no-questions-asked

S.O.S. Second Opinion

Service where clients can get an analysis

of any kind of proposal or sales pitch they

may have received outside our firm."

A Cautionary Tale

Ron and Alice (not their real names) had

been Strategic Planning Group clients for

many years and had large, pre-tax/taxable

balances in IRAs and 401(k)s. One day,

Alice called the office almost in tears.

"She was so anxious," recalls Craner. "A

trusted family friend had introduced them

to a so-called 'tax and retirement expert'

who had nearly convinced them to liquidate

all their taxable assets—totaling well

over a million dollars—then pay tax on

the entire balance and put the net proceeds

into a large, expensive, illiquid, and heavily

commissioned life insurance policy with

one insurance company. This had red flags

all over it. But at first, I just listened."

The woman said they'd been promised

a substantial tax-free income from

the policy. What they'd actually be getting,

Craner explained to her, would be

a much larger tax bill, a 10-year delay in

retirement income, and a low rate of return

that would expose them to inflation risks.

"I invited the couple into the office, conducted

a comparative mathematical analysis,

and went over the plan with them

point by point. There was so much they

didn't realize," he says.

Craner helped his clients understand

that the questionable contract would

deliver a large portion of their life savings

to just one insurance company, in one

contract, with no diversification, no liquidity,

but with an extremely high cost. Their

portfolio with Strategic Planning Group

was a better, safer way forward: diversified,

liquid, and low cost. Ron and Alice

declined the salesman's offer, grateful for

their advisor's time and care.

Despite his long-ago supervisor's naysaying,

Craner stuck with his principles

and made them work. The result? An ethically

solid company based on hometown

values but with access to worldwide markets

as well as hundreds of satisfied clients,

many of whom he regards as friends.

"Some of my newest clients are the children—and

even grandchildren—of my

original clients. It's a great feeling being

part of a legacy."

190 South Main Street

Bountiful, UT 84010

801-627-2200

spgutah.com
---
MEET THE TEAM

The people of Strategic Planning Group work closely as a team to foster an unambiguous and

clear path forward. Our team is integral to ensuring that our principles towards investment

planning and management of your estate are effectively implemented. You can trust that the

combined decades of experience shared by our advisors will always be utilized by our staff to

ensure success in your Strategic Plan.

R Y A N C R A N E R

President & CEO

Ryan founded Strategic Planning Group to help consumers

avoid piecemeal planning and simply buying products and

instead create an all-inclusive written Strategic Plan. A

Strategic Plan is to your financial life what a blueprint is to

building a home. This custom approach, which began as a

simple idea, has grown Strategic Planning Group into a

trusted and established firm.

JOHN PARK

Wealth Management Advisor

TOM CRANER

Wealth Management Advisor

S T R A T E G I C P L A N N I N G G R O U P | 14
---
JACKIE O'SHEA

Client Services

JENA OLNEY

Client Services

ALEX CRANER

Client Services

HEATHER CUNNINGHAM

Client Services

KELSEY PARK

Client Services

KELSIE HANKS

Client Services

ANGELEAH JENSEN

Client Services

RILEY MCGOVERN

Financial Analyst

"Great things in

business are never

done by one person.

They're done by a

team of people."

Steve Jobs

S T R A T E G I C P L A N N I N G G R O U P | 15
---
190 South Main Street

Bountiful, UT 84010

(801)627-2200

Advisory services are offered through Strategic Planning Group, a Registered Investment Advisor with the SEC. Securities offered through Purshe Kaplan Sterling Investments, Member FINRA/SIPC.

Tax and legal work is arranged through attorneys and qualified tax advisors.