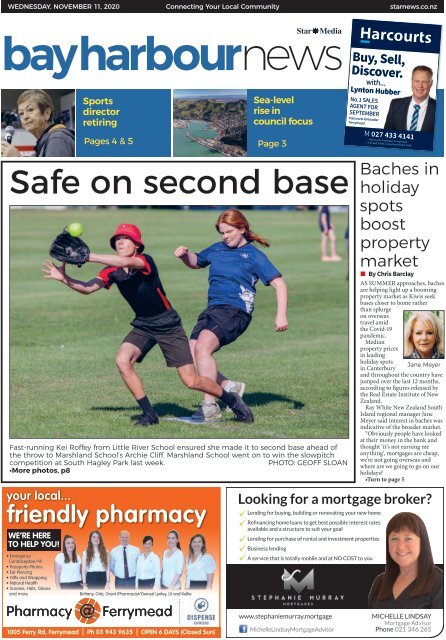 Bay Harbour: November 11, 2020
Create successful ePaper yourself
Turn your PDF publications into a flip-book with our unique Google optimized e-Paper software.
WEDNESDAY, NOVEMBER 11, 2020

Connecting Your Local Community

starnews.co.nz

Sports

director

retiring

Sea-level

rise in

council focus

Buy, Sell,

Discover.

with...

Lynton Hubber

No.1 SALES

AGENT FOR

SEPTEMBER

Harcourts Grenadier

Ferrymead

Fo

Pages 4 & 5

Page 3

M 027 433 4141

Harcourts Grenadier Ferrymead -

Licensed Sales Consultant REAA 2008

Safe on second base

Fast-running Kei Roffey from Little River School ensured she made it to second base ahead of

the throw to Marshland School's Archie Cliff. Marshland School went on to win the slowpitch

competition at South Hagley Park last week.

PHOTO: GEOFF SLOAN

•More photos, p8

Baches in

holiday

spots

boost

property

market

• By Chris Barclay

AS SUMMER approaches, baches

are helping light up a booming

property market as Kiwis seek

bases closer to home rather

than splurge

on overseas

travel amid

the Covid-19

pandemic.

Median

property prices

in leading

holiday spots

in Canterbury

Jane Meyer

and throughout the country have

jumped over the last 12 months,

according to figures released by

the Real Estate Institute of New

Zealand.

Ray White New Zealand South

Island regional manager Jane

Meyer said interest in baches was

indicative of the broader market.

"Obviously people have looked

at their money in the bank and

thought 'it's not earning me

anything', mortgages are cheap,

we're not going overseas and

where are we going to go on our

holidays?

•Turn to page 5

your local...

friendly pharmacy

WE'RE HERE

TO HELP YOU!

• Emergency

Contraceptive Pill

• Passports Photos

• Ear Piercing

• Gifts and Wrapping

• Natural Health

• Scarves, Hats, Gloves

and more

Brittany, Orla, Grant (Pharmacist/Owner) Lynley, Lil and Kellie

Looking for a mortgage broker?

lending for buying, building or renovating your new home

Refinancing home loans to get best possible interest rates

available and a structure to suit your goal

Lending for purchase of rental and investment properties

Business lending

A service that is totally mobile and at NO COST to you

1005 Ferry Rd, Ferrymead | Ph 03 943 9635 | OPEN 6 DAYS (Closed Sun)

www.stephaniemurray.mortgage

MichelleLindsayMortgageAdvisor

Michelle lindsay

Mortgage advisor

Phone 021 346 265
---
PAGE 2 BAY HARBOUR

Latest Canterbury news at starnews.co.nz

Wednesday November 11 2020

what's on

this week

GENERAL INQUIRIES Ph 379 7100

CLASSIFIED ADVERTISING Ph 379 1100

Star Media, a division of Allied Press Ltd

PO Box 1467, Christchurch

starmedia.kiwi

NEWS

Bea Gooding

Ph: 021 911 576

bea.gooding@starmedia.kiwi

ADVERTISING

Jo-Anne Fuller

Ph: 364 7425

jo.fuller@starmedia.kiwi

Rob Davison

Ph: 021 225 8584

rob.davison@starmedia.kiwi

The best-read local newspaper,

delivered to 10,514 homes every week.

Brookhaven • Heathcote • Ferrymead

Redcliffs • Mt Pleasant • Sumner • Lyttelton

Diamond Harbour • Governors Bay • Akaroa

Sifting the Ashes: The great

fire of Lyttelton, October 24,

1870

Wednesday, Thursday and

Saturday, 10am-6pm weekdays

and 10am-1pm Saturday

Lyttelton Library

It is 150 years since the disastrous

fire that destroyed the commercial

centre of Lyttelton. At the time it was

the worst urban fire in New Zealand's

history. Go along to Lyttelton Library

to find out more about this historic

event.

Mt Pleasant Bridge Club

Wednesday, 7pm and Friday, 1pm

Mt Pleasant Yacht Clubrooms, Scott

Park, 21 Main Rd

All visitors are welcome. Please be

seated 15min prior to the start of the

session. If you do not have a partner

please phone Raylene on 384 9677.

Create 'n' Connect

Thursday, 10am-noon

St Andrew's Church, 148 Main Rd,

Redcliffs

Enjoy company, creativity and

inspiration as you work on your creative

project. Bring $3. To learn more,

phone Beth on 022 678 1252.

Sumner Silver Band

Thursday, 7-9pm

Redcliffs Bowling Club, James St

If you are interested in joining (instruments

supplied) or just listening

to a traditional brass band, then go

along to the rehearsals. Phone Peter

Croft on 384 9534 to confirm your

place.

Knit 'n' Yarn, Lyttelton Library. Wednesday, 10am to noon. Go along with

your knitting, crochet or anything you like that's portable and crafty and

enjoy time with other crafters. Share skills and be inspired in a friendly,

relaxed environment. ​

Rotary Market

Sunday, 8.30am-12.30pm

Woolston Club, 43 Hargood St

A variety of stalls will be available,

including fresh produce, jams and

preserves, and recycled clothing,

books and tools. Every Sunday, with

all proceeds supporting the local

community. For site inquiries, phone

Vance at 022 382 0086.

Use It Or Lose It

Monday, 11am and 1.30pm,

Wednesdays, 9am and Friday,

11am

Redcliffs Bowling Club, 9 James St

People over 65 can get back to exercising

and enjoying the camaraderie

while maintaining a safe distance.

Classes focus on the key factors that

allow this age group to maintain their

independence, strength and mobility.

hone Kris on 021 262 8886.

Mt Pleasant Tennis Club

Tuesday, 9.30am, Saturday, 1.30pm

11 Quarry Rd, Mount Pleasant

Seniors play casually on Tuesday

mornings and in organised games on

Saturdays. Juniors have Hot Shots on

Saturday mornings, as well as other

afternoons during term time. For

more information, visit: mtpleasanttennis.org.nz

Tai Chi: Meditation in Motion

Tuesday, 7-8.30pm

St Anne's School hall, 739 Ferry Rd

Tai Chi is a low impact mind and

body exercise known for its many

physical and mental health benefits.

First class is free. Phone Frances on

027 698 0057 for more information.

Show Weekend Art Exhibition

November 13 and 14, 10am-

4.30pm, November 16, 1pm-4pm

St Andrews Church hall, 85 Marine

Drive

The Diamond Harbour Art Group

are presenting their annual painting

exhibition during Show Weekend.

Watercolour, acrylic, pastel and oil

paintings will be on display.

Gardening

injuries?

Get them sorted before

spring fully kicks in and

the garden gets away.

NO Referral necessary,

call us to get back on track.

1063 Ferry Rd. Ferrymead

www.physioevolved.co.nz

P. 03 384 4766

UNDER NEW MANAGEMENT

WOOLSTON

Bumper to Bumper repairs

þ ALL MECHANICAL REPAIRS

Servicing. lubes, cambelts, tyres, exhausts,

suspension, batteries, water pumps, etc.

þ VTNZ WOF ON SITE

þ VTNZ CERTIFIED REPAIRER

þ COURTESY CAR AVAILABLE

BE IN TO

WIN

YOUR

SERVICE

Book in your vehicle for

a service and go into our

monthly draw to *WIN back

the cost of your service.

*Conditions apply

WOOLSTON AUTO SURGERY

693 FERRY RD | PH 03 384 9092

HOLISTIC

HEALTH

EXPO

NEXT WEEKEND

ADDINGTON RACEWAY

SAT 21st & SUN 22nd

NOVEMBER 1Oam-6pm

Over 100 exhibitors & 60 FREE Workshops

ADULTS $10 CHILDREN FREE

www.bodymindspirit.co.nz
---
Wednesday November 11 2020

Latest Canterbury news at starnews.co.nz

BAY HARBOUR

PAGE 3

Sea-level rise in council focus

Mitigating risk

could start in

Lyttelton and

Mt Herbert areas

David Griffiths

THE LYTTELTON, Mt Herbet

area could be prioritised for

work aimed at mitigating the

impacts of sea-level rise on

communities.

The city council wants to

begin adaptation planning work

with communities likely to be

impacted in the future by rising

sea levels.

City councillors will decide

tomorrow

whether

to endorse

the Coastal

Hazards

Adaptation

Planning

programme.

Endorsement

of the

programme

would see

adaptation planning start with

some communities in the Lyttelton,

Mt Herbert area. These

communities have been identified

as a priority for a variety

of reasons that includes their

exposure to coastal hazards.

"While sea level rise will happen

over a longer period of time,

we do need to start planning now

for how we respond to it, and to

the associated coastal hazards

like flooding, erosion and rising

groundwater," said city council

head of planning and strategic

transport David Griffiths.

Within the next 30 years, the

Ministry for the Environment

predicts that sea levels will rise

by around 370mm and by just

over 1m by 2100. For a low-lying,

coastal city like Christchurch,

this means around 25,000 properties

will be exposed to coastal

flooding and around 1000 properties

will be at risk of coastal

erosion over the next 100 years.

"We're proposing to follow

the Ministry for the Environment's

guidance which sets out

a 10-step process for how we can

adapt to the actual and expected

changes from climate change,"

Griffiths said.

"It's a process that puts community

engagement at the centre

of decision-making. It also gives

PRIORITY:

The city

council

wants

to begin

adaptation

planning

work with

communities

likely to be

impacted in

the future

by rising sea

levels. ​

us a way to progress things and

make decisions, even when there

is uncertainty about the rate and

effects of climate change."

In May 2020 a Coastal Hazards

Working Group with representatives

from the city council,

Environment Canterbury and

Ngāi Tahu was established to

provide direction and feedback

on the programme.

City council staff have been

working closely with the working

group to get the programme

to this point.

Work to improve

Dyers Pass Rd

safety to start soon

WORK TO improve the safety of

Dyers Pass Rd will begin shortly.

The city council has awarded

Higgins Construction a contract

to widen the winding road in

places and to install 3km of

guardrail.

"There are guardrails along

about a quarter of the length

of the road at moment but the

road is fairly narrow and cars

and cyclists are competing for

road spaces," said city council

transport planning and delivery

manager Lynette Ellis.

"The road has a high crash rate

and the steep terrain means that

when crashes do happen, they

often result in severe injuries.

"This safety upgrade will result

in a slightly wider road crosssection

and new guardrails will

be installed in high-risk locations,

which should reduce the severity

of crashes. By the end of the

project there will be guardrails

along almost 70 per cent of the

route."

The safety improvements are

budgeted to cost about $7.2 million.

The New Zealand Transport

Agency is meeting three-quarters

of the cost as it has included the

project in its safer networks programme.

The work is expected to be

finished in June next year.

Classic camping!

'Old school' family campground. Children's playground, beautiful river, tame

eels, giant podocarp bush walks, legendary slippery slide and giant swing.

Banks Peninsula's only dog friendly campground !

Unique retro cabins, lush riverside sites for camper vans,

caravans and tents. Hot showers, communal kitchen.

Drum and Dance Festival Nov 20-22

www.littlerivercampground.com Call Marcus 325 1014

FREE

PRESCRIPTIONS *

No $5 prescription charge

*Other charges relating to partially funded or

unfunded medicine prescriptions may apply.

Care &

Compassion

We pride ourselves on the

very highest level of service

If you are thinking about the future,

we can help you explore pre-payment

and pre-planning options. Contact us

for a Free Information Pack.

We offer funeral information talks to groups.

Please call us for a speaker to come to you.

Mark Glanville

Manager &

Funeral Director

(03) 379 0196 | www.simplicity.co.nz

Mike Chandler

Funeral Director

Nick Allwright

Funeral Director

Proud members

of FDANZ.

EASTGATE PHARMACY

Phone (03) 963 7910

Eastgate Shopping Centre
---
PAGE 4 Wednesday November 11 2020

BAY HARBOUR

Latest Canterbury news at starnews.co.nz

Primary sports director retiring after

Dedicated Primary

Sports Canterbury

sports director Lyn

Miles is poised to blow

the final whistle on her

association with the

role she has occupied

since 1997

• By Chris Barclay

THE FINISH line is in sight for

Lyn Miles, her race is run once

she watches hundreds of kids

circle the athletics track at Nga

Puna Wai one last time.

Miles, the sports director for

Primary Sports Canterbury,

signs off at the organisation's

athletics championships on December

2, the event marking the

end of a serious leisure pursuit

that started in 1997.

Back then Miles, a former

teacher at Selwyn House School

and development officer for Netball

New Zealand, had six sports

to organise events for – now the

calendar covers 32 disciplines

from your stock-standard rugby

and football to boccia and hiphop

dancing.

Though netball and athletics

are the 72-year-old's forte, Miles

has had to absorb the rules of

FINAL WHISTLE: Primary Sports Canterbury sports director Lyn Miles will be retiring from

the role she took on since 1997.

PHOTO: GEOFF SLOAN

every sport she coordinates competitions

for with korfball and

ultimate frisbee the latest.

"I check every year to see if

there's any (rule) changes or they

may come about because we've

been to an event and we see

More Homes Wanted for

Strong Buyer Demand!

Summer is the time of plans and projects!

If your plans include buying or selling a

home/investment then I am ready to help.

URGENTLY WANTED

"As Is Where Is" Properties: any area considered

Mt Pleasant/Redcliffs – 3 or 4 bed executive

home with sea views

Licensed Sales Consultant REAA 2008

GRENADIER

Chris Moores

Harcourts Grenadier Ferrymead, 1020 Ferry Road

P: 03 384 7950 | M: 027 588 4440

E: chris.moores@harcourts.co.nz

something's not working quite as

it should be or could be," she said.

Take slow pitch softball and

touch rugby.

Miles noticed some sly softball

teams were deliberately pitching

out of an opponent's reach to

limit the amount of runs they'd

concede in a 15min inning,

knowing the scores were tallied

at the end of the game.

"We changed the rule so the

batting team also supplied the

pitcher so the kids can actually

NOW OPEN

get through as fast as they can to

get some runs."

In touch rugby, girls were

awarded two points for a try, double

the lads, so they weren't left out.

"We give the girls two points

otherwise the boys just hog the

ball. Now they're more keen on

giving the girls the chance to

score a try.

"Little things like that might

make a difference when it comes

to primary school kids wanting

to play sport."

While taking part is obviously

key, Miles is old-school in

a way when asked if winning is

important.

"My views on that are probably

not what they should be. I believe

children do need competition.

They actually like to win," she

said, adding: "I think it should be

a mixture of winning and trying.

"We do cross-country and it's

just amazing how many parents

take children all around the

country to compete at primary

school level. A few may keep

doing it at high school but a lot

of them won't because they're

pushed so much by their parents.

I don't believe in that."

Miles has naturally witnessed

the excesses of overzealous parents

and realises abuse is part of

the game, though behaviour has

improved.

Play Bowls @ the Friendly Redcliffs Mt Pleasant Bowling Club

FUNCTION CENTRE

FOR HIRE

Weddings, funerals, anniversaries or a conference...

Our modern facility is available for most occasions. Businesses and family groups have enjoyed

booking for a game of bowls where tuition can be supplied, followed by a meal or use of the bar

facilities. Caterers can be recommended or you can provide your own food. Full commercial kitchen

available. Full members are able to use the facilities for their own function at no cost for the room hire.

BOOK YOUR STAFF

OR GROUP XMAS

FUNCTION TODAY

Redcliffs Mount Pleasant Bowling Club Try something different... play bowls

9 James Street, Redcliffs Ph 384-3733 | redcliffsbowls@xtra.co.nz | www.redcliffsbowls.co.nz
---
Wednesday November 11 2020

Latest Canterbury news at starnews.co.nz

BAY HARBOUR

PAGE 5

two decades of service

LEGACY: The annual primary schools cross-country event,

one of many organised by Miles over the years.

"We haven't had a lot of

problems (recently) because the

schools are quite good at dealing

with it now. If it really gets bad

I go to the sports coordinator

and then maybe the principal.

A few years ago we had a school

that banned parents from going

to any of the events. The school

stepped up for us."

Occasionally the participants

also need a word in their ear,

with Miles happy to lay down the

law.

"If the children are at fault,

we'll stop a game and tell them

we won't continue unless they

change. We haven't had a lot of

that lately, hopefully that's because

the schools are educating

the children before they get to

events."

Miles, who became a member

of the New Zealand Order of

Merit in 2010 for services to

netball, nominated the increased

interest in duathlon as a highlight

of her tenure.

"I also enjoy orienteering

because kids that are not excellent

at sport but just want to do

something . . . it gives them the

chance. So does bowls."

Given she has seen thousands

of kids go through their paces,

there were bound to be a couple

who matured into household

names, Miles remembered a

couple of recognisable internationals.

"I went to Chisnallwood Intermediate

and Ryan Crotty accepted

one of the rugby plaques.

I remember (former Silver Fern)

Anna Stanley (nee Rowberry)

playing netball."

Templeton-based Miles is

succeeded this week by Michael

Wilson from the Selwyn Sports

Trust, though she will stay on to

ease his transition.

She will continue to umpire

in the Selwyn Netball Centre

competition and groom her successors

in that role as well. Over

summer she plans to officiate

athletics.

Those gigs maintain a life-long

love of sport, but she will still

miss her full-time job.

"I'll miss the smiles on the

kids' faces, the interaction with

everybody. It's so good to go to a

venue like Hagley Park and think

'well I made this possible'," she

said.

"What I won't miss is looking

at the weather every day, and

having to decide whether we

have things on or not."

Akaroa/Wainui popular

•From page 1

"That's just building the whole

momentum in the market. It's

been driven from the first home

buyers right through, this is the

market we've found ourselves in.

Covid has kind of created a miniboom,"

she said.

While Akaroa and Wainui were

popular spots in Canterbury, there

was even more demand elsewhere

on the Mainland.

It's absolutely boom time down

there in Wanaka and Arrowtown,"

Meyer said.

"Te Anau … Golden Bay, people

are just snapping up anything that

comes on the market.

Meyer expected transactions to

spike again in the new year after

bach owners had enjoyed one last

summer in their home away from

home.

"Maybe the family didn't come

this year, or the kids are all gone.

Maybe it's too small because

they've got eight grandchildren,"

she said.

"We tend to see more come on

(the market) post-Christmas once

decisions are made."

Leading median price

changes for

popular holiday

home locations:

• Arrowtown: Median

price Sept 2019

$1,005,000; median price

Sept 2020 $1,250,000

+24.4 per cent

• Akaroa: $520,000;

$637,000 +22.50 per cent

• Waikuku Beach

$357,000; $430,000 +20.40

per cent

• Hahei: $876,000;

$1,035,000 +18.20 per cent

• Russell: $685,000;

$785,000 +14.60 per cent

• Wanaka: $1,015,000;

$1,150,000 +13.30 per cent

• Whitianga: $622,000;

$665,000 +6.90 per cent

• Coromandel: $529,000;

$565,000 +6.80 per cent

• Selwyn district:

$553,000; $561,000 +1.40

per cent

• Kaiteriteri: $825,000;

$820,000 -0.60 per cent

• Paihia: $550,000;

$511,000 -7.10 per cent

INCREASE: This 50-yearold

one bedroom bach in

Akaroa is valued between

$600,000-$650,000. It last

fetched $500,000 in 2007.

Luke

Ara graduate

Trades courses start in February.

If you'd like to earn good money and potentially be your

own boss, Ara has trades courses to make it a reality.

Options include construction, furniture and joinery,

electrical, plumbing, painting and decorating, automotive

and engineering trades, and many are FEES-FREE.

You'll learn from inspirational mentors in real-life

learning environments and you'll graduate work-ready.

POWER VINYASA YOGA

Many people find Apollo's Power Vinyasa practice to be effective in

relieving and preventing back pain and tension-related types of pain

yoga pose of the month

Thunderbolt

Thunderbolt pose builds strength in your legs, core and back.

It aligns your spine and shoulders and is a great pose for

many different sports people. Rugby players, golfers, cyclists,

skiers and rock climbers, to name just a few, will benefit from

this pose. It helps to restore good postural alignment to your

body and infuse you with a sense of personal power.

• Stand with your feet together on your mat.

• Bend your knees, keeping your heels at the

floor.

• Hug your lower belly in towards your spine

and lift your torso and arms up towards the

sky.

• Move your weight mainly into your heels. You

may be able to lift your toes off the mat.

• You may find it helps to squeeze your knees

and thighs together for support. If you are

able, separate your knees a centimeter or

two.

• Draw your tailbone down towards the floor

and keep your abdominal muscles engaged.

• Reach your arms up alongside your ears with

your palms turned towards one another.

• Draw your shoulders back and expand your chest.

• Knit your front ribs

in towards the

centreline of your

body.

• Draw your shoulder

blades down your back

and inwards towards your

spine. This involves strong

engagement of the spinal

erectors – muscles in

your back that keep you

upright.

• If it does not bother your neck, lift your gaze

up towards your hands.

• Hold this pose for five deep breaths before

gently bowing forward from the hips. Allow

your arms to hang towards the floor.

In Thunderbolt, be struck by the vital energy of the pose, by the strength in your body

and the resolve and commitment in your heart.

EXPLORE THE OPTIONS NOW AT ara.ac.nz

Apollo Power Yoga and Massage

Ferrymead studio - 23 Humphreys Drive

Central City Studio - 46 Salisbury Street

Phone 021 055 1884 or 027 227 2026

For more info visit www.apollopoweryoga.com
---
PAGE 6 Wednesday November 11 2020

BAY HARBOUR

Latest Canterbury news at starnews.co.nz

EXPRESS

You're smart, hard working and reliable and you know that how

you turn up each day says a lot about you. Whatever your business,

Express yourself with the all new Mitsubishi Express Van.

The new Express is packed with features, including: fold-down work

station, rear view camera, bulkhead, Bluetooth connectivity, auto

rain sensing wipers and dusk sensing headlamps. Access to the 5.2m 3

cargo space is made easy with dual sliding side doors, as well as easy

loading rear barn doors.

Call 03 379 0588, visit christchurchmitsubishi.co.nz or

come in and Express yourself from just

$34,990 +GST

+ORC *

Christchurch Mitsubishi

386 Moorhouse Avenue, Christchurch

Ph: 03 379 0588

christchurchmitsubishi.co.nz

* Price listed is for Express 1.6L Manual and excludes GST and on road costs of up to $800 which

includes registration, WoF, 1,000km road user charges and a full tank of fuel. Metallic Silver, Metallic

Black and Red Solid paint colours are available for an additional $500. Model shown in White Solid

paint. Visit www.mmnz.co.nz for full Express Warranty conditions. Optional Accessories Shown.

DRIVE A NEW

NISSAN FROM

$99PER WEEK*

48 MONTH | 10% DEPOSIT | 60,000KM | NFV

RESIDUAL PAYMENTS VARY BETWEEN MODELS

QASHQAI

NISSAN 150,000 KM'S

FACTORY

5YR

WARRANTY

CHRISTCHURCH NISSAN, 321 Moorhouse Avenue, Christchurch

Ph: 03 595 6820

www.christchurchnissan.co.nz

WITH NISSAN

FUTURE

VALUE

Finance ooer available to approved applicants of Nissan Financial Services. Ooer based on selected new Nissan models at a vehicle price of $35,990 plus on road costs of $1,240 for Navara RX-R, $34,890 plus on

road costs of $990 for Qashqai ST, $32,490 plus on road costs of $990 for Juke ST, $36,790 plus on road costs of $990 for X-Trail ST. Financed over maximum 48 months with monthly repayments for Navara RX-R

of $417.95, $3,599 deposit and a nal balloon payment of $19,000, Qashqai ST of $436.18, $3,489 deposit and a nal balloon payment of $16,624, Juke ST of $435.53, $3,249 deposit and a nal balloon payment of $14,133,

X-Trail ST of $434.63, $3,679 deposit and a nal balloon payment of $18,701. Final balloon payment is based on the guaranteed future value of each vehicle (subject to adjustments) (NFV). Total amount payable over

the term $38,643.59 for Navara RX-R, $37,124.33 for Qashqai ST, $34,602.80 for Juke ST, $39,128.49 for X-Trail ST. Fixed Interest Rate 3.9% p.a. 15,000 per year kilometer allowance. This ooer includes an establishment

fee of $375 and PPSR fee of $8.05 and $10 per month account keeping fee. If you choose to return your vehicle at the end of the term Nissan will pay you the NFV (subject to meeting vehicle condition and servicing

requirements and agreed km allowance and less remediation costs) which will be applied to your nal balloon payment. Terms and conditions apply. Excludes all lease and some eet purchasers. Ooer available

on eligible vehicles ordered and delivered by 31 December 2020 or while stock lasts. Nissan reserves the right to vary, extend or withdraw this ooer. Not available in conjunction with any other ooer.

christchurchnissan.co.nz

nissan.co.nz
---
Wednesday November 11 2020

Latest Canterbury news at starnews.co.nz

BAY HARBOUR

PAGE 7

Matchmaking in property and romance

• By Chris Barclay

YVETTE WRIGHT is single,

and looking – looking out

for Christchurch's hopeless

romantics.

The Lyttelton-based real

estate agent has diversified into

matchmaking, with a dinner

party-based club for the wary

and lovelorn scheduled to hold

its first get-together later this

month.

The 52-year-old would have

launched Connect2Twelve

earlier had Covid-19 not crashed

the party though the pandemic

might actually pay off in the long

run.

"I think it's made people look

at their lives a little bit as well

and maybe be a bit more proactive

in relationships and social

networking," Wright said.

She went to 'Table for Eight'

events during a 22-year stint in

Sydney, the catalyst for establishing

her own alternative to online

dating.

"I love dinner parties and

meeting people that way," she

said.

"I've tried online dating, it can

be soul-destroying. I know some

people do have success, I'm not

knocking it, I just didn't like it."

Of course she has her own

online horror stories, the sort of

staple dinner conversations she

hopes to avoid around her tables

in future.

"It's the usual story, they don't

look anything like their picture.

One gentleman was nearly 20

years older when he finally

sent me a current photo. I felt

so humiliated and betrayed,

I had invested my emotions

into this communication and

right from the start it was a lie,"

Wright said, before relaying a

girlfriend's brief, though galling,

encounter.

"He sat down and asked her:

'Are we going to be having sex

tonight?' and when she said: 'No'

he just got up and walked out.

He only sat down with her for

five minutes."

Wright, who returned home

MATCHMAKER:

Real estate

agent Yvette

Wright was

never sold on

online dating

so she has

established her

own dinner

party-style

business for

Christchurch

singles.

PHOTO: GEOFF

SLOAN

to Christchurch three years ago,

acknowledged online dating

was an obstacle, yet the likes of

Tinder might also work in her

favour.

"There's a lot of fake profiles

with girlfriends, husbands and

wives trying to catch each other

out," she said.

There are also safety issues

associated with meeting at

random.

"At least with a matchmaking

type of service you're eyeballing

somebody. You can see their face

and their emotions, you can read

people."

Wright vets all her prospective

clients before they are cleared to

pay the $375 annual membership

fee.

"I have a really good instinct

with people and if I want to do a

bit of a (police) check, my clients

know about that up front," she

said.

Wright revealed she had rejected

two women already. One

was recently divorced and probably

not ready, the other seemed

too competitive.

"The (divorcee) needed to take

some time out and I thought

the other one would take over

conversations. There was a bit of

a jealous streak there."

Meanwhile, Wright insisted

female clients had nothing to

fear from her as a potential love

rival in spite of her privileged

position.

"I don't want to be competing

with them and it'd be easy for

me to do that considering I'm

meeting the men first," she said.

"It's unfair to the women if

I'm putting myself out there.

I'll probably end up meeting

someone who runs a restaurant."

Christchurch

Hospital's

Emergency

Department

is on the move.

From 7.30am on

Wednesday 18 November,

if you need emergency

hospital care, you'll need

to come to the new

Emergency Department

in Waipapa – Christchurch

Hospital, Hagley.

Entry to the Emergency Department drop off

area is off Riccarton Ave.

Turn left in front of Christchurch Women's

Hospital for drop off and accessible parking

in front of the new building.

Please keep the

Emergency Department

for emergencies.
---
PAGE 8 BAY HARBOUR

Latest Canterbury news at starnews.co.nz

Wednesday November 11 2020

SCHOOLS

Slowpitch players from Little River School showed some nifty

skills with the bat and ball at the annual primary schools

summer sports tournament last week. Amid sweltering

conditions at South Hagley Park and other venues around

Christchurch, 484 children from 18 schools competed in cricket,

softball, kiwi tag, tennis, golf, bowls and orienteering.

PHOTOS: GEOFF SLOAN

Pams Fresh Carrots 1.5kg

or Parsnips 500g Prepacks

Product of New Zealand

$

2 99 pk

Pams Fresh

Telegraph Cucumber

Product of New Zealand

$

2 29 ea

Above – Izzy

Hoult is all

concentration as

she watches the

ball onto the bat.

Pams Fresh NZ

Chicken Kebabs 8 Pack

$

8 49 pk

Pams Butter 500g

$

5 79 ea

Right – Harry

Johnstone

delivers a slow

ball.

Pams Potato

Chips 150g

(excludes Kettles)

ANY

2 FOR

$

2 99

Pams Frozen Pizza

410-455g

$

4 99 ea

Below – The Little

River School team

plan strategy

between games.

GRAB A FREE

AIR FRESHENER

WHEN YOU BUY ANY

2 V 500ML CANS *

SEE IN STORE FOR MORE INFO

www.foursquare.co.nz

facebook.com/FourSquareNZ

STAFFORD STREET

Specials available South Island only from Monday 2nd November until Sunday 15th

November 2020 or while stocks last. Wine and beer available at stores with an off

licence. Wine and beer purchases restricted to persons aged 18 years old and over.
---
Wednesday November 11 2020

Latest Canterbury news at starnews.co.nz

BAY HARBOUR

PAGE 9

GardeninG

We have it all

FloraViva

Flowering

Annuals

The most popular

varieties of flowering

annuals for your

garden. 100mm pot

343385

Althernanthera

Choco Chilli

1.5 litre pot.

308442

Sanvitalia

Tequila

1.5 litre pot.

308443

Calibrachoa Can-can

Bumble Bee Blue

Add a splash of colour to your garden.

1.5 litre pot.

369581

Super Six

Swan Plant Pack

Plant now to feed Monarch butterflies.

Great for kids.

319799

$2.49 each

5 for $ 10

Growing Grocer

Capsicum or

Cucumber Plants

Large, premium plants

for an early harvest.

170mm pot.

295326

$9 98 $10 89

Incredible Edibles

Red Currant Plants

A compact bush ideal for small gardens, borders and hedging.

3 litre pot.

151624

Incredible Edibles

Raspberry Dwarf

Mini Me

Thornless. Ideal for

containers. 1.9 litre pot.

329671

$13 98

Citrus Lemon Meyer

Plants mature into a small

growing tree producing juicy

fruit. 4.7 litre pot.

227517

$16 29 $19 97 $24 67 $24 98

Tui

Lawn Fertiliser

Encourages lawn establishment

and root growth.

131798

Kiwicare

Weed Weapon

Results within 1-3 hours. Remains

inactive in soil.

309402

Hozelock

Hose Reel Cart

with Hose

Wall mountable.

Includes 25m durable

hose, connectors,

nozzle and wall fittings.

343347

Stanley

Polypour Wheelbarrow

Heavy duty galvanised steel

tube frame. Ready to assemble.

341290

was $21.98

$17 98

was $36.99

$25

was $99

$69

now now now

was $159

$79

now

Keter

Easy Grow Planter

H: 757mm,

W: 1140mm,

D: 494mm.

120 litre.

Plants not included.

295740

Aquatak

140 Electric

Waterblaster Kit

Telescopic handle. Integrated

hose reel with 8m hose.

347487

Black+Decker

7 Volt Cordless Shear

& Shrubber

Easy switch between trimming

and lawn edging blades.

131738

Jobmate

25cc Petrol Hedge

Trimmer

Rotating handle. Anti-vibration

system. Blade length 550mm.

249094

was $199

$179

was $499

$74

now

now

$399

was $89.99

99

was $199

now

now

$179

Stop for a coffee at our:

Join mitre 10 club today!

For garden and diy ideas, advice & savings.

Free Parking

Plenty of Seating

Fresh New Summer Menu

Great Coffee

Food Made Onsite

Garden and diy ideas & advice

exclusive club deals

Just use your Airpoints TM card or your

registered phone number at checkout

earn airpoints dollars tm when

you use an airpoints tm card

Handy tips & guides

How to videos

mitre10.co.nz/club

Mitre 10 MEGA Ferrymead

1005 Ferry Road. Christchurch

Phone: 366 6306

Find us at: /MEGAFerrymead

Opening Hours:

Monday–Friday:

7am–7pm

Saturday. Sunday & Public Holidays:

8am–6pm

www.mitre10.co.nz/local/MegaFerrymead

Ferrymead
---
$15,999

h tp: /kaywa.me/8aVdQ

download the Kaywa QR Code Reader (A p Store &Android market) and scan your code!

my Kaywa QR-Code

w.valuecarswarehouse.co.nz

2016 NIssAN LeAf 24s

$17,990 FACELIFT MODEL

LEd headlights, heated seats &

steering wheel, Bluetooth/USB

Ce l 021 8 5 84

See inside for this week's

Cnr Main South Rd and Epsom Rd, Christchurch

Ph: 03 348 4129 | avoncityford.com

h tp: /kaywa.me/8aVdQ

download the Kaywa Qr Code reader (a p Store &android Market) and scan your code!

151, 0kms, black leather interior, very

economical, reliable vehicle, in exce lent

condition. Exce lent buying at only

$11,999

INCLudINg ORC

My Kaywa Qr-Code

w.valuecarswarehouse.co.nz

Ce l 021 8 5 84

FROM

ONLY:

www.drivesouth.co.nz

h tp: /kaywa.me/8aVDQ

Download the Kaywa QR Code Reader (A p Store &Android Market) and scan your code!

My Kaywa QR-Code

w.valuecarswarehouse.co.nz

0800 400 040

• www.kickthetyres.co.nz

PAGE 10 BAY HARBOUR

Latest Canterbury news at starnews.co.nz

Wednesday November 11 2020

Tasty Bites

Start the day a healthy way with muesli

MAKING YOUR own muesli is

by no means a cheap alternative

to the store-bought ones but it is

an easy way to get a delicious and

healthy cereal jam-packed with all

your favourite fruits and nuts.

You can use any combination

of ingredients that you like and

recipes can should be treated as a

guide.

Check out the self-serve bins for

fruit and nut ideas.

There is not a lot of honey in

these recipes as the fruit provides

most of the sweetness but you can

add more if you like.

Don't omit the pinch of salt; it

makes a world of difference to the

finished product.

And finally, watch it carefully as

it cooks. It should be just starting

to colour up and become aromatic.

If you cook it too much, it will

become hard and crunchy.

Muesli

Ingredients

1/3 cup oil

2 tblsp honey

2 cups organic rolled oats

1 cup wheat flakes

¾ cup all bran or bran flakes

1/3 cup sunflower seeds

1/3 cup pumpkin seeds

pinch of salt

½ cup dried apricots

½ cup dried papaya

Sick of late night tenant phone calls and being on call 24/7?

Tenants not paying their rent on time?

½ cup dried mango

½ cup dried pineapple

½ cup Brazil nuts

a few figs or dates

Pre-heat your oven to

150 deg C.

Roughly chop the dried fruit

and nuts and set aside. In a large

bowl combine the oats, wheat

flakes, all bran or bran flakes,

sunflower and pumpkin seeds

and the pinch of salt.

Soften the honey and mix with

the oil. Stir into the dry ingredients

until thoroughly coated.

Cover a baking tray with baking

paper and spread the mixture

Can't find a tenant for your vacant property?

evenly over it. Place in the centre

of the oven and bake for six

or seven minutes. Remove from

the oven and give it a good stir

around. Return to the oven and

bake for a further five or six minutes.

Remove from the oven and

stir in the fruit. Place back in

the oven for another minute or

two. Take it out of the oven and

leave until completely cold before

storing in an airtight container.

(Makes about nine cups).

Bircher muesli

Named after Swiss nutritionist

Dr Bircher-Brenner, this raw

muesli is left to soak overnight

in fruit juice to create a scrumptious,

creamy concoction which is

enhanced by the addition of fresh

fruit and yogurt just before it is

eaten. It is a delicious way to start

the day.

The following recipe will make

enough for about six servings,

once you have added all the fresh

fruit and yogurt.

You can use a flavoured yoghurt

but the tang of a plain unsweetened

yoghurt compliments the

sweet fruit and creamy oats

nicely. Replace the orange juice

with milk if you prefer a creamier

muesli.

Ingredients

1 cup rolled oats

½ cup desiccated coconut

1/3 cup dates

1/3 cup dried apricots

1 dsp honey

1¼ cup fresh orange juice

To serve

2 bananas

1 apples

1 orange

plain yoghurt

Wash and roughly chop the dates

and apricots and mix with the

oats and coconut. Add the honey

and orange juice and stir well to

combine. Cover tightly and place

in the refrigerator overnight.

In the morning, grate the

apple, skin and all, and mash the

bananas. Stir into the oat mixture

along with a few tablespoons of

yoghurt. You can also add fresh

fruit such as an orange and milk

if you wish.

If you just want to make one

serving at a time, you can mix

together the oats, coconut, dates

and apricots and store them in an

airtight container.

That way you have the start

of a delicious breakfast that

just needs orange juice and a little

honey for the overnight soak and

the fruit in the

morning . . . yum.

PICK IT UP...

DRIVE AWAY

Katrina Green

Operations Manager

027 606 0030

Ray Hastie

Property Manager

027 448 8225

Incorporating

ISSUE 651 | FrIday 31 JUly 2020

free

best motorbuys

www.drivesouth.co.nz

Incorporating

ISSUE 652 | FrIday 7 aUgUSt 2020

1996 toyota Landcruiser

Prado $8,990

7 seater, 3.0 litre diesel,

very rare find!

free

best motorbuys

261 stanmore road, Christchurch For more, see their advert on page 25

audio, 21,000km with Japanese

service history. Includes New

NZ charging cable & OrC.

4WD feature!

Let us take the stress out of owning a rental property.

Contact us for a free no obligation chat today.

Morris & Co Property Management - Professional Property Management Services with a Personal Approach.

The biggest range of vehicles in one location

2015 mazda demio

See page 4

for more info!

32 Moorhouse Ave | P: (03) 366 7768 | www.valuecarswarehouse.co.nz

GET THAT

PEACE OF MIND

VEHICLE INSPECTIONS

$149

FROM

ONLY:

PH 03 web

40 Years Finance

Experience

Cannot be Beaten!

• Talk to us about finance for your next

motor vehicle purchase

Specialising in Finance for Private Purchases

Very quick approvals, sensational interest rates

• From no deposit (terms & conditions may a ply)

Dyna spares

C h r i stC h u rCh

331 blenheim road, Christchurch For more, see their advert on page 25

Now Available @ NZ Van Spares

The biggest range of vehicles in one location

2006 mitsubishi outlander

$11,999

location: 68 Falsgrave Street, Woolston, Christchurch

email: nzvanspares@hotmail.com | phone: 03 379 3932 / 0508 698 267

See page 5

for more info!

32 Moorhouse Ave | P: (03) 366 7768 | www.valuecarswarehouse.co.nz

2004 BMw 530d Nz NEw

41 Sandyford Street

0800 400 040

• www.kickthetyres.co.nz

PH 03 web

Incorporating

ISSUE 653 | FrIday 14 aUgUSt 2020

See inside for this week's

motorcycle feature!

see inside for this week's

Hybrid & electric feature!

40 Years Finance

Experience

Cannot be Beaten!

• Talk to us about finance for your next

motor vehicle purchase

CHRISTCHURCH

MOTORCYCLES LTd

Specialising in Finance for Private Purchases

Very quick approvals, sensational interest rates

• From no deposit (terms & conditions may a ply)

Cnr Main South Rd and Epsom Rd, Christchurch

Ph: 03 348 4129 | avoncityford.com

free

best motorbuys

www.drivesouth.co.nz

2008 Victory Vegas

Customised x USa

arlan Ness themed

$12,999

We are local experts with

Canterbury-wide knowledge

providing professional Property

Management services with a

personal approach

Ray White Morris & Co Property Management Limited

03 331 6755 morrispm.nz@raywhite.com

canterburypm.co.nz

A fordable new parts available for BMW / MERCEDES BENZ / AUDI

454 St Asaph Street, 03 378 1818 or 021 480 201

www.gRCAudIO.CO.Nz

CAR AUDIO CAR SECURITY

AUDIO VISUAL CELLULAR

The biggest range of vehicles in one location

Hilux, Hiace &

everytHing in between

2013 peugeot 4008

$19,999

See page 5

for more info!

68 Falsgrave Street, Woolston W: nzvanspares.co.nz

E: nzvanspares@hotmail.com Ph: 03 379 3932 / 0508 698 267

32 Moorhouse Ave | P: (03) 366 7768 | www.valuecarswarehouse.co.nz

REVERSE CAMERAS

RADAR DETECTORS

MOBILE INSTALLATION SERVICE 0800 212 777

GET THAT

PEACE OF MIND

VEHICLE INSPECTIONS

PARKING SENSORS

AERIALS

$149

DASH CAMERAS

GPS/TRACKING

See our ad on page 2

Ce l 021 8 5 84

PH 03 web

For more, see their advert on page 22

40 Years Finance

Experience

Cannot be Beaten!

• Talk to us about finance for your next

motor vehicle purchase

• From no deposit (terms & conditions may a ply)

Specialising in Finance for Private Purchases

• Very quick approvals, sensational interest rates

Cnr Main South Rd and Epsom Rd, Christchurch

Ph: 03 348 4129 | avoncityford.com

Hilux, Hiace &

everytHing in between

68 Falsgrave Street, Woolston W: nzvanspares.co.nz

E: nzvanspares@hotmail.com Ph: 03 379 3932 / 0508 698 267

• 41 Sandyford Street

RiccaRton

37 Main South Road

RedcliffS

2 augusta Street

Summer Toenails

Sorted

Book your Nail Reconstruction

appointment today!

MaRSHlandS

427 Marshland Road

PH 348 7910 | www.feetfirst.co.nz

before

after

daRfield

darfield Pharmacy

03 322 4548 | Easy Parking

17 Lillian Street, Halswell

Open Mon-Fri 9.30am - 5.00pm

Saturday 10.00am - 1.00pm

LAYBY WELCOME

USED CARS | TRUCKS | VANS

COMMERCIAL VEHICLES | SUVS

MOTORCYCLES | CARAVANS

BOATS | AUTOMOTIVE SERVICES

Available for FREE every

Friday at convenient

pick up points near you!

PLUS check out this week's

edition, plus past issues

online now at

bestmotorbuys.co.nz

INCORPORATING besT mOTORbuys

www.drivesouth.co.nz
---
Wednesday November 11 2020

Latest Canterbury news at starnews.co.nz

BAY HARBOUR

PAGE 11

FULLY ESCORTED

EXPLORER TOURS

Discover iconic Northland or stunning Fiordland with House of Travel.

EACH FULLY ESCORTED TOUR INCLUDES

HAND-PICKED

LOCAL STAYS

PRIVATE

COACH

PRIVATE

TOUR GUIDE

EXCURSIONS

INCLUDED

BREAKFAST

DAILY

SOME MEALS

INCLUDED

Join our top-rated tour director Mark Richardson and a small group of like-minded

travellers for an exclusive House of Travel Escorted Tour. Every experience is hand-picked

by our experts, who've crafted these unforgettable tours just for New Zealanders.

NORTHLAND EXPLORER TOUR

7 DAYS/6 NIGHTS

FIORDLAND & STEWART ISLAND EXPLORER TOUR

9 DAYS/8 NIGHTS

Departs Auckland 14 March 2021

Departs Queenstown 14 February 2021

from

$2745pp

share twin. Flights additional. Single supplement $685.

from

$3595pp

share twin. Flights additional. Single supplement $985.

2 nights Auckland, 1 night Hokianga & 3 nights Paihia.

Kauri Museum ● Footprints Waipoua Twilight Encounter

● Kerikeri and the Stone Store ● Waitangi Treaty Grounds and Museum

● Cape Reinga full day trip ● Cape Brett Hole in the Rock Cruise

2 nights Queenstown, 2 nights Te Anau, 1 night Invercargill

& 3 nights Stewart Island.

Lake Wakatipu Cruise ● Back Road Adventure through Von valley

● Fiordland Jet Pure Wilderness journey ● Milford Sound Day trip & cruise

● Stewart Island Village and Bay orientation tour ● Ulva Island & more

JOIN US FOR OUR INFO SESSIONS TUESDAY 17 NOV 2PM OR 6PM – CALL US NOW TO REGISTER.

BETTER TOGETHER

COME IN-STORE I HOT.CO.NZ

BARRINGTON 331 7182 I CHRISTCHURCH CITY 365 7687 I FERRYMEAD 376 4022 I HIGH STREET LANES 335 3722 I HORNBY 344 3070

MERIVALE-SHIRLEY 385 0710 I NORTHLANDS 352 4578 I RANGIORA 313 0288 I RICCARTON 341 3900 I UPPER RICCARTON 343 0869

CONDITIONS A non-refundable deposit of $200 per person is required at the time of booking. The balance of the tour price is required 45 days prior to your travel date. If you book inside 45 days, full payment will be required at the time of booking. Payment can be made by bank transfer.

If you cancel between 21 and 45 days prior to your date of travel 30% of your tour cost will be charged. If you cancel between 8 and 20 days prior to your tour departure you will be charged 50% of your tour cost. Cancellations within 7 days of departures will incur a 100% cancellation

charge. When a booking is made it is accepted that these are agreed to. They include the following: Itineraries are correct when initially published, however are subject to change due to circumstances outside our control. Flights are the responsibility of the passenger and Inspired New

Zealand Tours takes no responsibility for costs involved for any changes to flights that might be required due to necessary amendments in itineraries. Both tours are subject to minimum 10 passengers travelling to guarantee departure. Ask your House of Travel consultants for full details.:
---
PAGE 12 Wednesday November 11 2020

BAY HARBOUR

Latest Canterbury news at starnews.co.nz

NEW RELEASES

Impossible: My Story

by stan Walker

A startling and important memoir about family and

forgiveness, love and redemption For the first time, Stan

Walker speaks with startling honesty about abuse and

addiction, hardship and excess, cancer and discrimination,

and growing up in a family where love and violence were

horribly entwined. From one of the finest singers to emerge

from Australia and New Zealand Aotearoa in a generation,

Impossible is a story of redemption and the power of

forgiveness. It's also a story about courage and hope; about

a young Maori boy finding his place and purpose, never

forgetting who he is and where he came from.

GREAT

Spring

READS

INSTORE!

Shelby Cobra: The Snake

That Conquered the World

by Collin Comer

An outstanding 264

page coffee table

book for the Car

Enthusiast

The book tells the story

of Carroll Shelby's first

vehicle the ultra-highperformance

sports car

called the Cobra..

The Windsor Diaries a childhood with the

princesses By: alathea Fitzalan howard

The Windsor Diaries are the never-before-seen diaries of

Alathea Fitzalan Howard, who lived alongside the young

Princesses Elizabeth and Margaret at Windsor Castle during

the Second World War. Alathea became a close friend of

the two princesses, visiting them often at Windsor Castle,

enjoying parties, balls, cinema evenings, picnics and

celebrations with the Royal Family and other members of

the Court. These unique diaries give us a bird's eye view of

Royal wartime life with all of Alathea's honest, yet affectionate

judgments and observations .

With the Wind Behind Us

stories that made new Zealand a sailing nation

by Matt elliott

From red socks to kauri yachts, these are the stories that

made us a sailing nation.

Stretching back to the Pacific navigators and the great

migrations from Polynesia to the humble 'P' class dinghy and

the world-beating success of Team New Zealand: With the

Wind Behind Us is a celebration of the stories that gave us

our legendary sailing reputation.

Max Quinn - A Life of Extremes

the life and times of a polar Filmmaker

Max Quinn's filmmaking career has taken him to the ends of

the earth, from his native New Zealand to Alaska; Antarctica

to the Arctic. A Life of Extremes is a personal account of his

work, featuring vibrant text and stunning images that illustrate

20 years of adventures in polar climates. Learn, from behind

the camera, about the natural history and wildlife of our

world. Leave the tourist trail behind with this unique insight

into life in the immensely beautiful, most extreme places on

earth.

Killing Time

short stories from the long road home

by Jimmy Barnes

Tales of adventure, misadventure, love and loss - this

collection of non-fiction short stories from the Australian

rock legend turned writer is vintage Jimmy. Outrageous,

witty, warm and wise, Killing Time shares more than forty

yarns reflecting an epic life - from an encounter with a soul

legend in Memphis, a night in a haunted studio in upstate

New York, and a doomed haircut in Thailand to a madcap

misunderstanding in a Japanese ski resort, a family feud on

a remote coral atoll, and an all-too-revealing appearance for

a Sydney charity.

1005 Ferry rd

Ph 384 2063

CLOSED SUNDAY

while stocks last (see instore for terms and conditions)

We Wish

you Well and

hope to see you

all soon!

Barry & kerry
---
Wednesday November 11 2020

Business broker offers wide-ranging

skills and experience

Business broker Graeme Brenssell has

extensive experience in business, ranging

from high-end corporate management to

successful business ownership. After being

a client of LINK Business, he decided to

become a broker, bringing with him 30

years of business knowledge.

As he explains: "Buying or selling a

business is one of the most important

decisions in your life and having been there

myself my aim is to achieve the best result

for my client and make the process as stress

free as possible."

For many years Graeme was at 'the coal

face', making the tough decisions, bearing

the risk, seeing the rewards, and ultimately

growing his business into a nationwide

wholesaler and importer with international

Latest Canterbury news at starnews.co.nz

Local

Sumner

Business

Broker

Graeme

Brenssell…

can help

you sell your

business

business connections. Therefore, having

been in the same position as many of his

clients, he understands how important this

process is to a business owner, as well as

knowing the intricacies and nuances that

come with such a transaction.

Prior to becoming a business owner,

Graeme began his career as an accountant

in a Christchurch CA firm. From there

he developed his skills in the corporate

world, becoming a financial controller for

companies in New Zealand and overseas,

widely recognised for his ability to think

strategically and for his strengths in

strategic planning, financial control, and

systems development.

As a business broker Graeme says he

brings a broad, in-depth knowledge of

business operations complemented by

financial skills, and a strong desire to help

his clients.

"I have a well-rounded skill set and

considerable knowledge in business

development, financial management,

business appraisal, due diligence, change

management and business restructuring,

but first and foremost, I have been where

many of you are now," he says.

In business broking Graeme was seeking

a partner with the same values he has of

working hard for the client.

"The company had to be exceptionally

professional and ethical, as well as ticking

several other key boxes. I was also seeking

a highly recognisable and respected brand.

This led me directly to LINK Business, the

largest business broker in the world with an

international network. Without question

they have more brokers, more listings and

more sales than any other business broking

company," Graeme says.

BAY HARBOUR

"Balancing this, LINK is also a niche

business, only brokering businesses, not

real estate sales or commercial property

sales. This means that LINK focusses

strongly on supporting the sale process

of business and with 25 years' experience,

has developed and refined its systems and

processes to achieve exceptional results.

"LINK has invested significantly in an

award-winning business appraisal tool and

consistently 95 per cent of businesses sell

within four per cent of the appraised value

– a great advantage to a business owner

thinking of selling.

"Also, LINK's business marketing

programmes are first class, reflected by the

organisation's website achieving higher web

traffic than any other brokerage," Graeme

says.

"So, if you are thinking of selling or

simply considering your options, please call

me for a confidential chat over a coffee and

let's see if I can help."

Graeme Brenssell

Business Broker, LINK Christchurch

36 Lowe St, Addington

M. 029 200 9992 P. 366 3394

E. graeme.brenssell@linkbusiness.co.nz

W. linkbusiness.co.nz

PAGE 13

ADVERTORIAL

Family Owned & Operated

RetiRement Village

Apartment for sale

Priced from $215,000

1 bedroom

Inquiries to Karen 021 668 140

Get In touch:

437 Armagh Street,

Linwood, Christchurch 8011

Call Jess for care bed inquiries.

General Inquiries:

(03) 982 2165

You can't

beat fresh

seafood

Tuesday to Sunday - Lunch & Dinner

Saturday & Sunday - Breakfast

Book your Xmas function now

39 Norwich Quay, Lyttelton

Wednesday - Sunday 12pm – 8pm

Phone: 03 328 7530

fishermanswharf.nz

TIAKI

OUR CARE FOR

PEOPLE AND PLACE

Bayleys Akaroa 03 375 4700

Bayleys Diamond Harbour 03 329 4855

Bayleys Ferrymead 03 595 2844

bayleys.co.nz

WHALAN & PARTNERS LTD, BAYLEYS, LICENSED UNDER THE REA ACT 2008

Bringing

back the tūī

The Banks Peninsula Conservation Trust

helps the community to protect and restore

native habitat and control predators, which

allows the native biodiversity to flourish.

With a bold vision for a Pest Free Banks

Peninsula by 2050, the tūī and other iconic

species like ruru (morepork), pīwakawaka

(fantail), kororā (white flippered little blue

penguin), hoiho (yellow-eyed penguin) and

tītī (sooty shearwater), jewelled geckos,

spotted skinks, the Banks Peninsula Tree

Weta and Akaroa daisies, are getting a

helping hand.

Bayleys are proud to support the Trust and

the tūī by donating $100 from every house

sold on Banks Peninsula to assist with

predator control and habitat restoration.

Together we can protect our native taonga

for the people of Banks Peninsula and

Ōtautahi - Christchurch.
---
PAGE 14 Wednesday November 11 2020

BAY HARBOUR

Latest Canterbury news at starnews.co.nz

REAL ESTATE

Priceless Views, Retreat Living!

11/142 Major Hornbrook Road, Mount Pleasant

Deadline Sale - by 10 November

3 bedrooms 2 bathrooms 1 living 1 dining 2 car-garage Listing no. SMT10590

Thoughtfully positioned to capture the

breath-taking views of Otautahi and our

mighty pacific ocean, perfect for those

downsizing who want to stay on the hill.

With easy drive on access this two-storey

townhouse (built 1994) boasts fresh décor

and unbeatable natural light. Inside, three

bedrooms and two bathrooms provide an

excellent level of everyday convenience.

Downstairs the double garage with a high

stud and internal access is perfect to drive

straight into and walk inside to the entry

area. A double sized bedroom and full

bathroom plus a separate laundry are

positioned on this level.

Upstairs the open spaces of the dining

room and separate lounge instantly blow

you away with the views enhanced by

exceptional indoor/outdoor flow to the

outdoor balcony which resembles the bow

of a ship.

The kitchen positioned off the dining room

(overlooks the ground level outdoor

landscaped grassed area) while providing

every convenience to prepare meals.

Two double bedrooms and a full bathroom

are located off the hallway.

Located in Mt Pleasant, the local pub and

café and all shopping amenities are at the

bottom of the hill. Bus stop is a minute

walk with the city a 15-minute drive.

Desirable school zoning a 5-minute walk.

Sure to enchant with its peaceful position

and bathing in sunshine in a microclimate

location above the frost line. To experience

it for yourself, get in touch today. You will

not be disappointed.

Those interested parties are advised to

register their interest as this property may

be sold at any time.

Selling via deadline sale. All offers will be

presented 5.00 pm 10th November 2020

unless sold prior.

Debra Hakaraia

Mob. 027 562 0420

Smart Real Estate Ltd

(Licensed Agent REAA 2008)

real estate

Advertising Feature

SOIL AND

HARDFILL

DUMPING

SECURITY

LIGHTING

Repair or install

LANDSCAPING AND

GARDEN EQUIPMENT

DIGGERS, TRUCKS, WOOD CHIPPERS, POLE SAWS,

BREAKERS, WATER BLASTERS, ETC.

• Feel secure in your home

• Increase visibility, deter intruders

• Prevent unwanted accidents

• Provide peace of mind

WE NOW HIRE

PLUS WE SUPPLY THE BEST

LANDSCAPE & GARDEN SUPPLIES

•BARKS •COMPOSTS

•AGGREGATES - CHIP, ROUND & BASECOURSE

•SCHIST PRODUCTS •PUNGAS

•DECORATIVE STONE & LANDSCAPING ROCKS

•TRAILER HIRE - FIRST HOUR FREE WITH PURCHASE

•BAG & BULK - PICK UP OR DELIVERED

DYERS ROAD LANDSCAPE & HIRE

PHONE: 03 384 6540

183 DYERS RD, BROMLEY ● OPEN 7 DAYS

Weekdays 7.30am-5pm. Weekends 8.30am-3pm

www.dyersroadlandscape.co.nz

Give us a call today 24/7

03 365 9712

aoteaelectriccanterbury.co.nz

Award winning company, trusted in Canterbury for 37 years
---
Wednesday November 11 2020

Latest Canterbury news at starnews.co.nz

BAY HARBOUR

PAGE 15
---
PAGE 16 BAY HARBOUR

Latest Canterbury news at starnews.co.nz

Wednesday November 11 2020

Toyota Yaris hybrid pick-of-the-bunch

THERE WAS A time in Japan

when nearly all of Toyota's new

vehicles were offered to the

domestic market with hybrid

technology.

In New Zealand we had a

smattering of them arrive here in

pre-owned form and, of course,

Toyota New Zealand had Prius and

its off-shoots – Prius C and Prius V.

Demand for hybrid technology

has allowed TNZ to broaden its

hybrid range, of course Lexus is well

represented in hybrid form, and

models within Toyota's mainstream

range are becoming increasingly

available with hybrid options, take

Corolla and Rav4 as examples.

The latest Toyota hybrid to

land here is the new Yaris, a

small hatchback that needs little

introduction, only that the new

series is a completely new design

from the previous generation.

The shape is more cutesy and the

driveline is vastly different, even if

you discount the hybrid variants.

All new Yaris models have threecylinder

engines, and that is the

way engine build is trending, many

manufacturers are leaning towards

the three-pot layout to glean

efficiency advantages.

Recently I evaluated the entry

level petrol-only Yaris and was

charmed by the 1.5-litre, naturallyaspirated

three-pot engine, it is a

real honey. That same engine is

coupled to the hybrid system that is

an option in the four-model Yaris

range. There are two petrol-only

models and two hybrids, both with

varying specification levels.

This evaluation surrounds the

range-topping hybrid – ZR to be

exact. It lists at $32,990, adding

$5000 to the entry-level GX which

is most tempting and easily within

the budget of eco-conscious buyers.

It doesn't seem that long ago that

when Prius arrived its price tag was

something one had to really aspire to;

today hybrids are affordable and the

Yaris definitely sits in that category.

For the record, the petrol-only

Yaris is priced at $25,990 and

$29,990. The pricing is structured

so that if you felt you wanted to do

something for the environment,

then a step up to hybrid isn't

onerous. As an aside, both variants

have a $500 two-tone paint option.

To be honest, if I was a Yaris

buyer, I'd be into the hybrid, for

me it's the best of both worlds,

that cheeky wee three-cylinder

engine and the benefits of battery

propulsion.

Yes, the Yaris in this form feels

sprightly; the electric boost on

top of the engine's 67kW is very

noticeable. What's more, battery

power comes in from a zero point,

it is immediate and adds to the

TOYOTA YARIS ZR: Fitted with economical hybrid system.

torquey nature of the engine. For

the record, Toyota claims a 120Nm

low end figure, while hybrid boost

adds18kW at the top end.

Take into account, too, that

the Yaris hybrid is light at just

1130kg, there is a constant feisty

feeling, the engine is a delight with

its characteristic harmonics and

free-revving nature. In traditional

Toyota hybrid fashion, drive is

sent to the front wheels through

continuously variable transmission.

The Yaris wants to run on electric

power mostly, of course the engine

has to charge the batteries, but it

seems to me the batteries have a

high and lasting charge, the engine

is quick to cut out, only reluctantly

coming on-board when immediate

acceleration is needed.

That's no surprise, high power

batteries are the norm in hybrids

these days, and with further

efficiencies all-round the Yaris is a

lean operator.

Toyota claims an amazing

combined cycle fuel usage figures

of 3.3-litres per 100km for the Yaris

hybrid; that was a hard target but

I took the evaluation car back to

the dealership with the fuel usage

readout listing at 4l/100km, which

I was quite pleased with, and it

was up with the lowest readings

I've ever had testing a car with an

internal combustion engine.

For interest's sake, the petrolonly

model is rated at 4.9l/100km,

so there are noticeable advantages

to be gained from buying hybrid.

While the Yaris might be

considered the quintessential city

runabout, it is also happy on a long

journey, I completed my usual

Malvern Hills circuit and it simply

cruises beautifully, fuss-free and

happy to tackle a quick overtake.

Toyota also claims a 10.2sec

standstill to 100km/h acceleration

time, which is marginally quicker

than petrol-only. The Yaris hybrid

will also complete a highway

overtake in 7.1sec (80-120km/h),

that strong mid-range push making

this time very acceptable.

• Price – Toyota Yaris ZR

hybrid, $32,990

• Dimensions – Length,

3940mm; width, 1695mm;

height, 1500mm

• Configuration – Threecylinder,

front-wheeldrive,

1490cc, 67kW,

120Nm, continuously

variable automatic.

• Performance –

0-100km/h, 10.2sec

• Fuel usage – 3.3l/100km

As capable as it is, the Yaris

hybrid will most definitely

appeal to those who will use it

as a city commuter and for the

occasional highway journey and,

for that matter, it is perfect for that

role.

In ZR form it gets a healthy level

of specification – keyless entry

and ignition, satellite navigation,

Apple CarPlay and Android Auto,

radar cruise control and headup

display. The latter sit with

Toyota's extensive suite of safety

technologies which, when tested,

should easily earn a five-star

Australasian New Car Assessment

Program rating.

Not only does the entire Yaris

range stand out for its honesty and

frugal operating nature, the new

model has design flair and style on

its side. It competes well with the

raft of new-age fuel efficient models

which are landing in New Zealand

at the moment.

Toyota can relax though, its

hybrid systems are widely regarded

and you'd be hard pressed to find a

driveline with greater efficiency.

THE NEW DISCOVERY SPORT

FREEDOM BY LAND ROVER FINANCE

THE ONLY THING CONFIDENT IN

MODEST IS THE DEPOSIT ALL CONDITIONS

DEPOSIT MONTHLY PAYMENTS FINAL PAYMENT

DRIVE AWAY FOR LESS THAN YOU WOULD EXPECT

The Freedom by Land Rover finance agreement is designed to get you in the driving seat of the premium vehicle you had previously only ever

dreamed of. Simply choose your Land Rover, agree on a deposit, set your monthly payments (based on your annual mileage) and the length of

contract you require – and drive away today.

When setting your annual mileage you also agree to standard wear and tear, and we establish a value that the car will be worth at the end of the

contract term (the "guaranteed future value"). If you decide to retain the vehicle at the end of the contracted term, you simply pay this agreed value.

Right now, with a $19,850 deposit, 35 monthly payments of $901, and a guaranteed future value of $42,066, you can drive away in your new Discovery

Sport R Dynamic S. Just one of the many options available across the range.

At the end of the term, you can choose to retain your Discovery Sport by paying the guaranteed future value, or hand back the keys. If your Discovery

Sport is worth more than the guaranteed future value, you can use this amount as a discount on the latest Land Rover model of your choice.

Archibalds | 38 Tuam St, Christchurch | 021 907 961 - Darren Griffith | archibalds.co.nz

Available on Discovery Sport R Dynamic S. MRP of $79,400, with monthly payments of $901 over a 3-year term, with a deposit of $19,850 plus a final balloon payment (the Guaranteed Future Value) of $42,066. Total mileage of no more than 45,000kms over the term

applies. A fixed interest rate of 8.95% p.a. applies. The total loan amount is $73,578. At the end of the term you can choose to keep the car, by paying the Guaranteed Future Value, trade it or return it (subject to T&Cs and excess charges). Offer excludes ORC. While

stocks last at Archibalds on new Discovery Sport R Dynamic S. Not available in conjunction with any other offer. Lending criteria, T&Cs and fees (including an $262.00 establishment fee and $10.35 PPSR fee) apply. Neither Motorcorp Distributors Ltd nor its retailers are

credit providers. Land Rover Financial Services are provided by Heartland Bank Limited which uses the Land Rover Trademark under license from Jaguar Land Rover Limited, who is the registered proprietor of the trademark. Image is not representative of offer.

THE MOST VERSATILE AND COMPACT SUV
---
Wednesday November 11 2020

Latest Canterbury news at starnews.co.nz

summer sale

BAY HARBOUR

PAGE 17

NOW ON – ALL OUTDOOR ON SALE!

VENUS

Outdoor Lounge

Coffee Table

NOW $

459

ON SALE!

3 Seater/Sunlounger

NOW $

1599

Modular 2 Seater – 1 Arm

NOW $

850

Modular 1 Seater

– No Arm NOW $ 475

Modular Corner Table

NOW $

275

Low Dining Table

NOW $

749

Montaro Lounge/Low Dining Set

WAS $

2999

NOW

$

2599

Mykonos Lounge/Low Dining Set

WAS $

4098

NOW

$

3549

Includes SasSy foOtsToOls!

CASCADE

Outdoor Dining

Dining Table – W180

NOW $

699

CASCADE

Outdoor Lounge

Single Seater

NOW $

375

ON SALE!

ON SALE!

Dining Chair

NOW $

325

Bench Seat – W180

NOW $

350

Coffee Table

NOW $

250

2 Seater

NOW $

799

Chia Single Trundler

Bunk Bed

WAS $

1299

Rivo 3 Seater Electric Recliner

WAS $

2699

ON SALE!

NOW

$

1099

NOW

$

2199

Shop

Online

Nationwide

Delivery

Finance

Options

more super deals online & in store!

SUPER DEAL!

SUMMER SALE ENDS 23.11.20.

Come & check out

our new STORE!

targetfurniture.co.nz

250 Moorhouse Ave, Christchurch

Ph: 0800 TARGET (0800 827438)

Offers and product prices advertised here expire 23/11/20.

Sale excludes Manchester and Accessories.
---
PAGE 18 Wednesday November 11 2020

BAY HARBOUR

Latest Canterbury news at starnews.co.nz

Shop

Win

& Relax

WIN

1 OF 5 FAMILY

GETAWAYS

TO HANMER

SPRINGS

SHOP AT THESE

BUSINESSES TO GO

THE DRAW

ADVANCED JOINT CARE

ARE YOUR JOINTS PAINFUL, STIFF,

NOISY, SWOLLEN OR INFLAMED?

Natural high potency comprehensive

formula to support joint health:

• Cartilage, ligaments & connective

tissue regeneration

• Joint flexibility & pain relief

• Inflammation & swelling relief

• Healthy joint function

SUPER LOW PRicE!

60 Capsules

only $16.90

120 Capsules

only $29.90

240 Capsules

only $47.80

Mail Order Available

MARSHALLS HEALTH & NATURAL THERAPY

CONSULTING - PRESCRIBING - DISPENSING -

MANUFACTURING - MEDICAL HERBALISTS

101 SEAVIEW RD, NEW BRIGHTON • PH 03 388 5757

Email: enquiry@marshallshealthshop.co.nz

Bringing You the Best in Natural Health!

2021

CALENDARS

& CARDS

COME PLAY

IN CHRISTCHURCH'S

LARGEST LASER TAG ARENA!

Perfect for Birthdays, Team and

Work Functions!

WWW.LASERSTRIKE.CO.NZ

Ph: 03 366 7595

250 Moorhouse Ave, Level 2 Harvey Norman

We're not just books

1005 Ferry rd | Ph 384 2063

OIL & FILTER

SERVICE

FROM$84.95 *

HORNBY Ph 349 2567

375 Main South Rd

PAPANUI Ph 354 4421

Cnr Main North & Northcote Rds

RICCARTON Ph 341 3020

64 Riccarton Rd

www.oilchangers.co.nz

"In joy or sadness, flowers are

our constant friends"

- Okakura Kakuzo

*Ts & Cs apply

Cnr Wairakei & Idris Rds

Phone: 351 7444 www.victoriaflorists.co.nz

WE CAN HELP YOU

LOVE THE SKIN

YOU'RE IN!

Delivering tranquil and

relaxed treatments,

beauty and massage

therapy in a warm and

inviting atmosphere

72 Brighton Mall, New Brighton | Phone: 03 388 1809

Monday to Saturday 9:00-5:30

www.paperplus.co.nz

"

This was the most amazing massage and facial I have

ever had in New Zealand. Any ladies out there on

holiday or living in or around Christchurch, do

yourself a favour and book in for a couple of hours

of delectable pampering. - Denise, Gold Coast

"

BODY CARE

VOUCHERS

MAKE GREAT GIFTS!

89b Main Road, Redcliffs

Phone 03 384 4729

www.redcliffsbodycare.co.nz
---
Wednesday November 11 2020

Latest Canterbury news at starnews.co.nz

BAY HARBOUR

PAGE 19

Classifieds Contact us today Phone our local team 03 379 1100

Fairs & Markets

Gatewood

Market

788 Old Tai Tapu Rd

THIS SUNDAY

10am-2pm

Child & dog friendly

Funeral Directors

direct

cremation

$2,000 GSt inclusive

(includes committal)

0800 27 28 29

www.mainland

crematorium.co.nz

Gardening

& Supplies

GARDENER Need your

home or commercial

garden tidied up or

renovated or require long

term assistance. Phone

Ruth 326 6663 or 021 272

0303

To Let

RENT ME!

Ideal as an extra

bedroom or office.

no bond required

Fully insulated and double glazed for warmth.

Three convenient sizes from $80 a week:

Standard 3.6m x 2.4m

Large 4.2m x 2.4m | Xtra-large 4.8m x 2.4m

Visit our website

www.justcabins.co.nz

for display cabin locations

www.justcabins.co.nz

Trades & Services

Atkinson Construction Ltd

• Local qualified licensed builder

• Over 30 years experience

• Building alterations

• Maintenance

• No job too big or small

Trades & Services

Landscape

and Garden

Services

Need help with

your garden?

We provide a quality

service for all your

Garden Maintenance

(hedges, lawns,

line trimming, weeding)

and Landscaping needs,

(fencing, paths, drives,

retaining and earthworks).

Ph 021 272 0303

Services available from Ferrymead

to Taylors Mistake and Lyttleton

FOR ALL YOUR

★Garden Clean-ups

★Pruning

★Lawn Mowing

★Garden Maintenance

Call us today for a FREE quote

PH 0800 4 546 546

(0800 4 JIMJIM)

Dean: 021 480 093

atkinsonconstruction@xtra.co.nz

SHUTTLE SERVICE

24 hour

Shuttle Service

We will pick you up

from your home,

work place or

motel, hotel or

backpackers and take

you to the airport or railway station

Discount available with this advert

conditions apply

We offer a 24 hour service

J & L Shuttles Ltd

Ph 389-9879 or 389-9873

for bookings

Trades & Services

IF IT'S PLUMBING YOU NEED

WE PlUMBer! CAN HELP!

Hot water problems, showers,

taps, toilets,

0800 217

new

5862

installations

Landlord Special Service

Gas Fitting & Hot Water System

Bathroom & Kitchen Renovations

www.a1plumbing.co.nz

call free 0800 217 5862

Or TeXT 027 429 3770

www.a1plumbing.co.nz

Trades & Services

BUILDING

MAINTENANCE

REPAIRS

Incl Timber, Block,

Concrete, Paving, Fencing,

Piles, Brick, Welding,

Gutters, Roof & rotten

timber repairs. Prompt

service. Professional

workmanship. Call Mark

on 027 437 0048 for a free

quote.

CONCRETE CUTTING

WINDOW TINTING

tintawindow

advanced film solutions

99% uv block

fade protection

heat control

reduce glare

25 Years Experience

privacy films

frosting designs

non-darkening films

Workmanship Guaranteed

Lifetime Warranties on Most Films

UV

block

Trades & Services

RENOVATIONS

Small jobs, second hand

kitchen installs incl stone

bench tops, sleepouts and

home maintenance. Call /

txt Greg 022 475 8227

ROOFER

All roof repairs, Roof

Painting, Waterblasting,

Moss Treatments, Re

pointing, Gutter cleans,

repairs, Snow straps,

Exterior Painting & more.

Free quotes, call Vinnie

027 505 7779

SPOUTING & GUTTER

CLEANING

For a professional

reliable service call

Greg at A1 Spouting

Cleaning 027 616 0331

SPOUTING & GUTTER

CLEANING

For a professional reliable

service call Greg at A1

Spouting Cleaning 027

616 0331

STONEMASON, BRICK

Affordable Concrete

Cutting with Quality, and

removal work. Free quote.

No job to small. Phone 027

442-2219, Fax 359-6052

a/h 359- 4605

ELECTRICIAN

Andrew Martin Electrical.

25 years experience.

Specialize in home

renovations, repairs and

maintenance. Call Andrew

0274 331 183

ELECTRICIAN

JMP Electrical.

& BLOCKLAYER,

Experienced & registered.. Earthquake Repairs, Grind

Expert in all home Out & Repoint, River/

electrical repairs & Oamaru stone, Schist,

maintenance.Call James Volcanic Rock, Paving,

027 4401715

all Alterations new & old,

Quality Workmanship,

ELECTRICIAN

visit www.featureworks.

Hickey Electrical.

co.nz or ph 027 601-3145

Reasonable rates,no

STONEMASON

call out charge. www.

Natural stone, feature

electricnz.com.

walls, retaining, drystone,

Ph Jason 021 2603426 paving & repairs.

GUTTER CLEANING Reasonable rates. Keeping

Gutter cleaning special the locals happy for over

from $99 plus gst for a 20 yrs. Call Tim Williams

whole house clean"". 027 7145 402

Free Quotes, call Morgan

Thomas today 022 375 Wanted To Buy

8506

PAINTING SERVICES

AAA

quality

Buying

furniture,

goods

beds,

Mature, reliable, stoves, washing machines,

conscientious & fridge freezers. Same day

experienced, reasonable service. Selwyn Dealers.

rates, no job too small!, Phone 980 5812 or 027

call Ron 027 434-1400 313 8156

Free Quotes Canterbury and Districts

03 365 3653 0800 368 468

Public Notices

ADVERTISE YOUR

BUSINESS HERE

Phone for further details

Public Notices

ART EXHIBITION

at the

Pigeon Bay Hall

13 - 15th November

Open 10 - 5pm daily

19 artists exhibiting.

Ranging from prints,

pottery, paintings

and photography.

Cash and Carry.

Eftpos available.

(03) 379 1100

Situations Vacant

Public Notices

Request for

Proposal (RFP)

for the grazing of

land at Diamond

Harbour

Request for Proposal (RFP) for Grazing at

27 Hunters Road Diamond Harbour

GETS RFx Id: 23454626

The Christchurch City Council manages

around 24.7ha of grazing land at Diamond

Harbour and would like to hear from

people interested in assisting the Council

in management of the land by way of

grazing. The Council is looking for a

grazier to enter into a grazing licence and

invites proposals from interested parties.

Persons wishing to obtain more

information on the proposal process may

do so by downloading an application

for submission from www.gets.govt.nz

Search using RFx Id: 23454626

Submissions under the Request for

Proposal close at midday on

25 November 2020

Reporter - Christchurch

• Great media opportunity

• Be part of an award winning team

• A media company which is growing its reach

Who we are

Allied Press Limited employs over 450 people on a permanent basis

across our 15 sites in the South Island. We operate across multiple

media platforms (print, on-line, digital) delivering news, information and

entertainment through our various regional and city publications, including

Christchurch-based Star Media.

The role

Reporting to the editor, the main purpose of the position is to file

compelling news articles and backgrounders for both print publications

and online platforms.

Your skills and experience

We are looking for a journalist with two to three years experience,

preferably in a metropolitan environment, but someone who has less

experience but who has already displayed the qualities and drive to

become a topline journalist will be considered.

In addition to your interest in equity and diversity you will demonstrate:

• A great work ethic

• A competitive nature

• An eye for detail

• Accuracy

Further details

This is a full time, permanent position.

We can offer you a great team environment, professional development

opportunities and an opportunity to grow.

If you think this role is for you, please apply by way of CV and a

covering letter. Informal inquiries about the role are welcome and

should be directed to Editor in Chief Barry Clarke 021 359-426 or

barry@starmedia.kiwi.

All applications will be treated in the strictest confidence.

Please note you must have the right to work in New Zealand to

apply for this role.

Disclaimer: Allied Press does not accept unsolicited agency resumes.

Allied Press is not responsible for any fees related to unsolicited resumes.
---
PAGE 20 Wednesday November 11 2020

BAY HARBOUR

Latest Canterbury news at starnews.co.nz

Hello

Summer

Deals

MILFORD LOUNGE

NOW

$2099

OUTDOOR

Available

NOW

$1899

NELSON 3+1+1 COFFEE SETTING

NOW

$2399

NELSON CORNER DINING SETTING

THE MAPLE COLLECTION

ALSO

AVAILABLE IN

NOW

$169

NOW $499

NOW $649

NOW

$799

BEDSIDE

THE PEPPER COLLECTION

6 DRAW TALLBOY WARDROBE

BRIGHTON CANTILEVER UMBRELLA

WEIGHTS (SET OF 4) $149

NOW $499

NOW $399

NOW

$189

WIN

TV CABINET

COFFEE TABLE

BEE NEST OF TABLES

NOW

$689

POP UP TRUNDLER

1 of 10

Electric

Scooters

For every purchase

over $ 500 go in the

draw to win.

Terms and Conditions In-store

Kugoo S3 Pro

Valued at $ 699

FIND US AT THE CORNER OF BLENHEIM

& CURLETTS ROAD, SOCKBURN

BOTANICAFURNITURE.co.nz 0800 268 264
---
WEDNESDAY, NOVEMBER 11, 2020

Connecting Your Local Community

starnews.co.nz

YOUR LOCAL

INSIDE
---
What does the Canterbury

of the future look like?

What's hot right now?

1

4

2

5

3
---
Wednesday November 11 2020

Latest Canterbury news at starnews.co.nz

BAY HARBOUR

PAGE 25

Don't miss

the boat!

With record low interest rates, a deep pool of qualified buyers

and demand continuing to outstrip supply it makes sense to take

advantage of an active property market right now!

What are you waiting for?

Book an appraisal with us today.

Ray White Ferrymead

Ready When You Are!

Phone (03) 3844 179 | Email prier.manson@raywhite.com

rwferrymead.co.nz /RayWhiteFerrymead

Prier Manson Ltd. (Licensed REAA 2008)

Craig Prier
---
PAGE 26 Wednesday November 11 2020

BAY HARBOUR

Latest Canterbury news at starnews.co.nz

An Outlook Like No Other

23 Panorama Road, Sumner 3 bedrooms, 3 living, 2 bathrooms, 2 car garaging

Showcasing the architectural brilliance of Philip Bidwell, this

magnificent home on Clifton Hill maximises its superb vantage point to

take in spectacular views over Sumner Beach and beyond Pegasus Bay,

to the Kaikoura Ranges.

Designed and built in 2016 to our vendors exacting standards, this

bespoke family home unfolds over two spacious levels to offer supreme

luxury and comfort. The considered layout offers an abundance of living

spaces over the two floors with both family and formal upstairs and the

perfect teenage retreat tucked away downstairs.

The well-equipped kitchen provides the perfect platform for

entertaining and features sweeping benchtops, premium appliances

and a highly functional butler's pantry. The home's outdoor entertaining

spaces are equally sublime, with an enclosed balcony with built-in

fireplace serving up stunning views and good times, rain or shine.

Two double bedrooms, both with excellent storage, are serviced by

a full bathroom and provide the downstairs accommodation, while

the master, complete with elegantly appointed ensuite and walk-in

wardrobe, is positioned upstairs to enjoy unsurpassed coastal vistas.

Absolute comfort is guaranteed thanks to the most modern

construction standards. A study alcove, separate laundry and easy driveon

access to a double garage with tandem door contributes practical

appeal.

Set on the slopes of sought-after Clifton Hill, surrounded by the

recreational opportunities of both Sumner Beach and the Port Hills,

but within a short drive of Christchurch city, this fabulously located

property offers relaxed, luxurious living from day one. Contact me to

secure this remarkable hillside property as your next home.

No.1 Sales Consultants 2017-2020

Simon & Paula Standeven

Price on application

View by Appointment Only

rwferrymead.co.nz/OPA25211

Simon and Paula Standeven

M. 0274 304 691

E. thestandevens@raywhite.com

Paula & Simon Standeven

Jan Edlin Pip Sutton

Cherie Mooyman

Marie Malone Elenor Corston

Anna Loader & Bronny Clifford
---
Wednesday November 11 2020

Latest Canterbury news at starnews.co.nz

BAY HARBOUR

PAGE 27

Waterfront Wonderland

149 Main Road, Redcliffs

3 bedrooms, 1 living room, 2 bathrooms, 2 car garaging

Magnificently positioned on the water's edge and showcasing sublime

craftsmanship, everything about Phoenix Cottage is out of the ordinary.

Commanding extraordinary views across Moncks Bay to offer an

unparalleled backdrop to everyday living, this enviable and exclusive

position also benefits from a slipway further enhancing its unique appeal.

Originally constructed circa 1910, this property received an exceptional and

extensive overhaul in the past decade which expertly introduced modern

flair while thoughtfully retaining the home's everlasting charm. Found

within the superbly placed open plan living and dining area overlooking the

water is the bold and bespoke kitchen. It has been lavished with attention

to detail and incorporates European fittings and appliances, soft-touch

cabinetry, stainless steel benchtops and timeless oak flooring, with a sliding

door offering seamless access out to the patio where you can admire the

enchanting coastal outlook and the rising morning sun. The bathrooms are

adorned with natural stone and include underfloor heating, with the master

enjoying an ensuite and striking shiplap ceilings that serve as a reminder of

the home's history and sensational setting. This property is, without doubt, a

true standout, and given its rarity, you're urged to act with haste.

Contact Paula or Simon for further information.

Deadline Thursday 12 November at 4pm (unless sold prior)

Open Homes: Wednesday 11.30 - 12.00pm

rwferrymead.co.nz/OPA24547

Simon and Paula Standeven

M. 0274 304 691

E. thestandevens@raywhite.com

No.1 Sales Consultants 2017-2020

Simon & Paula Standeven

Deadline closing soon!

Expanse without Expense

70 Belleview Terrace, Mt Pleasant

4 bedrooms, 3 bathrooms, 2 living, 1 study, 1 dining, 2+1 Car Garaging

Grand in both style and scale, this substantial property on the slopes of

Mount Pleasant offers its new owners spectacular views stretching from

the ocean to the Southern Alps, and a wealth of possibilities. Positioned on

approx. 3,217m² of immaculately manicured grounds, you have the option to

retain the expansive gardens and sweeping lawns, add a pool to create the

ultimate hillside retreat, or subdivide and reap the rewards.

Constructed in the 1970s; this home has enjoyed thoughtful renovations

over the years and comes to the market beautifully presented throughout

but with scope to add your own enhancements. A raft of recent exterior

refurbishments, including a new roof, refreshed cavity-installed cladding,

double glazing and solar panels ensure comfortable living.

Inside, ornate plaster ceilings and a tiled entrance hall lend an air of classic

elegance while the floor plan offers the flexibility and convenience that

modern lifestyles demand. Living spaces are interconnected and plentiful

with a casual family living room, a spacious kitchen with adjacent dining area

and a large formal lounge. Outdoor living options are equally abundant with

three spots to sit and enjoy the views, including a balcony overlooking the

grounds and a sheltered patio.

Price by Negotiation

Open Homes: Sat & Sun 12.00 - 12.30pm

rwferrymead.co.nz/OPA25155

Simon and Paula Standeven

M. 0274 304 691

E. thestandevens@raywhite.com

No.1 Sales Consultants 2017-2020

Simon & Paula Standeven

Craig Prier Yvette Wright

Kurt Polson

Bev Prout Rod Cross James Shepherd Gretta Ulmer Mark Gardner
---
PAGE 28 Wednesday November 11 2020

BAY HARBOUR

Latest Canterbury news at starnews.co.nz

Vendors Instructions Are To Sell At Auction.

36 Mauger Drive, Heathcote

Opportunity to add value in this sought-after

suburb and apply your own style with a cash

back assignment of $35,314.10 on settlement.

• Ideal for families, 1st home buyers or

investors

• Conveniently located next to Reserve with

playground

• Practical open-plan easy living

• Single level with living opening to outdoors

• Private setting with all day sun

• Fully fenced in a quietly located street

• Relaxing hill and rural views

Anna Loader

M. 027 272 7128

Bronny Clifford

M. 021 272 7718

This home is perfectly sited on the section

creating a large playing area for children and

entertaining. Rare chance to purchase in

this popular suburb and take advantage of

quality schooling, numerous parks and other

recreational areas. This family community

has many benefits within the Heathcote

Valley and surrounding suburbs. Just minutes

from Lyttleton, Ferrymead, Sumner with the

amenities they have to offer.

Open homes Thursdays and Sundays 12 - 12.30pm

Auction on site 1pm 29th November 2020

(unless sold prior)

rwferrymead.co.nz/OPA25218

Great Kiwi Lifestyle! What an opportunity!

5 Dunoon Place, Woolston

Situated in a quiet cul de sac on a private back section. This three double bedroom summerhill

stone home enjoys a retreat like feel. Modern kitchen, open plan dining and lounge with slider to

an awesome sunny deck overlooking the expansive yard. One can only imagine the fun kids will

have here with so much space to play. BBQs and entertaining will happen with ease. A stunning

north facing position and well sited on the section ensures that sun can be enjoyed from the first

to the last.

With double garage, separate laundry, good sized double bedrooms and loads of light into

the home plus the added enjoyment of deck and expansive yard, this presents a fabulous

opportunity. Some potential still remains for those with vision or enjoy as is. Do not delay!

Pip Sutton

M. 027 224 9524

E. pipsutton@raywhite.com

Auction 11am, Friday 27 November 2020 (Unless

sold prior) in Ray White Auction Rooms, Level 2,

76 Hereford Street, Christchurch City.

rwferrymead.co.nz/OPA25190

Ray White Ferrymead

Ready When You Are!

Phone (03) 3844 179 | Email prier.manson@raywhite.com | rwferrymead.co.nz | /RayWhiteFerrymead Prier Manson Ltd. (Licensed REAA 2008)