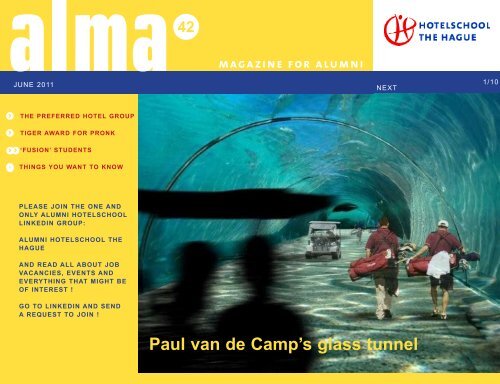 Paul van de camp's glass tunnel - Hotelschool The Hague
Paul van de camp's glass tunnel - Hotelschool The Hague
Paul van de camp's glass tunnel - Hotelschool The Hague
SHOW MORE
SHOW LESS
Create successful ePaper yourself
Turn your PDF publications into a flip-book with our unique Google optimized e-Paper software.
THE PREFERRED HOTEL GROUP

TIGER AWARD FOR PRONK

'FUsION' sTUDENTs

THINGs yOU WANT TO KNOW

PLEAsE jOIN THE ONE AND

ONLy ALUmNI HOTELscHOOL

LINKEDIN GROUP:

ALUmNI HOTELscHOOL THE

HAGUE

AND READ ALL AbOUT jOb

vAcANcIEs, EvENTs AND

EvERyTHING THAT mIGHT bE

OF INTEREsT !

GO TO LINKEDIN AND sEND

A REqUEsT TO jOIN !

42

01

June september 2011 2007 previous / next

1/10

next

1/7

Paul van de camp's glass tunnel
---
FebruArY June 2011 2008

25 42

Philipp Weghmann tells us about

the Preferred Hotel Group

Philipp Weghmann (2002) joined Preferred Hotel Group (http://www.preferredhotelgroup.com) in

October 2006 to open the company's barcelona office and recently he transferred to PHG's miami

office in june 2011 as Area managing Director for Latin America & caribbean.

philipp: "phG represents about 800 independent hotels, most of them 5* rated deluxe hotels, in more than

65 countries however is generally less known in europe in particular due to its American roots.

preferred hotels & resorts, one of the our brands, is arguably the only serious competitor to Leading

hotels of the World and given hDh's close relationship with Leading hotels i thought it would be interesting

for the alumni to learn more about preferred.

A little bit of context: For many years hDh has had very close relationships with some of the world's

most important hotel chains. i recall companies such as marriott (ritz-Carlton), hyatt and hilton coming

to our campus in search of the most talented and motivated about-to-graduate students (systematically

overlooking me…) to offer them management trainings and even full time positions after their traineeships.

these groups continue to grow at a very healthy pace

and many hDh alumni have made their careers in

starwood, intercontinental, marriott and the likes.

Apart from the above mentioned hard brands the

luxury segment of the hotel industry is dominated

by independently managed properties and smaller

regional brands. practically all of these hotels are

affiliated to international ¨soft brands¨, i.e. hotel

consortia that group together hundreds of independent

hotels under their brand to give them credibility in

the international market place and a range of sales,

marketing and technology tools to better compete with

the strong hard brands. Leading hotels and relais

& Chateaux are probably the most famous ones in

europe and several of you have done one or both of

your internships in one of their hotels. both are so well

known in europe because they were founded here,

LhW in 1928 and r&C in 1954.

the third oldest brand out there is preferred hotels

& resorts which was founded in 1968 in the us.

Philipp Weghmann

home previous / next

preferred only started

its global expansion in

2003 when the ueberroth

family bought the brand,

and at the same time

also acquired the brands

summit hotels & resorts

and sterling hotels.

shortly after, preferred

boutique a sister brand to

preferred hotels focusing

on hotels with less then 100

rooms was launched and

together these four brands

today form preferred hotel

Group.

The College Hotel in Amsterdam, a member of Preferred Hotel Group

historic hotels of America

was added through

acquisition in 2009. in terms of hotel room inventory phG is clearly the most powerful soft brand out there

with more than 150 000 hotel rooms belonging to its portfolio.

When i joined phG in 2006 the company had about 500 member hotels, 20 global sales offices and

approximately 100 employees.

since then growth has been spectacular and we now have

more than 800 hotels, 31 sales offices in 20 countries and

220 employees. Chicago, newport beach and London

are our key corporate offices and our latest openings

include moscow, shanghai and buenos Aires. i opened

the barcelona office in 2006 to look after spain, portugal,

morocco, Greece, Cyprus and turkey and will soon oversee

our development in Latin America out of our miami office.

phG is family owned and managed and a great company

work for. All our hotels are independent and therefore

unique and i have had many wonderful stays in many

of them. if you have worked or are working in any of our

member hotels i would love to hear about it.

perhaps we can explore the possibility of hDh students

doing internships at these properties. Drop me a note at

pweghmann@preferredhotelgroup.com".

The College Hotel Lounge

2/10
---
FebruArY June 2011 2008

25 42

Where there is nothing,

anything is possible

paul van de Camp (1990) started his career as manager of 'De hoefslag' a relais & Chateaux hotel in

bosch en Duin (the netherlands) an, at that time, famous restaurant with 1 michelin star.

After that he moved to belgium and became an entrepreneur ending up owning several restaurants and

hotels.

one of the hotels was at the waterfront and because of the high occupancy rates he wanted to build

some extra floors on top.

(un)fortunately… the municipality did not grant permission.

After this negative response the idea came into his mind to build the needed extra space on the water,

floating, like thousands of houseboats in the netherlands already do. he started investigating it at

the moment that an international discussion was going on about sea level rise, climate change and

sustainable environment.

new innovative ideas were needed to adapt to these changed circumstances.

the worldwide potential for environmentally friendly, floating islands with the same comfort levels as on

land, made him decide to create a business to make this become reality.

in 2004 he teamed up with Koen olthuis, a Dutch architect and together they started Dutch Docklands.

today his company is the world leader in floating developments and master development on the water,

based on hundreds of years of Dutch know-how.

the netherlands ('the Low Countries' is the correct translation of the name of the country) are known for

their centuries long fight "against" the water.

this knowledge is renowned all over the world and Dutch engineers have been called in as specialists in

many countries with complicated water related problems.

Dutch Docklands took a different approach and invented innovative floating solutions with which the "fight

against "the water is transformed into "living with" the water. by combining specific knowledge from the

specialist leading Dutch companies they patented 'floating land' and created a whole new global market.

At the end of 2004, Dutch Docklands received a phone call out of Dubai asking for the 'export

department'.

Some of the 43 floating private islands in the ocean of the Maldives

home previous / next

they had heard about the company and were looking for companies to construct the largest floating

development ever been made . sheikh mohamed bin rashid al maktoum, ruler of Dubai, had a vision of a

floating proverb around palm Jebel Ali.

this proverb consisted of 4 different poems like: 'not every man who rides a horse is a jockey'.

the Dutch consortium

headed by Dutch Docklands

won the tender.

A mix of 89 floating islands

with over 220.000 m2 of

floating land with multiple

functions such as hotels,

restaurants, shops and

various leisure, resulted in

a wonderful plan. For that

reason Dutch Docklands

started an office in Dubai.

While only a few years

earlier, a floating restaurant

A floating golf course

3/10
---
01 25 42

FebruArY June FebruArY June 2011 2008 home previous / next

4/10 2/9

Paul van de Camp and the President of the Maldives

was seen as the maximum achievable, there

was now a demand for floating objects that were

not just much larger, but also provided new

answers to genuine requirements and problems.

At that time the president of the maldives was

looking for alternative ways in order to prevent

his country from sinking.

paul picked up the phone and called him, telling

him about the innovative and environmentally

friendly way of making floating land.

this resulted in a partnership with the

Government of the maldives and in 2010 Dutch

Docklands signed a joint-venture contract

to develop, manage and operate floating

developments in 5 lagoons with a total area

of more than 800 hectares/ 80 million sq.ft of

water.

the developments will consist of world's first 18-hole Floating Golf Course with 200 palatial water

villas and two hotels, a Floating star-shaped 800-rooms conference hotel, the biggest in the maldives,

various floating private islands each with a private pool and private berthing facilities, a Yacht-club and 4

individual ring-shaped floating islands each with 72 water villas connected to it. Construction will start end

of this year and will be

ready by 2015.

these developments

will create a whole new

target market for the

maldives.

together with Wouter

Lap and marijke heyer

(both also ex hotel

school the hague

students, 1985) another

new product has

been developed, the

"Floating restaurant

islands". Centralizing

Four circles of each 72 Watervillas, 288 villas in total, an impression (Maldives)

One circle with 72 Watervillas in the Maldives

The Greenstar, a floeating hotel & Conference centre, 800 rooms in the lagoon
---
42

June FebruArY June 2011 2008 home previous / next

5/10 2/9

restaurants, bars and clubs on one huge floating island that creates new opportunities as well as solutions

for crowded waterfronts. it will attract many people and will relieve the pressure of city centers.

the first one of course being developed in the maldives.

in order to train the local maldivian people for a future career in hospitality, a dedicated training institute

will be founded, with help of hotelschool the hague? Who knows, maybe hotelschool the hague might

be able to help realise this?

next to the tourism related activities, the president has asked Dutch Docklands to use their technology

to cover other needs for the local population of the maldives as well. male, the capital city, has one of the

highest densities in the world. Dutch Docklands is now working on a master-plan to create a new Floating

City with more than 20.000 affordable homes next to the capital.

in the meantime this Floating vision is more and more recognized by several international media sources

such as Cnn, Forbes and many others and at the moment negotiations are going on with Discovery

Channel and national Geographic in order to make a documentary about these latest evelopments.

We will surely hear more about this in a later Alma edition!

Floating golf courses in the middle of the sea

books of the month:

For a thrilling vacation!

You are in the hotel industry and cannot do without for three weeks of relaxation in marbella?

You left the hotel business but are a bit homesick for it?

help is on its way! Canadian Daniel edward Craig made

a career as a five-star General manager.

then started writing on the side.

since a year or so (having written some bestselling

thrillers) he works as a writer and consultant (especially

revenue management) in vancouver.

(more on www.danieledwardcraig.com)

three thrilling hotel thrillers are waiting for you to be

devoured poolside in Chersonissos!

Chaos in the Universe:

the Gm of the universe hotel in manhattan (think

Grand-hyatt-like) owned and managed by Willard

Godfrey who is subsequently found dead by trevor

Lambert, the rooms Director.

of course, trevor finally identifies the killer.
---
FebruArY June 2011 2008

Murder at Hotel Cinema:

25 42

Drama in hollywood! trevor, now Gm in a five-star in hollywood, is preparing the opening party when a

famous movie star takes a fatal dive from the penthouse balcony.

is it suicide?

And again after a long struggle he manages to

expose the real killer.

Murder at Graverly Manor:

trevor Lambert tries to buy his own luxury bedand-breakfast,

a victorian mansion in vancouver

called Graverly manor.

however, the old lady-owner won't sell before

trevor has worked there for at least a month.

And of course, during the night ghosts seem to

rule, and a chambermaid disappears!

have fun reading (i for sure had lots of fun) and

make sure you throroughly recharge yourself.

For all three books see amazon.com; about $ 16

each plus postage.

PLEAsE jOIN THE ONE AND ONLy ALUmNI HOTELscHOOL

LINKEDIN GROUP:

ALUmNI HOTELscHOOL THE HAGUE

AND READ ALL AbOUT jOb vAcANcIEs, EvENTs AND EvERy-

THING THAT mIGHT bE OF INTEREsT !

GO TO LINKEDIN AND sEND A REqUEsT TO jOIN !

home previous / next

A team of private butlers, bidding farewell

to one single v.I.P. guest, in a luxurious

hotel somewhere in the world........

sorry, we can not give you any details....

6/10
---
June 2011

42

Tuscany, Napoli and the pizza margherita

For us, and just about everybody else, the summer holiday is almost there. Last thing at the school

will be the traditional, enjoyable yearly bbQ-buffet for the staff and then it is off to distant shores for a

few lazy weeks. As you know, half of the Dutch middle-class population spends part of their holidays in

tuscany where they meet up again with most of their friends from the Dutch suburbs. As for myself, i've

seen Florence, sienna and pisa – but not much else. very scary the Leaning tower was – at least, the

open top floor, thirty years ago - but recommended! For an even stronger shot of culture, travel north to

verona (at Lake Garda) afterwards, and enjoy an incredible evening at the opera in the old roman Arena.

it is breathtaking , fantastic, majestic, romantic and a lot of other things: this year, choose from Aida, il

barbiere di siviglia, La boheme, La traviata, nabucco and romeo and Juliette, until late August

(arena-verona.veronaticket.com).

speaking about italy, my wife and i enjoy a pizza about every other week and until recently we did not

really know much about the history of the most widely known dish in the world. of course we knoew the

country of origin and also the famous Queen margharita story, but that was it. so earlier this year we

flew south to napoli for the weekend, to the home of the pizza. After checking in in a charming hotel in a

restored 'palazzo' in old naples, the search for the real history of the pizza began. First stop was brandi,

probably the most famous and historical pizzeria in town.

it was here that 'pizzaiolo' raffaele esposito created, in 1889, the mother of all pizza's, the margherita.

it was invented in honor of Queen margherita of italy, who was on an official visit to naples, and it shows

the colors red, white and green, like the flag of the republica italiana. the colors of course come from

tomatoes (preferably from san marzano or similar), fresh basil and mozzarella di buffalo (top quality

only). the only other thing you need is a spoonful of extra vergine olive oil and of course the dough. the

margherita is obviously called the Queen of pizzas and a good pizzaiolo (or pizza chef) makes sixty per

hour (yes, even the young generation can figure that out without a calculator: one per minute)

After an excellent meal at upmarket brandi, we had a completely different, but also great experience the

next evening.

'sorbillo' is another historic pizzeria, founded in dictator mussolini's time, in 1934. it is extremely busy

each evening with lots of hungry people outside, waiting for a table. only four items are served: pizza,

wine (one, red), coke (in a bottle), water (in a bottle, one kind) and beer (one, German brand in a halflitre

can), and the place is crammed every evening. the founder and his wife had 21 kids together – the

Catholic church and mussolini united could be quite convincing…. All of them (and

later the grandchildren) went into the pizza trade! Keep napoli in mind for a long

weekend in the fall or so, it is a superb experience.

For now, we wish you a great summer – and a relaxed 'comeback' afterwards! And

finally, if you really don't know where to go: go to Greece, and spend your money

there! the hard working majority of the Greek deserves to keep their job!

A.C. van Delft, LL.m

home previous / next

Rowing Ladies Hotello 8

on a cold January morning, eight ambitious, yet ignorant students from hotel school the hague came

together in the hangar of rowing club pelargos in the center of the hague.

brought together by Fleur stoffelen, who came up with a very special extracurricular activity: taking

part in the longest rowing marathon in the world and row one hundred km on 11 may 2011. We never

rowed one meter before! We found sponsors like our hotelschool, another sponsor for the sportswear

and some suppliers for food. During the cold, yet sunny winter months the first steps were taken. three

enthusiastic coaches (once crazy enough to row hundred km themselves), improved our rowing skills and

strengthened our physical fitness.

how we have cursed those rowing machines! but: no pain, no gain! We lost three girls due to injuries,

but we found new motivated ones as well. sundays were something to look forward; training in the actual

boat, out on the water. We learned to row technically correct, since only technique can take you to that

finish line. soon we realized it was all about balance; balance in the boat and balance in our lives.

scepsis and doubts about the feasibility surrounded us while testing our limits and going beyond. We

experienced the importance of team dynamics and spirit. training intensified to four sessions per week.

emotions intensified too. A sixty km trip tested us three weeks before the great day. our confidence grew

strongly, because we managed!

then, only two weeks in advance; one of us broke her leg! end of story? no, we found a trained rower

and although we only trained once as a complete team in the right boat, we had good faith.

the regatta on 11 may 2011 was like a dream. the perfect weather, over a hundred students and parents

cheering for us, one hundred and

thirty seven competitors, the pain,

the feeling we were invincible.

sometimes we fought and struggled,

sometimes we flew over the water,

overtaking other teams. in the end,

we surprised everybody, including

ourselves, by being the fastest

female boat of the ringvaart regatta

2011 in 8 hours, 10 minutes and

47 seconds! it took eight amazing

girls, one indispensable coxswain

(steering the boat), three fully

committed coaches and hours of

practice, but it was worth every part

of it.

Josje van der Wielen, bowman

Nicole Wigman, Chrlotte van Solinge, Susan de Vries, Jacobine van der Klooster,

Fleur Stoffelen, Josje van der Wielen, Bo van Strijland and Sanne Platen, together

with a proud Mr Dooge

7/10
---
01 25 42

FebruArY June

June

september 2011

2011

2008 2007 home previous / next

8/10 3/7

Richold bakker's

(1992) DjaDjan

restaurant selected

In the artists' village of bergen in the northern

netherlands, restaurant DjaDjan has been selected

to become a member of the premier league of

indonesian restaurants, the sir ('selected indonesian

restaurants').

in bergen, richold was already owner of a popular

bar-restaurant. the premises where DjaDjan is now,

became vacant. "i wanted something different, not

another bistro", richold told us.

richold, nor his cook is of indonesian origin. but

the cook (a Greek called Jani Gritzalis), has learned

to cook from a famous indonesian cook: Lonny

Gerungan.

Worth a visit!

restaurant DjaDjan

Kleine Dorpsstraat 1

bergen, tel. 072-5813482

www.djadjan.nl

Richold Bakker (in the middle) receives his SIR certificate

Tiger Award 2010 for

claudia Pronk

recently, the minor hotel Group, a hospitality company with 33

hotels and 1.000 restaurants in Asia, presented the annual 'minor

Awards' to Claudia pronk (1991), former General manager of hotel

Des indes and nowadays General manager of three resorts.

she was awarded with the 'tiger Award'.

Claudia is General manager of the resorts Anantara Dhigu,

Anantara veli and naladhu maldives.

she was praised for her professionality, dedication and leadership

that formed the basis of the company's success.

Congratulations, we are proud of you, Claudia!

Claudia Pronk and her son at the Anantara beach

From Amsterdam to

Guangzhou

my name is Clemens berendsen. For the last six years i have been

a member of the board of Directors at hotelschool the hague.

these are exciting times for hotelschool the hague. After many

years it looks like we finally found a new place for our Amsterdam

campus. recently, i signed the lease contract for the new building,

altogether about 13,000 m2 for both school and skotel. if all

goes well, we will move in the summer of 2012 from the prinses

irenestraat (school) and De Klencke (skotel), to the new premises,

by then fully renovated, where both school and skotel will be

accommodated together.

it is going to be a huge challenge to be ready in time, but we are

surely looking forward to opening the new school in Amsterdam.

in may, invited by Florida international university and the

south China university of technology, i visited a conference in

Guangzhou. it was really worthwhile to meet other international

hotel schools and international and Chinese hotel chains and

discuss what the regional developments are and what the hotels

expect from the hotel management courses.

During the trip to Guangzhou i also visited some trainees in beijing.

two of them work at the Westin Chaoyang, one at the hilton Airport.

it was very interesting to hear about their challenges working and

living in a city like beijing.

Finally, an annual research by the hbo raad among hbo

graduates shows that our school scores far better on almost all

subjects evaluated by alumni , than all colleague hotel schools in

the netherlands. And this is extremely good

news for everyone who is well disposed

towards hotelschool the hague.

Drs C. berendsen

board of Directors
---
FebruArY June 2011 2008

25 42

Things you

want to know

cLImING THE sTAIRs

jori messer (2009), sales Director the

regus Group, indonesia

murat Turan (2001), business Development

manager middle east & Asia, pieterman

Chocolate works netherlands. murat is

responsible for developing sales channels

and new products. From starbucks in

shanghai to candy stores in Dubai, you can

find their chocolates.

max Wiegerinck (1991), hotel manager the

st. regis saadiyat island, pre opening office,

Abu Dhabi

Franziska jotzo (2010), training

Coordinator Learning Associates

Kervin van den meijdenberg (2004),

Director of Front office, trump international

hotel & tower, toronto Canada

maurice Albers van der Linden (1998),

Account manager/project manager best

image signing

carola boer-broeders (1990), brand

Director Global baby Care, unilever

Rogier cammaert ((2006), export Director

Chevalier international printing business

michiel de Kloet (2008), business

Development executive, business

Development, rai

Erwin de jong (2009), operations manager

european Airports at Yotel (hotels in

heathrow, Gatwick and Amsterdam)

marlies van der Hout (2004), Food &

beverage manager hilton Curacao

marlies Kromjong (2001), hr manager

research & Development vlaardingen,

rotterdam and member of site Leadership

team and hr Leadership teams, unilever

sEEN THE LIGHT OF LIFE

Daan, son of marcia van Deyl (2003) and

Niels de veij (2002)

Lieve, daughter of Ellen Holtslag (2007)

Aafke, daughter of Xander Lub (former lecturer

research and statistics)

sara, daughter of Thomas Dinkla (2004)

and caroline schilt (2006)

sarah, daughter of matthias Huitema (2000)

reinier, son of Roland coppens (1993)

home previous / next

mARRIED

jorine Hueting (2006) and Rogier van der

Wurff (2008)

mireille de vries (2006) and Wouter

stevens (2006)

janine Kho (2008) and bastiaan

breukhoven (2004)

9/10
---
FebruArY June 2011 2008

25 42

selection abroad

As you might know, Hotelschool The Hague

regularly goes abroad for a selection day for

international students.

Recently, we were in Budapest and Bucharest.

Members of staff, trainees and former students

cooperate in these sessions.

Staff members Joost de Langen, Arnoud van Delft, Angela

Romijn and Hungarian student Balazs Heim in Budapest

Nir Weinstein (1997), G.M. Radisson Blu in Bucharest participated

in the selection procedure in Romania

Fusion

A message from Fusion, a group of hotelschool students who arrange Corporate social

responsibllity related events in order to raise awareness of all stakeholders: student body, faculty,

hDh, outside contacts and Fusion members and to create a platform which will enable all

stakeholders to inform themselves about Csr and on how to implement it in the industry:

"Dear alumni,

Do you feel like coming back to hotelschool the hague for a day and are you or your company

actively involved in Csr topics? then here is the opportunity to meet and greet some of your former

lecturers and instructors and pass on a message from the industry straight to the upcoming industry

leaders – namely to us - the students of hotelschool the hague!

Fusion invites You to be our guest!

Fusion endeavors to provide future managers with knowledge of Csr that they can incorporate in

their professional life. As an official, non-profit entity of hDh, Fusion strives to increase awareness

of faculty and students at hDh about Corporate social responsibility (Csr) and to provide a

stimulus to the curriculum of hotelschool the hague. Fusion endeavours to provide future

managers with knowledge of Csr that they can incorporate in their professional life.

our mission is to arrange Csr-related events in order to create awareness among all stakeholders:

student body, faculty, hDh, outside contacts and Fusion members.

We constantly strive for being a stimulus to the curriculum of hotelschool the hague.

And this is where we need Your input!

if you are interested in presenting your company's values in terms of Csr, conducting a workshop or

just anything else – we would highly appreciate your contribution!

For any questions, ideas or suggestions: please contact us via fusion@hdh.nl and like us on

Facebook, where you can also receive more information about our past events and us!

thank you very much for your

consideration and we are looking

forward hearing from you!"

on behalf of Fusion, tanja

tönnießen, (in the picture 4th

from the right)

board of Fusion

2010 / 2011

home previous / next

service centre Hotello TOP

organizes first Alliance

Weekend 2011

The initiative to get together with the Alliance

(Students' Associations of Maastricht, Breda,

Leeuwarden, Amsterdam and The Hague hotel

schools) came from the Hotello TOP Service

Centre and Amphitryon (Maastricht Student

Association).

Hotello TOP is an organization that offers a

platform for (former) hotel school students of

international hotel schools in the Netherlands

The first gathering was in Lanaken, Belgium

and the focus was on future cooperation and

personal development. Students of all the hotel

schools present were trained and participated in

workshops in order to help them discover their

aspirations and their inner self.

Present from La Confrerie: Tamar Nijenhuis, Anne van Muijen,

Manon de Koning, Robin van Beek, Susan de Vries, Bas van

Rooij

10/10