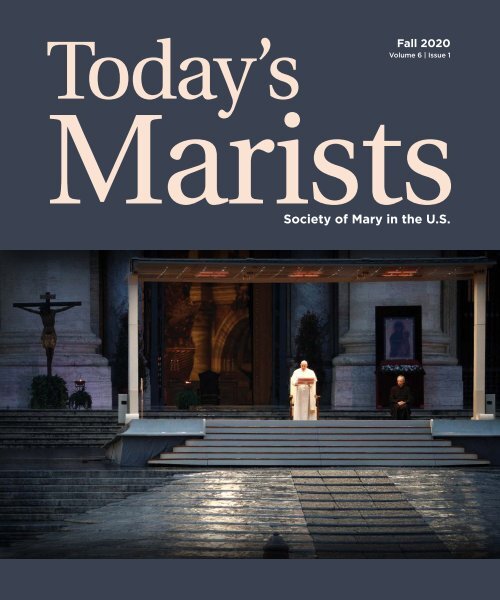 Today's Marists V.6 Issue 1 FALL 2020
You also want an ePaper? Increase the reach of your titles
YUMPU automatically turns print PDFs into web optimized ePapers that Google loves.
Today's

Fall 2020

Volume 6 | Issue 1

Marists

Society of Mary in the U.S.
---
Today's

Marists

Fall 2020 | Volume 6 | Issue 1

Publisher

Editor

Editorial Assistants

Archivist

Editorial Board

Paul Frechette, SM, Provincial

Ted Keating, SM

Elizabeth Ann Flens Avila

Communications Coordinator

Philip Gage, SM

Randy Hoover, SM

Susan Plews, SSND

Susan Illis

Ted Keating, SM, Editor

Michael Coveny

Mark Dannenfelser

Thomas Ellerman, SM

Mike Kelly

Joseph Hindelang, SM

Randy Hoover, SM

Bishop Joel Konzen, SM

Jack Ridout

Nik Rodewald, SM

Bill Rowland, SM

Today's Marists is published three times a year by The Marist

Fathers and Brothers of the United States Province. The contents

of this magazine consist of copyrightable material and cannot

be reproduced without the expressed written permission of

the authors and publisher. We wish to provide a public forum

for ideas and opinion. Letters may be sent to:

smpublications@maristsociety.org

Editorial Office

Editor: 202.529.2821 phone | 202.635.4627 fax

Today's Marists Magazine

Society of Mary in the U.S. (The Marists)

Editorial Office

815 Varnum Street, N.E., Washington, D.C. 20017

smpublications@maristsociety.org

www.societyofmaryusa.org f

In this issue...

3 from the Provincial

by Paul Frechette, SM

4 A Plea for a Marian Church

by Ted Keating, SM

6 A Slice of Life in 2020 on the Southern

Border

by Tony O'Connor, SM

8 Compassion and Mercy for a Pastoral

Conversion!

by Ricardo Navarrete Gutiérrez, SM

9 News Brief

10 Movie Review: Contagion

by Brian Cummings SM

Society of Mary of the USA

12 A Glimpse of the Pandemic's Effects on Our

International Marist Ministries

by Albert Kabala, SM, Ivan Vodopivec, SM and Isaia Wairoga, SM

16 'Bright spots' in the Midst of a Pandemic

by Mike Kelly and Michael Coveny

21 Remembering the Marists and the

1873 Yellow Fever Epidemic

by Susan J. Illis

22 The Pandemic - Making Us Rethink Charity

and Mutuality

by Nik Rodewald, SM

23 Teaching Adult Faith Formation Online

by Mark Dannenfelser

24 Obituaries

26 Jean-Claude Colin and Caretaking

by Tom Ellerman, SM

27 Supporting the Marists

by Denise D'Amico

Marist Provincial House

815 Varnum Street, N.E., Washington, D.C. 20017

Marist Center

4408 8th Street, N.E., Washington, D.C. 20017-2298

Marist Center of the West

625 Pine Street, San Francisco, CA 94108-3210

Distributed freely by request to churches, schools and other

organizations. Home delivery is available by free subscription.

Contact our Editorial Office. Our website offers additional

information of interest to friends of the Marists. It is refreshed

regularly.

© 2020 by Society of Mary in the U.S. All rights reserved.

Cover Explanation

The iconic photo of Pope Francis during the Urbi et Orbi Blessing and Address on

the coronavirus on March 27, 2020 shows the emptiness and darkness of St. Peter's

Square amidst a steady rain. There is a similarity between this photo showing Pope

Francis counseling us and Jesus reassuring the disciples during the turbulent storm:

"Why are you afraid? Have you no faith?" (Mark 4:35-40) Pope Francis entrusts us

to the Lord through the intercession of Mary. We Marists know her as the hope that

believes that "nothing is impossible with God."

Printed on partially-recycled stock with a vegetable-based ink mixture.

Design: Beth Ponticello | CEDC | www.cedc.org

2 Today's Marists Magazine
---
from the Provincial

Fr. Paul Frechette, SM

How the Pandemic has affected

our Marist communities

Every June the majority of our members of the USA province

head to the Midwest part of the United States for our annual

retreat, assembly and occasional workshop on a timely

topic. Many of us look forward to this break. It is a time for

prayer, celebration of the Eucharist, fraternity, friendship and

reflection on our ministries, since outside of that week many

of us are absorbed in the daily responsibilities of our own

ministries.

This year – everything suddenly changed. In an instant, it

seemed, we were reminded that we ultimately are not in

control.

For many Marists, the forced quiet allowed time to immerse

ourselves more fully in prayer and to renew relationships

with the Lord and with others in our local community. We

had more time to reflect upon our life as religious and our

responsibilities as brothers during these stressful times. We

saw how the pandemic affected our friends, our families and

our communities. According to the United States Department

of Labor, about 60 million unemployment claims have been

filed since mid-March. As of late September, the Center for

Disease Control (CDC) reported over 202,000 deaths from

COVID-19.

A few weeks ago, I asked members of the United States

Province to share their reflections with me regarding these

challenging times. Their responses moved me. One member of

the Province wrote that the pandemic "freed up my time to do

other things for mind, spirit, and body. It forced me to reflect

more carefully what I am doing next. … It also automatically

slowed me down. Slowing down helps reflection, prayer,

reading, exercise and the intentionality for what I am doing or

receive any visitors. Our national Mission Office felt the impact

of the pandemic as many of the Mission Co-Ops planned for

May and June had to be cancelled because of the shelter-inplace

policies that were in effect in many states. In an article

within this Today's Marists issue, "A Slice of Life in 2020 on

the Southern Border," Fr. Tony O'Connor, SM reflects on the

challenges faced by asylum seekers he and fellow parishioners

minister to at San Felipe de Jesús Parish in Brownsville, Texas.

Fr. Tony emphasizes a message from Pope Francis regarding

the pandemic, "We have realized that we are on the same

boat, all of us fragile and disoriented, but at the same time

important and needed, all of us called to row together, each

of us in need of comforting the other." (Urbi et Orbi, March 27,

2020)

Furthermore, in the Centerspread of this issue, you will

read about the impact the pandemic has had on some of our

international Marist communities, specifically in Africa,

Brazil, England, and Oceania. A common thread that runs

throughout the Centerspread is the question "When will

this pandemic end?" Although no one can answer this with

precision, we are reminded that we are in this fragile time

together, and with the grace and strength of God and united in

prayer we will get through this pandemic.

In conclusion, the pandemic is teaching us the fragility of

our world. As Marists we are called to be bridge builders,

instruments of hope and bearers of the Good News. This is

the time for us to be bearers of hope as we respond to this call

and answer the question "Who is my neighbor?" As the Marist

Superior General John Larsen, SM reminds us, "countries have

closed their borders and so many people can be tempted to

close their hearts out of fear of the virus, there is a special need

One member of the Province wrote that the pandemic "freed up my time to do other things

for mind, spirit, and body. It forced me to reflect more carefully what I am doing next."

not doing. But there is [also] a negative side [to this slow down]

- my ministry came to a sudden halt. I was not able to have

access to those I meet daily in the ministry, whether school

or parish. We had to shelter in place which limited our social

experiences. There is the normal anxiety of what happens next

and will this ever end?"

Several of our Marists residing in nursing homes found the

lockdown time to be lonely and isolating as they could not

for the freshness of the love of the Holy Spirit breathing life and

joy among all of us Christians." He continues to remind us that

the Society of Mary "speaks of open borders, open hearts and

unity of purpose." We can encourage and accompany those

whose worlds may be closing in on them. The global dimension

of our congregation is an expression of hope as we reach out to

our neighbors. Be assured of our continued prayers and may

the gentleness of Mary be our strength.

Fall 2020 3
---
A Plea for a Marian Church

by Ted Keating, SM

"The Society (of Mary) must begin a new church over again. I do not mean that in a literal sense,

that would be blasphemy. But still, in a certain sense, yes, we must begin a new Church…"

(Venerable Jean-Claude Colin, A Founder Speaks)

The year 2020 will long be remembered. One of the most

frequent conversations for most of the year had to do with

"Who could have predicted this?" "How could so much have

changed so rapidly from even the early months of the year?"

"Will we ever get back to the normal we once knew?" Often the

words to describe most of this year are beyond us because they

are clearly beyond anything that would have described our life

before this year.

We were sharing back and forth on Zoom and other forms of

social media in early Spring 2020 about what "sheltering in

place" (almost a new normal itself at that point until it got

"old") was doing to or for us. There were conversations about

monastic living, contemplation, and having the time to read

and reflect. Parents were home with their children as both

the workplace and classroom turned virtual. A volume could

be put together of poems shared back and forth to describe

the experience. Artists and other musicians began using the

internet to meet our aesthetic needs and keep our spirits up.

Then the thundering reality grew into its own crescendo

of illness and death as the virus took its widespread and

shocking toll. We became aware of the frightening reality of

the elderly succumbing just because they were elderly. Then,

African Americans were dying in numbers grossly exceeding

white people, and, then, immigrants and refugees were next

in line. Like a prophetic voice from the Jewish Testament,

successively tearing down the illusive veils that cover so much

of our society, we had to face the unspeakable realization of

how many were suffering without basic health care. The lack

of access to hospitals in cities and states where the virus was

most crushing, and the frightening impact on our economy as

it gradually shut down so as to protect people from physical

proximity and possible contagion. As so often happens, this

pandemic most impacted the poorest members of society as

well as many who had been maintaining a basic, relatively

comfortable life until widespread unemployment began to take

its toll. The statistics about how many people in our society

live one paycheck away from homelessness were suddenly and

graphicly revealed to us as we watched miles and miles of cars

in line seeking just daily bread.

Our politics in so many ways cracked and shattered into

weakening partisan rhetoric that made direct and persistent

work to hold back the virus almost impossible.

And then the brutal images of a black man being purposely

strangled under the knee of a white police officer as he

pleaded for his life. "I can't breathe" led to a powerful national

movement including large numbers of supportive people from

all ethnic backgrounds, determined to take up the issue of

racism in the United States through widespread protests and

a new consciousness of white privilege that remains mostly

unconscious.

The year 2020 will not be forgotten. A Plea emerges from our

human heart in the name of justice and equality, compassion,

sensitivity to one another, reconciliation, and forgiveness that

tests our capacity to love one another as a nation, as a people,

and as the "the Beloved Community" to use that missionary

phrase of Dr. Martin Luther King. The "face mask" has

gradually became a sacramental manifestation of our love for

one another. It doesn't protect us so much as our brothers and

sisters around us. The other great symbol that remains in our

imagination and memory is the widespread national protests

by ethnically diverse groups of people joining with blacks and

whites, marching together for a more just and loving nation

that can become a model and witness of a newer world afflicted

by all these challenges.

The poetic depiction of our Marist vision of a Marian Church

calls us to move beyond mere poetry to a lived Plea for a

Marian Church on behalf of our Founder, Fr. Jean-Claude

Colin's broader call to "the whole world Marist." We Marists

do not seek to become world famous as a Congregation, but

we do seek to project a Marian Church pouring its mission,

ministries, and proclamation of the mysteries of Christ into

a world that represents the values of "The Marian Church."

Vatican II in the Church in the Modern World clearly sought

to create a Church aware of its mission to all humanity. The

Council was bold enough to declare that the Church is the

Sacrament of the reconciliation and oneness of all humanity,

which is also the definition of each celebration of the Eucharist.

So, our Plea here may seem terribly idealistic, but as Marists we

understand that Mary is the one who knows that we worship a

God for "whom nothing is impossible." So the causes we face

are as large as God's desires even when to others these causes

appear hopeless.

In recent months, Pope Francis has written extensively about

his concerns for a post-pandemic world. He may be the only

world leader reflecting on these challenges and putting them

on the frontlines of mission and ministries, especially in

areas where people live daily with poverty, limited health

care, social instability, and growing difficulties in feeding

themselves. These populations are also the first to suffer from

the dangerous shifts in climate that are showing their paths of

destruction in the enormous increase in hurricane intensities

and the ferocity of massive fires in many parts of the world,

including the U.S. He is calling for an attentive widespread

reflection and plan of action for after the most devastating

4 Today's Marists Magazine
---
of the virus outbreaks lessen. Pope Francis has established

a Vatican group addressing this topic. They are currently

analyzing and strategizing and will seek to come up with a

large coalition going into the post-pandemic world.

The Vatican Pontifical Council for Interreligious Dialogue

along with the World Council of Churches in Geneva has

already published in recent weeks a document titled Serving

a Wounded World in Interreligious Solidarity: A Christian Call

to Reflection and Action During COVID-19 and Beyond. The

purpose of this document is to establish a Christian basis

for interreligious solidarity that can inspire and confirm,

for Christians of all churches, the impulse to serve a world

wounded not only by the pandemic but also by many other

wounds.

As this issue goes to press, Pope Francis has released what

is perceived as the Encyclical that he hopes will define his

ministry as the Pope for now and into the future. According to

John Carr, the Director of Initiative on Catholic Social Thought

and Public Life at Georgetown University in Washington,

DC, "Fratelli Tutti is a powerful expression of faith in a time

of doubt, a call to hope in a time of fear, and a challenge to

love in at time of anger and division. Pope Francis' letter is a

combination of Franciscan themes and Jesuit discernment,

shaped by Argentinian pastoral experience and traditional

Catholic social teaching. The encyclical affirms and applies

the principles of Catholic social teaching to the "new things"

of 2020: a global pandemic, an economic crisis, political

polarization, and social isolation and exclusion." How will

Marists throughout the world respond to Pope Francis's call

in Fratelli Tutti? We are sure that we will be reflecting carefully

on this document in future Today's Marists issues.

In the preceding paragraphs you find the concerns and

inspirations that arose from our planning for this first issue

of Today's Marists in Volume 6. We have gathered articles from

around the Marist world on the impact the pandemic has had

on our Marist missions and ministries. You will read about the

experiences of Marists in Africa, Oceania, Mexico, and London.

Here in the United States, you will read about the impact that

COVID-19 has had on our schools in Pontiac, Michigan and

Atlanta, Georgia, with some early reflections on what may be

the long-term impact on education in the future, here in the US

and perhaps around the world.

In the second issue of Volume 6 we hope to bring reflections

that bear on the reality of racism in our changing world. The

third issue of this volume will include articles focusing on

the adjustments the pandemic has brought to education and

worship in our world.

The poem "A Marian Church" by François Marc, SM

(www.societyofmaryusa.org/our-mission/marian-church)

offers guidance for our plea for a Marian Church as we are

called to serve a wounded world with compassion and love.

When we face the brokenness of humanity, a Marian Church

is "…moved by compassion and, with infinite tenderness, she

tends their wounds. She is the safe harbor, who is always open,

the refuge of sinners, 'Mater Misericordiae,' Mother of Mercy."

AN EXCERPT FROM

A Marian Church

By François Marc, SM

The Marian Church knows she is the object of a gratuitous

love, and that God has the heart of a mother. She has seen

God on the doorstep, on the lookout for the improbable

return of a son; she has seen him throw his arms around his

neck, place the festal ring on his finger, and himself organize

the home-coming feast. When she pages through the family

album, she sees Zacchaeus in his sycamore, the woman taken

in adultery, the Samaritan woman, foreigners, the lepers,

beggars and a common prisoner at his place of execution.

So you see, the Marian Church despairs of no one, and does

not quench the smoking flax. When she finds someone

on the side of the road wounded by life, she is moved by

compassion, and with infinite tenderness tends their wounds.

She is the safe harbor, who is always open, the refuge of

sinners, "mater misericordiae", mother of mercy.

The Marian Church lets in the wind of Pentecost, the wind

which impels one to go out, which unties tongues. In the

public square, not for the sake of hammering doctrine, nor to

swell her ranks, she proclaims her message: the promise has

been kept, the fight has been won and the Dragon crushed

forever. And this is the great secret which she can only

murmur: to win the victory God has laid down his arms. True,

we are in an intermediate time, the time of human history.

And that history is a painful one.

Yet every evening at the end of Vespers the Church sings

the Magnificat. For the Church knows where her joy is to

be found. And look: God has not found our world or its

afflictions, its violence or its wickedness uninhabitable. It is

there that He has met us. And there, on the Cross, we have

seen the "mercy", the open heart of God.

Full poem available at:

www.societyofmaryusa.org/our-mission/marian-church

Fall 2020 5
---
A Slice of Life in 2020

on the Southern Border

by Tony O'Connor, SM, Pastor, San Felipe de Jesús, Brownsville, Texas

Persevering does not mean always doing

the same thing. We leave behind what

does not work. We adapt to the everchanging

needs. We listen to the spoken

and unspoken words of the people. The

pandemic demands that we reach out

with heart and mind, beyond the local

surroundings as best we can, even just

across the river to the other side of the

same valley, to the cities of Brownsville,

Texas and Matamoros, Tamaulipas in

Mexico.

A Tale of Two Cities

Brownsville and Matamoros are a tale

of two cities. They have been united and

divided for centuries. In normal times

the three bridges that connect the two

cities are traversed with great frequency,

but well before the beginning of the

pandemic the United States government

began to restrict border crossings and

COVID-19 became a good excuse for

increased restrictions. This means that

aging parents in Matamoros are not

being visited and supported so much by

their kids in the United States and the

less expensive medical services used by

our simple folk in Brownsville who have

no insurance is also impeded, including

treatments for COVID-19. What was a

tale of two united cities has become even

more a tale of two divided cities.

The asylum seekers, who were illegally

impeded from crossing the bridges

before the pandemic, now await their

suspended court hearings. On Tuesday,

August 18, 2020, Edwin Rodrigo Castro

de la Parra, a Guatemalan and an asylum

seeker camp leader was found drowned

in the nearby river, survived by his wife,

his two little girls, his grandmother and

his sister who had just given birth to a

baby girl. One of his friends said, "Only

God can help us at this moment. It is

only desperation that drives the brave to

meddle with the Rio Bravo."

We had a group of ladies who crossed

the river to take food and clothing to

the migrants. Now a friend takes money

donated to us at San Felipe de Jesús and

gives it to a small non-governmental

organization (NGO) that uses it to buy

basic necessities, especially medicines

for those with COVID-19.

The Sides of a Great Divide.

The city of Valle Hermoso in Mexico has

poor neighborhoods, Barrio 18 is one

of them. Mayra is our link to helping

people in these parts of Valle Hermoso.

She miraculously crosses the bridges and

border controls to take food and clothing

to many people. In the early morning

of August 18, 2020, Mayra took a load

over the bridge. Stopping for breakfast

at a local stand, a little boy, maybe 8 or

9 years old, told Mayra he was hungry.

Mayra bought him breakfast. He sat with

her but only ate half. He said that the

other half of the breakfast was for his

little brother outside who was hungry

too. So, Mayra bought the brother

breakfast, however both boys left half of

their breakfasts untouched. You see they

live with their grandparents who were

hungry too.

Here in Brownsville no one is really

hungry. On the other side of the river

there are many who literally are. The

divide is immense, not just the currents

in the river or the line marking the two

countries, but in the risk that there is in

sharing.

This is not to say that there is no need

in Brownsville. Living in the United

States is very expensive, especially here

in Cameron Park, one of the poorest

neighborhoods on the southern Border.

You need money for rent, to own and

drive a car, for bills, medicines and food.

Although little boys and girls here are

generally not hungry, some grandparents

feel the pinch. Hunger and great need

can be found here on this other side of

our great divide, on this other side of the

river.

At San Felipe de Jesús we spend hours

under the hot Texan sun giving out food

from agencies and occasionally putting

up with the bad mouthing of some who

feel the world owes them a favor. Most of

the time it is pleasing to serve the food

and a way of keeping close to the people,

a union of hearts, minds and bellies.

At the same time our heart bleeds for

those two little boys in Barrio 18, their

grandparents and other families too.

6 Today's Marists Magazine
---
Top: Proud fathers with newly baptized

Bottom Left: Funeral service for Sandra

Bottom Right: Wedding ceremony for Clarissa and Frank

Death

With the casket at the church door I was

prepared: Holy Water for the blessing

and the white baptism veil to cover the

casket. When the casket was at the altar,

it was time for the funeral Mass to begin.

I have buried my mom, my dad and a

kid sister, and I managed to get through

these services, but this time my eyes

were clouded and no words came. There

was silence. Someone finally led the "I

confess" to get the Mass started.

Jesus cried at the tomb of Lazaro and

cried when he saw Martha and Mary

so upset. But me? The deceased was

no intimate friend. That's what the

pandemic is doing. Even when the

families come later with the ashes of

their loved ones - it is the same. It is as if

the church is charged with sadness and a

void. Not having been with the deceased

in their agony, nor seeing them lying in

state, but rather just left in the end with

a little cardboard box or urn to hold

onto tenaciously until it is placed on a

table before the altar. The air is charged

with tears, whether it be for 48-yearold

Sandra who suffered from Down

syndrome who died on July 14, 2020,

or Miguel y Mia whose wife died from

COVID-19 on July 21st. Now a month

later the family is gathered for a ritual

farewell: two urns on a table, the couple's

photo, the bright paschal candle and

beautiful flowers. Scenes at the cemetery

can be worse.

New Life

But with death comes life. Due to the

pandemic, to get a body or ashes back

takes two weeks. Meeting and accepting

the pain takes longer than that, but

morning light does break through the

dark.

A Pandemic Wedding

Some churches are reluctant to do

weddings. But not here. Clarissa and

Frank were the first not deterred from

having their wedding. A lovely mature

and gracious couple, now happily

married, and I believe until death do

them part. A new life cycle begins.

Death has lost its sting.

The same rituals in church with

"protocols" in place but joyfully new: We

keep on baptizing! An individual bottle

of water for each kid, cotton buds for

anointing, mask wearing and keeping

six feet apart. On August 22nd dads

were proud to present 15 kids for the

sacrament of Baptism. A day for families

to celebrate after a tiring COVID-19 filled

summer.

Fall 2020 7
---
Compassion and Mercy

for a Pastoral Conversion!

by Ricardo Navarrete Gutiérrez, SM (Newly Ordained on September 26, 2020)

On September 7, 2020 I was preparing to

celebrate the Liturgy of the Word in one of

our Marist parishes in Mexico City. I read

a reflection on the Gospel for that day

where Jesus, healing a man's paralyzed

hand on the Sabbath, is criticized and

opposed by the scribes and pharisees.

How is it possible, Jesus wondered, that

the Sabbath, a day made for the benefit

and consecration of people, had turned

into a rigid ritual and a burdensome

observance? The whole Jewish religious

system, apparently, had forgotten

compassion and mercy!

The global pandemic, similarly, has

been forcing us to avoid human contact

and closeness to others. Certainly, to

stay away from our neighbor is the

safest solution, but in a country like

Mexico where not everybody has the

basic resources to survive, even when

there is no pandemic, and many people

need to go into the street to seek some

money, contact is inevitable. So, for us,

compassion and mercy have been part of

our pastoral discernment as we strive to

attend to the needs of those who are poor.

Times of crisis, like the one we are facing

these days, are not moments of paralysis

for us, especially when there are people

out there dying of hunger and disease.

At the beginning of this year the pastor

of Immaculate Conception Church

proposed the renovation of an old

building in order to create the "Dining

Hall of Mercy" for feeding those who are

poor. The renovation was completed just

before the pandemic hit. News about the

"Dining Hall of Mercy" spread quickly,

and many people in need started coming

forward to receive food. Then, the virus

struck. This wonderful parish ministry

was at risk of being shut down. Was it safe

for hungry people to come and expose

themselves to COVID-19? No. From

the outset, it was not safe, but to have

abandoned them to their uncertain fate

could have cost more lives. The dining

room has continued to operate during the

pandemic but with strict precautions in

place. We are still serving about 130 meals

to those who have lost their jobs or are

experiencing difficulties.

Aside from this enriching and challenging

experience, all the Marists in Mexico, as

in other places of the Marist world, have

been trying to implement creative ways

to reach those to whom we minister.

Unfortunately, in our Marist schools we

have seen a 20% drop-out rate of new,

incoming students. This decrease in

enrollment reflects the struggle families

Top: Man collecting a one-month supply of food donations

for his family

Bottom: Dining Hall of Mercy - due to the pandemic

food cannot be served inside the facilities

8 Today's Marists Magazine
---
News

Brief

Marist Laity

Framework

by Michael Coveny, Marist Way Director,

Marist School, Atlanta, Georgia

Dining Hall of Mercy has switched to distributing food outside for visitors to take home to their families

are facing to keep themselves afloat.

Moreover, our schools have had

to adapt to virtual learning. Some

teachers found it hard at the beginning

to change from in-person teaching

methods that they were trained in,

to televised classes where everyone

maintains distance. If some teachers

were initially reluctant to bring

technology into their teaching, the

pandemic has forced them to update

their skills. We recognize, however, that

online lessons do not offer the same

experiences as in-person teaching.

Children need attention and the help

of good teachers to acquire necessary

knowledge and skills. We admire the

hard work that the kindergarten and

primary school teachers undertake

to keep their pupils engaged, even

if virtually. Nevertheless, the Marist

schools are quite blessed compared to

government schools where sadly those

who do not have their own personal

computer have to follow classes on

a shared TV set. Some parents and

grandmothers who come to the

"Dining Hall of Mercy" complain about

the scattered school lessons that are

broadcast on TV.

A few weeks ago, we were allowed

to re-open our churches and youth

centers at limited capacities. The

Marists here also decided to live

stream Mass and other liturgies on the

internet. Many people have expressed

their appreciation for these services

because at least in this way we can

enter families' homes. The concept

of sacraments as visible and effective

signs of God's grace and the gathering

of Christians to celebrate Liturgy might

not be happening, but God may be

operating in other ways with families at

home who follow our prayer services.

Challenging times demand creativity

from our Marist communities. Some

Marist lay people have already been

engaged in promoting prayer and

spiritual support through the internet.

This gives us a glimpse of what aspects

we might have to modify in our Marist

pastoral work.

The News media often describe

this time as a global crisis. Crisis, in

its original meaning, is not about

everything collapsing and people just

giving up. A crisis is a time when we

realize that our human systems are

not working, and they need to change.

Crisis means to separate, discern and

make decisions to do things better. So,

it is for the Church and our Marist work,

too. As Marists, we believe that Mary

accompanies the Church at all times,

and thus, we must emulate her spirit.

We hope that when we come back to a

safer reality, we may have undergone a

pastoral conversion and become better

ministers of mercy.

Delegations of World Marist Laity met in

Dublin in August 2019 and appointed a

leadership committee to develop a future

framework for Marist Laity. The leadership

committee assigned to the task included Bev

McDonald (New Zealand), Elizabeth Piper

(United States), Jorge Lopez (Mexico) and

David Sanz (Spain).

That framework was presented to the

Society of Mary governance in Rome for

deeper study and guidance and exchange

throughout the year 2020. These discussions

are ongoing between the World Laity

leadership committee and the Society of

Mary, focusing on essential questions such as:

• What is the minimum vision for

Formation to be considered a "Marist?"

• What is the appropriate or necessary

private and public Commitment — a

commitment made in response to the

Call from Mary to do her work?

The Laity Framework has been inspired

by the Society of Mary mission statement

from the General Chapter of 2017 and the

same call of the Marist Fathers and Brothers

as found in the Marist Constitutions - that

is "to be truly missionary: they are to go

from place to place, announcing the word

of God, reconciling, catechizing, visiting

the sick and the imprisoned, and doing the

works of mercy. They attend especially to

the most neglected, the poor, and those

who suffer injustice. They are ready to carry

out these tasks anywhere and at any time."

(Constitutions of the Society of Mary, #12)

Fall 2020 9
---
MOVIE REVIEW

We Must Choose

Prayerful Reflection with the Movie Contagion

by Brian Cummings, SM, Director, Pā Maria Marist Spirituality Centre, Wellington, New Zealand

Watching Steven Soderbergh's movie Contagion is somewhat

disconcerting, although that has not stopped many people

around the world from watching it in recent months. In one sense,

it's an "older" movie, since it first appeared in 2011. In another

sense, it's uncannily close to depicting our world in 2020.

Essentially, the plot is straightforward and one with which we

can readily identify. There is a rapid spread of an unknown virus

originating in Asia which graphically begins to claim lives within

the first 20 minutes of the film.

We recognize the admonition to wash your hands frequently,

avoid touching your face and to stay home from work or school

if you feel unwell, all the things that have been constantly

reinforced in our current world. In addition, people undergo a

major level of social disruption and chaos, as well as multiple

conspiracy theories and an unscrupulous individual seeking to

take advantage of peoples' fears.

I would call it a gripping movie with an impressive list of wellknown

actors including Laurence Fishburn, Kate Winslet, Jude

Law and Gwyneth Paltrow. As well as being attention-grabbing,

Contagion also won high praise for the way in which it depicts

how a deadly disease could explode around the world.

Dr. Anthony Fauci, the director of the National Institute of Allergy

and Infectious Diseases, has said of the movie, "It's one of the

most accurate movies I have seen on infectious disease outbreaks

of any type. It depicts what would be an extremely rare possibility

of a worst-case scenario. Audiences will look at this and say,

'Could it happen?' Certainly it could happen, but it's extremely

unlikely to happen." (cf Robert Roos, Sep 09, 2011, CIDRAP

[Center for Infectious Disease Research and Policy]).

The really interesting point about those comments is that they

were made in 2011, not 2020. Dr. Fauci is, of course, still very much

part of today's COVID-19 world, and the "extremely unlikely to

happen" scenario has become a reality.

What makes Contagion disconcerting is that we feel that we are

watching our world, but through a somewhat distorted lens. So

much of what is depicted in the film is, indeed, our experience

today, but with differences.

Those differences were highlighted recently by director Steven

Soderbergh in an interview in The New York Times in response to

the question: "Is there anything happening now that you didn't

foresee when making the film?"

Soderbergh replied, "What I couldn't have predicted was the

fracturing of society that it [COVID] would generate, and all of the

things it would expose when the tide goes out, so to speak. I didn't

anticipate that it would reveal so starkly the sort of economic

disparity that we're aware of intellectually, but that a lot of us are

also able to insulate ourselves from being directly affected. Now,

nobody escapes it. There are very few people whose lives will not

be completely altered by COVID." (cf 'Steven Soderbergh and

Amy Seimetz Made the Pandemic Movies of the Moment,' Kyle

Buchanan, July 31, 2020, The New York Times)

Pope Francis made a similar point recently at his first public

audience in six months when he said "We do not come out of a

crisis the same way we were before. We either come out better, or

worse. We must choose. Solidarity is the way to come out better."

He went on to explain that "solidarity" refers to "something more

than a few sporadic acts of generosity. It presumes the creation of

a new mindset, one which thinks in terms of community and the

priority of every person's life as opposed to the appropriation of

goods by only a few. It is not merely a question of "helping others,"

he said. "It is a matter of justice." (cf Gerard O'Connell, September

2, 2020, americamagazine.org)

At the end of Contagion life goes on – but not as it was previously.

And that will also be true for us today as individuals and as a

society.

There can be no question of "surviving" in the sense of "riding out

the storm" so that we can carry on with life just as it was before

2020. As Francis says, "We do not come out of a crisis the same as

before."

And so we need to ask ourselves as Marists, how do we cope with

what is going on, and how do we help others? In order to address

these questions, of course, we have to take time to reflect on just

what is going on?

10 Today's Marists Magazine
---
Father Augusto Zampini-Davies, the adjunct secretary of the

Dicastery for the Promotion of Integral Human Development

in Rome, had this to say in an article in the London Tablet in

May of this year, "This is a time to reset. What is essential? This

is the question. What is essential for the Church to resume, to

regenerate, and to allow the Holy Spirit to ignite the essential

dimension of Christianity? If Christ is walking with us in this

tragic moment, where does he want to lead us?" (cf 'Reflecting

on Post-Covid Catholicism,' by Christopher Lamb, The Tablet, 30

May 2020)

And so, once more, with Mary, we are called to ponder and to

reflect on all these things in our hearts. To "ponder" is to ask that

we may see as God sees, and so then to act as we believe God

would want us to act. This activity is what we call discernment.

As we look at ourselves, our Church, and our society and at what

has been and is being revealed in our COVID-19 world, we ask

"What would Mary do?"

Inevitably, we are led to focus on our Marist call to be

"instruments of divine mercy."

We strive to portray, as Craig Larkin, SM has written in A

Certain Way, "the 'feminine features" of God, and to help build

a church which is not perceived in terms of power, planning,

control, administration, or competition, but rather in terms of

community, compassion, simplicity, mercy, and fellowship."

As an expression of that attitude, we are also called not only to

help individuals in need, but also to actively work to change

systems and structures that oppress people. "It is not merely a

question of helping others. It is a matter of justice." (Pope Francis)

There can be "no return to normal" in our own lives, in our

Church, or in our society.

We are living through extraordinary times that have affected,

continue to affect, each of us in so many ways: spiritually,

physically, psychologically, emotionally, financially and so on. We

need to ask ourselves the fundamental question, "Who am I in

this present world, and what am I being called to be and to do?"

We need to ask (as Zampini-Davies says) of the Church, "What is

essential to resume, to regenerate, and to allow the Holy Spirit to

ignite the essential dimension of Christianity?"

And we need to ask similar questions of the society in which we

live. "What is essential for it to resume, to regenerate…." To quote

Pope Francis again, "solidarity [is] something more than a few

sporadic acts of generosity. It presumes the creation of a new

mindset, which thinks in terms of community and the priority of

the life of every human being as opposed to the appropriation of

goods by only a few."

We cannot ignore any of these questions. We cannot shut

ourselves off physically or psychologically and wait until it is safe

to emerge back into the world.

As François Marc, SM has written, "A Marian church stands at

the foot of the cross. She does not take refuge in a fortress, or in a

chapel, or in cautious silence, when others are being crushed. She

is vulnerable, in her deeds as in her words. With humble courage,

she stands with the most insignificant." (from Plea for a Marian

Church)

Our conclusion? Contagion is certainly worth watching. It may

be nine years old, and it doesn't exactly depict our present reality.

But it does lead us into contemplation and it leads us to ask the

question, "What would Mary do in a COVID-19 world?"

Fall 2020 11
---
A Glimpse of the Pandemic's

Effects on Our International

Marist Ministries

The Marist Mission in Africa

and Coronavirus: The Effects

on Education

by Albert Kabala, SM, District Superior of Africa

In Senegal (West Africa) and Cameroon (Central Africa),

churches and mosques have reopened on a limited scale to

welcome devout faithful who desire to personally implore the

mercy of God. The pace of life during this pandemic, however,

is still slow. While there are government-ordered hygiene

measures (mask wearing and hand washing) as well as social

distancing in place, people do not always follow them rigorously.

We know that in Africa the contamination figures as reported

do not reflect the reality. Some people think that across the

continent various governments are increasing the numbers

of COVID-19 cases reported, and others think that other

governments are hiding the actual number of cases because

African countries do not have the technical and financial

resources to fight the virus. There are those who ignorantly deny

the existence of the disease and ignore the safety measures in

place because they believe that COVID-19 does not exist. Since

not everyone who is infected with the virus has the means to go

to the hospital, the actual number of COVID-19 cases in Africa

is higher than what is reported. The need for medical services

has caused our Caritas services and religious communities to

crumble under the demand for medical help. People who are

dying in their homes will never be counted. While the number of

COVID-19 cases and deaths increases every day, many continue

to deny it. Such reactions are due to the lack of means available

to meet their daily needs. This is the new rhythm of life imposed

on us by the coronavirus pandemic. The situation grows ever

more alarming and deplorable.

Top: Students social distanced in the classroom at the school in Dakar, Senegal

Bottom: Parishioners socially distanced at St. Ann Parish in Yaoundé, Cameroon

The Marists in Africa continue to educate and sensitize people

to the existence and the danger of the virus. The Marist parish

at Obili in Yaoundé, Cameroon has organized awareness

campaigns as a way to keep encouraging the faithful to heed the

safety measures already in place: wearing face masks in public,

washing their hands at all times with soap and water and always

carrying hand sanitizer. When virus symptoms appear, we tell

them to isolate themselves and to call the emergency services.

12 Today's Marists Magazine
---
"So many people keep asking when will this pandemic end? No one can answer

that with any kind of precision. ...together, we must continue to pray for all humanity."

This health crisis has also affected our schools. Although classes

in Senegal and Cameroon have resumed, they are open only

for students to come and complete their exams. The majority

of children remain at home. The limited re-opening of schools

will undoubtedly lead to a decrease in learning and an increase

in the number of students who drop out of school. To help

address the current situation, our Marist school in Senegal, in

collaboration with the teachers, has organized ways for students

to continue with their lessons so as to not fall behind. Teachers

have prepared exercises and homework for students in order

to keep them mentally active while at home. Furthermore, we

created a WhatsApp group for the parents of the "CM2" students

(students in the exam class). This provides a way to help with

students' questions and to offer them follow-up for our "CFEE"

exam candidates. With the grace of God, we hope to return to

school in-person for the new academic year which starts in

November.

So many people keep asking when will this pandemic end?

No one can answer that with any kind of precision. Based on

information from the World Health Organization (WHO), we

understand that the world will have to come to live with this

disease. One thing we have not forgotten, however, is that,

together, we must continue to pray for all humanity who have

been deeply affected, and pray that the Almighty may deliver us

safely from this pandemic.

Sandwich Service at Notre

Dame de France Continues

During the Pandemic

by Ivan Vodopivec, SM

Outreach Work Coordinator, Notre Dame

de France, London, England

Normally on a Saturday morning the parish center at Notre

Dame de France (NDF) in Soho, London (Leicester Square)

would be full of volunteers preparing sandwiches, potato

chips, cakes, cookies, fruit and soup to welcome our 100-

120 visitors. Most of our visitors are homeless or vulnerably

housed. However, on March 14th all that stopped. The

normally lively, bustling Leicester square with hundreds of

thousands of people and tourists on the go became a still and

quiet and somewhat eerie space. The lockdown had begun,

and because of social distancing measures, our center was not

allowed to welcome our guests so that we could do our part to

keep everyone safe from the virus.

Thanks to the volunteers in the sandwich service and

members of the NDF team, we decided to offer a takeout

service to anyone who needed food. Some of the people were

continues on page 14

The happy bunch of NDF volunteers

Volunteers at NDF Sandwich Service – behind the masks are smiling faces

Fall 2020 13
---
COVID-19 and the Tutu Rural

Training Center (TRTC)

by Isaia Wairoga, SM

Tutu Rural Training Center, Tutu, Fiji

In the spirit of unity and togetherness during this trying time

when the coronavirus pandemic is affecting us throughout the

world, we are all experiencing uncertainty, even confusion.

Guest being served at NDF Sandwich Service

living on the streets, and others had some kind of living

accommodations but lacked the funds to buy the food they

needed.

A big supporter for us has been Westminster Council (part of

local government) whose coordinator swung into action and

formed the Faith Volunteer Network. Together, churches and

other organizations started a weekly Zoom conference with

Westminster Council to plan a schedule for food distribution

and the locations where people could take showers. It was

through this exchange that NDF decided to provide our

sandwich service on Friday evenings and Saturday afternoons

and evenings. On average we welcome 80-100 guests at every

service.

At the Tutu Rural Training Center (TRTC) in Tutu, Fiji, we are

indeed much affected by the worldwide impact of the pandemic.

The purpose of the TRTC is to equip young people in Fiji to

be successful farmers on their own land and to empower

them to make a positive and productive contribution to their

communities. Everyone went on lockdown when the first

positive COVID-19 case appeared in Fiji, and it has definitely

impacted our work. Implementing this safety measure of

isolation, however, allows us to stay within our bubble, and we

continue to provide our services from a distance. We have sent

our six-month participants home earlier than expected for their

safety. At this time of year, we usually have our young farmers

for their ninth term. But since the travel ban within Fiji and the

curfew have been implemented, we have delayed their arrival

until the government lifts the restrictions.

The coronavirus has taught us so many lessons. Our most

affected sectors in Fiji are the landless farmers, daily wage

earners, and the non-formal sector in the cities and rural areas.

In these sectors people are very concerned about how to earn

wages so as to buy food and pay their bills.

We appreciate our government's efforts in responding to the

challenges and difficulties we face within our sector. There

has been significant social awareness of COVID-19, mass

virus testing, strengthening of the healthcare workforce and

establishing treatment facilities for patients suffering from

Covid-19.

Our sandwich service at NDF continues. It is striking that as

Leicester Square has become busier again with people returning

to restaurants and shops, people stop and look at the long line

outside our door and wonder what is going on. The more curious

stop and ask what we're doing?" And when we tell them, they are

genuinely moved, and some ask, "How can I help?" Some give a

donation, and others simply reply, "Thank you."

As I chat with our guests waiting in line and having to endure

being stared at by passers-by (they sometimes have to wait for

a long time), I am always impressed with how patient, quiet

and good humored they are. When they receive their food, they

always give us a heartfelt "Thank you."

One of our volunteers, Cosme, put it well when he said, "Sure,

the sandwich service is ostensibly about food because people

are hungry. But even if they are with us for only a few minutes,

it is also about an encounter, a link, a connection, a means to

reach out and talk with others."

Personally, when I see the exchange of a smile, the humor and

laughter between our volunteers and guests, I see there the face

of the living God.

TRTC farm tunnel house with raised beds

14 Today's Marists Magazine
---
Farm tunnel model replicated at TRTC participant's residence

In addition to the pandemic restrictions and the increasing

number of positive COVID-19 cases, most parts of Fiji were also

impacted by the Category 4 Cyclone "Harold" in April. During

that time the government deployed many services to the victims

of this natural disaster.

During the pandemic, our TRTC group, which consists of the

course staff members, carpentry and maintenance workers and

all other available hands, are all helping with the weeding and

harvesting of the young farmers' taro (dalo) and kava (yaqona)

blocks. In order to prepare everyone for maintaining the young

farmers' crops while they are keeping safe at home, we initiated

organized community training for all TRTC staff members and

families.

A positive outcome of the pandemic is that the gardening at

TRTC has provided food security as well as a short-term cash

crop to keep up with the center's expenses, in a self-sustaining

way. From our perspective, COVID-19 has made us aware of the

need for short-term crops such as vegetables to realize a quick

return. During our regular discussions, innovative ideas have

been proposed such as the introduction of micro-hydroponic

gardening. A trial of this type of gardening was piloted by the

Lura Marist community and is attracting a lot of interest from

farmers who have smaller growing areas.

Another new farming technique implemented by the Lura

Marist community is the building of a farm tunnel house that

Food Development Unit selling locally sourced produce and goods

included raised growing beds. This type of gardening for offseason

vegetables provides a way for growers on smaller farms

to combat the rise of non-communicable diseases and safeguard

their families' food security. These farming methods will help

farmers move away from reliance on commercial agricultural

methods. It also opens another door for food security and a way

to generate income for the TRTC and families. We believe that

the incorporation of these new farming techniques requires

both changes in thinking as well as attitudes towards farming.

Within the Tutu bubble, our newly established Food

Development Unit has been busy converting the locally sourced

breadfruit into breadfruit flour. The flour is then used to bake

bread that is sold to local families while in lockdown. The

resources available at TRTC enable us also to make jams and

other assorted spices.

We continue the mission of TRTC, "empowering people to

become more autonomous and to take charge of their lives in a

rapidly changing world." The motto 'act local and think global'

will revolutionize, we hope, the agriculture industry as our "new

normal."

We Appreciate Your Donation!

We ask for your prayers for our international ministries

during these challenging times. If you are able to help

financially, please use the envelope in this magazine

to send your gift. Please check "Marist ministries and

outreach to those in need" on the inner flap of the

envelope. Thank you for your generosity and be assured

of our prayers!

Fall 2020 15
---
'Bright spots' in the

Midst of a Pandemic

Reflections gathered by Mike Kelly, Director of Marketing, Notre Dame Preparatory and

Marist Academy, Pontiac, Michigan and Michael Coveny, Marist Way Director, Marist School,

Atlanta, Georgia

Introduction

On the last day of classes before Notre Dame Prep's annual Irish Week celebration

in March 2020, the coronavirus was not the topic on the of mind of for then-senior

Meghan Kozole, and she certainly did not think her last few months on campus

would end up being so disrupted either.

"At that time, I was not concerned too much about COVID-19, and I for sure didn't

think that March 12 was going to be my last day of high school in the building," she

said. "Ultimately, I became sad because pretty soon I came to realize how much I

was taking my school experience for granted."

However, Kozole accepted that new reality back then and says that she adapted well

to the online learning environment.

"The faculty was super understanding and it's nice knowing that the teachers and

even the staff — a shoutout to campus ministry, counseling and the office staff

— care so much about the students even when we weren't in a structured school

environment," she said.

On Wednesday, March 18, 2020, Marist School marked both the beginning of Term 3

and the transition to virtual learning. In response to the global pandemic COVID-19

and with just a 72-hour notice, Marist completely shifted academic learning online,

calling on faculty, staff, and students to begin a learning journey they had never

previously undertaken.

For Grace Lorys, a student at Marist School in Atlanta, the onset of the pandemic

was unusual, to say the least. "You hear about pandemics in your history classes, but

actually finding yourself in the middle of one is a little surreal," she said. "There are

a few things that can prepare a person for complete isolation from everyone but their

family for months on end."

Now back in class on campus, Lorys is equally stressed about staying safe and

staying on campus. "There's the matter of going to school in the midst of rising case

numbers, eating lunch six feet away from friends, breaking through thick layers of

cotton and filters and knowing that none of it will end anytime soon because young

people still are going out on the weekends and partying - most definitely without

masks and social distancing."

Lorys also notes that despite the many difficulties of last spring and this fall, there

are bright spots. "All of this brings challenges as well as joy," she said, calling out in

particular the "spectacular level of innovation that our teachers have shown."

As with Lorys and Kozole, the stress and resiliency exhibited by students and

teachers alike were readily apparent in thoughts shared about this most uncertain

academic world in which we now live. The following excerpts will give you a glimpse

of what teaching and learning have been like as a result of the pandemic.

"You hear about pandemics in your history

classes, but actually finding yourself in

the middle of one is a little surreal,"

16 Today's Marists Magazine
---
Notre Dame Preparatory

and Marist Academy,

Pontiac, Michigan

(The following are responses shared by

students and faculty about a disappointing

end to last school year and a hopeful beginning

to the current school year.)

Love and Care at Home or in School

For Elena Schwegman, a senior at Notre

Dame Preparatory (NDP) School in

Pontiac, Michigan, the last few months of

the 2019-20 school year were disruptive

and highly unusual. However, the

closing of the school's campus due to the

pandemic also provided an opportunity

for her and her classmates to more

clearly recognize what's really important

and what is not.

"The way we finished our school year

last spring gave us all a time to reflect

on what really matters," she said. "Being

stuck in our homes and secluded from

our friends, made us think about things

quite different than what we usually

think about. Personally, I realized how

much I had taken in-person learning for

granted. But NDP's amazing teachers did

an outstanding job making the difficult

and unexpected transition to online

teaching. However, online learning

cannot compete with the massive

benefits in-person learning offers."

She said there's something special about

being in the classroom rather than

sitting at home behind a screen and she

understands how lucky she is to be at one

of the few schools that was able to figure

out a way to enable in-person learning

for the 2020-21 school year. Schwegman

also said that those few months learning

from home last spring provided another

unexpected benefit.

"It gave me the opportunity to take a

break from my normal daily hassles and

enjoy the outdoors," she said. "I went

on more bike rides during quarantine

than perhaps I have my entire life. Plus,

in becoming more connected with

the outside world - with creation - my

eyes were opened to all of its intimate

beauties. As Christian people, we are

called to understand God's perfectness

and majesty, and I realized it doesn't take

any more than a step or two into nature

to feel awestruck by His wonderful

creation."

'Craziness'

Jacob Anderson, another NDP senior,

echoed Schwegman's somewhat more

optimistic view of the campus shutdown

last school year.

"Those few months away from school

gave me more time to reflect on myself

and my goals in life," said Anderson,

who like Schwegman is a member of

NDP's student council. "Although it was

a little more difficult to learn, I think

it helped in some ways. I had so much

going on that it kind of felt good to have

everything slow down for a bit. After

a while, I started to get a little crazy; I

think we all did. I think it really helps

that we are in-person right now at school,

seeing all of our classmates, and getting

rid of some of that craziness."

Dan Staniszewski, an NDP alum and

longtime math teacher at the school, said

he, too, learned some important lessons

during that "craziness."

"I think the most important thing I took

away from remote learning is that math is

not the most important thing I teach," he

said. "Yes, I really want students to know

the quadratic formula, how to take the

sine of an angle and how to use implicit

differentiation, but I learned that teaching

is so much more than that. Check that...

remote learning cemented in my mind

what I already knew: teaching is more

than conveying information: Teaching is

performing! Teaching is loving! Teaching

is having fun! And for all these reasons

and more I teach!"

Staniszewski also said that despite

missing the normalcy he came to expect

at the end of every school year, there

were some "amazing" memories.

"I got to watch movies remotely with

many in the Class of 2020," he said. "I

was able to deliver lawn signs to many

of my favorite students to celebrate their

completion of high school. I got to show

up in my truck on graduation day, clap

for them, see them again, and even take

a few distanced selfies with them. And I

got the chance to wear my cap and gown,

be a part of their graduation ceremony

and take some pictures with them

afterward!"

Notre Dame Prep math teacher Dan Staniszewski takes

a selfie in front of Malorie Wilson NDP'20 during the

special May 17, 2020 senior parade at NDPMA

Adjusting Quickly in the Lower School

For Kathy Dugan, another faculty fixture

at Notre Dame, she and her fourth

graders also handled remote learning

last spring pretty well.

"My students adjusted very quickly,"

said Dugan, who has also taught prekindergarten

and kindergarten classes

during her 15 years in the lower school.

"We had a great system in place that

seemed to work very well for my students

and for me. We were able to make great

progress through our fourth-grade

curriculum. Of course, I was working

with an outstanding group of students

who also make my job a delight."

Notre Dame senior Isabella Slifko said

remote learning for her was difficult last

spring in that she missed her classmates.

"Peer interaction is something I am used

to and need," she said. "However, with

that being said, NDP did a spectacular

job with virtual learning. I could not

have wished for anything more. The

counselors, teachers and administrators

were by my side every step of the way."

Now with the campus back to in-person

learning for the 2020-21 school year,

continues on page 18

Fall 2020 17
---
With a blend of old and new technology, Notre Dame

fourth-grade teacher Kathy Dugan conducts a virtual

math lesson with her students last spring

Slifko is glad to be with her classmates

and friends once again in spite of all the

rules and restrictions in place.

Overall, these first few weeks of school

have been great," she said. "I am so glad

to be back with my teachers and friends.

I also believe the changes to our inschool

routines are necessary and that

NDP is doing their very best to keep us

all safe."

Tender Ears

Math teacher (and assistant varsity

football coach) Staniszewski also is glad

to be back to a reasonably normal school

routine that still holds some challenges.

"Now we're well into the 2020-21 school

year, which is almost as different as

the way last year ended," he said. "Of

course, I'm worried and anxious and

scared about many things. I am worried

about my health, the health of my family

and the health of my students. And if

you think that grocery shopping while

wearing a mask is tough, try being a

student and wearing one for 6 ½ hours

a day in class, or even worse, try being a

teacher and lecturing through your mask

for 6 ½ hours a day!"

He's also trying to get used to all his new

responsibilities given still uncertain times.

"Things like cleaning desks between

classes, taking temperatures, asking

health-screening questions at football

practice and acting as a pseudo-counselor

when students just need a friendly ear to

listen to them," he said. "But with all that

is weighing heavily on me currently, the

most important lesson I can learn comes

to me from my favorite prayer:

"'God, grant me the serenity to

accept the things I cannot change,

the courage to change the things

I can, and the wisdom to know the

difference.'"

Staniszewski notes that even though last

year did not end the way he expected,

and this year did not start the way he's

used to, he's trying to take it all in stride.

"Yes, I'm more anxious than normal, my

ears are a little tender (6 ½ hours in a

mask is really rough on your ears) and I'm

falling asleep at home on my couch earlier

than usual. But I believe this is going

to be a great year because I am putting

everything into my job, whether I'm at

school in a mask or home conducting

class from my dining room table.

"However, the most important thing for

me is that my students know they are

loved and cared for. And as long as they

know this, I will consider myself a very

successful teacher - even if they don't

know the quadratic formula."

Marist School,

Atlanta, Georgia

(The following are reflections written by

students and faculty.)

Anything but a Normal Senior Year

For Alexandra Adair, looking back on the

initial thought that there would be two

extra weeks of spring break, it's amazing

to see how much has changed. When

Marist went fully virtual, the whole

dynamic of school switched, and many

of those changes have stayed in place

for this new school year. We technically

still have the same curriculum, but the

style of learning and assessments have

changed drastically. Classes are split,

where one half is in-person and the other

is online, but sometimes we're expected

to become unison, which can be very

challenging with the screen barrier and

lagging computer speed. In other classes,

there are lectures that are fully virtual,

and half of the time the teacher has either

muted themselves or the class. Lots of

confusion is created due to the absence

of direct dialogue about directions or

due dates on assignments. Almost all

tests have gone open note, which is a

nice accommodation that teachers have

made because they know that, if not,

the students at home would have an

advantage over those in the classroom.

Although Marist has had to change many

aspects of the normal school day to allow

us to come to school, there are a few

things that have stayed the same.

Marist still allows after school sports,

and they put their best effort into making

it feel like a normal day with homeroom,

lunch, and class changes. I find the block

schedule less stressful because even

though the classes are longer, you only

have 4 a day, so you usually have less

homework or tests for the next day. My

senior year has changed a lot, but my

friends and I have made the most of it. I

try to look on the bright side by always

reminding myself that even though it

isn't a normal senior year, at least I'm at

school for it.

Ups and Downs of Education

During a Pandemic

So far, this the start of the 2020-21

school year has been weird according to

Babalola Awe. The splitting of the A and

B groups makes it so that I kind of just

forget half of my grade exists. Constantly

wearing a mask just feels foreign; I didn't

realize how much I touched my face

until the pandemic came. People seem

so tense, rigid and uptight. I can't really

blame them though - this is an extremely

sketchy time. It's a little harder to have

conversations with people in-person

since you can't see the lower half of their

face. It's a little bit harder to read body

language, but overall, it's not too bad.

In terms of academics, I definitely

do not like having to learn virtually.

Although I get to wake up later, at the

end of the day I just kind of feel like I've

been sitting in meetings for the past 5-6

hours. At the end of a virtual school day

it basically feels like I've done nothing.

It's also extremely hard to focus virtually

since there are so many distractions.

Do I really want to learn about some

ambiguous, arcane math concept when

I could just as easily play a game, text my

friends or watch YouTube videos without

anyone knowing that I'm not paying

attention? I think not.

In addition to these downsides of

the pandemic, there have also been

upsides. For example, I think it has made

people appreciate their daily, normal,

'boring' lives per se, and made them

18 Today's Marists Magazine
---
appreciate the small things in life, like

handshakes, hugs, conversations with

their friends, etc. Although it may sound

a bit pretentious or seem like a cliché, I

know that at least for me this pandemic

has made me appreciate other people

more. I'm naturally a bit reticent and

reserved, and before this pandemic I

oftentimes would kind of be a weensy bit

of a loner. I'm not saying one must always

be talking with other people, as it is ok to

sometimes be alone. I am fine with this

aspect of my personality. However, as

the quarantine grew longer and longer,

I really noticed how lonely I felt. My

friends and other people around me also

felt this same loneliness. One does not

appreciate the opportunities presented

to them until they are no longer there;

I think that this has been the case for

me, socially. Now, I'm more willing to

talk with people and connect with them

since I know how it feels to not have the

opportunity to do so.

Coping with New Circumstances

According to Grace Lorys, you hear about

pandemics in your history classes, but

actually finding yourself in the middle

of one is a little surreal. There are a few

things that can prepare a person for

complete isolation from everyone but

their family for months on end. Then

there's the matter of going to school in

the midst of a rising number of virus

cases; imagining eating lunch 6 feet away

from friends, breaking through thick

layers of cotton and filters, and knowing

that none of it will end anytime soon

because classmates are going out on the

weekends and partying-most definitely

without masks and social distancing. In

elementary school, it was the kid in the

back of the classroom who would not

be quiet, preventing you from going to

recess. Now, it's the 18-year-old going out

with his or her friends, preventing you

from living a normal life.

It's nice to see people, don't get me

wrong, but it's different. I feel isolated

from my classmates - being yelled at

when I come within 4 feet of my friends is

difficult during senior year. Senior year.

I waited 6 years of my educational career

to get to this mark of adulthood, and it is

nothing like the stories say, thanks to the

kid going out without a mask. Of course,

this brings joys and challenges, namely

the spectacular level of innovation that

our teachers have shown. Sure, it's easy

to just talk to their students and make

class as ordinary as possible (we sit,

they lecture), but if anything joyous has

come out of this pandemic, it is how well

I have learned to be resourceful from

the example set by my teachers. Half of

the time at school and half of the time at

home caused a learning barrier that the

teachers overcame with versatile lesson

plans and their comfort (though it might

be fake, it's completely believable) with

the new environment. Everything is new

to us. It's a learning process for all of us.

Coping with the new circumstances is

a feat beyond normal expectations. I

have taken up teaching myself piano as

a past time, channeling my occasional

frustration and exhaustion into a

performance that I can hear and share

with other people. That's only my

approach, but people have done other

things…TikTok, knitting and coloring,

just to name a few. This whole "learning

in a pandemic" thing has taught me the

resourcefulness of humankind. I have

seen an increase in empathy, intelligence

and love for our neighbors despite

the isolation. That's why I still have

patience for the kid who goes out on the

weekends, because I would do the same

if that was my way of coping. Everything

is new. Everyone is learning.

Hope is Not Lost for Amelia Humphrey

Click, clack the sound of my sweaty

fingertips smashes into my keyboard

trying to resolve the technical error that

has just appeared on my screen in the

middle of my test. My teacher is yelling

at me, but slowly becomes frozen due

to my lack of internet, and there I am

again, stuck while the screen reloads.

I eventually cave and move my sweaty

hands to form an apology email hoping

the teacher will understand that yes, my

Wi-Fi really is not working.

When I think of Marist, I am flooded

with memories of football games and

group exercises on the front field. This all

becomes a blur in this new school year

as I trudge through the halls wearing

my mask and staying six feet apart

from everyone, barely being able to

communicate a word. Yet, I am reminded

of our success as a school to remain open

and optimistic, and my emotions begin

to fade.

When I enter my classes, I am welcomed

by comforting teachers who risk their

own health to provide for others.

Teachers who not only accommodate

to all but continue to be a light to those

suffering from loneliness during this

unprecedented time. What used to be an

open-air arena of laughter in the arcade

area of St. Peter Chanel Hall is now a

spread of chairs spaced with moderators

in between. But hope is not lost.

Our Marist community continues to

prevail. Through celebrations of cross

country meets and streams of online

games - we continue to support each

other unconditionally, even when our

future is unknown. Although we may

now all need blue light glasses, we

"The pandemic may limit our ability to come to campus,

but we will not let it dampen our spirits."

continue to participate and strive to do

our best in and outside the classroom.

The pandemic has brought less traffic, no

more cafeteria lines, and above all a new

fashion statement: masks. The pandemic

may limit our ability to come to campus,

but we will not let it dampen our spirits.

Education Amid a Pandemic – An

"Unprecedented Event"

For Camille de St. Aubin …. I am sure

everyone has heard that phrase more

times than they could count on their

fingers and toes. It is true that these

times of face coverings and social

distancing have never been experienced

in our 17- or 18-year lifetime. The

pandemic itself is associated with a lot

of loss - loss that should be mourned

and felt deeply. However, if not met with

a small glimmer of optimism each day,

that loss will swallow us whole.

The bleachers that once were home to a

cheering, joyful student section now sit

in reflection. The silence is eerie, and it

makes us uncomfortable. What used to

be is no longer. We forget that everything

follows that cycle of change; it is more

the abruptness of this change that pains

continues on page 20

Fall 2020 19
---
Hybrid learning in Gina Parnaby's first period class

us. Never did I or any other senior expect

to be sitting in their basement instead

of in the front row of the student section

with a headache from yelling and color

powder inside their ear drums. What

pains us is the fact that we never got to

say goodbye. That part feels unfinished.

However, I cannot do myself or others

reading this the disservice of forgetting

what has filled those empty bleachers -

the community within those four walls

is still alive and well – only now those

four walls look a little different. Rather

than in the bleachers Marist students

watch the games from their home. Two

hours every Friday night the entire

Marist community finds themselves

encapsulated by the same event. We

are together apart - Marist instilled

that in us. While miles away from our

classmates, together we complain over

a bad call by the referee, together we get

up and dance at each touchdown scored

and we sing the alma mater because we

are a family. We celebrate each other's

wins, and we lean on each other during

the losses. By watching those games

together, the Marist community, while

it may not be physically together, never

walked away from each other. We never

let the fear of the unknown stop us

from still being that family that every

student, teacher, staff, coach, parent

and alum is a member. Right now we

may feel unfinished and our futures feel

unknown, but we choose to walk into

it together (6 feet apart of course). We

choose to embrace each other closely

and walk out to the other side.

Teaching Methods Have Changed –

The Message Has Not

For English Department Chair Gina

Parnaby, when Marist School announced

on March 13, 2020 (Friday the 13th –

how appropriate!) that we'd be learning

from home beginning the following

week, we believed it would be a shortterm

solution. As spring continued and

COVID-19 cases kept rising, it was clear

that "short-term" was now "long haul."

The long haul has now extended into

the current school year, and masks,

hybrid schooling (half the students in

the classroom and half at home) and

social distancing have become our new

normal.

Although the medium has changed, the

message has not. In 1873, the Marists

laid out the "threefold duty" of teachers

to students: "to form them into strong

and faithful disciples of Christ; to

impart to them all solid virtues…; and

finally, to teach them letters and the

various sciences." For the past 147 years,

Marist education has held firm to these

principles that continue to guide our

work in the midst of crisis. Sr. Madeleva

Wolff, C.S.C., shared with the women

of Saint Mary's College, Notre Dame,

Indiana in 1943 that "…we know that you

can be secure only when you can stand

everything that can happen to you. If

your school has prepared you for this,

it has been a good school." That sort of

preparation comes grounded in faith and

guarded by virtue.

Our daily classroom routine has now

added squirts of hand sanitizer to prayer,

but the conversations remain the same

as they have for generations of Marist

students: What does it mean to be and do

good? What is God calling me to do? How

can I use my gifts to serve others? In the

model of thinking, feeling and acting as

Mary, students and faculty are focused

on caring for one another and building

up our caritas, that loving care for other

people, in particular ways. Teachers

are using a variety of technology tools

not only to teach content but to build

connection. Extracurricular activities

like drama, marching band, robotics,

debate and athletics are continuing,

adopting innovative adaptations to

accommodate the current situation.

With the start of the new school year,

for me, it's a comfort to hear students

laughing and chatting with one another

again, and to walk past the plaques and

memorials to Marist's past. We've guided

students through wars, pandemics and

depressions, and will continue to do so

under the protection and guidance of

Mary, our mother. Her spirit is palpable

in these halls.

20 Today's Marists Magazine
---
Remembering the Marists and

the 1873 Yellow Fever Epidemic

by Susan J. Illis, Archivist, Archives of the Society of Mary, US Province

In 1863 the Marists arrived in Louisiana

to begin their mission service in the new

land. While the languages, religion and

culture were similar to what they had left

in England and France, the missionaries

encountered unfamiliar diseases, just

as they did in Oceania. Primary among

these was yellow fever, a mosquito-borne

disease that caused deadly outbreaks

in frequent intervals, preying mostly on

newcomers.

In 1873 vulnerable Marists experienced

the "strangers' disease," as yellow fever

was also known, and five Marists at

Jefferson College in Convent, Louisiana

died over a six-week period. Rev. Henri

Gaud, SM, born in France in 1832, had

been named president of Jefferson

College in 1870 and was establishing

his reputation as one of the most

distinguished priests in the archdiocese.

Although caring for sick colleagues was

not one of his presidential responsibilities,

it was a duty that he nonetheless selflessly

undertook. Rev. Matthew McGrath, SM,

prefect and professor, was the first to fall

ill, followed by Brother Joseph Michard,

SM, who died on September 15, 1873.

McGrath died a few weeks later. After

nursing his confreres for over a month,

Gaud finally succumbed to the disease on

October 8, 1873. Rev. Peter Freyssinet, SM,

one of the original Marists at Jefferson

College, also died a few weeks after Gaud.

With a third of the faculty decimated

by illness, the college reopened in early

November with Rev. Jean-Baptiste Bigot,

SM, as president.

A few days after Gaud's death, Papal

bulls arrived from Rome, appointing him

auxiliary archbishop of New Orleans.

Had he not been a victim of the saffron

scourge - a more fanciful appellation for

yellow fever - Gaud would have been the

first Marist bishop in the United States.

Interestingly, in 1906 James Blenk, SM,

became archbishop of New Orleans when

his predecessor died during a second

yellow fever epidemic in the area.

Although all the Marist losses were keenly

felt, Rev. Gaud was especially mourned:

For forty days the good Father had been

on his feet continually, he had valiantly

fought against the epidemic. His

attainments, his theological knowledge,

his generous character, and his deep

piety had made Father Gaud a man of

eminence. At the time of his passing,

the Bulls were on the way from Rome,

preconizing him as the Coadjutor to the

Archbishop of New Orleans. His passing

was a matter of public mourning.

In 1878, a second more severe outbreak

of yellow fever ravaged the Mississippi

Valley, claiming 20,000 lives. The

Marists were spared fatalities early in

the outbreak, with one contemporary

commenting, "Heaven was satisfied with

the tribute it had paid in 1873, when five

of its members fell victims to the same

fearful scourge."

Rev. John Muncaster, SM, had just

completed one academic year of his first

assignment at Jefferson College, where

he was adored by faculty and students

alike. Only 27 years old, he believed his

youth and vitality would protect him

from the disease. Fr. Muncaster spent the

summer filling in not only at St. Michael's,

the Marist parish in Convent, Louisiana,

but also assisted at other churches left

unstaffed due to the outbreak and also

attended to the spiritual needs of those

stricken with the disease. Despite dire

warnings from those familiar with yellow

fever, Muncaster continued at a frenetic

pace all summer.

Fr. Muncaster was called back to Jefferson

College from his ministrations in Bayou

Lafourche, an area in southeastern

Louisiana that had been hard hit by

yellow fever. Unfortunately, he had

already contracted yellow fever and died

in Donaldsonville, Louisiana on October

30, 1878 where he was initially buried.

Rev. John Grimes, SM, recounted that in

December 1878, when the Marists went

to retrieve Fr. Muncaster's remains for

interment in Convent, Louisiana, they

discovered that despite the unusually

harsh winter weather, a small white lily

was growing out of his grave. Although

all the surrounding trees and plants were

dead, the white flower — symbolizing

purity and resurrection — survived on

the young Marist's grave.

To learn more about the Marists history

during multiple disease outbreaks, we

invite you to view the online exhibit

"United in One Mind and One Heart:

The Society of Mary and Epidemics" at:

https://bit.ly/3nV09F8

Aerial view of Jefferson College, Convent, Louisiana, early 1900s

Fall 2020 21
---
THE PANDEMIC

Making Us Rethink Charity

and Mutuality

by Nik Rodewald, SM

In the Marist tradition, the yearning for the fullness of the

coming of God's Kingdom takes on the image of the Marian

Church, a Church of mercy and compassion, simplicity and

humility. By thinking, judging, feeling, and acting as Mary

in the world, Marists work for the renewal of the Church. By

being "hidden and unknown in the world," Marists cultivate

a listening heart that allows us to "hear the longings of the

people of God and discern the signs of hope present in today's

world." In the midst of a global pandemic that has claimed more

than 200,000 lives in the United States alone, the creation and

development of effective mutual aid efforts across the country

has been a sign of hope and an invitation to us to reconsider our

understanding of mission in the world.

What is Mutual Aid?

Activist and organizer Dean Spade defines mutual aid

as, "a form of political participation in which people take

responsibility for caring for one another and changing political

conditions … by building new social relations that are more

survivable." (Spade, D. "Solidarity Not Charity," Social Text 38,

no. 1 (March 2020): p. 136.) At the heart of mutual aid is the

belief that a new world - complete with new, more sustainable

social relations - is possible. Individual networks impact

communities and allow them to be transformed; this communal

transformation then becomes a sign of what a new social order

might enable.

Mutual aid philosophy is built upon the belief that charity, as

it is understood in the contemporary world, creates a cycle

of dependency that disproportionately affects minority and

historically disempowered groups. Wherever charity (or

government assistance) solicits assistance from empowered

individuals and gives this assistance to marginalized

groups, it does nothing to dismantle the system that enabled

marginalization in the first place and classifies the poor as

perpetual recipients of 'handouts.' Moreover, the assistance

provided usually only reaches those who are least marginalized

within the group of people who were supposed to benefit from

the assistance. A common example of this is tuition assistance

that is contingent upon an individual's grades or academic

progress: while this may indeed provide assistance to some

students from low-income backgrounds, it will reach only those

who have the highest intellectual capacity, leaving all others

behind.

Unlike charity, mutual aid employs 'bottom-up' strategies for

enacting lasting change. By re-thinking the social hierarchy

and eliminating any qualifications for receiving aid, mutual

aid relies upon building solidarity between different members

of the community. This encourages each member to give

what they have and take what they need, thereby reducing the

community's reliance on systems of power, government or

charity.

The bonds of solidarity created between diverse people not

only transforms communities, but also leads to individual

flourishing. People learn new skills, collaborate across divides,

and act out of a holy boldness. In the words of St. Paul, as the

community flourishes and becomes a sign of the hope that lies

in store for us, we are "no longer strangers and aliens, but …

members of the household of God" (Ephesians 2:19).

Mutual Aid and COVID-19

During the COVID-19 pandemic, existing mutual aid

organizations have grown exponentially, and many new

organizations have formed. With many people stuck inside

their homes, social media has become a critical tool in the

organization of thousands of communities. I personally have

witnessed mutual aid principles through my own involvement

in Grassroots CUA and Ward 5 Mutual Aid Group, both in

Washington, DC. Grassroots CUA is a group that formed at The

Catholic University of America to support DC- area mutual

efforts during COVID-19. Ward 5 Mutual Aid Group is an

informal group of people who have come together as neighbors

connecting people in need with people who want to help during

the COVID-19 pandemic.

Each of these mutual aid groups began with a simple mission:

provide personal protective equipment (PPE) to those who need

it. Non-contact community drives were formed, and those in the

Brookland neighborhood of Washington, DC (Ward 5) provided

more than 1,000 individual items to unhoused members of

the Brookland community as well as those who work in area

homeless shelters. This network quickly expanded, and Ward 5

Mutual Aid Group set up a hotline where individuals could call

continues on page 25

22 Today's Marists Magazine
---
Teaching Adult Faith

Formation Online

by Mark Dannenfelser, Director of Adult Faith Formation, Our Lady of Assumption, Atlanta, Georgia

Introduction

Recently, I was teaching an adult faith formation class online

for Our Lady of Assumption Church (OLA) in Atlanta, Georgia

when I received the error message: "Your connection is

unstable." What does that mean? Is my internet connection

unstable or am I unstable? In a few moments the connection

became stable again, and class went on with no other glitches.

Later that evening I began to consider the importance of

connections: mine and my computer's.

What is it about connection that is so important to us and how

have our connections, both technical and relational, changed

during these past several months? This issue of connection

is an important one for any teacher to ask and it is especially

important for those of us involved in facilitating faith formation

for adults. Good catechesis asks us to pass on the faith, a faith

that is rooted in relationship, so connection is important.

For many Catholics, limited access to the church building and

the sacraments has felt like a major source of disconnection.

However, in the absence of traditional gatherings,

opportunities for a deep sense of community have also

emerged. Kelly, a parishioner at OLA, reported her experience

of community following an online contemplative prayer

meeting, "Going through so many new life changes during a

world pandemic has been very difficult to say the least. Being

surrounded by a church community through virtual meetings

has truly helped me heal, learn new ideas and increase my

spirituality."

This article focuses on teaching faith formation to adults using

virtual technology. The discussion is framed through the lens

of relationship, connection and community. Using an online

platform like Zoom or WebEx requires some technical training,

but this is easily accomplished by spending a bit of time

experimenting with how the online platform works. In addition

to the technical requirements needed to get connected, we

must also consider faith formation in light of the relational

issue of connection.

At OLA we have been exploring the challenges of teaching and

offering pastoral care in the midst of the pandemic. Like many

parishes we have adapted our liturgies and faith formation

offerings, mostly by moving these online. This adaptation has

raised questions: How do we still assemble as a community

during a time when we cannot be together physically? What

is our relationship to the church building and to the spiritual

community? How do we still participate in the sacramental

life when we are not able to physically receive the sacraments?

What does it mean to be church today?

I will begin by reflecting on some broad concepts related to

facilitating faith formation with adults in an online format, and

then I'll briefly discuss some practical considerations.

Broad Concepts

Challenges to create and maintain community during a

pandemic have been many, yet so too have the opportunities

for connection. While much has been lost, much has been

gained during these unordinary times. OLA, like other

parishes, has seen an increased attendance at many of its

adult faith formation offerings. Several small Christian

communities have moved their regular gatherings online and

have reported a renewed interest by many of their members.

At OLA, our meeting rooms have had a virtual expansion as

well, and we find that people who have been away from church

due to illness, family commitments or relocations, can now

participate online. Meetings have become more integrated as

people from other churches, or no church at all, have access to

the online learning environment. This experience has led to

our understanding of community as expansive, inclusive and

needing to get beyond the physical parish boundary.

More options have emerged regarding professional guest

speakers whose schedules might not otherwise permit them to

travel. Without needing to provide a physical space (meeting

space is always an issue at our vibrant and active parish),

we find that more groups can meet at the same time which

increases our variety of offerings. This has also allowed for

timely and streamlined responses to current issues. A good

example of this was the prayer service about racial justice

which we were able to create in the immediate aftermath of

one of the deaths of a black man at the hands of police. To be

able to offer such timely prayers and then to be able to follow

the service with an educational offering to discuss race and the

criminal justice system was both effective and meaningful.

continues on page 25

Fall 2020 23
---
OBITUARIES

Father Roland Henry Lacasse, SM

1931-2020

Father Roland Henry

Lacasse, SM, entered

eternal life on May

11, 2020 at the age

of 88. He was born

on October 24,

1931 in Lawrence,

Massachusetts to

Wilfred and Eva

(Ouellette) Lacasse. After graduating from

the Marist minor seminary in Bedford,

Massachusetts, he went on to complete his

studies for the priesthood at Marist College

and Seminary in Framingham, Massachusetts

and The Catholic University of America in

Washington, DC. He made his profession in

the Society of Mary on September 8, 1953

at Our Lady of the Elms Novitiate on Staten

Island, New York. Fr. Lacasse was ordained

a Marist priest at the National Shrine of the

Immaculate Conception in Washington, DC

on February 6, 1960.

Fr. Lacasse, having prepared for ministries

in secondary education, hospital chaplaincy

and as a parish priest, was first assigned to

Marist schools in Michigan, New York and

Maine. He also served as chaplain at the

Massachusetts General Hospital. Fr. Lacasse

went on to minister as a curate and many

times as pastor in seven different parishes

in Massachusetts, Maine and Vermont. In his

last assignment he served as a member of

the Marist community at the Lourdes Center

in Boston, helping to organize pilgrimages

to Lourdes, answering letters from the

sick, and writing a bimonthly column,

"Marist Guidance" in the Echoes From

Lourdes publication. Fr. Lacasse eventually

retired to the Nevins Manor in Methuen,

Massachusetts.

Fr. Lacasse loved being a priest and

his profound faith was nurtured by the

deep Catholic faith of his parents and

the examples set by the Good Shepherd

Sisters and the Marist Brothers priests who

educated him. When asked on his application

to the Seminary why he wanted to become

a priest he wrote, "To help people to be

happy and holy" - a goal that he achieved "in

spades" as his many surviving relatives, loyal

friends and former parishioners will attest.

He was a great homilist and would

sometimes sing part of a song to illustrate

the meaning of a Scripture passage. Fr.

Lacasse also developed his writing talent

as a curate at St. Anne's in Lawrence and

through a weekly column, "Insight," he wrote

for the Lawrence Eagle Tribune in which he

reflected on the deeper meaning hidden in

the everyday events.

Fr. Roland is survived by his elder brother,

Rev. M. Eugene Lacasse, OCSO, his younger

sister Doris (Paul), Bitler, and numerous

nieces, nephews, grandnephews and

grandnieces. When COVID-19 restrictions are

lifted, a Mass and mercy meal will be held.

Memorial donations may be made to Marist

Ministries at the Lourdes Center. Please write

"Lourdes Center" on the inner flap of the

enclosed donation envelope or donate online

at: societyofmaryusa.org.

Father James R. LaCrosse, SM

1939-2020

Father James R.

LaCrosse, S.M.,

entered eternal life

on July 7, 2020. He

was born on May

19, 1939 to James

F. and Ella (Davis)

LaCrosse in Toledo,

Ohio. He completed

his elementary education at St. Vincent

DePaul, Toledo, Ohio. Deciding to pursue a

vocation to the holy priesthood, he entered

St. Mary's Manor Minor Seminary in Penndel,

Pennsylvania, in 1954 with the plans to be

a missionary priest of the Society of Mary

(Marists) and serve in the South Pacific. Fr.

LaCrosse made his profession in the Society

of Mary on September 8, 1961 and then

attended Marist College in Washington,

DC where he completed his studies in

philosophy and theology. On February 2,

1967 Fr. LaCrosse was ordained a Marist

priest by Bishop Thomas J. Wade, SM, in the

chapel of Trinity College, Washington, D.C.

In his initial assignments, Fr. LaCrosse, served

as a parish priest and as Marist vocation

director. However, he found he most loved

ministering to young people as teacher,

counselor, mentor and coach. His teaching

assignments included St. Peter Chanel High

School, Bedford, Ohio, Immaculata Seminary,

Lafayette, Louisiana and St. Mary's Manor,

Penndel, Pennsylvania. In 1993 Fr. LaCrosse

became the pastor of St. Vincent de Paul

Parish, Wheeling, West Virginia, where he

served for 15 years. Fr. LaCrosse then served

eight years at Mater Dolorosa Parish, Paden

City, West Virginia. While in Wheeling, in

addition to his pastoral duties, Fr. LaCrosse

served as chaplain, mentor and sports

coach to several of the teams at Wheeling

Central Catholic High School and became a

beloved member of the school community.

Fr. LaCrosse retired to the Continuous Care

Center of Wheeling Hospital. Although Fr.

LaCrosse never made it to be a foreign

missionary, his youthful dream, his

enthusiasm for sharing his Catholic faith and

his love of people certainly made his life truly

missionary.

Fr. LaCrosse is survived by his two sisters,

Mrs. Alice "Sue" Minsel and Mrs. Lois Smith,

and one brother, Thomas LaCrosse. When

COVID-19 restrictions are lifted, a memorial

Mass and reception will be held. Memorial

donations may be made to the Society of

Mary (Marists) using the enclosed donation

envelope or online at: societyofmaryusa.org.

Father Dennis Joseph Steik, SM

1942-2020

Father Dennis Joseph

Steik, SM entered

eternal life on August

20, 2020. He was

born on July 2, 1942

to Joseph and Thelma

Steik in Whittier,

California. He attended

elementary school

at St. Bernard's in Bellflower, California and

high school and college at St. Peter Chanel

Seminary in San Rafael, California. Fr. Steik

made his profession in the Society of Mary

on September 12, 1963 at the Novitiate in

Rhinebeck, New York. He then continued

his education at University of San Diego,

St. Paul's College, Marist College and The

Catholic University of America. On May 31,

1969 Fr. Steik was ordained a Marist priest by

Bishop Thomas J. Wade, SM at St. Rafael's

Church.

Fr. Steik first served as associate pastor

at Mary, Star of the Sea Church, Honolulu,

Hawaii and as Director of Religious

Education, religion teacher and counselor at

Star of the Sea High School. From 1970-72

continues on page 25

24 Today's Marists Magazine
---
THE PANDEMIC, continued from page 22 TEACHING ADULT FAITH, continued from page 23

and ask if anyone in the community could meet their needs.

Members would see Facebook and Slack messages asking for

diverse needs: food, clothing, diapers, PPE, housing, legal

counsel, and medical care. We met the needs as best as we could

and asked other members of the community who we knew if

they could provide some of the needed goods and services. A

local businessman donated an empty building as a supply hub

where many of the more common items could be stored in bulk.

Spanish-speaking members of the community began helping

translation needs. People met neighbors they had not previously

known and the community grew stronger. In fact, DC's mutual

aid networks grew so strong that Mayor Muriel Bowser's

administration began directing calls from its COVID hotline to

mutual aid networks.

Those of us in Ward 5 Mutual Aid Group noticed that a

disproportionate number of calls were coming from a particular

homeless shelter in this part of the city where residents were

complaining of rodents and spoiled food, as well as harassment

and assault from security guards. True to mutual aid principles,

we worked with formerly homeless activists and residents

themselves to organize protests and amplify the voices of those

who are unheard in our political process.

Mutual Aid and Christian Subsidiarity

Mutual aid is subsidiarity. Christian subsidiarity, "aims at

harmonizing the relationships between individuals and

societies" (Catechism of the Catholic Church, 1885). Mutual aid,

by emphasizing human connections, keeps the dignity of the

human person at its center. By breaking down barriers of race,

class, religion, age and ability, it enables all participants to

grow in solidarity with each other. By challenging systems of

power and hierarchy, it amplifies the voices of those who find

themselves on the margins of society. Finally, by challenging

our prevailing notions of government assistance and charity,

it challenges us to serve in a "hidden and unknown" way,

ministering not from a position of social power, but from a

position of membership within our local community.

Want to get involved? Find a mutual aid network at:

https://bit.ly/2Itv1MD

OBITUARIES, continued from page 24

Fr. Steik was Vocation Director at St. Peter Chanel Seminary in San

Rafael, California and from 1976-77 was Vocation Director at Marist

College Seminary in Washington, DC. Fr. Steik then served in campus

ministries as Director of the Newman Center in Glendora, California

and as Director and Superior of Campus Ministry in Azusa, California.

In 1983 he was appointed Rector at St. Peter Chanel Seminary and at

the same time served as Campus Minister for Holy Names College.

Fr. Steik continued in Campus Ministry, returning to Azusa from 1986

through 1988 where he was Director and Superior. From 1989-1995

Fr. Steik returned to Mary, Star of the Sea Church in Honolulu serving

as pastor and superior. This was followed by his assignment to Our

Lady Star of the Sea Church in Santa Cruz, Ca., where he served as

Campus Minister. Fr. Steik was elected first provincial of the newly

restructured Atlanta Province of the United States from 2000-2006.

After a sabbatical he was then assigned to Notre Dame des Victoires

in San Francisco, California where he served from 2008 until he

retired in 2017 to Marist Center of the West in San Francisco.

Practical Considerations

Some practical considerations born of my experience teaching

adults online include taking the time to familiarize yourself

with the online platform and its many functions, including

breakout rooms, muting, chatting, screen-sharing, whiteboard

and other functions. Making sure you have checked all your

equipment before every session can help put you and the

participants at ease.

Two features that are important to manage are the camera

function and the chat box. I ask everyone to keep their cameras

on unless something very unusual is happening. I explain

that keeping cameras on can help give us a sense that we are

together in this virtual room. If people need to step away for

some reason, we invite them to keep the camera on so that

we know they are still there. The other function that I think is

important to manage is the chat function. I ask people not to

have side conversations in the chat box. Again, this helps to

simulate the in-person experience of not having a bunch of side

conversations during a meeting. At times, we dedicate specific

moments to have the whole group use the chat function by

answering questions or offering quick responses.

We have also found the breakout rooms to be very helpful in

mixing things up as well as offering another way for people to

engage. Sue shared her experience of the online environment

following the viewing and discussion about a racial justice

film, "It has been a learning experience, but I have enjoyed

seeing new people and hearing from others. Having both small

group and large group portions of the call is really helpful."

It is important to consider creative ways to incorporate

opportunities for groups to interact informally with each other.

One of our prayer groups has created the habit of closing the

prayer time and then inviting anyone interested to continue to

stay on for social time.

Conclusion

Pope Francis encourages us to persevere in bringing Christ to

the world and doing so with creativity and enthusiasm. "Instead

of being just a church that welcomes and receives by keeping

the doors open, let us try also to be a church that finds new

roads, that is able to step outside itself and go to those who do

not attend Mass, to those who have quit or are indifferent." ("A

Big Heart Open to God" cited in "The Quotable Pope Francis:

He Has a Way with Words." National Catholic Reporter, Sept. 17,

2015.)

While most of us are eager to see one another again in person,

it seems that virtual faith formation has great value and we

at OLA envision gathering online as continuing to hold an

important place in our formation, prayer life and community

well into the future. We are committed to adaptation and

finding creative approaches to passing on the faith and

deepening our connection to one another and to God.

Fall 2020 25
---
Jean-Claude Colin and Caretaking

by Tom Ellerman, SM

The present pandemic has rightly brought

attention to caretakers all over the

world. Many have been called upon to be

caretakers for the first time in their lives.

Caretakers are those who give priority

to the well-being of others. They put into

practice in many concrete ways their

"most ardent charity to those with whom

they come into contact." Caretaking can

take many forms and is vital to the life

of human community. Though there

were times in his life when our founder,

Father Jean-Claude Colin, felt alone and

abandoned, he continued to care for

others. Perhaps more difficult for him was

to accept care for himself. For him, as for

some, being loved was more painful than

loving.

In this article, we examine "caretaking"

of the sick and of the superior general.

Caretaking is most important in the

formation of novices and in the education

of young people in our Marist schools, but

we will leave those two topics for another

time.

The care of the sick and dying is treated

in numbers 230-243 of the Constitutions

of 1872. The infirm are to be the objects

of special care. Here we are talking

about more than medical care, "… all the

services of a most sincere charity are to

be performed for them with kindness,

and nothing is to be omitted which may

comfort them, and lift their spirits, taking

care above all that they are never given

the impression that they are tiresome

or a burden." (# 239) The superior has

paternal obligations toward the sick

Marist, especially when the illness is lifethreatening.

In life, we encounter many people who

are sick or suffering in some way. Of

course, we would never want to add to

their suffering, whatever its source. We

can be a caretaker by treating them with

kindness, comforting them, and lifting

their spirits. We should never give any

suffering person the impression that they

are a burden to us, even though at times,

suffering does not bring out the best in

people.

Usually we do not think of those in

authority over us as needing care, but

in numbers 337-344 Father Founder

addresses the Society's care for the

superior general. The principles

enunciated in these paragraphs can

be applied to others who are also in a

position of authority. The Society of

Mary should "show the greatest care for

its superior as a father, and effectively

see to it in the Lord that he be sustained

and helped with his burden." (# 337)

The Society's care for the superior is not

simply concerned with his office but also

with the person. We should pray for those

who have authority over us. If we are in

a position to do so, we should try to keep

the superior in good health, make sure his

needs are met and try to keep him from

being overly burdened with duties.

With regard to the superior carrying

out his office, the Society of Mary must

concern itself with supplying all the help

that he needs to ably carry out his duties

for the benefit of all.

What does Father Colin teach us in all

this? Simply put, we all need care in some

form or other, and we should all strive to

be caregivers to others. This should come

as no surprise, since we worship a God

who not only loves us but wants to be

loved by us. Could we possibly be God's

caregivers?

Cause for Canonization of Venerable Fr. Jean-Claude Colin, SM

Founder of the Marist Fathers and Brothers

by Tom Ellerman, SM

Father Colin was no stranger to crises of all kinds: wars, revolutions, climate

changes, disputes within the Church, economic changes, political disturbances;

yet through it all, he turned to Mary in prayer and to the Church of Rome for

guidance. He remained at peace in the stormy sea of his life and times. He

believed in the Savior, who told him not to fear.

Please report any favors granted through the intercession of Jean-Claude Colin to:

Marist Center | 815 Varnum Street, N.E. | Washington, DC 20017-2298 | USA

For more information about the Cause for Canonization visit:

www.jeanclaudecolin.org.

26 Today's Marists Magazine
---
Supporting the Marists

by Denise D'Amico, Administrator, Marist Development

It was September 1995. Spread out before me on the kitchen table was the "Help

Wanted" section of the local newspaper. Having just dropped my young daughters off

at school, my search was on for a part time job. My eyes settled on an ad which piqued

my interest: "Part Time Secretary, 10-15 hours/week, Marist Development Office, Marist

House, Framingham, Massachusetts." Not too far from home, the right number of hours,

Development might be interesting, but who were the Marists?

I was welcomed into the Marist family with open arms, and I quickly settled into my role

as Secretary in the newly formed Development Office. I eagerly learned about donors and

prospects, capital campaigns and mail files. I managed databases, generated reports and

correspondence and I grew and flourished in the little office tucked away on the third floor

of Marist House.

While I was learning about all things Development, there was something else I was

beginning to observe and understand...something that went beyond spreadsheets and

reports…something that I realized was at the true heart and soul of the Development

Office. That something was the Marists themselves.

As a religious order with a history of working in parishes, schools, missions, retreat houses

and nursing homes, the Marists have spent their lives touching the minds, hearts and souls

of those to whom they minister. Spreading the Catholic faith through their ministries, they

change lives and offer hope. Through education, the Marists have formed generations of

well-educated and faith-filled members of society and live their lives through grace and

under the prayerful guidance of the Blessed Mother.

It was then that I understood that the Development Office IS the Marists. The donors who

give do so because of who the Marists are. Whether educated by the Marists, connected

through Marist parishes, or simply being aware of the extraordinary work the Marists are

involved in, donations are given in gratitude and appreciation. From a single dollar bill

wrapped in tissue paper to an extraordinarily large check, I learned a most valuable lesson

about giving from the heart.

It is September 2020. I continue with my work in the Development Office, now tucked

away at the Lourdes Center in Boston. I think back fondly on my early days at Marist

House and of all the Marist Fathers, Brothers and staff I have been honored to have spent

my days with over the years. I've worn many Marist hats in different roles within both the

Marist Retreat House and the Mission Office, but there is a soft spot in my heart for the

Development Office, where my Marist journey began all those years ago.

This, however, is not a "normal" year, being in the middle of a worldwide pandemic.

Since March I have worried about the impact on donations to the Marists through the

Development Office. Would there still be donations coming in? Would the Marist ministries

be affected? What about the Senior Religious? But those who have always supported the

Marists have not forgotten them. The ministries and outreach as well as care of the Senior

Religious continue because of the faithfulness and generosity of you, the donors. I breathe

a sigh of relief and offer a prayer of gratitude.

I would personally like to thank all of you who, throughout the years, have been so

supportive of the Development Office. Through your faith in and support of the Marists

and their ministries, the Marists can continue to do the grace-filled work of the Church

under the protective and loving mantle of our Blessed Mother. Please continue to keep the

Marists in your hearts and prayers.

Subscribe now...

Today's

Marists

it's free!

Subscribe for yourself (if not already subscribed)

and give a free gift subscription to someone who will

enjoy receiving this magazine.

You can receive Today's Marists Magazine in the

following ways...

Print Edition by U.S. Mail

Complete and return the subscription

form below.

Electronic PDF Edition by Email

E-mail: smpublications@maristsociety.org

and we will email you each new edition.

Electronic PDF Edition Download

Download the latest from our website

www.societymaryusa.org

Subscription #1

________________________________

NAME

________________________________

ADDRESS

________________________________

CITY STATE ZIP

________________________________

EMAIL

Subscription #2

________________________________

NAME

________________________________

ADDRESS

________________________________

CITY STATE ZIP

________________________________

EMAIL

Makes a

GREAT

Christmas

Gift!

Mail or Fax to:

Today's Marists Magazine

Subscription Department

815 Varnum Street, NE, Washington, DC 20017

Fax: 202-635-4627

Fall 2020 27
---
Society of Mary in the U.S.

815 Varnum St, NE

Washington, DC 20017

Non-Profit

U.S.Postage

PAID

Washington, DC

Permit No. 3070

Are you drawn to a life of

mercy and compassion?

We Marists seek to bring compassion and mercy to the Church and world in

the footsteps of Mary who brought Jesus Himself into our world. We breathe

her spirit in lives devoted to prayer and ministry, witnessing to those values

daily in community.

To speak with a member of the Vocational Team, call toll-free 866.298.3715.

Visit us online at: societyofmaryusa.org

All About Mary is an encyclopedia of

information on Mary, the Mother of

Jesus Christ. Created and maintained

by the International Marian Research

Institute, it is an online destination

with resources on the subject of the

Blessed Virgin Mary.

Locate online resources including:

• Art

• Life of Mary

• Music

Checkout the website:

https://udayton.edu/imri/mary

Spirituality of the Society of Mary:

Contemplatives in Action

While the Church has always

emphasized Marian devotion, "We

(Marists) are called to something

much deeper … we are called to

become Mary's devotion in the midst

of the Church." – Fr. Ed Keel, SM

For featured articles and talks

checkout the website:

www.maristspirituality.org

28 Today's Marists Magazine