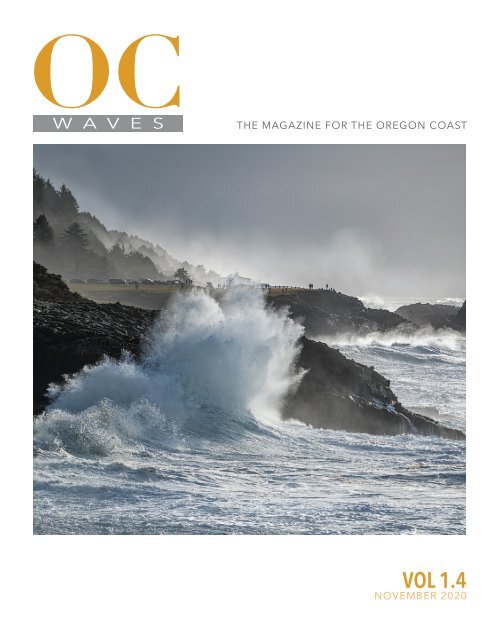 Oregon Coast Waves - 1.4 November 2020
The Magazine for the Oregon Coast
The Magazine for the Oregon Coast
SHOW MORE
SHOW LESS
Create successful ePaper yourself
Turn your PDF publications into a flip-book with our unique Google optimized e-Paper software.
OC

W A V E S

THE MAGAZINE FOR THE OREGON COAST

VOL 1.4

NOVEMBER 2020
---
MENTION THIS AD FOR A

FREE

CHRISTMAS

ORNAMENT

W/ $20 PURCHASE

(while supplies last)
---
CLEARWATER RESTAURANT

2PM - 6PM DAILY

325 SW BAY BLVD. NEWPORT, OREGON

www.clearwaterrestaurant.com
---
OC

W A V E S

Publisher

Jeremy Burke

Editor

Steve Card

Advertising Sales

Teresa Barnes

Kathy Wyatt

Natalie Lane

Contributing Writers

News-Times Staff

Kenneth Lipp

Michael Heinbach

Cheri Brubaker

Katie Wiley

Photographers

Jeremy Burke

Casey Felton

About the Cover Shot

This photo was taken of the King Tide in

January 2020. The wave is breaking on the

rocks of Whale Cove in Depoe Bay and Rocky

Creek View Point is in the background. .

Photo by Jeremy Burke

P.6

Storm Watching on the

Oregon coast

P.28

Kennedy's Stir Fry recipe

P.13

Oregon Coast Gift Guide -

shop locally in 2020

P.31

Rock shop that makes

people happy

oregoncoastwaves.com

Facebook

@OregonCoastWaves

Instagram

@oregoncoastwaves

P.24

Animal of the Month - The

Harbor Seal

P.38

Tribute to legendary local

artist - Michael Gibbons

All rights reserved. No part of this

publication may be reproduced without

the written permission from this publisher.

Photographs, graphics, and artwork are

the property of Newport Newspapers LLC

©2020 and J.burkephotos ©2020

Oregon Coast Waves 2020

A News-Times Publication

831 NE Avery Newport Or 97365

P.46

A family hike for the whole

family

P.57

Dream Home of the Month
---
contents

P.50

Sunsets of the Oregon Coast

5
---
Massive swells at Yaquina Head.

Photo by Jeremy Burke
---
NEITHER RAIN NOR

WIND DETERS

COASTAL STORM

WATCHERS

WHEN THE

WIND HOWLS

and drives the rain in horizontal sheets

during the winter season along Oregon's

stormy coast, some folks batten down

the hatches to stay warm and cozy inside.

Hardier souls sally forth as peak wind gusts

reach 80 mph or more and towering waves

crash against bluffs, seawalls and jetties,

tossing huge logs and other flotsam onto the

beaches, and creating a spectacular show.

Once just a quirky pastime for local

residents, coastal storm watching has long

since evolved into a tourism niche.

Folks gather along the Oregon coastline to

watch the wild winter waves from a Pacific

Ocean turned surly. These voyeurs of

nature's wrath, colloquially known as storm

watchers, venture to the shore for a front

row view as roaring winds churn the moody

ocean into a creamy froth, blow sheets of

rain and sand horizontally along the beach,

and stir up spectacular waves. According

to meteorologists (weather scientists and

forecasters), storm intensity generally

ramps up toward the end of November and

continues through March.

SAFETY FIRST

Wind and waves are the two main

ingredients of a storm worth watching.

Meteorologists say the most spectacular

storms occur when deep low-pressure

systems from way out in the eastern Pacific

Ocean move northward close to the coast,

and clash with inland high-pressure fronts.

The greater the gradient - the pressure

difference between the low and high systems

- the stronger the wind. Those winds attract

storm watchers, but also create conditions

that can kill them.
---
FOR SOME FOLKS, CHASING STORMS IS A METAPHOR.

FOR OTHERS, IT'S A REAL-LIFE ADVENTURE.

The wind, limited visibility and unpredictable tides that make

a winter storm so spectacular also create dangerous situations

for unwary storm watchers. Waves have swept people off

jetties and beaches, and wind has blown others off lookout

points. Since 1990, more than 30 people have lost their lives

on Oregon's shores while storm watching, according to the

Oregon Parks and Recreation Department.

COMMON SENSE PRECAUTIONS ARE NECESSARY.

"Storm watching is energizing for children and adults

alike, whether watching from a cozy oceanfront room or an

unprotected bluff," says Sandy Pfaff, director of the Lincoln

City Visitor and Convention Bureau. "But beware. It's not safe

to be on the beach during the storms. In addition to throwing

logs and other debris, the wrath of the Pacific creates large

breakers that can snatch you from the sand or the rocks, an

unplanned swim you likely would not survive. Head inside or

for high ground."

Oregon State Parks officials caution those who venture

outdoors to respect the storm's power and fury, and never

place themselves in a precarious position.

Beaches are especially treacherous places during a winter

storm. High tides can quickly push waves across the

entire beach in a matter of seconds, catching inattentive

visitors off-guard. Waves and tides are considerably more

unpredictable during a storm, and can carry away drift logs

weighing hundreds, even thousands of pounds with bonecrushing

force. The ocean's churning water often carries

driftwood and other debris onto normally safe public areas

and waysides during major storms.

Stormy seas are best viewed from a safe distance and higher

locations. To experience - without mishap - the remarkable

ocean forces that shape the landscape along the Oregon coast,

use common sense and these tips from the Oregon Parks

and Recreation Department, and the Portland office of the

National Weather Service:

• Stay off driftwood anytime, especially during storms.

People can fall between logs or become trapped under them.

STORY OC WAVES STAFF | PHOTOS BY JEREMY BURKE
---
Delivered to your mailbox

TISH EPPERSON

OC

OC

W A V E S THE MAGAZINE FOR THE OREGON COAST

W A V E S THE MAGAZINE FOR THE OREGON COAST

Crow's Nest Studio & Gallery

toledo, oregon

VOL 1.1

JULY/AUG 2020

VOL 1.2

SEPTEMBER 2020

Payment Enclosed

Bill Me (Email Required)

*please make payments payable to Newport News-Times

1-year (12 issues)

Only

$35.00

Regular price $49.99

Subscribe today and discover

the best of the Oregon Coast.

• RESIDENTIAL

• COMMERCIAL

• INDUSTRIAL

• CONTRACTING

& RETAIL SALES

CCB#170053

(541) 265-8630

1116 S.W. 9 th St.

NEWPORT

Name

Address

City State Zip

Email

Phone

Make checks payable to the Newport News-Times.

Send payment to PO Box 965 Newport, Oregon 97365.

Skateboards • Hoodies

Skateboard Equipment

Sports Memorabilia

Coins • Jewelry • LP's

Star Wars • Hot Wheels

Collectibles • Trains

Dollhouse Furniture

Mon-Sat: 10 am -5 pm /Sun: 11 am -5 pm

120 SW Coast Hwy,

Newport

541-270-1477

CCB#191422

Stoves • Sales • Service

Call us for your chimney sweep and

to service your gas fireplace.

541-265-8390

www.coasthearthandhome.com • 633 E Olive St., Newport

MARKET

Employee owned & Working

Hard to Serve You Every Day!

• Bandon • Myrtle Point • Reedsport • Coos Bay

• Gold Beach • Coquille • Lincoln City • Lakeside • Empire
---
It takes less than an inch of water to roll driftwood.

• Find a lookout point from your car, hotel room, or

restaurant where it's safe to watch.

• Never go in the water.

• Be alert for falling trees or limbs on access roads or trails.

• Stay off jetties and beaches. Storm waves are dangerous

and unpredictable.

• Stay away from the edges of cliffs, headlands and rocks

with waves breaking on or near them.

• Heed all warning signs and stay behind barriers.

• Never turn your back on the ocean.

WHERE TO GO

Favorite viewing sites on Oregon's central coast (from north to

south) are D River State Recreation Site and Road's End State

Recreation Site in Lincoln City; Boiler Bay Scenic Viewpoint

one mile north of Depoe Bay; along the sea wall and inside

the Whale Watching Center in Depoe Bay; Rocky Creek State

Scenic Viewpoint two miles south of Depoe Bay; atop Cape

Foulweather; Devil's Punch Bowl State Recreation Site in Otter

Rock; Yaquina Head Lighthouse and headlands and Yaquina

Bay State Recreation Site in Newport; several pullouts near

Seal Rock; north Yachats; Cape Perpetua - the highest point

on the Oregon coast and most versatile site, featuring Cook's

Chasm (avoid the lowest viewing levels) and Devil's Churn

(with lookout shelter); and Strawberry Hill and Muriel Ponsler

State Scenic Viewpoint (between Yachats and Florence).

Avoid Stonefield Beach State Recreation Area and Devil's

Elbow Beach at the Heceta Head Lighthouse State Scenic

Viewpoint.

Some of the best waves arrive just after a windstorm or

from offshore storms. After a storm is the best time to walk

the beaches and do some serious beachcombing, remaining

mindful of the waves, which still pack a punch even after the

wind dies down.
---
1943-2020

We sell new and used rods and reels. Our

services include line spooling and rod repair. We

provide a large selection of American sourced

bait and tackle for all aspects of fishing. We

also offer indoor and outdoor secured storage

for boats and RVs! Don't forget the ice!

(541) 961-3770

3807 SE Ash St, South Beach

"Sunset Study"

Signature Gallery

Since 1987

oil on board 6"x 9"

140 NE Alder Street, Toledo

Open: Friday-Sunday, Noon to 4PM, Each Week

(541) 336-2797

Paintings, Prints, Cards, Mugs

www.michaelgibbons.net

NYE–VILLAGE

WELLNESS CENTER

Dr. Ken Bishop, D.C.

Dr. Terry Cannon, D.C.

Hours: Weekdays by Appointment

Call to schedule an appointment: 541-265-8680
---
THE OREGON COAST GIFT GUIDE

LOCAL

GIFT IDEAS

ALL PHOTOS BY JEREMY BURKE

MOSSY CREEK POTTERY
---
STYX, STONES N' BONES

NEWPORT ACE HARDWARE AND OUTDOOR

GRUMBLEFISH MUSIC

SJ CUSTOM JEWELERS

WHISTLE CREEK FARM

14

SAPPHIRE CENTER

STYX, STONES N' BONES
---
NEWPORT ACE HARDWARE AND OUTDOOR DIAMONDS BY THE SEA MOSSY CREEK POTTERY

STYX, STONES N' BONES

AGO TATTOO AND PIERCING

CHARISMA GIFTS JOVI

15
---
JOVI

NEWPORT ACE HARDWARE AND OUTDOOR

OCEANIC ARTS MOSSY CREEK POTTERY GRUMBLEFISH MUSIC

BREACH THE MOON GALLERY

AGO TATTOO AND PIERCING
---
BREACH THE MOON GALLERY

GRUMBLEFISH MUSIC

CHARISMA GIFTS

JOVI

SJ CUSTOM JEWELERS

FEED CORRAL

SAPPHIRE CENTER

17
---
CHARISMA GIFTS

AGO TATTOO AND PIERCING

OCEANIC ARTS

FEED CORRAL

NEWPORT ACE HARDWARE AND OUTDOOR

18

JOVI

STYX, STONES N' BONES
---
SAPPHIRE CENTER STYX, STONES N' BONES MOSSY CREEK POTTERY

SJ CUSTOM JEWELERS

JOVI

NEWPORT ACE HARDWARE AND OUTDOOR GRUMBLEFISH MIUSIC

19
---
JOVI

BREACH THE MOON GALLERY

CHARISMA GIFTS SJ CUSTOM JEWELERS STYX, STONES N' BONES

CORE 394

AGO TATTOO AND PIERCING
---
NEWPORT ACE HARDWARE AND OUTDOOR

MOSSY CREEK POTTERY

WHISTLE CREEK FARM

STYX, STONES N' BONES

DIAMONDS BY THE SEA

OCEANIC ARTS

CHARISMA GIFTS

21
---
STYX, STONES N' BONES

SJ CUSTOM JEWELERS

STYX, STONES N' BONES

FEED CORRAL

STYX, STONES N' BONES

22

WHISTLE CREEK FARM

SJ CUSTOM JEWELERS
---
GRUMBLEFISH MUSIC JOVI GRUMBLEFISH MUSIC

STYX, STONES N' BONES

DIAMONDS BY THE SEA

CHARISMA GIFTS

GRUMBLEFISH MUSIC

23
---
GRUMBLEFISH MUSIC

NEWPORT ACE HARDWARE AND OUTDOOR

GRUMBLEFISH MUSIC SJ CUSTOM JEWELERS CHARISMA GIFTS

24

NEWPORT ACE HARDWARE AND OUTDOOR

AGO TATTOO AND PIERCING
---
WHISTLE CREEK FARM

DIAMONDS BY THE SEA

BREACH THE MOON GALLERY

DIAMONDS BY THE SEA

GRUMBLEFISH MUSIC

OCEANIC ARTS

OCEANIC ARTS

25
---
JOVI

GIFT GUIDE INDEX

SEE PAGES: 15,16,18,20,24

AGO TATT0O AND PIERCING

1164 SW Coast HWY Ste D Newport Or

(541) 574-7777

SEE PAGES: 20

CORE 394

650 NW Hemlock St. Waldport, OR

(541) 563-3394

SEE PAGES: 17,18 ,22

FEED CORRAL

634 Oregon Coast Hwy, Newport, OR

(541) 265-8299

SEE PAGES: 14,16,17,19,23,24,25

GRUMBLEFISH MUSIC

1845 SW Hwy 101 Unit 4, Lincoln City, OR

(541) 614-0931

SEE PAGES: 14, 15,18,19,20,21,22,23

STYX, STONES, N' BONES

160 W 2nd St., Yachats, OR

(541) 653-3548

SEE PAGES: 14,17,19

SAPPHIRE CENTER

4844 Oregon Coast Hwy, Lincoln City, OR

(503)962-9251

SEE PAGES: 14, 15, 16,18,21,24

NEWPORT ACE HARDWARE AND OUTDOOR

2340 N Coast Hwy, Newport, OR

(541) 272-5440

SEE PAGES : 13,15,16,19,21

MOSSY CREEK POTTERY

483 S Immonen Rd, Lincoln City

(541) 996-2415

SEE PAGES: 15,17,18,20,21,23,24

CHARISMA GIFTS

315 N.W Coast St, Newport

(541) 265-4657

SEE PAGES: 14,17,19,20,21,24

SJ CUSTOM JEWELERS

316 NW Coast St, Newport

(541) 272-5300

SEE PAGES: 15, 16,17,18,19,20,23,26

JOVI

232 NW Coast St, Newport

(541) 265-8220

SEE PAGES: 16,21,25

OCEANIC ARTS

444 SW Bay Blvd, Newport

(541) 265-5963

SEE PAGES: 16,17,20,25

BREACH THE MOON GALLERY

434 SW Bay Blvd, Newport

(541) 265-9698

SEE PAGES: 15, 21,23,25

DIAMONDS BY THE SEA

2005 N. Coast Hwy, Newport

Whalers Village - (541) 265-7755

4079 Logan Rd #D, Lincoln City

Safeway Center - (541) 994-6373

SEE PAGES: 14,21,22

WHISTLE CREEK FARM

Toledo, OR, www.simplygoatsmilk.com

(541) 272-2642
---
THE KITCHEN WILD

his week, I celebrated my

one-year anniversary of The

Kitchen Wild, a business that

when first started was sort of

unintentional.

I run our social media account for my

business, STAGECOACH Detail and

Design, and we've been in the middle

of working on several vintage trailer

projects for an up-and-coming hotel in

Southern California. We were asked by

the customer to not show any part of it

on social media, so instead of having

"dead air" so to speak, I started posting

what we were eating for dinner.

It was obviously completely unrelated

to vintage trailers, but it's all I had.

Then, something strange happened.

More recipe requests and messages for

food started to come in than trailer

inquiries, so I though I'd move my food

posts to its own social media platform,

and that's where The Kitchen Wild was

born.

This has already been so much fun

— more fun than I could have ever

imagined — and has allowed me to

connect with so many amazing people

in our coastal community, as well as

communities all over the world. It's

incredible to see that even in these

times that can feel so divisive, food has a

unique way of bringing people together.

So in honor of the one-year anniversary

of The Kitchen Wild, I wanted to share

my first recipe post with you. Whether

you are sharing a meal with new friends

or the people you love most, these

Cheesy Au Gratin Yukon Golds are the

perfect side dish for this time of year.

CHEESY AU GRATIN YUKON

GOLDS

INGREDIENTS

2 - 3 pounds Yukon gold potatoes thinly

sliced

2 cups heavy cream

3 tablespoons flour

3 tablespoons butter

1 1/2 teaspoon Kosher salt or to taste

1/4 teaspoon pepper or to taste

2-3 cups cheddar cheese grated

Sliced chives for garnish

INSTRUCTIONS

First, boil (peeled) sliced potatoes for 10

minutes or until tender. Then, pour the

water out.

Preheat oven to 350 degrees. In a small

saucepan, melt butter; stir in flour, salt

and pepper until smooth. Gradually

whisk in cream. Bring to a boil, stirring

constantly; cook and stir until thickened,

about 2 minutes. Remove from heat;

stir in cheese until melted.Coat an

8-inch square baking dish with cooking

spray (or butter). Place half of the

potatoes in dish; layer with half of the

cheese sauce. Repeat layers. Top with

extra grated cheese. Bake, covered, 50

minutes. Uncover; bake until bubbly

and potatoes are tender, 10-15 minutes

longer.

Sprinkle with chives. Enjoy!

WRITTEN AND PHOTOGRAPHY BY: KATIE WILEY

27
---
KENNEDY'S STIR FRY RECIPE

WRITTEN BY KENNEDY MCENTEE | PHOTO BY JEREMY BURKE
---
All ingredient quantities are a

recommendation. This recipe is

very easily modified depending on

preference and desired amount. My best

recommendation is to use vegetables that

are in season and to add as much color

as possible.

INGREDIENTS:

1 Sweet Potato, thickly quartered (do not

peel)

1 Butternut Squash, peeled, gutted, and

cubed

1 Carrot, peeled and cut into ¼ inch.

slices

1 White onion, cut into thick strips

8 Mushrooms, scrub and quarter

20 Green Beans, cut ends off and cut in

halves

1 Crown broccoli, cut up (size is

discretionary)

1 Bunch cilantro, separate leaves from

stem and keep leaves

1 Package Thai basil, cut stems off

3 Green onions, cut in approx. 1 in.

lengths

Crushed chili flakes

Himalayan Ssalt + pPepper

Lime, halved

Olive oil

Cantonese egg noodles or rice

CHICKEN MARINADE:

4 Chicken breasts

Olive oil

Green onion

Cilantro

Crushed chili flakes

Salt & pepper

Fresh lime juice

SAUCE:

Oyster sauce

Soy sauce

Sesame oil

DIRECTIONS:

Take chicken breast and cut off fat. Place

chicken in a bowl or plastic bag and

drizzle Olive oil so that it coats each piece

of chicken. Salt and pepper the chicken

and sprinkle crushed chili flakes. Take

cilantro and green onion and add it to

the chicken. Squeeze fresh lime juice into

the bowl or the bag and set aside. The

chicken can marinate for 10 min to two

hours.

Chop and prep all vegetables. Use a wok

or frying pan and add a small amount of

olive oil on the pan. Wait for the pan to

heat up before adding vegetables. Once

the pan is hot add the sweet potato,

butternut squash, and carrot. While

these are starting to cook, pull out

another frying pan and drizzle a small

amount of olive oil and wait to heat up.

Place chicken on the pan.

Stir the vegetables often to distribute

the heat. Add in the mushrooms, green

beans, broccoli, onions, green onions,

and thai basil. Drizzle olive oil over the

top and continue to stir often.

Flip the chicken over. Once both sides

have been cooked, take tongs and scissors

and start cutting the chicken into smaller

pieces (size is discretionary). Always cut

with the grain of the meat.

Add water (amount will depend on

quantity of noodles) to a pot and wait

until the water boils before adding Egg

noodles. Boil noodles six to eight minutes

and strain water.

Once the sweet potatoes and squash

yield easily to the poke of a fork, add

chicken and egg noodles in the wok

with the vegetables. Pour equal parts soy

sauce, sesame oil, and oyster sauce over

everything and toss everything together.

Amount of sauce is dependent on

preference. (I prefer just enough to coat

everything but not too saturated). Serve

with fresh cilantro and green onions and

a drizzle of sriracha and/or sriracha mayo.

Every recipe has a story. Whether it be

its inception or its evolution. No matter

how insignificant these stories may seem,

these stories are what gives meaning to

a recipe. They carry with them histories

which grew from mysterious and strange

origins. Stir fry may seem simple and even

self explanatory. However, because of the

opportunity for dramatic variation, stir

fry can become an incredibly intimate

dish. Each stir fry tells a very different

and distinct story, taking you on a unique

journey, not soon to be replicated.

My story takes place in London. The first

day I arrived in London, as a Master's

student on a tight budget, I found

myself struggling to shop for groceries. I

looked around and my mind went blank.

What could I cook that would be cheap,

healthy, and delicious? These three

criteria tied together gave me a challenge.

Then it came to me. Once I had regained

my senses, I began carefully curating

"my perfect" combination of veggies. I

knew from cooking Thai-style cuisine

previously that I needed oyster sauce.

In my opinion, oyster sauce is crucial to

the distinct flavor of a stir fry. I added

sesame oil and soy sauce, and thus the

inception of the stir fry sauce trifecta was

born. Adding marinated chicken and egg

noodles made this meal complete.

Now, I have a quasi love affair with stir

fry because I believe it incorporates the

greatest aspects of cooking and eating. It's

easy to make, healthy and flavorful.

Growing up, I was always in the kitchen

with my Mom, or my Grandmothers.

They taught me the fundamentals of

cooking and baking. It has since been

one of my greatest loves. Being in the

kitchen is home for me. During the years,

I invented many of my own recipes, but

without the knowledge that was instilled

in me from the women in my family, I

would never have achieved the confidence

to experiment in my own kitchen.

The beautiful thing about stir fry, and

virtually any other recipe, is the specific

and dynamic stories that can be told

through them. I will never forget the long

walks from the Marks & Spencers to my

small flat in London. In a kitchen, with

only a mini fridge and a small gas range,

I enjoyed cooking this delightful dish on

many occasions.
---
IT'S PIE SEASON

Don't forget to order your holiday pies early

and locally like the one pictured here from

Chalet Restaurant in Newport, Or.

Photo by Jeremy Burke
---
ROCK SHOP MAKES PEOPLE HAPPY

CONTINUED ON PAGE 32
---
Styx, Stones n' Bones, a family business

arc Taylor and his family have evolved

from the shop they first opened up north

of Yachats several years ago. After a

move to Bend, where it started and then

subsequently sold a rock shop, the family returned to

Yachats, leasing the space that was most recently the

Alder Bistro — it is now known as Styx, Stones n'

Bones.

While waiting to speak with Taylor on a busy

Friday, the News-Times observed a man

purchasing a large crystal. Seemingly in a

hurry, the man was shopping surreptitiously

for a gift for his wife, who had been in

the store earlier. He wanted to surprise

her, he said. After viewing the available

specimens of the celestite he was seeking,

and comparing one from behind the

counter with those out on the sales floor,

the man opted for the most-expensive,

highest-cost, gem-quality stone about

the size of a grapefruit or melon.

"That's the right way to do it," said

Taylor, not surprised the man opted

for the finest specimen, "especially if it's

something special. Do you want to spend

$100 on something that is OK, or $250

on something extraordinary?" Taylor said

the piece the man purchased was about as

good as it gets, and he was confident this

customer's wife would love it.

The rock shop, located in downtown Yachats

at 160 W. Second St., is dominated by amethyst

cathedrals of all sizes, most recently in the shape

of large, butterfly wings. There was a large selection

of Arkansas quartz, as well as semi-precious stones,

fossils, crystals, geodes and gemstones from around the

world. There was a trilobite more than a foot long and wide,

though not the biggest the Taylor family has come across in

their fossil hunting.

People have been using stones for different purposes for thousands of

years, Taylor pointed out, trying to explain the phenomena of searching for

and collecting what are essentially, rocks and stones. "We get 1,000 (people) a

WRITTEN BY CHERI BRUBAKER | PHOTOS BY: JEREMY BURKE

CONTINUED ON PAGE 34

33
---
week in this store," he said.

"There is electricity. There are ways to measure the excited

molecules," Taylor offered. "Some of the best metaphysical

practitioners out there were scientists trying to disprove

metaphysics and ended up becoming believers themselves."

Taylor explained that gemstone and crystal cutters and carvers

do things very specifically. He spoke of infusing stones with

intention, even love. Some people will lay them on their

chakras, some simply want the crystals in their presence, he

said. Some carry a favorite stone in their pocket.

"Some might be a grandma looking for something cool for the

grandkids while they're staying in a vacation rental," Taylor

suggested.

It's all subject to interpretation, he said. "It's what you like,

what makes you feel good. It isn't about anything other

than happy. It's all cultivating happiness and people being

better."

The coolest thing for Taylor, however, is that Styx, Stones n'

Bones is a family business. "We do it as a family," he said.

Whether it's going to an international gem show or digging

rocks, the family all loads up together. "It's a big deal to be a

family business, and that we get to share it with other families,"

Taylor related.

STYX, STONES, N' BONES

Location: 160 W 2nd St., Yachats, OR

Phone: (541) 653-3548

Hours: Call for up to date
---
ANIMAL OF THE MONTH

Coastal residents and frequent visitors will easily recognize this

week's spotlighted animal, because the harbor seal or phoca

vitulina is one of the many marine mammals that live on the

Oregon coast.

Though their spotted coloration varies widely from near white

to black, those spots are distinctive and it's easy to recognize

a harbor seal when a few key traits are also observed: its front

and rear flippers are short, it has no external ear flaps and

it's usually around 5.5 feet long and 250 pounds at maturity.

Unlike sea lions, male and female harbor seals are similar in size

and appearance.

Harbor seals also swim in an interesting way; they propel

themselves through side-to-side motions of their back flippers

while steering with their front flippers.

These marine mammals like to dine on herring, hake,

rockfish, salmon, sole, flounder, tomcod, sculpins

and lampreys. They're not just interested

in fish though. Harbor seals will also eat

crustaceans and mollusks — including

squid and octopuses.

Because of their similar taste in fish to

humans, harbor seals are thought by

some to "compete" with commercial

fisheries for food sources. This

myth, unfortunately, has led

to many harbor seal deaths

at the hands of humans.

However, now harbor

seals are protected by

the Marine Mammal

Protection Act, which

The Harbor Seal

also prevents them from being hunted for their hides, oil and

meat. Here, on the West Coast, populations are stable.

Those who wish to see a harbor seal up close can take a walk

down around where they hang out, in nearshore waters, bays

and estuaries, or they can up their chances of spotting one of

these spotted creatures by visiting the Oregon Coast Aquarium

when it reopens. Elvis the harbor seal is the mascot for his

species there, where he has been living in the Seal and Sea Lion

Exhibit since 2015. To learn more about Elvis and his exhibitmates,

visit aquarium.org.

OREGON COAST AQUARIUM

Address: 2820 SE Ferry Slip Rd. Newport, OR 97365

Hours: visit website for the most current schedule.

Phone: 541-867-3474 | to donate visit www.aquarium.org
---
BRING

A COPY

OF THIS

AD FOR

10%

OFF

(maximum of $100.00)

Cost free vehicle inspections, competitive pricing,

customer financing, and a warranty on all repairs

honored by AAMCOs nationwide. We provide

expert diagnostic & repair services for transmissions,

engines, brakes, differentials, & transfer cases.

Call Rick to schedule an appointment

(541) 265-9567

126 NE 11th Street

Newport, Oregon 97365

8am – 5pm M-F

Casey McEneny of OC Murals is shown here putting some finishing

touches on the new mural located on the remodeled Ripley's

Believe it or Not! building on Newport's Historic Bayfront.

Photo by Jeremy Burke

A Clean Home

is a

happy home

NEW CLIENTS

ONLY

$50

OFF

ANY cleaning

Present coupon AFTER

your FREE estimate.

Coupon required.

Minimum purchase

of $240.

Expires 9/30/20

Screened and

Trained Team

Bonded & Insured

Reliable &

Accountable Service

Locally Owned

since 1981

541 929-4302

merry maids
---
A TRIBUTE TO THE LEGENDARY ARTIST MICHAEL GIBBONS

(Publishers Note: Michael Gibbons had a profound influence on the

way I percieve art. I was fortunate enough to meet Michael and hear

him explain how he saw the world. I will never forget what Michael

inspired in myself to be a photographer and to never stop asking the

question. Instead of my vision for this story I thought it fitting to

share what was said at Michael's funeral mass shared with me by his

wife Judy. Thank you Michael, Jeremy)

Funeral Mass for Michael Gibbons Sept. 19,2020

Dear Brothers and Sisters in Christ,

Michael A. Gibbons, a self-described "poet with a paintbrush"

whose art evoked the beauty, wonder and mystery of nature,

passed away on July 2, 2020, at home in Toledo, , as a result

of complications from a stroke he suffered in 2016. He was

76. "All of us in Michael's hometown are deeply saddened by

his passing," said Toledo Mayor Rod Cross. "We will forever

cherish the rich artistic and cultural legacy he left behind."

SOMEHOW THE ARTIST IS

THE MERCURIAL FIGURE,

THE MESSENGER, THE ALCHEMIST, SENT

TO ADD TO THE BENEDICTION OF HUMAN

HISTORY. I PRAY MY OFFERINGS WILL,

IN SOME WAY, CONTRIBUTE TO THE

COLLECTIVE BLESSINGS EVIDENT IN THIS

REGION."

~ MICHAEL GIBBONS (2007)

Michael was born in Portland, on Dec. 18, 1943, the son of

Millard and Virginia Gibbons. He was proud to be a nativeborn

Oregonian whose ancestry was deeply rooted in the

state. Family records indicate that his mother's descendants

arrived in Oregon by covered wagon in 1865 and his father's

family arrived later in the 19th century.

Experimenting with art as soon as he could hold a crayon,

Michael began painting with oils while still in elementary

school. He attended Benson Polytechnic Institute (later

high school) in Portland, where he attracted the attention of

the Oregon Society of Artists. At 16, he was the youngest

person invited to join the society. Michael recounted to me

once over dinner how his art teacher at Benson had a great

love for the Barbizon school of French landscape painters,

and once, when the Portland Art Museum staged a show

on the Barbizon school. The teacher invited Michael – and

Michael only, seeing in this young man a future great artist

– to accompany him to the exhibit. For Michael it was a

transformative moment in his life in the presence of an actual

Corot landscape, with its rich yet delicate forms and use of

shadows and light. From that moment on, he knew his life's

calling. He knew his vocation – to bring beauty into the world

as an artist.

Later, according to a 2014 newspaper article in which he

reminisced about his education, Michael, as a young student,

was especially inspired by the work of French landscape

painter Jean-Baptiste-Camille Corot (1796-1875). "I had to

paint things that stuck people like that," Michael was quoted

CONTINUED ON PAGE 34 39
---
as saying. "I saw dawn, that slivery morning light and soft colors.

They weren't garish. It was like looking at a prayer."

After graduation from Benson and a three-year tour in the U.S.

Air Force, he worked as a designer of specialty automotive parts,

reflecting a born instinct for working with his hands. Though he

was mechanically inclined, he sensed that his destiny was as an

artist. At age 25, he left this job in Portland and relocated to the

Oregon coast to pursue painting full-time.

Michael's oil paintings of the coast and surrounding areas

established his reputation for depicting the natural world with

deep sensitivity and reverence. He became intimately familiar with

meadows, estuaries and wildlife of the Yaquina River region, with

a penchant for the interplay of light and colors.

Portable field equipment, solitude and focusing on a limited

geographical area helped him create deeply personal portrayals of

the land he called home for more than four decades. "My most

powerful work comes from where I live," Michael said. While

Michael's most meaningful art was created in and around the

community, he called home, he visited many other locations to

gain additional inspiration. He painted scenes in Washington,

California, Arizona, Florida, Pennsylvania and Connecticut, as

well as in England, Scotland, Ireland, France and Mexico.

The ocean was a constant source of inspiration for Michael and

his seascapes are among his most vital works. His painting recreating

the moment with the submersible "Alvin" discovered the

hydrothermal vents off the Galapagos Islands in 1977 was given to

Dr. Robert Ballard, who was a diver on that expedition. (Ballard

gained worldwide fame for his discover of the wreck the "Titanic"

in 1985.)

Michael's work was featured in dozens of exhibitions in the U.S.

and Europe. "The Yaquina Traveling Exhibition: A Painted Voice

for a Sacred Landscape" was featured at the LaSells Steward

Center at Oregon State University in the summer of 2019. Michael

married Judith "Judy" Mortenson in 1988 and their partnership

transcended life, love and art to become a true union of soul and

spirit.

As longtime Toledo residents and civic leaders, Michael and Judy

found constant inspiration in the town's history and setting amid

the naturally beautiful Yaquina River region. "Life is an endless

series of opportunities brilliantly disguised as hard work," was

one of Michael's favorite maxims. In that spirit, he saw potential

in Toledo as a place where art could flourish. Michael and Judy's

tireless promotion of Toledo as a creative hub led to the creation

of the Labor Day Art Walk, which in 2018 celebrated 25 years of

showcasing the work of artists who depict the area's natural beauty.

With his own hands, Michael restored the neglected complex of

structures on Northeast Alder Street that became the focal point

CONTINUED ON PAGE 42
---
FORTY-SOME YEARS I HAVE BEEN PAINTING IN THE FIELDS, FORESTS AND

WATERWAYS OF THIS LAND. HAVING MADE MY HOME HERE SINCE BIRTH, I

REPEATEDLY ASK MYSELF THE SAME QUESTIONS: 'WHAT IS IT I AM SEEING AND

EXPERIENCING THAT IDENTIFIES AND SPEAKS TO THE CHARACTER, THE INDIVIDUAL

PERSONALITY OF THIS PLACE?' ~ MICHAEL GIBBONS (2007)

41
---
of his and Judy's personal and professional lives, as well as that

of Toledo's unique artist community.

"The Vicarage," next door to St. John's Episcopal Church, was

their home and gallery, which Michael saved from dereliction

in the 1980s. He also maintained a separate gallery in Tubac,

Arizona, for nine years. Michael's studio in Toledo, where he

painted, perfected and framed hundreds of his works, was

built in 1887 as a Methodist church and later was used as a

funeral home before he acquired it in 1992. The two-story

building that now houses the Yaquina River Museum of Art,

which Michael and Judy founded in 2002, also dates from 1887.

With his fondness for machinery, Michael was proficient at

painting industrial scenes, especially factories and ports. He was

commissioned by Gunderson Marine in Portland to depict the

company's barges and railcar facilities.

"REALIZING SOME

YEARS AGO THAT THE

MAKING OF A PAINTING

IS SYNONYMOUS WITH THE ASKING

OF A QUESTION, EACH PIECE IS AN

EXPRESSION OF THE ARTIST'S LIFE TO

DATE. HAND PAINTED PAGES IN HIS OR

HER LIFE DIARY; SUCCESSIVE VARIATIONS

OR REPHRASING OF THE ORIGINAL

QUESTION."

~ MICHAEL GIBBONS (2007)

He also painted the Georgia-Pacific containerboard mill on the

Yaquina River in Toledo. His 1985 painting of the mill proved

so popular that a framed print of it is given to retiring mill

employees. "Michael was fascinated by the relationship between

manmade structures and nature," said CJ Crake, a friend of the

Gibbons family who works at Georgia-Pacific. "His art depicting

the works of industry pays homage to the natural environment

in which they exist." Mayor Cross agreed. "Michael enshrined

Toledo's blue-collar culture in art," he said.

Two of Michael's original oil paintings, "Arnold Creek Estuary"

and "Don Gray Country," are on display in the Oregon

governor's official residence in Salem. Governor Kate Brown

and First Gentleman Dan Little have been guests at the Gibbons

home in Toledo.

The late U.S. Senator Mark Hatfield, who represented Oregon

in the Senate for 30 years, was among Michael's many admirers.

"This man has taken a land we all know and love and given it

back to us in a form we can understand,' Sen. Hatfield once

said.

Michael was a signature member of the Oil Painters of America

and the Laguna Plein Air Painters Association. He also was a

member of the Allied Artists of America, the Copley Society and

Christians in the Visual Arts. He was a member of Sacred Heart

Catholic Church in Newport and the Knights of Columbus.

His deep and devout Catholic faith was lived in a firm and

loving way, seeking the face of God in all the many forms of

beauty that he encountered in his artistic practice, his travels,

his passion for promoting the arts within the Toledo and the

plein aire painting community, his devotion to Judy and the

family and his love for the truth. He once remarked when he

had me over to dinner that if one seeks beauty once is led to the

doorstep of truth – and to God.

CONTINUED ON PAGE 44

43
---
As we commend the soul of our beloved Michael to the Divine Mercy of

the Lord, let our tears be assuaged by the hope in eternal life promised him

in his profession of faith in Christ – the way, the truth and the life.

Michael is survived by his beloved wife, Judy; four stepchildren, Vicky

Ross, Michael Ross, Randy Ross and Stephen Ross; sister, Laurie Gibbons;

a niece, nephew, seven grandchildren and sever great-grandchildren. He

has gone before hundreds of friends, admirers and collectors of his art

from throughout the world

"THE INABILITY TO REALIZE A

DEFINITIVE ANSWER OR ULTIMATE

TRUTH VIA THE PAINTINGS (OR

ANYTHING ELSE FOR THAT MATTER) IS THE REAL

STUFF OF ART. THE ONLY THING WE LEARN FROM

ASKING THE QUESTION IS THAT WE NEED TO ONCE

AGAIN REPHASE IT. I CANNOT IMAGINE ANYTHING

MORE EXCITING, MORE MYSTERIOUS AND MORE

HUMBLING THAT THAT."

~ MICHAEL GIBBONS (2007)
---
45
---
Sunset at Alder Island. See the next two

pages for the story. Photo by Jeremy Burke
---
A FAMILY FRIENDLY HIKE

he Oregon coast offers a wide variety of hiking

opportunities for people of all experience levels.

Yes, there are some challenging trails at places

like Cape Perpetua and Cascade Head, but enjoying the

outdoors while hiking doesn't have to mean a strenuous

effort.

Such is the case with Alder Island Nature Trail at the Siletz

Bay National Wildlife Refuge just south of Lincoln City.

It's a very family friendly, level, half-mile gravel trail. The

parking area and trailhead are just off of Highway 101, but

that doesn't mean you won't enjoy some fantastic views of

nature. The trail features a forest of alder trees, an excellent

view of the mudflats and looks at the Siletz River. But

perhaps its biggest draw is the birdwatching opportunity

it offers.

"It's a beautiful trail," said Dawn Harris, a recreation

coordinator with the U.S. Fish and Wildlife Service, which

manages the Alder Island Nature Trail as part of the Oregon

Coastal Refuge Complex. "Because its short, and flat, it's

popular with families and older people — anybody, really,

that wants to hear songbirds, watch bald eagles and see the

natural wonders of a tidal marsh."

OregonHikers.org states that the Siletz Bay National

Wildlife Refuge is a relatively new addition to the national

refuge system, with the first acres of tidal salt flats being

donated in 1991. The refuge has grown to 568 acres of the

Siletz River delta and adjacent areas on Siletz Bay. Much of

the delta had been ditched and diked to create pastureland

for dairy cows, but in 2003, a major project on Millport

Slough began the restoration process to provide habitat for

salmon and steelhead. In 2017, the Alder Island Nature

Trail was opened that allows foot access to this area. In

addition to bird sightings, you'll get views up the wide Siletz

River and perhaps even glimpse some elk.

A kayak/canoe launch allows access to the water and a

colorful kiosk map displays the attributes of this section of

the wildlife refuge. Continue walking down the old route of

Highway 101, with a tidal slough to your right and a thicket

of willows on your left. You'll make a sharp right over a

massive culvert to reach the junction for the loop.

Heading left, you'll find yourself walking on a gravel path

next to the main channel of the Siletz River. A few Sitka

spruce live on the island, but the principal tree is the

red alder. Tall elderberry shrubs also arch overhead. The

island, once a tidal marsh, became a dumping ground

for construction debris; it was decided not to restore

the marsh here so it could host this short trail for refuge

visitors. Rotting wood pilings, once used to secure log rafts,

protrude from the river, and forested slopes rise steeply on

the opposite bank. Reach a bench at a viewpoint upriver,

where the Siletz emerges from the dark coastal hills. The

trail, now an avenue of alders, returns along a narrow

slough, where you can look for herons, egrets, ducks,

mergansers, and cormorants. Close the loop and return to

your vehicle.

The Alder Island Nature Trail is open from sunrise to

sunset. Access to the parking area and trailhead is off of the

east side of Highway 101, about halfway between milepost

120 and 121. Parking is somewhat limited, and dogs are not

allowed on the nature trail.

WRITTEN BY STEVE CARD | PHOTOS BY: JEREMY BURKE
---
Sunsets

Fall

Sunsets

and winter are my favorite times of year to shoot sunsets. The next

few pages highlight some amazing sunsets I have had the pleasure to

view. I hope you enjoy! Jeremy

All photos by Jeremy Burke
---
Moolack Beach

Moolack Beach

Yaquina Head
---
Yaquina Bay Bridge - There is a very short window when

you can photograph the sun bursting on the bridge

Yaquina Head Lighthouse
---
This is a long exposure photo taken from Otter Rock looking towards

Yaquina Head.
---
Photo by

Luke Whittaker

N Y E

Historic

B

E A

C H

Located just a few short blocks off Highway 101,

the "European walking neighborhood" of Historic Nye beach is a

perfect spot to enjoy easy access to miles of perfect beaches

and offers the visitors lots of …

Beachcombing

Bike Riding/Rental

Beach Walking

Kite Flying

Surfing

Sail-boarding

Tide Pooling

Photography

Galleries

Jewelry

Visual Arts

Apparel

Lodging

Spa – Massage

Cafés & Fine Dining

Hours of Family Fun

Unique

Retail Shops

Professional

Services

Fine Gifts and

Home Decor

World Class

Performing Arts

Sweets - Ice Cream

- Chocolates

For more information: www.NyeBeach.org
---
OREGON COAST DREAM HOME OF THE MONTH

113 E FALL CREEK RD

ALSEA, OR

Very unique property located close to the beach, nestled

in the Coast Range fronting Fall Creek. Formally used

as a hunting lodge this property offers a beautiful

setting, a pond, a ''Living swim pool'', a large barn with

stalls, a machine shop, chicken coops and much more.

The wildlife is abundant with salmon headed for the

nearby hatchery, elk & deer in the meadow and eagles

in flight. The property is situated to receive plenty of

sunlight and there is much history in the area. Bring

the family, business, horses and cows this property can

accommodate it all.

$675,000

etails

BEDROOMS: 9 EST. SQUARE FEET: 4,065

BATHROOMS: 6 LISTING # 17-3065

THIS PROPERTY BROUGHT TO YOU BY

205 E Olive St, Newport, OR

(541) 265-2200

advantagerealestate.com

57
---
LO AN

Borrow up to $5,000

for 12 months

AT APR*

5.99%

*Annual Percentage Rate effective 11/1/20 and expires 12/31/20. Loan amount

dependent upon credit worthiness. Existing FFCU and TLC loans not eligible.

APPLY TODAY!

VISIT: tlcfcu.org/holly-dough-loan

TEXT: holiday loan to 360-351-4111

503.842.7523

866.901.3521

www.tlcfcu.org

ILikeTLC

fibrefamily

1625 N. Coast Hwy. Newport

2004 NW 36th St. Lincoln City

A DIVISION OF

CREDIT UNION
---
I call this one "Rainbow Sherbert." This photo was the most incredible

sunset I have seen in years. My favorite part is the green color that is

typically absent in our sunsets. Photo by Jeremy Burke
---
Thanksgiving Dinner

Turkey

or Ham

with all the trimmings!

ONLY

$

17

*

* excludes coupons

Pick-Up Orders, Delivery, & Indoor Dining

BREAKFAST, LUNCH & DINNER IS SERVED EVERY DAY!

NE 6 TH STREET & HWY 101

541-574-6847 • THENEWPORTCAFE.COM GREAT BREAKFAST AND SEAFOOD ALL DAY