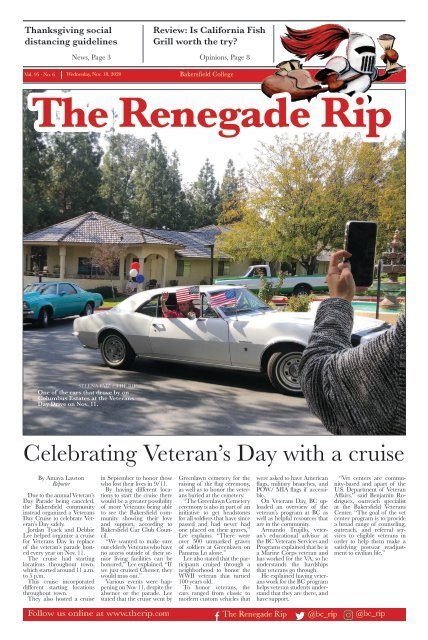 Renegade Rip Issue 6 Nov. 18 2020
Create successful ePaper yourself
Turn your PDF publications into a flip-book with our unique Google optimized e-Paper software.
Thanksgiving social

distancing guidelines

News, Page 3

Review: Is California Fish

Grill worth the try?

Opinions, Page 8

Vol. 95 ∙ No. 6 Wednesday, Nov. 18, 2020 Bakersfield College

The Renegade Rip

SELENA PAIZ / THE RIP

One of the cars that drove by on

Columbus Estates at the Veterans

Day Drive on Nov. 11.

Celebrating Veteran's Day with a cruise

By Amaya Lawton

Reporter

Due to the annual Veteran's

Day Parade being canceled,

the Bakersfield community

instead organized a Veterans

Day Cruise to celebrate Veteran's

Day safely.

Jordan Tyack and Debbie

Lee helped organize a cruise

for Veterans Day in replace

of the veteran's parade hosted

every year on Nov. 11.

The cruise had starting

locations throughout town,

which started around 11 a.m.

to 5 p.m.

This cruise incorporated

different starting locations

throughout town.

They also hosted a cruise

in September to honor those

who lost their lives in 9/11.

By having different locations

to start the cruise there

would be a greater possibility

of more Veterans being able

to see the Bakersfield community

showing their love

and support, according to

Bakersfield Car Club Council.

"We wanted to make sure

our elderly Veterans who have

no access outside of their senior

living facilities can be

honored," Lee explained. "If

we just cruised Chester, they

would miss out."

Various events were happening

on Nov 11, despite the

absence or the parade. Lee

stated that the cruise went by

Greenlawn cemetery for the

raising of the flag ceremony,

as well as to honor the veterans

buried at the cemetery.

"The Greenlawn Cemetery

ceremony is also in part of an

initiative to get headstones

for all soldiers that have since

passed and had never had

one placed on their graves,"

Lee explains. "There were

over 500 unmarked graves

of soldiers at Greenlawn on

Panama Ln alone."

Lee also stated that the participants

cruised through a

neighborhood to honor the

WWII veteran that turned

100 years old.

To honor veterans, the

cars ranged from classic to

modern custom vehicles that

were asked to have American

flags, military branches, and

POW/ MIA flags if accessible.

On Veterans Day, BC uploaded

an overview of the

veteran's program at BC as

well as helpful resources that

are in the community.

Armando Trujillo, veteran's

educational advisor at

the BC Veterans Services and

Programs explained that he is

a Marine Corps veteran and

has worked for the VA, so he

understands the hardships

that veterans go through.

He explained having veterans

work for the BC program

helps veteran students understand

that they are there, and

have support.

"Vet centers are community-based

and apart of the

U.S. Department of Veteran

Affairs," said Benjamin Rodriguez,

outreach specialist

at the Bakersfield Veterans

Center. "The goal of the vet

center program is to provide

a broad range of counseling,

outreach, and referral services

to eligible veterans in

order to help them make a

satisfying postwar readjustment

to civilian life."

Follow us online at www.therip.com

The Renegade Rip

@bc_rip

@bc_rip
---
News

Page 2 The Renegade Rip www.therip.com Wednesday, November 18, 2020

Mixed feelings in Kern County

HALEY DUVAL / THE RIP

A Biden supporter waving at passing cars on the corner of Coffee

Road and Rosedale, Nov. 7.

By Haley Duval

Editor-in-Chief

Kern County residents and local

politicians had mixed reactions after

the announcement that Democrat

Joe Biden defeated President Donald

Trump to become the projected 46th

president of the United States early

Saturday morning, Nov. 7.

Local Biden and Trump supporters

were on the corner of Coffee Road

and Rosedale Highway in North Bakersfield

the day of the announcement.

Trump supporters gathered to pray

for President Trump's reelection in

the parking lot in front of Walmart

on Rosedale, while a group of Biden

supporters celebrated Biden's victory

holding flags that represented the

LGBTQ community and Biden for

President 2020 on the corner of Coffee

Road and Rosedale Hwy.

Bakersfield Congressman Kevin

McCarthy—R, told Fox News on

Nov. 4 that Trump won the reelection,

and voters should stand behind

the president. As of Nov. 9, McCarthy

has not released a new statement

regarding the 2020 presidential election

and Biden's elect-victory.

California Gov. Gavin Newsom—D.,

congratulated

President-elect Biden and Vice-President-elect

Kamala Harris after they

was declared the projected winners.

In Newsom's statement on Biden's

and Harris's victory: "Joe Biden and

Kamala Harris were the choice of

HALEY DUVAL / THE RIP

A young child standing on military crane truck during the

prayer for President Donald Trump, Nov 7.

a record number of American voters

– and an overwhelming majority

of Californians — because we know

they will represent all Americans.

They will treat every person with

dignity and deserving of equal opportunity.

They will attack systemic

injustices, not their fellow Americans.

They will respect the rule of law and

democratic institutions. They will

elevate science and expertise and

renew America's place of leadership

in responding to global threats

like COVID and climate change. In

short, they will return our better angels

to our nation's highest offices."

California State Senator Shannon

Grove—R., released the following

statement a day after the

announcement that stated Biden

is the elect-winner on her personal

twitter account: "I still believe Donald

Trump will be President [for] the

next four years."

Grove represents the 16th State

Senate district, encompassing the

southern Central Valley, including

most parts of Kern County and parts

of the High Desert.

While California State Senator

Melissa Hurtado—D., released in a

statement that she believes the announcement

of the Biden's and Harris's

victory as a "bright new chapter

in our American story." Hurtado

represents the 14th Senate District,

which encompasses parts of the

southern Central Valley, including

most of the majority-Latino portions

of Fresno and Bakersfield.

HALEY DUVAL / THE RIP

Biden supporters on the corner of Coffee Road and Rosedale in

North Bakersfield, Nov. 7. Democrat Joe Biden defeated President

Donald Trump to become the projected 46th president of

the United States early Saturday morning, Nov. 7.

HALEY DUVAL / THE RIP

A trunk driving in front of Amazon in Oildale with a variety of

flags, including a upside down California State Flag, Nov. 7.
---
News

Page 3

The Renegade Rip www.therip.com Wednesday, November 18, 2020

Thanksgiving guidelines from the

California Department of Health

By Amaya Lawton

Reporter

Many families are planning

to host a normal Thanksgiving

dinner with their household

during COVID-19.

According to the California

Department of Public Health

website, there are guidelines

for gatherings during the

pandemic.

"Gatherings are defined as

social situations that bring together

people from different

households at the same time

in a single space or place,"

the California Department

of Public Health stated.

The guidelines are regarding

any social gatherings that

may happen during the pandemic.

However, according to the

Hollywood News website

called Deadline, Governor

Gavin Newsom stated to have

never released Thanksgiving

guidelines or any holiday

guidelines. Newsom plans to

release statewide guidelines

for Thanksgiving, but the

guidelines set for gatherings

now apply to any general

group social interaction.

The California Department

of Public Health's website

has released guidelines

for social gatherings that

reflect the beginning of the

pandemic and were updated

recently in September.

"Gatherings that included

more than 3 households are

prohibited," according to the

California Department of

Public Health. "This includes

everyone present, including

hosts and guests."

The California Department

of Public Health's

website also stated that

"Gatherings that occur outdoors

are significantly safer

than indoor gatherings," they

stated. "For any gatherings

permitted under this guidance,

the space must be large

enough so that everyone at

a gathering can maintain at

least a 6-foot physical distance

from others (not including

their own household)

at all times,"

Some families are opposed

to this restriction, however,

stating that they will conduct

their holiday gatherings the

same as they do every year.

Rachael Fellows expressed

her opinion by stating that it

is more likely for her to come

in contact with spit, or mucus

from a stranger's sneeze at

work than at a family gathering.

"But yes, I will be doing

Thanksgiving the same way

with my family, (which include)

4 or 5 house gatherings,"

Fellows said.

Rebekah Salcido, a current

BC student, shared her opinion

on the guidelines by stating

that her family will follow

the household guidelines to

keep everyone safe and slow

the spread of COVID-19.

Chloe Lozano, a student

from CSUB, shared the same

thought and explained that

"We are going to keep it to

just those in our household.

Many of us are high risk, so

staying healthy is our number

one priority."

Newsom has not released

specific guidelines to pertain

to any holiday gathering at

this time, however, plans to

do so, as stated in the Deadline

article.

BC Athletics launches Gades Club

to help provide financial assistance

By Hugo Maldonado Garcia

Reporter

The Bakersfield College

Athletics Department has

announced a new program

called Gades Club on Oct.

30 to help support and provide

financial assistance with

BC student-athletes and the

Renegade alumnus.

According to the official

BC Athletics website, "Since

1922 Renegade Athletics has

served as a launching pad for

thousands upon thousands

of student-athletes who have

gone on to professional careers

both in their respective

sports and off the playing field.

The newly announced Gades

Club is a way for community

donors to support Bakersfield

College student-athletes as

they continue their academic

and athletic careers at one of

the most well-respected community

colleges in the country."

Due to COVID-19

regulations, many college

campuses had to

close and could not

hold many games or

sports events.

Many Renegade student-athlete

billboards

have been placed

around Bakersfield to

promote the athletics

at BC. However, the

Gades Club provides

a way for former Renegade

alumni and current

student-athletes

to come together and

be celebrated for their

hard and termination

and is considered to be an association.

According to Reggie

Bolton, Athletic Director and

Interim Dean of Kinesiology

said, "the Gades Club is the

PHOTO COURESTY OF BC ATHLETICS COM-

MUNICATIONS

first of its kind here at BC and

it was brought together to

help support the student-athletes,

but also to honor the

BC Renegade alumni."

"Participation in college

athletics had

long been a

training ground

for life lessons

that transcend

sports," said

Bolton. "What

our student-athletes

learn in

their time here

will stick with

them through

their entire lives.

We appreciate

the long-standing

relationships

and support

the Bakersfield

community

has provided

throughout the years. With

the introduction of the

Gades Club, we are looking

to maintain a strong connection

with that community

and our Renegade alumni

well into the future"

"Some of the Gades Club

projects that are coming

along include re-establishing

the Athlete Hall of Fame at

BC and hosting an award

night for athletes sometime

near the spring," Bolton said.

The Gades Club donations

would provide financial support

towards the Renegade

Athlete Hall of Fame and future

projects such as awards

and ceremonies for the student-athletes.

First place nationally for two year college Websites at

the Associated Collegiate Press 2020 midwinter conference.

Fifth place newspapers. First place for newspaper

in 2011, third place in 2013, 2014, 2015 for CNPA General

Excellence

Fourth place nationally in 2019 for website publication

by Associated Collegiate Press

The Renegade Rip is produced by Bakersfield College

journalism classes and is circulated on Thursdays

during the fall and spring semesters. The newspaper is

published under the auspices of the Kern Community

College District Board of Trustees, but sole responsibility

for its content rests with student editors. The Rip is

a member of the California Newspaper Publishers Association,

Associated Collegiate Press, and California

Colleges Media Association.

The Renegade Rip

EDITORIAL BOARD

Editor-in-Chief.........................Haley Duval

Digital Editor.........................Mariah Arviso

News Editor......................Marina Gonzalez

Photo Editor............................Collin Koch

Adviser.........................................Erin Auerbach

STAFF

Reporters/photographers:

Mark Armendariz-Gonzales,

Nicholas Covello, Joselyn Green,

Amaya Lawton, Hugo Maldonado

Garcia, Giselle Manzo, Sydney

Mcclanahan, Victoria Meza,

Hector Morales, Logan Odneal,

Selena Paiz, Thalia Pimentel

Write The Rip

Letters should not exceed 300 words,

must be accompanied by a signature

and the letter writer's identity must be

verified.

The Rip reserves the right to edit

letters, however, writers will be given the

opportunity to revise lengthy or unacceptable

submissions.

If an organization submits a letter as a

group, it must be signed by only one person,

either the leader of the organization

or the letter writer. Anonymous letters

will not be published.

How to reach us

-Address: Bakersfield College,

1801 Panorama Drive, Bakersfield,

CA 93305

-Phone: (661) 395-4324

-Email: ripmail@bakersfieldcollege.edu

-Website: therip.com
---
Features

Page 4

The Renegade Rip www.therip.com Wednesday, November 18, 2020

PHOTO GALLERY: Celebrating

Veteran's Day with a cruise

SELENA PAIZ / THE RIP

Berta Angello and her daughter Susan Staddard posing for a

picture at the Veterans Day Drive on Nov. 11.

SELENA PAIZ / THE RIP

A car that drove by at the Veterans Day Drive on Nov. 11.

SELENA PAIZ / THE RIP

A participant waving as cars drove by Columbus Estates at the

Veterans Day Drive on Nov. 11.

Financial Aid essay workshop

By Nicholas Covello

Reporter

The Bakersfield College Office

of Financial Aid and Scholarships

offered a workshop

explaining how to properly

write a scholarship application

essay presented by Amanda

Stone, BC's scholarship manager,

on Monday, Nov. 9.

Scholarship applications,

which opened on Oct.1 and

will remain open until Feb. 1

of next year, are a very useful

resource for college students.

Students who may not be able

to afford the costs of college, or

may need a little bit of financial

help, can apply for a scholarship

to hopefully take some pressure

off of them.

The workshop, which lasted

around 30 minutes, explained

how the BC scholarship application

was composed of 15

questions, with three of those

being 100-word personal statements

(and an optional fourth

one.)

"Hopefully after this presentation,

I hope that students will

feel safe and be able to finish

these essay prompts without any

issue," Stone said.

The first prompt has applicants

discuss their background

and how that influenced their

educational goals.

Were you the first member of

your family to attend college?

Are you a single parent? Are you

beginning your college career as

an adult? The committee wants

to know why going to college is

important to the applicant specifically.

The second prompt has applicants

discuss their educational

and career goals in detail. The

committee wants to know why

the applicant is in college in the

first place. What are your main

goals? What are your plans after

graduation? What is your dream

job? These are all questions that

an applicant should be asking

themselves and addressing in

their essay.

The third prompt has applicants

discuss any unique circumstances

that would make

them an ideal candidate for a

scholarship.

This is the part of the essay

where applicants should talk

about any unique financial issues,

challenging life expenses,

etc.

The committee is looking to

know how a scholarship would

help the applicant specifically.

The workshop also explained

that the best applications tell a

real story and let the committee

see into the applicant's world.

It was also encouraged to

be specific in your writing and

avoid cliches, general statements,

and typos. Reading your

essay out loud will also help see

if your essay is good enough to

send in.

To access the BC scholarship

application, students can go

to bakersfieldcollege.edu/apply4money,

which also links to

the FAFSA and DREAM Act

applications.

Listen To Our Podcast

Listen to our lastest Podcast about the Kern

County 2020 election results. Written and produced

by the Rip's Editor-in-Chief Haley Duval , feauting

the Rip's digital editor Mariah Arviso, photo editor

Collin Koch, and news editor Marina Gonzalez.

www.therip.com
---
Features

Page 5

The Renegade Rip www.therip.com Wednesday, November 18, 2020

Time magazine

columnist David

French speaks at BC

By Mark Armendariz-Gonzales

Reporter

As part of Bakersfield College series of weekly

events to celebrate Veterans Day, BC hosted

a Zoom session with author and veteran David

French on Nov. 10, where he discussed his thoughts

on the current state of the country.

French is a senior editor at the Dispatch and a

columnist for Time Magazine. He is also a New

York Time's best-selling author and he just released

his latest book "Divided We Fall."

French is a graduate of Harvard Law School and

a constitutional lawyer.

In 2007 French was deployed to Iraq with the

Third Armored Cavalry Regiment.

He later returned in late Sept. of 2008 and was

eventually awarded the Bronze Star for his service.

French said that his time in the service really altered

his perspective.

Before his deployment, French worked as a Civil

Liberties lawyer and states he was a "pretty Partisan

Republican."

During this time, he viewed Left-wing supporters

as the enemy.

However, his outlook changed completely once

he arrived in Iraq.

While in Iraq, French fought against the precursor

to ISIS and witnessed many atrocities.

"I realized that is an enemy. My friends on the

left at home, that is not an enemy," French said.

French began to question why viewing opposing

political parties as enemies were so common. He

even changed his own outlook and started to view

Left-wing supporters as political opponents rather

than enemies.

French felt shame in his previous perspective and

realized when you are fighting for your country,

you are not fighting for just Republicans or Democrats,

you are fighting for all Americans.

"Why would I think the people I am willing to

risk my life for are my enemy?" French said.

When French returned home in 2008, he was

disappointed to see that Americans disliked each

other even more than when he left.

"I began to see that the people were nursing

grievances," French said.

He started to witness narratives on both sides

that were driving the American people apart.

French says there are three big concepts that

make everything worse.

The first of these concepts is "The Big Sort."

This is when people associate themselves with only

people who agree with them. The problems with

this are that you get too many like-minded people

and they don't become diverse enough.

The second concept is "The Law of Group Polarization."

This when people of like minds gather,

they become more extreme. It is bad to become

the more extreme that people get, the bigger the

separation of people in America will be.

The third concept is "The Overton Window."

This is what you are allowed to say without being

canceled. The problem with this is that you are less

capable of speaking to other people.

These concepts are making Americans view their

differences between one another as a threat to their

beliefs and way of life.

French believes there are three ways to fix this,

one being from a personal standpoint, policy

standpoint, and character standpoint.

From a personal standpoint, French believes that

the people of America need to become more tolerant

of one another.

From a policy standpoint, he believes that America

needs a reinvigorated Bill of Rights and needs

to remembrance pluralism.

And from a character standpoint, French believes

that America needs to give its people more

control over their lives.

Renegade Events

Campus Events

Nov. 18: Finding Outside Scholarships: 5

Ways to Simplify the Search, from 12:00 pm to

1:00 pm on Facebook LIVE - https://www.facebook.com/bcfaid.edu.

Nov. 18: Panorama Creative Music Summit

2020 - Scotty Barnhart, from 4:30 pm to 5:30

pm on facebook.com/bakersfieldcollegejazz

Nov. 18: Deep Cuts and Conversations #3,

from 12:30 pm to 1:30 pm on Zoom.

Nov. 19: Theatre performance: Love and Information,

from 7:15 pm to 9:15 pm on Zoom.

Nov. 20: Inter-Club Council (ICC) Meeting

for StudOrgs, from 11:00 am to 12:30 pm on

Zoom

Nov. 20: CPR, AED & First Aid Certification

Courses, from 8:00 am to 5:00 pm at Levinson

Hall Building Room 40

Nov. 20: Theatre performance: Love and Information,

from 7:15 pm to 9:15 pm on Zoom

- register for link

Nov. 21: Theatre performance: Love and Information,

from 7:15 pm to 9:15 pm on Zoom

- register for link

Nov. 25: Panorama Creative Music Summit

2020 - Nate Wood, from 4:30 pm to 5:30 pm on

facebook.com/bakersfieldcollegejazz

Nov. 30: Scholarship Q & A: BC Scholarship

Manager's Ask Me Anything, from 12:00 pm to

1:00 pm on Facebook LIVE - https://www.facebook.com/bcfaid.edu.

Dec. 02: Panorama Creative Music Summit

2020 - Jamaaladeen Tacuma, from 2:30 pm to

3:30 pm at facebook.com/bakersfieldcollegejazz

BC's virtual

show, "Love and

Information"

By Hector Morales

Reporter

Since COVID-19 made its appearance

in the U.S., theatre performances

have been scarce.

Broadway shut down, many films

stopped production, and students all

over the county were not able to perform

since March.

Nonetheless, BC's production director

Kimber still found a way to let

the show go on.

This year, Chin's "Love and Information"

written by Caryl Churchill,

has decided to hold all performances

their over Zoom.

"If I want to do a play this semester

and I want to keep my students safe,

then let's do a live Zoom play," said

Chin.

Chin also states the reason why

she chose this play to perform over

Zoom. "In this she talks about our

society today and being in our virtual

world."

Directing a play over Zoom will

obviously have problems and change

up the auditioning process a bit, Chin

shared. "I love doing some type or

theatre or improv game, so it was a

little lacking there," Chin stated. She

held the auditions over Zoom and

had a great turn out.

Students from Bakersfield College

such as Zariyah Hall, Cecilia Esquivel,

and Yaquelin Gomez have been

a part of the process of the play as

actors.

All the actors said they have had

challenges while rehearsing over

Zoom.

"I think the hardest part was the

lighting and having to be our own

tech crew," Esquivel counited. "I

think my favorite part was doing

something that has not been done by

BC before or by many other theaters.

This pandemic has made us have to

adapt to new norms and I like that we

are still producing art through these

difficult times."

He also said audience should expect

many relatable scenes while watching

the show. "If they come with an open

mind, they should expect nothing but

a fun time." Gomez states. Esquivel

adds "They should expect to connect

with the show, because the stories are

relatable and real."

PHOTO COURTESY OF KIMBERLY CHIN

The show contains many characters

and many different scenes all

played by these actors.

"I play a variety of different characters

who have quite a few differences

from each other. Like one of them

is a bit of an overthinker while another

is a mother who is trying to get the

hang of motherhood. Each character

I play has a certain level of quirkiness

to them," said Hall.

Opening night of "Love and Information"

is on Nov. 19 and the show

will start at 7:30. "Love and Information"

contains adult content. Students

can register for a performance by visiting

the Bakersfield College website.

Admission is free and will last three

nights.
---
Features

Page 6

The Renegade Rip www.therip.com

Wednesday, November 18, 2020

Presidential Seminar about

online learning strategies

Being single is okay

Dating

By Thalia Pimental

Reporter

By Victoria Meza

Reporter

BC held a presidential

seminar, on Nov 5, to

discuss online learning

startegies. According to

the host, Todd Coston,

this edition was about

the strategic plan that is

going to take place until

June 2021. The session

was focused on the directions

that everyone

had to follow to accomplish

with that plan.

He passed it to BC's

president Sonya Christian.

She made an introduction

to the strategic

plan that is about to

be discussed. Christian

said that classes may

be going to be online

for the next semester as

well, Spring 2021.

Christian also said

that there is going to

be a series of seminars

from Dec 4 to 8, from 2

p.m. to 4 p.m. in which

there are going to be

some speakers that are

going to talk about online

learning strategy.

Coston introduces

then Alex Rockey, an

Institucional technology

department specialist.

She started her speech

by explaining how students'

virtual learning is

By Joselyn Green

Reporter

Bakersfield College

Latinas Unidas and

Latina Leaders of Kern

County worked together

and hosted a virtual

panel to give the Latina

and black community

a chance to sit down

and talk about the issues

that have had an

effect on black and Latinx

people growing up.

This panel was held on

Nov. 4, 2020.

In this panel asking

the questions, there was

Brenda Valadez, who

is a Bakersfield College

communications professor

and Latinas Unidas

Faculty Advisor.

Also asking the questions,

there was Margarita

Ruiz, a Bakersfield

college Student and

ICC representative of

Bakersfield College

going to be monitored

for their improvement.

"We all know that the

end with the students

isn't graduation day,

it's really just the beginning,

and this is true as

we approach the future

of work. And preparing

learners for the jobs in

careers which have not

been yet invented," said

Rockey.

Latinas Unidas. Answering

the questions

is Bakersfield College

student and ICC representative

for Umoja student

organization Nikki

Teague. Also, BC's student

senator, representative

of the Equal

Opportunity & Diversity

Advisory Committee

(EODAC), and president

for the Latinos

Unidos Por Educacion

(LUPE) Student Organization

is Edith Mata.

Last but not least, there

was Aris Trujillo, a BC

student, and Latina

Unidas member.

One of the first questions

from Valadez was

"how do you identify

racially and ethnically?"

Mata said, "she

identifies racially as a

human." Trujillo said

ethically she identifies

as Mexican. Teague

said she identifies as Af-

Rockey explained

that, with badges, they

could see a "high resolution"

of what the student

is learning at BC.

She also explained that

the student has control

over their badges, which

means, they have the

control of their data.

Brent Wilson, a physics

professor, spoke

about majoring in

learning. He explained

the three sections of all

the work that they do,

which is summarized

in the assessment made

to improve the individual

course level. In this

assessment, they take

into consideration the

change of the curriculum.

According to Rockey,

once they have the results

and all that data,

they use it to make a

program and to improve

the course. Next,

they do a program review

on it.

"The program review

is an important piece

because it ties into resources

to better support

our students and

faculty and what they

do", said Wilson.

Then Nick Strobel,

a physics professor, explained

the different

pathways of majoring

in learning. For the first

week, they have the first

pathways, which is a sequence

of learning outcomes

of degrees with

career information that

would be easy to understand.

He also explained a

pathway that is going to

be helpful for those students

that would like to

pursue a college degree

while they are getting

their high school diploma.

This one is called

"Early College".

Erica Menchaca, a

professor in education,

started to talk about

how the CBE will help

student learning. According

to Menchaca,

this plan is going to

help students to learn at

their own pace in their

homes. These courses

are all connected with

Canvas.

However, the goal of

the CBE is not to let

students figure out by

themselves what they

are going to do next,

but a tool that would

students to learn at their

own pace.

Menchaca answers

some questions about

the process. One of

them was about the existing

curriculum and its

alliance with the CBE

model.

"The process will be

developed at this state

level and is being written

currently into title

five right now. So it's

not approved for the

community Colleges

yet," said Menchaca.

She explains that

maybe discussions are

going to be difficult in

the CBE model, but

there are going to be

discussions anyway.

The webinar finalized

with Coston giving

some dates for other

webinars and explaining

that the goal is not

to make more work for

everyone to do, but to

set some strategic plans

for the next three years

and be prepared if anything

happens.

The effects of colorism on

Latina and Black youth

rican American.

Valadez then asked

a specific question for

Teague which was "can

you describe from your

experience or just general

knowledge how

colorism or skin color

privilege plays out in

the African American

community?"

Teague responded

by saying "I would say

that fair skin is definitely

more appreciated,

or more favored

and praised." She then

continued and said that

there are more positive

aspects with light skins

versus dark skin. "Colorism

brings a lot of

division in the African

American communities"

Teague asked. "Do

you think that white skin

privilege exists in Latino

or minority groups and

have you experienced

it?" Trujillo responded

with "yes, I definitely

believe that light skin

privilege exists, as a light

skin Latino myself."

"How do you feel

about the term Latin

X and what is your

perspective?" Mata responded

with "the word

Latin x is for a binary

person. It's supposed

to be more inclusive of

male and female and

for those who don't

identify as male or female."

"I also feel that

it's important for folks

to identify themselves

because they'll take

pride in that," Mata

said, "If folks identify

with that and are comfortable

with that, then

yeah why not embrace

it."

Being single is

okay. Matter of fact,

it is the most peaceful,

eye-opening, and

self-evaluating thing

you can do for yourself.

Being single teaches

you how to love

yourself, it shows you

who really belongs in

your life, and you just

become a better and

stronger person.

What does being single

really mean to you?

Or am I making it too

deep at this point?

Anyways, if you never

noticed obviously

this is a dating column

and if you're dating,

you're obviously single.

Or are you?

I noticed not too long

ago that I never talked

about being single so

here we are. I noticed

I have personally been

single for about 2 or

more years and I have

a few friends that are

involved in a variety of

situations.

Some are in relationships,

others are single,

and some are even

going through breakups.

I asked my single

friends who go to BC

about what it means to

them to be single.

My friend Michaela

said, "I just wanted to

say that it's okay to feel

lonely. The world isn't

going to end if you're

not talking to someone

or going out when you

want!".

I couldn't agree

more, being single

made me learn how

to be myself. For example,

I would take

myself out to eat, go

shopping alone, go to

the gym by myself, etc.!

It's okay to be alone

and learn how to find

comfort in being alone

sometimes.

Now, what about the

people that can't stand

being single for a few

weeks or months and

they feel like they belong

in a relationship?

I'm sure everybody

knows somebody who

is like that.

There can be a variety

of opinions on this

topic such as people

thinking they are insecure,

maybe they just

hate being alone, or

they don't want to put

in the work of getting

over their ex? Who

knows?

My old friend that

also goes to BC named

Richard also said "You

should talk about how

some people can't

Thalia Pimental

stay single because

they hate being alone.

Lowkey, the most toxic

people I know."

I thought about how

crazy this message was

because that topic was

in my brain for a variety

of reasons this

weekend.

I ran a few voting

polls on my social

media, specifically

Twitter, and I asked

a couple of questions

like "Is being single

okay?", out of 83 votes

54% said yes, 7% said

no, and 39% said absolutely!

I also asked, "Are

you genuinely happy

in your relationship?",

out of 84 votes 71%,

yes and 29% said no.

The last and final

question I ran was

"Why are you single?"

out of 77 votes 32%

said they don't want to

settle, 47% said they

have trust issues, and

21% said it's fun. A

few comments were

made when I ran this

poll and BC student

Andrew Gonzalez said

he's single because no

one wants him, and

his buddy Vanessa also

mentioned that she's

single because men

suck.

The point of the

matter is if you're single,

it is not the end

of the world. We are

young, beautiful, and

have our whole lives

ahead of us. We must

use this time to learn

about ourselves as

an individual, feeling

alone is okay because

if you really think

about it, we just get

bored, and along the

way what belongs to

you will come to you

regardless.

What's meant to be

will always be, and always

remind yourself

that you are the center

of your universe.
---
Opinion

Page 7

The Renegade Rip www.therip.com

Wednesday, November 18, 2020

Mandalorian season two

seems great *SPOILERS*

Be youself no matter what

LGBTQ+

By Mariah Arviso

Digital Editor

By Logan Odneal

Reporter

The second season of

The Mandalorian released

on Disney Plus

brought fresh new Star

Wars content. The new

episode stepped further

into the realm of sci fi

western, it's a refreshing

breath of fresh air. The

traditional two-hour

epic battle between

good and evil has gotten

tiresome.

The episode started

with a quest to return

Baby Yoda to his kind.

Mando seeks to find the

hidden Mandalorian

clans to find Baby Yoda's

home planet. On

his quest, he finds an

information broker who

tells him that there is a

Mandalorian on Tatooine.

After arriving

on Tatooine Mando

discovers that the settlement

he was told the

Mandalorian resides in

has been abandoned.

Upon arriving he discovered

that people still

live there and the Mandalorian

isn't a Mandalorian

at all. Once upon

By Logan Odneal

Reporter

a time the settlement

was attacked, and the

Marshall ran away with

some crystals. After collapsing

in the desert, the

Marshall was picked up

by the Jawa's and he

traded the crystals for

the abandoned armor

of Boba Fett, then he

returned to the settlement,

chased of the

raiders and protects the

town. Mandalorian law

dictates Mando take the

armor back from the

non-Mandalorian Marshall,

but to avoid a fight

the Marshall strikes up

a deal with Mando to

give back the armor in

exchange for help killing

the Krayt Dragon.

Mando and Marshall

leave the settlement to

go to the Krayt dragon's

cave, on the journey

they encounter a group

of Tusken Raiders who

also want the Krayt

dragon dead. After

tempers flare the groups

arrive at the cave and

Mando realizes they

need more people to kill

the beast.

He and Marshall return

to the settlement

and tell the people that

they need their help to

which they enthusiastically

agreed, then reluctantly

agreed when they

found out about the

having to work with the

Tusken Raiders who

their settlement years

ago.

The settlers agreed

that the Tuskens get to

keep the Krayt dragons'

remains in return they

promised attack the settlement

unless the settlement

attacks them.

They agreed on a

plan to kill the dragon,

they bury explosives at

the mouth of the cave

and lure the dragon out

just enough to expose

its soft underbelly to the

bombs. It doesn't work

and the Krayt dragon

spews acid on to the militia.

After a few minutes

of this Mando takes the

Bantha loaded with explosives

and positions

himself between everyone

and dragon. The

Krayt dragon swallows

Mando and the Bantha.

Then dives beneath the

sand.

When it resurfaces

Mando flies out of his

mouth in a storm of

electricity from his rifle

mounted shock prod

and detonates the explosive

the Kyrat dragon

swallowed. After the

battle Tuskens find the

mythical Krayt pearl

and Mando returns to

his ship with Boba Fett's

armor in search of

more Mandalorian.

The episode stayed

with the season one format

of a single adventure

per episode with

later relevance revealed

as the series progresses.

The Mandalorian

season one was free of

experienced force users

however that is likely

to change with the first

live action appearance

of Ahsoka Tano later in

season two. Season two

is adding content that

one would require previous

universe knowledge

including a last

minute easter egg. The

easter egg may leave legends

fans disappointed

with what has become

of a fan favorite original

trilogy character.

Get merry with some rum

Rum manufacturer Captain

Morgan has released two seasonal

rum flavors for the holiday

season. Liquor stores now sell

Jack-O-Blast of Pumpkin Spice

and Captain Morgan Gingerbread

Spiced.

Coming in a pumpkin-shaped

bottle, Jack-O-Blast was originally

released in September 2016,.

it has returned to popularity seasonally.

This is ordinary Captain

Morgan spiced rum is mixed

with pumpkin, cinnamon, and

other fall spices.

Jack-O-Blast has 30% alcohol

by volume or 60 proof and tastes

like the boozy version of Starbuck's

pumpkin spice latte. Its retail

price for $15-$20, depending

on the store.

Captain Morgan Gingerbread

Spiced was first released in 2019

in a smaller bottle than the 750

ml bottle released for the 2020

holiday season. The drink is a

sweeter rum with a pronounced

cinnamon taste from the gingerbread

flavor added to the spiced

rum. This rum costs $12-$15 depending

on the location.

Both rums taste excellent

mixed with eggnog, and while

not tried one could imagine they

would also taste great it horchata.

Although the

two rums have a

common cream

mix, they each have

their own cocktails

that have the most

amazing mixes.

The gingerbread

rum tastes great

when mixed as a

Rum & Coke but

with a lower proof

than the normal

70-80 proof spiced

rum it is easier

to hide the alcohol

taste behind

the coke and the

gingerbread and

cinnamon flavor

mixed with the rum gives the

Rum & Coke a slight spice to the

sweetness.

Jack-O-Blast was released with

the intention to be used for shots

and it fulfills that purpose well,

it makes a good shot for a quick

hit of alcohol. However, if one is

creative enough, they can mix a

delicious cocktail with it.

The Jack-O-Blast is great when

mixed with orange soda and ginger

beer. When mixed with equal

parts it was well balanced embodying

strong autumn flavors.

One could replace the orange

soda and/or ginger beer with

other seasonal ingredients like

LOGAN ODNEAL/ RIP

Spiked eggnog featuring Captain Morgan

Gingerbread Spiced.

cranberry juice or apple cider.

Captain Morgan's website

gives a recipe for the Gingerbread

Spiced rum where one

mixes 1.5 oz of the rum with .75

of Bailey's Irish Cream and .5 oz

of cold brew coffee.

This drink has more alcohol

than the other cocktails mentioned,

so it is not surprising it is

the strongest.

It's not a drink for everyone

because it has the taste of coffee,

which is something that not everyone

likes, and it has the kick

of liquor and people who don't

like strong drinks will probably

be turned off by it.

Mariah Arviso

Sexuality falls on a

spectrum. It is not just

black and white. It is

a plethora of colors

waiting to be shown.

Trust me, I know it

can be scary to be the

person you are meant

to be, but once you do,

it is the absolute best

feeling in the world.

You do not feel that

weight of guilt or fear.

You just feel so light

and happy. There are

still people that do not

agree with my lifestyle,

and it used to bother

me so much. Now,

I could not care less

about what they think

of me. The hardest

part is not having my

parent's approval.

I want my dad to

accept me more than

anything, but if it

comes down to him

never accepting me

then, honestly, I have

come to terms with

that. The love that I

receive from my close

friends is unimaginable.

They are my

biggest supporters and

for them, I will always

be grateful.

We all have our insecurities

but being

who you are meant to

be should not be one.

No matter where you

fall in the spectrum,

be unapologetically

yourself. I get it, it is

easier said than done,

but I promise once

you get out of your little

shell, the relief you

feel will be worth it.

The one thing you

should know about

coming out is you never

stop. No matter if

you already came out

to your family, unfortunately,

you will always

be coming out

to someone. You meet

someone new then

boom eventually you

will have to come out

to them. It is a never-ending

cycle, but it

gets easier each time.

There are certain

times where I am

scared to come out

for the safety of myself

and those around

me. The other day, I

was grocery shopping

with my friend, and

this man kept following

us. We told one

of the store associates,

so they kept an eye on

us. The man proceeded

to approach us to

ask for both of our

numbers. We told him

we were not interested,

and although we

are both gay, we told

him that we had boyfriends.

He was obviously

upset about that, but

he did leave us alone

after the associate

asked him to leave.

That interaction

made me relieved that

we did not tell him we

were gay. He was upset

over the fact that

we told him we were

in relationships with

guys but imagine how

he would react if we

told him we were only

interested in women.

Situations like that

do not happen often,

but unfortunately,

they do happen. No

matter what happens

in the future, I

will never stop being

myself. Yes, there are

times where I have to

be someone I am not

for my safety, but it is

only temporary. My

point is, be the person

that makes you happy.

Trying to get the

acceptance of others

can be challenging

but accepting yourself

is the real challenge.

Your sexuality is such

a big part of your

life, and it should not

be suppressed for the

comfort of others. I

understand that society

is all about labels,

but screw them.

No one should hide

who they are because

it does not make others

happy. I love the

community that I

have found during my

coming out. My motto

has always been to

"Be unapologetically

yourself," and I stand

by that.

I have said this before,

but I will say

it again. No matter

how you identify, you

are amazing, you are

beautiful, and you are

valid.
---
Opinion

Page 8

The Renegade Rip www.therip.com

Wednesday, November 18, 2020

Review: California Fish Grill has

come to Bakersfield! Is it worth it?

A gloomy day at the new Fish Grill in located on the corner of 5601 California Ave, Bakersfield, CA.

THALIA PIMENTEL / THE RIP

By Thalia Pimentel

Reporter

Feeling fishy? There's a new restaurant in town

called California Fish Grill serving your best-fried

fish, shrimp, and yummy sides and drinks! If you're

on a diet, they have keto-friendly meals as well.

The restaurant is located on the corner of 5601

California Ave, Bakersfield, CA.

I walked in kind of skeptical because I am not

much of a fish person myself, but I am open to

trying new things. When I arrived, the employees

were so welcoming and offered to help me order

because they could tell it was my first time.

I ordered the Breaded Shrimp Plate for $9.74

with a side of French Fries and Brown Rice. I also

ordered the Fried Catfish Plate for $12.74 with a

side of Street Style Corn and French Fries again.

With my order, they gave me complimentary Tartar

sauce, Ranch, Lemons, and Fresh Salsa which

was really tasty.

I have to admit the Street Style Corn caught me

by surprise because it has Scallops on it which is

kind of out of my comfort zone, but the cilantro

and grated Parmesan cheese helped the flavors

come together. Overall, it was my favorite side because

it was just filled with flavor.

In total, I paid $24.32 which is not bad considering

I bought 2 whole plates that came with 2 sides

each and since I ordered to-go I, didn't purchase

any drinks because I'm that person that has a variety

of sodas and juice at home.

The food itself was very tasty! Fresh shrimp and

fish with a good crunchy and yummy texture, and

the seasonings were perfect. The sides of Brown

Rice, French Fries, and Street Style Corn were delicious

as well!

It took about 10-15 minutes to wait for the takeout

order, which is the average wait time, and the

workers inside were definitely working hard and

trying their best the get orders in and out as efficient

as possible with great customer service.

Fish Grill also has outdoor seating and workers

constantly sanitizing since we are still in the middle

of a global pandemic.

Masks are required upon entry of the restaurant

as well for their workers.

On a scale of 1-10, I would definitely give Fish

Grill a score of a solid 9/10 just because at the

end of the day, I'm not a fish person, I love my fat

steaks.

Although, I am definitely returning for the Fried

Fish and Shrimp Basket with my different sides

and sauces.

Op-Ed: How Immigration affects

the mental health of an immigrant

By Victoria Meza

Reporter

Immigration is, sometimes, a very sensitive topic.

Not everyone can talk about it; a person might be

a descendant of an immigrant, but they still would

not have any idea of the danger that a person that

wants to look for a better life in another country

instead of theirs, has to go through.

The Hispanic Month Heritage was about celebrating

and commemorating the Hispanic

heritage. It was mostly about all the Hispanic immigrants.

However, Hispanics and/or Latinos are

not the only people that need to immigrate.

Mexicans are not the only ones who immigrate

to other countries to look for a better life; there is a

lot of Latinos that would do the same: Peruvians,

Colombians, Venezuelans, Ecuadorians, and so

many other people. There are some stages that an

immigrant must go through once they arrived in

their destinated country; those stages are not something

that we would want to feel, but we cannot

help it either.

The first one is when someone is about to leave

their country of origin to look for a better life. In

this stage, you do not consider yourself as an immigrant,

but as someone that wants to make money

and come back in a couple of months. Not everyone

goes through this stage; some people want to

leave and that is it.

The second stage is when you arrive in another

country. If the language is different from yours,

you are going to encounter a lot of problems once

you got there. Some people might not know what

it feels like and they would treat you unfairly. However,

there are always other people that would help

you to improve. This is an encounter of cultures

and is when you are starting to look for a job and

start to learn things that would maybe change the

way you see the world.

The third stage and we could call it the hardest

one, is the stage when you know you are not probably

going back to your country of origin. It is when

some time has passed already and they start to miss

their people, and that is when their mental state

starts to change.

Most immigrants feel sad, lonely, some of them

had romantic partners that had to be left behind,

and that affects mental health. According to an

article by the National Center for Biotechnology

Information, "Due to the insecurity feelings and

non-availability of their community members, the

distress would turn into mental health consequences

or other forms of health complications."

All those stages would affect little by little the

mental health of an immigrate. They must now

get used to new cultures, music, language, and so

many other things. Some people are brave enough

to do it, and some other people are brave enough

to go back to their countries and try to survive. It

is all about to stop fighting whether who is braver

and start supporting each other to get a better future

for everyone.