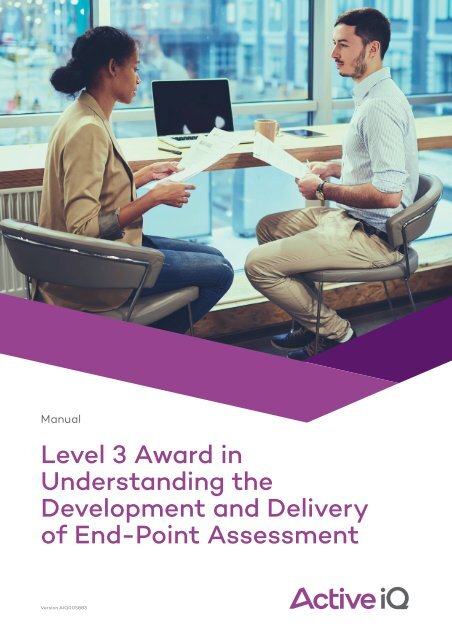 Active IQ Level 3 Award in Understanding the Development and Delivery of End-point Assessment (sample manual)
Create successful ePaper yourself
Turn your PDF publications into a flip-book with our unique Google optimized e-Paper software.
Manual

Level 3 Award in

Understanding the

Development and Delivery

of End-Point Assessment

Version AIQ005883
---
The development and delivery of apprenticeship standards

Section 1

Off-the-job training: steps to help you determine

whether an activity counts as off-the-job training

Apprenticeships

YES

YES YES YES

This counts

as off-the-job

training

Is it directly relevant

to the apprenticeship

standard or framework?

Is it teaching new

knowledge, skills and

behaviours?

Is the learning taking

place within the

apprentice's normal

working hours (paid hours

excluding overtime)?

If it's English or maths,

is it above level 2?

NO NO NO NO

Key facts

1

Off-the-job

Brought to you by

National

Apprenticeship

Service

Gateway

training must make up

at least 20% of the apprentice's

normal working hours (paid

hours excluding overtime) over

the planned duration of the

apprenticeship.

This isn't off-the-job training

2You can deliver off-the-job

training in the apprentice's

normal workplace or at an

external location.

The gateway refers to the requirements that need to be met in

order for the employer to put forward their apprentice for end-point

assessment. It ensures that all apprentices have completed the

mandatory aspects of the occupational standard and any work

that underpins specified assessment methods, and that employers

believe an apprentice is occupationally competent at the point they

enter the gateway.

Achieving occupational competence

Once the employer is satisfied the apprentice is occupationally

competent, has developed all of the knowledge, skills and

behaviours and completed all mandatory requirements for the

standard, a formal meeting must then be held to 'sign-off' the

apprentice as ready to prepare for their end-point assessment. This

meeting usually includes the apprentice, their line manager and the

on-programme training provider.

An apprentice who has not achieved all of the gateway requirements

for their apprenticeship, or where the rule for minimum duration

has not been met, cannot progress onto gateway and end-point

assessment. To ensure this is the case, the EPAO will check

requirements with the employer and training provider, while the

end-point assessor may be involved in checking that the apprentice

has met all of these requirements.

3Progress reviews

do not count towards 20%

off-the-job training.

You can find further details about off-the-job training including best

practice examples in the apprenticeship funding rules, and the

apprenticeships: off-the-job training guidance

Figure 1.2: Determining whether an activity counts towards off-the job training

– Adapted from the National Apprenticeship Service (2020)

ACTIVITY

Have a look at an occupational

standard and assessment

plan that you hope to become

an end-point assessor for.

Write down the mandatory

requirements in order for

apprentices to move onto

gateway.

Understanding the Development and Delivery of End-Point Assessment

Copyright © 2020 Active IQ Ltd. Not for resale 11
---
The principles and requirements of end-point assessment

Section 2

ACTIVITY

Take a look at the requirements from the assessment plans below and identify the experience,

training and qualifications required for each one. How are they similar and different?

Level 2 Passenger Transport Service Operations Team Member

• Have excellent knowledge and understanding of the

apprenticeship standard.

• Have occupational expertise and knowledge at the relevant

level of the occupational areas they are assessing, which has

been gained through working in the industry (within the last

three years).

• Have experience of assessing vocational qualifications and/or operating in an assessing

role within a quality system (e.g. ISO 9001).

• Regularly update their occupational expertise and industry knowledge in the areas being

assessed to ensure currency of skills and knowledge.

• Attend regular standardisation meetings and share best practice in assessment through a

range of appropriate activities, such as email, meetings and social media.

Level 3 Customer Service Specialist

• Have an understanding of the customer service sector and of

the role covered by the apprenticeship.

• Have current occupational competence of two years or more.

• No direct relationship with the apprentice, employer or

training provider.

• Hold or be working towards a qualification to undertake assessment and verification activity

(i.e. PGCE, Cert Ed or Assessor/Verifier qualifications) and/or have significant knowledge

and expertise in providing consistent and appropriate judgements of an apprentice's skill

and ability.

Level 3 Teaching Assistant

• Have an understanding of the educational sector and of the

role covered by the apprenticeship.

• Have current occupational competence of two years or more

in classroom environments.

• Be independent of apprentice, employer and training provider.

• Hold or be working towards a qualification to undertake assessment (e.g. D32/33, A1/

A2, TAQA) and/or have significant knowledge and expertise in providing consistent and

appropriate judgements of a candidate's skill and ability.

Understanding the Development and Delivery of End-Point Assessment

Level 3 Personal Trainer

• Hold a recognised workplace assessment qualification that

addresses the assessment of both skills and knowledge.

For example: Level 3 Certificate in Assessing Vocational

Achievement (CAVA), or A1, or D32/33, or qualified teacher

status (QTLS or QTS).

• Have at least 12 months' experience of responsibility for the workplace competence

assessment of personal trainer.

• Undertake and record planned and relevant continuous professional development.

A minimum of 24 hours per annum is expected, covering both vocational and assessment

competence.

• Have sufficient resources to carry out the role of an independent assessor, i.e. time,

budget.

Copyright © 2020 Active IQ Ltd. Not for resale 21
---
Section 3

End-point assessment methods

Limitations

• A presentation may not be suitable for assessing

knowledge requirements, unless covered through

specific questioning after the presentation.

• If a presentation is not a regular activity as part of the

apprentice's job role, then testing skills and behaviours

in this way may not be a valid assessment method.

• Presentations may be anxiety-provoking for some

apprentices and therefore a true reflection of an

apprentice's competence may not be displayed.

KEY

POINT

End-point assessors must be careful not to be

unduly influenced by presentational aids (unless

required) and therefore ensure that grading reflects

the knowledge, skills and behaviours from the

standard attributed to this assessment method.

(IfATE, 2020)

ACTIVITY

Take a look at an assessment

plan of your choice that includes a

presentation. Answer the following

questions:

• What format will it take?

• What is the process for agreeing

the topic of the presentation?

• How long will the apprentice have

to prepare for the presentation?

• What is the length of the

assessment, including follow-up

questions?

• What resources can/should be

used to deliver the presentation?

• Where can the presentation take

place?

Projects

A project is a defined piece of work undertaken after gateway to demonstrate a particular aspect of the occupation.

A project can be assessed as a distinct method of assessment and/or be used to inform a presentation, interview

or professional discussion. This could be a written assignment (essay or report) or a practical project in relevant

occupations. Where possible it should have a business benefit and include the production of verifiable and

assessable work outputs. It must have suitable coverage of the knowledge, skills and behaviours assigned to

a project.

34

Copyright © 2020 Active IQ Ltd. Not for resale
---
Making end-point assessment decisions

Section 6

Validity, reliability and fairness

Having dealt with the general assessment principles, end-point assessors must consider

more specific elements to help them conduct assessments and guide their judgements:

Valid – Is the assessment testing what it intends to measure? This involves the ability to

provide information which is both valuable and appropriate for the intended purpose.

Face validity

Content validity

Construct validity

Predictive validity

Validity through

authenticity

Does the assessment 'look like' it will measure what it is supposed to? It hasn't necessarily

been proven to measure what it is supposed to, but it should appear, 'on the face of it', to

be a good assessment. For example, observation checklists help to identify specific skills.

Does the assessment measure all of the aspects it is supposed to? To be able to determine

this, the outcomes of assessments must be verified. For example, if observations have

been unable to assess a particular behaviour because circumstances did not allow, are

appropriate subsequent questions being asked to assess competence?

How well does the assessment actually measure what it is supposed to measure? There

should be a comparison with other assessments and other variables that could influence

the assessment outcome. For example, professional discussions and follow-up questions

can be used to clarify judgements on whether pass or distinction criteria have been met.

An assessment must be able to provide end-point assessors with an idea of how the

apprentice will perform in the workplace. This is an extremely important part of end-point

assessment as the whole purpose is to assess occupational competence. For example, if an

apprentice fails to demonstrate adequate knowledge of workplace practice in an interview

or knowledge test, they cannot be deemed to be occupationally competent.

This refers to the extent to which the assessment represents the reality of the workplace –

for example, through the apprentice being observed carrying out day-to-day tasks in their

normal working environment. This is the preferred method of assessment in end-point

assessment, and if conducted properly by end-point assessors it is the most valid method

of occupational competence.

Reliable – Can the assessment be repeated with similar apprentices and in

similar contexts to give consistent results? If different apprentices perform

in a similar way during their end-point assessment, but are awarded different

grades, then the reliability of the assessment must be questioned.

Different assessors, poorly defined assessment criteria and variations in

assessment practices could all affect reliability. A clear and detailed assessment

plan should be produced by trailblazer groups. EPAOs should provide

standardisation training and mandatory assessment materials to combat this,

as well as regular sampling and checks as part of the quality assurance process.

KEY

POINT

Internal reliability assesses the consistency of results across items

within an assessment, e.g. questions within a knowledge test.

External reliability refers to the extent to which a measure varies

from one end-point assessor to another, e.g. end-point assessors'

interpretation of a mark scheme.

Table 6.1: Different types of validity

ACTIVITY

Write down

details of

how internal

and external

reliability could

be reduced within

an end-point

assessment

component.

Understanding the Development and Delivery of End-Point Assessment

Fair – Are the assessment activities appropriately matched to the needs and capabilities

of the apprentices and to the occupational role? Are assessment decisions fully justifiable

and clearly based on the assessment criteria?

All apprentices should be assessed in the same manner (allowing for any reasonable

adjustments or special considerations) against the same standards. In addition,

assessments and/or assessment decisions should not disadvantage one population

group over another. Any appeals or grievances must be addressed according to the

end-point assessment organisation's procedures and appropriate guidelines.

Copyright © 2020 Active IQ Ltd. Not for resale 65
---
Quality assurance of end-point assessment

Section 7

Quality assurance and standardisation across

different standards

Within end-point assessment plans, specific requirements are set out in relation to the quality assurance of that

particular standard, which contribute to the goal of all end-point assessments producing valid results. The EPAO

must have an understanding of the sector and have appropriately qualified end-point assessors within the relevant

occupational standard. For example:

Example

The EPA of this apprenticeship has been designed to produce assessment outcomes that are consistent, reliable

and allow fair comparison between apprentices employed in a range of leisure facilities that vary in size and

services available.

The approach to assessment places the standard at the heart of the process, ensuring judgements made

regarding occupational competence are consistent, standardised and comparable between employers, training

organisation(s) and assessment organisations.

Level 3 Leisure Duty Manager

There are many other quality assurance requirements outlined in different assessment plans, including:

In-depth and up-to-date knowledge

and understanding of the industry

and credibility within the sector. The

capability and relevant, up-to-date sector

experience of the people who will carry out

assessments. The ability to develop tools

and materials to deliver these assessments

with a track record in delivering

assessments.

Train those appointed as IAs to ensure they

fully understand the requirements of the

EPA and are able to make valid judgements.

Operate induction training and

standardisation events for independent

assessors when they begin working for the

EPAO on this standard, and before they

deliver an updated assessment method

for the first time. Ensure independent

assessors participate in standardisation

events on an ongoing basis, and at least

once per year.

All independent end-point assessors must

also be recorded on a register, held by the

assessment organisation, confirming these

criteria have been satisfied and relevant

evidence has been validated.

Facilitate the regular processes to

standardise assessment at least twice a

year, or more frequently, depending on the

volume of EPAs.

The implementation of detailed marking

criteria, clearly explaining how the

knowledge, skills and behaviours can be

exhibited to achieve a certain level.

A robust internal verification process,

induction, training and development

plans for everyone involved in

assessment. Effective leadership

and management arrangements,

quality assurance and quality control

procedures. Impartial verification of

assessments.

Regional, pan-sectoral or national

meetings should be held at least

every 12 months to encourage

standardisation and moderation of

the assessment process.

Those appointed as independent

end-point assessors for the

EPA of this apprenticeship must

have completed an induction

to demonstrate knowledge and

understanding of the standard and

the EPA. They must also attend

regular standardisation activities,

organised by the assessment

organisation, to ensure and

maintain consistency of assessment

decisions.

Standardised assessment through

use of online methods and accurate

reporting of other methods used,

evidencing requirements and

reaching reliable judgements.

Ensure that monitoring and recording

processes are in place to validate the

end-point assessor's independence

from the employer, training provider

and apprentice.

It is the responsibility of the

assessment organisation to recruit

and train individuals with the

required industry skills, knowledge

and experience to undertake the

EPA against the standard and

make reliable judgements, who

have up-to-date and relevant

knowledge and experience

of current working practices,

infrastructure, technologies and

resources appropriate to the

sector.

Production of exemplar materials,

which can be used to add further

clarity and establish guidelines for

assessment against the stated

criteria of the standard.

Independent assessors must

hold professional recognition,

or a relevant qualification

equivalent to or higher than the

level of this apprenticeship, and

hold a recognised assessing

qualification. They should have

up-to-date, relevant knowledge

and experience of current working

practices in assessment and

quality assurance.

Audit sample assessments for

validity and consistency. In the first

year, all assessments conducted

by independent assessors will

be monitored, and if meeting

the quality assurance standard

thereafter, a minimum of 20% of

assessments will be sampled.

Understanding the Development and Delivery of End-Point Assessment

Figure 7.2: Examples of how quality assurance and standardisation are achieved in different standards

Copyright © 2020 Active IQ Ltd. Not for resale 69
---
Legal and good practice requirements of end-point assessment

Section 9

Section 9: Legal and good

practice requirements of

end-point assessment

Assessment criteria

By the end of this section you will be able to:

• Explain legal issues, policies and procedures relevant to end-point assessment, including those for

confidentiality, health, safety and welfare.

• Explain the contribution that technology can make to the end-point assessment process.

• Evaluate requirements for equality and diversity in relation to end-point assessment.

• Explain the value of reflective practice and continuing professional development in the end-point assessment

process.

Legal issues, policies and procedures

It is important for all end-point assessors to keep up to date with all relevant legislation and codes of practice to

ensure that they are maintaining a safe and supportive assessment environment, protecting themselves and their

apprentices, and remaining current in knowledge, skills and practice as an end-point assessor.

The requirements you need to follow will differ depending on the industry and environment in which you will be

assessing. However, there are some general requirements that are relevant to end-point assessment across all

standards, including:

• Regulation of assessment practice.

• Complying with external bodies and regulators.

• Health and safety.

• Equality and diversity.

• Data protection.

• Safeguarding.

• Policies, procedures and codes of practice.

Health and safety

The Health and Safety at Work etc. Act 1974 is

the basis of British health and safety law. It sets

out the duties that employers and employees

have to themselves and members of the public.

End-point assessors must also ensure that the

health, safety and welfare of themselves, other

professionals, the general public and apprentices

is protected, as far as is reasonably practicable.

Understanding the Development and Delivery of End-Point Assessment

Their two main duties are to take care not to

endanger themselves and others, and to cooperate

in meeting statutory requirements. For example,

if apprentices are seen to undertake any action

which would endanger themselves and/or which

is in violation of any legislation and/or regulation,

then the assessment must be terminated (and an

automatic fail is awarded).

ACTIVITY

Identify any potential health and safety issues in

an apprentice standard that you will be assessing.

What actions would you take to ensure the health,

safety and welfare of all of those involved in the

end-point assessment?

Copyright © 2020 Active IQ Ltd. Not for resale 79
---
Legal and good practice requirements of end-point assessment

Section 9

KEY

TERMS

Equality is ensuring individuals or groups of individuals

are not treated differently or less favourably on the

basis of their specific protected characteristic, including

areas of race, gender, disability, religion or belief,

sexual orientation and age.

Diversity aims to recognise, respect and value

people's differences, to enable them to contribute

and realise their full potential by promoting an

inclusive culture for all.

ACTIVITY

Note down what actions you should

take which consider equality,

diversity and inclusivity when

conducting end-point assessment.

The value of reflective practice and continuing

professional development

Reflective practice is important for the end-point assessor. This is thinking about (or reflecting on) what you did or

the experience you had, and deciding from that what you would do the same or differently next time.

Reflective practice requires a conscious effort to think about the experience and develop future ideas. All individuals

involved in the learning and development process can benefit from it.

Gravells' (2011) EDAR approach provides a simple mechanism to follow for reflection:

Experience Describe Analyse Revise

Experience – The assessment you carried out and would like to improve or reflect on.

Describe – Who was involved? What happened? When and where did it happen?

Analyse – Think more deeply. Think how and why it happened.

Revise – What would you do differently? What would you keep the same? Try it out next time.

Following this method can allow an end-point assessor to

reflect on their own assessment practice and identify areas

they may wish to change. End-point assessors can reflect

on their assessment experiences in a variety of ways,

including simple templates, notebooks, evaluation forms,

self-reflection logs, learning logs or diaries.

ACTIVITY

Figure 9.1: Gravell's EDAR approach

Reflect on your current experience as

an end-point assessor, using the EDAR

approach described above. Include the

opportunities you will take over the coming

months to develop your knowledge, skills

and practice.

Understanding the Development and Delivery of End-Point Assessment

Copyright © 2020 Active IQ Ltd. Not for resale 83