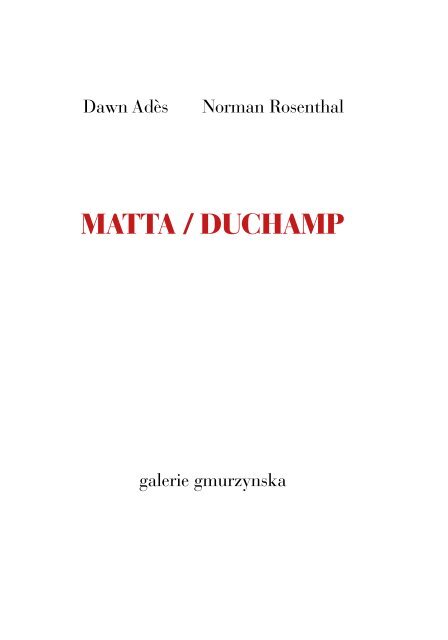 Matta-Duchamp
Illustrated catalog featuring full page color illustrations and rare documentary photographs. Published by Galerie Gmurzynska in June 2018 to accompany a special cabinet exhibition at Art Basel 2018. The book includes texts by Professor Dawn Adès and Norman Rosenthal. It coincides with a broader re-evaluation of the importance of Matta internationally as well as of the influence of Duchamp on the work of 20th century artists. Edited and introduced by Krystyna Gmurzynska and Mathias Rastorfer. Essays by Dawn Adès and Norman Rosenthal. Historic interview excerpt by Robert Motherwell. 90 pages with 7 illustrations. Softcover. ISBN: 978-3-905792-09-6

Illustrated catalog featuring full page color illustrations and rare documentary photographs.



Published by Galerie Gmurzynska in June 2018 to accompany a special cabinet exhibition at Art Basel 2018. The book includes texts by Professor Dawn Adès and Norman Rosenthal. It coincides with a broader re-evaluation of the importance of Matta internationally as well as of the influence of Duchamp on the work of 20th century artists.



Edited and introduced by Krystyna Gmurzynska and Mathias Rastorfer.

Essays by Dawn Adès and Norman Rosenthal.

Historic interview excerpt by Robert Motherwell.



90 pages with 7 illustrations.

Softcover.



ISBN:

978-3-905792-09-6
SHOW MORE
SHOW LESS
You also want an ePaper? Increase the reach of your titles
YUMPU automatically turns print PDFs into web optimized ePapers that Google loves.
Dawn Adès

Norman Rosenthal

MATTA / DUCHAMP

galerie gmurzynska
---
CONTENTS

( 7 )

Introduction

Krystyna Gmurzynska

Mathias Rastorfer

( 11 )

Passages between

Matta and Duchamp

Dawn Adès

( 71 )

Excerpt from an interwiew with Sidney Simon:

"Concerning the Beginnings

of the New York School: 1939-1943"

Robert Motherwell

( 73 )

Remembering Matta

– the first artist of infinite matter?

(or maybe just of "the infinite")

Norman Rosenthal
---
It is an honor and pleasure to be working with the Matta

estate as our collaboration finds a rewarding first beginning

with this show and publication, exploring the relationship

between Marcel Duchamp and Roberto Matta.

Our thanks go therefore first and foremost to Germana

and Alisée Matta for entrusting us with this privilege

and responsibility.

Next we are immensely grateful for the thoroughly researched

and principal contribution to this publication by

Prof. Dawn Adès, presented here for the first time. Her

writing adds new insight into Matta's work and also coincides

with a broader art historical re-evaluation of the

influence of Duchamp on the work of 20th century artists,

notably via the exhibition "Dalí/Duchamp" which

was staged at the Royal Academy in London in 2017-

18 and was curated by Dawn Adès along with art historian

William Jeffett. We are profoundly thankful for

Prof. Adès' scholarship and support.

It was upon the recommendation of Norman Rosenthal

that Prof. Adès agreed to write on Matta and Duchamp.

( 7 )
---
A close friend of Matta, Rosenthal focuses in his text on

this relationship, his conversations with Matta and Matta's

lasting influence on today's artists and beyond. We are

truly grateful for his insight.

Tasks like Matta / Duchamp are based on the assistance

and work of likeminded people. We therefore thank here

Giovanna Caccia, a trusted friend of Germana and Alisée,

as well as Antoine Monnier of the Association Marcel

Duchamp, for their help and confidence in our collaboration.

No project like this is possible without important

loans and for this we thank Shoshana and Wayne Blank,

together with the other lenders to this exhibition.

On the gallery side, we want to thank our team of art historians

for their long hours of research and our librarians

for their tireless work.

William Rubin, influential director of the painting and

sculpture department at MoMA from 1968 to 1988, wrote

about Matta while still at MoMA in 1985:

"I have, myself, never stopped looking at Matta's work.

For me, he was and remains one of the relatively few truly

inventive and independent painters of the twentieth

century – indeed, one of a small number whose art has

changed my life."

( 8 )
---
With this in mind we hope that our publication and exhibition

will contribute to a new awareness of the fascinating

universe of Matta.

Krystyna Gmurzynska and Mathias Rastorfer

( 9 )
---
Passages between Matta and Duchamp

Matta made no secret of his admiration for Marcel

Duchamp, which began even before he became an artist

himself, and lasted for the rest of his life. His response

to Duchamp was unusual and personal. Rather than

the readymades, it was Duchamp's paintings, and the

Large Glass, La mariée mise à nu par ses célibataires,

même (The Bride Stripped Bare by her Bachelors, even)

(1915-23), that had a profound effect on him. "Ce ne

fut pas le caractère iconoclaste des ready-mades … qui

fascina Matta, mais la nouvelle notion de "passage" selon

Duchamp." 1 He paradoxically found in Duchamp's

concept of "passage" in painting, and in his rejection

of the retinal, liberation for his own painting practice.

An interest in the new physics, and a natural bent

for metaphor and analogy had provided Matta with a

strong base from which to appreciate Duchamp's sophisticated

and brilliant syntheses of science and sex.

The two men were particularly close during the period

1. Romy Golan "Matta, Duchamp et le mythe: un nouveau paradigme

pour la dernière phase du surréalisme" Matta Centre Pompidou Paris 1985

p.38

( 11 )
---
Phototype of a party gathering many members of the surrealist

group at art dealer Pierre Matisse in New York, 1945. On the

photograph from left to right: André Breton, Esteban Frances, Suzanne
---
Césaire, Jackie Matisse, Denis de Rougemont, Elisa Breton, Sonia Sekula,

Mrs. Nicolas Calas, Yves Tanguy, Nicolas Calas, Marcel Duchamp,

Patricia Matta, Roberto Matta, Teeny Matisse and Aimé Césaire.
---
of exile in New York during the 2 nd world war, when

they met weekly, and were both involved in the surrealist

review VVV, published in New York (1942-44).

During this period Matta made a series of oil paintings

dubbed the "suite duchampienne" 2 , which had titles

such as The Bachelors, twenty years after, an homage to

Duchamp's The Bride Stripped Bare by her Bachelors,

even (1915-23), on which in 1944 Matta published an

essay jointly with Duchamp's American patron and collector

Katharine Dreier. This text, if in somewhat convoluted

prose, outlined a concept of the image, as Matta

felt Duchamp had reinvented it, and to which he was to

adhere. They had other interests in common. Neither of

them could resist puns, and they shared a deep respect

for the eccentric writer Raymond Roussel, whose play

Impressions of Africa had generated some of the ideas

for the Large Glass. Matta also shared Duchamp's

interest in Alfred Jarry and 'Pataphysics, "the science

of imaginary solutions", defining himself in the catalogue

for his exhibition at the Pierre Matisse Gallery

in 1942 as a pataphysician. Their respective relationships

to the surrealist movement were, however, rather

different. Duchamp was a courted but remote affiliate,

whose connections with Breton went back to Dada; he

refused to join the movement, being absolutely opposed

2. Romy Golan ibid

( 14 )
---
to groups, but helped with publications, with reviews,

and with the great surrealist exhibitions, indeed inventing

the exhibition as environment. Matta became an

enthusiastic member of the surrealist group in 1937,

exhibited with them and was deeply involved in the

notion of the Grands transparents in André Breton's

Prolegomena to a 3rd Surrealist Manifesto or not (VVV

no 1). In New York he also helped the transmission of

surrealist ideas and practices to the young painters of

the American avant-garde, who become known as the

Abstract Expressionists.

Matta came across Duchamp's work for the first

time in an issue of Cahiers d'art while travelling round

Europe in 1936. He had arrived in London in the autumn,

too late for the International Surrealist Exhibition,

which took place in June/July 1936. But London

was still gripped by surrealism and the bookshop/gallery

Zwemmer's was a good source for surrealist periodicals

and books. Gabrielle Buffet-Picabia's essay on

Duchamp, "Coeurs volants", in the special edition of

Cahiers d'art 1936 devoted to the object, was a revelation.

This "article très illustré, ecrit par une dame qui

s'appelait Gabrielle Buffet sur un monsieur qui n'avait

pas du tout un nom d'artiste puisqu'il s'appelait Marcel

Duchamp, parlait de peinture, du passage d'un état

a un autre. C'etait un defi, une revelation, il etait donc

( 15 )
---
possible de peindre le changement." 3 (highly illustrated

article, written by a lady called Gabrielle Buffet-Picabia

about a gentleman whose name was not at all that of an

artist as he was called Marcel Duchamp, spoke of painting,

of the passage from one state to another. This was

a challenge, a revelation, it was thus possible to paint

change.")

Matta credits this essay with his discovery of "passage",

the possibility that one could paint the change

from one state to another, whether psychological or

physical: a revelation with fundamental repercussions

for his development as a painter. However, in fact Gabrielle

Buffet-Picabia's text doesn't mention "passage",

focussing rather on the readymades, assisted readymades,

the optical machines and Duchamp's very recent

enterprise, the Rotoreliefs. Although the article was indeed

strikingly illustrated with several works in colour,

the only paintings reproduced were the Nude Descending

a staircase, the second version of the Chocolate

Grinder, and the Large Glass, The Bride stripped bare

by her bachelors, even. Neither the idea of movement

in the Nude, nor the implied movement in the Chocolate

Grinder, really involves "passage". It is true that

Buffet-Picabia, in her brilliant account of Duchamp's

3. G. Ferrari Entretiens Morphologiques, Notebook no 1 1936-1944 Sistan

London 1987 p 36

( 16 )
---
"experimental genius", adds to her description of the

mechanical function of the apparatuses on the Glass

their character as personages with both physiological

and psychological features: "Chaque rouage, chaque

mouvement correspond aussi à une structure psychologique

et physiologique des personages. La Mariée

est un moteur complexe…" ["All the wheels, each motion

correspond also to the psychological and physiological

structure of the personages. The Bride is a complex

motor…"] Stunning though the article was, there

was nothing that made "passage" a key concept. It is

much more likely that what struck Matta so forcefully

was the appearance of Duchamp's painting Le Passage

de la vierge a la mariée (The passage from Virgin to

Bride) in another surrealist publication, which would

also have been available at Zwemmer's, the magazine

Minotaure. This extraordinary painting, Le Passage de

la vierge a la mariée, with its erotically suggestive title,

was prominently reproduced and must be the origin of

Matta's fascination with "passage" as change from one

state to another. This issue of Minotaure contained André

Breton's essay on Duchamp's Large Glass, "Phare

de la mariée" ("Lighthouse of the Bride"), in which

Breton described the Glass as "a mechanistic, cynical

interpretation of the phenomenon of love: the passage

of a woman from the state of virginity to the state

of non-virginity adopted as the theme of a basically

( 17 )
---
Marcel Duchamp (1887-1968)

Nu descendant un escalier, December 1937

Pochoir-colored reproduction and French 5-centimes stamp on paper

34.0 x 19.7 cm Signed and dated on the stamp "Dec 37 / M.

Duchamp" Cat. rais. no. 458
---
non-sentimental speculation which would almost seem

to have been engaged in by a visitor from outer space

making a conscientious effort to visualize this kind of

operation." 4 "Passage" was the subject of a dialogue

Matta recalled with Duchamp, in Paris in September

1939, just before he left France for New York. Hitherto

"passage" had been understood in purely pictorial

terms as a device adopted by Cézanne, for example

in the way he used brushstrokes to make transitions

between objects on the flat canvas surface, which had

strongly influenced Picasso's and Braque's early cubism.

Duchamp, now moving away from cubism, introduced

the idea of both anatomical and psychological change.

"Débarrasé de la signification essentiellement picturale

que lui donnaient Cézanne et les cubistes, le "passage"

désignait pour Duchamp la transition psychique d'un

état d'esprit a un autre…" 5 ["Relieved of the essentially

pictorial significance Cézanne and the cubists gave it,

"passage" indicated for Duchamp the psychic transition

from one state of mind to another"]. Also significant

for Matta was the freedom Duchamp showed in Le

Passage de la vierge a la mariée, and in other paintings

of 1912 such as The King and Queen surrounded by

4. Minotaure no 6 winter 1935; André Breton Surrealism and Painting

trans. Simon Watson-TaylorIcon Editions 1972 p 94

5. Golan op cit

( 19 )
---
Swift Nudes, to revolutionise the cubist language of interlocking

and overlapping planes to create new forms,

inventions, which are neither abstract nor figurative.

In The King and Queen surrounded by Swift Nudes a

multiplication of small shapes sweep round two towering

forms distantly recalling chess pieces but also the

magnetic poles round which electrons buzz. The title

refers to the metaphors physicists used at the time to

describe electrons ("swift" and "nude") 6 . In Le Passage

de la vierge a la mariée the painted forms have

analogies with both human anatomies and mechanical

forms, while the title makes the physical as well

as metaphysical transition "from one state to another"

clear. Matta, fascinated by "the passage from one state

to another", doesn't distinguish between the physical,

emotional and psychological possibilities, deliberately

keeping them open. This was to become one of the key

ideas, fuelling his explorations in morphology, as he set

about generating "a new dynamic imagery of energy,

transition and growth, that draws on psychoanalysis

and physics" 7 .

Surrealism's engagement with intellectual and political

concerns as well as poetry and the visual arts

6. See Linda Dalrymple Henderson Duchamp in Context Princeton University

Press p. 19

7. Gavin Parkinson Surrealism, Art and Modern Science Yale University

Press 2008, p. 152

( 20 )
---
has long been acknowledged, but the surrealists' interest

in science has only been belatedly recognised.

A recent study placed surrealism "at the crossroads of

physics, philosophy, psychoanalysis and politics" 8 , the

movement thus straddling the conventionally separate

realms of science and the humanities. Matta was one

of those who engaged with modern physics even if in

"a less theoretical and more intuitive way" than some

of his colleagues 9 . One of his early memories when he

was a student in Santiago was attending a seminar on

relativity: "I don't know why but the word relativity

immediately interested me. To understand the fact that

there is no immobile point in the universe which could

serve to measure distance and the speed of light was

fascinating." 10 Matta intuited the import of the theoretical

conclusions of the physicists about space/time for

his own purposes, and was convinced of the parallels

between the transformations of our concepts and understanding

of space and those in others fields such as

philosophy and psychology. As he said: "Peindre le moment

de changement, le changement lui-même, je me

suis consacré a ce problème sans interruption depuis et

j'ai vu se developer ce problème aujourd'hui en scienc-

8. Parkinson p. 4

9. Parkinson p. 151

10. G. Ferrari Entretiens Morpologiques, Notebook no 1 1936-1944 Sistan

London 1987 p. 32

( 21 )
---
es, en mathématiques, en philosophie, la morphologie

de la forme, la rélativité, c'est tout le même problème."

[To paint the moment of change, change itself, I have

devoted myself ceaselessly to this problem and I have

watched this problem develop in science, in mathematics,

in philosophy, the morphology of form, relativity,

it's all the same problem." 11 ]. Matta had also absorbed

the surrealists' interest in alchemy, whose later connections

with magic tarnished its credentials as a precedent

to modern scientific discoveries. Nonetheless, scientists

did recognise that alchemical "transmutation"

was a parallel to what they preferred to call "transformation",

and Rutherford called his book on radioactivity

The Newer Alchemy (1934). 12

From 1937, when he began seriously to commit

himself as an artist, his drawings and paintings show

an impulsive energy and dynamism. Throughout his

life he sought confirmation in the physical and mental

worlds, in nature and the imagination, of the links between

inner and outer realities.

This emphasis on morphology, on the potential of

forms to shift and change, and the relationship with the

11. Matta Centre Pompidou Paris 1985 p. 266

12. Henderson p. 23. Scholars have, somewhat controversially, emphasised

the rôle of alchemy in the work of both Matta and Duchamp, see eg

Golan (op. cit) and Arturo Schwarz The Complete Works of Marcel Duchamp

Thames & Hudson 1997.

( 22 )
---
Marcel Duchamp (1887-1968)

Mariée, October 1937

Pochoir-colored reproduction and a French 5-centimes stamp on paper

34.0 x 19.7 cm 13.39 x 7.76 inches

Signed and dated on the stamp "Oct 37 / M. Duchamp"

Cat. rais. no. 456
---
new ideas in non-Euclidean geometry and in physics

about space and space-time, is one of the key factors in

Matta's experiments in drawings and then in painting.

The syntheses Matta was able to make in his mind between

the absence of a fixed position in the new space/

time universe, the potential mobility of form and the

unknown forces of the unconscious with all their power

and uncertainty inform not only the extraordinary

drawings of 1937/8, but in many ways the whole development

of his painting. And as he often said, at the

core of his investigation, and what he perceived as a

solution, was the idea of "passage".

'Painting always has one foot in architecture,

one foot in dream.' 13

*

Matta arrived in Europe from his native Chile in

1933, having, as he put it, "cut the Gordian knot" of

his Jesuit teaching, his bourgeois family and his country.

14 This liberation can be sensed in the exuberance

13. Quoted by Melville in his preface to Matta's 1951 ICA exhibition.

Matta also said: "L'architecture a un pied dans le rêve et l'autre dans la

réalite", [Architecture has one foot in dream and the other in reality] Ferrari

p. 99

14. Ferrari p. 14

( 24 )
---
of his drawings and the energy with which he began to

explore Europe. He had initially joined the merchant

navy, spending six months as a crew member on a ship

sailing between Liverpool and Fort-de-France, Martinique,

before settling in France. He quickly reacted

against encounters with wealthy Latin American relations

in Paris and set off alone and on foot round Europe,

spending the summer 1934 in Italy, everywhere

visiting museums and making notes and sketches. Later

that year in Paris he joined Le Corbusier's studio

as a trainee - he had graduated as an architect from

the Catholic University in Santiago. The practice was

not, according to Matta, very busy, and the studio was

unheated. Le Corbusier would turn up at 5 in the afternoon

and look round, while his cousin Jeanneret was

normally present. There was, Matta said, no teaching, he

and his colleagues educating themselves. Matta claimed

they made drawings for La Ville radieuse, but this must

be a mistake as the unrealized project for Corbusier's

Radiant City had already been published in 1933. It

is more likely that they were working on other related

ideal city plans. Perhaps the reason Matta remembered

La Ville radieuse was because, unlike the radial geometry

of other plans for a Contemporary City, this utopian

project was based on the idea of uniting humans and

their environment, its design based on the shape of the

human body, which Matta's own final project for his ar-

( 25 )
---
chitectural diploma in Chile echoed. Matta may in fact

already have seen the Corb publication; he had chosen

for his graduation project an imaginary collection of

buildings for the Valley of Josaphat – the biblical place

where God was to gather together all nations. Matta

designed residences for the different delegations each

in a different genre, church, temple, mosque etc., with

one villa in the style of Le Corbusier and Gropius. To

"add architectural interest" to the plans he based them

on a series of drawings of nudes he had made while at

the Art School: feet and hands were toilets or kitchens,

head or breasts bedroom, legs the staircases. This

produced such a variety of plans that the professors

regarded it (with justice) as the work of a "great imagination."

A couple of striking plans that have survived from

his time with Le Corbusier, architectural projects for a

house on the Côte d'Azur, also but in a more allusive

way posit the relationship between architecture and the

body, using photomontage. Photographic fragments of

sea- and landscapes are cut into biomorphic shapes,

contrasting with the airy frontal plans of the villa, while

a photo of the statue of Michaelangelo's David stands to

the side as a model of the ideal body, contrasting with

tiny photographs of gesturing figures culled from historical

paintings. The fragments of the seascapes with

their great waves were especially significant for Mat-

( 26 )
---
ta, as he explains: "le va-et-vient des vagues ressemble

au va-et-vient des formes." [The to-and-fro of waves

resembles the to-and-fro of rorms]. The morphology

of shells and cathedrals, he implies, are like the movements

of waves in that they reveal the process of their

formation. "I believe", he went on, "that my true formation

is linked to the long beaches and huge waves

of my childhood." 15 [Je crois que ma vraie formation

est liée à ces longues plages et aux énormes vagues de

mon enfance.] In the photomontage for the architectural

projects there is a very effective interplay between

the scattered fragments and the geometry of the plan,

which both contrasts with and seems to sway with the

movements of the bodies and the waves. He then went

on to link this early fascination with shifting morphologies

to his recollection of the lecture on relativity. While

these commentaries on his earliest works are of course

inflected by his well-known later interest in the new

physics there is no reason to doubt his incipient grasp

of something of considerable significance to his later

paintings.

He was not kept very busy at the architectural practice

and continued to spend a lot of time travelling. Occasionally

this was on behalf of the Corbusier studio, as

15. G. Ferrari Entretiens Morpologiques, Notebook no 1 1936-1944 Sistan

London 1987 p. 32

( 27 )
---
when he visited the Soviet Union in 1936 to carry some

new plans for an air conditioning unit and windows

for the Centrosoyouz (the Central Union of Soviet Cooperatives).

The number of places he passed through,

and the major figures in the literary and artistic worlds

whom he met during this itinerant time is astonishing:

in 1935 Madrid, where he met Federico García Lorca,

who gave him a copy of his poem Llanto por Ignacio

Sánchez Mejías and an introductory note for Salvador

Dalí; in 1936 Berlin for the Olympic Games (still "politically

unconscious", as he said); Helsinki where he

met Alvar Aalto; Lisbon where he was "adopted" by the

Chilean poet and activist Gabriela Mistral, who introduced

him to the radical cultural programmes of Revolutionary

Mexico, thereby wakening his political consciousness;

London where he mixed not only with the

constructivists Gropius and Moholy-Nagy but with the

surrealists Magritte, Roland Penrose and Henry Moore.

Matta made a sufficient impression on Magritte for the

Belgian artist to write to his friends the Scutenaires:

"Matta is a young man from South America… He

is making paintings a thousand times more interesting

than those of Miró. He has lots of ideas." 16 This is not

only remarkable as a signal of the extraordinary impact

Matta had on those who encountered him, but also

16. Matta Paris p. 266

( 28 )
---
ecause it contradicts the accepted history of Matta's

development as a painter. Matta himself, as well as his

friend Gordon Onslow Ford, dated his first oil paintings

from the spring of 1938. The most likely explanation

is that Magritte saw not oil paintings but drawings in

pastel, pencil or crayon. The drawings from 1936/7

that have survived are very original elaborations of the

architectural ideas and of the new discoveries Matta

made in the context of surrealism, notably the photographs

of mathematical objects in Cahiers d'art.

The stretched parallel lines of the pencil marks –

there are rarely any areas of flat colour – resemble the

strange shapes of the mathematical objects as photographed

by Man Ray in Cahiers d'art, many with

strings or incised lines on their curved surfaces. Matta

referred to Monod-Herzen's Principes de morphologie

générale in his discussion of these "3-dimensional

models of equations and formulas", pointing out that as

an architect he lived with "geometries and volumes." 17

The mathematical objects that so fascinated him were

invented to demonstrate the discovery of non-Euclidean

geometries in the 19 th century, which mathematically

transformed conceptions of space. "By the end

of the nineteenth century, all manner of geometries

were available for a great variety of spaces, extending,

17. Ferrari p. 36

( 29 )
---
in turn, the range of surfaces developed to model such

spaces to include forms like doughnuts, tunnel interiors

and even a space like a Venetian blind." 18

If the emphasis here has been on the forms in the

1937 drawings, it would be misleading to assume

therefore that these exist discretely, detached from the

space around them; their elastic morphologies, interactions

and pulsing rhythms already deny the old orders

of perspectival space in which objects are fixed and

presented according to a specific viewpoint.

Surrealism

It was with his drawings, in the autumn of 1937,

that Matta made his entry into the surrealist movement,

the context in which he met Duchamp. Dalí, whom he

went to see in Paris, armed with Lorca's introduction,

advised him to go and see Breton, who had just opened

the Galerie Gradiva on the rue de Seine. Matta arrived

at the gallery, according to Patrick Waldberg, with a

lot of drawings, "at least thirty, speaking all the time,

Breton understanding nothing he said but liking them

and immediately buying a couple." 19 [Patrick Waldberg

se souvient de Matta arrivant 'avec plein de dessins, au

18. Parkinson p. 61

19. Matta Paris p. 267

( 30 )
---
moins une trentaine, parlant beaucoup et Breton, ne

comprenant rien à ce qu'il disait mais aimant beaucoup

et lui en achetant même deux tout de suite.'] Four

drawings of 1937 were included in the Exposition Internationale

du surréalisme (International Exhibition

of Surrealism) at the Galerie Beaux-Arts, (January-

February 1938). This exhibition was presented as a

whole environment, encasing the spectator in a dark,

cavern-like space, with the ceiling of 1200 coal sacks

devised by Duchamp, a reed-fringed pool, an unmade

bed, the smell of roasting coffee, an avenue of mannequins

and Dalí's Rainy Taxi in the forecourt. Each

of the mannequins was dressed by a surrealist artist,

including Dalí, Duchamp and Tanguy. Matta had been

invited to dress one, and he had proposed making God.

His idea was to create the ferocious drunkard from

one of the surrealists' favourite books, Lautréamont's

Chants de Maldoror, but Breton admonished him: "My

friend, we never talk of God." So in the end he showed

only drawings.

Each of the drawings' titles was prefaced with "Scenario":

Scenario no 1: Succion panique du soleil", Scenario

no 2: Pulsions infusoires du soleil; Scenario no. 3:

La sperme du temps collé aux dechirures du jour; Scenario

no 4: Elasticité des intervalles. Unusual as titles

of surrealist works often are, and sometimes bearing

little relation to the work itself, these titles of Matta's

( 31 )
---
stand out for their startling conjunctions of forces, emotions

and objects, and for the emphasis on action: suction,

pulsion, elasticity. They undoubtedly give an added

intensity to the stretched, twisted and thrusting forms

in the drawings, which used coloured pencils, sometimes

wax crayons and pastel. They convey the effect

of growth, movement and interpenetration; the forms

resemble plants, flowers, seeds as well as cosmic bodies.

"voir l'orgasme du ciel.

Voir le ciel comme un organe qui palpite." 20

It is characteristic of Matta that the erotic is expressed

as a pervasive force, as it was by Duchamp.

Matta's use of the term "scenario" introduces a cinematic

dimension which could be said to be present in

his drawings and paintings in varying degrees throughout

his life. But it and the drawings may be related to a

scenario Matta wrote in December 1936, with the premonitory

title "La terre est un homme", Earth is a man.

He wrote it all in one night, in a state of shock having

heard belatedly of the death of Lorca.

Although what happens on the paper or canvas in

Matta's drawings and paintings cannot be reduced to or

adequately captured in words, and as Onslow Ford said,

there was no existing model for his worlds of line, form

20. Ferrari p.61

( 32 )
---
and colour except what the painting itself could reveal,

Matta did talk with great speed and fluency about his

work and ideas. During this period of his early association

with the surrealists, and his first paintings, he

was absorbing and synthesising in his unique manner

theories about the new physics and psychoanalysis. His

first published text was born from the explosive encounter

of his thinking and training as an architect and

the challenge to the rational spearheaded by surrealism.

"Mathématique sensible – architecture du temps" (Sensitive

Mathematics – Architecture of time, 21 ) presents a

drawing, a project for the maquette of an apartment.

Different planes intersect the space which contains soft

pneumatic chairs resembling Henry Moore torsos, contrasting

with a "psychological ionic column". The text,

though, is a wild crossing of sensation, sentiment, body,

building, furniture and space. "This furniture would

unload the body of its entire past at right angles to the

armchair, which, discarding the origins of the style of its

predecessors, would open up at the elbow and the neck,

assuming infinite motions in accordance with the organ

to be awakened and the intensity of life." The erotic

takes on a new dimension: "…other objects ajar, comprising

sex organs of unprecedented form, the discovery

of which provokes desires more eruptive than those of

21. Minotaure no 11 Spring 1938 p. 43

( 33 )
---
man for woman, and leading to ecstasy." The language

is already marked by the untranslatable puns that characterise

his later writings, as in the Dalí-like invocation

of the womb: "parois humides ou le sang battait tout

près de l'oeil avec le bruit de la mère", where "mère" is

both mother and its homophone "mer", sea.

Breton had peremptorily requested this text ("It is

very important that Matta write on architecture" he telegrammed

to his fellow Minotaure editors from Mexico

in early 1938), and Georges Hugnet was drafted in to

adapt Matta's words for the page. According to Onslow

Ford, the genesis of one of Matta's most significant texts

later the same year, "Psychological Morphology", was

similarly fraught. "In the Autumn of 1938 Matta introduced

the term Psychological Morphology. When he

spoke of it at the Deux Magots, accompanied by much

arm-waving and with the assistance of objects to hand,

an impassive Breton professed not to understand. He

requested Matta to put his theories into writing. This

was difficult for Matta, not for lack of ideas, but because

it slowed him down. But he managed to produce

this text…At that time, words were too slow to catch

the fireworks of Matta's imagination. Before an idea

could fully emerge, another was biting its tail." 22

22. Gordon Onslow-Ford "Notes on Matta and Painting (1937-1941)"

Ferrari p. 24

( 34 )
---
The question of Matta's writing and its relation to

his painting is interesting and probably changed over

time, though the quickfire images and ideas did not.

In his brief but perceptive preface to Matta's 1951 exhibition

at the ICA in London, the English surrealist

and critic Robert Melville wrote: "He is not a theorist,

and his statements on art have always been oblique descriptions

of the paintings he happened to be working

on at the time. He has made some of the boldest and

most brilliant contributions of our age to the conception

of pictorial space as a psychological phenomenon."

That the text on Psychological morphology was intimately

linked to the paintings of 1938/9, the extraordinary

breakthrough as he moved into painting in oils

under Onslow Ford's encouragement in the Spring and

Summer of 1938, is not in doubt. The paintings of this

moment: Psychological Morphology, The Morphology

of Desire, and Inscape of the following year which he

painted during the summer 1939 which he, Onslow

Ford and their partners, Esteban Francés, Breton and

his wife and daughter Jacqueline and Aube, Tanguy and

Kay Sage, spent at the Château de Chemillieu, were

charting completely new ground in terms of the visual.

What Breton found so enchanting in the work of the

young artists Matta, Wolfgang Paalen, Onslow Ford and

Esteban Francés was a regeneration of the early principles

of surrealism – automatism. Breton welcomed the

( 35 )
---
eturn to automatism in his 1939 Minotaure essay "The

most recent tendencies in surrealist painting." "The

young painters of today", Breton wrote, "have opted

unequivocally for automatism" 23 . He even contrasts

their absolute commitment to automatism with what he

describes as the relative prudence of the first generation

of surrealist artists. Automatism had been the core of

the definition of Surrealism in the first Manifesto: "Pure

psychic automatism, by which it is intended to express,

either verbally, or in writing, or in any other way, the

true functioning of thought. The dictation of thought, in

the absence of any control exerted by reason, and outside

all aesthetic or moral concerns." 24 This statement

was notably lacking in any guidance to the visual artists,

which left them free to experiment. Breton's reservations

about the first generation of surrealist artists is

at first puzzling: the automatic drawings of Masson and

Tanguy, Ernst's frottages, Man Ray's rayograms, Miró's

free colour, were diverse, original and striking responses

to a proposal originally geared to language. Perhaps

what was new about the young recruits in the late 30s

was the prominence of painting itself as the beneficiary

23. André Breton "Des tendances les plus récentes de la peinture surréaliste"

Minotaure Nos 12-13 May 1939 p. 17. Trans. Simon Watson-Taylor in

Breton Surrealism and Painting Icon Editions 1972 p. 148

24. André Breton Manifeste du Surréalisme Editions du Sagittaire Paris

1924 p.42. Author's transl.

( 36 )
---
of automatism. Admittedly Paalen had introduced "Fumage",

and Domínguez Decalcomania, but for the most

part it was a return to painting that was signalled as

well as a return to automatism, a relief for Breton, after

the disappointment of Dalí's paranoiac critical method,

which Breton felt had degenerated to no more than a

visual puzzle, and the relatively conceptual character of

the surrealist object. And he was right - there had not

been any equivalent to Matta's automatism; in his work

"nothing is directed, everything results from a desire to

enrich the faculty of divination, in which he is exceptionally

gifted, through the use of colour. Each of the

pictures painted by Matta during the last year has been

a marvellous game where all the elements of chance

come into play, a pearl which becomes a snowball as it

absorbs all the shimmering lights emanating from the

mind and the body." 25

From the testimony of Onslow Ford, who was very

close to Matta at the time, there was a degree of automatism

in his practice without this becoming the raison

d'être of the work. His description of Matta's first painting

in oil is legendary: invited to make a painting with

the canvas and paints in Onslow Ford's studio, Matta

25. André Breton "The Most Recent Tendencies in Surrealist Painting"

Surrealism and Painting p. 146; "Des tendances les plus récentes de la peinture

surréaliste" Minotaure nos 12/13 May 1939 p. 16

( 37 )
---
declined, unwilling to mess up his friend's brushes and

canvas. "However, I persuaded him, and he squeezed

little dollops of yellow, red, green and blue along the

edge of a palette knife – then, without hesitation, he

made a rapid gesture on a white canvas and, as he did

not wish to use the clean brushes, he worked the paint

with his fingers, one finger for yellow, one for red, etc.

In this way the colours were spread out, and the colours

were mixed on the canvas. This technique remained the

basis of his oil painting for many years – though he

substituted brushes for fingers." 26 The automatism of

Matta's painting was, it seems to me, subtly different

from the automatism of the first surrealist years.

Whereas with the first generation of surrealists the

question of the authenticity of the "automatism" was to

the fore, with for example Miró "admitting" that there

was a second stage to his paintings (such as Birth of the

World) which was 'conscious', while the first stage was

properly 'unconscious', Breton recognised that automatism

in the new generation of surrealist painters was

not necessarily so systematic in avoiding "conscious"

elements. In the case of Matta, who had nothing to unlearn,

and where the act of painting had begun with

the free application of paint, there seems to have been

26. Gordon Onslow-Ford "Notes on Matta and Painting (1937-1941)"

Ferrari 23

( 38 )
---
no definitive transition point between the unplanned

and the elaborated, the unconscious and the conscious.

With The Earth is a Man, liquid layers of paint were

washed over the canvas, spread with rags and fingers,

leaving chance drips and streaks. Unlike many of the

first experiments in automatism, too, such as Masson's

drawings or Ernst's frottages, where an image emerged

as a "surprise", the artist deliberately having suspended

conscious control, Matta seems always to have been

fermenting ideas which took shape in the process of

painting. And as Onslow Ford said, "This first gesture

in oil paint by Matta echoed all the way to New York

City during the 1940s". 27

Matta's statement "Psychological morphology" was

conceived as a kind of manifesto, setting out an original

argument in which he sharply distinguishes his ideas

from Dalí's critical paranoia and also from so-called abstract

art which surrealism had always opposed. Underlying

his argument is rejection of the optical image which

is "only one of the possible forms of the object". 28 In a

Note entitled "Inscape", written in the summer of 1938

at Trévignon, where he was staying with Onslow Ford,

there is a more straightforward account of this idea: "I

want a morphology that does not stop at the silhouette,

27. Gordon Onslow Ford in Ferrari p. 23

28. Matta "Psychological Morphology" (1938) Ferrari p. 218

( 39 )
---
the skin of beings and of things. The image of a tree is

not the mass of greenery grouped round the trunk which

is detached with greater or lesser precision and grace

from the coloured background. This image is for us really

everything we know about the grain, the germination,

the swift unfolding of the buds, the shadow the tree can

cast, the infinitely sad image it presents when it is leafless

in winter, and more – everything the word "tree" calls up

in the field of our consciousness as emotive images…" 29

This calls to mind a 1939 Psychological Morphology

(1939) 30 , in which the thrusting, branching, form of a

tree on the left is outlined against a wonderfully glowing,

green-blue space punctuated by jewel-like knots of light.

The forms of the object are created by the adaptation

of its "internal energies" to the obstacles created by

the environment. The object may change as the result of

external pressures but remains itself, so "the morphology

of whirlwinds…indicates the graphic of unmixable

bodies such as patches of motor oil on wet roads; the

disposition of two Ripolin colours."

By "graphic", which he uses as a noun rather than

adjective, he means the drawing, the representation.

Psychological morphology is "the graphic of ideas". That

is, what is known and felt in relation to an object and not

29. Ferrari 219 (French p. 72)

30. reproduced Ferrari p. 85

( 40 )
---
what is just seen. Matta uses the term "graphic" in opposition

to "plastique", plastic, for which there is no useful

English equivalent in this context. "To call something

graphic is to say it is not, to use the more common French

term, plastique, which implies a modelling of form and

volume". 31 "Les arts plastiques" are effectively work in

three dimensions, including sculpture. Matta probably

therefore intends simply depiction in two dimensions.

But certainly line becomes crucial as an independent element

in his paintings following the soft, glowing colours

and interpenetrations of space and volume in the Psychological

Morphologies (1939), Morphology of Desire

(1938), Inscape (1939), and other works of that time

such as the Fabulous Racetrack of Death (Instrument

very dangerous for the eye) (1939)

There are contradictions which co-exist: "The co-psychology

of contraries in the same idea-object remain

pulsating without deformation in a psychological morphology."

32 Matta forces effects and things different in

kind to co-exist ("from point-volume to moment-eternity,

from attraction-repulsion to past-future, from lightshade

to matter-movement") 33 . This is some ways easier

31. Briony Fer "Networks: Graphic Strategies from Matta to Matta-Clark"

Transmission: The Art of Matta and Gordon Matta-Clark San Diego

Museum of Art 2006 p.38

32. Ferrari p. 218

33. ibid.

( 41 )
---
to grasp by looking at the paintings with the extraordinary

variety of forms beating together, whose titles

indicate powerful feelings: La veille de la mort (morphologie

psychologique de l'angoisse), or Morphologie

psychologique de l'espoir, both of 1938.

*

New York: Les Grands transparents

Matta and his wife left France for New York in October

1939, on the same boat as Tanguy. After the German

occupation of Paris in June 1940, many of the

surrealists took refuge in the Americas; Breton and his

family reached New York in 1941, and Duchamp finally

got there in 1942. New York became the new centre

for Surrealism, and Matta was at the core of its revived

activities. He was also, together with Gordon Onslow

Ford who arrived in 1940, swiftly in dialogue with the

young American painters. Like others among the European

refugees, he gravitated to the New School for

Social Research, which had been founded in 1919 as

a progressive centre for higher education for adults by

a group of American intellectuals. Among the teachers

were distinguished names in the fields of the social

sciences, anthropology, politics and the arts. It was a

haven for scholars as well as artists and writers flee-

( 42 )
---
ing Nazism. Here he met the art historian and theorist

Meyer Schapiro, the artist and photographer Francis

Lee whose loft was a meeting place for the European

newcomers and the American artists, and the artists

themselves, including Pollock, Baziotes, Kamrowski,

Gorky, Motherwell, Kiesler and the critic Lionel Abel,

who was to become closely involved with the major surrealist

publication of its New York period, VVV. After the

war he and Matta edited a review of their own, Instead

(1948-49). The surrealists, above all through the idea

and the practice of automatism, had a considerable influence

on the American painters, although in the end

this led in a different direction. The encounter brings to

mind Matta's description of things reacting to the forces

round them but not melding with them – like oil on a

wet pavement. Close as the relations were between Matta

and some of the younger artists, in particular Robert

Motherwell, there was never a question of a merger.

In hindsight Onslow Ford's lectures at the New School

early in 1941, on de Chirico, Ernst, Magritte, Tanguy,

Brauner, Seligmannn, S.W. Hayter, Frances, Matta and

himself are one of the clues to this, in their insistent

readings of the iconography of the paintings. 34

34. Gordon Onslow Ford: Paintings and Works on Paper 1939-1951

Francis Naumann New York 2010, with Onslow Ford's New School Lectures

January-March 1941 transcribed and edited by Martica Sawin pp 53-71.

( 43 )
---
By 1940 Matta had only been painting in oils for

a couple of years, and was basically self-taught, giving

him a freedom of which he took full advantage. Although

it's possible to trace the influence of painters

whom Matta admired, such as Dalí and Tanguy, in the

earliest works, this is so transformed as to be almost

undetectable.

In The Earth is a Man, for example, as in earlier

paintings such as Prescience (1939), and others of the

psychological morphologies genre, the canvas is loosely

divided by a horizon line, with the lower part predominantly

a glowing yellow, the upper part predominantly

blue. This echoes paintings by Dalí, with whom, because

of his expulsion by the surrealists in 1939, Matta

was subsequently rarely linked. The landscape settings

of Dalí's subjects in the 1930s often have a similar arrangement,

presenting an overwhelming impression of

a yellow/blue, sand/sky world. The horizon line, which

would seem to determine the pictorial space, was most

famously both posited and defied by Tanguy, whom Breton

considered the strongest influence on the young recruits

to surrealism. In his paintings of the late 1920s

and early 1930s, Tanguy increased the ambiguity of

horizon lines so that divisions between earth, sea and

sky were blurred. This no doubt fascinated Matta as he

sought ways of representing extended notions of space.

It is difficult to make cut and dried statements about

( 44 )
---
the changes in his treatment of space and of forms. The

co-existence of linear elements and the veils and cocoons

characteristic of the psychological morphologies predates

the uses of multiple perspectives with conflicting

vanishing points and shallower, interlocking spaces of

paintings like The Onyx of Electra. Similarly, the traditional

opposition between figurative and abstract is

simply by-passed by Matta. As Breton wrote in his 1944

text on Matta, he confounds: "those who are ready to

disqualify as 'abstract' any form which is not at present

perceptible to the eye (a century ago, the curve of an

electric light bulb's filament would have seemed extravagantly

abstract)." 35

On arrival in New York Matta made efforts to find

new technologies appropriate to expressing the new 'realities'.

"The need to call upon the most modern resources

simply expresses the aspiration to extend the field of

vision…" 36 For his first solo exhibition, in April 1940

at Julien Levy's gallery, he bought flourescent mineral

paints and "a special lamp that burned with 'black

light' that activated the colours of the minerals." 37 The

resulting paintings were intended to look one way in

35. André Breton "Preliminaires sur Matta" (1944) Matta Galerie René

Drouin 1947 n.p.

36. Ibid.

37. Julien Levy Memoir of an Art Gallery G.P. Putnam's Sons, New York

1977 p 250

( 45 )
---
ordinary daylight, and a different way when lit by the

'black' lamp. They were installed in a special box, with

a peephole and a switch to control the light. The experiment

seems not to have been sufficiently successful to

pursue, though the idea of a painting changing under

different lights perhaps still lies behind the almost fluorescent-seeming

hues of a painting like Le Vertige d'Eros,

while the overall black tones of a number of paintings in

the early 40s could similarly have been inspired by it. In

any case, Matta was to remain faithful to oil painting on

canvas while often pushing it to extremes of scale.

Paradoxically the most direct influence on Matta

in New York was Duchamp – paradoxical, because

Duchamp had renounced oil painting on canvas since

1918, and since abandoning his Large Glass unfinished

in 1923 had, it seemed, only rarely intervened as an

artist. Since 1936 he had been occupied preparing and

putting together his Boîtes – the "portable museum" of

almost all his works. (One of the series of Boîtes, series

C, was assembled by, among others, Matta's second wife

Patricia). In New York Matta had no doubt at last seen

the Large Glass itself, newly restored by Duchamp, at

Katherine Dreier's house, and the Glass, together with

Duchamp's 1934 publication, with the same title, La

Mariée mise a nu par ses célibataires, même, known

as the Green Box Notes, pervade Matta's thinking and

( 46 )
---
painting. (The title has an untranslatable pun: "même"

sounds like "m'aime", loves me, which makes a great

deal more sense than the floating adverb même, even.)

The Green Box Notes, the earliest of which date from c.

1912, were intended to be seen in conjunction with The

Glass – they were two parts of a whole, and thus a key

weapon in Duchamp's attack on the retinal. Duchamp

wanted to bring the mind, what he called the "grey

matter", back into play, to restore some function to art

beyond the "purely retinal", the appeal only to the eye.

Matta's inveterate need to verbalise at the same time

as insisting on the unique power of painting to realise

the invisible has a kind of parallel with Duchamp – a

like-minded desire for a whole-ness of expression of an

idea or object ("idea-object"), in word and image. When

Matta says "Kill the optical" he has Duchamp's rejection

of the purely retinal in mind.

Matta refers to Duchamp's anti-retinal attitude in his

"Redefinitions towards a new dimension for painting".

Here Matta mingles regular terms for pictorial considerations

(light, space, object) with his own: transfluence,

co-time, prescience. For "Object" he offers the arresting

sentence: "One must look at objects while one's eye is

being gargled in the mouth of some chaste "Duchampian"

balcony." 38 The enchantment of the eye must be

38. Ferrari 97

( 47 )
---
sterilised, the object seen from a Duchampian viewing

point (above) with the implication that just looking is

not enough.

Matta's familiarity with not only the Glass itself

but with the Notes is frequently confirmed in his own

writings and speculations. For example, he compiles

a list of "Les Descriptions automatiques" (automatic

descriptions), which both quotes from Duchamp's

"litanies of the chariot" and refers to images in the

Glass itself:

"Le pendu femelle

Densité excitante

Fracas

Litanie du chariot

Metal émancipé

Retard en verre…

Adage de spontanéité." 39

This can be directly compared with Duchamp's

chant-like "Litanies of the chariot":

"Slow life

Vicious circle

Onanism

Horizontal …."

The metal (or material) – of the chariot is "emancipated",

and the "Adage of spontaneity = the bachelor

39. Ferrari p. 132

( 48 )
---
grinds his chocolate". 40

Matta's riffs on the enigmatic language of Duchamp's

Notes, which conjure strange beings, actions and desires,

have parallels in some of his paintings from this

period, such as The Bachelors, twenty years after,

which specifically refers to the imagery of the Large

Glass itself. The Bachelors, Duchamp's 'Malic moulds',

appear as recognisable lamps with electric filaments,

with lines spinning out expressing the dynamism of the

sexual encounter described by Duchamp in his Notes:

the Bride and the Bachelors are variously powered by

electric currents, by clockwork and by steam, analogies

for their sexual energy. For "Space" in "Redefinitions

towards a new dimension for painting", Matta writes

"Horizon = an implacable line at the breathless height

of Sex," and illustrates it with two naked figures, male

and female, the undulating horizon line crossing at the

point of sex. This recalls one of the Notes in the Green

Box on the "Malic moulds" (the Bachelors): "Each of

the 8 malic forms is built above and below a common

horizontal plane, the plane of sex cutting them at the

point of sex." 41

The Pendu femelle is Duchamp's term for the suspended

Bride in the upper half of the Glass, rendering

40. The Writings of Marcel Duchamp Ed. Michel Sanouillet and Elmer

Peterson Da Capo Press 1989 p. 56

41. ibid. p. 51

( 49 )
---
the Pendu, the Hanged Man of the Tarot cards, female.

With his painting Le Pendu, of 1942, Matta introduces

a personal, anguished note, apparently identifying

himself with the Hanged Man. The imagery of

the Large Glass undoubtedly has an otherworldly, futuristic

look, which derives not only from the curious

beings and objects but from the incompatible spatial

organisation of the upper (Bride's) realm, and the lower

(Bachelors'). In the earthly, lower half of the Glass

Duchamp 'rehabilitated', as he put it, strictly linear,

one-point, classical perspective, while in the upper half

the forms apparently float in a perspective-less, aerial

space. However, Duchamp also speculated about possible

perspectives in that realm – one might be able to

discover the identity of the apparently abstract shapes

if only one knew where to stand: "The Pendu femelle is

the form in ordinary perspective of a Pendu femelle for

which one could perhaps try to discover the true form /

This comes from the fact that any form is the perspective

of another form according to a certain vanishing

point and a certain distance." 42

This unfixing of the viewer, not least a challenge

to the comfortable certainties of traditional pictorial

space, appealed to Matta and must have confirmed his

commitment to finding visual expression for space-time.

42. The Writings of Marcel Duchamp p. 45

( 50 )
---
Breton had noted the young painters' "deep yearning

to transcend the three-dimensional universe. Although

this particular question provided one of the leitmotifs

of cubism in its heroic period, there is no doubt that it

assumed a greatly heightened significance as a result

of Einstein's introduction into physics of the concept

of the space-time continuum, The need for a suggestive

representation of the four-dimensional universe is particularly

evident in the work of Matta (landscapes with

several horizons)…" 43

Duchamp appreciated his indefatigable and inventive

treatment of space:

"His first and important contribution to Surrealist

painting was the discovery of regions of space hitherto

unexplored in the realm of art. Matta followed

the modern physicists in the search for his new space

which, although depicted on canvas, was not to be mistaken

for another three dimensional illusion. His first

"period" was characterized by the slow rendering of

an exploration, the fight with all the obstacles of oil

painting, a medium lending itself to centuries-old interpretations.

Later he succeeded in introducing in "his

space" descriptive and figurative elements which added

to the completion of his important achievement. Still a

43. Breton "The Most Recent Tendencies…" Surrealism and Painting

p. 149

( 51 )
---
young man, Matta is the most profound painter of his

generation." 44

Matta's painting developed fast during the early

1940s. Lightly indicated in Years of Fear (1941-2)

and in Locus Solus (1941-2) is a new interest in linear

structures that contrast with the organic turbulence of

paintings such as The Earth is a Man, which was the

culmination of the Psychological Morphologies. He creates

linear configurations with loops, conics and vanishing

points, spaces with multiple horizons, and transparent

screen-like planes. The lines can simultaneously

indicate representational systems such as perspective,

Herzian waves, weather formations, and any number of

metaphorical allusions. "In 1943 I passed, in my own

work, from a sort of burning fire, mineral lights kind of

thing, into a space that was described by geodesic lines

and waves…" 45

In L'Année 44 (1942), and Composition in Magenta:

The End of Everything (1943) rosy magenta and

black wash covers the canvas over which white lines

form geometrical shapes, rhomboids and curves, sometimes

resembling overlapping scales like the shutter of

44. Duchamp "Matta, Painter" from the Catalogue of the Collection of

the Société Anonyme, (1946) in The Writings of Marcel Duchamp ed. Sanouillet

and Peterson Da Capo Press, New York 1989 p.154

45. Interview 1966 with Peter Busa, Ferrari p 250

( 52 )
---
a camera. The sense of deep – even infinite - space continues

in the even more complex Le Vertige d'Éros (the

title one of Matta's many puns: les verts tiges d'Éros, the

green shoots of Eros) and related works of 1943-4, such

as Eronisme, The Disputed Continent and La lumière

noire. (1943). Matta began by "laying down a ground

of large alternating areas of wine and yellow; over this,

when dry, he applied a black wash, which he then partly

rubbed away with rags to allow colour to emerge

from the ground. The more black he rubbed away, the

lighter became the final colour." 46 The glowing golden

patches in Le Vertige d'Éros give the impression of light

received from a distance, but from different angles as if

from different suns. Some of the lines give a hint of recession,

but in terms of individual linear structures, not

according to a single vanishing point. The dark space is

not only horizonless but without gravity altogether. "To

be without connection to the gravity of the earth, isn't

that a loss of identity as in death?" 47 Eros and Thanatos

are both invoked.

The title of Eronisme is reminiscent of a sentiment

of Duchamp's with which Matta was in full accord –

"I believe in eroticism a lot, because it's truly a rather

46. William Rubin Dada and Surrealist Art Thames & Hudson London

1969 p. 348

47. Ferrari p. 180

( 53 )
---
Roberto Matta (1911-2002)

Eronisme, 1943

Oil on canvas 60 x 80 cm 23.62 x 31.5 inches

Signed and dated on the reverse "MATTA 43"
---
widespread thing…" 48 What else does the neologism

suggest? Eros as an erroneous ism, perhaps? The painting

originally had an additional title, Le Jour est un

attentat. Matta's comments on this indicate his line of

thinking about the problem of the 'time' dimension of

space/time. Irrational and emotional rather than scientific,

he suggests that if you want to measure time,

"the true measure is the day, not the day of twenty-four

hours, but the day as assault, as menace, as risk." The

sprays of white lines converging on single points in

Eronisme are like shards of shattered glass as well as

multiple horizons.

As with the Psychological Morphologies, scale is

ambiguous, so that elements could be tiny or huge,

distances incalculable. Despite the crucial rôle of the

graphic lines in creating space, there is also the striking

appearance in Eronisme and in Le Vertige d'Éros of

floating, illusionistic, sculptural forms, like white pebbles

or an asteroid, which reflect the golden, fiery light

from below. Such pictorial illusionism marks emphatically

the gulf between Matta's paintings and those of

the abstract expressionists.

The linear markings in Matta's canvases occupy an

interesting position in relation to both the spatial am-

48. Quoted in Marcel Duchamp ed. Anne D'Harnoncourt and Kynaston

McShine MoMA 1973 p.309

( 55 )
---
Installation view, First Papers of Surrealism,

photographed by John Schiff, New York 1942
---
iguities of the Large Glass and the string installation

Duchamp devised for the 1942 First Papers of Surrealism

exhibition. This installation famously consisted

of 'a mile of string', a web of thin cords spun round

the paintings on screens, looped from the chandeliers

and mantelpieces. It is usually mentioned in terms of

frustrating the viewer, interrupting the paintings and

acting as a critique or negation of surrealism. However,

it also picks up a feature of surrealist painting common,

for example, to Matta and Tanguy: linear devices to indicate

space and spatial relations, as in Tanguy's largest

painting, The Palace of Windowed Rocks, (1942),

which occupied the wall at one end of the exhibition

space. But whereas in The Palace of Windowed Rocks

the lines connect objects set in a deep landscape, creating

an illusion of continuous space, Matta's defy any

consistent three-dimensional illusion. With his web of

strings Duchamp materialises drawing in space, 49 outside

a frame, and without creating an illusion of space.

It is interesting that in the 1942 exhibition catalogue

Duchamp's Network of Stoppages (1914) and Matta's

The Earth is a Man were reproduced on facing pages.

The 1942 exhibition catalogue included a section

entitled: "on the Survival of Certain Myths and

on Some Other Myths In Growth or Formation". The

49. Fer p.38

( 57 )
---
myth of "The Philosophers' Stone" was illustrated with

a Paracelsus engraving and Matta's wax and pencil

drawing La Pierre Philosophale, Telesona du soleil et

de la lune (foyers de peur) 1942, and the new myth of

"Les Grands Transparents" was illustrated with one of

David Hare's burnt photographs. However the idea, or

myth, of "Les Grands Transparents", which most explicitly

reveals surrealism's fascination with science fiction,

had already been introduced in VVV no 1, in Breton's

"Prolegomena to a Third Manifesto of Surrealism

or Else", illustrated with Matta's coloured drawing Los

grandes transparentes. Breton ended the "Prolegomena"

with a section entitled "Les Grands transparents",

in which he introduced the idea that "Man is perhaps

not the center, the focus of the universe. One may go

so far as to believe that there exist above him, on the

animal level, beings whose behaviour is as alien to

him as his own must be to the day-fly or the whale." 50

["L'homme n'est peut-être pas le centre, le point de

mire, de l'univers. On peut se laisser aller de croire qu'il

existe au-dessus de lui, dans l'échelle animale, des êtres

dont le comportement lui est aussi etranger que le sien

peut l'être a l'éphémère ou la baleine."] "Les grands

50. André Breton "Prolégomenes a un troisième manifeste du Surréalisme

ou non", translated as "Prolegomena to a Third Manifesto of Surrealism

or Else" VVV no 1 p 25

( 58 )
---
transparents" is usually translated as "The Great Invisibles",

though pictorially speaking this misses the

sense of transparency, of "seeing through" a layer or an

object like glass. Matta linked the development of the

idea of the "grands transparents" to his regular weekly

meetings with Duchamp, and it was for Matta haunted

by Duchamp's Glass painting. Breton quoted William

James, who asked "Who knows whether, in nature, we

do not hold as small a place beside beings whose existence

we do not suspect as our cats and dogs living in our

houses at our sides?" ["Qui sait si, dans la nature, nous

ne tenons pas une aussi petite place auprès d'êtres par

nous insoupçonnés, que nos chats et nos chiens vivant

a nos côtes dans nos maisons?"] Matta's conception,

though, was more abstract, less shaped by the idea of

"beings". ["Pour moi], si on veut parler des fourmis, le

grand transparent serait plutot leur incroyable système

de communication, tout en ondes et en odeurs.

Le système d'ondes hertziennes, les ondes thermiques,

la forme que prend le vent dans un cyclone, les

rayons qui donnent de la lumière a l'interieur d'une

ampoule sont des grands transparents." 51 ["[Breton]

compared them to ants, for which man, whose dimensions

they cannot imagine, is a Great Transparent One.

To me, with regard to ants, the Great Transparent One

51. Ferrari p. 120

( 59 )
---
would more likely be their incredible communications

system, made up entirely of waves and odours. The system

of Hertzian waves, thermal waves, the form the

wind assumes in a cyclone, the rays emitting light inside

a bulb are all Great Transparent Ones."]

The image is not a thing.

It is an act…

*

Matta's admiration for Duchamp culminated publicly

in the essay he published, together with Katharine

Dreier: "Duchamp's Glass, La mariée mise à nu

par ses Célibataires, meme…An analytical reflection

by Katherine S. Dreier and Matta Echaurren". 52 Preliminary

notes in a sketchbook dating from this period

reveal Matta struggling to formulate what are evidently

to him hugely significant ideas about the nature

of Duchamp's importance, trying them out in French,

Spanish and English, rapid scribbles not always easy

to decipher. There are two main points in his argument

in the sketch book: firstly, that at the present time

52. Duchamp's Glass, La mariée mise a nu par ses Célibataires, meme…

An analytical reflection by Katherine S. Dreier and Matta Echaurren Société

Anonyme and MoMA New York 1944 Ferrari Notebooks p. 182

( 60 )
---
there are momentous changes in human knowledge

that point in hitherto unexpected directions ("Nous

sommes à un de ces moments de l'histoire où la science

de l'homme clairvoie un changement de direction une

nouvelle vie, jusqu'alors caché 53 (We are at one of those

moments in history when the science (knowledge) of

man perceives a change of direction, a new life hitherto

hidden). That this change is to do with the nature

of our understanding of space is hinted at, and at one

point he links "non-Euclidean" with "non-Vincian";

Leonardo da Vinci is the only other artist he mentions,

evidently here standing for the Renaissance tradition

of perspective in painting, in harmony with Euclidean

space, with static object and static spectator. Man will

be aided in his conception of a new space where the

operations of nature and of the mind rediscover their

myth. ("[conscience? du ?soi] qui doit aider l'homme

dans la conception de l'espace total où les operations de

la nature et de l'esprit retrouvent leur mythe.") 54 The

second point argues that Duchamp was the first person

in history to paint the image in itself. 55 Matta's notes

53. Matta, Unpublished sketchbook p. 105

54. ibid. p. 106

55. The writing of this passage is particularly hard to decipher:

"Duchamp c'est le premier ?esprit de l'histoire qui a peint l'image en soi, et

qu'en liberant ?interpellant de sens de la representation profonde de l' force

( 61 )
---
were tidied up for the published text, where his crucial

conception of the "image in itself" (a phrase with

an unfortunately Heideggerian ring) is clarified. This is

not meant as a kind of philosophical absolute, but as a

contrast to the image as the representation of a "petrified

thing or object".

"The image is not a thing.

It is an act which must be completed by the spectator."

The first sentence is recognisably Matta's, the second

envisages image and spectator, as, together, a dynamic

reality. The idea that the work "cannot be completed

except through the conscious participation of the onlooker"

was to be the leitmotiv of Duchamp's later lecture

"The Creative Act" (1957). "All in all, the creative

act is not performed by the artist alone; the spectator

brings the work in contact with the external world by

deciphering and interpreting its inner qualifications and

thus adds his contribution to the creative act." 56 Plausibly

this was an idea discussed by Duchamp, Dreier

and Matta during their many meetings in New York in

the early 1940s. However, Duchamp is really concerned

with the spectator as posterity, as the historical factor

which determines the survival or disappearance of the

notre imagination par une operations incessament (necessairement?) produite

par ses tableaux a monte dans l'espace libre de spirit [en du]une raizon

poetique nous devoile le reel". ibid p. 107

56. The Writings of Marcel Duchamp op cit pp 138-140

( 62 )
---
work – it does not imply the participation of the spectator

in any other sense, though this is sometimes how

it is now interpreted. Nor is Duchamp's spectator quite

the same as Matta and Dreier's.

"In order to be fully conscious of the phenomenon

which the image describes, we ourselves must first of all

fulfil the act of dynamic perception.

Marcel Duchamp was the first to paint the image

per se, to be completed by an act of consciousness of

the part of the spectator. Prior to this, the artist spoke

and the onlooker listened, for he was not called upon

to complete the work of art by his own conscious act. It

was statement – now it is a dialogue!" 57

Embedded here is a proposition that casts light on

the way Matta thought about his own paintings: "The

image is not a thing. It is an act…" Later he was to say to

his friend the painter Peter de Francia, "A picture is not a

canvas on a wall, it is the impact that hits the bull's eye of

your mind. If art was only a representation of the "here

and there" hanging on a nail decorative craft would do

it, but there is in man the need to re-act in the endless

web on which we interplay with the world." 58

Matta's paintings are dynamic, full of energy, in a

57. Ferrari p 182

58. "Coïgitum, Conversation with Peter de Francia", Matta Coïgitum

Arts Council of Great Britain Hayward 1977

( 63 )
---
very particular manner. It is as though he is enacting

the image – it is happening as he paints. Gordon Onslow

Ford perceptively wrote that "Matta paints with

the same assurance [as] a child before he starts to

copy." That is, before the child is taught to represent,

copy, things in the world. This seems to me to catch the

unusual character of Matta's gestures in drawing and in

painting. They are a form of automatism, but of an unusual

kind in that they are also the semi-conscious narration

of an imaginary world, "a place beyond dreams,

for which there was no model, and which could only be

revealed through painting…" 59 Just as a child (before it

has learnt to copy) draws events that are brought into

being as he or she makes the marks, often accompanying

them with a verbal account of the imaginary events

happening on the paper, Matta shows things, tells the

image. As he said himself: "Je ne suis pas un peintre,

je suis un montreur." This is not at all to say that his

paintings look child-like, but that the assurance with

which he paints, as Onslow Ford said, is.

One of the things that dazzled Breton, apart from the

colour of his paintings, was the limitless associative brilliance

that arose visually from Matta's automatism and

59. Gordon Onslow-Ford "Notes on Matta and Painting (1937-1941)"

Ferrari p. 24

( 64 )
---
was matched by his talk. The young New York recruit to

surrealism, Charles Duits, described its fascinating but

disconcerting effect; Matta arrived one day while Duits

was visiting Breton, and they started talking about the

Apple. "This was Matta's triumph. The Apple! It was the

key to every enigma, the number of revelation, the first

arcana in the universal Tarot, all the better for being edible,

it was the fruit from the abyss, alluded to by the

Gnostics.

Breton, slightly taken aback by these opening gambits,

searched for ideas. There was certainly the Apple in

the bible…The Apple in the bible! Matta jumped for joy.

And the Apple of the Hesperides, and the Apple of Discord

responsible for the Trojan War, and William Tell's Apple,

Newton's and Cezanne's…Cut an apple in two, and what

do you find? The Apple We Know, a representation of

the female pudenda…History, legend, science, religion,

sociology, all the activity of mankind, were brought into

play. Breton's occasional objections furnished proof of

something or other, but, heedless, Matta went on and on,

while the apple got larger.

The apple dilated to universal dimensions while the

universe became concentrated into this object one could

hold in one's hand…

This was evidently what Breton loved and feared in

Matta, this power to simplify, this metaphorical energy

in which he recognised the principle of poetry, but in

( 65 )
---
some way sidetracked, utilised for ends alien to itself,

explicatory ends that Matta confused or pretended for

fun to confuse with those of poetry." 60 In the 1942 painting

The Apples we Know the motif of the apple cut open

and resembling the female sex is repeated in the multiple

planes, in the linear manner that had marked a change

in his work.

Different conceptions of automatism were leading

in very different directions; even if at first sight Matta's

paintings were "abstract" they were full of allusions and

metaphors that were alien to the New York painters like

Pollock and Motherwell. "With Motherwell especially I

had a terrific incompatibility of ideas. I was very much

in this Surrealist revolution, and he became more and

more a collage man... Then we moved to the country.

The war was becoming a ferocious thing. I couldn't ignore

it any more. I began to feel 'society' in a new way,

for the first time" 61 Perhaps this new awareness of the

2nd world war which brought with it a feeling for 'society'

was among the factors that propelled Matta's paintings

towards the figurative, the quite dramatic surgence

of distinct, recognisable beings from c. 1944 which

thenceforth are summoned up to act in various contexts

from the futuristic to the political. "Matta broke with

60. Ferrari p. 237

61. Interview 1966 with Peter Busa, Ferrari p 250

( 66 )
---
the summarily named 'non-figurative' line which had

been generally ascribed to him, halted the stars in their

courses, reclosed the great geodes, snapped his whip to

bring the whirlwinds to heel around him, and gave up

spreading – lavishing, as he had done hitherto – the

music of the spheres." 62 The figures, part idol, part robot,

with headdresses and masks, reveal themselves, as

Breton said, as "man". In The Heart Players (1945) an

androgynous figure with outstretched arms and empty

hands resembles Giacometti's Invisible Object, of which

Matta at the time owned the plaster. His new figuration

gave Matta the opportunity to express his strong political

views, as he pillories or satirizes totalitarian and

reactionary powers, as in Les Roses sont belles (1951),

with its rows of helmeted figures in a sinister setting.

Post-war, Matta became actively involved in the political

events of the 1960s, in France, Cuba and then

Chile, and although these were of little or no interest

to Duchamp, Matta's belief in the power of the image

to affect an audience was nonetheless indebted to his

interpretation of Duchamp's position.

The confidence and scale of Matta's paintings is already

astonishing, presaging his huge canvases of the

1970s. It was some years before Pollock and Clyfford

62. Breton "Preliminaires sur Matta 2" 9-10 July 1947

( 67 )
---
Roberto Matta

Les Roses sont belles, 1951

Oil on canvas 201 x 281 cm 79.13 x 110.63 inches
---
Still regularly painted big pictures. Être avec, for example,

(1945) is mural-like at fifteen feet wide. 63 The desire

physically and actively to engage the spectator, to

eliminate the static encounter between the viewer and

a picture hanging on the wall, was carried through into

installations, such as that at the ICA in London in 1951,

where the twelve paintings were hung continuously like

a long mural. Matta held to the belief, formulated in his

essay on Duchamp, that the image is an act, not a thing.

"Art is a verb, more than an absolute; to art at full

voltage frightens most people, awareness of reality is for

them as dangerous as a live-wire (Rrose Sélavy)." 64

Dawn Adès

63. In 1977 three giant canvases were exhibited at Matta Coïgitum at the

Hayward Gallery in London: "rarely seen", as Joanna Drew noted in her preface,

because few art galleries "can provide the space in which to show them".

64. Conversation with Peter de Francia Matta Coïgitum, op cit. p. 4

( 69 )
---
"Yes. The first surrealist I met and the only one who

was close to my age was Matta. He was the most energetic,

enthusiastic, poetic, charming, brilliant young artist

that I've ever met. This would have been the spring

of 1941. We tend to forget, in thinking about this period,

that it was the end of the Depression. The war was

about to begin; it had already begun in Europe. Most

of the artists of my generation nearly had been on the

WPA, at $25 a week, or whatever it was. The WPA was

heavily socially oriented; and those few artists who were

attracted to modern art or abstract art had a rough time.

None had recognition. Most were poor, depressed, with

considerable feelings of hopelessness, but determined

nevertheless to carry on, in their respective aspirations.

For an enthusiastic person like Matta to appear –

this had an extremely important catalytic effect. (Matta

and I were both "foreigners" to the New York painting

scene. Matta came from a different world, while I, an

American, had never been forced to endure what my

colleagues had.)"

Robert Motherwell

Interview with Sidney Simon: "Concerning the Beginnings

of the New York School: 1939-1943" January 1967, pp. 158-159,

in Stephanie Terenzio (ed.): The Collected Writings of Robert

Motherwell, Oxford University Press, Oxford/New York 1992

( 71 )
---
Remembering Matta

– the first artist of infinite matter?

(or maybe just of "the infinite")

It was the outstanding poet, writer, art critic and museum

curator Wieland Schmied (1929–2014) who first

personally introduced me to Matta. Wieland had been

working at the New National Gallery in Berlin in 1980.

With my colleagues and friends Christos M. Joachimides

and Nicholas Serota, I was then absorbed in researching

painters to include in the exhibition 'A New Spirit in

Painting', which was being organised at short notice at

the Royal Academy of Arts, London. It was to open on

15 January 1981. 'A New Spirit' featured 38 European

and North American painters – no women, which was

barely commented on at the time – whose work, as was

observed in the catalogue's preface, was 'full of expression

and devoid of mannerism'. This "spirit" was heralded

as a counter to the Minimalist art that was then

the principal current art making orthodoxy.

I'd always been aware of Matta's work, but it was

Wieland who helped me recognise his singular genius

and who arranged for us to meet. Wieland himself was

an extraordinary figure: a poet, art historian and friend

( 73 )
---
of many European artists and poets of the avant-garde

of his generation, he was an outstanding scholar of Surrealism

and a particular expert, as well as friend, of the

still living Giorgio De Chirico. As a man of great culture

he knew a lot about the Neue Sachlichkeit of the 1920s

and was interested in post-war German and Austrian

literature. In 1974 he had organised an exhibition of

Matta at the Kestner-Gesellschaft Hannover. Much earlier

in 1939 André Breton had officially declared Matta

as the last 'official Surrealist'. He was surely one of the

great painters of his time, a very complex individual

with an equally complicated relationship to the existing

art world – without doubt the reason he had been, and

still largely is, overlooked.

I have always been a great believer in the generational

continuity of artists at any moment in time. 'A

New Spirit' introduced many artists that we now take

for granted, but who, at the time, were barely known,

certainly in Great Britain and the United States, such

as Georg Baselitz, A.R.Penck, Gerhard Richter, Sigmar

Polke and Anselm Kiefer from Germany. Also included

were Mimmo Palladino and Sandro Chia who represented

the Italian so-called 'Transavantguardia'. The

youngest artist in the exhibition was, in fact, Julian

Schnabel who was just then beginning to make waves

in New York. Our intention was to provide a bigger pic-

( 74 )
---
ture in order to make sense of an expressionistic and figurative

tendency among contemporary painters, while

also reframing an older generation, such as Balthus,

Francis Bacon, Jean Hélion and Willem de Kooning. Picasso,

who had been dead for a decade, was included in

the show with four of his last works of 1971 and '72.

Although largely derided at the time, they now seemed

to anticipate brilliantly this 'new expressionism'. Matta

himself was an essential component, even if not in fact

seriously regarded in the exhibition. However, as a living

artist who had migrated from his birthplace of Chile

to Europe and then from Europe on to North America

with the advent of the Second World War, he had been

and still was a vital bridge between the worlds of the

great Mexican Muralists, Surrealism and Abstract Expressionism

into a vibrant present.

For 'A New Spirit' we hung Matta's paintings next

to Sigmar Polke's. Side by side, both artists' works

revealed an extraordinary affinity in terms of their

extraterrestrial understanding of space. All painters,

in their different ways, are interested in space. For

Matta, however, this was not necessarily limited to

Earthly space, not, in other words, the spaces of an

artist that are the obsession of, say, David Hockney,

or even the once revolutionary inventions of Picasso's

Cubism. Rather, Matta's sense of space, was one that

( 75 )
---
seemed then and seems now, perhaps even more so, to

speak to, even more directly than Picasso's Cubism,

the distorted space-time of Einstein and, later, the

gravitational field of the yet to be christened so-called

'Black Hole'. Space, for Matta, meant space outside

this Earth – the interstellar. Breton, leader of the Surrealists,

as well as Le Corbusier, the architect of modernity,

for whom Matta briefly worked in the 1930s,

both quickly recognized his use of space as genuinely

revolutionary in its time – the moment he started to

paint as such in 1937/8.

This was because Matta did not regard the rectangular

frame of the painting as an open window, as

the fifteenth-century Italian architect and artist Leon

Battista Alberti, writing in his treatise on painting and

perspective, De Pictura, had instructed in 1435. Even

for Cubist painting this was still the fundament. Matta,

rather, regarded the rectangular frame of the canvas as

though it were but one facet of an infinite space into

which mankind could and should look – everything,

body and mind, was part of everything that was happening

around him in a perceived totality of the cosmos.

Like Alberti before him, who was, of course, an artist

and an architect, Matta had an extraordinary, even visionary,

scientific and poetic sensibility. His sense for

space was complex and forward looking.

( 76 )
---
Roberto Matta

La Banale de Venise, 1955

Oil on canvas 204.5 x 305.5 cm 80.51 x 120.28 inches
---
He was also a figurative painter but his figures

are like beings from another planet. Alien life forms.

However, he was not, as he has been negatively labelled,

a Sci-fi artist; he was rather an artist of a very

original even scientific and anticipatory imagination.

Painting's unique quality is that it is able to describes

in pictorial form that which cannot easily be put into

words. After all, even scientists who are listening to

and looking at the universe are not literally seeing

or hearing but mediating their perceptions via representational

technologies. Matta's paintings truly

visualise other worlds.

After our introduction by Wieland, I spent a lot of

time looking at art with and talking to Matta, who kept

a small but elegant house in Edward Square in London.

He was an extremely cultivated, intellectual man. He'd

already received an excellent architectural education

in Chile. He spoke fluent Spanish, French, English as

well as Italian. He was also extremely charismatic and

sociable, which meant that once he arrived in Paris in

1934 he quickly found himself in all the right circles

and as Breton wrote "he disposes of every charm" (Breton

Selected Writings 1978 p 229).

As I got to know him better so he revealed more

about his extraordinary life. Upon arrival in Europe,

( 78 )
---
in Paris he had worked for Le Corbusier. At that time,

he told me, there was little work so he would idle away

from the studio with the boss and his colleagues meeting

everyone from Picasso to Breton. One job he was

particular proud to have collaborated/assisted on was

the design and curation of the Spanish Pavilion at the

1937 Barcelona Exhintion, which featured Picasso's

famous anti-war mural, Guernica, alongside works by

Julio González, Alexander Calder, Alberto Sánchez and

José Gutiérrez Solana. In fact, he told me that he had

helped Picasso in Paris cut out huge pieces of newspaper

which was the means by which the master designed

Guernica. Matta thus became Picasso's assistant on this

defining masterpiece of its time – that must have been a

defining experience for him too.

Like many artist intellectuals of his generation, such

as for instance my late friend the German composer

Hans Werner Henze (1926–2012), Matta was committed

to Communist-Marxist ideas and, throughout his

life, often kept company with Fidel Castro. He would

tell me stories of how they would swim naked in the

Cuban ocean! He had also known Lorca back in the

1930s who, of course, was executed for his ideological

commitment at the time of the Spanish Civil War. For

Matta Communism was central to his sense of his own

personal history and politics.

( 79 )
---
Communism was Matta's intellectual compass, but

there were other influences besides: he was also a Rabelaisian.

He adored and could quote at length the prose

of the French Renaissance humanist. What he loved

about Rabelais' Pantaguel and Gargantua above all was

their delicious obscenities and carnival-like qualities A

kind of excess of losing yourself in excess, excrement

and ecstasy. I was only one of many who he encouraged

to read him. In the lineage of Rabelais, there was also

the dissident Surrealist Georges Bataille, who he was

friends with and titled paintings in homage to – L'Éros

Bataille, for example. He often also spoke of his admiration

for the searching mysticism of P.D. Ouspensky, a

Russian esoteric who travelled extensively in the East

and whose lectures in London in the 1920s and 30s

were attended by Aldous Huxley and T.S. Eliot.

As the title of his homage to Bataille suggests, he

loved linguistic puns based on (mis)translations between

languages, so in L'Éros Bataille the Surrealist's

name is also intended to imply 'battle' – the battle for

Eros. If we triangulate Rabelais, Bataille and Ouspensky,

and perhaps place Freud in there somewhere, we get

the coordinates for a kind of grotesquery that tips into

the irrational: Matta loved thinking about the madness

of the irrationality of life within this crazy thing that is

referred to as the universe. Now, decades before these

( 80 )
---
things became common parlance, he translated the notion

of the mulitverse - he would surely have loved to

have conversed with Stephen Hawking - into his own

form of picture making with spectacular effect.

Like many of the Surrealists, he was interested in socalled

primitive art, or what the French now officially

call L'art premier. There is also a strong touch in his art

of Olmec and Toltec art, and MesoAmerican influences

in general, which was to inform his sense of texture

and palette. Today, looking at his early paintings, the

relation to Hieronymous Bosch also seems very evident

– while The Earth is a Man is perhaps a textual allusion

to The Garden of Earthly Delights (1503–1515)

both artists aside from the obvious excesses, display a

fascination with primary forms splitting and hatching

all manner of beings.

One of the artists he most clearly admired was Leonardo,

in particularly those visionary and diagrammatic

drawings he did of physical forces, as well as his mirrored

"secret" writing. Matta's understanding of painting

as inherently alchemical as well as scientific is in

some ways akin to Kandinsky's. We also can sense affinities

with the more abstracted floating architectural

cityscapes of Sant'Elia. Then there's the post-human

scenography of Fritz Lang's Metropolis (1927). Matta's

( 81 )
---
Futurism is not that of the more familiar Italian version

of Umberto Boccioni; it comes rather from the lineage of

Marcel Duchamp. Matta knew and respected Duchamp

not so much for the Readymade but rather his mystical

search for new dimensions as expressed in The Large

Glass – precisely the reason he painted an homage to it

later in 1943 titled The Bachelors Twenty Years After.

Duchamp may have been of an earlier generation and

he was inevitably an influence. While his anti-art is of a

different kind, there's a sexual force buried within Matta

that is equally as perverse and extreme as Duchamp.

However, at the time of 'A New Spirit' Matta's work

seemed like it no longer really fitted into the discourse.

It was regarded as being rather passé. In the 1940s and

'50s he'd been collected and admired with maximum

seriousness in the United States but by the '70s and

'80s there was little interest from a new generation –

something that William Rubin, writing in French was

to discuss in his essay for the great Pompidou. There

are many of interconnected reasons for this – above all

the advance of abstraction by the leading figures, in

the first instance of Abstract Expressionism that was to

define the centrality of the New York School.

In addition to his house in London, he had as his

major home a sprawling monastery near Tarquinia

( 82 )
---
in Central Italy where he did much work, as well as a

large maison behind the Musee d'Orsay in Paris. Relatively

speaking, he had few friends in London – exceptions

were Joanna Drew, then Director of art at the Arts

Council and the painter Peter de Francia, himself a

Marxist, who taught at the Royal College of Art, where

Matta was temporarily Professor. In terms of contemporary

art at that time he now seemed far from the

New York centre of the discourse, even as he continued

to make extraordinary paintings that continued to be

appreciated in Europe – Italy and Spain especially – as

well as in Central and South America.

Because he also didn't need to sell he also didn't

look to sell – though when he did, he was fully aware of

the "value" of his art. As he became increasingly disillusioned

with what he saw as the skewing of certain art

historical narratives – including his own exclusion – to

suit the North American agenda of Clement Greenberg

and Leo Castelli – both great figures in different ways

in mediating the newly found hegemony of the New

York School from which he had almost self-consciously

distanced himself. it was his privilege that enabled

him to withdraw. In his slightly self-destructive way he

was very vocal about his antipathy to these new norms

– for him either devoid of "scientific" and existential

meaning or now with Pop art for him merely ironical-

( 83 )
---
ly celebratory of modern life By the late 1970s, after

the horrifying injustices of the Viet Nam war, Matta

became militantly anti-American, both in terms of art

and politics. One of his bête noire word was 'Castelli':

And Castelli for him was almost as bad as McCarthy,

the American anti-Communist par excellence. – both

causes for him of his now, as he perceived it, marginalization

from the cannon.

Castelli had, brilliantly of course, championed the

new American Pop. Matta particularly derided Pop Art

for its fetishising of advertising and the banalities of life

– all that Pepsi and Coca Cola – symbols of advanced

American capitalism – made himself, or so he said, sick.

If they do appear in his work it tends not to be as content

but punningly referred to in titles as social critique.

It is ironic that Clement Greenberg, the champion of the

new American Abstraction, dismissed Matta as a comic

book painter given that his major thesis on Kitsch

was not, as it has been characterised, merely elitist:

for Greenberg Kitsch advanced the causes of Fascism.

Even though Matta had an amazing sense of humour

and the absurd, he hated irony – he was almost incapable

of it, unlike Rauschenberg or Johns, indeed all the

Castelli artists of Pop. These Americans, unlike Matta,

had not experienced the rise of Fascism before the war

in the same way. Knowledge of the Holocaust had also

( 84 )
---
horrified Matta. This is one of the reasons intellectuals

of all fields were such supporters of Communism: It was

seen as the only possible bastion against Fascism. In a

more literal sense, North America had earlier embraced

him: in the wake of Fascism he fled Europe for New

York where he met many of the now far more famous

New York school painters, from Rothko to Still, Gorky

to Pollock. The aggressively anti-communist world of

McCarthy as he saw it had sent him away – he was of

course not an US citizen.

Long before Wieland introduced me to Matta, the

Royal Academy had mounted in 1978 a retrospective

exhibition of Robert Motherwell's later paintings,

which the influential curator, Bryan Robertson, helped

me to stage. Robertson, earlier the great champion of

Abstract Expressionism in this country, subsequently

felt 'A New Spirit' betrayed the cause of American hegemony

by positing a return to figuration. Motherwell

had come to London for the opening. We spent time

together – there are photographs of us in the galleries

of the RA – and the subject of Matta arose. 'The person

who turned us all on,' Motherwell told me, 'was Matta.'

'He invented us all - it wasn't Mondrian or Léger or

even Breton all of whom with many others were also

refugees in New York, but Matta – he, after all, was

fluent in English, unlike the others was a seriously live-

( 85 )
---
ly interlocutor. Motherwell famously talked of Matta

delivering a six-month intensive seminar on Surrealism

in six weeks. He would convene parties in various

lofts where the soon to become legendary but then still

provincially modernist artists would practice automatic

drawing with their eyes closed. Once, Matta did a small

portrait of myself and I recall vividly how he took two

pencils in one hand, examined me intently, closed his

eyes and whipped up a frenzied drawing in five seconds

that really did resemble me! As for Joseph Beuys

much later, for him art was essentially a form of visual

thinking. When he was in his studio he must have literally

entered into a trance, throughout his entire career

realizing seemingly self-generating images of amazing

spatial and linear elegance. Just before his death I visited

him in his studio in Paris, where there were – I think

six – vast extraordinary black dense charcoal drawings

on canvas – of astonishing spatial l power – that even

now stay in my mind as witness to his visions of the

universe he could magically summon.

Aside from the fact that it was Matta who introduced

Jackson Pollock to Peggy Guggenheim, paintings

such as Guardians of the Secret (1934) or even the famous

Mural (1943) wouldn't have happened without

his presence in New York. Later Pollock's defining drip

paintings' complex layering of space have very clear af-

( 86 )
---
finities with Matta's layered spaces. Arshile Gorky, the

Armenian painter who came to New York in 1920, had

been in essence an epigone copier – a perfectly reasonable

imitator of Picasso and later Matta with paintings

such as The Liver is the Cock's Comb (1944). Like all

of Gorky's later paintings they are highly dependent on

Matta's visual language, even if in them in their fluidity

of execution Gorky did most certainly find a genuinely

beautiful free and tragic voice of his own.

Aside from in Chicago and to some degree in Florida,

he was and continues to be virtually unacknowledged

in North America. Many of his early paintings can be

found in collections in the Midwest. Chicago had a very

good relationship with Surrealism. American Surrealists

such as Joseph Cornell were focused in the world of

Chicago and there are echoes of Matta's figuration even

in the imagists of the post-war period, such as H.C.

Westermann, Ed Paschke and the artists of The Hairy

Who. In 1985, William Rubin, Chief Curator of the Museum

of Modern Art and and a huge admirer of Matta,

whom he acknowledged as a true influence on himself

as well as on the New York school in general. By now

though he was arguably the most influential person in

modern art in New York, even more so than Clement

Greenberg. But he seems, nonetheless, to have been unable

to mount a Matta survey show at his own muse-

( 87 )
---
um, then still perceived as the high temple of modern

art. Instead it was to take place only in the Pompidou

Museum under its founding Director Dominique Bozo

who in close collaboration with Rubin who was to write

– but in French only of his understanding of Matta's

continued significance as a great artist.

Later, perhaps a decade after 'A New Spirit', I introduced

Matta to a young and wildly ambitious artist

called Damien Hirst in his then famous Science restaurant

in Notting Hill. It seemed important that he

be known by younger artists. They seemed to get on

famously, perhaps because they were both social animals.

Hockney who also lived literally around the corner

when he was in London who has made his outstanding

career of painting based on literal observation

by the eye, was not interested in Matta. Hirst, like

Matta, however, has a secretive, complex, perhaps even

dark, side to him – a turn inwards that is simultaneously

a pushing outwards beyond the confines of seeming

and seeing actuality. Hirst's Spot Paintings, which

he'd recently started working on at the time, might at

first sight seem banal and decorative but in reality they

are effective metaphors – like those of Matta - of the vibrating

particles that telescope between the micro and

the macro, urging us to reflect on the randomness of

the universe.

( 88 )
---
Matta, rather than talk of landscapes, referred to

his paintings as 'inscapes'. This play of language links

Matta perhaps to the inward mysticism of Kandinsky,

which extends further back to the mystical worlds conjured

up Madame Blavatsky. On a compositional level,

a painting such as Kandinsky's Composition V (1911)

is architecturally constructed. Matta was a painter,

he was a writer and he was, before anything else, an

architect and it was such that he always aggressively

escribed himself. Today, the scientists of Silicon Valley

often think of themselves as 'architects': in as much as

architecture is spatial and multi-sensory, Matta was indeed

a space explorer and architect avant la'lettre. If

properly presented, Matta could yet have a huge influence

on a contemporary art in that world of what was

once called new media and the web – i.e. the all-pervasive

network – which he constantly anticipates in all his

multi-dimensional paintings. His huge mural paintings

that can often extend up to 20 meters long, appear, like

Monet's series 'Water Lilies', at one level as immersive

environments, enveloping fields. We peer into Monet's

ponds and see an infinite micro-universe; we peer into

Matta's paintings and it's like looking into the endless

space of the cosmos through his mind's eye. Today

knowledge of Matta's work can help us make sense for

instance of the great surfing paintings of Julian Schnabel.

His monumental works speak to the jagged forms

( 89 )
---
of Richard Serra's steel sculptures and equally the land

art of Robert Smithson's Spiral Jetty. But in so many

senses, yet to be fully explored they go conceptually

and image-wise even further.

When I took Dawn Ades, the most noted historians

of Surrealism and the art of twentieth-century South

America, to lunch to discuss who could help get together

a book on Matta she said she would like to do it herself,

which is indeed a measure of Matta's importance.

Bridging South America, Europe and North America,

he was the last of the Surrealists; certainly the artist

who pressed the button on the New York School. In

Matta there is perhaps at last the potential to rediscover

one of the greatest and most visionary artists of the

twentieth century.

Norman Rosenthal

London, 2018

( 90 )
---
Concept

Krystyna Gmurzynska, Mathias Rastorfer

Coordination

Alessandra Consonni

Essays by

Dawn Adès, Norman Rosenthal

Images

© association Atelier André Breton, www.andrebreton.fr

© John and Trude Schiff papers, courtesy Leo Baeck Institute

ISBN 978-3-905792-09-6

© galerie gmurzynska, 2018
---
Quotes:

"Still a young man, Matta is the most profound painter of his

generation."

Marcel Duchamp: Matta, in: Collection of the Société Anonyme:

Museum of Modern Art 1920, Yale University Art Gallery, New

Haven 1944, p. 91–92.

"Duchamp has found the key whereby to liberate the images from

their common meaning and to represent the object by an image

which is pliable to the mechanism of sight and expands the consciousness.

He has broken the association between the object and

the onlooker, and in breaking down these limitations, frees the

spirit of man."

Katherine S. Dreier and Matta Echaurren: Duchamp's Glass: La

Mariée mise à nu par ses Célibataires, même...: An Analytical Reflection,

in: Entretiens Morphologiques: Notebook N° 1, 1936–1944

[Matta Notebooks 1], p. 182–183.

Originally published by Société Anonyme / Museum of Modern Art,

New York 1944.

"Matta became the only painter after Duchamp to explore wholly

new possibilities in illusionistic space"

William S. Rubin, Curator and Director of the painting and sculpture

department at the Museum of Modern Art, New York, from

1968 to 1988.

Dada & Surrealist Art, Abrams, New York 1985