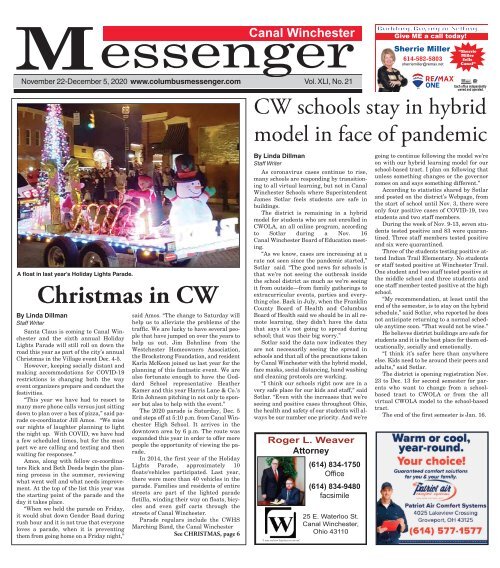 Canal Winchester Messenger - November 22nd, 2020
Create successful ePaper yourself
Turn your PDF publications into a flip-book with our unique Google optimized e-Paper software.
Messenger

Canal Winchester

November 22-December 5, 2020 www.columbusmessenger.com Vol. XLI, No. 21

A float in last year's Holiday Lights Parade.

Christmas in CW

By Linda Dillman

Staff Writer

Santa Claus is coming to Canal Winchester

and the sixth annual Holiday

Lights Parade will still roll on down the

road this year as part of the city's annual

Christmas in the Village event Dec. 4-5.

However, keeping socially distant and

making accommodations for COVID-19

restrictions is changing both the way

event organizers prepare and conduct the

festivities.

"This year we have had to resort to

many more phone calls versus just sitting

down to plan over a box of pizza," said parade

co-coordinator Jill Amos. "We miss

our nights of laughter planning to light

the night up. With COVID, we have had

a few scheduled times, but for the most

part we are calling and texting and then

waiting for responses."

Amos, along with fellow co-coordinators

Rick and Beth Deeds begin the planning

process in the summer, reviewing

what went well and what needs improvement.

At the top of the list this year was

the starting point of the parade and the

day it takes place.

"When we held the parade on Friday,

it would shut down Gender Road during

rush hour and it is not true that everyone

loves a parade, when it is preventing

them from going home on a Friday night,"

said Amos. "The change to Saturday will

help us to alleviate the problems of the

traffic. We are lucky to have several people

that have jumped on over the years to

help us out. Jim Bohnline from the

Westchester Homeowners Association,

the Brockstrong Foundation, and resident

Karla McKeon joined us last year for the

planning of this fantastic event. We are

also fortunate enough to have the Goddard

School representative Heather

Kamer and this year Harris Lane & Co.'s

Erin Johnson pitching in not only to sponsor

but also to help with the event."

The 2020 parade is Saturday, Dec. 5

and steps off at 5:10 p.m. from Canal Winchester

High School. It arrives in the

downtown area by 6 p.m. The route was

expanded this year in order to offer more

people the opportunity of viewing the parade.

In 2014, the first year of the Holiday

Lights Parade, approximately 10

floats/vehicles participated. Last year,

there were more than 40 vehicles in the

parade. Families and residents of entire

streets are part of the lighted parade

flotilla, winding their way on floats, bicycles

and even golf carts through the

streets of Canal Winchester.

Parade regulars include the CWHS

Marching Band, the Canal Winchester

See CHRISTMAS, page 6

Roger L. Weaver

Attorney

"A name you know, Experience you can trust"

(614) 834-1750

Office

(614) 834-9480

facsimile

25 E. Waterloo St.

Canal Winchester,

Ohio 43110

Building, Buying or Selling...

Give ME a call today!

Sherrie Miller

614-582-5803

sherriemiller@remax.net

"Sherrie

Miller

Sells

Canal"

Each office independently

owned and operated.

CW schools stay in hybrid

model in face of pandemic

By Linda Dillman

Staff Writer

As coronavirus cases continue to rise,

many schools are responding by transitioning

to all virtual learning, but not in Canal

Winchester Schools where Superintendent

James Sotlar feels students are safe in

buildings.

The district is remaining in a hybrid

model for students who are not enrolled in

CWOLA, an all online program, according

to Sotlar during a Nov. 16

Canal Winchester Board of Education meeting.

"As we know, cases are increasing at a

rate not seen since the pandemic started,"

Sotlar said. "The good news for schools is

that we're not seeing the outbreak inside

the school district as much as we're seeing

it from outside–from family gatherings to

extracurricular events, parties and everything

else. Back in July, when the Franklin

County Board of Health and Columbus

Board of Health said we should be in all remote

learning, they didn't have the data

that says it's not going to spread during

school; that was their big worry."

Sotlar said the data now indicates they

are not necessarily seeing the spread in

schools and that all of the precautions taken

by Canal Winchester with the hybrid model,

face masks, social distancing, hand washing

and cleaning protocols are working.

"I think our schools right now are in a

very safe place for our kids and staff," said

Sotlar. "Even with the increases that we're

seeing and positive cases throughout Ohio,

the health and safety of our students will always

be our number one priority. And we're

going to continue following the model we're

on with our hybrid learning model for our

school-based tract. I plan on following that

unless something changes or the governor

comes on and says something different."

According to statistics shared by Sotlar

and posted on the district's Webpage, from

the start of school until Nov. 3, there were

only four positive cases of COVID-19, two

students and two staff members.

During the week of Nov. 9-13, seven students

tested positive and 83 were quarantined.

Three staff members tested positive

and six were quarantined.

Three of the students testing positive attend

Indian Trail Elementary. No students

or staff tested positive at Winchester Trail.

One student and two staff tested positive at

the middle school and three students and

one staff member tested positive at the high

school.

"My recommendation, at least until the

end of the semester, is to stay on the hybrid

schedule," said Sotlar, who reported he does

not anticipate returning to a normal schedule

anytime soon. "That would not be wise."

He believes district buildings are safe for

students and it is the best place for them educationally,

socially and emotionally.

"I think it's safer here than anywhere

else. Kids need to be around their peers and

adults," said Sotlar.

The district is opening registration Nov.

23 to Dec. 13 for second semester for parents

who want to change from a schoolbased

tract to CWOLA or from the all

virtual CWOLA model to the school-based

tract.

The end of the first semester is Jan. 16.
---
PAGE 2 - MESSENGER - November 22, 2020

www.columbusmessenger.com

Holiday Help available in Hamilton Township

By Linda Dillman

Staff Writer

Seventeen years ago, a community partnership in

Hamilton Township stepped up to help out needy families

and, while the group itself dissolved a few years later, four

core members keep the program going because need never

goes away.

Starting out small in 2003 while the group learned the

limits on what it could do, Hamilton Local Schools Public

Relations Director Vince Payne said approximately a

dozen families who received clothes, gifts, and staple food

items the first year.

"The program began by supporting 10-12 families and

grew to annually support 60-65 families, totaling nearly

300 children," said Payne. "The program was initially

based at the Hoover Y Park when we had less than 30 families

served. When the program grew to more than 30 families,

we moved to what used to be Grace Ministries

Church on Rathmell Road. While the program was based

there, it grew to the 60-65 families we now support annually."

Organizations participating in the 2020 Holiday Help

program are Hamilton Local Schools faculty and staff,

God Bless Everyone

& Stay Safe at Home

Malek &

ATTORNEYS AT LAW

Malek

WORK INJURIES

WORKERS'

COMPENSATION

SAFETY VIOLATIONS

WRONGFUL DEATH

PERSONAL INJURY

SLIP & FALL INJURY

DOG BITE INJURY

Douglas, Ed, Jim

and Kip Malek

Ben Churchhill

"Hablamos Español"

FREE Initial Consultation

www.maleklawfirm.com

614-444-7440

1227 S. High St., Columbus, OH 43206

LeaveAMark Church, Obetz Church of the Nazarene, "We are seeing more families needing support due

Church on Como, Kraft Distribution Center, Hamilton to unemployment caused by the pandemic,"

Township Fire Department, Obetz Dairy Queen, and

Hamilton Local Schools Public Relations Director

Kelly's Market.

Payne said there is a need in most communities for programs

like Holiday Help that support families during the

Vince Payne

holidays and even year-round. There are a variety of reasons

that the need for help arises.

"adopt" an individual or family and go shopping for their

items. Payne said it is up to the person or organization on

"We are seeing more families needing support due to

what they want to do and Holiday Help organizers are

unemployment caused by the pandemic," said Payne.

always ready to work with those who want to donate their

"They are trying to work their limited resources to keep

time or resources.

their homes, keep their heat on, and keep their families

School guidance counselors identify families and reach

fed. We are doing what we can, with the resources we

out to offer the program's support. Holiday Help workers

have, to help as many families in our community as possible.

Programs like this help take the stress off of families

will distribute items to families on Dec. 17, so they have

time to prepare for the holiday.

who may be trying to decide between paying bills or providing

their children something for the holiday. Programs

"We can always use support through adoption or donation,

and we want to give thanks to all those who make

like this bring communities together to lift up those who

this program possible each year," said Payne.

need a boost. Programs like this can provide hope to those

For information on the Holiday Help program, contact

who may lose that feeling around the holidays. Our program

is here to help our community as much as our

Deb Dunn or Sandy Goldbach at LeaveAMark Church -

614-491-5262. The cut-off date to bring items to the church

resources will allow."

is Dec.15.

People annually provide new toys, donate funds, or

CW's anti-racism law delayed

By Linda Dillman

Staff Writer

Canal Winchester City Council's plans to adopt a

resolution condemning racism in the city was put on

hold following last-minute information and questions

during its Nov. 16 work session.

"This is an opportunity to take this a step closer,"

said Councilman Pat Lynch, who suggested getting

together with the community and setting a date where

everyone can meet together.

Council members expressed a desire to present a

single uniformed resolution and want to find common

ground on which the whole group can agree.

Councilman Mike Coolman said he would still like to

hear information from Franklin County.

"Franklin County manages a lot larger turf with a

lot more people," Coolman said. "I would like one uniform

piece of legislation to move forward."

Council President Mike Walker said COVID-19 and

waiting for Franklin County (for a workable arrangement

to meet with council) are a big part of the wait to

pass a resolution.

"It's important to get this correct and right," Walker

said.

Councilwoman Jill Amos, who collaborated with

Councilman Chuck Milliken on the resolution, said

council needs to set a deadline for action. She felt the

community is losing faith in the council.

"I think we need to keep a solid promise to our community,"

said Amos.

Councilman Will Bennett said it was in the best

interest of council to present one item, but cautioned

"School Help" at library

The Columbus Metropolitan Library - South High

Branch has a new School Help webpage, where K-12

students can get help with homework and reading The

webpage features: Online K-12 homework help, with

staff ready to answer homework questions and help

with reading practice via text, chat, and phone

Monday through Friday 9 a.m.-5 p.m. Video tutorials

with step-by-step instructions on how to use key homework

tools. HelpNow, a resource that offers 24-hour

they were not "ready to run" yet. He advised council to

set its sights and make it achievable.

"This is something that will not be done with one

ordinance," said Bennett. "People need to know this is

our first step."

Milliken, Amos and Lynch planned to meet before

the next council meeting and discuss the resolution

before presenting suggested language to the full council.

Water and sewer fees

Council approved a pair of ordinances setting water

and sanitary sewer use fees until 2022. The domestic

water and sprinkler rates per 1,000 gallons are currently

$6.33 and will not rise for more than a year for users outside

the special water allocation district.

The bulk water rate charge per 1,000 gallons

remains steady through the beginning of 2022 at $8.90.

The sanitary sewer user fee charge is $5.88. With the

approval of the ordinance and forgoing a scheduled fee

increase in 2021, the rate will not change until Jan. 1,

2022. Both utility funds exceeded anticipated fund performances

over the past two years, which reduced the

need for a scheduled increase.

Leaf pick-up

The city of Canal Winchester will provide curbside

leaf collection through Dec. 11. To avoid water backup

in the event of rain, leaf piles must be placed behind

the curb along the street. Leaf piles may contain leaves

only, as sticks, grass trimmings and other yard waste

can cause damage to leaf collection equipment. Regular

yard waste will continue to be picked up by Rumpke of

Ohio during scheduled trash collection.

access to study tools and test preparation, plus online

tutors available every day from 2-11 p.m.

For information refer to the South High Branch or

call 614-645-2275.

Southeast Library

The Southeast Branch of the Columbus

Metropolitan Library, 3980 S. Hamilton Road,

Groveport, 614-645-2275, is open Monday-Thursday: 9

a.m. - 7 p.m.; Friday: 9 a.m. - 6 p.m.; Saturday: 9 a.m.

- 6 p.m.; and Sunday: 1-5 p.m.
---
www.columbusmessenger.com

November 22, 2020 - MESSENGER - PAGE 3

Metro Parks' prairies rise from the ashes

Controlled

fires help to

enrich the

land

By Rick Palsgrove

Managing Editor

Winter's cold is coming,

but some Metro Parks are in

for a hot time.

Prairie areas in a few of

the area Metro Parks will

undergo what is described as

a "prescribed burn," where

controlled fires are set to

"inhibit invasive species and

boost new growth of native

plants in prairies, grasslands,

and oak woods," according to

Metro Parks Assistant

Resource Manager Carrie

Morrow.

Metro Parks Public

Information Manager Peg

Hanley said two such burns recently took place at

Pickerington Ponds and Battelle Darby Creek. She said

Prairie Oaks had a prescribed burn earlier this year, but,

locally, Three Creeks, Slate Run, and Walnut Woods will

not have a prairie burn this year.

"We burn in the spring and fall in the dormant seasons

- spring before plants and grasses have grown and fall

A worker sets a controlled prairie burn in one of the Metro Parks.

after the frost has killed the plants above ground," said

Hanley. "Prairies recover quickly. After an early spring

burn, it will green up almost immediately. Nature is

resilient."

Hanley said the burns are conducted by members of the

burn team, which is made up of park technicians and staff

from the resource management team.

According to information provided by Metro Parks, the

prescribed burns:

•Maintain the health of existing

natural areas, restore nutrients, habitat

restoration, control invasive plants

and shrubs, and encourage new

growth of native vegetation.

•Are better than mowing because

they are a natural management tool

used throughout history and are a

force much like wind or water that

imitates nature. Native Americans

and pioneers in the past set controlled

prairie fires to help the land. Also,

prairie habitats developed over centuries

where natural fires played a

role in maintaining areas for a diversity

of species.

In an online blog written for Metro

Parks, Morrow stated the prescribed

burns are performed on a rotating

basis in selected parks every two to

five years. The burned areas promote

new growth and germinating seeds, as

well as eliminate young trees, shrubs,

and other invasive plant species. The

fires allow prairie wildflowers and

grasses to rejuvenate and spread.

When asked how the prescribed

prairie burns affect the wildlife in the

burn areas, Hanley said, "To protect

wildlife, our staff conducts a walk

through of the site before burning which causes some animals

to exit the area. We begin slow and light the main

head fire last. Birds simply fly off. Deer and other mammals

can scurry and bound away quickly and mice and

voles can burrow in the ground."

For information on Metro Parks, visit metroparks.net.

Photo courtesy of Tina Copeland

CW bed tax grant program

news briefs

The city of Canal Winchester is now accepting

applications for its 2021 Transient Occupancy Tax

(Bed Tax) Grant Program.

The grant program is open to nonprofits or private

organizations located within the city of Canal

Winchester to help fund projects that will enhance

Canal Winchester for residents and/or visitors to the

community. Grants are funded with the hotel/motel

tax revenue collected by the City of Canal Winchester.

Canal Winchester has levied a 6 percent Transient

Occupancy Tax (Bed Tax) that is imposed when lodging

is furnished to transient guests by a hotel, motel or

similar business. One half (3 percent) of this tax is contributed

to Destination: Canal Winchester, the designated

visitors and convention bureau for Canal

Winchester. The second half of the tax has been designated

by Canal Winchester City Council to fund the

annual Bed Tax Grant Program.

Grant applications will be competitively reviewed

and awards will be made to those projects meeting all

requirements and the intent of the program. Grant

applications are currently available on the city's website.

Completed applications must be submitted by

mail or email to the attention of the finance director no

later than Nov. 30. City council will make award determinations

in December. Award checks will be drawn in

2021 and all awards must be used in 2021. For information

contact Amanda Jackson, finance director at

614-837-6937 or ajackson@canalwinchesterohio.gov.

Wagnalls Memorial Library

Wagnalls Memorial Library, 150 E. Columbus St.,

Lithopolis, is open Monday — Wednesday 10 a.m. — 5

p.m.; Thursday 10 a.m. — 8 p.m.; Saturday 10 a.m. — 2

p.m. and closed on Friday and Sunday. For information

call (614) 837-4765 or visit www.wagnalls.org.

Upcoming events and activities:

•The Virtual Game of Soups - The Game of Soups

is virtual this year. Wagnalls wants you to share your

favorite soup recipes with the community. Send your

family favorite soup recipes to be compiled into a community

recipe book that you can download and print or

check out from the library. Email your recipe to Sarah

at smayzum@wagnalls.org or drop off your recipe at

Wagnalls Include your name and city you live in.

Optional: Do you have a handwritten copy of your

recipe handed down from generation to generation?

Do you have a photo of your great grandmother who

created the recipe? Share any stories or photos in your

email. If you need help scanning a photo or handwritten

recipe so it can be included, a staff member can

help you at the library. Deadline is Nov. 23 at 5 p.m.

•Checkers TV is a monthly educational video series

for elementary aged children at Wagnalls.org. Join

Checkers the wacky inventor and his robot sidekick,

Snoozer, as they make scientific discoveries with special

guests including medical professionals, community

leaders, and many others. Children will look forward

to each new installment of this educational

series, with seasonal themes in every video.

LIST YOUR

CHRISTMAS WEEK SERVICES

ON OUR CHRISTMAS CHURCH PAGE

in The South/Canal Winchester or

Groveport Messengers

The page will print in

our December 20th issue

The deadline for this year's Christmas Church Page

is Friday, December 11th at 2:00 pm.

Call Kathy

for More

Information

614-272-5422

AREA

CHRISTMAS

WORSHIP

SERVICES

Groveport Zion Lutheran Church

6014 Groveport Rd., Groveport 43125

614-836-5611

Pastor Matthew Cox

SAMPLE

Christmas Eve Candlelight Service at 7:00 pm

Christmas Day Service at 10:00 am

Communion celebrated at both services
---
PAGE 4 - MESSENGER - November 22, 2020

columbusmessengenger.com

Letters policy

The SOUTH MESSENGER welcomes

letters to the editor. Letters cannot be

libelous. Letters that do not have a signature,

address, and telephone number, or are

signed with a pseudonym, will be rejected.

PLEASE BE BRIEF AND TO THE

POINT. The Messenger reserves the right

to edit or refuse publication of any letter for

any reason. Opinions expressed in the letters

are not necessarily the views of the

Messenger. Mail letters to: SOUTH MES-

SENGER, 3500 Sullivant Avenue,

Columbus, OH 43204; or email

eastside@columbusmessenger.com.

Keep tabs on the news in Canal

Winchester and Hamilton Twp.

Look for South Messenger on

Become a fan!

eastside

Messenger

(Distribution: 16,822)

Rick Palsgrove................................South Editor

eastside@ columbusmessenger.com

Published every other Sunday by

The Columbus Messenger Co.

3500 Sullivant Ave., Columbus, Ohio 43204-1887

(614) 272-5422

column

First railroad trip, 1868

There's something about railroad tracks

and trains that seem intertwined with being

an American.

Maybe it's the wanderlust in us that gets

heightened when we see the sunlight shining

on those steel rails extending off into the

horizon. Maybe it's the power and strength of

a railroad's industrial nature that speaks to

us. Maybe it's how trains are chronicled and

romanticized in songs, stories, and photos

that reaches something deep within us. That

urge to, "light out for the territory," as Mark

Twain wrote, is strong in us.

Local historian David Meyer, recently

shared an interesting old newspaper clipping

with me about the history of the railroad in

southeastern Franklin County.

"I thought you might enjoy reading about

the Hocking Valley Railroad in 1868," Meyer

wrote to me in an email where he had

attached a digital version of the news clipping

from the Ohio State Journal dated July

17, 1868.

The article reported on riding along on the

first trip on the Columbus and Hocking

Valley Railroad, which at that point ran from

Columbus to Canal Winchester.

This rail line opened from Columbus

through Groveport and Canal Winchester in

the summer of 1868 and, when completed a

few months later, ran further southeast to

Lancaster and Nelsonville. The railroad

proved to be a boon to Canal Winchester and

Groveport because it provided both towns

with a faster way of shipping farm goods and

freight as well as offering swifter passenger

service than the Ohio and Erie Canal. The

steel rails' efficiency eventually drove the

canal out of favor and business.

But, back to the Ohio State Journal article

of 1868. Besides the news reporter, the others

on this trip were: M. M. Greene, Hocking

Valley Railroad President; B. E. Smith,

President of the C, C. & I. C. Railway; Col.

Manypenny, one of the lessees of the Ohio

Canals; Barker Brooks, Theodore Comstock,

John Graham, John J. Janney, and Major W.

C. Faxon.

The article begins: "Bless me, this is pleasant,

riding on a rail! Yesterday a very pleasant

little party of gentlemen had the satisfaction

of making a trial trip as far as the track

is laid. The rails are down to within sight of

Canal Winchester, near 14 miles. The road is

not ballasted, but is as smooth as most of the

older roads that are. The grade is almost

nothing. The heaviest grade on the whole

road through to Athens is a short piece of

road this side of Big Belly, or Walnut Creek.

It is only 26 feet to the mile, and is almost

imperceptible."

The Ohio State Journal reporter noted the

most difficult task in the laying of the rails

was "the filling of a peat bog just beyond Big

Belly," as he noted the earthwork often sank

until it finally reached a solid point.

"A bridge for the stream at Canal

Winchester is already framed, at the yards in

www.columbusmessenger.com

Editor's Notebook

this city, and will be

ready for erection by

the time the track is

laid to the point where

it is needed," according

to the 1868 article.

"The work is going

ahead rapidly, and by

the first of September

the cars will be running

through to

Lancaster. The president

says no passenger

car shall be run on the

road until after it is ballasted."

Rick

Palsgrove

The reporter wrote that "an immense

amount of freight is waiting shipment over

the road." It included "three-quarters of a

million bushels of grain at Groveport, and

other points up to Winchester. In addition to

this, there are quantities of livestock. The

shippers are very urgent for cars to be furnished

immediately. The work on the road is

being done swiftly and economically, under

the consummate management of Mr. Greene,

backed by the energetic contractors, Dodge,

Case & Co. It will pierce the coal region the

coming fall."

See RAILROAD, page 5

Our Pictorial Past by Rick Palsgrove

SUPPORT

your

Community Paper

Through advertising, community newspapers like the

Messenger have always been FREE papers. In these

tough economic times we are asking you the reader to

help offset the current decline in advertising revenue by

participating in a VOLUNTARY payment program*.

To those who have already participated -

We Thank You.

For those who would like to, below is a form

you can mail with your DONATION.

*This is not a subscription.

.Name:

Address:

City/State/Zip

3500 Sullivant Ave., Columbus, OH 43204

1 year ($9) 2 year ($18)

Eastside Westside Southwest

Southeast

Photo courtesy of

Joan Slagle

Motorcycle

guys

The Bryan Machine

Company was once

located along Brook

Alley in Groveport just

north of Main Street

and south of Hickory

Alley. Pictured here

are some fellows posing

with a motorcycle

just outside the Bryan

Machine Company.

The year of the photo

is not known, but it

could be from the

1950s, 1960s, or the

early 1970s. "The guy

on the motorcycle is

my husband, Jay

Slagle," said Joan

Slagle of Canal

Winchester, who submitted

the photo to

the Messenger newspaper.

The other men in the photo are not identified. Can you help identify the other men in the photo?
---
www.columbusmessenger.com

RAILROAD

Continued from page 4

The reporter stated the trip on the new

railroad from Columbus to Groveport was

comfortable and took 30 minutes.

Some ceremonial aspects of the trip

proved to be entertaining to bystanders and

railroad workmen: "...each gentleman of the

party had been required to drive a spike,

with the most unapproachable awkwardness,

to the intense amusement of the workmen..."

The article provides perspective on the

importance of this new railroad from

Columbus to southeast Ohio, stating it

opened up an area untouched by "modern

enterprise almost, by lack of facilities for

transportation. It is a region rich beyond

comparison in agricultural and mineral

wealth, and it is of incalculable importance to

Columbus that her businessmen lay hold of

the cords the two slender bars of iron which

are to bind all this region in community of

interest with Columbus. It requires only

energy and enterprise, judiciously applied,

and Columbus may take her place among the

richest inland cities of the continent."

This railroad route still serves trains that

pass through Groveport and Canal

Winchester. These tracks are a functional

link to the past.

Though no more passenger trains stop in

the area and the freight trains that chug

through are fewer than during this railroad's

heyday, I think the folks who took that first

train ride on this railroad line in 1868 would

The Groveport train depot as it looked in

the mid-20th century. The depot was torn

down in the 1960s. Canal Winchester's

"Queen of the Line" depot still stands

along the tracks near North High Street.

(Photo courtesy of the Groveport

Heritage Museum).

be pleased to see the tracks and trains continue

in the 21st century to do the job they

were meant to do.

Rick Palsgrove is managing editor of the

Columbus Messenger Newspapers

(Editor's note: For those interested in a

detailed and comprehensive history of the

Hocking Valley Railway, I highly recommend the

book, "The Hocking Valley Railway," by Edward

H. Miller. The book is chock full of interesting

information and photos and is a great read.)

columbusmessengenger.com

November 22, 2020 - MESSENGER - PAGE 5
---
PAGE 6 - MESSENGER - November 22, 2020

Township Police statistics

October crime statistics from the Madison

Township Police: 87 traffic stops, 1 assault,

50 assist/mutual aid, 4 burglary, 30

domestic complaints, 19 suspicious persons,

9 suspicious cars, 17 larceny/thefts, 12

threats or harassment, 89 traffic stops, 12

vandalism, 3 rapes, 19 parking, 6 accidents

with injuries, 1 fight, 5 shots fired in area,

CHRISTMAS

Continued from page 1

Labor Day queens and their court, and

Santa. This year, Amos said to expect a

lawn mower riding along the parade route

and, although she keeps trying to convince

someone to pull a boat in the parade, no one

has taken her up on it yet.

Christmas in the Village, a partnership

between the city and Destination:Canal

Winchester, will be held Dec. 4-5 from 6-9

p.m. with drive-thru Santa visits. Residents

will drive down Liberty Street via Washington

Street to the Stradley Park greenspace

behind the municipal building where Santa

awaits his visitors along with some special

friends like Rudolph, Frosty and Gingy the

gingerbread woman, who will hand out special

surprises.

Participation in the drive-thru event is

limited to those inside vehicles. No walk-up

visitors will be permitted.

The Queen of the Line Depot along the

railroad tracks will be lit during the event

and members of the Canal Winchester Area

and 17 property damage accidents.

Wagnalls Memorial Library

Wagnalls Memorial Library, 150 E.

Columbus St., Lithopolis, is open Monday

— Wednesday 10 a.m. — 5 p.m.; Thursday 10

a.m. — 8 p.m.; Saturday 10 a.m. — 2 p.m. and

closed on Friday and Sunday. For information

call (614) 837-4765 or visit www.wagnalls.org.

Historical Society will sell vintage Canal

Winchester street signs and wreaths inside

the Hockman Room in the O.P. Chaney Elevator

from 9 a.m.-noon on Dec. 5.

"What our families need is something

that hasn't changed, except for the better,"

said Amos. "We have said or heard this is an

unprecedented year too many times. To

close out the year, I want unprecedented in

the city of Canal Winchester to mean that

the parade went on and was more magical,

the stores opened their doors with the magic

of the holidays safely for us to enjoy, and the

mayor and his group worked magic making

Christmas in the Village still something for

families to enjoy. I want unprecedented to

stand for the strength in this community in

making the magic of the season come alive."

For information visit www.cwholidaylightsparade.com

or contact Karen Stiles,

Destination:Canal Winchester Executive

Director at 614-270-5053.

Veterans Day in Canal Winchester

www.columbusmessenger.com

Messenger photos by Linda Dillman

Members of Canal Winchester VFW Post 10523 (above) step off from the grounds of

the Canal Winchester Historical Society complex on North High Street on Nov. 7 during

the city's annual Veterans Day celebration. (Below) Members of Cub Scout Pack

103 carry a banner welcoming veterans during the Veterans Day parade.

Messenger

available in

area

Besides home delivery

in "The Bag"

and in the Sunday

Dispatch, the Canal

Winchester Messenger

is also available

at the following locations:

Frances

Steube Senior/Community

Center, The

Wig Wam Restaurant,

Shade on the

Canal, Canal Winchester

Library,

Canal Winchester

Municipal Building,

Huntington National

Bank in

Canal Winchester,

and Wagnalls Memorial

in Lithopolis.
---
www.columbusmessenger.com

November 22, 2020 - MESSENGER - PAGE 7

Take care of your tree

Christmas trees are an iconic symbol of the

holiday season. Whether they are personal

trees nestled in the corner of a living room for

families to enjoy or towering evergreens serving

as the focal point of a town square, Christmas

trees are a wonder to behold.

Maintenance can help keep Christmas

trees as perfect as possible.

• Even though it is tempting to buy a

real tree as early as possible, their shelf life

is limited even with the best care. Dural

Christmas Tree Farm advises that, under

the best conditions, a real tree should last

up to four weeks before drying out.

• Consider the needles when looking for

a real tree. Pull your hand toward your body

along the branches. If many needles fall off,

the tree is past its peak.

• Think about the room in which the tree

will be located. Leave at least six inches between

the tip of the tree and the ceiling, accounting

for the height of the tree stand as

well.

• If needle retention is a goal, the Scotch

pine variety has the best needle retention

and a high survival rate, lending to its popularity,

offers Precision Tree and Landscape.

Douglas fir and balsam fir are other

durable trees.

• If possible, buy a freshly cut tree from

a reputable nursery or tree farm, advises

The Old Farmer's Almanac. Many pre-cut

trees sold elsewhere were likely cut weeks

before and may not be fresh.

• Cut the bottom of the tree trunk before

bringing it home to facilitate the uptake of

fresh water daily. Trees can absorb as much

as a gallon of water in a day, so make sure

the tree gets fresh water every day.

• Keep trees away from as many heat

sources as possible and away from direct

sunlight to prolong longevity.

• According to Karabin Farms in Connecticut,

to make a Christmas tree last

longer, boil a gallon of water and then dissolve

one cup of sugar in the water.

Allow to cool. After freshly cutting the

trunk, pour in the warm sugar water.

Continue to add fresh, cool, plain water

to the tree stand afterward.
---
PAGE 8 - MESSENGER - November 22, 2020

A film that features a body switch is all

about the transformation process.

After the initial magic is activated to

transport one's soul and personality into

another individual, the rest is all about

those people realizing stuff and things

about themselves and trying to change for

the betterment — for the most part. The latest

film to explore this premise does not

veer far from that well-trodden path, but it

does shake up the routine by including an

extremely high body count.

Shown only in theaters at this time,

"Freaky" is equal parts body switch horror,

a love letter to the 1980s slasher, and a

message about finding hidden strength

through life's challenges. While taken at

face value, these themes appear to be at

odds with each other, but they all come

together to create one of the most bizarrely

entertaining films of the year.

The main protagonist of the movie is

Millie Kessler (Kathryn Newton), a shy

and sensitive teenager who is still coming

to terms with the death of her father the

year prior. With her conservative dress and

meek manner, it makes her a target for the

popular crowd at school, but she is not

without a small and loyal group of friends

entertainment

www.columbusmessenger.com

"Freaky" is oddly heartwarming in a weird kind of way

and fellow outcasts.

Upon suffering a public embarrassment

at the hands, or drinking cups, of a few

football players at a homecoming game,

Millie's day only gets worse as her mother

forgets to pick her up after the festivities.

Wearing half of her beaver mascot (she

tells her friends extracurriculars look good

on transcripts), she spots a masked man

standing underneath the dim lights of the

parking lot. Suitably freaked out by this

strange encounter, it dawns on her that

this is not a mere masked man trying to

scare her, it is the urban legend serial

killer known as the Blissfield Butcher

(played by Vince Vaughn).

After a slightly tense but hilarious

chase throughout the bleachers and football

field (she is still wearing half of that

beaver costume), she is caught by the

Butcher who appears to be wielding some

ancient dagger. As he goes in for the kill,

he is distracted by the appearance of her

police officer sister but manages to get a

good puncture to the shoulder.

Inexplicably, as her shoulder starts to

bleed, so does his and thus begins the magical

transformation process.

When Millie wakes up the following

The Reel Deal

morning, she is in the

lumbering body of the

man whose body count

is triple that of her age.

Realizing that if she is

in his body, then he is

in hers, she sets off to

confront herself

before more harm can

be done.

Unfortunately for

her, however, the

Butcher is starting to

Dedra

Cordle

realize he likes inhabiting this body. He

enjoys that Millie appears too weak to

speak up for herself and uses that to his

advantage. This new look Millie, now

sporting a fierce red leather jacket and

tight ponytail, is free of the constraints of

her former and meeker self.

Knowing something is not quite right

with their friend Millie, Nyla and Josh

(Celeste O'Connor and Misha Osherovich,

respectively) try to hash out what has happened

to their sweet pal and, while doing

so, come face to face with the Butcher. At

first, they are disbelieving that a magical

body switch happened but when all signs

point to the mythical, they are determined

to do whatever is illegal and necessary to

help their friend before the switch becomes

permanent.

Charm and good acting do not often go

hand-in-hand with traditional horror films,

but "Freaky" has both thanks to its cast

members and its message about a person

being so much more than their exterior.

The latter doesn't beat the audience over

the head with the message — the film much

prefers to beat the heads of others in with

various tools — but at its core it is a story

about a girl who lacks confidence finding

her voice when it is taken away from her. It

is oddly heartwarming, in a nice bloodbath

kind of way.

"Freaky" is only playing in theaters at

this time, but it is slated to come to video

on demand in December. If you're a fan of

slashers and slasher comedies, I highly recommend

watching this bizarrely sweet and

gory film when you get the chance.

Grade: B+

Dedra Cordle is a Messenger staff writer

and columnist.

❏ London

❏ Main St.

❏ Phone

❏ Walk In

❏ Sales/Mail

Classification:

columbus

M essenger

Established in 1974

the Columbus Messenger Co.

MARCY TRINITY

LUTHERAN CHURCH

9980 Marcy Road, Ashville, OH 43103

(at the corner of Marcy Road & St. Rt. 674)

"GIVING THANKS"

Join Us Wednesday,

November 25

7:00 p.m.

Social distancing observed

Face masks optional

Be a Part of Our Local Worship Guide

Our Worship Guide is geared toward celebrating faith and helping readers connect

with religious resources in our community. Make sure these readers know

how you can help with a presence in this very special section distributed to more

than 19,000 households in the South area.

Contact us today to secure your spot in our Worship Guide.

614.272.5422 • kathy@columbusmessenger.com

Messenger

South

Please visit the

South Church

of your choice.

List your Worship

Services here.

For info. call 614-272-5422

3500 Sullivant Avenue

Columbus, Ohio 43204

614/272-5422

Telephone: ______________________________________________

Print your Name: __________________________________________

Last

First

Print your Address: ________________________________________

Print your City ____________________ State: ______ Zip: ________

Print Your Ad Below...

One word each space. BE SURE YOUR TELEPHONE NUMBER OR ADDRESS is included in your advertisement.

The lessor of 4 words or 22 characters per line. We reserve the right to use abbreviations when actual

space exceeds amount purchased.

1. __________

2. __________

3. __________

4. __________

5. __________

6. __________

7. __________

8. __________

9. __________

10. __________

Your Cost Per Line

1 Paper ........$1.00 per line

2 Papers ......$2.00 per line

$

❏ Eastside Messenger

❏ Westside Messenger

❏ Southeast Messenger

❏ Southwest Messenger

❏ Madison Messenger

❏ All Newspapers

__________

__________

__________

__________

__________

__________

__________

__________

__________

__________

–– 2 Line Minimum

3 Papers ......$2.55 per line

4 Papers ......$3.00 per line

5 Papers ......$4.00 per line

❏ Cash

❏ Check

❏ Money Order

❏ VISA ❏ MC

__________

__________

__________

__________

__________

__________

__________

__________

__________

__________

__________

__________

__________

__________

__________

__________

__________

__________

__________

__________

Credit Card Information

$12.50 Minimum by Phone

$5.00 Minimum by fax or e-mail

________________________

Credit Card Number

______________________

Exp. Date
---
www.columbusmessenger.com

Novembet 22, 2020 - MESSENGER - PAGE 9

CLASSIFIED ADS

Deadlines: Groveport and West editions, Wednesdays at 5 p.m., • South, Grove City, Madison editions, Tuesdays at 5 p.m.

All editions by phone, Tuesdays at 5 p.m. • Service Directory, Tuesdays at 5 p.m.

xEmployment

Make Waffles, Have Fun,

Get Paid!

35-40 Hours per week.

Monday-Friday

Early Mornings to Late Afternoon.

Groveport

Full-Time, Part-Time

Pay: $11.00 - $12.00 per hour

email Karen@lopauspoint.com

ASSOCIATION ADS

SELL YOUR ANTIQUE

OR CLASSIC CAR.

Advertise with us. You

choose where you want

to advertise. 800-450-

6631 visit macnetonline.

com for details.

GENERIC VIAGRA and

CIALIS! 100 Pills $99.00

FREE Shipping! 100%

guaranteed. 24/7 CALL

NOW! 888-889-5515

DISH TV $59.99 FOR 190

Channels + $14.95 High

Speed Internet. Free Installation,

Smart HD DVR

Included, Free Voice Remote.

Some restrictions

apply. Call 1-855-270-

5098

ASSOCIATION ADS

GENERAC Standby

Generators. The weather

is increasingly unpredictable.

Be prepared for

power outages. FREE 7-

year extended warranty

($695 value!) Schedule

your FREE in-home assessment

today. Call 1--

855-447-6780 Special financing

available for

qualified customers.

SELLING A FARM OR

HOUSE? Advertise it

here and neighboring

publications. We can

help you. contact MACnet

MEDIA @ 800-450-

6631 or visit our site at

MACnetOnline.com.

ASSOCIATION ADS

Call Empire Today® to

schedule a FREE inhome

estimate on Carpeting

& Flooring. Call

Today! 1-855-404-2366

Need IRS Relief $10K -

$125K+ Get Fresh Start

or Forgiveness Call 1-

877-378-1182 Monday

through Friday 7AM-5PM

PST

New Hearing Technology

Available to Everyone!

WiderSound® Hearing

Aids bring you technologically

advanced hearing

aids at sensible prices. No

prescription required!

Starting at $69.99. Visit

http://bit.ly/WiderSound4U

and get yours today!

Employment

DO YOU NEED

SEASONAL EMPLOYEES?

Call KATHY to ADVERTISE

and reach over 35,000 homes in the

South/Canal Winchester & Groveport Messengers

614-272-5422

kathy@columbusmessenger.com
---
PAGE 10 - MESSENGER - November 22, 2020

www.columbusmessenger.com

xEmployment

FREE TRAINING TO BECOME A

REGISTERED PHARMACY TECH

WHILE YOU WORK!

Kroger Pharmacy Warehouse

in the Rickenbacker area is

Direct Hiring all shift.

First (M-F), Second (S-Th.) and Third (Sat.-W)

Shifts available.

Starting pay for first shift is $12.50 per hour.

Starting pay for second and third shift is $14.00.

Must be 18 years of age, have a high school

disploma or GED, pass a mandatory drug and

FBI/BCI background screening.

These are entry level positions, packing, sorting, RF

scanning, shipping in a fast paced environment.

Must be able to lift up to 25 pounds with or without

accommodation. Please apply at:

jobs.kroger.com

Search using Zip Code 43217

Call 614-333-5011 for more details.

WANTED

SW CITY SCHOOLS

SCHOOL BUS DRIVERS

The South-Western City School

District is currently hiring drivers

for the 2020-2021 school year

$16.55/HR

Available positions are for substitute drivers

that can develop into "Regular" positions with

benefits. Interested individuals should submit

an application on our website at swcsd.us.

Follow the employment link. Applicants should

have an excellent driving record and must

submit to drug, alcohol, and background

screening. A high school diploma or equivalent

is required.

EOE

BE YOUR OWN BOSS!

INDEPENDENT

CONTRACTORS

WANTED

If you have a reliable car and would like to

earn extra money, then why not deliver?

• Deliver 1 or 2 days a week

• Flexible delivery hours

• Work close to home - often in or

near your neighborhood

CONTACT US

1-888-837-4342

www.thebag.com

• Deliver 7 days a week

• Delivery before dawn

• Work close to home - often in or

near your neighborhood

CONTACT US

614-461-8585

www.dispatch.com/delivery

HIRING?

Let us help you recruit the qualified employees you need to make

your business succeed. With a print and online audience of more

than 39,000 readers, our employment section is your key to meeting

local job seekers where they look first for fresh career opportunities.

Our Eastside Messenger

now covers

Canal Winchester

Our Southeast Messenger

still serves our Groveport,

Obetz, Madison Twp. and

SE Columbus areas.

Reaches over 35,000

household in these 2 area

To list a job opportunity, contact a

recruitment advertising specialist today at

614.272.5422

or

Kathy@columbusmessenger.com

columbus

Employment

xAdult Care

VISITING ANGELS

Senior Home Care

by ANGELS

We send you the Best Home Caregivers

1 Hr. up to 24 Hr. Care

Prepared and Ready but still operating COVID Free.

Rates as low as $15.21 an hour!

"We Do Things Your Way"

614-80-ANGEL (614-802-6435)

Call or text for info. www.v-angels.com

advertise

YOUR ADULT

CARE SERVICES

Call Kathy

at The Messenger

For More Info

272-5422

Adult Care

ASSOCIATION ADS

Create a new holiday tradition

with The Amazing

Snowman! You can

make it snow ANY-

WHERE, even indoors!

Get your Amazing Snowman

TODAY! www.

AmazingSnowman.com

promo code SM100

gives you $100 off!

Stay in your home longer

with an American Standard

Walk-In Bathtub. Receive

up to $1,500 off,

including a free toilet,

and a lifetime warranty

on the tub and installation!

Call us at 1-855-

481-3969 or visit www.

walkintubquote.com/national

The Generac PWRcell, a

solar plus battery storage

system. SAVE money,

reduce your reliance

on the grid, prepare for

power outages and power

your home. Full installation

services available.

$0 Down Financing Option.

Request a FREE,

no obligation quote today.

Call 1-866-586-

7248

IMPORTANT

NOTICE

The following states: CA,

CT, FL, IA, IL, IN, KY,

LA, MD, ME, MI, MN,

NE, NC, NH, OH, OK,

SC, SD, TX, VT and WA

requires seller of certain

business opportunities to

register with each state

before selling. Call to

verify lawful registration

before you buy.

ASSOCIATION ADS

Cross Country Moving,

Long distance Moving

Company, out of state

move $799 Long Distance

Movers. Get Free

quote on your Long distance

move 1-844-452-

1706

Want Faster & Affordable

Internet? Get internet

service today with

Earthlink. Best internet &

WiFi Plans. Call us Today

to Get Started. Ask

about our specials! 866-

396-0515

Do you owe $10,000+ to

the IRS or State in back

taxes? Get tax relief

now! We'll fight for you!

(800) 887-5731 - (Mon-

Fri 10am-8pm EST)

DISH Network $59.99 For

190 Channels. Add High

Speed Internet for ONLY

$19.95/month. Call Today

for $100 Gift Card! Best

Value & Technology.

FREE installation. Call 1-

855-837-9146 (some restrictions

apply)

AUTOMOTIVE

Get cash for your used

or junk cars today. We

buy all cars, trucks &

SUVs. Free pick up. Call

888-368-1016

Thinking about installing

a new shower? American

Standard makes it

easy. FREE design consultation.

Enjoy your

shower again! Call 1-

855-337-8855 today to

see how you can save

$1,000 on installation, or

visit www.newshowerdeal.com/cadnet

ASSOCIATION ADS

Two great new offers from

AT&T Wireless! Ask how

to get the Next Generation

Samsung Galaxy S10e

FREE. FREE IPhone with

AT&T's Buy one, Give

One. While supplies last!

CALL 1-866-565-8452 or

www.freephonesnow.com/

cadnet

[CARS/TRUCKS

WANTED!!!]

All Makes/Models 2002-

2019! Any Condition. Running

or Not. Competitive

Offer! Free Towing! We

are Nationwide! Call Now:

1-888-368-1016

CARS/TRUCKS WANT-

ED!!! All Makes/Models

2002-2019! Any Condition.

Running or Not. Top $$$

Paid! Free Towing! We're

Nationwide! Call Now: 1-

888-985-1806

SERIOUSLY INJURED

in an AUTO ACCIDENT?

Let us fight for you! Our

network has recovered

millions for clients! Call

today for a FREE consultation!

1-888-409-1261

VIAGRA & CIALIS! 60

pills for $99. 100 pills for

$150 FREE shipping.

Money back guaranteed!

1-844-596-4376

Wants to purchase minerals

and other oil and gas

interests. Send details to

P.O. Box 13557, Denver,

CO. 80201

DIRECTV - Every live

football game, every

Sunday - anywhere - on

your favorite device. Restrictions

apply. Call IVS

1-855-781-1565

ASSOCIATION ADS

READER

ADVISORY

The National Trade Association

we belong to has

purchased the following

classifieds. Determining

the value of their service

or product is advised by

this publication. In order

to avoid misunderstandings,

some advertisers do

not offer "employment"

but rather supply the

readers with manuals, directories

and other materials

designed to help

their clients establish mail

order selling and other

businesses at home. Under

NO circumstance

should you send any

money in advance or give

the client your checking,

license ID or credit card

numbers. Also beware of

ads that claim to guarantee

loans regardless of

credit and note that if a

credit repair company

does business only over

the phone it's illegal to request

any money before

delivering its service. All

funds are based in US

dollars. Toll Free numbers

may or may not

reach Canada. Please

check with the Better

Business Bureau 614-

486-6336 or the Ohio Attorney

General's Consumer

Protection Section

614-466-4986 for more

information on the company

you are seeking to

do business with.

xInformation

DECEMBER GIVEAWAY

Place a prepaid classified line ad in our paper

during the month of DECEMBER and be registered

to win a $50 Gift Card from

The Columbus Messenger Newspapers.

All ads received by mail, in person, e-mail or phone

will be included in the drawing.

Drawing will be held December 29th, 2020

and the winner will be notified and published

in our January 3rd, 2021 Madison paper

and our January 10th, 2021 issue

of the Columbus papers.

GOOD LUCK TO EVERYONE!!!!

Information

ASSOCIATION ADS

Elminate gutter cleaning

forever! LeafFilter, the

most advanced debrisblocking

gutter protection.

Schedule a FREE

LeafFilter estimate today.

15% off Entire Purchase.

10% Senior &

Military Discounts. Call

1-855-402-0373

INSURANCE

Medicare, Health & Life

Insurance 614-805-1084

HELP WANTED

Real Mechanic Needed

30% of Labor

Free lunch & drinks

Apply at Midland Auto

2433 Midland Ave., Cols

614-278-9458
---
www.columbusmessenger.com

xCome & Get It!

iNFORMATION

November 22, 2020 - MESSENGER - PAGE 11

xClassified Services

COME AND GET IT

Deadlines are Tuesdays by 5 pm.

Call For Publication Schedule 614-272-5422

Need to Get Rid of Something Fast - Advertise It Here For FREE!

FREE Garden Straw for gardens or bedding. Call for appointment for

pickup. Circle S Farms, 9015 London-Groveport Road, Grove City,

43123

Grove City - 614-878-7980

ATTENTION: Come & Get It will be ending

in our 11-22-20 issue and will resume in

April 2021. Thanks to all that used it!

Ċome and Get It! is a bi-weekly column that offers readers an opportunity to pass

along surplus building materials, furniture, electronic equipment, crafts, supplies,

appliances, plants or household goods to anybody who will come and get them - as

long as they're FREE. NO PETS! Just send us a brief note describing what you want

to get rid of, along with your name, address and phone number. Nonprofit

organizations are welcome to submit requests for donations of items.

Send information to The Columbus Messenger, Attention: Come and Get It, 3500

Sullivant Ave., Columbus, OH43204. Deadline is Tuesdays by 5 pm for following

Mondays publication. Messenger Newspapers is not responsible for any

complications that may occur. Please contact us when items are gone. 272-5422

Come & Get It!

xMisc. for Sale

THANKSGIVING GREETING

Misc. for Sale

THANKSGIVING GREETING

THANK YOU

FOR YOUR PATRONAGEP

THANKSGIVING GREETING

As Thanksgiving time grows ever near,

we'd like to thank you all

for stopping here!

With best holiday wishes to all.

THE

COLUMBUS MESSENGER

NEWSPAPERS

Classified Department

See...

You Looked!

Newspaper

Ads Catch

The Eye!

Call

272-5422

For Info. &

Pricing

DATED SALES

ESTATE SALE

3501 Funston Place,

Sat Dec. 5, 9:30am-5pm

Selling sofas, tools,

dresser, end tables,

lamps, big screen TV,

some kitchen items,

books (computer & novels),

music on cassettte,

dvd movies, some lawn

items & new lawn mower

Face Mask Required

WANT TO BUY

We Buy Cars & Trucks

$300-$3000.614-308-2626

We Buy Junk Cars &

Trucks. Highest Prices

Paid. 614-395-8775

WANTS TO Purchase

minerals and other oil &

gas interests. Send details

to: P.O. Box 13557,

Denver, CO 80201

MISCELLANEOUS

FOR SALE

Carpet Installer has entry

level carpet. Good for

bedrooms, rental, flip

houses etc. Other carpet

also available. Call or

text 740-927-3504

FINANCIAL SERVICES

Debt Solutions Available

Call 614-270-1149

Business Debt Solutions

Call 614-270-1149

HOMES FOR SALE

For Sale-2 Story House.

4 Bdrms, $89,500.

Buckeye Comm. R.E.

614-783-7464

RENTALS

Hilltop Twin/Half Dble

3 BR Rent $900 dep $900

2 BR Rent $700 dep $700

W. Weygandt Realtor

614-226-6767

VACATION RENTALS

Englewood, Florida

Palm Manor Resort

Within minutes of white

sand Gulf beaches,

world famous Tarpon

fishing, golf courses, restaurants/shopping,

Bush

Gardens. 2 BR 2 BA

condos with all ammenities,

weekly/monthly, visit

www.palmmanor.com

or call 1-800-848-8141

APPLIANCE REPAIR

Washer, Dryer, Stove &

Refrig. Repair 875-7588

CARPET CLEANING

DIRT BUSTERS

HOLIDAY SPECIAL!

Any 5 areas $75.

614-805-1084

Specializing in Pet Odors

CLEANING

Looking for Mrs. Clean?

For excellent cleaning

services at reas. rates

w/great refs, depend. 10%

Sr. Disc. Free Est. Gwen

614-226-5229

CONCRETE

Buckeye City

Concrete & Excavating

* Concrete * Foundations

* Waterlines * Drains

*Catch Basins

614-749-2167

buckeyecityconcreteand

excavating@yahoo.com

ALL-CITY CUSTOM

CONCRETE

All Types Concrete Work

New or Tear Out-Replace

37 Yrs. Exp.

(614) 207-5430

Owner is On The Job!

AJ's Concrete,

Masonry

Good Work - Fair Prices

Block Foundations

Driveways • Sidewalks

Epoxy/Overlay Floors

Bonded-Ins. • Free Ests.

614-419-9932

EDDIE MOORE

CONSTRUCTION

Quality Concrete Work

Lt. Hauling & Room Add.,

Block Work & Excavation

Stamp Patios,

Bsmt. Wall Restoration

35 Yrs Exp - Lic & Ins.

Free Ests. 614-871-3834

GUTTERS

Low Price-Great Service

5 & 6" Seamless gutters,

covers, siding, gutter clng.

Bill 614-306-4541

HAULING

DEAN'S HAULING

614-276-1958

HEATING

HEATING

Complete System Clean & Check

$49.95

Free Carbon

Monoxide Testing

Gas-Oil-Electric Heat/Pumps

All Makes • All Models

43 yrs exp. • Sr. Discount

614-351-9025

11/15 A/M

12/13 A

12/13 A

HOME

IMPROVEMENTS

KLAUSMAN HOME

IMPROVEMENT

Siding-Windows-

Doors-Roofing-Soffit-

Fascia-Gutters-Trim

Earn FREE Seamless

Gutters with Siding Over

1000 Sq. Ft.

FREE Shutters with

Soffit & Trim

EPA Certified

Member of BBB

Financing Available

Over 20 yrs exp. • Free Est.

Licensed-Bonded-Insured

Owner & Operator

James 614-419-7500

C&JHandyman

Services LLC

Minor Plumbing

& Electric

Install Hot Water Tanks,

Dishwashers & Disposals

Also Fencing &

Interior/Exterior Painting

Free Est. ~ 18 Yrs. Exp.

CDC/EPA Approved Guidelines

614-284-2100

SINCE 1973

Phil Bolon Contr.

Windows & Siding

Decks, Kitchens, Baths

Room Additions,

Flooring, Roofing

Bsmt Waterproofing

Deal With Small Non-Pressure Co.

47 Yrs. Exp. - Refs. Avail.

Lic.-Bond-Ins.

12-13

A/M

Free Est. - Financing Avail.

Member BBB Of Cent. OH

O.C.I.E.B. ID #24273

614-419-3977

or 614-863-9912

CandC

See The Difference

Plumbing & Electric

Install Hot Water Tanks,

Dishwashers & Disposals

Also Fencing & A

Interior/Exterior Painting

No Job Too Big Or Too

Small - We Do It All

614-702-3691

11-29

Home Inspections

"Welcome Home"

Inspection Services

Starting at $185

Licensed

InterNACHI/CPI

Certified

Free Estimates &

Discounts 12-13 A

Cell 614-316-9600

11-29 A

11-29 A

HOME

MAINTENANCE

JOE'S HOME MAINT.

Home Repairs, Roofing,

Siding, Gutters, Soffits,

Misc. Int. Repairs

Int. Painting

Call Joe 614-778-1460

37 Years Exp.

LAWN CARE

LET US MAINTAIN

YOUR LAWN & GARDEN

FOR YOU

Summer, Spring,

Winter or Fall

WE DO IT ALL!!!!

Lawn Cuts, Edging,

Trees & Shrubs, Garden,

Mulching, Hauling,

Garden Pond &

Home Maint.

Free Ests. Low Rates

$20 & Up

Kevin - 614-905-3117

MOVING

Aaron Allen

Moving

Local Moving since 1956

Bonded and Insured

614-299-6683

614-263-0649

Celebrating

over 60 yrs

in business

PAINTING

Painter Over 30 Yrs Exp.

Free Est. Reas Rates

Daniel 614-226-4221

A Job Well Done Again

A lic. General Contractor

Some Skilled Services

Incl: Painting • Stucco,

Repair•Carpentry•Exterior

Drainage & Home Maint.

Call Today! 614-235-1819

PLASTERING

DRYW

YWALL &

PLASTER

11/29

A&M

REPAIR

Textured Ceilings

614-551-6963

Residential/Commercial

BIA

LOOK TO

THE PROFESSIONALS

IN OUR

SERVICE DIRECTORY

For Service

"That Is Out Of This World"

Classified Services

12/13 A&M

PLUMBING

ALL IN ONE

PLUMBING LLC

"One Call Does It All"

$25 OFF LABOR

With This Ad

A

614-801-1508

All Major Credit Cards Accepted

All About Drains & Plumb.

Will snake any sm drain

$125 + tax. 614-778-2584

CHRIS'

PLUMBING

"Plumbing & Drain Professional

That You Can Count On"

24 Hrs., 7 Days/Week

No Overtime Charges

24 Yrs. Exp. in Plumbing &

Drain Cleaning Field

Call For A Free Phone Estimate

$100.00 For Any Small Drain

614-622-4482

30% OFF with AD

ROOFING

Robinson roofing & repairs

30 yrs. exp. Lifetime Cols.

resident. Lic./bonded/Ins.

Reas rates. Member of

BBB. Dennis Robinson

614-330-3087, 732-3100

SEWING MACHINE

REPAIR

REPAIR all makes 24 hr.

service. Clean, oil, adjust

in your home. $49.95 all

work gtd. 614-890-5296

TREE SERVICES

TROTT

TREE & LANDSCAPE

Tree Trimming

& Removal

11/29

11/15

A

Also Stump Removal

Free Est. - Fully Ins.

Call 614-235-3791

Cell 614-738-0682

Brewer & Sons Tree Service

• Tree Removal

• Tree Trimming 11-29

A&M

• Stump Grinding

• Bucket Truck Services

Best Prices • Same Day Service

614-878-2568

HOME INSPECTIONS INFORMATION INFORMATION

11/29 A/M
---
PAGE 12 - MESSENGER - November 22, 2020

OUR NEW OFFICE IS OPEN

Located at

7750 Diley Road, Suite A

Canal Winchester, OH 43110

For Appointment Information Call

(614) 837-7337

Physicians that will be seeing patients are:

Nicholas

Stevens,

MD

H. Scott

Tyson,

MD

www.columbusmessenger.com

How your money is spent

By Linda Dillman

Staff Writer

Order Your Homemade Holiday Sweets

(937) 728­3836

vintagesweetscbus@yahoo.com

Would you like to know how much Madison

Township spent on its employees last

year or how much it cost the township for

services from a door company?

The answer is as close as an electronic

device with Internet access.

The township is part of Ohio Checkbook,

a state website that shows an overview of

spending by the state and participating

local governments and school districts.

According to checkbook.ohio.gov, it

"serves as the singular and most trusted resource

for Ohioans to obtain both local and

state financial information."

The checkbook is a result of a joint initiative

from Ohiocheckbook.com and Ohio's

Interactive Budget with the goals of transparency

and real-time information.

A database breakdown of expenses shows

how much the township spent in 2019 on

line items including the police and fire departments;

roads and bridges; lighting assessments;

and bond note retirements.

Last year, the biggest expenditure was

nearly $6.9 million for employees and the

township paid Precision Overhead Door

$6,306. All of the 2019 information is now

available online. The checkbook is updated

annually by the state treasurer's office.

Other Madison Township news

•A resolution raising parttime firefighters

hourly pay rate by $1 was approved by the

Madison Township trustees. Fire Chief Derek

Robinson said the raise will keep the township

competitive with surrounding departments in

recruiting and retaining candidates.

The pay increase takes effect during the

first pay period in 2021. According to Robinson,

in the last group of 14 hires, five or six

were from the local area.

"It is exciting to hear they want to work

for their hometown department," Robinson

said, adding that he is working with local

schools to obtain a certification for juniors

or seniors to "get them started in a career

in their own backyard.'

•The trustees approved a one-year contract

with Capital City Lodge #9 effective

May 1, 2020 through April 30, 2021, which

includes a salary increase.

Moses-Mouser Eye Care

Dr. Joshua Morris is a board-certified Optometrist

who grew up in Bellville, Ohio. He

completed his undergraduate degree at the

University of Akron, where he graduated

magna cum laude with honors.

Dr. Morris attended The Ohio State University

College of Optometry and graduated cum laude with honors to receive

his Doctor of Optometry Degree in May 2019. After completing his

studies, he was awarded the "Primary Vision Care Clinical Excellence

Award", in 2019.

Dr. Morris is a member of the American Optometric Association, the

Ohio Optometric Association, and The Ohio State Alumni Association.

He is excited to practice full scope optometry, diagnosing and treating

a variety of ocular disorders and diseases in patients of all ages, but has

a special interest in contact lenses and ocular disease.

On a personal note, Dr. Morris and his wife Tess, enjoy spending time

with their family, friends, and their Bernese Mountain dog Maverick,

cheering on The Ohio State Buckeyes, trying new foods, and exploring

Columbus breweries.

Q: Are contact lenses right for me?

A: 9/10 people who wear glasses are good candidates for contact lenses.

Contact lenses can correct for nearsightedness, farsightedness,

astigmatism, and even help you decrease your dependency on readers.

They can provide a wider field of view and the lenses won't fog up in cold

weather like glasses. Contact lenses are also a great option for when you're

exercising or playing sports where glasses could get in the way.

Q: How often should someone who

wears contact lenses get an eye exam?

A: Someone who wears contact lenses should have a comprehensive

dilated eye exam at least once a year. Contact lenses are medical devices

and need to be properly fitted and assessed by an eye care professional.

Schedule your contact lens exam today

with Dr. Morris.

6441 Winchester Blvd. E., Canal Winchester, OH 43110 614-963-3827