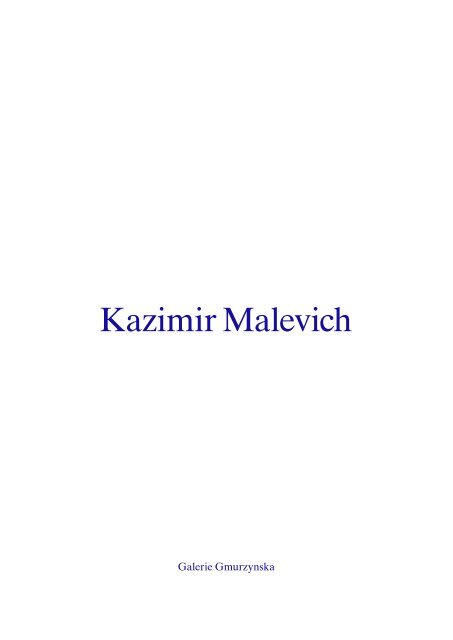 You also want an ePaper? Increase the reach of your titles
YUMPU automatically turns print PDFs into web optimized ePapers that Google loves.
Kazimir Malevich

Galerie Gmurzynska
---
Red

Flavin Judd

When Kazimir Malevich painted his first Suprematist paintings around

1913 he wanted to create a revolution. After making the first works he

held off showing them to the public until he had carefully orchestrated

the context for an unveiling to maximum effect. It was not simply a new

kind of painting that he wanted to introduce but a whole new way of

looking at the world. The art itself was just an example of what the new

vision should look like. He wanted to go to the zero, the foundation, of

figurative art and then go beyond it, go to the other side. He felt that

the vanishing point of traditional perspective was a demonstration of a

closed future of limited space leading nowhere and he wanted art that

was the reverse: unlimited, open.

The first of Malevich's works derived from Cubism and

Futurism imported from Western Europe. While designing a set for

the opera "Victory over the Sun" in 1913 he reduced his previously

cubo-futuristic work into something resembling Suprematism: bold

squares and shapes that don't directly represent anything. This was a

major breakthrough as the black rectangle was just itself. In Peircean

semiotic terms the painting was no longer an icon (a direct representation

of something, the portrait of a person) but the painting was now an

indexical sign (one that has a direct relationship: smoke to fire). The art

was the color, the shape and not the representation of a person formed

from them.

In Malevich's case there was a strong context for the work

with modernist Russian poets leading the way and the traveling ideas of

cubism and futurism changing the way a small group of artists looked

at the world. Malevich's art grew out of a whole milieu that existed

prior to the Revolution and a group effort to make art in a determined

direction. For the Constructivists art was a way of changing the world,

a movement forward that encompassed everything. Malevich clearly

stated that representational art was the past and that the future was

with abstraction and his painting of the spirit.

Under the Russian Czar the artists were more or less ignored

because the abstraction allowed them to be seen as non-political,

9
---
abstraction was seen as childish and benign. This changed after the

Revolution when even abstract squares were seen as threats to Stalin.

Malevich's idea, that art was not just pretty pictures but was a force, an

embodiment of energy, would later be smothered under the dictates of

a central government which wanted happy peasants and subservient

workers with collectively raised fists.

Malevich's art lived up to his hyperbolic language and the

Suprematist and later the Constructivist styles would become the vanguard

of the political revolution that followed in their radical wake.

Malevich continued his radical work as the political situation worsened

and the central government dictated more and more what both artists

and citizens could and could not do. Malevich would work in both radical

and representational styles until his death in 1935 when he painted a

social realist self portrait in the state imposed style and signed it with

a small black square.

Read one way the history of Western art since 1930 or so

has been a dark age. De Stijl, the Bauhaus, Dadaists, Constructivists

all were either exiled, killed or swept aside. Their new way of thinking

was stamped out, sometimes forgotten, often ignored and their dystopia

made manifest by politicians, capitalist exploitation and war. The post

WWII art world can be seen as the dystopic vision the Constructivists

were warning us against. We have yet to recover, yet to meet them in

their radicalness, their vision. Radicalness of thought is not only a sign

of freedom but is a freedom, an inventiveness, a way of pushing against

the constraints of a given time. Possibly the lack of radical thought and

art today is a reflection of just how constrained both are today and how

far we have to go back to go forward again.

10
---
Black

Flavin Judd

The two squares are neither squares, nor black. Malevich's Black Square

is slightly brushy, gray in parts, not quite black in others and not quite a

square. Judd's Untitled is seen as black at first glance but is really cold

rolled steel and not actually flat, the folded metal giving it a shallow

depth. Neither work is black, neither is square and in that they are united.

The word minimalism is easy because it's a way of determining

something unknown, a way of limiting damage to conventions

and in the same way the Russian Constructivists, Suprematists, and

others are lumped together as one black, slightly unsquare square and

relegated to a filing cabinet of history. The radicality of Malevich's

work made for a rough time, for ridicule, exile, and dismissal and while

this probably had an effect on him, it did not turn him away from what

he felt was important. There is much more to the so-called reductionist,

minimalist black square. Malevich worked in all forms: designing

stage sets, perfume bottles, children's book illustrations, and dishes.

In his "architectons," which he began making in 1923, he moved into

architecture and real space. It would be decades before the "center of

the art world" of New York caught up with the movements in Holland,

Germany, Poland, Ukraine, Russia, and France from fifty years prior.

In the intervening years politics and the fake ideologies of competing

governments used to control people made it hard to see the past and

kept it locked away in basements.

The history of art is a shell game according to the current

fashions, a mirror held up to the past for present occupations. For Judd

the discovery of Constructivist art was slow and in small pieces. The

Cold War kept art and ideas from migrating around the world, subjecting

culture to psychotic power games and making for islands of knowledge

without connections. When my father, sister, and I finally visited Melnikov's

house in Moscow in January 1987 it was a revelation. Here was

a house that in 1929 was as radical in its day as was Malevich's art. That

it survived was only through the hard work of people who understood

the importance of the art as opposed to the unimportance of political regimes.

The only way political regimes are remembered is either through

7
---
arbarity or through art, otherwise they are forgotten. Or, possibly, like

Napoleon, they might be remembered for the metric system.

The superficial similarities in the squares of Judd and Malevich

are distanced when one understands the reasons behind them.

For Malevich the abstraction of art, the forgetting of the figure, was a

way to move towards a future of mankind. For Malevich the abstraction

of form and color was towards the biggest thing imaginable: a paradise

of the infinite, power, and spirit.

For Judd's art it is the reverse. There is no spirit, there is no

infinite, there is just what is there, an empirical radicalness of art that

wants to go back to basics, to stones on a beach, not infinite, just existing

as it is. In this exhibition, Malevich's grand designs and verbose metaphysics

are met by Judd's specific locations and a knock on a table. For

Judd there is no possibility of a society beyond a small family; there is

no future that is not just a repetition of the power structure of the past;

there are things and there are people, the two are not the same and the

individuals have to project their own space.

For Malevich, the language provided the engine for his

art. The prevailing culture, the history of art, despite his dismissal of

it, provides the energy for his endeavor. Malevich is inventing a new

culture that responds to the prior Czarist culture that he grew up in.

He is inventing a way to the future that is steeped in revolutionary language

(before the revolution and before Lenin) that is a way of being

for people. For Judd this is not possible as it is all conditional and fake

promises. The prevailing culture is an endless mediocrity and the task

of the individual is to fight back by making an alternative. The culture is

not something that should be made for everybody, but for individuals to

make for themselves; there is no society, only a collection of individuals.

These are two different spheres or, rather, half spheres.

The area of activity for Malevich is that of culture as humans make it,

the language, the art, the way of making soup, the way of eating bread,

the tea in the afternoon in the dacha. Malevich is trying to make a

new culture for everybody and this is half of everything. He wants new

paintings, new buildings, new plates, new pillows. Malevich's vision of

culture tells us what is valued and what is garbage and what is worth

looking at.

8
---
The other side of this equation is the planet we are on, the

stars, the photons that make it all possible, all that would remain if

humans were to disappear. Take away the people, their buildings, their

plates and pillows and you have what? Nature: the water lapping on

water shaped rocks. This is actuality what Judd is interested in. While

he is interested in the many cultures of humans and how they do things,

the art he is making is art that he wants to remain like the stones, and

stars and photons. He wants art like facts, stones, and culture is not

concerned with facts but only beliefs. The rocks and water exist within

culture only as narratives and myth, and the myths are just what Judd

wants to eliminate.

So the two artists are working in two entirely opposite

demi-spheres and while they intersect (within us specifically) they are

two different worlds. If you put the two demi-spheres together you get

a whole. The cultural landscape overlays the actual and the tea in the

afternoon is sipped as the water shapes the rocks on the shore and the

photons get colder and redder. If you put Malevich and Judd together

you get both the new myths (the new culture) and the facts below your

feet. It is "everything at once" as Judd once described good art.

9
---
JUDD / MALEVICH

curated by Flavin Judd

Editor:

Flavin Judd

Inception:

Isabelle Bscher

Texts by:

Donald Judd, Kazimir Malevich, Flavin Judd, Dr. Evgenia Petrova, Krystyna Gmurzynska

and Mathias Rastorfer, Rudi Fuchs

Kazimir Malevich texts are excerpted from "A Legacy Regained: Nikolai Khardzhiev and the Russian

Avant-garde. Palace Editions St. Petersburg 2002."

Kazimir Malevich letters are excerpted from "Malevich o sebe. Sovremenniki o Maleviche. Pis'ma. Dokumenty.

Vospominaniya. Kritika [Malevich on Himself. Contemporaries on Malevich. Letters. Documents. Memoirs.

Criticism], 2 vol (Moscow: RA, 2004)."

Donald Judd texts, © 2017 Judd Foundation

Flavin Judd texts, © Flavin Judd

Dr. Evgenia Petrova essay, © Dr. Evgenia Petrova

Creative Direction & Design:

Flavin Judd / Michael Dyer

Production Editors & Project Managers:

Verena Andric / David Khalat

Judd Photography Credits

Judd Foundation Archives; © Judd Foundation:

2, 107, 109, 115

Judd Foundation Archives; Charlie Rubin

© Judd Foundation: 15, 31, 112

Dia Art Foundation, New York, Gift of Louise

and Leonard Riggio; Don Stahl: 21

Judd Foundation Archives; Flavin Judd

© Judd Foundation: 12, 22/23, 55, 64, 110, 114

Judd Foundation Archives; Lauretta Vinciarelli

© Judd Foundation: 46

Judd Foundation Archives; Elizabeth Felicella + Esto © Judd Foundation: 47, 98/99

Judd Foundation Archives; Paul Katz

© Judd Foundation: 54

© Laura Wilson: 65

Galerie Gmurzynska;

1994: 101, 102, 103, 104, 105,108

Judd Foundation Archives; David Chan

© Judd Foundation: 111, 113

Judd Foundation Archives; Rainer Judd

© Judd Foundation: 116

Judd Foundation Archives; Sol Hashemi

© Judd Foundation: 117

128
---
FBM Studio, 1991: 120

Page 2:

Donald Judd, Marfa, TX, c. 1970s

Donald Judd works: © Judd Foundation / Artist Rights Society (ARS), New York

© Judd Foundation / 2017, ProLitteris, Zurich

Malevich Photography Credits

Collection of State Russian Museum, St Petersburg: 17, 18, 20, 23, 31, 33, 36, 37, 39, 91

© The State Russian Museum, St Petersburg

Galerie Gmurzynska Archives: 2, 14, 15, 19, 24, 25, 26, 40, 41, 44, 48, 54, 58, 64, 68, 74, 82, 89, 94, 98, 100, 108

© Galerie Gmurzynska

Publisher: Galerie Gmurzynska © 2017

ISBN

3-905792-35-4

978-3-905792-35-5

Printed by Grafiche Step, Parma, Italy

129