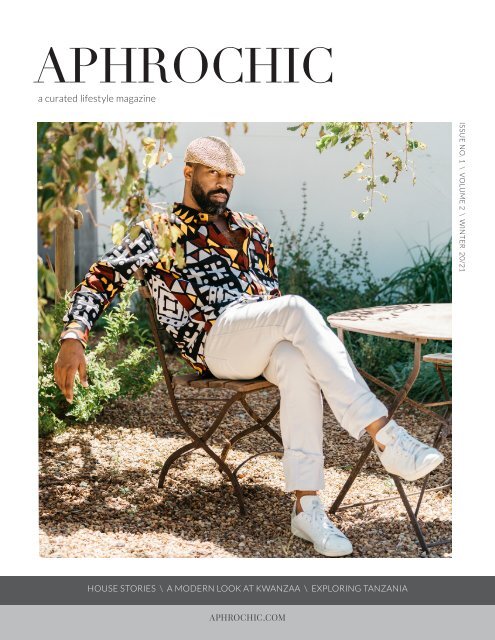 AphroChic Magazine: Issue No. 5
This issue celebrates the things about Black culture that are enduring, and that can't be altered by one bad year - our resilience, our creativity and our radical joy. In the pages of this issue we'll be sharing with you the visionary work that is taking place every day in our Diaspora. We'll introduce you to a growing community of Black home brewers who are creating their own space in craft brewing. Then we're off for a photo tour of beautiful Tanzania. We'll look at the modern work of South African artists Faatimah Mohamed-Luke and Al Luke, and for the holidays, we'll share with you our modern take on the Pan-Africanist celebration of Kwanzaa. In issue 5 we are thrilled to take you to the hottest decor boutique in Germany, created and designed by our cover star Chris Glass. Then we'll give you a sneak peek into our latest project - AphroFarmhouse. And our hot topic is an important discussion on the recession and how we can craft an economic plan that puts Black people first. While we are excited to show you all that's beautiful around the Diaspora, we also want to share with you the reason why we do this work - to educate, uplift and give back. This holiday season we're excited to let you know about our partnership with (RED) on an exclusive collection of pillows and tabletop to raise awareness and critical funds for the world's most vulnerable communities impacted by HIV/AIDS and now COVID-19. And you'll find more amazing products that support Black businesses in our expansive Mood gift guide.
This issue celebrates the things about Black culture that are enduring, and that can't be altered by one bad year - our resilience, our creativity and our radical joy. In the pages of this issue we'll be sharing with you the visionary work that is taking place every day in our Diaspora. We'll introduce you to a growing community of Black home brewers who are creating their own space in craft brewing. Then we're off for a photo tour of beautiful Tanzania. We'll look at the modern work of South African artists Faatimah Mohamed-Luke and Al Luke, and for the holidays, we'll share with you our modern take on the Pan-Africanist celebration of Kwanzaa.

In issue 5 we are thrilled to take you to the hottest decor boutique in Germany, created and designed by our cover star Chris Glass. Then we'll give you a sneak peek into our latest project - AphroFarmhouse. And our hot topic is an important discussion on the recession and how we can craft an economic plan that puts Black people first.

While we are excited to show you all that's beautiful around the Diaspora, we also want to share with you the reason why we do this work - to educate, uplift and give back. This holiday season we're excited to let you know about our partnership with (RED) on an exclusive collection of pillows and tabletop to raise awareness and critical funds for the world's most vulnerable communities impacted by HIV/AIDS and now COVID-19. And you'll find more amazing products that support Black businesses in our expansive Mood gift guide.
SHOW MORE
SHOW LESS
Create successful ePaper yourself
Turn your PDF publications into a flip-book with our unique Google optimized e-Paper software.
APHROCHIC

a curated lifestyle magazine

ISSUE NO. 1 \ VOLUME 2 \ WINTER 20/21

HOUSE STORIES \ A MODERN LOOK AT KWANZAA \ EXPLORING TANZANIA

APHROCHIC.COM
---
SLEEP ORGANIC

Avocado organic certified mattresses are handmade in sunny Los Angeles using the finest natural

latex, wool and cotton from our own farms. With trusted organic, non-toxic, ethical and ecological

certifications, our products are as good for the planet as they are for you. Shop online for fast

contact-free delivery. Start your organic mattress trial at AvocadoGreenMattress.com
---
Ok, we all know it's true, so let's say it together one last time: "2020 has been a BEAST."

But here's the good news: we're almost done! This year has been the year of uncertainty.

The world as we know it has changed. And as challenging as it is to imagine how to move

forward, this year has also given each of us a wonderful opportunity - an opportunity to

take stock of who we are, what we're capable of, and what our purpose is in this world.

This issue celebrates the things about Black culture that are enduring, and that can't be altered by one bad year - our

resilience, our creativity, and our radical joy. In the pages of this issue, we'll be sharing with you the visionary work that is

taking place every day in our Diaspora. We'll introduce you to a growing community of Black homebrewers who are creating

their own space in craft brewing. Then we're off for a photo tour of beautiful Tanzania. We'll look at the modern work of

South African artists Faatimah Mohamed-Luke and Al Luke. And for the holidays, we'll share with you our modern take on

the Pan-Africanist celebration of Kwanzaa.

In issue 5 we are thrilled to take you to the hottest decor boutique in Germany, created and designed by our cover star

Chris Glass. Then we'll give you a sneak peek into our latest project - AphroFarmhouse. And our Hot Topic is an important

discussion on the recession and how we can craft an economic plan that puts Black people first.

While we are excited to show you all that's beautiful around the Diaspora, we also want to share with you the reason why

we do this work - to educate, uplift and give back. This holiday season we're excited to let you know about our partnership

with (RED) on an exclusive collection of pillows and tabletop to raise awareness and critical funds for the world's most vulnerable

communities impacted by HIV/AIDS and now COVID-19. And you'll find more amazing products that support Black

businesses in our expansive Mood gift guide.

One of the beauties of Black cultures is that we've seen hard years before. Hard times don't break us, they just make us

stronger. 2020 has exposed a lot of flaws and weaknesses in the world as we know it. From pre-existing conditions to police

violence, and lopsided economic policies, many of them are aimed directly at our community. That's not news to us, but this

year also revealed opportunities for new conversations, new allies and as always, an unshakable commitment to building a

better world.

Jeanine Hays and Bryan Mason

Founders, AphroChic

Instagram: @aphrochic

editors' letter
---
WINTER 20/21

DEPARTMENTS

Read This 10

Visual Cues 14

It's a Family Affair 16

Mood 20

FEATURES

Fashion // Fashioning the Tale 30

Interior Design // House of Stories 38

Culture // A Modern Look at Kwanzaa 56

Food // Homebrewed 66

Travel // Exploring Tanzania 76

Wellness // AphroChic Goes (RED) 90

Reference // The Forming of Diaspora 92

PINPOINT

Artists & Artisans 100

Hot Topic 106

Who Are You? 110
---
CONTRIBUTORS

Cover photo: Chris Glass by Kate McLuckie

Publishers/Editors: Jeanine Hays and Bryan Mason

Creative Director: Cheminne Taylor-Smith

Contact:

AphroChic

Brooklyn, NY

AphroChic.com

info@aphrochic.com

Contributors (left to right below):

Lauren Crew

Janelle Jones

Sabina Lee

Camille Simmons

issue five 9
---
READ THIS

This has been a year to reexamine history, to take a look at what has come before so we can move

forward. The book selections for this issue are all about history, including a look at 75 years of the iconic

magazine Ebony. The magazine broke new ground when it made its debut, and provided a revelatory look

at Black life in America. In How the Word Is Passed, coming out next spring, Clint Smith walks through

iconic landmarks and monuments across the country, revealing the often brutal truth that is hidden in

plain sight. And in The Rise, iconic chef Marcus Samuelsson showcases the cooking of the Diaspora from

its roots to its contemporary recipes.

How the Word Is Passed: A Reckoning with the

History of Slavery Across America

by Clint Smith

Publisher: Little, Brown and Company. $29

Ebony: Covering Black America

by Lavaille Lavette

Publisher: Rizzoli. $57.50

See more book suggestions on page 26.

The Rise: Black Cooks and

the Soul of American Food

by Marcus Samuelsson

Publisher: Little, Brown

and Company. $33

10 aphrochic
---
READ THIS

ALL HAIL THE QUEEN

The original Queen of Rock, Tina Turner has sold 200 million records worldwide and is a 12-time

Grammy Award-winning artist, including three Grammy Hall of Fame Awards and a Grammy Lifetime

Achievement Award. Tina Turner: That's My Life is the first authorized photo-filled biography by the

legendary artist, showcasing iconic photography, never-before-seen candid photos, letters, and other

personal items. Intended to be the "ultimate scrapbook for her fans," Tina offers insights into the moments

that have made her career and life meaningful to her.

Photo by Jack Robinson

Tina Turner: That's My Life

by Tina Turner

Rizzoli New York, 2020, $60

Photo by Alberto Venzago

12 aphrochic issue five 13
---
VISUAL CUES

While museums across the country have struggled with how to survive in a pandemic era with shutdowns

and limits on audiences, the African American Museum in Philadelphia has moved online for its latest

exhibit: Rendering Justice. Curated by artist Jesse Krimes, the exhibit showcases art that examines mass

incarceration while revealing an unflinching view of contemporary America. The art was created as part

of Mural Arts Philadelphia's Reimagining Reentry program, which works with formerly incarcerated

artists and helps support them in their creation of public art projects. The nine artists worked individually

and in pairs to showcase issues in mass incarceration, with a focus on Philadelphia. The pieces highlight

what it means to be in jail or prison, including the loss of autonomy. And they show how artists can

struggle with their identity both before and after they reenter society. Russell Craig, whose work is

shown below, is a painter and Philadelphia native who survived nearly a decade of incarceration after

growing up in the foster care system. He combines portraiture with strong social and political themes.

To see more of the Rendering Justice exhibit, go to bit.ly/2UjAZCF.

Nipsey triptych

Russell Craig, 2019

Leather, acrylic, bandana

14 aphrochic
---
IT'S A FAMILY AFFAIR

A Home of Our Own

As a child, I would sit with my sister and we would sketch out what our dream homes would look like

one day. For me it was always a farmhouse, surrounded by apple trees with a quiet pair of chairs on

the porch for my husband and I to sit and relax as we watched the world go by. As I grew older, those

sketches seemed like just fantasy. First, my husband turned out to be a complete city boy with no interest

in life without skyscrapers and subways. More importantly, I had fallen in love with city life, myself.

Going to school in Atlanta, living in Philadelphia before moving on to Washington DC, San Francisco and

Brooklyn, made it impossible to imagine a return to country life. Especially after Brooklyn.

Late nights at our favorite restaurant,

movies on the weekends, public

concerts in the summer, walking blocks

and blocks just to explore — that's the life

we've always loved. But life is different now

following a major pandemic.

As our world changes in this moment,

my forgotten dream of country living

began to seem less like a fantasy and

more like a better idea — a place that we

own, with lots of space, and where we can

bring our full vision of home to life. When

complications with my immune system

following a bout with COVID-19 made me

sensitive to air quality, it stopped being an

idea and became an urgent next step.

Design runs in my family. I believe

my mom had the design gene. She loved

designing our homes and when she was

done with one house, she was ready to

move. I remember vividly the experience of

going out to search for a new home when I

was heading into the sixth grade. The excitement

of getting to step into an empty

house and see if it was a perfect fit. My

parents eventually settled on a two-story

rancher, but I had fallen in love with a light

blue colonial. At 11, it was my dream house,

not the one I had sketched out, but one I

could imagine myself designing beautifully.

Thirty years later, the dream has

become a reality. What seemed like

something we would never want to do, is

now a new journey that we're excited to

embrace and very proud to have achieved.

Home ownership is not a given for African

Americans. Starting in 1968 with the

passage of the Fair Housing Act, Black

families began to thrive. For the first time

we found access to homes and neighborhoods

that had historically been closed to

us by a combination of discriminatory laws

and practices and reinforced by the threat

of violence for anyone who succeeded in

breaking through. But racism is a living

thing and, like all living things, it adapts.

Redlining continued despite the

Act, followed by crushing educational

debt, credit reports, predatory lending,

the Great Recession and now COVID-19.

Through it all a series of stereotypical

tropes were woven into the national

psyche, ignoring structural inequalities

It's a Family Affair is an ongoing

series focusing on the history of

the Black family home

Photos from Jeanine Hays

and Bryan Mason

Words by Jeanine Hays

Jeanine with her sister,

Angela Belt, in the home

they grew up in.

Jeanine at the new AphroFarmhouse

16 aphrochic issue five 17
---
IT'S A FAMILY AFFAIR

to claim over and over again that it was the

bad choices made by each Black person,

not systematic racism, that was making

it so difficult for us to own homes. So for

decades nothing has been done as home

became a fantasy not just for me but for

most of us.

Today, African Americans in our

generation are less likely to own a home

than our parents or grandparents. As

of 2019, we are the least likely group to

own homes in America, with only 42.1%

of Black Americans owning homes as

opposed to 73.3% of non-Hispanic white

Americans.

Despite the challenges, the girl in me

has never stopped dreaming. This summer

we put on our masks, our face shields and

headed upstate to begin our search. The

first home we saw was not the one. It had

a cracked foundation, broken windows and

a dead bird in it - which we felt was a bad

sign. Fortunately things got better from

there and after a short search we found the

one. It's a beautiful farmhouse in a small,

sleepy town we had never heard of before,

that feels like it's the perfect fit for us - our

AphroFarmhouse.

After more than two decades

together, for Bryan and I this feels like a

natural next step. In this new house, we

can truly bring our whole vision to life,

exploring innovative design ideas while

incorporating more of our family story.

Space is not a luxury of Brooklyn living,

but here we finally have room for pieces

like an inherited settee. We'll finally get

to expand our art collection to feature

our favorite Black artists from around the

world. We might even find space to house

and grow our collection of books. It can all

happen here.

And some may wonder why

ownership matters at all. Buying a home

is not easy and maintaining it is a constant

process. But owning a home is one of the

most basic foundations of our economic

system. It's an asset. It helps families build

wealth. And without it, it's hard for Black

families to pass wealth down from generation

to generation.

Now, today, we have bought a home -

one that fulfills my girlhood fantasy and

can help our family build. There's been a

lot to the process and there'll be a lot more.

But we're not doing it alone. We'll be here,

sharing our story with all of you. AC

Jeanine and Bryan

Left: During a college break at

the Mason family home.

Below: During high school at

the Mason family home.

Bottom: Teenage sweethearts at

the prom in 1996.

The AphroFarmhouse

18 aphrochic issue five 19
---
MOOD

AN ARTISAN HOLIDAY

Dinah by Idris Habib $122

Saatchi Art, bit.ly/2SswiW3

This holiday season we are celebrating artisanship.

Items that are handmade, well-crafted, and beautifully

designed. For the homebody, we have pieces that will add

a special touch to each room of the home. For art-lovers,

we're highlighting some of our favorite artists from

around the globe. For the lit lovers, we're celebrating

books by some of our favorite creative minds. And we

have some beautifully handcrafted pieces for the the

fashion savvy, as well. This holiday season it's all about

the artistry that makes life exceptional.

Day Dream by Natalie Odecor $40

Etsy, bit.ly/3nf8vat

Together by

MKobyArt

$30

Etsy

bit.ly/3jL39BH

FOR

THE ART

LOVER

EXPLORE OUR EXPANDED

GIFT GUIDES ON

PINTEREST!

Mali by Willian Santiago $35.99

Society6, bit.ly/3iukXiN

Twin Celadon by Dawn Beckles $1,305

Saatchi Art, bit.ly/33mIs85

Different Ways To Climb & Unusual Paths

by Isabelle Feliu $35.99

Society6, bit.ly/34oybIZ

20 aphrochic issue five 21
---
FOR THE

FASHIONISTA

DEMESTIK Bowtie Sculpted Masks $60

Etsy, bit.ly/3d08MZS

A Promised Land

by Barack Obama

$34.99

Target, bit.ly/3ixP35d

The Butterfly Effect

by Marcus J. Moore

$19.57

Walmart, bit.ly/2Guohxk

The Fire Next Time

by James Baldwin/Steve

Schapiro $36.49

Target, bit.ly/36AmZMe

Mateo Diamond Initial

Necklace in Yellow

Gold/White Diamonds $595

Goop, bit.ly/34rLHvp

Who Will You Be?

by Andrea Pippins

$20.99

Walmart, bit.ly/3d10otb

Young, Gifted and Black

by Antwaun Sargent

$47.49

Target, bit.ly/30AxCKT

Kamala Harris by Nikki

Grimes and Laura

Freeman $19.93

Walmart, bit.ly/30A2Z8o

lemlem amira orange plunge-neck dress $495

J.Crew, bit.ly/30zz8No

BROTHER VELLIES

Ankle boots $330

Yoox, bit.ly/3iAOG9I

Fenty Women's Side

Note 54MM Oval

Sunglasses $460

Saks Fifth Avenue,

bit.ly/2Svmwmg

FOR THE

BOOK

LOVER

Off-White Diag Camera Bag $660

LN-CC, bit.ly/33vHwzt

22 aphrochic issue five 23
---
Harlem Candle Company

Lenox Luxury Candle $45

Amazon, bit.ly/3d2V8Wb

Cravings by Chrissy Teigen 5qt Cast

Iron Dutch Oven with Lid $39.99

Target, bit.ly/33vKnIB

Ankara Apron Set $50

Etsy, bit.ly/2F9IeJq

Jubilation Black Duvet

Cover $540

Perigold, perigold.com

Ayesha Curry Rectangular

Pillow Cover and Insert $50.99

Wayfair, bit.ly/2SuL0vH

FOR THE

HOMIE

Pinto Acacia Round Mirror $199

CB2, bit.ly/3leFCt0

24 aphrochic issue five serenaandlily.com 25
---
Here is a list of our favorite charitable organizations

that you can donate to this holiday season:

WORLD CENTRAL KITCHEN

wck.org

WCK is working across the country and the globe to distribute

food to communities in need. Founded by Chef Jose Andres,

WCK has provided more than 45 million, healthy, chef-prepared

meals to communities around the world.

UNITED NATIONS FOUNDATION

unfoundation.org

The UN Foundation is working to solve global problems,

including the COVID-19 pandemic. The organization's

COVID-19 Solidarity Response Fund helps with global coordination

of prevention, detection and response to the pandemic.

THE MOVEMENT FOR BLACK LIVES

m4bl.org

M4BL provides legal resources, political actions, and strategies

that support Black humanity and dignity. Their Black Power

Rising 2024 Campaign takes a long-term view of how to

transform Black lives and communities.

(RED)

red.org

(RED) is dedicated to fighting global emergencies, including

HIV/AIDS and COVID-19, emergencies that hit the most

vulnerable populations hardest. This year, AphroChic is joining

with the (RED) campaign with (APHROCHIC)RED products

that will be part of the organization's Shopathon. 10% of the

proceeds from sales of our red products will go directly to

(RED).

26 aphrochic

SHE'S ON

THE FRONTLINE

FOR WOMEN.

We've got her back.

red.org

@RED
---
FEATURES

Fashioning the Tale | House of Stories | A Modern Look at Kwanzaa |

Homebrewed | Exploring Tanzania | AphroChic Goes (RED) |

The Forming of Diaspora
---
Fashion

Fashioning

the Tale

The Roots and Future of Innovative

Online Dealer The Folklore

Storytelling is at the heart of The Folklore, a

multi-brand e-commerce site and wholesale agency

that delivers high-end contemporary African fashion

and lifestyle products to customers around the

world. According to founder and CEO Amira Rasool,

"Before our real story was told, the only way that

we were able to pass down our history was through

oral folk tale, things going down from generation

to generation. We're doing the same thing with The

Folklore, but we're telling stories through clothing."

Words by Cheminne Taylor-Smith

Creative Producer: Raven Irabor | Photographer: Imraan Christian

Stylist: Zizi Ntobongwana | MUA: Justine Alexander

Models: Patricia Laloyo, Samuel Edem, Faith Johnson

30 aphrochic
---
Fashion

A trip to South Africa with friends

led the former stylist and writer to an

out-of-the-box idea. Clothing that she

brought back from her trip received

such an amazing reaction that Rasool

realized there was an audience for the

brands and products she had fallen in

love with. Armed with an entrepreneurial

spirit and connections in the

fashion community thanks to her time

writing for publications like Vogue,

Teen Vogue, Glamour, and WWD, Rasool

developed the idea to use technology to

bring Africa's most in-demand brands

to global customers. And that's how The

Folklore began to tell its story of African

fashion, art, and craft.

In addition to products for sale,

there is content on the site, like podcasts

and blog posts written by the designers

and artisans. "We're giving people from

Africa and the Diaspora the ability to

tell their stories authentically and in the

way they want to," Rasool says "We don't

want to dictate what they say and how

they say it, we just want to give them a

platform that complements what their

overall vision in life is."

Today, there are over a dozen

categories of goods for sale on the site,

including apparel, housewares, and

literature. There are eight countries

represented, with plans to bring on

more companies from North and East

Africa, as well as the South American

Diaspora.

There are challenges in working

with companies on another continent —

including issues with technology gaps

and payment methods — but Rasool says

the benefits far outweigh any problems.

And, she says, her goal of connecting

African artisans with global customers

is a fulfilling one that has benefited her

in unexpected ways. "We collaborate

to make it a great experience for each

other. It's been a cultural exchange, and

a great bonding experience. It has made

me feel more connected to have friends

and people I consider family in Africa,"

she says.

Giving voice to those who are

historically ignored is another part of

The Folklore's story. Including the fact

that the company's corporate team is

largely comprised of Black women.

"I wouldn't say it was a conscious

choice, but it was a natural one," Rasool

says. "The spaces that I'm in are heavily

dominated by women, like the luxury

fashion space. I wanted to be sure that

this time around a luxury company

like this is dominated by Black women.

I think it's important that Black people

are the ones creating these spaces

for other Black people, and that Black

women — who we're mostly targeting —

are the main drivers behind what we're

doing." AC

Left, Amira Rasool.

Designs featured are by the

brand Sisiano.

Photos were shot in

Cape Town, South Africa.

34 aphrochic
---
Fashion
---
House of Stories

A Look at aptm Berlin

by Chris Glass

For Chris Glass, the need to tell stories started early. His ability to do it through

objects arranged in a room was revealed somewhat later. From his earliest days

growing up in Georgia, Chris was a creative person, exploring acting and singing. It

was how people knew him, and how he understood himself. But as he grew, it turned

out that his own story was proving far more interesting than that of anyone he

could play and it was taking him to more places — the well-traveled expat has made

homes in Amsterdam, Turkey, Barcelona and Mumbai to say nothing of countless

other travels to many other destinations. His well-traveled life has introduced him

to more people and showed him more of the world than he could possibly sing about.

Now in Berlin, he's sharing with us his own unique vision of the world.

Photos by Kate McLuckie

Words by Bryan Mason

issue five 39
---
Interior Design

Every person is the hero of their own

story, but even in your own tale, it can be a

moment before the hero emerges. "I spent a

lot of time behaving well and doing what was

expected of me," Glass says. "Being the person

that that I was taught to be and sort of staying

within the lines. Because of my theater background,

I grew up thinking everyone should

have one of these classic theatrical stories and

I kept waiting for mine to fall into that script."

The journey that led Glass away from

characters and to owning an ever-changing

boutique in Berlin is an interesting one. "I lived

in Munich for about eight years, and eventually

moved to Berlin in 2009," he remembers.

"Munich had become too small for me and I

really needed to be in a place that was more

stimulating and dynamic." In addition to

owning his own boutique, Glass has the role

of Director for European membership for the

famed Soho House. His role requires that he

connects with the experiences and stories of

others, experiencing new places, people and

cultures.

Much of what he finds becomes part of

building better member experiences for Soho

House's European clientele. But for his life

outside of his 9-to-5, he's found a different

outlet as part of a growing relationship with

interior design that has been as unusual as it

has been rewarding.

What sets Glass apart from others in the

design world is that most people who become

designers do so on purpose. Yet for Glass, not

only was it unintentional, it happened largely

without his noticing. Instead of a longstanding

love affair with the profession, for him the

calling came in the form of an actual call made

by someone inquiring about interesting spaces

to shoot for a magazine. His assent, he says, was

nonchalant at best, admitting that he agreed to

have his Berlin apartment shot solely because

he thought it would be fun to show the article

to his mother. As soon as it was done, the shoot

was forgotten about.

As the images circulated, what began as

a single feature quickly became more. "Every

few weeks, she would send me a clipping

and say, 'Your apartment was featured in this

magazine, it was featured in that magazine.'"

Glass's bold and eclectic design style, fueled

by finds acquired through his constant travel,

was finding resonance in print and online.

Everyone, it seemed, was recognizing this new

and exciting talent. Everyone, that is, except the

designer himself. "I thought it was somewhat

flattering," he confesses, "though I really had

no concept of what was going on."

44 aphrochic
---
Interior Design

The breakthrough moment came when

the attention resulted in an eight-page spread

for a major publication. "I started getting

messages from friends saying 'Your space

is amazing. Your taste is amazing.' And in

that moment, I understood, maybe I've done

something interesting with my space. Maybe

I have a certain point of view or way that I do

things that's interesting to someone beyond

me."

With the acknowledgement of his own

talent came the question of how best to express

it. It was his first time telling a story that was

completely his own, and naturally Glass felt

protective of it. The point of view he was expressing

in his home was gaining notice, but it

was only one home. And working as a designer

with clients would largely be about expressing

the client's aesthetic, not his own. He needed

another canvas to paint on, another stage from

which to tell, not just his own story, but all of the

stories he had spent so many years collecting.

The result was a space that is equal parts decor

shop and interactive experience - aptm Berlin.

Opened in 2017, in the Wedding neighborhood

of Berlin's Mitte district, aptm Berlin

is as much an event space as it is a retail shop.

At nearly 2,500 square feet, this one-of-a-kind

boutique encompasses a large dining, library,

and home office space. "The first response

should be a sense of home, of belonging," Glass

says of guests visiting for the first time. "aptm

Berlin is an abbreviation for apartment, but it

also is an acronym for 'a place to meet'. I wanted

to create a space where people and things come

together. A space where people can discover

and be inspired."

With aptm Berlin, Glass has the best of

both worlds — a place to present his vision

without compromise and with the flexibility

to be changed over and over again, turning one

space into many. And in fact, it is this flexibility

of concept, and the frequency with which

Glass exercises his prerogative for change that

have become the heart of the attraction. "It's

occasionally seasonal," he says of the transitions,

"But sometimes also in response to a

recent trip, or a new product that's been introduced.

And sometimes it's just because I fancy

changing a wall color and then switching everything

to suit that. This idea is also what

keeps people coming back — the newness and

the desire to discover something unseen."

From the beginning, Glass envisioned

aptm Berlin as more than a retail shop. With his

rotating designs at center stage, he has used the

interest the space generates as a way to draw

more people in, using this platform to create

and share experiences of their own, while continually

breathing new life into the store's retail

side. "The space has really morphed more

into a living gallery. People book it for dinners,

photo shoots, filming, meetings. And via these

bookings, people experience the pieces we

have for sale and inquire after to buy things."

While the space's first display incarnation,

the aptly titled Birth, conjured images of

something new being brought into the world,

the revision immediately following, called

Dolce, stems from sources far closer to the designer's

own life and experiences. "I draw inspiration

from so many different places and I

wanted to have the flexibility to show different

ideas," Glass reveals. "Just before Dolce I'd

begun seeing a therapist who focused on mindfulness.

She really helped me to embrace this

idea of living in the moment."

Glass extrapolates, drawing the universal

out of the specific to create designed tableaus

that resonate on a number of different levels.

46 aphrochic issue five 47
---
"This idea is what keeps

people coming back - the

newness and the desire to

discover something unseen."

"The idea of Dolce is to evoke that moment

when you bite into something sweet. Your

mouth is flooded with sensation and exactly

that moment is what I wanted to capture. It was

also fitting that it is an Italian word as I had an

image of an Italian vineyard during the harvest

and the colors in the space corresponded to

that moment."

Since then, this design stage has hosted

several other productions including Deutsch

and Umoja, before being slowed down by the

COVID-19 pandemic. Unsurprisingly though,

the interruption has been less a setback for

Glass, and more an opportunity to explore

things in a new way.

"We've had to slow down and cut back

like anyone else," he says. "But it's also allowed

us to literally clean house. Going through and

looking at what is genuinely essential and the

location aspect of our business has become

even more important as people are looking for

quaint, personal, safe spaces for events and

other activities."

As the saying goes, "all the world's a

stage," and in Chris Glass's world, there's no

question that it's true. Through design, this

former singer and actor created the perfect

stage to express his own vision.

Glass's stage isn't something he

dominates, but instead a space he shares with

those who visit from all around the world.

Whether it's for the thrill of seeing something

"unseen," for the first time or coming together

with a group of likeminded people to explore

new ideas, or just for the fun of spending the

afternoon somewhere out of the ordinary,

Glass offers aptm Berlin as a door to another

world in the the hopes that whatever visitors

bring back will be something they'll want to

share as well. AC

issue five 49
---
Interior Design
---
Interior Design
---
Interior Design
---
Culture

Freedom

Summer

An AphroChic interview

with Naeem Douglas, the

Brookladelphian

A Modern Look

Interview by Bryan Mason

Photos by The Brookladelphian

at Kwanzaa
---
Since it was first introduced by Maulana Karenga in 1966, Kwanzaa has been

part of the suite of holidays celebrated by Americans at the end of every year.

Yet compared to other winter holidays, Kwanzaa is not especially popular, even

among its target community of African Americans. Though a variety of Kwanzaa

events take place every year, some attracting crowds of thousands, many of us are

unfamiliar with the core principles of the celebration, its history, or its original

intent. For others, the disconnect is aesthetic, rooted in '60s perspectives on Black

culture and Diaspora and hard to connect with today. But the seven principles

that form the core of the celebration — Umoja (Unity), Kujichagulia (Self-Determination),

Ujima (Collective Work and Responsibility), Ujamaa (Familyhood / Cooperative

economics), Nia (Purpose), Kuumba (Creativity) and Imani (Faith) — are

powerful points of focus and we should be careful not to lose them to neglect.

An interview with Christopher Harrison

Conducted by Bryan Mason

Design by AphroChic

issue five 59
---
Culture

To get a better understanding of the holiday, we sat down with

Christopher Harrison, a PhD candidate in Ethics and Social Theory at

the Graduate Theological Union in Berkeley, CA, whose studies focus

on Kwanzaa, among other African American social philosophies. We

talked with Harrison about the history and purpose of the celebration

of "first fruits," and designed our own modern interpretation of this

54-year-old holiday.

AC: It's widely known that Kwanzaa is a celebration of Black

culture based on seven principles symbolized by seven candles. What

should we know about it? Is there more to the story?

CH: Kwanzaa was never meant to be a once-a-year holiday.

When Karenga first created Kwanzaa in '66, the Black Power

movement was just beginning to come into focus in California. It had

been a year since Malcolm X had been assassinated and The Us Organization

and the Black Panther Party had just been founded. Karenga

was the co-founder and chairman of The Us Organization and he felt

that in order to be truly transformational, the political efforts of these

organizations needed a cultural foundation. Kwanzaa was intended

to be the basis of that foundation, a kind of cultural revolution to

break Black people out of negative American stereotypes and reconnecting

us, not to a specific African culture, but to a broad cultural

framework based on a variety of traditions from the continent. In

that way Kwanzaa is actually quite ambitious. It's the beginning of an

attempt to reconstruct a deconstructed people.

AC: All of Kwanzaa's terminology, including the name itself are

taken from Swahili, an East African language. Some have called this

an anachronism citing the prevalence of West African influence in the

genetics and cultures of the Diaspora. Why was Swahili the language

of choice?

CH: Swahili is one of Africa's most widely spoken languages,

connecting a number of nations in the central, eastern, and southern

parts of the continent. Moreover it was essentially the lingua franca

of the Pan-Africanist movement at that time. East Africa was in the

process of decolonizing and the leaders of Swahili-speaking nations

like Julius Nuyere and Jomo Kenyatta — the first presidents of

Tanzania and Kenya — were at the vanguard. That gave Swahili the

kind of status that Ghanaian kente cloth had attained under Kwame

Nkrumah. So for the type of practice Kwanzaa was intended to be and

what it was intended to do, Swahili was a natural choice.

AC: Even in the '60s, Kwanzaa's popularity was limited by the

idea that it was intended to supplant religious observances like

Christmas. Does that continue to be true today? Can Kwanzaa be

updated or incorporated into other holiday celebrations?

CH: They can certainly be combined now, but that was not the

initial intent. Early literature on the holiday explains it as an attempt

to construct a new philosophical environment for the unlearning of

racists tropes internalized by Black people in America and elsewhere.

Those tropes were strongly present and even reinforced in American

churches with their insistence on the whiteness of Jesus and God.

issue five 61
---
Culture

Since then however, the lines between

the two have softened. In fact, a large

number of the Kwanzaa celebrations held

every year are given by Black Catholic

churches.

Kwanzaa is not about elevating race

or culture to the level of a religion. History

is full of examples of why that's a bad idea.

It's about fostering and reinforcing commitment

to the process of liberation for Black

people around the world — a process, this

year proves, is still ongoing.

AC: Since the 1960s, Diaspora has

replaced Pan-Africanism as the primary lens

for conceptualizing global Black culture. As a

result, many of Kwanzaa's signature components,

like Swahili or the red, black, and green

color scheme don't resonate for some in the

same way that they once did. Can the practice

be updated while keeping its significance and

meeting its goals? What are the important

features that need to be maintained?

CH: Without question, Kawaida, is the

most important aspect to be maintained.

Kawaida is the philosophy behind Kwanzaa

as a celebration of the nguzo saba (seven

principles), and can be thought of as the

seven in combination. Maulana Karenga is

still alive so it's his perspective that really

matters, but in my opinion it's possible to

alter much of the outer structure of the celebration

and still make it work. But unless

the principles and the goal of Kawaida are

present, it's not really Kwanzaa. Given that,

it's possible for the holiday to be celebrated

in different ways in every culture and

household while keeping to the observance

of the nguzo saba. That flexibility would

be more in accordance with how we see

Diaspora today, rather than Pan-Africanism

in which the uniformity of the practice was

part of the point. It also gives us the ability

to update the practice while passing on the

principles.

AC: What books or resources would

you recommend for anyone wanting to learn

more about Kwanzaa?

CH: I would suggest starting with his

website, maulanakarenga.org. Also Molefi

Asante wrote an excellent biography called,

Maulana Karenga: An Intellectual Portrait.

64 aphrochic issue five 65
---
Food

Homebrewed

A Black Beer Lover's

Journey into the World

of Craft Beer

"There is an art," my brother Charles says,

"to learning to make the thing you drink and

enjoy it." As one of a growing number of Black

homebrewers, it's a saying and an art that my

husband Joe has deeply embraced.

Words and photos by Camille Simmons

66 aphrochic
---
Food

Charles is always saying things like that. He's quirky, and with

a lot of interests outside of the usual stereotypes for Black men,

he's played a big role in Joe's developing love for beer and his skill

at creating his own. The two started brewing together in 2010. It

didn't take long for Joe to know that he was hooked. As a mechanical

engineer, the detail-oriented process appealed to him, but also

offered a level of creativity far beyond what he was used to. That year

they brewed a strong Belgian tripel, and with my brother cheering him

on to start his own creations, I bought Joe his first one-gallon brewing

kit. Joe began learning simple recipes like a grapefruit honey ale, an

IPA, and an oatmeal stout. Our friends and family became his taste

testers and he loved their reactions as much as they loved his work.

But part of what made these words of encouragement so valuable at

the time is that they were also rare in a field that, even now, has few

participants of color.

Representation in homebrewing is much like it is in a number of

other activities. Black people drink beer, of course, just like we drink

wine. But when it comes to the art and, more importantly, the business

of making it, that's a different game. Our presence at the table is often

not welcome, and it's never expected. As strange as that ever is, it's especially

odd in the case of beer which, as the world's oldest surviving

recipe, was first recorded in 5000 BC — by Egyptians.

Three years after we began our homebrewing journey, Joe

and I were visiting wineries in Sonoma, CA, with my mother for her

birthday. We visited a local community that is very popular with beer

lovers and brewers alike. Joe was excited about the visit, and eager

to chat with the bartenders about their craft process. Instead, we

were greeted with unsubtle glares from a room seriously devoid of

diversity. Joe struggled even to place an order as he was peppered with

questions like, "Do you know what we have here?" and "Do you know

it's just beer?" Sadly we're used to these interactions so Joe brushed

off the condescending tone and proceeded to order. We salvaged the

night, enjoyed the beers, even got a few to take home.

Fortunately, though representation remains an issue and the

condescension of those unused to Black faces in what they think

of as "their" spaces continues to be a reality, the Black homebrew

community is a growing contingent and their accomplishments are

real. In 2013, Annie Johnson became the first African American to ever

be named Homebrewer of the Year by the American Homebrewers Association,

only a year after she won the Master Homebrewer Competition

held by Pilsner Urquell in San Francisco. And in 2018, Day Bracey

and Mike Potter, the founders of Black Brew Culture, hosted Fresh

Fest, the first festival dedicated to craft beer lovers of color and the

celebration of Black-owned breweries.

For us, homebrewing has been part of our journey for the last

10 years. Every step we took for one led to more developments in the

other. We were living in Oakland at the time when Joe found a homebrewers

supply shop in Berkeley that encouraged him to keep exper-

68 aphrochic issue five 69
---
Food

70 aphrochic issue five 71
---
Food

imenting with recipes, trying out different

beer styles, hops (the plant that gives beer its

recognizable taste), and other flavorful ingredients.

As he learned the basic styles like

pale ale, porter, stout, and pilsner he would

brew a batch about once a month in our tiny

apartment. Before long, he had fans and

realized he needed a larger brew kit.

When we decided to move back

home to Long Beach, CA, we found a great

apartment by the beach, with a garage

space that could house Joe's growing laboratory.

He still brewed on a monthly basis,

but also made special batches for friends'

weddings, birthdays, and baby showers. I

opened a decor and flower boutique and Joe

brewed special floral varieties (like a honey

lavender saison) for my customers to enjoy at

tasting parties in the shop. As word of mouth

spread, he applied to Airbnb to host a homebrewing

experience in our apartment. Soon,

we had strangers from all over the world

spending Saturdays in our home, falling in

love with the process of making beer.

Keeping up our visits to breweries

and beer festivals has only helped our circle

grow. The festivals are lively events, filled

with crowds that deeply appreciate quality

craft beer. And we've even seen a few more

breweries popping up led by women and

people of color. In 2017, at the LA Beer Week,

Joe met an exuberant beer fan, Teo Hunter,

with a mission to show that Black people are

an important and vibrant part of the craft

community. With his business partner Beny

Ashburn, Hunter formed Crowns & Hops, a

Black-owned brewery focused on dramatically

shifting the culture of craft beer. While

still managing his full-time job as a technology

consultant, Joe acts as their right hand,

helping the duo to navigate the worlds of

data analytics and brewery operations. Since

beginning, Crowns & Hops has begun partnering

with established breweries to release

limited edition batches, both in California

and internationally in the UK and Germany.

In the long term, Joe plans to follow his

passion and transition to the beer industry

full time.

Black breweries are still just a tiny

minority. Of the 6,300 small, independent

breweries in America, only 50 are Blackowned.

But from brewing with my brother

over a hot stove in the summer humidity of

Northern California 10 years ago to helping

a fledgling company take international steps,

Joe's passion for what he does has brought

us deeper into a community that loves the

art of beer just as much as he does. That

community is making strides to make its

voice heard and its presence felt not just as

a customer base, but as enthusiasts, artisans

and entrepreneurs in their own right. AC

72 aphrochic issue five 73
---
Food
---
Travel

Exploring Tanzania
---
Travel

Like so many places on the African continent, Tanzania is ancient and

beautiful. The modern state, born of the fusion of the sovereign state of Tanganyika

and the island nation of Zanzibar, is home to Mount Kilimanjaro,

as well as vast plains and coral reefs. With a history that stretches back for

millennia, this East African nation has traded with empires, survived colonizations

and breathed life into Diaspora. Photographer Lauren Crew takes

us on a visual journey of this incredible country, from rural towns to its

prized tourist destinations.

Photos by Lauren Crew

Words by Jeanine Hays & Bryan Mason

78 aphrochic
---
Travel
---
Travel

Referred to by academics as the The Cradle of Mankind for

the age of the tools, remains, and settlements discovered within its

borders, Tanzania is also considered the birthplace of the Swahili

language and culture. The nation is home to the Hadza people, one

of the world's oldest surviving isolated ethnicities, who continue a

language tradition and culture that appear to have remained largely

unchanged since ancient times. At the same time, the various nations

that preceded modern Tanzania appear prominently throughout

history.

Collectively called Azania by the Greek historian Ptolemy in the

2nd century AD, the Swahili Coast, which included Tanzania, was

known as a hub of trade. By the second millennia, the Swahili Coast

was a vital part of the thriving Indian Ocean Trade. This network of

trade routes connected more people than the Silk Road, reaching well

into Asia as well as the Mediterranean, Middle East, and Europe. One

town in particular, Kilwa, located on what is now Tanzania's southern

coast, was singled out as one of the best cities in the world by the 14th

century Islamic historian Ibn Battuta.

By the 1960s, the newly formed nation of Tanzania had survived

the decline of the Indian Ocean Trade and more. After occupation by

the Portuguese and later the Omani in the 16th century, it fell under

German control in the 19th century and British control in the 20th,

being dragged into two World Wars in the meantime. But in 1964,

Tanzania declared independence from British colonial rule. Ten years

later, after sharing its language with the international community of

Pan-Africanism, the nation's first president Julius Nyerere convened

the 6th Pan African Congress, which introduced the world to the idea

of the African Diaspora.

Its fascinating history and natural splendor make Tanzania home

to some of the world's most entrancing destinations. Four hundred

miles from the slopes of Africa's highest mountain — Kilimanjaro —

Zanzibar City recalls the nation's history of travel and trade. There,

old trade fortresses stand beside a sultan's palace and 19th century

Persian bathhouses fed by a series of antique aqueducts. In the north,

the Ngorongoro Conservation Area boasts Serengeti National Park

with its hornbills, hyenas, and lions amid a vast array of wildlife.

Lauren Crew's photography also takes us west into the

Nyarugusu refugee camp, one of the largest refugee camps of the 21st

century. The red clay camp, which was first created in 1996, has been

a refuge for those escaping the war in Congo, and now the conflict in

Burundi. It is now home to over 65,000 Burundians.

Tanzania is one nation with many stories. Traveling through the

country you can't help but be taken by the sheer variety of its landscapes,

the richness of its history, and the beauty of its people. AC

To aid refugees at the Nyarugusu refugee camp, donate to Oxfam: secure2.

oxfamamerica.org/page/contribute/donate.

82 aphrochic
---
Travel
---
Travel

issue five 89
---
Wellness

AphroChic

Goes (RED)

Introducing CULTU(RED)

During this year's season of giving, we are thrilled to announce

that we are giving back. AphroChic is partnering with (RED), and participating

in (SHOPATHON)RED with an exclusive new collection

entitled CULTU(RED).

In 2006, (RED) was founded by Bono and

Bobby Shriver to engage businesses and people

in one of the greatest health emergencies, the

AIDS pandemic. To date, (RED) has generated

$650 million for the Global Fund to support HIV/

AIDS grants primarily in eSwatini, Ghana, Kenya,

Lesotho, Rwanda, South Africa, Tanzania, and

Zambia. Today, as COVID-19 threatens to undo

the progress of the AIDS fight, (RED) is supporting

the fight against two deadly pandemics,

AIDS and COVID-19. To date, COVID-19 infection

rates in Africa have not been as severe as in other

parts of the world, yet the pandemic's impact on

critical health services has been devastating. The impact of COVID-19

could cause AIDS-related deaths to double in the coming year as health

and community systems are overwhelmed, treatment and prevention

programs are disrupted, and resources are diverted among the most

vulnerable communities, including those in sub-Saharan Africa.

Having lost family members to this crisis, as well as being

impacted by it personally, we are excited to do our part in helping the

world take back control from this virus. Part of that means helping to

raise awareness around contributing factors such as preexisting conditions

and equal access to healthcare, both on the African continent

and throughout the Diaspora as well.

Our CULTU(RED) collection will feature

a number of AphroChic patterns including our

signature Silhouette and Sisters designs, turned

red as a show of solidarity with the campaign and

its many partners. The collection will include

our pillows as well as exclusive items such as

table runners, placemats and dinner napkins.

We will also be offering a limited run of exclusive

CULTU(RED) T-shirts.

Times like this teach us a lot. More than

anything they teach us that the more we all do

for each other, the easier we can make things for

everyone. This year, maybe more than any other we've experienced,

we all need to feel like we can do something to make things easier.

For us, that's always meant making beautiful things that have a story,

make a difference, and give back. AC

Shop the AphroChic CULTU(RED) collection as part of (SHOPATHON)

RED on Amazon.com/RED.

Words by Bryan Mason
---
Reference

The Forming

of Diaspora, Part 1

A New Lens

for a New World

In 1965, after more than six decades of Pan-Africanism,

a new paradigm was emerging, led by a new generation

of intellectuals, politicos, and activists. In that moment,

the framework that had begun with a brief conference in

London, had been formed in the shadow of empires, grew

Words by Bryan Mason

Photos by Pascal Genest

to span nations and, nurtured by many of the best minds of

the century, played a key role in reshaping the world, began

to end.

Yet the introduction of the African

Diaspora concept by Joseph Harris and George

Shepperson in 1965 was more than a rhetorical

passing of the guard. It signified deep changes

in the ways that Black people all over the world

were seeing themselves in relationship to their

homelands, to Africa as both continent and

symbol, and to each other. Bringing all of that

into focus would take more than one word.

Much more. But before the African Diaspora

could become real in the minds of those who

would comprise it, it would first have to be

formed and defined in ways that would meet the

new needs of a changing time. Chief among the

questions to be answered between Pan-Africanism

and Diaspora was, what's the difference?

Among the many aspects that differentiate

the two frameworks, perhaps the most

significant is the basic way in which each conceptualizes

the relationship between the individual

Black person of any nationality, the

continent of Africa, and the whole community

of Black people worldwide. Any number of

other differences exist, especially as Diaspora

continues to work to define itself more fully.

But this is most important, because it is on the

foundation of these points that both philosophies

build the entirety of their perspectives.

Form and Function

For Pan-Africanism, the basic foundation

of its outlook is expressed in an idea that

could loosely be described as "the underlying

African self." This idea posits that beneath

the cultural specificities of any nationality

or ethnicity, there exists an underlying,

original or essential part of every Black person

that connects us to the African continent and

therefore to each other.

Though the idea of an essential African-ness

connecting all Black people might

continue to resonate to a greater or lesser

degree today, at the time it was all but common

knowledge. During Pan-Africanism's tenure

there was no "African-American" as Jesse

Jackson would popularize the term in the

1980s, only the African (or more commonly,

the Negro) in America. Black people in other

parts of the world were thought of similarly,

not as belonging to the place, regardless of

where they were born, but as being the Negro

here or there. The idea is even borne out in

the title of Shepperson's introductory article

on Diaspora with its use of the phrase, "The

92 aphrochic issue five 93
---
Reference

African Abroad."

By necessity, "Africa" played a central

role in this conceptualization, which arguably

saw what we now think of as distinct Diaspora

cultures as different aspects or at least various

iterations of a comparatively monolithic

African culture. And while it is problematic

for us today to reduce Africa to a monolith,

ignoring the plethora of cultures that make

up the world's second largest continent, at

the height of colonialism the only difference

between African nations considered meaningful

was the flag of the European nation that

occupied them.

Whatever anachronisms we might accuse

the idea of today, it's clear that in its time,

the underlying African self was not simply

a romantic notion, but a philosophical and

political tool. It was a refuge for every Black

person either disowned by the place of their

birth or oppressed in it by the absent monarch

of a distant empire. It was the basic building

block that made cooperation and joint struggle

across oceans possible, allowing the first

Pan-African Conference in London to become

Pan-African Congresses around the world,

and Harlem's New Negro Movement to become

Negritude in Martinique, Senegal, Paris, and

more. The composite symbol of Africa that

it employed, even if not understood in the

moment as being distinct from the actual

continent, met the needs of dispersed people,

themselves a cultural and genetic composite

of many African nations, while drawing their

attention and efforts to the aid of a spiritual,

if not physical, homeland as deeply in need of

them as they were of it.

Unity or Difference

As the successful application of the

Pan-African framework led to the accomplishment

— at least in part — of the purposes

for which it had been conceived, the state of

affairs within the global Black community

began to shift so that the framework itself no

longer applied. The introduction of the term

'diaspora' by Harris and Shepperson was the

beginning of a necessary new direction in the

study of Black cultures and communities, one

that centered on a change in focus from unity

to difference as the defining element of relationships

between Black cultures internationally.

As scholar, Brent Hayes Edwards puts it,

"[diaspora] focuses especially on relations of

difference and disjuncture in the varied interactions

of black internationalist discourses,

both in ideological terms and in terms of

language difference itself."

In the years that followed its introduction,

the formation of the African Diaspora

as a field of study would be significantly

aided in the task of theorizing difference

by the work of British Cultural Studies, itself

an emerging field at that time. In particular,

Stuart Hall's theory of Articulation, a derivative

of the Marxist thought of Louis Althusser,

would give the African Diaspora the vocabulary

with which to address issues of difference.

These distinctions had become increasingly

prevalent as the Pan-Africanist call for 'African

Unity' subsided in the face of growing political

independence.

Prior to the emergence of the African

Diaspora concept, the desire for unity that

animated both cultural and political Pan-African

movements served to limit not only

the study of the various cultural and political

elements of the Diaspora, but the confines

of Black identity as constructed around the

shared image of Africa as homeland. As Hall

himself put it:

[S]uch images offer a way of imposing

an imaginary coherence on the experience of

dispersal and fragmentation, which is the history

of all forced diasporas. They do this by representing

or figuring Africa as the mother of these

different civilizations…Africa is the name of

the missing term, the great aporia, which lies at

the center of our cultural identity and gives it a

meaning which, until recently, it lacked…Such

texts restore an imaginary fullness or plentitude,

to set against the broken rubric of our past.

Hall's somewhat pessimistic-sounding

take on the role of Africa as the central,

unifying concept of all Black identity interprets

this idea of a singular, underlying

yet shared self as one of two approaches

to cultural identity. Within Pan-Africanism,

this approach was the primary means of engendering

the desire for unity and the sense

of shared urgency on which Internationalist

movements of every sort depended. Though

theorists of subsequent generations, including

Hall, would argue against this method of

binding and thus, as they assert, limiting Black

identity, the necessity of this stance in the time

in which it found its greatest use is not difficult

to understand. Without a central image of

shared concern to bind them, coordinated

activist movements among African descendants

of many lands would have been nearly

impossible to create, much less sustain.

Coming out of this moment however, the

establishment of Black Studies as a burgeoning

field in the late '60s and early '70s shifted

the focus from international unity around

the symbol of a free African homeland, to a

series of competing nationalisms. Within this

context it is similarly possible to understand

Hall's push to investigate difference given that,

as a British citizen of African descent, he was

himself equally marginalized in studies of both

Black and British culture at that time.

In the U.S., approaches to Black Studies

emerging from various Black Nationalist

movements, such as Maulana Karenga's Us

Organization tended to privilege the study

and culture of African Americans specifically.

At the same time, the reification of

English particularism within British cultural

studies established the subject of that study

firmly, if not exclusively, as the white, British,

male. Though Hall was a prominent figure in

the field and an important voice in such discussions

as a founding member of the Centre

for Contemporary Cultural Studies at Birmingham

University, for countless others

across the world the combination made it

difficult to establish Black identity across,

and in some cases, even within national

boundaries.

94 aphrochic issue five 95
---
Reference

Hall's work makes a powerful intervention

into the theoretical basis from which

society is observed with the 1980 essay, "Race,

Articulation, and Societies Structured in

Dominance." Though the term 'diaspora'

appears nowhere in the text, it is in this essay

that Hall most thoroughly lays out the idea of

difference in unity as entailed in the Althusserian

concept of Articulation. As Hall recounts

the idea:

The term Articulation is a complex one,

variously employed and defined…[I]t is a

metaphor used to indicate relations of linkage

and effectivity between different levels of all sorts

of things…[T]hese things require to be linked

because, though connected, they are not the same.

[Therefore] the unity formed by this combination,

or articulation, is always, necessarily a complex

structure.

The challenge that Hall continued to take

on in his work on cultural identity was to find

a means of expressing the connection between

Diaspora cultures while affirming their difference

— yet without resorting to nationalist

or ethnic "essentialisms." He describes what

he affirms as a second approach to cultural

identity as one that, "recognizes that, as well

as the many points of similarity, there are also

critical points of deep and significant difference

which constitute 'what we really are'; or

rather — since history has intervened — 'what

we have become.' "

His recognition of the importance of

the intervention of history in the process

of creating cultural identity achieves two

major goals. First, it dismisses the hegemonic

unity of the African center of the global Black

culture by acknowledging that the passage of

time and the events of history have resulted

in the emergence of new cultures within the

Diaspora which are African in origin — and

then only in part — but not in expression.

Secondly, it emphasizes the differences that

stand between Diaspora cultures while recognizing

the points of similarity that transcend

attempts at facile ethnocentrisms. While additional

scholars would continue the work of

establishing difference as the fundamental

element of Diaspora, Hall's work was a major

first step towards an understanding of global

Black identity that acknowledged both the

connection of community and the distinction

of unique cultural and historical trajectories.

The Point of it All

In the first article of this series, we looked

at the prevalence of the term diaspora, its attachment

to dispersals of all kinds and the

tendency for those who study them to try to

define diasporas collectively. And we demonstrated

several points of distinction between

the African and other diasporas in the process

of arguing that diasporas in general should

be considered individually as each has its

own salient characteristics. In the transition

away from Pan-Africanism, the global

community now collectively understood as the

African Diaspora created one of its biggest and

most important distinctions, and a massive

argument for its continued study as a thing

unto itself.

The difference between Pan-Africanism

and the African Diaspora as expressed in

their most basic, core concepts is profound.

Both acknowledge a connection between all

Black people and cultures around the world,

as well as points of difference that distinguish

us one from another. But they differ greatly

in their interpretation of this agreement

and on which aspect of the relationship is

most important. For Pan-Africanism, which

espoused an inclusive global perspective,

unity was the most important thing as it was

crucial to pursuing its agenda of African liberation

— a term that extended beyond the

continent to include dispersed Black people

living in different conditions of oppression

around the world. Therefore for Pan-Africanism,

the underlying African self was the true

self, as it connected us across oceans and in

spite of generations of exploitation, abuse and

resistance. Conversely, in the absence of an

inclusive political or social agenda, Diaspora

presents an outlook no less global, but far more

specific and decentralized in its treatment of

Black cultures. For Diaspora, as Stuart Hall

clearly stated, it is not the points of commonality

but the points of difference that connote,

"what we really are."

For most if not all diasporas, the whole

point of being understood as a diaspora is

to create or maintain some sense of unity or

sameness despite dispersion. And while it

is very likely that conversations within any

number of diasporas have turned to address

present or growing cultural differences within

them, it was on this basis specifically that the

African Diaspora came into being — not as

a way of establishing unity, but as a means of

countenancing difference.

It's natural at this point to question

which of the two approaches is better, as both

have clear strengths within their fundamental

differences — but there are more useful

avenues to pursue. Instead of comparing one

framework to another, it is more important

to compare each to the times and the needs

of the people whose lives are lived in and

through a given paradigm. From that perspective,

the question is not whether diaspora

is in some way superior to Pan-Africanism,

or whether it more accurately describes the

"reality" of interconnected cultures dispersed

and descended from the African continent.

The question is whether, as a tool, diaspora

does what we need it do now as well or better

than Pan-Africanism did what we needed it

to do then. Though we may not really have an

answer until diaspora has joined Pan-Africanism

on the list of zeitgeists past, in the present

moment the question is far more valuable.

Asking it requires that we take detailed stock of

what we think diaspora is in the context of the

struggles we face in the world as it is right now,

with the intended purpose of matching one to

the other. Because if we are not working conscientiously

to make diaspora the solution, it

could easily become the problem. AC

96 aphrochic issue five 97
---
PINPOINT

Artists & Artisans | Hot Topic | Who Are You
---
ARTISTS & ARTISANS

Faatimah Mohamed-Luke and Al Luke

Their work is distinct. She presents geometric shapes, he paints in flowing lines, but

there is a connection in their pieces — abstraction, mathematics, identity. For South

African artist Faatimah Mohamed-Luke and her husband Al Luke, aka ALFA, one of the

things most interesting about their artwork is the mediums they each have chosen to

work with and how they have found unique ways to express themselves.

Faatimah's work is an exploration

of both her African and Arab heritage.

Central to her creations is the millennia-old

technique of tessellation, a symmetric

edge-to-edge tiling technique that results

in complex, intricate patterns. With roots

as old as ancient Sumer, the art reached its

heights in Islamic Spain and Morocco. Both

employed the technique extensively in constructing

the sophisticated geometric tile

work of places like the Alhambra Palace, the

Great Mosque of Cordoba — now a Catholic

church — and more recently, the famous

Hasan II mosque in Casablanca. In the 21st

century, Faatimah is using this technique

to create thoroughly modern works of art,

using building blocks that are customized in

specific colorways for each piece.

It was during a trip to Morocco

that Faatimah fell in love with the pattern-work

that can be spotted all throughout

the country. "It was the first time I

had witnessed parts of my heritage living

together so gracefully," she remarks. This

led her to a new medium to work with to

create her unique landscapes, portraits and

abstract works. "The porcelain tile used to

create mosaics didn't really resonate with

me, so I looked to a more unusual basic

shape. What I love most about it is that it is a

nontraditional art medium and comes with

no expectations, but has it own unique set of

challenges."

Thousands of plastic blocks are used to

create works like her Reflections of a Queen II

series, Flora-The Blue Period and a collaborative

piece with her husband, My Head Your

Hands, all represented by UK art gallery, the

Jenn Singer Gallery. "I believe that challenging

an already established environment and

challenging society is an essential part of an

artist's work and this medium helps me to

do that by starting the conversation: 'But is

it art?' "

Al's medium is different. His use of

spray paint and acrylic liners gives his

paintings an urban street style feel that is

immediately modern and contemporary.

The vivid colorful lines take you on a journey

of exploration. For Al, it is an exploration of

identity. He describes his art as exposing a

new African style that can challenge stereotypes

of what art from the continent

should look like. "I enjoying blurring the

lines of what an art medium is," states Al.

"Spray paint is considered a street artist

tool. It's urban and edgy, but when placed

in the gallery environment, it takes on new

meaning.

"When it comes to creating the line

work in the pieces I create, the lines are

completely expressive and intuitive,

working directly with the medium of choice

to avoid any hesitation or self-doubt. It is an

exercise in trust and extremely cathartic.

I enjoy the limitless nature of the work and

end results are constantly evolving."

In both Faatimah and Al's you can see

the modern art aesthetic that is present on

the African continent. Works that speak to

identity, place and society at large. Pieces

that challenge the viewer.

And with this duo doing it in tandem,

at times in collaborative works, they are

showing pieces that excite and push us all to

dig deeper.

Explore works by Faatimah Mohamed-Luke

and AI Luke at jennsingergallery.com

Words by Jeanine Hays

Equilibrium

Al Luke

courtesy of Jenn

Singer Gallery

100 aphrochic
---
ARTISTS & ARTISANS

Faatimah Mohamed-Luke and Al Luke

My Head Your Hands - Pink

Faatimah Mohamed-Luke and Al Luke

courtesy of Jenn Singer Gallery

Tesselat

Faatimah Mohamed-Luke

courtesy of Jenn Singer Gallery

102 aphrochic issue five 103
---
ARTISTS & ARTISANS

Reflections of A Queen II - Yoruba Grey

Faatimah Mohamed-Luke courtesy of

Jenn Singer Gallery

Reflections of A Queen II - Wolof Pink Blocks

Faatimah Mohamed-Luke courtesy of Jenn

Singer Gallery

104 aphrochic issue five 105
---
HOT TOPIC

What Does This Economic Recession Mean for Black People?

This winter poses an intensifying turning point for the many crises we are simultaneously

facing, including a global pandemic, an economic recession triggered by the pandemic

and marked by soaring inequality, uprisings driven by anti-Black violence and poignant

grief, and an election in the U.S. that determines the direction we're headed in for all of

the above. One thing is true: we can't afford to return to "normal."

Even before this summer — even

before the pandemic — Black people have

borne the brunt of police violence and have

been impacted by wide health disparities. In

addition, Black people historically have been

disproportionately affected by economic

downturns. Racial wealth and income gaps

have made downturns longer and more

painful to the Black community than other

racial groups, and these gaps have robbed

Black people of an economic safety net to

cushion us from the harshest of these blows,

including the one we're currently experiencing.

Economic downturns hit Black

workers harder. Because of systemic racism

and discrimination entrenched in the labor

market, Black workers are often the first

fired and last hired following any economic

downturn. And because lower wages leave

Black workers unable to build wealth over

time, we are twice as likely than white

households to have trouble covering bills

if hit with an unexpected $400 expense, or

sudden loss of income. The Black unemployment

rate was 5.8% in February. By May,

one in six Black workers were unemployed.

By July, the Black unemployment rate was

higher than any white unemployment on

record since we began collecting the data.

Because Black workers are overrepresented

in low-wage jobs, it takes us longer to

recover lost income and accumulate wealth

following a recession. A full decade after the

Great Recession, for example, Black households

had still not recovered their prior

income levels. Even worse, many Black

homeowners permanently lost their homes

following the housing crash.

We are again in a dire economic crisis,

but this one is of unprecedented scale. Over

the past several months, we have seen nationwide

shutdowns, significant job loss,

and severe declines in income for millions

across the country. By June, the National

Bureau of Economic Research, a nonprofit

research organization well known for

providing start and end dates for economic

downturns, announced we had officially

entered a recession, which is a decline

in economic activity that lasts for two consecutive

quarters. But given the severity

and global scale of the ongoing crisis, it's

likely that we will enter a depression soon,

and this next great depression will hit Black

communities hardest.

The Next Great Depression

Recessions are defined by specific

factors like declines in gross domestic

product (GDP), income nationwide, and

sales and consumer spending. They also

are characterized by a rise in unemployment

— basically, a significant shock to a

country's economic activity. A depression

is a recession on a bigger scale in terms of

length and breadth. In fact, depressions

can last from two to 10 years and can cause

major disruptions to the global economy.

But there's a danger in studying

economic data across the nation without

looking specifically at the economics of

Black people. The economics of Black

America have always been worse off than

what the average statistics suggest. That's

due to, in part, a long-standing history

of systemic racism and racial discrimination

in every sector of our economy

— from the labor market, to housing and

education. But even current "race-neutral"

economic policies and a failure to disaggregate

economic data by race contribute to a

cultural norm of ignoring the economics of

Black America. Altogether, these patterns,

practices, and policies help to amplify

economic pain and suffering within the

Black community.

The last economic depression was

the Great Depression of the 1930s. While

we don't yet know whether what we're experiencing

is a depression, if history is any

guide, the Black community might be feeling

the symptoms of a depression. Shuttering

businesses and record unemployment

are rivaling the Great Depression itself. The

signs are not promising.

Black people are disproportionately

harmed during economic downturns. Even

if this economic crisis turns out to be only a

recession, Black people will most likely experience

depression-like conditions. Nearly

60 million people filed unemployment

claims for the first time in the last seven

months. Some of these include temporary

layoffs, but a new study from Harvard University

suggests up to 8.7 million jobs could

be permanently lost by the end of this year.

To put that in perspective, a total of 8.6

million people were permanently unemployed

following the 2008 Great Recession.

We will likely still be in the middle of this

economic downturn by the end of the year,

making the scale of this crisis enormous.

Additionally, economic activity is down

as a whole: consumer spending, business

sentiment, small business reopening plans,

and available jobs began plateauing in

August, in part because of inaction over the

Congressional stimulus package, including

expanded unemployment insurance with a

weekly $600 boost. Eligible folks have only

received a direct stimulus check of $1,200

one time during this crisis, as Senate Republicans

stall in enabling any additional

relief.

When millions of households have

decreased incomes, they're unable to contribute

to their local economies, causing a

ripple effect and impacting thousands of

small businesses and even large corporations.

When business transactions slow to

a near halt, local economies will starve, and

people will suffer.

Black Economic Reality

Black America is even worse off. The

latest unemployment data shows that Black

unemployment is at 13%, nearly double the

white rate. Black workers are more likely to

be unemployed as they tend to work in the

service industry, retail sector, and local government,

all of which have been hit hard by

pandemic-induced lockdowns. These jobs

tend to lack remote work options, which in

part explains why Black workers are always

among the first fired during an economic

downturn and the last re-hired when the

economy recovers for everyone else.

Black workers are also overrepresented

in frontline industries and nontraditional

jobs such as contract work or gig

economy jobs like restaurant servers, Lyft

and Uber drivers, and seasonal construction

or produce pickers. Many of these jobs offer

low wages with little to no benefits like paid

leave or healthcare. These jobs put people

Words by Janelle Jones and Sabina Lee

106

Photos by Irandelson Salgueiro

aphrochic issue five 107
---
HOT TOPIC

at higher risk of contracting COVID-19 and

offer little promise of protecting workers

who put themselves on the line for compensation,

including hazard pay and workplace

protections, including PPEs.

In April, in a report by the Economic

Policy Institute, it was estimated that less

than half of all Black adults were employed.

Underemployment is also on the rise — the

practice of underusing workers' skills and

abilities, typically in reducing their hours

or hiring overly skilled workers for lower

skilled jobs.

As local economies cycle in and out

of shutdowns, workers are grappling with

decreased hours, income, and — as full-time

workers get placed on part-time work

schedules — eliminated benefits, including

healthcare, paid leave, and retirement, all of

which are crucial safety nets during times

of emergency like we are currently experiencing.

Again, underemployment hits Black

workers harder: it is estimated that two in

five Black workers will be underemployed in

the coming months.

The Impact on Black Entrepreneurs

The pandemic has also been devastating

for Black entrepreneurship. Blackowned

small businesses are twice as likely

to permanently shut down due to weaker

financial cushions, weaker bank relationships,

and the poor distribution of the government's

Paycheck Protection Program,

which did not reach many Black-owned

businesses. Black unemployment is

expected to continue increasing this year,

reaching an astonishing potential peak of

30%.

Conservatives in Congress have falsely

contended that too many people have been

receiving more from their unemployment

insurance payments rather than from their

jobs. But this false idea has been debunked

by a number of recent studies, including

one study that shows the majority of unemployment

insurance claimants are receiving

less from these payments than from their

previous jobs, when taking into account

non-wage compensation — including paid

leave, healthcare, and retirement.

The truth is, as economic policy expert

Lindsay Owens wrote in a recent piece,

"conservatives, and even some liberals, hate

the idea that unemployed Americans — and

particularly Black and brown unemployed

Americans — aren't being punished for not

working."

And even as lifesaving as unemployment

benefits are, it's little coincidence that

only 13% of Black people who are out of work

actually received unemployment benefits

between April and June. When Black people

do receive unemployment payments, they

tend to receive less aid than white workers

and tend to live in states with programs that

dispense lower unemployment payments

and have higher barriers to receiving them.

The extra $600 weekly unemployment

payments that could be authorized via the

CARES Act part 2 would be instrumental in

fixing some of the inequalities among state

programs.

We Can't Return To a "Normal" That Doesn't

Consider Black Americans

In August, President Trump signed a

series of executive actions, which included a

$300 supplemental unemployment benefit.

However, his plans have been widely and

rightfully panned as unworkable. Reduced

aid has strained millions of households financially,

especially those who were already

struggling. By the end of July, 29 million

adults lived in households that did not have

enough to eat in a week, and 15 million

renters were behind on rent. And for Black

households without wealth - nearly one in

five - will suffer disproportionately from

reduced aid.

As some look for a new normal, for

Black people, we can look at 2008's Great

Recession to show that "normal" doesn't

work for us. Black workers were slow to

return to pre-recession income levels due

to stagnant wage growth with wages rising

slower than the cost of living.

Even when Black workers returned

to pre-recession income levels, the racial

income gap persisted no matter the occupation,

industry, level of education or

geography. In 2017, the median net worth

for non-immigrant Black households in a

large American city like Boston was just $8,

whereas the median net worth for white

households in Boston was $247,500.

Economist Jared Bernstein, the former

chief economist to Vice President Joe

Biden (now President Elect), and I recently

proposed that the Federal Reserve track

and target the Black unemployment rate.

Racially disaggregated data would show how

racial groups are experiencing the economy

differently and would better inform the

Federal Reserve to account for race.

Federal Reserve Chair Jerome Powell

has noted that there are no rules to "mind

the [racial] gap" economically. While The

Federal Reserve is responsible for making

sure the unemployment rate is not too high

while at the same time the cost of living

is not increasingly too rapidly and it has

the power to adjust interest rates, which

impacts how businesses spend money and

purchases for consumers, like the interest

on home loans, race is not a factor.

To get a real picture of how America is

doing economically, we need legal language

barring Powell's successors from targeting

too-high "natural rates" without considering

racial outcomes. This idea has

gained traction over the past few months

among policymakers and leaders including

President of the Atlanta Federal Reserve,

Raphael Bostic, Representatives Ayanna

Pressley and Maxine Waters, and Senators

Elizabeth Warren and Kirsten Gillibrand.

Today, millions are out of work with no

steady source of income; the income they

had in the form of federal aid has been significantly

cut by the Trump administration

and congressional Republicans; consumer

spending and GDP is down (even though the

wealthy keep getting wealthier); coronavirus

cases are on the rise, in part because

schools, colleges, and businesses across

the country have reopened; climate change

and other forms of environmental pollution

are devastating millions, particularly in the

South and the West; and people are under

threat by the government and emboldened

militia groups at protests across the

country.

As we face interlocking social, political,

and economic crises, now is exactly the right

time to push for bold, progressive change

that closes inequitable gaps and forecloses

racist outcomes.

This economy hasn't been working for

most, but especially not for Black people.

We must build a stronger economy that can

withstand a multitude of crises especially

for Black workers who have historically

been left behind. We can course correct

one of the worst economic downturns in

U.S. history for all by deliberately improving

the economic outcomes of Black people and

ensure that we don't resort back to business

as usual.

Janelle Jones is the Managing Director for Policy and

Research at Groundwork Collaborative (groundworkcollaborative.org).

108 aphrochic issue five 109
---
WHO ARE YOU

Name:

Brooklyn A. Belt

Based In:

Connecticut

Occupation:

Third grader who

makes her own

movies with her best

friend

Currently: "We are

working on our latest

movie, Just Dance.

In the movie I like

writing music and my

best friend Charlotte

loves making music

and we get asked to

go on Broadway but

we're not sure if we

should go."

"Black culture is exciting.

Black culture is adventurous like the guy who played Thomas Jefferson and

Lafayette in Hamilton - Daveed Diggs.

Black culture is different because it is only Black culture and no one else's.

Black culture is learnable because it is somebody's life and you

can learn anything if you try."

110 aphrochic