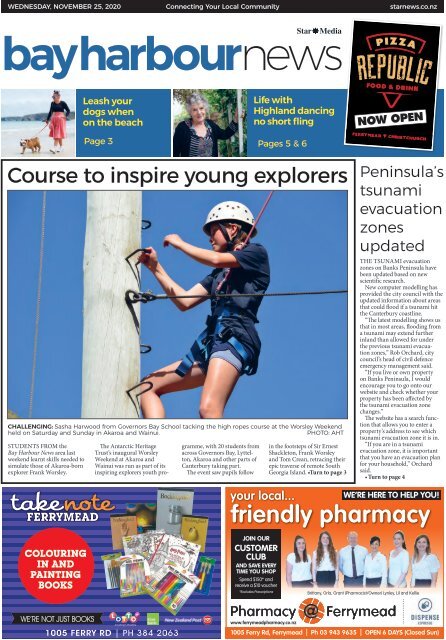 Bay Harbour: November 25, 2020
You also want an ePaper? Increase the reach of your titles
YUMPU automatically turns print PDFs into web optimized ePapers that Google loves.
WEDNESDAY, NOVEMBER 25, 2020

Connecting Your Local Community

starnews.co.nz

Leash your

dogs when

on the beach

Page 3

Life with

Highland dancing

no short fling

Pages 5 & 6

NOW OPEN

Course to inspire young explorers

CHALLENGING: Sasha Harwood from Governors Bay School tacking the high ropes course at the Worsley Weekend

held on Saturday and Sunday in Akaroa and Wainui.

PHOTO: AHT

STUDENTS FROM the

Bay Harbour News area last

weekend learnt skills needed to

simulate those of Akaroa-born

explorer Frank Worsley.

The Antarctic Heritage

Trust's inaugural Worsley

Weekend at Akaroa and

Wainui was run as part of its

inspiring explorers youth programme,

with 20 students from

across Governors Bay, Lyttelton,

Akaroa and other parts of

Canterbury taking part.

The event saw pupils follow

in the footsteps of Sir Ernest

Shackleton, Frank Worsley

and Tom Crean, retracing their

epic traverse of remote South

Georgia Island. •Turn to page 3

Peninsula's

tsunami

evacuation

zones

updated

THE TSUNAMI evacuation

zones on Banks Peninsula have

been updated based on new

scientific research.

New computer modelling has

provided the city council with the

updated information about areas

that could flood if a tsunami hit

the Canterbury coastline.

"The latest modelling shows us

that in most areas, flooding from

a tsunami may extend further

inland than allowed for under

the previous tsunami evacuation

zones," Rob Orchard, city

council's head of civil defence

emergency management said.

"If you live or own property

on Banks Peninsula, I would

encourage you to go onto our

website and check whether your

property has been affected by

the tsunami evacuation zone

changes."

The website has a search function

that allows you to enter a

property's address to see which

tsunami evacuation zone it is in.

"If you are in a tsunami

evacuation zone, it is important

that you have an evacuation plan

for your household," Orchard

said.

• Turn to page 4

your local...

WE'RE HERE TO HELP YOU!

friendly pharmacy

cOLOURING

IN AND

PAINTING

BOOKS

JOIN OUR

CUSTOMER

CLUB

AND SAVE EVERY

TIME YOU SHOP

Spend $150* and

receive a $10 voucher

*Excludes Prescriptions

Brittany, Orla, Grant (Pharmacist/Owner) Lynley, Lil and Kellie

We're not just books

1005 Ferry rd | Ph 384 2063

www.ferrymeadpharmacy.co.nz

1005 Ferry Rd, Ferrymead | Ph 03 943 9635 | OPEN 6 DAYS (Closed Sun)
---
PAGE 2 BAY HARBOUR

Latest Canterbury news at starnews.co.nz

Wednesday November 25 2020

what's on

this week

GENERAL INQUIRIES Ph 379 7100

CLASSIFIED ADVERTISING Ph 379 1100

Star Media, a division of Allied Press Ltd

PO Box 1467, Christchurch

starmedia.kiwi

NEWS

Bea Gooding

Ph: 021 911 576

bea.gooding@starmedia.kiwi

ADVERTISING

Jo-Anne Fuller

Ph: 364 7425

jo.fuller@starmedia.kiwi

Rob Davison

Ph: 021 225 8584

rob.davison@starmedia.kiwi

The best-read local newspaper,

delivered to 10,514 homes every week.

Brookhaven • Heathcote • Ferrymead

Redcliffs • Mt Pleasant • Sumner • Lyttelton

Diamond Harbour • Governors Bay • Akaroa

Mt Pleasant Bridge Club

Wednesday, 7pm and Friday, 1pm

Mt Pleasant Yacht Clubrooms, Scott

Park, 21 Main Rd

All visitors are welcome. Please be

seated 15min prior to the start of the

session. If you do not have a partner

please phone Raylene on 384 9677.

Create 'n' Connect

Thursday, 10am-noon

St Andrew's Church, 148 Main Rd,

Redcliffs

Enjoy company, creativity and

inspiration as you work on your

creative project. Bring $3. To learn

more, phone Beth, 022 678 1252.

JP Clinic

Thursday, 11am-12.30pm, at Little

River, Saturday, 10am-noon, at

Sumner

Little River and Sumner libraries

A justice of the peace will

be available to members of the

community to witness signatures

and documents, certify document

copies, hear oaths, declarations,

affidavits or affirmations as well as

sign citizenship, sponsorship or rates

rebates applications. This service is

free.

Sumner Silver Band

Thursday, 7-9pm

Redcliffs Bowling Club, James St

If you are interested in joining

(instruments supplied) or just

listening to a traditional brass band,

then go along to the rehearsals. Phone

Peter Croft, 384 9534 to confirm your

place.

Knit 'n' Yarn, Lyttelton Library. Wednesday, 10am to noon. Go along with

your knitting, crochet or anything you like that's portable and crafty and

enjoy time with other crafters. Share skills and be inspired in a friendly,

relaxed environment. ​

Rotary Market

Sunday, 8.30am-12.30pm

Woolston Club, 43 Hargood St

A variety of stalls will be available,

including fresh produce, jams and

preserves, and recycled clothing,

books and tools. Every Sunday, with

all proceeds supporting the local

community. For site inquiries, phone

Vance, 022 382 0086.

Use It Or Lose It

Monday, 11am and 1.30pm,

Wednesdays, 9am and Friday,

11am

Redcliffs Bowling Club, 9 James St

People over 65 can get back

to exercising and enjoying the

camaraderie while maintaining a

safe distance. Classes focus on the

key factors that allow this age group

to maintain their independence,

strength and mobility. For details,

phone Kris on 021 262 8886.

Sumner Bridge Club

Monday, 7.15pm, Wednesday, 1pm

57 Dryden St, Sumner

Go along for fun, friendly

and competitive bridge.

For more information email

sumnerbridgeclub@gmail.

com

Mt Pleasant Tennis Club

Tuesday, 9.30am, Saturday,

1.30pm

11 Quarry Rd, Mt Pleasant

Seniors play casually on

Tuesday mornings and in

organised games on Saturdays.

Juniors have hot shots on Saturday

mornings, as well as other afternoons

during term time. For more

information, visit mtpleasanttennis.

org.nz

Tai Chi: Meditation in Motion

Tuesday and Friday, 7-8.30pm

St Anne's School hall, 739 Ferry Rd

Tai Chi is a low impact mind

and body exercise known for its

many physical and mental health

benefits. First class is free. Phone

Frances on 027 698 0057 for more

information.

Spring has sprung,

get ready to enjoy

the warmer weather

SATURDAY 5th DEC

10am - 12 noon

Bring this ad in and

when you book for

10 Pilates classes get

two additional

classes FREE

1063 Ferry Rd. Ferrymead

www.physioevolved.co.nz

P. 03 384 4766

FACE PAINTERS | BOUNCY CASTLE | ROVING MAGICIAN

Santa with his elves & fairies arrive on custom trikes,

led by a police car & fire engine

Santa will leave Bromley Park about 9:50am make his way down Buckleys Rd,

into Linwood Ave and into Eastgate carpark, arriving approximately 10am

www.eastgate.co.nz

FREE fun for all

Care &

Compassion

We pride ourselves on the

very highest level of service

If you are thinking about the future,

we can help you explore pre-payment

and pre-planning options. Contact us

for a Free Information Pack.

We offer funeral information talks to

groups. Please call us for a speaker to

come to you.

Mark Glanville

Manager &

Funeral Director

(03) 379 0196 | www.simplicity.co.nz

Mike Chandler

Funeral Director

Nick Allwright

Funeral Director
---
Wednesday November 25 2020

Latest Canterbury news at starnews.co.nz

BAY HARBOUR

PAGE 3

Leash dogs on the beach

DOG OWNERS are being

reminded that on summer days

parts of popular swimming

beaches are off-limits to

unleashed dogs.

"We know many people enjoy

playing with their dogs at the

beach and they can still do that,

but they need to steer clear of

the main swimming areas or go

early in the morning or in the

evening,'' city council animal

services manager Mark Vincent

said.

"Between 9am and 7pm unleashed

dogs are banned from

specified areas of our swimming

beaches because people who

have come to the beach to have

a splash in the sea or to make

sandcastles with their kids

don't want lots of dog running

around.

"Although dogs are prohibited

at these beaches between 9am

and 7pm, dog owners can walk

their dogs through these beaches

as long as they are only passing

through and they keep their dog

on a short leash,'' he said.

The beaches where the daytime

ban applies include the

beach at Cass Bay, Corsair Bay,

Sandy Bay, Paradise Bay, Hays

Bay, Diamond Harbour, Purau,

Akaroa, French Farm, Le Bons

Bay, Little Akaloa, Okains Bay,

Port Levy and Tikao Bay.

At Sumner beach dogs are

prohibited for a distance of

100m north of the Sumner

Surf Lifesaving Club's pavilion

through to Cave Rock.

At Taylor's Mistake beach dogs

are prohibited for a distance of

50m either side of the surf lifesaving

club pavilion.

At Spencer Park, Waimairi,

North and South New Brighton

beaches dogs are prohibited for

a distance of 100m either side

of the surf lifesaving clubs' pavilions.

At New Brighton beach dogs

are prohibited for a distance of a

100m in a northerly direction of

RESPONSIBLE:

Dogs are

off-limits on

parts of some

beaches this

summer

unless they are

on a lead.

the surf lifesaving club's pavilion

to a point 100m south of the pier.

Said Vincent: "We have a big

coastline so there is still many

kilometres of beach where dog

owners can have fun with their

pets over the summer. Just

remember you need to keep your

dog under effective control and

clean up after them if needed.''

Tracing footsteps

of Frank Worsley

• From page 1

Worsley captained the ship Endurance

during Shackleton's Imperial

Trans-Antarctic Expedition.

He is best known for navigating

the expedition party to safety after

the ship was crushed by ice floes.

What followed was an epic journey

across South Georgia Island.

The 11 to 13-year-old students

did a range of activities, including

building and paddling a raft,

learning about navigation and orienteering,

climbing, exploring the

bush and visiting the commemorative

bronze bust of Worsley.

Said Sasha Harwood from Governor's

Bay School: "My favourite

activity was orienteering. That

was really fun. I'm not great with

heights, so I found the high ropes

course quite hard.

"I love exploring. I love that feeling

where you set out and its quite

cold, and you walk up a mountain

and the clouds just break open

and you can see everything and

look down on where your campsite

was. It's like 'wow, I've come

all that way," she said.

Nico Blundell from Lyttleton

Primary School said it is clear

what an icon Worsley was.

"His navigating skills were

incredible, and because he's from

Akaroa, this all adds up to Frank

being a local hero," he said.

FREE

PRESCRIPTIONS *

No $5 prescription charge

*Other charges relating to partially funded or

unfunded medicine prescriptions may apply.

EASTGATE PHARMACY

Phone (03) 963 7910

Eastgate Shopping Centre
---
PAGE 4 BAY HARBOUR

Latest Canterbury news at starnews.co.nz

Wednesday November 25 2020

METRO

Look out for

Metro changes

Next week, Metro passengers will see

some timetable changes and different buses

on some routes.

New public transport contracts coming

into effect on Sunday 29 November bring

with them a host of benefits. Passengers in

the western and eastern suburbs will enjoy

increased frequency on Route 3 (previously

the Purple Line), while new electric and low

emission vehicles are gradually coming into

service across the network in the coming

months.

Buses may look different

The change in contracts sees many

services change to a different operator. The

consequence for passengers is that different

buses will be used on many routes from

Sunday 29 November.

If you are used to seeing a Red Bus

branded vehicle on your route, it may now

be a Go Bus branded vehicle instead, and

vice versa. Your bus might also be in the new

teal livery as it continues to roll out across

the network.

Checking the destination screen on the

bus is the best way to confirm it's your

service.

Timetables changes from Sunday

Environment Canterbury senior manager

public transport Stewart Gibbon says this

is the second of three stages of timetable

changes.

"We've phased the changes to reduce the

impact on our customers," says Gibbon.

"The majority of changes being made this

month are necessary to implement the new

operator contracts and to ensure compliance

with changes to the Employment Relations

Act."

Gibbon advises passengers to check now if

their timetable or operator is changing on 29

November, and plan ahead.

"Our Journey Planner tool allows you to

forward plan – you can plan your trip for 29

November onwards to see if the timetable

changes impact your usual journey," he says.

A full list of all changes, including the

operator for each service and the timetable

from 29 November onwards, is available at

metro.co.nz

Look for your evacuation zones and

be ready to head to high ground

•From page 1

"You need to think about

the route you would take

to evacuate and where you

would go."

On most of Banks Peninsula,

there are two tsunami

evacuation zones – a red

zone and an orange zone.

In Birdlings Flat there are

three – red, orange and

yellow.

The red tsunami evacuation

zone is most likely to

be affected by a tsunami. It

includes estuaries, rivers,

beaches and harbours,

where a tsunami of any

size could cause strong

currents and surges in the

water.

The orange tsunami

evacuation zone covers

areas on land that could

be flooded in the event of a

large tsunami.

"If you're in the red or

orange zones and feel a

rolling motion earthquake

for longer than a minute or

a strong earthquake that

makes it hard to stand up,

you need to leave the area.

"When the shaking

stops, head immediately

to the nearest high ground

or as far inland as you can,

out of the red and orange

Check the evacuation zones map at ccc.govt.

nz/services/civil-defence/hazards/tsunamievacuation-zones-and-routes.

zones," Orchard said.

The yellow tsunami evacuation

zone is least likely

to be affected by a tsunami,

but could be flooded or

isolated in a very large

tsunami.

"If you are in the yellow

zone, you only need to

leave the area if you receive

an official warning from

Civil Defence emergency

management.

"These warnings will be

given through an emergency

mobile alert to your

phone, on radio, television

and social media," Orchard

said.

Drop-in sessions where

you can talk to council

staff about the new evacuation

zones will be held on:

• Sunday, November 29,

9am-noon, the Little River

Community Breakfast,

Banks Peninsula Rugby

Club Rooms, Awa-iti

Domain, Little River.

• Tuesday, December 1,

3.30pm-7.30pm, Allandale

Hall, Allandale Reserve,

122/154 Governors Bay

Teddington Rd, Allandale.

• Thursday, December 3,

2.30pm-6pm, The Gaiety

Akaroa, Rue Jolie, Akaroa.

Metro

network

changes

From Sunday 29 November,

look out for:

– New timetables for some routes

– A different operator or bus colour

on some routes

Visit metro.co.nz

for more information.

ART

EXHIBITION

3 LOCAL ARTISTS

SAT. 28th NOV

SUN. 29th NOV

OPEN STUDIO

10am - 4pm

68 TAYLOR'S MISTAKE RD

SCARBOROUGH

www.JoOgier.co.nz

03 322 4548 | Easy Parking

17 Lillian Street, Halswell

Open Mon-Fri 9.30am - 5.00pm

Saturday 10.00am - 1.00pm

LAYBY WELCOME
---
Wednesday November 25 2020

Latest Canterbury news at starnews.co.nz

BAY HARBOUR

PAGE 5

Life with Highland dancing no short fling

Colleen Cole started

Highland dancing as

a five-year-old and

76 years later she

is still immersed in

a quintessentially

Scottish passion in

New Zealand's 'English'

city. The Lyttelton

woman reflects on a

life-long interest with

Chris Barclay

When did you take up

Highland dancing, and why?

I started when I was five in

Invercargill. My parents thought

I had a bit of a cough, so they

thought Highland dancing

would do me good. So here I am

76 years later. I faintly remember

the first teacher I went to had a

lot of kids so my parents took me

away to a high school girl, her

name was Betty Thompson. She

just gave me one-on-one lessons.

When we came to Christchurch

I went to Betty Carnachan when

I was eight-ish. She used to teach

Highland, ballet and tap …

modern dance.

You finished up Highland

dancing in a competitive sense

when you were 18, an age where

many are lost to the discipline.

Yet you persevered. What is the

enduring appeal?

DEDICATED: Colleen Cole has been involved in the Scottish tradition of Highland dancing

for 76 years. (Right): Dressed in her attire aged 8.

PHOTO (left): GEOFF SLOAN

You do make a lot of good

friends, though by the time you

reach my age (81), you've lost a

few of them. When I finished

dancing I was already a teacher

and a judge. I've always enjoyed

teaching the kids. A lot of

people come up to me and say:

'I remember you teaching at the

Cale (Canterbury Caledonian

Society) when I used to come

along and now I've got my

grandchildren here.'

Your parents got you involved

to benefit your health, but did

you ever suffer any injuries when

doing, say, the Sword Dance?

I never had any, but they seem

to have a lot of injuries these

days. They seem to pull muscles

and pull tendons and goodness

knows what. Maybe it's because

of some of the flooring they

dance on. We had tongue and

groove all the time when we were

kids. It (discomfort) was only an

issue for me when I got older and

I couldn't turn my knees out so

far because of my hips.

The Scots are known for their

fiscal restraint. Is it expensive

to get kitted out in a kilt?

Some get their kilts made

locally, some of them get them

from Canada. You can spend a

lot of money on kilts, $500 off

the top of my head for a new one.

When I was a kid we wore the

plaid, the jacket. We were really

weighed down with brooches

and things. Nowadays up to the

age of 14 they can wear a nice

little waistcoat and a lighter

weight kilt.

Does the dancer decide

what tartan they wear, or is it

specified?

Do they ever. We only had the

Royal Stewart which was all red.

Then the dress tartans came in

and became popular. There's a

rule on how it should be worn,

there's no rule regarding the

actual tartan they should wear.

Is Highland dancing

primarily confined to people of

Scottish heritage?

My heritage is actually Irish.

My maiden name was Fergus.

• Turn to page 6

Redcliffs PHARMACY

LOOKING AFTER THE COMMUNITY

Free gift wrapping

Christmas

Gift

Ideas

Christmas

Gift

Ideas

MADE IN

CHRISTCHURCH

OFFER EXPIRES

FRIDAY 11 DECEMBER 2020

Redcliffs PHARMACY

87 Main Road, Redcliffs. Phone 03 384 1037

www.redcliffspharmacy.co.nz

Catherine - Lynley, - Kirsty - Sandi - Daryl

WE DELIVER! (Small fee may apply)
---
PAGE 6 Wednesday November 25 2020

BAY HARBOUR

Latest Canterbury news at starnews.co.nz

'I'm always there to be called upon if needed'

• From page 5

How popular is Highland

dancing in New Zealand's

'English city, surely it's a

bigger deal in Dunedin, the

'Edinburgh of the South?'

We have about 20 teachers in

Christchurch. Canterbury-West

Coast as we call it is the largest

centre for dancers and pipers in

New Zealand. The Caledonian

Society and the Scottish Society

of New Zealand contribute to

the large numbers. We have

winter lessons there on Saturday

and that brings the children in.

Well, we try to bring the children

in. There's a lot of uphill work

getting new kids to start. You've

got to have the parents wanting

to do it.

Highland dancing was

originally a male bastion, but

now it's associated more with

females isn't it? How do you get

more laddies involved?

Highland dancing was for men

in the beginning, not the women,

way, way back. Quite often boys

come along because their sisters

are learning and then the boys get

a bit of a grip on it and away they

go. But they want to play rugby as

well, or football. We've got some

very strong male dancers in New

Zealand, but not many. I could

probably count them on two

hands, but they carry on dancing

right into their 20s.

Buying/Selling

your Home?

SWITCHBOARD

HEALTH CHECK

Ensure your electrical wiring and connected

equipment are safe and compliant.

SKILLS: Young Highland dancers go through their routine

at the Hororata Highland Games, an event that has

boosted the profile of the pursuit.

You have two boys, were they

encouraged to give it a go?

Jason had lovely feet (for ballet).

The teacher I took him to, she

had a son and he'd come to the

class too. As soon as that boy

stopped that was it for Jason.

He started to learn the bagpipes

but I think his friends told him

it wasn't the thing to do and

he gave it up. I never pushed

(eldest boy) Gregory. Wendy,

my daughter, learnt Highland

dancing. When she got to about

14 her friends said to her: 'It's not

the thing to do Wendy.'

Which is the hardest dance to

learn?

The Highland fling. It's the

Just

$190

SAVE $85!

Give us a call today 24/7

03 365 9712

incl.GST

aoteaelectriccanterbury.co.nz

Conditions apply. This offer is exclusive to Aotea Electric Canterbury for residential homes in the Canterbury area only.

Award winning company, trusted in Canterbury for 37 years

first dance they learn and there's

a lot of pressure on their little

legs. To turn your knees out and

understand the time count and

everything.

At what age can you start

Highland dancing?

About five. Some children start

younger but you've got to be able

to count to 16. The Highland fling

puts a lot of pressure on one leg at

a time. There's four counts on one

leg and then four counts on the

other. That's quite a lot of springing

on one leg for a little kid.

Talk up the selling points of

Highland dancing?

It's good for posture, they

carry themselves well. I also find

MenzMedical

The Doctors For Men

Vasectomy

No Scalpel Technique

$485

* Guarantee:

* See website for guarantee details

2335574

they're very respectful. I think it's

the discipline of Highland dancing.

They also need determination

to achieve what's required.

Where and when are the

major Highland Games in New

Zealand?

There's Waipu on January

1, then there's Turakina

(Wellington) at the end of

January. Hastings is at Easter

and then there's Hororata

(November). Hororata would

probably be one of the biggest in

the southern hemisphere.

You had an eye operation

recently but were you still

able to take in the Hororata

Highland Games weren't you?

I helped organise the Highland

dancing. We had 93 dancers out

there (on November 7). At the

games most of our dance pipers

were involved in pipe bands they

couldn't commit to playing for

the Highland dancing so we had

to use iPod music.

Have the now decade-old

Hororata Highland Games been

beneficial in terms of dancing's

profile?

It's good exposure to the

general public. A lot of people

bring their little kids along, they

watch the dancing for quite

a while and think: 'I wonder

where you have to go to learn

that?'. You've only got to go on

the website for the Piping and

912 Colombo Street, Christchurch

Ph: 03 981 8181 or 0800 4 Males (0800 462 537)

www.vasectomy.nz

Dancing Association of New

Zealand and you'll get all the

names of teachers in your area.

Are you still focused on

teaching?

I'm there to relieve if any of

the young ones can't come in to

teach. You've got to make room

for young ones. I'm always there

to be called upon if needed.

How do you see the future

of Highland dancing in New

Zealand?

I think it's positive but we have

to keep getting it out there in the

public eye. You've got to keep

promoting it otherwise they'll go

and do something else.

Your service to Highland

dancing has been recognised in

recent years hasn't it?

I was made a Member of the

New Zealand Order of Merit in

2008 for services to Scottish stuff.

They called it the Scottish arts.

In June I was made a life member

of the Highland dancing section

of the Caledonian Society (www.

canterburycaledonian.org.nz). I

do appreciate the recognition.

Does a love of the pipes and

drums go hand in hand with

Highland dancing?

I do like pipe band music. I do

a programme, I've been doing

it for 15 years, on Plains FM

96.9. It's a Scottish session. I go

in there and pre-record it about

once a month.

NUMBER ONE SUPPLIER

TO THE NZ JET BOATING

COMMUNITY FOR OVER

50 YEARS

• Part Boats & Hulls

• Turn Key Packages

• New Jet Units

• Custom Fabrication

• Expert Advice

SERVICING

Peter Tonkin

03 962 0505

peter.tonkin@hamjet.co.nz

• Spare Parts Retailer

• Jet Unit Refurbishment

• Engine Tune-Ups

• Insurance Repairs

• Impellor Reconditioning

TIAKI

OUR CARE FOR

PEOPLE AND PLACE

Bayleys Akaroa 03 375 4700

Bayleys Diamond Harbour 03 329 4855

Bayleys Ferrymead 03 595 2844

bayleys.co.nz

WHALAN & PARTNERS LTD, BAYLEYS, LICENSED UNDER THE REA ACT 2008

Bringing

back the tūī

The Banks Peninsula Conservation Trust

helps the community to protect and restore

native habitat and control predators, which

allows the native biodiversity to flourish.

With a bold vision for a Pest Free Banks

Peninsula by 2050, the tūī and other iconic

species like ruru (morepork), pīwakawaka

(fantail), kororā (white flippered little blue

penguin), hoiho (yellow-eyed penguin) and

tītī (sooty shearwater), jewelled geckos,

spotted skinks, the Banks Peninsula Tree

Weta and Akaroa daisies, are getting a

helping hand.

Bayleys are proud to support the Trust and

the tūī by donating $100 from every house

sold on Banks Peninsula to assist with

predator control and habitat restoration.

Together we can protect our native taonga

for the people of Banks Peninsula and

Ōtautahi - Christchurch.
---
Wednesday November 25 2020

Latest Canterbury news at starnews.co.nz

BAY HARBOUR

PAGE 7

Property management experts back home in Sumner

The Ray White brand of property management

has been known and trusted

in Sumner and surrounding areas since

they opened their first local office at 10B

Wakefield Street in 2005.

Following the Canterbury earthquakes

of 2010 and 2011 the team were forced to

move from their premises, initially relocating

to an office in Opawa, and later into

their office at Ferrymead, where they were

situated until last month.

Now, under their new brand name of

Ray White Morris & Co Property Management,

their services are once again based

in Sumner – this time in Marriner Street.

"We had the opportunity to come

home to Sumner, which has given us the

chance to reconnect with a lot of our previous

clients," says property manager Ray

Hastie, who has been with the company

since 2005.

"It's so convenient too, with most of our

clients' properties just a few minutes' drive

away," he says.

Selecting the right tenants for the right

property is a key aspect of property management,

and property owners can have

confidence that the Ray White Morris & Co

team will find them the best tenants using

their thorough systems and processes,

and good old-fashioned local knowledge

and expertise.

Working alongside Ray as his property

management assistant in the Marriner St

office is Amber Hill, who has been part of

the team for over four years.

Not only has Ray provided his experience

and expertise in the area of

property management, he also helped

many property owners deal with complex

issues that arose during the difficult

Katrina Green, left, Ray Hastie and Amber Hill of Ray White Morris & Co are pleased to offer

their property management expertise in Sumner again

post-earthquake times.

Morris & Co property management operations

manager Katrina Green is very proud

of her award-winning team and cites their

philosophy on going the extra mile for their

clients as what makes them stand out.

"Property management is not just about

property, it's actually more about people,"

she says. "We recognise that our clients are

individuals and all have different needs,

and we work closely alongside them to

ensure their expectations are not only met

but exceeded."

The new legislation covering rental

properties is another area where the team

is providing valuable help and advice for

property owners. While the number of

requirements owners of rental properties

need to meet may seem daunting, if you

do it right the first time, they say, there's

nothing to be scared of.

The team highlights that property

owners may have been misled by some of

the information that has been circulated,

causing them unnecessary concern.

"It is important that landlords don't be

scare-mongered by gossip and hearsay, but

instead find out the facts," says Katrina.

"While there is no doubt that the

incoming legislation is enormous, when

you understand it, it is not as daunting as

you first may think, the key really is to seek

advice from the experts."

To help landlords get all the information

they need on the new legislation, including

the Healthy Homes Standards, as well as

the Residential Tenancies Act 2019 Amendments,

throughout the month of November

Ray White has been running a free

weekly online Landlord Academy series.

Anyone that has missed the series can call

the Ray White Morris & Co Property Management

office on 331 6755 and they will

send you a link to watch the recordings.

Ray White Morris & Co is located at 19/42

Marriner Street, Sumner. They welcome enquiries

from anyone looking for professional

property management of their rental properties,

so give them a call to make a time for

a chat – they would love to help out.

Sick of late night tenant phone calls and being on call 24/7?

Tenants not paying their rent on time?

Can't find a tenant for you vacant property?

Let us take the stress out of owning a rental property

Ray White Morris & Co Property Management Limited

03 331 6755 morrispm.nz@raywhite.com canterburypm.co.nz

To Have & To Hold, November 28 - December 15 at Little River Gallery.

A shorter than most exhibition in order to allow for early pick up for Christmas.

Contributors are Christchurch women Lorelei Jenner and Jenny Wilson and local

Jane Downes. Jasmine Keir's studio is in Keri Keri and Debra Powell is from the

rural Waikato hamlet of Te Pahu.

Lorelei Jenner paintings are somewhere between abstract and landscape. The

images can be both familiar and interpretive, while at the same time mysterious,

atmospheric and other worldly.

Debra Powell's alias in the pottery studio is 'Little Betty', her ceramic work has

strong narrative themes, exploring relationships between people and nature,

playing with convention and infusing the result with a gentle humour.

Oxidised copper artist Jasmine Keir endeavours to create and understand the

pure alchemy of the colours achievable using a vast variety of natural ingredients

to react and colour her copper panels.

Jenny Wilson has recreated a series of white porcelain moths these light

mysterious creatures are pinned in reference to museum specimens; others rest

on circles – an ancient Chinese symbol of the cycles of life, and of the cosmos.

Jane Downes' delicate themes are fabricated in steel. "A joyful look at the

symbiotic relationship between bees and flowers and an observation of nature's

sacred geometry and spontaneity."

Debra Powell

Jenny Wilson

Lorelei Jenner

To Have

To Hold

Jane DOWNES Debra POWELL Lorelei JENNER Jasmine KEIR Jenny WILSON

28 Nov - 15 Dec 2020

Main Rd, Little River

03 325 1944

art@littlerivergallery.com
---
PAGE 8 Wednesday November 25 2020

BAY HARBOUR

Latest Canterbury news at starnews.co.nz

BLACK

FRIDAY

DEALS

15%

20%

OFF

OFF

ALL

EVERYTHING

ELSE INSTORE

2 DAYS ONLY

27 TH - 28 TH NOVEMBER 2020

TOWER JUNCTION

NZ's Biggest TOYWORLD

Clarence St, Riccarton, Ph 03 343 0330

MARSHLAND

199 Marshland Rd,

Ph 03 982 8697

HORNBY

Chalmers St,

Ph 03 281 8127

Valid from Friday 27th to Saturday 28th Nov, 2020. Excludes sale of gift cards.
---
Wednesday November 25 2020

Latest Canterbury news at starnews.co.nz

BAY HARBOUR

PAGE 9

The Avon-

Heathcote

Estuary

Ihutai

Trust is a

non-profit

organisation

formed to protect one

of New Zealand's most

important coastal

wetlands. Each week,

board members

will discuss matters

regarding the estuary,

its rich history and what

makes it unique. This

week Bill Simpson writes

about carpet maker

Nimrod Mitchell

AN EARLY hero of the

industry in Christchurch was

Nimrod Mitchell who built a

carpet-making factory on a site

which is now part of Charlesworth

Wetland Reserve.

He arrived in Christchurch

from the United Kingdom in

1879 and in 1884 opened the

Zealandia Carpet Factory. He

exported to other parts of the

colony and also to Sydney.

The Illustrated Guide to

Christchurch and Neighbourhood

of 1885 praised Mitchell

Cosmetic Injectables

Facial anti-wrinkle treatment

and dermal fillers

With Dr Lesley McCafferty BDS

MSc (Dent Implant),

BSc (Hons),

MJDF (RCS Lond).

At Ferrymead Dental Centre,

9 Tussock Lane

ESTUARY MATTERS

Carpet factory key part of

Charlesworth Reserve's history

DESTROYED: How the Zealandia Carpet Factory looked in the 1880s.

as "the right man in the right

place," and described the

opening as "a red letter day

truly, not only for the promoter

but also for the whole

colony of New Zealand."

But perhaps the carpet business

was not so rosy.

In 1886 Mitchell was

charged with burning down

his own factory to defraud his

insurers. A witness in the trial,

George Richardson, said he

was offered £40 by Mitchell to

burn the factory down.

Richardson suggested kerosene

and Mitchell had replied

"that will do and I will give

you the key of the factory."

However, Richardson later

told Mitchell he would not

set fire to the factory; but two

weeks later the factory was

burnt down and Mitchell

himself was judged to be the

culprit.

That is not the end of the

story. In August 1887, Sir Julius

Vogel, who had been Premier

of New Zealand and also

FREE consultation and introductory offers with code BAY20

Email: info@ferrymead-dental.co.nz

Call: 03 384 7170

SOIL AND

HARDFILL

DUMPING

the colonial treasurer, paid

tribute to the once-destroyed

but now rebuilt carpet factory.

Apparently, Zealandia was

back in business with Mitchell

back in control. Nothing

remains of the factory and the

site is part of Charlesworth

Reserve.

Volunteers have been working

to restore the wetland for

the past 15 years; if you want

to help you are elcome to join

in on Sundays at 3pm at the

Charlesworth St entrance.

UNDER NEW MANAGEMENT

WOOLSTON

Bumper to Bumper repairs

þ ALL MECHANICAL REPAIRS

Servicing. lubes, cambelts, tyres, exhausts,

suspension, batteries, water pumps, etc.

þ VTNZ WOF ON SITE

þ VTNZ CERTIFIED REPAIRER

þ COURTESY CAR AVAILABLE

BE IN TO

WIN

YOUR

SERVICE

Book in your vehicle for

a service and go into our

monthly draw to *WIN back

the cost of your service.

*Conditions apply

WOOLSTON AUTO SURGERY

693 FERRY RD | PH 03 384 9092

oN sAle Now!

Now only

$35.80

Plus $5 P&H per copy

AvAilAble from stAr mediA:

Level One, 359 Lincoln Road

Addington, Christchurch

Phone 379 7100

WE NOW HIRE

LANDSCAPING AND

GARDEN EQUIPMENT

DIGGERS, TRUCKS, WOOD CHIPPERS, POLE SAWS,

BREAKERS, WATER BLASTERS, ETC.

PLUS WE SUPPLY THE BEST

LANDSCAPE & GARDEN SUPPLIES

•BARKS •COMPOSTS

•AGGREGATES - CHIP, ROUND & BASECOURSE

•SCHIST PRODUCTS •PUNGAS

•DECORATIVE STONE & LANDSCAPING ROCKS

•TRAILER HIRE - FIRST HOUR FREE WITH PURCHASE

•BAG & BULK - PICK UP OR DELIVERED

DYERS ROAD LANDSCAPE & HIRE

PHONE: 03 384 6540

183 DYERS RD, BROMLEY ● OPEN 7 DAYS

Weekdays 7.30am-5pm. Weekends 8.30am-3pm

www.dyersroadlandscape.co.nz

Purchase a

shower and

receive FREE

Enduroshield

coating
---
PAGE 10 Wednesday November 25 2020

BAY HARBOUR

Latest Canterbury news at starnews.co.nz

Purchase any

two Mainland

products to enter.

Pams

Fresh Strawberries 250g

or Hydroponic Lettuce

Product of New Zealand

THE

QUEENSTOWN BERRY IS

HOLIDAY *

BACK

$

2 99 ea

BE IN TO

WIN A $2,000

A SPLASH OF

RASPBERRY

FLAVOUR

*Promotion runs 16 November - 29 November 2020.

Products must be purchased in one transaction. Please see in

store for full terms and conditions. www.foursquare.co.nz

Broccoli

Product of New Zealand

$

1 79 ea

Three artists come

together for exhibition

THREE artists – Sheila

Brown, Jo Loughnan and

Jo Ogier – will come

together this weekend

for an open studio art

exhibition in Sumner.

The exhibition will take

place for third year in a

row at Ogier's studio on

Scarborough Hill, 68 Taylor's

Mistake Rd.

It will be open from

10am to 4pm on Saturday

and Sunday.

The event will be an opportunity

to meet the artists,

visit a working studio,

discuss their art practises

and the meaning behind

their work this year.

This year Covid-19 has

affected how we all live,

work and play. For the

three artists this has made

them reflect, appreciate

local surroundings and

value close relationships.

Loughnan's figurative

work has captured

these treasured moments

with loved ones and also

inspired a study of herself,

creating a series of selfportraits.

Brown's work has seen

a more intimate approach

CREATIVE: (Left to right) – Jo Ogier, Jo

Louhgnan and Sheila Brown have their artwork

on display this weekend.

to her paintings, mainly

of seascapes and birdlife,

capturing small moments

in time that have become

so important to take the

time to notice, to reflect,

to protect.

Ogier has always had a

strong affinity with the

natural world and focuses

on what she has observed

and experienced on her

excursions around the

South Island.

•For more information

on the exhibition or

the artist visit www.

sheilabrown.co.nz or

www.JoOgier.co.nz or

email joloughnan@

xtra.co.nz

Fall in love

before

Pams Fresh Cherry

Tomatoes 250g Prepack

Product of New Zealand

$

3 29 pk

Pams Fresh Asparagus

250g or Carrots Bunched

Product of New Zealand

Be in

to win!

GIFT

CARD$50

$

2 99 ea

with your favourite

furniture all over again!

• Recover your chairs and couches

and save money!

• Excellent range of fabrics

• Quality workmanship guaranteed

• Free quotes available

• Over 30 years experience

To all our clients - stay safe and take

care of each other during this time…

after

Somerfield Upholstery welcome

you to email a photo for a quote

online: somerfielduph@gmail.com

Somerfield Upholstery Ltd

FURNITURE RECOVERY SPECIALIST

Bananas Loose

Product of Ecuador

$

2 79 kg

Avocado

Pre-Ripened Large

Product of New Zealand

$

2 49 ea

6/47 Sonter Road, Wigram | Ph 021 251 6200 | 349 0456

$50 gift

card to be won

in every store

Avocado

Pre-Ripened

Large

Product of New Zealand

$

2 49

ea

www.foursquare.co.nz

Purchase a Avocado Pre-Ripened Large

and be in to win a $50 gift card

CARD$50

facebook.com/FourSquareNZ

Specials available South Island only from Monday 16th November until STAFFORD Sunday STREET 29th

GIFT

Conditions apply, see

www.foursquare.co.nz for

details. Competition runs

16.11.2020 - 29.11.2020

November 2020 or while stocks last. Wine and beer available at stores with an off

licence. Wine and beer purchases restricted to persons aged 18 years old and over.

Family Owned & Operated

RetiRement Village

Apartment for sale

Priced from $215,000

1 bedroom

Inquiries to Karen 021 668 140

Get In touch:

437 Armagh Street,

Linwood, Christchurch 8011

Call Jess for care bed inquiries.

General Inquiries:

(03) 982 2165
---
Wednesday November 25 2020

Latest Canterbury news at starnews.co.nz

BAY HARBOUR

PAGE 11

Ferrymead's

Mitre 10 MEGA Ferrymead

1005 Ferry Road. Christchurch

Phone: 366 6306

Find us at: /MEGAFerrymead

Opening Hours:

Monday–Friday:

7am–7pm

Saturday. Sunday & Public Holidays:

8am–6pm

www.mitre10.co.nz/local/MegaFerrymead

Ferrymead
---
PAGE 12 BAY HARBOUR

Latest Canterbury news at starnews.co.nz

Wednesday November 25 2020

Tasty Bites

McMaster & Heap

Veterinary practice

Clios weight loss journey

FLAVOURS: Pasta with mustard and blueberries.

Cleo before weight loss

Always a tricky topic to discuss with a committed

pet owner as we all try to do the right thing by our

special friends. Lets face it we hate letting them

down! Plus we love seeing them enjoy their food and

we love rewarding them.

Weight management and nutrition should always

be a part of every consultation with a pet I believe.

There is an overload of nutritional information online,

a lot of it incorrect. It amazes me how people with

no veterinary or nutritional knowledge at all, claim to

know everything about what their dog should eat.

I blame Dr Google!Some diets do more harm than

good. We have seen puppies as young as 12 weeks of

age with Ricketts and severe gastrointestinal disease

( leading to lifelong inflammatory bowell disease) if

they are started on raw food diets exclusively. It is

now not recommended by vets to feed grain free

diets to puppies under 1 year of age due to links to

cardiomyopathy ( heart disease).

As veterinarians we need to be able to offer clients

clear honest advice before they decide what to feed

their pet. There are many great foods out there and

some pets do better on one brand over another. It

can be a bit of trial and error but you do want a food

your pet loves to eat.

As veterinarians

and nurses we are

always upskilling on

the different diets

bought out by the

food companies. We

can make the link

between weight gain

and disease states,

age appropriate diets

and try to prescribe

a diet in line with the

owners nutritional

beliefs ( if it doesn't

harm the pet). Home

prepared diets for

a particular disease

can be formulated

through Massey

University as well.

There are many great

premium diets on the

market for the puppy,

adult and geriatric

pet. What we like to

concentrate on are

the prescription diets,

only sourced through

Veterinary clinics, which are an important part of a

medical treatment plan for pets with certain diseases

( ie kidney disease, diabetes, inflammatory bowel

disease, dental disease, joint disease, weight loss

diets etc)

Fortunately most pets we see now are not obese.

This is part due to better diets sourced and fed, dogs

getting more exercise generally, pets cementing

themselves in a family thus having more importance

and more awareness of obesity in pets. It's not "cute"

anymore to be podgey and round. The resurgence of

puppy daycare centres and dog walking businesses

means dogs are socialising and playing more

therefore controlling metabolic rate. Balanced,

premium commercial foods are preferred over bones,

dog roll and feeding human scraps.

Obesity usually occurs due to gross overfeeding,

Chrisy checking Clios Bloods

Cleo at 30 kg

excessive treat feeding, feeding high fat diets, and

lack of aerobic exercise where dogs especially run,

chase, play and fetch. Some breeds are predisposed

like the Labrador and Beagle due to their voracious

appetites and great nose for finding food.

Medical conditions like Hypothyroidism, Diabetes

or Cushings disease also can lead to obesity. This

is where the annual check becomes important as

your veterinarian should consider the pets weight

and body score, explore what foods are fed and

recommend blood and urine testing to determine

if certain disease states exist. A leaner pet will live a

happier, healthier and longer life? Not rocket science.

Clio, a delightful 7.5 year old Chocolate lab presented

to me 6 months ago excessively overweight at

40kg. She had lived with

elderly owners who fed

her household leftovers,

Tux and tinned food and

she was pretty exclusively

an inside dog with very

little exercise, although

lots of love and pats.

About a year ago she had

been heavier at 47kg!! At

this weight she could no

longer get into the car

herself, was slow to get up

from rest and generally

looked sore and stiff in her

hips. She had no energy

nor desire to play.

She was rehomed

within the family, her

new owners committed

to her weight loss and

improving her life. When

I first met Clio I checked

bloods and urine mainly

for thyroid disease and

diabetes. She had low

normal thyroid levels but

I decided to start with the

reduced calorie diet (Hills Science diet Metabolic dry)

first. Her intake was 245g per day ( approx 2 cups)

with NO treats whatsoever. Her new owners where

fanatical, feeding her only what was recommended.

Her weight loss success has been excellent, with Clio

now weighing 31.60kg. She still could be at risk of

becoming hypothyroid in the future, so 6 monthly

thyroid tests will continue. She plays with dogs now,

can easily walk for 30 minutes and wears a constant

smile. She just looks and feels amazing and now has

a waist. Even her coat is glossy.

A rule of thumb to determine if your pet is

overweight is that they should have a waist when

you look down on them and you should be able to

easily feel the last 3 ribs. If you are worried your cat or

dog may be at risk of becoming obese, book a visit

with us today. Your pet will thank us in the long run.

Dr Michele McMaster

Try adding fruit to

your main course

PRODUCE CAN sweeten

your traditional creations

and add an element of

surprise.

Stone fruit or berries are

not normal ingredients you

would add to a main course

but try these easy recipes

using blueberries and

peaches for a tasty change.

Blueberry, Chicken

and Mustard Pasta

Serves 4

Ingredients

500g skinned and boned

chicken breasts

salt and pepper to taste

2 tbsp olive oil

1½ cups pasta of your

choice

1 small onion, diced

1 cup blueberries

Dressing: 250g creme fraiche

or light sour cream

1-2 tbsp Dijon-style mustard

2 tbsp milk, lemon juice

Directions

If the chicken breasts are

large, cut in half lengthwise.

Season. Heat half the

oil in a frying pan. Saute

until lightly coloured. Cover

and cook for 12-15min,

turning occasionally. Remove

and cool slightly.

Meanwhile, cook the

pasta according to the

packet instructions.

Saute the onion in the remaining

oil, until softened.

Combine ingredients for

dressing.

Place blueberries in a

large bowl.

Using two forks, flake the

chicken. Place in the bowl

with the blueberries. Add

the drained pasta and onions.

Gently toss. Stir in the

dressing. Serve warm or at

room temperature. Great

garnished with fresh herbs.

Corn, Coconut and

Coriander fritters

with Peach Salsa

Serves 4

Ingredients

Fritters:

2 cups whole kernel corn

2 eggs, separated

½ cup coconut milk

½ cup coriander leaves,

finely chopped

salt and pepper to taste

3 tbsp self-rising flour

1-2 tbsp rice bran oil

Peach Salsa:

2 ripe peaches, halved,

stoned, peeled and thinly

sliced

1 tbsp lemon juice

2 tbsp finely chopped

rocket pinch sugar

½ tsp chilli paste

Directions

Blanch and drain the

corn. Cool. Combine with

the egg yolks, coconut

milk, coriander, salt, pepper

and flour.

Heat the oil in a large

nonstick frying pan. Take

heaped tablespoons of the

corn mixture and place in

the pan. You will need to

work in batches.

Cook on low heat until

bubbles appear on the top.

Flip over and continue

cooking until

the undersides are golden.

Keep warm in the oven

while cooking the

remainder. You should have

12 fritters.

Meanwhile, combine the

ingredients for the salsa.

To serve, place one fritter

in the centre of each of

four serving plates. Top

with a little salsa. Top with

another fritter, more salsa

and a final fritter. You will

have four stacks.

Great drizzled with a

sweet chilli sauce.

Open 7 days

Cnr Hoon Hay & Coppell place

phone 338 2534, Fax 339 8624

e. mcmasterandheap@yahoo.co.nz

www.mcmasterheap.co.nz

McMaster & Heap

Corn fritters

with peach

salsa.
---
Wednesday November 25 2020

Latest Canterbury news at starnews.co.nz

BAY HARBOUR

PAGE 13

BLACK

FRIDAY

–WEEK–

SALE

NOW

$1499

MANATEE CORNER

RECLINER LOUNGE

SUITE

THE RADIUS

COLLECTION

NOW

$599

NOW

$199

IRIS 3 SEATER

2 DRAWER TOWER

NOW

$599

NOW $399

NOW $69

NOW $539

NOW $129

MAPLE WHITE BUNK

RIVIERA QUEEN MATTRESS

LODI BARSTOOL

1600 DINING

CHAIR

ALSO

AVAILABLE IN

NOW

$1299

NOW

$1799

NOW

$299

NOW

$299

SUMNER 7 PIECE DINING SET

TEKAPO 3 + 1 + 1

+ TABLE & BENCH

SUMATA QUEEN

PADDED HEADBOARD

PEARL BAY 7

DRAWER HIGHBOY

ALSO

AVAILABLE IN

ALSO

AVAILABLE IN

WIN

NOW

$499

RAGLAN EGG CHAIR

NOW

$129

HAAST UMBRELLA

NOW

$129

MARLEY CHAIR

1 OF 10

ELECTRIC

SCOOTERS

For every purchase

over $ 500 go in the

draw to win.

Terms and Conditions In-store

Kugoo S3 Pro

Valued at $ 699

TERMS & CONDITIONS APPLY. SEE IN-STORE FOR DETAILS.

FIND US AT THE CORNER OF BLENHEIM

& CURLETTS ROAD, SOCKBURN

BOTANICAFURNITURE.CO.NZ 0800 268 264
---
PAGE 14 Wednesday November 25 2020

BAY HARBOUR

Latest Canterbury news at starnews.co.nz

EXPRESS

You're smart, hard working and reliable and you know that how you turn up each day says a lot

about you. Whatever your business, Express yourself with the all new Mitsubishi Express Van.

The new Express is packed with features, including: fold-down work station, rear view camera,

bulkhead, Bluetooth connectivity, auto rain sensing wipers and dusk sensing headlamps.

Access to the 5.2m3 cargo space is made easy with dual sliding side doors, as well as easy

loading rear barn doors.

Call 03 379 0588, visit christchurchmitsubishi.co.nz or come in and Express yourself from just

1.6L Manual 2.0L Auto

$34,990 +GST

+ORC *

$38,990 +GST

+ORC *

*Prices shown exclude GST and on road costs of $800 which includes registration, WoF, 1,000km road user charges and a full tank of fuel. Metallic Silver, Metallic

Black and Red Solid paint colours are available for an additional $500. Model shown in White Solid paint. Visit www.mmnz.co.nz for full Express Warranty conditions.

Optional Accessories Shown.

CHRISTCHURCH MITSUBISHI

386 Moorhouse Avenue, Christchurch | Ph: 03 379 0588 | christchurchmitsubishi.co.nz

DRIVE A NEW

NISSAN FROM

$99PER WEEK*

48 MONTH | 10% DEPOSIT | 60,000KM | NFV

RESIDUAL PAYMENTS VARY BETWEEN MODELS

QASHQAI

NISSAN 150,000 KM'S

FACTORY

5YR

WARRANTY

CHRISTCHURCH NISSAN, 321 Moorhouse Avenue, Christchurch

Ph: 03 595 6820

www.christchurchnissan.co.nz

WITH NISSAN

FUTURE

VALUE

Finance ooer available to approved applicants of Nissan Financial Services. Ooer based on selected new Nissan models at a vehicle price of $35,990 plus on road costs of $1,240 for Navara RX-R, $34,890 plus on

road costs of $990 for Qashqai ST, $32,490 plus on road costs of $990 for Juke ST, $36,790 plus on road costs of $990 for X-Trail ST. Financed over maximum 48 months with monthly repayments for Navara RX-R

of $417.95, $3,599 deposit and a nal balloon payment of $19,000, Qashqai ST of $436.18, $3,489 deposit and a nal balloon payment of $16,624, Juke ST of $435.53, $3,249 deposit and a nal balloon payment of $14,133,

X-Trail ST of $434.63, $3,679 deposit and a nal balloon payment of $18,701. Final balloon payment is based on the guaranteed future value of each vehicle (subject to adjustments) (NFV). Total amount payable over

the term $38,643.59 for Navara RX-R, $37,124.33 for Qashqai ST, $34,602.80 for Juke ST, $39,128.49 for X-Trail ST. Fixed Interest Rate 3.9% p.a. 15,000 per year kilometer allowance. This ooer includes an establishment

fee of $375 and PPSR fee of $8.05 and $10 per month account keeping fee. If you choose to return your vehicle at the end of the term Nissan will pay you the NFV (subject to meeting vehicle condition and servicing

requirements and agreed km allowance and less remediation costs) which will be applied to your nal balloon payment. Terms and conditions apply. Excludes all lease and some eet purchasers. Ooer available

on eligible vehicles ordered and delivered by 31 December 2020 or while stock lasts. Nissan reserves the right to vary, extend or withdraw this ooer. Not available in conjunction with any other ooer.

christchurchnissan.co.nz

nissan.co.nz
---
2

Wednesday November 25 2020

[Edition datE]

Latest Canterbury news at starnews.co.nz

BAY HARBOUR

PAGE 15

in

Start a new

Christmas tradition

What could be better than starting some new family traditions this year? Christmas traditions are memories

in the making and help spread a little festive cheer whether with your loved ones or out in the community.

10 great ideas to help make Christmas a magical time of the year

1. Create a Christmas playlist with some of

your favourite carols and songs – play it

loud and every day, if that's your thing.

Or plan a pre-Christmas sing-along

evening – don't forget to supply the song

sheet so everyone can join in too.

2. Get into the spirit of Christmas by getting

together with family or friends to help

decorate each other's houses – turn up

the music, drink the wine and go all out

to deck the halls.

3. Make and send homemade Christmas

cards – there's nothing more exciting

than getting mail, right? Or how about

writing some generic ones and dropping

them into your nearest retirement

home to brighten up an elderly person's

Christmas.

4. Buy your family Christmas tee-shirts or

Santa hats to wear on the day and don't

forget to take a family selfie.

5. Fill a shoebox with gifts for a child, wrap

it with a bow, and deliver to the nearest

community gift tree – check with your

local library and label with age and

gender.

6. Have a yearly family, friends or neighbour

outdoor games night with drinks and

nibbles leading up to the big day – think

Pétanque, hoopla, mini golf, giant chess,

or croquet.

7. Take a leaf out of Iceland's traditional

'Jolabokaflod' or Christmas Book Flood,

and give a book as a gift on Christmas

Eve each year – don't forget to write

inside the cover who it's from and the

date.

8. Make a list of must see Christmas movies

to watch a week before Christmas day

and tick off the ones you've watched.

Don't forget the popcorn and hot

chocolate or nibbles and wine.

9. Make and give a handmade ornament

as a gift each year – the lucky receiver's

Christmas tree will be covered with

beautiful, handmade memories.

10. Make homemade hot chocolate on

Christmas Eve or on Christmas morning

to drink while the presents are being

opened – decorate with whipped cream,

grated chocolate, marshmallows, or

crushed candy canes.

Christmas shopping made easy!

Delicious mueslis, granolas and porridges.

A great gluten free range as well.

For the cooks amongst you, a good selection

of nuts, seeds and dried fruit.

Beautiful 'freeset' mumma bear aprons

for the mumma bears in your life!

2/2 Soleares Avenue, Mt Pleasant

Open every Wednesday 10am - 4pm

or any time Doris the bike is outside

Inquiries to Rose at 027 329 1818.

Order to Tim at tim@mummab.co.nz

Deluxe Gift Vouchers can be

used on any film, any time and

never expire. Available In-Store

& Online starting at just $12.

The POTAGERS

GIFTS - HOMEWARES

CLOTHING

ENJOY SHOPPING

LO CALLY AT

THE RED HOUSE

REDCLIFFS VILLAGE

Open Tuesday–Friday 10.30am–4pm

Saturday 10am–2pm

Also online…

www.childrensbookshop.co.nz

Come and see our unique range of

beautiful books and quality games.

Beachville Rd, Redcliffs
---
2

PAGE 16 [Edition

BAY HARBOUR

Wednesday November 25 2020

datE]

Latest Canterbury news at starnews.co.nz

in

It's beginning to look a lot like Christmas

Christmas is a great time for passing down recipes that are tried and true becoming

traditional family favourites. The owner of this recipe says her mum used to make

the pudding on Christmas Eve and would take the bowl and wooden spoon around

everyone in the house to stir the mixture and make a wish.

Make a Wish Christmas Pudding

You will need:

• 1 ½ tbsp butter

• 1 ½ tsp baking soda

• 1 ½ cups of boiling water

• 1 ½ cups flour

• 1 ½ cups mixed fruit or sultanas

• ¾ cup sugar

Method:

1. In a glass or stainless steel bowl,

melt the butter (over hot water)

and dissolve the baking soda.

2. Add the boiling water and

sugar.

3. When cool, add flour and

mixed fruit.

4. Stir all the ingredients together

and make a Christmas wish.

5. Cover bowl with a tea towel and

allow to stand overnight.

The next day:

• Place mixture into a greased

bowl or ice-cream container,

cover with tinfoil and place in a

pot of water, just deep enough

so the bowl doesn't float.

• Boil pudding for four hours and

check regularly to make sure

the water has boiled dry. Top

up carefully with extra water if

required.

• Serve with heaps of Chantilly

cream!

Chantilly

Cream

You will need:

• 1 x bottle of cream

• ½ tsp vanilla essence

• 1 tbsp icing sugar to

sweeten

Method:

Put cream, vanilla essence

and icing sugar in a bowl and

whisk until light and fluffy with

softly formed peaks. Cover and

refrigerate until ready to serve.

Have you booked

your Xmas

appointment?

GET IN QUICK!

Phone (03) 384 1743

4/2 Soleares Ave, Mt Pleasant

Open: Monday to Saturday

Late Night: Wednesday & Thursday

BUY NEW ZEALAND MADE

Gorgeous hand-made and

new affordable giftware

FREE

Christmas

gift wrapping

Open every day, except Christmas Day

15 London St, Lyttelton. Ph 03 328 7016

www.thelyttelkiwi.co.nz The Lyttel Kiwi

XMAS

PACKS

PRICED

FROM JUST

$20

We are open for Christmas Day lunch!

3 courses $95pp

including complimentary

glass of bubbles

Bookings are essential, so call

03 326 6973 for more information

The Village Inn, 41B Nayland Street, Sumner

Innovative designer, creator,

skilled craftsman and repairer

of fine jewellery.

Let's create something beautiful together.

Lyttelton Studio, 8 London St

Phone 027 486 2855

www.julianharding.co.nz

add a sparkle

to someone's

christmas

A shipment of 1 carat and 1/2 carat

diamonds has arrived.

Purchase now mounted in sterling silver for

Christmas and get a free $500 design voucher

towards remodelling at a later date!
---
2

Wednesday November 25 2020

[Edition datE]

Latest Canterbury news at starnews.co.nz

BAY HARBOUR

PAGE 17

in

Santa's Brekkie Pancakes

with fresh berries

This one is not just for the kids – the sweetness of the bananas makes these

pancakes scrumptious and a delicious, healthy breakfast hit for everyone!

You will need:

• 4-5 bananas (soft enough to mash)

• 4 eggs

• ½ cup rice flour

• 2 tbsp whole linseed

• ½ tsp salt

• grated lemon rind

• juice from 1 lemon

• splash of vanilla

• butter to cook the pancakes

Method:

1. Peel and mash the bananas in a bowl.

2. Stir in the eggs, vanilla, linseed, salt

and lemon ingredients.

3. Add flour and mix to a smooth batter.

4. Cook pancakes in frypan on one side

until they bubble on the surface or hold

together enough to be flipped over.

5. If the mixture is thick, flatten the

pancakes out once they've been turned

over. Each pancake should be around

1cm thick.

Kid's version:

Decorate each pancake with red berries

for Santa's hat, Greek yoghurt or

whipped cream for Santa's beard and

chocolate buttons or grape halves for

Santa's eyes.

Adult's version:

Serve with a mix of fresh strawberries,

blueberries, raspberries, and

boysenberries. Top off with Greek

yoghurt.

Beautiful

Gift Ideas

Delivering tranquil and relaxed treatments,

beauty and massage therapy in a warm

and inviting atmosphere

Get Christmas-ready.

Book your pre Christmas

treatments now!

Gift

Vouchers

One piece is never enough!

FACTORY SHOP

OPEN FRIDAY 11AM-2PM

89b Main Road, Redcliffs Phone 03 384 4729 www.redcliffsbodycare.co.nz

Supercharge your health & wellness!

Give the gift of

health & wellness.

Give an OCEAN OZONE

Voucher.

Ocean Ozone is Christchurch's

newest health and wellness

clinic and is proud to offer the

latest and highly advanced in

Hocatt Ozone Sauna technology.

One 30 minute capsule session helps

•Immune system support

•Sports recovery & performance

•Mental Health support

•Weight management

•Muscle, joint & pain relief

•Anti-ageing treatment

•Ozone therapy facial

•Lymphatic & therapeutic massage

Plus many more benefits!

Unit 8, 21 Humphreys Drive, Ferrymead

P 021 226 9663 E info@oceanozone.co.nz

www.oceanozone.co.nz

LOOSE TREATS

LOLLIES

BARS

GIFT BOXES

XMAS GIFT HAMPERS

SORRY NO EFTPOS. CASH SALES ONLY.

39g WATERMAN PLACE

PHONE 03 376 4455
---
2

PAGE 18 [Edition

BAY HARBOUR

Wednesday November 25 2020

datE]

Latest Canterbury news at starnews.co.nz

in

Shops bursting with

festive gift ideas

The countdown to the big day is well underway, so making up the

Christmas gift list will now be a top priority… if you haven't already done so.

Finding those special gifts and stocking fillers as

well as the Christmas treats for the table is so easy at

our city's malls and shopping centres, where the shops

are bursting with festive merchandise.

Every woman likes to receive body pampering

gifts, and there is a huge selection of these priced

to suit all budgets at the many pharmacies and gift

shops around the city. Perfume is another favourite

and again there is a wide selection to choose from,

ranging from exciting new releases to the well-known

fragrances that have stood the test of time. Lingerie,

jewellery, fashion accessories, homewares and decor

items – there's no end to the ideas for the women on

the list.

The men are equally well catered for, from the

sophisticated metro-male boyfriends, to the car-crazy

brothers and the DIY enthusiast and keen gardener

husbands and dads. Choose from clothing, books,

tools, personal grooming items and gadgets to put a

smile on their face on Christmas morning.

Speaking of smiles, nothing gives families more joy

than seeing the excitement of the children opening

their presents. Whether they are delivered by Santa

or snuck under the tree by mum and dad, the cuddly

toys, games, dolls and building blocks, the candy

canes, toy trucks and pretty dresses currently filling

the shops will bring squeals of sheer happiness from

the smallest family members.

The tweens and teens usually have their own ideas

about what they want for Christmas, so the gift cards

offered by a wide range of retailers are the perfect way

to please.

Give a Christmas

gift to remember!

With summer on the way there's

never been a better excuse to take

a break and head to Hanmer Springs.

Just 90 minutes north of Christchurch,

Hanmer Springs Thermal Pools and Spa

offers something for everyone - whether

it's that hard-to-buy-for friend or a well

deserved treat for yourself.

We've got packages to suit every

occasion. Relax and unwind in our

22 open-air thermal pools, enjoy the

adrenalin of Conical Thrill, New Zealand's

largest aquatic thrill ride, or get totally

pampered at The Spa.

Whether it's a day-trip or a longer stay,

give the gift of fun and relaxation at

Hanmer Springs Thermal Pools and

Spa this Christmas.

• Pools & slide entry for

2 adults and up to 3 children

• Two standard 12 inch pizzas

from our pizza oven from

our onsite Tea Kiosk Café

and Grill

Normally $129

$

99

2 adults and

up to 3 children

under 15 years

• Two night's accommodation

• Two days single Hanmer

Springs Thermal Pools & Spa

entry (incl. slides)

• ½ hour Village Cruiser bike rental

• One round of Mini Golf

at Alpine Crazy Putt

$

349

2 adults and

up to 3 children

under 15 years

• One night accommodation in

a Hanmer Springs motel/hotel

• One day Hanmer Springs

Thermal Pools & Spa entry

• ½ hour private thermal pool

• ½ hour sauna or steam room

• ½ hour Unwind Revival Massage

at The Spa at Hanmer Springs

$

429

For two

people

0800 4 HANMER

hanmersprings.co.nz

Open seven days
---
Wednesday November 25 2020

Latest Canterbury news at starnews.co.nz

BAY HARBOUR

PAGE 19

CAN YOU BELIEVE IT?!

Only 28 days

till Christmas

NEW RELEASES

GREAT NEW READS INSTORE

A Promised Land

by Barack Obama

In the stirring, highly anticipated first volume of his presidential memoirs,

Barack Obama tells the story of his improbable odyssey from young man

searching for his identity to leader of the free world, describing in strikingly

personal detail both his political education and the landmark moments of

the first term of his historic presidency—a time of dramatic transformation

and turmoil. Obama takes readers on a compelling journey from his earliest

political aspirations to the pivotal Iowa caucus victory that demonstrated

the power of grassroots activism to the watershed night of November 4,

2008, when he was elected 44th president of the United States, becoming

the first African American to hold the nation's highest office. Reflecting on the

presidency, he offers a unique and thoughtful exploration of both the awesome

reach and the limits of presidential power, as well as singular insights into the

dynamics of U.S. partisan politics and international diplomacy.

Mark Skaife

The complete illustrated autobiography of one of Australia's most

successful touring car drivers ever

This is a portrait of a racing legend featuring photos from Mark's

private collection, plus toasts and roasts from the racing people who

know him the best.

For more than three decades across the Holden Racing Team's

golden era, Skaife was the chosen one. Imposing, sometimes

polarising and always revered, his legend is immeasurable and he

remains a pillar of Australian motorsport as a media ambassador

and presenter.

I'm in a United State

by Paul Henry

Paul Henry reflects on his life and times in this homage to the

land of the slightly shabby stars and stripes. Despite his best

intentions, Paul Henry has written his third book. It's a charming

and eccentric ramble through the United States and back to New

Zealand during the Covid-19 pandemic. There are two weddings,

an election, a new TV show and his love affair with Palm Springs,

sad desert motels, road trips and other passions. A fascinating

window into the intriguing world of Paul Henry. 'I love the USA.

And in this book, in real time, over the first six months of 2020,

I chronicle my thoughts and actions and draw from my past to

try and work out why. I'm brutally honest and clearly disturbed,

magnificently so! I literally don't care what people think. You will

be surprised. This is me, now . . . You're welcome.' Paul Henry

60 Years Of Coronation Street

by ITV Ventures Limited & Abigail Kemp

Celebrating 60 years since the show's creation, this book is an

exhaustive, compelling and entertaining history packed full of features

and long-forgotten imagery. Everything you need to know about

Britain's longest running and most popular soap is found here in this

impressive book.

Bella My Life in Food by Annabel Langbein

For the first time, Annabel Langbein, New Zealand's most popular cookbook

author, writes about her remarkable life and how food has shaped it,

highlighting some of the recipes that have resonated most strongly with her

over the years. From her childhood fascination with cooking to a teenage

flirtation as a Maoist hippie, to possum trapping and living off the land as

a hunter and forager, to travelling and starting her own croissant business

in Brazil, Annabel's life has always been centred on food and nature. Out of

this came an obsession with creating cookbooks, introducing a generation

of cooks to her simple recipes for delicious, stylish meals. Annabel

has lived a huge and varied life, and she writes vividly about her many

adventures. From throughout this rich life in food she has chosen 60 key

recipes, created with her signature style and flair that make cooking easy

for everyone, sharing them in this beautifully photographed book.

1005 Ferry rd

Ph 384 2063

while stocks last (see instore for terms and conditions)

Barry & kerry
---
PAGE 20 BAY HARBOUR

Latest Canterbury news at starnews.co.nz

Wednesday November 25 2020

Plenty to choose from at Kia dealership

THE SHOWROOM and forecourt

was jam-packed with cars

when I went to pick up Kia's small

sport utility vehicle – the Seltos

– the Limited all-wheel-drive

version, to be exact.

Extracting the evaluation car

was a mission of moving several

vehicles and squeezing mine out

of the showroom.

I quipped to the sales manager

there were too many cars on the

lot and he should sell a few.

He replied by saying the business

was in a good position, stock

was plentiful and there was a

steady supply chain.

I mention this because many

of today's car manufacturers are

struggling with continuum of

supply due to Covid-19 affecting

the workforce both in the

factories and with component

suppliers.

South Korea has a good handle

on the pandemic, and Kia (along

with its partner, Hyundai),

factories haven't been affected

dramatically.

The Seltos has been in the New

Zealand market for a year or so

now, it lands here in five specifications

and with the choice of two

engines, pricing starts at $27,990

and ends at $46,990 for the allwheel-drive

Limited. In-between,

an LX Plus, EX and Limited

(2WD) list at $35,990, $37,990

and $42,990 respectively.

All except the Limited AWD

get a naturally aspirated 2-litre

petrol engine, a 1.6-litre turbocharged

four-cylinder engine

powers the range-topper. It's an

engine I've experienced before in

several Kia and Hyundai models,

it is a delightful, honest unit

which has always impressed me.

I drove the 2-litre Seltos shortly

after its arrival here and remarked

on its price-friendly positioning

and smooth nature of its engine.

Well, the 1.6-litre engine is just as

good, of course it gets more power,

up 20kW and 85Nm to 130kW

and 265Nm, and the outputs are

developed at usable points of the

rev band – 6000rpm at the top

end with maximum torque available

all of the way from 1500rpm

to 4500rpm.

What's more, the 1.6 doesn't

use much more fuel, Kia rate it

with a 7.6-litres per 100km combined

cycle average, the 2-litre at

6.8l/100km.

The latter figures fare well with

the fuel usage readout in the

evaluation car, when I took it

back to the dealership the meter

KIA SELTOS LIMITED: Turbocharged engine and fourwheel-drive

provides power and sure-footed handling.

was reading 8.6l/100km, while

on the highway an instantaneous

figure of 4.5l/100km was showing,

the engine turning over freely

at 2000rpm in seventh gear.

Yes, the 1.6 Seltos drives to all

corners through a seven-speed direct

shift transmission, the beauty

of this gearbox is its clean, quick

shifts and smooth operating

manner. If the driver so desires, a

manual sequential function at the

main gearshift lever will override

the gear change protocols.

The engine and gearbox

combination is delightful, there

is nothing harsh within the

driveline, everything is smooth

and fluid, and such is the way the

turbocharger is boosted there's

no lag and there is a responsive

feeling of strength beneath the

accelerator.

Saying that, the Seltos isn't

quick, but it is spirited enough

with an 8.8sec standstill to 100km

acceleration time on offer.

What the Seltos does do well

is provide the driver with an

uninterrupted flow of power, it is

reactive without being punchy.

For an SUV the Seltos also has

a delightful handling manner.

Much of that can be attributed

to the firm steering feel. Full

marks to Kia here, the weighting

is perfect for me, there is genuine

firmness without being overly difficult

to manipulate.

That's a fine line to get right for

the Seltos' target market, it would

need to be easy to drive for the

over-50s, yet it will also appeal

to the youthful who like positive

feedback when a quick corner is

presented.

• Price – Kia Seltos Limited,

$46,990

• Dimensions – Length,

4370mm; width, 1800mm;

height, 1615mm

• Configuration – Fourcylinder,

four-wheel-drive,

1591cc, 130kW, 265Nm,

seven-speed direct shift

automatic

• Performance –

0-100km/h, 8.8sec

• Fuel usage – 7.6l/100km

In Limited specification the

Seltos also has the goodies you

would expect in a high grade

model, especially for safety where

it is fitted with all the modern

trickery to keep you out of trouble

in the first instance.

Usually, if there is a choice

of models within a series, I'm

angling at the base specification

models, I like them for their

simplicity and pricing, there are

many bargains to be found there,

and yes, the entry-level Seltos at

under $30k is a genuine bargain.

However, I'd opt for the rangetopper

in this instance, it feels just

so right to be in, it doesn't feel like

an SUV with its spirited engine

and tight steering, it exudes

something far more sporty.

Not only is Kia cranking along

with supply and the promise of

more exciting new models, it is a

company that has much faith in

its product, all new Kias sold here

come with a five-year/100,000km

warranty. That surely adds the

peace-of-mind factor as well.
---
Wednesday November 25 2020

REAL ESTATE

Family space with character grace

6 Sumnervale Drive, Sumner

Auction: Wednesday 9 December 2020 12pm - On site (unless sold prior)

4 bedrooms, 2 living, 1 dining, 1 study, 2 bathrooms

rwferrymead.co.nz/OPA24292

Pairing traditional charm with modern

flair; this superbly presented character

property offers an incredibly comfortable

lifestyle from an exceptionally private pocket

of Sumner. Situated upon a substantial

919m 2 approx section, the home itself was

originally constructed in the 1950s of brick

but underwent a significant extension in the

2000s which introduced a top floor to this

former single level abode. Lovingly retained

features include rimu floors and classic

décor, while sleek upgrades sit effortlessly

within the home and enhance its aesthetic

appeal. The sheer size of the floor plan is a

unique drawcard, and depending on your

requirements, this home could either be

arranged to host five bedrooms or four plus

a study. The freshly renovated kitchen makes

a statement in modern style and interacts

flawlessly with the dining area. The presence

of two living zones will be greatly appreciated

by families, with each enjoying immediate

access outside. Bi-fold doors off the lounge

extend your space out to the expansive

hardwood decking that ideally contains builtin

seating and borders the established garden

Latest Canterbury news at starnews.co.nz

and impressive lawn which will provide

endless hours of summertime enjoyment. This

premium outdoor setting is perfectly aligned

for privacy, sunshine and valley views to offer

the ultimate space for entertaining and family

living. The upper-level embraces privacy and

features an expansive master that boasts an

idyllic outlook, dedicated ensuite, another

bedroom and a separate toilet. If you need to

accommodate a large number of residents,

then the ground floor bedrooms would be

well suited as a dedicated setting for guests or

extended family members. A heat pump, log

burner, gas hot water, partial double glazing

are further highlights which complete the

picture. Situated within moments of the area's

many offerings, you have Sumnervale Reserve

and the Captain Thomas Track positioned on

your doorstep, and have effortless access into

Sumner Village with its bars, beach, schools,

restaurants and boutiques.

Auction: Wednesday 9 December at 12pm,

on site (unless sold prior)

Open Homes: Thursday 5pm - 6pm Special

Canape Evening and Saturday/Sunday 1pm -

1.30pm

BAY HARBOUR

PAGE 21

No.1 Sales Consultants

2017-2020

Simon & Paula Standeven

RW Elite NZ Sales Performers

Simon and Paula Standeven

0274 304 691 or 384 4179

thestandevens@raywhite.com

Before you

paint your

bargeboards

call us about

disconnecting

the power

03 363 9898 | 0800 363 9898

oriongroup.co.nz

Getting in there with that paintbrush around live power lines

is very dangerous. Call us about disconnecting the power,

it might cost a bit more, but it could well save your life.

You're our priority.

Orion operates, and maintains, the electricity distribution network

that provides power to central Canterbury. We are always here

to help if you have any questions or concerns about the network.
---
PAGE 22 Wednesday November 25 2020

BAY HARBOUR

Latest Canterbury news at starnews.co.nz

TREATING OUR

COMMUNITIES

Order your favourite Christmas Cookies now and

help St John continue to treat all of us.

WWW.COOKIETIME.CO.NZ

St John does not provide ambulance services in Wellington or Wairarapa regions.
---
Wednesday November 25 2020

Latest Canterbury news at starnews.co.nz

BAY HARBOUR

PAGE 23

Classifieds Contact us today Phone our local team 03 379 1100

To Let

RENT ME!

Ideal as an extra

bedroom or office.

no bond required

Fully insulated and double glazed for warmth.

Three convenient sizes from $80 a week:

Standard 3.6m x 2.4m

Large 4.2m x 2.4m | Xtra-large 4.8m x 2.4m

Visit our website

www.justcabins.co.nz

for display cabin locations

www.justcabins.co.nz

Trades & Services

Builder

BUILDers

"A local looking after locals"

• Licenced builder with 20 years

experience in renovations,

alterations and extensions

• A creative craftsman who is

attentive to detail

• Quotes the job, does the job

• Works with all budgets

Andrew Drewitt

Ph: 021 395 324

Email: ad_designs@hotmail.com

IF IT'S PLUMBING YOU NEED

WE PlUMBer! CAN HELP!

Hot water problems, showers,

taps, toilets,

0800 217

new

5862

installations

Landlord Special Service

Gas Fitting & Hot Water System

Bathroom & Kitchen Renovations

www.a1plumbing.co.nz

call free 0800 217 5862

Or TeXT 027 429 3770

www.a1plumbing.co.nz

FOOTCARE

OASIS

Senior Citizens Foot Care

25 Conway Street, Spreydon

Treating hard thick nails, calluses

and corns finishing with a foot massage

Price $30 Allow 45 mins

Home Visits available by appointment

Therapist – Amanda

(30 years experience)

Ph. 942-6036 for an appointment

HOURS ARE FLEXIBLE

Trades & Services

Atkinson Construction Ltd

• Local qualified licensed builder

• Over 30 years experience

• Building alterations

• Maintenance

• No job too big or small

Dean: 021 480 093

atkinsonconstruction@xtra.co.nz

LOCKSMITH

Mobile Locksmith

• Residential/Commercial

• Keys Cut, Locks Rekeys

• Lock Installs & Repairs

• Digital Locks & Padlocks

• Ranch Slider Deadlock & Bolts

• Window Catches & Locks

• Garage Door Locks

• House Alarms & Monitoring

• Rental Property Specialists

• Winz & Insurance Quotes

GOLD CARD OR CASH DISCOUNT

Further discount for Pensioners, no GST charged

10% OFF with mention of this ad

Phone: Marc 03 382 2501

Mob: 027 222 2220

www.keystonelocks.co.nz

SCRAP METAL

Dominion Trading Co Ltd

• Scrap metal buyers

• Canterbury owned & operated

• Top prices paid $$$

• Open Saturday morning

Open Mon-Fri 8am – 4.30pm Sat. 8.30am-12.30pm

www.happyscrappy.co.nz

03 343 9993 333 Blenheim Rd

Trades & Services

Services available from Ferrymead

to Taylors Mistake and Lyttleton

FOR ALL YOUR

★Garden Clean-ups

★Pruning

★Lawn Mowing

★Garden Maintenance

Call us today for a FREE quote

PH 0800 4 546 546

(0800 4 JIMJIM)

Landscape

and Garden

Services

Need help with

your garden?

We provide a quality

service for all your

Garden Maintenance

(hedges, lawns,

line trimming, weeding)

and Landscaping needs,

(fencing, paths, drives,

retaining and earthworks).

Ph 021 272 0303

Trades & Services

rooF

painting

by Certified Tradesman

Book now

and receive

20% discount.

Rope and harness

a speciality.

No scaffolding

required.

30 years

experience.

Free quotes,

call Craig

021 060 2392

Trades & Services

BUILDING

MAINTENANCE

&REPAIRS

Incl Timber, Block,

Concrete, Paving, Fencing,

Piles, Brick, Welding,

Gutters, Roof & rotten

timber repairs. Prompt

service, professional

workmanship. Call Mark

on 027 437 0048 for a free

quote.

Trades & Services

SHUTTLE SERVICE

24 hour

Shuttle Service

We will pick you up

from your home,

work place or

motel, hotel or

backpackers and take

you to the airport or railway station

Discount available with this advert

conditions apply

We offer a 24 hour service

J & L Shuttles Ltd

Ph 389-9879 or 389-9873

for bookings

CONCRETE CUTTING

Affordable Concrete

Cutting with Quality, and

removal work. Free quote.

No job to small. Phone 027

442-2219, Fax 359-6052

a/h 359- 4605

ELECTRICIAN

Andrew Martin Electrical.

25 years experience.

Specialize in home

renovations, repairs and

maintenance. Call Andrew

0274 331 183

ELECTRICIAN.

JMP Electrical.

Experienced & registered..

Expert in all home

electrical repairs &

maintenance.Call James

027 4401715

PAINTING SERVICES

Mature, reliable,

conscientious &

experienced, reasonable

rates, no job too small!,

call Ron 027 434-1400

PAINTING

30 years experience,

workmanship

guaranteed, pensioners

discounts, free quotes, ph

Robert 021 026-30757

RENOVATIONS

Small jobs, second hand

kitchen installs incl stone

bench tops, sleepouts and

home maintenance. Call /

txt Greg 022 475 8227

SPOUTING & GUTTER

CLEANING

For a professional

reliable service call

Greg at A1 Spouting

Cleaning 027 616 0331

SPOUTING & GUTTER

CLEANING

For a professional reliable

service call Greg at A1

Spouting Cleaning 027

616 0331

STONEMASON, BRICK

& BLOCKLAYER,

Earthquake Repairs, Grind

Out & Repoint, River/

Oamaru stone, Schist,

Volcanic Rock, Paving,

all Alterations new & old,

Quality Workmanship,

visit www.featureworks.

co.nz or ph 027 601-3145

STONEMASON

Natural stone, feature

walls, retaining, drystone,

paving & repairs.

Reasonable rates. Keeping

the locals happy for over

20 yrs. Call Tim Williams

027 7145 402

Wanted To Buy

AAA Buying goods

quality furniture, beds,

stoves, washing machines,

fridge freezers. Same day

service. Selwyn Dealers.

Phone 980 5812 or 027

313 8156

ADVERTISE YOUR BUSINESS HERE

Trades & Services

WINDOW TINTING

tintawindow

advanced film solutions

99% uv block

fade protection

heat control

reduce glare

25 Years Experience

privacy films

frosting designs

non-darkening films

Workmanship Guaranteed

Lifetime Warranties on Most Films

UV

block

Free Quotes Canterbury and Districts

03 365 3653 0800 368 468

Phone for further details

(03) 379 1100
---
PAGE 24 Wednesday November 25 2020

BAY HARBOUR

Latest Canterbury news at starnews.co.nz

Christmas

High Tea

Join us for a Christmas High Tea

What a year it's been. And now Christmas is fast

approaching. Here at Summerset, we're busy getting

ready for a festive season that everyone will no doubt be

looking forward to.

To help kick things off, we're planning two Christmas

High Teas and you're invited.

Just pop along to Summerset at Avonhead or

Summerset on Cavendish any time between 10am

and 2pm, on either Friday 27 November or Friday 4

December, and enjoy a range of delicious Christmas

treats and warm drinks on us.

Whilst you're here, why not also get a taste of the

Summerset life that our residents love so much.

Our team would love to show you around our stunning

villages and show homes.

Christmas

High Tea

Friday 27 November

Friday 4 December

10am - 2pm

Summerset at Avonhead

120 Hawthornden Road, Avonhead

Call Anne on 03 357 3202

Summerset on Cavendish

147 Cavendish Road, Casebrook

Call Deborah on 03 741 3340

For more information, call Anne at Avonhead on

03 357 3202, or Deborah at Casebrook on 03 741 3340.

We're looking forward to seeing you!

SUM2634_FP
---
Wednesday November 25 2020

Latest Canterbury news at starnews.co.nz

BAY HARBOUR

PAGE 25

OUR BIGGEST SALE OF THE YEAR.

1 WEEK ONLY – SALE ENDS NOVEMBER 29, 2020 • Exclusions apply.

VENUS

Outdoor Lounge

CAPRI

Outdoor Lounge

ON SALE!

ON SALE!

entertain or lounge...

the best of both worlds!

Egg Chair

NOW $

599

3 Seater/Sunlounger

NOW $

1599

Modular

2 Seater – 1 Arm

NOW $

850

Modular

1 Seater – No Arm

NOW $

475

Modular

Corner Table

NOW $

275

Coffee Table

NOW $

459

Low Dining Table

NOW $

749

Daybed

NOW $

1499
---
PAGE 26 Wednesday November 25 2020

BAY HARBOUR

Latest Canterbury news at starnews.co.nz

ALL OUTDOOR ON SALE | ALL DINING ON SALE | ALL LOUNGE ON SALE

Marbella 3 Piece

Outdoor Lounge Set

WAS $

2499

NOW

$

1899

Cascade 5 Piece Outdoor

Dining Set

WAS $

2489

NOW

$

2049

SAVE $ 600!

Marbella Outdoor

Modular Corner Chaise

WAS $

2299

NOW

$

1699

SUPER DEAL!

RESIN

Outdoor Dining

Chairs

ON SALE!

Maddox

NOW

$

95

Blossom

NOW

$

95

Lavender

Barstool

NOW

$

150

Ellis

NOW

$

85

Lavender

NOW

$

125

Montaro Outdoor Lounge/Low

Dining Set

WAS $

2999

NOW

$

2599

Miami 7 Piece Outdoor

Dining Set

WAS $

2249

Cushions sold separately.

NOW

$

1399

SAVE

$

850!

SUPER DEAL!

Round Dining Table NOW $ 559

Dining Chair NOW $ 140

www.targetfurniture.co.nz
---
Wednesday November 25 2020

Latest Canterbury news at starnews.co.nz

BAY HARBOUR

PAGE 27

ALL BEDROOM ON SALE | ALL MATTRESSES ON SALE | ALL RUGS ON SALE

Bahamas Sleepset Caribbean Sleepset

Seychelles Sleepset Majorca Sleepset Grenada Sleepset

Single $ 379

Double $ 479

King Single $ 429

Queen $ 509

Single $ 499

Double $ 609

King $ 789

King Single $ 559

Queen $ 639

Single $ 579

Double $ 689

King $ 889

King Single $ 609

Queen $ 639

Single $ 659

Double $ 779

King $ 889

King Single $ 709

Queen $ 839

Single $ 659

Double $ 829

King $ 1089

King Single $ 709

Queen $ 939

All prices include mattress plus Kitset base.

Seychelles

Queen Mattress

NOW

$

399

Majorca

King Mattress

NOW

$

599

Unexpected extras?

No problem.

Bahamas

Trundler Bed Setting

WAS $

897

Chia Single Trundler

Bunk Bed

WAS $

1299

Regan Sofabed

WAS $

999

NOW

$

799

NOW

$

797

NOW

$

999

SUPER DEAL!

SUPER DEAL!

ON SALE!

Buy NZ MAde!

Check in store for details.

IN STORE AND ONLINE
---
PAGE 28 Wednesday November 25 2020

BAY HARBOUR

Latest Canterbury news at starnews.co.nz

Don't miss these BLACKOUT DEALS!

+ even more in store & online.

1 week only!

Sydney 2.5 Seater

WAS $

799

NOW

$

599

Dallas Queen Bed

WAS $

399

NOW

$

299

SUPER DEAL!

SUPER DEAL!

TIBET

Bedroom Range

ON SALE!

Tallboy

NOW

$

699

SUPER DEAL!

Mirror included.

Dresser

NOW

$

699

Rivo 2 Seater

Electric Recliner

WAS $

2399

Rivo 3 Seater

Electric Recliner

WAS $

2699

NOW

$

1799

24

MONTHS

INTEREST FREE

Bedside

NOW

$

250

with

Terms & conditions apply. See staff for more

information. Offer ends November 30th, 2020.

Queen

Bed

NOW

$

699

NOW

$

1999

Accessories are not included in the price of furniture unless otherwise stated.

Colours in store may vary to those pictured. Stock may vary from store to store.

Target apologises in advance if any item is sold out during the promotion. All

Prices include GST. Target reserves the right to amend any misprints or errors

within this advertisement. Mailer offers expire Sunday 29th November 2020. Sale

excludes Manchester and accessories.

Shop

Online

Nationwide

Delivery

Finance

Options

Come & check out

our new STORE!

targetfurniture.co.nz

more super deals online & in store!

250 Moorhouse Ave, Christchurch

Ph: 0800 TARGET (0800 827438)

Offers and product prices advertised here expire 29/11/20.

Sale excludes Manchester and Accessories.

SUPER DEAL!

*Finance terms and conditions apply. Check online at; https://www.targetfurniture.

co.nz/finance or ask in store for more information.

BLACKOUT STOREWIDE SALE ENDS 29.11.20.