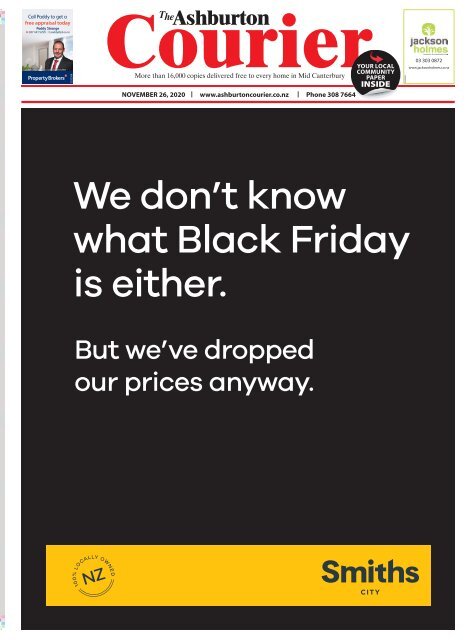 Ashburton Courier: November 26, 2020
Create successful ePaper yourself
Turn your PDF publications into a flip-book with our unique Google optimized e-Paper software.
free appraisal today

2332308

NOVEMBER 26, 2020 l www.ashburtoncourier.co.nz l Phone 308 7664

YOUR LOCAL

COMMUNITY

PAPER

INSIDE

2300283

03 303 0872

www.jacksonholmes.co.nz

We don't know

whatBlack Friday

is either.

Butwe've dropped

ourprices anyway.
---
Our Black Friday sale.

Alsoavailable Thursday, Saturday,

Sunday, Monday&Tuesday.

We'vejumped on

the BlackFriday

band-wagon

withsuper deals acrossour

entireWhiteware range.

Black Friday.

Flat white Saturday.

CappuccinoSunday.

Nespresso CitiZ&Milk Machine

BEC660CRO 9066486

$299 $ less than

7 perweekfor

52 weekson

EasyCard* 2

Bonus

$80 via redemption* 3

Coffee Credit

Limited Stock

332L TopMount Fridge with Door Cooling

With summerjustaround the corner,it'sa

great time to pickupanew fridge. The LG

Inverter Linear Compressor combinesthe

air flow through the front and backvents

to keep food fresherfor longer.You better

be quick,though —wewon't be ableto

keep this price on icefor very long.

GT-332SDC 9058437

20%

offNursery including

#

$799 $ 10 perweekfor

24 months

interest free*

Limited Stock

Excludes Arlo Baby

50"TU7000 4K SmartTV

The Crystal display of this4KSmart

TV optimises colour, givesgreater

contrast,and makes the blacks blacker.

Which makes it the perfect BlackFriday

purchase.Especially at this price.

UA50TU7000 9064379

$946 $ lessthan

11 perweekfor

24 months

interest free*

Limited Stock

Black Friday.

It's actually more

colourfulthan

youmight think.

Especially on that new4K

TV youwerethinking about.

Black Friday Salescan be

exhausting. Luckily,you canget

anew lounge suite, halfprice.

Dreammode Fabric 5SeaterLounge Suite-Persistent Jet

The truth is,we're not toosureaboutBlack Friday either. It's just agood excuse to give

youabargain. Which is exactlywhat thisluxurious5seaterreclinersuitefromLa-Z-Boy

is. It's half price, and craftedwith soft,deep cushioning from headrest to footrest.

was

$2699 $ 5399

lessthan

$12 perweekfor

60 months

interest free*

8927816

120only of this colouratthis price.

INTEREST FREE

60MONTHS

$1499&over*

on furnitureand beds

24

MONTHS

$499 &over*

INTEREST FREE

on everything
---
free appraisal today

03 303 0872

www.jacksonholmes.co.nz

2332308

2300283

NOVEMBER 26, 2020 |www.ashburtoncourier.co.nz |Phone: 308 7664

Students sell

for charity

PAGE 3

Safety

firstontrack

MSA makes

good progress

PAGE 6

LINDA.CLARKE

@ashburtoncourier.co.nz

Signs save lives and big new ones at either

end of the Mt Somers track will help keep

the 10,000trampers who use it every year

stay safe.

The first of two new information kiosks

was officially unveiledinperfect walking

weather on Sunday.

The kiosk and sign are at the Woolshed

Creek end of the track; the second will be

erectedatthe Staveley end when the new

John Duncan (left) of the Ashburton Plains Rotary Club with MtSomers Walkway

Society members Barry Austin andTiny Beckley at the unveiling of the information

kiosk.

PHOTO SUPPLIED

Sharplin Falls trackiscompleted.

The kiosks are acombined project

betweenthe Mt Somers Walkway Society,

the Ashburton Plains Rotary Club made a

contribution and afamilyanonymously

gave $2000 in remembrance of many

family outings on the track.

Society spokesperson Barry Austin said

about 20 membersofthe Rotary club

joined track supporters for the unveiling

ceremony and awalk up to the old coal

mine.

He said the new signs were important

because many who walked the track were

new to the area;the information helped

keep them safe.

Continued Page 2

Young stars of

horse-riding

PAGE 21

HONDA

TRX420FE1 2WD/4WD

Come on Over...

Visit our Architectural Display Home

Join us for the Grand opening of

Corner Jennian's of Whiteoak New Display and Waterford home

Place, Tinwald, Ashburton.

Display Home hours:

Wednesday and Thursday 12-3pm

Sunday 12-3pm or by appointment

Call Michele today to start your

journey to abrand new Jennian home.

Invest in Bricks and Mortar.

Why choose Jennian Homes?

• 35years in business, still going strong

• Master Build Guarantee Contract

• 100% Home Completion Commitment

• Designs to suit everyone's budget

• Architectural design service

• First Home buyer options and advice

• Built to award winning standards at

• Exceptional value

Order your blinds nowin

time forChristmas!

15 %

off

• Manual Electric

ShiftTransmission

*Limited numbers available

$10,995

ONLY

PLUS GST

HONDA COUNTRY

www.hondacountry.co.nz

740 East St, Ashburton. Phone 03 308 2030

Haydon South 021 244 7043

2331569

Jennian Homes Canterbury

Michele Strange 027 491 5266

P 03 7411436

E canterbury@jennian.co.nz

jennian.co.nz

2331578

Roller Blinds and

Venetian Blinds

118 Tancred Street, 03 308 3973

ashburton@colourplus.co.nz

paint |wallpaper |curtains |blinds |flooring |interior design

*
---
NEWS

2 Ashburton Courier, November 26, 2020

www.ashburtoncourier.co.nz

BUSINESS OWNERS

Build customers,

sales and profits

with us ...

Over 16,065

copies delivered to

EVERYhome,farm,

RD and lifestyle

blocks in

MidCanterbury

news

Linda Clarke

Editor

308 7664

linda.clarke@ashburtoncourier.co.nz

Reporters

Mick Jensen

mick.jensen@ashburtoncourier.co.nz

Toni Williams

toni.williams@alliedpress.co.nz

advertising

Jann Thompson

Sales Manager

308 7664

027 587 6351

jann.thompson@ashburtoncourier.co.nz

Karen Gane

Sales Account Manager

308 7664

021 510 804

karen.gane@ashburtoncourier.co.nz

getintouch

Editorial

linda.clarke@ashburtoncourier.co.nz

Advertising

info@ashburtoncourier.co.nz

Production

murray.thompson@ashburtoncourier.co.nz

Accounts

accounts@alliedpress.co.nz

Distribution/Deliveries

mary.summerfield@ashburtoncourier.co.nz

Office

office@ashburtoncourier.co.nz

03 308 7664

199 Burnett Street,Ashburton

www.ashburtoncourier.co.nz

2309905

Tenders in for $51.6m job

Ashburton mayor Neil Brown says

therewill be good opportunity for

localtradies to work on the

Ashburton District Council's new

$51.6 million civic and library

building.

Tenders for the job closed

yesterdayand will gobeforean

evaluationteam of councillors,

senior staffand others at ameeting

on December 7.

The wholeproject is being

managed by Logic Group,which was

appointed to the job two years ago.

Logic was engaged to oversee the

designand construction of the

building until its handover.

Mr Brown and Cr Leen Braam are

Builders prepare the formerAshburtoniSite for relocation.

Plastic welding

We repair all types of plastic products

andequipment.

•Water tanks •Calf feeders •FuelTanks

•Car bumpers •Cab roofs

on the evaluation team, as well as a

project manager, architect and

technical experts.

The mayor said those tendering for

the construction hadtoshow theyhad

experience withmajor buildings.

''That might exclude alot of

Ashburton builders but theycan be

part of the sub­contracting team.The

project manager had ameeting with

potential builders and locals to see

which parts they could play.''

It would be practical for local

electricians, plumbers andpainters

to workonthe building and local

concrete contractors could have

roles, he said.

The evaluation team will

Former iSite gets

ready to relocate

Builders havebeeninsertingsteel

beams into the former iSite

buildingonEastStreet, in

preparationfor its relocation.

Thebuildingwill be moved to the

AshburtonAirport where it will be

anew clubroomsfor the Mid

Canterbury Aero Club.

Clubpresident Ian Begbie said

otherpreparationwork at the East

Street site includedthe removal of

atree at the weekend.Room was

beingcreatedsothe building can

be transported to the airport,

where anew concrete foundation

was beinglaid.

Mr Begbie said the removal

wouldhappen in the next two

weeks and waslikelytobeatnight

to minimisedisruption to traffic.

He saidthe old aero clubbuilding

hadbeen demolished and members

were operating from acontainer

while the relocationprogressed.

They looked forwardtotheir new

digs.Thebuildinghas to go by early

January so contractors working in

the CBDcan begin the next phase.

The westernend of Tancred

Street has been sealed and should

be open for shoppersand parking

soon, easingthe frustrations of

retailersasthey gear up for their

busiest timeofthe year.

ARTHUR

CATES

LIMITED

26 McNALLYSTREET,

RIVERSIDE INDUSTRIAL

PARK,ASHBURTON

TEL 308 5397

www.arthurcates.co.nz

2300192

recommend the successfultenderer,

andthe recommendation would go to

afull council meeting for decision on

December17.

Preliminary geo­technical work

andwelldrilling is alreadyunder

wayonthe site of the new building,

which willstand proudly on the

cornerofHavelock Street and Baring

Square East.

''It will be agood project, anice

building and it will link wellwith the

upgrade of the CBD andBaring

Square East,'' Mr Brown said.

The building, which incorporatesa

newlibrary and council's headquarters,

will taketwo years to build.

''It will be aprize worth waiting for.''

New signs

for track

From Page1

Some trampers hadrecently got into

serioustroublebecause they had

chosenone of the''hard''waysto

WoolshedCreek hut and were luckily

spotted by other trampers and

rescued.''That made us realise we

needed to improvethe signs.''

Society members built the kiosks

and were grateful for the funds

donated.

MrAustin said the track wasalready

busyand the Woolshed Creek hut fully

bookedfrom nowuntilApril.There

was plentyofroom outside for tents.

He said societymembersspent

about 2000 volunteerhours on the

track last year, bringingit to a

standardthat could be easily walked

by families with young children.

PlainsRotary Club spokesperson

JohnDuncan said thetrack was a

great community asset andenjoyed by

locals and visitors alike. The kiosks

werepart of alegacyproject to mark

the club's 50th anniversary.

He said the societyvolunteers were

unsung heroes because maintenance

was hardwork with toolsand

materials having to be carried up the

hill.The club was proud to give its

support.

The occasion had been scheduled

earlierinthe year but delayedbybad

weather andCovid­19.

Progress continuesonthe new

Sharplin Falls track. The old trackhas

beenshutsince 2015 following

rockfalls in the area.

The society has mapped anew track

to the popularfalls andiscurrently

workingonenvironmental

assessmentsand on engineering

designs for the new bridgesrequired.

Ashburton

December

8, 9, 10, 11, 14, 15, 16, 17

January 20, 21.25, 26, 27, 28

2334476
---
www.ashburtoncourier.co.nz

Craig tackles epic ride

MICK.JENSEN

@ashburtoncourier.co.nz

Mountain bike enthusiast

Craig Cullimore has ridden

four epic, testingSouth

Island tracks in back­to­back

days.

The near 300km scenic

challenge took in the

Paparoa Track, Queen

Charlotte Track,Heaphy

Track and Old Ghost Road.

The avid biker has done all

of the tracks beforeinsingle

days, but neverone after the

other.

Craigrode it with fellow

bike enthusiast Rae­Anne

Kuruczfrom Christchurch

while his supportive wife

Donna dropped the bikers off

at the start of each day and

met them at the end.

The challenge had been

contemplated last year and

the track order had changed

at the last minute because of

the weather, Craig said.

The detailsofhis riding

exploits were recorded on

exercise tracking app Strava,

which shows the distance,

time and altitude gain on

each track.

Paparoa was the first of the

tracks he tackled and was

Craig'sfavourite of the four.

He completed the 56km

distance in six hours.

The shared hiking/

mountain bike track was

createdasamemorial for the

Craig Cullimoreand his bike at the highest point on the

Heaphy Track.

29 miners who lost lives in

the Pike RiverMine.

Craig rode the 78km

Heaphyinaround eight

hours. It featured1506m of

elevation gain and can only

be riddenbetween May to

November.

His leastfavouritetrack on

the day was the muddy and

up and down 71km Queen

Charlotte. The track has the

highest elevation gain of the

four tracks at 2333m and was

completed in eight and ahalf

hours.

The 85km Old Ghost Road

has an elevationgain of

2087m and took Craig a

gruelling10hours. It is the

country'slongest single­track

and classified as advanced.

The 48­year­old takesevery

opportunitytoget out into

the New Zealand wilderness

on his bike.

His local haunt is the Mt

Hutt Bike Park, while one of

his favourite spots is the

Craigeburn area.

''I'm not into road biking or

doing the racing thing. Iget

out for my enjoyment and for

the challenge.''

AIS market helps charity

AshburtonIntermediate

Schoolwill turn part of its

playground into amarket

next weektoraise moneyfor

charity.

Year 7and 8students have

beenmaking gifts and

goodies in their art, hard

materials andfood classes

and they will sell them to the

public nextThursday,

December 3.

The market, held everytwo

years at theschool, will get

under wayat11amand run

until 2pm.

There will be fungamestoo

and the studentsare hoping

for agoodcrowd.

They have been

researching recipes to make

arangeofproducts to sell,

including shower bombs,

energybars, soap andsigns.

Students with items that will be for sale next week (from left)

Zoe Nicholls, 11, Kelcey Wilson, 13, Alani Putaranui, 13 and

Molly Harrison, 11.

They say it's agreat chance

to stock up on Christmas

stocking fillers and treats.

Moneyraised will be given

to aspecialcharity to be

decided today.

2314191

Ashburton's

only woodfirepizzeria

NEWS

Ashburton Courier, November 26, 2020

Trustee mourned

Hospice MidCanterburyhas

acknowledged the passingof

trustee RodgerBradford.

Mr Bradford diedonSunday

and the hospicegroupsaid he had

played ahuge role in the

development of the organisation

in Ashburton.

''Hewas deeply respected by us

all andwewill desperately miss

his wisdom and sense of humour,

as well as his unwavering support.

''Our condolences go to

Dine in, takeaway or delivery

($7.99 within Ashburton) is available

94-96HarrisonStreet, Allenton, Ashburton.Tel 03 423 2197

OPENING HOURS:Wednesday, Thursdayand Sunday5pm -9pm

Fridayand Saturday5pm -10pm, Mondayand Tuesday–closed.

3

Rodger'sfamily, to his colleagues

at the BradfordGroupand to his

many close friends.''

Mr Bradford was an active

memberofthe hospicefunding

andeventscommittee and played

apivotal roleinsetting up the

hospiceshopin2017.

He became ahospice trustee in

2015.

Mr Bradford's funeral will be

held at the Hotel Ashburton

tomorrow (Friday) at 1.30pm.

FAMILYPACKDEAL -Buy any3pizzas of your choice+1garlic bread +1.5l bottle

of Coke,Fanta or Sprite foronly $64.99 with FREE deliverywithin Ashburton!

COMBODEAL -Buy any3pizzas of your choiceand receiveagarlic bread or

3cans of Coke,Fanta or Sprite FREE!

Offers end 30 November 2020

•Choiceoffabrics

•DeliverybeforeChristmas

was $ 4799

Alex Corner Chaise NOW $ 3999

Ranfurly

from

$3,999

Seddon

from

$2,699

2328579

#SHOPASHBURTON

Burnett Street,Ashburton Phone (03) 308 5269 www.redmonds.co.nz

#SHOPCBD
---
NEWS

4 Ashburton Courier, November 26, 2020

Armadillo's

restaurant

coming here

Armadillo's, aSouthIslandownedand

operated restaurant brand, is set to open in

Ashburtoninthe new year.

Armadillo's at the Braided willbelocated in

the building formerlyoccupiedbythe Braided

Rivers restaurant,which closed its doorsmore

than six months ago.

Armadillo's is owned by TonyCrosbie,who

has six Armadillo'srestaurants around

Christchurch andothers in Greymouth,

Motueka, Blenheim,Timaru and Te Anau.

It offers avarietyofmenu options, including

burgersand steaks,and is family­friendly.

Armadillo's at theBraided is currently

recruitingfor avenue manager andotherstaff.

Mr Crosbie has made an application to the

District LicensingCommittee foranon licence

at the Burnett Street venue, which, if

successful,will allowittosell alcohol between

9amand 2amseven days aweek.

Thebuilding is owned by localbusinessman

BrianDavidson, andthe previoustenant was

Ben Busch.

BUTCHER SHOP SPECIALS

BUTCHER SHOP SPECIALS

2kgfreeflow frozen $27 .99

for

Lamb Shoulder Chops 2kg

Christmas Hams

BE QUICK! Q

Orders close Tues,Dec.1

OPEN TO THE PUBLIC

7:30am -4pm Monday-Friday

73 WinslowRoad.

Phone 308 3464

Rams

ReviewedbyRowenaHart

This is the most talked about movie this year.

EverywhereIgofolks areasking me about it and

othersthathaveseen it areraving about it.

Sam Neill and Michael Caton play two brothers

who live right next toeach other but haven't

talked for years. They are raising competing

flocks of sheep that descend from their family's

prized bloodline.

When one of the brother's winning rams is

diagnosed with arare lethal illness, authorities

step in and order thepurge of everysheepinthe

valley.

That's when the fun starts and causes chaos

around thelocals.

Therewerefunnybits hereand therebut really it

is adrama and quite moving.

All filming took place in Mount Barker, Western

Australia.

Sweeping panoramic views of the Great

Southern region, particularly rocky outcrops

around Albany and the Stirling Range look

amazing.

Agreat movie forour farming community!

bookings ph 307 1230

www.regentcinema.co.nz

2328223

2327867

www.ashburtoncourier.co.nz

Gold for chief Tyrone

TONI.WILLIAMS

@ashburtoncourier.co.nz

Chief fire officer Tyrone Burrowes

has just clocked up 25 years with the

RakaiaVolunteer Fire Brigade.

He was presented his 25­year Gold

Star and aBrigade Life Honorary

Medal by United Fire Brigade

Association and Canterbury Gold

Star Association'sChris Price,ofthe

Ashburton Fire Brigade, at a

ceremony last week.

"It was an honour to have someone

Ihave knownfor along time present

my GoldStar," Tyronesaid.

Also there were Fire and

Emergency New Zealand area

commanderStevenGreenyer,

Canterbury Provincial Brigades'

Association'sKath Love and

Ashburton District deputy mayor Liz

McMillan.

Tyrone, 46, joined the brigade

when he was 21. He was encouraged

to join by senior firefighters Ben and

DarrylNelson in October1995 and

hasn't looked back.

He can't remember his very first

call out but said the uniformofthe

day was a"hand­me downuniform,

whatever gear fitted". Level two gear

(suitable for ahouse fire) consisted

of yellow leggings with ablack

woollenbunker coat, he said.

It would be five or six years until he

attended his first structuralfire.

Tyrone is aRakaia­ladthroughand

through. He and two sisters were

raised in the area.

His parents Rodger and Rayleen

boughtthe Rakaia Mobil service

station in 1994,after many years

farmingalongside Rodger's brother

Murray.

Tyrone, who started as aworker,

has since boughtmajority shares in

the business.

He was fortunate to be an

international exchange student to

Portland, Oregan in his high school

years and has travelled extensively

since then. He did his OE early in his

20s visiting Asia, Europe,Norway

and Australia.

He has also revisited his host

family in Portland many timessince

including to attend the graduationof

his host­brother, who is four years

younger, and then his wedding. His

host mothersadly died of cancer two

years ago.

As well as taking on the chief fire

Rakaia fire chief Tyrone Burrowes,right, receiveshis 25­year GoldStar and

aBrigade Life Honorary MedalfromUnited Fire Brigade Associationand

Canterbury Gold StarAssociation's Chris Price.

PHOTO SUPPLIED

officerrole, Tyronewas on the

Canterbury ProvincialFire Brigade

Association for six years organising

competitions and training camps and

offering supportoravoice to

members in the district.

He was president in 2017/18, then

past president and during his time

made severalGold Star

presentations."It was great

experience to get around the

Canterbury area," he said.

The brigade, which is afirst

responders brigade, has acrew of 22

and, as in otherareas, findsday shift

the hardest to crew as more

firefighters work outsidethe district.

Lastyear they had 175 call outs

from January1toDecember 31. This

year, as they head into theirbusy

summer season theyare slightly

down on last year's figure. There

were 151 this time last year,

compared to 128 this year, although

the four weeklockdownearlier this

year may have helped.

Theyattend fires, vehicle

accidents and increasingly more

medical incidents. Their tanker was

often used to help other areas and

the brigade is second truck called out

to any alarm at Synlaitmilk plant,

near Dunsandel.

The Rakaia River bridge, at the

edge of town,and its neighbouring

overhead rail bridgewere the major

risk in the district, with the busy

State Highway One traffic havingto

be controlled or detouredinany

accident,Tyrone said.

One of his earlyfatality callouts

was to ahead­on vehicle crashonthe

overhead bridge. As anewbie he was

on traffic control duties so was

shielded from the crash scene.

Tyrone took over from former

Rakaia fire chief, the late Donald

Dunlea fouryears ago and is already

ensuring there is some succession

planning in placetoupskill the next

generation of firefighters in the area.

He's gratefulfor thosewho were

able to volunteer and to businesses

with workers who volunteered.

Therewas agood mix of experienced

crew from Ross Moore to senior

firefighter Jill Tomlin, as well as four

new recruits.

Ex-farmer Thomas turns 102

MICK.JENSEN

@ashburtoncourier.co.nz

Former Wakanui farmer Thomas

Bennett celebrated his 102nd

birthday on Saturday and is one of

three centenarians living at Radius

Millstream.

Mr Bennett recentlymoved into

the aged care facility from hisown

home and shared abirthday cake

with fellow residents.

He will enjoyamealout with

familyonNovember 30 at Hotel

Ashburton.

Mr Bennett is acouple of months

older than fellow rest­homeresident

Agnes Lister, whose birthday is on

January28, andnearlytwo years

older than Freda Green,who

celebrated her 100th birthday on

September 29.

Mr Bennett said he was being

lookedafter well at Millstreamand

the residents seemed a''friendly

bunch''.

He was Wakanui­born and bred

and had still been working on the

farm at aged 84.

He had lost his wife 11 years ago

and had always been ahard worker.

Mr Bennett is the only one of seven

New Radius Millstream Thomas Bennett, flanked by fellow rest­home

centenarians Freda Green (left) and Agnes Lister.

siblings still alive.

In the army he served in

Guadalcanal and New Caledonia.

As well as runninghis sheep farm,

he has ownedand trained anumber

of horses.

''I sold my firsthorse for $30,000,

which was goodmoney,and one of my

best was ahorse called Great

Provider.''

Mr Bennett said he had never

smoked and onlyenjoyed the very

occasional beer.

He playedtennis into hismidfiftiesand

putshis longevity down to

always staying active.

Mr Bennett has twosons, a

daughterand 14 great grandchildren.
---
SUPER SALE

3DAYS

ONLY

the

27 th

Thurs 26th, Fri 27th, Sat 28th

MORE BARGAINS IN-STORE

HAIER 201L

CHEST FREEZER

PANASONIC 58''TV

4K SMARTTV

RATTAN BLACK

9PIECE OUTDOOR

DYSON V10 ANIMAL +

STICK VACUUM

2

ONLY

save

$500

3

ONLY

Limited

Stock

save

$300

845mm H

940mm W

550mm H

BLACKFRIDAYSALE

was$869

$598

BLACKFRIDAYSALE

BLACKFRIDAYSALE

BLACKFRIDAYSALE

now was$1999 now$1497

was$2999 now was$1099

$1775

now $799

SIMPSON 13 PLACE

DISHWASHER

SAMSUNG FAMILY

WASHER

HAIER

FREESTANDING OVEN

850mm H

596mm W

625mm H

850mm H

540mm W

560mm H

900mm H

540mm W

600mm H

BLACKFRIDAYSALE

was$999 now$698

BLACKFRIDAYSALE

was$699

$498

BLACKFRIDAYSALE

now was$999 now$875

ONYA FOLDAWAY

E-BIKE

1

ONLY

ROUND EXTENDABLE

TABLE AND 4CHAIRS

Factory

second

BREVILLE COFFEE

MACHINE 3seconds ready

save

$360

BLACKFRIDAYSALE

was$2350

$1790

up

to

BLACKFRIDAYSALE

BLACKFRIDAYSALE

now was$1699 now$999

was$1499 now$1139

OFF BEDS

*CONDITIONS APPLY-NOT TO BE USED IN CONJUNCTION WITH ANY OTHER OFFER -INSTORE ONLY -OFFER VALID 26/11/20 TO 30/11/20

Queen beds

from $895

2328471
---
NEWS

6 Ashburton Courier, November 26, 2020

www.ashburtoncourier.co.nz

MSA upgrade ready in March

MICK.JENSEN

@ashburtoncourier.co.nz

The Ashburton Club &MSA's

multi­million dollar rebuild

and refurbishment is on target

for an end of March

completion.

The club has just changed

supplier and has penned anew

deal with the SuperLiquor

franchise.

MSA president Gary

Fransen saidhewas excited to

see the progressofthe rebuild.

There had been delays

because of covid, but the

rebuildwas on target and on

budget, based on revised

financials.

The name Noble 600 had

been chosen for the new

restaurant, which harked

backedto the days of

prohibition and referred to the

number of citizens of the

district fortunate enough to be

club memberswhen the town

went dry.

Mr Fransen said the new,

large restaurantwould be

accessed from the Burnett

Street entrance,which

included abar and three

functions rooms in the

complex.

The restaurantwould

featureanexteriorcourtyard

with retractable roof.

Upstairs would housethe

billiardroom, offices and a

function room.

The combined spaces could

seat 200 and meant the MSA

could cater to larger groups

than before,said Mr Fransen.

''We're really looking

forward to presenting the

finished building to members

and the wider communityand

we see the venue as the social

hub of Ashburton.''

He said alot of work had

gone into the upgrade project

and main contractorBradfords

was to be praised for its efforts.

The switch fromthe Liquor

Centre to Super Liquor was

also acoup for the club and

would continue to meangood

discounts for members.

The future of the Ashburton

Club &MSA was brightfor its

near 4000 members,said Mr

Fransen.

Above: Ashburton Club &

MSA trustee Shane Calder

(left) andclub president Gary

Franseninfront of new

signageatthe venue.

Still awaiting weigh station decision

Acontroversialheavytruck

weigh station at Rakaiaisstill

up in the air.

Truckies, the Ashburton

District Council and AA say

the proposed site in between

theriver bridge and

overbridgeon State Highway 1

just north of theRakaia River

is toodangerous; slow­moving

trucks in andout of the site

was an issue.

WakaKotahi NZ Transport

Agency seniormanager Brett

Aldridgesaid theagencyhad

taken the feedback on board.

''We are currently

evaluating further safety

enhancementsbasedonthe

feedback we havereceived

andweare looking at other

optionsincluding the potential

for other sitelocations.''

He said more information

aboutthe project should be

knownbymid­2021.

TheRoad Transport

AssociationofNew Zealand

said the site posedan

unacceptable risk anda

serious or fatal accident

occurringconsidered ''likely''

on the shortstretch of roadif

the buildwent ahead.

Weigh stations ensuretrucks

comply with safe loading

requirements.

Ashburton mayor Neil

Brownsaid he was pleased

that the agency had listenedto

concerns aboutthe Rakaiasite

andhad seen first­hand how

slow­moving andturning

trucks presented adanger to

unsuspecting highway traffic.

Onealternative site being

looked at was further north on

the highwaynearSynlait.

IN BRIEF

BANKS CLOSE

BNZ has saiditwill closeits

Methven branchbetween Apriland

Junenextyear.The branch is

currently openbetween 10amand

2.30pm weekdays, with 24/7 access

to an ATM.The Geraldinebranch

has beentagged for closure

between February and March next

year.

BNZis planningtoclose 38

branches aroundthe countryinthe

nextseven months.

LOTTO WIN

AMyLotto player from Ashburton

was one of threepeople to eachwin

$333,333 in Lotto'sfirstdivision

drawonSaturday. MyLotto tickets

are bought online;the other winners

were from Browns Bay and

AvondaleinAuckland.

CAROL SINGING

MarkDecember 18 on your

calendarasanightfor Christmas

carols. The Ashburton Christian

Ministers Association is holding a

publiccarolevening on the Catholic

Church Green, on the corner of

Sealy and WinterStreets,from

6-7pm. It is afamily eventand

everyone is welcome; bringarug or

chair. Thecarols singing will be in

the Catholic Church if it rains. The

carolsheet will be publishedinthe

Courier closer to the time.

TRAFFIC LIGHTS

The designfor traffic lightsat the

intersection of StateHighway1and

WestStreetshould be complete by

theend of December and thejob out

for tender by January.

Traffic lights or improvements at

Tinwald might not getunderway

until2022 -traffic counts arebeing

organised andaconsultant

engaged to produce abusiness

case.Detailed design willthen

follow.

CHOIR CONCERTS

Mid CanterburyChoir will present

Christmasconcerts in Ashburton

and Geraldinenext month.

The Ashburton concerts will take

placeatnoonand 5pm andwill be

held at St Stephen'sChurchon

December11.

St Andrew's Church, Geraldine

willhosta2pm concert on

December13.

The choir willbedirectedbyKath

Woodley andDeborahSloperisthe

accompanist.

Admissiontothe concerts is $5 at

the door,plus agift of foodfor the

foodbank.

ASHBURTON

The Arcade

(03) 308 1815

h2k11@xtra.co.nz

Therevolution of

theCream

10% OFF the entire theCream range!

10%

OFF

HealthZone

Stress Zone

20% OFF

Offer ends 31st December 2020 or while stocks last.Always read the label and take asdirected.

If symptoms persist, consult your healthcare professional. HealthZone Limited, Hamilton.

www.Health2OOO.co.nz

Follow Health2OOOGroup on:

HealthZone Stress Zone isa

high potency formula, ideal

for times ofstress.

100s NOW$31.92

WAS$39.90

200s NOW$55.92

WAS$69.90

ONLY AT

HEALTH

2OOO

Mid/South CanterburyContinuous Spouting

TM

TM

TM

TM

Askabout our large capacityspouting for

commercial and farmbuildings

Residential –fascia, gutter and downpipes

Snowprotection our specialty

The Original

Spouting Specialists

Serving

Mid/South

Canterbury

for over

26 years

Your new spouting proudly installed by

Craig or Josh

John Tull ...providing outstandingservice,

afterinstallation care and pricing requirements!

Phonehim on 021 288 8290

Email: john@canterburycontinuous.co.nz

www.continuous.co.nz Freephone 0800 50 1993

2263153
---
139 199

$ $

Weber

Smokey Joe

Charcoal BBQ

No-rust aluminium

air vents.Plated steel

cooking frill.

Heat shielded handles.

219675

Nouveau

Fibre Optic Tree

H: 90cm.

Multi-colour lights.

Long lifeLED lights.

Lead cable 1.8m.

Lowvoltage forsafe

indoor use.

290426

Flowering

Patio Planter

each

Perfectready to

go gift. Adorned

in masses of

colourful

annual seedlings.

Great range of varieties

to choose from.

188609

Morrison

Weekender

Portable GasBBQ

LPG. Manual light for

quick light up.Flame

tamer plate.

Fold out legs.

229498

$

30

$

3498

$

149

each

each

EXCLUSIVE EXCLUSIVE

$

12each

79

EXCLUSIVE

Nouveau

Solar Blossom Tree

125 Multi-coloured LED.

Static and flash function.

Suitable foroutdoor use.

305482

Living Interiors

Boston Fern

13cm Pot

Lush green foliage

cascades overthe

side of

these stunning

hanging baskets.

113744

each

$

69ea

Nouveau

Nouveau

$

19each

Southern Lights

Vintage 30

Multicoloured

LED String

Globes

4.5m lit length.

Decorate outdoors

this festiveseason.

336494

99

Butterfly Chair

Powder-coated

steel.

Textilene sling.

1year warranty.

354077

$

169

each

each

EXCLUSIVE EXCLUSIVE

Christmas Tree

H: 180cm.

Traditional style

tree with trendy white

finish. Suitable forindoor

andoutdoor use.

335641

329each

Nouveau

Christmas Tree

H: 210cm.

Lush, green, traditional

tree with frosted snow

effecttips.

Suitable forindoor

and outdoor use.

$ 989 98

$

98

16 39

each

ach

NEW PRODUCT

$

NEW PRODUCT

Nouveau

Malay

Relaxing Chair

Rust resistant

powder-coated

aluminium frame in

charcoal/natural.

All weather flat natural

rattan wicker.

353980

335640

EXCLUSIVE

Orbit Lighting

Neon Light

Rainbow

Addstyle and trend

to

your home.Poweredby

4xAAA batteries

(not included) or by

USB cable (included).

337253

each

eac

TM

Terms and conditions apply,refer to mitre10.co.nz/christmasevent. Airpoints terms and conditions apply.

ASHBURTON MITRE 10 MEGA

West Street, Ashburton

PHONE 03 308 5119

TIMARUMITRE 10 MEGA

23 Bank Street, Timaru

PHONE 03 687 2033

OAMARUMITRE 10 MEGA

DeeStreet, Oamaru

PHONE 03 434 9860
---
NEWS

8 Ashburton Courier, November 26, 2020

Blue plaque on sexton's hut

An eighth Mid Canterbury

structure has receivedablue

heritage plaque marking it as

having significanthistoric

value.

The plaque was unveiledat

thesexton's buildingin

Ashburton Cemetery on

Sunday.

The humble building has a

steep pitch, leadlight

windows and looks like a

small church.

It is aplace to rest and

shelter in the cemetery and

somewhere to reflect,

remember andalso to do

cemetery research.

Designedwith two separate

rooms, it was built in three

monthsinthe gothic revival

style and dates back to 1895.

It was used asthe sexton's

office and also as aworkshop

forthe cemetery's

monumental masons.

It was originallylocated

nearer Seafield Road and

waspulled to its presentsite

by Hughie Rainey using a

traction engine in 1947.

Moving it freed up more

space for graves.

The original shingle roof

wasreplaced in 1947, but

after recordsceased to be

kept there in the 1980s it fell

into disrepair.

Aproposal to move it to the

Plains Museum in Tinwald

fell through, as did moving it

nearer to BremnersRoadto

serve as the cemetery

headquarters.

By 1994 there werelarge

holes through the walls, badly

broken windows and arotted

floor.

The sexton's hut was a

candidate fordemolition

when thenewly formed

Ashburton districtbranch of

Historic PlacesTrust took up

thechallenge to saveit.

Historic Places Trust

registration was obtained and

it was made aCategory 2

listedbuilding.

Once it was decided it could

become an information

The honour of unveiling the blue plaque on the sexton's

building was given to Lions Club of Ashburton Pakeke

members (from left) David Horrell and Jim Martin.

centre,permissionwas

granted for its restoration.

Alph Aldersley didthe

structural work andthe Lions

Club of AshburtonPakeke

paintedthe exterior and

openedupthedividing wall,

re­piled and repaired the

upper levelflooring, laid a

newconcrete floor and

paintedand varnished the

interior.

Costs weremet by the

Historic Places Trust Branch

and Ashburton District

Council.

The buildingwas officially

reopened as an information

centre by PrimeMinister

Jenny Shipley at aceremony

on April 8, 1998 .

Ashburton PakekeLions

Clubcontinued its

association withthe

building, repainting the

exterior in 2011 and

employing tradesmen to

carry out minor repairs,

painting andvarnishing

earlier thisyear.Anew door

wasalso funded.

Historic Places Mid

Canterburydeputy

chairpersonNigelGilkison

saidthe sexton'shut wasa

humblebuildingthat had

importantheritage value in

Ashburton.

It hadaninteresting shape

and was ornateonthe inside.

The plaquenot only

identified the building's

value, but recognised the

good work of those whohad

helped restoreit.

Mr Gilkison saidthree

more buildings ­Speight's

Ale House, Ashburton and

Methven'sBrown Puband

MountHutt Road Board

Office, would each receivea

blueplaqueinthe near

future.

He said theblueplaque

scheme, which hadstarted in

Ashburtonand wasbased on

the British model, was also

beingpromoted to other

heritage groups.

Timaruhad two plaquesup

and three more to follow,

Kurow had aplaque up and

one waslinedupin

Christchurch.

BLACK FRIDAY

LETTERS TO EDITOR

TinwaldRugby

To Warren, Skip andyour

committee,thank youfor agreat

celebrationof125 years of rugby

forthe TinwaldRugby Clublast

Fridaynight.

To those that didn't attend, you

missed avery special occasion.

To sit andsee thepride on the

faces ofthose coming in and

reunitingwiththeir mates was

great to see and some of the

welcomingcommentshaven't

changedover time.

Beingacoach of one of

Tinwald's many triumphant

WattersCup winning teams it was

verypleasing indeed to see and

hearthe confidenceinthe club

goingforwardisingood hands

and still very strongand longmay

it continue.

The conceptofasocial evening

and no pompand ceremony was

welldone,itbroughtback

memoriesofthe gatherings and

camaraderie gained overa

couple of drinks at the weekly

aftermatchfunctions in the club

rooms,including after matchtype

www.ashburtoncourier.co.nz

speeches, followed by the cake

cuttinginstead of the old player

of the dayscullingahandle.

Go Tinwald, Ilookforward to

thenext celebration.

Merv Brenton

Toot forTucker

TheAshburton County Lions

wish to extendtheir sincere

appreciationtothe members of

the public of Ashburton who so

generously donated to ourToot

for Tucker appealonNovember

16.Thank youtoall the

volunteers andthe manyclubs

who so willinglygave their time

to help.

It is not justthe carsand

runners,but the helpingof

sorting food afterwards.

Weapologise to anywemissed

that night, so please takeyour

bags to thefood banks.

Toot for Tucker makes ahuge

difference to many families

thank you.

Jackie Ryan and Barbara

Borland ­membership directors

Bowlsbookedout

TheMid Canterbury bowling

community has got behind Cystic

Fibrosis bowler Dan Hopkins

with all spaces filled for next

week's marathon bowling

fundraiser.

Itrunsatthe Hampstead

Bowling ClubonCambridge

Street, Ashburton, from 7pmon

Wednesdaythrough untilnoon

on Saturday.

Mr Hopkinswill bowlfor all 65

hourstoraise moneyand

awareness for cysticfibrosis,

alongside scores of bowlers

signeduptobowlintwo­hour

slots alongsidehim.

Howeverother bowlerscould

takepart foradonation.

''If others want to come down to

play they are more thanwelcome

to playalongsideusonthe other

rinks,withdonations being

welcomed at the event,'' he said.

Mr Hopkins has already

received sponsorship pledges for

each toucher achieved during

the games.

Support from members of the

public during theevent wasmost

welcome with abarbecue, raffles

andbakesale operating,aswell

as an social event/auction of

products after thebowling.

Amongthose donated for offer

so far were eyeexams from NZ

FocusOptometry ­Ashburton,

free range eggsales, adonation

from Tinwald Supervalueand a

collectionofassorted rugby

themedpoemsfromAll Black

poet JohnRichard Bryan.

Allmoney raisedgoestoCF

New Zealand.

Mr Hopkins' daughter,Caitlin,

17,was diagnosed with CF at 12

weeks.

The condition affects the lungs,

pancreas and digestive system

but has no cure.

Any individualsand

businesses keentobeasponsor

canthefamilybyemail at

65hoursforCF@gmail.com or

through the Givealittle page set

up for the event.

Half the shop ...

½PRICE

Thursday 26 until Saturday 28

SALE

86 Tancred St, Ashburton.

Phone (03) 308 6722

2332688

With some of their works are Christmas show exhibitors (from left)

Joy Stack, Bronwyn Hughes and Kelly­Rose Blackburn.

Christmas show at studio

Ashburton Society of Arts has

opened its Christmas show and it

features avariety of paintings

and craft works from local

members.

Some 19 artists have

contributed to the show, many

with multiple items.

Little River ceramicist

Blanche Fryer is the guest artist

and the exhibition features

works from aregular Monday art

and craft group that uses Short

Street.

Group members have created a

number of colourful items that

will make ideal Christmas

presents.

All works are for sale and some

have sold since the exhibition

opening at the weekend.

The Christmas show runs until

December 13.

Short Street Studio is open on

Mondays and Wednesdays from

10am until 1pm (when the signs

are out) and from 11am until 4pm

at the weekends.
---
NEWS

Ashburton Courier, November 26, 2020

Building back

better in schools

Our government has aproud

record of investing in our

schools, lifting the quality of the

classrooms students and

teachers spend so much time in.

Already, we've provided up to

$400,000 to almost every state

school in the country to upgrade

their facilities, invested in a

rebuild at Ashburton College

and new classrooms for

Allenton Primary –but we know

there's more to do.

The election delivered aclear

mandate to accelerate our

economic recovery from Covid­

19 and build back better.

That's why the Government is

prioritising construction

projects in schools so more

young New Zealanders can

learn in warm, dry and modern

classrooms that are fit for

purpose. And that's why we're

fast­tracking investment in

projects that will reduce

schools' emissions and save

them money, while also

supporting local jobs and

growing our economy.

Last week the Government

announced that 41 schools from

the Far North to Southland

would benefit in the second

round of the Sustainability

Contestable Fund, on top of the

53 schools that benefitted in the

first round in April.

This funding will reduce

carbon emissions as well as

costs for schools across the

country, supporting them to

9

install solar panels, replace

coal boilers, conserve water,

and compost and recycle.

Here in Mid Canterbury,

Carew Peel Forest School has

received funding for solar

panels. These solar projects are

afantastic long­term

investment, with savings shown

in the first year also.

Alittle further up the road in

the Selwyn electorate, Weedons

School has also received

funding for asolar project.

These nationwide major

investments are backed up by

our plan to make training

opportunities readily available

so there's apipeline of skilled

workers to support regional

economies and employers.

All Kiwi kids deserve to learn

in warm, dry and modern

classrooms, and they need to see

that we're taking climate

change seriously.

Covid­19 has given us an

opportunity to realise both, as

we reboot our economy and

build back better.

I'm proud to be part of a

government that's seizing this

opportunity.

Pams

Fresh Strawberries 250g

or HydroponicLettuce

Product of New Zealand

$

2 99 ea

THE

BE IN TO

BERRY IS

BACK

WIN A$2,000

QUEENSTOWN

HOLIDAY *

Purchase anytwo Mainlandproductstoenter.

*Promotion runs 16 November -29November 2020. Products

must be purchased inone transaction. Please see in store for

full terms and conditions. www.foursquare.co.nz

79 coli $

1 ea

Broccoli

Product of New Zealand

PamsFresh Cherry

Tomatoes 250gPrepack

Product of NewZealand

$

3 29 pk

Asparagus $ 2 99

ea

PamsFresh Asparagus

250g or Carrots Bunched

Product of NewZealand

Be in

to win!

GIFT

CARD$50

Longbeach netballers (back, from left) Sophie Bartlett, Brydie

Woods, Grace Gill, Annabelle Butler, Hazel Rickard, Brooke Edmond

and Stacey King while Violet McKay receives the cheque from Hinds

District Lions Ron Ferriman (left) and Malcolm Read.

Lionschipinfor

newnetballgear

LongbeachSchool netballers

are already looking forwardto

next season, when they will take

to the court in fabulous new

uniforms.

The school ran two netball

teams this year, with older

players going on to play for

Southern.

The school girls wore their

schoolsportsshirts and old

skirts that had beenknocking

around the school for some

years; whenthe 2021 season

rolls aroundthey will be

wearing proper netball dresses

in Longbeach School coloursof

teal, white and blue.

The new uniformkit has cost

$2500 and spokesperson Mandy

Butlersaid they were helpedon

their way by theHindsDistrict

Lions, which gave $875. The

school's netball community

wouldbebusy fundraising to

meet the balance.

Mandycoachedthe Year 3

teamlastyear and the girls

gathered afterschool on

Monday for asurprise visit by

Lions Ron Ferriman and

Malcolm Read.

She hopesthe number of

netballers at theschoolwill

continue to grow.

Her Year3teammembers

wereall new to the sportthis

year andwhilecovid had

affected their competition,they

were still keenasmustard to get

on thecourt.

Malcolm said the Lions club

washappy to contribute to the

netballers' good cause.

Bananas Loose

ProductofEcuador

$

2 79 kg

Avocado

Pre-Ripened Large

Product of NewZealand

$

2 49 ea

nanas Loose $

2 79 vocado $

2 49

$50gift

card to be won

in everystore

Avocado

Pre-Ripened

Large

Product ofNew Zealand

$

2 49

ea

CARD$50

www.foursquare.co.nz

Purchase aAvocado Pre-Ripened Large

andbeintowin a$50 gift card

facebook.com/FourSquareNZ

Specials availableSouthIslandonly from Monday16th November until Sunday29th

November 2020 or while stockslast. Wine andbeeravailable at stores with an off

licence.Wineand beer purchases restricted to personsaged 18 years old and over.

GIFT

Conditions apply, see

www.foursquare.co.nz for

details. Competition runs

16.11.2020 -29.11.2020
---
Family Notices

NEWS

10 Ashburton Courier, November 26, 2020

Deaths

BRADFORD, Rodger:

Peacefully at Christchurch

Hospital, on November 22,

2020. Dearly loved husband

and friend of Claire. Loved

and adored father and fatherin-law

of Gendy and Sam

Davis,and much lovedPop of

Lucy,and Izzie.

In lieu of flowers, donations

to Hospice Mid Canterbury

would be appreciated and

maybemade at the service.

Messages to: The Bradford

Family, c/- PO Box 6035,

Ashburton7742.

A service to celebrate

Rodger's life will be held

at the Hotel Ashburton,

Racecourse Road, Ashburton

on FRIDAY, November 27 at

1.30pm followedbyaprivate

interment.

0800 2MEMORY

027 637 1229

BRADFORD, Susan Mary:

Passed from this life at

Christchurch, on Monday 16

November aged 72 years.

Dearly loved daughter ofthe

late Ian and Helen Hamilton

of Ashburton. Much loved

sister and sister-in-law of

Patsy and the late Brian

McCloy, AnnLloyd,David and

Pam Hamilton. Loved and

respected Auntie Sue of all

her nieces and nephews and

their families.

Rest in PeaceSue.

CARR, Mary McLeod, passed

away peacefully at Ashburton

Hospital on November 21

2020, in her 101st year.

Dearly loved wife ofthe late

Robin William Carr. Much

loved and respected mother

and mother-in-law ofHelen

and the late Ray Ludemann,

Charles and Francie, Norman

and Margaret,Ian and Sue,the

late Richard, Greg and Glenys,

and Elaine and Snow Pierce.

Cherished grandmother of

her 17 grandchildren, and

adored great-grandmother of

her 47 great-grandchildren.

Special thanks to St John

and the staff at Ashburton

Hospital. Messages to the

Carr family c/- POBox 472,

Ashburton. At Mary's request

aprivate family servicewillbe

held.

Paterson's

Ashburton

FDANZ

03 3077433

Supporting thecommunity

96 Tancred Street, Ashburton.

Phone 307 8317

Deaths

GUENOLE, Russell Thomas,

on November 20, 2020.

Peacefully at Ashburton

Hospital. Aged 76 years.

Dearly loved husband

of Mary. Loved father of

Annemarie, and the late

Marilyn. Loved step-father

of Alan and Deb, Geoff and

Kaye, and Andrea. Loved

grandad and Grumps of all

his grandchildren and greatgrandchildren.

Lovedbrother

and brother-in-law ofLanky

and Shirley, Geoff, Robert

and Christine, Margaret and

Eamon, Julie, the late Peter

and Anne,the late David,and

Pauline. Loved brother-inlaw

ofBarbara and the late

Bill Hunt, Kath and the late

Bob Hunt, the late Barbara

and Colin Gardyne, Mike

and Jan Bell. Messages to

the Guenole family c/- PO

Box 472, Ashburton 7740. At

Russell's

request a private

cremation has been held and

a Memorial Service will be

held in Greymouth at alater

date.

Paterson's

Ashburton

FDANZ

03 3077433

PAGEY, Frances Elizabeth

(Francie) (formerly Moss),

on November 21, 2020.

Passed away peacefully

at Rosebank Resthome,

Ashburton, aged 86 years.

Dearly loved wife of the

late Ken, and the late

Donald Moss. Much loved

mother and mother-in-law

of Leicester and Wendy

(Motueka), Donalda and

Alan Hartley,and Angela and

James Chapman (Motueka)

and special Nana to Shannon;

Rebecca and Mark, Nick

and Krystle, and Milan, and

great Nana to Nicholas, and

Caitlin. Messages to c/- 9Belt

Road, Ashburton.

Aprivate

cremation will be held,

followed byacelebration of

Francie's lifeatalaterdate

Paterson's

Ashburton

FDANZ

03 3077433

Family

Notices

Enquiries phone

Mary,Jann or Karen

on

308 7664

or call into

199 Burnett Street.

Real Estate MidCanterburyProperty Limited Licensed (REAA 2008)

Deaths

PRICE, Keith Albert:

On November 22, 2020,

passed away peacefully at

Summerset on Cavendish,

aged 92 years. Loved father

and father-in-law of Cheryl

and the late Bruce, Karil and

Stuart, Tony and Cindy, and

Jennifer,loving grandad of all

his grandchildren and greatgrandchildren,

loving brother

of Arnold Price, and Elaine

Lyon. Special thanks to the

wonderful staff at Summerset

on Cavendish for their care

of Keith. Messages may be

addressed to The Family of

the late Keith Price, c/- PO Box

39001, Christchurch 8545. The

ServicetocelebrateKeith's life

will be held in our Westpark

Chapel, 467 Wairakei

Road, Burnside, on Friday,

November 27, at 10.00am,

followed by interment in

the Ashburton Cemetery

(Seafield Road) at 1.30pm.

PRICE, Keith Albert: On

November 22nd 2020, aged

92 years.

Peacefully at Summerset on

Cavendish Rest Home.

Dearly loved father of Cheryl

Gare and father-in-law of the

late BruceGare.

Dearly loved grandfather

of Philip and Char, Carmen,

Fraser and Jing, Craig and

Sarah.

Loved great-grandfather of

Olivia, Matthew and Britany,

Xavier and Sebastian, Ryuhai

andDarien, Ashtonand Kyle.

Dad you will always be in our

hearts and we will love you

forever.

UPTON, Hazel Mary:

Peacefully at Terrace View

Rest Home, Ashburton on

November 18, 2020 aged 99

years. Dearly beloved wife of

the late Bill Upton, precious

mother and mother-in-law of

Val Upton and John Strange,

Jill and Alex Ross, Rex and

Vicky and the late James.

Grandmother of Suzanne,

Stuart, Hamish, Damien,

Stephanie,Jack, and Lucy and

great-grandmother of Sam,

Olivia, and Harry.

Messages to: The Upton

Family, c/- PO Box 4019,

Christchurch 8044.

A service to celebrate

Hazel's life was held at St

Stephen's Church, Park Street,

Ashburton on SATURDAY,

November 21 at 1.30pm and

was followed by a private

cremation.

0800 2MEMORY

027 637 1229

Deaths

WARD, Phyllis Mary (Mary):

Passed away peacefully

at Coldstream Lifecare

on November 18, 2020,

surrounded by her loving

family. Aged 91 years. Dearly

loved wife ofthe late Lester.

Much loved mother and

mother-in-law ofDavid and

Vicki, Jennifer and Lindsay

Stoddart, Malcolm and

Dale, and Lesley. Loved and

loving grandma of Amy and

Jess, Alana, Dylan, Ryan and

Mitchell, Robbie, Louise

and Angus.

Special great-

Grandma to Henderson

and Fletcher, Harriet and

Matilda, and Beck. The family

would like to express their

heartfelt thanks to thestaff of

Coldstream Lifecare for their

care and support of Mary

over the past nine years and

fortheir supportofthe family

during Mary's last few days.

Messages to the Ward family

c/- POBox 472, Ashburton

7740. Aservice tocelebrate

Mary's life will be held at later

date.

Paterson's

Ashburton

FDANZ

03 3077433

Acknowledgement

TASKER, Patricia Margaret

(Patty): Frank, Andy & Pip,

Steph &Bruce, and Michelle

&Jason and families extend

thanks and appreciation

to all for your kind wishes,

cards, flowers, home visits

and phone calls following the

passing of Patty, our much

lovedwife, mother and Nan.

Thank you to Rev Henry

Mbambo, organist Sylvia

Watson, and the amazing

team of helpers at St. David's

Union Church, Ashburton

for hosting the Service of

Thanksgiving and serving

afternoon tea.

Thank you also toBetty for

the beautiful casket wreath

and all who attended the

service remembering Patty,

the lover of flowers and of

gardens.

Thank youtothe wonderfully

caring staff at TuarangiHome

for your special care over her

last years.

As there are so many

who have acknowledged

Patty's passing, please

accept this as a personal

acknowledgement.

Sharp shooters

Sharp shooters from Mount Hutt College have taken out the Aoraki

Competition ahead of local rivals from Ashburton College. The Year

9/10 target shooting team of students Amelia Swan, Hunter Lill, Jessie

Lill and Jess Heaven beat two Ashburton College teams to take out

first place.

Signs against violence

The Zonta Club of Ashburton has

begun 16 daysofactionwith a

back­of­the­toilet­doorcampaign

to raise awareness that violence

against women is still aserious

problem.

Members have been

approaching Ashburton

businesses andasking

permissiontoplace posters

showingsupport information for

victimsofviolence on the back of

women's toilet doors.

Zonta spokeswoman Robin

Kilworth said the group useda

grant from the AshburtonTrust to

print off the posters to put on the

toilet doors. Toilets were seen as

asafe place to take aphoto of the

informationfor future use if

needed.

The campaign has the backing

of other businessesand

organisations. Gluyas Motors had

loaned avehicle that was sitting

at the corner of RacecourseRoad

Family owned,

locally owned

22 MooreStreet,

Ashburton

0800 2636679

John Driscoll puts up poster in

toilets at Community House.

andState Highway 1and

displayingaZonta saysNo

banner;AshburtonRaceway had

given permission for their land to

be used.

The AshburtonDistrict Council

has lit up theclock tower in

orange to supportthe awareness

campaign, which will run until

December10.

Rakaia's tucker drive

Rakaia Lions arepleased with

the haul from itsfirst Toot for

Tuckerevent in the township.

Heldon Monday night, thefood

drive collected non­perishable

donationsfor the St Mark's

Church community food

cupboard.

Lionspresident Teresa Agnew

said theclub was pleased with

the results. It was the inaugural

event andawide variety of

perishable fooditems, toiletries

and even petfoodhad been

given.''Weare going to run aToot

for Tucker every year and hope

wecan relyonthe wonderful

residentsof Rakaia to continue

tosupport the Lions through

their generosity.''

2289133

CBD HOURS

Saturday Dec 12, 9am­

3pm and Sunday Dec

13, 10am­2pm.

ThursdayDec 17,9am­

8pm. SaturdayDec 19,

9am­4pmand Sunday

Dec 20, 10am­3pm.

Wednesday Dec 23,

9am­8pm.

Complete

Local Care

Since 1982
---
www.ashburtoncourier.co.nz

NEWS

Ashburton Courier, November 26, 2020

11

Cyclists want tracks better promoted

People passionate about

cyclingsay theAshburton

DistrictCouncil needs to pay

more attention to off­road

tracks.

Council is looking for

feedbackonits cycling and

walkingstrategy and has plans

to improve, maintain and add to

its network of cycleways and

footpaths.

Submissions close Monday

(November30) andalreadyat

least 30 people have put their

thoughts to paper.

Submission hearings are set

down for January20and 21.

Amongthose to have given

feedback arepeoplewho use

the mountainbike tracks on

either side of the Ashburton

River.

They say volunteers put in

thousandsofhours of work on

the tracks, whichcould be

betterpromoted.

Mountain Bike Ashburton in

its submission said it had seen a

100 per cent increase in

walking andcyclingpost

lockdown, compared to the

previousyear. The off­road

mountainbikeloop sees about

1200 users aweek.

Methven's bikeparkwas also

aregional asset and hosted

major competitions.

Thegroupwantsabetter

relationship withcouncil to

makesure current information

and cycle maps areinthe

publicdomain.

Another submissionby

Martin Reid said raised

concerns that theemphasis for

cyclingseemedtobefocusedon

road cycling.

''Off­road cyclingor

mountain bikingisrapidly

growing in popularity and we

have great venues in the river

trackand thepark at Mt Hutt.

''I often meet other bikers

from outoftown who are

amazed at the quality of our

tracks, and have only by chance

Mountain Bike Ashburton president James Reid at the bike skills

park.

found out aboutthem.''

He said many more people

from Christchurch would come

to usethe off­road facilities if

they were betterpromotedby

council,with mapstohighlight

tracks.

Many of thepeople whohave

submittedsaid Ashburtonwas

anideal placetobiketoworkor

school or for health and

exercise, because it was flat.

David Bishop said the

volunteers had developeda

first class mountain biking

networkalongsidetheriver,

but the more it was developed

the more work was neededto

maintain it. That might put

more pressure on the

volunteers, who hadcreated a

valuablecommunity asset.

He said that asset deserved

more support from council,by

wayofmanpower to assist

maintainingthe tracks.

''This will encourage those

involvedinmountainbiking to

continue withthe developing of

thisexcellent communityasset

without the burnout of the dayto­day

maintenance. We are in

danger of losing these people

which would put the work that

has been completed to date in

danger.''

Mr Bishop, alifetime biker,

said more could be doneto

encourage cycling aroundtown.

Therewas also potential to

develop anetwork of rural

roads that could be usedsafely

by bikersand e­bikers who

wanteddifferent terrain.

Nga Manu

Property Maintenance

Lawn &Garden

Mowing

Pruning

Weeding

Planting

Spraying

Hedges cutting

Garden design and

landscaping

Oneofftidy ups or

regular visits

Pre sale tidy/rentals

WaterBlasting

Houses

Sheds

Roofs

Driveways/decks/pathways

Dairysheds

Moira Macleod and Bert Ellis would prefer their letterboxes to stay where they should be.

Note to letterbox thief

To the Rosebankletterbox thief,

The lovelyelderly residents of Rosebank

aregettingabit fedupwithyourinterest in

their letterboxes.

Youtook fourlast month andtwo in the

past coupleofweeks.

Lucky thatthe firstfour werelater

discovered nearbyinthe Ashburton

Domain andable to be cemented backinto

place.

The other two are stillmissing.

Youmight think it funny thatyou can

prise themout ofthe fence andmake off

with them, but thepeoplewho live at

Rosebankdon't think so.

The folkwho live in theindependent

villas that need thoseletterboxesrangein

agefrom their mid­70s to 90 plus.

Domain leases

TheAshburton District Councilhas granted

long­term leases to three groups thatusethe

Hinds Domain.

Thirty­three year leases were granted to the

Hinds Bowling Club, theHinds Rifle Club and

theSouthern Rugby Club. No formal lease

arrangementshad been in place foranumber

of yearsand theHinds Reserve Board

proposed all threebegrantedlong­term

leases.

The domain is areserve vested in council

andmanaged by thereserve board. Thethree

groups have been paying rentand theleases

give themcertaintythat they canremain.

Theyhave spent alifetimepaying taxes

and working hard.

Theyare alsoexpecting afew Christmas

cards to be delivered by post, messages of

love from friends andfamily.

Theyare not so old thattheycan't

remember the odd prank as teens

themselves,but this hashappened three

times nowand theythink you are targeting

them.

So howabout youshowsomerespectand

keepyourhandstoyourself.

Becauseevery person whodrives or walks

on Creek Road andPages Road, wherethe

letterboxes are,will be watching for you.

Oh, and don't forgettosmile for the

security camera!

Yours, Linda

www.auricelectrical.co.nz

2335597

MatthewBird

033083226308 3226 l 0276083226083 226

ngamanufuture@gmail.com

•Locally owned and operated

•WINZ registered

• Domestic electrical services

• New house wiring

• House rewiring &maintenance

SUPPLIERS AND INSTALLERS OF LEADING BRANDS

• TV &Datawiring

• Solar installation

• HeatPumps

Call todayfor an obligation free quote

0800287 423

2331178
---
Ashburton College

Individual Excellence in aSupportive Learning Environment

News

Issue 35

26 November 2020

Message From ThePrincipal

'ACCORD'Teacher Only Day-NCEA

Last Thursday weheld aTeacher Only Dayunder

the title of an "ACCORD Day". ACCORD Days are

part ofanationwide agreement between the

Teachers' Unions (Primary and Secondary) and

the MinistryofEducation.

Thefocus of these days is to ensurethatteachers

are well-prepared for the changes that are

scheduled for NCEA in 2022. NCEA has been in

place for twenty years and it was felt that itis

timely to have some changes.

Amongst these changes will be areduction in the number of standards

available in each subject, an increased level of, and focus on, Literacy

and Numeracy, and students will be morelikely to have to pass external

exams to achieveNCEA.

These changes have come about afterwidespread community, industry

and sector consultation. It is pleasing to note that the Ministry of

Education is consulting with schools about whether these changes will

be effective.

At AshburtonCollege we have agreed to be oneofthe schools consulted

(a Hub School), as it is important tohave asay inthe shaping of future

NCEA qualifications. Therewill be some trials of proposed material next

year at schools throughout the country.

Activitiesfor Junior Students

Next week there are anumber of key events happening and it is, of

course,our final week forstudents.

GOTDay

On Tuesday01December we have'Get OutThere(GOT) Day'.This is very

popular and it involves all teaching staff and Year 9and 10 students in

apractical activities-based day. Staff are invited tooffer activities and

then students choose from amenu. This is alwaysanenjoyable dayfor

all concerned,because students aredoing achoicefor thatday and staff

can offer an area of interest. Inmycase,aday's fishing!

The activities range from very active (e.g: white-water rafting) through

to passive (e.g: cupcake making and movie watching). Iwould like to

acknowledge Karen Stockdill in our office, who has done agreat job of

organising this event.

Prize-Givings

On Wednesday02December students in our WhareManaaki(previously

Student Learning Support Unit) will celebrate their achievements with

their prize-giving at 11:00am.

On Thursdayafternoon,03December,wehaveour Year 10 final dayand

prize-giving in our Auditorium. This starts at 1:30pm and there will be

classrooms with livestreaming of the event tocater for the overflow of

parents,caregivers and communitymembers.

Friday morning, 04December, will be the Year 9final day and prizegiving

which starts at 11:00am and,again, therewill be classrooms open

forlivestreaming. Both events areextremelypopular,and they will start

promptly.

Laptop or Chrome Book

If you haven't considered aChristmas present for your child then can I

recommend alaptop which is ideal to assist with your child's learning.

At the junior level aChromebook is perfectly adequate, although Iam

sure that they will try and persuade you that the latest Apple MacBook

would be preferred!

Thanks for your ongoing support ofAshburton College during this

unique year.

Kind regards.

Ross Preece

Principal •Tumuaki

Information

Final NCEA Exam Study Nights

Remaining Study Nights are being held in the College Library, between

7:00pm and9:00pm,onthe dateslistedbelow:

Tonight, Thursday 26 November, Monday30November,

Tuesday01December(final night).

Alist of theteachersinattendanceisdisplayedinthe Library.

Supporting

students in

this wayisa

significant

time

contribution

from

teaching

staff,valued

by the

College

Board,

Management

and students.

It is therefore importantfor students to respect the studypurpose of these

nights,sothatall attendingcan achievepurposeful outcomes.

Information

AshburtonCollege

BoardofTrustees

Mid-Term Parent Election 2020

Voting Papers

Voting papers,with candidates' statements

have been posted to all eligible voters.

Do takethisopportunitytohaveyour sayastowho is electedto

AshburtonCollege's BoardofTrustees.

Reminder:VOTING CLOSES AT 4:00PMFRIDAY 04 DECEMBER 2020.

Our Board encourages early return of voting papers -toreturn

these youcan:

• Hand-deliver to AshburtonCollegeinone of the following ways: Inthe

envelope provided,not in an envelope,oranenvelope addressedtoThe

Returning Officer, AshburtonCollege –

by 4:00pm on Friday04December 2020.

• Email to the Returning Officer: ts@ashcoll.school.nz -

by 4:00pm on Friday04December 2020.

• Post in the envelope provided, or in another envelope, to The

Returning Officer, Ashburton College Board ofTrustees, POBox 204,

Ashburton7740, New Zealand (Freepost 185140).

Twovoting formsmay be returned in the same envelope.

Note, if posting: Your vote MUST be received by the Returning

Officer no later than five days after the date of the election (by/

on Wednesday 09December). Try topost as early as possible as

New Zealand Post has reduced postal delivery days insome areas.

Sheena Tyrrell

Returning Officer

Pacific HealthyHomes Project –

Assisting Families

ThePacificHealthyHomesProjectisaimedatPasifika familieswith children

aged0-14 years in the Oamaru,Timaru, and Ashburtondistricts.

This project has been developed asaculturally safe initiative with the

purpose of assisting familiestoraise childreninanenvironmentthatissafe,

warm and dry, with the aid of the holistic Healthy Homeassessment.

Minimising housing issues will in turn minimise the number of children

becoming sick and suffering asthma attacks, viral infections, and other

related health illnesses. Wealso provide education on minimising power,

use of heating/heat-pumps and removingmouldand dampness.

If YouFeelYour HouseIsCold andDamp–Contactfor Help

If youfeelthatyour houseisverycoldand damp,and even possibly making

your fanau sick,then our Pacific HealthyHomes projectwill be greatforyou.

We can carry out healthy homes checks, make sure your house is up to

standard, and help solve any housing issues that might bemaking your

childrensick.

Our aim is to reduce children getting sick due to cold and damp home

environments andour serviceisfreetoall Pacific Islandfamilies.

Contact: Elti on 0291217666 or elti@falepasifikaoaoraki.org.nz

to organise your HealthyHomes check-today!

Japanese Cultural Dayand RestaurantMeal

EnjoyedbyStudents of Japanese

Year 11, 12 and13students of Japanese visited JapaneserestaurantKoji on

Creek Road,on29and 30 October.

Hiromi Horsley, teacher of Japanese,said that all students had studied very

hard this year and completed their assessments, sothe outing was anice

treatattheend of the year.

The students walked tothe restaurant and enjoyed delicious Japanese

food, including: sushi, sashimi, teriyaki chicken, pork katsu, bento box,

udon noodles. The conclusion was that everything was 'so yummy', with

thestudents loving the Japanese food!

Students learned to say'Itadakimasu'('Thank you for the food''Let's eat')

beforethe meal,and'gochisousamadeshita'('Thank youfor the food''It was

delicious') afterthe meal, andusedchopsticksverywell.

Like many, the students had ahard year because of Covid-19 but Hiromi

said they were solucky tocomplete the year altogether and celebrate at

the Japaneserestaurant.

(Pictured above, left hand side, front to back): Mia Love, Yuzuki Okazaki,

Ron Sildo, Angela Burrowes, Conner Stewart, William Wills, Dawn Gargar,

Jack Brown, Caitlin Muir.

(Right hand side, front to back): Myan Martizano, Amanda Adachi,

Ophelia Yao, Luvepa Falealili, Tomika Lucido, Jaimee Chute, Jack Jessep,

Matthew Wong.

Events

ASX SharemarketGame –

Year 12 Economics Students

Economics teacher Kirsty Moffett advised that our 2020Year 12 Economics

students were very fortunate to be offered the opportunity to play the

Australian Sharemarket gamethis year.

The game involved investing $50,000 in companies of their choice from

the Australian Sharemarket, and Michelle Parkin from Forsyth Barr

Ashburton very kindlydonatedher timetomentorthe students and teach

them about the sharemarket.

Team Members

Three teams were involved: 'Alpha' consisting of Ged Wall, Flynn

Mackenzie,ParkerBradford and BenSimons whose portfolio was worth

$44,571 at the end of the competition.

'The Wolves Of Walnut Ave' were Sam Holland, Harry Trumper,

Jayden Marshall and JohnMagyaya whose portfolio wasmoresuccessful,

finishingat$50,015.

Creditable 10th NewZealand Placing

The all-girl team 'ODE', of Emma Scammell, Drew Porter and Olivia Lill

were very successfuland considered in their investing,coming acreditable

10th from 189 New Zealand teamsentered.

Theteam finishedwith afinal portfolio valueof$52,477.

Appreciation to Forsyth Barr

(Pictured below) is Michelle Parkin from Forsyth Barr with the winning girls'

team of (lefttoright) Emma Scammell, Drew Porter and Olivia Lill and their

winningprize of an Echo DotSmartSpeaker,each kindly donatedbyForsyth

BarrAshburton.

Coming Events

November

26-27 Year 10 Outdoor Education Bush Survival course,

Peel Forest Outdoor Centre

Peer Supporttraining -Year11

27 German Year 10 external exam

30-02 Dec NZSS GilletteCup Girls'Cricket,Christchurch

30-05 Dec NZSS GilletteCup Boys'Cricket,Christchurch

December

01 GOT(GetOut There) Day, various venues

02 SLSU/TeWhareManaakiPrize-giving

SLSU/TeWhareManaakistudents final day

03 Year 10 Prize-giving,1:30pm, and final dayfor Year 10 students

04 Year 9Prize-giving,11:00am,and final dayfor Year 9students

06 Year 13 Graduation Dinner,Hotel Ashburton, 7:00pm

09 NCEA exams finish

11-13 New Zealand SecondarySchools'Track,

Field and Road Championships

Term Dates2021–

Term One Thursday04February (Years 9and 13)

Friday05February (Years 10 and 12)

Tuesday09February (Year 11) -Friday16April

Term Two Monday03May -Friday09July

Term Three Monday26July -Friday01October

Term Four Monday18October -Thursday28October (Year 13)

-Tuesday02November (Years 11/12)

-Thursday09December (Year 10)

-Friday10December (Year 9)

Some KeyEarly-Year Dates

January

27-29 Year 13 Leadership Camp (for confirmed students),

Mt Hutt Retreat

28-29 Peer SupportTraining, selectedYear12students.

28, 29, 01 Feb Course Confirmation. ForselectedYear 12 and 13 students

only,byappointment.

February

02-03 Teacher Only Days

04 Year 9and 13 students' firstday

05 Year 10 and 12 students' first day

08 Waitangi Dayobserved, public holiday

09 Year 11 students' firstday

Pōwhiri, 11:30am
---
Ashburton College

Individual Excellence in aSupportive Learning Environment

News

Issue 35

26 November 2020

Congratulations

BoardofTrustees Newly Elected

StudentRepresentative

Additional to previously advised student leadership roles, students are

also nominated for the position of Student Representative tothe Board of

Trustees. The process to this follows national legislativeprocedures.

Following video link nominee speeches College students voted

electronically, atthe same time asfor the Head Students, onWednesday

and Thursday 04and 05 November, for this one-year position. The new

representativecommences at the Board's25November meeting.

This year three students were nominees forthe role,which is averypleasing

level of interest shown forwhatisaresponsible position.

HistoryMade By AshburtonArmyCadetUnit

-Winners of National Skills Competition

Over Labour Weekend cadets from Ashburton Cadet Unit, Fielding Cadet

Unit and Hamilton City Cadet Unit descended on Riverhead Forest,north of

Auckland,for the 2020 National Army Cadet Skills Competition.

This was a qualification-entry event with the three teams each having to win

their area competitions to be eligible to contest the Nationals, with teams

competing both in sections and as individuals.

At this event the teams competed both as sections and as individuals, ina

range of stands.

Major Cezarne Rodgers outlined the fourteen activities the teams competed

in over the three days.These were: gear check, arequired fitness level, first

aid, navigation practical, equipment carry, initiative stand, observation

gallery, observation lane, general service knowledge, casualty evacuation,

drill, navigation theory, dry firing training tests being rifle safety, target

shooting and mud run.

(Pictured right, left

and right):

Marc Calzada

during the firstaid

test,working on

achainsawinjury

patient.

Elizabeth Hastie

is pictured on the

right.

Thesuccessful candidate this year is

Gemma Taylor

Appreciation –Previous Board StudentRepresentative, WillowDiedricks

Appreciation is given toWillow Diedricks, Board Student Representative

from November 2019 –October 2020. Willowbroughtavaluedperspective

to the Board table, showing maturity and thoughtfulness during Board

discussions, and through her written reports and various points raised.

Additionally, Willow offered quality verbal contributions, articulately

putting forward intelligent, considered and wide-viewed inputs which the

Boardhas respectedand valued.

Willowisthanked forher time giventowhatisareasonably time-demanding

position, and wished well forher post-secondaryschool years.

TheWinningTeam:

(Pictured below): Led byWarrant Officer Class 2Maria Costas, the team

was comprised of (back row, left to right): Corporal Marc Calzada,

Major Cezarne Rodgers, Lance Corporal May Penjueli, Lance Corporal

MarkusWhite, former studentSergeantCalaisHill,Corporal Elizabeth Hastie,

LanceCorporal Eli Orena, Cadet Sebvan Rooyen.

(Front row, left toright): Corporal Brodyn Gabites, Team Leader Warrant

OfficerClass TwoMaria Costas,former studentLieutenantShannon Bradley

(Team Manager).

Overall Results

In winningthe competition the AshburtonCadet Unit team wonsix events

overall,came second in six events and placed thirdintwo activities.

Brodyn Gabites gained the TopShotAward.

Thebattle to achieveasthey did washard, with lots of pain and some tears

but the outcome wasreportedasbeing 'soworth it'.

The organisers noted that the competition was extremely close this year

but, incongratulating the Ashburton Unit as 2020 winners, said there can

only be one winner. The victorious team flew home in military style in an

AirForce Hercules.

Pathwaytothe National Title

The Ashburton Cadet Unit Skills Team's pathway to the national

championships came via their win at the SouthernAreaSkills Competition,

with part ofthe competition held at the West Melton Rifle Range, 10-15

minutes from Burnham Military Camp, on02-05 October. Asaresult of

their win at this event they were eligible to compete for the national title,

with the same team members being those outlined above in the national

competition report.

Competition Directoratthis event wasCollege Staff member Major Cezarne

Rodgers,with former studentHayden Adams as Competition Staff.

College Student Individual awards at this event went to -

Corporal Brodyn Gabites -top navigation theorytest score.

LanceCorporal EliOrena -top shot.

Team Award-Sergeant Lindsay Turner Esprit de Corps Trophy

The team was also awarded the above trophy for the team which best

displayed the Core Values of comradeship, courage, commitment and

integrity. This is voted bythe teams and team managers, making it avery

meaningful award.

AshburtonCorp Competitors Loaned

Theteam also loaned twocompetitors -LanceCorporal Nadine Cabanatan

and Cadet Declan Pretorius-tothe team from Motueka.

The pain of success (pictured left,

front to back): Corporal Marc Calzada,

WarrantOfficer Class TwoMaria Costas,

LanceCorporal MayPenjueli, Corporal

Elizabeth Hastie, Corporal Brodyn

Gabites,SergeantCalais Hill.

TheSouthern Area Skills Competition AshburtonCadets Winning Team

(Pictured right, back row,

leftand right): Eli Orena,

SergeantCalais Hill,

holding the Esprit de

Corpstrophy.

(Middle row,lefttoright):

Cadet Sebvan Rooyen,

Corporal Elizabeth Hastie,

LanceCorporal

MayPenjueli,

LanceCorporal

MarkusWhite.

(Front row, left to right): Lieutenant Shannon Bradley; Warrant Officer Class

Two Maria Costas, Corporal Brodyn Gabites (holding the overall competition

winner trophy); Corporal MarcCalzada.

Named in All-Stars Basketball Teams

Sophie Adams and Kambell Stills (pictured below, left and right) were

recently named in their respective Whelan (girls) and Thomson (boys)

Trophy All-Star teams for 2020, playing in Canterbury's Premier Secondary

Schools' Basketball Competition.

At the conclusion of each season best players in each competition are

named in arecognition tournament team and presented with aplaying

shirt.

Both players were dominant forces on their respective teams, with this

being Sophie'sthirdseason selected as an All-Star.

TheStrength of College Public Speakers

Shines in Senior StudentSpeech Competitions

These competitions took placeinthe College Auditorium on Wednesday

21 October (Year 12 and 13) and Wednesday 28October for Year 11

students.

Appreciation to Judges

Our appreciation again goes to Don McLeod and Denise O'Halloran for

judging both events. Both come with expertise in this field. We thank our

judges fortheir continuing supportofour school and students.

Year 12 and13Student Competition

This took place onWednesday 21October, inthe Auditorium, during

Period 4, with speakers giving agreat displayofdiversity and topics.

FinalYear12and 13 placingswere -

1st Year 13: HenryChapman - 'FailureBuilds Resilience'

1st Year 12: Lauren Taylor - 'TheObvious?Sexism'

(Pictured right, leftand right):

Year 12 finalist Easterlin Faamausili

and Year 12 winner Lauren Taylor.

Year 11 Student Competition

Six Year 11 students took to the stage to present their speeches for thus

annual event.

Prior to the finals day, students gave athirty second byte of their speech

in atwelve-person run-off, towin aposition in the competition.This alone

exemplifies the strength of oratoryskillswithin our school.

The top six students who made their way into the finals competition were

(picturedbelow, lefttoright) Imogene Felton, EliOrena, Salatielu Iakopo,

CiaraRoss,Mae Patterson and Anna Gray.

Topics covered material ranging from pigs as allies in space exploration,

through to being true to yourself.

Judges,Denise O'Halloran and DonMcLeod, were bothimpressed with the

speakers'clarityand engagementofthe audience.

English teacher SarahLassensaid thatwelook forwardtoseeingwhatall of

these students will achieveincoming years.

Final Year 11 placings were -

1st: EriOrena -

'Luck and the Individual'

2nd: CiaraRoss -

'The Referendum on

Medicinal Marijuana'

3rd: SalateiluIakopo -

'Technology and the Teen'

(Pictured right): EriOrena

grasping some luck.

Japanese Consul's Prizefor Madison Brown

Year 12 student, Madison Brown received the

Japanese Consul's Prize and Ton's Thai Award

and Top Student inYear 13 Japanese, atthis

year's Year 11 and 12 Prize-giving. Her teacher

of Japanese, Hiromi Horsley said that Madison

has been learning Japanese one year ahead of

her year level since she wasaYear 10 student.

Described as having a huge knowledge of

Japanese culture and lifestyle, Hiromi advised

further that Madison's understanding of

language is amazing, learning new Kanji (a

system of Japanese writing using Chinese

characters), vocabularyand grammar everyday.

Madison participated in the College's 2019 Japan Tour and had various

experiencessuchashomestay, andattendingthe College'sSister School in

Japan, Tokorozawa Kita High School, plus visiting famous tourist spots in

Hiroshima,Kyoto,Osaka,and Tokyo.

With other studentsMadison participated in the JapanDay in Christchurch

in February, and has experienced Japanese cultureand food.

In December Madison will sitNCEA ScholarshipinJapanese andaJapanese

Language ProficiencyTestwhich is aworld-wide qualification.

As is requested by the Japanese Consulate the photo of Madison (pictured

above) and her awards will be forwarded to them.
---
SKIP-2-IT

CARPET • VINYL • TILES • LAMINATE • BLINDS www.flooringxtra.co.nz

SKIP-2-IT FLOORING XTRA 68 Cass Street, Ashburton P: 03 308 0266 Book your free in-home measure and quote
---
www.ashburtoncourier.co.nz

Ashburton Courier, November 26, 2020

Methven musicians rock

NEWS

15

Tumanu Isara­Paiaaua (below) helped create aSamoan Christmas display behind glass on

East Street.

Shopfronts take on new

culturalChristmaslook

Emptyshop frontsonEast Street have been

transformed into Christmas displays of

many cultures as part of theAshburton

District Council's festive vibe.

Trees along the EastStreetgreen have

alsobeen wrapped for theoccasion.

Tumanu Isara­Paiaaua was among

members of theCongregational Christian

Church setting up in the formerSpark shop

besideHello Banana. Next door in the old

Denim Den shop was another Samoan

display and further along was adisplay by

the Filipinio community.

Tumanu saidshe and other members of

the women's fellowship grouphad worked

on thedisplay,which featured aChristmas

treeaswell as afale,flanked by mannikins

in traditional Samoandress.

The churchmeets regularly at the

AshburtonDomainWalnut Avenuepavilion

under Reverend UosepiPaia.

Tumanu saidthisChristmas wouldbevery

different for Samoanfamilies living in Mid

Canterbury. Theywereused to finishing up

schoolorworkand returningtoSamoa to be

withfamilyoverthe holiday period,but

covid and quarantine rules has made travel

impossible.

''It is so sad this year.''

Tumanu saidtheir colourfulEast Street

displayrepresented the Samoan Christmas

journey.Interpretive signswill help people

understand thedisplay.

She said others whohad helped included

AnnTafea, Pola Ulisese, Tusi Salima, Sara

Belford and Naito Schuster.

Council's Welcoming Communities has

arranged for theEast Street walkwaytobe

decorated with tree wraps representingthe

season andthe shop front displays span

severalblocks andcultures on the other side

of the road.

Mayor Neil Brown will officiallylightup

Ashburton's Christmas tree in Baring

Square East tomorrow (Friday) as the Light

up the Nightsfestivalgets under way.

Thefestival includes aBuskers Night on

Thursday December 3and on Friday

December 11 there will be outdoor

Christmas movies in the square.Movies

include Kung Fu Panda Holiday, Olaf's

Frozen Adventures andThe Polar Express.

Methven musicians who were in the limelight at bandquest recently

were Livewired from Mt Hutt College and Ultimate Noodlers from

Methven Primary School. The Noodlers were third at their Canterbury

regional night while Livewired won the musicians award. Livewired

(above) featured (from left) William Davey, Byron Cambell, Stanley Loch

and Gerome Cambell while the Noodlers (below) featured (from left)

Isaac Phimister, Clarry Hooker, Kaylume Manning, lying on the floor is

Max McKay.

Netherby Lot3GordonsRoad

SOLD

2331284

Only one left be quick-5000sqm

Movinginto town from your farm, or movingout of town foralifestyle?

Only one quiet and peacefulsection nestled at the end of anewly laid, fully

specified chipsealed privateroad. This sub divisionofamuch-lovedfamily

property is the opportunitytograbasliceofrural life, yetsituated only four

minutes from Ashburton centreand acouple of minutesfrom thehighway

north. Powertothe boundaryand conduitlaid forfibre whenitisavailable.

No well or septictank-the opportunitytoachievethe layout of your house

and buildings that suits you. Borderedbyestablished propertieswith an open

outlookovergrazingpaddocks this is not abig development- asmall and

secludedplacetocall home.

View by appointment. Price$190,000

RodgerLetham

M 027 433 3436

rodger@pb.co.nz

Property Brokers Ltd LicensedREAA 2008 |217 West Street, Ashburton | pb.co.nz

Proud to be here
---
www.ashburtoncourier.co.nz

Summer singing

school back on

The Mid Canterbury Summer

Singing School returns for its 21st

year in early January andthere

are two public concertslinedup.

The singing school was started

in 2000 by Ashburtonsinging tutor

Jo Castelow as avehiclefor the

talented singers who lived in the

district.

The now iconic course draws

scoresofsingers from the

Canterburyregion each year.

The singing school is divided

into two sections juniorand

seniors­and many students

return to take part each year.

The music chosen forthe 21st

singing school includes favourites

from Rocketman,Frozen 2, Led

Zepplin, TheJungle Book,Coco,

and newer musicalssuch as

SpringAwakening,Moulin Rouge

the Musical and Harriet Tubman.

Mrs Castelow was delightedto

announce singing school alumni

Singers at last year's summer

school.

Julia Bellasaguest

choreographer.

The two public concerts will be

performed at 7.30pm on January 8

and 9. Ticketsfromthe event

centre website or boxoffice.

LOCAL LISTENING

Hoops l 6am to 10am

DELIVERYPEOPLE

wanted

to deliver the Ashburton Courier

and Realty every Thursday in the

Hampstead and Allenton areas.

Phone Mary on

308 7664 or email

mary.summerfield@ashburtoncourier.co.nz

2304063

2333719

NEWS

Ashburton Courier, November 26, 2020

Ashburton metalwork artist Stuart Mitchell is exhibiting for the first time in Timaru.

Sculptor creating name

CLAIRE.ALLISON

@alliedpress.co.nz

At the end of the working day,

Stuart Mitchell swaps white

overalls forblueand meat for

metal.

With welder in hand,Stuart

turns an assortment of scrap

metal into works of art.

TheAshburton butcher is

making aname for himself

throughout New Zealand as a

creator of repurposed metal

artworks, from small fantails

to life­sized bull tahr, and an

assortment of creatures in

between.

He is now exhibiting forthe

first time in Timaru, at York

Street Gallery.

While others see old

shearer's combs and cutters,

Stuart sees feathers, tow

balls becomeeyes, and

lengths of chain ahorse's

mane.

Items destined to become

scrap metal take on anew life

under Stuart's artistic eye,

and customersare snapping

up his creations.

It was not what Stuart

expected when he firstbegan

tinkering about in thegarage

afew years ago.

"I like fiddlingaround in

the garage.Ihate seeing

waste andIwas down the

road at an estate sale, and

there were boxes of old

gardening tools there that

were going to scrap metal.

"I thought there must be

something you candowith

these, to givethemanew

lease of life."

So Stuart began putting a

few things together, making

some small birds, and

eventually challenging

himself with more elaborate

creations.

Afriend invited him to

exhibit in Ashburton, and he

17

started getting abit of aname

for himself, and people

requested commissions.

Last year, he won first

place at theRuralArts

Festival at Kimbolton, north

of Feilding, with afull­sized

bulltahr sculpture. That

found ahome witha

Palmerston Northpurchaser.

There is always some

regretwhenone of hisworks

finds anew home.

"I'd love to keep them all,

but that's abit selfish, they

should be shared around.

"I like making them and

particularly like it when

people startlooking at them a

bit closely, and they can see

the tools and pieces theyused

to use on thefarm, the

components. When I'm

welding, I'm not trying to cut

piecestofit holes,I'm trying

to findthe rightpieces forthe

shape."

Top petanque players

here for Tristar tourney

The Ashburton MSA

Petanque Club will host the

Tristarregional tournament

this weekend and there's

local players in the

Canterbury teams.

The annual tournamentis

played between Canterbury,

Southernand Wellington

andasthe host thisyear

Canterbury will field two

teams.

In teamone is topMSA

player Richard Browne,

while club president Karen

Bensdorp is in team two.

The reserve for the

tournament is local player

Graeme Millard,who was

part of the victorious

Wellingtonteam that won it a

few years ago.

Mrs Bensdorp said

Canterbury were the current

holders of the Tristartrophy.

She andRichard Browne

hadboth beeninlast year's

victoriousteamand were

hopeful of doing well again.

Ashburtonhad hosted the

tournament in 2017 and was

hosting it again this year

because the Christchurch

venue was unavailable, Mrs

Bensdorp said.

The Tristarinvolves

With the Tristar trophy are Karen Bensdorp and Graeme

Millard.

triples playonday one and

doubles the next day.

Play at the sociable

weekendstarts at 8.30am on

Saturday andruns throughto

around 5pm. Sunday's play is

likely to endalittle earlier.

The public is welcometo

come alongtosee some high

quality petanque,saidMrs

Bensdorp.

The AshburtonMSA

Petanque Club will host the

South Island men's and

women's triples on

December 12 andthe

Canterbury triples the

following day.
---
Coming up at the AshburtonTrust Event Centre

The Merry Little Christmas Market

Sunday 29 November, 11-30am until 4pm, Gold Coin Donation

Yesweare doing it again, we are proud to bring you The Merry Little

Christmas Market on the 29th of November.

This is aday where we open our venue to showcase the talent from not

only our locals but also the wider regions.

If you wish to give agold coin donation this will get you awee something

to sip on while you browse awide variety of stalls.

Mark the date in your dairy as it's agreat shopping event.

Abba Show

Sunday 6December, 8pm, Adult $71.15 /Child 12 and under $31.85 /Group 10+ $66.15

Direct from Australia, the world's premier live ABBA tribute is back by

popular demand after asell-out mega NZ concert tour in 2018!

Far from being 'just another cover band" The ABBA Show is afull scale

concert production featuring more than 2hours of fun, energetic musical

performances with alive backing band, replica costumes, theatrical

lighting and effects and all the dancing an ABBA fan can handle.

Starring incredibly detailed performances from internationally acclaimed

impersonators ABBAsolutley fABBAulous, The ABBA Show gives fans of

all ages achance to re-live the ABBA concert experience, celebrate the

music of ABBA and dance the night away!

Moving Toward The Future – Mid Canterbury Summer Singing School

Friday 8January and Saturday 9January 2021, 7-30pm, All tickets $25 (fees apply)

The Mid-Canterbury Summer Singing School returns for its 21st Year –

Moving toward the future. Aweek of musical theatre tuition culminating in

some fantastic concerts.

The senior and junior groups will bring you favourites such as Rocketman,

Frozen 2, Led Zepplin, The Jungle Book, Coco, and newer musicals such

as Spring Awakening, 'Moulin Rouge' the Musical and Harriet Tubman.

There is something for everyone at these concerts, suitable for young

and old, afirm favourite on the Mid Canterbury calendar and not to be

missed.

Musical Director Jo Castelow is delighted to announce the first ofthe

guest choreographers, Julia Bell from the talented Alumni Mid-Canterbury

Summer Singing School has produced.

Hotel California –The Eagles Experience

Friday 22 October 2021, 7-30pm, Adult $61 /Group 6+$56 /Under 13 $32 /

Early Bird 11th Nov -10th Jan $51 (fees apply)

It's time to check-in toHotel California The Eagles Experience –the

captivating live concert and stage show saluting the extraordinary talent

and timeless catalogue of The Eagles.

With astage full of show-stopping voices and musicians, relive the

beautiful country harmonies, the rockin' guitar solos and the masterful

songwriting in all its glory, performed live on stage.

Hear all the classic tracks that topped the charts and tested the

boundaries of Rock and Country including Hotel California, Desperado,

Take It Easy, One of These Nights, Tequila Sunrise, Heartache Tonight,

Life in the Fast Lane, Take ittothe Limit, Witchy Woman, New Kid In Town,

Lyin' Eyes, Get Over It, Love will Keep Us Alive, Best of My Love and

more.

Acarefully-crafted tribute that music fans will truly appreciate.

The Bee Gees –Night Fever

Friday 5November 2021, 8pm, Early Bird $51 until 10th January then

Adults $61 /Group 6+ $56 /Child 13 and under $32 (fees apply)

Direct from Australia, Showtime invites you to dance your way into atime

warp of 70's disco dancefloor thrillers and timeless heartfelt rock ballads

with The Bee Gees Night Fever!

Night Fever is jetting into town to recreate the Bee Gee's 1997One Night

Only Las Vegas concert experience in atheatre-style production with

over 2hours of LIVE engaging entertainment showcased through vibrant

state-of-the-art lighting, digital display screens, impeccable sound and of

course ahandpicked international cast that will immerse audiences into

the disco era with exquisite trio harmonies and the iconic high-pitched

falsetto that we all know and love!

With disco tracks like Night Fever, Stayin' Alive, You Should Be Dancin'

and best-loved ballads like How Deep Is Your Love, IStarted aJoke

and Tragedy, the magical event The Bee Gees Night Fever is not to be

missed!

CHRISTMAS

HOURS:

We will be closed from 12 noon on

Wednesday, 23rdDecember and

re-opening at 9am on Tuesday, 5th January.

GIFT

VOUCHERS

AVAILABLE

Stuck foraChristmas giftidea?

Whynot give them an AshburtonTrust

EventCentregiftvoucher so theycan

come and see the showoftheir choice

when theywant?

Bookatour ticket office

03 307 2010 211A Wills Street, Ashburton 7700

admin@ateventcentre.co.nz

2326280
---
www.ashburtoncourier.co.nz

Funds for school solar panels

Carew Peel ForestSchoolhas received

$48,000 to update it currentsolarsystem.

Theupgrade willenable theschool to

reduce its runningcosts and alsoits

emissions.

School principal Sharon Ketter said the

current systemwas able to produce,

utilise and sellenergy, but wasnot able to

store it.

Thenew funds would allowenergytoto

be storedand used on cloudydaysand in

theevenings.

''It alsomeans we will have 24/7

communication abilityand we'll be abit

more self sufficient if the need arises.''

Mrs Ketter said the upgrade would

increase theenergy resilience of the rural

school andmeant it could potentially be

used acivil defence asset in the event of a

natural disaster.

Thesolarpower systemproposed will

be internet connected and live monitored

and aspects of it can be incorporated into

the science,technology and maths

curriculumsatthe school.

MrsKetter said as well as usingless

powerfrom the national grid,the new

systemwould reduce carbon emissions by

an anticipated 2000KgCO2­e per annum.

There is no timeframe setyet for the

upgradeand the school will work in with

the supplier.

Ninety­four schools around thecountry

have shared$5million in two funding

rounds of thegovernment's Sustainability

Contestable Fund.

Above: The classroom block at Carew Peel

Forest School with solar panels on the

roof.

Joining forces to improve rivermouth

Work is continuing to protect,

plantand improve thearea in

and aroundthe coastal lagoon

at theAshburton rivermouth.

Recreation and

conservation groups joined

forces earlier this monthto

plantnative flax,toetoe and

cabbagetrees to fill in an area

alongsideanewly created

walkway.

Volunteers fromForest &

Bird, Kanuka Trust and the

Mid­Canterbury4WD Club did

their bit to help createaspace

where people can enjoy the

river andthe sea, while also

giving space to nature.

Communityengagementcoordinator

Rhys Taylor oversaw

the planting, which involved

reclaiming rutted four­wheel

drive tracks, made in previous

informal excursions, as readyto­use

sitesfor hardyNew

Zealand native plants.

He saidmorethan 200 plants

had gone in on the day, with

the species selected tolerantto

the harshconditionsofthe

coastalenvironment.

Thegroup hadalsothrown

"seed bombs" made from flax

seeds enclosedinmud intothe

Volunteers from Forest &Bird, Kanuka Trust and the Mid­Canterbury 4WD Club were involved in

recent conservation work at Ashton Beach.

PHOTO SUPPLIED

adjacent gorse, as asecond

introduction method.

"Seedlings can germinate

successfullyinthatshaded

and wind­sheltered

environment, with benefit

from the nitrogen fixed by the

gorse."

The plantingswere made

possible by recently installed

fencingthatcompletesa

protected area bordering the

south bank of the river andthe

lagoon.

Anew walkway passes

through the site, takingvisitors

on aloop path.

Thetrack includes two

simple plank bridges crossing

afreshwaterstreamthat runs

paralleltothe river, which are

designed to be easily

repositionedafter small

floods.

Alternative routes around

thefenced­off area are

available for 4WD vehicles,

helping protect the birdswhen

they are nesting.

The alternative route leads

to asecond parkingspace that

has been created at the endof

the walkway, offering

fishermen ashorter walk to the

riverbed.

New signage has been

installed at both parking areas,

identifyingthe diversity of

bird andfishlife thatcan be

found at thesite, including 24

speciesthatvisitorscanlook

out for.

NEWS

Ashburton Courier, November 26, 2020

19

Geraldine

Santaset

for parade

Geraldine is hoping to break a

record with more than 70 floats

inits annual Christmas parade.

Geraldine promotions coordinator

Janene Adams said

the theme of the parade on

Friday December4was

Christmas around the world.

"Our organisingcommittee

was inspired to bringthe world

to Geraldine this year, in

recognition of this unusual time

inwhich we can'ttravel and

many migrants in our

community won't be able to

head home to spendtime with

loved ones."

Ms Adams said the colourful

and vibrant Filipino entry in

the 2019 parade gave the

committeethe ideafor its 2020

theme.

"The parade is acelebration,

but not only for Geraldine, we

welcomeour country cousins

from all around theSouth

Canterbury region andwant

this year to be ourbiggest

parade yet."

The parade usually takesan

hour towind its wayalong

TalbotStreet, through crowds

that line the streets of thetown

centre.

Competition to win one of

three parade cups(most

enterprising, bestfamily focus

and most festive) is stiff, with

local businesses and

organisationsworking hard to

outdo oneanother.

The judgesfor 2020 will be

Geraldineward councillor

Gavin Oliver,afrequent parade

entrant himself, new Geraldine

Police ConstableKarl

Harrison, andasurprise guest

whom Ms Adams says will be

familiartomany after the year

thathas just been.

"While we don't want to dwell

on what has been areally

difficult year, we do want to

giveanod toall that has

happenedto our community

and across the world, andour

third judge representsthe

positivity thatGeraldine

showed during lockdown."

The parade starts at 6.30pm

and travels from the cornerof

Hislop Street, along Talbot

StreettoPeel Street. Agiant

lollyscrambletakesplace after

the parade in theGeraldine

Domain, where thewinning

cups are also announced.

Afteraday at our

Black FridaySaleyou'll

want to put your feet up.

Dreammode Fabric 5SeaterLounge Suite-Persistent Jet

The truth is,we're not toosureabout BlackFriday either.It'sjust

agoodexcusetogiveyou abargain.Whichisexactlywhatthis

luxurious 5seaterrecliner suitefromLa-Z-Boyis. It's half price,and

craftedwith soft,deep cushioning from headresttofootrest.

$2699

was

$5399

lessthan

$12 perweekfor

60 months

interest free*

8927816

120only of this colouratthisprice.

Offers valid untilTuesday1st December 2020, while stockslast, unlessotherwise stated.Some productsondisplayinselected stores only–pleasecall0800 764847 to check availability.Personal shoppersonly. *Apple, selectedcomputers, game consoles,giftcards,clearanceitems andsome promotional itemsare notavailable in conjunction with interest free offers. Flooring available on amaximumof18monthsinterestfree. Exclusions, fees,

terms, conditions, and creditcriteriaapply.Available in-store only.Equal instalmentamounts includeone-off booking feeof$45.00, annualfees of $45.00p.a.and securityregistration feeof$8.05, andexcludeinsurance.Current interest rate of 23.95%appliestoany unpaid balanceafter expiryof(any) interest free period.See in-store or visitsmithscity.co.nz/interest-freefor details.

SCWK31AC1
---
NEWS

20 Ashburton Courier, November 26, 2020

www.ashburtoncourier.co.nz

Pet lambs happily entertain at Rakaia

Adog obstacle challengetotest

dogs ­and theirowners­was

one of themanyattractions at

the Rakaia School pet day last

week.

Around 10 pupils from the

schooltookupthe challenge

alongside afour­legged friend.

While many canines were

determined to do their own

thing ­ormaketheir owners do

the challenges ­acouple were

standoutperformers as they

were cheeredonbyparentsand

schoolpeers.

Amongthe othersactivities of

the day was alambdrinking

competition, abest dressed pet

andowner parade as wellas

Lego builds,noveltyvegetable

awardsand adecoratedbike

competition.

More photos, Page 45

Right: On your marks ... junior

competitors (from left) Brooke,

Maddison, Leo and Alonso get

ready at the start of the lamb

feeding competition.

Lion Jackie volunteers over 30 busy years

Helping others givesJackie

Ryan alot of enjoyment.

Jackieisthe current

Ashburton County Lions Toot

forTucker co­ordinatorand has

been namedthe Volunteering

Mid and South Canterburyand

Hotel Ashburton Volunteer of

theMonth.

Toot forTuckerisa

successful community event to

help boostthe coffersofthe

district's foodbanksthathas

just had its20th anniversary.

The idea was raised by afellow

Lions member and it has been

firmlyestablishedonthe

Ashburtoncalendar.

Jackiehas been amember of

Lions for 30 years. She is on the

membershipcommitteeand

gets immense pleasure from

helping theservice club with

thevariety of projects they

undertakesuch as Meals on

Wheels, Toot for Tucker,

supporting CampQuality,

collecting for groups likethe

Blind andLow Vision

Foundation,the Heart

Foundation, makingup gift

baskets for cancer patients,

collecting toiletryand sanitary

VOLUNTEER OF THE MONTH

needs to support community

organisationsthatwork with

people in need and looking

after their own memberswith

visits, chats and home baking.

The local CountyLionshas a

strong membership. Jackie

enjoys the company of theother

wonderfulwomen who make up

Lionsand has made lifetime

friends through her

involvement with thegroup.

"I simply liketogive," Jackie

says.

She is also involved with

Rural Women NewZealand

and with the Mayfield A&P

Showwhere next year she will

be patron.

Jackie is alsoinvolved in a

floral art group, takingpart in

the activities of the Ashburton

Dahlia Society.

Jackie says Tootfor Tucker

involved abit of work in the

leadup to the dayand then

afterwards butithad been

streamlinedoverthe yearsand

was now downtoafine art.

Shewas pleasedsupplies

given by the peoplewere so

well received and made a

differenceinthe community.

ForJackie having youngpeople

involved in helping make the

collectionsuch asuccess was

great and she wasfull of praise

for the young people in the

AshburtonCadet Unit and the

AirTraining Corps.

Jackieisnow gearingupfor

theLions next project, the

Christmas Festive Forest at the

AshburtonTrust Event Centre.

It runs from December 3to5.

Organisations andgroups are

encouraged to get nominations

in for the VolunteeringMid &

SouthCanterbury &the Hotel

Ashburton Volunteer of the

Month. Nomination forms are

available by contacting

Volunteering Mid &South

Canterbury,CommunityHouse,

44 CassStreet Ashburton, ph

3081237 ext 240 or email

coordinatormc@vmsc.org.nz or

pickupacopyatFourSquare in

Rakaia.

Jackie Ryan loves her volunteer roles.
---
www.ashburtoncourier.co.nz

NEWS

Ashburton Courier, November 26, 2020

21

Young riders jump at learning chance

Horse of the Yearfeaturesin

the long­term goals of Methven

Pony Club members Sophie

Sauer and Hannah Thickett.

The two riders were recent

Star Spotters Scholarship

recipients;Sophie of the NZPH

and ESNZ sponsored

membership and registration

package andHannah anewly

created AshburtonAreaESNZ

Jumping and Showhunter

Group first year's rider

membership andmentorship.

Ashburton Area ESNZ

Delegate ZoeShore said the

starspotters scholarships

received "someexceptional

applications thatmade it very

difficult to choose just one

rider".Itresulted in the

Ashburton area grouptaking on

the secondary scholarship

which was awarded to Hannah.

Hannah, 14, hasbeenriding

for 10 years but only competing

for the past four and mostly in

showing.However it's only in

the past two yearsthat shehas

become more serious with

showjumping competing mostly

in local pony clubshows with

the oddtrip to Christchurch.

Shelikes the "energy rush"

showjumpingoffers as well as

having fun with her pony club

peers, and other riders at

competition.

Her horse is nine year old

Luna Eclipse, who shehas had

for the pastyear.

Hannah wants to work with

Lunaand take showjumping to

ahigher level by getting out to

more events.

ForSophie, 13, it's beena

life­long enjoyment; she was

Hannah Thickett (from left) and

Sophie Sauer, with horses Luna

Eclipse and Griffindor Robinson

respectively, have their sights

set on competing in future

Horse of the Year competitions.

PHOTO TONI WILLIAMS

riding at aged two and since she

was four years old done lead

reinright through toopen

showing.

Sophie enjoys all pony club

eventsaswell as trekking and

regularly rides on ahigh

country cattle muster. While

she has competed up to 80cm at

local shows and eventsSophie,

along with eight­year­old horse

Griffindor Robinson, whoshe

only gotafter lockdownthis

year, is looking to extend her

jumping experiencesand

becomecompetitive in the

showhunter classes.

She enjoysthe connection

withher horse during

competitionandisaiming to get

someconsistencywith her ring

classes.

Water zone farewells pair

Two wise, old heads retired

from theAshburton Water Zone

Committee thisweek.

Former hydrologist and

passionate conservationist

John Waugh had servedfour

years andrununga rep Karl

Russell 10 years.

Bothwerepraised by

committee chairBill Thomas

for their ability to see and

respectopinions about water

that were very different from

their own.

Mr Russellremembered

earlymeetings with farmers

crossingtheir arms defensively.

In contrast, in his last meeting

the committee approved funds

for two farmers to improve a

creek and establish wetlands

on their properties.

Mr Waugh said action to raise

minimum flows in the

Ashburton River were to be

commended;water­takes from

the riverare beingreviewed by

Environment Canterbury.

He said even when the review

was complete, theriverwould

still be the most heavily overallocated

river in New Zealand.

Karl Russell and John Waugh at their final Ashburton Water Zone

Committee meeting this week.

Allowing flows to go lower

risked turningitinto aseptic

soupofalgae.

MrWaughsaid managed

aquifer recharge hadthe

potential to make asignificant

contribution to water

managementinCanterbury,

when combined withon­farm

actionstoreducenitrate

inputs.

He said high nitrate levels

hadbeendetectedback in 1982.

''Ithas beengoing on for some

time and getting worse. It was

long beforethe dairying boom.''

Helping hand for

Methven stream

A$100,000 project to restore

Mt Harding Stream at

Methven took another step

forward this week when the

AshburtonWater Zone

Committee agreed to fund

$50,000overtwo years for

work on the waterway.

Fonterraisalso

contributing $25,000 as the

stream catchment is one of

threeMid Canterbury

catchments ithas committed

to helping. Theothersare the

AshburtonRiver and the

Hinds drains.

Mt Harding Stream runs

throughabout25properties

and directly throughthe

Methven township. The

stream is visible to the public

and landowners themselves

arecontributing $25,000.

Landowners have been

riparian planting to enhance

biodiversity values, improve

instream habitatand help

interceptsilt and nutrients in

overlandrun­off.

Environment Canterbury

staffwill walkthe catchment

in December and January,

engagingwithlandownersand

developingaworkplan.

The waterzone committee

askedthat water quality

samplesalso be taken

regularly to see the effecton

waterquality in the stream.

Ecan landadviser Donna

Fieldsaid the 33km stream

eventually joined intothe

AshburtonRiver. More work

on the streamis likely to

include moreriparian

planting, removing barriersto

fish passageand instream

habitat enhancement. It has

historically supported koura

and fish. Supporters of the

project said it was alsoabout

ruraland urban landowners

and communities working

togetherwith asense of

ownership to have pride in the

stream.

BlackFriday.

Agreat daytobuy silver whiteware.

332L TopMount FridgewithDoor Cooling

Withsummer just around the corner,it'sagreat time to pick up anew fridge.The LG Inverter

Linear Compressor combines the air flow through the frontand back ventstokeep food fresher

forlonger.You better be quick, though —wewon't be abletokeep this priceonice forverylong.

$799

lessthan

$10 perweekfor

24 months

interest free*

Limited Stock

9058437

Offers validuntil Tuesday1st December 2020,while stockslast, unlessotherwise stated. Some productsondisplayinselectedstoresonly–pleasecall0800 764 847tocheck availability.Personalshoppers only. *Apple, selectedcomputers, game consoles, gift cards,clearanceitems and somepromotionalitems arenot availableinconjunctionwith interest free offers. Flooring available on amaximum of 18 monthsinterestfree. Exclusions,fees,

terms, conditions,and creditcriteriaapply.Availablein-store only. Equalinstalmentamounts includeone-off booking feeof$45.00, annual fees of $45.00p.a. and securityregistration feeof$8.05, andexcludeinsurance. Currentinterestrate of 23.95% applies to anyunpaid balance afterexpiryof(any) interest free period.See in-store or visitsmithscity.co.nz/interest-freefor details.

SCWK31AC2
---
OPENDAY

Sunday, December 6

10am -3pm

70 Havelock Street,

Ashburton

2333785
---
www.ashburtoncourier.co.nz

CLUB NEWS

Ashburton Courier, November 26, 2020

23

Mid Canterbury Ladies

FriendshipClub

Val Johnson presidedover

the November meetingofthe

Mid Canterbury Ladies

Friendship Club.

Birthdays and anniversaries

were celebrated. Ronald

McDonald House thanked us

for the donationssent to them.

Next timeitemsfor the

Foodbankare requested for

distribution to local charities

before Christmas. Members

Julie and Jan entertained us

with somewittysayings before

morning tea was served. Julie

Beggthenintroducedthe main

speaker, April Breading,

gardening guru.

April told us alittle of herself

and said she had attended

MasseyUniversity, then learnt

the practicalities of

horticulture when in Auckland.

She learnt thewhy andhow

from manual tasks, andwent to

Canadaonanexchange

programme, where she met her

husbandwho was from Rakaia.

She realised there was more

to learn when living downhere.

Shespeaks to some schoolsand

triestoinstill in children the

love of gardening.The children

are responsiveespecially when

growing something to eat.

April then showeduslots of

different products thatwere

recommended –product to get

rid of caterpillars, insect

control, grow tunnelwith net

cover, raised bed set, seaweed

andsoon. Aprilwas thanked for

her address by Heather.

There will be aChristmas

mealafter the December

meeting.

Themeeting was closedwith

the thought forthe month: ''If

the mind goes blank,remember

to turn off the sound.''

Ashburton DahliaCircle

Last week the Ashburton

Dahlia Circlehad their

Christmas function before

taking amonth off until the

New Year.

An exceptional attendanceof

20 members and partners with

six apologies enjoyed asit

downmealinthe Tinwald Hall.

Special thank youtoAlisonand

Sheenawho had spent the

afternoon setting up the tables

and supplying all thecrockery,

cutleryand glasses, along with

tabledecoration.

Everyonecontributed hot

andcold fare, Jackie cookedthe

meatsand Alison the steamed

pudding. The meal commenced

withGrace by Patron Graham

Gunn, and mealenjoyed by all.

Our guest judge Pauline

O'Leary joined us in themeal

Nine year old bowler Flynn Whittaker, of Lauriston grade 5, winds up past non­facing Allenton batter

Ryan Hastie during play last Saturday in the junior cricket league.

beforejudging the Rose Show.

This was exhibitedwhen the

hall opened andjudged during

our regular meeting time. The

roses andcut flowerswereof

high standard and the overall

winningrose Hamilton

Gardens, wasdisplayed be

Monica Bruger­Ranson.

President welcomed to our

new members attending and

accepted the apologies. Great

to be in ahealthy position,

fortunate to havesuchan

interest in growing dahlias.

Plans are progressing in

applying to host the South

Island Nationalin2022 with

support of Canterbury to assist

in forming acommittee to

manage this.

The eveningconcluded with

Christmas cake andacup of tea.

Thank you to all for making it

special.

The year will adjourn now

until January 10 when we will

have garden walks at Brian,

Alison,Joyce and Graham's

gardensbefore meeting up at

Jackie's for afingerfood tea

from 4pm.

Have asafe Christmas with

family and friendsand enjoy

following the dahlias growth

andburstinginto bloom for

another great season.

Allenton Bowling Club

Avery mixed weekofevents

for our ladies startingtheweek

with thefirst day of the Sub­

Centre Sevens­at the endofthe

day three clubwere tied, so it

will make for averyinteresting

second day next week.

Tuesdaywas our usual club

day withmorechampionship

games being played, really

starting to gettowards the

finals nowand theoutcomeof

these games has been

interesting to saythe least.

Wednesdaythe rain came,

with Div oneagreeing to delay

this match until December 16

againstKaiapoi/Riverside. Div

threeplayedCanterbury 2017

while the pairs lost the fours

had awin.

Div 5defaulted. However

onwards andupwards.

Thursday the finalofthe

women's fours was played,this

was always going to be agreat

gamebetween SandraKeith's

team of RachelDavies, Melva

Middleton and Annette

Sargisson andRosemary

Bennett's team of Wendy

Watson, SandraHoldom and

AnneReid.

Rosemary's team played

exceptionally well and gotoff to

flying start which they heldon

to, to win19­10.Well done

ladies.

Friday was our Charene

Tournament which everyone

really enjoys, sales table,

raffles and good bowls then

delicious food to finish off with.

Sylvia Mellish won the ditch to

ditch. 1st in tournament R.

Bennett, W. Watson, S. Doig, S.

Holdom, 2ndDVanderweg,M

Lloyd,SThomas, CTyson, 3rd

K. Manning, P. Parker,M.

Davey, S. Hammond,4th A.

Sargisson, R. Davies, R.

Johnston, M. Knox.

Well done girls and many

thankstoAndrew from

Heartland bank forsponsoring

thistournament.

Saturday andthegreens were

busy with the pennants. Ladies

played Elmwood in the 2x4sbig

wininone gameand abigloss

in the other. Under 5s drew

with Belfast.

Men's games; Allenton2won

against Burnside. Allenton 3

lostathome to Rangiora.3 x4s

away to Morrison Avehad three

wins. Very well played.

2x4 played at homeagainst

Burnside withonewin and one

loss, in among all the bowls we

had somenatives from Hawaii

arrive to enjoy their end of year

function and BBQ.Great times

to be had.

It has been one crazybusy

week but so, so enjoyable.

Keep up the great bowls

Allenton.Good bowling

everyoneandkeep having fun.

Ashburton GolfClub

Another lovely weekend at

the Brandon andtwo great

trophies decided on Saturday.

First off we were all shown a

very informative displayon

what to do, if,heavenforbid,

someonetakes aturn for the

worseonthe golf course.

Ithink everyonewho was

therewillbemuchmore

confidentdoing CPR and using

the AED.

Manythanksto Shayne from

St John and Murrayfor

organising this. Hopefully this

is something we canall store,

but never needtouse.

To the golf,John Richards led

the way in the Sante Marie

trophy with averygood net 69,

which could well have been a

coupleofshots better.

IknowthisasIwas in the

same fourand on the wrong

side of a6and 5hiding.

One shot behind him was

Blair Snowball,whose net 70

got him thetop score of all the

RMF Silva finalists andgave

him 23 points to go with his 26

for afinal total of 49. He then

had to sit back and hopethe

leading 5players did not have

good days.

Four of them helped himout,

but Mr Consistent Steve McCloy

shot averysteady 71 to take

second best score of 14 points to

put himontop with 55.

Thereforethe final top three

is 3rd Gav Douglas,2nd Blair

Snowball, and Champion Steve

McCloy.

Steve willreceive afree sub

for 2021 thanks to our great

friends at RMF Silva andBlair

will pick up anew golf bag

thanks to Matt at Sega Golf, and

wewill see if we canscrape

enoughcash together to getGav

afree coffee.

Attention this weekturnsto

closing day and the Smallbone

Trophy,this is amixedpairs

CanadianFoursome. Ithink

HeatherRobertson's phone

will be ringing hot thisweek,

with fellas tryingtoget their

name on atrophy.

If shecan wintrophies with

Paddy and Knocker, think what

she could scorewith areal

golfer. Start timethis Saturday

is slightly earlier11am meet for

11.30 teeoff.

This is so everyone can play

then go home, get their glad

rags on and returnfor the

presentationeveningstarting

at 6pm.

Ithink we still have afew

tickets left, but you will need to

contact the club ASAP.

Games on thehorizon, Matt is

holdingone of hisgreat pro

shopdays next week, then we

havethe RadiusCare Xmas

salvers, which also kicks off the

Shootout qualifying.

This year's shootoutisagain

kindly sponsored by the great

gangatProperty Brokers.

We will look more at the

Shootout dates next week.

Ithink it's going to be avery

busyDecember and New year

aroundthe Brandon. Come

along andjointhefun. Good

golfing

Black Friday. Agreat

daytoget aTVwith

blacker blacks.

Samsung 50"TU7000 4K SmartTV

The Crystal displayofthis 4K SmartTVoptimisescolour,gives

greater contrast,and makes the blacksblacker.Which makes

it the perfect Black Friday purchase. Especially at this price.

$946

less than

$11 perweekfor

24 months

interest free*

Limited Stock

9064379

Offers validuntil Tuesday1st December 2020, while stockslast, unless otherwise stated. Some productsondisplayinselected storesonly–pleasecall0800 764 847tocheck availability.Personalshoppers only. *Apple, selectedcomputers, game consoles,giftcards,clearance items and some promotionalitems arenot availableinconjunction withinterestfreeoffers. Flooring available on amaximum of 18 monthsinterestfree. Exclusions, fees,

terms, conditions, and credit criteriaapply.Available in-store only.Equal instalmentamounts includeone-off booking feeof$45.00, annual fees of $45.00p.a. and securityregistration feeof$8.05,and exclude insurance.Current interest rate of 23.95% applies to anyunpaid balance afterexpiryof(any) interest free period.See in-store or visitsmithscity.co.nz/interest-freefor details.

SCWK31AC3
---
HYUNDAI MID CANTERBURY

Christmas

brings

to town

SATURDAY,5DECEMBER

SantaParadestarts 12:30pm from Mona Square,

down East Street,into Havelock,

onto Cass and back to Moana Square

Lollies,balloonsandchips

handedoutfrom12:15pm

Special thanks to our sponsors:

MidCanterbury

ALL-NEW D-MAX

thetrust

ASHBURTON

NewSanta Fe

Thelatest

generation of

NZ's favourite

family SUV

availablenow.

2334905

Proudsponsor of the

2020 Hyundai

MidCanterbury

SantaParade

www.midcanterburyhyundai.co.nz

91 Archibald Street, Tinwald

03 307 2415

RESULTS

24 Ashburton Courier, November 26, 2020

Ashburton Golf Club

Midlands Seed Social Teams, November 20 -

Top Team: Gabites Swingers 93 –Eric Parr, Ron Carlson,

Sharon Carlson, Simon Wallis.

Men: Burtons Battlers 87.5, Hunters &Collectors 87.5, Hole

in Nunes 87.

Women: Golden Girls 86.

Mixed: Euros 87.5, Vintage Wine 85.5.

Top lady: Sharon Carlson 31.5.

Top man: Brian Fauth 31.5, Eric Parr 31.5.

Nearest the Pins:

Columbus Coffee –Mitchell Stoddart, Mac &Maggies –not

struck. Paul May Motor –Dave Morrison.

Gabites Ltd –Richard Horrell.

Twos: Karen McRae, Sharon Bradford, Garry McKeowan,

Chris Buckland, Dave Morrison, Peter Wright.

Women -Saturday 21 and Tuesday 24 November

Betty Brand Trophy –Closing Day Canadian Foursome

Brenda Whittaker and Hilary Ward –70, Heather Robertson

and Wendy Parr –71, Alison MacGregor and Sharon Bradford

-73

Nearest the Pins:

No 4Gabites: Leigh Wackrow

No 8House of Travel: Judy Sheppard

No 12 Lynn's small Salon: Daphne Hinton

No 14 Todds of Ashburton: Leigh Wackrow

Ashburton Bridge Club

Monday Evening –November 16, Duplicate

N/S 1st Paul Leadley & Janine Havis , 2nd David

McCormick &Colin Clemens ,3rd Carolyn Cameron &George

Brown

E/W 1st Wendy &Eric Parr, 2nd Mary Bruce &Mervyn

Jones ,3rd Dee Murdoch &Pauline Scott

Tuesday Evening –November 17th, 2rds, diff ptr

N/S 1ST David Sewell &Trish Downward, 2nd Lois Rose &

Jeanette Lovett ,3rd Mary Buckland &Bev Turton

E/W 1st Kay Robb &Ian Doel, 2nd Audrey Rooney &Trish

Small, 3rd Jim Rooney &Maureen Kolkman

Wednesday Afternoon- November 18th, Duplicate

N/S 1st Rosemary McLaughlin &Rewa Kyle, 2nd Maryke

Blignault &Peter Downward, 3rd Wendy Parr &John Fechney

E/W 1st Kay Robb &Bev Turton, 2nd Trish Downward &

Mary Buckland, 3rd Eric Parr &John Shearer

Thursday Evening –November 19th, Duplicate

N/S 1st Mary Buckland & Trish Downward , 2nd John

Shearer &Rosemary McLaughlin, 3rd Mike Holmes &Maree

Moore

E/W 1st Rewa Kyle &Trish Small, 2nd Jim Rooney &John

Fechney ,3rd Debbie Seddon-Sewell &David Sewell

Waireka Croquet Club

Advanced Grade:

Played at Aorangi Monday 16 November: Waireka vs

Awamoa Gardens:

Singles: Logan McCorkindale 7vsEthal Johnston 6; Sue

Lamb 4vsDianne Verdonk 7; Brian Goodwin 7vsEric Scott 6;

Bev Blair 4vsDerek Atkinson 7; Sue Lamb 7vsEthel Johnston

5; Logan McCorkindale 7vsDianne Verdonk 1; Bev Blair 7vs

Eric Scott; Brian Goodwin 7vsDerek Atkinson 5;

Doubles: Logan McCorkindale and Sue Lamb 7vsEthel

Johnston and Dianne Verdonk 3; Brian Goodwin and Bev Blair

7vsEric Scott and Derek Atkinson 2;

Total games won: Waireka 8vsAwamoa Gardens 2; Total

hoops won Waireka 64 vs Awamoa Gardens 49;

Intermediate Grade:

Played at Aorangi Tuesday 17 November: Waireka Red vs

Awamoa Gardens:

Singles: Janice Murta 5vsChristine Chisholm 7; Audrey

Leath 1vsBarbara Williams 7; Pat Alston 7vsKeith Robertson

6; Rod Webb 7vsGraham Pluck 5; Janice Murta 5vsBarbara

Williams 7; Audrey Leath 7vsChristine Chisholm 5; Pat Alston

6vsGraham Pluck 7; Rod Webb 3bsKeith Robertson 7;

Doubles: Janice Murta and Audrey Leath 7 vs Barbara

Williams and Christine Chisholm 6; Pat Alston and Rod Webb

4vsKeith Robertson and Graham Pluck 7;

Total games won: Waireka Red 4vsAwamoa Gardens 6;

Total hoops won: Waireka Red 52 vs Awamoa Gardens 64;

Played at Waireka 17 November: Waireka White vs

Aorangi;

Singles: Phyllis Reith 7vsJan Good 6; David Galvin 7vs

Lindsey Thompson 3; Sue Whyte 7vsGordon Hardacre 3; Eva

Kircher 7 vs Joyce Jones 4; Phyllis Reith 7 vs Lindsey

Thompson 5; David Galvin 7vsJan Good 5; Sue Whyte 7vs

Joyce Jones 4; Eva Kircher 7vsGordon Hardacre 5;

Doubles: Phyllis Reith and David Galvin 6vsJan Good and

Lindsey Thompsen 7; Sue Whyte and Eva Kircher 7vsGordon

Hardachre and Joyce Jones 5;

Total games won: Waireka White 9vsAorangi 1; Total

hoops won: Waireka White 69 vs Aorangi 45;

Primary Grade:

Played at Aorangi Wednesday 18 November: Waireka

White vs Awamoa Gardens;

Singles: Donna Lobb 5vsGraham Pluck 7; Joyce Davis 4

vs Kate Milan 7; Judith Smith 7 vs Bev Pluck 4; Reece

McCorkindale 7vsPat Dunn 4; Donna Lobb 7vsKate Milan 5;

Joyce Davis 7vsGraham Pluck 4; Judith Smith 7vsPat Gunn

6; Reece McCorkindale 7vsBev Pluck 4;

Doubles: Donna Lobb and Joyce Davis 7vsGraham Pluck

and Kate Milan 6; Judith Smith and Reece McCorkindale 2vs

Graham Pluck and Pat Gunn 7;

Total games won: Waireka White 7vsAwamoa Gardens 3;

Total hoops won: Waireka White 60 vs Awamoa Gardens 54;

Played at West End Wednesday 18 November: Waireka

Red vs Waimate:

Singles: Bev LePoidevin 5vsPaul Kiesanowski 7; Heather

Kaye 7vsBeverley Kelynack 3; Pauline Scott 7vsStephanie

Simmons 5; Barbara McIntosh 7vsElenor Titheridge 4; Bev

LePoidevin 7vsBeverley Kelynack 3; Keather Kaye 7vsPaul

Kiesanowski 6; Pauline Scott 7vsElenor Titheridge 2; Barbara

McIntosh 2vsStephanie Simmons 7;

Doubles: Cancelled because of rain;

Total games won: Waireka Red 6vsAwamoa Gardens 2;

Total hoops won: Waireka Red 49 vs Awamoa Gardens 37;
---
www.ashburtoncourier.co.nz

Perfect spot for apicnic

NEWS

Ashburton Courier, November 26, 2020

25

BY MARY RALSTON

The Awa Awa Rata Reserve is one of

the district's best spotsfor an outing.

It is about 15 km from Methven,

towards the hills. There's alovely

picnic area set among

rhododendronsand native bush. At

this time of year, the flowers are out,

the lawnsare cut and it looks

magnificent.

The native bush is agreen

backdrop to the vivid coloursofthe

rhodosand it is peaceful and cool

even on the hottestofdays. There's a

range of tracks to suit all ages,

abilities and time constraints –from

awheelchair accessible track to

short bush walks without much

climbing to the longer and steeper

walks for the more energetic.

The walkingtracksextend up the

hill into the Mt Hutt forest. The

forest hereisone of the more

easterly of all the South Island

foothill forests.

To the casual observeritjust looks

like beech forest but there is more to

it: thereare other big trees that form

acanopy with beech such as totara,

rata, kahikatea and whitey wood;

small trees and shrubssuch as

fuschia, the pepper bush or horopito,

putaputaweta, coprosmas; climbers

such as bush lawyer and clematis;

and ferns.

Broadleaf –commonly seen in

gardens as ashrub or hedgeplant –

grows into giant trees.

On the track up to Scott's Saddle,

sub­alpinescrub features turpentine

shrub,astelias and manuka. Above

that, tussock grasslandand daisies

dominate. Further up again,scree

plants and vegetable sheep manage

NATURE MATTERS

Awa AwaRataReserveisasplendid spot.

to survive in the harsh alpine

conditions.

It's rare to have such an

interesting uninterruptedecological

sequence from the plains to the top

of amountain.

The diversity of plants supportsa

range of native fauna –bellbirds are

commonly heard, and there's

fantails, riflemen and tomits.

Kereru occasionally swoop

through the tops and kea were once

commonly seen up high. Efforts by

ski area staff to trap predators of the

kea may mean we see them back

again.

AManduriacu glass frog snacks on aspider in

the foothills of the Andes. PHOTO JAIME CULEBRAS,SPAIN

Top world animal

photos coming

Almost100 of the top entries from theworld's

most prestigiouswildlifephotography

competitionwill be on show at Canterbury

Museum for four months.

The museum is just the third venue outside

the UnitedKingdom to host the2020Wildlife

Photographer of the Yearexhibition.

Produced and toured eachyear by the

Natural History Museum,London,itshowcases

stunning imagesofthe naturalworld from the

competitionof thesame name.

The photographs, which range from intimate

animal portraits to inspiring wild landscapes,

shine alightonstoriesand species aroundthe

world andencourage afutureofadvocating for

the planet.

The winnersofthe 56thWildlife

Photographer of the Yearcompetition were

announced at avirtual awards ceremony in

October. Russian photographer Sergey

Gorshkov's picture The Embrace won him the

AdultGrandTitle.

The photo depicts an ecstaticadult Siberian

tiger marking her territory on atree.

WildlifePhotographer of theYear is on at

Canterbury Museum until March 28 next year.
---
NEWS

28 Ashburton Courier, November 26, 2020

www.ashburtoncourier.co.nz

Schools showcase culture at festival

TheHakatere Festival last week

was once again arich display of

colour andculture from schools

aroundthe district.

The festival, an event for

school groups to perform and

celebrate cultures without any

competition, washeld at the

Ashburton Trust Event Centre.

It openedwith apowerful

powhiri from Ashburton College

students andaprayer and

featured abusyline up of

polished performancesthat

included kapa haka, Pasifika

and Filipino dance andsong

groups.

Each group enjoyed a10

minute spot on stage.

Among the performers were

Ashburton Baptist Preschool

and Ashburton Intermediate,

Ashburton Borough, Wakanui,

Netherby, St Joseph's, Hinds

and Hampstead schools.

There was abig turnoutof

parent and caregiver support

for the cultural entertainment.

TheHakatere Festivalisrun

by the Te Huka Tai Trust and

receives agenerous grant from

Advance Ashburton.

Hampstead School's kapa haka group.

Netherby School's kapa haka group in full flow.

Netherby School performers (back from left) Ratu Hemi, Ma'a Asu,

Ashton Dean, (front from left) Jaye Jaye Shilton and Elijah Laird.

St Joseph's School performers on stage.

Students from Hinds School perform aFilipino

cultural dance.

lens options

when choosing from the two

pairs for $299 range orabove

Ends2December

Specsavers Ashburton

58 Cass Street, Ashburton

(next toKiwi Bank)

Tel307 6071

Now open Sunday

Offer available instore for all prescriptions or online for +/-6. Price includes single-vision lenses. Other lens types available at an extra cost. Offer not applicable to Extra Thin +Light inthe $459 range. Both pairs for same person. Final price based on the price of the

higher value pair and lens upgrade. Use with other offers restricted. Offer valid 24 November -2December.
---
RURAL

30 Ashburton Courier, November 26, 2020

Ruralco forging ahead despite Covid­19

Farmer, former Member of Parliament and

Speaker of the House of ParliamentDavid

Carter has takenaplace as director at the

Ruralco boardtable.

He replaces retiringdirectorAlister

Body, of MidCanterbury, who stooddown

from the roleearlier thisyear after nine

years.

Mr Carter has sheep and beef breeding

andfattening operations spread over three

properties at Banks Peninsula andNorth

Canterbury.

He got his bachelor in agricultural

science degree at Lincoln University in

1974, was founder and managing directorof

NZ TransplantBreeders Ltd,New

Zealand's first commercialcattle embryo

transfer company.

It had aturnover of $1 million in its

second year of operation.

Mr Carter has chaired numerous select

committees as MP and senior cabinet

minister, before taking on the speakerof

thehouse role in aparliamentary career

spanning 26 years.

"Joining the Ruralco Board is achanceto

offer myexperience to my first passion ­NZ

agriculture. Ruralco has aunique history. I

believe with goodgovernance, good

management, and adedicatedstaff, it has

thepotential to deliver even greater

benefits to its shareholders," he said.

As asole tradingfarming enterpriseMr

Carterhas purchased, developed, farmed

andsold anumberoffarm properties over

Ruralco directors David Carter and Jessie

Chan with chief executive officer Robert

Sharkie.

PHOTO SUPPLIED.

a48­year farming career.

He was welcomed to the board at the

annual general meeting last week. Dorie

farmer Jessie Chan, new Ruralco chair,

acknowledged pleasing 2020 financial

resultsfor thefinancialyear despite Covid­

19.

"Covid­19 wasanunprecedented

obstacle this year, but as aRuralco family

we managed to overcome it. Through the

grit and dedication of ourteam and our

farmers we continued to tradeinaway that

served our farmers' needs,while also

meetingour financial goals," Ms Chan said.

For the thirdtime in arow Ruralcowill

pay its owners abonus rebate thanks to

revenuegrowth and careful management

of expenses.

The$250,000 bonus rebatecomes on the

back of astrong year for the rural services

co­operative, (ATS LtdTradingas

Ruralco), which recorded operating

earnings before interest anddepreciation

of $1.2 million.

Ruralco attracted 68 newshareholders

during thelast financial year andits

marketshare increased as it focused on

efficiencies within the business.

"Crisisdoes not change who you are ­

crisis reveals who you are. Covid­19

revealed alot aboutusthis year. We are

agile, innovative andwilling to rise to the

challenge," said Ms Chan.

It was asentimentsharedbyGroup CEO,

Rob Sharkie who said the cooperative's

point of difference was its people; its staff,

shareholders, suppliers, their families and

the farming community.

"We have always taken great prideinour

collaborative culture, our flexible working

practices and ourabilitytoact quickly to

embed change.

''The success of our rapid response to

this year's rapidly changingtrading

environment demonstrated to us that our

team has resilience, determination and the

culturetomeet these challenges head­on."

Willing growers find markets

Total grain production forthe 2019/20

season was well up over one million

tonnes, despite contractsfor malting

barley ­used in keggedbeer ­being down

on sales last year.

It was part of the covid­related

turbulence, accordingto

Federated Farmers arable vicechairperson

grains Brian Leadley.

He said that turbulence was still

apparentincontracts for maltingbarley.

The latest Arable IndustryMarketing

Initiative (AIMI) report found the

percentage of hectares forwardsoldfor

malting barley (as at October 10) was only

41 percent, compared to 97 percent at the

same time lastyear.

''It's known thatthe lockdown and

subsequent restrictions hit the sale of

kegged beer, though bottledbeer for

drinking at home continued apace.

''I think it's just that uncertainty factor,''

Mr Leadleysaid.

''There had been talk that China's ban on

Australia's barley might lead to product

landing on us from acrossthe Tasman but

it hasn't happened.

''Our local industry is pretty committed

to domestic grain,''hesaid.

Mr Leadley,who farms at Dromore, near

Ashburton, was confidentthe malting

barley market and forward contracts

would pick up again.

''It's great to seethat willing growers are

finding willing buyers.''

Accordingtothe AIMIreport cereal

grainproduction (wheat, barley and oats)

for the season totalled an estimated

881,800 tonnes, and maize grain 181,800

tonnes, for atotal of 1,063,600 tonnes.

Unsold stocks of grain, across all six

cropswere estimated to havereducedby

50 percent between 1July and October 10.

Even when compared to the same time

last year, unsoldstocks across all six crops

were pretty much unchanged, with an

increase in the unsold stocks of milling

and feed wheat (57,600 tonnes, up by 18,600

tonnes) offsetbyadecrease in unsold

stocksofmaltingand feed barley (38,700

tonnes, downby18,900 tonnes), Mr

Leadley said.

''Obviously, we have plenty of end users

recognising the benefits of qualityNZgrown

grains, whether that's for products

for human consumption or for stock feed.''

The total area sown, or intended to be

sown,incerealcrops was estimated tobe

95,500 hectares, down three percenton

last year. And as of October 10, therehad

been 85 percent of this total area planted

with theremainder still to be sowed.

Mr Leadley said spring sowings in

Southland had beendelayed by wet

conditions while growersinother regions

hadreportedconcern over low moisture

levels.

It underlined the case that re­sowing

paddocks used for winter grazing by a

blanket national deadline,despite

regional climate variations, was aflawed

approach, he said.

''The intent of the freshwater

regulations ­tostop nutrients frommoving

­isright, because plantshold the soil.But

to try to do it by putting atimeframeonit,

with no regard to good management

practice allied to weather conditions,is

detached from common sense.''

Heavy sowingmachineryused on

paddocks that are too wet justcompacts

the soil.

''You get adouble hit. You get run­off

from compact soil, and it also means that

you might only get 40 to 50 percent

germination of the plants. Fewer plants

means less root mass to hold the soil.''

www.ashburtoncourier.co.nz

BRIEFS

WHEAT

COMPETITION

The MethvenA&P Association

wheat competition hasopened to

entries. Theannual eventisa

popularfundraiser. Entries for the

wheat competition can be made

in millingand feed wheat,dryland

or irrigated. Judging will take

placeinthree areas andwheat

will be critiqued on weeds,

disease,Barley yellowdwarf

virusand uniformity with afield

test on December 11.Entries

cost$70 and can be made

through the Methven A&P

Associationvia

methvenshow@gmail.com

CROPS CHERTSEY

The arable CROPS event is all

set to go ahead at FAR's

Chertsey arable research plots

site,alongsideState Highway

One,just north of Chertsey on

December3.Inits 25th year

CROPS allows farmerstoview

demonstrationplotsinvestigating

everythingfrom cultivars to

cultivation,and to see and hear

the latest researchfindings from

New Zealand andinternational

experts.

Among the speakers are

Wakanui growerEric Watson,

Lincoln Agritech's Peter Carey,

PGGWrightson's Steve Shorter,

PureOil'sKeith Gundry as well

as sessionsfrom Allister Holmes

as well as FAR staff.

Theday openswith awelcome

at 9.40am,with the firstspeakers

set to start from 10am.

RAMSMOVIE

Kiwi actor Sam Neill might have

called on memories ofhis days

working for Burnetts Transportin

Ashburtonduring filming of the

rural comedy Rams. The movie is

about rival brothers who are stud

ram breeders. Regent Cinema

operator David Favel saidheand

wife Donna met Sam Neillatan

event atthe Ashburton Art Gallery

about 15 years ago. The actor said

he worked at Burnetts in the

holidays when he was auniversity

student. Rams is acomedy that

had appealacross the

generations, but especiallyfor rural

folk, David said.

It is set in Western Australia,

where the brothers have competed

against eachother for 40 years at

shows. Whenacrisishits their

valley, they have predictably

different ways of coping.

The movie is playing atthe

Regent CinemaAshburton.

Water projects farmer-led

Purpose. Environment.

Partnership.Innovation.

Excellence.

• DairyNZ accreditedEffluent

Pond Design andConstruction

• Pond Constructionand

Irrigation Development

• Hedgeand StumpRemoval

• Farm Conversions

• DairyTracks–

Lime or Gravel

• PumpHire

• Wellsand Galleries

• Bulk Earthworks

• Subdivisions

• Site Works

• Tree Shear

• Transportation

2331634

Morethan $6 millionwill be spent helping

farmersimprove waterhealth, as wellas

improving long­term land management

practices,agriculture minister Damien

O'Connor says.

Theprojects willhelp rivers,wetlands and

habitat biodiversity in Canterbury and Otago.

Fourfarmer­led catchmentgroup Jobsfor

Nature projects have betweenallocated

between $176,000 and $2.3 millionover the

nextthreeyears to fundenvironmental

improvement work across dozens of sites in

theirregions.

Theseprojects will also employ between15

and 20 people as well as specialist

contractorsover that period.

Most initiativeswere being led by

established catchment groups with hundreds

of farmer members, Mr O'Connorsaid.

The work will involve fencingand planting

aroundwater bodies,clearing of unsuitable

trees,and pest control.

Projects alsoincludebuilding awetland

board walk,and structurestoprotect

endangered fish frompredatorspecies.

Jobsfor Nature projects includeThe

Tinaku project in Ellesmere,which hasbeen

allocated$2.2 million. NorthOtago

SustainableLandManagementRiparian

Project ($362,000), LindisRiverproject,

Otago($772,000) and Pomahaka Wetland

Restoration project,South Otago ($176,000).

Afurther $2.9million investmentwill help

around 300Hurunuifarmers work towards

improvingthe healthoftheirlandand water

through applyingfarm environment

planning and sustainable land management

practices.

The Future Hurunui projectwill provide

catchmentsupporttothe Hurunui District

Landcare Group for itsmemberstouse

towardsdeveloping their farm environment

plans.

The groupwillemploy threepeople to do

this work. Theproject would help farmers

recover and preparefor thefuture withthe

farm environment plans to help improve

productivity and sustainability."
---
www.ashburtoncourier.co.nz

NEWS

Ashburton Courier, November 26, 2020

31

WI teaching valuable life-long skills

TONI WILLIAMS

@ashburtoncourier.co.nz

Women's Institute gave Yvonne Lister

skills and confidence to furtherherself

and help othersinthe community.

Shehas been aWImemberfor the

past 50 years andhas heldpositionof

secretary and committee member but

hasalso been on theMid Canterbury

Federation of WI for eight years.

Shehas also worked in paidand

voluntary roles where those learned

skills have been usefuleither

connecting with people,taking on

secretarial/treasurer duties,coordinating

eventsorrunningameeting.

Yvonne was introduced to the

Highbank WI in February 1970byWI

stalwart EdnaLow.

Yvonne,her late husband John and

infant sonDaryl, just three months old,

hadmoved intoarented farm cottage on

theLow propertywhile they waitingfor

their newhomeonaneighbouringfarm

to be ready.

Theyoung couplewere18months

married and althoughthey had both

grownupinruralcommunities; Yvonne

aroundMid Canterbury andJohnfrom

Dunedin to Springburn, theymoved to

Highbank from Ashburton.

It was a30minute drive to town andat

thetime Yvonnedid not have her

licence.

Thewomen in theWIbecameher

social and support network.

They metonce amonth butalso had

excursions, special events and

competitions.

They also attended other WI branch

meetingsfrom timetotime.

It was abig groupwith around 35

Country bloomer...Yvonne Lister pays full credit to the Women's Institute.

members which met in theHighbank

hall.

''It was real nor'wester country,'' she

said.

''I was happy and contenttostayat

home.''

Daughter Kelly was born in 1972 and

there was alwayswork to do on topof

household duties,including making

children's clothes.

In lateryears there was also

involvement with the children's schools,

tennis at Highbank andindoor bowls at

Lyndhurst.

The WI sharedknowledge, ran

demonstrations and passed on recipes.

There was always someone who could

help with onething or another, Yvonne

said.

By the time theLister'smoved back to

Ashburton, 20 yearslater,John had

taken up woodturning and was able to

do it as abusiness.

Yvonne, no longer amemberofthe

HighbankWIjoinedWestpark WI based

at Menorlue,inAshburton.

It was anevening group which saw

fewer members each year.

It eventually woundupand Yvonne

joinedFairton WI. She wantedtostay

connected with arural based WI.

Since those early days Yvonne worked

at the formerAshburton i­Site.

Shestarted as avolunteer at

Ashburton's information centre before

taking on paid weekendwork.

''It was great, Imet people fromall

over, many newcomers to the

Ashburton.''

Shehas since becomethe district WI's

mealsonwheels co­ordinator,

volunteers for the CancerSociety and

Friends of the Hospital, is a

Neighbourhood Watch Support street

co­ordinator,acommunity Christmas

lunchvolunteer, and been secretary or

treasurer at the Lyndhurst Bowling

Club,Allenton Bowling Club and

Allenton Croquet Club.

"Through WI I've learnt howtodoall

thissort of work. If Ihadn't joined

Highbank Iwouldn'thavegot to know

anybody," she said.

Although the number of WI branches

had shrunkinthedistrictYvonneoften

thought of the value WI gave her life

especiallyasayoung mum living in the

country.

She only hoped the new generationof

youngmumshad similar support

networks to preventisolation.

The FairtonWInow only has nine

members butYvonneenjoys their gettogethers

and keeps very active.

She has six grandchildren and five

great grandchildren andher raft of civic

dutiesrecently earned her an

Ashburton DistrictCouncil civic award;

she was nominated by MidCanterbury

Federation of WI peers Mavis Wilkins

andJude Vaughan.

''(The WI is) whereyou learn and

helps you throughlife.Itgives you an

opportunity to do all this volunteer

work,'' shesaid.
---
FEATURE

32 Ashburton Courier, November 26, 2020

We offerolder people practical

support when, how, andwhere

youneed it most...

Confidential support*Group

programmes* Advocacy*

Volunteer support*HomeShare

You got me on my feet again. Thank you.

-anEnlivenclient

Age positively with Enliven!

Contact us at:TrevorWilsonCentre, 215 Tancred

Street,Ashburton 7700, Ph: 03 261 6907

enlivenuppersouth.org.nz

LIVING

LIFE

www.ashburtoncourier.co.nz

IN YOUR GOLDEN YEARS

Professional Dental

SERVICES

Home consultations for the elderly

Opening hours:

Monday to Friday 9-5pm

Saturday and after hours

by appointment

Dr Osvaldo Gonzalez

BSc Hnrs (Tas),

BDS, (Adel), MBA (Syd),

PGDipl (Otago),

MDS (Otago).

Ages Alive Ashvegas crew in action during last year's Buskers Night.

Hip­hop crew in action

57 Oak Grove, Ashburton

03 550 7561

57oakgrovedental@gmail.com

DEMENTIA

SUPPORTGROUP

Forthose caring forloved ones

diagnosedwithdementia

NEXTSUPPORT MEETING:

Thursday, December 10th,

1.30-3pmatthe

Grace Presbyterian

Church,63Princes St,Netherby

We'reheretosupportyou.

Allwelcome.Nocharge.

OrganisedbyLorraine, Care Home Manager.

PRINCES COURT

LIFECARE

FOR ALL YEAR ROUND COMFORT

Ducted heatpump/ air conditioningunit

•Whole home centralheating

and cooling

•Cost effectiveand energy

efficient

•Whisper quiet with discreetly

positioned ventsintorooms

•Can be installed in new homes

or retrofitted into existing

homes

PHONE 308 7182 ON CALL 021 597 517

211/D Alford Forest Rd,Ashburton

2336420

2331032

Ages Alive Ashvegas are amongthe

artists linedupfor BuskersNightin

downtownAshburtonnext week.

The townbuskers nightisbeing

held in thecentralbusiness district

on Thursday, December3,between

6pmand 9pm.

Therewillbemusic playing at

various locationsaroundthe area.

The senior hip­hop grouphas been

in Ashburtonfor the pastfouryears,

after being inspired by Auckland's

HipOperationcrewrun by Billie

MAJORSUPPLIERS OF

HEATPUMPS

Jordan.

Membersknow keeping connected

withothersisgoodfor your mind and

soul, as is stayingactive.

Theymeetevery inthe Senior

Centre everyWednesdayat10amgo

overhip­hop stretchesand routines

choreographed and led by Dance

Worx Ashburton teacher Jessie

Thomson.

Theyare ahip­hopcrewall about

fun and friendship.

Their classeshavebeenput

2336254

togethertobenefitparticipants

withhealthand wellbeing, balance,

co­ordination,memory andoverall

fitness.

The classes are full of smiles,

laughter and friendship.

On December3shops in the

arcade will be openuntil6pm and

many alongEastStreet, until 7pm.

Discounts arealsobeing offered

atIndianMinar, Kelly's Cafe and

Bar and Somerset Grocertodiners

whomention Buskers Night.

Health research gets funding

Morethan $84m is being invested

towards innovative research projects

includingthose focused on health,

climate change, astronomyand the

impact of BigData on social equality,

research, science and innovation

minister MeganWoodssays.

Alzheimer's andParkinson's

Disease researchwere among the 134

new projects identified.The Marsden

Fundsupport thisyear will include

explorationsofthe connection

betweenheartfailureand diabetes,

the financialrisksof climate change

andthe complexinterplay between

Maorisettlers and ecosystems through

the history of mahinga kai (traditional

foods).

"We'vedesigned our funding so it

can address real­world problems,

whilealsogiving researchers the

freedomtoinnovate andcomeupwith

new waystosolve problems. Health

issues likeAlzheimer's and

Parkinson's Disease are wideranging

problemsand require

innovativethinking.Weneed to look

at theseissues from differentangles

to ensure thatweare doingthe best

we can for thefuture of our country.

"Thesuccessful applicants are

doing excellentscience.Iwantto

congratulateeveryoneinvolved on

their fantastic work that willbenefit

New Zealand's long­term future,"

she said.

Valuingthe economic

contribution of seniors

There are someimplicationsbut

plenty of opportunitiesfor

businesseswho adapt to needsof

the nations growing older

population.

­There is an increase in

demand for smaller, more

accessible homesfor older

people

­Anincrease in home support

or agedresidentialcare

facilities, mainly for those aged

80 plus

­More demand for non­english

services and information for

older people whodonot have

Englishasafirst language

­Businesseswill need to plan

for an ageing workforceifthey

wanttoavoidskill shortages

­Businessesusing multiple

channels, includingonline, to

reach older people

­New modesofage friendly

planning, e.g. in transport,

housing and urbandevelopment

­Need for newfinancial

products and ways to manage

wealth

Someexamples of how

businesses haveresponded to an

ageing population included

specialist services targetingthe

needs of those people.

Suchascompanion driving

services,tourism activities for

oldergroups, home and

communityhealth services,

housingopportunitiesand

workforceplanning and

management advice.

­Age Concern
---
www.ashburtoncourier.co.nz

LIVING

LIFE

IN YOUR GOLDEN YEARS

18-22

FEATURE

Ashburton Courier, November 26, 2020

33

Caring for an ageing population

Canterbury's ageing population has

been catered for at Waipapa,the new

Christchurch Hospital, withnew

theatres all up andrunning.

CanterburyDHB'snew operating

theatres are being used with patients

receiving surgeryinthe brand­new

state of the art theatres, followinga

meticuloustesting andaudit process.

Perioperative nurse manager

Marie Lorysaidthe DHB's

perioperativeteamsare really

excited to be makinguse of the new

building with all of thenew

equipment.

"One of the new theatresisahybrid

operating theatre which combines

state of the art imagingwith operating

capability. This means that surgeons

can receive real time imaging to allow

critical procedures likearterial

stents to be insertedwith very small

incisions dramatically improving

recovery times,"she said.

Perioperative is the term usedto

describe all services associated with

aperson having asurgical procedure,

from booking throughtopreoperative

care, anaesthesia, surgery

andrecovery.

"While we willcontinue to useour

existingtheatre spacein

Christchurch Hospital, the new

theatres in Waipapa will expand our

capacity.

"With an ageing populationand

more operations performed each day,

operating theatres are in high

Elder care help at hand

Abuse of our elderly folk is

hittingcloser to homethan

peoplethink.

It may be hidden in our

community but AgeConcern

Ashburton have said it is out

there.

More thanthree­quartersof

alleged abusers, according to

national figures, are adult

children or grandchildren, and

are just as likelytobefemale as

male.

The abuse caninclude

financial, psychological or

physicalabuse or even neglect

and anyone concerned about a

family member, friend or

Waipapa surgical team training in the new hybrid theatre.

demand. The additionaltheatre

capacity means that overtime we will

be able to bring more of oursurgery

back in house.''

The Orthopaedicand Anaesthesia

teams were first to use the new

theatreslastweek,with orthopaedic

surgeon Gordon Beadel carrying out

the first surgery on awrist fracture.

Mr Beadelsays thefirst surgery

performed in Waipapa was

monumental for the Canterbury

Health Systemand the useofthe new

neighbour can ring AgeConcern

for help and advice.The free

phone number (0800 3266865)

puts peopleindirect contact with

Canterbury Age Concern who had

people able to deal trained to

help.

However people could also call

the Ashburton officeiftheyjust

wanted to talktosomeoneabout

their concerns.

AgeConcern's ElderAbuse

services get around 10 referrals

every working day of older people

facing elder abuse or neglect; of

the 2500 calls logged in one year,

1919 wereconfirmed as being

abusive or neglectful situations.

2336708

NOW AVAILABLE FOR IMMEDIATE PURCHASE

NEW VILLA CARE SUITE • Spacious, modern

• Spacious, modern 2

bedroom villas

• Generous open

living/dining areas

• Master suites with

en suite and walk-in

wardrobe

• Full optioned kitchen

• Laundry

• Single garage

• Purchase on an ORA

PHOTO SUPPLIED.

theatressignals an increase in the

DHB's abilitytomanageits acute

trauma and injury load and perform

more surgeries in its own facilities.

"Operating in the Waipapa theatre

suite was averypleasantexperience

and went very well thankstoahuge

amount of workfrom anumber of

talented staff. This facility and its

brand new theatresare afantastic

resource for ourcommunity and

those who travel to Canterbury for

surgery," Mr Beadelsaid.

Making Beautifl

Memories

MooreStreet, Ashburton

Free Phone 0800 263 6679

Mobile 027 637 1229

www.memoryfunerals.nz

SENIORNET

ASHBURTON INC.

Computer/Tablet/iPad etc. for over 50's

The Sinclair Centre

74 Park Street

GreyPower

Ashburton Inc.

The active

organisation for

those 50+

Monthly meetings every 3rd Monday with interesting

topical speakers followed by afternoon tea

Friendship -Fellowship -Discount Book -Fun

Join today

Formore information:

John 308 6654

Robin 307 2753

New members welcome

contact: Natalie Blampied ph 308 4002

Jo Metcalf

care suite

• Tea making facilities

• Fully serviced and

care packages

available

• Well appointed

separate bathroom

• Private outdoor area

• Occupational Rights

Agreement

2335773

2336704

For more information or to arrange aviewing, contact Donna Coxshall,

Facility Manager on 307 6140 or email manager@terraceview.co.nz

37 Carters Terrace, Tinwald, Ashburton l www.terraceview.co.nz

2323107
---
Looking at

Care options

for you or

aloved one?

We have Dementia and Respite Care

vacancies available right now, with

quality Care and good company

always at hand.

Call us to arrange avisit, we can chat

about your options and you can have

awander around to see for yourself

how we make sure our residents enjoy

ABetter Everyday.

We can also help talk you

through the Needs Assessment

process.

We look forward tomeeting you.

Princes Court offers Dementia and Respite Care.

Princes Court Lifecare

Call us on (03) 308 0302

58 Princes St, Netherby, Ashburton

heritagelifecare.co.nz

HLCPCASHBFP0016
---
www.ashburtoncourier.co.nz

Getagold star in savingsthis Christmas

NEWS

Ashburton Courier, November 26, 2020

35

Thefestiveseason is always agood

time to treatyourselves,and after

the year we'vehad it's also agreat

time to supportlocal businesses.

Thebest newsisthatyou can do

both of those things AND save a

little bit of money with the help of a

SuperGold card.

We know thatevery little bit helps

when managing tightbudgets,and

forNew Zealanders who are65or

older,the SuperGold cardgives you

the chancetostretch your money

further.

Youcan get special offers and

discounts across arangeof

businesses and services.Thereare

savings on the essentials such as

fuel,food and health costs,aswell

as special offers on entertainment,

accommodation, tourist attractions

and travel(throughout NZ).

SuperGold cardholder Laurie finds

AboutSuperGold

TheSuperGold cardisone way

thatthe governmentand New

Zealand businesses can say

thank you, or tēnā rawa atu, for

everything our seniors have

done forAotearoa, by raising

families,working,orhelping

in the community. Thereare

currently morethan 790,000

SuperGold cardholders,with

around 60,000 people getting a

cardeach year.

If you're 65+ and aNew

Zealand resident, Ministryof

Social Development(MSD)

will automatically send your

SuperGold Card in the mail

onceyour New Zealand

Superannuation payments are

the supermarket discounts very

helpful and says,"getting to the

shops forfreeonthe bus is also a

real benefit".

With SuperGold,off-peak public

transportisfreeinmanyareas

throughout the country. So,ifyou

plan your dayrightyou could add

the trip to the shops or acatchup

with friends to your list of savings

too, like Sarah.

granted.This usually only takes a

fewweeks, but youmay have to

wait amonth or twoifyou apply

forNew Zealand Superannuation

prior to your 65th birthday. Even

if youdon't get NZ Super,you

can still apply foraSuperGold

card.

It's nowquicker and easier to

find savings with SuperGold.

People can look at all available

offers on the SuperGold website

(www.supergold.govt.nz).

Offers can be viewed by region,

categoryorbybusiness name.

Thereisalso aSuperGold

app.You candownload the

SuperGoldNZ app forfree, to find

out whereyou can get savings

Sarahand herfriends like to meet

up forcoffeeregularly and visit

cafes thatdoaSuperGold offer.

"Welovecafes thatofferSuperGold

discounts!",saysSarah.

With thousands of offers available

to view at Supergold.govt.nz, there's

something foreveryone.Offers are

regularly added and updated, so for

the savvymoney savers out thereit

pays to check back regularly.

2336549

Thousands ofplaces

to save nationwide.

Your localSuper Gold Card Partners

Find golden opportunities

to save every day.

Visit www.supergold.govt.nz or download

and check the SuperGoldNZ app.

SG200150B

David Atkinson,

Optometrist

65 Tancred Street,

Ashburton

Phone: 307 8988

www.nzfocusoptometry.co.nz

PANELCRAFT

COLLISION REPAIR CENTRE

UBEND IT.....WE MEND IT

2335737

104 South Street,

Ashburton

info@panelcraftltd.co.nz

2336504

211D Alford Forest Rd

Ashburton

Phone 308 7182

2336646

CALTEX

ASHBURTON

CnrEast and

Dobson Streets,

Ashburton.

03 307 0011

2336591

Westburn Courts,

201-203 West Street,

Ashburton

Phone: 03 308 8228

59 Creek Road,

ASHBURTON

P: 03 307 1472

M: 021 066 8149

2336599

2336525
---
Connecting

COMMUNITIES

Local

people

Local

news

Local

staff

Local

opinion

Free every week

PLUS ...more news and digital editions at

www.ashburtoncourier.co.nz

The Ashburton Courier.

Your community newspaper,

part ofthe independent community newspaper network.

www.cna.org.nz

2330953
---
www.ashburtoncourier.co.nz

PUZZLE PAGE

Ashburton Courier, November 26, 2020

37

CRYPTICCROSSWORD

27/11

Across

1. Understands how inclusiveitis (11)

7. The very outsidetextrememberedas

containingit(7)

9. When it's finished,there's too much

(4)

11. Amassacre flows with such abath

(5)

12. ThefightDoré had with a

shuttlecock (6)

14. Tryloomingaround the East with the

technicalnamesfor it (11)

18. Even afellowmay be granted

amnesty (6)

20. Poet who gave onesimplebut

contradictory answers(5)

22. Following the artillery, I'dgone on an

incursion (4)

23. Lettuce it could be disastrousto

comeacross at sea(7)

24. Be in theswimand retain aportion

of chicken(4,7)

Down

2. Emerge in different order forthe

result(7)

3. The sheep we found among

opponentsatbridge (4)

4. Piece of turf dislodged by alittlegirl

of about four (5)

5. Such plants are meant to go to pot

(5)

6. Goinglight on thestreet(5)

8. Deny I'mnodifferentfromthe

version that Keatswrote (8)

10. Knockupacavalryweapon, in a

mannerofspeaking (8)

13. Somebodyunspecifiedwho is

single(3)

15. Hot springsfoundinIceland

bathrooms? (7)

16. It'sabright young person whocan

set thingsalight(5)

17. Custom by whichAmerican reaches

maturity(5)

19. Both is and areintermingled to

elevateone (5)

21. One such of Satanisascapegrace

(4)

SUDOKU

Fill the grid so that every column, everyrow and 3x3

box containsthe digits 1to 9.

QUICK CROSSWORD

Across

1. Style of baggy

trousers (5)

4. Worn out,

threadbare (6)

7. Cinders(3)

8. Waxwriting stick(6)

9. Fawning subordinate

(3-3)

10. Business (8)

12. Tiny amount(4)

13. French-style

holidaycabin (6)

15. In shortsupply(6)

16. Lump (4)

17. Indecisive(8)

19. Energy (6)

20. Really (6)

22. Knock lightly(3)

23. Away out(6)

24. Choose (5)

Down

1. Deaf(4-2-7)

2. Beam of sunlight (3)

3. Countryhouse (5)

4. Bashfulness(7)

5. Attacker (9)

6. Attractiveness

pageant (6,7)

11. Significant

developmentalevent

(9)

14. Short-sleevedtops

(1-6)

18. Steal(colloq) (5)

21. Owing (3)

CODECRACKER

QUICK CROSSWORD

Across: 1. Harem, 4. Shabby,7.Ash, 8. Crayon,9.Yes-man,

10.Commerce, 12.Iota, 13. Chalet,15. Scarce, 16. Mass, 17.

Hesitant, 19.Vigour,20. Indeed, 22.Tap, 23.Egress, 24. Elect.

Down: 1. Hard-of-hearing, 2. Ray,3.Manor, 4. Shyness,5.

Assailant,6.Beautycontest, 11. Milestone, 14.T-shirts, 18.

Swipe, 21.Due.

CRYPTIC CROSSWORD

Across: 1. Comprehends7.Extreme 9. Over11. Blood 12. Battle

14. Terminology 18. Pardon 20. Noyes 22.Raid23. Iceberg24.

Keepabreast.

Down: 2. Outcome3.Ewes4.Divot 5. Herbs6.Green 8.

Endymion 10.Parlance 13. One 15.Geysers 16.Spark17. Usage

19. Raise21. Limb.

TARGET

HOUSEWORK owes resow

rows serow shew show

shower shrew skew sower

swore whore whores

whose woes woke wooer

woos woosh wore work

WORKHOUSE works worse

MEDIUM HARD

EASY

TARGET

O R U

E W S

K O H

Good 14

Very Good 18

Excellent 22+

ALL PUZZLES ©THE PUZZLE COMPANY

How many words of four letters or more can you

make? There is at least one nine-letter word.

Each letter may be used only once and all

words must contain the centre letter.

No words starting with acapital, no plurals

ending in sunless the word is also averb, e.g.

L A N D L O R D

A C A D E M Y

SERIES

You'reInvited

November 2020 - Every

Thursday at 7:00pm

Helping you prepare for the biggest rental reforms.

Register for the Ray White Landlord Academy to join, watch,

and part rticipate in your free Landlord Academy education series!

Visit landlordacademy.co.nz

RealEstateMidCanterburyPropertyLimitedLicensed(REAA2008)
---
TO ENTER

You could win

some

FANTASTIC PRIZES!

MATCH

WIN

&

Comp

mpet

etit

itio

Competition

ion

MATCH THESE BUSINESSES TO THEIR PHOTOS

• Paper Plus • Robilliards Jewellers • Stihl Shop • Pool & Pump World

• Honda Country • New World Ashburton • Macrocraft Furniture • Sim's Bakery

• Petzone • Harveys Bakehouse • Lakeway Nursery • Hoopers Outdoor

Power Centre

Name: ............................................................................................................................................................................................................................................................................

Address: .........................................................................................................................................................................................................................................................................

..........................................................................................................................................................................Phone: .................................................................................................

Drop into TheCourier Office at 199 Burnett Street,oremail to office@ashburtoncourier.co.nz

Entries must reach us by 12 noon on Monday14th December,2020

Conditions -all entries must reach our officeby12noon MondayDecember 14th, 2020.

Only one entryper person is allowed. Participating businesses and staff arenot permitted to enter. Winner will be published in our December 22, 2020 issue.

No correspondencewill be enteredinto.
---
Just matchthe Santapictured with their correctstore which is advertised in this

"Santa Comes to Town"shopping gift guide.Ifthatisn't enough, we'regiving you

some clues.Each Santabelowisholding aproductfrom/or standing in their store.

WOW! It's easy! But get cracking -entries close 12 noon, Monday14th December.

You'll also find plenty of terrific gift ideas foreveryone on your list -sosupportthe

businesses thatsupportyou and your town.

StoreName

................................................................

................................................................

StoreName

................................................................

................................................................

StoreName

................................................................

................................................................

Store Name

................................................................

................................................................

StoreName

................................................................

................................................................

StoreName

................................................................

................................................................

StoreName

................................................................

................................................................

Store Name

................................................................

................................................................

StoreName

................................................................

................................................................

StoreName

................................................................

................................................................

StoreName

................................................................

................................................................

Store Name

................................................................

................................................................

2329365
---
GO ORANGEON

BLACK FRIDAY

Incredible savings on

selected STIHL products *

BUY ONLINE FROMYOUR LOCAL STIHLSHOP FOR FAST HOME DELIVERY, OR CLICK &COLLECT

Christmas Giveaway

Spend over $250 –Gointhe draw to WIN atrunk filledwith goodies

T&Capply

$515

NZ Pine Hall

Table

1.350 long

$599

NZ Pine 2door

sideboard

800mm long

STIHL FS 38

PETROL LINETRIMMER

NOW

$170 $25

SAVE

STIHL BR 200

BACKPACK PETROL BLOWER

NOW

$995 $200

SAVE

$467

Macrocarpa

Coffee Table,

door and shelf

1m long

STIHL MS 170 (14")

PETROL CHAINSAW

NOW

$255 $40

SAVE

STIHL HS 45 450MM

PETROLHEDGETRIMMER

NOW

$430 $65

SAVE

$1999

Pine 1.5m Dining

Table +6fabric

chairs

*Valid on selected STIHL products from 26 November -30November 2020 or while stocks last. Terms and conditions apply. See in-store or online for details.

STIHL SHOP ASHBURTON

187 West Street,Ashburton

Phone 03 308 2055

LOVE YOUR LAND

2331566

$445

Macrocarpa

1.2m high

bookcase

Outdoor Macrocarpa

set,table/bench/

form/seat

m MACROCRAFT furniture EST 1992

103 South Street 308 0417 l www.macrocraftfurniture.co.nz

*Conditions: DiscountoffRRP

$1685

2330620

Christmas Shop

NOW OPEN UPSTAIRS

HUGE SELECTION

of inspirational Christmas

decorations, including trees,

lights, wreaths, garlands,

baubles, bows, figurines

and soft toys.

Bring the family and check out

our Christmas wonderland.

Forall your festivefare, talk to

Carmen, Glenn and the team at Sims'

Merry

Christmas

Merry

Christmas

Christmas cakes,Christmas tarts,trifle sponge,

shortbread,truffles, meringues,

gingerbread Christmas biscuits ...andmore!

2232867

OPEN 7DAYS

until Christmas Eve

UPSTAIRS AT ...

212 East Street,Ashburton.Phone308 8308

Main South Rd, Tinwald. Ph: 308 5774

2329746
---
NewRelease

Local Petshop Megastore

Locally owned Petshop in

Ashburtonstocking pet foods,

toys and grooming products.

Visit

us

now!

Love Claw

Logo

Also available:

Tropical and cold water fish, aquariums,aquatic

supplies,rabbits,guineapigs,birds and alot more.

Supplier of products from:

2329593

ROBILLIARDS

SHOWCASE JEWELLERS

TheArcade,Ashburton-Ph 308 5521

2329742

Phone 307 8660

167 Tancred Street,Ashburton

Let us help you

celebrate Christmas

LAKEWAY NURSERY

Givealiving giftfor Christmas

This Christmas time, just think

how happy you would make her

if your Mum could take abreak

and WE become the baker!

WE can bake and ice her cake

and cook her Christmas pies

and our range of special bread

will fill her with surprise

Rododendrons

from $19.99

Trees

Largeselection

With our freshly baked selection

(there's noroom to name them all)

the best thing you can do for Mum

is just give us acall!

Now's the time to order your

Christmas cake, mince pies,

croissants …and much much more!

Creek Road,Ashburton.

Phone 3083398

2329321

Succulents

LemonTree

Apopular choice

Theperfect living gift

Pamand the team wish youall asafeand happy Christmas

PHONE 3089950

Grahams Road,Tinwald

(1kmfrommain highway)

OPEN

Monday-Friday, 9am -5pm

Saturday,10am-3:30pm

m

2330625
---
Your local stockist of

and

Every

$20 spent

=1sticker

Don'tforget ...wealso havevouchers!

Free Premium

SMEG Knives

2331740

11 PeterStreet,Ashburton l 307 7055

Runs until 24 January 2021 or while stocks last.Visit newworld.co.nz forT&Cs.

Keep your poolclean

this summer

For all your:

Servicing

Repairs

Free water testing

Chemical sales

Filter sales

VOUCHERS AVAILABLE

with a

Robotic

Cleaner

Quick and clean technology

Haywardand Bioguard

products available

in-store

Large range of filters and chemicals available

Give Jackie a call today . . .

Phone 03 308 2245

Freephone 0800 155 343

E:admin@poolandpumpworld.co.nz

W:www.poolandpumpworld.co.nz

27 Gordons Road, Ashburton

OPEN: Monday-Friday 9am - 5.30pm

Saturday 10am - 12.00pm

2331269

10% OFF

POWER RPRODUCTS

FOR THE MONTH OF DECEMBER

In-store

only

HONDA COUNTRY

www.hondacountry.co.nz

740 East St, Ashburton.

Phone 03 308 2030

Haydon South 021 244 7043

2231962

2335785 31962
---
www.ashburtoncourier.co.nz

NEWS

Ashburton Courier, November 26, 2020

43

Young riders compete at showgrounds

Topyoung riders from around

the South Island took part in

AshburtonArea Jumping and

Show Huntercompetitions,

held over two days at the

Ashburton A&P Showgrounds.

Thecompetition includedthe

WholesaleSeeds andESNZ

Horse Grand Prix held on

Sunday.

Grace Percy, of Glenorchy, competing on Kiwi Spirit in the Wholesale Seeds and ESNZ Horse Grand

Prix at the Ashburton A&P Showgrounds on Sunday.

Effie Urquhart, of Timaru.

PHOTOS TONI WILLIAMS

Caseylee Gubb of Oamaru.

Milly Dampier­Crossley of North Canterbury.

Dogs tackle course at Rakaia School pet day

Campbell Copland and Whip take on the beam in the obstacle course.

Three­year­old beagle Sam with (from left) owner Charlie Marshall and his

friends Jack Gordon and Jordan Senibulu at pet day.

Ben Costello and Fly navigate the obstacle course.
---
SATURDAY 28TH NOVEMBER

794 East Street,Ashburton 10:00-10:30am 3 1 3 AHB22885

74 Melcombe Street,Tinwald 10:15-10:45am 3 1 3 AHB22942

189 Walnut Avenue, Ashburton 10:30-11:00am 3 2 2 AHB22958

12 Charles Street,Ashburton 10:30-11:00am 4 1 1 AHB22540

6Bullock Street,Ashburton 11:00-11:30am 3 1 2 AHB22956

150 Racecourse Road, Ashburton 11:00-12:00pm 4 2 8 AHB22860

4Blackford Street, Methven 11:00-12:00pm 7 3 3 AHB22671

58 Creek Road, Ashburton 11:15-11:45am 3 2 2 AHB22514

15 Parkdale Close, Ashburton 11:30-12:00pm 4 2 2 AHB22965

103 Grey Street,Ashburton 12:00-12:30pm 3 1 1 AHB22931

35 Johnstone Street,Tinwald 12:15-12:45pm 3 1 3 AHB22953

122 Barkers Road, Methven 12:30-1:30pm 5 3 3 AHB22908

53 Tucker Street,Ashburton 12:45-1:15pm 4 1 4 AHB22964

5Cawton Grove,Tinwald 1:00-1:30pm 4 2 2 AHB22968

18 Wakanui Road, Ashburton 1:30-2:00pm 3 1 3 AHB22929

265 Mt Hutt Station Rd, Methven 2:00-2:30pm 3 1 2 AHB22038

22 Melcombe Street,Tinwald 2:00-2:30pm 3 1 4 AHB22972

15 Davis Crescent, Ashburton 2:15-2:45pm 3 1 1 AHB22963

12 Charles Street, Ashburton

4 1 1

SUNDAY 29TH NOVEMBER

150 Racecourse Road, Ashburton 1:00-2:00pm 4 2 8 AHB22860

If your looking forarental investment this just might

be the one!! The house has been painted inside and

out with newcarpet and lino, the property boasts a

newheat pump and insulation has been installed in

the ceiling and underfloor with amoisture barrier on

the ground (certificate of compliance available). With

4bedrooms the rental return isgood and to top itoff

there isstill room to add value with further renovations

and potential subdivision. This property could become

afabulous family home forayoung couple looking to

enterthe propertymarket.

SetDateofSale

closing 7December 2020, at

4:00pm (unless sold prior)

View

Saturday10:30 -11:00am

Mark Totty

021 664 113

rwashburton.co.nz/AHB22540

Real Estate Mid Canterbury Property Limited Licensed (REAA 2008)

Real Estate Mid Canterbury Property Limited Licensed REAA (2008)

Open Home

53 Tucker Street, Ashburton

4 1 4

View our listings online at: rwashashburton.co.nz

Finally aFour Bedroom home in Allenton, Ashburton

that'swellworth your consideration.

This home not only has four bedrooms, but also a

detached hobbyroom along with TWO Double Garages

and ample off street parking also.

ForSale

Price ByNegotiation

View

Saturday12:45 -1:15pm

Armandvan der Eik

021 597 527

rwashburton.co.nz/AHB22964

Real Estate Mid Canterbury Property Limited Licensed (REAA 2008)

5Cawton Grove, Tinwald

4 2 2

14 Kelvin Crescent, Ashburton

3 1 1

*4bedrooms, master with ensuite

*Double garagewith internal access

*High 2.7m stud

*Neutral decor throughout

*Sunny paved outdoor entertainment areas.

rwashburton.co.nz/AHB22968

Real Estate Mid Canterbury Property Limited Licensed (REAA 2008)

SetDateofSale

closing 4December 2020, at

4:00pm (unless sold prior)

View

Saturday1:00 -1:30pm

BruceMcPherson

027 438 4250

Denise McPherson

027 242 7677

*Sizewill surprise

*Five spacious bedrooms and four bathrooms

*Huge kitchen, dining area with loads of storage

*Separate lounge &separate office

*Fabulous entertainers courtyardwith covered outdoor

BBQ station

rwashburton.co.nz/AHB22962

Real Estate Mid Canterbury PropertyLimited Licensed (REAA 2008)

SetDate of Sale

Kim Miller

closing 26 November2020, at 027 236 8627

4:00pm (unless sold prior)

View

By Appointment

Kim Miller

Sales Consultant

027 236 8627

Denise Russell

Sales Consultant

0274 329 717

ChrissyMilne

Sales Consultant

027 236 8627

Cheryl Fowler

Sales Consultant

027 461 2614

Margaret Feiss

Sales Consultant

021 751 009

ShirleyFitzgerald

Sales Consultant

027 220 1528

Denise McPherson

Sales Consultant

027 242 7677

Janene McDowell

Property Manager

027 287 3388

Armand vander Eik

Sales Consultant

021 597 527

Lynne Bridge

Sales Consultant

027 410 6216

Mike Grant ncre

Sales Consultant

021 272 0202

Mark Totty

Sales Consultant

021 664 113

BruceMcPherson

Sales Consultant

027 438 4250

JustinWaddell

Sales Consultant

027 437 1111

Carey VonLubke

Property Manager

027 697 6948

96 TancredStreet, Ashburton 03 307 8317 Main Road,Tinwald 03 307 8317

rwashburton.co.nz

36 McMillan Street,Methven 03 303 3032
---
We care more

aboutour clients

than winning

awards. That's why

we winawards.

We arecommittedtogetting ourclientsthe absolutebestresults

andthat'snevergoingto change.

When resultsmatter, you'll want to talk to us 0800367 5263

Winner

TheInnovationAward

Medium Residential Officeof the Year -Volume

SmallResidential Officeof theYear -Volume

Finalist

TheCommunityServiceAward

LargeAgencyofthe Year -All disciplines

LargeResidential Office of theYear -Volume

MediumResidential Office of theYear

SmallResidential Officeofthe Year -Volume

ResidentialRisingStar

Property BrokersLtd Licensed REAA 2008
---
trusted

2020 GUIDE

trades &services

To book your spaceinthis guide,phone KarenGane 308 7664 or email karen.gane@ashburtoncourier.co.nz

Interior and Exterior Painting

PROFESSIONAL

PORTRAIT AND

COMMERCIAL

PHOTOGRAPHER

PICTURE FRAMING

GALLERY &STUDIO

179WEST STREET

0800 881122

emmily@emmilyharmer.co.nz

www.emmilyharmer.co.nz

2326656

BUS WITH ATOMIC&SAVE

CHC CHC ASH DN

Book online

atomictravel.co.nz

Phone021-0867-6001

Bus Service-Charters

2318478

JukeBox Hire

Weddings,21st,

PrivateFunctions

Sound Systems &Lighting Hire

Phone DJ Dave

03 308 5106

027 251 0015

www.soundmanagement.co.nz

2305407

RESIDENTIAL &

COMMERCIAL SPECIALISTS

Phone Quentin andPhil on

027 282 8908 or 027 2828909

Interior Plastering

Wallpapering

2331055

2317576

Need storage?

we CAN STORE it!

Convenient, affordable

self storage solution

Phone 307 0213

•185 Alford Forest Road •behind

2331258

FREE LEGAL HELP

Help in person by appointment

Thursday9.15am -1.45pm

Ph 0508 CANLAW

(0508 226 529) to makean

appointment.

Help by phone Infoline

03 371 3819 or 0508 226 529

215 Tancred Street,Ashburton

2331304

GODSELL

BRICKLAYING

•Houses

•Feature Walls

•Fences

•Blocklaying

Chris Godsell

027 274 2533

AH 308 7117

godsell@xtra.co.nz

2331315

Lubes WOF

Allmechanical repairs

TRIANGLE

GARAGE LTD

Victoria Street,

TheTriangle,Ashburton

Phone: (03) 308 6772

2331333

FOR ALL YOUR

ADVERTISING

REQUIREMENTS,

GIVE

Jann or Karen

acall on

308 7664

Shane James Contracting

•FIREWOOD

TREES WANTED

•Hedgerow removal

•Rootraking

•Conversions

•Money backonmillablelogs

PHONE SHANE 027611 3334

2306712

ALL THINGS CANVAS &PVC

*Awnings/Shade sails/Dropblinds*Auto seat covers &repairs

*Hay&bin covers *PVC covers &repairs

*Ute tonneau covers *Furnitureupholsteryrepairs

*Commercial

PHONE TRAVIS HOWDEN 027 922 4544

2331321

ashburtoncranes2015@gmail.com

2328949

GREAT

RATES

PC Repairs, Set-up andTutoring

Icome to youday or evening!

NewPCs

and Laptops

forsale

•PCRepairs/Sales •Networks/Servers

•Firewalls/Security •Spyware Clean-up •Training

20 YearsExperience Microso Cerfied Professional

NETWORKS FIREWALLS AND PCS LTD

Robin Johnstone 67 Aitken Street, Ashburton

P: 03 308 1440 C: 027 768 4058

robinbj@xtra.co.nz

2329049

Letthe team at

Insideout takecareof

all your painting and

property maintenance

Ashb

hbut

rton,R Rolles

leston

ton&Ch

Chrit

ist chu rch

•Paving •Irrigation •Lawns

•Planting •Fences •Pergolas

•Water features •Outdoor fires

•Raised planters •Decks

•Stonework•Brick &blockwork

•Artificialgrass and more...

Email –Aaron@theoutdoorspace.co.nz

Phone0800 688 365 /021 542 402

www.theoutdoorspace.co.nz

2299882

• Painting

• Carpentry

• Renovations

• Projectwisdom

• Maintenance&repairs

2010 LTD

Call Shanetodayon03307 7071

2319703

"we clean to a

standard,

not aprice"

UNDER NEWAshburton

OWNERSHIP

Same exceptional CleaningServices

level of service

&quality cleaning

• regular full house cleans

• one off spring cleans

• farm houses

• builders cleans

•

100% LOCAL

03 307 2656

www.ashburtoncleaning.co.nz

FOR ALL YOUR ADVERTISING

REQUIREMENTS, GIVE

Jann or Karen acallon

308 7664

2300233
---
trusted

2020 GUIDE

trades &services

To book your spaceinthis guide,phone KarenGane 308 7664 or email karen.gane@ashburtoncourier.co.nz

WILSONS

WINDSCREENS

WE WELCOME ZEK

FROM WINSTONES

TO JOIN OUR TEAM

We areyour one stop glass shop for

AUTO and HOUSE

REPAIR or REPLACE 152 Wills Street,

"Your placeorours"

2331334

Ashburton

Ph.308 8485

We offer the following:

• Gutter and DownpipeCleaning • Weed Spraying

• Moss,Mouldand Lichen Spraying • Spider Proofing

• Gorse and BroomSpraying • FenceLineSpraying

• Chimney/Flue Cleaning $75 • Heat Pump Service$90

MENTION THIS AD WHEN BOOKING FOR A10% DISCOUNT

ON GUTTER AND DOWNPIPE CLEANING

Call Allan on 027 209 5026 an let us know howwecan help

2330936

Phone 308 1366 Mobile 027 433 3601

E: patsumm@xtra.co.nz

•All domestic and commercial wiring

•New build andalterations

•Freequotes

2334925

2319700

ASHBURTON

GLASS LTD

Experts in glass

308-3918

214Wills Street

Ashburton

www.ashburtonglass.co.nz

office@ashburtonglass.co.nz

UNDER NEW LOCAL OWNERSHIP

2331331 2331332

Forall your tyre requirements,

see the localexperts

•Wheelalignments

•Wheelbalancing

197Wills Street,Ashburton l www.neumannstyres.co.nz

Phone 03 308 6737 (24 hrs –after hours call out applies)

2306405

115 Archibald Street,Tinwald,Ashburton

Phone /Fax: (03) 307 2354

Email tincanup@xtra.co.nz www.tinwaldcanvas.co.nz

2293200

2331299

•

•

•

•New builds •Renovations

•All types of engineering

•Small or large projects

Rob021 124 4268 l Sam022 5428927

email: robsue@hotmail.co.nz

FOR ALL YOUR ADVERTISING

REQUIREMENTS, GIVE

Jann or Karen acallon

308 7664

Once younoticeit,

ovus it

On-sitecameracalibration

Courtesy car available

Stone chips while youwait

Mention this advertatyour next repair and receive

Novus glass cleaner FREE

65 South Street,Ashburton7700

Phone 307 4413

ashburton@novus.co.nz

2302792

Solar powerwhenyou need it most

We are experts at installing solar

power systems for motorhomes.

• SOLAR PANELS • BATTERIES • DC MANAGEMENT

• CAMERAS • TV SATELLITE • PUMPS • REFRIGERATION

AAA

Solar

&SUN POWERPLUS

South Island

4McGregorLaneAshburton

03 307 4777 -027 4423103

ashsolarpower@xtra.co.nz

aasolarsouthisland.co.nz

We service and repair all makes and models

of sewing machines and overlockers

Your local Bernina

service team

John Robbie Rachel

OPEN 7DAYS9.30am -4.30pm

Main South Road, Tinwald Ashburton | Phone 307 6277

www.anniesquilts.co.nz

4WD Diesel &ElectricScissorlifts

Rough terrain and electric lifts available

On site collection or deliveryavailable

Nowat6Range 403 West Street St,Riverside

PO Box 60, Ashburton 7740

Phone: 03 308 8155

Mobile: 0273 529909

Email:sales@nee.kiwi.nz

2330944

2293205

2331328

Restoration

2287935

Modifications Repairs

16 Cass Street,Ashburton l 03 308 0387

johnsons.panelpaint@gmail.com

Your Digital

TV Experts

• Aerial/Dish installations and repairs

• Prewirefor TV/Audio and controlsystems

• TV wall mounting • Cell phone aerials

• Home theatreinstallation

• Authorised SkyTVtechnician

Servicing

Ashburton Geraldine

Methven Rakaia

andeverywhereinbetween

ASHBURTON

TV &AUDIO

PH 308 7332 /027 277 1062

ashburtontvandaudioltd.co.nz

2300244
---
CLASSIFIEDS

48 Ashburton Courier, November 26, 2020

Business owners

Build customers,sales and

profits,with us ...

Print, OnlineandMobile24/7

Over16,065copiesdeliveredeveryThursday

www.ashburtoncourier.co.nz

SITUATIONS VACANT SITUATIONS VACANT SITUATIONS VACANT

LIVESTOCK &BULK DISPATCHER

Mayfield Transport Ltd has serviced the transport needs offarmers across the Canterbury region for

over 40 years. Mayfield Transport Ltd operates afleet of 20 trucks and under new ownership is

striving to meet the needs of our clients. The transport industry is fast paced and evolving and we are

looking for an energetic and enthusiastic person for our dispatch team.

The successful applicant must have the following qualities and skills:

Enthusiasm for their work and team success

Excellent communication skills with clients and the team

A 'can do' attitude

Have knowledge of the region, the South Island and the rest of New Zealand

Understand vehicle configurations and capacities

Provide exceptional service to ensure repeat business from new and existing clients

Staveley

Mount Somers

Alford Forest

Valetta

Mayfield

77

Ruapuna

Ashburton

Forks

Moranan Maronan

Methven

Winchmore

1

Lauriston

Ashburton

1

Chertsey

Rakaia

The following attributes are preferred inthis role:

Ability tothink on your feet

Ability to work in afast paced environment

Ahigh level of communication and organizational skills

Be prepared to go the extra mile for client satisfaction

Have apassion for this industry

Mayfield Transport can offer you:

Asupportive team toassist your transition into this role

Challenging and variety inyour work

Good remuneration with awork vehicle provided

Stable established and growing business

If you know you have the above skills and are looking for an opportunity tobepart ofadiverse team

of people, wewould love tohear from you. Ajob description is available onrequest.

To apply please email your CV and covering letter or write to:

Arundel

77 1

Orari Bridge Ealing

Geraldine

Hinds

Lowcliffe

Willowby

Wakanui

General Manager: Jim Crouchley

Email: jim@mtrans.nz

Post: POBox 151, Geraldine 7956

Enquiries can be made to Jim on027 3078907

Applications close 17 th December 2020. Wereserve the right tofill the position prior to the closing

date.

You must have the right towork in New Zealand to apply for this position. 2337006

ContactJann Thompson 03 308 7664 jann.thompson@ashburtoncourier.co.nz

SELL

LPG REFILLS

9kg cylinders

$27.50

Askaboutour

deliveryservice

Anysizecylinder filled

17 Grey St,Ashburton

Phone 307 2707

LPG

REFILLS

Small LPG cylinders

Off Street Parking

Available

Arthur Cates Ltd

26 McNally Street

Ph 308 5397

Riverside Industrial Estate

2300293

2316285

ALLENTON Pharmacy for all

your Christmas stocking

stuffers. Pop in and see us

today. 67 Harrison Street,

Ashburton. Ph 308 6030

BICYCLE; Ladies Milano

Frenzy Shimano gears,

reasonable condition.

Great for getting around

town, no parking hassles! HUNTING & Fishing have

$30. Ph 307 2753

great gifts for all the family.

Camping/tramping gear.

BLACK FRIDAY SPECIAL: Mens, womens, kids clothing.

Accessories, books

15% off all clothing for

Rural Co card holders only. and vouchers. West Street,

This Friday November Ashburton. Phone 308

27th. Open 9am-7pm 5117.

BRACELETS, bangles, earrings,

pendants, necklaces,

watches, rings. Selection

includes Kagi, Oui and Me

and Ellani. Fabulous gift

ideas at Time for

Diamonds, Tancred Street.

SELL

EAST Street Pharmacy -

Amazing instore specials

for one day only. Friday 27

November - Christmas

Shopping Day. 182 East

Street, Ashburton.

FOR loved ones passed -

don't forget to order your

silk flower arrangements in

time for Christmas at

Flowers and Balloons.

www.flowersandballoons.

co.nz, Ph 03 308 8945

FOR the latest looks from C.

Reed Clothing, visit Stepping

Out, in store or on line.

Gorgeous colours and

styles. www.steppingout.

co.nz

FREE Pioneer bluetooth

headphones worth $79,

when you spend over $299

on Casio G-shock. Get

yours today at Robilliards

Showcase Jewellers, The

Arcade, Ashburton

GOLFING Gifts? Check out

our range of golf merchandise

including balls, tees,

range finders, gloves,

shoes, clothing and

vouchers. Sega Golf, Ashburton

Golf Club.

HARVEY'S Bakehouse for

all your Christmas baking.

Delicious traditional mince

tarts, Christmas cakes and

croissants. Don't miss out,

order now! Creek Road,

Phone 308 3398

LARGE variety of Christmas

tins, perfect for those

Christmas treats, in store

now at Kitchen Kapers. The

Arcade, Ashburton. Ph 308

8287. www.kitchenkapers.

co.nz

SELL

PAPER Plus Christmas

Shop, open 7 days until

Christmas Eve. Awonderland

of Christmas inspirations.

Check it out upstairs,

212 East Street. Phone 308

8308

SITUATIONS VACANT

SELL

PETZONE stock a great TELEVISION; 42inch

selection of fish supplies Panasonic Plasma, nice,

including goldfish, tropical cheap. Musical; Drums and

fish, tanks, weed, accessories

Cymbals. Scaffolding

and food. 167 Tressils. Trailer with lock-

Tancred St, Ashburton. Ph able doors, canopy. Caravan

307 8660

awnings, electric leads.

03 308 5193 or 027 204

SIM'S Bakery for Christmas

9709

cakes, mince tarts, trifle

sponge, shortbread, TOOLS for your bloke this

truffles, meringues, lemon Christmas? Pop in and

meringue pie and mud check out the huge selection

cake. Christmas cake

of gift ideas now at The

made to order. Phone 308 ToolShed, 34 Robinson

5774

Street, Ashburton

TOTS to Teens have afantastic

selection of toys,

fashion, footwear and gift

vouchers that never expire.

The Arcade, Ashburton. Ph

03 307 7340, www.

totstoteens.nz

SITUATIONS VACANT

BathroomDepartment

Salesperson –Parttime

Mitre 10MEGA has avacancy for asalesperson

to join their small Bathroom department

team. This is position is apermanent part-time

position 16 hours Sundayand Monday.

We arelooking forsomeone who has:

• Retail sales experience

• Great customer serviceskills

• Goodcomputer skills

• Physically fit as somelifting is involved

Please email your C.V. and covering letter to:

HR.Ashburton@mitre10.co.nz

Applications close on Thursday 3rdDecember 2020.

2336738

Warehouse Coordinator

We are seeking someone to join our team in the Warehouse and Dispatch area. Our ideal

person is comfortable with variety, can prioritise and confidently work autonomously

with apositive attitude. Immediate start available!

It's afriendly team environment, with all our staff taking ahands-on approach to jump in

where necessary, soflexibility is amust.

The role centres around our warehouse store, so key responsibilities will include;

• Responsibility for onhand raw materials for our manufacturing process, including

stock control and ensuring the store ismaintained in atidy manner.

• Oversee the receipting of Inwards and dispatch ofOutwards goods deliveries,

including liaising with freight companies regarding deliveries.

This role is one with scope for growth, sothere are some attributes we consider key

for the role;

• Experience with Logistics and Supply Chain Management is preferred.

• Good communication and organisational skills with the ability to work well both in a

team environment and alone as required.

• A high level ofself-motivation, with good initiative and apositive 'hands on' attitude.

• Comfortable with learning computerised systems and good working knowledge of

MS Office suite –Excel, is required for reporting.

• Anunderstanding of the textile manufacturing sector would be an advantage.

• Clean full driver's license, and aforklift license are amust.

• Physically fit –some lifting is required and your general day today work will keep

you busy!

Please Note: Due to this position being apermanent full time role you must beaNZ

Resident to apply for this.

Applications for this position close on Friday th 2020.

Please email your full CV, 2employment references and 1referee to @nzsock.co.nz

SPRAY PAINTER/PREPPER

Afull time position has become available in our

Panel and Paintshop foraQualified Spray Painter.

Theposition requires

• Good work ethics

• Have ahigh standardindetail and finish

• Tobereliable

• The abilitytoworkunsupervised

• Toworkinateam and meet production deadlines

• NZresidencyorvalid NZ work visa

Please send resume and coverletter to

TheGeneral Manager

Bus and Truck Body Work Ltd

PO Box51, Ashburton7740

Phone Keith on 0274 274 007 or 307 0378

Email busandtruckbodywork@xtra.co.nz

TURN THE PAGE TO VIEW

MORE CLASSIFIEDS

2332722

2172815

2336229

WHAT better place for a

public notice than Ashburton's

The Courier! Simply

clip the form for a run-on

advert like this or telephone

us on 308 7664 if you

require adisplay advertisement.

LOOKING for work or staff?

Advertise in The Courier.

Call 308 7664.

PHOTOGRAPHS

FOR SALE

Have youhad your photo

taken by our reporters?

Order aPhotoToday!

¼Page*

$6

*approx 6x4

A5

$8.50

A4

$16

Ph: 308 7664

199 Burnett St,Ashburton

2279678
---
www.ashburtoncourier.co.nz

SITUATIONS VACANT

SITUATIONS VACANT

RECEPTIONIST VACANCY

FULL TIME

Due toRakaia Medical Centre's continued growth,

there is an opportunityfor areceptionist to join our

professional, enthusiastic and friendly team. The

position is for40hours perweek,MondaytoFriday.

Job sharing this position is also an option ifthere

are two successful candidates wanting to work

part-time.

We are a well-established and forward-looking

medical Centre with approximately 2600 patients.

We place a strong emphasis on providing

personalised, highqualitycarefor ourpatients.

We are looking for someone with that same

attention to customer careand who has apositive,

friendly andunderstanding attitude while knowing

howtoprioritiseworkflows.

Do youhavewhatweare looking for?

Experience in amedical reception role with

a knowledge of MedTech is an advantage,

howevernot amust

Excellent communication and interpersonal

skills

MicrosoftOffice'sexperience

Good time management skills and ability to

multi-task

High level of accuracy with a variety of

administration work and aquicklearner

Ability to build strong rapport with team

members

Discretion and appreciation of patient

confidentialityand privacyamust

Pleasantdemeanour

Applicants for this position should have NZ

residencyoravalidNZworkpermit.

If you are interested inapplying for this position

pleaseforward your C.V.with covering letter to:

Emma Jaillet-Godin, Business Manager

Rakaia Medical Centre,30Elizabeth Avenue,

Rakaia, 7710orvia emailto:

emma@rakaiamedical.co.nz

If youwould like anyfurtherinformation, please

callthe MedicalCentreon03303 5002

andask to speak to Emma.

Applications closeFriday, December 4, 2020.

PANEL BEATER/COACH BUILDER

Afull time position has become available in our

Panel and Paint shop for apanel beater orcoach

builder.

Theposition requires

• Good work ethics

• Have ahigh standardindetail and finish

• Tobereliable

• The abilitytoworkunsupervised

• Toworkinateam and meet production deadlines

• NZresidencyorvalid NZ work visa

Please send resume and cover letter to

TheGeneral Manager

Bus and Truck Body Work Ltd

PO Box51, Ashburton7740

Phone Keith on 0274 274 007 or 307 0378

Email busandtruckbodywork@xtra.co.nz

AUTOMOTIVE SERVICES

QualityEuropean

Vehicle Servicing

•Advanced

Diagnostics

•Experienced

Technicians

AUTOMOTIVE SERVICES

Bruce McIlroy Limited

309MethvenHighway, Ashburton 7776

Tel: 03 3087282•E:bruce.mcilroy@xtra.co.nz

MTAAPPROVED

Call us for a

FREE

QUOTE

•Collection/Delivery

'Free of Charge'

in Ashburton

2335831

2332721

2331369

BUSINESS FOR SALE BUSINESS FOR SALE BUSINESS FOR SALE

TheTutoring Centre is an opportunitytopurchase an established and growing

educational business,due to the current owner retiring.

This is achancetotake advantage of the increasing demand forafter-school

tuition, controlyour hours and continue to grow aprofitable business.

ExcellentOpportunitywith following features:

Established and well resourced

Afterschool hours,Monday-Thursday

Closed in School holidays

Lowoverheads

No franchise fees

Formoreinformation regarding the sale contact:

Jill Patterson, Director

jill@kmec.co.nz

03 3076252

SMALL MOWING BUSINESS

with potential to grow

•2007 80hp Landini tractor

•4WD with cab •5000 hrs

•2.4m Trimax mower

•1.75m mulching mower

All in tidy condition

Phone 03307 0500 Email j.maryn1@gmail.com

EDUCATIONAL

EDUCATIONAL

Forkliftand Dangerous GoodsCourses

NZTAApproved Course Provider,MITO&Competenz Assessor

Classes 2&4,Endorsements F&D

ForkliftF&OSH, Saturdays and other days as requested

Dangerous Goods Course,½day Mondaymornings

CommunityHouse,Ashburtonoryour work place

Forfurther information

Phone Christine 027 245 2563

DRIVING Lessons. Take

your skills to the next level

with L2D; Beginner to

Advanced. Phone or message

027 543 7632

HOME SERVICES

ROOF COATINGS: All roof

types, specializing in

Decramastic and Long Run

Iron, Coloursteel etc, steep

roofs not a problem. —

Spraymaster 027-433-7780.

PARTS &ACCESSORIES

TYRES; two 613 tyres and

rims. 5 studs, possibly ex

Vauxhall or Burnett Trailer.

$20 the pair. Ph 307 2753

WANTED TO BUY

METAL, heavy etc. Free

light-grade metal in-yard

dumping 9am-5pm weekdays

&9.30-11.30am Saturdays.

Ashburton Scrap

Metal Recyclers, 117 Alford

Forest Rd, (behind

PlaceMakers). Phone 03

file: F:\OPI\hires\adverts\regional\b10\1278047.eps

308 8033 or 027 249 6625.

PRE 1990's vehicles suitable

for resurrection and restoration,

not wrecking. Anything

considered, dead reg

ok. Ph 021 227 6878.

Advertising thatworks!

FIREWOOD

LOVE TEACHING?

TIRED OF PAPERWORK?

Areyou acurrent teacher

looking forachange or anew

opportunity?

2331014

2331383

BEATTHE

NEW YEAR

PRICE INCREASE

FIREWOOD

SLABWOOD

3cordgreen

$330

1cordgreen

$110

1corddry slab

$140 cord

OFFCUTS

$140 cord

C.O.D. in town

Adams Sawmill

Malcolm McDowell Rd

Phone

308-3595

Talk to Jann or Karentoday

about ways youcan reach

potential customers or

advertising with that

special difference-professional servicewith asmile.

Phone: 308 7664

office@ashburtoncourier.co.nz • 199 Burnett St, Ashburton

2332257

2279569

FOR LEASE

TRADE &SERVICES

2336665

AWESOME office space for

lease, rent or hire. Parklike

setting. Indoor and outdoor

areas. North West

town boundary. Must view.

Phone 0274 754 241

RENT ME!

Ideal as an extra

bedroomoroffice.

Fully insulatedand

double glazed forwarmth.

Threeconvenientsizes:

Standard3.6m x2.4m,

Large 4.2m x2.4m

Xtra-large 4.8m x2.4m.

Visit our displaycabin

418WestStreet or callfor a

freebrochure.

www.justcabins.co.nz

2289121

0800 58 78 22

STORAGE available, Ashburton.

Self storage, variety

of sizes. Phone Rainbow

Storage 03 307 0401

STORAGE:Secure self storage

units available, long or

short term. Ashburton Storage

Facilities. Contact us

on 0274 362 636 or www.

ashburtonstoragefacilities.

co.nz

WANTED TO LEASE

LEASE Land wanted; 8ha -

40ha. Irrigation preferred,

15 minutes from Ashburton.

Ph 03 307 4552

BUY ahome in Mid Canterbury

and receive The Courier

newspaper every week

to your letterbox. Local

news for local people.

ALTERATIONS. Sewing,

mending and trouser hemming,

curtain alterations

and curtain making. Call

Michelle on 027 352 7248.

BUILDER - specialising in

home renovations and

repair work. We also do

decks, fences and retaining,

plastering and painting,

gardening, landscaping

and tree removal. Call

Gavin 021 267 1979

BUILDING and property

solutions. For your complete

alteration or renovation.

We project manage

the whole process. Home

and small commercial.

Qualified tradesmen.

Phone Kiwi Building &

Maintenance Ltd. Ph Cawte

027 418 7955 or Gary 308

4798, 027 207 1478.

CLASSIFIEDS

Ashburton Courier, November 26, 2020

TRADE &SERVICES

49

TRADE &SERVICES

ANDREWDUNNE FARM SERVICES

FARM SERVICES BY THE HOUR

20+ years'experienceinthe sheep, beef,

venison, and dairysupport industry

• Highly skilled and experienced farmlabour

• On-farmfirewood processing

• Agricultural welding repairs and maintenance

• Farmminding -staff support

• Agricultural explosives –land operations

• Jobs of all sizes,casual or ongoing

• Available forfarmorlifestyle block

Call me anytime forafriendly 'NO OBLIGATION' chat.

COMPETITIVE RATES/EXCELLENT SERVICE

Call Andrew on 0272 475 577

GEEKS ON

WHEELS.

WECOME

TO YOU.

BOOK NOWAND GET

$50 OFF YOUR FIRST

APPOINTMENT.

We'reproud to be

everyday Geeks,helping

everyday Kiwis with

"Every dayIT".

We deal with awide

rangeoftechnical

issues including:

•PC&Laptop Repairs

•Email

•Internet &WiFi

•Computer Upgrades

•File Recovery

•VirusRemoval

•Setup &Installation

•Geek Hotline

0800424 335

2335350

CARPET cleaning. Powerful

equipment and fast drying.

Upholstery, mats and rugs.

Experienced owner/operator.

Phone John Cameron

at Supersucker. 027 435

1042 or 308 1677

CARR'S Chimney Cleaning,

servicing Ashburton and

surrounding districts, $60

per chimney. Phone

Rodney on 03 324 2999

and leave amessage.

CHARLIE'S Blind Cleaning

Service -same day service

and repairs. Charlie can

supply new blinds and

tracks, will hang drapes. Ph

03 307 1936 or 020 4169

0342

COMPUTER Problems? For

prompt reliable computer

servicing and laser engraving,

contact Kelvin, KJB

Systems Ltd, 4 Ascot

Place, Ashburton. Phone

308 8989. SuperGold discount

card accepted.

COMPUTER repairs, sales,

training, setup wirelessnetworks,

spyware

cleanup. On-site day or

evening. Low fees. Call

Robin Johnstone, Networks

Firewalls and PC's Ltd, 308

1440 or 027 768 4058

CONCRETE pavers direct to

you - Best prices, many

sizes, textures and colours

- Paveco, 13 Robinson

Street, Industrial Estate.

DENTURES; Dr Peter

Rumping repairs existing

dentures and also provides

new dentures. Phone 027

220 9997

2334717

ENGINEERING repairs, fabrication,

farm equipment

service and maintenance,

WOF repairs, machining

and welding. Odd jobs a

specialty. Mobile workshop.

Can collect. Phone

Malcolm 0274 754 241

ENGRAVING for all your

engraving requirements,

free pick up/drop off service.

Call/text Trudy at

311ENGRAVERS, 022 600

7144, Facebook or email

trudydalton@icloud.com

FLY control and spider

proofing. For all domestic

and industrial pest control

needs phone AJ Kerr at

Ashburton Pest Control on

03 308 8147 or 027 432

5447.

FURNITURE Removals. For

all your household removal

needs - urban, rural lifestyle,

office relocations -

call Nudges Furniture

Removals, phone 027 224

0609

GARDENING, mowing,

pruning, fertilising, projects

or general spruce ups? Call

Andrew at Spruce Gardens

to get the job done right.

027 765 2899 or 03 307 1693.

sprucegardens@xtra.co.nz

GUTTER Cleaning. Book in a

clean now and tell me when

you want the job done. You

may have trees around.

Call Allan 027 209 5026

LAWN Mowing. No job too

small. Call Les Smith, From

The Ground Up, for a

competitve quote. Ph 027

840 0201 or 03 308 1500

LOCKSMITH/Door repairs.

Keys/locks, sliding and bifold

door roller repairs.

Mobile service. Call Nigel at

Doors and More. Ph 027

516 7104

PAINTER for all your painting

needs. No job too small,

inside or outside. Professional

friendly service.

Phone Pete 03 308 1672 or

027 200 1619.

PLASTERING

&COATINGS

Rockcote. Waterproofing.

Texture/Specialist

Coatings.

The Finishing Company

03 307 8870 2318402

SMITHY'S Watchmaker,

clock repairs, 60 years in

the trade. Free pick up and

drop off in town boundary.

Please note: cell phone

number only 0274 078 574

SUN Control Window Tinting:

Privacy, UV, glare, heat

control for homes, offices

and cars. Phone Craig

Rogers 307 6347, member

Master Tinters NZ. www.

windowtinter.co.nz

TINT-A-WINDOW, fade, UV

block, glare, heat control,

safety, security, privacy,

frosting films, solar protective

window films. Free

quotes, 20 years local service.

Phone 0800 368 468

now, Bill Breukelaar, www.

tintawindow.co.nz
---
CLASSIFIEDS

50 Ashburton Courier, November 26, 2020

www.ashburtoncourier.co.nz

ENTERTAINMENT

DEVON Tavern, it's your

local! Book your Christmas

functions with us now. Garden

Bar &Function Room

available. 116 Victoria

Street, Ashburton, Phone

03 308 7129

PETS

LABRADOR Puppies for

sale. (Purebred, Non-

Papered). 6girls, 3boys, all

golden. Ready for new

homes just before New

Year. Ph/Txt 021 236 2269

for more details.

HIRE

SCISSORLIFTS for hire.

4WD and slab lifts available

for daily or weekly hire.

Pickup or delivery. Phone

North End Engineering 308

8155 for abooking.

GARAGE SALES

VINTAGE Copper Kettle,

China, Crystal, Cutlery,

Mirrors, Old Scales, School

Desk, Trike, Books, NZ

Pottery. 9am-1pm, Middle

Rd, near Belt Rd. Cash

Only.

FRUIT &PRODUCE

NEW Potatoes dug daily from

Friday 27 November.

Bennett, 22 Melrose Road.

Phone 308 4015

POTATOES; Nadine, Red

Rascal and Agria. $1.00

per kilo, 10kg bag $10.00.

Phone 308 3195 or 027 531

9103. 81 Elizabeth Street.

SPORTING GOODS

FISHING the Canals? Drop

Shot Sinkers; 2g, 4g, 6g,

8g, 10g. Packet of 8$4.99

each. Phone Grant 027 611

1889

HEALTH &BEAUTY

HEALTH &BEAUTY

URGENT CARE CLINIC

WEEKEND DUTYDOCTORS

IN THE EVENT OF AN EMERGENCYPHONE 111

Forall othermedicalassistance outside of normal

hoursplease phone your generalpracticeteam, 24/7,

to speak withahealth professional whowill giveyou

free health advice on what to do or where to go if you

need urgentcare.

If youdon't have aregular generalpractice, call any

GP team 24/7 forfreetelephone health advice.

All non-residents and visa holders please bring your

passporttoyour surgeryappointment.

New Zealanders'tobringsome form of ID.

TheAshburtonDutyPractice for ...

Saturday28th November is

Eastfield Health, 135 Tancred Street.

Consultations will be by appointmentonly.

To make an appointmentcall your regular GP 24/7.

Sunday29th November is

Tinwald Medical Centre,33Archibald Street.

Consultations will be by appointmentonly.

To make an appointmentcallyour regular GP 24/7.

Methven and Rakaia: Formedical attention on the

weekend and public holidays please telephone

MethvenMedical Centre on 03 302 8105

or Rakaia Medical Centre on 03 303 5002.

Details foraccessing the afterhours services will be

on the answer phone.

PHARMACIES

Wises Pharmacy,CountdownComplex,

East Street will be open on ...

Saturday from 9.00am until 1.00pm

Sunday from 10.00am until 1.00pm

At Geraldine: TheGeraldine Pharmacywill be open

normal trading hours during the week,and on

Saturdaymorning from 9.30am to 12.30pm.

Closed Sundays and Public Holidays

Forfree24hour Telephone Health Advice

Phone the healthline on 0800 611 116

Brought

toyouby

PUBLIC NOTICE PUBLIC NOTICE PUBLIC NOTICE

GIFTVOUCHERS

IN-STORE

Blacklows TradeZoneAshburto

STARRETT

KFC06082

ULTI-MATE

Quick Change

Hole SawSet

Contains 16,20,25,

32,20,51mm.

$245+GST

STARRETT

This voucher

entitles the

bearer to ........

Blacklows TradeZone Ashburton

This voucher

entitles the

bearer to ........

BKK-8W

KNIFE SET

NSF certified

professional

knifeset.

$130+GST

$50

$10

$20

Blacklows TradeZone Ashburton

This voucher

entitles the

bearer to ........

BONUS

FREE 2 Piece BenchSop

To

Knife Set. RRP $85

SHOP WITH THE

PEOPLE WHO KNOW ABOUT

GREATGIFT IDEAS

BONUS

FREE ULTIMATE FISHING

PACK RRP $300

Contains: Reel, Rod, Knife & Steel,

Braid, Soft Bait & Cap!

KING TONY

KTSC9543MR

110 PIECE

1/4-1/2 SOCKET/

SPANNER

TOOL SET

See in-storefor full

range of contents

this tool set offers.

BONUS

FREE SPEAKER

$464.29+GST

ASHBURTON

South Street, Ashburton PHONE (03) 308-3147

Email office@blacklows.co.nz FREEPHONE 0800 452 522

HURRY ONLY

WHILE

STOCKS LAST

PUBLIC NOTICE

Thurs 26th &Fri 27th

10.10 IamWoman

11.00 Rams

12.15 LetHim Go

1.05 Made in Italy

2.15 TheHappiest Season

2.45 Six60 Till TheLightsGoOut

4.00 IamWoman

4.20 Made in Italy

6.00 Rams

6.10 LetHim Go

8.15 TheHappiest Season

8.20 Six60 Till TheLightsGoOut

Sat28th &Sun 29th

10.00 100% Wolf

10.00 4Kids &It

11.45 Made in Italy

12.00 LetHim Go

1.30 Suraj pe Mangal Bhari

2.10 Six60 Till TheLightsGoOut

4.00 Rams

4.00 TheHappiest Season

6.10 LetHim Go

6.10 IamWoman

8.15 TheHappiest Season

8.20 Six60TillThe LightsGoOut

Mon30th, Tues 1st

&Wed 2nd

10.10 IamWoman

11.00 Rams

12.15 LetHim Go

1.05

2.15

2.45

4.00

4.20

6.00

6.10

8.15

8.20

Made in Italy

TheHappiest Season

Six60 Till TheLightsGoOut

IamWoman

Made in Italy

Rams

LetHim Go

TheHappiest Season

Six60 Till TheLightsGoOut

M

PG

M

M

M

M

M

M

PG

M

M

M

PG

PG

M

M

PG

M

PG

M

M

M

M

M

M

PG

M

M

M

M

M

M

PG

M

M

M

NO COMPS

LetHim Go,Made in Italy,

Six60 Till TheLights Go Out,

TheHappiest Season

GARDEN SUPPLIES

GARAVAGGI Bio80 Garden

Chipper/Shredder, dual

feed chutes for chipping

and shredding. 6.5hp

Honda petrol motor, $795.

Ph 307 2753

PAUL'S Garden Nursery,

101 Harrison St, Allenton,

Ashburton, will have leek

plants available as of 1st

December. Any enquiries

contact Paul on 027 278

1354. Open 7days.

TRAVEL

NELSON, Picton, January

10-14; DBB hotels; Farewell

Spit, Founders Park,

Broadgreen House, Queen

Charlotte Sound Mailboat,

Omaka Aviation Centre,

John and Kathleen Lawler,

Rakaia. Ph 03 302 7328

TRADE PERSONAL

NEVER SCRUB

YOUR GLASS

AGAIN

Easy Clean Glass Coatings

Showers, Glass Balustrades,

Water Stain Removal, Up to

10-year Warranty, Free Quotes

Phone 0800-EZClean

www.easycleanglass.co.nz

MEETINGS

RAKAIA Rugby Club, AGM.

Wednesday, December

9th, 7.30pm, at the Clubrooms.

Members,

Sponsors, Coaches,

Players all welcome to

attend. John Lawler, Secretary.

WAKANUI HALL SOCIETY

AGM

At WakanuiHall

7th December

7.30pm

Allwelcome

2336240

CountdownComplex, East Street, Ashburton

Phone: 03 308 6733 Fax: 03 308 6755

PUBLIC NOTICE

DebraCurtin

Chiropractor

03 308 9516

www.ashburtonchiropractic.co.nz

Feminine Health &Wellness Coach

• Reiki

• Massage

• Nutritionals

• Skin and Body Care

• Self Hypnosis

• Weight Management

Phoneortext 027 282 1585

PUBLIC NOTICE

My Pick This Week

Open Home: Saturday 28th, 11:15am -12:00pm

35 Harrison Street Price $490,000

•Westside beauty

•Spaciousliving

•Four bedrooms

•Big doublegarage

•Too many extrafeaturestolist

Helena Ratten Mobile 027 457 7998

We put you first

SBWDevelopmentsLtd

Licensed AgentREAA 2008

Annie

2318325

2335114

2336758

2262328

(formerly SPCA)

Homes needed.

Kittens ready for

Christmas.

Adult cats ready now.

Food donations

appreciated.

Kindly sponsored by

Adrienne Patterson

Ph308 4432

2330958

L2D Driver Training

Theperfect teenage

Christmas present

Book some driving lessons

• Dual Control modern vehicle

• Beginner to full licence

• Block booking discounts

Dave Campion

027 543 7632

HospiceMid Canterbury

Dealing

with alife

limiting

illness?

We can help with:

2336666

•Sittingand companionship

•Counselling and bereavement

support

•Biographywriting

•Massage,reiki and reflexology

•Activityand support

programmes

Phone 307 8387 or 027 227 8387

email manager@hospicemc.nz www.hospicemc.nz

Allservices

arefree

Mr Kool icecreams is

back in town, available

forbirthdayand

Christmasparties,

school fairs,corporate

and social events.

Will also be carrying out

street sales,solisten

out forthe bells!

Please text me on

0210 467 467.

2327778

OUR newspaper goes into all

RD's so why not advertise

with us! The Courier, best

read in town.

HANGAR

OPENING

Saturday

28 November

from 4pm

Previousmembers

welcome

Being in business

and not advertising

is likewaving in the

dark....

....youy

know you're therebut

no-one else does!

Don't be leftinthe dark,

TheCourierNewspaper

has the key to your event,

productor

business advertising.

Phone Jann or Karen on (03) 308 7664

Email: office@ashburtoncourier.co.nz

2336057

ASHBURTON Society of

Arts Christmas show on

now at Short Street Studio.

Ceramics, Paintings and

Crafts. Weekends 11am-

4pm, Monday and Wednesday

10am-1pm if sign out.

2313260
---
traverse

RanfurlyDuck Down Sleeping Bag

sale

$299 .99

RRP $399.99

SAVE

$

100

BLACK

FRIDAY

SALE

27 TH & 28 TH NOV.

27 TH -29 TH NOV.

or while stocks last. Ts &Csapply

Dometic

33LCoolIce Box

sale

$99 .99

RRP $199.99

SAVE

$

100

penn

GT320Combo601M

sale

$99 .99

RRP $149.99

SAVE

$

50

Gerber

SuspensionNXTT Tool

+Paraframe I

Knife

sale

$59 .99

RRP $119.99

Jarvis Walker

WaterRat

12ft Sett

sale

$49 .99

RRP $79.99

Pinnacle

Eskina Handgun

HALF

PRICE!

SAVE

$

30

sale

$99 .99

RRP $199.99

shimano

Baitrunner 8000OC

+Raider 7' 6/10kg

sale

$189 .99

RRP $239.99

shimano

Baitrunner 12000OC

+Raider 7' 7 10/15kg

sale

$199 .99

RRP $249.99

SAVE

$

100

SAVE

$

50

SAVE

$

50

instore only check out more hot deals!

Phone 03 308 5117 l 393 West St,Ashburton

2294791
---
QUALITY USED VEHICLES

@AFFORDABLE PRICES

WARRANTIESAA APPRAISEDFINANCEBIGGEST YARDBEST SELECTIONTRADE-INS

Summer fun

2015 SUBARU IMPREZAG4

1600 cc,air con, cam chain, ABS,

twin air bags,20,600kms

$13,995

2007 TOYOTA BLADEG

ABS, air con, body

kit, rear spoiler,2400cc, 70,500 kms

$10,995

2010 MAZDACX-7

2300 cc,petrol, SUV,multiple air bags,

cruise control,ABS, traction control,

body kit, rear spoiler,59,000 kms

$17,995

2011 NISSAN SERENA,

2000 cc,auto, twin air bags,8seater,

reverse camera, ABS, 116,000 kms

$10,995

2012 TOYOTA VITZF

1300 cc,air con, abs,climate

control, 19,000 kms

$11,995

HONDA

2006 HONDAINSPIREAVANZARE, 3000 cc,4door,

ABS,air con, cruise control, climate control57,500

kms............................................................................... $9,995

SUBARU

2015 SUBARU IMPREZAG4, 1600 cc,auto, ABS, air con, 27,000

kms....................................................................................... $13,995

2011 SUBARU LEGACY –2500cc, ABS, 4X4, AA Apraised

38,000 kms................................................................ $17,995

MAZDA

2011 MAZDADEMIO 13-SKYACTIVE, 1300 cc,ABS, air con,

body kit, 38,000 kms........................................................$10,995

2010 MAZDACX-7, 2300 cc,ABS,air con, cruise control, body

kit, 59,000 kms ..................................................................$17,995

SUZUKI

2013 SUZUKI SWIFT XG-DJE,1200 cc,twinair bags,auto, ABS,

85,000 kms ......................................................................... $10,995

NISSAN

2002 NISSAN WINGROAD, 1500 cc,auto, twin air bags,ABS,

123,000 kms...........................................................................$3,495

2015 NISSAN NOTE X,1200cc, 5doorhatch, ABS, twin air

bags,56,000kms...............................................................$11,995

2011 NISSAN SERENA,.... 2000 cc,8seater, ABS, twin air bags,

reverse camera...................................................................$10,995

2014 NISSAN LATIOB,auto, idling stop,twin air bags,ABS,

4door,petrol,air con, 31,100kms..................................$9,995

2006 NISSAN BLUEBIRD SYLPHY20S, 2000cc,ABS,air con,

climate control, 11,800kms..............................................$9,995

TOYOTA

2013 TOYOTA SPADEF1500 cc,auto, ABS, easy access,77,000

kms.........................................................................................$10,995

1999 TOYOTA RAV4,2000cc, 5speed manual,3door, tow

bar,4WD,air con..................................................................$5,995

2014 TOYOTA AQUA,1500cc, auto, hybrid,ABS,

79,000 kms..........................................................................$12,995

2014 TOYOTA RACTIS,1500 cc,alloys,cruisecontrol,ABS,

33,000 kms .............................................................................. SOLD

2009 TOYOTA ESTIMAHYBRID X4WD, 5door,8seater, ABS,

air con, auto, rear spoiler,cruisecontrol,133,450kms,

2400cc, alloys .....................................................................$14,995

2013 TOYOTA PRIUSL,5door, ABS, air con, petrol,parking

sensors,rear spoiler,auto, 71,810 kms, 1800cc......$16,995

1999 TOYOTA RAV4,3door, petrol,ABS,air con, rear spoiler,

1800cc......................................................................................$7,995

2008 TOYOTA WISHXLIMITED, 5door, petrol,ABS,air con,

auto, climate control, 72,500 kms, 1800cc..................$9,995

2012 TOYOTA VITZ F, 1300cc, hatchback,air con, ABS, climate

control...................................................................................$11,995

DUE

2007 HONDACRV

Ph: 308 1396

Selling nice cars to nice people!

ENQUIRE NOW

-about our range of rental vehicles

AUTOSLTD &RENTALS

470 West Street,

Ashburton

A/H Keith Drummond

0274 367 646

Family,Sports, School or Social Trips

We have 8, 10 &12seaterminivansavailable.

Cars and3trucksforsmall or bigloads alsoavailable.

2330871
---
No one'sdreaming

of aWhiteware Xmas.

Fortunately,we've got lot's ofother gift

ideas-now's the perfect time to grab them.

Superdeals

on Oppoand

Samsung

smartphones.

JBLWireless Over-Ear

Headphones -Black

LIVE650BT 9057527 9065011

$5 perweekfor

less than

52 weekson

$199 EasyCard* $1199

2

Acer 15.6"i58GB 512BSSD Laptop

lessthan

$13 perweekfor

24 months on

Interest Free*

50%

off Remington

Grooming *1

Excludes D5220AU

Up to

50%

off Russell

Hobbs

Appliances *1

Up to

30%

offselected

Hard

Furniture *1

Wilma 5PieceDiningSuite

$489

was

$999

9046304

less than

$11 perweekfor

52 weekson

EasyCard* 2

LimitedStock

If youthink Black Friday

is nonsense,feel free to

pay theextra $860.

8kgHeatPumpDryer

$1399

DV80M5010QW 9050218

lessthan

$15 perweekfor

24 months

interest free*

At least

20%

off Bosch

Vacuums *1

KOS3Piece Outdoor Suite

The truth is,we're not toosureabout Black Friday

either.It'sjustagood excuse to giveyou abargain.

Which is exactlywhat this stylish 3piece outdoor

suiteis. It's lessthan half price,and craftedwith

topquality FSC®certified Acacia wood.

$839 $ was

1699

9062856

lessthan

$10 perweekfor

24 months

interest free*

Marsden2Door

Entertainment Unit -Old Rimu

6313241

$829

was

$1679

lessthan

$10 perweekfor

24 months

interest free*

90

Up to

DAYS INTEREST FREE

+Exclusive in-store VIP discounts* 5

on EasyCard purchasesduring ourBlack Friday sale* 4
---
If you're tired of all this

Black Fridaynonsense,

havealie down.

50%

off

Sleepyhead

Beds *1

Excludes Pop-up

& Drawer Base

Sanctuary MonacoQueen Bed

9062333

Timeflies whenyou'refastasleep.So, if youcan't waitfor Christmas to

come, speed things up with aSanctuary bed. With luxuriousfibres like

wool andsilk,and the Sensorzone sleepsystem, there'll be no tossing,

turning, or lyingawake fretting.Especially since yougot it half price.

was

$5449 $ 10,899

lessthan

$23 perweekfor

60 months on

interest free*

Chiropractic AccordQueen Bed

9055479

MatrixFirmQueen Bed

9061221

Chiropractic HD RadiateQueen Bed

9056425

$1499

was

$2379

lessthan

$7 perweekfor

60 months

interest free*

$2279

was

$4559

lessthan

$10 perweekfor

60 months

interest free*

$2749

was

$5499

lessthan

$12 perweekfor

60 months

interest free*

Delivered in time

forthe Xmas

rellie sleepover.

Chiropractic HDXRestoreQueen Bed

$3649

was

$7299

9059220

lessthan

$16 perweekfor

60 months

interest free*

Sanctuary Avignon Queen Bed

$3849

was

$7699

9062305

lessthan

$16 perweekfor

60 months

interest free*

We'vegot thousands

of beds stocked at our

warehouse ready for

delivery now.

Afteraday atour

BlackFriday Sale you'll

wanttoput your feet up.

Ari 2.5Seater Chaise

Lounge Suite-Charcoal

9062445

$999 $ was

1999

less than

$9 perweekfor

60 months

interest free*

Limited Stock

If running around shopping duringthe

daydoesn'tsound likeyour cup of teawe'reopentill

8pm on BlackFriday.

Offers validuntilTuesday1st December 2020,whilestockslast, unlessotherwise stated.Some products on displayinselectedstoresonly–please call0800764847 to checkavailability.Personal shoppers only.*Apple, selected computers,game consoles,giftcards,clearance items and some promotionalitems arenot available in conjunction with interest free offers.Flooringavailableonamaximum

of 18 months interest free. Exclusions,fees, terms, conditions, andcreditcriteriaapply. Available in-store only.Equalinstalment amounts include one-offbookingfee of $45.00,annual fees of $45.00 p.a. andsecurityregistration feeof$8.05, andexclude insurance.Current interest rate of 23.95% appliestoany unpaid balance afterexpiryof(any) interest freeperiod.See in-store or visitsmithscity.

co.nz/interest-freefor details.*1 Discountisoff our full retailprice andnot available in conjunctionwithany other offer. *2Weekly equal instalmentsare based on a52weeknanceperiod commencing7days from thedatecharged. We recommendsetting up an AutomaticPaymentauthoritytoavoid missed payments and additional interest charges.Available in-store and online.Currentinterestrate

of 23.95% applies.Thereare no set-up,annual,oraccount maintenance fees –a$19 noticationfee mayapplyincircumstances of default. Terms, conditions,and credit criteria apply. Seein-store or visitsmithscity.co.nz/easycardfor more details or to apply foryour EasyCard.*3Visitnespressopromotion.co.nzfor full termsand conditions.*4Interestfreeand no repaymentterms appliesto all

purchaseschargedtoEasyCardaccounts from 25 November –1December 2020. Available in-store andonline.Nominimum spend.Current interest rate of 23.95% appliestoany unpaid balanceafter theexpiryofthe interest free period.Standardexclusions,terms,conditions,and creditcriteriaapply. Seein-store or visitsmithscity.co.nz/easycardfor details. *5VIPsavings available on purchases

chargedtoEasyCardaccounts in-store 25 November –1December only.Not availableinconjunction with anyother offer. Conditionsand exclusions apply, askin-storefor details.