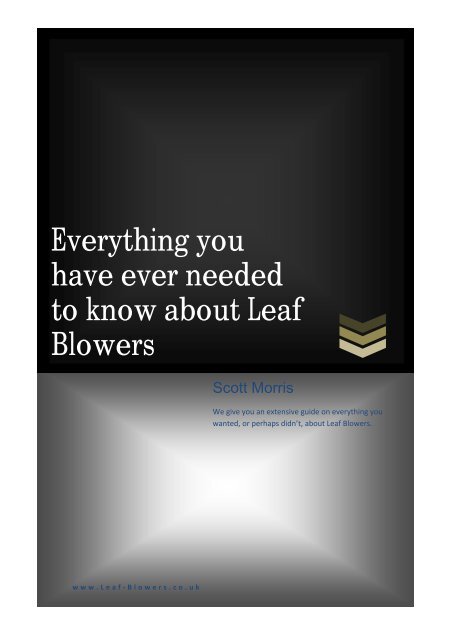 Everything you have ever needed to know about Leaf Blowers
Everything you have ever needed to know about Leaf Blowers
Everything you have ever needed to know about Leaf Blowers
SHOW MORE
SHOW LESS
Create successful ePaper yourself
Turn your PDF publications into a flip-book with our unique Google optimized e-Paper software.
Everything you

have ever needed

to know about Leaf

Blowers

www.Leaf‐ Blowers.co.uk

Scott Morris

We give you an extensive guide on everything you

wanted, or perhaps didn't, about Leaf Blowers.
---
Contents

This History of the Leaf Blower ...................................................................................................... 2

How Leaf Blowers Work ................................................................................................................. 5

Getting the Best Results from your Leaf Blower ............................................................................. 7

Backpack or Handheld Leaf Blowers ............................................................................................... 9

Electric or Petrol Leaf Blower? ...................................................................................................... 11

Tips on Choosing Types of Leaf Blowers & Vacuums ...................................................................... 13

Leaf Blower Maintenance ............................................................................................................. 16

Caring for your Leaf Blower or Vacuum ......................................................................................... 18

How to Use a Leaf Blower to Get the Best Results ......................................................................... 20
---
This History of the Leaf Blower

The first recorded example of people using air pressure to remove leaves comes from Japan

in the 19th century, when gardeners used bellows to clean up mossy ground.

It has been claimed by others and widely circulated around the internet that the Japanese then

were the first to have the idea of adding a hose and motor, around 1970, and then sold the

machines into the USA. If they did, they were by then copying developments that had already

taken place in the USA and Europe.

Blowin' in the wind

The concept for the leaf blower as we now know it started in America in the 1950s as part of

agricultural crop-spraying 'mist blowing' equipment.

Some key early milestones are as follows:

1950 Echo Inc. of the USA (also an early hedge trimmer manufacturer) introduce the first

engine-powered backpack duster/sprayer. It is used to dispense pesticides in nurseries and on

crop farms.

1951 Public Works Director of Hartford Connecticut, Charles Cook, has the idea of using two

of their snow blowers to remove leaves. He warns they 'can only be used when leaves are wet

because dry leaves would be blown for blocks…'

1955 Echo create the backpack duster/mist blower DM-9.

Late 1950s Consumers are found to be dismantling the chemical dispensing equipment and

just using the powerful blowing unit. Manufacturers see the potential and begin to make leaf

blowers for commercial applications. These are 'walk-behind' or backpack machines. (It is

claimed by a Wikipedia contributor that one Dom Quinto was the inventor of the modern leaf

blower in the late 50s, but there is no corroboration of this entry and it may be fanciful or

mischievous).

1959 H.L. Diehl, an ex-Pratt & Whitney jet engine technician, develops what his company

claims 'the first walk-behind lawn vacuum and leaf blower'.

1963 One of the first examples of a backlash against leaf-blower noise when the city of White

Plains takes action following complaints.

1960s The Dutch Vandermolen company is making and exporting a 2-stroke engine backpack

blower.

1966 H.L. Diehl re-brands his company as Giant-Vac. They introduce a range of machines.

1969 Giant-Vac introduce the first leaf-loading machine that collects leaves as well as

blowing them around.

1971 Echo unveil their PB-9 petrol-engined backpack blower, which widens the appeal of

leaf blowers to smaller users.
---
1978 Echo launches probably the first petrol hand-held power blower. Domestic users and

commercial landscapers now have access to a blower, and soon more manufacturers

(including McCulloch, now part of Swedish multinational Husqvarna) enter the new market.

In Los Angeles legislation is mooted to curb 2-stroke engine pollution: thus begins the

movement to make producers switch to cleaner 2-strokes, 4-strokes, or electric power.

1985 US backpack sales 75,000. Weed Eater begin producing a hand-held petrol-powered

blower.

1987 US total sales 464,000.

1989 US sales 800,000. Stihl of Germany, the chain saw innovators, launch backpack

blowers. They become a leading force.

1997 Over 1 million US sales.

1998 Los Angeles bans the use of petrol blowers within 500 feet of a residence, and promotes

a powerful (but quieter and less-polluting) electric blower design.

1999 US sales 1.9m: 1.6m hand-held blowers and 290k backpack blowers.

2003 Electrolux patents a variable-speed electric leaf blower. (This is today copied by Black

& Decker, Ryobi and others).

2004 Briggs & Stratton buys out Giant-Vac and creates a Yard Power Products Group

focusing mainly on commercial markets.

2007 First recorded game of leaf blower hockey is played in Toronto.

Late 2000s First 4-stroke motors appear to meet tougher emissions laws in various US states

and in other countries. Cordless battery models become viable due to more powerful Nicad

and lithium-ion batteries, e.g. Ryobi models with 120mph/ 193 km/hr air speed.

Prevailing winds

Recent trends in leaf blowers:

Machines have got quieter: many petrol-engined models now emit less than 65dB at 50 feet,

whereas older machines were 70-75, which in decibel terms is hugely greater. Operators'

hearing could be impaired by these old devices. (It is still recommended that ear defenders be

worn by any user). The move to electric (corded or cordless) has also reduced average

machine noise.

Brands that claim excellent emissions reductions in their petrol models include Echo; Hitachi,

whose 2-stroke Pure Fire motor meets the US Phase 2 and Euro Stage 2 regulations; and

Makita, who have gone over to 4-stroke engines, including the world's lightest 4-stroke

handheld machine at 4.4kg (the equivalent Hitachi 2-stroke is 3.9kg so that is a fine

achievement for the traditionally heavier engine technology).
---
There is increasing popularity for the more versatile vacuum/blowers that can also suck up

dust or gather leaves and mulch them before collecting them in a bag to avoid the collection

chore, as well as aiding the composting process. Electric and petrol combination machines

now abound, from lightweight Flymo and Black & Decker models to wheeled hand-push

devices from GMC and Warrior and powered-wheel machines from Billy Goat. Suction

machines also counter criticisms that simple blowers raise harmful dust and are damaging to

nearby plants. Their extra versatility may well be appreciated more and more in years to

come.

Other innovations include electronic 'Touch Start'12V battery starting on petrol machines

(from Ryobi) to avoid the chore and uncertainty of pull-cord starts. Others have an easy-start

carburettor to make the pull leas onerous.

The early history of the leaf blower has been somewhat affected by controversy but it is

undeniably popular and it has a permanent place in garden and commercial applications due

to the much greater productivity that it affords when compared to a man with a rake and

spade. Machines will continue to improve and get greener, and consumer choice will grow

even further.
---
How Leaf Blowers Work

Garden leaf Blowers and vacuums have been with us since the 1970's and have

revolutionised how we care for our gardens at home and also commercially. They take the

chore and hard work out of time consuming tasks such as clearing leaves and debris and

assist the gardener in creating a clean overall appearance to their land. Simple and quick, this

garden equipment can reduce hours spent on tedious garden tasks by half. Pathways,

driveways, sidewalks and pool areas that have lawn clippings, sand, and debris or leaf

droppings can be cleared in minutes so the garden enthusiast can enjoy more time on the

more creative functions of gardening. It has also been an asset to the commercial world. The

Backpack Leaf blower with its extreme lightness and carrying ease is perfect for cleaning

large areas and keeping corporate outdoor areas tidy.

The rise and rise of the leaf blower and vacuum

Invented by Dom Quinto, the Leaf blower was originally introduced to the United States way

back in the 1950's. However its initial appearance was as part of an agricultural chemical

sprayer. Following a survey, manufacturers realised that owners were tending to discard the

chemical sprayer components and were just using the blower element. It then became quite

clear that they were looking at an excellent and highly effective common lawn and garden

maintenance tool. Thus the leaf Blower was born and since then has spawned many different

brands, sizes, makes, types and configurations. So how does the Leaf Blower Actually work?

The basics of a leaf blower

Fundamentally the leaf blower comes in two varieties. It is either powered by petrol or

electric. In both cases, and like all garden equipment, at the hub is a two-stroke engine. We

are more used to hearing the term four stroke engine when we are referring to our cars and

aircraft. But a two stroke engine is more useful for this type of equipment for the following

reasons:

• As two-stroke engines do not have valves, their construction is simplified and hence lowers

their overall weight.

• Two-stroke engines fire once every revolution in comparison to four-stroke engines once

every other revolution. This creates a huge power boost for the two stroke. Two-stroke

engines also have the potential to pack about twice the power into the same space because

there are twice as many power strokes per revolution.

• Unless it is upright a standard four stroke engine may have problems with oil flow. Twostroke

engines can work in any orientation. This is obviously important for this piece of

equipment as it is likely to be used and various angles to gain optimum performance.

• All these advantages together make two-stroke engines lighter, simpler and less expensive

to manufacture.

Within the engine itself is an "impeller". Together with the motor, the impeller pulls the air

through a conduit that opens under the blower housing. At the same time, and to protect the

engine, the air is drawn through an air filter. With petrol models bigger garden projects will

require more horsepower as the two-cycle engines are often not as efficient as they could be

in leaf blowers. At the exhaust end of the machine the air is now being expelled and used to
---
low leaves and debris away. You can also obtain convertible blowers where the bag can be

attached to catch the leaves or debris which has been vacuumed up. This works in very much

the same way as a lawn mower catching the cut grass in the "grass box". A mulcher facility

compresses the vacuumed leaves into small packages.

Protective measures

One issue owners have complained about with the blower and leaf vacuum is the excessive

noise it makes. This is caused by the combination of the engine and the exhaust together. On

the larger models which are used for commercial use the noise created has been recorded as

high as 100 decibels. It is therefore highly recommended that when using a leaf blower the

owner uses ear protectors. It should also be stated that electric motors are quieter than their

petrol counterparts. Rather than this being to do with a smoother running engine, this is due

to the fact that an electric model has not yet been developed with sufficient power to operate

the larger machines.

Centrifugal force

Once the air is produced from the engine within the leaf blower and expelled through the

exhaust, it is centrifugal force which actually "blows" or moves the leaves in your garden to

orderly piles.

Electric, petrol and battery operated

There are different types of leaf blower on the market which use different types of energy

source. The three main ones available are gas, electricity and battery. All three uses the same

engine set up as described earlier but they vary in the sense that different models are useful

for specific tasks. For instance as electric models do not have as much power they are not

normally used for the bigger jobs. However they are effective because they are lighter and so

are more likely to be found in a domestic environment. The drawback with the electric model

is they need a lead attached to the power source, and so the user is slightly restricted as to

how far they can travel with their equipment. Where it is likely to be a large expansive piece

of land that is worked on, it is more useful to consider a petrol Leaf Blower or a battery

operated machine. However you should also be aware that battery life with a two stroke

engine tends to be quite short.
---
Getting the Best Results from your Leaf

Blower

The leaf blower or Vacuum has become a major investment in gardening equipment. Not so

long ago they were a novelty item rather than a necessity but now the benefits of this useful

device have really taken a hold in the horticultural world. Leaf blowers effectively reduce

time spent on tedious tasks, they aid the worker or home gardener to tidy their garden, they

can be used in small domestic homes or large corporate landscapes, and they are simple and

safe to use. But in order to get optimum use out of your equipment it is important a leaf

blower is used correctly and maintained properly. The place to start is before you buy. There

are different varieties of Leaf Blower on the market and it is essential that you purchase the

device which matches the needs of your task and your environment.

Before you buy

The trap many consumers fall into is they do not appreciate that there is more than just one

variety of leaf blower - so it is worth checking around first before you buy. The three main

types of leaf blower are:

• Backpack

• Handheld (petrol)

• Handheld(electric)

All give better results for individual garden tasks.

Backpack

The backpack leaf blower is really designed for the larger garden job where you will be

clearing debris and leaves over a large area. It tends to be used in a commercial environment

more than the small domestic home. Hence it is more powerful than its handheld cousins.

Usually powered by petrol the main engine is slung over the operators back in the form of a

rucksack. The worker can control the exhaust by a leaver at his right arm where he will find a

simple on-off switch and the throttle. Because this model is light weight it is considered to be

less tiring to use than the handheld models as you are carrying the weight of the machine

neatly on your back.

Handheld (petrol)

This model is a great deal smaller. The exhaust (this extracts all the leaves and debris) is

considerably shorter. This model is used for smaller areas with less leaf downfall. Perfect for

the domestic homeowner it is held in the hand and close to the ground for optimum

performance. It does take more energy than the Backpack as you are constantly moving the

whole machine with a wrist action to target parts of the ground which need clearing.

Handheld (electric)

The electric handheld leaf blower is often seen as more useful for the domestic user because

it is even lighter than the petrol model. (you are not carrying the weight of the petrol itself).
---
However the major drawback is the fact that you are likely to be restricted by the cord to the

electricity source. On the other hand in a small home garden area there is likely to be little

need for a long cord. An extension can also be used as well.

If a cord is a problem then you can also try the battery operated model. Like the electric

model these leaf blowers are light and easy to use with small projects. The one drawback is

that the lifespan of the battery tends to be quite short.

Easy action – best results

The controls on your leaf blower are quite simple. There is an on-off switch and depending

on the size of the machine, there will be a throttle facility as well. It will take a little time to

work out how the pressure of air works with your target so don't be afraid to try a few

different positions until you feel comfortable. Just like getting used to the gears in a car it all

just falls into place eventually. It will be easier to mound your leaves with the leaf blower if

you have something to blow them against, like a fence corner or your homemade compost

retained area.

If you have a pile of leaves and you want to move this load from one spot to another try not

to blow the load from the base of the pile as leaves may be thrown back in your face from the

eddies caused by the height of the pile.

Maintenance is key

Its very easy to blame the gardening equipment when you are not getting the results you are

looking for, but at the end of the day if you don't look after your equipment you are likely to

be getting bad results from a machine that just isn't working properly. Maintenance is

especially important with leaf blowers because if the machine also comprises a vacuum you

are actually drawing in rubbish and debris towards the workings of the machine itself.

Good storage is essential for looking after your leaf blower and vacuum. Because it tends to

get used seasonally (although it is obviously used for other cleaning jobs around the home

such as cleaning out the garage) there is likely to be long periods in the year when it needs to

be stored away for future use. To ensure your blower works as well as when you put it away

last autumn always store your leaf blower in a dry place. Petrol blowers should be given

special consideration. The issue here is petrol actually goes off over a period of time. It turns

to varnish and will leave deposits in the engine. To prevent this, a fuel stabiliser should be

added into the petrol tank. The stabiliser will preserve the fuel and prevent it from

deteriorating and leading to a clogged carburettor next season.

Regularly check the air filter to ensure that it is kept clean. This is easy to access and is

recognised as a small sponge within the filter section. Once taken out this can be cleaned in

soapy water, dried and then doused in WD40 oil. The oil is excellent for trapping more dirt in

the filter. Make sure your spark plug is ok as they tend to wear out quite fast in a two stroke

engine. If it needs replacing it is essential that it is the model of spark plug which the

manufacturer recommends. Any other may prevent the leaf blower working at optimum

performance. Also check the exhaust where debris is taken up. If this gets clogged future

performance of the equipment will be restricted.
---
Backpack or Handheld Leaf Blowers

When leaf blowers first came on the market in the USA back in the 1950's there was one

simple design. In fact it wasn't even recognised as a leaf blower. This invaluable piece of

equipment first appeared as an agricultural chemical sprayer. It was only when customers

started using the blower more than the sprayer that it hit the American DIY shopping shelves

with some force.

Refined and updated in the 21st century

Now in the 21st century it has been refined and updated, all the major manufacturing brands

produce it and it has many different versions and specifications. One of the major add-ons

which have appeared in later years is the Leaf Vacuum and mulcher. As well as being able to

tidy your garden and garage areas appropriately you can now get rid of the mess immediately

by sucking it into the machine itself. The mulch function then compresses the leaves into

small packages.

For those who are not particularly aware of the current market or a little doubtful when

presented with two many options when buying a mystifying electric gadget this article may

help to make matters a little simpler as we look at the major needs and concerns when buying

a leaf blower.

Two main kinds of Leaf blower

You are likely to be presented with various brands and versions. Some will be powered by

petrol and some will be powered by electricity and some will even be battery operated. At the

end of the day they all come under one heading. Either they are a backpack or a handheld.

This will be the main decision and will determine all decisions which follow. So first of all let

me explain what each comprises.

Backpack

A Backpack leaf blower consists of an engine and exhaust. The two stroke engine is carried

on the users back in a canvas holdall like a rucksack. The large exhaust (or blower) is

attached to the engine and is at the user's right arm. Attached to the exhaust is the throttle.

The backpack is powered by petrol.

Handheld

The handheld is smaller in size and is directed by either hand with a flick of the wrist. The

on-off switch is on the handle and the exhaust or blower is smaller and less powerful than the

backpack. It can be powered by petrol, electricity, or battery.

The right equipment for the task

Your decision of which leaf blower to go for inevitably depends on the type of work you

intend to do and the environment you live in. The backpack was created for use in the larger

garden where you will be clearing debris and leaves over a large area. It is more likely to be

found in a commercial environment than the small domestic home because it is more
---
powerful than the handheld. However after taking all of that into consideration, a great asset

of the backpack is its ease of use. Carried on the back it is light-weight and a great deal less

tiring to use whatever the size of the project.

The handheld leafblower is smaller and by default is lighter. It is not so powerful and so

therefore tends to be found more in the domestic household setting. Perfect for the domestic

homeowner it is held in the hand and close to the ground for optimum performance.

However, lightweight as it is, you are constantly moving the whole machine with a wrist

action to target parts of the ground which need clearing, and so use over time can be tiring.

The electric handheld is lighter than its petrol counterpart as there is no petrol on board. Also

electric leaf blowers are quieter than petrol machines. So if noise is a problem than you

should consider the electric handheld. (Always take precautions with ear muffs to protect

your ears.). The one issue with the electric leaf blower is the restrictions which are caused by

having to take the lead into account. In a small domestic garden this should not be too much

of an issue. But if you are likely to be traversing over a wide area then consider the battery

operated model which of course is cordless.
---
Electric or Petrol Leaf Blower?

The battle that will be fought out in the car market in years to come is already being waged in

the sales markets of many other, albeit smaller, outdoor machines.

Not the least of these is the leaf blower market, and within that its subsidiary blower & leaf

vacuum sector. Here of course the electric share of sales is considerable because battery

technology has eroded the main electric machines' position, and the main machines at the

more powerful end have eroded the petrol blowers' share due to concerns of noise and

pollution.

When it comes to a straight fight between fossil fuel and electric power (which of cause is

largely fossil-fuel derived at present) we are largely discussing the relative merits of mains

electric motors versus 2-stroke petrol (gasoline) engines. Cordless blowers, although hugely

improved from a few years ago, are not really competitive on sheer power grounds.

We should spare a thought, however, for the meatiest of the cordless machines: among a

fairly small gathering possibly the most notable is the Ryobi One + OBL 1802. This light,

quiet machine packs a quite impressive 120mph / 193 km/hr air flow and can be powered by

the company's cross-compatible Li-ion or NiCD battery packs and charger (but beware that

the machine does not come with one of these as standard so you need to buy a pack or have

one already). If you want a green machine that is unlikely to annoy the neighbours then this

may be for you.

More likely to compete head-to-head with the petrol boys are the corded blowers. These are

in most cases actually hybrid machines that can, at the flick of a switch, go from 'blow' to

'suck' and collect leaves, debris and dust into the blades of their cutter that reduces the

material by 10 times or so in volume terms.

These really use their mains power and you need to beware of their prodigious output, which

can put a strain on your household electricity supply: at 2000W to around 2700W peak output

these machines are twice as energy-hungry as a modern air conditioner and may cause your

bill to be afflicted by excess power charges.

No surprise then that they can generate air speeds every bit as ferocious as those of the petrol

vac-blowers, at up to 320 km/hr.

You might think that an electric motor would be lighter than a petrol one but in fact the dry

weight of the petrol machines is generally less than the mains ones. Adding fuel obviously

levels things up, but there is no convincing winner on the weighing scales.

Mulching ratios are similar in the vast majority of cases at 10 to 1, and collection bags are 40

or 45 litres regardless of power source (but watch out for the occasional 35 litre bag if long

uninterrupted working time matters to you).

There is an isolated case where development of a mains machine seems to be ahead of its

petrol brother: Ryobi are achieving an excellent 15:1 mulch ratio for their electric 2000W

blower-vac, with a 45 litre bag, but their comparable 26cc petrol device with the same

320km/hr output claims 12:1 and only has a 40 litre bag. Still a good set of figures, though.
---
For all their muscle and relative quietness (e.g. Black & Decker electric 93dBA: McCulloch

2-stroke 103.9dBA) the mains machines do of course have their 'Achilles cord'. It need not

be too much of a safety concern so long as you take care and you fit an RCB for protection

against shocks in the event of a broken cord. It is a safer operation by far than running a

mains-powered hedge trimmer or chain saw.

Far more of an issue is your intended scope of operations. Given a 10 metre lead supplied and

a suitable, approved 13A extension cable, you have a pretty good 60 metre working reach

from every power socket in your house or garden outbuilding. That may be enough for most

domestic, suburban users.

If you live in the country, or are fortunate enough to have a large garden, you are more likely

to choose a petrol leaf blower with or without a vacuum option, as is your preference.

And if you are worried about negative publicity that has surrounded some of the 2-stroke

blowers, you can opt for the Makita 4-stroke, which has overcome the issue of being able to

use the device at any angle including upside down: this has traditionally been the party piece

of the 2-strokes. This model also claims to be the world's lightest 4-stroke at just 4.4kg.

Alternatively, Hitachi has engineered a 2-stroke engine they call the Pure Fire which meets

the demanding US Phase 2 and Euro Stage 2 emissions regulations. The total machine weight

is even lighter than the Makita at 3.9kg.

For the demands of the commercial user the typical handheld blower can be a pain in the

back (and elsewhere), so a sensible Health & Safety choice is the backpack machine. Again

there is a 4-stroke Makita option, a clean Hitachi, and also a Ryobi that has a 12V battery for

electronic touch starting: thus saving on all the further strain inflicted on users by pulling

recalcitrant cord starters. These are another major cause of defections to the electric cause.

Finally there are wheeled machines to push along, or even ones that are self-powered like

lawn mowers. These collect leaves and dust as they travel. The Billy Goat range includes

some of the most rugged of the breed.

Despite the encroachment of electrics, the petrol machines survive: spurred on by

Governments and State lobbyists, the commercial end of the petrol leaf blower market is

clearly making big strides in terms of noise, dust collection, and emissions. No-one should

write them off for a long time to come.
---
Tips on Choosing Types of Leaf Blowers &

Vacuums

When leaf blowers were born, machinery was heavier and generally larger than with today's

technology. You had to walk behind the wheeled device, effectively a petrol-engined blower

on a trolley.

As the blowers developed, backpack machines became more common, allowing more

freedom for the operator to work in any location.

Finally the post-war development of lighter aluminium-based 2-stroke engines and plastic

mouldings allowed blowers, and later blower/vacs, to emerge and take over most of the

market. The new domestic buyers generally opt for these types.

This market shift has however not led to the extinction of the walk-behind or backpack

machines. For specific applications, they are still the sensible choice.

Wheeled Blower/vacs

If you have large quantities of leaves to clear from a park or extensive lawn, you will find it

tedious work to use the small nozzle of a handheld to blow up all the leaves into piles, or to

suck them up into a small bag that will require frequent emptying.

The option of a wheeled machine that can traverse the area in lines like a lawnmower,

sucking up leaves through a wider intake and using a more powerful motor, is very seductive

in this situation. Add to that a collection sack of 200 litres or more compared to a typical 40

on a handheld blower-vac, and you can be far more productive in your work.

Taking two machine examples, the Warrior has 2100W of power from its 4hp Briggs &

Stratton engine. It comes with a very useful 3 metres of 'wander hose' that overcomes some

of the limitations that a heavy wheeled machine has in working in awkward corners and other

places that the chassis cannot go. The Warrior can be adjusted between a choice of 1 out of 4

possible suction heights.

The Billy Goat machines offer a choice of push-along or rear-wheel-powered traction. They

boast a 5-bladed steel impellor with serrated edges that create a better mulching action. A

dust cover is fitted for the operator's protection. They have a mighty 6hp Briggs & Stratton,

variable-height adjustment and a huge 282 litre collection bag.

Backpack Leaf Blowers

Managers who are conscious of repetitive strain injury and its Health & Safety implications

will take a close look at the merits of backpack blowers. But if you want to have the

versatility of petrol power, they tend to be only for blowing. It is hard to build in a vacuum

collection sack and the extra weight into a machine that sits high on the operator's back.

However, where straightforward leaf blowing is required there are some well-developed

modern machine choices available. Among the petrol machines, Makita is notable for
---
offering its cleverly-engineered 4-stroke engine that represents a lean and green low-emission

option. Hitachi has developed a clean 'Pure Fire' 2-stroke that also meets US and Euro Phase

2/ Stage 2 regulations. While Ryobi offers a 290 km/hr machine with 'Touch Start' electronic

12V ignition that potentially saves a lot of time and aggro when starting on cold or wet

mornings.

Electric backpacks are lighter and are able to offer vacuum bags. Gardencare and Hitachi

both offer combi blower-vac models.

Handheld Leaf Blowers

The professional users who are not using the above types of machine will opt for the most

heavy-duty of the handheld blowers, to cope with even wet compacted leaf mulch on damp

days.

If you are a householder, you are most likely to choose an electric mains-powered blower-vac

machine. Why? Probably a combination of the following benefits:

• Quieter

• Cheaper

• Easy starting

• Less vibration

• Low maintenance

• Cleaner – no fuel/oil

• Ability to suck or blow by throwing a switch

• Leaf collection and mulching

You would imagine that they would also be lighter: however the powerful electric motors

used are pretty heavy items and there is little in it weight-wise between electric and petrol

machines. Of course the electric machines have cords but with a suitable extension lead you

will be able to cope with most likely situations. There are some battery-powered models but

they are less powerful: try them out to see if they are up to the work you want to do.

Among the mains models you might choose are the Flymos (2 models with particularly

powerful motors), a Silverline 2400W that offer high power to budget-conscious buyers, two

variable-speed Ryobis, a Draper 2200W with a wheel on the end of the nozzle to use on firm

ground and improve your collection, and a Black & Decker with many features including an

easy-empty bag and a scraper-shaped head for releasing stubborn damp leaves.

If you are able to, go to a dealer and try before you buy. You will get an impression of

important aspects of the machine such as its balance in the hand or on the shoulder, the extent

to which it is insulated from vibration by its mountings and/or a soft-feel handle, and the

effective noise level. The quoted dB figures, where available, are not always a true reflection

of the noise received by the user.

Whatever model you choose, do buy a kit of safety equipment including a helmet, ear

defenders, a visor or goggles and stout gloves: and cover up when using the blower: powerful

air movement brings with it flying debris.
---
Enjoy your chosen blower: it is a very useful tool and one that, properly maintained, should

last you for many years.

'The answer is blowing in the wind'

(Bob Dylan)
---
Leaf Blower Maintenance

Why is maintenance important?

With all electric equipment it is imperative good maintenance is a regular activity. You need

to ensure your device remains reliable, has a good lifespan and perhaps most important of all,

is safe to use both for yourself and those around you. A well maintained leaf blower will lead

to:

• Safety

• Durability

• Reliability

• Effective use

• Time saving in the long term

• Financial gains in the long term

There are various models of leaf blower or Vacuum on the market. Some models are powered

by petrol, some by electricity and some are battery operated. You can buy Leaf blowers

which are hand held, in the form of a backpack or a "walk behind". But all types, brands and

makes are fundamentally the same. They are all powered by a two stroke engine and use an

impeller.

Storage

The seasonal changes in the country in which you live will probably determine how often you

use your leaf blower. For instance in the United Kingdom, where there are clearly 4 distinct

seasons, it will have its most active use in the autumn between September and December.

Storage then is an important issue. You want to know that when the leaves are filling up the

yard again you will not need to hot foot it down to the local DIY store because it is showing

no signs of life.

The electric leaf blower does not need any real preparation before you store it away, however

the petrol blower needs a thought before it disappears into your shed for a season. The

problem with petrol leaf blowers is you are likely to leave petrol within the machine itself.

Petrol has a shelf-life. If it is left for a long period it will actually turn to varnish and leave

deposits in the carburettor fuel lines and combustion chamber. In the long term this could

really affect the working of the two stroke engine and ultimately lead to poor performance

when the machine is used again.

The solution to this problem is to add a fuel stabiliser into the petrol tank. The stabiliser

works in a way to actually preserve the fuel, prevent it from deteriorating and leading to a

clogged carburettor next season. Whether you own an electric or petrol leaf blower you

should always make sure it is stored somewhere dry.

Filter Maintenance

One of the most important elements of your petrol leaf blower is the air filter and it is

important it is maintained regularly. The object of the filter is to ensure that only clean air is
---
going into the engine. You will find the filter in an easily accessible compartment on the side

of your equipment. The filter itself is in the shape of a small sponge which is easily

removable. Take the sponge out and wash it with soapy water. Allow the filter to dry and

then spray it with WD40 oil which is excellent for aiding the sponge in attracting more dirt.

Spark Plug Maintenance

One of the downsides of the two stroke engine is the spark plugs tend to wear out quite

quickly. Ensuring that your equipment is switched off you will find the spark plug is easily

found under the "spark plug boot" - a rubber covering to the spark plug. Using a wrench,

unscrew it and take it out of the machine. Now it is very important that the replacement is the

same as the one the manufacturer recommends. This information should be available in the

instruction manual. Do not try to replace it if you are unsure about this activity, as the wrong

type of spark plug could lead to the leaf blower not running properly.

For ideal maintenance it is a good idea to get into the habit of checking off important

procedures to ensure your equipment remains safe and reliable.

Daily Routines

For optimum performance you should always give your equipment a once over check before

you start using it. This includes checking the stop switch works correctly. For obvious

reasons this could be a dangerous safety flaw if not in use. This also applies to the throttle

lock and the trigger function. Make sure they feel comfortable to activate. If you have any

doubts about use take it to a reputable dealer to check it out. Check that the fan impeller (this

is what drives the air out of the exhaust) is clean. This is more important if the machine has

been used for vacuuming debris and may have foreign material trapped in the fan or the

exhaust.

Weekly routines

Due to the fact that the leaf vacuum is taking in debris into its internal workings, it is

imperative that regular attention to the cleanliness of the internal working of your leaf blower

is checked. It is important if the device is being used regularly that the engine is checked on a

weekly basis. This would include anti-vibration mountings, the air intake at the starter device,

and the carburettor space. It is also important to check the starter function, the starter cord

and the tensioning spring. Once a week the fan blades on the flywheel should be thoroughly

cleaned. The outside of the spark plug is another area which should be free of dirt. This can

be done by unscrewing it and checking the electrode gap. It should be adjusted to 0.5mm.

Monthly routines

On a monthly basis the fuel tank should be flushed with clean petrol and the carburettor

should be cleaned as well as the fan blades of the fly wheel. It is important to check the fuel

filter and also the fuel line as well as all cables, connections and spark plugs. Where your

device has a muffler with a catalytic converter you should always make sure the mufflers

spark arrest screen is checked and cleaned.
---
Caring for your Leaf Blower or Vacuum

On the whole leaf blowers and Vacuums are reliable pieces of garden equipment. But as with

all electrical tools you need to ensure you look after it in order to maximise your investment,

continue high performance and make sure your device has as long a lifespan as possible. This

article will concentrate on various areas it is advised you should consider when looking after

your leaf blower.

Proper use is essential

The leaf blower and vacuum on the face of it looks a pretty simple device to use. An on-off

switch and a throttle appears to be the only areas of interaction you need to worry about. But

this is quite a complex piece of equipment. Powered by a two stroke engine and possibly

petrol, it has the potential of creating quite a force when fired up. Like all machinery it should

not be pushed beyond its limits so read the manual thoroughly beforehand so you understand

how best to use it and to the most positive effect.

Becoming an expert with your leaf blower will take a bit of practice. You will soon learn the

best way of manipulating the blower to get the best results but you need to be aware that

Handheld Vacuums are not capable of picking up any kind of debris in your back garden.

They will work fine with leaves, grass cuttings, and small twigs but anything bigger could

damage the exhaust or clog the machinery. Also try to steer clear of wet leaves and wet grass

cuttings. The wetness will make the objects heavier and hence will need considerably more

power to be swept up.

Use the correct petrol

When setting up your petrol model always ensure you are inputting the petrol recommended

by the manufacturer. Any other type could cause damage to the workings of the device and

you will be stalled before you get going.

Mulch versions

Some leaf blowers and leaf vacuums come equipped with a mulch bag. This is a very handy

facility. Instead of the machine just sucking up the garden leaves and debris it also

compresses it into small packages. This can then be used as mulch. However it is important

that you are aware of when the mulch bag is full. When your bag contains too much mulch, it

can cause your engine to work inefficiently.

Cleaning after use

As your leaf blower and vacuum is going to be dealing with a lot of rubbish and debris it is

important that you clean it after use. The most important areas are the exhaust (or blower),

the air filter, the mulchers blades and the fan. It is also a good safety activity to always give

your device a once over check before you actually begin using it. As with all machinery

consider having it serviced once a year. Not only will this ensure its effectiveness it will also

increase its lifespan.
---
Storage

The general climate of the country in which you live will define how often you use your leaf

blower and how often and how long it is placed in hibernation. Storage then is an important

issue. You want to know that when the leaves are filling up the yard again you will not need

to hot foot it down to the local DIY store because it is showing no signs of life. Always store

your blower in a dry place over the winter months.

The electric leaf blower can be stored away without any preparation just like the mower, the

strimmer and hedge trimmer. But the petrol blower is a little more complex. The problem is

not with the machinery itself but with the petrol. All petrol commodities deteriorate over a

long period of time and this could have a damaging effect on the engine. The petrol will turn

to varnish within the machine and also leave deposits in the carburettor, fuel lines and

combustion chamber. This will obviously lead to poor performance when the machine is used

again and could even shorten its life.

A fuel stabiliser should be added into the petrol tank before you place it into storage. When

the petrol and the stabiliser react together the fuel is prevented from deteriorating and leading

to a clogged carburettor next season.
---
How to Use a Leaf Blower to Get the Best

Results

Blow, winds, and crack your cheeks! rage! blow!

You cataracts and hurricanoes, spout…

(King Lear, Act 3 Scene 2)

So you've taken the plunge and invested in a leaf blower. Surely it's a doddle to operate, isn't

it?

In the sense that you turn it on and start blowing, yes it is. But then it can get messy. And

unless you bear in mind some simple tips based on others' experience and the advice of the

manufacturers, you may never realize the full potential of your machine.

Consider firstly the weather conditions. Yes, of course there will be a tendency for you to use

your new machine most in the Autumn (or the aptly-named Fall), the season of mists and

mellow fruitfulness and on the whole a damp period. This does not help your cause. The

ideal would be to blow your leaves into neat piles on a dry, windless day when the leaves will

move obligingly and they will stay in pyramids long enough for you to scoop them up.

The reality is likely to be a soggy grey day with drizzle and gusts of wind. On such days you

will need a powerful machine and one that can vacuum up leaves, if you are determined to try

and collect them then and there (or of course if your job demands it). If plumping for an

electric machine, you may be well advised to consider one like the Black & Decker that

offers a scraper facility, a flattened bottom to the spout of its nozzle, which aids the removal

of squashed leaf material, especially from hard ground.

Always adjust the telescopic nozzle (and if there isn't this facility, consider changing brands)

to suit your height and reach so that the nozzle is close to the ground without the need for you

to bend. And adjust the carrying strap to fit you properly. If you are a regular or professional

user, you may well save up your pennies for a backpack machine. Finally in ergonomic

terms, handheld leaf blowers with wheeled nozzle ends take the strain on the ground and

permit more controlled sucking to take place: a good example is the GMC 30cc machine.

Remember that all but the hardiest, most expensive blowers are designed for intermittent

domestic use. Try running an electric mains machine for hours on end and it will tend to

overheat and prematurely wear out the motor brushes and maybe worse. Your ears and hands

will take a pounding too, from noise and vibration, even with the proper protection (which

you of course should wear no matter what the makers say about anti-vibration measures and

reduced noise levels). Buy an approved, strong helmet/ear muffs/goggles or visor safety kit

such as those available from Silverline, ideally adding ear plugs for better deadening: and a

mask to protect your lungs from dust.

In the case of battery machines the running life is quite short and you will be forced to stop

and start briefly, even if you are taking the wise course of keeping a spare battery pack on

standby. These can take up to 3 hours to recharge, which is quite a drawback on short winter

days when the light is failing and the weather drawing in…
---
Petrol machine owners have the reputation of being hardy souls who appreciate the great

outdoors. They also should appreciate that 2-stroke motors respond well to a bit of TLC.

Otherwise the spark plug will get carbonized, the carburettor will tend to flood when you

over-choke it on start-up, and the self-same starting process is being hampered by uncleaned

air and fuel filters. For the best results, follow the manufacturer's service guide and keep your

machine clean! Check it also regularly for all bolts and screws being secure.

If electing for petrol, you would do well to look into any assistance that the makers give you

on the tricky business of pull-cord starting. Damp days, high altitudes, cold weather and sheer

cussedness can afflict motors and if an easy start system is fitted you may soon be blessing

your choice. Ryobi and GMC are among those who claim to have easier-than-usual starting

arrangements. Or for bigger spenders the Ryobi backpack with electronic starting is very

appealing, although it may not seem macho enough for certain users…

Another critical success factor, to use the jargon, is your accuracy in mixing 2-stroke fuel. A

50 to 1 ratio can be quite tricky to get right and many people dread this chore. Make it easier

on yourself by investing in a proper mixing bottle with the right filling inlets and embossed

measurement levels. Also have any different petrol (and diesel) in your workshop separated

in colour-coordinated cans.

Vacuum blowers have the added complication of a rotor blade to chop up and macerate the

material, and this must be sharp or be replaced.

In addition to you and the machine, think about the terrain and in particular the sensitive

plants near where you are operating. You may want to beautify a garden by removing leaf

fall, but get too close to a delicate shrub with a 300 km/hr blower and you will cause the same

damage as if a hurricane had hit it. Keep clear of plant beds and trunks: better still, use a

blower/vacuum machine turned to suck mode and with an adjustable strength that is turned

down low when in such sensitive areas.

This is one of the best examples of how a light touch is the best one when dealing with leaf

blowers. They are immensely powerful therefore they need to be treated with respect and not

(for example) damaged by working in vacuum on stony ground: or damaging others by

blowing loose shingle into nearby windows or peoples' faces. So use carefully: follow the

instructions: and get the best results.