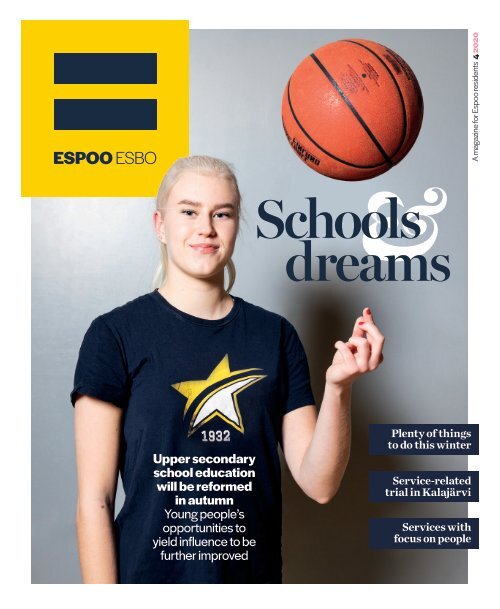 ESPOO MAGAZINE 4/2020
A MAGAZINE FOR ESPOO RESIDENTS
A MAGAZINE FOR ESPOO RESIDENTS
SHOW MORE
SHOW LESS
Create successful ePaper yourself
Turn your PDF publications into a flip-book with our unique Google optimized e-Paper software.
ESPOO ESBO

A magazine for Espoo residents 4 2020

&

Schools

dreams

Upper secondary

school education

will be reformed

in autumn

Young people's

opportunities to

yield influence to be

further improved

Plenty of things

to do this winter

Service-related

trial in Kalajärvi

Services with

focus on people
---
14

editorial

Let's follow

the coronavirus

guidelines

In the editorial,

Jukka Mäkelä takes

a stand on issues of

current interest in the

City of Espoo.

Jukka Mäkelä is the Mayor of Espoo.

The coronavirus situation in the Helsinki

Metropolitan Area and Espoo has deteriorated

in recent weeks. Worrying statistics from the

rest of Europe also give cause for special caution.

We know that the coronavirus spreads

easily, and therefore it is important that you

protect yourself properly.

This year, you should skip office Christmas

parties and any other big year-end parties or

celebrate them virtually. For example, the

City of Espoo's traditional Independence Day

concert will be arranged as a streamed online

event.

It is important to wear a face mask. Wear

mask, for example, in public transport and all

public spaces.

It is advisable to get tested for the coronavirus

even if you only have mild symptoms.

And if you are ill or have been exposed to

the virus, you must absolutely stay at home.

By following the instructions, you take care

of your own health and that of your loved

ones and also of all other people. We will get

through this together.

Jukka Mäkelä

Mayor of Espoo

More information

about coronavirus:

espoo.fi/coronavirus

Contents

3 | Calendar and picks

Write down the key dates.

8 | Theme

The joint social and health services

programme of Western Uusimaa.

14 | At your service

Jani Suomalainen provides

support for young people.

15 | What's on

Christmas is on its way

20 | Right now

Upper secondary school education

will be reformed in the autumn.

23 | Encounters

Fostering inclusion.

24 | Pearl

Villa Elfvik guides you to nature.

26 | Espoo people

In Kalajärvi, services are nearby.

28 | Swedish in Espoo

Reformed curriculum for general

upper secondary schools.

30 | We

Will we have a white Christmas?

20

2

31 | My Espoo

A village association

with long traditions.
---
30 Nov and 14 Dec

The housing advisor of the youth

housing association Pääkaupunkiseudun

nuorisoasunnot ry can be met at the

Leppävaara service point of Ohjaamotalo

One-Stop Guidance Centre without an

appointment on 30 November and 14

December between 12:00 and 16:00.

The housing advisor helps with all kinds of

housing-related issues and situations.

7 Dec

Espoo City Council

meeting starts at 17:30.

You can follow the

meeting live at

www.mediaserver.fi/

live/espoo.

30 Nov

Donate blood at the Sello Hall on Monday 30 November between 14:00 and

19:00. You are welcome to donate blood if you are healthy, between the ages

of 18 and 70 and weigh at least 50 kilograms. All new donors must be under

60 years of age. Take an official ID with you. Call the free donor info number

0800 0 5801 for additional information. Further information: veripalvelu.

fi and sovinkoluovuttajaksi.fi. The Blood Service continues to operate even

in exceptional circumstances. Pandemic precautions are in place for blood

donation. Donating blood does not lower your immunity.

8 Dec and

22 Dec

Apartment search info in the

Aalto room of the Iso Omena

Service Centre on 8 December

and in the lobby of Adult Social

Work on Komentajankatu on 22

December between 13:00 and

15:00. Service provided on a first

come, first served basis. These

information events are intended

for customers who need help

and support in applying for an

apartment and filling out housing

applications. The advisors do not

provide housing or write any letters

of recommendation or statements.

If you need an interpreter, you

can contact the housing

advisors by e-mail at

asumisneuvonta@espoo.fi.

7 Jan

The spring semester

in basic and general

upper secondary

education begins.

calendar dec/20–feb/21

Check the calendar

for the main events

and key dates of

the winter.

23 Feb

Joint applications to vocational education and

general upper secondary education are to be

submitted between 23 February and 23 March.

The electronic application form is available at

www.opintopolku.fi (Finnish) or www.studieinfo.

fi (Swedish). You can use the same service

to practise filling out the form before the

application period begins.

6 March

Publication of the

next issue of Espoo

Magazine.

MAGAZINE FOR ESPOO RESIDENTS

Public bulletin to all households. Feedback and suggestions: espoolehti@omnipress.fi

Publisher City of Espoo, PO Box 12, 02070 City of Espoo, 09 81 621, espoo.fi, firstname.lastname@espoo.fi

Editor-in-chief Satu Tyry-Salo, Communications Director Editors Omnipress Oy, espoolehti@omnipress.fi

Managing Editor Kimmo Kallonen Layout Oona Kavasto/Hank Printed by Punamusta

Distribution SSM Notifications jakelupalaute@omnipress.fi Cover Timo Porthan ISSN 1798-8438

3
---
Picks

€

According to the 2021 budget proposal, total tax funding − tax revenues and central

government transfers combined − is estimated to be lower than in 2020, as the state's

coronavirus compensation decreases. The growth in operating expenses will exceed tax

funding by far, and the result is estimated to be negative by EUR 43 million in 2021.

Enter Espoo

will launch its

new website

at the turn of

the year.

" We are still

the same

approachable

partner as

before.

Espoo in

social media

Facebook

Espoo – Esbo

Posts from different parts of

the city and news from various

City of Espoo actors.

Espoo Marketing is now Enter Espoo

THE company that orchestrates the

largest innovation hub in the Nordic

countries and markets tourism is

now known as Enter Espoo. As

a marketing company owned by

the City of Espoo, Enter Espoo is

tasked with attracting companies,

investments and visitors to Espoo

and helping operators succeed in

innovation and tourism ecosystems.

The company's services have

been developed to help companies

operating in the tourism industry

and innovation environment find

partners, customers and opportunities

for growth. Enter Espoo aims to

generate more jobs, tax revenues

and sustainable growth in Espoo,

for both the company's partners

and Finland as a whole.

The purpose of the name

change and the clarification of

the business identity is to renew

and crystallize the company's role

between the innovation ecosystem

and the various actors in the City

of Espoo. The new name better

describes the realisation of the

goals set in the company and City of

Espoo's strategy, the Espoo Story.

"We are now known by our new

name and image, but we are still the

same reliable and accessible expert

partner," says Jaana Tuomi, CEO

of Enter Espoo.

Enter Espoo is also currently

building a new enterespoo.fi website,

to be published in full at the

turn of the year.

Twitter

@EspooEsbo

Timely updates and quick

responses. Bulletins, answers to

questions and discussions.

Instagram

@espoonkaupunki

Great moments, events and

landscapes through the eyes of

Espoo residents.

#espoohetki

Paper sport and cultural

vouchers will become a

thing of the past

PAPER sport and cultural vouchers, such as

Smartum, Edenred and Tyky, will no longer

be accepted as means of payment at the

City of Espoo's service and sales points after

31 December 2020. In the future, sport and

cultural benefits can be paid for by electronic

means of payment, such as mobile phone apps

or charge cards.

Modern, electronic means of payment are

more cost-effective and their use reduces the

amount of manual work. Espoo aims to use digital

tools in its operations. Electronic means of

payment are already very commonly used when

paying for sport and cultural services.

4 A magazine for Espoo residents
---
CHECK

THIS OUT!

In this section of the

magazine, we introduce

interesting sites all

Espoo residents have

free access to.

Träskända oak tree

THE Träskända oak tree, Espoo's thickest

single-trunked tree, can be found

in a central location by the river in the

proximity of intersecting outdoor trails

in the Träskända Manor Park. The giant

oak tree's circumference is about 5.5

metres, the height is about 22 metres,

and the diameter of the crown is about

28 metres. The oak tree is believed to

be over 300 years old.

Due to the harsh winters of the

late 1980s, some of the tree's large

branches dried out. The places where

the branches were sawn off can still be

seen on the tree trunk.

The history of the Träskända Manor

goes back more than 200 years. The

most famous owner of the manor was

Aurora Karamzin, an influential figure

who lived in the area in the 19th century.

You can find all

the hardwood

species growing

in Finland from

the Träskända

Manor Park:

oak, wych elm,

European white

elm, small-leaved

lime, maple and

ash.

Q & A

In this section of the

magazine, we answer

the most often asked

questions received by

the city at the time the

magazine is

published.

?

Why have the streets not

been gritted yet?

Sometimes gritting is delayed due to our limited

amount of equipment, as there is quite a large

number of streets and roads that need maintenance.

Or, gritting may have been done, but as

the weather gets warmer, the grit sinks through

ice, rendering it ineffective against slipperiness.

The municipality can promote safety by gritting

the streets within a reasonable time and pedestrians

by choosing non-slip footwear.

?

Why are cycle and pedestrian paths

not ploughed by the morning?

Why are cars favoured over cyclists?

Carriageways are ploughed first. This way, the

snow that flows from the road onto the cycle

and pedestrian paths can be cleared away. If the

pavements were ploughed first, the work would

need to be done again as the ploughing of the

carriageways would throw the snow back onto

the pavement. When there is snow on the roads,

it causes more accidents than the same amount

of snow on the pavement.

?

Why does the city plough

my plot entrance shut?

The masses of snow ploughed away must go

somewhere. When there is already a snowbank

by the side of the road, the snow spreads across

the plot entrance. There are more than 25,000

plot entrances in Espoo. Clearing one of them

is a small thing, but if we wanted to clear all of

them, we would need a whole lot more equipment,

and thus winter maintenance would

require many millions of euros more of taxpayers'

money. In road maintenance, the duties are

divided between the property owners and the

city. The city ploughs the carriageways, while the

property owner is responsible for removing the

banks of snow resulting from ploughing at the

plot entrance. The division of duties is defined in

the Act on the Maintenance, Cleaning and Clearing

of Public Areas.

In road maintenance,

the duties are divided

between property

owners and the

"municipality.

5
---
Picks

The City of Espoo's investment programme totals EUR 2.5 billion in 2021–2030. In addition

to schools and day care centres, the programme includes traffic route and public transport

projects, such as the Jokeri Light Rail, City Rail Link and metro development corridor, which are

needed because of the growth of the city and the development of the urban structure.

Agreement on the design and

construction of the City Rail Link

THE Finnish Transport Infrastructure Agency, the City of Espoo

and the City of Kauniainen will make an agreement on the

construction of the City Rail Link in Espoo. The agreement

approved by the City Board will provide for, among other

things, a more detailed division of costs, execution and timetable

for the construction of the rail line.

The parties to the agreement agreed that the City Rail Link

will be built as a co-funded project in accordance with the

railway plan approved in 2015. The state and local authorities

will divide the execution costs of the project, EUR 275 million,

fifty-fifty between them. Espoo's share of the overall costs is

40 per cent and that of Kauniainen is 10 per cent.

The European Commission has granted EUR 11 million of

funding for the planning of the construction project. Planning

accounts for EUR 22 million of the total costs. EU funding will

also be sought for the construction of the City Rail Link.

The City Rail Link is part of the improvement of the public

transport system in the Helsinki Metropolitan Area. It will

enhance the punctuality of commuter traffic in Karjaa, Kirkkonummi

and Espoo, as well as help the long-distance traffic to

and from Turku run smoother.

In practice, the City Rail Link consists of two additional

tracks to be built between Leppävaara and Kauklahti. Two

tracks will be used for long-distance and high-speed commuter

services and two for frequent local traffic.

The construction planning of the City Rail Link is expected

to begin in February 2021 at the latest. The construction work,

on the other hand, is projected to start during 2022. The estimated

year of completion of the rail link is 2028.

Arkkitehdit Anttila & Rusanen Oy / Ramboll Finland Oy

The wooden apartment building

plots in Finnoo attracted interest

THE City Board's Business and Competitiveness

Subcommittee decided to

sell two plots in the Finnoo-Djupsundsbäcken

town plan area for corporate

wooden apartment block development.

The buyer, selected from among 13

buyer candidates, is a group consisting

of Suomen Puukerrostalot Oy, Lindbäcks

Group Ab and Kallioinen Yhtiöt.

The purchase price is EUR 4.8 million.

Olli Isotalo, Director of Technical

and Environment Services, is delighted

that real estate developers are widely

interested in wood construction and the

Finnoo area.

"Despite the challenging coronavirus

epidemic, this is a sign of

confidence that the apartments to be

completed will sell. All in all, the pace

Reference

plan of Djupsundsbäcken

in Finnoo

viewed from

the east. The

plots being

sold are located

in the area

at the top of

the image.

of construction in Espoo has remained

high in spite of the uncertain situation,"

Isotalo says.

The western area of Djupsundsbäcken

in Finnoo is located near the

sea and the Kaitaa metro station, with

its southern and western edges bordering

on the existing residential areas in

Kaitaa. There are existing school and

day care services in the area. In accordance

with the City Council's decision,

Finnoo will be developed as a model

area of sustainable development.

The first apartments are currently

being built in Finnoo. The first parking

facility in the area is also under construction,

to be completed towards the

end of 2022. The metro is expected to

start operating in Finnoo in 2023.

Remember to wear a mask

IN the Hospital District of Helsinki and Uusimaa

(HUS), the use of face masks is recommended for

persons aged 15 or over on public transport, in

public spaces (such as shops, shopping centres

and service centres) and at public events, in upper

secondary schools, higher education institutions,

youth work and during recreational activities. It

is also recommended that social and health care

personnel wear masks in patient and client work.

The use of face masks is also recommended

in all other workplaces, especially in situations

where people meet each other to a wider extent

and when sufficient safe distances, when it is not

possible to maintain safe distances, take turns

using spaces or implement other hygiene and

safety arrangements. Parents are recommended

to wear face masks at maternity and child health

clinics and when coming to early childhood

education and care facilities for example when

dropping off and picking up their children.

In addition, the city requires everyone aged 15

or over to wear a face mask in the indoor sports

facilities managed by the city. The face mask

should be worn at all other times except during

exercise. The obligation applies to all indoor

sports, including the use of school sports facilities

for club activities and hobbies. Indoor skating

rinks it is considered justified to require the use of

face masks in indoor sports facilities.

The use of face masks is recommended in all

leisure facilities. However, based on epidemiological

assessments, it is considered that it is justified

to require the use of a face mask in indoor sports

facilities instead of just recommending it.

6 A magazine for Espoo residents
---
Based on preliminary data, the population growth rate in 2020 has

been considerably slower than in the previous year. However, based on

projections, the population of Espoo will continue to grow in 2021–2030

by an average rate of approximately 4,500 additional inhabitants per year.

Sorting to become easier in spring

THE sorting of waste will become easier

for an increasing number of Espoo

residents. In spring, the collection of

biowaste, cardboard, glass and plastic

packaging and small metal items will

begin in all properties with at least

five apartments. The Helsinki Region

Environmental Services Authority HSY

will deliver the necessary containers

to the properties during April-May.

In small properties with 5 to 9

apartments, packaging waste and

small metal items are mainly collected

in a space-saving four-compartment

waste container. In addition, the properties

will be provided with a biowaste

container.

In addition to the current collection

containers, properties with 10 to 19

apartments will get separate containers

for sorting small metal items, glass

and plastic packaging. Properties

bigger than this will start collecting

plastic packaging if they do not yet

have a collection container for them.

As more waste is sorted, the

amount of mixed waste decreases

and the number or size of mixed waste

containers can be reduced or the

containers can be emptied at longer

intervals.

The change is based on the

reformed waste management regulations

of the Helsinki Metropolitan Area

and Kirkkonummi, which, in terms of

sorting, will enter into force next year.

"

Iso Omena maternity and child

health clinic and mental health services

join forces to help parents

THE Iso Omena Service Centre's

maternity and child health clinic and

mental health and substance abuse

services have created a joint service

model. The new model makes it easier

for a public health nurse at the maternity

and child health clinic to consult a

psychologist if the nurse is especially

concerned about the well-being of a

new parent or a parent-to-be.

There may be concern about a

parent's mental well-being in general,

or the client may need conversational

support related to a specific issue,

such as termination of pregnancy, stillbirth,

miscarriage or infertility treatments.

After the nurse has consulted

As more waste

is sorted, there

will be less mixed

waste.

the psychologist, the psychologist will

contact the client if necessary. Any

follow-up plans are made in cooperation

with all the parties involved.

The service model was selected as

the winner in the innovation competition

of the Iso Omena Service Centre,

which was organised for the second

time. The competition was inspired

by the Mayor's city-wide innovation

competition aimed at improving

services for the benefit of residents.

The innovation competition is a practical

example of the multi-professional

development work carried out at the

Service Centre.

Nina Elfvengren

An artist and preschoolers creating

an Espoo-themed book together

THIS autumn, the City of Espoo Cultural Unit will produce an Espoothemed

coloured picture book, Kurkkaa Espooseen (Peek into Espoo),

illustrated by illustrator and graphic artist Carlos Da Cruz. The book

will be made in collaboration with pre-primary education groups in

Espoo. The book will feature drawings of each urban centre in Espoo,

as well as illustrations of the northern parts of Espoo and an overview

of the city.

The images in the Kurkkaa Espooseen book will not have any text,

which will leave room for new stories. Children can comment on the

illustrations and request for changes and additions to them.

"Making a book is a wonderful example of how cultural education

can be used for enabling experimental making of art. In Espoo, we

have long and good experiences of the use of different cultural education

models, such as KULPS culture and sports path and Culture Call,

says Cultural Director Susanna Tommila.

Inspired by a survey made earlier, the illustrator first creates blackand-white

sketches, which are then made available to every pre-primary

education group in Espoo.

In their groups, children can study the pictures, talk about the

thoughts they evoke and, for example, make excursions in the surrounding

neighbourhood to explore the sites they find important.

Children's thoughts are written down and used not only for making the

book but also for updating the Espoo Story.

The book, to be compiled from material created in collaboration

between groups of children and the illustrator, will be published in

December. It will be distributed to all children in Espoo born in 2017

and 2018 in connection with their 4-year appointment at the child

health clinic in 2021 and 2022. In addition, the book will be delivered to

all pre-primary education groups, municipal early childhood education

groups and libraries.

Preschoolers

comment on

the sketches for

the picture book

Kurkkaa

Espooseen.

7
---
theme

The municipalities of

Western Uusimaa have

started the work on

merging their health

and social services with

a view to the national

health and social

services model.

Text Tiina Parikka Photos Timo Porthan and Eemeli Sarka

Bringing the

social and

health services

together

In the health and social services reform in the

municipalities of Western Uusimaa, customer

experience is the starting point for everything.

Smooth provision of services is in the best

interests of all parties involved.

THE

i

goal is

that, from

the customer's

point of view,

the health and

social services of

Western Uusimaa

appear as a

seamless entity

and cooperation

across different

units is easier.

The previous government's model

for health and social services was

criticised for being too focused on

administrative issues. Now the

focus has been set on people, the

customers.

Joining its forces with nine Western

Uusimaa municipalities, Espoo has started to

build a joint health and social services model

in accordance with the policies of the Ministry

of Social Affairs and Health. The municipalities

will be developing the services together,

regardless of whether the national health and

social services reform takes place or not.

"In our own work, we have also examined

the content of services in addition to administration,"

says Markus Syrjänen, Director

of Administration and Development in

Espoo.

Programme Director Jutta Tikkanen

emphasises that structural changes must be

planned in such a way that they enable customer-oriented

service.

Customer orientation means combining

services so that the customer always gets a

response based on their first contact, no matter

which party they are in contact with.

"Currently, the various actors involved

do not know each other sufficiently well.

In many cases, it requires several contacts

before your own case moves forward. Some

people get tired of seeking help and drop out,"

Elina Jaakovlew-Markus admits.

Jaakovlew-Markus works as manager of

health services development in Espoo.

Syrjänen points out that, in the future,

health and social services staff will take over

the responsibility. The customers do not even

need to be aware of what services are available

for their problem or what they need in

the first place.

A rational approach in the initial phase

saves both the customer's time and the service

provider's resources.

Clarity to digital services. The goal is that

customers would increasingly make first

contact through digital channels. A lot of

8 A magazine for Espoo residents
---
,,

The customers

do not need

to know what

services are

available or

what they need

in the first place.

9
---
theme

5

10

7

1

Western

Uusimaa

Cooperation

Area:

8 3

9

6

4

1. Espoo

2. Hanko

3. Ingå

4. Kauniainen

5. Karkkila

6. Kirkkonummi

7. Lohja

8. Raseborg

9. Siuntio

10. Vihti

2

LEGISLATION

i

also ensures

transport

services for

persons who

cannot use public

transport. Read

more about the

new transport

services centre

here: lu-palvelut.fi/

kulkukeskus

background work has been done to enhance

the usability and clarity of such services.

When, in the future, routine matters, such

as appointment booking, are managed digitally,

it will free up resources for things that

require special attention.

On the other hand, it will also leave more

time for providing telephone service for

customers who are not familiar with digital

channels.

"However, not all people can be served

or all things managed digitally, so physical

encounters are also needed," Jaakovlew-

Markus points out.

The internal functions of health and social

services professionals are an equal target of

digital development.

"When we have uniform systems and

the staff know how to best use them, they

have more time for encountering people,"

Syrjänen says.

Everybody wins. When services are provided

in large service entities, the provision

of special expertise improves. Instead of

the customer needing to travel to another

location to get a specific service, the primary

nurse or contact person can consult a specialist,

the specialist can rotate in different

units or the service can be provided digitally.

"Only in exceptional cases the customer

may need to travel further to get some special

service," Syrjänen promises.

One example of such a case are the services

that all Western Uusimaa municipalities

provide for their Swedish-speaking residents.

However, the resources are limited,

especially in smaller municipalities.

"When services are managed jointly, we

can offer a wider range of services to everyone,"

Syrjänen says.

In the future, digital services will enable

encountering the customer more often along

the whole service path.

New kinds of centres. Although the health

and social services reform is not so much

about physical facilities, they are also a question

that needs to be considered. For the

Greater Leppävaara and Espoonlahti areas,

such planning has already begun.

"In both areas, a natural demand for new

facilities has arisen due to existing repair

needs," Jaakovlew-Markus says.

There is no need to get worried about services

disappearing. In accordance with the

City of Espoo service structure, services will

continue to be available in all urban centres

10 A magazine for Espoo residents
---
Espoo put its transport services out to

tender together with other municipalities

in Western Uusimaa. In the near future, the

services previously managed by Lähitaksi

will be transferred to a new call centre. The

vehicles carrying out transport services

were also put out to tender at the same

time.

"The taxi service and the driver that

people are used to may also change," says

Kari Sirviö from Espoon Logistics.

Transport services to all corners

The service offering will not be affected

by the change.

"This is a service required by the Disability

Services Act and the Social Welfare

Act. People who are unable to use public

transport services should be offered a

replacement service," Sirviö says.

The identification system will also

change as the transport service cards will

be removed from use. In the future, a photo

ID will be used for identification.

"In the new system, all transport service

customers have their own profile. This way,

we will immediately know what kind of a

vehicle the customer needs. At the customer's

consent, it will also be possible to

share rides, with the customer´s consent,"

Sirviö says.

The vehicle will arrive within an hour

from booking a ride. If pre-booked, the

vehicle will arrive at the time requested by

the customer.

Antero Aalto uses

transport services

regularly. "I'm concerned

about how the services

will function in the future,"

Aalto says.

11
---
theme

Follow

›

›

the development of

joint services in Western

Uusimaa on our

website at

lu-palvelut.fi

on Twitter:

@LU_palvelut

@Espoonsote

› on Facebook:

@LansiUudenmaanSote

@HyvinvointiaEspoossa

along good transport connections.

"In addition, we offer mobile services

that bring local services to those living further

away. This comes into question particularly

in the sparsely populated areas of

small municipalities. In Espoo, in physical

terms, the most distant areas from urban

centres are Kalajärvi and Viherlaakso,"

says Elina Jaakovlew-Markus.

The client knows best. Jutta Tikkanen

considers it important to consult the

users, i.e. the customers and residents, at

all stages of the process.

"We are in the process of developing

a digital channel through which we

can engage in a closer dialogue with residents,"

Tikkanen says.

We are currently collecting feedback on

the online services of Leppävaara.

Tikkanen promises, however, that not

everything will be left to digital services in

this matter either. If necessary, the managers

of different projects will reach out to

their own customer groups to hear their

wishes.

Life situation showing the way. The

Health and Social Services Centre refers

to all the social and health services provided

by Espoo as a whole. The plan is to

divide the services between three groups.

Children, young people and families will

form one of the groups. In the future, their

Not all people can be

served and all services

managed digitally.

Physical encounters

,,are also needed.

services in Espoo will be provided in Family

Centres, the first of which will be completed

in Espoon keskus by the end of 2021.

Services for seniors, on the other

hand, will be concentrated into the Life

and Living Centres. There are already

two such centres in operation in Espoo,

located in Leppävaara and Kauklahti.

In the future, services aimed at the

entire population would include not only

primary health care, but also mental

health, substance abuse treatment, physiotherapy

and adult social services.

Many people who need a lot of health

care services are also, to a significant

extent, social services clients, and vice

versa. In the new model, we want to find

a dedicated channel for these people who

need a lot of services and assign them their

own contact person who will take care of

their needs as a whole.

"Having a separate channel for them

will free up resources in general health

care and social services, and peoplewill be

spared from being bounced back and forth

between service points," Syrjänen says.

Additional assistance for acute situations

The merger of the social and crisis emergency

services of ten municipalities in

Western Uusimaa has brought more

human resources per shift to the emergency

services.

The scope of emergency services

includes social welfare services outside

office hours, crisis work and the readiness

to provide, for example, psychosocial

support outside office hours in the

event of a major accident.

The emergency services are contacted

approximately 1,200 times each

month. The Calls are answered by two

employees in the morning shift, six in the

evening shift and four employees at night.

"We always work in pairs. This allows

us to respond more quickly to the customers'

needs even when one of the

pairs is making a house call, for example,

somewhere at a longer distance," says

Malena Segercrantz, Head of Western

Uusimaa Social and Crisis Emergency

Srevices.

Western Uusimaa has a large Swedishspeaking

population, which we can now,

thanks to the merger, serve better in their

native language.

"About a third of our staff are Swedishspeakers,"

Segercrantz says.

12 A magazine for Espoo residents
---
"I'm a node that brings

the numerous stakeholders

of the health and social

services system together,"

says Programme Director

Jutta Tikkanen, describing

her role. She promises

to ensure that customer

experience will be at the

core of all solutions.

For the customer's benefit

Jutta Tikkanen, who took over as

programme director in mid-September,

has currently her hands full of administrative

arrangements. Even though the

work, particularly in its early stages,

is largely about establishing cooperation

between funding providers and

municipalities, as well as building the

organisation and its various actors,

Tikkanen promises that she will not

forget the customers under the administrative

structures.

She has a solid work background

in doing so. Before becoming the

programme director, she acted as

customer experience director at the

Social and Health Services of Espoo

and as customer experience manager

in private health care companies. She

has also consulted companies on

how to switch to a customer-oriented

operating model.

"I will ensure that the customer

approach is maintained in all separate

projects."

In addition, she emphasises the

comprehensiveness of well-being. Local

authorities and the third sector play a

major role in preventive work.

"Municipal educational, cultural and

sports services and relevant organisations

are important stakeholders with

whom we need to do development

work also in this project," Tikkanen

points out.

As far as structural changes are

concerned, the project will end as

soon as the end of next year. The

development of health and social

services centres will continue until the

end of 2022. However, visible reforms

will be carried out along the way.

"This is not a plan that is being carried

out behind the scenes and will be

made public all at once. Instead, we

will be reforming the services together

with the residents and staff throughout

the project," Tikkanen sums up.

13
---
at your service

In this section of

the magazine, meet

employees and close

partners of the

City of Espoo.

Text Mia Weckström Photo Timo Porthan

By your

side

Jani Suominen, who does outreach

youth work, seeks answers to questions

that occupy young people's minds

together with them and accompanies

them to get the services they need.

"

As an employee in outreach

youth work, I walk by young

people's side and act as a link

between them and services.

Our task in outreach youth

work is to build a network and provide

comprehensive guidance on all kinds of

matters affecting young people, such as

issues related to housing, spare time, working

life, studies and mental health.

When a young person is left without a place

to study after comprehensive school or discontinues

their military or non-military service

or upper secondary education, we at outreach

youth work are informed about it. Many

people also contact us themselves, and sometimes

we get a tip from a friend or guardian.

Young people may face challenges in, for

example, finding employment. In such a case,

our task is to widen the young person's view on

their personal strengths and abilities that they

may not have recognised themselves. We also

explain the job search process and the rules

and practices of working life to them. If necessary,

we will accompany them to where they

can get the services they need.

The most important thing in preventing

youth unemployment is that young people

find the right services at the right time and

receive personal support at an early stage.

If you don't know where to start, feel free to

contact us or visit the service point of the

Ohjaamotalo One-Stop Guidance Centre."

Youth

unemployment

in Espoo

› In August, 1,942 persons

aged under 25 were unemployed.

› The increase being 927 from last year,

the figure has almost doubled.

› Espoo aims to halve unemployment

among young people

by the end of 2022.

"Outreach youth

work is based

on the voluntary

participation of

young people,"

says Jani

Suominen.

14 A magazine for Espoo residents
---
15 In situ 16 Things to do 19 Exercise tip

Things to do

in Espoo

Events and

activities from

December to

February.

Architecture lives with the times

The houses designed by Kaija and Heikki Siren in the

1950s still serve families today. The past and present

meet in the exhibition at the Espoo City Museum KAMU.

Tapiola could be considered

a test laboratory

for the architect

couple Kaija and

Heikki Siren. The

couple designed the

first terraced houses

in the area at a time when terraced

housing was making its first entry

into Finland. At the same time, we

started talking about suburban

housing.

"The building culture of the 1950s

is characterised by material shortages,

practical solutions and a rush

to get housing for a growing population.

The houses were plain and

simplified in style," says Museum

Lecturer Tiina Hero.

The Sirens based the whole design

of their houses on structures, materials

and colour schemes. Alongside

practicality, they wanted to design

personal and beautiful homes that

as many people as possible could

afford.

"The third element was the environment.

For example, they planned

the play of natural light and dark

colours of the terraced houses on

Kontiontie in such a manner that

they blend well with the Finnish

landscape. Today, the green nature

has almost completely hidden the

houses from sight," Hero says.

The architecture of Kaija and

Heikki Siren was very experimental.

In line with the spirit of the times,

they sought for a method of implementation

that could be reproduced.

In cooperation with Puutalot Oy,

they created wall elements that were

also used elsewhere in Finland. In

fact, the first prefabricated houses in

Finland were erected in Tapiola.

"Of course, not all experiments

were successful, and many of them

remained one-off projects," Hero

points out.

Like other designers of the era,

the Sirens also created both unique

works of art and serial production

designed for the masses. Espoo is

the location of one of their most

renowned projects, the Otaniemi

Chapel, completed in 1957, which

has also gained international recognition.

You can explore the Sirens´ architecture

at the Espoo City Museum

KAMU until 9 January 2022. The

All and Nothing exhibition consists

of extensive visual material, scale

models and virtual experiences that

allow you to see what the terraced

houses on Kontiontie look like from

the inside today.

"Functional architecture lives

with the times," Hero says.

Text Tiina Parikka

There were no extra square metres in the homes

of the 1950s. The two-storey terraced houses

on Kontiontie have less than 90 square metres

each. Downstairs, you will find the kitchen, living

room, hall and one extra room, which today is

often opened as an extension to the kitchen

and living room. You reach the second floor by

climbing up a beautiful spiral staircase which

gave some additional flair and ensured efficient

use of space. Upstairs, there were three small

bedrooms and a bathroom.

15
---
Where to go

✱

Music • Visual arts ♥ Theatre ✘ For children ✓ Cinema = Espoo ♦ Something else

Read the safety

instructions for events.

Espoo Day was celebrated in August under the theme "Responsibly Together"

with more than 100 remote, independent and local events. Approximately

15,000 city residents participated in the Espoo Day events.

Herra

Hakkarainen

seikkailee ♥

Espoo City

Theatre: The Seal

− Hylje ♥

Laura

Voutilainen at

Tapiola Hall ✱

MR. Hakkarainen is the

world's most famous sleepwalker

who, on his nocturnal

trips, finds himself in

most strange situations.

Hakkarainen's best friend

Masa Marsu must help him

get back home from his

night-time adventures by the

morning. The two friends

also have to investigate who

is stealing golden spoons

from the town's residents.

The colourful characters of

the town of Tassula come to

life in this Theatre Hevosenkenkä

performance which

does not lack either quick

turns or humour. In a performance

honouring the world

created by Mauri Kunnas,

the beautiful puppets and

the abundant set offer real

eye candy for theatre lovers.

For ages 3 and over.

• Tickets and performance

schedule hevosenkenkä.fi

AT the core of Hylje is a

nuclear family that lives by

the sea. People are fleeing

from war and other crises,

seeking shelter in Europe,

but the family has decided to

shut its door, and eyes, from

reality.

The play's three acts each

depict events events that

take place a decade apart.

Everything circles back to

the seashore, and the family's

collective trauma.

The new generation theatre

makers, playwright and

dramaturg Marie Kajava and

director Riikka Oksanen, join

their forces in this Finnish

world premiere.

• Thu 3 Dec at 19:00–21:00,

Fri 4 Dec at 19:00–21:00

and Sat 5 Dec at

15:00–17:00,

Espoo Cultural Centre,

Louhisali.

Tickets from lippu.fi

LAURA Voutilainen, who

started her music studies

as a young girl in Lahti, has

pursued her career with

determination and ambition.

It has been

25 years since her first

recording, during which time

she has become one of the

top performers in the Finnish

music world. Laura made

her breakthrough in January

1994 when her debut

album "Laura Voutilainen"

was released. It was the

best-selling Finnish album of

1994, ending up in around

120,000 Finnish homes. The

album brought such singles

as "Muuttanut oot maailmain",

"Kerran" and "Kyynelvirta"

to the hit lists.

Duration of the concert

70 minutes, no intermission.

• Sat 5 Dec at 20:00, Espoo

Cultural Centre, Tapiola Hall.

Tickets from lippu.fi

Remember at least these!

Pekka Elomaa

Teemu Sirviö

The performance that honours the

world created by Mauri Kunnas features

beautiful puppets and an abundant set.

The Seal − Hylje is a play about fear

that takes precedence over values, a

kind of dystopian image of the future.

1 2 3 4 5 6

Jupot in

Christmas spirit

The wind bands

of Juvenalia lead

their listeners to the

Christmas season

with joyous tones

at Sello Hall on 1

December at 18:00.

Christmas cafeteria

open before the concert.

Free admission.

Become an

architect

The All and Nothing

exhibition features a

Learning Yard, where

you can design a

residential area and

apartment of your

dreams on Saturday

5 December at 12:00.

The Learning Yard is

suited for all ages.

The magic of

Christmas at Sello

Hall

The skilled Juvenalia

students and

teachers interpret

Christmas music by

Finnish composers

known and loved

by all on Tuesday 8

December at 19:00.

Free admission.

The most beautiful

Christmas songs

Accompanied by the

Tapiola Sinfonietta,

at the Espoo Cultural

Centre on Tuesday

22 December at

18:00. Free tickets

must be collected

in advance from

the Espoo Cultural

Centre.

Karamzin's

Coffee Break

Pianist Ari Romppanen

plays music

in the Christmas

spirit, from Bach

to Tchaikovsky at

Children's Cultural

Centre Aurora on

10 December at

14:00. Free

admission.

Glims Farm

and Inn

Glims Farmstead

Museum consists

of a total of 11 buildings

located in their

original locations in

a historical cultural

landscape. The

buildings form the

permanent exhibition

of Glims.

16 A magazine for Espoo residents
---
Kulttuuriespoo.fi/en is an excellent website to find

plenty of information about events and Espoo-based

cultural actors in one place. The website offers tips on

concerts, exhibitions, films and theatre performances.

More tips:

espoo.fi/

tapahtumat

Jazz for Kids:

5th anniversary ✘

Joulu tulla

jollottaa ✘

Timo Lassy &

Teppo Mäkynen ✱

Joensuu 1658's long-awaited

ÖB album was released in its

entirety on 9 October.

The debut album of Timo Lassy & Teppo

Mäkynen has been winning rave reviews

ever since it was released in 2019.

Johanna and Mikko Iivanainen, and

Maria Kalaniemi and Timo Alakotila

bring Christmas spirit to Sello Hall.

THE Jazz for Kids series of

concerts celebrates its 5th

anniversary. The brilliant

jazz singer Jenny Robson

and pianist Mikael Jacobsson

perform swinging jazz

standards, evoking moods

that take you to different

dream landscapes. In honour

of the anniversary, there will

also be a surprise performer

on stage. The concert is

hosted by Hanna Heljaste.

Free admission.

• Sat 5 Dec at 11:00–11:45,

Espoo Cultural Centre,

Main foyer

Independence

Day concert ✱

THE 21st City of Espoo

Independence Day concert

will be streamed as a

pre-recorded event on 6

December starting at 14:00

at the address at espoo.fi/

livetapahtumat.

The concert will feature

Espoo Big Band with Ville

Vannemaa as conductor,

and the touching pop music

interpreters Erin and Kasmir

and soprano Laura Pyrrö

as vocalists. The New Kipparikvartetti

and the Suna

School Choir, led by Tiina

Raula, will also take part in

the celebration. The concert

will be hosted by actor

Christoffer Strandberg.

• The concert recording

will be available online from

6 December 2020 to

5 January 2021.

THE Puppet Theatre Sampo's

concert Joulu tulla jollottaa

has filled the auditoriums

and created Christmas spirit

for almost 20 years. The

endearing dog Duppaduulix,

some elf friends and musicians

will help you get into a

mood for Christmas. Music

and puppet theatre lovers of

all ages will enjoy the concert.

Singing along allowed!

Recommended for children

over 3 years of age.

Duration of performance 45

minutes.

• Tue 8 Dec at 10:15–11:00,

Sello Hall. Tickets and

reservations: toimisto@

nukketeatterisampo.fi or

tel. 020 735 2235

Joensuu 1685

makes a

comeback ♦

JOENSUU 1685 releases a

new album after more than

a decade's wait. The fulllength

album ÖB was left

unfinished when Joensuu

1685 suddenly went on a

break in 2010. When the

band returned on stage in

2018, Mikko, Markus and

Risto Joensuu also went back

to their unfinished album. ÖB

was re-recorded and partly

updated in terms of lyrics,

arrangements and compositions,

while respecting the

original vision of the album.

• Sat 12 Dec at 19:00–

20:45, Sello Hall. Tickets

from lippu.fi

SAXOPHONIST Timo Lassy

and drummer Teppo

Mäkynen are known as the

leading figures of the new

generation of Finnish jazz

that made its first appearance

in the early 2000s.

Over the years, they have

worked together in many

significant ensembles. Now

the top musicians will get on

stage as a duo for a diverse

and exciting live performance

that will feature highspirit

free improvisations and

tight grooves.

• Wed 16 Dec at 19:00–

21:00, Sello Hall.

Tickets from lippu.fi

Seimiyö

Christmas

concert ✱

IN Espoo, the beloved

Seimiyö Christmas concert

is part of the wait for Christmas.

The festive atmosphere

will be created by two

top duos, singer Johanna

Iivanainen and guitarist

Mikko Iivanainen, as well

as accordion artist Maria

Kalaniemi and pianist Timo

Alakotila. The artists, who

have arranged the music

themselves, will also play

other Christmas tunes close

to their heart.

• Thu 17 Dec at

19:00–21:00, Sello Hall.

Tickets from lippu.fi

17
---
Where to go

✱

Music • Visual arts ♥ Theatre ✘ For children ✓ Cinema = Espoo ♦ Something else

Urban Espoo offers cultural experiences 24/7. The producer is

the City of Espoo City Events and the Children's Cultural Centre

Aurora in collaboration with various other actors. Get inspired

by culture and the city online at urbanespoo.fi.

Ella Tommila / EMMA

Tapiola

Sinfonietta:

Feelings ✱

Aaron

Heino

exhibition •

Premiere:

Tuula and

Pirkko ♥

Aaron Heino's sculptures play on the

tension between the masculine and

feminine. Always Workin OT', 2018.

Ria Kataja and Minna Kivelä's performance

"Tuula ja Pirkko – Meil on aina

Toro" is a tribute to people's silliness.

Ella Tommila / EMMA

Experts from EMMA and the Saastamoinen

Foundation are in charge of

the design and selection of works in

the Touch exhibition.

CONDUCTOR Anja Bilhmaier

introduces the audience

to Anton Webern's expressive

early work "Im Sommerwind".

The virtuoso

Oboe Concerto by Bernd

Alois Zimmermann features

Juliana Koch, the principal

oboist of the London

Symphony Orchestra, and

Brahms' utterly romantic last

symphony will conclude the

programme.

• Fri 22 Jan at 19:00–21:00,

Espoo Cultural Centre, Tapiola

Hall. Tickets from lippu.fi

The Russian

National Ballet

from Moscow ♦

ADVENTURE-FILLED action,

beautiful costumes, and

enchanting music and

dance. The Swan Lake is all

this and more.

Composed by Tchaikovsky,

the Swan Lake

premiered in 1877 and has

charmed the lovers of ballet

and classical music alike.

Russian ballet, and the Swan

Lake in particular, is characterised

by a wide range of

emotions expressed without

wasting a single word, step

or tone. The classical staging,

music and dance form a common

language that is immediately

understandable to all.

• Sat 6 Feb at 19:30–23:00,

Espoo Cultural Centre, Tapiola

Hall. Tickets from lippu.fi

THE solo exhibition of sculptor

Aaron Heino (born in

1977), recipient of the Fine

Arts Academy of Finland

Prize in 2019, will be featured

at EMMA in winter

2021. Heino's dynamic

sculptures play on the tension

between the masculine

and feminine, utilizing pop

art idiom. The exhibition

featured at EMMA consists

primarily of the artist's new

sculptures.

• From 17 February 2021 to

18 April 2021, EMMA

Minttu sekä Ville

improvisation

duet ♥

MINTTU Mustakallio and Ville

Virtanen, known from the

Finnish and international

TV, theatre and films, create

sketches, dances, stories,

speeches and songs with

accompaniment of musician

Samuli Laiho. The themes

for the songs and sketches

produced instantly using

different improvisation techniques

are requested from

the audience. Everything

happens live on stage and

only once, so every show is

different. The audience is

free to fully participate in the

show, but participation is by

no means required.

• Thu 18 Feb at 19:00–

20:15, Sello Hall.

Tickets from lippu.fi

TUULA and Pirkko from Ala-

Vittula are a virile duo with

a combined age of about

170. They do not really like

each other very much, but

for some reason they have

spent their whole lives

together. Being difficult by

nature, Tuula and Pirkko

have been left alone in coronavirus

quarantine for quite

some time ago. Therefore,

they have all the time in the

world to live their lives just as

they please.

• Premiere Thu 25 Feb at

19:00–21:00, other performance

dates Fri 26 Feb

at 19:00 and Sat 27 Feb at

19:00, Sello Hall. Tickets:

lippu.fi

Collection exhibition

Touch •

TOUCH, the Saastamoinen

Foundation's regularly

updated collection exhibition,

displays contemporary

Finnish and international art

of topical interest. The main

theme of the Touch exhibition

is humanity, and different

sections of the exhibition

address the human relationship

with the surrounding

reality.

The section opened in

autumn 2020 presents

works of art in which nature

is present in various ways.

• Always on display, EMMA

18 A magazine for Espoo residents
---
Artificial ice

rinks in Espoo:

Espoonlahti artificial

ice rink

Espoonlahdentie 2,

02360 Espoo

A skating area where

hockey sticks are allowed.

There are no goals.

Keski-Espoo artificial

ice rink

Keski-Espoo Sports Park,

Kylävainiontie 18, 02770 Espoo

An ice rink where hockey sticks

are allowed and a separate

skating area where sticks are not

allowed.

Juvanpuisto artificial

ice rink

Juvanpuiston koulu,

Juvanpuro 2, 02920 Espoo

A skating area where hockey

sticks are allowed.

Espoonlahti artificial ice rink

Lähdepurontie 1, 02720 Espoo

An ice rink, hockey sticks are

allowed.

Leppävaara artificial

ice rink

Leppävaara Sports Park,

Veräjäpellonkatu 17,

02650 Espoo

An ice rink, hockey sticks

are allowed.

Puolarmaari artificial

ice rink

Puolarmaari, 02210 Espoo

A skating area where hockey

sticks are allowed.

Friends &

Ice-skating

Sat 30 Jan 2021

at 17:00, Espoo

Cultural Centre,

Kulttuuriaukio 2.

For those who

love to skate

Exercising in Espoo

Winter, too, invites you

to do exercise. The

City of Espoo offers a

wide variety of exercise

opportunities with an

instructor.

Text Mia Weckström Photo Timo Porthan

Tapionkenttä artificial

ice rink

Kaupinkalliontie 7, 02100 Espoo

An ice rink and skating area

where hockey sticks are allowed.

Tapiola Ice Garden

Kirkkopolku, 02100 Espoo

A skating area where skating is

allowed without hockey sticks.

Säterinniitty artificial

ice rink

Säterinniitty Sports Field,

Säterinpuistontie 5,

02600 Espoo

A skating area where hockey

sticks are allowed.

The building of an artificial ice

rink can be started when the

daily average temperature stays

below +4 °C.

Skating on artificial ice is free of

charge and takes place at your

own risk.

The up-to-date opening hours

and ice condition information on

the ice rinks are updated on the

ulkoliikunta.fi website.

The traditional Friends & Ice-Skating event will be held again in January.

In addition, Espoo will have two more artificial ice rinks than before –

one in the Laaksolahti sports park and one in Puolarmaari.

The Espoo Cultural Centre and Tapiola

Ice Garden will be filled with music and

friends of skating when the traditional

Friends & Ice-skating event is held in

January.

"The past year has been difficult for

many people, so we wanted to hold on to

the tradition and offer the people of Espoo

the joy of music and ice-skating," says

Cultural Producer Maija Hietala.

The event will be arranged according

to the instructions given by the authorities,

which, in practice, means limiting the

number of people admitted to the concert

and event.

An event for the whole family. This

winter's theme of the Friends & Iceskating

event is disco, and as usual, the

music will be played by the Tapiola

Sinfonietta. The Tapiola Sinfonietta's disco

sounds will be streamed from the concert

hall onto a big screen in the Ice Garden,

and, vice versa, moods from the Ice Garden

will be shared with the audience in the

concert hall.

"The Friends & Ice-skating is an event

for the whole family. There's going to be

a great concert and a big open-air disco.

If you don't want to or can't skate yourself,

you can come and watch the event

and enjoy the disco atmosphere with a hot

drink, for example. Minna Korkka and

Ernest Lawson will host the event, and

after the concert DJ Marc Fred will play

disco music," Hietala reveals.

The event will be organised by Espoo

Sports and Exercise Services/Espoo liikkuu

community and the City of Espoo

Cultural Unit/Espoo Cultural Centre and

the Tapiola Sinfonietta.

More specific programme of the Friends

& Ice-skating event will be published

closer to the event.

19
---
ight now

The introduction of

the new National Core

Curriculum for General

Upper Secondary

Schools (LOPS) will

begin in autumn 2021. It

will give students more

opportunities to have a

say on matters.

Text Tiina Parikka Photos Timo Porthan

The new general upper

secondary school model

encourages to

yield influence

The opportunity to focus

on an important hobby

alongside studies enhances

school motivation.

Aada Ilvonen, a second-year music

programme student at Tapiolan lukio,

feels that general upper secondary

school should serve more as a place

that creates community spirit. She is

one of the four LOPS (National Core Curriculum

for General Upper Secondary Schools) ambassadors

in Espoo, tasked with encouraging young

people to participate and come up with new ideas.

Aada believes that upper secondary schools

would need new channels for influencing matters.

"I think every student should feel that he or she

can make a difference."

One of the key objectives of the new curriculum,

to enter into force next autumn, is to

increase interaction in schools and across school

boundaries.

Ilvonen hopes that social media channels could

be used for stimulating discussion about what

could be done differently in schools. Today, if you

want to change something at school, you must

first contact a member of the students' union

board or present the matter in their meeting.

The intention is that the LOPS ambassadors

would tour all the general upper secondary

schools in Espoo. The ambassadors personally

produce social media content and want to make

people in schools think what could be done differently.

Making your dreams come true. In her own

studies, Aada Ilvonen considers it important that

she can study in the music programme. She plays

the piano and sings.

"A special upper secondary school is absolutely

essential for me. In the music programme,

you can develop in matters that you like, which

also supports you when you study other subjects."

For Lumi Mensonen, a second-year student

at Leppävaaran lukio, a special upper secondary

school offers an opportunity to fully pursue her

interest in basketball.

She has been playing basketball for nine years,

and it was obvious for her that she would choose a

sports-oriented upper secondary school.

"I want to develop in my sport and see how far

my gifts will take me."

She is not stressed about the evening training

sessions 4–5 times a week and the additional

morning sessions – quite the opposite.

Lumi wants to continue her studies somewhere

where she could also practice her sports.

"It is very important for me that the place of further

studies also supports my interest in sports."

As far my gifts

will take me.

Lumi Mensonen

wants

to invest in

sports, but she

also want to

study another

profession. She

hopes that her

place of further

study would

also support

her interest in

sports.

20 A magazine for Espoo residents
---
This will change

✔ Students will be given more

opportunities to influence matters

and more personalised teaching.

The measures are aimed at

increasing the study motivation of

upper secondary school students.

✔ Upper secondary school

students will have new

opportunities to choose crosscurricular

studies. They can

attach different higher education

institution studies to their own

upper secondary school studies.

✔ More fokus will be put on study

guidance for upper secondary school

students. Study guidance will be

made available to students even after

they have completed their own upper

secondary school path.

✔ Assessment will become more

diversified. From next autumn onwards,

the students' competence will be

assessed on a much broader scope

than before. A single performance or

exam will no

,,

longer serve as the only

basis of evaluation. Source: Pekka Piri

Training takes

your mind off

schoolwork.

21
---
,,

Every student

should feel that

they can make

a difference.

Aada Ilvonen is

studying in the

music programme at

Tapiolan lukio. In her

opinion, the upper

secondary school

should support not

only the students'

own interests but

also their opportunities

to influence

matters.

"Lessons can be held in a cinema, for example," says Principal

Pekka Piri, describing the School as a Service model.

The school is not a building

but a service provider

Haukilahden lukio in Espoo is the first

upper secondary school in Finland

to introduce the School as a Service

model in accordance with the new

core curriculum. It is based on the

idea that the school is part of the surrounding

community, and teaching

can take place also in other places

than in traditional classrooms.

The number of students at

Haukilahden luio has grown by

around 50 per cent over the past

four years, which is why it is important

to find new facilities nearby.

"Lessons could be held almost

anywhere, for example in cinemas,"

says Pekka Piri, principal of

Haukilahden luio.

The students of Haukilahden lukio

have not yet studied in a cinema, but

Aalto University's facilities have been

in their frequent use.

"The university's physics, chemistry

and visual arts facilities were the

first ones we used," Piri continues.

The School as a Service model

also enables close teaching cooperation

with the university. Therefore,

the students of Haukilahden lukio

are eager to choose Aalto University

courses, programming and debating

skills being the most popular among

them.

The students can use credits they

have earned from university courses

later when doing university studies.

"Our cooperation with the university

is mutual. For example, Aalto

staff members have followed the

classes of upper secondary school

students," says the principal.

Upper secondary school students,

on the other hand, have been able

to participate in, for example, public

defence events of doctoral theses.

"The defenders of the doctoral

theses have told upper secondary

school students how they have

worked their way from comprehensive

school to the top of an academic

career.

22 A magazine for Espoo residents
---
From issuing bulletins

to genuine dialogue

A new development

manager for inclusion

has been hired as a link

between active Espoo

residents and various

actors in the city.

One of Heli Nikunen's

ideas that Marion

Ticklén intends to take

forward is to use the

services of Aalto University

arts students.

› When Heli Nikunen received a

reply to a post she had written in the

Asukkaiden Espoo Facebook group

from Marion Ticklén, she did not

know who this person was. Still,

Nikunen responded to Ticklén's

request to contact her. This way, the

active Espoo resident and the development

manager hired to improve

the opportunities of city residents to

participate met each other.

"Heli had a lot of good ideas. On

my own, I do not know or come to

think of all the stakeholders whose

services we could use when developing

our city," Ticklén admits openly.

In addition to Nikula's ideas,

within a few months Ticklén has

accumulated on her work list about

60 proposals waiting to be processed.

"Some of them require political

decisions or are clearly the matter

of a specific city unit. I can advance

them as well by submitting them to

the right bodies," Ticklén promises.

The city's goal is to enable the participation

of residents in all activities

and development work. It is of great

importance how things are communicated.

"If we really want to hear the residents,

we should, for example, invite

people to zoning consultations with

a message that welcomes them to

participate. Now the residents get an

impression that these are briefings

for the purpose of passing information

only, without any genuine interaction,"

Nikunen says.

Ticklén is therefore tasked with

providing the city's personnel with

new tools and training for improving

the inclusion of residents.

encounters

Espoo genuinely wants

to create opportunities

for city dwellers to

participate in the city's

activities.

Text Tiina Parikka Photo Timo Porthan

23
---
pearl

Villa Elfvik Nature House

offers visitors an array

of snacks and lunches

with a more sustainable

approach. The Art

Nouveau style villa can

be found at the edge of

the Laajalahti Nature

Reserve.

Text Tiina Parikka Photos Timo Porthan

Get up close with a

special kind of nature

Villa Elfvik, which is managed by

Espoo´s Environment Department,

offers visitors an insight into the

special nature Espoo has to offer,

both indoors and outdoors.

Indoors, the villa hosts the permanent

exhibition Long Live Espoo,

which was rewamped and reopened

in December 2019.

"Our modern exhibition collection

provides visitors with large-scale

photographic collages, video presentations,

and auditory and participatory

activities, the latter of which

we can hopefully bring back into

use soon," says Head of the Nature

House Riitta Pulkkinen.

Participatory activities have have

been temporarily closed to the public

due to the coronavirus pandemic.

The nature trails starting outside

the villa have been recently repaired,

and a beautiful new bridge over

the river has been added to the trail

leading to the neighbourhood of

Ruukinranta.

"Before, the trails were muddy

and in poor shape, so we decided

to take action and have now widened

them slightly and reinforced

them with new soil," Pulkkinen

explains.

It is hoped that the improved

pathways will attract walkers from

the nearby Waterfront Walkway to

come and explore the now safer

paths.

The nature trails wind their way

through the unique environment of

the Laajalahti Nature Reserve.

24 A magazine for Espoo residents
---
The nature trails leaving

from Villa Elfvik

wind their way around

the Laajalahti Nature

Reserve.

The revamped Long

Live Espoo exhibition

features large photo

collages, audio and

video content, and elements

that encourage

people to take action.

Villa Elfvik, completed

in 1904, was originally

designed as a summer

residence for the

family of Baron Emil

Standertskjöld.

25
---
Espoo people

Kalajärvi, the regional

centre of Northern

Espoo, was named

after a pond rich in fish,

Kalajärvi, located in

the area.

A family of four discovered Kalajärvi

by chance, but now nothing would

make them move somewhere else.

Services getting

better and better

Kalajärvi

• A small-house area

with under 10,000

inhabitants located

on both sides of

Vihdintie.

• The urban centre

of Northern Espoo,

which includes the

Odilampi subarea

and several small

residential areas,

such as Örkkinitty.

• Extensive forest

and field areas.

Text Hanna Ojanpää Photo Eemeli Sarka

Paola Elefante, originally from

Bologna, Italy, arrived in Finland ten

years ago for an Erasmus student

exchange period. Pretty soon she and

her husband Fabrizio discovered that

they had come here to stay.

"The Finnish system made us realise that this

is where we want to start a family," Paola says.

Paola and Fabrizio's family also includes a

seven-year-old daughter, a five-year-old son and

a 12-year-old child in need of support spending

every other weekend with them. In addition,

they have a guinea pig, as well as a cat always trying

to get into your lap.

A big family needs room. The couple started

looking for a new house seven years ago, when

the home they had in Kannelmäki, Helsinki, at

the time was getting too small for the growing

family.

"We didn't really have any other requirements

beyond a terraced or detached house in

the Helsinki Metropolitan Area and a sufficient

number of bedrooms," Paola says.

Through Oikotie, they found a two-storey terraced

house in Kalajärvi.

"This was the first apartment we saw. We went

to see another one, but we had already made up

our minds at the first viewing. We had immediately

fallen in love with the atmosphere within

the housing company," Paola says with a laugh.

Also the proximity of services had a bearing

on the choice. Everything from the day care centre

and school to nature trails and recreational

opportunities can be found within walking distance.

Over the years, a functional network has

been built with other parents in the area, and

neighbours have become friends. And as customary

for Italians, the Elefante family has an

open-door policy.

"Even more services and activities aimed at

families with children, such as open playgrounds

and the Service Centre, have been introduced

in the area while we have been living here. If the

public transport system also worked better, we

would have nothing to complain about. It has

also been a pleasant surprise to us how multicultural

this area is. Here you really feel that you are

part of the community," Paola sums up.

Services for different stages of life

It was decided that the two-year

Service Centre concept trial

would be implemented in the

multipurpose centre at the heart

of Kalajärvi, known as Ruskatalo.

Service Coordinator Päivi Peltomaa

says that the purpose of

the trial is to find out what kind

of additional benefits the centralisation

of services brings to

customers and employees.

"Kalajärvi already had a

health centre, a maternity and

child health clinic, a dental clinic,

a home care office, a library and

a service point operating in the

same property. Now these services

function in a coordinated

manner at the Service Centre.

As a new service, we added four

facilities for municipal residents

that customers can book free

of charge through the Varaamo

booking system," Peltomaa lists.

During the first year, the

focus has been on improving the

property and safety.

"We have extended the

opening hours and increased

the presence of security, and we

have been furnishing the facilities

for municipal residents. We

will also make improvements in

the guidance services."

Especially the facilities for

municipal residents have been a

success right from the start. The

demand has been high for the

remote work rooms in daytime

in particular and for larger group

facilities in the evenings. There

are several hobby groups meeting

regularly at the centre.

The customer survey to be

conducted next year will provide

the city with information for further

discussion about the trial.

26 A magazine for Espoo residents
---
Paola and Fabrizio

Elefante are feeling

quite at home in

the multicultural

community of

Kalajärvi.

"Here you really feel

that you are part

of the community,"

Paola says.

27
---
Swedish in Espoo

Amidst the ongoing

pandemic, general upper

secondary school teachers

are hard at work finetuning

the new curriculum.

Students starting

general upper secondary

education in August 2021

will be following a brand

new model in their studies.

White face masks can be seen dotted around

on students and teachers at Mattlidens

gymnasium in Espoo. In classroom A, language

teacher Krista Kaipainen is finishing

off the morning's English lesson with

her second-year students.

The students' performance is assessed based on a course

framework. However, the new general upper secondary students

who will sit in these classrooms next autumn will no

longer follow courses as such. Instead, they will accumulate

study points and study units.

"This is a part of the reform we're undertaking. Courses are

being replaced with study units, which in turn comprise study

points," explains Krista Kaipainen, who just a few days before

participated in a final workshop for Espoo's general upper

The reformed general

upper secondary school

curriculum is to be

introduced in 2021.

Text and photos Sebastian Dahlström

General upper secondary

schools putting the finishing

touches to their new curriculum

Language teacher Krista

Kaipainen teaches English,

French and Spanish at

Mattlidens Gymnasium

in Espoo. She sees major

benefits to the school's new

curriculum, which will come

into force in autumn 2021.

Students Ivar Maura

(left) and William

Karejärvi are

happy to have been able

to study in person at the

school so far this autumn.

Distance learning in the

spring was tough.

28
---
An English class at Mattlidens gymnasium during the ongoing pandemic. Language teacher

Krista Kaipainen is leading a discussion in English on literature with the school's second-year students.

Face masks and hand sanitiser have become part of the new norm in classrooms.

secondary teachers.

With the reform work now finished

at municipal level, the planning work is

underway at each school.

Two subjects simultaneously. In

the future, general upper secondary

school studies will continue to cover the

same subjects in the same proportions

as now. However, the reform aims to

provide students with new ways to take

knowledge on board.

"What's important here is not what

we're doing, but rather how we're doing

it," says Kaipainen. When it comes to

assessing students, she would like the

focus to shift from grades to feedback.

Flexibility is a key focal point, both

for individual students and for schools,

which are being given a large degree of

freedom in how they choose to adapt

and implement the country-wide

reform. One element that is brand-new

is the option to combine two subjects.

"For example, at general upper

secondary schools in Espoo we will be

combining economic mathematics with

social studies. Students will study mathematics,

whilst at the same time learning

why it matters," explains Kaipainen.

The pandemic sets challenging

conditions for the reform. As a result

of the Covid-19 pandemic, many teachers

are overworked. Keeping on top

of all the daily challenges, whilst also

creating a new curriculum, is a big ask.

Nonetheless, the aim at Mattlidens

gymnasium is to have the new curriculum

ready by the end of the year, to leave

sufficient time for fine-tuning in the

spring.

"There's great stuff here, that I know

for sure," says Kaipainen from behind

her face mask.

The morning's English class is finished.

I take the chance to ask students

William Karejärvi and Ivar Maura

what it has been like to continue their

general upper secondary studies in the

shadow of a pandemic.

"Distance learning in the spring was

tough. It started to get monotonous,

sitting in front of the computer for six

hours a day," says Karejärvi.

Maura agrees that their learning suffered.

"My journey to school is so long that

studying from home meant that I had an

extra hour of sleep, but that was the only

positive thing."

Neither Maura nor Karejärvi will be

affected by the forthcoming reform.

Instead, they will follow the current curriculum

all the way through until their

matriculation examination.

"I'm perfectly happy sticking to the

old system," says Karejärvi.

Espoo City

Library's Swedishspeaking

library

pedagogues

receive the

Språksporren

language

incentive prize

Espoo City Library's Swedish-speaking

library pedagogues have been

awarded the Hugo Bergroth Society's

Språksporren language incentive prize.

The reasoning for this was their determined

work to strengthen the position

of the Swedish language and promote

reading in Swedish in the multicultural

and multilingual Espoo.

Cooperation with day care centres

and schools was highlighted in particular

in the statement accompanying the

prize.

"We are responsible for the Library

Path, which is part of KULPS. As part

of this we provide book tips, training

in how to use libraries and gather

information, and a range of workshops

on reading-related themes," explains

library pedagogue Sara Nordlund-

Laurent.

The statement also mentioned

the remote events held and distance

materials developed by the library

pedagogues during spring 2020. One

example is the Alla räknas ('Everyone

counts') workshop held during Nordic

Literature Week at the end of October

for Swedish-speaking pre-primary education

units in collaboration with Svebi.

"This is a combined storytime in

Swedish and Norwegian, accompanied

by a crafts workshop. We created

video recordings in advance and

sent out digital and craft materials to

everyone who registered," explains

Nordlund-Laurent.

The Swedish-language Esbobibban

Facebook page also received praise.

29
---
we

Will we have a white Christmas?

*Accuweather 3 November 2020.

Source on previous years: Foreca

observation history

This year, we have all

been urged to limit our

Christmas celebrations

to a small family circle.

In Espoo, Christmas is

white only every five

years.

Between 2013

and 2019, Espoo

had snow twice on

Christmas Eve, in

2014 and 2018.

The coldest was

in 2018, when the

temperature measured

in Nuuksio

was -14.8 °C at six

in the evening.

Test your

Finnish with this

crossword puzzle!

Book prizes!

In 2013, 2016

and 2019, it was

raining when we

celebrated Christmas

Eve.

This year,

the forecast*

predicts a

zero-degree

weather.

It snowed a little

early this month,

but will it stay on

the ground until

Christmas?

crossword puzzle

Mark the letters from the orange boxes (1–14) below and send the answer with

your name and address by e-mail to: espoolehti@omnipress.fi by 31 Jan 2021.

30 A magazine for Espoo residents
---
Common issues

get people moving

The association Laajalahti ry

was founded in 1950 when

the development of the village

of Laajalahti began. We are

now going through yet another

phase of construction.

together

As its name suggests, the

district of Laajalahti is

located on the western

shore of the Laajalahti bay

area. Today, it is part of

the Greater Tapiola urban centre. The

development of the area began after

the Second World War, for example,

through the settlement of Karelian

evacuees.

The village association, founded

in 1950, played an important role in

the construction of roads, sewage

systems and various facilities, such

as the school, in the area. One of the

major efforts was the building called

Veljeskulma, where the Laajalahti

Library is still located. Its survival has

been at stake on several occasions,

and fighting for it has brought the

Laajalahti residents together.

"Individual campaigns such as this

or one-off projects still get the people

living in the close-knit village community

moving. Instead, it is difficult

to engage people in longer-term activities,"

says Sari Ojanen, current chair

of Laajalahti ry.

A uniting force. The important role

of the village association is to encourage

people living in the same district

to get to know each other and to work

together for the benefit of their own

area. Laajalahti Day, held annually in

September, is the biggest and most

visible event of this kind to promote a

sense of community in the area.

"Unfortunately, this autumn, we

were unable to organise the event due

to the coronavirus situation," says vicechair

Raili Lindberg.

The association's 70th

anniversary year was

slightly overshadowed by

the coronavirus in other

respects as well, but the

association is still working

on the publication that it

prepares every ten years.

"We also organised summer

programme for children in cooperation

with cultural actors in the area.

The purpose of the children's summer

passport was to familiarise children

with local culture while developing

their reading skills," Lindberg says.

Information in one place. All the

news, issues under consideration and

plans regarding the area can be read

in one place, on the Laajalahtiry.fi

Individual

campaigns

get people

moving.

website. There are no automatic systems

updating the website. Instead,

it requires an active human contribution,

a task taken over by Lindberg.

"Many people probably don't even

realise how much work it takes to follow

different channels and city bulletins

to maintain the site. I think this is

the most important task of our association

at the moment," Ojanen says.

There is a lot going on in

Laajalahti at the moment.

Because of the Jokeri Light

Rail project and Ring I

upgrade, the area is in quite

a turmoil.

"The Jokeri Light Rail

will completely change the

nature of Laajalahti, as we

become one stop along the

Helsinki Metropolitan Area route network,"

Ojanen points out.

In addition to keeping the local community

together, protecting the interests

of the residents is another duty the

association has.

"We try to ensure that the voice of

the local residents is heard when new

plans are being drawn up," Ojanen

emphasises.

Laajalahti ry is one

of the oldest village

associations in Espoo.

Such associations

continue to play an

important role in

maintaining a sense of

community in residential

areas.

Text Tiina Parikka Photo Eemeli Sarka

Flower bulbs

for next spring.

In addition to

tending to the

famous rhododendron

park, the

active members

of Laajalahti ry

also take care

of keeping other

common areas

looking good by

planting flowers.

31
---
Download

Koronavilkku

koronavilkku.fi

Do you suspect a

coronavirus infection?

If you suspect you have

any symptoms of the coronavirus,

you can book a test appointment

through the HUS Coronabot.

koronabotti.hus.fi

If you wish to book an

appointment by phone:

Call Espoo's

coronavirus helpline

✆ 09 816 34600

(Mon–Fri 7–18 and Sat–Sun 9–15)

In the evenings and at weekends:

Medical Helpline ✆ 116 117.

You can also assess your

symptoms at omaolo.fi.

You will then get instructions

based on your symptoms.