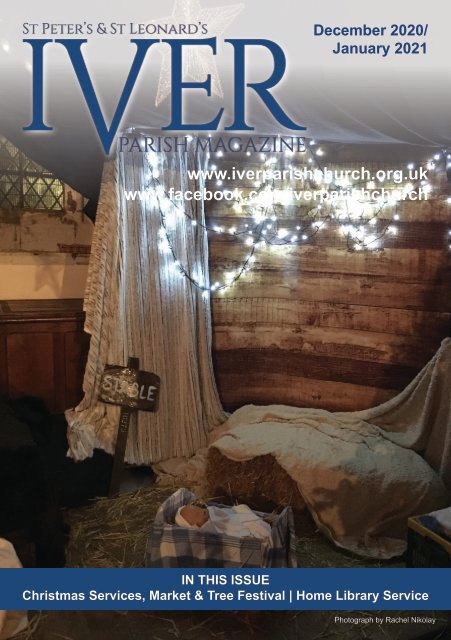 Iver Parish Magazine - December 2020 / January 2021
Create successful ePaper yourself
Turn your PDF publications into a flip-book with our unique Google optimized e-Paper software.
December 2020/

January 2021

www.iverparishchurch.org.uk

www.facebook.com/iverparishchurch

IN THIS ISSUE

Christmas Services, Market & Tree Festival | Home Library Service

Photograph by Rachel Nikolay
---
We don't just sell mascara

We uplift, empower & validate. We build confidence &

self esteem. We help DREAMS become a REALITY

Contact Kathryn to find out more

kathryn@eyesandsparkle.co.uk klpike eyesandsparkle

Honest, professional & gentle dental care

01753 655446

• Prompt Emergency care

• General & Cosmetic dentistry

• Hygienist & Teeth whitening

• 'Botox' & Advanced Skincare

• Laser Hair Removal

• Surgical & implant services

• Early, late & Evening availability

• Free parking for attending patients

• Budget membership plan

• Modern, clean, friendly practice

NEW PATIENTS

WELCOME

16-18 Thorney Lane South, Iver, SL0 9AE

info@dentalwellbeing.co.uk

Parkway, Hillingdon, Middlesex, UB10 9JX

Parkway, Hillingdon, Middlesex, UB10 9JX

Independent School for boys and girls aged 3 - 11

Independent School for boys and girls aged 11

2

IVER VILLAGE HALL

Main hall suitable for parties,

weddings, fayres & stage shows

Large and small rooms available

www.ivervillagehall.org.uk

E: ivervillagehall1980@gmail.com

T: 01753 654765 M: 07863 888127

Parkway, Hillingdon, Middlesex, UB10 9JX

Independent School for boys and girls aged 2 - 11

A Centre of Excellence

AN OUTSTANDING SCHOOL

A Centre of Excellence

Please telephone 01895 234371 to make an appointment

Please Parkway, telephone Hillingdon, Middlesex, 01895 234371 UB10 9JX to - www.sthelenscollege.com

make an appointment

Parkway, Hillingdon, Middlesex, UB10 9JX www.sthelenscollege.com

AN OUTSTANDING SCHOOL

St Helens A5 outstanding advert 32504.indd 1 11/11/2016 09:24

St Helens A5 outstanding advert 32504.indd 1 11/11/2016 09:24

Iver Parish Magazine - December 2020 / January 2021
---
VICAR

Revd Robert Gooding, The Vicarage, Delaford Close, Iver, SL0 9JX

T: 01753 652078 M: 07943 612205 E: robert.gooding@iverparishchurch.org.uk

Robert's usual day off is Friday

LAY MINISTER

Jim Dashper

T: 01753 572056 M: 07748 801057 E: jim.dashper@iverparishchurch.org.uk

CHURCH ADMINISTRATOR (PART-TIME)

Rachel Nikolay

M: 07835 879178 E: office@iverparishchurch.org.uk

Working Hours - Mondays to Friday: 9am - 1pm

CHURCHWARDENS

Paul Rawlings

M: 07805 130275 E: paul.rawlings@iverparishchurch.org.uk

Amit John

M: 07707 957747 E: amit.john@iverparishchurch.org.uk

VERGER

Rachel Nikolay

M: 07835 879178 E: office@iverparishchurch.org.uk

MAGAZINE

Kathryn Pike E: magazine@iverparishchurch.org.uk

Distribution

Village: John and Pauline Telfer T: 01753 738834

Richings Park: Kathryn Pike E: magazine@iverparishmagazine.org.uk

Postal: Pat Leech T: 07764 937596

For further information concerning the Magazine, please see page 21.

BAPTISMS, WEDDINGS AND FUNERALS

The current situation (as we go to print) is that we are now in a position to conduct small

Weddings (max 15 people), Funerals (max 30 people) and Baptisms (max 30 people)

at St Peter's Church. Masks must be worn at all times by all those attending

(other than the minister, and the Bride and Groom for Weddings) and all services will be

subject to strict social distancing and other health and safety considerations.

However the situation is constantly evolving so please contact us on 07835 879178 or

office@iverparishchurch.org.uk if you have any enquiries about Baptisms (Christenings),

Weddings or Funerals

3
---
HELLO & WELCOME

DEALING WITH UNCERTAINTY

Most people like to be in control, or at least like

to think that they are in control.

We all like to think that we are masters (or

mistresses) of our own destiny. If the events of

2020 have taught us nothing else, it is that this

is far from the truth.

When Boris Johnson put himself forward as a

candidate for the job of Prime Minister, I doubt

very much that he would have guessed that he

would have to deal with a global pandemic, or

that he personally would be in Intensive Care

with the virus.

How many employees had a career path

mapped out in their minds for 2020, only

to see their plans shattered or even finding

themselves out of work altogether because of

Covid-19.

The truth is that many of us find it difficult to

deal with uncertainty.

I have mentioned before that our family loves

to get together for important occastions and

especially for Christmas. The uncertainty that

we are facing this year can be quite debilitating.

Talking to several people over recent weeks,

it appears that many are struggling more

with this second lockdown than with the first,

perhaps because of the cold weather and dark

evenings. This is despite the prospect of an

effective vaccine becoming available by spring

of next year.

In the middle of December, I was planning to

host a Karaoke evening at the Swan pub in

Iver to celebrate my 60th birthday. Sadly these

plans have had to be put on hold until next

summer. We were also planning to celebrate

my mother-in-law's 90th Birthday. This story

has been repeated countless times throughout

our community in recent months. Even

weddings have had to be postponed, in some

cases several times.

Turning to Christmas, we anticipate that our

family of 15 will not be able to get together as

we usually do. We have been forced to make

tentative plans in which different members of

4

our family gather in smaller groups, hoping that

at least 6 of us will be able to meet together

indoors over Christmas.

Our relationships with family and friends are

vitally important to many of us, and they are

also important to God. This is at the heart

of Christmas, when we celebrate that Jesus

chose to come to earth and be born into a

humble human family. When we think of

Christmas, we should also think of Easter

and its importance to relationships. Jesus

lived, died and rose again in order to bring

reconciliation between our fallen humanity and

our holy God, to heal that relationship which is

so important to Him.

"For God so loved the world that he gave his

one and only Son, that whoever believes in him

shall not perish but have eternal life." John 3:16

In the Christmas story, the teenage virgin Mary

also had to confront the unexpected when she

was told she was expecting - pun intended!

The angel Gabriel told her "you will be with

child and give birth to a son" and "the holy one

to be born will be called the Son of God".

What would your reaction have been? In the

words of John McEnroe, it might have been

"You cannot be serious!"

Instead, Mary responded with these words:

"I am the Lord's servant. May your word to me

be fulfilled." Luke 1:38

I often wonder what was going through her

mind over the following weeks and months.

Joseph too had found that his life was turned

upside down, as he had to confront the

unexpected and the uncertainty of the future.

There is much that we can learn from Mary

and Joseph in dealing with the unexpected.

They placed their trust in God, despite the

uncertainty of what the future held.

As I look back on my own life, things have not

always been easy but, in the ups and downs,

the constant has been the faithfulness of God.

Mary and Joseph faced social stigma and

exclusion, but they too knew that God could be

Iver Parish Magazine - December 2020 / January 2021
---
trusted through it all.

Jim Dashper, our wonderful Licensed Lay

Minister has a favourite saying:

"We don't know what the future holds but we do

know who holds the future"

For many people, the things on which they

had come to rely, such as popularity or

financial security, have been stripped away.

My prayer is that all of us, despite our current

circumstances, may place ourselves firmly and

prayerfully in the hands of God who is always

faithful so that, like Mary, we may say "I am

the Lord's servant. May your word to me be

fulfilled".

Robert Gooding, The Vicarage

We made the decision to publish as an online

magazine for for this edition only, due to the

current uncertainty. We are hopefully moving

towards the end of the current lockdown on 2nd

December.

We have planned our December and January

services and events as best we can, but these

could all change over the coming weeks.

Please keep checking for updates on our

church website www.iverparishchurch.org.uk

or church Facebook page www.facebook.com/

iverparishchurch.

PARISH MATTERS

WEDDINGS

3rd November

FUNERALS

5th November

Jennie Lee Hopcroft and Mark Stephen Burbery

Reginald John Gingell (John), Interment of Ashes

www.iverparishchurch.org.uk

www.fb.com/iverparishchurch

Takeaway

FESTIVE BOXES

Sunday 6th December 2020

Collect between 2pm & 4pm

including 2 Homemade mince pies & gingerbread cookies

beautifully presented in a gift box ready for you to

collect from outside the Vicarage and enjoy in front

of a cosy fire with a warming cuppa at home!

(gluten free option available upon request)

PRE-ORDER YOUR BOX & SELECT YOUR COLLECTION TIME TODAY

Suggested Minimum Donation £5.50 per box

Call Rachel on 07835 879178 by Friday 4th December to order

5
---
St Leonards Hall - Colour 1/5th Page

Hire St. Leonards Hall for your next meeting or function

Enquiries / Booking

Contact Wendy Jenner

01753 651071

We have a lovely hall (25 ft x 30ft) with fully equipped kitchen and safe

outside garden area (Ofsted approved) with easy parking. You can book

the Hall on a regular or an "Ad Hoc" basis. Call us for details of availability

6

St Leonards Hall - B/W 2/5th Page

Hire St. Leonards Hall for your next meeting or function

McTimoney Chiropractic for the whole family

Enquiries / Booking

Contact Wendy Jenner

01753 651071

We have a lovely hall (25 ft x 30ft) with fully equipped kitchen and safe

outside garden area (Ofsted approved) with easy parking. You can book

the Hall on a regular or an "Ad Hoc" basis. Call us for details of availability

Gentle and effective treatment for children, the elderly and

pregnant women. Also sports injuries and animals

Coral Adhyaru DC,AMC,MMCA

Please call for an appointment 07880 852269

Iver Parish Magazine - December 2020 / January 2021
---
HOME LIBRARY SERVICE

This is a free monthly service, where books and

other library items are delivered to your home

at a suitable time by volunteers. Volunteers

wear identification badges and provide a helpful

and courteous service.

APPLY FOR THE HOME LIBRARY SERVICE

You can apply by filling in an online application

form, or by contacting the Home Library

Service by telephone, email or post.

We'll be in touch within 10 days to assess your

eligibility and arrange to visit you at home. If

you are eligible we'll find you a volunteer and

start the service.

Telephone: 01494 475573

Monday to Friday 9am to 5pm. You can leave

an answerphone message outside of these

times and we will call you back.

Email:

homelibraryservice@buckinghamshire.gov.uk

Address:

Home Library Service Coordinator, Great

Missenden Community Library, High Street,

Great Missenden, Buckinghamshire, HP16 0AL

Online form:

bit.ly/HomeLibraryServiceApplication

LIBRARY BUDDY SERVICE

If you find it difficult to get to the library in

person, the Library Buddy Service lets a friend

or family member borrow and return library

books and other items for you.

How does it work?

Your Library Buddy can use your card to

borrow an return library books and other items

and deliver them to your home.

With a Library Buddy card, when you borrow

books or audiobooks you get a 31-day loan

period and no overdue or reservation charges.

On all other items, standard loan periods and

charges apply.

Apply for a Library Buddy card

Ask your friend or family member to visit the

library where we will help them join the Library

Buddy Service for you.

What happens next?

We will write to you with details of the friend

or family member who you wish to collect

books on your behalf. Please sign and fill in the

printed form and return it to the library in the

self-addressed envelope included.

We will then update your library card and the

library card of your friend or family member

and they can begin to borrow books and other

library items for you.

If you have any questions contact the Home

Library Service Coordinator.

CHURCH OFFICE

The church office within the St Peter's

Centre is currently closed. However

Rachel, our Church Administrator,

is continuing to work remotely.

For church office enquiries please call

Rachel on 07835 879178 or email

office@iverparishchurch.org.uk

Rachel's working hours are

Monday to Friday 9am to 1pm

7
---
Gill Higginson ITEC

Beauty and No Hands® Massage Therapist

Working at home in Iver Heath

Treatments include facials, waxing, pedicures,

manicures etc and massage.

www.gillhigginsonbeautytherapist.com

Telephone: 01753 650904

Mobile: 07710187198

FAMILY TREE RESEARCH

Discover your family's history and learn about where and how they lived,

where they came from and what their occupations were.

Were they famous ... or infamous? Were they rich ... or poor?

All research carried out via reliable sources on the lnternet for fast results.

Written reports and computer-generated charts supplied.

Telephone Sally Roberts on 07775 663055

8

AMAZON SMILE

You can now also raise money for St Peter's

and St Leonard's Churches by shopping via

AmazonSmile, a website operated by Amazon

with the same products, prices and shopping

features as Amazon.co.uk, the difference is that

when you shop through AmazonSmile, Amazon

will donate 0.5% of the net purchase price from

your eligible AmazonSmile purchases. Millions

of products on AmazonSmile are eligible for

donations. Shop via https://smile.amazon.co.uk

and select 'The Parochial Church Council of

the Ecclesiastical Parish of St Peter's Iver' as

your chosen charity.

HELP RAISE FUNDS AS YOU SHOP

Where can I shop?

There are over 4,100 leading stores on the

Give as you Live site including; Tesco, M&S,

John Lewis, Next, Boots, eBay, Argos and

iTunes/Apple Store.

How do I join?

Please use the link below and help raise

valuable funds for our churches, shop now via

https://www.giveasyoulive.com/join/

stpetersandstleonardspcciver

Iver Parish Magazine - December 2020 / January 2021
---
ARE YOU LOOKING FOR NEW

PREMISES?

St Leonard's Hall in Richings Park is an

excellent facility and will be available shortly

for use Monday to Friday from 8am to 6pm at

very competitive rates. The facilities include a

main hall (25ft x 30ft) with storage cupboards,

separate kitchen, two sets of toilets and a

disabled toilet

Historically these facilities have proved ideal

for a stand-alone Pre-school or Nursery, as the

facilities also include a secure outside play area

including a rubber safety surface and Forest

School section and 2 sheds.

Perhaps you have a different kind of business

that is looking for alternative premises. St

Leonard's Hall could be your ideal location.

For further information please contact Wendy

Jenner on 01753 651071 or Robert Gooding on

01753 652078 or via email on robert.gooding@

iverparishchurch.org.uk.

9
---
Dee S. Clark BSc.(Hons) MChS.D.pod.med.

CHIROPODIST / PODIATRIST

TO IVER HEATH HEALTH CLINIC

Surgery and Visiting Practice Cryosurgery for verrucae

SURGICAL PODIATRIST & REGISTERED MEMBER OF THE SOCIETY OF PODIATRISTS

Newburn, Grange Wood,

Wexham, Buckinghamshire SL3 6LP Newburn, Telephone: 01753 552725

7 Grange Wood, Wexham, Buckinghamshire, SL3 6LP

Telephone: 01753 552725

www.sloughchiropodyandpodiatry.co.uk

10

Light and Life Christian Fellowship

Swan Road, Iver

We are a Pentecostal Church, growing and moving forward in the things of God.

Sunday: 11.00am Breaking of Bread Service Tuesday: 7.30pm Bible Study

6.30pm Gospel Meeting Friday: 7.30pm Prayer Meeting

Jam Ministries

For more details, information, prayer or advice please contact

Church Pastor Billy King. Tel: 07719 593398

JAM TOTS for Toddlers, Parents & Carers, Fridays 10am

at St Margaret's Church Centre, Iver Heath SL0 0RU

JAM CLUB for Children aged 5-7 years, Fridays 5pm

at Iver Heath Scout Hut, St Margaret's Close SL0 0DB

jamclub@stmargaretsiverheath

www.stmargaretiverheath.org.uk

Iver Parish Magazine - December 2020 / January 2021
---
CHRISTMAS SERVICES 2020

FRIDAY 4 TH DECEMBER TO WEDNESDAY 6 TH JANUARY

VIRTUAL CHRISTMAS TREE FESTIVAL

www.iverparishchurch.org.uk www.fb.com/iverparishchurch

SUNDAY 13 TH DECEMBER

5pm ~ Messy Christmas

streamed via Facebook Live at www.fb.com/iverparishchurch

SUNDAY 20 TH DECEMBER

6pm ~ Traditional Carols by Candlelight

streamed via Facebook Live at www.fb.com/iverparishchurch

CHRISTMAS EVE

4pm ~ All Age Nativity

streamed via Facebook Live at www.fb.com/iverparishchurch

11.30pm ~ Midnight Holy Communion Service at St Peter's

(*pre booked places)

CHRISTMAS DAY

8.00am ~ BCP Holy Communion Service at St Peter's

10.00am ~ Family Communion Service at St Peter's (*pre booked places)

10.00am ~ Family Communion Service at St Leonard's (*pre booked places)

SUNDAY 27 TH DECEMBER

10.00am ~ Morning Praise and Favourite Carols at St Peter's

*to book contact office@iverparishchurch.org.uk or call 07835 879178

by 1pm on 21 st December

Wishing you a very

Happy Christmas!

11
---
Iver ChristmasTree Festival

We're Going Virtual!

The Christmas Tree Festival will be ONLINE from

4 th DECEMBER 2020 to 6 th JANUARY 2021

Submit an image of your Christmas Tree along

with your donation to share your family's festive wishes

or promote your business with the local & wider

community via our website and social media.

Suggested minimum donation of £5 per tree entry

for more information contact Rachel

on 07835 879178 or email

christmas@iverparishchurch.org.uk

iverparishchurch.org.uk | fb.com/iverparishchurch

ONLINE! Christmas Market

12

Join our Online Christmas Market and sell

your Christmas gifts and makes online.

Just £5.50 per virtual pitch and only one

business of each type allowed - so don't delay.

Post as many times as you like during the

event which will run on Facebook from

1st November to 20th December.

for more information and to apply for your online

pitch number contact Rachel on 07835 879178 or

email christmas@iverparishchurch.org.uk

iverparishchurch.org.uk | fb.com/iverparishchurch

Iver Parish Magazine - December 2020 / January 2021
---
Carols by Candlelight

Sunday 20th December 2020, 6pm

watch LIVE on our Facebook page

www.facebook.com/iverparishchurch

iverparishchurch.org.uk

It Begins in Bethlehem

Christmas Eve, 4pm

via Facebook LIVE

www.facebook.com/iverparishchurch

Join in our online nativity! Send in your Christmas

artwork or a photo of you dressed up as a nativity

character (visit iverparishchurch.org.uk/christmas

for the full character list) by 14th December

to office@iverparishchurch.org.uk

iverparishchurch.org.uk

13
---
#LIGHT UP THE IVERS

Nooks and Crannies

Domestic Cleaning Services

Iver Heath Based

2020 has been a year of firsts and now we are

looking for new ways to celebrate and have fun

in the lead up to Christmas. We all need to see

some glitter, bright lights and enjoy a little of the

Christmas magic this year.

#Light Up The Ivers is a collaborative project

across the Ivers Parish bringing together the 3

residents' associations and the Parish Council

to bring you a series of advent windows that

will light our villages. It is a first for us and we

are delighted so many people have got behind

us to make it happen.

Across all 3 villages businesses, schools and

organisations will be dressing their windows to

celebrate the Christmas season with different

locations being revealed all the way through

December.

You can find out where and when locations

will be revealed on the dedicated Facebook

page – just search for #Light Up the Ivers. You

can plan a walk (socially distanced, of course)

or drive around the locations and will be able

to download details of the route to follow.

Windows will be lit from 15:30 – 20:30 each day

beginning on 1st December at The Ivers Parish

Council and ending on 24th December at St.

Peter's Church.

14

FOOD & FRIENDS

Food and Friends is currently

suspended due to

government restrictions.

We hope to be back again once the

restrictions allow.

• One Offs • Regular Cleans - Weekly/Monthly

• Special Occasions • Also Windows & Carpets

Ironing • Oven Cleaning Gardening

• Sympathetic Clutter Clearance

Don't leave it any longer - give us a call!

Excellent References Available

Customer Confidentiality Guaranteed

Cleaning Products Provided

Public Liability Insurance

Call Patsy on 07900 438614

MORNING & EVENING

PRAYER

Do join us as we continue with

Morning & Evening Prayer

via Facebook Live.

Morning Prayer - 9am

Evening Prayer - 5pm

Monday to Friday from our

Church Facebook Page

www.facebook.com/iverparishchurch

FIRST FLOOR OFFICE TO LET IN

ST PETER'S CENTRE, 1 THORNEY

LANE NORTH, IVER SL0 9JU

Office space is self contained, measures

approximately 366sqft with its own kitchenette

and an adjoining WC.

The facilities include central heating, carpeting,

strip lighting, electric projector screen and

a smoke alarm. There is one desk, with the

option of an additional desk. The desk can be

removed if not required. There will be 24 hour

access with 1 car space at the rear.

POA, for further information contact Rachel on

07835 879178

Iver Parish Magazine - December 2020 / January 2021
---
CALL FOR MORE BUCKS RESIDENTS

TO VOLUNTEER TO HELP COVID-19

EFFORTS

The Buckinghamshire Volunteer Matching

Service is calling for Bucks residents to

sign-up as volunteers to help support local

people and communities during the COVID-19

(coronavirus) pandemic.

The Volunteer Matching Service, which is run

by Community Impact Bucks in partnership

with Buckinghamshire Council and The Clare

Foundation, matches registered volunteers

to roles where they are most needed in the

county. It is looking for volunteers from across

the county but in particular for volunteers from

the High Wycombe, Missendens and Chesham

areas.

In Spring 2020, more than 1,800 people from

Buckinghamshire signed up to volunteer via

the Buckinghamshire Council's website to

support local communities during the height

of the coronavirus pandemic, the recovery

period and any local outbreaks that may arise.

Many of this initial cohort of volunteers have

now been matched with charities and voluntary

organisations, while others are now no longer

available. As a result, we are looking for new

volunteers to step forward to support COVID-19

response activities.

"It has been amazing to see so many people

offer their time and skills to help others during

the pandemic, and it was great to see this

incredible voluntary effort recognised in the

Queens's Birthday Honours where nearly three

quarters of recipients were awarded for their

work in the their community, including several

Bucks residents," commented Katie Higginson,

Chief Executive of Community Impact Bucks.

"Building on this, we now need more volunteers

to be available to fill key roles – from adhoc,

one-off tasks such as PPE delivery to longer

term positions like regular supermarket

collections, mentoring young people and

providing ongoing support for vulnerable

people. If you are 18 or over, and have some

time or specific skills to offer, we would love to

hear from you."

Gareth Williams, Cabinet Member for

Communities and Public Health, said:

"We have a strong tradition of volunteering in

Buckinghamshire and we know people find it a

very rewarding experience. People who were

able to give their time to support vulnerable

residents during the lockdown earlier in the

year found new skills and ways to fill their

days in very fulfilling ways. We are seeing

a steep increase in the rates of coronavirus

currently and want to be prepared if we need to

again step up to support our most vulnerable

residents. Please do consider whether you

could give any of your time."

Frances was matched with the Wycombe

Food Hub and currently volunteers two days

a week there: "The whole Food Hub is run by

volunteers and we make a huge difference

to our customers, some of whom have

literally nothing to put on the table. There's no

bureaucracy, no barriers, no discrimination –

the Food Hub is open to anyone who needs

to find food. I love volunteering there - I go

in feeling great and come away feeling even

better."

To find out more about the Volunteer

Matching Service, people can visit the

Volunteer Matching Service information

page (https://communityimpactbucks.org.uk/

buckinghamshire-volunteer-matching-service/)

and can easily register as a volunteer via the

online Volunteer Matching Service registration

form.

To read about the experiences of several

Volunteer Matching Service volunteers

including Frances, go to our case studies

webpage (https://communityimpactbucks.org.

uk/case-studies/) and watch our video.

15
---
PARISH HISTORY

PICTURES FROM THE PAST

Since the end of the Second World War there

have been many changes in Iver. In recent

decades these have become more frequent

and more extensive. Are there any ways

of discovering what Iver looked like in the

past? Fortunately there are extensive records

in Iver and Aylesbury, including information

from archaeological digs, contemporary

drawings, paintings, photographs and families'

records. Photographs are really invaluable

but unfortunately are mainly black and white

and are comparatively recent in date because

photography only developed in Victorian times.

It may come as a surprise to hear that

archaeological digs do occasionally still occur

in Iver, mainly in order to investigate sites that

are due to be developed. A fairly recent study

at Chandlers Hill, Iver Heath, was published

in Records of Buckinghamshire in 2020 by

Andrew Hood and Paul Blinkhorn. The name of

Paul Blinkhorn may be familiar to some readers

as he was the TV Time Team's amazing expert

on pottery. He identified fragments of 12th &

13th Century pottery on an earlier Saxon site

to the east of Bangors Road North. There was

evidence of pottery production and deposits of

suitable clay were nearby. Was this the site of

an Iver medieval pottery centre? This possibility

is supported by Poll Tax records of 1379 which

refers to a "John Pottere" and the Rocques

map c1760 which labels "Potters Cross" 500m

to the south west of this site. The name Potters

Cross survives today – perhaps the recent

archaeology suggests the origin of this name?

Other valuable sources of information are

drawings and paintings made by residents

or visitors to Iver. In 2018&9 the parish

magazine history articles reproduced some

unique drawings of long lost buildings taken

from the 1736 Tower Estate map. These

are some of the earliest known pictures

of Iver. Buckinghamshire Archives holds

many other items, including two interesting

drawings, made by a visitor, probably about

1790. Picture 1 shows "Iver Church & Mr

Clues (Clowes) House" with the new road to

the village (made in 1789). The NE end of the

16

Church looks a little different from today. Mr

Clowes' impressive house, Delaford Park, was

destroyed by fire on the 18th September 1856.

Local walks expert Stephen Sprigall wrote an

eyewitness account of the fire and described

how, in spite of many helpers and the Uxbridge

fire engine taking water from the river, in a just

few hours the mansion was a heap of charred

and smoking ruins.

Picture 1 ~ Iver Church & Mr Clowes House

Picture 2 shows, in its beautiful location,

another lost house, "Huntsmore, C Tower Esq

near Iver" which was demolished in 1938. The

house, called the Old Manor by the Tower

family, had been added to over the years. Part

of it was Elizabethan as a window sill had the

date 1598 but it was probably an earlier Tudor

moated Manor House perhaps built in the reign

of Henry VIII. Fortunately for Iver residents,

Huntsmoor Park remains and provides many

beautiful walks through wooded areas, beside

fields and the river bank.

Picture 2 ~ Huntsmore C Tower Esq near Iver

Lady Sophia Tower of Huntsmoor died there

in 1882 and she had lived at Huntsmoor since

1841. She and her husband Christopher

restored and partly rebuilt the Old Manor.

Iver Parish Magazine - December 2020 / January 2021
---
PARISH HISTORY

Lady Sophia has left a wonderful record of

watercolour paintings of Iver, particularly of

Huntsmoor and Delaford, and some of her

bound Albums, containing many pictures, are

in the Buckinghamshire Archives. Picture

3 shows the Cedar Room inside Huntsmoor

House, with two of her children, Brownlow and

Adelaide, (later Adelaide Meeking of Richings),

in 1852.

Also the top of the tower has a small conical

roofed structure. The yew tree, which was then

centuries old, looks very vigorous.

Picture 4 ~ Iver Church c 1817

Picture 3 ~ The Cedar Room, Huntsmore,

Lady Sophia Tower

Picture 4 is an undated water-colour painting

of Iver Church, which has on the back "Iver

Church, Rev Ward, Rector" The Rev Edward

Ward came to Iver in 1803. There is a similar

woodcut dated 1817 (used by Ward on his

printed annual Parish Addresses) so the

painting probably dates from about 1817.

There are some interesting differences from

the present day. Where there is now a wide

roadway, there are untended animals, perhaps

on a wide grass verge. Another drawing of

similar date shows an animal grazing in the

churchyard. On the right there is a signpost

inside the churchyard suggesting that a road

then passed through the churchyard. Over the

Church's west door there is an ancient wooden

porch. This was taken down by Sir Gilbert Scott

during the 1847/8 Church Restoration, because

it was too dilapidated to repair. Another

structure removed then was the gable-roofed

building over the vestry on the left, which was

used as a boys' school. The vestry itself was

modified during the North Aisle extension in

2005. The west end of the North Aisle strangely

shows two windows, not one as at present.

One former Iver family has a unique collection

of paintings of Iver by Emily Larner, dated

1862. Emily enjoyed painting local scenes and

these provide an insight into the countryside,

houses and daily life then. The Larners lived

in Colemans Green (Bangors Road near

Coppins). Picture 5 shows the typical "traffic"

to and from Iver village via the church hill. This

was painted after picture 1 above so there is no

Delaford Park House and the building over the

Church vestry has gone. There is apparently a

wall not a fence round the Delaford site. Picture

6 portrays a surprisingly modern looking house

at Potters Cross and Picture 7 shows Mrs

Brown's thatched cottage just before it was

demolished. Mrs Charlotte Brown, who was a

Cowkeeper, was a relative of the Larners and

also lived at one time in Colemans Green.

Picture 5 ~ Iver Church & Church Hill,

1862 Emily Larner

17
---
LOOKING FOR A NEW

DENTAL PRACTICE IN IVER?

■ Dental treatment in relaxed, friendly surroundings

■ Emergencies seen without delay

■ Early morning, evening and Saturday surgeries

■ Home visits and children welcome

■ Easy Parking

For enquiries/information/appointments

Contact IVER DENTAL CARE on:

01753 652223

175 High Street, Iver, Bucks SL0 9QB

info@iver-dental-care.co.uk www.iver-dental-care.co.uk

18

The Holy Family Roman Catholic Church

Trelawney Avenue, Langley

Holy Mass Saturdays at 5.30pm and Sundays at 9.30am, 11.15am and 6.30pm.

Enquiries regarding Baptisms, Weddings and Funerals should be made to

Fr Kevin O'Driscoll. Telephone: 01753 543770

www.holyfamily.co.uk

Osteopath

Sports Injuries - Back Pain - Nagging Aches and Pains

Consultations by appointment only, some on evenings or weekends

Sam Winder BSc (Hon) Ost.

Registered Osteopath

Iver Croft, Bangors Road South, Iver. Tel:01753 677067

Pine Cottage Services

All Carpentry Work carried out

Fitted Kitchens, Laminate/Wood Flooring, Wardrobes, Door Hanging

Furniture made to order. Free Survey on Kitchens

Please call for a Free Quotation

07850 468597 or 01753 662723

email:pine.cottage@btinternet.com www.pinecottage.info

Iver Parish Magazine - December 2020 / January 2021
---
Picture 6 ~ House at Potters Cross

1862 Emily Larner

PROMOTE YOUR

PRODUCTS &

SERVICES TO YOUR

LOCAL COMMUNITY

FROM LESS THAN

£17/month*

The Iver Parish Magazine

is distributed free to all homes in

Iver Village and Richings Park.

It is also available digitally on our

website and the link to view is shared

on local Facebook community groups

Picture 6 ~ Mrs Brown's Cottage

c1862 Emily Larner

There were, of course, many other Iver

painters, including some more recent ones.

The IDCA hold a wonderful a collection of local

paintings by the late Eleanor More. Eileen

Rust, who died recently, made some detailed

drawings of lost Iver buildings, carefully

researched and compiled from a variety of

different sources. All these help to give us

some idea of what Iver looked like in the past.

© Stella Rowlands

Special thanks are due to Buckinghamshire

Archives for permission to use D/X 630/1&2

(pictures 1&2) and to the family of the late

Susan Brant/Muir/Puddifoot for their kindness

in allowing the use of Emily Larner's pictures

here (pictures 5, 6, 7).

Promote your business and/or

services from less than £17/month

*£200 per year for 10 issues

-

Ask about distributing your

business flyer with the magazine.

-

"The Iver Parish Magazine helps

us get our business in front of

customers right on our doorstep.

The magazine helps us encourage

people to shop local and support

small business in our villages"

For details of our advertising rates

or more information visit our website

www.iverparishchurch.org.uk

/iver-parish-magazine/

or email

magazine@iverparishchurch.org.uk

#IVERSHOPLOCAL

19
---
CLUBS & CLASSES

IVER SHORT MAT BOWLS CLUB - Iver

Village Hall. Every Wednesday afternoon

2-5pm and evenings 7-10pm. Never played

before? Why not come along and give it a go.

Free Refreshments, no entry fee for your first

three weeks. Contact Peter 07761 473335,

Ron 01753 819644 or Mary 01753 654765

www.ivershortmatbowlsclub.co.uk

Meetings are currently suspended.

HEATHWAY LADIES' GROUP. The group

meets at 2pm on the second Tuesday of the

month, at Iver Heath Village Hall. All enquiries

concerning the group to Tricia 01753 817749.

Meetings are currently suspended.

IVER HEATH LADIES. The Iver Heath ladies

meet on the first Monday of the month at

2pm in the Community Room at Iver Heath

Village Hall. Enquiries to Pat Roberts 01753

647674. Next Meeting: Meetings are currently

suspended.

IVER AND DISTRICT MOBILITY CLUB. The

Mobility Club, for anyone with disabilities and

their carers, meet on the last Monday of the

month, 2pm at Kings Church, all Welcome.

Next meeting: Meetings are currently

suspended. Contact Gill Jones on 01753

651163. www.ivermobilityclub.co.uk.

THE RICHINGS PLAYERS. Local awardwinning

amateur theatre company producing

a range of high quality productions from

pantomime to comedy, musicals to classic

drama, murder mystery evenings and more!

For more details please email

richingsplayers@mail.com visit our website

www.richingsplayers.co.uk or keep an eye on

our Facebook, Twitter and Instagram feeds.

ROTARY, LANGLEY & IVER Usually meet at

7.00pm on first, third and fourth Thursday of

each month at The Pinewood Hotel, George

Green. Contact Tony Brown 07770 544739.

www.facebook.com/langleyandiverrotary

Meetings are currently suspended.

20

RICHINGS PARK TENNIS CLUB Want to play

tennis? New members always welcome at our

brand new court facilities. Contact Graeme or

Wendy on 01753 651071 or look at our website

www richingsparkltc.org.uk

Meetings are currently suspended.

IVER EVENING WOMEN`S INSTITUTE.

The WI meets on the second Monday of the

month, 7.15pm for 7.30pm at Iver Village Hall.

Visitors warmly welcomed. All enquiries to

Margaret Smith 01753 653751.

Meetings are currently suspended.

EVREHAM THEATRE CLUB. Evreham

Theatre Club organises approximately twelve

outings per year to include musical and

dramatic theatre, exhibitions and other places

of interest and social events. New members

are welcome, individual £7.00, couples £12.00.

For further information please contact: Heather

Golby (Membership Secretary) 01753 541677,

Pauline Harrison (Secretary) 01753 732019.

Theatres are currently closed.

RICHINGS PARK BOWLS CLUB

Bowls is a game for the young and not so

young alike; all you need to start playing is a

flat pair of shoes. Come along and give it a

go. Club nights on Friday evening. For further

information, please contact: David Orr on 01753

652708. All welcome to this small and friendly

club. Meetings are currently suspended.

CLUBS & CLASSES

In view of the current situation

the status of clubs and classes

are frequently changing.

Please contact the organiser

for the latest information.

Iver Parish Magazine - December 2020 / January 2021
---
CLUBS & CLASSES

VIRTUAL CLASSES & GROUPS

The Sunshine Choir & Iver Singers

Rehearsals are suspended for now, but please

check out Sara's Singalong on YouTube if you

would like a sing song with Sara and Caroline.

Please call Sara - 07733 466177 or email

sara@iversingers.com

B-Fit with Rachel

Rachel is running classes via Zoom on Tuesday

and Thursdays.

Contact Rachel on 07745 622011

Pilates - Tuesdays: 11.00 - 11.45am

PiYo - Tuesdays: 7.00 - 7.45pm

Pilates - Tuesdays: 8.15 - 9.00pm

Pilates - Thursdays: 9.30 - 10.15am

Pilates - Thursdays: 7.00 - 7.45pm

P90X - Thursdays: 8.15 - 9.00pm

WEEKLY CLASSES & GROUPS

MONDAYS

Play and Learn (5 years and under),

10.30 - 12pm at Iver Children's Centre.

01753 650252

Singing Lessons, Iver Village. Contact Toby

Stafford Allen 07801 067521

TUESDAYS

Pilates, 11.00 - 12 noon at St Peter's Centre.

Booking essential. Rachel - 07745 622011

Perform Drama, Dance & Singing, 4-5pm

(4-7 year olds) & 5-6pm (7-12 year olds) at the

St Peter's Centre - 0207 255 9120

Slimming World, Evening meeting at Evreham

Adult Learning Center Bookings only contact

Kim on 07427 273201

WEDNESDAYS

Slimming World, Morning meeting at Evreham

Adult Learning Center Bookings only contact

Kim on 07427 273201

Iver Short Mat Bowls Club - 2-5pm and

7-10pm, Iver Village Hall, contact Bob on 01753

654049

Triple Threat Performing Arts,

Foundation 4:45-5:30pm. Intermediate 5:30-

6:30pm. Advanced 6:30-8:00pm. Advanced

Skills sessions available upon request.

St Peter's Centre. Contact Evelyn 07950

039827, triplethreatperformingarts@gmail.com.

triplethreatperformingarts.co.uk

THURSDAYS

Weight Watchers - 6.30pm, Iver Village Hall,

contact Gemma on 07545 996694 or email

gemmahallett9@hotmail.com

Badminton - 8pm to 10pm, Iver Village Hall,

contact Suzette Nevard on 01753 814224

FRIDAYS

Ukulele Lessons Fridays (except 3rd Friday)

King's Building 11:15am – 12:15pm £5 first

lesson free. Run by James Vigurs

Iver Youth Club - IYCS Term time 6:30 -

8:30pm at the Evreham Youth Club for children

aged 9 - 14. email: iveryouth@gmail.com.

Christine's Dance Club - Ballroom Dancing

sessions at St. Peter's Centre, 7.45pm to

9.45pm (£4). Christine Smith, 01753 770819

SUNDAYS

CLUBS & CLASSES

Please contact the organiser to

check that your club or class is

going ahead before attending.

The details available at

the time of printing are

likely to change, sometimes

at short notice.

Sunday Quilters, 2nd Sunday each month

1-5pm. Wendy Rogers 01895 675848

Vikings, 7-9pm Iver Village Hall, Valhalla

Vikings, email Peter at

guthroth@colanhomm.org

21
---
PARISH DIRECTORY

Church website: www.iverparishchurch.org.uk

Find us on Facebook: www.facebook.com/iverparishchurch

22

PCC Chairman Revd Robert Gooding The Vicarage 01753 652078

PCC Secretary Rachel Nikolay 07715 673532

PCC Treasurer Tina Lewis tina.lewis@iverparishchurch.org.uk

Church Administrator Rachel Nikolay 07835 879178

Gift Aid Scheme Wendy Jenner 01753 651071

Mission Secretary Diana Stroud 07835 879178

St Peter's Centre Hire Parish Church Office 07835 879178

St Leonard's Hall Wendy Jenner 01753 651071

Captain of Bells David Rowlands 35 Iver Lane, Iver, SL0 9LF

St Peter's Flowers Wendy Rowntree 01753 652216

St Leonard's Flowers Maureen Carter 01753 650073

Sunday Seekers 07835 879178

St Peter's Football Club James Fox jfoxy1980@googlemail.com 01753 582949

1st Iver Scouts Sarah Merrett 07751 191978

Iver Heath Scouts Tim L'Angellier 01753 655799

Girlguiding Buckinghamshire www.girlguidingbucks.org.uk

Iver Parish Council Council Office 45B High Street, Iver 01753 655331

Member of Parliament Joy Morrissey House of Commons 0207 219 3000

Police Non Emergency Number 101

Crimestoppers To inform anonymously about a crime 0800 555 111

Citizens Advice Bureau www.citizensadvice.org.uk 0300 3230121

Illegal Dumping Reporting Hotline 0845 3301856

DrugFam (for those affected by someone else's use or misuse of drugs or alcohol) 0845 3883853

Alcoholics Anonymous in Iver, Meets 7.30pm on the 1st Sunday. 24Hr Helpline 01628 530055

Al-Anon, 10:30am on Saturdays via Skype. Annette 07971 425814 or Christine on 07450 322958

Iver Parish Magazine is delivered free of charge to over 2,500 homes in Iver Village and Richings

Park. Please send matters for publication to the Editor by the 4th of the previous month.

Please see page 2 for contact addresses for editorial and advertising. The Editor and Publishers

of the magazine accept no responsibility and make no endorsement for goods, services, or

opinions appearing in its pages.

All articles in this magazine are protected by

copyright and must not be reproduced, posted

online or held in any retrieval system without

the express written permission of the Editor.

Iver Parish Magazine - December 2020 / January 2021
---
DECEMBER 2020 SERVICES

ST PETER'S

Thursday 3rd December

12 noon Holy Communion with prayers for healing

ST LEONARD'S

Sunday 6th December

8.00am Holy Communion (BCP)

10.00am Morning Praise

10.00am Holy Communion

Thursday 10th December

12 noon Holy Communion with prayers for healing

Sunday 13th December

8.00am Holy Communion (BCP)

10.00am Holy Communion

10.00am Morning Worship

5.00pm Messy Christmas (Facebook Live)

Thursday 17th December

12 noon Holy Communion with prayers for healing

Sunday 20th December

8.00am Holy Communion (BCP)

10.00am Morning Praise

10.00am Morning Worship

6.00pm Carols by Candlelight (Facebook Live)

Thursday 24th December, Christmas Eve

12 noon NO SERVICE

4.00pm All Age Christmas Praise (Facebook Live only)

11.30pm Midnight Holy Communion (Facebook Live only)

Friday 25th December, Christmas Day

8.00am Holy Communion (BCP)

10.00am Combined Family Holy

10.00am NO SERVICE

Communion (Facebook Live Only)

10.00am NO SERVICE

12 noon NO SERVICE

Sunday 27th December

Thursday 17th December

Morning & Evening Prayer (CW) is held Monday to Friday

Morning Prayer at 9am and Evening Prayer at 5pm

via Facebook Live. The words for the service can be found at

https://www.churchofengland.org/prayer-and-worship/join-us-service-daily-prayer

However, there will be no Morning or Evening Prayer on either Christmas Day or New Years Day

and from 28th to 31st December it will only be Morning Prayer (no Evening Prayer)

Join us on Facebook Live at www.facebook.com/iverparishchurch

23
---
JANUARY 2021 SERVICES

ST PETER'S

ST LEONARD'S

Sunday 3rd January, Epiphany

8.00am NO SERVICE

10.00am Morning Praise

10.00am NO SERVICE

(Facebook Live Only)

Thursday 7th January

12 noon Holy Communion with prayers for healing

Sunday 10th January

8.00am Holy Communion (BCP)

10.00am Holy Communion

10.00am Morning Worship

Thursday 14th January

12 noon Holy Communion with prayers for healing

Sunday 17th January

8.00am Holy Communion (BCP)

10.00am Morning Praise + Baptisms 10.00am Morning Worship

Thursday 21st January

12 noon Holy Communion with prayers for healing

Sunday 24th January

8.00am Holy Communion (BCP)

10.00am Combined Morning Praise

Thursday 28 January

12 noon Holy Communion with prayers for healing

We will continue to stream our 10am Sunday service from St Peter's each week

via our Facebook Page www.facebook.com/iverparishchurch

DAILY PRAYER

From Monday to Friday each week we will be streaming the set Common Worship

service for Morning Prayer (9am) and Evening Prayer (5pm) using "Facebook Live"

from our Church Facebook Page www.facebook.com/iverparishchurch

The words for this service can be found onlune at

https://www.churchofengland.org/prayer-and-worship/join-us-service-daily-prayer

There are also Phone Apps

Android: https://play.google.com/store/apps/details?id=com.aimermedia.dailyprayer&hl=en_GB

IOS: https://apps.apple.com/us/app/daily-prayer/id818491760

St Peter's Church will be open for private individual prayer at the following time:

Wednesdays from 2pm to 4pm (except Wednesday 30th December)