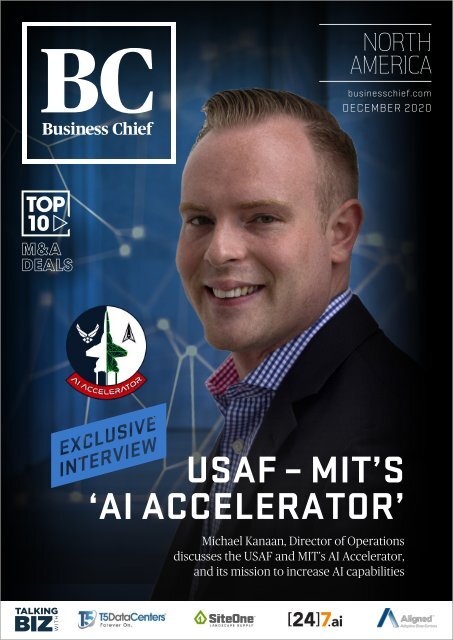 Create successful ePaper yourself
Turn your PDF publications into a flip-book with our unique Google optimized e-Paper software.
NORTH

AMERICA

businesschief.com

DECEMBER 2020

M&A

DEALS

USAF – MIT'S

'AI ACCELERATOR'

Michael Kanaan, Director of Operations

discusses the USAF and MIT's AI Accelerator,

and its mission to increase AI capabilities
---
Pack the essentials

for your business trip:

Laptop

Charger

Business insights

Payment solutions

From T&E expertise to business insights to payment

solutions, the American Express Corporate Program

gives you all the tools and services you need, so you're

fully prepared for business wherever you are.

To learn more about the American Express Corporate

Program, visit www.americanexpress.com.
---
FOREWORD

2020

– a year like no other.

As we enter into the

final month of 2020, our cover features

Michael Kanaan Director of Operations,

U.S. Air Force and MIT Artificial Intelligence

Accelerator, on its mission to use AI to

increase capabilities while addressing

societal demands. "Our efforts stretch

across three main lines [...] It's all about

making AI real for our workforce,"

comments Kanaan.

With AI continuing to prove its value

across multiple sectors and business

functions, Andi Britt, Senior Partner at IBM

Talent & Transformation, IBM Services

Europe and Chris Huff, CSO at Kofax,

take a look at the innovative technology

from a HR perspective and the ways in

which it is reinventing processes.

Other leaders featured include Charlotte

Bancilhon, Associate Director, BSR on the

importance of shared value and trust to

drive effective stakeholder engagement,

and the impact of COVID-19; and Fuad

Chapra, Head of Family Business, KPMG

(Saudi Arabia) provides his expert insight

on investment management benefits and

trends. "Similar to other industries,

technology has become increasingly

important to enhance customer

experience," says Chapra.

Elsewhere, we discover what it means

to be a digital brand in today's world, in our

roundtable discussions with McKinsey,

Toluna and Ebiquity. While Vikas Butaney,

Vice President and General Manager of

Cisco IoT, explains how companies can

get the most out of IoT; and Ray Joyce

and Steve Gill HR Services at EY discuss

the rise of human and AI collaboration in

HR operations.

Finally to end the year, our December Top

10 ranks – by year – its top mergers and

acquisitions made by companies in North

America over the last two decades.

Do you have a story to share? If you would

like to be featured in an upcoming issue

of Business Chief, please get in touch at

georgia.wilson@bizclikmedia.com

Enjoy the issue!

Georgia Wilson

03

businesschief.com
---
Between hope

and possible

there's

a bridge.

There from the beginning to where

we stand today. And to where we will go

from here. One company. One promise.

If you can imagine it, we will build

the bridge to get you there.
---
CLICK THE MENU TO RETURN TO CONTENTS PAGE

NORTH

AMERICA

Subscribe to receive exclusive weekly news

and insights direct to your Inbox

CLICK NOW

TO SUBSCRIBE

FOR FREE

PUBLISHED BY

EDITOR-IN-CHIEF

Georgia Wilson

EDITORAL DIRECTOR

Scott Birch

CREATIVE TEAM

Oscar Hathaway

Sophia Forte

Sophie-Ann Pinnell

Hector Penrose

Sam Hubbard

Mimi Gunn

PRODUCTION DIRECTORS

Georgia Allen

Daniela Kianicková

PRODUCTION MANAGER

Owen Martin

Philline Vicente

VIDEO PRODUCTION MANAGER

Kieran Waite

DIGITAL VIDEO PRODUCERS

Sam Kemp

Evelyn Huang

DIGITAL MARKETING EXECUTIVE

Kayleigh Shooter

Andy Stubbings

Eve Howat

Daisy Slater

MANAGING DIRECTOR

Lewis Vaughan

EXECUTIVE ASSISTANT

Jordan Hubbard

PROJECT MANAGERS

Karl Green

Thomas Livermore

James Richardson

Michael Banyard

Jake Megeary

Kris Palmer

Mike Sadr

Ryan Hall

Ben Maltby

Craig Killingback

Stuart Irving

James Berry

MEDIA SALES DIRECTOR

James White

SALES AND MARKETING DIRECTOR

Jason Westgate

CHIEF OPERATIONS OFFICER

Stacy Norman

PRESIDENT & CEO

Glen White

businesschief.com
---
CONTENTS

10

36
---
46 58

What Does it Mean

to be a Digital Brand?

80

92

68

US MERGERS AND

ACQUISITIONS

OF THE LAST TWO

DECADES
---
110

Saphyre

124

Aligned

138

Community

Health Network

154

[24]7.ai

170 SiteOne

Landscape

Supply
---
182

T5 Data

Centers

198

Legacy

Community

Health

226

Nautilus Data

Technologies

212

Protective

Insurance

Canada

Brokerlink Inc.

240

254

Altar'd State
---
10

USAF-MIT AI

ACCELERATOR:

COLLABORATION

FOR NEW AI

SOLUTIONS

WRITTEN BY

WILLIAM SMITH

PRODUCED BY

MIKE SADR

DECEMBER 2020
---
usinesschief.com

11
---
USAF-MIT AI ACCELERATOR

MICHAEL KANAAN ON THE USAF

AND MIT'S AI ACCELERATOR, AND

ITS MISSION TO USE AI TO INCREASE

CAPABILITIES WHILE ADDRESSING

SOCIETAL DEMANDS

12

M

ichael Kanaan is Director of Operations,

U.S. Air Force and MIT Artificial Intelligence

Accelerator, having previously been at the

Pentagon as the co-chair of AI for the Air Force.

The USAF-MIT AI Accelerator began in January

2020. "It's pursuant to a cooperative agreement

with MIT, MIT Lincoln Laboratory and the

Department of the Air Force," explains Kanaan.

"Our efforts stretch across three main lines. The

first is to execute a number of flagship AI projects

and the related work to bring that into existence.

The second is developing scalable AI education

for the workforce – all demographics, all ages,

and all ranks. And the last is to lead the dialogue

in AI ethics and safety. It's all about making AI real

for our workforce."

Aside from the three flagship projects which we

are covering in depth, the initiatives include such

things as natural language processing for communication

with machine and foreign language

training, swarming unmanned aerial vehicles for

DECEMBER 2020
---
2019

Year founded

50

Number of

employees

13

businesschief.com
---
USAF-MIT AI ACCELERATOR

14

"IT'S ABOUT BEING MORE ACCURATE,

DELIVERING BETTER LOGISTICS, WORKING

ON HUMANITARIAN AID MISSIONS WHILE

ALSO SAVING THE TAXPAYER DOLLARS"

—

Michael Kanaan,

Director of Operations,

U.S. Air Force and MIT Artificial

Intelligence Accelerator

deployment on humanitarian aid missions,

and using big data to illuminate

weather circumstances in areas without

a ground station. The projects

are linked by a shared focus, as

Kanaan explains. "The most important

thing is to ensure that we all have a

common and shared dialogue and

understanding of what AI is, what it

isn't, how it works, and how to walk

along that journey."

The MIT and Air Force collaboration

is of a lineage with some of the most

illustrious projects in the history of the

United States. "There's a triangular

relationship between industry, academia,

and government in the United

States, that's very special and very

storied throughout our past." Kanaan

emphasizes that it stems from a common

language between government,

industry, and academia which must be

nurtured. "We have to reinvigorate the

relationship that, for instance, brought

the internet into our homes. Artificial

intelligence is something that's going

to be viewed as equivalent to electricity

in our lives, because of the way it

affects us every single day. What could

be more important than something

like electricity being shared by the

DECEMBER 2020
---
Michael Kanaan | USAF-MIT AI Accelerator

CLICK TO WATCH | 1:14

15

greatest minds, by those who build the

best technologies and by the government

as representative of its people?"

The work has been enabled by the

participation of a number of key partners,

whose professional experts and

contractors have worked alongside

MIT and the USAF. "A lot of work that is

necessary to bring modern technologies

like cloud to bear, without which

you would not have artificial intelligence.

We want to make sure that it's as easy

as possible for our workforce to grasp."

Kanaan emphasizes that partners run

the gamut of sizes, from the smallest to

the largest. "This is a team sport. It's a

whole-of-nation effort, with small business

innovation and research crucial to

the success of the United States Air and

Space Force. Meanwhile, our traditional

partners understand us better than

anyone else. They know how to integrate

technologies with the legacy architectures

that we must rely upon. We can't

buy a new thing every single day, and

many of those things we can't put in the

cockpit of a jet, of course. And then lastly,

nontraditional partners help to reinvigorate

the conversations that we need

to have on AI today."

businesschief.com
---
The power to

do great things

Reliable, resilient, and secure AI

AI and ML solutions turn data into new opportunities for

insight and efficiency. We're helping our customers gain

immediate value across multiple domains. Let us provide

you the power to perform at your best.

leidos.com/AI
---
Building

trusted,

secure,

and safe

AI systems

Reliable, resilient,

and secure AI solutions

Ron Keesing,VP

of AI and Machine

Learning, discusses

how Leidos is

exploring the

applications and

addressing the

challenges of modern

automation tech

Leidos' mission is to make the world safer, healthier,

and more secure. We take on some of the world's most

interesting, challenging, and data-centric problems,"

says Ron Keesing, VP of AI and Machine Learning

at Leidos.

Among the company's core technical competencies is the

development of artificial intelligence (AI) and machine

learning, which it hopes to incorporate into all of

its solutions. Leidos often begins by adapting technology

developed in the commercial and academic world to the

missions and domains of our customers. On the DARPA

ACE (Air Combat Evolution) program. Keesing says,

"We're taking a technology that came from the commercial

world and using it to transform aerial combat. AI allows

us to invert traditional battle paradigms, from one where

many people control a single aircraft into one where a

single person can control a team of manned and unmanned

assets to complete complex mission objectives."

"We combine humans and machines to be able to perform

these missions better and faster. Leidos' role as an

integrator of AI technology comes from many different

sources, and we bring them all together into solutions

that the U.S. Government can use. Currently, we're using

AI to transform the processing of veterans' health benefits

to make sure they're receiving improved healthcare

through natural language processing (NLP). This will

enable faster claims and benefits processing with much

higher accuracy and speed than was possible before."

Keesing emphasizes the importance of keeping up with

the latest AI-based research and promoting understanding

among clients regarding the best way to use it. "Many

across the community are also starting to appreciate

what it means for AI systems to be ethical; we wouldn't

want systems making crucial mistakes that could put

human safety at risk or behave in a manner we perceive

as unfair." As such, Leidos believes in building trust

between humans and AI to foster comprehension and

encourage its more comprehensive application.

Keesing closes by encouraging everyone, from students

to senior decision-makers, to invest their attention in

AI's development. "This is such an exciting time for

people thinking about launching careers in AI and

machine learning, making sure how people understand

AI will affect their systems and programs. Whether we

want it or not, this technology is going to transform

every aspect of our world, and Leidos' is staying ahead

to make sure the systems we're building are safe, secure,

and can be trusted.
---
USAF-MIT AI ACCELERATOR

18

The fruits of the labor being put into

these projects are not only for the Air

Force's benefit, with wider society also

standing to gain. Kanaan cites humanitarian

disasters, such as the wildfires

and hurricanes which have had a

devastating impact on the US this year,

as examples of situations that could

benefit from its work. "Humanitarian

aid is a huge mission of the United

States Air Force, as it is of the Army,

the Navy, Coast Guard, and so on. AI

has a role to play, and that can stretch

across swarming drones to using computer

vision, to predicting fire lines,

to detecting people in flooded areas,

and delivering telemedical health."

In that spirit, public challenges have

been established for the two-way

sharing of information. "The public

challenges will ultimately help develop

the associated projects for use in public

society. And I think what I'm excited

about is our release of some of these

public challenges like magnetic navigation

using earth's magnetic sphere,

for which you can find the public

GitHub repository today."

The initiatives are standing the

Air and Space Forces in good stead

DECEMBER 2020
---
for the future by embracing digital

transformation. "Once upon a time in

the industrial age, you had to make

trade-offs between speed, accuracy,

and cost," says Kanaan. "In the digital

age, thanks to machine learning, artificial

intelligence or any of the number

of other automation techniques that

are part of digital transformation, you

can now do all three at once. For the

Department of the Air Force, it's about

being more accurate, delivering better

logistics, working on humanitarian

aid missions while also saving the

taxpayer dollars and making sure that

we are good stewards of that money."

Kanaan views the collaboration

that has enabled the accelerator as

key to its success. "I can't emphasize

enough how grateful we are to MIT,

to academia, to industry for being a

part of this conversation and to our

airmen and workforce for wanting

to have the dialogue. What makes us

special is that, while we are certain

to make mistakes along the way, we

hold a dialogue afterwards. It's all

about diving in."

19

EXECUTIVE PROFILE:

Michael Kanaan

Title: Director of Operations

Location: United States

Industry: Academia and Defense

Captain Michael Kanaan is the Director of Operations to the USAF-

MIT Artificial Intelligence Accelerator and the former co-chair of

artificial intelligence for the U.S. Air Force. He was named to the

Forbes "30 Under 30" list and received the US Government's 68th

Arthur S. Flemming Award (an honor shared by past recipients Neil

Armstrong, Robert Gates, and Elizabeth Dole). Kanaan is a graduate of

the US Air Force Academy and previously led a National Intelligence

Campaign for Operation Inherent Resolve in Syria and Iraq.

businesschief.com
---
MOVE AT

THE SPEED

OF LIGHT

TECH SKILLS

THE TECHNOLOGY SKILLS PLATFORM FOR THE DEPARTMENT OF DEFENSE
---
TOMORROW IS TOO LATE

Department of Defense agencies are under pressure to become more agile, protect

against rising security threats and continuously deliver innovation to meet mission-critical

objectives.

SLOWING DOWN IS YOUR BIGGEST

THREAT.

strategy can be a painfully slow process.

By leveraging Pluralsight's technology skills

platform, you can get out of reactive mode.

Upskill teams into modern roles, put the

Tech workforce development company Pluralsight

right people on the right projects and keep

offers a way for organisations to upskill their

up teams with to the respond pace to of technological technology. It's changes how in

the modern workplace. Sam Pena is VP, North

you America develop Presales skills at at the scale. company. "We have

created an ecosystem to provide technology

CLARITY

leaders visibility

YOU NEED

into their

TO LEAD

workforce." He

emphasises that this is achieved through three

Pluralsight distinct ways, enables the first you being to mobilize its tech skills your

platform, which allows leaders to index the skills

agency present around in their workforce your most and critical adjust initiatives. their

strategies accordingly.

With Skill IQ, you can index skills across

"The second way we enable tech leaders is

your through organization our engineering to uncover analytics knowledge platform,"

says Pena. "Our Flow product is intended to

gaps, help engineering measure proficiency leaders understand get how

developers are working and to remove

recommended content to take skills to the

bottlenecks. Then, coupling that with the tech

next skills level. platform, you can understand whether

there is an area of opportunity to enable

With developers Role IQ, to work you more can upskill efficiently." your The teams final

piece of the puzzle lies in its comprehensive

into professional the modern services tech offering, roles you which need assists to

tech leaders with an implementation strategy

accomplish for their ecosystems. important goals, like switching

tech Since stacks 2019 the or migrating company has to the been cloud. working

closely with the United States Air Force as part

ACCESS THE EXPERTISE OF OUR

NETWORK

PLURALSIGHT AND USAF:

Many

LEVERAGING

leaders aren't sure what teams are

TECHNOLOGY

With thousands of courses in today's most

capable of or how best to leverage

critical technology topics, personnel can

expertise to deliver on their technology tap into the largest community of experts

FOR DIGITAL U

strategy. Mobilizing teams around that

And

PLURALSIGHT'S

all the while, warfighters'

SAM

skills are

PENA ON THE COMPANY'S

becoming less relevant as technology

PARTNERSHIP WITH THE

evolves faster and faster.

UNITED STATES AIRFORCE

AND, TO UPSKILL TIME ISN'T ON AIRMEN ANYONE'S SIDE.

THROUGH THE DIGITAL

UNIVERSITY PROGRAM

available.

Our skills coverage on topics like AI,

DevOps, automation, security and cloud

ensures your team has the right expertise

to keep up with the pace of technology.

BUT HOW DO YOU TRACK PROGRESS?

With advanced analytics, you can feel

confident your team can deliver. Advanced

skills analytics give you unprecedented

of its Digital University initiative. "We've helped

visibility them launch into their your vision team's of strengths, recoding and

retraining the Air Force, which they call Digital

weaknesses University or and Digital progress U," says over Pena. time. "One of the

nice things about Digital U is that because it's

With advanced roles analytics, you can

leveraging commercial products like Pluralsight,

create it's providing and customize the Air Force roles the that same align type to of

training and skill development that you'd find

your at the unique tech giants." needs, and see role proficiency

levels As technology across your redefines organization and recreates to build roles in

the modern workforce, Pluralsight will continue

fluid to work teams. with the Air Force and others to help

people best leverage that technology. "One of

With the new advanced areas of channels focus in our analytics, partnership you is can in

developing product engineers that are focused

follow your team's progress toward

on human-centric design or full stack and mobile

strategic development," initiatives says Pena. with "This insights partnership into with

Digital U has helped us both learn from each

channel other. It's completion been great and to understand engagement the by Air

Force's mission and how we can best align to

individual. It's all to give you confidence

that, while on the flip side they've received an

that outsider you perspective have the skills with needed a commercial to move partner

that's able to bring in its own expertise."

forward.

UPSKILL Learn more: YOUR www.pluralsight.com/industries/government

TECHNOLOGY PLATFORM
---
USAF-MIT AI ACCELERATOR

David Jacobs | USAF-MIT AI Accelerator

CLICK TO WATCH | 0:37

22

MAJ. DAVID JACOBS, US AIR FORCE:

MAGNETIC NAVIGATION

Having graduated from Stetson

University College of Law as a patent

attorney, Maj. David Jacobs, U.S. Air

Force, got to ply his trade while stationed

at an Air Force research lab. "I became

the only active duty patent attorney, and

I've enjoyed the opportunity to get where

I am today as both the chief legal counsel

to work on intellectual property, data

rights, contracts, industry, and, of course,

ethics, and then also a program manager

for the robust neural differential models

for navigation and beyond."
---
Considering his role, Jacobs

emphasises the focus on ethics that

pervades the Air Force's work with

AI. We embed in all of our projects a

consideration of artificial intelligence

ethics and how it's done. The Air Force

wants to be a leader in AI, and to do

that you have to focus on ethics." He

gives the example of the possibility

of human research subjects being

implicated from AI research based

upon data. "One of the things we did

is work with the Air Force 711th Human

Performance Wing and coordinated

with the Department of Army to

develop a simple two-page guide to

help Air Force and MIT researchers

understand when something is human

subject research under AI, and when

it is not, so that we're following ethical

guidelines at all times."

In line with this ethical consideration

are the public challenges. "The

Air Force can actually be a partner

in advancing the state of the art for

everyone, and be leaders in this field.

While it's not new for academia to put

forward challenges for other academics,

it is new for the Air Force to get

involved." That new approach has

required a number of advancements

to make possible. "Some of the things

"THE AIR FORCE

WANTS TO BE

A LEADER IN AI,

AND TO DO THAT

YOU HAVE TO

FOCUS ON ETHICS"

—

Maj. David Jacobs,

US Air Force

23

businesschief.com
---
USAF-MIT AI ACCELERATOR

24

that we've had to address include the

Air Force sharing data at such a public

level. On the legal side, we've developed

a data sharing agreement which

enables the Air Force to share data

publicly with academia and industry."

That collaboration is key to the

Magnetic Navigation project, which

Jacobs works on, and is aimed at

developing an alternative to GPS

systems which are vulnerable to disruption,

especially in a conflict setting,

which would create huge problems

in both a military and civilian setting,

considering the extent to which the

technology is embedded in our lives.

"The government is looking into what

alternative GPS could look like and

magnetic navigation is one of the

possibilities," says Jacobs. "Magnetic

navigation takes the earth magnetic

resonance and a magnetometer reader

to pinpoint where you are in relation

to the earth. Because this technique

doesn't rely on any external sources,

it becomes particularly useful in

areas where other signal sources are

uncommon, such as over water."

The role of AI in the project is

threefold, as Jacobs explains. "One,

we're using AI to reduce excess noise

on the system. Have the AI cancel

out what is coming from the plane

and recognize what is interference

DECEMBER 2020
---
and what are actual readings. Two,

determine your position in real time

with faster speeds. As we go to other

vehicles like an F-16, we're breaking

the sound barrier and so we need to

determine location at much faster

speeds. And then finally we're combining

that magnetic parameter with

other systems in the aircraft to create

a complete picture."

The project has attracted a number

of interested partners, such as the

Joint Artificial intelligence Center and

the Department of Defense. "We've

had some talks with DARPA, with

NASA and of course, academic institutions

and industry. We're happy

to work with small business, large

business and other academic institutions,

because the more people that

tackle this problem, the better. We're

approaching it as a chance to provide

something that is good for the community

at large."

EXECUTIVE PROFILE:

David Jacobs

25

Title: Chief Legal Counsel

Location: United States

Industry: Academia and Defense

Maj. Jacobs is the legal advisor to the USAF-MIT Artificial

Intelligence Accelerator. In addition to providing advice on

contracts, intellectual property, fiscal, ethics, and cutting-edge

AI legal developments to the Accelerator program; he also

works as the Air Force lead on Robust Neural Differential

Models for Navigation and Beyond. Jacobs earned a B.S. in

Biology from Arizona State University and earned his law

degree from Stetson University College of Law. He

served as a patent attorney before commissioning

in the Air Force.

businesschief.com
---
Mission driven.

Data informed.

Get all hands on data

with Tableau.

Tableau makes it possible to explore, understand,

and lead with data-driven insights.
---
Tableau and the USAF:

data as a strategic asset

Tableau's Michael Parker

on the benefits its data

analysis and visualisation

platform brings to the

United States Air Force

Data analysis and visualisation company

Tableau offers its customers the capacity

to make better use of the data they have.

Michael Parker is VP, Business Development

at the company. " Tableau's mission is

simple," he says. "We help people see

and understand their data. We provide

that through a single pane of glass view

of their data in a secure environment,

ensuring the right people have the right

access to the right data at the right time."

It's that capability that is behind Tableau's

partnership with the United States Air

Force, as Parker explains. "They're looking

at data as a strategic asset and as a

common service component of digital

transformation. We use the tools

specifically around a couple of use cases

that draw a great return on investment.

One was civilian hiring. We needed to

understand where the choke points are,

where's the lag and the slack in the

process. By pulling the data in from

end-to-end in that whole civilian hiring

process, we could look at it through an

operational lens to really understand

where we were experiencing challenges.

Strategic decisions made along the

way ultimately compressed the timeline

by two thirds."

With chief data offices now established

in each of the services, Parker believes

the full value of data is now being

appreciated. In standing that up, it's

been recognised that data is a strategic

asset and a powerful tool for both the

business and warfighting domains."

The partnership has also proved its

worth in the response to the COVID-19

pandemic. "Having tools for personnel

use, personnel accountability, tracking

of individuals and even return to work

processes was really important, and so

the partnership was critical at that point."

Parker emphasises that the partnership

is built to last. "At Tableau, we plan to

continue to build our partnership and

understand the strategic and operational

needs of the Defense Department and

how the platform can help solve issues

and provide capabilities in strengthening

our partnership over time."

tableau.com
---
USAF-MIT AI ACCELERATOR

TSGT. ARMANDO CABRERA, US AIR

FORCE: SYNTHETIC APERTURE RADAR

"I'm first generation everything," says

TSgt. Armando Cabrera, US Air Force.

"First generation American, first in

my family to graduate high school,

college and first to join the military."

Having graduated with a Bachelor's

in Mechanical Engineering, and

after some time struggling to find a

job, Cabrera joined the Air Force for

Geospatial Intelligence. "I worked

really hard in the Air Force technical

school and graduated as a distinguished

graduate."

Having demonstrated his potential,

Cabrera was eventually selected for

a program usually reserved for officers

to be sent to Amazon to learn best

practices for machine learning. "I was

there for a year, playing two kinds of

roles. First, I was a student taking all

28

EXECUTIVE PROFILE:

Armando Cabrera

Title: AI Flight Chief

Location: United States

Industry: Academia and Defense

Tech. Sgt. Armando Cabrera is the flight chief for the USAF-MIT Artificial

Intelligence Accelerator's Multimodal Vision for Synthetic Aperature

Radar (MV4SAR) project. Carbrera earned his B.S. in Mechanical

Engineering from the University of Southern California and

worked as a geospatial intelligence analyst for the Air Force

before being accepted as one of the first enlisted members

into the Education with Industry program. Cabrera was

assigned to Amazon for a year, and was the first DoD

employee to complete Amazon's Machine Learning

Education University. Currently, he is a lead researcher

for SAR to EO image translation, and is a content

developer in AI education for MIT Lincoln Lab.

DECEMBER 2020
---
Armando Cabrera | USAF-MIT AI Accelerator

CLICK TO WATCH | 0:49

29

their courses, starting from the fundamentals

of mathematics, machine

learning, all the way to neural networks.

And then also I was building training

guides for how to use their equipment

and software."

That background has led him to

MIT, where he is now responsible for

the Multimodal Vision for Synthetic

Aperture Radar project. "What I bring

is the operational experience of how

to use these types of sensors, so I can

field questions." The goal of the project

is to turn the images taken by specialized

sensors into more human readable

and interpretable photos. "That way

businesschief.com
---
30

"THE TWO YEARS THAT I WAS ABLE

TO SPEND WITH A NON-STOP FOCUS

ON MACHINE LEARNING AND AI HAVE

MEANT I'VE BEEN ABLE TO BRING

BACK A LOT OF BENEFITS"

—

TSgt. Armando Cabrera,

US Air Force

you don't need experience as an image

analyst, to understand what the images

show. SAR sensors can penetrate

things like weather or smoke, but the

drawback is it's hard to interpret the

image itself. I'm hoping that with this

capability that we're creating, it can be

used during events that usually don't

deploy it for. We can automatically use

the sensor to penetrate through smoke

or clouds and easily get additional information

that we normally wouldn't have."

The project uses learning algorithms

trained on paired SAR and more easily

understood electro-optical (EO)

images. "It's able to learn what a SAR

image will look like compared with an

EO image, and over time it will pick up

the characteristics of the SAR image

that are equivalent to EO image. That

DECEMBER 2020
---
31

way, it can create new images with the

synthetic EO image attached." Cabrera

points to the usefulness of such technology

in response to disasters such as

the California wildfires, making previously

obscured areas visible to build up

a better picture of what is happening on

the ground.

Cabrera hails the open nature of

machine learning as meaning that it's

now accessible to far more people.

"When I first heard I was going to learn

machine learning, I didn't know what

it was. But AI is so democratized now

that I could learn a lot of information

just from searching the internet. The

two years that I was able to spend with

a non-stop focus on machine learning

and AI have meant I've been able to

bring back a lot of benefits."

businesschief.com
---
USAF-MIT AI ACCELERATOR

32

CAPT. RONISHA CARTER, U.S.

AIR FORCE: C-17 SCHEDULING

Having enlisted in the Air Force directly

out of high school, Capt. Ronisha Carter

started off in the field of server maintenance

and boundary protection, before

becoming an officer and receiving a

Master's in Computer Engineering. "I

was selected for an Education with

Industry fellowship at VMware, where

I was able to work within an Artificial

Intelligence Machine Learning development

team," she says. "It was at this time

when I developed a foundation in artificial

intelligence and machine learning."

Her current role is as a Cyberspace

Warfare Operations officer. "My career

field covers the entire communications

spectrum," says Carter. "Everything

from network defense to base communications

structures, to tactical

communications. This background along

with my AI foundation led me to be one

of 11 selected to collaborate with MIT

on the integration of artificial intelligence

technology into Air Force platforms."

Under Carter's remit falls the C-17

scheduling project, with the intention

of bettering the lives of pilots and

airmen using AI to make the process

of scheduling less time consuming

while increasing efficiency and minimizing

errors. "Creating an Air Force

flight schedule today, the scheduler

has to account for a multitude of

variables we identify as constraints.

This includes qualifications or the

training a pilot requires for that seat

and crew rest – the time they must

take off in between each flight. Also

the amount of flights that need to

be scheduled, and the time intervals

between those flights. This process

is currently being accomplished through

various manual channels. Separate

data systems, phone calls, and even

whiteboards, which causes scheduling

to be immensely complex and

time consuming."

The remedy to that involves using AI

to take up the burden. "What we hope

to achieve is to create a data driven

DECEMBER 2020
---
model that can produce the best or

most optimized schedule for multiple

objectives and constraints," says

Carter. "We provide decision-makers

with a mathematically aided assessment

that predicts schedules weeks

in advance and it gives them back time

in their day."

Wider implications for the project

involve the gaining of efficiencies

across the board, from supply chains

to maintenance. "For instance, the

work that we're doing today could

allow for advancements in scheduling

for hospital staffing, shift

workers, cargo and mail distribution,

logistics operations, and even commercial

airline crew scheduling or

flight maintenance."

Carter emphasizes the extent to

which ethical considerations guide

everything which is done with AI.

"Within all of our projects we are considering

the implications of ethics.

EXECUTIVE PROFILE:

Ronisha Carter

33

Title: Artificial Intelligence R&D

Location: United States

Industry: Academia and Defense

Capt. Carter is the USAF-MIT Artificial Intelligence Accelerator's

lead for AI-Assisted Optimization of Training Schedules project.

Carter has a B.S. in Computer Science from Hawaii Pacific

University and an M.S. in Computer Engineering from Florida

International University. Carter worked as a Cyber Operations

Officer before being selected to the Education with Industry

program where she was assigned to VMWare to use ML/AI to

create content driven intelligence platforms. Her technical

papers on ML/AI during this time helped land her a

follow-on assignment to MIT to serve as part of the initial

core of embedded Airmen for the AI Accelerator.

businesschief.com
---
USAF-MIT AI ACCELERATOR

34

"THE WORK THAT WE'RE DOING TODAY COULD

HELP HOSPITAL STAFFING, SHIFT WORKERS,

CARGO AND MAIL DISTRIBUTION, LOGISTICS,

OPERATIONS AND EVEN COMMERCIAL AIRLINE

CREW SCHEDULING AND FLIGHT MAINTENANCE"

—

Capt. Ronisha Carter,

US Air Force

DECEMBER 2020
---
Ronisha Carter | USAF-MIT AI Accelerator

CLICK TO WATCH | 0:36

35

In February, the DoD adopted ethics

principles for AI based on recommendations

from the Defense Board

of Innovation. This mandates that all

DoD AI capabilities must be responsible,

equitable, traceable, reliable, and

governable and meet the same legal,

ethical, and policy standards across

the department.

Partnerships have again made the

project possible. "Our partnership with

MIT and Lincoln Lab is essential

to developing these technologies,

and we also work hand-in-hand with

Tron and Airmen Coders, Air Force

Software development teams that

vector internal Air Force talent to

solve and engineer solutions for the

really tough Air Force problems. Our

team of MIT principal investigators,

grad students, software developers,

human-computer interaction

designers, and Air Force software

development teams ensures we create

better solutions for our Airmen."

businesschief.com
---
LEADERSHIP & STRATEGY

36

DECEMBER 2020
---
37

Stakeholder

Management

– the Power

of Shared

WRITTEN BY

GEORGIA WILSON

Value & Trust

businesschief.com
---
LEADERSHIP & STRATEGY

Business Chief North America

gains insight from BSR on the

importance of shared value

and trust to drive effective

stakeholder engagement

38

O

ver the last 10 months, COVID-19 has

had an exponential impact on industries

and organisations, regardless of size

or location. As a result stakeholder management

has never been more important or come with

greater challenges. The business and economic

uncertainty that has come with COVID-19, has

increased the need for organisations to develop

robust, defensible and flexible stakeholder

management strategies and tools in order to

be effective. "Stakeholder engagement is – and

will remain – a core element of the sustainability

toolkit," comments BSR in its Five Step Approach

to Stakeholder Management report.

BSR defines stakeholder management as "a fundamental

component of materiality assessments,

which are then used to inform sustainability strategy,

reporting, and disclosure. Corporations need

strategies in order to understand and respond to

existing and emerging societal concerns. Without

input from key stakeholder groups, any approach

DECEMBER 2020
---
usinesschief.com

39
---
Digital Transformation.

Made real every day.

Find out how big advances in AI have made it easier

than ever to unlock the power of data, create value,

insights and a new level of intelligent security. From

Individuals, to small organizations, to the Global

Fortune 100, AI and machine learning are improving

businesses and lives everywhere.

40

Learn More
---
"Stakeholder

engagement is –

and will remain –

a core element of

the sustainability

toolkit"

—

BSR

to sustainability will be limited by

an organisation's self-interest and

inward focus." While stakeholder

management is an essential part of an

organisation's operations, engaging

with stakeholders is not an easy operation.

With this in mind, Business Chief

North America gains insight from BSR

on why adopting a strategy that creates

shared value and develops trust

is the best approach to drive effective

stakeholder engagement.

DEVELOPING AN

ENGAGEMENT STRATEGY

Prior to engaging in any form of strategy

development, it is important for organisations

to develop an understanding of

what stakeholder engagement means

to them, as well as what the desired

achievements are for the operations.

While often used to describe public

relations or reputation management,

it is also important for organisations

to understand that these types of

communication are not the same as

stakeholder engagement.

In order to be successful when it

comes to engaging with stakeholders,

BSR highlights that the corporate

mindset needs to shift from seeing

stakeholder concerns as external risks

to manage, to being serious topics that

require transparent dialogue and

a strategic response. "Stakeholders

that choose to engage with companies

generally expect this interaction to

generate change, which is why it is

a mistake to treat engagement as a

one-way information dissemination

process, rather than as a dialogue,"

adds BSR.

When done well, the value of stakeholder

engagement is expected to add

up over time, providing support during

times of difficulty, whether it be reputational

or economical. "Companies that

are more aware of stakeholder interests

are more likely to avoid crises because

they are better able to anticipate risks

41

businesschief.com
---
LEADERSHIP & STRATEGY

BSR's Five-Step Approach

STEP 5

ACTION PLAN

STEP 1

ENGAGEMENT

STRATEGY

42

Feedback Loop

STEP 4

ENGAGEMENT

Identify opportunities from

feedback and determine

actions, revisit goals, and

plan next steps for follow-up

and future engagement

Conduct the

engagement itself,

ensuring equitable

stakeholder

contributions and

mitigating tension

while remaining

focused on priorities

FIVE-STEP

APPROACH TO

STAKEHOLDER

ENGAGEMENT

Focus on long-term goals to

drive the approach, determine

logistics for the engagement,

and set the rules

STEP 3

PREPARATION

Set vision and level

of ambition for future

engagement, and review

past engagements

Define criteria

for identifying

and prioritizing

stakeholders, and

select engagement

mechanisms

STEP 2

STAKEHOLDER

MAPPING

We have update

BSR's five-step g

stakeholder eng

to reflect the eve

stakes at play in

5 Five-Step Approach to Stakeholder Engagement

and opportunities," comments BSR.

"A number of compelling studies on the

impacts of good community and stakeholder

relations across industries and

countries, have concluded that companies

that intentionally build stakeholder

trust are more financially resilient over

time, across multiple indicators of value."

An important element of stakeholder

engagement is the understanding of

who the key stakeholders are and where

they came from, as well as what their

relationship is to the company. This process

allows organisations to map their

stakeholder landscape and determine

the correct method and approach for

effective communications.

Once determined, in order to deliver

clear, flexible and trusted communication,

BSR identifies six core principles

that should govern engagement:

focused and relevant engagement

DECEMBER 2020
---
What is stakeholder

mapping?

"A collaborative process

of research, analysis, debate,

and discussion that draws from

multiple perspectives to determine

a key list of stakeholders across

the entire stakeholder spectrum"

BSR

goals; timely engagement that can

inform outcomes and business decisions;

providing diverse and inclusive

perspectives as well as being culturally

sensitive and accessible; not just sharing

but ensuring that the stakeholder is

listened to too; and ensuring transparent

communication and sharing information.

It is important to ensure that once an

engagement with stakeholders is made,

that the original purpose and aims; the

methods used; the participants; a summary

of any concerns, expectations, and

perceptions; a summary of discussions;

and a robust list of outputs are documented

in order to measure the success

and build upon the efforts made for

future engagements. "Companies often

conduct engagements and then fail to

document the results and act transparently

on the information gained through

the exchanges," comments BSR, who

explains that adopting this approach

Charlotte Bancilhon

43

"Without input from

key stakeholder

groups, any approach

to sustainability will

be limited by an

organisation's selfinterest

and inward

focus"

—

BSR

businesschief.com
---
LEADERSHIP & STRATEGY

44

will "help hone your message for the

appropriate audience."

Ultimately, BSR states that, "the art

of stakeholder engagement does not

actually lie in which format you choose,

but in how well you match a format to

the issue, stakeholder(s), and situation.

The scale, scope, and span of the

engagement will vary, depending on

these specifics."

THE IMPACT OF COVID-19 ON

STAKEHOLDER MANAGEMENT

"The companies we work with all say

that, if anything, the COVID-19 crisis

has amplified stakeholder management.

Companies are getting more

questions from stakeholders, not less.

This includes questions from investors,

clients, and consumers," comments

Charlotte Bancilhon, Associate Director,

BSR, who adds that "In terms of topics,

the spotlight has shifted to the social

agenda, in the midst of job losses and

the economic crisis impacting people's

livelihoods worldwide. Marginalized

populations and women are disproportionately

impacted by the COVID

crisis. Executive compensation and tax

practices are coming under increased

Building Stakeholder Trust in 2019

CLICK TO WATCH | 1:47

DECEMBER 2020
---
"Companies often conduct engagements

and then fail to document the results and act

transparently on the information gained through

the exchanges"

—

BSR

scrutiny in the US, although this has been

a topic for stakeholders in Europe for

a while now."

Back in April, BSR looked at what

stakeholders were discussing online

and on social media, leveraging its

partnership with Polecat, which provides

a big data tool to analyse global

discourse. BSR found that online media

focused on some of the topics you

would expect – procurement of medical

supplies and the labor market. "The

social media conversation on the other

hand was paying acute attention to

issues of diversity, equity, and inclusion

and how not all are equal in the face of

this crisis. One month later, the killing of

George Floyd sparked the global Black

Lives Matter movement.

Of course COVID-19 has affected the

way we engage as well, shifting from

in-person to virtual and leveraging technology

to do so," commented Charlotte

Bancilhon, Associate Director, BSR.

THREE TYPES OF ENGAGEMENT FORMATS

FOR STAKEHOLDER MANAGEMENT

1. Innovate collaborate consult – joint

venture or partnership; external

advisory council; collaboration workshop;

joint research; or stakeholder

engagement summit

2. Message advocate – sustainability

report; survey; town hall meeting;

mass email or newsletter; social

media outreach; or conference

3. Monitor – marketing campaign and

tracking; online and social media

monitoring; subscription to stakeholder;

newsletter; or blog.

45

businesschief.com
---
HUMAN CAPITAL

46

Reinventing HR

Operations with

Humans and AI

Collaboration

WRITTEN BY GEORGIA WILSON

DECEMBER 2020
---
usinesschief.com

47
---
HUMAN CAPITAL

As AI continues to prove

its value across multiple

sectors and business

function, Business Chief

looks at how the tech is

reinventing HR operations

48

E

xpected to be the most significant

business advantage in the future

by 72% of executives, artificial

intelligence (AI) is predicted to be incorporated

into 47% of organisations' HR

functions by 2022.

While it is feared that employment rates

will drop as the use of intelligent technologies

rises, when speaking with Business

Chief in October, Arun Shenoy, SVP Global

Sales and Marketing at Serverfarm reflected

on the best way to deploy technology,

software and hardware tools. "Most organisations

find this challenging because they

are only solving one part of the problem – the

technology. Simply buying and deploying

a platform isn't enough; you have to change

and refine the processes and ensure that you

have the right people," commented Shenoy.

DECEMBER 2020
---
usinesschief.com

49
---
How Artificial Intelligence is Reinventing HR,

Skills and the Employee Experience

CLICK TO WATCH | 19:11

51

In fact, speaking with executive

experts in HR operations, the consensus

highlights that benefits of AI in HR

operations come from a collaborative

approach between AI and humans,

with a core use case being to provide

efficiency gains. "It has allowed us to

do the same thing we always did – but

faster and more cost effective," comments

Andi Britt, Senior Partner at IBM

Talent & Transformation, IBM Services

Europe. While the internet brought the

capability of fast recruitment, both

Britt and Chris Huff, CSO at Kofax

identify that AI can apply the same

speed to the assessment of potential

candidates, the likelihood of future

success and the expected timeframe

to fill a given role. "This is an example

of the ways in which AI is changing the

situation so that technology enables

the HR function to solve critical business

challenges, building on earlier

contributions from workforce analytics,"

added Britt.

With COVID-19 placing organisation

and business operations on the edge

of a pivotal moment when it comes to

businesschief.com
---
HUMAN CAPITAL

52

innovation and digital transformation,

AI and automation have transitioned

from a 'nice to have' to a 'necessity

for survival'. "COVID-19 has created a

digital awakening that has accelerated

the adoption of AI and automation

technologies," comments Huff. It is

expected by those in HR that COVID-

19 will not only accelerate the overall

digital journey for organisations, but

the role of HR in the modern workplace.

This acceleration will ultimately

move organisations closer to HR 3.0

with employee experience at its centre.

"C-Suite leaders surveyed

expect to see nearly

tenfold growth with

regard to automating

HR processes between

2018 and 2022

Andi Britt,

Senior Partner at IBM Talent & Transformation,

IBM Services Europe

DECEMBER 2020
---
The benefits of

artificial intelligence

(AI) in HR

"Today, AI's capabilities are

being used to augment business

operations and consumer

solutions," comments Andi Britt,

Senior Partner at IBM Talent

& Transformation, IBM Services

Europe. At IBM, the company

has identified five reasons for

implementing AI in HR operations:

53

1. To solve pressing business

challenges

2. To attract and develop

new skills

3. To improve the employee

experience

4. To provide strong decision

support

5. To use HR budgets as efficiently

as possible

businesschief.com
---
HUMAN CAPITAL

54

"CHROs at high performing organisations

are taking immediate action to

achieve this vision. They are leveraging

real-time unstructured data from inside

and outside organisations, and pairing

that with analytics and AI to improve

talent and workforce decisions while

enabling more personalised employee

experiences," says Britt.

Statistics reported during the

height of the pandemic, identified

that many organisations are

"COVID-19 has created

a digital awakening that

has accelerated the

adoption of AI and

automation

technologies"

Chris Huff,

CSO at Kofax

DECEMBER 2020
---
55

embracing AI tools to attract diverse

talent and to enhance and personalise

recruitment. In an IBM HR

executive survey, the company

identified that more than half of

high performing companies are

using AI to identify behavioral skills

to build diverse and adaptable teams.

Currently, "High performing organisations

are leveraging AI across talent

acquisition at a rate of 6 times more

than all other companies." During the

pandemic, IBM saw its clients rely

heavily on AI enabled HR applications

such as chatbots and skill building

recommendation platforms. "These

technologies enable organisations

to free up HR leaders' time for more

meaningful work. C-Suite leaders

surveyed expect to see nearly

tenfold growth with regard to automating

HR processes between 2018

and 2022," comments Britt. However,

while the rate of adoption has

businesschief.com
---
HUMAN CAPITAL

The challenges of artificial intelligence (AI) in HR

56

"Current HR and AI trends point to

a promising Future of Work that's

richer in experience, but also brings

with it the need for strong governance

to account for unintended

consequences," comments Chris Huff,

CSO at Kofax. When it comes to the

successful adoption of AI to deliver

on its promising future, IBM identifies

four key prevention barriers:

1. Access to the right data: it is vital

that organisations develop a complete

understanding of the data

involved, by harnessing comprehensive

metadata libraries.

2. Access to the right talent and

skills: with AI skills in high demand,

organisations should look to

upskill existing employees, boost

data and tech literacy and find

the right partners.

3. Get the technology right: with

the adoption of AI, organisations

often require an update to the

technology used to collect, store

and process data. Digitally native

companies typically have an

advantage due to their nimble

and scalable businesses models.

4. Ethical and governance frameworks:

while AI can provide huge

benefits, misused it can have

negative results, such as bias

and intrusive AI. To remove bias

organisations should ensure that

data privacy and security are at

the forefront of their approach,

as well as a clear ethical and

governance frameworks.

DECEMBER 2020
---
increased, IBM found that only 30%

of companies have the skills and

capabilities in AI in the HR function.

To be successful in adopting AI in

HR operations – or any technology

– culture is identified as an all to often

underestimated barrier. It is important

for organisations to ensure that they

include their employees in the transformation

journey. When employees

understand the reasoning for change

they are more receptive, making it

"High performing

organisations are

leveraging AI across

talent acquisition

at a rate of 6 times

more than all other

companies"

Arun Shenoy,

SVP Global Sales & Marketing,

ServerFarm

easier to implement and adopt technology.

Ultimately, "Progress has to

start from the top, with good leadership

and open conversation to dispel

fears and misunderstandings about

the technology," states Britt. Not only

is it important to engage with employees

to showcase the business needs,

it is also important to listen to the

needs of the employees conducting

the tasks.

By combining the best of what AI

can provide, with employee hopes

for the technology, Huff explains

that this approach is "a win-win that

will increase adoption of AI and lead

to a collaborative person-machine

future to drive productivity for the

organisation and individual." With

this collaborative approach to AI and

humans, HR is on the cusp of a new

digital era in which employees adopt

a more behind-the-scenes role to

create the scenarios carried out by AI.

"People will find themselves in more

creative, strategy, problem defining

and problem escalation roles as

opposed to transactional

activities," concludes Huff.

57

businesschief.com
---
CORPORATE FINANCE

58

KPMG:

FIVE MINUTE

EXPERT INSIGHT

ON INVESTMENT

MANAGEMENT

WRITTEN BY GEORGIA WILSON

DECEMBER 2020
---
usinesschief.com

59
---
CORPORATE FINANCE

BUSINESS CHIEF GAINS EX-

PERT INSIGHT ON INVEST-

MENT MANAGEMENT BEN-

EFITS AND TRENDS FROM

FUAD CHAPRA, HEAD OF

FAMILY BUSINESS, KPMG

(SAUDI ARABIA)

60

Fuad Chapra, Head of Family Business at KPMG

in the Saudi Levant Cluster, and Head of Advisory

in the western region of Saudi Arabia, started his

career at KPMG in 2014. Chapra's responsibilities

at KPMG include: leading M&A transactions,

group restructuring assignments and business

valuations, as well as specialised advisory services

to the government of Saudi Arabia and leading

family businesses. Prior to KPMG, Chapra has

held executive positions at Panda Retail Company

and the Savola Group.

WHAT IS INVESTMENT MANAGEMENT, AND WHAT

ARE THE BENEFITS OF SUCH SERVICES?

Investment management is the service provided by

professionals in the management of financial assets

and investment assets for an entity or an individual

based on an agreed upon investment plan.

DECEMBER 2020
---
usinesschief.com

61
---
Unique, open & intelligent

technology solutions

Hewlett Packard Enterprise is the global

edge-to-cloud platform-as-a-service company,

helping organizations accelerate outcomes by

unlocking value from all of their data, everywhere.

Visit www.hpe.com
---
"BLOCKCHAIN COULD

SAVE INVESTMENT

MANAGERS

APPROXIMATELY

US$2.7BN THROUGH

THE USE OF

DISTRIBUTED

MARKET

INFRASTRUCTURE""

—

Fuad Chapra,

Head of Family Business at KPMG

(Saudi Levant Cluster) and Head of Advisory

in the western region of Saudi Arabia

Professional investment management

services offer a wide array of

benefits. The primary benefit to investors

is that this allows them to obtain

advice and recommendations from

experts in the field of investment and

those that specialise in various types

of investment.

More importantly for individual

investors, investment management

services allow an easier means for

the investor to achieve diversification

in their investment that matches their

risk profile and the desired investment

horizon, commonly through the investment

in funds.

Furthermore, investment management

service providers would typically

work to re-balance the investment

portfolios based on the latest trends

and analysis, thereby taking this burden

away from the investor.

WHAT ARE THE CHALLENGES OF INVEST-

MENT MANAGEMENT SERVICES AND

WHEN ARE THESE TYPES OF SERVICES

BENEFICIAL FOR BUSINESSES?

There are costs associated with

investments through an investment

management service provider – the

fee that is required to be paid to the

investment manager. This could

63

businesschief.com
---
CORPORATE FINANCE

of the performance of the endowments

of Yale and Harvard, both of which are

amongst the largest university endowments

in the world. With a staff of 30,

Yale believes in the model of managing

investment managers. Harvard, on the

other hand, has had staff up to more

than 200 individuals and performed a

hybrid of selecting its own investments

and managing investor managers.

64

either be on the basis of a percentage

of assets under management and/or a

percentage of profits over a specified

amount. This implies that if the investor

had invested in the same assets by

themselves, then the investor would

generate a higher return.

In addition to the benefits mentioned

earlier, engaging with an investment

management firm allows businesses to

focus their efforts on their core operations.

Furthermore, it allows the business

to have flexibility when they want to

change their investment strategy. A

good example of this is the comparison

WHAT ARE THE CURRENT

TECHNOLOGY TRENDS AND

INNOVATIONS IN THE SECTOR?

Similar to other industries, technology

has become increasingly important to

enhance customer experience. This

includes digital onboarding of new customers

and providing transparent and

up-to-date information on the status

of the customers' investments.

Furthermore, there has been a significant

rise of robo-advisors which

automate investment management

through the use of algorithms, and

thereby making investment management

services more accessible for a wider

demographic, as well as an increase in

availability of exchange traded funds that

aim to mirror performance of a particular

DECEMBER 2020
---
REDUCING INVESTMENT MANAGEMENT

COSTS WITH BLOCKCHAIN

Settlements and contracts

By harnessing blockchain, investment

managers can benefit from

its smart controls and automation

capabilities. With Blockchain's business

rules and computer protocols,

investment managers can run settlements

without human interference

and facilitate, verify, or enforce the

negotiation or performance of

a contract. Transaction ledgers

Conducting transactions on blockchain

technology, all parties can

gain transparent access to the

data via a distributed network.

This type of transaction can not

be altered without permission

from the network, which means

all activity is verified and accurate.

Ultimately, this can reduce the time

and costs associated with conducting

verifications.

Audits

Blockchain technology can eliminate

human error for investment managers,

by using real time track and trace

audit trails.

Infrastructure

Adopting blockchain technology

reduces transaction costs, as well as

the need for infrastructure and the

associated costs.

Source: Accenture and IBM

65

businesschief.com
---
CORPORATE FINANCE

66

index. The US ETF market is expected

to continue to be largest. However, the

European ETF market is projected to

have more aggressive growth.

Blockchain is also expected to have

a significant impact on investment

management services. As an example,

Castalone estimated that blockchain

could save investment managers

approximately US$2.7bn through the

use of distributed market infrastructure.

Last but not least, artificial intelligence

and machine learning are also anticipated

to change the way investment

managers make investment decisions.

WITH THE WORLD CURRENTLY

FACING WIDESPREAD DISRUPTION

DUE TO COVID-19, WHAT HAS BEEN

THE IMPACT ON INVESTOR MANAGE-

MENT, AND WHAT DO YOU THINK THE

FUTURE WILL LOOK LIKE?

COVID-19 has caused significant market

volatility, a reduction in deal volume

and uncertainty in asset valuation. As a

result, many investors have sought to

shift towards less risky investments. In

contrast, sovereign wealth funds have

seen this as an opportunity to acquire

equity investments at attractive valuations.

COVID-19 has also accelerated

AI & Manufacturing in Asia — Opportunities,

Challenges and Solutions: Microsoft Asia

CLICK TO WATCH | 3:02

DECEMBER 2020
---
67

digital transformation across all industry

segments, thereby warranting renewed

diligence on investment recommendations.

In particular, equity investments in

companies that may have traditionally

performed well may not necessarily be

a good investment if they fail to digitise

their business model and adjust to the

new normal.

Similarly, investment management

companies should seek an accelerated

pace of digitisation for themselves

as well. This includes opening and

enhancing channels for digital wealth

and robo-advisory in addition to leveraging

digital to enhance the overall

customer experience. It is important to

note that the move towards digital will

also increase the importance of cybersecurity

and ensuring the protection of

customer data. In terms of investment

strategy, post COVID-19, investment

management service providers are likely

going to seek out undervalued assets.

businesschief.com
---
DIGITAL STRATEGY

What Does it Mean

to be a Digital Brand?

WRITTEN BY

GEORGIA WILSON

68

DECEMBER 2020
---
Business Chief speaks with

leaders from McKinsey, Toluna

and Ebiquity on what it means

to be a digital brand and the

best strategy to drive value

There are a number of definitions for what

constitutes a digital brand. In this roundtable,

leading experts look at the difference

between digitally native companies and how traditional

companies are becoming digital. Business

Chief also gains insight into what it means to be a

digital brand in today's world, as well as the ways

in which companies can drive the most value out

of their digital brand strategy.

69

THOSE PARTICIPATING

IN THE ROUNDTABLE INCLUDE:

JP: Jesko Perrey, Senior Partner at McKinsey

& Company

MM: Michele Morelli, EVP, Global Marketing

Strategy, Toluna

AM: Angus McLean, Director at Ebiquity

businesschief.com
---
Reimagine

the impossible

Bring together people, data, and processes to transform

your organization.

With the latest in AI technologies, you can engage your customers

in new ways, empower your employees more than ever before, and

optimize operations to become an industry leader. Start your digital

transformation today.

Get started
---
"It is virtually impossible to segment a traditional

brand from a digital brand today because social

media and the internet are ubiquitous"

—

Michele Morelli,

EVP, Global Marketing Strategy, Toluna

THE IMPACT OF COVID-19

Thanks to COVID-19, the adoption

of digital that would have

happened across all industries

in a five to 10-year period

happened in six months.

Essentially, COVID-19 has

stolen companies' time to

prepare for this development.

Combine that with the latest

and greatest trends which are

personalisation, being human

and being socially responsive

and my advice would be: be

yourself and don't try to play

an artificial game.

Jesko Perrey,

Senior Partner at McKinsey

& Company

WHAT IS A DIGITAL BRAND?

JP: 'Digital brand' can often be misleading

because too many companies

think that it's simply doing what you

already do but using digital channels.

This is much more about a mindset. A

digital brand is a brand that anticipates

and is responsive to their customers'

needs. To do this at scale, companies

rely on flexible technologies, comprehensive

data sets, and advanced

analytics. Given the profound shift to

digital during COVID-19, every brand

needs to be a digital brand.

MM: There are two ways to look

at digital brands. One is a brand that

exists solely within the ecosystem of

the digital environment. Huffington

Post and Twitter are both digital

brands. The other, and more interesting,

perspective is digital brand as

part of a 'traditional' brand's identity

and strategy that acknowledges

and leads with the importance of its

online presence, user experience and

71

businesschief.com
---
DIGITAL STRATEGY

72

engagement. It is virtually impossible

to segment a traditional brand from

a digital brand today because social

media and the internet are ubiquitous.

WHAT ARE THE CURRENT TRENDS

AND INNOVATIONS WHEN IT COMES

TO DIGITAL BRANDS?

MM: One trend we are seeing is

the continued blurring of brand and

acquisition marketing. The standard

customer journey path taught

35 years ago has been completely

disrupted. The path to purchase is

not linear; today it's more a jumbled

mess. People are consuming content

for entertainment and the 'time-topurchase'

window has been greatly

reduced across the board. In social

media, shoppable posts are now

being developed in a productive way.

Influencer marketing, for better or

worse, is also part of digital marketing.

The steps from an unboxing video viewing

to purchase are much shorter than

in a non-digital world.

Another trend is the greater need

for personalisation in messaging and

communications. Especially in the

current environment, digital brands

are expected to not only adapt their

communications messaging and

tone to reflect the circumstances,

but to change their product and services

offering. This is where market

research – especially platform-based,

agile research – is key.

JP: Two stand out. One is personalisation,

which is the ability to tailor

offers, products, services, and communications

to individual customers

wherever they are in their decision

journey. These brands harness

technology and insights to always be

relevant to their customers. The other

is the ability to continually pivot and

innovate. That requires an operating

model that constantly looks for new

opportunities and develops new ways

to tap those opportunities so they can

DECEMBER 2020
---
FoRfest2020 - Brand Building by Responding

to Shifting Consumer Needs in Real-Time

CLICK TO WATCH | 31:23

73

stay ahead of competitors wherever

they emerge.

WHAT DO YOU THINK THE FUTURE FOR

DIGITAL BRANDS WILL LOOK LIKE?

AM: The future was always bright for

digital brands, a growing and highly

connected customer base, easily

accessible target audiences through

major digital platforms, being able to

move faster than larger more traditional

competitors and not being restricted

by geography or physical retail. As

the world moves evermore online, the

barriers to entry for new digital brands

will fall and the friction for consumers

to purchase from these brands will

erode away. We have already seen the

introduction of seamless, one-touch,

end-to-end ecommerce with Facebook

stores and Amazon marketplace.

However, COVID has accelerated

digital transformation among almost all

companies to varying degrees, including

traditional incumbents.

JP: The human touch is becoming

hugely important. In response, digital

brands will get more human and more

personal. They will be much smarter in

terms of spending and more diligent in

businesschief.com
---
DIGITAL STRATEGY

74

measurement and optimisation. The

variety of channels is so huge now, and

the ways that customers use them

change so often, that brands have to

be much more diligent about how they

spend. Across all countries measured in

our global consumer sentiment surveys,

consumers revealed that they are turning

to digital and reduced-contact ways

of accessing products and services. In

the UK, 71% of consumers stated that

they had tried a new shopping behaviour,

with 16% stating that they had tried a

new digital shopping method. As these

habits further evolve, granular data

analysis and disciplined marketing-performance

management will be essential

for brands to stay in touch with their customers

and drive MROI.

In addition, we're seeing corporate

purpose, environmental considerations,

the balance of individual time and all

social topics (such as Black Lives Matter

and diversity) driving the consumer

agenda. As such, there are many potential

areas for getting it wrong. Again, this

is really about developing deep and

meaningful connections with customers

based on a deep understanding of what

they care about, want, and need.

"The human touch

is becoming hugely

important. In response,

digital brands will get

more human and more

personal"

—

Jesko Perrey,

Senior Partner at McKinsey & Company

DECEMBER 2020
---
75

MM: Voice and audio will be the next

frontier for digital brands. It's important

to note that digital brands evolve

as consumer behaviour evolves. And

now, digital brands need to understand

what their presence looks like in a more

non-visual world. Right now, UX, UI and

design are an integral part of a digital

brand, but brands must think about what

interactions will look like when people

aren't using a click to engage. Audio

branding and sound logos will become

increasingly important.

WHAT ARE THE BENEFITS AND

CHALLENGES OF A DIGITAL BRAND?

JP: The basics still hold: you need to

provide something that your customers

value. But with 'digital' at the core,

you can react more quickly, test new

businesschief.com
---
DIGITAL STRATEGY

76

opportunities cheaply, be much

more precise about how you connect

with customers, and go after a

much more granular and widespread

set of opportunities. Is it even possible

to be a 'non-digital' brand in today's

environment?

The challenges are huge. On the

one hand, it requires a new order of

collaborative leadership to manage

the complexity of technology and

data-driven marketing at an unprecedented

degree of granularity.

Marketers have to work closely with IT,

sales, operations, finance, etc, to make

digital work. On the other hand, just

because digital gives you the opportunity

to do more doesn't mean that

you should do it. Privacy, security and

purpose are all issues that consumers

care deeply about, and brands need to

continually balance how they want to

connect with customers with the need

to maintain trust with them.

MM: All brands are now digital

brands. The differentiators are;

DECEMBER 2020
---
"Is it even possible to be

a 'non-digital' brand in

today's environment?"

—

Jesko Perrey,

Senior Partner at McKinsey & Company

prioritisation of digital, emphasis on

the UX and UI and integration of digital

platforms in customer service and

products. This all equates to simplicity

for the consumer. For instance, with

digital, you can open a bank account

quickly to secure the best interest

rate online. The offline method seems

obsolete and laborious. The benefit

is clear: the better and easier it is for

consumers to do business with you,

the more market share you gain.

However, for all digital brands,

customer service is challenging and

must be a top priority. If you need to

reach an actual person at Facebook

or Google to fix a problem or answer a

question, good luck! Customer service

doesn't exist for some of these large

digital brands. Amazon got this right.

AM: A major benefit is the ability to

compete against well-established

brands in reaching potential customers

on digital platforms. Another benefit

of being a digital brand is the ability to

turn on, turn off and change strategy

quickly based on data and insights

gathered through digital channels.

Being able to dynamically and at

reasonably low cost produce and

iterate creative, product messaging

to what works is a huge advantage.

However, building consumer confidence

and brand credibility without a

physical retail presence is a challenge.

Can your brand be trusted to deliver?

Does it actually exist or is there risk of

an online scam?

Many small businesses establishing

themselves as digital first brands

are bootstrapping and don't have the

deep pockets to compete with more

established brands. As with any small

business, people are wearing many

hats and might be the HR, marketing

and logistics person in one. However

the ability to find talented contractors

and online tools to help has never

been easier. Many online brands outsource

key functions like shipping and

logistics and never actually house the

physical product.

77

businesschief.com
---
DIGITAL STRATEGY

WHEN IT COMES TO DIGITAL BRANDS

WHAT IS THE BEST STRATEGY AND

APPROACH TO DRIVE THE MOST VALUE?

JP: You need to pull it back to the principle

of good marketing/branding. The

rules of good marketing and branding

are being distinctive and being differentiated.

That's particularly important to

revisit now as consumers are re-evaluating

what's important to them and their

families. Even more important is the rule,

'learn to walk before you run.' A good

digital strategy, therefore, is a strategy

that focuses on the core elements (differentiation)

and which really focuses on

what your brand stands for. In addition,

one of the key features for an effective

strategy is the right people. Key people

are the core differentiator and make

the magic happen. They are the scarcest

resource in digital and non-digital

brands. Another is to combine creativity

78

DECEMBER 2020
---
(often an element that is underplayed in

digital brands) and match it with superior

advanced analytics to ensure long-term

success. Advanced analytics allow you

to personalise, select elements that are

appropriate, and allow you to spend efficiently.

When companies get that right,

their investments generate value quickly

and they develop strong relationships

based on trust with their customers.

MM: Put the customer at the centre of

your strategy. Understand: how do they

engage online, where they are going, and

what content are they consuming? As a

digital brand, these questions are paramount.

Digital tracking is an effective

way to spot changes in digital search and

buying behavior. With access to in-app

buying behaviour and mobile search, our

clients use digital tracking to understand

when and how consumers shop. Brands

should also focus on user centric design.

A good UX designer always has the consumer

at the centre of their design. With

this approach, users are at the centre of

every step of the design process.

Digital is not only about the external,

it's about the internal. Employing digital

technology in areas like research speeds

up decision-making and creates agility

"The ability to find

talented contractors

and online tools to help

has never been easier"

—

Angus McLean,

Director at Ebiquity

within an organisation. Moving offline

research processes online allows you

to keep the customer close while also

maintaining the integrity and quality of

your research.

AM: The most effective strategy is one

that gets implemented, which generally

means keeping it simple. Defining the

vision and setting goals, establishing a

timeline and clearly communicating the

strategy to everyone who needs to be

involved. A strategy cannot be effective

if people are not aware of it and have not

bought into the vision.

Management support is also key to

any digital initiative. They require investment

in tools and people but progress

is better than standing still so don't over

complicate it. Set goals, use data, test,

iterate, support successes and learn

from failures.

79

businesschief.com
---
TECHNOLOGY

80

DECEMBER 2020
---
Cisco:How to

Get the Most

Value Out of IoT

81

WRITTEN BY

GEORGIA WILSON

businesschief.com
---
TECHNOLOGY

Business Chief speaks with

Vikas Butaney, Vice President

& General Manager, Cisco IoT on

how to get the most value out of

the internet of things (IoT)

82

TAKING IT BACK TO BASICS, WHAT IS IOT?

Vikas Butaney, Vice President and General

Manager of Cisco IoT, defines the internet of

things (IoT) as a set of technologies that extends

connectivity to edge devices and a wide range

of 'things' to extract value from business data

and accelerate digitalisation. An example of IoT

powered devices in an operational setting include

automated robots that need to work 24/7 with no

interruption in their communications in a pick and

pack distribution centre or manufacturing facility.

In all cases where IoT is deployed, Butaney

emphasises the importance of a secure and reliable

communication system as foundational to

success with this technology.

"Securely connecting IoT

devices is paramount"

—

Vikas Butaney,

Vice President & General Manager, Cisco IoT

DECEMBER 2020
---
61%

of enterprises show a high

level of IoT maturity,

Gartner

75bn

of enterprises show a high

level of IoT maturity,

Gartner

127

new devices are connect to

the Internet every second,

McKinsey

83

businesschief.com
---
ericsson.com/

5g-switch

Move towards

zero touch, cut

down on time

Ericsson.

The 5G switch made easy.

With automated provisioning and insight-driven

service assurance, Ericsson Dynamic Orchestration

simplifies operations, moving you closer to the

zero-touch experience.

This means greater savings and shorter time to

market.
---
TOP FIVE TIPS FOR SUCCESSFULLY

IMPLEMENTING AN IOT STRATEGY

3. Establish cross-functional teams

that have shared business objectives.

85

1. Be strategic and maintain focus.

It is important to understand the

objectives and use cases before

designing IoT connectivity and

solutions.

2. Avoid having a site by site, custom

deployment of IoT. Instead, define

company-wide standards, which

are deployed step by step across

the company as facilities are

built or refreshed. "This standard

approach will drive the greatest

amount of efficiency at all levels

of the organisation."

4. Ensure that technology partners

have a high level of experience in

your industry and the market power

to maintain business operations for

decades. Butaney notes that "these

types of operational settings have a

long shelf life. It is important to make

sure that IoT solutions do too."

5. In addition to ensuring technology

partners have a high level of industry

experience, it is also important to

engage IoT partners at every stage

to accelerate learning and overcome

challenges.

businesschief.com
---
TECHNOLOGY

86

"Video and mission critical communications

over wireless are exploding edge bandwidth

requirements and requiring new wireless

technologies to support near-zero latency

connectivity"

—

Vikas Butaney,

Vice President & General Manager, Cisco IoT

THE BENEFITS IOT

Productivity improvements: the

capabilities of IoT are enabling

improved operational efficiency such

as: reduced downtime, improved

resilience and efficiency, as well as

improved output and speed.

New customer experiences:

Cisco's Control Center connects

over 60 million cars, enabling new

driver experiences, shile machine

builders and device makers use

Cisco Control Center to connect

100 million devices offering their

customers new capabilities.

Improving the way people work:

improving workplace safety, produtivity,

efficiency and revenue.

THE CHALLENGES IOT

Complexity: frequently operational

settings across industries are legacy

systems that have been around for

decades. As a result rolling out new

solutions with IoT can be complex.

Security: when deploying IoT solutions,

organisations need visibility

on what is connected and potential

threats. It is important for organisations

to leverage IoT security tools

to ensure that they are not vulnerable

to cyberattacks.

Scalability: With IoT being complex

to deploy and manage at scale.

Butaney explains that IoT projects

require a strong partnership between

IT and OT in order to build scalable

and secure projects for lower lifetime

TCO. "Bespoke projects are hard to

sustain over time."

DECEMBER 2020
---
Vikas Butaney, Cisco |

Cisco Live EU Barcelona 2020

CLICK TO WATCH | 17:49

87

IOT TRENDS TO KEEP AN EYE ON

AS WE COME TO THE END OF 2020

With 75 billion IoT devices expected

to be connected by 2025, Butaney

details that "securely connecting IoT

devices is paramount," but requires

a new level of security vigilance than

before. As a result it is important to

implement IoT security solutions outside

of traditional network firewalls.

In doing this, IoT devices can be connected

securely and continuously

monitored for potential threats.

Another key trend highlighted by

Butaney is the increased demand

for high bandwidth, low latency wireless.

With the increase in connected

devices on the move, "this wireless

connectivity to 'things' in motion is

frequently much more demanding

than connecting data to people over

wireless. Video and mission critical

communications over wireless in mining,

ports, manufacturing, trains and

roadways are exploding edge bandwidth

requirements and requiring new

wireless technologies to support nearzero

latency connectivity."

In addition to security and high bandwidth,

low latency wireless, Butaney

businesschief.com
---
TECHNOLOGY

EMERGING IOT TRENDS AS A RESULT OF COVID-19

88

IoT has become a CXO-level

conversation again: IoT's value

proposition is rapidly expanding

from productivity, efficiency,

and new services to enabling the

board-level topic of 2020 - business

resiliency. Businesses need to rapidly

adjust operations based upon

the workforce availability, supply

chain interruptions, and changing

customer expectations – exactly

the places where IoT now sits.

IoT is delivering secure remote

operations: over the last few years,

the focus for IoT was on connecting

devices to tap into new data

for analytics. Now, in response to

COVID, there is an added requirement

to enable remote operations

for both business resiliency and

cost efficiency. This will fundamentally

change how IoT devices will

be connected.

IoT is now accelerating the

move to a new class of networking:

companies need secure

remote access to IoT devices for

diagnostics and remote technicians,

in addition to remote

controlling and operating IoT

devices. This new dependence on

IoT raises the bar on secure remote

access requirements, including:

• Connectivity for IoT devices

requiring increased bandwidth

• Extremely low latency wireless

connectivity for applications at

high speed

• Cybersecurity to protect expansion

of the threat surface

• Network automation to make

deploying and managing IoT

devices at scale doable with finite

resources

• Edge computing for when going

to the cloud is too slow to support

real-time edge processes and

analysis is needed closer to the

IoT device

DECEMBER 2020
---
89

highlights the role 5G will play in the

future of IoT. "Wireless technologies

are a key pillar of IoT and 5G has

huge promise," comments Butaney,

who also states that, by 2023, 34%

of all mobile connections will be IoT

connections, up from 13% in 2018.

However, he does emphasise that

there is no 'one size fits all' approach.

"Think of your mobile phone: one type

of wireless technology doesn't meet

all your needs. You have LTE/5G

cellular, WiFi, Bluetooth, GPS, and

NFC - at least five wireless technologies

- each with their strengths and

weaknesses that address specific

goals. The same is true for connectivity

needs in IoT deployments."

With organisations needing a

cohesive strategy that doesn't result

in costs, complexity and security

risks, particularly in a post COVID-19

world, Butaney explains that there is

an increased need for business resiliency

and remote operations. "These

needs are driving an evolution of

automation systems to be more endto-end

connected, more autonomous,

and able to be remotely supervised

via IoT connectivity."

businesschief.com
---
TECHNOLOGY

90

"This wireless connectivity to 'things' in motion

is frequently much more demanding than

connecting data to people over wireless"

—

Vikas Butaney,

Vice President & General Manager,

Cisco IoT

DECEMBER 2020
---
Butaney recommends a four-step

process for picking the right IoT

wireless technology to reduce costs,

complexity and security risks:

1. Decide what IoT device you are

going to connect

2. Decide the application requirements

- latency, reliability, cost, thrupu, etc

3. Decide the deployment scope -

indoors or outdoors, over miles or

a few hundred feet

4. Assess the technology options

against those requirements

91

Combined, businesses,

governments and consumers

will invest nearly

US$1.6trn

to install IoT solutions in 2020,

PwC

Overall, Butaney expects IoT to

continue to deliver radical transformation

across industries. "In a sense, the

future is now. IoT is already critical

today for many businesses. This will

only become more pervasive." Just

a few examples of the future and

current impacts of IoT include: connecting

intersections to reduce traffic

and improve road safety; connecting

robots to reduce machine downtime

through predictive maintenance; and

connecting workers to improve worker

safety ( measuring worker proximity in

an age of pandemics).

businesschief.com
---
TOP 10

92

US Mergers and

Acquisitions

of the Last Two

Decades

Business Chief ranks – by year – its top 10 mergers

and acquisitions made by companies in

North America over the past two decades

WRITTEN BY GEORGIA WILSON

WRITTEN BY WILL GIRLING

DECEMBER 2020
---
usinesschief.com

93
---
TOP 10

2/9/20

DATE OF MERGER

N/A

VALUE (US DOLLARS)

94

10 NerdWallet &

Know Your Money

Announced back in September 2020, NerdWallet announced its

plans to acquire Norwich-based company Know Your Money. While

negotiations for the acquisition began prior to the outbreak of

COVID-19, the company highlighted that the pandemic has created

a surge in demand for financial guidance and products.

"Expansion to the UK is an important step towards our vision of a world

where every consumer makes financial decisions with confidence,"

commented Tim Chen, co-founder and CEO of NerdWallet.

DECEMBER 2020
---
09 Salesforce

& Tableau

In a US$25.7bn deal, Salesforce made its biggest acquisition of the

decade. The acquisition made by Saleforce was designed to further

drive the company's ambition to help organisations' digital transformations,

and enable companies around the world to tap into data

to produce deeper insights and make smarter decisions.

"Tableau will make Salesforce Customer 360, including Salesforce's

analytics capabilities, stronger than ever, enabling our customers to

accelerate innovation and make smarter decisions across every part

of their business," commented Marc Benioff, Chairman of Salesforce.

1/8/19

DATE OF MERGER

$25.7bn

VALUE (US DOLLARS)

95

businesschief.com
---
6 Ways Inventory Management

Fuels Supply Chain

Explore How Inventory Management Enables Supply

Chain to Reach Its Fullest Potential

For most businesses, the supply chain is not only the primary cost centre but one of

the most challenging aspects of running a profitable operation.

This ebook examines the role of inventory management in each step of the supply

chain and share best practices for how businesses can use inventory management to

optimise and run a more profitable operation.

Download Ebook Now
---
9/9/19

DATE OF MERGER

$34bn

VALUE (US DOLLARS)

08 IBM

& Red Hat

97

July 2019 saw IBM complete a landmark deal to acquire Red Hat for

US$34bn. Designed to accelerate innovation for their customers, the

acquisition was aims to provide a next-generation hybrid multi-cloud

platform for secure deployment, running, and management of data

and applications.

"Businesses are starting the next chapter of their digital reinventions,

modernising infrastructure and moving mission-critical workloads across

private clouds and multiple clouds from multiple vendors," commented

Ginni Rometty, chairman, president and CEO of IBM. "IBM and Red Hat are

uniquely suited to meet these needs. As the leading hybrid cloud provider,

we will help clients forge the technology foundations of their business for

decades to come."

businesschief.com
---
TOP 10

07 Amazon

& Whole Foods Market

98

With a vision to make Whole Foods Market's high-quality, natural and

organic food affordable for everyone, Amazon closed its acquisition

of Whole Foods Market on August 28, 2017. While the company was

acquired by Amazon, Whole Foods Market retained its name for

conducting operations, and continues to grow its team and create

jobs in local communities.

"We're determined to make healthy and organic food affordable for

everyone. Everybody should be able to eat Whole Foods Market

quality – we will lower prices without compromising Whole Foods

Market's long-held commitment to the highest standards," commented

Jeff Wilke, CEO of Amazon Worldwide Consumer.

28/8/17

DATE OF MERGER

$13.7bn

VALUE (US DOLLARS)

DECEMBER 2020
---
6/9/16

DATE OF MERGER

N/A

VALUE (US DOLLARS)

06 Dell

& EMC Corporation

99

While the value of the acquisition of EMC Corporation by Dell is

unknown, the merger, which took place in September 2016, resulted

in a market value of US$74bn (2016). The merger provided Dell with

the infrastructure to allow organisations to "build their digital future,

transform IT and protect their most important asset – information."

Commenting on the merger Michael Dell, chairman and CEO of

Dell Technologies, said:

"We are at the dawn of the next industrial revolution. Our world is

becoming more intelligent and more connected by the minute, and

ultimately will become intertwined with a vast Internet of Things,

paving the way for our customers to do incredible things. This is why

we created Dell Technologies."

businesschief.com
---
Pack the essentials

for your business trip:

Laptop

Charger

Business insights

Payment solutions

From T&E expertise to business insights to payment

solutions, the American Express Corporate Program

gives you all the tools and services you need, so you're

fully prepared for business wherever you are.

To learn more about the American Express Corporate

Program, visit www.americanexpress.com.
---
14/2/14

DATE OF MERGER

$16bn

VALUE (US DOLLARS)

05 Facebook

& WhatsApp

101

February 2014 saw Facebook acquire popular cross-platform mobile

messaging company WhatsApp for US$16bn and US$3bn in restricted

stock units. The acquisition was reported to support the two companies'

mission to increase connectivity and utility across the world by

providing efficient and affordable core internet services.

"WhatsApp is on a path to connect one billion people. The services

that reach that milestone are all incredibly valuable. I've known

Jan for a long time and I'm excited to partner with him and his team

to make the world more open and connected," commented Mark

Zuckerberg, founder and CEO of Facebook.

businesschief.com
---
TOP 10

04

Verizon & Vodafone's

45% in Verizon Wireless

Valued at US$130bn, in September 2013, Vodafone sold its 45% stake

in Verizon Wireless to the US telecommunication company Verizon

Communications. It was reported that, as part of the transaction,

Vodafone returned US$70.6bn to its shareholders, US$28.7bn of which

was expected to go to shareholders in the UK. "We think we have a

balanced approach here. We are reducing our debt level which will

enable the company to be very robust and take opportunities if they

arise," commented Vittorio Colao, Chief Executive Officer of Vodafone.

102

2/9/13

DATE OF MERGER

$130bn

VALUE (US DOLLARS)

DECEMBER 2020
---
13/10/11

DATE OF MERGER

$8.5bn

VALUE (US DOLLARS)

103

03 Microsoft

& Skype

October 2011 saw Microsoft enter into a US$8.5bn deal to acquire

Skype. Marking a new business division in Microsoft, the acquisition was

designed to focus on the two companies' shared ambition to connect

all people across all devices and accelerate real-time communications.

"Skype is a phenomenal product and brand that is loved by hundreds

of millions of people around the world. We look forward to working with

the Skype team to create new ways for people to stay connected

to family, friends, clients and colleagues — anytime, anywhere,"

commented Steve Ballmer, former CEO of Microsoft.

businesschief.com
---
Adaptability is not

an aspiration.

It's a business asset.

TOGETHER

WE GOT

THIS
---
"Applying Industry 4.0

processes has improved

production decision

making at 85% of

manufacturers."

MPI Group study 2020 – read the

study to learn more

To survive in an era of volatile demand, uncertain supply,

and constrained capacity, your organisation must be

adaptable.

Now is the time to commit to a new way of working that

can help you adapt to supply chain disruptions, react to

changes in demand, and capitalize on new opportunities.

SAP will work with you as you move towards digitalization

and Industry 4.0 in a company-wide, business strategy

that focusses on data-driven customer attention and

• Build intelligent, individualized products by connecting

each customer's voice to everything from product

planning to delivery.

• Meet the demands of customers looking for

sustainability.

• Create the kind of production process that adapts

• Use intelligence and networks to integrate every machine,

partner, and employee.

• Connect the entire company, bringing together logistics,

sales, and service, so every step is orchestrated.

The SAP Digital Supply Chain portfolio supports

industry 4.0, enables the digitalization of engineering,

manufacturing, and asset operation processes, connects

and automates machines and devices, and brings

intelligence via AI and advanced analytics to an entire

production process. This can help to continuously improve

production performance, lower cost, and increase the

agility and resiliency of your supply chain.

Adaptability is no longer an aspiration, it's a business

asset that can help you stay connected to your customers,

integrated with your partners, and ahead in your industry.
---
TOP 10

106

Disney Plus | Announcement Trailer

CLICK TO WATCH | 1:45

DECEMBER 2020
---
31/8/09

DATE OF MERGER

$4bn

VALUE (US DOLLARS)

02

Walt Disney Company

& Marvel Entertainment

107

In August 2009, two of the oldest entertainment companies –

Walt Disney Company and Marvel Entertainment – entered into

a US$4bn acquisition deal, in which Walt Disney Company acquired

Marvel Entertainment.

"This transaction combines Marvel's strong global brand and worldrenowned

library of characters with Disney's creative skills,

unparalleled global portfolio of entertainment properties, and a

business structure that maximises the value of creative properties

across multiple platforms and territories," commented Robert A. Iger,

president and Chief Executive Officer of The Walt Disney Company.

"We believe that adding Marvel to Disney's unique portfolio of

brands provides significant opportunities for long-term growth and

value creation."

businesschief.com
---
TOP 10

01Google

& YouTube

108

Founded just one year prior in 2005, Google was quick to snap up

YouTube in 2006, acquiring the company for US$1.65bn. Today

YouTube has a market value of US$160bn.

"The YouTube team has built an exciting and powerful media platform

that complements Google's mission to organise the world's information

and make it universally accessible and useful," commented Eric Schmidt,

Chief Executive Officer of Google. "By joining forces with Google, we can

benefit from its global reach and technology leadership to deliver a

more comprehensive entertainment experience for our users and to

create new opportunities for our partners," added Chad Hurley,

co-founder of YouTube.

DECEMBER 2020
---
Google YouTube Merger

CLICK TO WATCH | 2:09

109

10/10/06

DATE OF MERGER

$1.65bn

VALUE (US DOLLARS)

businesschief.com
---
110

SOPHISTICATED

YET SIMPLE PRE-TRADE

ONBOARDING

WRITTEN BY

WILL GIRLING

PRODUCED BY

MICHAEL BANYARD

DECEMBER 2020
---
usinesschief.com

111
---
SAPHYRE

Stephen and Gabino Roche, President

and CEO, discuss overcoming risk-aversion

in finance and how Saphyre is disrupting

an inefficient system

112

I

n an era of increasing digital sophistication,

the extent to which out-dated

technologies, techniques and processes

continue to weigh down even the largest companies

in finance is surprising. Not content with

simply disrupting the pre-trade space with an

integrated onboarding platform, Saphyre offers

clients an intuitive, easy-to-use experience that

belies its sophistication. Founded in 2017, it is

an iconoclastic company that desires to break

down barriers in a sector easily siloed and fundamentally

believes in creating a streamlined and

user-friendly alternative that enables customers

to generate revenue faster.

"I've always built technology products from

scratch; that's always been kind of my thing,"

states Gabino Roche, CEO. An experienced and

successful business-technology leader with 20

years of expertise gained from executive roles at

some of the world's most prestigious organisations,

he says that the knowledge gained from these

companies regarding product R&D has been invaluable

to the development of Saphyre. "I learned

DECEMBER 2020
---
usinesschief.com

113
---
SAPHYRE

114

"I've always built

technology products

from scratch; that's

always been kind

of my thing"

—

Gabino Roche,

CEO, Saphyre

what five of the major US banks were

doing in this space and then also what

their clients in the arena needed."

The process of mapping these two

aspects together would prove crucial

to the company's development. Also

adding to Saphyre's strong leadership

is Gabino's brother, Stephen Roche,

President. With a background focusing

on business development and emerging

communications tech, Stephen

says that new innovation has always

"enthralled" him. "I've worked with a

lot of Fortune 1000 entities and it's

always been a challenge to introduce

new technology: companies always

view it and the associated operations

as an expense. However, it's also been

a good learning experience because

I would help them realize a successful

model, and that has allowed me to

advise the Saphyre team on how best

to allocate resources and grow."

Allowing clients to digitise their

emails, faxes and spreadsheets

through an accessible platform and

powered by ATTOM ((AI Tracking

of Transactions and Operational

Metadata), its patented artificial intelligence

(AI) workflow management

DECEMBER 2020
---
Speed Your Onboardings

CLICK TO WATCH | 0:41

115

technology, Saphyre integrates data

sharing, real-time messaging and

transparency. Developing a successful

product for pre-trade was an integral

part of Saphyre's development.

However, as Gabino explains, this

was only half the battle in establishing

the company's place in the market.

"The other half was actually planning

the adoption strategy; how do you

get clients, individual users, or even

institutions to adopt a new technology

that's never existed before?"

A believer in appealing to the "selfish

interests of the client", he relates that,

by focusing on both cost-reduction

and increased revenue, the company

has been able to gain attention quickly.

"Clients can start trading and making

money straight away, meanwhile the

custodians are also making money

by collecting interest and fees. Our

overall strategy is to digitize the pretrade

space, not just for the benefit

of trading, but also for trading and

post-trade."

Core to Saphyre's ethos is the idea

of 'levelling the playing field' or, in

the company's own words, "disrupting

a broken system"; it is adamantly

businesschief.com
---
SAPHYRE

116

opposed to the innovation-stifling

bureaucracy that permeates so many

aspects of finance. "We chose to

take on this endeavor because the

status quo wasn't serving people's

best interests," explains Stephen.

Wary that some firms were initially

reticent to take notice at first because

of (unrelated) unfruitful tech initiatives

that spawned risk-aversiveness,

Saphyre's first mission was to prove

that it could outperform expectations,

DECEMBER 2020
---
which, Stephen continues, it soon did.

"I started with the company in May of

2017. We released our first product in

the fall of 2017 and we went live with

our first client in March of 2018. We

just cut through the bureaucracy and

deliver what the client actually needs."

Maintaining a spirit of innovation

among its staff is also highly important

at Saphyre, which it achieves through

genuine employee empowerment and

a dual-layered workforce dynamic: one

team consisting of product managers,

industry experts and user experience

designers, and a second team of

coders, to whom the middle and backoffice

operations are taught in order to

establish the appropriate context as

they work. "What that does is structure

things so that the technology team

is uninterrupted, and they know what

we give them is solid because we've

already validated it several times with

our innovation team," Gabino explains.

"Working at some other financial

institutions three and a half years ago,

you would never have seen those two

things combined together."

117

EXECUTIVE PROFILE:

Gabino Roche

Title: CEO & Co-Founder

Location: United States

Industry: Financial Services

Gabino is an experienced and successful business-technology leader with

20 years of expertise gained from executive roles at some of the world's most

prestigious organisations, including McKinsey, AT&T and JP Morgan Chase.

"I've always built technology products from scratch; that's always been

kind of my thing." Holding a BSc in Business Management Information

Systems from Seton Hall University (1993 to 1998) and an MBA in

Global Management from the University of Phoenix (2000 to 2003),

he is highly knowledgeable on industry trends, industry-leading

approaches and the contemporary needs of clients.

businesschief.com
---
SAPHYRE

118

EXECUTIVE PROFILE:

Stephen Roche

Title: President & Co-Founder

Location: United States

Industry: Financial Services

Stephen has a background focusing on business development and emerging

communications tech. He has acquired a large amount of experience working

for AT&T prior to co-founding Saphyre with his brother. "I've worked with

a lot of Fortune 1000 entities and it's always been a challenge to introduce

new technology. However, it's also been a good learning experience because

I would help them realize a successful model, and that has allowed me to

advise the Saphyre team on how best to allocate resources and grow."

DECEMBER 2020
---
Boosting Saphyre's standing in a

cautious industry has been one of its

key challenges, particularly when other

companies in the space compound the

issue by over-promising and underdelivering.

"And then, when you have

a fintech startup saying, 'We can do all

these things too,' people might look at

our size and question it," says Stephen.

"However, we're bringing a phenomenal

user experience," Gabino adds,

"If we needed to hire armies of people

to support a business, that would

undermine how advanced our platform

really is." In some respects, market

differentiation hasn't been difficult for

Saphyre at all: possessing a portfolio

of 48 patents and a unique offering in

the pre-trade market, Gabino states

that, prior to the company's formation,

there was no competition at all.

Therefore, Saphyre's team has been

able to instead focus on raising the

digital transformation of pre-trade to

a higher standard. "When institutions

in the finance space make investments,

they invest in trading and post-trade

because that's where the money's

to be made. I'm not suggesting that

pre-trade gets ignored, but you'd be

surprised by the amount of Windows

95 and legacy infrastructure that still

exists out there."

"We chose to take on this

endeavor because the status

quo wasn't serving people's

best interests"

—

Stephen Roche,

President, Saphyre

119

businesschief.com
---
SAPHYRE

"Our overall strategy is to

digitize the pre-trade space,

not just for the benefit of

trading, but also for trading

and post-trade"

—

Gabino Roche,

CEO, Saphyre

120

Any 'glass ceiling' that might have

impeded Saphyre has been countenanced

by the announcement in

mid-September that it had struck

a partnership with JP Morgan and

BlackRock. Deployed to digitize their

account opening workflow, produce

improved scalability and remove

manual processes, the two companies'

choice to leverage Saphyre's technology

has given it a significant credibility

boost. "We were selected because

Saphyre is the only one in this space,

and [JP Morgan and Blackrock] were

tired of pseudo-monopoly financial

firms dealing with 1980s technology or

faxing data information," says Stephen.

"It's our reputation and consistency

of execution that has led to this great

news." Indeed, the partnership can be

viewed as simultaneously a validation

of Saphyre's value and an illustration

of the importance of collaboration, no

matter how large a financial institution

might be, a conclusion that Gabino

concurs with: "If you try to be the

master of many things, you'll be the

master of none. Saphyre has opted to

be the master of one thing, which we

do extremely well."

Emerging from the COVID-19

pandemic relatively unfazed, owing

DECEMBER 2020
---
121

SAPHYRE'S SUPPORT

Saphyre's new partners have

been vocal in their support for

the company:

"Saphyre has been instrumental

in transforming the account

opening experience for our

clients. J.P. Morgan was an early

adopter of Saphyre and is now live

in production after successfully

testing its value proposition for

over 6 months," said Naveen TV,

Managing Director, JP Morgan's

Securities Services.

"With powerful workflow features

and enhanced visibility into the

account opening lifecycle, Saphyre

has enabled BlackRock to eliminate

manual processes to support the

account opening workflow across

custodians and broker-dealers,"

commented Liliane Ancona,

Managing Director, BlackRock.

The full details of Saphyre's

momentous partnership with

JP Morgan and BlackRock can

be found here.

businesschief.com
---
SAPHYRE

122

to its high-tech operational infrastructure,

Gabino even posits that certain

aspects of the business, such as setting

up meetings, may have become

easier. "Traditionally, I would have to

fly across the world, go to people's

offices, make pitches, etc. Now, relying

on Zoom and Microsoft Teams, I'm

actually more busy because I don't

have to allocate that additional travel

"If you try to be the master

of many things, you'll be

the master of none. Saphyre

has opted to be the master

of one thing, which we do

extremely well"

—

Gabino Roche,

CEO, Saphyre

DECEMBER 2020
---
123

time; I've got meetings back-to-back."

Subsequently, Saphyre has been

able to concentrate on its mission

for 2021: eliminating 70% of manual

post-trade activities, a complement to

its uncontested work in the pre-trade

space and demonstrating its holistic,

end-to-end grasp of the trade process.

"Our model is sophisticated yet simple;

we're constantly exploring how to

streamline the entire experience and

make it more user friendly," concludes

Gabino. "In the world today everything

is siloed, but we're breaking down

those walls and bringing it all together."

businesschief.com
---
Adaptive Data Centers

124

DECEMBER 2020
---
Putting Sustainability

at the Heart of Data

Management

WRITTEN BY

PADDY SMITH

PRODUCED BY

LEWIS VAUGHAN

125

businesschief.com
---
ALIGNED

126

DECEMBER 2020
---
Aligned has completed a

historic billion-dollar round

of financing specifically

linked to sustainability. CEO

Andrew Schaap is eyeing

the possibilities it opens up

I

t's a mark of Andrew Schaap's modesty

that he says of the Covid-19 pandemic,

"We're weathering it well." While other

companies were diving for cover in the second

quarter of 2020, Aligned – where Schaap is CEO

– "saw a very big uptick in February, March, April,

and May".

"The pandemic has proven to be somewhat of a

use case study in capacity planning for our big customers,"

he explains. "All of them run analysis on

what they can get out of a server, what they can

get out of a CPU, what they can get out of a storage

device or networking device. But the ones that are

really born on web technologies are being pushed to

the limit of what they can do. And so, our customers

have been able to see just how effective adaptive

infrastructure and our Delta 3 cooling technology

are when it comes to seamlessly addressing those

peaks in demand."

As well as higher headroom capacity, data patterns

have changed. Schaap points to a gaming

127

businesschief.com
---
ALIGNED

128

"This is a capital-intensive business. You

need capital partners that understand

the business"

—

Andrew Schaap,

CEO, Aligned

client using Aligned's data centres

which saw its traditional 6pm to 3am

peak capacity shift as schools closed

and the workforce headed home.

For Aligned's customers, its modular,

dynamic and highly scalable data

solutions came into their own. And

its finance partners have allowed the

Dallas-based company to innovate its

supply chain to meet the accelerated

delivery needs of customers, specifically

in the hyperscale space.

Another sunny day in Aligned's

fair-weathered pandemic came

in September, when it closed a

billion-dollar sustainability-linked

financing led predominantly by ING.

This is the first U.S. data center sustainability-linked

financing and also

one of the largest private debt raises

in data center history.

Previously, after joining Aligned

in 2017, Schaap struck a deal with

Macquarie Infrastructure and Real

Assets (MIRA) ("not your traditional

private equity") to recapitalise the

business. "This is a capital-intensive

business. So, you have to have capital

partners that are highly capable of

understanding what the business

looks like."

Traditionally, MIRA invests in infrastructure

such as roads, bridges and

DECEMBER 2020
---
CEO Andrew Schaap Discusses

Aligned's Adaptive Data Centers

CLICK TO WATCH | 2:19

129

highways. Aligned was the operating

group's first foray into infrastructure

of the digital kind. The entity saw

a clear understanding that in order

to compete with the buying power

afforded to publicly traded Fortune

500 data brands, Aligned needs to be

able to work the angles. Schaap and

his team laser-focused the business,

including flipping the traditional data

center supply chain / vendor-managed

inventory (VMI) on its head.

"We did it essentially to counteract

scale. Those [Fortune 500] guys have

buying power with scale and they

leverage that buying power to get

the best outcome out of the suppliers.

What we did, essentially, was

approach the supply chain differently

by deploying capital and committing

to capacity."

"Not everybody can do this. The publicly

traded providers have to explain

every dollar they spend to Wall Street,

and get a return on it within a set period

of time – or they get penalised."

"But because of Macquarie, our other

capital partners and our business

model, we were able to essentially

look at the supply chain and be bullish

businesschief.com
---
Munters brings

over six decades

of innovation to

its partnership with

Aligned Energy

Munters has been developing innovative,

energy efficient climate control solutions

for over 60 years, and Data Center

cooling is a market segment that is

very active right now. DC President

Michael Gantert explains why as the

industry leader in energy efficient

climate control solutions, Munters

expertise in data center cooling helps

Aligned Energy meet growth demands

Munters has a long history in delivering innovative,

energy efficient climate control solutions. Started

in Sweden over 60 years ago, Munters has

deployed its technologies in a host of industries.

Munters Data Centers (DC) business, managed

by President Michael Gantert, is a key partner for

Aligned Energy. Munters has worked closely with

Aligned Energy to manufacture and advance the

development of their unique cooling solution.

Munters entered the data center cooling market

12 years ago and has developed a number of

cooling solutions that have been widely adopted

and are critical to the efficient operation of many

data centers.

When Aligned Energy got in touch to discuss a

partnership, it wasn't to purchase an existing

solution, but rather to further develop their own

cooling solution and manufacture a product that

would reduce equipment lead time and cost, while

also improving reliability.

"For a data center company to come to us with

a pre-designed cooling solution and ask us to

manufacture it, while also making it better and

easier to install, that was a bit unique from what

we've experienced over the past 12 years."

Michael Gantert,

Munters

"Aligned Energy recognized in Munters our history

of innovation, engineering expertise, and flexible

manufacturing capabilities. They saw those aspects

of Munters as key to support their growing business.

Our relationship is a true partnership. We share

a lot of information including technical engineering

details and manufacturing techniques for their

cooling solutions."

"There has certainly been a lot of collaboration

between the two companies over the past few

years. They have a great cooling technology.

We have embraced that, and we really feel

Munters has provided value to Aligned Energy

by understanding the technology and continuing

to develop and enhance it for them."

"We've worked very closely with Aligned Energy

and we've been provided selective visibility

into their pipeline, which allows us to plan and

prepare to best meet their needs. We continuously

assess equipment inventory and component stock

levels as well as things we can do within our

manufacturing footprint to shorten lead times

to support Aligned Energy's growth."

LEARN MORE TODAY
---
ALIGNED

132

on where the market is going, where

we think the market's going and have

manufacturers hold on to the inventory

inside their warehouse or factory

before shipping it on a just-in-time

basis. We've done very well with that

over the years; and it has proven effective

during the pandemic. We had a

handful of transactions that we were

able to win on speed of delivery and

our ability to get a customer moved

in faster than the competition."

"We didn't start the VMI because of

the pandemic, but It worked in our favor

"Our customers have

been able to see

just how effective

adaptive infrastructure

and our Delta 3 cooling

technology are when

it comes to seamlessly

addressing those

peaks in demand"

—

Andrew Schaap,

CEO, Aligned

DECEMBER 2020
---
in a big, big way because we already

had that gear forward committed."

By ordering before equipment was

needed, Aligned was able to offer

manufacturers flexibility over their

throughput. Rather than a lumpy

work-to-order production schedule,

with workers on triple overtime when

demand surges, the company's preordering

allowed manufacturers to

allocate manufacturing to quieter periods,

keeping productivity stable, and

workers off furlough.

"What we try to do is to stabilize

the throughput in the factory.

Everyone we've spoken to has had

phenomenal feedback about what

we're doing because it solves a

big problem for them – removing

the lumpiness."

EXECUTIVE PROFILE:

Andrew Schaap

133

Title: CEO

Location: United States

Industry: Information Technology & Services

Andrew Schaap is CEO of Aligned, dedicated to accelerating business growth

by delivering data center solutions with industry-leading technology and

adaptive infrastructure. Since beginning his tenure, Schaap has exponentially

grown revenues, completed several successful capital raisings, and cultivated

an ecosystem of innovation that advances Aligned's

commitment to reducing the social, economic and

environmental impact of the digital era. He is a data centre,

IT, private equity and real estate executive with more than

20 years of complex transactional experience and multidisciplinary

senior leadership. Prior to joining

Aligned, he held numerous leadership

positions over an 11-year period with

Digital Realty Trust.

businesschief.com
---
We are Franklin-Griffith,

a USESI Company

Project management and vendor managed inventory experts

dedicated to exceeding the goals of our customers.

www.franklinelectric.net | www.usesi.com |

: Franklin-Griffith Co. | email Matt Venancio, VP of Sales: M.Venancio@frankelec.com

It's just one example of Schaap's

approach to partnerships, which

revolves around listening to partners,

understanding their challenges, and

earning their respect. "Sometimes

2013

Year founded

90

Number of

employees

their problem is our problem. So, we

have to be mindful of their problem."

While Macquarie's financing allows

Aligned to game the supply chain, its

debt financing with ING has beefed

up its efforts to continue pursuing a

strategic vision in sustainability.

"On the debt side, we're very pleased

with the first sustainability-linked

financing done in the United States.

And ING really drove that with us and

has just been a great partner."

"We can be sustainable, have great

uptime and reliability, and provide

great service and support to our

DECEMBER 2020
---
"Because of Macquarie,

our other capital

partners and our

business model,

we were able to

essentially look at the

supply chain and be

bullish on where the

market is going"

—

Andrew Schaap,

CEO, Aligned

customers. We do all three and we

do them in a thoughtful, meaningful

way. So, we're delighted with it and

looking forward to showcasing our

sustainability even more. We're doing

it because our customers care about

it and it's part of our DNA."

Schaap gesticulates towards a

40-inch monitor on the wall where he

can survey the top line performance

metrics in real time. Unsurprisingly, he's

big on data, and Aligned is keen to pass

on its data to help clients. "If we sell

a customer a megawatt, let's give them

135

Aligned IAD-01 Build Timelapse

CLICK TO WATCH | 2:15

businesschief.com
---
ALIGNED

136

"We had a handful of transactions that we

were able to win on speed of delivery and

our ability to get a customer moved in faster

than the competition"

—

Andrew Schaap,

CEO, Aligned

the tools to figure out how to use as

much of that megawatt as possible

because that's the most sustainable

thing to do. No stranded capacity; that's

the best thing for the environment."

For someone who is always "skating

to where the puck is going to

be versus where it is now," asking

Schaap to gaze into his crystal ball is

DECEMBER 2020
---
137

to open a window to a new generation

of data technology.

"Everybody is thinking about energy

storage right now. How do you get

as creative as you possibly can on

energy storage? That's the number

one problem with green energy: it's

cyclical. The sun, wind, hydro, all

those things are somewhat cyclical.

And so, you've got to find ways to

store the energy. And so, the amount

of dollars – or Euros or Yen – that

are being put into it is incredibly high

because that's the new gold rush, to

figure out how to store energy. And

on the data side, we use a lot, so we're

really paying attention to what's next."

Adaptive Data Centers

businesschief.com
---
Driving Healthcare

Innovation Through

Data and Analytics

WRITTEN BY

LEILA HAWKINS

PRODUCED BY

THOMAS LIVERMORE

138

DECEMBER 2020
---
usinesschief.com

139
---
COMMUNITY HEALTH NETWORK

Community Health Network

(CHNw) provides convenient

access to exceptional healthcare

services, driving innovation

through data and analytics

140

C

ommunity Health Network, headquartered

in Indianapolis, can truly call itself a

leader in healthcare services. Their Chief

Analytics Officer, Patrick McGill, MD tells us they

have one of the highest physician engagement

scores in the region, and their patient satisfaction

scores also rank amongst the top.

Another key aspect that sets them apart from

other healthcare providers is their strategic focus

on data analytics. Whereas many healthcare

organisations are lagging in this area, McGill says

they believe this is the pathway to future success.

McGill first came to work here as a family doctor

around 10 years ago. When the organisation

installed Epic as their electronic medical record

(EMR), he was asked to work on some of its optimization.

This led to a series of roles including

Medical Director of Physician Informatics, leading

training and strategic initiatives around Epic; Senior

VP for Clinical Strategy, and two years ago he

stepped into the position of Chief Analytics Officer.

DECEMBER 2020
---
usinesschief.com

141
---
COMMUNITY HEALTH NETWORK

142

"One of the decisions the Board of

Directors made when they created

the role of Chief Analytics Officer was

that it had to be a physician," says

McGill. "When you try and make data

analytics a strategic asset, having a

physician lead the analytics and information

technology departments really

puts a different focus on these areas."

With his background as a physician,

McGill understands the need to drive

the digital transformation of the business

as a way of ultimately improving

patient outcomes while reducing

costs. But, as with any big change,

it's not an easy process.

Community took the approach of

transforming just two areas initially.

"One is the patient-facing area

to allow patients to have the same

experience with healthcare as if

they were shopping or paying bills

online," McGill explains. "We focused

on things like receiving appointment

reminders, scheduling appointments

online and communications between

providers and patients. Secondly,

we focused on operational areas

DECEMBER 2020
---
EXECUTIVE PROFILE:

Patrick McGill, MD

Title: EVP, Chief Analytics Officer

Company: Community Health Network

Industry: Healthcare

Location: Indiana

Dr. Patrick McGill serves as the Executive Vice President and Chief Analytics

Officer for Community Health Network. In addition to serving on the

Network Executive Leadership Team, he leads the Office of Network

Analytics, Information Technology, Business Process Management and

Clinical Informatics. Most recently, he served as the Senior Vice President

for Clinical Strategy, overseeing programs to reduce clinical variation,

strategies for growth and the transition towards value-based care. Prior, he

served as the Vice President of Clinical Transformation. Additionally, Dr.

McGill has special interests in clinical data and analytics,

patient safety, population health, office workflow

efficiency and waste reduction. Dr. McGill is a certified

Green belt in Lean/Six Sigma. Born and raised outside of

Atlanta, GA, Dr. McGill attended the University of Georgia

in Athens, GA graduating Magna Cum Laude with a

Bachelor of Science in Chemistry. He received his

medical degree from the Medical College of

Georgia in Augusta, GA and completed his

Family Medicine residency at Ball Memorial

Hospital in Muncie, IN. Prior to joining

Community Physician Network in 2010, he

practiced Family Medicine in Pendleton, IN.

He is board certified in Family Medicine and

continues to see patients at South Indy

Family Practice.

143

businesschief.com
---
Providing

medication

access solutions

for your patients

We connect the healthcare industry

with comprehensive technological solutions

to help patients get the medication they

need to live healthy lives.

To date, we've done that more

than 200 million times.

Healthcare is complicated.

Our mission isn't.

Visit covermymeds.com to see

how technology can improve

medication access.
---
"Our brand promise is

exceptional care, simply

delivered, and one of our

values is patients first"

—

Patrick McGill,

EVP, Chief Analytics Officer

that don't directly impact patient

care which we could align our business

processes. Things like billing,

IT operations, and, moving forward,

some HR functions like the onboarding

of new employees, which we can

streamline and automate.

"If we can show people that

we're moving forward as a digital

enterprise, it'll drive the organization

forward and achieve the goals

that we want, but still preserve that

doctor-patient and provider-patient

relationship that's so sacred. We

don't want to disrupt that relationship

– we want to enhance it."

The organization has been deploying

state-of-the-art technology to

assist the workforce for a number of

years. A good example is the da Vinci

Surgical System, a robot-assisted

system that helps surgeons perform

delicate procedures.

"They've been very successful,"

says McGill. "They have been found

to reduce surgery time, improve

outcomes, shorten the length of

a hospital stay after surgery, and

patients recover faster."

McGill explains that there is still a

degree of suspicion of AI in healthcare.

"A lot of the time I feel that AI

is slow to be adopted in the care of

145

businesschief.com
---
COMMUNITY HEALTH NETWORK

146

"We're building the analytic

platform to understand

the patient journey and

the clinical journey"

—

Patrick McGill,

EVP, Chief Analytics Officer

patients because physicians, nurses

and pharmacists really want to

understand what's in the black box of

AI," he says. "If they don't understand

it and they can't explain it, then they

don't want to adopt it.

"While easing into the realm of

digitalization, we've tried to leverage

AI tools to help augment their knowledge,

so servicing algorithms where

patients might be at a higher risk of a

fall, to alert the clinician to take some

extra precautions with this patient, or

in areas where the patient might be

DECEMBER 2020
---
CHNw Safety Message

CLICK TO WATCH | 0:50

147

faster to deteriorate, to alert the clinician

that they're at risk of becoming

sicker. It's about using AI to augment

their decision-making versus telling

them what they need to do. We've had

some success leveraging predictive

models and AI in that fashion, versus

being more prescriptive."

In terms of how analytics and AI

can benefit patients, McGill explains

that they provide ease of use and

convenience. "We're trying to drive

a patient-centric frictionless experience,

whether that's to schedule

appointments or consultations, to

receive test results or to pay their

bills, it's about achieving a true consumer-driven

experience.

"Leveraging things like Mychart

within Epic as a communications

platform, and our partnership with

CipherHealth that helps us provide

text-based outreach or post-discharge

follow ups when patients leave

hospital, these types of partnerships

are key in creating this kind of patientcentric,

frictionless experience."

As well as Epic and CipherHealth,

CHNw has several other important

strategic partners. Health Catalyst

businesschief.com
---
has been a key clinical partner for six

years, helping to drive them towards

being a data-led organization, while

guiding them on an improvement

methodology, reducing unnecessary

clinical variation and improving patient

safety. By using the Health Catalyst

DOS operating system enterprise data

warehouse, CHNw has made tremendous

gains in operational and clinical

efficiency. Over the last three years,

they have removed more than than

$35mn of waste from the system.

Additionally, software created

by CoverMyMeds improves the

prescribing process, and automates

insurance authorization within the EMR

workflow. CHNw has piloted and will

be launching CoverMyMed's Real-time

Benefit solution across the enterprise.

This tool allows providers to see patient

cost at the point of prescribing.

They are also partners with pharmaceutical

company Eli Lilly, who

they work with on patient education

specifically for diabetes, and

Stanson Health (part of Premier,

Inc), who have provided a tool that's

embedded into the EMR that ensures

appropriate care is given.

DECEMBER 2019
---
"A lot of the time I feel that

AI is slow to be adopted

in the care of patients

because physicians, nurses

and pharmacists really

want to understand what's

in the black box of AI"

—

Patrick McGill,

EVP, Chief Analytics Officer

"It delivers curated content and

rules into the EMR silently, searches

through the algorithms, and can

actually look through the patient

chart, searching their history, medications,

problem lists and past visits,"

explains McGill. "It can make recommendations,

for example, if a patient

comes in with acute back pain, and

the recommendation is don't have an

MRI, when I try to order an MRI it will

give me an alert to maybe refer them

to physical therapy instead. Better

quality outcomes with lower costs."

149

businesschief.com
---
COMMUNITY HEALTH NETWORK

1956

Year founded

$2.5bn+

Revenue in

US dollars

150

15,000

Number of

employees

DECEMBER 2020
---
usinesschief.com

151
---
COMMUNITY HEALTH NETWORK

152

He says a particular area of success

with this tool has been with

reducing unnecessary lab testing.

"We really strive for partners to help

solve some of our problems" he says.

In terms of looking ahead, McGill

explains that they've paused looking

at their five-year strategy given

the disruption and pace of change

caused by Covid-19, and instead look

at their more immediate future.

"I see us continuing to accelerate.

Along with our partners, we've

built the foundation for a true digital

transformation," says McGill. "We're

building the analytics to understand

"We're trying to drive a patient-centric

frictionless experience, whether that's to

schedule appointments, to receive test results

or to pay their bills, it's about achieving a true

consumer-driven experience"

—

Patrick McGill,

EVP, Chief Analytics Officer

DECEMBER 2020
---
153

the patient journey and the caregiver

journey, so we will have the ability to

understand that and strive for a frictionless

experience."

"I'm not sure you ever get to where

you want to be because there's

always continuous process improvement.

But I do think that our goal is to

continue to focus on the patient and

on our caregivers, on equity, whether

that's race and social equity, health

equity, outcomes, social determinants

of health like food insecurity and

reliable housing, continuing to focus

on those things, and leveraging digital

tools as much as we possibly can to

achieve those goals and outcomes.

"Our brand promise is Exceptional

Care, Simply Delivered, and one of our

values is Patients First," McGill adds.

"When you put those two together,

along with the culture at Community,

that's what drives people to come to

work here every day."

businesschief.com
---
154

DECEMBER 2020
---
Leading the

AI-powered

CX Journey

155

WRITTEN BY

DAN BRIGHTMORE

PRODUCED BY

RYAN HALL

businesschief.com
---
[24]7.AI

Against the backdrop of a

growing cyber war, [24]7.ai

is providing a safe platform

for businesses to communicate

with their customers

156

[24]7.ai co-founder and CEO PV Kannan realised,

back in 2000, that the key to forward-thinking

customer engagement was reaching beyond

customers calling up companies to talk to call

centre representatives to get answers to queries

and moving quickly towards a digital standpoint.

"Today, customers want real-time responses to

their questions," says [24]7.ai's Global CISO &

Chief Privacy Officer, Dr Rebecca Wynn.

CONVERSATIONAL AI

Conversational AI is redefining customer experience

(CX) across business messaging, voice and

everywhere else. The journey for [24]7.ai towards

meeting the need for more efficient customer

interactions is allied to the rise of the chat bot triggering

database responses; this inspired Kannan's

team to develop [24]7.ai's NLP (Natural Language

Processing) to build the business globally.

"Companies partner with [24]7.ai because we're

pioneers in the industry," maintains Dr Wynn.

"We're able to harness strong analytics to provide

a seamless transition when customers need to

DECEMBER 2020
---
"Today, customers

want real-time responses

to their questions"

—

Dr Rebecca Wynn,

Global CISO & Chief Privacy Officer,

[24]7.ai

157

businesschief.com
---
[24]7.AI

158

"A paradigm shift was already coming, and now it's

here companies like [24]7.ai, with our expertise

through offerings like the Engagement Cloud, can

support the global roll out of secure customer

communications across a range of devices, at

work or at home"

—

Dr Rebecca Wynn,

Global CISO & Chief Privacy Officer,

[24]7.ai

graduate to a human response but

don't want to repeat all of the information

they've already given via a

chatbot. We've created a unified digital

customer experience across channels

from websites and tablets to social

media and smartphones to suit the

needs of businesses across sectors,

from banking to retail. We're confident

that positive customer experiences

will increase our clients' net promoter

scores (NPS), lower operating costs

and help drive revenues."

Dr Wynn believes it's vital for her

team to work to the mantra "How can

we be better tomorrow?" She notes

that recruiting the right personnel is

vital to drive excellence. "We need

to be equipped to analyse customer

journeys and make them more efficient

and secure, not only for the company

that hires us but for the consumers

that access them and want answers

in real-time."

COMPLIANCE, RISK MANAGEMENT

& SECURITY

During a year where the pressures of

the global Covid-19 pandemic have hastened

many companies shift towards

digital transformation, how is [24]7.

ai offering support? "Businesses are

moving decisively towards enabling

DECEMBER 2020
---
Welcome to [24]7.ai

CLICK TO WATCH | 3:17

159

a remote workforce," notes Dr Wynn

of a process [24]7.ai has over a decade

experience in delivering. "We're

mindful of the pressures that puts on

bandwidth so we regularly communicate

with our customers to analyse

business continuity and how they are

able to move their workforce quickly

and offer an instant response to their

customers, even when faced with

disaster scenarios like this pandemic.

It's something we were well prepared

for and are able to make key decisions

quickly to mitigate risk in moving

agents to work from home."

Dr Wynn sees the company's customers

as partners – a vital alliance

when facing up to the enemies beyond

the keyboard… "We're in this cyberwar

together," she pledges. "We're not only

driving a positive customer experience

but also working with privacy, compliance

and security teams because we

need to be cybersecurity warriors

together. It's an ecosystem that needs

to be protected. If anyone on our

platform is being attacked we need

to let each other know and act accordingly

to stay secure. That's why when

I look at key vendors it's not just a box

businesschief.com
---
[24]7.AI

160

checking exercise; we're investing in

good partnerships that protect ours

and our customers futures to better

protect consumers at large worldwide."

PARTNERING TO INNOVATE

WITH PROOFPOINT, TANIUM

& SUMO LOGIC CROWDSTRIKE

In its quest for cybersecurity innovation

[24]7.ai partners with Proofpoint, taking

advantage of a raft of compliance

solutions to protect customers across

every channel from email, web and

cloud to social media and mobile

messaging. "Proofpoint are able to help

us with our top layer of security, to see

where active threats are coming from

before those attempts start trickling

down into our architecture," explains

Dr Wynn. "It means we don't have to

spend time training our personnel

because we have their specialists on

board providing real-time dashboards

for threat analysis of our firewalls."

She applauds Proofpoint's ability to

carry out deep dives that ensure

a company is equipped to deal with

constantly morphing phishing attacks

DECEMBER 2020
---
and ransomware, dealing with issues

effectively in real-time with a turnaround

time of less than 45 seconds.

Gaining an overview of the cybersecurity

posture of a firewall and

enabling real-time filtering is vital for

[24]7.ai. "You're going to need patch

management but it's not the old

school approach anymore," says Dr

Wynn. "I tell people when you have

so many patches to go ahead and

apply, they're all important. But which

one on what system do you patch

first? And then which server of that

system do you patch? First you have

to be able to know the risk that you're

carrying on each server or each

system; then you can know the order

of precedence on that. That's why we

work with companies like Tanium who

EXECUTIVE PROFILE:

Dr Rebecca Wynn

161

Title: Global CISO & Chief Privacy Officer

Industry: Computer Software

Location: Greater Phoenix Area

Dr Rebecca Wynn is lauded as a "game-changer who is ten steps ahead in

developing and enforcing cybersecurity and privacy best practices

and policies." She is a "big picture" thinker who brings

nearly 20 years of experience in Privacy, Compliance,

Risk Management, Information Security, Assurance &

Technology. She led the information security, privacy,

and compliance pre-acquisition, acquisition and postacquisition

of LearnVest, Inc. to Northwestern Mutual

Life Insurance Company – a Fortune 100 company.

She is well known for being a gifted polymath,

having deep understanding of current cyber

security challenges and privacy issues, and

is always open to new opportunities.

businesschief.com
---
Call-Center Automation Leader [24]7.ai Enlists

Proofpoint for People-Centric Cybersecurity
---
If you've ever felt trapped in a telephone menu

tree, a nonsensical exchange with a chatbot,

or even a call with a human customer-support

rep who won't go off-script, [24]7.ai feels

your pain.

The 20-year-old Silicon Valley company is on

a quest to make customer service easier and

more enjoyable—a mission that has grown

ever more urgent amid a major shift to digital

commerce and remote work.

"If you have clients who go to your website

and they can't fi nd information very quickly

and effi ciently, they usually go away," says

Rebecca Wynn, [24]7.ai's global CISO and

chief privacy offi cer. "People don't have any

patience anymore with that."

Two critical aspects of [24]7.ai's business are

protecting its intellectual property and keeping

clients' information private.

[24]7.ai's customer base runs the gamut of

industry sectors. Many of those—such as

healthcare fi nance and government—are

highly regulated. [24]7.ai must keep customer

data out of the hands of cyber criminals

and compliant with a growing myriad of

regulations.

"Cybersecurity plays a big, big role in what we

do," Wynn said. "We're fi ghting a cyber war

with people who are behind another

keyboard and who are trying to harm us all."

In any war, you need allies. Wynn enlisted the

help of Proofpoint, a cybersecurity vendor she

calls a strong partner in her fi ght against cyber

threats and compliance risks.

"Proofpoint allows me to sleep

at night because of what they

are doing for me."

Rebecca Wynn

Global and CISO Chief Privacy Offi cer, [24]7.ai

Today's threats target people, not technology.

That's why Proofpoint takes a unique peoplecentric

approach to cybersecurity. It offers a

complete portfolio of security and compliance

solutions designed to protect today's "people

perimeter."

Proofpoint protects against a wide range of

email and cloud threats. It helps customers

control access to sensitive data and prevent

data loss. And it trains users to be more

resilient against the threats that target them.

"One of the things that I look for is who can be

a good partner with me," she said. "We are in

a cyber war and I need people who can be in

that cyber war with me."

With Proofpoint, [24]7.ai can easily scale up its

cyber defenses, using Proofpoint to augment

its internal security team.

Having a trusted partner such as Proofpoint

helps [24]7.ai identify which cybersecurity

functions it does not need to duplicate

because Proofpoint already provides them.

Learn more

For more information visit proofpoint.com
---
[24]7.AI

ENGAGEMENT CLOUD

164

[24]7.ai Engagement Cloud is the

industry's first integrated suite

of conversational AI services

designed to power both virtual

and human agent interactions

seamlessly across voice and

digital channels. With Engagement

Cloud, IT and CX leaders are able

to rapidly diagnose customer

intents and build, automate,

monitor and optimise customer

service and sales journeys. The

intuitive, self-serve interfaces

in Engagement Cloud empower

both experts and non-technical

users to make quick decisions.

Powered by [24]7.ai's AIVA

conversational AI technology,

informed by decades of contact

centre operations excellence,

and combined with expert human

insight, Engagement Cloud

anticipates your customers' needs

to streamline resolutions and

strengthen relationships.

Engagement Cloud supports

a consistent, branded customer

experience while making every

interaction more cost efficient

and satisfying for customers and

agents alike. Offering a single

point of control for creating

and managing human and bot

interactions across digital and

voice channels, its self-service

tools can be used to set up

intent selections and build

conversational bots, business

logic, conversation flows, user

interfaces, and more.

DECEMBER 2020
---
"Proofpoint are able to help us with our top layer

of security, to see where active The Total threats Economic are coming Impac

from before those attempts Of start [24]7.ai trickling Engagement down Cl

into our architecture"

—

Dr Rebecca Wynn,

Global CISO & Chief Privacy Officer,

[24]7.ai

are more than just a vendor, they're

a trusted partner thinking beyond the

security space into risk management,

compliance and privacy to help us win

the cyberwar. Because, again, it's not

only the return on investment, it's a

return on the efficiency of an investment

that really counts."

Completing a trio of trusted

partners, CrowdStrike empowers

world-class intelligence to [24]7.ai to

provide a full picture of attacks and

the context needed to pivot to a protective

security posture. Described

by Dr Wynn as a "next gen endpoint

security on steroids", it combines

next gen anti-virus protection, endpoint

detection and response (EDR),

and proactive threat hunting in

one platform.

Through customer interviews and data aggregation, Forrester concl

[24]7.ai Engagement Cloud has the following three-year financial im

"Being able to consolidate our

endpoint SUMMARY agents OF BENEFITS with an extensive

platform Three-year risk-adjusted that grows and adapts to our

company's $22.3M needs without complexity

has been great," says Dr Wynn.

She explains that "having systems

in place that use machine learning

to ensure that breaches stop $1.9Mbefore

they occur is paramount is today's

Live phone agent

$8.2M

Live chat agent

Decomissioned

productivity productivity legacy system

fast-pace technology world. That

is especially true when you add on

[24]7.AI ENGAGEMENT CLOUD BY THE NUMBERS

25% NPS score increase

42% IVR containment

improvement

50%+ live agent

productivity increase

165

businesschief.com

This document is an abridged version of a case study commissione
---
[24]7.AI

166

fifth-generation (5G) mobile networks

and how fast malware, botnet attacks,

and other cyber-attacks can move

through a network.

"Without a EDR and threat hunting

platform, it might take dozens of

analysts to do those correlations, but

CrowdStrike's use of machine learning

and real-time response capabilities

speeds up investigations and remediations

in our environment. It's not just

correlating the data, it's about being

able to correlate and stop an attack

as quickly as possible."

FUTURE PROOFING CX

Dr Wynn highlights a growing trend

for businesses, particularly retail,

moving online; something which has

been accelerated by the global

pandemic. "We're supporting new

customers as they develop communication

channels to be able to

manage this shift," she says. "With

our full web presence, we can manage

their transition seamlessly. We're also

being approached by the education

and healthcare sectors to help them

meet the challenge of keeping their

people connected."

DECEMBER 2020
---
2000

Year founded

1.3bn

Self-service

interactions/year

10,000

Number of

employees

167

businesschief.com
---
[24]7.AI

168

"We've created a unified digital

customer experience across

channels from websites and

tablets to social media and

smartphones to suit the needs

of businesses across sectors,

from banking to retail"

—

Dr Rebecca Wynn,

Global CISO & Chief Privacy Officer,

[24]7.ai

Recognised as a leader in The

Forrester New Wave: Digital-First

Customer Service 2020, and working

with a host of Fortune 500 companies,

organisations across multiple sectors

can trust [24]7.ai to deliver.

Dr Wynn believes a global paradigm

shift that has seen millions

working remotely has offered an

opportunity to move forward in a

better way. "Businesses are looking

DECEMBER 2020
---
169

at their physical footprint and asking

if they need so much real estate, can

they find ways to be more efficient?

Startups have been operating via this

model for years, leasing space that

allows them to expand and contract.

A paradigm shift was already coming,

and now it's here companies like [24]7.

ai, with our expertise through offerings

like the Engagement Cloud, can

support the global roll out of secure

customer communications across a

range of devices to securely manage

that change to a hybrid way of working

between office and home. We're pioneers

for strategic thinking with much

more to come."

businesschief.com
---
170

WRITTEN BY

GEORGIA WILSON

PRODUCED BY

GLEN WHITE

DECEMBER 2020
---
171

SiteOne's

Strategy Driven

by CX and

Operational

Efficiency

businesschief.com
---
SITEONE

Sean Kramer, Chief

Information Officer (CIO) at

SiteOne Landscape Supply

on the company's approach

to digitalisation, industry

trends and COVID-19

172

S

ean Kramer, Chief Information Officer

(CIO) at SiteOne Landscape Supply,

started his career at the company in 2014.

"I have been with the company for six years. I joined

the company when it was John Deere Landscapes.

John Deere Landscapes was sold to a private

equity firm in 2013. As part of the transaction the

company needed to rebrand, and so SiteOne

Landscape Supply was officially established in

2015. Today, we are a publicly traded company

with a billion dollars in revenue and 550 locations."

Prior to his career at SiteOne Landscape Supply,

Kramer worked for eight years at Fiat Chrysler

(FCA) supporting the company's public websites

and its technology infrastructure. After leaving

FCA, Kramer joined Volkswagen Group of

America, where he worked for six years supporting

enterprise applications, internal software systems,

infrastructure and operations.

DECEMBER 2020
---
173

"It is very

important that

we keep our

customers and

associates as

safe as possible"

—

Sean Kramer,

Chief Information Officer (CIO),

SiteOne Landscape Supply

businesschief.com
---
Bringing technology solutions to high-level companies for over 22 years.

• ADS/AMS

• Testing/IV&V

• Mobile

• Transformation

• Digital Services

• Cloud Services

• Artificial Intelligence

• Connected Vehicles

• Agile / DevOps

• Workforce Solutions

• Staff Augmentation

• Managed Capacity

• Onshore/Offshore

Powered by V2Soft

Helping companies bring employees back to

work in a safe environment.

www.companytrak.com

• Daily Health Check

• Contact Tracing

• Social Distancing

• API/Customization

• Reporting

• Mobile App

• Wearables

Powered by V2Soft

Virtual Fundraising Solutions for Nonprofits,

Community Networking for Professionals!

www.iconnectx.com

• Virtual Fundraising

• Online Auctions

• Event Ticketing

• Advocacy

• iBridge (Selling Time)

• Reporting

• Mobile App

TM

Powered by V2Soft

www.weinvite.com

• Virtual Parties

• Find a venue

• Order Food

• Hire Entertainment

• Customize Invites

• Pay One Bill!

• Mobile App

TM

www.v2soft.com (248)904-1700 Sales@v2soft.com
---
SITEONE'S APPROACH TO DIGITAL

INNOVATION AND TRANSFORMATION

When it comes to digital innovation

and transformation, Kramer says

the company's core focuses include

customer experience, operational

excellence, systems efficiency

and security.

"The first is around customer experience

and operational excellence

in the branch and how we achieve

those," says Kramer. "First and

foremost it's safety, especially in the

current climate, and ensuring that

we have the inventory on hand that

the customers need."

EXECUTIVE PROFILE:

Sean Kramer

Title: CIO

Industry: Wholesale Distribution

Company: SiteOne

Location: Atlanta Metropolitan

175

Sean Kramer began his career at SiteOne Landscape Supply in 2014

and is the current Chief Information Officer (CIO).

From a technology perspective, Kramer explains that the landscape

industry has been a unique challenge. "When I joined, I came from the

automotive industry where the technology was more prominent. They

had technology in vehicles and online experiences for several

years. At the time I joined SiteOne, the technology in place

was to support the back office. Almost all the ways of

interfacing with a customer was coming into the branch,

looking at the products and buying while in the branch.

We didn't have any customer facing technology that we

used to interact with customers regularly. But the industry

is changing, customers are looking for new ways to

interact with the wholesale distributor.

businesschief.com
---
SITEONE

176

Kramer adds that when it comes to

digital innovation and transformation,

"it's about how we can use technology

to achieve this. We have developed a

new application called Mobile Pro – a

mobile point of sale – with our partner

Stratix. Recently, this application

has been vital in maintaining social

distancing. Customers work with our

associates to place their orders via

Mobile Pro and wait in their vehicle for

an associate to bring them their order."

Kramer adds that when it comes to

digital innovation and transformation,

"it's about how we can use technology

to achieve this. We have developed a

new mobile point of sale application

with our partner Stratix. Recently, this

application has been vital in maintaining

social distancing. With our new

mobile point of sale, customers arrive

at our branches and our associates

can greet them as they pull up. Our

SiteOne associates can open an order

on this system, adding the products

they need, pull the order and send the

customer on their way to the job. It's

done safely and efficiently."

While this application has been a

vital tool for the company, Kramer

explains that the company still has

plans to improve it further. "While

the application has several enhancements

planned for future use, it has

played a vital role in keeping our associates

safe," he says.

In addition to mobile point of sale,

the company also has plans in the

pipeline for siteone.com. Kramer

says they will look to continue to

evolve and develop the system to

make it easier to search for products

and place an order online, as well as

develop a recommendation engine

DECEMBER 2020
---
177

2001

Year founded

$2.4b+

Revenue in

US dollars

4,600

Number of

employees

for customers based on their location

and purchase history.

"We also want to make the system

easier to transact online, especially

for our customer's back-office processes

through enabling them to pay

their bills online seamlessly and with

clear visibility over their transaction

history," he adds.

In addition to customer experience

and its mobile application, SiteOne

Landscape Supply is looking to further

improve its systems efficiency, operations

and security.

businesschief.com
---
SITEONE

SiteOne Online

CLICK TO WATCH | 2:10

178

"We continuously work on developing

internal security training programs

and increasing the technology footprint

to stay ahead of the threats that

are out there in the market," states

Kramer. "But we are also trying to

make it easier for our suppliers to do

business with us. Here at SiteOne,

we want to be the distributor of choice

for all the suppliers in the landscape

industry. Right now, our team is working

to introduce new solutions, such

as ramping up robotic process automation

(RPA), enhancing our optical

character recognition (OCR) and

DECEMBER 2020
---
"We have developed

a new mobile point

of sale application

called Mobile Pro.

In the recent climate,

this application has

been vital to adhering

to social distancing

guidelines"

—

Sean Kramer,

Chief Information Officer (CIO),

SiteOne Landscape Supply

launching a vendor portal. The aim

of these initiatives is to increase the

efficiency and transparency of doing

business with SiteOne."

When working to drive such innovation

and transformation in an

organization, Kramer explains the

importance of having the right culture

in order to be successful.

"It's very important," he states. "The

team of leaders that we have bring

experience implementing these types

of new solutions from their experience

in other organizations and know

the potential pitfalls and successes. I

believe that the culture they bring

to our company has been critical for

us to support our growing business.

My leadership team consistently goes

above and beyond."

Historically, Kramer highlights

that technology is starting to take

a foothold in the landscape industry.

"We see more and more customers

use technology to run their business

and SiteOne is working to offer a

constantly improving customer experience.

Technology is at the core of that.

In the last few years we have seen

technology usage from our customers

179

businesschief.com
---
SITEONE

"Most of my team

has been at the

company for a few

years, and we have

the right leaders in

place to keep an

eye on innovations"

—

Sean Kramer,

Chief Information Officer (CIO),

SiteOne Landscape Supply

YOU'RE A PART

OF THE TEAM

EVEN WHEN

YOU'RE APART

FU Z E P U T S YOU

I N THE R OOM

fuze.com
---
amp up quite a bit. With our technology

know-how and our team of innovators,

I think we can offer new solutions that

can help our customers. We are reaching

out and collaborating with many

different companies in the technology

space to make this possible and discuss

the changes in the industry."

Over the years, SiteOne has

become an analytical company, putting

more emphasis on understanding

market trends. "As we continue to

grow, we look at our customers by

their specialty so that we can better

understand how to support them

with product needs, replacements

and recommendations," says Kramer.

"We evaluate the line of business they

operate within and geographic location

closely to better understand how

we can continue to help our customers

grow in the industry."

Kramer explains that the team values

and philosophy is a key to the success

of his technology group. "We take pride

in our company culture. We are very

collaborative, conduct our operations

with high integrity, and are very humble.

As we continue to grow our team, it's

important that new team members we

bring on share the same vision."

In addition to working with Stratix for

its Mobile mobile point of sale application,

SiteOne is collaborating with Fuze

and V2 Soft. "Fuze is currently the phone

system for all of our branches, while V2

Soft helped us to redesign our support

platform for our project services application.

This system is used to help our

customers submit a design and take-off

of materials for a job they are bidding.

V2Soft has also helped as we have

grown our QA service offering."

181

businesschief.com
---
182

THE COMPLETE DATA

CENTER SOLUTIONS

COMPANY

DECEMBER 2020
---
183

WRITTEN BY

DAN BRIGHTMORE

PRODUCED BY

GLEN WHITE

businesschief.com
---
T5

Meet a company at the

cutting edge of customized

turnkey development, facility

management and mission

critical services; keeping

your business 'on' forever

184

N

ow in its 13th year, T5 evolved out of

the services sector representing data

center users. Back in 2008 T5 started

out as a development company before growing

a full lifecycle of services geared towards hyperscale

and enterprise customers. These extend

across the lifecycle of the core data center

ranging from customised turnkey development

and facility management to data hall operations,

mission critical construction services and sustainable

approaches to power genera-tion. T5 is

serving the needs of the hyperscale and enterprise

data center user across North America and at strategic

international locations.

"Our roots in the development of cutting-edge

data centers for leading corporations gave us a

platform to evolve," remembers President & CEO

Pete Marin. "Those same customers looked to us

to operate those DCs. There have been numerous

changes inside these structures that required construction

activity which drove us to create T5CS (T5

Construction Services). Everything we do revolves

around that discerning data center customer in

DECEMBER 2020
---
usinesschief.com

185
---
T5

186

"We advise our customers

on lowering the cost of

their operations going

forward by evaluating

power and cooling

systems and helping

them design and

procure the best system

that's going to use the

least amount of energy

throughout a data hall's

lifecycle"

—

Pete Marin,

President & CEO, T5

two different sectors of the business

cycle - hyperscale and enterprise. We'll

continue to grow with those strategic

customers and the markets they want

to be in, and we will continue to add the

services they need as we evolve our

assets to support them."

A DATA CENTER LIFECYCLE PARTNER

Marin highlights that T5 is the only

company across the sector offering

a full lifecycle combination of assets

and services in strategic markets.

From delivering a fully functioning data

center building at a competitive cost to

producing the lowest possible cost of

occupancy and then going on to operate

it for the customer, T5 can utilize

a build to suit approach delivering

tailor made specs - for everything from

power to cooling - inside the data hall.

Evolving assets through the data

center lifecycle is a big part of the

philosophy that drives T5 explains

Marin: "We advise our customers on

lowering the cost of their operations

going forward by evaluating power

and cooling systems and helping them

design and procure the best system

that's going to use the least amount of

DECEMBER 2020
---
energy throughout a data hall's lifecycle.

With that comes a big focus on the

reduction of carbon footprint. We're

very supportive of that and have developed

the capabilities to construct

solar installations and we'll continue to

expand that expertise as the technology

evolves for the hyperscalers."

Marin notes that, as electrical densities

across data centers increase,

these developments are all intertwined.

"We're making sure we have

the right cooling methodologies to

meet future needs. Simple things like

having water at the rack for our cooling

systems which allows a deeper life

cycle for that asset. And of course,

we're agnostic to networks, but we're

very supportive of having a robust

network in all of our buildings."

EXECUTIVE PROFILE:

Pete Marin

187

Title: President & CEO

Industry: IT

Company: T5 Data Centers

Location: Atlanta, Georgia, United States

As President and Chief Executive Officer of T5 Data Centers,

Pete is responsible for setting the overall strategy of the firm,

maintaining client relationships, capital management, and

creating and executing the firm's vision for growth. Pete has

more than 20 years of experience in the data center sector

ranging from development, securing debt and equity capital, to

tenant representation including site selection and incentives.

Pete's understanding of end-user needs has enabled T5 Data

Centers to reduce project cycle-time and cost, which

leads to successful relationships, and repeat business.

Pete received a B.S. in Finance from the Pamplin

College of Business at Virginia Tech.

businesschief.com
---
T5

188

T5 FACILITIES MANAGEMENT

• 400+ FM FTEs

• 500 MW IT load currently managed

in over 55 data centers

• 100% data center focused

• Battle-tested leadership

experience

• Award-winning operations

platform

• Multiple recipient of uptime

institute's continuous availability

award and M&O

certification

• Commitment to military veterans

and diversity

A SUSTAINABLE FUTURE

T5's commitment to greener ways to

power data centers has seen it extend

its construction services to include

solar and renewable energy. "We got

into the delivery of solar projects a

few years ago, and we've had a lot of

repeat business," reveals Marin. "The

technology continues to improve and

evolve, and it really comes down to the

battery technology which I think will

bring us to a point where we will see

a huge reduction in traditional power

sources. It's going to be interesting

to see how this develops because

you've got some competing forces…

DECEMBER 2020
---
T5 Atlanta Hyperscale Data Center

CLICK TO WATCH | 0:46

189

"We have the

ability to give

visibility to as many

touch points as a

customer wants all

the way down to

the circuit level, so

they have that vital

input into how their

building is operated"

—

Pete Marin,

President & CEO, T5

You want to reduce carbon footprint

and carbon emissions because this

industry has a lot of generators that

are fired with diesel fuel. We need to

address that. The evolution of solar

represents a great opportunity to do

that so we will continue to develop a

skill set to deliver these solar projects.

Already, a lot of the big hyperscale

customers will typically build a solar

deployment to offset what they're taking

from the grid. Eventually, I think you

could see solar deployments that are

directly set into the grid, so we're moving

in the right direction."

businesschief.com
---
Unparalleled

experience in

nearly every

major market

Gibson exists to provide the highest

quality, most cost effective and safest

electrical construction, repair and retrofit,

telecommunication, structured cabling,

distributed antenna systems (DAS), and

life safety systems maintenance possible

for our customers.

FIND OUT MORE

PREFABRICATED, MODULAR

DATA CENTER SOLUTIONS

BUILDING

BETTER.

• Electrical Skids

• Modular Electrical Rooms

(MER)

• Modular Data Centers

• Edge Data Centers

• Gensets

www.fibrebond.com
---
191

"We'll see continued

investment as 5G

implementation ramps

and the move to the

Edge continues"

—

Pete Marin,

President & CEO, T5

THE T5 DIFFERENCE

It's one thing to build a great building

and deliver it, but another beast

entirely to operate it believes Marin.

"Being able to go from bricks and

mortar all the way through to the

white space and be able to operate

inside the data hall is unique in our

business. We ensure we have the

right EPMS and BMS systems to run

the facility with a proper model that

works all the controls throughout the

data hall," assures Marin. "We have

the ability to give visibility to as many

touch points as a customer wants all

the way down to the circuit level so

they have that vital input into how their

building is operated."

businesschief.com
---
T5

CRISIS MANAGEMENT TEAM

192

"COVID-19 is a challenge for all of us

but we got up to speed as quickly as

we could," says T5's President &

CEO Pete Marin. "Right out of the

gate, we were ahead of it with extra

safety protocols instituted across

our sites. We were one of the early

adopters of testing and, with the

use of smartphone cameras that

read a barcode, our staff must complete

a questionnaire each day

before they are cleared to enter a

site. Communication is key - that

simple approach, along with best

practice when it comes to PPE and

social distancing, has limited the

spread of COVID-19 at our sites. I'm

very proud of how we're tackling

this but we're not out of the woods

yet. Our view is that we're going to

be managing and living with

COVID-19 for the next year or two,

so we need to make sure we take

care of our people first. People first

and then we'll grow the business

and keep moving forward."

Mission critical facilities rely on

highly specific processes to ensure

seamless IT deployment and migration,

low redundancy and secure

connectivity - much of which is handled

by on-site IT or remote hands

staff. An industry leader in critical

facility management, T5 formed a

cross-functional Crisis Management

Team to further support its customers

with expanded emergency

action and business continuity

plans to make sure "the lights never

go out" as they navigate a global

pandemic. By keeping many of its

staff on the ground and avoiding

the implications of an IT-less facility

T5 has been able to continue performing

preventative maintenance

and server updates to mitigate the

risk of downtime and outages while

guaranteeing uptime and continuous

availability.

DECEMBER 2020
---
The open book approach Marin

describes gives T5 the flexibility to

build to suit offering a best in class

service. "We work with the brightest

and the best partners out there, from

design and construction through to

services inside the data hall. If there

are services our customers want and

we're not delivering those today, we

will go out and find the best to do that

and develop that capability internally,

or acquire it. We're constantly looking

at how to improve the data center and

to solve the problems of hyperscale

and enterprise users."

Marin maintains that recruiting the

right people, often with mission critical

backgrounds in the military, and training

them to the highest level is paramount.

"It's a big part of making sure the lights

never go out," he says. Training is the

front-line philosophy, to keep our people

at the cutting edge and allow the group

and its work culture to grow."

193

businesschief.com
---
T5

194

THE EDGE

Evaluating the industry today, Marin

believes that on the asset front it's still

important to have space that's ready

to occupy and in key strategic markets.

"Over the past couple of years,

it's been just a few buyers of data

center space picking up the majority

of it. That's the hyperscale phenomena.

That's going to continue.

However, we predicted last year that

enterprise business would come back

and we're seeing that with a combination

of both cloud operations and

data centers all supporting the hybrid

platform. There's going to be a combination

strategy there. We're seeing the

enterprise return with more build to

suit, as well as just leasing traditional

data center sites."

A key development for the future of

connectivity is the impending 5G roll

out. Marin is excited to see what this

will mean for The Edge. "Thanks to 5G

we're going to see more Edge deployments,"

he says. "There have been

a number of new companies established

that are looking at data centers

from a different perspective, not as

big, scalable operations but micro

data centers that can be deployed

quickly in multiple locations bringing

compute and storage as close to the

users eyeballs as possible. We'll see

continued investment here as 5G

implementation ramps and the move

to the Edge continues."

DECEMBER 2020
---
2008

Year founded

195

400+

Number of

employees

SCALING UP

Last year, in partnership with QuadReal,

T5 launched a $2.5bn fund to develop,

acquire and operate data centers

which has proved to be very successful,

allowing the company to scale on

multiple levels. "We're well positioned

to continue to scale the breadth of our

operations," confirms Marin. "We have

significant equity to build our asset

deployment while remaining nimble as

a private company."

T5 recently acquired an asset in

Chicago, which it is currently building

businesschief.com
---
T5

"Continuing to grow our

third-party services will

be at the heart of our

strategy to remain the

industry's premier data

center lifecycle partner"

—

Pete Marin,

President & CEO, T5

196

out on a turnkey basis. Located in the

Elk Grove Village Technology Park,

T5@Chicago will provide 103,000

square feet of white space and up

to 27.6 critical megawatts of power

capacity, purposefully designed to

serve enterprise and hyperscale cloud

computing customers. "We're constructing

a new building in Hillsboro,

Oregon, just outside of Portland with a

maximum capacity of 17.6 MW," adds

Marin. "We've also acquired an existing

turnkey data center in Northern

California in Silicon Valley where we'll

be able to deliver in excess of 17 MW.

Elsewhere, we've acquired a large

tract of land (80 acres) in Atlanta,

where we've started what we call the

DECEMBER 2020
---
197

'horizontal construction' of a facility

with a total design capacity of 217 MW."

"This is just a taste of what we're up

to at T5 with many exciting developments

in the pipeline. So far, we've

deployed 30% out of our fund and

we've got a lot more work to do,"

pledges Marin. "Some of the world's

best brands have entrusted us with

their facilities, so continuing to grow

our third-party services will be at the

heart of our strategy to remain the

industry's premier data center lifecycle

partner."

businesschief.com
---
DIGITALLY-ENABLED

PATIENT CARE

198

WRITTEN BY

HARRY MENEAR

PRODUCED BY

MIKE SADR

DECEMBER 2020
---
usinesschief.com

199
---
LEGACY COMMUNITY HEALTH

ROBERT TENNANT, CIO OF LEGACY

COMMUNITY HEALTH, TALKS LEADERSHIP

AND THE DIGITAL TRANSFORMATION

OF PATIENT CARE DURING THE COVID-19

CRISIS AND BEYOND

200

2020

has been a year of unprecedented

challenges to healthcare

providers across the globe.

The COVID-19 pandemic has affected more than

38 million people around the world, with more than

7.8 million cases in the US alone. As US healthcare

companies strive to cope with the monumental task

of providing care during this crisis, as well as continue

to support existing patients, many are turning to

technology in order to digitally transform their operations.

The new capabilities offered by Industry 4.0

are allowing for generational advances in the fields

of telemedicine and remote care, as well as providing

powerful new organizational capabilities that are

revolutionizing the relationship between healthcare

providers and their patients.

"This year has been really challenging. We had a lot

of projects on our plate coming into the COVID-19 crisis

in March, and then the crisis demanded we quickly

shift priorities to remote patient care and working

from home," says Robert Tennant, Chief Information

Officer (CIO) at Legacy, a full-service network of community

health clinics offering primary and specialty

DECEMBER 2020
---
usinesschief.com

201
---
LEGACY COMMUNITY HEALTH

202

"THIS YEAR HAS BEEN REALLY CHALLENGING. WE HAD A LOT

OF PROJECTS ON OUR PLATE COMING INTO THE COVID-19 CRISIS

IN MARCH, AND THEN THE CRISIS DEMANDED WE QUICKLY

SHIFT PRIORITIES TO REMOTE PATIENT CARE AND WORKING

FROM HOME"

—

Robert Tennant,

CIO, Legacy Community Health,

care in the Texas Gulf Coast region.

Tennant, who joined Legacy in August

of 2019, has been at the forefront of the

organization's efforts to adapt, react

and overcome the challenges, both of

a global pandemic and of delivering

quality healthcare to the underserved

patients it serves throughout the Gulf

Coast region. We sat down with him

to learn more about harnessing digital

transformation to support Legacy's

operations, and how to create a customer

service-facing culture during

the COVID-19 crisis and beyond.

When the COVID-19 crisis hit the

United States in March of this year,

Legacy, like many other providers in the

industry, was almost entirely focused

on in-person medical care. "Our first

concern was figuring out how we were

going to continue to deliver the care

that patients need," Tennant explains.

"It was obvious that the first thing

we needed to roll out was a telehealth

DECEMBER 2020
---
Legacy Community Health

- Principles of Leadership

CLICK TO WATCH | 1:36

203

solution, which we did in record time.

We signed a contract with a vendor on

a Friday and were treating patients

remotely the following Wednesday."

Tennant adds that he's particularly

proud of the speed with which Legacy

transitioned to providing telehealth services

to a patient base suddenly thrown

into lockdown. "We went from just a few

telehealth visits to about 3,000 per week

in the span of three weeks. It was an

incredible effort by my team and other

teams throughout Legacy. The crisis

gave us focus and we accomplished

a lot in a very short amount of time."

1978

Year founded

$186mn+

Revenue in

US dollars

1,000+

Number of

employees

businesschief.com
---
Make work life

as great as real life

Meet the expectations of today's modern workforce

by using intuitive, intelligent technology and automated

workflows to deliver digital experiences that connect

departments and help people do their best work.

SIGN UP NOW
---
EXECUTIVE PROFILE:

Robert Tennant

Title: Chief Information Officer

Location: Houston, Texas

Industry: Healthcare

Robert Tennant earned a Bachelor of Arts degree from Ambassador

University. In 1993, Tennant started an IT services company focused on IT

networking and custom software development. He sold the company in 1999

and spent time traveling before moving on to a new IT venture at the onset

of the new millennium.

In 2000, he founded another IT services company, this time focusing on

health care advisory and IT services. He stood at the helm until selling in

2009, at which time he joined a national consulting firm focused on leading

healthcare provider organizations into Value-Based Care (VBC), delivery.

205

Over the years following, Tennant held various

healthcare IT consulting leadership roles, including

time as an Executive Heath Care Consultant

and VP of Value-Based Care. The focus on VBC,

Tennant says, comes from a strong foundation

of customer service along with a belief that

health care organizations should anticipate and

listen to consumers' needs while measuring

success by their ability to deliver the best health

outcomes at the lowest possible cost.

Tennant has worked as a consultant for Legacy

since 2014, and officially came on board with the

organization in 2019.

businesschief.com
---
LEGACY COMMUNITY HEALTH

206

"WE WENT FROM JUST A FEW

TELEHEALTH VISITS TO ABOUT

3,000 PER WEEK IN THE SPAN

OF THREE WEEKS"

—

Robert Tennant,

CIO, Legacy Community Health,

Legacy Community Health

- Working with Financial Stakeholders

CLICK TO WATCH | 2:55

DECEMBER 2020
---
In tandem with a customer base that

was suddenly unable to visit Legacy's

clinics and sites, the organization also

had to adapt to its own staff's transition

to a remote working model. "It was

kind of the perfect storm," he recalls.

"We made a big push towards working

from home which was something we

had not done before. Again, within just

a few weeks, we managed to make a

180-degree shift to enable a significant

number of people to work from home

and, in the case of many of our providers,

to provide care remotely."

Today, Legacy's Behavioral Health

Service Line is delivering 91% more

telehealth appointments than pre-

COVID-19. "Virtual visits have drastically

changed the way members of our community

receive health care. Whereas

virtual visits were previously reserved

for those with private insurance that

approved this option, now anyone can

get the care they need from the comfort

of their home," commented Katy

Caldwell, Legacy's CEO, in May. Near

the beginning of lockdown, Legacy

also opened a virtual pediatric clinic

to deliver care to minors in need of

physical and/or mental health services.

In order to connect Legacy's customers

with its healthcare professionals,

Tennant and his team have increased

their efforts to digitally enable the organization's

customer-facing experience.

"A lot of our innovations are customerfacing.

We're working to build out what

I call a digital patient engagement

strategy – or a digital front door – for our

patients, so they can take advantage

of services from Legacy without having

to come into a clinic or site," Tennant

explains. "Its development has only been

accelerated by the COVID-19 outbreak.

207

businesschief.com
---
LEGACY COMMUNITY HEALTH

PEDIATRIC MENTAL HEALTH CARE

208

The global pandemic has been hard

on everyone. However, it's been

found than children and young

adults in particular are bearing the

brunt of its effects on mental health.

A recent study found that, in the

US, 7.1% of children between the

ages of 3 and 17 are currently living

with an anxiety diagnosis, and

a further 3.2% are struggling with

clinical depression. According

to Roxane Cohen Silver, a social

psychologist at UC Irvine, the

elevated levels of stress following

national crises can have long-lasting

detrimental effects on the mental

health of an entire generation.

Now, she added in an interview

with TIME, we can expect to see

the coronavirus pandemic contribute

to an even greater spike in mental

health issues than following the

September 11 attacks in 2001.

"This is a difficult time for everyone,

and that includes children," said

Dr. Melanie Melville, Medical Director

of the Behavioral Health Service Line

at Legacy in March of this year. "As

we turn to social distancing to quell

the spread of this unprecedented

virus, we at Legacy want to

proactively work to ensure that

our most vulnerable populations

have continued access to equitable

care – including behavioral health

care for children."

Since the early days of the US'

Stay Home Order, Legacy has offered

remote pediatric appointments

to children up to the age of 17,

including therapy appointments to

assist pediatric patients with anxiety,

depression, and behavioral problems.

"The crux of our school-based

health care program has always

been to keep students healthy and

relieve the burden of a clinic visit

from the parents' shoulders," says

Dr. Teandra Gordon, the Clinical

Director of School Based Behavioral

Health program at Legacy. "By now

offering these services via telehealth

while students don't have access

to their campus clinics, our goal is

to continue that warm-hug feeling

of wrap-around care that the

students – and parents – have come

to know and trust from Legacy."

DECEMBER 2020
---
Legacy Community Health

- Cultural Initiative

CLICK TO WATCH | 1:29

209

We want patients to be anywhere and

be able to pick up their mobile device and

self-schedule an appointment with us,

arrange a telehealth visit, pay a bill, digitally

sign a document, etc. We're working

diligently to digitally enable our patient

engagement offerings."

Internally, Tennant has also been

working to increasingly automate and

integrate the organization's back-end

systems. "We're looking at how to create

a similar digital strategy to better serve

our employees," he explains, adding

that their ongoing project is dedicated

to alleviating the burden of manual

processes from Legacy's caregivers and

support staff. Both internally and externally,

Tennant and the Legacy team are

engaging with technological innovation

in the healthcare sector and beyond, in

order to better harness the Industry 4.0

developments in service of their unique

healthcare model.

"WE'RE WORKING DILIGENTLY TO

DIGITALLY ENABLE OUR PATIENT

ENGAGEMENT OFFERINGS"

—

Robert Tennant,

CIO, Legacy Community Health,

businesschief.com
---
LEGACY COMMUNITY HEALTH

"We're not a hospital or a healthcare

system; we're a community health provider.

We serve the underserved and

we function very differently than a lot

of other organizations in our industry.

Culturally, I think we're very unique

and extraordinary in a lot of ways,"

says Tennant. "We do look at what

other people are doing, but we're very

entrepreneurial and agile as an organization.

We do a lot of self-inquiry as a

business and ask ourselves what we,

our customers and our patients need,

®

ServiceNow Global Elite

Partner of the Year
---
"VIRTUAL VISITS HAVE

DRASTICALLY CHANGED

THE WAY MEMBERS OF

OUR COMMUNITY RECEIVE

HEALTH CARE"

—

Robert Tennant,

CIO, Legacy Community Health,

and how best we can serve those

needs with technology."

Both during and beyond the pandemic,

Tennant notes that his number-one

initiative is the creation of a culture

of customer service. "I want my team

to feel like their work is meaningful. I

want them to feel safe. I want them to

feel like they can make suggestions

and be confident that they'll be heard.

And I want them to be able to go home

at the end of the day and separate

themselves from work. I want these

things for everybody, including myself,"

he says, stressing that, "If we don't get

the customer service element right,

it's going to undermine every other

aspect of the culture that we're trying

to create."

211

businesschief.com
---
212

DECEMBER 2020
---
213

Embracing

the Art of

the Possible

WRITTEN BY

WILL GIRLING

PRODUCED BY

JAKE MEGEARY

businesschief.com
---
PROTECTIVE INSURANCE

Jeremy Johnson, CEO,

describes the company's tech

transformation, customerfocused

service and why

problem-solving is at the

heart of its business

214

A

t its most fundamental level, insurance

is an industry predicated on risk management,

customer service and trust. Few

companies understand the interconnection of

these principles better than Protective Insurance,

and even fewer have an equivalent level of the

experience, engagement and commitment necessary

to transcend these precepts and deliver

superior results. Founded in 1930 and headquartered

in Carmel, Indiana, USA, the company is a

transport insurance specialist for trucking fleets

of all sizes, licensed in all 50 states, the District

of Columbia, Puerto Rico and all Canadian provinces.

With a long-standing heritage, a portfolio

of diverse products, services and solutions, it

has been and continues to be a strong partner

for an equally essential industry, particularly in

the midst of the COVID-19 pandemic.

Jeremy Johnson, CEO, joined Protective

Insurance in May 2019 following several years in

executive positions at some of the world's most

DECEMBER 2020
---
usinesschief.com

215
---
PROTECTIVE INSURANCE

216

"There's just so much data that, with the

right attitude, you can really envisage

a different approach, one that can really

make the roads safer"

—

Jeremy Johnson,

CEO, Protective Insurance

prestigious insurance organizations.

"Because it's a smaller company

(Protective has approximately 500

employees), it's a much more intimate

environment and it feels like

one person can really make a difference,"

Johnson explains. "It's a pretty

revered brand and, because of our

client-centric, relationship-oriented

approach, Protective Insurance is very

well respected both by our distribution

partners and by our customers,

trucking fleets." Despite starting with

the company only last year, Johnson

says that his first exposure to truck

insurance actually occurred earlier

in his career. Recognizing that it was

an intricate, data-rich opportunity, he

gained a particular fascination with

the sector which continues to this day.

"There's just so much data that, with

the right attitude, you can really envisage

a different approach, one that can

really make the roads safer. We've got

DECEMBER 2020
---
Protective Insurance

CLICK TO WATCH | 3:33

217

a lot more work to do in order to seize

that massive data opportunity, but we

have a great foundation, momentum

and a vision.

For Johnson, this interest in the

possibilities of data analysis goes

back to one of his former bosses, who

instilled in him a passion for 'the art of

the possible' – a spirit of inquisitiveness

and innovation that isn't afraid to challenge

the status quo or explore new

directions. "Unless you're prepared

to ask really intriguing questions,

the data just exists in a vacuum," he

states. Facilitating this approach

meant a new, tech-driven transformation

of Protective Insurance was

necessary as, like many companies

with decades of experience in the

market, the business was rife with

non-integrated legacy systems. "The

linchpins were moving to the cloud

using Microsoft Azure to build a 'data

lake' and embracing an analytics-first

commercial auto underwriting platform

built for us by TSIQ. We have a

partnership with a company called

Roots Automation, who've provided

us with self-learning digital bots, and

we have a great partner in Majesco

businesschief.com
---
PROTECTIVE INSURANCE

218

whose approach to microservices and

'plug and play' style system modules

really align with our technology vision."

In addition, Johnson explains that

there will be numerous, more mundane

but no less crucial changes happening

behind the scenes that will affect the

company's ability to scale as well as

ingest, harmonize and analyze data.

However, increased technological

sophistication is only a component

of Protective Insurance's successful

formula. What really sets it apart,

as Johnson intimated, is its cultural

emphasis on employee engagement

and building strong customer relationships.

"People genuinely enjoy

working here," he states. "In fact,

DECEMBER 2020
---
1930

Year founded

$495m+

Total Revenue in

US dollars (2019)

500

we recently celebrated one member

of staff's 50th year with us. We are

a specialist and know our customers

well; we have a shared dedication and

excitement about our mission: making

roads safer." The importance of

this client connection took on even

greater proportions at the start of the

COVID-19 lockdown in mid-March.

In order to ensure that it was meeting

its customers rapidly shifting concerns

and priorities, Protective Insurance

Number of

reached out to understand how best

employees

219

it could lend assistance. The answer,

EXECUTIVE PROFILE:

Jeremy Johnson

Title: Chief Executive Officer

Industry: Insurance

Company: Protective Insurance

Location: United States

Jeremy has more than 25 years of insurance industry experience

and has been the Chief Executive Officer (CEO) of Protective

Insurance since May 2019. Prior to Protective, Jeremy served

in various executive leadership roles at American

International Group, Inc. (AIG) for 17 years. Roles included,

President, US Commercial for AIG; and CEO & President

of Lexington Insurance Company, AIG's excess and surplus

lines unit. Jeremy is a graduate of the University of Oxford

with a Masters of Arts degree in Law.

businesschief.com
---
Move business

forward, faster

Virtusa – World's leading Digital Partner of choice.

Leveraging decades of core software engineering

experience with Virtusa's Digital Transformation Studio, an

approach that brings together engineering tools, InsurTech

assets, and multidisciplinary agile teams to drive over 30%

efficiency and speed in delivering digital transformation.

Learn more >
---
"Unless you're

prepared to ask

really intriguing

questions, the

data just exists

in a vacuum"

—

Jeremy Johnson,

CEO, Protective Insurance

Johnson claims, was rather ironic.

"We asked them, 'What can we do

for you?', expecting an answer that

would revolve around digital technology.

However, the overwhelming

reply was, 'We need hand sanitizer'."

Partnering with a local distillery,

Protective Insurance was able to

purchase and distribute hundreds

of gallons of sanitizer with logistical

assistance from the American

Trucking Association.

221

businesschief.com
---
PROTECTIVE INSURANCE

Despite this response, the company

was more than adequately prepared to

meet the technological challenges of

the pandemic too. Having analyzed the

pre-lockdown situation and modelled

for various operational contingencies,

Johnson says that Protective

Insurance "didn't miss a beat" throughout

the transition, even though it

was still undergoing a major tech

transformation at the time. "We had

tested some things and taken some

dry runs, but you never know until

you're actually in that environment,"

he explains. "I think there was a lot

of fear and trepidation as to whether

our employees could effectively manage

our customer relationships, pay

claims, take submissions and communicate

effectively while working from

home." Enabled by the company's

technology team, which provided the

bandwidth necessary for sustaining

an equivalently high standard of customer

interaction virtually, Johnson

reports that staff were emboldened

Smart bots.

Happy people.

Experience so much more than RPA.

Introducing Cognitive Process Automation.

Self-learning Digital Coworkers increase

efficiency by 400-800%.

LEARN MORE
---
"Protective Insurance will continue to invest in

other tools that can make our employees' lives

more comfortable when working remotely"

—

Jeremy Johnson,

CEO, Protective Insurance

and empowered to succeed. "I think

we're going to be in this environment

for quite a lot longer. Therefore,

Protective Insurance will continue to

invest in other tools that can make our

employees' lives more comfortable

when working remotely."

To further develop this tech familiarity

among its staff, Protective Insurance

hosted a 'virtual' fair on relevant

tech-based subjects. Presented

to employees by employees, the

company hopes to augment its transformation

through learning and

communication to highlight the importance

of change. "Employees can go

through the many modules that make

up the Technology Transformation

Fair and learn, for example, what the

cloud or a data lake is, and why and

how that matters to us," Johnson

explains. "I'm fully confident that 100%

of our employees will take the time to

look at the modules that are of most

interest to them." Educating staff is

an important part of his 'embracing

the art of the possible' concept, and,

as data analytics continues to play

an important role in insurance's digital

transformation, knowing how to

extract results will be critical. "You

build all this infrastructure and you

gain the ability to look at the data, but

how do you get the right minds to ask

the right questions?" Johnson asks.

"What are the questions that will allow

us to get a game changing advantage?

I think there's a colossal amount

of momentum behind unlocking the

value of data."

223

businesschief.com
---
PROTECTIVE INSURANCE

224

"We couldn't have got into this position

without 500 committed, experienced and

able employees" The company's worth is defined by

—

Jeremy Johnson,

CEO, Protective Insurance

Achieving this goal is Protective

Insurance's primary aspiration, "We

want to be our customer's most valued

transportation insurance provider."

its ability to manage risk, save clients

money and make the roads safer; 2021

is a year in which it hopes to fulfil this

mission with tech-enhanced vigor and

partners equally committed to surmounting

the challenges of delivering

superior service. "I think we're going to

be valuable to all of our stakeholders;

DECEMBER 2020
---
225

not just our customers, but our shareholders,

employees, reinsurers, vendor

partners and technology partners,

who are all important to us." Engaging

with 'possibility thinking' and adopting

an 'always moving forwards' mentality

will maintain Protective Insurance's

competitive edge, which has already

seen it triumph over other, less-imaginative

companies in the space. Finally,

Johnson concludes with a declaration

of pride for his employees' hard work

and engagement with the corporate

mission: "Our existing customers value

us and many more now want to work

with us. We couldn't have got into this

position without 500 committed, experienced

and able employees. I'm super

proud of what we've achieved."

businesschief.com
---
Transforming

in the

Data Center

Industry

226

WRITTEN BY

SEAN GALEA-PACE

PRODUCED BY

LEWIS VAUGHAN

DECEMBER 2020
---
usinesschief.com

227
---
NAUTILUS

James Connaughton,

Nautilus CEO, discusses

how his firm is revolutionising

the data center industry

228

N

autilus Data Technologies is a global

pioneer in water-cooled data centers and

is leading a global transformation to ultraefficient,

high-performance and environmentally

sustainable operations in the data center sector.

James Connaughton is the CEO at Nautilus.

Having joined the organisation in March 2016, he

has overseen the implementation of the world's

first water-cooled and water-borne data center

with Nautilus. "There are two essential features,"

explains Connaughton. "The first and most important

feature is cooling with naturally cold water,

which is how all other major infrastructure sectors

address the large amounts of heat generated

by their systems. These include, for example,

thermal power plants, ships, industrial processing

facilities, and paper mills. Only data centers,

generate heat at a similar industrial scale, still use

massive and unsustainable air-cooling systems.

The second feature is mobility--the ability to prefabricate

the data center in large modules, and

either assemble them onto a barge and deliver

it fully ready to go, or transport the modules to

DECEMBER 2020
---
usinesschief.com

229
---
NAUTILUS

230

a prepared site for rapid assembly.

Placing essential infrastructure on

barges—such as energy barges and

water treatment barges--is a wellestablished

model for enabling rapid

and flexible access to such infrastructure

in fast growing and emerging

markets. The opportunity and need is

equally strong today when it comes to

providing access to digital infrastructure

to those who currently lack it."

Connaughton believes data centers

are the newest and most important

component of critical infrastructure

that sustains and enriches the lives

of people around the world. "Data

centers now stand alongside power

generation, drinking-water plants,

DECEMBER 2020
---
waste-water plants, roads and other

critical infrastructure that allows

society to function and create good

outcomes for people," he explains.

"Access to the water molecule and

the electron has long been vitally

important. Worldwide access to the

photon for data delivery is the next

essential piece." Over the past two

years, Connaughton has overseen

the development of the company's

first full-scale commercial facility,

which provides six megawatts of

water-cooled data center capacity on

a barge. He strives for an innovative

approach across all his operations.

"We've been on the arc of creative

invention and cleverly practical engineering

to make that a reality," says

Connaughton. "The first part of our

EXECUTIVE PROFILE:

James Connaughton

231

Title: CEO

Industry: Data Centre

Company: Nautilus

Location: San Francisco Bay

James Connaughton is the CEO at Nautilus. Having joined the

organisation in March 2016, he has overseen the implementation

of the world's first water-cooled and water-borne data center

with Nautilus. He began his career as a Partner at Sidley Austin

focusing on energy, natural resources and environment,

energy and environmental management and compliance

assurance systems. He then moved on to serve as Chairman of

the White House Council on Environmental Quality as Senior

Advisor to President George W. Bush. Roles followed

at clean energy companies Constellation Energy and

Exelon, and big data analytics company C3.ai, before

moving into his current role at Nautilus.

businesschief.com
---
NAUTILUS

232

"We've been on the

arc of innovation

and invention and

engineering to make

a high performing

and environmentally

sustainable data

centre a reality"

—

James Connaughton,

CEO, Nautilus

company's life has focused on building

a functional prototype, and then using

that experience to make the thousands

of decisions of what not to do

against the several hundred decisions

of what to do in bringing a full scale

facility into being. We're really excited

to be commissioning that data center

in California in just a few weeks time."

Nautilus is planning to develop

facilities in North America, Europe

and Asia, and has been contacted

by potential partners to pursue

projects in the Middle East, Africa,

DECEMBER 2020
---
Nautilus Data Technologies |

Water-cooled Data Centre

CLICK TO WATCH | 0:41

233

and South America. "Once our data

center in Northern California is up

and running, we look forward to

onboarding a great set of anchor customers,"

says Connaughton. "We will

show the world the ultra-efficiency,

high-performance, and the strong

sustainability of our approach. After

that, we are ready to rapidly move into

other locations to "productize" the

technology and we look forward to

partnering through joint ventures and

technology licensing so that we can

get this important technology out into

the world as quickly as possible."

Connaughton explains that a key

part of his organisation's development

has been to develop the supply chain

partnerships with companies such

as Usystems, Schneider, Vertiv, and

George Fischer, among others. "Our

objective is to work with partners that

can help us make this technology

available globally," he says. "These

partnerships are important because,

as customers, communities, and

digital infrastructure providers become

excited about taking advantage of

our technology, we don't want to lose

ground in being able to deliver it. In order

businesschief.com
---
Systems

www.usystems.com

Future proofing data centers with advanced,

sustainable and energy saving coldlogik

cooling technology

Low to high density cooling 'in one solution'.

All Aboard!!

USystems are proud to be an integral part of the Nautilus

journey incorporating ColdLogik adaptive intelligence into the

TM

'TRUE ' green data center solution. A shared vision leading

with innovation, high-performance and sustainability.
---
"In order to support an

innovation company

like ours, partners must

field tiger teams that

know how to interact

with startups and other

smaller technology

innovators like us"

—

James Connaughton,

CEO, Nautilus

to support an innovation company like

ours, partners must field tiger teams that

know how to interact with startups and

other smaller technology innovators

like us. And these teams need to have

the creativity and agility to adapt as the

innovation advances. We've come a long

way in just three years, and there is a

lot more to come. Our partners need to

keep pace with us."

With the future in mind,

Connaughton believes that the data

center industry is moving rapidly

to where the users are in order to

235

businesschief.com
---
NAUTILUS

"Data centers are

the newest and most

essential piece of

critical infrastructure

for the world"

—

James Connaughton,

CEO, Nautilus

236

DECEMBER 2020
---
usinesschief.com

237
---
NAUTILUS

238

DECEMBER 2020
---
239

provide the more powerful computing

and faster connections necessary

for smart-city, smart-transportation,

smart grid, tele-medicine and other

highly valuable digital applications

and services. "This means high-performance

data centers in the centre

of every population center," he says.

"We've seen this dynamic before with

the buildout of other forms of public

and private infrastructure—such as

electricity and gas delivery, public

water systems, telecommunications,

highways, railroads, airports, ports,

and even overnight package delivery.

To these we will now add warehouses

of computers, countless miles of

fiber optics, and an endless array of

wireless devices linking everyone to

everything digital. We need to make

sure that the environmental footprint

of the data centers at the heart of all

of this well serves both society and the

planet. It's very exciting."

businesschief.com
---
240

DECEMBER 2020
---
241

A New Vision for

Community-based

Insurance

WRITTEN BY

WILL GIRLING

PRODUCED BY

JAKE MEGEARY

businesschief.com
---
BROKERLINK

Alena Kharkavets, VP Digital

Strategy and CX, outlines the

transformation roadmap that's

enabling a new, digitally driven

vision of insurance processes

242

A

t a time when it seems like there's insurmountable

uncertainty about so many

aspects of life, BrokerLink is spearheading

a new approach to the insurance process: one

that emphasises clarity, community and customercentricity.

Founded in 1991, this Canadian company

has managed to create an expansive presence

across the country, with over 140 branches serviced

by more than 2,000 employees.

"I've been in insurance for over 13 years.

Throughout my entire career, I've always had the

mindset of wanting to understand how all the

pieces fit together," says Alena Kharkavets, VP

Digital Strategy and Customer Experience. Joining

BrokerLink in October 2013, Kharkavets relates

that her current role, in combination with her extensive

industry experience in actuarial, corporate

development, operations and sales, provides her

with the "big picture thinking" she needs to thrive.

That holistic mindset is crucial for a company with

a broad geographic footprint, which, nonetheless,

must still deliver a consistent level of high quality

DECEMBER 2020
---
usinesschief.com

243
---
BROKERLINK

244

"Every single branch

has a unique, grassroots

presence and that

resonates with me

tremendously"

—

Alena Kharkavets,

VP of Digital Strategy and CX,

BrokerLink

service across all of its locations.

Kharkavets adds that "every single

branch has a unique, grassroots

presence and that resonates with

me tremendously." With regards to

her management style in this 'many

community branches with a unified

approach' model, Kharkavets credits

one of her previous roles as a sales

team manager as a perfect primer:

"It was one of the most transformational

experiences of my career;

it really taught me how to break

down complexities into something

more simple."

BrokerLink's national scale doesn't

detract from its local impact, and

employees benefit just as much as

customers. The company is a firm

believer in fostering career development,

which it facilitates by being

a subsidiary of Intact Financial

Corporation, allowing brokers to

have a wide range of career opportunities

from underwriting to claims

adjustment. "We've worked very

hard to be a great employer," states

Kharkavets. "In fact, we've obtained

'Best Employer in Canada' from

Kincentric, again." Empowered with

DECEMBER 2020
---
lean and agile capabilities through

analytics technology, BrokerLink's

team managers are given access to

a variety of live data and customer

surveys. "This year, we've received

over 40,000 responses from our

customers," Kharkavets says. "The

notion of changing our tactics and

addressing pain points depending on

what we read in those comments or

observe in trends is hardwired into

BrokerLink's culture."

Like many companies around the

world, BrokerLink rushed into action

at the beginning of the COVID-19

pandemic. "In our case, nearly all our

employees ended up working from

home virtually overnight," Kharkavets

relates. "I think the pandemic will

change how we stay connected and

how we make sure that culture is

retained, particularly when onboarding

new staff." This also goes hand-inhand

with BrokerLink's renewed focus

on employee wellness and mental

health. Indeed, for the company and

insurance generally there is a sense

that things are on course for significant

businesschief.com
---
Payments

solutions

built for the

insurance

industry.

Collect payments faster

Stop writing cheques/checks

Eliminate costly, tedious

administrative tasks

LEARN MORE

change, including how customers

experience modern products and

services. While digital transformation

certainly generated the momentum for

a technologically invigorated industry,

Kharkavets believes that current conditions

are enabling its fulfillment,

1991

Year founded

2,000+

Number of

employees

"The pandemic has accelerated a lot

of trends that we've seen before."

Developing omnichannel customer

service capabilities has been a direct

and necessary consequence of

increased digitisation at BrokerLink.

Customer needs and expectations

are changing in relation to technology,

claims Kharkavets, and insurance's

evolution will be dependent on its

realisation of this fact. However, while

it's tempting to assume that there

is a clear divide between younger

people (i.e. millennials) preferring

digital self-service options and older

people wanting agent-based service,

DECEMBER 2020
---
Kharkavets states that the truth is

much more nuanced. "Everyone talks

about digitisation in those terms, but

what's interesting is, when we dive

into the data, 35% of BrokerLink's

'70+ years old' demographic enjoys

using an app for their insurance needs."

Therefore, she considers the continued

investment in digital channels as

wholly validated. However, BrokerLink

is also careful to ensure that its roadmap

is configured to meet the specific

challenges of its clients, particularly in

an industry often represented as being

overly complex. "When we design

things, we want them to be inclusive

and accessible," says Kharkavets.

"We're constantly exploring how

digital interacts with local: how can

it support and act as an extension of

EXECUTIVE PROFILE:

Alena Kharkavets

247

Title: VP of Digital Strategy and Customer Experience

Industry: Insurance

Location: Canada

Alena Kharkavets is the VP of Digital Strategy and Customer Experience

at BrokerLink Insurance. She brings extensive experience in actuarial,

corporate development, strategy and sales operations. She's

passionate about modernizing and simplifying the insurance

experience. Alena graduated from the University of Toronto

with a dual degree in Computer Science and Actuarial

Science. She has also completed a Global Professional

Master of Laws. She is a Fellow of the Canadian Institute

of Actuaries and the Casualty Actuarial Society. Outside

of insurance, Alena loves spending time with her

daughters, ages two and four. She loves travelling

with them and showing them the world.

businesschief.com
---
BROKERLINK

our branches?" One of BrokerLink's

guiding principles is its '#realpeople'

philosophy, a method by which digital

projects are developed conscientiously

with maximised accessibility

as the ultimate goal. "Our accessibility

score is 92% while the industry

benchmark is only 71%," she explains.

"We implement the principles of

behavioural science in our design: we

serve information in bite-sized chunks

and manage price expectations with

an accuracy meter on our website. If

someone's eyesight is impaired or their

attention span is reduced because

they're browsing at night and require

more visual information, it all has to

be factored in."

248

DECEMBER 2020
---
"The notion of changing

our tactics and addressing

pain points depending

on what we [...] observe

in trends is hardwired into

BrokerLink's culture"

—

Alena Kharkavets,

VP of Digital Strategy and CX,

BrokerLink

Furthermore, on the topic of digital

projects, Kharkavets emphasises the

importance of instilling team confidence

with 'minimum viable product',

a concept predicated on fast-paced

two-week development sprints and

combined with a "progress over

perfection" attitude and data-based

decision making. "In digital, if you aim

249

businesschief.com
---
BROKERLINK

250

BROKERLINK: INSURANCE WITH SOCIAL IMPACT

Sponsoring YW Calgary's 'International

Day of the Girl 2020' on 11 October, a

UN sanctioned annual event dedicated

to empowering girls and protecting

their rights, BrokerLink has

distinguished itself as part of a rising

movement in insurance: insurers with

a strong social stance.

"Every branch participates quite

actively in the community; we have a

firm belief that organisations of every

size – small, medium and large – have a

role to play in making society a better

place," states Kharkavets. "BrokerLink

will continue to champion diversity

and inclusion. We believe that the

input of business will be essential

to achieving this goal, particularly

as consumers expect companies

to have an opinion and to stand

up for what is right."

"The power of 'diversity of thought'

is huge. I encourage everyone when

they start their digital roadmap, or

wherever they are on their journey,

to question whether they have a team

that contains different opinions and

consider how they interact so that

everyone is inclusive of each other."

DECEMBER 2020
---
for perfection you'll likely arrive too

late. BrokerLink demonstrates the

value of its propositions to customers

and then iterates and improves from

there based on their feedback and

what data shows." From these key

building blocks, the company is able

to forge a coherent understanding of

where and how it wants to develop.

Kharkavets adds that, although

BrokerLink's transformation journey

has been underway for slightly less

than two years, it firmly believes

that maintaining focus on delivering

"When we design things,

they are inclusive and

accessible. We're

constantly exploring

how digital interacts with

local: how can it support

and act as an extension

of our branches?"

—

Alena Kharkavets,

VP of Digital Strategy and CX,

BrokerLink

251

BrokerLink Recruitment Video 2019

CLICK TO WATCH | 2:38

businesschief.com
---
BROKERLINK

252

"In digital, if you aim for perfection

you'll likely arrive too late. BrokerLink

demonstrates the value of its

propositions to customers and then

iterates from there"

—

Alena Kharkavets,

VP of Digital Strategy and CX,

BrokerLink

DECEMBER 2020
---
customer value at all times will ultimately

reap greater success.

When considering the direction

of the company as it prepares to

enter 2021, Kharkavets states that

BrokerLink will remain as dedicated

to transformation as ever, "We like to

set ambitious goals. We then break

them down into small steps and say,

'Okay, here's where we are going and

here's how we're going to achieve it'."

This approach will be bolstered by collaborating

with its partner companies

to help improve customer experience

by responding to their needs. Central

to BrokerLink's future success will be

an inherent trust in the value of digital

technology and fast-paced R&D,

which Kharkavets highlights as being

particularly important. "The term 'digital

transformation' can be intimidating

for many because it's a big term," she

adds. "But you don't need to do everything

at once, so long as you're putting

the right building blocks in place."

253

businesschief.com
---
254

Customerfocused

Digital

Transformation

DECEMBER 2020
---
255

WRITTEN BY

WILLIAM SMITH

PRODUCED BY

MIKE SADR

businesschief.com
---
ALTAR'D STATE

Ty Tastepe, Chief Information

and Digital Officer at fashion

retailer Altar'd State, on

digital transformation and

its response to COVID-19

256

T

y Tastepe is Chief Information and Digital

Officer at Altar'd State, a fast-growing

women's fashion retailer, which sees

him leading its technology and digital teams. "We

have three brands," explains Tastepe. "We have

A'Beautiful Soul, our plus size brand and Vow'd, our

recently launched weddings brand, as well as the

flagship Altar'd State brand." Tastepe emphasizes

the fact that the company likes to do things differently

from its competitors. "We're very focused on

giving back to the community, exceeding our guest

expectations at every touch point, doing the right

thing and being willing to challenge established

notions in the retail industry."

Tastepe came to the role as an experienced

technology leader having worked at Universal,

Hilton and Disney to deliver innovative technologies

around the globe. "Altar'd State gave me

the opportunity to make an impact in the digital

transformation of the organisation, as we focused

on balancing our physical and digital portfolio and

providing our guests the choice of platforms to

engage with us."

DECEMBER 2020
---
257

2009

Year founded

2,400

Number of

employees

businesschief.com
---
ALTAR'D STATE

258

"We're very focused

on giving back to

the community"

—

Ty Tastepe,

Chief Information and Digital Officer,

Altar'd State

His approach to leadership has

been solidified by the challenging

times caused by the ongoing COVID-

19 pandemic, which he believes made it

necessary to move more quickly on all

fronts. "I believe that to be an effective

leader one needs to be able to paint

a picture of the destination and really

communicate the role of each team

member on that journey," says Tastepe.

"Seeking a diversity of ideas and experiences,

listening to input from partners

both inside and outside the organization,

staying positive and maintaining a

can-do attitude, learning from failures,

moving forward quickly and celebrating

successes are really essential in

achieving the company's goals."

The company's approach to

implementing new technology is

guided by a clear strategy. "We have

looked at the digital transformation in

DECEMBER 2020
---
two ways. One is a set of technologies

to enable our associates to reduce

friction in their lives and to help them

serve our guests better. And the second

is another set of technologies that

help us know our guests better and

enable them to engage with us anytime

and anywhere."

One such group of technologies

is artificial intelligence, as Tastepe

explains. "We are starting to leverage

AI in some places. For instance, we use

technologies on our website to recommend

products based on our customer

history and choices. We are continuing

to identify many more opportunities to

leverage tools that help us make better

decisions, AI being one of them."

It is data that is at the heart of the

company's decision making. "Frankly

EXECUTIVE PROFILE:

Ty Tastepe

259

Title: Chief Information and Digital Officer Company: Altar'd State

Industry: Retail

Location: Maryville, TN, USA

Ty Tastepe serves as the Chief Information and Digital Officer for

Altar'd State, and leads technology and digital teams to deliver

exceptional digital experiences for guests and associates.

Prior to Altar'd State, Ty spent almost two decades delivering

large scale digital transformation programs at global

entertainment and hospitality brands including Universal

Parks and Resorts, Hilton Worldwide and Walt Disney

Parks and Resorts.

He earned an MBA from Villanova University and

received both a Bachelor's and Master's degrees

in Electrical Engineering from Drexel University.

businesschief.com
---
ALTAR'D STATE

the better we know our guests and the

more we are informed about what is

happening in our business, the better

we can make adjustments and improve

our business," says Tastepe. "We look

at hourly, daily and weekly metrics

across many fronts to help our leaders

make decisions as quickly as possible."

Tastepe is clear that such technologies

cannot be implemented without

first being aware of how changes in

technology might impact associates

and customers. "It's important to

provide the right tools to our associates

so that they welcome the

change and can help our guests. This

is an area we can always do better

in and it's something I think about a

lot. But I am impressed with how our

associates have responded to the

introduction of new technologies.

Although we've seen that can-do attitude

in every corner of our business,

it doesn't mean we shouldn't focus on

change management, communication

and training."

260

DECEMBER 2020
---
We Missed You!

We Thank You!

We Love You!

CLICK TO WATCH | 3:57

261

"We look at hourly, daily and weekly metrics across

many fronts to help our leaders make decisions"

—

Ty Tastepe,

Chief Information and Digital Officer,

Altar'd State

Altar'd State's transformation has

been enabled with the support of a

number of key technology and service

providers, both large household

names and emerging companies.

One such partner is Exponea. "We

selected Exponea as our customer

data platform provider after an

extensive evaluation process. The

things we liked about them include

their ability to combine customer

data management, segmentation,

orchestration, and analytics. We

recently deployed the solution into

production and we are continuing to

learn and evolve our use of the technology.

That'll teach us a lot more

about our customers and how we

engage with them."

businesschief.com
---
ALTAR'D STATE
---
"I am impressed with

how our associates

have responded to

the introduction of

new technologies"

—

Ty Tastepe,

Chief Information and Digital Officer,

Altar'd State

The ongoing COVID-19 pandemic

has led to changes in customer behaviour

which Altar'd State is responding

to. "We're emphasizing our digital

investments but we're continuing to

invest in our stores as well. We care

very much about the experience we

provide to our guests in our stores,

and that will continue to be a key

component of our strategy. So it's

a balancing act between our digital

and physical presence." That balancing

act dovetails with the company's

strategy to be present wherever its

guests shop, to provide a seamless

experience across all touchpoints.

"That includes both our direct channels

and third party channels. We're

deploying technologies to provide single

visibility to our inventory in a near

real-time mode and manage orders

across the ecosystem, both direct

and indirect channels. That enables

us to offer capabilities like buy online,

pickup in store."

Such innovations stand the company

in good stead to thrive in the new

normal, leaving Tastepe to conclude

that the future is bright for Altar'd

State. "We weathered the storm as

well as can be expected and even

launched our wedding brand in the

middle of the year during the pandemic.

We will continue to listen to

263

businesschief.com
---
ALTAR'D STATE

264

DECEMBER 2020
---
"We will continue to

listen to our guests

and constantly adjust

to shifting purchase

patterns and evolving

conditions"

—

Ty Tastepe,

Chief Information and Digital Officer,

Altar'd State

our guests and constantly adjust to

shifting purchase patterns and evolving

conditions. The keys to success

in such an environment are resilience,

persistence, responsiveness, and ultimately

taking care of our guests and

associates. With those pillars in mind,

we will continue to grow our business

into the future."

265

businesschief.com
---
Driving insurers

digital

into a

future

At Cognizant, we've invested in the end-to-end capabilities

needed to help insurance organizations not just do digital,

but be digital. We partner with our clients to unlock new

value and through the power of digital technologies and new

ways of working, we help them evolve into more competitive,

progressive versions of themselves.

Learn more at Cognizant.com

Copyright © 2019 Cognizant