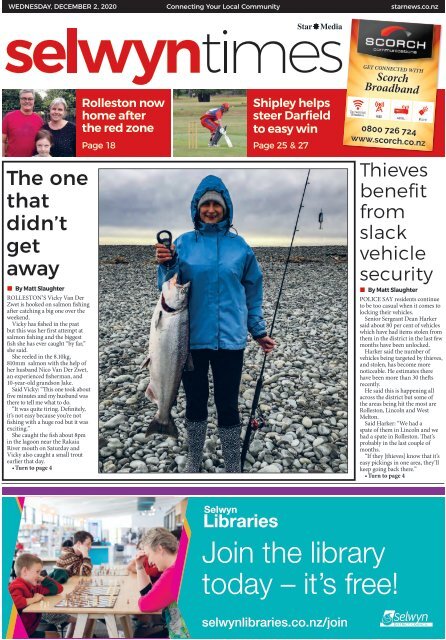 Selwyn Times: December 02, 2020
Create successful ePaper yourself
Turn your PDF publications into a flip-book with our unique Google optimized e-Paper software.
WEDNESDAY, DECEMBER 2, 2020

Connecting Your Local Community

starnews.co.nz

The one

that

didn't

get

away

• By Matt Slaughter

ROLLESTON'S Vicky Van Der

Zwet is hooked on salmon fishing

after catching a big one over the

weekend.

Vicky has fished in the past

but this was her first attempt at

salmon fishing and the biggest

fish she has ever caught "by far,"

she said.

She reeled in the 8.10kg,

810mm salmon with the help of

her husband Nico Van Der Zwet,

an experienced fisherman, and

10-year-old grandson Jake.

Said Vicky: "This one took about

five minutes and my husband was

there to tell me what to do.

"It was quite tiring. Definitely,

it's not easy because you're not

fishing with a huge rod but it was

exciting."

She caught the fish about 8pm

in the lagoon near the Rakaia

River mouth on Saturday and

Vicky also caught a small trout

earlier that day.

• Turn to page 4

Rolleston now

home after

the red zone

Page 18

Shipley helps

steer Darfield

to easy win

Page 25 & 27

GET CONNECTED WITH

Scorch

Broadband

0800 726 724

www.scorch.co.nz

Thieves

benefit

from

slack

vehicle

security

• By Matt Slaughter

POLICE SAY residents continue

to be too casual when it comes to

locking their vehicles.

Senior Sergeant Dean Harker

said about 80 per cent of vehicles

which have had items stolen from

them in the district in the last few

months have been unlocked.

Harker said the number of

vehicles being targeted by thieves,

and stolen, has become more

noticeable. He estimates there

have been more than 30 thefts

recently.

He said this is happening all

across the district but some of

the areas being hit the most are

Rolleston, Lincoln and West

Melton.

Said Harker: "We had a

spate of them in Lincoln and we

had a spate in Rolleston. That's

probably in the last couple of

months.

"If they [thieves] know that it's

easy pickings in one area, they'll

keep going back there."

• Turn to page 4

Join the library

today – it's free!

selwynlibraries.co.nz/join
---
2 Selwyn Times Wednesday December 2 2020

from the editor's desk

GENERAL INQUIRIES Ph 379 7100

CLASSIFIED ADVERTISING Ph 379 1100

Star Media, a division of Allied Press Ltd

PO Box 1467, Christchurch

starmedia.kiwi

WE'RE A trusting lot, and

that is playing right into the

hands of the crims.

On page 1 today we

beat a familiar drum;

UNLOCKED vehicles

continue to be a target for

thieves.

The definition of a breakin

doesn't apply here because

the vehicles aren't broken

into; the thieves simply

open the door and help

themselves to whatever is

inside.

It is frustrating for

the police. They take the

complaint, go through the

paperwork and cop the

fallout when little comes of

it except the insurance

claim.

Selwyn might be one of

the most crime-free places

in New Zealand but that will

change as the population

grows, and crims from

further afield see us as easy

pickings.

– Barry Clarke

NEWS

Matt Slaughter

Ph: 021 910 788

matt.slaughter@starmedia.kiwi

ADVERTISING

Lynette Evans

Ph: 364 7434

lynette.evans@starmedia.kiwi

news

Lincoln High School's award event

Outstanding student achievement was celebrated at the year 13

graduation ceremony.

Pages 9 & 10

The best-read local newspaper,

delivered to 20,926 homes

every week.

Ladbrooks • Tai Tapu • Leeston • Lincoln

Southbridge • Prebbleton

Rolleston • Burnham • Kirwee

West Melton • Darfield • Arthur's Pass

community events

Board games

Go along to the Rolleston Library on Sunday from 1.30pm to 3pm.

Join others in a variety of exciting games. Recommended for eight to

18-year-olds.

Page 29

Hear for the Holidays,

Selwyn

Give yourself the gift of hearing this holiday

season! Be part of every conversation and

hear all the festivities. Call today to book

your appointment!

Hearing Tests

Ear Wax Removal

Custom Earplugs

Tinnitus Support & Advice

Hearing Aid Fittings & Maintenance

Call 03 390 2332

Shop 40 Rolleston Square,

9 Masefield Drive

Rolleston | Darfield | Leeston | Lincoln

Local Selwyn Audiology
---
Wednesday December 2 2020 Selwyn Times

Latest Canterbury news at starnews.co.nz

Girl's support cat goes missing

In Brief

NEWS 3

• By Matt Slaughter

A PEBBLETON family is

devastated after the mysterious

loss of their cat Milo – a support

animal for their daughter

Isabella who has a head injury.

And they're worried foul

play may have been a factor.

Selwyn Times reported last

year a two-year-old cat lost its

eye after being shot by a rifle in

Prebbleton.

In January 2017, another

two-year-old cat was shot with

a .22 calibre bullet and his back

left leg was amputated. He was

shot again about a year later, this

time in his front left leg, and had

to be put down.

Jacqueline Long said since her

family moved to Guardsman

Pl two-and-a-half years ago,

three of their beloved cats,

Jasmine, D'arcy and Milo have

disappeared.

Milo was the most recent to

go missing on November 21 and

Isabella has been crying herself

to sleep ever since.

Milo helped calm Isabella.

Jacqueline said this played a

vital role in letting her brain

recover from a head injury

sustained after being hit by a

softball bat during school sport

in 2018.

"With brain injuries, your

brain is so busy trying to heal,

that you can't moderate your

emotions.

"For her, [Isabella] it was

calming, it was hugely calming.

She'd sit down and Milo would

just cuddle her. It just calmed

her down and enabled her brain

to get on with healing rather

than processing emotions and

feelings and physical reactions to

stuff that she could not moderate,"

said Jacqueline.

She said Selwyn Times previous

coverage of Prebbleton cat

shootings makes her fear the

worst may have happened to

Milo, Jasmine and D'arcy.

"All we know is that in the

newspaper articles and the

chit-chat around is that there

have been cats that have made it

home or been found and they've

got gunshots in their bodies.

"We don't know whether that

rumoured shooter is doing his

or her thing again, we don't

know whether someone's trapping

cats, we don't know. There's

just an absolute lack of bodies,"

MISSING: Isabella (left) and

Reuben Long's beloved cats

Milo, Jasmine and D'arcy have

disappeared in two-and-a-half

years living in Prebbleton.

•If you have seen any of these

pets or had a cat go missing in

Prebbleton recently? Email matt.

slaughter@starmedia.kiwi

she said.

An SPCA spokeswoman said

it has received reports of

cats being shot in Prebbleton

in January 2017, December

2018 and June 2019, but none

since.

She said it is unclear if these

shootings were linked or if the

Long family's cats may have

been shot.

"There are any number of

reasons why cats go missing,''

the spokeswoman said.

COUNTDOWN APPEAL

Developers have until the

middle of this month to appeal

the decision to decline the

construction of a new Countdown

supermarket in Lincoln. Shane

Kennedy, who applied for resource

consent to build the supermarket

in the Flemington subdivision

on Birchs Rd, has not said yet

whether he will appeal. Fortyseven

supported the development,

23 submissions were in opposition

and two were neutral.

STUDENTS VISIT SITES

The Lincoln Rotary Club, in

conjunction with Lincoln High

School, held a building and

construction day last month. A

group of nine year 11 students

visited three construction

companies to gain an insight

into the building industry, which

they are interested in working in

after they finish school. The three

companies visited were Concision,

Rolleston, ZOG Steel Framing,

Wigram, and Metro Glass,

Hornby.

SUMMER IN SELWYN

More than 80 activities will be

held as part of Summer in Selwyn,

including Basketball Jams with

members of the Canterbury

Rams. For a list of Summer in

Selwyn activities, visit selwyn.

govt.nz/events or facebook.com/

selwyndistrictcouncil.

MEARES WILLIAMS

LAWYERS

10 Years in Selwyn

Richard Gray

Kate Warren

Anita Molloy-Roberts

Belinda Ferguson

Emma-Jane Moore

W: www.meareswilliams.co.nz

T: (03) 374 2547

E: reception

@meareswilliams.co.nz

Lincoln ChristmasParade & Market

Saturday 12th December

Book your Float Today!

Email Terrence on lincoln.xmasfloats@gmail.com

Free to Enter

Assemble 9.30 at Lincoln Event Centre, Parade starts 10.30

Trucks, Tractors, Trailers, Animals, Bicycles,

Walking, Anything with a Christmas theme goes!

ROLLESTON OFFICE

78 Rolleston Drive, Rolleston

Offices also located at:

43 Gerald Street, Lincoln

225 Papanui Road, Christchurch

Need

water?

From consent to the pump

We can help you with water wells

residential irrigation lifestyle

03 324 2571 www.drilling.co.nz
---
Selwyn Times Wednesday December 2 2020

4

NEWS

More toxic algae

• By Matt Slaughter

POTENTIALLY toxic algae

benthic cyanobacteria has been

found in the Selwyn River at

the Whitecliffs Domain and

Whitecliffs Rd section.

The Canterbury District

Health Board has issued a health

warning and says there are other

access points along the river that

may have benthic cyanobacteria

in them.

It comes after the same sort

of algae was found at the Glentunnel

section of the river two

weeks ago.

People are advised to

treat every low-flowing

river cautiously and check

for the presence of benthic

cyanobacteria.

Canterbury medical officer of

health Dr Cheryl Brunton said

the algae looks dark brown or

black and can produce toxins

harmful to people and animals.

"Exposure may cause skin

rashes, nausea, stomach cramps,

tingling and numbness around

the mouth and fingertips.

"If you experience any of

these symptoms, visit your

doctor immediately, also let

your doctor know if you've had

contact with dark brown/black

algal mats or water in this area,"

Brunton said.

As well as people, animals,

particularly dogs, are being

advised to avoid areas of the

river which contain the algae

until health warnings have been

lifted.

She said people and animals

should remain out of the waterways

until the warnings have

Latest Canterbury news at starnews.co.nz

found in Selwyn River

HEALTH WARNING: Toxic algae has been found in

the Whitecliffs Domain and Whitecliffs Rd section of

the Selwyn River after previously being found in the

Glentunnel section. ​

been lifted.

Pets that show signs of illness

after coming into contact with

algal mats should be taken to a

vet immediately.

The district council is following

agreed procedures and

monitoring its nearby drinking

water intakes.

Environment Canterbury is

monitoring the sites and the

public will be advised of any

changes in water quality.

'There were probably

a dozen cars that had

their windows down'

• From page 1

The items were most commonly

stolen from vehicles in

these thefts included

money, clothing,

sports bags, laptops

and remote controls

for garages.

However, he said

"anything of value" is

generally targeted by

thieves.

Thieves are striking

mostly in early hours

of the morning,

targeting cars parked on streets,

in driveways and in car parks.

• From page 1

Vicky said the fish will be sent

away to be smoked and she is

looking forward to eating and

sharing it with others.

"We love salmon. We get it

smoked into vaccum-packed

bags. We're going to give some

away," she said.

Dean Harker

"I went to one of the car

parks by the [Rolleston] police

station probably

two or three weeks

ago and there were

probably a dozen

cars that had their

windows down.

"A couple of those

had radar detectors,

one of them actually

had a cellphone on the

dashboard," Harker

said.

Radar detectors

have been targeted by thieves, he

said.

Smoked salmon to be

shared with others

There have been a few salmon

sighted in the lower Rakaia

River recently and this is said to

be promising for the rest of the

season.

The salmon season runs

until March next year, and

anglers are allowed to catch one

fish a day.

We'd love for you to join us –

become a member today.

· The latest fiction and non-fiction

reads for summer

· 24/7 online access to thousands

of e-books, audiobooks, movies

and magazines

· Spaces to connect, meet new

friends and play

· No fines on free-to-borrow books

· Access to the latest tech including

3D printing, gaming and virtual reality

· Printing, scanning, computers, and

wifi available

· Free holds

· Locations in Lincoln, Rolleston,

Leeston and Darfield

Membership is free for Selwyn Residents. We're open Monday to Friday from

9am to 6pm with late nights at Lincoln and Rolleston to 8pm on Thursdays.

We're also open Saturdays at all libraries and Sundays 10am to 4pm at

Lincoln and Rolleston.

Chat to your local library, or sign up online:

selwynlibraries.co.nz/join

$52

Group fitness

holiday pass promotion

Purchase a $52 pass in December and experience the

benefits of Aqua, Spin, Pump, Step, Zumba, Yoga, Tai Chi

and HIIT classes for two months from date of purchase!

* Pass can be used across Council-run facilities including Selwyn Aquatic Centre, Lincoln Event Centre, Rolleston

Community Centre and West Melton Community and Recreation Centre. Valid for two months from the date of purchase

between 1 and 31 December 2020. Bookings advised for aqua and spin classes. Please note Pilates is excluded as this is a

pre-registered class. Sorry – no holds.

Event Centre

Community Centre
---
Wednesday December 2 2020 Selwyn Times

• By Matt Slaughter

A $360,000 pathway linking

Whitecliffs to Glentunnel in

an area which has previously

been deemed dangerous may

be completed sooner than first

planned.

A number of Whitecliffs

residents, led by contractor Neil

Walker, have spent the last 10

months helping to build about

500m of track on private land at

Breakneck Corner, about halfway

between the two towns.

The district council originally

planned to complete the 3.5km

track by 2031 as part of its Long

Term Plan.

Sue Wragg, who helped complete

the first section of track,

said the area where work has

been done was previously "very

dangerous" for parents using

wheelchairs and children on

bikes.

"We weren't prepared to wait

until [2031], it's as simple as that,

really."

The district council has

indicated the track may now be

completed as soon as next year

because of the community's efforts.

Said district council

infrastructure manager Andrew

Mazey: "The draft 2021-31

Long Term Plan is proposing

to recommend to council that

this cycleway should be funded

and undertaken in the 2021/22

financial year.

"The proactive efforts by the

community to address a particular

safety problem themselves by

providing this initial section has

prompted council to consider

bringing the remainder of the

original project forward so it can

be fully completed sooner rather

than later.

Latest Canterbury news at starnews.co.nz

Residents help build pathway

OPEN: Mark Wragg cuts the ribbon to the first section of new a pathway between

Whitecliffs and Glentunnel, which the community helped to build. ​

"There are no records of

pedestrian or cyclist crashes in

this area, but the area where the

community has completed its

works and the improvements in

safety for pedestrians and cyclists

were key to enable full pathway

link between Glentunnel and

Whitecliffs to be successfully

completed."

Wragg said building the first

section of track would not have

been possible without the support

of Walker, who built the section

of track, Sam Richards from

Richards Consulting Engineers

and Steve Murphy Ltd, who supported

the project.

The cost of completing the first

part of the track was $14,000 and

this was covered by donations

from two families. The cost of

the remainder of the track will be

covered by the district council.

NEWS 5

New east

Rolleston

school named

Te Rohutu Whio

• By Matt Slaughter

TE ROHUTU Whio has been

chosen as the name of a new

school in east Rolleston.

The name was gifted by Te

Taumutu Rūnanga and means

"the whistling rohutu."

A rohutu is a type of tree.

Traditionally, spinning tops

made of the rohutu tree were

used for entertainment at whare

tapere (places of entertainment).

The role of the whare tapere

was about learning and testing

new skills.

Said principal Kate Morgan:

"Our new name reflects this and

also the importance that knowledge

grows slowly and surely.

"The leaves of the rohutu tree

are heart-shaped and reflect

aroha which will be a huge focus

for our school."

Te Rohutu Whio has received

$20 million in Government

funding.

It will be spent on its construction

and, once finished, it will

accommodate 400 pupils.

The school is scheduled to

open at the end of January 2022

and will be led by Morgan, who

is currently the deputy principal

at Merrin School.

@

17 West Belt, Lincoln

Intimate story 70's Miss World Kiwi band Xmas Romance Music Drama 5 star reviews Hilarious

Tuesday 1 December

Thursday 3 December

Saturday 5 December

3:00 PM Happiest Season

5:30 PM Made in Italy

7:30 PM SIX60: Till the Lights Go Out

Wednesday 2 December

10:30 AM Mums &Bubs -

SIX60: Till the Lights Go Out

2:30 PM The Climb

5:00 PM Rams

7:30 PM Happiest Season

M

M

M

M

M

PG

M

2:00 PM Happiest Season

5:35 PM SIX60: Till the Lights Go Out

7:30 PM The Bee Gees: How Can

You Mend a Broken Heart

Friday 4 December

3:10 PM Misbehaviour

5:40 PM Happiest Season

7:50 PM SIX60: Till the Lights Go Out

Hire the cinema for your Christmas Function &

dine before or after at The Laboratory

11:00 AM SIX60: Till the Lights Go Out

1:00 PM Rams

3:20 PM Baby Done

5:50 PM I Am Woman

8:00 PM Happiest Season

Sunday 6 December

10:30 AM Happiest Season

1:00 PM SIX60: Till the Lights Go Out

3:00 PM Rams

5:20 PM Misbehaviour

7:30 PM The Bee Gees: How Can You

Mend a Broken Heart

Book tickets @ apollo.thelaboratory.co.nz or @ The Laboratory Bar Ph 3253006

Private Hire enquires @ goodparties@thelaboratory.co.nz Gift Vouchers available

M

M

M

M

M

M

M

PG

M

M

M

M

M

PG

M

M

Quick

as a flash

3

Airport/Sheffield Crescent

– Sumner

Buses on this route now come

every 10 minutes on weekdays.

Visit metro.co.nz

for more information.
---
6 Selwyn Times Wednesday December 2 2020

Summer

Selwyn

DECEMBER 2020–MARCH 2021

We're back with a bang! With over 80 events,

there's something for everyone to enjoy.

Pick up a jam-packed guide from any

Council facility and mark your calendars so

you don't miss out!

Highlights:

Events programme

SELWYN.GOVT.NZ/EVENTS

DECEMBER 2020

– MARCH 2021

Events programme

SELWYN.GOVT.NZ/EVENTS

DECEMBER 2020

– MARCH 2021

Outdoor Movies

Pool Parties

Teddy Bears'

Picnic

Picnic in

the Park

A Month of

Sundays

Summer Skate

Jams

Orienteering

Basketball Jam

For more information and events, check out:

selwyn.govt.nz/events or SelwynDistrictCouncil

Proudly sponsored by:
---
Wednesday December 2 2020 Selwyn Times

SPEEDWAY RACING runs

in Glen Leech's family's blood,

so it is fitting he has mowed a

racetrack into the lawn at their

Darfield home.

The practice course on their

rural block gets plenty of use

from their children Rubie, 10,

and Harry, 6.

Rubie and Harry's interest in

racing is not surprising, given

they are the third generation of

two speedway families.

The siblings are not competing

yet, but the backyard track

has proved the perfect training

ground to hone their skills behind

the wheel.

The racetrack is so well mown,

it won the John Deere Lawn

Legend competition.

Glen won a Z335E Residential

ZTrak Zero-Turn lawnmower

for his efforts.

Glen's wife Kylie entered him

in the contest after seeing it on

Facebook.

She built her entry around

how much their family loves

their 0.6ha lawn and personal

racetrack.

Glen's shock at winning

was soon replaced with his

excitement to replace his old

equipment which made building

and maintaining the backyard

speedway a tough task.

He mows the lawn and track

about once a week.

The rest of the back paddock

receives a monthly maintenance

trim which helps define the

course's tight bends and long

straights.

"The mower we were using

had a catcher and we realised

it was not suited to our larger

property as the grass piles of

clippings were really stacking

NEWS 7 Get your Tickets Now

SUMMER CONCERT

www.selwynsounds.co.nz

Hororata

clarification

THE ARTICLE The face behind

Backyard racetrack

earns Leech family new mower

up. We learned buying a mower

without a mulcher was a mistake,"

Glen said.

The family moved from a smaller

property in Darfield to their

bigger lifestyle block in March just

two weeks before New Zealand's

Covid-19 lockdown.

"We felt very lucky to be here.

"The kids were outside all the

time, on their bikes, scooters,

playing on the lawn or out in the

back paddock racing around,"

Kylie said.

RACE-READY: Glen and Kylie Leech,

with their children Rubie and Harry

and the new mower creating a

backyard speedway track.

The family's previous lawn had

been impacted by earthquakes,

creating a rippled and rough

surface interspersed with holes,

which was not suitable for gokarts

or playing in general.

John Deere, tactical marketing

manager Fraser Scott congratulated

the Leech family on their

win.

"Glen's love for his lawn

and dedication to mowing the

racetrack for his kids definitely

makes him a lawn legend."

highland games [Selwyn Times,

November 11] supplied by the

Selwyn District Council was a

reprint of a district council article

originally published in June.

Since that time the district

council has had further engagement

with the Hororātā community

about the community centre,

and acknowledges there is a range

of views on the future location

of the centre, a district council

spokesman said.

The district council will undertake

further consultation next

year as part of its 2021-2031 Long

Term Plan.

No decision on a community

centre will be taken until this

consultation has been completed,

the spokesman said.

District plan views

THERE ARE two weeks left for

residents to have their say on the

proposed Selwyn District Plan.

Once finalised, this will be a

rule book for what people can or

can't do in the district and what

may require resource consents.

To have your say visit https://

yoursay.selwyn.govt.nz/

selwyndistrictplanreview

That's a fail.

Drinking?

Don't drive.
---
8 Selwyn Times Wednesday December 2 2020

Every

$20 spent

= 1 sticker

Free Premium

SMEG Knives

Runs until 24 January 2021 or while stocks last. Visit newworld.co.nz for T&Cs.
---
Wednesday December 2 2020 Selwyn Times

LINCOLN HIGH SCHOOL YEAR 13 GRADUATION CEREMONY

Latest Canterbury news at starnews.co.nz

NEWS 9

Lincoln High School recently

celebrated outstanding student

achievement at its year 13 graduation

ceremony and whole-school sports

awards. Here are some of the biggest

winners on the night

Ben Hooper- 2020 cup for

leadership

Nicola Bruce – The McMahon

Cup for citizenship

Angus Hamilton – sports

volunteer of the year

James

Shield

for sports

team of

the year –

the senior

mixed

touch

rugby

team, The

Turtles.

Kenshin Hayashi – Dux ​

Rosie Bicknell – Proxime

Accessit

•More

recipients,

page 10

Prices incl GST & valid until

31/12/20 while stocks last.

Gift

Holiday

Ideas

RT421022

47179

9570R Tractor with Scraper

Was

$249.95

$199 .95

SAVE

$50

46276

JD 70pc Mini Value Set

$69 .95

SAVE

$10

Was

$79.95

SAVE

$20

John Deere Ride On Digger

Was

$194.95

$174 .95

SAVE

$50

SAVE

$10

46623

1/16 8600 Forage Harvester

Was

$89 .95 $139.95

37563

Diecast Monster Treads 2pk

Was

$24 .95 $34.95

SAVE

$7

35766

38cm Big Scoop Dump Truck

Was

$22 .95

$29.95

Kids'

Christmas

Market

Saturday 5 December, 1–3pm

Rolleston Community Centre

Make a start on your Christmas

shopping and buy some pre-loved

treasures and handmade items from

local Selwyn kids!

43257 45552 47210

Farm In A Box Set 1:64 JD 9RX Track Tractor Build-A-Buddy Corey Playset

Was

Was

Was

$59.95

$34.95

$34.95

SAVE

$10

$49 .95 $27 .95 $29 .95

799 Jones Road, Rolleston, Christchurch | Ph 03 349 4883

SHOP ONLINE: www.dne.co.nz

SAVE

$7

SAVE

$5

selwyn.govt.nz/events
---
Selwyn Times Wednesday December 2 2020

10

NEWS

LINCOLN HIGH SCHOOL YEAR 13 GRADUATION CEREMONY

Latest Canterbury news at starnews.co.nz

Left: Laura

Freeman –

sports values

cup winner,

with Black

Caps coach

Gary Stead

Laura Freeman – The Garters Cup for

commitment to colleagues

Right: Jenna

Borthwick-

Williams Cup

for sports

performance

of the year

Tom Turner – year 9

sportsperson of the year

George Gualter – year 10

sportsperson of the year

John Mottus – year 11

sportsperson of the year

Jono Allan – Brown Cup for

excellence in boys sport

Zoe McMeeken –

King Cup for general

excellence in girls sport

Stock up for a

weet aS XmaS

6 for

$

66

Single Bottle

$12.99

$

LINDAUER

CLASSIC

Range

7 5 0 m l

3 for

99

HOT DEAL!

$

19

99

DANIEL LE

BRUN NV

7 5 0 m l

2 for

$

25

Single Bottle

$14.99

THE NED

Range

7 5 0 m l

2 for

$

40

Single Bottle

$21.99

2 for

$

50

RUA BY

AKARUA

CENTRAL

OTAGO

Pinot Noir

7 5 0 m l

Single bottle

prices vary

Single Pack

$27.99

$

24

99

each

$36.99

each

2 for

$

40

Single Pack

$21.99

SAWMILL Range

6 x 330ml Bottles

$37.99

each

$36.99

each

$36.99

each

$36.99

each

JAMESON, JACK DANIEL'S, GORDON'S Sicilian Lemon, GORDON'S Pink 7 0 0 m l

SMIRNOFF RED NO.21, CORUBA Original, BELL'S, GREENALL'S Original, MALIBU, KAHLÚA 1 Litre

2 x 12

Packs for

$

40

Single Pack

$22.99

$39.99

each

$39.99

each

$39.99

each

$36.99

each

$36.99

each

LONG WHITE

Range

10 x 320ml Cans,

4.5 or 4.8%

SMIRNOFF ICE DOUBLE BLACK &

GUARANA, CORUBA ORIGINAL DARK &

COLA, GORDON'S G&T

12 x 250ml Cans, 7%

GORDON'S PINK GIN & SODA

12 x 250ml Cans, 4%

ASAHI, BECKS, STELLA ARTOIS,

TIGER CRYSTAL, TIGER, STEINLAGER

PURE, STEINLAGER PURE ULTRA,

ISAAC'S CLASSIC APPLE CIDER or

ISAAC'S CRISP LOW SUGAR CIDER

12 x 330ml Bottles

SPEIGHTS SUMMIT ULTRA

LOW CARB, SPEIGHTS GMA,

LION RED or WAIKATO DRAUGHT

12 x 330ml Cans

Shop local with

AMBERLEY, BARRINGTON, BELFAST, BRIGHTON, BURNSIDE, COLOMBO ST, EDGEWARE, ELMWOOD, FERRYMEAD,

HALSWELL, HANMER SPRINGS, HORNBY, ILAM, KAIAPOI, LEESTON, LINCOLN, OXFORD, PAPANUI, PEGASUS, SEASIDE

Offers end close of trade 13th December 2020, while stocks last. Available at participating stores only. Varietals may vary by store. Limits may apply. Wholesale (other liquor

retail banners) not supplied. Terms and conditions may apply. Available 30th November - 13th December 2020 inclusive. Please see www.superliquor.co.nz for details.

superliquor.co.nz

SUP2087_C18
---
Wednesday December 2 2020 Selwyn Times

NEWS 11

Mullet fundraiser

for men's health

• By Matt Slaughter

LINCOLN HIGH School

took part in a different

kind of Movember to

support men's health.

Moustaches weren't an

option for many of the

school's students but they

still wanted to help the

cause, creating Mulletvember.

Said student Reuben

Ryan, who took part: "I've

put a year of hard work

and growth into the filthy

mullet and now it's got a

good cause and purpose to

go towards.

"Men's mental health

is a big thing and people

need to be more aware and

to help and support those

blokes who are in need of

it and what better way to

do it than a classic mullet

removal.''

Said fellow student Sam

Draper: "I like mullets and

I thought it was a good way

to raise money for a good

cause.''

Barber Ben Scott from

Benny's Barber Shop volunteered

his time to go to

the school on October 30

to cut some of the boy's

hair into mullets.

Said deputy principal

Kylie Horgan: "This was a

great show for the rest of

the school and really got

the month off to a good

start, creating a buzz about

the mullets in the school."

Throughout the month

the boys were hard at work

showing off their mullets

and collecting donations to

STYLISH: Lincoln

High School student

Oscar Fossey was

one of a number of

students who had his

head shaved into a

mullet by Ben Scott. ​

try and reach their goal of

raising $5000, she said.

Canterbury Sports

Wholesale printed and sent

out the Mulletvember T-

shirts. These helped spread

the word and gain extra

support.

Movember raises money

for prostate, and testicular

cancer, and more than

1250 other men-related

health issues worldwide.

STOCK

UP FOR

CHRISTMAS

Oamaru Jersey Bennes

1kg Prepack

Product of New Zealand

$

5 49 pk

Pams Fresh Blueberries

125g For Baby Perlas

Potatoes 700g Prepacks

Product of New Zealand

$

3 79 pk

Pams Fresh Strawberries

250g Prepack

Product of New Zealand

$

2 99 pk

Apricots or

Nectarines Loose

Product of New Zealand

$

7 49 kg

Cadbury Favourites 365g

Or Roses 225g

$

5 99 ea

Snacka Changi Chips 150g

$

3 49 ea

www.foursquare.co.nz

facebook.com/FourSquareNZ

STAFFORD STREET

Specials available South Island only from Monday 30th November until Sunday 13th

December 2020 or while stocks last. Wine and beer available at stores with an off

licence. Wine and beer purchases restricted to persons aged 18 years old and over.
---
12 Selwyn Times Wednesday December 2 2020

MASSIVE

SELLOUT

GET IT BEFORE

CHRISTMAS

BARGAINS GALORE

24 MONTHS

INTEREST FREE

ON ALL FLOOR STOCK

FIND US AT THE CORNER OF BLENHEIM & CURLETTS ROAD, SOCKBURN

BOTANICAFURNITURE.co.nz 0800 268 264
---
Wednesday December 2 2020 Selwyn Times

• By Matt Slaughter

HALF A WORLD away in

England, Barbara Hind is

on the search for more

information about her

grandmother Annie Spring,

who lived in Weedons.

Hind is 74 and has never been

to New Zealand but wants to

know more about the 30 years

Annie spent here, including 13

in Weedons.

Annie moved to New Zealand

from Maryport, Cumberland,

England, some time between

1921 and 1928.

She married John Spring some

time after arriving.

The couple lived in Weedons

from about 1946 until John's

death in 1957. Annie moved

back to England in 1959.

They had previously lived

on Ferry Rd, Woolston, in

Timaru and other parts of

Canterbury.

Said Hind: "She obviously met

John Spring sometime before

1928 as the records for that year

show them living together at 8

Ferry Rd, Canterbury. By 1935

they were shown as married,

but I have not been able to find

a record.

"The records always show

John as a labourer, although

in 1946 when they were living

in Weedons he is shown as a

farmer.

"Annie was always shown as

a housewife. They lived there

[Weedons] until John's death,

aged 70, in 1957. I have not

been able to find a record of any

children."

After Annie died in 1961, her

Latest Canterbury news at starnews.co.nz

Tracing a long lost grandmother

FAMILY HISTORY: Annie Spring lived in Weedons for 13

years in the mid-1900s and her grandaughter in England

Barbara Hind wants to know more about her. ​

will left everything to Muriel

Feast, the wife of Harry Feast of

Rolleston, and James Lancaster

of Lincoln.

"I came across her will while

doing family history research

Do you have any

connection to or know

anything about the

life of Annie Spring?

Email matt.slaughter@

starmedia.kiwi if you have

any information on her

but I have no idea who the two

beneficiaries were. I know nothing

of her friends," said Hind.

Annie was married in the

United Kingdom, she had

children, one of whom was

Hind's mother, but the marriage

broke down soon after World

War 1. Hind presumes this

was why she emigrated to New

Zealand.

Annie died at the age of 76 in

Keswick, England.

NEWS 13

Scholarship

presented

to student

VIRGINIA HOGAN was recently

presented with the 2020 West

Melton Scholarship in front of a

packed assembly of West Melton

School students.

Water management

and irrigation

expert Terry

Heiler, whose

career spanned

about 50 years,

presented her

with the award.

Panel convener

Alastair Nicol

said at the assembly,

Virginia not

Virginia

Hogan

only had a good academic record

during her Lincoln University

degree in environment science and

management, she also had such

extensive involvement in coaching

sports teams, taking young people

on overseas trips, and with the

Pink Ribbon campaign.

Heiler complimented Hogan on

applying for, and being so successful

in, her involvement in a large

number of environmental and

water-related projects between her

university studies.

Hogan thanked the selection

panel and Heiler and told those

at the assembly to take every

opportunity and to "step out of

their comfort zone" and give

things a go.

THE PERFECT GIFT

6 MARCH

LINCOLN

2021

Get your Tickets now

www.selwynsounds.co.nz

SUPPORTED BY
---
14 Selwyn Times Wednesday December 2 2020

20% off

Christmas

3

weeks

to go!

Make it a blaster

LOL Remix

Pets

Usually $29.99

20% off

Present Pets

Usually $129.99

$

109 99 ea

Rubik's

3x3 Cube

Usua ly up

to $29.99

Christmas

GIFT

20% OFF

$

23 99

ea

CC

The Elf on

the Shelf

Usua ly up

to $69.99

SAVE $10

Buzzy Bee

Wooden Toy

Usua ly up

to $39.99

$

59 99

ea

25% OFF

$

29 99

5

weeks

to go!

GUIDE

Massive 64 page

GIFT GUIDE

out now!

Shop instore or Visit toyworld.co.nz

ea

LOCALLY

OWNED AND

OPERATED

LOL Remix Tots

Usually $29.99

$

23 99 ea

$

23 99 ea

Over 2 hours

of unboxing

LOL Remix

Super Surprise

Usually $249.99

$

229 99 ea

$

249 99 ea

20% off

Creative

Sketchbook

Usually $24.99

$

19 99 ea

FREE GIFT!

Free Nebulous Stars

magazine with every

purchase over $20

Limited

Stock

20%

off

20%

off

Crystal Wish Keepers, Winged Mobile

or Cosmic Zen Garden Usually $24.99

$

19 99 ea

20%

off
---
Wednesday December 2 2020 Selwyn Times 15

Tiny Tot 2 in 1

Trike/Bike. The patented

Kinderfeets Tiny Tot is a 2-in-1 bike

that easily converts from a tricycle

to a 2-wheel balance bike! Designed

for "tiny tots" ages 12 to 24 months.

It's the smallest 2-in-1 balance bike

on the market! Usually $179.99

$

169 99 ea

Kinder Board

This multi-use toy piece was originally

used in Waldorf early childhood

classrooms. It was created to help

children develop a sense of balance,

stimulate their vestibular system, and

gain a deep sense of awareness of their

body and body parts. Usually $169.99

$

159 99 ea

John Deere 38cm Excavator

or Dump

Truck

$

39 99 ea

Xylophone

Usually $34.99

20% off

$

29 99 ea

Tiny Tot Plus

The Kinderfeets Tiny Tot

PLUS is a larger version

of the popular Tiny

Tot, our 2-in-1 bike that

easily converts from a

tricycle to a 2-wheel

balance bike. Designed

for ages 18 months to 4

years. Weight limit 25

kg. Usually $199.99

Gift

ideas

Pop Up

Pirate

Game

Usually $29.99

$

24 99 ea

Walker

With Blocks

Usually $89.99

$

79 99 ea

100pc

Wooden

Blocks

Usually $49.99

$

39 99 ea

$

189 99 ea

Robot

Kombat

Balloon

Punchers

Usually $69.99

21% off

$

54 99 ea

40%

off

Spinner

Mad Deluxe

Battle Pack

Usually $99.99

20% off

Follow

Me Droid

Usually $24.99

Refills with

normal balloons

Backpack

3D

$

39 99 ea

Licensed

Backpack

$

44 99 ea

Trolley

Backpack

$

49 99 ea

$

55 99 ea

$

19 99 ea

Ride On

Suitcase

$

119 99 ea

Hard Trolley Case

360 Cross II $

49 99 ea

Usually $59.99

Hyper Drift

Usually $69.99

$

59 99 ea

$

99 99 ea

STUCK FOR a GIFT IDEa?

GIvE a TOyWORLD GIFT CaRD!
---
16 Selwyn Times Wednesday December 2 2020

20% off

Elite 2.0

Shockwave

Usually $49.99

$

44 99 ea

Connect 4 Shots

Usually $29.99

$

24 99 ea

Elite 2.0 Volt

Usually $19.99

Mousetrap

Classic

Usually $44.99

$

37 99 ea

$

15 99 ea

Ultra Two

Usually $49.99

Ultra Three

Usually $69.99

$

59 99 ea

$

44 99 ea

Ultra Four

Usually $29.99

$

24 99 ea

Save $10

Great

Gift

Idea!

Monopoly

Classic

Usually $44.99

$

37 99 ea

Jenga Classic

Usually $29.99

$

23 99 ea

Risk

Usually $69.99

$

59 99 ea

Monopoly

NZ Edition

Usually $44.99

$

39 99 ea

Save $10

33% off

Hypersphere

Starter Pack

Usually $19.99

Magical Potion Surprise

Usually $5.99

$

4 99 ea

Play-doh 4 Pack

Usually $7.99

$

6 99 ea

$

15 99 ea

Potion

Ponies

Usually

$7.99

Party Bag

Usually $11.99

$

9 99 ea

Hypersphere

Single Pack

Usually $14.99

$

9 99 ea

20% off

$

5 99 ea

25% off

Potion Dress Up

Fluttershy

Naybelle

Show Pony

Usually $19.99

Vertical

Drop

Battle

Set

Usually

$79.99

$

69 99 ea

Monday

7 Dec

Tuesday

8 Dec

Wednesday

9 Dec

Thursday

10 Dec

Friday

11 Dec

Saturday

12 Dec

Magical Mane

Rarity

$

34 99 ea

Sunday

13 Dec

Monday

14 Dec

Tuesday

15 Dec

$

19 99 ea

Wednesday

16 Dec

Thursday

17 Dec

Friday

18 Dec

Sherrie

Shearin Sheep

Usually $24.99

$

19 99 ea

Saturday

19 Dec

Sunday

20 Dec

Monday

21 Dec

$

16 99 ea

20% off

CHRiSTMaS laTE NigHT HoURS FoR oUR CHRiSTCHURCH SToRES

5:30 pm 5:30 pm 5:30 pm 9 pm 6 pm 6 pm 6 pm 6 pm 6 pm 7 pm 9 pm 7 pm 7 pm 7 pm 10 pm 10 pm 10 pm 6 pm

Tuesday

22 Dec

Wednesday

23 Dec

Thursday

24 Dec
---
Wednesday December 2 2020 Selwyn Times 17

Family

Cruising Car

Usually $64.99

$

54 99 ea

Fire

Water

Cannon

Usually

$34.99

20% off

Red Roof

Cosy

Cottage

Usually

$69.99

$

59 99 ea

$

29 99 ea

25% off

Fire

Crane

Usually

$79.99

Tour of New Zealand

Usually $24.99

$

19 99 ea

Kids

Scavenger

Hunt

$

59 99 ea

$

24 99 ea

The Chase

Red Roof

Country Home

Usually $169.99

$

139 99 ea

Fire Station

Usually $239.99

$

199 99 ea

$

49 99 ea

25% off

20% off

Travel

Set

Usually

$24.99

$

19 99 ea

Kubb

Usually $179.99

Ring Toss

Usually $39.99

$

149 99 ea

Fun in the

garden

$

29 99 ea

Design

Set

Usually

$34.99

$

29 99 ea

Creative

fun

Box

Design

Set

Usually

$29.99

Charm Bracelets

Assorted

$

12 99 ea

Molkky

Usually $119.99

$

99 99 ea

$

24 99 ea

Jewellery Sets

Assorted

$

19 99 ea

Specials in Christchurch Stores only – not online

TOWER JUNCTION

NZ's Biggest TOYWORLD

Clarence St, Riccarton, Ph 03 343 0330

MARSHLAND

199 Marshland Rd,

Ph 03 982 8697

Valid until Thursday 24th December 2020, while stock lasts

HORNBY

Chalmers St,

Ph 03 281 8127
---
Selwyn Times Wednesday December 2 2020

18

NEWS

The Faces of Selwyn exhibition was launched last year

and a new set of 12 stories about people in the district

are on display at Selwyn Libraries. The stories, written

by Hayley Tate, celebrate diversity and highlight the

differences in people's backgrounds and journeys to

Selwyn. Selwyn Times continues its coverage.

Latest Canterbury news at starnews.co.nz

From the battered red zone to Rolleston

Craig and Kelly Pierce

MOVING INTO their first home

in Avondale together, Craig and

Kelly Pierce never thought they

would leave it.

Then the February 22, 2011,

earthquake hit.

After the quake, their house

was red-zoned and they were

forced to leave. The couple had

to make a quick decision about

where they were going to move.

"I think the worse thing was

not knowing where we were going."

Kelly said.

"You went to bed each night

thinking, where am I going to be

living in the next six months?"

Craig said.

Craig and Kelly began looking

for a house in town but with no

luck. They decided to look at the

option of building and Kelly's

brother, who had done some

plumbing in Rolleston, suggested

they look there. They found

a section they liked early the

following year and moved in 10

months later.

Before buying the land, Craig

had never been out to Rolleston

and says they would not have

built a house either.

"We quite like older houses, we

weren't specifically looking for a

new house."

But seven years later, Craig,

Kelly and their nine-year old

daughter Vienna enjoy living in

Rolleston. They feel very fortunate

to have privacy, peace and

quiet, yet be close to Vienna's

school, shops and a park to walk

the dog.

"You look out and you don't

feel like you're in the city," Craig

said.

Being away from Christchurch

made it easier to forget about the

earthquake and there was wellneeded

peace and quiet from it.

Before moving to Rolleston,

Avondale was like a ghost town

with residents leaving their

houses behind. Being one of the

last families to leave the area, the

couple recall walking around

feeling vulnerable.

"It was horrible when you were

living there and you were walking

the dog around the block

and you'd see broken windows

and empty houses and it became

quite eerie."

Now when Kelly and Craig

walk the dog in Rolleston, they

have a sense of safety.

Craig and Kelly were not

alone in moving out to Selwyn,

after the earthquake the district

grew in population by 47 per

cent led by people moving from

SATISFIED:

Craig and

Kelly Pierce,

with their

daughter

Vienna, are

enjoying living

in Rolleston. ​

Christchurch.

The family likes to participate

in park runs at Foster Park on

Saturdays, camp out at Glentunnel

and drive out to Darfield for

the forest walks and the bakery.

Kelly volunteers for Bellyful

Selwyn, delivering meals around

Selwyn to new mothers and families

with unwell children, while

Craig has fun biking around the

district.

Craig admits the earthquake is

the reason his family moved, but

they would not be rushing back

into town now, except for a beach

trip or to his favourite record

store, Penny Lane.

Christmas gift ideas

New stock arriving daily

free gift

WraPPiNg

Rolleston Village Pharmacy

Phone (03) 347 4118 92 Rolleston Drive (next to New World)
---
Wednesday December 2 2020 Selwyn Times 19

CHRISTCHURCH MITSUBISHI

386 Moorhouse Avenue,Christchurch | 03 379 0588 | christchurchmitsubishi.co.nz

*Prices listed are for Triton 2WD GLX-R Double Cab Automatic and Express Van SWB Manual. Prices exclude. On Road Costs which includes WoF, registration,

1,000km road user charges and a full tank of fuel. Express Metallic Silver, Metallic Black and Red Solid colours available for an additional $500.00 incl of GST.

Visit mmnz.co.nz for full Diamond Advantage terms & conditions. Vehicles shown with optional accessories available at additional cost.

10 year / 160,000km Powertrain Warranty (whichever comes

first) (non transferable). 5 year / 130,000km New Vehicle

Warranty (whichever comes first) (non transferable).

DRIVE A NEW

NAVARA FROM

99 $ PER WEEK*

48 MOUNT | 10% DEPOSIT | 60,000KM | NFV

RESIDUAL PAYMENTS VARY BETWEEN MODELS

Navara RX 2wd Manual

RRP $42,200

Special Price $34,990

Navara RX 2WD Auto

RRP $44,500

Special Price $36,990

NISSAN

FUTURE

VALUE

*prices shown excluded On Road Costs. Terms and conditions apply., for full terms please see www.nissan.co.nz/financial-services/nissan-future-value-offers

CHRISTCHURCH NISSAN, 321 Moorhouse Avenue, Christchurch

Ph: 03 595 6820

www.christchurchnissan.co.nz

christchurchnissan.co.nz
---
20 Selwyn Times Wednesday December 2 2020

Celebrate

summer and Selwyn

Hit the court with the Canterbury Rams, bike the trails, crack the secret code or take a picnic in

the park – Selwyn District Council's Summer in Selwyn events programme is back for another

jam-packed summer.

The Summer in Selwyn guide — delivered to Selwyn homes over the weekend (rural delivery

arriving this week) — provides information on more than 80 activity and event options organised

by the Council and available around the district until the end of March.

This year the Canterbury Rams will be joining in the popular Basketball Jams in March. The

Council has also included the new Selwyn Bike Trail Challenge where people can enjoy Selwyn's

great bike trails and take on the challenge to crack the secret code to win a prize, Council's

Community Services and Facilities Group Manager, Denise Kidd says.

"We've brought back and refreshed a great range of favourite activities for people to enjoy from

craft and technology experiences to music and outdoor fun. But we're also pleased to have added

a few really cool new events to encourage people to explore and enjoy, from their own backyard

with the Selwyn Garden Series to further afield with the bike trail challenge.

"After a tough year we've been working hard on ways to celebrate both summer and Selwyn and

we think this guide will help people to do just that."

Council events include three outdoor movies and a drive-in movie starting with a sprinkling of

Christmas magic with Arthur Christmas at Anderson Square in Leeston on Friday 4 December.

The popular Teddy Bears' Picnic is back, along with Pool Parties in Sheffield, Darfield and

Southbridge and a special Pool of Rock party at Selwyn Aquatic Centre.

The Selwyn Libraries team has lots in store for Selwyn this summer, from sending people on

virtual travels with their Summer Reading Challenge "read around the world", to resourceful

Rekindle workshops that convert cabbage leaves and felt wool into practical products.

For a list of Summer in Selwyn activity and event options, visit selwyn.govt.nz/events or

facebook.com/selwyndistrictcouncil.

Brought to you by Selwyn District Council and proudly sponsored by Faringdon.

'Contamination crew' to support recycling

A team of four is hitting the streets from this week to support Selwyn residents to recycle right.

Since the Level 4 lockdown the Council has seen an increase in the number of loads of recycling that

could not be recycled and were sent to landfill because of contamination. Seven percent of loads

(31,380 kg) had to be sent to landfill in the last month alone.

The contamination crew will be helping by providing guidance on how to improve recycling.

Council Solid Waste Manager Andrew Boyd says over the past six months the Council has provided

updated bin stickers and magnetic easy recycling guides to residents, and run newspaper and social

media advertising to support good recycling. The contamination crew is the next step to help people.

The team will be checking the contents of recycling bins and providing information to householders

where they have put the wrong items in.

"We know that Selwyn people care about their recycling, and that it can be confusing," he says. "By

having the crew on the street, they'll be able to provide specific information to households about items

they may have mistakenly thought were okay to recycle."

Where there is a small amount of contamination, the bin will still be collected, but the crew will leave

an information tag on the bin handle letting people know about items in their bin that could not be

recycled. If there is a large amount of contamination then the bin won't be collected that week and

people will be advised about the contamination.

"This is so we can avoid contaminating the rest of the recycling load,

and having to send it to landfill," Mr Boyd says.

In extreme cases — where people consistently put out large quantities

of items that can't be recycled — the Council may consider removing

bins from households, but Mr Boyd says the focus will be on helping

people first.

"We're dedicated to looking after Selwyn by doing our best with

rubbish and recycling. We're not out here to tell people off, we want to

help people to recycle right, and providing advice directly should help

to clean up the recycling".

Nice

work!

Thanks for getting

recycling right.

Last chance to have your say on

district rules

There's two weeks left to have your say on the Proposed Selwyn

District Plan.

The Proposed Plan is basically a 'rule book' for what you can or

can't do in the district and what may require a resource consent

from the Council.

The plan takes account of the rapid and continuing growth we've seen

in Selwyn in the last decade and sets rules and policies for where that

growth should occur. It aims to help ensure the district continues to

grow in a way that meets your needs and those of people moving to

join in the great lifestyle and opportunities Selwyn offers.

The Proposed Plan provides a framework for growth and unlocks the

economic potential of our district in a sustainable way over the next 10

to 15 years. It provides direction for how townships should grow, and

where and what kind of businesses and industries are encouraged.

It also simplifies the zones that help guide what you can and can't

build, maps the risk from natural hazards such as flooding and

liquefaction, identifies our heritage sites, buildings and trees and

proposes rules to protect our landscape and night sky, Council

Environmental and Regulatory Services Planning Manager Ben

Rhodes says.

"These are key decisions about where we're going and what life will

look like in the district, so we really want to hear from you."

"So far we've seen a lot of interest in our drop-in sessions and

community events, with hundreds of you talking to our planners

and asking questions, and we've also received 35 submissions.

Key areas of interest to date include queries about rezoning or

subdividing land, designations, flooding hazard and family flats."

You can find out more and make a submission on the plan until 5pm

Friday 11 December at selwyn.govt.nz/districtplanreview.

Drinking? Don't Drive

The Selwyn road safety team is launching its annual anti-drinkdriving

campaign. Alcohol is the second biggest contributing factor

to road crashes in New Zealand.

This years 'That's a Fail' campaign is reminding people of the risks

that drink-driving brings. Everyone's perception of how much they

can drink is different, however the law is precise. If you're over

20 years of age the legal blood alcohol limit for driving is no more

than 50 milligrams of alcohol for every 100 mls of blood. There is a

zero alcohol limit if you are under 20. That means if you drive after

consuming even one drink, you can be charged with drink-driving.

Summer, and particularly Christmas, is a time when people enjoy

catching up with friends and attending functions, but a drink-driving

conviction or causing a crash has lifelong consequences, Road

Safety Education Coordinator Jessica Fairbrass says. "The summer

months are a time to enjoy and celebrate. We're reminding people

to plan ahead before drinking. If you're planning on drinking, plan

not to drive."

ON THE

ROADS

On the Roads

Leeston Road has extensive road works and delays

are expected until 18 December. Leeston Road is

closed at the intersection with Station Street and

traffic control is in place outside of Doyleston and

Irwell Village. Priority is given to the peak traffic flow.

The works are to facilitate seal widening, storm water upgrades and a

new sewer main between Doyleston and Leeston.

High Street, Leeston, will be closed from Messines Street to

Leeston and Lake Road 5–10.30pm Friday 4 December for the

Leeston Christmas Parade.

Gerald Street, Lincoln, will be closed from James Street to West Belt

from 8am–12pm Saturday 12 December for the Lincoln Christmas

Parade. There will be a rolling closure along Kildare Terrace, North

Belt and West Belt reopening as the last float passes.

Repairs are taking place on Jones Road and Ellesmere, Traffic

management is in place.

Council Call

Selwyn District Council

Norman Kirk Drive, Rolleston

Ph 0800 SELWYN (735 996)

Rolleston Library

Rolleston Drive, Rolleston

Ph 347 2880

Darfield Library & Service Centre

1 South Terrace, Darfield

Ph 318 8338 or 347 2780

CC021220
---
Wednesday December 2 2020 Selwyn Times 21

Notices

APPLICATION TO VARY AND

RENEW DOG PARK LEASE

The Council has received a

request from Selwyn Dog

Training Club Incorporated to

renew their existing lease for

a further term of five years,

effective from 1 November 2020

in accordance with the terms of

their existing lease. It is proposed

to vary some of the terms to

better reflect the current use of

the park—including the club's

use of the park for training and

competitions—and to renew the

lease over the area currently used

for their clubhouse at Rolleston

Dog Park. This area forms Part

Rural Section 40441 Identifier

CB15A/1473 and containing an

area of approximately 115m2.

Any person wishing to object or

submit on this proposal can do

so in writing no later than 5pm

on 5 January 2021. To make a

submission or objection or to

find out more about this proposal

please contact the Acquisitions

Disposals and Leasing Manager

by email to property@selwyn.

govt.nz or by post to PO Box 90,

Meetings

Public Forums: Council,

Community Board and local

committees meetings are open

to the public. Time is available at

the start of meetings for people

to speak on matters of concern.

Please notify Therese Davel or

Bernadette Ryan if you wish to

speak at the Council meeting at

least five days before the meeting.

Township, Hall and Reserve

Committee meetings: To list or

make changes to meeting details,

email meeting.changes@selwyn.

govt.nz or phone 347 2800 or

318 8338 by 9am Wednesday the

week before publication.

COUNCIL & COMMUNITY

BOARD

Audit & Risk Subcommittee*

Wed 2 December 9.30am

Council Rolleston Offices

Rep Review Subcommittee*

9 December 8.30am

Council Rolleston Offices

Council*

Wed 9 December 1pm

Rolleston 7643.

FURTHER SUBMISSIONS ON

PRIVATE PLAN CHANGE 64 –

SOUTH WEST ROLLESTON

A summary of the submissions,

along with a copy of the

original submissions, on the

above proposed changes to

the Selwyn District Plan is now

available for viewing at www.

selwyn.govt.nz/pc64. Further

submissions may be lodged

by any person representing a

relevant aspect of the public

interest or that has an interest in

the plan change greater than the

interest the public has. Further

submissions must be limited

to matters either in support of

or in opposition to an original

submission made on the plan

changes. Details on how to

make a further submission can

be found online or by contacting

the Strategy and Policy Team on

0800 SELWYN (735 996).

The closing date for further

submissions on the plan

changes is 5pm, Tuesday 15

December 2020.

Council Rolleston Offices

*Livestreamed on the Council

website and YouTube channel

DISTRICT COMMITTEE

MEETINGS

Coalgate Glentunnel Reserve

Management Committee

Tue 8 December

Coalgate Fire Station

Doyleston Community

Committee

Wed 2 December 7.30pm

Osborne Park

Dunsandel Community

Committee

Mon 21 December 6pm

Dunsandel Tavern

Ellesmere Reserve Board AGM

Thu 10 December 7.30pm

Leeston Library Community

Room

Hororata Reserve Management

Committee

Wed 2 December 7.30pm

Hororata Hall

Kirwee Recreation Reserve

Management Committee

DOG MICROCHIPPING

This free monthly service is

available on Friday 11 December

at the following places:

Lincoln Library 9–9.30am

Leeston Library 10.15–10.45am

Darfield Library 11.30am–12pm

Rolleston Council Offices

12.45–1.15pm

If your dog was first registered

after 30 June 2006 and is not a

working dog, the law requires

him or her to be microchipped.

Please note: All clinics last for

half an hour. The Rolleston

venue is in Norman Kirk

Drive. All others are libraries.

Microchipping will not take place

if wet. If you have any questions

regarding microchipping, please

contract Tracey Wheeler on

0800 SELWYN (735 996).

ALCOHOL NOTICES

Kirwee Bowling Club Limited

has applied for the renewal

of a club licence. Objections

to this application are open

until 16 December. For more

information visit selwyn.govt.nz/

alcoholnotices.

Mon 14 December 7.30pm

Sports Pavilion, Kirwee Reserve

Leeston Community Committee

Mon 7 December 7.30pm

Leeston Library Community

Room

Sheffield-Waddington

Community Committee

Thu 17 December 7.30pm

Sheffield Community Hall

Sheffield-Waddington Reserve

Board Committee

Tue 15 December 7.30pm

Sheffield Domain Pavilion

Springston Committees

(Community, Reserve & Sports)

Wed 9 December 7.30pm

Errol Tweedy Pavilion,

Springston Reserve

Weedons Reserve Board

Committee

Mon 14 December 7.30pm

Weedons Community Centre

Whitecliffs Township & Domain

Committee

Mon 14 December 7.30pm

Glentunnel Hall

Selwyn Events

THURSDAY

3

DECEMBER

FRIDAY

4

DECEMBER

SATURDAY

5

DECEMBER

SATURDAY

5

DECEMBER

Employment Zone Clinic

Leeston Library, 9.30–11.30am

Are you looking for employment? An

employer needing staff? Employment

Zone clinics are a series of drop-in

sessions, where people can access

one-to-one support around job

seeking, redundancy, staff retention

and recruitment with Sarah Parker,

Workbroker from the Ministry of

Social Development. Held weekly until

17 December. Free. Bookings not

required. See selwynlibraries.com/

events for more times and locations.

Leeston Outdoor Movie:

Arthur Christmas (G)

Anderson Square, Leeston,

8.15–10pm

The first outdoor movie of the summer

is here. Grab your nearest and

dearest for some free, family-friendly

Christmas fun. Bring a seat, bean bag

or blanket and chill out in front of our

huge screen at our outdoor movies.

Free popcorn and coffee provided

by our sponsor Faringdon. Limited

numbers, so arrive early!

Craft Session for Kids

Hororātā Community Hall,

10.30am–3.30pm

The first of our free Christmas Craft

sessions for kids. Pop down to your

local Community Centre for some

Christmas crafting fun! Free to attend

– we'd greatly appreciate a koha of

a non-perishable item for a Selwyn

foodbank. Visit selwyn.govt.nz/events

to find a session near you.

Kids' Christmas Market

Rolleston Community Centre,

1–3pm

The annual Kids' Christmas Market

is back. Buy some pre-loved and

handmade treasures for Christmas

and get your shopping done early.

Free entry.

Town centre anchor building gets roof

The anchor project for the new Rolleston town centre has passed its latest milestone with the roof going

on and work moving indoors.

The roof has been installed on Te Ara Ātea, the new library and anchor building for the Rolleston town

centre, as the building prepares to be the first open in the new town centre.

Work has begun on fitting the building's windows and sliding doors, including the large second floor

windows that will provide views across Rolleston and out to the Southern Alps, along with the internal walls.

The 2,200 square metre, two-storey building is due to be finished in late 2021. It will house the new

Rolleston Library, along with community spaces, exhibition areas, a workshop room, tamariki area and

Waka Huia, a quiet room with a museum-quality display wall on the outside and displays of taonga from

Te Taumutu Rūnanga.

Te Ara Ātea will open onto the town square

for the new Rolleston town centre. The town

centre will feature retail areas, a sensory

space, kai gardens and a youth area.

A hearing on the design of the town centre

has been completed this week. The project

team was pleased to receive a significant

number of submissions from interested

community members on the design of the

town centre. These will be incorporated into

the final design which is expected to be

completed early March next year.

SUNDAY

6

DECEMBER

MONDAY

7

DECEMBER

Darfield Christmas

in the Park

Westview Park, 3–6pm.

Come and join our celebration of

Christmas. Enjoy the music and stage

entertainment. Bouncy castles and

face painting for the children and

Father Christmas will arrive in style at

4pm. Food available or bring a picnic.

Malvern Spinners and

Weavers

Darfield Library, 10am–2pm

The Malvern Spinners are hosting their

monthly meeting. If you are interested

in spinning, weaving or knitting drop

by and see the Malvern Spinners and

Weavers in action.

For information on listing a community event visit

selwyn.govt.nz/councilcall

Leeston Library & Service Centre

19 Messines Street, Leeston

Ph 347 2871

Lincoln Library & Service Centre

Gerald Street, Lincoln

Ph 347 2876

0800 SELWYN

www.selwyn.govt.nz

SelwynDistrictCouncil
---
22 Selwyn Times Wednesday December 2 2020

RURAL | LIFESTYLE | RESIDENTIAL

FINAL NOTICE

WEST MELTON 1176 Weedons Ross Road

ECAN Leasehold Sheep Farm

• 423.7059 hectares suitable for sheep and some

cattle

• Five bedroom home plus a two bedroom cottage

• Good array of farm buildings including a lockable

workshop

• Well fenced into approximately 34 main paddocks

• Pasture renewal programme implemented in

recent years

• Consent to irrigate up to 40ha to secure stock

feed

• Excellent shelter with numerous shelter belts

5 2 4

DEADLINE PRIVATE TREATY

Plus GST (if any)

(Unless Sold Prior)

Closes 2.00pm, Thursday 3 December

VIEW

By Appointment Only

Sam Davidson

M 027 488 8269

E sdavidson@pggwrightson.co.nz

YALDHURST 33 Guys Road

City Fringe Leasehold Farm

After 24 years our retiring vendors are downsizing

which gives potential purchasers a unique opportunity

to secure a 150ha (approximately) sheep and beef

farm with an extra income stream right on the

outskirts of Christchurch city. Private, modernised

three bedroom home, exceptional set of stock yards

(currently used to generate extra income from a stock

agistment business), two stand woolshed, three-bay

implement shed and three-bay hayshed. Well fenced

and an irrigation consent to irrigate up to 20ha.

3 1 4

DEADLINE PRIVATE TREATY

Plus GST (if any)

(Unless Sold Prior)

Closes 2.00pm, Friday 11 December

VIEW

By Appointment Only

Sam Davidson

M 027 488 8269

E sdavidson@pggwrightson.co.nz

pggwre.co.nz/CHR33137

pggwre.co.nz/CHR33253

NEW LISTING

PREBBLETON 3/602 Shands Road

Lifestyle Living Close to the City

Set amidst beautifully manicured grounds, this superb 3.8ha lifestyle

property will attract buyers wanting to embrace rural living, while

still being close to the city.

A winding driveway lined by established trees makes a spectacular

first impression. Set across a single level, this four bedroom, three

bathroom home is generously proportioned to accommodate

families. The hostess kitchen operates as the social hub integrating

seamlessly with the dining area and lounge, while sliding doors offer

easy flow outside to the covered verandah. A formal lounge provides

you with an additional peaceful living space.

A double internal garage, separate laundry, office, and ample storage

are further advantages.

The picturesque garden features sweeping lawns and provides you

with an exceptional outlook including a stunning pond with water

wheel.

The large four-bay lock up shed plus workshop, garden shed and twobay

implement shed complement the property.

The property has excellent shelter and the paddock is in new grass,

which combined with the fertile Templeton silt loam soils, looks a

picture.

4 3 2

DEADLINE PRIVATE TREATY

GST Inclusive

Closes 2.00pm, Wednesday 16 December

VIEW

Sunday 1.30-2.15pm

Ron Ferguson

M 027 498 6256

E ron.ferguson@pggwrightson.co.nz

pggwre.co.nz/CHR33334

PGG Wrightson Real Estate Limited, licensed under REAA 2008

Helping grow the country

1 Robin Mann Place, CHRISTCHURCH

Phone: 03 341 4301 | Email: christchurch@pggwre.co.nz

For more great listings, visit www.pggwre.co.nz

PGG Wrightson Real Estate Limited, licensed under the REAA 2008

Helping grow the country
---
Wednesday December 2 2020 Selwyn Times

Latest Canterbury news at starnews.co.nz

SPORT 23

Aussie move for trainer Nathan Purdon

• By Michael Guerin

YOUNG GUN trainer Nathan

Purdon says he is looking

forward to branching out on his

own in what could ultimately be

a multi-state Australian career.

The 25-year-old will leave

his successful partnership with

Chrissie Dalgety at West Melton

in late January to return to Australia,

where he has tasted group

one success before when training

a very small team.

But this time Purdon will be

looking to establish himself

rather than only have that small

team or work for others.

"I think the time is right and

after discussing it with a few

people, including dad (Mark) I

think Victoria is the right place

to base myself," Purdon said.

"I have really appreciated the

opportunities here with Chrissie

and with Cran advising but

things are changing with dad

and Natalie taking a step back

in the business and that could

present some opportunities in

Australia.

"Dad has suggested to me he

would be happy to come across

to the sales in Australia, where

he is going to be campaigning

horses in Sydney anyway, and we

can look at horses together.

"He will see if any of his

owners are interested in buying

The revolution

in heat pumps

is here now!

horses at those sales and leaving

them in Australia for me to train

but I am also going to reach out

to some of my owners.

"But I am going over there

with a clean slate so I am going

to build the team up from

scratch and that will mean I am

available to buy and train horses

for Australian owners too."

Purdon could be moving at

The revolution in heat pumps is here now!

Say hello to Fujitsu's latest lifestyle range

HEAT PUMPS FROM $1999 inc GST INSTALLED!

The Fujitsu e3series

The brilliant

heat pumps from Fujitsu

the right time as more and more

New Zealand-based horses are

not only being campaigned at

the major Australian carnivals

but also heading there for prolonged

stays.

The All Stars for example

have tended to send their horses

they want to race in Victoria

to the likes of Dean Braun and

their New South Wales-targeted

Conditions apply

ON THE

MOVE:

Successful

harness

racing

trainer

Nathan

Purdon will

return to

Australia

next month

to further

his career.

horses to Craig Cross and Luke

McCarthy.

But a trainer like the younger

Purdon could easily become

a go-to man for New Zealand

owners wanting to campaign

in Australia, especially as many

Kiwis like their horses to go to a

fellow countrymen.

One of those options has been

Anthony Butt, who has just

moved back from New South

Wales to Victoria, and while he

takes outside horses much of his

training is quite rightly based

around Emilio and Mary Rosati's

horses as his major owners.

But Nathan would have the advantage

of arriving without the

commitments of a large stable

so could be able to tailor raids

to New South Wales or even

Queensland.

"I am really open to that sort

of thing and I might even spend

a few week helping out with

dad's horses when they campaign

in Sydney.

"But it is an exciting time."

Purdon will of course miss many

of the stars he has helped train

with the Dalgetys but warns the

best is yet to come from exceptional

three-year-old Krug.

"He came to the end of it in

the Sires' Stakes at Addington

and probably even before," he

admits.

"But he is in the paddock now

and will miss the Sales Series

in Auckland and I am certain

this break will be the making of

him."

Purdon's partner junior driver

Mikayla Lewis will also join him

in Australia and work alongside

him as well as run the business

side of the operation.

– Harness News Desk

Steven Moe

stevenmoe@parryfield.com

e1 : efficiency

e2 : environment

e3 : economy

Website: www.pshc.co.nz

Finance available

FREE consultation from your local

Accredited Heat Pump Expert

Phone today: 03 381 6950

INSERT DEALER DETAILS HERE

2020

Heat Pumps

NEW ZEALAND'S FAVOURITE AIR ®

Fujitsu's Catechin Filters are

approved by the Asthma and

Respiratory Foundation NZ's

Sensitive Choice ® programme.

Email: info@pshc.co.nz

Rolleston Lawyers

We are proud to be open in Rolleston

servicing all of Selwyn.

We handle a full range of legal issues from conveyancing to

company matters, employment issues, family matters and disputes.

We are located at 68 Rolleston Drive (near Countdown).

Please contact us to arrange a time to meet.

68 Rolleston Drive Phone 03 348 8480 www.parryfield.com

PauL owenS

paulowens@parryfield.com

CoRa GRanGeR

coragranger@parryfield.com

FG1441

TOWARDS YOUR

WIN $1000

HomePlus awning

Request a free

measure and quote

from HomePlus and

go into the draw to

win $1000 towards

your awning.

We custom make

each of our products

to fit your home and

style requirements.

*Promotion closes end of December 2020.

Special conditions apply.

Measured, made

and installed by our

team of experts.

5 year warranty.

88 Gasson St, Sydenham | 03 379 3740 | www.homeplus.co.nz
---
24 Selwyn Times Wednesday December 2 2020

Shop

Win

& Relax

SHOP AT

PARTIcIPATING

RETAILERS

TO WIN:

A FAMILY GETAWAY

TO HANMER SPRINGS

PLuS $1,000 OF SHOPPING vOucHERS

STARTS 28 TH OcT

ENdS 12 TH dEc

Conditions apply

Proudly supported by...

Get your Tickets Now

SUMMER CONCERT

www.selwynsounds.co.nz

Cobain JanDleS

in StoCk now

foR SuMMeR

92 Rolleston Drive

Ph 03 3470146

info@magsports.co.nz

www.magsports.co.nz

magnitudesportsnz

Magnitude Sports

A NEW

DEFINITION

IN STYLE

03 325 2390

9 GERALD STREET

LINCOLN

WWW.DUET.NET.NZ

It's our annual

Christmas

shopping night

Friday 4th December

from 5pm

Discounts on the night, gift

baskets, give-aways and Selwyn

Sounds tickets.

Nibbles and Refreshments.

12/736 Weedons Ross Road,

West Melton

Phone 03 347 0777

Fax 03 347 0888

West Melton Pharmacy

FAB RANGES

NZ & AUSTRALIAN BRANDS

New season instore now! New fashions arriving daily

Rollestons'

newest tapas bar

and restaurant

now open

Fully licensed

Corner Edward St & Eastfield Dr, Lincoln

Phone 03 925 9614

Monday to Friday: 9am – 5pm

Saturday: 10am – 2pm

3/4 Eastfield Drive, Lincoln | Phone 03 321 7557

Open Mon to Fri 9am-5pm, Sat to Sun 10am-3pm

www.anyexcuse.co.nz

Seasonal Tapas Menu

Book now for your

Xmas Function.

BOOKINGS 03 347 9000 or through Facebook

76 Rolleston Dr, Rolleston Square | Wed-Sun 5pm-10pm

No appointment needed.

For quality unisex haircuts.

Proudly serving the people of Rolleston and

the surrounding communities since 2015

Mon,Tues, Wed & Fri 9:00 - 6:00 Thurs 9:00 - 7:00 Sat 8:00 - 2:00

Closed Sundays & Public Holidays

Shop 7 - Rolleston Square, 70 Rolleston Drive, Rolleston, 7614

Ph: 03 347 1322

enquiries@rollestonhaircuts.co.nz | www.rollestonhaircuts.co.nz

Shop 15, 9 Masefield Drive

(new Rolleston Square West). Ph: 420 0996

www.industria.co.nz

Pay with ZipPay or Laybuy

in Store or Online

Shop 12, Rolleston Square, Rolleston

Phone: 347 1151

Local Selwyn Audiology

Brenna Sincock is your local hearing expert,

she'll support all your hearing needs.

Diagnostic Hearing Tests

Hearing Aid Fittings & Maintenance

Tinnitus Support

Custom Earplugs

Shop 40 Rolleston Square, 9 Masefield Drive

Call 03 390 2332

Barks & Mulches

Soil & Growing Medias

Stones, Chips & Pebbles

Sands & Construction Mixes

Landscape & Garden Supplies

OPEN 7 DAYS A WEEK

Seeds & Seedlings

Gardening fun for kids

Trailer & Tool Hire

Garden Planter Boxes & Tools

Pick up onsite or delivery available

261 Manion Road, Weedons 7677 ● (03) 347 9012 ● www.igro.co.nz

ALL YOUR

MOTORING NEEDS

› While You Wait WOF's

› Courtesy Cars › Diagnostics

› Repairs › Servicing

› Batteries › Tyres

Phone 347 4020 www.jonesroadauto.co.nz

131 IPORT Dr (Cnr Hoskyns & IPORT drive)
---
Wednesday December 2 2020 Selwyn Times 25

Darfield's Jesse Frew scored 73 runs in his team's win over previous frontrunners

Weedons which allowed Leeston-Southbridge to jump to the top of

the table.

Win puts Leeston-Southbridge at top of table

LEESTON-Southbridge jumped

to the top of the country cricket

standings with a comprehensive

eight-wicket demolition of

Ohoka on Saturday.

The combined side's victory

sees them leapfrog Weedons –

who suffered a hefty 79-run loss

to Darfield – and lead the CRV

Ambreed country premier one

day 2020/21 competition.

At Leeston Park, the home side

chose to bowl first and immediately

rolled through Ohoka's top

order.

Sam Chamberlain and Tom

Burt did the damage at the

top, hitting good areas and

grabbing four wickets between

them – Burt bowling a close

to unplayable delivery to

remove the dangerous Will

Hamilton.

But it was a total team bowling

and fielding effort – creating two

run outs – to dismiss an Ohoka

side missing a few key players to

injury for a paltry 93 in 35 overs.

Only Harry Fitzpatrick offered

any resistance and was left

stranded on 40 not out off 86

balls.

After losing Rupert Young for

a duck in the first over after a

peach from Austin Hamilton,

Leeston-Southbridge knocked

off the win inside 15 overs, with

Canterbury Country star Harry

Chamberlain smashing 45 off 31

balls, and Country development

coaches Toby Doyle (15 not out)

and ex-Holland international

Get all 'Christmasy' with us!

PRE-CHRISTMAS

FUNCTIONS, PARTIES,

WORK BREAK UPS.

CHECK OUT OUR

SET MENUS

AVAILABLE LUNCH & DINNER DAILY

UNTIL 24/12/20 FOR PARTIES OF 10 OR MORE

SORRY, WE ARE CLOSED CHRISTMAS DAY

The

RESTAURANT & CAFÉ

SPORT

RACECOURSE HOTEL

www.racecoursehotel.co.nz

Tim Gruijters (20 not out) finishing

the job.

Darfield's powerful top-order

set up a commanding win to

knock Weedons off the top perch

on their home soil.

Liam Foulkes (26 runs off 52

balls) and Nick Jenkins (33 off

45) put on a 63-run opening

stand, before Jesse Frew (73 off

87) and Canterbury Kings star

Henry Shipley (52 off 56) put on

109 for the third wicket and set

up a fine first innings total of

222/6 in their allotted 45 overs.

0pen daily from 6.30am

Breakfast, Lunch & Dinner

& Motorlodge

118 Racecourse Rd, Sockburn,

Christchurch. Ph 03 342 7150

HEAT PUMP

SALE NOW ON!

Amazin' Summer Specials!!

90%

SubSidy

Warmer KiWi HomeS

Programme

*Eligibility criteria apply

• We will offer you the best quality brands and

option of heat pump for your home/business

• Providing Heat Pump solutions for over 18 years to Cantabrians

• We personally guarantee all our products & installs for 5 years

(providing annual maintenance has been completed)

Phone us today for your free consultation & quote

Liam Foulkes scored 26 before being clean-bowled.

Weedons' reply stuttered to

17/2, with all-rounder Frew

again in the action to remove the

openers, and the run chase never

recovered.

James Richards again showed

his class, top-scoring with an unbeaten

59, but aside from keeperbatsman

James Watson (26), he

got little help and they were all

out for 143 in the 39 th over.

Crisis-hit Southbrook – winless

since the opening round

back on October 3 – defaulted

against fellow strugglers Lincoln

after being unable to find enough

available players.

In the other game, Sefton beat

Cheviot by seven wickets while

Oxford-Rangiora Vikings had

the bye.

Short scorecards

Ohoka 93 (H Fitzpatrick 40;

W Macfarlane 2/16, S Chamberlain

2/17, T Burt 2/19), lost

to Leeston-Southbridge 97/2 (H

Chamberlain 45, T Gruijters

20no)

Darfield 222/6 (J Frew 73,

H Shipley 52, N Jenkins 33, L

Foulkes 26; A Deb 4/41), beat

Weedons 143 (J Richards 59no, J

Watson 26; W Greenslade 2/14, J

Frew 2/27, L Foulkes 2/27, J Pauling

2/42).

Cheviot 114/9 lost to Sefton

116/3.

•Last week it was reported

15-year-old Ronan Dillion took

5/38 for Cheviot against Lincoln.

Dillion plays for Lincoln.

• More photos, page 27

41A SHAKESPEARE RD, WALTHAM

PHONE 03 366 0525

www.enviromaster.co.nz

"A local team for local people"

www.dress-smart.co.nz

CHRISTCHURCH 409 Main South Road, Hornby

@dresssmartchristchurch @dresssmart_christchurch
---
26 Selwyn Times Wednesday December 2 2020

CASCADE

Outdoor Lounge

ON SALE!

2 Seater NOW $ 799 5 Piece Balcony Set

NOW $

1049

Coffee

Table NOW $ 250 Single Seater NOW $ 375

ALL RIVO ALL JOLIE ALL TIBET

ON SALE! ON SALE! ON SALE!

Electric Recliner

NOW $

999

5 Drawer Tallboy

NOW $

799

6 Drawer Lingerie

NOW $

599

2 Seater Electric

Recliner

NOW $

1799

2 Drawer

Bedside

NOW $

249

2 Drawer Bedside

NOW $

275

3 Seater Electric

Recliner NOW $ 1999

MIAMI

Outdoor Dining

ON SALE!

6 Drawer

Lowboy NOW $ 899

Dining Table – W210

NOW $

999

Cushion

sold

separately.

5 Drawer

Tallboy

NOW $

799

Lazy Susan NOW $ 135

Bench Seat – W190

NOW $

375

Dining Chair NOW $ 175

Round Dining

Table NOW $ 749

perfect for

family dinNers!

Montaro Outdoor Lounge

Low Dining Set

WAS $

2999

NOW

$

2599

ON SALE!

Buy NZ MAde!

Shop

Online

Nationwide

Delivery

Finance

Options

more super deals online & in store!

THE BIG CHRISTMAS SALE ENDS 17.12.20.

Come & check out

our new STORE!

targetfurniture.co.nz

250 Moorhouse Ave, Christchurch

Ph: 0800 TARGET (0800 827438)

Offers and product prices advertised here expire 17/12/20.

Sale excludes Manchester and Accessories.
---
Wednesday December 2 2020 Selwyn Times 27

Total commitment from Weedons' fielders. Sam Clarke is about to retrieve the ball

stopped by Todd Innes (above) and (below right) Innes in the action again.

(Below) – Hamish D'arcey.

Wicketkeeper James Watson watches the ball race off to fine leg.

(Right) –

Canterbury Kings

star Henry Shipley

unleashes during

his knock of 52 off

56 balls.

PHOTOS: KAREN

CASEY

SAFER SPEED REVIEWS

Yaldhurst Road, Ryans Road and Pound Road

NEW PERMANENT SPEED LIMITS

Speed limits are changing on SH73 (Yaldhurst Road), and on sections of Ryans Road and

Pound Road. From Friday 4 December 2020 the new permanent speed limits will be:

LOCATION

SH73 East of Yaldhurst township – from 155m west of

SH73/SH1 (Russley Road) intersection to 200m west

of Sir John McKenzie Drive

SH73 Yaldhurst township – a reduction in the existing

70km/h section to 60km/h through the village and

an extension of this 60km/h zone to 150m west of

Hasketts Road.

SH73 West of Yaldhurst – from 150m west of

Hasketts Road to 200m west of Old West Coast Road

Ryans Road – from 300m east of Pound Road to 300m

west of Pound Road

Pound Road – from 350m south of SH73 to 300m

north of Ryans Road

EXISTING SPEED

LIMIT

80km/h

Village zone –

70km/h

Extension of village

zone west – 100km/h

100km/h

70km/h and 80km/h

70km/h and 80km/h

NEW SPEED

LIMIT FROM 4

DECEMBER 2020

60km/h

60km/h

60km/h

80km/h

60km/h

60km/h

The setting of the new speed limits follows

public consultation, in conjunction with the

Christchurch City Council.

We thank everyone who provided feedback.

For more information on SH73 and local road

speed limit changes visit:

nzta.govt.nz/projects/sh73-yaldhurst-area/

or ccc.govt.nz
---
28 Selwyn Times Wednesday December 2 2020

Christmas

High Tea

Join us for a Christmas High Tea

What a year it's been. And now Christmas is fast

approaching. Here at Summerset, we're busy getting

ready for a festive season that everyone will no doubt be

looking forward to.

To help kick things off, we're hosting a Christmas High

Tea and you're invited.

Just pop along to Summerset at Avonhead or

Summerset on Cavendish any time between 10am

and 2pm on Friday 4 December, and enjoy a range of

delicious Christmas treats and warm drinks on us.

Whilst you're here, why not also get a taste of the

Summerset life that our residents love so much.

Our team would love to show you around our stunning

villages and show homes.

Christmas

High Tea

Friday 4 December

10am - 2pm

Summerset on Cavendish

147 Cavendish Road, Casebrook

Call Deborah on 03 741 3340

Summerset at Avonhead

120 Hawthornden Road, Avonhead

Call Anne on 03 357 3202

For more information, call Anne at Avonhead on

03 357 3202, or Deborah at Casebrook on 03 741 3340.

We're looking forward to seeing you!

SUM2658_FP1
---
Wednesday December 2 2020 Selwyn Times 29

Email matt.slaughter@starmedia.kiwi

by 5pm each Wednesday

Selwyn SeniorNet

Lincoln on Wednesday, 10amnoon,

Leeston on Thursday,

10am-noon and Rolleston on

Fiday 10am-noon

SeniorNet brings older adults

and technology together in a

friendly, fun and stress-free way.

It's for people over the age of 50

who'd like to learn more about

technology and what it can do

for them. To join in Rolleston or

Lincoln phone Tui Heighway 027

765 5194 and for Leeston phone

Terry Pierson 324 2300.

Lincoln Event Centre,

Leeston Library and Rolleston

Men's Shed

Rhymetimes

Rolleston on Wednesday, 9.30-

10am, Lincoln on Tuesday and

Friday, 9.30-10am

Stories, songs, rhymes

and bubbles make up this

Rhymetimes session, which is

designed to assist with early

language development. Aimed

at children aged one to three.

Free, weekly sessions, term-time

only.

Rolleston and Lincoln

libraries

Sensory Babytimes

Wednesday, 9.30-10am

Share interactive songs, stories,

sensory boards and bubbles.

These sessions are designed to

help cultivate early language

and literacy and support the

development of motor skills for

those up to 1-year-old.

Lincoln Library

Chess Club

Wednesday and Monday,

3.30pm-4.30pm and Saturday,

1.30pm-3pm

Chess is one of the oldest

games in the world and is

estimated to have been invented

in about 600BC. Go along

and find out what makes this

game so popular. No bookings

necessary.

Lincoln Library on

Wednesday and Leeston Library

on Monday

Craft and Chat Group

Thursday, 10am-12pm

Go along with your current

craft project to work on while

you get to know fellow craft

enthusiasts. An opportunity to

share tips, tricks and skills.

Lincoln Library

Cubing Club

Friday, 3.30pm-5pm

Go along to Cubing Club with

your Rubik Cube and show off

your skills. Suitable for ages 10

and over. Bring your own cube

or challenge yourself with one of

the ones at the library.

Lincoln Library

Down By The Liffey Gallery

Exhibition

Until December 13,

Wednesdays and Thursdays,

11.30am-2.30pm and Fridays to

Sundays, 10 am to 4pm

Featuring guild artists from

Christchurch and Canterbury

districts. The guild aims to

promote painting through

friendship and fun. This two

week exhibition features a special

Christmas gift shop full of gift

ideas.

1 James St, Lincoln

Markets

Rolleston Farmers Market:

Sunday, 9am-12.30pm, 96

Rolleston Drive

Darfield Market: Saturday,

9am-1pm, opposite Challenge

Darfield, South Tce.

Market@254: Saturday,

9.30am-1pm, rain or shine,

254 Lawford Rd, West

Melton.

Lincoln Farmers and Craft

Market: Saturday, 10am-1pm,

Gerald St.

Running groups

Rolleston Road Runners:

Thursday registration from

6.15pm for a 6.30pm start.

3km, 6km and 9km options in

Foster Park, next to the gravel

car park.

Lincoln Road Runners:

Tuesday registration from

5.40pm for a 6pm start. 3km or

Board Games

Club will be held

at Rolleston

Library on

Sunday from

1.30pm to 3pm.

Go along to

play a variety of

exciting games.

Suitable for those

new to board

games, as well as

regular players.

Recommended

for intermediate

and high school

people aged

eight to 18 years. ​

6km options. Starts outside

Coffee Culture on Gerald St.

Malvern Road Runners:

Tuesday registration from

5.45pm for a 6pm start. 1.8km,

3km and 6km options. Meet at

McHughs Plantation.

Ellesmere Road Runners:

Wednesday registration from

5.45pm, starts at 6pm. 3km or

6km walk or run. Starts from

Leeston Physiotherapy.

Foster Park Run: Saturday

from 7.50am. Free weekly timed

5km run, jog or walk. Register at

www.parkrun.co.nz/foster and

don't forget your barcode. Foster

Park, Rolleston.

CHRISTCHURCH MANAPOURI- -

CHATHAM ISLANDS

DIRECT

The Chatham Islands are the closest most New Zealanders

Due to ever increasing popularity and in conjunction with Air Chathams

can get to international travel without packing their passport.

Due Chatham to ever increasing Islands during popularity Dec 2020 and and in conjunction April 2021. with Air Chathams

and We Hotel will be Chathams, using a 68 we passenger have again ATR chartered aircraft, an where ATR Aircraft we will for have another up to

two special flights from Manapouri Airport to the Chatham Islands.

Tour #29

Sun 27th Dec 2020 depart Manapouri 1.00pm - arrive 4.30pm (CI time)

Sun 3rd Jan, depart Chatham Islands 10.00am - arrive Manapouri 12.15pm

This Tues tour would 8th Dec give you 2020 the opportunity Depart Ch-Ch of being 2pm the first Arrive in the world Chatham to see the at sun 5pm for

2021 Tues as well 15th as having Dec New 2020 Years Depart Eve on Chatham.

10am Arrive Ch-Ch 11:45am

The other special attraction on this tour is the Chatham Island Races. This is probably

Chatham Islanders biggest "Family Fun Day" of the year. The Jockey Club was first formed

in Tour 1874 and reputed #30 to be 8 the days oldest & Jockey 7 nights Club on in NZChatham X Christchurch

Tues 20th April 2021 Depart Ch-Ch 2pm Arrive Chatham at 5pm

Tour Tues 27th #33April 2021 Depart Chatham 10am Arrive Ch-Ch 11:45am

Sun 3rd Jan 2021 depart Manapouri 2.00pm – arrive 5.30pm (CI time)

Sun 10th Jan 2021 depart Chatham Islands 8.45am - arrive Manapouri 11.15am

All Per inclusive person X Costing Christchurch:

Per SINGLE person X Manapouri shared facilities $3,995 STANDARD TWIN/DOUBLE ............. $4,470

SINGLE TWIN / Shared / DOUBLE facilities ................ with ensuite $4,370 SUPERIOR $4,155 DOUBLE ............................. $4,570

I can SUPERIOR also offer discounted SUITES Air Travel only, $4,235 ONE WAY--- EITHER WAY at $600 per person

Make Make up your up your party now party and now take advantage and take of advantage your preferred of tour your

and preferred accommodation. While availability while availability lasts! lasts.

https://chathamislandtours.nz/

www.chathamislandtours.nz/

contact/booking_enquiry

2293459

CHATHAM ISLANDS

DIRECT

and Hotel Chathams, we have decided to run another two tours out to the

8 fully guided days to explore our most eastern island before returning

home to Christchurch. Pitt Island is an option as is fishing.

Tour #27 8 days & 7 nights on Chatham X Christchurch

All inclusive costing

MERV'S CHATHAM

ISLAND TOURS

Phone 03 249 8294

chathamislandtours@gmail.com
---
30 Selwyn Times Wednesday December 2 2020

GET YOUR SPARKLE ON WITH OUR

'TIS THE SEASON WE ALL

GET THIRSTY

BANGER DEAL$

$17.99

E AC H

Bombay Sapphire Jim Beam Gold Beefeater KGB Pink / Cody's / Absolut (incl zero)

Gin & Tonic CC Premium Lime / Malibu 7% Passionfruit

250ml 12pk cans

275ml 4pk 7% bottles 330ml 6pk cans 250ml 4pk can ranges

$24.99

E AC H

$24.99

$25.99

EACH

EACH

$15.99

EACH

Woodstock Black

10pk cans

$9.99

EACH

$33.99

E AC H

$10.99

E AC H

$49.99

EACH

Malibu

Jacobs Kahlua Creek

(ex Sparkling 1L (incl range)

Five Flax salted range

caramel)

$13.99

EACH

$29.99

EACH

$19.99

EACH

$25.99

EACH

19 Crimes

range

$30.99

EACH

$13.99

EACH

Lindauer

Special Reserve range

$37.99

EACH

$21.99

EACH

Jim Beam & Cola / CC

Jack Daniels (incl zero) & Cola 4.8% 10pk cans Woodstock

Double JB Jack Gold 7% 5% 8pk bottles cans & 250ml 7% cans

250ml 10pk cans (incl zero) all 12pks

$54.99

$60.00

Finlandia

Jack Daniels 1L

Bell's / Dewar's

Southern Comfort

Woodford Reserve

1L

Malibu / Kahlua

700ml

700ml

Absolut

Larios Citrus / Rose

700ml (incl flavours) Jim Beam White

700ml

Larios 12 1L

Jim Beam Martell Honey VS 700ml

($31.99 700ml each)

Haagen Kingfisher Strong

24pk bottles 7.2% 500ml cans

3 FOR

$10.00

$24.99

EACH

T W O F O R

$20.00

Sol Mexican Lager

12pk

Cruiser

12pk bottle

range

$24.99

E AC H

$20.99

EACH

$20.99

EACH

Cruiser

12pk bottle range

NEW

P RO D U C T

$25.99

E AC H

$29.99

EACH

Heineken

15pk bottles Export 33

15pk bottles

10pk cans

$21.99

E AC H

BERG SELTZER

Effen Vodka / Jim Beam

Part Time Rangers / JD & Cola 330ml

Canadian Club

JD No Sugar 375ml all 10pk cans

10pk bottle ranges

Jim Beam & Cola/CC

330ml 10pk bottles

Jacobs

Creek

Sparkling

range

Mumm Grand Cordon

RUDOLF'S

REFRESHERS

EACH

$29.99

Lion Red, Speights, Waikato

TWO

or Summit 15pk bottles

Sol; Tiger; Tiger

FOR

Crystal or Kingfisher

all 12pk

$40.00

Stoneleigh

Marlborough/

Lighter ranges

$12.99

E AC H

T W O F O R

$70.00

Teachers / Russian Standard

Larios Original 1L / JB Black

Midori 700ml

$25.99

E AC H

$46.99

E AC H

Jameson

1L

$12.99

E AC H

Villa Maria

Private Bin

range

(ex PN/Syrah)

$22.99

E AC H

$13.99

EACH

Mudhouse range (ex PN)

Freixenet Extra

Haagen

15pk bottles

Somersby

12pk range

$12.99

E AC H

Allan Famous Scott (ex PN)

Grant Grouse Burge Fifth

Generation ranges

Stolen Dark

Rum

1L

$39.99

EACH

Tanqueray

1L & flavoured

700ml range

$28.99

E AC H

$48.99

E AC H

$37.99

E AC H

$21.99

EACH

EACH

$21.99

EACH

$25.99

EACH

$21.99

EACH

Gordon's G&T /

Gordon's Gin & Soda

250ml 12pk cans

Wolf Blass

(pink / lemon sicilian) Yellow Label Range

Gordons Gin & Soda

250ml 12pk cans

(pink/sicilian) Wither Hills

range

(ex reds)

$34.99

EACH

$34.99

E AC H

$14.99

EACH

Villa Maria Cellar

Selection

(ex PN & Syrah)

Orchard Thieves

12pk range

$39.99

EACH

$25.99

E AC H

$13.99

E AC H

$22.99

EACH

$21.99

E AC H

Brown

Brothers

Moscato

range

Larios Citrus / Rose / Larios 12

Chatelle 1L

Jagermeister

Mt Gay Eclipse

1L

$49.99

E AC H

$23.99

E AC H

Tui/Export Gold/DB Draught

15pk bottles

Tui/Export Gold/Extra Lion Low Red; Waikato; Speights

Carb/ DB Draught Gold or Summit or Low Export Carb 33

Corona 24pk bottles

24pk bottles 24pk bottles

12pk bottles

$13.99

E AC H

$39.99

E AC H

$23.99

E AC H

$9.99

E AC H

Tui Hard Soda

330ml 10pk cans

ODD Company

10pk range

Tui Bourbon

Tui Vodka Soda

7% 18pk can range

Brown Brothers

Prosecco range Baileys

1L

$54.99

E AC H

2 FOR

$14.99

EACH

$29.99

EACH

$23.99

EACH

Church Road

range (ex reds)

$62.99

EACH

Chivas 12yr

1L

Monteiths

Batch

Monteith's Classic Brewed &

12pk range Cider

12pk range

$40.99

E AC H

$39.99

EACH

Asahi

24pk bottles

$23.99

E AC H

$42.99

E AC H

HOT PRICE!

Woodstock Jim Beam Gold/

18pk 7% CC Premium

250ml cans 7% 250ml 12pk

DC 8pk all cans

EACH

$13.99

E AC H

$45.99

E AC H

$15.99

NZ Lager

18pk cans

Peroni 12pks

Stella / Steinlager Pure

Carlsberg

24pk bottles

24pk bottles

SANTA'S

STOCKING

FILLERS

Jim Beam

1.75L

$67.99

E AC H

$19.99

EACH

Deutz Brut

$30.99

$23.99

EACH

2 FOR

$48.00

Long White

Vodka/ Gin 10pk can

range ($25,99 each)

Lake Chalice

Falcon;

EACH St Hallet

Gamekeepers

ranges

Taylors

Estate

range

$41.99

E AC H

2 FOR

$70.00

2 FOR

$25.00

Canterbury

Cream

($12.99 each) Jim Beam

Black 1L

Jim Beam

Devils Cut

1L

Makers

Mark

700mls

Jagermeister 700mlFortune

Mt Gay Eclipse 700ml Favours

Highland Queen 1L 6pk cans

($35.99 each)

$24.99

E AC H

$24.99

$23.99

E AC H

EACH

$41.99

EACH

Heineken

24pk Corona bottles

18pk bottles

$15.99

E AC H

$18.99

E AC H

Heineken

12pk bottles

$45.99

E AC H

398 HIGH STREET, RANGIORA

03 313 7207

1275 MAIN NORTH ROAD, BRIDGEND

03 323 8833

585 SPRINGS RD, PREBBLETON

03 349 6031

thirstyliquor.co.nz

THIRSTY LIQUOR STORES

114 RAILWAY TERRACE, RAKAIA

03 302 7973

45 SOUTH TERRACE, DARFIELD

03 317 9499

1147 WEST COAST RD, WEST MELTON

03 347 8460

670 MAIN SOUTH RD, ISLINGTON

03 349 7337

69 MAIN ST, FAIRLIE

03 685 8061

118 LE CREN ST, TIMARU

03 684 3566

21 ALDWINS ROAD, LINWOOD

03 982 1753

9 PARNWELL ST, BURWOOD

03 383 2564

495 PAPANUI RD, PAPANUI

03 260 2380

65 VICTORIA ST, CBD

03 260 1155

KEEP CALM

Available from 1st to 31st December 2020

Specials only available whilst stocks last. At participating stores only.

K N O W

Y O U R

I M

L

I T

ASK ABOUT

LOYALTY CARD

BENEFITS &

GIFT VOUCHERS
---
Wednesday December 2 2020 Selwyn Times

Latest Canterbury news at starnews.co.nz

FOOD 31

Fancy fish with a hint of Asian flavours

Give your fried fish the

crispy crunch and an

Asian flavour, don't go

overboard with the

chillies though or they

will overpower the other

flavours

Crispy snapper with soy

and ginger dressing

– Serves 4

Ingredients

Vegetable oil

4 snapper fillets, approx 150gm

each, skin on and pin-boned

½ cup rice flour

1 spring onion, trimmed and

sliced

¼ cup coriander

¼ cup Thai basil leaves

2 long red chillies, thinly sliced

Soy and ginger dressing

1 tsp fresh ginger

¼ cup soy sauce

Directions

To make the soy and ginger

dressing, place the soy sauce and

ginger in a bowl and stir to combine.

Set aside.

Heat 1cm of oil in a large frying

pan over high heat.

Dust the snapper in rice flour

and cook for 3-4min each side or

Dress-up your traditional fish choice, crispy snapper pan-fried makes a tasty change.

until golden and crisp.

Drain on absorbent paper.

Flake and place in a bowl with

the basil, coriander, spring onion,

chilli and snow peas and toss to

combine.

Spoon over the dressing to

serve.

Pan-fried snapper with

lemon butter

– Serves 4

Ingredients

80g butter

¼ cup pine nuts

4 snapper fillets, approx 150gm

each, pin-boned

2 lemons, or 2 tsp finely grated

rind and wedges to serve

80gm baby spinach

200gm green beans, blanched

Directions

Heat a large non-stick frying

pan over high heat. Add the pine

nuts and cook for 12min or until

golden. Remove from the pan

and set aside.

Reduce the heat to medium, add

1/4 of the butter and the snapper

to the pan and cook for 3-4min

each side or until golden and

cooked through.

Add the remaining butter and

lemon rind to the pan and cook

for a further 30sec or until the

butter has melted.

To blanch green beans, place

the beans in a heatproof bowl

and pour over boiling water. Allow

to stand for 12min or until

bright green and tender, then

drain.

Serve snapper with the baby

spinach, beans, lemon wedges

and pine nuts and spoon over

the butter sauce.

Parsley butter bean

topping

– Serves 4-6

Ingredients

2-3 cloves garlic

1/2 tsp salt

425gm can butter beans,

drained and rinsed

2 tbsp lemon juice

1/4 cup each: extra virgin olive

oil, flat-leaf parsley leaves

freshly ground black pepper to

taste

Directions

Mash the garlic and salt

together with the blade of a

heavy knife.

Place all ingredients in a food

processor.

Pulse until the mixture is

smooth. Great served as a topping

for pan-fried or steamed

fish.

now is the time to

PReoRDeR YoUR

Christmas ham

Mention this advert

instore to receive:

$5 oFF 1/2 a ham or

$10 oFF a whole ham

*Limit one per person and only while stocks last. Offer available on pre-ordered

ham only. Can not be used with any online orders. Voucher valid until 7/12/2020

490 Sparks Rd, Halswell, Christchurch Phone: 03 322 8747

Hours: Mon-Fri 7am-6pm Sat 7am-12pm

Check out our website www.halswellbutchery.co.nz
---
32 Selwyn Times Wednesday December 2 2020

SELWYN RURAL LIFE

Boom-town growth tests farm priorities

High-class soils must be protected,

Federated Farmers says as Selwyn's urban

growth continues to surge.

Land around Rolleston continues to be

sold for housing and industry, expanding

the town at breakneck speed. The town

had 17,500 residents as of the last census

and the number is predicted to climb to

24,000 by 2040.

Selwyn district has

consistently been one

of the fastest-growing

areas in New Zealand

over the past decade

and is now the third

most populated

district in the South

Island.

Selwyn district has consistently been

one of the fastest-growing areas in New

Zealand over the past decade and is

now the third most populated district

in the South Island. The district's strong

population and economic growth is

projected to continue for many years yet.

Meantime Selwyn District Council

(SDC) is consulting on its district plan,

which it expects to be in full effect by the

end of 2022.

In a summary of its proposed plan, SDC

says: "Apart from some minor rezoning

in Leeston and Rolleston, the council

has made the decision not to investigate

rezoning new 'greenfield' residential or

business areas in the district through the

District Plan Review process".

In relation to the Ellesmere and Malvern

Wards, SDC's decision was based

around "balancing projected demand

for residential and business land and the

existing capacity of townships to cater for

this demand".

Overall, the council was not proposing

any residential zoning changes, "except

for lifting the deferral of some land in

Darfield and Leeston, which is currently

treated as rural land but is to become

residential zoned land in the Proposed

District Plan".

SDC considered there was enough land

at the moment to cater for projected

population growth.

The pros and cons of urban plans and

policy statements continue to divide

farmers, who may, or may not, want

residential growth to continue. For some,

urban expansion is a threat to precious

hectares. For others, city and town sprawl

represents a potential property windfall.

In a submission to the urban

development NPS, Federated Farmers

said its membership encompassed a

broad range of persons and interests,

"depending on their own personal views

and future intentions to develop their

own land". With this in mind, Federated

Farmers submission focused "solely on

key issues that are generally accepted by

our membership".

The lobby group said Federated

Farmers generally supported the urban

development policy statement but wanted

urban development to be clearly defined.

It could not include un-serviced large lot

residential subdivision on the fringe of a

city or town that resulted in inefficient use

of the land resource and land use conflict.

An urban development NPS must also

recognize the importance of maintaining

high class soils for primary production for

future generations and protecting "high

class soils from inappropriate subdivision,

use and development".

"A further concern our members face is

the expansion of the peri-urban boundary

into land used for primary production and

commercial activities associated with the

primary sector. Reverse sensitivity issues

such as odour, aural or visual amenity

concerns have the potential to affect the

viability of some rural-based businesses.

We seek greater controls be applied to

the NPS-UD [urban development] with

respect to controlling reverse sensitivity

risk. It is Federated Farmers' experience

that reverse sensitivity issues inevitably

arise when urban uses of land displace

rural uses of that same land," Federated

Farmers' submission said.

Firewood & Coal

Coal

20 kg bags or

500kg bulk bags

Firewood

Pick up or deliver

(delivery charges apply)

Free delivery to Darfield township when

3 cubic metres or more is ordered.

Landscape Products

Now Available!

• Forest Mulch

• Bark Mulch

• Bark Nuggets (10/20mm)

• Premium Organic Compost

• Screened Soil

• Landscape Rocks

• Paparoa Red Rock available in 3 grades

• Railway Sleepers (2.1 Lengths)

• Kindling Wood

• Unscreened Bark

Delivery fees apply.

417 Creyke Road,

Darfield

Phone 03 975 4502

Eftpos now available

Open Monday to Friday 6am-6pm, Saturday 8am-1pm or after hours by appointment

GET YOUR RURAL

BUSINESS NOTICED

THINKING ABOUT BUILDING

A DECK?

WE ARE YOUR LOCAL DECKING & TIMBER EXPERTS

See us for all your timber and hardware needs.

Canterbury

Timber & Hardware

When you advertise your rural business in the Rural Life feature

in The Selwyn Times, your ad will reach 20,600 rural and

residential households across the ENTIRE Selwyn District.

The Selwyn Times is delivered FREE each Wednesday, covering

the latest local news and information with digital editions also

available to view online at www.starnews.co.nz.

CALL Lynette TODAY to discuss how she can help

PROMOTE YOUR BUSINESS to local Selwyn readers,

or to the entire Canterbury district.

Don't forget to ask about our "Support Local" packages to

assist the Covid Business recovery. We're here to help!

Contact Lynette DDI: 03 3647434 Mobile: 021 222 7831 Email: Lynette.Evans@starmedia.kiwi

Call in today for your free quote!

167 Manion Road, Rolleston

P 03 347 7465 E sales@cthl.co.nz

www.cthl.co.nz

Mon-Fri: 7am-5pm Sat: 8am-12pm
---
SELWYN RURAL LIFE

Wednesday December 2 2020 Selwyn Times 33

Farmer-led group nets environment cash

A Selwyn catchment group is set to net just

over $2m for environmental improvements

on more than 60 properties in the district.

The government funding is going to

the Tinaku Project, led by the farmerled

Ellesmere Sustainable Agriculture

Incorporated. The group has 100 members

and aims to improve water health, mahinga

kai and cultural values.

The $2.2m from the Ministry for Primary

Industries (MPI) will pay for four and eight

full-time equivalent staff working with

landowners across 46,000ha. The activity

will include fencing and planting to protect

streams, drains and wetlands, as well as pest

control and improved biodiversity.

The Tinaku Project reaped about a third

of the Jobs for Nature funding announced

by Agriculture Minister Damien O'Connor

this month. Four farmer-led catchment

groups in Canterbury and Otago were given

between $176,000 and $2.3 million over

the next three years to fund environmental

improvement work across dozens of sites in

their regions.

The Jobs for Nature projects include,

North Otago Sustainable Land Management

Riparian Project – $362,000; Lindis River

project, Otago – $772,000 and Pomahaka

Wetland Restoration project, South Otago –

$176,000

O'Connor said most of the initiatives were

being led by established catchment groups

with hundreds of farmer members. The

work would involve fencing and planting

around water bodies, clearing of unsuitable

trees, and pest control.

Overall, Jobs for Nature could employ

between 15 and 20 people as well as

specialist contractors over that period.

O'Connor said producing food and fibre

for the world with strong environmental

credentials would create more value for our

products and would help New Zealand's

economic recovery from Covid-19.

It was important that the Jobs for Nature

projects were led by farmers and the

community, O'Connor said.

"Farmers working directly with each other

through local catchment groups means

they can develop and share their knowledge

about what works for them and provide a

connected network for support and advice.

Through Jobs for Nature projects they can

start to make a difference that will be seen

in years to come."

Canterbury Employers' Chamber of

Commerce Chief Executive Leeann Watson

says the Jobs for Nature funding for

Canterbury and elsewhere was recognition

of the significant work undertaken by the

rural sector. Most farmers were focused

on improving and protecting their land

for future generations and many had been

early adopters of environment management

plans for the last seven or eight years, she

said. "Environmental stewardship is also

an important area in terms of securing

market access for food and fibre, so this

funding will play a role in helping to boost

our agriculture exports - a key economic

driver for the region, which was particularly

evident through Covid".

The funding also showed that

sustainability had not been overlooked in

the Covid environment.

Preserving the health of rivers, wetlands,

and habitat biodiversity has always

been a key issue for the region, "so we

are encouraged to see the Government

addressing this challenging issue in

partnership with the farming sector and

hope that it is a signal for the Government's

approach to accompanying sector

regulations and other sustainability issues,"

Watson said.

A further $2.9m of government funding

would help about 300 Hurunui farmers

work towards improving the health of their

land and water through applying farm

environment planning and sustainable land

management practices.

Factory outlet

Buy now For Xmas

Sheepskin Slippers, Boots,

Scuffs, Possum Accessories,

Cow and Calf Hides

Pure Sheepskin Pet Mats

$15 to $30

Follow us on Facebook

823 Jones rd rolleston

Selwyn Auto

ALL YOUR MOTORING NEEDS

› WOF's › Diagnostics

› Repairs › Servicing

› Batteries › Tyres

› Courtesy Cars Available

Phone 329 5841 | 132 Leeston Road, Springston

www.selwynauto.com | office@selwynauto.com

Canterbury Ltd

Merry Christmas from the

Pumps & Filters Canterbury Team

CLOSED from the 23 rd Dec

RE-OPENING 11 th Jan 2021

For emergencies, our staff is available on call.

NEW LOCATION

551 Halswell Junction Road

0800 GRUNDFOS / 0800 478 633

For sales and service or

after hours service call

Jason 021 649 944

or Mike 021 560 044

www.pumps-filters.co.nz

3 TRUCKS

3 CARS

3 LUBES

3 SERVICING

3 FLEET WORK

3 BOATS

3 DIESEL INJECTOR &

PUMP SERVICING

3 ENGINE TUNING

Mon-Fri 7am-5pm

Sat 8am-12pm (WOFs only)

3 BRAKES

3 MAXXIS TYRES

3 WHEEL

ALIGNMENTS

3 BATTERIES

3 WOFs

3 CAMBELTS

AND MUCH MORE!

839 Jones Road, Rolleston P.O. Box 16 Rolleston

Phone Simon on 347 7110 or Mobile 027 272 9213
---
Selwyn Times Wednesday December 2 2020

34

GARDENING

SOME OF the easiest plants to

grow are herbs and flowers.

Getting to know these

garden staples is also a great

way to learn about the basics of

gardening.

Step 1: Mint

To grow it well and noninvasively,

always plant mint in a

big pot in quality media (potting

mix) with a few water crystals to

help keep the plant moist (not

waterlogged) and make sure

it gets a little shade during the

hottest part of the day.

Step 2: Which herbs go

with mint?

Plant parsley and coriander in

the same pot as mint, because

these herbs love moist soil too.

Make sure you give each plant

plenty of room to expand as they

grow.

Step 3: Which herbs like

drier soil?

Latest Canterbury news at starnews.co.nz

Herbs and flowers are the easiest to grow

AS WE move through

summer, keep the garden

looking fresh for your outdoor

enjoyment.

1. Conserve water

– While we may not reach

Australian levels of urgency

about water shortages, the ecomessages

are just going to get

tougher from now on. Take a

good look at how you use water

in your garden and make some

plans. Whatever your method,

Thyme (common, pizza,

lemon), rosemary and

fragrant oregano, prefer being

more dry than moist and love

soaking in all day sun. They

prefer less nitrogen so they can

be sparing with the frequency

of watering: established plants

need only 30min of water once

or twice a week, vegetables

more.

2. Mulch to save

work – Mulch is the instant

makeover. It suppresses weeds,

makes a tired garden look

fresh and slows water

evaporation.

But only apply it once the soil

is good and wet, as otherwise it

develop their fragrant oils.

Step 4: Basil the loner

Basil (common, purple, thai,

giant, tiny leafed) needs a little

more care to produce a good

harvest. Grow it in a big pot that

can be moved around to catch

the sunshine and remove it from

windy conditions. Do not water

basil plants directly on the leaves

or the soil as the dampness may

attract fungal disease.

Step 5: Add coriander

It's easy as long as you plant

the seeds just below the surface

and right where you want them

to grow in your garden. To slow

down the 'bolting' of coriander

harvest it often.

will not help your plants.

3. Plant locally – Native

plants (from your part of the

country) are perfectly adapted

to your local sun, rain and wind

conditions, so they look after

themselves.

4. Mow lightly – In the

summer lawns do best when

the grass is longer (about 25-

30mm).

The soil and roots are shaded

Step 6: Easy flower

growing

To start an easy

Christmas flower garden,

cultivate a small space or

garden edge and turn some

heat-treated sheep pellets into

the soil.

Then grab a mix of marigold

and cornflower seeds and throw

them across the garden. Place

a thin layer of soil on top and

water them in.

Step 7: Buy seedlings

Now buy some flower

seedlings of your choice and

place them at regular (or

irregular) spaces throughout the

growing space. Make sure you

water the garden daily.

Keep your garden fresh during warm weather

MOIST: Use water sparingly to

avoid shortages.

TASTE: Mint can be grown in the garden or in a container.

so the lawn does not get sunburnt

and more moisture is retained.

If you can, leave clippings on

the lawn to help conserve soil

moisture and feed it.

5. Add water – There is

nothing like water to enhance

a garden.

While a full-scale water

feature can get expensive,

garden centres now sell small

plug-and-go bubbling water

bowls.

Garden

In the

oN sAle Now!

Making your great outdoors greater

Vege Mix

with intelligro

Planter Box Range

NOW

$30

PeR SCOOP

Now only

$35.80

Buy 5 scoops get 1 FRee!

OR buy 6 scoops and get FRee DeLiVeRY!

This is a great time to grow your own

herbs and vegetables. Intelligro have

a great range of planter boxes, raised

gardens and the very popular

Vegepods.

• Vegepods

• Macrocarpa Kitsets

*Available in a variety of sizes

Plus $5 P&H per copy

AvAilAble from stAr mediA:

Level One, 359 Lincoln Road

Addington, Christchurch

Phone 379 7100

Check out the rest of our landscape supplies online

www.mainscapegardensupplies.co.nz

Contact Us

1543 Springs Road, Lincoln

021 241 7908

sales@mainscape.co.nz

Mon - Fri

8:00am - 5:00pm

Saturday

8:00am - 3:00pm

Grow in the Good Stuff

Made onsite with our very own recipe, Vege Garden Mix is

great for all our plants that grow above the ground. Pre-fertilised to the

optimal requirements, this mix will see your plants through the growing

season. For veggies that grow below the ground, our Garden Mix is ideal

for them. This mix contains 50% screened soil and 50% organic compost

and comes premixed.

For more information about our range, head to our website www.igro.co.nz

or visit us in store at 261 Manion Road

Intelligro Opening Hours:

Monday – Saturday: 7.30am – 5.30pm

Sunday & Public Holidays: 8.30am – 4.30pm

/igro.co.nz /intelligro_nz

261 Manion Road, Weedons 7677 | P: 03 347 9012 | E: info@igro.co.nz

growing with you Three Time winner of NZCNA Best Magazine | July 2020 | 100%

Our shrub

Of the month

Why you need a

smoke bush

Gardening

in Glass

The art of

making

terrariums

$7.90 incl. GST

Start your

StrawberrieS

Priming for sweet

success this summer

Pass the

Potato

A Canterbury family

keeping one special

variety growing

stars of the winter staGe

daphnes, camellias, hellebores & more

Are you ready

to grow?

Kiwi Gardener is your

practical guide to gardening

in New Zealand.

SubScriBe FrOM $20

SubScriptionS

Freephone 0800 77 77 10

www.Gardener.kiwi
---
Wednesday December 2 2020 Selwyn Times

Latest Canterbury news at starnews.co.nz

GARDENING 35

Put a plan in place for holiday season

SUMMER IS here. It's a hugely

busy time in the garden with

vigorous growth on most plants,

harvesting of early maturing

summer vegetables and preparing

the garden if you are planning on

heading away.

Vege garden

Summer salad vegetables will

be maturing mid/late December.

Regularly apply side dressings of

fertiliser to enhance the growth of

these plants. With quick maturing

crops such as radishes, dwarf

beans and lettuce, use succession

planting (every two to three

weeks) to avoid them all maturing

at the same time and ensuring

you have a constant supply.

Plan you watering or irrigation

programme to encourage strong

plant growth while avoiding

wasting any water. Apply mulch

to reduce water loss and help prevent

weed growth. Early planted

potatoes should be ready to be

harvested for Christmas Day.

Continue to remove the lateral

growth on your tomato plants

until they reach around 1m, and

tie up to stakes at regular points

(every 100–150mm).

Summer flowers

With little effort, summer

annuals can provide masses of

colour and beauty in the garden

MAINTENANCE: December is a good time to deadhead

your roses and encourage more blooms.

or containers. Summer flowers

include; ageratum, cornflower,

cosmos, marigolds, petunias,

portulacas, salvias, strawflowers

and zinnias. Deadhead old finished

flowers to encourage more

flowering.

Fruit trees

Early stone fruit such as plums

start to ripen towards the end

of the month. You may need to

remove some excess new growth

and thin laden bunches of

fruit to help promote heavy cropping.

Water newly planted fruit

trees and mulch as soils begin to

dry.

Berries and strawberries

Boysenberries, blackcurrants,

gooseberries and raspberries can

be harvested in late December.

They will be developing new

canes that should be tied down

or removed when there is

excessive growth.

It's a great month for harvesting

strawberries. Protect plants with

bird netting so they don't eat the

fruit before you do.

Place pea straw or crushed bark

around plants so fruit are sitting

on a 'clean bed'. Water as required

and with the minimum of maintenance

you should be harvesting

delicious, juicy strawberries well

into January.

Roses

It's an excellent month for rose

before the difficult months of

January and February. It's important

to continue to deadhead

finished flowers to encourage

more blooms.

Apply regular side dressings of

rose fertiliser to encourage strong

healthy growth. Carry out summer

pruning to promote further

flowering. Inspect your roses

regularly for signs of blackspot

and rust and instigate a regular

spraying programme to control

these diseases.

Lawns

Depending on specific summer

weather conditions, lawns

should either be in peak condition

or beginning to dry out.

Avoid mowing too low over hot

summer months and do not apply

fertiliser.

If water supply allows, irrigate

lawns in the cooler parts of the

day. If you have bare patches

appearing, you will need to be

patient and wait until autumn before

carrying out any repair work.

Preparing the garden for

summer holidays

Because we traditionally

holiday in the Christmas/January

period, "deserting" the garden at

this time can lead to problems.

It's better to plan ahead and be

prepared.

Avoid problems by not having

your vegetable crops maturing

during this time, applying a good

layer of mulch and installing a

timer or asking a neighbour to

water your garden while you are

away.

This is especially important

with plants in containers.

Fun and exercise

all year round

Lagoon Pools import and install quality fibreglass swimming pools. To compliment the pools

they supply good quality equipment including salt water chlorinators, heat pumps, pool lights,

fountains and water features, swim turbines, spa jets, robotic pool cleaners and a range of covers

and roller systems including hidden and automated.

Imported from Leisure Pools in Australia, their Vinyl Ester pools are strong with six layers including

protective armour. Each pool is strength tested and has a lifetime structural and osmosis warranty.

Lagoon Pools owners Julie and Warren are dealers for Leisure Pools in the North Canterbury to

Southland area, and agents for the Elite Hideaway Roller system.

Call Lagoon Pools on 0800 927 282 or 349 2160, email info@lagoonpools.co.nz or visit:

www.lagoonpools.co.nz They are open by appointment only.

PATIos - ouTDoor AreAs - CAr PorTs

Shadecraft is a locally owned company who specialise in shade and weather

protection products to enhance your homes design and use of outdoor areas.

Louvres – sHADe sAILs – uMBreLLAs – ALL WeATHer CANoPIes

www.lagoonpools.co.nz

03 349 2160

0800 92 72 82

ShadeCraft (SI) Ltd

0800 742332 • Cell 0274 981239 • www.shadecraft.co.nz
---
36 Selwyn Times Wednesday December 2 2020

BMW X6 challenges design rules

CAR MAKERS are always

looking for a point of difference

in their designs.

A good example of that is

BMW's X6 sport utility vehicle.

Well such is its style it doesn't really

fit the SUV mould, its coupetype

rear quarter tapers markedly

to provide a fast-back look, one

which is distinctive and eyecatching.

If you add in genuine

bulk – the X6 is big – then you

have a bold, brash SUV that has a

polarising style.

Most of the people who I talked

about it liked it, but then there

were others who said it was a bit

over the top and unnecessarily

complicated as a design, especially

up front where an angular,

illuminated grille commands

attention.

The X6 has always been

controversial, when it was first

launched it had only four seats

which seemed a bit of a waste in

such a big car. However, BMW

has addressed that, it has been a

five-seater for several years now.

The X6 lands here with three

engine options; well, two are pretty

much the same design, a 3-litre

six-cylinder diesel with two different

power outputs, but for those

who like to stick with a high-performance

petrol engine, the M50i

is V8-powered. All have BMW's

xDrive four-wheel-drive system.

The two diesels have nomenclatures

of 30d and 50d respectively.

This evaluation surrounds the

entry-level model which lists at

$149,400, the 50d and M50i are

both priced at $187,100.

Given its stature, the X6 has a

plush, spacious interior, and for

those onboard you are cocooned

in the lap of luxury, and there is

an abundance of trim details that

will provide a pleasurable travelling

experience for all occupants.

The driver also gets a wealth of

functions and controls, many of

which are voice activated while,

of course, the X6 has the benefit

of a multitude of safety systems

incorporated into the vehicle.

Up front sits the big diesel, it

has massive power outputs even

in what is considered low-power

form. BMW claims 195kW and

620Nm, if that is not enough

grunt for you the 50d adds 99kW

and 140Nm. For me, though, the

30d has enough to satisfy. Power

is sufficient enough to claim a

6.5sec time to reach 100km/h.

That's not bad for a tubby vehicle

which weighs just over twotonne.

The engine is strong and wilful,

it is grunty under load and in a

subdued way it lets you know it is

enjoying its work. It throbs away

and is free-revving in its nature,

hauling to the 5000rpm redline

willingly, and that is unusual for

a big diesel. Not that there is any

real need to explore high revolutions,

diesels of this type have

mammoth mid-range torque, and

for that matter, the X6 is an absolute

dynamo during a highway

overtake. Such is the acceleration

BMW X6 30d: Sports sedan feel with notable power/handling balance.

you need to keep a close watch on

the speedometer, the X6 charges

to dizzy speeds with little effort

and little sensation of speed.

It also seems unfathomable

that you can have this huge

charge of energy from under the

bonnet and still achieve remarkable

fuel usage economy. BMW

also claims a 7.1-litre per 100km

combined cycle average. On my

long highway run the readout was

listing a 5.2l/100km instantaneous

figure at 100km, the engine

almost idling at just 1350rpm.

That contributed to an overall

9l/100km figure when I had finished

evaluating.

Overall, that's perfectly acceptable,

and figures that will continually

surprise the X6 buyer, you

can have huge impetus without

needlessly scoffing fuel.

The engine drives to all four

corners through an eight-speed

• Price – BMW X6 30d,

$149,400

• Dimensions – Length,

4941mm; width, 2019mm;

height, 1693mm

• Configuration – Sixcylinder,

four-wheel-drive,

2993cc, 195kW, 620Nm,

eight-speed automatic.

• Performance –

0-100km/h, 6.5sec

• Fuel usage – 7.1l/100km

automatic transmission. It is a

sequential shifting type with

paddles attached to the steering

wheel should the driver desire

to take control of the gearshift

process. Left to its own devices

the gearbox works the torque pattern

of the engine well, upshifting

early to minimise fuel usage.

Perhaps the biggest surprise

of all with the X6 is that of its

ELEGANT: Coupe-type rear quarter characterises the BMW X6. An elegant and plush interior pampers the occupants.

handling. I've mentioned it is a

big car and you'd expect there

to be limitations when twisty

backroads are encountered. That's

far from the reality, the X6 belies

its bulk, it feels tightly connected

with the road and it is remarkably

agile. A lot of that can be attributed

to the massive 22in Continental

tyres which have amazing

sidewall flexibility along with

unyielding grip.

Steerage is informative and

the entire vehicle is balanced

over the suspension. Of course,

you are paying a premium price

for the X6 and you'd expect all

the ducks to be in row, but the

power/handling balance of the

X6 is something quite extraordinary,

it feels like a sports sedan,

it is something quite special

when the never ending mixture

of New Zealand's road types are

presented.

The X6 is a complicated car to

describe. For one it is the quintessential

family wagon, it is also a

recreational model which would

be at home on the Mt Hutt skifield

access road, and it is a performance

SUV that is very wilful

with its high power outputs.

For my money the 'baby' of the

series would win out. As much

as I like big V8 petrol engines,

the 3-litre diesel charms with its

honesty and economy; however,

deciding between the 30d

and 50d is another conundrum

altogether.

From family cars to work trucks,

and supercars to fixer-uppers

no matter what you're looking for

you can find it all with Drivesouth.

Your next set of keys are just one

click away - visit drivesouth.co.nz

NUMBER ONE SUPPLIER

TO THE NZ JET BOATING

COMMUNITY FOR OVER

50 YEARS

• Part Boats & Hulls

• Turn Key Packages

• New Jet Units

• Custom Fabrication

• Expert Advice

SERVICING

Peter Tonkin

03 962 0505

peter.tonkin@hamjet.co.nz

• Spare Parts Retailer

• Jet Unit Refurbishment

• Engine Tune-Ups

• Insurance Repairs

• Impellor Reconditioning

WOF

Only $50

• Courtesy cars • oil changes • tyres & batteries

• Brake & clutch repairs • transmission flush service

• Full mechanical repairs • Petrol & diesel servicing

FitzgeRald MotoRs

PHONE 03 349 7813

Unit 8,193 Waterloo Road, Hornby

(6 doors down from our old site)
---
Animals Livestock/

Supplies

Experienced

Mobile Sheep

Shearer

No Job Too Big or

Too Small! Can do

drenching and trim

hooves. Over 35 yrs

experience.

Please contact

John 027 568 6218

Select Services

Specialising in:

Driveways

Outdoor Areas

Patios, Pathways,

Residential

& Commercial Floors

Professional Advice

Free Quotes

Frank McWatt

03 423 9344

027 274 0342

allwaysconcrete@gmail.com

www.allwaysconcrete.nz

Select Services

Xero Support

when you need it

Conversions

Training

Problem Solving

& More!

Xero Certified Advisor

Sue Thomas

027 283 3448

businessroundup.co.nz

/businessroundup

Need a hand?

✤ Lawns & Edges

✤ Landscaping

✤ Gardening

✤ Hedge Trimming

✤ Handyman Jobs

✤ Casual or One Off

Phone Mike Lineton

022 341 8848

Your local

Selwyn District

GARDENER/

HANDYMAN

Wednesday December 2 2020 Selwyn Times 37

Classifieds Contact us today Phone our local team 03 379 1100

Funeral Directors

SHELTERBELT TRIMMING

Boundary

Trimming

Call Tony Dempsey

Phone 03 325 3256

Mobile 0274 323 943

Boating Accessories

& Equipment

BOAT

SERVICING

& REPAIRS

Mercruiser & Volvo

New Parts,

Repairs & Sales

Phone 027 433 7431

Cars Wanted

CASH PAID Buying

damaged cars for

wrecking.Up to $1000. Ph

021 1056 797.

No Service Cremation $2,000

Family Funeral with Cremation $3,950

Chapel - 35 people, casket, hearse, cremation fees

Full Funeral options and

Burial options available

Just Funerals, a family owned and

operated company with qualified,

registered and experienced staff.

Phone 0800 804 663 - 24 Hour Availability

Email: info@justfunerals.co.nz

christchurch.justfunerals.co.nz

Select Services

STOP BIRDS

hail, leaves, snow & vermin from

blocking & damaging your spouting

Quality materials: BHP Colorbond steel mesh with

unique patented louvre will even keep out pine needles.

Will not rust or sag with age or load. 10 year warranty,

range of colours.

Proven in Australia & New Zealand over the last 15 years.

FOR SAFE, PURE DRINKING

WATER FROM YOUR ROOF.

NOW AVAILABLE: STAINLESS STEEL

MICO MESH

Call Rohan anytime Mon-Sat for a

no-obligation assessment & quote

03 982 8850 0800 486532

www.gumleaf.co.nz

ADD SOME

COLOUR

TO YOUR ADVERT!

Select Services

Hedge Trimming

& Landscaping

• Hedge Trimming/Garden Maintenance

• Trees and Shrubs Topped Shaped or Removed

• Arborist

• Trenching and Digging Buckets

• Landscaping/Water Systems

• Cleanups Available for Small and Large Hedges

• Wood Splitter for Hire

• Fully Insured

• Hedge Trimming/Garden Maintenance

• Trees & Shrubs Topped Shaped or Removed

• Arborist

• Trenching & Digging Buckets

• Landscaping/Water Systems

• Cleanups Available for Small & Large Hedges

• Wood Splitter for Hire

• Fully Insured

HEDGES

AND

MORE.

Stu Reid Owner Operator

Ph: (03) 325-4664 Mob: 021-500-519

hedgesandmore.co.nz

DRIVEWAYS

HARRIS

BULLDOZING LIMITED

• Driveways

• Car Parks

• Lifestyle Blocks

• Site Clearing

& General

Earthmoving

Mark 021 345 571

or Paul 021 705 996

Email harrisbull@xtra.co.nz

www.harrisbulldozing.co.nz

All Work Guaranteed

Please phone for a free quote

LANDSCAPING

Call Aaron &

the team today!

For the Outdoor

Space of your

Dreams...

Paving, Irrigation,

Lawns, Planting,

Fences, Pergolas,

Water-features,

Outdoor fires,

Raised Vege beds,

Decks, Artificial

grass & more...

Phone: 03 347 4422

or 021 542 402

Email: Aaron@theoutdoorspace.co.nz

www.theoutdoorspace.co.nz

Selwyn

Carpet

Binding

Have your carpet off

cuts bound by us

2 Villa Mews,

Rolleston

Phone or text

021 254 4465

Mon-Thur 9-2.30

To Let

Flat To Let

Darfield

2 bedroom set in a

quiet cul de sac.

$320 per week

• Off Street Parking

• Available from 20 December

Apply with references

027 927 5911 or

027 521 6063

To Let

RENT ME!

Ideal as an extra

bedroom or office.

no bond required

Fully insulated and double glazed for warmth.

Three convenient sizes from $80 a week:

Standard 3.6m x 2.4m

Large 4.2m x 2.4m | Xtra-large 4.8m x 2.4m

Situations ToursVacant

ReID TouRs

Mesopotamia Day Trip

Saturday 5th December - $45pp return

Mt Cook & Lupins

Friday 1st January - $55pp return

9 Days Hokianga Cape Reinga

Bay of Islands May 2021

Call Reid Tours 0800 446 886

Email: reidtours@xtra.co.nz www.reidtours.com

Advanced Service,

Visit our website

www.justcabins.co.nz

for display cabin locations

www.justcabins.co.nz

Advanced Upholstery

Auto & Marine Upholstery

• Auto restoration

• Boat upholstery

• Caravan & motorhome

squabs & awnings

Trades & Services

Shane James Contracting

• FIREWOOD

TREEs WanTED

• Hedgerow

removal

• Root raking

• Conversions

• Money back on

millable logs

PHONE SHANE 027 611 3334

Builder

BUILDers

"A local looking after locals"

• Licenced builder with 20 years

experience in renovations,

alterations and extensions

• A creative craftsman who is

attentive to detail

• Quotes the job, does the job

• Works with all budgets

Andrew Drewitt

Ph: 021 395 324

Email: ad_designs@hotmail.com

• Authorized agents for Cvana awning

• Machine, truck & ute

covers

• Farms Covers

• & Much More!

3967 West Coast Road (between Waddington & Darfield)

Mon to Fri 8am to 5pm • Sat 9am to 12pm

Ph 03 318 7378 www.advancedupholstery.co.nz

Trades & Services

PEST CONTROL

SPIDER PROOFING

ALL OTHER PESTS

Office: 03 337 9553

Scott Warlow: 021 168 6118

Established 1987, Qualified

& Experienced Professionals

Member of Pest Management

Association of NZ

PROTEKT

SERVICES

Bellamy's

Furniture

Furniture made to

order and restoration

by tradesman with

35yrs experience.

PH Stephen

021 073 2624

Trades & Services

LifestyLe

BLock

fencing

new fencing, post driving,

repairs, maintenence.

Quality workmanship

& advice.

Phone Allan 021 049 6151

allan@agrifencenz.com

Facebook: agrifencenz

EASY CLEAN GLASS

TREATMENTS

• Showers

• Glass Balustrades

• Water Stain Removal

• Up to 10 Year Warranty

• Free Quotes

0800 EZClean

(08003925326)

www.easycleanglass.co.nz

UDI PAINTING &

DECORATING

For all painting and

decorating services.

Fully Qualified

• Interior &

Exterior Painting

• Wallpapering

• Plastering

• Roof Painting

Quality Services

FREE QUOTES

Contact Udi Aale

Ph. 021 074 2075

EST.

1979

Arthur's

Roof & Property

Moss Kill & Proof

Silicone Sealing

Roof Repairs

Gutter Clean/Repairs

Pest Control

Butynol Roof Repairs

Bird Proofing

03 347 2635

arthursroofandproperty.co.nz
---
38 Selwyn Times Wednesday December 2 2020

Classifieds Contact us today Phone our local team 03 379 1100

Trades & Services

GLAZING

TWISTY GLASS &

GLAZING LTD

• Mirrors • Pet Door Specialists

• Splashbacks • All Broken Windows

THE CAT DOOR MAN

Phone Cushla or Darren Twist

027 352 6225

digga hire

SPRING SPECIAL

$165 + GST per day *

1.5t Digger, trailer, buckets, ripper.

Flexible rates • also 2.5t • 5t • 12t • 20t

*Conditions Apply

DECORATORS

0800 344 425

16 Weedons Ross Rd, Rolleston

(Access off Weedons Ross Rd Overbridge Roundabout)

Driveways

SWAINS

KIWI KERB

(Since 2005)

Over 22 Years Experience

Quality

Workmanship

• Driveways

• Kerb &

Channel

• Garden Edging

New Paint • Repaints

Wallpapering • Fences

Feature Walls

Floor & Roof Painting

Spray Painting

Light Commercial

Restoring Timber

* Finance available (T's & C's apply)

Selwyn based but service the whole of Canterbury

www.andertondecorators.co.nz

www.facebook.com/andertondecorators

027 724 6846 027 PAINTIN

Freephone: 0800 081 400

swainskiwikerb@gmail.com

• Irrigation • Drainage • Driveways

• Auger Hole Drilling

• Land Clearing & Development

• Culvert Installation • Construction Site Works

• Tree & Hedge Removal • Concrete Breaker

Phone Mike: 027 272 8058 OR 03 324 4323 A/H

g.m.contracting@xtra.co.nz

www.gmcontracting.co.nz

Trades & Services

LIFESTYLE BLOCK MOBILE SHEARING

NO JOB TOO BIG OR TOO SMALL

• Shearing • Crutching • Tailing

• Drenching • Foot Trimming

• Single & Double Crutching Trailers

A professional, friendly service

Call Shaun Adams for a free quote

021 204 1274 or 03 960 3112

adamsshearing.com

• shearing contracting • mobile shearing trailer • mobile crutching trailer

• Driveways

• Trenching

• Section Clearing

• Demolition

• Tree/Stump Removal

• Truck/Digger Hire

• Post Driving

• Section/Lifestyle Block Development

C O N T R A C T I N G

Phone: 329 7165 or 027 616 1761

NEED A PROFESSIONAL

PLUMBING SERVICE?

Call us at Think Water Canterbury for all your

plumbing needs. Certified Plumber Available Now!!

Our services include:

• Residential Plumbing Services

• Installation & Upgrades

• Hot Water Installation & Repairs

• Leaks & Blockages • New Piping & Repairs

22 Station St, Leeston. Ph: 03 324 3880

GARAGE DOORS

The Genuine

Custom Made Garage

Door Professionals

0800 661 366

info@custommade.co.nz

Auckland, Christchurch, Wanaka

www.custommade.co.nz

landscaping

Landscape

Construction and

Garden Maintenance

You can have your gardens, trees,

shrubs, plants and lawns maintained to look their best

all year round, for a great price.

Residential & Commercial Landscaping

• Maintenance • Pruning • Reconstruction & Rejuvenation

• Rental Property and Commercial Maintenance

• Pre-Sale Tidy-Ups

New Home Landscaping

Lawns • Gardens • Decks • Paving • Water Features

• Quality • Value for money • Experienced • Punctual

• Professional • Flexible • Knowledgeable • Reliable

Call Ross Legg - 027 222 0388

Email ross@revivelandscaping.co.nz

www.revivelandscaping.co.nz

WINDOW TINTING

tintawindow

advanced film solutions

99% uv block

fade protection

heat control

reduce glare

25 Years Experience

Trades & Services

Re Roofing

Roof Repairs

Spouting

Approved Age Concern provider

Over 30 years experience

Licensed Building Practitioner

N A BARRELL

ROOFING LTD

Ph: 0275 389 415

Email: nabroofing@xtra.co.nz

privacy films

frosting designs

non-darkening films

Workmanship Guaranteed

Lifetime Warranties on Most Films

UV

block

Free Quotes Canterbury and Districts

03 365 3653 0800 368 468

Trades & Services

FOR ALL YOUR

★Garden Clean-ups

★Pruning

★Lawn Mowing

★Garden Maintenance

Call us today for a FREE quote

PH 0800 4 546 546

(0800 4 JIMJIM)

Lawn mowing

Hedge trimming

Gardening

Weed eating

Spraying

and much more

Call Todd

0212059543

toddmc.greenacres@gmail.com

ADD SOME

Trades & Services

CARPENTER

- JOINER

Experienced

Reliable

Prompt

For domestic and

bespoke projects

Your local tradesman

available now for a

free scope and quote.

CALL WILL

027 404 9759

wford1646@gmail.com

Selwyn

Accounting

Ltd

For all your

Accounting &

Tax Needs

COLOUR

TO YOUR ADVERT!

03 741 1783

027 332 8086

brian@

selwynaccounting.co.nz

Trades & Services

Electrician

Registered Master

Electrician

• No Callout or Travel

Fees

• Reasonable Rates

Domestic

Commercial

Industrial

• Installations,

Repairs, Maintenance

Free Quotes & Advice

Phone Tom

0274 355 496

or 347 9252

E tomx2@xtra.co.nz

Trades & Services

BATHROOm TILER

wet area waterproofing,

underfloor heating, soap

boxes, old to new, for best

results, call Devon on 021

375-888 or 03 329 5511

BUILDER QUALIFIED

Decks, T & G Flooring,

Villa Restoring, New

Homes, Weatherboards.

Free Quotes. Bennet &

Sons Ltd Sam 027 496-

9362 or Tony 027 224-

0374

CARPENTER

HANDYmAN

Small Job Specialists,

Carpentry, Repairs,

Decking & Maintenance,

40 years experience, no

job too small, Ph Warren

03 322-1103 or 027 697-

8541

Vehicles Wanted

Trades & Services

Bellamy's

Furniture

Furniture made to

order and restoration

by tradesman with

35yrs experience.

PH Stephen

021 073 2624

Gutter cleaning special

from $99 plus gst for a

Free Quotes, call Morgan

Paving, Lawns, Irrigation,

Kanga & small digger

services. Check out Squire

Landscaping on facebook.

220-7014 Edwin 027 220-

phone-fibre-water installs,

COC supplied, trenching

and cable locatingservice,

Parts & Sales for over 40

serviced. Grossman Trade

Water Filters. Phone Mark

Best price guarantee Tony

Flooring - Splashbacks -

Wall incl tile removal, reg

master tiler, ph Dave 027

Family owned since 2001.

GUTTER CLEANING

whole house clean"".

Thomas today 022 375

8506

LANDSCAPING

Decking, Fencing.

FREE QUOTES. Ph

Arthur 347-8796, 027

7154

POWER CABLE

Our Cable or yours,

owner operator

FREE quote ph

Gerard 0272379742

POWER TOOLS

REPAIRS

years. All main brands

Tools,23 Watts Road,

Christchurch. Ph 389 9230

RJB PLUmBING

Renovations, New Houses,

Hot Water Cylinders,

Kitchens Bathroom

Upgrades, Laundries,

General Maintenance ,

0278690026

STUmP GRINDING

Best price guarantee

Tony 0275 588 895

STUmP GRINDING

0275 588 895

TILING

334 4125

WINDOW CLEANING

Brown & White Ltd.

Ph Paul 027 229 3534

Wanted To Buy

PRE 1990'S VEHICLES.

Wanted to buy, suitable

for resurrection &

restoration,not wrecking.

Anything considered, dead

reg OK. Ph 021 2276878

CAR REMOVALS

$$CASH PAID$$

CARS, VANS, UTES

& 4X4 WANTED

NZ OWNED

AND

OPERATED

FOR

24 YEARS

We use world class vehicle

depollution systems

0800 77 80 80

www.pickapart.co.nz
---
Wednesday December 2 2020 Selwyn Times 39

Classifieds Contact us today Phone our local team 03 379 1100

Situations Vacant

WANTED: Experienced Machine

Operators, Supervisors,

Experienced Grader Drivers,

Labourers, Drain Layers

For projects based in

Wanaka and Queenstown.

Good rates of pay and training opportunities

with a reputable locally owned company.

Applicants must be innovative, physically

fit, able to work unsupervised but also be a

proactive team member and have a can do

attitude.

Please send CV to

kim@wilsoncontractors.co.nz or phone

027 292 9008 for more information.

CONTRACTORS

Earthmoving • Infrastructure • Roading

Situations Vacant

Public Notices

Minor Amendments to School Enrolment Zones

Clearview Primary School, Rolleston School, West Rolleston School and

Lemonwood Grove School

In accordance with section 11G (3) of the Education Act 1989 the

Board of Trustees of Clearview Primary School, Rolleston School, West

Rolleston Primary School and Lemonwood Grove School hereby wish

to notify the public of the minor amendments to the enrolment zones

between the four schools.

In order to avoid the likelihood of future overcrowding in all schools, the

Boards of Clearview Primary School, Rolleston School, West Rolleston

Primary School and Lemonwood Grove School wish to define the

enrolment zones of all four primary schools effective from 1 January

2021 and will apply the pre-enrolment procedures in the scheme at any

time after this publication.

The 'Road Map' and written description will show the distinction

between all school zones. Please refer to these maps and road

descriptions on each school website for more information:

www.clearview.school.nz, www.rolleston.school.nz,

www.westrolleston.school.nz and www.lemonwoodgrove.school.nz.

The enrolment zone amendments, which include a precise description of

the home zones, may also be viewed at each of the school offices.

This is a combined notice from the Clearview Primary School, Rolleston

School, West Rolleston Primary School and Lemonwood Grove School

Board of Trustees.

Public Notices

RESOURCE MANAGEMENT ACT 1991

CHRISTCHURCH DISTRICT PLAN

PROPOSED PLAN CHANGE 4

SHORT-TERM ACCOMMODATION

SUMMARY OF SUBMISSIONS FOR FURTHER

SUBMISSIONS

A summary of submissions on Proposed Plan Change 4 to the Christchurch

District Plan and a copy of the submissions, are now available for public viewing

online at ccc.govt.nz/planchange4 or during normal opening hours at any of

the our service centres or libraries. For details of your nearest service centre or

library, please telephone 03 941 8999.

Further submissions in support of, or in opposition to, the submissions received

may be lodged at the Civic Offices or at any of our service centres or libraries

before 5pm on Thursday, 10 December 2020.

A further submission may be made only by a person representing a relevant

aspect of the public interest or by a person who has an interest in the plan

change that is greater than the interest of the general public and must be

limited to a matter in support of, or in opposition to, any submission made to

the Council.

All further submissions must be in writing on the appropriate form (Form 6 in

the Resource Management (Forms, Fees and Procedure) Regulations 2003).

This form is available from all Council offices and online at ccc.govt.nz/

HaveYourSay. Completed forms should be addressed to: Christchurch City

Council, City Planning Team, PO Box 73012, Christchurch or emailed to:

PlanChange@ccc.govt.nz.

Any person making a further submission in support or opposition is required

to serve a copy of his or her further submission on the person whose original

submission is supported or opposed no later than five working days after the

day on which the further submission is provided to the Council.

At a later date all those who have made submissions and those who have made

further submissions in support or opposition to the proposed plan change will

be advised of the hearing date and will be sent information regarding that

process.

Brendan Anstiss

General Manager

Strategy and Transformation Group

Public Notice

SELWYN DISTRICT PLAN

First Schedule Part I of the Resource Management Act, 1991

PRIVATE PLAN CHANGE 64

Hughes Development Ltd request to rezone land at Rolleston for residential development.

Situations Vacant

MANUFACTURING OPERATOR

We are a small textile manufacturing factory based in the rural area of

Springston, Christchurch, supplying to the domestic and international

markets. The business is growing and we are looking to appoint an

enthusiastic and motivated Manufacturing Operator to join our team.

The position is diverse and varied. Running the factory efficiently on

a daily basis is essential to ensure production targets are met and

orders are dispatched on time. Accuracy, attention to detail and the

ability to work independently are important requirements for the

position. Ideally, applicants will have a background in engineering and

an interest in textile manufacturing. Duties include manufacturing,

machine maintenance, processing/dispatching orders and some

computer work. A background knowledge and understanding of the

marine industry would also be an advantage.

This is a role that would suit someone who is technically minded and

enjoys working with their hands. Applicants should be highly motivated

and have a flexible approach to their work. For the right person, we

offer a competitive salary, with bonuses for outstanding performance.

To apply, please send your letter of application and CV to

rope@nautilusbraids.co.nz. Applicants for this position should

have NZ residency or a valid NZ work visa.

PUBLIC NOTICE OF A SUMMARY OF SUBMISSIONS AND CALL FOR FURTHER

SUBMISSIONS

A summary of the submissions, along with a copy of the original submissions, on the above

proposed change to the Selwyn District Plan are now available for viewing electronically at

Selwyn District Council libraries and service centres, and online at www.selwyn.govt.nz/pc64.

A hard copy of this information is available for viewing at Council's Rolleston Headquarters.

Further submissions may only be lodged by the following:

a. Any person representing a relevant aspect of the public interest; and

b. Any person that has an interest in the plan change greater than the interest the public has; and

c. The local authority itself.

Further submissions must be limited to matters either in support of or in opposition to an

original submission made on Plan Change 64. This must be in writing and in accordance with

Form 6, which is available from any Selwyn District Council service centre or online at www.

selwyn.govt.nz.

Further submissions must be served on Selwyn District Council in one of the following ways:

Posted to: Planning Department, Selwyn District Council, PO Box 90, Rolleston 7643

Delivered to: A Selwyn District Council service centre in Darfield, Leeston, Lincoln or Rolleston.

Faxed to: (03) 347 2799 (if you fax your submission please post or deliver a copy to the

details above)

Emailed to: submissions@selwyn.govt.nz

Online: www.selwyn.govt.nz/pc64

A person who makes a further submission must serve a copy of it on the person who

lodged the original submission no later than five working days after a copy is provided

to Selwyn District Council.

THE CLOSING DATE FOR FURTHER SUBMISSIONS ON PLAN CHANGE 64 IS 5PM

TUESDAY 15 DECEMBER 2020.

For further information regarding this plan change or the process outlined above, please

contact Jocelyn Lewes, Strategy and Policy Planner, on (03) 347 1809 or (03) 318 8338, or

submissions@selwyn.govt.nz.

selwyn.govt.nz
---
40 Selwyn Times Wednesday December 2 2020

M-A

MATSON & ALLAN

REAL ESTATE LIMITED

'The

Selwyn

Experts'

Residential

Lifestyle

Rural Property

Licensed REAA2008

NEW OPEN LISTING HOME

NEW LISTING

OPEN HOME

ROLLESTON - 1 Manor Drive

ROLLESTON - 3/710 East Maddisons Road

IMPRESSIVE IN EVERYWAY ON 900SQM FAMILY HOME PLUS SELF CONTAINED UNIT ON 3953M 2

• Highly desirable location

• Four bedrooms

• Master with ensuite and walk in robe

• Tw o separate and spacious living areas

• Cosy Log burner with heat transfer system and heat

pump

• Underfloor tile heating in kitchen and bathrooms

• Garden and woodshed

• Wonderful parking options (caravan or motorhome)

• Fabulous outdoor entertaining area

• Outstanding, private, and established 900sqm section

• Attractive street appeal

• Viewing will impress!

Viewing: Sun 1.00 – 1.30pm

Price By Negotiation

View: www.marealestate.co.nz/MA0814

Jackie Derrick

027 636 3576

jackie@marealestate.co.nz

• 240m 2 (approx.) four bedroom home, built 2002

(approx).

• Tw o living areas with good indoor/outdoor flow

• 145m 2 (approx.) insulated shed

• Fully self-contained 69m 2 (approx.)

two bedroom unit

• Fenced 3953m 2 (approx.) fully organic section

• Short 1.3km (approx) walk to Foster Park

• Clearview Primary school zone

Viewing: Sat 1.00 – 1.30pm

Viewing also by appointment, excluding

Thursdays and Sundays

Price: Neg over $920,000

View: www.marealestate.co.nz/MA0800

Andrew Taylor

0274 355 930

andrew@marealestate.co.nz

NEW OPEN LISTING HOME

NEW LISTING

ROLLESTON - 9/487 Weedons Road

THIS WILL TICK ALL THE BOXES

• Ultimate in lifestyle living on 4 ha (approx.)

• Large two story 260m 2 (approx.) home

• Three double bedrooms plus office(or 4th bedroom)

• Master bedroom has ensuite and WIR,

• Superb views off its own balcony overlooking property

• Generous sized living areas

• Great indoor outdoor flow

• Modern kitchen and separate laundry

• Mature garden setting of trees and lawns

• Implement shed with shower and toilet facilities

• Easily converted into a teenagers sleepout or separate

accommodation

Viewing by appointment

Deadline Sale. All offers to be presented

on or before 12pm Wed 9th December 2020

(unless sold prior)

View: www.marealestate.co.nz/MA0808

Chris Flanagan

027 433 4657

chris@marealestate.co.nz

ROLLESTON - 10 Waterbridge Way

PARK-LIKE HIDEAWAY WITH JUMBO SHED

• 234m 2 (approx.) home built 2003 on 3803m2 (approx.)

• Three double bedrooms, WIR, ensuite

• Large office/bedroom, family bathroom, separate toilet

• Triple internal access garage with laundry

• Spacious dining, living and separate lounge areas

• Log burner, wetback, 2x heat pumps, double glazing

• Private & peaceful four seasons garden

• Large three bay shed with power and drive through at rear

• Plenty of parking for cars, trailers, campervans etc

• West Rolleston and Clearview Primary School Zones

Viewing: Sun 1.45 – 2.15pm

Price: Neg over $840,000

View: www.marealestate.co.nz/MA0818

Jo Barrett

021 859 006

jo@marealestate.co.nz

NEW OPEN LISTING HOME

NEW LISTING

LEESTON - 129 High Street

BEAUTIFUL CHARACTER HOME ON 1867M 2 IN 2 TITLES

• Beautifully positioned for sun in a botanic setting

• Three good sized bedrooms

• Modern kitchen

• Large separate living area

• Designated dining adjoining the country style kitchen

• Two bathrooms

• Separate laundry

• Large external double garage

• Fantastic north facing deck perfect for entertaining

• Numerous established trees and plants

Viewing: Sun 1.00 – 1.30pm

Price: Neg over $589,000

View: www.marealestate.co.nz/MA0813

Cameron McRae

027 7696 696

cameron@marealestate.co.nz

SOUTHBRIDGE - High Street

"BELLFIELD"

• Stages 2 and 3 now released

• Sections from 729m 2 to 854m 2

• Sensible Covenants

• All services to boundary

• Some fencing provided

• Titles due April 2021

• Easy commute to Rolleston and Lincoln

Price: $135,000

View: www.marealestate.co.nz/MA0790

Stephan Knowler

027 229 9522

stephan@marealestate.co.nz

ROLLESTON PH: 03 347 9949 LEESTON PH: 03 324 3704 DARFIELD PH: 03 318 8204 www.marealestate.co.nz

Chris Flanagan

027 433 4657

Andrew Taylor

027 435 5930

Jackie Derrick

027 636 3576

Jo Barrett

021 859 006

Amelia Nisbet

PA to Andrew

Stephan Knowler

027 229 9522

Cameron McRae

027 769 6696

Bronwyn van der Pol

022 073 7757
---
Wednesday December 2 2020 Selwyn Times 41

Visit Our

Open Day

Sunday 6 th

December

10am−3pm

Hospital Rooms

opening

January 2021

Rest Home & Dementia Rooms

Ready for Residence
---
42 Selwyn Times Wednesday December 2 2020

Rest Home Rooms

• Furbished to the beautiful standard

Lady Wigram offers throughout the

entire complex

• Large rooms all with a view of the

manicured grounds or courtyards

• Kitchenettes including fridge

and microwave

• Ensuite

• King single beds

• Individual heat pumps

• Lounge and visitor chairs

• Smart TVs

• Choice of lounges

• Conservatory

• Library

• Family tea and coffee

making facilities

Hospital Rooms

Hospital level care, staffed 24 hours a

day by registered nurses and trained

caregivers.

• Modern hospital beds &

overhead hoists

• Ensuites

• Recliner & visitor chairs

• Individual heat pumps

• Smart TVs

Dementia Rooms

• Spacious and secure

• Large rooms with garden views

• King single beds

• Lounge and visitor chairs

• Individual heat pumps

• Ensuite
---
Wednesday December 2 2020 Selwyn Times 43

Rest Home

& Dementia

Rooms

Ready for

Residence

Open day Sunday

6 th Dec 10am−3pm

Visit our facilities,

meet the staff

Our guiding mission is to ensure that

our residents transition into residential

care as easy as possible.

Lady Wigram welcomes residents to

a care facility of modern furnishings,

sophisticated design, and the highest

standard of care.
---
44 Selwyn Times Wednesday December 2 2020

Relax, knowing that if your

circumstances change we will

continue to look after you.

Our residents and their families

feel happy in their choice of

Lady Wigram Village. With

Rest Home and Dementia

Rooms now available, and

our Hospital Rooms ready in

January 2021, our residents

are future proofed for further

health pathways.

We ensure that our residents

feel secure as they transition

into residential care, and

between care facilities within

Lady Wigram Village as time

passes. We give families

complete confidence that

everyone is individually

cared for.

210 Kittyhawk Ave, Wigram, Christchurch

03 341 0543 www.ladywigram.co.nz
---
THe BeST PRoPeRTieS AcRoSS

THe SeLWYn DiSTRicT

INSIDE

PUBLiSHeD eVeRY WeDneSDAY

Week commencing WeDneSDAY, 2nD DecemBeR, 2020

OPEN HOME

NEW LISTING

lifeStyle living SO clOSe tO ROlleStOn & lincOln

"Thornton Hough" conveniently located between Rolleston and

Lincoln on an immaculate four hectare (approx.) block. The 248m 2

(approx.) home offers a spacious galley kitchen, separate dining/

living room, separate lounge with Rimu flooring, large entrance,

and a conservatory. Complimented with four bedrooms, two

bathrooms, and separate laundry it proudly stands amongst the

immaculate four seasons park-like setting complete with native,

specimen and fruit trees, and vegetable garden. Commanding

360 degree views you can easily keep an eye on stock from home.

Other features include; log burner, night-store heater, gas hob,

gas hot water, partial double glazing, great storage, double

garage, double carport, three bay barn (one lock up with single

phase power and workshop benches), submersible water pump

(2019), security system, security lights, and security gates. A

bonus for horse owners with arena, two covered yards, tack shed,

and feed shed.

The property has two sealed road frontages making this a

very attractive option for GST registered businesses looking

to store vehicles or machinery, or possibly run equine grazing

and agistment, or for agricultural/horticultural operations etc.

This property is unique in what it offers, but also has fantastic

proximity to the amenities of Rolleston, Springston and Lincoln –

truly one of a kind.

DeaDline Sale: All offers to be presented

on or before 2pm, Wednesday 9 December

2020 (Unless sold prior)

Purchase price is plus GST if any.

(GST will only be paid on land value)

www.marealestate.co.nz/MA0812

Jo Barrett

contact:

M 021 859 006

W 03 347 9949

E jo@marealestate.co.nz

301 Springston Rolleston Road, Rolleston Open Home Sun 12.30 – 1.15pm

Now is a good

time to sell

MAKE YOUR NEXT MOVE WITH MATSON & ALLAN

Over 100

years

combined

Experience

Local

Boutique

Agency

Tailored

Commission Rates

& Marketing

Packages

LAREAA 2008

Andrew Taylor

027 435 5930

Jo Barrett

021 859 006

Stephan Knowler

027 229 9522

Bronwyn van der Pol

022 073 7757

Community

Focused

Chris Flanagan

027 433 4657

Hard Working

Negotiators

Jackie Derrick

027 636 3576

Reliable

Dedicated

Honest

Amelia Nisbet

PA to Andrew

We pride

ourselves

on Repeat

Business

Cameron McRae

027 769 6696

We care

about YOU!

We would love the opportunity to work with you. Contact us today to discuss your options with our team

ROLLESTON PH: 03 347 9949 LEESTON PH: 03 324 3704 DARFIELD PH: 03 318 8204 www.marealestate.co.nz
---
2

Our latest Summer issue is out now!

On behalf of our clients, we are pleased

to present some of our finest rural and

lifestyle properties.

Our teams coverage of the Canterbury

lifestyle market is second to none. When it

comes to marketing your property, Harcourts

have the strength in numbers with 191 offices

and over 2288 sales consultants throughout

New Zealand, all working on your behalf to

get you the best results.

For global exposure, national strength and

local knowledge, choose Harcourts!

Four Seasons Realty

Rural | Lifestyle

Your Country Partner

For your FREE copy

phone 0800 789 1011

or view online

www.rurallifestyle.kiwi.

Four Seasons Realty 2017 Ltd | Licensed Agent REAA 2008
---
3

Congratulations

to our Winner Paddy Ryan

who won the STIHL chainsaw competition

from the recent Courtenay A&P Show

We have buyers currently looking for lifestyle and rural properties and demand is strong.

If you are considering selling, talk to one of our rural/lifestyle specialists about your options.

Our consultants are your country partner when it comes to rural lifestyle property.

0800 789 1011 rurallifestyle.kiwi

The prize draw was made by the local Kirwee Fire Chief Stu Jones.

Rural | Lifestyle

Your Country Partner

Four Seasons Realty

Four Seasons Realty 2017 Ltd | Licensed Agent REAA 2008
---
4

Harcourts Four Seasons

P 0800 789 1011

Enter our colouring competition and you could WIN!

To enter simply scan or photograph your entry and post to our Facebook page Harcourts Four Seasons Realty or drop off to your local

Harcourts Four Seasons Office in (Belfast, Kaiapoi, Hanmer Springs, Hornby, Lincoln, Rangiora, Rolleston or The Palms) before 11.00am Friday

18 th December 2020. Winning entries will be notified on Monday 21 st December by phone and displayed on our Facebook page. Additional

entry forms can be found on our Facebook, Instagram and web page - harcourtsfourseasons.co.nz or collected from any of the above

offices. Prizes: Winning entries in each age group will receive vouchers from The Warehouse: 1 st $20, 2 nd $15 and 3rd $10.

Four Seasons Realty

Name:

Age (please tick one) 0 - 5 years 6 - 9 years 10 - 14

Parent/Guardian Name:

Parent/Guardian Telephone:

Your home for local property

Four Seasons Realty 2017 Ltd | Licensed Agent REAA 2008
---
5
---
6
---
7
---
8

Due to continued success as Selwyn's leading

Real Estate team, we need more homes to

satisfy these genuine waiting buyers.

Please, if you can help, call us today!

Selwyn

Lifestyle bareland block

2-4 hectares

Price up to $450,000

Contact

Mandie Ashwell 027 552 4478

mandie.ashwell@raywhite.com

Selwyn

Lifestyle property 2-4 hectares

4-5 bedroom home

Ideally 10-15 mins drive to Rolleston

Price up to $850,000

Contact

Mandie Ashwell 027 552 4478

mandie.ashwell@raywhite.com

Rolleston

2-3 bedroom home

1-2 car garaging

Section 300m2 - 500m2

Price up to $550,000

Contact

Mandie Ashwell 027 552 4478

mandie.ashwell@raywhite.com

Rolleston

3+ bedrooms, 2 bathrooms

For First Home Buyers & Investors

Section 600m2

Price $500,000 - $550,000

Contact

Lorraine Gardiner 021 207 6661

lorraine.gardiner@raywhite.com

Rolleston

4 bedrooms, 2 bathrooms

Section 500m2 plus

Price $500,000 - $600,000

Contact

Leisa Webster 027 722 5537

leisa.webster@raywhite.com

Weedons/West Melton/Tai

Tapu/Broadfield/Lincoln

Quality 4 bedroom home

Small to medium lifestyle property

Price up to $1,200,000

Contact

Leisa Webster 027 722 5537

leisa.webster@raywhite.com

Rolleston

4 bedrooms, 2 bathrooms

3 car garaging

Price up to $700,000

Contact

Leisa Webster 027 722 5537

leisa.webster@raywhite.com

Rolleston

4 bedrooms, 2 bathrooms

2 car garaging

Section 650m2

Price $550,000 - $570,000

Contact

Kate Cameron 027 688 8057

kate.cameron@raywhite.com

Prebbleton/Lincoln

3-4 bedrooms, 2 bathrooms

3 car garaging or 2 plus workshop

Would love 3 phase power

Price $750,000 - $850,000

Contact

Kate Cameron 027 688 8057

kate.cameron@raywhite.com

Lincoln

3 bed or 2 + office

2 living areas, contemporary design

High stud, easy care landscaping

Price up to $800,000

Contact

Kate Cameron 027 688 8057

kate.cameron@raywhite.com

Selwyn

1-3ha lifestyle or rural land

Or with home suitable for removal

Prefer West Melton or Lincoln but

anything considered

Contact

Frank Dowle 027 528 0480

frank.dowle@raywhite.com

West Melton/Weedons

3-4 bedroom lifestyle home

Land approximately 4 hectares

Price $750,000 - $1,000,000

Contact

Frank Dowle 027 528 0480

frank.dowle@raywhite.com

Leeston/Southbridge/

Springston

2-3 bedrooms

In good condition

Price up to $400,000

Contact

Trina Rea 027 424 6901

trina.rea@raywhite.com

Lincoln

3-4 bedrooms

Any size section

Any price

Contact

Trina Rea 027 424 6901

trina.rea@raywhite.com

Lincoln

2+ bedrooms

Any state of repair

Price up to $500,000

Contact

Courtney Hopkins 027 291 8979

courtney.hopkins@raywhite.com

Lincoln/Leeston

3+ bedrooms

2 bathrooms

Any size section

Price up to $550,000

Contact

Courtney Hopkins 027 291 8979

courtney.hopkins@raywhite.com

Tai Tapu

3-4 bedrooms

Section 800m2 plus

Price $550,000 - $650,000

Contact

Emma Langton-George 027 555 0568

emma.langton-george@raywhite.com

Tai Tapu

Modern 4 bedroom home

2 living areas, spacious garden

Peaceful with a rural outlook

Price $700,000 - $900,000

Contact

Emma Langton-George 027 555 0568

emma.langton-george@raywhite.com

Tai Tapu/Ladbrooks/Lincoln

4 bedroom lifestyle property

Modern home

Good sheds and paddocks

Price $1,200,000 - $1,400,000

Contact

Emma Langton-George 027 555 0568

emma.langton-george@raywhite.com

Rolleston

2-3 bedroom townhouse

Section approx. 300m2

Price up to $460,000

Contact

Emma Langton-George 027 555 0568

emma.langton-george@raywhite.com

Are you considering selling? Do you have a property that matches one of these descriptions?

Contact us now for a no obligation appraisal

If you want to get SOLD, call us TODAY

Ray White Rolleston 347 9988 | Ray White West Melton 347 9933 | Ray White Lincoln 325 7299

rwtownandlifestyle.co.nz

Ray White Town & Lifestyle Real Estate Limited Licensed (REAA 2008)
---
9

Property Brokers Limited Licensed under the Real Estate Agents Act 2008 Shop 13, 2a Masefield Drive Rolleston rolleston@pb.co.nz 03 929 0306

9 Bedrooms, 4 bathrooms!

NEW LISTING

ROLLESTON

4 Wedgewood Row

If space, bedrooms and 2 dwellings are on your check

list, then this property is a must to view!

Set with 7 bedrooms (2 main with ensuites) 3 living and

a study in the Main home and 2 bedrooms, open plan

kitchen dining/living with private deck area in the second

dwelling

Add to this a mature garden setting of 2996m2,

complete with fruit trees and bird song, large container

for storage, wood storage and sizable vege gardens, you

will feel like you have found the perfect haven for you

and your extended family.

WEB ID ROU79456

VIEW Sunday 6 Dec 3.15 - 3.45pm

AUCTION 6.00pm, Wed 16th Dec, 2020, (unless sold

prior)

Angela Hunt

Mobile 021 548 777

angela.hunt@pb.co.nz

AUCTION

9

4

2

Stunning and ready to be your new home!

What a wee Gem!

NEW LISTING

NEW LISTING

WEB ID ROU79367

HALSWELL

15 Whitburn Avenue

Check out this high spec 257m2 home on a generous

716m2 section.

• Great street appeal with Rockcote cladding and schist

features

• Open plan designer kitchen with walk in pantry

• Spacious open plan dining and living

• Separate formal lounge with sunny aspect

• Fabulous indoor-outdoor living to patio areas

• Two heat pumps to keep you warm and cosy during

the cooler months

• Neutral decor throughout

DEADLINE SALE

VIEW Sunday 6 Dec 11.00 - 11.30am

DEADLINE SALE closes Thursday 10th December, 2020 at

4.00pm, (unless sold prior)

Angela Hunt

Mobile 021 548 777

angela.hunt@pb.co.nz

4

2

3

WEB ID ROU79400

ROLLESTON

16 Brookside Road

Set within an easy walk to the handy Rolleston amenity's

and doctors, you'll find this delightful 1980's gem.

Recently the home has had a bit of a facelift with all

new kitchen and appliances. The new vinyl connects the

open plan living and dining and the heat pump and

hyper vent system keeps the home warm and dry. The

open plan extends through to the living room to the

large conservatory with deck meaning you can truly take

advantage of the sun year-round for great indooroutdoor

living. There is a good-sized backyard suitable

for any family.

DEADLINE SALE

VIEW Sunday 6 Dec 2.15 - 2.45pm

DEADLINE SALE closes Thursday 3rd December, 2020 at

4.00pm, (unless sold prior)

Angela Hunt

Mobile 021 548 777

angela.hunt@pb.co.nz

3

1

1

pb.co.nz
---
10

Property Brokers Limited Licensed under the Real Estate Agents Act 2008 Shop 13, 2a Masefield Drive Rolleston rolleston@pb.co.nz 03 929 0306

Versatile Small Farm

Space and Privacy, This is a Must see

NEW LISTING

NEW LISTING

WEB ID DFR77857

BURNT HILL

111 Kiri Kiri Road

Due to health concerns the Vendor has made a very

reluctant decision to sell. This 27 hectare holding is well

subdivided into 12 main paddocks with central lane and

superb shelter throughout. Ample shedding and

infrastructure for a block of this scale including

woolshed, implement shed, workshop, sheep and cattle

yards. Stock and domestic water is provided via the local

scheme with a restricted supply of 5 units day. A three

bedroom permanent material home with unattached

garage is sited in a sheltered setting and is a renovators

dream.

TENDER

View By Appointment

TENDER closes Wednesday 16th December, 2020 at 2.00pm

Matt Collier

Mobile 027 205 6626

mattc@pb.co.nz

Malcolm Garvan

Mobile 027 231 4425

Office 03 313 8022

malcolmg@pb.co.nz

Botanical Serenity Close to Amenities

3

1

1

WEB ID DFU79458

DARFIELD

9 Stanwood Grove

• 4 bedrooms, Master with en-suite

• Double internal access garage

• 2 Living

• Open plan kitchen/dining

• In-door/out-door flow

If you are looking for space and privacy with room for

the whole family including their toys, then this is the

property for you.

Featuring four bedrooms, master with en-suite, family

bathroom, separate toilet, two living areas, and open

plan kitchen dining.

Two Homes, One Title

DEADLINE SALE

View By Appointment

DEADLINE SALE closes Tuesday 8th December, 2020 at

2.00pm, (unless sold prior)

Jannetta Thomas

Mobile 021 256 6295

jannetta@pb.co.nz

4

2

2

OPEN HOME

WEB ID DFU79142

KIRWEE

1311 Courtenay Road

VIEW Sunday 6 Dec 1.00 - 1.30pm

An immaculately presented modern 270m2 home

offering a delightful combination of zest and relaxation.

Spacious family living plus self-contained

accommodation preside on a leafy green 3832m2

section right in the heart of Kirwee. New designer

Amy Jones

kitchen adjoins a family-room/dining and a second

Mobile 021 077 9945

lounge with great flow to a private sun-baked patio amy.jones@pb.co.nz

where friends can gather around an outdoor fire. Three

bedrooms and office with a master incorporating ensuite

and walk-in-robe convenience while a self-contained

Shar Simon

studio over internal double garage complete with a

Mobile 027 555 0654

private balcony.

shar@pb.co.nz

pb.co.nz

BUYERS $789,000+

4

3

2

WEB ID DFL77116

GREENDALE

1415 Coaltrack Road

A lifestyle gem thats an absolute jewel in dual living

where two detached properties on a sprawling one

hectare holding delivers all the freedom of country living

only 10 minutes from Darfield township. Sure to thrill

with views to the Alps and Port Hills. A sensational

opportunity to quit the city and come to the country

where the kids can let rip on the dirt bikes, keep a sheep

or pony or two with chook run, rustic man-cave, 3x2m

greenhouse, vege beds and garden sheds.

Call Amy or Shar today!

VIEW Sunday 6 Dec 3.00 - 3.30pm

Shar Simon

Mobile 027 555 0654

shar@pb.co.nz

Amy Jones

Mobile 021 077 9945

amy.jones@pb.co.nz

BY NEGOTIATION

4

1

2
---
11

We care more

about our clients

than winning

awards. That's why

we win awards.

We are committed to getting our clients the absolute best results

and that's never going to change.

When results matter, you'll want to talk to us 0800 367 5263

Winner

The Innovation Award

Medium Residential Office of the Year - Volume

Small Residential Office of the Year - Volume

Finalist

The Community Service Award

Large Agency of the Year - All disciplines

Large Residential Office of the Year - Volume

Medium Residential Office of the Year

Small Residential Office of the Year - Volume

Residential Rising Star

Property Brokers Ltd Licensed REAA 2008
---
2

12

[Edition datE]

What to ask a real estate agent

Selling a home is a big life decision, both

financially and emotionally. The journey

can be a roller coaster, which is why

finding a licensed real estate agent you feel

comfortable with is so important.

"Remember, you're looking for the

person who you're going to trust to sell

what's likely to be your biggest asset. Their

success (or failure) will have a marked

impact on your new life plan," says the

Real Estate Authority (REA).

New Zealand has about 15,000 real

estate agents who help people navigate

big-deal transactions every day.

"The trick is to find the one that will be

best for your situation," he says.

If you're going to get the best out of your

real estate agent – and they're going to get

the best price and conditions for your

property – then you need

to put the work in before

you sign with anyone. That

means basing your decision

on more than gut feel or the

fact that their office was easy

to park outside.

You need someone who

understands what it takes

to sell a property like yours

and a proven track record to

show for it. You also need

to feel comfortable with

them personally – if

you don't find them

pleasant to deal

with then buyers

may not enjoy

the experience either.

If you're not sure how to get the ball

rolling, ask the agent the following

questions:

- What do you know about my

neighbourhood? How are sales in this area

and who is buying?

- Do you work independently or with

other agents?

- What kind of advertising or marketing

do you use – and which ones will work for

my property? What extra marketing costs

will I have to pay?

- What are your commission rates? Are

you open to negotiation?

- Do you have testimonials or references

from people whose properties you have

sold in the last three months?

- What do you recommend I do to

prepare my home for sale?

- Why should I hire you?

Asking these questions helps you

form a picture of the agent's experience,

knowledge and how they structure their

business.

These days you'd expect an agent's

marketing plan to have an online focus

that includes major property websites and

social media. Find out what the marketing

plan will cost and ask them to explain

their rationale – you're the one paying for

this service, after all.

Remember that you can negotiate on

the marketing costs and commission –

don't be afraid to ask the agents if they

are interested in an incentive-based

commission, where they will earn more

commission if they sell your property

above a certain price.

Once you've found the agent you think

you'd like to work with, check them out

on the Real Estate Authority's (REA)

online public register, which will tell you

if the agent holds a current licence. This is

important because it's illegal to carry out

real estate agency work without a licence

and if you deal with an unlicensed person

the REA will be unable to help you if

things go wrong.

When you've decided on an agent, the

terms and conditions of your contract will

be set out in an agency agreement that

you both sign. This is a legal document,

so make sure you get advice from a lawyer

and that you understand your rights and

responsibilities.

For independent information and

guidance on buying or selling property,

check out settled.govt.nz.

SELLING YOUR HOME?

Potential buyers are

likely to be living in your

neighbourhood, it's an

area that they already love

and are actively seeking

to stay in. That's why it

makes sense to advertise

your property in the

Selwyn Property Guide.

We are the only media

that reaches across the

entire Selwyn District.

73

Arthur's Pass

1

77

Springfield

Glentunnel DarfieldTempleton

Rolleston

Burnham Lincoln

Dunsandel Tai Tapu

Leeston

For cost effective, highly

targeted advertising that delivers

results, contact a local Real

Estate Company that advertises

in the Selwyn Property Guide.
---
2

[Edition datE]

Your guide to all things Real Estate

in the Selwyn District

13

Green Homes are building

better in Selwyn

Anyone can build a house. But if you're looking for

a greener home build company that's also affordable

for the average Kiwi, Green Homes Christchurch will

set you up with a warmer, drier, healthier and more

energy efficient home. And if a more sustainable

solution isn't your main priority, the running cost

efficiencies are an added bonus that will put pennies

back in your pocket.

Higher spec that costs less

With five branches around NZ and expansion

plans in the near-future, high spec homes that cost

less to run are Green Homes' speciality. They're the

only residential design and build company in NZ

that is ISO compliant for Energy Management and

most branches have in-house design teams that

can customise almost anything. Plus, as a standard

specification you'll get perimeter edge foundation,

extra wall and ceiling insulation, energy efficient

appliances, WELS rated tapware, and solar power

options that will contribute towards reducing your

carbon footprint.

Homestar and Lifemark options

for improved performance and

liveability

Homes can be expensive to run and a huge 80% of

floor heat can be lost through the perimeter of the

slab of your home. Green Homes build well above

[Edition datE]

2

code and have high insulation standards; their process

includes the perimeter edge of slab—which means it'll

be warmer than most other new homes. So, you can

enjoy your home in comfort and not worry about how

you'll pay to run it.

If you're smart about home building, you can also

future proof your home for safety, potential mobility

impairments, or disability needs. Building in features

now—like wider doors and flush entrances, customheight

kitchens, non-slip tiles, easy-reach light

switches—will cost very little extra now but save you

thousands long term.

Acland Park show home opening

soon

The land prices and infrastructure of Selwyn are

boosting popularity of the area; the sheer space

is a big drawcard for building. And according

to testimonials, customers are loving the entire

experience when building with the Green Homes

team—the service, the team, their comfy new home—

and you can too, in as little as 16 weeks.

Their new show home in Acland Park, Rolleston

will open early in 2021; it'll be highly rated for

Homestar and Lifemark certified so it's

worth a peek. You can also reach the team on

0800 33 00 00 to talk through your home build

plans, or visit greenhomesnz.co.nz

Show homes

the ultimate way to shop around

Across the selwyn district, we are blessed with an

extensive array of very good quality show homes.

Building companies build show homes

to demonstrate their workmanship,

display innovative design ideas and

present a snapshot into a new and

luxurious lifestyle, featuring all the

latest in materials, fittings and fixtures.

A show home can inspire you in a way

nothing else can. You can absorb the

ambiance they present and admire the

innovative techniques, new materials

and technology.

You can ask questions, take notes

and compare. You can see at a glance

features you would love to emulate or

would avoid when building your home.

Best of all, you ;will see the building

companies' attention to detail.

Show homes are the perfect way to get

a good idea of pricing, discover good

quality and value, learn about superior

use of space, future-proofing, ongoing

maintenance and long-term returns.

So what are you waiting for? Check

out our maps, grab a notepad and

pencil and begin the exciting project of

building your own home.
---
2

[Edition datE]

14

Confident at Auctions

Looking confident may be all you need to be the last

bidder standing when the hammer goes down.

Does your blood pressure go sky-high at

the sight of an auction room? Chances are

some of your fellow bidders are doing all

in their power to psych you out and win

the bidding.

Securing a property isn't just about

having the most money. Sometimes the

winning bidder is the one with the most

confidence.

They use psychology to convince

opposing bidders to give up, hoping to

make everyone else think they've got more

to spend than anyone else in the room.

Too often buyers have preconceived

ideas about how the auction will unfold

and have their confidence knocked when it

doesn't go their way.

Two can play at that game. You just need

to get your strategy right.

Looking confident may be all you need

to be the last bidder standing when the

hammer goes down.

To be that person you need to do some

preparation. Make sure you go to a few

auctions first to get used to them.

Come bidding day, park yourself on

the side at the front so that you can

see everyone in the room and, more

importantly, they can see you whether

they're at the back of the front.

It gives you a vantage point and shows

the opposition you are bidding confidently

against them.

You are hoping that the other buyers

Show

home

Guide

have a plan in place.

Often that's to start low. So if you come

in with a relatively high first bid, you may

rattle them.

"The lower the open bid the more people

can afford to bid. So you could knock out

some of the opposition before they even

place a bid if you choose the right opener.

Don't start at $500,000 for a house you

know is going to go for at least $800,000.

Put an opening bid of $785,000.

Immediately your opposition is going to

think it will go incredibly high and might

be unnerved.

Call each bid out confidently. "It shows

you are comfortable and in control.

The more confident you seem the more

people will think you have done it before.

It's a really good idea to vary your

bidding increments.. If it's going up by

$2000 bids and it's below your limit don't

be afraid to put a $10,000 bid in..

Your competition is always thinking

about that next $2000 bid and if you

change the rhythm from $2000 to $10,000

you show you have the money and it

changes where their next bid has to be.

Instead of $4000 more it is $12,000 more.

Finally, if you're a couple, make sure

you've discussed every aspect of the

auction before you get there. As soon

as you start looking at each other or

conferring, the opposition will think

you're weak.

Promote your

Showhome throughout

Christchurch and the

Selwyn District

Thinking of Building?

Come on over... and be inspired.

Jennian Homes Canterbury are proud to deliver quality homes at affordable prices, alongside

our Jennian Completion Promise and a 36 month defects warranty.

Start your building journey by visiting us at any one of our three Display Homes...

Rolleston

Ashburton

Ravenswood

Signature Homes

Falcons Landing

1 Falcon Road, Rolleston

Open Wed to Sun 12pm - 4pm

Prestons Park

37 & 39 Prestons Park Drive

Marshland, Christchurch

Both open Wed to Sun 12pm - 4pm

Show Room/Office:

31 Watts Road, Sockburn

Open Mon to Fri 8am - 5pm

0800 8444 88 or 03 342 7788

www.signature.co.nz

Jennian Homes, Canterbury

Rolleston

2 Thornborough Dr, The Borough

Open Sat & Sun 12pm - 4pm

New Display Home Now Open

Woodend

9 John Raven Lane, Ravenswood

Open Sat & Sun 12pm - 4pm

Ashburton

Whiteoak Grove, Oaklea

Development, Tinwald

Open Wed & Thur 12pm - 3pm

Open Sun 12pm - 3pm

www.jennian.co.nz

Contact Mike Fulham:

Phone 03 379 7100

mike@starmedia.kiwi

LOOKING FOR DESIGN INSPIRATION?

Visit one of our three stunning showhomes to gather ideas for your dream home

97 Falcons Ledbury Landing, Drive, 1 Faringdon Falcon Road, Rolleston

37 Prestons Park Drive, Marshland

39 Prestons Park Drive, Marshland

SHOWHOMES:

All three showhomes

Open Wed-Sun 12pm-4pm

2 Thornborough Drive

The Borough

Open Saturday and Sunday

12-4pm or by appointment

SHOWROOM / OFFICE:

31 Watts Road, Sockburn

Open Mon-Fri 8am-5pm

Cnr Whiteoak Gr and

Waterford Pl, Oaklea, Tinwald

Wednesday and Thursday 12-

3pm, Sunday 12-3pm

Jennian Homes Canterbury | 212 Main South Road, Sockburn, Christchurch

P 03 7411436 | E canterbury@jennian.co.nz | jennian.co.nz

0800 844 488

signature.co.nz

2 John Raven Lane,

Ravenswood, Woodend

Open Saturday and Sunday

12-4pm or by appointment
---
A large, quality home sited in a private and established

5021m 2 park-like se ting in the sought after Claremont

Estate on the boundary of Christchurch City.

The home features four bedr oms (master with

en suite and walk-in robe), open-plan kitchen, dining

and living along with formal dining, lounge and

conservatory. Great ind or outd or flow to a large

sheltered deck set in sprawling lawns and easy care

gardens with automated watering. Triple car garaging,

security gates, ducted heating, solar energy and

security system are just a few of the many extras on

offer with this property. There is a separate standalone

spacious office/studio that gives options for

those who require a dedicated work from home space

or alternatively, r om for a dependant relative.

Set amongst other quality homes on larger sections,

this property maintains a semi-rural f el whilst being

a short, easy commute into the city or ou to Ro leston.

Selwyn Times

Auction (unless sold prior)

Thursday 19 October, 2pm

411 Blenheim Road

www.pggwre.co.nz/DAR26164

Karen Hennessy

Contact:

Phone: 03 341 4301

Mobile: 027 967 0186

karen.he ne sy@p gwrightson.co.nz

W ek commencing Tuesday, 3Rd ocToBeR 2017

Brand new 'show stopper' with 4 car garaging

As always, this builder has finished his latest new build to

perfection, incorporating a l the 'must haves' and more for

the discerning buyer. Situated on a 12 0m 2 section, with

an established backdrop, the substantial 315m 2 fl or plan

provides the ultimate in family living options. The su ny &

spacious open plan living r om boasts a designer kitchen

with 90cms oven, stone bench tops & a walk in pantry,

together with define dining, living & study spaces that

The formal lounge als opens to the landscaped garden

& has a boxed high stud ceiling with sound speakers. A l 4

bedr oms are fabulously proportioned qu en sized r oms,

with the master suite providing the perfect parents' retreat

featuring an amazing dre sing r om with fu l wardrobe

system, a ditional storage & a beautiful tiled ensuite with

double tiled shower, fr estanding bath & twin vanities. The

family bathr om is equa ly elegant with a tiled shower &

twin vanities. Cosy up in front of the log burner, k ep your

toes warm with the under tile heating in the bathr oms &

k ep c ol or warm, as required, a the push of a bu ton with

2 heat pumps.

The home's practical layout also includes a walk-in linen

r om, a substantial separate laundry, a tic storage with

la der a ce s and last, but certainly not least, hugely sought

after 4 car garaging. From the moment you a proach this

premium property, you wi l a preciate what a privilege it

would be to be able to ca l it 'home'.

www.flemington.co.nz

DeaDline Sale:

Closing 4pm on Monday

11th June 2018

(unless sold prior)

rwro leston.co.nz/RLL23148

Town & Lifestyle Real Estate Ltd

Licensed (REAA 2 08) - West Melton

Sarah Booth

Contact:

Mobile: 027 527 8258

Brendan 'Big Red' Shefford

Contact:

Mobile: 027 224 4733

Lincoln - 03 325 7299

Ro leston - 03 347 9988

West Melton - 03 347 9933

THe BeST PRoPeRTieS AcRo S

W ek commencing WeDneSDAY, 23RD mAY 2018

Town & Lifestyle Real Estate Ltd

Licensed (REAA 2 08)

This Week's

15

11.45am – 12.15pm

2.00pm – 2.45pm

3.30pm – 4.00pm

5.00pm – 6.00pm

Thursday 3 rd december

72 Kathleen Crescent, Hornby

Harcourts Four Seasons Realty

6 Bidwell Place, Hillmorton

Harcourts Four Seasons Realty

38 Preston avenue, West Melton

Harcourts Four Seasons Realty

3/162 Knights Road, Weedons

Ray White West Melton

saTurday 5 Th december

12.00pm – 12.30pm

12.00pm – 12.30pm

12.00pm – 12.30pm

12.15pm – 12.45pm

12.30pm – 1.00pm

12.30pm – 1.00pm

12.30pm – 1.15pm

12.45pm – 1.15pm

12a Lyttelton Street, Lincoln

Ray White Lincoln

43a Birchs Road, Prebbleton

Ray White West Melton

14 Hulme Lane, Rolleston

Property Brokers

14 Pound Road, Leeston

Property Brokers

43 Marlowe Place, Rolleston

Ray White Rolleston

77 anderson avenue, Springston

Bayleys Canterbury

301 Springston Rolleston Rd, Rolleston

Matson & Allan Rolleston

20 Meadows Drive, Rolleston

Ray White Rolleston

1.30pm – 2.00pm

1.30pm – 2.00pm

1.45pm – 2.15pm

2.00pm – 2.30pm

2.00pm – 2.30pm

2.00pm – 2.30pm

2.00pm – 2.45pm

54 Pennington Street, Leeston

Bayleys Canterbury

15 Tod Place, Lincoln

Property Brokers

10 Waterbridge Way, Rolleston

Matson & Allan Rolleston

30 Strauss Drive, Rolleston

Harcourts Four Seasons Realty

19 Tod Place, Lincoln

Ray White Lincoln

59 Jacks Drive, West Melton

Ray White West Melton

6 Bidwell Place, Hillmorton

Harcourts Four Seasons Realty

11.45am – 12.15pm

72 Kathleen Crescent, Hornby

Harcourts Four Seasons Realty

1.00pm – 1.30pm

43 Belgrave Drive, Rangiora

Bayleys Canterbury

2.15pm – 2.45pm

1 Laird Place, West Melton

Ray White West Melton

1.00pm – 1.30pm

3/710 East Maddisons Rd, Rolleston

Matson & Allan Rolleston

1.00pm – 1.30pm

4 Simms Lane, West Melton

Ray White West Melton

2.15pm – 2.45pm

16 Brookside Road, Rolleston

Property Brokers

2.00pm – 2.45pm

3.30pm – 4.00pm

6 Bidwell Place, Hillmorton

Harcourts Four Seasons Realty

38 Preston avenue, West Melton

Harcourts Four Seasons Realty

1.00pm – 1.30pm

1.00pm – 1.30pm

510 Buchanans Road, Yaldhurst

Ray White West Melton

398 Dunns Crossing Road, Rolleston

Harcourts Four Seasons Realty

2.30pm – 3.00pm

2.30pm – 3.00pm

38 Farthing Drive, Prebbleton

Ray White Lincoln

32a Moore Street, Rolleston

Property Brokers

10.30am – 11.00am

11.00am – 11.30am

11.00am – 11.30am

11.00am – 11.30am

sunday 6 Th december

48 Wales Street, Halswell

Harcourts Four Seasons Realty

473 Hamptons Road, Prebbleton

Bayleys Canterbury

25 Sunline ave, Lincoln

Property Brokers

15 Whitburn ave, Halswell

Property Brokers

1.00pm – 1.30pm

1.00pm – 1.30pm

1.00pm – 1.30pm

1.00pm – 1.30pm

1.00pm – 1.30pm

1.00pm – 2.00pm

32a Moore Street, Rolleston

Property Brokers

25 Carston Street, Darfield

Property Brokers

1311 Courtenay Road, Kirwee

Property Brokers

1 Manor Drive, Rolleston

Matson & Allan Rolleston

129 High Street, Leeston

Matson & Allan Leeston

3/162 Knights Road, West Melton

Ray White West Melton

2.30pm – 3.00pm

2.30pm – 3.15pm

2.45pm – 3.15pm

3.00pm – 3.30pm

3.15pm – 3.45pm

2/42 Hororata Dunsandel Rd, Dunsandel

Bayleys Canterbury

1041 Bealey Road, Charing Cross

Harcourts Four Seasons Realty

17 Stanwood Grove, Darfield

Ray White West Melton

1415 Coaltrack Road, Greendale

Property Brokers

4 Wedgewood Row, Rolleston

Property Brokers

11.00am – 11.30am

27 Sarsfield Street, Southbridge

Ray White Lincoln

1.15pm – 1.45pm

1/609 Halkett Road, West Melton

Ray White Lincoln

3.15pm – 3.45pm

6 Leonie Lane, West Melton

Ray White West Melton

11.45am – 12.15pm

72 Kathleen Crescent, Hornby

Harcourts Four Seasons Realty

1.30pm – 2.00pm

10 Russell Lilley Drive, Rolleston

Ray White Rolleston

3.30pm – 4.00pm

38 Preston avenue, West Melton

Harcourts Four Seasons Realty

CHECK OUT THE SELWYN TIMES PROPERTY DIRECTORY EVERY WEDNESDAY FOR THE BEST OF PROPERTY IN THE SELWYN DISTRICT

For full details of all

Open Homes, please

contact the Real

Estate companies

RAY WHITE

Rolleston 03 347 9988

www.rwrolleston.co.nz

West Melton 03 347 9933

www.rwwestmelton.co.nz

Lincoln 03 325 7299

www.rwlincoln.co.nz

PROPERTY BROKERS

www.propertybrokers.co.nz

Rolleston 03 929 0306

Darfield 03 975 4506

Leeston 03 929 0306

Lincoln 03 595 6954

HARCOURTS

www.fourseasons.harcourts.co.nz

Harcourts Hornby 03 349 9919

Harcourts Rolleston 03 347 4711

Harcourts Lincoln 03 662 9933

MATSON & ALLAN

www.marealestate.co.nz

Rolleston 03 347 9949

Darfield 03 318 8204

Leeston 03 324 3704

BAYLEYS CANTERBURY www.bayleys.co.nz 03 375 4700

PUBLiSHeD eVeRY WeDneSDAY

THe SeLWYn DiSTRicT

INSIDE

Quality Home, Private Setting, Sought After Location

extend through sliding d ors to a large deck & covered 'al

fresco' entertaining area.

63 Rossington Drive, West Melton Open Home: Sunday 2.00pm - 2.30pm

EVERY WEDNESDAY inside Selwyn Times

Address: 19 Devine Drive, Templeton Open Home: Sunday 8 & 15 October, 1pm - 1.45pm

Get the power

of three offices

working for you

Your section hunt

starts here

New Falcon's Landing sales office open, 17 Branthwaite Drive, Ro leston,

Ray White Rolleston,

Lincoln & West Melton

Sales - Property Management - Loan Market

Residential - Lifestyle - Commercial

Thursdays, Fridays and Sundays from 1-3pm. Come, visit and share in our vision

for Ro leston. Or ca l us anytime 03 741 1340. Email enquiries@yoursection.nz

Get your messages into homes throughout

the Selwyn District.

Delivered to every home & rural letterbox

(also available at selected pick up points).

For full information on placing your

advertising call:

Lynette Evans

Ph 021 222 7831 | email: lynette.evans@starmedia.kiwi

Printed on

high impact

Gloss!

Selwyn Times dedicated to getting you outstanding results & making our district a better place to live.
---
16

FINAL NOTICE

FINAL NOTICE

Boundary lines are indicative only

Boundary lines are indicative only

Broadfield 694 Waterholes Road

Prebbleton 473 Hamptons Road

Your country escape

4 3 2 3

A property of options

4 3 3 2

Sitting perfectly in its countryside setting, this

substantial home on 3 hectares in coveted Broadfield

offers the ultimate lifestyle balance. With easy access

to Rolleston, Lincoln and Christchurch city, all urban

conveniences are just a short drive away. For those

with horses the property is well suited to equestrian

activities with a five-bay shed (including enclosed tack

room), feed bay, two horse boxes, large dressage

arena and five electric-fenced paddocks.

bayleys.co.nz/5513736

Deadline Sale (unless sold prior)

1pm, Wed 9 Dec 2020

View Sun 12-12.30pm

Chris Jones 027 220 5043

chris.jones@bayleys.co.nz

Sam Sidey 027 346 3500

sam.sidey@bayleys.co.nz

WHALAN AND PARTNERS LTD, BAYLEYS, LICENSED REAA 2008

Set on 13.9884 hectares with favourable 'inner plains'

zoning, this superb property allows you to enjoy rural

living, while being close to the city. Presented in

excellent order, the home offers interconnected living

and dining spaces plus outdoor flow to the

magnificent gardens. The land features a

professionally designed half mile training track, stable

with two horse boxes, feed and tack rooms plus large

lock-up workshop/further garage, a three-bay

hayshed and two garden sheds. This remarkable

property will appeal to a broad spectrum of buyers.

Deadline Sale (unless sold prior)

1pm, Tue 8 Dec 2020

View Sun 11-11.30am

Sam Sidey 027 346 3500

sam.sidey@bayleys.co.nz

Chris Jones 027 220 5043

chris.jones@bayleys.co.nz

WHALAN AND PARTNERS LTD, BAYLEYS, LICENSED REAA 2008

bayleys.co.nz/5513704

ALTOGETHER

LOCAL

Ben Turner

027 530 1400

Chris Jones

027 220 5043

Jo McIntosh

027 384 4279

Kevin Jenkins

027 577 4232

ALTOGETHER STRONGER

Our brand has been part of the fabric of New Zealand since 1973,

when Pam, Graham and John Bayley began working from their

family home in Pakuranga. A locally owned and operated

New Zealand business with 88 offices breathing life and jobs into

our towns and cities. Up and down New Zealand, our origins are

deeply rooted in the local community.

Selling your property? Contact your local Bayleys expert.

Adrienne Goodeve

021 977 877

Bianca Davidson

027 322 9055

Craig Blackburn

027 489 7225

Emma Groom

027 555 1075

Bayleys Darfield 03 975 4559

Bayleys Leeston 03 375 4700

Evan Marshall

027 221 0910

Haley Smith

027 341 3846

John Bailey

027 893 0234

Nathan Collett

027 826 1535

bayleys.co.nz

WHALAN & PARTNERS LTD, BAYLEYS, LICENSED UNDER THE REA ACT 2008

Sam Sidey

027 346 3500

Sandy Butterick

027 417 2639

Suzy McPherson

027 695 0519

Tim Dyer

027 495 0979

Urszula Bedggood

027 338 7889

Residential / Commercial / Rural / Lifestyle

bayleys.co.nz