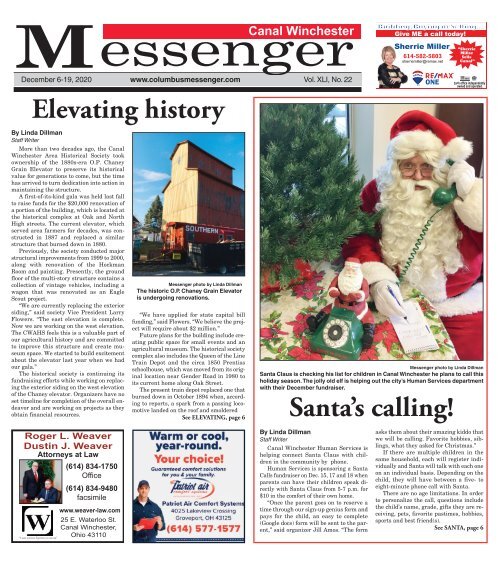 Canal Winchester Messenger - December 6th, 2020
Create successful ePaper yourself
Turn your PDF publications into a flip-book with our unique Google optimized e-Paper software.
Messenger

Canal Winchester

December 6-19, 2020 www.columbusmessenger.com Vol. XLI, No. 22

Building, Buying or Selling...

Give ME a call today!

Sherrie Miller

614-582-5803

sherriemiller@remax.net

"Sherrie

Miller

Sells

Canal"

Each office independently

owned and operated.

Elevating history

By Linda Dillman

Staff Writer

More than two decades ago, the Canal

Winchester Area Historical Society took

ownership of the 1880s-era O.P. Chaney

Grain Elevator to preserve its historical

value for generations to come, but the time

has arrived to turn dedication into action in

maintaining the structure.

A first-of-its-kind gala was held last fall

to raise funds for the $20,000 renovation of

a portion of the building, which is located at

the historical complex at Oak and North

High streets. The current elevator, which

served area farmers for decades, was constructed

in 1887 and replaced a similar

structure that burned down in 1880.

Previously, the society conducted major

structural improvements from 1999 to 2000,

along with renovation of the Hockman

Room and painting. Presently, the ground

floor of the multi-story structure contains a

collection of vintage vehicles, including a

wagon that was renovated as an Eagle

Scout project.

"We are currently replacing the exterior

siding," said society Vice President Larry

Flowers. "The east elevation is complete.

Now we are working on the west elevation.

The CWAHS feels this is a valuable part of

our agricultural history and are committed

to improve this structure and create museum

space. We started to build excitement

about the elevator last year when we had

our gala."

The historical society is continuing its

fundraising efforts while working on replacing

the exterior siding on the west elevation

of the Chaney elevator. Organizers have no

set timeline for completion of the overall endeavor

and are working on projects as they

obtain financial resources.

Messenger photo by Linda Dillman

The historic O.P. Chaney Grain Elevator

is undergoing renovations.

"We have applied for state capital bill

funding," said Flowers. "We believe the project

will require about $2 million."

Future plans for the building include creating

public space for small events and an

agricultural museum. The historical society

complex also includes the Queen of the Line

Train Depot and the circa 1850 Prentiss

schoolhouse, which was moved from its original

location near Gender Road in 1980 to

its current home along Oak Street.

The present train depot replaced one that

burned down in October 1894 when, according

to reports, a spark from a passing locomotive

landed on the roof and smoldered

See ELEVATING, page 6

Messenger photo by Linda Dillman

Santa Claus is checking his list for children in Canal Winchester he plans to call this

holiday season. The jolly old elf is helping out the city's Human Services department

with their December fundraiser.

Santa's calling!

Roger L. Weaver

Dustin J. Weaver

Attorneys at Law

(614) 834-1750

Office

(614) 834-9480

facsimile

"A name you know, Experience you can trust"

www.weaver-law.com

25 E. Waterloo St.

Canal Winchester,

Ohio 43110

By Linda Dillman

Staff Writer

Canal Winchester Human Services is

helping connect Santa Claus with children

in the community by phone.

Human Services is sponsoring a Santa

Calls fundraiser on Dec. 15, 17 and 18 when

parents can have their children speak directly

with Santa Claus from 5-7 p.m. for

$10 in the comfort of their own home.

"Once the parent goes on to reserve a

time through our sign-up genius form and

pays for the child, an easy to complete

(Google docs) form will be sent to the parent,"

said organizer Jill Amos. "The form

asks them about their amazing kiddo that

we will be calling. Favorite hobbies, siblings,

what they asked for Christmas."

If there are multiple children in the

same household, each will register individually

and Santa will talk with each one

on an individual basis. Depending on the

child, they will have between a five- to

eight-minute phone call with Santa.

There are no age limitations. In order

to personalize the call, questions include

the child's name, grade, gifts they are receiving,

pets, favorite pastimes, hobbies,

sports and best friend(s).

See SANTA, page 6
---
PAGE 2 - MESSENGER - December 6, 2020

www.columbusmessenger.com

Historic canal trail will pass through the area

By Rick Palsgrove

Managing Editor

History lovers will soon be able to travel along the Ohio

and Erie Canal route, except now it will be by car rather than

canal boat.

The Scenic Scioto Heritage Trail, Inc., and its area partner

communities recently announced the development of

the new Ohio and Erie Canal Southern Descent Heritage

Trail from Buckeye Lake to Portsmouth.

The 114 mile driving trail will begin at the southern

edge of Buckeye Lake in Fairfield County. It includes

Bibler lock 8 in Baltimore; locks 11, 12, and 13 in

Lockville; lock 22 in Groveport; locks 26, 27, 29, and 30 in

and near Lockbourne; and remnants of the Columbus

Feeder just west of Lockbourne in Franklin County.

In Pickaway County the trail will pass lock 31 in

Millport and includes Canal Park in Circleville. In Scioto

County the trail continues south through Rushtown at lock

48 and lock 50 in West Portsmouth and ends at lock 55,

west of downtown Portsmouth at the Ohio River.

All of these canal locks, with the exception of lock 55,

are listed in the National Register of Historic Places. Work

to list lock 55 is underway.

God Bless Everyone

& Stay Safe at Home

Once the Ohio and Erie Canal Southern Descent

Heritage Trail is established, residents and visitors will be

able to learn the story of this important transportation

route as they follow the driving trail. Creation of the trail,

which will be launched next fall, is funded by the Canal

Society of Ohio and Ohio Humanities.

Driving along the trail, one will be able to follow the path

our ancestors took up and down the canal route and get a

feel for what they saw and experienced. We can look out

over fields and woodlands similar to what they viewed and

see the historic buildings our ancestors saw and used as

they passed through the small towns that thrived along

the canal's waterway.

"People love transportation history and will travel to areas

to see canal remnants and sites," said Cathy Nelson, an independent

historical preservation coordinator as well as a member

of the Canal Society of Ohio who worked on the project to

place the locks on the National Register and on the Ohio and

Erie Canal Southern Descent Heritage Trail plans. "These

visitors enhance local economies by bringing in tourism dollars

to communities. A historic corridor people could visit

would be fabulous for the towns near where these locks and

other canal features are located. The canal story is fascinating.

Think of how hard it was to construct the canal. It

was hard labor done by hand with shovels and picks.

It's an extraordinary piece of Ohio history. That we

still have many of the stone locks and other features in

place that help tell that story is amazing. It's a story

that deserves to be told."

Ohio and Erie Canal history

The Ohio and Erie Canal was completed between

1827-32 and wound 308 miles through the state connecting

Lake Erie at Cleveland to the Ohio River in

Portsmouth. The canal, a man-made waterway that

was an engineering marvel, was built to enhance

transportation and shipping in the state and did so

throughout much of the 19th century until the introduction

of the faster moving railroad took the canal's

place.

During the canal's heyday in the 19th century, 55

locks were situated on the Ohio and Erie Canal from

the Licking Summit in Newark to the Ohio River. The

locks' function was to raise and lower canal boats to

meet the changing level of terrain.

The canal in Groveport

Lock 22 in Groveport is nearly 190-years-old and is made

of sandstone block. Its overall length is 117 feet and its chamber

is 90 feet long and 16 feet wide. The lock is owned and

maintained by the city of Groveport and is accessible from

Groveport Park and Blacklick Park.

The canal channel is still visible near lock 22 as well as in

Groveport's Blacklick Park and along Rohr Road south of

town. Additionally, a dry dock and canal boatyard operated in

the 1800s in what is now Blacklick Park. The canal operated

in Groveport from 1831 to the early 1900s and the transportation

opportunities it offered for shipping and travel were a

significant factor in the economic development and growth of

the city.

"Any time we can do things to preserve our heritage I'm all

for it. Plus, we'll never forget that the cleaning up and

restoration efforts for lock 22 gained momentum several

years ago as an Eagle Scout project by Nathan White," said

Groveport Mayor Lance Westcamp. "The National Register

designation for lock 22 as part of Ohio & Erie Canal Southern

Descent Historic District and the creation of the Ohio and

Erie Canal Southern Descent Heritage Trail is an opportunity

to showcase our community as a welcoming and interesting

place for people to visit."

The canal in Lockbourne

Passing west into Hamilton Township from Groveport, the

Ohio and Erie Canal followed a path now paralleled by the

railroad along Canal Road in Lockbourne, where locks still

stand from eight that serviced the Lockbourne area. Two

other locks are also visible, one along Lockbourne Road–

Lock 29–just before you enter the village and another in

Lockbourne's Locke Meadow Park, where Lock 30 stands.

The park also includes the Big Walnut Creek guard lock,

which, according to an Ohio Historical Marker, prevented

flood water from the creek from entering the main canal. A

lock tender's house was located adjacent to Lock 30. A 12-

mile-long feeder canal was constructed from Lockbourne to

the capitol city to provide access to Columbus in transporting

people, livestock and produce.

Information

Ohio's history is our history, embrace it.

For information about the Ohio and Erie Canal

Southern Descent Heritage Trail, contact project director

Cathy Nelson at cathyd.nelson@gmail.com.

Malek &

ATTORNEYS AT LAW

Malek

WORK INJURIES

WORKERS'

COMPENSATION

SAFETY VIOLATIONS

WRONGFUL DEATH

PERSONAL INJURY

SLIP & FALL INJURY

DOG BITE INJURY

Douglas, Ed, Jim

and Kip Malek

Ben Churchhill

"Hablamos Español"

FREE Initial Consultation

www.maleklawfirm.com

614-444-7440

1227 S. High St., Columbus, OH 43206

Messenger's

upcoming

publication

schedule

The Messenger will

alter its print publication

schedule

for the holiday season.

The print publication

and delivery

dates for the

remainder of 2020

are: Dec. 6 and

Dec. 20. After that,

print publication

and delivery will

resume every other

week following the

holidays on Jan.

10. Thank you for

reading the

Messenger!
---
www.columbusmessenger.com

Opie was rescued from a

life of being chained outside.

At 8 years of age,

this shepherd mix now

has a new lease on life.

Opie is housebroken and

is figuring out life

indoors. He loves to go

for walks. He is neutered,

microchipped, heartworm

negative and up to

date on vaccines. Opie is

available for adoption

through Colony Cats and

Dogs.

FYI: colonycats.org

Ondreja is a 1-yearold

domestic shorthaired

tabico. She

does not get along well

with other cats, but she

is learning to and does

alright with cats that

are more assertive and

won't let her bully

them. She wants to follow

her human around

everywhere and always wants affection.

Ondreja is spayed, vaccinated,

microchipped, and ready for a home of her

own. She is available for adoption through

Colony Cats and Dogs.

FYI: colonycats.org

pets of the week

Bleu is a 7-yearold

mixed breed.

He is playful, curious,

and trusting.

Bleu would love a

home with someone

who would

walk him daily and

give him a job to

do. After he is done

with work, he will

be a great cuddle

partner. He wants

to please and

would make a

great addition to any home. Adopt Bleu from

the Franklin County Dog Shelter.

FYI: franklincountydogs.com

Rena is a 4-year-old pit

bull mix who is an affectionate

sweetheart. This

gal enjoys a comfortable,

relaxed life. Her tail

is always wagging

because she is happy to

see everyone. She is

looking for a forever family

who will show her

love. Rena is good with

other dogs. She is up for

adoption at the Franklin

County Dog Shelter.

FYI: franklincountydogs.com

columbusmessengenger.com

December 6, 2020 - MESSENGER - PAGE 3

Frozen Lobster Tails, King Crab Legs, Snow Crab Clusters, Orange Roughy,

Lake Smelts, Fresh Chopped Clams, Squid Tubes and Tentacles, Caviar,

Salted Baklava, Fresh Cod, Fresh, Eel, Octopus, Fresh Lump Crabmeat

(Non-Pasterized), Florida Stone Crab Claws, Snow Crab Cocktail Claws,

Live Lobsters via Special Order Only!

We Carry Domestic and Imported Wines

SUPPORT YOUR LOCAL

SMALL BUSINESSES

Now taking Christmas orders

We Accept All Major Credit Cards

EBT Cards (SNAP)
---
PAGE 4 - MESSENGER - December 6, 2020

columbusmessengenger.com

Letters policy

The SOUTH MESSENGER welcomes

letters to the editor. Letters cannot be

libelous. Letters that do not have a signature,

address, and telephone number, or are

signed with a pseudonym, will be rejected.

PLEASE BE BRIEF AND TO THE

POINT. The Messenger reserves the right

to edit or refuse publication of any letter for

any reason. Opinions expressed in the letters

are not necessarily the views of the

Messenger. Mail letters to: SOUTH MES-

SENGER, 3500 Sullivant Avenue,

Columbus, OH 43204; or email

eastside@columbusmessenger.com.

Keep tabs on the news in Canal

Winchester and Hamilton Twp.

Look for South Messenger on

Become a fan!

eastside

Messenger

(Distribution: 16,822)

Rick Palsgrove................................South Editor

eastside@ columbusmessenger.com

Published every other Sunday by

The Columbus Messenger Co.

3500 Sullivant Ave., Columbus, Ohio 43204-1887

(614) 272-5422

One of the most cherished Christmas

television specials is, "A Charlie Brown

Christmas."

It first aired in 1965 and was groundbreaking

for its time - with its mix of profound

Christian philosophy expressed by

Linus' speech about the first Christmas

contrasted with the secular commercial

trappings that inch into the observance of

the holiday.

I am joyfully thrust back decades in

time whenever I see this show.

Three years before Charlie Brown aired,

Mr. Magoo celebrated the holidays in 1962

with his own vision-challenged version of,

"A Christmas Carol." While he does not

draw the same devotion or notoriety as

Charlie, Mr. Magoo is worth the hunt to

watch his version of Ebenezer Scrooge during

December.

Speaking of Scrooge–and I will argue

this until Rudolph's red nose no longer

blazes a path through the night–there is

only one glorious cinematic version of

Charles Dickens' masterpiece - the 1951

black and white film version starring

Alistair Sim.

It is as if Dickens wrote the timeless tale

with Sim in mind, framed against the gray

bleakness of London of the 1840s. Sim is

the consummate Scrooge, full of iconic

smugness in his devoted pursuit of penny

pinching and financial gain.

Sim blurs the line between actor and

role as he becomes the quintessential curmudgeon,

using his height to lurk over the

column

less fortunate with a

craggy face that runs

the gamut from hardened

miser to compassionate

uncle.

Scrooge's redemption

at the hands of a

trio of spirits showcases

Sim's dynamic acting

chops in a role made for

the actor and a holiday

gift I unwrap year after

year. If you only have

time to watch one holiday

classic, make it

this version of "A

Christmas Carol."

Likewise, Irving

Berlin's homage to the holidays– "White

Christmas" –is another gift I give myself.

The ending alone - where all the stage

trappings are pulled away to showcase the

snow falling outside as the four lead actors

waltz around in the most amazing holiday

costumes ever - is another cinematic

Christmas card.

"White Christmas" whirls around the

screen in glorious color, song, and dance

under the stewardship of Bing Crosby, Danny

Kaye, Rosemary Clooney and Vera Ellen.

Yes, it is a classic boy meets girl, boy

loses girl and everyone is happy in the end

www.columbusmessenger.com

Let's talk about Christmas TV specials

Places

Linda

Dillman

"White Christmas" whirls

around the screen in glorious

color, song, and dance under the

stewardship of Bing Crosby,

Danny Kaye, Rosemary Clooney

and Vera Ellen.

story, but it is oh so much more. It is also

poignant, a tale of doing something nice for

someone who gave so much, full of hope.

Will it or won't it snow? It is also filled with

songs that have stood the test of time.

What more could you ask for?

Unless it happens to be Rankin and

Bass' stop-motion 1964 animation classic

"Rudolph the Red-Nosed Reindeer," another

case of boy meets girl, boy loses girl, boy

finds friends and a snow monster and gets

girl. Or, if you rather, Santa makes a big

mistake. Rudolph saved Santa's reputation,

the Island of Misfit Toys, and

Christmas.

My list of holiday cinematic happiness is

not complete without mentioning my modern

favorites – "A Christmas Story,"

"Emmet Otter's Jug Band Christmas,"

"Christmas Vacation," "Elf," "Jingle All the

Way," and "The Polar Express" (the ending

makes me cry every single time).

So, drag along a millennial or two, grab

a cup of hot cocoa (topped with marshmallows,

of course) and join me in the pursuit

of the classics - holiday style.

Linda Dillman is a Messenger staff writer.

Wreaths are a holiday tradition

There are many different ways to decorate homes

and businesses for the holidays. Tall evergreen trees

are among the most visible symbols of the holiday season.

However, wreaths hung on doors, windows or

fences also are ubiquitous this time of year.

Wreaths adorn homes primarily during the holidays

of Easter and Christmas. Wreaths have also been

worn around the head or neck in ceremonial events

around the globe for centuries. It is believed the first

wreaths date back to ancient Greece and Rome.

Members of the Greco-Roman society were known to

hand-make ring-shaped items using fresh tree leaves,

small fruits, flowers, and twigs. Oftentimes these

headdresses symbolized a person's social status.

Others suggest wreaths evolved to become a Christian

symbol of immortality.

Regardless of how wreaths are viewed, many people

like to display wreaths for the holidays. Wreaths can

be purchased premade, but making a wreath on your

own can make the holidays even more fun.

One of the easiest ways to make a wreath is to

design it around a circular floral foam form. Gather

supplies to make the wreath. For traditional wreaths,

supplies will include sprigs of evergreen (real or artificial),

ribbon, floral wire, bows, and artificial berries.

Working around the foam form, arrange the boughs of

evergreen, using the floral wire to wrap or pin into the

foam itself. Keep the layers coming until you get the

desired coverage. Embellish with a ribbon or place a

bow.

Thick card stock also can serve as the wreath template.

Attach artificial flowers or leaves, spray snow,

ornaments, or other items to the card stock ring with a

firm adhesive.

Many craft stores sell wreath forms made of natural

vines that have been strung in a ring. These can be

decorated in their entirety or left a little sparse to let

the natural twine show through.
---
www.columbusmessenger.com

December 6, 2020 - MESSENGER - PAGE 5

Holiday Gift Ideas

Holiday Gift Ideas

Remember these Christmas tree tips this season

Christmas trees are an iconic symbol of

the holiday season. Whether they are personal

trees nestled in the corner of a living room

for families to enjoy or towering evergreens

serving as the focal point of a town square,

Christmas trees are a wonder to behold.

Many people have fond memories of

time spent around the Christmas tree

sharing gifts and family traditions. Live

trees and their pine-like aroma can be

especially nostalgic trees to include in holiday

plans. The National Christmas Tree

Association says that approximately 25 to

30 million real Christmas trees are sold in

the United States every year. North

American trees hail from all 50 states and

areas of Canada.

While freshly cut trees can be particularly

beautiful and aromatic additions to

the season, they require a bit more work

than artificial trees in order to remain

beautiful and thrive throughout the holiday

season. Maintenance can help keep

Christmas trees as perfect as possible.

• Even though it is tempting to buy a

real tree as early as possible, their shelf life

is limited even with the best care. Dural

Christmas Tree Farm advises that, under

the best conditions, a real tree should last

up to four weeks before drying out.

•Consider the needles when looking for

a real tree. Pull your hand toward your

body along the branches. If many needles

fall off, the tree is past its peak.

•Think about the room in which the tree

will be located. Leave at least six inches

between the tip of the tree and the ceiling,

accounting for the height of the tree stand

as well.

• If needle retention is a goal, the Scotch

pine variety has the best needle retention

and a high survival rate, lending to its popularity,

offers Precision Tree and

Landscape. Douglas fir and balsam fir are

other durable trees.

•If possible, buy a freshly cut tree from

a reputable nursery or tree farm, advises

The Old Farmer's Almanac. Many pre-cut

trees sold elsewhere were likely cut weeks

before and may not be fresh.

•Cut the bottom of the tree trunk before

bringing it home to facilitate the uptake of

fresh water daily. Trees can absorb as

much as a gallon of water in a day, so make

sure the tree gets fresh water every day.

•Keep trees away from as many heat

sources as possible and away from direct

sunlight to prolong longevity.

•According to Karabin Farms in

Connecticut, to make a Christmas tree last

longer, boil a gallon of water and then dissolve

one cup of sugar in the water. Allow

to cool. After freshly cutting the trunk,

pour in the warm sugar water. Continue to

add fresh, cool, plain water to the tree

stand afterward.

1% CASH BACK

CONSOLIDATION LOAN

Payoff high interest balances with a low fixed rate and

put more money in your wallet this Holiday Season!

Fixed rates as low as 5.99%

6.49% APR* For up to 48 months

Enjoy One Payment Convenience PLUS Receive $10 for every $1,000 of balance

transferred from another lender.

Visit Us At

100 Main Street, GROVEPORT

1660 Georgesville Square, GROVE CITY

2164 Hilliard Rome Road, HILLIARD

7610 E. Main Street, REYNOLDSBURG

614-836-0100 www.firstcu.com

Open to everyone in Franklin, Fairfield, Delaware, Madison, Morrow, Licking, Pickaway and Union Counties

All loans on approved credit. Offer does not apply to loans already financed by First Service. Current rates,

terms and offers are subject to change or withdrawal. Rates may vary according to credit qualifications. $99

loan processing fee reduced to $74 with a FirstChoice Checking Account. No other discounts apply. Other rates

and terms may be available. *Payment example based on a credit score of 720 or higher with all other credit

qualifications met: $10,099 consolidation loan at 5.99% rate with a 48-month repayment term and $99

processing fee, would have a 6.49% APR and a monthly payment of $237.70 with total payments of

$11,409.34. Federally Insured by NCUA. $5.00 Share Savings Account required for membership; $25 to open

FirstChoice Checking Account.
---
PAGE 6 - MESSENGER - December 6, 2020

www.columbusmessenger.com

Model train display keeps on chugging along

By Linda Dillman

Staff Writer

As childhood gives way to adulthood, toys

once cherished are often put away and forgotten,

but in a backroom in the Queen of

the Line Depot in Canal Winchester, childlike

wonder is alive and flourishing.

Years ago, a group of small-scale model

train enthusiasts, who met at the Ohio Expo

Center, were looking for a new home and

found one in Canal Winchester.

"They (Columbus Area N Scalers) were

looking for a place to move permanently,"

said longtime Canal Winchester resident

Pat Hartman, as she sat among the roomfiling

train layout in the depot. "This room

was empty, so they started setting things up

here. There were eight people at the time

and it was around 1995."

Years later, the layout fell into disuse

and its fate was threatened in 2019. Canal

Winchester Area Historical Society Vice

President Larry Flowers credited Hartman

with stepping in and saving it.

"When they said they wanted to tear it

down, I said absolutely not," recalled Hartman,

who said Flowers called her last

Christmas Eve and told her about the situation

before he contacted retiree and train

aficionado Bill Brobst, Jr.

Order Your Homemade Holiday Sweets

(937) 728­3836

vintagesweetscbus@yahoo.com

Flowers said people like Brobst stepped

up with donations of time, talent, money

and material, including local artist Sandy

Packer who had a hand in turning the backdrop

into a vivid blue sky filled with clouds.

Brobst and fellow volunteers spent the

year turning the dilapidated and forlorn

model train layout into one representing the

route from the south Columbus Brewery

District and Front Street to Canal Winchester

and on to Carroll before traveling to a

quarry south of Lancaster.

"We're expanding to Lancaster, then on

to southern Ohio and ending in a mountain

and coal mine in a loop layout," said Brobst,

who said the original RCAN layout was not

only renovated, but expanded as well.

Starting with a plywood base, layers of

plaster were built up to create the topography

of areas connected by trains traveling

along small tracks. Stained sawdust was

used for grass and both kit and custommade

structures line the streets of towns

along the line.

Visitors can get a close-up look through

plexiglass shields installed to facilitate the

viewing of replicas of Columbus landmarks

and architectural icons of Canal Winchester,

including a canal boat plying the waters

downtown and a nearby interurban car.

The small-scale Prentiss schoolhouse

awaits its small charges as well as a miniaturized

depot, elevator and water plant. The

floor of the train display room is covered in

salvaged Nelsonville star pavers and circle

pavers.

"All of downtown buildings are handmade,

including the interurban and drawbridge,"

said Brobst. "The day they installed

the water on the display was the same day

they took down the water tower in town.

To advertise in the

Messenger, call

Theresa Garee at

614-272-5422.

ELEVATING

Continued from page 1

until it caught fire. According to the book, "Canal Winchester

Ohio: The Second Ninety Years," by Frances

Steube and Lillian Carroll, while the new station was

being built, the telegraph office was temporarily moved

into the grain elevator.

"Canal Winchester has a rich history in agricultural,

transportation, and educational programs," said Flowers.

"Our train depot, transportation museum, our

SANTA

Messenger photo by Linda Dillman

Pat Hartman (left) and Bill Brobst, Jr. with the model train display in Canal Winchester's

Queen of the Line railroad depot.

The idea is to develop and re-develop, add a

little realism and have it operate like a real

train. There are two separate loops that can

run simultaneously or on one big loop."

Brobst said children love to visit the display

and volunteers love to show it off as

well. Hartman said before the original display

fell into disrepair, children as far away

as Westerville would visit the depot layout.

Continued from page 1

"I believe this has not been done before, which is why

we are so excited to do this," said Human Services Executive

Director Aletha Mullins. "It is a great way for

kids to connect with Santa since they will not be able to

sit on his lap and tell their wish list. Jill and I go to

Shades for dinner every quarter and brainstorm on

fundraisers and events that will connect and serve our

community. Santa Calls is what we came up with from

"It's wonderful that we can preserve

things like this," said Hartman.

Flowers said the historical society plans

to open the display to the public sometime

in early 2021.

"This will be a work in progress as long

as there is someone interested in trains,"

said Brobst. "It's turned into a labor of

love."

Drive-Thru Visit With Santa cancelled

With the recent public health advisories, the city of

Canal Winchester canceled the drive-thru visits with

Santa on Dec. 4 and Dec. 5 as part of the Christmas in

the Village celebration. The city will still host the Santa

parade the afternoon of Dec. 5, as well as the Brock-

Strong Light Up The Night Holiday Lights Parade the

evening of Dec. 5 with an amended route.

Drop off letters to Santa in his mailbox outside of the

Municipal Building, 36 S. High St., through Dec. 20. Include

a return address to receive a response from Santa.

Visit www.canalwinchesterohio.gov for information

on Christmas events in Canal Winchester.

Prentiss school, educational history, and soon our grain

elevator–agricultural history. We encourage community

involvement. Join the Canal Winchester Area Historical

Society. Join us in our history and our exciting

future."

For information, contact the society by visiting

www.cwhistory.org.

our last meeting."

One hundred percent of the proceeds benefit various

programs offered by Canal Winchester Human Services,

such as senior transportation, emergency assistance,

food pantry, Adopt-a-Family and Tools for Schools.

For information or to sign up for Santa Calls, visit

the Santa's Calling link at cwhumanservices.org or call

614-834-4700.
---
www.columbusmessenger.com

December 6, 2020 - MESSENGER - PAGE 7

Revenue from CW Mayor's Court fines has increased

By Linda Dillman

the number of tickets written because a

Staff Writer

ticket can contain more than one offense.

If you do the crime in Canal Winchester,

"Another factor could simply be timing,"

you are going to pay the fine in Canal Winchester.

said Jackson. "We offer payment plans for

those who need time to pay which can delay

Fine revenue from the city's Mayor's

payment on a case. These are probably the

Court–which hears misdemeanor offenses–is

on the rise in 2020.

biggest reasons for any increase from year

to year."

City Finance Director Amanda Jackson

The five-year average between 2015 and

said while it is difficult to pinpoint exactly

2019 was $108,007 in Mayor's Court revenue.

why revenue has increased, the obvious answer

would be an increase in offenses.

"The year to date amount represents

Year-to-date, through Nov. 18, there

money collected," said Jackson. "If a fine is

were 1,113 offenses and $106,469 in revenue.

For the same period in 2019, there

not paid, the result will vary depending on

the charge. For example, an unpaid fine on

were 826 offenses. Last year ended with 938

a theft charge could result in an arrest warrant

being issued, while an unpaid traffic

offenses and $92,405 in revenue. Jackson

noted the number of offenses does not equal

ticket could result in a block being placed on

your license and vehicle registration. You

CW Schools soldier on

By Linda Dillman

Staff Writer

Canal Winchester Local Schools started

2020 on a productive note, including highlights

such as students attending high

school classes in newly renovated and expanded

spaces after a two-year long $26

million project.

Other high points of the year featured

Sandy Thomascheck, a technology and resource

teacher at the high school, being

named an Ohio Teacher of the Year finalist;

Indian Trail Elementary selected as a 2020

OEASA Hall of Fame School; and Winchester

Trail Elementary named a 2020 Ohio

PBIS Bronze Award winner.

However, when the district went into a

lockdown in March, it put everything into

unchartered territory and forced staff members

to teach and learn in new environments.

"I believe our staff made the best of the

situation," said Canal Winchester Schools

Superintendent James Sotlar. We stepped

off the only path we knew and started our

own trail."

Sotlar said the process was not easy nor

perfect, but he and his staff did what they

thought was best for kids. Sotlar said there

is nothing that can replace in-person teaching,

but felt the staff worked well with what

they had under the circumstances.

"I believe we did our best to try and provide

a good education while trying to balance

the right amount of work and the time

needed/expected to complete assignments,"

said Sotlar."Like many other districts, we

were developing the plan as we were implementing

it, which is not an easy task to accomplish."

What is biggest challenge ahead in 2021

for the superintendent and the district? Getting

students back to school full time.

"We will continue working hard to ensure

that we offer and deliver a high-quality

education no matter which learning track

families choose," said Sotlar. "I am proud to

be part of this school system and community

that have come together to make a safe return

to school possible. Thank you for the

sacrifices you have made and continue to

make so learning can continue. We are all

in this together."

CW to receive water infrastructure funding

Communities in Central Ohio are receiving

approximately $16 million in low-interest

and principal forgiveness funding from

Ohio EPA to improve wastewater and

drinking water infrastructure and make

other water quality improvements.

The city of Canal Winchester is receiving

$50,000 to purchase and install a new

stand-by generator.

The loan includes $50,000 in principal

forgiveness, meaning this amount does not

have to be repaid.

Others receiving funding include:

•Granville: $220,000 to plan and design a

new lift station, holding tank, water storage

tank and loading infrastructure at the

Granville Water Treatment Plant;

•Columbus: approximately $15 million

for four projects that include constructing

new storm and sanitary sewers, redirecting

roof drains away from homes, replacing well

pumps at the Parsons Avenue Water Plant,

and making improvements to stormwater

quality, inline storage and modifications to

the current flood routing; and

•Ohio Department of Natural Resources:

$698,000 to help protect approximately

6,000 linear feet of Little Darby Creek

frontage and riparian corridor.

The loans were approved between July 1

and Sept. 30.

The lower interest rates and principal

forgiveness will save these communities

more than $2.3 million.

More information about the SRF loan

program is available at:

epa.ohio.gov/defa/EnvironmentalandFinancialAssistance.aspx.

would not be able to renew either of those

until you cleared up your unpaid fine with

us."

Mayor's Court hears misdemeanor offenses

that occur within the city's corporation

limits and the court clerk is responsible

for collecting fines and fees–set by city ordinance–and

maintenance of traffic and

criminal citations issued by Fairfield

County sheriff's deputies.

It is currently held at the Frances Steube

Community Center, 22 S. Trine St., to allow

for social distancing on the first and third

Thursday of each month at 1 p.m. A magistrate

presides over the court at $150 per session.

Amounts received vary from month to

month and case by case depending on the

charge and fine assessed.

When defendants arrive at court, they

OCC postpones games

The Ohio Capital Conference, of which

the Canal Winchester Indians are a member,

recently announced that all league

games are postponed until Dec. 18 in response

to the Franklin County Board of

Health's Nov. 20 stay-at-home advisory.

The advisory was issued due to the increasing

numbers of COVID-19 cases in the

county. Dec. 18 is the last day of school before

the Christmas holiday break.

The Ohio High School Athletic Association

has stated that school districts can

choose to pause their athletic programs at

OUR NEW OFFICE IS OPEN

Located at

7750 Diley Road, Suite A

Canal Winchester, OH 43110

For Appointment Information Call

(614) 837-7337

Physicians that will be seeing patients are:

Nicholas

Stevens,

MD

are asked to sign a basic rights form which

lets the city prosecutor and magistrate a defendant

is in attendance. Defendants are

given the opportunity to discuss their case

with the city prosecutor prior to appearing

before the magistrate, who sees defendants

on a first-come, first-serve basis.

While the majority of Mayor's Court revenue

goes into the general fund, a certain

amount is deposited into each of two court

tech funds.

"The money placed in the tech funds can

only be used for specific purposes related to

computerization of the court system," said

Jackson. "Funds are also dispersed to the

Franklin and Fairfield municipal courts

based on the location of the offense and the

state, as required by law."

any time due to the ongoing pandemic.

Madison Township's

Santa Parade cancelled

Due to Franklin County's escalation in

COVID-19 cases, and to keep Santa, the

elves, the reindeer, and the general public

healthy, Madison Township decided to cancel

this year's Santa Parade, which had been

scheduled for Dec. 13. Township officials

said this decision was not made lightly, but

in the face of the growing virus, precautions

must be taken.

H. Scott

Tyson,

MD
---
PAGE 8 - MESSENGER - December 6, 2020

www.columbusmessenger.com

Winter Hikes Series proceeds with a new approach

Popular Metro Parks

program finds a way to

continue during pandemic

By Rick Palsgrove

Managing Editor

Metro Parks' popular Winter Hikes

Series will continue this year, but in a different

format.

"Due to COVID-19, we are extending the

winter hike season and giving people a

chance to hike on their own from

December to February," said Metro Parks

Assistant Manager of Interpretation and

Education Jill Snyder. "Instead of welcoming

visitors to one park each Saturday and

most Sundays in January and February as

in previous years, we will highlight six

parks each month. Visitors can hike any

trail at any time during that month to complete

the winter hike at that park and have

their ticket to travel booklet stamped. This

DELIVERY PROBLEMS

WITH YOUR BAG?

Your carrier works for The Bag,

NOT the Columbus Messenger Co.

The Bag's phone number is: 1-888-837-4342

We take our paper to The Bag Office,

just like Kroger, Meijer, Aldi, Walmart, Menards, etc.

LIST YOUR

CHRISTMAS WEEK SERVICES

ON OUR CHRISTMAS CHURCH PAGE

in The South/Canal Winchester or

Groveport Messengers

The page will print in

our December 20th issue

The deadline for this year's Christmas Church Page

is Friday, December 11th at 2:00 pm.

Call Kathy

for More

Information

614-272-5422

means visitors can hike in their household

unit and not gather in groups. We will also

not serve food and drinks after the hikes."

Snyder said this year's Winter Hikes

Series features 18 parks, an increase from

the usual 13. The parks and hike months

are:

•December - Blacklick Woods,

Chestnut Ridge, Highbanks, Homestead,

Inniswood, and Scioto Grove.

•January - Clear Creek, Prairie Oaks,

Rocky Fork, Scioto Audubon, Sharon

Woods, and Walnut Woods.

•February - Battelle Darby Creek,

Blendon Woods, Glacier Ridge,

Pickerington Ponds, Slate Run, and Three

Creeks.

"We want to offer hikes in as many

parks as possible and allow people to stay

close to home," said Snyder. "In December,

parks, except Chestnut Ridge, will be lit up

in the evening to make things special and

give visitors something special to enjoy.

The January hikes feature parks with

more strenuous hikes either in distance or

hills. The February parks look great in the

snow!"

People can hike any time at any of the

parks for the month. The travel ticket

booklets with instructions and park information

are available at

www.metroparks.net or can be picked up

from a park staff member. The hike series

runs December to February. If people complete

seven hikes, they will receive a

unique 2020-21 Winter Hike patch.

Participation is free.

According to

AREA

CHRISTMAS

WORSHIP

SERVICES

Groveport Zion Lutheran Church

6014 Groveport Rd., Groveport 43125

614-836-5611

Pastor Matthew Cox

SAMPLE

Christmas Eve Candlelight Service at 7:00 pm

Christmas Day Service at 10:00 am

Communion celebrated at both services

Snyder, attendance

has increased in the

parks throughout

the pandemic.

"The Winter Hike

Series gives visitors

a way to continue to

enjoy the parks and

explore new trails,"

said Snyder. "People

are looking for a

place to escape the

stress of work from

home, remote learning,

and so on. It's a

great way to travel

around the city to

see new parks and

places while remaining

safe. We didn't

want to cancel this

tradition, especially

since it can be done

safely. This is the

48th year for the

Winter Hikes, yet

another reason not

to cancel the hikes."

Park visitors are

asked to follow

Photo courtesy of Metro Parks

The selfie station will rotate to various parks throughout the months of the Winter

Hikes Series.

COVID-19 safety

recommendations:

stay six feet apart,

wear a mask especially

if hiking with people outside their

household, limit group numbers to less

than 10, and frequently wash hands. Metro

Parks continues to sanitize restrooms and

high touch areas.

New this year to the Winter Hikes

Series is the selfie station where people can

take photos to document their hikes.

"The selfie station will move to different

parks every two weeks from December to

February," said Snyder. "Who doesn't love

a selfie! We hoped to kick off the selfie station

earlier this year, but with the pandemic

we decided to wait. The Winter Hikes are

the perfect time to get the selfie station

moving around the parks."

The selfie station locations:

•Dec. 1–14: Blacklick Woods Metro

Park, located across from stretch racks on

multipurpose trail from nature center

parking lot.

•Dec. 20 – Jan. 3: Inniswood Metro

Gardens, located near evergreen trees

inside entrance just past the circle garden.

•Jan. 8–18: Scioto Audubon Metro Park,

located in front of the climbing wall.

•Jan. 22 – Feb. 1: Sharon Woods Metro

Park, located near the stretch racks at

Maple Grove parking lot.

•Feb. 5–17: Slate Run Metro Park,

located near the covered bridge.

•Feb. 19 – March 1: Battelle Darby

Creek Metro Park, located near the playground

at Cedar Ridge.

Follow Metro Parks on social media to

get more information about the hikes and

selfie station or visit metroparks.net

"We plan to offer a few guided hikes and

programs during the Winter Hikes and

those will be advertised through social

media," said Snyder.
---
wwww.columbusmessenger.com December 6, 2020 - MESSENGER - PAGE 9

entertainment

Prehistoric family mixes fun with meaningful message

Of all the animated features that were

released in 2013, Disney's "Frozen" was the

one that made a lasting impact on popular

culture.

For months, this unexpected hit

chugged along at the top of the box office,

gobbling up more than a billion dollars during

its theatrical run; and then it gobbled

up a few billion more through merchandising,

soundtrack sales and therapy to

remove its famed song out of people's head.

"Frozen" was such a behemoth that it

came as no surprise when it overshadowed

all of the other animated features that

came out that year, despite the fact that

several of them were also worthy of lasting

public attention and affection.

One such feature was "The Croods," a

tale about a prehistoric family who struggles

to survive the wilds and eventually

modernity.

While it did amass more than $600 million

during its own theatrical run — it also

snagged an Academy Award nomination —

it largely went the way of the era on which

it was based, forgotten in time.

It's 2020 sequel, "A New Age," offers a

hipper approach than its predecessor while

not veering far away from the plot laid out

in the first film. Strangely, this decision to

follow in that same thread may leave a

The Reel Deal

greater impact than

part one because it

feels a little more onthe-nose

during this

present era.

When the film

begins, the Crood clan

have just fended off

another life-threatening

situation involving

massive, and

massively ravenous,

amphibians and birds

of prey.

Dedra

Cordle

Tired of surviving this world rather

than thriving in it, they continue their

search for the elusive "tomorrow," a mythical

place that offers shelter from the constant

stream of harm.

After finding shelter to rest their weary

bones, patriarch Grug (Nicholas Cage) goes

off to explore the land and privately revolt

about the growing affections between his

eldest daughter Eep (Emma Stone) and the

orphaned teen Guy (Ryan Reynolds) who

showed them how to make fire in the last

film. During his stalking and sulking session,

Grug finds a walled off section of the

land and discovers it is nothing short of a

utopia.

Inside of the walls are all kinds of fruits

and vegetables, some they are not sure are

edible but they gorge upon anyway, and

clear and flowing water that seems devoid

of dangerous animals.

As they bask in this magnificence, they

meet the builders of this oasis who welcome

them with a grimace because of their

grime.

This new family, the Bettermans, are

comprised of new age parents Phil and

Hope (Peter Dinklage and Leslie Mann,

respectively) and their teenage daughter

Dawn (Kelly Marie Tran). While the latter

is more accepting of their unruly guests (all

Dawn wants is to make a friend her own

age), the former duo just want to send them

on their way but with a nice fruit basket in

tow.

The Croods, however, see this place as

their "tomorrow" and do not wish to leave

its safety without a fight. Cue culture

clashing hijinks and fisticuffs until the two

warring factions come under fire from

angry Punch Monkeys who wish to see

them sacrificed so they can take over their

treasured land.

Throughout its first two acts, "A New

Age" is sort of a run-of-the-mill animated

feature with several bursts of slapstick

humor, but when it reaches the third and

final act, it goes full zany and in the oddest

and best way possible.

While still threading its sweet message

about not being afraid of change and

accepting those as they are, the action is

going full madcap complete with slow

motion fight scenes, bromances over a fire

pit, and a gigantic apex predator ape with

a taste for prehistoric humans. It is as

strange as it sounds and befitting of a franchise

that was overlooked for being too

bizarrely animated and different for its

own good.

"The Croods: A New Age" won't be

everyone's cup of bog water tea due to its

offbeat nature, (it has Nicolas Cage in it;

what do you expect?) but it is a charming

adventure complete with memorable

scenes, laugh out loud moments and a kind

message that people from all backgrounds

can work together to make the world they

live in a better place.

Grade: B

Dedra Cordle is a Messenger staff writer

and columnist.

❏ London

❏ Main St.

❏ Phone

❏ Walk In

❏ Sales/Mail

Classification:

columbus

Me ssenger

Established in 1974

the Columbus Messenger Co.

❏ Eastside Messenger

❏ Westside Messenger

❏ Southeast Messenger

❏ Southwest Messenger

❏ Madison Messenger

❏ All Newspapers

3500 Sullivant Avenue

Columbus, Ohio 43204

614-272-5422

Telephone: ______________________________________________

Print your Name: __________________________________________

Last

First

Print your Address: ________________________________________

Print your City ____________________ State: ______ Zip: ________

Print Your Ad Below...

One word each space. BE SURE YOUR TELEPHONE NUMBER OR ADDRESS is

included in your advertisement. The lessor of 4 words or 22 characters per line. We

reserve the right to use abbreviations when actual space exceeds amount purchased.

1. __________

2. __________

3. __________

4. __________

5. __________

6. __________

7. __________

8. __________

9. __________

10. __________

__________

__________

__________

__________

__________

__________

__________

__________

__________

__________

__________

__________

__________

__________

__________

__________

__________

__________

__________

__________

__________

__________

__________

__________

__________

__________

__________

__________

Your Cost Per Line –– 2 Line Minimum

1 Paper ........$1.00 per line 3 Papers ......$2.55 per line

4 Papers ......$3.00 per line

2 Papers ......$2.00 per line

5 Papers ......$4.00 per line

$

❏ Cash

❏ Check

❏ Money Order

❏ VISA ❏ MC

Credit Card Information

$5.00 Minimum by fax or

email or $12.50 by phone

________________________

Credit Card Number

______________________

Exp. Date
---
PAGE 10 - MESSENGER - December 6, 2020

www.columbusmessenger.com

CLASSIFIED ADS

Deadlines: Groveport and West editions, Wednesdays at 5 p.m., • South, Grove City, Madison editions, Tuesdays at 5 p.m.

All editions by phone, Tuesdays at 5 p.m. • Service Directory, Tuesdays at 5 p.m.

xEmployment

Southeast Healthcare is seeking the following positions:

Pharmacy Technician – Assist the Pharmacist in the processing and filling of medication orders in a

fast-paced environment. The successful candidate will be a Certified Pharmacy Technician with Retail

experience.

Engagement Specialists and Recovery Guides to promote recovery in adults with severe mental illness

and/or drug or alcohol dependency. Qualified applicant will have a lived experience with the recovery

process.

Residential Specialist – Full and Part-time, weekend, positions available to engage with house residents

to teach daily living skills and monitor residents/house safety on an ongoing basis. HS diploma/GED

required.

Outreach Coordinator – Overdose Response Team - Outreach Coordinators are a part of a county-wide

response team responding directly to Emergency Departments for opioid addiction crisis. Fulltime, 2nd shift

(2pm-10pm), available. CDCA is Required.

MAT Therapist

The MAT Therapist provides assessment, treatment planning and direct services to persons with opiate

addiction as well as mental illness. Therapist provides individual counseling and group psychotherapy.

Masters Degree required with CD licensure or AoD in scope of practice required, LCDCII/LSW/LPC preferred.

Ryan White Medical Case Manager

The full-time Medical Social Worker provides accessible & culturally competent case management services

to a highly diverse population living with HIV/AIDS.

We only hire non-smokers. BA/BS & LSW required.

Psychologist

The Psychologist/Counselor provides clinical services to primary care patients targeting chronic health

conditions and behavioral and life style changes. Position requires experience with the SPMI and SUD

populations. Ohio license required.

We offer many great benefits, including health, dental, vision, 401(k), paid parking, mileage reimbursement,

education reimbursement and generous paid time off.

For a full list of opportunities, go to https://southeasthc.org/employment

BE YOUR OWN BOSS!

INDEPENDENT

CONTRACTORS

WANTED

If you have a reliable car and would like to

earn extra money, then why not deliver?

• Deliver 1 or 2 days a week

• Flexible delivery hours

• Work close to home - often in or

near your neighborhood

CONTACT US

1-888-837-4342

www.thebag.com

• Deliver 7 days a week

• Delivery before dawn

• Work close to home - often in or

near your neighborhood

CONTACT US

614-461-8585

www.dispatch.com/delivery

INFORMATION

After 54 years

of practicing Pediatrics,

D. Antonio J Del Rosario

is retiring from practice

effective March 12, 2021.

Patients needing assistance

in locating another

physician should contact

their health insurer or The

Nationwide Children's

Hospital referral line at

800-881-7385. With written

patient authorization,

a copy of the medical record

will be available at

6501 E. Livingston Ave. in

Reynoldburg or by calling

614-864-0165 until March

12, 2021.

ASSOCIATION ADS

AUTOMOTIVE

Get cash for your used

or junk cars today. We

buy all cars, trucks &

SUVs. Free pick up. Call

888-368-1016

DIRECTV - Every live

football game, every

Sunday - anywhere - on

your favorite device. Restrictions

apply. Call IVS

1-855-781-1565

Stay in your home longer

with an American Standard

Walk-In Bathtub. Receive

up to $1,500 off,

including a free toilet,

and a lifetime warranty

on the tub and installation!

Call us at 1-855-

481-3969 or visit www.

walkintubquote.com/national

Employment

WANTED

SW CITY SCHOOLS

SCHOOL BUS DRIVERS

The South-Western City School

District is currently hiring drivers

for the 2020-2021 school year

$16.55/HR

Available positions are for substitute drivers

that can develop into "Regular" positions with

benefits. Interested individuals should submit

an application on our website at swcsd.us.

Follow the employment link. Applicants should

have an excellent driving record and must

submit to drug, alcohol, and background

screening. A high school diploma or equivalent

is required.

EOE

Thinking about installing

a new shower? American

Standard makes it

easy. FREE design consultation.

Enjoy your

shower again! Call 1-

855-337-8855 today to

see how you can save

$1,000 on installation, or

visit www.newshowerdeal.com/cadnet

ASSOCIATION ADS

Elminate gutter cleaning

forever! LeafFilter, the

most advanced debrisblocking

gutter protection.

Schedule a FREE

LeafFilter estimate today.

15% off Entire Purchase.

10% Senior &

Military Discounts. Call

1-855-402-0373

Government program

forgives up to 90% of

Federal Student Loans.

Call today to claim your

benefits before Congress

makes changes to eligibility

requirements.

CALL (888) 212-5612

SELL YOUR ANTIQUE

OR CLASSIC CAR.

Advertise with us. You

choose where you want

to advertise. 800-450-

6631 visit macnetonline.

com for details.

CARS/TRUCKS WANT-

ED!!! All Makes/Models

2002-2019! Any Condition.

Running or Not. Top $$$

Paid! Free Towing! We're

Nationwide! Call Now: 1-

888-985-1806

Do you owe $10,000+ to

the IRS or State in back

taxes? Get tax relief

now! We'll fight for you!

(800) 887-5731 - (Mon-

Fri 10am-8pm EST)

ASSOCIATION ADS

GENERAC Standby

Generators. The weather

is increasingly unpredictable.

Be prepared for

power outages. FREE 7-

year extended warranty

($695 value!) Schedule

your FREE in-home assessment

today. Call 1--

855-447-6780 Special financing

available for

qualified customers.

[CARS/TRUCKS

WANTED!!!]

All Makes/Models 2002-

2019! Any Condition. Running

or Not. Competitive

Offer! Free Towing! We

are Nationwide! Call Now:

1-888-368-1016

The Generac PWRcell, a

solar plus battery storage

system. SAVE money,

reduce your reliance

on the grid, prepare for

power outages and power

your home. Full installation

services available.

$0 Down Financing Option.

Request a FREE,

no obligation quote today.

Call 1-866-586-

7248

FREE TRAINING TO BECOME A

REGISTERED PHARMACY TECH

WHILE YOU WORK!

Kroger Pharmacy Warehouse

in the Rickenbacker area is

Direct Hiring all shift.

First (M-F), Second (S-Th.) and Third (Sat.-W)

Shifts available.

Starting pay for first shift is $12.50 per hour.

Starting pay for second and third shift is $14.00.

Must be 18 years of age, have a high school

disploma or GED, pass a mandatory drug and

FBI/BCI background screening.

These are entry level positions, packing, sorting, RF

scanning, shipping in a fast paced environment.

Must be able to lift up to 25 pounds with or without

accommodation. Please apply at:

jobs.kroger.com

Search using Zip Code 43217

Call 614-333-5011 for more details.

HIRING?

Let us help you recruit the qualified employees you need to make

your business succeed. With a print and online audience of more

than 39,000 readers, our employment section is your key to meeting

local job seekers where they look first for fresh career opportunities.

Our Eastside Messenger

now covers

Canal Winchester

Our Southeast Messenger

still serves our Groveport,

Obetz, Madison Twp. and

SE Columbus areas.

Reaches over 35,000

household in these 2 area

To list a job opportunity, contact a

recruitment advertising specialist today at

614.272.5422

or

Kathy@columbusmessenger.com

columbus
---
www.columbusmessenger.com

xMisc, for Sale

Misc. for Sale

xInformation

DECEMBER GIVEAWAY

Place a prepaid classified line ad in our paper

during the month of DECEMBER and be registered

to win a $50 Gift Card from

The Columbus Messenger Newspapers.

All ads received by mail, in person, e-mail or phone

will be included in the drawing.

Drawing will be held December 29th, 2020

and the winner will be notified and published

in our January 3rd, 2021 Madison paper

and our January 10th, 2021 issue

of the Columbus papers.

GOOD LUCK TO EVERYONE!!!!

Congratulations

To Our Gift Card Winner

For NOVEMBER 2020

ANTHONY TROTT

From

The Columbus Messenger

Newspapers

Information

ASSOCIATION ADS

DISH TV $59.99 FOR 190

Channels + $14.95 High

Speed Internet. Free Installation,

Smart HD DVR

Included, Free Voice Remote.

Some restrictions

apply. Call 1-855-270-

5098

ASSOCIATION ADS

Two great new offers from

AT&T Wireless! Ask how

to get the Next Generation

Samsung Galaxy S10e

FREE. FREE IPhone with

AT&T's Buy one, Give

One. While supplies last!

CALL 1-866-565-8452 or

www.freephonesnow.com/

cadnet

ASSOCIATION ADS

Cross Country Moving,

Long distance Moving

Company, out of state

move $799 Long Distance

Movers. Get Free

quote on your Long distance

move 1-844-452-

1706

Call Empire Today® to

schedule a FREE inhome

estimate on Carpeting

& Flooring. Call

Today! 1-855-404-2366

Want Faster & Affordable

Internet? Get internet

service today with

Earthlink. Best internet &

WiFi Plans. Call us Today

to Get Started. Ask

about our specials! 866-

396-0515

READER

ADVISORY

The National Trade Association

we belong to has

purchased the following

classifieds. Determining

the value of their service

or product is advised by

this publication. In order

to avoid misunderstandings,

some advertisers do

not offer "employment"

but rather supply the

readers with manuals, directories

and other materials

designed to help

their clients establish mail

order selling and other

businesses at home. Under

NO circumstance

should you send any

money in advance or give

the client your checking,

license ID or credit card

numbers. Also beware of

ads that claim to guarantee

loans regardless of

credit and note that if a

credit repair company

does business only over

the phone it's illegal to request

any money before

delivering its service. All

funds are based in US

dollars. Toll Free numbers

may or may not

reach Canada. Please

check with the Better

Business Bureau 614-

486-6336 or the Ohio Attorney

General's Consumer

Protection Section

614-466-4986 for more

information on the company

you are seeking to

do business with.

ASSOCIATION ADS

New Hearing Technology

Available to Everyone!

WiderSound® Hearing

Aids bring you technologically

advanced hearing

aids at sensible prices. No

prescription required!

Starting at $69.99. Visit

http://bit.ly/WiderSound4U

and get yours today!

IMPORTANT

NOTICE

The following states: CA,

CT, FL, IA, IL, IN, KY,

LA, MD, ME, MI, MN,

NE, NC, NH, OH, OK,

SC, SD, TX, VT and WA

requires seller of certain

business opportunities to

register with each state

before selling. Call to

verify lawful registration

before you buy.

Wants to purchase minerals

and other oil and gas

interests. Send details to

P.O. Box 13557, Denver,

CO. 80201

VIAGRA & CIALIS! 60

pills for $99. 100 pills for

$150 FREE shipping.

Money back guaranteed!

1-844-596-4376

DISH Network $59.99 For

190 Channels. Add High

Speed Internet for ONLY

$19.95/month. Call Today

for $100 Gift Card! Best

Value & Technology.

FREE installation. Call 1-

855-837-9146 (some restrictions

apply)

Need IRS Relief $10K -

$125K+ Get Fresh Start

or Forgiveness Call 1-

877-378-1182 Monday

through Friday 7AM-5PM

PST

SELLING A FARM OR

HOUSE? Advertise it

here and neighboring

publications. We can

help you. contact MACnet

MEDIA @ 800-450-

6631 or visit our site at

MACnetOnline.com.

INSURANCE

Medicare, Health & Life

Insurance 614-805-1084

WANT TO BUY

WANTS TO Purchase

minerals and other oil &

gas interests. Send details

to: P.O. Box 13557,

Denver, CO 80201

We Buy Cars & Trucks

$300-$3000.614-308-2626

We Buy Junk Cars &

Trucks. Highest Prices

Paid. 614-395-8775

FINANCIAL SERVICES

Business Debt Solutions

Call 614-270-1149

Debt Solutions Available

Call 614-270-1149

HOMES FOR SALE

For Sale-2 Story House.

4 Bdrms, $89,500.

Buckeye Comm. R.E.

614-783-7464

VACATION RENTALS

Englewood, Florida

Palm Manor Resort

Within minutes of white

sand Gulf beaches,

world famous Tarpon

fishing, golf courses, restaurants/shopping,

Bush

Gardens. 2 BR 2 BA

condos with all ammenities,

weekly/monthly, visit

www.palmmanor.com

or call 1-800-848-8141

December 6, 2020 - MESSENGER - PAGE 11

xClassified Services

APPLIANCE REPAIR

Washer, Dryer, Stove &

Refrig. Repair 875-7588

BASEMENT

WATERPROOFING

Walker's Basement

Waterproofing. LLC

614-359-4353

CARPET CLEANING

DIRT BUSTERS

HOLIDAY SPECIAL!

Any 5 areas $75.

614-805-1084

Specializing in Pet Odors

CLEANING

Looking for Mrs. Clean?

For excellent cleaning

services at reas. rates

w/great refs, depend. 10%

Sr. Disc. Free Est. Gwen

614-226-5229

Busy Buckeye Cleaning

Enjoy the holidays this

year! Let us make your

home sparkle & shine!

(801) 319-6966

Jeanette Altevogt

(owner)

CONCRETE

AJ's Concrete,

Masonry

Good Work - Fair Prices

Block Foundations

Driveways • Sidewalks

Epoxy/Overlay Floors

Bonded-Ins. • Free Ests.

614-419-9932

Buckeye City

Concrete & Excavating

* Concrete * Foundations

* Waterlines * Drains

*Catch Basins

614-749-2167

buckeyecityconcreteand

excavating@yahoo.com

EDDIE MOORE

CONSTRUCTION

Quality Concrete Work

Lt. Hauling & Room Add.,

Block Work & Excavation

Stamp Patios,

Bsmt. Wall Restoration

35 Yrs Exp - Lic & Ins.

Free Ests. 614-871-3834

GUTTERS

Low Price-Great Service

5 & 6" Seamless gutters,

covers, siding, gutter clng.

Bill 614-306-4541

HAULING

DEAN'S HAULING

614-276-1958

HEATING

HEATING

Complete System Clean & Check

$49.95

Free Carbon

Monoxide Testing

Gas-Oil-Electric Heat/Pumps

All Makes • All Models

43 yrs exp. • Sr. Discount

614-351-9025

12/13 A

11/15 A/M

12/13 A

HOME

IMPROVEMENTS

KLAUSMAN HOME

IMPROVEMENT

Siding-Windows-

Doors-Roofing-Soffit-

Fascia-Gutters-Trim

Earn FREE Seamless

Gutters with Siding Over

1000 Sq. Ft.

FREE Shutters with

Soffit & Trim

EPA Certified

Member of BBB

Financing Available

Over 20 yrs exp. • Free Est.

Licensed-Bonded-Insured

Owner & Operator

James 614-419-7500

C&JHandyman

Services LLC

Minor Plumbing

& Electric

Install Hot Water Tanks,

Dishwashers & Disposals

Also Fencing &

Interior/Exterior Painting

Free Est. ~ 18 Yrs. Exp.

CDC/EPA Approved Guidelines

614-284-2100

SINCE 1973

Phil Bolon Contr.

Windows & Siding

Decks, Kitchens, Baths

Room Additions,

Flooring, Roofing

Bsmt Waterproofing

Deal With Small Non-Pressure Co.

47 Yrs. Exp. - Refs. Avail.

Lic.-Bond-Ins.

Free Est. - Financing Avail.

Member BBB Of Cent. OH

O.C.I.E.B. ID #24273

614-419-3977

or 614-863-9912

HOME INSPECTIONS

Home Inspections

"Welcome Home"

Inspection Services

Starting at $185

Licensed

InterNACHI/CPI

Certified

Free Estimates &

Discounts 12-13 A

Cell 614-316-9600

HOME

MAINTENANCE

12-13

A/M

JOE'S HOME MAINT.

Home Repairs, Roofing,

Siding, Gutters, Soffits,

Misc. Int. Repairs

Int. Painting

Call Joe 614-778-1460

37 Years Exp.

Professional Drywall

Finishing Services

"We Do It All"

From New Builds to Remodels

Call Now For Est.

614-202-9152

11-29 A

1-3 A

1-3 A/M

LAWN CARE

LET US MAINTAIN

YOUR LAWN & GARDEN

FOR YOU

Summer, Spring,

Winter or Fall

WE DO IT ALL!!!!

Lawn Cuts, Edging,

Trees & Shrubs, Garden,

Mulching, Hauling,

Garden Pond &

Home Maint.

Free Ests. Low Rates

$20 & Up

Kevin - 614-905-3117

MOVING

Aaron Allen

Moving

Local Moving since 1956

Bonded and Insured

614-299-6683

614-263-0649

Celebrating

over 60 yrs

in business

PAINTING

A Job Well Done Again

A lic. General Contractor

Some Skilled Services

Incl: Painting • Stucco,

Repair•Carpentry•Exterior

Drainage & Home Maint.

Call Today! 614-235-1819

Painter Over 30 Yrs Exp.

Free Est. Reas Rates

Daniel 614-226-4221

PLASTERING

DRYW

YWALL &

PLASTER

1/3

A&M

REPAIR

Textured Ceilings

614-551-6963

Residential/Commercial

BIA

INFORMATION

ONLY

$50.00

For This Ad In Our

South & Groveport

For Info Call

272-5422

INFORMATION

LOOK TO

THE PROFESSIONALS

IN OUR

SERVICE DIRECTORY

For Service

"That Is Out Of This World"

Classified Services

12/13 A&M

PLUMBING

ALL IN ONE

PLUMBING LLC

"One Call Does It All"

$25 OFF LABOR

1/3

With This Ad

A

614-801-1508

All Major Credit Cards Accepted

All About Drains & Plumb.

Will snake any sm drain

$125 + tax. 614-778-2584

CHRIS'

PLUMBING

"Plumbing & Drain Professional

That You Can Count On"

24 Hrs., 7 Days/Week

No Overtime Charges

24 Yrs. Exp. in Plumbing &

Drain Cleaning Field

Call For A Free Phone Estimate

$100.00 For Any Small Drain

614-622-4482

30% OFF with AD

ROOFING

Robinson roofing & repairs

30 yrs. exp. Lifetime Cols.

resident. Lic./bonded/Ins.

Reas rates. Member of

BBB. Dennis Robinson

614-330-3087, 732-3100

SEWING MACHINE

REPAIR

REPAIR all makes 24 hr.

service. Clean, oil, adjust

in your home. $49.95 all

work gtd. 614-890-5296

TREE SERVICES

Brewer & Sons Tree Service

• Tree Removal

• Tree Trimming 1-3

A&M

• Stump Grinding

• Bucket Truck Services

Best Prices • Same Day Service

614-878-2568

TROTT

TREE & LANDSCAPE

Tree Trimming

& Removal

11/15

A

Also Stump Removal

Free Est. - Fully Ins.

Call 614-235-3791

Cell 614-738-0682

INFORMATION

1/3 A/M
---
PAGE 12 - MESSENGER - December 6, 2020

Leaf pick-up

The city of Canal Winchester will provide

curbside leaf collection through Dec. 11. To

avoid water backup in the event of rain, leaf

piles must be placed behind the curb along

the street. Leaf piles may contain leaves

only, as sticks, grass trimmings and other

yard waste can cause damage to leaf collection

equipment. Regular yard waste will

continue to be picked up by Rumpke of Ohio

during scheduled trash collection.

Curbside recycling in CW

Rumpke Waste & Recycling brought

curbside recycling to Canal Winchester residents

began Oct. 1.

Under the new service agreement,

Rumpke provides weekly trash and weekly

recycling collection to residents, including

the use of a Rumpke trash and recycling

cart. Questions regarding service or carts

can be directed to Rumpke's customer service

center at 1-800-828-8171 or

www.rumpke.com.

Rumpke's acceptable recycling items include:

plastic bottles and jugs; cartons; glass

bottles and jars (any color); aluminum and

steel cans; empty aerosol cans (with lids and

tips removed); paperboard (cereal boxes, 12-

pack containers, etc.); cardboard; paper

products, including office paper, newspaper,

magazines, junk mail and envelopes (with

around Canal Winchester

or without windows), telephone books, an

dpaper grocery bags.

Visit www.rumpke.com for information.

Wagnalls Memorial Library

Wagnalls Memorial Library, 150 E.

Columbus St., Lithopolis, is open Monday

— Wednesday 10 a.m. — 5 p.m.; Thursday 10

a.m. — 8 p.m.; Saturday 10 a.m. — 2 p.m. and

closed on Friday and Sunday. For information

call (614) 837-4765 or visit www.wagnalls.org.

Wagnalls is offering these upcoming

events and activities:

•Checkers TV - Wagnalls offers a

monthly educational video series for elementary

aged children at Wagnalls.org.

Join Checkers the wacky inventor and his

robot sidekick, Snoozer, as they make scientific

discoveries with special guests including

medical professionals, community

leaders, and many others. Children will look

forward to each new installment of this educational

series, with seasonal themes in

every video.

•Augmented Reality Technology Classes

- Make an appointment for an introduction

to Augmented Reality class. Learn to use

fun and practical AR applications on your

phone or iPad. Register for these free

classes with Paula by email pmaier@wagnalls.org

or 614-837-4765 or 614-837-4765

ext. 112.

Tile works

Our Pictorial Past

by Rick Palsgrove

www.columbusmessenger.com

Image from the 1872 Franklin County Atlas

According to Lillian Carroll and Frances Steube, in their book, "Canal Winchester:

The Second Ninety Years," the Boyer Tile and Brick Company (once known as Powell

and Boyer) operated from 1872 until 1920 on a 30 acre site on West Waterloo Street

in Canal Winchester. The tile works took advantage of the vast supply of good clay

and strata of Bedford shale on hand in Madison Township for the making of brick

and tile. The site is now a residential area known as the Beck Addition.

Moses-Mouser Eye Care

Dr. Joshua Morris is a board-certified Optometrist

who grew up in Bellville, Ohio. He

completed his undergraduate degree at the

University of Akron, where he graduated

magna cum laude with honors.

Dr. Morris attended The Ohio State University

College of Optometry and graduated cum laude with honors to receive

his Doctor of Optometry Degree in May 2019. After completing his

studies, he was awarded the "Primary Vision Care Clinical Excellence

Award", in 2019.

Dr. Morris is a member of the American Optometric Association, the

Ohio Optometric Association, and The Ohio State Alumni Association.

He is excited to practice full scope optometry, diagnosing and treating

a variety of ocular disorders and diseases in patients of all ages, but has

a special interest in contact lenses and ocular disease.

On a personal note, Dr. Morris and his wife Tess, enjoy spending time

with their family, friends, and their Bernese Mountain dog Maverick,

cheering on The Ohio State Buckeyes, trying new foods, and exploring

Columbus breweries.

Q: Are contact lenses right for me?

A: 9/10 people who wear glasses are good candidates for contact lenses.

Contact lenses can correct for nearsightedness, farsightedness,

astigmatism, and even help you decrease your dependency on readers.

They can provide a wider field of view and the lenses won't fog up in cold

weather like glasses. Contact lenses are also a great option for when you're

exercising or playing sports where glasses could get in the way.

Q: How often should someone who

wears contact lenses get an eye exam?

A: Someone who wears contact lenses should have a comprehensive

dilated eye exam at least once a year. Contact lenses are medical devices

and need to be properly fitted and assessed by an eye care professional.

Schedule your contact lens exam today

with Dr. Morris.

6441 Winchester Blvd. E., Canal Winchester, OH 43110 614-963-3827