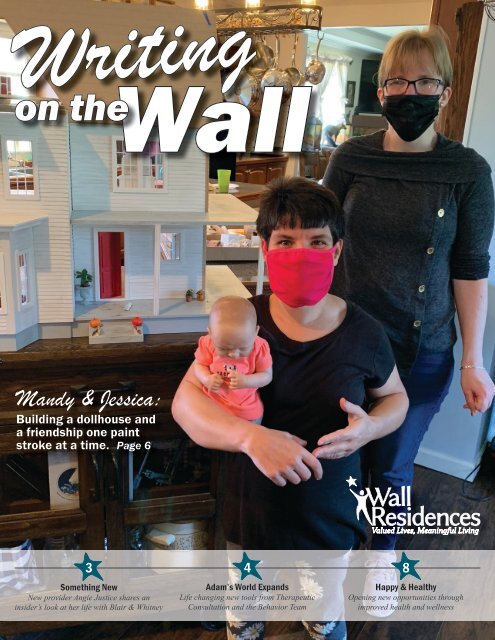 Writing on the Wall: Fall/Winter 2020
The fall/winter 2020 newsletter of Wall Residences, an agency who provides services for individuals with intellectual or developmental disabilities. Services include sponsored residential, group homes, community engagement & community coaching, nursing, therapeutic consultation, and behavioral support. This issue highlights recent achievements of residents, providers, staff, and the agency as a whole during fall 2020.
The fall/winter 2020 newsletter of Wall Residences, an agency who provides services for individuals with intellectual or developmental disabilities. Services include sponsored residential, group homes, community engagement & community coaching, nursing, therapeutic consultation, and behavioral support. This issue highlights recent achievements of residents, providers, staff, and the agency as a whole during fall 2020.
SHOW MORE
SHOW LESS
You also want an ePaper? Increase the reach of your titles
YUMPU automatically turns print PDFs into web optimized ePapers that Google loves.
ong>Writingong>

on the

Wall

Mandy & Jessica:

Building a dollhouse and

a friendship one paint

stroke at a time. Page 6

3

Something New

New provider Angie Justice shares an

insider's look at her life with Blair & Whitney

4 8

Adam's World Expands

Life changing new tools from Therapeutic

Consultation and the Behavior Team

Happy & Healthy

Opening new opportunities through

improved health and wellness
---
Director's Corner

John Weatherspoon

This newsletter, like many of our

posts this year, focuses on some of

the amazing accomplishments people

have achieved during this challenging

time. To all who have provided

support to the individuals we serve

over this past year and helped create

these special moments, words cannot

express how appreciative we are.

There is no way to capture all the daily

moments and decisions that made a

world of difference to someone. You

are what makes this such an amazing

agency to be a part of. You are an

inspiration. Thank you.

As 2020 comes to a close, many are

starting to focus on next year. 2021

will be here soon and with it, hope for

a year providing more opportunities

to safely be together. We just need to

finish out this year committed to the

well-being of one another. A vaccine

is on the horizon. Virginia is already

making plans for distribution when

it becomes available. Exact timelines

are unknown, but first responders and

medical personnel will likely have

access to a vaccine by the end of 2020.

Those considered to be at severe risk

will reportedly be next to receive it.

We will be able to resume some of the

activities we once enjoyed at some

point in 2021. When that happens, jobs

will start to come back in struggling

sectors and we will see our friends and

neighbors out in public again. It is in

sight. As everyone makes plans for

this holiday season, I encourage us all

to keep safety and the well-being of

others in the front of our minds.

I look forward to seeing all of you in

person at some point in 2021!

Employee Ownership Goal Achieved

Wall Residences celebrated a long

planned-for milestone on October 2,

2020. We became a 100% employee-owned

company! This is a goal

Jack and Kamala have been working

on for over a decade. As Jack shared

in the Spring 2009 newsletter, "The

quality of work done by the

Wall Residences agency has not

been an accident. Years of effort

by many workers has gone into

making these unique services

possible. So how do we plan

to make sure the work done to

date will carry on through the

generations? (The) solution is

to gradually turn the majority of

the ownership and operation of the

company over to our employees."

Along with gradual transfers of funds

into the Employee Stock Ownership

Plan (ESOP) account, the ten+ years

of building to this moment included

leadership, ethical practices, and

management training to ensure a

company culture and employee

knowledge base ready to succeed as

an ESOP.

According to the nonprofit National

Center for Employee Ownership

(NCEO), "Extensive research has

"

Extensive research has shown that

employee ownership companies

outperform non-employee ownership

companies by a wide margin.

shown that employee ownership

companies outperform non-employee

ownership companies by a wide margin.

They have been found to grow

about 2.5% per year faster in sales,

employment, and productivity than

would otherwise have been expected,

provide 2.2 times the total retirement

assets as non-ESOP companies, and

2

provide dramatically greater job

stability." To our knowledge, Wall

Residences is the only agency offering

this benefit in Virginia, and there are

fewer than 7,000 ESOP companies in

the entire country in all industries.

The ESOP is intended to provide

additional retirement benefits at no

cost to full-time employees after

a year of service. We are excited

about providing this benefit to our

employee-owners, who become

fully vested in the program after

six years of service. The ESOP

provides the most benefit to each

employee when we work together to

ensure the best care of the individuals

we support, mindful use of company

resources, and proper completion of

regulatory requirements. As Jack said

in 2009, "The goal is clear: to sustain a

tradition of successful, quality services

long into the future for our clients, our

providers, and our employees."
---
Left: (l-r) Angie,

Whitney, and Blair

in their home

Below: Whitney

and Cocoa

25

Years

1995: Wall Residences

is first licensed on

December 21, 1995.

One individual is supported

in the home of Jack Wall

and Kamala Bauers.

1997: Services expand to Lynchburg.

1998: First provider meeting held

at Peaks of Otter Lodge.

2000: Services expand to Staunton.

and Southwestern Virginia region.

2002: Services expand to Roanoke.

First day support license received.

Something New

Angie Justice's house is a place where

the goal is to make each day unique.

"I try to change it up, give new opportunities

for learning and growth. I plan

lots of educational activities with community

integration. I strive to stimulate

and challenge the women I provide for

by exploring new experiences." One

of those new experiences is the newest

member of the household... a puppy

named Cocoa. Cocoa came to live with

residents Blair and Whitney, and provider

Angie, just a few weeks ago, but

has already brought lots of happiness.

"I like to play with her," notes Blair,

but Cocoa can most often be found on

Whitney's lap.

This happy group is a relatively new

household. Angie Justice joined Wall

Residences as a provider in June 2019

after 30 years working with adults who

have intellectual disabilities as a direct

support provider. She is a licensed

pharmacy technician with hospital ICU

and CCU department experience. Blair

notes that Angie is a good provider and

says, "We love her."

The women fill their days with a huge

range of activities, from historical

museum tours to archaeological digs,

interactive theater to horse races, and

bike rides to cookouts. Two regular

staples for this set who love new

adventures

are the drum

circle and

weekly art

classes.

Blair shares

that she enjoys drawing comic book

characters. One favorite creation

is "Scarecrow." She lights up even

more when the subject of the drum

circle comes up. "I like the sound,"

she says. A recent accomplishment is

purchasing her own drum, which just

arrived from Amazon.

Just as Angie supports Whitney and

Blair as they try new things, Wall

Residences supports her in her new

role as a provider. "In the beginning,

I had many questions but with the

support of Wall Residences along

with my Program Manager, they were

there for me 100% of the time." Now,

like the ladies she supports, Angie is

soaring, finding activities that allow

them all to stay safe with social

distancing and face coverings, while

still enjoying things like gardening,

fishing, and yoga. Angie summed

up their life together: "We experience

genuine happiness, great friendship,

exploring fun places together, and

are guaranteed to have days with

countless laughs."

~Angie Covington

2003: Services expand to Danville.

Over 50 individuals total supported.

First Parent–Provider service begins.

2004: Services expand to Winchester.

2005: Services expand to Richmond.

2006: Services expand to Charlottesville.

2007: Services expand to Fredericksburg

and Northern Virginia region.

Main office opens.

2008: First funds deposited in the ESOP.

2009: Services expand to Hampton and

Newport News.

2010: Community Provider of the Year for

ARC of the Northern Shenandoah Valley.

Offices open in Madison Heights and

Galax.

2011: Begin offering sponsored residential

services for children (under 21).

Becky Combs and provider Bayley Alphin

win ARC of New River Valley's

Renee S. Brown Award.

2012: 51% employee owned.

2013: Executive Director John

Weatherspoon joins the leadership team.

New logo introduced.

2015: Deerfield Home opens –

Lynchburg area (medical shift based

group home).

2016: Behavioral Services added.

WRAP Community Engagement /

Community Coaching services added.

2017: Over 500 individuals supported.

Nursing team added.

2018: Sunfields Home opens – SWVA

(medical shift based group home).

11 office locations across Virginia.

2020: Culpeper office opens.

100% employee owned.

Over 600 individuals supported.

3
---
Your Turn

Did you know that Wall

Residences has a full-time

Behavior Team that serves every

region of the state?

Our highly qualified team

includes Board Certified Behavior

Analysts, Positive Behavior Support

Facilitators, and Licensed

Professional Counselors who

are ready to support you to end

behaviors that stand in the way

of achieving your goals.

When something is difficult,

it may cause frustration.

Therapeutic Consultation can

support many growth areas:

Functional Communication

Task Learning Skills

Personal/Self-Care Skills

Community Living Skills

Self-Direction Skills

Home Living Skills

Employment Skills

Health/Safety Skills

Social Skills

Self-Regulation Skills

Adam's World Expands

Adam is a thoughtful, caring, humorous,

fun-loving 32-year-old who lives

with his sister, Cindy. Adam's sister

has been his sole provider since his

parents died, with support from two

very special family friends. He loves

sarcasm, cookies of any kind, coffee,

puzzles, board games, and to be close

to his sister.

Prior to Therapeutic Consultation

Services, Adam communicated with

others by physically moving them or

bringing things to them. He might

lead someone by pulling them where

he wished them to go or bring a mug

to indicate he wanted coffee. Cindy

does not recall Adam ever learning an

alternative form of communication

and noted this has always been how

he communicates. Therapeutic Consultation

identified a goal of functional

communication. During summer

2020, Adam's team taught him the

Picture Exchange Communication

System (PECS) giving him new ways

of interacting with his family and

friends. Adam quickly learned that

these pictures have value and serve as

his words… making it easier for him

to have his needs and wants met, and

to express himself to his loved ones.

Adam has also struggled with leaving

his home, staying very close to

home for the last 17 years. Adam's

behavioral support and in-home

support teams have worked together

on shaping this behavior. He has

achieved great success, walking further

into his yard and driveway. He'll

retrieve mailed packages delivered to

his home. Every Monday morning,

he now walks down the front stairs

and into his driveway to retrieve his

favorite vanilla latte, delivered by a

family friend.

Recently, he has begun participating

in activities in his backyard for longer

durations of time. He spent 45 minutes

in the backyard one afternoon,

enjoying Connect 4 and working on

puzzles. Adam's new confidence, and

the support of his team, even allowed

him to participate in a small birthday

party in his backyard over the

summer. This is huge progress and

Adam's ear-to-ear smile lets his team

know how happy he is with these big

goals he is achieving!

If you would like more

information about Therapeutic

Consultation, please e-mail

behavioralteam@

wallresidences.com

or complete the referral form

located on our website.

www.wallresidences.com

Adam has learned

to use the picture exchange

communication system

4

The resiliency Adam has shown while

overcoming his fear of going outside,

as well as learning a means of functional

communication are impressive.

The sky is his limit and he sure is

reaching for the stars! We are very

proud of the progress

Adam has made

recently and look

forward to where his

future takes him!

~Patience Holden,

Erin Gurgainous,

& Meredith Kapalka
---
All Four Badges Earned

Wall Residences qualified for all the

Department of Behavioral Health and

Developmental Services (DBHDS)

assigned Provider Badging Designations.

We have worked to ensure

our agency represents supports to all

advanced areas such as Accessibility,

Autism, Behavioral Supports, and

Complex Health Supports.

Accessibility: Wall Residences is recognized

with expertise

to offer services in

settings that accommodate

people with

physical disabilities.

We have submitted

evidence to verify that

the following features

are present in at least

one service location:

a physical setting that

can accommodate the

use of a wheelchair, an accessible

and sheltered entrance, and access to

accessible transportation. We currently

are the only agency in the state that

has qualified for this badge within the

provider community.

Autism: Wall Residences is recognized

with expertise to offer services

to people with autism. We have

submitted evidence to verify that the

following features are present in at

least one service location: the use of

evidence-based practices, access to a

qualified behavioral interventionist,

and a systematic approach to for skill

development.

Behavioral Supports: Wall Residences

is recognized with expertise

to offer services to people who have

complex behavioral support needs.

We have submitted evidence to verify

that the following features are present

in at least one service location: access

to a qualified behavioral interventionist,

support planning that aligns

with behavioral needs, and consistent

methods of measuring the effectiveness

of the supports provided.

Complex Health Supports: Wall

Residences is recognized with expertise

to offer services to people who

have complex health support needs.

We have submitted

evidence to verify that

the following features

are present in at least

one service location:

access to a registered

nurse who is able to

provide delegation

and oversight, designing

adaptations to

the setting or the use

of specialized equipment,

and the use of health protocols

to support safety and wellness.

The mission and purpose of Wall

Residences is to provide high quality

community services to persons who

have a primary diagnosis of a developmental

disability and/or a long-term

mental illness. The service is provided

in home and community-based environments

and is designed to provide

a high degree of individual attention,

emotional support, and opportunity

for self-expression and individualized

routine. We strive to offer on-going

training and support to Direct Support

Professionals to ensure quality person-centered

supports are provided to

all within our services. Our goal is to

encourage the total health and well-being

of each person, both the individual

who receives support and the worker,

through a holistic approach to services.

~Deanna Rennon

Training

Great News: The new online

training calendar is now live!

You can find it by visiting

www.wallresidences.com and

clicking the Training Calendar link

at the top of the homepage. The

calendar has some helpful tools:

Quickly find the needed event:

You can now filter the calendar by

training event type (Medication

Training, TOVA, CPR/First Aid,

etc.) or by the region where the

training will be held.

Easily check your status:

If you're not sure if you've registered

for a training, you can now

check your registration status.

Find out who else will attend:

You can see a roster of who has

registered for the training already.

Plans changed? No problem:

If you've already registered for a

training, you now have the ability

to unregister yourself.

Most trainings continue to be

offered in an online format for

COVID-prevention. You can see

specifics of what is being offered

at any time by visiting the training

calendar on the website. We

encourage you to check it out.

Excellent customer service

remains our top priority and the

training team is hard at work

ensuring the availability of

trainings across the state.

5
---
Left: Mandy (left) and Jessica (right) work on

a base for the dollhouse.

Below: The dollhouse kitchen.

Build It Just Right

The first thing you notice when you

walk into the Riffey home is the abundance

of laughter. The second thing is

how impeccably decorated it is, with

a large open kitchen the clear central

hub. This keen eye for decorating

now extends to a miniature scale, with

a new project of constructing, furnishing,

and accessorizing a dollhouse.

Diligently painting the dollhouse's

base nearby are the lead designers:

Mandy and Jessica. Mandy's eyes

sparkle as the project's genesis is

explained. Mandy and providers Sam

and Rachael Riffey love to go to the

beach. Last winter, they began discussing

buying a beach house... an

idea Mandy loved. When COVID restricted

travel, they were looking for a

fun project at home and found a beach

style dollhouse kit. Then Sam happened

upon an even larger farmhouse

style dollhouse. Mandy decided they

should begin with the farmhouse and

all agreed to paint it in a rustic style.

Projects are always better shared with

a friend, so Mandy was quick to invite

Jessica to join in. "It is a fun new

craft project!" exclaims Jessica.

Mandy and Jessica were introduced

by their providers when Jessica came

to live with new Wall Residences provider

Catina Clark about a year ago.

The young women quickly became

fast friends, to the delight of Rachael

and Catina, who have been best

friends for decades. Visiting with the

four women, affection flows continually

in every direction between them.

Dance parties and relaxing at the pool

are lifted up as favorite ways to spend

time together. It is clear they create

fun wherever they go. For now, assembling

their miniature masterpiece

takes center stage.

The hardest part of working on the

dollhouse is the patience it requires,

with waiting for the glue to dry noted

as the most frustrating part. The fun

parts more than make up for the

need to wait though. When asked

her favorite part, Mandy was quick

to answer, "chairs and decorating!"

In fact, Mandy loves decorating and

frequently updates the look of her

bedroom. With the dollhouse project,

she now gets to use those skills on

many rooms!

6

On a miniature scale as in real life,

details make the design and the

dollhouse is filled with them! Shiplap

ceilings, a newspaper on the front

porch, and one especially meaningful

detail: the hen in a nest atop the

refrigerator. Before COVID, Mandy

spent hours helping a friend who runs

auctions sort through estates. Her favorite

was a particular style of vintage

candy dishes called "hens in a nest."

The foursome got a windfall when the

estate of someone who built dollhouses

arrived with lots of miniatures to

explore... including a dollhouse sized

hen in a nest! Once complete, expect

Jessica to be the one to take lots of

pictures of the final product. She

loves her camera and even has an app

that turns her pictures into electronic

puzzles she can spend hours solving.

Their rustic charm dollhouse might

not be done, but they are delighted

with the result so far. Mandy noted,

"The dollhouse looks pretty!" As they

build it, it is clear they are simultaneously

creating something even more

precious: memories and friendship.

Jessica sums it up perfectly when

asked the best part of working on the

dollhouse, saying it is "fun to be with

Mandy!" Mandy agrees and exclaims,

"That's all!"

~Angie Covington
---
Meet the Nursing Team

Wall Residences has assured the

health and safety of the people we

serve by including nurses on our

clinical teams. Our team has been in

development since early 2019 and has

grown to cover the state. Available

nursing duties now support every

aspect of team functioning throughout

all services.

Our nurses have diverse experience,

with backgrounds in long-term care,

quality assurance, health and human

services management, mental health

RN Care Managers carry specific

caseloads for providing Skilled Nursing

services under Medicaid Waiver,

which is provided for those individuals

with complex care needs and who

can benefit from RN domain duties

such as assessment, training/teaching,

consultation, and medication, and

documentation review and development.

The RN Skilled Nurse will

also provide supervision to any LPN

working in the home under skilled

nursing or private duty nursing.

The Wall Residences nursing team

provides nurse delegated training for

medical care tasks normally provided

by a nurse, to include g-tube care,

RNs have diligently worked with the

care team staff to develop protocols

for medical management which are

founded in standards of care practice

and meet individualized needs. The

team has introduced templates for

primary conditions, and which are

approved by the Office of Integrated

Health at DBHDS. Our RN staff have

improved how medical documents are

used and understood, have improved

health risk factors through clarification

of over-the-counter orders, and

have developed health care policies

Kevyn Burn, RN

Lead RN Care Manager

Also Covers Eastern and

Northern Regions

Dana Pflieger, RN

Central Virginia

Region

Kim Ridpath, RN

Southwestern Virginia

Region

Nicole Dow, RN

Central Virginia WR

Group Homes

Brittany Hash, RN

Southwest Virginia WR

Group Homes

care, care of people with brain disorders,

geriatrics, rehabilitation, acute

care, emergency care, and hospice

care. We are well-prepared to meet

the wide variety of individual care

needs and provide comprehensive assessment

of supports. RN staff covers

each region under Registered Nurse

Care Management (RNCM) and within

our agency operated group homes

in management and supervision. We

also have LPN nursing staff in group

homes for direct care nursing tasks

and collaboration with the RN.

medication management, ostomy

care, advanced respiratory care, and

more. The training provided is under

the Board of Nursing, Board of Pharmacy,

and Department of Behavioral

Health and Developmental services

regulations. RNCM may also provide

specific small group trainings for the

homes to meet individual needs and

care.

In the role of RN Care Manager, our

nurses are a resource for medical

management and collaborate with

providers, AR/guardians, Regional

Coordinators, and Quality Assurance

Team members, as well as with

support coordinators or medical

providers in the community. The

7

to support optimum care, such as for

those who are in hospice care. We are

currently working on mitigating risks

associated with fall prevention.

The RN staff are involved with

admissions to all levels of service,

assuring training is in place and medical

conditions are fully supported.

RNCM also may assist with hospitalizations

through advocacy and

discharge planning. Our RN team is

involved at the regional or State level,

through attendance and leadership in

the DBHDS/OIH Nursing meetings

which occur monthly with continuing

education.

~Kevyn Burn
---
Healthy & Happy

Mannix came to live with provider

Christie Eubank in March of 2020,

after a lifetime of struggling with his

weight. At the time, he weighed 243

pounds and relied on continuous oxygen.

He had severe sleep apnea, high

blood pressure, and high cholesterol.

Soon after, Mannix had his annual

physical and it was suggested he work

on a healthy lifestyle plan. He began

by learning to make healthy meal

choices and walking daily. These

efforts paid off as the pounds began

to melt away. He now loves eating

salads with carrots, cucumbers, tomatoes,

and ranch dressing. Chicken

salad is another new favorite.

Today, Mannix weighs 165 pounds

and his health has changed drastically

for the better. "I have lots more

energy!" Not only does he feel better,

the statics prove his progress. He no

longer needs oxygen, and his blood

pressure and cholesterol are within

normal limits. Mannix shares, "It was

hard but it's worth it."

Positive health changes have brought

a new look for Mannix too. He's

excited to show off his very first pair

of blue jeans and loves the ability to

dress nicely in jeans and polos. One

particularly special article of clothing

was a bathing suit. Mannix had never

owned one and wanted one badly.

Christie bought a pair of trunks that

he used as inspiration. By the time

they opened the backyard pool in

May, the inspiration swim trunks had

to be replaced... they were too big for

Mannix! New trunks

were acquired and Mannix

got to enjoy another

first: a dip in the pool.

Mannix's healthy transformation!

The pair shared there

were many things

Mannix was never

given the chance to do

before coming to Wall

Residences. "I felt like

a prisoner before and no one cared

about me," Mannix confides. With his

health improved, Mannix is taking

on new challenges. He loves riding

the lawn mower, an activity denied

to him since childhood. His next big

goal is learning to swim: giving those

longed for swim trunks a good workout!

"I'm eating a whole lot better. I

got all new clothes," Mannix said. Of

course, good health is its own reward

too. "I feel happy and love the way I

look. I'm breathing a whole lot better.

I feel stronger and I get to do a lot

more activities."

~Angie Covington

Know Someone Who Could Benefit from Our Services?

The Wall Residences Admissions team has staff in all parts of the state to respond to your referral needs and

answer questions about the services we offer. We work quickly to find the right match for longterm success

while striving for the quickest placement in services possible. The Admissions Team is here to serve you.

www.wallresidences.com

Alex Jackson

Admissions

Director

(434) 610-7578

Emily Eagle

Central Virginia, Danville,

Charlottesville, Staunton/

Waynesboro/Lexington

(434) 907-5067

Ashea Green

Northern

Region

(202) 760-6411

Brooke Keen

Roanoke, NRV,

SWVA

(540) 250-8482

Lisa Schalasny

Northern &

Eastern Regions

(804) 380-4309

8