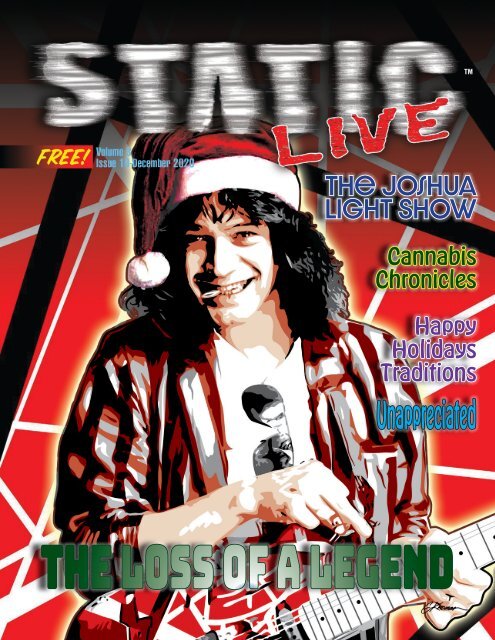 Static Live Magazine December 2020
STATIC LIVE Magazine is Central Florida's premier publication dedicated to celebrating music and culture. STATIC LIVE provides extensive, detailed community information from fashion to art, entertainment to events through noteworthy interviews, sensational photography and in-depth editorial coverage. STATIC LIVE is the only publication of its kind in Central Florida and reaches all target markets through wide distribution channels. Our staff includes highly accomplished contributors with award-winning backgrounds in music and entertainment; we know how much business is captured from the entertainment market. Our free full color publication can be found throughout Central Florida at key retailers, hotels and restaurants in high traffic areas. Our mission is to highlight the incredible talent, culture and lifestyle in Central Florida. With eye-opening profiles and coverage of the music and art community, STATIC LIVE readers will be positively influenced by our topical content and trending advertisers. STATIC LIVE Magazine is the most effective tool for branding connectivity with consumers in our area.
STATIC LIVE Magazine is Central Florida's premier publication dedicated to celebrating music and culture. STATIC LIVE provides extensive, detailed community information from fashion to art, entertainment to events through noteworthy interviews, sensational photography and in-depth editorial coverage. STATIC LIVE is the only publication of its kind in Central Florida and reaches all target markets through wide distribution channels. Our staff includes highly accomplished contributors with award-winning backgrounds in music and entertainment; we know how much business is captured from the entertainment market. Our free full color publication can be found throughout Central Florida at key retailers, hotels and restaurants in high traffic areas. Our mission is to highlight the incredible talent, culture and lifestyle in Central Florida. With eye-opening profiles and coverage of the music and art community, STATIC LIVE readers will be positively influenced by our topical content and trending advertisers. STATIC LIVE Magazine is the most effective tool for branding connectivity with consumers in our area.
SHOW MORE
SHOW LESS
You also want an ePaper? Increase the reach of your titles
YUMPU automatically turns print PDFs into web optimized ePapers that Google loves.
The Joshua

Light Show

Cannabis

Chronicles

Happy

Holidays

Traditions

Unappreciated

The Loss of a Legend
---
ART Feature

The Joshua

Light Show

18

10 2020 as Rock History, Rock

History as 2020

14 Cannabis Chronicles

15 Musician's Cookbook

16 A Day in the Life of a

Gigging Musician

23 A Word From the Throne

28 Mud Rooster's Blues

30 Metal Compost

32 Events Calendar

34 Happy Holiday Traditions

44 Join the Disney Revolution

48 Dishonor to us All...

51 February, 1978

52 Music + Fashion =

The Decades

12

The Loss of a Legend

Eddie Van Halen

38

Fearing

Technology

in a Time

of Plague

24

EVH

was the

GOAT
---
54 What's in

Your Phone

58 Unappreciated

61 Moments

Missed on a

Holiday Stage

STUDIOS

DREAM. CREATE.

6

Izabela

42

Rocktails

Sean Impara, Publisher

Billy Chapin, Co-Publisher

Jenny McLain, Editor

Jamie Lee, Managing Director

Bekka A. James, Graphic Artist

COVER ART BY

GARY KROMAN

2020, Static Live Media Group, LLC. All

rightsreserved. No part of this publication may

be reproduced or transmitted in any form by

any means electronic, mechanical, photocopying,

recording or otherwise without the prior

written permission of the authors.

Making great music since 1999

For scheduling, Contact Sean at (386) 847-2716
---
Oh My Goddess...

My name is Izabela Olejnik and I'm Polish/American. I've lived in

Florida basically my whole life and I love being on the beach. I'm a senior at UCF

and I'm completing my degree in Computer Science to pursue a career in Software

Engineering! My hobbies include modeling,

photography, coding, and reading. So happy to be a Premiere Model and featured

in Static Live Magazine!
---
3401 S. Atlantic Avenue, New Smyrna Beach, FL 32169 386-423-8787

December LIVE MUSIC Schedule

Dec 5 th - Eric Von 2 pm

Dec 12 th - Jay Paski 2pm

Dec 19 th - Savi Fernandez

Dec 26 th - Smyrna Erb
---
2020 as Rock History,

In the 1960s, legend says Jim Morrison, the

shamanic singer of the Doors, liked to scurry

to the rooftops of buildings to walk along the

ledges. Myth says the Lizard King was seeking

yet another thrilling, Dionysian adrenaline fix,

although the brutal, deflating truth is that he likely

was just a drunk dumb-ass who didn't realize he

might kill himself.

An even more brutal truth is that 2020 has made

all of us Morrison-like ledge-walkers – reluctant

ones, to be sure – in our daily lives. Going to

the grocery store can get you killed in these

pandemic times. Politically propelled paranoiacs

may go uzi on you if you note that Black lives

matter or, contrary to President Nero, you say

there are no "fine people" among today's white

power gestapo.

When future historians look back and try to make

sense of the fucked-up-ness of 2020, they will be

more discombobulated and gobsmacked than if

Marilyn Manson had stuffed his soiled jockstrap

down their throats. So, as a public service, I offer

future historians this music-aided guide to 2020.

Like Jimbo's ledge walking, the history and music

of rock, rap and pop can offer metaphors and

insights about what the hell is going on.

* If 2020 were a song – A lot of old songs are

vying to be the theme song of 2020, and yes they

are worthy contenders: "Don't Stand So Close to

Me" by the Police, "It's the End of the World As

We Know It (And I Feel Fine)" by R.E.M.,

10

"Epidemic" by Slayer, "Paranoia" by Black

Sabbath, "Smells Like Teen Spirit" by Nirvana

(key lyric – "I feel stupid and contagious, here

we are now, entertain us!"), and "Baby Let's

Play House" by Elvis Presley (this won the subcategory

for Best Lock-down Song).

But the hands-down winner is "I Put a Spell on

You," that 1955 Screamin' Jay Hawkins ditty as

covered by Diamanda Galas. Google your way to

her live version on YouTube – if you dare. "I don't

care if you don't want me, I'm yours right now, I

put a spell on you," Galas growls, sounding like

the year 2020 itself singing with garlicky breath

right in your face – and without a mask at that.

Then Galas drives over the cliff and plunges

into screams and demonic ululations that sound

like Godzilla is farting on her face and Satan is

snacking on her balls –and Galas doesn't even

have testicles (I think).

* What America was like before the plague – "The

Box" by Roddy Ricch. This will be the answer to

the future trivia question: "What was the last No.

1 song before lockdowns began in the U.S.?"

Yes, kids, be careful what you listen to, because

you never know how history is going to mark you

and your music.

* If 2020 were a rock 'n' roll hairstyle – Ozzy

Osbourne during the 1980s. For some reason

the Oz, or his handlers, thought it would be

gold for the Black Sabbath frontman to sport a

high-haired, overly manicured bouffant hairstyle

that made him look like the tarty wife of some

televangelist -- minus the hooker red lipstick
---
Rock History as 2020

By Rick De Yampert

This paragon of devil rock had that whole

"the higher the hair, the closer to God" thing

happening. Ozzy has done a lot of weird shit

during his career, but sporting that hairstyle was

just damn disturbing – like 2020.

* If 2020 were a rock 'n' roll fashion statement –

That swan dress that Bjork wore to the Academy

Awards in 2001 certainly wasn't sinister, and it

was polarizing only in a playful love-it-or-hate-it

way. But that swan dress was fucked up in an

absurd, I've-never-seen-that-before manner –

exactly like 2020. Second place in this category

goes to Elton John when he wore a Donald Duck

costume on stage.

* If 2020 were a weird rock 'n' roll moment –

Nothing in the history of rock can be as weird,

mind-blowing, depressing and distressing as

2020, you say. And you mostly would be right.

Pat Boone's big-band crooner cover of Metallica's

"Enter Sandman," Milli Vanilli, Ol' Dirty Bastard

just being his doomed, Grammy-interrupting self

– none of those are as twisted as 2020.

But there's this: that day in 1970 when Elvis

showed up at the White House requesting a

meeting with President Nixon. In a letter to Tricky

Dick that Elvis hand-delivered to a security guard,

the King of Rock 'n' Roll stated that "the drug

culture, the hippie elements, the SDS, Black

Panthers, etc. do not consider me as their enemy

or as they call it the establishment. I call it

America and I love it. Sir, I can and will be of any

service that I can to help the country out."

Elvis added he had "done an in-depth study of

drug abuse and Communist

brainwashing techniques and I am right in the

middle of the whole thing where I can and will do

the most good." The King wanted to be baptized

as a "Federal Agent at Large" in what was then

called the Bureau of Narcotics and Dangerous

Drugs (now the DEA).

White House officials quickly arranged a meeting

between Elvis and Nixon a few hours later, and

the King showed up looking like a Victorian pimp

version of Count Dracula, wearing a purple velvet

suit replete with cape, and a pro wrestler-style

belt with a Hulk-sized gold buckle. He also had

a present for the president: an encased Colt

.45 pistol that nervous Secret Service agents

examined then approved for Elvis to give to the

Commander in Chief.

While Tricky Dick loved to secretly tape meetings,

he evidently didn't press the "record" button for

his meeting with Elvis, and so we have to rely on

notes taken by a White House aide for a sketchy

account of what the Prez and the King talked

about. We do know that Elvis walked away with a

narc badge, although he was clueless that it was

merely an honorary one.

The whole absurd incident is documented in

the National Archives online at archives.gov

– including that famous photo of Tricky Dick

shaking hands with the King.

The year 2020 may have been weird – but it's

not purply velvet Elvis showing up at the White

House to bribe Tricky Dick with a Colt .45 to grant

him narc-hood weird. Or is it? Future historians

will decide.
---
I'm guessing that not many kids can say they

went to a concert all by themselves when they

were 14, much less a Van Halen concert on one

of their first world tours. Well, that

kid was me and you wouldn't believe

how much sweet talking and begging

and pleading I had to do to my mom to

get her to let me go to the show.

The year was 1981 Van Halen was out on

their Women and Children First album

tour and I had just recently started liking a

little bit of the hard rock; when I was

younger I was more of a fan of the Beatles

and Simon and Garfunkel and other

mellow crap that my parents loved.

Even though the show was quite a long

time ago, there are a few things that I do

remember quite distinctly. Number one,

my mom preached the whole way there

and looking back it kind of felt like when

the mom was speaking to Cameron

Crowe in the movie Almost Famous.

She dropped me off at the

McDonald's across the

street from the arena with

the final instructions,

"You'd better be here right

after the concert." Of

course, back then there

were no cell phones so

she just had to trust that

I would do as she wished.

Walking into the show all

by myself was such a unique

experience, as I was only

about 5' 2" and probably

looked like I was ten.

Back then, it was

basically general admission

so the fans who got there first

were the ones that were able to

be at the front of the stage. I, of

course, was late but after about 30

minutes of wiggling, joking and

basically shoving my way towards

the stage, by the third song my chest

was against the crowd barrier and

I was front row. I remember raising

my hands to scream and shout like

everyone else and because of the

pressure of the crowd I basically had

to hold my hands above my head for

the next ten songs.

What I'm going to tell you next is a

little embarrassing but it is true and

it is sort of funny. During one of the

songs, David Lee Roth came directly

in front of me and literally 3

feet away from my face. I was so

excited by the thrill of the crowd,

the pulsing of the music and the

fact that the lead singer of one of

the worlds biggest new bands was

right in front of me, creating a

euphoria that'll never

be forgotten.

It was at that moment

I couldn't control my

emotions and I reamed

what must've been a

girl-like pitch as loud as

I could " I love you

Eddie"!!! It was not

my proudest moment

but I do swear today

that David Lee
---
Roth heard me that night; the look on his face

was utter disgust and he quickly moved down the

stage to other adoring fans.

The rest of the show was awesome, as I didn't

know my ultimate faux pas and - believe it or

not - I made it back to the McDonald's to a happy

mother to see that her son made it back from one

of the most epic concerts in Roanoke Virginia in

1981. Over the next few years Van Halen went

on to be one of the greatest rock 'n roll bands of

all time and it's lead guitarist Eddie Van Halen

will go down as one of the top five pioneers of

the electric guitar in the history of music. Here's

a little bit more about the man in the legend and

why he will always be remember forever

Edward Lodewijk Van Halen was born on January

26, 1955, in Nijmegen, the Netherlands, and

moved with his family to California in the early

1960s. He and his brother Alex took classical

piano lessons growing up; and Eddie showed

talent early. As teenagers, Alex started playing

drums and Eddie switched to guitar and started a

rock band called Mammoth.

In 1974 they were joined by David Lee Roth and

bassist Michael Anthony to form Van Halen. The

vocals of David Lee Roth and the guitar talent

of Eddie made them very popular. They got a

break in 1977 when Kiss bassist Gene Simmons

heard them and financed their first recording

session. They later signed with Warner Brothers

and released their self titled first album in 1978.

Within six months, the album achieved platinum

status. They quickly became one of the hardest

working bands in the industry and released

albums in 1979, 1980, 1981 and 1982. Their

popularity only grew with the addition of videos

on MTV.

In 1985, David Lee Roth recorded his own

successful solo album and he was replaced by

Sammy Hagar. Van Halen continued releasing

albums, including their first double-live album in

1993.

Eddie Van Halen received

treatment for tongue cancer

in 2000, which he blamed on

holding metal guitar picks in

his

mouth for so many years.

He was hospitalized in 2019

after battling throat cancer

for five years and he passed

away from the illness on

October 6, 2020 at the age

of 65. He was memorialized

and honored by several of

his fellow musicians at the

2020

Billboard Music Awards.

On November 16, 2020 his

son, Wolfgang Van Halen,

announced that Van Halen

would not

continue as a band

without Eddie.

By Reluctant Genius
---
Chronicals of Cannabis

By John Kent

Recalling - Recreational launch of

July 2018 was incredible. We had

lines of customers 21 and up

waiting hours to come see and

experience Nevada legal cannabis.

Working myself sick, I had my buddy

AJ filling my veins full of nutrients

through an IV bag. AJ was a male

nurse at that time who worked above

us with Dr. Kathy - fast forward

several years, a buyer and industry

influencer in our small core industry.

My exhaustion was naivety fueled by

passion, purpose and a personal

"why" which led to me worked myself

till I was sick. But the market was

hungry and ready! We were eager and

well prepared. It was incredible to see

a jump from 50 people a day to over

500 instantly! The Legal cannabis

industry in Nevada was born - July

2018. Since then, I've managed

a peak of 5000+ daily transactions

across several Dispensaries here in

the Nevada market. Talk about

drinking life like through a firehose -

a baptism by fire. I promise you we're

ALL still learning even now - kaizen - a continual

work of improvement in progress.

Through this platform, I got lucky and was

featured on Viceland's Most Expensivest for an

episode hosting 2Chainz and getting him lit on the

Cannagars, Hunibadger and an assortment of Vegas

premium cannabis. A couple years later today, it's

garnished over 10 million views. The rawness of the

industry's birth allowed my creativity to spill over

like when I launched Nevada market's first CBD

Water - Golden CBD - which evolved into one of my

treasured Cannabinoid Partnerships,it's a Himitsu. At

the time, this CBD water became a top 3 SKU while

CBD occupies on average only 5% of the retail sales in

any given dispensary.

My visiting mum & sister from Australia to a

cultivation I frequently do business with. See,

Cannabis suffers from cognitive dissonance - what

cannabis is perceived to be versus what it actually is.

Most people go wide eyed and shocked once they

learn all mammals have an endocannabinoid system

making it's own THC & CBD. So for you or any

mammal to consume cannabis is like hydrating your

body with water. While there, mum met a lady whose

son was enduring cancer. My mum witnessed pain no

parent should and listened to cannabis experts discuss

science and provide plausible help for an improvement

in quality of life for this mother and son. That

experience she remembers still today.

And in an absolute paradigm shift of platform

opportunity conveying this wide market, I was invited

- a couple of times - to speak at the AVN's Internext

on Cannabis and the Adult Entertainment Industry

- oh the stories there to come in following months.

What an opportunity to reach another audience -

not one CBD enterprise existed at that convention

and the product empowerment towards a sector of

individuals which could benefit from such operational

tactics and product support. This industry is largely

untapped and I am eager, excited and overjoyed to

reach what Dr. John Demartini had placed in my

heart and soul as my personal definition of success -

where ones vocation and vacation is synonymous. I

feel blessed and I'll continue to serve my purpose in

purifying products and uplifting the marketplace. -

John Kent
---
MUSICIAN'S COOKBOOK

THAI CHICKEN PIZZA

Welcome to a new month…

December! The time for festivity is

here. Deck the halls and celebrate

with some comfort food. I truly

love this time of the season, but I

find myself getting burnt out on

traditional holiday favorites. For

your holiday extravaganza, I wanted

to present you with a truly unique

dish. Give your tastebuds a true

gift… something they've most likely

never tasted before…Thai Chicken

Pizza. The combination of the

following ingredients creates a truly

mouthwatering dinner option for you

and your family. You will instantly

want to make it the following week,

and again, and again.

Thai Chicken Pizza is perfect for

everyone. This particular recipe

is not particularly spicy, but you

can dial it to zero by omitting the

recommended hot pepper flakes.

Everyone likes chicken, everyone

likes pizza. PEANUT ALLERGY

readers BEWARE as this does

contain peanut butter and peanuts.

From prep to serve, this meal takes

about 30 minutes total. Each piece is

loaded with ingredients (No skimping

out here!) Usually, I encourage the use

of Tupperware for leftovers but each

slice stores perfectly fine in wrapped

tin foil. Keep a few slices in the fridge

(trust me, you'll want them). Also,

keep some in the freezer for easy

reheat later.

Ingredients:

Fresh Pizza Dough

½ Cup Duck Sauce

½ Tsp Red Pepper Flakes

2 Cups Shredded Monterey Jack

Cheese

1 Green Bell Pepper (Sliced)

BY 1 Tbsp Oil

2 Tbsp Soy Sauce

1 Tbsp Peanut Butter

2 Tsp Hot Sauce

2 Tsp Steak Seasoning

2 Chicken Breasts (Chopped into bitesize bits)

2 Tbsp Honey

2 Tbsp Apple Cider Vinegar

4 Scallions (Chopped)

¼ Cup Peanuts (Chopped)

Optional Cilantro

Let's cook a pizza! Preheat the oven to 425 and

prepare your dough. I buy a fresh rolled dough

at my local Publix for $2.99. Use a cookie sheet

and line with tin foil. Place rolled dough directly

in middle and spread the edges out evenly to fit

the rectangular shape of the cookie sheet. The

dough is easy to work with and I feel that the

rectangular style is well suited for this type of

pizza. Add duck sauce to the dough in place of

standard pizza sauce and evenly spread it around.

Sprinkle pizza with crushed red pepper flakes

and cheese. Bake until golden and cheese is

slightly brown for approximately fifteen minutes.

Next, you will need to prepare the chicken to

go on top of the pizza. Once the pizza is done

cooking, you will add the chicken. You can use

the pizza cooking time to prep the chicken.

Preheat a skillet over medium heat. Add your

oil, soy sauce, peanut butter, hot sauce, and

steak seasoning to the skillet. Heat this mixture

up so it's nice and steamy. Chop your chicken

before cooking it into small bite sized bits. Add

the chicken to the skillet and cook for about 4

minutes on each side. The chicken will cook fairly

quickly since it's in small bits. Once chicken is

cooked, add honey and vinegar. Mix the chicken

around and turn off the burner.

Pull your pizza out of the oven and top with the

chicken mixture. Do your best to spread it evenly

so that all pieces have bites of chicken on them.

Top pizza with scallions, cilantro, peanuts and

serve. Enjoy!

Watch my full cooking video for this recipe on

my Facebook page

"Ian Opalinski Music" or follow

the link:

facebook.com/ianopalinskimusic

15
---
RING!

A Day in the Life of a

Gigging Musician

BY ADAM FLOYD

RING in the holidays and the new year for that

matter. Working musicians are at our busiest

this time of year. Lots of parties everywhere.

Homes and offices, streets and bars are filled

with revelers. With recent events it seems

everyone wants to blow off some steam. We

can't disappoint the masses and I want to fill the

coffers with cash so it's time to dive in.

Gig musicians need to keep our holiday season

music fresh and sharp. It's a good idea to review

the tunes in the summer so they are ready when

the time comes. When the holiday season is in

full swing, it's too late. Singing seven nights a

week, dealing with an agent and the venues,

working out schedules with other performers.

Meanwhile the rigors of life don't slow down. Stay

ready, don't get ready. Plus, I like most of the

holiday songs even if I tire of them by the time

New Year's Eve rolls around.

One fun way to add a little zip to tunes I have

played since early childhood is to perform them

on a bunch of different instruments. Try the

season's favorites on a simple fife or ukulele. Get

a recorder or a harmonica. It gives me a chance

to work up my musical skills while the audience

really gets a thrill. Something about seeing the

tunes played well, on simple folk instruments,

makes for real inspiration, even if it's easy for the

musician.

This is also a good time to shout out to all the

special someones. If your partner is playing

music all month and you don't get much alone

time - never fear! It will all be over soon and you

can go back to the normal routine of only being

ignored on weekends and practice nights. You

can bet your sweet potato that when you do get

some loving, it will be passionate and from the

deep heart of an artist!

When we play three gigs a day it can be a bit

much. I try to eat right and avoid heavy drinking

to stay fit. My party comes later when the crowds

have gone home. Also, beware of traffic which

can be much worse in the season's rush. I can't

be late because all of these events depend on

ME! Planning ahead, stocking the fridge and

leaving most equipment in the vehicle are a few

of the ways I cope with the onslaught.

Keep your business card out and visible at the

gigs. Make sure to mention on the mic that you

are available and love doing events. Most people

don't know any professional musicians and some

are looking to book last minute parties. This one

tactic could add thousands to my holiday season

payday. Get noticed by the movers and shakers

in office buildings or hotels and the season can

really make your cash register RING!
---
Live Music - December '20

4th - Casey Picou 5pm

5th - Ceasar Frazier 5pm

11th - Hannah Wilson 5pm

12th - Jimmi Soldo 5pm

18th - Savi Fernandez 5pm

19th - Chuck Morel 5pm

26th - Jay Paski 5pm

Happy Hour 5pm-8pm
---
The Joshua

Throughout history, certain people have become

true pioneers in whatever world they help create.

Each has niched their place in history to be

forever remembered because of what at the time

seems like divine intervention. Most of these

legends are long gone but there are still a limited

few that live on today and are currently

paying it forward and passing their knowledge

to the younger generations. This month's artist

is no doubt a pioneer amongst peers in that he

has carved out a life of amazing accolades and

is now sharing his ideas and beliefs with others

so that we all can gaze at the wonder they've

contributed to the art world.
---
Light Show

By Bartholomew Betelgeuse III

The original members of the Joshua

Light Show were resident artists at the

Fillmore. From March 8, 1968, until the

venue closed in on June 27,1971, the

group performed multiple shows every

weekend for up to a total of ten thousand

people, receiving nearly equal billing to

such acts as the Who, the Doors, the

Grateful Dead, Janis Joplin, the Jimi

Hendrix Experience, Albert King, Chuck

Berry, and Iron Butterfly. Joshua White,

who had studied electrical engineering,

theatrical lighting, and magic-lantern

techniques at Carnegie Tech and

filmmaking at the University of Southern

California, where he made a number

of stop-motion and direct animation

shorts, founded the group. The JLS

consisted of six to eight members during

its initial run, with the most stable lineup

including White, Tom Shoesmith, and

Bill Schwarzbach, who met at Columbia

University while studying theatrical

lighting and electrical engineering; Cecily

Hoyt, a photographer and painter; and

Jane Ableman, an art student.

1968 photo by George Cohen "of the hippie

scene on St. Mark's Place between Third and

Second Avenues, looking east," around the

corner from Fillmore East. from EV Grieve.
---
The group employed a panoply of imagemaking

apparatus to achieve diverse visual

effects: three film projectors, two banks of

four-carousel slide projectors, three overhead

projectors, hundreds of color wheels,

motorized reflectors made of such materials

as aluminum foil, Mylar,

and broken mirrors, two hair dryers, watercolors,

oil colors, alcohol and glycerin, two

crystal ashtrays, and dozens of clear glass

clock crystals. White and his
---
cohort designed a rear-projection

system, situated roughly twenty feet behind

the Fillmore stage, where several tons of

equipment was arrayed on two elevated

platforms. The conventional seated theater

setup of the Fillmore meant they had to focus

on a single screen versus an overall

environment.

The Joshua Light Show's craft-based

ephemeral cinema results in a staging

that details and commingles nearly the

entire history of the projected image.

Its use of projected and reflected light

is a practice that dates to religious

ritual in ancient Egypt and Greece.

The group's magic-lantern techniques

date back to the mid-seventeenth

century. The display of artisanal film

loops alongside examples culled from

the entire history of industrial cinema

illustrates the heterogeneity of

moving-image conventions.
---
New computer-based effects and

digital projection systems demonstrate the

continuous mutability of shaping light in time.

Combined together, the Joshua Light Show

epitomizes what Kerry Brougher has cited as the

maximalist trajectory in sixties

filmmaking, wherein artists saturated "the

information in the frame, pushing the image to

such a complex and multi-level state that film

was shoved up against its boundary lines of

possibility."

And that is what the Joshua Light Show was

and continues to be—a reservoir of the moving

image's memory, unmoored in an ephemeral

celebration of its

possibilities.

Next month, we'll bring you

more of the Joshua Light Show,

including their current members

and projects.

All images and information was given with written consent by The Joshua Light Show
---
Onward, Always!

By Billy Dean

As a toddler, my parents traded my

baby crib to a family friend for a drum

set. At five years old I could name

all of the members of Poison, Motley

Crue, and Guns n Roses. By seven I

had an opinion about who was a better

frontman—David Lee Roth or Sammy

Hagar? By eight, I knew the reason

why Led Zeppelin and Rush kicked so

much ass (Saints Bonham and Peart ).

By age 10 I was aiming for the speed

of Basket Case. By 12 I was faking

double bass drum like Niko McBain.

By 13 I joined my first punk band and

played a handful of shows. At 14

I came in touch with Wynona's Big

Brown Beaver, The Descendents, and

Suicide Machines. Age 15 brought another

hardcore band. 16 was my first

drum and bugle corps tour—3 months

on gym floors.

17 brought Carter Beaufort

and another drum and

bugle corps tour. With 18 came

Tool and Music School. 19 years

old playing across Central Florida

with fledgling bands. 20 brought Billy

Cobham, Mahavishnu Orchestra,

and a disastrous cover band gig that

almost derailed me. 21, dropout of

music school to focus on making a

living playing music. 25 I completed

my first regional tour with an indie

rock trio across the southeast. At 26

I toured east of the Mississippi River

with two different rock bands. 27–

my first international gig. 28-I join a

promising blues band, record several

independent albums, tour domestically

and abroad. At 34 we rebrand band,

sign with reputable label, record first

our self-produced record. 35 first

Grammy nomination. 36 travel and

record THE RECORD.

37 COVID-19, session work, zoom

lessons, home studio, and family time.

Onward, always!
---
Edward Van Halen was the G.O.A.T.

Hello, friends!

Edward Van Halen was the G.O.A.T.

He literally recalibrated and reimagined the way

a human being attacks the guitar. The roaring

sounds and effects he was able to produce

pioneered a genre and redefined a niche of

rock music. I remember being late to the Van

Halen party but once on board, I was forever

changed by his tone and creativity. I started

working at a record store in 1983 and remember

selling Van Halen albums like they were bread

and milk. And Van Halen was truly an ALBUM

band. You could break off a single and label

them by that particular sound, but in at least

the David Lee Roth era, the band was truly a

spectrum of musical influences and vibes. Their

albums needed to be heard in full and I happily

obliged. The retail music job allowed me my first

opportunity to meet this icon of the electric guitar.

It was October of 1988. I had made friends with

the Warner Brothers record rep that worked our

store and passive-aggressively begged for an

opportunity to get backstage. In my estimation,

there was NOTHING cooler than meeting your

heroes. I had not heard the adage about NOT

meeting them because they may let you down or

not be all that you had conjured in your head. So

there I was, a pre-show Meet and Greet on the

OU812 tour in Atlanta. The album cover poster

and flats covered the walls of the dressing room

that me, my roommate, and 6 other people were

herded into. Alex entered first and waved as he

passed by me and my roommate. We posted

up closest to the door so that we could get the

first shot at Eddie. Then came the super affable

Micheal Anthony. We said hi and passed him

on to the rest of the people in the room. Sammy

Hagar was next as while I'm a Dave purest, it

was cool to see the red rocker roll into our room.

I could see Ed just outside the room speaking to

his guitar tech, an animated discussion that went

on for a few minutes.

I was hyped with nervous excitement as I realized

it was about to go down. He entered the room

with a cig in hand and upon making eye contact

with me & my friend Greg, he said "Alright, I got

some rock and roll brothers here!".

We were the only long-haired dudes there and I

guess that bought us some credibility. He walked

between us and threw an arm around each of us

and asked what's up. We mumbled something

but before a full response, he said "what do we

have happening in here tonight?". I assumed he

meant the girls in the room, so I gestured toward

one of the ladies and said "well, I know she has

been waiting for you". He then says "Nah, I'm

hanging with you guys... So, you in a band?". I

told him I wasn't but needed some guitar tips

so that I could get one together. I realized after

those first few seconds that he was hammered

and the wafting aroma of his smoldering cigarette

and the many he had clearly recently had was

overwhelming. And then all I could think about

was how this guy, who is clearly drunk from some

pre-show fiesta, has to go out there and rock the

stage in like an hour. We continued to talk about

guitar players and songs we love and time sorta

faded into the fold. I mean, Eddie Van Fucking

Halen was supporting his body weight on MY

shoulder and telling me stories and I should be

recording every second of it. But it was '88 and

that wasn't an available tech like it is now.

It may have been all of 5-10 minutes in that

backstage room but I eventually realized that

they were wrapping up and NO ONE else had the

chance to get autographs and speak to him. A

few of those acquaintances and strangers were

annoyed at us for dominating the Eddie time.
---
Catch RIGGS, GUY, & INTERN STEVE

The Morning HOG / 95-7 The HOG Weekday 5-10am

& SATURDAY NIGHT LOUD 9-midnight

@saturdayloud on Twitter The Morning Hog on fb

riggs@957thehog.com

I didn't feel bad for a second. We posed for the

group photo and he quickly met the others, but

made it a point to come back before leaving the

room and hug and thank me. I'll never forget the

shit-eating grin he left me with. And despite the

pre-show drinks he had, his playing during the

show was perfection. That was the quintessential

"Rock Star" experience.

I was in Los Angeles in 1992 for the Billboard

Video Music Awards. I had dinner with a Warner

Brothers Records rep and we began talking about

Van Halen. She was working closely with the

band and told me that Ed had suffered dexterity

issues associated with drinking. Frank Zappa's

son Dweezil was a friend of the Van Halen family

and had learned all of Eddie's riffs on a guitar he

gave to him. She said that Ed had been working

with Dweezil on some of the classic solos and

songs that he now had trouble with. I couldn't

imagine the idea that Dweezil was teaching Eddie

the solos he created. I interviewed Dweezil

later and he modestly claimed that they just got

together to jam, but given what we later learned

of Eddie's ongoing health issues, the puzzle

pieces fit. And certainly those Van Hagar-era

records don't have the guitar dynamics of the first

6. And if tasked with assembling a Van Halen

Ultimate Playlist, I'd probably go 98% Roth tunes.

But the body of work from Eddie throughout the

singer changes still stands alone as rock & roll

greatness.

I had another opportunity to meet Eddie in July of

1998.

I accompanied some radio grand prize winners

backstage on the VHIII tour, aka the "Gary

Cherone Experience".

It was another great 5 minutes of rock bliss as a

small group of us got to chat and get photos with

the ultimate American rock band.

Eddie was overwhelmingly kind and selfdeprecating

as I told him how psyched I was to

see him shred later that evening. I gave him

one of our radio station t-shirts and he humbly

thanked me, then asked if he could cut the

sleeves off. I gave him my blessing. This was

at one of the lower points in the band's career.

Record sales were down. Some fans didn't know

what to do with Gary Cherone as the lead singer.

I loved his work with EXTREME and he was a

very humble and kind guy with a great, unique

voice. Ed and the band certainly could have "big

timed" us and who would blame them. They had

met thousands of people like us, played much

bigger venues and didn't have to seem happy

about these obligatory moments. (Alex, in full

disclosure, seemed the least enthused about it

all.) But Eddie made me feel welcome, without a

hint of a rock star attitude of being over all of it.

It was another dizzying encounter that I'll always

remember.

Hearing all of the stories after his passing of what

a normal, kind and funny guy he was fits every

bit of my experience. His guitar work excites me

and inspires me.

And I'll keep trying to learn some of his simplest

guitar parts. And fail. But the Eddie Van Halen

legacy of music will always be at the forefront

of my speakers. I'm forever grateful for the few

chances to meet and speak with him. R.I.P.

brother.

Cheers!

RIGGS
---
DAVID VS SAMMY

1. Just a Gigolo/I Ain't Got Nobody

2. Mas Tequila

3. Yankee Rose

4. Heavy Metal

5. Eagles Fly

6. There's Only One Way to Rock

7. Goin' Crazy

8. California Girls

9. Right Now

10. When it's Love

11. Cabo Wabo

12. Right Now

13. Jamie's Cryin'

14. Black and Blue

15. Pretty Woman

16. Panama

17. You Really Got me

18. Runnin' with the Devil

19. Why Can't This be Love

20. Love Walks In

21. Jump

22. Best of Both Worlds

23. Dreams

24. Ain't Talking 'Bout Love

25. Dance the Night Away

26. Hot for Teacher

27. Runaround

28. Can't Stop Lovin' You

29. Runnin' With the Devil

30. Everybody Wants Some

26

BONUS! What year did David Lee Roth leave Van Halen and was replaced with Sammy

Hagar?
---
MUD ROOSTER'S BLUES

By David Dequasie

In this month's installment, I'd like to dive right

into some great renditions of blues tunes as done

by legendary bands that are better known for

their work in the hard rock realm. As a record

buying teen in the 1970's, little did I know that

many of my favorite

album cuts that the bands were

rocking out on, were

actually old blues

standards.

Foghat comes

to mind. Willie

Dixon's 'I Just

Wanna

make Love

to You',

Chuck

Willis' '

Feel so

Bad' and

Robert

Johnson's

Terraplane

Blues' are

just a few

tracks that

are absolutely

cranking.

No horns or

other acoustic

instruments here, just

blasting electric guitars

and drums, and what a clever band name. Alter

the letters in 'Hogfat' and you've got an amusing

take on blues and barbecue.

Steppenwolf was originally a modernized blues

band. Everyone has heard their version of

'The Pusher' but 'Forty days and Forty Nights'

and 'Hoochie Coochie Man' are much heavier

remakes.

The first time that I heard the Aerosmith song

'Walking the Dog', I just assumed that it was

one of their own compositions. Not many groups

would think to turn a blues tune into a hard rock

jam and then add a wood flute section in the

middle.

Probably my favorite take on Howlin'

Wolf's 'Evil' is the downright nasty

version that Cactus played. It's

interesting to note that they

pumped up the second

(psychedelic) version that the

Wolf recorded. This being the

version that he hated. It's so

fired up and loud that it

reminds me of Black Sabbath's

remake of 'Warning' or Led

Zeppelin's version of 'How

Many more Times'.

The Rolling Stones have an

impressive catalog of blues

standards such as 'Stop Breaking

Down' but give a listen to what

The White Stripes did with that

one. It's totally frantic.

When it comes to great guitar riffs that

are used to support blues classics, check

out Damon Fowler's take on Johnny Winter's

'TV Mama', Albert King's 'The Hunter' as played

by Free, 'Crossroads' by Cream, 'Wang Dang

Doodle' by Savoy Brown, or 'Sugar Mama' by

Taste to name a few.

In closing, with one of today's greatest tools

being the internet, it's never been easier to

discover obscure artists from years past. Why

have I never been turned on to Chicken Shack?

What a great blues band disguised as a hard rock

band.
---
30
---
HOLIDAY

CROSSWORD

1

1

2

2

3

4 3 5

6

7

8

9 10

4

5

11

6

12

13

7

14

8

15

9

18 19

16

17

10

ACROSS

DOWN

4. This Christmas decoration was once made from 1. The color of The Grinch

strands of silver. 2. The skin that hangs from a turkey's neck

10. Name the spirit that is often added to butter and 3. Stollen is the traditional fruitcake in which country?

served with Christmas pudding. 5. On the Big Bang Theory, Sheldon tells Penny he and

11. This iconic Christmas decoration is actually a Leonard aren't putting up a tree because they do not

parasitic plant.

celebrate this ancient pagan festival.

12. This state set the Guinness World Record in 1988 for 6. Scrooge's first name.

the world's largest snowman. 7. The name of The Grinch's dog.

13. What is the Latin meaning of the word "Noel"? 8. What gift did Caspar bring?

14. Christmas beverage known as "milk punch". 9. What is the name of the little girl in most versions of

16. Which reindeer is not mentioned in "The Nutcracker"?

"The Night Before Christmas"? 12. The poinsettia is native to this country.

18. How many ghosts were there in "A Christmas Carol"? 15. Snack that is often left for Santa.

19. This chipmunk wants a hula hoop for Christmas. 17. The name of Rudolph's elf friend in the 1964 classic

"Rudolph the Red Nosed Reindeer".
---
DECEMBER 2020

Tuesday, December 1, 2020

Bounty Bar - Jessie Abbey, 7pm

Grind/Kona - Jarrard George, 6pm

Wednesday, December 2, 2020

Bounty Bar - Chcuk Morel, 7pm

Flagler Tavern - Randy Williams, 9pm

Grind/Kona - Jonny Odis, 6pm

Ormond Garage - Robert Keele, 8pm

Outriggers - Laree App, 5pm

Thursday, December 3, 2020

31 Supper Club - The Transfers, 8pm

Bounty Bar - Hannah Wilson, 7pm

Flagler Tavern - Griffin Sinclaire, 5pm

Flagler Tavern - Reed Foley, 9pm

Grind/Kona - Chuck Morel, 7pm

Outriggers - Allan Wood, 5pm

Friday, December 4, 2020

31 Supper Club - Beartoe, 8pm

Bounty Bar - Jay Paski, 7pm

Crabby's Oceanside - Jonny Odis, 4pm

Grind/Kona - Reed Foley, 7pm

Ormond Garage - Cory Worsley Duo, 8pm

Outriggers - Griffin Sinclaire, 6pm

Yellow Dog Eats - Casey Picou, 5pm

Saturday, December 5, 2020

31 Supper Club - Mud Rooster, 8pm

Bounty Bar - Claire Vandiver, 7pm

Chase's - Eric Von

Crabby's Oceanside - Jessie Abbey, 12pm

Crabby's Oceanside - Nate Utley, 5pm

Flagler Tavern - Reed Foley, 5pm

Grind/Kona - Brent Clowers, 7pm

Ormond Garage - Bradford Bukley, 8pm

Outriggers - Sugar Fly, 6pm

Tayton O'Brians - Jay Paski, 9pm

Tortugas - The Cyclones, 6pm

Yellow Dog Eats - Cesar Frazier, 5pm

Sunday, December 6, 2020

Bounty Bar - Bradford Buckley, 7pm

Crabby's Oceanside - Smyrna Erb, 12pm

Flagler Tavern - The Transfers, 5pm

Outriggers - The Cyclones, 2pm

Tayton O'Brians - Casey Picou, 8pm

Monday, December 7, 2020

Bounty Bar - Jonny Odis, 7pm

Flagler Tavern - Chuck Morel, 5pm

Tuesday, December 8, 2020

Bounty Bar - Linda Long, 7pm

Grind/Kona - Griffin Sinclaire, 6pm

Wednesday, December 9, 2020

Bounty Bar - Brent Clowers, 7pm

Flagler Tavern - Jay Paski, 9pm

Flagler Tavern - Walter Lee, 5pm

Grind/Kona - The Transfers, 6pm

Ormond Garage - Are Friends Electric, 8pm

Outriggers - Laree App, 5pm

Thursday, December 10, 2020

Bounty Bar - Griffin Sinclaire, 7pm

Flagler Tavern - Reed Foley, 9pm

Flagler Tavern - The Cyclones, 5pm

Grind/Kona - Ian Opalinski, 7pm

Outriggers - Corey Shenk , 5pm

Friday, December 11, 2020

31 Supper Club - Dana Kamide Band, 8pm

Bounty Bar - Savi Fernandez, 7pm

Crabby's Oceanside - Bradford Buckley, 4pm

Grind/Kona - Cory Worsley Duo, 7pm

Ormond Garage - Psycoustic, 8pm

Outriggers - Off the Road, 6pm

Yellow Dog Eats - Hannah Craig, 5pm

Saturday, December 12, 2020

31 Supper Club - Big Beat Band, 8pm

Bounty Bar - Casey Picou, 7pm

Chase's - Jay Paski

Crabby's Oceanside - Brent Clowers, 12pm

Crabby's Oceanside - Griffin Sinclaire, 5pm

Flagler Tavern - Reed Foley, 5pm

Grind/Kona - Heather Craig, 7pm

Ormond Garage - Nate Utley, 8pm

Outriggers - The Waverlys, 6pm

Tayton O'Brians - Dustin Seymour, 9pm

Tortugas - Smyrna Erb, 6pm

Yellow Dog Eats - Sugar Fly, 5pm

Sunday, December 13, 2020

Bounty Bar - The Evening Muze, 7pm

Crabby's Oceanside - Heather Wilson, 12pm

Flagler Tavern - Brent Clowers, 5pm

Outriggers - Are Friends Electric, 2pm

Tayton O'Brians - Casey Picou, 8pm

Monday, December 14, 2020

Bounty Bar - Hannah Wilson, 7pm Tuesday, December 15,

2020

Bounty Bar - Jessie Abbey, 7pm

Grind/Kona - Casey Picou, 6pm

Wednesday, December 16, 2020

Bounty Bar - Jay Paski, 7pm

Flagler Tavern - Randy Williams, 9pm

Grind/Kona - Are Friends Electric, 6pm

Ormond Garage - The Cyclones, 8pm

Outriggers - Laree App, 5pm

Thursday, December 17, 2020

Bounty Bar - The Transfers, 7pm

Flagler Tavern - Reed Foley, 9pm

Flagler Tavern - Robert Keele, 5pm

Grind/Kona - Jessie Abbey Duo, 7pm

Outriggers - Stereo FM, 5pm

Friday, December 18, 2020

Friday, December 18, 2020

31 Supper Club - Velvet 45, 8pm

Bounty Bar - Griffin Sinclaire, 7pm

Crabby's Oceanside - Jay Paski, 4pm

Grind/Kona - Bradford Buckley, 7pm

Ormond Garage - The Evening Muze, 8pm

Outriggers - Reed Foley, 6pm

Yellow Dog Eats - Savi Fernandez, 5pm
---
Saturday, December 19, 2020

31 Supper Club - Joe Young Trio, 8pm

Bounty Bar - Jonny Odis, 7pm

Chase's - Savi Fernandez

Crabby's Oceanside - Casey Picou, 5pm

Crabby's Oceanside - The Cyclones, 12pm

Flagler Tavern - Reed Foley, 5pm

Grind/Kona - Jay Paski, 7pm

Ormond Garage - Smyrna Erb, 8pm

Outriggers - Billy Dean, 6pm

Tayton O'Brians - L&G, 9pm

Tortugas - Bradford Buckley Trio, 6pm

Yellow Dog Eats - Chuck Morel, 5pm

Sunday, December 20, 2020

Bounty Bar - Bradford Buckley, 7pm

Crabby's Oceanside - Heather Wilson, 12pm

Flagler Tavern - The Transfers, 5pm

Outriggers - The Evening Muze, 2pm

Tayton O'Brians - Michelle Marie, 8pm

Monday, December 21, 2020

Bounty Bar - Ian Opalinski, 7pm

Flagler Tavern - Jay Paski, 9pm

Bounty Bar - Jason Lee, 7pm

Tuesday, December 22, 2020

Grind/Kona - The Evening Muze, 6pm

Wednesday, December 23, 2020

Bounty Bar - Brent Clowers, 7pm

Flagler Tavern - Griffin Sinclaire, 9pm

Flagler Tavern - Walter Lee, 5pm

Grind/Kona - Hannah Wilson, 6pm

Ormond Garage - Are Friends Electric, 8pm

Outriggers - Laree App, 5pm

Thursday, December 24, 2020

31 Supper Club - Andre Martins, 8pm

Bounty Bar - TBD. 7pm

Flagler Tavern - Reed Foley, 9pm

Flagler Tavern - The Evening Muze, 5pm

Grind/Kona - Jeff Accorneo, 7pm

Outriggers - Corey Shenk, 5pm

Friday, December 25, 2020

Bounty Bar - David Dequasne, 7pm

Saturday, December 26, 2020

31 Supper Club - Dana Kamide Band, 8pm

Bounty Bar - Hannah Wilson, 7pm

Chase's - Smyrna Erb

Crabby's Oceanside - Savi Fernandez, 5pm

Crabby's Oceanside - Shaker Jones, 12pm

Flagler Tavern - Reed Foley, 5pm

Grind/Kona - The Cyclones, 7pm

Ormond Garage - Heather Craig, 8pm

Outriggers - Jay Paski, 6pm

Tayton O'Brians - Bradford Buckley, 9-pm

Tortugas - Big Beat, 6pm

Yellow Dog Eats - Jay Paski, 5pm

Sunday, December 27, 2020

Bounty Bar - Chcuk Morel, 7pm

Crabby's Oceanside - Claire Vandiver, 12pm

Flagler Tavern - Hannah Wilson, 5pm

Outriggers - Bradford Buckley, 2pm

Tayton O'Brians - Casey Picou, 8pm

Monday, December 28, 2020

Bounty Bar - The Transfers, 7pm

Flagler Tavern - Bradford Buckley, 9pm

Tuesday, December 29, 2020

Bounty Bar - The Evening Muze, 7pm

Grind/Kona - Heather Craig, 6pm

Wednesday, December 30, 2020

Bounty Bar - Hannah Wilson, 7pm

Flagler Tavern - Casey Picou, 9pm

Grind/Kona - Are Friends Electric, 6pm

Ormond Garage - The Cyclones, 8pm

Outriggers - Laree App, 5pm

20NYE

NYE20

Thursday, December 31, 2020

31 Supper Club -

Dana Kamide Band, 8pm

Bounty Bar -

Griffin Sinclaire, 7pm

Grind/Kona -

Bradford Buckley Band, 8pm

Ormond Garage -

Jay Paski, 8pm

Outriggers -

The Evening Muze

Tayton O'Brians -

Cody & Kyle, 9pm

Community Events
---
Happy Holiday Traditions

"The Nutcracker" has become an annual holiday

tradition around the world since its debut more

than a century ago. Most likely it was a big part

of your childhood holiday routine as it was mine.

For many, its magical score sets the tone for

the season. For me, Tchaikovsky's immortal

melodies are indelibly ingrained. Within the first

few notes of the overture I can almost smell the

cold and snow of upstate NY where I grew up.

The symphonic interplay of every instrument,

the dreamy swell of each crescendo, the

percussive perfection of it all pirouettes through

my mind, clear as the celesta bells in the Dance

of the Sugarplum Fairies. As a child I longed

to be Clara, lithe and coquettish, dancing with

her life sized dolls, dreaming of a winters love

story, traveling to The Land of the Sweets in

my pretend pointe shoes. This was a yearning

shared with my little sister Christie from the

first time we watched Mikhail Baryshnikov's

Nutcracker on PBS as a family. In our flowy

nightgowns and long johns, slippers slipping

across the floor, we dance-fought all winter break

over that Nutcracker doll til its head popped

off. Our Mom might have jokingly called us little

nut crackers (ball busters) but we were prima

ballerinas in our minds.

For thousands and

thousands of children

worldwide,

"The Nutcracker" is their very first exposure

to ballet and classical music. Perhaps one of

the most iconic of its kind, the sheer number

of interpretations (in family living rooms), on

the stage, the big screen and by symphony

orchestras globally are staggering in number.

By Candice Beu

For ballet companies it is often a major source of

yearly revenue but for the dancers, performing in

"The Nutcracker" is an ongoing rite of passage.

Little known fact, ballet dancers often work their

way up from "angels" in the chorus to starring

roles in the cast during their many years of

training. It's an enormously lengthy, intricate

endeavor, with choreographers,

costumers, crew and talent

all working annually

towards the Winter

Season. Most dancers

will know how to

dance every part by

the time they leave

a company.

It's no surprise that

the cancellation of

live theater in 2020

has eliminated much

of the usual funding,

impacting the income

of so many creatives

worldwide who make

their living in the arts.

However, there are

countless ways to help.

Become a patron of

the arts, seek out

entertainers you

know to personally

give to (Disney has

laid off many as well)

or donate to theaters

that have gone dark

and struggling ballet

companies offering

online holiday events.
---
You can find some very

talented out of work

dancers, singers,

comedians and artists of all

kinds

displaying their work on

TikTok who have linked

patreon

accounts for tips and

donations. There are so

many ways to get your

holiday fix while also

giving back. A quick

google search will get you

started. The Joffrey Ballet

for instance has many

interactive virtual festivities

throughout this holiday

season,

as do lesser known companies who could

use the support. The UBC, Universal Ballet

Competition, will keep the Nutcracker tradition

alive with an international competition held

online. The contest live streams on Dec 12th

featuring all submissions that make up Act 1 and

Act 2 submissions air on Dec. 13th. The event

culminates with The Virtual Nutcracker, a full

length video (you can view on their website)

consisting of the winning

entries, on Dec 19th.

Some local Florida

venues also have

theirdoors open again and

will be performing live!

I highly

recommend

the

Orlando

Ballet's

annual

Nutcracker

at Dr. Phillips

Center

from Dec.4-20th

and the Volusia Civic

Ballet performance on

Dec 5-6 at The Daytona Ocean Center.

Visit responsibly.

35
---
If you vote to stay inside this season, or you don't

have extra funds to go to live events or donate,

no worries! Charity starts at home anyway. You

can still expose your stay at home family to a little

holiday culture. Ovation channel hosts an annual

Battle of the Nutcrackers in late December.

Check listings. If you don't have cable but you

have Youtube, you're in luck. Get interactive with

your family and create your own battle of the

Nutcrackers. Even just listening to the classical

score by Christmas light without the visuals,

while dancing wildly

in the living room

can be exciting for

young children.

Dress up andmake

them use their

imagination. Teach

music appreciation

by pointing out the

different instruments

they hear. Have

them Google

Tchaikovsky

and learn the

history of

The

Nutcracker.

Did You Know

that Tchaikovsky wrote part of his most famous

work as a dare by a friend who said "I bet

you can't write a melody based on an octave

in sequence" or that Clara was originally

named Maria? Finding cool facts and musical

interpretations based on the traditional can

be enriching and a lot of fun for the fam. My

daughter's favorite Nutcracker Suite is the jazzy

Brian Setzer Orchestra version from the "Elf"

movie soundtrack. Mine is an impressive lyrical

Nutcracker done in the 1940's vocal stylings of

Fred Waring and The Pennsylvanians. What's

yours?

As we wrap up this bizarre 2020 year, I urge us

all to use any holiday magic we can muster to

propel us into 2021. In the face of the unknown,

get creative, go easy and don't be afraid to inject

new life into old traditions. Breaking from the

traditional isn't necessarily a bad thing either,

just different. It's ok to evolve and change. One

last note, if a stranger wishes you a "Happy

Holidays", just say "Thank You". There is no

war on Christmas guys. Different people just

use different syntax. Don't let it ruin your day.

If someone who doesn't know how I celebrate

takes time out of their holiday season to wish

me tidings of goodwill, then cheers to that.

How very kind. For those who balk at and insist

on correcting others with a staunch "Merry

Christmas!" perhaps it's time to revisit another

holiday tradition, Charles Dickens's "A Christmas

Carol". Don't be a Scrooge out there and let's

instead appreciate the fact that as a society

we have decided to dedicate an entire season

to the celebration of multiple, diverse holidays

with personalized traditions recreated yearly by

people from all walks of life. Isn't that something?

If we've learned nothing else this year, it's that

Life is fragile'...("it must be Italian")...so handle it

with care.

36

Stay healthy, everyone.
---
Fearing Technology in a Time of Plague

By Hank Harrison

Living through the worst pandemic in history

and technically the most wide sweeping plague

in World history can't be easy, many people

can't cope… but it gets worse if you are afraid

of computers and technology; if you are angry

because too much money is spent on space

exploration and advanced engines of war and

destruction; if you are upset because your bank

computer spit out the wrong balance; if the app

on your phone locks you out; if you are harboring

thoughts of computer sabotage or hacking, you

are undoubtedly a normal human being suffering

all the symptoms of alienation in a screwed up

world.

In spite of all of this crisis one should not be

afraid of the technology itself. There is nothing to

be afraid of because electricity has been with us

for many centuries. The virus will be gone soon, if

you define 'one more year' as soon… and when

the Pandemic I over all of the devices, machines,

bulbs, glowing wires, automatic, autonomic and

atomic reactions will still be here.

Let us not fool ourselves. Electricity is more

important than all of the computers and handheld

gadgets on Earth and infinitely more

dangerous than any virus. In fact electricity, when

out of control, is dangerous in both a political

and a bio-physical sense. Recently several

massive forest fires in California were started

by mismanaged electricity, and people are

subconsciously afraid of it. We plug up household

outlet sockets so that crawling and curious infants

can't insert metal objects into the plug slots. We

panic in a rolling blackout because the company

who brings the vital power to our homes might

be screwed up. Recent research has shown that

Sudden Crib Death is traceable, in part, to static

electrocution. Electroshock therapy is used as

punishment in some mental

hospitals and has been employed successfully in

brainwashing and, lastly, electricity is the focus of

the energy crisis... because natural gas and fossil

fuels are obviously nasty, awkward, imprecise

and scarce.

But why are we afraid of computers? Sometimes

they make us seem ignorant, but actually,

computers are nothing more than elaborate light

bulbs run by electricity and light bulbs are nothing

more than a thin wire glowing in a vacuum. In

a general sense, light bulbs are electronic. The

study of "Electronics" is the study of discovering

ways to put electricity to work.

It was discovered long ago that raw electricity

could be manipulated in many ways. It can be

sliced into sections, made to shoot out in bursts,

made hotter, made cooler, faster, slower and it

can be made fatter or skinnier depending on the

final result one wishes to attain—but at all times,

mankind is ostensibly the master of the electronic

device and its power source. At no time can the

light bulb do anything on its own, it can only go

on and off then eventually burn out. Even artificial

intelligence relies on the information supplied by

humans.

People who believe that computers are

living human beings are neurotic, confused,

dispossessed souls with a bleak outlook at best.

They are cinderheads who have been tricked into

signing over their human rights. To fight against

any monstrous contraption is probably futile but

to sit and wait for it to eat you is boring. Many

people die of ennui each year. Millions of people

feel depressed, cheated, defeated and helpless

because computers have sorted them out and

rejected them. They don't see themselves as

part of the big program. Welfare recipients get

a payment each month from a computer, not a

human
---
eing. Funds for education are given on the

basis of average daily attendance counted by

a computer. It seems like there isn't anybody

home any more. And lately we seem ruled by the

portable communication Dick Tracy and

Star Wars pocket computer

device known as our cell

phone, especially since

during the pandemic we

rely on computers to

deliver our

meals,

groceries

and toys to keep

us busy during

lockdown. Will working and

learning from home become

the norm?

Some people

thrive under

these

restrictions

but for

millions, life

is emptiness!

The stainless steel computer, on the

other hand, is dust free. It is alone and

never gets lonely. It never rusts and men

and women seem irrelevant by comparison. This

feeling of irrelevance cannot, however, be a valid

emotion. But, actually computers

are very passive and very dumb.

In a technological society every advance, indeed

every failure, is a reflection of every man and

woman in that society. Every human being is,

then, a reflection of his Weltanshung (world

view) and every system is the reflection of an

ultimate system, which may take many forms. In

a purely technological society there are only three

theoretical sizes:

Things infinitely larger than our imaginations,

Things infinitely smaller than our imaginations

and

Things roughly our size.

One of the drawbacks to technology and science

is that they keep our imagination tied down to

certain tried methods which psychologists call

reality, but when reality changes it gets scary for

some folks and those who roll with the punches

thrive and grow, it's the way evolution works

and this pandemic is a mutating factor, a lot like

electricity or the lack of it.

Because knowledge is power, the technological

elite get lots of money. After

World War II they were called the

Nouveau Riche.

But even the Nouveau Riche are

riddled with anxiety because the

technology is always lagging

behind their needs. Techno

logical greed in its many

forms spurs the rich man

onto newer and greater

gluttony, and

computers can be

programmed

to aid him in his

quest. It is nice,

however, to know

that anxiety breaks

everybody down before we glote too much, some

people grow obese, some turn to alcohol or some

other drug. In a technological society the wise

soul realizes that there are more events than

there are systems to explain those events and

realizes further that the ultimate
---
way to view the world is to see all events as

systems within themselves without interpretation

from a computer or a guru.

So we see that a computerized society can

improve or uplift or alienate even those who

make it run. Yet, when people finally understand

the source of their alienation they tend to go back

to respecting one another being compassionate

and acting like the natural animals we really are.

The alienated man or woman, the solemn

unloving human being can be likened to an old

digital computer. This kind of computer does

nothing but move data, swiftly and coldly from

one pile to another.

The objective human being who appears to be

cold but who is capable of loving and giving

can be likened to an analog computer. This

kind of computer is able to sense things, smell

and touch things and then if programmed in an

enlightened way make basic decisions. Callous

hostility, glibness, and pathological behavior

betray alienation as an internalized process. This

mass rejection of electronic reality is misplaced

aggression because the real source cannot be

found. The people who have made a marginal

adjustment to technology keep a good machine

distance away from those unable to accept or

understand the "tricks of the electronic trade".

This is clearly demonstrated. Many of the

"computer haves" view the "computer have nots"

as a food source just as a lion eyes a herd of

gazelle. There is, however, a small and emerging

daze of humans who deal with computers and

technology on an everyday basis and have

managed to make a lucky leap. They are neither

poor nor hostile nor glued to their radar ranges

and OLED television. This is the New-Bohemian

Technology, hip 'snowflakes' making their way by

feeling the vibes, while not fearing electricity.

crisis has forced us to grow up, evolve, be kinder

to one another. Because of the Pandemic,

misplaced hostility towards computers can be

seen quite clearly in two rather striking examples

of computer sabotage which were manifestations

of the general reign of anti-tech sabotage that

started in the mid-sixties.

In 1970, someone blew away a computer center

in Madison Wisconsin, located on the University

of Wisconsin campus. Not only was the computer

destroyed but the entire building was virtually

destroyed — whoever planted the charge was an

expert. One graduate student who happened to

be in the center was killed, but no one else was

injured and no other buildings were eliminated.

The computer and peripherals were fried to a

crisp—this was an estimated eight billion dollar

installation.

Though the federal investigators finally made

one arrest, the American press hushed up the

incident: Why? The answer is quite simple.

The building was the ARMY MATHEMATICS

BUILDING, which loosely translated means

MILITARY LOGISTICS COMPUTER. This

building housed a think-tank for military

operations. Yet, still, the computer itself is not

culpable for its existence, and blowing up the

computer center was merely an indirect variation

on the sugar-in-the-gas tank trick.

Whoever dosed us with the Virus, needs to be

thanked… sure it seems like Germ Warfare, and

part of an asymmetrical version of World War

III but maybe they are doing us a solid favor.

Whomever it was, the Virus
---
Also in 1970, in New York City, a similar computer

was blown away. This computer center was,

however, on the 20th floor of a modern building

overlooking Manhattan. No one knows what that

computer did for a living. Perhaps the Madison

caper stimulated the Manhattan explosion.

Perhaps one was planned by an intellectual with

some computer background and the other was an

an irrational, almost random, ELECTR0-

ASSASINATION. Still the computer is not the

wizard behind the computer, the computer does

not mythologize itself, only humans can think in

mythological terms.

Lenny Bruce once said: "Don't demonstrate

against the Policeman. No matter how ferocious

he looks he's only the Mailman, he's still taking

orders from somebody!"
---
Rocktails

Van Halen fans can often be divided into groups - Before

Sammy Hagar and After Sammy Hagar. There's no doubt

that Sammy Hagar is a brilliant businessman, as outlined

below; however, in my opinion the only Van Halen is with

David Lee Roth.

Sammy Hagar, born Samuel Roy Hagar on October

13, 1947 is also known as The Red Rocker. He is an

American singer-songwriter, guitarist and entrepreneur.

After gaining prominence in the 1970s with the hard rock

band Montrose, he launched a solo career and had the hit

"I Can't Drive 55" in 1984. He replaced David Lee Roth as

the lead singer of Van Halen in 1985 and left in 1996 but

returned to the band for a two year reunion from 2003-

2005. He was inducted into the Rock and Roll Hall of

Fame as a member of Van Halen in 2007.

Sammy Hagar's business ventures have probably made

him as much or more money than his music career.. Hagar

founded Cabo Wabo Tequila in 1996 because he was

looking for a house spirit for his bar in Cabo San Lucas,

Mexico. It was one of

the first 100% blue agave tequilas available in the United

States. Grupo Campari, which also owns

such brands as Skyy Vodka, acquired 80% ownership

of the tequila in 2008, and subsequently bought the

remaining 20% in 2010.

Cabo Wabo Cocktail

(yields 2 drinks)

~ mango, peeled, pit removed, cut into 2 pieces

~4 fresh pineapple rings, core removed

~ice

~3/4 cup simple syrup (equal parts sugar and water

heated until the sugar dissolves)

~1/3 cup freshly squezzed lime juice, about 3

~4 ounces Cabo Wabo tequila

~1 tablespoon chili powder

~1 tablespoon kosher salt

~pineapple for garnish

1. Preheat grill to high. Place mango and pineapple

on grill, cook for 2 minutes, turn over and cook for 1

minute more. Remove from grill to a cutting board and

let cool. Roughly chop the fruit and put in large glass

or cocktail shaker with 1/2 cup of ice, muddle, and

add simple syrup, lime juice and tequila. Shake or stir

to combine.

2. Combine chili powder and kosher salt on a

small plate. Rub the rims of 2 serving glasses with

pineapple wedge, and coat the rims with the chili

powder/salt. Fill each glass 3/4 full with ice and pour

in cocktail mixture. (

Enjoy!
---
The Disney Revolution is a movement that a

bunch of true Disney fans decided to start shortly

after the company's threat to replace the Song

of the South characters in Splash Mountain

with ones from The Princess and the Frog.

When the company made the announcement

on June 25th, 2020, that was the last straw for

most true Disney fans. This was the one that

not only broke the camel's back but shattered

it, making it impossible to deny any longer that

The Walt Disney Company has had its magic

systematically taken away from it piece by piece

over the last 3 decades.

The company has largely stopped caring about

its true fans and what they want and decided to

ignore concerns and feedback from their guests.

To make matters worse, they have given in to

political correctness and woke society-destroying

agendas such as #MeToo and #BlackLivesMatter

every single time. And they're not even good at

it! Disney's attempts at virtue-signaling just come

off as hollow and insincere, not actually giving

people what they want and doing nothing to solve

real-world problems. These uninformed decisions

have not only caused the company to become a

mockery and result in fans abandoning them, but

they have helped put the company in a financially

vulnerable position at a time when it can ill afford

it.

The company has clearly forgotten that it was

true fans like us, flocking to Disney parks from

every corner of the globe, who made The Walt

Disney Company successful. Had they actually

listened to them and had given them what they

actually asked for, they would realize that's what

helped the company become one of the largest

in the world. But that success has come at a

cost. Not only have far too many executives and

managers whom The Walt Disney Company

has put in such positions since at

least the early 1990s abandoned

all of us—they have actively turned their backs

on the company's roots, history and the golden

standards that Walt Disney himself created and

that the company strove to uphold for a while

after his death.

One of the most important things is their

standards of maintenance, something that should

never be ignored if for no other reason than

consideration of the safety of guests. But even

that has been in decline lately. Among the many

missteps that Disney has made over the past 3

decades include:

—Cutting corners wherever possible on

maintenance, upkeep, repairs and cleanliness

throughout the Disney parks and resorts,

resulting in things from a sinking boat on Jungle

Cruise to a sinking log on Splash Mountain!

—New and promising projects getting

compromised or cut altogether.

—Eliminating Live Entertainment in the parks,

even though Social Distancing is NOT involved in

most of those cuts!

—The variety of meet-and-greet characters

throughout the parks has been all-too-greatly

reduced.

—Cast members being very poorly trained,

including in terms of learning how to handle and

recognize people with neurological disorders

such as Autism! (How to handle a meltdown!)

—The Parks and their offerings appear to have

become way too focused on children, giving

adults the shaft, even though the parks are

supposed to be "family-friendly".

—Cast members' and characters' interactions

have become too rigid and discriminatory with

too many policies put in place, and they have

become less outgoing and less willing to be

affectionate and interactive (giving kisses on the

cheek, partner dancing, etc., without question

and without saying out-of-character things like

"my significant other will get jealous") with adults

and not just the kids,
---
By Phillip Kippel/ Photo Credit Phillip Kippel and Fair Use

like they used to be.

—The quality of the parades and live shows

has seemingly gone down. A lot of the newer

shows and parades are not as lively, lavish,

exciting, high-energy or use as many variety of

characters as the older ones, lack actual dancing/

choreography, costumes worn by the dancers

have become way too modest and less sexy (for

lack of a better term), etc.

—Everything has become way too sanitized,

watered-down and made politically correct.

This manifests itself in the neutering of classic

attractions like Pirates of the Caribbean, such as

changing the auction scene.

—Removing popular, highly beloved attractions

that never should've been removed such as

The Great Movie Ride, the original Journey

Into Imagination (which even Michael Eisner

called a 'disaster of a change'), World of Motion,

Horizons, Kitchen Kabaret, Universe of Energy,

the Walt Disney World version of Mr. Toad's Wild

Ride, the Disneyland versions of Country Bear

Jamboree and the Peoplemover and the Disney

California Adventure version of The Twilight Zone

Tower of Terror, to name a few examples.

—Replacing attractions instead of ADDING!

—Announcing a re-theme of the highly popular

Splash Mountain, as covered in my previous

article.

—Disney seemingly refusing to stand up to

the outrage industry and becoming spineless

and cowardly by giving in to groups of constant

complainers, moral guardians, social justice

warriors, etc., who will NEVER EVER be happy

no matter what the company does!

—Taking away popular seasonal and holiday

offerings in the parks, such as Walt Disney World

getting rid of the Country Bear

45
---
Vacation Hoedown, Country Bear Christmas

Special, the Lights Of Winter arches, The

Osborne Family Spectacle Of Dancing Lights,

etc., and refusing to add more seasonal offerings

such as bringing Haunted Mansion Holiday

and It's a Small World Holiday to Walt Disney

World, eliminating the full version of the Magic

Kingdom's Easter Parade, etc.

—Discontinuing the celebration of other ethnic

events, such as Chanukah and Kwanza, which

were celebrated during Michael Eisner's tenure!

—The quality of certain seasonal events like

Mickey's Not-So-Scary Halloween Party and

Mickey's Very Merry Christmas Party has greatly

diminished.

—Keeping Song of the South, a fantastic classic

movie that is not racist in any way, locked away

in the studio vault, while offering only a bare

minimum of Walt-era and pre-1990s classic

catalog titles on Disney+ or on DVD and Bluray

when some of the few titles they do offer

are edited despite the majority of audiences

preferring to see them all uncut and uncensored.

—Allowing the parks and resorts to get way too

overcrowded, making for much less magical and

enjoyable experiences at them.

—Constantly raising prices and taking away free

perks.

—Being too focused on their "popular" franchises

such as the Disney Princesses and Star Wars

and not doing more with equally-beloved

franchises that have TONS of untapped potential

such as the Muppets and Roger Rabbit.

—Lucasfilm and Kathleen Kennedy not following

George Lucas's original plans for the Star Wars

sequel trilogy and ruining the character of Luke

Skywalker and the Star Wars franchise as a

whole.

—Disney appears to be attempting to inject

politics and political agendas into the Disney

parks and other Disney media, even though such

entertainment is supposed to be a
---
source of escapism and a way for people to get

away from all that nonsense for a while, not have

even more of it forced down their throats! Politics

are not allowed in entertainment!

—Not accepting ideas or suggestions from fans

and other people outside the company, especially

if they are ideas that could help make things even

better.

—Killing traditional hand-drawn animated

features, making Walt Disney Animation

Studios and Pixar Animation Studios almost

indistinguishable from each other and taking

away what made each of them special.

—Not doing a good enough job of reaffirming

what is or isn't canon (such as reaffirming that

the direct-to-video sequels and TV shows based

on Disney animated canon features are noncanonical),

causing lots of confusion.

—Repeatedly ignoring the concerns of

stockholders by refusing to answer questions

from anyone other than large brokers.

—Laying off tens of thousands of employees/cast

members while restoring executive pay levels to

pre-COVID-19 status.

And that is only the beginning.

Among the many goals we are looking to

achieve as part of The Disney Revolution is

reversing all these mistakes and more and

bringing the company back to its former glory and

bringing back things they never should've taken

away!Here is the link to The Disney Revolution

Facebook page:

https://www.facebook.com/TheDisneyRevolution

A full website for The Disney Revolution is in the

works and will be unveiled in early 2021.

And please join my Help Save Splash Mountain

Facebook page as well—help it reach

1,000 members by December 31st:

https://www.facebook.com/

groups/751080852358711

47
---
Dishonor to Us All: Is Disney Really Guilty

of Enabling Human Rights Abuses with the

Live-Action Mulan Remake?

In 1998, the year Disney released its 36th animated

feature, Mulan, my father and I went to Washington,

DC One of the things we visited was the Holocaust

Memorial; it was one of the most chilling experiences

of my life. As a Jewish person, seeing my people

being targeted for genocide made me sick and angry.

Recently having come out as gay doubled the anger

because gays were also among the many groups

Nazis targeted for extermination. When we Jews say

the phrase "never again," we mean it.

Fast forward to the year 2020. Michael Eisner is no

longer the head of The Walt Disney Company, and

even his replacement, Bob Iger, has stepped down

from the CEO position. Sanctimony has replaced

imagination, and politics has replaced storytelling

while remakes have overshadowed new ideas.

And what's the remake du jour? Mulan. No songs,

no dragon, no drag queens, no love story, no

gay- or bisexual-coded characters, no comedy. All

seriousness this time because that's what supposedly

makes a film "adult." But even before its release, the

studio's new take on the old Chinese legend became

a lightning magnet for controversy.

First, when pro-freedom protesters demonstrated in

Hong Kong and faced police attacks, Liu Yifei, the

film's star, sided with the police. Specifically, she said

on Weibo:

"I support the Hong Kong police. You can all attack

me now. What a shame for Hong Kong."

Such a statement sounds especially tone deaf in light

of recent American protests against police violence.

But Disney shrugged it off. After all, they have parks in

both Shanghai and Hong Kong so they can ill afford to

take sides.

There is no position they could take that would not

hurt someone's feelings, but one takes such risks all

the time simply by existing. However, the other risks

they took have proven not to be worth taking.

Even before its intended release, there was already a

backlash brewing. #BoycottMulan started trending on

Twitter after Hong Kong activist Joshua Wong called

for one. The film might have financially weathered

such attacks had the COVID-19 pandemic not closed

most of the world's movie theaters. Between this and

the parks closing for the same reason, Disney lost two

of its major sources of cash flow. With the 116-minute

film costing $200 million, there was more riding on it

than the 1998 original, which runs a taut 88 minutes

and was made for only $90 million. They had to do

something with it, so they put it on Disney+, where the

disastrously received film Artemis Fowl landed with a

thud, as an exclusive and charged a premium of $30

for access to it … even for subscribers who already

paid the monthly fee! Subscribers who canceled their

subscriptions would not even keep access to it. Did

The Disney Channel make you pay extra for original

movies when they were a pay-cable channel? Equal

parts desperation and greed, the strategy didn't

seem to work, and the movie quickly moved to other

platforms for purchase. Meanwhile, Trolls 2 cost only

$20 on digital and has apparently sold more copies.

While the 1998 version was a box office hit that has

aged beautifully, it was not exceptionally well-received

in Mainland China, where its release was conditional

at best and still fraught with controversy despite their

best attempts to side-step it. The Chinese government

took issue with Martin Scorsese's Kundun, a

Hollywood Pictures release about the Dalai Lama, for

being too sympathetic to him at the expense of China.

They threatened to ban all Disney films from the

country. Though the film got good reviews in the US,

Disney capitulated; Michael Eisner denounced the

film, while Bob Iger called it a "mistake." Nevertheless,

Kino Lorber saw fit to release it on Blu-ray recently.

The new version of Mulan has been carefully crafted

so as not to offend any Chinese people. Anything

perceived as being inauthentic to the culture has been

scrubbed away. Or so they say.
---
By Matthew Anscher

But even under those circumstances, they still got a

lot of things wrong in ways the 1998 film did not. And

in deference to #MeToo, any hint of romance between

Shang and Mulan is gone, along with Shang himself!

Even with the more government-friendly changes to

the story, Chinese audiences still didn't take kindly to

a second Disney version of their homegrown female

warrior, especially when they had their own locally

produced movie versions to choose from, most

notably a 2009 film called Mulan: Rise of a Warrior.

There's even a Chinese animated version, Kung Fu

Mulan, making this new Disney version even more

superfluous.

But the worst was yet to come…

Those who sat through the whole film to the end of

the closing credits saw a "special thanks" credit for

the Turpan Public Security Bureau, an organization in

southern

Xinjiang that manages concentration camps designed

to hold over a million Uighur Muslims. Seriously, in

2020! A major American movie studio, one that made

pro-Allied propaganda films such as Der Fuehrer's

Face and Victory Thru Air Power during World War

II, and one that won an Oscar for Bedknobs and

Broomsticks in 1971 and two Oscars for Aladdin in

1992, were now collaborating with mass murderers

in a Communist country! They actually gave special

thanks to multiple bureaus responsible for such

horrific atrocities as forced sterilization, forced labor,

and re-education, while many prisoners have even

died because of the conditions of the camps. This is

the same studio known for opening every movie with

"When you wish upon a star, makes no difference

who you are"? They proved once and for all they don't

really mean that. Even their excuses don't wash. A

company representative told Vanity Fair that this was

necessary for "authenticity" and to get permission to

even shoot in China at all even though most of the

movie was shot elsewhere, particularly New Zealand.

If so little of the Turpan footage made it into the film,

and there's nothing there they couldn't get

elsewhere, then why bother shooting there at all?

Much criticism of Walt Disney revolves around

the fact that he was a "friendly witness" for the

House Unamerican Activities Committee regarding

Communism in the 1940s when there was still a

USSR and when Mao Tse Tung took over China.

But in light of what the studio that bears his name

has done, can you still actually read his remarks and

come to the conclusion that he was wrong?

"I believe [Communism] is an un-American thing.

The thing that I resent the most is that they are

able to get into these unions, take them over, and

represent to the world that a group of people that

are in my plant, that I know are good, one-hundredpercent

Americans, are trapped by this group, and

they are represented to the world as supporting

all of those ideologies, and it is not so, and I feel

that they really ought to be smoked out and shown

up for what they are, so that all of the good, free

causes in this country, all the liberalisms that

really are American, can go out without the taint of

communism. That is my sincere feeling on it."

The idea that Walt was a vicious anti-semite

was, and still is, a hoax that many former Disney

employees have refuted. His anti-Communism was

used as evidence of that, but Jewish studio head

Louis B. Mayer, co-founder of Metro-Goldwyn-

Mayer, was just as fervently opposed to it. It's not

very hard to see why. To see Walt's Magic Kingdom

actively collaborate with a country that relocated

an entire group of people to concentration camps

is beyond horrific. It is a major betrayal of trust, not

to mention a publicity embarrassment the studio

was sheepishly forced to acknowledge while, as

usual, trying to play the Glad Game in doing so.

Much like the issue of John Boyega's differing

level of prominence on the Chinese and American

Star Wars posters, it is only more proof of Disney's

hypocrisy on human rights issues. Things like this

show how insincere
---
the Disney company is when they talk of racial and

cultural sensitivity. It's also why their reasons for

not letting Song of the South out of the vault, not to

mention their reasons for wanting the characters out

of Splash Mountain, ring hollow. Not only has Disney

collaborated with Communists, it is complicit in their

violations of human rights. If China is punished for

this, then Disney should be, too.

Compare and contrast this with how the company

behaves in the United States. Despite a burgeoning

film and television production industry in Atlanta,

Georgia, which has been home to such acclaimed

and popular movies as Game Night, Love Simon,

and I Tonya, as well as being the home of Tyler

Perry Studios, and despite the fact that Marvel had

already shot Black Panther and Avengers: Endgame

there, Disney announced that they would no longer

film there if the governor signed a controversial

anti-abortion bill into law. The law would have made

abortion illegal at the point where one could hear the

beating heart of an unborn baby, which is usually

six weeks in most cases. Disney opposed the law

because they believed its female employees would

not want to work under these conditions. They claim

to care about reproductive rights here, but those

claims don't hold up to scrutiny when one considers

the fact that among the atrocities at the Xinjiang

camps is forced sterilization!

Mulan pays lip service to the concept of honor,

but in reality, the current Disney management has

brought dishonor to the company in ways no previous

administration had. The star of the new film has not

helped matters. Imagine if a white American actress

openly supported police brutality against anti-racism

protesters in the US. She probably wouldn't have

a career for very long. And imagine if Walt Disney

Productions during WWII had shot the live-action

portions of The

Reluctant Dragon in or around Japanese-American

internment camps, a shameful practice the US later

apologized for. We would never hear the

end of it even if the movie went down the same

memory hole in which they're trying to bury Br'er

Rabbit. In reality, that movie grew out of the strike

of 1940 that changed Walt Disney, his studio, and

the animation industry as a whole. His upbringing

was actually quite left-wing; his father Elias was a

Christian Socialist who wrote a leftist newsletter.

The company changed before, they can change

again. Now, they have no choice but to make some

adjustments. But they have to be good ones. Change

for change's sake is a waste of time and money, and

in the end it makes no one happy.

This is one of many reasons why it has been a critical

mistake for Disney to rely so heavily on attempts to

literally recreate their past glory days. Even when

Ron Miller was running things, they could still make

films that were at least nominally different from their

Walt-era predecessors. If a lack of imagination was

the biggest crime they had committed here, that

would be one thing. But this is a much greater crime

than systemically throwing out new ideas for endless

retreads of the tried-and-true. This is literal crime we

are talking about. The International Criminal Court

in The Hague, Netherlands is specifically devoted to

prosecuting crimes of this magnitude. It has never

prosecuted a major corporation before, but that

doesn't mean that individual people who made the call

to collaborate with the camps on the making of the

film can't be held liable for their actions. That would

require them to prosecute the Chinese government

first. Even in the absence of prosecution, there's

no way Disney can spin this public relations

nightmare to their advantage, try as they might.

When will their reflection show who they are

inside?
---
February, 1978

My friends were talking about this new band

that had just put out their first album.

Van Halen. Granted, it took me a while to

finally listen, and the first cut,

"Runnin' With The Devil" kinda left me

a little flat. Then, it happened.

The next 1:43 changed

everything I thought about

how a guitar was played.

I had been listening

to the guitar

By Jeff Shaw

greats of the day: Ted Nugent, Ace Frehley, Tony

Iommi, Jimmy Page. But nothing, and I mean

NOTHING could compare with what I had just

heard. How was that even possible (it took me several

years to actually SEE how it was done)?

There's not a lot I can say about Edward Van Halen that

hasn't already been said: innovator, inventor, musician,

composer, guitar wizard. The King.

I had the opportunity to see Van Halen in Chicago in the

summer of 1981 (I was supposed to see them in Jacksonville

in August of 1980, but the show had to be postponed due to

an injury to David Lee Roth, and when it was rescheduled,

I was in boot camp). I paid $20 per ticket, which I thought

was steep at the time, but when I got to my seat, I would

have paid as much as is charged now. 3rd row, stage right,

at the old Chicago Amphitheater. We missed the

opening band, but got there just in time for Van Ha

len's set. I couldn't tell you much about the set list,

but I can tell you that during Eddie's solo, when

he came to that side of the stage, I stood there

mesmerized. Transfixed. In the presence of a

rock & roll deity.

Eddie went on to provide many more licks and techn

iques that left guitar players in awe. Spanish Fly, Cathedral.

One thing that makes me laugh, in a CNN interview, he

was talking about his work on Michael Jackson's song "Beat

It". He said "Who's gonna know I played on some black kid's

record" Uhhh, anybody and everybody that's ever listened to

you, Ed. He had a very distinctive style and tone that within

about two or three seconds of hearing it, you know it's him.

He also did a couple of movie soundtracks, or

contributed songs to them. Twister, being

one of them, and a forgettable

movie called The Wild Life.

An old saying goes

"Don't cry because it's over, smile because

it happened". Thank you for happening in my lifetime,

Eddie. Thank you for all the music. Thank you for inspiring

me to play guitar better.

The king is dead: long live the king.
---
Music +
---
Fashion = Decades

By Jamie Lee

Music plus fashion equals pure entertainment

for the masses. Music was "invented" over

55,000 years ago, probably starting with naturally

occurring sounds and rhythms from which even

the most isolated tribes of the world created

their own version of music. According to music

archeology, the ceremonious garb we know as

fashion came along with the creation of beats and

rhythmic incantations and was worn with pride at

all formal meetings of each cultural manifestation.

Fast forward to a more modern age; the music

and fashion scene exploded into a phenomenon.

During the early '50s, Elvis Presley used sexy

smiles, gyrating hips and the buttoned-up

classic looks of the post-war era to develop his

eroticized image by adding some flash and flare.

He became a cultural revolutionary by bringing

rockabilly to a more diverse audience, which

made him a 20th-century icon.

The Beatles invaded America, pioneering as the

"Greasers of England". The Fab Five donned

many different looks ranging from fierce to leather

jackets; from cowboy boots to pompadours.

The '60s brought an upheaval of music, fashion

and attitudes. The arrival of Motown and R&B,

originating in Detroit, marked a significant

progression in the Civil Rights movement; but

Motown also taught the world how to dress.

Groups like Smokey Robinson and the Miracles

and Diana Ross and the Supremes brought forth

pop-soul classic lines and the two or three-piece

suit was a favorite.

The '70s sparked David Bowie's alter ego, "Ziggy

Stardust", oozing with extraterrestrial tendencies,

boosting, "We Come in Style." Bowie said, "I think

if you're really going to entertain an audience

then you have to look the part, too." By 1976

he had trailed from his 'Ziggy Stardust'

ego and cleansed his palate of crazy (for now),

emerging classic and clean as "The Thin White

Duke."

The '80s saw Madonna and her cones, Devo and

the hats, and the lace - so much lace, along with

multi-colored hair as high as the hairspray would

hold it, necklaces dangling with the latest emblem

- as many as your neck could hold. These were

not to overshadow your shoulder pads or hide

the fact you were wearing a fanny pack complete

with an extra pair of leg-warmers inside in case of

emergency.

Enter the '90s, dubbed the anti-style era with MC

Hammer pants, mini skirts, high waisted denim,

and ridiculous animal print (gag)! Grunge was

popularized as an anti-fashion in answer to all the

colorful '80s fashion and made up of mostly thrift

store clothing and anti-flash. This style genre

was made famous by grunge music and worn by

artists who were influenced by the Seattle music

scene, including County Love, Cranberries,

Nirvana, and Mudhoney.

The millennium (we made it) shock is in all

the cards leading to Stefani Joanne Angelina

Germanotta. What? No guesses? (Hint: meat

dress). Lady Gaga's meat dress on the red carpet

shocked America and made a new statement for

the fashion culture that has taken over … well,

everyone! How could you not listen to her? She

is a classically trained pianist turned superstar. I

listen to her with gusto pleasure!

Whatever you pull over your body in the mornings

most likely came from a genre originating with

a musician who wanted to make a statement.

History repeats itself, as do music and fashion,

always doing so in exquisite harmony by adding

a unique twist for the time.
---
FRI 4-8 PM

LIVE MUSIC

SAT 12-4 &

5-8PM

SUN 12-4 PM

December '20

4th – Jonny Odis - 4pm

5th – Jessie Abbey - 12pm &

Nate Utley - 5pm

6th – Smyrna Erb – 12pm

11th – Bradford Buckley - 4pm

12th – Brent Clowers – 12pm &

Griffin Sinclaire - 5pm

13th – Heather Wilson – 12pm

18th – Jay Paski – 4pm

19th – The Cyclones - 12pm &

Casy Picou - 5pm

20th – Heather Wilson – 12pm

26th – Shaker Jones - 12pm &

Savi Fernandez - 5pm

27th – Claire Vandiver – 12pm
---
What's IN Your Phone?

Most Used App:

ESPN +

iPhone 10

Number of

Contacts:

500

Sean Impara

Number of unread emails

I have two accounts one there's just too many to mention

in fact it was a reason I switched to my second account

and I would say on my second account there's probably

only about 13 or 14.

Most-listened-to Artist

That's a really tough one but I guess if you held a gun to

my head it would be the band Group Love I'm addicted to

that station on Pandora.

Most-recent car-service ride

Never. I live on an island and can ride my bike or walk

anywhere. If I had to answer the question truthfully the

last time would be a taxi service in New York City.

Battery % at which you feel compelled to

charge your phone

I have a newer iPhone so the battery lasts almost the

whole day. I have a habit of plugging in either when I'm

sleeping or in the car so I don't really look at it that much.

Our own Co-Owner/Publisher, 53, writer

and entrepreneur sharing his phone.

Outgoing voice Message

It's very basic and boring. I probably need to change

it soon, as people have told me so many times.

Essential travel app

I don't travel like I used to so I don't even have a

travel app. I traveled for a living at various times so

I've been to most places many times and I have a

really good memory. If I really needed one, Google

Maps would ultimately be my last resort if I really

needed one.

Does Your screensaver have a meaning

Right now, no. I've been really lazy and I've never

even changed it. In the past, I had pictures of my kid

but he drives me crazy now so I don't dare put him

on there.

Can you live without your phone

That's A great question. I used to work in a business

where having a cell phone would've been extremely

important and essential but I never had one and I

managed. Now I work in another business where

it's extremely important and essential and there's no

way I could go without it.
---
56
---
UNAPPRECIATED

BY RANDY PEPPER

Since the 1960s musicians have never had a pay

increase; in some places, rates have actually gone

down. Now we found out that minimum wage will

go up to $15 an hour in six years. In a band, most

musicians make $62.50 a night. So, let's look at what

it takes to be a musician:

Most musicians spend all week practicing for your

upcoming gig, practicing hours and hours without

pay. Now, let's look at the equipment; most musicians

have around $5,000 to $10,000 worth of equipment

just to do their job plus they're always updating their

gear to make the show better. When was the last

time you saw an employee of a fast food restaurant

spend that kind of money to do their job. You haven't!

Yes, I know they probably don't need to spend that

kind of money to do the job; they are just given a

uniform shirt just and they go to work. But even in an

office environment, when was the last time you saw

someone working spend that kind of money to do their

job. You haven't!

We've always heard the saying that a musician is

a guy that drives a $500 car with $10,000 worth of

equipment to drive to a $100 gig two hours away. Yes

a lot of this is brought on by musicians who are just

looking to play somewhere and will do it at any cost.

But for the musician who is trying to make a living and

pay their bills, this isn't helpful. Not all musicians are

weekend millionaires; some of them are working two

jobs just to make ends meet then others are playing

seven nights a week just to pay their bills. There are

some who play in bars and restaurants just to eat

or to drink; at the end of the night, some of these

musicians drank more than got paid.

Unfortunately being a musician often comes with

other costs. Many musicians become alcoholics

because they work in bars all the time and just can't

say no to the next free drink. I'm not saying it's a bad

thing to buy the band drinks, but sometimes it's better

just to put money in the tip bucket because not all

musicians drink. That way, the musicians can use the

money for whatever they want. And for the people that

drink all of their paycheck, that tip money may be the

only money they make.

Let's look at why musicians have never gotten a pay

raise in over 40 years. Is it that perhaps the people

running the bars and restaurants feel they are doing

it for the love of music? In some cases that's true.

Maybe one of the answers to the question of why

musicians are often underpaid for their services is

that musicians in general are not the kind of people

who will stand up to the bar or restaurant owner and

say, "Listen I know you used to pay us $400 a night

but now we want $1,000 because that's what we are

worth. Most musicians just think, "Oh well, at least I

got paid, and I can help out with some of the bills or

buy that new pedal to nail that tone of that new song

we learned." It's crazy to think that in six years if you

count in all the work that a musician does he will be

the lowest paid person in the bar.

Now, there's an exception to most anything and,

sure, if Blake Shelton shows up he's going to get paid

$60,000 for the night or bands like Modern English

(who had one hit) will be paid $10,000 for the night.

While there are some bands that are paid decently

for the night, most are still only going to make $400-

$500 a night. And these are the bands that show up

really early to the venue to set up and they are also

the last ones in the bar after closing because they

have to tear down their whole stage show. They show

up at 1 or 2 o'clock in the afternoon and set up all

their equipment and by the time they have finished

tearing down their show and loading out at 4o'clock in

the morning, they've done 14 hours of work. Is there

anyone else in the bar working 14 hours? Why do

you think there are so many singles and duo's? It's

because they have figured out how to make a living

at working normal hours. But when the $15 an hour

minimum wage kicks in, that might not be the case.

It's going to be interesting in the next six years for

sure.

Randy Pepper is the owner of the Guitar Attic in

Holly Hill and a freelance guitar player for hire.
---
Trivia & Crossword

1. David Lee Roth

2. Sammy Hagar

3. David Lee Roth

4. Sammy Hagar

5. Sammy Hagar

6. Sammy Hagar

7. David Lee Roth

8. David Lee Roth

9. Sammy Hagar

10. Sammy Hagar

11. Sammy Hagar

12. Sammy Hagar

13. David Lee Roth

14. Sammy Hagar

15. David Lee Roth

Solutions

16. David Lee Roth

17. David Lee Roth

18. David Lee Roth

19. Sammy Roth

20. David Lee Roth

21. David Lee Roth

22. Sammy Hagar

23. Sammy Hagar

24. David Lee Roth

25. David Lee Roth

26. David Lee Roth

27. Sammy Hagar

28. Sammy Hagar

29. David Lee Roth

30.David Lee Roth

Bonus: 1985

12

2

W

G

R

E

A E G

3

4 5

T I N S E L S E M M

T R C A B R A N D Y

L M I S T L E T O E X R

M A I N E A A U N B I R T H

14

E E G G N O G R R E H

X Y A N Z C

I A E O

C L R U D O L P H

18 19

1

11

9 10

F O U R A L V I N K E

6

16

7

13

A I R

E M

S E

Y

15

8

17
---
Moments Missed on a Holiday Stage-

BY JOE YOUNG IV

The holiday season to most people's imagination

is one of decorations, of family, of gifts and of

merriment. And while my vision of the Christmas

holiday season includes many of the same nostalgic

images as the next American, what I will be missing

most is my musical family. My vision of the holidays

has never been much of a Rockwell painting, more of

a mix of Dalí and Warhol, set to a soundtrack by Jaco

Pastorius. Since 2007 I have considered Orlando

my base of operations, moving there initially to go to

the University of Central Florida. Between working

at Walt Disney World and SeaWorld during the

Christmas season I have been fortunate to perform at

theme parks for the last nine out of twelve Christmas

seasons. When you mix in holiday parties, the many

snow bird shows that happen throughout Central

Florida and The Villages, as well as the normal ebb

and flow of freelance work, I would easily put 6,000

miles on my car between Thanksgiving and the

end of the year. The sense of purpose derived from

performing during the holidays easily outweighs all of

the late nights, long drives, hours upon hours spent

waiting in a theme park break room and missed time

at home with my family.

While it is a drag to have to work on a holiday,

especially Thanksgiving and Christmas, the

comradery with musicians is what I will miss most

from the 2020 holiday season.

he down time between shows in the breakroom (often

in an odd store room, tucked back by the dumpsters)

would lend itself to spirited hangs, everything from

friendly poker games to how to work on improving

your music composition skills to the latest jazz

albums. The moment right after you get backstage

and are able to break character to laugh at the park

guest that just made a fool of themselves during

the last set. Even wearing the costumes, which are

almost exclusively made of the heaviest and hottest

materials known to man. After work there were always

opportunities to take a late-night gig, or to sit in with

one of the bands performing at the downtown bars.

Going on the road with The Glenn Miller

Orchestra I would miss a portion of the holiday

season here in Central Florida. However, the

tradeoff was pretty fair – the band's Japan tour

was often during the month of November into the

beginning of December.

There is truly nothing like Japanese Christmas.

The Christmas season is celebrated as

a lovers' holiday in Japan, more akin

to Valentine's Day than American

Christmas. The level of deco

rating is like no other, from

giant Christmas trees to

shop window displays,

to some of the

most

egregious

representations

of Santa Claus

EVER (my favorite

being a Gremlin like,

puke green variety that

was very popular one year).

I have so much to be

thankful for this holiday

season, and so many

reasons to look forward

to celebrating Christmas

with my family,

uninterrupted by work.

But even in the midst

of Christmas I know I

will be deeply yearning

for my musical family

and the time that we

can go back to

performing. And I

know that if

Christmas 2022

finds me back

on a stage I

will never

complain

about

playing

Rudolph

The Red

Nosed

Reindeer

ever again.
---
From Static Liv
---
Happy

Holidays

e Media, LLC
---
Please Use Link to Receive a Discount.

http://book.springhillsuitesnsb.com/

Come Stay With Us!

512 Flagler Avenue, New Smyrna Beach, Florida 32169 USA +1 386-427-0512