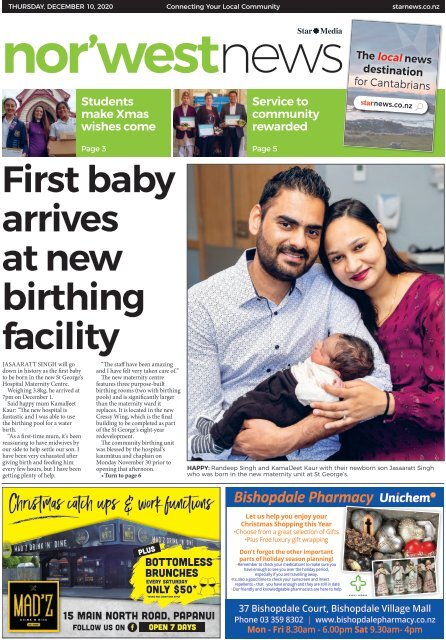 Nor'West News: December 10, 2020
Create successful ePaper yourself
Turn your PDF publications into a flip-book with our unique Google optimized e-Paper software.
THURSDAY, DECEMBER 10, 2020

Connecting Your Local Community

starnews.co.nz

Students

make Xmas

wishes come

Service to

community

rewarded

The local news

destination

for Cantabrians

Page 3 Page 5

First baby

arrives

at new

birthing

facility

JASAARATT SINGH will go

down in history as the first baby

to be born in the new St George's

Hospital Maternity Centre.

Weighing 3.8kg, he arrived at

7pm on December 1.

Said happy mum KamalJeet

Kaur: "The new hospital is

fantastic and I was able to use

the birthing pool for a water

birth.

"As a first-time mum, it's been

reassuring to have midwives by

our side to help settle our son. I

have been very exhausted after

giving birth and feeding him

every few hours, but I have been

getting plenty of help.

"The staff have been amazing

and I have felt very taken care of."

The new maternity centre

features three purpose-built

birthing rooms (two with birthing

pools) and is significantly larger

than the maternity ward it

replaces. It is located in the new

Cressy Wing, which is the final

building to be completed as part

of the St George's eight-year

redevelopment.

The community birthing unit

was blessed by the hospital's

kaumātua and chaplain on

Monday November 30 prior to

opening that afternoon.

• Turn to page 6

Christmas catch ups & work functions

PLUS

bottomless

brunches

every Saturday

ONLY $50*

*terms and conditions apply

15 Main North Road, Papanui

FOLLOW US ON OPen 7 days

HAPPY: Randeep Singh and KamalJeet Kaur with their newborn son Jasaaratt Singh

who was born in the new maternity unit at St George's.

Bishopdale Pharmacy

Let us help you enjoy your

Christmas Shopping this Year

•Choose from a great selection of Gifts

•Plus Free luxury gift wrapping

Don't forget the other important

parts of holiday season planning!

•Remember to check your medications to make sure you

have enough to see you over the holiday period,

especially if you are travelling away.

•Its also a good time to check your sunscreen and insect

repellents – that you have enough and they are still in date

•Our friendly and knowledgeable pharmacists are here to help

37 Bishopdale Court, Bishopdale Village Mall

Phone 03 359 8302 | www.bishopdalepharmacy.co.nz

Mon - Fri 8.30am - 6.00pm Sat 9.30am- 4pm
---
2 Thursday December 10 2020

Latest Canterbury news at starnews.co.nz

GENERAL INQUIRIES Ph 379 7100

CLASSIFIED ADVERTISING Ph 379 1100

Star Media, a division of Allied Press Ltd

PO Box 1467, Christchurch

starmedia.kiwi

NEWS

Bea Gooding

Ph: 021 911 576

bea.gooding@starmedia.kiwi

ADVERTISING

Monique Maynard

Ph: 021 372 481

monique.maynard@starmedia.kiwi

Your local community news

delivered to 28,748 homes

within The Star each week.

Harewood • Burnside • Bishopdale • Bryndwr

Fendalton • Merivale • St Albans • Mairehau

Papanui • Casebrook • Redwood • Styx Mill

Regents Park • Northwood • Belfast • Strowan

what's on

this week

Wā Pēpi: Babytimes

Thursday, 10.30-11am, at

Fendalton and Shirley, Friday,

10.30-11am, at Bishopdale,

Wednesday, 11-11.30am, at

Papanui

Bishopdale, Fendalton, Papanui and

Shirley libraries

Encourage learning through

language. Babytimes is an interactive

programme including music, movement,

rhymes and a story. Recommended

for under two-year-olds. No

bookings required.

Knit 'n' Yarn

Thursday, 2-3.30pm, at Fendalton,

Friday, 10am-noon, at Papanui,

Tuesday, 1-3pm, at Bishopdale,

Wednesday, 1-2.30pm, at

Redwood

Bishopdale, Fendalton, Papanui and

Redwood libraries

Take your knitting, crochet, stitching

or any other handcraft and enjoy

the company of others. Share skills

and be inspired.

Citizens Advice Bureau

Thursday, 11am-5pm, Friday,

11am-5pm, Monday, 11am-5pm,

Tuesday, 2-5pm, Wednesday,

11am-5pm

Fendalton Library

Citizens Advice Bureau provides

free and confidential advice. They

take the time to listen and equip you

with the information, options and

support that fit your needs. Phone

351 7804 for more information.

DIY Gift Wrap, Tuesday, 3.30-4.30pm, Redwood Library

Design and print your own gift wrap. Free, no bookings required. ​

Open Studio

Friday, 10am-noon

Tūranga

Go along and discover more about

audio and video production at the

library's studio. No experience necessary.

Suitable for all ages.

Card Club

Friday, 1.30-3.30pm

Shirley Library

This weekly card club will be held

every Friday. Go along and join the

fun. Free, no bookings required.

Mah-jong Group

Saturday, 1-3.30pm, at Shirley,

Monday, 1-4pm, at Papanui

Shirley and Papanui libraries

Go along to the free event if you

are interested in playing or learning

about Mah-jong.

JP Clinic

Saturday, 10am-noon, at

Fendalton, Tuesday, 10am-1pm, at

Shirley and Papanui, Wednesday,

10am-1pm, at Bishopdale

Bishopdale, Fendalton and Shirley

libraries

NOR'WEST NEWS

A justice of the peace will be

available to witness signatures

and documents, certify document

copies, hear oaths, declarations,

affidavits or affirmations, as well

as sign citizenship or rates rebates

applications.

Nib's Lost Partners Club

Tuesday, 10.30-noon

McDonald's Merivale

Are you losing, or have lost a

partner with Dementia, Parkinson's

and other serious illnesses? Join

others going through a similar

journey over a hot beverage. Free.

Phone Jeff on 388 5903 for more

information.

Scrabble Club

Wednesday, 1.30-3.30pm

Shirley Library

Play Scrabble with a friendly

group. All materials supplied.

Head along when you can. Free, no

bookings required.

Not-for-profit organisations can

send their What's On listings to

norwest@starmedia.kiwi

45

North Avon Rd

T. 03 389 5923

www.richmondvillage.dental

Richmond

Village

Dental

Selling delicious, original Kiwi cuisine, baking fresh daily.

See in store for our baked Christmas goodies!

EDGEWARE VILLAGE 1066 Colombo St, Ph. 365 0802

BISHOPDALE VILLAGE MALL 135 Farrington Ave, Ph. 359 1020

OPEN 7 DAYS 7.00AM - 5.30PM

Get the family together

for a Christmas drama.

On TV, hopefully.

Panasonic 58" HX700Z Premium 4K Smart TV

TH-58HX700Z 9063814

The scene is set. All the main characters are in place. Tension builds.

Then the action really unfolds. And that's just deciding what to watch.

With HDR Bright Panel, Dolby Vision, and an HCX Processor, at least no

one will be able to argue about the quality of the picture.

$1399 $ less than

15

per week for

24 months

interest free*

Offer valid until Tuesday 15th December 2020, while stocks last, unless otherwise stated. Some products on display in selected stores only – please call 0800 764 847 to check availability. Personal shoppers only. *Apple, selected computers, game consoles, gift cards, clearance items and some promotional items are not available in conjunction with interest free offers. Flooring available on a maximum of 18 months interest free.

Exclusions, fees, terms, conditions, and credit criteria apply. Available in-store only. Equal instalment amounts include one-off booking fee of $45.00, annual fees of $45.00 p.a. and security registration fee of $8.05, and exclude insurance. Current interest rate of 23.95% applies to any unpaid balance after expiry of (any) interest free period. See in-store or visit smithscity.co.nz/interest-free for details.

SCWK34NN1
---
NOR'WEST NEWS Latest Canterbury news at starnews.co.nz

Thursday December 10 2020 3

Students get into Xmas spirit of giving

RANGI RURU Girls' School

students will bring smiles to

families in need this Christmas.

Presents were purchased by

Rangi Ruru students and were

donated to Presbyterian Support,

which was then gifted to the

families they support.

The organisation has provided

social services in the upper

South Island for more than 100

years.

Community relations adviser

Megan Waddington, who coordinated

the initiative, said

Rangi's response produced

"fantastic results" after they were

approached by the organisation

to help out.

"We have a number of

young people and families

who are working hard to

overcome personal struggles

and mental health issues," she

said.

"This includes young people

who do not have any family

ties but are still pursuing their

dreams by putting themselves

through education to improve

their lives.

"They have very little and can't

afford much. Some have babies

to care for and many of them

struggle to afford even basic

items. Even buying sanitary

NUMBER ONE SUPPLIER

TO THE NZ JET BOATING

COMMUNITY FOR OVER

50 YEARS

• Part Boats & Hulls

• Turn Key Packages

• New Jet Units

• Custom Fabrication

• Expert Advice

SERVICING

Peter Tonkin

03 962 0505

peter.tonkin@hamjet.co.nz

• Spare Parts Retailer

• Jet Unit Refurbishment

• Engine Tune-Ups

• Insurance Repairs

• Impellor Reconditioning

products is a challenge. Other

basics such as pyjamas, underwear,

socks and toiletries are

often out of reach for some of

our families."

Gifts included movie and

retail vouchers, sports goods,

toiletries, toys, books, clothing,

'CEREC' & cosmetic dentistry

Wisdom tooth removal

Painless, high quality dentistry

Sedation dentistry

Experienced, conscientious team

Experienced hygienists

OPEN SATURDAYS

355 9380

144 Cranford Street

www.stalbansdentalcentre.co.nz

art supplies, make-up and

jewellery.

These went to those identified

most in need – it could be a

single parent, grandparents

raising grandchildren, a young

person unable to live at home,

or parents raising children with

mental health needs.

Rangi Ruru chaplain and

teacher Reverend Charissa Nicol

said the school appreciated

working alongside the organisation.

"Without a doubt, these gifts

are bringing real joy to people

The revolution

in heat pumps

is here now!

The Fujitsu e3series

The brilliant

heat pumps from Fujitsu

e1 : efficiency

e2 : environment

e3 : economy

Website: www.pshc.co.nz

Finance available

FREE consultation from your local

Accredited Heat Pump Expert

Phone today: 03 381 6950

INSERT DEALER DETAILS HERE

HELPING

HANDS:

Camille

Perelini,

Reverend

Charissa

Nicol and

Elisah

Vili-Umaga.

PHOTO:

GEOFF

SLOAN ​

whose lives are difficult and not

at all easy," she said.

"One young single mother

was brought to tears when she

received gifts for her and her

child and a young man has

received gifts for the first time in

four years."

The revolution in heat pumps is here now!

Say hello to Fujitsu's latest lifestyle range

HEAT PUMPS FROM $1999 inc GST INSTALLED!

2020

Heat Pumps

NEW ZEALAND'S FAVOURITE AIR ®

Conditions apply

Fujitsu's Catechin Filters are

approved by the Asthma and

Respiratory Foundation NZ's

Sensitive Choice ® programme.

Email: info@pshc.co.nz

FG1441

As a gift, this may get

a frosty reception.

Haier 143L Chest Freezer

HCF143 9029363

It'll come in very handy over the Christmas period, with all those leftovers.

No doubt about it. But, if you're thinking of giving it as Christmas present, you

might want to think again. Or you could spend the holiday facing an extremely

cold shoulder. Mind you, at this price, you may as well just buy it anyway.

$549

$7

less than

per week for

24 months

interest free*

Offers valid until Tuesday 15th December 2020, while stocks last, unless otherwise stated. Some products on display in selected stores only – please call 0800 764 847 to check availability. Personal shoppers only. *Apple, selected computers, game consoles, gift cards, clearance items and some promotional items are not available in conjunction with interest free offers. Flooring available on a maximum of 18 months interest free.

Exclusions, fees, terms, conditions, and credit criteria apply. Available in-store only. Equal instalment amounts include one-off booking fee of $45.00, annual fees of $45.00 p.a. and security registration fee of $8.05, and exclude insurance. Current interest rate of 23.95% applies to any unpaid balance after expiry of (any) interest free period. See in-store or visit smithscity.co.nz/interest-free for details.

SCWK33NN2
---
4 Thursday December 10 2020

Latest Canterbury news at starnews.co.nz

A MARKET NO

ONE PREDICTED

NOR'WEST NEWS

REAL ESTATE

An unparalleled lifestyle in magical Moncks Bay

100 Blighs Road, Strowan 4 2 2 2 2 www.harcourtsgold.co.nz | Listing #PI66767

242 Home Main for Road, Christmas! Redcliffs - "As-Is, Where-Is"

Auction: Providing Thursday, the perfect balance 14 of authentic March 2019 Unless Sold Prior

character and contemporary comfort, this

4 bedrooms recently renovated | 2 bathrooms four-bedroom | 3 living cottage rooms is | 1 office/study | 2 car-garage | 2 off-street parks | Listing Number SM0166

superbly suited to family life and is yours to

Treasured

enjoy in

by

time

two

for

generations

Christmas.

and offering Moncks Bay incorporating from Shag Rock

a truly once in a lifetime opportunity, this and right along the Pegasus Bay coastline.

tantalizing Superior home positioning upon on a a 2853m2 corner section This property can potentially be subdivided

which furthers your options and adds

enjoys means overwhelming the home is well-sited tranquil for setting sunshine, and

and the established grounds paired with its

is presented immaculate to the presentation market on ensures an uninsured its street

another element of interest for buyers.

"as-is, where-is" appeal immense. basis.

Ensconced in a private lane that sits across

Situated in the tightly held locale of magical from the waterfront, this property is also

Although deceptively petite from the

Moncks

street,

Bay,

once

this property

inside, the

makes

property

a memorable positioned to enjoy the area's celebrated

reveals the

first impression character-laden and cottage was constructed which sits upon in the a

microclimate and is located within easy reach

1960s beautifully but has naturally manicured, received family-sized extensive section of the beaches, boating facilities, Barnett

modern that's enhancements peppered with including idyllic oak trees a Bruce and a Park and the amenities in both Redcliffs and

Banbury superb architectural array of roses. renovation in 2004. Sumner.

Resort-style The cottage serenity retains its is everlasting provided charm by the with

With floors needing repiling and being sold

colourful timber Clivias floors, as leadlight well as windows the established and detailed uninsured, deemed uneconomical to repair,

greenery finishes and on palms the verandah trees that which border provide the this unique "as-is, where-is" opportunity is a

swimming undeniable and spa visual pool, pleasure. with the outstanding real game changer with the feel good factor

views The and four-bedroom majestic cliff layout face is backdrop generously only and is guaranteed to attract attention. Your

escalating proportioned the property's and includes visual appeal. two bathrooms, earliest viewing is advised.

Spacious one which living is an areas en suite are off complemented

the master. Two Open Homes: Wednesdays, Saturdays

by the adjoining sizeable living Kwila zones deck, provide water ample feature space and a Sundays secure space 1:00pm for storage, - 1:45pm. with off-street Kathryn Picton-Warlow

for entertaining and relaxation, and the size

and idyllic

parking providing additional space for

Licensed Sales Consultant REAA 2008

of each ensures alfresco you surroundings can accommodate which See you at the open homes or for a private

both another two cars.

have previously casual and hosted formal occasions. a wedding This and character could viewing or for more information contact

Harcourts Papanui

continue home to be is also the well scene heated, of many offering memorable

Alison

a heat Auction: Carter Thursday of Harcourts 17th December Grenadier 2020

occasions. pump, wood burner and gas fire. A large Ferrymead/Sumner from (Licensed 10:00am Agent (unless sold REAA prior) 027 244 1810 or 03 352 6166

Skylights, double the garage superb with a workshop use of timber, provides a

2008) on Gold 384 7950 Auction or Rooms, mobile 471 0274 Papanui 318 960. Road kathryn.picton-warlow@harcourtsgold.co.nz

contemporary colour scheme and the

magnificent stone fireplaces create an

incredibly inviting ambience indoors where

you'll find four double bedrooms, two

bathrooms and a relaxing sunroom area that

comes complete with a spa bath.

With an expansive lawn area and the

picturesque garden at the rear of the property

both epitomise peace and privacy and offer

access up to the top of the section where

you can sit and admire the ocean vistas over

Here we are in

December and I'm

counting down the weeks

to the end of the year. I'm

more excited than usual about

the prospect, but although I'm eternally

weary, I'm also eternally grateful.

Very soon this year will be behind us, but it

looks like the market that's been generated

as a consequence will continue. Here are

some of the reasons for this, as described by

Tony Alexander, well-known New Zealand

economist, at a presentation he recently gave

to our company.

As I'm neither an economist nor an analyst I'd

like to jot down his facts, and some of the stats,

and leave you to make up your own mind as to

what the future could look like.

Firstly, no one could

have predicted the times

we currently find ourselves in.

1) It was initially thought that post-COVID-19,

prices would fall by at least 7%. In fact, they fell

by a mere 3% and have since risen in excess of

10%. That's the first big anomaly and it caught

me and others, including many economists

and experts, by surprise.

2) Whilst $17 billion usually filters into our

domestic economy each year courtesy of

tourism – and that's not a happening thing

this year – the $10 billion that Kiwis usually

spend overseas is being spent inside our own

borders instead. It's going towards property

and more property, investment property and

land. It's also behind the increased purchase

of (wait for it) spa pools, Harley Davidsons,

electronic equipment,

bigger TVs, swimming pools, jewellery and

art. In addition to $10 billion needing to find

a home, coupled with extraordinarily low

interest rates, first-home buyers are also

looking to buy property, given the next five

years have a level of uncertainty to them.

Here's another Alexander fact: first-home

buyers were very quick to act post-COVID-19.

Usually comprising 20% of the market, that

figure is now 24%. It seems many had saved

more whilst in lockdown, reducing their usual

entertainment and hospitality spending. Not

buying a cappuccino a day – or maybe two –

does add up when you look at a period of six

weeks. Deposits start with this kind of action ...

and they did.

With the likelihood of no or nominal interest

rate rises and the belief that our LVR restrictions

provide a safety net for banks and consumers,

I'm hoping our local Canterbury economy will

grow. Our affordability as a region makes us a

standout across NZ and construction in many

parts of the city is surging.

I'm not an economist, I know, but at this point

I'm an old hand who is holding on tight to a

market that looks like it could teach us all

something new!

Lynette McFadden

Harcourts gold Business Owner

027 432 0447

lynette.mcfadden@harcourtsgold.co.nz

gpm@harcourtsgold.co.nz

(03) 352 6454

PAPANUI 352 6166 | INTERNATIONAL DIVISION (+64) 3 662 9811 | REDWOOD 352 0352

PARKLANDS & NEW BRIGHTON 383 0406 | GOLD PROPERTY MANAGEMENT 352 6454

GOLD REAL ESTATE GROUP LTD LICENSED AGENT REAA 2008 A MEMBER OF THE HARCOURTS GROUP

www.harcourtsgold.co.nz
---
NOR'WEST NEWS Latest Canterbury news at starnews.co.nz

Thursday December 10 2020 5

FENDALTON-WAIMAIRI-HAREWOOD COMMUNITY BOARD SERVICE AWARDS RECIPIENTS

People in the Fendalton-Waimairi-Harewood

area have been acknowledged for their service

to the community. Today Nor'West News profiles

who they are

Angela Brown

Angela has been the children's

co-ordinator at St Barnabas

Fendalton for more than 15

years. Every day she volunteers

time for the church community.

One of the community activities

she is involved in is Messy

Church which helps families

from the community connect

with church, learn Christian

values and gives children a

supportive community space for

the development of values.

Angela provides community

support by helping community

families with encouragement,

care and practical help.

Andrea Fisk

Andrea provided exemplary

service as a Citizen's Advice

Bureau volunteer, offering

information and support to our

public clients since 2014. She has

also been involved in branch

management as a branch committee

member since 2015, and

the north branch committee

chairwoman since July 2017.

The latter role has been a very

active one, requiring Andrea to

support Mollie Howarth, CAB

manager, with tasks such as

interviewing new trainees.

Andrea has been an important

member of the ongoing learning

and development team since

2016 and of the branch publicity

team since 2015. She has also

supported other volunteers with

her pastoral care and ensured

that the social and house-keeping

duties are well managed.

Her work as part of the publicity

team has involved serving

at stands during local festivals

each year, including those at

Bishopdale and Hagley College,

as well as the Aging Expo and

Culture Galore. She has also

been involved with presenting

talks about CAB to community

groups.

Andrea's manner is always

helpful and professional, which

allows her to provide excellent

advice to clients in a friendly

way.

One of Andrea's real contributions

is in her care and support

of other volunteers at the branch.

With her leadership, the team

has become interactive and supportive,

which has made for a

more friendly workplace and has

improved overall productivity.

Vijayakumar Nainamalai

Vijay has been instrumental in

promoting Tamil language and

creating a bond between

all the Tamil families across

the wider Canterbury region by

conducting cultural events.

In addition to conducting Tamil

language classes for children

every Saturday, he assisted in

organising the repatriation of

two Indian nationals who died

late last year.

Vijay even put himself as a

debtor on the funeral home's

contract in spite of the fact that

he did not personally know the

deceased.

Vijay communicated with the

Indian High Commissioner's

office and set up a givealittle

page for the repatriation costs.

While one of the families was

in New Zealand, Vijay visited

them every night, providing

them with food and comfort.

Vijay's support during this difficult

time helped to relieve some

of the grief and anxiety of the

deceased's family members.

Vijay started the Canterbury

Indian Tamil Association in

April last year to provide wider

social support services to the

community.

Through the association, he organised

$50 Countdown vouchers

for students and families affected

by Covid-19. So far he has provided

vouchers for 40 families.

Neil Lancaster

Neil has been an important

member of the Citizens Advice

Bureau ongoing learning and

development team since 2013

and is an accredited trainer. He

became a member of

the CABCHA board in 2014,

which oversees the three

Christchurch branches, and

served as chairman from 2014

until 2018.

In August last year he was

appointed as a south region

CONTRIBUTION:

Fendalton-

Waimairi-

Harewood

Community

Board service

awards recipients

Murray Bartlett

(left), Binod

Parajuli,

Angela Brown,

Vijayakumar

Nainamalai,

Andrea Fisk, and

Neil Lancaster,

presented at

Mona Vale

Homestead.

PHOTO:

XIAOTONG SUN

representative on the CABNZ

National Board. Neil's work

supports the Citizens Advice

Bureau which provides a range

of services that support all areas

of the Christchurch community.

Every voluntary organisation

needs people who are willing to

do more than just their

share and Neil has been described

as one of those rare

individuals.

His involvement at

branch level, board level, and

most recently, at a national level

has made a real difference

to the efficiency and credibility

of the organisation.

Neil's friendly, competent

manner has put clients at ease

and has helped them to discuss

their issues freely.

• Turn to page 6

WASGIJ'S, JIGSAWS, PUZZLES

Something for the whole

family to share together

Ph: 03 359 8207

E: bishopdalepostshop@gmail.com

Bishopdale Village Mall

Plenty of free parking!

For all your

pre-loved spring

fashion, come

and see us!

✓ Designer brands

✓ Women's wear

✓ Men's wear

✓ Family clothing

✓ Formal wear

eftpos only!

and

So much

more!

VISIT US AT ONE OF OUR

FANTASTIC

LOCATIONS! 310Am - 4pm, 7 dAyS A wEEk

eftpos only!

Sydenham

39 Battersea Street

PaPanui

472 Cranford Street

hornby

94 Shands Road
---
6 Thursday December 10 2020

Latest Canterbury news at starnews.co.nz

NOR'WEST NEWS

SERVICE AWARDS

• From page 5

In addition to his regular

shift he has spoken to

international students on the

work of CAB in the city.

He has also mentored new

trainees and was instrumental

in the setting up of a satellite

service at The Loft and has

also been a strong advocate for

funding for the organisation on

several occasions.

Binod Parajuli

Binod has been actively

involved in many activities

for Nepal New Zealand

Friendship Society of

Canterbury.

One of his most notable

contributions has been

providing outstanding

volunteer service for the

Namaste Nepal radio

programme.

Namaste Nepal is a weekly

show where Binod broadcasts

twice a week on Plains

FM in Nepali language, a

mix of Nepali songs, news,

information, and local events

for Nepali people living,

studying and working in New

Zealand.

The programme which

has also been a bridge to

connect Nepali communities

nationwide by relating news,

sports and cultural events.

In addition to the radio

show, Binod's invaluable

contributions to NNZFS

include working as a master

of ceremonies and facilitating

large community cultural

events, all of which he

does voluntarily.

Murray Bartlett

Murray first registered as a

volunteer with the 'off the wall'

programme during January

2010, volunteering to take

ownership of his local Melville

St walkway/alleyway.

Over the last 10 years, Murray

has removed countless acts of

graffiti vandalism and removed

rubbish as required. Murray's

ongoing maintenance of the

walkway has played a

significant role in the deterrence

and reduction of further

acts of graffiti vandalism and

this walkway/alleyway is now

frequently graffiti-free.

This reduces the cost of graffiti

vandalism to the ratepayer

and sends a very clear message

to those responsible that graffiti

will not be tolerated.

As an integral part of the

graffiti programme team, Murray

has regularly maintained

contact with the graffiti programme

and has attended the

required volunteer face to face

annual reviews.

Volunteers like Murray contribute

to the successful outcomes

of the graffiti programme

and support the teams goal of

"reducing the impact of graffiti

vandalism on residents and visitors

to Christchurch city."

The graffiti team takes great

pleasure in nominating Murray

for this award.

Feedback from users went into design

• From page 1

Said Maternity centre charge

midwife Andrea Robinson: "We

are very proud of our new maternity

centre and staff are looking

forward to welcoming māma,

pēpi and whānau."

St George's incorporated feedback

from women, their partners,

lead maternity carers and staff in

designing the new centre.

Said patient care manager Rae

Green: "Women and LMCs asked

for two birthing pools.

"A lot of women will only

come to us if they know the pool

is available. Having a second,

purpose-built pool means more

women have the option of using

the pool for labouring and/or giving

birth.

"The feedback from the LMCs

who went through the new centre

before it opened was very positive.

Two pools were a big drawcard to

encourage well women to receive

maternity care in a community

setting.

"We wanted to create a community

facility to meet the needs

of women, their whānau and their

LMCs and we are very confident

we have achieved that.

"Large rooms mean plenty of

space for the māma and a cot for

the pēpi, as well as a fold down

sleep chair that turns into a bed

for overnight stays by a partner or

support person."

STATE-OF-THE-ART: The new maternity centre at St George's has pools for labouring and/or

giving birth.
---
NOR'WEST NEWS Latest Canterbury news at starnews.co.nz

Thursday December 10 2020 7

SOLD

by your team

Ray White Bishopdale & Strowan

20 Halliwell Avenue, Papanui 26 Oldwood Street, Bishopdale 70 Grahams Road, Burnside 18 Pitcairn Crescent, Bryndwr

2/203A Main North Road, Redwood 3 Anglem Way, Northwood 5 San Rafael Place, Burnside 36 Grampian Street, Casebrook

Thinking of selling next year? Curious to know what your home is worth?

Contact us today for a market valuation - 0800 YELLOW

"Our house has sold

and the Gold Card

discount was a

real bonus"

Ray White Bishopdale & Strowan

0800 YELLOW (0800 935 569)

rwbishopdale.co.nz | rwstrowan.co.nz

Inline Realty Limited (Licensed REAA 2008)

Proudly owned by

Karen Ellis

021 519 275

Barry Ellis

021 519 274
---
8 Thursday December 10 2020

Latest Canterbury news at starnews.co.nz

NOR'WEST NEWS

Bishopdale

Shop local at the

Bishopdale Village Mall

this Christmas and WIN!

Shop at participating businesses

and go in the draw to win a prize

of goods & vouchers valued at

over $2000.

Bishopdale Village Mall -

Your locally owned and operated retail,

business and service hub.

Aspire Canterbury

Bishop Brothers Tavern

Bishopdale Books & Post

Bishopdale New World

Bishopdale Unichem

Pharmacy

Brew HQ

Foate Optometrists

My Favourite Things

My Mens Store

Peter Timbs Meats

The Factory Shop

The Feedshack

YMCA Bishopdale

Always plenty of Free parking!

Promotion runs until 20th December, 2020.

Prize drawn 21st December, 2020.

Promotion run by Bishopdale Centre Association

Contact the Secretary Ph: 027 962 9189. E: bishopdalevillage@gmail.com
---
NOR'WEST NEWS Latest Canterbury news at starnews.co.nz

Thursday December 10 2020 9

Take up the reading challenge at libraries

HUNDREDS OF young readers

are booking in some time for the

summertime reading challenge

over the holiday break, with more

than 600 entries already pouring

into Christchurch City Libraries.

Christchurch City Libraries

is hosting the challenge – with

heaps of prizes on offer – and

a special pop-up library for

younger readers at Riverside

Market this summer, along with

plenty of outdoor story sessions at

local pools and libraries.

The summertime reading

challenge is open to readers aged

up to 18, with an invitation to

share their summer reads in three

words.

Anyone looking for book

ideas can check out the library

recommendations.

City council head of libraries

and Information Carolyn

Robertson says it is important

to find the fun in learning and

literacy.

"The summertime reading

challenge, which runs until the

end of February next year, aims to

engage young readers," Robertson

says.

"It is a bit like a mini blog

where we can share a few words

to sum up our reaction to a book.

"A book that entertains and

informs also motivates young

readers – from tots to teens – to

discover more books, boosting

confidence in reading and

encouraging a lifelong love of

books.

"This summer's event may be

our biggest success yet, with the

challenge on track to attract a

record number of young readers,"

she said.

"For anyone unsure of where

to start with your first book,

have a look at the array of

recommendations from our

librarians.

"For our very young tamariki,

a visit to the pop-up library at

Riverside also makes learning

fun, with books, colouring-in and

dress-ups in a wonderful space on

the mezzanine floor.

"It is another way to bring a

love of reading and learning into

the central city."

Summertime Stories sessions

DISCOVER:

Have fun

with learning

by reading

and enjoying

books.

will also feature at Riverside,

including a special bilingual

session in January, and city

council-run pool parties while

stories in the sun will include

talks with park rangers, and pool

and animal safety staff outside

libraries across the city.
---
10 Thursday December 10 2020

Latest Canterbury news at starnews.co.nz

NOR'WEST NEWS

Village green opens for community use

MORE THAN 100

representatives of the

community celebrated the

opening of the Bishopdale

Village Green last week.

Over the last year, community

groups, schools, businesses

and organisations have come

together to rejuvenate the area at

Bishopdale Village Mall, which

was in dire need of a facelift.

The project was made possible

by the collaborative effort of the

Bishopdale Community Trust,

the Bishopdale MeNZ Shed, the

Bishopdale Centre Association

and the city council.

They wanted to ensure the

community had a place to call

their own that they could be

proud of when spending time

with family and friends in the

area.

Bill Greenwood, of the Bishopdale

Beautification Project

team, said he was grateful for the

many individuals and businesses

whose "tremendous" generosity

contributed to making the project

a reality.

FUN: The giant chequerboard is a popular addition.

This included offering a helping

hand and donating materials

such as concrete and picnic

tables.

The Village Green was created

on the site of the old Bishopdale

Library and Community Centre.

The resulting patch of

neglected wasteland made the

mall look "desolate."

Hardscaping, flowering

cherry trees, gardens, tables

and seating, and a life-size

chequerboard for giant chess

and draughts were installed to

transform the area.

Jake Clark, a local mural artist,

was also commissioned to create

the "Windows over Bishopdale"

mural, which won second place

in the Resene Mural Masterpiece

Awards in the Community

category.

The mural was designed

in conjunction with the New

Zealand College of Business and

features local landscape, birds,

bees, sunflowers to represent

learning, and a "selfie spot" in

front of the kea.

It creates a backdrop for five

art panels, which were created

by Isleworth School, Emmanuel

Christian School, Casebrook and

Breens Intermediate schools, and

Papanui High School.

PRIDE: Fendalton-Waimairi-Harewood Community

Board chairman David Cartwright with Bishopdale Centre

Association chairwoman Amanda Nuttall cutting the

ribbon to open the Bishopdale Village Green. ​

For EvErything Christmas

CLOSING DOWN SALE

Due to Maureen's

ill health Pataka

Christmas Shop is

closing down.

Thanks everyone for your support.

Pataka Christmas shoP

768 Marshland Road (North End) • Open 7 Days 10am - 4.30pm

Christchurch's Newest Podiatry Clinic

NOW OPEN IN AVONHEAD

BECAUSE YOUR FEET MATTER

• General Foot Care

• Biomechanical

• Orthotics

• Ingrown Toenails

• ACC Registered

• Diabetic Foot Care

40 years

combined

experience

45 Merrin Street, Avonhead

Ph: 03 357 0155

E: info@footmatterspodiatry.co.nz

Book Online! No referral required.

The ultimate powerplay.

Taking the chaise after

Christmas dinner.

Turin Fabric Left Chaise Lounge Suite - Grey

9060340

You know the scene. You've all eaten (and drunk) far too much, and you want

the comfy seat. The chaise part of this stylish sofa allows you to truly stretch

out. Will you make a dash for it? Or, are you confident with your place in the

family pecking order?

was

$1799 $ 2999

less than

$10

per week for

50 months

interest free*

Also available in Right Chaise and 3 + 2 Seater options

Offers valid until Thursday 31st December 2020, while stocks last, unless otherwise stated. Some products on display in selected stores only – please call 0800 764 847 to check availability. Personal shoppers only. *Apple, selected computers, game consoles, gift cards, clearance items and some promotional items are not available in conjunction with interest free offers. Flooring available on a maximum of 18 months interest free. Exclusions,

fees, terms, conditions, and credit criteria apply. Available in-store only. Equal instalment amounts include one-off booking fee of $45.00, annual fees of $45.00 p.a. and security registration fee of $8.05, and exclude insurance. Current interest rate of 23.95% applies to any unpaid balance after expiry of (any) interest free period. See in-store or visit smithscity.co.nz/interest-free for details.

SCWK33NN3
---
NOR'WEST NEWS Latest Canterbury news at starnews.co.nz

Thursday December 10 2020 11

HARCOURTS GOLD

FOR REVENUE PER SALES CONSULTANT

2013-2020

MEET OUR

TOP 10 PERFORMERS

HARCOURTS GOLD TOP CONSULTANTS FOR NOVEMBER 2020

1

2

3

4

5

CAMERON BAILEY

PAPANUI

MICHELLE FU

PAPANUI

MARY TURNBULL

PAPANUI

ROB ILOTT

REDWOOD

MARK O'LOUGHLIN

REDWOOD

6

7

8

9

10

ASH SUTHERLAND TODD

PAPANUI

LEEANN MARRIOTT

PAPANUI

MARK WANG

PAPANUI

CALEB GRIFFIOEN

PARKLANDS

BELINDA DUNSTER

PAPANUI

When your brand includes the top Harcourts

office out of 900 around the world in addition

to the top franchise in New Zealand for

income per sales consultant, it's clear that

you've got an extraordinary team.

So for these consultants to earn the position of one of the top ten real estate sales

consultants at Harcourts gold is truly a remarkable achievement.

They are phenomenally good at what they do; skilled, highly trained and dedicated

to delivering exceptional results for property owners. I am extremely proud to work

with these real estate professionals.

JOHN MCFADDEN BUSINESS OWNER HARCOURTS GOLD

JOHN MCFADDEN

BUSINESS OWNER/

MANAGING DIRECTOR

LYNETTE MCFADDEN

BUSINESS OWNER

CHRIS KENNEDY

BUSINESS OWNER/

GENERAL MANAGER

Left to right: ANNA MCKENZIE OPERATIONS MANAGER, MARGARET DANZER SALES MANAGER (REDWOOD),

NIKILA CREAGH SALES MANAGER (PARKLANDS/NEW BRIGHTON), DOUG SOPER LIAISON MANAGER

Contact us today!

gpm@harcourtsgold.co.nz

(03) 352 6454

Do you

own a

rental

property?

Are you

looking to

rent?

PAPANUI 352 6166 | INTERNATIONAL DIVISION (+64) 3 662 9811 | REDWOOD 352 0352

PARKLANDS & NEW BRIGHTON 383 0406 | GOLD PROPERTY MANAGEMENT 352 6454

www.harcourtsgold.co.nz GOLD REAL ESTATE GROUP LTD LICENSED AGENT REAA 2008
---
12 Thursday December 10 2020

Latest Canterbury news at starnews.co.nz

NOR'WEST NEWS

Mother who inspired movement mourned

THE FOUNDER of the She

Is Not Your Rehab movement

Matt Brown's mother died last

Thursday.

The Riccarton barber, who

owns My Fathers Barbers on

Clarence St, said his mum,

Aitofi Telesia Pouvi Taimalelagi,

inspired him to create the

movement to combat family

violence.

He said she has left this world

– but her mark will stay for a

long time to come.

"My dear mother was my first

protector, a survivor, a warrior

and a queen," Brown said.

"She had a generous spirit and

a good sense of humour. Her

life was one of heartache and

struggle, yet she gave birth to

nine children and worked hard

to give us the very best she could

with what she had."

Brown started the antiviolence

movement She Is Not

Your Rehab because of his

mother, who passed away last

Thursday, and the suffering he

had witnessed in his home.

He says the movement is

"founded on her story, her

sorrow, her survival and the way

I witnessed her for many, many

years become a rehabilitation

centre for the man she loved, all

because she wanted us kids to

have a family like she had grown

up with."

Just last week, the family

described how she felt emotional

when Dwayne "The Rock"

Johnson singled her out

in a powerful message

to the family he posted

online.

The Hollywood actor

sent a message to the

family, after Brown's son

Angelou tagged Johnson

in a video asking him to

join them in spreading

the anti-violence

message of She Is Not

Your Rehab with men

around the world.

In his response, Johnson

Dwayne

'The Rock'

Johnson

singled out the work the boy's

father does with the She is Not

Your Rehab group, as well as the

boy's nana. "I admire

your father, greatly for

standing up and creating

@sheisnotyourrehab.

And to make sure his

mom – your nana – will

never be forgotten.

"Encouraging men

all over the world to

treat our women with

respect, love and most

importantly, violencefree,"

the actor said.

"You stay strong,

Angelou and keep listening to

Matt Brown

INSPIRATION:

Angelou with his

late grandmother

Aitofi Telesia Pouvi

Taimalelagi.

your nana and your dad. One

day you will become the leader

of your aiga and also a leader the

world will admire."

In the original video that the

five-year-old posted for "The

Rock", the boy explained how

his dad started the anti-violence

movement in honour of his

grandmother, who had suffered

domestic abuse.

"Men all around New Zealand,

the Pacific, and even the whole

wide world because his mum, my

nana, had a sad life when they

were growing up with lots of

fights at home.

"It was sad for my dad to watch

her get hurt a lot. And she had

to go away lots to many refuges,"

the boy said.

"My dad says it's his mission to

help other men to heal so their

wives don't have sad lives like

nana did."

In the video, Angelou revealed

his nana was unwell with lung

cancer.

He said his father will use

the She Is Not Your Rehab

movement to help tell her story

and promised her message will

never be forgotten.

Brown and his movement's

ultimate goal is for "Aotearoa to

become violence-free".

"I promised her before she left

this world that I would tell her

story to the world," Brown said

as he prepared for her funeral

and the family coming to terms

with a life without her in it.

"Her story will be a source

of redemption for many and a

way to reclaim the narrative of

domestic violence that is still a

hidden pandemic and a source

of shame here in Aotearoa and

around the world."

A survivor of many of

life's toughest battles, Aitofi

Taimalelagi died after a battle

with lung cancer.

She leaves behind children,

grandchildren and a legacy that

will last for generations to come.

– NZ Herald

Jim Beam Gold

CC Premium

7% 330ml

6pk cans

$16.99 each

T W O F O R

$30.00

Tui Bourbon /

Vodka Soda

7% 12pk range

$19.99

EACH

Cruiser

7% 12pk can range

$20.99

EACH

Cruiser Gin & Tonic

Cruiser Pink Gin & Soda

Cruiser Seltzer

all 250ml 12pk cans

$20.99

E AC H

NEW

PRODUCT

TRY IT TODAY!

Long White

10pk can & bottle

ranges

$23.99

E AC H

$34.99

SCORCHING

SPECIAL

$35.99

E AC H

E AC H

$39.99

E AC H

Jim Beam

1.125L

Cody's & KGB

7% cans

Woodstock

5% bottles

all 18pks

Absolut; Beefeater

Ballantine's 1L

Beefeater 24 700ml

$29.99

EACH

Canadian Club

1L (incl spiced)

Gordon's Pink / Sicilian Lemon 700ml

Smirnoff 1L

$39.99

E AC H

T W O F O R

$75.00

$49.99

E AC H

Chivas 12yr

700ml

$69.99

E AC H

Chivas XVyr

700ml

$89.99

E AC H

Chivas 18yr

700ml

Jolly

Jack Daniel's (incl Apple, Honey & Fire); El Jimador range (ex Anejo)

Old Forester all 700mls; Finlandia; Southern Comfort 1L

$39.99 each

Holly Days...

START AT

THIRSTY LIQUOR

398 HIGH STREET, RANGIORA

03 313 7207

1275 MAIN NORTH ROAD, BRIDGEND

03 323 8833

585 SPRINGS RD, PREBBLETON

03 349 6031

114 RAILWAY TERRACE, RAKAIA

03 302 7973

45 SOUTH TERRACE, DARFIELD

03 317 9499

1147 WEST COAST RD, WEST MELTON

03 347 8460

670 MAIN SOUTH RD, ISLINGTON

03 349 7337

69 MAIN ST, FAIRLIE

03 685 8061

118 LE CREN ST, TIMARU

03 684 3566

21 ALDWINS ROAD, LINWOOD

03 982 1753

9 PARNWELL ST, BURWOOD

03 383 2564

495 PAPANUI RD, PAPANUI

03 260 2380

65 VICTORIA ST, CBD

03 260 1155

Available from 1st to 31st December 2020

Specials only available whilst stocks last

At participating stores only

thirstyliquor.co.nz
---
NOR'WEST NEWS Latest Canterbury news at starnews.co.nz

Thursday December 10 2020 13

FULLY ESCORTED

EXPLORER TOURS

Discover iconic Northland or stunning Fiordland with House of Travel.

EACH FULLY ESCORTED TOUR INCLUDES

HAND-PICKED

LOCAL STAYS

PRIVATE

COACH

PRIVATE

TOUR GUIDE

EXCURSIONS

INCLUDED

BREAKFAST

DAILY

SOME MEALS

INCLUDED

Join our top-rated tour director Mark Richardson and a small group of like-minded

travellers for an exclusive House of Travel Escorted Tour. Every experience is hand-picked

by our experts, who've crafted these unforgettable tours just for New Zealanders.

NORTHLAND EXPLORER TOUR

7 DAYS/6 NIGHTS

FIORDLAND & STEWART ISLAND EXPLORER TOUR

9 DAYS/8 NIGHTS

Departs Auckland 14 March 2021

Departs Queenstown 14 February 2021

from

$2745pp

share twin. Flights additional. Single supplement $685.

from

$3595pp

share twin. Flights additional. Single supplement $985.

2 nights Auckland, 1 night Hokianga & 3 nights Paihia.

Kauri Museum ● Footprints Waipoua Twilight Encounter

● Kerikeri and the Stone Store ● Waitangi Treaty Grounds and Museum

● Cape Reinga full day trip ● Cape Brett Hole in the Rock Cruise

2 nights Queenstown, 2 nights Te Anau, 1 night Invercargill

& 3 nights Stewart Island.

Lake Wakatipu Cruise ● Back Road Adventure through Von valley

● Fiordland Jet Pure Wilderness journey ● Milford Sound Day trip & cruise

● Stewart Island Village and Bay orientation tour ● Ulva Island & more

BETTER TOGETHER

COME IN-STORE I HOT.CO.NZ

BARRINGTON 331 7182 I CHRISTCHURCH CITY 365 7687 I FERRYMEAD 376 4022 I HIGH STREET LANES 335 3722 I HORNBY 344 3070

MERIVALE-SHIRLEY 385 0710 I NORTHLANDS 352 4578 I RANGIORA 313 0288 I RICCARTON 341 3900 I UPPER RICCARTON 343 0869

CONDITIONS A non-refundable deposit of $200 per person is required at the time of booking. The balance of the tour price is required 45 days prior to your travel date. If you book inside 45 days, full payment will be required at the time of booking. Payment can be made by bank transfer.

If you cancel between 21 and 45 days prior to your date of travel 30% of your tour cost will be charged. If you cancel between 8 and 20 days prior to your tour departure you will be charged 50% of your tour cost. Cancellations within 7 days of departures will incur a 100% cancellation

charge. When a booking is made it is accepted that these are agreed to. They include the following: Itineraries are correct when initially published, however are subject to change due to circumstances outside our control. Flights are the responsibility of the passenger and Inspired New

Zealand Tours takes no responsibility for costs involved for any changes to flights that might be required due to necessary amendments in itineraries. Both tours are subject to minimum 10 passengers travelling to guarantee departure. Ask your House of Travel consultants for full details.:
---
14 Thursday December 10 2020

Latest Canterbury news at starnews.co.nz

NOR'WEST NEWS

Keeping you

close to home

You'll find our Parklands Care

Home on 429 Papanui Road.

Parklands enjoys a great

location, close to all local

amenities. Our caring reputation

extends to the surrounding

communities of Papanui,

Merivale, St Albans and Strowan.

Call

today to

enquire

Our viewings have strict COVID-19 protective measures in place

For availability and advice contact (03) 352 6169

We have rooms available for rest home, hospital and short stay care.

Our comfortable care home offers a high standard of care, with bright

and spacious indoor and outdoor communal areas. Understanding

what you need is paramount, so we take the time to work with you

and your family, to help make the best decisions together.

429 Papanui Road, Christchurch

bupa.co.nz
---
NOR'WEST NEWS Latest Canterbury news at starnews.co.nz

Thursday December 10 2020 15

AUTOMOTIVE PROFESSIONALS

Panel repairs in handy,

central city location

As we all know, having our car off the road

for panel repairs can be frustrating, but for

customers of Smart Repairs (NZ) Limited in

Lichfield Street, this isn't a problem.

"With our focus on fast and efficient

turnaround, getting customers back on the

road as quickly as possible is our aim" says

Brian, who owns Smart Repairs with his

wife Maxine.

As specialists in small to medium vehicle

repairs, no job is too small. Their services

include panelbeating, spray painting,

paintless dent removal (PDR) and mag

wheel repairs and painting.

Customers can be assured of top-quality

workmanship at Smart Repairs, with Brian

and Glenn having over 50 years' industry

experience between them.

Customers also have the use of a free

courtesy car, so they can stay on the road

while their vehicle is in the workshop.

There is a free pick-up and delivery service

within Christchurch available on request.

Accidents happen, but there is no

need to panic - the Smart Repairs team

s

m

a

r

t

mall

edium

• Panel beating

• Spray painting

Fast

turnaround

utomotive

epair

echniques

Smart repairS (NZ) Limited

automotive refinishers

272 Lichfield St (Fitzgerald Ave end)

Ph 377-0409

can provide quotes for all insurance

companies, and carry out those repairs

quickly and professionally. With their

friendly, personal approach they make it

easy for customers who may be unsure

what to do if their vehicle has been

scratched or dented. They offer free advice

and assessments, and are happy to discuss

the options for your vehicle repair.

"We take pride in our work and want

to ensure that our customers are happy

with the results," says Maxine. "We stand

behind our repairs".

Eftpos and credit cards are accepted.

Smart Repairs (NZ) Limited is located

at 272 Lichfield Street, Christchurch.

Opening hours are Monday to Thursday

7.30am - 4.30pm

Friday 7.30am – 4pm. To enquire about

repairs to your vehicle please call in and

see the team, or phone (03) 377-0409.

European

Car Owners

NEW DIAGNOSTIC EQUIPMENT!

We can identify ANY electrical

fault & reduce repair work

with our NEW European Car

Specific Diagnostic Equipment

ROSES

AUTO ELECTRICAL

Enquiries welcome

CH 352 5090

For everything AUTO ELECTRIC

CARS • BOATS • TRUCKS • CARAVANS • TRAILERS

4WDS • ELECTRIC & HYBRID VEHICLES

• Starter Motors

• Alternators

• Central Locking

• Electric Windows

• ABS & Airbags

Amazing

Auto

AAE Electric

• Stereos/Alarms

• Batteries

• Tuneups

• Engine

Management

USUALLY

SAME DAY

SERVICE

65 Coleridge Street, Sydenham

Phone 03 379 4250

www.amazingautoelectric.co.nz

PARKER

AUTOMOTIVE

All Automotive Repairs and

Servicing including 4WD

Suspension Brakes & Cambelts

WOF, Tyres, Batteries

23B Birmingham Drive,

Middleton

Ph 03 982 4268

Mobile: 027 331 0382

Email: parkerauto89@outlook.com

A 10% discount is offered if you

mention this advertising feature.

A vonhead

utomotive

free

Your LoCAL

TYrE SPECIALIST

New & Quality Used Second-hand Tyres

Alloy Wheels

Replacement Rims

Puncture Repairs

8c Birmingham Drive,

Middleton

www.jcmdirect.co.nz

343 0099 or 027 22 63 805

Proud to support Hornby Hockey Club

6 months roadside assist

with any vehicle servicing

• automatic transmission

flushing service

• Wof • tune-ups • suspension

• batteries • neW tyres • oil &

lube service • courtesy cars

• full mechanical repairs

oPen 6 days (sat until 1pm)

126 racecourse road

Ph 342 7123 or 027 495 6600
---
16

Thursday December 10 2020

Latest Canterbury news at starnews.co.nz

NOR'WEST NEWS

Joint partners will manage community centre

Current users

will continue

in facility

THE ASCOT Community

Centre will be managed by

Eastern Community Sport and

Recreation in a partnership with

the city council.

The Coastal-Burwood

Community Board has approved

the lease following a request

for an expression of interest in

community management of the

public facility on the corner of

Beach Rd and Ascot Ave.

A staff report to the board

recommends that ECSR

"manage, activate and promote"

the centre as a community

facility on behalf of the city

council for up to 20 years, with

an annual $1 rent for the first five

years.

Current centre users –

including the pétanque club –

will continue to use the space.

ECSR board member Simon

Hill said the centre is a "valuable

asset" for the local community.

"We want to maintain the

usage of current members,

support them to grow their

programmes, and expand the

reach of this centre into the

wider community," he said.

"Eastern Sport is keen to hear

from any group, individual

or programme interested in

ASSET:

The Ascot

Community

Centre also

has meeting

and functions

rooms.

working with

us to extend

community

recreation,

sport and

programme

offerings."

Community

board

chairman

Kelly Barber Kelly Barber

said the lease

decision highlights the city

council's long-term commitment

to community partnerships and

ongoing recognition of local

expertise.

"Eastern Community Sport

and Recreation has stepped up to

manage the centre, underlining

the importance of getting the

community involved in using

this space," he said.

"The group's local connections

and ability to seek out other

opportunities for QEII Park and

the centre have all contributed to

the decision.

"A connected community

brings multiple benefits, and

with these stronger councilcommunity

partnerships we can

boost the use of these great local

assets.

"A positive contribution from

the local community ensures

more value for everybody."

The Ascot Community Centre,

which includes a function room

and two smaller meeting rooms,

is integral to the approved

management plan for QEII Park.

The plan provides for the

removal of the fence and

vegetation between the park and

the community centre to open

up and integrate the spaces,

including several pétanque

terrains.

Established in 2000,

ECRS delivers community

programmes and services

focusing on sports, activating

spaces and engaging with clubs,

schools and local groups to

benefit the wider community.

Greg and lyn marshall

Sunday

21 MaRCh

#Areyouupforit?

14km, 6km

Community

Fun Run Event

Good old fashion service from a

owner/operated local business.

• Full mechanical repairs • Vehicle servicing

• woF repairs

• Tyres

• wheel alignments • Puncture repairs

stockists of all brands of tyres

walk ins welcome. Greg and Lyn Marshall and their

experienced team look forward to welcoming you.

496 Wairakei Road, Christchurch | Ph: 03 359 4114 A/h: 0274 356 484

office@marshallautoandtyres.co.nz www.marshallautoandtyres.co.nz

SPRINTCARS

2019-20 SERIES

GRAND FINAL

SATURDAY, DECEMBER 12

The dirt starts flying at 6!

EntER now

www.city2surf.co.nz

Can Caleb Baughan cling to his lead?

Matt Leversedge returns– can he

notch up his first WoW win?'

Visiting Drivers from NELSON, BLENHEIM,CROMWELL & INVERCARGILL

PLUS *SIX SHOOTERS * MIDGETS* 1/4 MIDGETS * RYAN STONE TQ TRIBUTE 17 LAP FEATURE*

*FATHER CHRISTMAS 'FLIES IN' FOR HIS ANNUAL VISIT*

*BOUNCY CASTLE & PLAY GROUND *

*WORLD JUNIOR ENDURO CHAMP HAMISH MacDONALD GOES FOR A ONE LAP 'WHEELIE' RECORD

Adults $20 Students/ Seniors $15 Kids 5-15 $5 Under 5's Free Family– 2 Adults, up to 4 Kids $50

Infoline 3497727

Eftpos Available

HASKETTS RD, TEMPLETON

Make Ruapuna– Your family escape!
---
NOR'WEST NEWS Latest Canterbury news at starnews.co.nz

Thursday December 10 2020 17

Feel the difference at

Clients talk about

their experienCe

My skin has flourished under Azita and Ellie's

expert care. Sensitivity and hyperpigmentation

have given way to a more even and robust

skin. I rely on their extensive knowledge and

trust their advice for what my skin needs.

anne

'Not only does Acacia Clinic offers great face

peels - they offer an experience for your

own personal skin journey. For me having

skin issues at age 22 sucked but the team at

Acacia encouraged me to keep preserving and

believing! The girls at Acacia are all so lovely

and full of great energy!'

hannah

Acacia IPL hair removal treatments are by far

the most superior I have ever experienced.

More comfortable, best results & affordable.

My skin is now permanently summer ready. No

more rushed shaving to enjoy impromptu fun...

bliss!

tamara

"My facial skin tone and volume has improved

remarkably with the skincare program and

treatments I receive from the team at Acacia

Beauty. I also had bad pigmentation on my

neck and their IPL treatments have lightened

this considerably."

Megan

Call us! 03 360 2244

Shop 9, 337 Harewood Road, Parkside Plaza, Bishopdale, Christchurch

info@acaciabeauty.co.nz | www.acaciabeauty.co.nz
---
18 Thursday December 10 2020

Latest Canterbury news at starnews.co.nz

NOR'WEST NEWS

PAPER TREE

NORTHWOOD

CANTERBURY OWNED & OPERATED!

11 TH 12 TH 13 TH DECEMBER

* In Store Only, not available online.

25 %

Off*

KIDS GAMES

30 %

Off*

BOXED CHRISTMAS

CARDS

20 %

Off*

CALENDARS

25 %

Off*

DIARIES

Northwood Supa Centre, 1 Radcliffe Road
---
NOR'WEST NEWS Latest Canterbury news at starnews.co.nz

Thursday December 10 2020 19

Classifieds Contact us today Phone our local team 03 379 1100

Motorcycles

Trades & Services

Trades & Services

Trades & Services

Motorcycle Service & Repair

concrete & PAVINg

DRIVEWAYS

PAINTERS

• Service • Repairs • Tyres

• Motorcycle Rental

• Fully Equipped Workshop • Quality Work • Affordable Rates

Ph: 03 312 0066 | office@motorbiketours.co.nz

www.motorbiketours.co.nz

2313195v2

SERVICES

Church Notices

NON

DENOMINATIONAL

GROUP. Read the bible

for comfort on Monday

afternoons. All welcome.

Ph Veronica 021 022

92613 for details

Community Events

ALCOHOLICS

ANONYMOUS, If you

want to have a drink that's

your business. If you want

to stop, we can help. Phone

0800 229-6757

Wanted To Buy

AAA Buying goods

quality furniture, beds,

stoves, washing machines,

fridge freezers. Same day

service. Selwyn Dealers.

Phone 980 5812 or 027

313 8156

TOOLS Garden,

garage, woodworking,

mechanical, engineering,

sawbenches, lathes, cash

buyer, ph 355-2045

South Pacific Motorcycle Services

"we're your LOCAL motorcycle guys"

(based in Mandeville)

Trades & Services

ROOF

PAINTING 24/7

Rope & harness

a speciality,

no scaffolding

required,

30 years of

breathtaking

experience.

FREE QUOTES

20% OFF other

roof quotes

Exterior staining,

exterior painting,

water blasting.

Moss and mould

treatment $300.

Phone Kevin

027 561 4629

BATHROOM

Renovations, complete

service from start to finish,

free quotes, ph Dave 027

334 4125

• Driveways

• Earthquake repairs

• New Home Specialists

• Patios & Paths

tel: 0508 873 7483

email: sales@affordableconcrete.co.nz

www.affordableconcrete.co.nz

BATHROOM

Renovations, complete

service from start to finish,

free quotes, ph Dave 027

334 4125

BRICKLAYER

George Lockyer. Over

40 years bricklaying

experience. UK trained.

Insurance work, EQC

repairs. Heritage

brickwork & stonework

a speciality. No job too

small. Governers Bay.

Home 329 9344. Cell

027 684 4046. E mail

georgelockyer@xtra.co.nz

CARPET LAYING

Exp. Repairs, uplifting,

relaying, restretching.

Phone John on 0800

003181, 027 240 7416

jflattery@xtra.co.nz

GUTTER CLEANING

Gutter cleaning special

from $99 plus gst for a

whole house clean"".

Free Quotes, call Morgan

Thomas today 022 375

8506

STUMP GRINDING

Best price guarantee Tony

0275 588 895

TILING

Flooring - Splashbacks -

Wall incl tile removal, reg

master tiler, ph Dave 027

334 4125

VHS VIDEO TAPES

& all camera tapes

converted to DVD or

USB. Video taping

special occasions, www.

grahamsvideo.co.nz ph 03

338-1655

Exposed Aggregate

Stamped Concrete Plain

Concrete Resurfacing

Things we offer...

Competitive/affordable pricing

Attention to detail

Professional service

free quotes/insurance scopes

Cell 0278 145 848

www.drivecrete.co.nz

PLUMBER

NEED A PLUMBER

Call us now for fast friendly service.

Get your problems sorted out

quick smart - on time!!

Phone for a

FREE

quote now.

Phone 03 377 1280 | Mobile 021 898 380

Painters and Decorators Ltd

Canterbury Owned and Operated

A husband and wife team

Specializing in:

• Roof Painting

• Interior/exterior

residential

• Small commercial

painting

Noel 027-411-3596

kemp.painters@gmail.com

kemp painters and decorators

SCRAP METAL

We offer

free quotes

Quality not

Quantity

Dominion Trading Co Ltd

• Scrap metal buyers

• Canterbury owned & operated

• Top prices paid $$$

• Open Saturday morning

Open Mon-Fri 8am – 4.30pm Sat. 8.30am-12.30pm

www.happyscrappy.co.nz

03 343 9993 333 Blenheim Rd

WISEMAN E-TYPE | RALPH WATSON'S BSA SPECIAL | LEON WITTE | FLEETWOOD MUSTANG | SCHLUMPF COLLECTION

JUL-AUG 2020

ISSUE 90

RALPH WATSON: A SPECIAL ENGINEER & HIS BSA SPECIAL

MACAU GP TRIUMPH SPITFIRE | MAX RUTHERFORD | BARRY KEEN & BEGG | GRANT WALKER | FORD CAPRI | MISS VICTORIOUS: JACK NAZER'S VAUXHALL VICTOR | A FALCON FROM GISBORNE

$9.95

JULY-AUGUST 2020

WINGED WARRIOR WWW.COOKIETIME.CO.NZ

THE SCOTT WISEMAN E-TYPE JAGUAR

Stunning Kiwi-built Tribute Car

KIWI RACERS: THE JOHNSTON FORMULA FORDS | LEON WITTE:

A CLASSIC MOTORING LIFE | THE FLEETWOOD MUSTANG

GRANT WALKER: RACE MECHANIC & CHAMPION RACING DRIVER

A VISIT TO THE SCHLUMPF COLLECTION $9.95

SEP-OCT 2020

ISSUE 91

MAX RUTHERFORD: FROM PADDOCK TO PODIUM

MACAU GRAND PRIX SPITFIRE

MISS VICTORIOUS: JACK NAZER'S VAUXHALL VICTOR | DON ELVY'S CHEV-POWERED CAPRI

BARRY KEEN: GEORGE BEGG'S ORIGINAL DRIVER

PRE-1960 RACING | NEW COLUMN: FROM THE COMMENTARY BOX

SEPTEMBER-OCTOBER 2020

NEVER

MISS AN

ISSUE

TREATING OUR COMMUNITIES

SUBSCRIBE

FROM $49

Order your favourite Christmas Cookies now and help St John continue to treat all of us.

Subscribe:

classicdriver.co.nz

0800 624 295

St John does not provide ambulance services in Wellington or Wairarapa regions.
---
20 Thursday December 10 2020

Latest Canterbury news at starnews.co.nz

NOR'WEST NEWS

RAY WHITE PAPANUI NEWS

Dressed to Impress - Open Homes

Your home looks perfect to you but when

it comes to open inspections, potential

buyers may beg to differ. So, how best

can you impress these crucial people? By

asking for objective opinions. When you

live at a house all the time, it's easy to

miss touch up areas as well as pet smells

and general clutter. So, well before your

first inspection, invite a second opinion

into your home. Preferably, someone

who has a completely different domestic

view to you, this friend should be as

honest and helpful as possible. Clean, fix

and declutter – inside and out. Your key

aim when preparing your property for

inspection is to create an inviting place

that people will fall in love with. You

already love it, it's true, but do they see

the potential for them to love and live in

it too? If not, you'll need to get cleaning,

renovating, decluttering and fixing ASAP.

If you are time poor or it's not quite your

thing then bring in cleaners before the

first big inspection and aim to keep the

house in a similar condition throughout

its market period. This means it will

only need a fairly simple clean before

inspections, rather than a top-notch

makeover every time. Remember to

thoroughly buff and shine the inside of

ovens, cupboards and wardrobes and

clear away shoes and other possible trip

hazards from door entrances. Declutter

big time, especially if you love

pretty bits and pieces, as this

will make rooms appear larger

and more spacious. Don't forget

crucial first impressions and

street appeal either. Wash down

the outside of your home and

start weeding and pruning –

again, calling in a professional if

needed.

Aim for a balance between clean,

fresh and attractive and plenty

of emotional and actual space

wherein buyers can imagine

how they too can live a great

life here. Light, air and scents.

Open all blinds, curtains and

windows to ensure sunshine

and fresh air floods through the

home. Deodorise naturally with

flowers, scented candles and

potpourri, or warm coffee and cake. But

don't overdo this either or you'll have

buyers wondering what smells you're

trying to conceal. Along with appealing

scents and light comes the importance of

temperatures and sounds. Already overemotional

buyers will find particularly

warm or cold houses as unappealing as

dark ones – with the home showing up

badly as well. Therefore, turn on the air

conditioner or light that cosy fire to give

welcoming comfort and relief to those

inspecting your house. Finally, turn off

the television and dishwasher and put on

some quiet music, in a style and volume

that will add to the property's ambience.

Content originally appeared on The Real

Estate Voice.

Property Management Update

Existing Rentals Owned Under Trusts, Changes you Need to Know

Vanessa Golightly,

Business Owner

and Licensee Agent

Ray White Papanui

027 664 9292

Vanessa Golightly

Licensee Agent &

Business Owner

027 664 9292

Stuart Morris

Licensee Agent

& Auctioneer

027 422 6395

Claire Morris

Licensee Agent &

Business Owner

027 662 4822

Katrina Green

Operations Manager

Property Management

027 606 0030

Did you know that if you have your rental

property owned under a company or

family trust, then you are not legally

allowed to give tenants notice that

you require vacant possession of the

property for the purpose of you or a

family member requiring the property to

live in? Chances are, you didn't!

Now this won't be a problem for a lot of

rental property owners as they never

intend to either move into the property

themselves, or have family move in.

However, there are a lot of New Zealand

landlords who intend to rent their

home out for a shorter period of time.

Historically, this could have been because

they intended to live overseas for a while

(not so common just now), but of course

there are many other reasons for wanting

to do this.

Currently the legislation states that the

owner of a property, or a family member,

can give 42 days notice to a tenant on a

periodic tenancy. From 11th February

2021, this notice period will increase to

63 days, however it will still be legal to

give this notice.

But, and it is a big but, if the property

is owned under a company, or a family

trust, then these entities are not

recognised as "humans" so they can't

physically move into the home, therefore

this notice would not be permitted.

I am in no way qualified to go into the

pros and cons of property ownership

under companies or trusts, but I

definitely recommend that if you have

investment properties under this form

of ownership, and if there is even a slim

chance that you or family may at some

point need to move into it, that you speak

to your lawyer or accountant and look at

changing this, before you need to!

This is yet another of those anomalies

which are popping up under the

residential tenancies act, and with even

more legislation coming into effect next

year, it has reminded me of how much we

need to be aware of when owning rental

properties.

Having said that, our Landlord Academy

which has been running each Thursday

evening in November, is a fabulous

resource to help you understand the

changes that are coming into force and it

is not too late - we have recordings. If you

would like access to these, or any of the

many resources we have, please just ask,

I would love to help.

Katrina Green,

Operations Manager

Property Management

027 606 0030

Katrina Green

Operations

Manager Property

Management

027 606 0030

Tracy Thomson

Licensee Salesperson

027 440 3035

Ashleigh Pattullo

Licensee Salesperson

027 865 9672

Allie McConnell

Property Management

Assistant

Joy Coughlan

Mortgage Broker

027 223 3572

Tania Ikin

Licensee Salesperson

022 509 2755

Olivia Hendry

Executive Assistant

Estelle Schuurman

Property Manager

Level 1, 7 Winston Avenue, Papanui

Phone (03) 352 0567 | rwpapanui.co.nz | /RayWhitePapanui Morris & Co Limited | Licenced REAA 2008