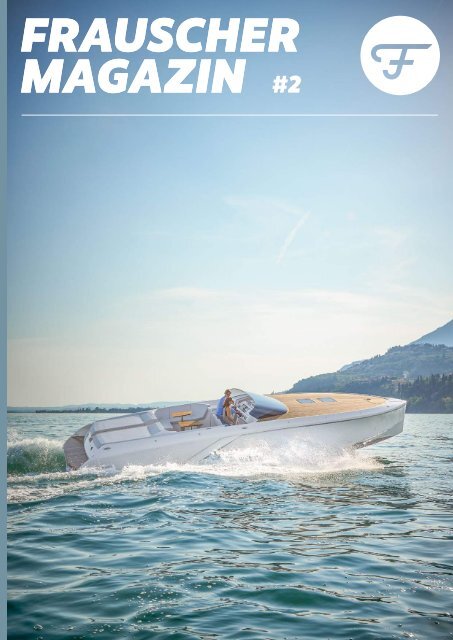 Frauscher Magazin #2
The Frauscher shipyard gives insights into the design, the boat building and their model range in their first magazine! About the Frauscher shipyard: Frauscher Shipyard, with headquarters in Ohlsdorf, Austria, is unique in offering high-quality and innovative motor and electric boats that are valued by experts and boat enthusiasts from around the world: especially due to the striking design and superior craftsmanship – "Made in Austria".
The Frauscher shipyard gives insights into the design, the boat building and their model range in their first magazine!

About the Frauscher shipyard:
Frauscher Shipyard, with headquarters in Ohlsdorf, Austria, is unique in offering high-quality and innovative motor and electric boats that are valued by experts and boat enthusiasts from around the world: especially due to the striking design and superior craftsmanship – "Made in Austria".
SHOW MORE
SHOW LESS
Create successful ePaper yourself
Turn your PDF publications into a flip-book with our unique Google optimized e-Paper software.
FRAUSCHER

MAGAZIN

#2
---
SETZEN WIR DIE

SEGEL FÜR NEUE

HORIZONTE!

Liebe Freundin, lieber Freund!

Ist es nicht die Leidenschaft Neues zu

entdecken, die Bootsliebhaber immer

wieder hinaus aufs Meer treibt? Auch

wenn es dabei nicht um unbekannte

Kontinente und unerschlossene Küstenstreifen

geht, spüren wir doch den

kleinen Kolumbus in uns und blicken

mit erhöhtem Herzschlag auf die

Linie am Horizont. Dazu die Kraft

der Wellen am Bug, den Wind im

Gesicht. Dieser Spirit beflügelt uns

als familiengeführte Bootswerft seit

Jahrzehnten – er steckt in unseren

preisgekrönten Klassikern und erst

recht in den mutigen Innovationen,

mit denen wir oftmals neues Design-

Terrain erobern.

Viel Freude mit der zweiten Ausgabe

unseres Magazins. Lassen Sie sich inspirieren

und folgen Sie uns zu neuen

Horizonten.

SETTING SAIL FOR

NEW HORIZONS!

Dear friend!

Is it not a passion for discovering new things

that sends boat lovers out to sea again and

again? Even if there are no more unknown

continents and undiscovered coastlines, we

can still channel our inner Columbus and

look at the horizon line with excitement.

Then there is the power of the waves at the

bow, the wind in your face. This spirit has

inspired us as a family-run shipyard for decades

– it flows through our award-winning

range of boats and especially through our

bold innovations, which often conquer new

design cues.

We hope you enjoy the second edition of

our magazine. Be inspired and follow us to

new horizons.

Cover: Frauscher 1212 Ghost

ISSUE

#2

4 NEW: FRAUSCHER 1212 GHOST

8 THIS GHOST IS NOT A TALE.

12 PAINTWORK

16 THE FRAUSCHER HISTORY

23 OUR AWARDS

24 INTERVIEW HARRY MIESBAUER

28 HOTSPOTS

32 FRAUSCHER ART

36 TIMESQUARE q20

38 THE BEST DRIVE IS INNOVATION

40 FRAUSCHER ON LAKE STARNBERG

46 FRAUSCHER PARTNER IN BERLIN

52 FRAUSCHER MERCHANDISING

53 SERVICE

MOTOR BOATS

Michael Frauscher

58 747 MIRAGE

60 747 MIRAGE AIR

62 858 FANTOM

66 858 FANTOM AIR

70 1017 GT

74 1017 GT AIR

78 1212 GHOST

80 1414 DEMON

84 1414 DEMON AIR

Stefan Frauscher

ELECTRIC BOATS

Andrea Frauscher-Oberfrank

90 610 SAN REMO

92 650 ALASSIO

94 740 MIRAGE

96 740 MIRAGE AIR

3
---
NEW:

FRAUSCHER

1212 GHOST

Die Frauscher 1212 Ghost repräsentiert

das neue Herzstück der

Frauscher-Reihe mit einem atemberaubenden

39-Fuß-Design.

Getestet und für SPEKTAKULÄR

befunden! Die neue Frauscher 1212

Ghost wurde am Gardasee im Testzentrum

der Cantiere Nautico Feltrinelli

bei 1,5 m hohen Wellen gefahren

und konnte mit 48 Knoten überzeugen!

Sie verzaubert nicht nur mit

einer Evolution der Frauscher Designsprache,

die sowohl mutig als auch

elegant ist, sondern auch mit außergewöhnlichen

Fahreigenschaften.

Wie andere Frauscher-Modelle zeichnet

sich auch die 1212 Ghost durch

markante Elemente wie das riesige

Teakdeck, die rahmenlose und getönte

Windschutzscheibe sowie einen

senkrechten Steven aus. Die seitlichen

Lufteinlässe – zuerst bei der 747

Mirage und dann bei der 1414 Demon

eingesetzt – wurden weiterentwickelt

und verleihen dem Seitenprofil eine

unverwechselbare Optik. Das Heck

weist ein geschwungenes Design auf,

das die großzügige Badeplattform

aus Teakholz auf spektakuläre Weise

einrahmt.

The Frauscher 1212 Ghost represents the

new core of the Frauscher range with a

stunning 39 foot design.

Tested and found to be SPECTACULAR!

The new Frauscher 1212 Ghost was tested

on Lake Garda in the test centre of Cantiere

Nautico Feltrinelli in 1.5m high waves and

could convince with 48 knots! She not only

enchants with an evolution of Frauscher's

design language that is both bold and beautiful,

but also with exceptional handling

characteristics.

Along with other Frauscher models the 1212

Ghost features distinctive elements like

the huge teak deck, frameless and tinted

windscreen as well as straight bow design.

The side air intakes – first featured on the

747 Mirage and then on the 1414 Demon

– are further developed and give the side

profile a very distinctive look. The back features

a swooping design framing the generous

teak bathing platform in spectacular

fashion.

Mutig und elegant.

Bold and beautiful.

4

5
---
Auch im Bereich des Handlings setzt Frauscher

neue Maßstäbe: Der Fahrer sitzt genau in der Mittellinie

des Bootes und hat so eine perfekte Sicht

rund um das Boot. Der ergonomische Mittelsteuerstand

verfügt serienmäßig über ein Bugstrahlruder

und optional über ein Joystick-Bediensystem.

Die Anzeigen und Instrumente sind versenkt angebracht,

um auch bei direkter Sonneneinstrahlung

eine bessere Sicht zu ermöglichen. Der tiefe

V-Rumpf ist eine Weiterentwicklung der Innovationen,

die bei den Booten 1414 Demon und 858

Fantom eingesetzt wurden – zwei Boote, die für

ihr sensationelles Handling und ihre Fähigkeiten

im rauen Wasser bekannt sind. Die 1212 Ghost

verfügt zudem über zwei ausgeprägte Stufen, um

das Boot schneller in die Gleitfahrt zu bringen und

eine ruhige und trockene Fahrt zu ermöglichen.

Angetrieben von zwei Mercruiser-Benzinmotoren

mit je 430 PS oder zwei Volvo Penta D6-440

Dieselmotoren mit Z-Antrieb bietet das Boot mit

seinem 850-Liter-Treibstofftank eine Reichweite

von bis zu 300 Meilen.

Weitere technische Details sind ein serienmäßiges

ausklappbares Ankersystem, das dem Fahrer die

vollständige Kontrolle und Sicht auf den Ankerprozess

ermöglicht, ohne dass er den Steuerstand

verlassen muss. Ein Warmwasserboiler, eine Klimaanlage

für die Kabine, ein Dieselgenerator, eine JL-

Audio Soundanlage und ein Icemaker sind optional,

während ein klappbares Bimini-Top und zwei

Kühlschränke serienmäßig sind. Die drei Teakholztische

– zwei im Cockpit und einer in der Kabine

– sind alle versenkbar und lassen sich zu großzügigen

Liegeflächen umbauen. Die Kabine verfügt

über ein überraschend geräumiges Badezimmer

mit Waschbecken, Toilette und Dusche sowie über

ein einzigartiges Innendesign mit viel indirekter

Beleuchtung.

Frauscher also sets new standards in the handling department:

The driver sits exactly in the center line of the boat

for a perfect view around the boat. The ergonomic helm

design features a bow thruster as standard and an optional

Joystick operation system. The displays and instruments

are recessed to give a better view even in direct sunlight.

The deep-V hull is a development of the innovations used

on the 1414 Demon and the 858 Fantom – 2 boats known

for their sensational handling and rough water abilities –

and features two distinctive steps to push the boat onto

plane faster and to accommodate a smooth and dry ride.

Powered by twin sterndrive Mercruiser V8 petrol engines

with 430 HP each or twin sterndrive Volvo Penta D6-440

Diesel engines the boat offers a range of up to 300 miles

with its 850 liter fuel tank.

Other technical details feature a standard fold-out anchor

system which gives the captain complete control and view

of the anchoring process without the need to leave the

helm station. A warm water boiler, AC for the cabin, Diesel

generator, highend JL-Audio sound and ice maker are optional

whereas a foldable Bimini top, full teak decking and

2 fridges are standard. The three teak tables – two in the

cockpit and one in the cabin – are all retractable and convert

into beds. The cabin features a surprisingly spacious

bathroom with sink, toilet and shower as well as a unique

interior design with lots of indirect lighting.

THE 1212 GHOST GOT

NOMINATED

Die 1212 GHOST wurde für zwei der

wichtigsten Auszeichnungen in der

Bootsbranche nominiert!

The 1212 GHOST got nominated for two of

the most important awards in the boating

business!

6

7
---
Stephan Everwin

Designer

THIS

GHOST

IS NOT

A TALE.

Geistergeschichten entspringen meist der Phantasie.

Auch im Fall der neuen 1212 Ghost hat der Reiz

des Unbekannten die Vorstellungskraft des Entwicklungsteams

der Frauscher Bootswerft beflügelt.

In mehreren Jahren intensiver Arbeit entstand

so das neue Herzstück der Frauscher-Modellreihe,

die 1212 Ghost.

Die Präsenz eines Sportwagens gepaart mit dem

Understatement einer Luxuslimousine, unaufdringlich

und trotzdem alle Blicke auf sich ziehend

– so lässt sich das Design der 1212 Ghost wohl am

besten beschreiben. Sie fügt sich gut ein in die Reihe

ihrer Geschwister, die Verwandtschaft zur 1414

Demon, zur 1017 GT und zur 858 Fantom ist unverkennbar.

Und doch sticht sie heraus: Mit ihren

klaren, markanten Linien, die das betont breite

Heck einfassen, sich mit den Polstern der Liegefläche

verbinden und bis nach vorne zum Bug durchschießen.

Die Designelemente verschmelzen zu

einer dynamischen Skulptur, das große Teakdeck

ist ein Bekenntnis zum klassischen Bootsbau, der

dreidimensionale, seitliche Lufteinlass betont die

charakteristische Seitenlinie, vorne hebt sich der

senkrechte Steven über die Bugwelle. Die 1212

Ghost verkörpert die Essenz der Frauscher-DNA.

Vor über 90 Jahren begann das Familienunternehmen

mit dem Bootsbau, Tradition verpflichtet.

Doch trotz aller Beständigkeit beginnt auch heute

noch jedes neue Kapitel mit einem weißen Blatt

Papier. Mit dem ersten Strich. Mit einer gemeinsamen

Idee.

Ghost stories usually come from imagination. And this is

also the case with the new 1212 Ghost, where the allure of

the unknown has fired the imagination of the Frauscher

Shipyard development team. The new centrepiece of the

Frauscher model series, the 1212 Ghost, was created over

several years of intensive work.

The glamour of a sports car paired with the understatement

of a luxury saloon, unobtrusive and yet eye-catching

– this is probably the best way to describe the design of

the 1212 Ghost. It blends well into the series of its sister

boats. The relationship with the 1414 Demon, the 1017 GT

and the 858 Fantom is unmistakable. And yet it stands out!

With its clear, striking lines that border the wide accentuated

stern and connect with the cushions of the berth and

shoot through to the bow. The design elements merge into

a dynamic sculpture. The large teak deck acknowledges

our indebtedness to classic boat building while the threedimensional,

lateral air intake emphasises the characteristic

side line and, at the front, the vertical stem rises above

the bow wave. The 1212 Ghost embodies the essence of

the Frauscher DNA.

More than 90 years ago, the family business started

building boats. And you must remain true to tradition.

However, despite all this consistency, even today every new

project begins with a clean sheet of paper. With the first

sketch. With a common goal.

Im Spätsommer 2018 trifft sich das Entwicklungsteam

der 1212 Ghost zur Auftaktbesprechung in

den Räumlichkeiten der Werft in Ohlsdorf. "Was

erwarten wir von unserem neuen Modell? Wie wollen

wir uns positionieren?" Jede Neuentwicklung

ist auch eine Entscheidung, die den Kurs in Richtung

Zukunft mitbestimmt. Um diese zu treffen

braucht es eine klare, gemeinsame Vision.

Puristische, sportliche Proportionen, perfekte Fahreigenschaften,

großzügige Sitz- und Liegeflächen

für entspannte Tage auf dem Wasser, so lautete

die Zielsetzung für das Frauscher-Statement in der

40-Fuß-Klasse. In bewährter Konstellation ging es

für die Geisterbeschwörer an die Arbeit. Das Design

der 1212 Ghost stammt von Stephan Everwin,

der in enger Zusammenarbeit mit Frauscher Entwicklungsleiter

Thomas Gerzer den Charakter der

Yacht bis ins Detail entwickelte. Für die Konstruktion

der Unterwasserflächen ist Harry Miesbauer

verantwortlich.

Ausgangspunkt für die ersten Zeichnungen war die

zentrale Position des Fahrers in dem grundlegend

symmetrisch aufgebauten Layout. Perfekt mittig

ausgerichtet hat man beim Manövrieren und während

der Fahrt alles im Griff. Betrachtet man die

1212 Ghost vom Heck aus, zielt die Blickachse geradewegs

auf den Fahrersitz und die mit Edelstahl

umrahmten Rundinstrumente. Das Heck selbst

macht sich breit, schwebt souverän und einladend

über dem Wasser. Die dreidimensionale Form, das

Zusammenspiel der Flächen würde auch einem

Sportwagen gut zu Gesicht stehen und sind charaktergebend

für die Erscheinung der 1212 Ghost.

Die Analogien zur Welt des Automobildesigns sind

kein Zufall. Stephan Everwin weiß als gelernter

Fahrzeugdesigner, was einen stimmigen Entwurf

ausmacht: "Das Designthema muss klar zu erfassen

sein, damit es sich einprägt und einen Wiedererkennungswert

hat. Es sollte sich in wenigen Linien

In late summer 2018, the 1212 Ghost development team

met for the kick-off meeting in the shipyard's premises in

Ohlsdorf. "What do we expect from our new model? How

do we position ourselves?" Every new development is also

a decision that determines the course of the future. In order

to get there, a clear, common vision is needed.

Pure, sporty proportions, perfect handling characteristics,

generous seating and reclining areas for relaxed days on

the water – these were the objectives for the Frauscher

vision in the 40-foot class. The wonder-workers got down

to business in their tried and tested teams. The 1212 Ghost

was designed by Stephan Everwin, who developed the boat's

character down to the last detail in close cooperation

with Frauscher development manager Thomas Gerzer.

Harry Miesbauer was responsible for the design of the underwater

surfaces.

The starting point for the first drawings was the central

position of the driver in the essentially symmetrically structured

layout. Perfectly centred, you have everything under

control when manoeuvring and while sailing. Looking at

the 1212 Ghost from the rear, the viewing axis is aligned

directly with the captain's chair and the round instruments

framed in stainless steel. The stern spreads out, hovering

confidently and invitingly over the water. The three-dimensional

form and the interaction of the surfaces would also

look great on a sports car and are characteristic for the appearance

of the 1212 Ghost.

The analogies to the world of automotive design are no coincidence.

Stephan Everwin, as a trained vehicle designer,

knows what goes into making a harmonious design. "The

design theme must be easy to grasp so that it stays in the

memory and has a recognition value. It should be describable

in a few lines and have a clear focus without getting

lost in details. This is always a balancing act and it is the

designer's job not to lose sight of this original idea when it

comes to the elaboration of the individual elements. This

may sound banal, but it is a long journey from the first

8

9
---
Durch den elektrisch höhenverstellbaren Tisch

hat man daraus im Handumdrehen eine Liegefläche

geschaffen. Auch das Bad wirkt hell und groß,

punktet mit viel Spiegelfläche, Stehhöhe und einer

Lüftungsluke.

Blickt man von außen auf das Gesamtbild, würde

man diesen Komfort nicht unbedingt erwarten.

Die flache Proportion der 1212 Ghost scheint schon

sehr kompromisslos zu sein – aber genau diese

Gratwanderung macht die neueste Frauscher-

Kreation so einzigartig.

"Man muss den Markt kennen, ein offenes Ohr für

Trends haben, sich davon aber auch wieder lösen

können, um die eigene Wahrheit zu finden. Bei der

Entwicklung der 1212 Ghost war uns klar: Mutig soll

sie sein, aber auch elegant, radikal und trotzdem

zurückhaltend – Gegensätze ziehen sich eben an,"

erklärt Michael Frauscher, Geschäftsführer der

Frauscher Bootswerft.

Der Designer erinnert sich an die ersten Tests auf

dem Gardasee: "Wenn man nach so vielen Monaten

Entwicklungszeit das Resultat auf dem Wasser

sieht und unter freiem Himmel von allen Seiten

betrachten kann, ist das schon etwas Besonderes.

Wenn dann alles noch so reibungslos funktioniert

wie in diesem Fall und man die Reaktion der Menschen

vor Ort spürt, wird klar, dass wir offenbar

vieles richtig gemacht haben."

"You have to know the market, to keep an eye open for the

latest trends, but also be able to detach yourself from them

in order to discern your own vision. When developing the

1212 Ghost, it was clear to us that it had to be bold but also

elegant, radical and at the same time reserved. Because

opposites attract," explains Michael Frauscher, managing

director of Frauscher Shipyard.

The designer remembers the first tests on Lake Garda.

"When you can see the result on the water and can look

at it from every side under the open sky after so many

months of development, that is really something special.

If everything then works as smoothly as it did in this case

and you can feel the reaction of the people who are there, it

becomes clear that we have obviously done a lot of things

right."

"Of course, in every project, we want to push the limits,

sometimes crossing them, going further than before, with

the successes of the past as a benchmark. Nevertheless,

it is not always the case that a company adheres to its

core values behind the scenes in the way I experience it

at Frauscher. If passion is the driving force in the develop -

ment process then the customer can feel it. And only then

the result has a soul," says Stephan Everwin.

beschreiben lassen, einen klaren Fokus haben, ohne

dass man sich in Details verliert. Das ist immer ein

Balance-Akt und es ist Aufgabe des Designers, diese

ursprüngliche Idee nicht aus den Augen zu verlieren,

wenn es an die Ausarbeitung der einzelnen

Elemente geht. Das klingt vielleicht banal, aber es

ist ein weiter Weg von den ersten Skizzen bis zu

dem Tag, an dem jeder Radius, jeder Winkel definiert

ist, jeder Bereich für sich eine Qualität hat

und alle funktionalen Anforderungen berücksichtigt

sind."

Gekonntes Weglassen sozusagen und die Konzentration

auf das Wesentliche. Das Ergebnis spricht

für sich. Die angepasste Polsterung der Liegeflächen

im Heck schaffen einen fließenden Übergang

zum Cockpit, dort sorgen drehbare Sitze und

höhenverstellbare Tische für Flexibilität. Während

sich rechts der Aufgang zum Vordeck befindet,

das sich als großzügige Sonnenterrasse präsentiert,

gelangt man links in den Innenraum. Dieser

überzeugt durch klare Linienführung, indirekte

Beleuchtung und einen einladenden Sitzbereich.

sketches to the day when every radius, every angle is defined,

each section has its own flair and all the functional

requirements are taken into account."

Skillfull omission, so to speak, and concentration on the

essentials. The result speaks for itself. The adapted upholstery

of the sunbathing areas in the stern creates a smooth

transition to the cockpit, where swivel seats and height-adjustable

tables provide flexibility. While the staircase to the

foredeck – which presents itself as a spacious sun terrace

– is located on the right, you enter the interior on the left.

With its clear lines, indirect lighting and an inviting seating

area, it is indeed highly attractive. With the electrically

height-adjustable table, it is possible to create a reclining

surface in no time at all. The bathroom is also bright and

large, making an impression with a lot of mirrored surfaces,

lots of headroom and a ventilation hatch.

Looking at the overall view from the outside, you would

not necessarily expect this level of comfort. The flat proportions

of the 1212 Ghost seem to be very uncompromising.

But it is exactly this balancing act that makes the latest

Frauscher creation so unique.

"Natürlich möchte man bei jedem Projekt die Grenzen

ausreizen, manchmal überschreiten, weiter gehen

als bisher, die Erfolge der Vergangenheit als

Maßstab vor Augen. Trotzdem ist es nicht selbstverständlich,

dass eine Firma auch hinter den Kulissen

so an ihren Werten festhält, wie ich es bei Frauscher

erlebe. Wenn Leidenschaft die treibende Kraft

im Entwicklungsprozess ist, ist das auch für den

Kunden spürbar und nur dann hat das Ergebnis

auch eine Seele," so Stephan Everwin.

10

11
---
PAINTWORK

Wer sein Frauscher Motorboot ganz individuell gestalten

möchte, der hat die Möglichkeit das Boot

nach seinen Vorstellungen lackieren zu lassen. In

der speziell für Boote konzipierten Lackierkabine

in der Frauscher Bootswerft bekommen die Boote

ihren Glanz und damit ihr individuelles Erscheinen,

bevor sie zu Wasser gelassen werden. Sie ist jedoch

keine kleine Kabine, wie der Name vermuten lässt,

sondern eine eigene Halle. Eine wesentliche Rolle

spielen dabei Temperatur, Luft, Licht und die Expertise

eines außergewöhnlichen Lackierer-Teams.

Insbesondere die Heizung und die Lüftung sind

speziell konzipiert, denn für eine Qualitätslackierung

ist eine makellos geschliffene Oberfläche

und ein staubfreier Arbeitsplatz eine unabdingbare

Voraussetzung. Eine ausgeklügelte Rundum-Beleuchtung

sorgt für ein optimales Licht. Die präzise

Auswahl der Leuchtmittel und deren Anordnung

erzielen eine perfekte Ausleuchtung und dadurch

einen unglaublichen, schattenfreien Effekt für das

perfekte Ergebnis.

Bis zur fertigen Lackierung werden mit der Spritzpistole

11 Schichten per Hand aufgebracht. Zum

Trocknen des Lacks wird je nach Fortschritt der

Lackierarbeiten die Lackierhalle bis zu 8 Stunden

auf 60° Celsius Luft-Temperatur aufgeheizt.

Mit Hilfe der speziellen Lüftung werden pro

Stunde bis zu 35.000 Kubikmeter Luft umgewälzt

und gefiltert. Das bedeutet, dass in etwa

1,2 Minuten der gesamte Rauminhalt der Halle ausgetauscht

wird. Das Ganze erfolgt energiesparend

und ohne von außen Kaltluft zuzuführen.

Zwischen einzelnen Lackierungen wird immer

wieder mit feinster Körnung geschliffen, natürlich

außerhalb der Lackierkabine. Bis zur fertigen

Lackierung dauert es, inklusive Trockenzeit

und Zwischenarbeiten, bis zu 7 Wochen. Zum

Vergleich: Die Lack-Menge für eine 1212 Ghost

entspricht circa jener für 15 Mittelklasse-PKWs.

If you want to individually design your Frauscher motor

boat, you can choose to have it painted in line with your

own personal ideas. In the paint cabin at the Frauscher

Shipyard, which was specially designed for vessels, the

boats receive those special final touches which give them

their individual appearance before they are launched on

the water. However, it is not a small cabin, as the name

might suggest, but a separate hall. Temperature, air, light

and the expertise of an exceptional team of painters play

a key role here.

The heating and ventilation in particular have been specially

designed, as a flawlessly sanded surface and a dustfree

workplace are indispensable prerequisites for quality

paintwork. An ingenious all-round lighting system provides

optimum light. The precise selection of lamps and their

arrangement achieves perfect illumination and therefore

an incredible, shadow-free effect for the perfect result.

Before the boat receives its final coat of paint, 11 layers are

applied by hand using a spray gun. To dry the paint, the

paint cabin is heated to 60° Celsius air temperature for up

to 8 hours, depending on the progress of the paintwork.

With the help of special ventilation, up to 35,000 cubic

meters of air are circulated and filtered per hour. This means

that the entire volume of the hall is replaced in about

1.2 minutes. All this is done in an energy-saving manner

and without having to supply cold air from outside.

Between individual coats of paint, repeated sanding is carried

out using the finest grain size – outside the paint cabin,

of course. It takes up to 7 weeks to complete the paintwork,

including drying time and intermediate work. To make a

comparison: The amount of paint needed for a 1212 Ghost

corresponds approximately to that for 15 mid-range cars.

1 & 2 | Der "Füller" ist

aufgetragen

The filler has been put on

3 | Schleifarbeiten nach

dem "Füllern"

Sanding work after the filler

4 & 5 | Klarlack nach der

3. Schicht

clear coat after third layer

Der Lack für Boote muss aber im

Gegensatz zum klassischen Autolack

speziell den maritimen Anforderungen

gerecht werden – also höchste

UV-Licht Beständigkeit und Resistenz

gegen permanentes Salzwasser.

Auch wenn Kunden aus einer nahezu

unendlichen Fülle aus Lackmustern

auswählen können, wird die Farbe

samt Metallic- und/oder Pearlelemete

mit spezifischen Marinelacken

abgemischt, um nicht nur dem Originalmuster

treu zu sein, sondern um

auch den spezifischen Anforderungen

am Boot zu genügen. Ob man

dabei auf die von Frauscher kuratierten

Muster zurückgreift oder zum

Beispiel eine Farbe eines liebgewonnen

Automobils nimmt, ist daher für

die Qualität des Endergebnisses egal.

1 2

4

However, in contrast to classic car paint, the

paint for boats has to meet specific maritime

requirements, i.e., maximum UV light

resistance and resistance to permanent

salt water. Although customers can choose

from an almost infinite range of colours,

the paint itself – including metallic and/or

pearl components – is mixed with specific

marine lacquers, not only to remain faithful

to the original colour, but also to meet

specific boat requirements. When it comes

to the quality of the final result, it doesn't

matter whether you use the samples provided

by Frauscher or, for example, the colour

of a beloved car.

3

5

12

13
---
INFO-

BOX

LACKIERUNGS-

SCHICHTEN

~ Über dem Gelcoat,

der angeschliffen wird

~ 2 x Epoxi-Grundierung, dazwischen

Ablüften 6–48 Stunden

~ 3 x Füller ohne Zwischenschliff

"nass in nass", dann Trockenzeit

1 Woche

~ Schleifarbeiten vor dem Lackieren

~ 3 x Farbschichten

~ 3 x transparenter Klarlack

~ Finish: Schleifen mit 3000er

Körnung, polieren, polieren,

polieren

PAINT LAYERS

"Man at work" mit Schutzanzug

Man at work in protective gear

~ On top of the gelcoat, which is sanded

~ 2 x epoxy primer, ventilation in-between

of 6–48 hours

~ 3 x filler without intermediate sanding

"wet in wet", then drying time 1 week

~ Sanding work before painting

~ 3 x layers of paint

~ 3 x layers of clear coat

~ Finish: grinding with 3000 grain,

polishing, polishing, polishing

14

15
---
1927

erste Werkstatt

first shop

THE

FRAUSCHER

HISTORY

Als Engelbert Frauscher im Jahr 1927 eine

"Bootbauerei" in Wien gründete, hätte er wohl

nicht zu träumen gewagt, dass der Name

Frauscher mehr als 90 Jahre später Maßstäbe

im internationalen Bootsbau setzt.

Engelbert Frauscher wurde 1903 in Aspach im

oberösterreichischen Innviertel geboren. Nach

einer Tischlerlehre bei einem Onkel und ersten

Erfahrungen im Bootsbau bei der Firma Ratz in

St. Gilgen entdeckte er seine Liebe für Boote. Er

wusste, dass dies seine Berufung war und lernte

zwischen 1923 und 1926 in verschiedenen Betrieben

das Handwerk von der Pike auf. In einer

politisch turbulenten Zeit übernahm Engelbert

Frauscher 1927 eine "Bootbauerei" an der Alten

Donau in Wien. Im Jahr 1933 versuchte er sein

Glück in Südamerika, wo der Bedarf an Arbeitskräften

aus Europa groß war. Nach einigen

Monaten harter Arbeit, gefolgt von einer schweren

Krankheit, rettete er sich auf ein Frachtschiff, das

ihn zurück nach Österreich brachte.

Zurück an der Alten Donau versuchte Engelbert

Frauscher einen Neustart. Mit seinem handwerklichen

Können baute er Ruder- und Segelboote, darunter

2 Olympia-Jollen für den Österreichischen

Segelverein, die bei den Olympischen Spielen in

Berlin 1936 zum Einsatz kamen.

When Engelbert Frauscher founded a boat building company

in Vienna in 1927, he probably never would have

dreamed that Frauscher would be setting standards for

international boat building 90 years later.

Engelbert Frauscher was born in 1903 in Aspach, in Upper

Austria's Innviertel district. After a carpentry apprenticeship

with his uncle, and his first experience in boat building

at the Ratz company in St. Gilgen, he discovered his love

of boats. He knew this was his calling, so from 1923 to

1926, he trained at various companies, never losing sight

of his dream. In a time of political turbulence, Engelbert

Frauscher took over a "boat building shop" in 1927 in the

Old Danube area of Vienna. In 1933, he tried his luck in

South America, where there was a high demand for European

workers. After a few months of hard work, followed

by a serious illness, he escaped onto a cargo ship that took

him back to Austria.

Back on the Old Danube Engelbert Frauscher attempted

a new beginning. With his manual skills he built rowing

boats and sailing boats, including 2 vessels of the Olympia-

Jolle class for the Austrian Sailing Team that were used in

the 1936 Olympic Games in Berlin.

But the turmoil of World War II also cast a shadow on

the life of the Frauscher family. In 1944 the Old Danube

shop in Vienna was heavily damaged in an air raid, together

with the flat next door. His son Kurt, who was only

17 years old, was conscripted into military service and was

SINCE

1927

Doch die Wirren des zweiten Weltkrieges warfen

auch ihre Schatten über das Leben der Familie

Frauscher. Im Jahr 1944 wurde die Werkstatt an

der Alten Donau in Wien samt der daneben liegenden

Wohnung bei einem Bombenangriff schwer

beschädigt. Sein erst 17-jähriger Sohn Kurt wurde

zum Militär eingezogen und galt nach Kriegsende

als vermisst. Fanny Frauscher, die Gattin von Engelbert,

war mit den beiden jüngeren Söhnen Ernst

und Hans nach Geinberg in Oberösterreich zu Verwandten

gezogen. Engelbert Frauscher überließ

nach dem Krieg seinem langjährigen Lehrling das

Gelände der Bootswerft an der Alten Donau und

ging ebenfalls zu seiner Familie nach Geinberg.

In der Nachkriegszeit befand sich in Gmunden

das amerikanische Oberkommando und die amerikanischen

Besatzer übernahmen den Yachtklub.

Man suchte einen Bootsbauer, der die Wartung der

Boote übernehmen konnte und fand in Engelbert

Frauscher den passenden Mann. Sein Arbeits- und

Schlafplatz war die Werft im Stadtteil Weyer in

Gmunden. Dort, wo heute der Frauscher Bootshafen

ist, arbeitete Engelbert Frauscher in einer

alten Werkstätte der Firma Wicke, die in Konkurs

gegangen war. Nach dem Abzug der Amerikaner

aus Gmunden wurden die Boote wieder an ihre Besitzer

zurück gegeben und die Werft aufgelassen.

Herr Schmid, Yachtclub-Mitglied, wurde der neue

Eigentümer und verkaufte die Werft sehr günstig

an Engelbert Frauscher. Er wollte einen Bootsbauer

in der Nähe des Yachtclubs haben. In dieser

Zeit gab es nur Holzboote und ein Fachmann wie

Frauscher war schwer zu finden. Er übernahm

Reparaturen, baute kleine Ruderboote und begann

auch wieder mit den O-Jollen. Seine Frau Fanny

war die Finanzverwalterin.

listed as missing after the war. Fanny Frauscher, Engelbert's

wife, had moved with the two other sons, Ernst and Hans,

to live with relatives in Geinberg in Upper Austria. After the

war, Engelbert Frauscher left the shipyards grounds on the

Old Danube to his long-time apprentice, and joined his

family in Geinberg.

In the post-war years Gmunden was the location of the

American command headquarters, and the American occupying

forces took over the yacht club. A position opened

for a boat builder who could service the boats, and Engelbert

Frauscher was the man for the job. His workplace and

accommodations were at the shipyard in the Weyer district

of Gmunden, where the company now has its harbour.

Engelbert Frauscher worked in an old shop of the Wicke

company, which had gone bankrupt. After the withdrawal

of the American troops from Gmunden, the boats were returned

to their owners and the shipyard was shut down.

Mr. Schmid, a member of the yacht club, became the new

owner, and sold the shipyard to Engelbert Frauscher for a

very reasonable price. He wanted to have a boat builder

near the yacht club. During that time, there were only wooden

boats, and an expert like Frauscher was hard to find.

He did the repairs, built small rowing boats, and started

building the O-Jolle boats again. His wife Fanny managed

the finances.

16

17
---
Historie History

1

2

1 | Wasserski Pyramide

Hans Frauscher, re.u.

Dorothea Frauscher,

oben

Water skiing pyramid

Hans Frauscher, bottom right

Dorothea Frauscher, top

2 | Familie Frauscher

Frauscher family

3 | 1955 Bootsverleih

boat rental

Der Aufstieg begann als Herr Jany,

Inhaber einer Eisenhandlung, seine

Ruderbootvermietung an Engelbert

Frauscher verkaufte. Jany war

im Bankausschuss der Gewerbebank

in Gmunden und verschaffte

Frauscher einen Startkredit. Die Kinder

Ernst und Hans arbeiteten im

Betrieb mit und führten im Sommer

die Bootsver mietung. In dieser Zeit

wurden die ersten Holz-Elektroboote

gebaut, zwei Kiel-Zugvögel aus eigener

Werft kamen dazu und eine Wasserskischule

wurde gegründet. Hans

Frauscher, der jüngste Sohn, war begeisterter

Wasserski fahrer. Er eroberte

Titel in Serie und glänzte zuhause

in Gmunden beim Pyramide-Fahren

und als Barfußfahrer.

Für die norwegische Yngling hatte

währendessen die Bootswerft die

Vertretung übernommen. Mit diesem

über hundert Mal verkauften Boot

wurden viele Regatten gesegelt und

gewonnen.

Der ältere Sohn Ernst Frauscher begann

nach der Hauptschule als Lehrling

im Betrieb des Vaters zu arbeiten.

Im Jahr 1954 kam auch der jüngere

Bruder Hans in die Firma. Die Werft

war jetzt bereits ein florierender Betrieb.

Ruderboote und Holzelektroboote

liefen vom Stapel und die ersten

Motorboote "Fish" und "Starfish"

ergänzten die Palette.

Die Gründung einer erfolgreichen

Segelschule durch Hans und Dorothea

Frauscher sowie der Bau eines

zweiten Bootshauses gaben dem

Unternehmen im Jahr 1964 Aufwind.

Später wurde um ein Verkaufsgeschäft

für Segel- und Motorbootzubehör

sowie Segelkleidung erweitert.

The upturn began when Mr. Jany, owner

of an ironmonger's shop, sold his rowing

boat rental business to Engelbert Frauscher.

Jany was on the bank committee of the industrial

bank in Gmunden and helped Frauscher

to get a start-up loan. The children,

Ernst and Hans, worked in the company

and ran the boat rental in the summer. The

first wooden electric boats were built during

that time. Additionally two boats of

the Kiel-Zugvogel class from in-house production,

and a water-skiing school was also

established. Hans Frauscher, the youngest

son, was a water-skiing enthusiast. He won

numerous titles and was famous in Gmunden

for his pyramid and barefoot acts.

The Norwegian Yngling was meanwhile

distributed through the shipyard. More

than one hundred of these boats were sold,

and they won many races.

The elder son Ernst Frauscher started working

as an apprentice in his father's company

after he completed school. In 1954,

the younger brother, Hans, also joined the

company. The shipyard was already a flourishing

operation. Rowing boats and wooden

electric boats were launched and the

first motor boats – "Fish" and "Starfish" –

were added to the product line.

The founding of a successful sailing

school by Hans and Dorothea Frauscher,

and the construction of a second boathouse

in 1964, gave the company fresh impetus.

Later, a shop for sailing and motor boat

accessories and sailing apparel was added.

18

3

19
---
Im Jahre 1968 baute Ernst Frauscher ein großes

Gebäude direkt am See mit einer Werkstatt. Im

selben Gebäude befand sich neben der Privatwohnung

der Familie das gesamte Werftbüro

und im zweiten Stock wurde eine Seglerpension eingerichtet.

Büro und Pension wurden von seiner Frau

Elisabeth geführt.

Im Jahr 1971 hatte Hans Frauscher die Idee Polyesterboote

zu bauen. Diese Entscheidung brachte

einen Wandel im Unternehmen mit sich. Mit Hilfe

des Mitarbeiters Herrn Gaber, der bereits Erfahrung

im Polyesterbootsbau hatte, begann eine neue Ära

der Firma Frauscher. 1972 legten die beiden Brüder

ihre Firmen zusammen und traten als Ernst und

Hans Frauscher OHG am Bootsmarkt auf. Ernst

war für Produktion und Finanzen zuständig, Hans

war der Spezialist im Verkauf.

Das gesetzliche Verbot von Motorbooten auf dem

Traunsee Ende der siebziger Jahre war ein schwerer

Schlag für das Unternehmen und zugleich der

Beginn einer neuen Epoche. Der Motorboothandel

wurde eingestellt, das Elektroboot trat seinen

Siegeszug an. Maßgeblichen Anteil am Erfolg des

Frauscher Elektrobootes hatte die Gmundner Firma

Preinerstorfer, die einen besonders widerstandfähigen

Motor entwickelt hatte. In den folgenden

Jahren verließen mehrere hundert Elektroboote

die 1976 neu erbaute Werft in Moosham, Gmunden.

Viele davon sind noch heute im Einsatz.

1967

Herrlicher Bootsausflug

beautiful boat trip

In 1968 Ernst Frauscher built a large building, right at

the lake, with a workshop. The building also contained

the private living quarters of the family, the shipyard office,

and a yachtsman lodge set up on the upper floor.

His wife, Elisabeth, was in charge of the office and the lodge.

In 1971 Hans Frauscher had the idea to build polyester

boats. This decision brought a change to the company.

With the help of the employee, Mr. Gaber, who already had

experience in the building of polyester boats, a new era

began at Frauscher. In 1972, the two brothers merged their

companies and did business in the boat market as Ernst

und Hans Frauscher OHG. Ernst was responsible for production

and finances, while Hans was the sales specialist.

The legal prohibition of motor boats on Lake Traunsee,

in the late seventies, was a heavy blow to the enterprise,

and also the beginning of a new era. The motor boat trade

was discontinued, and the electric boat began its triumphal

progress. A key factor in the success of the Frauscher

electric boat was the Gmunden-based Preiners torfer company,

which had developed a very robust engine. In the

years that followed, several hundred electric boats left

the new shipyard that was built in 1976, in Moosham in

the Gmunden municipality. Many of them are still in

service today.

THE THIRD

GENERATION

Der Erwerb der H-Boot Lizenz vom finnischen

Segelverband war im Jahr 1979 ein Meilenstein in

der Firmen geschichte. Das beliebte Boot wurde

über 600 Mal verkauft und brachte auch große

sportliche Erfolge mit sich. Hans Frauscher wurde

1982 mit diesem Boot Weltmeister und sein Sohn

Stefan Frauscher trat 2002 in seine Fuß stapfen.

Insgesamt wurden mit dem H-Boot 4 Weltmeistertitel

gewonnen.

Die dritte Generation der Familie Frauscher trat

im Jahr 1982 in das Unternehmen ein. Mit Michael

Frauscher, ältester Sohn von Hans Frauscher,

verstärkte ein weiterer geprüfter Bootsbauer das

Team.

Der Segelhafen Weyer in Gmunden wurde Anfang

der achtziger Jahre neu errichtet und im Jahr 1988

begann man den Bau des Hauses Traunsteinstraße

10, wo lange Zeit das Büro des Unternehmens mit

Ausstellungshalle und Verkaufsgeschäft angesiedelt

war. Gleich daneben, im Haus Traunsteinstraße

14, befindet sich heute ein Schauraum und das

Hafenbüro, wo Andrea Frauscher-Oberfrank die

Geschäfte führt. Die Tochter von Ernst Frauscher

ist seit 1996 im Unternehmen und sowohl für bestehende

wie auch potentielle Frauscher Kunden

erste Anlaufstelle.

Die Frauscher Bootswerft GmbH & Co KG entstand

im Jahr 1993 nach einer Umwandlung der Unternehmensstruktur.

1996 kam auch Stefan Frauscher,

jüngster Sohn von Hans Frauscher, mit an

Bord.

Nach einem Brand im Jahr 2001, bei dem das gesamte

Bootshaus und 60 Boote zerstört wurden,

prägt heute das im Jahr 2002 neu erbaute Bootshaus

das Gesamtbild des Frauscher Hafens, wo

2015 der letzte Zubau erfolgte.

Zu Beginn des neuen Jahrtausends liefen mit den

Modellen St. Tropez, Valencia, Lido, Riviera und Benaco

bedeutende Elektro- und Motor yachten vom

Stapel, die in Sachen Design neue Trends setzten.

Schließlich wurde die Frauscher 717 GT im Jahr

2010 als Powerboat of the Year ausgezeichnet.

The acquisition of the H-boat license, from the Finnish

Sailing Association in 1979, was a milestone in the company's

history. More than 600 of the popular boats were

sold, and they were quite successful in sporting events.

Hans Frauscher became world champion in 1982 with that

boat, and his son Stefan Frauscher followed in his footsteps

in 2002. Altogether, 4 world champion titles were

won with the H-boat.

The third generation of the Frauscher family joined the

company in 1982. Michael Frauscher, another certified boat

builder and the eldest son of Hans Frauscher, reinforced

the team.

The Weyer sailing boat harbour in Gmunden was rebuilt

in the early eighties, and in 1988 construction began on the

building at Traunsteinstraße 10, the long-time location of the

office, as well as the exhibition hall and sales centre. Right

next door, at Traunsteinstraße 14, is now the location of a

showroom and the harbour office, where Andrea Frauscher-

Oberfrank manages the company. The daughter of Ernst

Frauscher has been with the company since 1996, and is

the first point of contact for both existing and potential

Frauscher customers on lake Traunsee.

Frauscher Bootswerft GmbH & Co KG was established in

1993 after a reorganisation of the company. In 1996, Stefan

Frauscher, the youngest son of Hans Frauscher, came on

board.

After a fire in 2001, which destroyed the entire boathouse

and 60 boats, the new boathouse built in 2002 dominates

the overall view of the Frauscher Harbour, where the last

extension was completed in 2015.

At the beginning of the new millennium, the company

launched important electric and motor yachts – the St. Tropez,

Valencia, Lido, Riviera, and Benaco models – which

set new design trends. Finally, the Frauscher 717 GT was

distinguished as Powerboat of the Year in 2010.

20

21
---
OUR

AWARDS

BOATS

2021 European Powerboat of the Year Nomination 1212 Ghost

2020 Best of Boats Award (EU) Nomination 1212 Ghost

2019 Best of Boats Award (EU) Winner 1414 Demon Air

2018 German Design Award

Best of Boats Award (EU)

Winner

Nomination

1414 Demon

858 Fantom Air

2017 Concours d´Élégance, Cannes Winner 858 Fantom Air

2016

Hans Frauscher

2016 German Design Award

Showboats Design Award (FR)

Best of Boats Award (EU)

European Powerboat of the Year

Motor Boat Awards (UK)

Winner

Finalist

Winner

Nomination

Nomination

747 Mirage

747 Mirage

1414 Demon

1414 Demon

1414 Demon

Der Bau einer modernen Werft in Ohlsdorf im

Jahr 2012 ist unter anderem Ausdruck einer neuen

Organisationsstruktur. In einer Zeit, die als wirtschaftliche

Krisenzeit galt, hatte man sich zur Expansion

entschlossen. Mit der Optimierung von

Prozessen und Abläufen sowie der Entscheidung

für den Luxusbereich im Bootsbau gelang ein entscheidender

Durchbruch. Im selben Jahr eröffnete

man den Vertriebsstandort Port Adriano auf Mallorca.

Und im Jahr 2016 wurde mit der Luxusyacht

1414 Demon ein weiterer Schritt vom See aufs Meer

gesetzt und damit der Beginn eines neuen Kapitels

in der Firmengeschichte geschrieben. Sieben Jahre

nach Eröffnung des Mallorca Standortes leitete die

Frauscher Bootswerft ihre nächste Offensive im

Mittelmeerraum ein: die Eröffnung einer weiteren

Niederlassung in Port Grimaud an der Côte d'Azur

2019 und damit die dritte von Frauscher geführte

Anlaufstelle für Bootsinteressierte in Europa.

2020 folgt der nächste Höhepunkt: Seit diesem

Jahr gibt es mit Frauscher America auch in Miami,

Florida, die Möglichkeit, in die Welt von Frauscher

einzutauchen und die Vorführboote im Atlantischen

Ozean zu testen.

The construction of a modern shipyard in Ohlsdorf, in

2012, is the expression of a new organisational structure.

In a period that was considered a time of economic crisis it

was decided to expand. The optimization of the processes

and the decision to enter the luxury sector in boat building

resulted in a decisive breakthrough. In the same year the

sales location opened at Port Adriano in Mallorca. In 2016,

the luxury yacht 1414 Demon took a further step away from

the lake to the sea and marked the beginning of a new

chapter in the company's history. Seven years after the

opening of the Mallorca location, the Frauscher shipyard

launched its next offensive in the Mediterranean: the opening

of an additional subsidiary in Port Grimaud on the

French Riviera in 2019 and therefore the third Frauschermanaged

site for boat enthusiasts in Europe.

The next highlight followed in 2020. With Frauscher

America in Miami, Florida, there is also the opportunity to

experience the Frauscher world and to try the demonstration

boats in the Atlantic Ocean since then.

COMPANY

2015 European Powerboat of the Year

Best of the Best (US)

Concours d´Élégance, Cannes

2014 Best of Boats Award (EU)

Barca Dell´Anno (IT)

Nautic Design Award (FR)

Sport & Style special award (FR)

Motor Boat Awards (UK)

Nomination

Winner

Winner

Nomination

Nomination

Winner

Winner

Winner

747 Mirage

747 Mirage

1017 GT

747 Mirage

747 Mirage

747 Mirage

747 Mirage

1017 GT

2012 European Powerboat of the Year Nomination 1017 GT

2011 European Powerboat of the Year Nomination 650 Alassio

2010 European Powerboat of the Year Winner 717 GT

2009 European Powerboat of the Year Nomination 909 Benaco

2008 European Powerboat of the Year Nomination 606 Riviera

2020 Pegasus (AT) Gold

2017 Staatspreis Marketing (AT) Winner

2016 Austrian Leading Companies

Pegasus (AT)

3rd Place

Gold

2015 Pegasus (AT) Silver

22

23
---
HARRY MIESBAUER

Von der Skizze bis zum fertigen Boot sind es

unzählige Arbeitsschritte. Egal ob Techniker,

Elektriker oder Designer, jeder Handgriff muss

sitzen, damit sich das Boot am Ende auch in der

Premium-Range der Frauscher Bootswerft behaupten

kann. Einen essenziellen Teil bei der

Entwicklung eines neuen Modells übernimmt

Harry Miesbauer. Als "Naval Architect" ist er

seit 2012 bei Frauscher verantwortlich für das

Design des Unterwasserschiffs, den Laminataufbau

des Rumpfes und die Gewichtsverteilung

des Bootes – also alle Maßnahmen, die

für die hervorragenden Fahreigenschaften der

Frauscher Modelle prägend sind.

Woher nimmst Du Deine Inspiration?

Das ist ganz einfach: Reine Neugier! Neugier und

die Leidenschaft für meinen Job. Im Endeffekt

kommt die Inspiration aus einem Sammelsurium

von Einflüssen. Ich laufe mit offenen Augen durch

die Welt. Ganz genau kann ich das nicht sagen, aber

ich lebe nicht umsonst seit über 20 Jahren in Italien.

Es hat auch einen Grund, warum ich mein Studio in

Italien habe und auch die Nähe zu Milano hat einen

Vorteil, weil man einfach ganz andere Einflüsse hat.

Ich gehe nicht ohne ein Skizzenbuch aus dem Haus

– ohne geht es nicht, ohne fehlt etwas.

INTERVIEW

There are countless steps from the first sketch to the

finished boat. Whether it's a task for a technician, an

electrician or a designer, every detail has to be right

so that the boat can ultimately hold its own in the

Frauscher Shipyard premium range. Harry Miesbauer

plays an essential role in the development of

each new model. As "Naval Architect", he has been

responsible at Frauscher since 2012 for the hull lines

(hull shapes), the hydrodynamics, the structural

engineering, hull & deck laminates and the weight

distribution of the boat – in other words, for all the

factors that are decisive for the outstanding handling

characteristics of Frauscher models.

Where do you get your inspiration from?

It's very simple. Sheer curiosity! Curiosity and the passion

for my job. Ultimately, inspiration comes from a whole range

of influences. I just live my life with my eyes open. I can't

tell you exactly, but for sure there is a reason why I live in

Italy now for over 20 years, and that my studio is based here

in Como. Being close to Milan –a global design centre for

fashion and furniture design– is also an advantage, as you

are just exposed to completely different influences. I never

leave home without a sketchbook. To be without one is impossible,

something would be missing.

Gibt es eine besondere Handschrift,

die Dich ausmacht?

Beim Design eines neuen Bootes schauen wir immer

darauf, dass es zeitlos ist und keinen Jahresstempel

trägt. Es muss auch noch in zehn Jahren

gut aussehen und immer eine gewisse Eleganz

haben.

Auf Grund meiner Vergangenheit – ich habe ja jahrelang

nur Regatta-Boote gezeichnet – bin ich sehr

Performance orientiert. Das ist nach wie vor im Blut

drin. Bei uns geht es immer um das gesamte Produkt

– es geht also nicht nur rein um das Design,

denn das Boot muss am Ende ja auch funktionieren.

Ich bin der Meinung, ein guter Designer ist auch

der, der sein Produkt am Ende auch benutzt, weil

er dann einfach weiß, ob es funktioniert oder nicht.

Die Zeichnungen, die unser Studio verlassen – und

dafür sind wir bekannt – sind quasi produktionsbereit

und die Werft kann anfangen zu arbeiten.

Und da lege ich großen Wert drauf. Unsere Entwürfe

müssen realisierbar sein, sie müssen im Budget

sein und natürlich die jeweilige CE-Zertifizierung

schaffen.

Was ist für Dich das Besondere am

Boots-Design?

Ich kenne ja nur das. Aber man muss sich vor Augen

halten, dass Boots-Design ein Mix aus Transportation-Design

und Architektur ist. Das Boot

muss als schwimmende Villa, aber auch z.B. als Regatta-Boot

funktionieren. Unser Geschäft ist immer

ein Kompromiss. Boots-Design ist ungefähr so: Ich

nehme einen Caravan und fahr mit dem eine Rallye.

Das ist also recht schwierig.

Beim Planen eines Bootes ist immer das Gewicht

entscheidend: vom ersten Strich bis zum fertigen

Boot. Ist das Boot schwerer als anfangs geplant,

ist es nicht so schnell, wie man es eigentlich haben

möchte. Stimmt der Schwerpunkt nicht, reicht die

Performance oder der Fahrspaß nicht. Das Gewicht

spielt also immer eine sehr große Rolle.

Ein Boot muss einfach auf dem Meer draußen

funktionieren, im sicheren Hafen funktionieren sie

alle. Aber draußen ist die Herausforderung – das

macht es schwierig. Da braucht man auch viel

Erfahrung, um das Gefühl zu bekommen, ob etwas

funktioniert oder nicht.

Is there a particular touch that makes your

designs special?

When designing a new boat, we always make sure that it

is timeless and is not tied to any particular year. It still has

to look good in ten years' time and always have a certain

elegance. Due to my past experience – for years I designed

only regatta boats – I am very performance-oriented. That

is still in my blood. For us, it's always about the overall product.

So it's not just about the design, because at the end

of the day the boat also has to be functional. In my opinion,

a good designer is also someone who will be using his product.

Because then he will really know whether it works or

not. The drawings that leave our studio – and we are known

for this – are almost ready for production and the shipyard

can start working with them. And I put big emphasis

on that. Our designs must be feasible, they must be within

the budget and, of course, they must comply with the

respective CE regulations.

What is so special for you about yacht design?

Actually, it's all I do. You just have to keep in mind that yacht

design is a mix of transportation design and architecture.

The boat must work as a floating villa, but also, for example,

as a regatta boat. Our business is always a compromise.

Yacht design is something like this: Take a camper van and

go and do the Rally Dakar with it. So this is quite difficult.

When designing a boat, the weight is always crucial – from

the first line on the paper to the finished boat. If the boat is

heavier than initially planned, it is not as fast as you would

like it to be. If the centre of gravity is not correct, neither

the performance nor the sailing pleasure is satisfactory.

The weight therefore always plays a key role. A boat really

has to work out on the open sea. They all work in a safe

harbour. But out there is where the challenge is. That is what

makes it difficult. You also need a lot of experience to get

the feeling of whether something works or not.

24

25
---
Welches Frauscher Boot ist Dein Favorit

und warum?

Mein Favorit ist die 1212 Ghost, das neueste Frauscher

Modell. Es ist einfach eine Evolution, aus dem was

wir vorher mit der Fantom oder der Demon bei

Frauscher gemacht haben. Teilweise habe ich Elemente

übernommen oder Dinge, die mir bei den

Modellen aufgefallen sind, habe ich anders gemacht.

Ich habe von Anfang an gewusst, was ich

anders machen möchte. Es kommt natürlich auch

dazu, dass es von Frauscher selbst sehr guten Input

gibt. Sie sind so lange im Geschäft und wissen, was

sie wollen. Das sind alles Feinheiten, aber damit optimierst

du die Designs. Die Ghost ist einfach vom

Fahrspaß super. Man glaubt vom Handling und

vom Fahren her, man sitzt in einem kleineren Boot.

Die Ghost hat ein so zeitloses Design – ähnlich wie

die Fantom. Man kann sie auch noch in zehn Jahren

anschauen und sagen: "Ja, das ist ein wirklich

schönes Boot." Aus dem Grund ist sie mein Favorit.

Findest Du, hat es Vorteile in einem Team

(Designer, Entwickler, "Naval Architect") wie

bei Frauscher zu arbeiten? Ist es spannender,

schwieriger? Im Vergleich zu Deinen

anderen Projekten, wo Du das gesamte

Boot designst!

Es ist eigentlich nichts Neues für mich, ich kenne

das sehr gut. Auch aus meiner Zeit, als ich für verschiedene

Teams im America's Cup oder dem Volvo

Ocean Race gezeichnet habe. Letztendlich arbeiten

wir bei uns im Studio auch als Team zusammen.

Der eine kann dies besser, der andere das besser.

Für mich ist jedes Projekt in einer gewissen Weise

spannend und dann ist es egal, ob man zu dritt, zu

viert oder zu fünft daran arbeitet. Manchmal macht

es das aber tatsächlich schwieriger, weil man eben

nicht im gleichen Raum sitzt und schnell intervenieren

kann. Bei mir im Studio kann ich schnell mal

jemandem über die Schulter schauen und meinen

Input geben.

Aber wenn ich bei Frauscher mit Thomas Gerzer zusammenarbeite,

dann macht es das nur einfacher.

Er weiß genau, was er macht. Von uns bekommt er

ganz wenige Zeichnungen und er baut es einfach.

Wo wir bei anderen Werften viel mehr Dokumentationen

schicken müssen, ist das mit Frauscher wirklich

sehr einfach. Thomas ist wirklich eine Koryphäe.

Es wäre schön, wenn es in jeder Werft so jemanden

wie Thomas gäbe. Und auch mit Michael und

Stefan Frauscher ist die Zusammenarbeit perfekt.

Bei denen merkt man, sie haben das im Blut. Sie

sind in der Werft aufgewachsen und wissen genau,

was funktioniert und haben eine genaue Vorstellung,

was sie wollen.

Which Frauscher boat is your favourite and why?

My favourite is the 1212 Ghost, the latest Frauscher model. It

is simply an evolution of what we did before with the Fantom

or the Demon at Frauscher. I have partly incorporated

certain elements or I have done certain things differently

that I noticed in the previous models. I knew from the

beginning what I wanted to modify. Of course, there is also

the fact that the Frauschers themself provide very good

input for us. They've been in the business so long, they

know what they want. These are all small details, but that's

how you optimise the designs.

The Ghost is simply a real pleasure to drive. In terms of

handling and sailing, you would think you are in a smaller

boat. The Ghost has such a timeless design – similar to the

Fantom. You will still be able to look at it in ten years and

say: "Yes, this is a really beautiful boat." That's why it's my

favourite.

Do you think there are advantages in working in

a team (designer, developer, "naval architect") as

it is the case with Frauscher? Is it more exciting,

more difficult? Compared to your other design

projects where you design the complete boat!

This is actually nothing new for me. I'm quite used to a setup

like this. Also from the time when I was designing for different

teams in the America's Cup or the Volvo Ocean Race.

After all, we also work together as a team in our studio. Each

person has their own individual strengths.

For me, every project is exciting in a certain way and then it

doesn't matter whether there are three, four or five people

working on it. But sometimes it actually makes it more difficult,

because you're not sitting in the same room where you

can intervene quickly. In my studio, I can quickly look over

someone's shoulder and give my input.

But when I work with Thomas Gerzer at Frauscher, it just

makes things easier. He knows exactly what he's doing.

He needs just a few drawings from us and then he simply

builds the boat. While we have to send a lot more drawings or

documentation to other shipyards, Frauscher makes it really

easy. Thomas really is an expert. It would be great if there was

someone like Thomas in every shipyard. And the cooperation

with Michael and Stefan Frauscher is also perfect. You can

tell it's in their blood. They grew up in the shipyard and know

exactly what works and have a very clear idea of what they

want.

26

27
---
HOTSPOTS

Vom verträumten Traunsee im

Herzen des Salzkammerguts über

Miami und Mallorca an die französische

Riviera. Acht Jahre nach

Eröffnung des Mallorca Standortes

setzt die Frauscher Bootswerft

mit zwei weiteren Niederlassungen

noch stärker auf das gehobene,

internationale Klientel. Dadurch

unterstreicht das österreichische

Familienunternehmen ihren Anspruch

einer zukunftsorientierten

Firmenstrategie.

From the idyllic Traunsee lake in the heart

of Austria's Salzkammergut to Miami,

Mallorca and the French Riviera. Eight years

after the opening of our Mallorca centre,

Frauscher Shipyard is redoubling its

focus on the international clientèle with

two more hotspots. This underlines the

Austrian family company's commitment

to a future-oriented company strategy.

FRAUSCHER

FRANCE

POSTMODERNE IM

FRANZÖSISCHEN

VENEDIG

Der Hafen von Port Grimaud ist nicht

nur ein beliebter Touristenmagnet,

sondern ebenso Anziehungspunkt

für Bootsliebhaber aus aller Welt.

Die Region im Südosten Frankreichs,

auch bekannt als das "Venedig Frankreichs",

bietet mit seinen über 2000

Bootsplätzen und einer malerischen

Kulisse den idealen Standort, um das

internationale Publikum vor Ort für

luxuriöse Yachten im Premium Segment

zu begeistern.

Seit 2019 ist Port Grimaud das Zuhause

von Frauscher France. Ziel ist

es, die regionalen Händler vor Ort

zu unterstützen und die Kunden

bestens zu betreuen. Mit den aktuellen

Motorboot-Modellen wird Interessenten

die Möglichkeit geboten,

die herausragende Performance der

Frauscher Boote im azurblauen Wasser

der Cote d'Azur zu erleben.

Bastien Bonnet, Leiter des Stützpunktes

in Frankreich, erklärt: "Wir wollen

noch näher an die internationalen

Kunden, die ein sportliches Boot mit

herausragendem Design gepaart mit

erstklassigem Service suchen. Den

Wunsch vieler Interessenten, spontan

mit dem Boot an die Strände vor St.

Tropez oder nach Cannes zu cruisen,

können wir mit dem neuen Standort

in Port Grimaud optimal bedienen".

POSTMODERNISM

IN THE FRENCH

VENICE

The marina at Port Grimaud is not just a

popular tourist magnet, but also attracts

boat lovers from all over the world. With

more than 2,000 moorings and picturesque

scenery, the region in south-east

France, also known as the "French Venice",

is an ideal location to showcase luxurious

yachts in the premium sector to an international

audience.

Port Grimaud has been home to Frauscher

France since 2019. The aim is to provide

local support for regional dealers and the

best service for customers. The current range

of motor boats allows potential buyers

to experience the outstanding performance

of Frauscher boats in the azure-blue waters

of the French Riviera.

Bastien Bonnet, Manager of the base in

France, says: "We want to be even closer

to international customers who are looking

for a sporty boat with outstanding design

paired with first-class service. The new location

in Port Grimaud means we are ideally

placed to meet the needs of buyers

who want to cruise spontaneously to the

beaches around Saint-Tropez or to Cannes."

28

29
---
FRAUSCHER

ESPAÑA

FRAUSCHER

USA

MEDITERANE

ATMOSPHÄRE IN

PORT ADRIANO

MEDITERRANEAN

ATMOSPHERE IN

PORT ADRIANO

WILLKOMMEN IM

SONNIGEN MIAMI

Im Land der unbegrenzten Möglichkeiten

dürfen auch Frauscher Boote

nicht fehlen. Interessenten und

Kunden können im Sunshine-State

Florida in die spektakuläre Welt

von Frauscher eintauchen und mit

Blick auf den Biscayne Bay und umgeben

vom Atlantischen Ozean die

Frauscher Produktpalette testen.

Die Frauscher Bootswerft gründete

2020 Frauscher USA Inc. mit dem

Ziel, die Aktivitäten zu intensivieren

und dem bestehenden lokalen

Partner in Miami – Frauscher America

– bestmöglich zu unterstützen.

Die Vorführboote liegen direkt in der

Marina der Ritz Carlton Residences,

Miami.

WELCOME TO

SUNNY MIAMI

In the land of unlimited possibilities,

Frauscher boats have to be there as well.

Potential buyers and customers can immerse

themselves in the wonderful world

of Frauscher and put the Frauscher range

to the test in the Atlantic Ocean with a view

of Biscayne Bay.

Frauscher Shipyard founded Frauscher

USA Inc. in 2020 with the aim of intensifying

activities and providing the best possible

support to the existing local partner in

Miami – Frauscher America. The demonstration

boats are kept in the marina of the

Ritz Carlton Residences, Miami.

Der vom französischen Designer und Architekten

Philippe Starck gestaltete Yachthafen liegt im

Nordwesten Mallorcas, ca. 30 Minuten von der

mallorquinischen Hauptstadt Palma entfernt. Mit

rund 440 Liegeplätzen, zahlreichen Restaurants,

Bars und Luxus-Geschäften gehört der Hafen von

Port Adriano zu den nobelsten von Mallorca.

Mit der Niederlassung in Port Adriano hat die

Frauscher Bootswerft 2012 einen wichtigen Schritt

in Richtung Internationalisierung gewagt. An einem

der exklusivsten und modernsten Yachthäfen

im Mittelmeer haben Besucher die Möglichkeit,

die Frauscher Modellpalette zu bewundern

und Interessenten können beim Verkaufsteam vor

Ort auch Probefahrten vereinbaren, um die Performance

und Seetüchtigkeit der Boote ausgiebig zu

testen. Frauscher Händler aus der ganzen Welt

nutzen Frauscher España, um mehr über die neuesten

Innovationen und Modelle zu lernen und

können diese vor Ort auch ihren Interessenten und

Kunden in entspannter, mediterraner Atmosphäre

präsentieren.

The marina, created by French designer and architect

Philippe Starck, is in the north-west of Mallorca, around

30 minutes from the capital Palma. With around 440

moorings, numerous restaurants, bars and high-end shops,

the marina at Port Adriano is one of the finest on Mallorca.

With the Port Adriano branch opened in 2012, Frauscher

Shipyard took an important step towards internationalisation.

At one of the most exclusive and modern marinas in

the Mediterranean, visitors can admire the Frauscher range,

while potential buyers can also arrange test drives with

the sales team, enabling them to thoroughly check out the

performance and seaworthiness of the boats. Frauscher

dealers from all over the world use Frauscher España to

learn more about the latest innovations and models and

are able to showcase these to their potential buyers and

customers in the relaxed, Mediterranean atmosphere.

30

31
---
FRAUSCHER ART

FRAUSCHER ART

FRAUSCHER ART

WENN AUS

BOOTEN

KUNSTWERKE

WERDEN

Die Frauscher Bootswerft lässt sich

nicht nur von Design und Technik inspirieren,

sondern inspiriert mit seinen

Booten auch internationale Künstler.

Schon 2010 wagte sich der französische

Künstler Xavier Veilhan in Zusammenarbeit

mit dem kunstorientierten

französischen Unternehmer

John Dodelande und der Frauscher

Bootswerft an eine extravagante

Bootskulptur. Das Ergebnis: die 686

Lido RAL Sky Blu, eine limitierte

Auflage nautischer Skulpturen. Die

RAL Sky Blu verbindet Kunst mit

technischem Können, umgesetzt

von den Spezialisten der Frauscher

Bootswerft und gestaltet von einem

der meist zitierten zeitgenössischen

Künstler weltweit, Xavier Veilhan.

WHEN BOATS

BECOME

WORKS OF

ART

The Frauscher Shipyard is not only itself inspired

by design and technology, but also

in turn inspires international artists with

its boats. In 2010, the French artist Xavier

Veilhan undertook the daring project of

creating an extravagant boat sculpture in

cooperation with the art-oriented French

entrepreneur John Dodelande and the

Frauscher Shipyard. The result – the 686

Lido RAL Sky Blu, a limited edition of nautical

sculptures. The RAL Sky Blu combines

art with technical skill, realized by the

specialists of the Frauscher Shipyard and

designed by one of the world's most widely

quoted contemporary artists, Xavier

Veilhan.

686 Lido RAL Sky Blu,

Xavier Veilhan

32

33
---
Auch zehn Jahre später ist die Frauscher Bootswerft

weiterhin das Zielobjekt zahlreicher Künstler

auf der ganzen Welt. Im Jahr 2020 verwandelte

die für ihre Extravaganz bekannte österreichische

Künstlerin Sabine Wiedenhofer eine 747 Mirage

in ein atemberaubendes Kunstwerk, das auf dem

Wasser zu 100 % alle Blicke auf sich zieht – das

"RAZZLE DAZZLE BOAT".

Inspiriert von Kriegsschiffen des Ersten Weltkrieges,

die zur Tarnung und Irritation mit dem

razzle dazzle Effekt bemalt wurden, kreierte

sie mit dem "RAZZLE DAZZLE BOAT" 2020 ein

Kunstwerk der Extraklasse.

Die verschwimmende Verschmelzung der Frauscher

747 Mirage Air mit ihrer Umgebung erzeugt Sabine

Wiedenhofer durch farbige Mirror Vinyl

Wraps, sowie durch Größe und Anordnung der

typischen Cube-Formen, die sich an die perfekte

Linie des Bootes und die Aerodynamik des hochentwickelten

Stufenrumpfes anpassen. Mit Hilfe

der natürlich erzeugten Reflexionen wird eine

visuelle Form der Lichtgeschwindigkeit, eine Art

Lichtblitz am Wasser, erzeugt. Bei langsamer Fahrt

verschmilzt das Boot durch die Absorption des

Lichtes und wird eins mit seiner Umgebung.

Ten years on, the Frauscher Shipyard is still a destination

for numerous artists from all over the world. In 2020, the

Austrian artist Sabine Wiedenhofer, known for her extravagance,

transformed a 747 Mirage into a breathtaking

work of art that is a 100% eye-catcher on the water – the

"RAZZLE DAZZLE BOAT".

Inspired by warships of the First World War, which were

painted with the razzle dazzle effect for camouflage and

to cause confusion, she created a work of art in a class of

its own with the "RAZZLE DAZZLE BOAT" 2020.

Sabine Wiedenhofer creates the blurred fusion of the

Frauscher 747 Mirage Air with its surroundings by using

colourful mirror vinyl wraps, as well as the size and arrangement

of the typical cube shapes, which are tailored to

the perfect line of the boat and the aerodynamics of the

sophisticated stepped hull.

With the help of naturally generated reflections, a visual

form of the speed of light, a kind of flash of light on the

water, is created. When sailing slowly, the boat merges by

absorbing the light and becomes one with its surroundings.

"Ich versuche Kunstwerke

zu schaffen, die nicht

jeden Tag gleich aussehen,

sondern je nach

Lichtverhältnis variieren.

Das heißt in diesem Fall,

dass ich die Reflexionen

ins Wasser zurückgeben

möchte. Das Kunstwerk

ist das eine, aber alles

was nochmal abgeworfen

wird – an Farbe oder

Reflexionen ins Wasser,

an einen Steg oder an

ein Restaurant, wo das

Boot anlegt – das ist die

5. Dimension. Das ist das

Besondere!"

Sabine Wiedenhofer

Künstlerin Artist

"I try to create works of art

that do not look the same

every day, but vary according

to the light conditions. In this

case, this means that I want

to redirect the reflections onto

the water. A work of art is one

thing. But everything that is

emitted back from it –

whether colours or reflections

in the water or on a jetty or

a restaurant where the boat

is moored – that is the 5 th

dimension. And that's what

makes it special!"

34

35
---
TimeSquare q20

A NEW WAY

OF BOATING

INFO-

BOX

Warum nennt Frauscher das Modell

TimeSquare q20? Durch die

innovative Rumpfform entsteht eine

große, begehbare Fläche an Deck

– die Fläche (Square) auf der man

gern Zeit (Time) verbringt. Das q20

steht dabei für die Nutzfläche – der

TimeSquare q20 Besitzer hat 20

Quadratmeter Fläche zur persönlichen

Verfügung.

Why does Frauscher call this model

TimeSquare q20? The innovative hull shape

creates a large, accessible area on deck

– the area where people like to spend time.

The q20 stands for the usable area – the

TimeSquare q20 owner has 20 square

meters of space at his personal disposal.

Die Frauscher Bootswerft hat ihr Markenversprechen

"engineers of emotions" immer wieder unter

Beweis gestellt. Mit innovativen Technologien,

dem Einsatz von Know-how der langjährigen Mitarbeiter

und dem markanten Frauscher-Design

haben die Bootsbauer der Premiummarke bereits

eine Vielzahl an spektakulären Modellen auf den

Markt gebracht. 2021 wird das Sortiment mit einem

neuen Modell erweitert, welches einen weiteren

Meilenstein in der Innovationsgeschichte markieren

wird. Die TimeSquare q20!

Die TimeSquare q20 ist ein zweirumpfiges Elektroboot,

das aus der Perspektive von Kundenwünschen

und deren Nutzergewohnheiten konzipiert

und konstruiert worden ist. Dabei wurden die Bedürfnisse

der potenziellen sowie der bestehenden

Kunden in den Vordergrund gestellt. Die Antriebstechnologie

wurde so gewählt, das Boot extrem

manövrierfähig und leise zu gestalten. "Mit der

TimeSquare q20 wird Elektrobootfahren neu definiert:

hervorragende Fahreigenschaften bei geringem

Energiebedarf. Sozusagen ein Rückzugsort

am Wasser mit allen Annehmlichkeiten die man

The Frauscher Shipyard has repeatedly proven its brand

promise as "engineers of emotions". Using innovative

technologies, the application of the expertise of its longstanding

employees and the striking Frauscher design, the

boat builders of the premium brand have already launched

a large number of spectacular models on the market. In

2021, the range is going to be expanded with a new model,

which will mark another milestone in its history of innovation.

The TimeSquare q20!

The TimeSquare q20 is a two-hull electric boat that has

been designed and constructed from the perspective of

customer requirements and their habits of use. The needs

of both potential and existing customers were prioritised

here. The drive technology was chosen to make the boat

extremely manoeuvrable and quiet. "With the TimeSquare

q20, electric boating is redefined – excellent driving characteristics

with low energy consumption. A retreat, so to

speak, on the water with all the comforts you could wish

for in a boat," says managing director Stefan Frauscher, explaining

the concept.

The TimeSquare q20 is the perfect solution for these requirements.

Due to the significantly lower displacement of

sich von einem Boot wünscht," erklärt Geschäftsführer

Stefan Frauscher die Konzeption.

Die TimeSquare q20 ist für diese Anforderung die

perfekte Lösung. Aufgrund der deutlich geringeren

Verdrängung eines Katamarans im Vergleich zum

Einrumpfboot, verringert sich die benötigte Energie

und erhöht damit die Reichweite erheblich. Die

TimeSquare q20 liegt im Fahrbetrieb und auch vor

Anker sehr ruhig im Wasser und bietet ein äußerst

großzügiges Sitz- und Liegeflächenangebot. Zusätzlich

bietet das Zweirumpf-Design höchste Stabilität

und damit ein unvergleichliches Wohlgefühl

an Bord.

Die TimeSquare q20 wird mit zwei Elektroaußenbordmotoren

angetrieben. Dadurch wird das Anlegen

zum Kinderspiel und die Motoren arbeiten

auch bei schneller Fahrt flüsterleise. Durch das

innovative Rumpfdesign hat die TimeSquare q20

mit 2x 10 kW Motorleistung und 20 kWh Batteriekapazität

ungefähr dieselbe Höchstgeschwindigkeit

und 20% mehr Reichweite als die Frauscher

740 Mirage Air mit 60 kW Motorleistung und 40

kWh Batteriekapazität.

Der sehr hohe Qualitätsanspruch wurde auch bei

diesem Modell berücksichtigt. Hochwertige Materialien

und ein anspruchsvolles, reduziertes Design

steht im Vordergrund. Damit bietet die TimeSquare

q20 nicht nur eine neue Dimension an Design

und Komfort im Bereich nautischer E-Mobilität,

sondern auch einen Quantensprung in Effizienz

und Reichweite!

a catamaran compared to a monohull, the energy required

is reduced, thereby increasing range considerably. The

TimeSquare q20 lies very calmly in the water, both when

sailing and at anchor and has an extremely generous seating

area. In addition, the two-hull design offers maximum

stability and thus an incomparable feeling of well-being on

board.

The TimeSquare q20 is powered by two electric outboard

motors. This makes docking child's play and the motors

operate extremely quietly even at high speeds. Thanks to

its innovative fuselage design, the TimeSquare q20 with

2x 10 kW engine power and 20 kWh battery capacity has

about the same top speed and 20% more range than the

Frauscher 740 Mirage Air with 60 kW engine power and 40

kWh battery capacity.

These very high standards of quality were also taken into

account when designing this model. High-quality materials

and a sophisticated, minimalist design form the main focus.

And so, the TimeSquare q20 offers not only a new

dimension of design and comfort in the field of nautical

e-mobility, but also a quantum leap in efficiency and range!

36

37
---
DIE VORTEILE DES

Z-ANTRIEBES

ADVANTAGES OF

THE STERNDRIVE

THE BEST

DRIVE IS

INNOVATION.

Boote mit Z-Antrieb zeichnen sich durch ihre hervorragende,

präzise Manövrierbarkeit aus. Der Z-

Antrieb benötigt kein Ruderblatt, weil der Propeller

selbst schwenkbar ist. Dies hat Vorteile beim Anlegen,

wo auch bei Rückwärtsfahrt das Boot präzise

beherrschbar und manövrierfähig bleibt. Und bei

hohen Kurvengeschwindigkeiten verliert ein Boot

mit Z-Antrieb weniger Vortrieb als ein konventionell

mit Welle und Ruderblatt angetriebenes Motorboot

und bleibt daher effizienter. Dank dem so genannten

Powertrimm sind Z-Antriebe zudem höhenverstellbar.

So lässt sich die Positionierung des Propellers

exakt an die jeweiligen Gegebenheiten wie

beispielsweise an die Lage des Boots im Wasser

oder an den Seegang anpassen, was Performance

und Effizienz deutlich verbessert. Durchquert man

seichte Gewässer oder muss auf dem Wasser den

Propeller wechseln – kein Problem. Einfach den

Z-Antrieb anheben und fertig. Nicht zuletzt garantiert

ein weltweit dichtes Kundendienstnetzwerk

unserer beiden Lieferanten Mercruiser und Volvo

Penta eine rasche und sichere Ersatzteilversorgung.

Boats with a sterndrive are characterised by their excellent,

precise manoeuvrability. The sterndrive does not require a

rudder blade because the propeller itself can be swivelled.

This helps when mooring because the boat can be controlled

and manoeuvred with precision even when backing

up. And at high cornering speeds, boats with a sterndrive

lose less propulsion than conventional motor boats that are

driven with rudder blades and shafts, and therefore remain

more efficient. Thanks to the so-called power trim, sterndrives

are also height-adjustable. As a result, the position of

the propeller can be adjusted with precision depending on

the respective conditions, such as the position of the boat

in the water or the swell, resulting in significantly improved

performance and efficiency. There's no problem even when

crossing shallow waters or changing the propeller on the

water – lift the sterndrive and done! Last but not least, a

broad network of global customer service provided by our

two suppliers Mercruiser and Volvo Penta guarantees the

quick and safe supply of spare parts.

Dem inneren Antrieb folgend, baut die Frauscher

Bootswerft Boote, die handwerkliche Präzision,

einmalige Performance und ausgezeichnetes

Design in Einklang bringen. Und hier kommt

der so genannte Z-Antrieb ins Spiel – die beste

Variante für Frauscher Boote mit einem Verbrennungsmotor.

WARUM?

Beim Z-Antrieb handelt es sich um einen Antrieb,

der außerhalb des Bootsrumpfes an der Spiegelplatte

montiert und durch diese hindurch mit dem

innen liegenden Motor verbunden ist. Seine große

Stärke: die aus dem Motor kommende Antriebswelle

wird Z-förmig – daher der Name – zur tiefer

unter der Wasseroberfläche befindlichen Propellerwelle

umgelenkt. Sämtliche Vorteile anderer Antriebskonzepte

vereint der Z-Antrieb in sich und

erweist sich als dynamisches Wunderwerk.

Following their inner drive, the Frauscher Shipyard

builds boats that combine precise craftsmanship, unique

performance and excellent design. And this is where the

so-called sterndrive comes into play – the best variant for

Frauscher boats with internal combustion engines.

WHY?

The sterndrive is a drive that is mounted on the mirror

plate outside the boat hull and connected to the internal

engine through it. Its great strength is that the drive shaft

coming from the engine is diverted to the propeller shaft

which is located quite below the water surface. The sterndrive

combines all the advantages of other drive concepts

and has shown itself to be a dynamic miracle.

DER MODERNE

Z-ANTRIEB BIETET

DAS BESTE AUS ALLEN

WELTEN

Die Manövrierfähigkeit von Pod-Antrieben (z.B.

IPS), die Effizienz, den Fahrspaß und den geringen

Tiefgang von Außenbordmotoren sowie die Zuverlässigkeit

und das geringe Gewicht des klassischen

Wellenantriebs. Und obwohl das praktische Bugstrahlruder

bei allen Frauscher Motorbooten zur

Serienausstattung gehört, kann bei Modellen mit

2 Motoren ein Joystick für noch einfachere Anlegemanöver

bestellt werden. Frauscher integriert

den Z-Antrieb zudem so unter der Badeplatt -

form, dass keine Gefahr besteht sich am Propeller

zu verletzen.

THE MODERN

STERNDRIVE OFFERS

THE BEST OF

ALL WORLDS

The manoeuvrability of pod drives (e.g., IPS), efficiency,

sailing pleasure and the low draft of outboard engines, as

well as reliability and low weight of the classic shaft drive.

And although the practical bow thruster is standard

on all Frauscher motor boats, a joystick can be ordered for

models with two engines for even simpler mooring manoeuvres.

Frauscher also integrates the sterndrive under the

bathing platform in such a way that there is no risk of injury

arising from the propeller.

38

39
---
FRAUSCHER ON LAKE STARNBERG

Der Starnberger See ist der perfekte

See zum Bootfahren. Schon

seit Jahrzehnten hat die Frauscher

Bootswerft mit den Händlern Sattler,

Rambeck, Goetzke und Glas

verlässliche Partner, die am Starnberger

See die Elektro- und Motorboote

der österreichischen Werft

vertreiben.

Gerade für den Starnberger See

passen die Boote der österreichischen

Werft perfekt. Die Eleganz

des Ambientes spiegelt sich in den

stilvollen Yachtformen wider. Die

Freiheit am Wasser und die Sonne

auf der großzügigen Liegefläche

einer Frauscher zu genießen oder

an einem der vielen schicken Restaurants

anzulegen und den Tag

ausklingen lassen, das gelingt am

Starnberger See besonders gut.

Der Starnberger See ist nach dem

Bodensee und dem Chiemsee der

drittgrößte See in Bayern und sicher

der beliebteste für die nur

25 Kilometer entfernt lebenden

Münchner. Aufgrund seiner großen

Tiefe ist er der zweit-wasserreichste

des Freistaates Bayern.

Wassersport ist extrem beliebt am

See, viele Segler und Bootsfahrer

schätzen das Revier, es gibt viele

Yachthäfen und eine gute Logistik

für Bootsfahrer.

Um die Qualität des Wassers und

die Entspannung zu garantieren

ist auf dem Starnberger See das

Motorbootfahren mit Verbrennungsmotoren

auf 255 private Lizenzen

reduziert, die Wartezeit ist

mit über 15 Jahren ausgesprochen

lang. Einen sogenannten Gestattungsvertrag

für ein Elektroboot

bekommt man hingegen sofort.

Die erfahrenen Frauscher Händler

am Starnberger See verfügen nicht

nur über das nötige Know-How,

sondern auch über die raren Liegeplätze.

Lake Starnberg is the perfect lake for boating.

For decades, the Frauscher Shipyard

has had reliable partners in the marinas

Sattler, Rambeck, Goetzke and Glas, who

sell the Austrian shipyard's electric and

motor boats on Lake Starnberg.

The boats from the Austrian shipyard

are just perfect for Lake Starnberg. The

elegance of the ambience is reflected in

stylish yacht designs. Lake Starnberg is

the ideal place to enjoy freedom on the

water and in the sun from the spacious

reclining areas of a Frauscher, or to just

dock at one of the many chic restaurants

and bring the day to a close.

Lake Starnberg is the third largest lake in

Bavaria, following the Lake Constance

and Lake Chiemsee. It is certainly the

most popular lake for the people of Munich

who live only 25 kilometres away.

Due to its great depth, it is the second

most water-rich lake in the Federal State

of Bavaria. Water sports are extremely popular

here. Many sailors and boaters appreciate

the area, where there are a lot of

marinas and amenities for boaters.

In order to guarantee water quality and

relaxation without noise, motor boating

with combustion engines has been

reduced to 255 private licenses on Lake

Starnberg. However, you can get a socalled

license agreement for an electric

boat immediately. The experienced

Frauscher partners on Lake Starnberg not

only have the boat knowledge but also

access to the rare available moorings.

Familienbetriebe über Generationen

Angefangen hat die gute Beziehung zwischen

dem bayerischen Familienbetrieb Goetzke und der

österreichischen Familienwerft Frauscher mit den

Eltern. Heidi Goetzke, die 1964 als erste Frau die

Prüfung zur Fischermeisterin absolvierte, wuchs

am Starnberger See auf und errichtete mit ihrem

Mann Dietmar 1984 den Yachthafen in Possenhofen.

Zum Hafen gehören die Fischerei, der Verkauf

von Booten, ein Komplett-Service und ein Bootsverleih.

Zur Jahrtausendwende 2000 lernen Heidi und

Dietmar Goetzke auf einer Bootsmesse Hans und

Dorli Frauscher kennen. Sie beginnen ihre Händlerbeziehung

mit der Vermittlung von der h26 und

dem H-Boot, mit dem Hans Frauscher 1982 und

sein Sohn Stefan 2002 den Weltmeistertitel holten.

Familiengeschichte in zweiter Generation

Zeitgleich als Frauscher 2004 das Elektroboot 560

Valencia herausbringt, übernehmen Sohn Thomas

Goetzke als ausgebildeter Bootsbauer und

seine Frau Nicola, die sich um das Geschäftliche

kümmert, nicht nur die Bootsagentur – sondern

auch die langjährige Zusammenarbeit mit den

Frauschers. Der geschäftliche Kontakt lief damals

über die Sattler Werft in Starnberg. Die Brüder Michael

und Berni Sattler waren schon erfolgreiche

Frauscher Händler im Norden des Starnberger

Sees und hatten mit der Familie Goetzke einen

Heidi & Dietmar

Goetzke

Family businesses over generations

The good relationship between the Bavarian family business

and the Austrian family-run shipyard started with the

parents of the current generation. Heidi Goetzke, the first

woman who passed the exam as a fishing master in 1964,

grew up at Lake Starnberg and developed the marina in

Possenhofen with her husband Dietmar in 1984. This includes

the fishery, a complete service, sales and a boat rental

service.

At the turn of the millennium in 2000, Heidi and Dietmar

Goetzke met Hans and Dorli Frauscher at a boat show.

They started their dealer relationship with the Frauscher

h26 and H-Boot, which had won Hans Frauscher the world

championship title in 1982 and his son Stefan in 2002.

Family history in the second generation

When Frauscher launched the electric boat 560 Valencia

in 2004, son Thomas Goetzke, a trained boat builder,

and his wife Nicola, who takes care of the business, not

only took over the company, but also the long-term collaboration

with the Frauschers. At the time, the business

contact came about via the Sattler shipyard in Starnberg.

Brothers Michael and Berni Sattler were already successful

Frauscher dealers in the north of Lake Starnberg and had

a reliable partner in the Goetzke family slightly further towards

the south. Over the years, the business cooperation

has intensified and a close friendship has flourished on the

basis of this successful cooperation between the families.

40

41
---
verlässlichen Partner etwas weiter südlich. Die

geschäftliche Kooperation hat sich über die Jahre

intensiviert und aus der erfolgreichen Zusammenarbeit

hat sich auch eine innige Freundschaft

sowohl zu den Sattlers als auch zur Frauscher

Familie entwickelt. Diese Freundschaft der Familien

besteht noch bis heute.

Was macht Frauscher so attraktiv für das Familienunternehmen

Goetzke am Starnberger See?

Es sind die schönen und hochwertigen Boote, die

Frauscher baut. "Wir verkaufen nur Produkte, von

denen wir überzeugt sind und die uns selbst gefallen",

sagt Thomas. "Frauscher-Boote haben ein

wahnsinnig gutes Design, und die Verarbeitung ist

extrem hochwertig – und das nicht nur von außen,

sondern auch von innen."

Mit Herzblut

Der persönliche, freundschaftliche Kontakt zur

Werft ist Thomas und Nicola besonders wichtig.

Wenn es pressiert, setzt sich Thomas ins Auto und

fährt zur Werft nahe dem Traunsee. Bei den anfangs

jährlich angebotenen Händlerschulungen

lernen sie Boote und Technik detailliert kennen

und werden immer über Neuentwicklungen auf

dem Laufenden gehalten – "und nicht nur das"

erinnert sich Thomas "wir Händler durften auch

Ideen, Wünsche und konstruktive Kritik äußern.

Stefan und Michael hatten immer ein offenes Ohr

dafür – und vieles davon wurde auch umgesetzt.

Das ist es, was uns nicht nur zu Frauscher verbindet,

sondern auch zu deren Booten. Wir durften

Nicola & Thomas

Goetzke

What makes Frauscher so attractive for the Goetzke family

business on Lake Starnberg? It is the beautiful, high-quality

boats that the Frauscher Shipyard builds. "We only

sell products that we admire and that we like ourselves,"

says Thomas Goetzke. "Frauscher boats have an incredibly

good design and the workmanship is superb. They are not

just show, but also substance."

With passion

Personal, friendly contact with the shipyard is particularly

important to Thomas and Nicola. Whenever some matter

needs urgent attention, Thomas simply gets in the car and

drives to the Frauscher Shipyard near Traunsee. During

the yearly dealer training courses at the beginning, they

learn about boats and technology in detail and were always

informed about new developments. And "not only that",

Thomas remembers, "we as dealers could also talk about

our ideas, wishes and constructive feedback. Stefan and

Michael were always listening to us and many of it was also

realized. That's also something what does not only connect

us to Frauscher but also to their boats. So to speak, we kind

of were allowed to take part in the realization of every new

boat, were cheering, when there was again a new model on

the market. May it be a bigger sunpad, a better integrated

sun canopy, a stronger engine or a different propeller. We

as dealers were one of the first people who were allowed

to test and experience these new boats on Lake Traunsee."

With every new Frauscher boat Thomas was able to develop

further his skills about electric boats and is able to do

a lot of repairs himself nowadays. "This connection to the

boats but also the personal, trustful contact to the Frauscher

family and the sales, maintenance and production

staff lead to the emotions we experience when selling a

quasi an der Entstehung eines jeden neuen Bootes

teilhaben, haben uns mitgefreut, wenn wieder

ein neues Modell auf den Markt kam – sei es mit

größerer Liegefläche oder einem besser integrierten

Sonnenverdeck, sei es mit einem stärkeren

Motor oder einem anderen Propeller. Wir Händler

durften als einer der ersten die neuen Boote auf

dem Traunsee Probe fahren und erleben." Thomas

entwickelt durch diese Integration seine Kenntnisse

über Elektroboote mit jedem neuen Frauscherboot

weiter und kann so heute viele Reparaturen

selbständig ausführen. "Diese Verbindung zu den

Booten sowie der persönliche, vertrauensvolle

Kontakt zu den Frauschers aber auch zu den

Verkäufern, den Mitarbeitern in der Produktion

und in der Werkstatt machen die Emotion und

die Begeisterung aus, die wir beim Verkauf eines

Frauscher Bootes empfinden und ich denke, dies

spüren auch unsere Kunden, die an einem Elektroboot

interessiert sind", fügt Nicola hinzu.

Das erklärt wohl auch, dass mehr als ein Drittel

der Boote, die im Yachthafen Goetzke liegen,

Frauscher Boote sind. Dazu kommen noch zwei

540 Portofino, eine Frauscher 2000 und ein 580

Monte Carlo aus den Anfängen der Elektrobootsgeschichte

der Werft, die im Bootsverleih laufen.

Perfektion und guter Service

Die Zusammenarbeit der Werft mit Torqeedo sorgt

für kurze Wege. Denn der Elektromotorenhersteller,

mit dem Frauscher für Elektroboote zusammenarbeitet,

hat seinen Sitz in Gilching, ganz in

der Nähe des Starnberger Sees. Die Techniker von

Torqeedo kommen schnell auch mal für die Wartung

in den Yachthafen nach Possenhofen. Und für

die Mastervolt Batterien kann Thomas selbst den

Service und die Wartung vornehmen.

Die große Zahl der Elektroboote am Starnberger

See erklärt sich aus den raren Lizenzen für die

Fahrerlaubnis mit Booten mit Verbrennungsmotor.

Denn dafür wartet man bis zu 15 Jahre auf eine

Lizenz. Für ein Elektroboot gibt es dagegen sofort

eine Betriebserlaubnis auf dem See und Elektroboote

baut die Frauscher Bootswerft immerhin

schon seit 1955.

Frauscher setzt bei den Elektromotoren schon immer

auf sichere Systeme, wie derzeit Torqeedo und

Mastervolt sie liefern und gewährleisten. Das hat

auch für die Goetzkes hohe Priorität. Für sie muss

es nicht das schnellste Boot auf dem See sein, sondern

das sicherste. Angefangen haben sie mit der

Frauscher boat. And I think our customers, who are interested

in an electric boat, also feel this", Nicola adds.

This also explains that more than one third of the boats

which are lying at the Goetzke port are Frauscher boats.

In addition, there are also two 540 Portofino, a Frauscher

2000 and a 580 Monte Carlo from the beginnings of the

electric boat history of the shipyard, which are for rent in

their boat rental.

Perfection and good service

The cooperation between the shipyard and Torqeedo ensures

short distances. That's because the electric motor manufacturer,

with whom Frauscher works for electric boats,

is based in Gilching, which is very close to Lake Starnberg.

The technicians from Torqeedo can quickly come to the

marina in Possenhofen for maintenance work. And for the

Mastervolt batteries, which Frauscher also uses, Thomas

can do the service and maintenance himself.

The large number of electric boats on Lake Starnberg is

explained by the limited licenses for driving permits for

boats with combustion engines. You may have to wait for

up to 15 years for a license. For an electric boat, on the

other hand, you can get an immediate operating permit

on the lake and the Frauscher Shipyard has been building

such boats since 1955.

For the electric motors, Frauscher has always relied on

safe systems such as those supplied and guaranteed by

Torqeedo and Mastervolt. The Goetzkes prefer this too.

They would rather have the safest boat on the lake than

the fastest one. They started with Frauscher 560 Valencia,

followed by 650 Alassio, 610 San Remo and 740 Mirage.

650 Alassio is the ideal boat for Thomas and Nicola Goetzke

for Lake Starnberg, both in terms of size as well as its

42

43
---
Sees und der Berge. Sie werden über eine Hebeplattform

dort hinauf gefahren. Hier stehen nun

verschiedene Modelle in sämtlichen Farben und

Ausführungen und mit zahlreichen Sonderanfertigungen.

Es ist wie ein Showroom, der es dem Elektrobootinteressenten

auch im Winter leicht macht,

sich sein Traumboot zusammenzustellen. "Nur für

die warmen Temperaturen des Sommers braucht

es etwas Phantasie", erinnert sich Nicola an diverse

"Sit-in's in Booten mit Wintermantel."

New chapter, the third generation!

One generation steps back, the next one

follows. However, the parents haven't completely

withdrawn from the business yet. At

the age of 83, Dietmar Goetzke still lends

a hand at the port, helps with craning and

maneuvering and gives some advice. This

is how they work hand in hand in a family

business.

Frauscher 560 Valencia, gefolgt von der 650 Alassio,

der 610 San Remo und der 740 Mirage. Die 650

Alassio ist für Thomas und Nicola das ideale Boot

für den Starnberger See, sowohl von der Größe

als auch beim Handling und der Manövrierbarkeit.

"Das Boot mit 48-Volt-System mit 15-kW-Motor ist

das perfekte Badeboot, vorallem auch mit seiner

großen Liegefläche", sagt Thomas.

Das, was Thomas und Nicola so an der Zusammenarbeit

mit Frauscher schätzen, nämlich die

Ehrlichkeit, Offenheit und das Vertrauen auf das

gesprochene Wort, praktizieren sie selbst auch gegenüber

ihren eigenen Kunden. Einige von ihnen

sind schon sehr viele Jahre im Hafen. "Ich weiß von

Erzählungen, dass mich einer schon im Kinderwagen

geschoben hat", sagt Thomas. "Wir haben zu

den meisten Kunden ein sehr herzliches Verhältnis;

einige sind über die Jahre zu guten Freunden

geworden. Die Kunden vertrauen uns, sie schätzen

unsere präzise Arbeit und sie wissen, dass wir mit

ihren Booten umgehen als wären sie unsere Eigenen.

Ich bin auch schon nachts bei starkem Sturm

mit der Taschenlampe durch den Hafen gegangen

und hab geschaut, dass alle Boote gut vertäut

sind."

Perfektion und guter Service – Sommer wie Winter

– sind für Thomas und Nicola sehr wichtig.

Winterlager oder besser Winter-Showroom

2018 hat die Familie Goetzke die Bootshalle um

ein Stockwerk erweitert. In diesem obersten Stockwerk

stehen jetzt ausschließlich Frauscher-Boote

vor dem traumhaften Panorama des Starnberger

handling and maneuverability. "With a 48-volt system and

a 15-kW motor it is the perfect bathing boat, especially with

the large sunpad," Thomas explains.

What's really important to Thomas and Nicola about working

together with Frauscher is honesty, openness and

trust on the spoken word, also when talking to their own

customers. Some of them have been in the port for many

years. "I know from sayings that one of them pushed me in

my stroller", Thomas says. "We have a very close relationship

to most customers; some have become great friends

over the years. The customers trust us, appreciate our precise

work and know, that we handle their boats just as they

were ours. There had been times when I walked through

the port with my flashlight when there was a storm,

checking whether all the boats were secured."

Winter storage or rather winter showroom

Perfection and good service are very important to Thomas

and Nicola during summer and winter.

In 2018, Thomas and Nicola added one floor to the boat

shed. The first floor now houses only Frauscher boats

against the magnificent ambience of Lake Starnberg. They

are lifted to the upper floor using a sophisticated elevator.

Different models in a variety of colors and designs with

many custom-made specials are presented here. It is like

a showroom and a possibility for the customer, who is

interested in electric boats, to compose his or her own

dream boat in winter. "Only for the warm temperatures

of the summer you need some phantasy", Nicola says,

remembering numerous sit-ins in boats with winter coats.

Klappe, die Dritte

Eine Generation zieht sich zurück, die Jungen folgen

nach. Doch ganz zurückgezogen haben sich

die Eltern noch nicht. Dietmar Goetzke legt mit 83

Jahren noch immer mal Hand im Hafen an, hilft

beim Kranen oder Rangieren und gibt auch gerne

den einen oder anderen Ratschlag. So geht es

eben Hand in Hand im Familienbetrieb.

Und bei den Jungen ist Sohn Oliver gerade mit der

Schule fertig; er hat ein Praktikum bei Torqeedo

absolviert, von dem er hellauf begeistert war. Nun

will er eine Ausbildung als Elektroniker machen

und dann in den elterlichen Betrieb einsteigen.

Auch der Bruder Lukas geht mit der angestrebten

Ausbildung als KfZ-Mechatroniker in die handwerkliche

Richtung mit Elektro Hintergrund. Beide

denken zukunftsweisend, denn Verbrenner werden

auf dem Starnberger See immer weniger werden.

Da muss man am Ball bleiben und die Technik kennen,

das weiß Thomas Goetzke aus langjähriger

Erfahrung.

Goetzke's son Oliver has just finished

school. He completed an internship at Torqeedo,

which he was absolutely thrilled about.

He now wants to train as an electronic

engineer and then join his parents' company.

His brother Lukas is going into the

handcraft direction with electronic background

with his internship as a mechatronic.

Both are very forward-looking because

there will be fewer and fewer combustion

engines on Lake Starnberg. You have to

stay ahead of the curve and know the technology

– Thomas Goetzke knows that from

years of experience.

44

45
---
IN TANDEM

FRAUSCHER PARTNER

IN BERLIN

Udo Pflüger ist ein waschechter Berliner, er ist am

Wasser aufgewachsen. Schon mit 16 hat er einen

Segel- und Motorbootführerschein und fährt Riva

– es ist das Boot eines Kunden seines Vaters. Ähnlich

macht es Norman Bauer, der schon als Achtjähriger

beim Urlaub in französischen Port Grimaud

aus purer Begeisterung beim Riva-Händler

mitgearbeitet hat.

Als Berlin nach dem Mauerfall aus dem Dornröschenschlaf

erwacht, wird auch der Wassersport

reger. Segler gibt es am Wannsee schon seit über

150 Jahren. Udo Pflüger, der als Regattasegler im

Verein Seglerhaus am Wannsee ist, lernt Stefan

Frauscher 1998 bei einer Regatta kennen. Und er

übernimmt als Händler die H-Boot Vertretung der

Frauscher Bootswerft in Berlin.

Als beide 2006 gemeinsam auf der jungen Berliner

Bootsmesse Boot & Fun die Marke Frauscher

präsentieren – es gibt noch keinen Händler für

Frauscher Motorboote in Berlin – verkauft Udo

Pflüger auf einen Schlag zwei Motorboote. Und er

übernimmt ab diesem Moment auch den Motorboot-Vertrieb.

22 Jahre lang ist Udo Pflüger mit Frauscher als

Händler und Partner fest verbunden. Wenn einer

die Entwicklung der Werft kennt, dann ist es er. Er

hatte in Berlin schon viele klassische Frauscher 757

St. Tropez verkauft, als die Werft mit der 686 Lido

erstmals den Sprung in die Moderne wagt und die

bis heute andauernde Erfolgsgeschichte beginnt.

Udo Pflüger is a true Berliner, he grew up by the water. By

the early age of 16, he already had a sailing and motor boat

licence and had sailed a Riva. This was the boat of one of

his father's customers. Norman Bauer followed a similar

path, having worked for the Riva dealer when he was only

eight years old on a holiday in Port Grimaud, France, out of

pure enthusiasm.

When Berlin emerged from its hibernation after the fall of

the Berlin Wall, water sports also became more popular.

Wannsee has been home to sailors for over 150 years. Udo

Pflüger, who is a regatta sailor in the club "Seglerhaus am

Wannsee", met Stefan Frauscher at a regatta in 1998. And

he took over the H-Boat representation of the Frauscher

Shipyard in Berlin as a dealer.

When the two of them jointly presented the Frauscher

brand at the new Berlin boat show Boot & Fun in 2006

– there was not yet a dealer for Frauscher motor boats in

Berlin – Udo Pflüger sold two motor boats in one go. And

from that moment on, he also took over motor boat sales.

Der zweite Sprung war sogleich ein Quantensprung.

Als die Werft vom Wasser an den neuen

Standort an der Autobahn zog, mit den modernsten

Produktionsformen, begann etwas ganz Neues,

erzählt Udo Pflüger begeistert. "Es ist etwas

Besonderes, wenn man so eine Entwicklung mitmacht",

findet er. Immer wieder bekam Pflüger

Angebote von anderen Werften, aber er hat nie an

der Partnerschaft mit der Frauscher Bootswerft

gezweifelt.

"Ich hätte nie gedacht, dass man sich in 22 Jahren

nicht einmal streitet", sagt der 65-Jährige über das

weit über eine Geschäftsbeziehung hinausreichende

Verhältnis zur Familie Frauscher. Drei Generationen

hat er bereits kennengelernt. Für ihn macht

das Familiäre die gemeinsame Geschichte so sympathisch.

Die harmonische Zusammenarbeit und

die Korrektheit der Familie Frauscher ist dafür die

Grundlage. "Dann entsteht so was Gutes", sagt er.

"Wenn ich mit ihnen

rausgefahren bin,

waren sie verloren."

Udo Pflüger

Pflüger hatte nie ein Problem, sowohl Segelals

auch Motorboote zu verbinden. Er hat viele

Frauscher Boote an Segler verkauft. "Wenn Flaute

ist, lässt du das Segelboot einfach am Steg", hat er

seinen Kunden empfohlen. Die wussten oft noch

gar nicht, dass sie eine Frauscher kaufen würden.

"Wenn ich mit ihnen rausgefahren bin, waren sie

verloren", erinnert sich der Händler, "weil sie begeistert

waren vom Fahrverhalten und der Qualität der

Boote."

Der erfahrene Bootshändler weiß, was seine Kunden

suchen: das Besondere. Ein Frauscher Kunde

möchte sich mit seinem Boot von der Masse abheben.

For 22 years, Udo Pflüger has been solidly connected with

Frauscher as a dealer and partner. If anyone knows the development

of the shipyard, then it is him. He had already

sold many classic Frauscher 757 St. Tropez in Berlin when

the shipyard first ventured into the modern era with the

686 Lido and the success story began that continues to

this day.

The second stage immediately proved to be a quantum

leap. When the shipyard moved from the water to its new

location by the motorway, with the most modern production

facilities, something completely new began, Udo

Pflüger relates enthusiastically. "There's something special

about going through such a development", he says. Again

and again, Pflüger received offers from other shipyards, but

he never doubted his partnership with Frauscher Shipyard.

"I never would have imagined that in 22 years there

wouldn't even be a single argument", says the 65-year-old

about his dealings with the Frauscher family, which go

far beyond a business relationship. He has already known

three generations. For him, it is the family atmosphere that

makes the shared history so appealing. The harmonious

cooperation and the correctness of the Frauscher family is

the basis for this. "That's when all the good stuff starts

happening", he says.

"When I went out with

them, they were lost."

Udo Pflüger

Pflüger never had a problem connecting sailing and motor

boats. He has sold many Frauscher boats to sailors. "When

there's a lull, you just leave the sailboat at the jetty," was

his recommendation to his customers. They often did not

even know that they would buy a Frauscher. "When I went

out with them, they were lost", recalls the dealer, "because

they were thrilled with the handling and quality of the

boats."

The experienced boat dealer knows what his customers

are looking for – something special. A Frauscher customer

wants to stand out from the crowd with his boat.

46

Udo

Pflüger

47
---
"In meinem Leben sind

die Veränderungen oft

dem Zufall geschuldet."

"In my life, changes

have often been the

result of chance."

Norman Bauer

Norman Bauer

2006 lernt Udo Pflüger auf der Boot & Fun Berlin

den Riva-Händler Norman Bauer kennen. Sie haben

ihren Stand vis a vis. Beide mögen sich auf Anhieb.

Udo Pflüger suchte jemanden, der eine gut

funktionierende Infrastruktur besitzt, er findet ihn

in Norman Bauer. Über fünf Jahre bearbeiten sie

als gute Kollegen gemeinsam als Frauscher Händler

den gleichen Markt. Udo Pflüger als Frauscher

Urgestein und Norman Bauer als Junior Partner.

Auch das zeichnet Udo als perfekten "Frauscherianer"

aus: er denkt für sich persönlich schon an etwas

arbeitsärmere Zeiten und plant für die Bootswerft

in die Zukunft.

Seit dem 1. September 2020 ist Norman Bauer nun

der offizielle Frauscher Händler für das Gebiet Berlin,

die neuen Bundesländer und die Ostseeküste.

Udo Pflüger behält seine Bestandskunden und ist

künftig auf Lebzeit Frauscher "Bootschafter" – eine

Ehrung, die ihm viel bedeutet. Den Händlern, die

sehr gerne "Hand in Hand" das Gebiet betreut haben,

gefällt diese faire Lösung.

Norman Bauer ist voller Tatendrang. Er ist ein Macher,

der mit viel Spaß seine Projekte voranbringt.

Schon seit Kindertagen hat der 51-jährige ein Faible

für Boote. In Port Grimaud, in Frankreich, verliebte

sich der Junge in Boote und weiß, dass er in

diesem Business auch noch später seine Brötchen

verdienen will. Der gelernte Hotelkaufmann wäre

deshalb fast nach Frankreich gegangen. Aber es

kam alles ganz anders.

Norman

Bauer

In 2006, Udo Pflüger met the Riva dealer Norman Bauer

at the Boot & Fun Berlin. Their stands were opposite one

another. They got on with each other right from the very

start. Udo Pflüger was looking for someone with a good

functioning infrastructure and found that in Norman Bauer.

For more than five years, they worked together as good

colleagues in the same market in their role as Frauscher

dealers. Udo Plflüger as a Frauscher veteran and Norman

Bauer as a junior partner. Something that also distinguishes

Udo as a perfect "Frauscherian" is that he personally

thinks of slightly fewer working hours and plans for the

shipyard's future.

Since September 1 st 2020, Norman Bauer has been the official

Frauscher dealer for the Berlin area, the former East

Germany and the Baltic Sea coast. Udo Pflüger keeps his

existing customers and will be Frauscher's "ambassador"

for life – an honour that means a lot to him. The dealers,

who were very happy to work "in tandem" with the area,

like this fair solution.

Norman Bauer is full of enthusiasm to get things done.

He is a doer who has a lot of fun advancing his projects.

The 51-year-old has had a passion for boats since his childhood.

As a boy in Port Grimaud, in France, he fell in love

with boats and knew that he wanted to earn a living in

this business in later life. The trained hotel management

assistant almost moved to France for this very reason. But

everything turned out quite differently.

Als er im Jahr 2004 gerade Vater geworden war,

lernte er das neu eröffnete Meilenwerk, heute Classic

Remise Berlin, kennen, eine Industriehalle, die

zum Showroom für Oldtimer umgewidmet worden

war. "Ich komme in die Halle, sehe diese Glasboxen

mit den Oldtimern und denke: Das ist ja der Knaller!

Hier musst du ein Boot hinstellen." Vier Tage

später hat er den Laden gemietet und inzwischen

seine Fläche mit Frauscher Booten vergrößert.

Um seine Marke Boat Lounge in Berlin, das sich

erst langsam wieder zu einem funktionierenden

Wassersportgebiet entwickelt, voranzutreiben,

entwickelt Bauer mit seinem Team ein spezielles

Konzept: Lebe und reise dein Boot. Nicht standortgebunden

in Berlin zu sein bedeutet: Die Kunden

können ihr Boot dort nutzen, wo sie Urlaub machen

möchten: in Frankreich, Italien, Spanien, Griechenland

oder wo auch immer.

Eines Tages sagt ein Kunde zu ihm: Ich würde gerne

nach der Rallye Mille Miglia mal auf dem Gardasee

mit meinem Boot fahren. Bauer antwortete

spontan: "Was hältst du davon, wenn dein Boot an

der Boje vorm Hotel liegt?" Der Kunde ist begeistert.

Bauer, der neben seiner Werft ein Eventlogistik-Unternehmen

besitzt, ließ das Boot am Wannsee

abholen und an den Gardasee transportieren.

Er legte es an die Boje, und als der Kunde ins Hotel

kam, lag das Boot bereits da.

Seitdem fährt seine Firma jedes Jahr Kundenboote

von Mai bis September durch Europa zu den Hotspots.

"So machen wir das seit mehr als 15 Jahren,

und jedes Jahr werden es mehr."

In 2004, when he had just become a father, he got to know

the newly opened Meilenwerk, today Classic Remise Berlin,

an industrial hall that had been converted into a showroom

for classic cars. "I came into the hall, saw these glass

boxes of vintage cars and thought to myself: That's the real

deal! You have to put a boat here." Four days later, he rented

the shop and, in the meantime, he increased his area

with Frauscher boats.

Bauer and his team are developing a special concept to

promote his Boat Lounge brand in Berlin, which is only

slowly becoming a functioning water sports area again:

Live and travel your boat. Not being location-bound in Berlin

means that customers can use their boat wherever they

want to spend their holidays – in France, Italy, Spain, Greece

or any other place.

One day, a customer said to him: I'd like to take my boat

out on Lake Garda after the Mille Miglia Rally. Bauer replied

spontaneously: "How would you like to have your

boat tied up at the buoy outside the hotel?" The client was

thrilled. Bauer, who owns an event logistics company in addition

to his shipyard, had the boat picked up at Wannsee

and transported to Lake Garda. He moored it at the buoy,

and when the customer came to the hotel, the boat was

already waiting for him.

Since then, his company has been moving customer boats

throughout Europe to the hotspots from May to September

every year. "We've been doing it this way for more than

15 years, and every year it's gets bigger and bigger."

48

49
---
Den Schlüssel rumdrehen und

losfahren

"Wir bieten Zeit und Lifestyle", sagt

Norman Bauer, "unsere Kunden wollen

den Schlüssel rumdrehen und losfahren."

Seine Firmenphilosophie ist

Full-Service aus einer Hand. Es reicht

nicht, ein Boot zu verkaufen. Denn

wenn das Boot da ist, geht es für

den Kunden erst los. Deshalb bietet

Norman Bauer neben für die bei ihm

gekauften Boote auch Transport, Service

und Winterlager an. "Dann hast

du Power und kannst etwas bewegen",

sagt er. Bauer ist umtriebig und

er liebt, was er tut. "Ich konnte nur so

weit kommen, weil wir immer Spaß

dabei hatten."

Stefan Frauscher und Norman Bauer

sind sich darin sehr ähnlich. Sie arbeiten

und agieren mit Begeisterung,

sind emotional und flexibel, leben

im Hier und Jetzt. Sie sind jung, dynamisch

und wollen etwas bewegen.

Und bei der souveränen Haltung ist

immer auch ein bisschen Rock 'n Roll

dabei. Der Umgang miteinander ist

locker. Gleichzeitig schätzt Norman

Bauer die offene, sehr professionelle

Händlerbetreuung der Werft, die er

als sehr fair kennengelernt hat.

Und die Boote? Für ihn sind es die

elegantesten modernen Motorboote,

die es gibt. Die mit dem schönsten

Design und der höchsten Qualität,

gebaut von einem tollen Team. Das

passt super zu Norman Bauer. "Wir

haben mit unseren alten Holz-Rivas

eine Marke, die der Rolls Royce auf

dem Wasser ist und mit Frauscher

einen Porsche auf dem Wasser." Das

ergänzt sich hervorragend, findet er.

Klassik trifft Moderne.

Fortschrittlich bei der Frauscher

Bootswerft findet Bauer auch die

Kommunikation. "Wann immer Du

anrufst, egal ob montags oder zu

Weihnachten – es geht immer jemand

ans Telefon. Frauscher und die

Boat Lounge sind sich in ihrem Qualitätsbewusstsein

ähnlich", freut sich

Turn the key and sail away

"We offer time and lifestyle," says Norman

Bauer, "our customers want to turn the key

and sail away." His company philosophy

is complete service from a single source.

It's not enough just to sell a boat. Because

when the boat is there, things are just

beginning for the customer. That is why

Norman Bauer offers transport, service

and winter storage for the boats purchased

from him. "Then you have power and can

make a difference," he says. Bauer is a busy

man and he loves what he does. "I have

gotten only this far because we always had

fun doing it."

Stefan Frauscher and Norman Bauer are

very similar. They work and act with enthusiasm,

are emotional and flexible, and live

in the here and now. They are young, dynamic

and want to make a difference. And

there is always a bit of rock'n roll in this

confident attitude. Their interaction with

each other is relaxed. At the same time,

Norman Bauer appreciates the open, very

professional dealer support of the shipyard,

which he has come to know as very fair.

And the boats? For him, they are the most

elegant modern motor boats available. The

one with the most beautiful design and

the highest quality, built by a great team.

That's a great fit with Norman Bauer. "With

our old wooden Rivas we have a brand that

is the Rolls Royce on the water and with

Frauscher a Porsche on the water." They

complement each other perfectly, he

thinks. Classic meets modern.

INFO-

BOX

BOAT LOUNGE Showroom

Verkaufsbüro und Ausstellungsflächen

Classic Remise Berlin

10553 Berlin

BOAT LOUNGE Werftbetrieb

2.500 m 2 beheiztes, modernes feuer- und

alarmgesichertes videoüberwachtes und vollflächig

gesprinkeltes Winterlager mit Krananlagen,

Werkstatt, Lackiererei und Transportservice.

14772 Brandenburg / Havel

Team BOAT LOUNGE

10 Mitarbeiter

Norman Bauer. "Das macht die Zusammenarbeit

so einfach."

Und wo soll es in Zukunft hingehen? "Berlin ist

unsere Basis, die werden wir weiter ausbauen. Wir

wollen in Zukunft auch größere Boote in unserem

Gebiet verkaufen. Eine 1212 Ghost kann man ja

wunderbar an die Ostsee legen." Und im Frühjahr

kommt das spannende neue Projekt, die Frauscher

TimeSquare q20, in die Boat Lounge – sie ist elektrisch,

so viel darf verraten werden. "Das wird Berlin

begeistern!"

"Wir haben eine tolle Region mit so vielen Seen,

Hotels und schönen Locations. Der Standort entwickelt

sich gerade unter den aktuellen Bedingungen

besonders gut", blickt Bauer voraus.

BOAT LOUNGE Showroom

Sales office and exhibition area

Classic Remise Berlin

10553 Berlin

BOAT LOUNGE shipyard operations

2,500 m 2 heated, modern, fire and alarm protected,

video monitored and fully sprinkled winter storage

with repair and paint shop, crane facilities and

transportation service.

14772 Brandenburg / Havel

Team BOAT LOUNGE

10 employees

Bauer also finds communication progressive at the Frauscher

Shipyard. "Whenever you call, Monday or Christmas,

someone always answers the phone. Frauscher and the

Boat Lounge are similar in their quality awareness," says

Norman Bauer happily. "This makes collaboration so easy."

And where do they want to go in the future? "Berlin is our

base and we will continue to expand it. In the future, we

want to sell larger boats in our area. A 1212 Ghost is a wonderful

thing to bring to the Baltic Sea." And, in spring, the

exciting new project, the Frauscher TimeSquare q20, will

be coming to the Boat Lounge. It is electric, that much can

be revealed. "That's going to amaze Berlin!"

"We have a great region with so many lakes, hotels and

beautiful locations. The location is developing particularly

well under the current conditions," Bauer looks ahead.

50

51
---
MERCHANDISING

1

2

FRAUSCHER

5

SERVICE

Als Bootseigner wünscht man sich erholsame,

entspannte, angenehme oder auch mal amüsante,

vergnügliche, kurzweilige Stunden an

Bord. Kurzum – eine glückliche und sorgenfreie

Zeit, allein oder mit Freunden. Das Team der

Frauscher Bootswerft weiß das, schließlich entwickeln

und bauen sie genau dafür Boote. Wenn es

dann um Themen wie Service, Refit oder Reparaturen

geht, ist es gut zu wissen, wo diese Dinge

verlässlich und professionell erledigt werden.

Dem Frauscher Team ist es ein zentrales Anliegen,

dass Sie viele Jahre Freude an Ihrem Boot haben.

3

6

7

9

8

Boat owners want the experience of a relaxed and pleasant

atmosphere while on board. They want to have a good

time with no worries, whether alone or with friends. The

Frauscher team knows that, because that is exactly what

they develop and build boats for. When it comes to service,

refitting or repairs, it's good to know where you can find

reliable professionals. A central concern of the Frauscher

team is that you will have many years of enjoyment with

your boat.

10

4

13

14

FRAUSCHER SERVICE

BOOTSWERFT

4694 Ohlsdorf, Österreich

FRAUSCHER SERVICE

SHIPYARD

4694 Ohlsdorf, Austria

Leitung: Michael Frauscher

Team-Leitung: Friedrich Nöhammer

Manager: Michael Frauscher

Head of team: Friedrich Nöhammer

11

12

15

16

Reparatur, Service, Pflege, Reinigung,

Lackierungen

+43 7612 63655-0

service@frauscherboats.com

www.frauscherboats.com

Repairs, service, care, cleaning,

painting

+43 7612 63655-0

service@frauscherboats.com

www.frauscherboats.com

Sie wollen immer sofort über neue

und angesagte Artikel informiert

sein und nicht länger auf ein neues

angesagtes Teil des Frauscher

Merchandising warten, dann sind

Sie im Frauscher Web Shop genau

richtig. Hier finden Sie eine Vielfalt

an Artikel, welche für einen richtigen

Frauscher Fan nicht wegzudenken

sind. Jedes einzelne Produkt ist

mit dem Frauscher-Logo signiert,

wodurch ein unverwechselbares Design

vermittelt wird. Zudem werden

Geschenksideen angeboten, mit

denen Sie ihre Liebsten überraschen

können.

If you always want to be informed straightaway

about new products and not wait any

longer for a trendy item, then the Frauscher

Web Shop is the ideal place for you. You'll

find a range of products here that are perfect

for a true Frauscher fan. Each product

is signed with the Frauscher logo, ensuring

a distinctive design. There are also some

great gift ideas, so you can surprise your

loved ones.

1. Siku Spielzeug Siku toys

2. Schlüsselanhänger (schwimmt)

key chain (floats)

3. Fender Überzieher Fender sock

4. Bowling Tasche bowling bag

5. Eiskübel ice bucket

6. Kelch goblet

7. Tumbler tumbler

8. Sekt sparkling wine

9. Korkenzieher corkscrew

10. Kappe cap

11. T-Shirt T-shirt

12. Softshelljacke softshell jacket

13. Hamam Bademantel

hamam bathrobe

14. Frottee Badetuch rund

terry bath towel round

15. Hamam Badetuch hamam towel

16. Frottee Badetuch terry bath towel

Das Reparaturservice-Team wird vom langjähren

Produktionsleiter Friedrich Nöhammer geleitet.

Warum nun ein eigenes Reparaturservice-Team

in der Werft? "Einerseits kann man so

diese individuellen Arbeiten konzentriert und

schneller erledigen und andererseits wird eine reibungslose,

effiziente Produktion von Neubooten

sichergestellt", so Nöhammer. Und weiter: "Wir

können das, denn wir sind seit Jahrzehnten Bootsbauer

und bestens vertraut mit allen Werkstoffen,

Antriebsarten und technischen Entwicklungen".

Neben Reparaturen nach Schäden werden auch

Refit-Arbeiten wie Polieren, neue Polsterungen

oder Nirosta-Beschläge und auch Lackierungen

in der werfteigenen Lackierkabine an Rumpf und

Deck durchgeführt.

The repair service team is headed by the veteran head of

production Friedrich Nöhammer. Why does the shipyard

have its own repair service team? "On the one hand, these

individual tasks can be carried out with more speed and focus,

and on the other hand, it ensures the smooth, efficient

production of new boats," says Nöhammer. And further:

"That is because we have been building boats for decades

and are very familiar with all types of materials and drive

systems, as well as technical developments." In addition to

repairs due to damage, refit work such as polishing, new

upholstery or stainless steel fittings as well as painting in

the shipyard's own painting cabin on the hull and deck are

also carried out.

52

www.frauscherhafen.at/online-shop

53
---
FRAUSCHER SERVICE

MALLORCA

FRAUSCHER SERVICE

MALLORCA

07180 Santa Ponsa, Port Adriano, Mallorca

07180 Santa Ponsa, Port Adriano, Mallorca

Leitung: Michael Frauscher

Team-Leitung: Thomas Barczak

Manager: Michael Frauscher

Head of team: Thomas Barczak

Reparatur, Service, Pflege, Reinigung,

Lackierungen, Winterlager

Repairs, service, care, cleaning, painting,

winter storage

+34 636 494757

service.mallorca@frauscherboats.com

www.frauscherboats.com

+34 636 494757

service.mallorca@frauscherboats.com

www.frauscherboats.com

FRAUSCHER SERVICE

BOOTSHAFEN

4810 Gmunden, Österreich

Leitung: Andrea Frauscher-Oberfrank

Team-Leitung Reparatur: Albert Hauer

FRAUSCHER SERVICE

HARBOUR

4810 Gmunden, Austria

Manager: Andrea Frauscher-Oberfrank

Head of team: Albert Hauer

Das Team des service.mallorca kümmert sich um

Ihre sorgenfreien und sicheren Stunden am Wasser.

Am Meer ist es besonders wichtig sich darauf

verlassen zu können, dass alles in Ordnung ist,

dass sich jemand schon im Vorfeld vor Ort um

das Boot sorgt – von der Reinigung über Pflege,

Servicearbeiten bis hin zu individuellen Ein- oder

Umbauarbeiten. Ein Team, das auch zur Stelle ist,

sollte ein Defekt auftreten – elektrischer oder mechanischer

Natur.

The service.mallorca team is there for you to ensure a safe

and enjoyable experience on the water. It is very important

when you are at Sea that you can be sure everything is in

order. That someone will take care of the boat before you

go out. From cleaning and care, to servicing and custom

installations or modifications. A team that is also there for

you in case of an electrical or mechanical defect.

Winter storage? Of course, because the service.mallorca

worry-free bundle includes everything!

Reparatur, Service, Pflege, Reinigung,

Liegeplätze, Shop, Ferien Apartments

Repairs, service, care, cleaning, moorings, shop,

holiday apartments

Winterlager? Natürlich, das rundum Sorglospaket

des service.mallorca ist komplett!

+43 7612 658 11

office@frauscherhafen.at

www.frauscherhafen.at

+43 7612 658 11

office@frauscherhafen.at

www.frauscherhafen.at

Das Serviceangebot im Frauscher Hafen ist sehr

umfangreich: Liegeplätze, Bootsreinigung, Stegservice,

Ferien- Apartments und der Shop mit Barund

Picknick-Service für Ihren Bootsausflug garantieren

schöne Stunden am Wasser.

Und auch rund ums Boot: Kranservice, Winterlager,

Unterwasseranstrich, Servicearbeiten und

Reparaturen aller Art erledigt das bewährte Werkstatt-Bootsservice

unter der Leitung von Albert

Hauer. Seit mittlerweile über 25 Jahren im Unternehmen

tätig, verfügt er über ein sehr umfassendes

Knowhow als Bootsbauer über alle Bootstypen.

Als Regattasegler ist er zudem ein weithin

bekannter Profi rund um Segelboote, von der Pflege

über Refit-Arbeiten bis hin zu anspruchsvollen

Rigg-Arbeiten.

The Frauscher Harbour offers extensive services: Moorings,

boat cleaning, jetty service, holiday apartments and the

shop with bar and picnic service for your excursion guarantee

a lovely time on the water.

And for the boat itself: Crane service, winter storage, underwater

painting, service work and repairs of all kinds are

carried out by the professional boat service staff under the

direction of Albert Hauer. He has been with the company

for over 25 years and has comprehensive expertise as

a boat builder for all types of boats. As a regatta sailor he

is also a well-known professional in the care, refitting and

rigging of sailing boats.

54

55
---
MOTOR

BOATS

56

57
---
Die Frauscher 747 Mirage

entschied den "Nautic

Design Award" 2014 und

den "Sports & Style" Sonderpreis

bei der Nautic

Expo in Paris für sich.

The Frauscher 747 Mirage

received the "Nautic Design

Award" 2014 and the "Sports

& Style" special award at the

Nautic Expo in Paris.

DESIGN

ICON

7 4 7

MIRAGE

Länge Length

Breite Beam

Motor Engine

Gewicht Weight

Tank Fuel

Personen Max. persons 6

7,47 m

2,49 m

220 – 350 HP

from 1.800 kg

240 l

Eine neue Dimension luxuriöser

und sportlicher Day Cruiser.

Das Design der 747 Mirage ist radikaler:

Es betont die Wurzeln im Rennsport

und erinnert zugleich an die

Bauweise eines Supersportwagens.

Während das Exterieur von einem

kompromisslosen Fokus auf Dynamik

zeugt, ist das Cockpit eine Offenbarung

an Vielfältigkeit. Ihren Status

als Designikone konnte die 747 Mirage

schon in einigen Hollywood Produktionen

untermauern.

A new dimension for luxurious sportsdaycruisers.

The design of the 747 Mirage is radical: it

emphasizes the roots in racing and at the

same time it reminds of the construction of

a super sports car. While the exterior shows

an uncomprimising focus on dynamics, the

cockpit is a relevation in diversity. The 747

Mirage has already shown it's status as a

design icon in several Hollywood productions.

58

58

59
---
MYSTERIOUS

AURA

7 4 7

MIRAGE AIR

Länge Length

Breite Beam

Motor Engine

Gewicht Weight

Tank Fuel

Personen Max. persons 8

7,47 m

2,49 m

220 – 350 HP

from 1.900 kg

240 l

Ein Day Cruiser für unvergessliche

Stunden.

Abgeleitet von der geschlossenen

747 Mirage ist die 747 Mirage Air ein

wunderschönes Boot mit atemberaubendem

Design. Sie bietet KundInnen

auch viel Platz, perfekte Verarbeitungsqualität,

ein flexibles Layout

mit viel Liegefläche, Sitzgelegenheiten

und Beschattung. Der hochentwickelte

Stufenrumpf erlaubt hohe

Kurvengeschwindigkeiten und komfortables

Gleiten bei jeder Geschwindigkeit.

Die Frauscher 747 Mirage Air ist ein

perfekter Day Cruiser für das ruhige

Picknick in der Bucht oder das wilde

Rennen durch die Wellen.

A Day Cruiser for unforgettable hours.

Derived from the closed bow 747 Mirage,

the 747 Mirage Air is a very beautiful center

console boat with breathtaking style.

The extraordinary design also delights

customers with lots of space, perfect fit

& finish and a very flexible layout: from a

sun lounge to a shaded seating area in

seconds. Combined with the step hull design

which promises exhilarating driving

capabilities and extremely high cornering

speeds.

The Frauscher 747 Mirage Air is a perfect

day cruiser that can accommodate a quiet

picnic in the bay or a thrilling drive through

the waves.

60

60

61
---
NO FATA

MORGANA

8 5 8

FANTOM

Länge Length

Breite Beam

Motor Engine

Gewicht Weight

Tank Fuel

Personen Max. persons 7

8,67 m

2,49 m

300 – 430 HP

from 2.500 kg

370 l

62

62

63
---
8 5 8

FANTOM

Der Day Cruiser für anspruchsvolle

Gäste.

Die Frauscher 858 Fantom ist ein

revolutionärer 8,6 Meter langer Day

Cruiser mit bestechendem Design.

Mit einer Vielzahl an Annehmlichkeiten

an Bord, perfekter Qualität der

Verarbeitung und das hohe Niveau

der eigentlichen Fahrleistung, ist die

Frauscher 858 Fantom in der Lage,

die Erwartungen der anspruchvollsten

Gäste zu erfüllen. Die Kombination

aus reinem Fahrspaß und revolutionärem

Design ist Perfektion.

A day cruiser for the most demanding

passengers.

The Frauscher 858 Fantom is a revolutionary

8.6 metre day cruiser with an inspiring

design. With a host of on-board comforts,

excellent workmanship and superb performance,

the Frauscher 858 Fantom will satisfy

even the most discerning passengers.

A pleasure to handle and revolutionary in

design.

64

65
---
REVOLUTIONARY

8 5 8

FANTOM AIR

Länge Length

Breite Beam

Motor Engine

Gewicht Weight

Tank Fuel

Personen Max. persons 9

8,67 m

2,49 m

300 – 430 HP

from 2.500 kg

370 l

66

66

67
---
Die 8,6 Meter lange Motoryacht

kombiniert das Premium Design und

die erstklassigen Fahreigenschaften

ihrer geschlossenen Schwester

– der legendären Frauscher 858

Fantom – mit einem noch großzügigeren

Platzangebot und weiteren

hochwertigen Details. Die

858 Fantom Air empfängt ihre

Gäste im Heckbereich über eine mit

Teak veredelte Badeplattform, an

die sich eine weiträumige Liegefläche

mit zwei komfortablen Polstern

anschließt. Ein Mittelgang aus Teakholz

verbindet den hinteren Teil der

Yacht mit dem Hauptcockpit und

seinem zentrierten, freistehenden

Steuerstand, dem die Frauscher 858

Fantom Air ihren Namen verdankt.

Im Bugbereich laden zwei weitere

Polsterbänke zum Verweilen ein.

This 8.6 metre power boat combines the

premium design and top-class handling

characteristics of the closed bow model, the

legendary Frauscher 858 Fantom – with

an even more spacious layout and additional

details. The 858 Fantom Air

welcomes its guests with an exquisite teak

bathing platform in the stern, which is adjoined

by a spacious and comfortably upholstered

lounge area for two. A generous teak

walkthrough connects the aft area to the

main cockpit and the centred helm console,

from which the Frauscher 858 Fantom

Air gets its name. Two padded seats at the

bow will provide some additional comfort.

8 5 8

FANTOM AIR

68

69
---
1017

GT

THE

GENTLEMEN'S

RACER

Länge Length

Breite Beam

Motor Engine

Gewicht Weight

Tank Fuel

Personen Max. persons 8

9,99 m

2,92 m

2 x 300 – 2 x 430 HP

from 3.900 kg

520 l

70

70

71
---
1017

GT

Die Frauscher 1017 GT

gewann dank seines "außergewöhnlich

schnellen,

wendigen Rumpfs und

seines unglaublich schönen

Designs" laut der britischen

Fachpresse den

ersten Platz in der Kategorie

"Performance Boat".

The Frauscher 1017 GT collected

top spot in the 'Performance

Boat' category thanks

to its "outstandingly fast, agile

hull and outrageously beautiful

design" according to the

British journalists.

Der preisgekrönte Gentlemen´s Racer

ist das Herzstück der Marke

Frauscher und bietet alles, was Kunden

für einen Tag auf dem Meer benötigen:

Stil, Leistung, Übersichtlichkeit

und Benutzerfreundlichkeit mit

hoch wertigen Materialien und Funktionen.

Mit einer Höchstgeschwindigkeit von

bis zu 60 Knoten, einem trockenen

und komfortablen V-Rumpf (auch bei

raueren Bedingungen) sowie reichlich

Sonnenpolstern und Sitzgelegenheiten,

mit einer voll ausgestatteten

Kabine mit Nasszelle und Schlafplatz

für zwei Personen – die 1017 GT ist

das perfekte Boot für jeden Anlass.

The award-winning Gentlemen´s racer

is the core of the Frauscher brand and offers

everything that is required for a full day

of fun on the water: style, performance, durability

and ease of use.

With top speed up to 60 knots, a dry

and comfortable deep V-hull (even in rougher

conditions) as well as large sunpads and

seating lounge, a fully equipped cabin and

bed for two, the 1017 GT is the perfect boat

for every occasion.

With over 100 units already sold all over the

globe, the 1017 GT is well ahead of its peers.

Mit über 100 gebauten Booten, die

auf der ganzen Welt ausgeliefert wurden,

ist die 1017 GT das mit Abstand

erfolgreichste Boot seiner Klasse.

72

73
---
UNIQUE AND

ELEGANT

1017

GT AIR

Länge Length

Breite Beam

Motor Engine

Gewicht Weight

Tank Fuel

Personen Max. persons 10

9,99 m

2,92 m

2 x 300 – 2 x 430 HP

from 3.900 kg

520 l

74

75
---
1017

GT AIR

Sechs Jahre nach dem Launch der

Frauscher 1017 Lido startet die exklusive

Frauscher Bootswerft mit der

1017 GT Air die zweite Generation der

offenen 10 Meter Yacht. Die Air-Variante

des hochfunktionalen Day Cruisers

bietet die erstklassigen Fahreigenschaften

ihres Vorgängermodells,

ergänzt durch ein noch großzügigeres

Platzangebot und ein modernisiertes

Design.

"Bei der Entwicklung der 1017 GT Air

ging es uns vor allem um die Verbesserung

des Raumgefühls an Bord:

Der Mittelsteuerstand, die verlängerten

Sitzbänke und innovative Stauraumlösungen

lassen auf 10 Meter

Länge ein komplett neues Gefühl

der Bewegungsfreiheit entstehen.

Ein weiterer Schwerpunkt lag in der

Dynamisierung der Designsprache.

Diese ist mit der sphärischen Windschutzscheibe

und der eindrucksvollen

Ambiente-Beleuchtung perfekt

gelungen", erklärt Michael Frauscher.

She is a joy to handle and offers maximum

comfort with all her functional fittings. The

versatile on-deck equipment embraces the

Frauscher design simplicity, giving the 1017

GT Air a uniquely elegant lounge style. She

has charms of her own, offering the perfect

blend of comfort and performance.

"In developing the 1017 GT Air, our

main goal was to improve the feeling of

space on board: the centred helm, the

extended benches and innovative storage

solutions create a completely new

feeling of freedom of movement over a

length of 10 metres. Another priority was

the dynamisation of the design language.

In this regard we succeeded perfectly with

the spherical windshield and the impressive

ambient lighting", explains Michael

Frauscher.

76

77
---
1212 GHOST

(R)EVOLUTION

1212

GHOST

Länge Length

Breite Beam

Motor Engine

Gewicht Weight

Tank Fuel

Personen Max. persons 10

11,99 m

3,50 m

2x 430 – 2x 440 HP

from 8.000 kg

850 l

78

79
---
ARE YOU READY

FOR YOUR DEMON?

1414

DEMON

Länge Length

Breite Beam

Motor Engine

Gewicht Weight

Tank Fuel

13,91 m

3,90 m

2x 440 HP

from 10.000 kg

1.200 l

Personen Max. persons 12 (sleep 4)

80

81
---
Die Frauscher 1414 Demon

holte sich nicht nur

die Auszeichnung für ihre

großartige Performance

sondern auch für ihr außergewöhnliches

Design.

1414

DEMON

The Frauscher 1414 Demon

won not only the award for

its great performance but also

for its extraordinary design.

2016

Die Frauscher 1414 Demon hebt das

Frauscher Gefühl auf die nächste

Stufe!

Auf fast 14 Meter Länge ist ein außerordentlicher

Offshorer entstanden,

der das einzigartige Frauscher Design

um den perfekten Lebensraum für einen

Wochenendtrip ergänzt. Die 1414

Demon vereint typische Frauscher

Design-Zitate wie den flachen Bug

mit senkrechtem Steven, die getönte,

rahmenlose Windschutzscheibe, die

abfallende Scheuerleiste oder die in

Sichtkarbon ausgeführten Lufteinlässe

und lässt auch auf 46 Fuß noch den

Platz für sportliches Fahrvergnügen

mit über 40 Knoten. Trotzdem bietet

die 1414 Demon soviel Lebensraum

wie noch keine Frauscher zuvor:

Eine gelungene Lounge mit großer

Badeplattform und gut ausstaffierter

Bar im Außenbereich treffen auf

einzigartig gestalteten Innenraum

mit Stehhöhe, großzügigem Bad, Küchenzeile,

großer Sitzecke und Schlafgelegenheit

für bis zu vier Personen.

In der Qualität der Verarbeitung und

der verwendeten Materialien spiegeln

sich mehr als 90 Jahre Erfahrung im

Bootsbau und zeigen Bootsbaukunst

auf höchstmöglichem Niveau.

The Frauscher 1414 Demon raises the

Frauscher feeling to the next level!

An extraordinary 46 foot offshorer that

completes the unique Frauscher design

with a perfect living space for a weekend

trip. The 1414 Demon combines the key

Frauscher design DNA: flat bow with vertical

stem, tinted and frameless windshield,

air inlets in carbon; with an unique sporty

feeling at the helm for a boat that size. The

1414 Demon provides lots of living space:

a relaxing lounge atmosphere with a large

bathing plattform, a well garnished outdoor

galley, an uniquely designed interior with

enough headroom, a spacious bathroom,

a kitchenette, a large sitting area and a

sleeping accommodation up to four people.

Almost 90 years of boat building experience

are reflected in the quality of workmanship

and use of materials. The 1414 Demon

is the fruit of boat building at the highest

possible level.

82

83
---
ELEGANCE

HAS A NAME

1414

DEMON AIR

Länge Length

Breite Beam

Motor Engine

Gewicht Weight

Tank Fuel

13,91 m

3,90 m

2x 440 HP

from 9.500 kg

1.200 l

Personen Max. persons 12 (sleep 4)

84

84

85
---
Die Silhouette der Frauscher 1414 Demon Air erweitert

die typischen Design-Zitate der Frauscher

Bootswerft – insbesondere der flache Bug mit

senkrechtem Steven, die Z-förmige Seitenlinie

und die rahmenlose Windschutzscheibe – und

bietet mit ihrem freistehenden Steuerstand so

viel Platz und Komfort wie keine andere Frauscher.

An Deck verfügt der 14-Meter lange Offshorer über

eine einladende Lounge Area mit Bar sowie eine

geräumige Badeplattform. Im Inneren der Yacht

befinden sich ein voll ausgestattetes Badezimmer

mit Stehhöhe und geräumige Betten für vier Personen.

Mit all diesen Features wird die 1414 Demon

Air zu einem hochfunktionalen Gentlemen´s Racer

sowohl für Tages- als auch für Wochenendtrips.

Zwei besondere Features unterscheiden die

Frauscher 1414 Demon Air nicht nur von anderen

Frauscher Modellen, sondern auch von ihren

Marktbegleitern: Am auffälligsten ist sicher das dynamische

Sonnendach aus Vollcarbon, das seitlich

aus dem Rumpf wächst und die hintere Cockpitfläche

beschattet. In Sichtcarbon ausgeführt und

nur 150 kg schwer wird der Sonnenschutz so zum

Designobjekt. Gemeinsam mit den seitlichen Lufteinlässen

und dem aufklappbaren Stützen für das

Sonnensegel im vorderen Sitzbereich, die ebenfalls

in Sichtcarbon gestaltet sind, unterstreicht Frauscher

eindrucksvoll die Kompetenz im Umgang

mit diesem besonders leichten und stabilen Material.

Neben der Funktion als Sonnenschutz integriert

das Sonnendach auch Lautsprecher für den

besseren Hifi-Klang an Bord sowie eine dimmbare

LED-Beleuchtung für die Stunden nach dem Sonnenuntergang.

The silhouette of the Frauscher 1414 Demon Air expands

the typical design notes of the Frauscher shipyard – especially

the flat bow with it´s vertical stem, the Z-shaped sideline

and the frameless windscreen. With the freestanding

centre helm the Air variant offers more space and comfort

than any other Frauscher boat. On deck, the 14 metre long

offshorer has a welcoming lounge area with a bar and a

spacious bathing platform. Inside the 1414 Demon Air you

will find a large bathroom and 2 sleeping areas that can

accommodate up to four guests. These features turn the

1414 Demon Air into a highly functional Gentlemen´s Racer

for both, daily and overnight trips.

The Frauscher 1414 Demon Air differs in two main features

not only from other Frauscher models, but also from its

competitors: The most striking feature is the dynamic allcarbon

sunroof, which is mounted on the gunwale of the

cockpit deck. Made of visible carbon fiber and a weight

of only 150 kilo, the sunshade becomes a design object.

Together with the side air intakes and the removable poles

for the sunroof in the bow seating area, which are also

made of carbon fiber, Frauscher impressively underlines

the competence in dealing with this particularly light and

stable material. In addition to sunprotection, the sunroof

also integrates speakers for an even better hi-fi sound onboard

and dimmable LEDlighting.

"Ein wichtiges Kriterium

für die Kategorie Best

for Fun ist, dass ein Boot

ausreichend Platz für gemeinsame

Aktivitäten mit

Freunden bietet", so Juror

Arek Rejs.

"An important criterion for the

category Best for Fun is that a

boat offers enough space for

joint activities with friends",

says Juror Arek Rejs.

1414

DEMON AIR

86

87
---
ELECTRIC

BOATS

89
---
LEAN AND

NIMBLE

6 1 0

SAN REMO

Länge Length

Breite Beam

Motor Engine

Batterie Battery

Gewicht Weight

Personen Max. persons 5

6,10 m

1,80 m

4,3 – 15 kW

11 – 22 kWh

from 750 kg

Die kompakte Elektroyacht für die ganze Familie.

Die 610 San Remo bietet alle Vorteile eines großen

Elektrobootes – wie zum Beispiel viel Platz für die

Gäste durch eine große Liegefläche und Badeplattform,

passt jedoch durch ihre schlanke Form und

kurzen Maße in jeden Liegeplatz und in noch so

enge Bootshäuser. Vor allem die durchdachten Details

– wie das einfach zu bedienende Bimini Verdeck

– machen sie zu einer ausgezeichneten Wahl

für entspannte Familien- und Gruppenausflüge.

Eine gelungene Kombination aus Vielseitigkeit,

Komfort und Kompaktheit, die Bootsliebhaber

mit höchsten Ansprüchen begeistert. Die 610 San

Remo ist die kleinste Version unter den Frauscher

Elektroyachten. Sie garantiert unvergessliche Momente

auf dem Wasser, ohne auf die Vielseitigkeit

und die hochwertigen Details größerer Frauscher

Boote verzichten zu müssen.

The compact electric boat for the whole family.

The 610 San Remo offers all the benefits of a large electric

boat – lots of space for passengers with a large sundeck

and bathing platform – but, slim and compact, she

fits every berth and the narrowest of boathouses. Clever

details like the easy-to-operate bimini top are just one reason

why this is a great choice for relaxed family and group

excursions. The perfect combination of versatility, comfort

and compact design will suit the most demanding owners.

The 610 San Remo is the smallest model in the Frauscher

electric boat range and guarantees unforgettable moments

on the water with the versatility and advanced features of

larger Frauscher crafts.

90

91
---
THE GOLD

STANDARD OF

ELECTRIC BOATS

6 5 0

ALASSIO

Länge Length

Breite Beam

Motor Engine

Batterie Battery

Gewicht Weight

Personen Max. persons 6

6,50 m

2,17 m

4,3 – 60 kW

11 – 40 kWh

from 950 kg

Ein Gesamtpaket mit Genuss und Fahrspaß.

Dieses Elektroboot bietet alles, was es braucht, um

einen unvergesslichen Tag auf dem Wasser zu erleben:

das für Frauscher typische, schnittige Design

mit klaren Linien, ein gut durchdachtes Raumkonzept,

das Platz und Komfort für Fahrer und Gäste

optimiert sowie raffinierte Ausstattungsdetails und

einfaches Handling. Mit über 200 verkauften Booten

ist die 650 Alassio seit ihrem Start das am

meisten verkaufte Elektroboot in Europa und bietet

die perfekte Mischung aus Größe, Funktionen,

Leistung und Qualität.

A great package for guaranteed comfort and a superior

ride.

This electric boat has everything you need for an unforgettable

day on the water: the typical sleek, simple Frauscher

design with clear lines, a well conceived space concept, clever

features and easy handling. With over 200 boats sold

since its launch the 650 Alassio is the most sold electric

boat in Europe and offers the perfect blend of size, features,

performance and quality.

92

92

93
---
NO

COMPROMISE

7 4 0

MIRAGE

Mit der Einführung der 740 Mirage definiert

Frauscher das Segment der luxuriösen Elektroyachten

ein weiteres Mal neu. Der Name Mirage

bezeichnet sowohl ein optisches Phänomen

als auch Hochleistungsflugzeuge und gibt dem

Boot damit eine mysteriöse Aura. Von der großzügig

gestalteten Badeplattform am Heck gelangen

die Gäste über die Gangway bis zum

Cockpit, ohne über die Kissen zu gehen. Im

Bereich des Cockpits befindet sich eine L-förmige

Bank mit zwei klappbaren Rückenlehnen. Durch

das Umklappen der Beifahrerrückenlehne entsteht

eine geschützte Chaiselongue und durch ein Herunterklappen

der Hauptlehne wird die Sonnenliege

vergrößert. Das große Kissen aus der Kabine kann

auf dem Frontdeck der 740 Mirage befestigt werden,

wodurch eine zusätzliche Fläche zum Sonnenbaden

entsteht. Zahlreiche Optionen wie ein Audiosystem

mit Bluetooth, ein Kühlschrank oder ein

Bimini-Verdeck sorgen für viele zusätzliche Merkmale,

die die 740 Mirage zu einem vielseitigeren

Boot machen, als das atemberaubende, praktisch

minimalistische Design zunächst vermuten lässt.

Länge Length

Breite Beam

Motor Engine

Batterie Battery

Gewicht Weight

Personen Max. persons 6

7,47 m

2,50 m

60 – 110 kW

40 – 80 kWh

from 1900 kg

Frauscher is once more redefining the luxury electric boat

segment with the introduction of the 740 Mirage. The

name "Mirage" refers to an optical phenomenon, as well as

high-performance aircraft, giving the boat an aura of mystery.

Starting from the generous bathing platform at the

stern, guests can reach the cockpit area through the walkway

without walking over the cushions. The cockpit area

features an L-shaped bench with two foldable backrests.

The co-pilot's seat backrest can be folded to create a sheltered

chaise longue and by flipping down the main backrest

the sunbed can be enlarged as well. The big cushion

in the cabin can also be fastened on the front outside deck

to create an additional sunbathing area. Numerous options

including a bluetooth equipped audio system, fridge and

bimini top create a boat that is much more versatile than

the breathtaking, minimal design initially suggests.

94

94

95
---
WITHOUT

COMPROMISE.

OPEN!

7 4 0

MIRAGE AIR

Länge Length

Breite Beam

Motor Engine

Batterie Battery

Gewicht Weight

Personen Max. persons 8

7,47 m

2,50 m

60 – 110 kW

40 – 80 kWh

from 1900 kg

Die 740 Mirage Air bietet viel Platz, perfekte

Verarbeitungsqualität und ein flexibles Layout.

In Anlehnung an die geschlossene 740 Mirage ist

die 740 Mirage Air ein wunderschönes Boot mit

atem beraubendem Design. Das bei Elektrobooten

einzigartige Layout mit Mittelsteuerstand, bietet

extrem viel Platz für Familie & Freunde. Das variable

Cockpit erlaubt eine großzügige Liegefläche,

Sitzbänke mit Tisch und eine einfach zu bedienende

Beschattung. Ein perfekter Day Cruiser für jede

Gelegenheit.

The 740 Mirage Air delights with lots of space, perfect fit

& finish and a flexible layout.

Derived from the closed bow 740 Mirage the 740 Mirage

Air is the most beautiful center console electric boat on the

market with breathtaking style and design. She delights

customers with lots of space for family and friends. The

variable cockpit allows a generous sunpad, comfortable

seating with table and an easy-to-use sunshade. A perfect

day cruiser for every occasion.

96

96

97
---
BEHIND

Frauscher Bootswerft GmbH & Co KG

Betriebspark Ehrenfeld 3

4694 Ohlsdorf / Austria

Phone: + 43 (0) 7612 6 36 55 - 0

frauscher@frauscherboats.com

THE SCENES

PRODUCTION

INSIGHTS

Frauscher France SAS

Port Grimaud, 8, Rue de l´Octogne

83310 Port Grimaud

France

Phone: +33 788 145 573

france@frauscherboats.com

Frauscher USA Inc

Miami, 3828 NW 2nd Avenue,

FL, 33127

U.S.A

Phone: +1 (305) 542 7073

info@frauscheramerica.com

Frauscher España S.L.

Port Adriano – Local D.2.4.

Urbanización el Toro, s/n

07180 Santa Ponsa, Calvia

Mallorca / España

Phone: +34 648 42 30 36

spain@frauscherboats.com

Frauscher Bootshafen &

Bootshandel GmbH & Co KG

Traunsteinstrasse 10 – 14

4810 Gmunden / Austria

Phone: + 43 (0) 7612 658 11

office@frauscherhafen.at

www.frauscherhafen.at

Sources

Fotocredits:

ARTs UNLIMITED, Ralf Häselich,

Matthias Israel

Bernhard Rabl

Christoph Winklmair

Fabien Lemaire

Kerstin Zillmer

Lukbook Lukas Hof

MORE MYLE

Ralph Fischbacher

Roland Duller

Stefan Dünisch

Tony Regazzoni

Contributors:

Bastien Bonnet

Florian Helmberger

Karl Schirl

Kerstin Zillmer

Lena Ratzlaff

Sophie Wagmeister

Stefan Frauscher

Stephan Everwin

Susanne Leitner-Schirl

Thomas Schöfmann

Agency:

Die Wilden Kaiser KG

98

@frauscherboats

www.frauscherboats.com