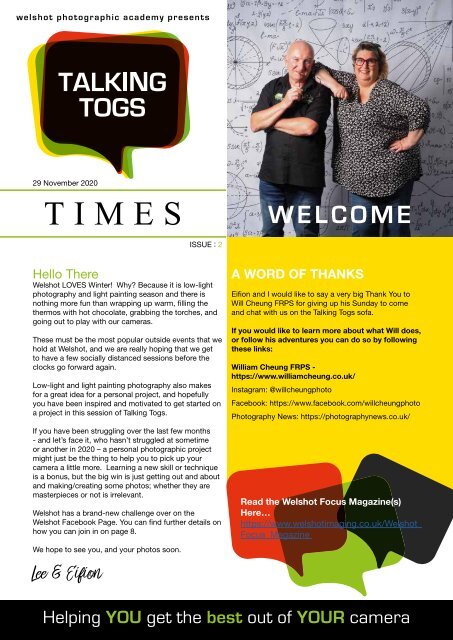 Issue Two - Talking Togs Times - 29th November 2020
Love Photography? Come and join us! Being passionate about your photography is the only criteria needed to join us at the Welshot Photographic Academy. Regardless of whether your camera cost £100, £1,000 or £10,000 the buzz you get is always the same. The same excitement, the same thrill, the same proud feeling and most certainly the same need and desire to be able to learn how to use your camera properly to capture stunning images. That's where we come in! We provide the fun, in the form of our photographic academy evenings, photography workshops and experience days, software courses and other events in a friendly and affordable way to help you get the best from your camera
Love Photography?

Come and join us! Being passionate about your photography is the only criteria needed to join us at the Welshot Photographic Academy. Regardless of whether your camera cost £100, £1,000 or £10,000 the buzz you get is always the same. The same excitement, the same thrill, the same proud feeling and most certainly the same need and desire to be able to learn how to use your camera properly to capture stunning images. That's where we come in! We provide the fun, in the form of our photographic academy evenings, photography workshops and experience days, software courses and other events in a friendly and affordable way to help you get the best from your camera
SHOW MORE
SHOW LESS
You also want an ePaper? Increase the reach of your titles
YUMPU automatically turns print PDFs into web optimized ePapers that Google loves.
welshot photographic academy presents

29 November 2020

TIMES

WELCOME

ISSUE : 2

Hello There

Welshot LOVES Winter! Why? Because it is low-light

photography and light painting season and there is

nothing more fun than wrapping up warm, filling the

thermos with hot chocolate, grabbing the torches, and

going out to play with our cameras.

These must be the most popular outside events that we

hold at Welshot, and we are really hoping that we get

to have a few socially distanced sessions before the

clocks go forward again.

Low-light and light painting photography also makes

for a great idea for a personal project, and hopefully

you have been inspired and motivated to get started on

a project in this session of Talking Togs.

If you have been struggling over the last few months

- and let's face it, who hasn't struggled at sometime

or another in 2020 – a personal photographic project

might just be the thing to help you to pick up your

camera a little more. Learning a new skill or technique

is a bonus, but the big win is just getting out and about

and making/creating some photos; whether they are

masterpieces or not is irrelevant.

Welshot has a brand-new challenge over on the

Welshot Facebook Page. You can find further details on

how you can join in on page 8.

A WORD OF THANKS

Eifion and I would like to say a very big Thank You to

Will Cheung FRPS for giving up his Sunday to come

and chat with us on the Talking Togs sofa.

If you would like to learn more about what Will does,

or follow his adventures you can do so by following

these links:

William Cheung FRPS -

https://www.williamcheung.co.uk/

Instagram: @willcheungphoto

Facebook: https://www.facebook.com/willcheungphoto

Photography News: https://photographynews.co.uk/

Read the Welshot Focus Magazine(s)

Here…

https://www.welshotimaging.co.uk/Welshot_

Focus_Magazine

We hope to see you, and your photos soon.

Lee & Eifion

Helping YOU get the best out of YOUR camera
---
10 TOP TIPS

LOOKING AFTER

YOUR CAMERA KIT

Have you been out shooting with your camera? It

is always best practice to clean and check your

camera, lenses, and bag after any type of shoot.

Lens fungus develops from dust and, moisture,

and will degrade the shooting quality of both

your camera and lens. If you get into the habit of

doing these tasks after EVERY shoot your camera

and lenses will always be ready to go on the next

adventure.

1 Remove your memory card and download your

images to your computer as soon as you can after

your shoot.

2 Keep your card(s) safe until you have worked on

your images. This means you have at least two

copies just in case the unthinkable happens.

3 Place a different, clean, and formatted card in your

camera ready for the next time you go out with your

camera.

4 Remove your camera battery and recharge it. If you

have a spare battery put this into your camera so

you are ready to go and are rotating your batteries.

5 Check the lenses that you have used. Do they need a

clean? If they do, clean them straight away and pack

in a clean camera bag. This means you know

when you grab your camera bag all your kit is in tip

top condition and ready to be used.

6 Do not get caught out by leaving your memory

card in your computer or leaving your camera

battery in the charger. Once you have finished,

return them to wherever you keep these items.

7 Spare memory cards and camera batteries are

a must, especially for mirrorless cameras, as their

batteries are smaller than for DSLR cameras.

8 Always use a lens cap when your lens is not in

use. Glass is expensive so protecting the front of

the lens when not in use will help to keep it from

getting scratched.

9 Vacuum your camera bag on a regular basis –

especially if you are a seascape photographer or

work in a dusty environment.

10 Keep food and drink away from your camera body

and lenses.

Image by: Duncan Fenwick

ISSUE : 2
---
Resize an IMAGE for the

web with PHOTOSHOP

Our cameras can produce very large files. Uploading

a full resolution image to the web is not ideal as it

will take longer to upload and longer to load up on

the web page that is displaying it. Indeed, due to

these issues, many photo hosting websites will ask

you to reduce the size of your large images before

you upload them. The good news is that resizing

an image for uploading to a website is a very simple

process.

Follow the steps below and see for yourself how

easy it is.

1 In Photoshop, open the image you want to resize.

Your screen should look something like this:

We're now ready to resize this image. Go to the menu bar

at the top and choose Image > Image size. It will bring up

a box like the one below:

CONTINUED >>

ISSUE : 2
---
CONTINUED >>

2 Now you can see that the photo used

is over 7000 pixels wide; yours might

be different. I want to change this to

something more manageable, so I

am changing it to 1200 pixels.

You may want to make yours bigger

or smaller, depending on what your

need is.

3 Next, we need to save it. Be very

careful when you do – you do not

want to save it with the same filename

as the original, otherwise your new

reduced resolution version will

overwrite the full resolution one!

Personally, I like to save mine with the

words "reduced res" after the

filename so there is no confusion.

4 To save the reduced resolution file,

choose File > Save As… Once you

have given the file a suitable name,

you will be presented with this box:

By making sure the Preview box

is ticked, when you move the slider

around, you will notice that it shows

you the size of the file (in this

instance, 415.6Kb). Slide this around

until it's appropriate for your needs.

And there you go! How to resize and image for uploading to the web

with Photoshop.

ISSUE : 2
---
JOHN BRADBURN

Welshot has been a Godsend throughout Lockdown

and through the Covid-19 year in general. The whole

lockdown thing has been detrimental to my mental

health so having Welshot to engage with has had

an enormous beneficial impact on my health and

wellbeing.

Lee and Eifion keep us all busy with daily photographic

challenges covering a multitude of subjects and genres.

These help to motivate me and encourage me to

think outside the box as well as getting more use out

of my camera and equipment. If it were not for these

challenges I would not have got outdoors regularly and

reaped the benefits of the beautiful Peak District I am

lucky to live in. It has been great seeing the fabulous

work of fellow Welshotters which not only inspires me

but makes me feel part of the Welshot community.

Lee and Eifion are doing a sterling job of organising

a weekly 'live' quiz which is great fun - verging

sometimes on a riot - and crucial to combat Lockdown

Brain, and they always make my wife Chris very

welcome. Besides the daily challenges, quizzes,

Tuesday one-hour challenges, Talking Togs and

zoom session with Eifion I am grateful for the easy

communication access which also breaks down the

barriers of isolation because I know that I can ring,

email etc if I need to ask or discuss something.

Looking back over the year I can honestly say that if it

were not for Welshot I would not have had the positive

and enriching experiences I have enjoyed.

Thank you to all the Welshot Team.

ISSUE : 2
---
BOSSTOG REVIEW

VANGUARD ALTA

BATTERY CASE -

CAMERA ORGANISER

What do they say? A place for everything and

everything in its place.

Here is something to help you keep your important

camera kit 'bits and pieces' together, safe and

sound and close to hand all in one place. The wallet

has several sections to hold specific items securely

where you can see them easily.

The main specs are:

• Two transparent zippered pockets which could hold

your memory cards safe. Maybe use one for your

used memory cards and the other for unused cards.

• Four slip in battery pockets.

• A couple of elastic loops which can securely hold

a LensPen.

• Two pockets which you could use to hold your lens

cap while you are shooting – avoiding that 'where is

my lens cap' moment!

• Light weight at just 70g when empty, and small

enough to fit in any camera bag.

The battery compartments should hold most Mirrorless

camera batteries, but I have noticed that my Olympus

EM1 batteries are a very snug fit. With a little

modification it can be enlarged to suit.

DSLR batteries may be too large, as it has been

designed for Mirrorless cameras.

It can be found on Amazon and is priced competitively

at under £12. A perfect stocking filler for Christmas for

the photographer in your life.

I have used, and can recommend this product, which

could be especially useful when travelling, fitting into

your hand held cabin luggage easily.

• Made of a strong nylon material and secured by

Velcro. All in all, very good quality and should last

for years.

ISSUE : 2
---
BUY

SELL

SWAP

In each issue of

we will have a section which will:

• Promote a product or service that has a

photographic reference.

• List any items that a Welshot Member

wishes to Buy, Sell or Swap.

In issue 2 of Buy: Sell: Swap: It is the turn of Welshot

Academy Member Louisa Crossley.

Louisa has recently started to make and sell

fused glassware and her love of photography has

been incorporated in many ways. From bespoke

commissions created from special photographs to

coasters and wall hangings with a photographic

theme – these make the ideal perfect gifts for the

photographer in your life.

If you would like more information about these

products please email Louisa on

louisa.crossley@btinternet.com

ISSUE : 2
---
CHALLENGES

ON FACEBOOK

As we have been unable to hold our IRL

(in real life) events due to the Coronavirus

we have been keeping our Members and

Non-Members motivated with monthly

challenges on Facebook. The daily

prompt for the challenge is uploaded at

6.00am each day, giving you the whole

day to create and make a photo.

During December we have

the following:

Welshot OPEN Group -

https://www.welshotimaging.co.uk/

Welshot_OPEN_Group

Image by: Mark Powell

Welshot Facebook Pagehttps://www.welshotimaging.co.uk/

Facebook_PAGE

Helping YOU get the best out of YOUR camera

MY DECEMBER

PHOTOGRAPHY

CHALLENGE

Helping YOU get the best out of YOUR camera

DECEMBER CHALLENGE

PERSONAL

PHOTO

PROJECT

ISSUE : 2
---
NEXT TIME ON...

Join us on Sunday 13th December

– where Lee and Eifion will be talking

to Rachel Gittins – Model, Dancer

and Team Member of Welshot.

Rachel Gittins will be talking about her role

within Welshot, and giving us her perspective

as a model and dancer who works in front of

the camera. Rachel will also be talking about

her upcoming Welshot Online video series "A

Model's Perspective", which is designed to

help the photographer understand a model's

point of view.

REGISTER FOR THE NEXT TALKING TOGS

LIVE BROADCAST ON FACEBOOK HERE

https://www.welshotimaging.co.uk/Talking_

Togs

PLEASE NOTE -

THIS LINK WILL TAKE YOU TO FACEBOOK MESSENGER / CHAT.

ISSUE : 2
---
TAKE A

BREAK

WELSHOT

WORDSEARCH

Find the Welshot words in our bespoke

wordsearch – the word you cannot find

is the answer.

Email Lee on lee@welshotimaging.co.uk and the

correct entries will go into a hat to

WIN a 32GB Kingston DataTraveler

100 Memory Stick.

ACADEMY

BLACK

CHAT

CONTRAST

DARKROOM

DMAX

EIFION

FLATLAY

GREYS

MONITOR

MONOCHROME

PAPER

PROFILES

PROJECTS

RAWS

SCREEN

SHADOWS

SNOWDON

SOFTWARE

STUDIO

TABLET

VISION

WELSHOT

WHITE

Z G B V D L Z D S W A R K H

M H G C H A T U M I N F K T

N B S D M A X O E O Z L B P

O S T U D I O W I C R B L M

I J A A K R S S P O V R C M

F U Z C K R I O T V F O O H

I A A R P V E I F G N N C J

E L A G N M N P V T O M U Y

B D A R N O R W R C W F Y S

C E R Q M O P A H S P A O C

P P W H F V S R H N L S R R

A A E I V T O A O T E I D E

T P L J J M D L A J Q A O E

M E S D E O Z L E D E N C N

S R H K W K F X L T I C S F

O I O S G R E Y S D I A T C

Q K T E L B A T S E D H W S

K Q S N O W D O N Z B Z W C

http://www.welshotimaging.co.uk

ISSUE : 2