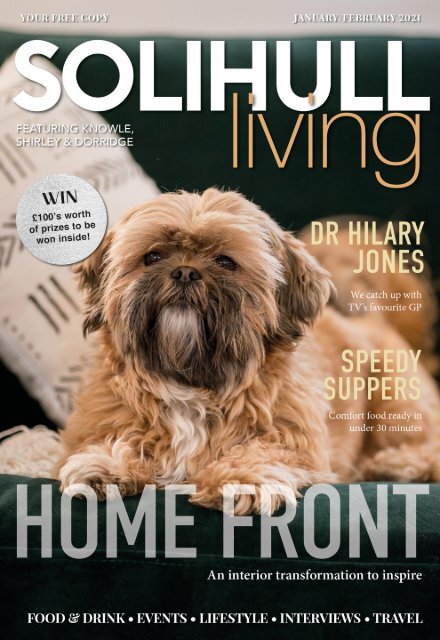 Solihull Living Jan - Feb 2021
Our first issue of 2021 - we are celebrating the good things COVID has brought - an appreciation of local businesses, a better sense of community, and more time to work on our homes. We have a real-life room transformation, plus the usual dose of recipes and interviews.
Our first issue of 2021 - we are celebrating the good things COVID has brought - an appreciation of local businesses, a better sense of community, and more time to work on our homes. We have a real-life room transformation, plus the usual dose of recipes and interviews.
SHOW MORE
SHOW LESS
You also want an ePaper? Increase the reach of your titles
YUMPU automatically turns print PDFs into web optimized ePapers that Google loves.
W I N T E R

SALE

N O W O N

Kitchen Retailer of the Year

From a quick coffee on the run to a full on feast for 14, a Classic Interiors kitchen is

a space that works for you and your family. We make kitchens for more than just

cooking, we create rooms for life, laughter & enjoyment that never compromise

on practicality & functionality.

www.classicinteriors.co.uk 0121 405 1310

Best Customer

Service 2019

Kitchen Retailer

of the Year 2020

Best Kitchen

Retailer 2018

Kitchen Retailer

of the year 2019

Customer Service

Award 2018
---
Contents

A Note

from the EDITOR

10 A Comforting Culinary Journey recipes through ready in

Northern 30 minutes Ireland or less

A real-life before and

16

after cellar renovation

The competition

page returns

We interview

Dr Hilary Jones

Editor Katie Thomson

e katie.thomson@minervapublications.co.uk

Publisher Sally Thomson

Pre-Press Manager Kate O'Connell

Contributors Peter Thomson, Sue Cooke, Matthew Biggs, Angela Cave,

Front Cover courtesy of Lydia Booth Photography

Key Account Manager Marion Cassidy

e marion@minervapublications.co.uk

d/l 01225 984502

twitter: @LivingSolihull

04

24

MINERVA PUBLICATIONS HQ

Unit 21c, Paxcroft Farm, Hilperton

Trowbridge BA14 6JB

t 01225 984 550

visit our website www.solihullliving.co.uk

Disclaimer: The publishers shall not be held liable for any loss occasioned by failure of an

advertisement to appear, or any damage or inconvenience caused by errors, omissions and

misprints. No part of this publication may be reproduced without prior permission from the

publishers. The opinions expressed within are not necessarily those of the publishers

The New Year issue always brings

with it a certain level of recollection

and introspection, but gosh, we've

never had to look back on a year like

the one we've just experienced have

we! I wonder at what point I'll be able

to stop sending off emails sounding

like a Jane Austen character, 'I trust

you and your family are in good

health and prospering'!

Putting my inner Elizabeth Bennet

aside, I know we aren't out of the

woods yet, but this edition we have

decided to focus firmly on all the good

that has come from COVID, alongside

the hopes for a brighter, better and

perhaps more compassionate 2021.

We very much enjoy creature

comforts here at Minerva HQ, and

in that vein, we've included a big

serving of 'hug-in-a-bowl' type

recipes that can be made in under 30

minutes - for those nights when you

want something tasty but don't have

the time or inclination to slave over

the stove.

Then, if you're considering

a renovation, we look at a really

unusual space - a Georgian vault -

and how it was transformed from a

damp and dark hovel into a luxurious

snug - hopefully it inspires you to

re-examine your own spaces that

could be overdue a face lift - we can

guarantee that can't be much more

challenging than this one!

We had the chance to speak to TV's

favourite GP Dr Hilary Jones about

the virus, looking after people as they

get older and generally finding ways

to keep as healthy as possible in the

autumn years of life.

We are also welcoming back a very

popular addition to the magazine -

our competition page! This edition

has a bevy of fantastic new prizes to

be won - make sure to check it out!

Next time we see you it will be

nearly spring - a new beginning

many of us are hoping for. See you

in March!

Katie

www.solihullliving.co.uk | 3
---
COMPETITION

Time

To enter any (or all!) of our competitions, head to

www.minervamagazines.co.uk/competitions.

Find the competition and enter on that post,

using the appropriate keyword.

T&C's apply and no cash alternatives available. Winners chosen at

random - entries made after closing date will not be accepted.

You can win an elegant sporty zip-front one-piece swimsuit

crafted to sculpt your silhouette, providing coverage and

support for an active day in the ocean, from sustainable brand

SLO Active. The ultimate thermal comfort while flattering

and sculpting all body shapes, it's perfect for the surfer,

paddleboarder and ocean-loving girl that wants to look chic

without compromising on style.

Eco-friendly

wetsuit material

swimsuit worth

£210

Like all oceanwear from SLO Active, this piece is made

using Yulex, the plant-based and sustainable alternative to

neoprene. The raw natural rubber comes from sources that are

Forest Stewardship Council certified by the Rainforest Alliance

– meaning the trees aren't grown on newly clear-cut rainforest

land, like some of the world's supply. See more pieces at

sloactive.com

Closes 24/02/2021 - Competition keyword 'SLO'

Two winners will

each receive a

set of underwear

worth

£79

When it comes to choosing a

new bra why compromise on

comfort or style? Thanks to

the new Selma from Rosa Faia

you won't have to. Selma is a

beautiful underwired bra with

a delicate design for a luxury

look and feel. The three-section

stretch lace cup and pretty

shaped straps ensure both

comfort and femininity and the

matching bra and brief set is

now available in the stunning

Patriot Blue colourway. Fitting

up to a J Cup Selma is the

bra everyone is choosing this

winter. Available from www.

embraceluxurylingerie.co.uk

Bra £52 Brief £27

Closes 24/02/2021- Competition

keyword 'SELMA'

Müd pride themselves

on providing high quality

rubber Wellington/

Gum boots, which are

designed for maximum

comfort and impeccable

taste.

They have a strong

commitment to quality

and delivering value to

their customers. All their

designs are made using

100% natural rubber and

they are proud of their

dedication to fair-trade

standards. mudwellies.

com

Closes 24/02/2021 -

Keyword 'MUD'

Two winners

will each

receive a pair

of wellies of

their choice!

£100

voucher to

spend online!

Inspired by the beautiful island of

Skiathos, and with a focus on helping

to protect the planet and contributing

to the welfare of turtles, Kanula

produces stylish garments

designed to stand the test of

time while encouraging fair

treatment for all.

Primus, the UK's leading

supplier of handcrafted home and

gardenware into garden centres

across the UK, have kindly donated a £100

voucher to be redeemed against any products of

the winner's choosing. primus.co.uk

Closes 24/02/2021 - Competition keyword 'PRIMUS'

Using no plastic waste

materials which often

result in polluting the

oceans and harming sea

life, Kanula is proud to

offer slow fashion with

fast delivery. What's more,

for every purchase Kanula

donates 8% to the Sea Turtle

Conservancy!

Kanula stocks a large range

of children's, ladies and

unisex clothing. See the full

collection at kanula.org

Closes 24/02/2021 -

Competition keyword 'KANULA'

Two winners will

each receive a

hoodie and tote

bag of their choice

4 | www.solihullliving.co.uk
---
#ALSLetsMe

www.arnoldlodge.com

4-18 Co-educational Independent Day School

ALS lets ME

ACHIEVE

What will your child be?

BOOK A TOUR PERSONAL NOW!

Lovingly crafted by Interactive Schools

01926 778050

admissions@arnoldlodge.com

15-17 Kenilworth Rd, Leamington Spa, Warwickshire CV32 5TW
---
SUPPORTING BOARDING SCHOOLS

How boarding schools are coping with the COVID-19 pandemic

Like all organisations, boarding schools

have quickly had to adapt to a 'new

normal.' In recent months, they have

supported pupils and parents through

first-class online learning, and we have

organised a variety of seminars for schools

to help them modify their teaching and

learning styles for this new world. Here

Robin Fletcher tells us more.

Through our BSA Academy, we're

continuing to offer a comprehensive range

of online learning on a variety of subjects.

These include the possible impact of

COVID-19 and lockdown on the mental

health and wellbeing of students; how to

create positive and healthy routines for

young people during the pandemic, and

students' future mental health. We have

also just announced our 'BSA COVID

Conference: lessons learned and planning

ahead,' which will be taking place virtually

on November 18.

Supporting the health and wellbeing

of boarding students is at the heart of

everything we do; never more so than

during the ongoing COVID-19 crisis. In

response to the pandemic, we developed

our COVID-SAFE Charter, which schools

can voluntarily adopt. The charter offers

reassurance to boarders and their parents

/ guardians that schools have done

everything they can to ensure their safety

and it has been welcomed enthusiastically

by the boarding family across the world. We

also translated the COVID-SAFE Charter

into several different languages to keep

international parents informed and also

delivered a series of webinars to parents

and agents in China, Hong Kong and

Germany, designed to reassure them that

UK boarding schools were safe places for

their children.

The main concern schools reported to us

was that parents / guardians wanted to

know their children were going to be as

safe as they could possibly be when they

returned. For example, they wanted to

know what cleaning protocols the schools

had in place; what their procedures were

for testing students for coronavirus and

what measures would be implemented for

isolating pupils if there was a positive test;

whether students could wear face masks or

coverings in class if they wished, and that

students would have an opportunity to raise

any concerns. We responded by creating

a COVID-19 supplier list to help schools

find suppliers of products such as face

coverings, sanitisers, testing and tracking

devices and temperature camera systems.

We're continuing to work with a range of

government departments to ensure all our

member schools and staff receive the most

comprehensive, up-to-date information as

the coronavirus pandemic continues. We're

here to support to all our member schools

and provide any advice and guidance

they may need – we'd encourage them to

contact us as soon as possible if they do

require any assistance.

Robin Fletcher, CEO, BSA and BSA Group

A copy of the BSA COVID-SAFE Charter

can be viewed by visiting their website

www.boarding.org.uk where you will be able

to link onto their advice.

6 | www.solihullliving.co.uk
---
'Outstanding' and 'Excellent' - ISI Inspection

Preparatory School Open Morning

inc. Westbourne Pre-Prep

Join us for a tour of the school and have your questions

answered by our Prep School Leadership Team

Saturday 30 January 2021

Reserve your place now. Book online or contact

Admissions on 0121 454 5831

WHOLE SCHOOL VIRTUAL OPEN MORNING

Saturday 19 September 2020

An independent school for girls aged 2 1 / 2 -18 years

Westbourne . Preparatory . Senior . Sixth Form

0121 454 5831 admissions@edgbastonhigh.co.uk www.edgbastonhigh.co.uk
---
MORNING & YEAR 9

OPEN

FAIR

DESTINATIONS

and see why we're Birmingham's leading

Come

School for girls and boys

Prep

3 ENTRANCE ASSESSMENT

YEAR

6th FEBRUARY

SATURDAY

SATURDAY 30th JANUARY

aged 3 months to 13 years

Register your interest or find out more:

admissions@hallfieldschool.co.uk

0121 454 1496

Church Road, Edgbaston B15 3SJ
---
talking heads

2020 has been a year like no other, with challenges

that few, if any, foresaw and no sector has had to

be more agile and more creative than education.

We spoke to Keith B Morrow, Head Master at

Hallfield School, about how dealing with the

continuing presence of the virus has added a new

dimension to school life and how they, and their

pupils and staff are meeting the challenge.

From the very first time you heard the word Coronavirus to

now, how has your daily routine changed?

I suspect like most schools with primary-aged pupils, our daily

routines have changed a great deal!

The biggest change is seen at the beginning of the school day.

Instead of the car park being full of gathering of parents and

children, we have a drop-off zone and parents mostly stay in

their cars, with the children making their own way into school

(apart from the very youngest children). Like most Heads, I

never expected my mornings to involve checking the children's

temperature on entry and ensuring that children sanitise their

hands on the way in.

Inside school there are one-way systems and arrows reminding

children and staff where to walk.

The Year Group 'bubbles' mean that children cannot play as

freely with each other at playtime and lunchtime and this is a

great shame, especially as our older children enjoy playing with

and looking after our younger children.

I really miss seeing the children as a whole school, celebrating

achievements in the same way, and of course, we don't sing

altogether at the moment. Special moments such as Harvest

Festival, Remembrance and Christmas Service we lead at our

local church, St George's in Edgbaston, have had to be cancelled

ADVERTISING FEATURE

this term, along with our active sports calendar where we play

fixtures from Year 3 upwards each week with many other schools.

It's not just the children who have new routines, but the staff too.

Many more duties to help supervise the children at break times

and in After Care. The staff room is eerily quiet too! No more chat

around the coffee machine and struggling to find a seat for a

quick sit down at break time! It's now a 'grab and go' service for

drinks.

The end of the day has changed too. Staggered pick-up points

are helpful, but one loss is the personal touch in terms of the

chat with parents at the end of the day, especially for our younger

children.

We often hear it said that children are much more adaptable

than adults – how have you found this in daily school life.

Our children have been wonderful. Despite the new routines and

rules, they have adapted to everything superbly and are just so

happy to be at school with their friends and learning in person

rather than staring at screens all day.

If you could nominate someone within your organisation for a

superhero award, who would that be and why?

I simply couldn't single out one individual. All of my staff have

responded to the Coronavirus challenges with enormous energy,

sensitivity and care.

Thinking of a new kitchen?

Is your child or teens

Challenging Behaviour

or Anxiety

getting you down?

Ollie Coaching can help!

For more info

or a free session

visit

Call Belinda at

WELBOURN Furniture LTD

Design, supply and install quality English

bespoke kitchen furniture which is

manufactured in Wiltshire.

The company is run by husband and wife

01926 team, Mark 650 and Tessa 149 Welbourn, who offer 07485 120 444

many years of experience in the industry.

Why not call us now for a chat.

Welbourn Furniture Ltd

07816 326634

01225 775788

www.welbournfurnitureltd.co.uk

FREE

SESSION

www.helpmychild.co.uk

WELBOURN

Furniture LTD

LUXURY HAIRTIES

IN ENDLESS COLOUR

AND PATTERN

COMBINATIONS -

CUSTOM ORDERS

AVAILABLE - FROM £5

ALL HANDMADE

LOTTIE-LOVES.COM

I @LOTTIE.LOVES.HAIR

www.solihullliving.co.uk | 9
---
SPEEDY

Comforting meals ready in 40 minutes or less,

when you want a hug in a bowl with minimal fuss.

All courtesy of Waitrose

Suppers

PORCINI BAVETTE

STEAKS

WITH MUSHROOMS

Preparation time: 10 minutes (once meat

is at room temperature)

Cooking time: 15 minutes

Total time: 25 minutes

Serves: 2

INGREDIENTS

275g pack 2 beef bavette steaks, taken

out of the fridge 30 minutes ahead of

cooking

1 tsp Cooks' Ingredients Porcini

Mushroom Powder

2 tsp sesame oil

400g pack mashed potato

200g sprouting broccoli, thick stems

halved lengthways

1 tbsp unsalted butter

1 tbsp light soya sauce, plus more to serve

200g mixed exotic mushrooms

2 garlic cloves, thinly sliced

METHOD

Preheat the oven to very low, warm 3

plates and prepare all the ingredients.

Rub the steaks with the porcini powder

and 1 tsp oil; season and set aside to

marinate for 5-10 minutes. Meanwhile,

heat the mashed potato according to

pack instructions. Steam the broccoli for

4-5 minutes until tender.

Put a non-stick frying pan over a high

heat. Sear the steaks for around 2

minutes on each side, depending on

thickness, flipping after each minute.

During the last 30 seconds, add 2 tsp

butter to the pan, let it melt, then spoon

over the meat a few times as it cooks.

Lift the steaks onto a plate and splash

with the soya sauce. Cover loosely and

transfer to the oven.

Add the remaining 1 tsp oil and butter to

the hot pan, then toss in the mushrooms

and garlic; season. Fry over a high heat

for 2 minutes until golden; toss but allow

the mushrooms to catch some colour.

Slice the steaks across the grain, put

on the warm plates and serve with the

mushrooms and some of the resting

juices, the mash and broccoli, and a dash

more soya sauce, if liked.

COOK'S TIP

Try serving with fresh egg noodles,

tossed with the cooked mushrooms and

garlic, instead of the mash.

MISO MUSHROOMS

WITH SWEET POTATO

Preparation time: 10 minutes

Cooking time: 20 minutes

Total time: 30 minutes

Serves: 2

INGREDIENTS

2 tbsp oil, plus 1 tsp extra

2 tbsp Clearspring Organic Brown Rice

Miso

1 garlic clove, crushed

15 sage leaves, 5 finely chopped

4 portabella mushrooms, stalks trimmed

2 sweet potatoes (about 640g), peeled

and chopped

6 tbsp single cream or cream alternative

300ml vegetable stock

1 tbsp maple syrup

1 tsp arrowroot or cornflour, mixed with 1

tsp cold water

Swiss chard or other seasonal greens,

to serve

METHOD

Mix 1 tbsp oil, 1 tbsp miso, the garlic

and chopped sage; brush over the

mushrooms. Boil the potatoes in a

covered pan of salted water for 10-12

minutes, until very soft. Drain and mash

10 | www.solihullliving.co.uk
---
to a smooth purée. Stir in the cream alternative; season.

Preheat the oven to 140˚C, gas mark 1.

Meanwhile, fry the sage leaves in 1 tbsp oil for 2-3

minutes until crisp. Drain on kitchen paper; keep warm.

Wash out the pan, then boil the stock, the remaining

1 tbsp miso and the maple syrup for 10 minutes, until

reduced to 175ml. Set aside.

Heat the remaining 1 tsp oil in an ovenproof non-stick

frying pan. Fry the mushrooms, stalk-side down, on

a medium-high heat for 2 minutes, pressing now and

again with a fish slice, until deep golden. Turn, cook

for 2 minutes, then put in the oven for 10 minutes.

Reheat the gravy, add any mushroom juices and whisk

in the arrowroot or cornfl our. Simmer until glossy and

a little thick. Season and serve with the veg, sage and

mushrooms.

COOK'S TIP

Arrowroot is really useful for vegetarian or vegan gravies,

as it adds body without making the gravy cloudy. Avoid

re-boiling once it has thickened.

CITRUSSY AVOCADO, PRAWN &

LENTIL SALAD

Preparation time: 20 minutes

Cooking time: 5 minutes

Total time: 25 minutes

Serves: 2

INGREDIENTS

½ small red onion, sliced into thin rounds

3 essential Waitrose Easy Peelers (sweet mandarins or

clementines), 2 juiced, 1 sliced

1½ tsp red wine vinegar

250g pouch Waitrose & Partners Puy Lentils

180g large raw king prawns, patted dry

1 tsp ground cumin

1 garlic clove, crushed

2 tsp sunflower or vegetable oil

1 ripe avocado, ¼ diced, ¾ sliced

28g pack coriander, leaves only

1½ tbsp low-fat natural yogurt

Chilli flakes (optional), to serve

METHOD

In a bowl, toss the onion in ½ of the citrus juice, plus 1

tsp vinegar and a little seasoning; set aside. Heat the

lentils according to pack instructions and let them cool

a little. In another bowl, toss the prawns with the cumin,

½ of the garlic and 1 tsp oil; leave to marinate for a few

minutes.

To make the dressing, put the chopped avocado, 1 tbsp

water, the remaining citrus juice, vinegar, garlic and ½

the coriander leaves into a jug. Use a hand blender to

whizz until smooth (or use a jug blender). Stir in the

yogurt; season.

Heat the remaining 1 tsp oil in a frying pan and sear the

prawns on a high heat until fully cooked, opaque and

pink throughout – about 3 minutes. Spoon the warm

lentils onto plates, follow with the sliced mandarins or

clementines, sliced avocado, prawns, dressing and the

onion with a little of its juice. Serve scattered with the

remaining coriander and a few chilli flakes.

COOK'S TIP

The avocado dressing in this dish is also a great match

for roast chicken or grilled halloumi.

www.solihullliving.co.uk | 11
---
SPICY YUZU MISO RAMEN WITH PRAWNS

Preparation time: 5 minutes

Cooking time: 10 minutes

Total time: 15 minutes

Serves: 2

INGREDIENTS

100g buckwheat soba noodles (or your

favourite variety, prepared according to

pack instructions)

1 tsp toasted sesame oil

2 tbsp white miso paste

150g shiitake mushrooms, sliced

2 salad onions, white and green parts

separated and chopped

1 pak choi bulb, stem shredded, leaves left

whole

150g pack raw king prawns

1 tsp Yuzu Juice

1 red chilli, sliced (deseeded if liked)

METHOD

Bring a large pan of water to the boil, add

the noodles and simmer for 4 minutes

(watch carefully as buckwheat noodles can

overboil easily). Drain and rinse under cold

water, then toss with the sesame oil and

divide between 2 bowls.

Rinse out the pan and pour in 500ml justboiled

water. Whisk in the miso paste. Add

the mushrooms and white parts of the salad

onions; simmer for 3 minutes. Add the

pak choi stem and prawns; simmer for 3-4

minutes until the prawns are fully cooked,

opaque and pink throughout, then stir

through the pak choi leaves and yuzu juice.

Ladle the soup over the noodles and scatter

with the salad onion greens and sliced chilli.

COOK'S TIP

Yuzu is a Japanese citrus fruit with hints of

mandarin and lime. Its juice is a great match

for all types of fish and is lovely drizzled

over salads and noodles.

12 | www.solihullliving.co.uk
---
KIWI LIME PIE

This easy dessert recipe uses juicy kiwi fruit to top

the creamy lime filling and crunchy ginger nut base.

An ideal get-ahead pud. Whilst technically not ready

in 30 mins, it can chill whilst you eat your main meal.

Preparation time: 20 minutes, plus chilling

Cooking time: 10 minutes

Total time: 30 minutes, plus chilling

Serves: 8-10

INGREDIENTS

200g ginger nut biscuits

75g unsalted butter, melted

200ml double cream

200g condensed milk

4 unwaxed limes, zest and juice

5 mint leaves, finely shredded

2 Waitrose 1 Perfectly Ripe Kiwis

METHOD

Preheat the oven to 180°C, gas mark 4. Line the

base of a 23cm loose-bottomed tart case with a

circle of parchment. Whizz the biscuits in a food

processor until crushed. Add the melted butter and

whizz again. Tip into the tart case and press in the

base and up the sides with the back of a spoon.

Bake for 10 minutes, then set aside to cool.

Put the double cream, condensed milk and lime

zest and juice into a mixing bowl and whisk

together lightly with a balloon whisk. Stir through

the mint then pour into the tart case. Chill for at

least an hour.

Top and tail the kiwi fruit, then use a vegetable

peeler to remove the skin. Slice the kiwis, then

tumble over the tart.

COOK'S TIP

Left over condensed milk is brilliant for making

iced coffee, or it can be simmered down to make

caramel. It also freezes well.

www.solihullliving.co.uk | 13
---
WHAT IS CBD?

BEAUTY

HOT LIST

THIRSTY SKIN

SAVIOUR

AMPLIFY YOUR

SKINCARE

This product really amplifies the effects of your

skincare products - helping them penetrate

further into the skin. Use the side with silicone

bristles to gently deep cleanse your skin while

stimulating collagen production; then turn

the device around to use the side with the

heated Silver or Gold massage plates to open

the pores and help your skincare products

penetrate deeper into the skin. PMD Clean PRO

Gold (£225) and PMD Clean PRO Silver (£179),

uk.pmdbeauty.com

Give your skin the ultimate hydration treat

with the Ultimate Moisturising Honey

Overnight Mask. Enriched with propolis

extract, a natural antibacterial and antiinflammatory

ingredient that helps to

soothe stressed out skin, as well as natural

beeswax. This can be used in three different

ways, making it one of the hardest working

products in your kit. It can be used as an

overnight mask, as a wash-off mask, or a

thin later as a morning moisturiser.

£23, beautybay.com

Cannabidiol (CBD) is a naturally occurring compound

found in the resinous flower of cannabis, a plant with a

rich history as a natural medicine going back thousands

of years. In the modern era, the therapeutic properties

of CBD are being rigorously tested by scientists and

doctors around the world. More than a simple health

fad, increasing evidence suggests CBD and other

cannabinoids may hold significant therapeutic value.

A safe and non-addictive substance, CBD is one of

more than a hundred phytocannabinoids, which are

unique to cannabis and endow the plant with its robust

therapeutic profile. Many people want the purported

health benefits of cannabis without the high.

OUR FAVOURITE?

Dr. Ed CBD oils are the highest quality CBD oils

available in the UK. All CBD oils are broad spectrum

with an additional terpene blend. All contain zero THC.

What can one ingredient actually do to help ease the

pressure on the collective mental health of a nation?

CBD works on a lot of levels in the body. It interacts

and balances out the endocannabinoid system as well

as the serotonin system, helping to reduce anxiety,

depression as well as aid those with disorders like

PTSD, OCD and SAD. Dr. Ed is a specialist purveyor

of cannabidiol products based in Manchester, England.

Formed in 2018, Dr. Ed was one of the first groups

to recognise the potential of consumer CBD and just

how many people could benefit from cannabidiol

and other cannabinoids. Dr. Ed continues to go from

strength to strength within the CBD community and

remains at the forefront of product development and

CBD applications. There are an awful lot of bogus

products on the market making wild health claims or

not containing the ingredients you expect. Dr. Ed only

develops products with science in mind. Their business

is based on logic and a strong understanding of the

facts surrounding cannabidiol.

Dr. Ed offers seven products, all available in different

strengths according to your needs. Each product is lab

tested and is vegan, cruelty free and THC free. We love

the Bath Salts, all aimed at combating different issues,

from low energy to stress. dr-ed.co.uk

Please talk to your doctor before trying any alternative

therapies to check for contra-indications.

PINPOINT PRECISION

Nicknamed, 'The Ferarri of Tweezers' by

Bobbi Brown and a recent favourite of Rosie

Huntington-Whiteley, they have become a

must-have beauty tool. Rubis made their

name crafting precision tweezers exclusively

for the Swiss watch industry. 25 years ago

they branched out into beauty tools using

the same factories and skilled craftsmen and

as a result they can't be matched for quality.

£21.50 cultbeauty.co.uk

14 | www.solihullliving.co.uk
---
TONIQ On Demand

ADVERTISING FEATURE

We caught up with personal trainer Arron Collins-Thomas to find out about his new

online fitness offering, expanded from his very successful gym TONIQ...

Your gym, with its fully-rounded approach to health and

lifestyle, has made national news for its incredible client

results – what will the app offer?

At TONIQ we recognise that good health is more than just

regular workouts, it encompasses taking care of every aspect

of your body. We have created a solution where everything from

nutrition, mindfulness, amazing workouts, yoga and more is

available with guidance from fantastic trainers and experts in

one place.

Not only this, but as part of TOD you have access to your own

coach, ensuring that you have someone you can speak to, to

keep you on track and accountable as well as supporting you

throughout.

We have had some incredible results over the past few years at

TONIQ and we want to be able to bring those results to more

people. With the app we aim to give anyone, anywhere in the

world, a taste of the TONIQ-life.

As a TONIQ On Demand member you get to join the incredible

community online, have access to our on demand workouts as

well as live workouts, Q&As and educational talks. We have an

incredible coaching team with a huge array of skills to bring to

you including yoga, qigong, nutrition and mindfulness.

The main workouts are written based on what we are up to at

TONIQ in any given training block and a new phase of workouts

launches every 6 weeks on the app as well as regular bonus

content to keep the training varied and inspiring.

Can you get a good experience with online coaching?

Are you accountable and is it personalised?

With TOD you have a designated TONIQ coach who you speak

to on a one to one basis. When you first sign up with us you

will have a call to help you set up your accountability sheets,

help you curate your workout schedule and set you on the

right nutrition plan for you. Then every month you get another

call with your coach to help keep you on track and answer any

questions you may have. Accountability is key if you really want

to get results and that is one of the reasons why TONIQ has

been so successful.

Are the classes accessible no matter your fitness level?

Some of us are self-conscious about going to the gym or

nervous in COVID times.

No matter what your levels of fitness we can help you. Our

expert coach will advise what level to start at for you and

how hard to push yourself in the first consultation you have

with them. It will be based around your fitness and any health

concerns, so you can feel secure in the fact that you won't be

over training or causing yourself any harm by taking part in our

programs.

For people who aren't ready for the gym again yet or who are

self conscious TONIQ On Demand is the perfect choice. You get

personal trainer support and expert written workouts, all from

the comfort of your own home.

You also get to join a great online community who share their

experiences and help support each other to get the results they

desire.

TONIQ ON DEMAND

MORE THAN A WORKOUT

Join our community from anywhere, at anytime with

TONIQ on Demand, our app gives you access to:

Personalised plans developed with expert coaches.

Nutrition plans based on your needs and goals.

Monthly 121 check in calls with an expert coach.

Extensive library of classes including SWEAT, STRONGER,

BURN and CHILL.

Visit TONIQLIFE.COM to find out more

www.solihullliving.co.uk | 15
---
With more of us working from home or putting

off a move, we need to maximise every inch of

space in our homes. This issue, we look at a

real-life vault conversion which has given the

homeowner ample new living space and room

for guests...

WORDS Katie Thomson

PHOTOGRAPHY Lydia Booth Photography

The side table is both practical and allows for cosy

candlelight. Table and vase, jysk.com; candle, Pecksniffs

Aromatherapy; Cushions, hauslife.co.uk; Tray, Homesense

16 | www.solihullliving.co.uk
---
MAXIMISING

f you've never ventured into the belly of a Georgian

building, the term 'vault' might be an unfamiliar one to

Iyou. During what was a hugely prolific building period,

Regency architects created many of their characteristic

town houses with an interconnected series of rooms below

ground level, with vaulted ceilings. All houses except the

poorest had basements containing a kitchen, scullery and

other stores such as a pantry and larder. More generally,

these allowed for the services of the household to operate

without needing to use the front door.

In the intervening years, many of these properties have

been converted into flats and remedial works have

been started on these vault spaces - so was the case

with this room. Before work commenced (with relevant

permissions), the vault was dark and the previous

tanking system had failed entirely, leaving blown

patches of plaster on the walls. The flooring was a thick

carpet laid over a concrete substrate, only adding to the

issues with damp.

Unlike some spaces, this room had the benefit of a

window, so for owners Dan and Kate, it made sense

to be able to make it more habitable as a 'snug' with

an option to accommodate guests. "The project was a

daunting one, but the damp issue was getting worse and

I knew we needed to take some action" explained Katie,

"we wanted to make the space both dry for storage and

somewhere we could actually use - but as you can see,

the shapes of the walls made sure it wasn't a standard

project. The number one priority was getting it dry."

The first steps were removing the failed tanking and

applying a new membrane. Where possible, Kate was

very conscious not to harm the fabric of the building "I

was adamant that I didn't want wires channelled into the

walls or any harm done to the building itself, so together

with our builder we devised the panelling - the batons

are secured to the walls and hide the myriad of cables to

supply socket points and the LED up-lighting. The power

for these comes from the original power source already in

place in the room."

Once tanked and rendered, the next big challenge for the

couple was the flooring. Even with all precautions taken,

this is an underground space and the flooring needed

to be able to withstand moisture but also be able to be

laid in a space with such an unusual shape "there is not

a single right angle in this room!" says Dan, "aside from

making it challenging to plaster, the flooring had to be

really easy to cut to size. We couldn't go with laminate

Space

"The project was a daunting one,

but the damp issue was getting

worse and I knew we needed to

take some action"

www.solihullliving.co.uk | 17
---
haus

HOME | LIFESTYLE

ARTISANAL SOFT FURNISHINGS FOR THE MODERN HOME

USE CODE

LIVE15

FOR YOUR

EXCLUSIVE

15% OFF ALL

ORDERS

Image courtesy of

cityfarmhouse.com

NEW COLLECTIONS OF MUDCLOTH AND KILIM PILLOWS AND

LEATHER POUFFES COMING SOON - AVAILABLE TO PRE ORDER NOW

FREE UK P&P ON ALL ORDERS

www.hauslife.co.uk
---
ecause it doesn't cope well with moisture, so

the more obvious choice were luxury vinyl planks.

We chose a product from the Colosseum range

at Lifestyle Floors (lifestyle-floors.co.uk - you can

find your local supplier on the website) which we

had installed through a local fitter - the 7" plank

width was perfect and the colour was exactly

what we needed."

Before

The colour of the flooring in a space like this is

crucial too, "if you were to stand looking straight

down the wall, you would see the floor undulates

back and forth, like a wobbly line! We couldn't

have a dark coloured floor as this would highlight

this - we went for the finish Limed Oak and it is

perfect - it looks like real wood and gives us that

nice Scandi look we love. I can't recommend

this flooring enough - whether your space is

straightforward or tricky! It looks spectacular, is

so cost effective and feels great underfoot. We

finished it with this beautiful Savannah rug from

Rug Love (ruglove.co.uk), which is the plushest,

loveliest rug we've ever had! The colours really tie

in well together and it's handwoven."

Another challenge presented by this project was

furnishing. Due to the huge curve and narrowness

of the staircase down to the room, the owners

knew most sofas and sofa beds would not fit

into the room. Thankfully the answer was found

with Snug Sofa (snugsofa.com). These ingenuous

sofas arrive in their constituent parts in three

"These ingenuous sofas

arrive in their constituent

parts in three boxes and

are then assembled in

under five minutes."

www.solihullliving.co.uk | 19
---
IMPORTANT NOTE:

Today, renovation can only being

with prior consent in the case of

historically significant buildings

and it is likely only granted if

previous works have been started -

it is important to check the details

with your local planning authority

before starting any works.

Product Information:

• Cushions, throw and floor

cushions from hauslife.co.uk

• Luxury bed linen set from

riseandfall.co

• Savannah Rug in Grey (160 x

230cm) £319, from ruglove.

co.uk

• Prints and frames from

desenio.co.uk

Lydia Booth Photography -

lydiaboothphotography.com

lydia@lydiaboothphotography.com

20 | www.solihullliving.co.uk
---
"We were just desperate for

some extra space with us

both working from home,

and this has given a new

lease of life to a space we

hadn't been using."

boxes and are then assembled in under five minutes. What's more, Snug can usually

deliver within a week - gone are the days of waiting eight weeks for a sofa to arrive, only

to realise it won't fit through the door. The other sofa options include modular elements,

helping your sofa grow with your family - and they come in a whole host of stain-resistant

(coffee, wine, small hand prints, paw prints) colours.

Owner Dan was also sceptical about ordering a sofa online - Snug Sofa have UK stores to

try out the products, but these were not in his locale. Though, he admits he needn't have

worried "the sofa is amazingly comfortable - my expectations were low as it was a sofa

bed, but amazingly it's even more comfy than my normal sofa upstairs. That, combined

with lightning fast delivery, made something I was dreading incredibly easy. Because of

lockdown, we haven't had guests yet, but they'll be able to sleep on a queen sized bed,

which is pretty impressive for a sofa bed! It was a good opportunity to inject some colour

into the room too!"

Did the couple have any regrets from the project? "Only that I wish we'd done it sooner" says

Kate. "Working on renovations this size are intimidating, but having a good plan of each step

and executing it are the key points - you do have to consider the unique challenges of your

own project and try to plan ahead to a degree. We were just desperate for some extra space

with us both working from home, and this has given a new lease of life to an area we hadn't

been using. It feels like a natural extension of our home and I love all the products we've

used - so much so that we are thinking of changing up some rooms upstairs!"

www.solihullliving.co.uk | 21
---
DOCTOR DOCTOR

We talk to one of the UK's favourite doctors - Dr Hilary Jones

Dr Hilary Jones is one of best known TV

doctors and has been ITV's Health Editor

on Good Morning Britain since 1989. Sally

Thomson had the opportunity to have a

discussion with him following his early start

on the programme.

Thank you very much for taking my call.

Dr Hilary, have you had a long day?

It's been a fairly long day but I'm getting

used to that at the moment.

What time do you start in the mornings?

4 o'clock starts usually 5 days a week for

the last few months so, yeah it is what it is

and it's a challenging story.

Most people know you from the breakfast

programme you are on, but a lot of people

don't know why you actually chose to

become a doctor?

My dad was a doctor so I had an insight

into what was involved and I think I was

always a people person so I suppose in a

corny way I wanted to do something that

would make a difference. Whilst I had to

change from Art A levels to science which

was a struggle the clinical work was very

satisfying, so it was an easy decision.

Was there a particular field that you

wanted to specialise in?

No, I've always thought a specialist is

someone who knows more and more about

24 | www.solihullliving.co.uk

less and less until they know everything

about nothing. I wanted to be a jack of

all trades and have a broad spectrum of

knowledge and the challenge of general

practice is you never know what's going to

come through the door.

How long ago did you enter it, when did

you become fully qualified?

1976 so 44 years ago.

Would you recommend a young person

goes into the profession?

Yes, it's a fantastic career still. It has its

challenges and I think in the UK it's not

particularly appreciated enough by the

doctors patients but I would say that its

challenging, interesting, satisfying and

nobody does it for the money but I think

in terms of job satisfaction and going to

bed at night thinking my goodness I've

think I've made a difference it is a fantastic

career.

I guess it must be quite challenging at

times, the other side of it that is quite

difficult I should imagine.

Of course, they are long hours and you

have to impart bad news sometimes and

you deal with death and dying as well as

making people better.

Is that a major part of the syllabus? How

you handle those unpleasant and really

heart rendering times when you have to

give somebody bad news?

What you learn in training is fairly superficial

and it's what you pick up through the

experience of practice that makes the

difference and you never stop learning in

medicine.

How did you get into TV? There appears

to be a lot of doctors now on the box, but

you have been there for a little time, now

haven't you?

I was lucky enough to have gone to a

school with a very good drama society

and it was not unusual for us to perform in

front of an audience and I think that when I

was in general practice I realised we could

reach a lot more people rather than dealing

with one person in the surgery. Public

health messages were capable of reaching

hundreds of thousands of people in one hit

so I wrote to TV AM asking for a job, then I

got a letter back saying we like your ideas

come and meet us and that was in 1989.

I understand that you have been working

on topics regarding keeping well during

the wintertime and in light of the awful

year we have had in particular, what

advice would you like to give our

readers?

I think patience and perspective would

be two words that come to mind. I think

everyone is very impatient to get on with
---
Your care is our calling

St Joseph's Care Home, Coleshill

The care you need to live each day as you choose.

• Personalised care that meets your needs

and wishes

• Our highly trained, caring staff are onhand

at all times

• On-site shop, chapel, hairdresser, and

1950's and '60s memory lounges

• Enjoy regular activities within the home

as well as trips out

• Join in with our lively community or

relax in one of our quiet areas

• Homely setting with private, en-suite

rooms

• Peaceful location with private gardens

overlooking countryside views

• Located in Coleshill, with excellent

transport links to the M6 and M42

To find out more or book a visit, call our Registered Manager,

Shelley Perryman, on 01675 434559

st.josephs@fatherhudsons.org.uk | www.fatherhudsons.org.uk

St Joseph's Care Home is part of Father Hudson's Care, supporting people in need to

improve their quality of life. Legal name, Father Hudson's Society. Charity no. 512992.

Find us on:
---
normal life, but we can't, the pandemic is

not something that we can just ignore it has

very serious repercussions in all ways and

we have to keep this in perspective. I think

we have to be patient. We are in a society

that is used to having instant gratification

and if we want something, we want it now,

unfortunately we can't do that. The National

Health Service is distracted by the worst

global pandemic for over 100 years with

very serious repercussions and we have to

be grateful for what we have, make some

adjustments, be patient and get through

this by helping each other out as much as

possible as well as looking after ourselves.

It is quite scary and most of us are on

tenterhooks with what's going on and

naturally if you go back to April when

the weather was lovely and warm, but

now rain, cold snap, bit of wind and

the dark days it's rather gloomy so is

this a concern with you in the medical

profession?

Of course, and people are feeling down

and tend to, get Seasonal Affective

Disorder in the Winter anyway with the dark

days and not much daylight "What is there

to look forward to?" people might say.

Mental Health Charities are being kept very

busy, much more so though than in the last

few years. It's always been a challenge, but

I think a lot of people are feeling particularly

anxious even if they weren't before or more

anxious if they were before and feeling

depressed, not sleeping very well. I think

we have to be able to manage we have

to be able to give people the support so

they can reach out to mental health apps,

counsellors, doctors and just talking to

friends and family about our concerns

as I think everybody has this degree of

apprehension at the moment but that's

normal it's a sort of protective mechanism

but if we can share our fears and concerns

that really helps.

It's worrying on so many levels for

instance whether you are an employee

and people you have worked around for

years are being made redundant or the

business you are working in is at threat,

it's going to make people very jittery

and it really brings it home and makes it

difficult for most of us and knowing how

to keep above it?

I think it's choosing the things we can do

despite it being Winter, we can still exercise

as much as possible in daylight hours, we

can cheer ourselves up with a good book,

a good film or some uplifting music. We

can talk to the people that we trust and we

love, so there are many things that we can

still do, there are some things we can't do

but there are still plenty that we can do and

we need to hang onto those and spend as

much time enjoying life as we possibly can.

What's concerning, and I have heard

this from a lot of people is that they are

worried about Christmas, worried about

their families and the whole thing moving

forward is unsettling. Christmas time

is usually when we can see and spend

time with our elderly relatives, and you

would maybe notice any problems or if

26 | www.solihullliving.co.uk

something is developing that you could

help with?

I suppose it's the time of the year that

families get together after a long busy

year so the thought of having to forego

that is distressing for a lot of people but

at the same time we don't know where

we are going to be in a couple of months'

time. I think for me as a doctor health

is paramount and we need to protect

our elderly and people with pre-existing

conditions but there are ways of connecting

and communicating which are safer than

others. If we care for our parents, then we

are already caring for them however if we

are in different households and there's any

risk of transmitting the virus then talk on

the phone or online. It may be that we just

have to wait a little longer and have what we

would normally have at Christmas a couple

of months later.

Do you have faith in a vaccine being

beneficial?

Yes I think it's likely that amongst all the

hundreds of vaccines that are being worked

on at the moment that we will have several

that have a good protective effect it may be

that we have to use a combination or use

a combination several times a year. There

are some very clever people working on this

and we have created vaccines against all

sorts of diseases that we couldn't master

before like meningococcal meningitis C and

A and respiratory in situ virus in children. We

are developing vaccines all the time which

are effective and safe, and I do have faith

that a vaccine would be the answer.

With the measles jab, people stopped

having it done and am I right in saying

that rose again and more children were

getting measles and it's a very serious

illness in children?

Yes, before we had a measles vaccination

hundreds of children died of complications

of measles and of rubella and occasionally

mumps so MMR has saved thousands of

lives and whilst people were worried by a

study from one just man that was dismissed

the coverage for a vaccine is back up to

where it was before, thank goodness.

People have forgotten that a hundred years

ago 1 in 4 children died before their 5th

birthday of disease.

We mentioned the care for our elderly

relatives and I think it's an opportunity

when we don't see them from year to year

to see how they are getting on and we

might as the middle aged children of elderly

parents recognise changes in them that

have been gradual that nobody else has

noticed. We might find for example that

their cognitive function is a bit slower, that

their concentration is less, and they can't

find the words that they were looking for.

They might be forgetful or hard of hearing. If

they can't hear you on the phone or online,

then they are going to miss out on activity.

We know that loss of hearing is the leading

preventative cause of dementia. If we can

correct peoples hearing, then they are less

likely to develop dementia.

34% of people aren't aware that there are

things that you can do to prevent or delay

the onset of Dementia and top of the list is

making sure that people can hear well. If

people have a mild hearing loss it doubles

their Dementia risk but if they have a severe

hearing impairment the risk is 5 times that of

someone that can hear normally. Checking

on the elderly checking their hearing making

sure their vision is good, making sure they

are not too isolated, eating & drinking

properly and keeping their mind busy

with crosswords, books that sort of thing

physical activity all of these things help.

These are things you can discuss on the

phone and you can encourage people to

get their hearing checked for example.

So if somebody does have bad hearing can

a specialist visit them at home or do, we

have to take them to a specialist?

There are NHS services but they are very

much under strain at the moment but there

are some good high street outlets such

as Hidden Hearing where you can go and

have a free hearing test. You will be given

advice about what level of hearing loss if

any you have and what could be done. It

may just be something simple such as wax

removal is needed but it could be a degree

of hearing loss caused by increasing age

that could be corrected with a hearing

aid. This can change people's lives almost

overnight and can have a dramatic effect.

It reconnects them with the world, they can

understand conversation, share jokes, they

can socialise. It makes a huge difference

and that means no more isolation or

depression and happiness again.

Finally, everybody has different things

that they have missed since this has all

happened. What have you missed most

during this difficult year?

I've got 5 children, 3 grandchildren and an

elderly mother whom I look after. I would

love to invite my children round or go to

stay with them, but I haven't been able to as

it's just too risky, I don't want to put them at

risk and vice versa. We speak on the phone

a lot and I miss them terribly, but I look

forward to the time when we can all meet

up again.

The interview took place before we

had the news that a vaccine had been

approved, and until fully implemented

everyone should continue following the

Government's advice. Go to www.gov.uk

for more information.
---
Looking for a care home or a home

care package? We can help

We offer a free and independent service that

can help you find the right care home, live-in

or domiciliary care package for you.

CHS Healthcare is the UK's leading specialist

in helping people to find the right care

and last year helped over 25,000 people to

arrange care for their needs.

We offer a dedicated adviser to support you

every step of the way to find the right care for

you.

CHS was very helpful finding the right services

for our Dad. It is difficult to know where to start

finding help, CHS was wonderful and took all

our stress away finding carers.

Our Dad is happy and settled even after a few

days which proves it was the right decision.

For more information please contact us on

0121 362 8845

Midlandsadmin@chshealthcare.co.uk

carehomeselection.co.uk
---
Lady Katherine Housing & Care

Rated by the care Quality Commission as:

GOOD

Residential Care

Respite Care

Sheltered Housing

If you would like to pay us a visit or discuss our current

availability contact: Chris Mundell

01564 772415 / 772850

www.leveson.org.uk

Company No. 7890553 Registered Charity 1146710
---
10 top foods for eating well as we get older

As we age it is vitally important to eat

certain foods which offer a huge benefit

to people as they age. The correct foods

help in maintaining their health and

memory if they're consumed as part of

a healthy lifestyle.

Eating a certain type of food won't help

you cure a disease or prevent dementia,

but a healthy diet packed with nutritious

foods does have its benefits. Specific

products can benefit those in elderly care

homes and help them maintain their health

and memory if they're consumed as part

of a healthy lifestyle. Not sure which foods

should be on your or your loved one's

grocery list? Here are the top 10 foods

that senior citizens should be eating.

1. Apples

Apples are wonderful fruits for those who

are struggling to maintain their blood sugar

levels or who have high cholesterol. The

soluble fibre they contain can help lower

cholesterol and slow the uptake of glucose.

Apples also provide potassium, antioxidants

and vitamin C.

2. Shellfish

Shellfish like crab, oysters and scallops

contain vitamin B12, iron, magnesium and

potassium, all of which are beneficial for

brain function.

3. Leafy green vegetables

Leafy greens like spinach, kale, and turnip

greens, as well as vegetables like broccoli,

have been linked to lower levels of cognitive

decline as people age.

4. Fish

Salmon, halibut, tuna, mackerel, sardines

and other cold-water fish have high

omega-3 fatty acid levels, making them

good for the heart and brain. If seafood isn't

your cup of tea, beans, nuts, flaxseeds and

healthy oils can be good substitutes.

5. Eggs

Eggs are easy to incorporate into a

meal and full of protein. They also

contain choline, which is a B vitamin that

benefits memory and encourages stress

management.

6. Asparagus

Asparagus is full of nutrients that benefit

seniors. Lycopene, for example, can protect

against prostate cancer. Vitamin A boosts

the immune system and eye health, while

fibre aids in cholesterol reduction and

contributes to heart health.

7. Berries and dark-skinned fruits

Berries and dark-skinned fruits have plenty

of antioxidants, which help fight damaging

free radicals in the body. Blueberries,

blackberries, strawberries, raspberries,

plums, oranges, red grapes and cherries are

all good options.

8. Dark chocolate

You will be pleased to know that your

chocolate habit might be good for you!

Dark chocolate is full of antioxidants, and

may help prevent heart attacks, lower blood

pressure and decrease the risk of stroke.

9. Coffee

If you drink coffee, you're in luck. Drinking

coffee can reduce the risk of Alzheimer's

disease, heart and respiratory diseases,

stroke, diabetes and infections.

10. Greek yoghurt

Greek yoghurt is full of protein and

digestion-friendly probiotics, and it's low

in sugar. It's also got plenty of calcium for

bone health.

ARE YOU GETTING

THE CARE YOU NEED?

Arranging and paying for care is more complicated than ever. Families often face these life changing

decisions at a time of crisis and just don't know where to turn for independent, up-to-date advice.

We have a dedicated team who are committed to supporting and representing those who need care and

their carers to ensure they are aware of their rights and have access to services that could help.

We can help you with:

• Social Care Assessments and care fees

• Entitlement to free NHS Continuing Healthcare Funding

• Mental Capacity and Best Interests

• Court of Protection Applications

• Lasting Powers of Attorney

• Wills, Probate and Inheritance Tax Planning

• Challenging Deprivation of Liberty authorisations

• Legal Aid for community care

Debbie Anderson

Head of the Health and

Community Care Team

Call us today for a free

consultation.

Moore & Tibbits

Solicitors

a member of

01926 354704 www.qualitysolicitors.com/moore-tibbits

NATIONWIDE SERVICE

Moore & Tibbits Limited is authorised and regulated by the Solicitors Regulation Authority, no. 563197.

30 | www.solihullliving.co.uk
---
The best home to be in is your own...

We believe clients should be able to stay at home for as long

as possible, surrounded by their memories and belongings.

• Each care package is tailored to suit each individual

• We ensure continuity and never send a stranger

• Our visits are never rushed and always a minimum of an hour

• All our CAREGiver's are thoroughly trained and screened

• Ongoing nutritional support for clients to help with good health

Home Instead Senior Care Solihull

01564 330 395 | 01212 704 615 | www.homeinstead.co.uk/solihull

Each Home Instead Senior Care© franchise office is independently owned and operated. Copyright © Home Instead 2017.
---
32 | www.solihullliving.co.uk