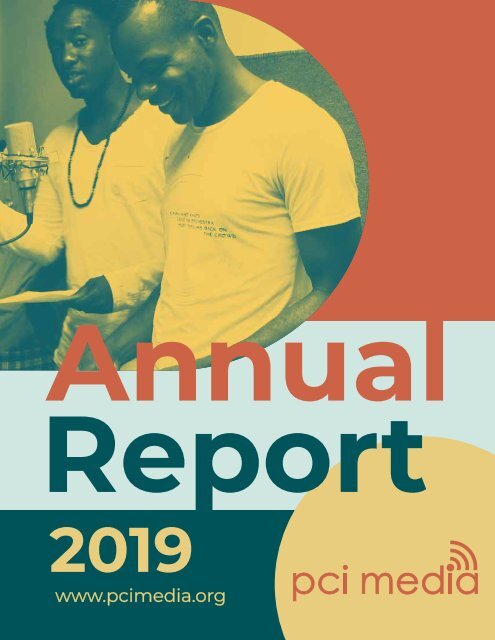 PCI Media - Annual Report 2019
You also want an ePaper? Increase the reach of your titles
YUMPU automatically turns print PDFs into web optimized ePapers that Google loves.
Annual

Report

2019

www.pcimedia.org
---
Who We Are

Positive changes happen when people are captivated by new narratives

that reveal better ways to live.

We combine the power of storytelling, technology, and community

to inspire action for a healthier, more sustainable and just world. We

partner with local organizations to produce culturally resonant radio

programs, social media, and interactive communication campaigns

that achieve local, national, and global impact.

PCI

media

values the right of every being to live a self-determined life on a healthy planet

envisions a healthy. sustainable, just world where people author their own lives

inspires creativity, action and change

promises collaboration, authenticity and quality

contents

2 Letter from our President

4 A few of our Partners in 2019

5 How We Work & Footprint

7 Our Programs in 2019

9 Social Justice

11 Health

13 Environment

15 Awards

17 Staff, Board, Supporters

19 Financials
---
Letter from our President

Dear PCI Media Friends,

In 2019 I served as PCI Media's Executive Director.

I am proud to serve as President. My

experience in and passion for education will

continue to support our mission to improve

lives using the power of Entertainment-Education

and creative communications.

As we reflect on our successes and programs in 2019, we thank our

many partners for making positive change possible. Whether providing

funding for a new production, subject matter expertise, or

broadcast support –our partners make it possible for PCI Media to

produce the stories that touch people's hearts, expand their minds

and generate action for a better world.

Across the globe, the challenges we face require more than technical

solutions—they demand learning, shifts in mindsets, and meaningful

cultural changes:

• Climate change is beginning to impact how we live in ways we are

only starting to experience and understand. It is imperative that

communities adapt or they will perish.

• Increasingly, pandemics like Ebola and COVID-19 underscore the

need for better sanitation practices, health literacy, nutrition, and

awareness of the health impacts of illegal trade in wildlife.

• Patterns of economic and social inequity and instability continue

to be replicated when girls, women, boys, and men are denied access

to basic human rights.

2
---
The time for change is now. We are already in crisis—a climate crisis,

health crisis, and social justice crisis. We must widely implement effective

communications channels to make a significant impact.

Two of the stories you'll read in our programs section address the

COVID-19 pandemic. It was the work that was done in 2019 and before

that allowed us to quickly and effectively adapt to communities'

needs during the pandemic. The profound changes the world needs

now requires strategic communications at all levels of society - individual,

family, community, and government. We're proud to be in

the business of producing change, one story at a time.

The healthy, just, and sustainable world we want to live in is possible,

and I look forward to continuing to create that world with all of our

partners, supporters, and audiences around the world.

Sincerely,

Meesha Brown

3
---
A few of our Partners in 2019

4
---
How We Work:

The Entertainment-Education (EE) Process

Coalition Building & Formative Research

We identify and partner with a diverse group of local coalition members to drive

formative research in its cultural context.

Training & Program Design

We host in-country workshops with coalition partners to analyze formative research,

provide training on EE methodology and initiate campaign development.

Mentoring & Production

We mentor coalition partners. We help them develop and produce scripts and media

materials using available radio, television and digital platforms.

Broadcast & Community Mobilization.

With our partners, we broadcast and implement all components of the program,

including interactive radio and TV call-in shows and community action campaigns.

Evaluation

As communicators, we focus on understanding the audience's needs as they evolve

and change throughout the program, and adapting our interventions accordingly.

foot

print

23

5
---
34

years

65

countries

33

languages

active programs

and campaigns

6
---
Prog

Our Programs in 2019

Social Justice

Hea

• Strong Women, Strong Choices, Bolivia (Anonymous

Donor)

• My Choice: Our Choice, East and Southern Africa

(SAfAIDS)

• Let's Talk! Early and Unintended Pregnancies, East

and Southern Africa (UNESCO, SAfAIDS, Save the

Children Sweeden, UNFPA)

• One Community, Many Voices, Caribbean (European

Union)

• Icche Dana, Bangladesh (UNICEF)

• Comics Uniting Nations (UNICEF, World's Largest

Lesson)

• Familiando, Peru (Weeden Foundation)

• Fotebol da Forca, Mozambique (Grand Challenges

Canada)

• Immigration Reform, USA (Anonymous Donor)

• Small Arms and Light Weapons Safety, Somaliland

(Mines Advisory Group)

• Kindness Campaign (World Vision)

• Good Family, Strong Natio

• Love and Care for Every C

• Cocina Con Causa, Peru (W

• Sri Lanka nutrition progra

• Shining Chef, Bangladesh

• WFP Assistance Programm

(WFP)

• Stronger with Breastmilk

Africa (UNICEF)

• Communication for acute

(WFP)

• Ouro Negro, Mozambique

• Hair Salons, Mozambique

• HPV Global Communicatio

• Maternal Infant and Young

(UNICEF)

• ECD Communcations Pac

7
---
ams

lth

Environment

n, Tanzania (UNICEF)

hild, Laos (UNICEF)

FP)

m (WFP)

(UNICEF)

e, Chemba, Mozambique

Only, West and Central

malnutrition, Mozambique

(Multiple Donors)

(Grand Challenges Canada)

• Switch Africa Green, 6 African countries (UN

Environment)

• Wild for Life, Global campaign (UN Environment)

• West Africa Biodiversity and Climate Chante

(WABiCC), (USAID, Tetra Tech )

• IWEco Ecosystems Managementl, Caribbean (GEF, UN

Environment)

• Ozone Heroes Comic Book animation (UN

Environment)

• Nature for All Global Campaign (Multiple Donors)

• Invasive Species Documentary, USA (Department Of

Interior)

• Punta Fuego, Belize (Wildlife Conservation Society)

• 34 UN Environment Programme contracts

ns (UNICEF)

Child Feeding, Ethiopia

kage (UNICEF)

8
---
Ju

Social Justice

Every day in developing countries, 20,000 girls under age

18 give birth.

United Nations Population Fund

Finding New Ways to Connect and Mobilize in the Face of COVID-19

When girl children give birth, their lives and their futures are at risk. But because of persistent

social norms, cultural beliefs, and policies, millions of girls experience the diminishing effects

of early pregnancy. COVID-19 has compounded the problem, and we are proud to work with

partners that are serious about finding solutions that arise to the challenge of the moment.

About "Let's Talk!"

"Let's Talk!" is a 21-country campaign to reduce early and unintended pregnancy (EUP)

across Eastern and Southern Africa (ESA). The campaign uses a multimedia design to spread

awareness of the impact of early and unintended pregnancy, early marriage, gender-based

violence, lack of access to education, and to encourage discussions among audience groups.

In-person meetings have been an integral part of the campaign for both driving policy

changes and reaching young people.

Through our "Let's Talk!" campaign—in partnership with UNESCO, Save the Children, UNF-

PA, and SAfAIDS—PCI Media is changing the way governments, communities and families

protect girls from unplanned pregnancies. In our second year, because of the pandemic, we

had to shift our approach from public conversations to a digital approach that encouraged

conversations within families at home.

Rethinking Personal Connections and Community Mobilization

Through classroom and public conversations, teachers and local advocates connected with

young people to talk about sexual and reproductive choices without judgment or discrimination.

Being able to speak to adolescents in accessible spaces was paramount to changing

knowledge, attitudes, and behaviors around contraception, child marriage, gender-based

violence, and access to education.

However, the COVID-19 pandemic has made these outlets inaccessible

while gender-based violence and teenage pregnancy

has increased during this time. According to

the United Nations Population Fund, 7 million

additional early and unintended pregnancies

9
---
stice

in low income and developing countries could

result from COVID-19 disruptions. The need

for targeted messaging, information,

and resources for young people has

become even more critical.

We were able to pivot the program

in three major ways to respond to

COVID-19.

We increased the campaign's

strong social media element to

boost messaging around issues of

access to family planning products,

service, and advice during lockdowns.

The tagline changed from "Let's Talk!" to

"Let's Talk at Home." Since March, we've increased

our social media following by 500%.

Let's Talk! Campaign launch in South Africa

In November, we launched a youth-led webinar series, Say It Louder. The six-part webinar

series addresses issues of adolescent health and education from multiple vantage points

as moderators, speakers, and youth come together from different countries and contexts

across the region.

To reach these audiences where radio is more accessible than the Internet, we've created a

6-episode radio drama and call-in show, "Say It Loud." In lieu of in-person discussions and

workshops, the dramas and shows inform and entertain the public about EUP issues, foster

informed conversations, and encourage key behavior changes to reduce EUP, especially in

the midst of the COVID-19 pandemic.

To-date, "Let's Talk!" has launched in 10 countries, supported through PCI Media's consultation

on sessions, feedback and advice on using or adapting materials.

We're continuing to support campaigns in an additional 3 countries with implementation

planning, coordination, and advice. "Let's Talk!" social media channels have over 10,000 followers.

Despite the challenges of the pandemic, we're committed to finding new ways to

adapt and serve our communities and our partners.

"Let's Talk!" 2019 Zambia

Country Launch

10
---
Health

Response

How Investing in Communications Improves Emergency Health

Since 2015, PCI Media has partnered with UNICEF Mozambique and Radio Mozambique

on a 360-degree communication initiative, Ouro Negro (Black Gold), to address a range of

issues— including maternal and child health, sexual and reproductive health (SRH), gender-based

violence (GBV), nutrition, gender equity, and others. At the heart of Ouro Negro

is an Entertainment-Education (EE) Portuguese-language serial drama (accessible to

low-literacy audiences) that reaches predominantly rural communities. The highly popular

radio drama has over 2 million listeners.

Broadcasting Critical COVID-19 Messages through Ouro Negro

Because Ouro Negro has been a trusted source for public health information among its listeners,

when the COVID-19 pandemic happened, we were able to use Ouro Negro to share

essential prevention messaging to an already engaged base.

Since the outbreak of COVID-19, the live call-in programs have been transmitting messages

on the pandemic including answering live questions on air from listeners and partnering

with local health authorities. There are also numbers to text to get up-to-date health information.

We're broadcasting a new Ouro Negro mini-series using existing characters from the original

Education-Entertianment radio drama. The series contains messages and scripts approved

by UNICEF and the Ministry of Health on social distancing, prevention, quarantine,

and hygiene. In addition, the live call-in shows featured local health personnel who answered

listeners' questions and concerns on the air. Ouro Negro also used social media

channels and Ministry of Health-approved posts on Facebook.

The radio drama changed my life because I started sending educ

and also now I have many numbers that send me messages, even no

forwarded because they are educational messages that help the ch

and friends too, and the novel has helped a lot especially in this area

double protection, and contraception.

11
---
PCI Media was able to quickly implement these programmatic changes and disseminate

information effectively for several reasons. To start, we have long-standing partnerships in

Mozambique developed over many seasons, which enabled us to get scripts and messages

rapidly approved. Also, the infrastructure of live call-in shows was already in place as part

of the existing multimedia campaign

and could easily be used to disseminate

new critical information, particularly for

audiences in hard-to-reach areas of the

country. This allowed for two-way communication

and authentic engagement

with the audience that, as the situation

evolved, ensured an avenue for a dialogue

with audiences with a trusted and

well-known program in the community.

The pandemic did create challenges in

producing the radio mini-series while

respecting the health and safety of the

writers, producers, and actors. We accomplished

this through social distancing,

recording voices one by one, and disinfecting

the studio between each actor.

While this affected the timeline and had

budget implications, we are grateful to

our partners for their flexibility in reallocating

funds to these new activities.

Ouro Negro Facebook post

ational messages to my friends and family,

w about COVID-19 and I have received and

ange of behavior in my person, my family

of condom use, reproductive sexual health,

Lázaro Baptista, 26 years old, Chimoio/Beira

12
---
Environment

Creating a Strategy to Drive Change for Climate Action

For the past five years, PCI Media has been leading the comprehensive communications

efforts for the West Africa Biodiversity and Climate Change Program (WA BiCC), funded

by USAID and implemented by Tetra Teach ARD and its partners. West Africa faces many

environmental challenges, including wildlife trafficking, low coastal resilience to climate

change, and deforestation. Without significant changes in action from individuals, community

members, and policy makers, climate change threatens the health, safety, and welfare

of millions in the region.

Why Big Changes Need Strategic Communications

Producing powerful media across a variety of platforms to raise public awareness, shift social

norms, and generate action has been a crucial component in driving change. As part

of the strategy, we produced radio dramas, films, social media, comic books, community

mobilization campaigns, and traditional advocacy to encourage audiences to take action

and to promote sustainable behaviors. In order to do this effectively, our strategy engaged

stakeholders at the individual, community, and policy level.

Our two radio dramas, Watasay Ston, broadcast in 24 coastal communities, 3 languages, 4

radio stations in Sierra Leone, and Forest Blessings, aired on 9 radio stations across Liberia,

Sierra Leone, Guinea, and Côte d'Ivoire, increased people's knowledge in forest conservation,

alternative and sustainable livelihoods, related health issues, and the negative impacts

of wildlife trafficking. Our monitoring and evaluation shows that over 45 thousand people

participated in the campaigns that were promoted in these radio dramas. Callers repeatedly

said communities need more awareness–raising activities, including radio programs like

Forest Blessings in order to keep the conservation conversation going.

In addition to videos and radio programs, PCI Media launched a digital campaign on social

media and managed the website. Our efforts resulted in a total of 3.1 million digital media

impressions.

13
---
ent

Community and Capacity Building

Community involvement and capacity building are at the forefront of our core values and

methodology. Through training and workshops, we help ensure that our radio programs

are a path to sustainable change. These workshops train local community members, including

radio hosts, in how to facilitate call-in shows and dialogue that have the greatest

impact on people.

Communications and advocacy training for the Coastal Chiefdoms Natural Resource Management

Network in Sierra Leone

Training radio station presenters in facilitating meaningful discussions, Sierra Leone

Communications and Advocacy Training for the Abidjan Convention and its partners

In creating content, participant input is essential to ensure engagement and relevancy.

Community members were consulted in the design of radio dramas and media to ensure

relevancy and accessibility.

Policy Level

Buy-in from individuals and local leaders is essential to implement changes in behaviors

and practices. But policies are also needed to ensure clear guidance on which activities

benefit the community and environment.

In 2015, PCI Media led Policy Dialogues in West Africa through our STEWARD program (Sustainable

and Thriving Environments for West African Regional Development)—in partnership

with US Forest Service and USAID—to create an important space for discussion and

consensus among groups from different regions. These dialogues contributed to positive

changes adopted by the Mano River Union (MRU), a group of four West African countries

that share similar cultures, trans border forests, economic and security interests. Natural

Resource Management is now a priority for MRU.

Providing strategic communications about issues of biodiversity conservation and climate

adaptation, creates the space to help individuals, communities, and leaders shift attitudes

and behavior, and create policy that preserves both the environment and also the millions

of people who depend on the natural resources of the West Africa region. We look forward

to the opportunity to continue our climate work in the region.

Coast of Liberia

14
---
Awards

November 2019

Cinefish Award for Best Short Video/Film (less than 5

minutes long), Gulf and Caribbean Fisheries Institute

'Breaking Up With Plastics - Caribbean' in partnership with

UNEP

2019

August 2019

1x Sliver Award for an Integrated Campaign, Commward

1x Silver Award for Efficacy, Commward

1x Sliver Award for a Campaign for Women, Commward

1x Silver Award for Harmony, Commward

1x Bronze Award for a Social Campaign, Commward

1x Bronze Award for Film, Commward

'Ending Child Marriage' campaign under Bangladesh

Brand Forum, in partnership with UNICEF and Asiatic

August 2019

1x Award of Excellence Special Mention for Use of Film /

Video for Social Change, Indie Fest

1x Award of Excellence Special Mention: Nature /

Environment / Wildlife, Indie Fest

'Nature for All' in partnership with Nancy Colleton, Pixeldust

Studios, IUCN, CEC, and Parks Canada (USA)

May 2019

1x Bronze Telly Award: Social Responsibility

'Icchedana' in partnership with UNICEF Bangladesh

May 2019

3x Platinum Hermes for Print Media & PR

1x Gold Hermes in Print Media

1x Honorable Mention Hermes in Electronic Media

'Nature For All' Annual Report; 'Nature For All Connecting

Synthesis'; Global HPV Communications and Risk/Crisis

Management; 'Gridiron Green'

May 2019

1x Award of Excellence for Use of Film / Video for Social

Change, Indie Fest

'#CleanSeas Break-Up PSA: Christmas Edition - Home for

the Holidays' in partnership with UN Environment and

Footage Films

May 2019

1x Award of Excellence for Reality Programming,

Indie Fest

'Cocina con Causa' in partnership with WFP Peru, TV Peru

and Soledad Reality Peru

15
---
28

total

February 2019

1x Award of Distinction for Humanitarian work from the

Accolade Global Film Competition

'#WildforLife Conservation Champions' in partnership with

UN Environment

February 2019

1x Outstanding Achievement for Humanitarian work

1x Award of Excellence for Use of Film/Video for

Social Change

1x Award of Excellence for Reality Programming

Best Shorts

'Cocina con Causa' in partnership with WFP Peru, TV Peru

and Soledad Reality Peru

February 2019

2x Awards of Distinction, Indie Fest

'Ending Child Marriage: Kazi'; 'Ending Child Marriage: Bus',

a partnership with UNICEF, Asiatic MCL, and the Health

Ministry of Bangladesh

February 2019,

2x Outstanding Achievement for Humanitarian work,

Best Shorts

'Ending Child Marriage in Bangladesh PSA: Anwar Hossain';

'Ending Child Marriage PSA: Minoti', in partnership with

UNICEF, Asiatic and The Health Ministry of Bangladesh

April 2019

1x Shorty Silver Award

1x Shorty Audience Honor

'#WildForLife' implemented with UN Environment

May 2019

1x Award of Excellence for Reality Programming, Indie Fest

'Cocina con Causa' in partnership with WFP Peru, TV Peru and

Soledad Reality Peru

16
---
Staff

Board

Supporte

Staff

New York Staff

Meesha Brown, President

Anthony Scala, Chief Financial Officer

Emma Markham, Program Operations Officer

Michelle Lanchart, Chief of Staff

David J. Andrews, Director of Development

Marco Rodriguez, Creative Communications Manager

David Wood, Vice President of Global Programs

Loretta Cheung, Environment Program Lead

Amanda Brown, Associate Environment Program Manager

Graciela Leal, M & E and Social Justice Program Lead

Jocelyn Iverson, Associate Social Justice Program Manager

Board

2019

Lynne, Yeannakis Ed.D (Chair)

Rita Fredricks Salzman (Vice Chair)

Sally Timpson (Secretary)

Richard Stone (Treasurer)

Jon Kurland

Robert M. Allen

Paal Frisvold

Terry Mollner

Theana Iordanou

Pamela Newman, Ph. D

Paula Denise Patnoe-Woodley

Jay Yu

International Staff

Fred Cohen (Chair Emeritus)

Bennet Charles, Caribbean Communications Officer

2020

Javier Ampuero, Latin America Regional Program Manager

Lynne, Yeannakis Ed.D (Chair)

Johnny Anaya Lopez, Latin America Program Manager

Rita Fredricks Salzman (Vice Chair)

Monica Suarez, Latin America Program Officer

Sally Timpson (Secretary)

Chazz Pitts-Kyser, Communications Team Lead

Richard Stone (Treasurer)

Darius Barrolle, Senior Communications Specialist

Brenda Campos-Nesme

Fatmata Katta, Communications Officer

Jon Kurland

Eduzi Nyomi, Communications Specialist

Robert M. Allen

Patricia David e Silva Bettencourt, Country Coordinator

Paal Frisvold

Francilia Zavane, Scriptwriter

Terry Mollner

Elena Colonna, Research and Message Manager

Theana Iordanou

Alberto Guambe, Accountant

Pamela Newman, Ph. D

Absalao Silindane, Logistics

Paula Denise Patnoe-Woodley

Hamida Momade, Project Manager

Parag Mehta

Carlos Anselmo, Radio Coordinator

Fred Cohen (Chair Emeritus)

Juvencia Lucas , Monitoring Official

Felix Mambucho , Theater Coordinator

17
---
Supporters

Individual

Albright, Adam

Anonymous

Anonymous

Anson, Sally

Bramble, Barbara

Burnell, Roger

Carter, Catherine

Chace, James F.

rs

Conant, Elizabeth

Cummings, John

Field, Allan

Goodman, Richard

Greenberg, Susan

Hansen, John And Halla

Hartline, Peter

Henning, Theodore

Hirschi, John

Houget-Neel, Constance

Jensen, Joel

Kenneth L. Henderson (General Counsel)

Koldinger, Marjorie

Lynch, Deborah

Mr And Mrs Helm

Salzman, Jeffrey

Scala, Anthony

Schreurs, Raymond Lavern

Soboczenski, Edward

Steele, Anne

Steele, Richard And Elizabeth

Stein-Sharpe, Deborah

Tjepkema, John

Foundations

Anonymous

The Aspen Foundation

Lois La Boule Trust

Jane Eldridge, Charitable Remainder Trust

Humboldt Foundation

The Shenandoah Foundation

BT Rocca Foundation

Tomchin, Cheryl

Thornton Foundation

Shenandoah Foundation

Cappy Silver Foundation

Bryan Cave Leighton Paisner

Robert Allen Foundation

Jerry and Diane Cunningham

The Aspen Business Center Foundation

Forrest C. And Frances Lattner Foundation

Weeden Foundation

The Clayton Fund

Wildlife Conservation Society

World Food Program

Bushrod H. Campbell And Hall Fund

Leo D. Sears Memorial Endowment Fund

Partners

UNICEF

European Commission

Grand Challenges Canada

Food And Agriculture Organization (FAO)

Save The Children

iWEco

Unesco

United Nations Population Fund

SAfAIDS

Moses Feldman Family Foundation

Mines Advisory Group

United Nations Environment Program

Tetra Tech

Sustainable Forestry Initiative

US Department Of The Interior

18
---
Financials

PCI-Media Impact, Inc.

Statement of Activities and Changes in Net Assets

Tuesday, December 31, 2019

Revenue

Without

Donor

Restrictions

With

Donor

Restrictions

Total

2018 Total

Contributions and grants

Investment return, net

Other income

Sub Total Revenue

$609,351

4,389

44,254

657,994

$3,406,440

-

-

3,406,440

$4,015,791

4,389

44,254

4,064,434

$5,754,619

7,748

31,536

5,793,903

Net assets released from restrictions

Total operating revenue and support

3,427,623

4,085,617

(3,427,623)

(21,183)

-

4,064,434

-

5,793,903

Operating expenses

Program Expenses

Serial drama

Global campaigns

General program

Supporting Expenses

Administration

Fundraising

Total operating expenses

1,992,827

1,528,163

414,314

851,955

315,246

5,102,505

-

-

-

-

-

-

1,992,827

1,528,163

414,314

851,955

315,246

5,102,505

2,081,415

2,218,563

580,983

618,821

290,405

5,790,187

Change in net assets from operations

(1,016,888)

(21,183)

(1,038,071)

3,716

Non-operating changes

Bequests

Changes in the value of split-interest

agreements

Total non-operating Activities

14,968

-

14,968

-

-

-

14,968

-

14,969

292,436

4,471

296,907

Change in net assets

Net assets, beginning of year

Net assets end of year

(1,001,920)

1,689,897

$687,977

(21,183)

495,734

$474,551

(1,013,103)

2,185,631

$1,162,528

300,623

1,885,008

$2,185,631

1,528,163

Global Campaigns

Serial Drama

1,992,827

Administration

General Program

Fundraising

851,955

414,314

315,246
---
Impact, Inc.

Statement of Financial Position

Tuesday, December 31, 2019

lsPCI-Media

Assets

Cash and cash equivalents

Contributions and grants receivable

Promissory Note Receivable

Prepaid expenses and other assets

Investments

Leasehold improvements and equipment, net

Total assets

2019

$199,074

536,454

13,201

38,291

501,286

229,860

$1,518,166

2018

$165,263

1,128,776

24,525

41,233

819,269

286,439

$2,465,505

Liabilities And Net Assets

Liabilities.

Accounts payable and accrued expenses

Advances Payable

Total Liabilities

2019

$355,638

-

$355,638

2018

$258,471

21,403

$279,874

Net Assets

Without Donor Restriction

Operating

Board designated

Sub Total Net Assets W/out Donor Restrictions

With Donor Restrictions

Time restricted for future periods

Purpose restricted

Sub Total Net Assets With Donor Restrictions

Total net assets

Total Liabilities and net assets

2019

$178,948

509,029

$687,977

-

474,551

474,551

$1,162,528

$1,518,166

2018

$870,295

819,602

$1,689,897

60,000

435,734

495,734

$2,185,631

$2,465,505

20
---
C

Participatory

Progressive

Positive

Proactive

Playful

Pivotal

Communication

Capacity-Builders

Change

Creative

Curious

Current

International

Imagined

Informed

Insight

Intrepid

Inspired

MEDIA

/pcimedia

@pcimedia1

@pcimedia

/company/pcimedia

pcimedia.org

For more information, please contact Michelle Lanchart, Chief of Staff

mlanchart@pcimedi.org

PCI-Media Impact, Inc. is an independent, non-profit organization with tax exempt

status under Section 501(c)(3) of the Internal Revenue Code. A copy of the complete

audited financial statements represented here and/or a copy of the IRS form 990 may

be obtained by writing to : PCI-Media Impact, Inc., 777 United Nations Plaza, 5th Floor,

New York, New York 10017-3521 or to the Office of the Attorney General, New York State

Department of Law, Charities Bureau, 28 Liberty Street New York, NY 10005