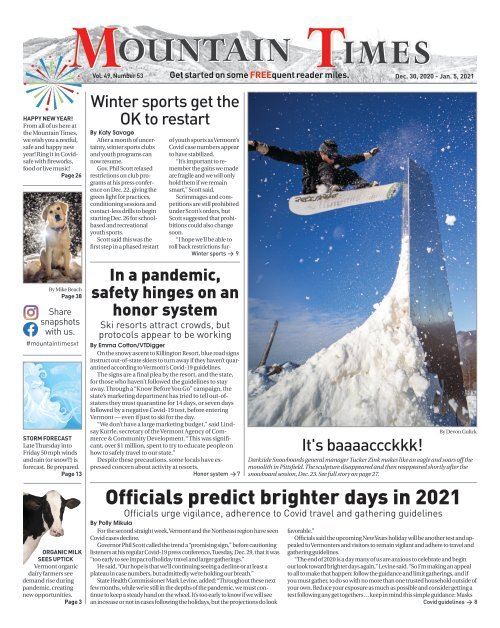 Mountain Times - Vol. 49, No. 53 - Dec. 30, 2020 - Jan 2, 2021
Create successful ePaper yourself
Turn your PDF publications into a flip-book with our unique Google optimized e-Paper software.
Mou nta i n Ti m e s

Vol. 49, Number 53 Get started on some FREEquent reader miles. Dec. 30, 2020 - Jan. 5, 2021

HAPPY NEW YEAR!

From all of us here at

the Mountain Times,

we wish you a restful,

safe and happy new

year! Ring it in Covidsafe

with fireworks,

food or live music!

Page 26

By Mike Beach

Page 38

Share

snapshots

with us.

#mountaintimesvt

STORM FORECAST

Late Thursday into

Friday 50 mph winds

and rain (or snow?!) is

forecast. Be prepared.

Page 13

ORGANIC MILK

SEES UPTICK

Vermont organic

dairy farmers see

demand rise during

pandemic, creating

new opportunities.

Page 3

Winter sports get the

OK to restart

By Katy Savage

After a month of uncertainty,

winter sports clubs

and youth programs can

now resume.

Gov. Phil Scott relaxed

restrictions on club programs

at his press conference

on Dec. 22, giving the

green light for practices,

conditioning sessions and

contact-less drills to begin

starting Dec. 26 for schoolbased

and recreational

youth sports.

Scott said this was the

first step in a phased restart

of youth sports as Vermont's

Covid case numbers appear

to have stabilized.

"It's important to remember

the gains we made

are fragile and we will only

hold them if we remain

smart," Scott said.

Scrimmages and competitions

are still prohibited

under Scott's orders, but

Scott suggested that prohibitions

could also change

soon.

"I hope we'll be able to

roll back restrictions fur-

Winter sports > 9

In a pandemic,

safety hinges on an

honor system

Ski resorts attract crowds, but

protocols appear to be working

By Emma Cotton/VTDigger

On the snowy ascent to Killington Resort, blue road signs

instruct out-of-state skiers to turn away if they haven't quarantined

according to Vermont's Covid-19 guidelines.

The signs are a final plea by the resort, and the state,

for those who haven't followed the guidelines to stay

away. Through a "Know Before You Go" campaign, the

state's marketing department has tried to tell out-ofstaters

they must quarantine for 14 days, or seven days

followed by a negative Covid-19 test, before entering

Vermont — even if just to ski for the day.

"We don't have a large marketing budget," said Lindsay

Kurrle, secretary of the Vermont Agency of Commerce

& Community Development. "This was significant,

over $1 million, spent to try to educate people on

how to safely travel to our state."

Despite these precautions, some locals have expressed

concern about activity at resorts.

Honor system > 7

By Polly Mikula

For the second straight week, Vermont and the Northeast region have seen

Covid cases decline.

Governor Phil Scott called the trend a "promising sign," before cautioning

listeners at his regular Covid-19 press conference, Tuesday, Dec. 29, that it was

"too early to see impact of holiday travel and larger gatherings."

He said, "Our hope is that we'll continuing seeing a decline or at least a

plateau in case numbers, but admittedly we're holding our breath."

State Health Commissioner Mark Levine, added: "Throughout these next

few months, while we're still in the depths of the pandemic, we must continue

to keep a steady hand on the wheel. It's too early to know if we will see

an increase or not in cases following the holidays, but the projections do look

It's baaaaccckkk!

By Devon Gulick

Darkside Snowboards general manager Tucker Zink makes like an eagle and soars off the

monolith in Pittsfield. The sculpture disappeared and then reappeared shortly after the

snowboard session, Dec. 23. See full story on page 27.

Officials predict brighter days in 2021

Officials urge vigilance, adherence to Covid travel and gathering guidelines

favorable."

Officials said the upcoming New Years holiday will be another test and appealed

to Vermonters and visitors to remain vigilant and adhere to travel and

gathering guidelines.

"The end of 2020 is a day many of us are anxious to celebrate and begin

our look toward brighter days again," Levine said. "So I'm making an appeal

to all to make that happen: follow the guidance and limit gatherings, and if

you must gather, to do so with no more than one trusted household outside of

your own. Reduce your exposure as much as possible and consider getting a

test following any get togethers… keep in mind this simple guidance: Masks

Covid guidelines > 8
---
2 • LOCAL NEWS

The Mountain Times • Dec. 30, 2020 - Jan. 5, 2021

Study gives hope to people with internet

connectivity problems in Rutland County

By Emma Cotton/VTDigger

Outdated internet services, exacerbated by the pandemic, have plagued residents

in rural Rutland County towns.

Now, a new feasibility study provides a path forward for them.

Last spring, Meghan Hill, who teaches English at Fair Haven Grade School, taught

classes remotely from her home in Benson, a community with no access to cable or

fiber internet.

With a remote learner also in the house, Hill said the push-and-pull for an available

10 megabits per second of DSL connectivity caused her face and voice to freeze or blur

during class, and sometimes the Google Hangouts call dropped her entirely.

"You just scramble," she said. "I was pretty lucky that I never had any problems, that

my kids were pretty good."

In Sudbury, Keith Knapp, a consultant, tries to meet with business partners overseas.

Knapp, who grew up in the area, moved away for a job in medical device engineering.

He retired early with the idea of running his own consulting business back in

his home state.

"I knew what I was getting into with regard to DSL, but I don't think I realized how

painful it would be," he said. "You can't really even do an effective Zoom call, for example.

You can't really do video conferencing at all, because the upload speed is so slow."

Working virtually, Knapp said, is "one of the reasons I came back to Vermont."

Knapp's daughter, who attends Castleton University, couldn't attend her remote

classes from his Sudbury home when the college shut down its campus this spring.

Instead, specifically seeking improved internet, she's renting an apartment near

campus. Knapp said he tries to keep the problems in perspective. His family is faring

OK in the pandemic, all things considered. But for many individuals — and local

economies — the problem is severe.

"At least from my perspective, the ability to be productive in business and industry

with crummy connections like that — it's crushing," he said.

Four towns shut out

Benson, Sudbury, West Haven and Goshen have no access to cable or fiber internet,

and only 10% of Hubbardton has access to those services.

The feasibility study, issued last week, provides suggestions for Rutland County

towns with those connectivity problems. Chartered in April through a $60,000 grant,

its thesis is hopeful: A communications union district — CUD for short; it's a municipal

entity that pools the resources of multiple towns to guide the expansion of communication

infrastructure — is economically viable in the area.

Bill Moore, president of the newly-minted Otter Creek CUD, formed earlier this year

in anticipation of the study, stressed that representatives from the organization's 13

member towns have many decisions to make before creating and expanding the network.

Those decisions include choosing a network operator and determining whether

they'll partner with another CUD or remain independent.

As a first step, to assess demand in the area, the study advises the CUD to conduct a

pre-subscription campaign to find out what services residents want.

The study was produced by ValleyNet and Rural Innovation Strategies Inc., the organization

that recently produced a report offering a number of short-term solutions for

the state's connectivity problems during the pandemic, including using $2.4 million to

install internet hotspots around the state.

When the time arrives to begin building infrastructure in Rutland County, the study establishes

a build sequence that prioritizes the four towns with no access to cable or fiber.

A familiar story

Moore said stories like Hill's and Knapp's are common throughout the rural areas of

Rutland County. "You could randomly dial up anybody in Sudbury, Goshen, you know,

and get those same sorts of stories," he said. "Housing deals that fell through because

they found that they couldn't get more than satellite internet. We're at a point now

where we're being held back."

The Vermont Legislature voted in 2015 to authorize the formation of CUDs, which

act like sewer or solid waste districts.

The state plans to ensure that all residences have access to high-speed internet by

2024, and has encouraged municipalities to form CUDs to that end.

ECFiber, a district that covers much of Windsor County, was formed around 15 years

ago and now includes 31 towns, whose residents largely receive high-quality internet.

The CUD has been used as a model for other districts.

"Critically, in Vermont," the study reads, "this legislation also ensures that taxpayers

in individual towns are not liable or responsible for mismanagement or failure of the

CUD to repay debt incurred in building the network."

Existing, high-functioning fiber and cables services in the state are focused in its

population centers. Within the county, 98.86% of Rutland City and 100% of Rutland

Town are served by cable and fiber, for example.

Oh, the geography

In its description of the county, the study gives a sense of the challenges for rural

areas. The outskirts of the county are covered by "challenging mountainous terrain," it

says, and have few major roads that run east-west and north-south.

"Existing infrastructure often dead-ends on rural roads and traverses cross-county off

the roadway, making it difficult to create a network with redundant distribution," it reads.

"The terrain would also make it difficult for a wireless network to provide universal service."

A CUD needs 5,000 customers to be economically viable. Two scenarios outlined by the

study — partnering with another CUD, or activating independently — predict that Otter

Creek will be able to gain that many customers in less than a decade.

If it operates alone, the CUD's internal rate of return is estimated to be 5.05% — higher

than the cost of capital, which makes it financially sustainable — but not as high as the

alternative scenario, in which Otter Creek partners with another CUD.

In that case, the rate of return increases to 5.6%. Moore said Otter Creek will likely

partner with either Catamount Fiber CUD in Bennington County, or Maple Broadband

CUD in Addison County.

Moore called the study the CUD's "guiding document."

He said broadband is more important now than ever, with school, work and doctors'

appointments all happening through the internet.

As Brandon's economic development director, Moore also worries about property

values, and the study verifies his concern: Values increase 3% to 5% when the property is

connected to fiber. On the other side, the study says lack of sufficient broadband "impacts

the ability of homeowners to sell their homes at any price."

John Hill, Benson's representative on the Otter Creek CUD, said he has similar

concerns in the small town of 907 residents. "There are people who recently moved

into town and recently started working from home and the service is really slow," he

said. "Benson is a nice little town with some good things going for it. If we had highspeed

internet service, I think it would help the economy a lot."

The district has more decisions to make before it can act, and for many board

members, there's a learning curve involved.

"We are all neophytes, every last one of us," Moore said. "But it looks like we've got

some paths forward we can choose."
---
The Mountain Times • Dec. 30, 2020 - Jan. 5, 2021 LOCAL NEWS • 3

By Brett Yates

Rutland residents will see an increase

in their water and sewer bills next year.

On Dec. 21, the Board of Aldermen approved

the Dept. of Public Works' new

rate schedule for Fiscal Year 2022 (FY22),

which begins on July 1, 2021.

Rutland City bills households and

businesses quarterly for water, wastewater

treatment, and wastewater collection

(listed as "sewer maintenance"), based

on usage, in addition to assessing two

flat service fees each cycle. Next summer,

the city will begin to charge $1.719 and

$4.655 per 100 cubic feet of wastewater

for collection and treatment, respectively

— compared to existing rates of $1.344

and $4.406.

A concurrent reduction in the water

rate — from $3.359 per 100 cubic feet

to $2.968 — will only partially offset

the raised sewer rates. The two flat fees

($29.05 for water and $17.55 for sewer,

every three months) will go unchanged.

By Amanda Gokee/VTDigger

Demand for organic milk in Vermont has gone up during

the pandemic, which is welcome news for organic farmers,

particularly after a three-year period without growth in

consumption.

Cooperatives such as Organic Valley, the largest farmerowned

organic cooperative in the United States, have responded

by allowing some farmers to increase production.

The cooperative says demand for organic milk has gone

up across the country by 11.3% in the past 52 weeks, based

on data from SPINS MULO, a multi-outlet tracking service,

looking back from Nov. 29. Over the past 12 weeks, it's

grown by 8.4%.

The increase is encouraging news for the future of organic

dairy farming in Vermont, said John Cleary, New England

manager for Organic Valley Cooperative. "We do hope to

bring on more farmers in Vermont in the future," he said.

Many farmers have gone organic to get a premium price.

Even a modest 5% to 7% increase in consumption

"means we need quite a bit more milk," Cleary said. He estimates

that market demand could sustain about 50 more

organic dairy farms in the next five to 10 years.

Vermont now has about 200 organic dairy farms, with

herds ranging in size from 15 cows to 350 or so. Vermont

has about 650 total dairy farms in all, accounting for 80% of

the state's working landscape. But dairy has been in crisis

for years, with farmers losing

money and many farms going

out of business.

Organic dairy is an attractive

option for farmers because

it pays more than conventional

milk. Right now, organic milk in Vermont is sold for $30 to

$35 a hundredweight, and there's an extra premium for

grass-fed milk, which ranges from $35 to $40. Conventional

dairy farmers get about half that much.

With organic milk, "that's a price that farmers can make

money, if you're a good manager," said Cleary.

However, too much organic milk can cause a glut in the

market and lead to a decrease in price, as happened in 2017.

So, cooperatives have to coordinate carefully.

While conventional dairy farms have been getting bigger

in an effort to compete, organic dairies can do well on

a smaller scale, and Cleary says that's an opportunity for

Vermont. "A lot of other parts of the country don't have the

same number of small-scale dairies left," he said.

Dairy farmers in Vermont have been grappling to find

solid financial footing, and the pandemic made things

Rutland to raise sewer rates

All in all, the Dept. of Public Works estimates

that, under the new rate schedule,

an average family of four in Rutland City,

using about 200 gallons of water per day,

will pay $270.81 for

water and sewer per

quarter, an increase

of 2.11% over their old

bill of $265.22.

The new rate

schedule will also

affect some customers in Rutland Town,

Mendon, and Killington who make use

of Rutland City's water and/or sewer

services.

Sam Gorruso was the only Rutland

City alderman to vote against the new

water and sewer rates, observing that

many ratepayers are already having a

hard time covering their bills during the

pandemic. "I don't know why we can't

cut somewhere. I don't know why, when

we need more money, we just go to the

"It's all debt service

that's forcing this,"

Wennberg explained.

ratepayers all the time," he said.

Public Works Commissioner Jeff

Wennberg sought to emphasize his

department's frugality. Although the

lease-purchase of a

new sewer flushing

truck will contribute

to a $13,592 jump

in the operational

budget for wastewater

collection in FY22,

that of wastewater treatment will drop

by $41,777 due to expected efficiencies

associated with the rehabilitation of the

sewage plant's digester.

The Water Divisions' total operational

budget, meanwhile, will fall from

$1,937,504 to $1,833,213, owing partly

to the replacement of defunct meter

contractor FATHOM Water Services with

a collection of cheaper vendors. Reduced

water usage — particularly noticeable

during the spring's coronavirus-induced

worse. One casualty was Thomas Dairy in

Rutland, a family business that closed in

October after nearly 100

years in operation.

But while conventional

milk lost the

regular business they

did with restaurants at

the start of the governor's

stay-home order, organic dairy

got a boost at a time when people were

staying (and eating) at home more often.

Demand for retail grocery products

has increased, while food service has

gone down, as people are eating more

meals at home and fewer meals out,

said Elizabeth McMullen, a spokesperson

for Organic Valley. E-commerce

has also been affected, according to

McMullen, and demand for single-service

milk products has gone up.

"We have seen an impact in demand because of social

distancing and more consumers eating at home. As more

and more people look for healthy, quality ingredients, we

have seen increased demand for our organic products,"

McMullen said in a statement.

"During stressful times,

or for other reasons, maybe

people are looking for healthy

foods and foods that align with

their values," said Cleary.

Longtime organic practices like cover-cropping are now

being used by some conventional farmers to keep soil from

eroding into nearby waterways; the practice keeps roots in

the soil year-round.

And organic farms are held to other standards, like crop

rotation and pasturing animals. Rotating crops keeps the

soil healthy and able to hold more water, while pasturing

animals allows manure to spread onto soil more gradually

than liquid storage. So, more organic dairies could benefit

the environment, keeping waters clean.

Maddie Kempner of the Northeast Organic Farming Association

(NOFA) said Vermont producers report higher

demand for organic food across all product categories,

even beyond dairy.

"People are going more out of their way to seek out options

that they feel are supporting their overall health and

well-being at

a time when

that's really,

really necessary,"

she said. But added too

much of Vermont's agricultural

economy is based on

dairy, and that poses a risk.

"I don't think there's any

other state in the country

who has as much of their

farmland tied up in producing

one commodity. So that's

an economic reality that

we really need to look at

and think about how to

diversify, for our own food

security and the future

of that working landscape,"

Kempner

said.

shutdown of restaurants and hotels —

will also enable Public Works to skip its

previously annual purchase of fluoride

and zinc orthophosphate for water treatment

and draw instead from its existing

stockpile next year.

But Rutland City's responsibility,

starting in 2021, to begin to pay off a

$7.4 million bond approved by voters

in 2019 to fund major sewage system

improvements, made a rate increase

unavoidable in Wennberg's view. "It's

not operations. We've cut those as far as

we dare. It's all debt service that's forcing

this," Wennberg explained at a meeting

earlier in the month.

Rutland previously raised the combined

sewer and water rate three years

ago. As of November 2018, Rutland City

residents paid more for water and sewer

than Vermonters in Burlington and South

Burlington and less than those in Montpelier

and Barre.

Demand for organic milk has gone up during the pandemic

Market demand could sustain

about 50 more organic dairy

farms in the next five to 10 years.
---
4 • LOCAL NEWS

The Mountain Times • Dec. 30, 2020 - Jan. 5, 2021

OBITUARY

Debra Poplawski-Wilson, 57

On Thursday Dec. 17,

Debra Poplawski-Wilson,

57, a former resident

of Rutland passed away

peacefully at her father's

home in Mendon. She

bravely fought Glioblastoma

Brain Cancer

for 43 months and was

considered a long-term

survivor.

The daughter of

Eugene J. and Barbara P.

(Grum) Poplawski she

was born in Belleville,

New Jersey on Nov. 17,

1963. Early in her childhood,

the family moved

to Bridgewater and after a

few years in Bridgewater,

finally settled in Rutland.

Debra Poplawski-

Wilson was a very active

person her entire life. In

her teen years as a student,

she played tennis

and ski raced and varsity

lettered for both. She was

also active in choir,

marathon, honor society,

cheerleading, and other

high school activities. She

was also a member of the

Pico Ski Club.

Though COVID keeps

many of us apart,

I don't feel alone

at The Gables.

Select residency

now available

She was a familiar face

at Pop's Place, the restaurant

owned by her family.

After school, she

participated in Rotary

exchange program, which

took her to Brazil. She

said it was an experience

of a lifetime and she

learned fluent Portuguese

while abroad. She also

traveled Europe for a

short time before coming

back to Rutland. Once

home, Deb renewed her

educational goals and

received her Bachelor of

Science Psychology in

1986 and, upon attending

online courses with

the Phoenix University,

she finally received her

Masters' degree in Psychology

in 2010.

Deb's life was funny

though and she laughed

that she could do better

in the restaurant business

than as a psychologist. She

worked in many restaurants

and clubs over her

lifetime as a waitress and

bartender but most passionately

as a pastry chef.

Her passion for baking

led to what personified

her life. Her passion for

baking led to her operating

four bakeries in the

Rutland and Killington

areas. Most recently, she

operated Sweet Lovin'

Creations on Wales St. in

2017 – 2018 before her

cancer made it impossible

to continue the shop.

However, she also had a

"home" bakery and was

well known for her beauti-

Obit > 19

Dining Services • Housekeeping • Transportation • Maintenance •

Pet-Friendly • One & Two Bedroom Residences

Before another winter comes this way,

explore Rutland County's

premier retirement community.

For info or a tour,

call Randi Cohn

at 802-770-5275 or

visit us online.

Debra Poplawski-Wilson

200 Gables Place, Rutland, VT

www.thegablesvt.com

Where the living is easy

Farmers to Families Food Box program

to continue through February

Thanks to generous community

support, the Vermont Foodbank is able

to extend the Farmers to Families Food

Box program into January and February,

independent of the USDA.

In partnership with the Abbey Group,

Farmers to Families food boxes will

continue to be available at multiple daily

food distributions throughout the state

through February.

To keep wait times to a minimum, reservations

will be required for the distributions.

To register and see the dates and

locations, please visit humanresources.

vermont.gov/food-help or call 802-476-

Schools can no longer ask

about gatherings, state says

By Lola Duffort/VTDigger

Schools cannot ask students or parents

about multihousehold gatherings, the

Agency of Education announced just before

Christmas, entirely reversing the state's

prior policy encouraging schools to do so.

Gov. Phil Scott announced Tuesday, Dec.

22, he would slightly loosen prohibitions

on multihousehold events over the holiday

week, allowing Vermonters to gather with

one trusted household outside their own

between Dec. 23 and Jan. 2.

But the state's new education guidance

does not adjust the question schools should

ask, or instruct schools to temporarily

suspend its inquiries. Instead, it rescinds

earlier guidance outright.

"Schools may no longer include a question

on multihousehold social gatherings in

their daily health check

questionnaires," reads

a three-line memo issued

this week.

On Thursday, Education

Secretary Dan

French called the prior directive "arguably

probably the most challenging thing we've

asked [schools] to do," and noted coronavirus

case counts had leveled off from the

early November surge, when the question

was originally posed.

"We felt comfortable saying this guidance

was no longer necessary," French

said during the governor's twice-weekly

press conference.

Scott added that contact tracers are

no longer seeing as many cases linked to

social gatherings as before, which indicated

that the second shutdown had persuaded

residents to substantially change their

behavior. "I think Vermonters have gotten

the message," Scott said.

The new guidance gets schools out of

the business of enforcing the governor's

(currently partial) ban on multihousehold

socialization, a change some administrators

will welcome. But it is equally likely that

it will alarm many educators, who are worried

people will let their guard down and

bring an onslaught of cases into schools

after Christmas and New Year's.

Darren Allen, a spokesperson for the VT-

"I think Vermonters

have gotten the

message," Scott said.

0316 for assistance.

New distribution dates and locations

will be posted regularly—please continue

to check back if you do not see the location

or date you are looking for. January

dates will be posted soon.

Each reservation will receive one box

with about 30 lbs of food, including fresh

produce, dairy products, and meat.

You are welcome to pick up food for

other families who are not able to make it

to the pickup site, just be sure to make a

separate reservation for each household

you would like to pick up for. Each reservation

is for one box of food.

NEA, said the union hadn't known about

the change ahead of time, but it appears

to be in line with the governor's general

lockdown relaxation.

"We continue to hope that everyone —

families, staff and the community — continue

to put the safety of themselves and

other Vermonters first," Allen said.

As part of their new roster of pandemicera

safety protocols, schools survey

students or families daily about whether

children are symptomatic or have recently

traveled out of state before allowing them to

attend school in-person. (In many districts,

parents in the morning simply click

through a quick questionnaire at home on

their computer or phone.)

When he imposed a second lockdown

in November amid a

record-breaking surge

of Covid-19 cases,

Scott also encouraged

schools to begin

including a question

about multihousehold gatherings in their

daily health check.

The move proved deeply controversial,

and put local education leaders in a difficult

spot. Some administrators appreciated

the clarity about whether they were within

their rights to send students home if their

families had attended events in violation of

the governor's orders. But others felt deeply

uncomfortable prying into what they

thought were private matters. The policy

was also seized upon in the national rightwing

media, where commentators suggested

teachers would interrogate children

and demand they spy on their parents.

Jeanné Collins, superintendent of the

Rutland Northeast Supervisory Union,

did not ask students but instead put the

question to parents, and gave them some

latitude as to how they wanted to interpret

the governor's directive.

She thinks simply asking the question

raised awareness about the gathering ban,

and got many to reconsider their plans. "I

am concerned that I can no longer ask it

because I think my staff will be quite concerned

about safety," she wrote in an email.
---
The Mountain Times • Dec. 30, 2020 - Jan. 5, 2021 LOCAL NEWS • 5

LOCAL PEOPLE.

LOCAL SERVICE.

Home Comfort – All season long!

BEAT THE HEAT!

Get on the schedule for an air conditioning

or Mini Split AC Unit Installation.

0 % Down - 0 % Interest

For up to 36 months

Call us now at 866-326-0535

Submitted

Nurses at Rutland Regional Hospital celebrate receiving Magnet recognition for dedication to high-quality nursing.

Rutland Regional receives highest nursing

credential with prestigious Magnet recognition

Recognition for the third time reinforces commitment to nursing excellence

Rutland Regional Medical Center

attained Magnet recognition again

this December, a testament to its

continued dedication to high-quality

nursing practice. The American

Nurses Credentialing Center's

Magnet Recognition Program®

distinguishes healthcare organizations

that meet rigorous standards

for nursing excellence. This credential

is the highest national honor for

professional nursing practice.

Receiving Magnet recognition

for the third time is a great achievement

for Rutland Regional, as it

continues to proudly belong to

the global community of Magnet

recognized organizations.

Just 547 health care organizations

in the world have achieved

Magnet recognition.

"Our third designation as a Magnet

organization comes during a time

when nursing has been placed on

a global and national platform for

being a vital and leading profession

in the Covid-19 pandemic," said

Betsy Hassan, DNP, RN, NEA-BC,

CPPS, chief nursing officer and vice

president of patient care services.

"This honor reflects the continued

focus of high-quality nursing care at

Rutland Regional and how devoted

our nursing staff is in caring for our

community with evidence-based and

patient-centered care. I could not

be prouder of the Rutland Regional

nursing team for their contributions

over the past four years, and for their

commitment and service to the community

during the pandemic. This

is an exceptional honor and a true

testament to the high-caliber care our

dedicated nurses provide every day at

Rutland Regional!"

Research demonstrates that

Magnet recognition provides specific

benefits to healthcare organizations

and their communities, such as:

• Higher patient satisfaction

with nurse communication,

availability of help and receipt

of discharge info.

• Lower risk of 30-day

mortality and lower failure to

rescue rates.

• Higher job satisfaction

among nurses.

• Lower nurse reports of intentions

to leave their positions.

Magnet recognition is the gold

standard for nursing excellence and

is a factor when the public judges

healthcare organizations. U.S. News

& World Report's annual showcase of

"America's Best Hospitals" includes

Magnet recognition in its ranking

criteria for quality of inpatient care.

The Magnet model provides a

framework for nursing practice,

research, and measurement of

outcomes. Through this framework,

ANCC evaluates applicants across a

number of components and dimensions

to gauge an organization's nursing

excellence.

The foundation of this model

comprises various elements deemed

essential to delivering superior patient

care. These include the quality of

nursing leadership and coordination

and collaboration across specialties,

as well as processes for measuring

and improving the quality and delivery

of care.

To achieve initial Magnet recognition,

organizations must pass a

rigorous and lengthy process that

demands widespread participation

from leadership and staff. This process

includes an electronic application,

written patient care documentation,

an on-site or virtual site visit,

and a review by the Commission on

Magnet Recognition. Health care organizations

must reapply for Magnet

recognition every four years based on

adherence to Magnet concepts and

demonstrated improvements in patient

care and quality. An organization

reapplying for Magnet recognition

must provide documented evidence

to demonstrate how staff members

sustained and improved Magnet

concepts, performance, and quality

over the four-year period since the

organization received its most recent

recognition.

"I am pleased to share that during

this designation the Commission on

Magnet recognized Rutland Regional

for our high performance related

nurse engagement and nursing influenced

patient outcomes," said Amy

Martone, BSN, RN, MBA, NPD-BC,

director of nursing excellence. "This is

evidence of our ongoing commitment

to excellence in nursing practice and

patient care. It is an incredible honor

for our nurses to achieve this third

designation in 2020 as we wrap up the

International Year of the Nurse and

Midwife."

Table of contents

Local news....................................................................2

State news...................................................................10

Opinion.......................................................................16

Calendar......................................................................20

Puzzles........................................................................23

Living ADE..................................................................26

Food matters...............................................................29

Pets..............................................................................34

Horoscopes.................................................................35

Columns......................................................................36

Classifieds/Service directory....................................40

Real estate...................................................................43

Mou nta i n Ti m e s

is a community newspaper covering Central

Vermont that aims to engage and inform as well as

empower community members to have a voice.

Polly Lynn Mikula ............................... Editor & Co-Publisher

Jason Mikula .......................... Sales Manager & Co-Publisher

Lindsey Rogers ...................................... Sales Representative

Krista Johnston............................................Graphic Designer

Brooke Geery........................................ Front Office Manager

Katy Savage Dom Cioffi

Julia Purdy

Mary Ellen Shaw

Curt Peterson Paul Holmes

Gary Salmon Merisa Sherman

Flag photo by Richard Podlesney

©The Mountain Times 2020

The Mountain Times • P.O. Box 183

Killington, VT 05751 • (802) 422-2399

Email: editor@mountaintimes.info

mountaintimes.info

Dave Hoffenberg

Virginia Dean

Aliya Schneider

Ed Larson
---
6 • LOCAL NEWS

The Mountain Times • Dec. 30, 2020 - Jan. 5, 2021

Open for the Season

Every Day 9:30am-5pm for Injuries Only

3902 Killington Road (next to the Rams Head Base Lodge)

Killington Medical Clinic operates as an URGENT CARE CENTER. Our

physicians have extensive experience in the effective treatment of ski

and snowboard injuries. We have an on-site X-ray suite and casting

room to aid in the diagnosis and treatment of common injuries.

NO COVID-19 Testing

If you are ill and would like to be seen, please call

802.422.6125 to be triaged over the phone

Hours subject to change –

check www.killingtonmedicalclinic.org for updates

For EMERGENCIES and AFTER HOURS CARE, Go To:

Rutland Regional Medical Center, 160 Allen St, Rutland, VT | 802.775.7111

SVCOA honors Donton, Jones as

Community Partners of the Year

Southwestern Vermont Council on

Aging (SVCOA) has named Cinda Donton

of Rutland Mental Health Services – Community

Care Network, and Doug Jones of

Meals on Wheels of Rutland County – TRIO

Community Meals, as the agency's 2020

Community Partners of the Year.

"We're proud to honor Cinda and Doug

for their significant

contributions

to SVCOA and

older Vermonters

throughout our

region," said Chris

Adams, development

and communications

director

with SVCOA. "Both

individuals have

been incredible resources in our community

for decades, supporting so many

through their hard work, compassion and

professionalism."

Donton, who is contracted by SVCOA

to serve as its elder care clinician, provides

mental health support and counseling

to older Vermonters throughout Rutland

County, a role she's held for 20 years.

"In addition to serving countless

clients, Cinda spearheaded the creation

of substance abuse support for older Vermonters,

a model that may be replicated

in other areas of the state, and has provided

caregiver counseling to numerous

"We're proud to honor

Cinda and Doug for their

significant contributions

to SVCOA and older

Vermonters throughout our

region," said Chris Adams.

caregivers needing support to continue

to provide care to their loved ones," said

Dana McMahon, Rutland County aging

services director with SVCOA. "Cinda has

also been an asset to SVCOA staff and

other community partners in providing

training and sharing her vast knowledge."

Jones, general manager of the Rutland

TRIO Community

Meals team that

is contracted by

SVCOA to support

its Meals on

Wheels program,

has served in his

role for 34 years.

"Doug's dedication,

hard work

and countless

hours served have kept Meals on Wheels

running strong despite all the challenges

being thrown at us on a daily basis during

the Covid-19 pandemic," said Courtney

Anderson, nutrition director with SVCOA.

"Doug's forward thinking has enabled the

production of an additional 1,000 meals per

day on top of the normal daily production

to build up a stock of frozen meals and plan

for worst-case scenarios with the pandemic.

Doug has also offered assistance to other

meal providers across the state to help them

keep up with demand. He has shown tremendous

leadership over the past 34 years

and is a true asset to our organization."
---
The Mountain Times • Dec. 30, 2020 - Jan. 5, 2021 LOCAL NEWS • 7

Honor system: So far, no cases of Covid-19 have been traced back to ski resorts in Vermont but some are worried about increased travel to resorts

>

from page 1

On social media, photos have circulated widely of

crowded lift lines, along with stories of parking lots packed

with non-Vermont license plates. Kurrle said those photos

were the subject of several official complaints to the state.

Officials, including Gov. Phil Scott, also warn against

making assumptions based on license

plates, as many out-of-staters have followed

the guidelines, or have temporarily

relocated to Vermont to work remotely or,

for some, specifically to ski.

Molly Mahar, president of the Vermont

Ski Areas Association, said she

worries that comments from locals

could dissuade visitors from coming to

the state in the future.

"They may have quarantined, they may be living here for

the season, or they may have moved here and just haven't

changed their car registration yet," she said. "I really worry

about the rhetoric around out-of-state people, because our

economy depends on those people."

'I want them to play by the rules'

While expressing the need for safety, many locals have

celebrated the arrival of snow and broader opening of

resorts after months of cabin fever attributed to the virus.

On social media and in interviews with VTDigger, many

have cited instances where resort employees have encouraged

mask wearing, and others said they felt generally

comfortable with measures taken by resorts.

"I think the resorts are doing what they need to do," said

Todd Wright, who often skis with his family at Sugarbush,

and is also the director of Adventure Sports at St. Michael's

College. "I think a lot of it falls down on the users. The

people that do this stuff have a lot of responsibility, and we

just can't shift it all and say, 'It's the resort's job to manage

my behaviors.' I need to manage my own behaviors."

Still, he was unnerved by sudden increases in drivers

from out of state.

"I want them to play by the rules," he said. "As a

parent, it's really important for my kid to go back to

in-person learning. Working at the college, I just look at

how much work time and effort we've spent into managing

Covid on campus. We've invested all this energy,

and all it takes is someone not following the rules, and

then it spreads like wildfire."

He's seen posts from travelers who say they'll arrive,

ski and leave, but he worries about those who stop for

gas, go into stores for food, or interact with customer

service at the resorts.

"You're plugging into those communities just for a second,

but that contact can be catastrophic," he said. "I think

that's what all of us in Vermont struggle with."

A survival year

Ski areas' roles in enforcing Covid-19 restrictions

changed in early November, when cases surged and

Gov. Scott reinstated strict quarantine guidelines on

travelers from other states.

Hotels reported a flood of cancellations, and

multiple ski resorts refunded more than $1 million

in season pass sales to those who couldn't swing the

requirements for out-of-state travel.

"We know that the hospitality industry has been

particularly hard hit," Kurrle said, "and they have this

additional burden, the ski areas, of this frontline enforcement,

letting visitors know what our expectation

is, and trying to do it ahead of time."

Kurrle said the industry revenue will likely decrease 40%

to 70% this season, a significant hit to the state's economy.

In an average year, the sport brings around 4 million skiers

and riders to Vermont.

Mahar, of the ski areas association, estimates that in a

typical season, skiers spend $925 million in Vermont, and

two-thirds of that is spent in communities surrounding

resorts. "It means a lot to the state," she said.

The organization estimates $125 million in tax receipts

from sales tax and rooms and meals tax during an average

ski season. The industry is an economic driver in rural

areas, and employs about 13,000 people at the height of a

typical winter season.

"We knew it'd be tough," said Mike Solimano, president

and general manager at Killington. "The ski resort business

is very expensive to operate, and very capital-intensive. So

"If we find somebody hasn't done that [quarantine],

we've already told people that we will pull their pass and

probably give their name to the state," Solimano said. "It's

the same thing if people are on site and refuse to wear a

mask. We have a no tolerance policy for either of those."

most of us can't survive with a 50% reduction in revenue.

This is a survival year, to be totally honest."

He said reservations were down 40% to 50% for the

Christmas/New Years holiday week.

In a phone interview Tuesday, Bonnie MacPherson,

communications manager at Okemo, sighed. She had

been thrilled last week about the 40-plus inches of snow on

the mountain — a boon for the ski area, which has had to

deal with warm temperatures in addition to the confines of

the pandemic year.

Since then, the resort's social media page, which she

manages, has had an onslaught of commenters concerned

about social distancing and overcrowding at the resort.

"I think they're just scared, they're frustrated, they're

fearful about this pandemic," she said. "There are rumors

that we've never dealt with before, and there's just

so much misinformation about what's happening and

what's going on."

MacPherson listed the precautions the resort is taking,

similar to other resorts: reduced capacity, mandatory face

masks and social distancing, ghost lanes between skiers

in lift lines, required reservations, spaced-out chairlifts,

reduced capacity indoors.

Employees enforce social distancing at Okemo,

MacPherson said, but many skiers are funneled into

designated lift lines because the resort can't yet open all of

its terrain. Opening a trail requires snowmaking efforts and

approval from Ski Patrol.

Enforcement within the honor system

So far, no cases of Covid-19 have been traced back to ski

resorts in Vermont.

Still, some locals have argued for stricter enforcement

within what is one of the state's only industries

that brings thousands of travelers to gather in one place

during the pandemic.

Based on state guidelines, resorts require signatures

from travelers, promising that they've adhered to the rules,

but some locals have reacted squeamishly at the thought of

handling community safety through an honor system.

"I'm not going to say that nobody's breaking the quarantine,"

said Solimano at Killington. "I'm not naive … and

I think the governor's not either. I think the key for us is we

need to do all the things we can control."

Solimano said he's made an appearance in lift lines, and

has offered pass refunds to people who need extra encouragement

to properly wear their face coverings. "All of them

have decided that they will pull their mask up," he said.

Skiers aren't required to wear masks while skiing, so

most of the time, he said, he assumes those without masks

have forgotten to pull them back up when they reach the

lift line. He's more concerned about indoor spaces, where

skiers are removing masks to eat. Lodges are reduced to

50% capacity or a maximum of 75 people, and Solimano

said guidelines are enforced resort-wide.

"It's with the threat of taking away your $1,000 pass,"

he said. "I think we're pushing harder than probably a lot

of businesses. If you just walk into a retail store, nobody's

questioning where you came from."

Resorts can revoke skiers' passes if they aren't adhering

to mask wearing, social distancing, or if the resort learns a

skier hasn't quarantined.

"If we find somebody hasn't done that [quarantine],

we've already told people that we will pull their pass and

probably give their name to the state," Solimano said. "It's

the same thing if people are on site and refuse to wear a

mask. We have a no tolerance policy for either of those."

'The benefit of the doubt'

Neither Killington Ski Area nor Okemo

Mountain Resort has revoked any season

passes yet, though MacPherson said the

resort's hotels have turned travelers away

upon learning they hadn't quarantined.

Mahar said she had not heard of any

resort in the state pulling a season pass

because of violating guidelines.

Ski areas are responsible for following

the state's guidelines, but there's no specific procedure

in place for a ski resort that does not take away someone's

pass if they haven't followed the guidelines.

"The way we manage other businesses in the state is

we've given people the benefit of the doubt that they're

going to follow our guidelines," Kurrle said. "If we knew

that somebody was in violation, our first approach

would be to provide more education and more opportunity

for them to adjust their operations to improve

health and safety."

Solimano said there is little the resort can do about

travelers who promise they've quarantined, but

haven't. He's hopeful that outdoor recreation businesses

can continue to flourish during the pandemic.

A summer season busy with out-of-state mountain

bikers didn't cause any problems, he said.

"To me, this says it's working, that it's safe to be

outdoors," he said. "We're trying to balance this. We

don't want to have it be a police state. We're trying to let

people enjoy the outdoors, but you know, we have to

balance that and try to stay open."
---
8 • LOCAL NEWS

The Mountain Times • Dec. 30, 2020 - Jan. 5, 2021

>

Covid: Recent trends and projections for Covid case numbers in Vermont are more promising than have been in past weeks, but officials encourage vigilance

from page 1

on faces, 6-foot spaces, uncrowded places." the public to understand," he said.

Michael S. Pieciak, commissioner of the "There will be age bands established as

Vermont Dept. of Financial Regulation, to when you will be eligible to be vaccinated.

noted, "As terrible as 2020 has been, Vermonters

For example, 75-plus will be the first to

have many reasons to look back get the vaccine after the completion of 1a,

on the year with pride and to look forward then 70 and older, then 65 and old, and so

with optimism for the year ahead."

on. Underlying conditions will be a priority

While Vermont added another 1,000 no matter what age, and those conditions

cases in just the past 11 days, bringing the will be clearly defined," he said.

total to 7,000 cases since the beginning of "What we are trying to do is design a

the pandemic, that remains a relatively system that is easily implemented, easily

low figure. "To put this in a more helpful understood and prioritizes our primary

perspective," Pieciak said. "Maine has recorded

goal of protecting lives," Smith summa-

more cases than that [7,000] in just rized, adding that "definitions such as

the past three weeks and New Hampshire 'essential worker' or 'frontline worker' often

just the past two weeks. So Vermont continues

cause confusion and unnecessary divisive-

to maintain a very low case count both ness and doesn't put enough emphasis on

in the aggregate and on a per capita basis." our primary goal of saving lives."

Maine and New Hampshire

have populations roughly

twice as large as Vermont but

have been averaging 433 cases

per day, and 612 cases per day,

respectively, according to the

New York Times. Vermont's

average is 84.

However, December has been the

deadliest month in Vermont since the

beginning of the pandemic with 52 deaths

this month — more than a third of the

state's 129 total deaths.

Of this month's deaths, 10 have died in

the past five days and 85% of the deaths

were connected to long-term care facility,

Levine added. That's compared to 70% of

the total deaths being among residents of

long-term care facilities, he said.

Levine emphasized that the deaths at

long-term care facilities are not a reflection

of a poor facility or staffing, but rather a result

of the virus being more prevalent in our

communities and, thus, leading to more

exposure, which affect vulnerable populations

more severely leading to higher rates

of illness and death.

"Deaths are almost exclusively among

Vermonters age 60 and older. Only seven of

the 129 deaths have been among Vermonters

age 30-59," Levine noted.

This data has informed state officials

on whom to prioritize for vaccinations.

"Our main focus is on reducing hospitalizations

and saving lives. Those who are

at the greatest risks, are the oldest age

bands and those with chronic conditions,"

Levine continued.

However, "there are over 400,000 Vermonters

who, when you survey them,

would tell you they fit the criteria of age

over 65 and/or a chronic condition,"

Levine said.

Mike Smith, secretary of the Agency

ofHuman Services, further explained the

state's vaccination plan and prioritization

of population subsets.

The completion of priority group 1a

(vaccinating healthcare workers and those

in long-term care facilities) marks the beginning

of the mass vaccination program,

Smith said at the press conference Tuesday.

"Vaccines will be prioritized and given

based on age. Because the older you are

the more vulnerable you are to Covid-19,

and it meets our prime objective, which

is protecting lives. It's the easiest way to

administer vaccines, and it's the easiest for

"Vaccines will be prioritized and

given based on age. Because the

older you are the more vulnerable

you are to Covid-19," Smith said.

Smith reported that 9,751 Vermonters

have been vaccinated, so far — 14.8% of

priority group 1a — with approximately

8,000 of those being healthcare workers,

900 EMS workers, and 900 at long-term

care facilities through the pharmacy care

program. He also noted that pharmacies

have 72 hours to report to the federal

government, which creates a significant

lag time in that data. "In fact, by Jan. 8 we

expected to be finished providing the first

dose of the vaccine to all but one of the

residents of skilled nursing facilities where

the frailest of the elderly often reside,"

Smith said.

As of Tuesday, 19 of 37 skilled nursing

facilities have received the first dose of

vaccine, he added. And by the end of January,

all in priority group 1a should have

received at least their first dose, and many

their second dose, including most in skilled

nursing facilities, Smith said.

Courtesy Vt Dept. of Health

Vermont continues to stand out for its low active cases per million on the heat map for

the Northeast. Of the over 500 counties on the map, eight of the ten counties with the

lowest case volume were in Vermont.

Courtesy Vt Dept. of Health

Air travel decreased significantly through Christmas eve compared to 2019, with a 58%

reduction nationally and an 80% reduction at Burlington International Airport (BTV).

However, airports still saw more travelers than over Thanksgiving 2020.

Courtesy Vt Dept. of Health

While it took Vermont 228 days to reach 2,000 Covid-19 cases (March-October), the state has added 5,000 cases in just 66 days (November-December).

However, for the past two weeks, cases have been declining slightly week-over-week.
---
The Mountain Times • Dec. 30, 2020 - Jan. 5, 2021 LOCAL NEWS • 9

When can I get a vaccine, and other important Covid-19 questions

By Katie Jickling and Alan J. Keays/VTDigger

Covid-19 vaccines are arriving in Vermont and shots

have been administered to the first recipients.

The state Dept. of Health is still ironing out the details

about who exactly can be vaccinated first and when

those doses will be available.

The supply of vaccines is growing — the U.S. Food

and Drug Administration approved the Moderna vaccine

on Friday, Dec. 18, in addition to the Pfizer vaccine

— but smaller states such as Vermont will receive a

limited number of doses.

State officials said they expected about 5,850 vaccine

doses each week through the end of the year, although

a hiccup in initial deliveries delayed the arrival

of some of those doses.

Younger, healthier Vermonters likely won't get their

turn in line until this spring.

As we wait, here are some answers to some of the

frequently asked questions about the vaccines:

I'm an essential worker. When can I get a vaccine?

The short answer: It depends on exactly what that

essential work is.

Now for the longer one.

Due to the limited supply, the Vermont Dept. of

Health wants to set the priority order for who gets the

shot, starting with long-term care residents and frontline

health care workers.

The health care workers include staff at long-term

care facilities who have direct contact with patients, EMT

staff, dentists, and most home health care providers.

The department is waiting for recommendations

from the Centers for Disease Control and Prevention

before planning next steps.

Dr. Mark Levine, Vermont's health commissioner,

said the next group "will almost certainly involve some

combination of people" over the age of 65 and people

with chronic or immune-compromising conditions.

That next group is also expected to include teachers

and child care workers, and people living in group

situations, such as homeless shelters, prisons and

group homes.

"We hope to have a practical and rational prioritization

scheme that first and foremost focuses on

reducing sickness and death," he said, "but takes into

consideration our other goals of keeping our kids in

in-person instruction in schools and protecting our

workforce and businesses."

According to Levine, the state is expected to receive

about 35,000 vaccine doses by the end of December,

which won't be enough to cover all the health care workers

and residents of long-term facilities, which total

between 50,000 and 60,000 people. The process of vaccinating

that group will likely take until the end of January.

And it is expected to be spring before the general

population can register for a shot.

How do I know when it's my turn?

The first group — health care workers and long-term

care residents and staff — are getting direct notification

about when and where they can get vaccinated.

As more of the vaccine becomes available, the department

says it will work with health care practices, employers,

pharmacies and media outlets to get the word

out as additional groups become eligible.

To avoid long lines and allow for social distancing,

people will have to register for appointments to get the

vaccine. Most Vermonters should expect to get the shot

from their primary care doctors. People who don't have

insurance or a primary care doctor can get the shot at

vaccine clinics run by the department.

How much will it cost me?

Good news. It's free.

The federal government is picking up the tab, with

CARES Act money covering the cost.

If I've had Covid, do I still need a vaccine?

Yes.

According to the CDC, there is not yet enough

information available to determine if or how long

after a Covid-19 infection a person is protected from

getting it again. "Early evidence suggests natural

immunity from Covid-19 may not last very long, but

more studies are needed to better understand this,"

according to the CDC.

How effective are the vaccines?

The Pfizer and Moderna vaccines are about 95%

effective, but because they are new it is still not yet

known how long the protection will last.

What are the side effects of getting a vaccine?

It's common to have flu-like symptoms the day after

receiving the immunization, including symptoms

such as fever, chills, tiredness, and swelling on the arm,

around the site of the injection. Side effects typically

come after the booster shot, which is administered

three weeks after the first injection.

The most common side effects on the arm where a

person receives a shot includes pain and swelling.

"You may have some side effects, which are normal

signs that your body is building protection," according to

the CDC. "These side effects may affect your ability to do

daily activities, but they should go away in a few days."

Once I get the vaccine, can I stop wearing this

mask?

Nope. Sorry.

That's because the vaccines are not 100% effective,

and it's still not known if a person who gets a vaccine

can still spread it to others.

Dr. Anthony Fauci, director of the National Institute

for Allergies and Infectious Disease, told CNN he recommends

people still wear masks and practice social

distancing even after getting the vaccine.

"Obviously, with a 90-plus-percent effective vaccine,

you could feel much more confident," he said. "But I

would recommend to people to not abandon all public

health measures just because you have been vaccinated,

because even though, for the general population, it

might be 90 to 95 percent effective, you don't necessarily

know, for you, how effective it is."

Will there be a mandate to get the vaccine?

President-elect Joe Biden has repeatedly said that,

when he takes office, his administration will not make

any Covid-19 vaccinations mandatory.

"I don't think it should be mandatory," he told reporters

earlier this month, according to a report in Business

Insider. "But I would do everything in my power — just

like I don't think masks have to be made mandatory nationwide

— I'll do everything in my power as president

of the United States to encourage people to do the right

thing and when they do it demonstrate that it matters."

Winter sports: State restrictions relaxed for youth sports teams, including club and school ski teams. Practices started this week on-slope

>

Submitted

A youth skier carves just past a Giant Slalom gate as she races toward the finishline.

from page 1

ther," Scott said on Dec. 22.

The governor's announcement was welcome to ski and snowboard clubs and teams,

which had been waiting for the governor's updates since restrictions were put in place on

Nov. 14. Ski club and academy leaders met with state officials on Dec. 7 to find a solution.

Vermont Alpine Racing Association (VARA) Executive Director Julie Woodworth called

the governor's announcement a "win."

"I think everyone's just pretty psyched in general," said Woodworth.

Under the restrictions, students in ski sports are required to stay in cohorts no larger

than 25 individuals. Students can only interact with people in their own club and can't

ride chairlifts with those outside their cohorts.

"Everybody has to stay in their unit," Woodworth said.

The winter programs are about a month behind schedule due in part to the pandemic

and in part to the lack of snow.

"The weather and Covid have been working together to beat us up," Woodworth said.

Though the state is allowing race programs to resume training, U.S. Ski and Snowboard,

the national governing body for skiing and snowboarding, is not allowing competitions

to begin until Jan. 1. Ski races in Vermont are currently scheduled to start Jan. 12

under restrictions.

Races will be capped this season to 100 participants to meet Vermont's requirement

that limit group gatherings to 150 people, Woodworth said. The cap is a downsize from

typical races, which can draw up to 200 participants.

Woodworth said it will be up to the race site to make sure it has enough staff to

work the race.

Though youth programs can begin, adult programs, for those 18 and over, are

still on pause.

"That's the one little hitch we have right now," Woodworth said. "It's just a matter of

educating the state on how Alpine racing works."

Chuck Hughes, the development program director of the Killington Ski Club and Killington

Mountain School, said programs started on Dec. 27 with "a great day of social distancing

and mask wearing." Hughes declined to say more about the future of the season

until more is known about the events schedule.

Meanwhile, Okemo and Killington Resort are emphasizing one-on-one lessons this

year and are limiting group ski and snowboard lessons to private groups.

Scott's announcement came as most schools were on break for the holidays. Scott

said hockey, cheerleading, basketball can hold practices if athletes stay 6 feet apart.

Cheerleaders are not allowed to hold vocal routines this winter. High contact sports like

wrestling will not be able to hold practices and indoor track will also not be sanctioned

this winter.
---
10 • STATE NEWS

The Mountain Times • Dec. 30, 2020 - Jan. 5, 2021

Covid-19 made a bad situation

worse for many Vermonters

It also revealed the crucial role of government,

not just in crises, new report shows

The recession created by the Covid-19

pandemic, beginning in February 2020,

ended the longest economic recovery on

record. The highest-income Vermonters

came out of that recovery better off. But

no one else did. Those at the bottom had

less income in 2019 than in 2007 before

the start of the Great Recession. Real

median household income—the middle

of the scale—ended 2019 where it was in

2007. And the state's poverty rate showed

no improvement.

So when Covid-19 suddenly put nearly

100,000 Vermonters out of work, many

were already in economically poor shape.

Nearly $5 billion in federal assistance to

Vermonters this year definitely helped

Vermonters weather the pandemic, so

far. But more is needed, now and in the

future. The state needs to invest in the

public good—child care, education,

housing, and other essentials—to secure

the long-term economic well-being of

Vermonters.

This story, reflecting the challenges of

Vermont's top-heavy economy and the

exacerbating effects of the pandemic,

is laid out in State of Working Vermont

2020, released Dec. 28 by Public Assets

Institute in Montpelier. Vermont's

economy expanded, but too many

Vermonters haven't seen the benefits of

this growth. Wages increased, but more

for high-wage workers than for those

earning less.

Child poverty hit its lowest point in

16 years, but remained at nearly 10 percent.

Inequality grew: Half of all 2019

income in the state went to the top 20

percent of Vermonters.

"Policy makers deserve a lot of credit

for their handling of the pandemic," said

Paul Cillo, founder and president of Public

Assets, "but we need to think beyond

this crisis. After decades of policies that

disproportionately harm people of color

and those on the lower rungs of the economic

ladder, the state needs to shift its

focus not just to people's basic needs but

also to racial and social equity."

The report includes a graphic breakdown

of 2020 federal pandemic aid and

how Vermont is using it, as well as stories

in Vermonters' own words about their

lives during the pandemic. "What we

kept hearing in these stories was a feeling

of insecurity—about jobs, food and

housing, the care of children and elders,

and about the future," Cillo said.

Yet some who received relief from the

government also recognized what a little

help from the state can do: take the edge

off the anxiety and pressure of living on a

low wage, open up time to think and heal,

and offer opportunities for a better life.

"Vermonters are looking for opportunity

and a reason to hope," said Cillo. "They

deserve nothing less from our policy

makers."

Public Assets produces the State of

Working Vermont annually in conjunction

with the Economic Policy Institute in

Washington, D.C. The report shows how

working Vermonters and their families

were faring economically at the end of

2019—the latest year for which most data

are available—and how conditions have

changed, for better or worse, in recent

years. Its analyses are based on data

released in 2020 by the U.S. Census, U.S.

Bureau of Labor Statistics, and other state

and federal agencies. This year's report

also uses available data and stories from

2020 to document this extraordinary

year of Vermonters' lives during a deadly

pandemic.

State of Working Vermont 2020 can be

viewed or downloaded at publicassets.org.

Dept. of Public Safety invites

feedback on statewide draft

use-of-force policy

The Vermont Dept.of

Public Safety is continuing

to accept public and

stakeholder feedback on

Vermont's initiative to modernize

policing across Vermont.

The latest document

available for public review

is a draft Statewide Policy

on Police Use of Force.

The ongoing opportunity

for comment and

feedback is part of Governor

Phil Scott's Public Safety

Reform Initiative, created

through Executive Order

03-20, which directed the

commissioner of public

safety to "actively engage

with communities, particularly

those communities

that have been historically

marginalized or harmed

by policing, as we develop

and deploy best policing

practices."

This fall, the Dept.

of Public Safety shared

multiple draft proposals for

public consideration and

feedback, including policies

related to body-worn

cameras, citizen oversight,

hiring and promotion, and

internal affairs.

All of these policies, along

with the newly posted draft

Statewide Policy on Police

Use of Force, are available

for review at dps.vermont.

gov/modernization. Stakeholders

and members of the

public who wish to provide

feedback through that website,

or by emailing policing.

feedback@vermont.gov.

The Dept. of Public

Safety intends to update the

draft Statewide Policy on

Police Use of Force shortly

after the new year, so DPS

asks the public to submit

any feedback prior to Jan.

6, 2021.

The U.S. 4th Fleet presents a plaque as part of a gift exchange with Brazil.

Submitted

U.S.S. Vermont brings sweet treats to Brazil

While operating in the U.S. 4th Fleet, USS Vermont (SSN-792) conducted antisubmarine

warfare (ASW) exercises with the Brazilian Navy Submarine Tupi (S30) and

maritime patrol and reconnaissance aircraft.

U.S. Ambassador to Brazil Todd Chapman hosted President Jair Bolsonaro, accompanied

by Vice Adm. Daryl Caudle, Commander, U.S. Submarine Forces and other

Brazilian Navy dignitaries for a key leader engagement on USS Vermont, reaffirming

the strong history of military collaboration between the United States and Brazil.

Now for the rest of the story: As part of the gift exchange between the Brazilian and

U.S. Navies, U.S.S. Vermont's Captain Charles Phillips presented Brazil's president and

other dignitaries with some "Vermont gold," otherwise known as pure Vermont maple

syrup. The commanding officer of the Vermont asked for a recommendation from the

Vermont Commissioning Committee (VCC) for an appropriate gift for our ally that

would best represent the boat's namesake state. VCC Gifts Chair Gary Frymire reached

out to Morse Farm Maple Sugar Works of Montpelier where several crew members

learned about sugaring prior to the July 4 parade in 2019. Burr Morse had glass maple

leaf syrup decanters available that were reviewed and approved by Captain Phillips,

and they were prepared with both Morse Farm and VCC logos, along with a "Gift from

the VERMONT (SSN 792) Commissioning Committee" message. The syrup decanters

travelled over 5,000 miles before being part of the gift exchange between the U.S and

Brazilian dignitaries at Brazil's newest submarine base, the Itaguai, in Rio de Janeiro, a

"Vermont" unique and sweet touch to international relations.

Submitted

Maple-shaped decanters and a USS Vermont hat bring VT sweetness to South America.
---
The Mountain Times • Dec. 30, 2020 - Jan. 5, 2021 • 11

Vermont is seeing a surge

in COVID-19 cases.

Vermonters must act now to slow the spread.

• Do not get together or socialize

with anyone you don't live with.

• Avoid non-essential travel, even

in Vermont.

• Anyone returning or traveling

to Vermont must quarantine.

Thank you for doing your part to keep our

businesses and schools open, and

Vermonters working.

HealthVermont.gov/StaySafe
---
Wi-Fi not working?

12 • STATE NEWS

The Mountain Times • Dec. 30, 2020 - Jan. 5, 2021

Let the Wi-Fi specialists help!

Wi-Fi not working?

Wi-Fi Let the Wi-Fi not specialists working? help!

Let the Wi-Fi specialists help!

Experts in Managed Wi-Fi

Wi-Fi Let the Wi-Fi not specialists working? help!

Wi-Fi not working?

Wi-Fi not working?

Let

Building

the Wi-Fi

Video

specialists

Security

help!

Experts Let the Wi-Fi in Managed specialists Wi-Fi help!

Let

Experts

the Wi-Fi

in Managed

specialists

Wi-Fi

help!

Experts Access in Control Managed Systems Wi-Fi

Building Video Security

Experts Building in Video Managed Security Wi-Fi

Point-To-Point Building Experts Video Managed Wireless Security Wi-Fi

Access Control Systems

Experts Access Building in Control Video Managed Security Systems Wi-Fi

Building Video Security

Access Enterprise Control Data Systems Backup

Point-To-Point Wireless

Point-To-Point Building Access Control Video Systems Wireless Security

Point-To-Point Server/Workstation Wireless

Enterprise Data Backup

Access Enterprise Installation Point-To-Point Control Data & Wireless Support

Systems Backup

Enterprise Data Backup

Enterprise

Point-To-Point Enterprise

Server/Workstation

Data Backup

Virtual

Server/Workstation

Private Data Networks Wireless Backup

Installation & Support

Installation Server/Workstation

Support

Server/Workstation

Enterprise Installation Data Backup

Server/Workstation

Installation & Support

Support

Virtual Private Networks

Virtual Installation Private & Networks Support

Virtual Server/Workstation

Private Networks

Virtual Installation Private & Networks Support

Need Immediate

Technical Support?

Virtual Private Networks

802-236-2194

Need Immediate

Need Immediate

Technical Need Immediate Support?

Technical Need Immediate Support?

802-236-2194

IT Technical 802-236-2194

that just Support? works

Need Immediate

Technical

802-236-2194

~ Business & Residential Support? ~

IT that just works

IT

IT 802-236-2194

that

that

just

just

works

works

~ Business & Residential ~

IT that just works

IT that just works

~ Business & Residential ~

Business Residential ~ Business & Residential ~

IT that just works

~ Business & Residential ~

~ Business & Residential ~

NORTHSHIRE NETWORKS

NORTHSHIRE NETWORKS

802-236-2194

802-236-2194

mark@northshirenetworks.com

mark@northshirenetworks.com

NORTHSHIRE northshirenetworks.com

NORTHSHIRE NETWORKS

NETWORKS

NORTHSHIRE 802-236-2194

802-236-2194 NETWORKS

mark@northshirenetworks.com

mark@northshirenetworks.com

802-236-2194

RNeSU responds to Covid-19 cases in schools

Remote learning week already planned Jan. 4-8

By Lee J. Kahrs

The first cases of Covid-19 have

been reported in two Rutland

Northeast Supervisory Union

(RNeSU) schools.

RNeSU Superintendent

Jeanne Collins,

herself recovering from

the coronavirus, confirmed

the first cases on

Dec. 18 and Dec. 23 sent

out an email and a Facebook

post to parents

and staff.

The first positive

cases came just two

days after Collins

announced that all

students in the supervisory

union would

be doing remote learning the week

following the break, Jan. 4-8, 2021.

That was announced to mitigate the

effects of families and staff who may

have mixed households during the

Christmas/New Years break.

Collins announced all remote

learning for the district the first two

days of school following the Thanksgiving

break as well.

Of the two new positive cases

announced Dec. 18, one involves a

student at Otter Valley Union High

School, and the other involves

Courtesy of VSP

Courtesy of VSP

VSP seek tricycle-riding bandit

On Dec. 12, the Vermont state police received a report of multiple break-ins to motor vehicles, as well as garages,

along Vermont Route 30 in the town of Cornwall. The incident occurred in the early morning hours.

Surveillance from multiple banks in Rutland have provided photographs and videos of the suspect using the victim's

stolen bank cards and withdrawing cash at multiple ATMs. The male used the bank ATMs on the morning of Dec. 13 at

8 a.m. The male has yet to be identified. The public is encouraged to contact Trooper Rob Helm at the New Haven Barracks

or text the keyword VTIPS to 274637 (CRIMES). Tips can also be submitted anonymously to 844-848-8477.

Super Shoes in

Mendon burglarized

On Dec. 27, at about 2:45 a.m., troopers responded to

an active burglary alarm at Super Shoes store on Route 4

in Mendon. Upon arrival, troopers observed a shattered

front window with numerous items missing from the

store. These items consisted of Carhartt footwear and

apparel. Anyone with information regarding this incident

is encouraged to contact Trooper Nevison at Nathaniel.Nevison@Vermont.gov

or 802-773-9101.

the SOAR afterschool program for

kindergarten through second grade

students. That program has been

shut down until after the holiday

"I acknowledge that there are a lot of

different family situations out there. I

recognize that it's just going to be much

more difficult at Christmas and if we had

a case, it would pop up the week of Jan.

4-8, so it made sense that would be a

remote learning week in order to return

on Jan. 11 and be stable," said Collins.

break. Students who attended that

SOAR program from Dec. 7-15 have

been asked to quarantine. Siblings

do not need to quarantine, according

to school officials. Third through

sixth graders in SOAR were not been

asked to quarantine.

Otter Valley remained open for

the last two days of classes before

the holiday break.

"The Department of Health does

not recommend any further action

at Otter Valley at this time," Collins

wrote in the message

to parents and staff. "We plan

to be open as usual on Monday and

Tuesday before break. We will continue

to take appropriate measures

as we are updated."

On Dec. 23, Collins

confirmed a few more

confirmed cases affecting

the district. In

an email to parents she

wrote: "Late afternoon

on Dec. 22, 2020 we

learned about persons

in our learning community

with Coronavirus

2019 (COVID-19)

at Otter Valley UHS

and at Lothrop and

Barstow Elementary

Schools. These cases are NOT related

to the earlier OV case. People

who are close contacts have been

identified and contacted at both

locations and given guidance as to

next steps to take."

At both Otter Valley and Lothrop,

close contacts of the positive case

were notified and the Vermont Dept.

of Health did not recommend any

further action.

At Barstow, the individual who

tested positive was not at school dur-

RNeSU > 19

RRPC to assist state

tactical basin planning

The Rutland Regional Planning Commission (RRPC)

announced Dec. 29 expanded outreach and services to

municipalities and the public to enhance water quality

and tactical basin planning efforts for South Lake Champlain

(Basins 2 & 4).

RRPC staff will assist by facilitating enhanced municipal

and public input during the drafting process. A

formal draft of the TBP is anticipated to be released in

2022. For more information visit rutlandrpc.org.
---
The Mountain Times • Dec. 30, 2020 - Jan. 5, 2021 STATE NEWS • 13

Strong winds forecasted for

Thursday evening into Friday

Green Mountain Power (GMP) has alerted customers to be alert to the forecast, as

meteorologist predict a region-wide storm system bringing the possibility of strong

winds that could take down trees and power lines, along with one to two inches of

rain (possibly snow in the higher elevations) and the potential for localized flooding

Thursday into Friday.

GMP continues to track the storm closely and is urging customers to be safe.

"We want customers to be aware of possibility of outages and heavy rain this storm

may bring. We follow multiple forecasts to be ready to respond as quickly and safely as

possible. If winds are strong enough to take down trees and lines, it is so important for

customers to stay far away from power lines, and always assume a downed line is still

energized and a danger – call us," said Mike Burke, chief of field operations at GMP.

On a statewide planning call for utilities and state agencies, meteorologist Roger

Hill, who specifically forecasts for potential weather impacts to utility infrastructure,

said winds could slowly ramp up Thursday evening with the strongest gusts above 50

miles per hour possible overnight.

"Right now, the models show high elevations and along the western slopes of the

Green Mountains are where those winds will be strongest," Hill said.

In preparation for any storm, GMP is recommending Vermonters have on hand a

fully charged cell phone, bottled water, battery-powered flashlights, emergency phone

numbers, and a plan of where to go if you were to need to leave your home. You can

find more storm safety tips at greenmountainpower.com. You can report outages by

calling 888-835-4672, through GMP's online Outage Center, and through GMP's app.

Report: 100% electrification could save

Vermont households an average of $3,603/

year & create 22,792 jobs

A new analysis by Rewiring America

shows that transitioning to 100% clean

energy through electrification would

save Vermont as much as

$973 million in energy costs

each year while dramatically

reducing economy-wide

greenhouse gas emissions.

The Rewiring America Report,

"No Place Like Home:

Vermont. Saving money

and creating jobs by electrifying

America's households,"

by Dr. Saul Griffith

and Dr. Sam Calisch, finds

that savings would mean up to $3,603

per year in savings to each Vermont

household's energy bills.

The report builds on an earlier analysis

by Rewiring America that shows that

clean energy electrification could create

25 million new jobs and save Americans

$321 billion in total. Every zip code in the

state would see employment gains and

it would create a total of 22,792 jobs in

Vermont.

Today, the average Vermont household

spends approximately $5,759 per

year on heating and cooling the home,

generating hot water, and driving cars.

Transitioning away from fossil fuels and

electrifying the Vermont economy –

replacing old fossil fuel-based machines

with electric versions at every opportunity,

and switching electricity generation

from dirty sources such as coal to

clean ones such as rooftop solar – would

provide significant savings to every

Vermonter.

"As Vermonters continue to struggle to

make ends meet, this analysis provides

an exciting and desperately needed

roadmap for a brighter future," said

Adam Zurofsky, executive director of

Every zip

code in

the state

would see

employment

gains.

Rewiring America. "If we do it right, electrifying

the Vermont household presents

a unique opportunity to create jobs,

save families money, and

dramatically slash harmful

emissions in the process."

The report from Rewiring

America analyzes what upgrades

would cost households

in each state and

under what circumstances

folks could expect to save

money.

Key findings of the report:

• Vermonters as a whole

would annually save $973 million.

• The benefits laid out in the report

are strictly economic, independent

of additional benefits electrification

would bring in terms of health,

climate, reduced maintenance costs,

and more consistent performance.

• Massive industrial growth will

be necessary to meet increased

demand for electric machines and

bring about lower costs over the

longer term.

• New jobs would be created in every

zip code in Vermont.

Rewiring America is a coalition of

engineers, entrepreneurs, and volunteers

focused on rejuvenating the economy and

addressing climate change by electrifying

everything. It's a relatively new nonprofit

"dedicated to demonstrating that solving climate

change is both technically possible and

economically beneficial," according to the

company's statement. The reports produced

by Rewiring America transparently include

the data they used to reach their conclusions

as well as provide high-level analysis of the

U.S. energy economy. To read the full report

and it's background data visit rewiringamerica.org.

Attorney General Donovan joins

lawsuit seeking to end Google's

illegal search monopoly

Solid Waste Transfer Station

Location: 2981 River Road (Behind Town Garage)

Phone Number: (802) 422-4499

SAT.& MON. (8 a.m.- 4 p.m.); SUN. (8 a.m.-noon)

Collection & transfer of solid waste deposited by residents and property owners of

the Town. (Windshield sticker & punch card needed) Recycling Center for residents

and property owners of the Town. (Free with windshield sticker) If you need to

dispose of solid waste outside the normal operating hours of the Transfer Station

or have construction & demolition debris or other non-acceptable waste, residents

and property owners of Killington can go to the Rutland County Solid Waste District

Transfer Station & Drop-off Center located on Gleason Road in Rutland.

Winter hours began November 1, 2020.

Attorney General T.J. Donovan joined

a bipartisan coalition of 37 attorneys

general in suing Google for anticompetitive

conduct in violation of Section 2 of

the Sherman Act on Dec. 17. The coalition

alleges that Google illegally maintains

its monopoly power over general

search engines and related advertising

markets through a series of anticompetitive

exclusionary contracts and

conduct. As a result, Google has deprived

consumers of competition that could

lead to greater choice, innovation, and

better privacy protections. Furthermore,

Google has exploited its market position

to accumulate and leverage data to the

detriment of consumers.

"Google has become a company

that Vermonters know and rely on,

but their anticompetitive conduct

has denied consumers the benefits of

healthy marketplace competition," said

Attorney General Donovan. "It is time

for the legal system to take a look at

Google's marketplace dominance and

illegal conduct to restore a competitive

marketplace."

The coalition's complaint is consistent

with the lawsuit filed by the U.S.

Dept. of Justice in October 2020, which

alleged that Google improperly maintains

its monopoly power in general

search and search advertising through

the use of exclusionary agreements.

The coalition's filing, however, asserts

additional allegations and describes

Google's monopoly maintenance

scheme as a multi-part effort. The lawsuit

alleges that Google:

• Uses exclusionary agreements and

other practices to limit the ability of rival

general search engines and potential

rivals to reach consumers. This conduct

cements Google as the go-to search engine

on computers and mobile devices.

• Disadvantages users of its searchadvertising

management tool, SA360,

by promising that Google would not

favor its search advertising over that

of competing search engines such as

Bing. Instead, Google continuously

favors advertising on its own platform,

inflating its profits to the detriment of

advertisers and consumers.

• Discriminates against specialized

search sites – such as those that provide

travel, home repair, or entertainment

services – by depriving them access to

prime real estate because these competing

sites threaten Google's revenue

and dominant position.

The coalition argues that more

competition in the general search

engine market would benefit consumers

– for example, through improved

privacy protections and more targeted

results for consumers. Competitive

general search engines also could offer

better quality advertising and lower

prices to advertisers. The coalition also

explains how Google's acquisition and

command of vast amounts of data –

obtained in increasing part because of

consumers' lack of choice – has fortified

Google's monopoly and created significant

barriers for potential competitors

and innovators.

The attorneys general are asking the

court to halt Google's illegal conduct

and restore a competitive marketplace.

The states also seek to unwind any advantages

that Google gained as a result

of its anticompetitive conduct, including

divestiture of assets as appropriate.

Finally, the court is asked to provide any

additional relief it determines appropriate,

as well as reasonable fees and

costs to the states.
---
14 • STATE NEWS

The Mountain Times • Dec. 30, 2020 - Jan. 5, 2021

Vermont is a 'Top 10 State for Afterschool,'

even as unmet demand increases

Student participation that exceeds the national average

and overwhelming parent satisfaction with afterschool

programs make Vermont a "Top 10 State for Afterschool,"

according to a household survey commissioned by the

Afterschool Alliance and released earlier this month. Nevertheless,

unmet demand for programs – the percentage of

Vermont parents who say they would enroll their child in an

afterschool program if one were available to them – is high,

especially among low-income families, who report cost as a

significant barrier.

Despite being in the Top 10, for every child in an afterschool

program one more is waiting to get in.

America After 3PM 2020 is based on survey responses

from more than 30,000 American households, including

244 in-depth interviews in Vermont. It was completed

before the coronavirus pandemic struck. It finds that 22%

of Vermont students, 19,092 children and youth in all, are

enrolled in afterschool programs. But 26,148 Vermont

students are still without the afterschool programs their

parents say they need.

Vermont is doing better than most and that's an important

accomplishment that speaks to the state's strong

commitment to children and youth," Afterschool Alliance

Executive Director Jodi Grant said. "But much more work

remains. America After 3PM 2020 paints a picture of unmet

need, and that is a problem we must fix. Every parent

should have access to an affordable, quality afterschool

program that will keep their child safe, supervised, and

learning."

The Top 10 States for Afterschool in the new study are the

District of Columbia, California, Florida, Alaska, Tennessee,

North Carolina, Georgia, Missouri, Vermont, and South

Carolina.

Cost and access top the list of roadblocks to afterschool

program participation in Vermont. A significant percentage

of parents in Vermont report challenges to enrolling their

child in an afterschool program, with nearly two in five

parents saying that the cost of programs was an important

factor in their decision not to enroll their child in a program.

Low-income families are also struggling to access

programs, with only 14% of children from low-income

households participating in afterschool programs across

the state. This is the lowest percentage

in the entire nation.

"We are determined to

continue the progress to make

afterschool programs available to all children and youth

here in Vermont," said Holly Morehouse, executive director

of Vermont Afterschool Inc. "America After 3PM 2020 finds

incredibly strong support for afterschool programs among

parents here in Vermont, with 85% saying they are satisfied

with the program their child attends. Also encouraging

is the overwhelming support for public funding of afterschool,

with 86% of Vermont parents expressing their support.

Students and families need afterschool programs now

more than ever, since the pandemic has changed school

schedules, disrupted our economy, and put many children

and youth at risk. It's essential that we address the unmet

need for afterschool programs in this state now."

To determine the state rankings, a composite score was

calculated for all 50 states, plus the District of Columbia,

and indexed against the national average. Each state's

overall score is based on afterschool program participation,

afterschool programs reaching children in need,

and parents' satisfaction with key features of their child's

afterschool program.

In important respects, Vermont results mirror the national

survey findings, which include:

• Support for afterschool programs is strong. Parents

give high marks to afterschool programs, with 83%

agreeing programs give working parents peace of

mind, 81% agreeing programs help parents keep

their jobs, and 76% agreeing programs help children

gain interest and skills in STEM – all increases

from 2014.

• Unmet demand for afterschool programs is soaring.

Demand has grown 60% since 2004, from 15.3 million

children (30% of non-participants)

waiting to get into a program in 2004 to

18.4 million children (38%) in 2009

to 19.4 million children (41%) in

2014 to 24.6 million children

(50%) in 2020.

• Cost and access are barriers to participation, and inequities

persist. In total, 61% of low-income parents

report that cost is a barrier to enrolling their child

in an afterschool program. Access (lack of transportation)

is a barrier for 58%. Both are significant

increases from 2014.

• Just 7.8 million children are enrolled in an afterschool

program today, down from a high of 10.2

million children in 2014. The inequities in terms of

which students are accessing programs are stark.

The number of children from low-income households

participating in afterschool fell from 4.6 million

in 2014 to 2.7 million in 2020, while the number

of higher-income children in afterschool fell by just

under 450,000 over the same period.

• The number of elementary school students on their

own after school rose slightly to more than 850,000,

an increase of almost 38,000 since 2014, while the

number of unsupervised middle and high school

students dropped from 2014 to 2020.

• 87% of parents favor public funding for programs

that provide afterschool opportunities to students

in communities that have few opportunities for

children and youth. Support crosses demographic

and political divides, with 91% of parents who

identify as Democratic, 87% of those who identify

as Independent, and 85% of parents who identify as

Republican in favor of public funding.

"During the pandemic, in Vermont and around the

country, afterschool programs have been stepping up to

meet the growing needs of students and families, even as

programs face higher costs, dwindling budgets, and uncertain

futures themselves," Grant added. "Nationally,

nearly half of afterschool programs that are

serving students in person, and are located in

school districts that are operating virtually, have

waitlists. We must do better."

The national and Vermont America After 3PM

2020 reports, and accompanying data, are available

at afterschoolalliance.org.
---
The Mountain Times • Dec. 30, 2020 - Jan. 5, 2021 • 15

Staying Safe

During the Holidays
---
Opinion

16 • The Mountain Times • Dec. 30, 2020 - Jan. 5, 2021

OP-ED

A hunch and a

New Year's wish

By Angelo Lynn

With the New Year upon us, let's look for silver linings.

Nine months into this pandemic, for instance, we

have fine-tuned the art of looking at bleakness and

coming up with ways to smile. We've turned panic of

the unknown into a calm resignation of semi-isolation.

We are learning how to infuse those longer stretches of

isolation — particularly from family and close friends

— with outdoor activities, masked up and social

distanced, accepting close proximity in abeyance of

hugs. We gladly accept bike rides, runs, hiking in the

woods with friends instead of a beer-laden barbecue in

a neighbor's backyard.

Vermonters have learned the art of socially distanced

engagement well. And, bless this little state for

its good nature, Vermonters have been among the most

diligent at safeguarding

those around

them; their friends

and neighbors, their

town's folk — who,

even if they don't

know them personally,

still care enough

to be respectful of

their health. These

are small sacrifices

for big returns.

And it has been so

refreshing to watch

as most Vermonters

Vermonters have

been among the

most diligent

at safeguarding

those around

them... These are

small sacrifices

for big returns.

reject the insensitive idea that it was their right to inflict

harm on their neighbors in order to protect their own

warped vision of individual freedoms and rights.

A year ago that would not seem like such a huge distinction,

but in light of this past year, it is.

The silver lining is realizing how special this Vermont

community truly is. When times are tough, Vermonters

have each other's backs simply because they care

about their neighbors, and they intuitively know that's

far more important than this nation's politics when it's

caught up in a stormy web of deceit, unhinged egos

and personal fortunes.

The fog on the national scale is not always easy to see

through. Priorities get confused, messages are easily

twisted and contorted; the allure of rhetorical frenzy can

be mesmerizing. Lemmings can follow leaders in dangerous

directions — including off the proverbial cliff.

Politically, this is a year in which we have truly seen

the good, the bad and the ugly.

Trump and many of his supporters were in rare form

all year — first in denying the virus, rejecting science and

common sense, and insisting on individual freedoms

that caused deadly harm to friends and neighbors. That

same kind of destructive ignorance was later manifested

in their refusal to believe election results, swearing

allegiance to a would-be tyrant with shouts of 12 more

years, ranting at court decisions and Republicans state

officials who wouldn't overturn what those in office

knew was the correct election outcome. It was ugly.

Too frequently those caught up in the thrall of righteousness

showed their hatefulness and spite toward

other Americans, yelling, ranting, harassing and spreading

false information as if it were their own gospel to the

darker side of the human spirit.

In that darkness, Trump's lies, conspiracies and

temptations captured the souls of 70 million Americans,

each fueled by a willingness to believe in false

promise, and for those in leadership, a willingness to

bear false witness.

New Year's > 18

LETTERS

Covid-19 is winding down

Dear Editor,

As 2020 comes to an

end (and no one is sad to

see it go), the Woodstock

Area Relief Fund (WARF)

is winding down Covid-19

relief activities. The fund

was established as a shortterm

measure to get folks

through these economic

challenges until they could

get back on their feet.

It is the intent of WARF to

fill the gaps of these other

programs, and to provide

more immediate and timely

assistance specifically to

individuals and families

in the Windsor Central Supervisory

Union (Barnard,

Bridgewater, Killington,

Plymouth, Pomfret, Reading,

and Woodstock) for

food, medicine, shelter, and

childcare.

For some, that hasn't

happened quite yet, but

WARF volunteers are

diligently guiding every

applicant to the many

longer-term resources that

are better equipped than

WARF to provide ongoing

support.

Although WARF has

ceased fundraising efforts,

a number of generous endof-year

donations allows

WARF to maintain our current

commitments and still

help some more families

with basic household needs

while funds remain.

Please apply if you've

been impacted by the Covid

crisis and are still struggling

financially.

Looking ahead, we're ensuring

that the organization

can be quickly revived in

response to future community-wide

crises, and

we are initiating conversations

with local financialrelief

organizations about

Please apply if you've been

impacted by the Covid crisis and

are still struggling financially.

a coordinated approach to

providing needed support

during "normal" times with

initial goals of simplifying

access and using community

resources efficiently.

In the meantime, we'd

like to thank the many

WARF donors and volunteers

(especially the caseworkers)

who so generously

donated their time, effort,

and money to help neighbors

in need. It's a different

holiday season for sure but

we wish you much joy as the

year comes to the close and

best wishes for a healthy

New Year!

The WARF Volunteers

2020 hindsight by Dave Whamond, Canada, PoliticalCartoons.com

Red Crossers shine bright

Dear Editor,

As one of the longest and

most challenging years of

our lives draws to a close

— with the promise of a

vaccine offset by the gravity

of staggering infection rates

and devastating loss of

loved ones — I would like

to take a moment to reflect

on the amazing resilience of

our Red Cross partners.

The Red Cross, born of

a desire to bring assistance

without discrimination to

the wounded on the battlefield,

endeavors to prevent

and alleviate human suffering

on a global scale. As

all of us can attest, there has

been no shortage of human

suffering in 2020. However,

it is in these dark times that

the passion and tenacity

of Red Crossers shine the

brightest.

To this end, I want to

acknowledge all who have

enabled the continuance of

our mission this year. Thank

you to the staff who have

risen to every challenge

that Covid has presented

— from creating physically

distanced emergency

shelters and delivering nocontact

meals, to developing

nationwide antibody

testing and producing an

entirely new blood product

in convalescent plasma.

Thank you to our amazing

Vermont volunteers who

have — throughout the

pandemic — deployed to

areas ravaged by hurricanes

and wildfires, staffed

blood drives, responded to

house fires, and supported

veterans. Thank you to our

corporate partners and

financial supporters, who

continued to acknowledge

the value of supporting the

Red Cross. And of course,

thank you to our blood

donors and blood drive

sponsors who helped us to

secure the nation's blood

supply and recover from

critical shortages experienced

in the spring.

Indeed, as we reflect

on 2020, it is important to

look beyond tragedy and

hardship and to recognize

the tremendous resilience

displayed by our state. This

was evidenced by the leadership

of our governor and

public health officials, and

by all government workers

who continued to execute

the business of governing

amid numerous challenges.

It was exemplified by our

healthcare workers, who

unflinchingly stepped into

the breach to combat this

novel virus, and our educators

and students who met

the challenges of remote,

hybrid and in-person

learning. So too, by our essential

workers who made

Red Cross > 17
---
The Mountain Times • Dec. 30, 2020 - Jan. 5, 2021 OPINION• 17

CAPITOL QUOTES

On the end of 2020 and hopes for 2021...

"This year has been tough, but there's

light at the end of the tunnel. It's more

important than ever to be careful to get

there safely,"

said Gov. Phil Scott

"From Covid-19 and the economy to climate

change and racial justice — our nation is facing

four historic crises at once. And come January,

there will be no time to waste. That's why my team

and I are hard at work preparing to take action on

day one,"

said President-Elect Joe Biden

"In this dangerous moment – Covid,

oligarchy, economic desperation, climate

change, a dysfunctional health care system,

systemic racism, etc. – we must continue

fighting for a political revolution and

transformative change. Nothing less than

the future of the world is at stake,"

said Congressman Bernie Sanders

"Under Operation Warp Speed, we're on track

to vaccinate 20M before years end. We're at

the beginning of the end of the Coronavirus

pandemic!"

said VP Mike Pence

"The Biden administration can solve

the challenge of hunger in America and

improve our capacity to take on other big

fights — climate, healthcare, justice. Hard

to do big things on an empty stomach,"

said Senator Beto O'Rourke

"Goodbye and good riddance, Betsy Devos.

Can't wait to see our schools flourish under

an Education Secretary who cares more

about thriving students than a thriving bank

account,"

said Congresswoman Ilhan Omar

COMMENTARY

The tip of the iceberg:

Nature and the pandemic

How our disregard for nature is making us sick

By Tom Rogers

On a warm summer evening this past July, I arrived home feeling unusually worn

down. I'd been exhausted all day, and I was soon overcome with waves of crippling

chills, my fever spiked, and I spent the night sweating through my sheets.

I drove to the clinic the next morning thinking I would be added to the growing

number of Covid-19 cases in the state. Instead, the doctor examined me and quickly

came to another conclusion. "It's Lyme disease," she said with confidence, "or a similar

tick-borne illness."

I was not alone in contracting Lyme disease this summer. Most years, Vermont is

either first or second in the nation in per capita cases of Lyme, and prior to the pandemic,

Lyme was the fastest growing infectious disease outbreak in the country.

This growth in Lyme and other tick-borne illnesses is a result of development patterns

that have created the ideal conditions for ticks to thrive. As sprawl has taken over

the eastern United States in recent decades, and native plants have been crowded

out by tangled mats of invasive weeds like barberry and honeysuckle, tick numbers

have exploded. Worse still, climate change is pushing black-legged ticks northward,

with projections for their range to double in the next fifty years. Ticks are increasingly

spreading nasty diseases, with symptoms ranging from the life-threatening (babesiosis)

to the weird (alpha-gal syndrome causes an allergy to red meat).

Forest fragmentation, and the resulting wildlife that are pushed into recently deforested

areas, make it easier for many infectious diseases to spread to humans. In the

Iceberg > 18

Earth rising in 2021?

It's up to us

By Michael J. Caduto

It was one of our country's most turbulent

years. Demonstrations and riots demanding

equality were staged nationwide.

Gunshots rang out. World leaders threatened

military force to control protesters

while millions of sympathizers joined demonstrators

on the front lines. A foreign war

dragged on, seemingly with no end. Daily

news reports shared heart-rending stories

of thousands of people who had died.

Political upheavals wracked the country as

a contentious presidential election came

down to the wire.

This could easily describe 2020, but

these events occurred more than 50 years

ago. In 1968 the United States was riven by

divisive nationwide protests against the

Vietnam War. Our sense of civility and national

security was rocked by the assassinations

of Martin Luther King, Jr. and Robert

F. Kennedy. After a tumultuous year, on

Dec. 24, 1968, people from across the land

stared at their television screens in a rare

unifying moment, mesmerized as Apollo 8

astronauts Jim Lovell, Bill Anders and Frank

>

Red Cross: Thank you to all who have helped ensure blood supply

from page 16

quarantine living possible,

and by everyone who has

been negatively affected by

this pandemic.

We are proud of our

state and our Red Cross

sponsors, donors, staff

and volunteers who have

persevered through this

pandemic. While it may

be far from over, the end

is in sight, and we have

demonstrated that we

have the determination

and fortitude to see this

through. As we navigate a

physically distant holiday

season, please be safe and

well, and appreciate all that

we have accomplished and

Borman became the first humans to leave

low Earth orbit and circle the moon.

During this flight, Anders took several

now-famous photographs of Earth rising

above the cold lifeless lunar horizon. The

juxtaposition of our blue home planet next

to the moon's stark cratered surface, and

surrounded by the vastness of space, presented

humankind with a perspective that

emblazoned in our consciousness a symbol

of how finite and fragile Earth really is.

Earlier in 1968 Paul Ehrlich had published

"The Population Bomb," a seminal

book that warned of the environmental

impacts caused by overpopulation—at a

time when the global population was less

than half of today's nearly 8 billion people.

Stewart Brand's Whole Earth Catalog began

publication in the autumn of 1968 and

quickly became a bible for everything from

green products and engineering plans to

grassroots wisdom that fed a passion for

taking personal control away from the

establishment and going back to the land.

(In contrast, 2020's exploding interest in

Earth rising > 19

endured.

On behalf of the board

of directors of the Vermont

Red Cross,

Michael Lash, Shelburne

, Board Chair of VT

Red Cross

Kevin Mazuzan, Williston,

Exec. Director of VT

Red Cross
---
18 • OPINION

The Mountain Times • Dec. 30, 2020 - Jan. 5, 2021

CARTOON

The Delegitimizer by Adam Zyglis, The Buffalo News, NY

Snow Day by John Cole, The Scranton Times-Tribune, PA

Looking ahead to 2021 by Bruce Plante, PoliticalCartoons

New Year: Vermonters have stepped up in a challenging year

from page 16

But in every good morality tale, from

darkness comes light. More Americans

stayed positive and focused. More saw

through the fog. More listened to the

saner voices around them and sought

wiser sources to read, trust and believe.

Not unlike the pandemic, while there

were and are many stories of ill-will and

disappointment, there are more stories of

hope, goodwill, generosity, tolerance and

perseverance.

The silver lining in all of this is the

opportunity to see how close we came

to ruin, and the steps that led down that

torturous path. It is easy to blame others,

to despise others for their differences, to

take grievance of others' good fortune.

It's much harder to be generous, to feel

the pain of others, to understand and

practice tolerance. But that is the way to

strength and power as a community, as a

Iceberg: Ignoring environmental factors is making us sick

>

>

from page 17

tropics, malaria spreads more easily in recently deforested areas where mosquitoes

thrive. In the U.S., our need for vast, green lawns (the single largest irrigated crop in the

country, covering an area equivalent to New York state) has caused an increase in robins,

a preferred host of West Nile virus. Exploitation and unregulated markets of exotic

wildlife have been breeding grounds for a host of new diseases to be spread to people,

from Ebola to bird flu to SARS.

But never has our neglect of nature been more apparent than the Covid-19 outbreak

that has killed more than 1.5 million people worldwide and caused life to come to a

standstill. The novel coronavirus is believed to have originated in horseshoe bats and

spread to humans through wildlife trafficking – specifically, the illegal trade of pangolins,

a scaly anteater that is among the most heavily trafficked wildlife species on earth.

When you add in the effects of air and water pollution on human health, the true

cost of an unhealthy natural world becomes even more apparent. The U.S. is seventh

in the world for pollution-related deaths, with poor air and water quality causing nearly

200,000 Americans to die prematurely each year, in addition to promoting sublethal

diseases like asthma, cancer, heart disease, and birth defects in children.

Protecting nature is clearly the best form of preventive medicine.

A landmark 2012 study in the journal Science estimated it would take an investment

of $80 billion to protect all nature

worldwide between 2012 and 2020.

By comparison, the U.S. spends $3.6

trillion annually on healthcare, most

of which is spent to address health issues

once they have arisen. We didn't

make that relatively small investment

to protect nature in 2012, and

now our carelessness has resulted in

a pandemic that is projected to cost

state and as a nation.

Will we learn to see that?

It's hard to say.

But the next four years will see a different

influence coming from the White

House that will appeal to our better

angels. That influence is basic American

goodness — not nastiness, not arrogance,

not greed — and it will serve as

the example to follow, just as Trump's

self-serving politics of grievance shaped

the nation in his image.

Our hunch and New Year's wish is that

this goodness will find fertile ground in

a nation starved for decency, truthfulness

and personal honor and, with a bit

of divine good fortune, a keener sense

of justice will seep into the American

consciousness.

Let's vow to make this a truly happy

New Year for all.

Exploitation and unregulated

markets of exotic wildlife

have been breeding grounds

for a host of new diseases to

be spread to people.

the U.S. economy $16 trillion. It is clear we need to make a large financial investment

in nature, but that investment will pay exponential dividends in human health, and

the health of our communities and our economy.

Beyond a financial investment, we need a society-wide effort to keep nature

healthy. We need landscapers who plant with native, wildlife-friendly plants; voters

who demand their elected officials tackle climate change and address the loss of

biodiversity; landowners who keep their forests and waters healthy; volunteers who

plant trees or pull invasive weeds; planners who slow forest fragmentation in their

communities; and a generation of professional conservationists working to tackle our

most pressing issues.

Vermont should seize this opportunity to once again be a model for the nation in

this time of crisis by prioritizing innovation and initiatives that support both our local

economy and a healthy environment. The Nature Conservancy has partnered with

land trusts, conservation organizations, and watershed groups to craft a Covid recovery

vision that seeks to create a future where both people and nature thrive.

If our world continues to become hotter and more crowded, and global biodiversity

continues to decline, we can expect pandemics like the one we are currently in to

become more frequent. Much like climate change has caused what was once a hundredyear

storm to hit every few years, our disregard for nature will cause the hundred-year

pandemic to similarly increase in frequency. We must care for the natural world as we

care for our own bodies, or we will be doomed to suffer the illnesses we inflict on nature.

Tom Rogers is a resident of Stowe and associate director of philanthropy for The Nature

Conservancy in Vermont.
---
The Mountain Times • Dec. 30, 2020 - Jan. 5, 2021 OPINION • 19

>

>

RNeSU: Covid cases in schools addressed

from page 12

ing an infectious period. As a result, there were no identified

close contacts who need to quarantine.

Regarding the decision to go all-remote learning for

the week following the holiday break, Jan. 4-8, Collins

said she heard enough from families and staff to make

the decision.

"They're just sob stories," she said. "The last

Christmas of a parent, things like that. I acknowledge

that there are a lot of different family situations out

there. I recognize that it's just going to be much more

difficult at Christmas and if we had a case, it would

pop up the week of Jan. 4-8, so it made sense that

would be a remote learning week in order to return

on Jan. 11 and be stable. I wanted to make that decision

as early as I could, and I absolutely understand

how difficult it is."

Collins added that the Vermont Department of

Health has been very responsive and helpful with

contract tracing the positive cases and other support

measures.

"I've had several conversations with the Department

of Health regarding who was a close contact or who

needed to answer more questions and talked through

the level of risk," she said. "They've been very responsive

and individuals who have questions about their

own contacts should contact the Department of Health

directly."

Lastly, Collins would like to remind all families and

staff members that if they plan to travel and/or mix

households over Christmas, to plan on quarantining

from Dec. 28-Jan. 11.

For more information or to ask questions regarding

Covid protocols, quarantine, school cases and safety

precautions, call the Vermont Department of Health at

800-464-4343 or at 802-863-7200.

Obit: Debra Poplawski-Wilson loved the outdoors, skiing, kayaking, hiking and gardening

from page 4

ful wedding, anniversary and birthday creations.

Debra Poplawski-Wilson loved the outdoors and

was a lifelong skier that raced in her early years and

taught at the Killington Ski School.

After her cancer diagnosis and closing of the bakery,

she strived to ski 100 days a season at Killington,

a goal that she accomplished three times in the last

five years. She was at 84 days when Covid ended her

season in March. She was also an avid kayaker, hiker,

nature lover and had a "green thumb" for all of her

indoor and outdoor gardens.

Poplawski-Wilson was also a loving, caring and

devoted mother to her two children, Tamra Kaye and

Madison (Madi) Claire Jaurigue. Madison was born

with hydrocephalus. Madi's care required constant

attention, multiple surgeries, three shunts and

numerous other items required for a special needs

child. Unfortunately, Madi predeceased her on March

12, 2012.

Tamra completed college and now resides in Texas.

In 2015, Debra Poplawski met George Wilson

through and on-line dating service and they were

immediately drawn to each other. Their abilities as

expert skiers, outdoors junkies, kayakers, hikers,

etc. drew them together and on Oct. 1, 2016 they

were married in Killington. Nine months later, they

received the devastating news that her recent seizure

was due to brain cancer. From that day forward, Deb

and George attempted to do anything and everything

she wanted. George repeatedly told Deb to "live life on

your terms."

She was also an active member of causes that were

dear to her, including:

• She was the creator and founder of the Madifund.

A program that brings top neurosurgeons

and other health care professionals from around

the country to speak at UVM lectureship. This

was established in honor and memory of her

dear Madison.

• She was active in the Vermont readiness group

with the National Guard and one of few civilians

to be honored by them.

• Rutland Family support network

• One of the creators of the "woodchip" parkway

to divert traffic flow on Route 4 during Tropical

Storm Irene

• Parent to parent peer recognition

• National Hydrocephalus Foundation

• Fundraised for Madi's room at the new Andrea

Mead Lawrence Lodge – Home to Vermont Adaptive

Ski & Sport center at Pico mountain

• Mary Kaye Cosmetics

Debra Poplawski-Wilson leaves her loving husband

George Wilson of West Wardsboro, her father Eugene

Poplawski of Mendon, her mother, Barbara Poplawski

who predeceased her in August 2019, and her daughter

Tamra Jaurigue of Texas. Her sisters Donna Poplawski-

Kreie of Texas, Denise Wall of Massachusetts, Deonne

Myrick of Randolph, Karen Terry of Islip, New York, and

her brother, E.J. Poplawski of Salt Lake City, Utah, she

also left her close friends affectionately known as the

Divas from the Sarana, New York area, numerous family

of the heart from around the world and all of her friends

and neighbors.

A memorial service to recognize and remember

Debra Poplawski-Wilson's life will be held at a later

date. Memorial gifts in her memory may be made to the

Hydrocephalus Association hydroassoc.org.

To send personal condolences to the family, please

visit sheafuneralhomes.com.

Submitted

On Dec. 24, 1968, Apollo 8 astronaut Bill Anders became among the first to circle the moon. He took this now-famous photo juxtaposing earth and the moon's cold, cratered surface.

Earth rising: What will the future hold for one and only habitat? Only we can choose. The past holds examples of hope but also tales of caution

>

from page 17

self-sufficiency and growing one's own food

has been a response to widespread food

insecurity brought on by economic disruptions

from the coronavirus pandemic.)

History does not repeat itself, but

the core issues with which humankind

struggles, and the ways in which we tend

to respond, do not fundamentally change

over time. Environmentalists celebrated

in 1972 when—following a decade of litigation

and activism inspired by the 1962

publication of Rachel Carson's "Silent

Spring"—the U.S Environmental Protection

Agency finally banned the use of

DDT. As a result of these regulations and

decades of hard work by wildlife biologists

working to restore wildlife populations,

numerous species of birds that

were teetering on the brink of endangerment

and extinction were brought back

from the precipice, including the bald

eagle and osprey.

Did we learn from DDT? Consider the

current widespread use of neonicotinoid

pesticides, which were developed to

replace carcinogenic organophosphates

like malathion and diazinon. "Neonics"

have now become the DDT of the 21st

Century, polluting the environment and

causing catastrophic declines in the

populations of honeybees, bumblebees,

solitary bees and other insect pollinators

that play essential roles in the functioning

of healthy ecosystems and in the pollination

of most fruits and vegetables. The

European Commission has banned most

neonics, but the U.S. EPA refuses to do so.

Neonics are just one example of how,

when it comes to the environment, we often

make the same mistakes through time.

The issues we face today—ranging from air

and water pollution (including discarded

plastic) to deforestation, food waste, climate

change and loss of biodiversity—have

been with us in one form or another for

decades, and often for centuries.

The critical question at the dawn of 2021

is: What can we do—individually and collectively—

to ensure that Earth, as we know

it, keeps rising? We don't need resolutions

at the turn of the year, we need resolve to

make commitments and take action. Only

then may future generations look back at

the history we are now creating and truly be

able to say the only reason we're here today

is because back in 2021—when faced with

a global pandemic in the midst of climate

change—humankind found the will, the

wisdom and the way to stand up and do

something about it.
---
Calendar

20 • The Mountain Times • Dec. 30, 2020 - Jan. 5, 2021

FIDDLE WITCH

with SUMMIT LODGE

DEC. 31 & JAN. 2 at 5 p.m.

Courtesy of Summit Lodge

WEDNESDAY, DEC. 30

RSVP Bone Builders

9 a.m.

An Osteo Exercise Program on Mondays/Wednesdays mornings at

9 a.m., 1 p.m. and evenings at 5:30 p.m. and Tuesdays/Thursdays at

3:30 p.m. This is a free program through RSVP at the Godnick Adult

Center. All you need to bring with you is a bottle of water. The weights

are provided. For more info or sites call RSVP at 775-8220.

Jenny Porter

4 p.m. Performing live at the Foundry.

Everyone Eats - Rutland

4 p.m.

Free double-sized served up at the Vermont Farmer's Food Center from

4-6 p.m. More info at vermontfarmersfoodcenter.org/everyone_eats

Everyone Eats - Fair Haven

4 p.m. Free restaurant-prepared meals to pick up at Fair Haven Grade

School in Fair Haven.

Tony Lee Thomas

5 p.m. Performing live at Jax food and games.

Kim Wilcox and Guest

5 p.m. Performing live at The Public House, 5813 Woodstock Rd in

Quechee.

Sammy B

5 p.m. Performing live at Neal's Restaurant & Bar in Proctorsville.

Everyone Eats - Poultney

5 p.m. Free restaurant-prepared meals served up at Young at Heart

Senior Center, 206 Furnace St in Poultney.

Everyone Eats - Chittenden

5 p.m. Free restaurant-prepared meals served up at Barstow Memorial

School in Chittenden.

Everyone Eats - Brandon

5 p.m. Free restaurant-prepared meals served up the Brandon American

Legion.

Everyone Eats - Killington

5 p.m. Free restaurant-prepared meals served up at Mission Farm, 316

MIssion Farm Rd.

Everyone Eats - Danby

5 p.m. At the Smokey House Center, call Jamie Lombardo in advance,

802-772-5919

The Idiots

6 p.m. Performing live at the Pickle Barrel.

Jim Yeager

6 p.m. Performing live at Du Jour VT in Ludlow.

Forevergreen Concert

7 p.m.

Lucius, Ryan Miller and Will Keeper perform. Watch at youtube.com/

user/VermontTourism.

Al‐Anon and Alateen

7 p.m.

A Good Shepherd Lutheran Church is also where Little Lambs Learning

Center is located, 6 Church Hill Road in Rutland.

THURSDAY, DEC. 31

"The Woman Who Loves Giraffes"

ALL DAY

Woodstock Film Series presents a fascinating tale of science, gender

and giraffe conservation. To purchase tickets and passes, go to billingsfarm.org/filmseries

or call 802-457-5303.

Line Dancing

9:30 a.m.

Groovy Grannies Line Dance at Godnick Adult Center. Intermediate

line dance, mostly country with a little variety. No partner is needed.

The line dance class also includes the option of practicing routines

for entertaining residents at the local nursing homes. Adults only: $3/

class. Buy a pass for 10 classes for $25 and save $5.

Circle of Parents

10 a.m. Virtual. contact Cindy Atkins, Family Support Programs Coordinator,

at 802-498-0608 or catkins@pcavt.org.

Story Hour online

10 a.m. See Miss June's virtual story time on The Rutland Free Library

YouTube channel.

Tony Lee Thomas

2 p.m. Performing live at the Pickle Barrel.

NAMI Connection Peer Support Group

3 p.m.

Have you been struggling with managing your mental health? NAMI

Connection Peer Support Group can help. This is a free, 90-minute

recovery support group for people living with a mental health condition.

In these meetings, attendees learn from one another's experiences,

share coping strategies and offer mutual encouragement and

understanding. NAMI Connection provides an ongoing opportunity

to discuss the challenges of living with a mental health condition and

the techniques for maintaining wellness. All meetings are facilitated by

trained NAMI peers, ie. individuals with mental health conditions who

are at a good place in their recovery journey and want to help other

peers get to a good place in their recovery. For more specific information,

visit namivt.org/support/peer-support-groups/.

RSVP Bone Builders

3:30 p.m.

An Osteo Exercise Program on Mondays/Wednesdays mornings at

9 a.m., 1 p.m. and evenings at 5:30 p.m. and Tuesdays/Thursdays at

3:30 p.m. This is a free program through RSVP at the Godnick Adult

Center. All you need to bring with you is a bottle of water. The weights

are provided. For more info or sites call RSVP at 775-8220.

King Arthur Junior

4 p.m. Performing live at the Foundry in Killington.

Circle for Foster & Adoptive Families

5 p.m. Virtual. Contact Heather Niquette, Family Support Programs

Coordinator, at 802-498-0607 or hniquette@pcavt.org

Fiddle Witch

5 p.m. Performing live at the Summit Lodge.

Nurturing Skills For Families

5:30 p.m.

Virtual. Contact Cindy Atkins, Family Support Programs Coordinator,

at 802-498-0608 or catkins@pcavt.org

Tony Lee Thomas & Jenny Porter

6 p.m. Performing live at Jax food and games.

Virtual New Year's Eve Dinner & A

Show

6 p.m.

Next State Arts invites the community to a free, virtual

New Year's Eve celebration featuring performance.

Dinner is available for $30. Register at flipcause.com/

secure/cause_pdetails/MTAzNDkw or via our website

nextstagearts.org.

Duane Carleton

6 p.m. Performing live at Moguls Sports Pub.

Ryan Fuller

6 p.m. Performing live at the Foundry.

George Nostrand

6 p.m. Performing live at Du Jour VT.

Yoga for the Mindful heART

6:30 a.m.

In this all level Vinyasa Flow class you will synchronize breath with

movement. Students will focus on linking conscious breath with a

mindful flow. In a Vinyasa class, students awaken their strength, energy,

and flexibility in a fun atmosphere. Be prepared to leave your mat

with dignity and self love as you honor yourself with yoga! At Chaffee

Art Center in Rutland. $5.

Virtual Knit Knite

7 p.m.

Six Loose Ladies and friends host a knitting circle from Chester via

Zoom. More info availabe at facebook.com/events/973117296469197.

Sammy B with Jim Yeager and King Arthur Junior

7:30 p.m. Performing live at Neal's Restaurant & Bar.

Circle for Kinship & Guardianship Families

8 p.m.

Virtual. Contact Heather Niquette, Family Support Programs Coordinator,

at 802-498-0607 or hniquette@pcavt.org

FRIDAY, JAN. 1

Adult Open Studio

9 a.m.

Get muddy on with Rutland Rec's drop-in clay at the art studio. This

is a great chance to make some functional art for yourself or as a gift

for someone else. This is a drop-in program, there is no instruction

other than peer pottery support from fellow drop-in participants. 5 Visit

Punch Card $20R/$31NR. At Rutland Recreation Courcelle Facility, 16

North Street Extension in Rutland.

Writers' Group

12 p.m.

Work together with fellow writers in our creative space critiquing each

other's work, asking questions, and exchanging insights. Whatever

you can learn from a single instructor is multiplied by all the knowledge

and wisdom you gain by sharing ideas with a roomful of your peers. At

Chaffee Art Center in Rutland.

Jenny Porter

1 p.m. Performing live at the Foundry in Killington.

Tony Lee Thomas

2 p.m. Performing live at Jax food and games.

Jamie

2 p.m. Performing live at the Pickle Barrel Nightclub.

Aaron Audet

5 p.m. Performing live at Bomoseen Lodge and Tap Room.

Sammy B

5 p.m. Performing live at the Foundry.

Virtual

event

Calendar > 21

'THE WOMAN WHO

LOVES GIRAFFES'

DEC. 31 - JAN. 3

Adult Open Studio

6 p.m.

Get muddy on with Rutland Rec's drop-in clay at the art studio. This

is a great chance to make some functional art for yourself or as a gift

for someone else. This is a drop-in program, there is no instruction

other than peer pottery support from fellow drop-in participants. 5 Visit

Punch Card $20R/$31NR. At Rutland Recreation Courcelle Facility, 16

North Street Extension in Rutland.

Jamie

6 p.m. Performing live at the Pickle Barrel Nightclub.

Super Stash Bros.

6 p.m. Performing live at Nite Spot Pizza.

Courtesy of Woodstock Film Fest
---
The Mountain Times • Dec. 30, 2020 - Jan. 5, 2021 CALENDAR • 21

>

Calendar: Email events@mountaintimes.info

from page 20

Krishna Guthrie

6 p.m. Performing live at Du Jour VT in Ludlow.

Jamie

6 p.m. Performing live at Jax food and games.

Chris Pallutto

6 p.m. Performing live at Mogul's Sports Pub in Killington.

Stash Bros.

6 p.m. Performing live at Nite Sport Pizza.

Tony Lee Thomas & Jenny Porter

6 p.m. Performing live at the Pickle Barrel Nightclub.

Friday Night Funfest with Duane Carleton

7 p.m. A live performance at the Summit Lodge in Killington.

SATURDAY, JAN. 2

Christmas Bird Count

All Day

The end of the year for RCAS (and the beginning of a new one!) with the

Christmas Bird Count, now in its 121st year (and Rutland's 47th). The

count will be held following current Vermont COVID guidelines (no multihousehold

carpooling or caravanning; quarantine restrictions in effect)

and there will be no countdown potluck. Feeder watchers still needed

within count circle. Contact birding@rutlandcountyaudubon.org.

Cars and Coffee

7 a.m. Enjoy a cup up of coffee, look at cars and show off your own at

Forest Dale Grocery in Brandon.

Book group for the mindful heart

9:30 a.m.

Do you love to read? Are you looking for other book lovers to discuss

literature with? Then you've come to the right place. Join us in our

creative space on the 1st Saturday of the month to talk about books

and the reading experience. Meet new people and make new friends

with common interests. At Chaffee Art Center in Rutland.

Vermont Winter Farmers' Market

10 a.m.- 2 p.m. Vermont Farmers Food Center, 251 West St. in Rutland.

Tony Lee Thomas

2 p.m. Performing live at Jax food and games.

Jamie

2 p.m. Performing live at the Pickle Barrel Nightclub in Killington.

Sammy B

4 p.m. Performing live at Outer Limits Brewing.

Duane Carleton

4 p.m. Performing live at Nite Spot Pizza.

The Winter Drive-In Experience

4:20 p.m.

With Rick Redington and The Luv at the Wild Fern in Stockbridge.

Aaron Audet

5 p.m. Performing live at Bomoseen Lodge and Tap Room.

Fiddle Witch

5 p.m. Performing live at the Summit Lodge in Killington.

Super Stash Bros.

6 p.m.

Performing live at Moguls Sports Pub. 2360 Killington Rd. in Killington.

MB Padfield

6 p.m. Performing live at the Pickle Barrel Nightclub.

Jenny Porter

6 p.m. Performing live at the Foundry.

Adam McMahon Trio

6 p.m. Performing live at Du Jour VT.

Jamie

6 p.m. Catch a live performance at Jax in Killington.

Forevergreen Concert

7 p.m.

Susan Tedeschi & Derek Trucks, Grace Potter, Dwight & Nicole perform.

Watch at youtube.com/user/VermontTourism.

HEBREW READING CLASS

JAN. 3 at 9:30 a.m.

Submitted

SUNDAY, JAN. 3

Hebrew Reading Class

9:30 a.m.

If you know the Hebrew alphabet and want some practice reading, then

join Rutland Jewish Center for a 10-week Hebrew reading class. Call

the synagogue office in order to register and receive the zoom link. $15

for members and $25 for non-members.

JD Tolstoi Piano Brunch

11 a.m. Live piano music while you dine at the Foundry.

Jenny Porter

2 p.m. Performing live at Jax Food and Games.

Virtual

event

Adult Open Studio

6 p.m.

Get muddy on with Rutland Rec's drop-in clay at the art studio. This

is a great chance to make some functional art for yourself or as a gift

for someone else. This is a drop-in program, there is no instruction

other than peer pottery support from fellow drop-in participants. 5 Visit

Punch Card $20R/$31NR. At Rutland Recreation Courcelle Facility, 16

North Street Extension in Rutland.

MB Padfield

6 p.m. Performing live at Jax food and games.

MONDAY, JAN. 4

RSVP Bone Builders

9 a.m.

An Osteo Exercise Program on Mondays/Wednesdays mornings at

9 a.m., 1 p.m. and evenings at 5:30 p.m. and Tuesdays/Thursdays at

3:30 p.m. This is a free program through RSVP at the Godnick Adult

Center. All you need to bring with you is a bottle of water. The weights

are provided. For more info or sites call RSVP at 775-8220.

Nurturing Skills For Families

10 a.m.

Virtual. Contact Heather Niquette, Family Support Programs Coordinator,

at 802-498-0607 or hniquette@pcavt.org

Nurturing Program for Families in Substance

Abuse Recovery

4 p.m.

Virtual. Contact Cindy Wells, Family Support Programs Coordinator, at

802-498-0611 or cwells@pcavt.org

Nurturing Fathers Program

5 p.m.

Virtual. Contact Amber Menard, Family Support Programs Coordinator

at 802-552-4274 or amenard@pcavt.org

TUESDAY, JAN. 5

Line Dancing

9:30 a.m.

Country Line Dance at Godnick Adult Center. Join for a fun cardiovascular

workout with both new and old-line dancers. No experience

necessary and no partner needed. Adults only: $3/class. Buy a pass for

10 classes for $25 and save $5.

RSVP Bone Builders

3:30 p.m.

An Osteo Exercise Program on Mondays/Wednesdays mornings at

9 a.m., 1 p.m. and evenings at 5:30 p.m. and Tuesdays/Thursdays at

3:30 p.m. This is a free program through RSVP at the Godnick Adult

Center. All you need to bring with you is a bottle of water. The weights

are provided. For more info or sites call RSVP at 775-8220.

Jim Yeager and Friends

5 p.m.

Performing live at The Public House, 5813 Woodstock Rd in Quechee.

Circle of Parents in Recovery

5:30 p.m.

Virtual. Contact Cindy Atkins, Family Support Programs Coordinator, at

802-498-0608 or catkins@pcavt.org

Adam McMahon Trio

7 p.m. Performing live at Du Jour VT. Virtual Volunteer Fair

Virtual Volunteer Fair

5 p.m.

Learn about how to volunteer with your local American Red Cross of

Northern New England in Killington and the surrounding area. We will

be talking about both in-person and virtual opportunities. Email Erica.

fuller4@redcross.org to sign up and receive the link.

Courtesy of Vermont State Parks

Vermont State Parks

encourages public to

celebrate the New Year

with a first day hike

Start the new year on the right foot with a hike in a

Vermont state park. On Jan. 1,

2021, Vermont State Parks

is inviting everyone to

celebrate the New Year

Jan.

by heading out on the

trails at one of Vermont's

55 state parks.

Park entry is free on

New Year's Day (and all

winter long), and this

is a great opportunity to

discover a whole new world

outdoors in winter.

In response to the Covid-19

pandemic, first day hikes will be different from previous

years. While state park officials are not offering in-person

guided hikes this year, they have carefully selected

hikes throughout the state for self-guided adventures.

Hikers are strongly encouraged to learn about and follow

Covid-19 outdoor recreation health and safety guidance

by visiting fpr.vermont.gov/recreation/outdoorrecreation-and-covid-19

before they go.

1
---
22 • NEWS BRIEFS

The Mountain Times • Dec. 30, 2020 - Jan. 5, 2021
---
The Mountain Times • Dec. 30, 2020 - Jan. 5, 2021 PUZZLES • 23

WORDPLAY

'POINSETTIA' Word Search: Find the words hidden vertically, horizontally, diagonally and backwards.

SUDOKU

Solutions > 38

How to Play

Each block is divided by its own matrix of nine cells. The rule for solving Sudoku

puzzles are very simple. Each row, column and block, must contain one

of the numbers from "1" to "9". No number may appear more than once in any

row, column, or block. When you've filled the entire grid the puzzle is solved.

AMBASSADOR

AZTEC

BLOOMING

BOTANICAL

BRACTS

CARE

CENTRAL

AMERICA

CHRISTMAS

DECEMBER

DECORATION

FESTIVE

FOLKLORE

HOLIDAY

LANDSCAPING

LEAVES

LEGEND

MEXICO

PLANT

POTTED

RED

TRADITION

UNIQUE

CROSSWORD PUZZLE

Solutions > 38

CLUES ACROSS

1. Home of the

Cowboys

7. "Hawaii Five-O"

actor McBride

10. Most aged

12. Fitted with a

shoe

13. Courteously

14. They form over

cuts

15. Western

Alaskan river

16. Aggressive men

17. Farm animal

18. Young woman

(French)

19. Sixth month of

Hebrew calendar

21. Short cry

22. State capital

27. Rural delivery

28. "Twilight Zone"

creator

33. Gigabyte

34. Flammable

hydrocarbon

36. Supervises

flying

37. An actor who

plays a

principal role

38. Furnace for

pottery

39. Fall back

40. Afrikaans word

for language

41. Chinese city

44. Fleshy

45. Inventor

48. Taxis

49. A citizen of

Spain

50. Important age

for aging workers

(abbr.)

51. Body part

CLUES DOWN

1. Chinese

mountain range

2. Romanian city

3. Fishermen

cast it

4. Shelter from

wind

5. Sign language

6. Pigpen

7. Make sore

8. Flat metal

shelves

9. Forms that say

who you are

10. Cigar lovers'

necessity

11. Popular cooking

ingredient

12. Skin covering

the head

14. Unshakable

17. Exclamation

meaning "Finally!"

18. One of the wise

men's gifts

20. Take away from

23. In accordance

with the law

24. Nicole Kidman's

husband

25. NY Giants

legend

26. Utilize

29. Beloved

Hollywood alien

30. Unwell

31. More destitute

32. Grinded

together

35. Sun up in New

York

36. Italian-made

cars

38. Most sacred

site in Islam

40. Rip apart

41. Go in a

specified direction

42. Freshwater

mussel genus

43. "__ the Man"

Musical

44. One thousand

cubic feet (abbr.)

45. West coast time

zone

46. Mimic

47. You can get

one in summer

Full Service Vape Shop

Humidified Premium Cigars • Hand Blown Glass Pipes

Hookahs & Shisha Roll Your Own Tobacco & Supplies

CBD Products • Smoking Accessories

131 Strongs Avenue Rutland, VT

(802) 775-2552

Call For Shuttle Schedule

Like us on

Facebook!

FOR COVID-19 UPDATES

• Visit mountaintimes.info

• Sign up for our e-newsletter

• Follow us on Facebook

MOUNTA IN TIMES
---
24 • The Mountain Times • Dec. 30, 2020 - Jan. 5, 2021

Sending 2020

Out with a

BANG!

DEC 14 – JAN 3

65% OFF

STOREWIDE

CURBSIDE

PICKUP!

DEC 1 – JAN 3

70% OFF

ONLINE

500 GRAM CAKES 200 GRAM CAKES RELOADABLES FOUNTAINS ROMAN CANDLES

(802) 229-9659 | (802) 424-1530

www.northstarfireworks.com

2235 VT Route 14 South East Montpelier, VT 05651

1306 Memorial Drive Saint Johnsbury, VT 05819

Northstar_9.75x11.94-Inch_ad_2020.indd 2

12/21/20 11:06 AM
---
The Mountain Times • Dec. 30, 2020 - Jan. 5, 2021 • 25

Student Pass Deadline Extended, Buy Yours Now!

FEEL GOOD FRIDAYS

VERMONT STUDENT

SEASON PASS $ 119

Exclusively for Vermont students in Grades K-12 -Unlimited access to Pico Mountain all season long,

Plus perks for pass holders and their family too, including 50% off 1-day Sunday lift tickets

(max two per day) for immediate family members, plus $35 equipment rental for that family member.

Visit picomountain.com for more details and to purchase.

[VIVID] Local color.

(866) 667 PICO

(866) 667 PICO picomountain.com
---
LivingADE

26 • The Mountain Times • Dec. 30, 2020 - Jan. 5, 2021

This week's living Arts, Dining and Entertainment!

The best Covid-safe New Year's Eve plans in and around Killington

By Brooke Geery

If ever there was a year we were ready to have in the

rearview it's 2020. Thank goodness 2021 is almost here.

While like most other things this year, celebrations will

look different than ever before, that doesn't mean you

can't eat, drink and be merry from a safe social distance.

Sure, Covid regulations have bars closing at 10

p.m. so your desire to cram into a small space and drink

copious amounts of alcohol until AT LEAST midnight

won't be possible, but area organizations, bars and restaurants

are doing their best to provide some entertainment

this New Year's Eve.

In-person events

Live music

The shows may not go until midnight, but several

venues in Killington are offering live music to

start off your celebration!

At Jax Food and Games, Ryan Fuller

will play on the covered patio at 2 p.m.

and Tony Lee Thomas and Jenny Porter

will put on a show beginning at 6 p.m. At

The Foundry, Ryan Fuller will play from

6-10 p.m. and Pickle Barrel will have happy

hour with Tony Lee Thomas from 3-6 p.m.

and Jamie from 6-10 p.m. Fiddle Witch will take the

stage at Summit Lodge at 5 p.m. and at Moguls, Duane

Carleton will play at 6 p.m. Nite Spot pizza will host

Super Stash Brothers beginning at 6 p.m.

In Ludlow, Du Jour VT will present George Nostrand

at 6 p.m. and Sammy B will join up with Jim Yeager and

Kind Arthur Junior for a night of music at Neal's Restaurant

in Proctorsville beginning at 7:30 p.m.

Fireworks in Middlebury

Thanks to the incredible generosity of its members,

American Legion Post 27 on Boardman St. in Middlebury

will be sending 2020 out with a bang! They are

sponsoring a New Year's Eve fireworks display. Spectators

are asked that you stay in their cars for the show

or remain near their cars with immediate household

members only. Mask use is required for anyone outside

their cars.

Sugarbush torchlight parade and fireworks

Celebrate NYE with Sugarbush's annual torchlight

parade followed by the spectacular Northstar Fireworks

show held on Spring Fling. The action begins

at 7 p.m. and can be viewed from Lincoln Peak Courtyard.

For the best viewing location, consider making

online dinner reservations at either Rumble's Bistro &

Bar or Castlerock Pub. Hurry up, restrictions apply and

both are booking fast. You can also order take-out food

and drink online as well.

Sugarbush asks everyone to help ring in the much

anticipated 2021 by adhering to safety protocols and

plan to arrive, watch and leave.

Dinner

Flannels Bar and Grill

Mendon, 802-855-5135

Flannels returns after a brief

closure for a special New Year's eve,

followed by full-service menu resuming

on Jan. 1. Seating is limited

so make your reservations now.

Choices

Killington, 802-422-4030

Chef Claude and the new owners

of Choices restaurant invite all to

dine for New Years Ever with specials

from the kitchen and a champagne

toast at 9 p.m.

Liquid Art

Killington, 802-422-2787

Liquid Art (pictured to the right) will

offer an intimate dining experience this

Dec.

31

Courtesy of Liquid Art

Check social media for NYE menus.

New Year's Eve. Tee Boneicus Jones will be entertaining

with some fantastic music while you dine. Limited

seating is available to keep everyone safe, so make your

reservations soon.

You can also order the menu as takeout, and it will

include two splits of Prosecco. If you wish to order

takeout, you must order by noon on Wednesday for

pickup Thursday between 4-5 p.m.

Taso on Center

Downtown Rutland, 802-775-8276

Taso on Center is reopening on New Year's Eve with

a special menu and reserved seating! Be sure to make

your reservations in advance.

Cluckin' Cafe

Pittsford, 802-725-8014

Open for dine-in from 5-9 p.m. and offering a

$75 take out special, which includes an appetizer,

two entrees and two desserts, as well as a bottle

of wine or champagne. Pre-order to-go dinners by

Wednesday at 4 p.m.

Virtual events

Dinner and a show with Next Stage Arts

Next Stage Arts Project invites the community to

a free, virtual New Year's Eve celebration from, 6 – 90

p.m. featuring performances from a variety of local

musicians, puppeteers, poets, storytellers, business

owners, and visual artists. Dinner will also be available

for takeout, cooked in the Next Stage kitchen by

community members, with proceeds being donated

to the Putney Foodshelf.

The dinner menu includes za'atar roasted chicken

or sweet potatoes with French green lentils, roasted

New Year's Eve > 31

Courtesy of Sugarbush

Fireworks illuminate the sky over Sugarbush's Lincoln Peak at a past

celebration.
---
The Mountain Times • Dec. 30, 2020 - Jan. 5, 2021 LIVING ADE • 27

By Devon Gulick

The mysterious monolith gleams in the sun and snow, surrounded by the scenery of the green mountains.

Darkside Snowboards crew

shreds the monolith

By Brooke Geery

Sometime during the middle of December, a large

metal monolith appeared on top of a mountain in Pittsfield.

Like the other monoliths that have showed up in

Utah, Romania and California recently, its appearance

was a mystery. Then, late in the day on Wednesday, Dec.

23, it disappeared. Not, however, before some locals got

the chance to snowboard on it.

Darkside Snowboards

manager Tucker

Zink resides in Pittsfield

and met up with Mike

Garceau and Killington

Mountain School photographer

Devon Gulick

early in the day on the

Dec. 23 to complete the

mission.

"We couldn't let a

random piece of metal

in the mountains go un-jibbed," he said. "The Green

Mountain Trails are in my backyard so we just followed

the trail of Reese's pieces right to its base."

In an almost perfect scenario, a sunny day combined

with the recent 2-foot snow storm, creating ideal conditions.

However, a lack of slope around the sculpture

made things a bit tricky.

"We couldn't let a random piece of

metal in the mountains go un-jibbed,"

he said. "The Green Mountain Trails are

in my backyard so we just followed the

trail of Reese's pieces right to its base."

"We had plenty of snow to build a transition, a good

hour of shoveling led us to a nice pile of packable slope,"

Zink said. "We'd reshape the lip after every hit. As soon

as we strapped in it was as if the monolith pulled us towards

it like some sort of jet propulsion. Just kidding—

we used a banshee bungee and some pump bumps.

We had seen someone else try and drop off the roof of

Shrek's the day before and

not have nearly enough

speed, so we knew the bungee

was the ticket."

For about two hours, the

crew took turns flinging

each other into the set-up,

and managed to capture

some photographic

proof, in addition to the

memories. Their session

was a spectacle on top of a

spectacle, so they did have some company.

"One character who claims he had just been in Utah

studying the monolith was there, and one nice couple

who seemed bummed at first, but accepted us after

Mike offered to take a photo for them," Zink said.

With social media content achieved, the crew left

the monolith gleaming in the sun. A few hours later,

By Devon Gulick

Mike Garceau completes a textbook monolith air.

it was gone... but then reappeared on Christmas Eve.

Zink and crew admittedly had left some scratches on

the metal with their boards and it seems someone

attempted to fix it. The sculpture now stands at a different

orientation and is slightly less stable. Riverside

Farm general manager Peter Borden hopes to stabalize

it and was happy to learn it wasn't intentionally

vandalized and that people we're getting outside and

being active.

Working at the Darkside, Zink said lots of people are

getting out snowboarding admid the pandemic.

"The shop has been thriving," Zink said. "People are

flocking to the outdoors and we have been reaping the

benefits of that. Split/uphill gear is almost completely

sold out. We're seeing less people overall but everyone

that comes in is looking to buy. We've been adhering to

all CDC guideline, but otherwise it's biz as usual. Just

don't ask us to use the bathroom!"
---
28 • LIVING ADE

The Mountain Times • Dec. 30, 2020 - Jan. 5, 2021

Hogenkamp's third book

available for preorder

By Brooke Geery

Rutland-based author

Peter Hogankamp announced

the cover art

for his latest book, "The

Vatican Secret" as well as

offering pre-orders of the

title on his website.

"The original title of

the book was 'Doubt,' but

the publisher decided to

change it to match 'The

Vatican Conspiracy,' he

said. "I am still not sure

if there will be a third in

the series; it will depend

upon how well 'The

Vatican Secret' sells. I did

originally intend to write

a trilogy, but we'll see,"

Hogenkamp said.

"The Vatican Secret"

is now available for

pre-order at peterhogenkampbooks.com

and

officially releases April

12, 2021.

Virtual

event

McGrath's

Irish Pub

By Elaisa Vargas

'The Woman Who Loves Giraffes' streaming, Dec. 31

SPECIALS

MONDAY-FRIDAY

1/2 Price Appetizers

3pm-5pm

WEDNESDAY is Mule

Night $10 all Mules

THURSDAY is Smash

Night $10 Goomba

Smashes

SATURDAY

Apres-Ski Party

SUNDAY BURGER NIGHT

Gourmet Burger

+ any Cocktail $20

or

+ any Beer or Cider $15

COCKTAIL AND BEER

SPECIALS EVERYDAY

A fascinating tale of science, gender and giraffe conservation

Dec. 31 - Jan. 3—WOODSTOCK—Billings Farm &

Museum's 11th annual Woodstock Vermont film series features

"The Woman Who Loves Giraffes," a fascinating tale of

science, gender and giraffe conservation.

In 1956, four years before Jane Goodall ventured into

the world of chimpanzees and seven years before Dian

Fossey left to work with mountain gorillas, in fact, before

anyone, man or woman had made such a trip, 23-yearold

Canadian biologist, Anne Innis Dagg, made an unprecedented

solo journey to South Africa to become the

first person in the world to study animal behavior in the

wild on that continent.

In "The Woman Who Loves Giraffes," an older (now

85), wiser Anne Dagg takes us on her first expedition

Inn at

L ng Trail

Deer Leap

back to Africa to retrace where her trail-blazing journey

began more than half a century ago. By retracing her

original steps, and with letters and stunning, original

16mm film footage, Anne Dagg offers an intimate

window into her life as a young woman, juxtaposed with

a firsthand look at the devastating reality that giraffes

are facing today. Both the world's first "giraffologist,"

whose research findings ultimately became the foundation

for many scientists following in her footsteps, and

the species she loves, have each experienced triumphs

as well as nasty battle scars. "The Woman Who Loves

Giraffes" gives us a moving perspective on both.

The film can be streamed in the comfort of your home

Dec. 31-Jan.3. Visit billingsfarm.org/filmseries.

McGrath's

Irish Pub

Pub Open Daily

Mon.–Fri. 3-9 p.m.

Sat. & Sun. 12-9 p.m.

Take-Out Available

Inn

L

KILLINGTON DISTILLERY &

STILL ON THE MOUNTAIN CoCktail Bar

47 Old Mill Rd, Killington, VT | 802-422-8200

Mon.-Fri. 3p-9p | Sat. 1p-9p | Sun. 1p-8p

Full Dinner Menu, Patio Dining

with Fire Pit & Potbelly Stove

Reservations Required via Open Table or 802-422-8200

Medical Grade HEPA filters installed indoors for your added safety.

rath

2.2 mi. from

start to

cGrath's

cGrath's

Monday - Thursday

Stew & Brew Special

$15

Rte. 4 between Killington & Pico

802-775-7181

innatlongtrail.com

Rooms & Suites available

McGraths

McGrat

McGrath

Irish

Irish P
---
Food Matters

The Mountain Times • Dec. 30, 2020 - Jan. 5, 2021 • 29

Ingredients:

• 6lb Long Island duckling

• Salt and pepper

• 1 Tb butter

• 1 shallot, diced

• ¼ cup

• Runamok ginger infused maple syrup

• ¼ cup white wine vinegar

• 1 cup chicken broth

• ¼ cup orange juice

• 4 strips orange zest

• 1 tsp chopped rosemary

Duck with maple ginger orange sauce

Run a sharp knife through the layer

of fat across the breast in several

places but do not cut deep enough

to pierce the meat below.

Directions:

Preheat the oven to 475. Check the duck for any innards or neck bones in the cavity and remove. Trim excess fat

from any area that is not covering meat such as the neck or back opening. Put the fat trimmings alongside the duck.

Run a sharp knife through the layer of fat across the breast in several places but do not cut deep enough to pierce

the meat below. Season all over with salt and pepper.

Place the bird in a roasting pan with the fat trimmings and put in the oven. Roast for 30 minutes, then reduce the

heat to 350. Continue to cook, occasionally taking the duck out to remove excess fat accumulation in the pan. Roast

for another 60– 75 minutes or until a thermometer put in the thigh reads 170 F. Remove from the oven and let rest.

To make the sauce, melt the butter in a medium saucepan and add the diced shallots. Cook until the shallots

are soft and just beginning to brown and then add the maple syrup, vinegar, chicken broth, orange juice and zest.

Bring to a boil and then low er the heat to a simmer. When the sauce has thickened (about 8–10 minutes), remove

the zest and add the rosemary. You can add an extra pat of butter to further smooth it out.

Carve the duck and serve the sauce on the side.

Courtesy of Runamok Maple

JONES

DONUTS

"Jones Donuts and Bakery is a

must stop if you reside or simply

come to visit Rutland. They have

been an institution in the community

and are simply the best."

open wed. - sun. 5 to 12

closed mon. + tues.

23 West St, Rutland

802-773-7810

Courtesy of Mountain Top Inn & Resort

Come to our sugarhouse for

the best breakfast around!

After breakfast, check out

our gift shop for all your

souvenir, gift, and maple

syrup needs. We look

forward to your visit!

Dine-in or Take-out available.

Serving Breakfast & Lunch

7a.m. - 2p.m. daily

Check out our menu online!

Sugar & Spice Restaurant & Gift Shop

Rt. 4 Mendon, VT

802-773-7832 | www.vtsugarandspice.com

Cross-country skiing

and snowshoeing now

open at Mountain Top

Inn & Resort

Mountain Top Resort in the town of Chittenden is

now open for cross-country skiing and snowshoeing.

You can also join them for a sleigh ride or enjoy a

sleigh and dinner package. Their cross-country and

snowshoe trails are pet-friendly, so the entire family

can enjoy the wintery experience!

Complete your active day by visiting the tavern and

restaurant with a Vermont craft brew and winter view

of Chittenden Reservoir and the Green Mountains.

Visit mountaintopinn.com or call 802-483-2311

for reservations and/or more information about

activities this season.
---
Food Matters

30 • The Mountain Times • Dec. 30, 2020 - Jan. 5, 2021

RUTLAND

CO-OP

grocery

I

household goods

77 Wales St

GRAB SOME

LOOKOUT for

TAKE OUT!

produce

health and beauty

20 20

NEW

WINTER

MENU

Back Country Café

The Back Country Café is a hot spot

for delicious breakfast foods. Choose

from farm fresh eggs, multiple kinds of

pancakes and waffles, omelets or daily

specials to make your breakfast one of a kind. Just the right heat Bloody

Marys, Mimosas, Bellini, VT Craft Brews, Coffee and hot chocolate drinks.

Maple Syrup and VT products for sale. Check Facebook for daily specials.

(802) 422-4411.

Birch Ridge

Serving locals and visitors alike since 1998, dinner

at the Birch Ridge Inn is a delicious way to

complete your day in Killington. Featuring Vermont

inspired New American cuisine in the Inn's dining

room and Great Room Lounge, you will also find

a nicely stocked bar, hand crafted cocktails, fine

wines, seafood and vegetarian options, and wonderful house made desserts.

birchridge.com, (802) 422-4293.

Casey's Caboose

Come for fun, amazing food, great drinks, and

wonderful people. A full bar fantastic wines and

the largest selection of craft beers with 21 on tap.

Our chefs create fresh, healthy and interesting

cuisine. Try our steaks or our gourmet burgers

made with 100% Vermont ground beef, U.S. lamb or home-grown pork— we

have 17 burgers on our menu! Try our famous mac n' cheese with or without

lobster. Yes! the train is still running... caseyscaboose.com,(802) 422-3795.

Choices Restaurant

& Rotisserie

Choices Restaurant and Rotisserie was

named 2012 "Ski" magazines" favorite

restaurant. Choices may be the name of

the restaurant but it is also what you get. Soup of the day, shrimp cocktail,

steak, hamburgers, a variety of salads and pastas, scallops, monkfish, lamb

and more await you. An extensive wine list and in house made desserts are

also available. choicesrestaurantkillington.com (802) 422-4030.

Jones' Donuts

Offering donuts and a bakery, with a

community reputation as being the best!

Closed Monday and Tuesday. 23 West

Street, Rutland. See what's on special

at Facebook.com/JonesDonuts/.

Call (802) 773-7810.

Killington Market

Take breakfast, lunch or dinner on the go

at Killington Market, Killington's on-mountain

grocery store for the last 30 years.

Choose from breakfast sandwiches, hand

carved dinners, pizza, daily fresh hot panini, roast chicken, salad and specialty

sandwiches. Vermont products, maple syrup, fresh meat and produce along

with wine and beer are also for sale. killingtonmarket.com (802) 422-7736

or (802) 422-7594.

Liquid Art

Relax in the warm atmosphere at Liquid

Art. Look for artfully served lattes from

their La Marzocco espresso machine, or

if you want something stronger, try their

signature cocktails. Serving breakfast, lunch and dinner, they focus on healthy

fare and provide you with a delicious meal different than anything else on the

mountain. liquidartvt.com, (802) 422-2787.

Lookout Tavern

Celebrating 20 years of fun, friends and good

times here in Killington! Everything from soup

to nuts for lunch and dinner; juicy burgers, fresh

salads, delicious sandwiches and K-Town's best

wings. Your first stop after a full day on the Mountain

for a cold beer or specialty drink and a great

meal! lookoutvt.com, (802) 422-5665.

HAPPY NEW YEAR!

FOR TAKE OUT, CALL

802-422-5665

Open Daily

at 11:30 a.m.

happy hour

DAILY WING

SPECIAL

McGrath's

Irish Pub

Dream Maker Bakers

Dream Maker Bakers is an all-butter, from-scratch

bakery making breads, bagels, croissants, cakes

and more daily. It serves soups, salads and

sandwiches and offers seating with free Wifi. At

5501 US Route 4, Killington, VT. No time to wait?

Call ahead. Curb-side pick up available. dreammakerbakers.com, (802) 422-

5950.

Inn at Long Trail

Looking for something a little different? Hit up

McGrath's Irish Pub for a perfectly poured pint of

Guinness, Inn live music at on the weekends and delicious

food. Guinness not your favorite? They also

L ng Trail

have Vermont's largest Irish Whiskey selection.

Visit innatlongtrail.com, (802) 775-7181.

Moguls

Voted the best ribs and burger in Killington,

Moguls is a great place for the whole

family. Soups, onion rings, mozzarella

sticks, chicken fingers, buckets of chicken

wings, salads, subs and pasta are just

some of the food that's on the menu. Free shuttle and take away and delivery

options are available. mogulssportspub.com (802) 422-4777.

Nite Spot Pizza

Outrageously good pizza. Join us for wood fired

pizza, salads, kids menu, family arcade and live

music! (802) 332-4005

OUR 20 TH ANNIVERSARY!

DINE IN & BAR SEATING AVAILABLE

2910 KILLINGTON ROAD, KILLINGTON VT

802-422-LOOK LOOKOUTVT.COM
---
The Mountain Times • Dec. 30, 2020 - Jan. 5, 2021 FOOD MATTERS • 31

Peppino's

Chef-owned since 1992, Peppino's offers

Neapolitan cuisine at its finest:

pasta, veal, chicken, seafood, steak,

and flatbreads. If you want it, Peppino's

has it! Aprés-hour daily features half price appetizers and flatbreads.

Reservations accepted. peppinosvt.com, (802) 422-3293.

Seward's Dairy

If you're looking for something truly

unique and Vermont, check out Seward

Dairy Bar. Serving classic homemade

food including hamburgers, steaks, chicken, sandwiches and seafood. Craving

something a little sweeter? Check out their own homemade 39 flavors of

ice cream. Vermont products also sold. (802) 773-2738.

Still On the Mountain

Killington Distillery & Still on the Mountain

Cocktail Bar invite you to enjoy our handcrafted

small batch spirits inspired from the blissful Killington

region. Pair your cocktail with one of

our delectable food offerings made from sustainably

sourced, local ingredients. Sit back,

sip on your cocktail, and dig into a delicious meal in the lap of nature.

killingtondistillery.com, (802) 422-8200.

Sugar and Spice

Stop on by to Sugar and Spice for a home style

breakfast or lunch served up right. Try six different

kinds of pancakes and/or waffles or order up

some eggs and home fries. For lunch they offer

a Filmore salad, grilled roast beef, burgers and

sandwiches. Take away available.

www.vtsugarandspice.com (802) 773-7832.

Sushi Yoshi

Sushi Yoshi is Killington's true culinary adventure.

With Hibachi, Sushi, Chinese and

Japanese, we have something for every age

and palate. Private Tatame rooms and large

party seating available. We boast a full bar with

20 craft beers on draft. We are chef-owned and operated. Serving lunch

and dinner. Delivery or take away option available. Now open year round.

www.vermontsushi.com (802) 422-4241.

Taco X

Taco X is the place to go for a wide selection of

tacos and entrees full of house-smoked meats,

fresh-made toppings and artisanal fermentation.

Don't forget the Margarita! Located at 2841 Killington

Road. Call (802)422-2424 for take-out orders.

Follow @killingtontacox on Facebook.

>

New Year's Eve: How will you celebrate?

from page 26

carrots and Brussels sprouts, a soup, salad, and dessert.

The dinner costs $30 for the whole meal, or $20 for

soup, salad, and dessert. The event is free to any community

member who wishes to attend the virtual party

without dinner.

Register at flipcause.com/secure/cause_pdetails/

MTAzNDkw or at nextstagearts.org.

Concert with Recycled Percussion

For 14 straight years Recycled Percussion has taken

the stage on New Year's Eve to perform for a sold out

audience. For many years they have fans who have

never missed a performance. With all that is going on,

they had to make the insanely unfortunate decision to

cancel the annual holiday tour. However, they came up

with an even better idea.

For the last several weeks they have been installing

the most insane production they've ever had and they

will host a New Years' Eve Live stream concert to your

living room.

The music will go from 6 p.m. thru midnight, and will

be the first time the band as ever performed until the clock

hits 0. They will also be bringing in other bands, artists and

special guests to entertain throughout the evening.

There are two package options available. For $40 you

can stream the concert or for $77 you can stream the

concert and receive a surprise memorabilia item. Tickets

are available at chaosandkindness.store/collections/all/

products/new-years-eve-concert-live-streaming.

Concert with The Avett Brothers

New Year's Eve concerts are a long-standing tradition

for The Avett Brothers. This year will be no exception

marks the band's 17th annual New Year Eve's

performance. Despite the challenges of Covid-19, the

band was determined to continue the ritual, albeit this

year reaching even more people with the show being

made available to fans across the globe virtually. With

their passionate and memorable live performances,

this event will be no exception, promising to deliver an

extraordinary evening of music.

The virtual concert will begin at 8 p.m. Tickets are

$39.99 / $49.99 (HD/4K) per screen and you'll receive

48-hour access to the video on demand, just incase you

can't join live. The show will include a full band performance

with host Dax Shepard, and special guests Willie

Nelson, Brandi Carlile, Ben Bridwell, Taylor Goldsmith,

Mickey Raphael and more.

PEG TV New Year's Eve Community Spotlight

Who will star in PEG TV's New Year's Eve special?

It could be you or someone you know! On New Year's

Eve, the cable access station based in Rutland will

air videos of area residents showing their talents,

whether it's singing, comedy, juggling, dancing or

reciting poetry. Performances will be played on New

Year's Eve on Comcast channels 1075, 1085 and 1095,

VTel channels 163, 164, and 165, and on PEGTV's

social media.

GET YOUR BASS

IN HERE FOR

THE NEW YEAR!

Mid-way up Killington Access Rd.

Open for Indoor & Outdoor Dining, Take-out and Delivery

SUN, TUE, WED & THURS – 11:00AM to 9:00PM. CLOSED MON.

FRI & SAT – 11:00 to 10:00PM • vermontsushi.com • 802.422.4241

HIBACHI | SUSHI | ASIAN

Classic Italian Cuisine

Old World Tradition

~ Since 1992 ~

Fresh. Simple.

Delicious!

1/2 price appetizers

& flaTbreads

from 4-5 p.m.

Open daily at 4 p.m.

thru Jan. 5

Sunday Lunch at 1 p.m.

Open

7 am - 3 pm – Mon. & Thurs.

7 am - 5 pm – Fri./Sat./Sun.

Cafe Style Dining & Take Out

Fresh and delicious house made artisan

breads, baked goods signature sandwiches,

local meats and poultry, farm-to-table

produce, smoothies, hot coffee & more!

5501 US Route 4 • Killington, VT 05751

802.422.5950

Breakfast • Pastries • Coffee • Lunch • Cakes • Special Occasions

pasta | veal

Chicken | seafood

steak | flatbreads

For reservations

802-422-3293

First on the Killington Road
---
Food Matters

32 • The Mountain Times • Dec. 30, 2020 - Jan. 5, 2021

Vermont

Gift Shop

(802) 773-2738

Breakfast • Lunch • Dinner

LARGEST SELECTION OF ICE CREAM TREATS!

GIFT CERTIFICATES AVAILABLE!

Celebrating our 74th year!

Open Daily 6:30 a.m.

KILLINGTON

FOOD SHELF

Specials

Daily

We are stocked with nonperishable food, paper goods

& cleaning supplies. Any person in need, please call to

arrange a pickup. Donations accepted. Please call Nan

Salamon, 422-9244 or Ron Willis, 422-3843.

Sherburne UCC "Little White Church," Killington, VT

Virtual

event

Courtesy of BarnArt's

Courtesy of BarnArt's

BarnArt's Winter Carols 2020 video online now

If you missed the premiere of BarnArt's 2020 Winter Carols, never fear! The 38-minute video presentation is now

available on Youtube.

The video includes a new performance by the BarnArts Chorale, new performances by Michael Zsoldos, Trifolium,

Mark van Gulden & Kathleen Dolan, three sing alongs led by BarnArts Youth and a celebration of 10 years of

Winter Carols in song, video and photos, compiled from all performance years - 2011-2019!

Enjoy this musical gift from BarnArts as you relax and celebrate the season safely from home. The joy of music and

community can still be shared at youtube.com/watch?v=hEmMxz9LXFI.

Wood Fired Pizza

OPEN

Thurs.-Sun.

@ 4pm

• NEW YEAR'S EVE:

SUPER STASH

BROS.

• FRI: STASH BROS.

salads desserts kids menu

Take-Out

available

call (802) 422-9885

NYE

WITH

SUPER

STASH

BROS.

• SAT: HAPPY HOUR

DUANE CARLETON

DOUBLE PLAY

• SUN:

CHRIS PALLUTTO

to-go RotisseRie speCial Call by 3:30, pick up after 5 pm

Whole dry-rubbed chicken $14*

Whole dry-rubbed chicken + 2 sides (mash and veg.) $20* (* plus tax)

@back_country_cafe

Chef Owned since 1986

• A farm to table restaurant

• Freshly made pasta

• All baking done on premises

• Hand-cut steak, lamb and fish

• Great bar dining

• Over 20 wines by the glass

OPEN foR DINNER thuRs.-mon. (5-9 p.m.)

Sunday Brunch is back! 11 a.m.-2:30 p.m.

422-4030 • 2820 KILLINGTON RD.

ChoiCesRestauRantKillington.Com

Open

7 Days

at 7 A.M.

*Including

Christmas

HAPPY

NEW

YEAR!

BC

BACKCOUNTRY CAFE

KILLINGTON VERMONT

BC

BACKCOUNTRY CAFE

KILLINGTON VERMONT

10%

off

your

online

order

Use code:

Killington

2337

2841 KILLINGTON RD, KILLINGTON

EGGS • OMELETTES • PANCAKES • WAFFLES

Great Breakfast Menu

TAKE-OUT AVAILABLE

923 KILLINGTON RD. 802-422-4411
---
ATM

The Mountain Times • Dec. 30, 2020 - Jan. 5, 2021 FOOD MATTERS • 33

'Forevergreen: A Vermont

Adventure in Music' is underway

Vermont Dept. of Tourism & Marketing presents a new music series to keep visitors and

residents connected with live music and arts in the state.

The Vermont Dept. of Tourism & Marketing (VDTM) is proud to present a five-part virtual

concert series featuring local Vermont musicians, as well as regional and national acts

who have an affinity for the state. The series is called "Forevergreen: A Vermont Adventure

in Music" and launched on Saturday, Dec. 26, 2020. The first episode

featured Kat Wright, Twiddle, and Taj Mahal. Other

artists in upcoming episodes include Grace Potter,

Neko Case, The Avett Brothers, Susan Tedeschi &

Derek Trucks and many more.

All episodes will stream live on the Vermont

Tourism YouTube and Facebook channels at 7 p.m.

"We have all been missing the sense of community

and connection that live performances offer,

and Vermont has so many talented musicians that

either got their start here or who still call the state

home," said VDTM Commissioner Heather Pelham.

"We wanted to find a way to support the arts

in Vermont and Forevergreen is one way we can

bring the music and spirit of Vermont to all those

who are missing it, wherever they may be. We hope

this concert series will keep people connected to

the state and provide some inspiration for better days ahead."

Virtual

event

Higher Ground Presents is producing the series and each of the five episodes will feature

a performance from the stage at Higher Ground in South Burlington, a performance at a

Vermont ski resort, and a visit with national artists from across the country. Higher Ground

Presents has enlisted local performers, artists, and video production teams to bring these

concerts to life and deliver needed support to a first to close, last to open sector.

"Forevergreen provides a connection for viewers to explore, and support, some of the

incredible music that lives in Vermont. Vermont punches way above its weight class in

performing arts and these intimate performances showcase a wonderful range of this talent,"

said Higher Ground founder Alex Crothers.

For the preview video, full artist line-up and air dates for all five episodes, visit vermontvacation.com/forevergreen.

Next Stage Arts offers

virtual New Year's Eve

dinner and a show

Thursday, Dec. 31 at 6 p.m.—PUT-

NEY— Next Stage Arts Project invites

the community to a free, virtual New

Year's Eve celebration on Dec. 31, 6 – 9

p.m. featuring performances from a

variety of local musicians, puppeteers,

poets, storytellers, business owners,

and visual artists.

Dinner will also be available

for takeout, cooked in

the Next Stage kitchen by

community members, with

proceeds being donated to

The Putney Foodshelf.

"It's cold, Covid is on

the rise, and everyone is

prepared for this to be a long,

lonely winter. Next Stage

wants to be so much more

than just a nice place to see a concert,"

said Keith Marks, executive director

at Next Stage. "We have a unique

opportunity to serve through bringing

us together. This New Year's dinner

allows us to share a meal, connect with

our neighbors, and be entertained

by our friends. We wanted to ring in

2021 as a united community, even if it

means virtually."

Dec.

31

The event officially begins at 6 p.m.

with a virtual dinner hour. Dinners can

be picked up between 5-6 p.m. The first

hour of the party will allow community

members to "mingle" virtually. A lineup

of local performers will provide entertainment

from 7-9 p.m.

Guests will be connected with other

diners and performers via zoom

for an interactive and intimate

holiday celebration.

Local performers include

The Stockwell Brothers,

Sunny Lowdown, Bad

Galaxy, Tim Merton, Jennifer

Morsches, Peter "Fish" Case,

Chard DuNiord, Eric Bass,

Margaret Shipman, and

other guest entertainers are

being added daily.

There is an opportunity to "Nourish

Your Neighbor" as a donation option

to the Putney Foodshelf. The event is

free to any community member who

wishes to attend the virtual party without

dinner.

Register at flipcause.com/secure/

cause_pdetails/MTAzNDkw or via

nextstagearts.org.

Virtual

event

GROCERY

MEATS AND SEAFOOD

beer and wine

DELICATESSEN

BAKERY PIZZA CATERING

OPEN 7 DAYS A WEEK

Sun. - Thurs. 7 a.m. - 10 p.m.

Fri. & Sat. 7 a.m. - 11 p.m.

2023 KILLINGTON ROAD

802-422-7736

*CALL FOR

CURBSIDE

PICK UP

CHAMPAGNE,

CRAFT BREWS

& SEAFOOD

HERE

Take-Out Convenience:

Breakfast, Lunch & Dinner

Check out our Daily Specials

on @KillingtonMarket

& our website. Order by 2 p.m.

Call Deli 802-422-7594

Any special requests are always welcome.

www.killingtonmarket.com

HOUSE SMOKED MEATS • FRESH-MADE TOPPINGS

TACOS, BURRITOS, FAJITAS, CHIMICHANGAS, NACHOS,

EMPANADAS, KIDS MENU

Specialty

Tacos

& more

take out available

802.422.2424

FAMILY STYLE TACO KITS, MARGARITAS TO GO

2841 KILLINGTON RD, KILLINGTON

Free POOL Mondays • DARTS • 20 TV Screens • PIZZA

BURGERS • BBQ RIBS • SALADS • GYROS • WINGS

NEW

YEAR'S

EVE

WITH

DUANE

• NYE THURS.:

DUANE CARLETON

• FRIDAY: 4-8PM

CHRIS PALLUTTO

• SATURDAY: 4-8PM

STASH BROS.

• SUNDAY: NFL SUNDAY

3 NFL TICKETS

WE'VE GOT YOUR GAME

16 DRAFT BEERS

OPEN MON/THURS/FRI @ 3 p.m.

SAT/SUN @ NOON

ON THE KILLINGTON

ACCESS ROAD

TAKE-OUT

AVAILABLE

CALL

(802) 422-4777

TAKE-OUT

&

RESERVATIONS
---
34 • PETS

The Mountain Times • Dec. 30, 2020 - Jan. 5, 2021

Rutland County Humane Society

CHANCE

Are you an experienced dog owner that loves obedience

training and watching a dog blossom into the perfect

companion? Chance is here waiting for someone just

like you to love! He is a 2 year old mixed breed and is doing

very well with obedience training. Chance needs a pet

free home and with an owner that is home most of the

time. If this handsome boy sounds like the dog for you

give us a call or complete our online application.

This pet is available for adoption at

Springfield Humane Society

401 Skitchewaug Trail, Springfield, VT• (802) 885-3997

*Adoptions will be handled online until further notice.

spfldhumane.org

BELLE

I'm an 9-month-old spayed female Boxer/Shepherd

mix. Things changed at my previous home and

I was unable to stay, due to no fault of my own. I'm

learning new things pretty quickly! Due to my sensitive

nature, I would be best in a quiet, calm environment

and a home without children would be best.

However, the right feline or canine companion would

be exciting! If you have room in your home and heart

for a smart and sweet girl like me, please call today to

learn more!

This pet is available for adoption at

Lucy Mackenzie Humane Society

4832 VT-44, Windsor, VT • (802) 484-5829

*(By appointment only at this time.) Tues. - Sat. 12-4p.m.

& Thurs. 12-7p.m. • lucymac.org

JUNIOR - 3-years-old.

Neutered male. Jack Russell

mix. Tan. I am a little

guy that is full of energy

and can get a little nippy

at the heels when I get

worked up.

DOC - 3-months-old.

Spayed male. Domestic

Shorthair. Grey. Working

Cat looking for a place to

hang my hat and where I

can be independent and

not have to be stressed

about human contact.

FLINT - 2-year-old.

Spayed female. Domestic

Shorthair. Black. My

friends here at the shelter

feel that I would do best as

a Working Cat.

ROXIE - 2-years-old.

Spayed female. Domestic

Shorthair. Brown tabby. I

love to sit on the window

sill and take my afternoon

naps.

BAILEY

THUMPER - Adult. Female.

Rabbit. Domestic.

White. I love my greens,

apples, apple branches

and carrots.

2-years-old. Spayed female. German Shepherd

mix. Brown. I am a very sweet loving girl but can

be a little shy when we first meet.

All of these pets are available for adoption at

Rutland County Humane Society

765 Stevens Road, Pittsford, VT • (802) 483-6700

Tues. - Sat. 12-5p.m. Closed Sun. & Mon. • www.rchsvt.org

Thank you

from the

Rutland

County

Humane

Society!

The board of directors,

staff and animals

at the Rutland County

Humane Society

would like to send out

a special "thank you"

to our community

who is so supportive

of us! Whether it's volunteering

your time

and talents, adopting

an animal or supporting

us with donations,

you're always there

for us and we couldn't

do what we do without

you! May the new

year fill your heart

with new hopes, open

up new horizons and

bring for you promises

of brighter tomorrows

for all creatures.

Our best wishes for

a wonderful holiday

season and a happy

new year!

"Until one has

loved an animal

a part of one's

soul remains

unawakened."

- Anatole France

Five ways pets can make New Year's resolutions stick

It's that time of year again when many of us start making

New Year's resolutions. After a tumultuous 2020, it

may be more imperative than ever to strive for physical,

mental, and emotional balance.

The good news is that there is someone who might

be able to help you reach those goals who's closer

than you think: your dog or cat. That's right, Fido and

Fluffy can provide you with the motivation to get 2021

started on the right track.

Best Friends Animal Society, a leading animal welfare

organization focused on making America a no-kill

nation by 2025, offers five ways your pets can be the

best resolution buddies. (Keep in mind masks, leash

laws, and social distancing should be observed whenever

you're in public. It's also wise to research hours of

operation for any destination before you visit.)

Start moving

Do you have an active dog? Then you have a free

personal trainer! Dogs love to get exercise and do it with

such enthusiasm, they're sure to make you smile as

you head out the door. Walking at a vigorous pace for just

30 minutes, five times a week can provide the moderately

intensive cardiovascular exercise most physicians

recommend. (If you and your dog aren't quite ready to

hit that goal at the moment, try a 10 minute walk at your

own pace and boost your time by five-minute increments

each week).

Some cats even like to go for walks on a leash and

harness or in a stroller. If you're not sure how your kitty

would feel about it, do some research online to find

the safest ways to introduce walking or strolling into

your routine. Resolutions > 38
---
The Mountain Times • Dec. 30, 2020 - Jan. 5, 2021 HOROSCOPES • 35

Cosmic

Catalogue

Copyright ©2020 - Cassandra Tyndall

Aries

March 21 - April 20

The past six months have been

about shifting priorities and focus.

Through the struggle, you may

now have new perspectives about

what is truly important to you. Perhaps

you also realized that continuing

to do things in the matter you've always

done them is futile. This week,

catch up with your soul. If your body

and mind is tired, then rest. Allow the

truest desires of your heart bubble up

to the surface again.

Taurus

April 21 - May 20

If you go into 2021 complaining

about a situation not changing, then

it's also you who is not changing.

You like things to stay the same, but

you also know that life doesn't work

that way. Ready or not, you've got an

immense amount of change heading

your way. Begin establishing rituals

and routines that will help you feel

calm, grounded and cared for when

the winds of change begin to pick up

speed, if they haven't already.

Gemini

May 21 - June 20

Many people are setting New

Year's resolutions now, but for

you, you're still in the thinking and

planning stages. That being said, no

doubt you've got exciting goals for

studying, learning or finding ways to

incorporate meaning and purpose into

your life. If you also want to make a

ton of money, begin to strategize your

plan so you don't lose focus or get

distracted when the pace of life picks

up again.

Cancer

June 21 - July 20

With the cosmic focus on you this

week, you might like to take a

moment to stop and catch your breath.

If you get the chance to see the Full

Moon on Wednesday, look up and

soak in her rays. As you move into a

New Year, you may want to move in

a new direction, especially if you feel

liberated from a former obligation or

responsibility. Make some new commitments

that honor your future self,

as you gently release any emotions attached

to the past.

Leo

July 21 - August 20

They say that pride always comes

before the fall. This week, you

might consider the ways in which

you're allowing your pride to stand in

the way of meaningful emotional connections.

With so much changing in

your relationships now, and into 2021,

you might like to take the warmth and

generosity you so freely give to others,

and reflect it back onto yourself.

If you can swallow just a bit of pride,

you'll discover that the recognition

you seek can be found within.

Virgo

August 21 - September 20

Remember back in 2019 when

those we love could visit for that

special kind of heartwarming and

soul-nurturing kitchen table wisdom?

Cups of tea, glasses of wine, laughter,

tears and joy – seems like forever ago.

Online video calls are not the same,

I know. That being said, if that's all

you've got right now, then embrace it.

If there is a special friend you long to

connect with, don't let your procrastination

get in the way just because the

conditions aren't ideal.

Libra

September 21 - October 20

Compared to 2020, the skies are so

much less intense for you in 2021.

That being said, it's no reason to not

consider the lessons learned and glean

the wisdom you can from the year that

was. Also, it's no excuse to get lazy or

fall back into old habits. With renewed

perspective, it's time to focus on your

desires now. Perhaps a career or life

direction change that deeply nourishes

you and provides you with the abundance

you want, is worth considering.

Scorpio

October 21 - November 20

Sometimes, when we don't choose

change, change chooses us. This

can be a good thing, especially when

that change thrusts us into something

better. For you though, it makes you

feel powerless and your controlling tendencies

come to the surface. So much

change is heading your way in 2021.

This week, starting aligning yourself

with intention about what brings meaning

and purpose to your life. So even as

the winds change direction, you can go

in the direction you choose.

Empowering you to lead a divinely inspired life.

Sagittarius

November 21 - December 20

As far as your finances go, the pressure

feels like it has eased. That

being said, there may be still some

loose ends to tie up. No doubt, recent

events over the last 12 months really

shattered your confidence. Challenges

offer us the chance to overcome them

and glean, oftentimes, hard-won wisdom.

Don't allow a reckless attitude

to hold you back from the future you

really want. Releasing bad habits will

set you up for success as your optimism

and sunny outlook remerges.

Capricorn

December 21 - January 20

You've worked so incredibly hard

these past few years. No doubt

you're worn and weary, and quite possibly,

your most intimate relationships

are as well. As a result, you probably

have a better understanding of what

you do and don't want. The good news

is, the rewards are coming for your efforts.

If you learned anything from the

recent past is that those you love really

need you, not just financially, but emotionally

too. You'll be reminded of that

this week.

Aquarius

January 21 - February 20

cannot possibility begin to tell you

I about the challenges and opportunities

that await you in this short horoscope.

However, I can tell you that if

you don't have your health and wellness

rituals sorted yet, then start now.

You've got so much to do and achieve,

that you'll want your body firing on all

cylinders so you're not slowed down

in any way. Nourishing your body will

also help relieve any stress that has

been taking its toll on you.

Pisces

February 21 - March 20

Did you know that you don't have

to extend your empathy and compassion

to everyone while depleting

yourself in the process? Saying no is

always an option and so is simply being

unavailable. You don't have to be

everything to everyone. When you do

this, you rob others of the opportunity

to be something to you. Whether it's

at work or within your personal life,

you're going to learn some tough lessons

about boundaries. I can tell you it

won't be easy, but oh so worth it!

Cassandra has studied astrology for about 20 years. She is an international teacher of astrology who has been published all over the globe.

Take time to catch

up with yourself

So much has changed

astrologically in the last

couple of weeks. As we

cross the threshold into

a new calendar year, the

sky is reasonably quiet,

comparatively.

Dec. 30 brings the

Full Moon in Cancer. It's

been three years since

the Moon has been at her

most powerful without

the influence of heavy

Saturn. Take some time

out this week to do

something that is truly

nurturing and restorative

for your soul. This may be

spending time with those

you hold near and dear.

It could be simply curling

up with a good book or

chilling out with a movie.

It seems so simple I know,

but after the year that's

been, it's a great opportunity

to catch up with

yourself and with those

you care about.

The sign of Cancer is

particularly concerned

with family, home,

comfort and care. It's also

about the past. With so

much of 2020 worth leaving

in the past, you may

like to bask in the light

of the Moon and remind

yourself of what really

matters moving forward.

Leave behind, release

and let go of anything

that you don't want to

take into 2021. Recognize

it. Thank it. And say

goodbye.

RUTLAND'S PREMIERE

YOGA & PILATES STUDIO

22 WALES STREET, RUTLAND, VERMONT

Go online to see our full schedule:

@trueyogavt

trueyogavermont.com

Karen Dalury

3744 River Rd. Killington, VT

802-770-4101

KillingtonYoga.com

@KillingtonYoga

Live classes via Zoom.

Online Schedule,

check our website for updates:

Monday 8 - 9 am Vinyasa

Tuesday 5 - 6 pm Basics

Thursday 5 - 6 pm Vinyasa

Friday 7 - 8 am Basics

Sunday 5 - 6 pm Yin

Effective 11/25/2020
---
Columns

36 • The Mountain Times • Dec. 30, 2020 - Jan. 5, 2021

Hair ice and frost flowers,

ephemeral frozen forms abound

If you are out walking on an early winter morning, you

might be lucky enough to see some of nature's most beautiful

and ephemeral sights: hair ice and frost flowers, both

snow-white and delicate against

the dull forest floor.

Recently, a friend sent me

a photo of hair ice, seemingly

sprouting from a rotten log in

the woods. She guessed she was

seeing tufts of deer or rabbit fur

The Outside

Story

By Laurie D.

Morrissey

curled around a branch – until she

touched one and it melted. Hair ice

forms on dead wood, aided by the

presence of the Exidiopsis effusa

fungus. Scientists believe that as

the fungus breaks down the wood

of a broad-leafed tree species, it

produces complex molecules that mix with the water in the

stem. Moisture near the surface of the dead branch or log is

extruded from the pores of the wood and freezes into thin

hairs of ice, which build up overnight into what looks like a

tuft of wool or a white, shiny beard.

Frost flowers are similar, but occur on the stems of certain

plants. They may resemble white ribbon candy, flowing

curtains, swanlike sculptures, serpentine swirls, silky spirals,

or glossy fans. Despite the name, they're neither flowers,

nor frost. While true frost occurs when moisture in the

air condenses on a cold surface, these fanciful shapes result

when sap, augmented by water drawn up from the roots,

slowly pushes through the stem of an herbaceous plant and

freezes on contact with the cold. They form most often near

the base of the stem, but may extend further up.

Frost flowers occur so infrequently that many woods

walkers never see them. Their rarity is largely due to the

limited circumstances that create them. The ground must

be warm enough for the plant's root system to be active

and the air must be cold enough to freeze the water flowing

up its conductive tissues. However, it's not uncommon for

them to form in the same area night after night, to the delight

of those early morning perambulators lucky enough to

spot them.

New Hampshire's state botanist, William Nichols, knows

of only a few northeastern United States plant species that

form frost flowers: the native Canada frostweed, which

occasionally occurs in central and southern New England

in dry, open fields and woodlands; the non-native wingstem

crownbeard, which has naturalized in Massachusetts;

and the rare sweet-scented camphorweed. Of these, only

Canada frostweed creeps into central and northern New

England, he said. Frost flowers also have been observed on

certain garden plants, such as vinca and salvia.

Frost flowers have appeared in the botanic literature

since at least the early 19th century and, surprisingly, are

not strictly northern phenomena; they occur as far south

as Georgia. They are the subject of much scholarly research

and even have a scientific name. The late Robert Harms of

the University of Texas, Austin (a linguist, not a botanist),

coined the term "crystallofolia" in the 1960s because he

Looking

Back

By Mary Ellen Shaw

believed the forms resembled leaves (Latin folia).

James Carter, an Illinois State University geologist,

became fascinated by frost flowers when he spotted them

while hiking in Tennessee in 2003. He described four

products of ice segregation in nature: ice flowers on plant

stems, hair ice on dead wood, needle ice in soil, and pebble

ice on small rocks on the ground surface. He refers to ice

that extrudes from linear cracks on plant stems as ice flowers

and ice ribbons rather than frost flowers, but notes that

there is no widely accepted term. (I've come across such

labels as ice fringes, frost freaks, and rabbit ice to describe

frost flowers.)

Carter writes that he knows of about 40 species worldwide

that support the growth of ice flowers. He is, perhaps,

the world's only ice flower farmer; the professor has planted

white crownbeard and salvia in buckets and flower beds in

his yard and photographed the formations that appeared.

Now that we're well into winter, the opportunity to see

frost flowers or hair ice is most likely past for the time being.

I may have to wait until next November to spot these fleeting,

frozen forms, but I plan to be on the lookout.

Laurie D. Morrissey is a writer who lives in Hopkinton,

New Hampshire. Illustration by Adelaide Tyrol. The Outside

Story is assigned and edited by Northern Woodlands magazine

and sponsored by the Wellborn Ecology Fund of the New

Hampshire Charitable Foundation: nhcf.org.

Dating is often a time when you try to be good at something…even

when you are not!

With ski season just beginning I am reminded of my diehard attempts to

strap on skis and get from the top to the bottom of Pico. It's not that I had never

skied before, it's just that I was never any good at it!

I had skied with my female friends since the 50s and will admit that the

rope tow at the Rutland Country Club was about my speed. A lot of us learned

to ski there and our only goal was getting from the top to the bottom in an

upright position. We were especially glad when we stopped at the foot of the

By Gary Salmon

French and Indian War blockhouse recreation in New York.

transparency

This headline is not related

to politics. The term is the goal

of people who make windows

for homes and businesses and

the clearer the better for those

of us looking through a pane of

glass. Early glass windows were

limited in size and had "waves"

Tree Talk

By Gary Salmon

Seeking

in them due to the primitive glass

making process. As time progressed

so did clarity and in more

recent years the focus has been

on a window's thermal qualities

as related to overall house heat savings. Now I may be

condensing time here since glass has been around as

a popular item since the bronze age but glass has been

a part of our lives for centuries as that item that allows

light into the insides of our houses and workplaces.

Glass has always been created using silica (sand),

soda ash, and limestone as the basic ingredients combined

with some high heat to transform these materials

into something to see through. This float glass

process makes sheets of glass. But make way for a new

"glass on the block" with wood as the basic property,

according to researcher Junyong Zhu from the Forests

Products Lab November 2020 issue of "The Forestry

Souce." Zhu in collaboration with fellow researchers

at both the Universities of Maryland and Colorado

have "developed a transparent wood material" that

could "outperform glass."

According to The Forestry Source "The researchers

created transparent wood by treating balsa wood in

an oxidizing bath that bleaches it of nearly all visibility.

A synthetic polymer called polyvinyl alcohol is then

Attempts at becoming a skier!

Tree talk > 38

hill because if you didn't you would end up in East Creek!

Then in 1974 along came Peter, my future husband. Skiing was one of his

passions so I knew my life was about to get interesting. When he picked me

up for our first date I noticed that his license plate said "QASI." I immediately

thought of the Latin word, "quasi," meaning "what if." I had been a Latin

major in college so that's where my mind went! But where was the "u?" I asked

about the plate and found out that those letters stood for "Qualified Amateur

Ski Instructor." It's a program that certifies a skier to teach on an amateur level.

Looking back > 39
---
The Mountain Times • Dec. 30, 2020 - Jan. 5, 2021 COLUMNS • 37

The Movie

Diary

By Dom Cioffi

I take great joy in decorating my house for the holidays.

It's a lot of work, but it's all worth it when the lights

are on, the tree is up, and the house is filled with Yuletide

imagery.

I decorate early (usually the

day after Thanksgiving) so I can

enjoy the atmosphere I've created

for several weeks. Nothing

gives me more pleasure than to

sit in front of my fireplace with

holiday music playing, scented

candles burning, and my surroundings

awash in decorative

lighting. Throw in a gingerbread

cookie and some eggnog and I'm

fully gratified.

But then, Dec. 25 rolls around

and the reality of deconstructing my personal Christmas

village seeps in. Setting everything up coincides with

the excitement of the ensuing holiday season; tearing

everything down coincides with the reality that a new

year is about to start, and work with all of its pressures

are about to kick in.

This year, I started breaking things down the day

after Christmas. This was not my original plan. My wife

initiated the process when she collected several holiday

It happened on a bluebird day

in March, as we were descending

from the summit of Mt. Washington.

We watched as an old mountaineer

stepped out of the clouds below, diligently

following the rocky, snow covered

trail. He walked slowly, the long

wooden handle of his mountaineering

axe serving more like a cane

than a safety device. His long

down coat was so worn and

faded, it seemed as if he had

borrowed it from a museum

instead of pulling it from his

own closet. For a moment,

we felt as though we were

watching a ghost ascend the

trail, but then a most beautiful

thing happened.

Arriving at the top of

Lion's Head, a rocky landing

that overlooks the Tuckerman

Ravine, the old mountaineer

stopped. We watched as he

turned his attention from the trail and

turned instead toward the valley below.

Still convinced he might be a ghost and

not wanting to disturb him, we paused

in our descent. For what might have

And now, the end is near

n some ways it was actually easier

this year, given the cessation of

travel and the cancellation of

countless holiday parties.

Howl into the wind

Livin' the

Dream

By Merisa

Sherman

chachkas and set them on

the stairs. She didn't ask

me to un-decorate, but her

actions clearly pointed to

her desire to put a fork in

the season.

I took the bait and

pulled out one of the

containers in the attic. I was only going to put away the

items on the stairs, but before I knew it, I was tearing

apart the whole house. Four hours later and I had the

majority of my inside decorations packed away and

everything cleaned.

I will sheepishly admit to having an artificial Christmas

tree. I grew up in a household that shunned anything

but a real tree, but when I

got cancer several years ago and

couldn't function, my wife made

the decision to purchase a fake

one, thinking it would be easier.

And like everything my wife

does, she spared no expense.

I have to admit, the tree she

purchased is beautiful. It's 8-feet

tall and a beautiful replica of a

balsam fir – the quintessential

Christmas tree. It's also loaded

with white lights that are preinstalled

and wired in such a way

that if one bulb goes out, the rest of

the strand stays lit.

Of course, there are downsides

to artificial trees, namely, setting

them up and putting them away. I

revel in the memory of dragging my

real trees outside and tossing them

over the bank to naturally rot. Now,

I have to break down my artificial

tree and struggle to push the pieces

inside the gigantic carrying bags. It sounds easy enough,

but the fact is, it's an exhausting activity.

And then I have to

muscle the bags upstairs

and into the attic. Inevitably,

I will break a multitude

of tree lights in the

process, but I won't have

to deal with that until next

November.

After I finished clearing out the interior of my house, I

laid down and took a long, well deserved nap.

The next morning, I got up, had a cup of coffee, and

then walked outside to look at my outdoor decorations.

The thought about climbing up and down the ladder

multiple times didn't sit well with me, but I decided it

had to be done.

been an hour, he stood silently staring

outward before we heard a harrowing

sound echo through the mountains.

The old mountaineer was yodeling.

It wasn't a cheery yodel, like you hear

from Goofy as he tumbles down a cliff

or at an après ski party in the Swiss

Alps, but a sorrowful, harrowing yodel

that breaks your heart. I felt

a tear roll down my face and

had to sit down from the

impact of the sound. The

BF grabbed my hand and

our golden retriever, Vespi,

came to snuggle between us

as we sat, spellbound, and

listened to the old mountaineer's

song.

As he passed us, it was like

looking at a ghost. His faded

clothes, his heavy, wooden

gear and his old hemp rope

were signs of decades ago

and he himself seemed to only exist in

black and white. Had we stepped back

in time or had he come forward? Or

had time cease to exist on the ridgeline

of this old mountain? We honestly

Livin' the dream > 39

I asked my son for some help and he

obliged. Honestly, I don't need any assistance

with the task, but it gives me

an excuse to have him around.

It took us a couple hours to get

everything down and packed away.

When the final container was stacked

in our supply room, I went inside and

took another nap. There's something

incredibly soothing about naps after

you've completed manual labor.

Maybe it's just me, but those are the

most restful breaks.

As I was dozing off, I reviewed the

prior month. The holidays of 2020

will be long remembered given the

influence of the Covid pandemic. In

some ways it was actually easier this

year, given the cessation of travel

and the cancellation of countless

holiday parties. It was also hard not

being around family as much (but

even that has its advantages).

Not being around family is one of

the dominant themes of this week's Netflix feature, "The

Midnight Sky," a sci-fi drama based on the 2016 novel,

"Good Morning, Midnight," by Lily Brooks-Dalton.

Directed by and starring George Clooney, "The

Midnight Sky" follows a terminally ill scientist who is

stranded at a polar outpost while the rest of the planet

suffers through an extinction level event. If the scientist

can warn a returning space mission about the earth's

demise, humanity may have a chance of survival.

As is typical with any Clooney project, this is a wellacted

and executed motion picture, delivering on a

multitude of levels. Its crafty storyline will also offer up

some interesting surprises at the conclusion.

Check this one out if you love sci-fi with a heady edge.

A chilling "B" for "The Midnight Sky."

Got a question or comment for Dom? You can email

him at moviediary@att.net.

There are always risks

After a year of living with the fear of Covid-19, many investors are hoping 2021

will bring a return to "normal," even if the new normal may not be exactly like the

old one.

Optimism about the future has many investors feeling

bullish, according to most of the sentiment surveys listed

in Barron's last week. Financial Times reported, "Almost

universally, fund managers believe the year will bring a

rebound in economic activity, supporting assets that have

already soared in value since the depths of the pandemic

crisis in March, but also lifting sectors that had been left

behind. Bond yields are expected to stay low, lending further

Money

Matters

By Kevin Theissen

support to stock valuations."

This doesn't mean 2021 will be risk free. In its December

market sentiment survey, Deutsche Bank asked more than

900 market professionals about the biggest risks to global

financial markets in 2021. Here are the concerns they highlighted:

• 38 % – Virus mutates and vaccines are less effective

• 36 % – Vaccine side effects emerge

• 34 % – People refuse to take the vaccine

• 34% – Technology bubble bursts

• 26% – Central banks end stimulus too soon

• 22 % – Inflation returns earlier than expected

It's possible none of these will occur and investors will sail smoothly into and

through the new year. We hope that's the case and next year brings with it a return to

normal. Just remember, normal doesn't mean risk-free. In 2021, investors will still need

to balance risk and reward on the journey toward their financial goals – just as they do

every year.

Kevin Theissen is the owner of HWC Financial in Ludlow.
---
38 • COLUMNS

The Mountain Times • Dec. 30, 2020 - Jan. 5, 2021

>

Tree talk: The process of making glass from wood may have positive benefits in the future

from page 36

applied creating a product that is

virtually transparent." Now for the

"outperform" part and again from

The Forestry Source. "Wood cellulose

combined with an energy-absorbing

polymer filler creates clear

panels that are far more durable and

lighter than glass." "The panels can

withstand much stronger impacts

than glass, and unlike glass, they

bend or splinter rather than shattering."

"In addition, transparent wood

is about five times more thermally

efficient than glass, cutting energy

costs, and it is made from a sustainable

natural resource with low carbon

emissions compared to glass

manufacturing."

Now don't expect to see balsa

wood sheets at your next glass

blowing demonstration (different

process). And don't expect to

see clear glass panels just yet from

balsa wood dipped in an oxidizing

bath. But do expect to read their

findings which were published in

the Journal of Advanced Functional

Materials and do expect to see

great things continuing to come

from the National Forest Products

Lab (original established in 1910

in Madison, Wisconsin and now

totaling seven facilities under the

US Forest Service, US Department

of Agriculture.)

My parents always used to say

don't lie to people they can see right

through it. With glass and politics

isn't that the point?

>

Submitted

Resolutions: Pets can help keep you on it

from page 34

Ease stress

Of course, pets are adorable to look at and fun to hang

out with...it turns out they're also good for you! As

research has shown, spending quality time with pets

can lessen anxiety, lower blood pressure, and bolster your

immune system—health benefits many of us can use.

How can you can make the most of this natural stress

relief? A daily 15-minute break with your cat or dog to

meditate is a great start. Sit with your pet in a quiet,

comfortable place, focus on being present, breathing

deeply, and stroking your pet's fur. Another option

is to break out a yoga mat and do some poses with your

cat or dog, which will not only ease stress, but also provides

a gentle workout.

Eat better

Did your eating habits change in 2020? This year,

swap out fatty, sweet or salty treats and start sharing

some good-for-you snacks with your pet.

Dogs can eat raw sunflower or pumpkin seeds, plus

produce like watermelon, blackberries, cranberries,

blueberries, bananas, apple slices, and baby carrots

(but no grapes or raisins, which can be toxic). Cats

can get in on the fun, too. Felines are able to enjoy

fish like salmon or mackerel, meats like plain boiled

chicken, and even a bit of cheese or egg.

Just keep in mind that only 10 percent of a pet's

daily calories should come from treats. Your veterinarian

can confirm which foods are appropriate for

your particular pet.

Venture out

If you've been stuck at home and can't take one more

day staring at four walls, leash up your dog (or a travel

loving cat, if you've got one) and hit the road for a day

trip. Many beaches, state parks, and local landmarks

are still open for sightseeing, so find a spot that's sure

to boost you and your pet's spirits.

Be social

Socializing may seem oxymoronic during Covid-19,

but there is a way to be amongst others safely. Get outside

with your dog! They are natural ice breakers and

you're sure to meet like-minded people who want to

share about their own pets. A game of fetch or frisbee at

the local park can also be a fun, socially distant activity

to enjoy with friends and family.

Wait...what? You don't have a pet?

Well, there's no better time than the new year to

adopt a new best friend! By adopting, not only will you

be saving a life, you'll get a great deal, as most pets are

also fixed, vaccinated, micro-chipped and ready to

go home for just one low fee. To get started, visit bestfriends.org

and find a local shelter or rescue where your

perfect pet is waiting.

CROSSWORD PUZZLE

By Mike Beach

SUDOKU

Weather

dog says

snow

@piper.goodgirl, the selfdescribed

"goodest golden"

on Instagram dons a bow

tie and poses in the snow

for some flash photography

fun with her owner

Mike Beach in Bennington.

>

Do you have photos

to share? Send

them to editor@

mountaintimes.info

or share it with us on

Instagram/Facebook

using hashtag

#mountaintimesvt

PUZZLES page 23
---
The Mountain Times • Dec. 30, 2020 - Jan. 5, 2021 COLUMNS • 39

Livin' the dream: Find the spirit of the mountains within you and seek the adventure in every day

>

from page 37

couldn't tell what was happening or when we were.

Our modern equipment felt almost soulless when

compared to the stories that resided within his one

wooden axe.

We were, quite simply, awed.

Until recently, the old mountaineer and his wife

had climbed these mountains together their whole

lives. Now, he climbs them alone — but always with

her. No matter how many years it had been since they

had hiked together, he always felt her presence while

he climbed these particular mountains. And so he

would hike. And sing a song to her. His yodel would be

picked up by the wind and carried to where it needed

to be. His song of love would intertwine with her

spirit, floating in the winds of the mountains.

We continued our descent, feeling otherworldly

but still following the well placed cairns that were

almost buried by the snow. As we approached the

So, as we begin 2021 and

leave this horrendous year

behind us, I encourage you all

to howl into the wind...

landing at Lion's Head, Vespi surprised us by breaking

away from our little group and jogging ahead. We

paused in our hike to watch our little golden retriever

stand in the exact spot that the old mountaineer had

vacated an hour ago.

Vespi always loved to stand in silence atop mountains

and feel the winds swirl around her. She would

sit quietly for hours, allowing the smells and sounds

from miles away rise up and overtake her. I always

believed she was surrounding herself with wisdom,

as she listened to what the mountain wanted to teach

her. She was always attentive but not once, in all our

adventures, had she ever made a single noise.

Until this moment.

Suddenly, she let out a long, wolf like howl that

echoed the sorrowful yodel of the old mountaineer.

We heard her voice, full of awe and reverence, as she

sang into the mountain winds. We had never heard

her howl before and over the next five years of her

life, we would never hear her howl again. There was

something about this one spot in this one moment

that inspired her to combine her voice with the wind.

I've never wanted to understand a dog so much in my

By Merisa Sherman

Vespi, the dog, ventures out alone on the landing of Lion's Head peak, a perfect place to howl into the wind.

entire life as I did in that moment.

But in some ways, I think I am learning. Vespi always

had a deeper understanding of the mountains,

and she knew them from such a different viewpoint

that I often followed her lead in the woods. I allowed

myself to be taught how to see and explore the mountains

from the viewpoint of a dog, albeit a wise and

experienced one. And, in her honor, every year I recommit

myself to the basic principles that she taught

me. So, as we begin 2021 and leave this horrendous

year behind us, I encourage you all to howl into the

wind, seek adventure in the every day ... and, as Vespi

showed me, may you find the spirit of the mountains

within you.

Looking back: Learning to ski for love, and the memories made in the process

>

from page 36

I could see ski lessons in my future and wondered how

those would go. This romance could be over just as it

was beginning.

Before meeting Peter I had occasionally ventured

onto slopes beyond the Country Club. I skied at both

Pico and Killington…if you can actually call it skiing!

At Pico I always knocked my partner off the T-bar when

we got to the steep upper part. When I was on the chair

I had trouble figuring out the timing of a proper exit. I

practically jumped off each time which is certainly not

the way to do it. I took the gondola once at Killington,

thinking that would make my life easier, and I forgot to

take out my skis and down the mountain they went. As

you might guess getting up the mountain was as challenging

for me as getting down!

I definitely knew that Peter had his work cut out for

him if I was going to have any success on the slopes. Our

first venture together was on the infamous T-bar and I

had a proud moment when I didn't knock him off. Then

the real challenge began, getting me down without going

from one side of the trail to the other. No nicely carved

turns for me, and turning to the left definitely happened

with a lot more grace than turning right. I did a snowplow

most of the way down…crossing in front of other skiers as

I made my way from one side of B Slope to the other. Peter

did his best to teach me but my lack of coordination and

fear prevailed and my "style" never changed!

Every Sunday Peter taught in the Junior Program at

Pico. While he was teaching I was happy reading a book

inside the Pico Ski Club building. At one point I offered

Peter did his best to teach me but my

lack of coordination and fear prevailed

and my "style" never changed!

to help an instructor with the really little kids who had

lessons on the "bunny slope." They were so cute and had

no fear. Of course, I chalked that up to the fact that they

were closer to the ground than I was! By the way, the only

"help" I qualified for was bringing the kids back to the

lodge to use the restrooms. I had found my niche in the

ski world.

Skiing changed for me when we took a getaway weekend

at Stowe. We skied downhill on Saturday but the

temperature was frigid. Inside the motel were brochures

for the Trapp Family Cross Country Center. We went

there on Sunday and rented skis. I had the time of my

life! There were no lifts and no gigantic hills to traverse…

and very few people to get in my way! It was peaceful in

the woods and I could take time to enjoy the beautiful

scenery and views. Peter had a good time too and our

"accidental XC adventure" was the beginning of many

others over the years.

As time went by Peter split his time between

downhill skiing with his friends and cross-country

skiing with me at local places like Mountain Meadows,

Mountain Top and Blueberry Hill. They are all beautiful

areas and it's nice to have choices nearby.

Unfortunately as we age our bodies don't always let

us do the things we want to do. That is the time when

the two words "Remember when?" are used to start

many of our sentences. At this time of year, a "skiing

story" is sure to follow those two words

If it's your turn to make ski memories, strap on the

skis and head down a mountain vertically or enjoy a

cross country adventure. Some day you will look back

and say, "Remember when?"
---
Classifieds

40 • The Mountain Times • Dec. 30, 2020 - Jan. 5, 2021

RENTALS

THE CASCADES LODGE,

Killington Resort. Rent the

entire hotel for the 2020-

2021 winter season. 30,000

sq feet. 42 rooms & baths.

Heated indoor pool, hot tub,

sauna, gym. Email: info@

cascadeslodge.com

PRIVATE ROOM available

in large, socially-distanced

ski house for season. Ideal

location. 917-796-4289

outdoordiva7@yahoo.com.

SEASONAL/MONTHLY

rentals Killington 7br/5b and

8br/6b. Free shuttle, hot tub/

sauna, pool/foosball tables.

413-388-3422

REAL ESTATE

FOR SALE by owner.

Killington 7br/5b and 8br/6b.

Free shuttle, hot tub/sauna,

pool/foosball tables. 413-

388-3422

ERA MOUNTAIN

Real Estate, 1913

US Rt. 4, Killington—

killingtonvermontrealestate.

com or call one of our real

estate experts for all of your

real estate needs including

Short Term & Long Term

Rentals & Sales. 802-775-

0340.

KILLINGTON PICO

REALTY Our Realtors have

special training in buyer

representation to ensure a

positive buying experience.

Looking to sell? Our unique

marketing plan features your

very own website. 802-422-

3600, KillingtonPicoRealty.

com 2814 Killington Rd.,

Killington. (next to Choices

Restaurant).

KILLINGTON VALLEY

REAL ESTATE Specializing

in the Killington region

for Sales and Listings for

Homes, Condos & Land

as well as Winter seasonal

rentals. Call, email or stop

in. We are the red farm house

located next to the Wobbly

Barn. PO Box 236, 2281

Killington Rd., Killington.

802-422-3610, bret@

killingtonvalleyrealestate.

com.

PEAK PROPERTY

GROUP at KW Vermont.

VTproperties.net. 802-

353-1604. Marni@

peakpropertyrealestate.

com. Specializing in homes/

condos/land/commercial/

investments. Representing

sellers & buyers all over

Central Vt.

THE PERFORMANCE

GROUP real estate 1810

Killington Rd., Killington.

802-422-3244 or 800-338-

3735, vthomes.com, email

info@vthomes.com. As the

name implies "We perform

for you!"

PRESTIGE REAL ESTATE

of Killington, 2922 Killington

Rd., Killington. Specializing

in the listing & sales of

Killington Condos, Homes,

& Land. Call 802-422-3923.

prestigekillington.com.

SKI COUNTRY REAL

ESTATE, 335 Killington Rd.,

Killington. 802-775-5111.

SkiCountryRealEstate.com –

8 agents servicing: Killington,

Bridgewater, Mendon,

Pittsfield, Plymouth,

Stockbridge, Woodstock

areas.Sales & Winter

Seasonal Rentals. Open

Monday-Saturday: 10 am – 4

pm. Sunday by appointment.

FOR SALE

FIREWOOD FOR SALE-

We stack. Rudi, 802-672-

3719

10-BURNER Garland

range, runs great, good

condition. Call Mark 802-

353-8804.

FREE

FREE REMOVAL of scrap

metal & car batteries. Matty,

802-353-5617.

SERVICES

BEAUREGARD PAINTING,

30 years experience, 802-

436-1337.

CHIMNEYS CLEANED,

lined, built, repaired. 802-

349-0339.

WANTED

HIGHEST PRICES PAID

- Back home in Vermont

and hope to see new and

returning customers for the

purchase, sale and qualified

appraisal of coins, currency,

stamps, precious metals

in any form, old and high

quality watches and time

pieces, sports and historical

items. Free estimates. No

obligation. Member ANA,

APS, NAWCC, New England

Appraisers Association.

Royal Barnard 802-775-

0085.

EMPLOYMENT

ROGER CLARK Memorial

Library is seeking an

energetic, part-time library

professional. For more

information, and to apply

visit pittsfieldlibrary.com

DISHWASHERS AND

waitresses wanted for Nite

Spot Pizza. Apply within

Thursday - Sunday after

4 p.m.

HOUSEKEEPER WANTED:

Seeking energetic,

responsible, take charge

individual to join our team.

Candidate must be a team

player while overseeing all

of our housekeeping needs

to ensure guests comfort.

Reliable transportation

required. Position is year

round. Call 802 422 3407

or email: snowedinn@

vermontel.net

NEED CASH? Perfect, we

need help! Sought-after fast

growing cleaning service

seeking a motivated and

meticulous person to clean

condos in Killington. Our

clients' units are pristine

when we leave them and

for that we are very well

compensated. If you like

getting paid well for doing a

thorough job, shoot us a text

and let's talk. 802-345-1205

CASHIER WANTED

Evening. PT/FT/Year

round. Competitive wage.

Killington. Please call 802-

558-0793.

DELI HELP WANTED: Deli

Clerk, line cook. Experience

would be great, but if you

enjoy working with food, we

will train. Competitive wage.

Please call 802-558-0793.

BUNKY SKI WAX

Rub on ski wax that lasts all day.

Buy locally at Killington Shirt Co., next to Killington Market, Killington.

Find us on Facebook

WASHBURN & WILSON

AGENCY, INC.

144 Main St. • P.O. Box 77 • Bethel, VT 05032

Providing Insurance for your Home, Auto or Business

Short Term Rentals • High Value Homes

Free Insurance Quotes

Call Mel or Matt 802-234-5188

www.washburnandwilson.com

For All Your Home and

Commercial Petroleum Needs

746-8018 • 1-800-281-8018

Route 100, Pittsfield, VT 05762 • cvoil.com

Professional Service, Professional Results

For All Your Plumbing & Heating Needs

Specializing in Home Efficiency & Comfort

24 Hour Emergency Service

(802) 353-0125

WATER WELLS

PUMPS

COMPLETE

WATER SYSTEMS

HYDRO FRACKING

GEOTHERMAL

East Poultney, VT 05741

802-287-4016

parkerwaterwells.com

GIVE A CALL OR RENT YOUR STORAGE

UNIT ONLINE TODAY!

1723 KILLINGTON ROAD, KILLINGTON, VT

Renovations, Additions & New Construction

Vision

(802) 342-6026

www.VisionBuildersVt.com

FREE ESTIMATES • FULLY INSURED

ALL CALLS RETURNED

ERIC SCHAMBACH • 36 Years Experience

• Structural

Repairs

• Preventative

Maintenance

• Siding

• Framing

• Decks
---
Service Directory

The Mountain Times • Dec. 30, 2020 - Jan. 5, 2021 • 41

HELP WANTED- Kitchen,

line cooks, dishwashers and

waitstaff. Full time/part time.

Apply in person at Moguls

Sports Pub.

KILLINGTON RESORT's

Mountain Operations has

multiple positions available in

different departments. Road

maintenance, snowmaking,

lift operations and more. For

more information and to view

all of our open positions visit

www.killington.com/jobs ,

(800)300-9095 EOE

KILLINGTON RESORT

is hiring housekeepers

for the Grand Hotel and

Condo's. Safe, friendly,

team environment. For

more information and to

view all of our open positions

visit killington.com/jobs

(800)300-9095 EOE

KILLINGTON RESORT

is in need of Lodge

Maintenance Technician.

Light maintenance, labor

& construction tasks. For

more information and to

view all of our open positions

visit killington.com/jobs

(800)300-9095 EOE

EQUAL

HOUSING

OPPORTUNITY

All real estate and rentals

advertising in this newspaper

is subject to the Federal

Fair Housing Act of 1968

as amended which makes

it illegal to advertise "any

preference, limitation or

discrimination based on

race, color, religion, sex,

handicap, family status,

national origin, sexual

orientation, or persons

receiving public assistance,

or an intention to make such

preferences, limitation or

discrimination."

This newspaper will not

knowingly accept any

advertisement which

is in violation of the law.

Our readers are hereby

informed that all dwellings

advertised in this newspaper

are available on an equal

opportunity basis. If you feel

you've been discrimination

against, call HUD toll-free at

1-800-669-9777.

Want to

submit a

classified?

Email classifieds@

mountaintimes.info or call

802-422-2399. Rates are 50

cents per word, per week;

free ads are free.

Weekly • Bi-Weekly • Seasonal • Year-Round

802-422-2230 • redduckrefuse.com

#1 RENTAL AND MANAGEMENT OFFICE

IN KILLINGTON FOR 45+ YEARS

Reliable Service

Since 1980

• Vacation Rentals

• PRoPeRty ManageMent

• cleaning seRVices

KILLINGTONGROUP.COM

KILLINGTON ROAD - (802) 422-2300

— Cabinets

— Countertops

— Flooring

Kitchen and Bath

Design, LLC

— Hardware

— Plumbing Fixtures

— Installation

Kelly & Nick | 802.855.8113

125 Valley View Drive, Mendon, Vermont

kndesigns125@gmail.com

Land Company, WoodstoCk

deRosia & assoC. inC.

Got cash? Trade for land!

Need help sub div., timber,

commercial, buy/sell?

Important development lot permit for 9 units; make

easy money; city water/sewage, flat ...

for less than you want to spend, $99K - Rutland

802 324-3291| ivanland@aol.com

candido electric

residential & light commercial • licensed & insured

office: 802.772.7221

cell: 802.353.8177

frank candido rutland/killington

candidoelectric@yahoo.com

we help you see the light!

Clifford Funeral Home

2 Washington Street • Rutland, VT 05701

(802) 773-3010

Gary H. Clifford • James J. Clifford

ISLAND SHADING SYSTEMS

SHADES ~ BLINDS

WINDOW TINTING

Vermont's largest cleaning service, with over 400 clients & counting.

802.355.6500

vtbestcleaners@gmail.com

michellenolanscleaning.com

Since 1998

BLOCK ISLAND

KILLINGTON • STRATTON

islandshading.com

islandshade@hughes.net

802-747-8248

Susan Malone Hunnewell
---
42 • The Mountain Times • Dec. 30, 2020 - Jan. 5, 2021

"Celebrate endings—

for they precede new

beginnings."

- Jonathan Huie

Courtesy of MelindaMyers.com

Moon Valley pilea is a moisture-loving plant that prefers high humidity but will tolerate average home humidity.

Winter care for houseplants

By Melinda Myers

Holidays are filled with new plants and decorations

that often find our houseplants relegated to any out of

the way available space. Be sure to keep your houseplants

looking their best with proper winter care.

Make sure houseplants receive sufficient light now

and throughout the winter. The shorter, often gray

days of winter mean less light reaches our plants. Start

by moving plants to the sunniest available window. A

south-facing window is usually best, but if it is obstructed

by trees, awnings or shears it may be no better than

an unobstructed window facing another direction.

If brightly lit locations are limited in your home, try

rotating plants between high and low light areas. Switching

plants every few weeks usually keeps them growing

healthy. Give the pots a turn every few weeks to ensure

each side of the plant

has time facing the light.

This encourages even

growth and discourages

stems stretching toward

the light.

Consider supplementing

natural

light with artificial light when light is limited. Newer

styles that clip onto pots, are mounted on the wall, or

tucked into furniture grade stands make them attractive

and easier to use. And now LED plant lights are

more affordable, longer lasting and use less energy.

Humidity is the other winter stress. Many of our

houseplants are tropical and require higher humidity

than our homes provide. As we turn up the heat, the

humidity declines.

Boost the humidity around your plants by displaying

them together. As one plant loses moisture, the

others will benefit. Add a gravel tray for additional

humidity. Fill a tray or saucer with pebbles and water.

Then set the plant on the pebbles elevated above the

water. As the water evaporates, it increases humidity

around the plant.

Boost the humidity around

your plants by displaying them

together. As one plant loses

moisture, the others will benefit.

Adjust your watering schedule to fit the conditions

in your home. Always water thoroughly but only as

needed. Use your finger to check the soil moisture

below the soil surface. Water moisture-loving plants,

like Moon Valley pilea, when the top few inches are

barely moist. Allow the top few inches of soil to dry

for cacti and succulents. And always pour off excess

water that collects in the saucer, or use gravel trays to

capture the excess water, eliminating this task.

Most houseplants do fine in the same temperatures

we prefer. They do not tolerate drafts of hot air

from heat vents or cold air from windows and doors.

Move plants as needed to avoid drafty locations.

Never trap houseplants between the curtain or

blinds and the window. The temperature can be significantly

colder, resulting in

injury and even death of some

plants. Place plants on a table

near the window or windowsill

extension, leaving room to

close the window coverings at

night.

Wait until spring to fertilize.

Plants do not need as many nutrients when their

growth is limited by less-than-ideal winter conditions.

As the outdoor growing conditions improve

with longer days and brighter light, so do those

indoors.

You will be rewarded with healthier, more attractive

plants when giving them the care they need this

winter. And as you tend your indoor garden, you will

help fight the winter blues.

Melinda Myers is the author of more than 20 gardening

books, including "Small Space Gardening." She

hosts The Great Courses "How to Grow Anything" DVD

series and the nationally-syndicated Melinda's "Garden

Moment" TV & radio program. Myers is a columnist

and contributing editor for Birds & Blooms magazine

and her web site is MelindaMyers.com.

Rochester Gap

By Peggy Mckinley

It's just another day in the @life_in_rochestervermont,

where a thin layer of snow remains after the meltdown

and is illumnicated by the soft morning light.

Do you have photos to share? Send them to

editor@mountaintimes.info or share it with

us on Instagram/Facebook using hashtag

#mountaintimesvt
---
The Mountain Times • Dec. 30, 2020 - Jan. 5, 2021 REAL ESTATE • 43

How to choose the right lighting inside your home

Lighting in a home serves both practical and aesthetic purposes. It's easy to maneuver

around a well-lit home, reducing the risk of slips and falls, and the right lighting can

help homeowners create their desired ambiance, which typically changes depending

on which room you're in.

When choosing lighting for their homes, homeowners must walk a fine line between

appearance and functionality. A fixture in the foyer that instantly impresses visitors

likely won't prove as awe-inspiring if it's installed in the living room. When choosing

lighting for a home, some general rules about what works in each room can help homeowners

make the most informed decision.

Kitchen

Kitchens are often the busiest room in a home, so lighting here can be especially

important. A kitchen often benefits, both practically and aesthetically, from different

types of lighting. For example, pendant lighting above kitchen islands can make

meal preparation easier and safer, but such lighting likely won't work in breakfast

nooks and informal dining areas in the kitchen. Recessed lighting works best in such

areas. In kitchens with no island, under-cabinet lighting can be used to illuminate

countertops and simplify meal preparation.

Formal dining room

Many people enjoy the look of chandeliers in formal dining rooms, and such fixtures

can be installed directly above the dinner table. The interior design experts at Better

Homes & Gardens advise hanging chandeliers roughly 33 inches above the table in dining

rooms with eight-foot ceilings, adding three inches for each additional foot above

eight feet. Darkened dining areas may be ideal in restaurants, but homeowners may

want to split the difference at home and choose dimmable chandeliers for their dining

rooms. This allows homeowners to dim the lights for romantic dinners but turn them

up for family gatherings with lots of people around the table.

Living room

Adaptability also is important in the living room, where homeowners may host anything

from movie nights to book clubs to parties for the big game. It can be a tall order

to accommodate such a wide range of activities, and many homeowners come down

to deciding between recessed lighting and track lighting. If the living room currently

has neither style, homeowners should recognize that it will cost considerably less to

install track lighting than recessed lighting. Better Homes & Gardens notes that flexible

track lighting provides ambient, task or accent lighting, and track lights can even be

moved to change lighting schemes at any time, making them a budget-friendly option

for homeowners whose living rooms are multi-purpose spaces. Recessed lighting also

Submitted

works well in living rooms, especially ones with low ceilings. That's because recessed

lighting is installed into the ceiling, meaning it does not take up any visual space in the

room. That can help living rooms feel bigger.

Bedroom

The home improvement experts at BobVila.com note that bedroom lighting should

provide enough light when getting dressed, but also be able to be toned down as residents

prepare for their bedtime routines. Both portable and installed lighting can be used in

bedrooms to serve these various functions. Recessed fixtures that dim can ensure there's

ample light to get dressed in the morning, but they also can be dimmed at night as residents

try to get ready to sleep. Portable nightstand lights can make it easier for couples sharing a

bedroom, allowing one person to stay up and read while the other goes to sleep.

Homeowners have many options and many needs when choosing lighting for their

homes. A professional consultation with a lighting expert or interior decorator can help

homeowners find lights that provide both practical and aesthetic appeal.

The mountain is calling

Let us be your guide to the Killington

area real estate market

85 NORTH MAIN STREET | RUTLAND | 802.774.7007 | FourSeasonsSIR.com

Each Office is Independently Owned and Operated.
---
44 • REAL ESTATE

The Mountain Times • Dec. 30, 2020 - Jan. 5, 2021

November property transfers for town of Killington

Seller Buyer Address Property Location Sale Price Closed

Walker, Estate of Nicholas M Pomeroy II, Raymond N & Dawn M Killington, VT 1 Acre, East Mountain Road 12,000.00 9/21/2020

Fowler, Edwin J & Killington, Town of Gieda, Andrew Killington, VT 3.13 Acres, US Route 4 15,077.00 10/20/2020

Lucey, John J & Rosemarie A Meyer Chalet De Esqui, LLC Chalfont, PA Sunrise, TLJ2 36,500.00 10/30/2020

Sheppard, Ralph H & Tint T Storch, Jeffrey & Melissa Marlton, NJ .28 Acres, Bart's Hill Road 42,500.00 11/12/2020

Yanazzo, Joseph & Jennifer Resnick, Allison Rutland, VT Whiffletree, H5 125,000.00 11/16/2020

Kunzmann, George Osborne, Jennifer Haverhill, MA Whiffletree, F2 133,000.00 11/6/2020

Bowen, Ricky E & Rossiter, David & Rossiter, William Middlebury, VT 134 Acres, Sherburne Valley Road 139,000.00 11/25/2020

Revenko-Bowen, Claudia

KMK, LLC Miller, Luke & Poirier, Aubree Barnstead, NH Moon Ridge, 4D 154,000.00 11/13/2020

Coyne, Richard J & Theresa M Pelszynski, Dorota Summit, NJ Edgemont, D8 167,750.00 11/20/2020

Royall, William D & Wilma C Duggan, Brian Huntington, NY Trail Creek, #55 175,000.00 11/16/2020

Davis, Carolyn I Lapatka, Julie Boonton Twp., NJ Woods, V36 184,000.00 11/20/2020

Killington Slopestyle Holdings LLC Uliano, Justin M & Roxanne R Migliacci Sunnyside, NY Mountain Green, IIID6 200,000.00 11/6/2020

Killington Vacation Rentals Inc Grimaldi Jr, William S Hackensack, NJ Killington Center, R22 200,000.00 11/13/2020

DeFrancesco-Sias, Jean Pierre Barnard, Stephen & Dortch, Ashley Long Beach, NY Woods, D2 205,000.00 11/6/2020

& Kathleen B

Stackhouse, Carol V Davidson, Ryan Hoboken, NJ Highridge, C2 207,000.00 11/12/2020

Stanton, John & Elizabeth Chun, Jay & Ha, Jung Eun New York, NY Woods, V1 229,000.00 11/6/2020

DeChristofaro, William & Ski Kelly Killington LLC Katohah, NY Mountain Green, C5 240,000.00 10/30/2020

Lanni, Joshua L

Gagnon, Paula Buck, Matthew & Marianne Richmond, RI 35 Anthony Way 256,394.00 11/17/2020

Jones, Darren Feeney, James E Quincy, MA 246 Anthony Way 263,000.00 11/20/2020

DeBiase, Todd N & Robin A Davis, Carolyn I Billings, MT Woods, V27 265,000.00 11/16/2020

Instone Investments, LLC Gore Investments, LLC Killington, VT 405 Killington Road 280,000.00 11/18/2020

Bond, Ronald R & Christine A Gulden, Neil M South Boston, MA 121 Upper Rebecca Lane 290,000.00 11/6/2020

Ruiz, John P Cefalo, Frank P Wappingers Falls, NY Sunrise, TLM3 300,000.00 11/12/2020

Lewis, James E & Lisa Davis- Shorr, Michael & JoAnn Princeton Jct, NJ Glazebrook, J2 301,000.00 11/5/2020

Muskat Real Estate Trust, Olson, Brian Medford, MA 400 Acres, Little Sherburne Road 320,000.00 11/24/2020

Muskat Trustee, David

DTK, LLC Gagnon, Paula Methuen, MA 316 Currier Road 325,000.00 11/6/2020

Keefe, Brian D McGuinness, Zachary P & Kelly, Julie A Killington, VT 44 Rocky Ridge Road 417,500.00 10/30/2020

Hult, Robert E & Paula L Alhadeff, Rodrigo & Juli-Ann Ford Pembroke, MA 310 Barts Hill Road 440,000.00 11/19/2020

Isenburg, Donald & Joanne Farber, Jonathan D & Amy L Boston, MA Sunrise, TLG1 454,241.00 11/9/2020

Kings Pines Associates, LLC Fraga, Matthew J & Lynn M Hebron, CT 06248 Burke Hollow, C2 475,000.00 11/19/2020

Cerullo, Michael J & Roberts, Leopold, Mark & Scott Killington, VT 532 Tanglewood Drive 525,000.00 10/30/2020

Sally Anne

Deppe, Timothy J & Michelle M Lewis, James & Davis-Lewis, Lisa Carlise, MA 74 Gina Drive 895,000.00 11/6/2020

Sylvester Realty Trust II, The; Silva, Mark J & Autumn E Concord, MA 3593 East Mountain Road 1,000,000.00 10/16/2020

Sylvester Trustee, Janice B

Prestige Real Estate welcomes

Liz Pulsifer Sailer to the team

Prestige Real Estate of Killington is proud to announce

the addition of a new real estate agent to its

team, Liz Pulsifer Sailer. Sailer began providing marketing

support over the summer and officially joined the

Prestige team as a real estate agent in November. Her

many years of marketing experience, project management

and extensive knowledge of the area make her an

exciting addition to the team.

Sailer is a native Vermonter who grew up in the Killington

area, enjoying all the area has to offer throughout

each of its seasons. On a personal level, Sailer enjoys

skiing with her family and friends, as well as hiking,

gardening, and baking.

"I'm incredibly grateful for the opportunity to join

Prestige Real Estate. It's clear everyone on the Prestige

team supports each other by promoting professionalism

and providing clients a positive and enjoyable

experience."

Submitted

Liz Pulsifer Sailer

Christmas Owl spotted

A solitary owl perches on a stump at the top of

Walker Mountain Road in Clarendon. The owl

seemed unphased by the screeching brakes,

which were applied hastily upon spotting it!

By Brooke Geery
---
The Mountain Times • Dec. 30, 2020 - Jan. 5, 2021 REAL ESTATE • 45

Prestige Real Estate

of

E x c l u s i v e l y K i l l i n g t o n !

Killington

Edgemont

C O N D O S

High Ridge

High Ridge

L A N D

.65 acre, commercially zoned lot

located directly on Killington Road

with access to sewer system right in

front of the lot, $99,000

Convenient 1 BR/1BA located

at the end of a ski home trail

$125,000

Mountain View

Spacious and well maintained

1 BR/1BA condo with private

entrance $145,000

The Vistas

Bright, spacious & updated

1BR/1BA condo $159,500

H O M E S

Gina Drive

Roaring Brook

.94 acre lot in Killington, 3BR septic

system, well and driveway. Ready to

build on! $115,000

10 acre building lot on Gina Drive,

benefitted by a 5BR wastewater

permit, $198,000

Trailside Drive

Heidi Bomengen

Kaitlyn Hummel

Large 4BR/3BA home just

off the "access" Road

with mountain views

$499,000

Stunning home in ski on/ski

off neighborhood! 4 luxury BR

suites each w/private baths &

balconies $1,250,000

6,000 sq. ft contemporary

home on 8 acres with

views, 3BR/6BA

$1,250,000

2 9 2 2 K i l l i n g t o n R o a d 8 0 2 - 4 2 2 - 3 9 2 3

i n f o @ p r e s t i g e k i l l i n g t o n . c o m

One of a kind, 5BR/6BA

luxury home with ski

trail views $1,625,000

Luxury ski on/ski off

5BR/6BA custom designed

mountain home

$3,000,000

w w w . p r e s t i g e k i l l i n g t o n . c o m

Liz Pulsifer Sailer
---
REALTOR ®

10/23/2020 -7760165007106236330.jpg

https://mail.google.com/mail/u/1/#inbox?projector=1 1/1

46 • REAL ESTATE

The Mountain Times • Dec. 30, 2020 - Jan. 5, 2021

Celebrating

31 years!

802.775.5111

335 Killington Rd.

Killington, VT 05751

Happy Holidays!

We are grateful for all our clients and

colleagues who helped us have a great 2020

and we thank you!

Here's to a shiny new year with all the

trimmings of happiness, health, and success!

Lenore

Bianchi

'tricia

Carter

Meghan

Charlebois

LOCATION & OPEN FLOOR PLAN

• 3BR, 3BA, office area,

storage space, wood

floors, lg. fireplc & hearth,

family room

• Paved driveway, 2-car

garage;Turn-key home,

furnished & equipped; Home freshly painted, inside & out ;

Winter retreat or full-time home $664K

PICO-SKI HOME, WALK TO LIFT

• 2BR + LOFT /2BA, 1,176 Sq.Ft.

• "H" bldg.

(closest to Sports Center)

• NEW: w/dryer, hot water heater

& boiler

• Furnished & equipped,

$299,000

ON DEPOSIT

KILLINGTON - NOB HILL

• 7 BR, 4BA, 2,700 Sq.Ft.,

3.3 AC

• Remodeled/updated in

2010

• Perfect for personal use

• and/or rental home

• Exterior hot tub

• $475K

SKI IN-SHUTTLE OUT – HIGHRIDGE

• 1 BR unit w/wood

burning fplc

• Sports Center:

Indoor pool,

outdoor hot tub,

exercise room

• $149,000

MOUNTAIN GREEN

TELEMARK VILLAGE ...RARE TO THE MARKET

Merisa

Sherman

Pat

Linnemayr

• BLDGS #2: 2 BR, $168K

• BLDG #3: 2BR $179,900

1BR'S: $120-150K

• Onsite: Indoor & Outdoor Pools,

Whirlpl, Restaurant, Ski & Gift

Shops, Pilate Studio, Racquetball/

basketball; Shuttle Bus

• Updated Kitchen & master bath

• Townhouse: 3 levels of living space

• 2 Bedrooms + loft plus Bonus Rm

• Family room, Tennis &

Outdoor pool

• Deck on the south side

• Next to Kent Pond $349,500

Kyle Kershner

Broker/Owner

See videos of all our listings on

YouTube!

Jessica Posch

Realtor

Daniel Pol

Associate Broker

2814 Killington Rd.

802-422-3600

www.KillingtonPicoRealty.com

Joseph Kozlar

Realtor

Jane Johnson,

ALHS, ASP(r)

Realtor

REALTOR ®

Chris

Bianchi

Katie

McFadden

Michelle

Lord

Kerry

Dismuke

Patrick

Bowen

SKI HOME, SHUTTLE OUT - FALL LINE

• Spacious & light, 1BR

end unit

• Steps to Ski home trail,

indoor

• Pool, sauna & hot tub

• Mtn Views, in-unit w/dryer

• Furnished & equipped

• $169K

• 3BR, 3BA, 3,000 sq.ft.,

5AC

• Attached garage

• Outdoor hottub & firepit

• New kitchen, hot water

heater

• New well pump; $575K

EXECUTIVE VACATION HOME

• Spectacular Killington 5BR/4.5 BA home

• Architectural features, spacious kitchen

• Southern exposure, massive stone fplc

• 2 living areas, game rm, 2-car garage

• Panoramic mtn ski trail views $1,425,000

ON DEPOSIT

HOME ON 5 ACRES

THE WOODS VILLAGE UNIT

• 2 Bedroom + Loft / 2 Baths

• The Woods special

Amenities

• Include :Indoor lap pool,

soaking pool hot tub,

sauna,tennis courts

• Fitness Center

• $229,000

• Can't beat this

• Very rare Trailside location

• Build your dream house

• state permit engineering

in process

• level Driveway. Great

access to & from trail

• $400,000

ON DEPOSIT

TRAILSIDE ON GREAT EASTERN TRAILSIDE DR

Over 140 Years

Experience in the

Killington Region

MULTIPLE LISTING SERVICE

MLS

PEAK

PROPERTY

G R O U P

802.353.1604

VTPROPERTIES.NET

Marni@PeakPropertyRealEstate.com

59 Central Street, Woodstock VT

505 Killington Road, Killington VT

AT

IDEAL PROPERTIES CLOSE TO

KILLINGTON, OKEMO OR WOODSTOCK!

HOMES | CONDOS | LAND

COMMERCIAL INVESTMENT

Marni Rieger

802.353.1604

Tucker A. Lange

303.818.8068

Samantha Ecke

802.661.8069

MENDON --

BRAND NEW

HOME!

High end interior

finishings

throughout,

inquire for

detailed list. 2 car

attached garage.

1 min. to Pico.

Property abuts

state land. MUST

SEE! $534K

PRIME DEVELOPMENT

OPP W/7 POTENTIAL

HOME SITES! BASE

OF THE KILLINGTON

RD! ONE OF THE BEST

SPOTS IN KILLINGTON!

Retail Property 17 acres

consists of a main building

w/11,440 sq. ft. on 3

levels w/elevator. Direct to

xcountry trails. Immediate

access to 20 miles of

MTN bike trails on Base

Camp & Sherburne Trails!

$1,350,000

PRIVATE MTN

CHALET W/ VIEWS

20 MINUTES TO

KILLINGTON!

Great Hawk

open concept

contemporary. 4 bed

+ loft, 2 full baths.

Strong investment

w/short term rental

potential. Sleeps 14.

$259K

AMAZING VIEWS

CLOSE TO

KILLINGTON OR

OKEMO.

88+ ACRES

development

potential! 5 bed/2

bath home, 1 bed/1

bath apt, 2 car

garage, 3 bay pole

barn & sugarhouse.

DIRECT ACCESS

TO VAST TRAILS!

$569K
---
The Mountain Times • Dec. 30, 2020 - Jan. 5, 2021 REAL ESTATE • 47

Wishing you a

happy & healthy

New Year.

We are thankful to our friends and neighbors for your

continued support this year and are grateful to live and

work in the best community in Vermont.

Bret, Judy, Sarah and Allan

KILLINGTON VALLEY REAL ESTATE

LAKE ST. CATHERINE

views

77 Carver Street, Brandon, VT

$84,500 | MLS#4788407

9 Deer Street, Rutland City, VT

$155,000 | MLS#4815332

4 Taplin Road, Yes Barre, 2 pages. VT Front and back

$545,000

3997 US 7 Route, Pittsford, VT

$89,900 | MLS#4803499

2826 Main Road, West Haven, VT

$199,000 | MLS#4818153

90 Center Street, Rutland City

$300,000 | MLS#4805730

237 Kinni Kinnic Lane, Poultney

$799, 000 MLS#4817250

233 Stratton Road, Rutland City, VT

$129,500 | MLS#4821043

206 Adams Street, Rutland City, VT

$244,000 | MLS#4823386

1851 York Street Extension, Poultney

$310,000 | MLS#4805347

Our Approach

Our office will follow the Vermont

Department of Health and CDC

guidelines and put your safety

first as you find your new home.

93 Baxter Street, Rutland City, VT

$135,000 | MLS#4816362

456 Hartsboro Road, Wallingford, VT

$225,000 | MLS#4822291

14 Franklin Street, Brandon

$374,900 | MLS#4796653

Alison

McCullough

Real Estate

ALISONM C CULLOUGHREALESTATE.COM

29 Center Street, Suite 1 • Downtown Rutland, VT • 802.747.8822
---
48 • The Mountain Times • Dec. 30, 2020 - Jan. 5, 2021

STAY LOCAL

SAVE BIG

Calling all Vermont and New Hampshire residents.

Monday-Thursday are your days to get the biggest savings

on access to The Beast with $ 65 lift tickets!

Killington.com or call 800-621-MTNS