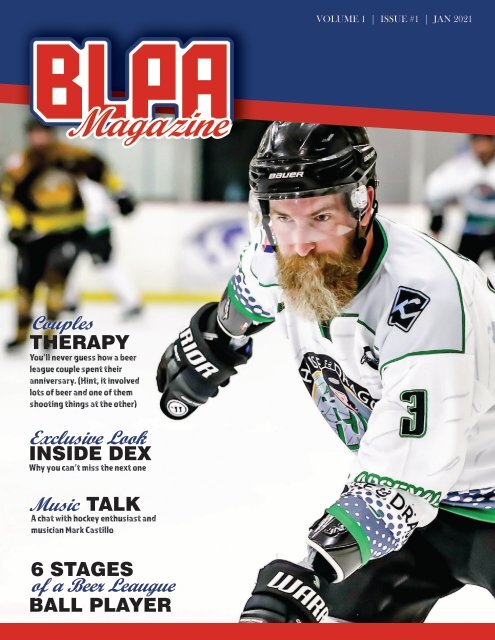 BLPA Magazine
Join the world of adult "athletes", the beer leagues. The BLPA Magazine was created to entertain, educate, and motivate adult "athletes" from all over the world.
Join the world of adult "athletes", the beer leagues. The BLPA Magazine was created to entertain, educate, and motivate adult "athletes" from all over the world.
SHOW MORE
SHOW LESS
You also want an ePaper? Increase the reach of your titles
YUMPU automatically turns print PDFs into web optimized ePapers that Google loves.
VOLUME 1 | ISSUE #1 | JAN 2021

BLPA

Magazine

Couples

THERAPY

You'll never guess how a beer

league couple spent their

anniversary. (Hint, it involved

lots of beer and one of them

shooting things at the other)

Exclusive Look

INSIDE DEX

Why you can't miss the next one

Music TALK

A chat with hockey enthusiast and

musician Mark Castillo

6 STAGES

of a Beer Leaugue

BALL PLAYER
---
1 | BLPA MAGAZINE A LIFESTYLE PUBLICATION FOR THE ADULT ATHLETE

Commissioner's

CORNER

••••••••••••••••••••••••••••••••••••••••••••••••••••••••••••

Welcome to my world!

I am warning you things get crazy here. In my

world when someone says it's impossible, it

doesn't mean we shouldn't try to do it. It means we

should try harder. In my world, there aren't any limits.

Dream, dream big, then dream bigger and do.

The only prerequisite for admittance here is to love and

respect each other…. You know… the whole don't be a dick

thing. So welcome…unless you're a dick.

So what's this about? Sports. Life. Love. Happiness.

What isn't it about? Sports have always been my life. Most recently

it's been mainly hockey, but I've probably tried playing almost every

sport out there at some point (spectacularly unsuccessful).

My passion has always been to try to find a way to connect the

world with sport. Sports are a common language. In sport, we can

forget

about all the bullshit happening in the world and just be adult

"athletes" together for a short time. A short time where we are all

together for

the sole purpose of enjoying each other's company regardless of

sex, race, religion, politics, etc. That's what this is all about.

A way to bring the crazy world inside my head to you and for you to

share your craziness with everyone else.

Are ya ready? Buckle up and let's get it!

Nicky

Commish

Table of Contents

01 COMMISIONER'S CORNER

03

05

STAFF SPOTLIGHT

Randy Bishop

BLPA MEMBER SPOTLIGHT

Carolyn Ross, Nashville, TN

07 LOVE BETWEEN THE PIPES

13 MUSIC

15

19

One-on-One with Mark Castillo

THE 6 STAGES OF BEER LEAGUE

Hiting it out of the park in beer league softball

COMING UP NEXT WITH DEX

Including photos from recent draft experiences

22 BROWN TROUT

23

ONE BITE

Everyone Knows the Rules
---
3 | BLPA MAGAZINE

Staff

SPOTLIGHT

Name: Randy Bishop

Hometown: Winston-Salem, North Carolina born and raised. Now split time between Las Vegas, NV and

Denver, CO.

Beer League Sport(s): Hockey

Nickname: Bish or Bishop

Occupation: President of Critical Facilities Solutions (IT infrastructure)

How did you find The BLPA? Carlo Zaskorski messaged me out of the blue one day regarding Nick

Fleehart maybe wanting to start his own company. Carlo knew that, aside from my constant shit posting

on Facebook, I had a business background. Carlo connected Nick and I. Nick flew to Las Vegas and we

went on our first date to P. F. Chang's to discuss what quickly thereafter became BLPA and Tournament

Company. Nick had the connections, personality and ideas and I had the investment money and business

background so it was a perfect fit.

Player Card Here

When did you start playing hockey? Played a little as a kid, but as an adult I started inline about 29 years

ago, then converted to ice about 25 years ago.

What made you start playing? I went to my first minor league game when I was about four years old

(Winston-Salem Polar Twins) and instantly fell in love with the game. There weren't a lot of opportunities

to play in that part of North Carolina back then, but I followed the game as best I could. I got a subscription

to Hockey Digest when I was seven or eight and read anything I could find about hockey. I started playing

inline when I moved to Georgia in the early 90's. In April 1995, I moved to Colorado and immediately joined

an ice hockey league in Breckenridge.

What beer league do you currently play in? EAHL in Littleton, CO for the Colorado Ice Men, SSAHL in

Centennial, CO for the Sex Panthers and Arvada, CO for the Cavemen.

What is your greatest beer league accomplishment? Starting my own Beer League company. Beyond that

it would be winning at least one tournament and/or league championship (not counting draft tournaments)

every year since 1995.

Favorite Beer? I hate beer, only drink it for the draft chugs (when I'm not chugging moonshine). I drink

whiskey, bourbon and moonshine.

What is your favorite part about playing in a DEX tournament? Meeting new people and making new friends

from all over the country. I also like the fun, low pressure environment to be able to play the game in a way

that is fun but not as serious as my league games.

Favorite places you've traveled to: Aruba, Australia, Belize, Vietnam and Nashville always makes the list

because it's one of my favorite cities anywhere (I used to live there).
---
BLPA MAGAZINE

A LIFESTYLE PUBLICATION FOR THE ADULT ATHLETE

BLPA Member

SPOTLIGHT

Name: Carolyn Ross

Hometown: I've moved 10 times, but I usually claim Cary, NC

Beer League Sport(s): Hockey

Nickname: Carolina Crusher (my dad is the only person I've ever convinced to call me that)

How did you find The BLPA? I met Nick Fleehart at a tournament in Canada a few years ago who

proceeded to get me addicted to his draft tournaments.

When did you start playing hockey? I was around 10 years old and started in the boys' house league

in the Squirt Division. I ended up playing girls' travel and on my high school boys' team but was never

competitive enough for real college hockey.

What made you start playing? I lived in Cary, NC at the time; my dad's company had an office outing to a

Carolina Hurricanes game. I fell in love with the sport the moment I saw a full grown man screaming curse

words at the refs in the middle of a fight. To this day, I still think my dad's proudest moment was, after years

of taking his kids to see professional sports where I would promptly fall asleep in the stands, watching his

eight-year-old daughter join in and scream "rip him to shreds!" in the first period of the Hurricanes game.

I started skating lessons with my brother the next week and we spent the next year convincing my mom to

let me play with the boys

What beer league do you currently play in? Austin, TX

Fun Fact about yourself: I have skated in 11 countries (and one time skating in Europe, the locals assumed

I was Canadian, which was the greatest compliment I've ever received).

Embarrassing Beer League Story: Back when I was a squirt and we had our "player card" photos taken,

my mom ordered a bunch of swag with my face on it. Unfortunately, I thought it was too girly to smile in my

photo, and since I hadn't perfected the art of the RBF at age 10, my photo came out looking extremely sad.

Later, at the age of 25, my mom came to visit me right after I moved to Charleston, SC. She broke out

some of the old swag and showed up to my Beer League game toting a 6-ft long blanket with my sad

middle school hockey face on it. It was not my ideal first impression for the new beer league team.
---
BLPA 7 | BLPA MAGAZINE | 8

Love

Between

the Pipes

BY NIKKI THOMSON

At approximately 2:38 p.m. on Sept. 12, 2020, a puck

dropped in the Ford Ice Center in Antioch, Tenn. This

signaled the start of a hockey tournament that would

culminate with five games, a championship banner, a

reaffirmation of marriage and a car crash.

On Monday, September 14th, Ross and I headed home

to North Carolina. The drive was mostly uneventful until

we got just outside of Asheville. The sky opened up and

just as I turned to Ross and said, "Well this sucks," the

back end of his SUV broke out and we were spinning.

It was the longest hour (30 seconds) of my life. I kept

apologizing to Ross; he kept telling me to hang on to

the steering wheel. He knew we were going over. I just

wanted to survive.

Exciting weekend, right?

Let me back up though, to 1996. I was finishing up

my senior year of college at Roger Williams University

when my best friend decided that I needed to "get out

more" and "meet someone" because I couldn't possibly

be happy alone. She dragged me out to downtown

Providence under the guise of meeting her boyfriend and

having a few drinks. Little did I know, her boyfriend had

given the same spiel to his Marine Corps brother.

Ross was home on terminal leave from the USMC -

which is a fancy way of saying he had a significant

amount of leave time that he was taking before formally

being honorably discharged from the Marine Corps. His

best friend thought he was bored and that he needed a

distraction, (insert eyebrow raise here), and took him out

for a beer. My best friend and Ross's best friend quite

literally set us up, complete with the high pitched voices,

false surprised faces and obligatory 'Oh my gawwwd

what are you doing here?!' Side note, the correct

answer is not 'hunting elephants' apparently. Who

knew?

So yeah, I met my future soulmate at a crowded, stickyfloored,

cheap beer serving, dive bar.

Needless-to-say, our relationship is/was/has been

anything but normal. While my best friend and Ross's

best friend are no longer together - no worries, they

married other people and are happy - we've been

together for nearly 25 years. That's 22 years of marriage,

one kid, two mortgages, multiple jobs, about 17 address

changes (including a move from Rhode Island to North

Carolina) and thousands of hockey games.

No, we didn't just go to hockey games; we played them

too. Well, maybe not right away.

Ross started playing hockey when he was four. He

learned to skate and shoot the puck with all the other

little nose miners. Growing up in rural Rhode Island, it's

what kids did. In high school Ross set aside his skates

and played varsity basketball, football and baseball - and

he was stupidly good at all of them. His high school

didn't have a hockey team in 1985, although they do

now, so he chose to focus on what was available to him.

I, on the other hand, grew up in suburban Connecticut,

long before Title IX came into existence. There weren't

many options for a tomboy. I played Little League

Baseball until I aged out and had to switch to softball.

In junior high, I was on the swim team and somehow

managed to be pretty decent at the 500-meter IM. While

Ross was a natural athlete, I tended toward being a

bookworm.

Fast forward a year or so, I came home from work one

night and told Ross that the folks from my office were

getting together in a few nights to play some pick up

hockey. A man of few words, he paused his Metal Gear

Solid game and waited for me to continue. "I really want

to play," I said. "They want you to come play too."

"You don't know how to skate, kiddo." He always calls

me kiddo.

"Right. So I'll play goalie! I don't need to know how to

skate in order to stop a puck."

Famous last words.

Ross got this weird little smirk but agreed that we'd go to

2nd Time Around Sports and get me some used gear. I

caught in baseball and softball but was still unprepared

for the amount of equipment I needed to wear. Once

I was suited up, I felt like Ralphie's little brother in A

Christmas Story.

Then, he put me on the ice and I did an admirable

starfish impersonation, spending more time on my ass

then on my skates. My very first game, we lost. Badly.

I stopped counting after the score went into the 20's.

Rather than being demoralized, I vowed to get better.

I didn't, at least not right away.

One night, after a pick up game (which we lost, again),

we were leaving the rink and this guy named Mike

stopped us. He was the assistant coach of a newly

established women's hockey team, Providence Lady

Reds and he wanted me to stick around. Now, women's

hockey in Rhode Island started to take off courtesy of

Sara Decosta, a local superstar and Olympic hopeful,

who eventually went on to win a Gold Medal. The

team name was paying homage to the former CAHL

team, The Providence Reds. In a funny twist, Ross's

grandfather played on the Reds back in the day so it

was pretty awesome that I was being asked to join the

modern day namesake.

Joining the Lady Reds was one of the best decisions
---
9 | BLPA MAGAZINE

Love Between the Pipes, Cont.

I've ever made, next to agreeing to marry Ross. Through

them, I got actual goalie training and improved. Ross

was tapped to be a defensive coach. Before you knew it,

Ross and I were team extreme. I played a few seasons

for The Lady Reds then I switched to The Phantoms out

of Massachusetts in the South Shore Women's Hockey

League. Ross continued to coach and I continued to get

better. So much so, that the men's leagues back in Rhode

Island started to take notice. It probably had less to do with

my ability and was more about my availability, but it was

a chance for Ross and I to play together, something we

haven't stopped in over two decades.

On September 12, 1998, Ross and I said I do in front of

nearly one hundred of our closest family and friends. He

became my permanent teammate, no take backs. He's

my best friend, my coach, my defense and my biggest

champion. We have been playing hockey together for

nearly 25 years. Usually, we're on the same team. There

was a season or two when we were on opposite sides,

which always made it interesting. Both teams would

spend the preceding week chirping about Thomson versus

Thomson, totally over hyping the situation. Game time,

his team would routinely set him up with scoring chances

because we all knew he could deke me out of my skates.

My response? "If you score on me here you're not scoring

at home Thomson!" Yes, I belted that out in front of

everyone. No, it never stopped him.

Unfortunately, injuries and age are catching up to us.

We've started slowing down, stepping back from playing

hockey every night to now only playing once or twice a

week. We just can't compete with those young legs. Also,

neither of us wanted to end our "career" on a COVID note;

not playing anymore needs to be our decision, not the

result of a pandemic.

A tournament in Nashville on the same day as our 22nd

wedding anniversary was just too awesome to pass up.

That completely sums up who we are as individuals and as

a couple. I've always said, the family that plays together,

stays together. We played five games of hockey in 24

hours and while we didn't run away with the tournament,

we did land a Championship win which felt really good!

We met so many new people, including a few from North

Carolina, and made so many new friends. That joy would

be short-lived, however.

If you ask me what the first thing I remember after the

accident was, I'd tell you it's the silence. For a brief

moment, there was a vacuum and I couldn't hear anything.

Then, chaos erupted around me like someone turned the

stereo on, full volume. Ross was asking me if I was ok

while getting himself out of his seat. We landed on the

driver's side, so he was trying to keep from falling on to

me. Ever the protector, he popped open his door to check

if there was smoke or fire coming from the engine. Then,

he focused on me, knowing we had time. I couldn't get

out and the shakes started, rendering me useless. Ross

managed to tilt the steering wheel away from my lap but

I started to panic because I couldn't move. I remember

telling him, "I'm stuck! I'm stuck!" Ross, my stalwart

Marine, calmly told me to undo my seat belt.

Oh.

Two hours later, we were back on the road in a ten-foot

box truck. Not. Even. Kidding.

There were no cars, SUVs or even a Prius - nothing -

available for rent in the entire City of Asheville so we

ended up at a nearby UHaul. We were still four plus

hours from home and it was still raining and now Ross is

driving us home in what can only be described as overkill.

Honestly, for a hot minute I thought he might toss me in

back with all our gear, and everything that we removed

from his SUV. (Yeah, it was totaled). But, I'm his goalie and

his wife so he's gotta forgive me, right?

In the end, I rode up front and after the adrenaline and

shock wore off, all was right in our world, even if we were

driving home in a $362 rental that we only got a $30

reimbursement for. And that really says it all, doesn't it?

Ross is, and always has been, my defense, my champion,

my protector. Doesn't matter if he's blocking a clapper or

pulling me out of our totaled vehicle. He takes care of his

goalie, even after 25 years.
---
13 | BLPA MAGAZINE

Music

1-on-1

MARK

with

CASTILLO

BY CHRISTOPHER SAMPAYO

Having toured the world and braved the ice of men's

league ice hockey, this man has seen some stuff. Mark

Castillo of Bury Your Dead, Emmure, and Crossfade is a

solid dude, probably someone you want to have your back

on and off the ice. Here are just a few takes from what's

been an awesome career behind the skins in multiple acts,

and what life away from music in men's league hockey is

like for him.

First off, thanks for taking the time to answer these

questions. As a fan of both hockey and a lot of the bands

you have been a part of, it's an honor to interview you.

MC: You got it. I'm not the most interesting man in the

world but I will do my best.

Where are you originally from?

MC: I was born and raised in Philadelphia.

Was hockey always a sport you played from a young age,

or were you drawn to it later in life?

MC: I played hockey as a kid and on-and-off as an adult.

Now, I'm just playing for a couple beer league teams in

Connecticut.

As someone who has had the experiences in multiple

successful acts in heavy music, what is one of your most

personally fulfilling accomplishments?

MC: Some of my favorite personal achievements are

touring with musicians I looked up to. Traveling the world,

doing what I love and doing what I dreamed of growing up

playing drums. I've also had the chance to play for many

bands either filling in or being a part of the band that I

loved so that's a plus. Filling in for Machine Heads for one

night was pretty amazing.

You have been a part of some great bands, if you could

pick and choose your starting line from the guys you've

played with, who would you pick; and what position/s would

they play?

MC: I'd play defense alongside Mike Recon of Emmure

and BYD and Recon. My center would be Mat of Bury Your

Dead. He's a good leader and dad so I'd listen. And my

wings would be Mark Davis from Emmure and Mitch from

Crossfade. Solid line right there.

You must have some fun stories from being on the road.

Any one instance stick out as a, "Man, I can't believe that

happened," moment while touring?

MC: There's a lot of fun stories but the really good ones

you can't talk about..

What were your teams you rooted for and do you still root

for those same teams now after touring the world?

MC: I'm a Philadelphia sport team fan first. Always have

been, but behind that are New England teams.

Who was your favorite professional hockey player growing

up?

MC: Ron Hextall was my favorite player. I watched him

score a goal and it's a memory that always stuck with me.

What number do you where and why?

MC: 48 is my number. I like the number 4 and that as well

as 44 were taken so 4 and 4 is 8. That will do. 48

What position do you prefer out on the ice?

MC: I prefer defense because I like the pressure. Plus, I

still get to fire shots from the blue line.

What are your thoughts on the Stanley Cup tournament

this year? Do you think they did a great job keeping it

competitive, fun to watch, and entertaining regardless of

the strict rules and policies in place for player safety?

MC: As for the Stanley Cup, any hockey is better than no

hockey so I say great job!

Where do you see the future of the music industry post

COVID-19?

MC: I think the music industry will bounce back when it is

allowed to. And I think it will come back stronger than ever.

How can you compare men's league sports to being in a

band?

MC: Comparing the two isn't too hard. It's a group of

people you are choosing to be around. You have to work

together to make the dream a reality and when you win you

celebrate together. If you lose you lift each other up. You

travel. You see things together and you look forward to

doing it all over and over.

"

A LIFESTYLE PUBLICATION FOR THE ADULT ATHLETE

There's a lot of fun stories, but the really

good ones you can't talk about.

"
---
15 | BLPA MAGAZINE

A LIFESTYLE PUBLICATION FOR THE ADULT ATHLETE

Stage 1

Generally an athlete fresh out of

college or the minors still has that

higher-level ability that all teams

seek to win league championships.

You'll hear things like "what range",

"great hands", "the ball just jumps

off his stick", "young legs". This

person is about two things…

dingers and chicks (or dicks).

Stage 1's usually don't have a

pot to piss in so don't expect any

financial contribution from them.

In fact, you'll be lucky to ever see

them bring beer or chip in for the

post game wings. No one cares,

especially the Stage 5's.

The 6 Stages of

Beer League

Man do I love playing sports. I wanted to say competitive sports but

I am getting old. We all are. Sometimes I day dream about how "good"

I used to be. I bet I could throw a ball over that mountain over there. You

know what I mean?

But now that I'm getting wiser and older so I am enjoying sports on a different

level than I used to. Now, it's way more about the people I play with than how I

actually do in the games. This got me thinking about how players progress through

their athletic career. I present to you the six stages of the Beer League Ball Player.

Stage 2

BY NICKY COMMISH

That mid-to-late 20's athlete who has

been around the league for a few years

and starting to learn how to play the

"slow-pitch" game (aka – not calling

off everyone on fly balls and not trying

to bounce the ball of the outfield wall

every at-bat).

Stage 2's still have those "fresh legs"

and may actually have a job now

which is nice. Trouble is brewing here

because they either have or will be

thinking about getting married (see

Stage 3). They may not always want

to, but have the ability to pay their

league fee and can be counted on to

bring beer occasionally as well. These

are good times for both the team and

the player.

Stage 3

Usually in the early-to-mid 30's

and still have a lot of ability but are

cracking under the strain of life.

Kids need attention and the wife

(or husband) is starting to question

how a one-hour game at 7 p.m.

ends up with you being home at 1

a.m.

Let's not forget your job. Remember

Stan, one of your customers? You

just went into second base with their

cleats up to break up a double play.

In this stage, you're stuck between

still having that competitive juice

but realizing maybe… just maybe

winning isn't everything. This

athlete will commit to the team, pay

the fee and then become generally

unreliable.

He (or she) will commit to the 9

a.m. tournament game on Saturday

morning but their significant other

is onto them. They bail from the

parking lot party and don't come

back for the 3 p.m. game.

Also note, this is usually the stage

where you quit telling everyone

your batting average or RBI's from

the last tournament.

Stage 6

Stage 4

Uh oh, what happened to my

"bazooka arm", my "dinger stroke"?

I know what to do but my body does

not do it anymore? I used to hit the

catcher from centerfield on the fly.

Now, I need a cut-off…. or two.

These are hard times for most

players. You are in your late 30's

or early 40's and the crushing

impact of life and aging have finally

taken its toll. You tend to do a lot of

apologizing – "Sorry I couldn't get

to that routine fly ball", "Sorry about

not turning that routine double

play", or "Sorry, about striking out

I'll bring the beer next game".

An end and a beginning at the same time. This is the point where it's finally time

to move to the "old guy" division and say goodbye to the "open" division forever.

Kids are grown, your significant other no longer cares if you are home or not.

You're now only playing to get out of the house and away from the next episode of

"The Bachelorette".

The good part about this stage is you get to sit and drink beer with older beer

leaguers like yourself telling old stories about your Stage 1 and 2 days until the

wee hours of the morning. These are good times and your new home until you

decide to hang them up completely. This is the stage you probably fear the most.

However, this stage is also one of everyone's favorites. You don't really care about

winning, the cost, or the drama. You're enjoying the game because you enjoy it

and if you're lucky you're enjoying it with kids. You're getting a chance to show the

kiddos brief flashes of the ability you used to brag about. You know, legging out

that double or laying out for a routine ground ball. You might not be able to walk

without a limp for a few days but damn it, you'll always be a ball player.

Stage 5

This is the mid-to-late 40's athlete.

Their Abilities are fading fast and

they know it. They have money and

may even sponsor the team because

that is really the only way they still let

you play.

This person brings beer, food, buys

jerseys, and is usually cooking the

food during tourney tailgates. They

are doing whatever it takes to hang

on to that last fleeting moment of

glory playing with the better athletes.

They used to be that beer leaguer

that wanted the ball hit his way in the

last inning of a close game or who

the team wanted up at the plate in

a big game. Now, they volunteer to

catch or even just be the team to

coach.

They are happy just to be in the

dugout to watch the Stage 1 and

2's go out there and win it. This is a

particularly bad stage if you still think

you have the tools to play. The minute

you get in the car to drive home, you

know the whole team is scheming

ways to get a new, younger guy on

the squad.

Anyone who has played the game

can fully understand and appreciate

these stages. No matter how good

you are or where you played, you're

a part of the game. Every player

will progress through these stages

and at a different pace. Hell, you

might have skipped Stages 1 and

2 and started at Stage 3, that's ok.

Remember the game needs you.

Everything you bring in some way

makes the game incredible.

So please, keep playing for the

game. Play for the love of the game,

play for all the parking lot beers

at midnight, play for all the friends

you'll make along the way, most of

all play for yourself. You deserve it.
---
Nick Fleehart

Commish

@TheNickerjones

Kristin Dillenburger

Designer

@D_llface
---
19 | BLPA MAGAZINE

Coming Up

NEXT WITH DEX

BY NICKY COMMISH

2021 has started off rough for the Draft Experiences.

We've had to cancel our events in Philadelphia and

Florida. But never fear, we promise you we will keep

pushing to make the greatest tournaments in beer

league hockey happen.

We have a long list of tourneys in waiting, starting with

Las Vegas in February and Omaha and Ann Arbor in

March. In April, we will show up at Colorado Springs

and burn the place down again. Boston, Denver, South

Carolina, and Austin are all back on the schedule for

2021, plus many more.

With a little bit of luck we will be able to start to get

things back to full speed. Have you not played in a

DEX yet? What's stopping you? We are waiting for

you!
---
A LIFESTYLE PUBLICATION FOR THE ADULT ATHLETE

BAD ASS BEER LEAGUE JERSEYS

Brown Trout

BY NICKY COMMISH

...So if you've ever listened to the podcast, you'll know poop jokes are a thing.

They are hilarious! The Brown Trouts.

Are we immature? Yup. Should we grow up? Yeah, probably. Are we going to make a

stand and not promote immature humor themed joke jerseys in the future?

ABSO-FUCKING-LUTELY NOT!

So, oddly enough, just like the Sharts (another poop themed jersey), the Brown Trouts

also hail from the San Jose area. It seems like there are some fine, upstanding, hilarious folks in the San Jose area. I'd

very much like to go there and do a live podcast *That's a hint for the Silicon Valley Beer Leaguers to bring us out*

Let's poll the readers and see who wouldn't wear these awesome jerseys. Did anyone here vote no? You should

probably leave. Probably the best thing about these jerseys is they are brown. I don't have brown Eagle hockey

gloves, so these would give me an excuse.

Think your team's sweaters should be featured? Tweet us @TheBLPA
---
23 | BLPA MAGAZINE

Food

ONE BITE

Everyone Knows the Rules

BY GAVIN CELIA

Unless you've spent the last six years under a rock,

you've heard Barstool Sports "El Presidente", Dave

Portnoy say this right before he bites into a steaming hot

slice of cheese pizza from one of the hundreds of pizza

joints he's reviewed.

In March, as the world was gripped by the COVID-19

pandemic, Portnoy started receiving deliveries of frozen

pizzas from all over the country. One of those pizzas was

from fellow beer-leaguer Joe Perrella of Sammy's Pizza.

So what did Portnoy think of Sammy's Pizza? 5.3….

Pretty average as Dave's frozen pizza reviews go.

What did Parella think of the review? He tells

the BLPA that the review wasn't great, but it's hard

to replicate the true Sammy's Pizza experience in a

conventional oven. In their restaurants, Sammy's

cooks pizzas are cooked at 500 degrees in a brick

oven. Not something most people have access to at

home.

But as the saying goes, any publicity is good publicity.

Since the review, frozen pizza sales have more than

doubled for Paraella which is a welcome increase.

Started by Joe's grandfather, Sam Perrella, in northern

Minnesota in the 1950's, Sammy's Pizza has been serving

the folks of Minnesota, Wisconsin and North Dakota for

over 50 years from their 15 locations. In fact, they still use

the original recipes today.

From the hand-made dough to the freshly made

sausage and beef from local butchers. It's no wonder that

a few years ago Parella started getting requests for frozen

pizzas from people who moved away but still longed for a

taste of home.

Since then, Sammy's has shipped pizzas to customers

as far away as Alaska, California and Florida. And now,

one very influential customer in New York.
---
BLPA

Magazine

A LIFESTYLE PUBLICATION FOR THE ADULT ATHLETE