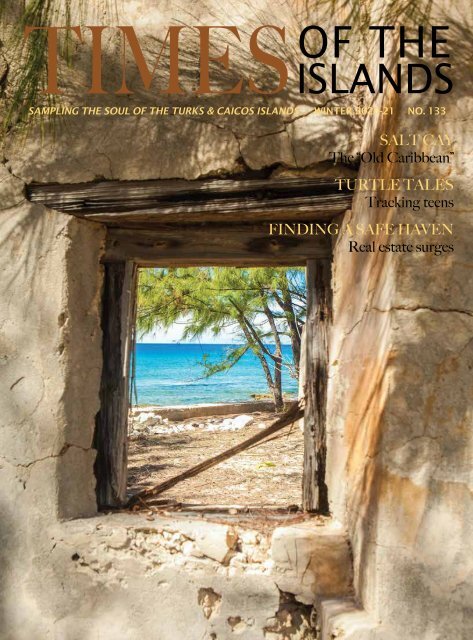 Times of the Islands Winter 2020/21
Presents the "soul of the Turks & Caicos Islands" with in-depth features about local people, culture, history, environment, real estate, businesses, resorts, restaurants and activities.
Presents the "soul of the Turks & Caicos Islands" with in-depth features about local people, culture, history, environment, real estate, businesses, resorts, restaurants and activities.
SHOW MORE
SHOW LESS
Create successful ePaper yourself
Turn your PDF publications into a flip-book with our unique Google optimized e-Paper software.
TIMES

SAMPLING THE SOUL OF THE TURKS & CAICOS ISLANDS WINTER 2020-21 NO. 133

OF THE

ISLANDS

SALT CAY

The "Old Caribbean"

TURTLE TALES

Tracking teens

FINDING A SAFE HAVEN

Real estate surges
---
For Those Who Seek An

Exceptional Vacation Home & Lifestyle

We Are Available To Help You

Navigate The Real Estate Process

THE FINEST COLLECTION

Condominium | Home & Villa | Land | New Development

649.946.4474 | info@tcsothebysrealty.com | turksandcaicosSIR.com

Venture House, Grace Bay | Resort Locations: Grace Bay Club and The Palms

Each franchise is Independently Owned and Operated.
---
PROVEN IN PROVO

435' on Grace Bay Beach, a perennially acclaimed Caribbean destination.

30 years of construction development and hotel operations success.

A decade of travel industry awards and consistently high guest ratings.

10 years of strong ROI and very satisfied owners.

Where will you invest?

Windsong Resort Residences

Imaginative Phase II Resort Condominiums

Pre-Construction Pricing Available.

_____________________________

1-649-946-3766 • Toll Free (US/Canada): 1-855-WINDSONG (946-3766)

Stubbs Road, Grace Bay • Providenciales, Turks and Caicos Islands

www.windsongresidences.com • realestate@windsongresort.com
---
contents

Departments

6 From the Editor

11 Around the Islands

Soul Food

By Diane Taylor

14 Eye on the Sky

A Record Breaker

By Paul Wilkerson

18 Talking Taíno

America's First Christmas

By Bill Keegan, Betsy Carlson

& Michael Pateman

50 Real Estate

Living Outside the Box

By Kathy Borsuk

73 About the Islands/TCI Map

77 Subscription Form

78 Where to Stay

80 Dining

82 Classified Ads

Feature

40 Back in Time

By Debbie Manos

Green Pages

24 Teenage Turtle Tales

Story & Photos By Dr. Peter Richardson and

Amdeep Sanghera, Marine Conservation Society

29 Coming Home to Winter

By Elise Elliot-Smith, Caleb Spiegel, Jen Rock,

Craig Watson, Bryan N. Manco, Lormeka

Williams and Eric F. Salamanca

33 One Small Splash for Man

Story & Photos By Carmen Hoyt

36 Plotting for Progress

Story & Images By B Naqqi Manco

TIMES

OF THE

ISLANDS

SAMPLING THE SOUL OF THE TURKS & CAICOS ISLANDS WINTER 2020-21 NO. 133

On the Cover

Award-winning Master Photographer Christine Morden,

owner of Paradise Photography (myparadisephoto.com),

took this photo through the window of a historic building

on Salt Cay. She used this unique perspective to provide

an interesting foreground compositional element for a

creative twist on a beach landscape.

Astrolabe

62 Modern Crusoes

By Jeffrey Dodge

67 TCI in World War II

By Captain Eric Wiberg

29

ERIC F. SALAMANCA

4 www.timespub.tc
---
TurksAndCaicosProperty.com

Luxury Blue Mountain Villa

Six bedroom luxury Blue Mountain villa for sale at one of Providenciales' most sought after private

communities. Situated directly behind the designated garden and beach access with unobstructed turquoise

ocean views, elevation and close proximity to the private beach. The property is an expansive 6,421

sq. ft. of living space, with travertine floors, vaulted ceilings and contemporary Caribbean architecture.

Villa Sundra - Canal Front Emerald Point

US$2,650,000

Villa Sundra is an outstanding 8 bedroom vacation rental villa with separate guest houses, private

boat dock and easy beach access just a few feet from the entrance gate of the property. Situated

on .64 of an acre with 117 ft. of canal front and direct ocean access via the Leeward canal system.

In addition, the villa features extensive entertaining and recreational space and a waterfront pool.

.

US$4,700,000

Bernadette Hunt

Cell ~ 649 231 4029 | Tel ~ 649 941 3361

Bernadette@TurksAndCaicosProperty.com

Bernadette has lived in the Turks and Caicos

Islands for over 21 years and witnessed the

development and transition of the islands

into a significant tourist destination. Based

on independent figures her gross transaction

numbers are unrivalled. Bernadette

has listings on Providenciales, Pine Cay,

Ambergris Cay, North and Middle Caicos

and is delighted to work with sellers and

buyers of homes, condos, commercial real

estate and vacant undeveloped sites.

Turks and Caicos Property is the leading

independent real estate firm in the Turks and

Caicos Islands with offices located at Ocean

Club West Resort and Ocean Club West

Plaza on the Grace Bay Road.

Bernadette's reputation and success has been

earned over time through her dedication,

enthusiasm and passion for real estate. Her

personal experience as having practiced law

in the islands for more than 10 years together

with owning and renovating a number of

properties means she is well-placed to advise

her customers and developers on what to

anticipate in the purchasing and construction

process.

Bernadette delights in working in the real

estate industry and her humor and energy

make her a pleasure to work with.

West Bay Club - Grace Bay Beachfront

This gorgeous West Bay Club beachfront condo is a beautifully appointed with a much sought second

lockout bedroom suite, giving owners rental options to optimize revenue. The spacious 1,849 sq. ft. unit

is tastefully furnished providing a relaxing Caribbean inspired charm with contemporary design and flair.

.

US$1,225,000

Please contact Bernadette if you would like

to find out more about owning real estate in

the Turks & Caicos Islands.
---
from the editor

MARTA MORTON–WWW.HARBOURCLUBVILLAS.COM

One of the "miracles" for which I am so grateful is how Marta Morton always has the perfect picture to express my words. This ethereal sunset

is a daily reminder of TCI's glorious natural beauty; never-fading, always uplifting, a reminder of God's goodness and grace.

A Year of Miracles

Last Sunday, our pastor at Community Fellowship Centre in Providenciales, Bradley Handfield, asked the congregation

how many had experienced a miracle this year. Nearly all hands raised, mine included. For although most of

us look forward to crumpling up the 2020 calendar and throwing it away, we also must remember that in times of

great difficulty, miracles—God's grace in action—can and do abound.

The fact that the Turks & Caicos Islands are currently open for business, nearly COVID-19-free and positioned for

a thriving rebound is amazing to me when I remember the long, frightening days of lockdown this spring. My elderly

parents and uncle stayed safe at home in the US when I could not be with them. My sister's house was spared from

the raging wildfire that destroyed most of her town. There is food on our table, a roof over our head, our rusty old

cars are still running . . . and COVID-19 vaccines have been produced and are being distributed in record time!

And here is another issue of Times of the Islands. We continue to offer the magazine on-line only, with a limited

number of printed copies for subscribers. Although the Summer and Fall virtual editions have enjoyed tremendous

readership, we pray the economy—and our advertisers' pocketbooks—improve so the next issue can be fully in print.

I am so grateful for the subscribers and readers who encourage us to carry on, the advertisers who support us and

the contributors who research, write and send the articles and photos that make the magazine happen.

For me—a woman from Chicago—every day spent in the Turks & Caicos Islands is a miracle. The pastel sunrises,

verdant vegetation, sweet sea breezes, shimmering turquoise seas, glittering beaches, golden afternoons, blazing

sunsets and crisply drawn constellations are the epitome of God's creation and always bring me joy. And so I give

thanks, even for 2020. Kathy Borsuk, Editor • timespub@tciway.tc • (649) 431-4788

6 www.timespub.tc
---
Introducing the Boathouses

The Boathouses at South Bank will be conveniently

located on the marina waterfront with elevated

water views, most with a private dock keeping

your boat close at hand for when the ocean calls.

Cleverly designed to maximize space and light,

each is imbued with a warm, contemporary

aesthetic as a 1, 2 or 3 bedroom layout. Managed

by Grace Bay Resorts, the Boathouses will offer

the perfect balance of community, service, views

and space.

Prices starting from $795,000

Register interest today at livesouthbank.com

Developed by the

Windward Development Company

www.windward.tc

Brand partners:

Managed by:

For more information contact

Nina Siegenthaler at 649.231.0707

Joe Zahm at 649.231.6188

or email: nina@tcsothebysrealty.com
---
TIMES

MANAGING EDITOR

Kathy Borsuk

ADVERTISING MANAGER

Claire Parrish

CONTRIBUTING WRITERS

Kathy Borsuk, Dr. Betsy Carlson, Jeffrey Dodge,

Elise Elliot-Smith, Carmen Hoyt, Dr. Bill Keegan,

Bryan N. Manco, Debbie Manos, Claire Parrish,

Dr. Michael P. Pateman, Dr. Peter Richardson, Jen Rock,

Eric F. Salamanca, Amdeep Sanghera, Caleb Spiegel,

Diane Taylor, Lisa Turnbow-Talbot, Craig Watson,

Captain Eric Wiberg, Paul Wilkerson, Lormeka Williams.

CONTRIBUTING PHOTOGRAPHERS

Florida Museum of Natural History, Chuck Hesse,

Carmen Hoyt, Gary James–Provo Pictures, Keller Williams

Realty, Macquarrie Family, Christine Morden–Paradise

Photography, Marta Morton, NOAA, Ingrid Pohl Family,

Read Family, Dr. Peter Richardson, Eric F. Salamanca,

Ramona Settle, Melissa Steinman, iStock.com,

Clarence Stringer, Turks & Caicos National Museum, Diane

Taylor, Lisa Turnbow-Talbot, Sherlin Williams.

CONTRIBUTING ARTISTS

National Hurricane Center, Theodore Morris,

José Obregon, Wavey Line Publishing

PRINTING

PF Solutions, Miami, FL

OF THE

ISLANDS

Times of the Islands ISSN 1017-6853 is

published quarterly by Times Publications Ltd.

Copyright © 2021 by Times Publications Ltd. All rights reserved

under Universal and Pan American Copyright Conventions.

No part of this publication may be

reproduced without written permission.

Subscriptions $28/year; $32/year for

non-U.S. mailing addresses

Submissions We welcome submission of articles or photography, but

assume no responsibility for care and return of unsolicited material.

Return postage must accompany material if it is to be returned. In no

event shall any writer or photographer subject this magazine to any

claim for holding fees or damage charges on unsolicited material.

S A V E O V E R 5 0 %

O N Y O U R P O W E R B I L L

W I T H S O L A R E N E R G Y

Call us today for a renewable energy consultation

+1 649 332 1393 or +1 649 431 4242

While every care has been taken in the compilation and reproduction of

information contained herein to ensure correctness, such information is

subject to change without notice. The publisher accepts no

responsibility for such alterations or for typographical or other errors.

Business Office

Times Publications Ltd., P.O. Box 234,

Providenciales, Turks & Caicos Islands, BWI

Tel 649 431 4788

Advertising 649 431 7527

E-mail timespub@tciway.tc

Web www.timespub.tc

www.greenrevolutionltd.com

10 www.timespub.tc
---
around the islands

What is the connection between a shark and a plump pumpkin? Read this "tale of transformation" to find out.

CLARENCE STRINGER–SCHOOL FOR FIELD STUDIES

Soul Food

A tale of transformation.

By Diane Taylor

Diane "Dee" Taylor lived and worked for three years on Pine Cay with her husband Gary Hodgkins in the

early 1980s. They worked with PRIDE (Protection of Reefs and Islands from Degradation and Exploitation)

under the direction of Chuck Hesse. Diane's job was culturing algae for the feeding of conch larvae. This

story is a fond remembrance of her time there. Raymond Campbell was born and raised in Sandy Point,

North Caicos, and lived and worked on Pine Cay for many years.

Times of the Islands Winter 2020-21 11
---
CHUCK HESSE

A young shark took the bait that

was left overnight on a fishing line

at the end of the dock on Pine Cay—

bait that was intended for snapper

or grouper or any other delectable

dinner fish. When Raymond found

it on his slow-gaited inspection walk

around the dive shop just after sunrise,

it was dead. Sharks need to

keep moving in order to breathe,

and this one, unfortunately, had

been kept virtually immobile by the

hook on a short line.

Raymond hauled the creature in,

all six feet and hundred pounds of

it. His parents, with survival skills

that dated back to the late 1800s

when their grandparents were

brought to the Turks & Caicos

Islands from Africa, would have filleted

it, made shark steak or hash, and dried the rest. But

at 19, tall, lanky Raymond had consumed enough shark

meat to last him a lifetime. Moving quietly in his Speedo

bathing suit and flip-flops, he loaded the recently dead

animal onto a wheelbarrow and brought it to me.

I had a working compost pile. It was in a big box that

Raymond had nailed together from two old doors on

either side, plywood cut to fit at both ends, a piece of

wood on the top, bare ground underneath. The box was

about six feet long, three feet high, and three feet wide.

I had filled it to the top with seaweed, leaves, donkey

doo, lobster shells and refuse from many dinners from

This image from PRIDE's 1982 newsletter (Volume VII, No. 1) shows

the shark being placed into the compost pile.

"Dee" Taylor created a treasured necklace from the shark vertebrae left in the compost pile.

the small hotel on the island. Hot stuff! Literally. When

you dug in with your fingers, it was almost too hot to

leave them there.

"I knew you'd want dis," he said in the soft island way.

We scooped the top layer of rotting debris off onto the

ground, then reached for the shark. "Look," I said as we

lifted the body into the box, "it fits!"

Indeed it did. Then we put back the layer we had

removed, and put the lid back on. Coffin-like.

Two days later, I went back to check on our animal. As

I lifted the lid and peered in, the strong scent of ammonia

stung my sinuses. Hm-m. Nothing looked any different. I

pulled aside the top layer of compost materials. There lay

our friend. When I touched the grey skin, it was warm and

pulled back easily to reveal white cooked flesh. I took a

pinch to taste. Although the nitrogen odour was unpleasant,

the flesh was flaky, mild and slightly sweet. I ran

home, grabbed a knife and plate, and cut away enough

for our dinner, hoping the smell would dissipate by then.

It did, and with sweet potatoes and white wine, we didn't

just eat dinner, we dined.

Another two days later, I dug into the top layer and

found . . . nothing. It was gone! Totally decomposed,

transformed into other elements. The scent of ammonia

was still there—sign of the nitrogen that would make rich

compost. This was amazing. So fast! The temperature of

the air, of course, was a helpful factor, 85ºF during the

day, 75ºF at night. I dug around a bit more. Along the

entire far side of the box was arrayed a row of vertebrae

in perfect formation, from larger in the thoracic area to

DIANE TAYLOR

12 www.timespub.tc
---
petite in the tail. I'd never seen shark vertebrae, and was

in awe. They were small and white, delicate. This fierce

predator had exquisite gems running the length of its

backbone. And such artistry in each one! Cylindrical,

about as long as my thumbnail, with small oval holes

along one side.

Immediately I could see a necklace. I picked the vertebrae

out of the hot pile, brought them home and let

them completely dry on a plate in the sun. Days later, I

DIANE TAYLOR

Diane Taylor shows a pumpkin grown in PRIDE's experimental garden

in the early 1980s. She added compost and wood ashes to the sandy,

salty alkaline soil to get better yield.

Walkin May2017_Layout 1 5/28/17 5:45 PM Page 1

drilled small holes in their centres and threaded a piece

of leather thong through them, knotting it between each

one. The finished piece was gorgeous, exotic, primitive,

and my artistic delight. I loved wearing it.

A few months later, as part of a conference on gardening

in the tropics, a group of us visited a museum in the

Dominican Republic. Under one of the glass cases of early

man, I could hardly believe what my eyes were seeing. A

necklace composed of shark vertebrae—from the 13th

century! I felt an immediate kinship with the woman who

imagined, designed and wore that necklace. In that startling

moment, I met up with my original native self who

wanted to adorn my body just as she did. I met a sister

. . . who had lived, imagined, died and left beauty behind.

You never know where the transformational processes

of a compost pile will take you. Just as the shark's flesh

provided nourishment for my body, and its vertebrae provided

artistic wonderment for my soul, so too your stories

can provide soul food for generations to come. Imagine a

descendant a few hundred years from now saying, "And

to think she wrote this in the 21st century!" a

Diane Taylor teaches memoir writing and has published

The Gift of Memoir: Show Up, Open Up, Write. She is part

of Spirit of the Hills Writers. For more information, visit

https://dianemtaylor.com.

DISTRIBUTOR DISTRIBUTOR FOR FOR EVINRUDE && MERCURY MERCURY

OUTBOARDS, PURSUIT WORLD CLASS CAT, CAT,

SUNDANCE AND BOSTON WHALER BOATS

Lures and Live Bait

Marine Hardware & Gear

Fishing Gear & Supplies

Marine Paints & Varnish

Marine Batteries

Sebago Docksiders

& Sperry Topsiders Shoes

BLUE

BLUE

HILLS

HILLS

ROAD

ROAD

PROVIDENCIALES

PROVIDENCIALES

TURKS

TURKS

& CAICOS

CAICOS

ISLANDS,

ISLANDS,

B.W.I.

B.W.I.

PHONE: 649-946-4411

FAX: 649-946-4945

Times of the Islands Winter 2020-21 13
---
MARTA MORTON–WWW.HARBOURCLUBVILLAS.COM
---
eye on the sky

Opposite page: Aside from increased wave action, a few squalls from Hurricane Isaias as it passed by and breezy conditions, the TCI survived

the worst the Atlantic could throw at the Caribbean this year.

Above: This satellite image shows Hurricane Isaias as it passed over the Turks & Caicos Islands on July 30, 2020. This was TCI's closest brush

with a storm during this record-breaking season.

NOAA

Back in the Spring 2020 issue of Times of the Islands (what feels like a lifetime ago), warning was given

of the potential for an active season. Everything pointed to prime conditions for fairly frequent tropical

activity. What I did not anticipate was the busiest tropical season on record! In fact, the 2020 tropical

Atlantic season provided us with many record breaking systems. Let's take a look back and reflect on

what occurred this year.

A Record Breaker

2020 hurricane season was the busiest in history.

By Paul Wilkerson

Times of the Islands Winter 2020-21 15
---
The 2020 season got off to a blistering start on May

14 with the birth of Arthur. During the period of May to

July, a record nine storms formed in the Atlantic. Tropical

Storm Cristobal would be the first of five tropical systems

to strike the state of Louisiana during the season, making

landfall there on June 7. The first hurricane of the season

would be Hanna, which developed on July 19 in the Gulf

of Mexico, making landfall in Texas on July 25.

The Turks & Caicos Islands would have their closest

encounter of the season on July 30, as Hurricane Isaias

moved south and southwest of the islands. Isaias wreaked

havoc across the Caribbean and the United States, causing

an estimated $165 million in damage to the Lesser

Antilles, Dominican Republic and The Bahamas. The

United States saw nearly $4.5 billion in damages thanks to

Isaias. Unfortunately two lives were lost in the Dominican

Republic as a result of this hurricane as well.

Late August through early October would prove to

be the most active time period for tropical activity during

the 2020 season. Activity historically peaks during the

month of September. Unfortunately, this period also coincided

with the worst land-falling hurricanes of the season

in the United States. Major Hurricane Laura (Catagory 4)

came ashore in southwest Louisiana on August 27, causing

extensive damage to the lowlands of south Louisiana

and the Lake Charles area.

As the season cruised into September, a record ten

named storms formed. This also served as the most

named storms in any month on record. Thankfully, the

majority of the the systems that formed in September

stayed out to sea. The exceptions were Hurricane Nana

which struck Honduras and Belize, Hurricane Sally which

moved through The Bahamas and southeast United

States, and Tropical Storm Beta which made landfall

along the Texas coast. Louisiana had another date with

disaster as Hurricane Delta made landfall on October 9

as a Category 2, at an estimated 15 miles east of where

Category 4 Laura earlier struck. Having already been

severely damaged during Laura, many of these same

areas were further destroyed by Delta.

Five systems formed during the month of October,

with Cancun, Mexico being impacted from three tropical

systems. Tropical Storm Gamma, Hurricane Delta

and Hurricane Zeta all brought heavy rains, damaging

winds and flooding to the Mexican peninsula. Hurricane

Eta formed on the last day of October and proved to be

the most interesting system in terms of track. Eta began

near the Windward Islands, then made its way to a landfall

in Nicaragua, where it caused severe flooding and

killed more than 178 people across Central America.

Eta emerged back into the Caribbean Sea and tracked

northeast across portions of Cuba before temporarily

NATIONAL HURRICANE CENTER

16 www.timespub.tc
---
moving west into the Gulf of Mexico where it impacted

the Cayman Islands. Eta would finally make a last turn

to the northeast and impact Florida north of Tampa Bay

before heading out to sea once again off the east coast

of Florida.

November started off with Hurricane Eta still causing

issues, followed by the development of Tropical Storm

Theta on November 10 and the season's most powerful

hurricane. Category 5 Hurricane Iota formed on

November 13 in the Caribbean Sea and became one of

the fastest-strengthening hurricanes on record. It made

landfall on November 14 as a Category 4 hurricane, a

mere 15 miles from where Hurricane Eta made landfall.

This proved to be catastrophic for Nicaragua, as many

locations were still suffering terribly from Eta that had

hit two weeks prior on the November 3. Severe flooding,

mudslides and heavy rainfall again impacted the region,

killing at least 54 people. Hurricane Iota would prove to

be the last tropical system of the 2020 hurricane season.

The hurricane season that was 2020 will possibly

stand in the record books for many, many years. So

many records were broken this season that it is hard

to assess them all! Twelve storms hit U.S. shores. Five

systems struck Louisiana alone. There were thirteen hurricanes

this season, while the average is six. Six major

hurricanes formed in 2020, with three being the average

per season. A total of thirty named storms was a record.

The National Hurricane Center had to utilize the Greek

alphabet to name them all for only the second time in history.

There were ten named storms formed in September

alone, which was a record. The 2020 season will also go

down as the fifth consecutive above-normal season.

For those who call the Turks & Caicos Islands home, I

hope you can appreciate just how blessed the Islands are

considering what the hurricane season brought this year.

Aside from increased wave action, a few squalls from

Hurricane Isaias as it passed by and breezy conditions,

the TCI survived the worst the Atlantic could throw at the

Caribbean this year.

While we don't know what the 2021 hurricane season

has on tap for now, make sure to take the time to assess

your hurricane preparedness now, so you will be ready

when the season comes around again next year. a

Paul Wilkerson is an American meteorologist and tourist

who frequents the Turks & Caicos Islands. Along with

his wife and two daughters, the Wilkersons stay actively

engaged with Islanders throughout the year with his

Facebook page Turks and Caicos Islands Weather Info.

Times of the Islands Winter 2020-21 17
---
ORIGINAL ARTWORK BY THEODORE MORRIS
---
talking taíno

Opposite page: The headdress worn by this cacique was made of brightly colored bird feathers. On December 30, Guacanagarí removed the

"crown" from his head and placed on Columbus's head.

Above: The Santa María sunk off the coast of Haiti on Christmas Eve, 1492.

America's First Christmas

For Columbus, the holiday did not bring "glad tidings!"

'Twas the night before Christmas

Christmas Eve, 1492, sailing with a light wind, the Niña and Santa María exit the Mar de Santo Thomás.

At 11:00 PM, standing one league off Punta Santa, there was little wind, the sea was "as smooth as water

in a bowl," and the launches sent to the King's village toward which he was heading had cleared the

route. Columbus went to bed. The sailor who was steering the Santa María also went off to sleep and

the tiller was left to a ship's boy. The currents of water carried the ship—"so gently it was barely felt"—

onto a sandbank. Awakened by "a sound that from a full league (about three miles) off could be heard,"

Columbus ordered the mast cut and the ship lightened, but it was too late. The Santa María was stuck

fast and the planking opened up. Later, upon reflection, Columbus claimed that the shipwreck was the

will of God. The only mention of Christmas is the name for what was to be the first Spanish settlement,

La Navidad (the nativity).

By Bill Keegan, Betsy Carlson, and Michael Pateman

Times of the Islands Winter 2020-21 19
---
and all through the house (caneye in Taíno) . . .

At the archaeological site identified as La Navidad

(En Bas Saline [EBS]) named for the modern Haitian town,

there is evidence for house walls constructed of wattleand-daub

(a network of interwoven sticks covered with

mud or clay). The Taínos built tall, circular to oval houses

with large wooden support posts and walls made of

smaller sticks. The Caneyes had high-pitched roofs made

of palm thatch, with an opening at the top to allow smoke

to escape. The Spanish chronicler Bartolomé de las Casas

described these houses as large enough to accommodate

40 to 60 people. Guacanagarí, the village chief (cacique)

at la Navidad, gave Columbus two houses for his men,

and promised more if needed.

not a creature was stirring, not even a mouse.

The common house mouse (Mus musculus) was introduced

to the Caribbean Islands from Europe, so no mice

were stirring in Taíno caneyes. In fact, mice have never

been identified in any archaeological deposits. It is possible

that they did stowaway on Columbus' vessels, based

on solid evidence that a larger rodent arrived this day.

The study of animal bones from La Navidad (EBS) identified

the first appearance of Old World black rat (Rattus

rattus). This introduced species was so common that its

bones were present in two-thirds of the archaeological

excavation samples. Our colleague Kathy Deagan (Florida

Museum of Natural History) described these as "the first

rats to abandon a sinking ship in the Americas."

A common element of Christmas celebrations in

Medieval Europe was sacrificing a wild boar. Pig bones

have been recovered at EBS, although they did not find

a pig skull with an apple in its mouth. The presence of

rat and pig bones at archaeological sites throughout the

Americas mark the beginning of the post-Columbian

era. Rat bones also were found at site MC-32 on Middle

Caicos which shows that Lucayans were living here after

Europeans arrived. Lucayan sites were repeatedly abandoned

and reoccupied so the bones provide important

evidence of the timing of their last occupation.

The stockings were hung by the chimney with care ...

Columbus was a man of his times so we need to turn

back to the 16th century. Gift giving was a Christmas tradition

in Medieval Europe. Although instead of presents

for children, royalty expected gifts from their subjects

(read "tribute"). And gifts were not always exchanged on

Christmas Day. Giving gifts was far more common on

New Year's Day. On December 30, after seating him on

a dais of palmwood, Guacanagarí removed the "crown"

from his head and placed on Columbus's. The crown was

probably made of brightly colored bird feathers, as is still

the practice among Indigenous societies in Amazonia. In

return, Columbus presented Guacanagarí with a necklace

of fine agates and beautiful stones, a large silver ring, a

cape made of fine red cloth, and colored high-laced shoes

(and stockings?).

in hopes that Saint Nicholas soon would be there.

We have reached the limit of the torture we can

impose on Clement Clarke Moore's poem, "A Visit from St.

Nicholas." Maybe we could find a way to tie in reindeer if

we worked in circumpolar regions, but this is the tropics.

Yet in the same way we look to the night sky to catch a

glimpse of Santa and his sleigh, on that Christmas Eve the

view from Guacanagarí's village offered a similar vista.

Dominating the night sky at its zenith on the celestial

equator was the Orion constellation. Among the brightest

stars in the night sky—Rigel, Bellatrix, Betelgeuse and

Saiph—frame Orion's belt (known today in Puerto Rico as

"Los Tres Reyes Magos," the three wise men or Magi).

Orion is identified as the one-legged man in

Indigenous South American mythology and as the hunter

in modern astrology. His transit of the night sky marks

the passing of seasons between vernal to autumnal equinoxes.

During archaeological research at the MC-6 site

on the south coast of Middle Caicos, Dr. Shaun Sullivan

demonstrated that stone alignments on the site were

aligned to chart the summer solstice and the rising and

setting of Orion's brightest stars. Bill Keegan has asserted

that the entire site is an on-the-ground representation of

the constellation. All manner of seasonal events (rainy

and dry weather, hurricanes, even fishing) could be predicted

by reading the night sky.

Christmas in Medieval Europe was celebrated for 12

days, as reflected even today in song. Christmas lasted

from the feast of the Nativity (first noted as December

25 on a Roman calendar from the fourth century) to the

Feast of the Epiphany (the coming of the Magi on January

6). So how did Columbus spend the holiday season?

In the days leading up to Christmas, Columbus

entered the Mar de Santo Thomás on the eponymous

feast day. He was effusive in his praise, claiming first

that the bay could hold "all the ships in Christendom" and

20 www.timespub.tc
---
During archaeological research at the MC-6 site on Middle Caicos,

Dr. Shaun Sullivan demonstrated that stone alignments on the site

were aligned to chart the summer solstice and the rising and setting

of Orion's brightest stars. Bill Keegan has asserted that the

entire site is an on-the-ground representation of the constellation.

All manner of seasonal events could be predicted by reading the

night sky.

ISTOCK.COM
---
later all the ships in the world. Known today as the Baie

de l'Acul, it is indeed a huge anchorage, albeit spoiled

by a maze of shallow reefs and shoals. The inner harbor

is six square miles in area and the outer roadstead twice

that size. Today, the largest cruise ships in the world

stop at the Royal Caribbean Cruise Line's watersports

facility at Labadee. Columbus could see no villages along

the shore, so he sent men to reconnoiter from higher

ground. Beyond the harbor was a huge valley, all cultivated,

and smoke from the villages, surrounded by very

high mountains that "reach to the heavens, most beautiful

and full of green trees." At the mouth of the Baie

de l'Acul, Columbus named the sandy islet, seemingly

in the middle of the sea, "Amiga" (today called Île à Rat).

The Niña's captain, Vicente Anes, claimed to have seen

rhubarb growing on the island so Columbus sent a launch

to collect this valuable Chinese medicinal herb (Rheum

palmatum) prior to his departure.

We conducted archaeological excavations on Amiga

in the mid-1990s and found that it had been a fishing outpost

with artifacts spanning hundreds of years, including

a Spanish ladrillo (brick) on the surface. Our trips to and

from this tiny cay showed us on a daily basis how difficult

it was to travel to the east against prevailing winds and

currents. Columbus departed at night for good reason.

It has been suggested that the sinking of the Santa

María was due to excessive partying by the crew on the

eve of Christmas. However, his son Ferdinand claimed

that Columbus did not drink alcohol and it is in any

event unlikely that the ships carried large quantities of

libations. After three months at sea and dealing with

incessant visitors to the ships, an exhausted Columbus

had let his guard down.

When the Santa María ran aground near the village of

a powerful cacique (chief), Guacanagarí and his kin, weeping,

consoled Columbus. Canoes were provided to salvage

This 1856 painting, "The Inspiration of Christopher Columbus," by

Jose Obregon depicts the famous explorer as a young man who felt

the call of the sea at an early age.

the vessel, houses to store the cargo, and they were so

efficient that not even one agujeta was lost. Known in

English as a "lace-end," these small brass tips keep the

ends of a cord from fraying (like the end of a modern

shoelace). They were enormously popular with the Taíno;

they are a common artifact in the contact period cemetery

at El Chorro de Maíta, Cuba. Hawk's bells, which were

one of the trinkets (along with strings of glass beads)

Columbus bestowed as gifts, were also highly prized by

the Taínos, who called them chuq chuque.

Columbus named the sandy islet at the mouth of the Baie de l'Acul, Haiti, Amiga Island—today it is called Île à Rat.

22 www.timespub.tc
---
TWATIMES_Layout 1 2/16/17 7:49 AM Page 1

FLORIDA MUSEUM OF NATURAL HISTORY

Small brass "Hawk's bells" were one of Columbus's highly prized gifts

to the Taínos, who called them chuq chuque.

Columbus ordered the construction of a fortress,

tower and moat. He noted that these were not necessary

among such a loving and gentle people, but the creation

of a garrison would serve as a symbol of Spanish power.

Such power was reinforced by displays of weaponry—firing

guns and cannons—as well as a mock battle among

his men. He chose 39 men to remain at la Navidad, and

admonished them to trade for gold and to find the gold

mine. They would not survive the year.

The men were left behind because only the Niña

remained for the return voyage. Martín Alonso Pinzón,

captain of the Pinta, had set off on his own on November

27 in search of an island called Baneque whose beaches

reportedly were covered in gold. On December 27,

Columbus was informed that the Pinta had been sighted

at a harbor to the east. A week was spent on final preparations.

They reunited two days later on January 6, the

Feast of the Epiphany. Columbus makes no mention of

this holiest of days. He does describe his anger at the

mutinous Pinzón with his lame excuses, but also relief

that Pinzón could not return to Spain without him to

claim the glory.

Whether or not he was the first to "discover" America,

to the best of our knowledge Christopher Columbus was

the first Christian to reach the Americas. His historic first

Christmas in 1492 set the stage for the transformation of

human history. a

Dr. Bill Keegan is Curator of Caribbean Archaeology at the

Florida Museum of Natural History (University of Florida);

Dr. Betsy Carlson is Senior Archaeologist at Southeastern

Archaeological Research (SEARCH, Inc.) in Jonesville, FL;

and Dr. Michael Pateman is former Director of the Turks

& Caicos National Museum and currently Curator/Lab

Director of the AEX Maritime Museum on Grand Bahama.

Serving international & domestic clients in real estate, property development,

mortgages, corporate & commercial matters, immigration, & more.

TEL 649.946.4261 TMW@TMWLAW.TC WWW.TWAMARCELINWOLF.COM

Taino Paintings

by Theodore Morris

tainopaintings.weebly.com

mail:morristheodore@hotmail.com

3910 Longhorn Dr - Sarasota, Fl34233

Times of the Islands Winter 2020-21 23
---
green pages

Newsletter of the Department of Environment & Coastal Resources

Head office: Church Folly, Grand Turk, tel 649 946 2801 • fax 649 946 1895

• Astwood Street, South Caicos, tel 649 946 3306 • fax 946 3710

• National Environmental Centre, Lower Bight Road, Providenciales

Parks Division, tel 649 941 5122 • fax 649 946 4793

Fisheries Division, tel 649 946 4017 • fax 649 946 4793

email environment@gov.tc or dema.tci@gmail.com • web https://www.gov.tc/decr/

Young green turtles spend several years feeding and growing fat on the seagrass beds and tidal creeks within TCI's RAMSAR site.

Teenage Turtle Tales

Using satellite telemetry to study the lives of sea turtles.

Story & Photos By Dr. Peter Richardson and Amdeep Sanghera, Marine Conservation Society

Earlier this year, we finally published the results of 18 years of sea turtle research carried out with our

partners at the Turks & Caicos Islands Government's Department of Environment & Coastal Resources

(DECR), the University of Exeter and a host of other partners. There's something very satisfying about

publishing a scientific paper about satellite tracking sea turtles. The concise text, sharp figures and maps,

extended bibliography and acknowledgements create another neat little piece to be fitted into the enormous

jigsaw puzzle that makes up our knowledge of these fascinating marine reptiles. But the paper,

rather efficiently entitled "Spatial Ecology of Sub-Adult Green Turtles in Coastal Waters of the Turks and

Caicos Islands: Implications for Conservation Management," only tells half the story.

24 www.timespub.tc
---
green pages newsletter of the department of environment & coastal resources

Dr. Peter Richardson (center) works with South Caicos fishermen Gilbert Jennings and Dave Clare to tag and release a turtle for tracking.

Gilbert and Dave have fished TCI waters for decades, and taught the researchers everything they needed to know about catching turtles.

Attaching a tag to a turtle in the Turks & Caicos

Islands and then tracking it is no simple task—it takes

a lot of effort, time, patience, people, learning, money,

project partners' support and skill, as well as a heap of

anxious hope when you finally release the turtle back

where it came from with thousands of dollars worth of

tech on its shell. Occasionally, when the tag malfunctions

soon after release, and you receive no data from the orbiting

satellites—all of that effort, time, money and worry

amounts to nothing— that is a gut wrenching feeling, we

can tell you. But it is far outweighed by the majority of

successful tags that have provided incredible insights

into the submarine behaviours of these ancient animals

that have outlasted the dinosaurs. Through live-tracking

turtles you can literally experience scientific discovery as

it happens—and that feels magical!

At the Marine Conservation Society (MCS) we have

been using satellite telemetry to study the lives of sea

turtles with our partners at the University of Exeter since

2005, when together we attached a tag to Malliouhana,

the huge leatherback turtle after she nested in Anguilla,

and who went on to migrate to Canada's waters and back.

Since then we tracked adult female green turtles from

their nesting beach in Sri Lanka, and more recently we

have tracked green and hawksbill turtles in the Turks &

Caicos Islands as part of the TCI Turtle Project. This last

paper focused on the tracking of 16 sub-adult (or teenage)

green turtles captured while foraging in the North,

Times of the Islands Winter 2020-21 25
---
green pages newsletter of the department of environment & coastal resources

This map shows the migrations of four tagged green turtles—Gilbert, Karman and the two that migrated to Cuba.

Middle and East Caicos Nature Reserve. The area is an

internationally recognised RAMSAR site, protected for its

complex and productive mosaic of wetlands, tidal creeks

and seagrass meadows and the fantastic wildlife that they

support, including an abundance of green turtles.

This satellite tracking research, combined with our

ongoing flipper-tagging programme, has highlighted how

important this protected area is to regional green turtle

populations. Young green turtles spend several years

feeding and growing fat on the seagrass beds and tidal

creeks within the RAMSAR site. One flipper-tagged turtle

spent at least five years there, from when we first caught,

measured, tagged and released it, to when we eventually

recaptured it, measured it and released it again. No

doubt they stay there for much longer than that, between

their arrival from the open ocean as dinner-plate sized

youngsters, until their eventual departure as large, bulky

teenagers.

Twelve of the sixteen satellite tagged teenage turtles

spent the entire time they were tracked within the site,

most not straying too far from where we captured them,

while three others spent at least 9 months there before

eventually migrating away. The other turtle headed off 13

days after it was tagged and released, so we were lucky

to catch it before it departed! The productive habitats

within the RAMSAR marine protected area clearly provide

crucial foraging grounds for these growing turtles. From

our previous genetic research we know that these turtles

mostly originate from nesting beaches used by the larger

nesting populations in Costa Rica, Florida and Mexico,

so the RAMSAR site, managed and protected by the TCI

Government, is regionally important for the conservation

of Caribbean green turtles.

So four of our sixteen tracked teenage turtles

migrated away from the Turks & Caicos Islands, and

when this happens our inner turtle-nerdery comes to the

fore. We check the data maps relayed by satellite on a

daily basis, get excited when they arrive at the shores of

another country, and then worry about them all the while

they are there . . . "Will they get caught in a fisherman's

net today?"

At least one of us was present at every tracked turtle's

capture, tagging and release, working closely with

our turtle fishermen friends Gilbert Jennings and Dave

26 www.timespub.tc
---
green pages newsletter of the department of environment & coastal resources

Clare from South Caicos. Gilbert and Dave are experts at

what they do, having fished TCI waters for decades, and

have taught us both an awful lot, including how to catch

turtles. From capture to release, the turtles are treated

with greatest care and respect, and in the short time the

turtles grace us with their company, we almost feel like

we get to know them—we even give them names.

Take Karman for example, named after Amdeep's

niece. Karman was one of the bigger turtles—captured by

Amdeep, Gilbert and Dave on Boxing Day 2012. For more

than nine months after release, Karman stayed well within

the RAMSAR site, munching on seagrass and getting fat,

then one day she decided to go. We have absolutely

no idea how she decided it was time to move on, but

once the decision had been made there was no turning

back. Karman swam south, arrived at the shores of the

Dominican Republic, and headed west along the shores

of Haiti. Our hearts were in our mouths, for we knew

that delicious green turtle meat is a favourite in those

countries. But she safely passed through the Windward

Passage between Haiti and neighbouring Cuba and then

headed due south again, crossing the Caribbean Sea

and arriving at the shores of Colombia near Cartagena.

From there she headed west for about 600 miles along

the coasts of Panama and Costa Rica before doing an

abrupt about-turn and heading back to a foraging ground

in Colombia's inshore waters, where she stayed for five

months before her tag ceased transmissions.

We believe we recorded Karman's "developmental

migration," a theoretical journey rarely recorded, that

green sea turtles take between their juvenile foraging

grounds and the adult foraging grounds where they

will likely spend the rest of their lives in between their

breeding migrations. Why did she travel the extra 1,200

mile swim to Costa Rica and back? We don't know. We do

know that many of the juvenile green turtles in TCI waters

originate from Costa Rica's beaches, and we know that

green turtles eventually return to breed on a beach close

to where they themselves hatched decades earlier. We

think that the developmental migration places the turtle

on an adult feeding ground much closer to the breeding

grounds to reduce the distance the turtles must migrate

for the rest of their adult lives when they breed. Maybe

Karman was just checking out the route to her breeding

grounds for when she has to make that journey in a few

years' time?

A green sea turtle swims with a TCI Turtle Project tracking device

attached to its shell.

This thinking is backed up by the return of TCI turtle

flipper tags we have received from elsewhere—five turtles

originally flipper-tagged by us on the Caicos Bank

have been caught by fishermen on the vast seagrass

meadows of Nicaragua, some 900 miles away from TCI

as the crow flies. We know from other tracking projects

that, just as the RAMSAR site provides important juvenile

foraging habitat for the Costa Rican nesting populations,

Nicaragua's seagrass meadows provide key adult

foraging habitat for them too. Seems like many of the

young green turtles we see in TCI's waters will eventually

migrate to Nicaragua, where, incidentally, there is a turtle

fishery that catches an estimated 11,000 green turtles for

consumption each year.

Of the three other satellite-tagged teenage turtles that

migrated from TCI, two arrived at Cuba's northern coastal

waters before their transmissions abruptly ceased. One

of these turtles was named David after Dave Clare the

fisherman. We will never know why these turtles went

Times of the Islands Winter 2020-21 27
---
green pages newsletter of the department of environment & coastal resources

and, importantly, their conservation

needs. The health of the

protected RAMSAR site on the

Caicos Banks is crucial for turtles

and many other species,

as is the health of a whole network

of marine protected areas

in the Turks & Caicos Islands.

That is why, through our UK

Overseas Territories (UKOTs)

Conservation Programme, we

are working closely with partners

in the TCI and the other

Caribbean UKOTs to ensure

that the management, monitoring

and enforcement of marine

protected areas such as this

special RAMSAR site are properly

supported and resourced.

This research wouldn't

have been possible without the

generous support of many individuals

and organisations. We

received much-needed funding

from the People's Trust for

Endangered Species, the British

Chelonia Group, the National

The TCI's RAMSAR site is regionally important to the conservation of Caribbean green turtles.

Marine Aquarium, Amanyara,

quiet, but illegal turtle fishing is rampant in Cuba since it Princess Yachts, Big Blue Unlimited, Surfside Academy

was criminalised back in 2008, so we think they may well and the NERC Knowledge Exchange Fellowship. We were

have been caught. Another turtle named after Gilbert the also supported by many individuals including Anne and

fisherman headed north, swimming through the Bahamas Simon Notley, the Blavatnik Family, the Wiese Family, the

and then travelling up the southeastern coast of the USA Gerrity Family, Keith Anderson, Kenneth De Regt and

before catching the Gulf Stream at North Carolina and Alison Overseth, Patrick and Linda Flockhart, Stephen

heading out into the open ocean. After a few days in the Meringoff and Kim Charlton, Eiglys Trejo, Andrew Snead

Gulf Stream—when his swimming speed went from about and Kathleen and Simon Wood. Thank you for enabling us

50 km per day to about 90 km per day—he dropped out to better understand and hopefully better protect these

and started heading south back to the Bahamas before incredible creatures and their precious habitats.

his tag ceased transmission. Who knows what Gilbert was A link to the new paper can be found at https://www.

doing, but likely he was originally from one of the USA frontiersin.org/articles/10.3389/fmars.2020.00690/

nesting beaches and he was looking for suitable adult full. a

foraging ground nearby. Maybe he settled in the Bahamas

where there are plenty of seagrass meadows.

To find out more about our turtle research contact

As with any good biological research, we have ended Amdeep Sanghera at amdeep.sanghera@mcsuk.org.

up with more questions than answers, but these teenage

turtles have helped us understand their maritime lives

28 www.timespub.tc
---
green pages newsletter of the department of environment & coastal resources

The Piping Plover is a rare shorebird that migrates to the Caribbean for the winter, spending much time in the Turks & Caicos Islands.

Coming Home to Winter

Shorebirds rebound after Hurricane Irma.

By Eric F. Salamanca 4, 5 , Elise Elliot-Smith 1 , Caleb Spiegel 2 , Jen Rock 3 , Craig Watson 2 ,

Bryan N. Manco 4 and Lormeka Williams 4

Photos By Eric F. Salamanca 4, 5

1

USGS Forest and Rangeland Ecosystem Science Center, Corvallis, Oregon, USA

2

US Fish & Wildlife Service, Hadley, Massachusetts, USA

3

Canadian Wildlife Service, Sackville, New Brunswick, Canada

4

Department of Environment and Coastal Resources, Turks & Caicos Islands Government

5

Department of Energy and Utilities, Turks & Caicos Islands Government

The Piping Plover is a rare shorebird that breeds in the United States and Canada and migrates to the

southern US, Caribbean and Mexico for the winter. The International Union for the Conservation of Nature

(IUCN) Red List has listed this bird as "Near Threatened," while the US and Canada have it federally listed

as "threatened/endangered." Wintering birds from US and Canada spend considerable time in the Turks

& Caicos Islands, probably due to the favourable climate and habitats. Piping Plovers prefer mudflat and

sandy beach habitats. Mudflats, also known as tidal flats, are coastal wetlands that appear when shallow

flats are exposed by tides. These habitats were affected by Category Five Hurricane Irma in 2017.

Times of the Islands Winter 2020-21 29
---
green pages newsletter of the department of environment & coastal resources

The Piping Plover (Charadrius melodus) is a small

migratory shorebird that nests on sandy and stony coastal

beaches and feeds along beaches and nearby sand and

mudflats. The Piping Plover's diet includes marine worms,

fly larvae, beetles, insects, crustaceans, mollusks and

other small invertebrates. When it spots prey, the plover

will quickly run after it, stop suddenly and then snatch it

up.

While the wintering habitat in the Turks & Caicos

Islands remains in good condition for Piping Plover, the

population appeared to have declined in 2018 following

the two major hurricanes that passed through the

territory in September 2017. The massive storms could

have caused direct mortality or may have steered birds

off course, causing them to winter elsewhere. In early

2020, the total Piping Plover count was slightly over 140,

the second highest since the survey count of 193 in early

2017. It was noted that there was a low count in 2018 (62

birds) following Hurricanes Irma and Maria in September

2017. The lower count in 2018 is not totally attributed

to Hurricane Irma because it may be due to shifts in use

of habitats after hurricanes. It has been noted that the

Piping Plover has the propensity to use the same areas

each winter, which include associated sand flats, smaller

cays or multiple beaches.

Surveys of wintering areas are vital for tracking population

trends and informing full lifecycle conservation and

management of declining and listed shorebirds. Further,

re-sighting of individually marked shorebirds can identify

migratory connectivity and elucidate population dynam-

ics, contributing to informed management. Since 2016,

comprehensive shorebird surveys were conducted annually

in TCI during January and February by an international

team. Over 30 banded Piping Plovers were resighted,

most banded at breeding sites from Newfoundland to

New Jersey. Re-sights suggest that TCI's wintering Piping

Plovers are predominately from the Atlantic-nesting population,

and TCI supports a minimum 5% of that population.

Twenty-three shorebird species were documented,

with substantial numbers of federally listed (US & Canada)

Piping Plover (Charadrius melodus) and Rufa subspecies

of Red Knot (Calidris canutus) and non-listed, but declining

species such as Short-billed Dowitcher (Limnodromus

griseus). The largest concentrations were found in areas

with minimal development and relatively undisturbed

foraging and roosting habitat. Bands of four species of

individually-marked shorebirds were re-sighted—Piping

Plover, Red Knot, Ruddy Turnstone (Arenaria interpres)

and Sanderling (Calidris alba), connecting wintering

areas to breeding and migratory stopover sites in North

America.

One area discovered to have multiple nearby sites

used by a single flock is the large sandy flat area surrounding

a cay on the northern end of South Caicos and

McCartney Flats on the south side of East Caicos. Another

area where two neighbouring sites are used by the same

Piping Plovers is Conch Cay between Middle and North

Caicos and East Bay Island National Park just off the northeast

coast of North Caicos. The Piping Plover were also

noted to be using three cays northeast of Providenciales:

Piping Plover have the propensity to use the same areas each winter, which include sand flats, smaller cays or multiple beaches.

30 www.timespub.tc
---
green pages newsletter of the department of environment & coastal resources

Dellis, Stubbs and Fort George. Some of the most important

sites seemed relatively unchanged, but storm erosion

can be insidious and is not readily apparent. One of the

most important shorebird sites in the TCI are a handful of

very remote, tidally exposed sand flats and a tiny island

south of Middle Caicos. At this site there is only a single

small rocky area exposed during high tides and birds

tend to roost in this spot until neighboring sand flats are

exposed for feeding.

In the five years of surveys, the team has observed

approximately 80 bird species and approximately 13,000

individual shorebirds, providing DECR and local partners

much needed information to assist in managing the natural

resources of the Islands.

Conservation status

The Piping Plover is globally threatened or endangered,

depending on the breeding location, with fewer than

9,000 individuals in the world. In the US Great Lakes

region, it has been listed as "endangered" and it is considered

"threatened" in the remainder of its US breeding

range. In Canada, the Piping Plover is considered "endangered."

In the Turks & Caicos Islands, this bird is listed as

"rare and endangered" (Wildlife and Biodiversity Protection

Bill). It is globally recognized as "near-threatened" by the

International Union for the Conservation of Nature.

Over 30 banded Piping Plovers have been resighted, most banded at

breeding sites from Newfoundland to New Jersey.

Threats

Many anthropogenic activities can negatively affect Piping

Plover populations in wintering areas. Some of the main

threats include human disturbance, habitat loss and predation.

Human disturbance to roosting and feeding birds

can be caused by an excessive number of human activities

and certain types of recreational activities, such

This team of international researchers has observed 80 bird species and 13,000 shorebirds over the last five years in TCI.

Times of the Islands Winter 2020-21 31
---
green pages newsletter of the department of environment & coastal resources

as all-terrain vehicles. Habitat may be lost or degraded

by dredging activities, construction and installation of

structures including marinas, roads and swelling, oil

spills and oil spill clean-up. Also, beach nourishment and

storm water and wastewater discharge stabilization and

cleaning may degrade shorebird habitat. Predation and

disturbance by introduced animals such as feral cats and

dogs can have direct and indirect effects on resting and

feeding shorebirds.

It was observed by the visiting researchers that a high

tide roost known to support Piping Plover from last year,

was empty of Piping Plovers this year, possibly due to the

impact of Hurricanes Irma and Maria.

There is definitely a need to protect habitat and

shorebirds in TCI. Tagging projects have highlighted the

fact that many Piping Plover return to the same winter

location year after year. If we want this endangered and

threatened bird to continue visiting the TCI, there is a

need to address the deterioration and destruction of

important bird habitat, including key roost sites where

shorebirds rest and sand and mudflats where shorebirds

feed. a

For more information, contact Eric F. Salamanca at

efsalamanca@gov.tc.

There is a need to protect habitat in the Turks & Caicos Islands so we

can continue to observe these amazing shorebirds in action.

32 www.timespub.tc
---
green pages newsletter of the department of environment & coastal resources

"Splashing down" into the ocean opens up a world of wonders just as exciting as space exploration—and much more accessible!

One Small Splash for Man

SCUBA diving revolutionized ocean exploration for all.

Story & Photos By Carmen Hoyt, Waterfront Assistant, The School for Field Studies

Late one summer night, nearly 51 years ago, half a billion people watched in anticipation as Neil Armstrong

was the first human to step onto the moon. An event embodied by the phrase "One small step for a man,

one giant leap for mankind," marked the climax of the infamous space race playing out on (and beyond)

the global stage.

Less celebrated in pop culture, but equally as significant to the development of the US space program

was Lieutenant Colonel John Glenn and his spacecraft Friendship 7. In 1962, after three years of training,

he was the first American to orbit the Earth not once but three times, spending nearly five hours appreciating

our planet from afar. Upon his return later that day, Friendship 7 landed in the Atlantic Ocean

just off the coast of Grand Turk, where Glenn was transported for medical testing before returning to the

States.

Times of the Islands Winter 2020-21 33
---
green pages newsletter of the department of environment & coastal resources

Even further off the public radar were Navy Lieutenant

Don Walsh and Swiss oceanographer Jacques Piccard. In

a similar five-hour feat, they became the first humans

to venture into a different frontier, equally as alien but

closer to home: the deepest depths of the ocean. Despite

a series of non-essential instrument failures the morning

of the proposed dive, Walsh and Piccard took the bathyscaph

(a deep-sea submarine of sorts) Trieste down into

the Marianas Trench 220 miles off the coast of Guam

and 35,856 feet below the surface, two years before the

launch of Friendship 7.

What was the equivalent of a "small splash for

man but a cannonball for mankind" never panned out

into a dramatic show of technological will and military

might, but it nevertheless captivated the minds of ocean

explorers, scientists and engineers all over the world.

Mankind's quest to reach new heights is only paralleled

by our desire to go deeper, stay longer and experience

what we never have before. Ocean exploration shares its

foundational values with space exploration, but has taken

a backseat in political priorities. The responsibility has

fallen on the people—the ones curious enough to ask

questions and daring enough to find answers.

Aboard the Trieste, Piccard describes watching bioluminescence

at different points along the descent and the

shocking moment they encountered a fish upon reaching

the bottom. There had been previous debate as to

whether or not fish could live that deep, demonstrating

that there was some type of deep ocean current supplying

these great depths with oxygen.

In 2000, the US National Oceanographic and

Atmospheric Administration claimed that as much as 95%

of our oceans remain unexplored. More recently, over

900 hours of video footage from sea floor mapping collected

during 2015 and 2017 captured 347,000 creatures

from the deep sea, less than 20% of which could be identified.

In 2018, Salinas-de-León and a team of researchers

found that a species of deep-sea skate, a relative to the

ray, was using warm water from hydrothermal vents off

the Galapagos Islands to incubate its eggs. The discovery

of such a nursery is important because hydrothermal

vents around the world are being targeted for mining,

as they are rich in mineral resources. There's no telling

what other surprises lay in the deep oceans waiting to be

discovered, and it's important we do so before they are

gone.

While much of this "final frontier" lies in the deep

sea, there is plenty of exploring to be done in our own

backyard. I would argue that the Turks & Caicos Islands

now play a much more important role in exploration than

they did in the 1960s, thanks to the invention of SCUBA

(Self-Contained Underwater Breathing Apparatus).

What we recognize as modern SCUBA equipment

has its origins in 1943, decades before we dreamt of a

space suit, yet a century after the first dive school was

established by the Royal Navy in 1843. We can thank

Jacques-Yves Cousteau and Emile Gagnan for the original

Aqualung, an apparatus combining the inventions of

a portable air tank and regulator that freed humans of

rudimentary dive suits weighing as much as 200 pounds.

Though these previous iterations captured the attention

of the 1867 World's Fair, it was Cousteau and Gagnan's

Aqualung and subsequent improvements that expanded

the accessibility of the oceans from beyond military enterprises

and into the recreational realm. The regulator, or

breathing piece, was streamlined in 1952, followed by

the first buoyancy control device, or jacket-type compensator,

in the 1960s and improved upon by SCUBAPRO in

1971. Slowly SCUBA-training organizations such as NAUI

(1960) and PADI (1966) began to appear, all before man

set foot on the moon.

SCUBA divers are always hungry to expand their

dive repertoire, and the 340 miles of reef offered by the

Turks & Caicos serve up something truly special. The

secret recipe? An exciting mixture of underwater geological

features and charismatic megafauna. A huge draw

to the Islands is wall diving, and several of the top dive

sites offer this opportunity. The walls are just as their

name suggests: vertical slabs of rock that plunge anywhere

from 40 feet to 7,000 feet down, though you will

need special training to go anywhere beyond the PADI

Advanced Open Water limits of 100 feet. Dive sites like

these can be found virtually all over the Islands, including

Providenciales, West Caicos, South Caicos and Grand

Turk.

Besides the walls, it's not uncommon to find canyons,

cracks in the wall, and a few interesting wrecks. A mixture

of hard corals, soft corals and sponges grow along

the wall, making for intricate hiding and feeding spots for

various marine life. TCI waters have been known to host

sharks, dolphins, whales (seasonally) and spotted eagle

rays, to name a few.

34 www.timespub.tc
---
green pages newsletter of the department of environment & coastal resources

Students at The School for Field Studies in South Caicos employ SCUBA diving to do data collection and research that ultimately helps to

sustainably manage the local ecosystem.

The best time to go diving is . . . well, all the time.

While late summer months bring calmer seas and better

visibility, hurricane season is a factor. During this time,

water temperatures peak at 86ºF (30ºC), but they drop to

about 75ºF (24ºC) in January when sea conditions can be

a bit choppier.

At The School for Field Studies' Center for Marine

Resource Studies on South Caicos, university students

participate in an exploration of their own. They have the

opportunity to become PADI Open Water and Advanced

Open Water certified divers. We aim to equip them with

the necessary skills to meld SCUBA diving into their recreational

and scientific endeavors.

Here on the "Big South," we are lucky to have exciting

dive sites along the wall, one of which contains wing

wreckage from an old airplane. SCUBA has become an

important tool for our young scientists to collect data,

and many of our long-term projects would not have been

possible without the necessary training and equipment.

Some of these projects include coral monitoring and fish

surveys. Students use SCUBA to assess coral diversity,

bleaching status and disease progression as well as identify

and tally reef fish abundance. This data is used to help

the community identify and implement tools to sustainably

manage the local ecosystem. Snorkeling has been

equally as important in data collection and an excellent

way to get out and see the wonders below the surface.

If you would like to participate in your own ocean

exploration, there are a few things to consider. Read up

on the health risks associated with SCUBA diving and

consult your doctor to make sure you are fit for such an

activity. Underlying respiratory and cardiac illnesses are

often barriers to diving but will not necessarily hold you

back from snorkeling. Always be aware of surrounding

ocean conditions and be sure to participate in the necessary

training before attempting any new dives. There are

a variety of centers certified to teach diving or lead snorkeling

trips scattered across the Turks & Caicos Islands,

and they can always help refresh or advance your skills

if you have been previously certified. If you own your

own gear, be sure to keep up on maintenance or have it

checked prior to use if it has been sitting for a while.

As the father of modern SCUBA, Jacques-Yves

Cousteau, once said: "The sea, once it casts its spell,

holds one in its net of wonder forever." So, what will you

discover beneath the waves? a

Times of the Islands Winter 2020-21 35
---
green pages newsletter of the department of environment & coastal resources

This Google Earth imagery (above) shows the area where Sentinel 2 satellite imagery (opposite page) was analysed to categorize vegetative

habitats.

Plotting for Progress

Project increases mapping capacity with multiple uses.

Story & Images By B Naqqi Manco, DECR Terrestrial Ecologist/Environmental Officer

In March 2020, the TCI Department of Environment & Coastal Resources and partner organizations

Environment Systems Ltd. (UK), Virgin Islands National Parks Trust (British Virgin Islands), and Joint

Nature Conservation Committee (UK) completed the two-year project, "Mapping for Evidence-Based Policy,

Recovery and Environmental Resilience." The project was funded by the Darwin Plus grant programme

under the UK Government's Darwin Initiative, and its aim was to increase local capacity in the Turks &

Caicos Islands and British Virgin Islands through techniques training and building familiarity with open

source mapping software QGIS and similar programs.

This developed skill set allows DECR to carry out manipulation of satellite imagery internally without

requiring outside partners or contractors. Comparison of imagery over time with these skills allows for

evidence-based decision-making for environmental management and climate change resilience.

36 www.timespub.tc
---
green pages newsletter of the department of environment & coastal resources

In order to deliver the training, a series of workshops

was focused on each participant developing their own

practical projects over the project's lifetime. The collaborative

training workshops were held in Tortola, British

Virgin Islands in December 2018 and Providenciales,

Turks & Caicos Islands in March 2019. A master class for

selected participants was also held at the Environment

online, long-term monitoring projects for mangroves, forests,

beaches and coastlines, charcoal burning, carbon

storage, ecosystem loss and species range predictability

are possible.

A foundation for a simplified terrestrial habitat map

was also established, which can be updated by DECR

internally using QGIS software. The project also made

Systems Ltd. headquarters in Aberystwyth, Wales in June

2019. Separate follow-up workshops were held in Tortola

and Providenciales in February 2020.

Within the TCI, staff members from both the

Department of Survey and Mapping and Department of

Disaster Management and Emergencies also participated

in the training. Exposure to the wildly different terrains

of the steeply-sloped, 500 meter high British Virgin

Islands and the low, flat, rolling Turks & Caicos Islands

allowed expert Environment Systems and JNCC trainers to

show participants how the same techniques can be used

regardless of terrain, but also how to finely-tune interpretation

of imagery data in their respective territories.

The training sessions mainly focused on teaching

the use of open-source Geographic Information System

(GIS) software QGIS. This free program, under constant

improvement by users, allows the DECR to use high quality

mapping software without having to pay and renew

costly annual licensing fees. Using satellite imagery purchased

by the project and open-source imagery available

possible collection and interpretation of satellite imagery

and field-collected data from shallow marine areas, which

brilliantly complement the concurrent "Developing Marine

Spatial Planning (MSP) Tools for Turks & Caicos" project

between the South Atlantic Environmental Research

Institute and DECR, also funded by Darwin Plus. The project

also supplemented DECR's capacity by supplying both

hardware for data storage and manipulation and software

in the form of years' worth of satellite imagery from several

sources.

Development of skills for mapping Turks & Caicos

Islands terrestrial and marine areas and interpretation of

satellite imagery allows DECR and partner organizations

to make solid, evidence-based environmental decisions,

especially relating to recovery and resilience from hurricanes

and other severe weather events related to climate

change. DECR Director Lormeka Williams investigated

the use of GIS and satellite imagery in mapping locations

of illegal charcoal production in Providenciales. DECR

Terrestrial Ecologist B Naqqi Manco generated habitat

Times of the Islands Winter 2020-21 37
---
green pages newsletter of the department of environment & coastal resources

prediction maps for a rare endemic taxon of Encyclia

orchid, and was able to use the range limit to calculate a

probable International Union for Conservation of Nature

Red Data List status for the taxon. Demarco Williams,

Assistant Director of Department of Survey and Mapping,

analysed pre- and post- 2017 hurricane imagery to understand

impact and recovery of mangroves in South Creek,

Grand Turk. While the training course focused on natural

impact and recovery, Assistant Director Williams was

also able to focus the techniques on tracking unlicensed

development spread on Providenciales.

Students of the master class in Wales presented their

projects to Hon. Ralph Higgs, TCI Minister of Tourism,

Environment, Heritage, Maritime and Gaming in the

February 2020 follow-up meeting, demonstrating the

skills they have acquired through the course.

Following the completion of the courses, DECR team

members have been able to use GIS for additional projects

showing illegal development impact to Protected

Areas, loss of habitat from land clearance and changes

to land due to mining activity. These tools have resulted

in stronger capacity to enforce environmental law and

collaborate with other departments whose remits DECR's

overlaps in these issues.

With several other Darwin Plus projects underway and

recently awarded funding, DECR is now far better suited

to collaborations with international partners through

these projects, and the recurrent environmental responsibilities

of the department. a

From top: GIS Master Class participants from Turks & Caicos Islands

and British Virgin Islands work through their projects with support

from expert trainers at Environment Systems headquarters in

Aberystwyth, Wales.

Using QGIS to manipulate Sentinel 2 imagery from Pine Cay shows

healthy, recovering Caicos pine forests (dark green-grey patch in centre

of image) around the Diamond Jubilee Pine Yard.

DECR Director Lormeka Williams learns to use a sounding device to

collect data on underwater terrain in Tortola, British Virgin Islands.

38 www.timespub.tc
---
RAMONA SETTLE

40 www.timespub.tc
---
feature

Opposite page: You won't leave Salt Cay without having a "donkey encounter." These friendly beasts are the ancestors of donkeys who pulled

carts of salt when the industry was booming.

Above: This aerial shot shows the shark-tooth shape of Salt Cay, as the plane approachs from the northeast. Balfour Town can be seen in the

distance.

RAMONA SETTLE

Back in Time

Salt Cay is a remnant of the "Old Caribbean."

By Debbie Manos

One side effect of the COVID-19 pandemic has been a corporate nostalgia for the past. The global

upheaval and massive changes of 2020 have many yearning for the "good old days."

In the Turks & Caicos Islands, there is a place referred to as "the island time forgot." Besides being the

country's smallest (2 1/2 by 3 miles) and southernmost island, Salt Cay is much like the "Old Caribbean"

of 30 years ago. As well, its amazing beauty if one of the best-kept secrets in the region, with miles of

white sandy beaches. Here, solitude and seclusion reign, with just enough activities available to pique

your interest.

Times of the Islands Winter 2020-21 41
---
MARTA MORTON–WWW.HARBOURCLUBVILLAS.COM

There are no paved roads, and the "wild life" of donkeys,

cows and chickens roam the island freely. There

are one-of-a-kind historical buildings with lovely (and

practical) Bermudian persuasion in their design. The people

have a reputation for being the friendliest people in

the Islands, and each new guest becomes a friend whose

return is eagerly anticipated.

With a population of only 75 (give or take a few),

Salt Cay residents know the importance of helping each

other in times of need. When COVID-19 reached pandemic

levels in the Caribbean it was mid-March 2020.

TCI Premier Sharlene Cartwright-Robinson, in conjunction

with Governor HE Nigel Dakin quickly closed the domestic

and international borders to protect the country's most

valuable resource—human lives. As a result, Salt Cay's

only industry these days—tourism—came to a halt, resulting

in a huge impact on the small businesses, as is true

in the rest of the world.

But Salt Cay resilient residents are familiar with

challenges. Community members "circled the wagons"

and did what they do best—help each other. We quickly

learned to "make do" with what we have on hand and get

very creative—especially with cooking!

Our community ferry was permitted to travel to Grand

Turk to pick up supplies. A few people volunteered to

order food for everyone who needed it and Jesrell from

IGA packed up each individual order and delivered it to

the ferry. Friends and family also dropped off supplies for

their loved ones living seven miles across the ocean. In

an island version of Uber Eats, volunteers would deliver

orders to the homes and leave the boxes on the wall. This

way, no one had physical contact with each other and

socially distancing was very easy.

There are no paved roads on Salt Cay and bicycles are the preferred

mode of transport. The stone walls lining the salinas are hundreds

of years old.

As of press time (mid-December 2020), Salt Cay

remains COVID-19 free! People used to say we are an

island of the four Cs—no crime, no cruise ships, no casinos

and no crowds . . . now we can add no COVID-19!

Community members continue to be extremely cautious

42 www.timespub.tc
---
1 (649) 342-3180

North Caicos Island, TCI

BottleCreekLodge.com

BottleCreekLodge@gmail.com

by masking up, hand sanitizing and social distancing.

The business owners have made safety their number one

priority in welcoming tourists back to the Turks & Caicos

when the Premier opened our borders on July 22, 2020.

In 2017, Salt Cay was hit by two Category 5 hurricanes—Irma

and Maria. No lives were lost and no injuries

sustained, as we believe in being well prepared. There

was, however, substantial damage to buildings and infrastructure.

Fortunately, in the last few years there has

been a tremendous amount of money invested into Salt

Cay.

The current government has provided funds to

repair the Mary Robinson Primary School, the District

Commissioner's office, community shelters, cisterns,

the salt shed, sea wall and numerous other projects. The

latest improvment is the Salt Cay airport which recently

opened and was officially named the Leon Wilson Airport.

There was a ribbon cutting ceremony with the Premier and

several cabinet members in attendance. It is a stunning

new runway and apron, with space to park private planes

and a newly fenced area, along with a remodeled airport

Times of the Islands Winter 2020-21 43
---
MARTA MORTON–WWW.HARBOURCLUBVILLAS.COM

Salt Cay: Now and then (inset).
---
On an early morning ramble on Salt Cay, photographer Marta

Morton discovered this donkey wandering by the old stacked stone

wall and colourful garden.

MARTA MORTON–WWW.HARBOURCLUBVILLAS.COM

terminal—still small and quaint. Herzog Construction

completed the work and now we have a fresh new airport

to greet all of our new and returning passengers.

People often ask me, "What is there to do on such

a small island?" January 2021 is the beginning of our

Humpback whale season—much anticipated every year.

Salt Cay Divers and Salt Cay Whale Adventures have new

boats and excellent captains to take you on an adventure

of a lifetime. Salt Cay is considered the country's "whale

headquarters" because the 7,000-foot deep Columbus

Passage is located directly in front of Salt Cay. This is

where the whales migrate on their way to warmer waters

to mate, give birth and carry their young. (There is some

evidence to suggest that the shallower water around Salt

Cay has become a birthing area for the whales.) This is

one of the last places in the world you can still swim with

these magnificent creatures.

Salt Cay Divers will take you diving on some of the

most pristine walls and reefs with brilliant sea fans, colorful

corals and rocks teeming with fish. The island also

offers snorkeling directly from its beaches or aboard a

boat trip to several nearby uninhabited islands. Salt Cay

46 www.timespub.tc
---
is positioned perfectly to provide you with a variety of day

trip opportunities, located just 7 miles from Grand Turk,

22 miles from South Caicos and 7 miles from the bird

sanctuary at Great Sand Cay.

Speaking of which, Salt Cay's bird population is

another well-kept secret. We have over 36 species spotted

here, including herons, egrets and ospreys. The flamingos

have returned and are seen in the South Creek and

South Pond area daily. They come over from Grand Turk

to feed. (We say the food must be better here!)

The most common means of transportation on Salt

Cay are bicycles and golf carts. You can walk or ride to

most any of our spectacular beaches. Hiking, biking and

relaxing are very popular, as well as deep-sea, hand-line

or bonefishing in the South Creek. Going on a historical

walking tour, hunting for clams in the sand flats (then

having the local cafés cook them for you) or "hunting"

for shots on a photographic safari are just a few of many

activities that folks find to do on Salt Cay.

There are four bistros/cafés on-island, each with

their own specialties. The island has four small stores for

basics and most all of the 14 different accommodations

SCHEDULE

ROUND TRIP TO NORTH & SOUTH CAICOS

(Due to COVID restrictions, see in

yellow the TCI FERRY SCHEDULE

please visit www.tciferry.com or call

(649) 946-5406 to confirm

present schedule)

Times of the Islands Winter 2020-21 47
---
MARTA MORTON–WWW.HARBOURCLUBVILLAS.COM

The beaches on Salt Cay are as lovely as any in the Turks & Caicos, and always more deserted.

available have some means of preparing your own meals

when you're not dining around tasting the local cuisine.

We do not have any five-star hotels or fancy spas, but

we DO have private one, two and three-bedroom villas

or apartment-like options that are all quaint, clean, comfortable

and offer you a safe place to relax and rejuvenate

your mind, body and soul.

Once you experience Salt Cay you might be like many

others and want to move here or spend the winter months

on island to be out of the cold. There are currently several

oceanfront homes for sale at a fraction of the cost

of the other islands, as well as lovely homes in our small

neighborhoods. Or, find the perfect plot of vacant land

and build. The TCI Government is offering purchases on

Salt Cay to be charged only 6.5% stamp duty as a stimulus

to boost our economy. Other islands in the country have

to pay as high as 10.5% . (TCI's stamp duty is a one-time

transfer tax. After that, there are no property taxes.) So

when you fall in love with Salt Cay, check with your local

real estate agent to make Salt Cay your new home.

We are open and ready for tourists to come and visit

our magical little island. Hope to see you in Salt Cay soon.

a

48 www.timespub.tc
---
Building Your Vision, Delivering Excellence, and Exceeding Expectations -

Time After Time.

Projetech offers turnkey Construction Management and General Contracting

Services for Residential, Commercial and Hotel & Condominium Projects in the

Turks & Caicos Islands. Our depth of experience is unrivaled and our

commitment to quality shows in the hundreds of projects we've completed in the

Turks & Caicos since our beginnings in 1996.

E S T A B L I SHE D 1 9 9 6

C O N S TRUCTI O N M ANA G E M E N T & S E R V I C E S L T D

PO BOX 659 | PROJECT HOUSE | LEEWARD HIGHWAY | PROVIDENCIALES | TURKS & CAICOS ISLANDS

T: 649.941.3508 | F: 649.941.5824 | INFO@PROJETECH.TC | WWW.PROJETECH.TC |
---
GARY JAMES—PROVO PICTURES
---
eal estate

Opposite page and above: The safe, healthy, uncrowded, "Beautiful by Nature" lifestyle possible in the Turks & Caicos Islands is attracting

more and more people from around the world. If you have the means and opportunity, who can resist?

GARY JAMES—PROVO PICTURES

Living Outside the Box

TCI's sea, sand, sun and safety entices buyers.

By Kathy Borsuk

2020 feels like a year of boxes. We've tried to stay in our "home" box as much as possible. We've communicated

via our "phone" box or our "computer" box while peering at the boxes that hold our family,

friends' and colleagues' faces. We're entertained by looking at our "television" box or "tablet" box. We

even worship by singing praises to the "screen" box that broadcasts our church service. And when we do

move about, even our vision seems boxed-in by the masks on our faces.

Now that the Turks & Caicos Islands have reopened to tourism, I can tell from watching people's faces

as they exit the airplane that they realize they have finally burst out of the "COVID-19 life" box and into

a wide-open vista of sun, sand, sea and fresh air!

Times of the Islands Winter 2020-21 51
---
After closing its borders in late March, 2020 to

slow the spread of the COVID-19 virus, the Turks &

Caicos Islands reopened on July 22, 2020, requiring

all visitors and returning residents to secure a Travel

Authorization document via the TCI Assured Portal at

www.TurksAndCaicostourism.com. This requires a negative

PCR COVID-19 test within five days of traveling and

proof of medical insurance.

At the same time, TCI Government implemented strict

protocols on the wearing of masks, social distancing,

hand sanitizing, limiting the number of persons in buildings

and at social gatherings and nightly curfews. Details

were fine-tuned based on the number of active cases of

COVID-19 at any given time. As a result of these measures

and extensive public testing and aggressive contact

tracing, the number of cases of COVID-19 throughout the

TCI has been maintained at a very low number.

TCI Government also introduced the TCI Assured

Certification Program to serve as a symbol of compliance

with all COVID-19 health protocols. The purpose is to give

assurance to both visitors and residents that businesses

are compliant with standards set by the Environmental

Health Department in collaboration with the TCI Tourist

Board, and that workers are trained, protocols are in place

The TCI Assured Certification Program uses this symbol to assure

visitors and residents that businesses are compliant with standards

set by the Environmental Health Department in collaboration with the

TCI Tourist Board.

and that they are being implemented. Eligible businesses

include accommodation providers, public transportation

operators, restaurants, spas and the golf course. For

more information on TCI's response to the COVID-19

pandemic, visit www.gov.tc/moh/coronavirus/.

The doors to the country opened wider when in

mid-November 2020, the United Kingdom added TCI

back to its Travel Corridor List. This means that persons

traveling to the UK from the Turks & Caicos will not have

to self-isolate on return. In mid-December 2020, the

United States Centers for Disease Control (CDC) downgraded

TCI's COVID-19 risk rating to "Level 2 – Moderate

Risk."

Earlier in the year, the World Travel and Tourism

Council awarded TCI the "Safe Travels Stamp." This

denotes that the country's existing safety protocols align

with the WTTC's core requirements, designed to standardize

safe travel.

Feedback from the steady stream of visitors that have

come to TCI over the fall and early winter months of 2020

reflects that they feel protected without feeling like their

vacation experience is compromised. Best of all, these

early arrivals enjoyed an especially quiet, peaceful atmosphere

and careful, cautious, considerate service. TCI

quickly became the perfect place to refresh and revive!

By mid-December 2020, occupancy rates in resorts

topped 50% and were expected to continue to rise. Stays

in private villas—the perfect place for a family or small

group to social distance—were booming. The country's

largest resort, Beaches Turks & Caicos, reopened on

December 21, 2020, utilizing a "Platinum Protocol of

52 www.timespub.tc
---
Times of the Islands Winter 2020-21 53
---
GARY JAMES—PROVO PICTURES
---
Is it any wonder that the Turks & Caicos Islands has won the World Travel Award for "Caribbean's Leading Beach Destination" every year

since 2015?
---
KELLER WILLIAMS REALTY

TCI's "Out Islands," including North Caicos (shown above) are replete with opportunity, as they are much less developed than Providenciales.

The lot marked above is in the Major Hill area of North Caicos. The surrounding area includes a vacation rental villa and residential homes.

For more information, visit www.tcrea.com and reference MLS #2000436.

Cleanliness." These measures include inspecting, cleaning

and sanitizing hard surfaces in common areas every

20 minutes, adding auto-dispensing hand sanitizing

stations throughout the resort, using hospital-grade disinfectants,

electrostatic sprayers for advanced cleaning

and air duct sanitization for each room before guests

arrive.

Realtors report an astounding volume of inquiries

as people around the world—especially luxury buyers—

search for a safe haven. Because the Turks & Caicos is

a high-end, uncrowded, safe and secure destination,

it fits the bill. TCI Government encouraged real estate

purchases by implementing a 25% stamp duty relief on

purchases closed by December 31, 2020. This meant as

much as a $6,000 saving on a $300,000 purchase and a

$25,000 saving on a $1 million transaction!

The Turks & Caicos Real Estate Association (TCREA)

third quarter sales figures (based on MLS listings) indicate

a strong and fundamentally healthy market, especially

when compared to record sales in 2019. Noteworthy is

that of $147 million in pending MLS sales, $80 million of

these deals are expected to close before the end of the

year. This would bring projected annual total sales for

2020 to $273 million—approximately $10 million higher

than 2018 year-end sales! Not bad for a year marked by

great calamity and uncertainty!

TCI continues to stand as a luxury destination, with

the average home price now up to $2,032,666 and the

median price $1,100,000. Realtors note that TCI's outof-country

client base are still purchasing homes at the

higher end of the scale. In fact, the Turks & Caicos is a

"beacon for luxury buyers seeking an escape," attracting

celebrities such as DJ Khaled, Jennifer Lopez and Alex

Rodriguez.

On the other hand, during the third quarter of 2020,

condominium sales dropped. The average condo sales

price went from $931,730 to $469,666, while the median

price dropped from $690,000 to $350,000 and total sales

dropped from $13,664,000 to $1,300,000. Realtors attribute

this to limited resale opportunities, as owners chose

to hold on to their investment/vacation condominiums

with plans for more personal use this season. Realtors

believe that in 2021, the condominium sector sales numbers

will become normalized when the Ritz-Carlton is

completed and the sales of those units are posted in the

MLS system.

Land sales also saw a drop in the current marketplace.

The average price went from $474,878 to

56 www.timespub.tc
---
$274,314 and the median price dropped from $237,500

to $85,000 with total sales decreasing from $16,145,859

to $7,406,500. Analysts believe that during this time of

pandemic, more land is being purchased by island residents

at the lower end of the scale. For instance, land

sales in Long Bay continue to be strong—leaving a very

limited amount of beachfront and waterfront properties

in the active market.

At press time (mid-December 2020) Keller Williams

TCI released updated figures covering the period October

2020 to December 14, 2020. They note, "Our market is

showing that house sales are similar to the last quarter,

but that the average sale price went down from

$1,100,000 to $925,000. There were three sales in the

range of $300,000 to $599,999; five sales in the range of

$600,000 to $999,999; and eight sales over $1 million."

The report adds, "Our condominium/townhouse report

looks so much better this quarter, with sixteen sales and

an average sale price of $1,280,687. There were six sales

over $1 million, totaling $16,391,000 of the $20,491,000

sold. Land sales did marginally better this quarter with

total sales of $7,938,500 and an average sale price

increase to $317,540. Luxury land showed one sale of

beach frontage at $2,500,000. It is getting very difficult

to find beachfront land, especially in Providenciales; we

have many buyers looking."

This is a clue as to why the TCI real estate market

continues to flourish. There is not an oversupply of

inventory, so sellers can expect their asking prices are

not unrealistic. There are very few speculators in the

market, so properties that are purchased, even land, are

soon put to use. This is clear if you take a drive around

Providenciales and take note of the multitude of projects

currently under construction or renovation. There is no

doubt that the construction industry is flourishing!

The Turks & Caicos Real Estate Association (TCREA)

includes 14 companies and over 100 agents, all highly

trained and ready to uphold standards of integrity and

good practice. TCREA agents have worked diligently—

many from home—to communicate and serve clients

and customers throughout the TCI border shutdown and

during the current months of pandemic upheaval.

With lots of practice in working with clients via

computer and telephone, having virtual meetings, conferences

and property showings with customers and clients

worldwide is nothing new to TCI realtors. In fact, the

variety of technological solutions, including virtual tours,

videos, photography, third party expert inspections,

Times of the Islands Winter 2020-21 57
---
IMAGE COURTESY TC SOTHEBY'S INTERNATIONAL REALTY

Dining al fresco can be a daily occurence when you own a home or

condominium in the Turks & Caicos Islands. Shown here is an outdoor

patio at The Somerset on Grace Bay.

effective documentation and diligent agent, broker and

legal follow-up has actually made purchasing and selling

real estate less complicated than in the pre-COVID era. As

more buyers "shop" online, virtual showings can shrink

the timeline for purchase, leading to greater sales and

reduced days on market.

This year marked a time of transition for many local

businesses, and the real estate sector was no different.

National Colony Realty, one of the TCI's oldest real estate

companies (founded by Bengt Soderqvist in 1966), joined

Keller Williams, the number one international realty

agency in the world. Building on a solid foundation of

integrity, honesty and results, Keller Williams Turks and

Caicos gains a technological edge that is present throughout

every step of the experience. Unchanging is the base

of clients who have become friends over the years.

ERA Turks & Caicos, another of TCI's venerable real

estate companies, used the pandemic shutdown to merge

into the RE/MAX Real Estate Group, a diverse team of

expatriates and native Turks & Caicos Islanders, with an

58 www.timespub.tc
---
excellent reputation of working with referred or repeat

clients.

As soon as restrictions and curfews were lifted, developers,

contractors and construction workers in the TCI

went back to work. Much progress has been made on the

newest projects on offer.

The South Bank residential resort and marina sprawls

over 30 acres, its borders the captivating 2,000 feet of

ironshore just east of the South Bank Marina and 230

feet of beautiful beach on Long Bay. Each of the various

neighborhoods offers residences featuring a unique relationship

with the water and having their own pools and

gardens to create private spaces within an embracing

enclave.

At press time in December 2020, the excavation of

the central South Bank feature—the 5.4-acre beachfront

swimming lagoon—has commenced and will reshape the

canvas significantly over the next three months, finishing

with the shaping of two lounging islands with intimate

beach coves and cabanas.

Surrounding the Lagoon, three Lagoon Villas were

showing different stages of completion. Lot 12 is evidenc-

Cays Winter Times 2018_Layout 1 11/14/18 10:30 AM Page 1

CAYS CONSTRUCTION CO LTD

A COMPLETE SERVICE.

Once you have purchased your land

...we take you all the way.

...TO THE KEYS TO YOUR NEW HOME.

We take care of the design,

the building approvals,

the construction management,

and the construction works.

Allow us to design and build your new home.

caysconstruction.com

caysconstruction@aol.com

Times of the Islands Winter 2020-21 59
---
The longest established legal practice

in the Turks & Caicos Islands

Real Estate Investments

& Property Development

Immigration, Residency

& Business Licensing

Company & Commercial Law

Trusts & Estate Planning

Banking & Insurance

1 Caribbean Place, P.O. Box 97

Leeward Highway, Providenciales

Turks & Caicos Islands, BWI

Ph: 649 946 4344 • Fax: 649 946 4564

E-Mail: dempsey@tciway.tc

Cockburn House, P.O. Box 70

Market Street, Grand Turk

Turks & Caicos Islands, BWI

Ph: 649 946 2245 • Fax: 649 946 2758

E-Mail: ffdlawco@tciway.tc

john redmond associates ltd.

architects & designers

construction consultants

project management

p.o.box 21, providenciales, turks & caicos is.

tel.: 9464440 cell: 2314569 email: redmond@tciway.tc

ing the iconic butterfly roof with windows scheduled for

installation in early January. Lots 4 and 7, each offering

beautiful sunset views across the lagoon, are well under

way. Along the Long Bay shoreline, there is progress at

the Ocean Estate. Shoal Villa 8 is now at roof level and is

showing off its impressive serenity pool. A Banks Villa,

another Shoal Villa and a Dune Villa are scheduled to commence

construction in the first quarter of 2021.

Each South Bank residence features generous kitchen

and living/dining areas, handmade for entertaining family

and friends. Homeowners and their guests can partake

of resort amenities including watersports, tennis, gym,

spa, restaurant and bar, along with multiple beach access

areas. Also available are in-villa dining and spa treatments,

with private chefs and wellness experts. The entire

South Bank property is security gated.

Now under construction, 2021 will bring the opening

of Grace Bay Resorts' anticipated new luxury resort Rock

House. This cliffside Mediterranean-inspired hideaway—

located on a 14-acre oceanfront site on the north coast

of Providenciales—includes peaks soaring to 95 feet

above sea level. Its signature features are two pools: a

breathtaking 100-foot long infinity pool perched on a cliff

overlooking the ocean, and a limestone pool built into the

natural stone, surrounded by ancient trees.

Rock House offers guests privacy and space—two

things that will be most important to travelers in 2021—

through spacious studio suites and single-family homes.

The aesthetic at the five-star property will be comfortable

luxury, highlighting and protecting the landscape's

natural elements. Glamorous amenities will include a serviced

beach club jetty reminiscent of those in Europe; a

secluded private beach and a signature cliff-top restaurant.

Reports are that Phase 1 is nearly sold-out.

Serenity, luxury, and beauty abound at the Sailrock

community on South Caicos. Spread over 770 acres in a

naturally preserved environment, the Sailrock Peninsula

includes a five-star resort and several private neighborhoods

with an array of unique homesites with varying

topographies, vegetation and shorelines to accommodate

all lifestyles.

To aid and assist the growing number of people who

are making the Turks & Caicos Islands their permanent or

part-time home, KR Logistics & Services offers complete

relocation services. They are well-able to professionally

pack, crate, load and ship your belongings anywhere in

the world or from anywhere in the world. They also offer

extensive consulation services to streamline the entire

process of starting a new life in paradise. a

60 www.timespub.tc
---
astrolabe

newsletter of the Turks & Caicos National Museum

Front Street, PO Box 188, Grand Turk, Turks & Caicos Islands, BWI TKCA 1ZZ

tel 649 247 2160/US incoming 786 220 1159 • email info@tcmuseum.org • web www.tcmuseum.org

Here's a bit of "recent" history: an image of school teacher Eliza Simons and her students on Salt Cay back in 1964. I wonder what stories

those students remember?

TURKS & CAICOS NATIONAL MUSEUM COLLECTION

Continuing the Story . . .

I am always asked where my love of exploring unknown history comes from. Growing up, my godfather

Roosevelt "Roosie" Finlayson would entertain my cousin and me with Afro-Bahamian folk tales. He was

such a performer that I looked forward to my visits with Roosie just for his stories. While these stories

are tales of fiction, at the time I believed them to be real. It made me wonder about "once upon a time"

and inspired a thirst to learn and uncover more. As I grew as a researcher, I learnt that the story is never

finished. There is always more to uncover or another perspective to tell.

In this edition of the Astrolabe we present two examples of "continuing the story." Jeffrey Dodge

continues and expands upon the story of 19 Californians who went to East Caicos in 1940 to establish

"utopia." Eric Wiberg completes the story of the Fauna, which was torpedoed by a U-boat and sunk near

the Turks & Caicos during World War II, and the boat's survivors.

Do you have an artistic, historic or cultural research question or article you would like to submit to

the Astrolabe? Contact us at info@tcmuseum.org. a

Dr. Michael P. Pateman, Ph.D., former Director, Turks & Caicos National Museum

Times of the Islands Winter 2020-21 61
---
astrolabe newsletter of the Turks & Caicos National Museum

INGRID POHL FAMILY PHOTOGRAPHS

Top: This is the yacht Spindrift tied up on the Miami River just before departing for East Caicos with the "modern Crusoes" on board.

Bottom left: Cletys Ackerman and Greta and Karl Kvanvig stand next to a cottage on East Caicos built of tabby concrete.

Bottom right: Margaret Lorntsen sits in front of a pile of conch shells which were burned to create lime. It was mixed with water, sand and

ash to make the tabby concrete.

Modern Crusoes

The rest of the story.

By Jeffrey Dodge

In 2017, the Astrolabe published a story I wrote about 19 Californians who went to East Caicos in 1940

with the intention of establishing a utopian colony there. (See: https://www.timespub.tc/2018/01/modern-crusoes/).

Since that article was published, I have been contacted by descendants of the group's

leader, Richard Irvine. They've shared recorded interviews with Richard Irvine, two of his daughters and

100-year-old Alton Higgs of Middle Caicos. Higgs worked for the Californians on East Caicos in 1940 when

he was 18 years old. Here is the rest of the story.

62 www.timespub.tc
---
astrolabe newsletter of the Turks & Caicos National Museum

Synopsis

By 1938, Richard Irvine, a traveling salesman living in

Pasadena, California, had become so distressed with what

he viewed as the Roosevelt Administration's swing toward

socialism that he considered moving out of the country.

Later that year, Irvine's political dilemma was solved.

In late 1938 while in Phoenix, Arizona on business,

Irvine made the acquaintance of James Lake. During their

conversation that evening at Irvine's hotel, Lake mentioned

that his wife Grace had inherited land on East

Caicos Island in the British West Indies from her father

John N. Reynolds. Based on a trip Lake and his wife made

to the Turks & Caicos Islands in 1934, he told Irvine that

the abandoned island was abundant in valuable resources

such as hardwood forests, fruit trees, wild cattle and jackasses,

sisal and bat guano in caves that could be sold for

fertilizer. His description was so impressive that Richard

Irvine thought East Caicos might be the perfect place to

establish a colony far away from the politics at home.

James and Grace Lake moved to Pasadena and into the

Irvine home in late 1939 so they could more easily plan

forming a co-operative settlement on the island Grace

had inherited. Twenty-one people—fifteen strangers plus

six members of the Irvine family—were chosen for this

venture. They included a salesman, insurance investigator,

carpenter for Walt

Disney, a housekeeper for

Hollywood celebrities, a

nurse, a retired Standard

Oil engineer and a student.

Their ages ranged from

69 years to 18 months.

The group of twenty-one

signed an agreement

forming a closed corporation

they called the East

Caicos Trading Company.

Under the agreement,

Richard Irvine became the

group's leader and could

only be replaced if found

to be incompetent and

a qualified replacement

identified.

The group left

Pasadena on January

17, 1940 for Cutler, Florida in four cars—one towing a

trailer—and a truck. While on the way, the Irvines saw the

group's trailer, filled with their supplies, abandoned by

the side of a gas station near New Orleans. The trailer had

been towed behind a car driven by John and Jill Dowdle.

The group was so angry with the couple that they were

voted out of the corporation on the spot and sent away

by bus.

While camped at Cutler, Richard Irvine met and

contracted with Vincent Conley, the owner of the yacht

Spindrift, for transportation to East Caicos at a cost of

$800 and the rights to later establish a resort on the

island. Spindrift left Miami on February 18 and, after a

stormy two-week voyage that included layovers in Key

West and Cuba, arrived at East Caicos on March 2, 1940.

Trouble brews on East Caicos

Two days after arriving on their newfound paradise, the

Californians moved their belongings from the coast to

Jacksonville, a settlement abandoned by the East Caicos

Sisal Company 20 years before. This would become their

permanent encampment.

The "modern Crusoes" became more and more

disillusioned as they learned that none of the valuable

resources James and Grace Lake had promised them were

From left: Helene Irvine, Jane Irvine, Grace Lake, Dawn Irvine, Louise Irvine, Richard Irvine and baby "King"

Irvine review a map at the Irvine family home in Pasadena, California.

Times of the Islands Winter 2020-21 63
---
astrolabe newsletter of the Turks & Caicos National Museum

INGRID POHL FAMILY PHOTOGRAPH

him with divorce—if he

did not agree to return to

California. Richard reluctantly

agreed that night to

return home. Ernest and

Jill Lawrence also decided

they would return to the

U.S. and Boyce Phillips

told them he would leave

too once he was able.

The Lawrence couple

left for South Caicos on

March 23—one day ahead

of the Irvine family and

Ned Read. Once on South

Caicos, Louise Irvine realized

that in order to pay

for further transportation

home, she had to

sell everything the family

owned, including their

clothes.

Two weeks later, the

Irvine family and Ned Read

boarded a native boat

loaded with conch that

Grace and James Lake stand in front of their tent on East Caicos in March, 1940.

was headed for Nassau.

The trip was miserable—

found on their island home. In addition, members of the the boat smelled and there were no toilets. Louise and

group were already at each other's throats complaining the girls had to use an umbrella for privacy when nature

that not everyone was doing their share of the work, that called. From Nassau, they took the SS Alleghany to Miami

some were selfish, or they didn't like Irvine's authoritarian

manner. Richard, in a letter to his parents, said "I get

arriving April 15, 1940.

blamed for everything."

The last to leave

Two weeks after the group landed on East Caicos, On August 7, 1940, months after the Irvine family

returned to California, Louise received a note from

morale deteriorated to such a degree that Richard Irvine

was voted out of the East Caicos Trading Company, forcing

the Irvine family to move out of Jacksonville and Grace and James Lake were the only people left on East

Frances Wenstermann, a friend of the Lakes, saying that

relocate at Breezy Point about five miles away. They were Caicos. In all likelihood, Frances received a letter from the

joined by Ned Read, Ernest and Cecilia Lawrence and Lakes with this information. Passenger records showed

bachelor Boyce Phillips.

that Grace returned to Miami in February 1942. James

returned a little more than a year later.

Leaving "Paradise"

A newspaper reported that the last person to leave

By this time, Richard's wife Louise was so miserable and East Caicos was "repatriated during WW II years partially at

fed up with the entire venture that on March 19 she had government expense." This was confirmed by Alton Higgs

a knock-down fight with her husband—even threatening during an interview with Richard Irvine's great-grand-

64 www.timespub.tc
---
astrolabe newsletter of the Turks & Caicos National Museum

daughter in 2015 at his home on Middle Caicos. Higgs

said that he had worked for the California group while

they were on East Caicos when he was a teenager. Higgs

said that James Lake was alone on the island for over a

year and that he and Isaac McIntosh, also from Middle

Caicos, checked on Lake weekly and brought him food.

He added that Lake lived alone until he was "removed"

from the island.

MELISSA STEINMAN

Alton Higgs of Middle Caicos (who recently celebrated his 100th birthday)

worked for the California group on East Caicos when he was a

teenager.

Afterwards

This is what happened to some of the group of nineteen

after they left East Caicos.

Richard Irvine had to ask his mother for funds to

pay for food and transportation back to California from

Miami. Once home, he returned to his profession as a

salesman selling everything from candied nuts to plaster

figures. During the war, he worked at the Norris Stamping

& Mfg. Co. making shell casings. Richard continued his

fight against socialism, becoming the chairman of the

Constitution Party of California. He received 153 write-in

votes for governor in the November 1962 election.

Richard died in 1997 at age 100.

Louise Irvine suffered from poor health over the

years. Asthma she developed while on East Caicos

remained with her for the rest of her life. She died from a

heart attack in 1991.

These are "pioneers" Richard and Louise Irvine in 1977/1978.

Jane Irvine was 17 years old when she went to East

Caicos with her family. She was supposed to marry her

high school sweetheart, Ned Read, once they reached the

island. Ned's parents agreed to let Ned join the Irvine

expedition and wrote a letter to Richard Irvine assigning

responsibility for their son's well-being over to him. Ned

and Jane never married—their romance ended by the time

they landed on East Caicos. Jane returned to California

with her parents in May 1940 and married Robert

MacQuarrie seven months later. They had three children.

Jane and Robert were divorced in 1968. She passed away

in 1988.

Helene Irvine was just seven years old when she

returned to California. She was married three times, had

two children and completed college receiving an advanced

degree. She taught at the University of California at Irvine.

Helene died in 2008.

PIctured above are Helene and Jane Irvine circa 1958.

MACQUARRIE FAMILY PHOTOGRAPH MACQUARRIE FAMILY PHOTOGRAPH

Times of the Islands Winter 2020-21 65
---
astrolabe newsletter of the Turks & Caicos National Museum

Dawn Irvine was nine when she left for East Caicos.

Little is know other than she married Melvin Thompson

in March 1945. Dawn is alive today.

James Irvine, or "King" as he was known as a child,

was 18 months old when he went to the East Caicos. He

suffered from infected insect bites and the lack of appropriate

food while there. James worked as a policeman in

Torrence, California and later in the insurance business

in Fresno. Little else is known about James.

James and Grace Lake were the last people on East

Caicos. Grace left in 1942—James left 14 months later.

Both returned to Massachusetts, their home before moving

out West. Sometime between 1943 and 1949, Grace

conveyed ownership of the land she had inherited on East

Caicos to her daughter Alice Christensen, a Bermudian by

marriage. James Lake may have returned to the insurance

business when he returned home in 1943, however, he

would have been 72 years old. Both James and Grace died

in 1950 and were buried near Boston.

Ned Read returned to California in April 1940. He

went to trade school and then worked as a riveter at

Lockheed Martin. In 1941 he enlisted in the Army Air

Corps. Ned met his wife-to-be, Cindy Morgan, while stationed

in Ohio—they were married in 1943.

After the military, Ned completed his education at

Ohio State University, obtaining an engineering degree.

Ned and Cindy moved back to California where Ned

worked at Lockheed as an efficiency engineer. After he

retired, they moved to Oregon and raised Christmas

trees and built energy-efficient homes. Later, looking

for a warmer climate, the couple moved to a retirement

community in Southern California. Cindy passed away in

2008. Ned died in 2015.

Ned Read's granddaughter said that her grandfather

did not talk about his experience on East Caicos, perhaps

because it was such an unpleasant one. She said that he

despised seafood for the rest of his life.

The Lorntsen family left East Caicos by August

7, 1940, leaving Grace and James Lake the only

remaining members of the group on the island.

Mr. and Mrs. Lorntsen and their daughter traveled

to Nassau where they took up permanent residency.

They remained there until at least 1959 when

Andreas passed away. In 1941, Sam Robinson

of Grand Turk wrote in a letter to the Irvine family

that Olaf, the Lorntsen's 22-year-old son, was

working on a Norwegian salt vessel, a job he probably

secured before his parents left East Caicos. Olaf registered

for the draft in New York in February, 1942.

The other six members of the East Caicos Trading

Company returned to California after leaving East

Caicos. The men registered for the military and most

served in the army. Later, many of them returned to

the professions they left behind when they departed

California on January 17, 1940 for what they thought

would be a new life on a deserted island in the British

West Indies. Little else is known about them. a

READ FAMILY PHOTOGRAPH

Author Jeffrey Dodge has published a fascinating book

detailing the story of the modern Crusoes entitled,

Californians Seek Utopia on East Caicos Island. If you

are interested in a copy, please contact Mr. Dodge at

tinqua1512@gmail.com.

These are Cindy and Ned Read as newlyweds in 1943. They married

after Ned's return from East Caicos.

66 www.timespub.tc
---
astrolabe newsletter of the Turks & Caicos National Museum

The German submarine U-558 was a Type VIIC U-boat in the service of Nazi Germany's Kriegsmarine during World War II. She sank 19 merchant

ships (including the Fauna) and military vessels totalling nearly 100,000 tons before being sunk by bombers in July 1943.

TCI in World War II

The Fauna, Part II, 1942

By Captain Eric Wiberg

In the Summer 2020 issue of the Astrolabe, the author detailed the first part of the tale of the Fauna, a

1,272-ton Dutch steamship. The Fauna left New York on May 6, 1942 destined for Grand Turk with a crew

of 29 men and a load of cargo, including 23 bags of mail! She was less than a day from her destination on

May 17 when she was found and intercepted by U-558 under Güther Krech in the Caicos Passage.

The boat was torpedoed and eventually sunk at 12:42 AM on May 18. A total of 27 men survived and

made their way by lifeboat to the unpopulated island of West Caicos at 11:00 AM on May 18. Finding no

one there, they set off to the north, rounded Northwest Point, and were eventually discovered by two local

fishing boats. Captain Ralph A. Ewing brought half of the crew back to Blue Hills on his schooner Sister

E. (also known as The Sisters), while Captain William Ewing returned with the rest of the crew aboard his

boat The Flirt. The men were found in poor condition and were cared for by Islanders.

The complete first part is available at: https://www.timespub.tc/2020/06/tci-in-world-war-ii/

Times of the Islands Winter 2020-21 67
---
astrolabe newsletter of the Turks & Caicos National Museum

During their overnight stay in Blue Hills, the Dutch

sailors were put up in the local schoolhouse, then were

offered a local sailing boat for onward passage. At the

time, the government in the colonial capital of Cockburn

Town, Grand Turk reimbursed local sailors for providing

assistance to stranded sailors. They also reimbursed

Islanders for returning items salvaged from torpedoed

shipwrecks on the coast, though in some instances, items

like tinned food and clothing were simply taken and used.

The Islanders faced great difficulty finding a market

for the salt they harvested, due to the danger to ships

in exporting it. "Although demand was up, delivery of

salt became difficult. With an enemy presence in the

Caribbean and North American waters, steamers stopped

their business and export of salt to the eastern seaboard

dramatically declined." As a result, skippers in Blue Hills

were eager to take the survivors east to the capital, with

or without direct payment from the Fauna captain.

The men set out for a longer voyage to South Caicos

Island. After two days, in daylight on May 21 they reached

Cockburn Harbour, South Caicos, which is also known as

East Harbour. Historian H. E. Sadler, in his study Turks

Islands Landfall confirms that, "The K.N.M.S. Steamer

Fauna, bound for Grand Turk with supplies, was a victim

of submarine attack, but her crew of 27 landed safely at

South Caicos." The men remained on South Caicos for

a week. During that time, three of them—Rab, who had

an injured leg, Noordveld, who was burned, and Oiler

Johannes Stroomberg, who had a cut foot, were treated

for their wounds. After a period of recuperation, the men

all set off again on about May 27 for Cockburn Town,

Grand Turk, which was their original destination. Again,

the three injured men were treated, and again they opted

to remain and recover for a week.

In the capital town, some of the Fauna sailors were

put up in a guest house named the Dora Do Do on

Middle Street on Grand Turk. Built in the 19th century,

its matron was Dora Williams. Because she was believed

to practice Obeah, or Voodoo, her nickname was "Dora

Do Do." Another establishment where they stayed was

the Coverley boarding house, owned and operated by

Felicia Grant and her husband Vincent Coverley. Probably

SHERLIN WILLIAMS

This old schoolhouse in Blue Hills, Providenciales, is where Fauna survivors were tended to in 1942.

68 www.timespub.tc
---
astrolabe newsletter of the Turks & Caicos National Museum

In Grand Turk, some of the Fauna sailors were put up in a guest house named the Dora Do Do on Middle Street.

SHERLIN WILLIAMS

den Heyer and his officers stayed at the Coverley house,

as Sherlin Williams adds that it was "where VIPs visiting

the island lived." The waterfront building, between the

Anglican Church and the sea, has since been demolished.

Despite taking pride in assisting the stricken seamen,

and also in harvesting the goods of value that washed up

on their shores as a result of submarine depredations,

the fact remains that the impoverished Islanders still very

much needed ships like Fauna to arrive with their cargos

intact. It was essential for their survival. During the war,

"staples such as rice, beans, hominy and lard became

scarce. Rice and grits that arrived had to be washed and

flour sifted to remove the weevils. [People] gardened,

although water was scarce due to the drought, and the

family fished, trolling along the Edge of the Deep. . . .

Sails were patched until the patches had patches."

In a letter addressed to "The Commissioner of

Turks Island, Grand Turk, B.W.I." from the Dutch Central

Transport Workers Union in exile in New York, dated 24

July 1942 and signed by P. J. van der Berge, Secretary, the

union thanked the Islanders "for the help rendered them

by your good office and the good people of West Caicos

and East Harbour." The union was asked by the Fauna men

to "express their sincere and heartfelt thanks." The letter

went on to tell the commissioner that "their assistance to

shipwrecked Dutch seamen will always be remembered

by the Dutch people and the Dutch labour movement. . .

. Our warmest thanks goes to the people of Turks Island

and your good self, who left nothing undone to mitigate

the hardships of our men and help them recover from the

ordeal to which they were subjected after the sinking of

their ship by enemy submarines."

On or about June 3, 1942, the survivors set off for

Cape Haitian, a port city on the northwest coast of Haiti

separated from Grand Turk by 115 miles of open ocean.

The two British sailors, Dickenson and Eve, opted to

remain behind. Perhaps they didn't feel up to another

open boat voyage. It is not clear whether the rest of the

survivors used the same local sailing craft or obtained

transit on another vessel—probably the latter, which

would have been safer. Taking another ship to Haiti

would also help explain the delay of a week, since they

would have been reliant on another skipper's schedule.

Once they landed in Cape Haitian and reported their

predicament, the men were transported by automobile

to the capital, Port-au-Prince. Captain den Heyer was

Times of the Islands Winter 2020-21 69
---
astrolabe newsletter of the Turks & Caicos National Museum

debriefed by the US Naval Attache in Port au Prince. From

there, they were given another ride to the city of Saint

Marc. This meant a car journey over the mountains of at

least 75 miles and many hours. Again, two men opted to

remain behind: a Dutch fireman named Francisca, age 40,

and the English "servant" John White, age 42.

On June 11 1942, the 23 remaining men, led by

Captain den Heyer, boarded the ship Gatun bound for

New Orleans, where they arrived on the 20th of June. The

refrigerated steamship Gatun was built in 1926. She was

owned and operated by the Standard Fruit and Steamship

Company and her master at the time was Captain

MacLean. Aside from carrying bananas from Haiti and

other islands to its home base in New Orleans, she was

utilized by the US Army during the war. Presumably, the

Gatun was part of convoy that travelled via Guantanamo

and Key West. On arrival in New Orleans, Captain den

Heyer was interviewed by W. S. Hogg of the US Navy. He

then proceeded post-haste to New York, in order to report

on the loss of his ship to the owners. Presumably, the

remaining 21 Dutch crew were re-assigned to other Dutch

vessels by the Dutch consulate. Sam Sanny, the English

fireman, made it home to his wife Cornelia in Brooklyn.

1, 1942 bound for Brest, where the boat was based with

the First Flotilla. Günther Krech, 27 at the time, became

one of the better-known U-boat skippers of the war, made

famous in part by his over 20 ships and over 100,000

tons sunk and his activity off the American coast. He is

also remarkable for his youth and early recognition: he

earned the Knights Cross shortly after this patrol four

days before his 28th birthday on September 17, 1942. In

April 1941 he had achieved the rank of Kapitänleutnant.

On July 20, 1943 U-558 was sunk by Allied aircraft

in the Bay of Biscay, with Krech and four others surviving

and being kept in captivity by the Allies during the

balance of the war and sometime thereafter. Günther

Krech survived and lived until age 85, and died in 2000.

A member of the crew of 1933, he had served in the

Luftwaffe for four years before returning to the U-boat

arm in November 1939. Over ten patrols of 437 days,

Krech sank seventeen ships of 93,186 tons and damaged

two others for 15,070 tons, as well as effectively destroying

a further ship of 6,672 tons. a

Eric Wiberg has published over a dozen books of nautical

non-fiction. Contact him at: eric@ericwiberg.com.

Günther Krech became one of the better-known U-boat skippers of

WW II, made famous in part by his over 20 ships and over 100,000

tons sunk, and his activity off the American coast.

Günther Krech was amongst the first U-boat skippers

to utilize the Mona Passage between Hispaniola (the

Dominican Republic) and Puerto Rico, which he did on

May 29. Over the next four days he steamed northeast

until the sub left the region north of St. Martin on June

70 www.timespub.tc
---
astrolabe newsletter of the Turks & Caicos National Museum

Museum Matters

National Heritage Month

October is National Heritage Month in the Turks &

Caicos Islands. The pandemic created the need for creative

thinking and the use of social media in lieu of

actual events this year to celebrate. The museum was

delighted to work with the Department of Culture to film

a series of videos celebrating the theme "Our Culture,

Our Heritage, Our People." The videos were posted on

social media throughout the month of October.

These included

children-friendly

arts and crafts

videos on how

to create a Turks

Head cactus,

lighthouse, windmill

and kite.

The Grand Turk

museum deck

provided the perfect

location to

film the process.

The ripsaw

band Full Force recorded a video that included a tutorial

on how to play a ripsaw by Lindsey Butterfield (Zeus).

The other band members Kel Talbot (drums), Carl

Lightbourne (bass) and X Forbes (lead guitar/singer)

discussed the importance of each of their instruments

to the band. The band played well-known local tunes for

the Live Concert post.

The Department of Culture prepared videos on favorite

island recipes titled "Tasty Tuesdays" and interviews

about life "back in the day," in "Through the Decades"

videos. These are similar to the "People of the Islands"

exhibit that we are working on and included some of

the same people interviewed.

If you are interested in seeing the post, go to our

Facebook page at https://www.facebook.com/

TurksCaicosNationalMuseumFoundation and like

your favorite video. a

Educational presentations

Toby Barkworth-Knight from Providenciales Middle

School reached out to the museum to create three

presentations on history subjects. Toby explained,

"Students at Provo Middle School learn about the TCI's

history and heritage each year as part of their local history

topics. The National Museum has always been a

wonderful resource in supporting this learning, with

classes visiting the Providenciales branch. Our Year 7s

would normally undertake a field trip to Grand Turk and

Salt Cay in early October but, sadly, that was not possible

this year."

Together with our extensive collection of photos,

historical documents, books and articles we have the

necessary information to create informative and enjoyable

presentations for the schools. During the COVID-19

pandemic, schools are still doing on-line learning and

looking for ways to keep students engaged. I created

presentations on the Salt Industry, Cotton Industry and

Political & Economic Change. I joined the classrooms

virtually and showed the presentations. The students

To celebrate National Heritage Month, the museum created arts and crafts videos (top left), while the ripsaw band Full Force (above)

recorded a tutorial on how to play a ripsaw, and discussed the importance of each instrument in the band.

Times of the Islands Winter 2020-21 71
---
astrolabe newsletter of the Turks & Caicos National Museum

Museum Matters

This is a sample of the on-line presentation on the Salt Industry created for TCI students by Lisa Turnbow-Talbot using museum resources.

inquired with many in-depth questions afterwards,

some even requiring further research—so I found

myself learning along with the students.

As a result of the positive response, I decided that

the museum should create and offer additional presentations,

as we have done for the National Heritage

Quiz. The plan is to create resources on a range of

subjects and offer them to schools or for any other

educational use. Each history topic will include a 10–12

page presentation with photos and bullet points,

designed to be an introductory overview that will create

discussions from the students. a

Preparing for the return of visitors

"The world Is a book and those who do not travel

read only a page." ~ Saint Augustine

The Turks & Caicos, along with many other countries

that rely heavily on tourism, await the return

of some normalcy to our day-to-day operations. The

reality is that it will not be the "old normal" we were

accustomed to. Businesses that deal with the public

have the task of keeping their visitors safe. The

museum has been updated with new COVID-19 signs

and reminders for our visitors. Grand Turk will be subject

to cruise ship requirements and our Providenciales

location will also implement COVID-19 protocols.

We are fortunate that both locations can arrange

tours so that visitors

can easily

social distance.

Along with the

usual protocols

of masks and

hand sanitizers,

we have

added signs

to remind our

guests to stay

six feet apart.

Interactive exhibits will be temporarily closed to avoid

repeated contact and we have limited the number of

guests in the smaller exhibit rooms.

Our Providenciales campus has separate buildings that

will allow a group of visitors to enjoy each building

independently of the others. Our Grand Turk location

has two floors, large rooms, many rooms as well as a

botanical garden, and a balcony which allows room for

distancing. The layout for both locations will allow us to

split up large tour groups if necessary and rotate them

through the exhibits.

The Turks & Caicos National Museum is ready and we

await your visit! Visit our website for updated information:

www.tcmuseum.org. a

Story & Photos By Lisa Turnbow-Talbot

72 www.timespub.tc
---
about the Islands

Map provided courtesy Wavey Line Publishing. Their navigation charts and decorative and historic maps of the Turks & Caicos Islands, The

Bahamas, and Hispaniola are available in shops throughout the Islands. Visit www.amnautical.com.

Where we are

The Turks & Caicos Islands lie some 575 miles southeast

of Miami — approximately 1 1/2 hours flying time —

with The Bahamas about 30 miles to the northwest and

the Dominican Republic some 100 miles to the southeast.

The country consists of two island groups separated

by the 22-mile wide Columbus Passage. To the west are

the Caicos Islands: West Caicos, Providenciales, North

Caicos, Middle Caicos, East Caicos, and South Caicos. To

the east are the Turks Islands: Grand Turk and Salt Cay.

The Turks & Caicos total 166 square miles of land

area on eight islands and 40 small cays. The country's

population is approximately 43,000.

Getting here

There are international airports on Grand Turk,

Providenciales, and South Caicos, with domestic airports

on all of the islands except East Caicos.

TCI Assured is a quality assurance pre-travel program

and portal, to assist visitors and returning residents when

the country reopened its borders on July 22, 2020. The

TCI is now requiring a negative COVID-19 PCR test result

from a test taken within five days of travel. Children under

the age of 10 are not required to be tested. Additionally,

travelers must have medical/travel insurance that covers

medevac (insurance companies providing the prerequisite

insurance will be available on the portal), a completed

health screening questionnaire, and certification that they

have read and agreed to the privacy policy document.

Times of the Islands Winter 2020-21 73
---
These requirements must be completed and uploaded

to the TCI Assured portal, which is available on the TCI

Tourist Board website (www.turksandcaicostourism.

com), in advance of their arrival.

Once travelers register on the TCI Assured portal and

complete the requirements as outlined, a travel authorization

notification will be given. The TCI Assured travel

authorization should be presented at the time of check-in

to the appropriate airline; airlines will not be able to

board passengers without this authorization.

Language

English.

Time zone

Eastern Standard Time (EST)/Daylight Savings Time

observed.

Currency

The United States dollar. The Treasury also issues a Turks

& Caicos crown and quarter. Travellers cheques in U.S.

dollars are widely accepted and other currency can be

changed at local banks. American Express, VISA, and

MasterCard are welcomed at many locations.

Climate

The average year-round temperature is 83ºF (28ºC). The

hottest months are September and October, when the

temperature can reach 90 to 95ºF (33 to 35ºC). However,

the consistent easterly trade winds temper the heat and

keep life comfortable.

Casual resort and leisure wear is accepted attire for

daytime; light sweaters or jackets may be necessary on

some breezy evenings. It's wise to wear protective clothing

and a sunhat and use waterproof sunscreen when out

in the tropical sun.

Entry requirements

Passport. A valid onward or return ticket is also required.

Customs formalities

Visitors may bring in duty free for their own use one carton

of cigarettes or cigars, one bottle of liquor or wine,

and some perfume. The importation of all firearms including

those charged with compressed air without prior

approval in writing from the Commissioner of Police is

strictly forbidden. Spear guns, Hawaiian slings, controlled

drugs and pornography are also illegal.

Returning residents may bring in $400 worth of

merchandise per person duty free. A duty of 10% to

60% is charged on most imported goods along with a

7% customs processing fee and forms a major source of

government revenue.

Transportation

A valid driver's license from home is suitable when renting

vehicles. A government tax of 12% is levied on all

rental contracts. (Insurance is extra.) Driving is on the

left-hand side of the road, with traffic flow controlled by

round-abouts at major junctions. Please don't drink and

drive! Taxis and community cabs are abundant throughout

the Islands and many resorts offer shuttle service

between popular visitor areas. Scooter, motorcycle, and

bicycle rentals are also available.

74 www.timespub.tc
---
Telecommunications

FLOW Ltd. provides land lines and superfast broadband

Internet service. Mobile service is on a LTE 4G network,

including pre- and post-paid cellular phones. Most resorts

and some stores and restaurants offer wireless Internet

connection. Digicel operates mobile networks, with

a full suite of LTE 4G service. FLOW is the local carrier

for CDMA roaming on US networks such as Verizon and

Sprint. North American visitors with GSM cellular handsets

and wireless accounts with AT&T or Cingular can

arrange international roaming.

Electricity

FortisTCI supplies electricity at a frequency of 60HZ,

and either single phase or three phase at one of three

standard voltages for residential or commercial service.

FortisTCI continues to invest in a robust and resilient grid

to ensure the highest level of reliability to customers. The

company is integrating renewable energy into its grid and

provides options for customers to participate in two solar

energy programs.

Departure tax

US $60. It is typically included in your airline ticket cost.

Courier service

Delivery service is provided by FedEx, with offices on

Providenciales and Grand Turk, and DHL. UPS service is

limited to incoming delivery.

Postal service

The Post Office and Philatelic Bureau in Providenciales is

located downtown on Airport Road. In Grand Turk, the

Post Office and Philatelic Bureau are on Church Folly. The

Islands are known for their varied and colorful stamp

issues.

Media

Multi-channel satellite television is received from the U.S.

and Canada and transmitted via cable or over the air.

Local station WIV-TV broadcasts on Channel 4 and Island

EyeTV on Channel 5. People's Television offers 75 digitally

transmitted television stations, along with local news

and talk shows on Channel 8. There are also a number of

local radio stations, magazines, and newspapers.

Medical services

There are no endemic tropical diseases in TCI. There are

large, modern hospitals on Grand Turk and Providenciales.

Food for Thought provides free daily

breakfast to government school students.

A donation of $300 will provide breakfast

to one child for a whole school year.

To donate or learn more please

email info@foodforthoughttci.com

or visit foodforthoughttci.com

Food for Thought Foundation Inc. (NP #102)

Both hospitals offer a full range of services including:

24/7 emergency room, operating theaters, diagnostic

imaging, maternity suites, dialysis suites, blood bank,

physiotherapy, and dentistry.

In addition, several general practitioners operate in

the country, and there is a recompression chamber, along

with a number of private pharmacies.

Immigration

A resident's permit is required to live in the Islands. A

work permit and business license are also required to

work and/or establish a business. These are generally

granted to those offering skills, experience, and qualifications

not widely available on the Islands. Priority is given

to enterprises that will provide employment and training

for T&C Islanders.

Government/Legal system

TCI is a British Crown colony. There is a Queen-appointed

Governor, HE Nigel John Dakin. He presides over an executive

council formed by the elected local government.

Lady Sharlene Cartwright-Robinson is the country's first

woman premier, leading a majority People's Democratic

Movement (PDM) House of Assembly.

Times of the Islands Winter 2020-21 75
---
The legal system is based upon English Common

Law and administered by a resident Chief Justice, Chief

Magistrate, and Deputy Magistrates. Judges of the Court

of Appeal visit the Islands twice a year and there is a final

Right of Appeal to Her Majesty's Privy Council in London.

Taxes

There are currently no direct taxes on either income

or capital for individuals or companies. There are no

exchange controls. Indirect taxation comprises customs

duties and fees, stamp duty, taxes on accommodations,

restaurants, vehicle rentals, other services and gasoline,

as well as business license fees and departure taxes.

Economy

Historically, TCI's economy relied on the export of salt.

Currently, tourism, the offshore finance industry, and

fishing generate the most private sector income. The

Islands' main exports are lobster and conch. Practically

all consumer goods and foodstuffs are imported.

The Turks & Caicos Islands are recognised as an

important offshore financial centre, offering services

such as company formation, offshore insurance, banking,

trusts, limited partnerships, and limited life companies.

The Financial Services Commission regulates the industry

and spearheads the development of offshore legislation.

People

Citizens of the Turks & Caicos Islands are termed

"Belongers" and are primarily descendants of African

slaves who were brought to the Islands to work in the

salt ponds and cotton plantations. The country's large

expatriate population includes Canadians, Americans,

Brits and Europeans, along with Haitians, Jamaicans,

Dominicans, Bahamians, Indians, and Filipinos.

Churches

Churches are the center of community life and there

are many faiths represented in the Islands including:

Adventist, Anglican, Assembly of God, Baha'i, Baptist,

Catholic, Church of God, Episcopal, Jehovah's Witnesses,

Methodist and Pentecostal. Visitors are always welcome.

Pets

Incoming pets must have an import permit, veterinary

health certificate, vaccination certificate, and lab test

results to be submitted at the port of entry to obtain

clearance from the TCI Department of Agriculture, Animal

Health Services.

National symbols

The National Bird is the Brown pelican (Pelecanus occidentalis).

The National Plant is Island heather (Limonium

bahamense) found nowhere else in the world. The

National Tree is the Caribbean pine (Pinus caribaea var.

bahamensis). The National Costume consists of white cot-

76 www.timespub.tc
---
ton dresses tied at the waist for women and simple shirts

and loose pants for men, with straw hats. Colors representing

the various islands are displayed on the sleeves

and bases. The National Song is "This Land of Ours" by

the late Rev. E.C. Howell, PhD. Peas and Hominy (Grits)

with Dry Conch is revered as symbolic island fare.

Going green

TCI Waste Disposal Services currently offers recycling

services through weekly collection of recyclable aluminum,

glass, and plastic. Single-use plastic bags have been

banned country-wide as of May 1, 2019.

Recreation

Sporting activities are centered around the water. Visitors

can choose from deep-sea, reef, or bonefishing, sailing,

glass-bottom boat and semi-sub excursions, windsurfing,

waterskiing, parasailing, sea kayaking, snorkelling, scuba

diving, kiteboarding, stand up paddleboarding, and

beachcombing. Pristine reefs, abundant marine life, and

excellent visibility make TCI a world-class diving destination.

Tennis and golf—there is an 18 hole championship

course on Providenciales—are also popular.

The Islands are an ecotourist's paradise. Visitors can

enjoy unspoilt wilderness and native flora and fauna in 33

national parks, nature reserves, sanctuaries, and areas of

historical interest. The National Trust provides trail guides

to several hiking trails, as well as guided tours of major

historical sites. There is an excellent national museum on

Grand Turk, with an auxillary branch on Providenciales. A

scheduled ferry and a selection of tour operators make it

easy to take day trips to the outer islands.

Other land-based activities include bicycling, horseback

riding and football (soccer). Personal trainers are

available to motivate you, working out of several fitness

centres. You will also find a variety of spa and body treatment

services.

Nightlife includes local bands playing island music

at bars and restaurants and some nightclubs. There is

a casino on Providenciales, along with many electronic

gaming parlours. Stargazing is extraordinary!

Shoppers will find Caribbean paintings, T-shirts,

sports and beachwear, and locally made handicrafts,

including straw work and conch crafts. Duty free outlets

sell liquor, jewellery, watches, perfume, leather goods,

crystal, china, cameras, electronics, brand-name clothing

and accessories, along with Cuban cigars. a

subscription form

VISIT WWW.TIMESPUB.TC TO VIEW CURRENT ISSUE ON-LINE!

TIMES

OF THE

ISLANDS

SAMPLING THE SOUL OF THE TURKS & CAICOS ISLANDS

One year subscription

$28 U.S. addresses/$32 non-U.S. addresses

Name____________________________________________________________________

Date ____________________

Address__________________________________________________________________

City _____________________________________________________________________

State/Province____________________________________________________________

Country/Postal Code_____________________________________________________

E-mail address (not required)_____________________________________________

r New Subscription r Renewal

r U.S. Cheque/M.O. enclosed

Mail with payment to:

Times Publications Ltd., c/o Kathy Borsuk,

247 Holmes Ave., Clarendon Hills, IL 60514

Please allow 30 to 60 days for delivery of first issue.

Times of the Islands Winter 2020-21 77
---
where to stay

78 www.timespub.tc
---
where to stay

Times of the Islands Winter 2020/21 79
---
dining

80 www.timespub.tc
---
dining

Times of the Islands Winter 2020-21 81
---
classified ads

TC Safari_Layout 1 8/9/18 3:33 PM Page 1

Community Fellowship Centre

A Life-Changing Experience

Sunday Divine Worship 9 AM

Visitors Welcome!

Tel: 649.941.3484 • Web: cfctci.com

Vacation Villa Rentals

Joanne Phillips, Turks & Caicos Safari

www.tcsafari.com

Call: 1-904-491-1415

Email: tcsafari@tcsafari.com

Ocean Breeze_Layout 1 4/8/19 10:34 AM Page

D&Bswift_Layout

1

1 5/8/18 7:24 AM Page 1

Our cleaning solutions are made

from biodegradable materials that

aren't harmful to the environment.

Find our products throughout the

Turks & Caicos Islands.

FOR ALL YOUR

RELIABLE AND

AFFORDABLE

RENTAL NEEDS

Call 244-2526

or 241-5584

649-941-8438 and 649-241-4968

SCOOTER HOUSEHOLD AND BOBS_Layout COMMERCIAL CLEANING 1 8/8/18 PRODUCTS 10:57 AM Page GBC2017_Layout 1 2/16/17 9:10 AM Page 1

autorental@dnbautoparts.com

www.oceanbreezetci.com

We're here to

make your holiday

the island way...

DEPENDABLE VEHICLE HIRE

SERVICE OFFERED:

Provo & North-Middle Caicos

Office: 946-4684

Amos: 441-2667 (after hours)

Yan: 247-6755 (after hours)

Bob: 231-0262 (after hours)

scooterbobs@gmail.com

www.scooterbobstci.com

Grace Bay Road across from Regent Street

Fun Friendly People

Appreciating Your Business!

941-8500

www.gracebaycarrentals.com

82 www.timespub.tc
---
SUSTAINABLE

ENERGY

You Can

Count On

R-NETS: A roadmap for

TCI's energy future

Solar integration

to the FortisTCI grid

We're building partnerships to deliver a more sustainable

energy future for the Turks and Caicos Islands.

With the Resilient National Energy Transition

Strategy (R-NETS) serving as a roadmap, and with

new and ongoing investments in solar energy

generation, solar plus battery pilot project, and

an electric vehicle and charging station project,

FortisTCI is working every day to deliver resilient,

cost-effective and environmentally sustainable

energy, to fuel growth and development.

Solar + battery storage

pilot project

Electric vehicle

pilot project

www.fortistci.com | 649-946-4313 |
---
The Leading Private Bank in the Turks and Caicos Islands

Where values are growing

Wealth Management • Bonds/Fixed Income

Investment Strategies • Foreign Exchange

Stocks/Equities • Precious Metals

Fixed deposits/CD's • International Transfers

Turks & Caicos Banking Company Ltd.

The Regent Village, Unit H102, Grace Bay Road, Providenciales

Tel: +649 941 4994

Email: services@tcbc.tc • www.tcbc.tc

Regulated by the Financial Services Commission, Turks & Caicos Islands