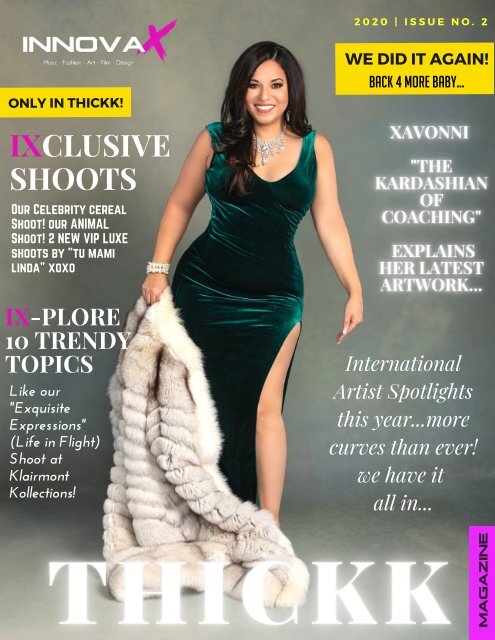 THICKK MAGAZINE ISSUE #2 by Innova X Arts
**Event Producer. Talent Scout. Life Coach Trainer. Author. 18 years in the ARTS...Music! Acting! Visual Arts! Modeling! and Visual Design!** Now for 2022 it's time for her to BE TRULY SEEN. Enjoy Issue #2 of a new, exciting luxury, avante-garde literary & cultural arts publication called THICKK MAGAZINE and show love for ALL the diverse artists in this publication. "Explore the mind of a Latina Millennial Creative Entrepreneur as she learns Self-Love and freedom of Creative Expression in Chicago...what does it take to hit her potential in 2021?" - IX-plore 10 chapters of her mind from "Love and Sex" to "Life in Flight...ending with the tasty snack we have for you....in SPOON" (Chapter 10) - Featuring 1.5 years of luxe photoshoots and interviews she produced with the industry's hottest emerging artists with diverse creatives from around the world! www.Innovaxarts.com - Cover Photography: Jerry Alt (https://www.facebook.com/jerryalt) - MUA: Angelique Alexandria (https://www.instagram.com/angelique_alexandra/) - Editorial Photography: Israel Perez (https://www.israelperezphotography.com/) & Errin Austin (https://www.facebook.com/errin.austin.1) - MUA: Justyna Kaczor (https://www.instagram.com/atelier_makeup_chicago/)
**Event Producer. Talent Scout. Life Coach Trainer. Author. 18 years in the ARTS...Music! Acting! Visual Arts! Modeling! and Visual Design!** Now for 2022 it's time for her to BE TRULY SEEN.

Enjoy Issue #2 of a new, exciting luxury, avante-garde literary & cultural arts publication called THICKK MAGAZINE and show love for ALL the diverse artists in this publication.

"Explore the mind of a Latina Millennial Creative Entrepreneur as she learns Self-Love and freedom of Creative Expression in Chicago...what does it take to hit her potential in 2021?"

- IX-plore 10 chapters of her mind from "Love and Sex" to "Life in Flight...ending with the tasty snack we have for you....in SPOON" (Chapter 10)

- Featuring 1.5 years of luxe photoshoots and interviews she produced with the industry's hottest emerging artists with diverse creatives from around the world!

www.Innovaxarts.com

- Cover Photography: Jerry Alt (https://www.facebook.com/jerryalt)

- MUA: Angelique Alexandria (https://www.instagram.com/angelique_alexandra/)

- Editorial Photography: Israel Perez (https://www.israelperezphotography.com/) & Errin Austin (https://www.facebook.com/errin.austin.1)

- MUA: Justyna Kaczor (https://www.instagram.com/atelier_makeup_chicago/)
SHOW MORE
SHOW LESS
You also want an ePaper? Increase the reach of your titles
YUMPU automatically turns print PDFs into web optimized ePapers that Google loves.
2 0 2 0 | I S S U E N O . 2

ONLY IN THICKK!

WE DID IT AGAIN!

BACK 4 MORE BABY...

IXCLUSIVE

SHOOTS

Our Celebrity cereal

Shoot! our ANIMAL

Shoot! 2 NEW VIP LUXE

shoots by "tu mami

linda" xoxo

IX-PLORE

10 TRENDY

TOPICS

Like our

"Exquisite

Expressions"

(Life in Flight)

Shoot at

Klairmont

Kollections!

International

Artist Spotlights

this year...more

curves than ever!

we have it

all in...

MAGAZINE
---
Spotlight Special

on

EMILY CORREA

Editor-in-Chief & Designer

TEAM

CHASNEY SEIBERT

Creative Assistant Manager

ISABELLA BRUTCH

Magazine Editorial Assistant

JERRY ALT

Cover Photo & Editorial #1 IXPhotographer

ANGELIQUE ALEXANDRA

Cover Shoot MUA

ISRAEL PEREZ & ERRIN AUSTIN

Editorial #2 IXPhotographer w/Assistant

EDITORIAL SHOOT #2 LOCATION

Klairmont Kollections

JUSTYNA KACZOR

Editorial #2 MUA

AGE JAMARILLO

In-House MUA

PAPI MIRANDA

VIP Photo Editor

Ultimate Spark! Coaching

www.InnovaXarts.com
---
7

9

EDITOR'S NOTE

CHAPTER 1: "LOVE + SEX"

10

11

"Love + Sex" Q&A

IXAnimal Shoot

24

27

IXSPOTLIGHT: Linda Liu

CHAPTER 2: "WHOLE-ISTIC HEALING"

28

Ultimate Spark! Coaching: offer

29

30

"Whole-Istic Healing" Q&A

IXSPOTLIGHT: Matthew Salter

32

33

IXSPOTLIGHT: Adrianna Jaramillo

IXSPOTLIGHT: Swarnima Singh

36

40

IXSPOTLIGHT: Deval Mistry

41

CHAPTER 3: "BEAUTIFUL PEOPLE"

Business to Watch: Celeb Lux Limos

42

43

"Beautiful People" Q&A

Macy's IXSpiritwear Fashion Show

44

46

Macy's Fashion Show

IXSPOTLIGHT: London Rome

49

IXSPOTLIGHT: Julie Zhu

51

52

Chapter 4: "The MONEY GAME"

US!C Conference!

54

55

"The Money Game" Q&A

IXSPOTLIGHT: Jinho Woo

58

59

IXSPOTLIGHT: Arika Clark, Thrive Epic

IXSPOTLIGHT: Khanh Dang
---
60

61

Chicago tattoo Convention

Chapter 5: "LIFE IN FLIGHT"

62

63

"Life in Flight" Q&A

IXSHOOT: Exquizite Expressions

76

78

Travel: Love All, Live Free

IXSPOTLIGHT: Yesora Song

82

Chapter 6: "SPIRIT FLOW"

83

84

IXSPOTLIGHT: Morris Mills

"SPIRIT FLOW" Q&A

85

88

IXSHOOT: Welcome 2 the Jungle

Synctuition

90

95

Xa'Vonni Talks Following Your Bliss

96

"Awaken Your Light" Masterclass

My First Love...Acting

97

98

Artist to Watch: Maurice Jones Jr.

IXSPOTLIGHT: Angela Cobb

100

103

IXSPOTLIGHT: Shelly Tan

Artist To Watch: Greg Chater

104

Chapter 7: "URBAN FUTURA

105

106

Artist to Watch: Papi Miranda

"URBAN FUTURA" Q&A

107

108

IXSPOTLIGHT: Robert James Atton

IXSPOTLIGHT: Mak Yilut

110

112

IXSPOTLIGHT: Maurice Proffit

CHAPTER 8: "THE FIFTH DIMENSION"
---
113

114

Artist to Watch: Double G

"The Fifth Dimension" Q&A

115

117

IX Reverb Nation Global Winners

IXSPOTLIGHT: Wonmi Jung

119

Chapter 9: "UNDER The MOONLIGHT"

120

121

IXSPOTLIGHT: Orchestra Fuego

"Under The Moonlight" Q&A

122

124

XSPOTLIGHT: Lucner Frederique

IXSPOTLIGHT: Guilherme Pimentel

127

128

Artist to Watch: TomCat Burke

IXSPOTLIGHT: Daniel Criado

132

133

CHAPTER 10: "SPOON"

IXSPOTLIGHT: Sebastian GHEORGHIU

134

"Spoon" Q&A

135

150

IXSHOOT: Celebrity Cereal

IXArtist Directory

151

153

IX Creative Services

Finale: THANK YOU
---
Xa'Vonni is

back...

Age: Millennial, still Level 3 (30-ish)

City: 4th City = Chicago and loving it!

(Miami, NYC and Boston prior)

Sign: Sagittarius Sun (Bold!)..Virgo

Moon (Organized!)..Libra Rising (Sexy!)

E D I T O R ' S N O T E

Passion: Designing it ALL..just like this

mag! 100% my art & the IX network!

Highest Degree: Master's in Business

Psychology + ICF Certified Soul

Empowerment Coach Trainer!

Race: Proud Latina w. a Neo JLO/

Kim K Booty

Mantra:

Your Worldview is your CHOICE

PHOTOGRAPHY BY ISRAEL PEREZ

KLAIRMONT KOLLECTIONS, CHICAGO, IL

What a time to be alive! I never thought since the launch of Issue #2 where I featured 75 + creatives in the Innova X Arts network

would I live through with the rest of the globe a world as such a pandemic as Covid-19. But you should know something about

me...I am not a person that lives in fear. Think about it!

I have lived in 4 cities by myself, knowing NO ONE..to within a year being part of the entertainment scene and surely KNOWING

EVERYONE (at least those who matters in arts & entertainment).

I had no clue that 2020 would mark 18 years in the entertainment industry...having started off as an actress...went to a high school

of the arts...to being a commercial print model...then BECOMING a runway coach and modeling teacher at the modeling schools

for 4 YEARS..training 1,000 young girls on WOMEN EMPOWERMENT. I had no clue in 2019 we would have the #METOO

movement...then a strong focus on on saving women and children from human trafficking (I spent 6 months on the board of an

anti-human trafficking charity)...

Then spending the last 8 years in the music industry as a talent scout and writing a book on the music industry featuring 100 indie

music artists from 20,000 submissions from Reverbnation...

THICKK SIZE 7
---
-Xavonni

(Thanks Lou Plaia!)...transforming into an artist coach...then becoming an event producer across Miami, NYC and

Chicago..hosting 17 luxury photo shoots and art pops in Chicago alone last 3 years..the list goes on..

With all this work...I never anticipated that our planet would be split between light and darkness with misinformation left and

right from the media...false truths about the masks (my personal opinion)...city destruction from riots, a very confusion

election and the entire ENTERTAINMENT INDUSTRY on hold ALL 2020...But in this mess it felt good to have created my art

throughout the rest of 2019 and into 2020, right before this mess!

Almost like this work here is FATED.

Forget about all the celebrity news we HAVEN'T received (what a nice break, huh?)...

It is the INDEPENDENT ARTISTS that I have loved to help, promote, coach and influence these last 18 years by my work that

have my heart and deserve THIS SPOTLIGHT you will see in the page before you.

Despite any lines and barriers between us (I see none...just beautiful diversity and our mission to learn unconditional LOVE,

COMPASSION and TOLERANCE for each other...)

THICKK MAGAZINE is simply a celebration of voices from the souls of our artists, most of them independent...fearless

co-creators as the SOUL of SOCIETY.

We search HIGH and LOW for artists across all the arts to represent as their publicist for their work. Despite Covid...many of

them still CREATE. They still believe in their dreams and they DESERVE your RESPECT!

In these pages you will discover our BEST of the BEST from the INNOVA X ARTS GLOBAL NETWORK.

Please share their work...on your IG and FB and the socials...and say you found them on here!

The search for Issue #3 creatives starts January 2021! Will you be next to join our movement?
---
LOVE + SEX

"Absolutely, that is why

polyamory has been so

liberating for me."

- Di Magnolia

"Authentic love is boundless and

ever flowing, lifting those within

your arms higher. Not only is it

possible to love two people at

once, but it is actually impossible

not to love multiple people at

once if we are only willing to set

ego aside. The question isn't how

to choose between two people,

but if we are courageous enough."

- Tisha Harrison

"Yes. Choose the one

that feels most like

home." - Kevin Enright

"Well, I teach my clients

not to base decisions

about a relationship

necessarily on feelings...

feelings are fleeting and

can change and may

even be based on trauma

and unhealed

issues...evaluate

relationships based on

whether the person's

actions match what they

say."

- Terrie Vanover

"Love is universal. We

should love everything and

everyone. With healthy

boundaries of course."

- Ryan Parton

"If you fall in love with

two people choose the

second one, because if

you were really in love

with the first one, you

would never have

fallen for the second

one."

- Andrew Charles

because we love

"Yes,

differently. Each

people

brings with them

person

and blessings

lessons

help us to become

which

versions of

better

ourselves."

Sheill Pascal

-

"Yes, you can love multiple

people at once. I think,

everyone you love, you love

differently... Every person is

different and every experience

is different. But if I had to

choose one love, I would choose

the one that feels natural."

- Sara Kozlowski

"Yes it's possible. You said to love

two people at the same time

which is different than being in

love with two people at the same

time. If the latter is true then it

depends on the situation. Follow

your gut, weigh the pros & cons

and don't make a permanent

decision based on a temporary

emotion to make sure you won't

have regrets."

- Jen Young

THICKK SIZE 10
---
What's

your Animal

Instinct...
---
Nothing in the Jungle of Life is what is seems...
---
Ernest P.
---
Dae
---
Water...falls...

-Xa'Vonni
---
THICKK SIZE 24
---
Visit us at www.UltimateSparkCoaching.com to join our

Global Coaching Firm and build your business helping others!
---
WHOLE-ISTIC HEALING

"Not a physical medicine but an action-based

medicine that is Tapping or also called Emotional

Freedom Technique (EFT). This clears the meridians in

our body to flow the proper energy to and through our

systems. It can be used for everything from treating

phobias, trauma, limiting beliefs, to helping heal

physical/mental illnesses." - Elizabeth Otis

oils!

"Essential

the

Removing

in our

toxins

household

"Cannabis. Using the

whole plant. Wanna

know more? Ask me.

#MrCBD"

- Mark Kunicki

"Spirulina! If you take

enough you can feel more

energetic. Only $4.88 a

bottle at Wal-Mart."

- Steve Younce

regime

cleaning

a game is

changer."

Thomas Wurm

-

"Aloe Vera. Get rid of all

pharmaceutical medicines with all

of their nasty man made side

effects." - Brad Rayner

"Reiki and meditation.

Remove unnatural

pesticides, GMOs."

- Jen Young

"Best anti inflammatory ever is Turmeric.

Curcumin (its active principle) taken with

piperine (black pepper) to help absorption,

can do wonder with pain . It is very ancient

too as it.has been used for 3000 years as

ayurvedic health and beauty treatment."

- Toni Mischitelli

"Black seed oil! I love BSO

and that was what kept me

sane and energetic after my

second child was born."

- Gi Stradioto

THICKK SIZE 29
---
My second instance was going to a darkened movie theater with my parents watching "Men In Black" having cold

cherry Coke and Twizzlers and hot buttered popcorn and nachos is one of my earlier experiences in movie theaters

that made me want to be in this business in industry.

Seeing the intensity of the action shots, Will Smith's poise charm and dramatic chops, Tommy Lee Jones funny yet

dry sarcastic witty humor and an overall great work of cinema. Also seeing my mentor, Spike Lee's "Do The Right

Thing" VHS tape box cover around the same age and falling in love with the portrait..the cover paints alone, then

finally witnessing it the power and reality of that imagery sounds and sites.

It was incredible. knew I wanted to be in the world of film, especially behind the camera. I never really envisioned in

front but stranger things happened. I was blessed to be able to for last 5 years be in the Union as an actor with SAG-

AFTRA (Screen Actors Guild). My first opportunity to appear on "Empire" was in late 2014, I was featured in a scene

on the first season with Taraji, Jussie and Terrance.

From there, more castings and bookings came through for featured extra parts as well as a few principles speaking

roles. I had signed with two agencies back in 2015; BNB Chicago Model & Talent Agency & Modelogic Midwest...

More roles came in on sitcoms like "Shameless", "Chicago PD", "Chicago Fire" and feature films that came to Chicago

over last few years such as Spike Lee's "Chi-Raq" and Melissa McCarthy's "The Boss." One of the most incredible,

surreal, and hard working testaments and moments in the early part of my career on screen as an actor was being

upgraded from a featured extra already booked, to ON THE SPOT, being upgraded to a higher principal/speaking

co-starring role in the Fox TV Pilot "University".

I was in a scene with actress Erin Moriarty of Netflix "Jessica Jones" fame amongst other works

(https://m.imdb.com/name/nm3929195/), where I played one of the best football players in the country and a

5-star high school recruit being shown around the fictional campus on the show, which we filmed in Chicago near

DePaul. In that scene, I was being recruited by Erin and another co-starring actress. It all came from sheer blessings

and luck and like the phrase "when preparation and readiness meets opportunity and luck..then good things happen". Or

along those lines at least.

And the director and producers upgraded me and another fellow featured extra to co-starring roles on the spot.

needless to say there was a lot of excitement! But the process still continues as always , I'm content but NEVER

complacent.

As far as acting PRE-PANDEMIC, the last speaking role I had was on Season 10 of "Shameless" on Showtime

Networks (https://www.facebook.com/ForTheCultureProductionsAndMediaLLC/videos/2771363589765388/?

extid=0)

But now in 2020/2021...my shift and continuing focus is on my Production & Media company (For the Culture

Productions and Media LLC)...my beautiful 3-year old daughter Braelyn and living a healthy, productive, positive

and peaceful life in that regards.

"What inspired you to create your production company, For The Culture Productions And Media LLC,

and where do you see it going?"

I started FTC Productions and Media LLC so that people never give up on their dreams, while showing through

inclusion and originality, that dreams and stories are endless. Future plans for FTC is to just keep growing and

bringing original content to viewers/readers/listeners and to change minds and conversations through art and being

proud of yourself, culture and vision!

It 's always important to continue to inspire people, fans, friends, family...myself and be also inspired and motivated

by many others while being a good person and hard worker.

- Matt Salter
---
D R I A N N A

A

A R A M I L L O

J

M A K E U P A R T I S T

ageless-makeup.com

THICKK SIZE 32
---
THICKK SIZE 33
---
THICKK SIZE 36
---
http://www.celebluxlimos.com/
---
The time I had that fashion show at the Macy's Grand

Ballroom for my brand IXSpiritwear...

IXSpiritwear is a fashion line I started in 2018 in Miami to celebrate positive & motivational statements like "Art

is my Religion"(I own this trademark!)..."Fashion is my Religion" and more...

I never thought that a couple years later, my work would be featured at Macy's Downtown Chicago at a

private charity fashion show! (Print Shop = Chicago Signs: https://www.facebook.com/Chicagosigns) Tell them

INNOVA X ARTS sent you! There is nothing you cannot achieve if you actually COMPLETE the project..not

just start it. It's called "Walking the Walk". And these models below were the best at it! Those are the kind of

people I desire to surround myself with in 2021...dreamers who WORK it. Is that you? Let's build up xo

Kamiya Cann

- Xa'Vonni

Gabriela

Karmen

Jessica
---
Photography: Jerry Alt, Models: Jessica P., Cheryl Mccrary, Gabriela C., Kamiya Cann & Event Producer Emily Correa

THICKK SIZE 44
---
Natalie M.

Teen Universe

Illinois 2020

Kamiya Cann

Founder, Kamiya

Beauty
---
THICKK SIZE 50
---
Are you interested in speaking on our stage?

RSVP: Authors, Speakers, Entrepreneurs, Coaches in the areas of...

You are invited to participate!

Email us at ultimatesparkcoaching@gmail.com for our

sponsorship & info packet!

THICKK SIZE 52
---
Money

Join my Coaching

Firm at...

Moves...

www.UltimateSparkCoaching.com
---
THE MONEY GAME

"Open my destination holistic health and wellness resort and start a

nonprofit that helps children that have experienced trauma. It will be

a house with different rooms, each room is a way for a child to

express their emotions other than receiving counseling. For example

one room might be the music room where they learn to play an

instrument or write music and another room might be an art room

where they can paint or sculpt.

There will be a garden and animals and yoga and so much more! The

destination resort will help fund the nonprofit. Both will be in the

holistic health and wellness industry with a focus on preventative

healthcare."

- Sarita Rodriguez

"I would invest in my education

department and would offer

people in my industry a free

intense financial understanding

workshop to help build their

business and elevate our industry.

(Cosmetology)" - Jordan Sahr

buy 10 other million dollar

"I'd

double their value,

businesses,

them @ 3X market cap & walk

sell

with $60M."

away

Frederick Bussey

-

"Buy Bitcoin, Crypto and

Karatbars to Create

generational wealth with

multiple streams of

income/investments." -

Keisha Green

"I would help

Leukemia

patients/Survivors

with financial

aid."

- Jim Calhoun

"Pay off all the debt from corona, set aside money for (at least 1 year)

payroll and bonuses for every employee that has stuck with us this year, and

pay back my dad for all he has personally put into the business. Whatever is

left would go to my three favorite charities: chicago help initiative to fight

homelessness, Hepzhibah Children's home in Oak Park, IL, and Storybook

Farm in Alabama."

- Michelle Durpetti

"Invest in people!

The best asset.

Greater than bricks

or anything else."

- Dimitri Garcia

THICKK SIZE 54
---
an industry leader

Become

more people

Impact

powerful partnerships

Develop

your email list

Grow

Take your business to the next

level with virtual summits.

Multiply your impact, income, and influence.

When you host a virtual summit you can:

Generate Revenue

Yes, you can have it all!

Over the years, we noticed that people we work with

have some amazing products, services, and

knowledge; but, they have really struggled with how to

share it with their clients.

That is why we created ThriveEpic.

As the Internet allows us to connect globally, adding

in unique programming like online courses, virtual

summits and interactive trainings—to a business

strategy attracts new audiences and multiplies a

business's impact, income, and influence.

Contact us today to see how we can help you!

Arika Clark Alejo, CEO

www.thriveepic.com
---
THICKK SIZE 59
---
Boston, New

"Florida,

then go see my

Jersey,

in North

siblings

Carolina"

LIFE IN FLIGHT

"Greece!"

- Ryan Gregory

"Italy"

to see the great

"England

monoliths and sacred

Stone

I'm on a mission to

sites.

my druid knowledge

further

becoming right now."

and

"Dubai & Doha. I will be

there for the World Cup.

May not come back!"

- Dimitri Garcia

- Nancy Veloo

"I want to do couple road

- Felicity Long

"My home state for sure.

Martha's Vineyard &

who knows I might just

run into Former Pres &

1st Lady Obama!!!"

- Lauren Sanders

my "Taking

to son

Disney"

Jeff -

trips to see friends around

the country; and one day

sooner than later to

somewhere amazing like

Aruba" - Nicole Daniels

"In the beginning of the year I

discovered that I am 50% Navajo. I

would love to travel to the Navajo

Nation in New Mexico and visit,

learn, volunteer... I have been

using Duolingo to learn the

"Hawaii"

- Connie Miller

"Dominican

Republic, Brazil,

Ecuador"

- Keisha Green

Berkowitz

language, I am now fluent."

- Ashley Goodbrake

- Kelly Vedder

"Jamaica!!"

Jim Calhoun

-

THICKK SIZE 62
---
Photographer: Israel Perez / Editorial Assistant: Errin Austin / MUA: Justyna Kaczor
---
Jillian Gehring

Deedy Alhadar

Deedy Alhadar

THICKK SIZE 76
---
Jamie Saavedra

Deedy Alhadar

Jillian Gehring

Deedy Alhadar
---
THICKK SIZE 78
---
ARTIST: MORRIS MILLS

ALBUM: THE DAWN

SINGLE: SEX&MONEY

RELEASE DATE: APRIL 19 2019

HOMETOWN: CHICAGO

RESIDES: LOS ANGELES

GENRE: FUNK/ROCK

RECORD LABEL: STRAWBERRYHILL

https://www.youtube.com/user/MorrisMills THICKK SIZE 83
---
SPIRIT FLOW

"I've gathered a few over the

years... the most profound

and intense was last year I

came face to face with a

Brown bear in Revelstoke,

BC while we were camping. A

big mama came to

investigate our camp one

night and I was changing

tents to the kids tent because

they heard something and

got scared. She was about 20

ft. away and terrifying but

exhilarating at the same time.

Got in the tent and she came

and sniffed where I was then

walked away. Mother bears

are intensely protective of

their cubs and we were about

to start the adoption process

of my stepson's half brother.

Other animals over time have

been a wolf, olive python,

lion seal, and Phoenix (yes a

mythical creature so they

keep telling me) it's a red

peacock in truth. "

- Felicity Long

"For the past couple years,

Hawks. They always seem to be

around when I need guidance or

protection from spirits. During

the most difficult times for me

they are always seen Flying high

above me and the BS that might

be clouding my grounded

judgment." - Kelly Andrade

"Bear. They would chase

me all over the

mountains until I

admitted it. Now that I

have peace with bears I

never see them."

- Thomas Wurm

"Koala Bear. I'm

reminded that by

relaxing and staying

calm I can get

everything done."

- Kevin Enright

"Wolf... follow my

instincts" - Nadin

Al Shaker

"Platypus. Always has

been. They have no

problem telling you

when they are miffed.

They have all the spare

parts but are still totally

awesome."

- Elizabeth Stonick

are "Mine

and cougar

Just deer.

out a found

days ago.

few

the But

of

description

is spot on

them

me." for

Ana Djanish

-

THICKK SIZE 84
---
Welcome 2 the Jungle

Photographer: Jerry Alt

THICKK SIZE 85
---
THICKK SIZE 88
---
X A ' V O N N I

T A L K S

following your bliss
---
I'VE NEVER BEEN...

The kind of woman that waited for

anyone's approval before going after

my dreams...all I knew was if I could

understand it, devote myself to

it...be endlessly persistent...and work

on my goals on a consistent daily

basis...I would 1. be one step closer

to my success 2. be carving myself

out of stone into my ideal self little

by little...3. be surpassing my

"competition" who weren't as

smart, devoted, consistent,

connected, heart-filled and dam

anywhere as passionate as I was

when I got my head wrapped

around something.

I don't know if it's a Sagittarius thing,

an entertainer thing (another Sag

trait like fellow Sags Nicki Minaj,

Britney Spears, Miley Cyrus, Jay-Z (I

didn't know that!), Tyra Banks,

Taylor Swift, Christina Aguilera!)..ok

I'mma stop here.

But once I become PASSIONATE

about someone or something, this

HUGE fire is LIT in me, and

NOTHING...and I mean nothing, will

ever put it out without me fighting

for it. Ask any one who has worked

with me or anyone on my team.

(Btw, you need a TEAM to move fast

or ELSE.)

The truth is..."Art gives me a sense

of freedom."

"It connects me with information

from the Universe on beauty and

truth."

And it's crazy because in my last

magazine publication launch...I was

severely bullied on social media by a

b*tch and her talentless croonies just

because we had a super quick small

social media snarky argument. Like a

preteen in middle school, she went

on to "social shame me" and my

artist's efforts..not knowing how

MASSIVELY BIG of a heart I have for

all of art. I have 18 years in the arts,
---
Photography: Jerry Alt

MUA: Angelique Alexandria
---
tirelessly being an artist myself and I have trained, coached, worked with or inspired

thousands of people in the arts and in life! globally in little and huge ways.

All that while also getting a BA, a Master's Degree, working 10 years as a designer for

Fortune 500's and getting a gold standard ICF-level Coaching Certification in 2012.

Like I WORK HARD and SMART, but with some flair! I LOVE it this way.

Law of Attraction is all about your energy and self-belief, people!

It is about knowing WHO you are and digging deep into your beliefs and behaviors

to CONSCIOUSLY DESIGN a MASTER PLAN FOR YOUR LIFE.

And you must do that if you are truly meant to LIVE!

That's WHY at Innova X Arts we have...literally the best team one can dream of

working with...being 18 years now in the entertainment industry..a business woman

and serial entrepreneur with my own coaching school (Ultimate Spark! Coaching)...a

community non-profit I'm kicking off this summer called "Commune-Unity", like

creating and managing new hot projects and leading fantastic teams of talented

artists is my gift and I'm living my dreams! And these artists find me too.

They read a vibe or energy that tells them I am someone so positive, energetic,

ambitious and driven and I will lead THEM to success. And I do!

Now 2020 has knocked everyone down on their knees..what a spirit shaking year!

But for some reason, the beautiful and intriguing work in THICKK MAGAZINE was

already prepared in advance by some higher power on a perfect timing...and I didn't

give up despite the relentless hater-age from losers, and the rest (all the artist

features and ad space) ALL PAID for by the way! spilled in all year! Good karma!

I actually had one of my BEST YEARS! It's all in your preparation and mindset, never

stop working consistently and devoted to what you are GREAT AT! The work

ALWAYS proves itself..and NEVER, ever forget to appreciate your team! xoxo
---
"YOU ONLY LIVE ONCE,

IF YOU DON'T LIVE

NOW...

WHEN WILL YOU?"

- X A ' V O N N I
---
THICKK SIZE 95
---
THICKK SIZE 98
---
My Story...

started in this business as an extra by accident! I was a job recruiter working from home. I was about to post a

"I

on Craigslist and saw a post for extras. I didn't even know what that was but the word MOVIE caught my

job

I submitted and they requested a headshot, which back then you mailed a hard copy to the casting office. That

So

in 2005. I took a pic of myself with my webcam and had my niece edit it, she added my name on the front etc.

was

weeks later, I was on set with Sandra Bullock and Keanu Reeves (who is very handsome in person by the way)

Two

the film "The Lake House"...my background role was a business executive.

for

was going out of the door as Sandra Bullock ran down the stairs... (yep that scene!) and I did see myself but if you

I

an eye you will miss me...lol . I remember being so excited and asking a lot of questions from the crew and of

blink

more work came for me because the more you did, the more you get in this business! I met this guy named

course

Jackson, a film student. He gave me my first speaking role in an independent film called "Holiness in Time" and

Billy

really I took over a few positions well that's just me bossy! My next move was doing crew work on TV network

Okay

and my first PA gig was on the FOX network show "So You Think You can Dance" I did two seasons. I was in

shows

of the set office giving out the radios and other supplies, paper work etc. also responsible for set injuries

charge

sending cast/crew to the hospital if needed. You can find more of my work on IMDb.

and

love the film industry and it really is a tuff business, it's not all glitz and glam; you must have tuff skin coming

I

the door of show business. In Chicago some of my clients are: Director/Producer Mark Harris,

through

Little Girl In White" was accepted into 10 film festivals in 2020 and "Pieces of David", our featured film in 2017,

"The

nominated three times in the 2018 Black Excellent Awards! Lawrence Lee Wallace: Best Director & "Pieces of

was

attention!

I noticed things could run smoother so I started giving my suggestions.

Director/Producer Christopher Nolen (the Black One) and "Funny man" Jay Davis.

David ": Best Film & Anita Nicole-Brown: Best Actress...she won!..."
---
THICKK SIZE 101
---
THICKK SIZE 102
---
Greg Chater

Actor

https://www.imdb.com/name/nm4268091/
---
B I O - T E C H N O

S C I E N T E R R I F I C

U R B A N

F U T U R A

D E C A D E D A N C E R S

T I M E O U T
---
https://www.facebook.com/Papi.miranda64
---
URBAN FUTURA

"As a twin flame

I understand that duality will get

worse till we all stop judgment &

take responsibility for ourselves.

It's an inner job not an outer one."

- Amanda Leanna

see trends going to ethical and natural

"I

Spirituality will be a huge theme.

things.

eating and natural products

Clean

oils organic crystals etc. with

essential

spirituality becoming a trend there will be

"A giant banner that

says: GRAND

RE-OPENING"

- Jeff Berkowitz

but the awakened ones see right

thing

this. Initially people will be

through

out. I see chaos initially but it will

freaking

eventually. The vibe will be more

balance

Old ways will be falling away and

60s-ish.

people who pretend because it's the in

those in power will not like this and try to

hold on to the old. They will greatly suffer

for this and it will not work out well for

them. I see old patterns of good coming

going to bring a

"It's

bunch of talented

whole

back like helping your neighbor. I see

people caring about each other and the

trained in

coaches,

areas,

different

planet like it was meant to be. I also see

more destructive weather patterns as the

earth balances. Churches that celebrate

to make the

continuing

a better place

world

spirituality instead of religion. I see a

beautiful world in the future."

of hope, goals, love

full

happiness."

&

- Jennifer Bloom

- Christina Torres-Little

THICKK SIZE 106
---
ROBERT JAMES ATTON

18

Special FX Make Up Artist, Production

Designer & Screenwriter

"Robert...what is your story?"

I wrote my first short story at 12 years old titled "The Monster Downstairs", my

teacher went and typed it up for me and told me to keep going, you have a gift.

The story was based on a monster I had a nightmare about coming up from the

basement to get me at night. I worked in a haunted house for years, which was

to raise money for my church and the youth group. From 14 years of age to I say

it ended around 21. I learned here my makeup artistic ways.

I remember that they hired a makeup artist one year and I would not let him do

my makeup. Everybody thought he did my makeup. I use to make my sister

Donna watch all the "Nightmare on Elm Street" movies with me. I got in trouble

when she had nightmares that same night.

"Dawson's Creek" was my favorite show on television. One day I hope to bring

the show back to television and start the plot story years later where it left off. I

think there is so much you could do, and see how everyone ended up after the

whole outcome.

"Scream" was the movie that aimed me toward movie writing. I remember the

summer in between 8th grade and freshman year of high school going to my

grandparents' house down in southern Illinois. We took a trip to the video store.

I saw the movie scream on the shelf and wanted to rent it so bad.

My grandma had called my mom for permission, of course the answer was yes.

While watching it, I became obsessed with wanting to write movies and make

audiences feel the entertainment I felt. Now for my grandparents, well that was

a different story. I remember my grandpa saying sarcastically, "Nice movie

choice, Bob."

"What is the biggest project you have worked on?"

I have to say "Black Creek", considering it was my first big film job.

I was an assistant makeup artist on the film. Shortly after that I finally went back to

school and got my degree in film. During my years in school I worked on several

films. Four other projects I'd like to mention that were big to me that I think are

important, include a short film titled "Ibut". Out of the films I did in school,

"Irrefutable" where I had taken on the role of Production Designer, another film was

"Morumotto" where I was the Key Makeup Artist, and lastly I did for a final project, a

promotional video where I was the producer and during Covid.

So that really gave me a run trying to make everything work, but I did it. I also had

my film "Obligations" where I was the Writer, Director, and Editor. That was the best

experience of all to me. I'm currently working on a follow-up to that film.

"What is your life philosophy about your art work? Why does

this world need it?"

My life philosophy is just to create good entertainment for people to sit down and

enjoy during their breaks from their daily lives.

My work depends on which job view point, if we're looking at it through sfx makeup

then it's to scare the hell out of people or gross them out, lol.

If you're looking at it through production design and/or writing it's about seeing the

world I create and how I bring the characters out for audience interest.

Producing, well that's about putting a good team together and keeping us all on

track of getting the job done in a timely manner as well making it our best.

- Robert J. Atton

https://writeratton.wixsite.com/robertjamesatton THICKK SIZE 107
---
THICKK SIZE 108
---
MAURICE

PROFFIT

THICKK SIZE 110
---
I'm not an actor. I mean, I have acted before but I'm nowhere

So,

the incredible talent that is here in Chicago. However, for as

near

as I can remember, I've always been involved with the arts

long

some fashion. My mother was instrumental in ensuring that I

in

actively involved in the arts, either via church or school,

was

she always appreciated how I never really held anything

because

and that I pour A LOT of energy into anything and

back

that I did.

everything

I would get in trouble, as a kid, for being "too loud" in

While

or being too talkative in class at school, she liked it and

church

got a kick out of it because she always appreciated

always

people.

animated

I feel it's because she was the living definition of an

And

person" herself (she had an extensive background in

"animated

with that, she would encourage me to get involved with

So,

and to be among people that were similar, personality

drama

So, between school, church and the community center, I

wise.

in a few productions as a kid, I played MLK, I played Jackie

was

I played Thurgood Marshall and other various roles. I

Robinson,

really stick with acting for so long because at some point I

didn't

wanted to hang out with my friends and that never

just

her. However, even though I was no longer actively

bothered

with acting like I was before, I still had my love for art

involved

business.

and

I would still write stories, write music, draw, write poems and

So,

books that covered various areas of art. So, my involvement

read

the VAiFF Directors Grant Award in 2019. I won a

Winning

grant from VAiFF (Various Artists Independent Film

directors

that grant was great but what was even more was the

Getting

to work with and be mentored by these producers

opportunity

industry leaders so I can learn more. And to me, that meant

and

universe; acquiring knowledge from another level, you can't

the

look for the ones that are the most ambitious. I just want to be

I

with people that want to grow with the art because no

aligned

where we are in our artistic journeys, we're never

matter

complete.

know this is going to sound cliche, but I just like creating and

I

myself to content that is just different yet relatable.

attaching

why yes many of my titles are pretty family friendly, but

That's

not corny though.

they're

not "ABC After School Specials", but with our programs

They're

could be watching a scene and you're sitting there like, "Oh

you

I try to keep the audience as wide as possible whilst

So,

material that is pretty novel..

delivering

Studios doesn't just want a seat at the table, we want to

B-Side

the restaurant and ensure that ALL independent artists in

own

will have a home to be able to create and making a

Chicago

from their art.

living

"WHAT IS YOUR BIGGEST ACCOMPLISHMENT IN THE

ACTING/FILM WORLD?"

Festival) in Oct 2019.

put a price on that.

"WHAT IS YOUR EXPERIENCE OF THE ACTING/FILM

SCENE IN CHICAGO? HOW DID YOU GET YOUR

START?"

"WHAT TRULY MAKES THE KIND OF ACTOR YOU

WANT TO WORK WITH? DIRECTORS, ARTISTS?"

"YOU HAVE WRITTEN 20 ORIGINAL PRODUCTIONS!

WHAT IS THE THEME OF YOUR WORK?"

Sh*t! I'm going through that too!"

"WHAT IS THE FUTURE B-SIDE STUDIOS?"

performing arts).

The future is big and

beautiful on the B-Side.

- Maurice Proffit

never stopped, it just continued to evolve.
---
U F - P H O T O S

P A S S I N G T H R O U G H

T H E F I F T H

D I M E N S I O N

S P L I T T I N G A I R

Y O U R

W O R L D V I E W

I S Y O U R

C H O I C E

A R E U R E A D Y
---
THICKK SIZE 113
---
of us do."

"Some

Felicity Long

-

Israeli minister said

"An

already have and

we

have a base on

they

Scientists have

Mars.

oxygen on

detected

surface of mars as

the

China, USA, and a

well.

other all have

few

to mars in the

missions

couple years."

next

THE FIFTH DIMENSION

"Communication and contact

has already been happening.

Disclosure will happen in our

lifetime. See Unacknowledged

film and CE5 on Netflix by Dr.

Greer from Disclosure Project."

- Dimitri Garcia

JUST heard a report

"I

a serious scientist

from

a "signal" that was

about

created by an

clearly

being that's 4

intelligent

years away."

light

Jim Daniel

-

anything is

"Hypothetically

including human/

possible

hybrids already

alien

( which would

existing

mean we

technically

have/ are doing so

already

"I believe we already do, humanity is just becoming

conscious of it now. And society has programmed us to

be fearful but there is nothing to fear. These beings are

simply other dimensional light forms and as we ascend

to new levels of consciousness, our dimension will

merge with theirs!" - Stephanie Peers

with aliens in

communicate

decade? Highly

this

I mean if I were an

unlikely.

observing humanity I

alien

We have enough

wouldn't.

and wealth on our

money

where no one, not

planet

unaware.) Will we

one person needs to go

hungry, or die without

healthcare. We have

enough money on our

planet for there to be no

homelessness. But we

"I believe that we

already do. We just

don't understand

their language yet."

- Severen

Henderson

- Kevin Enright

would rather own Tesla's,

buy Prada, and sip on grey

goose. So no, I don't think

they are interested in

speaking to humans any

time soon."

- Laura Davis

THICKK SIZE 114
---
IXReverbNation Winners Global

Vattica

Los Angeles

Thank you Lou Plaia!

S.A.T.

Atlanta

We received from our Innova X contests 20k submissions! over 2 years! and only

selected 120 GLOBALLY as best for the future decade of music! Here are my top 12!
---
IXReverbNation Winners Global

www.InnovaXArts.com

THICKK SIZE 116
---
THICKK SIZE 117
---
D A N C E D A N C E B A B Y

N E T W O R K M E O U T

U N D E R T H E

M O O N L I G H T

U P O N T H E S T A G E

C E L E B R I T Y P E A K S
---
UNDER THE MOONLIGHT

"I feel that art, specifically in entertainment, will

be heavy in the digital field. Currently we're in

the middle of a tectonic shift of lifestyle and

digital media will be the main vehicle in how

we take in art. More specifically virtual reality

and variations of artificial intelligence. Our goal

is to adapt in a post covid world and alot of

the practices we do now may exist on the back

end. And if we only learn one thing during this

pandemic, it's that creators will find a way to

create. Even if we're not around each other."

- Maurice Proffit

"In terms of entertainment it

will forever be evolving so I do

believe everything will be

virtual!! For the aspect of

having more interaction is going

to be the way to go. Also by

going virtual it will definitely

allow for alot of people to truly

visualize their dreams and

goals. And with that have more

confidence to pursue them."

- Shawn White

"More events will be virtual

allowing greater audiences

but losing the personal hype

that brick and mortar

locations rely on" - Jerry Alt

"I think that a

lot of things

are going to be

digital. Live

stream

concerts from

home via VR

and even

movies will

transition to

personal

technologies

for release." -

Anon.

"VR and AR"

- Michelle Virog

and virtual will

"Zoom

explode"

"Entertainment has changed drastically. A

abundance of music, movies, and

concerts that aren't cohesive and many

artists that have no substance and don't

wear stardom very well. There hasn't

been a pop star, movie, or concert that

has been culturally challenging for a few

years. I think we need to draw the line on

who wants to be a star and who's going

to fill the seats." - London Rome

- Danny Templegod

"I am positive that things will go back to

normal but in the meantime (and surely

moving forward) more opportunities will

appear virtually. There are new platforms

that truly promote artists, for example

there is this new app developed by the

creators of Pandora called Sessions in

which musicians actually get paid by the

"likes" that people give to them. We joined

this platform with my band very recently

and you can join our daily live concerts by

looking up 'Dannies from the South' "

- Daniel Criado

THICKK SIZE 121
---
2021 Album

New

Falls"

"Summer

as far back as I could remember, music has always been a subject

"Since

I was passionate about.

matter

a result, I declared Music Industry as my major at the State University of New York College at

As

where I earned my Bachelor's Degree. During my undergrad, I've familiarized myself with

Oneonta,

am interested in developing a career centered around music publishing and licensing. I furthered my

I

by interning at Sony Music as a Copyright Coordinator. I acquired many useful skills from this

interest

as well as other professional job opportunities. Overall, my main objective is to enter the

experience

industry and develop innovative ideas that can have long-lasting positive responses to our

music

day industry. I want to work my way up so that I may deepen my involvement professionally. I

modern

enthusiastic and have a great desire of learning, growing, and exploring the music industry."

am

subject matters such as music licensing, copyrights, and music publishing.

- Lucner Frederique, NYC Music Artist
---
THICKK SIZE 127
---
THICKK SIZE 128
---
S A U C Y G L O S S Y

S P I C E D & I C E D

S P O O N

F O R K N I C A T I O N S

M O U T H 2 M O U T H
---
SPOON

I were to dine and break

"If

for my last meal under

bread

stars and wanted

the

delectable for my

something

it would be 'KHUZI' or

palette

"One large pizza from Pequods (on the

northside) with pepperoni, sausage and

mushrooms. Extra sauce, baked well

done. If imma go out, im leaving earth

full and happy as hell" - Maurice Proffit

'Ensopado de Boreggo'

tart slice and maybe a melting

chocolate ball accompanied

with fresh raspberries with my

favorite wine 'Apothic Wine'.

" - London Rome

"Of course I'm gonna go with

Colombian food, there is this

great Colombian restaurant

called "Aqui Es Santa Fe"

located in Portchester, NY.

Their modern Colombian

cuisine has attracted the likes

of The NY Times and their

Arepas and reimagined

Colombian dishes are just

heavenly!" - Daniel Criado

"Final meal on earth would be

anything my wife cooks. She's an

amazing wizard when it comes to

cooking and so I'd choose her

food over any five star restaurant

without hesitation."

- A.B.

would have a

"I

steak dinner

fabulous

Gibson's or Mastros.

at

a full bodied

With

cabernet" - Jerry Alt

followed by a French lemon

THICKK SIZE 133
---
SEBASTIAN

GHEORGHIU

"You moved to Chicago in 1990 from Romania. Chicago is by far, my favorite

city as well! How would you describe the acting / film scene here?"

Most individuals want to pursue an acting career if they either want to pursue fame

or they have a high passion to experience "life" and put themselves in someone

else's shoes.

Being an actor requires understanding personality types and see in different

perspectives - it takes critical thinking to a whole new level. Acting is a game of

psychology and discipline.

I am an introvert and once in a while I take on acting roles for some short film once

in a while; it allows me to step out of my comfort zone. Acting has opened up my

horizon mentally and helped me see things differently; I have realized that I am

capable of doing things that I thought I could not do.

Acting became my platform to let go and let loose - there are no more barriers.

"You are an Actor...Photographer..and Filmmaker! Triple threat! How did you

get started with your work and best project?"

I was born a creative; started out with a pencil and paper and would draw portraits of

people. Later on in my high school years I became interested in programming and

developed skills in I.T, web development, programming and graphic design.

I later picked up a camera in my college years and studied photography in which it

also further developed into video production. I was not learning these skills one at a

time, I was learning these skills all together. One day I would jump from one subject

of study and another day would learn something else totally different.

Today, I am picking up skills in 3D Modeling and VFX in plans to bring a new

dimension to my visual arts projects. Because of the crazy times we live in today

and Covid-19; it has limited my doors as well as many artists in pursuit to make

something meaningful. If you want to pursue acting and reach greater heights, you

have to own it like it's your life; you have to stop putting yourself at the mercy of

casting directors because you are only becoming a statistic of failure or success.

Instead, pickup the camera and make a memorable film with a memorable

character; make a film that people will remember - not a zombie movie. My secret to

acting is... Get crazy and get comfortable with it. Make your character interesting.

Crazy and interesting is what makes characters unique with your own personal

touch. Crazy and interesting is what makes any mellow film and great film.

"For 2021, what is the future of your creative work?"

At the moment I am working on "A Walking Wonder" a feature film and a self

biography with the intent to help the audience understand not to forget our roots as

humanity, to help them understand that not everyone can be at the right place at the

right time and to help them understand that bad things happen to good people

because that's where nature puts them to be, not because they volunteered to

purposefully put themselves in that situation.

I continue to hone my skills of trade as a freelancer, offering digital marketing

services and anything in between. Most of my work can be viewed at

www.sgheorghiu.com.

-
---
IXPhotography: Israel Perez & Suriya Prakash IXBEAUTY Team: Inna Ilka, Myia Jennings, Melina Rose Hair: Alexander Gersch
---
Inna
---
ASHLEE
---
Laura Delatorre
---
Melina
---
Victoria
---
Driyah
---
Parton

Ryan

Kunicki

Mark

Mischitelli

Toni

Ivy

Brandon

Bachman

Angela

Rivera

Lucy

Sikorski

Mary

Rodriguez

Sarita

Bussey

Fredrick

Durpetti

Michelle

Berkowitz

Jeff

Sanders

Lauren

Daniels

Nicole

Long

Felicity

Enright

Kevin

Nabil Al Shaker

Nadin

Torres-Little

Christina

Davis

Laura

Virog

Michelle

Vanover

Terrie

Harrison

Tisha

Wurm

Thomas

Starlett

Lila

Betts Sahr

Jordan

Miller

Connie

Andrade

Kelly

Marie Djanish

Ana

Peers

Stephanie

Henderson

Severen

Kozlowski

Sara

White

Shawn

Otis

Elizabeth

Bloom

Jennifer

Green

Keisha

@ryan.parton

@Mr.CBDChicagoLLC

@toni_mis

@B.ivy_photography

@greyengelartwork

@LucyRiveraHomes4u

@marysikorski

@RecalibrateWellness

@Fredrick.Bussey

@mdurpettievents

@Coach_Jeffb

@sisterwithsuccess0416

@naddivine

@galacticmum

@KronicKevin420

@nadinalshaker

@torres.little.christina

@chasing_laura

@boldsocialstrategies

@vanoverterrie

@kabbalist_shaman_shalom

@mountain_mind_tricks

@lilastarlet

@masteringcurls

@connielynnmiller

@xokelly314

@anamariedjanish

@empowered_mamma

@IAMSEVY

@sarakozlowskiii

@Mr_politic35

@elizabeth_otis333

sage333

@the_enchanted_

@thegreenunlimitedpa

C H A P T E R Q & A

R E S P O N S E S
---
We have promoted over 600 + creative brands in our projects over the last

8 years! Let us custom design + develop YOUR "in-the-spotlight" branding,

publicity & marketing campaigns in 2021 and beyond!

www.innovaxarts.com THICKK SIZE 151
---
want to thank every single artist I worked with over

"I

last 1.5 years to produce and then design this

the

is my gift from the Universe to all of you...and

This

from all you creative souls back to all the

back

truly hope to see you in Issue #3....will you expand

I

creative expression with me?

your

amazing luxe cultural arts magazine for all of you.

Galaxies out there..they are applauding!

- Xa'Vonni