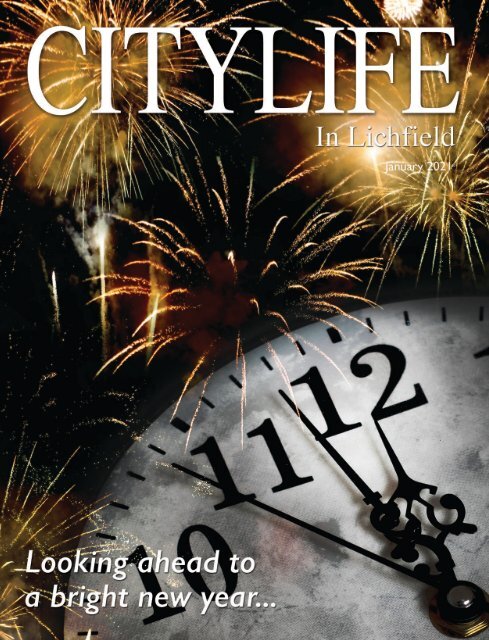 Citylife in Lichfield January 2021
2020 was not the greatest year, but we're looking forward to a brighter new year with our January edition! Full of the usual local news stories, competitions, recipes, gardening tips and history articles, its the perfect pick-me-up to start your new year with a flourish! Sit down in front of the fire, make yourself a warming hot chocolate - and enjoy!
2020 was not the greatest year, but we're looking forward to a brighter new year with our January edition! Full of the usual local news stories, competitions, recipes, gardening tips and history articles, its the perfect pick-me-up to start your new year with a flourish! Sit down in front of the fire, make yourself a warming hot chocolate - and enjoy!
SHOW MORE
SHOW LESS
Create successful ePaper yourself
Turn your PDF publications into a flip-book with our unique Google optimized e-Paper software.
3
---
Welcome to

CITYLIFE

Welcome to CITYLIFE in Lichfield, a monthly magazine

bringing you our pick of the city's news, events and stories.

Each month CITYLIFE in Lichfield is delivered to

businesses and homes in Lichfield, Kings Bromley, Fradley,

Alrewas, Hill Ridware, Whittington, Stonnall, Shenstone,

Hammerwich, Burntwood and Longdon, completely free

of charge; bringing you the best that the city has to offer.

Each issue features heritage stories exploring the rich

history of our area, plus competitions, interviews and the

latest in fashion and style.

Got a story or charity event you want to share with our

readership? Think you've snapped an image that captures

the spirit of the city? We want to hear from you!

Our business is bringing you Lichfield's city life.

CITYLIFE Contacts

Editor - Kristen Lackajis 07885 380632

kristencitylife@gmail.com

Features - Jono Oates 07785 757201 jonocitylife@gmail.com

Advertising -

Steve Brown 07740 166497 stevebrowncitylife@gmail.com

Rebecca Hill 07970 513144 rebeccahillcitylife@gmail.com

Lorraine Hudson 078860 91933 lorrainecitylife@gmail.com

Production -

Helen Smith 07967 154187 helencitylife@gmail.com

Citylife In Lichfield Ltd

PO Box 7126 LICHFIELD WS14 4JS

CITYLIFE in Lichfield and CITYLIFE in Rugeley magazines

are not connected to any other publication or publisher, and are

wholly owned by CITYLIFE in Lichfield Ltd.

Citylife In Lichfield

@citylifelichfield

@lichfieldcity

www.citylifeinlichfieldltd.co.uk

Citylife in Lichfield Ltd does not endorse any business or organisation

appearing in these pages, and the publication of any advertisement,

editorial, event listing or advertising editorial does not constitute an

endorsement by Citylife in Lichfield Ltd.

Your Local Magazine

Inside...

12 Into The Roaring Twenties

Jono Oates looks at life 100 years ago

.............................

22 Manley Hall

A look back at another of the area's

lost stately homes

.............................

28 Tastes of the Season

Simon Smith helps us celebrate Veganuary

.............................

36 Interior Motive!

Our guide to the best local interior retailers

From the Editor…

It's safe to say that 2020 was a completely crazy year, for so

many reasons, culminating in many of us having to cancel our

well-thought-out Christmas plans at the last minute as new

Government restrictions came into play.

It is not looking like we will return to 'normality' anytime

soon, and making New Year's Resolutions does not seem

appropriate. Therefore, we're embracing a new normal in

2021 and being thankful for the things that we do have. This

may be your friends, your family, your health, a roof over your

head, or a job… but in these dark times, it is possible to find

some light.

This issue, we kick the year off with a fantastic interior feature

as we're aware that many of you will be planning home

renovations in the coming months. We've got some great

history features to keep you entertained and also a round-up

of the latest local news.

So grab a hot drink, take a seat, and have a read!

Krissy
---
5
---
LOCAL NEWS

6

Michael's Menswear

Winners Announced!

Krissy draws the names with Michael Mullarkey

of Michael's Menswear

Christmas came early for several local residents

in December as prestigious gentlemen's

boutique, Michaels' Menswear on Lichfield's

Market Street, announced the 25 lucky winners

of the annual sock competition!

Drawn by our very own editor, Krissy, the first

name out of the hat was a Mr Turley who

receives a pair of Viyella socks, plus a bottle of

Prosecco. A further 24 names drawn each

receive a pair of Viyella socks.

Well done to everyone!

.......................................................................................

Rotary Supports 'We

Love Lichfield' Fund

President David Stainsby and Simon Price,

Chairman of the 'We Love Lichfield' fund

Lichfield St. Chad Rotary Club has made a

donation of £2,000 to the 'We Love Lichfield'

fund.

President David Stainsby, of Lichfield St. Chad

Rotary, mentioned that 2020 had been a

particularly difficult year, with two flagship

fundraising events, namely Rotary Cars in the

Park, and the Cathedral to Tamworth Castle

charity run, being cancelled due to the Covid-19

pandemic.

'We Love Lichfield' is a local fund that provides

small grants to a wide range of projects based

in the Lichfield District.

Lichfield St. Chad Rotary is currently seeking

new members with flair and imagination to

contribute to its fundraising work and enjoy a

great social life when conditions allow. For

further information, visit

www.rotarylichfieldstchad.uk.

.......................................................................................

Mercia Juniors are

Champs for St Giles

Harry Crooks (left) and Lucas Thompson with

St Giles Hospice Regional Fundraiser, Bethany

Richardson.

A Lichfield football club has kicked off its new

community partnership with St Giles Hospice

by adopting the charity's colours for its new kit

and raising more than £1,000 at the annual St

Giles Rudolph Run.

Players and parents from Mercia Juniors

Football Club signed up to December's festive

event in the first of a series of planned

fundraising activities to thank St Giles for its

care of team members' families in the past.

Mercia Juniors is also championing the hospice

by appearing in its eye-catching orange branding

whenever they lace up their boots from now

on, with the St Giles logo emblazoned on their

shirts instead of a sponsor.

Mercia Juniors runs teams for under 10s up to

under 15s and is based at Lichfield's Friary

School. The club plays in the Midland Juniors

Premier, Burton, Tamworth and Derby City

Leagues.

For more information about St Giles Hospice

visit www.stgileshospice.com.

.......................................................................................

Cadets Celebrate

£5,000 Boost

(l-r) Emily Thompson, David Stainsby,

Jamie Gotheridge, Sue Arnold and

Sarah Cass.

The Rotary Club of Lichfield St Chad has

become the latest to step up to support

Staffordshire's Police Cadet Service by

becoming a patron for the fourth year in a row.

President David Stainsby has committed £5,000

to the cadets each year, which will help to

expand the scheme so that every young person

across Staffordshire and Stoke-on-Trent has the

chance to become a cadet.

There are now 10 successful units across

Staffordshire and Stoke-on-Trent, with demand

for more in the future.

The Staffordshire Police Cadets – a uniformed

and disciplined service for Staffordshire

youngsters aged between 13 and 17 – aims to

strengthen links between the police and young

people, and promote good citizenship. They're

not training to be police officers, but are

learning the skills they need for the future.

For more details on cadets and the patronage

scheme, visit www.staffordshire-pfcc.gov.uk/getinvolved/police-cadets.

.......................................................................................

Lichfield Locals Fed

Hungry Half Termers

A local

c o n v e n i e n c e

store teamed up

with a Lichfield

resident in

order to help

feed children

over the

October half

term.

Kerry Holland,

manager of The

Shop @Chapel

Lane, and Phil Tye, a Lichfield local, joined forces

following the Government's decision not to

extend free school meals over half term.

Appealing to the wider community, the pair saw

donations flooding in from people wanting to

help, as well as businesses offering their

services.

With cash donations and supplies from

companies in the area, Kerry and Phil were able

to put together more than 80 lunchboxes for

distribution, which contained food to feed

eligible children. They also set up a Just Giving

fundraising page and raised more than £100 for

Lichfield Foodbank.

Please mention

Citylife when

contacting

advertisers
---
7
---
LOCAL NEWS

Local Boy's Acts of

Kindness Commended

A 17-year-old

Whittington boy's

remarkable 100 acts of

kindness fundraising

achievements were

commended by Her

Majesty's Lord-

Lieutenant for

Staffordshire.

Sebbie Hall, who has

learning and physical

difficulties, has

performed a random

act of kindness every single day since March,

raising nearly £10,000 for charity in the

process. These series of extraordinary acts

merited a special thank you presentation

outside Lichfield Cathedral.

Lord-Lieutenant, Ian Dudson, heard about

Sebbie's outstanding achievements and was

happy to help organise a special presentation

attended also by The Very Revd Dean of

Lichfield, Adrian Dorber.

Since the onset of lockdown in March, Sebbie

has performed daily random acts of kindness to

raise money for other disabled children who

have communication difficulties.

His acts of kindness throughout the year have

included leaving change at his local laundrette;

giving out biscuits to local police officers;

helping neighbours with dog walks and

gardening; collecting waste leftovers for

foodbanks; and collecting and distributing warm

coats for the homeless.

.......................................................................................

Festive Bin Collections

Households across the district have been sent

new 2021 bin calendars, which also include

information about festive bin collections.

Local households that have their bins emptied

on a Friday will have some changes to their

waste collections over the festive period.

As set out in the calendars, bins will not be

emptied on New Year's Day as this falls on a

Friday.

All replacement collections for blue and black

8

bins that would have been emptied on New

Year's Day will be on Saturday 2nd January.

The garden waste service will be paused from

mid-December to the end of January. Residents

should check their calendars for their first

brown bin collection date in 2021.

Calendars can also be downloaded by visiting

www.lichfielddc.gov.uk/bincalendar and

entering your postcode. For a guide to what

can go in which colour bins, visit

www.lichfielddc.gov.uk/bins.

.......................................................................................

Lichfield Firm is

Expanding

Four Oaks Legal Services

(FOLS) has increased its

workforce by taking on

another solicitor and a legal

assistant after enjoying a

steady year-on-year

business growth since it

launched in 2016.

As part of its expansion

programme, it also plans to

recruit yet more new

Adam joins the

team at FOLS

employees in the coming months and is also

poised to reveal a newly revamped website.

Tracey Edridge, of Lichfield, has joined as legal

assistant, and Adam Penn, of Cannock, is a new

private client solicitor.

While both are a welcome addition to the

team, Adam also extends FOLS' niche offer into

contested wills and probate.

FOLS also has a sister company Four Oaks

Financial Services at Shenstone, regulated by

the Financial Conduct Authority, for clients who

need any financial advice alongside legal advice.

For more visit www.fouroakslegalservices.com

or find them on Facebook

@fouroakslegalservices.

.......................................................................................

New Community

Space Created

The Nurture Nest community space, which

will showcase community art installations, is

now open at Three Spires Lichfield in the

former Marks and Spencer Food unit.

The unit will be a space to connect, support

and develop with the community and will be

in place until March 2021. The Nurture Nest is

open to everyone, from 10am to 4pm daily,

and it is free to walk in and take a look

around.

The displays in the unit have been setup and

installed by the Nurture Community team, a

Lichfield community interest company.

Community and voluntary organisations are

able to book the space at no charge.

.......................................................................................

Law Practice Director

Achieves Distinction

Frances Di Pierri,

Practice Director at

Adcocks Solicitors,

has completed a

career progression

milestone - and

with flying colours.

Frances, who is the

fourth generation

of the Adcock

family to work for

the 110-year-old

firm, took a two

year sabbatical to complete her Graduate

Diploma in Law, or GDL, and not only passed,

but achieved an impressive distinction as well.

The 36-year-old, who is the daughter of senior

director Mark Adcock, decided to make the

leap to become a semi-mature student

following 10 years of working at the Lichfield

practice.

She is now enjoying being back as part of the

Lichfield team again on a daily basis and is

planning to pursue her fee earning work further

and to train alongside the practice solicitors.

Got a story or charity

event you want to share

with our readership? Think

you've snapped an image

that captures the spirit of

the region? We want to

hear from you!

Contact Citylife at

kristencitylife@gmail.com
---
Advertising Feature

Looking forward to 2021?

Are you looking forward to 2021? We don't really know what the new year will bring but lets hope

there are far more highs than lows.

Many of us will be booking holidays, putting our homes up for sale and doing many of those things we've missed during most

of 2020.

I would suggest that looking at your life assurance, savings, investments and pensions should be on your list during 2021. I am

still taking on new clients and if you feel that you need advice then please give me call so we can have a chat.

The first meeting will be at my cost and there is no obligation to proceed any further. Financial Advisers get paid in a variety

of ways and I will explain this to you when we speak. If you do decide to be a client then you will get a personalised service

that matches your needs, whatever

they may be, as we are all individuals

with different circumstances.

As a client I will find out enough

about you to provide you with

effective financial planning. I will carry

out a full fact find of your

circumstances and discuss with you

your priorities, where you want to be

financially in the future and how I may

be able to help you get there. I will

speak in clear terms and do my best

to try and help you achieve your

goals.

Our team of Financial Advisers at

Four Oaks Financial Services are

supported by in-house research,

client liaison and administration

teams. I have spent most of 2020

working from home using online

meetings to great effect, keeping in

contact with my clients and advising

them during a very strange year.

As an experienced Financial Adviser

I work with clients, at all stages of

their life, to help them achieve their

financial goals. My clients are mainly

in the Burntwood, Lichfield, Cannock

and greater Wolverhampton areas,

although I do have clients much

further afield.

It is often said that people deal with

people so please give me a call or

drop me an email. We can have a chat

and can take it from there if you wish.

I hope to hear from you soon.

Robin Place DipFA, CeLTCI, MLIBF

Financial Adviser

0121 323 2070, 07968 504805

robin@fouroaksfs.com

9
---
A Very Different

Santa Tour

By Mícheál O'Mahony, Chairman of

Lichfield Round Table

................................

During Christmas of 2020, as we have done for over 50

years, the members of Lichfield Round Table had taken

Santa on tour around Lichfield and the surrounding

villages of Whittington, Shenstone, Alrewas, Fradley, Stonnel,

Longdon and Kings Bromley. We were out every night for the

first 23 nights in December.

Traditionally we have 22 groups (Lichfield Round Table being the

23rd group) with us during December to knock on doors and collect

money, however this time unfortunately with the Covid-19 pandemic

we have been unable to bring our elves out to collect money. We still

supported 22 groups and had over 30 applications for support in total.

The groups helped us by doing leaflet drops around the routes to

advertise when Santa was coming and all of our fundraising was done

either online or by text to donate. All donations will be split evenly

between the groups in January.

got stuck in Lichfield while on holidays during the first lockdown and

teamed up with Lichfield Round Table to do a food collection, where

we collected almost eight tonnes of food which was delivered to

Helping Lichfield & Surrounding Areas as well as Lichfield Foodbank.

Last year was a strange year for everyone and Lichfield Round Table

has been no exception, we are normally a very social group, meeting

every other Wednesday, and we continued that throughout the year

although most of our meetings were done on Zoom. We did get out

for a couple of evenings in the summer when the lockdown was eased

and had a great night go-carting in Tamworth. Usually our meetings

are an activity such as carting followed by a beer and a curry and we

are looking forward to returning to normality in the near future.

Round Table is an international organisation with around 35,000

members globally, 3,000 of those members are in the UK with 21

current members in Lichfield. Round Table is an organisation for men

between the ages of 18-45 who want to get involved in the local

community but also build lasting friendships by meeting regularly,

socialising and volunteering. Aside from Santa's Sleigh you will see our

members helping out at local events including the Bower parade and

Cars in the Park. In 2020 Lichfield Round Table celebrated its 70th

Anniversary.

If you would like to know more about joining please email us on

lichfield@roundtable.org.uk , we also have a sister organisation for

women, Lichfield Ladies Circle.

We get great support from local business every year and we would

particularly like to thank Arbury Group Peugeot in Lichfield for

providing us with a tow vehicle for the third successive year and

SureStore Lichfield for providing us with a secure unit to use as a base

of operations.

Tableau, as we call it, is much loved by members past and present

and every year we all sign up to do at least five nights on the sleigh,

either as Team Leader, Driver, Santa or Banksman. It is something

special to continue a tradition that was started in the 1960s and

continues to grow and get better. In a year that has been very difficult

for many it has been great to be able to bring smiles to the faces of

the young and old.

10

Unusually this was Santa's second outing in Lichfield in 2020, Santa
---
11
---
12

George Hotel

Into the Roaring

Twenties

By Jono Oates

............................

One hundred years ago, Lichfield, like many towns and

cities across the world, was recovering from the

devastation of World War One and the aftermath of one

of the world's most destructive pandemics, the 'Spanish'

influenza of 1919. In January 1921 Lichfield started the new year

with some trepidation, hoping for a brighter beginning to the

1920s.

At a meeting of Lichfield City Council held at the Guildhall on January

10th 1921, a committee of councillors, led by Mayor Joseph Deacon,

considered a plan put forward by Smethwick architect George Randle to

build a proposed Picture House on Tamworth Street. Although the plans

for a cinema, or Picture Palace, were debated by the council in 1921, it

wasn't until July 1932 that the Regal Cinema became Lichfield's first

cinema. It later became a Bingo Hall, then Kwik-Save supermarket, before

lying empty for many years. It has now been developed into apartments,

The Old Picture House, with the Grade II listed façade being retained.

The annual Lichfield Farmers' Ball was held at the George Hotel, on

Bird Street, on January 12th, and was considered to be a 'great success'.

Over 100 guests were present, and the company included Captain Roger

Manley, president of the group, Sir Francis Villiers Forster, and Major

George Anson (joint masters of the South Stafford Hounds). Frederick

Winterton, of the Lichfield Smithfield market and auction, was the

secretary of the group.

On the other side of town, at the Old Crown Hotel on Bore Street,

the tenth annual meeting of the Lichfield Shire Horse Society also took

place on 12th January. Mr J Eadie was the president of this group and the

ubiquitous Frederick Winterton was the Honorary Secretary. In the

annual report, Winterton stated that there were now 200 ordinary

members and 10 honorary members in the society and that during the

year 25 new members had joined the society. In 1921 there were nearly

two million shire horses in the UK, however today the breed is close to

extinction.

At the end of January 1921, the Staffordshire Advertiser reported that

the Staffordshire County Council Education Department was looking to

lease various properties to house the increasing numbers of pupils at the

Lichfield Girl's High School. The

options were to extend the lease

on their current location, Yeomanry

House, which was opposite St

John's Hospital on St John Street.

They also looked to extend the

existing lease at Nether Beacon, for

a term of five years at an annual

rent of £120 and to introduce a

five-year lease for the Friary

building, which was part of the

original 13th century Franciscan

Friary, at an annual rent of £85.

Eventually the lease at Yeomanry

House was terminated and the

majority of the students moved to

the Friary building. A new, extended,

school building was officially

opened at the Friary in 1928 and it

remained until 1987, before the

Friary school, now co-educational,

moved to its new premises at

Friary Grange.

The Lichfield Chamber of Trade

held its annual dinner on January

10th at the Swan Hotel on Bird

Street where 60 tradesmen

attended. The Chamber's president

was William Morrison, a

photographer on Bore Street.

Morrison pointed out that Lichfield,

Regal Cinema

South Staffordshire Regiment

memorial, Whittington DMS

Swan hotel

like other places, had 'seasons of trade depression, and seasons of trade

revival, but he ventured to say that no place could find men more willing

to take the rough along with the smooth than the gentlemen of the

Lichfield Chamber of Trade'.

On 7th January 1921 Lieutenant-General Sir Charles Tucker, Colonel of

the South Staffordshire Regiment, wrote to the Letters page of the

Lichfield Mercury from his base at Chalet St. Pierre, Biarritz, France,

supporting a proposal to erect a monument at Whittington Barracks in

honour of the soldiers who had lost their lives in World War One, and

asking for public donations. The twin monuments for the North, and

South, Staffordshire Regiments were officially unveiled in September

1922.

*Vintage photographs copyright of the St Mary's Photographic

Collection

Sources:

The British Newspaper Archive; www.staffspasttrack.org.uk
---
13
---
Auctioneer Richard Winterton with a Black

Forest mantel clock carved from a single huge

piece of walnut. Dating back to the 1880s, the

clock sold for £1,300 at auction.

This two-tone Rolex

Submariner Date made

£6,000.

Heather Callaway was

recently named vice-chair of

the National Association of

Jewellers.

A large single stone diamond ring

made £4,600.

A Year Full of

Promise

...............................

By Richard Winterton

As we put last year behind us and embrace 2021, the world looks

incredibly different from 12 months ago.

Our auction world is no exception – although the market for all

manner of antiques and collectables is continuing a steady upwards

trajectory.

This month, we have plenty of safe options to help clients take

advantage of the booming market.

One of the country's leading jewellery valuers will be offering free

appointments in conjunction with Richard Winterton Auctioneers on

Thursdays.

Certified gemmologist and Fellow of the Institute of Registered

Valuers, Heather Callaway FIRV FGA DGA AMEA was named vice-chair

of the National Association of Jewellers at the end of last year.

Depending on the latest Government advice, we are pleased to offer

a safe, Covid-secure free valuation service at The Lichfield Auction

Centre for jewellery, watches and silver.

Strictly by appointment only between 9.30am-4pm on Thursdays, you

can book by calling 01543 251081 or emailing

office@richardwinterton.co.uk.

Of course, virtual valuations via email and other digital methods

continue to be available too – just give us a call or visit our website to

get the ball rolling.

It is a great time to consign items to auction, whether you've had a

clear-out over Christmas or stumbled upon some curiosities during

lockdown.

Last year ended on a record-breaking note for The Lichfield Auction

Centre, with our biggest-ever one day sale and average price per lot in a

single day smashed.

Handling a massive 1,042 lots, the auction achieved a 93.7 per cent

selling rate bringing in an average price per lot of £158.68 with 1,480

people bidding online from all over the world.

The sale included an "Aladdin's cave" of clocks discovered during a

routine house clearance, from bracket and mantel to wall, longcase and

the incredibly intricate Black Forest, there was just every type of clock

you could hope to see from the past 200 years and the memory still

takes my breath away.

The clocks in that auction alone made £53,000. Other highlights

included a Rolex Submariner Date – which was uncovered during a presecond

lockdown valuation at The Hub at St Mary's – selling for £6,000,

a large single stone diamond ring fetching £4,600 and an antique oil

painting by American Civil War colonel Saint Clair Augustin Mullholland

depicting merchants' boats on Venice's Grand Canal realising £2,700.

A Rolex Datejust on its original jubilee bracelet made £3,200 and a

hand built 7 1/4 inch scale live steam locomotive departed for a £4,600

hammer price.

Other results included a collection of camera equipment for £1,750, a

late 19th century musical box at £1,050, an array of postcards ranging

from political to comic realised £1,225 and a Belleek Parian figure made

£1,000.

The market is also buoyant for household ceramics - three lots of

Royal Albert Old Country Roses services made £1,000 and a Rosenthal

Versace 'Russian Dream' pattern tea set fetched £400.

Furniture sales from all eras have also mirrored this pattern, with a

Victorian burr walnut breakfast table making £1,500 and a superb

collection of G Plan illustrating the renaissance of mid-20th century

design with a £2,110 hammer price.

In terms of more recent collectables, once again Lichfield also proved

the place to be for Pokemon cards with five lots selling for £3,650.

It just underlines that crucial point – whether it's a valuation request

or a house clearance, we do not cherry pick or farm out items to others

– we handle the entire job.

From a free home visit to explain all costs for a clearance or a

jewellery valuation, we're here to help.

We'll give you an honest opinion, a quotation up front and we never

forget that we're dealing with someone else's property.

It's wonderful that all our measures and adapted ways of working are

working so well for our clients and this year we will keep building on that

remarkable month-on-month pattern.

Our weekly online-only Antiques & Home Sales – joined by thousands

of bidders from all over the world – will continue most weeks and we

start as we mean to go on with the first Lichfield auction of 2021 starting

at 9.30am on Monday January 4th our first day back after the Christmas

break.

The office will reopen for 9am – in the meantime, visit

www.richardwinterton.co.uk for links to the digital catalogue.

Happy new year one and all!

For more information about upcoming sales, valuations and to book

appointments for house clearance quotations, collections or deliveries,

telephone 01543 251081 or email office@richardwinterton.co.uk.

14
---
15
---
Local Actors

Produce Christmas

Film

........................

Local actors Stuart Goodwin and Al Rowe of

Goodrow Productions set themselves the near

impossible task of producing a short film of Charles

Dickens' A Christmas Carol in less than a month. The

duo are no strangers to the story having staged several

performances in recent years at Samuel Johnson's

Birthplace and other venues. Due to lockdown and the

pandemic, finding opportunities to be creative has been

tough and so the team have turned to the green screen

to create a short film of Stave 1.

Both actors have busy full time jobs and so this has

been produced by working some very late nights. They

hope to complete the remaining staves if time allows

but Part 1 shows just what can be achieved with no

budget and the desire to create and perform against all

the odds.

Both Stuart and Al have worked a lot with Ken

Knowles, the city's former town crier, therefore the

film is dedicated to Ken's memory.

Please support local artists and watch the film at

www.youtube.com/watch?v=m9D4vwS5coc&feature=

youtu.be.

Got a story or

charity event you

want to share with

our readership? Think

you've snapped an

image that captures

the spirit of the

region? We want to

hear from you!

Contact Citylife at

kristencitylife@gmail.com

16
---
17
---
New Opening for

The Window Centre

................................

Established over 37 years ago in Solihull, The Window Centre

has achieved a loyal customer base and carried out

thousands of double glazing, replacement door,

conservatory, porch and wood replacement installations in both a

local and wider area. It prides itself on quality and service whilst

also offering best value - something that sets it apart from the big

double glazing brands that so often disappoint customers having

been tempted by flashy television advertising that over-promises

and under-delivers.

Why the Window Centre?

With an experienced and technically savvy sales team on hand, the

advantage The Window Centre has is that it can specify your

replacement windows or doors depending on your budget, design or

product requirements. This, coupled with quality craftsmen carrying out

your installation and an unrivalled service department, ensures it has all

bases covers for a top-quality all-round service.

With a portfolio of leading brands, (many exclusive to The Window

Centre in the area) including Internorm, Evolution, Residence, Solidor,

Ultraframe, Rehau and Reynaers along with Origin, it offers a 'whole of

market' product range rather than a limited offer like the

multinationals.

18

Advertorial

Other Services

In addition, ask The Window Centre about Garden Rooms,

something it is seeing a lot of interest in from those working from

home or looking to replace their gym membership with their own

home studio or office.

Is your conservatory somewhere you only venture into a few weeks

a year? Talk to The Window Centre about conservatory roof

replacement which turns the extra space into a usable room 365 days

a year by reducing heat in summer and retaining warmth in winter.

Porches and replacement wood is another area that it can help.

UPVC porches can dramatically reduce heat loss from your front door

whilst UPVC replacement cladding and soffits will eliminate exterior

decoration costs forever.

Open for Business

With a brand-new showroom fully open for business in Sutton

Coldfield, The Window Centre looks forward to welcoming you and

offering the same great products, knowledge, service and value for

money it is renowned for.

Currently the firm is offering 24 months interest payments across all

products and services allowing you to make valuable home

improvements to make your property more energy efficient and

increase its value at the same time.

Call The Window Centre today for a free consultation or call into the

showroom and take a look at the huge range on display.

Opening times: 9am-5pm Monday - Saturday

The Window Centre, 60 Thornhill Road, Streetly, Sutton

Coldfield B74 3EN. Telephone 0121 411 9676.

Visit www.windowcentre.co.uk.

Email showroom@windowcentre.co.uk.

Key Worker Records

Christmas Single

........................

Alocal

key

worker is on a

mission to spread

some festive cheer

this holiday season

by releasing his own

Christmas single to

raise money for the

NSPCC.

Jordan Adams, a

Senior Residential

Care Worker for

Horizon Care, is hoping the determination and dedication he

has for his day job will prepare him for a different kind of

challenge.

The 'Disneyesque' musical theatre single How This Story

Ends has been released with all proceeds going to the

NSPCC, which has recently launched its Christmas single as

it prepares for an influx of calls to Childline over the festive

period and beyond.

When Jordan isn't on shift at the children's home, working

with vulnerable people, he is a semi-professional classical

crossover and musical theatre singer, and has sold out

regional theatres and previously reached the grand finals of

national singing competition, Open Mic UK.

To download the single, visit http://smarturl.it/jordanadams.
---
19
---
20

Pounds for Hounds

By Lauren Hirst

................................

Not everyone can home a greyhound but there are still

ways to help the greyhounds in our care. While in

lockdown, Greyhound Trust Hall Green has not been

able to get out to our normal awareness roadshows to raise

much needed funds and this situation looks set to continue for

many more months. As a registered charity staffed by volunteers,

we are funded entirely from your kind donations. No matter how

small, every donation is gratefully received. There are several

easy ways you can help.

You can simply make a donation via our website by card or Paypal

at www.greyhoundtrusthallgreen.org.uk/donate-online/.

We've also teamed up with easyfundraising.org which provides

online shopping with more than 2,700 retailers, energy providers and

hotels and you can raise money for us each time you shop. It's really

simple and it doesn't cost you anything! It's win-win; you buy the item

you were going to buy anyway and we get a donation! Visit our

website to find out how to register

www.greyhoundtrusthallgreen.org.uk/easy-fundraising/.

Remember, when you want to make a purchase you go to your easy

fundraising account first and then click on your desired retailer.

We also have our very own Amazon Wishlist. We always need

specific products for our greyhounds. If you wish to purchase items

from Amazon for Hall Green, you can either have them delivered to

yourself and bring it in yourself, or you can have the item(s) delivered

to our Hagley or Shenstone kennels (addresses on website). Visit

Amazon here www.greyhoundtrusthallgreen.org.uk/amazon-wishlist/.

If you ARE in a position to home a hound, then have a look at our

homeless hounds www.greyhoundtrusthallgreen.org.uk/greyhoundslooking-for-homes/

and give us ring on 0121 426 4810 or email

hallgreen@greyhoundtrust.org.uk to make an appointment.

The Red Carpet

Receives Funding

........................

The Red Carpet

Cinema at

Barton Marina has

been awarded over

£208,000 from the

Government's £1.57

billion Culture

Recovery Fund.

The Culture Recovery Fund is an unprecedented package

worth £1.57 billion to protect Britain's world-class cultural,

arts and heritage institutions through the coronavirus

pandemic. Many of our much-loved institutions – from

theatres, museums and pantomimes – have been able to apply

for funding to help weather the impacts of coronavirus.

Recognising that cinemas need content, the Government's

£500 million Film and TV Production Restart Scheme has

helped keep the cameras rolling. The scheme opened for

applications in October – and has assured nearly 100

productions that they will be supported if future losses are

incurred due to coronavirus and provided the confidence

they need to restart filming.

From today, the scope of the Restart Scheme has been

extended so that cast and crew over the age of 70 can be

included in the cover provided by the scheme – giving them

confidence to start or restart production, increasing

employment opportunities for this group.
---
Here at Just Granite Ltd, we pride ourselves on being the experts for any worktop needs you may have.

Be it a beautiful bespoke and unique kitchen worktop, a bar, bathroom or even a barbecue area, we have

an extensive in-house range ready to be chosen by you! We stock a varied range, in a variety of materials,

such as our own competitively priced quartz, granite, marble and porcelain, as well as all the top brands

from around the world.

There really is no reason to go anywhere else!

Win a Granite Chopping Board

Just Granite takes great pride in offering its customers full

support, from the initial quotation right through to installation,

with all products being covered under a guarantee and offering

additional maintenance packages where suitable.

With the largest variety of natural stones in the Midlands, the

solid slabs are kept on-site and are available for viewing from

9am-5pm on Monday to Friday, and 9am-12.30pm on Saturday.

Located at The Stone Works, Pillaton Hall Farm, Penkridge,

ST19 5RZ.

We've got a bespoke Chopping Board (in the

colour of your choice) to give away! To be in

with a chance of winning this magnificent prize,

simply answer the following question correctly:

Where does the supply

of granite come from?

a) Spain

b) Italy

c) Germany

To enter, just send your name, contact details and answer to Just

Granite Competition at competitioncitylife@gmail.com or post your

entry to Citylife in Lichfield Ltd, PO Box 7126, Lichfield WS14 4JS by

the closing date of 23rd January 2021. One entry per household.

Multiple entries will be disqualified. No cash equivalent. Please note

you must be 18 or over to enter. All entrants' information is

processed in line with GDPR Data Protection Regulations and our

Privacy Policy (available at citylifeinlichfieldltd.co.uk).

Full t&cs on page 42.

21
---
22

The Lost Stately

Home of

Manley Hall

By Jono Oates

................................

Manley Hall was one of the most elaborate, and ornate,

stately homes in the country and was part of a large

estate close to Weeford, between Lichfield and Sutton

Coldfield. It was built for the Manley family at the start of the 19th

century but by the 1950s it had been demolished, becoming one

of Lichfield's lost stately homes.

In 1821 John Shawe Manley married Catherine Clayton, the daughter

of Sir William Clayton, 4th Baronet of Harleyford and Marden of

Buckinghamshire, and inherited the estate from his father, Admiral Isaac

Manley. Isaac Manley had joined Captain James Cook on his travels

around the world on his ship Endeavour, starting as a 13-year-old cabin

boy and rising through the naval ranks to become an Admiral. John and

Catherine originally lived in Thickbroom Cottage, on Little Hay Lane,

part of the 1,200-acre Thickbroom Estate but in 1831 John Manley

commissioned work on a stately home, originally called Thickbroom

Hall but, after it was unveiled in 1836, became known as Manley Hall.

The hall was designed by architect Thomas Trubshaw of Colwich,

close to Rugeley, and the first stone of the new building was laid by

John's eldest son, John Clayton Manley, with the second being laid by his

six-year-old second son, Augustus East Manley.

Augustus Manley later became the High Sheriff of Staffordshire in

1879 and for many years served as the chairman of the Shenstone Petty

Sessional Division of the county, which later became the Lichfield and

Brownhills Division. When Augustus died in 1904 the estate passed to

his son, Colonel Francis Capel Manley. Born in 1850 Francis Manley had

joined the Coldstream Guards in 1870 and served in the Army for 26

years, taking part in the Egyptian War of 1882 and the Sudan Campaign

in 1881-1889. He rose to the rank of full Colonel in 1890 before

retiring from the service in 1896.

Manley Hall Manley Hall (photo copyright St Mary's

Photographic Collection

Colonel Manley also owned

Shenstone Park, on Park Lane,

between Shenstone Village and

Little Hay, as well as Manley Hall

Farm in Denbeigh,

Monmouthshire. He died in

January 1915 leaving a widow,

Edith, when the estate and hall

passed to his son, Roger Shawe

Manley. Roger also served in the

Army, joining the Queen's Own

Royal Regiment of Staffordshire

Yeomanry in July 1913, he served

throughout World War One,

taking part in the Egyptian

campaign and the capture of

Jerusalem in 1917 under General Augustus Manley

Allenby. Captain Manley returned

to England in December 1919 and

in January 1920 he was welcomed back by the tenants at the Manley

Estate at a dinner held at the Bull's Head public house at Shenstone.

They presented him with a massive three-handled silver cup to

commemorate his safe return from the war.

In March 1925 the hall became home to a Preparatory School for

Boys, when Headmaster the Reverend W Canner moved the school

from Hints Hall at Tamworth to Manley Hall. In September 1939 the

school was advertised in the Birmingham Post as being a school for

boys aged 6 to 14 that had, for the last 20 years, sent many boys to the

chief Public Schools and was 'safe, quiet and ideal for children, away

from the risks and dangers of towns'.

Following the death of the Headmaster in October 1958 the school

closed and much of the contents were sold off at Winterton and Sons

Lichfield Auction in November 1958. The building lay empty and

derelict until 1961, when, following a building analysis showing it had

suffered from severe dry rot, the main hall was demolished leaving only

the stable blocks and service wing from the original building.

Although the building has been demolished, the photographs of the

hall show that is was a very impressive and ornate building and is one

of the many grand stately homes across Lichfield that is now, sadly,

consigned to history.

Sources:

The British Newspaper Archive; Sutton Coldfield Local History Research

Group website; St Mary's Church Weeford website
---
23
---
Burntwood Christmas

Shop Window

Competition

.............................

Burntwood Town Council has announced the winners of last year's

inaugural Christmas Shop Window competition. The displays put

on by the shops brought a little sparkle back to an otherwise gloomy

year.

All shops were invited to provide Christmas displays and the

overall winner was declared as Jackdaws, located in the Morley Road

Shopping area.

Body Beautique was judged to be the best display for Ryecroft,

Kean Styles for Sankeys Corner and Hathaways for Chasetown High

Street. Bev's display was judged to be the best local shop.

The judging of the windows took place on Thursday 10th

December by a judging panel comprising of Cllr. Di Evans, Cllr. Sue

Woodward and Cllr. Robin Place.

Cllr. Darren Ellis, who instigated and co-ordinated the competition,

said he was particularly pleased to see so many local shops taking

part in the first year of the competition.

"It has been a very difficult time for retailers because of the Covid

19 lock down and Burntwood is lucky to have so many shops willing

to spend time on their shop front window displays which have really

brightened up our town."

The presentation of the trophies was carried out on Thursday

17th December.

24
---
25
---
26

A Year of Intentions

By Jo Howell

............................

Now is a great time to reflect on an interesting past 12 months and find the positives –

there may be many or there may only be only one, but the fact you are reading this is

a fantastic starting point! You're here, you've lived through a pandemic and now you get

chance to mix it all up and do it again for the shiny new year ahead. Surely, that alone is

worth getting a little bit excited for?

Don't get me wrong, I am not undermining how blooming hard 2020 has been and the

heartache it has bought to so many of us, for all sorts of different reasons. There has been

a lot to contend with and we're certainly not out of the stormy seas just yet. But there is

light on that horizon and if we all keep pulling in the same direction, 2021 will be a huge

improvement on the last year.

So, what are your intentions for this year? I avoid 'resolutions' as there's a lot of pressure

if life throws a curve ball and you can't commit to them. But if you set an 'intention' you are

already giving yourself permission to be flexible – and we all need that in our life.

In 2021, I intend to….

• Find a new exercise to wake up those endorphins

• Clear out the clutter – literally and mentally

• Try a new recipe each week

• Stick a pin in the map and find somewhere new to visit

• Talk more, text less

• Find joy every day

The important point to remember with setting intentions is to make them work for YOU.

Don't do things to make others happy or things you think you should be doing; just sit with

a blank sheet of paper and open your mind to all ideas that pop into it.

You've got 365 days ahead and a blank page. INTEND on writing an amazing story.

Read more of Jo's work at www.justanaveragejo.blog.

Hypnobirthing

By Heather

By Heather offers 1-1 bespoke Hypnobirthing

courses as well as group courses.

I created By Heather after my first child, Freddy, was born in

2018. Having worked with hundreds of women as a Wellbeing

Coach,it wasn't until I became a parent that I realised just how

much support was missing for pregnant women and new

Mothers. Many friends and clients I spoke to were struggling as

a result of a traumatic birth and had never heard of

Hypnobirthing and the transformational impact it can have on

your birth experience.

What is Hypnobirthing?

Don't worry - I won't be inviting you onto a stage and

swinging a pocket watch in front of you! What I can do is give

you the tools to significantly reduce the chance of surgical

intervention during labour and birth. My course isn't just for

birth. It's for the last few days of your pregnancy to give you the

techniques to calm that inner restlessness. It's immediately after

birth when you're having the 'golden hour' of skin to skin

contact with your new baby in a serene environment. It's

reducing the chances of post traumatic stress and giving your

mental health the best start in this new role.

During my Hypnobirthing course I cover how to release any

fears or anxieties about labour, birth or becoming a parent. We

delve into how to navigate the maternity system, learning about

our choices during birth, what happens to the body and how

what we do can either help or hinder labour. We also have a

bonus session talking about all things post birth and the crucial

fourth trimester!

I am here to support the birthing Mother and birth partner

to bring birth right back to basics.Listening to the Mother,

empowering her and the birth partner with the knowledge to

make calm and informed decisions instead of feeling fear and self

doubt. Tuning into our gut instincts and working with our

body,not against it, to help welcome a new arrival into the world

in the most serene way no matter what route birth may take for

you.

I combine all I have learnt from my time as a Coach, Mentor

and Mother, having been through a tough pregnancy, and apply

these with the practical and spiritual parts of birth.

My next group course starts February 11th and I'd love you

to join me.

*EXCLUSIVE READER OFFER* 20% off for Citylife in

Lichfield readers.
---
27
---
Tastes of the Season

By Simon Smith

Vegan Flavours!

Eating habits changed a lot last year with a lot

more people having time to spend in the

kitchen and baking more or watching cook

along videos from their favourite chefs. Some

piling on the pounds as a result and others

exercising more than they ever thought

possible to retain their sanity!

As ever, January brings us the tradition of

reflecting on lifestyle, promising to give up this,

that and the other, join a gym (and go for at

least a couple of months) and take on the

challenge of Veganuary. This is one thing that

has been made easier this year with many

supermarkets and artisan suppliers increasing

their ranges as this trend gains momentum.

Certainly at this time of year people are aware

of what they have been putting in their bodies

over Christmas and fancy a bit of a healthier

start to the new season.

There is always a choice between organic and

mass produced with a price variant that can

make people think twice. I often wonder how

much difference organic can make to health if

it's only taken for a month rather than a

complete shift in policy. Every little step helps,

I'm sure, but at least it's a start to a new you.

This week I bought potatoes direct from Alice

Ryman at the farm after seeing a post on

Facebook. They have had a terrible year after

the closure of the hospitality industry. It's

always nice to buy locally from the producer

to help them where possible. Obviously as a

result of that I'm going to do potato recipes

this month.

Potato, Cashew and Cabbage Pie

800gms white potatoes

1 x whole green cabbage

200gms cashew nuts

1 x roll vegan puff pastry

200ml soya milk

1tsp cornflour

25gms Olivio spread

Nutmeg

Bay leaf

Method

28

Peel the potatoes and chop into 1cm cubes,

put into cold water and bring to the boil until

they are cooked. Take the outer green leaves

off the cabbage, take the stalk out of the

middle and blanche in boiling water for 30

seconds, put straight into cold water to stop

them cooking and keep them green. Pop them

on some kitchen roll and dab them dry. Cut

the rest of the cabbage into wedges and then

finely slice. Cook for 1 minute in a little water

with Olivio spread and then drain. Bring the

soya milk to a simmer with the bay leaf and a

touch of grated nutmeg. Thicken with the

cornflour mixed with some cold water to

make a paste. Fry the cashew nuts in a little

olive oil to brown them off and enhance the

flavour. Roll out the puff pastry sheet and place

the blanched cabbage leaves on top. Mix the

cooked cabbage with the thickened soya milk,

cooked potato and cashew nuts. Season with

salt, pepper and nutmeg. Place on top of the

cabbage leaves and roll up into a sausage. If

you are feeling artistic you can plait some

pastry and put on the top. Cook for 25

minutes in an oven preheated to 200 degrees.

Potato, Dill and Caper Terrine

800gms white potatoes

125gms melted butter (or Olivio for vegan)

1 x bunch of fresh dill

1 x small jar of baby capers

Cornflour

Method

Peel and finely slice the potatoes. Butter a

small bread tin and put one layer of potatoes

on the bottom, sprinkle with chopped dill,

capers salt, pepper and finely sprinkled

cornflour. Repeat this process until the tin is

full. Cook in a preheated oven at 100 degrees

for one and a half hours or until the potatoes

are soft all the way through. This will vary

depending on which potato you use. Once

cooked take out of the oven and place weights

on top to squeeze the potato down. Put in the

fridge and chill overnight. Take out of the tin,

slice and fry in a pan to brown off. Serve as a

side dish or with smoked salmon and sour

cream as a starter.

Simon Smith runs a catering business from his

production kitchen in Lichfield, providing bespoke private

dinners plus wedding, corporate and event catering.

Simon also undertakes cookery demonstrations around

the country and with local businesses such as Arthur

Price and Tippers. During the summer months Simon

works for private clients both on superyachts and in

villas in St Tropez and Europe. If you are looking for

catering or a day of cookery skills go to

www.simonsmith-chef.com

*Please take extra care when preparing and handling

hot foodstuffs. Go to www.food.gov.uk for further details.
---
Vegan Treats!

The Vegan Treat Box contains vegan sweets, vegan fudge and Tony's

chocolate – the only slave-free chocolate around! Priced at £5, individual

items can also be purchased separately (sweets £1 per 100g; fudge £1.20

per 100g; Tony's bars £2 each).

A selection of natural deodorants which are all handmade in the UK,

contain no aluminium or nasty chemicals, and are all cruelty-free

and vegan!

Available from The Lichfield Pantry, The Plant Plot Garden Centre,

Stafford Road, Lichfield. www.thelichfieldpantry.co.uk

Whether your loved one is vegan or not, they will love the goodies on

offer from The Vegan Baker. These homemade plant-based cake creations

are the perfect to enjoy with your loved ones.

Find The Vegan Baker on Instagram at @the_vegan_baker1 or on

Facebook at www.facebook.com/theveganbaker.co.uk.

29
---
For the Love

of Art

..........................

Lichfield resident, Tina Morgan, had always loved art

whilst at school however her hobby took a back seat

once she entered the real world as a young adult in

search of a career. Being naturally imaginative, Tina

was drawn to the more creative professions and

became a hairdresser where she could enjoy being

able to express herself through her work.

Being diagnosed with a long-term illness meant that

Tina began to slow down from her fast-paced lifestyle

and work from home more, and the 2020 Covid-19

pandemic saw her having to fully shield to protect

herself as she was classed as extremely vulnerable.

Now Tina had plenty of free time on her hands and

she reinvigorated her passion for drawing and

painting. After posting her first painting on Facebook

she was both surprised and delighted to receive her

first ever commissioned piece, as well as many

compliments and requests for more pieces!

Self-taught combines her love for animals and her

connection to human life into her art and has now

sold more than 20 commissioned pieces of artwork.

She has also started a new business selling limited

edition giclée prints of her work.

Now totally obsessed with painting, Tina has

dropped a day at her hair salon to concentrate more

on her new business and loves her new balance of

both of her creative loves – art and hair!

You can find more examples of Tina's

work on her Facebook and Instagram

page @Tinamorganpaints, or email

info@tinamorganpaints.co.uk.

We're looking for businesses to feature in future

issues of Citylife in Lichfield! If you'd like to see your

business in the spotlight, email

kristencitylife@gmail.com for more information.

30
---
Rare Prints Sell for £26,000 in Staffordshire Auction

By Adrian Rathbone, Associate Director & Head of Fine Arts,

An exceptionally rare set of prints from the 1950's have recently sold

for a record £26,000 (plus 30% BP) at an auction near Lichfield.

The set of five monochrome prints were produced in a limited run of

just twelve sets by the celebrated German-British painter Frank Helmut

Auerbach (b.1931). Born in Berlin, Auerbach was sent to Britain in 1939

via the Kindertransport scheme in order to escape Nazi persecution.

After the War, he began studying at St Martin's School of Art in London

from the late 1940s. From the mid 1950's he began a career as art

teacher but his status in the art world took off when he had a major solo

exhibition at The Hayward Gallery and then the Yale Centre for British

Art in 1981 alongside heavyweight names such as Lucien Freud and

Francis Bacon. Further successful exhibitions and even a film followed.

Pop mega star David Bowie owned sculpture titled 'Head of Gerda

Boehm' which was sold for £3.8 million after his death in 2016.

Auerbach is first and foremost a figurative artist and this set of five,

(originally six) epitomise his talent for representing the human form in all

manner of interesting postures. They were consigned as part of the

collection of works belonging to the late Liverpool artist model June

Furlong which were offered in Hansons Christmas Country House Fine

Art Auction held at Bishton Hall on 11th December. As expected, there

Hansons Auctioneers

...........................................................

was much pre-sale interest

and after an intense bidding

battle, the set was won by a

delighted UK private buyer

who bid £26,000. The

anonymous buyer intends

to keep them in a private

collection.

Find out if you are

sitting on a fortune by

taking advantage of

Hanson's free and

professional virtual

valuation services in and

around Lichfield. Please

email images of your items with details to

arathbone@hansonsauctioneers.co.uk or phone us on 01889

882397 for a free home visit, (available for large/multiple items or

for clients who are downsizing or administrators of an estate). The

Monday valuation days at The Hedgehog will be resume when

government guidelines allow.

31
---
Go Green with Treecycle!

..............................

Lichfield, Burntwood and Rugeley

residents can give St Giles Hospice a

'tree-mendous' Christmas gift this year

by supporting the charity's annual

TreeCycle campaign.

St Giles is inviting families and

businesses who don't want to face the

mess and inconvenience of disposing of

their real Christmas trees to sign up to

TreeCycle and have their tree collected

in return for a small donation – and the

hospice is calling for an army of

volunteers to step forward in January to

help collect the trees.

The TreeCycle team recycled 3,200

Christmas trees in January 2020 and

raised more than £35,000 for the

hospice, a record-breaking figure which

more than doubled the 2019 total.

Rachel Brown and Chloe Ingham

from the Wincanton for Screwfix

team collecting trees

Now, following a year when the COVID-19 pandemic has forced St

Giles to shut its shops during two lockdowns and cancel its organised

fundraising events, the hospice has announced that TreeCycle will be

going ahead and collecting from more locations than ever before.

All collections will be socially-distanced and managed in line with the

Keeping the Christmas

Spirit Alive!

............................

most up-to-date

COVID-19 guidelines,

with appropriate

equipment for both

hospice staff and

volunteers to ensure

everyone's safety. Tree

donors do not have to

be present when the

tree is collected.

This will be the sixth

year that St Giles has

been running TreeCycle

to raise funds for the

TreeCycle volunteers get ready

for a day of tree collecting.

hospice, and teams will collect trees from around Lichfield, Walsall, Sutton

Coldfield, Tamworth, Burton, Rugeley, Burntwood, Uttoxeter, Swadlincote,

Stafford and surrounding areas.

TreeCycle will be collecting trees from Wednesday 6th until

Wednesday 13th January 2021. The minimum donation for trees up to 8ft

is £10 and the donation for trees up to 10ft is £12. For trees over 10ft,

please call 01543 432538. Collections must be booked by 5pm on

Wednesday 6th January 2021 and trees should be left out overnight on

Tuesday 5th January as collections will start early the following morning.

Lichfield Tree Works and Greener Composting in Wall, Lichfield, will be

recycling the trees for agricultural uses and as a result artificial trees

cannot be accepted.

To find out more about volunteering for TreeCycle email

fundraising@stgileshospice.com or call 01543 432538. To book a

collection visit www.stgileshospice.com/treecycle or check St Giles

Hospice social media pages.

Christmas was very different this year in Lichfield, with

no official Christmas Lights Switch-On event due to

Covid-19, however the city streets still looked very

pretty at night and many of the city's shops decorated and lit

their shop windows, keeping the true spirt, and colour, of

Christmas alive in Lichfield in 2020.

Photos by Jono Oates

32
---
33
---
City of Lichfield

Townswomen's

Guild

................................

In the spirit of giving and spreading festive cheer, the ladies of

the City of Lichfield Townswomen's Guild (TG) has donated

over £100 to KIPBAGS, an organisation for the homeless. TG

was presented with seven sleeping bag kit bags from Founder Mr

Chris Haycock, containing warm socks, hat, gloves, toiletries,

sleeping bag and first aid items. These have now all been

distributed to several homeless people in the Lichfield area.

The TG Committee decided to use the funds that were raised (over

the past year), and donate 10 bags bursting with Christmas food items

(with a value of £25 per bag) to the Lichfield Foodbank. Chairman

Jane and her husband Robert shopped till they dropped, and took all

the goodies to Mr David Clarke (Foodbank) to be distributed to local

families over the festive season. Mr Clarke joined the ladies of TG on

Zoom at their monthly meeting and thanked the ladies for all their

fundraising hard work and for their support. It was very much

appreciated at this time of year.

Another donation of £250 was made to the Christmas Toy Appeal,

(organised by Mrs Elaine Hutchings of Helping Hands), and Vice

Chairman Mrs Chris Davies had managed to purchase £500 worth of

John Lewis toys at a 50% discounted rate! These were festively

wrapped for all ages of children and distributed during Christmas

week. Elaine was absolutely delighted with the donation and also

joined the TG members on Zoom to thank them for their support for

local children and told us about all the other work that Helping Hands

does out in the community.

Organisations such as WI, Soroptomists and TG are vital

communication links for women of our City. The ladies meet in

friendship and during Lockdown and months of isolation has been an

excellent way of staying in touch with news and ideas, even recipes. To

be able to help and support other organisations over this very

challenging and difficult time, has given everyone the festive spirit, and

has helped those less fortunate. The Guild was established in 1958, has

a membership of over 50 ladies, and is always looking for new

members to join.

The next TG monthly meeting is on Zoom on Monday 11th January

at 7.30pm and will be a fun quiz! You are very welcome to join us,

please contact Jane for details on janedh@hotmail.co.uk.

Chairman Jane Dayus-Hinch with KIPBAG

founder Chris Haycock

Lichfield

Camera Club

Triumphs

Lichfield Camera Club had an outstanding win in the recent local derby

competition with neighbouring club Cannock, winning the competition

by 405 points to Cannock's 394.

In the online competition, judge Graham Walton awarded five Lichfield

members the top three marks, with Lichfield Chairman, Darron

Matthews, scoring a perfect 20/20 with his superbly detailed image

entitled Female Small Red Damselfly.

Other Lichfield members who scored with the top three marks were

Anne Anderson with her wonderfully detailed natural history

composition Fast Food; Joe Anderson with his moody monochrome

image Private Eye; Debra Dingley with her beautiful, appealing canine

Jane Dayus-Hinch. Chairman of the City of

Lichfield Townswomen's Guild.

image Look into My Eyes and Give Me Treats;

and Darron Matthews again, showing superb

technical skill, with Common Wasp in Flight.

In the Advanced Section of the club's latest

merit competition a wonderfully creative

image called Skeleton Leaves by Anne

Anderson won first place. Richard Moore

captured the concentration of a musician,

caught in beautiful lighting, with Tuning My

Violin which came second. And third place

went to Darron Matthews, who captured a stunning Cornwall sunset,

with Trebarwith Strand.

In the Beginners/ Intermediate section, Annette Keatley came first with

her lovely monochrome portrait of The Egyptian; second place went to

Debra Dingley with her simple, but highly effective still-life composition,

Shadow Play; and Ivan Shaw captured the lovely muted colours and

textures in his image White Crab - Dominica to land third place.

Lichfield Camera Club welcomes new members of all abilities. To see

more inspiring images and to find out more about the club's activities go

to www.lichfieldcameraclub.org.

34
---
35
---
Interior Motive!

By Jo Raybould, Needwood Interiors

....................................

Whilst designing your home is no doubt exciting, the process can also be

somewhat overwhelming for people who simply don't know where to

start. Questions over fabrics, focal points, textures, lighting and statement

pieces may be at the forefront of your mind, and of course does your vision and

dream makeover really fit within your budget?

Now more than ever, many people are working and staying at home, therefore it's only right

to create the perfect space to truly enjoy. At Needwood Living, we are masters of

thoughtfully incorporating and creating schemes that are sympathetic to the current

property style and understanding the type of lifestyle our clients lead in their homes.

So, whether you are looking for help with an ambitious renovation, or would simply like

some new curtains or cushions – come and speak to us at Needwood Living!

Tel: 01283 711272 www.needwoodliving.co.uk

Blue Velvet Cushion. Priced

at £65 and available from

Needwood Living, 136 Main

St, Alrewas.

www.needwoodliving.co.uk

The Linear kitchen in cashmere and

Nebraska oak wood effect with

granite work surface and vented hob.

Price from £4,406. Available at

Optiplan Kitchens, Eastern Avenue,

Lichfield. www.optiplankitchens.co.uk

The Dorchester in smooth painted

nightfall blue, with brass accessories and

granite work surface and full height

splash back. Price from £5,708. Available

at Optiplan Kitchens, Eastern Avenue,

Lichfield. www.optiplankitchens.co.uk

Metallic Brushed Lamp.

Priced at £165 and available

from Needwood Living, 136

Main St, Alrewas.

www.needwoodliving.co.uk

Galleria Rugs (size 1.60m x 2.30m). Priced at £250 and available from Tatlow

Carpets, Unit 4 Eurpoa Way, Britannia Enterprise Park, Lichfield.

www.tatlowcarpets.co.uk

Hundreds of rolls of carpets to view,

with access to hundreds more, at

Devlin Wholesale, Unit 13, Prospect

Drive, Britannia Enterprise Park,

Lichfield. www.devlincarpets.com

The versatility of tiles, such as this

Amtico Luxury Vinyl Tile Flooring,

makes it an increasingly popular

choice. Visit the showroom at Devlin

Wholesale, Unit 13, Prospect Drive,

Britannia Enterprise Park, Lichfield.

www.devlincarpets.com

A superb selection of floor lamps and

specialists in light bulbs. Luminare Lighting

Home, Tamworth Street, Lichfield.

36

Plisse bi-fold door blinds in a

huge selection of colours, by

Luxaflex. Prices vary. Available

from Interior Choice.

www.interiorchoice.net

Iliv in Charnwood Flint

available from Interior Choice.

www.interiorchoice.net
---
Residence Collection with flush finish

outside and decorative square finish inside.

Available from Leamore Windows. Tel: 01922

473737. www.leamorewindows.com

Princeton Kitchen Our showroom is open by appointment only.The

appointments can be booked at appointments.tippers.com

or call 01543 440020.

Upholstered in a luxurious velvet, the

Chester Velvet Bar Stool will bring

contemporary elegance to your space.

Available in five colours and two heights to

suit your table. Priced at £120 from

Peppermill Interiors, Burntwood.

www.peppermillinteriors.com.

Stovax Stockton 5. Available

as wood burner (£895), multifuel

(£985), gas (£1379) or LED

electric as shown (£919).

Available from Rugeley

Fireplaces, Forge Road, Rugeley.

www.RugeleyFireplaces.com

Esse 100 Vista Multifuel Stove priced at

£1149. Available from Rugeley Fireplaces,

Forge Road, Rugeley.

www.RugeleyFireplaces.com

Individually designed pure woollen

throws, blankets, and accessories.

Cushion (£30), throws (£35), Britich

sheepskins (Various prices). Available

from Little Flock, The Plant Plot

Garden Centre, Stafford Road,

Lichfield. www.littleflock.co.uk

Root Hall Table. Priced at £399. Available from

Paul Martyn Furniture, Heart of the Country

Shopping Village. www.paulmartynfurniture.co.uk

Upright piano from the range le at

Lichfield Piano Centre, Curborough

Hall Farm, Watery Lane.

Hansgrohe Croma Select

www.lichfieldpianocentre.co.uk

shower priced at £499 (inc

VAT). Available from Tippers.

www.tippers.com

Helker two seater sofa inn

Gamekeeper Thorn. Priced at

£1,450. Available from Paul

Martyn Furniture, Heart of the

Country Shopping Village.

www.paulmartynfurniture.co.uk

From the contemporary

Solidor range featuring a

stainless steel pull bar. Available

from Leamore Windows. Tel:

01922 473737.

www.leamorewindows.com

New Farrah Lux Pillow Top

Quilted Mattress (12" thick),

now only £349.99 with free

divan base. Available from

Bamfo, Unit 19E, Chasewater

Heath Business Park, Cobbetts

Road, Burntwood.

Searching for the perfect desk chair while you

work from home? The Exeter Leather Vintage

Style Office Chair would be the perfect

addition to your study. Available in two

colours. Priced at £325 from Peppermill

Interiors, Burntwood.

www.peppermillinteriors.com.

Made from real buffalo leather, the Rio Leather Dining Chair combines straight lines and curved

edges, representing modern dining at its finest. Available in four colours. Priced at £265 from

Peppermill Interiors, Burntwood. www.peppermillinteriors.com.

37
---
Peppermill's showroom, based in Burntwood, has had a

huge makeover, with a wonderful new layout and

different themed zones for you to sink your teeth into.

Settled in the heart of the Midlands, the showroom has been

transformed into an interior dream world, from rustic, traditional

British farmhouse tables to plenty of textures, from sultry velvets

to French linen. This past year has been a time of change for many

homes and businesses, and Peppermill wanted to create a

showroom space that will inspire and encourage others in their

own choices.

Two of their very own Peppermill representatives, Elizma Smith

and Laura Page, used the second lockdown as an opportunity to

transform their workplace into an interior heaven. They have

installed a plant wall, a lightbox, and have tailored each section of

the showroom to showcase Peppermill's industrial spirit, with

plenty of vintage gems sprinkled here and there. You will find

beautiful dining room setups and cosy leather chairs that would

feel right at home next to a roaring, open fire.

Laura is part of Peppermill's sales department and helps with

the day-to-day running of the showroom. She wanted to create a

spacious shopping environment where customers can feel relaxed

and at home. "Peppermill has such a diverse style, and we wanted

to project that through the showroom's vision," she explained.

Upstairs, you will find an authentic bar area with lots of cocktail

chairs and industrial bar tables, a great place for business owners

to explore and get inspired. Elizma, a member of the marketing

team, said: "It was a delight to be responsible for Peppermill's

showroom redesign. Paramount to the design was taking care of

every last detail to provide the perfect showroom, with surprises

around every corner. I believe Peppermill is a place where you can

38

Unlock a World of Wonder at Peppermill

..................................................................

truly reinvent and bring joy to any interior."

Take a trip to the new showroom in 2021 and find out how you

can make Peppermill the beating heart of your home!
---
39
---
40
---
J HOWELL &

DAUGHTERS

FUNERAL DIRECTORS LICHFIELD

LICHFIELD'S LONGEST ESTABLISHED INDEPENDENT,

FAMILY RUN FUNERAL DIRECTORS.

SECOND GENERATION BUSINESS HERE TO ASSIST YOU

AND YOUR FAMILY.

24 hours a day

We are proud to be Lichfield's longest established family run funeral directors offering a wide range of

choices to suit all requirements. Horse drawn hearse, non religious ceremonies, floral tributes and

memorials are but a few of the services we offer.

Pre-paid funeral plans are also available.

For a truly personal service please call

01543 255776

Private Chapel of Rest 116 Netherstowe,

Lichfield, Staffs. WS13 6TS

41
---
Competition and Prize Draw Terms and Conditions

1.Entrants' details will be held and processed in line with Citylife in Lichfield Ltd's

Privacy Policy, which in turn adheres to GDPR Data Protection legislation. For a

copy of our Privacy Policy please email kristencitylife@gmail.com

2.By entering the prize draw/competition, you agree to the terms and conditions

stated.

3.The closing date is stated on each individual prize draw or competition.

4.Entrants' details will be securely held by Citylife in Lichfield Ltd in accordance

with our Privacy Policy. Details will be held only until the closing date of the

competition. After this date entrants' details will be securely destroyed/deleted.

Winners' contact details will be securely stored only until the winner has been

informed of their win/prize. After this details will be securely deleted/destroyed.

5.Entrants' details will never be shared with any third party. The only exception to

this is the name (and if the prize is to be posted) address of Competition/Prize

Draw winners that will be communicated to the competition partner to allow

winners to securely claim their prize, after which all details will be securely

destroyed. The initial and surname of winners will be printed in our magazines –

no other details will be published.

6.By entering the competition/prize draw, entrants agree to Citylife in Lichfield Ltd

using or publishing materials provided by the entrants (but not address or contact

details apart from initial and surname) in any of their publications and online.

7.Citylife in Lichfield Ltd accepts no responsibility for any breach of copyright or

breach of any other legislation entailed by entrants in their creation or submission

of materials.

8.Only one entry per prize draw/competition, per reader.

9.Except in the case of cash prizes, no cash equivalent will be offered and the

prize is non-transferable.

10.All prizes are subject to availability and the prize suppliers' terms and

conditions.

11.No purchase necessary.

12.Prize draws and competitions are only open to UK residents aged 18 years or

over (unless otherwise stated).

13.Competitions and prize draws may not be entered by any employee of

individual associated with any employee, agent or third party of Citylife in Lichfield

Ltd.

14.Winners will be selected at random in the case of applicable prize draws and

competitions, or by an independent judge in the case of photographic/art

competitions from all entries received.

15.Winners will be notified by Citylife in Lichfield up to 28 days after the closing

date of the competition/prize draw by the contact details provided by the entrant.

16.A list of the surnames and county of residence of the winners will be available

by writing to Citylife in Lichfield Ltd no earlier than six weeks after the competition

closing date.

17.When the prize draw/competition winner has been selected, this decision is

final and no correspondence will be entered into.

18.Citylife in Lichfield Ltd accepts no responsibility for the prize being lost,

damaged or delayed in transit. When the prize is provided by a third party, Citylife

in Lichfield Ltd accepts no responsibility for any change to the prize, or for the

quality of the prize provided.

19.Competitions may be amended or withdrawn at any time.

20.By entering the competition or prize draw, you agree to having your name,

(photograph, where stated) and city or county of residence published in any of

Citylife in Lichfield's publications and online.

21.Unless otherwise stated, the promoter is Citylife in Lichfield Ltd, PO Box 7126,

Lichfield, WS14 4JS.

22. Citylife in Lichfield Ltd do not express any warranty or endorsement of any

competition prize, information, service or product provided in connection with a

competition by printing or otherwise publicising any competition.

23.To the full extent of the law, Citylife in Lichfield Ltd shall not be liable for any

loss, claim, punitive, indirect, incidental or consequential damages of any kind

incurred as a result of entering this prize draw or competition.

24.By submitting photos, text or artworks as part of competition/prize draw entries

you agree that you own these photos text or artworks, that it is your original work

to which you own all rights to distribute, and that your entry is accurate, moral and

legal.

42
---
43