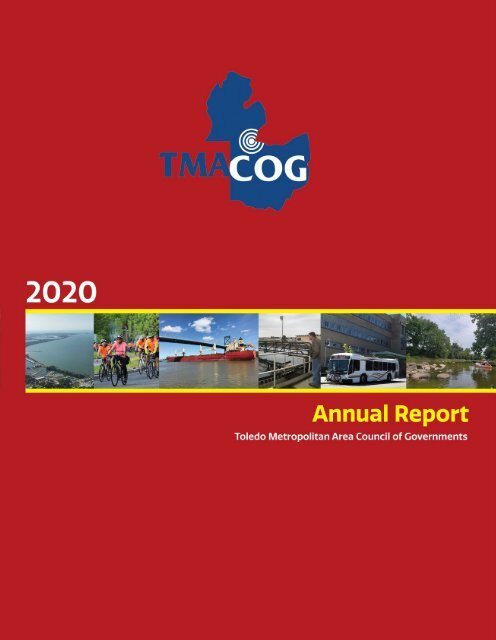 TMACOG 2020 Annual Report
The 2020 Annual Report for the Toledo Metropolitan Area Council of Governments
The 2020 Annual Report for the Toledo Metropolitan Area Council of Governments
SHOW MORE
SHOW LESS
You also want an ePaper? Increase the reach of your titles
YUMPU automatically turns print PDFs into web optimized ePapers that Google loves.
the vision

Toledo Metropolitan Area Council of

Governments will be the governmental

partner of choice to coordinate regional

assets, opportunities, and challenges.
---
January, 2021

Letter from the President and the Chair

When this pandemic is over, we can't just say good riddance to hard times and forget about last year.

The fabric of civic life and government operations will be changed by our experiences in 2020, and they

should be.

We learned that jobs that we took for granted, and which don't pay all that well, are absolutely

critical. We need grocery store clerks as desperately as we need firefighters. We rely on teachers and

neighborhood schools. How will we change the way we reward these workers now that we see their

value with new eyes?

We learned that lots of people – including government employees -- can work from home just as

productively as from an office. And that they have a better life/work balance, and cause less traffic

congestion, less air pollution, and their pets are happier, too. As we plan for the future of our communities,

what will our neighborhoods be like with more neighbors in them? How will downtown business

districts change?

In the last year, government has been strained but it hasn't broken. Clean water is still delivered to

every house, garbage is collected. TMACOG members collaborated in new ways to produce our two

primary policy documents: the Transportation Legislative Agenda, and the Agenda for Lake Erie. Our

elections changed with more early in-person voting, more mailed ballots, and the integrity of election

workers was essential to confidence in the outcome. The everyday government work of transparency,

accountability, and competence is inspiring and should make us all proud.

We do need to absorb some painful lessons. Public health professionals struggled to persuade some

members of the public to accept science and expert advice. How can we increase confidence in this

part of our health care system? We also learned that health outcomes are starkly linked to income and

zip code which should be a call to action for all of society.

We won't waste this crisis, we will become better citizens and better leaders as we work together in

cooperation, with faith in each other, and mutual respect.

Mark W. Stahl

Chair, TMACOG

Ottawa County Commissioner

Tim W. Brown

President, TMACOG
---
Governmental Members

COUNTIES

Lucas

Monroe

Ottawa

Sandusky

Wood

CITIES

City of Bowling Green

City of Fostoria

City of Fremont

City of Luna Pier

City of Maumee

City of Monroe

City of Northwood

City of Oregon

City of Perrysburg

City of Port Clinton

City of Rossford

City of Sylvania

City of Toledo

City of Waterville

VILLAGES

Village of Archbold

Village of Berkey

Village of Bradner

Village of Clay Center

Village of Delta

Village of Elmore

Village of Fayette

Village of Gibsonburg

Village of Green Springs

Village of Haskins

Village of Holland

Village of Hoytville

Village of Luckey

Village of Lyons

Village of Metamora

Village of Millbury

Village of North Baltimore

Village of Oak Harbor

Village of Ottawa Hills

Village of Pemberville

Village of Portage

Village of Put-in-Bay

Village of Risingsun

Village of Swanton

Village of Tontogany

Village of Walbridge

Village of Wayne

Village of Weston

Village of Whitehouse

TOWNSHIPS

Township of Henry

Township of Jackson

Township of Jerusalem

Township of Lake

Township of Middleton

Township of Monclova

Township of Perrysburg

Township of Richfield

Township of Spencer

Township of Springfield

Township of Sylvania

Township of Troy

Township of Washington (Lucas Cty.)

Township of Whiteford

SPECIAL DISTRICTS &

AUTHORITIES

Lucas Metropolitan Housing Authority

Metroparks Toledo

Northwestern Water & Sewer District

Ohio Turnpike & Infrastructure Commission

Port of Monroe

Sylvania Area Joint Recreation District

Toledo Area Regional Transit Authority

Toledo-Lucas County Port Authority

Toledo Lucas County Public Library

Wood County Park District

Wood County Port Authority

SCHOOL DISTRICTS

Bowling Green State University

Lourdes University

Maritime Academy of Toledo

Monroe County Community College

Northwood Local Schools

Ottawa Hills Local Schools

Owens Community College

Penta Career Center

Rossford Exempted Village Schools

Sylvania Schools

Toledo Public Schools

The University of Toledo

Wood County Educational Service Center
---
Non-governmental Members

AAA Northwest Ohio Region/AAA Club Alliance

A.A. Boos & Sons, Inc.

American Rivers

Associated General Contractors of Northwest Ohio

AT&T Ohio

Beckett & Raeder, Inc.

Black Swamp Bird Observatory

Black Swamp Conservancy

BP Husky Refining, LLC

Civil & Environmental Consultants, Inc.

Columbia Gas of Ohio

ConnecToledo Downtown Development Corporation

CT Consultants, Inc.

DGL Consulting Engineers, LLC

DLZ Corporation

Eastern Maumee Bay Chamber of Commerce

Eastman & Smith, Ltd.

Envirosafe Services of Ohio, Inc.

E.S. Wagner Company

Feller, Finch & Associates, Inc.

FirstEnergy/Toledo Edison

First Federal Bank of the Midwest

First Merchants Bank (Formerly Monroe Bank & Trust)

Genoa Bank

Great Lakes Community Action Partnership (WSOS CAC, Inc.)

Home Builders Association of Greater Toledo

Hull & Associates, Inc.

Huntington Bank

Jones-Hamilton Company

Jones & Henry Engineers, Ltd.

Lake Erie Waterkeeper, Inc.

The Mannik & Smith Group, Inc.

Maumee Valley Adventurers, Inc.

Maumee Valley Heritage Corridor

Monroe County Chamber of Commerce

National Electrical Contractors Association (NECA)

Northwest Ohio Regional Economic Development (NORED)

Northwestern Ohio Rails-to-Trails Association (NORTA), Inc.

Ohio Contractors Association

Ohio Farm Bureau—Lucas, Wood & Ottawa Counties

Oregon Economic Development Foundation

Partners for Clean Streams, Inc.

Perstorp Polyols, Inc.

Poggemeyer Design Group, Inc.

ProMedica

Regional Growth Partnership

Republic Services, Inc.

Rudolph Libbe Group

Safety Council of Northwest Ohio

Spengler Nathanson P.L.L.

Stantec Consulting Services, Inc.

Toledo Refining Company

Toledo Regional Chamber of Commerce

Toledo Trucking Association

Transportation Advocacy Group of Northwest Ohio

(TAGNO)

We Are Traffic, LLC

Woolpert, Inc.
---
Financials Fiscal Year 2020 | July 1, 2019 - June 30, 2020

Revenue Actual 2020 Expense Actual 2020

Member Dues and Assessments $791,639

Project Contributions & Other Local Funds $211,546

Federal Program Support $1,349,115

State Program Support $198,900

Total Revenues $2,551,200

Direct Wages & Fringe Benefits $993,818

Administrative Wages & Fringe Benefits $711,540

Direct Program Costs $424,165

Administrative Overhead Costs $277,294

Contingencies & Reserves $144,383

Total Expenditures $2,551,200

Funding Distribution By Activity

Transportation $1,473,354

Water Quality $871,858

Member Services $65,655

Contingencies & Reserves $140,333

Total $2,551,200

Funding Distribution By Activity

Federal Transportation $1,187,343

Federal Water Quality $161,772

State Transportation $115,354

State Water Quality $83,546

Local Transportation $170,656

Local Water Quality $626,541

Local Member Services $205,988

TOTAL $2,551,200

2020 Officers & Executive Committee Members

EXECUTIVE COMMITTEE OFFICERS

Chair: Mark W. Stahl – Commissioner, Ottawa County

Vice Chair: Kay E. Reiter – Commissioner, Sandusky County

COUNCILS

Water Quality Council

Chair: Jon G. Eckel – Director of Public Service, City

of Perrysburg

Vice Chair: Melissa Greene-Hopfer – Sustainability

Coordinator, Lucas County

Transportation Council

Chair: Joseph E. Shaw, PE, PS – Deputy Public

Service Director, City of Sylvania

Vice Chair: Michael D. Pniewski, PE, PS – County Engineer,

Lucas County

ADMINISTRATIVE COMMITTEES

Communications Committee

Chair: Theresa Pollick – Public Information Officer,

Northwestern Water and Sewer District

Vice Chair: Sheri L. Bokros – V.P., Business Development,

The Mannik & Smith Group, Inc.

Leadership Development Committee

Chair: Mark W. Stahl – Commissioner, Ottawa County

Vice Chair: Kay E. Reiter – Commissioner, Sandusky County

Membership Committee

Chair: Edward Schimmel – Mayor, City of Northwood

Vice Chair: Jennifer Fehnrich – Executive Director,

Owens Community College

At-Large Members

Michael A. Aspacher – Mayor, City of Bowling Green

Doris I. Herringshaw, Ed.D. – Commissioner, Wood

County & Immediate Past TMACOG Chair

Robert P. Mack – Trustee, Township of Perrysburg

Thomas G. Mackin – Mayor, City of Perrysburg & Chief

Legal Officer, Lucas Metropolitan Housing Authority

Patrick McColley, PE, SI – Deputy Director, ODOT District 2

(ex-officio member)

Angie Ruiz – Council Member, City of Fremont

Edward L. Snyder – Trustee, Northwestern Ohio

Rails-to Trails Association Inc.

Craig A. Stough – Mayor, City of Sylvania

Finance, Audit & Administration Committee

Chair: Matthew R. Oestreich – Auditor, Wood County

Vice Chair: Rosanna Hoelzle – Administrator, Village

of Swanton
---
TMACOG Staff

Tim W. Brown | President | brown@tmacog.org

Jennifer Allen | Executive Assistant | allen@tmacog.org

Marissa Bechstein | Transportation Planner | bechstein@tmacog.org

William Best | Vice President of Finance & Administration | best@tmacog.org

Jodi Cole | Transportation Administrative Assistant | cole@tmacog.org

Lance Dasher, AICP | Transportation Planner | dasher@tmacog.org

Michael Fuller | Transportation Planner | fuller@tmacog.org

David Gedeon, AICP | Vice President of Transportation | gedeon@tmacog.org

Kari Gerwin | Director of Water Quality Planning | gerwin@tmacog.org

Sara Guiher | Water Quality Planner | guiher@tmacog.org

Lisa Householder | Transportation Planner, Database Analyst | householder@tmacog.org

Barbie Kalta | Water Quality Associate | kaltab@tmacog.org

Matt Kennedy | Water Quality Planner | kennedy@tmacog.org

Mary Pat McCarthy | Marketing & Public Information Manager | mccarthy@tmacog.org

Joy Minarcin | Water Quality Administrative Assistant

Gilda Mitchell | Director of Membership and Outreach | mitchell@tmacog.org

Ann Nair | Administrative Assistant | nair@tmacog.org

Nate Reiter | Accountant | reiter@tmacog.org

Roger Streiffert | Transportation Planner | streiffert@tmacog.org

Mike S. Tippett | Digital Communications Manager | tippett@tmacog.org

Marc VonDeylen | Transportation Technician | vondeylen@tmacog.org

offices:

Toledo Metropolitan Area Council of Governments

300 Martin Luther King, Jr. Drive, Suite 300

Toledo, OH 43604

Phone: 419.241.9155

public.info@tmacog.org

Fax: 419.241.9116

mail delivery:

Toledo Metropolitan Area Council of Governments

PO Box 9508

Toledo, OH 43697-9508