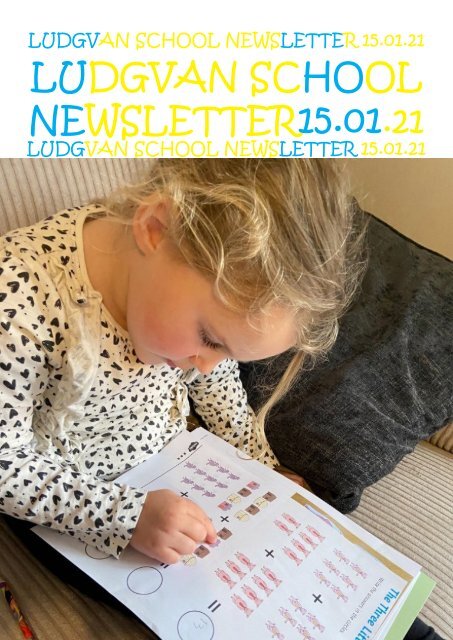 Do you know the secret to free website traffic?
Use this trick to increase the number of new potential customers.
LUDGVAN SCHOOL NEWSLETTER 15.01.21

LUDGVAN SCHOOL

NEWSLETTER15.01.21

LUDGVAN SCHOOL NEWSLETTER 15.01.21
---
A word from the Principal...

Welcome

As we surge from one set of restrictions to the next and find ourselves in mid-January already, I

would like to thank you all for your engagement with remote learning so far. The levels of engagement

and quality of work being produced is far exceeding the first lockdown last year and this will

have a real impact on your children's ability to successfully reintegrate with school life when we

reopen.

Our numbers for in-school provision have almost doubled since we first opened for vulnerable children

and key workers. Whilst we would love to have as many children in school as possible, we are

reaching our capacity and I would like to remind you that children of key workers should only be in

school on the days that you are unable to supervise them at home and only for the hours you are

working. It is in all of our interests to support the lockdown and minimise travel where possible; the

safest place for your children is at home with you. If you do need in-school provision for next week,

the booking form can be found here: https://forms.gle/NDVEnyC4QPneGV5eA

Oasis are no longer offering kids club due to low numbers, so we have extended our provision until

4pm. If your child(ren) requires a place from 1520-1600, please book online via the 'schoolmoney'

portal.

As always, if there is anything you need support with or any suggestions with how we can improve

our remote learning provision further, please let us know.

Kind regards,

Mr Adam Anderson

Principal
---
Broad and Balanced...

EYFS

This week Rainbow class have had lots of fun learning about the story of The

Three Little Pigs. They have acted out the story, designed and made their own

dream home, found out interesting facts about pigs, made models of pigs, read

words from pigs to name a few things! They have really enjoyed their Zoom

meetings and seeing their friends at home and in school. It's been lovely to see

how much learning has been going on at home and we are really proud of what

the children (and their adults at home!) have achieved. Well done to everyone

in Rainbow Class, we are so proud of you and how well you are all adapting to

your new learning. We are looking forward to seeing your amazing work again

next week!
---
Broad and Balanced...

Y1

Class 1 have been extremely busy this week. Our topic for this term is How far

can we travel?

The children will be learning all about the 7 Continents and this week our focus

was on Europe. They looked at France and some of the famous landmarks.

Some of the children learnt to say hello and goodbye in french.

I have really enjoyed seeing the amazing art the children have produced this

week. They recreated the Starry night by Vincent Van Gogh and had to research

the artist Terry Frost and recreate one of his paintings.

Our science this week was to identify and name a variety of UK mammals. The

children have been out for walks and sent some super pictures and videos of

the animals they found.

A big thank you to all the parents for their continued support in uploading

and sending their children's work to me. It has been lovely to see the children

every morning via zoom.
---
Broad and Balanced...

Y2

Class two have been an active bunch this week. They have been practising

yoga and sending me their pictures. We also drew pictures of what we can see

outside our windows because we realised that we all have a different view and

we thought it would be lovely to share these. I have been very impressed with

the effort both families and children have been making this week with online

learning. I have had work from every single child in our class each day. Well

done to you all and thank you for your support.
---
Broad and Balanced...

Y3

Year 3 have continued to be focused and work really hard this week. Their topic this

term is the Stone age to the Iron age. At the start of the week they watched a virtual

tour by Mrs Wherry of a local ancient village and the children wrote lots of questions

they had about the village. In our next lesson the children became news reporters

and through a Zoom lesson the children asked Mrs Wherry all of their amazing questions

and made notes. Next week the children will turn these notes into a newspaper

report and they will be filming for 'Seesaw News'. Year 3 have also been doing a fantastic

job with their maths, SPaG and Guided reading. They have been painting and

learning about the Primary colours and how to change the shade of a colour. They

have been practising their gymnastics and singing at home. Finally in Science the children

are learning about Rocks and Soils. This week the children went out exploring

for rocks and to find a special pet rock! All of the children have given their pet rock a

name and decorated him or her. Some have even given them full outfits and a home!

You're doing a super job Year 3, well done.
---
Broad and Balanced...

Y4

Year 4 have had a busy week editing and adapting their biographies of the Wright

brothers in preparation to upload to our own, personal website. We have made sure

we followed the features of good biographies, such as: chronological order, heading,

sub-headings, paragraphs and images to support each paragraph. Many have also

avoided copying and pasting facts and instead, tried to write their paragraphs into

their own words.

We have also been exploring using short multiplication to multiply larger numbers by

1-digit. Mr Uren even offered an expert challenge that he thought would confuse the

most gifted mathematician (including Mr Anderson), but lots of year 4 had a great try

- some succeeding.

We have also begun our guided reading story for the term, called 'The Bolds'. It is

about some sneaky hyenas who steal the identities of humans.

Great effort this week Class 4!
---
Broad and Balanced...

Y5

Class 5 has been really busy working hard on all areas of the curriculum. The

quality of the children's work is really excellent, it is a pleasure to view and

feedback. Our topic this half term is 'The Anglo-Saxons', we are currently reading

the Anglo-Saxon Boy online and in class. The children have started to create

diary entries imagining they are one of the characters in the story. They've

really all excelled using so many great writing techniques and emotional language.

In history, the children have learnt so far 'who the Anglo-Saxons invaders

were', 'why the Anglo-Saxons wanted to settle in Britain' and 'what it was

like in an Anglo-Saxon village'. The children have created character profiles,

written persuasive letters to pull people into their villages and created realistic

maps of a village that would belong in a museum. In ICT the children have

been learning to create binary codes if they ever wish to send a message to

Mars in the future. It has been wonderful to see the variety of ways the children

have showcased their work. Finally, in PE the children are learning street

dance this half term, this week they learnt a routine by Diversity (Britain's Got

Talent) and performed it to a song of their choice. We have a very talented

class of performers as their routines were exceptional. Well done Class 5.
---
Broad and Balanced...

Y6

We have been so impressed by the volume and quality of work produced by

Year 6 this week! There has been some fantastic Maths happening, working on

their use of fractions. We have also seen some well-formed pieces of writing,

linking to our class novel 'Letters from the Lighthouse'. It has also been great

to see lots of children being so active, either completing some Harry Potter

yoga, creating their own socially distanced PE activity or going out for their

daily exercise. Some beautiful pieces of artwork or illustrations on Science and

History activities have also been produced and even some singing of famous

WW2 songs. Finally, we have thoroughly enjoyed seeing so many faces at our

morning Zoom sessions, which have started each day off so positively and

great questions being asked at our daily Q & A sessions. Well done on another

fantastic week Year 6!