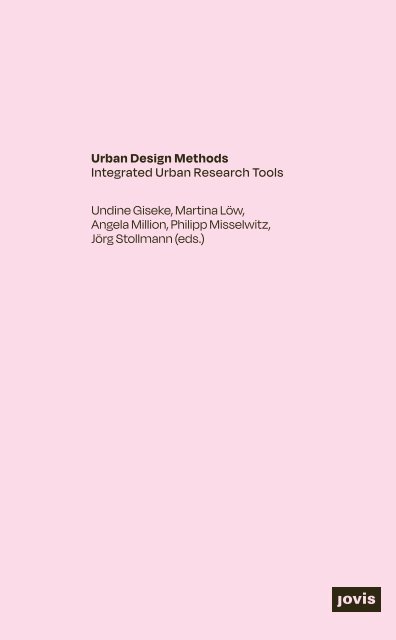 Urban Design Methods
ISBN 978-3-86859-571-0
ISBN 978-3-86859-571-0
SHOW MORE
SHOW LESS
You also want an ePaper? Increase the reach of your titles
YUMPU automatically turns print PDFs into web optimized ePapers that Google loves.
Urban Design Methods

Integrated Urban Research Tools

Undine Giseke, Martina Löw,

Angela Million, Philipp Misselwitz,

Jörg Stollmann (eds.)
---
# A.1 urban design as a changing profession 5

# A.2 some notes about interdisciplinarity 12

# A.3 external statements 25

# A.4 working across geographical boundaries: 35

reflecting on sino-german cooperation

in urban design

# B.0 how to read this book 44

# B.1 understanding spatial practices 47

# B.2 diagrammatic sketching 55

# B.3 unpacking discourses 63

# B.4 experimenting 69

# B.5 interviewing experts 75

# B.6 mapping spatial systems 81

# B.7 urban data mining 89

# B.8 analyzing pictures 97

# B.9 using questionnaires 103

# B.10 applying ANT 109

# B.11 understanding typologies 119

and morphologies

# B.12 viewing the urban through 127

an ethnographic lens

# B.13 analyzing and visualizing actors 131

# B.14 getting lost: unfolding creative thinking 139

# B.15 narrating through graphics 147

# B.16 adding, dividing, superimposing 155

# B.17 creating conceptual models 163

# B.18 intervening through system thinking 169

# B.19 designing grid principles 177

# B.20 producing and reducing complexity 183

# B.21 engaging humans and nonhumans in design 191

# B.22 building knowledge through charrettes 199

# B.23 participation and enactment games 205

# B.24 visualizing possible futures 213

# B.25 urban coding 223

# B.26 curating evolutionary landscapes 235

# B.27 co-designing and building 243

index of authors 254

3
---
4
---
# A.1

urban design as a changing

profession

Undine Giseke, Martina Löw, Angela Million,

Philipp Misselwitz, Jörg Stollmann

In recent years, we have witnessed an unprecedented surge in

public, academic, and policy debates focusing on cities and

urban areas. Urbanization is seen as one of the key risks to

planetary sustainability globally, with an estimated 2.5 billion

additional urban dwellers by 2050, particularly in developing

countries, dramatically increasing carbon footprints through

the anticipated building activities and traffic, causing rising

environmental degradation through the dramatic expansion

of built-over areas, and increasing the risks and destabilization

related to uneven development and new levels of expected

urban poverty. Yet at the same time urbanization continues

to produce imaginaries of hope. To most of us, cities are associated

with improved and more inclusive access to resources

and policy arenas, as well as with arrangements that produce

societal innovations, including new forms of living and the

transition towards sustainability. We realize that the urban and

natural systems are inextricably linked by a complex circulation

of materials, dissolving the old categorical and spatial bound-

5
---
equired in order to build appropriate capacities and develop

creative solutions.

We benefit from the well-established wealth of methodological

expertise and know-how within each of the four distinct

disciplinary traditions. Their specific methods are adept

at covering the concise and isolable aspects of the urban, while

the common work across disciplinary boundaries reveals the

interdependencies of urban dynamics and allows us to combine

both basic and applied research approaches in teaching practice.

This applies, for example, to our attempt to bridge the

conventional gap between the social sciences and design disciplines.

We deny any hierarchical relationship between observing,

non-normative social sciences and projective, implementation-oriented

urban design. Instead, we orchestrate conversation

and cooperation between participants in order to expand the

range of insights. The urban designers thus gain a better awareness

of how to generate and deal with data and empirical material

in order to understand their subject. Urban design is in need of a

methodological debate to scrutinize its ways of knowledge generation

and, in turn, strengthen its accountability and possibilities

for critique. In parallel, social science methods often fall short

when it comes to a spatialized understanding of reality. Through

cooperation with urban designers, social scientists are introduced

to the non-linear and iterative modes of urban, architecture, and

landscape design processes and the ways in which they impact

the production of space.

This volume presents the most important insights, gained

in the form of methods and tools developed through this integrative

work at the intersection of the disciplines. While some of

these insights refer back to long-standing traditions, others reach

out to emerging schools of thought. The overview is necessarily

extensive, but despite this is still not comprehensive.

Co-producing Space, Co-producing Knowledge

While the production of urban space is expected to steer

towards inclusivity in democratic discourses, basic professional

education is only now starting to query the contested socioeconomic

and political conditions within which design tasks are

situated. Uncovering the frequently naturalized – yet intrinsically

political – dynamics of gentrification, privatization, and financial-

8
---
ization at the root of urban transformation cannot rely solely on

multidisciplinary expertise, nor on tapping local actor-specific

knowledge. It requires the co-production of knowledge from

within a constellation of different actors and networks. We therefore

foster this understanding in the urban design field of study

by way of a co-operational, multi-scalar, and trans-disciplinary

approach.

In the long-winded processes of co-producing knowledge,

the resource of time emerges as the main challenge. In conditions

of rapid change, the need for readily available and assimilated

databases and methodological tools for sourcing, analyzing and

interpreting qualitative and quantitative data is crucial. This is

precisely one of the issues that this volume, as well as the overall

urban design curriculum, aims to address.

Urban Design as a Diversifying Profession

Are planners and designers inevitably condemned to always

lag behind and be only retroactively asked to intervene? Or is

it in fact possible to reconceptualize the city as a contested field,

and to deliberately choose and shape one's own role, scope, and

range of responsibilities – including by identifying potential

alliances and sites of intervention? The disparity between education

and profession is hard to ignore. Urban design as a field

of study addresses the complex socioeconomic, political, and

ecological conditions within which professional actors act in

order to reframe the urban designer as a trans-disciplinary urban

professional. To that end, we must also question the frequently

privileged social and educational background of the designers

themselves, which is often disconnected from the everyday life

of most of the citizens they plan and design for. Urban design as

a course of action starts with reflection and introspection long

in advance of a specific commission.

Design as Transformative Knowledge Production

Part of this introspection should be directed at one's own

design attitude. Shaped by individual background, history, and

experiences, the designer's attitude and agency have to be put

under closer scrutiny, especially as they become part of academic

knowledge production in research-based design or researchby-design

projects. The designer's attitude and agency can be

9
---
Urban Design as an Interdisciplinary Inquiry

Emily Kelling

Urban and spatial studies are currently marked by recognizable

gaps; firstly, between the different disciplines in the social sciences

and humanities (Robinson 2002), and secondly, even more fundamentally,

between the social sciences and the design disciplines

(Fiori and Brandão 2010). The latter especially poses a challenge

for urban design – at least if it is conceived of as sitting at this

interface. However, urban design may also be predisposed to help

with narrowing this gap. One avenue for doing so is to develop

a research perspective for the spatial that recognizes the value

of the knowledge-generating capacities of each discipline and

the potential of their synergies. The premise is that both sides

of the gap can benefit from the other, that urban dynamics can

be understood better if both sides come together sensibly, and,

finally, that such a perspective can contribute a new quality to

the addressing of urban social problems.

This aim requires an in-depth engagement with the

diverse methods of spatial analysis and knowledge generation.

For one, design methods such as sketching need to be taken seriously

for their knowledge-generating capacities. At the same

time, the process of knowledge generation needs to be described

so that its procedures and limitations, as well as its results and

their specific context of emergence, can be discussed. This would

eventually lift the meaning of the spatial understanding gained

beyond the design itself. Similarly, the relevant methods from

the social sciences and their methodological premises need to be

made comprehensible on a level that makes them employable

for design researchers without gross simplification. This would,

first of all, provide a basis for the joint discussion of research

results. Subsequently it may provide for the synthesis of diverse

approaches into a joint perspective both for research and for the

praxis of design and the politics of space.

16
---
When it comes to the ambition of bridging the interdisciplinary

gap within urban design, the German academic system poses a

somewhat peculiar complication. This is the rather rigid organization

of the various traditional disciplines, which is also to be

found at the Technische Universität Berlin. The Urban Design

master's program is not offered by one institutionally identifiable

entity within the organigram, but instead by a range of chairs

from four significantly separated university departments who

collaborate to offer the study program and to develop a joint

Urban Design agenda. It is my impression that in the Anglophone

realm – within urban studies but also beyond – it is more common

than in Germany to approach academia from an interdisciplinary

perspective. In this, interdisciplinarity itself has acquired a different

meaning. The difference is one of a discipline-based versus

a problem-based research approach. In the Anglophone realm,

the traditional disciplines more commonly receive less emphasis

than in Germany. This finds expression in the institutional set-up

of universities, insofar as the differentiation of departments and

study programs often follows a topic-based logic. It allows an

approach to research and teaching that is based on a fusion of

perspectives in which traditional disciplines cease to be of primary

significance. In Germany, by contrast, disciplines remain

the organizing principle in many cases, and interdisciplinarity

usually means bringing together researchers with rather clear

disciplinary positions, often confronting the individuals involved

with the challenge of mutual incomprehensibility. Both modes

have their advantages.

Looking in particular at the study of urban development

and urban design, a discipline-based approach seems almost

counterproductive in face of the complexity of cities and the

historic evidence of the negative consequences of sector-based

policies. Upon closer inspection, however, it turns out that the

problem-based approach also takes its toll. Even if architects

and designers have been among the driving forces of interdisciplinary

Anglophone thinking in urban development, design,

and environmental studies, this often seems to have been at the

expense of their design skills. One can better grasp the meaning

and implications of the "despatialization" of the debate (Fiori and

Brandão 2010) when considering the potential that the German

organizational set up – despite all its challenges – affords; that

17
---
ecological processes; and so on. "Negotiating" this degree of complexity

forces more conscious thinking, as well as a retraceable

decision-making sequence, and thus lends itself more easily to

examination. Though the lens of "diagrammatic socio-spatial

knowledge," such examinations may reveal the transformations

made to the diverse types of qualitative and quantitative information

selected, weighted, synthesized, and produced in the

design process.

In this regard, the TU Berlin Master in Urban Design provides

a seminal space for exploring urban design knowledge. The

core Method and Tools module conditions students to critically

compare methods across the "urban" disciplines. The Urban

Design Studio module gives a first-hand introduction to thinking

through "representation" and the "situated negotiations" that

underpin the design process. The culture of openly questioning

the role and tools of urban design, if explored through scientific

research, could enable a truer synergy between theory and practice

to emerge from this newest moment of urban design at the

university.

Cross, N. "Designerly ways of knowing. Design discipline versus design science." Design

Issues 17, no. 3 (Summer 2001): 49–55.

Dilnot, C. "Thinking design. A personal perspective on the development of the Design

Research Society." Design Studies 54 (2018): 142–145.

Goldschmidt, G. "The Dialectics of Sketching." Creativity Research Journal 4, issue 2

(1991): 123–143.

Nelson, H. G. and Stolterman, E. The Design Way. Intentional Change in an Unpredictable

World. Cambridge: MIT Press, 2012.

Dovey, K. and Pafka, E. "The Science of Urban Design?" Urban Design International 21,

issue 1 (2016): 1–10.

Akin, Ö. "Simon Says. Design is Representation." Draft paper, School of Architecture,

Carnegie Mellon University, 2001. http://users.metu.edu.tr/baykan/arch467/Readings/

AradSimon.pdf Accessed March 28, 2018.

24
---
# A.3

external statements

Global urbanization is the key driver and geographical form of what

has been called the Anthropocene, the proposed name for the era of

human-induced transformation of the environment. Considering that

urbanized and natural environments are irrevocably interwoven in

deteriorating metabolic relationships, it might be more accurate to

speak of what geographer Erik Swyngedouw has identified as the

Urbicene, to implicate urbanization as the primary driver of anthropogenic

climate change. However, additionally taking into consideration

that urbanization processes are the prime expression of accelerated

capitalist accumulation, circulation, and uneven development, other

scholars – such as environmental historian and political economist

Jason W. Moore – have been prompted to recast our common predicament

with the more nuanced and connective concept of the Capitalocene.

These three notions converge on the diagnosis that the world's

environment, planetary urbanization, and globally integrated market

capitalism are locked in an intimate symbiosis that is indeterminate

and far from stable.

Marc Angelil and Cary Siress

Chair of Architecture and Design at the Institute for Urban

Design at ETH Zurich; Senior Design Researcher at Future

Cities Laboratory Singapore and at ETH Zurich

The complexity of urban challenges and the disciplines and practices

that deal with them represent the paradoxical encounters between

disciplinary knowledge, aesthetic regimes, spatial conditions, and a

series of governmental forces. As such, the urban is shaped by

certain material practices and normalized through design and the act

of designing. This means that design and designing are separated

neither from the politics they emerge from, nor from the politics they

produce. As such, thinking about an urban design as the project for a

city means thinking about it in a heterodox manner: not limited to the

physical dimension, not exclusive to the activities of a professionalscientific

elite that frames the space in which society is produced

and reproduced. The concept of a plan itself, of design understood as

25
---
situatedness, and civic organization as transforming agencies for an

inclusive urban design practice.

Maike Schalk

Associate Professor of Urban Studies and Urban Theory at KTH

School of Architecture and Head of Research Education at the

School of Architecture

Complex urban challenges can only be addressed through integrated

cross-disciplinary approaches. We may be sure of that!! But the tragic

thing is that, as a result of our education, we are unconsciously

inclined to a mostly technical or – at best – social framing of urban

problems. But real, lasting solutions also need to occupy a central

place within both planning teams and education in the life sciences.

Landscape architects could fill this gap, and/or be intermediaries

offering a bridge to this part of the scientific spectrum. Engineering

needs to be redefined as working with natural processes to shape an

urban environment that is not only nature-inclusive for educational

purposes but is resilient to issues such as urban heat islands and

flooding events. Broadly speaking, the regions of the planet where

urbanization will be growing exponentially happen to coincide with

the world's biodiversity hotspots. If this process is unmediated, it will

lead to a head-on collision between the two.

Dirk Sijmons

Landscape Architect and Curator of IABR—2014—

Urban-by-Nature

Urban design attempts to integrate the different scales of the built

environment, considering the needs of the people, the individual

buildings, the neighborhood, and the city in which these are situated.

The heterogeneous complexity of resolving these elements demands

a transdisciplinary approach that dissolves boundaries between the

siloed professions and allows for genuine evolutionary co-production

not only between members of the design team, but including the

communities they are working with. Each design team should

commit to a Hippocratic oath of doing no harm through their work.

Understanding what is harmful and what is helpful requires not only

new professional active listening skills to respond to the needs of

communities and the environment, but also new professional values

that are more ethical and more responsible. These new skills and

values are best taught at the primary stage of professional education

and honed through practice.

Fionn Stevenson

Chair of Sustainable Design at the School of Architecture at

the University of Sheffield

We are leaving a period in which the state was responsible for most

of what we call urban development. The next period may be one in

32
---
which responsibility for the city is more decentralized. As such,

planning processes will become more complex and confusing – however,

I don't see that as a problem. It gives us the opportunity to

shape these processes in a more open, less focused way, with more

potential access for new actors.

If everyone can be a city-maker, the roles of urban designers,

citizens, and businesspeople will become increasingly intertwined.

This will require new skills of future urban planners: a post-heroic

attitude, transversal thinking, an understanding of planning as

non-planning, the ability to be surprised, to love the suboptimal, to

live with the temporary…

I'm looking forward to seeing a new generation of urban

designers!

Stephan Willinger

Researcher at Department for Urban Development at the

Federal Institute for Research on Building, Urban Affairs,

and Spatial Development (BBSR)

As cities are growing at a vertiginous pace, our urban world is becoming

more and more multi-dimensional and interwoven. Many different

dimensions interlace here, resulting in a sometimes-confusing

composition of diverse issues to consider and complicated challenges

to address. Hence, it sometimes might feel that it will take

more than an urbanist's lifetime to fully understand these intricacies

and to find appropriate responses to sustainable urban development

that take into consideration all relevant sectorial issues and respective

governance dimensions. However, this stands in extreme contrast

to the urgency of many problems and the need of direct action.

Consequently, urban designers and planners need to deal with this

dilemma and find ways to handle both multi-dimensionality and

urgency at the same time. University education related to urban

development such as the master's program in Urban Design at

TU Berlin has a crucial role in preparing future urban designers and

planners for these challenges ahead by developing innovative skills to

efficiently assess complex situations in order to quickly develop

effective solutions. In this context, it is crucial to find a manageable

balance between time-intensive comprehensiveness and pragmatic

action in order to develop and maintain the ability to act in today's

urban complexities.

Carsten Zehner

Urban and regional planner and consultant to international

urban development organizations such as Deutsche

Gesellschaft für Internationale Zusammenarbeit (GIZ)

To deal with the challenges associated with informatization and

globalization over the past decades, urban design requires knowledge

from across different disciplines and specializations in architecture,

ecological environment, economic development, social equity,

33
---
le degree from Tongji and TU Berlin. This is a huge achievement.

I would like to cite three aspects that help prepare our students.

First of all, there is talent development. There are a lot of talented

students who have graduated from the Tongji–TU Berlin program.

Many of them already exert influence on urban design and architecture

practice from within their jobs. For the Chinese students

who graduate from our program, the overseas study experience

has a great and positive influence. Secondly, career paths have

changed and have become more varied. Our 218 alumni are now

working in a changing and expanding field of practice, ranging

from urban design to architectural practice. Thirdly, I would like

to point out the reputation of the program, which is regularly

considered to be the most popular program for students to apply

to from within CAUP.

Cai Yongjie:

Yang Guiqing:

One of the characteristics of our Dual Degree

program is interdisciplinarity, which helps

young professionals to understand urban complexities

through different disciplinary lenses.

The program provides students with a crosscultural

perspective, particularly through case

studies and learning, and through providing

an understanding of how to deal with urban and rural issues

across different cultures, different systems, and different stages

of development. This enables our students to have an international

outlook, a sense of judgment during the economic and

social development stages, and a clear understanding of the characteristics

of each stage of development. In short, learning from

vivid and excellent cases can develop our students' planning

thinking.

Han Feng:

The dual degree students have the advantage of

investigating their research questions in different

cultural, social, and economic contexts, and

greatly benefit from comparative case studies. This also enables

our students to respect other cultures and ethics, which I think is

very important for them when stepping into society in the future.

Philipp Misselwitz:

Li Zhenyu:

What are the potentials and limits of interdisciplinarity

in education and practice?

For students, different professional backgrounds

both influence and restrict interdis-

40
---
ciplinarity in education and practice. There are Tongji CAUP

students from architecture, urban planning, and landscape architecture

backgrounds, and even some TU-Berlin student with

backgrounds in the social sciences. This helps to promote a

stronger intersection of the disciplines in research and design.

Cai Yongjie:

The potential is to cultivate a wide horizon,

which is very important when facing our

changing world and uncertain futures. The

limits are present in our own program; there is a question of how

to get the balance between skills training on the one hand, and

expanding students' views on the other. That is a challenge.

Han Feng:

I think working with an interdisciplinary team

when designing or planning is the best way to

expand our knowledge. There are a limited

number of courses and credits and it is impossible to teach everything

in our coursework. Letting students have the opportunity

to work with the other disciplines, as well as the ability to bring

in interdisciplinary knowledge and break barriers within the

program, is extremely important.

Philipp Misselwitz:

Li Zhenyu:

Cai Yongjie:

Chinese and German urbanization contexts

are very different. In what way do you think

students benefit from the exchange in the program?

Exchanges between different cultures clearly

open up students' horizons.

Many years ago, when I still studied and

worked in Germany, I noticed great similarity

between the urban development of China and

the Western world: the only difference is that Chinese urbanization

came more than a century later. That means we can learn

from international experience. But it is not easy. The challenge

is to transform this experience into knowledge that can be

absorbed by the Chinese context.

Yang Guiqing:

China and Germany have different urbanization

characteristics. Students can learn from

the different urban and rural planning and

construction approaches. There are two aspects to this: one

involves learning methodology, research methods and planning

methods, learning how to find, define, and solve problems, and

41
---
A profile page introduces each tool before its description and sources

are presented. The upper part of this page is occupied by the title,

subtitle, and a reference number, which helps you locate the paper

within the publication.

# B.15

NARRATING

THROUGH

GRAPHICS

Abrams, J. and Hall, P., eds. Press, 1983. First published Lutter, W.G. and Ackerman,

Else/where. Mapping New 1967.

M.S. An introduction to the

Cartographies of Networks Corner, J. "The Agency of Chicago School of

and Territories. Minneapolis: Mapping: Speculation, Sociology. Interval Research

University of Minnesota Critique and Invention." In Proprietary, 1996.

Design Institute, 2006. Mappings, edited by Lynch, K. The Image of the

Angelil, M. and Siress, C. Cosgrove, D., 213–252. City. Cambridge: MIT Press,

Mapping. Flows. Switzerland London: Reaktion Books, 1960.

as Operational Landscape. In 1999.

Topalov, C. "The city as terra

Flowscapes, Designing Howard, E. Garden Cities of incognita. Charles Booth's

infrastructure as landscape. Tomorrow. London: Swan poverty survey and the

Research in Urbanism Sonnenschein & Co. Ltd, people of London,

Series Vol. 3, edited by 1902.

1886–1891." Planning

Nijhuis, S., Jauslin, D., and Imhof, E. Cartographic Perspectives 8, no. 4

van der Hoeven, F. Delft: TU Relief Presentation. Bern: (1993): 395–425.

Delft, 2015.

Wabern, 1965.

Tufte, E. Envisioning

Bertin, J. Semiology of Kramer, J. "Is abstraction the Information. Cheshire,

Graphics: Diagrams, key to computing?"

Connecticut: Graphic Press,

Networks, Maps. Madison: Communication of the ACM 1990.

University of Wisconsin 50, no. 4 (2007): 36–42.

On the bottom of the profile page there are some recommended

readings, which may be digital or analog in nature.

44
---
# B.0

how to read this book

The tools are explained through a main text (top) and a reference text

(bottom). At the top of the page, you will find more general information

– such as the definition of the tool and its applications.

Narrative graphics are tools for visually communicating

complex information, ideas, systems, and

networks to an audience in a simplified, accessible,

and attractive manner. The goal is not to present

the raw data itself, but to gather, organize, and

reduce the data in order to provide concise insight

and information about the topic. As Edward Tufte

put it, "to envision information – and what bright

and splendid visions can result – is to work at the

intersection of image, word, number, art" (Tufte

1990, 9). This section focuses on visual representations

of space and time as maps and diagrams in

the field of urban design. It is also informed by the

evolution of narrative graphics in their application

in a broad array of related fields throughout the

twentieth century.

Following the revision of key literature and

the review of reference projects (among others,

Bertin 1983; Tufte 1990; Abrams and Hall 2006)

alongside the definition of narrative graphics above,

five possible but by no means exhaustive categories

Imhof, E. (1962–1976) Mount Everest

Map. Printed map of Mount Everest

1:100 000. From a Swiss secondaryschool

atlas.

London Poverty Maps, yellow was used to distinguish

the different social

Charles Booth, 19021

A social investigation initiated

by Charles Booth in associated with other attri-

classes, which were in turn

1886 resulted in a series of butes such as income,

maps visualizing the extent criminality (for example,

and spatial distribution of the lowest class in black is

poverty amongst the further described as

approximately six million "vicious, semi-criminal"),

inhabitants of the ever-expanding

metropolis. The a compelling narrative.

health, and so on, creating

London Poverty Maps were

published in several editions

– the last in 1903 – Kevin Lynch, 19602

Boston Cognitive Mapping,

and used survey data along American planner Kevin

with ethnographic observation

to create a potent and were developed as part of

Lynch's famous graphics

precise image of social his wide-ranging study of

inequality. A palette of colors

ranging from black to form. They are best

the perception of urban

known

for visualizing the theory of

the five basic elements

(paths, edges, districts,

nodes, landmarks) which,

according to Lynch, help

urban dwellers form mental

maps of their environment.

It is important to understand,

however, that these

maps were not simply

derived from a theoretical

argument but were based

on extensive field research,

including site visits and

interviews as well as oral

descriptions and sketches

from the residents themselves.

The evocative

power of the cognitive

maps, therefore, lies in the

combination of a theoretical,

academic perspective a map.

the residents. This collage

working process of drawing little, if any, consultation of

with the insights of the

juxtaposes a Los Angeles

public.

Autobahnplanung

highway with an aerial

Oranienplatz,

image of Oranienplatz in

Mount Everest, Eduard Fotomontage, Kohlmaier Kreuzberg in order to

Imhof, 19623

and von Sartory, 19694 demonstrate the scale and

Eduard Imhof's hand-drawn The iconic collage by extent of demolition that a

maps of mountainous architect Georg Kohmeier new planned highway

regions explore the

and artist Barna von would necessitate.

potential of cartography to Sartory is a critical

illustrate the third

commentary on postwar Facemap Toronto, Julie

dimension through the use urban planning in Berlin, Bogdanovicz, 20135

of color and shading. Also and specifically the This map of Toronto

noteworthy are his

planning principles of the focuses on social inequality

theoretical contributions to car-friendly city. The between the three clearly

the aesthetics of

existing, dense, and distinguished classes of

cartography and his use of compact urban fabric was poor, middle class, and

scientific as well as artistic being razed to make place wealthy. The "three cities of

arguments to explain the for new developments with

The text at the bottom is more dense. This section is dedicated to

gaining a deeper knowledge of the tool and includes all manner of

references, from books to real, existing projects and related planning

strategies.

45
---
# B.1

UNDER-

STANDING

SPATIAL

PRACTICES

Benze, A. Alltagsorte in der

Stadtregion. Atlas

experimenteller Kartographie.

Berlin: Reimer, 2012.

Gehl, J. and Svarre, B. How to

Study Public Life. Washington:

Island Press, 2013.

Latour, B. and Hermant, E.

Paris: Invisible City. [Online].

Available from http://

bruno-latour.fr/virtual/EN/

index.html. 2004. Accessed:

July 5, 2015.

Marcus. C., and Francis, C.

People Places: Design

Guidelines for Urban Open

Space. New York: John Wiley

& Sons, 1998.

Paans, O and Pasel R.

Situational Urbanism.

Directing Post-War

Urbanity: An Adaptive

Methodology for Urban

Transformation. Berlin:

Jovis, 2014.

Read, S., ed. Visualizing the

Invisible: Towards an Urban

Space. Amsterdam:

TechnePress, 2006.

47
---
52
---
Mapping Manhattan (2013), Becky Cooper asked New Yorkers

to map their memories related to Manhattan on maps she had

prepared.

These different approaches to spatial practice analysis focus

on different aspects of human and social behavior. Andrea Benze

(2012) looked for the everyday places where people meet in urban

regions in order to disprove the perception of urban regions as

being faceless and empty. By contrast, Bruno Latour and Emilie

Hermant examined "the nature of the social link and the very

particular ways in which society remains elusive" (Latour and

Hermant 2004). Becky Cooper searched for a way to make invisible

cities visible and to preserve the lives that have been lived in

a city through an artistic approach. Numerous other approaches

are possible: for example, investigating the acceptance of design

in daily use or the functionality of certain spaces.

Various approaches to analyzing spatial practice have been

used for different studies. The choice of methods is based on the

topic of investigation and the author's skills and background, and

may include methods such as observation, tracking movements,

looking for traces of use, field mapping, interviews, photography,

counting people, video/audio recording, keeping a diary, and test

walks. To study people's activities, we may choose interviews and

observation. To find out how people use a place, we may choose

to combine multiple methods, such as video or audio recording

and counting visitors to the location. At different stages of the

spatial analysis, different methods may be used. The process

Lukas Pappert, Lucas Rauch, Jens Schulze

(2015) Mapping: How do pedestrians move

at night?

53
---
Do, E.Y.-L. and Gross, M.D. (2001) Graphic Lexicon. From a 1997 protocol study examining

graphic symbols and notations in architectural design by E.Y-L. Do.

advantage when handling multi-layered problems. As Laseau

points out, the "simultaneity and complex interrelationships

of reality accounts for the special strength of graphic language,"

(2001, 55).

Laseau also argues that "graphic language ... has grammatical

rules comparable to those of verbal language" (2001, 56). Do

(1997) found that diagrammatic sketches by architects are based

on a fairly standard lexicon of graphical symbols. This "vocabulary"

of a graphic language employs "a full range of graphical

indicators: ... typology, shape, size, position, and direction" (Do

and Gross 2001, 2) to represent certain characteristics or forces,

including intangible aspects like wind and sunlight. To result

in a clear outcome understandable by others, this lexicon is, or

Despite their different

disciplinary backgrounds,

the students used a similar

and understandable lexicon

of graphic elements,

including arrows, symbols,

labels, and hatching to

indicate buildings.

Furthermore, the elements

were often used in the

same context or with the

same intention. However, it

was also apparent that the

diagrams from the student

with an architectural

background were

presented in more detail

and looked at more aspects.

For example, in the second

task focusing on the

lighting, a diagrammatic

section was prepared in

addition to a plan.

The experiment raised

questions for the students

as to whether graphic

language is also universal

to people from disciplines

with no visual focus (e.g.

sociology), and for other

geographic regions or

cultural contexts.

58
---
Beyer, K. and Hartmann, T. (2017) Conceptual Diagram 1. Output of Task 1 – Conceptual

and spatial arrangement by student with background in urban and regional planning.

Beyer, K. and Hartmann, T. (2017). Conceptual Diagram 2. Output of Task 1 – Conceptual

and spatial arrangement by student with background in architecture.

59
---
Discourse analysis is used as an umbrella term for a set of different

theoretical approaches to and methods for analyzing language

use and hence the construction of knowledge and what one generally

refers to as the truth. The aim of discourse analysis is to

unveil the patterns in which topics are constructed, manifested,

and reproduced in social practices (Bardici 2014, 4). Use of vocal,

written, and sign language is considered to be a fundamental

of social discourse. Discourse analysis tries to describe the way

in which language use has social implications (Bardici 2014, 4).

Discourse should be understood as a social practice.

In urban design, discourse analysis has been a widely used

and described means of analyzing policies and decision making

in the planning process (Goodchild 2008, 122). Urban design

and planning can be considered a form of social discourse, in

which urban imaginaries and conflicts are constructed and translated

into institutionalizations and economic/political structures

(Bardici 2014, 5).

There is no generally agreed-upon methodology for conducting

a discourse analysis, but there is a series of different theories

and methods. Stemming from different disciplines, each

approach has its own distinct character and objectives, which

should be considered when choosing between them. In contextualizing

and situating some of the most influential approaches,

two major movements can be distinguished (Jacobs 2006, 40):

Political economy-informed analysis, known as critical discourse

analysis, which is associated with Norman Fairclough (1995

A Discourse Analysis of the

Eco–City in the Swedish

Urban Context, Vera

Minavere Bardici, 2014

This master's thesis

analyzes how the discourse

around the eco–city as a

sustainable urban model

has gained increasing

importance and developed

into an urban discourse.

The eco-city is perceived as

a vision of transformation

for the future, and has

been translated into

concrete projects,

strategies, and policies,

mainstreaming urban

sustainability and being

replicated and expanded

upon across the world. In

doing so, Bardici (2014, see

above) uses six analytical

phases of discourse

analysis, focusing on

definitional and thematic

issues, cultural bias,

selectivity, framing, and

political action.

An Investigation of the

Processes of Urban Image

Construction in Dublin,

Ireland, Ruth Comerford-Morris,

20151

This paper researches what

urban images are produced

of Dublin in the course of

place-making, marketing,

and branding. In the past

64

decade, cities have become

increasingly competitive

regarding investments in

an attempt to attract

foreign capital and

investors. The promotion of

urban images has been

instrumental to city

branding as well as to the

process of shaping the city

landscape. Comerford-

Morris (2015) uses

discourse analysis and the

evaluation of promotional

pictures of Dublin to reveal

the actors who are

producing various different

images of Dublin.
---
and 2003), and the discourse coalitions model, which is associated

with Maarten Hajer (1993).

This manual will mainly draw on the works of Michel

Foucault to describe discourse analysis and its utility for urban

design. The French philosopher and psychologist Michel

Foucault was one of the key actors in this field in Europe, developing

the concept of discourse analysis in the early 1970s in his

books The Archaeology of Knowledge (1973) and The Discourse on

Language (1972). His work has had a big impact, especially on

the social sciences, and has led to a great diversity of approaches.

Cultural geographers introduced the term and methods to the

field of urban planning through their work (Jacobs 2006, 40).

Foucault's discourse analysis can be contextualized in the field

of poststructuralist and postmodernist schools of thought, both

of which question the relationship between language and social

reality. Goodchild (2008, 122) describes discourse analysis as a

"key element of postmodern research methodologies," and "the

means through which interpretation is taken." In terms of urban

design and planning, discourse analysis can help to understand

how the "social construction of urban problems" takes place and

how key actors produce and reproduce urban issues (Bardici 2014,

5). It has been used, for example, in housing policy and housing

studies, in urban and regional planning, and in environmental

policy (Goodchild 2008, 122).

Foucauldian approaches pay attention to the recursive

relationship between power and language. According to Jäger

DEMO:POLIS – The

Universal Declaration of

Urban Rights, Zuloark, Julia

Förster, and Andreas

Krüger, 20152

In five parliamentarian

working sessions that were

open to the public, an

"Urban Rights Charta" was

developed for Berlin

(UR_BER). Each working

session had a different

topic, and accordingly

different guests from

initiatives and experts

were invited to discuss a

specific question and have

a debate. The aim of the

working session was to

develop a new approach to

dealing with Berlin's public

spaces, as well as its

implementation in politics.

The discourse concerning

current urban policies was

rethought, and in the last

working session the

UR_BER was handed to the

Senate of Berlin – the local

government – with a list of

precise demands and

requirements.

The Ideal Urban Soundscape:

Investigating the

Sound Quality of French

Cities, Catherine

Guastavino, 20063

This paper focuses on the

ideal urban soundscapes of

65

several French cities, and

was researched by

evaluating questionnaires

with discourse analysis.

Participants (seventyseven

in total) answered a

free-response-format

questionnaire, in which

they were asked to

describe familiar urban

soundscapes. The results

were analyzed using a

psycholinguistic approach

to spontaneous verbal

descriptions, identifying a

variety of different sound

quality criteria for urban

soundscapes.
---
• An evaluation of the material used for the discourse analysis.

• A detailed analysis of one typical discourse fragment (a text

fragment) of the material (for example, one newspaper)

• An overall analysis of the discourse in the section in the relevant

material (for example, newspaper). All information shall

be reflected and combined for a general statement about the

section of discourse and the relevant material.

Some studies claiming to use discourse analysis as a means

of investigation fail to actually do so, ending up with a historical

description of events and developments rather than an unveiling

of power mechanisms and the patterns that (re)produce them

(Jacobs 2006, 45). Often, discourse analysis is accused of "privileging

individual agency and in particular subjectivity over structural

factors arising from institutional practices and economic

inequalities" (Jacobs 2006, 46).

On the other hand, discourse analysis has been decisive

in understanding how – and which – language is used in urban

planning policies, their implementation, and the representation

of those policies. Jacobs (2006, 46) states that discourse analysis

has made an important contribution to an increase in public

awareness about the marketing of policies and the importance

of their presentation.

This text is based on the writing of Jennifer Gehring and was

edited by Martina Löw.

68
---
# B. 4

EXPERI

MENTING

Eiffler, S. "Experiment." In

Handbuch der empirischen

Sozialforschung, edited by

Baur, N. and Blasius, J.,

195–209. Wiesbaden:

Springer, 2014.

Kromrey, H. Empirische

Sozialforschung. 12th

edition. Stuttgart: Lucius

und Lucius Verlagsgesellschaft,

2009.

Leibniz-Institut für

Wissensmedien. Was ist ein

Experiment? [Online].

Available at https://

www.e-teaching.org/

didaktik/qualitaet/

experiment. 2016. Accessed

27.06.2016.

Shadish et al. Experimental

and Quasi-Experimental

Designs for Generalized

Causal Inference. Boston:

Houghton Mifflin Company,

2002.

Wundt, W. "Über Ausfragemethoden

und über die

Methoden zur Psychologie

des Denkens." Psychologische

Studien 3 (1907):

301–360.

69
---
A very important step of interpretation – sociological conceptualization

– then follows, in which an abstraction in the form of

an empirical generalization is created. The task is to search for

similarities among the different interviews and then to create

(sociological) categories on this basis (Meuser and Nagel 1991,

463). As a last step, a theoretical generalization follows. Here, the

previously generalized facts will be interpreted in the context of

sociological concepts and terms (Meuser and Nagel 1991, 465).

Of course, expert interviews also have their strengths and

limitations. First of all, the biggest challenge in the use of expert

interviews is defining who is an expert for the purposes of your

research question. Since there is no theory underlying this, it is a

subjective decision by the researcher. This problem leads us to the

next point, which is the lack of methodological reflection (Meuser

and Nagel 1991, 41). The act of carrying out of an interview, its

analysis and interpretation still rely on a researcher's knowledge

and decision-making. Moreover, there are several possibilities

for failure in implementation and analysis. An interview may be

considered of no use if the interviewee refuses to answer, has no

knowledge of the topic, or switches between the roles of a private

person and that of a representative. An additional indication of

failure is when experts put the researcher into the role of a confidant

when talking about sensitive data. The outcome is always

dependent on the willingness of the experts to engage. Additionally,

factors such as age, sex, prejudice, sympathy, and antipathy

can influence the course of a conversation. Besides this, errors

can occur in paraphrasing, there can be a lack of comprehension

in the analysis, and interpretations can be misunderstood.

Despite all of these limitations, the method has many

strengths that should be highlighted. Firstly, the method provides

fast and easy access to a research field, as well as to situations

which would be difficult or impossible for researchers to gain

access to themselves. Every interview also generates unique content

and has a unique form. Furthermore, insight into different

approaches to the field of research facilitates a wide range of

information.

This text is based on the writing of Sabrina Hövener and Farina

Runge and was edited by Martina Löw.

80
---
# B.6

MAPPING

SPATIAL

SYSTEMS

Corner, J. "The Agency of

Mapping. Speculation,

Critique and Invention." In

Mappings, edited by

Cosgrove, D., 213–252.

London: Reaktion Books,

1999.

DeLanda, M. A New

Philosophy of Society.

Assemblage Theory and

Social Complexity. London,

New York: Continuum, 2006.

Fryszer, A. and Schwing, R.

Systematisches Handwerk.

Werkzeug für die Praxis.

Göttingen: Vandenhoeck &

Ruprecht, 2013.

Karvounis, A. (2015): "Urban

Metabolism." In Understanding

Urban Metabolism.

A Tool for Urban Planning,

edited by Anselmo de

Castro, E., Chrysoulakis, N.

and Moors, E.J., 3–11.

London, New York,

Routledge.

Misrach, R. and Orff, K.

Petrochemical America.

New York, Aperture, 2012.

Tonkiss, F. Cities by Design.

The Social Life of Urban

Form. Cambridge: Polity

Press, 2013.

Sedlacek, K. et al. Emergenz.

Strukturen der Selbstorganisation

in Natur und

Technik. Norderstedt: Books

on Demand, 2010.

Swyngedouw, E. "Metabolic

urbanization: the making of

81

cyborg cities." In The Nature

of Cities. Urban political

ecology and the politics of

urban metabolism, edited

by Heynen, N., Kaika, M. and

Swyngedouw, E., 20–39.

London: Routledge, 2006.

Walloth, C. "Emergence in

Complex Urban Systems.

Blessing or Curse of

Planning Efforts?" In

Understanding Complex

Urban Systems. Multidisciplinary

Approaches to

Modelling, edited by

Walloth,C., Gurr, J.M., and

Schmidt, J.A., 121–132.

Cham: Springer, 2014.
---
Bosschaert, Tom (2009) Symbiosis in Development (SID). Hierarchic Layer Structure.

systemic analysis and

intervention. The aim of

the subsequent design was

to improve the urban food

system by implementing

and adapting market

elements and creating

interconnections, making it

more resilient for future

challenges related to

ongoing rapid urbanization.

The systemic analysis of

the urban food and market

systems within the specific

context of the rapidly

growing city provided a

thorough understanding of

interconnections and

dependencies. These are

determined by the typology

of the market and its

location in relation to

production and consumption

sites, as well as the

products on offer. In total,

the transportation routes

of four staple foodstuffs

(beef, coffee, potatoes, and

rice) were analyzed, and

six spatial typologies of

urban, peri-urban, and rural

markets were identified. If

the physical and socioeconomic

aspects of the

market had been considered

separately and not as

parts of a system, it would

not have been possible to

understand the market's

84

multiple functions within

the city.

Furthermore, small-scale,

catalytic interventions

were designed which,

together, led to an

improvement of the overall

system. Their objective

was to promote the role of

markets as social facilities

and to improve the

distribution and (re)use of

resources as well as the

links between the rural and

urban production and

consumption sites. This

appears to be a more

holistic and promising

approach to the challenges
---
for catalytic interventions, where the manipulation of strategic

elements triggers far-reaching alterations in the overall system.

In the context of urban landscapes, a core challenge in

design is understanding the multifaceted interactions between

the urban and natural systems. The urban landscape is complex

and multilayered; it consists of more than its physical appearance,

and thus the simple reduction to built forms cannot explain its

ambiguous logic, its specific character, or the various dimensions

that constitute it (Tonkiss 2013, 24). In addition, the analysis of

isolated sites cannot decipher the socio-environmental dependencies

of the sometimes-apparent, but mostly concealed, processes

of production of space (Karvounis 2015, 4). A fundamental

shift is thus required when dealing with the urban landscape.

Systemic thinking, spatial mapping, and the analysis of the various

layers of the urban realm lead to a better understanding of

the multidimensionality of spatial practices and their inseparable

connections.

With the arrival of the urban millennium and continuing

rapid urbanization, cities are becoming increasingly reliant on

global dependencies while at the same time becoming unintelligible.

The coexistence of global, regional, and local networks

and the overlapping of multiple systems all contribute to the

production of a multilayered space. A comprehensive understanding

of urban and natural processes, infrastructures, resources,

and flows is imperative (Swyngedouw 2006, 20). Through the

analysis of systems and components, what appears chaotic at first

of rapid urbanization than

the official top-down

planning strategy, which

already struggles to meet

the needs of the citizens.

Endnotes

1 Misrach, R. and Orff, K.

Petrochemical America.

New York: Aperture, 2012

2 OPSYS & Bélanger, P.

Waste Flows, Backflows,

and Reflows Maas-Rhine

River Delta, 2009, digital

image.

3 TUB Students. "TASTY

KIGALI - designing

interactive urban food

systems". Design studio for

the Master in Landscape

Architecture / Urban

Design at Technische

Universität Berlin,

supervised by Kasper, C.

and Agudelo Ganem, M.,

2015

85
---
Association analysis is used to explore correlations

between variables and to recognize patterns in doing so. It is

often used in shopping-basket analyses, which aim to obtain

knowledge about items bought by customers in order to identify

patterns (for example, which products are usually bought

together). These analyses can be extended into sequence analyses,

which discover behavioral frequencies over time to identify

trends (Sumathi and Sivanandam 2006, 52).

Clustering involves splitting objects of interest into

homogeneous clusters by considering different attributes. The

objects within one cluster should possess similar attributes

and differ from those in the other clusters. By doing this, a

model of clusters is built that arranges objects of interest and

additional objects into categories (Cleve and Lämmel 2014, 57).

Classification analysis involves digging for patterns by

using existing data, which is organized to create a classification

model. This is then used to forecast new variables and rank

them using the created classifications (Cleve and Lämmel 2014,

59 onwards). For example, safe areas are classified by choosing

specific attributes that classify an area as safe. Afterwards, the

shown areas can be classified as more or less safe based on that

model. Additionally, probability calculations and prognoses

can be made (Cleve and Lämmel 2014, 59 onwards).

Estimation aims to estimate the values of future data

via an approximation function. In this way, data is used to

calculate, extrapolate, and estimate future data (such as tem-

of data points was the

most generative option.

The websites Inside Airbnb

and Airbnb vs Berlin (see

example) generated, when

combined, a useful and in

most cases complete

database. Both these

applications use data

scraping in an urban

context to make private

corporate data public and

freely available.

Data Messiness:

A common difficulty in

urban data mining is the

messiness of the available

date. This means that in

most cases – and this one

in particular – the datasets

include messy, incomplete,

duplicate, and out-of-date

data points. Thus, the

second step in urban data

mining procedures is a

cleaning process that aims

to eliminate all irrelevant

data points. In this project,

all data points were

managed using a massive

Excel file.

Generating and Communicating

Information:

Once the appropriate data

was identified, mined, and

treated for errors, it was

possible to start transforming

the data points into

92

viable urban information. In

this case, adding a time

factor to the date and then

visualizing the data both

quantitatively and spatially

was deemed appropriate.

Generation of New Data:

However, once the data

was transformed into

visual information, it

became apparent that the

data points were incomplete.

In addition to

communicating the

information well, visualizing

the generated urban

data in this case helped

identify shortcomings in

the data. To resolve this,
---
peratures or weather conditions) (Cleve and Lämmel 2014,

61 onwards).

Instructions for Application

The main steps of mining data are to select, explore, transform,

mine, interpret, and visualize the data. It is an iterative

process where the outcome of each step is validated and used for

the next step (Behnisch 2007, 21). Selecting data means deciding

which data should be used to complete the task (Sumathi and

Sivanandam 2006, 43). In addition to the basic dataset, external

data can be used. Available data is therefore scanned to determine

whether it is useful to the task at hand (Cleve and Lämmel 2014,

9). This leads to a transformation of the data. To do this, the data

is organized by aggregating data, cleaning the dataset of useless

attributes or null values (Sumathi and Sivanandam 2006, 43),

removing outliers, converting unsuitable entries into numerical

values, and so on. In the end, a useful dataset is produced that

allows the data to be mined. The data can be mined using the

different techniques mentioned above. The best-fitting method

is chosen for the intended task. Following this, the dataset is

transformed for use with the chosen method and searched for

interesting patterns. In this way, a data mining model is generated

that can be used for the chosen dataset and tested by integrating

external data (Cleve and Lämmel 2014, 9 et. seq.). As one of the last

steps, findings are interpreted with regard to the original research

question (Sumathi and Sivanandam 2006, 733) by evaluating the

further mapping in the

actual area of study had to

be done. This, of course, is

only possible when area of

study can be accessed.

Outcomes:

While it would go beyond

the scope of this report to

explain the findings

concerning illicit housing

rentals in Berlin in full, a

few things are worth

noting for future urban

data mining projects.

Before starting any mining

process, it is useful to

investigate a variety of

potential sources – even

private sources – to see

whether the data points

can be made available

through any kind of

layering or scraping. The

more potential data one

can acquire, the more

complete the information

generated will be. Next, it is

necessary to identify a way

of sifting out non-useful

data to avoid outdated or

incorrect data skewing the

information generated.

While this removes most

bad data points, it

recommended that this

only be done after the

initial data visualization.

When it comes to

visualizing the data, it is

93

important to do so in a way

that provides an answer to

your research question.

Doing this can involve

editing and visualizing the

data in various ways – for

example sequentially

across different time

periods, spatially, quantitatively,

or any number of

other ways.

Overall, however, there

does not appear to be "one

right way" of conducting

urban data mining. In this

case, clear research

questions guided the

data-mining process and

indicated that using

multiple sources was
---
If the objective is to find out about a change over time, conducting

the survey several times at different points in time should

be considered.

This text is based on the writing of Hilde Rosenboom and Finya

Eichhorst and was edited by Martina Löw.

108
---
# B.10

APPLYING

ANT

Hasbun Chavarria, Y. and

Stollmann, J. "Städtischen

Akteur-Netzwerken folgen:

Praktische, auf ANT

basierende Werkzeuge." In

Das Kotti-Prinzip. Komplizenschaft

zwischen Raum,

Mensch, Zeit, Wissen und

Dingen, edited by Bock, C.,

Pappenberger, U., and

Stollmann, J. Berlin: Ruby

Press, 2018

Callon, M. and Latour, B.

"Unscrewing the Big

Leviathan; or How Actors

Macrostructure Reality, and

How Sociologists Help

Them To Do So?" In

Advances in Social Theory

and Methodology, edited by

Knorr, K. and Cicourel, A.,

277–303. Routledge & Kegan

Paul: London, 1981.

Callon, M. "Some elements

of a sociology of translation:

domestication of the

scallops and the fishermen

of St Brieuc Bay." In Power,

action and belief: a new

sociology of knowledge?

edited by Law, J., 196–223.

London: Routledge, 1986.

Callon, M. "Can methods for

analysing large numbers

organize a productive

dialogue with the actors

they study?" European

Management Review 3, no.

1 (2006): 7–16.

Farias, I. and Bender, T., eds.

Urban Assemblages. How

Actor-Network Theory

changes urban studies.

London: Routledge, 2010.

Additional Reading:

Kurath, S. Stadtlandschaften

Entwerfen?

Grenzen und Chancen der

Planung im Spiegel der

städtebaulichen Praxis.

109

Bielefeld: transcript Verlag,

2011.

Latour, B. Reassembling the

Social: An Introduction to

Actor-Network-Theory.

Oxford: Oxford University

Press, 2005.

Law, J. "Notes on the Theory

of the Actor-Network

Ordering, strategy and

heterogeneity." Systems

Practice 5, no. 4 (1992):

397–393.

Murdoch, J. and Marsden, T.

"The Spatialization of

politics: local and national

actor-spaces in environmental

conflict." Transactions

of the Institute of

British Geographers, 20, no.

3 (1995): 368–380.

Yaneva, Alberta. The making

of a building: a pragmatic

approach to architecture.

Oxford: Lang, 2009.
---
CC BY NC SA 4.0 International/Christine Bock and Ulrich Pappenberger (2018) Das

Kotti-Prinzip: Tenant initiative Kotti&Co's protest house "Gecekondo" at Kottbusser Tor

and everyday assemblages of human and non-human actors.

112
---
113
---
Firstly, the analysis of historical time periods can serve as an

archive of knowledge for new design solutions. Secondly, a design

proposal can be tested in terms of its impact and integration into

its typo-morphological context. This is an integrative method that

does not follow a set, predetermined procedure. The main principle

is an abstraction of urban complexity to support a particular

argument by highlighting specific elements of the city's spatial

appearance. Through the decomposition and decoding of space,

specific composition contexts can be described, examined, and

evaluated by adding and removing layers. The analysis starts by

defining the main focus of interest in order to reduce information,

both in terms of removing elements in order to focus the analysis

and by reducing elements to their basic characteristics. Based on

this definition, specific urban elements are selected for mapping.

The resulting maps should make it possible to assess specific

formal and spatial qualities. This not only enables spatial information

such as patterns of arrangement or the characteristics of

connecting lines and surfaces to be read, but also allows abstract

planning concepts and processes to be reconstructed. By adding

new layers, logics of interaction and relationships between different

spatial elements or periods can be visualized and recognized.

The basis onto which these additions are mapped is always an

analysis plan that is as single-layered as possible.

This text is based on the writing of Frederik Springer, Anne Gunia,

Samuel Barben, and Xianglin Zhang and was edited by Felix

Bentlin and Jörg Stollmann.

126
---
# B.12

VIEWING THE

URBAN THROUGH

AN ETHNO-

GRAPHIC LENS

Geertz, C. The interpretation

of cultures. Selected

essays. New York: Basic

Books, 1973.

Malinowski, B. Argonauts of

the Western Pacific. An

Account of Native

Enterprise and Adventure in

the Archipelagoes of

Melanesian New Guinea.

London: Routledge and

Kegan Paul, 1922.

Moore, J. D. Visions of

Culture. Lanham, New York,

Toronto, and Plymouth:

Altamira Press, 2009.

Schensul S.L., Schensul J.J.,

and LeCompte, M., eds.

Initiating Ethnographic

Research. A Mixed Method

Approach. Lanham, New

York, Toronto, and Plymouth:

Altamira Press, 2012.

Wacquant, L. "Habitus as

Topic and Tool. Reflections

on Becoming a Prizefighter."

Qualitative Research in

Psychology 8 (2011): 81–92.

127
---
This text is based on the writing of Andrea Protschky and Hannes

Mundt and was edited by Xenia Kokoula.

In order to address the

question of how the

archive would be curated,

we identified and

categorized possible actors

who might be able to take

on this task. Throughout

our work we were able to

apply some aspects of

actor analysis and critically

reflect on the questions of

different interests, abilities

to act, and powers to

influence the main

question of determining

what constitutes urban

heritage (Habitat Unit TU

Berlin, n.d.).

Endnotes

1 World-architects.

Makoko/Iwaya Waterfront

Regeneration Plan. [Online].

n.d. Available at https://

www.world-architects.com/

es/fabulous-urban-zurich/

project/makoko-iwayawaterfront-regenerationplan/

Accessed: 18.12.2018.

2 See the chapter on the

Lekki Free Zone (IFZ) in:

Heinrich Böll Stiftung

Nigeria and Fabulous Urban,

Urban planning processes

in Lagos. Nigeria: Heinrich

Böll Stiftung Nigeria and

Fabulous Urban, 2016,

191–204.

3 EcoLabs. Mapping

Climate Communication.

138

No. 1 Climate Timeline and

No. 2 Network of Actors.

[Online]. Updated October

16, 2014. Available at:

https://ecolabsblog.

com/2014/10/

16/the-mapping-climatecommunication-projectpublishes-the-climatetimeline-and-the-networkof-actors/

Accessed

December 18, 2018.

4 Habitat Unit TU Berlin.

Simulizi Mijini / Urban

Narratives. [Online]. n.d.

Available at: https://

urbannarratives.org/de/

forschung/ Accessed

December 18, 2018.
---
# B.14

GETTING

LOST:

UNFOLDING

CREATIVE

THINKING

Groves, M.L. "Baudelaire, a

Portrait of a Flâneur."

[Online]. n.d. Available at:

http://mlgroves.com/

baudelaire-a-portrait-of-aflaneur/

Accessed July 7th,

2015.

Benjamin, W. Städtebilder.

Frankfurt am Main:

Suhrkamp Verlag, 1936.

Benjamin, W. (1987),

Berliner Kindheit um

Neunzehnhundert.

Frankfurt am Main:

Suhrkamp Verlag, 1987.

Flaneur Society. "Guide to

Getting Lost." [Online]. n.d.

Available at: http://www.

flaneursociety.org Accessed:

July 7th, 2015.

Riedl, E. Die Spur des

Flaneurs, Zur Konzeption

des Flaneurs bei Walter

Benjamin und W.G. Sebald.

Saarbrücken: CVM Verlag Dr.

Müller Aktiengesellschaft &

Co. KG, 2008.

Siebel, W. "Talent, Toleranz,

Technologie: Kritische

Anmerkungen zu drei neuen

Zauberworten der

Stadtpolitik." In Georg

Simmel und die aktuelle

Stadtforschung, edited by

Mieg, H.A., Sundsboe, A.O.,

and Bieniok, M. Wiesbaden:

Springer Fachmedien VS

Verlag für Sozialwissenschaften,

2011.

Sonntag, S. Introduction to

139

One Way Street and Other

Writings, Benjamin, W.

London, NLB, 1979.
---
Bermögger, Andreas (2018) A small park

in Warsaw that inspired the professional

flaneurs.

Bermögger, Andreas (2018) A close look of the protected

building from outside as well as inside revealed ideas on

how to deal with them and find the specific genius loci.

in the midst of the fugitive and the infinite. To be

away from home and yet to feel oneself everywhere

at home; to see the world ... and yet to remain hidden

from the world. (Baudelaire quoted in Groves n.d.).

The flaneur is not merely a person exploring a city (for the purposes

of amusement and lifestyle or out of intellectual interest),

but also a product of the city: flânerie is only conceivable in large

cities, not in towns or villages. It is only possible in the big industrial

conurbations that arose from the eighteenth and nineteenth

century onwards, where a single inhabitant (due to the size and

plurality of the city) simply cannot know the whole city or cope

with all the impressions and events it generates. It is also in such

cities that the flaneur is able to experience freedom from "daily

144
---
Bermögger, Andreas (2018)

Sketch showing basic ideas

on how to form an

ensemble out of the

doomed-looking and rundown

remnants of an old

brewery.

work" (see, for instance, Georg Simmel, Die Großstädte und das

Geistesleben – a work which Benjamin also referred to as highly

relevant). Paris, therefore, as one of the first and greatest examples

of this new type of human settlement, became the birthplace

of flânerie – which is both an activity and a way of dealing with

manifold perceptions and memories (see Riedl 2008, 54–76).

Considering Benjamin's flaneur in more details, we can

see similarities with another philosophical figure: the wanderer.

Friedrich Nietzsche describes the wanderer as someone "stepping

outside the city to see how high the towers are" – that is, as

an intellectual reflecting on existing structures. Georg Simmel,

on the other hand, sees the wanderer as someone "coming to a

city" – a stranger new to a setting, thereby uniting remoteness

and proximity, for whom reflection is thereby "enforced." Critical

distance – which enables reflection – is the common denominator

of both. For Nietzsche it is an individual achievement, but for

Simmel it is a social role systematically generated by urbanity

and migration (Siebel 2011, 79 onwards).

Leaving one's home city and coming to a new city as a

stranger, and thereby being estranged from home and enabled

to reflect on both, is the theme of Benjamin's urban descriptions

in Städtebilder: "You learn to see Berlin from Moscow faster

than Moscow itself," (Benjamin 1963, 7; translation by Andreas

Bernögger). It is not only the method of comparison that is

important in doing this, but also the process of estranging oneself

from the familiar to create the critical distance that forms the

basis of productive thinking. You "need the gap, need the distance

of time or space," (Szondi in Benjamin 1963, 91; translation by

145
---
Narrative graphics are tools for visually communicating complex

information, ideas, systems, and networks to an audience in a

simplified, accessible, and attractive manner. The goal is not to

present the raw data itself, but to gather, organize, and reduce

the data in order to provide concise insights and information

about the topic. As Edward Tufte put it, "to envision information

– and what bright and splendid visions can result – is to

work at the intersection of image, word, number, art" (Tufte

1990, 9). This section focuses on visual representations of space

and time as maps and diagrams in the field of urban design. It

is also informed by the evolution of narrative graphics in their

application across a broad array of related fields throughout

the twentieth century.

Following the revision of key literature and the review

of reference projects (among others, Bertin 1983; Tufte 1990;

Abrams and Hall 2006) alongside the definition of narrative

graphics above, five possible but by no means exhaustive categories

of application emerge: research analysis and (re)presentation;

manifestos; design processes and visualizations; networks

and systems; and awareness and debate. These categories

even represent an evolution in the way narrative graphics have

been used; more broadly, they also represent changes in the

understanding of space and consequently in design thinking

and design processes. Narrative graphics are a snapshot in time,

reflective of society and its priorities and ideals, that help us

understand the spaces that we inhabit.

London Poverty Maps,

Charles Booth, 19021

A social investigation

initiated by Charles Booth

in 1886 resulted in a series

of maps visualizing the

extent and spatial

distribution of poverty

amongst the approximately

six million inhabitants of

the ever-expanding

metropolis. The London

Poverty Maps were

published in several

editions – the last in 1903

– and used survey data

along with ethnographic

observation to create a

potent and precise image

of social inequality. A

palette of colors ranging

from black to yellow was

used to distinguish the

different social classes,

which were in turn

associated with other

attributes such as income,

criminality (for example,

the lowest class in black is

further described as

"vicious, semi-criminal"),

health, and so on, creating

a compelling narrative.

Boston Cognitive Mapping,

Kevin Lynch, 19602

American planner Kevin

Lynch's famous graphics

were developed as part of

his wide-ranging study of

148

the perception of urban

form. They are best known

for visualizing the theory of

the five basic elements

(paths, edges, districts,

nodes, landmarks) which,

according to Lynch, help

urban dwellers form mental

maps of their environment.

It is important to understand,

however, that these

maps were not simply

derived from a theoretical

argument but were based

on extensive field research,

including site visits and

interviews as well as oral

descriptions and sketches

from the residents

themselves. The evocative
---
Imhof, E. (1962–1976) Mount Everest Map.

Printed map of Mount Everest 1:100 000.

From a Swiss secondary-school atlas.

power of the cognitive

maps, therefore, lies in the

combination of a theoretical,

academic perspective

with the insights of the

public.

Mount Everest, Eduard

Imhof, 19623

Eduard Imhof's hand-drawn

maps of mountainous

regions explore the

potential of cartography to

illustrate the third

dimension through the use

of color and shading. Also

noteworthy are his

theoretical contributions to

the aesthetics of cartography

and his use of

scientific as well as artistic

arguments to explain the

working process of drawing

a map.

Autobahnplanung

Oranienplatz, Fotomontage,

Kohlmaier and von

Sartory, 19694

The iconic collage by

architect Georg Kohmeier

and artist Barna von

Sartory is a critical

commentary on postwar

urban planning in Berlin,

and specifically the

planning principles of the

car-friendly city. The

existing, dense, and

compact urban fabric was

149

being razed to make place

for new developments with

little, if any, consultation of

the residents. This collage

juxtaposes a Los Angeles

highway with an aerial

image of Oranienplatz in

Kreuzberg in order to

demonstrate the scale and

extent of demolition that a

new planned highway

would necessitate.

Facemap Toronto, Julie

Bogdanovicz, 20135

This map of Toronto

focuses on social inequality

between the three clearly

distinguished classes of

poor, middle class, and
---
A designer is always confronted with the question of how his environment

was made and how new elements have been and can be

added to it (Wienand 1985, 135). "The first valuable contribution

to the understanding of architectural compositions was made

by Paul Frankl in 1914," (Norberg-Schulz 1968, 97). Frankl established

the basic concept of additive, divisional, and superimposing

(interpenetrating) spatial organizations. Each of these approaches is

characterized by a different relationship of the single piece to the

whole. Recognizing the most dominant method means detecting

the predominant characteristics of the whole (design).

Additive approach: The additive approach begins with a

single piece, and once assembled leads to a complex whole. As a

result, the perimeter or boundary seems jagged and chaotic. On

the other hand, additive expansion of the amorphous whole is

always possible (Ching 1979, 73). Additive organizations occur in

environments of tough competition where resilience and flexibility

are needed. Informal settlements represent this kind of "state

of emergency," in which the compatibility of single components is

of more importance than the design quality of the whole. Another

characteristic, besides the undefined boundary of the whole, is

the connection between each piece and the whole. It is this feature

that ensures the flexibility of the whole. The replacement

of each component is only possible as a result of the existence of

this seam. In a continually advancing and differentiating society,

this grade of adaptability leads to a continuing imbalance of the

whole (Wienand 1985, 136).

Climate de France, Algiers

Fernand Pouillon,

1954–1957

In the early 1950s, the

French government

decided to solve the

problem of an increasing

housing crisis in the French

colony with large-scale

social housing. Located on

the outskirts of Algiers, the

site was completely

encircled by highways and

was projected to become

an urban island. However,

its main characteristic was

the uneven topography.

Pouillon chose to introduce

an orthogonal grid (see

figure on page 158 of

superimposition approach),

which generated varying

typologies depending on

the slope (Avermaete 2007,

120).

The urban organization of

the whole, including the

smaller parts, "appear at

first sight as a collection of

autonomous entities. They

present themselves as a

juxtaposition of isolated

building blocks" (Avermaete

2007, 124) with the

main building at the center

(see figure on page 158 of

additive approach).

The block goes by the

name 200 Columns,

referring to the three-

156

story-high colonnade

surrounding the central

courtyard. Pouillon used

this element to outline the

whole and rhythmize the

building as well as the

courtyard see figure on

page 158 of divisional

approach). Its monumental

portico entrances are

located on the two

transversal sides, while

smaller gates traverse the

long sides. Pouillon isolated

himself from the

modernist movement,

which propagated the open

plan. Instead, he described

this approach as paysage

intérieur, which "suggests
---
Rico Samuel Diedering (2016) Axonometric drawing of housing complex Climat de

France. Designed by Fernand Poullion in 1954.

Divisional approach: The opposite of spatial addition is spatial

division. "The components … are no longer complete isolated

pieces but fractions of a pre-existent whole. The structure does not

consist of many units; it is one unit divided into parts or fractions,"

(Frankl 1914, 71). One can find such organizations in situations

that favor a clear demarcation between inside and outside, such

an urban approach in which

the landscape is interiorised

and defined by

surrounding elements,"

(Avermaete 2007, 124).

Urban Design Studio:

TRANSTOPIA - Hybridized

Building Practices1

The assignment of the

Transtopia studio was to

conceive a micro-neighborhood

addressing various

cultural identities. We based

the design on urban types

and narratives we derived

from interviews about

migration. The proposal

should be conceived as a

transtopia: as a heterotopia

and a realization of a Third

Space in which various

cultural trajectories are

hybridized to form a new

urban reality. We detected a

high degree of fragmentation

within the life paths

of our interviewees. This

applied particularly to the

time before they actually

started to migrate. However,

the experiences on their

journey were what

influenced their new life in

Germany. Older people in

particular found themselves

in situations where they did

not "belong" anywhere; they

were trapped between

idealizing and disparaging

157

the past, as well as their

reality in Berlin. In

accordance with the

typological research on

several types of courtyards,

we transferred both –

interviews and typology

research – into our programmatic

framework. It was

important to us to confront

the future dwellers with

different development

options, so they were asked

to position themselves

within these two poles. Our

assumption was that we

would be able to create

stable spaces for this

positioning, regardless of

location.
---
# B.17

CREATING

CONCEPTUAL

MODELS

Alberti, L.B. On the Art of

Building in Ten Books.

Cambridge, MA: The MIT

Press, 1988.

Arpak, A. "Physical and

Virtual: Transformation of

the Architectural Model."

Thesis, Middle East

Technical University

Graduate School of Natural

and Applied Sciences, 2008.

Elser, O. and Schmal, P.C.,

eds. Das Architekturmodell:

Werkzeug, Fetisch, kleine

Utopie, Zurich: Scheidegger

& Spiess, 2012.

Evans, R. Translations from

Drawing to Building and

other Essays, London:

Architectural Association,

1976.

Frampton, K. and Kolbowski,

S. Idea as Model, New York:

Rizzoli, 1981.

Knoll, W. and Hechinger, M.

Architectural Models:

Construction Techniques,

2nd edition. Munich:

Deutsche Verlags-Anstalt,

2006.

Moon, K. Modeling

Messages: The Architect

and the Model, New York:

Monacelli Press, 2005.

Morris, M. Models:

Architecture and the

Miniature, Chichester, West

Sussex: Wiley Academy,

2006.

Porter, T. and Neale J.

Architectural Supermodels:

Physical Design Simulation,

163

Oxford: Architectural Press,

2000.

Reynolds, C. "The Fourth

Register of Architecture:

"Model as..."" MArch thesis,

UCL Bartlett School of

Architecture, 2015.

Rowe, P. Design Thinking,

Cambridge, MA: The MIT

Press, 1986.

Smith, A. Architecture

Model as Machine: A New

View of Models from

Antiquity to the Present

Day, Oxford: Architectural

Press, Elsevier Ltd, 2004.
---
The Open Workshop (2014) Bird's-Eye View of the City's Waterfront. The Open

Workshop's project is proposing a systemic intervention in the dredge-cycle of the city

of Toledo, USA.

some of the most urgent

issues. In order to tackle

these complex problems, a

multi-pronged, multi-scalar

approach was needed both

in the short- and long-term.

Between 2010 and 2013,

and in collaboration with

an interdisciplinary team of

planners, designers, and

community leaders, the

landscape architecture

office Stoss developed the

Detroit Strategic Framework,

a decision-making

roadmap for improving the

quality of life and business

in Detroit. The project

identifies and establishes

links between social,

economic, and ecological

systems. These integrated

solutions include new

forms of urban living, new

modes of production in the

city, and new productive

green infrastructures. The

project recognizes that a

single solution to one

specific problem would not

be able to address the

complexity and interrelatedness

of the issues

Detroit faces, and

acknowledges that the

strategies must work

across different scales and

time frames. Landscape is

rethought as a greater

system – one with the

172

potential to be reproductive,

generative, and

structural.

Dredgescaping Toledo, The

Open Workshop, 20144

The growth of the global

shipping industry and the

increased sizes of ships

have created new logistical

routes that approach the

shallower depths found

closer to urban areas.

Maintenance of these

routes requires continuous

dredging to counter the

natural tendencies of

erosion. Dredging, the

process of excavation, and

the gathering, transport,
---
The Open Workshop (2014) Dredge Land Processing. Confluence of the dredge, civic and

watershed subsystems.

and disposal of sediment

from coastal areas

therefore continue to be

one of the largest

anthropogenic spatial

interventions on our planet.

Ironically, the dredge cycle

– the cyclical process of

dredging – is itself

catalyzing the erosion that

it was established to

counter, thus reinforcing a

never-ending process. This

becomes a significant

wicked problem for urban,

terrestrial, and aquatic

(eco)systems. The Open

Workshop's design

proposal Dredgescaping

Toledo (2014) incites a

173

systemic confluence of the

subsystems of the

dredge-shed, watershed,

and civic-shed of the city

of Toledo, USA, into a

comprehensive meta-system

called the soft shed

– a resilient, multi-scalar,

malleable, and productive

system that creates new
---
Ildefons Cerdà i Sunyer (1859) Barcelona – Cerda's Plan. The Barcelona grid, first

designed by an urban planner, Ildefons Cerdà, in 1859, was known for its unique

octagonal geometry and square-size. His focus on greenery resulted in walkable green

spaces that have been advantageous to the city.

or develop the entire grid to ensure completeness. Changes and

adaptions can be caused by drawn-out realization processes

resulting from e.g. political or economic situations (Schenk 2013).

Continuous grids with small blocks have the highest percentage

of land used as streets. The number of streets may be reduced for

ecological reasons, also leading to a decrease in infrastructure

costs. Creating different street hierarchies allows traffic to be

Both grids were designed

as cities with superblocks

and roundabouts at the

intersections of the most

important streets. While

Chandigarh is set in a valley

without topographical

obstacles, Milton Keynes

aimed to integrate the

existing topography and to

use cul-de-sac streets

within the blocks to

connect the entire plan to

the surrounding area using

bike and footpaths (Kostof,

1991).

At the scale of site projects,

grid patterns are most

frequently implemented on

conversion sites or city

extensions, depending on

the specific conditions of

each site. A good example

are Berlin's urban

extensions in Friedrichstadt

(1688) and those

later carried out by James

Hobrecht: various parts of

these extensions are based

on a grid pattern between

the main roads.

The conversion of Munich's

airport in Riem in 1992

shows the adaptability of

the grid design. The overall

concept of the 560-

hectare area revolved

around the spatial concept

"compact, urban, green,"

and was implemented

180

using a superimposed grid.

The new block structure,

featuring a mix of uses

including commercial,

residential, public open

space, and trade fair

facilities, was designed

using a basic grid and then

deformed to allow the

landscape and existing

structural facilities of the

airport to be integrated.

The Beijing Technology

Park Masterplan by

Gabrysch + Partner (2004)

calls for the regular grid to

be transformed step-bystep

into an organic

structure: the highly

geometric section is for
---
controlled and guided through different centralities within the

network, and diverse neighborhoods can be created by integrating

networks with different functions (Kostof 1991). Hierarchies

can be developed within a grid or a block by considering different

layers – for example, those from macrocosm to microcosm

(Schenk 2013).

Grids provide an easy and efficient way to systemically

parcel – and thereby equally distribute – land, a quality which has

been particularly important in the past (Kostof 1991, Fehl 2004).

The limitation of grids is their dependence on external factors

such as topography, existing connections, and urban and landscape

structures such as existing buildings and trees. Geographical

features can be dealt with through deformations, tilted shifts, and

curves in the grid plan (Schenk 2013). Another disadvantage is the

potential for a regular grid to result in a monotonous cityscape.

For easy orientation within the grid system, it is necessary to

ensure that not every street looks the same and that orientation

points (landmarks) are implemented (Schenk 2013). Compared

with cities that have grown more organically, grid-based cities are

prone to losing their own character as a result of standardization.

It is therefore important to look for the special features within

each city or site (Fehl 2004).

The grid as a method is used in many different disciplines

and, as such, in many different approaches concerning structure

and scale. In urban planning it is applicable at the regional and

urban scale, as well as the scale of individual sites. Grids can also

industry and business,

while the more organic

area provides space for

housing. Culture and sport,

as well as research

facilities, are located

between these sections

and integrated with public

green areas. Hierarchies

and clusters are clearly

recognizable, as is the

integration of water

structures.

Grid patterns have also

been implemented at the

architectural scale, for

example at the Free

University in Berlin. The

design of the Free

University (1963) is based

on an open-grid design −

which was typical for

universities in the 1960s. It

was therefore later able to

accommodate changes,

such as Foster and

Partners' extension

building, which was

completed in 2005

(Weston, 2011). Many of

the aspirations of the

architects Candilis, Josic,

and Woods were realized in

the paradigmatic Free

University of Berlin

(Chousein, 2013).

181
---
There is no general consensus on the meaning of complexity.

Etymologically, complexity comes from the Latin word complexus,

which means interwoven. A complex system is one in which elements

interact and affect each other in such a way that it is difficult

to isolate the behavior of individual elements. Complexity in

systems is invariably multidimensional. A complex system usually

consists of many members, elements, or agents that interact

with one another and with the environment (ElMaraghy 2012).

Generally speaking, two types of complexity can be distinguished

in complex decision-making: system complexity and

political complexity. System complexity, particularly the sustainability

of technological and design options, can be addressed by

using substantive modelling (Hendriks, 2001). Political complexity

can be addressed through a participatory planning approach

or through process management (De Bruijn and Ten Heuvelhof

2000; De Bruijn et al. 2002; Edelenbos 1999).

Urbanists have viewed cities as complex systems at least

since the 1960s. An eclectic range of approaches have looked at

how implicit economics and cultural rules have shaped cities, as

well as how networks can enhance effective relationships among

a city's agents. Complexity and unpredictability challenge the feasibility

of urban planning beyond a certain point (Crawford 2016).

Complexity theory is a young science that draws on many

disciplines and has yet to establish a unified framework (Crawford

2016). One of the main features and problems of complexity is

that it can be found almost everywhere. Thanks to this feature,

Songzhuang Arts and

Agriculture City1

In most parts of the world

– and especially in China –

populations and cities are

rapidly growing, leading to

a steady increase in the

demand for food and

resources. This also results

in an increasing division

between urban and

agricultural land as

farmland is moved to the

outskirts of the cities. As a

result, the food industry

and supply chain have

developed into a complex,

globally operating system

that on the one hand

pollutes the environment

(among other things

through long transport

distances) and on the other

weakens the connection

between urban dwellers

and nature.

The Chinese city Songzhuang

is located next to

Beijing. For its Songzhuang

Arts and Agriculture City

master plan, the interdisciplinary

planning office

Sasaki envisions the

creation of a series of

self-sustaining communities

by closely interlinking

urban and agricultural uses.

Most of the area's existing

settlements will be

retained and supplemented

184

with a highly diverse range

of building typologies and

uses. Urban agriculture is

also deeply embedded in

the plan. By creating a

highly complex urban and

agricultural fabric with

several urban cores, the

plan not only targets the

ecological dimension but

also a number of economic

and social aspects. At the

same time, this complexity

is reduced by the

championing of agriculture

and food provision in urban

developments, which also

demonstrates the plan's

conceptual shortcomings.

While the planners provide
---
complexity concepts can, in principle, be applied to many different

fields. The approach of increasing and reducing complexity

was first applied in physics, as physical systems are relatively less

complex. Disciplines such as biology, sociology, and mathematics

soon followed (Crawford 2016).

Complexity-based approaches are now also applied in the

fields of urban planning and urban design – for example in investigating

the pattern of land use in cities, the spatial segregation

of ethnic, cultural, and socio-economic social groups within a

city, the size distribution of cities in a region, the economic and

geographical spatio-hierarchical patterns of central places in

cities, metropolitan regions, and countries, the structure of city

road networks, the structure of communications between cities,

and other urban phenomena (Portugali 2009).

There are two broad approaches to planning in complex

urban systems. One bases city development on a few simple, universal

spatial rules, while the other takes a participative, collaborative

approach to city development (Crawford 2016). The former

could be considered an approach that reduces complexity, while

the latter produces (or increases) complexity.

The first of these responses to the problem of planning

in complex systems builds on the observation that a complex

order can arise spontaneously from the consistent and persistent

application of (often implicit) spatial laws over time. In

this approach, a government enacts a few simple and universal

rules to guide the behavior of urban agents, who are then free

a comprehensive

examination of the

distribution of the different

urban and agricultural uses,

it is not clear to what

extent the needs shown

reflect actual needs.

Furthermore, the plan

barely addresses the issues

of transport infrastructure

and means of transportation,

and how the city will

be connected to its

surroundings and Beijing.

The master plan would also

have benefited from a

stronger perspective on

local food distribution and

local food service cultures

as ways of fostering locally

driven economies and

benefits for both the

residents and ecology.

Ananas New Community.2

The Ananas New Community

plan for the Indonesian

city Silang, located around

50 kilometres from Manila

and largely responsible for

the capital's food supply,

seeks to interlink existing

urban uses with (until now

adjacent) agricultural ones

in order to encourage a

sustainable food network

and a new way of living.

Although it appears to have

the same focus as the

Songzhuang Arts and

185

Agriculture City development

concept at first

glance, the plan shows

more consideration of a

complex variety of

environmental aspects –

for example, dealing with

different seasons and their

impacts (for example,

monsoons) and sun and

wind planning for a

comfortable microclimate.

Eco-corridors, which are

used for farming and

farmhouses as well as for

(agri)cultural programs

aim to create a close-knit

network of side-by-side

food production and food

processing, as well as
---
and instability; in the shifts from modernism to postmodernism,

from structuralism to post-structuralism, from constructivism to

deconstructivism, from systems in equilibrium to systems out of

equilibrium, from closed to open systems, and from entropy to

self-organization and complexity that recognizes notions such

as chaos, the edge of chaos, fractal structures, and nonlinearity

(Portugali 2005).

There are four main limitations when dealing with complexity.

Firstly, simulation models originally designed for the

study of complexity and self-organization have become the message

itself. Secondly, the complexity of cities tends to overlook the

fact that complexity theory is a new science that is critical of the

"first culture" existing within cities themselves, which sees cities

as simple systems (Portagali 2005, 17–38). Thirdly, and as a consequence

of the above, most studies on the complexity of cities do

not engage with the qualitative assessment of cities raised by the

pertinent complexity theories. Fourthly, students investigating

the complexity of cities have indiscriminately applied theories

and models that were originally developed to deal with natural

phenomena to cities, ignoring the implications resulting from

the fact that cities are not natural phenomena but rather artefacts

of their creators and surroundings (Portugali 2009).

This text is based on the writing of Yijie Bu and was edited by

Angela Million.

Endnotes

1 Sasaki Associates.

Songzhuang Arts and

Agriculture City. [Online].

2012. Available at http://

www.sasaki.com/

project/265/songzhuangarts-and-agriculture-city/

Accessed April 24, 2020.

2 Sasaki Associates.

Ananas New Community.

[Online]. 2015 Available at

http://www.sasaki.com/

project/389/ananas-newcommunity/

Accessed April

24, 2020.

3 TUB students. "Postdam

à la Card." Design studio for

the Master in Urban Design

and Urban and Regional

Planning TUB, supervised

by Million, A., winter term

2011/2012.

190
---
# B.21

ENGAGING

HUMANS AND

NONHUMANS

IN DESIGN

Fink. R.D. and Wayer. J.

"Interaction of Human

Actors and Non-Human

Agents. A Sociological Simulation

Model of Hybrid

System." STI Studies 10, no.

11 (2014).

Grusin, R. Introduction to

The Nonhuman Turn, edited

by Grusin, R., 7–29. Minneapolis:

University of Minnesota

Press, 2015.

Harrison, A.L. "Introduction:

Charting Posthuman

Territory." In Architectural

Theories of the Environment.

Posthuman Territory,

edited by Harrison, A.L. New

York: Routledge, 2013.

Latour, B. "On Actor-network

Theory. A few Clarifications."

Soziale Welt 47, no. 4

(1996): 369–382.

Latour, B. "On recalling ANT."

In Actor-network theory

and after Blackwell, edited

by Law, J. and Hassard, J.

Oxford: Blackwell, 1999,

15–25.

Loenhart, K.K. "Superfast

Jellyfish. Matter, Agency and

Emergent Properties of

Landscape." In GAM 07. Zero

Landscape. Unfolding Active

Agencies of Landscape,

edited by Technische

Universität Graz, Fakultät

für Architektur. Graz:

Technische Universität Graz,

2011, 142–159.

Morton, T. Ecology without

Nature. Cambridge.

191

Massachusetts: Harvard

University Press, 2007.

Morton, T. "Here Comes

Everything. The Promise of

Object-Oriented Ontology."

qui parle 19, no. 2 (Spring/

Summer 2011): 162–190.

Reed, C. "The Agency of

Ecology." In Ecological

Urbanism, edited by

Mostafavi, M. and Doherty,

G. Baden: Lars Müller

Publishers, 2010, 324–329.

Roncken, P., Stremke S., and

Paulissen, M. "Landscape

machines. Productive

nature and the future

sublime." Jola Journal of

Landscape Architecture 6,

no. 1 (2011): 68 – 81.
---
Scape Studio (2014) Living Breakwaters: South Shore of Staten Island.

Scape Studio (2014) Living Breakwaters:​ schematic section showing the integration of

community spaces, waterfront and breakwaters.

enticing flowers and plants

that lure butterflies away

from speeding vehicles.

This project reimagines

urban infrastructure for

the diverse species with

which we share space and

resources (Natalie

Jeremijenko n.d.).

The Landscape Machine at

the Rathausforum, 20153

Some of the ideas reviewed

here were tested during an

academic exercise. Since

2015, the area around the

Rathausforum in Berlin has

been the subject of an

organized public debate

concerning a possible

comprehensive redesign. In

this alternative approach

to the redesign by José

Hasse Velez, the challenge

was to bring nonhumans

into center stage and draw

194

attention to the fact that

the natural and cultural

systems are interwoven.

The main aim was to

develop a prototype for the

site in which the role of

nonhumans would be equal

to that of humans.

After considering

abundance and scarcity at

the site, a number of the

nonhuman actors

representing possible
---
Posthuman theory and the Anthropocene are two recent

approaches that critically examine the dichotomy between

humans and nonhumans and are thus related to the nonhuman

turn. If humans are now just another force of nature at a planetary

scale, as the term Anthropocene implies, then they are ontologically

comparable with other forces, such as geology or the climate.

Posthuman discourses explore similar theoretical possibilities,

proclaiming the fusion of nature, humans, and technologies to

be an evolutionary process that radically transforms the human

subject. The nonhuman debate, however, rejects this notion of

evolution, arguing against the distinction between humans and

nonhumans in the first place (Grusin 2015).

Engaging the nonhuman is not yet an established method in

design. Although some of its principles have been used before, its

theoretical agenda has not been consciously or explicitly addressed.

Considering the nonhuman can take very different forms depending

on how it is understood, the levels of agency involved, and

the working scale. It is up to the designer to determine where

and how the application of this method can be most productive.

Some of the theories listed above as ideas traced by Grusin at the

origin of the nonhuman turn could offer different approaches;

actor-network theory and systems theory are examples that have

already been explored in a design context. Landscape architecture

and environmental planning are generally considered to be the

design fields that have traditionally engaged with natural rather

than human-made systems, and have as such taken into account

capabilities and synergies –

such as infrastructure

components and specific

animal species – were

identified. The final

concept focuses on the

collection and storage of

energy, with the double

objective of trying to

increase energy autonomy

on site and simultaneously

making this process highly

visible. The height of the

nearby television tower

presents an ideal

opportunity to harvest

wind energy. This can then

be stored in the form of an

artificial lake at the former

Marx-Engels-Forum using

water from the river Spree.

The landscape machine is

located in a key public

urban space, and technology

acts as an agent in

supporting a new

ecosystem. The design of

the new waterscape aims

to engage humans and

nonhumans alike, taking

into account their

respective spatial practices.

To achieve this, the

topography of the site is

designed to accommodate

existing infrastructure as

well as the activities of

humans and selected

animal species, and offers

a variety of spatial

195

configurations (water

reservoirs, islands, and

paths). The configuration

of the urban space and the

activities of the humans

(such as skating and

bathing) and animals

depend on the stored

energy levels, which are

determined by weather

conditions such as

precipitation and wind. The

consequences of changing

microclimatic conditions

would not only be visible in

the landscape, but would

also be directly experienced

by the humans and

animals that inhabit it.
---
the method could be applied using software, most of the practice

is still analogue. A specific form of indirect planning games

are "role enactment games" or "role-playing games," a gaming

method in which decision-making processes, conflict situations,

or real events are (re-)enacted. During the game, participants

adopt their assigned roles to represent the perspectives, interests,

and arguments of specific stakeholders. These games are

most effective when players have to adopt a role that is antagonistic

to the one they would choose outside the game. Through

embodiment and acting out, they can get to know completely

different points of view (MWEIHM 2012). The modern role-play

was introduced through the "psychodrama" method developed

by the Austrian-American doctor, psychiatrist, and sociologist

Jacob Levy Moreno (1889-1974).

Games are designed to challenge players to solve the given

issues, and the aim of most games in urban planning is to portray

a pseudo-realistic situation in which people can interact

with each other and find solutions for contested urban issues.

The first step in designing a city game is simulation. Most of

the games are defined by a scenario inspired by a real and complex

urban dispute or planning problem. In order to make it

possible to play in a limited amount of time and with limited

equipment, the scenario should be a simplified version of reality.

The next step is the definition of stakeholder roles. As it is

not possible to reach out to all the involved stakeholders, the

most important and determining ones should be identified and

an architecture practice

founded by Susanne

Hofmann in 2001 that

engages in participatory

and social design.

Play Brussels, Play the City,

20132

Play Brussels is a

negotiation and design

game that was played by

designers and local

stakeholders in the city's

Porte de Ninove or

Ninoofse Poort neighborhood

in 2013 (Play the City,

2013). In response to the

creation of an urban park

(intended to be part of a

planned urban development)

being repeatedly

postponed, over forty

locals from different

interest groups in the area

engaged in a week-long

game session to generate

proposals for the

temporary public use of

the local wasteland and

adjacent vacant buildings.

The resulting low-maintenance

proposal was to

make the land publicly

accessible and to connect

it to the wider Brussels

Green Network. The

strategic result was an

open letter to the mayor of

the city written by the

players. In the letter they

208

asked him to support the

concepts drawn from the

game and to allow their

bottom-up implementation.

The design practice that

developed the game was

Play the City, founded by

Ekim Tan in 2008.
---
Katharina Hagg (2016) Urban resistance movement interrupting a local council board

meeting. From a three-day Urban Enactment game within the Master in Urban Design

Studio in the 2016/17 winter semester (Habitat Unit & CUD TU Berlin).

included in the game. The roles could be played either by the

stakeholders themselves or by other players who take on their

roles. Games are based on a set of simple, compulsory rules. If

the rules are followed strictly, players will face many unpredictable

complexities throughout the game (Tan 2014, 49). Sanoff

identifies rule systems and methods of procedure as one of the

key factors of games. He argues that the rules of games should

refer to reality (2000).

Endnotes

1 Hofmann, S. Partizipation

Macht Architektur: die

Baupiloten – Methode und

Projekte, Berlin: Jovis, 2014.

2 Play The City. Play

Brussels.

[Online]. 2013. Available at

https://www.playthecity.nl/

page/8986/play-brussels

Accessed July 28, 2016.

209
---
FOOD CENTER

FOOD CENTER

FOOD CENTER

FOOD CENTER

FOOD CENTER

FOOD CENTER

FOOD CENTER

FOOD CENTER

// LEBEN IM FLUSS

1940 2050

2090

2050

synthetische Dünger

synthetische Dünger

Erschöpfung der

Phosphat-Reserven2090

Viehzucht

1940 2050 2090

Landwirtschaft

Zusammenbruch der Landwirtschaft

Trotz unterschiedlicher Anpassungsmethoden an den Klimawandel sind die ohnehin

schrumpfenden Phosphatreserven zur Düngergewinnung durch natürlich eingelagertes

Unran belastet. Neben der Verwendung giftige Pestizide, stellt diese Belastung ein gesundheitliches

Risiko für Dünger

die konsumiriende Bevölkerung dar. Durch die fortschreitende

synthetische

intensive kommerzielle Landwirtschaft sind die Böden fast vollständig erschöpft.

Samengut & Dünger

Kollaps

Erschöpfung der

Phosphat-Reserven

Die Dorfbewohner bereiten die erschöpften Böden wieder auf und

machen sie für sich nutzbar. Aus finanztiellen Gründen und aufgrund

gesundheitliche Bedenken machen sie sich von der industriellen

Landwirtschaft unabhängig und betreiben eine effiziente,

ökologische, landwirtschaftliche Nahrungsmittelproduktion. Diese

wird sowohl auf privaten als auch gemeinschaftlichen Flächen

betrieben.

FINANZIELLE UND

GESUNDHEITLICHE

BEDENKEN

FOOD CENTER

FOOD CENTER

FOOD CENTER

FOOD CENTER

Verkauf in Supermarktketten

Dorfbewohner

industrielle Landwirtschaft

Alle Produkte werden ausschließlich für

den globalen Markt produziert und auf

diesem verkauft. Es können jedoch nur

noch weniger Länder Lebensmittel für

diesen Markt produzieren.

Eingriffsbereiche

erneuerbare Energien

Produkte

globaler Markt

synthetische synthetische Dünger Dünger synthetische synthetische Dünger Dünger Erschöpfung Erschöpfung der der

Phosphat-Reserven Phosphat-Reserven

Grauwasser

Brauchwasser

Förderung durch Energieproduzenten:

Ausstattung

der Häuser mit Solaranlagen,

Heizen und Abkühlung

mit Hilfe von Erdwärmeübertrager.

Herkömmliche

Kanalisation mit Wassertoiletten

werden durch Trockentoiletten

ersetzt um

kostbares Trinkwasser zu

sparen und die Gewässer

nicht zu verunreinigen.

Nahrungsproduktion

Wassermanagement

Trinkwasser

Kultur / Freizeit

Wachstum der Dörfer: 200%

2015

2.160 Einwe.

2080

4.500 Einw.

Nahrungsmittelproduktion

Flächen 210 ha

135 ha

Eigenbedarf

75 ha

Verkauf

Eigene effiziente, ökologische,

landwirtschaftliche

Nahrungsmittelproduktion

300 m² / Person

für 85% Versorgung über den

regionalen Markt

erneuerbare Energien - Energieparks

Seit 2020 kann sich das gesamte Bundesland mit der produzierten Energie durch

Windkraftanlagen und Photovoltaik selbst versorgen und zusätzliche Energie

sogar gewinnbringend exportieren. Um Transportwege einzusparen, entwickeln

sich große Industriezweige nahe der Energieparks. Dies sorgt für zusätzliche Arbeitsplätze

für Dorfbewohner und somit einen Anreiz für ein Dorfleben.

neue dezentrale Industriestandorte

the historic relations and

present the genesis of

transformation.

The Why Factory4

T?F dealt with the topic of

biodiversity, developing

different scenarios with

varied locations, focus and

visualization styles. These

explore how urban design

and architecture could

facilitate interactions

between human and

non-human actors. One

project focuses more on

the visualization of

strategic diagrams and

typologies, while the other

project works with

atmospheric axonometric

views and perspective

drawings. Many scenario

projects operate on a large

scale, but these projects

focus down to a very small,

Talsperren

Talsperren

Polderflächen

architectural level and

demonstrate in detail the

consequences of different

degrees of increased

biodiversity.

218

Polderflächen

Downsview Park, Stan

Allen, James Corner, and

Nina-Marie Lister, 1999

For Toronto's 1999

Downsview Park Competition,

Stan Allen, James

Corner and Nina-Marie

Lister contributed a project

proposing "scaffolds that

would sponsor the

propagation of emergent

ecologies, natural systems

that would be seeded

initially and evolve over

time with increasing levels

of complexity and
---
lanwirtschaftliche Erzeugnisse

organischer Abfall

Mist

FOOD CENTER

FOOD CENTER

FOOD CENTER

FOOD CENTER

FOOD CENTER

lanwirtschaftliche Erzeugnisse

FOOD CENTER

Kompostanlage

Aufbereitung organischer Abfälle in

einer modernen Kompostieranlage:

Fäkalien aus Trockentoiletten und

Bioabfälle werden zusammen mit Nebenprodukten

aus Produktionsbereichen

wie Vieh- und Fischzucht in der

Kompostanlage durch ein Kaskadenverfahren

kompostiert, hygienisiert

und zu Dünger für die Produktionsflächen

umgewandelt.

Lokale Weiterverarbeitung: Saftmanufaktur in einer ehemaligen,

leerstehenden Brauerei in Wickerstedt.

Saftmanufaktur in der ehemaligen Brauerei

Ein Teil der lokal Produkte wird innerhalb der Dorfstruktur weiterverarbeitet

und sorgt für eine gestärkte lokale Wirtschaft.

Produkte

Markt

Gemüseanbau

Saftmanufaktur in der ehemaligen Brauerei

Gemüseanbau

Wickerstedt

lokaler und regionaler Markt

Ein Teil der landwirtschaftlichen Produkte und Dienstleistungen werden auf

dem lokalen und regionalen Markt verkauft oder getauscht.

Gesamtplan Entwurf M 1 : 5.000

Fäkalien

Energie

Raum eb 12

Straße des 17. juni 145

D–10623 berlin

www.freiraum.tu-berlin.de

tu berlin, fak VI, ilaup

fg landschaftsarchitektur

freiraumplanung

prof. Undine Giseke

Masterstudio SoSe 2016

Entwerfen Urban - Ruraler

Verknüpfungen

prof. Undine Giseke | Kathrin Wieck

Lisa Kirchner 347999

Gabrielle Mainguy 358904

Luisa Multer 372083

Lisa Kirchner, Gabrielle Mainguy, Luisa Multer (2016) Studio Project on Urban-Rural

Linkages. Complex systemic diagram showing the "Climate Migration" scenario

applied to a local detail of the villages Wickerstedt, Flurstedt, Niedertebra, and Obertrebra,

and Eberstedt near the river Ilm.

219
---
DECODIFICACIÓN

DECODING

DEMANDAS

CLAIMS

Crear Confi anza

Build Trust

¡CREEN ESPACIOS

VERDES!

CREATE GREEN

SPACES!

Análisis Colectivo

Collective Analysis

¡DECIDAN JUNTOS!

DECIDE

TOGETHER!

¡PLANEEN A

LARGO PLAZO!

PLAN LONG

TERM!

Eventos Públicos

Public Events

.

Acción Colectiva

Collective Action

¡EMPODERAN

A LAS MUJERES!

EMPOWER

WOMEN!

¡RECONSIDEREN

EL RECICLAJE!

RETHINK

RECYCLING!

Temas Clave

Key Topics

Refl exión / Refl ection

Foro de Intercambio / Exchange Forum

Formulación / Formulation

Retroalimentación / Feedback

Un análisis social y espacial es la base co-pro du cida de un

proceso integral de transformación y planeación urbana.

A co-produced social and spatial analysis is the basis of

a holistic urban transformation and planning process.

Demandas socio-espaciales, dirigidas a urbanistas, políticos

y habitantes, para iniciar y guiar transformaciones urbanas.

Socio-spatial demands directed to city planners, politic ians

and residents, to initiate and guide urban transformation.

Moritz Ahlert (2017) Towards a Moravia Code.

228
---
HERRAMIENTAS

TOOLS

ESCENARIOS

SCENARIOS

-

Formulación / Formulation

Retroalimentación / Feedback

Diseño / Design

Retroalimentación / Feedback

Estrategias espaciales, políticas y económicas para cum-

plir con las metas articuladas en las demandas.

Spatial, organizational, economical and political strategies

to achieve the goals formulated in the claims.

Proyectos de transformación basados en la combinación

de demandas y herramientas.

Site-specific transformation projects based on a combi-

nation of claims and tools.

Habitat__Buch___09.indb 99 31/08/2018 14:51

229
---
# B.26

CURATING

EVOLUTIONARY

LANDSCAPES

Brugmans, G. and Strien, J.

Urban by Nature. Rotterdam:

IABR, 2014.

Burnham, J. "Systems

Esthetics." Artforum 7, no. 1

(1968). Available at http://

www.volweb.cz/horvitz/

burnham/systemsesthetics.

html Accessed July 25,

2017.

Corner, J. "Ecology and

Landscape as Agents of

Creativity." In Ecological

Design and Planning, edited

by Thompson, G. and

Steiner, F., 81–107. New York:

John Wiley & Sons, 1997.

de Roo, G.; Silva, E.A. A

Planner's Encounter with

Complexity. Aldershot:

Ashgate Publishing

Company, 2010.

Loenhart, K.K. "Superfast

Jellyfish. Matter, Agency and

Emergent Properties of

Landscape." In GAM 07. Zero

Landscape. Unfolding Active

Agencies of Landscape,

edited by Technische

Universität Graz, Fakultät

für Architektur. Graz:

Technische Universität Graz,

2011, 142–159.

Morton, T. "Zero Landscape

in the Time of Hyperobjects."

In GAM 07. Zero

Landscape. Unfolding Active

Agencies of Landscape,

edited by Technische

Universität Graz, Fakultät

für Architektur. Graz:

Technische Universität Graz,

2011, 79–87.

Mostafavi, M. "Why

Ecological Urbanism? Why

Now?" In Ecological

Urbanism, edited by

Mostafavi, M. and Doherty,

P., 12–55. Baden: Lars Müller

Publishers, 2011.

235

Jackson, J.B. "Concluding

with Landscapes." In

Discovering the Vernacular

Landscape, by Jackson, J.B.,

145–157. New Haven: Yale

University Press, 1984.

Pollak, L. "Constructed

Ground: Questions of Scale."

In The Landscape Urbanism

Reader, edited by Waldheim,

C., 125–140. New York:

Princeton University Press,

2006.

Prominski, M. "Designing

Landscape as Evolutionary

Systems." Design Studies 8,

no. 3 (2005): 25–34.

Waldheim, C. "Landscape as

Urbanism." In The Landscape

Urbanism Reader,

edited by Waldheim, C.,

35–54. New York: Princeton

University Press, 2006.
---
imprint

© 2021 by jovis Verlag GmbH

Texts by kind permission of the authors.

Pictures by kind permission of the photographers/holders of the

picture rights.

All rights reserved.

Special thanks to Xenia Kokoula and Tom Jones for their perseverance

and tireless support!

Cover: Felix Holler, based on a concept by Paul Klever and Luca Mulé

Marker typeface: TU Berlin Medium

Editors: Undine Giseke, Martina Löw, Angela Million, Philipp Misselwitz,

and Jörg Stollmann

Editorial team: Xenia Kokoula, Tom Jones with Paul Klever, Luca Mulé,

Anna Neuhaus, and Julia Schlütsmeier-Hage

Copy-editing: David Skogley, Jessica Glanz

Design concept: Paul Klever and Luca Mulé

Design elaboration and setting: Felix Holler, Stoffers Graphik-Design

Lithography: Stefan Rolle, Stoffers Graphik-Design

Printed in the European Union

The book was made possible with the support of the German

Academic Exchange Network (DAAD), TU Berlin, and the School

of Architecture and Urban Planning CAUP at Tongji University.

Bibliographic information published by the Deutsche Nationalbibliothek.

The Deutsche Nationalbibliothek lists this publication in the Deutsche

Nationalbibliografie; detailed bibliographic data is available on the

Internet at http://dnb.d-nb.de

jovis Verlag GmbH

Lützowstraße 33

10785 Berlin

www.jovis.de

jovis books are available worldwide in select bookstores. Please

contact your nearest bookseller or visit www.jovis.de for information

concerning your local distribution.

ISBN 978-3-86859-571-0

256