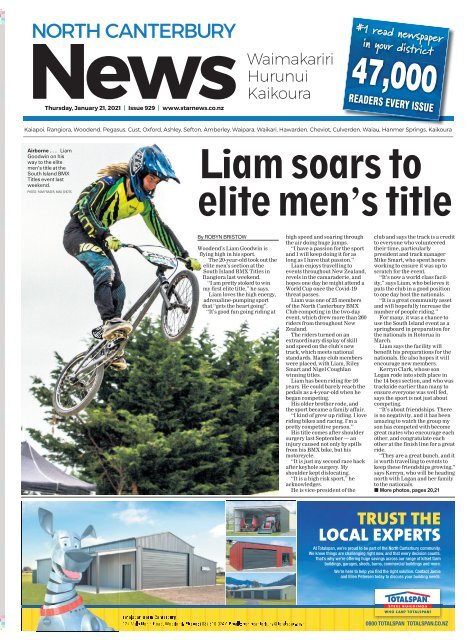 North Canterbury News: January 21, 2021
Create successful ePaper yourself
Turn your PDF publications into a flip-book with our unique Google optimized e-Paper software.
#1 read newspaper

in your district

#1 read newspaper

in your district

47,000

Thursday,January 21,2021 | Issue929 | www.starnews.co.nz

READERS EVERY ISSUE

Airborne ... Liam

Goodwin on his

way to the elite

men's title at the

South Island BMX

Titles event last

weekend.

PHOTO: PAM FRASER, MAK SHOTS

Liam soars to

elite men'stitle

By ROBYN BRISTOW

Woodend's Liam Goodwin is

flyinghigh in his sport.

The 20­year­old tookout the

elite men's sectionatthe

South Island BMXTitles in

Rangioralastweekend.

''Iampretty stoked to win

my first elitetitle,''hesays.

Liamloves thehighenergy,

adrenaline­pumping sport

that''gets theheart going''.

''It's good fungoing riding at

highspeed andsoaring through

the air doing huge jumps.

''I haveapassionfor the sport

and Iwillkeep doing it for as

longasIhave thatpassion.''

Liamenjoystravelling to

eventsthroughout NewZealand,

revelsinthe camaraderie, and

hopes oneday he mightattend a

World Cup once theCovid­19

threat passes.

Liamwas one of 25 members

of the North Canterbury BMX

Clubcompeting in the two­day

event,whichdrew morethan260

riders fromthroughoutNew

Zealand.

The riders turned on an

extraordinarydisplay of skill

and speed on theclub's new

track,whichmeets national

standards. Manyclub members

wereplaced, with Liam,Riley

Smart and Nigel Coughlan

winningtitles.

Liamhas beenriding for 16

years.Hecould barely reach the

pedalsasa4­year­old whenhe

began competing.

His older brother rode, and

the sport became afamily affair.

''I kind of grew up riding. Ilove

riding bikes andracing. I'm a

prettycompetitive person.''

His title comes aftershoulder

surgerylastSeptember —an

injurycausednot only by spills

fromhis BMXbike,but his

motorcycle.

''Itisjust my secondrace back

after keyholesurgery. My

shoulder keptdislocating.

''Itisahighrisksport,''he

acknowledges.

He is vice­president of the

cluband says thetrackisacredit

to everyone who volunteered

their time, particularly

president andtrack manager

MikeSmart, who spent hours

workingtoensure it was up to

scratchfor theevent.

''It'snow aworld class facility,''

saysLiam, whobelievesit

putsthe clubinagood position

to one dayhost thenationals.

''Itisagreatcommunity asset

and will hopefully increase the

number of people riding.''

For many, it wasachance to

use the South Island event as a

springboard in preparation for

the nationals in Rotorua in

March.

Liamsays thefacility will

benefithis preparations for the

nationals. He also hopesitwill

encouragenew members.

KerrynClark,whoseson

Logan rode intosixthplace in

the 14 boys section, and whowas

trackside earlier than many to

ensureeveryone waswellfed,

saysthe sport is not justabout

competing.

''It'saboutfriendships. There

is no negativity, andithas been

amazing to watch the group my

son hascompeted with become

great mateswho encourage each

other,and congratulate each

other at the finishlinefor agreat

ride.

''Theyare agreat bunch, andit

is worthtravellingtoevents to

keepthese friendships growing,''

saysKerryn, whowill be heading

north withLogan and herfamily

to the nationals.

Morephotos, pages 20,21

TRUSTTHE

LOCAL EXPERTS

At Totalspan, we're proud to be part of the North Canterbury community.

We know things arechallenging rightnow,and that every decision counts.

That's why we're offering huge savings across our range of kitset farm

buildings, garages, sheds, barns, commercial buildings and more.

We'reheretohelp you find the right solution. Contact Jamie

andEllen Petersen today todiscuss your building needs.

Totalspan North Canterbury

127 Main North Road, Woodend. Phone: (03) 310 0247 Email: northcanterbury@totalspan.co.nz 0800 TOTALSPAN TOTALSPAN.CO.NZ
---
NEWS

2 North Canterbury News, January 21, 2021

Grow

customers,

sales and

profits

with North

Canterbury's

best read

newspaper

Readership: 47,000 weekly

Circulation: 30,150 copies delivered

to EVERY farm, RD, lifestyle block

and home inWaimakariri, Hurunui

&Kaikoura every Thursday.

news

Robyn Bristow

Managing Editor

027 312 1581

robyn.bristow

@ncnews.co.nz

Reporters

Neil Clarkson, David Hill,

Shelley Topp.

advertising

DaynaBurton

Sales Co-ordinator

027 312 0089

dayna.burton

@ncnews.co.nz

AmandaKeys

Advertising

027 536 6224

amanda.keys

@ncnews.co.nz

Kerryn Clark

Advertising

021 586 138

kerryn.clark

@ncnews.co.nz

RichardMcCombie

Advertising

022 024 3092

richard.mccombie

@ncnews.co.nz

getintouch

Editorial

info@ncnews.co.nz

Advertising

sales@ncnews.co.nz

Graphic Design

heather.hood@ncnews.co.nz

Distribution/Deliveries

03 314 8335

Rangiora: 03 313 2840 /03314 8335

14 Ashley St, Rangiora

Christchurch: 03 364 7460

www.starnews.co.nz

2336968

Reckless behaviour ... Adirt biker, far right, rides through abreeding colony of critically

endangered black­billed gulls on the Ashley­Rakahuri riverbed last Thursday.

PHOTOS: SUPPLIED

Rare black-billed gulls

killed by dirt bike riders

By SHELLEY TOPP

Dirt bikers have killed 10

rare black­billed gulls by

speeding through a

breeding colony on the

Ashley­Rakahuri riverbed

in Rangiora.

The bikers were

photographed riding

through the colony around

1.50pm on Thursday last

week.

They could be fined up to

$100,000 or face two years

in prison for killing the

critically endangered

birds, which are found only

in New Zealand.

The black­billed gulls are

the most threatened gull

species in the world.

The death of the birds is

being investigated by the

guardians of the river area

and its unique birdlife, the

Ashley­Rakahuri Rivercare

Group, the Department of

Conservation, and Environment

Canterbury (ECan).

Ashley­Rakahuri

Rivercare Group member

Grant Davey says it is

disappointing that this kind

Grim aftermath ... Dirtbikers sped throughabreeding colony on

the Ashley River, killing 10 of the critically endangeredbirds and

seriously injuring others,including thisyoungchick.

Comfort, Style &Indulgence in the

heart of Hanmer

at unbelievably good rates

Boutique boardroom for intimate &corporate functions, Family Gatherings

–Celebrations -Management &Training Retreats

Catering as required

1&2Bedroom

Apartments -Spa

of unacceptable behaviour

is continuing after so much

work by the group and

ECan educating the public

and installing signs and

barriers to stop vehicles

getting on to the riverbed,

where the birds raise their

young.

''This sort of thing should

not still be happening,''

Grant says.

Four­wheel­drive

vehicles have also been

photographed driving

through the colony and, in

one case, avehicle on the

riverbed was seen to speed

up when approaching the

birds.

''Most of the chicks can

fly and get out of the way to

some extent, but at least 10

have been killed and there

are much more vulnerable,

smaller (black­billed gull)

chicks, as well as blackfronted

tern and banded

dotterel chicks in the

area,'' he says.

The deaths of the birds

comes in an otherwise

positive breeding season

for the black­billed gull

colony.

''This year we have had

the second biggest blackbilled

gull colony on the

Ashley River in 20 years,''

Grant says.

''The 1278 nests have

produced approximately

the same number of

fledglings (chicks capable

of flying) and this is avery

good outcome.''

E: info@clearridge.co.nz |W:www.clearridge.co.nz

T: +64 (3) 3155144 |Reservations NZ: 0800 555 596.

A: 28 Jacks Pass Road | Hanmer Springs 7334 | NZ.

In brief

Oxford exhibition

Images of personalencounters

with the Christchurch

townscape, its environs and

denizensduringthe 1960s and

1970s will feature in an

upcoming exhibition in Oxford.

The Life of Ron exhibition,

scheduled to open in the Arts in

Oxford GalleryonThursday,

January 28, is the work of

photographer Ron Hazlehurst,

who grew up in Linwoodduring

''the great social and musical

era of the 1950s and 60s''. It was

atime that saw the birth of

rock'n' roll, the Beat

Generation social and literary

movement, the Woodstock

music festival and the rise in

popularity of ElvisPresley, Bob

Dylan and the Rolling Stones.

''Mix this in with antiapartheid

demonstrations,

Vietnam War protests,and the

rise of the women's liberation

movement, and Christchurch

was acity undergoing

significant social change,'' Ron

says. Duringhis university

years, Ron carried his Minolta

SR­T 101 camera with him

everywhere he went,

photographing friendsand

capturing the political and

culturalchangeof

Christchurch.The photographs

in the exhibition provide an up

close and personal look at that

time in Ron's life. The Life of

Ron will be on show at the

gallery until March 14.

Arts workshop

Aworkshop providing amix of

creativity and science is open

to children aged 10 and older. It

will be held from 1.30pm to 3pm

at the NEST Arts Creative at 88

Carters Road, Amberley,

tomorrow (Friday). The cost is

$30 per person(plus abooking

fee). Bookings are essential and

can be made onlineat

nest.artscollective.nz.

Work explored

Afun and colourfulworkshop

for children aged 8and older,

exploring the art of Eric Carle,

using mixed media techniques,

will be held at the NEST Arts

Collective on Monday, January

25, from 10am to 2pm at 88

Carters Road, Amberley.The

cost is $40 per person (plus

booking fee). Bookings can be

made at nest.artscollective.nz.

HILUX, HIACEAND

EVERYTHINGIN

BETWEEN

68 FalsgraveStreet,Woolston

W: nzvanspares.co.nz

E: nzvanspares@hotmail.com

Ph: 03 3793932/0508 698267

100% Canterbury Owned

NZ's favourite home for

Recycled Hilux &Hiace Parts
---
NEWS

North Canterbury News, January 21, 2021

3

Building hub ... The majority of consents for new houses in the Waimakariri district

last year were in the Woodend, Ravenswood and Pegasus area, figures show. PHOTO: FILE

Facilities sought for

burgeoning region

By DAVID HILL

Forwardplanning is essential to meet

the demands of rapid growth in

Woodend, Ravenswood and Pegasus,

saysShona Powell.

The Woodend­SeftonCommunity

Boardchairwoman saystheboard will

be lobbyingfor community facilitiestobe

considered as part of the council's Long

TermPlan(LTP)process.

MsPowellwas commenting on the

latest consent numbers for new houses in

the Waimakariri district.

Last year, the Waimakariri District

Council issued 582 consents for new

houses, downslightly on lastyearbut

aheadofpre­earthquake years.

Woodend, Ravenswood and Pegasus

accounted for 319 of thoseconsents.

''It's prettyamazing. It's areally high

growth area, whichmeansthe planning

has to be happening now to cope with

thatgrowth —and that's abig focusfor

theboardthis year,'' MsPowellsays.

Shewelcomed Waimakariri MP Matt

Doocey's call for anew high school to be

consideredaspartof Ravenswood.

New community centres,alibraryand

evenaswimmingpoolare likelytobe

consideredaspartof this year's LTP, she

says.

''As aboard,wehaveawish list of

things for the community and we will be

pushing hard forthatthisyear.

''IknowthePegasus Residents' Group

is looking at trying to get funding for a

purpose­builtcommunitycentreand I

thinkweneedtobeconsideringifthat is

❛As aboard, we have awish

list of things for the

community and we will be

pushing hard for that this

year.❜

—Shona Powell

somethingthat is needed in

Ravenswood, or is theWoodend

Community Centre going to be enough?

''If we are going tobuildthese things,

the key thing is to get thelandset aside

now, even if we don't build them for

another 10 years. Because once the

land's gone, it's gone.''

Finding solutions for StateHighway1

issues,pedestriansafety,cyclewaysand

algalbloomsinLakePegasusare also

prioritiesasthe Woodend­Sefton

Community Boardlooks to thefuture,Ms

Powell says.

''One of thechallengesforusisthat

Woodend, Ravenswood and Pegasus are

treated as separateentitiesandwedon't

reallyhaveadefined town centre like

Rangiora,Kaiapoi and Oxford.''

Another concernis aperceivedlack of

representationaround thecounciltable,

as theareaisincludedinthe Kaiapoi­

Woodendward.Thisissomething Ms

Powell wouldlike addressedaspartof

thecouncil'srepresentationreview.

''It'sabit likewhen Kaiapoi felt like it

was playing second fiddle to Rangiora.''

Covid fails

to quell

consents

North Canterbury's building boom is

continuing apace, despite the

uncertainty of Covid­19.

Both the Hurunui and Waimakariri

councils have reported strong

building consent numbers for 2020,

while the Kaikoura District Council

is looking forward to its Provincial

Growth Fund initiatives.

Last year, the Hurunui District

Council issued 449 building consents,

including 115 for new houses.

While this was down on the 465

consents (including 133 new houses)

issued in 2019, building and property

manager Kerry Walsh says the

combined dollar value of the various

building projects rose from

$64.3 million to $65.3m.

''We planned for a20percent dropoff

due to Covid­19, but it hasn't

happened yet, so it's certainly still a

popular area.

''I don't know what's going to

happen in 2021, but at this stage it

looks to be astrong year.''

Mr Walsh says consent numbers

have been slowly dropping back to

normal since the earthquakes, but

are holding up better than expected.

Holiday homes in Hanmer Springs

continue to be in demand, while the

opening of the Christchurch northern

corridor is expected to help make

Amberley more attractive, Mr Walsh

says.

Amajor development consented

last year was a$2.5m car­making

facility near Waiau for Roden Cars.

The Waimakariri District Council

issued 582 consents for new houses in

2020, down slightly on the previous

year but ahead of pre­earthquake

years.

Amajor consented development in

the Waimakariri district last year

was the NPD service station at

Southbrook.

The council is processing aconsent

for more large­format retail in Smith

Street, Kaiapoi, with akey

outstanding question remaining

around traffic layout.

The proposed Rangiora

Racecourse quarry consent is still in

process, with further information

being sought, and the appointment of

commissioners under way.

Consent has also been lodged for

the proposed Summerset Retirement

Village in Rangiora.

In Kaikoura, Mayor Craig Mackle

says his council will be working on

the Provincial Growth Fund projects

at Wakatu Quay and the Kaikoura

Marina in 2021.

2095268

108 th Kaikoura A&P Show

27 th February 2021

Schedule out now

Entries and trade site bookings at

www.showdayonline.com

Kaikourashow@gmail.com

(Show arena irrigated)

All Entries Close January 29 th 2021

Grand Parade: 2pm

Admission: $5, Children 12yrs &under

&cars free

Entertainment for Everyone

Introducing... Silly Billy roving clown

and PEDAL MANIA

Trades • Horses • Produce

2324015v1

HILUX, HIACEAND

EVERYTHING IN

BETWEEN

68 FalsgraveStreet,Woolston

W: nzvanspares.co.nz

E: nzvanspares@hotmail.com

Ph: 03 3793932/0508 698267

100% Canterbury Owned

NZ's favourite home for

Recycled Hilux &Hiace Parts

Kaiapoi Lodge

Residential Care

Nursing Home, Hospital and

Respite

Person Centred Care,

Care that's built

around you

6CassStreet,Kaiapoi

Ph 03 327 7235

...and much more!

President – Colin Nimmo

Proudly sponsored by the team at Driftwood

Eco Tours www.driftwoodecotours.co.nz

Kaiapoi Mill, Ranfurly Street,

Kaiapoi

Ph 03 327 0576

2340928

Monday –Friday 9am –5pm

Saturday 10am –1pm

Closed on Public Holidays
---
NEWS

4 North Canterbury News, January 21, 2021

Hundreds of eels saved as pit dries up

By ROBYN BRISTOW

Hundreds of native tuna/eels,

some up to 60 years old, have

been rescued from Whites Pit at

Ohoka in the past two months as

the huge waterhole dries up.

About 200 were rescued prior

to Christmas and several

hundred since as dry

conditions reduced the pit to a

large mud puddle.

In alast­ditch effort to

protect those that had

burrowed deeply into the mud,

the Swannanoa Fire Brigade

was called in to pour atruckload

of water in to help protect

Painstaking work ... The eel

recovery unfolded in the muddy

remains of Whites Pit.

those remaining.

Makarini Rupene, pou matai

ko/cultural land management

adviser for the area extending

from the Waimakariri to

Kaikoura, says the eels, which

are an important mahinga kai

(food source) for his people,

have been relocated to asafe

freshwater environment.

Makarini, who is also the

chairman of the Tangata Tiaki

Kaitiaki board of Ngai

Tuahuriri Runanga, which

plays apart in guarding food

sources, is appealing to farmers

and landowners to contact

Environment Canterbury

(ECan) if they have water races

or ponds on their properties

that are drying out.

He says it is important that

people know the significance of

what they have on their land

and its importance to the ecosystem.

Makarini says both short­fin

and long­fin native eels, which

are an endangered species,

were rescued from Whites Pit.

Rescuers initially used

electric fishing to catch the

eels, before turning to nets, to

catch about 200.

''Over the Christmas period I

went back with family and took

out another 100 eels,'' Makarini

says.

As the pond dried up it was a

matter of wading around in a10

metre by 10 metre mud puddle,

sometimes up to their waists,

catching eels by hand.

ECan and Department of

Conservation staff helped in

the rescue of around another

Flushing out survivors ...

Swannanoa firemen Assina

Dalglish, left, and Scott Pilkington

pour water into Whites Pit as part

of efforts to recover more

stranded eels.

PHOTOS: SUPPLIED

200 eels, but eventually had to

give up as the remaining few

eels were dug deep in the mud.

Makarini says he will be

keeping aclose eye on the pit

and will rescue any other eels

that come to the surface.

It was the second time in 10

years Whites Pit had dried up

and he is keen to understand its

hydrology.

''This emphasises the

importance of water and

looking after our waterways,''

he says.

On the move ... Eels in abucket, awaiting relocation to anew home.

$

34

Finance from

$

3.38pw†

49EA

Lenovo 11. .6" Chromebook

100e 2nd Gen Black

#194632384451

$

79EA

Living &CoPittsburgh

Office ChairBlack

#9401056350896

Your

one-stop

SUPER

school

shop

$

6EA

Smart365 Sunscreen

Roll On SPF50+ 75ml

#9401063519521

$

17PR

Young Original Kids'

ScholarorTwo Strap Shoes

#9400994860115

NOWFROM

6 ¢

Exercise Books

#9421031062378

HOTPRICE

EXCLUSIVE

Greatfor

package-free

lunches.

FROM

56 ¢

Stationery Essentials

#9420057207664

$

8PK

Young Original Kids'

2Pack Plain Polos

#9401063636136

$

12EA

Visto Fresh

Bento Box Blue 2.2L

#9414759078981

$1 99

EA

Amos Jumbo

Glue Stick 35g

#8802946000357

OurPrice Promise Find something cheaper

elsewhere &we'll beatitby10%

* *Terms and conditions apply,

see thewarehouse.co.nz/pricepromise

Free Click

& Collect

Excludes oversized

TWLWK25J. Valid until Sunday24/01/21 unlessotherwise statedorwhile stockslast. Some deals mayextend. All offers notinconjunctionwith anyotheroffers. Trade quantities notsupplied. Accessories notincluded. Assembly required. Range, colour and designs may

vary between stores. Clothing does notinclude RedRack, Sleepwear,Underwear,Socks, Hosiery or Accessories. Toydeals do notinclude: Clothing,Sporting,Trampolines, Entertainmenttitles, Craftand Stationery items. Clothing offers exclude Schooltex.Outdoor Furniture,

Stationery,Craft, Computing and Whitewarenot available in all stores, see online fordetails. Seeonline forfull finance terms and conditions. Seeonline forfull finance terms and conditions which apply.†Finance Now:12months Interest Free available on purchases over$249.

Onesingle item purchased must be valued at $150 or greater. Additional fees, approvalcriteria, interest ratesand weekly paymentamounts –see online or ask ateammember forfull details.
---
NEWS

North Canterbury News, January 21, 2021

5

Council names new

chief executive

By DAVID HILL

Jim Harland is set to trade managing the

South Island's roads for areturn to local

government.

The New Zealand Transport Agency

(NZTA) director of relationships has

been appointed as the Waimakariri

District Council's new chief executive,

replacing Jim Palmer who retires in

March after 17 years in the role.

Waimakariri Mayor Dan Gordon

says he is exceptionally pleased to

announce the appointment of Mr

Harland as chief executive.

''The council and Iare excited

about working with Jim and

welcoming him to this new role.

"As an experienced chief

executive, Jim comes with

significant and strong

stakeholder relationships with

iwi, other territorial authorities,

central government, ministers,

the private sector, and knows

the operating landscape of

councils exceptionally well,'' Mr

Gordon says.

Mr Harland's present NZTA

role means he is amember of the

Greater Christchurch

Partnership and already has a

good knowledge and

understanding of the issues

facing the Waimakariri district,

Mr Gordon says.

"In the current climate it is vital

that our council has an experienced

chief executive to help guide and lead

our council.

''We are very fortunate to have

recruited someone with the many skills

that Jim will bring.

"He will be ahugely capable leader for

the organisation while we navigate the

New Year and changes that come with

it."

Mr Harland says he looks forward to

starting in his new role in late March.

''It's exciting to take the helm of a

highly successful council and continue

to build on this success for the benefit of

residents today and in the future."

Before joining the transport agency,

Mr Harland was the Dunedin City

An opportunity to recharge

By ROBYN BRISTOW

It is time for Hurunui women to have a

cuppa, refresh and recharge.

Refill Your Cup returns next month,

afterahiatus last yearbecause of Covid­

19.

The event,arisingfromthe drought

yearsinthe district, has since becomean

important date on the socialcalendar,

providingthe opportunity to listento

inspirational speakersand connect with

friends and neighbours away fromthe

office, farm and home.

The event is on February 24, from 10am

FOR ALL YOUR AUTOGLASS

REPAIRS &REPLACEMENTS

DAN THE WINDSCREEN MAN.

New challenge ... Jim Harland will be the

new Waimakariri District Council chief

executive.

PHOTO: SUPPLIED

Council chief executive for 11 years.

He holds amasters degree in town

planning and has worked in several

senior roles in local government and the

private sector, including for the North

Shore City Council as the director of

strategy and policy, and then director of

policy and planning.

to 2pm, at the Omihi Community Hallin

ReecesRoad. World rowing champion

anddouble Olympian Eve MacFarlane,

whoisalocal resident,will speak.

Shewill be joinedbyLindy Nelson,

whose mission is to ''amplify, empower

andsupport womenglobally''.

Lindy is thefounder of the Agri

Women'sDevelopment Trustand

podcast, Amplify Us.

To book, go to events.humanitix.com/

refill­your­cup­2021. For more

information,phone Jen Le Pine on (021)

1404 020 or visit the ''FillYour Cup —

Hurunui'' Facebook page.

MASTER BUILDER

2021055

St James Horse Sale

Saturday 30 th January 2021 |Viewing from 12pm, sales starts 2pm

Twenty unbroken two and three year old hunter-type

horses on offer. Intending buyers register on the

day at the sale yards. Bring a picnic and make a

day of it. These horses are renown for their

jumping ability.

Your local authorised Husqvarna Servicing Dealer:

St James Cattle Yards. Clarence Valley,

Hanmer Springs.

Directions: Drive over Jacks Pass from Hanmer

(shingle road) and turnleftonto Tophouse Rd at the

Clarence River (approx 20mins from Hanmer Springs).

For more information see

St James Horse's on Facebook

Enquiries to 021 712 282

PLUMBING, GAS AND UNDERFLOOR HEATING

www.h2flowplumbing.co.nz

-Kitchen and bathroom renovations

-New housing

-Hot water heat pumps and solar

-Service diesel boilers

admin@h2flowplumbing.co.nz

03 3412001

GARDEN TRACTORS

FROM $4,299*

*HusqvarnaTS138

2341750

1960596

LocaltoNorth Canterbury.

CALL ARTHUR 027 2451601

arthur@robertsonbuilding.co.nz

www.robertsonbuilding.co.nz

BARNS/FARM BULDINGS•RIB RAFT FLOOR SYSTEM INSTALLATION

PROJECTMANAGEMENT•ADDITIONS•NEW HOMES

HOME MAINTENANCE•EQC REPAIRS•ALTERATIONS

FREE QUOTES

275 Flaxton Road,

Southbrook

Ph: 3136640

sales@brandmowers.co.nz

2324490
---
NEWS AND OPINION

6 North Canterbury News, January 21, 2021

In the shadow of the virus

Itrust that, as we workour way through

January and settle into the New Year, you

have takensome time to appreciatethe

district we call home.

No matterour location, politics,

profession or personalsituation, there is

no doubt we have been affected by what we

naively considered 12 months ago would

be the short­term effect of Covid­19.

Now, with hindsight, we have amuch

greater understanding of the lingering

impact of the virus, and that there are

likely to be fundamental changes to the

way we live.

Whilemany of us have had our head

down,focusing on getting our jobs done

whiledealing with the constraints to keep

our families and colleaguessafe, we have

also been learning about the drastic

impacts the virus is having on our markets,

access to labour,supplychains and even

the basis of our economy.

Consumers have become more

concerned about the impact of production

on the environment, and are driving the

need for producers to deliver a

provenance story underpinned by

authenticated data.

Our country is becomingheavily

regulated,despite being abletoproduce 10

timesmore foodthan we require

ourselves. We are looking at the possibility

of thisfood becoming less accessible and

more expensivebecause of escalating

costs right at atime when we shouldbe

encouragingsustainability.

Why do we let more than 98 percent of

our alpine­fedrivers go straight out to sea?

We needtobepromoting sustainable

water storageand use, not prohibiting it.

It begs the question:Dowereally want to

importall our food from countries that

have asignificantly lower environmental

standard than our own, ahigher carbon

footprint and non­existent labour laws,

simplybecauseofthe regulatory costswe

have burdened upon ourown producing

sector?

New Zealandproduces enough foodto

feed 50 million people,yet thousands of

Kiwi children go withoutproper nutrition

every day.

Our primary producers are facing new

laws withinthe freshwaterframework.

Don't get me wrong.Iagree that we want to

preserve our freshwater status, but Iam

concerned that the targetwill be met by

farmers and farmers alone.Weall playa

part in maintaining this standard, so we all

shouldbepart of the solution and not

place the economic burden on the primary

sectoralone.

Make the most of summer

By JOANNE GUMBRELL, chairwoman of

the Waimakariri Age­friendly Advisory Group

HappyNew Year. It's backtowork for

many.

Some of my best childhoodmemories

are of summer holidays. My father was a

builder/joiner and built us one of the first

caravans withacurved front.Mum baked

for daysbeforeweleft, and preparations

took weeks.

We toured the South Islanduntil we

childrengot sick of that and demanded

we stayinone place so we could meet

people and do thingstogether.

Social connectionisone of the aspects

of our Waimakariri Age­friendlyPlan.

Madeleine, our facilitator, sent me a

link to aRadioNZprogramme about

living wellinto our 90s,inwhich social

connection is seen as ahuge factor:

rnz.co.nz/national/programmes/sunday/

audio/2018774880/the­secret­to­living­towell­into­your­90s­or­older.

On the community page, our local

paperslist the datesfor neighbourhood

barbecues.These sound likefun and are

away to meet people living nearby. It'sa

super initiative by ourcouncil's

community team.

Afamily near us invited us to visit them

while on holidayonBanks Peninsula. We

hadawonderful day. We tookour

daughterand her 13­year­old son with us.

Ourdaughter is awidow so it was great

forher to meet otherparentsof

teenagers. It was also good for us "older

folk" to be part of that.

Twoofour three children with adult

families liveinNew Zealand.Weare the

fortunateones.There must be manywho

live abroad who havenoidea when they

will meetfriends and family again.

Waimakariri has ahigh proportionof

older people. It is agreat, friendly place

to live.Let's spend the summer meeting

peopleand making new friends.

Ngamihi nui.

Around the electorate with

STUART SMITH MP FOR KAIKOURA

Farmers should not

carry an unfair

emissions burden

As the saying goes, ''may you live in

interestingtimes''. We certainly did in

2020,but whatdoes 2021 haveinstorefor

the agriculture sector?

On February1,the ClimateChange

Commission willrelease its draft carbon

budgetsand policy adviceproposals.The

key questionfor Kiwis will be: what will

it costand how will the burden of change

be shared in our communities?

What concerns me is the narrative that

farmers are widelyviewedasthe

problem, and therefore they should carry

the burden of the cost.

Iwanttochallenge this notion. While it

is popularly believed that agriculture is

responsible for nearly half of our

emissions, thisisbeing challenged on at

leasttwo fronts.

Firstly, research from Auckland

University of Technology ecologist Dr

Bradley Case indicatesthat woody

vegetation on sheepand beeffarms is

offsetting about90percent of their

emissions.

This makes senseand it is great news

for the sector. However, it also highlights

aproblem. While it is impractical, if not

impossible to accuratelymeasure

emissions at afarm level, officials are

more thanhappy to go with estimates.

But when it comes to sequestration on

farm,itseemsestimates are not good

enough.

On anotherfront, aresearch project led

by Oxford UniversityProfessorMyles

Allenconcluded thatgovernments are

setting targets for differentgreenhouse

gasemissions which could be unfair,

inefficient and dangerous.

They argue that the current GWP100

methodofconvertingmethaneand

nitrous oxide (predominantly from

agriculture)doesn't reliably accountfor

thedifferent impacts of long­ and shortlived

gases.

Thestudyconcludes thatmethane's

warming potentialisaquarter of the

currentestimate. This would have a

significant impact on New Zealand's

emissionsprofile.

Iinvited ProfessorAllen to speak about

this study to GLOBE,acrossparty group

of MPs interestedinenvironmental

issues.Itgenerated alot of positive

discussion.

It is clear that scientific opinion is

dividedonthis issue,and it is also clear

that, to date, it has been easytoblamethe

farmers for half of our emissions whenin

fact it is not that simple.

Because the farming community is

small in number, it is consideredaneasy

target for activists,who rely on public

support. Until now, the averageKiwi

thinks that others needtoreduce

emissionsand they won't have to worry,

butthat is likely to changesoon.

It willbeinteresting to see what the

ClimateChange Commission

recommends on February1.

Butone thing is for certain. The

narrative that the agricultural sector is

solely to blame for causing the biggest

impact on our emissions andonclimate

change is simply unfairand unwarranted.

Open day planned for coastal park

Acelebration of community and

conservation is planned for Tuhaitara

Coastal Park's10th annualopen day.

The event will be held on Sunday,

January 31, at the Woodend Beach

Domain from 10amto2pm.

Thoseattending will be able to meeta

mudfish, takepart in mural painting,

and learnhow to become involved with

volunteer park projects.There will be

displays, demonstrations, guided walks,

music, children's activities, and local

vendors'stalls. Dogs are permitted.

Email Greg Byrnes or Meredith

Leutzinger at tkot.enquiries@farmside.

co.nz or phone (03) 313 1768.

McALPINES MITRE 10 MEGA RANGIORA -OCEAN WATCH

This

Week

Sun

Fishing

Guide

Moon

Wind

Swell

Pegasus Bay

Tide Chart

3

2

1

Fair

Thursday Friday Saturday Sunday Monday Tuesday Wednesday

Jan 21 Jan 22 Jan 23 Jan 24 Jan 25 Jan 26 Jan 27

Rise 6:15am

Set 9:04pm

Best

Times

7:23am

7:44pm

Set 12:48am

Rise 2:09pm

Moderate SW turning

SE

W1.1 mturning

SE

Ok

Rise 6:16am

Set 9:03pm

Best

Times

8:05am

8:26pm

Set 1:11am

Rise 3:10pm

Gentle Sbecoming

moderate E

SE 0.7 mturning

E

Ok

Rise 6:18am

Set 9:02pm

Best

Times

8:48am

9:11pm

Set 1:35am

Rise 4:12pm

Gentle Wbecoming

moderate E

Ok

Rise 6:19am

Set 9:01pm

Best

Times

9:34am

9:58pm

Set 2:03am

Rise 5:15pm

Gentle Sbecoming

moderate E

Rise 6:20am

Set 9:01pm

Best 10:23am

Ok

Times 10:48pm

Set 2:36am

Rise 6:16pm

Gentle SE becoming

fresh E

Rise 6:22am

Set 9:00pm

Best 11:14am

Times 11:41pm

Set 3:17am

Rise 7:15pm

Gentle Sbecoming

moderate SE

Rise 6:23am

Set 8:59pm

Best 12:08pm

Fair

Times

Set 4:07am

Rise 8:09pm

Moderate SW turning

SE

E0.7 mturning

S SE 0.7 m E0.7 m E0.9 m E0.7 m

3 6 9 NOON 3 6 9 3 6 9 NOON 3 6 9 3 6 9 NOON 3 6 9 3 6 9 NOON 3 6 9 3 6 9 NOON 3 6 9 3 6 9 NOON 3 6 9 3 6 9 NOON 3 6 9

Ok

0

Highs Lows Highs Lows Highs Lows Highs Lows Highs Lows Highs Lows Highs Lows

Waimakariri

5:47am 0.8 12:26am 2.1 6:38am 0.8 1:15am 2.1 7:30am 0.8 2:05am 2.1 8:21am 0.8 2:55am 2.1 9:10am 0.8 3:42am 2.2 9:57am 0.8 4:27am 2.2 10:43am 0.7

Mouth

12:01pm 2.1 6:16pm 0.7 12:49pm 2.1 7:04pm 0.7 1:38pm 2.1 7:51pm 0.7 2:27pm 2.1 8:37pm 0.7 3:14pm 2.1 9:23pm 0.7 3:59pm 2.1 10:10pm 0.7 4:43pm 2.1 10:56pm 0.6

Amberley

5:47am 0.8 12:26am 2.1 6:38am 0.8 1:15am 2.1 7:30am 0.8 2:05am 2.1 8:21am 0.8 2:55am 2.1 9:10am 0.8 3:42am 2.2 9:57am 0.8 4:27am 2.2 10:43am 0.7

Beach

12:01pm 2.1 6:16pm 0.7 12:49pm 2.1 7:04pm 0.7 1:38pm 2.1 7:51pm 0.7 2:27pm 2.1 8:37pm 0.7 3:14pm 2.1 9:23pm 0.7 3:59pm 2.1 10:10pm 0.7 4:43pm 2.1 10:56pm 0.6

5:56am 0.8 12:35am 2.1 6:47am 0.8 1:24am 2.1 7:39am 0.8 2:14am 2.1 8:30am 0.8 3:04am 2.1 9:19am 0.8 3:51am 2.2 10:06am 0.8 4:36am 2.2 10:52am 0.7

Motunau 12:10pm 2.1 6:25pm 0.7 12:58pm 2.1 7:13pm 0.7 1:47pm 2.1 8:00pm 0.7 2:36pm 2.1 8:46pm 0.7 3:23pm 2.1 9:32pm 0.7 4:08pm 2.1 10:19pm 0.7 4:52pm 2.1 11:05pm 0.6

5:58am 0.8 12:37am 2.1 6:49am 0.8 1:26am 2.1 7:41am 0.8 2:16am 2.1 8:32am 0.8 3:06am 2.1 9:21am 0.8 3:53am 2.2 10:08am 0.8 4:38am 2.2 10:54am 0.7

Gore Bay 12:12pm 2.1 6:27pm 0.7 1:00pm 2.1 7:15pm 0.7 1:49pm 2.1 8:02pm 0.7 2:38pm 2.1 8:48pm 0.7 3:25pm 2.1 9:34pm 0.7 4:10pm 2.1 10:21pm 0.7 4:54pm 2.1 11:07pm 0.6

5:59am 0.6 12:36am 1.6 6:49am 0.6 1:23am 1.6 7:39am 0.6 2:11am 1.6 8:28am 0.6 2:58am 1.7 9:15am 0.6 3:44am 1.7 10:01am 0.6 4:29am 1.7 10:45am 0.5

Kaikoura 12:14pm 1.6 6:26pm 0.5 1:02pm 1.6 7:11pm 0.6 1:49pm 1.6 7:56pm 0.6 2:35pm 1.6 8:41pm 0.6 3:20pm 1.6 9:26pm 0.6 4:04pm 1.6 10:10pm 0.6 4:49pm 1.6 10:55pm 0.5

*Not for navigational purposes. Wind and swell are based on apoint off Gore Bay. Maori Fishing Guide by Bill Hohepa. www.ofu.co.nz www.tidespy.com Graphic supplied by OceanFun Publishing Ltd.

2118223
---
New Year, New Car!

4

YOUR

CHAMPION

TEAM

SEE THE

GOOD

SPORTS.

Jack

Race into...

$144.01

PER WEEK

$142.51

PER WEEK

$72.34

PER WEEK

$52.30

PER WEEK

2016 Mazda CX-5 XD Pro Active

4WD 2200cc with 62,936kms, Alloys, 6Airbags,

Auto Tiptronic, Cruise, Dual Zone Climate Control,

CD Player, ESC, Factory Privacy Glass, Fog Lights,

ISOFIX, I-Stop, Smart Key

with Push Button Start,

Traction Control.

$27,990

2018 Holden Commodore RS 2018 Holden Barina LS

Wagon 2.0T 1998cc, Auto Tiptronic, 5Star 1598cc, Auto Tiptronic, 5Star ANCAP, 6Airbags,

ANCAP, 6Airbags, Alloys, Android Auto, Apple Air Con, Alloys, Android Auto, Apple CarPlay,

CarPlay, Auto Lights, Bluetooth, Cruise, Half Leather, AUX/USB/Bluetooth, Cruise Control, ESC, ISOFIX,

Lane Keep, Reverse Camera,

MyLink Entertainment Unit,

Traction Control, Turbo.

Traction Control.

$27,990

$13,990

Balance of New Car Warranty! Balance of New Car Warranty!

2012 Mazda Demio

1340cc with 68,574kms, Auto, Air Con, CD Player,

Centre Shoulder Belt in Rear, Chain Driven, Dual

Airbags, Electric Mirrors, Monsoon Shields, ISOFIX,

Power Steering, USB Input,

Factory Privacy Glass,

Remote Central Locking. $9,990

$117.45

PER WEEK

$47.29

PER WEEK

$62.32

PER WEEK

$122.46

PER WEEK

2019 Kia Cerato LX

1999cc with 21,569kms, Auto Tiptronic, 6Airbags,

5Star ANCAP, Air Con, Alloys, ESC, Android Auto,

Apple CarPlay, Auto Lights, Blind Spot Monitoring,

Bluetooth, Rev. Camera,

Traction Control, Cruise.

Balance of New Car Warranty!

$22,990 $12,990

2012 Toyota Vitz Jewela

1320cc with 72,255kms, Auto, CD Player, Chain

Driven (No Cambelt), Climate Air Con, Dual Airbags,

Electric Mirrors, Electric Windows, Power Steering,

Remote Central Locking,

Factory Privacy Glass, Smart

Key with Push Button Start. $8,990

2015 Toyota Corolla GX 1.8

1798cc, Auto Tiptronic, 5Star ANCAP, 7Airbags,

Air Conditioning, AUX/Bluetooth/CD Player, ESC,

Chain Driven, Remote Central Locking, Cruise

Control, Multi Functional

Steering Wheel, ISOFIX,

LIMITED STOCK

3only! BeQuick

2019 Nissan Qashqai ST 2.0

1997cc, Auto Tiptronic, 8Airbags, Air Con, 5Star

ANCAP, AUX/USB/Bluetooth/CD, Auto Lights, ESC,

Cruise, Hill Start Assist, ISOFIX, Reverse Camera,

Alloys, Traction Control,

Trip Computer.

Trip Computer. $11,990 $23,990

Balance of New Car Warranty!

$122.46

PER WEEK

$82.37

PER WEEK

$82.37

PER WEEK

$137.50

PER WEEK

2016 Toyota RAV4 GX 2.0 2WD

1986cc with 77,439kms, Auto Tiptronic, 7Airbags,

AUX/USB/Bluetooth/CD, Climate Air Con,

Cruise Control, ESC, ISOFIX, Remote Central

Locking, Trip Computer,

Rev. Camera, Touch Screen

Media Interface. $23,990

2016 Toyota Camry GL

2494cc, 5Star ANCAP, 6Airbags, Air Con, Alloys,

Auto Tiptronic, AUX/Bluetooth/CD, Chain Driven,

Cruise, Daytime Running LED's, Emergency Brake

Assist, ESC, Rev. Camera,

ISOFIX, Touch Screen Media

Interface, Traction Control. $15,990

2019 MG 3Core

1498cc with 21,332kms, Auto Tiptronic, 8Airbags,

Alloys, Apple CarPlay, Bluetooth, Cruise, Emergency

Brake Assist, ESC, ISOFIX, Reverse Camera, Touch

Screen Media Interface,

Traction Control, USB Input.

Balance of New Car Warranty!

$15,990

2018 Holden Commodore RS

2.0T 1998cc Turbo, 47,490kms, Auto Tiptronic,

5Star ANCAP, 6Airbags, Advanced Park Assist,

Android Auto, Apple CarPlay, Auto Stop/Start,

Emergency Brake Assist,

Half Leather, Lane Keep.

Balance of New Car Warranty!

$26,990

$162.56

PER WEEK

$63.82

PER WEEK

$162.56

PER WEEK

$73.85

PER WEEK

2019 Mitsubishi Outlander LS

7Seater 4WD 2360cc, 32,259kms, Auto,

7Airbags, Alloys, 5Star ANCAP, Cruise, Android

Auto, Apple CarPlay, AUX/USB/Bluetooth, ISOFIX,

ESC, Smart Key, Hill Start

Assist, Reverse Camera.

Balance of New Car Warranty!

$31,990

2014 Toyota AQUA S(Prius C)

Hybrid 1500cc with 79,052kms, Auto, ABS

Brakes, CD Player, Centre Shoulder Belt in Rear,

Chain Driven, Climate Air Con, Electric Mirrors,

Electric Windows, ISOFIX,

Factory Privacy Glass, ESC,

2019 Nissan X-Trail ST 4WD

2488cc with 13,845kms, Auto Tiptronic, 6Airbags,

5Star ANCAP, Air Con, Alloys, Cruise, AUX/USB/

CD Player/Bluetooth, Hill Start Assist, ESC, Reverse

Camera, Smart Key,

2013 Toyota Corolla Fielder

Hybrid G 1500cc with 70,157kms, Auto, ABS

Brakes, AUX Input, CD Player, Chain Driven, Climate

Air Con, Electric Mirrors, Electric Windows, ESC,

Factory Privacy Glass,

ISOFIX, Trip Computer. ISOFIX, Power Steering,

Remote Central Locking.

$11,990 $31,990

$13,990

Balance of New Car Warranty!

Remote Central Locking.

Stadium Cars Rangiora 03 310 7940 | stadiumcars.co.nz

609 Lineside Road, Waimakariri, Rangiora OPEN 6DAYS

*Conditions apply. Not available with any other offer. Finance offer subject to credit and lending criteria. Finance calculation

based on 60 month term. No deposit with an annual fixed interest rate of10.95%, includes an establishment fee of$370.

See our website for full disclosure.

*On road costs may apply to some vehicles
---
NEWS

8 North Canterbury News, January 21, 2021

TOWIN

BE

IN

$1,000 Prezzy

Card

WHEN YOU PURCHASE ANY OF THE

SELECTED PARTICIPATING PRODUCTS

1TOBE

WON IN EVERY

PARTICIPATING

STORE

Jamming ... Some of the performers for Saturday's Summer Music on the Lawn were at

Fyffe House last week to prepare for the event.

PHOTO:SUPPLIED

Local musicians to shine

South Island stores only, campaign dates 18th January –31st January.

Terms &Conditions available at www.foursquare.co.nz

SunkistLemons

6Pack

Product of USA

Nestle Reduced Cream

250g

$

4 99 ea

$

2 99 ea

CottageLane

Bread Range

MaggiSoup Mix

22-45g

$ 4 49

ea

$

1 29 ea

By DAVID HILL

Kaikoura will celebrate thesummer in

style on Saturday.

Summer Musiconthe Lawn is backat

Fyffe Housefrom2pm to 6pm, withlocal

entertainment to thefore.

WithKiwis travelling to Kaikoura from

all over thecountry, Fyffe House manager

Ann McCaw says the event willbethe

perfect opportunity to showcase local

talent.

Fyffe House, Kaikoura's oldest

building, providesa''stunningbackdrop

of mountainstosea''.

The event wasfirst held nearly 20 years

ago as Jazz on theLawn without­of­town

musicians,but in recent years it has

featured local artistsand has never

lookedback, she says.

Last chance to seek funding

Nominations for ashare of the $30,000

MainPower Community Fund close

tomorrow (Friday).

MainPower chief executive Andy

Lester says the community fund puts

the power in the hands of North

Cantabrians to decide where funding is

allocated.

''It is afantastic opportunity for

community members to nominate the

groups they think are having apositive

impact on the community, and

potentially get them amuch­needed

funding boost.''

Schools and community groups are

also encouraged to nominate

''Each yearwewelcomeback someof

oursuperb regular musicians along with

some new ones.

''Thesupportive environmentcreated

by the experienced performershas made

it agreat place for newcomers,many of

whom have never played outdoorsatan

event likethis.''

Hugh Mathieson, of Huge Sound

Christchurch, has supported the concert

forthe pastdecade,supplying asound

systemwhich he mixes to perfection.

''It is agreat skill in an environment

competingwith coastal sounds,''Ann says.

Visitors are urged to bringtheirfamily,

ablanket and asun umbrellatochill out

on the lawn.Admissionisfree.

LocalbusinessesBean Me Up Coffee

andBri's Seafood Grill willbeselling

refreshments.

themselves. In all, $20,000 will be

allocated to groups, with $10,000 being

earmarked for school projects.

Previous recipients have included

groups that benefit the region's youth,

local environmental projects and

events.

Once nominations have closed, a

group of finalists will be announced,

with MainPower customers in North

Canterbury invited to vote to decide

which groups and schools will be

allocated funding.

To make anomination, visit

mainpower.co.nz. Finalists will be

announced early next month.

Arnott'sShapes

175-190g

ANY 2

FOR

$ Ingham Red Box

Chicken 350-400g

$

8

$

4 99 $

8 99

www.foursquare.co.nz

facebook.com/FourSquareNZ

Specialsavailable SouthIsland only from Monday18thJanuary untilSunday 31st

January2021orwhilestockslast. Wine andbeeravailable at stores with an off

AFFORDABLE SECURITY SYSTEMS

VIEW YOUR PROPERTY ON YOUR PHONE

–ANYTIME ANYWHERE!

REALTIME

SECURITY

SYSTEM

PROTECTION

• CCTV and Alarm Systems for your Home or Business • Install and Maintain

• Certified Installers • Different Security Packages Available • Free Quote and Advice

licence.Wineand beerpurchases restrictedtopersonsaged 18 years old andover.

0800 334 636

info@ddinfoways.co.nz

www.ddinfoways.co.nz

2333670
---
OUTDOORFURNITURE

FRENZY

LIMITED STOCK

FREE

OUTDOOR

COVER

ON SELECTED

SETTINGS

WAS

$2299

CORSAIR

LOUNGE SETTING

$

1899

WILLIS

MODULAR

OUTDOOR

$

1799

WAS

$1999

WAS

$1949

TEKAPO

LOUNGE SETTING

$

1399

COVECHAIR

WAS

$149

WHITE

BRIGHTON

UMBRELLA

$

599

G U N M E TA L O R

W H I T E

WAS

$829

BASE SET

$

99

WAS $149

WAS

$149

MARLEY CHAIR

GUNMETAL ORWHITE

$

89ea

WAS

$139

TEKAPO CHAIR

50% OFFALL IN-STORE RUGS, CUSHIONS AND THROWS

RAGLAN

EGG CHAIR

WAS

$549

$

499

MONTHS

INTEREST FREE

NO PAYMENTS, NO INTEREST

OPEN 7DAYS

FIND US AT 255 MOORHOUSE AVE

NEXT TO REBEL SPORT

DURHAM ST

MOORHOUSE AVE

US!

REBEL SPORT

COLOMBO ST
---
BACK TO SCHOOL

10 North Canterbury News, January 21, 2021

2333675

2332319

WOODEND SCHOOL

We welcome all families

and students back to school

with astart date of

Wednesday 3 rd February 2021.

The office will be open from

Wednesday 27 th January

from 9.00 am to 12.00 noon for

enrolments and enquiries.

Adrienne Simpson -Principal

Ph: 03 312 7808 or (0274) 430 451

TUAHIWI SCHOOL

Year 0-8. Noenrolment zone.

Twolearning pathways -TeReo Māori andEnglish

Exciting, innovative, personalisedlearning programmes

High qualitykaiako,genuine whānau participation.

February 3 rd -Goal setting Interviews

February 4 th - First day for all ākonga

School office will be open on

1st &2nd February 10am -3pm

Enrolments byappointment:

Contact the school office

03 313 8521 or 021 184 9344

office@tuahiwi.school.nz

www.tuahiwi.school.nz

Aim to make lunches healthy

Packing alunch box that will entice your

child to eat during their school day is a

challenge.

Making them colourful, interesting

and providing them with energy to last

the day, while helping with their

concentration, is not an easy job.

Including amix of goodies that are

healthy, but enticing, can make lunch

boxes much more interesting.

Include some fruit, vegetables, or

whole grains such as bread, crackers or

cereals.

Dairy products such as cheese or

yoghurt can be added along with a

suitable protein source such as nuts,

meat, eggs or seeds.

Limit treats such as potato chips and

chocolate biscuits.

Getting your child to help pack their

lunch box can also help ensure they will

eat it. At school, most children like food

that is quick to eat and not messy.

Nutritious ... Students will benefits from taking ahealthy lunch to school.

Keeping hydrated is also important

for concentration —water is best for

drink bottles.

Half­fill the drink bottle with water,

put it in the freezer overnight and then

top up with water from the tap in the

morning.

LUNCH NUTRITION

Vegetables and fruit: Whilevegetables

and fruit are important they can often be

atoughsell in alunch box so try cutting

them into manageable pieces. Trycarrot,

cucumber or celery sticks, and fruit salad.

Also, it's agreatidea to add them to

sandwiches or mix them in dishes, such

as pasta,rice and noodles.

Grain foods: Aim to include whole

grainsevery day. For example, choose

wholegrainbread for sandwiches and

wholegraincrackers or cereals for

snacks.Try switching to more grainy

bread over time.

PHOTO: FILE

This will keep the water cool all day.

When planning your child's meals it is

important to remember it is what your

child eats over the whole day that is

important, not just in one sitting, so look

at all meals and snacks together.

— Education.govt.nz

Milk and milk products: Foods high in

calciumare importantfor children so

cheese slices, yoghurt or smoothiesare

great snacks in lunch boxes.

Legumes,nuts, seeds,fish and other

seafood, eggs, poultry and/or red meat

with the fat removed: Protein­richfoods

providekey nutrients for children. You

can also makehigh­protein sandwich

fillings such as peanutbutter,chicken,

tuna, eggs, bakedbeans or roast beef. Tip:

Keep foodssuch as meat and dairy cool

by packing abottle of frozen water in the

lunch box.

— fuelled4life.org.nz

What are your plans for next year?

Check out these FREE programmes

COMMUNITY COLLEGE

NORTH CANTERBURY

EMERGE

New Zealand

Certificates in

Foundation Skills

Level 1&2

NCEA Level 1

HOSPITALITY

New Zealand

Certificate in

Hospitality Entry

Skills

(Café) Level 2

NCEA Level 1 &2

EQUINE

New Zealand

Certificate in Equine

Skills Level 2&3

NCEA Level 1&2

NCEA LEVEL

1&2

SPORT &

RECREATION

New Zealand Certificate in

Foundation Skills inSport,

Recreation &Coaching

Level 2

NCEA Level 1&2

ph: 03 313 5874

txt: 029 7705423

e: faye.gread@comcol.ac.nz

www.comcol.ac.nz

Achieve

with us!
---
Sky'sthe

limit for

students

Broadening horizons ... TheWarwick sistersofOxford,Emma, left,

and Pippa, enjoy viewingthe stars on cold winternights. PHOTO: SUPPLIED

By DAVID HILL

Two Oxford sisters have

opened their eyes to another

worldthroughstudying

astronomy.

Emma Warwick, aged 15,

and Pippa Warwick, 10, have

been attending night classesat

the Oxford Area School

Observatory with their parents,

Davidand Nikki Warwick,

since 2017,when the classes

were first offered.

Retired teacherErik

Vermaat has developedsix

astronomy courses over the

last few years, learningabout

the latestdiscoveries as he

goes.

"We started in the local solar

systemand worked our way

through to the end of the

observable universe, and we've

done some of the courses more

than once," Nikki says.

"Our youngestwas only

seven years old when we first

started and Icertainly didn't

know much aboutspace. I

thought it was all too hard, but

Erik is fantastic because he

makes sure everyone can

understand and does lots of

hands­on experiments."

Nikki saysthe family will be

enrolling for as many courses

as they can this year, while

Emma will be helping to teach

apractical astronomy course,

The Rhythmic Sky,planned for

terms two and three.

"Ithas open my daughters'

eyes to another world.When

they understand how and why

thingsare the way they are, it

helps to broaden their

understanding."

Emma has developed a

passion for the mythology

behindthe names of the

planets in the solarsystemand

astro­archaeology.

Pippa is fascinated by Mars

and is developing an interest in

atoms, Nikki says.

"I think both girls will end up

doing something to do with

science and this has given

them agood grounding.

"I can see Emma going into

either conservationor

archaeology, while Pippais

fascinated about going to Mars

and how we will live there."

The Warwicks can't waitfor

the courses to start nextmonth,

but in the meantime they have

their own telescope at home

and the girls have come up

with their own research

projects,Nikkisays.

She encourages others to

enrol as afamily and to start

from the beginning, Exploring

theSolar System,interm one.

"You are never too young to

learn astronomy and no

question is astupid question,''

Nikki says.

Coursesbegin with

Exploringthe Solar System.Itis

followed by Leaving the Solar

System (out to 7000 light years)

in term two, Exploringthe

Milky Way (out to 500,000 light

years) in term three and Going

Deep (out to the edge of the

observable universe)interm

four.

Apracticalcourse, The

Rhythmic Sky is planned for

both terms two and three to

allow for plenty of observing

through the telescope.

With threemissions,

includingNasa's Perseverance

rover, due to arrive at Mars

next month, the red planetis

certain to be in focus.

For more information go to

oxford.ngawhetu.nz.

BACK TO SCHOOL

North Canterbury News, January 21, 2021

11

RANGIORA BOROUGH SCHOOL

Nau Mai, Haere Mai

Welcome to Rangiora Borough School

for 2021

School commences at 8.55am on

Wednesday 3 rd February

All stationerywill be provided and

available on day 1.

Uniforms are available from The Warehouse.

Forenrolment enquiries and enrolment procedures,

please visit our website -www.rangiora.school.nz

under 'Enrolment'

ncnrgaborough

Ahappy New Year to allour existing and new

school families.Welook forward toseeing you

when schoolreopens.

Ourschool has an enrolment scheme,soifyou

are considering our wonderful, family-focused

school for your child, please check our website

for the enrolment scheme details orcontact us

to reserve aplace.

School will be open for new enrolments from

Wednesday27January.

Students return to school on Wednesday 3

February.All stationery information forthe new

year is on ourschoolwebsiteorcan be accessed

throughwww.myschool.co.nz

www.leithfield.school.nz

Phone 03 3148024

principal@leithfield.school.nz

2342028
---
BACK TO SCHOOL

12 North Canterbury News, January 21, 2021

• General Dentistry

• Hygienist

• Dental Therapy

• Periodontal Therapy

• Minor Oral Surgery

• Family Dentistry

2286891

PAGPegasus Dental

54 Pegasus Main St Pegasus

03 920 4003

pagpegasusdental@gmail.com

Welcomes pupils back to school on

Wednesday 3 rd February 2021

at 8.50am.

• Cosmetic Dentistry

• Facial Pain

• Oral Medicine

Specialist

• Oral Cancer Detection

• Ulcer Management

New enrolments on

Monday 1 st February 2021

The School office will be open from

Monday 1 st February 2021

If you wish to contact the school prior

to enrolment day, please email

admin@ashgrove.school.nz

Phone: 03 313 8552

2336763

Open Monday to Friday 8.30 to 5.30 |www.pagdental.com

Rangiora High School

www.rangiorahigh.school.nz

Start Dates for 2021

Nau mai haere mai. Welcome to the new school year.

27 January New Enrolment Day, 9.00am to 10.45am

(for all new non-enrolled students at all year levels)

28-29 January Teacher Only Days

1February First day for Years 11-13 (who return on 4February)

2February Year 9Orientation (first day for Year 9)

3February Year 9-10 Orientation (first day for Year 10)

4February First day all levels are at school (Years 9-13)

5February House Sports Day (Years 9-13)

8February Waitangi Day observance

•Ample parking, easy

access

•Clinicians all New

Zealand trained

•Super Gold and

Community Services

Card Discounts

PAGSilverstream Dental

4/42 Silverstream Boulevard Silverstream

03 925 8003

pagsilverstreamdental@gmail.com

More detailed information onour

2021 start dates is available at:

www.rangiorahigh.school.nz

Govt sets priorities

for education system

The Government has released aset of

priorities for early learning through to

tertiary education and lifelong learning.

Education Minister Chris Hipkins says

the priorities will build astronger, fairer

education system that delivers for all

New Zealanders.

"The election delivered aclear

mandate from New Zealanders to

accelerate our plan to reduce

inequalities and make more training

opportunities available as the country

recovers from Covid­19," he says.

"We have asignificant programme of

work in education which began in our

first term in Government to improve the

wellbeing of students and teachers, lift

achievement and investing to train and

reskill New

Zealanders.

"It's now about

building on those

foundations as we

prioritise

programmes like the

roll­out of the Free

and Healthy School

Lunches, move to

significantly closing

the pay gap for

teachers working in

education and care

centres, replace the

blunt and outdated

decile system, and

target additional

tertiary spending in

areas that are critical

for the country's

economic recovery.''

The Government's

direction in

education is set out

in the new statement

of National

Education Learning

Priorities (NELP), a

legal framework for early learning

services, schools and kura.

The new Tertiary Education Strategy

(TES) sets out the priorities for tertiary

providers.

Mr Hipkins says the documents signal

the government's commitment to making

Chris Hipkins

❛We have made significant

progress over the last three

years towards an education

system thatmakessureno­one

is left behind.❜

—Chris Hipkins

ameaningful difference.

These include:

Reducing barriers to education for all

learners;

Ensuring places of learning are safe,

inclusive and free from racism,

discrimination and

bullying;

Developing staff to

strengthen teaching,

leadership and learner

support capability

across the education

workforce;

Collaborating with

industries and

businesses to ensure

learners have the skills

to succeed.

"From scrapping

NCEA exam fees,

implementing free fees

for the first year of

tertiary study, the

school donations

scheme, setting clear

expectations for the

pastoral care of

students, and

connecting more

students to the internet,

we have made

significant progress

over the last three years

towards an education

system that makes sure no­one is left

behind,'' Mr Hipkins says.

"I am confident that the education

system, in responding to this set of

priorities, will give students the skills

and confidence needed to succeed in

education, in work and in life."

Accepting enrolments for 2021 from young parents

or expectant parents aged under 21 years

The on-site ELC has spaces available for children

aged 6weeks to 6years

Proud ofour Past -Focused on our Future

Monday 1February 2021, 9am to3.30pm

Early Learning Centre open for new enrolments.

Transport available. Whānau welcome.

Tuesday 2February 2021, 10.30 amto12noon

Young Parents' College enrolment for

new and returning students

For all YPC enquiries please contact

Ruth Robertson P: 327 8386 M:022 074 2326

Robert Coup Road, Kaiapoi 7630

E: ypc@kaiapoi.school.nz

For ELC enquiries please contact:

Jacinta McInerney P: 327 8315 M: 027 816 5388

E: karangamai@wellbeingnc.org.nz

2335594
---
BACK TO SCHOOL

North Canterbury News, January 21, 2021

13

Moving on to primary school ... Fernside Preschool assistant manager Katherine Street

with pupils, from left, Piper Barrett, Rosalie Travaille, Lachlan Evans and Ian Visagie, who

have been working towards leaving preschool for the next stage of their education at

primary school.

PHOTO: SHELLEY TOPP

Children ready for

school adventures

2339208

27 th -29 th of January -Office open for enquiries

1 st -2 nd of February -Teacher Only Days

3 rd of February -Y11-13 students only

4 th of February -Y1-10 students only

5 th of February -Full School Y1-13

-Mihi Whakatau 9am

School Hours 8.45am -3.00pm

Phone (03) 314 4430 •office@hurunuicollege.school.nz

Stephen Beck —Principal

By SHELLEY TOPP

Four pupils from Fernside Preschool

are excited to be joining the ''big kids''

soon at primary school when the first

term begins next month.

The four youngsters, Piper Barrett,

Rosalie Travaille, Lachlan Evans and

Ian Visagie, began working towards

leaving preschool last year, preparing

for the next stage of their education.

''When the pupils turn four and ahalf,

they move into the 'Be Ready For

School' group,'' says the preschool's

assistant manager, Katherine Street.

The ''Be Ready For School'' group's

education includes spending time with a

teacher at the preschool for 30 minutes

every day to do primary schoolpreparation

work with letters, shapes,

numbers and colours, and every Friday

the children and their teacher walk to

Fernside School, just alittle further

along O'Roarkes Road.

They spend an hour in the classroom

with the new entrants teacher getting to

know each other and learning how

things work at their new school.

''It is avery relaxed learning time with

the children,'' Katherine says.

Caution urged around schools

Driversare beingurged to take special

care near schools when pupils return.

The Waimakariri District Council is

asking road drivers to be especially

careful near schools.

This is particularlyimportant during

the busypick­up and drop­off times.

''Children cannot accurately judge the

speedand distance of approaching cars

and cannotalways locate the source of

sounds,'' saysthe council's journey

planner and road safety co­ordinator,

KathyGraham.

''They tend to be far­sighted,have

difficulty with side vision, and their eye

levels are lower than adults so theymay

not always be abletosee around parked

cars.Plus, they are easily distracted and

may forget to look for traffic.''

Kathyalso wants to remind drivers that

they are required to slowdown to 20kmh

when passing astationary school bus, no

matter which direction they are

travelling in, and that there are morning

and afternoon speed limit restrictions

outside many schools based on the local

environmentand nature of the area.

Kathyreminds drivers to show courtesy

and patience when they encounter a

school patrol.

''Schoolpatrols help to keepstudents

safe on the road by controlling the flow of

vehicles and pedestrians at pedestrian

crossingsand 'kea' crossings(school

crossing points).

''Itisahuge responsibility for the

young students to operate the crossings

and we relyondrivers to showcourtesy

and patience.''

Staying safewhile parkingaround

schools during the oftenchaotic pick­up

anddrop­off times is another issue Kathy

wants parentsand caregivers to carefully

consider.

The council receives continual

feedback from schools aboutthe ''chaos''

at school gates,with many parents

wantingtoparkright outsidethe gate. It

is notuncommon forparentstoalso park

illegally, or block visionfor other road

users.

''We would encourageparents to

consider parking further away from the

school where possible and walking with

their childifthey are not comfortable to

lettheir child walkbythemselves.''

2021 KEY DATES

Aspecial welcome to all new and returning students –weare

looking forward to "Year 2" at Te MatauruPrimary!

Our office opens for 2021 on Monday 25 th January.

Our first day for all students is Wednesday 3 rd February.

Enrolment queries (in zone only) can be made through

office@tematauru.school.nz or phone 03 928 3191.

Please note that summertime emails and phone enquiries will be

replied to on 25th January.

DNicholls, Principal

2334265
---
BACK TO SCHOOL

14 North Canterbury News, January 21, 2021

NorthCanterbury

AcademyofMusic Inc

32 years of Music Education

in North Canterbury

Instrumental &singing tuition forall ages

Strings,Woodwind,Drums,

Piano,Guitar,Saxophone

Professionalmusicians as tutors

Orchestra|Choir |Celtic

Theory|Ensembles|Concerts

AFFORDABLE & L OCAL

Back to school ...

Reducing the stress

around areturn to

school is helpful for

both children and

parents. PHOTO:FILE

Come&try an instrumentatour

OPEN DAY

Friday5February4-6pm

at theRangiora Town Hall Studios

Entry from carpark

Enrolonline or at the open day.

Closing datefor applications is 8February.

Lessons start week beginning 22 February

www.ncam.ac.nz |enquiry@ncam.ac.nz

Tips for astress-free return to school

We would like to wish everyone a

Happy New Year!

Our school office will be open from Monday 1 st February.

The first day backfor studentsisWednesday 3 rd February 2021 startingat8:55am.

Forall enquiries please phone the school office on 3149444.

2341201

If your child is new to school, visit the

school grounds over the holidays to help

them feel comfortable with their new

surroundings;

Get your child to have their clothing

and backpack ready the night before

school to reduce stress in the morning;

If your children are anxious about the

first day, make time to talk about their

worries;

Pack alunchbox that will give your

child energy to last the day —try

including amix of fruit, vegetables,

whole grains, dairy products and

protein;

Check if your school has asecondhand

uniform shop, or put apost online to see

if you can buy aless expensive secondhand

uniform;

Netsafe has great advice for parents

on buying and using devices for school:

If you have concerns about your

children's progress, make atime to chat

with their teacher;

Health experts recommend 9to11

hours sleep for school­age children, and

8to10hours per night for teens;

Parents on abenefit or low incomes

may be eligible for assistance from Work

and Income for some costs associated

with school.

—Ministry of Education

Mon |1st February |2021

9.30am -2.30pm &5pm -6.30pm

2021 Year 12 &13Programmes

Pre-Professional Programmes

Student Centre, Cnr StAsaph &Hagley Ave

Last Chance to

Enrol for 2021
---
BACK TO SCHOOL

North Canterbury News, January 21, 2021

15

Care around children ... The Hurunui District's road safety co­ordinator, Dean Eades, says

drivers have abig part to play in ensuring children get to school safely.

PHOTO: SUPPLIED

Driver care crucial in

keeping children safe

By DEAN EADES, road safety co­ordinator

for the Hurunui District Council

School buses doingtheir dailyroundsis

always afirstindicationthat the summer

holidays arefinished for our young ones.

Remember the golden rule–''20K

either way''­which means dropping your

speed to 20kmhwhen going past aschool

bus,regardlessofwhat side of the road

you or thebus are on.

Roadcrossings willbebusy, both on our

state highways anddistrict roads.

Islands in the middleofthe roadmean

pedestrianscan waituntil carshavegone

past, but patienceiskey here and so is

yourwillingness to stopand letthe

childrencrossthroughtothe footpathso

theycan carry on theirway.

Lookout for ''Safetoschool route''signs

dotted around thedistrict in urbanareas.

These are well­used optionsfor school

commuters,sokeep yourspeed down and

youreyespeeled.

It'snot abad ideatodrivewithyour

lightson, (not fullbeam, but not park

lightseither) allthe time,asitwill keep

Dates for 2021

Wednesday 27th January 2021

Course Confirmation (Old Library)

1.30pm-2.30pm, Year 11

2.30pm-3.30pm, Year 12&13

Monday 1st February 2021

All students Year 1–13

9.00am: Start

11:30am: Mihi Whakatau

(Welcome), GP Hall,

Welcome to the new school year

and to new students, staff and

parents.

Buses run from Monday 1st February

2340510

youmore visible when youare behindthe

wheel.

Forschools closetorailwaycrossings,

Kiwirail willbehosting education

sessions for schools aboutsafe behaviour.

Agreatrule of thumb foreveryone is to

always stop at atraintrack andlook,

before youcross.

Noteveryone is back into workmode in

February.Several people arestillout and

aboutenjoying the great spots around

NewZealand.

So let'sset agood exampleinthe

Hurunuidistrict by keeping our speeds

down duringthe morning and afternoon

commutetoand fromschools,and help

everyoneget safely to wheretheyneedto

be.

TheHurunui DistrictCouncil works

closelywithits local schools,the New

ZealandTransportAgency, police,

Kiwirail, theNew ZealandTrucking

Association,AANew Zealand,ACC,as

well as others, to createsaferdriving

environments and effective public

messaging—all in thename of keeping

ourcommunity safe.

WAIPARA

SCHOOL

commences on

Wednesday

3February 2021.

Please remember to bring sunhats

and swimming togs.

Enquiries and new enrolments to

Di Officer, Principal

Ph 03 314 6814

waipara@xtra.co.nz

www.waipara.school.nz

Waipara School

Loffhagen Drive, Waipara

2335043

Theschoolwelcomes allits students back foragreat school year in 2021!

Monday 1February: 9.00am SurnamesA-L (+ Peer SupportLeaders)

CourseConfirmation(Yrs11-13)

(Church Auditorium)

Tuesday2February:

Wednesday3February:

Back to School Safety

It's "back to school" time! Help keep each other

safe byfollowing some simple tips:

• Children and young people

get distracted and may

forget to look for traffic –

be alert

• Stop if aschool patrol sign

is extended –nomatter

which side it's on

• Children often don't

accurately judge the speed

and distance of approaching

cars –slow down

11.00am SurnamesM-Z:Course Confirmation(Yrs 11-13)

(Church Auditorium)

12.00pm

10-3pm

AllNetNZ students

• Either way it's 20k –this is the legal speed when driving past a

stationery school bus in any direction

• Avoid chaos at the school gate by parking further away

• Help your children learn tobesafe bybeing asafe road user yourself.

Thank youfor slowing down to keep our tamariki safe.

Find out more -waimakariri.govt.nz

PeerSupport Leader Training (Rm29)

SmithBlock

TeacherOnly Day

TeacherOnly Day

Thursday 4February: 8.50am Yr1-8 students(inclusive) to classrooms.

Yr 9&Peer SupportLeaderstoEvents Centre

(gymnasium)

Friday 5February: 8.50am WholeSchool House Day(mufti) –Primaryand

Secondary

Monday 8February:

9.00-9.30am

Pōwhiriwelcome forallstudentsat

Events Centre.

Waitangi Day–schoolclosed

Enrolmentsfor 2021haveclosed duetoRNLS beingatcapacity. Forenrolment in future

years, please check outour website forPrimary and/or SecondaryProspectusand

Enrolment Form.Newsletters, stationery requirementsand otherrelevant information

for2021 enrolled students is available on websitewww.rnls.school.nz

Schoolbuses will resume asnormal from andincludingThursday 4February2021.

PROVIDINGQUALITY CHRISTIANEDUCATION FORYR1-13 STUDENTS IN

NORTHCANTERBURY

Denchs Road,Rangiora|Ph(03) 313 6332

admin@rnls.school.nz |www.rnls.school.nz

2334637-S
---
ARA INSTITUTE OF CANTERBURY

Free computing course

delivers unexpected benefits

Asimple desire tobecome more confident

using computers has opened up aworld of

possibilities forbusinessowner ThomasKing.

Forthe past 20 years, Thomas has been acodirectorofalogistics

business.Overthattime

he's seen huge changes inthe way business is

conducted.

"The world is rapidly changing and to keep

pace with it, having some confidence and

competence in computing iscrucial," hesays.

"I realised that I'd have toembrace this scary

but exciting new tech-driven world sooner or

later, and now here Iamtoday, loving what I

once feared."

Thomas took his first steps in computing at

an AraConnect community hub, oneofseveral

in Christchurch. Each AraConnect huboffers

free, non-assessed computing courses for

anyone wanting togain skills and confidence

usingdigital technology.

Thomas says the tutors at Ara Connect

welcomed him warmly, made learning an

enjoyableexperience andwereverysupportive.

"I felt so inspired during my journey and this

is areflection of the good folk who work

at Ara. They're very attentive and always

eager toassist. They want you to succeed

and they encourage you to push your

boundaries without ever throwing you in

thedeepend."

Discoveringsomethingnewandamazing

every time hegot on acomputer was one

of the things Thomas enjoyed most about

his time atAra. "There are some amazing

apps andsoftware outthere just waitingto

be discovered. I've especially fallen in love

with collaborationtools whichcan help me

complete ahost ofproject management tasks.

What Ilearned wasmindbogglingand Irealise

now that wehaven't even really scratched the

surface of theseamazingtools andhow useful

they canbe."

Having now completed a New Zealand

Certificate in Computing (Advanced User),

Thomas is considering further study and

possibly acompletecareerchange. "I'm keeping

my optionsopenbut afuture in IT is becoming

more likely formewithevery passingday."

His advice for anyone else considering

the computing courses atAra Connect isto

just go for it. "You have the chance toadd an

invaluable credential to your CV,and theLevel

3and 4certificates are agreat way toprepare

forfurther studyinany subject.Knowing how

to usecomputersinaway that delivers results

canmakelifesomucheasier, especiallyinthe

world ofbusiness. Icertainly wish I'd taken

courses like these two decades ago. Myadvice

is to pluckupthe courageand just go forit."

To find out more, visit ara.ac.nz or call

08002424 76.

NEWS

16 North Canterbury News, January 21, 2021

No leads over fake banknotes

identified after race meeting

By SHELLEY TOPP

Apolice investigation into areport that

counterfeit $100 notes were paid out by

the Totalisator Agency Board in

Rangiora was unable to establish how

the notes came into circulation.

''Canterbury police are aware of a

number of reports of counterfeit notes

circulating over the last couple of

years,'' apolice spokesman said.

However, in the Rangiora incident

''there were no available lines of enquiry

into how the notes came to be in

circulation''.

The notes were paid to regular

racegoer Bruce Gasson during the

Rangiora Harness Racing Club's New

Year meeting on January 3.

He did not notice the notes were fake

until he returned home from the

meeting.

Mr Gasson reported the counterfeit

note to the TAB and the police.

He has since been reimbursed by the

betting agency.

TAB general manager for broadcasting

and operations Edward Rennell said the

agency had arange of measures to

reduce the possibility of betting fraud,

including training staff and contract

operators on how to identify counterfeit

money. ''Regrettably, in the recent

incident in Rangiora, avery small

number of notes went undetected by a

tote operator,'' he said.

''Since the issue was discovered we

have reinforced to our staff the guidance

from the Reserve Bank of New Zealand

on how to spot this illegal activity.

''The incident is areminder to

businesses, such as the TAB, and the

wider public to be aware of counterfeit

cash.''

In form ... Rakiatea Tau, left, and Jack Mckenzie reached the finals of the under­16

boys' division at the New Zealand surf nationals at Piha.

PHOTO: SUPPLIED

Pair master thePihasurf

Two young Waikuku Beach surfers

rode their way to the top at the New

Zealand surf nationals in Piha.

Rakiatea Tau, 14, and Jack

Mckenzie, 15, from the Northside

Boardriders Club, reached the finals

of the under­16 boys' division during

the nationals, which ran from January

11 to 16.

The boys had to surf in challenging

sea conditions at Piha, but mastered

the surf to knock out some of the best

under­16 surfers in the North Island to

make finals day.

The final saw better conditions than

earlier in the week. Jack finished

third and Rakiatea fourth.

The surf nationals are the largest

surf competition in the country, and

are part of the Surf NZ circuit.

Te reo initiative for Canterbury

Schoolleaders, teachers and support

staff can now register for aprogramme

that encourages the education

workforce to grow theirconfidence in

using te reo and integratingitinto the

learning of all students.

Te Ahu oteReo Maori willroll out

nationwide in 2021 for both new,

emerging and competentspeakers in

education who are keentodevelop their

fluency and expandtheir knowledge.

Successfully pilotedlast yearwith

more than 1000 principals, teachers and

support staff, the 120­hour programme

will be offered throughweekly classes,

onlinelessons, and wananga or noho

marae.

Afurtherpost­delivery support

programme, consistingofabout50hours

for up to eightweeks,will offer

additional support to help embed and

enhance learninginthe classroom.

Registrations are open to:

English medium teachers from early

learning services through to secondary

school;

Maorimedium kaiako, from Kohanga

Reo through to wharekura;

Non­teaching and supportstaff in

kura, schools, wharekura,earlylearning

services and Kohanga Reo.

Based on atereo Maori competency

framework,Nga Taumata oTeAhu ote

Reo Maori,learning will focus on the

use of localdialect, practiceofits use

for aclassroomsetting, grammar and

writingconventions, curriculum

development and language planning for

the classroom,

It will be rolled out in 10 Ministry of

Education locations, including

Canterbury.

To register, teachers,kaiako and

supportstaff will need their Education

Sector Logon (ESL) details.Email

tereo.maorigroup@education.govt.nz.
---
2021 BMX NZ SOUTH ISLAND TITLES EVENT

20 North Canterbury News, January 21, 2021

2021 BMX NZ SOUTH ISLAND TITLES EVENT

21

Nearly 270 competitors vie for honours in South Island BMX champs

Focused on the finish

line ... Blake Glover

(Kaitangata) and Austin

Mortimer (Nelson),

battle for line honours in

a10boys race.

PHOTO:JOSH CLARK.

Winner ... Rico Bearman (North Harbour) rides to take out the

junior men's category.

PHOTO: JOSH CLARK

Ready to go ...

Snapping out of the

gates during

competition.

PHOTO:JOSH CLARK

Competing again ... North Canterbury past club

president Aaron Clark took third place after having

hung up his bike for ayear or two.

PHOTO: PAM FRASER, MAK SHOTS

Pedalpower ... Skyla Hansen (from the North Canterbury BMX Club)

on course to win her Sprockets,girls6,race.

PHOTO:PAM FRASER, MAK SHOTS

Flying high ... Riders take on the pro­straight in the elite men's

competition.

PHOTO: JOSH CLARK

Corner one ...

Young riders get to grips with the course.

PHOTO: JOSH CLARK

Congratulations ... Agroup of boys in the 14 age group, congratulate each other on aride

well ridden.

PHOTO: JOSH CLARK

Jumping ... Heath Boyce (North Canterbury) tackles the course.

PHOTO: PAM FRASER, MAK SHOTS.

Speeding by ... Matthew Snelling (North Canterbury) negotiates the third

straight.

PHOTO: PAM FRASER,MAK SHOTS

Bumpy ride ... Riding through the pros.

PHOTO:JOSH CLARK

Heading down the straight ... Competition for line honours in the 14 boys class.

PHOTO: JOSH CLARK

Crowded banks ... Ahuge number of spectators visited the North Canterbury track at Rangiora during the South Island Titles.Taylor

Carpenter (Christchurch City) races in the foreground.

PHOTO: JOSH CLARK

Start line ... Riders await the drop of the gate to

start their race.

PHOTO: JOSH CLARK

Riley Smart .. . The North Canterbury rider heads for first place in the 11 boys

competition. PHOTO: PAM FRASER,MAK SHOTS Steep incline ... Riders negotiate the last corner before racing to the finish. PHOTO: JOSH CLARK
---
OUR TOWN KAIAPOI

22 North Canterbury News, January 21, 2021

Bookings Essential

•Cars, Trailers &Motorbikes

•4WD specialists

•All mechanical repairs

•Brakes and clutches

•Lube services

•Servicing Air Conditioning

•All makes and models

•Professional friendly service

Matthews Roofing Limited

Specialists in Longrun Coloursteel

Roofing and Guttering Systems

We supply and install long run metal roofing,

fascia and spouting.

183 Ohoka Road

Kaiapoi

Ph: 327 8780

www.kaiapoiautomotiveservices.co.nz

2305626

Congratulations to the Hinemoa

Hockey Club on celebrating 125 years

of hockey and community involvement

in Kaiapoi &North Canterbury

Cnr. WilliamsStreet &Raven Quay |Open 7Days

Phone: 03 327 8029 | www.blackwellsdeptstore.co.nz

2305223

150years trading in Kaiapoi

PO Box54, Kaiapoi

Mobile: 027 245 8140

Email: J_amatthews@xtra.co.nz

2347119

Kai time ... Acrowd lined up for the hangi served by the Kaiapoi High School kapa haka

group during last year's Waitangi Day Family Celebrations in the town.

PHOTOS: FILE

Busy events calendar

for rest of summer

By DAVID HILL

Kaiapoi has abusy couple of months ahead

with events.

Whilethe Kaiapoi River Carnival is

taking ayear off,events groupAll Together

Kaiapoi is back with the Kaiapoi Garden

Competition on Friday, January 29, the

Waitangi Day Family Celebrations on

Saturday, February 6, and the KaiapoiFun

Run on March14.

Once again, the Waimakariridistrict's

Waitangi Day celebration willbeafree,

family day at TrousselotParkinCharles

Street, Kaiapoi,starting at 10am.

Live entertainment is being provided,

alongwith bouncycastles, pony rides, face

painting,airbrush tattoos, Flip Out Air

Tracks, and aphoto booth.

Kaiapoi High School's kapa hakagroup

will once again organise ahangi

fundraiser, withparticipantsable to preorderfromthe

KaiapoiiSite for $10 per

person (cash only) before the event.

Therewill also be plentyofmarket and

food stallstokeeppeople entertained and

fed.

For more information on the Waitangi

Day Celebrations, visit the All Together

Kaiapoi page on Facebook.

The KaiapoiFun Run willbeback on

Sunday, March 14, with more details to

come.

OtherKaiapoievents includethe

Wellbeing Festival/TeWhakaora Ra and

RivertownVibes.

The KaiapoiFoodForest and Eco

Educate arejoining forces to organise the

annualWellbeing Festival on Saturday,

February 27, at the foodforest, oppositeSt

Bartholomew's Anglican Church in Cass

Street.

The festival gets under way at 10am with

stalls, demonstrations, food and music.

For more information, visit the "Kaiapoi

Food Forest –Kai is in our name" and/or

the Eco Educate pages on Facebook.

RivertownVibeswill bringfolk,pop,

country, blues, funk, reggae,electric and

rock music to Kaiapoi on Saturday,March

20.

The line­up of musicians includes Lost

Tribe Aotearoa, Dillastrate, Stonehurst,

Scrooge, Black &Gold and Lee Martin.

For more information, visit

rivertownvibes.co.nz.

COME &CELEBRATE

125YEARSWITHNEW ZEALAND'S

OLDEST HOCKEY CLUB

WAITANGI WEEKEND 6-7 FEB 2021

MEET&GREET

6.30-10pm Saturday 6February

Achance to reminisce andchatatthis

informalmeetingand supper.

KaiapoiRugby Club,Smith Street, Kaiapoi (includedinregistration)

DINNER &DANCE

5.00-11.30pm Sunday7February

Abuffet styledinner

followed by alive band–Fab 3

TheKaiapoi Club (Kaiapoi Workingmens Club), 113Raven Quay,Kaiapoi

REGISTER NOW!

www.kaiapoihockey.co.nz

KID'S

FUN DAY

SAT6FEB

1-3PM

Culturaldiversity ... Dancers fromother cultures,such as Rangiora's Scottishcountrydance

group, performed during last year'sWaitangi Day Family Celebrations.

TURN YOUR DREAM INTO AREALITY

At Misco Joinery we will work with you totake your joinery project from concept to completion

EST. 1988

62 Williams Street,

Kaiapoi 7630

www.misco.co.nz

P: 03 383 4384

E: quotes@misco.co.nz
---
Colourful history to be celebrated

By DAVID HILL

Kaiapoi's men's and women's hockey

clubshad contrastingfortunes in their

earlyyears.

The Kaiapoi­Hinemoa Hockey Club

celebrates its 125thanniversary during

Waitangi Weekend afterstartingout as

two separate clubs.

The male­only Kaiapoi Hockey Club in

1895 became the first registered New

Zealand hockeyclub, thanks to the

influenceofAnglican vicarRev Henry

Mathias.

As playing numbers were limited,young

womenand girls frequentlymade up the

numbers. So, the following year,the

Hinemoa Ladies Hockey Club was

established.

The men's club started strongly, winning

the CanterburyHockey Association

competition in 1898 and 1899.

But hockeywas not the onlysport for

men in town, competing againstrugby and

laterrugby league, meaning in the period

up to WorldWar 1the men frequently

struggled to field asenior team after Rev

Mathias left the town in 1900.

Whilesurviving records of the men's

club are limited, the Hinemoa clubkept a

detailedminutebook and journal of its

activities,and therewere extensive

newspaperreportsatthe time.

The 1890s saw agrowing emancipation

movement, with women havingbeen

granted the vote in 1893 and the Women's

Christian Temperance Union (WCTU) was

particularly stronginKaiapoi.

Well­known locals —the Blackwell,

Blakeley, Evans and Pearce families

amongthem —were active in both the

WCTU and the Hinemoa club.

Hinemoa's firstofficial match was

played against Christchurch at Kaiapoi on

October 6, 1897,with thehome side

winning 6­0 and proclaiming itself''the

Famous ball ... Kaiapoi's Myrtle Pearce

was presented with the ball after scoring all

three goals in Canterbury's 3­2 win over All

England in September 1914.

champions of the southern hemisphere–

amen!''.

Atrip to Wellington for atournamentin

1900 showedthe growing popularityof

women'shockey,with newspaper reports

indicatingthat parliamentarians were out

in force to support their hometeams.

Butthe newspaper reports also

highlighted somecurious notionsfrom the

era, lamenting the physical demands of

hockeyonyoungwomen,playerstaking

thegame tooseriously, getting

overexcited,and ''almostbehaving like

men''.

TheCanterburyLadies Hockey

Associationand competition was

established in 1908, 10 years later than the

men.

Hinemoawent on to dominate the club

competition,winning in 1910, 1911 and

1914, and placingsecondthree times.

Gardeners urged to step up

The Kaiapoi Garden Competition is back.

Gardeners are encouraged to get their

entries in now, beforejudging in the

annual gardening competition is held on

Friday, January 29.

''Last year we had 23 entries,''All

Together Kaiapoi project manager Linda

Dunbar says.''Wewould ideally love to

see even more entries this year.''

Categories include ''walkaround'',

''view from thestreet'', town house,

garden under threeyears, and structured

landscape (builtfeatures combined with

plantselection).

A''community pride'' category allows

individualgardeners or groups to present

agarden outside their boundary for

others to enjoy, while ''houseand garden''

is judged on the indoor/outdoor flow.

The environmentally consciouscan

enter the sustainability section.

There is alsoa''best street'' category.

Acommercial or business premises

category allowsbusinessestoenter.

Atrophy and certificate will be

awarded to the winnerofeach class, with

certificates for second and third.

The''supreme gardenaward'' willbe

presentedtothe garden which receives

themost pointsoverall.

Entryisfree,but competitorscan enter

only one category.

Once again the competition is being

sponsoredbyChristine Watton of Ray

White Kaiapoi.

People can get entryforms on ATK's

pageonFacebook,byemailing

alltogetherkaiapoi@gmail.com or by

phoning Chris Greengrass on (03)3277818

or 021­781939.

The club's success on the fielddrew

largecrowds,with the Kaiapoi Borough

Council challenging the clubtocharity

matches.

In September 1914,six Hinemoa players

were selected in theCanterbury starting

11 to play the touringAll England women's

team.

The day began with astreet paradein

Kaiapoi,beforethe playersand

supporters boarded atrain intoChristchurch

for the match at Lancaster Park.

Myrtle Pearce, of Kaiapoi, was the

Canterbury captain and scoredall three

goalsinthe homeside's 3­2 win.She went

on to play for the national side in the

three­test series.

The two clubscombined in 1896 to form

the Kaiapoi­Hinemoa Hockey Club.

The anniversarycelebrationsget under

way withregistration at the Kaiapoi Park

clubrooms on the Saturday,with ajunior

hockey showcase in the afternoon and a

meet­and­greet at the Kaiapoi Rugby

Club's rooms in the evening.

Participants can attend the Waimakariri

Hockey Turf in Rangiora on Sunday

afternoon, which will be followed by

dinner and adance at the Kaiapoi Club.

For more information go to

kaiapoihockey.co.nz.

PLASTERER

Matt Smith

PAINT FINISH • CORNICE

• GIB COVE

New Homes, Renovations

and Extensions

FREE QUOTES

Ph 027 436 1112

www.mattsmithplastering.co.nz

2324007

Petrol Vehicles

Lube

Combo

from $130* from $160*

Save $10.00

Diesel Vehicles

Lube

Combo

from $160* from $190*

Save $10.00

*Dependant on oil capacity.All 4wd extra $20.00.

WOFs $40.00

63 Hilton Street, Kaiapoi

Ph: 327 0700

OUR TOWN KAIAPOI

North Canterbury News, January 21, 2021

2210820

23

UPHOLSTERY

SPECIALISTS

•All furniture Recoveries &Repairs

•Squabs, Cushions &Fabric Sales

•Antique and Loose Covers

•Cars, Boats, Caravans, Motor Homes

•Custom-made Bed Heads &Ottomans

2321966

FREE QUOTES, PICK UP AND

DELIVERY

32 years experience

03 327-0266

0274 840 159

72 Otaki St, Kaiapoi

recoveries@xtra.co.nz

FRESH LOCAL FISH 'N' CHIPS

&HAMBURGERS

Blackboard specials &Seasonal choices

Crumbed or Battered Fresh Fish,

Delicious Fish 'n' Chips & Hamburgers

Kaiapoi Village Fish 'n' Chips &Hamburgers

Shop 3/194 Williams Street, Kaiapoi

Phone orders welcome 03 925 9557

Hours Tuesday to Sunday 11am –7.30pm

Closed Monday

PAINTERS

RegTradesman • Interior,exterior.

North Canterbury Painters

specialising in decorating for

over 65.

Discounts

for Seniors

Free quotes.

Covering North Canty,Oxford,

Kaiapoi, Rangiora, Amberley.

Ph Rob 03327 7899

or 027 432 3520

2289726

2347232

Keep it local atCBK

Greatdeals &offers everyday! Open 7days!

Weekdays from 11am |Weekends from 9am

10% of all purchases are donated backtothe Kaiapoi Hockey

Club. Justmentionyou supportthe club whenpaying your bill!

CBK Kaiapoi | 4-77 Hilton Street, Kaiapoi

Phone 03 327 9224 | www.cbk.nz/kaiapoi

CBK

Support

Local

Hockey

2347983

113 Raven Quay, Kaiapoi

Ph: (03) 327 7884

kwmc@kaiapoiclub.co.nz

www.kaiapoiclub.co.nz

Come and tryour

delicious menu at the

Sports Bar

Mouth-watering snack menu

Starters • Kids Meals • Light Meals

Main Meals • Extras • Desserts

Open Wednesday toSunday

from 12noon for lunch

and from 5pm for dinner

(closing times vary depending on patronage)

2347124
---
Professionals

in North Canterbury

Georgia joins legal team

at Williams McKenzie

WORK SMARTER

2301753v1

Experienced Podiatrist;

New to Rangiora

022 1726 049

www.northcanterburypodiatry.co.nz

03 314 7640 info@sasl.co.nz

5Beach Rd, Amberley

Providing proactive accounting

solutions to North Canterbury

Businesses.

Contact Ben Shore or

TsarinaDellow forafree

consultation on yourtax

and accounting needs.

2298662v1

Georgia Allen has joined the team at

Williams McKenzie Lawyers in

Rangiora.

Williams McKenzie Lawyers has been

serving the needs of clients in North

Canterbury for more than 85 years.

With ateam of six solicitors, a

consulting partner and 12 support staff,

the firm has awealth of experience in

most areas of law.

Ron Williams and Tania McKenzie are

the current partners, with Ron having

moved to aconsulting role, continuing to

share his considerable knowledge and

expertise with the team.

Georgia previously worked in family

law for aChristchurch law firm.

However, she lives locally in Rangiora

so the move to the town was inevitable.

She is married with adelightful stepdaughter.

Outside work, Georgia enjoys

spending time with her family, walking

their much loved dog and travelling

around New Zealand.

Her other passion is law, specifically

providing access to justice.

''Through my experience with legally

aided clients, Ihave come to understand

the importance of providing

comprehensive advice and support to

my clients. Ienjoy all areas of family law,

and have extensive experience with

family violence, Oranga Tamariki, and

care­of­children matters.''

Georgia is excited to join the team at

Williams McKenzie and is looking

forward to meeting the legal needs of the

community.

Georgia will join existing family

lawyer Tandy Gwaze­Musesengwa,

further strengthening the family law

team.

Tandy and Georgia are both approved

legal aid providers for clients who

qualify.

Williams McKenzie provides Family

Law services for:

Family lawyer ... Georgia Allen is the

latest addition to the team at Williams

McKenzie Lawyers in Rangiora.

Children's care arrangements and

agreements, including court

applications under the Care of Children

Act;

Oranga Tamariki Act proceedings;

Domestic violence and protection

orders;

Relationship property, including

separation and contracting­out

agreements.

The friendly team at Williams

McKenzie works hard to make the legal

process as simple as possible for clients

to understand.

When you're looking for good advice

from good people, Williams McKenzie

Lawyers has sensible and cost­effective

solutions provided by friendly,

approachable people.

Need alawyer for afamily matter?

Call Georgia Allen (03) 311­8143 or email

georgia@williamsmckenzie.co.nz.

2302329

Call Prosser Quirke Accountants

Chartered Accountants &Business Advisors

2299722v3

NOT HARDER

6Blake Street, Rangiora, New Zealand

ph. 03 313 7824

email. team@prosser-quirke.co.nz

WELCOMING

NEW PATIENTS

The caring and professional

health care team for you

and your family

237 High Street

Rangiora

Ph: 313 7877

Over 135 yearsof

Beautiful

Funerals

2301633v1

Kaiapoi 118 Williams Street |Christchurch 15-19 London Street

03 327 7499 |www.johnrhind.co.nz
---
RANGIORA

GETPOTTING

SORTED

RANGIORA

100% LOCALLY

OWNED &OPERATED.

If youfind alower priceonanidentical stocked productlocally,wewill beatitby15%

If youfind the same productfromanother Mitre10store or Mitre10website, we'll match thatprice. Excludes trade and special

quotes,stock liquidations and commercial quantities.The in-storepricemay be lowerthan thatadvertised.
---
RANGIORA

DECKING?

SORTED.

Doing it

yourself?

Getall thehelp youneed at

mitre10.co.nz/easyas

Free tinting

on Valspar &Accent Paint

EXCLUSIVE
---
When youshop at McAlpinesMitre10MEGARangiora, you

can spend your Airpoints Dollars by paying in partorinfull

whenyou spend $75 or moreinasingle transaction.

NEWSEASON

OUTDOOR

FURNITURE

RANGIORA

100% LOCALLY

OWNED &OPERATED.

If youfind alower priceonanidentical stocked productlocally,wewill beatitby15%

If youfind the same productfromanother Mitre10store or Mitre10website, we'll match thatprice. Excludes trade and special

quotes,stock liquidations and commercial quantities.The in-storepricemay be lowerthan thatadvertised.
---
Splash outonyour

newhomewith

Summerset!

Summerset on Cavendish have arange of two

and three-bedroom homes available nowfromjust

$480,000†.For alimited time,purchaseone of these

stunning cottagesorvillasand enjoy$5,000 to spend

on furnishing your newhome!*

Youmay want to get anew lounge suite,finally buy that

smartTVyou've alwayswantedorupgrade thefridge

or washing machine -it'scompletely up to youhow you

spend your $5,000!

Don't miss the chancetosecureyour firstchoice of

home in this stunningvillage,plus$5,000 to spend

on your newhome on us. To find out more,joinusfor

our Open DayonThursday21Januarybetween 10am

and 2pm. Or giveDeborah or Cath acall todayon

03 7413340.

Open Day

Thursday21January

10am-2pm

Summerset on Cavendish

147Cavendish Road,

Casebrook

Contact Deborah or Cath on 03 7413340or

email casebrook.sales@summerset.co.nz

†Licence to occupy.

*Terms and conditions apply.Ask the SalesTeamfor moredetails.

To learn morevisit summerset.co.nz/casebrook

SUM2720_37X8
---
RUNOUT

OUTLANDER LS 2.4L 2WD

$31,990+ORC *

The 7 seater Mitsubishi Outlander brings

everything you would need in a family

SUV: safety, technology, comfort, unrivaled

economy and that all important space, plus

a 10 Year Powertrain Warrant ty † .

Call 03 941 3175 or visit

rangioramitsubishi.co. .nz

RRP WAS $41,99

90 +ORC

*Price listed is for Outlander LS 2.4L 2wd and excludes on road costs of $650 which includes registration, WoF and a full tank of fuel. Available while stocks last.

†

Visit mmnz.co.nz for full Diamond Advantage warranty conditions.

RANGIORA MITSUBISHI

321 High Street, Rangiora | 03941 3175 | rangioramitsubishi.co.nz

NAVARA

RUNOUT

PER

FROM $91WEEK*

48 MONTH | 10% DEPOSIT | 60,000KM | NFV

FUTURE VALUES VARY BETWEEN MODELS

+ HUGE RUNOUT BONUSES!

NISSAN

5YR

150,000 KM'S

FACTORY

WARRANTY

WITH NISSAN

FUTURE

VALUE

Nissan will pay you the NFV (subject to meeting vehicle condition and servicing requirements and agreed km allowance and less remediation costs) which will be applied to your nal balloon payment.

Terms and conditions apply. Excludes all lease and some eet purchasers. Ooer available on eligible vehicles ordered and delivered by 28 February 2021 or while stock lasts. Nissan reserves the right to vary,

extend or withdraw this ooer. Not available in conjunction with any other ooer.

RANGIORA NISSAN, 321 High Street, Rangiora

Ph: 03 941 3175

www.rangioranissan.co.nz

rangioranissan.co.nz
---
Motoring

Guide

Your local motoring professionals

We Do It All!

Your One Stopp

Mechanical Shop

2318749v2

Courtesy Cars, Van, Automatics Available

One Stop WOF Shop

AllMechanical Repairsand Servicing, Tyres,

Exhausts, Automatic TransmissionService

Burbidge Automotive

325 Flaxton Rd

Ph 03 313 3344

Ample

carparking!

2254991v9

Best Brands

-Best Prices

5Star Service

ROTATION /BALANCE

AND WHEEL ALIGNMENTS

FREE

Pressure check on

Cars, Utes, 4WD &

Trailers

FROM $89

Bookings recommended, ts&cs apply.

346a Flaxton Road

Phone 03 310 6666

0800 226 324 for 24/7 Service

Petrol &Diesel

Use your SuperGold card or

supermarket docket for 12

cents off Petrol &Diesel only

COMPLETE AUTO REPAIR SERVICE

WOF

Light Engineering

Tune-ups

Repairs

Lube-Oil changes Ride-on Mowers

Full Diesel Service Pick up &Delivery

Brakes &Clutches

Sell &Sharpen

Motor Work

Horse Clippers &

Warranty Work

Sheep Shears

Oils &Automotive Accessories, Postal

Services, Hot Pies, Sandwiches, Rolls,

Groceries and Sweet Treats

For your convenience

Sefton Garage

571 Upper SeftonRoad, Sefton

NorthCanterbury.Ph03 312-9713

FOR ALL YOUR LIGHT

AND HEAVY

TRANSPORT REPAIRS

Breakdown &

After Hours

Service

Available

Phone 03 313 6361

0275 200 711

307 Flaxton Road,

RANGIORA

brooktrucks@xtra.co.nz

2324381

WE ARE THE

SERVICINGEXPERTS!

No Need To Commute To Christchurch –

We Can Do It All! We canuse genuine parts,

so yourvehicle is still coveredunderwarranty.

We have the latest Diagnostic Computer

Systems thatare compatible with most vehicles.

Wheelalignments&tyres at

very

competitive prices.

Loyal support

... Peter and

Nikki

Burbidge

have been

servicing

North

Canterbury

cars for nearly

20 years.

All servicing needs met

Peterand NikkiBurbidge wish to thank

the North Canterbury community for its

support during achallenging 2020.

Burbidge Automotive Rangiora has been

serving thecommunity for nearly 20 years.

''We got alot of supportthrough the

lockdown and our loyal customers from

throughoutNorth Canterbury supported

us throughout2020,'' Petersays.

From itsSouthbrook base, Burbidge

Automotivehas served car ownersfrom as

far afield as Hanmer Springs.

The company was established in 2002

and was one of the first businesses to set

up in theSouthbrook industrialpark,

whereithas operated for 13 years.

''We haveplenty of room hereand

people love the large car park,'' Peter says.

Its experiencedteam boasts decades of

experience, withfive mechanics on staff,

whileNikki greets customersinreception.

The team offers afull range of services,

including warrants of fitness and all

warranty repairs, as well as servicing on

all makes, modelsand engines, from new

cars through to older vehicles,whether

petrol, dieselorfour­wheel­drive.

Burbidge Automotive also doesauto

transmission servicing, exhaust repairs,

caravan and trailer repairs, electrical

repairs, clutch,brakes,CVboots, CV joints,

cambelts,tune­ups, batteries and tyres.

''We do pretty much anything and they

can haveafree cup of coffeewhile they

wait and chattoNikki,'' Peter says. ''And

we always tell the customer before we do

any extra work, so there's no surprises.''

For customer convenience, an eightseater

van hasbeen added to its fleet of

courtesy vehicles, whilethere is also a

pick­up and drop­off serviceavailable.

Financing is offered throughGenoaPay

(ask Nikki) and Burbidge Automotive is a

member of the Motor Trade Association.

Discounts areoffered to Greypower and

Rangiora Bowling Club members. Farmlandsand

Farmsource cards areaccepted.

Burbidge Automotive is open Monday to

Thursday from 7.30am to 5.30pm and

Fridays from 7.30amto5pm, while a

warrant of fitness service is offeredon

Saturdays from 9am to 12pm.

To book or learn more, visit 325 Flaxton

Road,Southbrook,phone(03) 313 3344,

emailoffice@burbidgeautomotive.co.nz,

or go onlinetoburbidgeautomotive.co.nz.

You can also follow Burbidge Automotive

on Facebook.

CALL US NOW TO BOOK YOUR SERVICE

Discounts to Superannuates

77 Ivory Street,Rangiora Ph 313-5802

Mon-Fri8am-5.30pm•Sat 8.30am-12.30pm

Hours: Monday-Friday 8am-5.30pm

Saturdays 9am-12noon

Best Prices Guaranteed

Quality Brands

We will match any written

quote –conditions apply

WINZ Quotes Welcome

Cnr Ashley &Burt Streets,

Rangiora.

Phone (03) 313 73 23

*25% off promotion available onselected tyres only while stocks last.

Valid until 30-1-2021. Visit www.bridgestonetyres.co.nz for details.

ARTHUR BURKE LTD

2Markham Street,

Amberley

Phone 03-314 0137

COME AND SEE

US FOR

• Commercial&

fleet repairs

• Buses, caravans

&motor homes

• Trucks,trailers,

buses &boats

GOODBYE

0 Y

200

20

HELLO

25% OFF

Selected sets of 2or4tyres*

WE ARE

EXPANDING!!!!

Choose usfor all Panel

and Paint Repairs

Still providing our customers with everyday

crash repairs,bumps&scrapestomajor

smash work

Quality workmanship &fastest turnaround

Fleet of courtesycars available

Contact: John Ph 313 6966

639 LinesideRoad, Southbrook

www.ncrcc.co.nz

2346898V1

2190152-22/8
---
RURAL LIFE

28 North Canterbury News, January 21, 2021

Delay sought to

end of cheques

RuralWomenNew Zealand is calling for

ahalt to the demiseofcheques aftera

recent surveybythe group showed70

percent of membersopposed themove.

The group's policymanager, Angela

McLeod, says ruralcommunities don't

have the technologyoraccess to carry

out their banking transactions.

''They have to use cheques,'' she says.

''Theaim is not to permanently halt the

demise of cheques buttomaintain a

viable optionfor those peoplewho do not

yet have the technologyconnectivity

options to replace cheques,'' she says.

Sharron Davie­Martin,the group's

social issues portfolio convenor,says

banksstress they will help customers

learntouse online banking. ''However, if

you don't have agood internet connection

then thatisnot going to work."

New Zealand Bankers' Association

head Roger Beaumont says fewer than

1% of customers regularly use cheques.

HIGH COUNTRY FENCING

HILL COUNTRY SPECIALIST -

Dozer and Digger

RURAL

STOCK YARDS

EARTHWORKS

2309605

WE STAND

BY OUR

WORK

GEOFF ROGERS

021 640 748

www.highcountryfencing.co.nz

2209036

HOMEKILL

&Wild Game

Meat Processing

313 0022

MEAT2U.NZ

Asummer of many challenges

By DAVID HILL

The recent wetweather hasproduced a

mixed bagfor North Canterbury's rural

sector.

Summer rain hasproven to be amixed

blessing. While the extra moisture has

sparked somelate­season growth, it has

frustratedthosemaking hay.

Clarkville contractor Chris Watts says

the season hasbeen ''prettyhorrible''so

far.

''Itwas really wet over Christmas and

thenwehad acoupleoffinedays,but now

the windisgettingupsoweare getting all

the elements.''

But the rain hadraisedthe spirits of

farmers afterarelatively dry2020, amid

Covid­19 uncertainty.

The dry springand wet summermeant

farmers aroundSwannanoaand Ohoka

had produced less baleage, but the rain

had provided awelcome boost to someof

the later­season crops, Chrissays.

''I'vetalked to afew peoplewithbarley

and grain who saiditwas strugglingtoget

established, butit's nowcoming away

withthat rain.''

Ohoka contractor StuartSanders says

he is enjoying the milderweather, and the

recentrain has given the cropsjustthe

boost theyneeded.

While thesun is neededtoharvesthay

and straw,''a wet day or twocreatesmore

growth forlater on'', Stuartsays.

''Weare getting towards theend of our

run.Wetendtoget abit of straw, butwe

are mostly working withdryland

farmers.''

Waimakariri Irrigation Ltdoperations

manager Jamie Hamilton says therain

has eased thepressureonthe

Waimakariri River afteradry 2020.

Food issues to the fore

Food sustainability is set to

be given more attention

thanks to anew initiative

between Canterbury and

Lincoln universities.

Anew Food Transitions

2050 postgraduate school has

been launched as apartnership

between the two

universities, Plant &Food

Research, Landcare

Research and AgResearch.

The school will focus on

supporting the transition of

regional, national and

international food systems to

meet future challenges,

offering postgraduate study

and research opportunities.

Areas for study include

''zero carbon futures'', water

Summer challenges ... Regular rain has caused frustration for contractors.

''We started out over the winter, when

theWaimakariridistrict gotonlyhalfof

itsaveragerainfall, so thewells started

offatlow levels.

''On topofthat therewas not alot of

snow build up in thehills, so runninginto

springwehad adry period.''

Climate agency Niwahad predicted

that La Nina would be drier for the east

coast, but instead the warmer seaweather

hasresulted in fronts from theTasman

Seabringing unexpectedrain, Jamiesays.

Easterly winds have brought steady

rain both on theeast coast and in the hills,

in contrast to the usual northwesterlies

issues, international

transport, plant­based diets

and rural economies.

Lincoln University acting

vice­chancellor Professor

Bruce McKenzie says the new

postgraduate school will be

instrumental in attracting

and growing talent in the

rural sector.

"We are effectively

enhancing postgraduate

research volume and quality,

and encouraging more

people to study and work in

the land­based sector, to

meet industry demands for

skills and capability,

increased productivity and

tackle future technical

changes."

PHOTO: FILE

which candry outthe plains while

bringing up­country rain andleavingthe

rivers prone to flooding.

''Wewere getting60to80mlsofrain

through December which has topped the

river up to around150 cumecs,whichisa

goodoperatinglevel,'' Jamie says.

It means WILshareholder­farmers

havehad just four daysofrestrictionsso

far this season.But he warns the season is

far from over.

''The troubleis, in Canterbury, we are

onlyeverone or two weeks away from a

dry period,asitcan turnaround pretty

quick withanorthwesterly.''

Food transitions... Landcare Research chief executive Dr Richard

Gordon, left, AgResearch chief executive Dr Sue Bidrose, Plant&Food

Research chiefexecutiveDavidHughes, Lincoln University acting vicechancellor

Professor Bruce McKenzie, front left, and University of

Canterbury vice­chancellor ProfessorCheryl de la Rey signan

agreement foranew postgraduate food sustainability programme.

Proudly servicing the North Canterbury Area

Fences For

• Sheep

• Cattle

• Lifestyle Blocks

2166308

• Deer

• Horses

• Post Driving

Based in Loburn

17 years experience

Phone Mark Sampson

03 312 8335 or 027 777 2882

mrsampson@xtra.co.nz

SPECIALISTS IN

IRRIGATION DRIVELINE COMPONENTS

CALL TODAY03307 2662

Forqualityproducts at agreat price visit

www.pivotparts.co.nz

2310225

FARMBIKE SPECIALISTS

Servicing North Canterbury for over 25yrs!

•Sales, Servicing &

Parts

•All Makes &Models

•Qualified Motorcycle

Engineers

(NCME, TRADECERT)

•Electrical &Mechanical

fault testing

•Quality 2nd Hand Bikes

&UTV's

•Repairs &Dismantling

•Insurance Repairs

2177981

163 Stokes Road, Balcairn

Ph (03) 312 9844 or 027 205 5724 (AH)

farmbikesnc@orcon.net.nz

www.farmbikeservices.co.nz
---
2020

CONSOLIDATEDINTERIM FINANCIALSTATEMENTS

SIX MONTHS ENDED 30 SEPTEMBER 2020

CHAIR'S REVIEW

This review covers the operations of MainPower New Zealand Limited

("MainPower") and its subsidaries ("the Group") for the six months

ended 30 September 2020.

MainPower plays an important role in

North Canterbury, powering the lives

of residents and businesses while

contributing towards apositive future

for the region.

MainPower has endured the effects

of COVID-19 with little impact to the

business. As an essential service, our

priority is to continue to provide asafe,

secure and reliable supply of electricity

to our consumers in an economically

sustainable way. Our employees take

this seriously and we are grateful for the

ongoing efforts they have put in through

these challenging times to ensure our

customers can access power and the

network maintenance is upheld.

The reinvigoration of MainPower's asset

maintenance programme is progressing

well. As we experienced last year, the

consistent SAIFI figure is due to the

continued intensive planned works

programme, the rural nature of our

network with many areas that cannot

have power redirected to them, and

the better recording of outage data

through our new Advanced Distribution

Management System (ADMS).

We are pleased to report adecrease

in SAIDI (compared to the six months

ending 30 September 2019). With

improved reporting from the ADMS

we still expect to see an increase in

SAIFI and SAIDI figures shorter-term as

reporting accuracy improves, however

we still expect longer-term we should

see areduced impact on network

performance. This reduction in SAIFI

and SAIDI will be due to increased

asset renewals, as well as the ADMS

providing better network visibility and

data required for improved risk-based

decision making and works planning.

Efforts over the last three years have

focussed on improving the stability

of the business and identifying and

addressing opportunities to make the

business more efficient. We believe we

have achieved asignificant amount and

have moved the business to ahealthier

position. We have adopted and refined

systems and processes to ensure we

can continue to manage an effective

network business.

Given this position, we believe it is time

to introduce alonger-term strategic

intent -'MPowered Future'. MPowered

Future requires the development

and implementation of alonger-term

framework. The basis of this framework

includes four core functions: Networks,

Services, Investments and Generation.

The MPowered Future strategic

framework has been developed and the

implementation plan is being worked

on. We want to be able to provide our

customers, consumers and communities

with choice about their future electricity

consumption and the technologies they

may wish to adopt. We also want to

ensure our shareholders are receiving

value from MainPower and we look

forward to providing further updates on

how this is progressing.

Renewable generation is still apriority

for usand the Mt Cass Wind Farm

project is progressing well, despite

financial close being moved toearly

2021 due to delays caused by

COVID-19. We believe this project will

add economic value to our shareholders

and North Canterbury, while also

benefitting wider New Zealand by

providing increased security of electricity

supply.Wewill continue to monitor

how the Tiwai Point situation evolves,

however the financial modelling still

reinforces the long-term viability of the

wind farm.

Financial Performance

For the six months ended 30 September

2020, the Group earned revenues of

$26.5m from continuing operations,

down $1.2m on the corresponding

period last year.This was principally due

to afall in external revenue as other

revenue lines have held up well during

COVID-19.

Profit and Total Comprehensive Income

after Taxofthe Group amounted to

$2.5m, which is above budget and

better than the same period last year

due to costs being deferred until later in

the year due to COVID-19.

Customer rebates for the period

amounted to $4.2m (September 2019:

$4.7m).

The Group has continued to generate

ahealthy cash surplus from operations

in the past six months. The operating

cash surplus of $9.5m has allowed the

Company tofurther reinvest $12.1m

in the expansion of network and other

assets to meet the future needs of

our region.

Debt remained steady at $22m, the

same as September 2019.

The following is asummary of both the

Consolidated Financial Performance

and Consolidated Financial Position of

the Group for the six months ended

30 September 2020, and the Service

Performance of the network for

that period.

Acopy ofMainPower's Consolidated

Interim Financial Statements and Report

for the period ended 30 September 2020

can be obtained via mainpower.co.nz.

This Statement has not been

Audited

Financial Performance

A C King

Chair of Directors

MainPower New Zealand Limited

19 November 2020

6Months)

30 Sep 20)

$000)

6Months)

30 Sep 19)

$000)

12 Months)

31 Mar 20)

$000)

Operating Revenue 26,533) 27,755) 59,399)

Income TaxExpense 834) 441) 1,760)

Customer Rebates 4,240) 4,745) 10,546)

Profit and Total Comprehensive Income 2,528) 1,049) 10,732)

Equity 241,718) 229,507) 239,190)

Liabilities 92,547) 76,229) 97,361)

Assets 334,265) 305,736) 336,551)

Net Cash Flows

From Operating Activities 9,484) 8,505) 24,348)

From Investing Activities (12,067) (10,174) (24,986)

From Financing Activities (416) -) (2,121)

Net Decrease in Cash Held (2,999) (1,669) (2,759)

Closing Cash Balance 3,035) 7,124) 6,034)

Customer Service Statistics

SAIDI–Average Number of Minutes that a

Customer has been without power because

of planned and unplanned outages

SAIFI –Average Number of Interruptions

experienced by aCustomer during the

six months because ofplanned and

unplanned outages

6Months)

30 Sep 20)

6Months)

30 Sep 19)

12 Months)

31 Mar 20)

165.5) 181.9) 343.3)

1.1) 1.1) 2.3)

Total Units Delivered to Customers (GWhs) 311.6) 294.5) 634.4)
---
NOW ON. ENDS 8.2.21. EXCLUSIONS APPLY.

ALL OUTDOOR ON SALE!

Marbella 3 Piece Outdoor

Lounge Set

WAS $ 2499

NOW

$

1699

SAVE

$

800

Valletta 6Piece Outdoor

Lounge/Low Dining Set

WAS $

2499

NOW

$

1999

SUPER DEAL!

SUPER DEAL!

ALL LOUNGE ON SALE!

Regan Sofabed

TIBET

WAS $

999

room

ange

ON SALE!

NOW

$

799

Nero Electric Recliner

WAS $

799

NOW

$

599

Rivo 3Seater Electric

Recliner

WAS $

2699

NOW

$

1999

Rivo 2Seater

Electric Recliner

WAS $

2399

SUPER DEAL!

SUPER DEAL!

NOW

$

1799

SUPER DEAL!

ALL BEDROOM ON SALE!

Serene Trundler

Bed Set

WAS $ 897

NOW $

698

SUPER DEAL!

Dallas Queen Bed – Jet

WAS $ 449

NOW

$

349

Sono Boxed Mattress –Queen

Medium Feel

WAS $

599

NOW

$

399

Shop

Online

Nationwide

Delivery

Finance

Options

SUPER DEAL!

moresuperdealsonline&instore!

SUPER DEAL!

STOREWIDE SALE ENDS 08.02.21.

Come&checkout

ournewSTORE!

targetfurniture.co.nz

250 Moorhouse Ave, Christchurch

Ph: 0800 TARGET (0800 827438)

Offers and product prices advertised here expire 08/02/21.

Sale excludes Manchester and Accessories.
---
Sefton holds top spot

with eight-wicket win

AresurgentSefton consolidated its leadat

the topofthe country cricket leaderboard

with ademolition jobover Lincoln at the

weekend.

Sefton'sopening bowlers Jed Roberts

and Micah Campbellgrabbedseven

wickets between them before their

powerfultop orderchased down Lincoln's

meagre 124 runs with the lossofjust two

wickets, inside 16 overs.

McKenzie Smith waschief destroyer,

smashing60runs off just 27 balls,

including 11 boundaries.

Snapping at Sefton's heels at the top of

the CRV Ambreed CountryPremier One

Day 2020/21competition is Leeston­

Southbridge,whichhad acomfortable

73­run win over Cheviot on Saturday.

Choosing to bat first at Cheviot Domain,

the visitors piled on the runs,making226/7

in theirallotted 45 overs.

Former Dutch international Tim

Gruijters top­scoredwith arun­a­ball 62,

whileDougaldMunro provided lowerorderlustre,smashing

48 off 40 balls.

Chasing 227 to win, the Cheviot Magpies

appeared to be building nicelyat66/2 in

the 15th over, but when JedRobertson was

bowled by David Neal for 35,Tom

Klingenderripped through the middle

order, grabbing four wickets.

Leeston­Southbridge strangledCheviot

in the field and completedits solid win in

the 36th over.

Low­scoring match

At Southbrook Domain, the home side

lost another low­scoring affair.

Batting first,Southbrook, as it has for

much of the season,struggled to build

partnerships and spluttered through to be

all out in 44 overs for just 138.

Shanan Stewarttop­scored with 39

before he was run out by Josh Mariu.

Opener Daniel Lyons (35 runs off 53

balls) got Ohokaoff to asolid chase,but the

side was soon reeling at 74/4.However,

experienced all­rounderPaul Miller

steadiedthe shipand his composed,

unbeaten half­centuryguided Ohoka to a

hard­fought three­wicket win with eight

overstospare.

Winfor Oxford­Rangiora

At Pearson Park, Oxford­Rangiora

dispatched Weedons by 89 runswith

another solidteam performance.

Contributions throughout its batting order

saw the home side post 168 in 44.3 overs,

with sevenplayersmakingdouble­figures.

Jake Waghorn (4/15)and Lachie Stove

(3/15) ripped through Weedons for just 79,

completing the win in just the 32ndover.

Darfieldhad the bye.

Shortscorecards:Lincoln124 (A Gulati

35, EPaterson 24, RSporke24; JRoberts

4/21,MCampbell3/23) losttoSefton125/2

(M Smith 60, CWarner 30; EPaterson 2/31).

Leeston­Southbridge 226/7(TGruijters

62, DMunro 48, TDoyle 26, CBeatson 24;

JRobertson2/28, CCameron 2/40) beat

Cheviot 153 (C Cameron 44, JRobertson 35;

TKlingender4/35).

Southbrook138 (S Stewart 39, H

Williams 3/20,MBurns 2/13,AHamilton

2/23) losttoOhoka 139/7 (P Miller 54no, D

Lyons35; DBoyle 2/21, GGunn 2/28, J

Green2/44).

Oxford­Rangiora 168 (L Waghorn 31,M

Power27, DSmith 22; HD'Arcy3/15,C

Robson 2/20) beat Weedons 79 (J Waghorn

4/15;LStove 3/15).

SPORT

North Canterbury News, January 21, 2021

31

In the saddle ... Some of the players in last year's South Island Women's Polo

Tournament, with the Douglas Farm Contracting side in pinkand Mhor Women's Fashion

Hanmer Springs in green. From left are HannahHutchinson, Katie Rankin, Jess Reid,Anna

Higginson, Lea Dieterle and Ange Norrie. The Douglas Farm Contractingteam won the

tournament.

PHOTO:GEOFFSOPER PHOTOGRAPHY

Polo event afundraiser

By ROBYN BRISTOW

The fast­paced sport of polo will be on

display in Culverden thisweekend.

The third South IslandWomen's Polo

Tournamentisbeingheld at the Amuri

Polo Club grounds on School Road on

Saturday, January 23, and Sunday,

January 24.

Six teams will be competing at the

event, whichisafundraiser to support

the Amuri St John building project.

Women'spolo is one of the fastestgrowing

sports in the world.

The UnitedStates has the largest

number of womenplaying the game,

with 989. It is followed by Britain on 544,

Australia on 393, and New Zealand with

145 players. The age of players varies

from13to 65 and over.

Women usuallyplay in mixed teams

withthe men, but thisisatournament

for them to play against their peers.

The four major sponsors are Douglas

FarmContracting,Mhor Women's

Fashion in Hanmer Springs, Dwyer

Lewis Earthworks Ltd and Amuri

Transport.

The sponsor of the winner'sprize is

the McLachlan Family.

The workhorses of the game are

recognised with pony prizessponsored

by Saddlery Warehouse,Dunstan Feeds,

Rangiora Equestrian and Fiber Fresh.

The players are also rewarded, with a

prize for the mostvaluableplayer

sponsored by Tailshot Polo.

Entry is by gold coin donation.

JOIN US NOW!

See website for details

TIMBERLAND

TOMS shoes from $30.

Eastpak bags from $20

HUFFER

T-Shirts-1for $39,2for $69,

3for $79. While stocks last

NEW BALANCE

Back to School!

Free pair ofsocks with any kids

shoe purchase. T&Csapply

UNDERARMOUR

End of season sale

Up to50% off. T&Cs apply

JUST BAGZ

Up to 70% off

luggage

STYLES MAY DIFFER TO IMAGE SHOWN

Sign uptoSmart Deals &beinthe monthly draw for a$100 Dress-Smart gift card!

Open 10am-5pm, 7Days 03 349 5750

CHRISTCHURCH 409 Main South Road, Hornby

www.dress-smart.co.nz
---
North CanterburyNews

PROPERTY

Country Lifestyle Awaits

1406 North Eyre Road -West Eyreton

Astylish and well-presented heart-warming country home. Entertainment and family living is made easy with

this gorgeous layout providing you with the heartbeat of the home with light 'n bright dining and living areas.

Four generous sized double bedrooms plus a study room, add further to your list two bathrooms, separate

laundry, double internal access garaging with an adjoining 10 X6hobby/work room suffice for either work

or play. North facing allowing good sun, double glazed and log burner ensures your warmth for the cooler

months.

The well-established and tasteful garden setting with its mature trees is tranquil providing plenty of privacy

and agreat feeling of country space. The kids are going to love living here and so are you!

Location is fantastic being a15minute drive to Rangiora, a3minute drive to the Cust township and if you're

requiring acommute to Christchurch it's now become easier and faster with the new Northern Corridor.

This lifestyle property including four hectares, properties own bore, boundary shelter, anopen four-bay shed

should fulfill your ambition towards ownership of an excellent lifestyle property, make the excellent decision

and call for your private viewing.

Deadline Sale

–all offers presented 4pm, Tuesday

9th February 2021 (unless sold prior)

4 2 2 1 2

Phone or text for viewing times

Odelle Rich

Harcourts Rangiora

Phone: 027 269 0908

03 313 6158

View online @harcourtsfourseasons.co.nz

ID# RG9310

Four Seasons Realty 2017 Ltd

Licensed Agent REAA 2008

Four SeasonsRealty

2324050
---
WE'VE GOTTHE BUYERS WHO

WANT TO LIVE WHERE YOULIVE.

Beer living,beer value.

NORTH CANTERBURY

Properties wanted in all price ranges forresidential &lifestyle.

Thereare plenty of reasons whypeople are choosing North Canterbury

as the region to purchase property.

• Great value formoney

• Low interest ratesand easingoflending restrictions

• Excellent buying opportunities—for both newand established homes

• The newNorthernmotorwaybrings thecity and region even closer

Contact your local and most trusted real estateexperts forafriendly chat

about the current market.

Your local offices

Belfast Office

HanmerSprings Office

Kaiapoi Office

RangioraOffice

The Palms Office

03 323 6045

belfast@harcourts.co.nz

804 Main North Road,Belfast

03 3157084

hanmersprings@harcourts.co.nz

Shop3,12a Conical HillRd, Hanmer Springs

03 327 5379

kaiapoi@harcourts.co.nz

154 WilliamsStreet, Kaiapoi

03 313 6158

rangiora@harcourts.co.nz

15 Good Street, Rangiora

03 385 0343

thepalms@harcourts.co.nz

39 Marshland Road, Shirley

Your home forlocal property

Four Seasons Realty 2017 Ltd|LicensedAgent REAA 2008

Four Seasons Realty
---
North Canterbury

Oxford 22 Powells Road

Looking for

anew place

to call home?

I'm thrilled to announce my new position

as aResidential SalesConsultantat

Property Brokers Rangiora.

My quality service is backed by regional knowledge,

expert training and tools -everything youneed to

makeinformed property decisions.

If youare looking to buy or sell, call me today!

LindaMcCarthy

Residential Sales Consultant

M 022692 6090 E linda.mccarthy@pb.co.nz

Elmwood Homestead

Within walking distanceofthe thriving North Canterbury Township of

Oxfordisthis superb 4hectare lifestyle property.

•Immaculately presented and substantially renovated 280m2family

home consisting fourbedroomswith master ensuiteand walk in robe

plus office.

•Open plan kitchen/dining/livingincludingpolishedfloors,new wiring,

plumbing and insulationthroughout.

•Entertainers delightset on sweepinglawns in ashelteredand private

settingwith qualitytree specimens.

•Substantial shedding including arecentlycompleted commercial

workshop,woolshed, hay shedand implement shedplus more.

•Set on 4Ha of highly productiveland subdividedinto four paddocks.

4 3 3

Deadline Sale closes Monday 1st

February, 2021 at 4.00pm

View By appointment

Web pb.co.nz/DFR81237

Matt Collier

M 027 205 6626

Malcolm Garvan

M 027 231 4425

Kick 2021 off with our refreshingly

superior marketing deals!

Our mintmarketing deals will get youthe best result

in today's market! Don't undersell your propertytalk

to us to book in your FREEappraisal today &

get the premium your property deserves, call today

0800 367 5263 or visit pb.co.nz/startfresh

Ask aboutour summer auction events! *Terms and Conditions apply | Licensed REAA 2008

Property Brokers Ltd Licensed REAA 2008 |pb.co.nz

Proudtobehere
---
What's happening in your

community…

Flaxton Road Roundabout and Upgrade

Underway

The upgrade ofFlaxton Road through the

Southbrook industrial area and construction of

aroundabout at the intersection of Flaxton and

Fernside Roads has now begun.

This is an exciting project that will provide asafe

intersection and reinforce Southbrook as amain

entrance to Rangiora. The work is likely to cause

delays and the Council encourages drivers to think

about using alternative routes such as Lineside

Road.

"These projects will address many safety issues as

well as cater for the increasing amount oftraffic

using Flaxton, Fernside and Townsend Roads to

access west Rangiora," says Don Young, Senior

Engineering Advisor.

The work involves new kerbs, parking bays and

footpaths aswell asthe roundabout itself which

will provide abetter layout to suit the amount of

traffic using the road.

During the project, asection of Flaxton Road

between Fernside Road and Kingsford Smith Road

will be closed to northbound traffic -which will be

diverted via Townsend Road and South Belt. There

will also be a30km/h speed limit in place.

Work will be completed in stages through to May

2021 with final asphalt sealing later in the year.

Find out more about this and other roading

projects on the Council website.

Let's Talk about how Council Cemeteries

are Managed

Cemeteries play an important role in our

community. It's essential that Council-managed

cemeteries are well-maintained and peaceful

places for family and friends.

To guide how Council cemeteries are managed

day-to-day, and to cover things like memorial

headstones, grave decorations, gravesite

maintenance, the natural environment and the

reservation of ashes or burial plots, we've draed

aCemetery Policy and want to hear your thoughts.

Visit waimakariri.govt.nz/letstalk and share your

thoughts with us before 15 February.

Have you signed up for

the Waimakariri District

Council Newsletter?

Tojoin visit:

waimakariri.govt.nz/subscribe

Ablocked drain?

New pothole?

Fallen tree?

Good Street Reserve, Rangiora

Baker Park, Kaiapoi

Karen Eastwood Park, Pegasus

Pink Elephant Park, Rangiora

Gladstone Park, Woodend

Arlington Park, Rangiora

Waimakariri District Council

Use the free Snap Send Solve app to tell

Waimakariri District Council about it.

DOWNLOAD FOR FREE

Visit our website to find out more

waimakariri.govt.nz

Neighbourhood

Barbeques

Come and join your neighbours for aBBQ.

21 January 5-7pm

28January 5-7pm

11 February 5-7pm

18 February 5-7pm

25 February 5-7pm

4March 5-7pm

All ages welcome, for these free nights of fun.

Check the events website link belowfor anycancellation details.

Find out more information here:

waimakariri.govt.nz/community/community-initiatives/

neighbourhood-events

Welcome Back Kids!

The Learn to Swim and toddler areas at

Kaiapoi Aquatic Centre are now open again

following maintenance.

The lane pool is still closedwhile work is completed,

thismaintenance will help us keepour facility in

greatshapefor years tocome.

Whilethere's no goodtime to close the pool,the

holidays are traditionally our quietest time.Dudley

Park Aquatic Centre in Rangiora is available for

swimming during this time.

The lane pool will be available from6February.

We've developed adra Cemetery

Policy to guide how Council cemeteries

are managed day-to-day and want to

hear what you think.

It covers things like:

waimakariri.govt.nz/aquatics

ABOUT CEMETERIES

• Installation and maintenance of memorial

headstones

• Gravedecoration

• Gravesiteand cemetery maintenance

• Reservationofashes or burial plots

Shareyour thoughts.Feedback is openFriday

15 JanuarytoMonday15February 2021.

Find out more at waimakariri.govt.nz/letstalk
---
NEWS

North Canterbury News, January 21, 2021

37

Upcoming Council

meetings

The following meetings will be

held in January and February 2021.

All meetings will beheld inthe

Function Room,(upstairs)Rangiora

Town Hall, 303 High Street,

Rangiora, unless otherwise stated.

• Council –Long Term Plan

Budget Meetings

Tuesday 26, Wednesday 27and Thursday

28 January at9am to 6pm each day.

• Waimakariri Water Zone Committee

Monday 1February at 3.30pm atthe

Ruataniwha Kaiapoi Civic Centre, 176

Williams Street, Kaiapoi.

• Council

Tuesday 2February at1pm.

• Oxford-Ohoka Community Board

Wednesday 3February at 7pm atthe

Oxford Town Hall.

(The Public Forum section ofthe agenda

will occur from 7pm to 7.20pm.)

• Woodend-Seon Community Board

Tuesday 9February at6pm at the

Waikuku Hall.

• Rangiora-Ashley Community Board

Wednesday 10 February at7pm.

• Kaiapoi-Tuahiwi Community Board

Monday 15February at5pm at the

Ruataniwha Kaiapoi Civic Centre, 176

Williams Street, Kaiapoi.

• Audit and Risk Committee

Tuesday 16 February at9am.

• Land and Water Committee

Tuesday 16 February at1pm.

• Utilities and Roading Committee

Tuesday 16 February at3.30pm.

• Council

Tuesday 23 February at 10am.

• Community and Recreation Committee

Tuesday 23 February at 4pm.

• Multi Sports Facility Steering Group

Thursday 25 February at 10.30am.

All meetings are open tothe public.

Agendas are available two working days

prior to meeting.

Agendas and minutes for the meeting

can be found onthe Council's website:

waimakariri.govt.nz

Labour of love ... Ray Lilley, left,and Rangiora­Woodend Methodist Parish minister Rev Veitomoni Siufanga admire the

bounty in the small community gardentuckedinbehind Rangiora'sTrinityMethodist Church.

PHOTO: DAVID HILL

Agarden bounty to enjoy

By DAVID HILL

ARangiora parish is sharing in

nature's bounty.

Tucked behind Rangiora's

Trinity Methodist Church is a

community garden with raised

garden beds. It flourishes with

vegetables year round.

The garden was established

several years ago in partnership

with the Rangiora Borough

School to teach the children how

to grow their own food.

Since then, the school has

developed its own garden, but

the church kept the garden going.

It now gives vegetables away to

South Bank

showcased

By ROBYN BRISTOW

Three wineries and asculpture park

will showcasetheir wares at aDiscover

South Bank event thisSunday.

Peopleare invited to discover the

secrets of a7.5kmstretch of Georges

and Rampaddock roads,onthe south

bank of the Waipara River—the home

of Terrace Edge, Bonelineand Georges

Road wineries, and the Iron Ridge

Sculpture Park.

Loversoffood will be able to enjoy

local produce, whitebait fritters,

foraged food,ice­creamand antipasto

platters, while exploring the area and

enjoying the views.

The family­owned wineries and

sculpturepark will offer wine and art

experiences, and seminars.

Terrace Edge will run an Aged

Riesling Seminar,opening up its cellar

to explore how rieslings age over the

years.Tobook, visit terraceedge.co.nz/

collections/vineyard.

At Boneline, winemaker Willie Trew

will present Exploring IridiumRed

Blend.Hewill talk about the Iridium

red blend of cabernet franc, cabernet

sauvignonand merlot. To book, email

sales@theboneline.co.nz.

Aseminar, Wine and Cheese Matching,

will be held will at Georges Road.

Kaikoura cheese will be matched with

the Georges Road wine range. Email

wine@georgesroadwines.co.nz to book.

Each of the three seminars cost$25

per person.

There willbeaforging

demonstration at the sculpture park,

where parking is free. There willbeicecream

and coffee available, and views

to enjoy.

those in need, and to

parishioners on Sunday

mornings.

''It's agood way of getting

people to church early on

Sunday, as they come early to get

the pick of the crop,'' Rangiora­

Woodend Methodist minister

Rev Veitomoni Siufanga says.

At this time of the year the five

raised garden beds are full of

tomatoes, potatoes, peas,

radishes, cabbages, courgettes,

broccoli, celery, rhubarb, onions,

beetroot, chilli plants, beans, bok

choi, asparagus, carrots, lettuce

and spinach.

During the winter there is

Kaikoura eyes its

longer-term goals

By DAVIDHILL

Abusy year is in store as the

KaikouraDistrict Council

seekstoplan around the

uncertainties of Covid­19.

MayorCraig Mackle says

thereisplenty for the

community to considerinthe

post­earthquake and Covid­

19 environment.

He was commentingas

council staff were busy

draftingthe 2021/31 Long

Term Plan (LTP) and the

revised District Plan.

One thing is certain, Mr

Mackle says —there willbea

ratesrise this year.

''If we don'tgowith the

ratesrises we are askingto

standstill and then we end

up falling back,'' he says.

''My personal viewisthat

ratesrises are part and

parcel of whatwedo; it's just

aboutcontrollingthat and

making sure we can keep

things running on the smell

of an oily rag.''

In the last LTP, in 2018,the

council set ratesrises at 10

percent ayear for three

yearstofund earthquake

recovery, but hastilyrevised

it in last year's annual plan

in the faceofCovid­19 to a

rise of 4% for the 2020/21

financial year.

The realitiesofCovid­19

stillloom large, with the

international border

usually asupply of leeks, silver

beet, Brussels sprouts and

pumpkin, volunteer Ray Lilley

says.

''If something comes out, we

put something else in.

''It's all seasonal growing, so

there's always something

growing, even in the winter

months.''

The success of the Trinity

Church garden encouraged

Veitomoni to start up a

community garden at the

Woodend Methodist Church in

2019. He also enjoys growing

kumara at the minister's

residence in Rangiora.

remaining closedasthe

councildevelops its latest

LTP,while uncertainty over

the futureofthree waters

regulation poses another

headache.

''Wehaven't seen the

major effects of Covid yet,

but Ithink we will get asense

overthe next few months.

''WhileKiwis are outdoing

their bit and looking after the

nation's businesses, we are

still billions of dollars out

across the whole country

withthe border beingclosed.

''But, in sayingthat, we are

better off compared to other

parts of the world.''

Despite the uncertain

times, Mr Macklesays there

willbelong­term costsifthe

councildoes not investinits

future now.

''Every dollar we don't

spend now is going to cost

$30 in 10 years' time.

''But regardless of what the

riseisorwhat we'redoing,

it'snot an easy decision,'' he

says.

The prospectofworking

on the Provincial Growth

FundprojectsatWakatu

Quayand the Kaikoura

Marina provide some

positives.

But,whatever is decided

thisyear,asthe earthquakes

and Covid­19 have shown, ''it

can all change'',MrMackle

says.
---
CLASSIFIEDS

38 North Canterbury News, January 21, 2021

PUBLIC NOTICE OF

APPLICATION FOR

ON-LICENCE

SECTION 101, SALE

AND SUPPLY OF

ALCOHOL ACT 2012

J & R Restaurant Ltd

has made application

to the District Licensing

Committee at Rangiora for

the issue of renewal of an

On Licence in respect of

the premises situated at

257 High Street known as

Nom Nom Kitchen.

The general nature of the

business conducted (or to

be conducted) under the

licence is Restaurant.

The days on which andthe

hours duringwhichalcohol

is (or is intended to be)

sold under the licence are

Monday to Sunday 12pm

to 11pm.

The application may be

inspected during ordinary

office hours at the office

of the Waimakariri District

Licensing Committee at

215 High Street, Rangiora.

Anypersonwho is entitled

to object and who wishes

to object to the issue of

the licence may, not later

than 15 working days after

the date ofthe publication

of this notice, file anotice

in writing of the objection

with the Secretary of

the Waimakariri District

Licensing Committee

at Private Bag 1005,

Rangiora.

No objectiontothe renewal

of alicence may be made

in relation to amatter other

than amatter specified in

section 131 of the sale and

supply of AlcoholAct 2012.

This is the second

publication of this notice.

This notice was first

published on 14th January

2021.

2337676v2

Get your

business

noticed

with an

advert

on our

Classified

or Trades

and

Services

pages!

Phone

Amanda

313 2840

or Email

info@

ncnews.

co.nz

to discuss

your

options

and be the

namethey

remember!

PROPOSEDCHANGE 1TOCHAPTER 6OFTHE

CANTERBURYREGIONAL POLICY STATEMENT

USINGTHE STREAMLINED PLANNING PROCESS

Sections80B and80C andPart5of Schedule 1, Resource Management Act

1991

TheCanterbury Regional Council (EnvironmentCanterbury)has prepared,

andgives public notice of,Proposed Change1toChapter6ofthe Canterbury

Regional Policy Statement(the Proposed Change).

TheProposed Changeseeks to amendChapter6and Map Aofthe Canterbury

Regional Policy Statementasfollows:

• Identify Future DevelopmentAreas in Rolleston, Rangiora and Kaiapoi

as shownonProposedAmendmenttoMap A: Identification of Future

Development Areas.

• Insertanew policy (Policy6.3.12),toenableland withinthese Future

Development AreastoberezonedbySelwynand Waimakariri District

Councilsifrequiredtomeettheirmedium term (ten year)housingneeds.

• Makeconsequential changes to objectives,policies, textand definitions

within Chapter6of the Canterbury Regional PolicyStatement.

Acopy of thefullPublic Notice regardingthe Proposed Change, including

informationonthe inspection and availabilityofthe Proposed Change, the

Minister's Direction, making submissions, and the streamlined planning

process, is availableonlineathaveyoursay.ecan.govt.nz/chapter6CRPS.

Submissionsmustbereceivedby5pm Monday15February 2021.

If youhaveany questionsabout theProposed Change, please contact Customer

Services on 0800 324636 or by email to ecinfo@ecan.govt.nz.

Dr Stefanie Rixecker,

CHIEFEXECUTIVE

ThePublicNoticeand shortsummary of thenoticewas first published on 16 January2021.

Please contactEnvironment

Canterbury with anyqueries:

0800 324636

TAI CHI AND

QIGONG

CLASSES

Exercise to improve balance,

posture, breathing,

immunity and relax the

body and mind. A great

combination of benefits

New term starting in February.

Check out the website

taichiwell.co.nz or

phone Rose 0274388364

Personal

SEMI RETIRED KIND,

divorced, romantic &

caring lady looking for a

loving relationship.

Seeking agenuine, caring

gentleman who doesn't

smoke, light drinker aged

65 -69. Please ph03313

2918.

Cars Wanted

CASH 4CARS

and 4WD'S

Phone

Automotive

Parts

03 313 7216

CARS, vans, 4WD's

wanted for dismantling or

repair. Phone 027 258

8366.

Parts &Accessories

FORD V8

FLATHEAD PARTS

$VARIOUS Ad# 37011

Suitable Ford V8 parts for

restoration.

Fenders 1940 truck/pickup

with inners; four running

boards and part of grill for

Ford 1940 truck and

pickup, plus heaps more.

Search postanote.co.nz

for more details.

Public Notices

Kaiapoi Christadelphians

"The Key of Knowledge .."(Luke 11:52)

WHY CHRISTADELPHIANS

BELIEVE IN THE HOPE

OF ISRAEL

Jesus Christ of the New Testament was aJew

borninIsrael. The historical kingdom of God

was reigned over by King David, in Israel, but

through unfaithful descendants was overturned

until he (Jesus Christ) would come whose right

it is to reign as King. Arighteous King ruling

over the Earth guiding all in his Father'sways.

DVD presentation -Sunday 24 th January, 7.00pm

Kaiapoi Community Centre

Sewell Street

All Welcome

for information -phone03352 5453

Website -bibletruthandprophecy

Livestock

HOMEKILL

&Wild Game

Meat Processing

313 0022

2309602MEAT2U.NZ

TEXEL ROMNEY

CROSS Ram lambs. Suitable

for breeding & lifestyle

blocks. Please phone

021 626 449 or 03 385

4966.

TEXEL ROMNEY

CROSS ewe lambs, suitable

for breeding stock &

lifestyle blocks. Please

phone 021 626 449 or 03

385 4966.

Entertainment

2348119

BALCAIRN HALL welcomes

the return of Fiona

Pears with Connor Hartley-

Hall performing as the

Gypsy Jazz Duo, an Arts on

Tour NZ event, 8pm Saturday

30th January 2021.

Free supper, alcohol free

event, raffles, CD sales.

Tickets $25 from Sally

Macs Amberley, Stan's 7

Day Pharmacy Rangiora,

Sefton Garage and via

www.balcairnhall.com.

Educational

TUITION available. Primary

and secondary up to

NCEA level 3. In centre

(Rangiora) or interactive

online from your home.

Each student on an individually

tailored programme.

Kip McGrath Rangiora has

been serving the local community

for 30 +years. Give

us acall (03 313 3638) or

book your free assessment

online https://www.

kipmcgrath.co.nz/rangiora.

Situations Vacant

School Bus DriversRequired

Would youliketoearn extraincome whilestill

having mostofyour dayfreeand at the same time

do your community aservice by helpingtoprovide

asafe, high standardofschool transportfor our

region'schildren.

Torlesse Travel has positionsavailable forpart time

schoolbus drivers in Rolleston, Darfield, Oxford

and Rangiora.

If youhaveaClass 2license, aPassenger

Endorsement andare interestedindriving on a

part time basis then this couldbefor you.

Alternatively,ifyou areinterestedinbecoming a

bus driver,wecan provide assistance to help you

achieve the correctlicencing.

If youare interestedinthisrole or wish formore

information, please email.

customerservices@torlessetravel.co.nz

Phone: 021 198 7358

Customer Service /Roading

Administration Superstar:

Amberley Based–Full Time, 40Hours per week

Fixed Term until 24 December 2021

•Helpustodeliver an exceptional customer

experience

•Fastpaced and complex administration

environment

Youwill be working in abusy,and challenging

environment where attention to detail is essential

and communication is key.This is an important

role providing general front-of-house, online and

telephone customer care services as well as assisting

our roading team with administration support.

We need someone with great people skills, who is

flexible, resilient, efficient,enthusiastic andquick to

pick up and retain information. Youwill be process

driven, abletofollow instructions but be confident

enough to ask questions and take initiative. You

will be dogged in your focus on achieving the

best outcome for our customers. Experience in

administration and front of house service is essential

-asisacan-do attitude, strong work ethic and

willingness to learn!

Ideal applicants will have:

•Strong computer skills -including Microsoft

Office Suite

•Excellent communication skills, both written and

verbal

•The ability to multitask and work to deadlines

with attention to detail and accuracy

•Adesire to exceed expectations and become a

valuable partofacommitted team

•Reliability,responsibility and the ability to

convey aprofessional corporate appearanceat

all times

If you're looking for avaried, rewarding position that

will see you kept on your toes... you've come to the

right place!

Preferred applicants will live locally and be nonsmokers.

Foraposition description or to apply for this job go

to: http://hdcjobs.co.nz/Vacancies &enter ref code:

5338874. Forany further information please email

Cynthia.otto@hurunui.govt.nz.

Applications close 31 January2021.

LABOURING, Sawmill,

Factory and Traffic control

work available. Please contact

Superior Personnel, BICHON

phone 313 6180, unit 1/6

Cone Street, Rangiora.

www.superiorpersonnel.co.nz.

For Lease

FOR LEASE

2Industrial Work shops

with yard areas in

Newnham st Rangiora

unit 1shed 162 m2 yard

480m2 unit 2shed 108 m2

yard 590m2 .single &3

phase plugs & water.

Lease terms negotiable

Phone 0274342831

Trade&Services

REMOVALISTS

Movemen Ltd

2Men &agood sized

truck. From $157 per hour

(incl gst). Kaiapoi based.

Call Gerard

027 668 3636

2316549

Pets

2347218

HOMESTAY

for smaller dogs. We look

after your dog in our home.

"No kennels". Phone today

03 314 6110.

ABEL &Prestige Chimney RANGIORA Rubbish

Cleaning. Nth Cant owned

& operated. Covering all

areas from Waimak to Hanmer.

Professional, guaranteed,

Removal and RRR skips.

Wheelie bins any frequency

and skips from 1.5 cube to

9cube. Skips and wheelie

service. Firebox bins for any use, rubbish,

repairs, carry most parts. Ph

0800 661 244.

greenwaste, building sites

or just cleanups. Give us a

AFFORDABLE concrete phone call 313 6957 or for

cutting with quality and skips 021 313 255.

removal work. Free quotes. SCREEN PRINTING.

No job too small. Ph 027 For all your printing

442 2219, Fax 03 359 6052 requirements. T-shirts,

or A/H 03 359 4605. Hoodies, Hi-Vis vests and

ALL TREE SERVICES, polos, Overalls, Caps etc.

chopping, pruning, firewood

Please phone Heather 03

cut. Affordable &

friendly service. Telephone

313 0261 or email heather.

norstar@gmail.com.

021 111 4322.

SHEARER. Hap's Farm &

ARBORIST qualified. Lifestyle Services. Shearing,

crutching, drenching,

Copper Beech Tree

Services. Tree removal, tailing, feet trimming &

pruning, height reduction, health check. Trailer, generator

&mobile handpiece

hedge trimming, shaping,

tree planting, firewood. available. Experienced,

Free quotes. Contact Angus reliable and honest. Ph 03

Edwards 027 259 6741 4233713 or 021 267 4025.

copperbeechtreeservices@gmail.com.

BRIAN'S Tree Services. SHEEP SHEARING,

Tree felling, topping, drenching, feet trimming.

shaping, firewood cut, rubbish

removed, stump grind-

Stu 027 315 6916.

For Lifestyle blocks. Call

ing, branch chipping. STONEMASON, Brick

Affordable rates. Phone 03 and Blocklayer. Earthquake

327 5505 or 021 124 4894. repairs, grind out and

BRICK &blocklaying. All repoint, River/Oamaru

types of work undertaken, stone, Schist, Volcanic

repairs. Phone Hamish rock, paving, all alterations

0272 386 003 or 313 5678. - new and old. Quality

DIRTY TILES &Grout? workmanship. Visit www.

Professional tile cleaning, featureworks.co.nz or ph

tiled shower restorations, 027 601 3145.

mouldy silcone, shower

glass & we can even SUMMERFIELD

recolour your old grout!

FENCING

For all your tile and grout

issues call Grout Pro for a IN YOUR AREA NOW.

free, no obligation quote. Lifestyle or farm, sheep, cattle,

Ph Darryl 0800 882 772. horse, all types of animals.

FIRE GUARDS Custom Fences, yards, sheds, arenas,

made with safety latch. shelters, runs.

Phone 021 169 9066. E: 30+ years contract fencing.

pjfabricators123@gmail.com. Steve is available to help with

KITCHEN, bathroom, your design &planning.

renovations, decking,

pergolas, fencing. Honest Ph office03312 4747

reliable licenced builders.

Ph Don 027 727 9162. ANTHONY SYMONDS

METAL WORX. Flashing,

Sheetmetal Fabri-

plastering requirements

Forall your painting &

cation, Wrought Iron,

Welding, Custom Trailers, Local with 30 years

General Metalwork. No job experience

too big or too small. Ph 021 All workmanship

265 5428 or 03 314 6908. Guaranteed.

Find us on facebook/

Glenmark Metal Worx. Phone 021 344 023

glenmarkmetalworx.ltd@gmail.com.

PAINT & wallpaper

services. Wayne Bryant,

SEPTIC TANK

CLEANING

exterior, interior. Qualified

tradesman. Free quotes. Ph Bill's Liquid

313 5337 or 027 654 4568.

PAINTER. Qualified local Waste

professional, Int / Ext, You dump it...

roofs, wallpaper. Call or Blair pumps it...

text Corban 027 846 5035.

PLASTIC WELDING Blair Tavendale

North Canterbury Specialist.

All plastic &fibreglass

Ph 03 314 9371

repairs. Telephone James 0275 379-694

021 180 5103.

POWER TOOLS repairs, Pride &Quality Painting

parts &sales for over 40 &Decorating Services

years. All main brands serviced.

Grossman Trade service. For all your painting

20 yrs exp, fast and friendly

Tools, 23 Watts Road, needs, phone: Martin 310

Christchurch. Ph 389 9230. 6187 or 021 128 9867

ROOFER All roof repairs,

roof painting, water blasting,

moss treatment, Specialising in North Can-

VALUATION -

repointing, gutter cleans & terbury. Contact Geoff at

snow straps. And more. Maxwell Valuation. Phone

Free quotes. Phone Nathan 03 310 8541 or email

027 516 6609.

geoff@maxval.co.nz.

WINDOW TINTING

tintawindow

advanced film solutions

99% uv block

fade protection

heat control

reduce glare

25 Years Experience

Trade &Services

privacy films

frosting designs

non-darkening films

Workmanship Guaranteed

Lifetime Warranties on Most Films

UV

block

Free Quotes Canterbury and Districts

03 365 3653 0800 368 468

2091848

2220615

2225862
---
CLASSIFIEDS

North Canterbury News, January 21, 2021

39

Gardening

A+ GARDEN hedges cut

to perfection. Tree &arbor

work. Also spraying. Free

quotes. Ph 03 312 0668 or

021 111 4322.

Stock Feed

HAY BALING

Conventional (small)

Or round bales.

Loburn, Woodend,

Kaiapoi, Ohoka areas

Ph 027 478 2925

or 313 7938

2337334

Wanted To Buy

BUYING estate type old

china, crystal, collectables,

vases. Ph 027 350 3963, or

313 1878.

PRE 1990's vehicles suitable

for resurrection and

restoration, not wrecking.

Anything considered, dead

reg ok. Ph 021 227 6878.

$$$

Amalgamated Scrap Metal

Ltd. Specialists in farm

machineryand farm clean

ups, old vehicles etc.

100% locally owned.

Ph 0800 030 712 or

027 695 0480.

2312759

Garage Sales

MOVING AWAY! Saturday

23rd January, 8am-

2pm. 25 Goodwood Close,

Rangiora. Furniture,

clothes, RHS uniform,

tools, sports equipment,

bric and brac.

For Sale

HONEY 4kg bucket

cooking honey, $30 special.

Available at Gracebrook,

Amberley. Telephone 03

314 7076.

Training Opportunities

GUITAR &Uke lessons.

Private and group sessions,

beginner to intermediate.

Experienced Rangiora

based tutor. Ph Tim Davis

on 027 489 5957.

In Memoriam

WEST GARNETT 26th

January. Left us 30 years

ago. Remembered with

love, the family.

Poultry

BROWN SHAVER POL

pullets, order now, ready

Feb, pickup Clarkville,

$30, ph /txt 027 433 7720.

Trusted Trades &

Professional Services

Guide

To book your spaceinthis guide,phoneAmanda Keys 313 2840 or email amanda.keys@ncnews.co.nz

Appliance Repairs

Builder

Butchery

Chiropractic Services

•REGISTERED TECHNICIAN

•AUTHORISEDLOCAL SERVICE

F&P, Bosch, Smeg,

ASKO,Ariston, LG,Classique,

Haier, Samsung and more....

"For best resultsbesuretouseauthorised service"

NORTHCANTERBURY APPLIANCE SERVICES

Rangiora: 03 313 4420 Kaiapoi: 03 327 3810

1913020

OxfordButchery

Shane and Leanne Frahm

We cankill&process yourstock

FourGenerations of Frahms

since 1957

Ph 312 4205

Oxford

1680439

Number one

old-fashioned bacon

&ham curing.

A/H 312 4709

Injury,accidentsand maintenance

ACC Registered and Accredited

Monday-Thursday |03 313 0350

Libi McKinnon Physiotherapy

privatephysio@xtra.co.nz

027 868 2574

ACCRegisteredProvider | Tuesday &Friday

Select Health

51 Ashley Street, Rangiora

2344089

Computer Repairs

Bruce Evans

131 Ohoka Road

Kaiapoi

03 327 3111

021 293 6331

compucare@xtra.co.nz

www.compucare.co.nz

Computer Repairs &upgrades

Prompt professional services

2276525v2

Virus &malware removal

New &UsedPC's4Sale

Construction &Concrete

All Construction & Concrete Work

•Driveways, patios &paths

•Bridges and Culverts

•Floors, foundations

•Sheds and buildings

•Dairy Sheds, Herd homes

•Silage pits, effluent ponds

•Excavation and cartage

•Precast concrete

•Insulated panels

Daryl Power

027 230 9401

concretepower@scorch.co.nz

www.concretepower.co.nz

2273277

2089195v2-4/4-S

YOU

COULD

BE

HERE

Electrician

AARON HARRIS

ELECTRICAL LTD

NEW HOUSES • ALTERATIONS

ELECTRICAL INSPECTIONS • SMART WIRING

SYSTEMS AND MORE...

M: 0275 543 958 E: aaron@ahel.co.nz

2020478

2269236

Engineering

For your Engineering needs

187d Ohoka Road, Kaiapoi

Phone 03 327 5246 |027 495 2821

toppeng@xtra.co.nz

Mechanical &Pipe Systems

•Upto2"pipethreading &fitting

•Oil lubricationpumprepairs&systems installation

•BulkDieselTank polishing (filtering)

•Industrialservicing andmaintenance

•Based inWaimakaririregion

Tony 027 243 5337

Email:Mpipesystems@gmail.com

2346458

Advertise

your business

in our Trades

and Services

Phone

Amanda Keys

on

03 313 2840

Scrap Metal

CASH PAID FOR SCRAP

•Car Bodies •Scrap Steel•Specialists in Farm

Machinery•All non Ferrous

MAINLAND

METALS LTD

Ph (03)338 7000

Mike0274 818544 •Robbie 0274 818 027

Locally owned and operated

Thursday,August 2, 2018 | Issue 808 | www.ncnews.co.nz

HAVE YOU BEEN TO

OUR WEBSITE LATELY?

www.ncnews.co.nz

Visit now toview the paper online &more!

1902273

Scaffolding

•Edge protection

•Working platform

Phone

0274 366 901

Plans for pricing

jas.rangiorascaffolding@xtra.co.nz

North Canterbury wide

1783878

CAP 65

CAP 40

CAP 20

Shingle

SHINGLE SUPPLIES

Quarry Prices

DRAINAGE CHIP

from $40 per cube

from $23 per cube

from $25 per cube

from $30 per cube

all +gst

Plus all excavation and truck hire

house excavations, driveways, subdivisions

CONTRACTING

Ph: KEN 027 201 3302

Email: stress@xtra.co.nz

2009594

ADVERTISING

YOUR

BUSINESS?

1914343

Thursday,August2,2018 | Issue 808 | www.ncnews.co.nz

Delivered to more homes

in North Canterbury and

Kaikoura regions than any

other publication.

The best read paper in

North Canterbury!

For contact details see page 2

To book your spaceinthis guide,phone Amanda Keys 313 2840 or email amanda.keys@ncnews.co.nz
---
RangioraToyota

WANTED

Quality used late

modelToyotas.

Contactustoday

if you'relooking

to sell!

2015Nissan Leaf

•30Kw, 86%SOH

•ReverseCamera, Bluetooth

•28,100kms

2008 DaihatsuSirion

•1.3LPetrol5-Speed Manual

•Aircon, AM/FM &Radio

•Done128,890km

$

20,995

$

5,995

2013Toyota Aqua

•1.5LHybrid PetrolAuto

•ParkingSensors NOW

•Bluetooth

2006 Toyota Vitz

•1.3LPetrolAuto

•NZRadio, 5-Door

•Done94,750km

Signature

CLASS

S

WAS$15,995

$

8,995

2013Toyota Prius S

•1.8L Hybrid Petrol Auto

WAS$17,995

$ • Keyless

NOW

14,995 $

12,995

•5-doorHatch

2018 Toyota Yari ris GX

• 1.3L Petrol Auto

•ReverseCamera, Bluetooth

•Done40,400kms

$

18,995

2018 Corolla Sedan GX

•1.8L PetrolAuto, Alloys

•Bluetooth, ReverseCamera

•45,800kms

$

21,995

2018 Corolla Levin SX

•1.8L PetrolAuto

•Sat Nav, Camera

•9,800km

$

25,995

2017 Corolla LevinSX

•1.8L PetrolAuto

•Alloys, Camera

•8,250km

$

24,995

2010 Toyota Prius Silver

•1.8L Hybrid Petrol Auto

•Keyless,Bluetooth

•Done 180,650km

$

8,995

2018 Corolla GX

•1.8L PetrolAuto

•Bluetooth, Camera

•20,850km

$

20,995

2015Toyota Aurion AT-X

•3.5LPetrolV6Auto, Alloys

•Camera, Bluetooth

•100,250km

$

13,995

2019 CamryHybrid GX

•2.5LPetrolHybrid, Alloys

•SafetySense,Camera

•16,250km

$

36,995

2005 Aurion Sport rtivo SX6

•3.5LV6Auto, Alloys

•Spoiler,Sports Seats

•91,300kms

$

10,995

2011 Ford TerritoryTitanium

•2.7LTurboDiesel

•7-seater, Leather

•Camera

$

15,995

2018 Corolla GX

•2.0L PetrolAuto

•Satnav,Bluetooth

•Alloys, only 49,000kms

$

23,995

2018 Rav4 GXL

•2.0L PetrolAuto2WD

•Alloys, Satnav,Rev.Camera

•Only 60,550km

$

27,995

2019 KiaSportageGT-Line

•2.0L PetrolAuto

•Satnav Leather,Keyless

•Only 15,000kms

WAS$39,995

NOW $

37,995

2019 CamryGXHybrid

•2.5LPetrolHybrid, Alloys

•Bluetooth, Safety Sense

•15,250kms

$

36,995

2018 Toyota C-HR AWD

•1.2LTurboPetrolAuto

•Toyota Safety Sense,Satnav

•Only 29,700km

$

31,995

2017 Rav4 Limited

•2.5LPetrolAutoAWD

•Leather,Sunroof

•Only 26,400km

$

35,995

2012Highlander Limited

•3.5LPetrolV6Auto,

•Alloys, Leather

•7-Seater,Camera

$

19,995

2010 LandRoverDiscovery SE

•3.0L TurboDieselV6

WAS$31,995

•Leather,7Seater

•Climate Air

2018 Highlander GXL

•3.5LPetrolAWD,Alloys

•7-Seater,Satnav, Leather

•29,700kms

2016 HiluxSR5 Prerunner

•2.8L Turbo Diesel Auto2WD

$

47,995

2014 Highlander GXL

•3.5LPetrol6-SpeedAuto

•Alloys, Leather

•121,700kms

$

29,995

WANTED

Qualityusedlate

model Toyotas.

Contact us today if

you'relooking to sell!

2017Highlander GXL

• 3.5L PetrolAuto, Leather

• 7-Seater, Satnav, Keyless

•Done 29,000kms

2020 HiluxSRExtra Cab

$

47,995

2018 Highlander GXL

•3.5LPetrol8-Speed Auto

•Leather,Satnav

•59,500km

2017 HiluxSRPrerunner

•2.8L turboDiesel 2WD

$

44,995

NOW •2.8L Turbo Diesel Manual4WD

$ •Satnav,ReverseCamera $ •Bluetooth

$ •6-speed Manual,Bluetooth

29,995

•66,950 38,995

•Only250kms 48,495

$

•ReverseCamera 33,995

Percival Street,Rangiora • Ph (03) 313-8186any time • www.rangiora.toyota.co.nz

Signature

CLASS

2342915-21/1-b

FINANCE &INSURANCE AVAILABLE