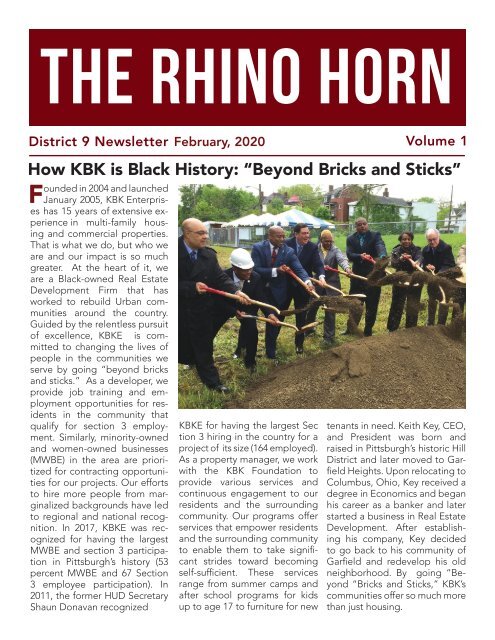 KBK Newsletter- The Rhino Horn
Create successful ePaper yourself
Turn your PDF publications into a flip-book with our unique Google optimized e-Paper software.
THE RHINO HORN

District 9 Newsletter

Volume 1

How KBK is Black History: "Beyond Bricks and Sticks"

Founded in 2004 and launched

January 2005, KBK Enterprises

has 15 years of extensive experience

in multi-family housing

and commercial properties.

That is what we do, but who we

are and our impact is so much

greater. At the heart of it, we

are a Black-owned Real Estate

Development Firm that has

worked to rebuild Urban communities

around the country.

Guided by the relentless pursuit

of excellence, KBKE is committed

to changing the lives of

people in the communities we

serve by going "beyond bricks

and sticks." As a developer, we

provide job training and employment

opportunities for residents

in the community that

qualify for section 3 employment.

Similarly, minority-owned

and women-owned businesses

(MWBE) in the area are prioritized

for contracting opportunities

for our projects. Our efforts

to hire more people from marginalized

backgrounds have led

to regional and national recognition.

In 2017, KBKE was recognized

for having the largest

MWBE and section 3 participation

in Pittsburgh's history (53

percent MWBE and 67 Section

3 employee participation). In

2011, the former HUD Secretary

Shaun Donavan recognized

February, 2020

KBKE for having the largest Sec

tion 3 hiring in the country for a

project of its size (164 employed).

As a property manager, we work

with the KBK Foundation to

provide various services and

continuous engagement to our

residents and the surrounding

community. Our programs offer

services that empower residents

and the surrounding community

to enable them to take significant

strides toward becoming

self-sufficient. These services

range from summer camps and

after school programs for kids

up to age 17 to furniture for new

tenants in need. Keith Key, CEO,

and President was born and

raised in Pittsburgh's historic Hill

District and later moved to Garfield

Heights. Upon relocating to

Columbus, Ohio, Key received a

degree in Economics and began

his career as a banker and later

started a business in Real Estate

Development. After establishing

his company, Key decided

to go back to his community of

Garfield and redevelop his old

neighborhood. By going "Beyond

"Bricks and Sticks," KBK's

communities offer so much more

than just housing.
---
THE RHINO HORN

District 9 Newsletter

Kelly Hamilton Updates

In effort to contribute to the new

growth in Homewood, KBK Enterprises

is nearing completion

of 58 units of housing. Like other

KBK properties Kelly Hamilton is

also a mixed-income community

consisting of 42 affordable

and 16 market rate units with

one, two- and three-bedroom

offerings. The community will

also include a 2,530 sq. ft. Management

Office and Resident

center. There is sufficient street

parking and each unit has a private

designated parking pad

located in the back of each

apartment building.

The last of the units will be completed

by Spring 2020, which

includes landscaping and resident

services. The first resident

moved in November 2019, the

waiting list has been reopened

as of February, 25th.

For those interested in affordable

options visit https://hacp.

org/housing/apply-for-housing/.

For market rate units please

stop into the temporary leasing

office located at

429 Larimer Ave. Pittsburgh PA

15201. More details and information

regarding the property

will be included in the final Kelly

Hamilton newsletter coming

Spring 2020.
---
THE RHINO HORN

MWBE & Section 3 Updates

he Kelly Hamilton team ac-

engaged with locals of

Ttively

Pittsburgh who qualify as low and

very-low income individuals to

create Section 3 opportunities.

The Federal Section 3 program

ensures that these individuals

benefit from training and

employment opportunities at

the development.

The KBK Foundation has succeeded

in meeting or exceeding

the Housing Authority's MWBE

goals for this project.

MWBE Engagement

The Kelly Hamilton team actively

engaged with local

MWBE businesses to create eco

Number of wokers

nomic opportunities on the project.

The KBK Foundation has

succeeded in meeting or ex

MWBE Engagement

Section 3 Engagement

District 9 Newsletter

ceeding the Housing Authority's

MWBE goals for this project.

Kelly Hamilton

Middle Hill

Skyline Terrace

Larimer Pointe

Garfield Commons

Actuals

Goals
---
THE RHINO HORN

District 9 Newsletter

The Lexington Technology Park Updates

Lexington Technology Park is

a 16.5-acre site in the Point

Breeze North neighborhood

adjacent to Homewood Station

on the Martin Luther King

Jr. East Busway. Lexington

Partners of Pittsburgh, LLC is a

newly formed MBE led corporation

comprised of Icon Development

and KBK Enterprises.

Lexington Technology Park

is meant to be a vibrant, livework

District that serves the

community through innovation,

art, science, education, workforce

training, and inclusion--all

while maintaining much of the

history and identity surrounding

the site. With diverse housing

options being created, Lexington

Partners will deliver a full

continuum of affordable and

market rate office and maker

space for our local Homewood,

Wilkinsburg, and Point Breeze

entrepreneurs and families. This

new innovation district, will

boast a thriving mixed-income

community—100 multifamily

units, 25 townhouse units,

and 25 for-sale townhomes—

and newly renovated industrial

buildings. This new innovation

district is intended to provide

a creative environment for entrepreneurs

where they can find

inspiration from within their

workplace community, while

also becoming a new job center

that will help mature the City's

entrepreneurship ecosystem

and translate start-up activity

into investments in higher-paying

jobs for a wider diversity of

skill levels across economic sectors.

The physical environment

will be designed to make pedestrians

and bicyclists feel safe and

welcome. Construction is set to

start Spring 2021.

Altogether, the site will house 150 units of which 75 will be market, 50 will be

affordable, and 25 will be for sale.

Lexington Technology Park will feature dynamic, ground floor frontages, with

a mix of green space and local destinations to encourage pedestrian activity.
---
THE RHINO HORN

District 9 Newsletter

The Lexington Technology Park Updates

The existing industrial buildings on the site will be renovated into flex space to accommodate companies at all stages

of development.

Lexington Technology Park will boast a vibrant, mixed-use environment that supports all modes of travel but primarily

promotes walking as a way to get to and from the transit and other destinations.
---
THE RHINO HORN

District 9 Newsletter

Working To Rebuild Homewood

Meet Kelvin Moore, a 62-yearold

"jack of all trades"

worker on the Kelly Hamilton

development. Homewood born

and bred; Kelvin remembers

this neighborhood as the thriving

African American locale

written about and celebrated

for its rich history. "Homewood

was beautiful when I was growing

up," he said with a genuine

luster in eyes. "We had stores,

supermarkets, shows…we didn't

have to leave the neighborhood

for anything if you didn't want

to." He was 11 when that all

changed, and Dr. Martin Luther

King was assassinated. "When

King got killed, we tore up our

own neighborhoods," Kelvin remarked.

All that light in his eyes

now replaced by a solemn, more

subdued expression—and for

good reason: the death of Dr.

King marked a tumultuous time

in our country's history, for which

neighborhoods like Homewood

paid the price. Kelvin was referring

to the riots of 1968, ones

that caused significant damage

to local businesses and severely

crippled the business district. In

the wake of this damage, Homewood's

identity and reputation

were further degraded by the

proliferation of gangs dealing

in illegal drugs. "It got dangerous.

People left. No one wanted

to take over houses of their par

ents, so the children just left

them in disrepair." Kelvin was

among those who left for nine

stint, taking up roots in Detroit,

Philadelphia and Erie most recently.

Now, however, he is back

helping KBK and others rebuild

the vibrancy of a once-storied

neighborhood, but he has some

wisdom to bestow. "Houses

don't change the people. We

got to first change the mentality

of the people…You can build

all you want but if we don't build

people from inside nothing is

going to change." As we work

together with the community

to help rebuild Homewood,

and other neighborhoods like it,

we must never lose sight of the

true mission: changing lives for

the better. For KBK and people

like Kelvin, we must go beyond

bricks and sticks, because that's

where the people are.

Our Most Frequently Asked Questions:

1. Why is the waiting list so long?

Because of the high demand for affordable housing, and comparatively low supply, it is not rare to be

on a waiting list for several years. For example, in some areas, 20,000+ people may apply through an

office that is only placing 1,000 of those applicants on the waiting list.

2. What does mixed-income housing mean?

A new, constructed mixed-income housing development includes diverse types of housing units, such

as apartments, townhomes, and/or single-family homes for people with a range of income levels.

Mixed-income housing may include housing that is priced based on the dominant housing market

(market-rate units) as well as units priced for lower-income residents. The reason KBK Enterprises does

mixed-income housing is to break down the societal barriers for people of different social classes and

income levels to be able to engage more organically.
---
THE RHINO HORN

District 9 Newsletter

3. How do I apply for affordable housing?

Depending on the housing program you apply to, applications for an open waiting list will be available

from the area's housing authority, or by an affordable apartment community's management company

(or landlord). Waiting list for all KBK properties in Pittsburgh has been reopen as of February 25, 2020.

Visit: https://hacp.org/housing/apply-for-housing/

For Pittsburgh residents visit: https://hacp.org/housing/apply-for-housing/

4. How do I apply for a market-rate unit?

Stop by our leasing offices to tour our communities or to complete an application. Below are the addresses

of our leasing offices for each property in Pittsburgh.

Kelly Hamilton (Temporary Leasing Office) & Larimer Pointe: 429 Larimer Ave. Pittsburgh PA 15206.

Skyline Terrace, The Lofts & Middle Hill: 385 Elmore Street, Pittsburgh PA 15219

Garfield Commons: 242 Fern Street, Pittsburgh PA 15224

5. What kind of people normally reside in your communities?

KPMS follows all guidelines and procedures provided by Fair Housing and Equal Opportunity, who's

responsible for administering and enforcing federal fair housing laws and establishing policies that

make sure all Americans have equal access to the housing of their choice.

Contact Us:

For any additional questions or concerns please contact our corporate office:

General Questions/Concerns: Cols: (614)-476-3548 Pitts: (412)-363-4401

or customerservice@kbkenterprises.net

Compliance: (614)-476-3548 [PRESS 5]

Media Contact: (614)-476-3548 [PRESS 7]

@KellyHamiltonHomes