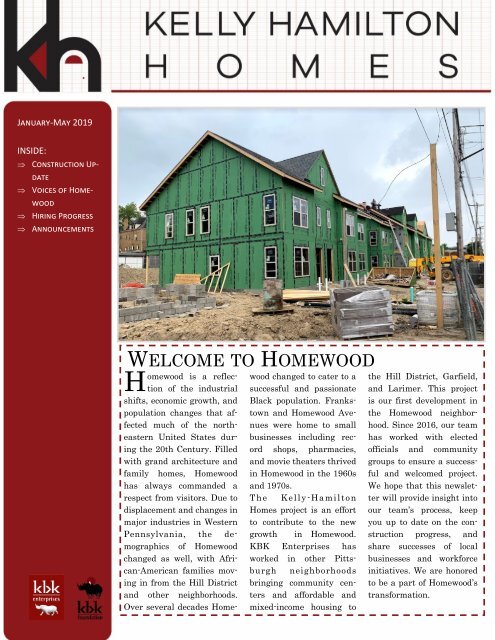 Kelly Hamilton Herald- Jan-May 2019
You also want an ePaper? Increase the reach of your titles
YUMPU automatically turns print PDFs into web optimized ePapers that Google loves.
January-May 2019

INSIDE:

Construction Update

Voices of Homewood

Hiring Progress

Announcements

WELCOME TO HOMEWOOD

H

omewood is a reflection

of the industrial

shifts, economic growth, and

population changes that affected

much of the northeastern

United States during

the 20th Century. Filled

with grand architecture and

family homes, Homewood

has always commanded a

respect from visitors. Due to

displacement and changes in

major industries in Western

Pennsylvania, the demographics

of Homewood

changed as well, with African-American

families moving

in from the Hill District

and other neighborhoods.

Over several decades Homewood

changed to cater to a

successful and passionate

Black population. Frankstown

and Homewood Avenues

were home to small

businesses including record

shops, pharmacies,

and movie theaters thrived

in Homewood in the 1960s

and 1970s.

The Kelly-Hamilton

Homes project is an effort

to contribute to the new

growth in Homewood.

KBK Enterprises has

worked in other Pittsburgh

neighborhoods

bringing community centers

and affordable and

mixed-income housing to

the Hill District, Garfield,

and Larimer. This project

is our first development in

the Homewood neighborhood.

Since 2016, our team

has worked with elected

officials and community

groups to ensure a successful

and welcomed project.

We hope that this newsletter

will provide insight into

our team's process, keep

you up to date on the construction

progress, and

share successes of local

businesses and workforce

initiatives. We are honored

to be a part of Homewood's

transformation.
---
CONSTRUCTION PROGRESS

he Kelly Hamilton Homes

T development officially closed

on March 15, 2019. The total cost

of the 58 units, management office,

aong with site and infrastructure

is estimated at over

$20 million. The project is bordered

by Hamilton Avenue and

Kelly Street, between North

Murtland Avenue and North

Lang Avenue. The Kelly Hamilton

Homes will feature 16 market

rate units, 14 affordable

units at 60% area median income

and below, and a 2,530 sq. foot

management office with resident

community space. There will be

three accessible units. Bedroom

sizes include, four 1 bedrooms,

thirty-five 2 bedrooms, and nineteen

3 bedrooms with estimated

market rents between $1,100-

$1,300. is fully underway at the

Kelly Hamilton site. Framing,

underground plumbing work,

footers, and slabs are being installed

currently. In the next two

weeks, shingles, insulation, and

drywall will follow. Geotechnical

site work on Kelly Street is in

progress with the excavation and

re-compaction of dirt. Pittsburgh

Water and Sewer Authority

(PWSA) is continuing work to

repair the 42" sanitary line on

Kelly Street.

While new residents won't be

moving in until this Fall, the

waiting list for affordable units

will open on June 3rd. Applications

will be accepted via the

Housing Authority website only.

Visit HACP.org for information

and instructions. The waiting list

for market rate units will open

soon

May 2019
---
I CALL HOMEWOOD HOME

THIS COLUMN IS DEDICATED TO THE STORIES OF HOMEWOOD RESIDENTS

was born in Homewood in 1964 me back to the old Black Arts Festival

when I was a child. I can still wood began to take a drastic

In the late 80s, early 90s Home-

I on Tioga street. Shortly after

that my family moved to Frankstown

Road, not too far from Crescent

elementary school where I

remember the sound of brothers change for the worst. What was

once a thriving neighborhood with

black pride and businesses slowly

attended the first grade. I have

became inundated with drugs,

two older sisters Chris and Tracey,

one older brother Jason, and one

younger brother Vance, there are

five of us all together. Although I

was too young to fully understand

what was going on at that time,

my older siblings did. Until this

very day, my older brothers and

sisters can share a vivid story of

what they have experience during

gangs and crime. The basic infrastructure

of Homewood began to

deteriorate, and it seemed like it

was every man for himself.

Homewood today is not as bad as it

was in the 90s. There are organizations

that are striving to make

Homewood a better place to live

and work. The Harambe Festival

is coming back and building up

the riots in Homewood as a result

momentum, slowly but surely

of the assassination of Dr. King.

One thing that I can remember

about Homewood as a child was

the elaborate Homewood Arts Festival.

I can remember seeing hundreds

of people on Frankstown,

playing African drums on the

streets and the smell of good food

everywhere you went. Afros and

dashikis were adorned by almost

everyone. Homewood was a place

black businesses are starting to

return. New housing is underway;

this will provide new opportunities

for families to live and flourish.

I know it will take some time, however

Homewood is picking up momentum

Bennet and Hamilton avenue. of Black Power and Pride. Although

and headed in the right

Back then the Black Arts festival

was huge, even today if I smell a

certain incense fragrance, it gives

me a sense of nostalgia that takes

I was never a great roller

skater, I can remember going to

the famous Homewood Coliseum

with my brothers and sisters.

direction.

- Brandon Jennings

Historic images of

Homewood.

Courtesy of the Carnegie

Museum of Art, Charles

"Teenie" Harris Archive
---
SECTION 3 HIRING

The chart to the left reflects changes in

the reporting protocols: hires counted

are only those confirmed as Section 3 by

both KBK and HACP. The Federal Section

3 program ensures that low and

very-low income individuals within the

City of Pittsburgh have the opportunity

to benefit from training and employment

opportunities available due to the

Kelly Hamilton development. The KBK

Foundation is committed to ensuring

the fair and successful implementation

of the program.

If you or an associate are interested in a

job in construction, please contact the

KBK Foundation at (412) 363-4401 or

j.barnes@kbkenterprises.net

ANNOUNCEMENTS