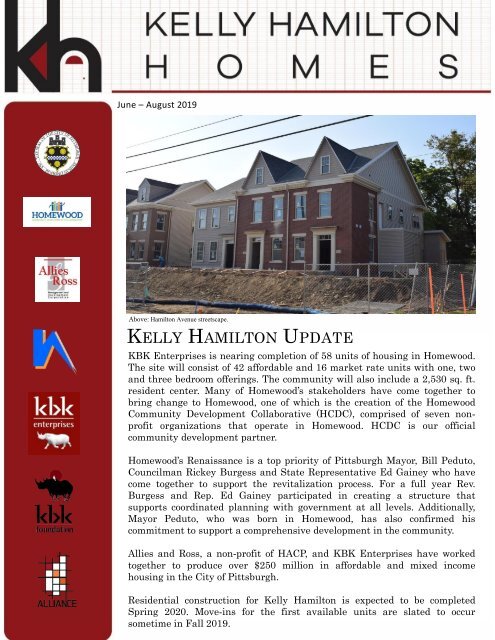 Kelly Hamilton Herald - Jun - Aug 2019
You also want an ePaper? Increase the reach of your titles
YUMPU automatically turns print PDFs into web optimized ePapers that Google loves.
June – August 2019

Above: Hamilton Avenue streetscape.

KELLY HAMILTON UPDATE

KBK Enterprises is nearing completion of 58 units of housing in Homewood.

The site will consist of 42 affordable and 16 market rate units with one, two

and three bedroom offerings. The community will also include a 2,530 sq. ft.

resident center. Many of Homewood's stakeholders have come together to

bring change to Homewood, one of which is the creation of the Homewood

Community Development Collaborative (HCDC), comprised of seven nonprofit

organizations that operate in Homewood. HCDC is our official

community development partner.

Homewood's Renaissance is a top priority of Pittsburgh Mayor, Bill Peduto,

Councilman Rickey Burgess and State Representative Ed Gainey who have

come together to support the revitalization process. For a full year Rev.

Burgess and Rep. Ed Gainey participated in creating a structure that

supports coordinated planning with government at all levels. Additionally,

Mayor Peduto, who was born in Homewood, has also confirmed his

commitment to support a comprehensive development in the community.

Allies and Ross, a non-profit of HACP, and KBK Enterprises have worked

together to produce over $250 million in affordable and mixed income

housing in the City of Pittsburgh.

Residential construction for Kelly Hamilton is expected to be completed

Spring 2020. Move-ins for the first available units are slated to occur

sometime in Fall 2019.
---
MILLIONS

$31M

$27M

$4.6M $8M

**Expected completion for Kelly Hamilton – Spring 2020

Above: Construction work is in its final stages for one of the duplex units on Kelly Street.

Above left: Hamilton Avenue streetscape and triplex unit. Above right: View of a construction worker at the site.

2
---
I CALL HOMEWOOD HOME

THIS PAGE IS DEDICATED TO THE STORIES OF HOMEWOOD RESIDENTS AND BUSINESSES

Serving the community since 1994, Cuccaro Plumbing has handled all types of plumbing needs

from a hose bib washer to installation of entire systems in commercial buildings. Located on Kelly

Street they are currently involved with doing sewer and drainage work and plumbing installation

of half the homes for the Kelly Hamilton redevelopment. Kali, who is co-owner of Cuccaro along

with her father Kenneth, handles a great portion of the administrative function of the business.

Cuccaro originally started as a small home business, according to Kali as she remembers as a

child. However, as business grew the company relocated to Point Breeze and then to Homewood,

where their business is currently located. Kali's father, President & CEO Kenneth Cuccaro, grew

up in Wilkinsburg, PA. Kali and her father Kenneth, a first generation master plumber never

thought about leaving the Homewood area. Kali commented, "Customers have been good to us." In

fact a resident was the first to tell them about plans for the redevelopment of Homewood and

suggested that Cuccaro put in a bid for the Kelly Hamilton project. Needless to say they

were awarded the contract by Alliance Construction Group.

Cuccaro roughly has 9 -11 employees on the job site, two of which are Section 3 employees. Section

3 is a program administered by HUD that requires 30% of all new hires to be from the local

community. Additionally, Cuccaro Plumbing has a four year apprenticeship program in place

which offers free tuition as long as the employee retains a certain grade requirement.

Keith B. Key, President of Alliance Construction Group is proud to have Cuccaro plumbing as a

partner in the redevelopment of Homewood. He is even more impressed with the company's

commitment to hire residents from the community!

7007 Kelly St., Pittsburgh, PA 15208

Phone: (412) 414-4911

Kelly Hamilton Homes

EMPLOYMENT opportunities

To learn more about opportunities for

employment please contact:

(412) 363-4401 or email

Section3@KBKFoundation.org.

3
---
SECTION 3 ENGAGEMENT

80

60

Total Section 3 Employees

67

The Kelly Hamilton team has been

actively engaging with local individuals

to create Section 3 employment

opportunities at the site.

40

20

54

26

34

30

IN PROGRESS

If you are interested in employment

with the Kelly Hamilton redevelopment,

please contact the KBK Foundation at

(412) 363-4401 or

Section3@KBKFoundation.org.

0

Garfield

Commons

(225 UNITS)

Larimer Skyline Middle Hill Kelly

(40 UNITS) (276 UNITS) (52 UNITS)

Hamilton

Actuals

(58 UNITS)

Note: Expected completion for Kelly

Hamilton is Spring 2020. Therefore more

hiring will occur.

Kelly Hamilton Homes Community Meeting Timeline

Homewood

Community

Meeting

2016 2017 2018 2019

The chart above captures the development team's community engagement timeline. A number of meetings were held for

neighbors, stakeholders and businesses to learn more about Kelly Hamilton Homes. These meetings discussed the necessary

steps to provide access for minority contractors to not only participate in the redevelopment of Kelly Hamilton Homes but

future KBK/Alliance Construction Group Projects.

4
---
MWBE ENGAGEMENT

MILLIONS

GARFIELD COMMONS

(225 UNITS)

LARIMER

(40 UNITS)

$27M

MWBE Engagement

$31M

35%

49%

35%

44%

SKYLINE

35%

$4.6M

(276 UNITS)

$8M53%

MIDDLE HILL

35%

(52 UNITS)

59%

KELLY HAMILTON

35%

(58 UNITS) 53% IN PROGRESS

0% 10% 20% 30% 40% 50% 60% 70%

Goal Actuals

**Expected completion for Kelly Hamilton – Spring 2020

The Kelly Hamilton team has been

actively engaging with local MWBE

professionals to create economic

opportunities on the project. The KBK

Foundation has succeeded in meeting or

exceeding the Housing Authority's

MWBE goals for this project and

previous projects in Pittsburgh.

If you know of a company interested in

work on this project, please contact the

KBK Foundation at (412) 363-4401 or

MWBE@KBKFoundation.org.

Note: Expected completion for Kelly

Hamilton is Spring 2020. Therefore more

contracting will occur.

ANNOUNCEMENTS

The waiting list for the 42 affordable

units has closed.

Applications for market rate

units will be accepted soon.

For additional inquiries, please contact

the property management office:

TUESDAY OCTOBER 15 TH

6:00PM – 7:00PM

The Ferlo Building

429 Larimer Ave.

Pittsburgh, PA 15206

P: (412) 361-0567

F: (412) 361-2500

5