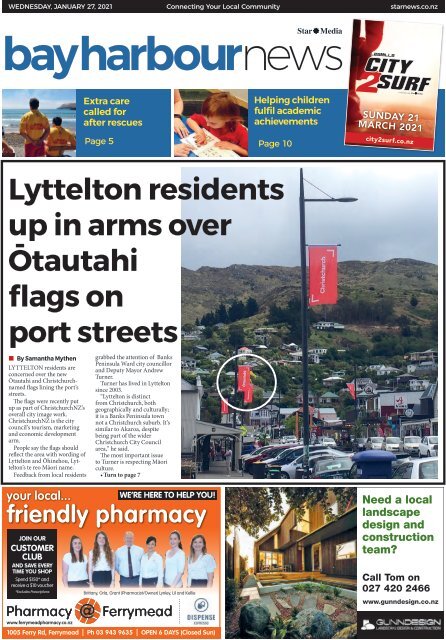 Bay Harbour: January 27, 2021
Create successful ePaper yourself
Turn your PDF publications into a flip-book with our unique Google optimized e-Paper software.
WEDNESDAY, JANUARY 27, 2021

Connecting Your Local Community

starnews.co.nz

Extra care

called for

after rescues

Page 5

Helping children

fulfil academic

achievements

Page 10

Sunday 21

March 2021

city2surf.co.nz

Lyttelton residents

up in arms over

Ōtautahi

flags on

port streets

• By Samantha Mythen

LYTTELTON residents are

concerned over the new

Ōtautahi and Christchurchnamed

flags lining the port's

streets.

The flags were recently put

up as part of ChristchurchNZ's

overall city image work.

ChristchurchNZ is the city

council's tourism, marketing

and economic development

arm.

People say the flags should

reflect the area with wording of

Lyttelton and Ōhinehou, Lyttelton's

te reo Māori name.

Feedback from local residents

grabbed the attention of Banks

Peninsula Ward city councillor

and Deputy Mayor Andrew

Turner.

Turner has lived in Lyttelton

since 2003.

"Lyttelton is distinct

from Christchurch, both

geographically and culturally;

it is a Banks Peninsula town

not a Christchurch suburb. It's

similar to Akaroa, despite

being part of the wider

Christchurch City Council

area," he said.

The most important issue

to Turner is respecting Māori

culture.

• Turn to page 7

your local...

WE'RE HERE TO HELP YOU!

friendly pharmacy

JOIN OUR

CUSTOMER

CLUB

AND SAVE EVERY

TIME YOU SHOP

Spend $150* and

receive a $10 voucher

*Excludes Prescriptions

Brittany, Orla, Grant (Pharmacist/Owner) Lynley, Lil and Kellie

www.ferrymeadpharmacy.co.nz

1005 Ferry Rd, Ferrymead | Ph 03 943 9635 | OPEN 6 DAYS (Closed Sun)
---
PAGE 2 BAY HARBOUR

Latest Canterbury news at starnews.co.nz

Wednesday January 27 2021

what's on

this week

GENERAL INQUIRIES Ph 379 7100

CLASSIFIED ADVERTISING Ph 379 1100

Star Media, a division of Allied Press Ltd

PO Box 1467, Christchurch

starmedia.kiwi

NEWS

Samantha Mythen

Ph: 021 919 917

samantha.mythen@starmedia.kiwi

ADVERTISING

Jo-Anne Fuller

Ph: 364 7425

jo.fuller@starmedia.kiwi

Rob Davison

Ph: 021 225 8584

rob.davison@starmedia.kiwi

The best-read local newspaper,

delivered to 10,514 homes every week.

Brookhaven • Heathcote • Ferrymead

Redcliffs • Mt Pleasant • Sumner • Lyttelton

Diamond Harbour • Governors Bay • Akaroa

Pete's Path and Beyond

Exhibition

Friday, Saturday and Sunday

10am-4pm

Stoddart Cottage, Lower Waipapa

Ave, Diamond Harbour

Paintings by Janie Porter and

ceramics by Jane McCulla. Explore

and celebrate the natural wonders

and landscapes of Diamond Harbour

during their January exhibition at

Stoddart Cottage. Free entry to the

historic cottage. Catch the ferry from

Lyttelton for additional excitement.

Open Mic Night

Tuesday, 7.30-11pm

Wunderbar Lyttelton

If you would like to play, go along to

this weekly event. Or come and enjoy

the music and atmosphere. There is a

free drink for every performer.

Steadfast Stream Weeding

Wednesday, 5.30-7.30pm

Cass Bay Pl, Lyttelton

Conservation Volunteers NZ are

working with Whaka-Ora Healthy

Harbour and need your help. The

Steadfast Stream re-vegetation

project aims to restore habitat for

native birds, lizards and insects,

and provide refuge for native fish

species such as the banded kokupu.

A barbecue will be the reward. Wear

sturdy shoes and take a water bottle.

Create n Connect Art and

Craft Group

Thursday, 10am-noon

St Andrews, 148 Main Rd, Redcliffs

Company and creativity. Take your

Sumner Bridge Club, Monday 7.15pm, Wednesday, 1pm, 57 Dryden

St, Sumner. For fun, friendly and competitive Bridge. If you have any

questions, send an email to sumnerbridgeclub@gmail.com

project to work on, or if you are stuck

from inspiration, the group can help

you find some. $3 per session. Phone

Beth for more info 022 678 1252

Meditation in Lyttelton

Weekly Classes

Thursday, 7-8.15pm

Mt Herbert Community Boardroom,

25 Canterbury St, Lyttelton

Each class includes two guided

meditations by resident teacher

and Buddhist Nun Kelsang Luma,

including teaching and advice on

how to integrate the instructions into

your daily life. The event is a weekly

drop-in class costing $12 a session.

Sea Kayaking Workshop

Saturday, 9am-4pm

Naval Point Club, Lyttelton

The Kiwi Association of Sea

Kayakers is running a workshop

about all things kayaking. You will

learn about the rules of the sea, how

to stay safe, interpretation of weather

maps and forecasts, as well as how

to actually kayak on the water. Take

BAND

your lunch, boat and paddling kit

along to this free event. To register,

phone Ian 027 220 7251.

Collettseum Local Arts and

Music Festival

Saturday, 3-9pm

Collet's Corner, corner Oxford and

London St, Lyttelton

A free community oriented festival

to celebrate performance arts,

fire-spinning, food and crafts, and

of course, musical performances.

Featured musicians include, Rhodry

Yates, Kay Duncan and Josette.

Ticketed after party event at the

Wunderbar.

Lyttelton Farmers Market

Saturday, 10am-1pm

London St, Lyttelton

The local growers and producers of

the Banks Peninsula sell their fresh

produce. Many of the vendors are

from Lyttelton, with many more all

living within 50km of the village.

Support our locals, everyone is

welcome.

If you could turn back time would you change anything?

I would

from looking like a crime scene.

Be a better mother and not wish the Or defusing a near riot over the

years away.

bathroom, dishes, chores, remote….

Listen, learn and be patient.

pretty much everything.

Not work my arse off, missing the Even consoling the teenager whose

special little moments we take for phone just died and they can't find

granted.

the charger.

STOP! And be present.

That no matter what you say or do,

Motherhood is brutal…

its wrong.

We are our own worst critics. Striving Being uncool (if only they knew just

for perfection (whatever that is). We how cool we were). Yet they strive

forget to applaud the tantrum we to be us.

survived without wanting to commit Today my children have grown and

murder.

having children of their own. Though

The fact that we worked a 40hr week, it seemed like yesterday they were all

cooked dinners, homework, held a screaming and pulling on my apron

civilised conversation with the hubby, strings.

whilst managing to keep the house I miss it...

I am a married mother of three and fortunate enough to live in sunny Nelson,

South Island in New Zealand. I graduated with a Bachelor's Degree in Visual

Arts and Design in 2010. I have sketched for as long as I can remember, I find

it a nice break from the hustle and bustle of everyday life. I was introduced

to screen printing in Art School and use this process in my art practice as

well as teaching printing techniques from my home studio. Screen printing

has become a tool for me to push my work further and extend beyond the

confinements of drawing. I have exhibited, curated and tutored in the Nelson

Bays region, winning and being selected for many local art awards.

Lisa Grennell

30 January - 23 February 2021

Main Rd, Little River | 03 325 1944 | art@littlerivergallery.com

The

AIR FORCE

ON TOUR

With guest vocalist Matt Mulholland

Free Concert

Sunday 21 February, 2.00pm

Air Force Museum of New Zealand,

Christchurch

Bookings are essential through Eventbrite.com

MEDI-PEDI

Pamper your feet

with our new service

Medi-Pedi is a

full dry medical

pedicure using

sterilized

instruments

THE MEDI-PEDI

At Feet First Podiatry

03 348 7910

37 Main South Road, Upper Riccarton

PH 348 7910 | www.feetfirst.co.nz
---
Wednesday January 27 2021

Latest Canterbury news at starnews.co.nz

BAY HARBOUR

PAGE 3

Walkway accessing marina open

YOU CAN now walk, cycle,

run or scooter directly from

Norwich Quay in Lyttelton to

Te Ana Marina.

The pathway from Norwich

Quay along Sutton Quay

includes two pedestrian

crossings. This creates a

direct link from Lyttelton to

Te Ana Marina, Canterbury's

only walk-on floating

marina.

The new development is

part of Lyttelton Port Company's

commitment to open

the west side of the harbour

as a space for the community

to enjoy.

When the project was announced

last year, Deputy

Mayor and city councillor for

the Banks Peninsula Ward

Andrew Turner said he was

excited to see the Lyttelton

community gain additional

access to the waterfront.

"Whakaraupō/Lyttelton

Harbour is a special place to

many people.

"I'm looking forward to

seeing more families and

visitors down on the waterfront

this summer – this is

the perfect spot for a picnic, a

walk along the promenade or

a chance to take in the stunning

harbour views."

LPC's general manager engagement

and sustainability

Phil de Joux said since Te

Ana Marina was opened by

the port in 2018, it has been

fantastic to see the community

use the recreational area as

a space to connect and enjoy.

"Before the pathway was

in place, there was no pedestrian

access from Sutton

Quay to Te Ana Marina,

meaning people either used

the stairs from Simeon

Quay to the back of Te Ana

Marina, or walked down to

Godley Quay.

"We're thrilled to be able to

make accessing Te Ana Marina

that little bit easier for the

community and visitors to

Lyttelton, and look forward

to seeing more people enjoy

the waterfront."

Due to the construction of

the pathway, the Sutton Quay

gate has been relocated. This

gate is used by a number of

port operators to access inner

harbour operations such as

fishing vessels.

Vehicles will still use Sutton

Quay to access the port

and users of the walkway are

being told to follow signage

in place and to stay alert

when using the crossings.

CONVENIENT: Lyttelton resident

Annabel, 10, (right) who lives on the

west side of the harbour, can use

the new path to walk to school, as

well as visit her friend Lulu, 10, who

lives in Lyttelton. ​

Retaining wall

work to start

ROADWORKS along Simeon Quay

and Coleridge Tce in Lyttelton are

set to cause disruption for the next

few months.

Work will start early next month

to replace the ageing retaining wall

that supports part of Simeon Quay.

A new concrete wall will be put in

place and the quay will be partially

reconstructed. It is expected to take

between four to six months to complete,

weather dependent.

City council head of transport,

Richard Osborne said: "The

contractor is going to have crews

working around the clock on the

project. On some nights, Simeon

Quay will be reduced to one lane

and traffic will be controlled by

stop/go signs. This will cause

delays, particularly for west-bound

traffic."

A retaining wall supporting

Coleridge Tce will also be replaced

starting in February, expected to

take around 16 weeks to complete.

During this time, access to the terrace

will only be via the west end,

by London St.

A traffic management plan will

be put in place and road users are

being told to expect delays.

"If you live in Lyttelton or travel

through the area, please bear that

in mind as you may need to factor

some extra journey time into your

plans," said Osborne.

Need a high quality builder to

provide you with good, old

fashioned workmanship?

We also provide peace of mind,

experience, confidence and trust.

• Specialising in high-end and hillside

construction or renovation

• Detailed, bespoke, high quality work

• Practical, technical solutions

For a reliable builder you can trust to manage

your lifestyle investment, give Mark a call to

start a no obligation discussion.

MARK HATTRILL

027 428 8745

www.hhbuild.co.nz

Care &

Compassion

We pride ourselves on the

very highest level of service

If you are thinking about the future,

we can help you explore pre-payment

and pre-planning options. Contact us

for a Free Information Pack.

We offer funeral information talks to

groups. Please call us for a speaker to

come to you.

Mark Glanville

Manager &

Funeral Director

(03) 379 0196 | www.simplicity.co.nz

Mike Chandler

Funeral Director

Nick Allwright

Funeral Director

Huge demand and low in stock!

Properties needed!

For the best price and best service call Shaun or

Prue for an up to date appraisal.

Living Local - Working Local

Shaun Davey Listing agent

P: 027 953 8860 E: shaun.davey@harcourts.co.nz

Prue Dacombe Buyers agent

P: 021 752 348 E: prue.dacombe@harcourts.co.nz

Licensed Sales Consultant REAA 2008

Harcourts Grenadier Sumner P: 03 326 4400

GRENADIER
---
PAGE 4 Wednesday January 27 2021

BAY HARBOUR

Latest Canterbury news at starnews.co.nz

new school year...

new school gear

ExERcISE

BOOkS

fROm

5 cENTS

juST

$1.99

EAch

juST

$2.99

EAch

juST

$4.99

pAck

juST

$2.59

EAch

fROm

$2.49

EAch

GREAT READS INSTORE

1005 Ferry rd

Ph 384 2063

while stocks last (see instore for terms and conditions)

Barry & kerry
---
Wednesday January 27 2021

Latest Canterbury news at starnews.co.nz

BAY HARBOUR

PAGE 5

Extra care called for after rescues

• By Samantha Mythen

BEWARE OF rips. Swim

between the flags. Know your

limits.

That is the message from the

Taylors Mistake and Sumner

Surf Life Saving Clubs as temperatures

soar this week.

It comes after two people

were lucky not to have died in

separate incidents at Taylors

Mistake on Sunday,

January 17.

Instead they

were saved by

the quick thinking

of the club

team members.

Tisha

Bradley

The first

rescue happend

in the early

afternoon, with the conditions

changing drastically as the tide

went out. The second rescue

happened at 4.50pm, with

10min left until the volunteers

usually retire for the day.

In both instances, the swimmers

were taken to hospital by

ambulance.

After the rescues, the

lifeguards carried out

preventative actions; moving

the flags, advising swimmers

of where the rips were running

and working in the water to

direct people away.

Surf club captain Tisha Bradley

said: "These actions mitigated

the risk of mishap and

the need for further rescues.

"We are hugely proud of the

work of the rostered patrol

team on Sunday, as well as the

additional members who recognised

the growing risks on

the beach and joined with the

existing patrol to ensure that

we had an increased capacity.

"This was a wonderful example

of the club coming together

as one to keep our community

safe. We are a humble wee club,

but in these moments we

are super proud of how our

volunteers respond in difficult

situations."

The club would also like to

thank the public who acknowledged

their efforts on Sunday.

"It means a lot to us when

the community acknowledges

our volunteers and the valuable

work that they do," said

Bradley.

Meanwhile, Sumner Surf

Life Saving Club was awarded

second place in the BP Rescue

of the Month awards for a

rescue in December.

Twenty-seven swimmers

were rescued from a rip in 10

minutes.

The winners are selected

by the national lifesaving

VIGILANT:

Taylors Mistake

Surf Lifesaving

Club volunteers

keep watch over

swimmers.

PHOTO:

TAYLORS

MISTAKE SURF

LIFESAVING

CLUB

If you get caught

in a rip, remember

the 3rs:

• Relax and float

to conserve your

energy.

• Raise your hand

to signal for help.

• Ride the rip until

it stops and you

can swim back

to shore or help

arrives.

committee, and second

place receives $300 of BP gift

vouchers.

Further water

restrictions

WATER restrictions have been

increased from level 2 to level

3 for Akaroa, Duvauchelle and

Takamatua as increasingly hot and

windy conditions put pressure on

water supplies.

Level 3 restrictions means

hand-held hosing only on alternate

days, with no outdoor water

use on any day between 3-9pm.

Unattended hoses, sprinklers, and

garden irrigation systems are not

permitted at any time.

Akaroa's cumulative rainfall this

year is the lowest it has been in a

decade, putting extra pressure on

the town's water supply which it

shares with Takamatua. Its current

total rainfall for the year sits at

about half the 10-year average.

Water is being used from backup

bores and from streams.

"But in order to ensure a fair

and uninterrupted water supply to

people living, working and visiting

in the areas, we need to further

reduce the demand by moving to

Level 3 water restrictions," a city

council spokeswoman said.

Residents at odd-numbered

addresses can water lawns or

gardens before 3pm or after 9pm

on odd dates (1st, 3rd, 15th, etc),

while residents at even-numbered

addresses can water before 3pm or

after 9pm on even dates.

UNDER NEW MANAGEMENT

SOIL AND

HARDFILL

DUMPING

WOOLSTON

Bumper to Bumper repairs

þ ALL MECHANICAL REPAIRS

Servicing. lubes, cambelts, tyres, exhausts,

suspension, batteries, water pumps, etc.

þ VTNZ WOF ON SITE

þ VTNZ CERTIFIED REPAIRER

þ COURTESY CAR AVAILABLE

BE IN TO

WIN

YOUR

SERVICE

Book in your vehicle for

a service and go into our

monthly draw to *WIN back

the cost of your service.

*Conditions apply

WOOLSTON AUTO SURGERY

693 FERRY RD | PH 03 384 9092

WE NOW HIRE

LANDSCAPING AND

GARDEN EQUIPMENT

DIGGERS, TRUCKS, WOOD CHIPPERS, POLE SAWS,

BREAKERS, WATER BLASTERS, ETC.

PLUS WE SUPPLY THE BEST

LANDSCAPE & GARDEN SUPPLIES

•BARKS •COMPOSTS

•AGGREGATES - CHIP, ROUND & BASECOURSE

•SCHIST PRODUCTS •PUNGAS

•DECORATIVE STONE & LANDSCAPING ROCKS

•TRAILER HIRE - FIRST HOUR FREE WITH PURCHASE

•BAG & BULK - PICK UP OR DELIVERED

DYERS ROAD LANDSCAPE & HIRE

PHONE: 03 384 6540

183 DYERS RD, BROMLEY ● OPEN 7 DAYS

Weekdays 7.30am-5pm. Weekends 8.30am-3pm

www.dyersroadlandscape.co.nz

POWER VINYASA YOGA

Many people find Apollo's Power Vinyasa practice to be effective in

relieving and preventing back pain and tension-related types of pain

yoga pose

of the month

Standing Leg Raise

Standing Leg Raise is a great pose to build

balance, posture, length in your hamstrings

and strength in your hip flexors.

1. Stand upright with your feet together.

2. Draw your right knee up towards your chest

and lightly hold your right knee with your

right hand. Use the strength of your leg

more than the strength of your hand to hold

your right leg up. If you are more flexible,

bind the outer edge of your right foot and

extend your right leg straight forward in

front of you.

3. Straighten your left leg by engaging your

thigh muscles to the bone.

4. Draw the pit of your belly in towards your

spine.

5. Expand your chest and upper back.

6. If you are holding your foot, draw your right

shoulder straight back level with your left

shoulder.

7. Straighten your

back, hold your head

high and set your gaze

straight in front of you.

8. After 5 breaths, turn your

right leg out towards the

right side of your room and

turn your head to face the

left.

9. Keep your hips level in this

second stage. Do not hike

your right hip higher than

your left hip.

10. After five more

breaths return

your right leg straight forward, lower your

right foot to the earth and repeat the pose

on the other leg.

In Standing Leg Raise, build a blend of strength and mobility in your legs, align your body neutrally

and generate a sense of confidence that permeates from your bones and radiates out to your skin

and beyond.

Apollo Power Yoga

Ferrymead studio - 23 Humphreys Drive

Central City Studio - 46 Salisbury Street

Phone 021 055 1884 or 027 227 2026

For more info visit www.apollopoweryoga.com
---
PAGE 6 Wednesday January 27 2021

BAY HARBOUR

Latest Canterbury news at starnews.co.nz

summer Vege gardening!

Big range, low Price, local advice

Cells to Plant seeds to Plant KeeP them hydrated

Growfresh

Cauliflower 6 Pack

Assorted

Yates

Assorted

Carrot Seeds

Number 8

Fitted Hose 12m

4 hose fittings included.

236445

summer

gardening tiPs

$3.89 each

3 for $ 10

Growfresh

Lettuce 6 Pack

Assorted

$3.89 each

3 for $ 10

Growfresh

Spinach 6 Pack

Assorted

$3 98 $10 98

from

Yates

Assorted

Radish Seeds

$3

from

98

McGregors

Assorted

Beetroot Seeds

Neta

Drip Irrigation Starter Kit 13mm

23-piece set. Maintains plant hydration.

248629

$14 98

$3 18

$14

$3.89 each

3 for $ 10

98

each

Growfresh

McGregors

Broccoli 6 Pack

Assorted

Assorted

Parsnip seeds

$3 18

$39

$3.89 each

3 for $ 10

99

each

Gardening Gloves

Bloom

Offers great hand protection.

Garden Hand Tools

201104

Carbon steel hand. Comfortable TPR Grip.

320962, 320961, 320960, 320963, 320964

$6 98

things to helP with your gardening!

Tui

Vegetable Mix 40 Litre

Gives your veges the best start

to life and sustained growth

throughout the season.

142734

Tui

Mulch + Feed 40L

Encourages rapid root

development. Improves

soil structure and

replenishes nutrients.

Replaces vital nutrients.

135612

$8 98 $13 98 $14 99

each

Number 8

Watering Can 10 litre

Ideal for watering your plants by hand.

234817

Gardena

Oscillating Sprinkler Small

Even, precise watering without puddles. Easily and

quickly assembled.

362875

1

There is still time

to plant all herbs

including basil, so you

haven't missed your

chance!

3

2

As we are right in the

peak of Summer, you

should think about using

water wisely. Water early

morning as this prevents

it from evaporating in

the heat

It's very sunny at the

moment which means

plants will be growing faster

than usual so fertilising

now is recommended both

with liquid and granular

fertilisers.

4

Check for pests

especially the white

butterfly caterpillar.

You will find them on the

underside of the leaves.

The best time to look for

them is later in the

evening.

Mitre 10 MEGA Ferrymead

1005 Ferry Road. Christchurch

Phone: 366 6306

Find us at: /MEGAFerrymead

Opening Hours:

Monday–Friday:

7am–7pm

Saturday. Sunday & Public Holidays:

8am–6pm

www.mitre10.co.nz/local/MegaFerrymead

Ferrymead
---
Wednesday January 27 2021

Latest Canterbury news at starnews.co.nz

BAY HARBOUR

PAGE 7

• From page 1

"The main issue is the appropriateness

of Ōtautahi, as the

name for Christchurch, being

used beyond the traditional

Christchurch area and expanding

into Banks Peninsula, especially

when Lyttelton is Ōhinehou and

the harbour is Te Whakaraupō."

Turner discussed the community's

concerns with ChristchurchNZ

this week.

"I asked ChristchurchNZ to

take advice and consider whether

the use of the specific Ōtautahi

flags are appropriate for Lyttelton.

And if not, then they need

to decide what flags should fly

instead.''

• By Samantha Mythen

AKAROA RESIDENTS are also

embroiled in a debate over its

name.

A call has been made to add

'wh' to Akaroa.

Ngāi Tahu kaumatua Sir

Tipene O'Regan said early

surveyors to the land had been

unable to distinguish the soft

'wh' and because of this, it was

often missed when spelling

Akaroa on colonial maps.

The original name means

'Long Harbour.'

This week Bay Harbour News

•HAVE YOUR SAY: What are your thoughts on the flags in Lyttelton and the name Whakaroa for Akaroa.

Email your views to samantha.mythen@starmedia.kiwi

'The council should have consulted with the local iwi'

A ChristchurchNZ spokesperson

said: "We are looking at

options in regards to the street

banners in Lyttelton, and are yet

to undertake any actions."

When asked previously by

Bay Harbour News if it would

replace the Ōtautahi flags, the

spokesperson said: "This activity

is not budgeted for this financial

year, nor is the future design and

installation of suburb-specific

banners."

ChristchurchNZ said it recognised

"the individual culture

of Ōhinehou Lyttelton and the

vibrant community that call it

home."

"However for planning and

marketing purposes, it is considered

a suburb of the city of

Ōtautahi Christchurch."

The total cost to manufacture

the banners to cover core city

sites was $22,134 plus GST.

This issue has been a large

talking point in the Lyttelton

community.

Said Lyttelton Harbour Business

Association chairwoman

Vicki Tahau-Paton: "The council

should have consulted with the

local iwi before putting up a

generic name."

Said Malcome Carne: "I would

prefer to see Lyttelton on the

flags. We have our own separate

identity and physicality. The flag

issue is about keeping separate

rather than making Lyttelton a

suburb."

Said Rob De Thier: "It would be

nice to see the flags replaced with

Lyttelton and Ōhinehou. It has

always been the port of Lyttelton

with its own special identity."

Several people mentioned the

importance of Lyttelton flags so

those visiting would be able to

identify the town.

Said Sachin Jacob: "The flags

should say Lyttelton, so everyone

who visits can clearly recognise it

as that.''

Said Charlotte Bruce: "Because

of the strong community perspective

here, it makes sense for

the flags to say Lyttelton. It's a

destination place. Lyttelton locals

are proud of their home.

"It would be cool to see a

mixture of place names on

the flags, with both Lyttelton,

Christchurch and the Maori

translations."

Banks Peninsula Community

Board member, Reuben Davidson,

would also like to see the

flags changed.

"Lyttelton has a strong identity

which we are proud of; both

locals and visitors want to

celebrate this. Also, of primary

consideration, is the need to

honour the correct Māori name

for our special place," he said.

Call to change Akaroa's name by adding 'wh'

canvassed Akaroa residents.

Said Rob Harris: "There

is no need to change it as no

one knows it by the other

name.''

Said Lurlene Roddick: "I don't

understand why everything has

to be changed from what it

has been known as to a word

more difficult to pronounce.

We should understand culture

and know our history, but we

are a very multi-cultural

country."

Said Michael Springer: "It

is time to fully celebrate and

acknowledge those hundreds of

years of people living here. You

only have to open your eyes and

notice all the fortified hill sights

to wonder at all the history,

rather than making it all about

a brief moment of when it might

have been French."

Said Grant Wylie: "I think it

respects a place more to call it by

its original and most meaningful

version, and not what a colonist

with a bad ear for the Ngai Tahu

dialect or te reo Maori more

generally recorded as is."

Said Mal Stanley: "I think we

should embrace the te reo names

for all places in Aoetearoa,

and correct pronunciation is

something to aspire to for all of

us."

Another resident, Wayne Allan

Webb, suggested having signs

with both versions.

Redcliffs PHARMACY

LOOKING AFTER THE COMMUNITY

1st

stockist

in NZ!

Redcliffs PHARMACY

87 Main Road, Redcliffs. Phone 03 384 1037

www.redcliffspharmacy.co.nz

WE DELIVER! (Small fee may apply)
---
PAGE 8 BAY HARBOUR

Latest Canterbury news at starnews.co.nz

Wednesday January 27 2021

Children's

learning

inspires

artwork

• By Samantha Mythen

SUMNER creatives, Alex and

Andy Collins, are showcasing

their quirky handcrafted

wooden toys at the Rock, a

charitable church community.

The couple design and craft

toys and

then

display

them as 3D

textured

paintings.

The toys

on display are all original pieces

under their brand Baby Groova

Goods.

"We are inspired by our passion

for children's learning and

development, story telling and

our love for nature and the environment,"

said Andy.

Andy is a preschool teacher

and Alex, his wife, is a primary

school teacher. They have been

living in Sumner for two years.

Pairing Alex's creative streak

with Andy's interest in art and

wood, each toy is handcrafted.

The exhibition runs at 10

Wakefield Ave, until the last

week of February.

Community board outlines priorities

• By Samantha Mythen

UPGRADING wharves,

sourcing funding for the new

Naval Point development, and

long-term planning are just

some of the priorities the Banks

Peninsula Community Board

has in the coming months.

Five main themes are set to be

prioritised early this year.

The board

must finalise

its Long

Term Plan

for the next

three years by

June. The city

council can

then lock in

Tori Peden

the allocated

budget for the

area.

After the Naval Point

Development Plan was approved

by the board in December, the

next step will focus on sourcing

funds and then deciding how to

implement the plan.

The Diamond Harbour wharf

is set to see upgrades and a

new flotation structure put in

place, aiming to solve continued

accessibility issues experienced

by ferry passengers.

Receiving feedback on

upgrades for the Akaroa wharf

will also be a priority. The

UPGRADE: The Banks Peninsula Community Board is looking at options for the Akaroa

wharf.

board is looking to put together

different options for the wharf,

taking into consideration

heritage and environmental

concerns. This will then be

presented to the public.

Board chairwoman Tori Peden

said: "We want to know what the

community wants to see."

The final primary focus for the

board will be working alongside

the Banks Peninsula community

and the ChristchurchNZ

tourism portfolio to create a

destination management plan

for the area.

"Locals are taking up the

advice to shop local and explore

local, meaning tourism is still

an important resource. I have

lived in the Banks Peninsula for

19 years and this summer was

my first time taking my kids out

to see the hector's dolphins in

Akaroa," said Peden.

"We want to use this time

to investigate tourism in the

region and how it impacts the

community, taking a holistic

view on how to move

forward."

If people would like to share

your views with the community

board, monthly meetings are

held around the peninsula, said

Peden.

"Myself and the other board

members like to get out and

about as much as possible. Please

approach us with your cool ideas

and we can chat about how the

board can support you."

JOIN US NOW!

See website for details

Mon | 1st February | 2021

9.30am - 2.30pm & 5pm - 6.30pm

2021 Year 12 & 13 Programmes

Pre-Professional Programmes

Student Centre, Cnr St Asaph & Hagley Ave

Last Chance to

Enrol for 2021

Sign up to Smart Deals & be in the monthly draw for a $100 Dress-Smart gift card!

Open 10am-5pm, 7 Days 03 349 5750

CHRISTCHURCH 409 Main South Road, Hornby

www.dress-smart.co.nz
---
Wednesday January 27 2021

Latest Canterbury news at starnews.co.nz

FINAL DAYS!

CARPET HOUSE LOT

DEALS

BAY HARBOUR

USING

25 METRES

OF CARPET

PAGE 9

Prices are based on an average 3 bedroom home, using 25 broadloom metres of carpet on new underlay, three finishing bars and fully installed.

FULLy INSTALLEd

FULLy INSTALLEd

26oz Nylon

ON LUxURy 36oz Nylon

ON LUxURy

UNdERLAy

UNdERLAy

• Solution Dyed Nylon

• Solution Dyed Nylon

• Extra Heavy Duty

• Extra Heavy Duty

• Great colours to

• Great colours to

choose from

choose from

Only $75 per metre

Only $100 per metre

HOUSE LOT: $3,725

HOUSE LOT: $4,350

FULLy INSTALLEd

FULLy INSTALLEd

50oz Nylon

ON LUxURy 40oz Wool

ON LUxURy

UNdERLAy

UNdERLAy

• Solution Dyed Nylon

• Pure wool

• Extra Heavy Duty

• Extra heavy duty

• Great colours to

• Great colours

choose from

Only $150 per metre

Only $125 per metre

HOUSE LOT: $4,975

HOUSE LOT: $5,600

bEFORE

AFTER

COmmERCiAL $

35 6m by 6m

installed conditions

apply

VinyL pLAnkS

00 PER M2

Some conditions apply

Garage Carpet $ Fully

GARAGE CARpET $ 999

Some

CALL FOR A FREE MEASURE + QUOTE

FULLy

INSTALLEd

312 Wilsons Road North, Waltham Phone 366 0070

Q Card Finance

Available

Mon to Fri 8am-5pm and Sat 10am-1pm

Check out our website! www.carpetkingdom.co.nz
---
PAGE 10 BAY HARBOUR

Latest Canterbury news at starnews.co.nz

Wednesday January 27 2021

TOWIN

BE

IN

$1,000 Prezzy

Card

WHEN YOU PURCHASE ANY OF THE

SELECTED PARTICIPATING PRODUCTS

1 TO BE

WON IN EVERY

PARTICIPATING

STORE

South Island stores only, campaign dates 18th January – 31st January.

Terms & Conditions available at www.foursquare.co.nz

PROUD: Redcliffs School pupils Luke Jansen, Lotta Bennett and

Maddison Parker, are proud recipients of the Te Raekuru Puawai (flourish)

Awards.

New award helps

pupils academically

Sunkist Lemons

6 Pack

Product of USA

Nestle Reduced Cream

250g

$

4 99 ea

$

2 99 ea

Cottage Lane

Bread Range

Maggi Soup Mix

22-45g

$

4 49 ea

$

1 29 ea

A GROUP of philanthropic ex-business

owners are seeking to help young

people in schools within the Sumner-

Ferrymead suburbs fulfil their academic

achievements with a new monetary

award.

The Sumner Ferrymead Foundation,

a charity aiming to support its local

community, has created the Te Raekuru

Puawai (flourish) Awards.

Te Raekura Redcliffs School was the

first school in the area to introduce the

awards late last year.

Three year 8 pupils, Luke Jansen, Lotta

Bennett and Maddison Parker were the

fortunate recipients, each excelling in

different subjects being sport, reading and

maths respectively.

The award money is to be used for educational

purposes. All three pupils chose

to put the funds towards the purchase of

a new computer, a useful choice as they

transition into high school this year.

Trustee John Christensen, said:

"Transitioning from primary to

secondary school is not an inexpensive

exercise for parents so if the foundation

can help with an educational grant, then

it makes total sense. I am delighted the

awards are being used for purchasing

technology."

The foundation is hoping to expand the

award to other primary schools within

their catchment area.

Another trustee Jane Paterson said:

"We want to give kids every opportunity

so they can flourish and thrive. They are

the future and it's about creating a cycle

where the more mature locals can help

the young generations. Then in 30-40

years, they will give back and the cycle

will continue."

The foundation also helped Te Raekura

Redcliffs School to purchase more reading

books to be used in their MSL (multisensory

structured language) programme.

Internationally, MSL is recognised as the

"science behind people learning to read".

The school had chosen to pilot the MSL

approach to combat the low literacy rates

increasingly seen in New Zealand, and

since its success, it has now been rolled

out to all pupils.

While the MSL approach is considered

essential for more than 50 per cent of

children (including those with dyslexia),

even the 40 per cent who find learning

to read relatively easy benefit from the

approach too.

The foundation has a grant system and

any school or young person can approach

it and apply for funding of academic or

sporting goals.

Paterson said: "Education opens doors."

ANY 2

FOR

Arnott's Shapes

175-190g

$

4 99 $

8 99 ea

Ingham Red Box

Chicken 350-400g

www.foursquare.co.nz

facebook.com/FourSquareNZ

Specials available South Island only from Monday 18th January until STAFFORD Sunday 31st STREET

January 2021 or while stocks last. Wine and beer available at stores with an off

licence. Wine and beer purchases restricted to persons aged 18 years old and over.

BENEFICIAL:

Ryleigh

learning

to read at

Redcliffs

School with

the new

MSL reading

books. ​
---
Wednesday January 27 2021

Latest Canterbury news at starnews.co.nz

BAY HARBOUR

PAGE 11

RUNOUT

OUTLANDER LS 2.4L 2WD

$31,990+ORC *

christchurchnissan.co.nz

The 7 seater Mitsubishi Outlander brings

everything you would need in a family

SUV: safety, technology, comfort, unrivaled

economy and that all important space, plus

a 10 Year Powertrain Warranty † .

Call 03 379 0588 or visit

christchurchmitsubishi.co.nz

RRP WAS $41,990 +ORC

*Price listed is for Outlander LS 2.4L 2wd and excludes on road costs of $650 which includes registration, WoF and a full tank of fuel. Available while stocks last.

†

Visit mmnz.co.nz for full Diamond Advantage warranty conditions.

CHRISTCHURCH MITSUBISHI

386 Moorhouse Avenue, Christchurch | 03 379 0588 | christchurchmitsubishi.co.nz

NAVARA

RUNOUT

PER

FROM $91WEEK*

48 MONTH | 10% DEPOSIT | 60,000KM | NFV

FUTURE VALUES VARY BETWEEN MODELS

+ HUGE RUNOUT BONUSES!

NISSAN 150,000 KM'S

FACTORY

5YR

WARRANTY

WITH NISSAN

FUTURE

VALUE

Finance ooer available to approved applicants of Nissan Financial Services. Ooer based on selected new Nissan models at a vehicle price of $35,990 plus on road costs of $1,240 for Navara 2WD RX-R Manual

(D23UMOP), $34,990 plus on road costs of $1,240 for Navara RX Double Cab 2WD Manual, $76,990 plus on road costs of $1,240 for Navara N-Trek Warrior 4WD. Financed over maximum 48 months with monthly

repayments for Navara 2WD RX-R Manual of $417.57, $3,599 deposit and a nal balloon payment of $19,000, Navara RX Double Cab 2WD Manual of $397.27, $3,499 deposit and a nal balloon payment of $19,000,

Navara N-Trek Warrior 4WD of $972.09, $7,699 deposit and a nal balloon payment of $33,429. Final balloon payment is based on the guaranteed future value of each vehicle (subject to adjustments) (NFV).

Total amount payable over the term $38,643.59 for Navara 2WD RX-R Manual, $37,671.64 for Navara RX Double Cab 2WD Manual, $79,587.28 for Navara N-Trek Warrior 4WD. Fixed Interest Rate 3.9% p.a. 15,000

per year kilometer allowance. This ooer includes an establishment fee of $375 and PPSR fee of $8.05 and $10 per month account keeping fee. If you choose to return your vehicle at the end of the term

Nissan will pay you the NFV (subject to meeting vehicle condition and servicing requirements and agreed km allowance and less remediation costs) which will be applied to your nal balloon payment.

Terms and conditions apply. Excludes all lease and some eet purchasers. Ooer available on eligible vehicles ordered and delivered by 28 February 2021 or while stock lasts. Nissan reserves the right to vary,

extend or withdraw this ooer. Not available in conjunction with any other ooer.

CHRISTCHURCH NISSAN, 321 Moorhouse Avenue, Christchurch

Ph: 03 595 6820

www.christchurchnissan.co.nz

nissan.co.nz
---
PAGE 12 BAY HARBOUR

Latest Canterbury news at starnews.co.nz

Wednesday January 27 2021

CONTENT MARKETING

Start-up support for Covid-19

impacted jobseekers

• By Simon Anderson

IT'S THAT TIME of year when

everyone is thinking about what

they want to achieve in 2021.

I think we'd all rather forget

2020 but for some it's not so easy.

Many people have lost jobs, had

to reduce hours or change their

employment situation and are still

feeling the blow that Covid-19

has dealt our economy and

community.

As an indicator, in November

2019 there were 13,656 jobseeker

support recipients in Canterbury

compared to 21,057 in November

2020, an increase of 7400

recipients.

If you're one of these people

or were unemployed prior to the

pandemic – and are thinking of

starting your own business, we

can help.

ChristchurchNZ is helping identify opportunities for people to reskill and move into other sectors

Higher unemployment impacts

more significantly on those in

lower skilled roles and our

vulnerable populations – Māori;

Pasifika; young people not in

employment, education or

training; and our long-term

How do you start your

own

unemployed.

business?

Start Me Up is a business

skills kick-starter programme

aimed at people whose work has

been impacted by the pandemic

and are currently, or soon to

be, registered as unemployed.

It is also open to those who

were – school unemployed leavers, prior tertiary to the

pandemic.

It has been specifically designed

to guide people who are thinking

about starting a business but don't

know where to begin.

Māori From catering and industry. to digital

marketing to selling handcrafted

goods, business ideas of all

kinds are welcomed – but the

programme is not limited to

those that have an idea.

If you've ever thought of

starting your own business, we

would definitely encourage you to

sign up to the programme. Even

if you haven't got an idea, we

can help you work through the

process of coming up with one.

There are two parts to the

programme – the first is an online

short course exploring what it's

like to start a business and be

self-employed. The online classes

will cover topics such as who

your customers could be, what

problem your business will solve,

how to structure the business,

how to get sales and measure

your progress.

Having completed the online

programme, 25 participants who

want to get serious about building

their business will be selected for

an in-person Accelerator.

The Accelerator will follow the

same framework introduced in

part 1, but will drill deeper in on

each component to help create a

more in-depth business plan that

can be used to get started, to get

funding or simply as a guide for

you in your next steps.

And what are we doing?

We are supporting the journey

for labour market priority groups

graduates, NEET (young people

not in employment, education or

training), impacted workers,

To ensure work isn't duplicated,

and to identify gaps, we are

mapping the support available

from iwi, central and local

government agencies, our

education providers, charitable

trusts, and other support groups.

Impact projects can then be

delivered to provide support

where needed.

It is critical we ensure our

community has access to the

information they need, and is

aware of the help available.

ChristchurchNZ is developing

regional information resources

and working to ensure this gets

into the hands of those who

Online classes with local experts will cover the

fundamentals of starting a business.

need it.

Access to the best

support in town

Both the online and in-person

components will give participants

access to support across the city's

network to help make their idea a

success.

This will include a team of

successful entrepreneurs, mentors

and start-up experts – people

that have all been there and done

it before and can share their

experiences, both the highs and

the lows with you.

If you are selected to take

part in the Accelerator, your

business plan will be reviewed

by a Westpac loan specialist to

see if it is eligible for a business

loan. If it isn't, you may be eligible

for support to get your business

started from the Ministry of

Social Development. However,

there's no guarantees you'll

receive funding as a result of

taking part in the programme.

Don't just take it from me

Lisa Schmidt has already

submitted her application for

Start Me Up and is excited about

the opportunities the programme

will provide.

Lisa is an artist and has a

passion for creating sustainable

artwork made from natural

elements or repurposed goods

(pictured). When a recent

business venture selling her art

didn't work out financially, Lisa

realised that working on her

business skills including how to

sell and get exposure for her work

was essential. Lisa is strongly

connected to Banks Peninsula

and wishes to continue creating

her art there and starting an art

collective with other talented

local female artists.

Why are we doing it?

Start Me Up is a collaboration

between ChristchurchNZ and the

Ministry of Social Development

and is a key action in the

Ōtautahi Christchurch Recovery

Plan which sets out the actions

to make sure our city's economic

and social recovery from the

Covid-19 pandemic is deliberate,

strong and equitable.

Give it a go

Find out more about the

programme and register online at

www.startmeup.co.nz

We are also developing a

Regional Workforce Plan that

identifies the skills available and

needed now and in the future.

This plan will inform central

government investment and

policy in education, immigration

and community interventions;

and will enable us to better

understand what skills

Christchurch's future economy

will require. That in turn will

allow us to work with education

providers to ensure the right

courses are offered.

In times of recession we generally

see an increase in people

choosing to study.

This is an opportunity to upskill

Canterbury's relatively

poorly-educated workforce for

our future economy, to generate

more and better jobs, to increase

productivity, and to raise living

standards and wellbeing.

We are supporting Ngāi Tahu's

development of an iwi skills hub

that will create stronger pathways

for young Māori into tertiary

education and skilled jobs.

Among other projects, we are

working with education partners

and mana whenua to increase

aspiration and participation of

students in low-decile schools in

Simon Anderson is the

future-focused regional tertiary growth study manager that

will lead at to ChristchurchNZ

careers in

Thinking of starting a business? Find

out more at startmeup.co.nz

high-growth areas. We are

seeking to future-proof

Canterbury's labour marke

- we know how vital it is to

new jobs to ensure people

employment options now

in the longer term.

We have invested in a cityinnovation

and entrepreur

ecosystem partnership to s

high-growth potential bus

and future job creation in a

of regional strength and glo

growth opportunity. These

Supernodes are Aerospace

PHOTO: BROOKE CAGLE

Future Transport; Food, Fi

and Agritech; Health Tech

Resilient Communities; an

High-Tech Services.

Our business attraction tea

working to attract addition

businesses and jobs to the r

While we expect ongoing

economic disruption, there

are many green shoots and

opportunities – one of whi

to develop a workforce tha

highly skilled and can supp

thriving and globally comp

future economy.

Karen Haigh is a Talent

Specialist for Innovation

and Business Growth at

ChristchurchNZ

Start Me Up participant Lisa Schimidt's recent artwork.
---
2

[Edition datE]

Wednesday January 27 2021

Latest Canterbury news at starnews.co.nz

BAY HARBOUR

PAGE 13

keep it local

and support businesses in your community

Wonderful range

of stylish casual

women's European

summer shoes

Russ Day

displays

a popular

new

European

summer

sandal by

La Bonita

The Footwear Factory in Garlands

Road Woolston has been a part of the

Christchurch retail scene for more than a

quarter of a century.

Over that time thousands of people have

flocked to the store to find bargains and

good deals in quality footwear, ranging from

children's shoes, sandals and school shoes

to men's and women's fashion and casual

shoes, outdoor and sports shoes, bowls

shoes, slippers, and safety footwear for the

workplace.

Launched in a small shop in Papanui, the

business later operated in Riccarton for 12

years before moving to Garlands Rd 16 years

ago.

Owned by Russ and Jude Day, there you

will find shelves lined with footwear in a

huge variety of styles and colours for men,

women and children – a 'gold mine' for shoeseeking

shoppers.

The footwear is brought in from all over

the world, as well as coming from New

Back to

School

ShoeS

Ascent &

McKinlays

from $79.95 - $149

47c Garlands Road, Woolston

Phone 389 3431

www.thefootwearfactory.co.nz

Zealand manufacturers, and includes ends of

lines and other well-priced items.

Four main brands are carried – the New

Zealand made McKinlays range of children's

school shoes, as well as men's and women's

styles. The well-known Hi-Tec range of

outdoor footwear and tramping, New

Balance sports shoes and a range of Keens

sandals and outdoor footwear. These known

brands cover all ages.

New styles arrive almost every day, so

there are always more to try on, while Russell

and his second-in-charge Karen are happy to

advise on styles and sizing.

Located on a high-profile site at 47C

Garlands Rd, (next to Flags Tyres), the

Footwear Factory is easy to find, and there is

off-street parking available.

They are open seven days a week –

9.30am- 5pm Monday to Friday, 10am-2pm

Saturday and 11am-3pm Sunday. Phone

389-3431. Check out their website for new

arrivals, www.thefootwearfactory.co.nz

Lyttelton

Framing

Four good reasons to use us

to frame your artwork:

1. Know how - UK qualified

conservation framer

2. Experience - We have been

established now for eighteen years

3. Guarantee - All work guaranteed

4. Price - Very competitive prices

Contact Malcolm Ph 328-7350

32 London St, Lyttelton

Mon-Fri 9am-5pm, Sat 9am-1pm

Happy

New Year

"

This was the most amazing massage and facial

I have ever had in NZ. Any ladies out there on

holiday or living in or around Christchurch, do

yourself a favour and book in for a couple of hours

of delectable pampering. - Denise, Gold Coast

"

2021

Delivering tranquil and

relaxed treatments,

beauty and massage

therapy in a warm and

inviting atmosphere

BODY CARE VOUCHERS

MAKE GREAT GIFTS!

89b Main Road, Redcliffs

Phone 03 384 4729

www.redcliffsbodycare.co.nz

Advertising enquiries Jo Fuller | Ph: 027 458 8590 | jo.fuller@starmedia.kiwi
---
PAGE 14 Wednesday January 27 2021

BAY HARBOUR

Latest Canterbury news at starnews.co.nz

Love the

Freedom

Ready to relax in a worry free home?

Summerset homes are warm, modern and designed with

everything you could need for the perfect retirement lifestyle.

There's no need to worry about maintenance and upkeep.

You have the freedom to choose if you want to make your

garden your own, or if you'd prefer us to take care of it.

Like to holiday? Lock up and leave your home, knowing

everything is safe while you enjoy your next adventure.

It's all about loving the life you choose.

Think Summerset living sounds like you? Visit Summerset

at Avonhead during our Open Day, Sunday 31 January,

between 10am and 4pm.

Open Day

Sunday 31 January

10am - 4pm

Summerset at Avonhead

120 Hawthornden Road,

Avonhead

To find out more call Anne or

Grace on 03 357 3202

*Licence to occupy.

We'd love to take you on a tour of our beautiful village and

show homes. We have plans and pricing available to view

and we're sure you'll meet some of our wonderful residents

along the way!

To order your free information pack

visit summerset.co.nz

SUM2721_37X8
---
Wednesday January 27 2021

Latest Canterbury news at starnews.co.nz

BAY HARBOUR

PAGE 15

ESTUARY MATTERS

Flying boats suggested for estuary

The Avon-Heathcote Estuary Ihutai

Trust is a non-profit organisation

formed to protect one of New

Zealand's most important coastal

wetlands. Each week, board

members will discuss matters

regarding the estuary, its rich history

and what makes it unique. This

week Bill Simpson writes about

how the estuary could have been a

flying boat base

THE BIRDS of the estuary are

one of the city's great treasures.

But 72 years ago there could

easily have been wings over the

estuary of a very noisy kind.

In post-war years, Christchurch

wanted regular flights to

Australia. In Auckland, the large

four-engine Sandringham flying

boats flew in from Sydney and

landed in Waitemata Harbour

close to the city centre.

The Sandringhams were

originally war-time Sunderland

flying boats converted to carry

30 passengers. Eyes were cast on

the Avon-Heathcote Estuary as

a possible South Island base for

these sea-planes.

TEAL was upgrading its fleet

and replacing the Sandringhams

with Solents; these new planes

could carry 45 passengers.

Christchurch desperately

wanted a transtasman aviation

link. Harewood could be

extended, but this would cost

money for the extra land, or the

estuary could be used as a flying

boat base.

It did not take too much expertise

to quickly realise that the

estuary was unsuitable as a port

for these large sea-planes.

Although some channels may

have been deep enough, the

estuary was generally too shallow

and there were not enough

multi-directional channels to

cope with planes landing from

the various angles dictated by

variable winds.

So the city council bought land

to lengthen the Harewood strip.

TEAL used DC4s and then DC6s

to fly regular services to Sydney

and Melbourne.

The future lay with land-based

planes because they could carry

heavier payloads at faster speeds.

MAJESTIC: Christchurch was keen for a transtasman aviation link to Sydney but

complications arose when the estuary was deemed not deep enough for the

Sandringham flying boats.

For aviation buffs the prospect

of flying boats landing close to

the city would have been a dream

come true; but for residents

wanting to enjoy the tranquillity

of estuary-side living, just

the wings of terns, godwits and

oystercatchers are quite enough,

thank you.
---
PAGE 16 BAY HARBOUR

Latest Canterbury news at starnews.co.nz

Wednesday January 27 2021

Tasty Bites

Tomatoes are plentiful – be creative

Try this twist on the

classic Mediterranean

tomato, mozzarella and

basil salad, its a perfect

match for the summer

barbecue. Finish the

meal with a tangy

mandarin syrup cake

Classic tomato salad with

a twist

Serves 4-5

Ingredients

Topping

4 tbsp chopped parsley

Finely grated rind 1 large

lemon

2 cloves garlic, crushed

Salad:

200g fresh mozzarella or

bocconcini

3 tbsp extra-virgin olive oil

2 tbsp finely sliced basil

leaves

2 cloves garlic, crushed

Freshly ground black pepper to

taste

500g medium-size ripe

tomatoes

Freshly ground salt to taste

Extra basil leaves for garnish

Directions

Combine ingredients for the

topping and place aside.

Meanwhile, slice mozzarella

into a bowl. Sprinkle with olive

oil, basil, garlic and black pepper.

Stand for at least 30min to

absorb the flavours.

In a flat serving dish slice

the tomatoes and layer in rows

alternately with cheese. Sprinkle

with salt and extra

basil

Serve lightly chilled as a light

meal with crusty bread or as an

accompaniment to cold meats.

Balsamic roasted

tomatoes

Serves 4-8

Ingredients

12 medium tomatoes, plum

preferably

4 each: cloves garlic, basil

leaves, thinly sliced,

few sprigs thyme

2 spring onions

1 red chilli

Flaky sea salt and freshly

ground black pepper to taste

1/2 cup balsamic vinegar

1 tbsp brown sugar

2 tbsp extra-virgin olive oil

Set the oven to 170 deg C.

Make a small cross in the top

of each tomato. Place in a

casserole dish so they fit snuggly.

Sprinkle with garlic, basil and

thyme.

Halve spring onions lengthwise

and cut into 4cm long

lengths.

Halve chilli lengthwise and

seed. Weave spring onions and

chilli between the tomatoes.

Season well.

Combine vinegar and brown

sugar. Pour over tomatoes.

Drizzle with olive oil.

Bake for about 45min,

until tomatoes are soft but still

retain their shape.

Serve with crusty bread as a

starter, on pasta or as an

accompaniment.

Sweet summer mandarin

syrup cake

Ingredients

330-370g mandarins

(3- 6 whole mandarins,

depending on size)

200g blanched ground

almonds

1 cup white sugar

5 eggs

1 tsp vanilla extract or

essence

1 tsp baking powder

oN sAle Now!

HEALTHY:

Tomatoes

can be used

as the main

ingredient for

a salad.

Syrup

1/4 cup sugar

Juice of 1 mandarin

Juice of 1 lime

Natural unsweetened Greek yoghurt

or creme fraiche to serve

Directions

Place whole mandarins in a large

saucepan and cover with plenty

of cold water.

Cover with a lid and boil gently

for 90min. Drain and allow to

cool slightly.

Preheat oven to 180 deg C.

Grease and line a 21cm round

springform cake tin with baking

paper.

Remove the stem end of the

mandarins, then cut in half and

remove any pips. Place fruit

(skin, pith, flesh and all) in a

food processor or blender and

blitz until smooth. Add all other

cake ingredients and blitz until

well combined.

Pour into prepared cake tin

and bake for 1 hour or until a

skewer inserted in the middle of

the cake comes out clean.

Cover cake with tinfoil halfway

through cooking time to avoid

the top browning too much.

Remove cake from oven and

leave in the tin while you make

the syrup.

Mix sugar, mandarin and lime

juice together and pour over

cake while warm.

NUMBER ONE SUPPLIER

TO THE NZ JET BOATING

COMMUNITY FOR OVER

50 YEARS

Now only

$35.80

Plus $5 P&H per copy

AvAilAble from stAr mediA:

Level One, 359 Lincoln Road

Addington, Christchurch

Phone 379 7100

• Part Boats & Hulls

• Turn Key Packages

• New Jet Units

• Custom Fabrication

• Expert Advice

SERVICING

Peter Tonkin

03 962 0505

peter.tonkin@hamjet.co.nz

• Spare Parts Retailer

• Jet Unit Refurbishment

• Engine Tune-Ups

• Insurance Repairs

• Impellor Reconditioning

www.bigbrothersbigsisters.org.nz
---
Wednesday January 27 2021

Latest Canterbury news at starnews.co.nz

BAY HARBOUR PAGE 17

Ford's hot hatchback brings back the youth

I DON'T like being referred to

as old.

Sure, as a pensioner, I'm aged

in the senior demographic but

I'd like to think I'm still relatively

youthful, and when I'm presented

with an exciting sports car to

evaluate, my persona changes to

someone much younger.

Just like when I was presented

with the keys to Ford's Focus ST, a

traditional hot hatchback charger

that is an absolute screamer when

allowed to breathe freely. I felt

well in control of the beast, and

such is its all-round adaptability

it also doubles as a useful fourdoor,

five-seater for when your

grandkids need transporting, and

I also think they would feel quite

proud when seated in the stroppy

sports car.

At $59,900, the Focus ST sits

competitively with other hot

hatchback models yet it carries

all of the practicality the Focus

has as a series, it is easy to drive

and doesn't present any special

challenges.

The ST gets a 2.3-litre turbocharged,

four-cylinder engine

which gets about its job with

strong engine sound and character.

I'm not saying it is noisy, it's

not; the sound is well isolated but

it is there to be heard, the engine

is angry under load and it is a

sound that encourages throttle

use, it is pleasant to listen to.

Ford claims healthy outputs of

206kW and 420Nm, providing

the impetus for a 6.4sec standstill

to 100km/h time.

As mentioned, you don't need to

drive the ST in performance mode

all of the time, it is happy to dawdle

traffic and during my weekday

commute I was comfortable in it

and felt right at ease, although you

do get the impression it is keen to

get some movement going.

Power is directed through a

paddle-shift seven-speed automatic

transmission to the front

wheels. Shifts are smooth and the

ratios are also structured to meet

the demands of fuel-conscious

buyers.

Ford claims an 8.6l/100km

combined cycle fuel usage average

for the ST. The trip computer

was showing around 10l/100km

when I took the car back to the

dealership. It will also return a

5.4l/100km instantaneous reading

at 100km/h (engine speed

1500rpm), which means you can

have some fun without scoffing

vast amounts of fuel.

I took the test car on a Mid-

Canterbury loop, they are perfect

roads for a performance car.

English Fords have generally been

regarded as having supple chassis

balance and the ST doesn't disappoint,

it simply dances through

the suspension. It also rockets

between corners with a powerful

surge and swift retardation,

thanks to a performance brake

package.

Grippy Michelin Sport tyres

(235/35 x 19in) turn in precisely

with little steering effort but solid

steering feedback. Gravitational

changes don't load the tyres, nor

does it affect the way the suspension

operates in a corner; if

uneven surfaces are encountered

there is composure and certainty

within the steering process.

The ST stands out with its bold

FORD FOCUS ST:

Fantastic red

paintwork and big

rear spoiler stand

out and hints at a

performance package.

wheels, body kit and spoiler,

while on the inside Recaro seats

not only support the driver

around the mid-riff, but they are

visual. The test car was painted

bright red, described by Ford as

fantastic red, red ST logos embossed

on the front seats complement

the exterior colour.

The Focus ST is a fun package,

yet has practicality on its side. It

comes extensively equipped with

all of the items you'd expect today

for comfort and convenience, and

safety.

If you are up with the play

• Price – Ford Focus ST,

$59,990

• Dimensions – Length,

4388mm; width, 1979mm;

height, 1492mm

• Configuration – Fourcylinder,

front-wheeldrive,

2261cc, 206kW,

420Nm, seven-speed

automatic

• Performance –

0-100km/h, 6.4sec

• Fuel usage – 8.6l/100km

technology-wise, the Focus

as a series also has all of the

functionality to keep you happy.

The entire range has just had

a refresh, there's more kit for

connectivity and there is an

increased level of electronic safety

spec.

These features not only provide

extra value, convenience and

surety, but they contribute to

the special feeling you get every

time you are in the car, you will

be smiling every time you drive

it and it will certainly make you

feels years younger.

Before you

paint your

bargeboards

call us about

disconnecting

the power

03 363 9898 | 0800 363 9898

oriongroup.co.nz

Getting in there with that paintbrush around live power lines

is very dangerous. Call us about disconnecting the power,

it might cost a bit more, but it could well save your life.

You're our priority.

Orion operates, and maintains, the electricity distribution network

that provides power to central Canterbury. We are always here

to help if you have any questions or concerns about the network.
---
PAGE 18 BAY HARBOUR

Latest Canterbury news at starnews.co.nz

Wednesday January 27 2021

REAL ESTATE

Contemporary Funky Pad

97B Mt Pleasant Rd, Mt Pleasant

Deadline Sale - by 2 February

4 bedrooms 2 bathrooms 2 car garage

Listing no. SMT 10613

Make a wish as you watch the shooting

stars, and the twinkling of the lights shine

bright over the estuary and bay harbour.

This unique property could be yours!

Set on the lower slopes of Mt Pleasant in a

microclimate location and brilliantly

oriented for all day sunshine.

A builder's own home built in 2017 configured

and designed with entertaining and family

in mind, provides in abundance all the

mod cons essential for modern day living.

The generous open plan living dining area

gives you the feeling of an industrial space

and offers a large entertaining zone with

access to a wrap around deck, plus the

bonus of an east facing deck to capture the

morning sun. The kitchen a real treat for the

chef of the family enjoys a social aspect.

A media room or formal living room is

perfect room to chill out in with easy access

to the interconnecting deck.

Offering four double bedrooms all with

sliders to the deck and patio areas. The master

enjoys a massive space with ensuite and

walk-in wardrobe. A separate bathroom

and two separate wc service the home.

To keep your family toasty warm during the

colder months a log burner is positioned on

the lower level with an open flue to warm

the upstairs area along with a heat pump.

Contemporary design & superb flow are

paramount throughout the spacious 235m2

floor plan. Landscaped with private areas.

Easy drive on access to the double internal

accessed garage plus the bonus of off street

parking for a boat/motorhome. To add

strength to your investment Mt Pleasant

primary school is a short walk.

Debra Hakaraia

Mob. 027 562 0420

Smart Real Estate Ltd

(Licensed Agent REAA 2008)

real estate

ADVERTISING FEATURE

Are you ready to grow?

Kiwi Gardener is your practical guide

to gardening in New Zealand.

growing with you Three Time winner of NZCNA Best Magazine | July 2020 | 100%

Our shrub

Of the month

Why you need a

smoke bush

Gardening

in Glass

The art of

making

terrariums

SubScribe From

$

20

28 th mArCh 2021

ChristChurCh ArenA

10Am - 3pm

Showcase what your business

has to offer to couples who

are planning their big day in a

relaxed and vibrant setting.

$7.90 incl. GST

Start your

StrawberrieS

Priming for sweet

success this summer

Pass the

Potato

A Canterbury family

keeping one special

variety growing

stars of the winter staGe

daphnes, camellias, hellebores & more

Great return for

your investment

with ongoing

benefits, at

affordable prices!

The perfect

platform for

your business

to shine!

Call Lisa now on

021 800 809 to find out

how you can be part of the

most advertised Wedding

Show in Christchurch!

SubScriptionS Freephone

0800 77 77 10

www.Gardener.kiwi

Enquire for a media pack: lisa.lynch@starmedia.kiwi
---
Wednesday January 27 2021

Latest Canterbury news at starnews.co.nz

BAY HARBOUR

PAGE 19

Classifieds Contact us today Phone our local team 03 379 1100

Trades & Services

Atkinson Construction Ltd

• Local qualified licensed builder

• Over 30 years experience

• Building alterations

• Maintenance

• No job too big or small

Dean: 021 480 093

atkinsonconstruction@xtra.co.nz

DIRTY TILES

& GROUT?

Our unique restoration

processes will make your

tiled areas look NEW again!

We specialise in professional

cost effective solutions for

all your tile & grout issues.

• Tiled shower makeovers

• Re-colouring old grout

• Mouldy silicone replacement

• Professional tile/grout

cleaning, sealing & repairs

Call today for a FREE quote on 0800 882 772

or email darryl.p@theprogroup.co.nz

Your local professional

FOR ALL YOUR

PLUMBING,

GAS &

DRAINAGE

• Bathroom repairs

• Renovations

• Leaks

• Blocked drains

• Gas and drainage

Carol and Chris

Phone 376 5322 or email

chcheast@laserplumbing.co.nz

PLUMBING & DRAINAGE

Gas FittinG & GuttER CLEaninG

High reach gutter cleaning machine.

No job too big or small.

Local family run Christchurch/

Redcliffs business for all plumbing,

drainage & gas work.

Free Quotes

Call Morgan 0223 758 506

Visit our website - www.mtpd.co.nz

Email - morgan@mtpd.co.nz

Wanted To Buy

AAA Buying goods

quality furniture, beds,

stoves, washing machines,

fridge freezers. Same day

service. Selwyn Dealers.

Phone 980 5812 or 027

313 8156

Wanted To Buy

AAA Buying goods

quality furniture, beds,

stoves, washing machines,

fridge freezers. Same day

service. Selwyn Dealers.

Phone 980 5812 or 027

313 8156

Trades & Services

WINDOW TINTING

tintawindow

advanced film solutions

99% uv block

fade protection

heat control

reduce glare

25 Years Experience

privacy films

frosting designs

non-darkening films

Workmanship Guaranteed

Lifetime Warranties on Most Films

UV

block

Free Quotes Canterbury and Districts

03 365 3653 0800 368 468

Services available from Ferrymead

to Taylors Mistake and Lyttleton

FOR ALL YOUR

★Garden Clean-ups

★Pruning

★Lawn Mowing

★Garden Maintenance

Call us today for a FREE quote

PH 0800 4 546 546

(0800 4 JIMJIM)

CONCRETE CUTTING

Affordable Concrete

Cutting with Quality, and

removal work. Free quote.

No job to small. Phone 027

442-2219, Fax 359-6052

a/h 359- 4605

ELECTRICIAN

JMP Electrical.

Experienced & registered..

Expert in all home

electrical repairs &

maintenance.Call James

027 4401715

ELECTRICIAN

Andrew Martin Electrical.

25 years experience.

Specialize in home

renovations, repairs and

maintenance. Call Andrew

0274 331 183

PAINTING SERVICES

Mature, reliable,

conscientious &

experienced, reasonable

rates, no job too small!,

call Ron 027 434-1400

PAINTING

DECORATING

All types of int/ext

painting undertaken. 30 +

yrs exp. Ph Michael 027

665 4654

PLAN ESTIMATING.

Get your plans priced now.

All building projects E

mail eqcshedbuilders@

gmail.com

RENOVATIONS

Small jobs, second hand

kitchen installs incl stone

bench tops, sleepouts and

home maintenance. Call /

txt Greg 022 475 8227

SPOUTING & GUTTER

CLEANING

For a professional reliable

service call Greg at A1

Spouting Cleaning 027

616 0331

STONEMASON, BRICK

& BLOCKLAYER,

Earthquake Repairs, Grind

Out & Repoint, River/

Oamaru stone, Schist,

Volcanic Rock, Paving,

all Alterations new & old,

Quality Workmanship,

visit www.featureworks.

co.nz or ph 027 601-3145

To Let

RENT ME!

Ideal as an extra

bedroom or office.

no bond required

Fully insulated and double glazed for warmth.

Three convenient sizes from $80 a week:

Standard 3.6m x 2.4m

Large 4.2m x 2.4m | Xtra-large 4.8m x 2.4m

Sunday

21 MaRCh

Visit our website

www.justcabins.co.nz

for display cabin locations

www.justcabins.co.nz

Public Notice

Situations Vacant

PART TIME ACCOUNTANT

We require a part time Accountant in the

Mt Pleasant to Sumner area to provide limited

services on an 'as needed' basis, such as GST,

tax requirements for our small business. Would

suit an Accountant who is now working

from home. Telephone Peter on 021 441 413.

Tuition

PIANO LESSONS

Catherine Bracegirdle

DipABRSM ATCL AIRMT

12 Ridgeway Pl, Richmond Hill, Sumner

PH. 021 044 5102

www.pianoandtheory.co.nz

catherine.bracegirdle@gmail.com

#Areyouupforit?

14km, 6km

Community

Fun Run Event

EntER now

www.city2surf.co.nz
---
PAGE 20 Wednesday January 27 2021

BAY HARBOUR

Latest Canterbury news at starnews.co.nz

STOREWIDE SALE

NOW ON. ENDS 8.2.21. EXCLUSIONS APPLY.

Malone Modular Sofa

ALL LOUNGE ALL DINING ALL OUTDOOR ALL BEDROOM

ON SALE! ON SALE! ON SALE! ON SALE!

Nero Electric Recliner

WAS $

799

Valletta 6 Piece Outdoor

Lounge/Low Dining Set

WAS $

2499

NOW

$

1999

Rivo 3 Seater Electric

Recliner

WAS $

2699

SUPER DEAL!

NOW $

599

NOW

$

1999

SUPER DEAL!

Rivo 2 Seater

Electric Recliner

WAS $

2399

NOW

$

1799

SUPER DEAL!

Serene Trundler

Bed Set

WAS $

897

NOW $

698

SUPER DEAL!

Dallas Queen Bed – Jet

WAS $

449

NOW

$

349

Sono Boxed Mattress – Queen

Medium Feel

WAS $

599

NOW

$

399

Shop

Online

Nationwide

Delivery

Finance

Options

SUPER DEAL!

more super deals online & in store!

SUPER DEAL!

STOREWIDE SALE ENDS 08.02.21.

Come & check out

our new STORE!

targetfurniture.co.nz

250 Moorhouse Ave, Christchurch

Ph: 0800 TARGET (0800 827438)

Offers and product prices advertised here expire 08/02/21.

Sale excludes Manchester and Accessories.
---
Wednesday January 27 2021

Latest Canterbury news at starnews.co.nz

BAY HARBOUR

PAGE 21

THE

SALE

TEN DAYS OF SAVINGS

STARTS FRIDAY 29 JANUARY 9:30AM

29 JANUARY – 7 FEBRUARY

WOMENSWEAR | LINGERIE | WOMENS SHOES

ATRIUM | CONTEMPORARY LOUNGE | ACCESSORIES

COSMETICS | CHILDRENSWEAR | MENSWEAR

MENS SHOES | MENS GIFTING | BED & BATH

LUGGAGE | PANTRY | HOME & LIVING | COOK & DINE

POTTERY BARN | POTTERY BARN KIDS | WEST ELM

OFFERS INSTORE ONLY
---
PAGE 22 Wednesday January 27 2021

BAY HARBOUR

Latest Canterbury news at starnews.co.nz

UP TO 50% OFF

SELECTED MENSWEAR

UP TO 50% OFF

SELECTED WOMENSWEAR

UP TO 50% OFF

SELECTED CHILDRENSWEAR

UP TO 50% OFF

SELECTED ACCESSORIES

UP TO 50% OFF

SELECTED HOMEWARES

UP TO 50% OFF

SELECTED FOOTWEAR
---
Wednesday January 27 2021

Latest Canterbury news at starnews.co.nz

BAY HARBOUR

PAGE 23

SHOP THE SALE FOR

10 DAYS OF SAVINGS

29 JANUARY – 7 FEBRUARY

EXTENDED STORE HOURS

FRIDAY 29 JANUARY / 9.30AM-7PM

SATURDAY 30 JANUARY / 9AM-6PM

NORMAL STORE HOURS THEN RESUME

OPEN ON WAITANGI DAY 6 FEBRUARY 10AM-5PM

WWW.BALLANTYNES.CO.NZ/OPENING-HOURS

HEREFORD ST

The Sale TIP

If you're shopping in Christchurch, we recommend

parking in the Lichfield Street Carpark as it's the

closest to the store and is fully undercover. You can

even take the yellow lift (as opposed to the red or

purple lifts) to bring you straight to the store - ideal

for a quick entry!

CAMBRIDGE TCE

OXFORD TCE DURHAM ST

P

TUAM ST

CASHEL ST

BALLANTYNES

LICHFIELD ST

COLOMBO ST

HIGH ST

P
---
PAGE 24 Wednesday January 27 2021

BAY HARBOUR

Latest Canterbury news at starnews.co.nz

THE

SALE

TEN DAYS OF SAVINGS

STA RTS

FRIDAY 29 JANUARY

9:30AM

NOW ACCEPTING:

Instore Only, City Mall, Christchurch. PHONE (03) 379 7400