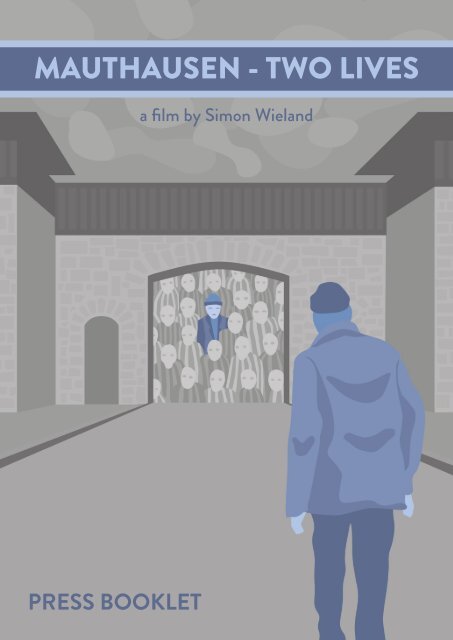 Press Booklet MAUTHAUSEN - TWO LIVES
You also want an ePaper? Increase the reach of your titles
YUMPU automatically turns print PDFs into web optimized ePapers that Google loves.
MAUTHAUSEN - TWO LIVES

a film by Simon Wieland

PRESS BOOKLET

1
---
2
---
MAUTHAUSEN - TWO LIVES

A film by Simon Wieland

PREMIERE AND CINEMA RELEASE

IN AUSTRIA

October 20, 2020

WORLDWIDE RELEASES

January 25, 2021

Bulgaria, Italy, United States

January 26, 2021

Romania, Moldova

January 27, 2021

Slovakia, India

February 25, 2021

Germany

3
---
"The secret of salvation is memory." (Talmud)

4
---
TABLE OF CONTENTS

ABOUT THE FILM

7

THE PROTAGONISTS OF THE FILM

STANISŁAW LESZCZYŃSKI

FRANZ HACKL

9

12

QUOTES FROM THE FILM

STANISŁAW LESZCZYŃSKI

FRANZ HACKL

14

15

DIRECTOR SIMON WIELAND

SHORT BIOGRAPHY

DIRECTOR'S STATEMENT ON THE FILM

INTERVIEW

CREDITS

MULTIMEDIA

ABOUT CEE FILMS

CONTACT DETAILS

16

17

19

30

31

32

33

5
---
"We struggled for every day, every hour of our survival, always

thinkingof our loved ones. But without the help of our comrades,

this struggle would have been hopeless."

(Stanisław Leszczyński)

6
---
ABOUT THE FILM

The documentary MAUTHAUSEN – TWO LIVES records the story of two people situated

in the Mauthausen Concentration Camp during the Nazi regime – Stanisław Leszczyński,

born in Łódź, was there as a prisoner, while Franz Hackl, from Mauthausen, worked there as a

locksmith apprentice. Two fates that could not have been more contrary – and yet they have

so many disturbing things in common. Austrian director Simon Wieland managed to portray

the two protagonists and their confrontation with Mauthausen, which is an important symbol

for the Holocaust and thus for guilt and cruelty, in a sensitive and multifaceted manner.

The result is a strong and moving documentary about humane and also, above all, inhumane

behaviour in the face of crime.

7
---
8
---
THE PROTAGONISTS OF THE FILM

STANISŁAW LESZCZYŃSKI

Stanisław Leszczyński was born on May 29, 1922 in Łódź. He was the third child in a rather

wealthy family. His father was the owner of a tenement house, and his mother was one of

the most famous midwives in Łódź. During the Second World War Stanisław Leszczyński

was active in the resistance. As a member of a secret association, he repeatedly transported

leaflets and other printed matter from Łódź to Warsaw. His older brother and father

were also involved in underground activities. In February 1943, the family was arrested by

Gestapo men. The mother Stanisława Leszczyńska and her daughter Sylwia were taken to

KZ Birkenau, meanwhile Stanisław Leszczyński and his younger brother Henryk were sent

to KZ Mauthausen, which was considered one of the worst Nazi death factories back then.

During their time in the camp, the Leszczyński brothers were inseparable and fought a battle

for survival until the liberation in May 1945. After the liberation and the end of the war,

young Stanisław joined the army. He wanted to become a cardiologist, but a Soviet general

mistakenly sent him to the restored territories as a military radiologist. So he became a radiologist.

Later he worked in a military hospital. After 1956, he began to travel abroad and

was nominated for associate professor. Refusing to write reports on his travels abroad for the

communist secret services in the Polish People's Republic, he was transferred to the Infectious

Diseases Hospital in Warsaw, where he continued to work as a consultant even until

2016. During his time as a physician, Leszczyński did a great deal of research, trained numerous

radiologists, and wrote several textbooks. He taught in the United States, Germany, and

Austria (he learned German in the concentration camp). In 1990 he was awarded the title of

professor. Stanisław Leszczyński was vice president of the CIM, the Comité International de

Mauthausen. He passed away on April 24, 2017, at the age of 94. In his private life Stanisław

Leszczyński played the zither very well and had a large collection of musical instruments.

The detailed biography is based on the materials of the Polish News Agency PAP.

9
---
"Those who cannot remember the past are condemned to repeat it."

(George Santayana, philosopher and writer)

10
---
""I swore never to be silent whenever and wherever human

beings endure suffering and humiliation. We must take sides.

Neutrality helps the oppressor, never the victim.

Silence encourages the tormentor, never the tormented."

(Elie Wiesel, writer, political activist,

Nobel Peace laureate and Holocaust survivor)

11
---
FRANZ HACKL

Franz Hackl was born in 1927 and completed an apprenticeship as a locksmith in the Gusen

quarry at the SS Company German Earth and Stone Works from March 1942 to February

1945. The Gusen quarry was part of the Mauthausen concentration camp, which meant that

Franz Hackl had close contact with the prisoners and observed everyday life in the concentration

camp at close quarters. In February 1945, he was drafted into the German Wehrmacht,

but did not have to serve after all. In the interview, he describes his experiences, which he had

to go through at the tender age of 17, and how he, later on, was able to come to terms with

what he had experienced. Authentic, stirring, moving, shocking, but also optimistic about the

future – Franz Hackl wants to help ensure that what happened will not forgotten. He wants to

keep the atrocities of World War II in our minds in order for them to never be repeated again.

12
---
"I remember when the people were dying, and they were telling us, be

gezunt and tell to the world how we died. And it should never happen again."

(Branko Lustig, producer and two-times Oscar winner)

13
---
QUOTES FROM THE FILM

Quotes from Stanisław Leszczyński

"Each morning we got up and went to the quarry. We had to walk down 160 steps to reach

the quarry where we worked to push those carts and load them with rocks. There were

foremen and assistant foremen. If someone dropped a vessel or could barely stand up, the

malicious foremen pushed them down into the quarry."

"I had wounds on my legs and in many other places, a lot of wounds. They took me to the

corpse squad, where the dead bodies were collected. Only after did someone notice that I

was still moving and dragged me off the cart."

"Many died. But for us that became normal."

"My mother saved a lot of children, who Mengele wanted to kill. After I came home, she

said: My own children, my daughter and I, all survived the camp because I didn't allow other

children to be killed."

14
---
Quotes by Franz Hackl

"We were very enthusiastic that we could participate in the so-called liberation by the

Germans. We children were delighted and of course also shouted 'Heil Hitler'. But what

happened then shut us up."

"Prisoners were forced to jump down from up here. The so-called parachutists, except they

had no parachute. Of course, those was enjoyable to watch for the SS, but the prisoners

knew that this would be their end."

"Those three years that I spent here during my apprenticeship made me realise that not

those in here were the criminals, but those standing outside who bullied and beat to death

those who had committed no crime."

15
---
DIRECTOR SIMON WIELAND

SHORT BIOGRAPHY

Simon Wieland, born in 1963 in

Austria, studied at the University of

Film and Television in Munich and

founded his own production company

in 2008. He worked for various

productions for TV channels such as

ORF, 3Sat, BR, NDR, SFB, WDR,

ARTE and received a German Film

Prize nomination, several special prizes

as well as outstanding reviews at the

San Francisco Film Festival and Tel Aviv Film Festival for his activities. As an author,

cameraman and director he has been dealing with contemporary historical topics.

SELECTED FILMOGRAPHY

"OUR STRUGGLE. One family. Three generations. Nine wars."

Austria 2017 | 90 minutes

"NEMCI VEN! GERMANS OUT! The Brno death march – The Story of an Expulsion"

Austria 2015 | 94 minutes

"HEIL HITLER – THE RUSSIANS ARE COMING! Between the Swastika and the Red Star"

Austria 2011 | 83 minutes

16
---
DIRECTOR'S STATEMENT ON THE FILM

"What happened back then still resonates today. One can see it in the protagonists' faces,

it is reflected in the landscape, the camp, the village. The film tries to trace the soul of the

topography in vivid pictures."

17
---
"What happened back then still resonates today. One can see it in the

protagonists' faces, it is reflected in the landscape, the camp, the village."

(Simon Wieland)

18
---
INTERVIEW WITH THE DIRECTOR

1. What was your personal motivation to make a film about Mauthausen?

Mauthausen, like Auschwitz, is a synonym for the Holocaust, for the terrible crimes of National

Socialism, for guilt and shame. Austrians have the Holocaust in their minds, the people

in Mauthausen have it in front of their eyes every day, whether they want to or not. I was

interested in how the local residents, who were very young at the time, deal with this past of

theirs to this day. Two completely opposite fates occurred here in immediate vicinity: that

of the concentration camp detainees and that of the residents of Mauthausen. Were there

parallels and similarities, to what extent did these lifelimotines cross? I wanted to deal with

those questions cinematically.

2. Was it easy to raise the funding?

Fortunately yes, the film funding sources very quickly recognized the importance of the

topic and the dramatics of the history.

3. Concerning research: How did you go about gathering information, where did you search

for archive footage? How long did it take?

The research was mainly done by the journalist Andreas Kuba. As co-founder of "a letter to the

stars", he was able to draw on the association's extensive database of contemporary witnesses.

The search for archive material, however, turned out to be more difficult. On the one hand,

we were able to access the archives of the Mauthausen Memorial, but on the other hand, my

production manager Michael Holzinger had to do research in Poland, France and the USA.

19
---
4. How did you choose your protagonists?

Stanisław Leszczyński had an incredibly dramatic life story. Several times he narrowly escaped

death in the concentration camp, which alone makes for material worthy of a film.

Moreover, he was the son of "the Midwife of Auschwitz", who was later honored as Righteous

Among the Nations. Leszczyński's mother had prevented children from being killed at

Auschwitz several times. The story of Franz Hackl is also very unique. He was a locksmith

apprentice in the concentration camp. He had to go to the camp everyday, where, as a young

person and a Hitler Youth, he witnessed the horror with his own eyes. It soon became clear to

him that it was not the prisoners who were the criminals, but their guards. Thus, as a young

man, he was able to free himself from this massive indoctrination.

5. Was it easy to persuade them to appear in front of the camera?

Stanisław Leszczyński had surgery a few months before filming began, and at the age of 90,

this wasn't a minor incident. He therefore didn't want to be confronted with this part of his

life anymore. But his partner Brygida Rekowska persuaded him to preserve his life story for

posterity. He then said during filming that he was glad to have come back to this important

place after all.

6. What was the biggest challenge in filming with both gentlemen?

We could only shoot in winter when the concentration camp was closed. At the same time,

of course, we had to take into account their advanced ages. We had reserved several filming

dates in order to have at least some mild days as option to shoot with the contemporary

witnesses. We only worked a few hours a day, interspersed with many breaks. Of course,

this contradicted my directorial concept of 'emotional memory': to let the witnesses relive

20
---
21
---
their experiences emotionally at the locations of the historical events. At the same time, the

memories were so strong that we still managed to capture them on camera.

7. Why did Franz Hackl and Stanisław Leszczyński not meet in the film? Did it come to a

meeting off camera? Or did you want to imply that the two worlds were always separate

and should remain separate?

There were already discussions about whether the two should meet in the film at the jury

meeting for the film funding. Of course, it's obvious to bring the two together, and it was

also planned to shoot such a get-together. At the same time, I was always of the opinion that

these worlds had always been separate. Although their stay in the camp overlapped and they

were there at the same time for a long period of time, they didn't meet. The documentary

process, however, took over here. The main protagonist had to stop filming in Mauthausen

due to a heart valve defect. Half of his narration was therefore shot in Warsaw. This resulted

in him being the narrator and at the same time becoming the protagonist of his own narrative

by reliving the experiences in the concentration camp for us.

8. When was the film shot and how long did it take?

The filming was limited to a few days. For one thing, it is not possible to shoot for so long at

a stretch with people of advanced age. It also doesn't correspond to my conception of the

documentary to work out lengthy image compositions. That's why the whole film is shot

with a handheld camera. I am concerned with the authenticity of what is shown. A strong

aestheticization is like a filter that builds up between the images and the viewer. I therefore

avoid the impression of a design, as this always points to a staging. Images must never be too

perfect, they must retain their documentary naivety and fragility. I go with the people to the

places of the events, there in the process of 'emotional memory' their memories are awak-

22
---
ened. They relive their history. The camera always remains a silent witness, takes a step back,

adapts to the emotional rhythm of the protagonist. It moves in an emotional dance with the

person, trying to penetrate his innermost being. My goal is not to impress the viewers with

the design of the images, but to hit them emotionally.

9. Did everything go according to plan?

Unfortunately, no. To add to the abrupt stop of the filming was the fact that the narrations

of both men were difficult to understand. Stanisław Leszczyński could only speak with difficulty

due to his illness, Franz Hackl was very careful in his expression and relativized himself

quite often. It was very complicated to make a film from that. I worked on the film with

interruptions for almost two years, and I am very grateful for the patience of my editor Marleen

Paeschke. I had to rebuild the film while editing it, and in the process I learned what film

editing is capable of. First, I had to structure, then dramatize and, after the film still didn't

work for me, I finally had to emotionalize the material. But I think the effort was worth it in

the end.

10. What on the set impressed you the most?

The life stories of my two protagonists.

11. And what surprised you the most?

That we, unfortunately, had to stop on the second day because Stanisław Leszczyński wasn't

feeling well, and our supervisor Martha Gammer had to call the doctor. At the Hospital of

23
---
"I go with the people to the places of the events, there in

the process of 'emotional memory' their memories are awakened.

They relive their history."

(Simon Wieland)

24
---
the Sisters of Mercy in Linz, a heart valve defect was diagnosed, which must have existed for

some time prior. Since we had an OK from his doctor in Poland, we had not expected this.

Contemporary witnesses are now at such an advanced age that it is becoming increasingly

difficult to make a film with them.

12. Did your protagonists get to see the film?

Stanisław Leszczyński passed away a few months after the filming. Franz Hackl has also fallen

ill with health in the meantime, but hopefully he will be able to be present at the screening

on October 26 in Gusen.

13. What was the greatest realization for you while working on the film?

I worked on the film for as long as Stanisław Leszczyński was in the concentration camp, and

I became seriously ill. I thought to myself: life can end sooner than you think.

14. What do you personally associate with the symbolic image of Mauthausen?

It is said that those who have not learned from the past are forced to relive it. The past is the

fundament of our society, for good and for bad. If you see society as a house that is being

built, it makes sense to know the foundation on which it stands.

15. You say: "What happened back then continues to have an effect today." In doing so, do

you also make associations with current political debates, or would such a comparison be

inadmissible?

Everything that happened back then has an impact on the present and our lives today. What

bothers me about the current political debates is the hatred with which some of them are

25
---
"Mauthausen, like Auschwitz, is a synonym for the Holocaust, for

the terrible crimes of National Socialism, for guilt and shame. Austrians

have the Holocaust in their minds, the people in Mauthausen have it in

front of their eyes every day, whether they want to or not."

(Simon Wieland)

26
---
conducted. In my last film, "Our Struggle," about a Holocaust survivor and her Israeli family,

the grandson said something very wise about this: "I don't hate anyone, because it was hatred

that led to fascism with all its terrible consequences."

16. In your film you tried to show the past of the protagonists in as much detail as possible,

but you don't ask any questions of a moral nature. Why not?

I leave it to the viewer to ask these questions. As a documentary filmmaker, I see it as my

task to report on what happened at that time, without bias and as objectively as possible, and

without ideological spin. After all, the events speak for themselves.

17. In the film we can observe a contrast: Stanisław Leszczyński's mother risked her life to

save others, while Franz was portrayed only as an observer of evil. Did you ask him whether

he once tried to do something about it? Do you think that people "outside" felt like they

could do nothing about it?

Franz Hackl says: "The local population knew what was going on in the concentration camp,

but what could they have done? The slightest attempt to help would mean that the person

would possibly end up in the concentration camp themselves." I don't see myself as a moralist

who now, with the grace of late birth, lectures people from a safe haven about what they

did wrong back then.

18. In the film you focused on two stories, namely what Stanisław and Franz experienced.

However, we learn little about their relationships with other people with whom they shared

these experiences. Stanisław's brother, for example, was also a prisoner in Mauthausen.

Let's talk about collective memory and the experience of psychological depth – didn't it

appeal to you to add these aspects to the film as well?

27
---
I believe that in such an extreme situation, one is primarily concerned with one's own survival.

Moreover, a film can never show all aspects, so you have to decide what you want to tell

in terms of dramaturgical consistency. Stanisław Leszczyński had two brothers, and to follow

their stories would have required at least the second brother and would have blown up the

concept of the film as I wanted to tell it. Moreover, people of this age are only to a very limited

extent ready for a deep psychological confrontation and emotional disclosure. I had to

realize that questions in this regard would remain unanswered, and my sense of responsibility

towards my protagonists dictated that I not probe any further.

19. Who should see the film?

As many people as possible, especially young people, of course. What happened must not be

forgotten.

20. What is your next project?

I'm not quite sure about that yet. On the one hand, projects on these topics are important,

but on the other hand, I've now made four films about them, and I realize that dealing with

them already affects me a lot. I think I've slowly paid off my "inherited debt" in this respect,

but you never know what's to come.

28
---
"The past is the fundament of our society, for good and for bad.

If you see society as a house that is being built, it makes sense

to know the foundation on which it stands."

(Simon Wieland)

29
---
CREDITS

Director and DoP: Simon Wieland

Interviews: Andreas Kuba, Regina Patsch, Brygida Rekowska, Simon Wieland

Music: Peter Kaizar

Editors: Marleen Paeschke and Simon Wieland

Recording director: Magdalena Zdziech-Sobotkowska

Production manager: Michael Holzinger

Austria 2020

Length: 70 minutes

A Simon Wieland Film production in cooperation with the Austrian Film Institute,

ORF (film/TV agreement) and Country of Upper Austria.

30
---
MULTIMEDIA

PRESS PHOTOS

www.dropbox.com/sh/ly17hctzclay4b2/AABALR2V9F-3NUV70jB1N7EXa?dl=0

MOVIE POSTER

www.dropbox.com/sh/h0oxghr1iadv72w/AABXFS6b-WuJ_aX0BRsu11F8a?dl=0

TRAILER (ALSO FOR DOWNLOAD)

https://vimeo.com/504273137

EPK CLIPS

www.dropbox.com/sh/axcix26z0dov7ad/AADeQaSmi61DhTCbtBR6Pe_xa?dl=0

LATES NEWS

www.letsceefilms.eu

/ MauthausenFilm

/ MauthausenFilm

31
---
ABOUT CEE FILMS

CEE FILMS is a distribution initiative that helps high-quality

documentaries find their audience in an innovative way within

the framework of the association LET'S CEE Film Festival. Dealing

with topics outside the mainstream, these productions have difficulties

in the classic theatrical exploitation. The distribution project

CEE FILMS, which was first initiated with the distribution of the

documentary KORIDA (director: Siniša Vidovic) in 2016, brings

carefully selected films with a connection to Eastern Europe to

domestic cinemas at irregular intervals with precisely coordinated

target group work. One specific motivation for the distribution is

the rising number of migrants from CEE countries living abroad.

32
---
CONTACT DETAILS

FILMMAKER

Simon Wieland Film e.U.

Lichtensteinstraße 16

A-2130 Mistelbach

E-Mail: mail@simonwieland.com

WORLD SALES AND

PUBLIC RELATIONS

CEE FILMS c/o

LET'S CEE Film Festival

Magdalena Żelasko, PhD

Mommsengasse 6/17

1040 Vienna

E-Mail: info@letsceefilmfestival.com

Phone.: + 43 699 116 10 081

FILM SUPPORTERS

33