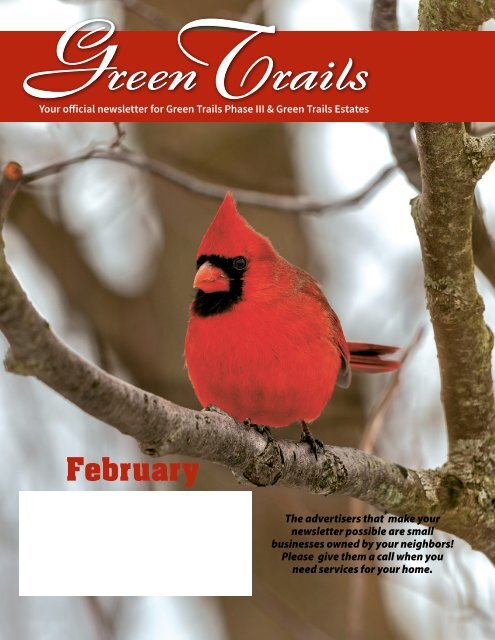 Green Trails Estates February 2021
Create successful ePaper yourself
Turn your PDF publications into a flip-book with our unique Google optimized e-Paper software.
Your official newsletter for Green Trails Phase III & Green Trails Estates

February

The advertisers that make your

newsletter possible are small

businesses owned by your neighbors!

Please give them a call when you

need services for your home.

Green Trails III / Green Trails Estates | February 2021 1
---
Providing Better Options for

HEART & VASCULAR CARE

in West Houston and Katy

Through specialized programs, clinical trials and a commitment to

challenging conventional thinking, our comprehensive team of

cardiovascular specialists is improving outcomes and providing

better options for heart and vascular care in your community.

Our doctors specialize in treating a wide spectrum of

cardiovascular diseases and disorders, including:

GREENHOUSE RD.

PARK ROW DR.

HOUSTON METHODIST

WEST HOSPITAL

BARKER CYPRESS RD.

• Coronary artery disease

• Heart failure

• Heart rhythm disorders

• Valve disease

• Vein and artery disorders

West Houston-Katy

And, you can be confident that we are taking every necessary

precaution to keep you safe throughout your visit.

To find a doctor or schedule an appointment, visit

houstonmethodist.org/debakey/west or call 713.DEBAKEY.

2

February 2021 | Green Trails III / Green Trails Estates
---
THE REAL ESTATE MARKET IS

Inventory Needed, Call Today

FREE

PROFESSIONAL

Photography, Video,

Target Ad Placement

& Home Warranty* - *Call for details

When selling with Charlie!

Looking to sell your home and have questions?

• Where do I start?

• What is my home worth?

• What home improvements, if any, do I need to make?

• What can I expect when I list my house with Charlie?

Charlie Russo

CALL TODAY!

Direct: 713-851-4871

Main: 713-636-3015

crusso@remax.net

www.CharlieRussoRealty.com

RE/MAX Signature

820 Gessner Rd., Houston, TX 77024

My Career Average Days on Market is 21 Days.

My Career Average List Price to Sales Price is 99%.

Use your phone's camera to see...

Client Reviews

to receive a market analysis

Tom Reilly - President

Laurel Gonzales - 1st Vice President

John Turner - 2nd Vice President

Mark Stasney - Treasurer

Jim Lombardi - Secretary

GREEN TRAILS SECTION III

MANAGEMENT COMPANY

REAL MANAGE

16000 Barkers Point, Suite 250

Houston, Texas 77079

866-473-2573

www.realmanage.com

branch.houston@ciramail.com

GREEN TRAILS ESTATES

OUR MANAGEMENT AGENT FOR HOMEOWNERS' ASSOCIATION

The Estates of Green Trails Homeowners Association contracts with Sterling Association

Services, Inc. for the day-to-day operation of the Association.

6842 N. Sam Houston Pkwy. W. , Houston, TX 77064

Phone: 832-678-4500 Fax: 281-966-1785

Ms. Debra Willis, Association Manager -

832-678-4500, ext. 306 - dwillis@sterlingasi.com

Jose Villegas, President of Sterling ASI -

832-678-4500 - jose@sterlingasi.com

If you have any questions, please do not hesitate to call Sterling. Please email or phone them for

the following types of issues and questions: neighborhood security, landscape maintenance,

trash pickup (or lack thereof!), and concerns or questions that do not fall neatly into one of these

categories. Also contact them to report any needed maintenance, repairs or deed violations.

BOARD OF DIRECTORS

reillytr@aol.com

stasneyfamily@att.net

jlombardi@rossbanks.com

IMPORTANT TELEPHONE NUMBERS

TRASH SERVICES

Texas Pride Disposal - Trash Service 281-342-8178

Trash Days - Wednesday & Saturday

UTILITIES

GT MUD - Municipal Operations 281-347-8686

Center Point Energy (Gas) 713-659-2111

Electricity - Reliant Energy (billing) 713-207-7777

Center Point Power

www.centerpointenergy.com/outage 713-207-2222

Cable TV - Comcast Communications 713-341-1000

Southwestern Bell 713-881-8181

SCHOOLS

KISD Administration 281-396-6000

KISD Transportation Dept. 281-396-7560

Bus Schedules 281-396-2700

Nottingham Country Elementary 281-237-5500

Pattison Elementary 281-237-5450

Memorial Parkway Junior High School 281-237-5800

McMeans Junior High School 281-237-8000

Taylor High School 281-237-3100

MISCELLANEOUS

Emergencies/Fire/EMS 911

Precinct 5 Constables 281-463-6666

Harris County Sheriff Dept. Non-emergencies 281-463-2648

Fire Department - Harris County ESD 48

Non-emergencies 281-599-8888

Harris County Traffic Signal Hotline 713-881-3210

Poison Control Center 1-800-222-1222

Post Office 1-800-275-8777

KISD Tax Office 281-396-6100

Harris County Animal Control 281-999-3191

Harris County Mosquito Control 713-440-4800

Harris County Appraisal District 713-957-7800

Harris Co. Tax Office 713-224-1919

Texas Dept of Public Safety 713-681-1761

PUBLISHED BY: KRENEK PRINTING

www.krenekprinting.com • 281-463-8649

INFORMATION ON BUSINESS ADS: ads@krenekprinting.com

NON-PROFIT ARTICLE REQUESTS: news@krenekprinting.com

Green Trails III / Green Trails Estates | February 2021 3
---
TRASH/RECYCLE CONTRACTOR

Green Trails MUD provides trash/recycle service to Green Trails Estates,

GT Section III as well as the other HOAs in our district. To the residents of

the Green Trails MUD: Texas Pride Disposal is your solid waste & recycle

collection provider!

Residential Remodeling & Custom Home Building

832-723-8280

www.SCMTexas.com

References Available

Chris and

Matt Schmidt

Family Owned and Operated Since 2006

Always there for you!

SERVICE & COLLECTION GUIDELINES

Service Days and Hours:

Trash: Wednesday & Saturday

Recycle: Wednesday

Please have waste ready by 7 AM. Service hours may change with new

provider.

HOLIDAY SCHEDULE:

Texas Pride Disposal observes four holidays: New Year's Day, Independence

Day, Thanksgiving Day and Christmas Day. In the event that your service

day falls on a holiday, collection will roll to the next regularly scheduled

collection day.

HOUSEHOLD TRASH:

Waste should be placed in personal trash cans between 20 and 96 gallons

and under 50 pounds or sturdy bags not exceeding 50 pounds. Waste will

be collected near the garage, side gate or behind a gate that serves as a

dedicated waste container storage area.

Yard Waste:

Yard waste should be bagged or placed in cans not exceeding 50 pounds.

Bagged yard waste should be placed curbside next to cart. Branches

should be placed curbside in bundles measuring no more than 4' x 4' x 4'

and under 50 pounds. Limit 8 bundles per service day.

MPL#40815

Water Heaters • Drain Problems

Faucet Installation & Repair

Gas Test • Water Leaks & Much More

35+ Years Experience

832-890-8449

info@tonysplumbingtx.com

www.tonysplumbingtx.com

$30 off

any Job

Over $95

Low Price Guarantee

Licensed & Insured

HEAVY TRASH & BULK WASTE:

Texas Pride Disposal will collect two heavy trash/bulk items per service

day. Items include furniture, appliances, carpeting (tied and bundled),

fencing (nails removed, tied and bundled under 4' in length) and other

items not disposed of regularly. Items should be curbside.

ITEMS EXCLUDED FROM REGULAR COLLECTION:

The following items cannot be collected: dirt, rocks, brick, concrete, liquid

paints, fuels, oils, tires, pesticides, fertilizer and batteries. Please contact

us to discuss solutions for proper disposal of these items.

"We work as unto

the Lord"

RESIDENTIAL &

COMMERCIAL

GEYER ROOFING

Specializing in

Re-Roofing

Ron Geyer

713-462-3898

REMODELING

• Kitchens • Bathrooms • Windows / Doors • Floors • Hardi Siding

• Rooms Additions • Complete Renovations • Patio Covers

Rob Geyer

281-477-3456

RECYCLE SERVICE:

A new 18-gallon bin will be provided to each household before February

1 st . Existing recycle carts that are clearly labeled RECYCLE may be used.

Recycle will be collected curbside.

Contact Texas Pride Disposal: 281-342-8178, M-Th, 8-5; F 8-4, www.

texaspridedisposal.com or service@texaspridedisposal.com.

RECYCLE RIGHT WITH TEXAS PRIDE DISPOSAL

Follow the collection guidelines below to properly recycle.

Collection every Wednesday. Have your recyclables curbside by 7 AM

Collection Guidelines:

• Place all recyclables in the container provided by Texas Pride Disposal,

old recycle bins or containers clearly labeled RECYCLE.

• DO NOT BAG RECYCLABLES. Place recyclables loose in your recycle

container.

• Please rinse cans, jars, jugs and bottles before placing in your recycle

container.

• Additional containers can be purchased by contacting Texas Pride

Disposal.

Accepted Recyclable Material:

Paper Products (dry): Newspaper, Junk Mail, Magazines, Envelopes,

Catalogs, Grocery Bags, Wrapping, Paper Egg Cartons, File Folders, Shoe

4

February 2021 | Green Trails III / Green Trails Estates
---
Boxes, Computer Paper, Phone Books, Soda/Beer Boxes, Cardboard

Boxes, Paper Towel Rolls, Waxboard Boxes

Plastic Products (rinsed): Plastics #1-#7, Milk/Juice Bottles, Soda/Water

Bottles, Shampoo/Soap Bottles, Bleach/Detergent Containers, Household

Cleaner Containers, Plastic Flower Pots, Microwave Dinner Trays

LANDSCAPING AND SPRINKLER

REPAIRS • DRAINAGE SOLUTIONS

Metal Products (rinsed): Soda/Juice/Beer Cans, Canned Food Cans, Pet

Food Cans, Aluminum Foil, Pie Trays, Metal Jar Lids, Pots & Pans, Aerosol

Cans

Glass Products (rinsed): Soda Bottles, Wine Bottles, Beer Bottles, Jars

Commonly Mistaken Unacceptable Items - Place these in TRASH:

Styrofoam, Plastic Bags, Ceramics, Mirrors, Soiled Pizza Boxes, Coat

Hangers, Light Bulbs, Paper Towels, Soiled Paper, Soiled Facial Tissue

PARK

The Estates of Green Trails invites neighboring communities to come

enjoy the park at Shillington and Fry Road. A wonderful addition to our

community encouraging family picnics, playgroups, a place to meet and

bring laughter, smiles and good fun! Jenna and Josiah Hellekson, who

recently relocated to Nottingham Country expressed, "with four little

ones under the age of six, having outdoor space to get their energy out

each day is crucial. We were thrilled to discover the new park nearby that

we can enjoy for years to come." Park hours are from dawn 'til dusk. Ages

2 to 12. Building memories!!

TEENAGE JOB SEEKERS

If you are between 12 and 18 and would like to be added to the

teenage job seeker's list, please fill out the form on our website (www.

krenekprinting.com, click submissions and choose Jobseekers) with

your name, birthdate (mo. & yr.), phone number, year you will graduate

and the name of your newsletter/subdivision. Check the list of jobs you

want on your form. Please make sure your email is correct, we send

emails in the summer to make sure all the info is still good and that you

want to stay on the list. If we do not hear back from you after 3 tries, we

will remove you from the list until we do. Must have parent(s) permission.

DISCLAIMER

Neither the subdivision, nor Krenek Printing is responsible for those listed

on the Teenage Job Seeker List. Please ask for and check out references

if you do not personally know those listed. This is just a list of teenagers

from the subdivision who wish to find part time jobs. Responsibility for

any work done by these teenagers is between those seeking helpers and

the teens and their parents.

CODE KEY:

B - BABYSITTING, CPR - CPR CERT., FAC - FIRST AID CERT., RCC - RED

CROSS CERT., SS - SAFE SITTER, SL - SWIM LESSONS, PP - PET/PLANT

SITTER, P - PET CARE ONLY, H - HOUSE CARE, L - LAWN CARE, C- CAR

CARE/DETAILING, T - TUTORING

We Guarantee Our Work!

281-398-5296 Ofc.

• Landscape Design/Installation

25+ Years Experience

• Outdoor Lighting

Professional Grade Vista LED

• Sprinkler Repairs (LI18069)

• Drainage Solutions - Done the right way!

Customer Satisfaction is Our #1 Goal

Proudly located in the Heart of Katy!

FREE

Estimates!

Excludes

Sprinkler Repairs

& System Checks

facebook.com/Trophy

Landscaping & Irrigation, Inc

Family Owned & Operated Since 1989

Cary H. Smith - Owner

832-217-0457

Trophylandscaping.com

Free Estimates & Demos

• Insured • Option

Send Text

Message

$

50

SYSTEM CHECK

• Evaluate each zone for problems

• Program box or make suggestions

• Answer any questions or concerns

(7 or less zones - extra charge for

additional zones.)

WINTER CLEANUP SPECIAL

20% Off Entire House or Roof Cleaning

support@k-mpw.com

SERVICES OFFERED:

Roof Cleaning - No Pressure Damage Free

Power Washing - Low Pressure Damage Free

Pressure Washing - High Pressure

TEENAGE JOB SEEKERS

NOT AVAILABLE ONLINE

Marcus Raif - Owner / Operator

Exterior House Cleaning Specialists

Green Trails III / Green Trails Estates | February 2021 5
---
6

GREEN TRAILS ESTATES NEWS

GREEN TRAILS ESTATES HOMEOWNERS ASSOCIATION

QUARTERLY BOARD OF DIRECTORS MEETINGS

DATE: January, April, July and October, 2 nd Thursday of each

Month

TIME: 6:00 PM

PLACE: 1603 S. Fry, Houston, TX

A quorum requires at least three (3) Directors be present in order to

call the meeting to order. Please advise Debra Willis at 832-678-4500 or

dwillis@sterlingasi.com if you are unable to attend.

AGENDA

I. Call to Order and Approval of Proposed Agenda

II. Approval of Previous Meeting Minutes

III. Homeowners/Guests to Address the Board

IV. Financial Reports

V. New/Pending Business

VI. Compliance Deed Restriction Report

VII. Discussion of Annual Meeting held in February of each year

(GT ESTATES) DEBRIS IN SEWER DRAINS

Please refrain from depositing any debris (lawn clippings, leaves, pet

waste, motor oil, etc.) into the streets or storm drains. Disposing of

debris in the street or other portions of the storm water drainage system

can create problems. Flooding takes place when the system becomes

blocked with debris. This can create a flooding potential that could

result in property damage. The water quality is impacted if you've used

chemicals on your lawn or garden. In addition, pet waste left on yards

can contribute to contaminated run off. Grass clippings and leaves left

in the storm water system contribute to system wear and can destroy

the underground system. Please make sure you dispose of your lawn

clippings, leaves and other debris in a proper manner.

(GT ESTATES) SECURITY

Neighborhood security is provided by the Harris County Constables

Precinct 5 Office, 24 hours per day, 7 days per week. We also have an

additional contract with them (Contract 50 - in conjunction with the

other sections of Green Trails and Windsor Park Lakes).

To contact the Constable's Office:

• Emergency - 911

• Dispatch: 281-463-6666. PLEASE CALL THEM IF YOU SEE ANYTHING

SUSPICIOUS OR NEED SECURITY INFORMATION. The Constable's office

encourages residents to call if they see any suspicious or bothersome

activity. Please keep your vehicles locked at all times to reduce crime of

opportunity.

(GT ESTATES) VACATION WATCH

Residents of Constable Precinct 5 contract subdivisions, which include

Estates of Green Trails, can have their homes checked by a drive-by patrol

officer while they are away on vacation. Please contact the Constable's

office at 281-463-6666 or complete a Vacation Watch Form, which can

be found online at www.harriscountytx.gov/pct5 or www.constablepct5.

com - You will need to complete the form and submit it to the Constable's

office one week before you leave!

If your home is monitored by a private security alarm system, please

be sure to tell them you are in Green Trails Contract 50 with the Harris

County Constable in Precinct 5. You must also have an Alarm Permit with

the Harris County Sheriff's office. The application can be found on the

following website: www.hcso.hctx.net/forms/forms.asp.

(GT ESTATES) RECREATION CENTER

Estates of Green Trails own the Recreation Center at Shillington Drive and

Fry Road. It consists of an Olympic-size swimming pool, totally refinished

in the spring of 2015 and two tennis courts, recently refinished in 2015.

Use of these facilities is allowed to all Estates of Green Trails residents in

good standing who have paid their annual maintenance fee. Green Trails

Section III residents in good standing with their homeowners association

can also use these facilities.

Only residents who have been issued Pool/Tennis Court Access Cards

from Sterling ASI are admitted into the pool and allowed to use the

tennis courts.

(GT ESTATES) Tennis Courts

Any Estates of Green Trails or Green Trails Section III resident with a Pool/

Tennis Court Access Card can use the tennis courts. Tennis Court Hours:

7:30 AM until 10:00 PM. Rollerblades, skateboards or any other wheeled

vehicles are not allowed on the courts any time.

(GT ESTATES) Hike & Bike Trail

The 10.75 mile, asphalt trail is available from dawn to dusk for walkers

and bicyclists, foot-and non-motorized-wheel-traffic. The trail runs from

Highland Knolls at Fry Road through George Bush Park to Highway 6 then

connects to Terry Hershey Park. (When all of this is completed, you will

be able to walk/bike to Terry Hershey Park (east of Hwy. 6) along this trail.

Also look for the new trail connecting the trail behind the subdivision

along the drainage canal to the new trail along Baker Road.

GREEN TRAILS SECTION III NEWS

(Section III includes 206 homes in the 2 neighborhoods north and

south of Greenwind Chase - Sec III on the north side & GT Village on

the south side.)

GREEN TRAILS SEC. III MANAGEMENT COMPANY

Real Manage

16000 Barkers Point, Suite 250

Houston, TX 77079

Ph: 281-531-0002

www.realmanage.com

GREEN TRAILS SECTION III

BOARD OF DIRECTORS MEETING

Green Trails Section III Board of Directors meets Bi-monthly. Homeowners

wishing to attend should contact Real Manage at 281-531-0002 for the

next meeting date and to be placed on the agenda.

(GT SECTION III) HOA ACC FORM

If you live in the Green Trails Section III Homeowners Association, an

application must be submitted prior to making exterior improvements

to your property. This includes painting (even if it is the same color),

roof replacement, pool installation, major landscaping improvements,

play equipment or anything else that changes the appearance of your

property. If you have any questions or need a form, please contact Real

Manage, 281-531-0002 or one of the ACC Committee members. You

will be advised of the Committees approval or denial of the application

within 30 days.

February 2021 | Green Trails III / Green Trails Estates
---
WE NEED YOUR HELP FOR NEWS!!

We would love to give a month to month summary of what your

subdivision or organization has been doing or is going to do in the future.

We want to make YOUR newsletter more interesting to YOU. But we need

your help! If you have any interesting news about your Association,

organizations, clubs, fun groups, scouts, schools, etc., please.... let us

know. This includes the communities of Green Trails Section III and Green

Trails Estates.

You can submit articles to us by the 25 th of each month that will go out

after the 20 th of the next month. It will be dated for the month following

the month it goes out. Articles may be accompanied by pictures, which

can be sent by email. There is no charge.

Everyone likes to be informed on what's happening in the neighborhood.

Let's make this newsletter "Fun" and "Interesting" to read. It is Your

Newsletter! Email your news to news@krenekprinting.com just make sure

you put your subdivision name on it and a name and contact number (for

our use only).

Krenek Printing, Phone: 281-463-8649

email: news@krenekprinting.com

Call for

EXTERIOR

SPECIAL

Serving the Katy Area

for 25 years

PaintingofKaty.com

• Interior & Exterior

House Painting

• Cabinet Painting

• Pressure Washing

• Sheetrock Repair & Texturing

• Custom Texture Matching

• Wallpaper Installation

& Removal

• Front Door Refinishing

• Custom Garage Floors

STEVE CHALK - FREE ESTIMATES - FULLY INSURED

LOOSE DOGS

We have received complaints about dogs running loose. Harris County

requires both dogs and cats to be vaccinated, licensed and kept in fenced

yards or on leashes. This is for the safety of both our neighbors and your

pets.

Remember, that if you leave food outside for a dog or cat, you may be

attracting other nuisance animals, including rats.

If your dog tends to bark, please do not leave it outside.

When walking your pets, PLEASE PICK UP AFTER THEM!

TAKE YOUR DOG TO THE PARK

Rated one of the best in the nation:

Millie Bush Bark Park

16756 Westheimer Pkwy.

Houston Texas

713-523-5235

www.houstondogpark.org/locations

Named after former "first dog" Millie Bush, this is truly the "presidential

suite" of dog parks. Houston's premiere, 15-acre dog park features

walking trails, three ponds with special wooden decking to help canine

swimmers in and out, colorful faux fire hydrants, dog showers and even

special doggie drinking fountains. Benches, shady areas and picnic

tables make this park the perfect place for you and your pal to pass the

afternoon. Open 7 days a week, dawn to dusk.

KATY NEWSLETTER DEADLINE SCHEDULE

DEADLINE MAILED ISSUE_____

January 25 th End of February March

February 25 th End of March April

March 25 th End of April May

April 25 th End of May June

May 25 th End of June July

June 25 th End of July August

July 25 th End of August September

August 25 th End of September October

September 25 th End of October November

October 25 th End of November December

November 25 th End of December January

December 25 th End of January February

Call

our

experts

for

all of your

electrical

needs!

• Panel Upgrade / Replacement

• Ceiling Fan Installation

• Smoke Detectors

• Troubleshooting

• Generators

24-Hour Emergency !

Service

!

• Indoor/Outdoor Lighting

• Surge Protection

• Flat Screen TV Installation

• Recessed Lighting

• Code Compliance

Residential & Commercial Service • Family Owned & Operated • Licensed & Insured

*5-Year

Warranty,

Satisfaction

Guaranteeded

713 -467-1125 | wiredes.com

s a v e $25 OFF

YOUR NEXT SERVICE

CALL IN FEBRUARY!

Not to be combined with any other discount or

offer. Not valid on generator maintenance.

Expires 3/1/21

Master #100394 TECL # 22809

Green Trails III / Green Trails Estates | February 2021 7
---
Katy ISD

www.katyisd.org

IMPORTANT DATES

February 15th: Professional Learning Day - No Students

February 22nd: 5th Secondary Grading Cycle Begins

February 25th: Family Night (No Homework Assigned)

STUDENT COVID-19 TESTING SITE

The District offers a FREE rapid COVID-19 testing option to enrolled Katy ISD students and employees. The FREE test is in collaboration

with the Texas Education Agency's COVID-19 Testing Project. The test consists of a nasal-based testing option (saliva-based option is

still pending) with results in 20 minutes.

The rapid, free tests are available at the District's Agricultural Sciences Center located at 5801 Katy Hockley Cut-Off Road, Monday-

Friday, 7:00 a.m.- 4:00 p.m. and on Saturdays 8:00 a.m.- 12:00 p.m. To help expedite free student COVID-19 testing, while practicing

social distancing at the testing site, Katy ISD has established a Student COVID-19 Testing Sign-Up form that allows families to secure

an appointment time for their student(s). The sign-up can be done at this direct link here. The testing site contact is (281) 396-7749.

Employees do not require an appointment to be tested for free, though are requested to arrive at least 30 minutes before the posted

closing time, to abide by the facilities schedules. Employees' dependents who are not on their Katy ISD insured parents' health care

plan may elect to pay the $125 fee to test with their parents at the site, or if the child is a Katy ISD enrolled student, he/she may

schedule an appointment through the Student Testing Appointment Scheduler, and test for free.

KATY ISD SEEKS 2021 BOND TO

ADDRESS RAPID STUDENT GROWTH

As families continue to move west of the Houston Metro area to enroll

their children in the fastest-growing school district in Texas, tonight Katy

Independent School District Board of Trustees discussed a Community

Bond Advisory Committee (CBAC) coming together to review capital

needs in consideration of a May 2021 Bond Referendum.

Located within 181 square miles and serving more than 84,000 students

at 71 campuses and facilities, Katy ISD is the sixth-largest school district in

Texas known for its high academic performance, its award-winning staff

and its highly sought out school programs, among other extra-curricular

activities. On average, Katy ISD is enrolling an additional 2,400 students

every school year with a projected enrollment of more than 100,000

learners by 2027. Enrollment increases are taking place most significantly

in the northwest quadrant of Katy ISD, where new communities are being

developed and are expected to flourish within the next decade.

The CBAC's planning and review of capital needs will include reviewing

enrollment projections, the need for new schools and facilities to address

capacity limitations while paying close attention to renovations and

component replacements necessary at aging campuses and buildings.

Within the brick and mortar schools, additional areas affecting the

growing student population are technology upgrades and safety and

security projects to support learners and staff needs. Katy ISD has a

history of approving bonds, which dates back to at least 1994. In 2017,

school community voters approved a $609,204,553 bond with a no tax

rate increase. It provided for six new schools, a major comprehensive

renovation at one campus, component replacements, expansions and

safety and technology improvements among other items. Katy ISD

anticipates being able to deliver once again on a zero tax rate increase.

Due to the District's safety protocols, only three socially distanced, inperson

CBAC meetings will take place during the process. Committee

members will have the opportunity to review, vet and decide upon the

capital projects to be included in the school district's bond package,

should they determine a need to recommend a referendum. During

the bond meetings, staff will provide in-depth background information

associated with long-range needs, demographics and finances, which

will allow the CBAC to finalize a bond package to present to the Board of

Trustees on Monday, February 8 th during a Special Board meeting.

8

KATY ISD BOARD OF TRUSTEES

APPROVED 2022-2023 CALENDAR

Katy ISD Board of Trustees approved calendar that includes:

Wednesday, August 17 th : First Day of School

Friday, May 19 th : Seniors - Last Day of School

Thursday, May 25 th : Last Day of School for all other students

172 Instructional Days

"The development of the Katy ISD instructional calendar often begins

in the fall of each year," said Deputy Superintendent Leslie Haack. "The

District values the school community's feedback and has recommended

a calendar based on their preference," added Haack.

The approved calendar also provides teachers two professional

development flex days in August 2022 as well as five additional days

of professional development throughout the school year. Labor Day,

Columbus Day, Martin Luther King Jr. Day and Good Friday are holidays,

and the District will continue providing a full week off for Thanksgiving,

two weeks for Christmas and one week for Spring Break.

DONATUTORS

Donatutors is a nonprofit tutoring organization that donates 100% of

our proceeds to charity. All of our tutors are straight-A students at Seven

Lakes High school and we offer a multitude of courses like creative

writing, computer science, biology, public speaking, ICTW writing and

many different math courses too. We charge $20 per class, but the first

one is free! For more information, check out donatutors.com or email us

at donatutors@gmail.com.

What's even cooler is that this summer Donatutors was able to raise

$1,283 which we used 70% to give to a Houston based charity called

NAMI and 30% to buy a bunch of masks and canned food for donation.

Please check us out!

FEBRUARY FUN FACT

With only 28 days to its credit (except during leap year), February wasn't

always so short. It was originally a 30 day month, falling at the end of

the calendar. When Julius Caesar changed the months around, February

became the second month of the year. He also took away one day and

added it to the month, which was named for him (July). The emperor

Augustus deducted another day and made August a 31 day month.

February 2021 | Green Trails III / Green Trails Estates
---
SURPRISE YOUR FRIENDS

AND FAMILY WITH SOME

FLAMINGO FUN!

Taylor High School Project Graduation would

LOVE to help YOU surprise that special

someone on their memorable occasion!!

Our flamboyance of flamingoes is perfect

for birthdays, anniversaries, wedding and

baby showers, graduation parties and just

about any other event you can think of! For

only $40 you will get 20 flamingoes and a

"Happy Birthday" sign on request. AND…..

for only $10 more, you can get another 20

flamingoes!! Not only that, but your purchase

goes to a GREAT cause - giving our seniors a fun, safe environment to

celebrate their graduation!

To get your flock of flamingoes, contact Christina Och at Thsflamingos@

gmail.com, 713-344-3242 or visit us at THSprojectgrad.com. Get a leg up

and schedule yours today!

A.A.A.

Tree Services

& Landscaping

925 South Mason Rd. P.M.B. 239

Katy, TX 77450

281-798-5224

a.a.a.landscaping.2005@gmail.com

• Tree Removal

• Tree Trimming

• Palm Tree Trimming

• Stump Removal

• Lots Cleaned Up

• Landscaping Designs

15% OFF

Any Service

With this ad.

Fence

Installation

Special

• Flagstone & Paver Patios

• Sod Replacement

• Sprinklers Repair

• Fence Installation & Repair

• Mulch

• Monthly Packages

• Drainage System

TAYLOR HIGH SCHOOL'S

ANNUAL MADRIGAL DINNER

The 37th Annual Madrigal Dinner is a cherished tradition at James Taylor

High School. Enter the castle, cross the drawbridge and join the student

beggars and wenches for a four-course, catered dinner featured in our

castle banquet hall. Music, food and laughter are interwoven within

Renaissance period skit.

Save the Date: February 12th and 13th (evening shows only). Tickets on

sale at www.taylorchoir.org.

DISCLAIMER: Articles and ads in this newsletter express the opinions of their authors and

do not necessarily reflect the opinions of Krenek Printing Co. or its employees. Krenek

Printing is not responsible for the accuracy of any facts stated in articles submitted by

others. The publisher also assumes no responsibility for the advertising content within

this publication. All warranties and representations made in the advertising content are

solely that of the advertiser and any such claims regarding its content should be taken

up with the advertiser.

The publisher assumes no liability with regard to its advertisers for misprints or failure to

place advertising in this publication except for the actual cost of such advertising.

Although every effort is taken to avoid mistakes and/or misprints in this publication

the publisher assumes no responsibility for any errors of information or typographical

mistakes, except as limited to the cost of advertising as stated above or in the case of

misinformation, a printed retraction/correction. Under no circumstances shall the

publisher be held liable for incidental or consequential damages, inconvenience, loss

of business or services, or any other liabilities from failure to publish, or from failure to

publish in a timely manner, except as limited to liabilities stated above.

Published by: KRENEK PRINTING CO,

281-463-8649 • news@krenekprinting.com

Luis Martinez Quality

Paint & Repair

Interior & Exterior Painting

• Installation

• Sheetrock Repair & Texture

• Refinish or Replace Doors

• Paint Kitchen Cabinets

• Wood & Siding Replacement

No Payment In Advance!

FREE ESTIMATES

• Wallpaper Removal

• Pressure Washing

• Gutter Installation

• Epoxy Garage Floors

Bonded & Insured • References Available • Serving your area since 1984

281-660-1763

qualitypaintrepair@gmail.com

Green Trails III / Green Trails Estates | February 2021 9
---
Front Row L-R: Sarah Schneider, Kaya Lilley, Gabrielle Allen, Sydney Gendron, Elise DeGeeter, Amy Skelton, Carly Skelton, Grace Liu, Megan McNichol, Tess

Hefty and Allison Herleth. Back Row L-R: Chloe LaBard, Sofia Watne, Caroline Kunkel, Katherine Kunkel, Mallory Reynolds, Jaclyn Guerrero Caitlin Zimmerman,

Claire Stockard, Henley Beisert and Emily Kristynik.

NATIONAL CHARITY LEAGUE, INC. KATY CHAPTER HONORS SENIOR HIGH SCHOOL CLASS OF 2021

National Charity League (NCL, Inc.) Katy Chapter recognizes 21 wonderful young ladies from the class of 2021 for their service and contributions to

the community. The mission of NCL, Inc. is to foster mother-daughter relationships in a philanthropic organization committed to community service,

leadership development and cultural experiences. These ladies, along with their mothers, have volunteered more than 8,000 hours of philanthropic

service to our community in six years including American Cancer Society, ARC of Katy, The Ballard House, Brookwood Community, Citizens of Animal

Protection, Texas Children's Hospital and Clothed By Faith to name a few. The chapter believes that the experience of giving back to others helps to

strengthen the mother-daughter relationship and sets the stage for a successful future. Katy Chapter of NCL is the oldest chapter in Katy, TX, formed

in 1984.

ICONIC FIGHTER JET TO BE REFURBISHED AND UNVEILED BY THE AMERICAN LEGION POST 521

"ONE MORE MISSION" - COATING SOCIETY OF HOUSTON MEMBERS TAKE PROJECT TO COMPLETION

On July 29, 1984 American Legion Post 521 received a F4D Fighter Jet from the Air Force Reclamation Center and dedicated it to all POW's and MIA's

from all wars and conflicts involving the United States of America. Recently, the Post reached out to the Coating Society of Houston for assistance in

refurbishing this iconic piece of memorabilia, which was showing extreme decay due to local weather conditions.

"We have been working getting this plane restored for several years and were finally able to find a group that was willing to donate their time and

materials to helping us," said Joseph Thomas, 22 nd District Commander of the American Legion Department of Texas.

10

February 2021 | Green Trails III / Green Trails Estates
---
HARRIS COUNTY PUBLIC LIBRARIES

COVID POLICY:

All Harris County Public Library locations will remain closed to the public

at this time

HCPL No-contact Curbside Holds Pick-Up is now available at ALL HCPL

branches.

HARRIS COUNTY PUBLIC LIBRARY WILL CONTINUE TO OFFER

A WIDE ARRAY OF ONLINE SERVICES:

• Use HCPL Wi-Fi service while maintaining social distancing with HCPL's

Drive-up Wi-Fi

• Download ebooks and audiobooks, stream movies, research and learn

at www.hcpl.net

• Attend an HCPL program or story time online through Facebook or

YouTube

• Check your account to renew loans or request books

• eBooks, comics or graphic novels through OverDrive

• Stream classic films, indie cinema and award-winning documentaries

on Kanopy

• Listen to audiobooks through RBDigital or OverDrive

• Read along and play with picture books on TumbleBooks

• Ask us a question via chat on Ask a Librarian

• Get book recommendations via Book Hunters

If you do not have an HCPL library card, you can get instant access to all

HCPL's digital materials including ebooks, streaming movies and research

tools with an iKnow Digital Access Card.

HOW DOES CURBSIDE HOLDS PICK-UP WORK?

Here's how it works: When you receive notification that your holds are

ready for pick-up, call your HCPL pick-up location. Please have your

library card number and PIN handy. You will be given a pick-up time and

instructions for curbside pick-up (These may vary slightly from branch to

branch). When you arrive at the library, follow the instructions you were

provided over the phone. You may be asked to show your library card or

other form of ID for verification.

Note: Library staff will not be able to take your returns during curbside

pick-up, please put them in the book drop. For your safety and that of

HCPL staff, curbside pick-up may be temporarily suspended during bad

weather.

NATIONAL LIBRARY LOVER'S MONTH

The entire month of February is dedicated to the people who love whole

buildings devoted to the reading, housing organizing, categorizing, finding,

studying and otherwise loving books. It's National Library Lover's Month!

Libraries provide so much more than a place for us to enjoy great novels

or to discover amazing adventures and untold history. Yes, they help us

ace our research papers and provide a quiet space to study, but they do

so much more.

For preschoolers, libraries entertain them with theater and hands-on

activities exposing them to music, art and their first friendships. Many

communities rely on their libraries for meeting space for public forums,

socials, fundraisers and classes.

Libraries lend not only books but music and movies. Rotating art displays

give local artists exposure to the community. Larger libraries provide

preservation services, preserving some of the most treasured books,

periodicals and documents for future generations.

Continue enjoying your library, but consider volunteering your time, too.

If you don't have a library card, it's never too late! Visit your library to get

one! Use #NationalLibraryLoversDay to share on social media.

Source: https://nationaldaycalendar.com

Green Trails III / Green Trails Estates | February 2021 11
---
12

• Interior & Exterior Painting • Wood Replacement

• HARDIPLANK ® Replacement • Interior Carpentry

• Sheetrock Repair

• Sheetrock Insulation

• Interior & Exterior Door

• Cabinet Painting

Replacements

• Pressure Washing

• Stucco Repair

• Fence Replacement • Wallpaper removal and texturing

• Custom Staining

• Crown Moldings

NO MONEY UP FRONT

30 Years Experience • References Available

COMMERCIAL/RESIDENTIAL

- FREE ESTIMATES-

BashansPainting@yahoo.com

www.BashansPainting.com

* FULLY INSURED *

281-347-6702 or

281-731-3383 Cell

We accept all major credit cards

LOU'S PAINTING, Ltd.

• Interior - Exterior

• Power Washing

• Sheetrock & Texture

• HardiPlank ® Replacement

• Minor Repairs

ONE COMPANY.

OMPAN

ONE AGENT.

GENT.

Let me help you save time and money.

Protecting more of your world with Allstate makes your life easier.

And it can put more money in your pocket. Bundle your policies and

you can save even more. Why wait? Call me today.

Warren Sloan

(713) 464-4442

1400 W. Sam Houston Pkwy. N #130

Houston

warrensloan@allstate.com

Subject to terms, conditions and availability. Savings vary. Allstate Property and Casualty Insurance Co., Allstate Fire

and Casualty Insurance Co., Allstate Insurance Co., Allstate Texas Lloyd's, Allstate Indemnity Co., Allstate Vehicle and

Property Insurance Co. Northbrook, Illinois © 2011 Allstate Insurance Co.

Your home is an expensive investment!

Painting beautifies &

preserves that investment!

Free Estimates

O 281-492-2643 C 281-844-4338

"Doing business from the same location since 1978"

87877

NATIONAL BLACK HISTORY MONTH

February is National Black History Month, also known as National

African American History Month, a time for all Americans to celebrate

the achievements of African Americans and recognize their central role

in American history.

Other countries, including Canada and Great Britain, have also set aside months

to honor black history. The month of February was chosen to coincide with

the birthdays of President Abraham Lincoln and noted civil rights advocate

Frederick Douglass. The first record of Africans arriving in North America is

dated 1619, when a privateer ship carrying "twenty and odd" Africans landed

at Point Comfort, Virginia, which is now modern-day Hampton, Virginia. The

Africans were traded as slaves in exchange for provisions.

African-American's impact our society throughout history and in numerous

ways. Here are just a few prominent individuals we honor this month:

• Thurgood Marshall was the first African-American appointed to the

Supreme Court. We recognize Thurgood Marshall every year on National

Maryland Day.

• George Washington Carver developed over 300 products from peanuts.

Celebrate George Washington Carver and his contributions to the peanut

industry on National Peanut Day.

• Shirley Chisholm was the first African-American woman elected to U.S.

House of Representatives.

• Rosa Parks helped initiate the Civil Rights Movement by refusing to give

up her seat on the bus in Montgomery, Alabama. Celebrate Rosa Park on

Rosa Parks Day and learn more about her contributions to the Civil Rights

Movement.

• Louis Armstrong is widely known as a jazz pioneer. Information about

Louis Armstrong can be found in November on National Louisiana Day.

• Colin Powell is a 4-star General who became Secretary of State. Colin

Powell dedicated the Buffalo Soldier monument at Fort Leavenworth,

Kansas, establishing the first Buffalo Soldiers Day.

• Barack Obama was elected the first Black President of the United States.

Black History Month was created by twentieth-century historian

Carter Woodson, who believed black Americans were not adequately

represented in the study of American history. Carter Woodson hoped

for the day when black history would be accepted as a part of American

history. Formerly known as Negro History Week, Black History Month was

officially declared by President Gerald Ford in 1976.

Source: https://nationaldaycalendar.com

NATIONAL FREEDOM DAY

National Freedom Day, always observed on February 1 st , celebrates

freedom from slavery. It also recognizes that America is a symbol of

liberty. It honors the signing by Abraham Lincoln of a joint House and

Senate resolution that later became the 13 th Amendment to the U.S.

Constitution. President Lincoln signed the Amendment outlawing

slavery on February 1, 1865. It was not ratified by the states, however,

until later on December 18, 1865.

On this day many towns have festivals and celebrations. Others reflect

on the freedoms that the United States honors as well as reflect on and

appreciate the goodwill of the United States. For many years, wreath

laying at the Liberty Bell has also been a tradition to mark National

Freedom Day. Use #NationalFreedomDay to post on social media.

A former slave by the name of Major Richard Robert Wright, Sr. created

National Freedom Day. Major Wright was looked upon as a great leader

in the community. It was believed by Major Wright, that this day needed

to be celebrated.

Because of Abraham Lincoln's signing the 13 th Amendment outlawing

slavery on February 1, 1865, February 1 st was chosen as the day for

National Freedom Day. On June 30, 1948, President Harry Truman signed

a bill proclaiming February 1 st as the first official National Freedom Day

in the United States.

Source: https://nationaldaycalendar.com

February 2021 | Green Trails III / Green Trails Estates
---
NATIONAL HEART MONTH

February focuses on the heart making it National Heart Month. Anyone

can be at risk for heart disease. More and more, our sedentary lifestyles

are putting us at risk at a younger age. Obesity, high blood pressure and

smoking all increase our risk factors.

Each one of those we can take action to lower our risk. Get moving.

Remove stress. Quit smoking. Eat healthier.

Even small changes help make a difference. Reduce the amount of fast

food. Eat more greens. Take the stairs. Walk the kids to school. Go outside

and play with the kids or walk the dog.

Talk to your physician about your risk factors. Walking is one of the

healthiest and safest activities we can do for ourselves. Learn more at

www.cdc.gov and use #NationalHeartMonth to share on social media.

Source: https://nationaldaycalendar.com

NATIONAL DAYS IN FEBRUARY 2021

Did you know that every month has some sort of National Day, week

or even the whole month is a National month? Some could be used to

plan a fun day with the family or create a project for the kids on a rainy

afternoon or maybe just start an interesting discussion! Here is a partial

list (there are many more) of what we found for the month of February:

February 1 st : National Get Up Day

February 2 nd : National Heavenly Hash Day

February 3 rd : National Carrot Cake Day

February 4 th : National Homemade Soup Day

February 5 th : National Shower With A Friend Day

February 6 th : National Frozen Yogurt Day

February 7 th : National Fettuccine Alfredo Day

February 8 th : National Kite Flying Day

February 9 th : National Pizza Day

February 10 th : National Umbrella Day

February 11 th : National Make A Friend Day

February 12 th : National Plum Pudding Day

February 13 th : National Tortellini Day

February 14 th : National Ferris Wheel Day

February 15 th : National Gumdrop Day

February 16 th : National Do A Grouch A Favor Day

February 17 th : National Random Acts Of Kindness Day

February 18 th : National Battery Day

February 19 th : National Chocolate Mint Day

February 20 th : National Love Your Pet Day

February 21 st : National Sticky Bun Day

February 22 nd : National Margarita Day

February 23 rd : National Banana Bread Day

February 24 th : National Tortilla Chip Day

February 25 th : National Chocolate Covered Nut Day

February 26 th : National Tell A Fairy Tale Day

February 27 th : National Polar Bear Day

February 28 th : National Public Sleeping Day

MONTHLY OBSERVATIONS

An Affair To Remember Month, Black History Month, Creative Romance

Month, Great American Pie Month, National Bake For Family Fun Month,

National Bird Feeding Month, National Cherry Month, National Children's

Dental Health Month, National Grapefruit Month, National Heart Month,

National Hot Breakfast Month, National Library Lovers Month, National

Snack Food Month, National Weddings Month, National Embroidery Month

Call Anytime!

Forever Landscape

• Tree Trimming

• Tree Removal

• Tree Fertilizer

• Trim Bushes

• Flower Bed Design

• Planting, Renovation

• Stone Border

• Flagstone

• Drain System

• Garden Soil, Top Soil

• Grass Installation

• Lawn Aeration

• Lawn Dethatcher

• Mulch

• Sprinkler System Repair

• Brush Removal

281-891-0370

Call Everth

Fully insured for your protection.

Free

Estimates

SPECIAL LAWN AERATION

$125

Cara Reedy Properties

Service so exceptional, you'll be moved!

As a top Houston agent and a resident of our

community, I know the local trends well. Please call

me today to see how easy selling your home can be!

Serving Green Trails

for over 20 years

Cara Reedy, Broker

832-455-5694

cara@carareedy.com

www.har.com/carareedy

Cara Reedy

2013 - 2014 - 2015 - 2016 - 2017 - 2018 - 2019

HEATING • AIR CONDITIONING

Reme Halo

Air Purifier

$150 OFF

TACLB019260E

myACandHEAT.com

Cannot be combined with any other offer.

Must redeem coupon at time of service. Expires 2/28/2021

281-492-3450

Up to $1300 00 Rebates

on a New Qualifying

Home Comfort System

Expires 2/28/2021

FREE ESTIMATES on New Equipment

Same-Day Service

Green Trails III / Green Trails Estates | February 2021 13
---
Cream Cheese Brownies

You could make this on National Cream Cheese Brownies Day February 10th!

Ingredients:

1/2 cup all-purpose flour

1/2 teaspoon baking powder

1/4 teaspoon salt

1/3 cup semisweet chocolate chips

5 tablespoons shortening

1 cup white sugar

3 eggs

3 tablespoons cream cheese

2 teaspoons vanilla extract

1/2 teaspoon almond extract

1/2 cup chopped almonds

Cream Cheese frosting - optional

Directions:

Preheat oven to 350 degrees F (175 degrees C). Grease 9 inch square baking

pan.

In top of a double boiler, melt chocolate chips and shortening, stirring

frequently until smooth. Pour into a large bowl and mix in sugar, cream

cheese and eggs. Stir in vanilla and almond extracts. Gradually mix in flour,

baking powder and salt. Fold in almonds and pour the batter into pan.

Bake for 35 to 40 minutes in the preheated oven, until toothpick inserted

near the center comes out clean. Let cool in pan before cutting into bars.

Add Cream Cheese frosting if desired.

Source: allrecipes.com

Rich Banana Bread

You could make this on National Banana Bread Day February 23rd!

Ingredients:

1/2 cup butter, melted

1 cup white sugar

2 eggs

1 teaspoon vanilla extract

1 1/2 cups all-purpose flour

1 teaspoon baking soda

1/2 teaspoon salt

1/2 cup sour cream

1/2 cup chopped walnuts

2 medium bananas, sliced

Directions:

Preheat oven to 350 degrees F (175 degrees C). Grease a 9x5 inch loaf pan. In a

large bowl, stir together the melted butter and sugar. Add the eggs and vanilla,

mix well. Combine the flour, baking soda and salt, stir into the butter mixture

until smooth. Finally, fold in the sour cream, walnuts and bananas. Spread

evenly into the prepared pan.

Bake at 350 degrees F (175 degrees C) for 60 minutes or until a toothpick inserted

into the center of the loaf comes out clean. Cool loaf in the pan for 10 minutes

before removing to a wire rack to cool completely.

Source: allrecipes.com

14

February 2021 | Green Trails III / Green Trails Estates
---
GARDENING TIPS FOR FEBRUARY

FLOWERS

• Plants to set: Alyssum, Calendula, Canterbury Bells, Carnations,

Columbine, Cornflower, Daisies, Delphinium, Hollyhock, Larkspur, Lobelia,

Nicotiana, Pansy, Petunia, Phlox (Louisiana), Shrimp Plant, Snapdragon,

Stock and Verbena.

VEGETABLES

• Plant beets, broccoli (plants), brussel sprouts (plants), cabbage (plants),

carrots, cauliflower (plants), celery, chinese cabbage (plants), chives

collards (plants), endive, kale, lettuce (leaf and head), mustard, onions

(plants), parsley, garden peas, radishes, rutabagas, spinach, tomato

(seeds) and turnips.

WINTER SPECIALS ON EQUIPMENT INSTALLS

• Annual

Maintenance

Programs

• Serving area

since 1994

Free estimate or 2 nd opinion

281-394-0028

$25 off

any

repair

MPL#40046

Expires 2/28/2021

FREE

ESTIMATES

Low Price Guarantee

Licensed and Insured

Follow me on Angie's List

License TACLB 24777E and Insured

FREE

Wi-fi thermostat

w/ equipment purchase

• All repairs

guaranteed

0% Interest

financing available

Expires 2/28/2021 WAC Expires 2/28/2021

IdealAirServices.com

For all of your plumbing needs, call...

'

Any job

over $95

info@petersplumbingtx.com

*

Sewer Camera Inspection and Drain Cleaning

Garbage Disposal and Faucet • Water Heater • Repipe

Sewer Repair • Pipe Repair • Toilet Installation

ONE CALL DOES IT ALL!

Sewer Camera Inspections $120

*Cannot be combined with any other offers

TREES AND SHRUBS

• Finish all transplanting, get everything in the ground for a good spring

spurt of growth. Transplant balled and burlap, container-grown, bare-root

deciduous evergreen trees, shrubs, roses and vines while still dormant.

• Finish pruning roses. Weed and cultivate lightly all beds. Replenish

mulch as needed.

• Control early spring insects like thrips on glads and aphids on young

tender growth. Spray with Malathion, Diazinon or Orthene.

• At the end of February: peach, apple and pear fruit must be thinned to

insure quality production at harvest.

• Give groundcovers a haircut. They will spread faster.

• Divide daylilies, daisies and other perennials now.

NATIONAL BIRD FEEDING MONTH

During National Bird Feeding Month in February, keep the bird feeders

filled and your binoculars ready.

Bird watching and feeding have become a popular hobby. By providing

basic shelter and seed, hobbyists watch from their windows or along

trails.

• Be sure to feed regularly and place your feeder away from predators.

• Set binoculars near the window for best viewing.

• Obtain a bird book for identifying new species.

Fill up the bird feeder or add one this month. Use

#NationalBirdFeedingMonth to share social media. In 1994, Congressman

John Porter established February as National Bird Feeding Month due to

the harsh conditions endured during one of the coldest months of the

year.

Source: https://nationaldaycalendar.com

Green Trails III / Green Trails Estates | February 2021 15
---
Wrought Iron

& Steel Fences

PAINTED, REPAIRED & WELDED

Specializing in Lakeside & Golf Course Fences

We're family helping families!

Over 524 Fences

Welded, Primed and

Repaired in Grand Lakes,

Seven Meadows & Eldridge

John's Fence Solutions

832-724-2353

FREE ESTIMATES FOR HOMES

Christy, Linda & Courtney Wade - An Award Winning Family!

Christy Wade

Sales & Marketing Specialist

REALTOR ®

832.483.0630

cwade@garygreene.com

Linda Wade

Broker Associate

Relocation Specialist

281.728.7999

wadelrt@garygreene.com

Courtney Wade McEachern

Sales & Marketing Specialist

REALTOR ®

832.752.2670

courtney.wade@garygreene.com

Whether you're interested in buying or selling,

you deserve a team that puts your interests first...

We'll be there for you! We'll listen and take the time

to find out what's important to you and your family.

When you contact us, we'll develop a marketing strategy that

helps you achieve the results YOU want ... a better bottom line

with the least inconvenience to you and your family.

©2012 Better Homes and Gardens Real Estate LLC. A Realogy Company. All Rights Reserved. Better Homes and Gardens Real Estate LLC fully

supports the principles of the Fair Housing Act and the Equal Opportunity Act. Each Office is Independently Owned and Operated. Better Homes

and Gardens, the Better Homes and Garden Real Estate logo are registered service marks owned by Meredith Corporation and licensed to Better

Homes and Gardens Real Estate LLC.

16

February 2021 | Green Trails III / Green Trails Estates