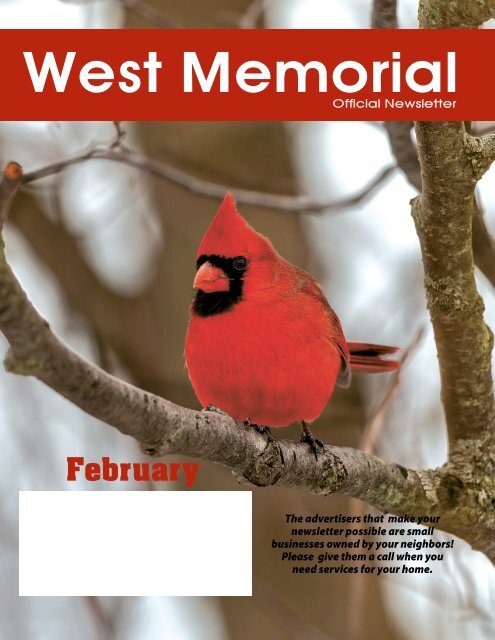 West Memorial February 2021
You also want an ePaper? Increase the reach of your titles
YUMPU automatically turns print PDFs into web optimized ePapers that Google loves.
West Memorial

Official Newsletter

February

The advertisers that make your

newsletter possible are small

businesses owned by your neighbors!

Please give them a call when you

need services for your home.

West Memorial | February 2021 1
---
Providing Better Options for

HEART & VASCULAR CARE

in West Houston and Katy

Through specialized programs, clinical trials and a commitment to

challenging conventional thinking, our comprehensive team of

cardiovascular specialists is improving outcomes and providing

better options for heart and vascular care in your community.

Our doctors specialize in treating a wide spectrum of

cardiovascular diseases and disorders, including:

GREENHOUSE RD.

PARK ROW DR.

HOUSTON METHODIST

WEST HOSPITAL

BARKER CYPRESS RD.

• Coronary artery disease

• Heart failure

• Heart rhythm disorders

• Valve disease

• Vein and artery disorders

West Houston-Katy

And, you can be confident that we are taking every necessary

precaution to keep you safe throughout your visit.

To find a doctor or schedule an appointment, visit

houstonmethodist.org/debakey/west or call 713.DEBAKEY.

2

February 2021 | West Memorial
---
SECURITY (CONTRACT #83)

EMERGENCY (Police, Fire, Medical) 911

NON-EMERGENCY:

Constables Office 281-463-6666

Harris County Precinct 3 713-755-6306

Crime Stoppers

713-222-TIPS

HCE SD FIRE DEPT. 48 281-599-8888

SCHOOLS

KISD Administration 281-396-6000

KISD Security 281-396-7560

KISD Transportation Dept. 281-396-6220

West Memorial Elementary 281-237-6600

West Memorial Jr. High 281-237-6400

Katy High School 281-237-6700

IMPORTANT NUMBERS

Poison Control Center 800-764-7661

Animal Control 281-999-3191

Memorial Hermann Katy Hosp. 281-644-7000

Houston Methodist W. Hospital 832-522-5522

WEST MEMORIAL IMPORTANT NUMBERS

Association Manager: Sherri Carey

Asst. Manager/Deed Restriction & ACC Matters: Tamara Henderson

Accounts Receivable: Brandie Galeas

Work Orders/Maintenance/Repairs: Tiffany Adamson

PUBLISHED BY: KRENEK PRINTING

www.krenekprinting.com • 281-463-8649

West Memorial Mailing Address: c/o High Sierra Management

722 Pin Oak Road, Katy, TX 77494 ª 281-391-7914

scarey@highsierramanagement.com

thenderson@highsierramanagement.tom

bgaleas@highsierramanagement.com

tadamson@highsierramanagement.com

Texas Children's Hospital West 832-227-1000

Children's Protective Svs. 713-394-4000

Harris Co. Public Health & Environment 713-439-6000

Comcast Cable 713-341-1000

Reliant Energy 713-207-7777

Centerpoint Energy 713-207-2222

www.ceneterpointenergy.com/outage

West Memorial MUD 281-392-2290

WCA (trash pick-up service) 281-368-8397

West Memorial Civic Association, Inc.

Board of Director Assignments 2019-2020

PARK HOURS: 8 AM - Dusk, 7 days a week

TRASH PICK UP: Wednesday & Saturday

WEST MEMORIAL BOARD MEETINGS ARE

THE 4TH TUESDAY OF EACH MONTH AT 7

PM AT THE CIVIC CENTER

WEST MEMORIAL TIGER SHARKS

SWIM TEAM WEBSITE

www.wmst.swimtopia.com

OFFICERS DIRECTORS EMAIL LIAISON FOR

President Pat Leo pat@westmemorial.org Constable Patrol

Vice President Jerry Wells jerry@westmemorial.org Deed Restrictions/ACC

Secretary Anna Khan anna@westmemorial.org Website/Communications

Director Harry Woodstrom harry@westmemorial.org Landscape/ Website/Communications

Director Lindy Rajput lindy@westmemorial.org Community Events/Committees

Director Julie Gonzales julie@westmemorial.org Park and Playgrounds

High Sierra Management

High Sierra Management

Clubhouse and Clubhouse Rental

Waste Collection/Pest Control/General Maint

INFORMATION ON BUSINESS ADS: ads@krenekprinting.com

NON-PROFIT ARTICLE REQUESTS: news@krenekprinting.com

West Memorial | February 2021 3
---
WEST MEMORIAL TIGER SHARKS

Look at our website for specific information: https://wmst.swimtopia.com.

THE WEST MEMORIAL CIVIC ASSOCIATION

MANAGEMENT COMPANY HIGH SIERRA MANAGEMENT, INC

Sherri Carey is the Association's Manager. The Association has a direct

phone number for your convenience. The number is 281-391-7914 and

will direct you to whomever in the management staff you wish to speak

with; manager, administrative staff, accounting and the work order

department. Please allow the property manager, unless of urgent need,

twenty four to forty eight hours to respond to your correspondence.

When contacting the office or speaking with the answering service,

please be sure to give your name, homeowner association, address and

telephone number where the call can be returned. The management

office is located at 722 Pin Oak Road, Katy, Texas 77494 and office hours

are Monday through Friday 8 AM to 5 PM.

You may also contact your management team by visiting the High

Sierra Management website at www.highsierramanagement.com and

selecting "Online Requests."

High Sierra Management will be performing the monthly deed restriction

inspections and citing all violations of the governing documents. If

you do not have the rules and regulations, you may download a copy

from www.WestMemorial.org or contact the management company

and request a copy. We are sure you are all eager to help maintain the

property values and exterior appearance of our community and hope

we can count on your continued support in this effort. As a reminder,

West Memorial Civic Association is a deed restricted community and

ALL CHANGES or ADDITIONS TO THE EXTERIOR OF THE HOME must be

approved by the Association prior to any work commencing. Requests for

home improvements can be obtained through management.

The Board of Directors meetings are held monthly in the association

clubhouse (by the pool) on the fourth Tuesday at 7 PM and all

homeowners are welcome to attend. You may also email or call with any

questions or concerns at any time. We thank you all in advance for your

kind cooperation and continued help in making West Memorial a great

place to live!

Respectfully, The West Memorial Civic Association

Board of Directors

EMAIL ALERT & NOTIFICATION SYSTEM

West Memorial has a new alert and notification system that works with

email. The alerts are for emergency notifications, security alerts and

messages from our constables. The notifications are for neighborhood

events, meetings and issues.

To be a part of the system, you must request the service. If you are

interested, open our website at www.westmemorial.org and locate the

Sign-Up icon on the right side of the main page. Follow the instructions

and you will receive all future alerts and notifications.

Anyone wishing to send an alert or notification should submit the

message to westmemorial@westmemorial.org for approval, posting and

transmission. Please direct any questions to harry@westmemorial.org.

WEST MEMORIAL PARK

Our community park is located at 22415 Kingsland and is open to all West

Memorial residents for outdoor activities. It has playground equipment

and a large sheltered pavilion.

SOLICITING

Soliciting is prohibited in West Memorial Subdivision. Please make sure

you have a sign posted on your residence for no soliciting. If you are

approached by a solicitor, please call the Constable's office at 281-463-

6666. Continue to call this number if you see suspicious person or vehicles.

4

STRAY ANIMALS

Do not hesitate to call Harris County Animal Control at 281-999-3191, if

you see animals that are roaming the neighborhood unleashed.

WEST MEMORIAL CONSTABLES

Please make sure you call and report any suspicious behavior. Please file a

report for any stolen or missing property we need to know what is going

on in the neighborhood. Our Constables patrol our subdivision 24 hours

a day/seven days a week. Please call them at 281-463-6666 to report any

disturbance or to request vacation patrols.

WEST MEMORIAL WEBSITE

www.westmemorial.org is the address for West Memorial information

on the internet. The web site contains pool information, Board member

contacts and complete documentation of your deed restrictions. It

also contains neighborhood information, including schools, security,

recreation and local worship centers. Check it out, you might find

something you have been looking for.

DEED RESTRICTIONS

The purpose of Deed Restrictions in your neighborhood is to protect

and enhance property values. They set guidelines for initial construction,

perpetual maintenance and property use. As residents agree to abide by

the majority view; the style and standards of a community are established

and everyone benefits. For your information, restrictions are written by the

developer before the first home is constructed and the Association is then

charged with the on-going responsibility of enforcing them. They can be

changed, but a very large percentage vote of homeowners is required to

do so. Please let us know if you see a problem in the neighborhood.

REWARD

West Memorial Civic Association's Board has approved the following:

A $250 reward to anyone providing information leading to the arrest

and prosecution of person or persons vandalizing or destroying West

Memorial Civic Association property.

STREET LIGHTS

Your Association pays for streetlights from your annual dues, whether they work

or not. If a light is out in your area, please call 713-207-2222 and report it. You

may also report outages online at www.centerpointenergy.com/outage. Each

light has a number on it. When reporting the out light, give the pole number

and street location. We want all lights to work. A lighted area is a safer area.

TEENAGE JOB SEEKERS

If you are between 12 and 18 and would like to be added to the

teenage job seeker's list, please fill out the form on our website (www.

krenekprinting.com, click submissions and choose Jobseekers) with your

name, birthdate (mo. & yr.), phone number, year you will graduate and

the name of your newsletter/subdivision. Check the list of jobs you want

on your form. Please make sure your email is correct, we send emails

in the summer to make sure all the info is still good and that you want

to stay on the list. If we do not hear back from you after 3 tries, we will

remove you from the list until we do. Must have parent(s) permission.

DISCLAIMER: Neither the subdivision, nor Krenek Printing is responsible for those

listed on the Teenage Job Seeker List. Please ask for and check out references if

you do not personally know those listed. This is just a list of teenagers from the

subdivision who wish to find part time jobs. Responsibility for any work done by

these teenagers is between those seeking helpers and the teens and their parents.

CODE KEY: B - BABYSITTING, CPR - CPR CERT., FAC - FIRST AID CERT.,

RCC - RED CROSS CERT., SS - SAFE SITTER, SL - SWIM LESSONS, PP -

PET/PLANT SITTER, P - PET CARE ONLY, H - HOUSE CARE, L - LAWN

CARE, C- CAR CARE/DETAILING, T - TUTORING

TEENAGE JOB SEEKERS NOT AVAILABLE ONLINE

February 2021 | West Memorial
---
NATIONAL BLACK HISTORY MONTH

February is National Black History Month, also known as National

African American History Month, a time for all Americans to celebrate

the achievements of African Americans and recognize their central role

in American history.

Other countries, including Canada and Great Britain, have also set aside months

to honor black history. The month of February was chosen to coincide with

the birthdays of President Abraham Lincoln and noted civil rights advocate

Frederick Douglass. The first record of Africans arriving in North America is

dated 1619, when a privateer ship carrying "twenty and odd" Africans landed

at Point Comfort, Virginia, which is now modern-day Hampton, Virginia. The

Africans were traded as slaves in exchange for provisions.

African-American's impact our society throughout history and in numerous

ways. Here are just a few prominent individuals we honor this month:

• Thurgood Marshall was the first African-American appointed to the

Supreme Court. We recognize Thurgood Marshall every year on National

Maryland Day.

• George Washington Carver developed over 300 products from peanuts.

Celebrate George Washington Carver and his contributions to the peanut

industry on National Peanut Day.

• Shirley Chisholm was the first African-American woman elected to U.S.

House of Representatives.

• Rosa Parks helped initiate the Civil Rights Movement by refusing to give

up her seat on the bus in Montgomery, Alabama. Celebrate Rosa Park on

Rosa Parks Day and learn more about her contributions to the Civil Rights

Movement.

• Louis Armstrong is widely known as a jazz pioneer. Information about

Louis Armstrong can be found in November on National Louisiana Day.

• Colin Powell is a 4-star General who became Secretary of State. Colin

Powell dedicated the Buffalo Soldier monument at Fort Leavenworth,

Kansas, establishing the first Buffalo Soldiers Day.

• Barack Obama was elected the first Black President of the United States.

Black History Month was created by twentieth-century historian

Carter Woodson, who believed black Americans were not adequately

represented in the study of American history. Carter Woodson hoped

for the day when black history would be accepted as a part of American

history. Formerly known as Negro History Week, Black History Month was

officially declared by President Gerald Ford in 1976.

Source: https://nationaldaycalendar.com

NATIONAL FREEDOM DAY

National Freedom Day, always observed on February 1 st , celebrates

freedom from slavery. It also recognizes that America is a symbol of

liberty. It honors the signing by Abraham Lincoln of a joint House and

Senate resolution that later became the 13 th Amendment to the U.S.

Constitution. President Lincoln signed the Amendment outlawing

slavery on February 1, 1865. It was not ratified by the states, however,

until later on December 18, 1865.

On this day many towns have festivals and celebrations. Others reflect

on the freedoms that the United States honors as well as reflect on and

appreciate the goodwill of the United States. For many years, wreath

laying at the Liberty Bell has also been a tradition to mark National

Freedom Day. Use #NationalFreedomDay to post on social media.

A former slave by the name of Major Richard Robert Wright, Sr. created

National Freedom Day. Major Wright was looked upon as a great leader

in the community. It was believed by Major Wright, that this day needed

to be celebrated.

Because of Abraham Lincoln's signing the 13 th Amendment outlawing

slavery on February 1, 1865, February 1 st was chosen as the day for

National Freedom Day. On June 30, 1948, President Harry Truman signed

a bill proclaiming February 1 st as the first official National Freedom Day

in the United States.

Source: https://nationaldaycalendar.com

WINTER SPECIALS ON EQUIPMENT INSTALLS

• Annual

Maintenance

Programs

• Serving area

since 1994

Free estimate or 2 nd opinion

281-394-0028

$25 off

any

repair

MPL#40046

Expires 2/28/2021

FREE

ESTIMATES

Low Price Guarantee

Licensed and Insured

Follow me on Angie's List

License TACLB 24777E and Insured

FREE

Wi-fi thermostat

w/ equipment purchase

• All repairs

guaranteed

0% Interest

financing available

Expires 2/28/2021 WAC Expires 2/28/2021

IdealAirServices.com

For all of your plumbing needs, call...

'

Any job

over $95

info@petersplumbingtx.com

Call

our

experts

for

all of your

electrical

needs!

• Panel Upgrade / Replacement

• Ceiling Fan Installation

• Smoke Detectors

• Troubleshooting

• Generators

24-Hour Emergency !

Service

!

• Indoor/Outdoor Lighting

• Surge Protection

• Flat Screen TV Installation

• Recessed Lighting

• Code Compliance

Residential & Commercial Service • Family Owned & Operated • Licensed & Insured

*5-Year

Warranty,

Satisfaction

Guaranteeded

713 -467-1125 | wiredes.com

s a v e $25 OFF

YOUR NEXT SERVICE

CALL IN FEBRUARY!

Not to be combined with any other discount or

offer. Not valid on generator maintenance.

Expires 3/1/21

*

Sewer Camera Inspection and Drain Cleaning

Garbage Disposal and Faucet • Water Heater • Repipe

Sewer Repair • Pipe Repair • Toilet Installation

ONE CALL DOES IT ALL!

Sewer Camera Inspections $120

Master #100394 TECL # 22809

*Cannot be combined with any other offers

West Memorial | February 2021 5
---
Katy ISD

www.katyisd.org

IMPORTANT DATES

February 15th: Professional Learning Day - No Students

February 22nd: 5th Secondary Grading Cycle Begins

February 25th: Family Night (No Homework Assigned)

STUDENT COVID-19 TESTING SITE

The District offers a FREE rapid COVID-19 testing option to enrolled Katy ISD students and employees. The FREE test is in collaboration

with the Texas Education Agency's COVID-19 Testing Project. The test consists of a nasal-based testing option (saliva-based option is

still pending) with results in 20 minutes.

The rapid, free tests are available at the District's Agricultural Sciences Center located at 5801 Katy Hockley Cut-Off Road, Monday-

Friday, 7:00 a.m.- 4:00 p.m. and on Saturdays 8:00 a.m.- 12:00 p.m. To help expedite free student COVID-19 testing, while practicing

social distancing at the testing site, Katy ISD has established a Student COVID-19 Testing Sign-Up form that allows families to secure

an appointment time for their student(s). The sign-up can be done at this direct link here. The testing site contact is (281) 396-7749.

Employees do not require an appointment to be tested for free, though are requested to arrive at least 30 minutes before the posted

closing time, to abide by the facilities schedules. Employees' dependents who are not on their Katy ISD insured parents' health care

plan may elect to pay the $125 fee to test with their parents at the site, or if the child is a Katy ISD enrolled student, he/she may

schedule an appointment through the Student Testing Appointment Scheduler, and test for free.

KATY ISD SEEKS 2021 BOND TO

ADDRESS RAPID STUDENT GROWTH

As families continue to move west of the Houston Metro area to enroll

their children in the fastest-growing school district in Texas, tonight Katy

Independent School District Board of Trustees discussed a Community

Bond Advisory Committee (CBAC) coming together to review capital

needs in consideration of a May 2021 Bond Referendum.

Located within 181 square miles and serving more than 84,000 students

at 71 campuses and facilities, Katy ISD is the sixth-largest school district in

Texas known for its high academic performance, its award-winning staff

and its highly sought out school programs, among other extra-curricular

activities. On average, Katy ISD is enrolling an additional 2,400 students

every school year with a projected enrollment of more than 100,000

learners by 2027. Enrollment increases are taking place most significantly

in the northwest quadrant of Katy ISD, where new communities are being

developed and are expected to flourish within the next decade.

The CBAC's planning and review of capital needs will include reviewing

enrollment projections, the need for new schools and facilities to address

capacity limitations while paying close attention to renovations and

component replacements necessary at aging campuses and buildings.

Within the brick and mortar schools, additional areas affecting the

growing student population are technology upgrades and safety and

security projects to support learners and staff needs. Katy ISD has a

history of approving bonds, which dates back to at least 1994. In 2017,

school community voters approved a $609,204,553 bond with a no tax

rate increase. It provided for six new schools, a major comprehensive

renovation at one campus, component replacements, expansions and

safety and technology improvements among other items. Katy ISD

anticipates being able to deliver once again on a zero tax rate increase.

Due to the District's safety protocols, only three socially distanced, inperson

CBAC meetings will take place during the process. Committee

members will have the opportunity to review, vet and decide upon the

capital projects to be included in the school district's bond package,

should they determine a need to recommend a referendum. During

the bond meetings, staff will provide in-depth background information

associated with long-range needs, demographics and finances, which

will allow the CBAC to finalize a bond package to present to the Board of

Trustees on Monday, February 8 th during a Special Board meeting.

6

KATY ISD BOARD OF TRUSTEES

APPROVED 2022-2023 CALENDAR

Katy ISD Board of Trustees approved calendar that includes:

Wednesday, August 17 th : First Day of School

Friday, May 19 th : Seniors - Last Day of School

Thursday, May 25 th : Last Day of School for all other students

172 Instructional Days

"The development of the Katy ISD instructional calendar often begins

in the fall of each year," said Deputy Superintendent Leslie Haack. "The

District values the school community's feedback and has recommended

a calendar based on their preference," added Haack.

The approved calendar also provides teachers two professional

development flex days in August 2022 as well as five additional days

of professional development throughout the school year. Labor Day,

Columbus Day, Martin Luther King Jr. Day and Good Friday are holidays,

and the District will continue providing a full week off for Thanksgiving,

two weeks for Christmas and one week for Spring Break.

DONATUTORS

Donatutors is a nonprofit tutoring organization that donates 100% of

our proceeds to charity. All of our tutors are straight-A students at Seven

Lakes High school and we offer a multitude of courses like creative

writing, computer science, biology, public speaking, ICTW writing and

many different math courses too. We charge $20 per class, but the first

one is free! For more information, check out donatutors.com or email us

at donatutors@gmail.com.

What's even cooler is that this summer Donatutors was able to raise

$1,283 which we used 70% to give to a Houston based charity called

NAMI and 30% to buy a bunch of masks and canned food for donation.

Please check us out!

FEBRUARY FUN FACT

With only 28 days to its credit (except during leap year), February wasn't

always so short. It was originally a 30 day month, falling at the end of

the calendar. When Julius Caesar changed the months around, February

became the second month of the year. He also took away one day and

added it to the month, which was named for him (July). The emperor

Augustus deducted another day and made August a 31 day month.

February 2021 | West Memorial
---
KATY ISD EDUCATION FOUNDATION

ANNOUNCES REASON2RACE

Pick your race, pick your pace and raise funds for teacher grants with every

step. Run or walk with the Katy ISD Education Foundation in the Katy

Half Marathon/5k/1k on Saturday, February 6, 2021 to raise funds for the

Inspiring Imagination teacher grant program. Last year, over 60 teams and

600 runners raced to support the foundation, raising over $115,000 for

Katy ISD teacher grants. The Katy ISD Education Foundation celebrated

a spectacular milestone this year with over $2 million awarded in its first

eight years of Inspiring Imagination teacher grants. Reason2Race and

its proceeds play a key role in reaching milestones such as this and will

continue to garner support as the foundation's grant program expands.

Register and join Team Katy ISD Education Foundation, a Katy ISD campus

team or recruit your own team of co-workers and friends. All proceeds

will directly support Inspiring Imagination grants awarded to teachers

in May 2021. Find more information and register at https://tinyurl.com/

Reason2Race2021 or www.katyisdeducationfoundation.org or contact

the Katy ISD Education Foundation at 281-396-6031.

GRAEME'S RUN - 5K & 1 MILE WALK

FEBRUARY 20, 2021, NO LABEL BREWERY

Registration 8 AM • Run Starts at 9 AM

(We are hopeful for an in-person event. Our site will be updated Run

Starts at 9 AM to reflect the most current information. Either way, shirts,

pint glasses and run bags will be ready for you at packet pick-up!)

Family Entertainment: Face Painting, Bounce Houses, Food, Raffle, Chris

Boise and Righteous Cause Band.

Register & Learn More: www.graemesssuperheroes.org

***all funds raised benefit The Children's Heart Foundation.

Forever Landscape

• Tree Trimming

• Tree Removal

• Tree Fertilizer

• Trim Bushes

• Flower Bed Design

• Planting, Renovation

• Stone Border

• Flagstone

• Drain System

• Garden Soil, Top Soil

• Grass Installation

• Lawn Aeration

• Lawn Dethatcher

• Mulch

• Sprinkler System Repair

• Brush Removal

281-891-0370

Call Everth

Fully insured for your protection.

Free

Estimates

SPECIAL LAWN AERATION

$125

Home is where e

the heart is.

Not to mention all your stuff.

NATIONAL HEART MONTH

February focuses on the heart making it National Heart Month. Anyone

can be at risk for heart disease. More and more, our sedentary lifestyles

are putting us at risk at a younger age. Obesity, high blood pressure and

smoking all increase our risk factors.

Each one of those we can take action to lower our risk. Get moving.

Remove stress. Quit smoking. Eat healthier.

Even small changes help make a difference. Reduce the amount of fast

food. Eat more greens. Take the stairs. Walk the kids to school. Go outside

and play with the kids or walk the dog.

Let me help you get the protection you need.

I know home insurance. I can help you protect

your home and everything in it. Call me today to

discuss your coverage options.

WARREN SLOAN

713-464-4442

1400 W. Sam Houston Pkwy N. #130

HOUSTON

warrensloan@allstate.com

Talk to your physician about your risk factors. Walking is one of the

healthiest and safest activities we can do for ourselves. Learn more at

www.cdc.gov and use #NationalHeartMonth to share on social media.

Source: https://nationaldaycalendar.com

Subject to terms, conditions, qualifications and availability. Allstate Vehicle and Property Insurance Co., Allstate

Fire and Casualty Insurance Co. Northbrook, IL. © 2012 Allstate Insurance Co.

87869

West Memorial | February 2021 7
---
myACandHEAT.com

"We work as unto

the Lord"

GEYER ROOFING

Specializing in

Re-Roofing

Ron Geyer

713-462-3898

Call Anytime!

HEATING • AIR CONDITIONING

Reme Halo

Air Purifier

$150 OFF

Cannot be combined with any other offer.

Must redeem coupon at time of service. Expires 2/28/2021

TACLB019260E

281-492-3450

Up to $1300 00 Rebates

on a New Qualifying

Home Comfort System

Expires 2/28/2021

FREE ESTIMATES on New Equipment

Same-Day Service

RESIDENTIAL &

COMMERCIAL

Always there for you!

REMODELING

• Kitchens • Bathrooms • Windows / Doors • Floors • Hardi Siding

• Rooms Additions • Complete Renovations • Patio Covers

Rob Geyer

281-477-3456

MPL#40815

Water Heaters • Drain Problems

Faucet Installation & Repair

Gas Test • Water Leaks & Much More

35+ Years Experience

832-890-8449

info@tonysplumbingtx.com

www.tonysplumbingtx.com

$30 off

any Job

Over $95

Low Price Guarantee

Licensed & Insured

• FAMILY OWNED • REFERENCES • INSURED & BONDED

• 21 YEARS EXPERIENCE

2 Call or Text

Estimates@cphou.com

www.cphou.com 81-345-980 0

INTERIOR & EXTERIOR

FREE

Estimates

Carpentry • Sheetrock - Texture • Pressure Washing • HardiPlank ®

Refinish-Staining • Crown Molding • Fences

A.A.A.

Tree Services

& Landscaping

925 South Mason Rd. P.M.B. 239

Katy, TX 77450

281-798-5224

a.a.a.landscaping.2005@gmail.com

• Tree Removal

• Tree Trimming

• Palm Tree Trimming

• Stump Removal

• Lots Cleaned Up

• Landscaping Designs

15% OFF

Any Service

With this ad.

Fence

Installation

Special

• Flagstone & Paver Patios

• Sod Replacement

• Sprinklers Repair

• Fence Installation & Repair

• Mulch

• Monthly Packages

• Drainage System

Psychiatrist On Staff

WE TREAT ADULTS AND KIDS

Depression, Anxiety, Suicidal Ideation,

Eating Disorders, Addiction, Bipolar and

many more Co-Occurring Behaviors.

OPEN 24/7

MemorialVillageER.com

CORNER OF MEMORIAL & DAIRY ASHFORD

8

February 2021 | West Memorial