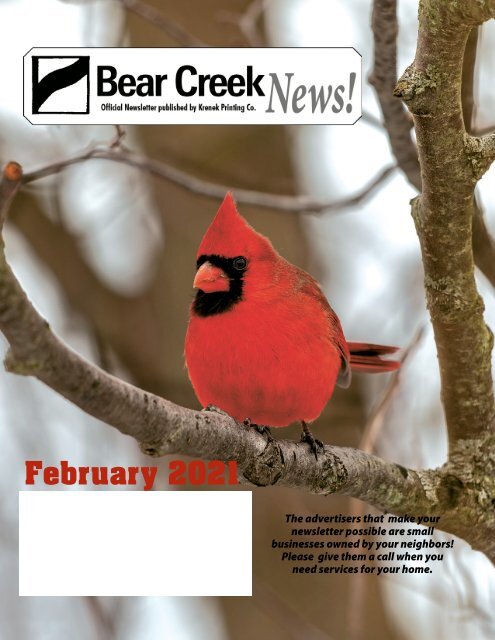 Create successful ePaper yourself
Turn your PDF publications into a flip-book with our unique Google optimized e-Paper software.
February 2021

The advertisers that make your

newsletter possible are small

businesses owned by your neighbors!

Please give them a call when you

need services for your home.

Bear Creek | February 2021 1
---
Providing Better Options for

HEART & VASCULAR CARE

in West Houston & Katy

Through specialized programs, clinical trials and a commitment to

challenging conventional thinking, our comprehensive team of

cardiovascular specialists is improving outcomes and providing

better options for heart and vascular care in your community.

Our doctors specialize in treating a wide spectrum of

cardiovascular diseases and disorders, including:

GREENHOUSE RD.

PARK ROW DR.

HOUSTON METHODIST

WEST HOSPITAL

BARKER CYPRESS RD.

• Coronary artery disease

• Heart failure

• Heart rhythm disorders

• Valve disease

• Vein and artery disorders

West Houston-Katy

And, you can be confident that we are taking every necessary

precaution to keep you safe throughout your visit.

To find a doctor or schedule an appointment, visit

houstonmethodist.org/debakey/west or call 713.DEBAKEY.

2

February 2021 | Bear Creek
---
C. Paul Shubert, P.C.

Certified Public Accountants

Income Tax Preparation

• INDIVIDUALS • CORPORATIONS • PARTNERSHIPS • ESTATES

Weekend and Evening Appointments Available

4654 Hwy. 6 N. Suite 101 281-556-1040

MPL#40815

Water Heaters • Drain Problems

Faucet Installation & Repair

Gas Test • Water Leaks & Much More

35+ Years Experience

832-890-8449

info@tonysplumbingtx.com

www.tonysplumbingtx.com

Always there for you!

$30 off

any Job

Over $95

Low Price Guarantee

Licensed & Insured

CREEK

BEAR

PURPOSE OF HUNTER'S PARK

COMMUNITY ASSOCIATION

Hunter's Park Community Association handles the

financial and legal affairs of the subdivision. Each lot

owner is required to pay an annual maintenance fee

which is used to pay street lights; pay taxes on and

maintain the common areas, such as the swimming

pools, tennis courts, etc.; pay for security; and pay legal

expenses incurred to enforce the deed restrictions.

The Board meets the 2nd Thursday of every

month at 6:30 p.m. in the meeting room at the

community building. Residents are welcome to attend.

Anyone wishing to place an item on the agenda

should call the HPCA office in advance.

The Annual Meeting of Members is held on the

4th Thursday of January.

Members hold three year staggered terms and are

elected. The election process is as follows:

1) Mail in ballots will be mailed out with the Annual

Maintenance fee statements.

2) Voting in person will begin on the 1st Monday

after the Annual Meeting ending on the following

Saturday at 7pm.

HPCA Office:

4503 A Hickory Downs, Houston, TX 77084

Office Phone: 281 463-1216

Office Hrs: 10:00 a.m. to 4:00 p.m., Mon- Fri.

Closed Weekends and Major Holidays

HPCA employs two workers to provide coverage for

the office. Every effort is made to have one of the two

employees in the office at all times. Occasionally business

of the association may require us to be out of the office

for a short period of time. If we are out of the office

when you call or if you call after hours, please leave a

message on the answering machine and your calls will

be returned as soon as possible during office hours.

HUNTER'S PARK COMMUNITY ASSOCIATION

Officers

Shelly Schmitz - President

Terry Martin - Vice President

Jill Yeager - Treasurer/ Asst. Secretary

Carol Harless - Secretary/Asst. Treasurer

Amy Jones - Member at Large

Hunter's Park Comm. Assoc 281-463-1216

AT & T 1-800-288-2020

Trash Service WCA 281-368-8397

Harris County Animal Control 281-999-3191

Houston Animal Control 713-238-9600

Texas Wildlife Rehabilitation 713-468-8972

Bear Creek Library 281-550-0885

Buses MTA (Information, Routes & Scheduling) 713-635-4000

KISD School Bus Info. 281-578-2210

Car Share/Van Share 713-227-0003

Harris County Constable's Office (Clay Road Dispatch) 281-463-6666

Courthouse Annex (16715 Clay Road) 713-274-0800

Pct. 5 Judge Jeff Williams 713-274-0800

Katy Independent School District Administration Office: 281-396-6000

Bear Creek Elementary (K-5) 281-237-5600

Cardiff Junior High (6-8) 281-234-0600

Mayde Creek Senior High (9-12) 281-237-3000

Please call HPCA OFFICE at 281-463-1216 to reach a board member.

Email HPCA Office at hpca@bearcreeknetwork.org

NEW RESIDENTS

The HPCA office has a new resident package available

at the office or by mail. Please call 281 463-1216

and we will be happy to send the information to you!

DEED RESTRICTIONS

Deed restrictions are strictly enforced by Hunter's Park

Community Association. Copies of the restrictions

are available on our website at www.bearcreeknetwork.org.

Complaint forms are included in every

Bear Creek Newsletter for your convenience. The

association's office verifies complaints and writes

letters to violators. HPCA will initiate legal action

when warranted, to enforce the deed restrictions.

ARCHITECTURAL CONTROL

You must submit any plans for improvements or

modifications of your home to the Hunter's Park

Community Association Office. Your plans will be

checked to insure that they comply with the deed

restrictions. This includes re-roofing, playforts (8

ft. height limit), temporary storage buildings, etc.

Please call the office at 281 463-1216 if you need

any additional help or assistance.

SECURITY

Hunter's Park Community Association provides

additional security currently through a contract

with Commissioners Court for four Harris County

Constables. HPCA also hires off-duty deputies on

an as-needed basis for additional coverage.

Please call the Constable's Office at 281 463-6666

to report any suspicious person, activity or for vacation

watch. There is a voluntary $2.00 security

contribution on the M.U.D. #6 water bill that goes to

each homeowner. The voluntary contributions can

only be used to pay for security. This contribution

enables HPCA to provide more coverage without

raising maintenance fees.

Judy - Security Director - HPCA - (281) 463-1216

HELPFUL NUMBERS

WASTE CORPORATION OF TEXAS (WCA)

WCA collects our trash on Tuesdays and Fridays.

Poly-carts, heavy trash and extra bags or items will

be picked up on both days. Recycling picked up

on Tuesdays only. The homeowner's maintenance

fee does not pay for garbage pick-up. You must

call WCA to start service. Poly-carts and recycling

bins are provided free of charge to homeowners or

residents. When regular pick-up falls on a holiday,

New Year's Day, Memorial Day, July 4 th , Labor Day,

Thanksgiving Day and Christmas Day, the pick-up

will be made on the next regular scheduled pick up

day. If your recycling day falls on a holiday it will be

picked up the next week on your normal scheduled

recycle day. WCA will collect for recycling, papers,

plastics, aluminum and tin cans that are placed in

the recycling bin. If items exceed container capacity,

please place them adjacent to the bin. If you find

items left in the bin, that are not recyclable, please

dispose of the items in your polycart.

Trees, shrubs, brush trimmings and fencing must be

bundled in small manageable bundles, in lengths

no greater than 4 feet, with no branch diameter

exceeding in 3 inches. Items that will be picked up,

such as: appliances, furniture, carpet (up to 1 room,

rolled up four feet wide and less than fifty pounds),

cardboard boxes (flattened). Refrigerators and

freezers or any other items containing Freon must

be drained of Freon and have an accompanying bill

to validate such service was performed.

Items excluded from normal collection are dirt, rocks,

bricks, concrete, tires, batteries, motor oil, cooking

oil, waste generated by a private contractor or any

materials or items deemed hazardous materials. Do

not dispose of these items in a container that is not

visible to WCA personnel.

If you need a special pickup, please call WCA.

Customer Service: 281-368-8397

WATER BOARD

The Water Board is a tax assessing board that levies

water and sewer taxes and hires a Tax Assessor

Collector to collect them. Severn Trent Services was

hired by the Water Board to manage the utility district

and they can assist you if you have any problems.

The Board meets every 3rd Tuesday of the month

at 6:00 p.m. at the Jackrabbit Rd. WWTP - 16720

Pine Forest Lane, Houston, TX 77084. Members

hold staggered 4 year terms and are elected the 1st

Saturday in April.

Repairs: Street Lights Centerpoint Energy 713-207-2222

(to report non-functioning light, give address and pole # off of pole needing repair)

Street Repair 281-353-8424

(streets and curbs owned/maintained by Harris County)

U. S. Post Office (Bear Creek) 1-800-275-8777

Utilities Severn Trent Services (HCUD#6) water/sewer 281-579-4500

(24 hour emergency:) 281-398-8211

Centerpoint Gas 713-659-2111

To report gas leaks & explosions 713-659-3552

Centerpoint Energy 713-207-2222

Harris Ct Pct 4 Community Assistance:

(for roadway/stop signs etc. county issures 281-353-8424

Help Aid to Victims of Domestic Abuse 713-520-8620

Hot Lines: Battered Women & Children's Hotline (Wires-24) 713-528-2121

Crisis Hotline (24 Hours) 713-228-1505

Harris County Children's Protective Servs.(24) 713-394-4000

Poison Control (24 hours) 1-800-222-1222

Rabies Control 281-999-3191

Rape Crisis (24) 713-528-7273

Suicide Prevention (24 hours) 713-228-1505

Women's Information & Referral Exchange Service 713-528-2121

PUBLISHED BY: KRENEK PRINTING

www.krenekprinting.com • 281-463-8649

INFORMATION ON BUSINESS ADS: ads@krenekprinting.com

NON-PROFIT ARTICLE REQUESTS: news@krenekprinting.com

Bear Creek | February 2021 3
---
Family & Cosmetic Dentistry

Caring Professionals for over 35 years in the Bear Creek Area!

HUNTERS PARK 2021 MEETING SCHEDULE

Resident and closed Board Meetings are being held on the 2 nd Thursday

of each month at 6:30 PM. Until further notice, these meetings will be

held by virtual Zoom Meetings. Please look for details on website.

281-859-5637

Valentine Special

$

75 Off for New Patient Exams

$

25 Off Dental Treatment for (existing patients)

February 11, 2021

March 11, 2021

April 8, 2021

May 13, 2021

June 10, 2021

July 8, 2021

August 12, 2021

September 9, 2021

October 14, 2021

November 11, 2021

December 9, 2021

16100 Cairnway, Suite 285

(Not valid with any other offer. EXPIRES 2/28/21. Must present

coupon at the time of service. Valid for only one use per patient)

• Advanced Laser Dentistry

• Digital X-Rays for reduced Radiation

• Affordable, Flexible, No interest payment options.

www.CAREYDENTISTRY.com

10 Years Experience,

and Hundreds of

Satisfied Customers!

DEED RESTRICTION OVERVIEW

Open/total December 26/96

Trashcans 8/36

Trailer 2/6

Items in view 1/7

Parking on grass 4/7

Courtesy 4/10

NOW 3 WAYS TO GET YOUR HPCA INFORMATION

Hunter's Park Community Association has a very informative website.

Go to www.bearcreeknetwork.org for all things pertaining to Bear Creek

Village. Find out about neighborhood amenities, useful phone numbers,

HOA documents, Architectural Control Committee forms and much

more. Owners can now get their account information online as well. If the

HPCA Office has your email address, you would have recently received an

email invitation to securely log into your account(s).

L.P. Roofing and Gutters

Generation Owned

ALL TYPES OF

ROOFING REPAIRS

If you would like to receive this invitation simply send your email to

board@bearcreeknetwork.org and you will be contacted. Owners can

see their account history, contact the office, access the neighborhood

website and make payments through this Owner Access Portal.

• Modified & TPO Membrane

Roof Systems

• Ridge & Soffit Vents

• Gutter Installation & Leaf Guard

• Brick Restoration

• Flat Roofs

don't wait until

it's too late!

• Chimney & Flashing

• Blow in Insulation for Attic

• Solar Power Vents

• Torch Down

• Skylight Replacement

• Repair of Seamless Gutters

• Metal Roof Installation

• Sheetrock & Paint

• Metal Roof Restoration

• Siding

• Pressure Washing Driveway

$

50 OFF

Any

Not valid w/ any other offer.

Roof

Repairs

FREE ESTIMATES

5707 Addicks Satsuma Rd, Suite D • Houston, TX 77084 281-861-4495

lproofingandgutters.com

WARREN SLOAN

713-464-4442

1400 W. Sam Houston Pkwy N. #130

HOUSTON

warrensloan@allstate.com

PROTECT YOUR WORLD

Insurance and discounts subject to terms, conditions and availability. Allstate Vehicle and Property Insurance Co., Allstate Fire and Casualty

InsuranceCo..LifeinsuranceandannuitiesissuedbyLincolnBenefitLife Company,Lincoln,NE,AllstateLife Insurance Company,Northbrook,

IL, and American Heritage Life Insurance Company, Jacksonville, FL. In New York, Allstate Life Insurance Company of New York, Hauppauge,

NY. Northbrook, IL. © 2010 Allstate Insurance Co.

87872

And finally, if we have your email address, you will get email blasts

occasionally that contain important Bear Creek Village events and dates.

And please let us know if you want to begin receiving your statements by

email or continue using USPS.

KEEP BEAR CREEK BEAUTIFUL!

Homeowners and residents, please store your polycarts, recycle bins

and all other items out of public view. Trash should be put out the night

before or day of pickup and polycarts should be promptly removed same

day as pickup. Let's keep our neighborhood beautiful!

IMPORTANT HPCA INFORMATION -

ARCHITECTURAL CONTROL

ANY changes or modifications made to the exterior of structures or

on property, i.e., paint colors, roofs, sheds, etc, MUST BE APPROVED

THROUGH THE HPCA OFFICE BEFORE ANY MODIFICATIONS BEGIN.

Applications for home modifications may be obtained through our

website, email, mail or at office.

SIGN POSTINGS

DO NOT POST SIGNS OF ANY KIND ON COUNTY SIGNS OR

EASEMENTS. IT IS AGAINST THE LAW AND YOU CAN BE FINED!

NEIGHBORHOOD WATCH

For extra security, our subdivision has a contract with the Harris County

Precinct 5 Constable's Department.

Notify the Constables immediately at 281-463-6666 if you see any

suspicious persons, vehicles or activities. Please, if possible, obtain

license plate numbers, color, make and model of vehicle. Description of

person(s). Was suspicious person walking, riding a bike? - location - as

much information as possible will be helpful!

4

February 2021 | Bear Creek
---
Vacation Watch - This informs our Deputies that you are on vacation.

Please call the Constable's Dept. at 281-463-6666 in the event you will be

out of town to set up your vacation watch.

COMMUNITY ASSISTANCE, PRECINCT 4

COMMISSIONER JACK CAGLE

For street repairs, manhole covers, tree limbs hanging over street, etc.,

contact Community Assistance at 281-353-8424 or contact them at hcp4.net.

THE THOMAS A. GLAZIER

SENIOR EDUCATION CENTER

COMMISSIONER STEVE RADACK,

HARRIS COUNTY PRECINCT THREE

The Thomas A. Glazier Senior Education Center is located at 16600 Pine

Forest Lane, 77084; one block south of the intersection of Hwy. 6 and

Clay Road. All classes/programs are FREE for Harris County residents aged

55+. Zumba, Yoga, Spanish, Dance, Legal, Watercolor, Wills and Probate,

Computer/IPhone and Wellness classes are offered among hundreds of

other classes/workshops. For more info, go online to www.pct3.com/

About/Calendars/Glazier-Senior-Center-Calendar for a schedule of all our

programs or call us at 713-274-3250.

BARKING DOGS

If you have a problem with a neighbor's dog constantly barking, you

should first contact the pet owner and make them aware of the problem.

In the event that doesn't work, you should then contact the Constables

at 281-463-6666 to file a complaint.

LOOSE OR LOST PETS & DOG BITES

Contact Harris County Animal Control at 281-999-3191 or 3194.

PET HOTLINE NEWS

A very important thing you can do is have a collar with some form of ID

and your phone number on it. Pet stores have special ID's for your pets.

Many pet owners are now "chipping" the pets. If found and taken to a vet

they can scan chip and find the owner. If your pet has a rabies tag, the vet

has your name and #. The first thing I ask a caller is "does the pet have ID

on it." If it does, I will help contact the # on the ID and get the pet to it's

owner ASAP. Or the owner can pick up their lost pet. Having an ID on a

pet makes life easier for all. Marie Nugent - 281-859-1104

STREET LIGHTS OUT?

Contact Centerpoint Energy at 713-207-2222. You will need to give the

address where the pole is located and provide the stenciled number on

the front of the pole. You may also report the outage on the website at:

www.centerpointenergy.com/outage.

BEAR CREEK ELEMENTARY CALENDAR

www.katyisd.org/campus/bce/Pages/default.aspx

ECI PROJECT TYKE

ECI Project TYKE is a year round Early Childhood Intervention program

(ECI) in the Katy Independent School District that specializes in working

with children who need extra help. The program provides developmental

services to children who may need assistance in attaining developmental

milestones or who may have a disability. Services are provided to

children from birth to three where they live, learn or play. ECI Project

TYKE develops a supportive partnership with families by providing

educational and emotional supports, which enriches the daily routines

and relationships that will enable their child to reach his or her maximum

potential. Anyone (parent, family, friend, caregiver, professional) can

refer a child to ECI Project TYKE. If you know a child under the age of 3

who needs assistance in at least one area of development or who has a

medical diagnosis or condition impacting his or her development, please

call ECI Project TYKE 281-237-6647 or make a referral on our website

www.katyisd.org. ECI services are available statewide to help families.

Early is best!!!!!

• Wood Fences

• Arbors/Decks

• Painting Int/Ext

Specializing in Residential

Home Improvement Projects

• Pressure Washing

• Siding Replacement

• General Home Repairs Int/Ext

713-416-79 81

www.shaffer.cc

Serving your community for over 20 years!

YOUR NEIGHBORS LOVE US!

Trust Us With Your Home Comfort!

Professionalism f

• Responsiveness • Quality Workmanship • Exclusive Warranties

W HEATING & AIR

CONDITIONING

EST. 1987

License #

TACLA26986E

"I would highly recommend using Marcos A/C. It was an

outstanding experience and our new A/C unit works

great! Mike was awesome! He helped us through the

entire process and demonstrated professionalism,

thorough knowledge of the product, and was super

friendly. Alex and his team of installers were very

Overall, an excellent experience! ~ Nick P.

713-467-HVAC (4822)

Call today for a FREE in-home

Consultation & System Evaluation

UP TO $2,000

INSTANT REBATE

ON SELECT HIGH EFFICIENCY EQUIPMENT

Some restrictions may apply. Call for details

0% FINANCING FOR

UP TO 72 MONTHS

Excellent

Online Reviews

www.MarcosAC.com

Bear Creek | February 2021 5
---
"COMPLAINT FORM"

Violation (use your own words) _______________________________

_________________________________________________________

_________________________________________________________

_________________________________________________________

_________________________________________________________

• Diagnose & Repair

• Panel Upgrades

• Generators

• Surge Protection

• Custom Lighting

• Smart Switches

Randy & Sandi Deyo, Owner-operator TMEL 33838

FREE Estimates ● 2 Hour Appointment Windows

5 Year Warranty ● Flexible Payment Plans

Military/Veteran Discount ● Senior Discount

Address of Violation ________________________________________

Frequency/Time of Violation _________________________________

Date of Complaint __________________________________________

Your Name: ________________________________________

(Optional)

Your Address: _____________________________________________

Your Phone: ______________________________________________

(YOUR IDENTITY WILL BE KEPT CONFIDENTIAL)

Thank you for helping us help you!!!

-------------------------------------------------------------------------------------------

Mail To:

HUNTERS PARK COMMUNITY ASSOCIATION

(DEED RESTRICTIONS COMMITTEE)

4503-A HICKORY DOWNS

HOUSTON, TEXAS 77084

BEAR CREEK IS TOUGH ON DEED RESTRICTIONS

TEENAGE JOB SEEKERS

If you are between 12 and 18 and would like to be added to the

teenage job seeker's list, please fill out the form on our website (www.

krenekprinting.com, click submissions and choose Jobseekers) with your

name, birthdate (mo. & yr.), phone number, year you will graduate and

the name of your newsletter/subdivision. Check the list of jobs you want

on your form. Please make sure your email is correct, we send emails

in the summer to make sure all the info is still good and that you want

to stay on the list. If we do not hear back from you after 3 tries, we will

remove you from the list until we do. Must have parent(s) permission.

DISCLAIMER: Neither the subdivision, nor Krenek Printing is responsible

for those listed on the Teenage Job Seeker List. Please ask for and check

out references if you do not personally know those listed. This is just a

list of teenagers from the subdivision who wish to find part time jobs.

Responsibility for any work done by these teenagers is between those

seeking helpers and the teens and their parents.

CODE KEY: B - BABYSITTING, CPR - CPR CERT., FAC - FIRST AID CERT.,

RCC - RED CROSS CERT., SS - SAFE SITTER, SL - SWIM LESSONS, PP -

PET/PLANT SITTER, P - PET CARE ONLY, H - HOUSE CARE, L - LAWN

CARE, C- CAR CARE/DETAILING, T - TUTORING

TEENAGE JOB SEEKERS

NOT AVAILABLE ONLINE

6

February 2021 | Bear Creek
---
SCHOOL NEWS

KATY ISD SEEKS 2021 BOND TO

ADDRESS RAPID STUDENT GROWTH

As families continue to move west of the Houston Metro area to enroll

their children in the fastest-growing school district in Texas, tonight Katy

Independent School District Board of Trustees discussed a Community

Bond Advisory Committee (CBAC) coming together to review capital

needs in consideration of a May 2021 Bond Referendum.

Located within 181 square miles and serving more than 84,000 students

at 71 campuses and facilities, Katy ISD is the sixth-largest school district in

Texas known for its high academic performance, its award-winning staff

and its highly sought out school programs, among other extra-curricular

activities. On average, Katy ISD is enrolling an additional 2,400 students

every school year with a projected enrollment of more than 100,000

learners by 2027. Enrollment increases are taking place most significantly

in the northwest quadrant of Katy ISD, where new communities are being

developed and are expected to flourish within the next decade.

The CBAC's planning and review of capital needs will include reviewing

enrollment projections, the need for new schools and facilities to address

capacity limitations while paying close attention to renovations and

component replacements necessary at aging campuses and buildings.

Within the brick and mortar schools, additional areas affecting the

growing student population are technology upgrades and safety and

security projects to support learners and staff needs. Katy ISD has a

history of approving bonds, which dates back to at least 1994. In 2017,

school community voters approved a $609,204,553 bond with a no tax

rate increase. It provided for six new schools, a major comprehensive

renovation at one campus, component replacements, expansions and

safety and technology improvements among other items. Katy ISD

anticipates being able to deliver once again on a zero tax rate increase.

VICTORY PAINTING

& WOOD ROT REPLACEMENT

PROMPT - RELIABLE - AFFORDABLE - SINCE 1993

Interior & Exterior Painting • Storm Damage Repair

Siding Replacement • Custom Woodwork

Extensive References • Free Estimates

Will Meet or Beat Competitor's Prices • Satisfaction Guaranteed

www.VictoryPaintingTx.com • VicNewman@Mail.com

281-853-4575

WINTER SPECIALS ON EQUIPMENT INSTALLS

• Annual

Maintenance

Programs

281-394-0340

$25 off

any

repair

Expires 2/28/2021

• Serving area

since 1994

Free estimate or 2 nd opinion

License TACLB 24777E and Insured

FREE

Wi-fi thermostat

w/ equipment purchase

• All repairs

guaranteed

0% Interest

financing available

Expires 2/28/2021 WAC Expires 2/28/2021

IdealAirServices.com

Due to the District's safety protocols, only three socially distanced, inperson

CBAC meetings will take place during the process. Committee

members will have the opportunity to review, vet and decide upon the

capital projects to be included in the school district's bond package,

should they determine a need to recommend a referendum. During

the bond meetings, staff will provide in-depth background information

associated with long-range needs, demographics and finances, which

will allow the CBAC to finalize a bond package to present to the Board of

Trustees on Monday, February 8 th during a Special Board meeting.

KATY ISD BOARD OF TRUSTEES

APPROVED 2022-2023 CALENDAR

Katy ISD Board of Trustees approved calendar that includes:

Wednesday, August 17 th : First Day of School

Friday, May 19 th : Seniors - Last Day of School

Thursday, May 25 th : Last Day of School for all other students

172 Instructional Days

"The development of the Katy ISD instructional calendar often begins

in the fall of each year," said Deputy Superintendent Leslie Haack. "The

District values the school community's feedback and has recommended

a calendar based on their preference," added Haack.

The approved calendar also provides teachers two professional

development flex days in August 2022 as well as five additional days

of professional development throughout the school year. Labor Day,

Columbus Day, Martin Luther King Jr. Day and Good Friday are holidays,

and the District will continue providing a full week off for Thanksgiving,

two weeks for Christmas and one week for Spring Break.

FREE GUTTER CLEANING WITH

ANY ROOF MAINTENANCE

FREE ROOF INSPECTION - Schedule Now!

All Type of New Roof, Re-Roof & Roof Repair • Composition, TPO, Mop Down & Torch Down

Standing Seam & "R" Panels Metal Roof • 5" & 6" Aluminum Seamless Gutter & Leaf Guard

Expanding Blow in Attic Insulation & Radiant Barrier • Hardie Siding Replace & Carpentry Repair

Pressure Wash Driveway, Exterior Roof & Siding • Brick Restoration

OVER 24 YEARS OF EXPERIENCE • PROFESSIONAL WORK-FULLY INSURED

832-683-4175

5707 Addicks Satsuma, Houston, Texas 77084

www.houstonroofingngutters.com

Bear Creek | February 2021 7
---
HARRIS COUNTY PUBLIC LIBRARIES

COVID POLICY:

All Harris County Public Library locations will remain closed to the public

at this time

HCPL No-contact Curbside Holds Pick-Up is now available at ALL HCPL

branches.

HARRIS COUNTY PUBLIC LIBRARY WILL CONTINUE TO OFFER

A WIDE ARRAY OF ONLINE SERVICES:

• Use HCPL Wi-Fi service while maintaining social distancing with HCPL's

Drive-up Wi-Fi

• Download ebooks and audiobooks, stream movies, research and learn

at www.hcpl.net

• Attend an HCPL program or story time online through Facebook or

YouTube

• Check your account to renew loans or request books

• eBooks, comics or graphic novels through OverDrive

• Stream classic films, indie cinema and award-winning documentaries

on Kanopy

• Listen to audiobooks through RBDigital or OverDrive

• Read along and play with picture books on TumbleBooks

• Ask us a question via chat on Ask a Librarian

• Get book recommendations via Book Hunters

If you do not have an HCPL library card, you can get instant access to all

HCPL's digital materials including ebooks, streaming movies and research

tools with an iKnow Digital Access Card.

HOW DOES CURBSIDE HOLDS PICK-UP WORK?

Here's how it works: When you receive notification that your holds are

ready for pick-up, call your HCPL pick-up location. Please have your

library card number and PIN handy. You will be given a pick-up time and

instructions for curbside pick-up (These may vary slightly from branch to

branch). When you arrive at the library, follow the instructions you were

provided over the phone. You may be asked to show your library card or

other form of ID for verification.

Note: Library staff will not be able to take your returns during curbside

pick-up, please put them in the book drop. For your safety and that of

HCPL staff, curbside pick-up may be temporarily suspended during bad

weather.

NATIONAL LIBRARY LOVER'S MONTH

The entire month of February is dedicated to the people who love whole

buildings devoted to the reading, housing organizing, categorizing, finding,

studying and otherwise loving books. It's National Library Lover's Month!

Libraries provide so much more than a place for us to enjoy great novels

or to discover amazing adventures and untold history. Yes, they help us

ace our research papers and provide a quiet space to study, but they do

so much more.

For preschoolers, libraries entertain them with theater and hands-on

activities exposing them to music, art and their first friendships. Many

communities rely on their libraries for meeting space for public forums,

socials, fundraisers and classes.

Libraries lend not only books but music and movies. Rotating art displays

give local artists exposure to the community. Larger libraries provide

preservation services, preserving some of the most treasured books,

periodicals and documents for future generations.

Continue enjoying your library, but consider volunteering your time, too.

If you don't have a library card, it's never too late! Visit your library to get

one! Use #NationalLibraryLoversDay to share on social media.

Source: https://nationaldaycalendar.com

8

February 2021 | Bear Creek
---
NATIONAL HEART MONTH

February focuses on the heart making it National Heart Month. Anyone

can be at risk for heart disease. More and more, our sedentary lifestyles

are putting us at risk at a younger age. Obesity, high blood pressure and

smoking all increase our risk factors.

Each one of those we can take action to lower our risk. Get moving.

Remove stress. Quit smoking. Eat healthier.

Even small changes help make a difference. Reduce the amount of fast

food. Eat more greens. Take the stairs. Walk the kids to school. Go outside

and play with the kids or walk the dog.

Talk to your physician about your risk factors. Walking is one of the

healthiest and safest activities we can do for ourselves. Learn more at

www.cdc.gov and use #NationalHeartMonth to share on social media.

Source: https://nationaldaycalendar.com

NATIONAL DAYS IN FEBRUARY 2021

Did you know that every month has some sort of National Day, week

or even the whole month is a National month? Some could be used to

plan a fun day with the family or create a project for the kids on a rainy

afternoon or maybe just start an interesting discussion! Here is a partial

list (there are many more) of what we found for the month of February:

February 1 st : National Get Up Day

February 2 nd : National Heavenly Hash Day

February 3 rd : National Carrot Cake Day

February 4 th : National Homemade Soup Day

February 5 th : National Shower With A Friend Day

February 6 th : National Frozen Yogurt Day

February 7 th : National Fettuccine Alfredo Day

February 8 th : National Kite Flying Day

February 9 th : National Pizza Day

February 10 th : National Umbrella Day

February 11 th : National Make A Friend Day

February 12 th : National Plum Pudding Day

February 13 th : National Tortellini Day

February 14 th : National Ferris Wheel Day

February 15 th : National Gumdrop Day

February 16 th : National Do A Grouch A Favor Day

February 17 th : National Random Acts Of Kindness Day

February 18 th : National Battery Day

February 19 th : National Chocolate Mint Day

February 20 th : National Love Your Pet Day

February 21 st : National Sticky Bun Day

February 22 nd : National Margarita Day

February 23 rd : National Banana Bread Day

February 24 th : National Tortilla Chip Day

February 25 th : National Chocolate Covered Nut Day

February 26 th : National Tell A Fairy Tale Day

February 27 th : National Polar Bear Day

February 28 th : National Public Sleeping Day

MONTHLY OBSERVATIONS

An Affair To Remember Month, Black History Month, Creative Romance

Month, Great American Pie Month, National Bake For Family Fun Month,

National Bird Feeding Month, National Cherry Month, National Children's

Dental Health Month, National Grapefruit Month, National Heart Month,

National Hot Breakfast Month, National Library Lovers Month, National

Snack Food Month, National Weddings Month, National Embroidery Month

Call

our

experts

for

all of your

electrical

needs!

• Panel Upgrade / Replacement

• Ceiling Fan Installation

• Smoke Detectors

• Troubleshooting

• Generators

24-Hour Emergency !

Service

!

• Indoor/Outdoor Lighting

• Surge Protection

• Flat Screen TV Installation

• Recessed Lighting

• Code Compliance

Residential & Commercial Service • Family Owned & Operated • Licensed & Insured

*5-Year

Warranty,

Satisfaction

Guaranteeded

713 -467-1125 | wiredes.com

s a v e $25 OFF

YOUR NEXT SERVICE

CALL IN FEBRUARY!

Not to be combined with any other discount or

offer. Not valid on generator maintenance.

Expires 3/1/21

Master #100394 TECL # 22809

YOUR AD COULD

BE HERE!

Helping Build Businesses &

Bring Communities Together since 1979

Local Subdivision Newsletters reaching over 100,000 homes

Visit our website for a full price list or call our office today!

Krenek Printing

NEIGHBORHOOD NEWSLETTERS LLC

281-463-8649

www.KrenekPrinting.com

Bear Creek | February 2021 9
---
MPL#40046

FREE

ESTIMATES

Low Price Guarantee

Licensed and Insured

Follow me on Angie's List

For all of your plumbing needs, call...

'

Any job

over $95

info@petersplumbingtx.com

*

Sewer Camera Inspection and Drain Cleaning

Garbage Disposal and Faucet • Water Heater • Repipe

Sewer Repair • Pipe Repair • Toilet Installation

*Cannot be combined with any other offers

ONE CALL DOES IT ALL!

ONE COMPANY.

OMPAN

ONE AGENT.

GENT.

NATIONAL RANDOM ACTS OF KINDNESS DAY

Observed on February 17 th , National Random Acts of Kindness Day

has grown in popularity each year. It is celebrated by individuals,

groups and organizations nationwide to encourage acts of kindness.

It is a favorite day for many, as people everywhere are enjoying doing

these acts of kindness. Not only is it positive for the receiver, but for

the giver, too!

The Random Acts of Kindness Foundation celebrates Random Acts

of Kindness Week (www.randomactsofkindness.org/rak-week). The

Random Acts of Kindness Foundation is an internationally recognized

non-profit organization founded upon the powerful belief in kindness

and dedicated to providing resources and tools that encourage acts of

kindness.

In New Zealand, where this day originated, celebrates Random Acts of

Kindness Day on September 1 st . It is also recognized by some on other

days throughout the year; however, doing random acts of kindness is

something that can be done every day of the year.

Make a note to do nice things throughout the day and use

#RandomActsOfKindnessDay to post on social media.

Source: https://nationaldaycalendar.com

10

Let me help you save time and money.

Protecting more of your world with Allstate makes your life easier.

And it can put more money in your pocket. Bundle your policies and

you can save even more. Why wait? Call me today.

"We work as unto

the Lord"

RESIDENTIAL &

COMMERCIAL

Warren Sloan

(713) 464-4442

1400 W. Sam Houston Pkwy. N #130

Houston

warrensloan@allstate.com

Subject to terms, conditions and availability. Savings vary. Allstate Property and Casualty Insurance Co., Allstate Fire

and Casualty Insurance Co., Allstate Insurance Co., Allstate Texas Lloyd's, Allstate Indemnity Co., Allstate Vehicle and

Property Insurance Co. Northbrook, Illinois © 2011 Allstate Insurance Co.

GEYER ROOFING

Specializing in

Re-Roofing

Ron Geyer

713-462-3898

REMODELING

• Kitchens • Bathrooms • Windows / Doors • Floors • Hardi Siding

• Rooms Additions • Complete Renovations • Patio Covers

Rob Geyer

281-477-3456

87877

NATIONAL HOT BREAKFAST MONTH

February is a cold month for most of us, so what better way to start our

days than with a steaming hot breakfast? National Hot Breakfast Month

is celebrated every February to encourage everyone to set aside some

extra time every morning to a make hot, fresh breakfast.

You know what they say about breakfast… It's the most important

meal of the day! However, in the busyness of everyday life, it's easy to

put breakfast on the back burner and just grab a quick granola bar on

your way out the door in the morning. This month, we are challenged

to wake up a little earlier and take the time to really enjoy breakfast. You

may be surprised at how much better you feel throughout the day when

you allow yourself plenty of time in the morning to fully wake up, make

breakfast, maybe listen to your favorite podcast as you get ready for the

day. Appreciating the beauty that the morning brings and enjoying a hot

breakfast will surely make you feel more full, more energized and just

overall better all day long!

Use #NationalHotBreakfastMonth or #HotBreakfastMonth to post

pictures, recipes and other inspiration for your friends! Here are a few

ideas for healthy, hot breakfasts you can whip up this month. Hopefully,

you can get into a routine and continue making tasty, hot breakfasts

throughout the rest of the year! (Remember, you can do a TON of

variations of these ideas based on your preference.)

• Hot toast with peanut/almond/cashew butter, bananas sliced up and

chia seeds sprinkled over the top

• Berry smoothie. Throw your favorite berries, half a banana, some cashew

or coconut milk into a blender for a few minutes for a delicious, refreshing

side to your hot meal. (Smoothies obviously aren't a hot breakfast, but

they go great on the side.)

• Oatmeal with fried egg(s) over the top

• Avocado spread over toast with a fried or poached egg on top

• Overnight egg bakes for much less work to do in the morning

• Egg breakfast muffins (basically mini quiche without the breaded crust

for a healthy version)

• Sweet potato and black bean stuffed breakfast burrito

National Hot Breakfast Month was created to encourage us to get up and

start our day the right way!

Source: https://nationaldaycalendar.com

February 2021 | Bear Creek
---
GARDENING TIPS FOR FEBRUARY

FLOWERS

• Plants to set: Alyssum, Calendula, Canterbury Bells, Carnations,

Columbine, Cornflower, Daisies, Delphinium, Hollyhock, Larkspur, Lobelia,

Nicotiana, Pansy, Petunia, Phlox (Louisiana), Shrimp Plant, Snapdragon,

Stock and Verbena.

VEGETABLES

• Plant beets, broccoli (plants), brussel sprouts (plants), cabbage (plants),

carrots, cauliflower (plants), celery, chinese cabbage (plants), chives

collards (plants), endive, kale, lettuce (leaf and head), mustard, onions

(plants), parsley, garden peas, radishes, rutabagas, spinach, tomato

(seeds) and turnips.

TREES AND SHRUBS

• Finish all transplanting, get everything in the ground for a good spring

spurt of growth. Transplant balled and burlap, container-grown, bare-root

deciduous evergreen trees, shrubs, roses and vines while still dormant.

• Finish pruning roses. Weed and cultivate lightly all beds. Replenish

mulch as needed.

• Control early spring insects like thrips on glads and aphids on young

tender growth. Spray with Malathion, Diazinon or Orthene.

• At the end of February: peach, apple and pear fruit must be thinned to

insure quality production at harvest.

• Give groundcovers a haircut. They will spread faster.

• Divide daylilies, daisies and other perennials now.

NATIONAL BIRD FEEDING MONTH

During National Bird Feeding Month in February, keep the bird feeders

filled and your binoculars ready.

Happy Valentine's Day from Your

Neighborhood Realtor!

Tom

Eickleberry

Broker ®

713-201-5257

tomsellshomes2000@yahoo.com

Living and Working in

Bear Creek Village

Proudly Sponsoring Bear Creek Village

Yard of the Month!

15803 Tumbling Rapids - SOLD

SOLD - LET ME SELL YOURS NEXT!

15807 Pathfield - SOLD in 1 Day!

Bird watching and feeding have become a popular hobby. By providing

basic shelter and seed, hobbyists watch from their windows or along

trails.

• Be sure to feed regularly and place your feeder away from predators.

• Set binoculars near the window for best viewing.

• Obtain a bird book for identifying new species.

15818 Pathfield - SOLD

Fill up the bird feeder or add one this month. In 1994, Congressman John

Porter established February as National Bird Feeding Month due to the

harsh conditions endured during one of the coldest months of the year.

Use #NationalBirdFeedingMonth to share social media.

Source: https://nationaldaycalendar.com

Bear Creek | February 2021 11
---
JUST LISTED... HELP PICK YOUR NEIGHBORS!

15827 Seven Springs

WANTING TO HELP YOUR FRIENDS

FIND A GREAT HOME, HERE IT IS!

WANTING A HOME YOU CAN JUST MOVE

INTO, THIS ONE WOULD BE PERFECT!

WANTING A HOME WITH A

POOL, LOOK AT THIS BEAUTY!

Cheryl Kuhn

Your Life Time Realtor

713-806-3916

www.har.com/CherylKuhn

RE/MAX COMPASS

7825 Hwy. 6 N., Suite 112, Houston, TX 77095

CherylRemaxHouston@gmail.com

Testimony: "We loved Cheryl so much we called her back for the

sale of our home (she helped us sell our last house 6 years prior).

She jumped right on our request and helped us get some quick

offers that met with our approval. We will hopefully be in our new

home for a long long time to come, but we will recommend Cheryl to

anyone that is selling or buying a home!" Gina H.

12

DR. LARA-ANN CLINTON

DR. JOE CLINTON

HWY. 6

Mc Donald's

Bear Creek

Professional

Center

CAIRNWAY

CLAY ROAD

4654 Hwy. 6 North,

Suite 305

"I'm In PAIN"

Can Chiropractic Help ME ?

We are often asked, "What's the best way of finding out whether or not a doctor

of chiropractic can help my problem?"

We believe the answer can be found in a complete chiropractic consultation and examination,

including x-rays. And to help find out for sure, we will do a complete consultation

and examination, including x-rays, if necessary,

(procedures that normally cost $187.00 or more) for $25.00.

We will make this special program available through February.

The only exception to the offer involves personal injury cases (workers' compensation

and auto accidents) in which there is no charge directly to the patient.

THESE CONDITIONS ARE SOME

OF THE DANGER SIGNALS:

281-855-2277 Headache

Arthritic pain by stiff neck

Loss of sleep

Scoliosis (Curvature of the spine)

Leg pain & numbness

Arm pain & numbness

Backache

Fatigue

Tension

Whiplash Injury

Reg. $ 187.00 Program

Must present ad at time of appointment.

Expires 2/28/21

YOUR INITIAL VISIT WILL INCLUDE:

✓ A private consultation with the doctor.

✓ X-rays, if necessary.

✓ A thorough spinal examination including

orthopedic & neurological test.

✓ A confidential report of our findings.

✓ An explanation of our treatment procedure

if we determine chiropractic can help you.

✓ A REFERRAL TO THE PROPER SPECIALIST IF WE

DETERMINE CHIROPRACTIC CAN'T HELP YOU.

CHIROPRACTIC HEALTH and WELLNESS CENTER

February 2021 | Bear Creek