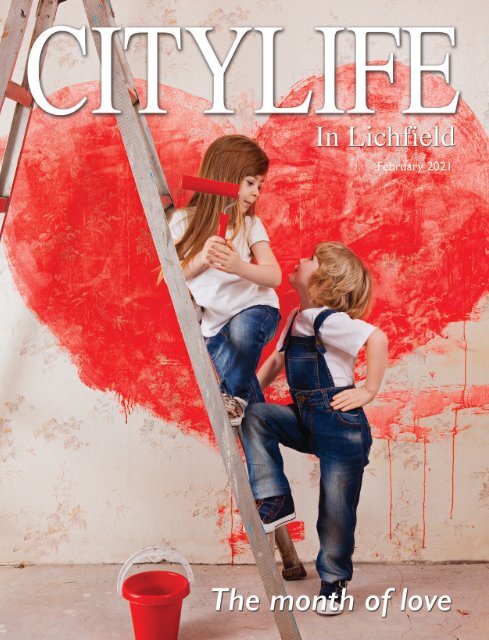 Citylife in Lichfield February 2021
Hello young lovers wherever you are! Our lovestruck February edition is out and we're sure it will set your hearts all a'flutter! As well as some great ideas on what to buy your loved ones for Valentine's Day it is also full of the usual local news stories, competitions, recipes, gardening tips and history articles, it's the perfect read during the romantic month of February.
Hello young lovers wherever you are! Our lovestruck February edition is out and we're sure it will set your hearts all a'flutter! As well as some great ideas on what to buy your loved ones for Valentine's Day it is also full of the usual local news stories, competitions, recipes, gardening tips and history articles, it's the perfect read during the romantic month of February.
SHOW MORE
SHOW LESS
You also want an ePaper? Increase the reach of your titles
YUMPU automatically turns print PDFs into web optimized ePapers that Google loves.
3
---
Welcome to

CITYLIFE

Welcome to CITYLIFE in Lichfield, a monthly magazine

bringing you our pick of the city's news, events and stories.

Each month CITYLIFE in Lichfield is delivered to

businesses and homes in Lichfield, Kings Bromley, Fradley,

Alrewas, Hill Ridware, Whittington, Stonnall, Shenstone,

Hammerwich, Burntwood and Longdon, completely free

of charge; bringing you the best that the city has to offer.

Each issue features heritage stories exploring the rich

history of our area, plus competitions, interviews and the

latest in fashion and style.

Got a story or charity event you want to share with our

readership? Think you've snapped an image that captures

the spirit of the city? We want to hear from you!

Our business is bringing you Lichfield's city life.

CITYLIFE Contacts

Editor - Kristen Lackajis 07885 380632

kristencitylife@gmail.com

Features - Jono Oates 07785 757201 jonocitylife@gmail.com

Advertising -

Steve Brown 07740 166497 stevebrowncitylife@gmail.com

Rebecca Hill 07970 513144 rebeccahillcitylife@gmail.com

Lorraine Hudson 078860 91933 lorrainecitylife@gmail.com

Production -

Helen Smith 07967 154187 helencitylife@gmail.com

Citylife In Lichfield Ltd

PO Box 7126 LICHFIELD WS14 4JS

CITYLIFE in Lichfield and CITYLIFE in Rugeley magazines

are not connected to any other publication or publisher, and are

wholly owned by CITYLIFE in Lichfield Ltd.

Citylife In Lichfield

@citylifelichfield

@lichfieldcity

www.citylifeinlichfieldltd.co.uk

Citylife in Lichfield Ltd does not endorse any business or organisation

appearing in these pages, and the publication of any advertisement,

editorial, event listing or advertising editorial does not constitute an

endorsement by Citylife in Lichfield Ltd.

Your Local Magazine

Inside...

16 Lovers of Lichfield

Jono Oates looks at some of our historical

Georgian lovers

.............................

28 Fine-Tune Your Immune System

A few tips to help keep the winter bugs at bay

.............................

34 Dine At Home

Our guide to the local restaurants offering

Valentine's takeaways

.............................

38 Valentine's Gift Guide

Find that perfect gift for your loved one

From the Editor…

Hello and welcome to the February issue of the magazine!

It's Valentine's Day this month and love is very much in the air at

Citylife in Lichfield, as you'll be able to see from our fantastic

Valentine's Gift Guide on pages 38-40, where you can find the

ideal gift for that special someone.

It's going to be quite a different affair this Valentine's Day due to

current Government restrictions. I'm sure many of you will be

trying your hand at cooking for your loved one so why not take

some inspiration from Simon Smith's delicious recipe on page

36? You can also do your best Tom Cruise impression and

partake in some cocktail making on page 37!

If cooking is not for you, help is at hand as we've put together

our Dining At Home Guide, on page 34. This features our

favourite local restaurants who are offering premium takeaway

dishes so that you can still enjoy your favourite meal!

It's cold outside, so light the fire, put your feet up and have a

browse through the latest issue!

Stay Safe, Stay Home.

Krissy
---
5
---
LOCAL NEWS

6

Staffordshire Firm's

First Anniversary

Directors Adam and Sally

Outdoor building firm, Roundpeg Outdoor

Buildings, has not only survived to celebrate its

first-year anniversary, but has thrived enough to

expand its operations by tripling its workforce.

Just one year ago two friends took the brave

leap to launch their own business – creating

handmade bespoke outdoor buildings.

But Adam Timmis and Sally Ann Smith could

never have predicted the major obstacles that

lay ahead for their new venture.

While all new start-ups expect to face a few

challenges during their first year of trading, the

duo has not only had to navigate a global

pandemic but also worldwide timber supply

shortages.

Yet, despite all the odds, Roundpeg Outdoor

Buildings survived.

In another impressive highlight, in November it

was also shortlisted in the Staffordshire

Chamber of Commerce's Business Awards in

the category of Most Promising Start-Up in the

county.

The pandemic has certainly seen Roundpeg

kept busy with a steady ongoing demand for

outdoor buildings for uses including home

offices, self-employed ventures like salons, gyms

and bars for customers across the West

Midlands.

Visit www.roundpegoutdoorbuildings.co.uk or

find it on Facebook and Instagram

@roundpegoutdoorbuildings.

.......................................................................................

Preserving Local

Heathland Habitats

Conservation work to protect endangered

heathland will be starting at Muckley Corner

Common and Pipehill Crossroads Common

soon.

People visiting Muckley Corner Common and

Pipehill Crossroads Common may see

conservation work being carried out this

winter.

Professional contractors will be conducting the

restoration work on areas of heathland under

the supervision of Lichfield District Council's

ecology team.

Birch specimens and gorse will be thinned out

to stop scrub encroachment that threatens to

invade and reduce the rare heathland habitat

and the wildlife that relies on it. When

complete, the sites will become more open,

improving visibility and access.

These works form part of a £416,409 25-year

biodiversity offset scheme funded by

development, set to restore and manage 9.1

hectares of heathland over three sites within

Lichfield District. They include Muckley Corner

Common, Pipehill Crossroads Common and

Ironstone Road Heaths.

For more information, please contact Lichfield

District Council's ecology team by emailing

ecology@lichfielddc.gov.uk or calling 01543

308164.

.......................................................................................

Council's Chief

Executive to Step

Down

Lichfield District

Council's Chief

Executive, Diane Tilley,

has announced she will

be leaving her role in

May.

The news came on 21st

January in a message

from Diane Tilley to

councillors and staff. Of Diane Tilley

the decision, she said:

"After eight years at Lichfield District Council I

have decided the time is right for me to move

on. I feel incredibly privileged to have worked

with such a great team over the years and I

would like to thank everyone for their support

and hard work through some really challenging

times.

"There is still much important work to do in

managing the response to this latest Covid

wave and running one of our biggest elections

ever in very unpredictable circumstances."

Councillor Doug Pullen, Leader of Lichfield

District Council, said: "I would like to thank

Diane for the work she has done over the last

eight years, ensuring the council is in a robust

financial position to head off the stormy winds

of Covid.

"I am now in the process of seeking a new Chief

Executive to help lead Lichfield District Council

through the challenging, yet exciting, years

ahead."

Diane will continue in position until the end of

May, and the council is working to appoint her

successor to start in April.

Local Gin Brand's

New Edition

The founders of small-batch gin brand The

Apiarist have introduced a new 'Forager Edition'

of the spirit to market, containing the same rich,

sweet honey base as the original signature

version but finished with a special 'forager's tea'.

After being blown away by the initial success of

The Apiarist since its launch in October last

year, husband and wife Alex and Natalie Conti

decided to create a brand-new batch of gin

centred around one of their favourite hobbies,

foraging.

Much like its predecessor, The Apiarist Forager

Edition is infused with raw honey from the

Conti's very own home apiary and contains

botanicals such as juniper, coriander, orris root

and lemon peel. Inspired by local hedgerows,

the unique forager's tea consists of blackberries,

elderberries, wild strawberry leaves and apple,

giving the gin its natural pink hue.

The Apiarist Forager Edition is currently

available to purchase directly from

www.theapiaristgin.com.

.......................................................................................

Reflections of Winter

This lovely photograph shows Minster Pool on

a cold, crisp evening, along with a smiley

snowman. Sent in by Brereton resident, Simon

Wilberforce.
---
Advertising Feature

How are you looking financially?

The new year has started and many of us are thinking about our savings, investments and pensions.

Others are thinking of moving house, taking out life assurance or just what will 2021 bring. You may

not have had your vaccine yet but hopefully it shouldn't be too long before things are getting back

to normal.

As we start 2021 I would suggest that looking at your life assurance, savings, investments and pensions should be on your list

of priorities. Your financial future and that of your families is important so please don't neglect it. I am still taking on new clients

and if you feel that you need advice then please give me call so we can have a chat.

The first meeting will be at my cost and there is no obligation to proceed any further. Financial Advisers get paid in a variety

of ways and I will explain this to you when we speak. If you do decide to be a client then you will get a personalised service

that matches your needs, whatever

they may be, as we are all individuals

with different circumstances.

As a client I will find out enough

about you to provide you with

effective financial planning. I will carry

out a full fact find of your

circumstances and discuss with you

your priorities, where you want to be

financially in the future and how I may

be able to help you get there. I will

speak in clear terms and do my best

to try and help you achieve your

goals.

Our team of Financial Advisers at

Four Oaks Financial Services are

supported by in-house research,

client liaison and administration

teams. I spent most of 2020 working

from home using online meetings to

great effect, keeping in contact with

my clients and advising them during a

very strange year. For the first part of

2021 this is likely to continue but it

shouldn't be too long before face to

face meetings are the norm.

As an experienced Financial Adviser

I work with clients, at all stages of

their life, to help them achieve their

financial goals. My clients are mainly

in the Burntwood, Lichfield, Cannock

and greater Wolverhampton areas,

although I do have clients much

further afield.

It is often said that people deal with

people so please give me a call or

drop me an email. We can have a chat

and can take it from there if you wish.

I hope to hear from you soon.

Robin Place DipFA, CeLTCI, MLIBF

Financial Adviser

0121 323 2070, 07968 504805

robin@fouroaksfs.com

7
---
LOCAL NEWS

8

Community Project

Receives County

Council Funding

David Moore with apprentices from Dudley

College in 2019

Trustees and volunteers at Sandfields Pumping

Station are celebrating after receiving funding

towards the refurbishment of their community

venue.

Lichfield Waterworks Trust has been awarded

£1,000 from Staffordshire County Council's

Climate Change Action Fund. The funding will

go towards the costs of refurbishing and

upgrading old lights to new energy efficient

LED lighting.

The Grade II* listed Victorian Waterworks is

currently being refurbished and being turned

into a community and visitor attraction.

The Climate Change Action Fund was delivered

by Staffordshire County Council and accepted

applications from not-for-profit organisations

who wanted to do something to protect the

environment.

More information on the fund along with other

funding opportunities can be found at

https://www.staffordshire.gov.uk/DoingOurBit/

Funding.aspx

.......................................................................................

St Giles Celebrates

TreeCycle Success

Socially-distanced TreeCycle volunteers

St Giles Hospice is celebrating the success of

this year's TreeCycle campaign after it collected

more trees and raised more funds than ever

before.

The environmentally-friendly recycling

collection picked up 4,428 Christmas trees

during the month of January in return for a

small donation to St Giles, raising more than

£65,000 for the hospice.

Last year's collection picked up 3,430 trees,

raising £35,000. All funds raised by TreeCycle

help to ensure that St Giles Hospice can

continue to support people and their families

living with a terminal illness.

Despite the ongoing Covid-19 crisis and the

challenges raised by the new lockdown, St Giles

was able to run the popular annual fundraiser

for the sixth year running thanks to collection

teams who followed the latest Government

guidelines as they hit the streets.

Working in same-household bubbles, 76

volunteers took part in a socially-distanced

operation which covered 3,176 miles between

Wednesday 6th and Wednesday 13th January

(2021). They collected trees from Lichfield,

Sutton Coldfield, Tamworth, Burton, Rugeley,

Burntwood, Uttoxeter, Swadlincote, Stafford

and surrounding areas.

.......................................................................................

New Information Panel

in Old Churchyard

Dr. Trevor James, Secretary of the Mid-Trent &

Mercia Branch of the Historical Association

A new information board has been installed in

St Michael's Old Churchyard to celebrate the

life and work of the Reverend John Louis Petit

(1801-1868), who was Curate of St Michael's

between 1825 and 1828, and whose family

resided in Tamworth Street from 1823.

The Petits were an immensely wealthy family,

originally Huguenot emigres from France, with

extensive property and business interests on

the edge of the Black Country.

Albeit untrained, John Louis was an

accomplished water-colourist, in the

impressionist tradition. By 1834 he had ceased

full-time ministry and devoted himself to his

painting and his other scholarly activity.

He did not sell any of his water-colours and

only a few were exhibited in his lifetime but

posthumous evidence has emerged which

reveals that, between the 1820s and his death in

1868, he produced about 14,000 water-colours

and sketches. His illustrations are international

as well as British, extending as far as Syria and

much of Europe.

The information panel is located in front of the

Petit family tomb, where John Louis Petit and

his sisters are buried.

.......................................................................................

Tighter Regulations for

Dog Owners

Lichfield District

Council is asking

for residents' views

on a plan to create

a new dog control

public spaces

protection order.

As part of the

council's approach to reduce dog fouling and

encourage responsible dog ownership, it is

proposing an order that would require people

to demonstrate they have the means to clear

up after their pet.

As a rule of thumb, dog walkers would be

expected to carry at least two bags that can be

used to dispose of dog mess. If, when asked by

an enforcement officer, someone does not

produce a bag or refuses to do so they could

receive a fine.

The order will require anyone in charge of a

dog to clean up and remove any resulting dog

mess in a public place, such as on a pavement or

in a park or green space.

The proposed protection order would also

create 'dog exclusion zones', which would ban

dogs from being taken into playgrounds,

particularly areas designed for younger

children.

To find out more and read the draft dog control

public space protection order, visit

www.lichfielddc.gov.uk/dogcontrolorder. To

have your say on the proposals, email your

comments to pollution@lichfielddc.gov.uk by

5th March 2021.

.......................................................................................

Council Confirms 0%

Precept Rise

At its meeting of 25th January, the City

Council resolved that no increase would be

levied on its portion of Council Tax.

Councillor Mark Warfield, Leader of the

Council said:

"2020 was a year like no other, the challenges

caused by the pandemic have continued into

2021 and will be with us for some time yet.

The parish council element of Council Tax is

relatively small, but in these uncertain times

the City Council wanted to ensure that it did

not place further burden on its residents,

particularly given the budgetary pressures on

the District and County Councils."
---
9
---
LOCAL NEWS

Update Your Details

for Covid Vaccination

Local GPs have informed Conservative MP,

Michael Fabricant, that inaccurate records

could hold up some patients from being called

for vaccination.

The most common way for a GP practise to get

in touch with patients for vaccinations is via

text message using the mobile telephone

number stored against the patient's name.

However surgeries are finding that many

people have changed their numbers over the

years without letting their local doctor know

about it.

As a result, Michael is urging residents to

"ensure that your GP does have your correct

and up to date mobile number and email

address and that you have authorised them to

use it."

.......................................................................................

Proposals for New

Leisure Centre

Unveiled

Lichfield District Council has released initial

proposals for its new leisure centre at

Stychbrook Park.

The proposals were reported to the Leisure,

Parks & Waste Management Overview and

Scrutiny Committee on Thursday 21st January.

The proposed new leisure centre will feature a

25-metre swimming pool with a movable floor

to support swimming lessons, a fitness suite and

three group exercise studios/multi-function

rooms. Also included is a 3G artificial football

pitch at the rear of the centre.

The new leisure centre will be built at

Stychbrook Park in Lichfield. This site was

chosen as the preferred location in October

2020 after a review of potential sites across the

city highlighted Stychbrook Park as the most

suitable. Final designs, planning permission and

10

site investigations at Stychbrook Park will still

be required before any construction can begin.

.......................................................................................

Local Business Raises

Money for Charity

M&I Domestic Appliances recently raised £281

for charity Helping Each Other Lichfield by

holding a prize raffle.

Tickets cost just £1 each and the grand prize

was a Hotpoint 8kg 1400 spin washing machine,

courtesy of the St John Street appliance shop.

The lucky winner was a Ms Smetham whose

name was picked at random on the live

Christmas Eve draw.

Pictured is the team at M&I presenting a cheque

to Elaine at Helping Each Other Lichfield.

.......................................................................................

Burntwood Leisure

Centre is Testing

Centre

Symptom-free community testing is now

available at Burntwood Leisure Centre.

Lichfield District residents without symptoms

are being urged to book rapid Covid-19 tests at

a new community testing centre, which opened

at Burntwood Leisure Centre on Monday 18th

January.

People who must leave their homes during

lockdown are being urged to keep getting

tested, as eight new community testing centres

opened across Staffordshire.

The centres, one in each district and borough,

will offer testing seven days a week for people

without symptoms. These will be supported by

community testing pop-ups in hotspot areas

which see the highest numbers of cases.

Tests for people without symptoms need to be

booked in advance online at

https://staffordshire.zipporah.co.uk/TrackAndTr

ace/. People with symptoms or those who have

been asked to self-isolate as a close contact of

a Covid case should not attend.

.......................................................................................

Footballers Back

#TalkSuicide Campaign

Stoke City players are throwing their weight

behind a new campaign to help reduce the

number of suicides in Staffordshire.

Sadly, 10 lives are lost to suicide each month

across the county, with men in their 40s and

50s in the highest category.

Now, the club have partnered with local

councils and health partners to help raise

awareness of the issue and make it easier for

people to talk about it.

Players kicked off the campaign before Friday

night's game against Watford which included

messages from first team players, Tyrese

Campbell and Sam Clucas

A dedicated webpage on the Club's website has

information and advice to help people spot the

signs and be comfortable to talk about it.

The #TalkSuicide campaign is calling on

individuals, communities, organisations and

businesses to show their support by signing up

to the campaign and taking action to help

prevent suicide.

People can find out more about the campaign

and sign up for more information on local

sources of support and training at

www.stokecityfc.com/community/campaigns/tal

k-suicide.

Competition

Winner

Congratulations to Mr G

Painter of Rugeley who was

selected as the Just Granite

competition winner!

Well done!
---
11
---
12
---
13
---
This amethyst box sold for £1,300 at auction Amethyst Necklace Amethyst Ring

Amethyst: The

Birthstone for

February

...............................

By Heather Callaway FGA DGA FIRV AMAE

In my opinion amethyst is the most

widely recognised and loved member of

the quartz family of gemstones.

Its intoxicating rich purple colours, life,

fire and sparkle and its spiritual and

healing properties which include balance,

calmness, and peace all combine to have

made this gem highly sought-after by

princes and paupers alike for centuries.

For centuries, fine quality amethysts

have been included in the finest religious

and royal gemstone collections from all

over the world and was once considered to be equal in value to even

ruby, sapphire and emerald.

Amethysts continue to this day to adorn the fingers of bishops and

other religious leaders' ecclesiastical rings.

Among the several noted biblical connotations, amethyst was one of

the 12 precious gemstones to adorn the high priest Aaron's breastplate.

The amethyst stones that you find in your precious jewels are cut and

polished from large beautifully formed, natural, deep purple coloured, sixsided,

terminated crystals that have formed over millions of years, deep

underground in molten lava.

The unique conditions that create amethysts result in special spherical

rocks called geodes, that house the crystals therein.

As these geodes are pushed to the earth's surface, the lava cools

slowly and eventually brings these treasures from deep within the earth.

Amethysts can be found in many locations around the world. Mined in

abundance from the state of Rio Grande do Sul in Brazil, they are also

found in North Korea, Austria and much of the modern fine quality

gemstone material is found in Russia.

The name amethyst is derived from Greek origin which may be

translated, according to Greek legend, to 'not drunken'; wearing this

stone is thought to protect the wearer from the effects of alcohol!

According to legend: "Amethyste was a beautiful young virgin maiden who

was on her way to worship at the temple of Diana and to her great misfortune

her path crossed with Bacchus, the Greek God of wine, who was obsessing over

beautiful Amethyste, relentlessly chasing her and becoming more and more

enraged when she refused his affections. Amethyste cried out in desperation to

the virgin Goddess of Chastity Diana for help. Diana immediately answered her

prayers and transformed her into a pure white Quartz statue. Bacchus was

mortified and humiliated by this act of sacrifice and as sign of acceptance and

respect he poured some of his red wine over the statue, staining and

transforming Amethyste into a glorious luscious purple colour. Converting her

into the beautiful stone we now know as amethyst."

This story is indeed an only a myth and may not be true – indeed there

are many different variations of the tale.

However, to this day metaphysicians claim purport amethyst to have

great healing properties as it reacts to the earth's negative energies.

Relieving stress and anxiety, balancing mood swings and alleviating

sadness and grief add to its claim to be one of the most effective healing

stones.

Whatever your belief, amethyst is a uniquely beautiful and sumptuous

gemstone with a longstanding fascinating history and one that should

certainly adorn every jewellery lover's private collection.

Here at Richard Winterton Auctioneers we have had many exquisite,

beautiful and precious amethyst jewellery treasures come over the

auction house threshold to continue their pre-loved journey to the next

lucky wearer.

With Covid continuing to create challenges for us all, our 'virtual

valuations' service is proving very popular.

Available for everything from jewellery and watches to pictures,

furniture and all manner of antiques and other items, all you have to do

is email images of your items and any related details directly to the

relevant valuers as listed on www.richardwinterton.co.uk.

We also offer a free, safe and secure contactless pick-up service for

jewellery, watches and silver.

Furthermore, under the current guidelines, house clearances and

probates should continue so please don't hesitate to contact us for

advice or to book a free, Covid-secure quotation on 01543 251081 or

by email to office@richardwinterton.co.uk.

14
---
Phoenix Supports Bereaved

Local Students

Teachers from across Lichfield, Sutton

Coldfield and Tamworth have received vital

training to help young people facing loss

and living with bereavement.

Phoenix, the children and young people's

bereavement service for St Giles Hospice,

has been working with staff from schools from the Arthur Terry

Learning Partnership (ATLP), which include Nether Stowe

School and Scotch Orchard Primary School in Lichfield.

The session covered the impact of COVID-19 and lockdown

on young people as well as issues around bereavement and

facing loss.

Sue Bailey, Assistant Head at Arthur Terry, said: "We are very

much aware that many families within our community of

schools have lost loved ones during these difficult times.

"Our aim as a partnership is to offer as much support to

these families as we can and the training we received from St

Giles will further enable our staff to do this.

"The training was of a very high quality and left us feeling

better equipped to support families and also how to access the

expert support available from St Giles.

"We look forward to further partnership working and would

recommend this training to others."

The Arthur Terry Learning Partnership is a growing multiacademy

trust of 14 schools and one teaching school in

Birmingham, North Warwickshire and Staffordshire.

Phoenix offers support for any child or young person under

the age of 18 who is facing loss or who has been bereaved, in

the St Giles Hospice catchment area. Referrals can come from

parents, teachers, healthcare professionals or young people. To

find out more, please call 01543 434536.

15
---
16

Erasmus Darwin portrait at

Darwin House

The Lovers of Lichfield

By Jono Oates

............................

February is the month of love

and Lichfield's best-known

figures from the Georgian era

certainly had their share of

romantic liaisons, love affairs and

marriages!

David Garrick was born on February

19th 1717 and so very close to

Valentine's Day, 14th February. Although

born in Hereford, the Garrick family

home was on Beacon Street, close to

the cathedral, and he was educated and

brought up in Lichfield. As a young

scholar he attended Samuel Johnson's

ill-fated, and short-lived, school at Edial,

where the two young men became

friends and were travelling companions

to London in 1737.

Samuel Johnson statue, Lichfield

Market Square

Anna Seward sculpture by Peter

Walker at Eramsus Darwin House

Garrick initially worked in the wine trade but took up amateur

dramatics and became one of the leading actors of his day. Although short

in stature at 5ft 4 inches tall, he was a powerful presence, illuminating the

stage with a distinctive style and swagger. His acting career brought him

into close contact with some of the most beautiful actresses of the times,

one of them being Margaret 'Peg' Woffington, a feisty Irish actress who

frequently played the leading lady to Garrick's leading man. The two

shared not only roles on the stage but also had a tempestuous love affair

off stage, however the pressures became too great and the pair finally

separated.

Garrick eventually married Eva Marie Viegel, a strikingly beautiful

dancer from Vienna. Their marriage seemed to be a happy one, although

they never had children, and they lived in a large mansion, Garrick's Villa,

by the side of the Thames at Hampton. Garrick died in 1779 aged 61 but

Eva Marie outlived him by nearly forty years, passing away at the grand

old age of 98.

Erasmus Darwin, grandfather of Charles, was born in Nottinghamshire

but moved to Lichfield in 1757. Essentially a physician he developed a

highly successful practice in Lichfield, allowing him to build a large

David Garrick as Richard III (photo

Samuel Johnson Birthplace Museum)

Georgian townhouse on the corner of the cathedral close, now Erasmus

Darwin House. In the same year he moved to Lichfield he married Mary

(known as Polly) Howard, with whom he had four children, although two

of them died in infancy. When Polly died in 1770 Erasmus hired a

governess, Mary Parker, to look after the two children. Erasmus had two

illegitimate children with Mary, Susannah and Mary Parker Jnr. Darwin

later met Elizabeth Pole, the wife of Colonel Edward Pole of Radbourne

Hall, Derby. Erasmus became infatuated with Elizabeth and wrote several

love poems to her. When Edward died in 1780 Elizabeth and Erasmus

could finally marry and they had seven children, four boys and one girl,

although one of the boys died in infancy.

With at least 13 children, two marriages and an affair with his children's

governess, Erasmus, despite not being the most handsome of men, clearly

knew the way to a lady's heart!

Anna Seward lived in the Bishop's Palace in the cathedral close and

became friends with her near-neighbour Erasmus Darwin. Anna was a

well-known poetess of the Georgian era and, from the age of 40, had her

work published commercially, which was very unusual for a female author

at that time. She had several lovers but never married. Undoubtedly the

greatest love of her life was John Saville, an outstanding singer in the

Vicar's Choral and who lived in Vicar's Close. Unfortunately for Anna,

Saville was a married man with two children – and his wife was not at all

happy about the liaison! Despite this they continued to have a close

relationship, which lasted until Saville died in August 1803, leaving Anna

heartbroken. Anna wrote a poem when he died, which is listed on a

memorial in Lichfield Cathedral.

Samuel Johnson is Lichfield's greatest son, born in September 1709 at

the family home on the junction of Market Street and Breadmarket

Street. Johnson travelled to London to become a writer, accompanied by

his young friend Garrick, in 1737. Johnson achieved national acclaim in

1755, when he published his Dictionary of the English Language, making

him one of the most well-known and respected men in London high

society. Like Erasmus Darwin, he married a widow called Elizabeth, this

time Elizabeth Porter, late wife of his friend Henry Porter. Elizabeth,

known as Tetty, and Samuel married in July 1735 at St Werburgh's Church

in Derby. Tetty was 46 when they married and 21 years older than Samuel,

and neither family approved of the marriage. They had no children but

had three step-children from Tetty's first marriage. Tetty died in 1752,

aged 63 and so never got to witness the acclaim and success that Samuel

achieved with the publication of his dictionary a few years later.

Despite their family's misgivings Johnson described his relationship

with Tetty as a 'love-match on both sides' therefore showing that he, and

the other Lichfield Georgian greats, knew the Power of Love!

Sources: www.erasmusdarwin.org; Oxford Dictionary of National Biography;

www.samulejohnsonbirthplace.org.uk
---
Is a Greyound

the Dog

for You?

By Lauren Hirst

.......................

Like many homing

centres across

the UK, Greyhound

Trust Hall Green is

receiving an

u n p r e c e d e n t e d

number of enquiries

about adoption.

Getting a dog is a

Dino

big step and getting

the right dog to suit your lifestyle is so important in

making it all work. There's a new version making the

rounds of the Dog's Trust slogan 'A Dog is Not Just

for Christmas' however this one is 'A Dog Is Not

Just for Lockdown.'

Dogs are wonderful companions and are a good way

of getting exercise so it's no wonder people are homing

dogs in record numbers. However, the question arises:

what will happen to your dog when things start to go

back to some sort of normal? How long will the dog be

left when you're back in the office/gym/socialising with

friends/running the kids around to their various clubs

and activities? Will you have the time or energy to walk

the dog before and after work and/or can you afford a

dog walker? If the answer to all those questions is, yes,

then maybe a greyhound is a dog to consider.

Much to people's surprise, most greyhounds are fairly

low maintenance in their retirement given they were

once top athletes. They still need regular walking at least

30 minutes twice a day enjoying the mental stimulation

as well as the physical exercise (remember a bored dog

is a destructive dog!). Generally speaking, they have a

calm and gentle natures except for the mad 10 minutes

now and then! Greyhounds can be shy, lively, big, small,

and everything in between.

Greyhounds are funny, quirky dogs who are unlike

other dogs given the way they've been brought up. They

have never been in a house, to the park, or seen other

breeds of dogs, but with patience helping them settle

into this weird and wonderful world that they find

themselves in after they hang up their running shoes,

they make the most wonderful pets. What could be

more rewarding than that?

Greyhound Trust Hall Green is allowed to home dogs

under the government regulations. To find out more,

please give us a ring on 0121 426 4810 or email

hallgreen@greyhoundtrust.org.uk. Dogs like Dino

(pictured) need you!

17
---
New Trustees Bring

Expertise to Local Hospice

.................................

St Giles Hospice has reinforced its trustee board with the

recruitment of four new trustees who bring a wealth of

experience to the charity as it plans for the future beyond Covid-19.

The Board of Trustees is made up of members of the community which

the charity serves. Trustees help to ensure that the community is

represented in decision-making as St Giles meets its objectives while

maintaining its core philosophy and values.

Chair of Trustees Jo Maidment, who has been a trustee at St Giles since

2008, said she was delighted to welcome the new trustees, adding that

they would bring a wealth of experience to the hospice.

The four new trustees are:

Paul Jennings, who is currently Chair of Birmingham and Solihull Clinical

Commissioning Group. Paul has just been appointed Chair of Hospice

UK, having just stepped down after serving ten years as a trustee and

latterly Chair of the ExtraCare Charitable Trust. He is also Chair of the

Gold Standards Framework, which delivers training and education in end

of life care.

Simon James, who has rejoined the Board after first becoming a

St Giles trustee in 2001. He was Chairman of the charity between

2011 and 2015 and Deputy Chairman until 2016. Simon is a

consultant with Ansons Solicitors of Lichfield and Cannock and

holds a number of key roles within a wide range of local charities

and community organisations including Lichfield Conduit Lands

Trust, Lichfield Municipal Charities, The Mary Slater Charity, Michael

Lowe and Associated Charities, Swinfen Broun Charitable Trust and

the HE and CT Robinson Charitable Trust for Lokono Arawak and

Carib Indians.

Cath Finn, who qualified as a doctor in 1982 and worked as a

consultant gynaecologist in the NHS until 2009 and then in the

independent sector until her retirement in 2018. Cath has huge

experience in promoting best practice and excellence in cancer

care in both the NHS and the private sector and was involved in

developing and expanding NHS cancer services at local, regional

and national levels. She is an expert in clinical governance and

medical workforce development, and interacted with St Giles

Hospice during her medical career, driven by a passion for

developing end of life and palliative care services.

For more information about St Giles Hospice and the expert

care it provides, please visit www.stgileshospice.com.

Robin Vickers, who is currently Director of Health and Human

Services, Infrastructure Government and Healthcare at KPMG, based in

Birmingham. Robin has wide experience as a consultant in running and

transforming major businesses in the technology and healthcare sectors,

working across Europe, the Asia Pacific region and Israel. He has worked

as an adviser to governments and industry within the health and life

sciences sector.

Got a story or

charity event you

want to share with

our readership? Think

you've snapped an

image that captures

the spirit of the

region? We want to

hear from you!

Contact Citylife at

kristencitylife@gmail.com

18
---
J HOWELL &

DAUGHTERS

FUNERAL DIRECTORS LICHFIELD

LICHFIELD'S LONGEST ESTABLISHED INDEPENDENT,

FAMILY RUN FUNERAL DIRECTORS.

SECOND GENERATION BUSINESS HERE TO ASSIST YOU

AND YOUR FAMILY.

24 hours a day

We are proud to be Lichfield's longest established family run funeral directors offering a wide range of

choices to suit all requirements. Horse drawn hearse, non religious ceremonies, floral tributes and

memorials are but a few of the services we offer.

Pre-paid funeral plans are also available.

For a truly personal service please call

01543 255776

Private Chapel of Rest 116 Netherstowe,

Lichfield, Staffs. WS13 6TS

19
---
Mayor John Wilson on the dodgems, Shrovetide Fair 1972

Shrovetide Fair

and Pancakes!

By Jono Oates

................................

Shrovetide Tuesday falls this year on 16th February and,

traditionally, this would be celebrated with the annual Pancake

Races, held on Bore Street. The 2021 event will not take place

this year due to the Covid-19 Lockdown restrictions and nor will

the fun fair, held on the Market Square. Whilst the Lichfield Pancake

Races date back to the 1970s, the Shrovetide Fair has been held for

many centuries.

Lichfield was granted the right to hold a fair in 1154 by King Stephen

and by the early 15th century a fair was held on Ash Wednesday, the day

following Shrove Tuesday. In 1622 the market charter stated that a fair

could be held to celebrate Ash Wednesday, with the fair running from

Tuesday to Friday.

The Ash Wednesday Fair came to be known as 'The Old Fair' and was,

initially, predominately a cattle and horse fair. In March 1840 the supply of

horses was said to be of an 'inferior description' and the few high quality

horses went for very high prices. Beef was sold at 6d per pound weight

(2.5p in today's money) and both mutton and bacon sold for 7d per

pound. When the fair had been officially declared open on Shrovetide

Tuesday about fifty gentlemen of the city sat down to a 'sumptuous'

breakfast at the Guildhall.

In 1903 the newspapers announced an increase in the numbers of

people attending the fair, mainly due to the Lichfield City Corporation

letting the market square out to Pat Collins, a travelling fairground

businessman from Walsall. Collins installed a 'capital' lot of attractions,

including the Venetian Gondola, a switchback roundabout, developed by

Collins himself in 1894.

By 1909 the Old Fair had been moved from Ash Wednesday to Shrove

Tuesday and the civic dignitaries started proceedings with the traditional

Court of Pie Powdre, where the regulations of the market were laid out,

along with punishments for those traders who did not follow the rules!

They then enjoyed simnel cake and wine at the Guildhall, with the

traditional toast of 'Church and King, Weal and Worship' being drunk

from the Ashmolean Cup, a silver cup presented to the city by Elias

Ashmole in 1666. Pat Collins provided his cinematograph, a basic motion

film camera and projector, showing films about the Tottenham Tragedy,

the Messina Disaster and West Stanley Colliery Explosion. The day

20

finished with a

musical performance

of Handel's Ocis and

Galatea by the

Lichfield Musical

Company at St James

Hall on Bore Street –

now the Wilko's

store.

The Old Fair of

1928 was opened by

the first female

Mayor of Lichfield,

Daisy Stuart Shaw.

Daisy had become

Lichfield's first female

The late Ken Knowles, town crier, with Cityilfe

editor Krissy, Pancake Race 2020

Pancake Race 2020

councillor in 1919 and became the first woman to officially open the fair

in its three-hundred-year history.

Another first occurred in 1940 when, due to World War Two, the

opening proclamation of the Old Fair did not take place on the Market

Square, although the dignitaries did manage to keep up the tradition of

the loyal toast and simnel cake at the Guildhall! By this stage the fair had

become very much filled with amusements and fairground rides, with

very few stalls selling products.

During the 1940s Pat Collins introduced dodgem cars to the fair and

it became the custom for the mayor and town clerk, after declaring the

fair to be open, to take the first ride on the dodgems before allowing the

children to take charge of the controls.

Many countries call Shrovetide Tuesday 'Pancake Day' and in March

1976 the first Pancake Race took place in Lichfield city. Organised by the

Lichfield Civic Society, the race took place along Market Street, rather

than Bore Street, and a prize of £10 cash for the winner was put forward

by the mayor, Councillor John Silverthorne. The race was only open to

women, and Mrs Maureen Bailey, of Anson Avenue, was the winner,

despite losing her footing at the end and 'diving' over the finishing line!

In recent years, the fairground rides have reduced in size and the mayor

and town clerk have taken the first rides on a small carousel rather than

racing round on the dodgems. The pancake races have increased though,

with races now organised by Lichfield City Council for men, women,

children and those in fancy dress.

The origins of the Lichfield Shrovetide Fair go back three hundred

years and it is one of the most traditional of Lichfield ancient customs.

Let us all hope that the fair, and the tossing of pancakes, will take place

again in 2022.

*Vintage photograph courtesy of the St Mary's Photograph Collection

Sources: The British Newspaper Archive; British History Online; University of

Sheffield website; www.patcollinsfunfair.co.uk
---
21
---
Lichfield Community

Lottery Launches

............................

More than 40 good causes from across

Lichfield District were introduced to

Lichfield Community Lottery, which

encourages local people to support the

causes they care most about.

Lichfield District Council officially launched

Lichfield Community Lottery on Monday 18th

January.

Fifty people from 44 local good causes,

including charities, youth groups, sports clubs and conservation groups, attended the

online event.

Once they have signed up local good causes will be able to set up their own lottery

page and receive 50p in every pound spent by players who choose to support their

cause. A further 10p in every pound will go to other local good causes from across the

district.

Local good causes that want to be a part of the lottery can register now at

www.lichfieldcommunitylottery.co.uk. The website is also where residents can buy

lottery tickets from 2nd March 2021.

Lichfield Community Lottery's first draw is on 10th April. Players have a 1 in 50 chance

of winning one of the prizes, which range from the £25,000 jackpot to three extra

lottery tickets. To celebrate the first draw there is also an opportunity to win a luxury

hamper, packed with locally sourced treats.

Regular updates on the progress of Lichfield Community Lottery will be posted on

the Lichfield Community Lottery Facebook page and Twitter account (search Lichfield

Community Lottery) as well as at www.lichfieldcommunitylottery.co.uk.

Silver Shines at

Local Auction

By Adrian Rathbone

An elaborate silver table

centrepiece found locally took

centre stage at a recent

auction by selling for £1,700.

The impressive work of the

Birmingham silversmith

Robert, Edkins & Aston was

crafted during the reign of

William IV - 1836 to be

precise - just one year before

Queen Victoria ascends to the throne.

The silver marvel in question would have been

commissioned to grace the table of a grand house. Being

multi-purpose, the piece was adapted from the outset to

provide light via candles as well as being able to be drape

with fruit such as grapes. It would have been a symbol of

power, taste and wealth conveyed to fellow dinner party

guests. It was in fact a presentation piece bearing a

presentation inscription to Reverend John Bradford,

Curator of Woolborough by his parishioners in

appreciation for his involvement in the erection of a chapel

of ease in Newton Abbott in 1836. The piece also bears a

wonderfully charming image of the chapel in question.

Standing on a pyramid plinth, it employs design features

highly fashionable at the time.

Discovered at a local property, it was offered in Hansons

Christmas Country House auction at Bishton Hall in

Staffordshire on 10th December where it sold for £1,700.

22
---
Make Testing Part

of Your Routine

People who must leave their homes to make essential visits

during lockdown are being urged to get tested in one of

Staffordshire's Community Testing Centres.

The centres, one in each district and borough are open seven

days a week for people without symptoms.

Being open over weekends will give people having to make

essential visits through the week more options to get tested

regularly.

1 in 3 people do not display any symptoms – getting tested

regularly provides peace of mind that essential travellers are

not unwittingly spreading the virus to the vulnerable.

Dr Johnny McMahon Staffordshire County Council's Cabinet

Member for Health, Care and Wellbeing, said: "Everyone in

Staffordshire should be staying at home wherever possible.

However, there are some people who cannot work from home

and some people who are making essential visits.

"For these people we are strongly urging to get tested

regularly."

Getting a test is quick, simple, free and now available seven

days a week. Making it part of your weekly routine may well

protect the people you interact with on a day-to-day basis and

the wider community at large.

Several lateral flow testing sites have been set up in the area

– these give results within 30 minutes.

For anybody in a Covid hotspot area where numbers of cases

are very high, it is especially important to get tested if they have

to leave the house.

These tests are only available for people who do not have

Covid symptoms. You can book a test by visiting:

https://staffordshire.zipporah.co.uk/trackandtrace.

23
---
Winter Wildlife for Kids

......................................................

Signs of Winter

Many think winter is a quiet time for wildlife with not much to discover but there is actually plenty to see if you know where to look!

The arrival of winter sees flocks of fieldfares and redwings return to the UK. A good place to spot these birds is hedgerows as they go in search of

tasty berries.

Many mammals such as bats or dormice will be hibernating during the winter but snowfall can often lead to encounters with badgers and squirrels

as they go in search of food and of course winter is a great time to spot foxes that don't hibernate!

Although there isn't much light around in the winter and the days seem shorter, getting that daily dose of nature is really important this time of

year and as much as we also need wildlife to lift our spirits it needs us more than ever during the colder months too.

Wild Winter Pack

Staffordshire Wildlife Trust is hoping to keep young people connected to nature during Lockdown 3

by launching its 'My Wild Winter' pack.

The 'My Wild Winter' pack – which is being aimed for children to take part in - is full of ideas of how

to explore nature and wild places locally, as part of the permitted daily exercise during Lockdown 3.

The pack is completely free to sign up to and gives lots of tips and inspiration on how best to enjoy

and support the natural world during winter.

The pack includes information on what wildlife to look out for, instructions on how to make your

own bird feeders or nest boxes, a wildlife spotter sheet and puzzles and activities.

The Trust is also encouraging people of all ages to sign up for its 'Get Wild at Home' virtual classroom

experience, which launched last year at the outset of the Covid-19 pandemic.

Get Wild at Home brings some of the charity's most popular and best attended events and activities direct to people's homes and features an array

of nature themed resources to enjoy.

They include videos with staff including workshops such as creating a mini-beast hotel, outdoor play, natural art and bushcraft.

People can sign up for a 'My Wild Winter' pack via www.staffs-wildlife.org.uk/wildwinterpack.

To sign up to the Trust's Get Wild at Home programme visit www.staffs-wildlife.org.uk/wildathome.

Make Your Own Fat Balls

A great way to encourage birds into your garden during

winter, and to ensure they stay well fed, is to hang up some bird

feeders and fat balls. These high-fat tasty treats are perfect for

birds and are really easy to make at home - it will also give little

hands something to do!

Method

Step 1 – Attach string

to the end of the pine

cones – this will form

the core of your fat ball

and the string will be

used to hang it from a

tree branch.

What you need

Lard (or coconut oil)

Bird seed

Cheese

Peanut/raisons/dried fruit

Pine Cones

String

Step 2 – At room

temperature, mix all

of your ingredients

together in a bowl.

Step 3 – Shape

the mixture into

a ball around

your pine cone.

Step 4 – Tie

your fat ball to

a tree and wait

for the birds to

flock!

24
---
******COVID UPDATE********

In these testing times we have doubled our efforts to make your life as easy as possible while adhering

to the various restrictions. We can offer a live virtual guided tour of our stock yard and swiftly send

samples directly to your door, subject to availability.

There really is no reason to go anywhere else!

Win a Granite Chopping Board

If you require our services please do not hesitate

to call us on 01785 711096 or email your quote

request to stef@justgranite.ltd.uk

With the largest variety of natural stones in the Midlands, the

solid slabs are kept on-site and are available for a virtual viewing

from 9am-5pm on Monday to Friday. Located at The Stone

Works, Pillaton Hall Farm, Penkridge, ST19 5RZ.

We've got a bespoke Chopping Board (in the

colour of your choice) to give away! To be in

with a chance of winning this magnificent prize,

simply answer the following question correctly:

Where does the supply

of granite come from?

a) Spain

b) Italy

c) Germany

To enter, just send your name, contact details and answer to Just

Granite Competition at competitioncitylife@gmail.com or post your

entry to Citylife in Lichfield Ltd, PO Box 7126, Lichfield WS14 4JS by

the closing date of 23rd February 2021. One entry per household.

Multiple entries will be disqualified. No cash equivalent. Please note

you must be 18 or over to enter. All entrants' information is

processed in line with GDPR Data Protection Regulations and our

Privacy Policy (available at citylifeinlichfieldltd.co.uk).

Full t&cs on page 42.

25
---
It's Good to Talk

By Jo Howell

.................................................

As we approach week three of Lockdown 3.0, and with heavy

snow fall all day, it certainly feels like January is pressing all

our buttons. But with vaccines being rolled out and it slowly,

slowly staying lighter a little longer, maybe there is a chink of light

at the end of this dark tunnel.

So, what can we do to keep pushing on towards those better days

ahead?

Communicate: share or exchange information, news, or ideas.

I know I, for one, am really missing social interaction – be that with my

friends over a coffee on a Saturday lunchtime or with my colleagues in

the office, discussing the latest binge-worthy boxsets. But does lockdown

mean we stop communicating with each other?

Absolutely not!

There are so many ways to communicate with each other these days

– text, WhatsApp, Zoom, Facetime to name a few but the question is,

what do you want to achieve by reaching out? By using the right type of

communication, it can make all the difference to both the sender and the

receiver.

Verbal

Obviously, this is something we do every day to define everything from

ideas, emotions, experiences, thoughts, objects, and even people. It's

about the words we choose and how they are heard. But do we schedule

time with each other to sit and talk with no interruptions? Can you find

one evening this week to switch off the TV, sit opposite your other half

and have a good old hearty discussion? You may just find it very

therapeutic.

Written

Of course, sometimes it's quick, and timely, to ping a text to a friend or

a loved one and ask 'how you doing?'. Thanks to technology, we have

many ways to engage in written communication, but it can also be a little

impersonal. You can't always read, or see, the true emotion with a text or

an email, so it's worth thinking about backing it up with an actual phone

call to express that feeling. You just might make someone's day.

Visual

Once again, thanks to technology, we can now see the person we are

calling – be that via phone, Zoom, Teams and many other platforms. And

maybe it's because I grew up in an era with no laptops or mobile phones,

even now I still find it fascinating to talk to my Dad on Zoom every night.

That small connection, to see his face, his body language, his real-life

emotions, speak volumes and it wins hands down over a text message any

day.

The key point here is whichever way you to choose to communicate,

just keep doing it. Right now, we all need to receive some form of

reassurance, a kind word, a funny joke or some virtual love. Reach out to

your quiet friends, the stressed home-schooling parents, the elderly

relative, the lonely neighbour and the loud and lively colleague.

Because when you do, you may just make the world of difference

between a good day and a bad day.

Read more of Jo Howell's work on her blog at

www.justanaveragejo.blog.

26
---
Tatlow Carpets is

Open for Business!

............................

Tatlow Carpets started

life nearly 50 years ago

when Ken Tatlow

opened a flooring business in

1972. Today, his daughter,

Jayne, and grandson, Tom, now

carry on the family tradition

and continue to run this

successful business.

With extensive knowledge and

experience in flooring, Tatlow

Carpets is a name you can trust

and the friendly staff will go above

and beyond in helping to make your house a home.

This has never been as important as it is today. With the country in

lockdown due to the Covid-19 pandemic, more and more people are

making the decision to renovate, update and refresh their interiors. This is

where Tatlow Carpets comes into play.

With an extensive range of beautiful, luxury carpets, featuring top brand

names such as Axminster, Brintons and Cormar, you're bound to find

something in your style and colour to perfectly suit your home.

One of the latest new additions to the already vast array, is Stainfree

Ultra from Abingdon – a plush, durable, manmade offering which is

guaranteed to remain stain free for life.

Whereas carpet, as the name suggests, is undoubtedly the star of Tatlow

Carpets, the Lichfield-based showroom also offers many other types of

flooring for the home, including laminate, luxury vinyl, and Sisal/flatweave.

Tatlow Carpets is also a purveyor of fine rugs for the home, whether it's

stair or hallway runners, something large and imposing for your dining

room, or a truly bespoke creation made to measure, it's all there for you

to choose from.

Despite such troubling times, Tatlow Carpets and it's dedicated team are

committed to ensuring the safety of their clients and staff at all times. With

this in mind, the showroom is currently closed for browsing, however

Tatlow Carpets is still operating by providing telephone or email

consultations with customers to establish their flooring needs. The firm

will then supply samples you have specified an interest in, and bring them

to your home for you to peruse, while the fitters measure up. This is all

done in a safe and socially distanced way, with full PPE being worn and

Government guidelines being adhered to at all times.

So don't let the pandemic prevent you from pursuing the carpet of your

dreams – give Tatlow Carpets a call, or drop them an email, today with your

requirements and the experienced, safety-conscious team will do the rest!

Telephone: 01543 264766

Email: sales@tatlowcarpets.co.uk

www.tatlowcarpets.co.uk

27
---
28

Fine-Tune Your

Immune System

By Charlotte Benton

................................

Whilst no immune boosting supplement or lifestyle

modification is enough to protect us against Covid-19,

there are plenty of small steps we each can take to

strengthen our body's natural defences.

As a result of the current pandemic, there has never been a

more important time to ensure your body is fighting fit. Simple

dietary and lifestyle changes can naturally boost your immune

system, gradually helping your body to become stronger and

consequently fight off illnesses more easily.

Here are five top tips to naturally boost your immune system:

1. Focus on your diet

Consuming foods that are rich in nutrients and antioxidants helps

to keep your immune system strong. Tweaking your diet to include

foods such as citrus fruits, spinach and healthy fats like salmon, can

help to prevent colds, the flu and other infections. Most people

commonly turn to citrus fruits, such as lemons and oranges, when

they have a cold as these fruits are high in vitamin C. This vitamin

increases the production of white blood cells, helping the body to

fight infection. Adapting your diet to include nutritious foods can

greatly boost your immune system as these foods help to reduce

inflammation and aid the body's fight against harmful pathogens.

2. Establish a good sleeping pattern

Ensuring you have enough sleep is vital to improving your

immunity, with a minimum of six hours each night being

recommended by experts. Many of us treat sleep as a luxury,

however we must remember that it is a necessity. Making a

conscious effort to improve the amount of rest you get can boost

your immune system. In order to improve the quality of your sleep

you could try limiting your screen time before bed, as well as

establishing a regular time that you go to bed. Both of these

suggestions can help to maintain your body's natural sleep-wake

cycle.

3. Take part in moderate exercise

Whilst it is known that too much exercise can weaken your

immune system as a result of fatigue, moderate, regular exercise

may help to reduce inflammation, alongside promoting your body's

immune cells to regenerate regularly. Partaking in activities such as

brisk walking, steady cycling or jogging can all promote the healthy

turnover of immune cells. Over the course of a week, adults should

aim to complete 150 minutes of moderate exercise. Remember to

follow the current Government guidelines when exercising in order

to minimise social contact.

4. Control stress levels

Elevated anxiety and stress can have a profoundly negative effect

on your body, often to the detriment of the body's natural defences.

We are currently living through a particularly stressful time, hence

a few stress-busting methods could be very beneficial in helping to

reduce your anxiety levels. For example, you could try some

breathing techniques or have a go at yoga, both of which can

naturally help to reduce your stress levels, consequently boosting

your immune system.

5. Hydrate

Although hydration doesn't directly help to protect your body

against infection and viruses, preventing dehydration is crucial to

your overall health. Dehydration can lead to you being more

susceptible to illness hindering the function of the heart and

kidneys, as well as limiting physical performance, focus and mood.

Dehydration can be easily prevented through drinking enough fluids

each day, most favourably through drinking water. It is important to

remember that, whilst other fluids such as fruit juices are hydrating,

they also contain a high sugar content. Ideally, such content should

be limited when seeking to improve your immunity.

These are just a few suggestions of how to improve your body's

natural defences. A healthy immune system is essential in order for

your body to fight off infection. Start today and strengthen your

immunity naturally!
---
A Taste of the

Caribbean

......................

Karib Kitchen is a new

and exciting eatery

which specialises in

Caribbean cuisine to bring a

taste of distant shores to

Lichfield!

Having successfully traded at

food festivals around the country

for the past four years, and experiencing the

overwhelming demand for something a little different, the

owners of Karib Kitchen have realised their dream and

chosen Lichfield as their new base in which to operate.

Friendly staff, great customer service and superb food

can all be expected from Karib Kitchen, and diners can

choose from Caribbean classics such as jerk chicken, fried

plantains, and rice and peas, to more adventurous dishes

like goat curry and callaloo. All of which are freshly

prepared to order.

Based under the historic arches of the Corn Exchange

on Conduit Street, Karib Kitchen is available for online

orders, with deliveries available or collection at the

restaurant. The kitchen is open during the national

lockdown and all Government guidelines are being strictly

followed adhered to.

Take a look at the menu online and order today at

karib-kitchen-limited.square.site.

29
---
How to Stick to

Your Healthy

Eating Plan

................................

If healthy eating plans keep falling through, it can often be down

to five main reasons, according to Dr Rachel Evans - a

psychologist who specialises in eating disorder recovery.

From not setting clear goals, to being too restrictive and having

subconscious beliefs about food, if you're struggling to keep to a set

eating plan, it's important to look into exactly why you may be breaking

it.

Dr Rachel Evans (PhD) shares five reasons we often find ourselves

failing our healthy eating regimes and her professional advice on what to

do to stay on track.

She said: "Clear intentions and goals are very important when it comes

to setting out long-term healthy eating habits, and if you start by outlining

targets that are too vague, or too restrictive, you could be at risk of plans

failing right from the outset.

"Based on experiences with my clients, people tend to be much too

vague, so they can't track progress, or they go the opposite way and are

too restrictive which puts them into a state of psychological deprivation,

and they just end up thinking about food even more.

"Old habits that you may be stuck in and subconscious beliefs about

food can also sabotage healthy eating regimes. I have compiled a list of

the main reasons many break their healthy eating goals, to help those

looking to eat better, decipher the causes behind their failed plans."

Here are the five reasons you can't stick to your healthy eating plan:

1. You haven't set clear goals

Goals can often be too vague and it's not enough to say that you just

want to eat 'less sugar' or 'more fruit and vegetables', as it's then difficult

to know exactly what you're working towards and track progress.

Without clear, identifiable goals – you could be left feeling unsure about

what action you need to take when eating healthily, which can lead to no

action being taken!

2. The goals you have set are too restrictive

Even with clear goals, if you can't keep to an eating plan, it may be

because it's too restrictive, which can lead to a state of physiological and

psychological deprivation. When we don't consume enough, we often end

up thinking a lot more about food, which is a survival mechanism and can

cause us to become irritable and crave 'junk' foods. If you believe you are

meeting your body's energy requirements, but are still finding it difficult

to stick to your healthy eating plan, then this may be because you are

feeling mentally restricted, as when we cut out certain foods it can

actually make them more attractive, because typically we want what we

can't have.

3.You think you have 'blown it'

If you believe you have 'blown it', in psychology this is called the

abstinence violation effect; when you have one thing off plan which leads

to total collapse. This cycle of feeling like you have blown it, so you may

as well eat everything you want to and start again with healthy eating on

Monday, results in people often eating more unhealthy foods than usual,

because they believe they won't be able to eat that food again when they

get back on plan - which can be damaging to long term healthy eating

plans altogether.

4. You are trying to get by on pure willpower

We often believe that willpower is all we need to stick to a diet, but

my own research has found that good self-control did not predict how

well people could stick to their intentions to eat healthily; habits and how

people ate in the past was more important.

5. Subconscious beliefs about food

If you ever feel like you know exactly what you should be doing to stick

to your plan, but something is keeping you stuck in old habits of

overeating, it can often feel like you are sabotaging yourself over and over

again, and this behaviour is likely to be driven by deep subconscious

beliefs about food and yourself which can be difficult to break.

To help get a grip on healthy eating plans, it's important to be clear on

goals, to ensure that they aren't too restrictive, and to take small

sustainable steps. Rather than beating yourself up and eating more, try to

learn from slip-ups and form new healthy habits instead of relying on

willpower.

One of the most effective ways to combat negative subconscious

beliefs and bad eating patterns is to recognise patterns from childhood

and when exactly they are showing up in life now. Another way to tackle

these behaviours is to look into hypnotherapy, to directly access the

subconscious mind and find the root of eating issues - through

hypnotherapy, these can be rewired for more helpful thought patterns, to

help healthy eating become more achievable.

Sources *https://www.sciencedirect.com/science/article/pii/S0195666316309072
---
31
---
Top Ten Health and

Wellbeing Books

................................

Staffordshire County Council's library service has

revealed its most popular health and self-help e-books,

having seen an increase in borrowing during the

Coronavirus pandemic.

Health and wellbeing, mindfulness and books on improving

mental health are included in the topics.

Amongst the most popular titles is number-one bestselling

book Hinch Yourself Happy by Instagram sensation Mrs Hinch,

renowned for her cleaning tips and hacks, which she shares in her

book.

Notes on a Nervous Planet by Matt Haig on coping in the

modern world and The Chimp Paradox by acclaimed Consultant

Psychiatrist Dr Steve Peters were also popular choices.

Since the first lockdown back in March, more than 74,000 e-

books have been loaned and the number of people using the

libraries e-books service through BorrowBox has increased to

over 7,300.

During the current Lockdown from 6th January, Burton,

Cannock, Lichfield, Stafford and Tamworth libraries have remained

open for essential PC use, and the click and collect, and Grab &

Go, services. There have been temporary closures at Biddulph,

Burntwood, Codsall, Rugeley, Stone and Uttoxeter libraries. Many

Community Managed Libraries will offer a service and users

should check directly with them, however mobile libraries will not

be on the road during lockdown.

Further details on library services including the e-book service

is available at www.staffordshire.gov.uk/libraries.

Some of the most popular self-help and wellbeing e-books are:

1. Hinch Yourself Happy by Mrs Hinch

2. Notes on a Nervous Planet by Matt Haig

3. Chimp Paradox by Steve Peters

4. Art of Making Memories by Meik Wiking

5. Reasons to Stay Alive by Matt Haig

6. Book You Wish Your Parents Had by Philippa Perry

7. Doctor's Kitchen by Dr. Rupy Aujla

8. Clutter Connection by Cassandra Aarssen

9. Joosr Guide To... the Power of Now by Joosr

10. Why We Sleep by Matthew Walker

1. Hinch Yourself Happy by Mrs

Hinch

Hinch Yourself Happy sets out to

help you transform your home, along

with your mindset too.

Mrs Hinch's own endearing charm

and her enduring belief in the power of

tidying, has taken the nation by storm,

inspiring them to pick up their duster

whilst no longer dreading their chores.

Not only offering tips on how to make

your house a home with her top

cleaning tips and clever organisation

hacks, Hinch Yourself Happy illustrates

how you can create an immaculate home whilst discovering a calmer

you. Inviting you into her home Mrs Hinch seeks to enlighten you to

a world where a spot of cleaning can soothe your soul.

2. Notes on a Nervous Planet by Matt Haig

A follow-up to his international

bestselling memoir Reasons to Stay

Alive, Matt Haig now opens our

minds to the ways in which the

advancements of modern life are

fuelling our worry, rather than

enriching our lives. Encompassing an

urgent yet reassuring tone, Haig

draws on broad phenomena such as

social media, the news, along with

how we choose to exercise and

sleep, examining how we can each

improve our lives. Filled with gentle

reminders and advice on how to

make the most out of life's simple

pleasures, Notes on a Nervous Planet seeks to help you feel calmer

in this digital age. An enlightening read, that is sure to help you navigate

the modern world.

3. The Chimp Paradox by Steve Peters

As a leading consultant psychiatrist

Steve Peters is conscious of the

detrimental impact that mindset can

have on success in both our personal

and professional lives. In his first book

The Chimp Paradox, Dr Peters shares

his triumphant mind-management

programme, known to have aided elite

athletes like Sir Chris Hoy and Victoria

Pendleton in their pursuit of success.

Alongside the world of elite sport, his

programme has helped everyone from

senior business managers, to hospital

staff and patients, as well as students.

The programme seeks to help us

understand why we act and think in the ways that we do, enabling us

to optimise the decisions that we make and informing how we choose

to perform. Offering all individuals the chance to gain greater control

over their mindset, whilst boosting both their confidence and focus

too, The Chimp Paradox is guaranteed to offer you food for thought.

32
---
Your Garden in February

By Byron Lewis

Well, we're still all restricted...! Here at the Garden Centre

we've been busy tidying Christmas away and having a very

early spring cleaning session to get us ready for the season

ahead. We're currently closed to customers who want to

browse but if you know what you need, you can call us to

arrange collection or we can deliver to your home - let's hope

we get back to something resembling normal soon!

Nature has carried on, blissfully unaware of the pandemic, and

lots of shrubs and spring patio plants are now looking good.

Starting off with pots and patio tubs, why not fill them with a

selection of primroses, bulbs and spring heather? Instant

colour for relatively little effort and expense. These should

keep going through to the start of the summer season where

they can be replaced with petunia, lobelia and a whole host of

other summer bedding plants.

Don't forget many shrubs are suited to container growing,

including camellias and rhododendrons. These are now

coming into bud and flower and, if you've got a larger pot in a

shady position, it could be a great choice. A range of colours

from pink through to red and white on evergreen hardy plants

will require acid soil to grow - make sure you use 'ericaceous'

compost when planting.

Out in the garden, witch hazel is just starting to bloom with

unusual crinkled yellow flowers and, on sunny days, a good

scent too. Look out for early ornamental cherry trees and

bushes too, with delicate but tough pink or white flowers

which tolerate wind, rain, frost and even snow! It also won't

be long until the first forsythia start to flower, with bright

yellow flowers - a common sight and a sure sign spring is on

the way.

Thinking about all these bright plants gives us all something to

look forward to in the coming weeks, and it's been often said

that gardening improves the mental health and wellbeing. So,

take advantage of any good weather days this month and get

out in your garden - it'll do you good!

Byron Lewis runs Lichfield Garden Centre, located at

Curborough Countryside Centre, Lichfield. Tel: 01543

254306. Visit www.lichfieldgardencentre.co.uk or find

them on Facebook or Twitter.

33
---
Valentine's

Dine at Home

............................

This year, the 'day of love' is going to be a very different

experience for many of us. With a national lockdown in

place, restaurants, pubs and eateries are all closed to the

public, but that doesn't mean you can't still enjoy a meal from

your favourite place!

We're put together a few of our local favourites which are offering

delicious restaurant-quality takeaway meals to impress and delight your

other half.

34

Cakes of

wonderland

Afternoon Tea for Two -

£20

Includes the following:

12 x finger sandwiches

Quiche

Sausage roll or lamb/veg samosa

Cheesecake-biscoff-brownie and

Valentine's cupcakes

Choc-dipped strawberries

Belgian chocolate hearts

All homemade with local produce

Collections on 13th Feb between 4-5pm

Contact: 07516497165 or

hello@cakesofwonderlandlichfield.co.uk

Also message us on Facebook @cakesofwonderlandlichfield

Los Banditos

Enjoy an authentic and delicious

meal from Lichfield's premium

Mexican bar and grill.

There are so many great dishes

to choose from, including a range

of tapas plates; the typical

Mexican fare of nachos, fajitas,

burritos and tacos; plus a street

food menu featuring gyros kebabs

and quesadillas - you'll really be

spoiled for choice!

Los Banditos also has gluten-free and vegan options, and a fantastic

Valentine's Special three-course deal!

Valentine's Special

• Any two tapas or nachos • Any two mains

• Any two desserts • Any two cocktails

For just £34.95, including free delivery. Deal only vaild on

Valentine's Day.

Visit Facebook @LosBanditosLichfield for more information or

call 01543 471537 to book!

The Green Door

Local catering business The

Green Door offers a click

and collect service via its

beautiful rustic barn shop –

situated just outside Yoxall

at Woodmill Farm

(www.greendoorcaterers.co.uk).

A popular choice is the

'date night' Mediterranean

sharing platter, packed full of

cheeses, cured meats, olives, pitta, houmous, pretzels, figs and more

– a real holiday-inspired treat to share and indulge in together. The

bakery also offers truffles and Italian patisserie through its online

service and more delicious cakes and pastries in-store.

Browse online or in the shop and you are guaranteed some

Valentine's Day luxurious treats (and Brownie points!), homemade

with local ingredients and lots of love.

Call: 01543 473383 Email: hello@greendoorcaterers.co.uk

Greendoorcaterers.co.uk

facebook.com/GreenDoorYoxall

Otto Pizza

Using only the finest

produce from across the

UK and Europe,

supporting independent

producers and delivering

the best flavours, Otto

Pizzas are freshly cooked

in an authentic

Neapolitan oven.

There's a fantastic range of classic pizza toppings, plus some

which are a little different, to choose from, and there's even

vegan varieties too – all cooked to order and collect from its

Lichfield base on Market Street.

Visit website ottolichfield.square.site or www.ubereats.com

to order your pizza, or call 01543 256071.
---
Win a Bottle of Rhubling

for Valentine's Day!

What better way to celebrate Valentine's Day

than with a bottle of fizz? And this fizz, is

quite unlike any other!

Rhubling, a delightful sparkling rhubarb wine,

is the creation of local company Clive's

Wines, Burntwood. Made naturally, using the

traditional method, by re-fermenting it in the

bottle for three months, Rhubling provides a

light, crisp taste and is the perfect alternative

for prosecco if you're looking for something

a little bit different

We've got one bottle of Rhubling, courtesy

of Clive's Wines, to give away for Valentine's

Day. To be in with a chance of winning, simply

correctly answer the question below:

What fruit is Rhubling

made from?

a) Apples

b) Pears

c) Rhubarb

To enter, just send your name, contact details and answer to Wine Competition

at competitioncitylife@gmail.com or post your entry to Citylife in Lichfield Ltd,

PO Box 7126, Lichfield WS14 4JS by the closing date of 12th February 2021. One

entry per household. Multiple entries will be disqualified. No cash equivalent.

Please note you must be 18 or over to enter. All entrants' information is

processed in line with GDPR Data Protection Regulations and our Privacy Policy

(available at citylifeinlichfieldltd.co.uk).

Full t&cs on page 42.

The Fig & Olive

The Fig & Olive chefs have been busy

creating a delicious lockdown

Valentine's dinner!

Our Valentine's Steak Box includes

two grass-fed British steaks dry-aged

for 28 days by our in-house butchers.

These rich and flavoursome steaks are

accompanied by a trio of sides;

macaroni cheese, creamed spinach and dauphinoise potatoes,

and finished with a red wine jus. Why not add a bottle of our

perfectly paired Malbec to indulge in too? This is the perfect

dinner for two this lockdown Valentine's Day.

For more information visit www.coppicegc.com or call

Forage Food Hall on 0121 308 7197 to place your order.

Collection will be available between 12th-14th February

and last orders must be placed by 11th February.

5 Course

Tasting

Menu for

Valentine's

Day

Bagot Street

Abbots

Bromley

Staffordshire

WS15 3DB

T: 01283

840008

Pizza By Goli

INFINITII

www.theinfinitii.co.uk

Valentine's Day is just

around the corner and, at

Pizza by Goli, we want to

help make your lockdown

celebration just as special

as if you were dining with

us. Simply choose from

the online menu and ring

through your order for a collection or delivery (within

Lichfield area). Pre-order whenever you can and card

payments are safer for everyone when possible.

10% discount is still available for NHS staff.

Visit the website and see the menu at

www.pizzabygolilichfield.co.uk then call the restaurant

on 01543 250916 to order.

Stay safe, eat well, be happy!

35
---
Tastes of the Season

By Simon Smith

Recipe for Romance

Again this year another special occasion will

be very different. There are those who are

struggling to find a partner with social

distancing in place and there are also those

who have never spent so much time with

their significant other and are fed up with

them.

Despite that there still seem to be plenty of

people who are enamoured and want to

celebrate together. When I posted my

Valentine's menu for delivery it sold out

within six hours so love is still very much

alive and well in many households!

One thing about this time of year is that

lamb prices go through the roof as lambing

has started and that always has a huge effect

on things. Last year's lambs were large in

January with a great meat to bone ratio but

come this time of year the new lamb's in the

shops are younger and therefore much

smaller throughout springtime.

Valentine's and garlic… do you, don't you? I

think if you both eat it all will be well but if

just one of you eats it you may be looking at

a lonelier evening. There are plenty of other

things to spice a dish up so all is not lost.

The chicken dish I'm doing as a starter is full

of flavour and you may want to put it in

your recipe book under barbecue food as

well. You could also use this recipe as a

filling for sausage roll.

Vietnamese Style Chicken Kebab

3 x chicken breasts

1 x egg white

1 tsp sushi ginger, chopped

1 tbsp chopped coriander

1 tsp chilli flakes

1 x lime, zested

1 x clove garlic (optional)

Salt to taste

36

Method

Roughly dice all of the chicken breasts into

1cm cubes. Put 2/3 into a food processor

with the egg white, ginger, chilli, coriander,

lime zest and salt, plus garlic if you wish.

Whizz together, take out and mix in the

remaining chicken chunks. Form together on

a skewer. To cook you can either grill or

cook in a preheated oven at 190 degrees

Celsius for 10 minutes. I would serve this on

a salad of beansprouts, cucumber and fried

onion with a spicy dressing. I know you will

all have your own favourite Asian dressing

tucked away in the back of the cupboard so

use that!

This can be made two days before and kept

in the fridge so you can have an easier night

of romance rather than spend the whole

day in the kitchen.

Blueberry Eton Mess

1 x pkt fresh blueberries

1 x pkt meringue nests

1/2pt double cream

25gms caster sugar

1 x shot Grand Marnier, or any liquor of

your choice

Method

Put the blueberries in a small pan with the

sugar and Grand Marnier and bring gently to

a simmer. Turn off and cool down in the

fridge

Whip the double cream until thick. Fold in

two thirds of the blueberries, crush and fold

in two meringue nests. Form into a cake

shape in a pastry ring and decorate with the

remaining blueberries and some crushed

meringue, a mint leaf if you have it and any

other red berries.

Simon Smith runs a catering business from his

production kitchen in Lichfield, providing bespoke private

dinners plus wedding, corporate and event catering.

Simon also undertakes cookery demonstrations around

the country and with local businesses such as Arthur

Price and Tippers. During the summer months Simon

works for private clients both on superyachts and in

villas in St Tropez and Europe. If you are looking for

catering or a day of cookery skills go to

www.simonsmith-chef.com

*Please take extra care when preparing and handling

hot foodstuffs. Go to www.food.gov.uk for further details.
---
Valentine's Cocktail

Love Martini

It's love at first sip with this simple cocktail recipe!

Follow the instructions below to create the perfect

tipple for your loved one.

Ingredients

1/2 shot coconut rum

1/2 shot peach schnapps

1/2 shot citron Vodka/plain Vodka

3 shots cranberry juice

2 strawberries, for garnish

A wedge of lime (optional)

Sugar to rim the glass (optional)

Instructions

- Gently mix the coconut rum, peach schnapps, vodka and

cranberry Juice together in a shaker (over ice if your

cranberry juice is not cold) and pour it into the prepared

glass.

Cocktails with Clive's Wines

Fruity and invigorating, Clive's Wines can be drunk on

their own or mixed to make some truly unique creations.

Elderflower & Rhubarb Spritzer

Light and refreshing, this is the perfect pre-dinner tipple!

100ml Elderflower Wine from Clive's Wines

50ml Rhubarb Tonic

100ml Lemonade

25ml Dry Gin (optional)

Ice to serve

Raspberry Manhattan

Deep and delicious, this twist on a classic

is sure to please!

150ml Raspberry Wine from Clive's Wines

10ml Whiskey

25ml Raspberry Liqueur

A squeeze of lemon

- To make strawberry hearts for the garnish,

cut a small "v" to remove the stem of the

strawberry. Then cut it into slices.

- You can rim your martini glass with sugar (if

you want) - just use a lime/lemon wedge along

the rim of the glass to get it wet and dip the

glass in a plate with sugar.

*Please drink responsibly.

Recipe and imagery by Noreen Hiskey

(PictureTheRecipe.com)

Takeaway Cocktails

...................................

If you don't fancy making your

own, you can get cocktails

delivered to your home by Los

Banditos, Lichfield. With an

extensive cocktail menu you can

choose from well-known classics,

experience some great new

creations, or even enjoy a

mocktail if you wish.

Visit

www.losbanditoslichfield.com for

more information.

Visit www.cliveswines.co.uk for more inspiration and

to see the full range of drinks available.

37
---
Love is in

the Air

...................................

Treat that special someone in your life to a unique

gift this Valentine's Day. Here's a few of our

favourite items from local retailers.

Emily Jane is a creator of handmade jewellery

inspired by nature. She is passionate about

creating her pieces as much by hand as possible;

making each piece truly unique, just like you. Her

tagline is Jewellery With Life because that's what

you're getting.

Discover more and shop on her website

www.jewellerywithlife.co.uk or join her

community on Instagram @emilyjanedesigner

The Apiarist, a gin infused with local honey,

brings the unique character of the sweet golden

nectar into a more 'adult' setting. Made using

raw honey from hives near Lichfield with bees

which forage the nearby countryside.

Priced at £39 and available from

www.theapiaristgin.com.

READER OFFER

Enter code beemyvalentine at the

checkout to receive free shipping!

Textured silver, 18ct gold plated heart earrings

with fresh water pearls priced at £52.00

available online from Allen Brown Jewellery

www.allenbrownjewellery.co.uk 01543 481 948

Polished silver and amethyst set drop earrings

on clip hook priced at £239.00 available online

from Allen Brown Jewellery

www.allenbrownjewellery.co.uk 01543 481 948

Add some bling to your keys, or use as a charm

and jazz up your handbag, with this leather

heart-shaped keyring adorned with a stunning

golden bee.

Priced at £8.99 including delivery, visit

www.loveemvy.com, or find on Facebook at

Instagram @loveemvy.

Heart scattered mini photo frames of handcrafted

pewter. Made to last forever, just like your love for

each other. Priced at £15, £17.50 and £20.

Making your life more beautiful is Odonata Studios,

a little golden treasure House for handcrafted,

mostly British gifts and jewellery based within The

Courtyard of Middleton Hall & Gardens,

Tamworth, B78 2AE.

www.odonatastudios.co.uk

Give the gift of luxury velvet this Valentine's

Day, with a set of two Velvet Phoenix Chairs in

Blush Pink. Available in seven colours. Priced at

£120.00 for a pair, from Peppermill Interiors,

Burntwood. www.peppermillinteriors.com.

38
---
Create a blushing statement with the Pisa Velvet

Button Back Chair in Dusky Pink. Available in

four colours. Priced at £180 from Peppermill

Interiors, Burntwood.

www.peppermillinteriors.com.

Nothing marks a special occasion quite like a

little bit of bubbly! Why not try something

different this year like this sparkling rhubarb wine,

or Rhubling, as it's known? Made using the

traditional method to create natural bubbles,

Rhubling is the perfect, light fizz to enjoy with a

loved one. Available from Clive's Wines of

Burntwood. Tel: 07972 269 620.

www.cliveswines.co.uk

Fifth Spire Gin - Lichfield's own craft gin distilled and

bottled in tiny batches in the heart of the city, at The

Spirit Works on Swan Road. A citrus forward

'London Dry' style gin made using large quantities of

fresh fruits.

For the perfect serve, add a big handful of ice to

your preferred glass, add a good pour of gin, and

your favourite Indian tonic water, and garnish with

orange and rosemary.

Free delivery in Lichfield available, but also shipped

nationally. Order at TheSpiritWorks.co.uk/shop.

What does your heart desire? An accent chair

for your bedroom? Gift the Turin Chairs in

Malbec Red for a special valentines treat.

Available in six colours. Priced at £95 from

Peppermill Interiors, Burntwood.

www.peppermillinteriors.com.

Whether your loved one is vegan or not, they will

love the goodies on offer from The Vegan Baker.

These homemade plant-based cake creations are

the perfect treats to enjoy with your loved ones.

Find The Vegan Baker on Instagram at

@the_vegan_baker1 or on Facebook at

www.facebook.com/theveganbaker.co.uk.

Say it with flowers such as this fantastic

bouquet from Secret Garden. With a detailed

eye for colour and a passion for design, Rob

and the team will make sure that loved one is

truly won over!

Available from www.secretgardenlichfield.co.uk,

tel: 01543 418710.

Show your loved one that you adore them all

year round with the brightness of a rainbow

heart suncatcher. Ideal to hang in a sunny

window indoors and let the sunlight shine

through not just on one day of the year, but

every day. These beautiful decorations are

available for £5 each +p&p, and you can view

many other bespoke creations at

www.thecraftyhoarder.co.uk or follow The

Crafty Hoarder on Facebook or Instagram.

This beautiful double heart necklace is

handmade in Wales using silver and upcycled

tin. The perfect sustainable gift for your loved

one. Priced at £28, and with matching earrings

ranging from £20, visit Whynot Gallery to see

more unique creations.

www.whynotgallery.co.uk

Handmade in frosted glass and sterling silver,

this necklace (priced at £25) and earrings

(priced at £20) are just two of the items

available from At The Cedar's range called 'A

Little Trinket'. Visit the online shop at

www.atthecedars.co.uk to see more

Valentine's Day gift ideas.

39
---
Enchanted Hibiscus Tea - These premium petals can

create a magical pink, scarlet red or deep burgundy

tea. Full of vitamin C and antioxidants this tea is

the perfect way to show you care. Loose leaf

(100g) priced at £6.

Available from The Enchanted Apothecary.

www.gettea.co.uk

Instagram: @t.e.a_uk

This small Butterfly Heart Bowl, by Sarah Taylor,

was designed using Sarah's fascination with the

entomology collections at the natural history

museum. Priced at £16.

Find more handcrafted pieces from over 30

Staffordshire artists, at

www.thefoxandcrowgallery.co.uk.

Born and bred Lichfield florist, Jemma Jukes, studied at

The Covent Garden Academy of Flowers where she

was accredited a gold standard BCA Diploma in Floral

Design. Jem has an affinity and passion for flowers and

natural materials which has been with her since a

very young age.

See more of her work at www.jemsfloralstudio.co.uk,

or on Facebook and Instagram @jemsfloralstudio.

Say it with penguins this Valentine's Day! This

stunning card is made from original artwork by

Molly Doodle Dandy, and is blank inside for your

own message. Eco friendly & 100% recyclable.

Priced at £3.50 and available from

www.mollydoodledandy.co.uk.

Gorgeous coasters by local artist and

illustrator, Molly Doodle Dandy, are the perfect

way to brighten up your coffee table and the

ideal gift for any mug! Various designs available.

Priced at £4 each.

Order now, and see more of Molly's work, at

www.mollydoodledandy.co.uk.

Agra Heart Trinket Box and Hanging Wooden

Hearts. from £3.99 Available from Paul Martyn

Furniture, Heart of the Country Shopping Village,

Swinfen, Lichfield, WS14 9QR –

www.paulmartynfurniture.co.uk

40

She Is offers beautiful and affordable jewellery

for whoever 'she is' that day. A new, limited

number of pieces are released every day and

are available on the website

www.sheisjewellery.co.uk. The Valentine's Day

collection ranges from £5 to £12 and will be

released from 1st February. Follow on

Instagram and Facebook to see daily releases

@sheisjewellery

Perfect for all Tea Lovers - A selection of loose

leaf teas from traditional Black Assam to floral

Enchanted Hibiscus. Premium and luxury leaves

ranging between £6 - £8.

Available from The Enchanted Apothecary.

www.gettea.co.uk

Instagram: @t.e.a_uk

Give your loved one your heart this Valentine's

Day, such as this gorgeous creation handmade

in Wales using silver and upcycled tin. Priced at

£26 (with matching earrings from £20) and

available from Whynot Gallery at

www.whynotgallery.co.uk.
---
Anew and exclusive honey-infused gin has

buzzed its way into bars and restaurants

across the West Midlands, after a local couple

were left with a surplus of honey following an

expansion of their apiary during the initial

Covid-19 lockdown.

Aptly named 'The Apiarist', the popular gin has been

produced by keen beekeepers, Alex and Natalie Conti,

who commissioned a local craftsman to extend their

apiary as part of an early lockdown project, which enabled

them to spend more time in the garden with their two

young children.

As a result of the expansion, the family were left with a

few kilos of surplus honey, which inspired them to embark

on the production of a small batch of honey-infused gin.

Partnering with local award-winning Greywood

Distillery, makers of Fifth Spire gin, the debut batch of

unique, full-bodied infused Apiarist gin delivers rich, sweet

honey notes balanced with vibrant lemon and dry tea

flavours and has been well received by direct customers

and hospitality establishments alike.

Having worked together for years, the Lichfield based

couple usually run a business that specialises in making

travel arrangements for international art institutions,

however, due to the government-imposed travel ban

introduced earlier this year, the company is undergoing

a brief hiatus in its operations.

In discussing the early success of The Apiarist gin, Alex

said: "We couldn't be more thrilled to have developed a

gin that is infused with our own raw honey, bringing the

unique character of that golden nectar into a more

'adult' setting. As our bees forage around the Lichfield

countryside, we are proud to know that some of that

goodness is going towards making the perfect gin and

tonic."

Due to the ongoing success of The Apiarist, which was

voted one of the 'best flavoured gins of 2020' by The

Independent, Alex and Natalie have plans to create a

brand-new batch of gin in the spring, which will be

inspired by another one of their hobbies, foraging.

Although bars and restaurants are currently closed,

The Apiarist is stocked in multiple Lichfield locations,

including The Spirit Works, 55 Wade Street, Swinfen Hall,

The Boat Inn, and The Trooper. It is also available to

purchase directly from the website at

www.theapiaristgin.com.

READER OFFER

Enter code beemyvalentine at the

checkout to receive free shipping!

Local Beekeepers Launch

Exclusive Honey Gin

........................................

41
---
DO HAVE

LEAFLETS THAT

NEED

DELIVERING?

Call REBECCA

07970 513144

Competition and Prize Draw Terms and Conditions

1.Entrants' details will be held and processed in line with Citylife in Lichfield Ltd's

Privacy Policy, which in turn adheres to GDPR Data Protection legislation. For a

copy of our Privacy Policy please email kristencitylife@gmail.com

2.By entering the prize draw/competition, you agree to the terms and conditions

stated.

3.The closing date is stated on each individual prize draw or competition.

4.Entrants' details will be securely held by Citylife in Lichfield Ltd in accordance

with our Privacy Policy. Details will be held only until the closing date of the

competition. After this date entrants' details will be securely destroyed/deleted.

Winners' contact details will be securely stored only until the winner has been

informed of their win/prize. After this details will be securely deleted/destroyed.

5.Entrants' details will never be shared with any third party. The only exception to

this is the name (and if the prize is to be posted) address of Competition/Prize

Draw winners that will be communicated to the competition partner to allow

winners to securely claim their prize, after which all details will be securely

destroyed. The initial and surname of winners will be printed in our magazines –

no other details will be published.

6.By entering the competition/prize draw, entrants agree to Citylife in Lichfield Ltd

using or publishing materials provided by the entrants (but not address or contact

details apart from initial and surname) in any of their publications and online.

7.Citylife in Lichfield Ltd accepts no responsibility for any breach of copyright or

breach of any other legislation entailed by entrants in their creation or submission

of materials.

8.Only one entry per prize draw/competition, per reader.

9.Except in the case of cash prizes, no cash equivalent will be offered and the

prize is non-transferable.

10.All prizes are subject to availability and the prize suppliers' terms and

conditions.

11.No purchase necessary.

12.Prize draws and competitions are only open to UK residents aged 18 years or

over (unless otherwise stated).

13.Competitions and prize draws may not be entered by any employee of

individual associated with any employee, agent or third party of Citylife in Lichfield

Ltd.

14.Winners will be selected at random in the case of applicable prize draws and

competitions, or by an independent judge in the case of photographic/art

competitions from all entries received.

15.Winners will be notified by Citylife in Lichfield up to 28 days after the closing

date of the competition/prize draw by the contact details provided by the entrant.

16.A list of the surnames and county of residence of the winners will be available

by writing to Citylife in Lichfield Ltd no earlier than six weeks after the competition

closing date.

17.When the prize draw/competition winner has been selected, this decision is

final and no correspondence will be entered into.

18.Citylife in Lichfield Ltd accepts no responsibility for the prize being lost,

damaged or delayed in transit. When the prize is provided by a third party, Citylife

in Lichfield Ltd accepts no responsibility for any change to the prize, or for the

quality of the prize provided.

19.Competitions may be amended or withdrawn at any time.

20.By entering the competition or prize draw, you agree to having your name,

(photograph, where stated) and city or county of residence published in any of

Citylife in Lichfield's publications and online.

21.Unless otherwise stated, the promoter is Citylife in Lichfield Ltd, PO Box 7126,

Lichfield, WS14 4JS.

22. Citylife in Lichfield Ltd do not express any warranty or endorsement of any

competition prize, information, service or product provided in connection with a

competition by printing or otherwise publicising any competition.

23.To the full extent of the law, Citylife in Lichfield Ltd shall not be liable for any

loss, claim, punitive, indirect, incidental or consequential damages of any kind

incurred as a result of entering this prize draw or competition.

24.By submitting photos, text or artworks as part of competition/prize draw entries

you agree that you own these photos text or artworks, that it is your original work

to which you own all rights to distribute, and that your entry is accurate, moral and

legal.

42
---
43