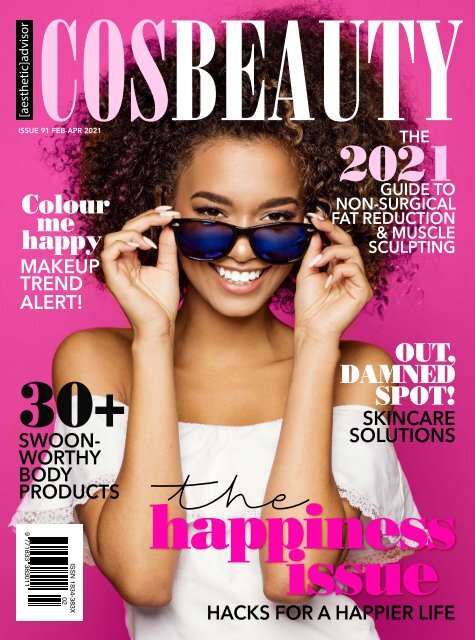 CosBeauty Magazine #91
CosBeauty is the #BeautyAddict's guide to lifestyle, health and beauty in Australia and New Zealand. In this issue: - The Happiness Issue - Hacks for a happier life! - Colour Me Happy - Makeup Trends Alert - 30+ Swoon-Worthy Body Products - Out, Damned Spot - Skincare solutions - The 2021 Guide to Non-Surgical Fat Reduction & Muscle Sculpting
CosBeauty is the #BeautyAddict's guide to lifestyle, health and beauty in Australia and New Zealand.
In this issue:
- The Happiness Issue - Hacks for a happier life!
- Colour Me Happy - Makeup Trends Alert
- 30+ Swoon-Worthy Body Products
- Out, Damned Spot - Skincare solutions
- The 2021 Guide to Non-Surgical Fat Reduction & Muscle Sculpting

SHOW MORE
SHOW LESS
You also want an ePaper? Increase the reach of your titles
YUMPU automatically turns print PDFs into web optimized ePapers that Google loves.
COSBEAUTY

ISSUE 91 FEB-APR 2021

Colour

me

happy

MAKEUP

TREND

ALERT!

THE

2021

GUIDE TO

NON-SURGICAL

FAT REDUCTION

& MUSCLE

SCULPTING

30+

SWOON-

WORTHY

BODY

PRODUCTS

9 771833 383011

ISSN 1834-383X

02

the

OUT,

DAMNED

SPOT!

SKINCARE

SOLUTIONS

happiness

issue

HACKS FOR A HAPPIER LIFE
---
&

Radiate

beauty

confidence

Using the latest technologies, our team of experts

is committed to help you achieve natural-looking

results in a relaxed and friendly setting.

Come in and experience the Skin Renu difference.

Our comprehensive treatment menu includes:

world-class wrinkle reduction and

lip enhancement

laser skin rejuvenation

CoolSculpting non-surgical fat reduction

Thermage non-surgical face lifting

medical peels

clinic-only premium skincare

Call us to book a complimentary consultation

02 9555 9506

www.skinrenu.com.au

16B Beattie St, Balmain, Sydney
---
85

beyond

facial

cleansing

A new generation of facial hygiene which

provides effective cleansing action,

respecting the balance of pH and skin flora,

and helping to protect the skin against

environmental pollution. Specific textures

and active ingredients meet the needs of all

skin types.

the element for skincare experts

Advanced Cosmeceuticals | 1800 242 011

advancedcosmeceuticals.com.au
---
CLEAR + BRILLIANT

now

available

with

nicole

As we age, the amount of maintenance required to keep a youthful look will increase,

but getting started early is a huge advantage. Filling the gap between over-the-counter

treatments and more aggressive laser offerings, Clear + Brilliant creates and defi nes an

entirely new category of laser aesthetic treatments for clients moving along the skincare

continuum. Clear + Brilliant helps prevent and address early signs of ageing, resulting in a

brighter, more even skin tone. Treatments are comfortable, fast, effective and suitable for

all skin types. The results are both immediate and progressive, depending on the age and

condition of the skin. It is also great for those who are looking for short downtime and a quick

skin 'pick-me-up'. Call Nicole now to take advantage of an opening offer.

02 9327 7728

mobile 0410 627 767

mobile 0410 627 767

nicole@nicolesbeautysalon.com.au

nicole@nicolesbeautysalon.com.au

Shop 8, 401 - 407 New South Head Rd,

Shop 8, 401 - 407 New South Head Rd,

Double Bay NSW 2028

Double Bay NSW 2028

www.nicolesbeautysalon.com.au

www.nicolesbeautysalon.com.au
---
Australian owned cutting-edge skincare

designed for Australian conditions

Three premium collections boasting high quality active ingredients

A SYNERGY OF SCIENCE AND NATURE

1800 242 011 skinvirtue.com.au

@skinvirtue
---
REGULARS

8 Editor's Letter

10 Beauty Insider

116 Ed's Faves

FEATURES

26 Defying gravity: The celebs

who never age

Whether they've doused

themselves in olive oil (right

on, J Lo), have the Fountain of

Youth on tap or (more likely)

have their cosmetic surgeon on

speed dial, there's no denying

these beauties seem to be

frozen in time.

34 10 Happiness Hacks for 2021

After the doom, gloom,

isolation and lack of vacation in

2020, we're stepping into 2021

with a checklist for positivity,

self-growth and happiness.

74 The beginner's guide to

essential oils

Whether you want to stress less,

improve focus or boost your

energy levels, essential oils can

help. Here's the lowdown on

how to make the most of these

powerful potions.

100 The 2021 guide to non-surgical

fat reduction muscle sculpting

Now's the time to take

advantage of the exceptional

non-surgical body contouring

technology that can remove fat

and build muscle.

108 Your beauty horoscope

From self-care to self-glow, get

your planets (and your wellness

plans) in alignment with your

ultimate beauty horoscope by

psychic Linda Willow Roberts.

BEAUTY

44 5 common skin problems & how

to avoid them

From acne breakouts to thirsty

skin, here are the solutions

you need to save face from

some of the most common

skin concerns.

60 Hair trend alert

From mullets to multidimensional

colour, here are

the biggest hair trends of 2021,

according to experts.

66 Colour Me Happy

From glitter lips to coloured

eyeliners, 2021 is shaping up

to be a year of intense and

experimental makeup colours

and textures.

80 Be Mine, Valentine

We all know beauty gifts say

"I love you" much more than

flowers and chocolates! Here's

our pick of swoon-worthy,

Cupid-approved gifts for

Valentine's Day.
---
88 Aussie Rules

A beauty-lover's guide to some

of the latest and greatest homegrown

australian skincare and

makeup products.

92 Crème de la Crème

Doesn't your body deserve

the best? Here are the skinsmoothing,

cellulite-banishing

and bottom-buffing body

products deserving of the

highest accolades.

www.cosbeauty.com.au 7
---
From the

EDITOR

Don't worry, be happy. It sounds simple enough (and was a catchy tune

in the 80s), but with 2020's tumultuous state of affairs, it can be difficult

to put on a happy face. It's not every year a global pandemic will literally

take over the world and disrupt our lives so irrevocably. But it's also made

us more aware of the value and necessity of self-care, our mental health and the

relationships we have, not only with others but also with ourselves. On page 34, you'll

find our 10 Happiness Hacks for 2021 and the simple ways we can make this our best

year yet.

With renewed focus on self-care, it's no surprise that essential oils have made a major

comeback in recent years. A large body of research confirms that essential oils have

measurable physiological effects on brainwave activity, blood pressure, pulse rates and

mood. On page 74, we investigate the ancient art of essential oils and the best oils to

help boost your mood and de-stress.

For full-body pampering, check out our Crème de la Crème article on page 92 where

we present the luxe list of skin-nurturing body treatment products. We also present a

definitive list of the non-surgical body shaping and muscle sculpting cosmetic treatments

available (page 100).

After a hot and humid summer, our skin can be looking a little worse for wear.

From acne breakouts and brown spots to dry, sun-damaged skin, on page 44 we list

the skincare ingredients and products you need to save face from some of the most

common skin concerns.

It's all blue skies and sunshine in this year's makeup forecast. From glitter lips to

coloured eyeliners, 2021 is shaping up to be a year of intense and experimental makeup

colours and textures. Check out our Colour Me Happy article on page 66 for products to

match this latest makeup trend.

We hope this special issue of CosBeauty helps to lift your spirits and equip you with

the products and know-how to complement your live happy philosophy.

You can find more great articles on beauty and wellbeing at www.cosbeauty.com.au, as

well as unbiased information on cosmetic enhancement at www.aestheticadvisor.com.au.

Issue 91

Feb – Apr 2021

Editor-in-Chief

Michelle Kearney

Art Director

Debbie Pilarinos

Writers

David Hickie,

Aimeé Rodrigues

Photographers

Debbie Pilarinos, ShutterStock

Distribution &

Subscription Enquiries

Bill Dunk

Phone 02 8095 6265 Mob 0410 528 582

Email bill@bellamedia.com.au

Advertising Enquiries

Michelle Kearney

Phone 02 8095 6265 Mob 0419 624 246

Email michelle@bellamedia.com.au

Editorial Enquiries

Michelle Kearney

Phone 02 8095 6265 Mob 0419 624 246

Email michelle@bellamedia.com.au

Produced & Published by Bella Media

ABN 86 082 157 695

Managing Director

Michelle Kearney

Chief Operating Officer

Bill Dunk

Public Relations, Marketing

& Event Organisation

Phone 02 8095 6265

OFFICE ADDRESS

Suite 2201, Level 22 Westfield Tower 2

101 Grafton St,

Bondi Junction NSW, 2022

Phone +61 2 8095 6265

www.bellamedia.com.au

Michelle Kearney

Editor-in-Chief

michelle@bellamedia.com.au

FIND US ON FACEBOOK

cosbeauty AND aestheticadvisor

FOLLOW US ON INSTAGRAM

cosbeauty AND aestheticadvisor_au

Visit our new website, www.aestheticadvisor.com.au, the trusted online resource

to: research procedures; find a skilled practitioner; read real reviews; and have

questions answered. You will be able to find out everything you want to know

about different aesthetic treatments, products and news. Leave a review of any

product or treatment you've tried or practitioner you've visited.

READ THE ONLINE EDITION PLUS MORE GREAT ARTICLES @

www.cosbeauty.com.au

Reproduction in whole or in part is not permitted without the

written authorisation of the publisher. All reasonable efforts have

been made to trace copyright holders. All manuscripts and articles

submitted for publication remain the property of The Bella Media

Group. This magazine contains general information only and

does not purport to be a substitute for medical advice. All readers

are advised to seek medical advice from a doctor if considering

cosmetic surgery. The publisher and the authors do not accept

any liability whatsoever in respect of an action taken by readers in

reliance on the recommendations set out in this magazine. Except

where specified in captions, photographs depict models who have

not necessarily received treatments described in this magazine.

Any 'before and after' photographs in CosBeauty Magazine

articles are of genuine patients. It is important to understand

that they represent one person's experience and there is

no guarantee that any other patient will experience similar results.
---
Beautiful Skin for Life

OUR CSA STRATEGY JUST GOT AN UPGRADE

Now in

SPF 50+

Begin your own skincare journey with Medik8's simple strategy of using vitamin C and sunscreen in

the morning and vitamin A at night. We call this strategy: CSA.

Discover our Physical Sunscreen now with SPF 50+.

www.medik8.com.au

1800 242 011

@medik8australia
---
@cosbeauty

Beauty insider

THE WHO'S WHO AND WHAT'S NEW IN BEAUTY.

FENTY SKIN IS HERE!

We've heard the hype and now

Rihanna's latest Fenty addition,

Fenty Skin, is here on our shores.

Fenty Skin is skincare

uncomplicated: Every multi-tasking

product is easy to use and packed

with benefits. It's all designed to

complement Fenty Beauty makeup

and has been tested on all skin

types and tones to work seamlessly.

'Fenty Skin is everything I wish

I had back then,' says Rihanna. 'I

wanted it to feel approachable,

easy, and to take the pressure off

choosing a routine, so I created one

for everyone.'

Think clean formulas that are

oil-free, vegan and gluten free, with

care for the coral reefs in mind.

For Fenty Skin starters, we

recommend Total Cleans'r Remove-

It-All Cleanser, $36, Fat Water

Pore-Refining Toner Serum, $39 and

Hydra Vizor Invisible Moisturiser

SPF15, $52.

INTRODUCING STRIVECTIN

SUPER-C RETINOL SERUM

Two of skincare's gold standard

ingredients join forces in StriVectin's

new Super-C Retinol Brighten &

Correct Vitamin C Serum. This

lightweight, supercharged formula

combines the brightening power of

Vitamin C with the correcting power

of retinol, two skin-enhancing, antiageing

ingredients that are typically

difficult to formulate together.

Super-C Retinol Serum visibly

helps to brighten, firm and restore

skin's radiance. Retinol smooths fine

lines and texture for visibly renewed,

glowing skin. Even more exciting,

considering the combination of

such powerful ingredients, is that

there is no price to pay in irritation.

StriVectin's patented form of Niacin,

NIA-114, has been clinically shown

to make retinol more tolerable, even

as it enhances its efficacy.

StriVectin Super-C Retinol Serum

will be available in April 2021 for

$112 (30 ml) at selected Priceline

pharmacies and priceline.com.au

10
---
@cosbeauty

HALLE BERRY, AMELIA HAMLIN

NEW FACES OF FINISHING

TOUCH FLAWLESS

Finishing Touch Flawless has signed on

fresh new faces for 2021, including Halle

Berry, Ashley Graham, Dove Cameron

and Amelia Hamlin.

Since the inception of Finishing

Touch Flawless in 2017, the team has

been working to partner with confident,

powerful and iconic women who

embody the mission of the brand –

which is to empower women to feel

and look their best, and to respect and

celebrate their differences in whatever

form that may be.

Finishing Touch Flawless offers

innovative devices that bring the spa,

dermatologist office or salon safely into

your home, at an affordable price. Cult

products include Dermaplane Glow, the

facial hair removal and exfoliation tool;

Nu Razor electric shaver; and Contour,

the Rose Quartz vibrating facial roller.

MESOESTETIC'S NEW LOOK

mesoestetic introduces its new brand

image, which aims to create a universal

focus on its scientific expertise.

A world leader of the medical

cosmetics and cosmetic medicine

industry, mesoestetic's visual evolution

marks the starting point for the

company's new direction, continuing to

be a benchmark in the aesthetic industry.

With the new tagline 'the element

for skincare experts', mesoestetic is

positioned as the essential element for

skincare, both now and into the future,

thanks to its ongoing commitment

to research and development and

renowned technological expertise.

Changes in product packaging will

take effect throughout this year, starting

with new launches and then updating

the existing portfolio.

www.cosbeauty.com.au 11
---
@cosbeauty

BODYBLENDZ DROPS

NEW PRODUCTS

BodyBlendz has launched the

Glacial Dip Exfoliating Hydrator

and Body Elixir, with international

TV personality and model Nicole

Williams-English named as the face

of the collection.

Suitable for all skin types, the

unique Glacial Dip blend has been

formulated with a precise ratio of

the highest quality naturally-derived

ingredients, including: Australian

Bentonite Clay, Bamboo Powder,

Green Coffee Extract, Aloe Vera

and 10 Essential Oils, which when

combined together, are a powerful

formula to eliminate dead surface

cells whilst hydrating the skin.

The Glacial Dip Exfoliating

Hydrator and Body Elixir have been

recommended by the biggest

international identities, including

Kim Kardashian, Shanina Shaik and

Sarah Stage. Needless to say, this is

one to nab while you can!

The Glacial Dip Set (including the

Glacial Dip Body Glow Exfoliating

Hydrator and Body Elixir) is now

available for $99.99.

ASPECT LAUNCHES MINERAL

MAKEUP RANGE

New from Aspect Skincare, this

collection of mineral makeup is the

perfect pairing to the Australian

brand's cosmeceutical skincare,

helping to ensure your skin is

smooth, hydrated and now with a

filter-like finish.

The range is formulated with

an ultra-fine blend of minerals

including: zinc oxide, titanium

dioxide and mica, which provide

a flawless base and much-needed

environmental protection; hyaluronic

acid to boost hydration; and the

Aspect Signature Blend of skin-loving

Australian botanicals to revitalise

and nourish.

Aspect Minerals blends effortlessly

to colour correct and diffuse

imperfections, providing buildable

coverage for the ultimate glow. Free

from parabens, SLS, mineral oil

and vegan-friendly, it definitely has

our vote!

The range: Primer $49, Powder

$59, Liquid $59 and Kabuki $30.
---
@cosbeauty

AT-HOME IPL HAIR REMOVAL

GETS A MAKEOVER

The world's #1 at-home IPL hair

removal handset just got an

upgrade: the ICE IPL Hair Removal

Device, now features a cooling

technology for added comfort, just

like in the clinic, amongst other

improvements.

Based off of the much-loved

original Happy Skin Gen.2, the new

device has upgraded all features

to bring you the most incredible

handset yet. The new and improved

at-home IPL laser hair removal

handset features intense pulsed

light (IPL), ice cooling technology

and a Xenon Quarts Tube.

Quick and easy to use on any

body part, you'll now be able access

three modes: Manual Mode, Auto

Mode and Glide Mode. RRP $399.

GARNIER'S BUY ONE,

PLANT ONE INITIATIVE

In support of International Year

of Plant Health (IYPH) and as part

of its 'Greener Beauty' mission,

Garnier has launched a Buy One,

Plant One initiative that will see the

leading beauty brand responsible

for planting up to 8,000 trees to help

reduce carbon emissions.

For every Garnier product

purchased nationwide in Coles

supermarkets and Coles online

from the 6th of January, Garnier will

support the planting of one tree in

an effort to assist in a 29-hectare

ecological restoration of an existing

corridor between three National

Parks (Nightcap, Border Rangers

and Mebbin), in Nimbin, northern

New South Wales.

Garnier's 'Greener Beauty'

initiative is a complete end-to-end

approach to sustainability and aims

to transform every stage of Garnier's

value chain.

www.cosbeauty.com.au 13
---
Being happy

never goes

out of style.

Lilly

Pulitzer​
---
www.cosbeauty.com.au 15
---
Simplicity

makes

me happy.

credit: Tinseltown / Shutterstock.com

Alicia Keys​

www.cosbeauty.com.au 17
---
The only thing

that will make

you happy is

being happy with

who you are.

Goldie Hawn​
---
www.cosbeauty.com.au 19

credit: Tinseltown / Shutterstock.com
---
Abraham

Most folks are

as happy as they

make up their

minds to be.
---
Lincoln​

credit: Lucian Milasan / Shutterstock.com

www.cosbeauty.com.au 21
---
credit: Ga Fullner / Shutterstock.com
---
Happiness

is the best

makeup.

Drew

Barrymore​

www.cosbeauty.com.au 23
---
24
---
If you have good

thoughts, they will

shine out of your

face like sunbeams

and you will always

look lovely.

Roald Dahl​

www.cosbeauty.com.au 25
---
FEATURE

Defying

gravity

The

celebs

who

never

age

then

WHETHER THEY'VE

DOUSED THEMSELVES

IN OLIVE OIL (RIGHT

ON, J LO), HAVE THE

FOUNTAIN OF YOUTH

ON TAP OR (MORE

LIKELY) HAVE THEIR

COSMETIC SURGEON

ON SPEED DIAL, THERE'S

NO DENYING THESE

BEAUTIES SEEM TO BE

FROZEN IN TIME.

credit: Featureflash Photo Agency / Shutterstock.com

JENNIFER LOPEZ, 51

Well, what do you know? Olive oil, the

stuff we've been drizzling on our salads

all these years, is J Lo's secret to looking

30-something when she's 50-something.

That, and daily affirmations.

'I haven't ever had Botox to this day,' she

told The Daily Mail, while promoting her

new skincare line. 'I'm not that person.'
---
now

credit: Ovidiu Hrubaru / Shutterstock.com

www.cosbeauty.com.au 27
---
then

FEATURE

credit: Kathy Hutchins / Shutterstock.com

NICOLE KIDMAN, 53

With a complexion as smooth

as glass and a perfectly taut and

tight face in all the right areas,

this alabaster-skinned actor never

seems to age. 'No surgery for me…

I wear sunscreen,' she once said.

now

credit: Tinseltown / Shutterstock.com
---
now

JULIA ROBERTS, 53

This 'Pretty Woman' continues to

deny cosmetic surgery rumours

and claims she made a conscious

choice to go with the 'natural

look' when it comes to ageing.

If that's the case, she should be

very happy with how that decision

is working out for her.

then

credit: Featureflash Photo Agency / Shutterstock.com

www.cosbeauty.com.au 29
---
then

FEATURE

credit: Tinseltown / Shutterstock.com

SANDRA

BULLOCK, 56

Sandra Bullock most

definitely doesn't look 56.

But her lips are sealed when

it comes to revealing her

secret to staying perennially

young. (Hint: apparently it's

not surgery or fillers.)

now
---
now

CINDY

CRAWFORD, 54

The 90s supermodel admits

to having a little helping

hand in the ageing stakes.

'I'm not going to lie to myself

– past a certain age, creams

work on the texture of your

skin but, in order to restore

elasticity, all I can really count

on is vitamin injections,

Botox and collagen,' she

once told InStyle Magazine.

credit: Kathy Hutchins / Shutterstock.com

then

credit: Featureflash Photo Agency / Shutterstock.com

www.cosbeauty.com.au 31
---
now

FEATURE

JENNIFER

ANISTON, 51

Looking fit and fab at 51,

Jenn looks virtually the same

now as she did when we fell

in love with Rachel Green

on Friends some 27 years

ago. She swears that all she

does is focus on skincare and

workouts to stay gorgeous

and healthy (although she

has conceded she had a

rhinoplasty to fix a deviated

septum in the past).

then

credit: Featureflash Photo Agency / Shutterstock.com

credit: DFree / Shutterstock.com
---
JANE FONDA, 83

Jane Fonda has one of the most

age-defying faces and bodies in

Hollywood – she's also the first to

admit that it isn't the result of

good genes.

'I'm glad I look good for my age,

but I've had plastic surgery,' she

said in a 2018 documentary. 'I'm not

going to lie about that.'

You go, girlfriend!

now

then

credit: Tinseltown / Shutterstock.com

credit: Ovidiu Hrubaru / Shutterstock.com

www.cosbeauty.com.au 33
---
FEATURE
---
10

HAPPINESS

HACKS

for

2021

AFTER THE

DOOM, GLOOM,

ISOLATION

AND LACK OF

VACATION IN 2020,

WE'RE STEPPING

INTO 2021 WITH

A CHECKLIST

FOR POSITIVITY,

SELF-GROWTH

AND HAPPINESS.

Let's face it, we've all gone

through a lot. It's not every

year a global pandemic

will literally take over our lives and

confine us to our homes. But it's also

made us more aware of the value

and necessity of self-care and the

relationships we have with not only

others but also with ourself.

Starting from today, give yourself

a boost of energy and a side of

smiles by trying these proven

happiness hacks...

www.cosbeauty.com.au 35
---
FEATURE

1.

WRITE A PERSONAL

VISION STATEMENT

Forget those all-too-easy-to-break New

Year's resolutions; this year it's all about

vision statements. They help you stay

focussed on your end goals, clarify what's

important to you and help you get through

the rough times.

Ask yourself: What do you want to

achieve? In which areas of your life do

you most want to grow? How can you do

this? And what will the outcomes of your

efforts be when the clock hits 12:01am on

January 1, 2022?

Record your personal vision statements

by writing them down, making a selfie

video or creating a vision board. It's a

great way to help you live your life with

purpose and meaning.

2.

LEARN SOMETHING

NEW

Whether you've always wanted to learn the

piano, become a green thumb or unleash

your artistic streak, purposeful activities

can help you relax and improve your

mental health while remaining productive.

You don't have to create a piece of art

or perform a concerto for the Sydney

Symphony Orchestra – it's all about having

a good time and pursuing passions.

For a mood boost, gardening gets our

vote. Numerous studies have found that

bacteria in soil can improve your mood

and help you de-stress. Scientists have

discovered that the mycobacterium found

in soil can improve brain function, boost

the immune system and even improve

serotonin levels.

If higher education is more your jam,

the coronavirus pandemic has opened up

infinite new online learning opportunities.

Online courses enable you to brush up on

your skills or gain newfound knowledge.

As an added bonus, many of these courses

are free!
---
3.

CREATE NEW

WORK RITUALS

Have you been spending most of your

waking life in front of your computer

working from home? While we're all

about the comfy clothes and extra

snooze time, the WFH revolution

comes with its challenges. We need to

be extra vigilant to remain connected

with our colleagues, set boundaries

so we can "switch off" and stay in

a productive headspace and, most

importantly, leave work at work,

(which can be difficult when you also

live there!).

If you're continuing to WFH in 2021,

your new work rituals should first

include setting up a daily schedule

and sticking to it – we are creatures of

habit and research has found having

a consistent daily routine can have

a positive impact on mental health.

Also schedule in designated breaks,

whether to eat lunch away from your

desk, virtual workouts with friends or

colleagues, go for a walk to clear your

head, or spend some time cultivating

your new hobby (see #2). It's also

important to create a dedicated

workspace that you can "clock off"

from, even if it's just a chair at your

kitchen table.

4.

SPEND MONEY

ON EXPERIENCES,

NOT STUFF

There's no denying the sheer delight

of an Amazon delivery at your

door or buying the latest iPhone,

however, the experiences we have,

rather than the stuff we own, are

more likely to make us smile.

In a 20-year study by Dr Thomas

Gilovich, a psychology professor

at Cornell University, it was found

that experiences – as fleeting as

they may be – deliver more lasting

happiness than our possessions.

The researchers explained

that experiences, such as travel,

attending a sporting event or

concert or even just going to a

restaurant, become a part of our

identity. We are not our possessions,

but we are the accumulation of

everything we've seen, the things

we've done and the places we've

been. A lot of times we also

consume experiences directly with

other people, and after they're

gone, they're part of the stories that

we tell to one another.

5. HUG MORE

While we're feeling all warm and

fuzzy, let's talk about hugs. Social

distancing rules aside, when you

hug a person, your body releases

the feel-good chemical, oxytocin. It's

a hormone linked to social bonding,

fostering trust and loyalty.

Hugging can be good for your

health. It can reduce feelings of

stress or anxiety, lower your blood

pressure, reduce pain and may even

ward off illness!

Humans thrive on physical

connection, and hugging is one of

the most powerful ways to show

physical support, so go on and hug

it out.

6.

KEEP A

GRATITUDE

JOURNAL

It can be easy to take for granted

what's special in our lives. A

gratitude journal reminds us of

what's truly important.

A growing body of research

shows keeping a log of what you

are thankful for can lower stress,

help you sleep better, and may even

reduce the risk of heart disease.

Write about the best things that

have happened to you during the

course of the day and consider all

the people and things in your life

you're grateful for. And don't forget

to practice some self-love and

include yourself and your amazing

body and all that it allows you to do.

www.cosbeauty.com.au 37
---
FEATURE

7.

GET ENOUGH

SLEEP

We all know how sleepless nights

can lead to puffy, tired eyes and

brain fog, but there's more to sleep

than that. Science has linked poor

slumber with a number of health

problems, including depression,

weight gain and a weakened

immune system.

Sleep provides an opportunity for

the body to repair and rejuvenate

itself. Many of the major restorative

functions in the body such as

muscle growth, tissue repair, protein

synthesis and growth hormone

release occur mostly or, in some

cases, only during sleep.

Sleep is critical for immune

function, improving the metabolism,

maintaining a healthy weight,

enjoying a positive mood,

optimising physical and mental

performance and preventing

premature ageing.

A good 7-9 hours of sleep each

night is essential for your health

and happiness.

8.

DRINK (MORE)

WATER

Water is essential to nearly every

part of your body. It carries nutrients

and oxygen to your cells, flushes out

bacteria, helps digestion, protects

organs, tissues and joints, regulates

body temperature and normalises

blood pressure. Water can improve

memory and mood, reduce sugar

cravings, aid in weight loss, reduce

headaches and improve mental and

physical performance.

Give your body enough fluids

each day to avoid dehydration and

look and feel your best. Drink a glass

of water first thing in the morning

when you wake up, and keep

drinking water at regular intervals

throughout the day. Harvard Medical

School recommends four to six cups

of water daily as a rule for generally

healthy people.

9.

ENJOY DAILY

EXERCISE

While it's no new concept, it remains

the best tip for getting and staying

in shape, and enjoying a happy,

healthy outlook on life. Doing

activities you love is the best way

to exercise. And don't discount the

myriad benefits of walking. Walking

for 20-30 minutes each day improves

heart health, boosts immunity and

enhances your mood.

Yoga is also a favourite for overall

health and vitality – it's not just a

great workout that strengthens and

stretches the muscles; it relaxes the

mind and eases stress, too.

Moving your body is a great way

to show it some love. Exercise tones

your muscles and helps you use up

stress hormones. Think of it as a

rewarding experience.
---
NEW RESEARCH REVEALS

AUSTRALIA'S NUMBER-ONE

DRIVER OF HAPPINESS

Leading natural beauty brand Burt's Bees has

released the findings of a nation-wide 'Smile

It On' survey that explores happiness, human

connection and the power of a smile. The survey

reveals that the top three drivers of happiness are

family (61%), physical health and wellbeing (42%),

and relationships with partners (39%).

The survey also examined what makes us smile.

Hearing good news (54%) was the number-one

driver of a smile, followed closely by doing

something that makes someone else smile (34%).

The research also revealed that more people

smile (57%) when doing something positive for

someone else, rather than for themselves. These

two statistics go to show the power of helping

others, for both the giver and the receiver.

10. VOLUNTEER

Volunteering your time is a great

way to help others and fill your

happiness tank at the same

time. Research has found that

participation in voluntary services

is significantly predictive of better

mental and physical health, overall

life satisfaction, self-esteem

and happiness.

Volunteering helps counteract the

effects of stress, anger and anxiety,

and the social contact aspect of

helping and working with others

can have a profound effect on your

overall psychological well-being.

SPREAD HAPPINESS

Burt's Bees has recently joined with The Happy

Boxes Project, aimed at spreading happiness and

smiles to remote communities around Australia.

The Happy Boxes Project is a national charity

focused on helping women in need across

Australia by boxing and sending toiletries and

beauty products. The partnership will see Burt's

Bees donating their own products for special

Burt's Bees Happy Boxes, which will be shared

with the communities that the Project supports

across Australia.

The Happy Boxes Project strives to empower

women through alleviating the barriers of

accessing basic needs. They aim to send as many

Happy Boxes filled with self-care products as

possible to provide women, regardless of their

location and situation, the enjoyment of life's

little luxuries that we regularly take for granted.

To spread happiness, Australians are invited

to Smile it On by donating to The Happy Boxes

Project (happyboxesproject.com) and simply

smiling at the next person you see – because

96% of Australians agree the world would be

a better place if we smiled at each other more

often. Now that's something we can smile about!

www.cosbeauty.com.au 39
---
SKIN

Super

charged

Vitamin A

for your best

skin yet

MEET CRYSTAL RETINAL TM 20, MEDIK8'S NEWEST AND

MOST POWERFUL ADDITION TO ITS AWARD-WINNING

VITAMIN A SKINCARE RANGE.

PSA: Medik8 have just released

their new groundbreaking

serum and the future of ageing

has never looked so bright. Crystal

Retinal TM 20 is double the strength

of their current highest Crystal

Retinal TM formula, making it their

most powerful addition yet.

The Crystal Retinal range is

formulated with retinaldehyde, a

super-charged derivative of Vitamin

A that works in synergy with skin

to help promote cellular turnover.

In turn, it helps firm, plump and

resurface the skin, visibly minimising

fine lines and wrinkles to deliver a

more youthful-looking and eventoned

complexion.

The range includes five different

strengths of the anti-ageing, skinsmoothing

serum which provide a

stepping-stone to Crystal Retinal TM

20, the most groundbreaking level

of the range and only available

through a skin therapist. You'll need

to have used Crystal Retinal TM 10

continuously for 3 months in order

to power up to Crystal Retinal TM 20.

Starting at a lower level will allow

your skin some time to get used

to Vitamin A, and you can then

introduce higher strengths as your

skin becomes accustomed to it.

RETINOL AND

RETINAL:

PLEASE EXPLAIN

Vitamin A is actually a group of

related compounds or derivatives,

with the most common derivatives

used in skincare being retinol, retinal

and retinoic acid (clinical-grade).

Retinoic acid is the strongest

form of Vitamin A on the market.
---
It works rapidly to significantly

combat signs of ageing, but it also

comes with extensive side effects –

excessive dryness, peeling, redness

and irritation to name a few. For

this reason, it is only available by

prescription from a doctor.

Retinol is the most popular form

of over-the-counter Vitamin A. It

also provides significant anti-ageing

results. When applied topically, it

must be converted into retinoic

acid by the skin before it can take

effect, a process that requires a

two-step conversion.

This two-step conversion slows

down the effect of retinoic acid on

the skin, which means less irritation,

but it also means you have more of a

wait before seeing results.

Always eager to improve and

innovate, Medik8 researchers

Vitamin A

– the hero

anti-ageing

ingredient

Research proves that Vitamin A

has an incredible effect on the skin

and is one of the most important

anti-ageing skincare ingredients to

repair, restore and regenerate your

complexion. It is one of the only

molecules that can actually assist in

re-programming cells, resulting in

healthier-looking, more radiant skin.

Our skin doesn't make Vitamin A,

so our bodies can become deficient

over time. The ageing of skin is

triggered by environmental factors

such as pollution and sun exposure,

which causes the loss of important

vitamins such as Vitamin A, along

with key antioxidants and Vitamins

C, E, pro-Vitamin B5 and betacarotene.

This results in uneven skin

tone, wrinkles and loss of firmness.

Vitamin A needs to be replaced

every day to reduce sun damage,

and the best way to top up is

through topical application. Regular

application of a Vitamin A derivative

thickens and stimulates the dermis,

where your collagen, elastin and

blood vessels are, so it helps to

reduce wrinkles, improve acne and

hyperpigmentation, and increases

blood flow to the surface of the

skin. As a result, your skin looks

younger, healthier, smoother and

more even toned.

www.cosbeauty.com.au 41
---
SKIN

have harnessed the power of a

new, advanced form of Vitamin A,

retinaldehyde, which is the star

ingredient in its Crystal Retinal TM

skincare range.

Unlike retinol, which must first

be converted to retinaldehyde and

then to retinoic acid within the

skin, Crystal Retinal TM only requires

one conversion to retinoic acid.

This means it can deliver results

comparable to clinical-grade Vitamin

A up to 11x faster than classic forms

of retinol.

However, retinaldehyde is almost

impossible to stabilise; hence the

lack of products including the

ingredient on the market. Rising

to the challenge, the scientists at

Medik8 were the first to stabilise this

ingredient through a double-layered

stabilisation system; combining

an ingenious crystal encapsulation

that gives the range its name

with a patent-pending formula

stabilisation complex to maximise the

retinaldehyde's stability.

NEXT-GEN

ANTI-AGEING

RESULTS

Crystal Retinal TM 20 is formulated

with stabilised retinal, a powerful

derivative of Vitamin A with nextgeneration

anti-ageing results.

The groundbreaking overnight

serum visibly minimises fine lines

and wrinkles; firming and plumping

the appearance of the complexion

to resurface skin texture and soften

the face. Featuring hyaluronic acid,

glycerin and Vitamin E, it hydrates

skin at every level to deliver a visibly

supple, even-toned, more youthfullooking

complexion.

More than that, it actively helps

reduce blemish-causing bacteria to

keep skin looking clear and balanced.

In just four weeks, skin appears

noticeably younger, smoother and

undeniably radiant.
---
SCIENCE BEHIND

CRYSTAL RETINAL TM

Superior absorption – Crystal

Retinal TM has a patented time-release

delivery system that encapsulates

retinaldehyde in a crystal molecular

vehicle that is broken down by

the skin's natural enzymes upon

contact. This unique action controls

the release of the active to ensure

that the formula remains stable,

absorption is optimised and the

highly potent formula is distributed

evenly and constantly throughout

the night.

Double-layered stabilisation

system – Retinaldehyde is

notoriously difficult to stabilise, but

thanks to a collaboration between

Medik8 and the University of

Hertfordshire, Crystal Retinal TM

features crystal encapsulation of

retinaldehyde within a patentpending

stabilisation complex to

keep the formula stable. This ensures

maximum potency of the product to

deliver exceptional results.

Optimum hydration – Featuring

multi-weight hyaluronic acid and

Vitamin E, Crystal Retinal TM hydrates

skin at every level while helping

strengthen the skin's barrier to keep

moisture locked in tight.

Kind to skin – Medik8's timerelease

stability system ensures that

Crystal Retinal TM is released slowly

and steadily throughout the night,

meaning it won't overwhelm the

skin. Remarkably, although Crystal

Retinal TM has results comparable to

clinical grade retinoic acid, it

remains as gentle on the skin as

traditional retinols.

Virtually weightless – Lightweight

and luxurious, Crystal Retinal TM 's

silk-like texture sinks effortlessly

into skin to nurture and restore

the complexion.

The

numbers

95%

of users reported smoother

skin texture after using Crystal

Retinal TM 6 for 4 weeks*

75%

felt that the appearance of fine

lines is significantly reduced*

80%

felt that their skin looked

noticeably more youthful*

85%

of users said that overall

skin tone is improved and

complexion is clarified*

*In a trial of 20 people using

Crystal Retinal TM 6 over 4 weeks

Antibacterial properties

– Unlike many other forms of

Vitamin A, retinaldehyde boasts

direct, powerful antibacterial

properties, making it an ideal

anti-ageing product for blemishprone

skin. When used over time,

it helps diminish P. acnes, the

bacteria responsible for breakouts,

promoting a healthy-looking,

balanced complexion. CBM

WHERE

TO GET IT

Crystal Retinal TM 20 is only

available in clinics through

therapist consultation. The existing

retail line-up of Crystal Retinal TM

strengths 1, 3, 6 and 10 remain in

full distribution and available to

buy online as usual.

Check your local Medik8 clinic

or visit medik8.com.au

www.cosbeauty.com.au 43
---
BEAUTY
---
5COMMON

SKIN

PROBLEMS

&

HOW TO

AVOID

THEM

FROM ACNE BREAKOUTS TO

THIRSTY SKIN, HERE ARE THE

SOLUTIONS YOU NEED TO SAVE

FACE FROM SOME OF THE MOST

COMMON SKIN CONCERNS.

www.cosbeauty.com.au 45
---
BEAUTY

BLEMISH-PRONE

SKIN

Acne is an inflammatory skin condition

that causes a disorder in the activity of

pores. In normal conditions, sebaceous

glands produce oil which lubricate and

protect the skin's surface. In the case

of acne, these glands produce more oil

than normal, causing a build-up of oil,

bacteria and dead skin cells which leads

to an obstruction to the follicle. This

ultimately results in the formation of

pimples and red spots.

Acne-fighting salicylic acid-based

products pack a real punch when it

comes to pimple-zapping goodness. Look

for AHAs/BHAs that gently exfoliate to

remove build-up and

unclog pores.

And we know it's tempting, but it's

important to leave your face alone! The

less you touch a pimple, the more it will

calm down and be less likely to spread to

other areas of the face – and less likely to

result in permanent scarring.

1.

1. Medik8 Blemish Control Pads, 60

pads, $59, 2. SkinCeuticals Blemish +

Age Defense, $162.95, 3. asap Clear

Complexion Gel, $55, 4. Sisley Deeply

Purifying Mask, $165, 5. Ella Baché

Defence+ Charcoal Micro Exfoliant,

$60 (out Feb 22), 6. La Roche-Posay

Innovation Effaclar Duo Plus, $31.99, 7.

Avène Cleanance Comedomed, $29.95,

8. mesoestetic pure renewing mask, $89,

9. Image Skincare Clear Cell Salicylic Gel

Cleanser $57.50, 10. Eminence Organics

Charcoal Exfoliating Gel Cleanser, $105.

7.

8.

3.

2.

4.

5.

6.
---
1.

2.

3.

4.

1. CALECIM ® Professional Pigment Solution, $269,

2. Clinique Even Better Clinical Radical Dark Spot

Corrector + Interrupter in limited edition packaging,

$113, 3. Skin Virtue Future Advanced Brightening

Cream, $100, 4. mesoestetic brightening

peel booster, $119, 5. Medik8 White Balance

Brightening Serum, $124

5.

6.

PIGMENTATION

10.

If you've spent your fair share of

time in the sun, freckles and other

forms of pigmentation will rear their

ugly heads. In its various forms,

hyperpigmentation affects over 80

percent of women over the age of

25 and is rated the number two skin

concern after facial wrinkles.

Hyperpigmentation refers

to changes in the melanin

content and distribution of the

skin. There are four major types

of hyperpigmentation: Post-

Inflammatory Hyperpigmentation

(PIH) caused by trauma to the skin;

age spots accumulated with age from

exposure to the sun or pollution;

freckles caused by an excess of

melanin on the skin, either as a result

of genetics or from excess

sun exposure; and melasma, which

often appears on the face as larger

brown patches with a non-distinct

border and is often linked to

hormonal imbalances.

Research has shown that a high

concentration of Vitamin C can

significantly improve brown spots, as

well as skin-brightening ingredients

such as hydroquinone. Vitamin A, in

the form of stabilised retinol, enables

surface hyperpigmented cells to be

sloughed off, as well as helping to

reduce melanin production. Vitamin

B3/Niacinamide helps prevent

transfer of the melanin pigment from

the melanocyte to the keratinocyte

in the epidermis. Koji acid is another

commonly used ingredient in treating

pigmentation as it helps inhibit the

production of tyrosinase.

If there's one thing you can do, it's

this: wear sunscreen every day! Not

only does it help prevent potentially

fatal skin cancer but it also protects

your skin from harmful UV rays – the

culprit behind most pigmented spots

and premature ageing.

The best way to tackle tricky

brown spots is with a multi-pronged

approach including cosmeceuticalgrade

skincare using actives

mentioned above, using broadspectrum

sun protection every day,

and individualised clinical treatment

such as cosmelan® depigmentation

treatment. This advanced formulation

from mesoestetic, a multinational

pharma specialising in medical

cosmetics, offers an in-clinic solution

and home system for hard-to-treat

pigmentation.

9.

www.cosbeauty.com.au 47
---
BEAUTY

RED, IRRITATED SKIN

Redness is fickle and can be hard to tackle. If your face looks red

or flushed, it can be due to a variety of things such as alcohol,

your lifestyle, your genes or simply your skincare regimen.

Be sure to use facial skincare products that do not contain

irritating ingredients; look for fragrance-free and hypoallergenic.

Skin irritation can lead directly to inflammation and redness.

Common ingredients found in facial products that can irritate

your skin include fragrances, alcohol, menthol and glycolic

acid. The name of the game is 'gentle', so avoid scrubbing and

any abrasive cleansing tools. Look for calming serums with

antioxidant-rich plant extracts to keep dryness at bay and help

diminish skin redness and inflammation.

Remember, the sun can be a big player in facial redness so

make sure you always use a SPF15 or greater titanium dioxide or

zinc oxide to protect your skin.

1. Paula's Choice CLEAR Anti-Redness Exfoliating Solution,

$38, 2. KLAIRS Midnight Blue Calming Cream, $44.99,

3. Skinstitut Quick-Fix Calming Sheet Mask (4 masks), $49,

4. La Roche-Posay Toleriane Ultra Dermallergo Serum,

$55.95, 5. Skin Virtue Super Clear Essential Cream, $90,

6. La Mer The Concentrate, $790, 7. Sisley Restorative

Facial Cream, $210, 8. asap Gentle Cleansing Gel, $32,

9. Ella Baché Defence+ Antioxidant Radiance Cream, $85

(out Feb 22), 10. mesoestetic anti-stress face mask, $118

3.

1.

2.

7.

8.

9.

6.

4.

5.

10.
---
1.

2.

Sun CARE

In a country as sun-drenched as

Australia, our skin is unavoidably

battered by some degree of

ultraviolet (UV) radiation. With

profound effects on skin health,

sun damage has been deemed

responsible for up to 90 percent

of visible signs of skin ageing

and impacts the entire spectrum

of skin processes. It is difficult

to tell just how much damage is

occurring during sun exposure,

as the radiation responsible for

photoageing is different to that

which causes sunburn. While

excessive UVB exposure induces

burning, blisters and discomfort,

UVA radiation penetrates the skin

unnoticed, wreaking havoc on the

cells, vessels and support structures

of the dermis.

Sunscreens are an integral part of

any anti-ageing regime. They are,

first and foremost, products to help

prevent extrinsic ageing of the skin.

Excessive sun exposure is

responsible for most of the skin

damage associated with ageing.

This damage accumulates slowly

over time and starts at an early age.

The damaging UV rays of the sun

can cause a variety of damage to

the skin, most notably skin cancer.

They break down collagen, which

gives skin its elasticity and can lead

to premature wrinkles, especially

around the forehead, eyes and

mouth. Sun damage can also cause

discolouration of the skin.

Always take the necessary

precautions and hydrate and protect

your skin before spending time in

the sun. Or, even better, stay in the

shade as much as you can.

3.

6.

4.

1. Davines Su Aftersun, $49.95, 2. Fenty Skin Hydra

Vizor Invisible Moisturizer Broad Spectrum SPF 15

(SPF 30 Globally) Sunscreen, $52, 3. mesoestetic

mesoprotech mineral matt anti-ageing fluid (SPF

50+), $79.80, 4. mesoestetic mesoprotech sun stick

100 SPF 50+, $49.80, 5. Medik8 Physical Nano-

Free Sunscreen SPF 50+, $69, 6. La Roche-Posay

Anthelios Tinted Fluid SPF 50+, $29.95, 7. Invisible

Zinc, Face + Body SPF 50, $29.99.

5.

7.

www.cosbeauty.com.au 49
---
BEAUTY

DRY SKIN

Dry skin is a manifestation of the skin

relating to both internal and external

factors. Barrier is the word of the day.

In healthy skin, the epidermis (top layer)

has a seal around the cells to trap the

moisture, known as a barrier function.

However, dryness, cold and sensitising

products wreak havoc on this natural

function, so you need products

to bolster your skin's defences. Up the

ante by using a richer cream or oil into

your routine and incorporate moistureinfused

brightening masks into your

skincare routine.

Use regenerating day moisturisers

and night creams, massaging the skin

in a light circular motion to improve

circulation and keep the skin's outer

layer active and healthy. Try layering

your products to lock moisture into your

skin. A hydrating serum underneath

your moisturiser will penetrate deeper

into the skin for boosted hydration and

brightness.

And remember to drink plenty of

water and reduce your intake of alcohol.

The recommended eight glasses of water

will help keep your skin healthy and

plump.

1. Eminence Organics Turmeric

Energizing Treatment, $150,

2. Jurlique Nutri-Define Supreme

Rejuvenating Serum, $165,

3. CALECIM ® Professional

Restorative Hydration Cream, $160

2.

3.

1.
---
2.

1. Aesthetics Rx B Serum Hydrate

& Volumise, $109, 2. BL Biologi Lip

Serum, $24, 3. Enbacci Vitis Vinifera

Rejuvenating Sheet Mask, $20,

4. Sisley Express Flower Gel Mask,

$160, 5. Sisley Hydra-Global Serum,

$320, 6. asap Ultimate Hydration, $95,

7. Evidence Skincare (ESK) Hydroxy

Overnight Mask, $50, 8. Skin Virtue

Pure Radiance Glow Serum, $70,

9. Neutrogena Hydro Boost Gel Cream,

$26.99, 10. KLAIRS Freshly Juiced

Vitamin E Mask, $38.50, 11. Minenssey

Micellar Cleansing Water, $36, 12.

Fenty Skin Fat Water Pore Refining

Toner Serum $39, 13. asap Liquid

Platinum, $65, 14. Paula's Choice,

RESIST Skin Restoring Moisturizer with

SPF 15, $39, 15. Clinique Moisture

Surge Hydrating Lotion, $65,

16. A'kin Brightening Rosehip Oil with

Vitamin C, $30, 17. A'kin Rosehip Oil

with Vitamin C Brightening Face Sheet

Mask, $7.99 each, 18.CeraVe Hydrating

Cleanser, $16.95

4.

9.

1.

5.

10.

6.

2.

7.

8.

11.

13.

14.

12.

17. 18.

15.

16.

www.cosbeauty.com.au 51
---
AGEING SKIN

BEAUTY

Give your skin the fuel it needs to

rejuvenate and repair. Look for products

containing hyaluronic acid (HA),

antioxidants, vitamin complexes, alpha

hydroxy acids (AHAs) and peptides to

deliver results and reduce the look of fine

lines and wrinkles, dehydrated, sagging

and lacklustre skin.

Topical vitamins are key players in

protecting and repairing skin. Vitamin

C, for example, is an antioxidant that

works to prevent free radical damage and

help reinforce the skin's own defenses

and prevent long-term damage. Arguably

the most potent topical is retinol, a

derivative of Vitamin A (retinoic acid),

which is widely touted as 'the' antiageing

solution. Retinoids encourage

better cell function and turnover,

stimulating the dermis and helping to

boost collagen and elastin production

and improve fine lines and wrinkles, skin

texture, skin tone and colour, and your

skin's hydration levels.

Hyaluronic acid (also found naturally

in the skin) is a standout ingredient in

many anti-ageing products due to its

ability to attract and bind water, locking

moisture into the skin and binding

collagen with elastin.

Find a different skin rejuvenating

moisturiser for day and for night that

work well in synergy. And don't forget

to moisturise your neck and décolleté as

well – these areas are one of the first to

show signs of sun damage and age.

1.

2.

4.

5.

6.

7.

8.

3.

1. StriVectin Super-C Retinol Serum, $112, 2. Peter Thomas Roth Firm X

Collagen Eye Cream, $100, 2. Peter Thomas Roth Firm X

Collagen Moisturizer, $130, 3. Peter Thomas Roth Firm X

Collagen Serum, $152, 5. Skin Virtue Future Advanced Serumist, $116,

6. mesoestetic energy C intensive cream, $157.80, 7. asap Anti-ageing Night Cream, $75, 8. Evidence Skincare (ESK) Ultimate

A+, $115, 9. asap DNA Renewal Treatment, $145, 10. CALECIM ® Professional Multi-Action Cream, $190
---
Urban

AGGRESSORS

Urban living most definitely has its perks, but

constant exposure to environmental aggressors

plays havoc on our skin.

It's been shown that atmospheric aggressors

increase levels of oxidative and inflammatory

markers, and decrease levels of key skin proteins

required for healthy skin barrier function. In

addition to air pollution and radiation pollution,

High Energy Visible Light (HEV) – the official

name for the blue glare that comes from phones,

laptops and tablets – is emerging as a worrisome

environmental pollutant in recent years.

HEV light makes up the blue portion of visible

light in the electromagnetic spectrum and is a

natural part of sunlight. Unlike UVA and UVB

light, blue light is not linked to skin cancer, but

it does share UV's potential for accelerating free

radical damage. When exposed to free radicals,

the proteins which support the skin's strength and

elasticity, collagen and elastin, grow weak, which

in turn gives fine lines and wrinkles a chance to

take hold. Continuous exposure to HEV light also

impairs the skin's protective barrier function,

a situation that can result in inflammation

and hyperpigmentation.

Thankfully, there now exists a range of

sophisticated environmental skin shields

designed to help defend the skin against nasty

biochemical triggers.

9.

10.

1.

1. Skin Virtue Pure

Protect Pollution

Defence, $80, 2.

mesoestetic pollution

defense ampoules, $106,

3. Medik8 Advanced

Day Total Protect,

$119, 4. mesoestetic

aox ferulic, $199, 5.

SkinCeuticals CE

Ferulic, $218

2.

3.

4.

5.

www.cosbeauty.com.au 53
---
SKIN

WELCOME

TO THE

NEW ERA

OF

facial

hygiene

INTRODUCING MESOESTETIC CLEANSING AND

TREATMENT SOLUTIONS, A NEW GENERATION

OF FACIAL HYGIENE PRODUCTS DESIGNED TO

THOROUGHLY CLEANSE AND PROMOTE SKIN

BALANCE FOR ALL SKIN TYPES.

Mesoestetic, recognised as

one of the world's leading

pharmaceutical laboratories

and internationally acclaimed for its

depigmentation treatments (cosmelan ® /

dermamelan ® ), has given 2021 a muchneeded

fresh start with its new cleansing

solutions and masks and peels range.

This is a range that delves deeper

into facial hygiene and is the first look

at the brand's updated branding and

refreshed packaging. It provides an

effective cleansing action, respecting and

enhancing pH balance and skin flora,

while helping to protect skin against

environmental pollution, maintaining

optimum condition and skin integrity.
---
WHY IS IT SO

IMPORTANT TO KEEP

THE SKIN CLEAN?

Apart from obvious hygienic matters, there

are different reasons skin should always be

kept clean. Facial skin is the area that is most

exposed to external agents and air pollution.

Pores are generally clogged with sebum and

dead skin cells, which can make pores look

bigger than they actually are.

Think of skin as a passageway that rids our

body of toxins and helps prevent chemical

and waste build-up. Clean pores enable your

body to expel waste; keeping your pores clean

provides a clear exit strategy.

Cleansing skin releases it from

accumulated toxins, impurities, oil and dead

skin cells, which allows for better penetration

of active ingredients, enhancing skin renewal

and regeneration. When we cleanse with

performance products, skin condition is

also optimised.

It is important to cleanse our face in the

morning and at night. In the morning, we

remove the dead cells left over from the skin

renewal process, which occurs while we sleep.

At night, we remove our makeup and any

impurities produced by external agents.

Our skin is a living organ, and proper

cleansing is essential to maintaining its

health and vitality.

BIO-BALANCING,

ANTI-POLLUTION AND

ANTIOXIDANT ACTION

FOR ALL SKIN TYPES

This next-generation facial hygiene range

introduced by mesoestetic has been carefully

curated to contain products with different

textures and specific active ingredients

designed to meet the needs of each skin type.

In addition, the entire range is formulated

with post-biotics to provide an effective

cleansing, antioxidant, anti-pollution and

bio-balancing action, promoting skin flora

and perfect pH balance in the skin.

The range features new products along

with improved formulations and comprises

two categories: cleansing solutions and masks

and peels. CBM

www.cosbeauty.com.au 55
---
mesoestetic

CLEANSING

SOLUTIONS

SKIN

HYDRACREAM FUSION

– Cleanser with a cream to oil

texture that moisturises the

skin and leaves a feeling of

smoothness, ideal for dry and

sensitive skin types –

hydracream fusion (improved

formula, previously known as hydra

milk cleanser) is a facial cleanser

based on plant lipids, with a creamy

texture that melts into the skin,

transforming into an oil texture. It

promotes a nourishing, re-lipidising

action, providing an ultra-smooth

finish and maximum skin comfort.

It is rich in squalane, a plant-derived

oil that helps reinforce the skin

barrier and absorbs perfectly into

the skin to nourish and help improve

firmness and elasticity.

Recommended retail price: $63.60

BRIGHTENING FOAM

– Creamy foam to help renew and brighten normal

and combination skin types –

New brightening foam is a water-based cleanser that creates a pleasant,

creamy foam. It has a bio-balancing and anti-pollution action with gentle

AHAs to help refine skin, resulting in a radiant glow.

The presence of glycolic acid and lactic acid in a low concentration

assists in improving skin texture, quality and brightness.

Recommended retail price: $63.60
---
HYDRATONIC MIST

– Tonic in an innovative format, suitable for all skin types –

hydratonic mist (improved formula and new format, previously known

as hydratonic) is a facial tonic mist that complements facial hygiene

and helps to enhance balance of the skin's microbiota. It moisturises,

regenerates and smooths the skin and is suitable for all skin types.

Its formula combines the moisturising and smoothing action of rose

water with panthenol for a regenerating and soothing action, providing

the skin with ultimate comfort. Ophthalmologically tested.

Recommended retail price: $69.80

MICELLAR BIPHASIC

– Potent and skin-friendly biphasic

makeup remover, for all skin types –

New micellar biphasic is a biphasic

makeup remover suitable for the

delicate eye and lip area. It combines

micelles with a plant oil rich in omega

6, to gently remove impurities and

makeup (including waterproof makeup)

in a single step. Providing post-biotic

and an anti-pollution action, it removes

every last particle of makeup, leaving

the eye contour area feeling smooth

with no oily residue.

Micelles encapsulate impurities

and makeup while sunflower seed oil

effectively removes the most resistant

makeup, leaving skin feeling supple

and smooth.

Recommended retail price: $98

PURIFYING MOUSSE

– Refreshing foam to combat oily

and blemish-prone skin –

purifying mousse (improved formula) cleanses

deeply and refreshes the skin, unclogging pores

and helps prevent skin imperfections. It provides

a purifying, keratolytic and refining action.

The antiseptic action of chlorhexidine

combined with salicylic acid and lactic acid

helps to unclog pores, improve skin texture

and minimise appearance of imperfections.

Recommended retail price: $69.80

www.cosbeauty.com.au 57
---
mesoestetic

MASKS

& PEELS

SKIN

ULTIMATE MICROPEEL

– Exfoliating and renewing peel, ideal for all skin types –

New ultimate micropeel is a micro-exfoliating treatment

that provides a smooth renewing action on the skin

surface, helping remove dead skin for a more refined

texture. It helps smooth out imperfections, instantly

enhancing skin radiance and luminosity.

The combination of AHAs with an enzyme exfoliant

provides a weekly exfoliating, renewing action on the

skin surface to reveal a smoother, more supple and

brighter complexion.

Recommended retail price: $118

PURE RENEWING MASK

– Intensive purifying mask to combat oily and blemish-prone skin –

pure renewing mask (improved formula) exfoliates and cleanses pores to help prevent and reduce

imperfections. It is an intensive treatment that unclogs, purifies and exfoliates oily and blemish-prone skin.

The white clay provides an immediate cleansing action by absorbing excess oil from the skin surface.

The synergistic action of salicylic acid, mandelic acid and sodium lepargilate has a comedolytic, refining,

anti-bacterial, and anti-blemish effect. Its formula also has biodegradable cellulose particles, for a

modulable mechanical exfoliating action that helps unclog and refine pores.

The result is clean, fresh, balanced skin with minimised imperfections.

Recommended retail price: $89

58 www.cosbeauty.com.au
---
ANTI-STRESS MASK

– Intensive mask that soothes and relieves skin experiencing

redness and sensitivity –

anti-stress mask (improved formula) helps counteract the reactive

signs characteristic of sensitive or damaged skin which includes

redness, irritation and a feeling of tightness.

Its complex formula provides a soothing, emulsifying and

resurfacing action, restoring comfort and softness to the skin. It also

enhances balance of the microbiota, essential to help reinforce the

skin barrier function.

Rhodosorus marinus extract and saffron flower help relieve

inflammation, skin sensitivity and redness. A soothing plant complex,

combining aloe vera, chamomile and marigold, offers a regenerative,

soothing and smoothing effect.

Its non-oily gel-cream texture provides freshness, smoothness and

a feeling of immediate relief.

Recommended retail price: $118

HYDRAVITAL MASK

– The perfect mask to intensely hydrate dry and

dehydrated skin –

hydravital mask (improved formula) re-establishes moisture

levels in dry, dehydrated and/or devitalised skin. Its complex

formula revitalises the skin by providing deep hydration,

nourishment and reinforcement to the skin barrier.

Thanks to Argan oil, rich in omega 3 and 6, the skin

recovers essential lipids for its comfort, balance and

defence. The panthenol (pro-vitamin B5) provides a

regenerating, soothing and anti-redness action, that

minimises skin flaking and irritation.

It helps protect skin against premature ageing, resulting in

smoother, more supple and firmer skin.

Recommended retail price: $118

WHERE

TO GET IT

mesoestetic's new hygiene

solutions are available at select skin

clinics across Australia.

For stockists, visit www.

advancedcosmeceuticals.com.au

or call 1800 242 011

www.cosbeauty.com.au 59
---
FEATURE

Hair

trend

alert

credit: Andrea Raffin / Shutterstock.com

FROM MULLETS TO

MULTI-DIMENSIONAL

COLOUR, HERE ARE THE

BIGGEST HAIR TRENDS

OF 2021, ACCORDING

TO EXPERTS.

Ahead of L'Oréal Professionnel's

Annual Colour Trophy Awards

on 22nd February 2021, the

experts at this iconic brand, Mark

Thompson, Artistic and Events Manager

and Cara Riley, General Manager, share

their predictions on the 5 key looks that

will inspire and

reshape the hair industry in 2021.

1.

THE BOLD BLUNT CUT

Strong blunt haircuts are coming back and

will dominate 2021, in particular pixie cuts

and short bobs will make a return. After the

2020 lockdowns saw many people try their

own hand at hairdressing, they've realised it's

best to leave it to the professionals! People

are flocking back to their hairdresser and they

want a statement look. A blunt cut is bold

and suits any face shape. It doesn't matter if

you have short, long, fine, thick or curly hair –

there's a blunt cut to suit you.
---
2.

credit: Bart Lenoir / Shutterstock.com

SELF CARE,

HEALTHY HAIR

Easily forgotten but so imperative is

ensuring the excellent condition and

radiant shine of our hair, and super

glossy, healthy hair is set to make its

way back to the limelight in 2021.

The shape and strength of the hair is

key, adding subtle softness for added

femininity. After such a tough year

emotionally and physically, there will

be a strong emphasis on self-care in

2021, and that includes the health of

our hair.

3.

credit: Kathy Hutchins / Shutterstock.com

NATURAL VARIATION

Variation and multi-dimensional colour

in hair will be big this year. It's all about

nuance and having two to three layers

of colour in one head of hair, seamlessly

blended throughout the hair to give it

life and vibrancy. To achieve this look,

hair will still look 'natural' but will have

a selection of subtle colours running

through it and will be easy to maintain.

Confidence is a critical part of this

trend as you express your strength and

individuality. If you're a blonde, opt for

multi-dimensional warm sandy and cool

beige tones. If you're a brunette, add

subtle dimensions of almond edges or

glimpses of gold to harness this look.

www.cosbeauty.com.au 61
---
4.

FEATURE

TRANSFORMATION IS

THE NEW BLACK

The beginning of the year is often

treated as a fresh start, with health

kicks and New Year's resolutions. This

will be exacerbated tenfold in 2021,

as 2020 was such a challenging year.

As a result, Aussie women may look

at 2021 as a year for transformation.

'New year, new hair' is a small but

powerful way to embrace 2021 with a

new look and attitude.

Hairdressers will be paramount

in driving this trend as they advise

clients on how to get the cathartic

release they're looking for with a

new look. It's important to have a

consultation with your hairdresser to

discuss the change you're looking for,

whether it be a simple gloss treatment

to make your hair shine, a bold chop,

or a subtle colour change. It doesn't

need to be dramatic, it just needs to

feel different.

credit: instragram

credit: instragram

1.

4.

5.

3.

2.

1. White Sands Infinity Finishing Spray, $39.95, 2. White Sands Smudge Texture Crème, $27.95,

3. White Sands Orchid Bliss Shampoo & Conditioner $22.95 each, 4. White Sands Keratin

Infused Hairspray, $39.95, 5. REF Cool Silver Shampoo & Conditioner, $35.50 each
---
5.

and the weekend. For example, Miley

Cyrus rocking a mullet could translate

into a hairstyle that experiments with

different lengths. We've had to play it

safe last year, so this trend is all about

pushing the boundaries!

HOLLYWOOD GLAM

MEETS SALON STYLE

The adventurous hairstyles of

Hollywood will be a strong source of

inspiration for 2021. In the same way

that haute couture fashion makes its way

from the runway to the high streets in a

more wearable style, daring hair trends

will be translated in the salon into an

everyday look that's suitable for work

2.

3.

4.

1.

5.

6.

1. evo haze styling powder, $38, 2. evo helmut extra strong

lacquer, $29, 3. evo mister fantastic blowout spray, $34, 4. evo miss

malleable flexible hairspray, $34, 5. Schwarzkopf Osis+ Texture

Blow Powdery Blow Dry Spray, $27.95, 6. OGX Hydrate + Repair

Argan Oil of Morocco Extra Strength Shampoo & Conditoner, $21

each, 7. PURE PACT Cedarwood Moulding Clay, $35.50, 8. PURE

PACT Avocado Shine Butte, $35.50, 9. Pump Thickening Shampoo

& Conditioner 250ml, $34.95 each.

7. 8.

9.

www.cosbeauty.com.au 63
---
HAIR

New hair

transplant

treatment

changes lives

– one graft

at a time

One of Sydney's leading cosmetic surgeons,

Dr Michael Zacharia, is so impressed by

NeoGraft, the new 'minimally invasive'

alternative to hair transplant surgery, that he has

already trialled the procedure on his 26-year-old son.

NeoGraft is an FDA-approved "follicular unit

harvesting and implantation" device used to

transplant hair quickly and effectively with no

noticeable scarring.

The device, which has proven its effectiveness

in the US for the past 10 years with an average

'Worth It' rating of 95 percent on RealSelf.com, was

launched into Australia late last year.

Dr Zacharia, who first saw the NeoGraft at a

medical conference in Los Angeles five years earlier,

purchased the device soon after. Since then he has

used it to restore hair on numerous "very happy"

patients, including his son Sam.

Dr Zacharia was surprised Sam, a personal trainer

who only had a slightly receding hairline, was eager to

have the treatment.

'We were talking about the NeoGraft, and he said,

'I'll be one of your first', and I said something like, 'I

didn't even realise that you wanted it'.'
---
Dr Michael Zacharia

'I hadn't noticed Sam's receding areas as he always

combs his hair forward,' he continues. 'I didn't think it

was really that bad, even with his hair pulled back, but he

wanted it done…'

Sam and Dr Zacharia are both happy with the naturallooking

results, and the latter is eager to perform the

procedure on even more patients.

In sharp contrast to the traditional 'strip method' of hair

replacement, NeoGraft removes individual hair follicles

from the scalp in their naturally occurring groupings

(grafts) of about 1-4 hairs and places them in areas where

balding has occurred.

According to Dr Zacharia, NeoGraft is the least

invasive hair transplantation procedure. 'There are no

stitches or staples used in the procedure, and there is no

obvious scar,' he says. 'Patients feel little to no discomfort

during the procedure (performed under local anaesthesia)

and generally only need about three days to recover.'

The procedure has already been "life-changing" for

many of Dr Zacharia's patients. 'Men are often very selfconscious

about their balding, so it negatively impacts

so many aspects of their lives,' he says. 'Hair transplants

really give them their confidence back…. They are often

like a new person as their personalities change so much.'

Nonetheless, Dr Zacharia believes many men,

particularly older ones, are still reluctant to seek help

for their hair loss as they are too self-conscious, or even

ashamed, to do so. Fortunately, NeoGraft is ideal for those

who want a "discreet solution".

'Hair restoration with the NeoGraft procedure is

unnoticeable. The scalp doesn't need to be shaved

anywhere except in the very small area at the back of the

head where the grafts are taken from,' he says. CBM

BEFORE

BEFORE

AFTER

AFTER

FOR MORE

INFORMATION

For more information visit Dr Michael Zacharia:

faceliftplasticsurgery.com.au/ng-hair-transplant/

and NeoGraft: venusconcept.com/en-au/neograft

www.cosbeauty.com.au 65
---
BEAUTY

FROM GLITTER LIPS TO

COLOURED EYELINERS,

2021 IS SHAPING UP TO BE

A YEAR OF INTENSE AND

EXPERIMENTAL MAKEUP

COLOURS AND TEXTURES.

Colour plays a starring role in our palettes this year – whether a

pop of bubblegum pink on your mouth or as a sweep of candyhued

eye shadow, we're flipping humdrum 2020 on its head.

Perfectly chiselled features and beyond-bold eyes, this look is all

about expressing yourself.

Strive for complexion perfection – always start with longlasting

stay-in-place primers and hydrating foundations. Look

for light-weight formulas that offer excellent coverage without

appearing overdone for a flawless canvas and glass-like finish.

Simple concepts rule in 2021; all that glitters is gold and the

more colour, the better.

66 www.cosbeauty.com.au
---
www.cosbeauty.com.au 67
---
BEAUTY

1.
---
2.

1.

3.

5.

6.

4.

7.

12.

9.

13.

14.

8.

15.

10. 11.

1.Model Rock Graffiti Collection Color Ply-Book, $39, 2. Morphe X Maddie Ziegler Pink About It Lip & Cheek Duo, $26, 3.

Model Rock Line-Lash-Go in Purple, $20, 4. asap pure Mineral Eye Colour in Three, $35, 5. Charlotte Tilbury Glowgasm Lip

in Glittergasm, $46, 6. Maybelline Colour Sensational Made for All Lipstick in Fuchsia For Me, $9.97, 7. Fenty Beauty What

It Dew Makeup Refreshing Spray, $48, 8. Sisley Les Phyto Ombres in Sparkling Purple, $65, 9. Ciate London Fruit Burst Lip

Oils, $25, 10. Sisley Instant Eclat 30ml, $115, 11. Evidence Skincare (ESK) Peptide Primer, $95, 12. Model Rock Rock Chic

Rebel Revolution Liquid Lipstick in Cotton Candi, $28, 13. Morphe Morphe 2 Glassified Lip Oil in Fairytale, $14, 14. Bobbi

Brown Crushed Shine Jelly Stick in Papaya, on counter 14th Feb, $47 15. asap pure Mineral Lipcolour in Three, $35

www.cosbeauty.com.au 69
---
1.

5.

4.

3.

6.

BEAUTY

2.

7.

8.

9.

11.

10.

12.

13.

14.

18.

15.

17.

16.

1. Trinny London Eyetallics in Juno, $40, 2. Lycogel Breathable Tint, $89, 3. asap pure Skin Perfecting Mineral Foundation,

$46.80, 4. Sisley Phyto Hydra Teint, $150, 5. Charlotte Tilbury Airbrush Flawless Setting Spray, $28, 6. Skeyndor Skincare Make

Up SPF20, $69, 7. Sisley Blur Expert, $120, 8. asap pure Mineral Base, $39, 9. Ciaté London Dewy Stix Luminous Highlighting

Balm, $41, 10. Fenty Beauty Pro Filt'r Hydrating Longwear Foundation, $52, 11. Sisley Phyto-Touche Illusion D'Ete, $125,

12. QVS Foundation Brush, $13, 13. Youngblood Mineral Radiance Moisture Tint, $79.95, 14. Sisley Phyto-Blush, $110, 15.

QVS Brow Trio includes Definer Brush, Detail Brush & Spoolie, $15, 16. Model Rock What the Fluff Style 7, $12, 17. asap pure

Mineral Bronzer in One, $45, 18. Bali Body BB Cream, $29.95

70 www.cosbeauty.com.au
---
www.cosbeauty.com.au 71
---
BEAUTY

72 www.cosbeauty.com.au
---
1.

2.

3.

4. 6.

5.

8.

7.

9.

8.

1. Clinique Limited Edition CheekPop Highlighter, $40, 2.Nude by Nature Moisture Shine Lipstick in Amber Sparkle,

$22.95, 3. Nude by Nature Moisture Infusion Lipgloss in Sugar Rose, $21.95, 4. Fenty Beauty Snap Shadows Mix &

Match Eyeshadow Palette in Wine, $39, 5. Fenty Beauty Gloss Bomb Universal Lip Luminizer in Sweet Mouth, $31,

6. Karen Murrell Natural Lipstick in Coral Dawn, $29.95, 7. Morphe X Maddie Ziegler Palette, $36, 8. Charlotte

Tilbury, Pillow Talk Push Up Lashes! Mascara Super Black, $48, 9. Bobbi Brown Weekend Glow Collection, on counter

14th Feb, including Nude Finish Tinted Moisturiser, $75, Extra Illuminating Moisture Balm, $45 and Extra Lip Tint, $56

www.cosbeauty.com.au 73
---
FEATURE

The beginner's

guide to

essential

oils

WHETHER YOU WANT

TO STRESS LESS,

IMPROVE FOCUS OR

BOOST YOUR ENERGY

LEVELS, ESSENTIAL OILS

CAN HELP. HERE'S

THE LOWDOWN ON

HOW TO MAKE THE

MOST OF THESE

POWERFUL POTIONS.
---
www.cosbeauty.com.au 75
---
FEATURE

Essential oils can have an

incredibly transformative

effect on our body and mind,

and can be beneficial in helping to

cleanse and detox the body, focus the

mind and nourish skin.

Pure essential oils are naturally

occurring extracts from aromatic

plants, highly potent and each with

its own unique benefits – whether

antiseptic, bacterial, anti-viral or

anti-inflammatory. There are

countless ways to experience the

benefits of essential oils, including

vaporising, massage, misting,

inhalation and bathing.

Aromatherapy is the practice of

using essential oils for therapeutic

benefit. The healing properties

of essential oils can help relieve

headaches, muscular pain and cold

and flu symptoms, while a few drops

incorporated into a skincare routine

can help increase hydration, improve

acne and regenerate damaged skin.

What's more, essential oils can may

even improve sleep patterns and

lower feelings of anxiety.

ESSENTIAL OILS

THOUGH THE AGES

Throughout the ages, essential oils

been used to help cure ailments,

induce relaxation and heighten the

health benefits of massage. Aromatic

essences have been used since

antiquity in medicine, cosmetics,

perfumes and ritual worship – and

their enduring appeal continues well

into our modern-day existence.

The science of aromatherapy is

reputed to be around 60,000 years

old. Ancient Egyptians, along

with the Greeks and Romans,

used aromatherapy scents in their

baths, for massage and even in the

embalming process. A medical paper

dated 1,555BC describes various

treatments, with many of them still in

use today.
---
There is also documented evidence

from China dating back to 2,700BC

that lists infusions made from 300

different plants, many of which are

used in modern-day aromatherapy.

THE POWER OF

SCENTS

Each of us has around 300 active

olfactory receptor genes which

can detect thousands of different

fragrance molecules. The sense of

smell plays an important role in the

physiological effects of mood, stress

and concentration.

A large body of research confirms

that essential oils have measurable

physiological effects on brainwave

activity, blood pressure, pulse rates

and mood, further supporting the

therapeutic value of aromatherapy.

'There is no denying the power

of scent on mind and body. Now,

more than ever we are turning to

pure essential oil use for self-care

practice. Whether you want to

nourish your skin, reduce anxiety,

decongest, or detox after the festive

season, essential oils might just be

your answer,' says Aromatherapy

Expert Pat Princi-Jones. 'Citrus

oils in particular work wonders on

cleansing and purifying the body.

Oils such as grapefruit, bergamot and

mandarin provide an effective synergy

to use alongside a well-balanced

detoxification program that includes

regular exercise, health diet and

plenty of water.'

WHERE TO START

To build your own collection of

detoxifying essential oils, Princi-Jones

recommends starting with a cleansing

grapefruit oil, refreshing mandarin oil

and soothing bergamot oil. These oils

can be diffused individually, blended

together or combined in a body

scrub or massage oil to release their

detoxifying properties.

'Grapefruit is especially cleansing,'

says Princi-Jones. Its uplifting and

citrusy aroma, especially when

combined with massage, is instantly

enlivening and can boost circulation.

'Bergamot is renewing and uplifting

to the mind and body and also known

for its anti-inflammatory properties.

Its astringent action helps improve

skin tone and aid lymph movement.

'Mandarin has a gentle action on

the circulatory system. It is known

to ease indigestion and adds a tangy

sweetness.'

If you're looking for a quick, easy

way to include essential oils into a

detox plan, there are many blends

that have been expertly devised and

can be added straight into a diffuser,

like the sweet and refreshing Oil

Garden Energy Boost Essential Oil

Blend to revive and uplift your mood,

or the In Essence Digest Essential Oil

Blend, a stimulating blend to ease

digestion and relieve mild symptoms

of digestive discomfort and pain.

WORD TO THE WISE

Because essential oils are all-natural,

it might be easy to assume that that

they are largely non-reactive. This

isn't the case at all. On the contrary,

essential oils can be extremely

powerful and a couple of drops go a

long way. Most essential oils should

be diluted with a carrier oil, such as

sweet almond, jojoba, olive, sunflower

seed, avocado or grapeseed oil, before

applying them directly to the skin.

Be sure to read labels before

applying essential oils on the skin

to ensure you are not at risk for any

adverse reactions.

The art of

obtaining

essential oils

Essential oils are obtained from

various parts of plants by various

methods, some dating back

thousands of years.

Oil from citrus fruits can be

obtained by expression, or

squeezing the rind. Enfleurage,

soaking the material in oil or fat

to capture its fragrance, has been

used since ancient times. With

maceration the fixed oil is heated

to release the essential oil.

Solvent extraction uses solvents

to render the oils in delicate

flowers such as violets or mimosa.

Steam distillation, used by the

Arabs since the eighth century,

is the most popular method for

extracting essential oils, using

steam heat to evaporate vapour

from flower petals, which is

collected, cooled and fed into

an alembic where the separated

oil floats on top of the water.

After the oil is skimmed off, the

remaining water can be used, for

example orange blossom water

or rose water.

www.cosbeauty.com.au 77
---
FEATURE

How to use

essential oils to

detox according

to Pat Princi-Jones

STIMULATING BODY

SCRUB

Add 2 drops each of grapefruit,

bergamot and mandarin essential oils to

1 tablespoon of Jojoba oil and combine

with half a cup of Pink Himalayan salt.

Step into the shower and wash as usual

before applying the scrub generously

in a circular motion all over your limbs.

Wash off and pat dry. These oils create

an energising synergy that clears the

mind and stimulates circulation. Follow

with a light application of Jojoba oil to

moisturise the skin. Avoid sun exposure

12 hours after application.

Note: If you have sensitive skin you

should do a patch test and avoid

sensitive areas.

CELL RENEWING BODY

MASSAGE

Add 2 drops each of grapefruit, bergamot

and mandarin oils to 1 tablespoon of

Jojoba oil. Gently apply to the upper

torso focusing on the abdomen and lower

back to support detoxification.

DETOX DIFFUSER BLEND

Add 3 drops each of grapefruit, bergamot

and mandarin oils to the water in your

diffuser to freshen the environment and

help eliminate household odours. The

lemony, zesty aroma will help support a

detox regime. Diffuse for 3-hour intervals

each day to support a detox program.

In Essence Mandarin

Pure Essential Oil,

$25.99, In Essence

Bergamot Pure

Essential Oil, $34.95.
---
Essential

uses for

essential oils

For sleep: lavender, vetiver,

patchouli, sandalwood, ylangylang,

chamomile, neroli,

marjoram, cedar, bergamot,

clary sage, frankincense, rose

For relaxation: rose, clary

sage, frankincense, lavender,

bergamot, marjoram, ylangylang,

lemon, geranium,

orange, sandalwood,

chamomile, vetiver

For a mental boost:

eucalyptus, lime, mandarin,

rosemary, basil, peppermint,

helichrysum, cedar, vetiver,

grapefruit, pine, juniper

For energy: lemon, mandarin,

orange, grapefruit, eucalyptus,

cinnamon, peppermint, ginger,

rosemary, spearmint, black

pepper, jasmine

In Essence Digest Essential Oil

Blend, $34.95, In Essence Sleep

Pure Essential Oil Blend, $34.95.

For blemishes and skin

irritations: eucalyptus, tea

tree oil, lavender, oregano,

bergamot, rosemary,

helichrysum

For stress relief: lavender,

bergamot, lemongrass,

neroli, yuzu, rose, clary sage,

frankincense, marjoram,

ylang-ylang, lemon, geranium,

orange, sandalwood,

chamomile, vetiver

Oil Garden Grapefruit Pure

Essential Oil, $21.99, Oil Garden

Energy Boost Essential Oil Blend,

$29.99.

www.cosbeauty.com.au 79
---
BEAUTY

Carolina Herrera Good Girl Supreme 50ml, $157

Good Girl Eau de Parfum Suprême has reinvented the rebellious

olfactory experience. Powerful and daring, just like a good

stiletto, juicy gourmand berries give way to the aphrodisiac

personality of intense Egyptian jasmine, while creamy tonka

beans and sparkling vetiver give a modern twist to the final

formula. And, also, what about that bottle?!

Perrier-Jouët Grand Brut, $80

Sipping Perrier-Jouët champagne, which is reportedly born out

of love and inspired by the love of art, is our idea of the perfect

celebration of love on Valentine's Day.
---
,

Valentine

WE ALL KNOW BEAUTY GIFTS SAY "I LOVE

YOU" MUCH MORE THAN FLOWERS AND

CHOCOLATES! HERE'S OUR PICK OF

SWOON-WORTHY, CUPID-APPROVED GIFTS

FOR VALENTINE'S DAY.

Lush Love Me Do Bath Bomb, $13.95

Treat yourself or someone you love to this rosefilled

bath treat. As a bonus, once you've enjoyed

the bath bomb, the muslin cloth, tag and raffia

can all be composted.

Armans Spiral Diamond Ring, $6,200

This exquisite pavé set band by Sydney master

jewellers Armans, features round brilliant

diamonds spiralling around the entire ring.

Total Carat Weight: 1.89ct and available in 18ct

Rose Gold, White Gold or Yellow Gold.

www.cosbeauty.com.au 81
---
Elli Filigree Heart Pendant, $42.70

Designed in Germany, this handmade

rose gold-plated silver piece of jewellery

is tarnish-proof, highly polished and sure

to make the wearer's heart swell. Available

from www.amazon.com.au

BEAUTY

Glasshouse Sunset in Capri EDP, $26.95

An energising, citrus, floral fragrance to

rouse the senses. Notes of mandarin and

white peach ally with jasmine and a fresh

marine accord, to set the scene for the

magical moment the sun kisses the sea.

Jean Paul Gaultier La Belle Eau

de Parfum 100ml, $188

Intensely feminine, sophisticated

and flagrantly sexy, this Oriental

Vanilla is the result of the fusion

of addictive vanilla pod, fresh

bergamot and stunning pear.

Amouage Blossom Love 100ml, $499

Blended with the highest quality of

rare and luxurious ingredients sourced

from around the world, this lively, floral

blend of cherry blossom, rose, and

ylang yang combines sophistication

and femininity to create a memorable

scent. The citrus of bergamot and the

lightness of heliotrope introduce you to

the top of the perfume, embraced by

the seductive allure of amaretto, before

melting into base notes of tonka bean,

vanilla, suede and amber.

evo love touch shine spray, $34

Add a touch of love and a dash

of shine to your hair with the EVO

Love Touch Shine Spray. The

lightweight formula tames frizz

without looking greasy or making

your hair flat from the weight.

Definitely date-night approved.
---
Ivy's Selection 100% Mulberry Silk Sleep Mask

$28.90. A beautiful gift or dreamy treat for yourself,

make bedtime extra decadent with this 100% silk eye

mask. Available from www.amazon.com.au

Rose Quartz Gua Sha by Beauty

Fridge, $25. Take self-care to the next

level with Aussie-owned Beauty Fridge's

Gua Sha facial massager. The rose

quartz stone roller is designed to promote

blood circulation, encourage lymphatic

drainage to reduce puffiness, relieve

tension muscles in the face and give an

enviable glow.

The Beauty Fridge, $129.99

The Beauty Fridge is Australia's

favourite skincare and makeup

fridge, enabling you to

conveniently store all your skincare

and beauty favourites in one

place. A colder environment can

not only prolong the shelf life

of your precious products but

it may also help to aid in better

absorption into the skin, all while

calming and soothing skin.

Palm Beach Collection White Rose &

Jasmine Candle, $42.95

Set the mood for love, peace and harmony

with this white rose, jasmine and violet

scented candle. The hand-poured, ecofriendly

blend has top notes of bergamot

and leafy green with a floral heart of jasmine,

rose, violet and rosewood on a base of musk,

cedarwood and wood.

www.cosbeauty.com.au 83
---
BEAUTY

Cloud Nine The Touch Iron,

$285. Bring the (instant) heat

this Valentine's Day with the

latest hair straightener to join

Cloud Nine's award-winning

collection. The Touch Iron

is the world's first automatic

hair straightener – providing

automatic, instant heat and

touch temperature control.

It's perfect for busy, on-the-go

women and men.
---
Jean Paul Gaultier Le Male Le

Parfum 125ml, $149. Drawing

on the potency of cardamom in

its top notes and the freshness of

lavender and iris at its heart, this

intense eau de parfum immerses

you in its wonderfully addictive

and prominent vanilla base

note. An olfactory odyssey full of

contrasts to disorient and delight

the senses, this elegant woody

oriental perfectly captures the

charisma of a confident man.

Cire Trudon Giambattista Valli Rose Poivree

Candle, $135. We advise to always light the

good candle, especially on a day of romance

and love! For the ultimate olfactory decadence,

Trudon's Rose Poivree candle evokes the

bouquet of fresh and lush roses while a hint of

Tuscan black pepper at its heart delivers subtle,

unexpected harmony.

Amouage Interlude Black Iris 100ml, $459. Interlude Black Iris

Man is a spicy, woody eau de parfum at a concentration of 25%

fragrance oil. Zesty bergamot, rosemary and violet leaves conjure

perpetuating intervals of conflict which are countered by notes

of amber, frankincense, cistus and myrrh. A layer of orris absolute

and vanilla smoothens the heart of the composition. Finally,

notes of leather, agarwood smoke, patchouli, sandalwood and

cedarwood in the base add lasting depth and texture.

Creed Love in White

Summer Edition 75ml,

$359. An ode to The House

of Creed's sophisticated

craftsmanship and passion for

the world's finest ingredients,

this dreamy fresh floral bottles

the feeling of an eternal

summer. Like the sparkling

hues of the ocean's reflection,

iris and cedar shine through at

the heart of this serene scent.

www.cosbeauty.com.au 85
---
BEAUTY

Jo Malone London limitededition

English Pear & Freesia

deco bottle, $102. Housed in

a beautiful Art Deco-inspired

bottle, this fruity floral scent

captures the sensuous freshness

of just-ripe pears, wrapped in a

bouquet of white freesias and

mellowed by amber, patchouli

and woods.

Jo Malone London Scarlet

Poppy Cologne Intense,

$180. With top notes of

ambrette, heart notes of

scarlet poppy and base

notes of tonka bean, this is a

ravishing, bold and sweetly

decadent scent. It's both

voluptuous and floral and

refined and sophisticated.
---
Minenssey Mine Natural Perfume

Oil, $55. Laced with luxurious damask

rose, jasmine sambac and neroli, this

100% natural perfume oil lingers on the

skin and relaxes the body and mind.

It's a delightfully fresh, feminine and

seductively floral fragrance.

Sisley Black Rose Cream

Mask, $200. Who doesn't want

to look instantly radiant and

more youthful? Spoil yourself

or your loved one with this cult

energising cream mask.

Lush Lots of Love Gift Set, $82. This is a perfect gift for bath lovers, featuring products to relax, feel

pampered and just take some time out. Rose, lavender and jasmine scents feature in this gift, which

includes Unicorn Horn bubble bar, Blow Me A Kiss bubble blower, Sex Bomb bath bomb, Sakura bath

bomb, Love Me Do bath bomb, Ro's Argan body conditioner and Prince Charming shower gel.

www.cosbeauty.com.au 87
---
BEAUTY

Aussie

R ules

A BEAUTY-LOVER'S GUIDE

TO SOME OF THE LATEST

AND GREATEST HOME-GROWN

AUSTRALIAN SKINCARE AND

MAKEUP PRODUCTS.
---
The French may be

connoisseurs of chic

and the Italians may

know how to turn

heads, but when

it comes to looking good in

unsympathetic conditions, Aussies

are the pros.

Due to its unique geography

and biodiverse agriculture, not to

mention its size, Australia has the

luxury of growing its own fresh

produce, with very little need to

import from overseas. So as well as

ensuring the nation eats well, this

also helps when creating quality skin

and beauty products that make the

most of what nature has given.

Fresh, home-grown ingredients

are fused together to create some

of the most natural and effective

beauty products in the world. Tea

tree, eucalyptus, macadamia, lemon

balm, aloe vera, calendula, lavender,

licorice, chamomile, rosehip,

marshmallow and rosemary are just

some of the plants that grow easily

in Australia and give great results in

beauty products.

The emphasis on looking good,

plus the huge range of beautifying

ingredients available, is ensuring the

Aussie beauty business continues to

thrive both locally and throughout

the world. Here are some of our

hailed home-grown heroes.

asap Moisturising Daily Defence

SPF50+, $60

Australian made, vegan and

sulphate-free, asap has long been

one of our fave high-performance

skincare brands. This lightweight

moisturising daily defence

formula provides essential and

lasting hydration while protecting

against harmful UVA/UVB rays

and damaging free radicals.

asap Moisturising Daily

Exfoliating Scrub, $55

This gentle scrub promotes

healthy cell renewal, improving

skin tone and texture.

Biodegradable, non-plastic

exfoliating beads combined with

AHAs gently remove dead skin

cells to promote a smoother,

more radiant-looking skin.

SENSORI+ Clarifying &

Strengthening Serum-in-Oil, $118

Clean, vegan and Australian,

Sensori+ provide skincare and

wellness solutions which contain

the highest level of efficacy,

sensorial experience and care for

the environment. The Clarifying

& Strengthening Serum-in-Oil

combines prebiotic artichoke with

probiotic kombucha and hemp

seed oil to help balance the skin's

microbiological environment,

reduce redness and irritation and

promote smoother, more eventoned

skin.

SENSORI+ Air Detoxifying Mist

Toowoomba Carnival 4350, $29

Queensland has the most

celebrated rose gardens in

Australia and this detoxifying mist

perfectly captures the scent of

roses in bloom alongside notes

of lingering lavender and sweet

orange. It's also effective on

100+ airborne toxics, with a 96%

average removal ratio and 99.15%

bacteria inhibition.

Ipsum Best Skin Face Oil Intense Treatment, $75

This supercharged concentrate contains 23 pure,

organic native plant oils, and is rich in omega fatty acids,

Vitamins C, E, B6,1,3,2 and polyphenol antioxidants, for

a rejuvenating, hydrating and skin-protecting intensive

treatment. Ipsum, a certified organic, high-performance

skincare range, is made in Australia with sustainablysourced,

native plant oils, including unique and powerful

Australian botanical oils.

www.cosbeauty.com.au 89
---
BEAUTY

Enbacci Vitis Vinifera Rejuvenating 3-Step System, $200

This comprehensive 3-step skincare system by Australian luxury skincare

brand Enbacci is formulated with fruit and plant stem cells. It helps protect

the skin from environmental aggressors, including UV-induced free radicals,

and helps reverse the signs of premature ageing. The kit includes Vitis

Vinifera Rejuvenating Gel Cleanser 100ml, Vitis Vinifera Rejuvenating Essence

100ml and Vitis Vinifera Rejuvenating Essential Crème 50ml

SunButter SPF50 Water Resistant

Reef Safe Sunscreen, $29.95

SunButter was founded by

two marine biologists with a

dedication to create the most

effective, environmentally gentle

and reef-safe sunscreen formula

on the market, packaged plasticfree.

The result is SunButter SPF50

reef-safe sunscreen, made with

certified sustainable ingredients

and broad spectrum UVA and

UVB mineral blocker zinc oxide.

Made in Australia in a solarpowered

factory, the product rubs

in clear and also has soothing

restorative properties.

Caim & Able Magnesium Body

Scrub, $24.95

Hand-made in Australia, all

natural, sustainably sourced and

never tested on animals, this

deliciously scented scrub contains

magnesium chloride, cane sugar,

coconut oil and lime essential oil

to remove dead skin cells and

leave the skin smooth and soft.

Sunescape Dry Tanning

Body Oil, $34.95

Proudly Australian made and

owned, this fast-drying, quickabsorbing

and non-greasy

self-tanning body oil lusciously

hydrates and moisturises while

adding a natural-looking and

long-lasting bronze glow.

The Jojoba Company Multi

Defence Moisturiser SPF15, $39.95

Containing Australian Wadi-Wadi

Jojoba, sustainably grown in

the nutrient-rich fields of Yenda,

NSW, alongside Kakadu Plum,

the natural, clinically proven

ingredients found in Multi

Defence Moisturiser SPF15 help

protect against environmental

factors including infrared, blue

light, pollution and UVA/UVB rays,

and improve the appearance of

pigmentation, irritation and signs

of ageing.
---
Em&Mary Facial Moisturiser, $34.99

Em&Mary is taking the seaweedbased

skincare market by storm

with its ethically produced, natural

ingredients sourced in Australia.

The Facial Moisturiser contains a

replenishing blend of omega-rich

argan, avocado and macadamia

oils, combined with antioxidant

rich Tasmanian sea kelp, native

finger lime and Davidson plum, to

rehydrate, soothe and moisturise the

skin and improve clarity.

Invisible Zinc, Sheer Defence

Moisturiser (Untinted), $34

Invisible Zinc is made in Australia

for the Australian sun. Sheer

Defence is a lightweight mineral

shield containing only one active

ingredient, zinc oxide, which acts

as a barrier against the sun to

reflect UV radiation away from

the skin. An Aussie staple for

all seasons.

People4Oceans SPF50+

Sunscreen Vegan, $29.95

Wax from the Candelilla plant

replaces beeswax in this 100%

natural & vegan SPF50+ mineral

sunscreen. The lightweight,

gentle cream provides high UVA/

UVB protection to even the most

sensitive skin types. Encased in a

recyclable low-carbon bioplastic

tube, it's sustainably made in

Australia. Cruelty-free, $0.5

from each sale is donated to

reef conservation.

Jurlique Moisture Plus Rare Rose

Cream, $59

Made with the Jurlique Rose,

which is grown and handharvested

at Jurlique's organic

farm in the South Australian hills,

the Moisture Plus Rare Rose

Cream instantly soothes while

slowly releasing moisture over 24

hours via the micro-encapsulated

Jurlique Rose extract. Skin is

further plumped and replenished

thanks to its luxe texture and

nutritious Cupuacu butter which

deeply nourishes and restores

much-needed moisture.

Garbo & Kelly Beauty Brow Kit, $99

Homegrown beauty brand Garbo & Kelly have a full range of awardwinning

makeup, but we've singled out their Brow Kit for good reason:

it's the complete package for creating bold and beautiful brows perfect

for your face shape. It contains full sized Brow Powder, Clear Brow Gel,

5 Brow Guides to assist with application, Brow Brush and Tweezers.

www.cosbeauty.com.au 91
---
BEAUTY
---
Crème

de la

Crème

DOESN'T YOUR BODY DESERVE

THE BEST? HERE ARE THE

SKIN-SMOOTHING, CELLULITE-

BANISHING AND BOTTOM-BUFFING

BODY PRODUCTS DESERVING OF

THE HIGHEST ACCOLADES.

Presenting the luxe list of body products for soft, supple and

sensationally smooth skin…

It's a tough job, but someone has to do it. The

COSBEAUTY team has been hard at work trialling the latest

and greatest body cleansers, moisturisers and treatment serums to

present a list of best-in-show skin-boosting body products.

Just like the sophisticated ingredients and technologies found

in cosmeceutical-grade skincare for the face, today's body lotions,

scrubs and oils are packed with active ingredients such as powerful

retinoids, botanicals and polypeptides.

Keep your skin's hydration levels in check by feeding it the finest

skin-nurturing ingredients to nourish, soothe and regenerate. Buff

away dull, dry skin with an energising exfoliator, and splurge on

targeted body treatment elixirs to help combat the look of cellulite,

firm sagging skin and blur imperfections.

Welcome to a new class of skincare products for the body and get

ready to nourish and revitalise every last inch of your skin!

www.cosbeauty.com.au 93
---
Energise

& cleanse

BEAUTY

L'Occitane Almond Shower Oil,

$25. This best-selling shower oil

transforms into a silky, cleansing milk

upon touching water. Rich in almond

oil and nourishing lipids, it gently

cleanses and leaves a satiny softness

all over the body. The aroma of

warm almonds and vanilla makes

this a truly sensorial experience.

Palm Beach Wellness Collection

Bergamot Jasmine Lime Body

Wash, $12.95. A captivating body

wash, this leaves your skin feeling

invigorated, clean and silky. The

fragrance is heaven-sent, with top

notes of citrus, bergamot and lime,

a floral heart, and base notes of

cedarwood, musk and amber.

Sisley Energizing Foaming

Exfoliant for the Body, $160.

Sisley's Foaming Exfoliant marries

the pleasure of a shower gel with the

performance of an exfoliant skincare

product. It combines the benefits

of essential oils (lavender and

rosemary), exfoliating micro particles

and plant extracts to eliminate dead

skin cells and rough patches.

SENSORI+ Detoxifying &

Rejuvenating Shower Oil

Toowoomba Carnival 4350, $49.

Enliven the senses while hydrating

and improving skin texture. Infused

with exclusive ChlorosPURE

detoxifying technology, this shower

oil transforms into a delicate foam

on damp skin, gently lifting away

impurities and pollutants, while

Vitamin E and antioxidant-rich

avocado oil rejuvenates, leaving skin

supple and nourished.
---
Smooth &

hair-free

HappySkin Ice IPL Hair Removal

Handset, $399. Introducing the

newest HappySkin IPL hair removal

handset, an ingenious at-home device

that uses intense pulsed light (IPL) and

ice cooling technology to give you

comfortable, salon-like results right

from the comfort of your own home!

www.cosbeauty.com.au 95
---
Exfoliate

& polish

BEAUTY

Medik8 Smooth Body Exfoliating

Kit, $99. New from Medik8, this 3-step

exfoliating kit instantly revitalises rough,

dry or bumpy skin. The Smooth Body Scrub

combines 10% lactic acid, natural pumice

and bamboo microparticles to slough off

dead skin. The Smooth Body Mitt, which can

be used dry or damp, with or without the

Smooth Body Scrub, gently buffs away dead

skin cells. Lastly, the Smooth Body Lotion

contains a trio of chemical exfoliators – 7%

urea, 2% lactic acid, 2% salicylic acid – which

are boosted by an ultra-nourishing complex

of antioxidant moringa butter, shea butter,

multi-weight hyaluronic acid and squalane.

SENSORI+ Detoxifying & Rejuvenating

Sand Body Polish Bondi Beach 2026, $45.

All natural and plant-derived, this deeply

exfoliating body scrub will become a new

bathing ritual. White sand and raw sugar

sweep away dull skin cells while nourishing

avocado oil, antioxidant-rich grapeseed

oil and Vitamin C-rich kakadu plum extract

detoxify and repair, leaving skin soft,

refreshed and glowing.

Jurlique Smoothing Body Exfoliating

Gel, $48. This lightweight exfoliating gel

uses natural and environmentally-friendly

walnut shell powder to gently but thoroughly

slough away dry skin and impurities. Skin

feels cleansed, polished and softened, and

looks smoother and more radiant.
---
Hydrate & nourish

Jurlique Exclusive Edition Rose

Body Oil, $88. Jurlique's bestselling

Rose Body Oil is infused with

roses that have been grown and

extracted at the brand's organic

farm in the South Australian hills,

alongside nourishing macadamia

and safflower oils. This pampering

botanical oil deeply moisturises and

replenishes skin from top to toe,

with the added touch of a delicate

floral fragrance.

Sisley Velvet Nourishing Body

Cream, $190. A highly soothing,

restorative, nourishing and

moisturising body cream for dry to

very dry skin, it instantly soothes and

restores the feeling of comfort to dry

skin. A cocktail of ultra-nourishing

key ingredients – including

Japanese lilyturf extract, macadamia

oil and babassu oil, alongside shea

butter and saffron flower extract –

helps reinforce the hydrolipidic film

to envelope the skin and nourish

it intensely. The skin feels more

supple, soft and intensely nourished.

evo's self indulgence body creme,

$29. With no sulphates, parabens

or gluten, this lightly scented body

cream is enriched with plant oils

to sooth and soften skin. It absorbs

quickly into the skin, without leaving

any greasy residue.

Paula's Choice Retinol Skin-

Smoothing Body Treatment,

$43. This is a lotion that delivers

the anti-ageing ingredients of a

facial treatment to the whole body.

Featuring a blend of antioxidants

and specialised Vitamin A (retinol)

complex, this advanced body lotion

deeply hydrates dry skin, firming

and diminishing the appearance of

uneven skin tone.

Paula's Choice Daily Replenishing

Body Cream, $30. This lightweight

non-greasy cream hydrates skin and

leaves a healthy looking glow. The

formula is rich in replenishing and

emollient ingredients and is ideal for

daily use, while the lack of fragrance

makes it particularly suitable for

those with sensitive skin.

asap revitalising bodymoist, $50.

This is an all-over body moisturiser

rich in glycolic acid, essential oils

and green tea to revitalise and

nourish the skin, leaving it feeling

smooth and intensely hydrated, with

a light, refreshing citrus fragrance.

La Mer The Renewal Body Oil

Balm, $295. This rich, hydrating and

lightly scented body balm melts into

a silken oil on contact to create a

radiant, glowing sheen. It cocoons

skin in La Mer's signature Miracle

Broth, which helps heal dryness and

soothe visible redness and irritation

as skin is softened, strengthened

and renewed.

La Mer The Body Creme 300ml,

$400. This luxe body cream instantly

comforts and renews by saturating

skin with long-lasting, deep

hydration. Dry skin feels cushioned

and smoothed as it is enveloped in

the therapeutic effects of the sea.

www.cosbeauty.com.au 97
---
BEAUTY

Firm &

tighten

Enbacci Complete Body Firming

Lotion, $80. Australian skincare

company Enbacci has discovered

the restorative abilities of the

Saponaria Pumila plant. With the

stem cells of the plant, this hydrating

cream helps promote skin elasticity

and the appearance of skin firmness.

Image Skincare Body Spa

Cell.U.Lift Firming Body Crème,

$143. This enhancing body crème

was formulated by plastic surgeons

as a solution to skin laxity and

cellulite. It helps to strengthen

weak collagen fibres that cause

sagging and visibly reduces the

volume of lipid cells to help sculpt

a firm, smooth appearance. It

reduces the look of cellulite and skin

irregularities with ingredients shown

to tighten and firm the skin.

mesoestetic bodyshock push up,

$150. The new Body Shock home

care product range by skincare tech

giant mesoestetic, maximises results

obtained in their professional inclinic

Body Shock treatment. The athome

Body Shock Push Up cream is

formulated for firming, tensing and

toning the breast and buttock areas.

The active ingredients – African

kigelia, hydrolysed vegetable

proteins and amino acids – help to

stimulate the skin so that the skin's

natural systems are synthesised and

optimised, thus treating the main

cause of flabbiness at the source.

It helps to repair tissues that have

lost elasticity and firmness over

the years, resulting in a lifting and

firming effect. It is also a powerful

stretchmark fighter that provides

moisture and softness.

SkinCeuticals Body Tightening

Concentrate, $146.95. Formulated

for loose, sagging body skin, Body

Tightening Concentrate helps with

visible skin tightening for improved

overall appearance. It is designed to

help tighten and firm skin on gravityeffected

areas such as the abdomen,

buttocks, knees and thighs. The

body cooling fluid features a

combination of 2.5% tripeptide, 5%

yeast extract and 2% hydrolyzed rice

protein to help your skin look and

feel more firm.

asap cellulite + skin firming

treatment, $99. Contains clinically

proven, breakthrough ingredients

to assist in the reduction of

cellulite and the appearance of

stretchmarks, while improving

skin elasticity, hydration and

smoothness. It increases the skin's

microcirculation to assist with toxin

and lipid metabolism, aiding in the

breakdown of lipids to help reduce

the size of fat cells and result in

visibly smoother skin.

Sisley Cellulinov, $290. Cellulinov

is an intensive topical cream

designed to target the look of

cellulite thanks to an exceptional

synergy of plant-based active

ingredients and essential oils,

resulting from the latest advances

from Sisley Research. Longan seed,

red algae and Indian lotus extracts

are combined with caffeine and

cedrol to provide targeted action on

the appearance of cellulite. After 4

weeks of use, dimples are reduced,

skin is smoothed and the look of

cellulite is visibly reduced (visually

and upon pinching).
---
Charlotte Tilbury Supermodel

Body Highlighter, $65. This body

contour and highlighter is Charlotte

Tilbury's secret celebrity trick for

an elongated, slimmer-looking

body and we want in! It combines

luminous shimmer, enriched

botanicals and skin de-puffing

agents to create an optical illusion

of longer, leaner limbs and firmer

contours. The standout ingredient

is FermiProtect, derived from the

shiitake mushroom, which works

on strengthening the skin's extra

cellular matrix to support natural

skin firmness and sculpt the look of

your contours.

www.cosbeauty.com.au 99
---
The 2021

FEATURE

GUIDE to

NON-SURGICAL

&

FAT REDUCTION

MUSCLE SCULPTING

NOW'S THE TIME TO

TAKE ADVANTAGE OF

THE EXCEPTIONAL

NON-SURGICAL BODY

CONTOURING TECHNOLOGY

THAT CAN REMOVE FAT AND

BUILD MUSCLE.

We live in a world full of technical

advances and marvels, and lucky

for us that includes new methods

to remove excess fat and create a more svelte

silhouette without any surgery or downtime.

The non-surgical body contouring market is

evolving – in addition to fat reduction, we are

now seeing a new category of treatment: muscle

building and toning.

Non-surgical body contouring procedures

are increasing in popularity, rising more than

43 percent from 2017 and quadrupling since

2012, according to the most recent report

from the American Society for Dermatologic

Surgery (ASDS). For every one liposuction

procedure, there are more than 10 non-invasive

body sculpting treatments, according to the

ASDS. And that's not counting the new muscle

definition technology. A RealSelf Aesthetic

Trends Report released in 2020 showed nonsurgical

muscle toning treatment had the

highest year-over-year growth (450%).
---
www.cosbeauty.com.au 101
---
FEATURE

IN AND OUT

PROCEDURE

Anaesthesia isn't required for

non-surgical body contouring,

and treatments are performed

in the comfort of your aesthetic

practitioner's clinic, some in as

little as 15 minutes. There is no

downtime, minimal discomfort,

and complications are rare. In

conjunction with a healthy diet

and exercise regime, results should

be long lasting because, just as

with liposuction, when fat cells are

permanently destroyed they will not

return.

Although non-surgical body

contouring devices offer an effective

means for achieving a more

streamlined body shape – commonly

targeting treatment areas such

as the abdomen and thighs – it's

worth remembering that no nonsurgical

device can achieve the

level of fat removal possible with

liposuction. It's therefore important

to have realistic expectations of

what non-surgical body contouring

can achieve, both in terms of the

amount of fat that can be targeted,

and the length of time it will take to

see results.

That being said, today's body

contouring technology devices offer

outstanding results for the right

patient – without the surgery and

associated risks and downtime of

liposuction surgery.

The best candidates are usually

those with small to medium

localised fat deposits that are

resistant to diet and exercise, rather

than those seeking large-volume fat

removal. For muscle building and

toning treatment, just about anyone

is a suitable candidate.
---
HOW NON-SURGICAL

BODY CONTOURING

DEVICES WORK

Even the most disciplined gym-goer will typically

have little pockets of fat they just can't budge or areas

on the body lacking in definition, despite repeated

weights and workouts. With the latest advancements

in body contouring technology, there are options out

there to remove fat and sculpt muscle without lifting

a finger.

Most devices harness some form of energy and

use heat or cold to kill unwanted fat cells – be it

radiofrequency, ultrasound, laser, cryotherapy or

electromagnetic therapy – to penetrate the skin

and either break down underlying fat and/or stimulate

muscles. Most of these technologies require a series

of treatments spaced several weeks apart for optimum

results.

Targeted fat cells are destroyed and excreted

naturally via the body's lymphatic system over a period

of several weeks. Fat reduction treatments can reduce

fat in the targeted area by as much as 20%.

On the following pages are some of the most popular

non-surgical body contouring devices available in

Australia.

www.cosbeauty.com.au 103
---
FEATURE

FAT REDUCTION

RADIOFREQUENCY (RF)

BODY CONTOURING

This non-surgical treatment uses

radiofrequency (RF) energy to reduce

pockets of fat. The energy is emitted

via an applicator through the skin

without damaging the outer layers, only

targeting the underlying fat and tissues.

With RF body contouring treatment,

the heat generated from the RF

energy dissolves fat cells and causes

microscopic changes to tissues and

collagen fibres, with further collagen

remodelling occurring over the

subsequent months following the

procedure. The broken down fat cells

are drained via the lymphatic system

and then excreted as urine. An added

bonus is that it can also improve skin

tone and the look of cellulite.

The full effects may not be

visible for several months as the

improvements are cumulative. You

will gradually notice changes such

as circumferential reduction of the

treated area, a reduction in cellulite

and a more streamlined body shape.

Radiofrequency body contouring

treatments are non-invasive, cause

minimal discomfort and typically

require no downtime.

Body contouring systems that use RF

energy include truSculpt iD by Cutera

and EnCurve by Lutronic.

LASER BODY CONTOURING

Non-invasive fat reduction using hyperthermic laser uses heat to destroy the fat

cells and can work wonders on the love handles and abdomen.

It uses a specific laser wavelength to target and destroy fat cells below the

dermis. Multiple areas can be treated at once in just 25 minutes, and all skin

types are suitable. The controlled hyperthermic laser induces fat cell injury

by raising fat temperature to a range of 42 to 47˚C – the ideal temperature to

eliminate fat cells, without damage to surrounding tissue.

There is no downtime and minimal, if any, discomfort. Results can be seen

around six weeks after treatment as the body naturally metabolises the destroyed

fat. A series of treatments is recommended for optimum results.

Laser body contouring devices in Australia include SculpSure by Cynosure.
---
CRYOLIPOLYSIS BODY

CONTOURING

This method uses almost-freezing

temperatures to kill fat cells without

traumatising the surrounding tissues

or harming the skin. A gel drape is

placed onto the target area to protect

the skin before the applicator head

is placed onto the fat pocket. The

applicator acts like a vacuum to suck

the area into position and direct the

cold temperature to the target fat

cells under the skin, which are then

destroyed and eliminated naturally by

the body.

Patients experience a gradual

cooling sensation, similar to placing

the area in iced water, but this

subsides as the body gets used to

the temperature change.

Generally, at least two to three

treatments are recommended. The

results of cryolipolysis are gradually

appear over time, with full results

seen at least a couple of months after.

Common body contouring devices

using cryolipolysis in Australia

include CoolSculpting by Allergan

Aesthetics and CLATUU and

Cooltech from Cryomed Aesthetics.

ULTRASONIC BODY

CONTOURING

Ultrasonic body contouring

treatments use non-thermal targeted

ultrasound frequencies to break down

fat, particularly on the abdomen,

hips, thighs and 'love handles'.

The focused ultrasound waves are

delivered in short bursts of energy,

or pulses, to destroy fat cells while

leaving surrounding tissue, nerves

and blood vessels unaffected. The

ultrasound waves create a cavitation

effect in the target fat cells – a process

where the fat cell membranes are

damaged with each pulse of energy

so that the contents of the fat cells

(triglycerides) are dispersed and

processed by the body. The fat cell

contents are then flushed out by the

body's lymphatic system.

A series of treatments per area

achieves noticeable, measurable

results, although some patients

note a circumferential reduction in

the area after the first treatment.

It can take around four weeks for

the final result to be visible as the

body gradually eliminates the

fatty debris.

The treatment is generally

considered to be pain-free, with

some patients experiencing slight

discomfort related to the suction

action. Body shaping devices

using ultrasound technology

include UltraShape Power by

Candela Medical.

www.cosbeauty.com.au 105
---
FEATURE

MUSCLE

SCULPTING

Muscle building, toning and sculpting

devices are an exciting new addition to the

non-surgical body contouring market and

quickly rising in popularity.

Most use electromagnetic stimulation

to strengthen and tighten the abdominal,

gluteal and thigh muscles through methods

of contraction and stimulation (called

supramaximal contractions). These deliver

tens of thousands of muscle contractions in a

30-minute session (obviously not physically

possible during normal exercise).

During muscle toning treatment,

applicators are placed on areas of the body

and generate an electromagnetic field

that stimulates the motor neuron cells of

the body's muscles, causing the muscle to

contract as it would during movement

or exercise.

When exposed to supramaximal

contractions, the muscle responds with

a deep remodelling of its inner structure,

resulting in the growth of myofibrils

(muscle hypertrophy) and creation of new

protein strands and muscle fibres (muscle

hyperplasia). Increased muscle density

and volume lead to a better definition and

muscle tone.

Some muscle building devices have shown

a 16% average increase in muscle mass, and

even a reduction in Diastasis

recti (abdominal separation caused

by pregnancy).

A series of treatments is usually

recommended with results seen 3-4 weeks

after completion of the treatment plan.

Muscle building and toning devices

currently available in Australia include

StimSure by Cynosure, truSculpt FLEX

by Cutera, EmSculpt by BTL Aesthetics,

TeslaFORMER from Cryomed Aesthetics

and CMSlim Contouring Master by MM

Medical Aesthetics.
---
AestheticAdvisor is Australia's

trusted online resource to

research procedures, find a skilled

practitioner, read real reviews and

have questions answered.

www.aestheticadvisor.com.au
---
FEATURE

YOUR

BEAUTY

HOROSCOPE
---
ABOUT

Linda

Willow

Roberts

Linda Willow Roberts is a certified medium,

spiritual teacher, psychic, clairvoyant,

international speaker, certified angel

intuitive, reiki master, theta healer,

psychometry expert and author of 'Seven-

Eights of Me'.

Known as 'The Manifestor', Linda has

always been able to live in synchronicity

with the Laws of Attraction and has assisted

clients with spiritual and life navigation for

30 years.

To book a session with Linda:

www.lindawillowroberts.com.au

www.facebook.com/Willowswayoflife

FROM SELF-CARE TO

SELF-GLOW, GET YOUR

PLANETS (AND YOUR

WELLNESS PLANS) IN

PERFECT ALIGNMENT

WITH YOUR ULTIMATE

BEAUTY HOROSCOPE

BY PSYCHIC LINDA

WILLOW ROBERTS.

2021: a new era has dawned and the

"Aquarian age" of humanity, love

and compassion is here. Forget what

you thought you knew; we've gone from

the I AM status to the WE ARE ONE

consciousness in a blink of the eye.

How do you live in this new energy?

Stay in the present moment as much

as possible to see the magic in the

ordinary, breathe, use your free will, and

put the intent up to the Universe to

assist you with anything you are trying to

manifest. Remember, when manifesting,

you need to emulate the feelings you want

– that is how you draw to you that which

you desire.

www.cosbeauty.com.au 109
---
FEATURE

AQUARIUS

(JAN 20 – FEB 18)

Your humanitarian nature is

wonderful, but in 2021 you will

need to take care of yourself

first and practice self-love.

Book in with your hairdresser,

get a massage, whatever it takes

to fill your cup first. It's time to

spoil yourself and dress up for

any occasion.

PISCES

(FEB 19 – MARCH 20)

There will be lots of happy gatherings

for you this year! You will be at the

right place at the right time so use it

to your advantage, making sure only

the best of the best will do for you.

While you continue to develop your

own personal style for 2021, the key

question you need to ask yourself is:

"how does this make me feel?" Trust

your intuition.
---
ARIES

(MARCH 21 – APRIL 19)

The active Aries for 2021 needs balance.

Constructing a holistic approach to everything

you do will bring a symmetry into your life.

Don't be surprised if you use words such as "I

feel" a lot. Yoga might seem a little slow for

you but the balance it will bring will have its

own rewards, and the breathing techniques will

become a natural outlet. Having spa days or

just a peaceful bath and nurturing yourself will

balance the giving and receiving.

TAURUS

(APRIL 20 – MAY 20)

Taureans, in 2021 you get to shine, and

don't you deserve it! You've heard of

pimp my ride, well your ride is your body.

The year of the Ox starts in February on

the Chinese New Year and with Venus as

your ruling planet, of love, beauty and

money, Taurus will have the works! Share

your experiences and philosophies this

year and lead by example – there may be

someone out there who would appreciate

your guidance.

www.cosbeauty.com.au 111
---
FEATURE

GEMINI

(MAY 21 – JUNE 20)

Social Geminis, this year will be

about looking after yourselves and

steeping out of your comfort zone.

Try new makeup looks and beauty

products and share with your friends

– it's a complete overhaul this year.

CANCER

(JUNE 21 – JULY 22)

With lots of new beginnings

already, Cancerians are in a state

of transformation. This year will

continue with you enhancing

your hobbies and self-awareness

holistically. You will continue to

reinvent yourself with new colours

and new hairstyles. You are in for a

new you, so enjoy it.
---
LEO

(JULY 23 – AUG 22)

What a surprising year lies ahead for

Leos. It seems like Leos are in the

right time and right place for 2021.

Spoil yourself on shopping and

watch how the bargains roll in.

VIRGO

(AUG 23 – SEP 22)

Virgo, you love being in a routine

and have everything planned out.

Well, 2021 sees you moving out of

your comfort zone and trying all

new beauty routines and natural

therapies. Try to stay in the moment

and fully immerse yourself in the

experiences rather than think about

the outcome. I feel you have figured

out your own happiness comes

from within!

www.cosbeauty.com.au 113
---
FEATURE

LIBRA

(SEP 23 – OCT 23)

For the caretaker and steady Libran,

it is time to spend some muchneeded

time on you. Shopping

sprees, luxe skin treatments and

anything that is giving to yourself

this year will be exactly what

you need. Staying in the present

moment will have you noticing all

the Universe's little nudges. I can just

hear you say, "the Universe wanted

me to!"

SCORPIO

(OCT 24 – NOV 21)

Scorpio, one minute you will be out

celebrating as your most glamorous

self and the next you'll be at home

in your comfy trackie-dacks. Going

it alone will seem tedious. 2021 is

all about you working as a team

and surrounding yourself with your

soul family.
---
SAGITTARIUS

(NOV 22 – DEC 21)

Generous free-spirited Sagittarians, you will

need to stay out of your head in 2021 and do

the things that you love doing. This will bring

more of positive energy towards you. Commit to

whatever rocks your world at a soul level. I can

see you trying all new beauty therapies, which in

turn has your energy charged.

CAPRICORN

(DEC 22 – JAN 19)

Striving for your goals in 2021 will be a

holistic approach. Many Capricorns will

de-clutter mind, body and soul. Don't be

surprised if you get a team of people to

help with that – from a personal trainer

and dietician to someone that organises

your home. You will be looking at the

whole shebang to see how it enhances

your life experiences.

www.cosbeauty.com.au 115
---
BEAUTY

E d's

fa

ves
---
Morphe Morphe 2

Wondertint Cheek & Lip

Mousse, FYP, $18

Morphe Morphe 2 Jelly Eye

Shimmer in Starry Sky, $15

Charlotte Tilbury,

Charlotte's Magic Lip Oil

in Rose Lust, $56

Charlotte Tilbury,

Glowgasm Lip in

Jewelgasm, $46

Jean Paul Gaultier

La Belle Eau de

Parfum 100ml, $188

Fenty Beauty Pro Filt'r

Hydrating Longwear

Foundation, $52

Clinique Even

Better Clinical

Serum Foundation

SPF 20, $65

Glasshouse Fragrances

Sunset in Capri 380g

Soy Candle, $54.95

Skeyndor

Skincare Make-

Up Vitamin C

Hydra Comfort

Foundation, $69

www.cosbeauty.com.au 117
---
BEAUTY

118
---
Davines Love Collection includes:

Shampoo 250ml, $38.95,

Conditioner 250ml, $38.95, Hair

Smoother 150ml, $42.95

Rumbie &

Co Deep Curl

Cleanse, $40

Color Wow Dream

Regime Minis –

Supernatural, $57.95

OGX Hydrate

& Repair Argan

Oil of Morocco

Extra Strength

Shampoo, $21

evo winners

face balm, $29

2.

3.

EVY PROFESSIONAL

iQ OneGlide, $299

VS SASSOON Digital Sensor

Hot Air Styler, $99.95

PURE PACT

Avocado Shine

Butter 80ml,

$35.50

www.cosbeauty.com.au 119
---
BEAUTY

120
---
Elizabeth Arden Retinol

Ceramide Line Erasing Night

Serum Capsules, $150

Clinique Limited Edition

Clinique iD base:

Dramatically Different

Moisturizing Lotion+, $45

mesoestetic

aox ferulic

30ml, $199

People4Ocean Afer Sun

Solution 3-in1, $42.95

Fenty Skin Total

Cleans'r Remove It All

Cleanser, $36

Sunescape Instant Self Tan

Mousse in Summer in Santorini

(Ultra Dark) 250ml, $44.95

Invisible Zinc Sheer

Defence SPF50 Tinted

Moisturiser SPF 50 50ml, $34

Avène Sunscreen

Spray SPF 50+

200ml, $34.95

Bali Body

Gradual Tan,

$25.95

SunButter Tinted SPF 50

Water Resistant Reef Safe

Sunscreen, $31.95

Long Haul Spa Skincare Kit in

Cerulean includes: package

of disinfecting wipes, 4

dehydrated towels, Cleansing

Micellar Water 15ml, Super

Saturating Face Mist 15ml,

Serum Sorbet 15ml, Eye

Balm 15ml, Lip Balm 15ml,

Rejuvenating & Protecting

Facial Oil 15ml, Super

Hydrating Gel Face Mask

15ml, Moisturising Creme

Balm 25ml, $129

www.cosbeauty.com.au 121
---
Dr Lisa is a female Specialist

Plastic and Cosmetic Surgeon

based in Sydney, Australia.

She has worked in France,

Germany and the USA.

Breast augmentation

Breast lift

Breast reduction

Abdominoplasty

Mummy makeover

Liposuction

Lip lift

Non-surgical facial

enhancement including

wrinkle injections

and fillers

1300 DR LISA I SUITE 8, LEVEL 6, 75 CROWN ST WOOLLOOMOOLOO, SYDNEY