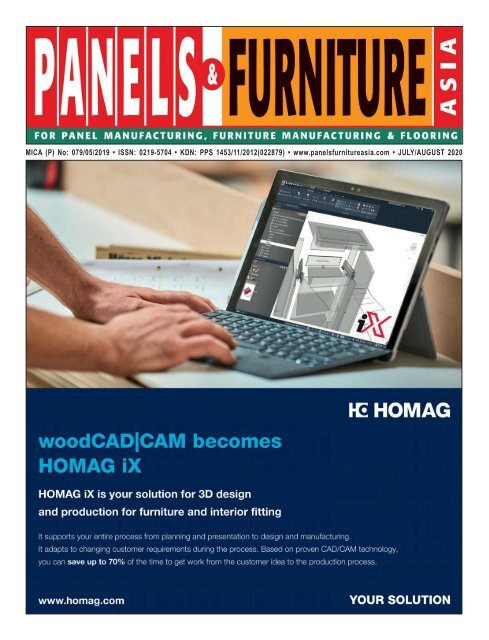 Panels & Furniture Asia July/August 2020
Panels & Furniture Asia (PFA) is a leading regional trade magazine dedicated to the woodbased panel, furniture and flooring processing industry. Published bi-monthly since 2000, PFA delivers authentic journalism to cover the latest news, technology, machinery, projects, products and trade events throughout the sector. With a hardcopy and digital readership comprising manufacturers, designers and specifiers, among others, PFA is the platform of choice for connecting brands across the global woodworking landscape.
Panels & Furniture Asia (PFA) is a leading regional trade magazine dedicated to the woodbased panel, furniture and flooring processing industry. Published bi-monthly since 2000, PFA delivers authentic journalism to cover the latest news, technology, machinery, projects, products and trade events throughout the sector. With a hardcopy and digital readership comprising manufacturers, designers and specifiers, among others, PFA is the platform of choice for connecting brands across the global woodworking landscape.
SHOW MORE
SHOW LESS
Do you know the secret to free website traffic?
Use this trick to increase the number of new potential customers.
MICA (P) No: 079/05/2019 • ISSN: 0219-5704 • KDN: PPS 1453/11/2012(022879) • www.panelsfurnitureasia.com • JULY/AUGUST 2020
---
PRODUCE SMARTER

Digital solutions that simplify

your daily routine

Digitalization and automation make your

life easier. With permanent conditionmonitoring,

self-controlled production

solutions and the MyDieffenbacher

platform, you can make faster and safer

decisions, work efficiently and increase

the productivity of your plant.

www.dieffenbacher.com

Wood-based panels

Digitalization
---
BIFA WOOD

VIETNAM 2021

www.bifawoodvietnam.com

NEW DATE: 11-13 March 2021

Venue:

Binh Duong Convention &

Exhibition Centre (open ground)

Duong Hung Vuong, Phu Hoa ward,

Thu Dau Mot city, Binh Duong province,

Vietnam

Google Map

QR code

Exhibition Site

WOOD &

WOODWORKING

MACHINERY

EXHIBITION

Enquiries For International Exhibitors

Pablo Publishing & Exhibition Pte Ltd

3 Ang Mo Kio Street 62 #01-23 Link@AMK

Singapore 569139

Tel: (65) 6266 5512

Email: williampang@pabloasia.com

info@pabloasia.com

WeChat

Jointly organised by

BINH DUONG FURNITURE ASSOCIATION (BIFA)

PANELS & FURNITURE Group

BINH DUONG FURNITURE ASSOCIATION
---
Contents

July / August 2020 • Issue 4 • Panels & Furniture Asia

6 | EDITOR'S NOTE

8 | NEWS

PRODUCT HIGHLIGHT

16 | Baumer presents simple-to-integrate drilling pattern control with

smart 3D technology

MARKET REPORT

18 | US Hardwoods . Market Observations and Post-Pandemic Outlook

22 | Diversifying Global Supply Chains – What's next for South East Asia?

PANEL MANUFACTURING

26 | Smartech: Transforming manufacturing with smart technology

30 | Dieffenbacher Evojet M 2.0

FURNITURE MANUFACTURING

32 | Nanxing and Okelo join hands to welcome the new era of smart

furniture production

34 | Demystifying the path towards Batch Size 1 Production

38 | Transforming and modernising end-to-end operation for flat panel

furniture production

40 | An Insight into the Russian Furniture Market: Today and Beyond

32

MATERIALS

44 | Employee Safety First. Sawmill operations continue as forest products

industry deemed essential during pandemic

46 | Stylish furniture, with Sustainability to match

48 | Gabon Special Economic Zone: A world-class integrated woodworking

destination

STRUCTURAL ELEMENTS

52 | Unfolding an origami coup de maître

DESIGN

56 | The Hoa Mai Furniture Design Competition 2020

58 | Calgary Central Library – where Ice and Timber meet

SHOW PREVIEW

62 | A prelude to industry recovery: Triple-packed CIFM -

interzum guangzhou 2020 returns this July

COLUMNISTS

64 | Wood Clinic: Reasons for cracked glue lines on coffee table made from

Nyatoh wood

68 | MMMA Newsletter: Surviving the Resurgent Coronavirus Crisis

34

70 | CALENDAR OF EVENTS

71 | ADVERTISER'S LIST

52
---
FROM THE EDITOR

PANELS & FURNITURE ASIA

PABLO SINGAPORE

Publisher

Associate Publisher

William Pang

williampang@pabloasia.com

Pamela Buckley

pamela@pabloasia.com

HIU YAN | Editor

As we enter the new normal of the post-pandemic world, the path ahead may

be fraught with uncertainty but difficult times are often the best breeding

ground for new strategies, new ideas and new breakthroughs.

One such example is the disruption of supply chains brought upon by the

pandemic. Many companies are now compelled to rethink their sourcing

strategies. Companies have to reduce reliance on the world factory that is

China – either by finding suppliers from other countries or building secondary

facilities in regions like South East Asia (SEA). Several SEA countries are

serious contenders. What can they do to seize these new opportunities? What

is next for China? The answers can be found in the report on diversifying

global supply chains on page 22.

As the race to develop a new vaccine continues, the reality that the current

global pandemic will be a recurring one for some time is forcing companies

to manage unforeseen economic hardship, complexity and volatility, opines

Peter Fitch, founder of Segamat Panel Boards (Malaysia) and chairman of

the MMMA. Fitch offers some advice on the steps that companies can take to

survive the coronavirus crisis. (Pg. 68)

In Singapore, the government is urging employees that are furloughed or

retrenched to take the chance to upskill. Likewise, manufacturers in the wood

and wood products industries can also consider how to improve their method

of production during this down time. Now that furniture production is shifting

from mass production to customised manufacturing, batch size 1 production

will become the global trend, according to the industry experts interviewed

by PFA. Manufacturers in SEA, however, may not be ready to transform. The

experts listed common challenges faced by manufacturers in SEA and the

possible solutions. (Pg.34)

Lastly, a quote for our PFA readers, just to uplift:

Restarting and

relearning in

the new normal

"Prosperity is a great teacher; adversity is a greater. Possession pampers the

mind; privation trains and strengthens it." – William Hazlitt

Senior Editor

Editor

Editor

Editor

Business Development Manager

Graphic Designer

Circulation Manager

PABLO BEIJING

General Manager

PABLO SHANGHAI

Senior Editor

Pang Yanrong

yanrong@pabloasia.com

Szeto Hiu Yan

hiuyan@pabloasia.com

Jo-Ann Teo

jo-ann@pabloasia.com

Josephine Tan

josephine@pabloasia.com

YanJun Pang

yanjun@pabloasia.com

Edwin De Souza

edwin@pabloasia.com

Shu Ai Ling

circulation@pabloasia.com

Ellen Gao

pablobeijing@163.com

Sharon Wu

pabloshanghai@163.net

HEAD OFFICE

PABLO PUBLISHING & EXHIBITION PTE LTD

3 Ang Mo Kio Street 62 #01-23

Link@AMK Singapore 569139

Tel : +65 6266 5512

Email: info@pabloasia.com

www.panelsfurnitureasia.com

Company Registration No: 200001473N

Singapore MICA (P) No: 079/05/2019

REGIONAL OFFICES (CHINA)

PABLO BEIJING

Tel : +86 10 6509 7728

Email: pablobeijing@163.com

PABLO SHANGHAI

Tel : +86 21 5238 9737 / 36

Email: pabloshanghai@163.net

All rights reserved. Views of writers do not necessarily reflect the views of the Publisher. No part of this publication

may be reproduced in any form or by any means, without prior permission in writing from the Publisher and copyright

owner. Whilst every care is taken to ensure accuracy of the information in this publication, the Publisher accepts no

liability for damages caused by misinterpretation of information, expressed or implied, within the pages of the magazine.

All advertisements are accepted on the understanding that the Advertiser is authorised to publish the contents of the

advertisements, and in this respect, the Advertiser shall indemnify the Publisher against all claims or suits for libel,

violation of right of privacy and copyright infringements. Panels & Furniture Asia is a controlled-circulation magazine with

two issues a year. It is mailed free-of-charge to readers who meet a set of criteria. Paid subscription is available to

those who do not fit our terms of control. Please refer to subscription form provided in the publication for more details.

let's connect!

@panelsfurnitureasia

Scan to subscribe to PFA's enewsletter

Printed by Times Printers Pte Ltd

Panels & Furniture Asia

is the offi cial publication of

Malaysian MDF Manufacturers Association
---
8 | NEWS

July / August 2020, Issue 4 | Panels & Furniture Asia

BIFA WOOD VIETNAM POSTPONES TO 11 TO 13 MARCH 2021

ORIGINALLY scheduled to be held from

27 to 30 October 2020, BIFA WOOD

Vietnam has been postponed to 11 to

13 March 2021 due to the uncertainty

surrounding the COVID-19 pandemic.

The postponement seeks to protect the

safety and well-being of all exhibitors,

sponsors, delegates, trade attendees

and staff, as well as to allow key industry

players more time to participate.

BIFA WOOD Vietnam 2018 was a

resounding success, with 183 exhibitors

and 740 booths spreading across a

massive hall of 14,500 square metres.

The exhibition was attended by about

4,200 visitors seeking the latest

technologies and products in the furniture

manufacturing and woodworking sectors.

BIFA WOOD Vietnam is organised by two

of the most influential brands in South

East Asia's timber and woodworking

sector – Binh Duong Furniture Association

(BIFA) and Panels & Furniture Asia Group

of wood magazines. P

FIRST VIETNAM SUSTAINABLE FOREST MANAGEMENT

CERTIFICATES GRANTED TO RUBBER FORESTS

THE first Vietnam Sustainable Forest

Management Certificates has been

granted to more than 11,400 hectares

of rubber forests under the management

of the Vietnam Rubber Group (VRG),

reported Nhan Dan Online.

The Vietnam Administration of Forestry

(VNFOREST) granted the certificates

to VRG companies, including the Binh

Long, Phu Rieng and Dau Tieng Rubber

Companies, at a ceremony held in Ho Chi

Minh City on 17 May.

The event also evaluated the coordination

results between VNFOREST and VRG in

implementing a project on sustainable

forest management and forest certification

back in 1 October 2018, to promote

the certification of sustainable forest

management in Vietnam.

Under the scheme, nearly 60,000ha of

rubber was set to be planted under the

sustainable forest management plan

which aimed to offer the Vietnam Forest

Certification Scheme (VFCS) certification

for six rubber processing factories.

EXPERT VALUE OF PROCESSED

RUBBER WOOD PRODUCTS:

US$2.5BN

Speaking at the event, Deputy Minister

of Agriculture and Rural Development Ha

Cong Tuan said that Vietnam has nearly

one million hectares of rubber forests,

generating between 3 to 3.5 million m 3

of raw materials from rubber wood every

year, while the export value of processed

products from rubber wood also reached

US$2.5bn. Therefore, rubber wood is also

an important and sustainable source of

raw materials for the wood processing

industry and exports of forest products.

Vietnam's Sustainable Forest Management

Certificate is important in promoting

the certification of sustainable forest

management and developing the market

for legal timber and "clean" raw materials

for Vietnam's wood and forest product

processing industries and exports, Tuan said.

It is also an affirmation of the country's

activeness in executing sustainable forest

management and forest certification,

especially since Vietnam's forest

certification system has been recognised

worldwide.

In 2020, VNFOREST and VRG will register

for sustainable forest management

certification for at least 50,000ha of

rubber. In addition, at least 15 training

courses will be organised on sustainable

forest management and product chain

management to enhance the capacity and

awareness of VRG companies.

A sustainable forest management plan

is set to be deployed by 10 rubber

companies under VRG. The group also

aims to register the VFCS certification for

15 wood processing enterprises under its

management. P

INDIA TO CONSIDER INVESTING US$10 TO $11 BILLION

TO BOOST DOMESTIC PRODUCTION OF FURNITURE

INDIA'S government is considering

proposals to invest US$16 to $17

billion to boost domestic production of

various consumer items, including

furniture, air conditioners and its

components, and leather footwear. This

is to reduce import dependence and

increase exports, other measures may

include duty hikes, reported Times of

India on 3 June.

Among the priority sectors that will be

receiving support from the government,

the furniture sector may receive one of the

largest amount of investment amounting

to US$10 to $11 billion to set up three to

four clusters or hubs near ports, that are

also close to the wood producing areas.

In recent years, India's furniture market

size is worth US$10 to $12 billion, with

imports valued at US$1.5 to $2 billion.

Over 50% of imports come from China.

DUTY HIKES AND A NEW FORESTRY

POLICY

Duty hikes on wood products are also

being considered by the government, as

well as the long-term solution for a forestry

policy that supports the environment and

the economy, referring to Vietnam as a

successful example. P
---
July / August 2020, Issue 4 | Panels & Furniture Asia NEWS | 9

BIESSE LAUNCHES INTERACTIVE DIGITAL PLATFORM – A NEW

WAY TO LEARN ABOUT TECHNOLOGICAL INNOVATION

BIESSE is launching the Digital Arena, an

innovative digital platform that enables

live demonstrations and educational

webinars, to present advances in

technology, innovation and R&D, as well

as software and training activities.

"We are facing a cultural shift that will

impact our marketing strategies and the

way we use communications channels,

which is why we have revisited our

strategy to better serve customers all

over the world," stated Raphaël Prati,

corporate marketing communications

director.

"The platform will serve as our 'digital

site', a virtual Campus that is the digital

equivalent of our real world showrooms

and campuses, a place for customers

Biesse's new Digital Arena, an

innovative digital platform that enables

live demonstrations and webinars

to go when they want to learn more

about the solutions we offer through our

technological or internal tours," Prati

continued.

"The Digital Arena is an interactive portal

that will host digital events by Biesse,

Intermac and Diamut. Visitors will be

able to log in and attend webinars and

participate in live demos. It's a single

digital location dedicated to wood,

advanced materials, and the glass and

stone processing industries – a place for

inspirational content and for prompting

dialogue and trading ideas." P
---
10 | NEWS

July / August 2020, Issue 4 | Panels & Furniture Asia

NORTH AMERICA KITCHEN CABINETS SALES

DOWN 22% FOR APRIL 2020

ACCORDING to the Kitchen Cabinet

Manufacturers Association (KCMA)'s

monthly Trend of Business Survey,

participating cabinet manufacturers

reported a significant decrease in overall

cabinet sales of 22% for April 2020,

compared to the same month in 2019.

Custom sales are down 30.4%, semicustom

decreased 25.4%, and stock

sales decreased 17.8%.

In March 2020, COVID-19 was declared

a national pandemic and the results of

the economic shutdown can be seen in

the monthly numbers. Overall cabinet

sales were down 30.9% in April 2020

compared to March. Custom sales

decreased 35.7%; semi-custom sales

decreased 31.5%; and stock sales

decreased 29.6% compared to the

previous month.

Overall year-to-date cabinet sales are

down slightly at 1% due to the April dip.

Custom sales decreased 4.1%, semicustom

sales are down 5.9%, and stock

sales remain strong at an increase of

3.2% YTD.

Survey participants include stock, semicustom,

and custom companies whose

combined sales represent approximately

75% of the US kitchen cabinet and bath

vanity market.

KCMA is the major trade association

for kitchen cabinet and bath vanity

manufacturers and key suppliers of goods

and services to the industry. All major

US cabinet manufacturing companies

belong to KCMA. 63% of KCMA cabinet

manufacturer members report sales

below $10 million annually, reflecting

the importance of small manufacturers

in the industry. P

ACIMALL: 1Q 2020 PERFORMANCE OF THE ITALIAN WOOD FURNITURE

TECHNOLOGY INDUSTRY HEAVILY IMPACTED BY COVID-19

ACCORDING to the analysis of data

collected by the Studies Office of Acimall,

the Confindustria-member association

representing the Italian wood-furniture

technology industry, findings that

confirmed an immediate impact of the

lockdown caused by the COVID-19

pandemic is unsurprising. The first

quarter of 2020 closed with a widespread

reduction in woodworking machinery and

tool orders, with a two-digit decrease

involving all global markets, though with

some delay.

The quarterly survey – which involves

a representative sample of the entire

industry – has revealed a strong reduction

of orders by 21.1%, compared to the

same period of 2019. The slight delays

mentioned above have probably mitigated

the impact for international customers,

down by 19.4%, which is not so bad as

the 25.3% decline recorded by domestic

demand.

"It is clear that the widespread shrinkage

and later lockdown of production activities

has impacted the results, causing a

demand crisis that will probably influence

the entire year. The actions of national,

European and global governments and

institutions to support the economy and

each industry will be critical in the near

future," said Dario Corbetta, general

director of Acimall.

The book of orders is at 2.6 months, while

prices have been increasing by 0.8%. In

a situation that is not just "difficult", the

revenues in Q1 obviously showed a very

different trend from orders, which was

only down by 8.8%. Basically, industry

companies could finalise and deliver all

pending orders, but uncertainty for the

future have led too many customers to

postpone all investment decisions, waiting

for a safer outlook.

QUALITY SURVEY: A STATIONARY

TREND TO BE EXPECTED

The quality survey reveals all the fears of

industry entrepreneurs: 69% of surveyed

companies expect drop in production,

19% predict some stability and only 12%

believe in a positive trend. A "stationary"

trend is also expected for employment,

according to 75% of the sample, while

6% expect an increase and 19% fear

shrinkage. Available stocks are stationary

according to 44%, increasing according

to 37% and falling according to the

remaining 19%.

SURVEY: SOME STILL HOPE TO SEE

INCREASE IN FOREIGN ORDERS

As for the sentiment for the near future,

the forecast survey shows a situation

dominated by worry – both for the trend of

domestic demand and for the poor chances

to find compensation abroad: 13% of the

interviewees expect an increase in foreign

orders, but 31% believe there will be no

change and 56% fear that the worst is yet

to come. No business owner is optimistic

about incoming orders from the Italian

wood and furniture industry: 37% hope

for some stability while 63% believe the

downward trend will continue. P
---
July / August 2020, Issue 4 | Panels & Furniture Asia NEWS | 11

HOMAG GMBH TAKES OVER THE REMAINING SHARES IN WEINMANN

HOMAG GmbH acquires the remaining

24% of the shares of WEINMANN

Holzbausystemtechnik GmbH. HOMAG

GmbH now holds 100% of the shares

in the company and strengthens its

competence and commitment in the solid

wood sector.

WEINMANN has been part of the HOMAG

Group and has been the expert for timber

construction since 1998. As a leading

provider of high-performance machines

and systems for timber construction,

WEINMANN develops innovative and

customised solutions for carpenters and

prefabricated house manufacturers. Over

5,000 WEINMANN machines are in use by

manufacturers worldwide.

The HOMAG Group is strengthening its

commitment in the solid wood sector,

including the entire process chain in timber

construction. The topic of sustainability

plays an important role here; Wood as a

renewable raw material is still one of the

most important and ecologically most

valuable raw materials worldwide. Driving

this forward is a task for the future.

Josef Zerle, head of the business unit

Surface Technology within the HOMAG

Group and expert in solid wood, will

join WEINMANN's management on

1 July 2020. In addition to Mr. Zerle, the

management consists of Hansbert Ott

and Sven Schempp, who will also become

management spokesman on 1 July.

After 28 years, Mr Ott will step down as

managing director of WEINMANN on 30

November 2020. However, he will continue

Management of WEINMANN (from left to right): Josef Zerle,

Hansbert Ott, Sven Schempp (Image credit: WEINMANN)

to be available in an advisory capacity. The

success of WEINMANN is closely linked

to Mr Ott, whose aim has always been to

strengthen and promote global timber

construction and to offer customers the

right solutions. P
---
12 | NEWS

July / August 2020, Issue 4 | Panels & Furniture Asia

SVEZA DEVELOPS FLEXIBLE PLYWOOD

SVEZA has launched for production an

innovative product, Sveza Flex flexible

plywood, for building structures with

complex geometries. The product is a

unique solution which is now undergoing

the patenting process, and which belongs

to Sveza.

The new product is ideal for building

pillars, tunnels, water treatment

facilities, cultural and sports objects, and

everywhere where concrete structures

with nonstandard geometry are required.

At present, the flexibility issue can only

be handled at the construction sites:

they soak plywood in water, make cuts or

rounded shape by arranging thin stripes

and then joining them butt-to-butt and

sticking them together. This is a labourand

time-consuming process; special

fastening systems and special equipment

are also required. Apart from that, there

are substitutes (soft plywood, cardboard

formwork, metal formwork) used for the

creation of complex-geometry structures.

However, they have their application

limits – cardboard formwork tends to lose

shape and is only suitable for building

small-size objects with a radii of less

than 1.2m. Metal formwork is difficult

to transport and deliver to site and it

cannot change its radius even within the

minimum range.

LIGHTWEIGHT AND EASY TO

TRANSPORT

The new Sveza plywood family can be

easily transported since it is shipped

as sheets on pallets. Special attention

should also be paid to the weight of the

formwork kit: the weight of new Sveza

product is 328kg, while the weight of the

metal one is 1130kg. Sveza Flex makes

it possible to customise shapes and sizes

according to customers' needs. It can be

easily stored after the use: it regains the

initial shape after being dismantled.

Sveza Flex has various versions which

enable its use in multiple construction

and finishing industries. Sveza Flex

Coated with smooth laminated coating

can be used for the construction of large

objects. Plywood with Paint coating

can have required shades and thus it

can be used for interior solutions with

Sveza Flex flexible

plywood is ideal for

building pillars, tunnels,

water treatment facilities,

cultural and sports objects

(Image credit: SVEZA)

elaborate geometry. Sveza Flex Uncoated

can be adjusted to any radii without

extra treatment and increased machine

pressure; it is suitable for creating

smaller structural elements such as

pillars, outdoor structures and landscape

elements.

"Company specialists have carried out

patent search and discovered that the

market has no savvy plywood solutions

similar to our product. Here, Sveza Flex

can replace any existing type of curved

formwork. At least two months have

already passed after our product was

released, and we have witnessed growing

interest from buyers. The company has

already reached agreements to supply

this product to some clients and official

distributors," said Eugenia Khoseiny,

product manager of Sveza. P

INDONESIAN PLYWOOD AND FURNITURE EXPORTS

TO US ON THE INCREASE

AGUS SUYONO, head of the Samarinda

Agricultural Quarantine Center, has

reported that plywood export to the US

during the first quarter of 2020 earned

around Rp5.56 billion (approximately

US$392,100). This first quarter

performance represents an 8% increase

compared to a year earlier, reported

ITTO.

He also said that exports to China, India,

the Philippines, Singapore and Thailand in

the first 4 months of 2020 totalled 4,914

cubic metres.

According to Suyono, despite the

pandemic, plywood exports to the US

have continued to be largely unaffected

and he put this down to Indonesia's rising

competitiveness in the international

plywood market.

MORE NEW ORDERS FOR

INDONESIAN FURNITURE FROM

US BUYERS

Furniture craftsmen in Solo, Central

Java, has started producing for recently

received orders from buyers in the

US. Irawan Mintorogo, head of Marketing

for the Soloraya Furniture and Craft

Industry Community (Kimkas) in Solo

said there had been a period when no

orders were arriving but that has now

passed. He pointed out that buyers in

the US were the first to place orders,

unlike buyers in the EU who were still

hesitant. P
---
July / August 2020, Issue 4 | Panels & Furniture Asia NEWS | 13

MALAYSIA PALM OIL BOARD PARTNERS TECHBOND

GREENTECH TO PRODUCE PALM-BASED POLYOL

MALAYSIAN PALM OIL BOARD (MPOB) and

Techbond Greentech Sdn Bhd will start to

produce palm-based polyol that will be

used as a component in polyurethane

adhesives, replacing formaldehyde-based

adhesives, reported The Star.

Using the polyol technology developed

by MPOB, Techbond Greentech will

produce sustainable palm oil-based

polyol to create new industrial grade

polyurethane adhesives, followed by the

commercialisation of the product.

MPOB and Techbond signed a technology

development deal for the production of

polyol on 9 June. MPOB director-general

Dr Ahmad Parveez Ghulam Kadir handed

over the document for the licensing

technology to Techbond Greentech's

managing director Lee Seng Thye. MPOB

chairman Datuk Ahmad Jazlan Yaakub

witnessed the signing.

In February last year, MPOB and Techbond

Greentech signed a memorandum of

agreement for the commercialisation

of palm-based polyol technology. The

deal involves two stages – research and

development to produce polyurethane

adhesive formulations, followed by

commercialisation of technology.

Ahmad Jazlan said MPOB's expertise in

developing technology in the oil palm

industry provides opportunities for local

companies and small medium enterprises

to capitalise on the business opportunities

to commercialise new technology.

Lee said the joint venture enabled

Techbond Greentech to become a pioneer

in the palm oil-based industrial grade

adhesives.

"We are confident that we will be able

to produce an environmentally friendly

industrial adhesives without the release

of formaldehyde, based on the company's

initial assessment," added Lee.

Ahmad Parveez said research on the

production of palm-based polyol for use

in polyurethane and non-polyurethane

foam products has been conducted since

the early 90s.

The process of producing palm-based

polyol by MPOB was patented in Malaysia

(MY-145702-A) and the United States

(US7,932,409 B2), in 2007 and 2008,

respectively.

As of 2019, MPOB has patented 369

technologies, launched 667 technologies

and 174 services for commercialisation

purposes. P
---
14 | NEWS

July / August 2020, Issue 4 | Panels & Furniture Asia

MALAYSIAN GOVERNMENT PARTNERS MTIB TO BUILD BAMBOO PLANTATION,

IN FIRST STEPS TO TURN BAMBOO INTO LARGE-SCALE INDUSTRY

BAMBOO-based timber industry and

bamboo shoot processing (for food)

industry have the potential to offer good

returns and job opportunities in Malaysia,

in addition to being a more environmentfriendly

industry.

In a report by New Sarawak Tribune,

Primary Industries and Commodities

Minister Datuk Dr Mohd Khairuddin Aman

Razali said bamboo has the potential of

becoming the country's new economic

resource, in line with the National Timber

Industry Policy and Bamboo Industry

Development Action Plan 2.0, he said

in an interview with Shukri Rahman, an

observer of the bamboo industry.

BAMBOO INDUSTRY DEVELOPMENT

ACTION PLAN EXPECTED TO BE

LAUNCHED IN OCTOBER

Mohd Khairuddin said the Bamboo

Industry Development Action Plan 2.0

(2021-2030), which is expected to be

launched in October, would introduce

a comprehensive programme for the

bamboo industry, in bid to transform it

into a large-scale industry for both the

upstream and downstream sectors.

He said a steering committee would be

set up at the ministry level to coordinate

all activities and monitor the plan's

implementation.

MODEL BAMBOO PLANTATION TO BE

DEVELOPED AS A JOINT VENTURE

BETWEEN THE GOVERNMENT AND

MALAYSIAN TIMBER INDUSTRY

BOARD

He said a model bamboo plantation

would be developed on 15 hectares in

Terengganu with an allocation of RM5

million (from Malaysian Timber Industry

Board's cess collection) as a joint venture

between the state government and

Malaysian Timber Industry Board (MTIB).

Five bamboo species will be cultivated,

namely buluh semantan, buluh betong,

buluh beting, buluh beti and buluh hitam.

MTIB director-general Mohd Kheiruddin

Mohd Rani said that several large

companies have expressed interest in

the bamboo sector. Previously, up till

2016, virtually all industry players in

the bamboo industry had been micro

enterprises.

"In the last two to three years, large

players, both upstream and downstream,

began to emerge in the bamboo industry,"

he said.

Among the companies currently engaged

in bamboo planting activities are New

Generation Bamboo (Nami in Sik,

Kedah) and Subur Tiasa Sdn Bhd (Sabal,

Sarawak).

Some of the benefical characteristics of

bamboo include high resistance to pests

and diseases and its ability to absorb

four times as much carbon dioxide while

releasing 35% more oxygen compared to

other plants. The plant has a life cycle of

about a hundred years. P

SLOWER GROWTH IN VIETNAM'S WOOD AND

WOOD PRODUCT EXPORTS IN APRIL 2020

ACCORDING to statistics from Vietnam

Customs, exports of wood and wood

products (W&WP) during April 2020 were

worth US$697 million, down by a third

compared to March but 19% higher than

in April 2019, reported ITTO.

April wood product(WP) exports, in

particular, fell sharply, dropping around

35% to US$434 million against previous

month and by 25% compared to April

2019. Despite the declines in April, W&WP

exports remain in the top six groups of

Vietnamese export commodities.

In the first four months of 2020,

WP exports alone amounted to

US$2.272 billion, up by 2% compared

to the same period in 2019 and

accounted for 69% of total W&WP

exports, down slightly year on year.

In previous years, exports to the US

– the top buyer of Vietnam's W&WP

– accounted for around 50% of total

exports but in the four months to April,

this dropped by 39%.

EXPORT MARKETS: W&WP

EXPORTS TO EU AND CHINA STILL

RISING SO FAR

Due to the impact of the pandemic on

global trade, April 2020 W&WP exports

to the main markets dropped compared

to previous months. However, in the first

four months of 2020, W&WP exports

to the EU and China were still rising

by 13% and 23% respectively.

However, this growth is unlikely to be

sustainable.

CHINA IS STILL THE LARGEST

W&WP SUPPLIER TO VIETNAM

In the first four months of 2020, China

was the largest W&WP supplier to

Vietnam at US$208 million, up by 41%

year-on-year and accounted for 28%

of total W&WP imported into Vietnam.

The second largest supplier was the US

but the value of imports dropped almost

10%. In contrast, W&WP imports into

Vietnam from Thailand, Chile and Brazil

fell by 11%, 24% and 14% respectively

over the same period of 2019. P
---
July / August 2020, Issue 4 | Panels & Furniture Asia NEWS | 15
---
16 | PRODUCT HIGHLIGHT

July / August 2020, Issue 4 | Panels & Furniture Asia

Baumer presents simple-to-integrate drilling

pattern control with smart 3D technology

The inspection system ColourBrain ® DrillCheck 4.0 is the

technological leader in the inspection of drill hole patterns

for coated and lacquered furniture components. Deviations

in the pattern and grooves are reliably detected, visualised and

alarmed.

The inspection can be carried out on one or both sides of

the component and with an additional module, also on the

narrow side - without adjustments to the decor and structure

and completely independent of height. The compact design is

optimised for fast setup and allows easy integration into the

existing production line. The system is available for three different

product widths and thus adapts to any production conditions.

Fixed preset, calibrated multi-sensors and predefined inspection

parameters on delivery ensure easy commissioning according

to the "plug-and-work" principle. With the ready-to-install

solution with laser scanning, the ColourBrain ® DrillCheck 4.0

inspects the entire product range in just a few steps and without

any adjustment to component thickness, surface structure or

decor. A product change is carried out with just a few clicks, or

automatically without further settings, adjustments and set-up

times. The user interface summarises the essential information

and supports the system operator in an optimal way.

A production with reliable, mechanical inspection meets the

requirements of a holistic quality inspection. Production reports

can further support producers by showing customers that they

qualify as preferred suppliers. The system is used for process

monitoring, both in series and batch 1 production.

The system is ideally extended with the narrow-surface inspection

ColourBrain ® X-Side 4.0, which uses compact camera heads to

additionally check the drill holes on the narrow sides. P
---
July / August 2020, Issue 4 | Panels & Furniture Asia PRODUCT HIGHLIGHTS | 17

5 th Edition

ASIA'S SPECIALISED

WOOD MATERIALS

WOOD PRODUCTS

TRADE SHOW

by Panels & Furniture Group of wood magazineswww.sylvawoodexpo.com

28 th -30 th JUNE 2021

SHANGHAI

CHINA

VENUE:

99 XING YI ROAD

SHANGHAI CHINA

JOINTLY ORGANISED BY

WeChat

China Timber &

Wood Products

Distribution Association

Shanghai

Timber Trade

Association

Shanghai Pablo

Exhibition Co., Ltd.

Enquiries For International Exhibitors

Pablo Publishing & Exhibition Pte Ltd

Tel: +(65) 6266 5512

Email: williampang@pabloasia.com

ENDORSED BY

American

Hardwood

Export Council

French

Timber

Softwood

Export Council

Canada Wood

Thai Timber

Association

Malaysian

Timber

Council

National

Hardwood Lumber

Association
---
18 | MARKET REPORT

July / August 2020, Issue 4 | Panels & Furniture Asia

US HARDWOODS

MARKET OBSERVATIONS AND

POST-PANDEMIC OUTLOOK

By: Judd Johnson Managing Editor, Hardwood Market Report

Business for US hardwoods has

contracted. After experiencing a

downturn that lasted more than

18 months due to the US-China trade

war, demand for US hardwoods suffered

further from the COVID-19 pandemic that

derailed trade worldwide.

Each of these factors, independently,

forced contraction in US hardwood

production and inventories. But,

importantly, the rapid deceleration

in business caused by the trade war

followed immediately by the COVID-19

pandemic has profound and, most likely,

lasting negative effects on US hardwood

production capabilities.

It is well understood that supply follows

demand, therefore decreases in sawmill

and lumber yard output are no surprise.

Yet, the supply decreases are not

necessarily aligned with demand for

specific species or grades of lumber.

Oddly, the estimated volume of lumber

being produced by US hardwood sawmills

is less than the total consumption, but the

availability of certain industrial products

and grade lumber items is more than

ample at present.

The best example of this circumstance

(at the time of this writing) is material

sawn for the domestic US wooden pallet

industry. Sawmills have had difficulty

selling pallet material and many have

accumulated inventory. Yet, the annual

rate of Eastern US hardwood sawmill

Chart 1

production through May dropped to

15.5 million cubic metres and production

decreased precipitously in the second

quarter.

The three-month moving average of

production (annual rate) at the end of

May was 13.6 million cubic metres; the

combined average annual rate for April

and May (available data for the second

quarter) was 12.2 million cubic metres;

and the annual rate of sawmill output for

the month of May was 10.2 million cubic

metres, which is the lowest volume for

any month in Hardwood Market Report's

(HMR) sawmill production data series.

Throughout these declines, earlier

setbacks in business caused by COVID-19

created an inventory backlog of sawn

pallet material. Only after commerce

began reopening in the US following

the peak of the pandemic did pallet

lumber inventory surpluses begin to work

down. It is a fluid situation. As business

ramps back up for the pallet industry,

the trajectory of raw material demand

from this market sector is well above
---
July / August 2020, Issue 4 | Panels & Furniture Asia MARKET REPORT | 19

Graph 1

Graph 2

sawmill production for May. In fact, every

other major market sector for sawn US

hardwoods is at risk of future shortages

based on current sawmill production

rates.

The following images illustrate trends

that are now underway and how supply

circumstances could play out in the

future. Chart 1 shows the percentage

distribution of US hardwood lumber

consumed by the major market sectors,

with the Export category subdivided into

two groups: China and the Rest of the

World.

Following that are four graphs recording

Eastern US hardwood sawmill production.

Graph 1 depicts annualised 2020

year-to-date data alongside annual

production from 1960 through 2019.

Graph 2 shows annualised production

on a three-month moving average and

monthly basis. Graph 3 represents

quarterly production. The volume of

lumber produced in the second quarter

of 2020 is essentially the same as at

the low point of production during the

Great Recession (2009). Graph 4 depicts

monthly production from 2017 through

May 2020, with May 2020 being the

lowest recorded month for production

in the HMR series.

Merely an exercise to determine how

much lumber might be available on

an annual basis, Table 1 disperses

consumption (listed below and in the

Chart 1 image) across production trends

shown in Graphs 1 to 4 to reveal several

potential supply scenarios for each

major market sector.
---
20 | MARKET REPORT

July / August 2020, Issue 4 | Panels & Furniture Asia

It is imperative for readers to understand

that the data in these images are taken

from a specific period of time. It is certain

these numbers will change as 2020

progresses and reaches its conclusion.

As stated previously, conditions are fluid.

However, the data reveal notable

trends. Even though these trends might

change, data have clearly shown that

US hardwood lumber supplies and

production capabilities have contracted.

The volume of lumber once produced is

not being produced now. Furthermore,

sawmill and dry kiln production capacity

curtailments mean the volume of US

hardwood lumber previously entering

global markets will no longer be available

until there are positive shifts in business

direction. Excess supplies are diminished.

The abundance of future supplies is

uncertain. P

Graph 3

HMR is the leading source of pricing

and market information for North

American hardwoods. It has provided

reliable, expert analysis of pricing

and market trends to hardwood

companies throughout the world

since 1922. Sample copies and

subscription services for Hardwood

Market Report ® and all other HMR

publications are available online at

www.hmr.com.

Graph 4

Table 1
---
July / August 2020, Issue 4 | Panels & Furniture Asia MARKET REPORT | 21
---
22 | MARKET REPORT

July / August 2020, Issue 4 | Panels & Furniture Asia

Diversifying global supply chains

– What's next for South East Asia?

By Szeto Hiu Yan

In the wake of the COVID-19 pandemic, the focus of discussion on whether foreign enterprises

will move out of China has shifted. Nowadays, the question seems to be "Will foreign enterprises

expand from China?" because by now, one thing is certain – foreign and even domestic enterprises

in China are removing some of their eggs from the China basket.

Countries in South East Asia (SEA) sit high on the list of preferred countries to relocate or build

a secondary facility in. In the context of the wood and wood products industry, which countries

will stand to gain the most? What can these countries do to seize these opportunities?

PFA seeks the opinions of several industry players and experts.

Peter Fitch,

Founder of Segamat Panel Boards

(Malaysia) and

Chairman of MMMA

Wolfgang Neeser,

Managing Director of

HOMAG Asia

Udo Mauerer,

Vice President, APAC &

China, HOMAG Asia

Fion Ng,

General Manager

of Grandwork Interior

Jirawat Tangkijngamwong, Deputy

Managing Director of Deesawat

Industries and Chairman of Thai

Timber Association

The call to diversify supply chains

away from China has been an

ongoing one in the past decade,

following wage hikes in Chinese factories

and the US-China trade dispute. But

COVID-19 was the wake-up call for many

companies, which saw massive disruption

to their supply chains and left them

scrambling to find alternative suppliers.

In late February this year, QIMA, a global

provider of supply chain compliance

solutions, polled more than 200

businesses with global supply chains;

87% of respondents said the coronavirus

pandemic would trigger significant

changes in how they manage their supply

chain. More than 50% of respondents

affected by the pandemic said they

had begun switching to suppliers in

unaffected regions.

US IMPORT OF CHINESE GOODS

HAS BEEN ON A DECLINE EVEN

BEFORE THE TRADE DISPUTE

In the case of the United States (US),

American companies have already

started to diversify their imports years

before US-China trade dispute erupted.

According to the 2019 Reshoring Index

released in March this year by American

consultancy firm Kearney, US imports

from China has been on a decline for

some time.

The Kearney China Diversification Index

(CDI), which tracks the shift in US

manufacturing imports away from China

to other Asian Low Cost Countries (LCC),

reported that while China maintains

its position as a primary producer of

manufactured goods, it has now lost

share within the CDI since 2013, the year

that Kearney first introduced the CDI.

In 2013, China held 67% of share. As

of Q4 2019, its share was down to 56%.

Of the $31 billion in US imports that

shifted from China to other Asian LCC

countries in 2019, almost half (46%)

was absorbed by Vietnam, which

exported an additional $14 billion worth

of manufacturer goods to the US in

2019 versus 2018. This is followed by

Taiwan (27%) and India (10%).

In the wood and wood products industry,

a similar trend has been observed by

industry players.

"The furniture and timber related

businesses have already started the

exit from China and this will continue.

This trend started well before COVID-19
---
July / August 2020, Issue 4 | Panels & Furniture Asia MARKET REPORT | 23

and the current escalation of the US-China trade dispute."

This does not mean the end of furniture manufacturing out of

China, just that smaller, inefficient or outdated companies will

close. The domestic market in China is too large and lucrative

to exit, opined Peter Fitch, founder of Segamat Panel Boards

(Malaysia) and chairman of Malaysian MDF Manufacturers

Association (MMMA).

world," added Udo Mauerer, vice president, Asia Pacific & China,

HOMAG Asia.

"There have been more enquiries for our products in recent

months since the outbreak of COVID-19 and the lockdown in

China. Such a trend was not noticeable before the outbreak,"

said Ng.

Governments from the US, Europe and Japan are also persuading

companies to move out of China for a host of economic and

political reasons.

WHICH COUNTRIES STAND TO GAIN THE MOST?

Based on industry players' responses, Vietnam and Malaysia

are currently in the lead.

The Japanese government is already offering US$2.2 billion

in subsidies for companies to shift operations back to Japan

and US$219 million for those seeking to move production

to other countries. The US is exploring tax incentives and

reshoring subsidies to tempt American companies to shift out

of China. Europe also has its own plans to reduce its trade

dependencies after the pandemic. However, it remains debatable

whether government incentives are sufficient to entice foreign

enterprises to leave China.

HARD TO FORGO CHINESE MARKET

For the wood and wood products industry, China remains to be

an important producer and market.

"Moving out is unlikely," said Fion Ng, general manager of

Grandwork Interior, a Singapore-based producer of premium

and ecologically-friendly furniture and interior fittings. "The

domestic market is too attractive to forgo. There are still benefits

in having production facilities in China such as affordable skilled

labour (compared to developed countries) and tools. Lastly, the

technology advancement in China's manufacturing industry is

something that will not be easily available outside of China."

"Malaysia and Vietnam definitely gain from these facilities

branching out. With their trade-friendly policies and good

understanding of Chinese culture, Malaysia and Vietnam are

first choice destinations for the Chinese companies. The Chinese

parent companies are able to build up their operations and

facilities fast with their experienced transferred personnel and

local talents," said Neeser.

Ng pointed out that strategically located countries like Singapore

could also be in an advantageous position. "While Singapore

does not manufacture as much as other neighbouring countries,

the country houses the headquarters or regional offices of many

companies. Clients can begin sourcing for alternatives from

Singapore-based companies, and let them do the background

work with counterparts from within SEA," she explained.

"I would say, Vietnam, Indonesia, Malaysia and Thailand will

benefit the most. Thailand's advantage is that it is a free-trading

market with a dynamic economy. We also have trade-friendly

policies in place to entice foreign investors," said Jirawat

Tangkijngamwong, deputy managing director of Deesawat

Industries and chairman of Thai Timber Association.

Many wood and wood products manufacturers are staying put in

China while building secondary facilities in SEA and/or sourcing

for supplies from other parts of the world.

"Many of our Chinese customers are using their local

manufacturing facilities to produce for domestic consumption

and setting up facilities in the SEA region to produce for

exports. These manufacturing facilities are booming in Malaysia,

Indonesia and Vietnam. They are usually secondary facilities

from their main facilities in China," said Wolfgang Neeser,

managing director of HOMAG Asia.

"Some of our customers in the Asian region that have been

sourcing material, parts, semi-finished products from China

are now looking for alternative suppliers in other parts of the

"The current front runner has to be Vietnam. It has managed

to leverage its relationships effectively with both China and the

US and become the new low-cost manufacturing base for many

companies. Within ASEAN, Singapore will continue to be the

financial and commercial hub rivalling Hong Kong as troubles

continue there. Malaysia should emerge as a competent mid- to

high-technology manufacturing base which can complement its

neighbour, Singapore. Malaysia has a relatively well educated

and skilled workforce with both English and Mandarin widely

spoken," Fitch evaluated.

"Malaysia's full potential however will only be realised once

political stability has been restored. Thailand, Indonesia and

the Philippines will also do well but they will be much more

dependent on their larger domestic markets. Other member
---
24 | MARKET REPORT

July / August 2020, Issue 4 | Panels & Furniture Asia

countries such as Myanmar, Cambodia and Laos will be

more heavily dependent on China directly, they will thrive as

the new platforms for low cost manufacturing operations,"

added Fitch.

HOW CAN SEA COUNTRIES LEVERAGE?

"The diversified facilities in SEA should adopt high-technological

solutions with automated production facilities to optimise its

educated local talents. Adopting digitalisation and utilising new

innovations and technologies will also allow these operations to

be one step ahead of competition," said Neeser.

I think that ASEAN Countries need to become very good

diplomatically so as to geopolitically engage with both China

and the West positively. Once this can be achieved, they become

a very attractive destination for foreign investment both from

Western (including Japanese and South Korean) companies

and Chinese companies. The potential advantages of investing

in ASEAN is that you will have access to trade with both China

and the West whilst avoiding any potential tariffs associated

with direct trade. The added bonus is that these investors

and companies will also gain access to the very large and

increasingly affluent ASEAN markets."

"Develop better infrastructure to cater for increased demand.

Significant technological improvement should be made. This is

one major factor for China's success as a manufacturing hub,"

Ng remarked.

"Governments should be proactive in providing tax benefits

and subsidies to attract more investors during this transitional

period. In Thailand, for example, there is the Eastern Economic

Corridor in four provinces that are offering many benefits to

foreign investors," said Jirawat.

ASEAN CAN BE AN ECONOMIC AND TRADING BRIDGE

BETWEEN THE WEST AND CHINA

Fitch, on the other hand, offered a macro-outlook, believing that

ASEAN countries should work in unity on the diplomatic front to

achieve balanced relationships with both China and the West.

"As the trade disputes between China and the West (including

Japan and South Korea) intensify, SEA has to balance its

geopolitical alliances. An interesting fact is that for ASEAN,

China is now its largest single trading partner, surpassing the

US and the European Union (EU). SEA countries should try and

achieve a meaningful and workable balance between the West

and China. Western companies can use ASEAN manufacturing

bases to access the Chinese market and Chinese companies

can achieve vice versa," Fitch said.

"Let me explain by stating that SEA or ASEAN can be an

economic and trading bridge between the large economies of the

West and China. Furthermore, ASEAN itself has a huge potential

market with a combined population of 660 million. The economic

future of ASEAN member countries should be very positive, so

long as they balance their geopolitical and trade alliances with

the West and China.

WHAT'S NEXT FOR CHINA?

China has a clear vision for its manufacturing sector – it does

not plan to remain a world factory for low-cost goods forever.

"There will always remain a core competency of manufacturing

where China remains a commercially viable operation on the

global stage. Increasingly, this will be for the higher value

materials and/or high efficiency, highly automated and mass

production facilities," said Fitch.

Fitch listed the example of how Chinese machinery and know

how in the furniture and wood-based industry is now rivalling

traditional market leaders from Germany, Italy and the US.

He also reminded that scaling up the value chain has always

been part of China's long-term plan for its manufacturing sector.

"China has been purposefully moving up the 'value chain' since

the economic reforms initiated by Deng Xiaoping back in 1978.

As China opened up its economy in the early days, it really

did become the world's 'low-cost' manufacturing powerhouse

supplying global demand. China has since transformed into a

high-technology, highly-automated, innovative and servicebased

economy, with the increasing ability to export machinery

and technical expertise to other countries."

"This trend will continue and grow to a point where I believe

China will become the market leader not just in the timber

related sectors but also in other critical industries such as

transportation, information technology, power generation and

consumer goods," added Fitch. P
---
July / August 2020, Issue 4 | Panels & Furniture Asia MARKET REPORT | 25
---
26 | FURNITURE MANUFACTURING

July / August 2020, Issue 4 | Panels & Furniture Asia

SmartWax suspension system

Smartech: Transforming

manufacturing with

smart technology

As other major industries reap the benefits of technological advancements, how can the

manufacturing sector keep up? Smartech is focused on bringing game-changing technologies

to the industrial manufacturing world.

Imagine driving an autonomous Tesla car along an industrial

manufacturing line. You're using a navigation system to

get to the end point in the most efficient way, sensors are

reporting on your fuel efficiency and you're wearing a smart

watch that monitors your health parameters. 20 years ago, it

was unimaginable to drive an autonomous car, but advanced

technologies have now become ubiquitous and brought about

vast improvements in efficiency, wellness and more. But what

about the industrial manufacturing line? Why does "autonomous

manufacturing" still seem like a distant dream?

THE TECHNOLOGY ANOMALY

Many sectors of the economy have reaped enormous benefits

from fast-paced technological advances. However, other sectors,

such as manufacturing, have not advanced at the same pace and

are lagging behind. "Some sectors have amazing technologies,

but they are not accessible to most of the world economy. That's

an anomaly crying out to be rectified," said Hanoch Magid,

chief executive officer of Smartech, a company that develops

and delivers transformational technology solutions for the

manufacturing sector.
---
July / August 2020, Issue 4 | Panels & Furniture Asia FURNITURE MANUFACTURING | 27

Three manufacturing vectors for a desired optimal production equation

Vastly outranking the high-technology sector, the

manufacturing sector accounts for the lion's share of global

gross domestic product, manpower and resources. Yet in terms

of investment in research and development (R&D), and the

resulting effective innovation, the proportions are reversed.

For several decades, the overwhelming majority of R&D

resources have been directed towards high technology.

Consequently, through their adoption of advanced technologies,

the high technology sector has been reaping huge operational

and cost benefits, leaving the manufacturing sector lagging

far behind.

In many industries, manufacturing companies typically

operate with low profit margins and high manufacturing

costs, mostly due to the cost of raw materials. This leaves

them very vulnerable to fluctuations in product prices or

market changes. The lack of R&D investment makes

technological transformations in the manufacturing

sector challenging or, according to many people, simply

impossible. And now, the impact of the COVID-19 pandemic

on the economy has further exacerbated this longstanding

problem.

Manufacturing industries have much to gain by adopting smart

technology. It's no exaggeration to say that technology has the

potential to transform performance, value and profit margins.

Moreover, industries that use advanced technology are better

able to attract young talent – the people who will continue to

drive change in the future.

Amnon Shoshani, founder, founding investor and today the

president and chairman of Smartech, gave this example: "Thirty

years ago, if you wanted to install software on your computer,

you needed a technician for a full day. Today, you plug a flash

drive into any computer or click a link and it's done in seconds.

When it comes to adopting new technology, the industrial world

is more like the computer world of three decades ago. That's

what we're going to change."

AN INNOVATION BOOST FOR MANUFACTURING

Smartech uses a unique combination of expertise and solutions

to address industry challenges. "Our mission is to provide

game-changing transformational technologies and infuse

manufacturing with innovative vision and spirit. The Smartech

team is a mix of veterans from varied industries and outstanding

high-tech innovators. We understand both worlds at a profound

level and have decades of experience in developing and

supporting groundbreaking technologies," said Magid, one of

the leading pioneers in global industrial 3D printing. "We provide

our customers with unlimited support and we see them as our

long-term partners."

The idea behind the Smartech approach is simple. To help

manufacturing industries quickly gain value through technology

transformation, Smartech targets and impacts three major

manufacturing vectors:

• Cost (with an emphasis on raw materials and technological

processes)

• Capacity (targeting throughput or line speed)
---
28 | FURNITURE MANUFACTURING

July / August 2020, Issue 4 | Panels & Furniture Asia

Autonomous manufacturing and three major manufacturing values vectors.

• Quality and product features

To this end, Smartech has developed

a unique three-layer approach to

technology transformation.

• Smart manufacturing solution

(Smartech Autonomous

Manufacturing): Maximises

production ability within the given

production operation envelope.

• Game-changing technologies pillar

and modules solutions: Expand

and enhance the production envelope

and capabilities according to the

three vectors noted above.

• X-Force R&D (a multi- and crossdisciplinary

research arm): Enables

the systematic provision of smart

technology solutions addressing

the significant challenges facing a

given industry.

ACHIEVING "THE IMPOSSIBLE"

FOR ENGINEERED WOOD

MANUFACTURING

Smartech's technologies transform the

way an industry works to significantly

improve profit margins and product

quality. The company's initial focus

was the engineered wood vertical – the

manufacturing of oriented strand board

(OSB), medium density fibreboard (MDF),

particle board, plywood and other woodbased

products. Like other manufacturing

industries and verticals, engineered wood

manufacturing works with low profit

margins, and raw materials – primarily

wood, resin and wax – account for a major

portion of their manufacturing costs.

Targeting major raw material costs,

Smartech developed its SmartWax solution,

a patented wax suspension that replaces

traditional molten wax or wax emulsions.

It also developed the SmartResin solution

to reduce the quantity and cost of resin

usage. SmartWax suspension systems

have enabled a >40% reduction in wax

costs to manufacturers. "Savings of that

magnitude were considered impossible

until we proved otherwise," recalled

Magid. "Yet, we achieved it, and we did so

while maintaining or even improving the

product quality."

SmartResin system
---
July / August 2020, Issue 4 | Panels & Furniture Asia FURNITURE MANUFACTURING | 29

Today, just a few years after the introduction of SmartWax, a

third of the leading global OSB manufacturers are Smartech

customers. More than 25% of large OSB plants in North

America have acquired the technology, as have several MDF

and particleboard plants in Asia and Europe.

"The SmartWax project we completed at our mill was the most

successful project I have ever been involved in," said a senior

project manager at an OSB factory in the US. "I say that from

an engineering, technological and execution point of view."

DRIVING THE NEXT REVOLUTION

In the past few years, Smartech has more than tripled its

investment in developing additional new technologies and is

now working on transforming the use of other raw materials

and processes in engineered wood, while also exploring

opportunities in other manufacturing industries. "Many of the

companies who have experienced our SmartWax suspension

technology have told us that since we've proven that we can

achieve what was once considered impossible, they're willing to

work with us to address other challenges that seem impossible

to solve today," said Magid. "The door is open to many new

opportunities and we are now offering manufacturers an almost

risk-free route to additional game-changing technologies."

He concluded: "Smart technology is going to revolutionise

manufacturing. We intend to be a leading force in that change."

Smartech offers the following solutions:

• Smart Manufacturing Solutions (Autonomous

Manufacturing) to optimise manufacturing effectiveness

using proprietary AI technology and algorithms.

• SmartCost Wax, SmartCost Resin and SmartCost Wood

to reduce raw material costs.

• Smart Quality and SmartPredictive Quality to provide quality

control and final product features.

• SmartProductivity Solutions to overcome production

bottlenecks.

In addition to the above solutions, Smartech is now offering

manufacturers a unique opportunity. Companies can work

with Smartech to define their major technology challenges and

commit to adopting the new transformational technologies, with

Smartech assuming all risk for financing and development. As

Shoshani pointed out: "This unique, cooperative offer presents

a tremendous opportunity for win-win collaboration."

All images are credited to Smartech.
---
30 | PANELS MANUFACTURING

July / August 2020, Issue 4 | Panels & Furniture Asia

DIEFFENBACHER EVOJET M 2.0

The MDF/HDF glue-saving system EVOjet M 2.0 literally turns gluing upside down for more efficiency.

The simplified gluing system delivers high throughput and

resin savings of up to 25% compared to conventional

blow line gluing while reducing emissions out of the

dryer and pre-curing of the resin. It can process all kinds of

resin, requires minimum cleaning and ensures optimum gluing

through superior fibre/resin contact.

HOW THE DRY RESIN APPLICATION SYSTEM WORKS

EVOjet M 2.0 is the next generation of dry resin application

systems. After drying, a trap separates coarse foreign particles

from the fibres to protect the spike rolls. These fast-rotating

rolls dissolve the fibre stream before it enters the resinator.

This ensures a high surface quality for the produced boards.

Special externally arranged nozzles atomise the glue into the

finest droplets to guarantee optimum gluing of the fibres.

Controlled protection air is added to prevent sticking of the

freshly glued fibres. Downstream, a unique air slide elbow

works in combination with recirculated fibres to prevent contact

between resinated fibres and the surrounding ductwork.

A FULLY AUTOMATIC SELF-CLEANING SYSTEM FOR

NOZZLES

The EVOjet M 2.0 includes a fully automatic self-cleaning

system for the nozzles without interrupting production. A

single machine has a capacity of up to 48 t/h b. d. The EVOjet

M 2.0 is ATEX-approved and has inspection windows, doors and

hatches for visual monitoring of the process and easy access

for maintenance and cleaning. It is available for new production

lines and as a retrofit in existing plants.

Visit the DIEFFENBACHER website for more information and a

video explaining the EVOjet M 2.0 gluing process.

The Dieffenbacher EVOjet M 2.0
---
July / August 2020, Issue 4 | Panels & Furniture Asia PANELS MANUFACTURING | 31
---
32 | FURNITURE MANUFACTURING

July / August 2020, Issue 4 | Panels & Furniture Asia

NANXING AND OKELO JOIN

HANDS TO WELCOME A

NEW ERA OF SMART FURNITURE

PRODUCTION

A collaboration between Nanxing Machinery

and Okelo helps the latter to break out of

traditional furniture manufacturing method.

Okelo's new plant

Groundbreaking ceremony

at the site of Okelo's new plant

The sudden outbreak of the COVID-19 pandemic has brought

huge challenges to the customised furniture manufacturing

industry. Despite the uncertain outlook in the global

market, Okelo went ahead and collaborated with Nanxing

Machinery to build an intelligent manufacturing production base.

Since the plant officially started operating in March, over

2000 sets of cabinets, wardrobes and other customised

furniture have been produced. With an output value of more

than 26 million yuan (US$3.7m), the new plant is well on its

way to meet the designated output and profit targets.

"The efficiency of our new production line has increased by 35%

compared to traditional production lines. We have reduced our staff by

half, yet our entire production has managed to yield additioinal output

value of about 20%," said Li Guohua, Director of Okelo.

ALL SET TO PRODUCE FIRST BATCH OF FURNITURE

AND PROJECTS

The new plant at Guangxi Autonomous Region is all set to

produce Okelo's targeted output of 50,000 sets of cabinets

and whole-house custom projects in 2020. Costing 174 million

yuan (US$24.6m) to build, the 35,000 sqm plant is expected

to yield a designated annual output value of 400 million yuan

(US$56.6m), while profits and taxes are expected to exceed 40

million yuan (US$5.6m).

Half a year later, the Okelo team will be anticipating another

breakthrough – Guangxi will welcome its first smart and highly

automated furniture production line. Originally a barren land

in Chongzuo, a prefecture-level city in the south of Guangxi

Autonomous Region, it is now transformed into a hightechnology

manufacturing base.
---
July / August 2020, Issue 4 | Panels & Furniture Asia FURNITURE MANUFACTURING | 33

A WINNING COLLABORATION

In a traditional mass furniture production model,

the variety of goods produced is very limited

and production is inefficient in many ways.

Manufacturers face common challenges such as

strong dependency on workers, frequent errors

made at different stages of production and are

unable to meet current market demands.

As the leader in China's domestic furniture

manufacturing machinery industry, Nanxing

Machinery places great focus in wood-based

panel manufacturing technology and research and

development. By developing advanced technology

in automation, intelligence and data production,

Nanxing Machinery is ready to provide enterprises

with integrated solutions to create seamless

production systems in their plants.

1

Nanxing Machinery and Finchinasoft have also

joined forces to build the ultimate "Smart Factory"

by combining Nanxing Machinery's rich experience

in automation technology and Finchinasoft's deep

knowhow in digitalisation.

Through the use of robots and networking software,

Okelo's 4.0 smart factory seamlessly connects

four workstations: cutting, edgebanding, drilling

and sorting. This automated assembly line with

end-to-end integration significantly reduces

labour and error rates, improves efficiency, and

promotes the digitalisation of customised furniture

manufacturing.

As the second and third phrases of scaling-up the

automated production line come to completion, the

plant will be able to reach the designated output

value of 200 million yuan (US$28.3m) per annum,

Nanxing Machinery looks forward to take the leap

with Okelo into a new era of intelligent production.

2

All images are credited to Nanxing Machinery.

Photos 1-3:

1: Nanxing Machinery's intelligent

high-efficiency cutting station

2: Nanxing Machinery's intelligent

high-speed edge banding station

3: Nanxing Machinery's

intelligent drilling workstation

3
---
34 | FURNITURE MANUFACTURING

July / August 2020, Issue 4 | Panels & Furniture Asia

Demystifying the path towards

Batch Size 1 Production

By Szeto Hiu Yan

In our world today, customisation matters. From shoes to cars, consumers desire to own products

that are theirs and theirs only. Be it embossing a name on a pair of new sports shoes or choosing

the colour and finishing of a new car, mass customisation has made owning unique products

possible for consumers. The same goes for furniture.

The era of customised manufacturing or batch size 1 production in the furniture industry has

arrived, but are furniture manufacturers in South East Asia ready?

Industry 4.0 is taking industries by

storm. New systems, software and

processes are introduced and "islands

of automation" are replaced with seamless,

automated manufacturing lines that

can reduce waste and increase material

yield, improve quality and throughput,

and ultimately achieve optimal

efficiency.

Marc Pfetzing,

Senior Consultant at

Schuler Consulting

Wolfgang Neeser,

Managing Director of

HOMAG Asia

Ridwan Aziz,

Country Manager of

HOMAG Indonesia

Kelvin Kwek,

Director of OPSH

Industry 4.0 has also opened the door

to batch size 1 production, a new way

of production that drives flexibility in

manufacturing.

How has batch size 1 production changed

the global furniture manufacturing

landscape and how prevalent is batch

size 1 production in Asia and South East

Asia (SEA)? Are furniture manufacturers

ready for batch size 1 production? What

are the main considerations and potential

pain points to take note of when furniture

manufacturers are transforming their

businesses?

PFA seeks the answers from several experts

in the industry.

BATCH SIZE 1 PRODUCTION WILL

BECOME A GLOBAL TREND

"The batch size 1 trend started in Europe

more than 10 years ago and has slowly over

the past few years become a predominant

way of production in the United States

(US) as well. It has been a long process

but it is finally happening now," said Marc

Pfetzing, senior consultant at Schuler

Consulting.

Three reasons why batch size 1 is

becoming a global trend:

• Technology has finally caught up. New

and better equipment, automation and

software make batch size 1 production

a truly competitive manufacturing

option;

• Consumers' tastes have changed. Driven

by individualism and the desire to be

unique, consumers are hungry for more

custom choices to fit their personal

taste and living situation. This creates the

demand for more customised products in

smaller batches;

• The growing affluency in developing

countries also means that markets are

opening up to higher-priced products

manufactured using the batch size 1

method.

"In the last 10 years, Europe's furniture

manufacturing industry was the only

market where batch size 1 production is

financially viable. Batch size 1 production

was only possible because there were

niche manufacturers who could bear the

incredibly high investment costs while

being able to sell the products at a higher

price. The batch size 1 production goes

hand-in-hand with the selling price and the

investment of the manufacturer," explained

Pfetzing.

DEFINING BATCH SIZE 1 IN ASIA

For now, batch size 1 production in Asia

does not refer to an absolute batch size

1, according to Pfetzing.

"In this region, it is really nearly impossible

to have a 100% batch size 1 production,

unless the factory is only manufacturing

two different products. So far, we

have managed to get our customers

to reduce their batch sizes but not to an

absolute batch size 1. So even if a factory

is now producing a batch size 10 or

batch size 20, I will call it a batch size 1

factory."
---
July / August 2020, Issue 4 | Panels & Furniture Asia FURNITURE MANUFACTURING | 35

"Regardless of what we call it, I think batch size 1 changes the

game through increased flexibility in production. This can only be

achieved by changing how production is planned, and adopting a

different method of production."

SLOWLY BUT SURELY - BATCH SIZE 1 PRODUCTION IN

ASIA

Experts generally observed that manufacturers from more

developed countries with more manpower constraints are faster

to adopt batch size 1 production.

"In Asia, there are already some furniture manufacturers

producing in batch size 1, though they are producing a mix of

mass produced and smaller batches of products, while some

are still focused on traditional mass production," said Pfetzing.

Wolfgang Neeser, managing director of HOMAG Asia, pointed out

that the batch size 1 trend is growing steadily, especially in more

"advanced" countries in Asia, such as Taiwan, Singapore and

Thailand. The same goes for China and South Korea, said Pfetzing.

Developing SEA countries like Malaysia, Indonesia and Vietnam are

still catching up. "They are willing to implement online Point-of-

Sale systems and software solutions to cater to the local consumer,

as well as for customers with smaller budgets," said Neeser.

High labour costs may be a key reason why manufacturers from

these countries are more willing to turn to batch size 1 production.

"Labour costs have risen quite steeply so these companies have

to invest in a lot of automation. They realised too that once they

adopted automation, it was much easier to shift into batch size 1

production," shared Pfetzing.

"It also helped that manufacturers in the more developed wood

industries like those in China are starting to have more surplus

money to afford these new technologies."

The buying cycle of many customers is changing too.

"Frequent comments from OEM manufacturers are that they

receive more and more inquiries on orders of 5, 10 and 20 pieces,

compared to minimum orders of 100 to 500 in the past decade

and they don't know how to deal with these enquiries and how to

process them efficiently," said Neeser.

"Even for the wholesale buyers or those accustomed to buying in

bulk, they all want more customised products nowadays and you

can only do it in batch size 1," said Pfetzing.

"Also, large buyers from the US, for example, are buying a lot

of materials from SEA. These buyers are not willing to stock up

so much products in the US anymore as large warehouses are a

huge cost to them. They are forcing manufacturers to produce

smaller batches more regularly and do more regular shipment…

Previously, the manufacturer may be producing in batch of 200 or

500. Now, they are producing in batch of 30 or 40, while lowering

the number of containers to the customers at the same time,"

added Pfetzing.

ARE THE SEA FURNITURE MANUFACTURERS READY?

According to the several experts interviewed, the answer was a

unanimous "no". The interest in Industry 4.0 and batch size 1

production among manufacturers, however, is high.

"They are struggling, maybe because they are unaware or unsure or

unwilling to change their current way of production," said Pfetzing.

"But the interest in batch size 1 has grown exponentially since 2019."

"I believe smaller factories which manage many different parts with a

low volume would be keen to explore batch size 1 production, but the

cost of integrating this system could be a major factor to consider,"

opined Kelvin Kwek, director of OPSH, a Singaporean brand selling

pole system for wardrobes and optical glass kitchen cabinets.

PRECONDITIONS FOR SUCCESSFUL TRANSITION TO

BATCH SIZE 1 PRODUCTION

It is a huge leap to switch from mass production to batch size 1

production, but by understanding the changes involved and taking

small steps to prepare for the transition, the transformation can be

less daunting and more palatable.

So what are the preconditions for a successful batch size 1 production?

• Data, data, data

The greatest difference between batch size 1 production and

traditional mass production is that the former is very datacentric.

From the very first second, producers have to start

generating production data to be able to run a batch size 1

factory. With the conventional methods of running a factory, it

is not possible.

• The right system, equipment and software

Batch size 1 production is a completely different model from

traditional mass production. The smaller the batches go,

the more flexible and intelligent the machines need to be,

manufacturers will therefore need to change the equipment,

the method of producing and the planning of production.

• Sufficient capital

A big investment is needed to purchase the new equipment,

machines and software to set up the new system and generate

the data required. The transition, however, is usually done in

several stages. For example, addition of software can take place

in the first year, followed by transformation of the cutting section

in the second and the edgebanding section in the third.

• Readiness to embrace change

The new way of production will kickstart many new changes–

jobs will be re-designed, workers will take up new roles. The

changes will extend beyond the factory and manufacturers

may need to consider how designers, salespeople and even the

marketing department can be better coordinated to optimise

the factory's new capability and capacity.

• Willingness to train staff

In SEA, many companies may not see the importance of

dedicating resources to train workers as the conventional way

is for workers to learn and train on the job.
---
36 | FURNITURE MANUFACTURING

July / August 2020, Issue 4 | Panels & Furniture Asia

Neeser provided examples of some areas that

company owners and managers usually need

to look into:

- For manufacturers who want to change, one

of the biggest challenge is changing the way

orders are processed in the work preparation

department and factory thereafter.

- Factories need to be more connected to

dealers or their own sales outlets to capture the

customer's choices efficiently and to forward

these orders to the factory for processing

thereafter, also known as vertical process

integration.

Software will play an important part in batch size 1 production (Image credit: HOMAG Asia)

CURRENT PRODUCTION CHALLENGES IN SEA

• Lack of skilled manpower

The lack of skilled manpower has been a perennial issue. Many

factories tend to overemploy just to continue production. Also,

employing and retaining skilled labour is another big challenge.

These issues will perpetuate or lead to new problems when

manufacturers want to shift into batch size 1 production.

"Smart production always requires dedicated training hours and

costs for factory staff to adopt new skills. Some employers may

not be willing to do so," said Kwek.

"It could be that manufacturers are used to not needing to spend

on educating workers. I think this mindset has to change. In the

future, technology will be more complicated and the qualification

of workers has to be way higher. If they want to do batch

size 1, they definitely need to think about educating their workers,"

remarked Pfetzing.

Neeser also highlighted that when companies hire unskilled staff

with a lack of roadmap on how to train and onboard them, they

have little incentive to stay loyal to their employer, switch jobs

frequently and new people need to be hired and trained all over

again. He continued to point out that due to the lack of skilled

workers, software implementation may be met with resistance

because of perceived difficulty.

• Lack of data

"All producers are talking about Industry 4.0, automation,

upgrading the factories, and they will need to have the data, but

many are not sure or unable to create the type of data needed

for them to run this type of factory, and to use the data in the

right way," said Pfetzing.

• No clear roadmap for companies who want to transform

When shifting to a new way of manufacturing, many

changes have to be made and good planning is necessary

for transformation to be take place systematically.

- With bigger batches, the work preparation

department does CAD drawings only once and

they can be used repeatedly and never have

to change. Now, essentially every drawing has

to change with each single order, creating

a huge bottleneck in order engineering

• No clear mapping or assessment of intra-company

processes

Having a clear map of processes within the company will help

manufacturers visualise what changes are needed and where

changes need to happen first, in order to deal with changing

consumer environment, said Neeser.

• Optimising raw materials to reduce wastage

Optimising the raw materials in use means reduction of waste,

which will eventually contribute to profits. Such optimisation

should even be propagated up to sub-contractors level in case

the manufacturers leverage sub-contractors to release some

of their production load, said Ridwan Aziz, country manager of

HOMAG Indonesia.

"In addition, poor production planning may result in over or

under estimation of raw material being ordered for production,

which may affect producers' cash-flow due to excessive stock

or shortage of raw materials at extreme points."

• Difficulty in catching errors

Data re-entry and mistakes are easy to make but hard to

catch. Also, when manufacturers try to use "generic, low costs"

workarounds like Excel spreadsheets paired with basic 2D CAD

standard, such solution may still be workable for small

companies with high skill set but it will not be sufficient for

industrial setups with hundreds or thousands of orders, said

Neeser.

POSSIBLE SOLUTIONS AND IMPROVEMENTS

• Introduce software in each department

Some examples of software that can be use include:

- POS software to capture customers' wants and needs that

can be automatically transferred to an order processing tool

without any manual re-entry of data

- CAD/CAM software for automatic production data creation
---
July / August 2020, Issue 4 | Panels & Furniture Asia FURNITURE MANUFACTURING | 37

(BOM parts list, automatic creation of cutting

patterns for panel saw, CNC programmes, etc)

- MES software for factory floor control and

transparency

• Keep informed of the latest technology

"Our advice would be to start understanding

the different available systems and solutions

early and stay in touch with novelties available

in the market. Visit trade shows, use sales

people to your advantage as information

gatherers etc. Stay with technology to achieve

first mover advantage," said Neeser.

For example, if a factory has been

built with the latest state-of-theart

technology and has the best of

everything but they are not getting

the materials in the right way and

the suppliers are still working in a

very primitive way where nothing is

automated … this will become a pain

point between the manufacturer and

their suppliers.

The whole industry in SEA needs to

upgrade as well, otherwise we will

lose our competitiveness to other

manufacturers and suppliers from

other regions. It is everybody's

responsibility too," concluded

Pfetzing. P

• Hire a consultant

For existing mass manufacturing companies,

they can consider embarking on a hybrid

initiative to re-design their factory layout and

invest in assorted machines to enable a flexible

production line that can accommodate smaller

batch size. Their production management

process will also be improved where production

planning can now be connected to their

production muscles (machines and operators)

on the factory floor, said Aziz.

For start-up and Small and Medium Enterprises

(SME), they will require a scalable system that

can match with their growth path, Aziz added.

Along the way, manufacturers may also hit

obstacles such as resistant staff. "Getting

resistant staff to accept new changes is one

of the most difficult things in our work," said

Pfetzing. "We do many workshops with the

owners and their staff in order to convince

them that this is the right way forward. If the

team is against the change, then probably the

manufacturer will not succeed in implementing

the new system in any case…Usually with the

support of the leaders, we are able to convince

the teams."

Ultimately, consultants can educate and

provide guidance to producers so they can avoid

pitfalls in their journey towards transformation.

FUTURE: ENTIRE SUPPLY CHAIN,

NOT JUST MANUFACTURERS NEED TO

UPGRADE

"Industry 4.0" simply cannot do without the

"Industry", stressed Pfetzing. "Not only do

factories need to be Industry 4.0 compliant,

all the other suppliers – the wood suppliers,

the board suppliers, the paint suppliers

– and basically the whole industry has to

change to support this type of manufacturing.
---
38 | FURNITURE MANUFACTURING

July / August 2020, Issue 4 | Panels & Furniture Asia

Transforming and modernising

end-to-end operation for flat panel

furniture production

By Graham Rutter, International Business Development , Cabinet Vision

In the current digital age, reinventing and transforming a business into a modern operation can seem like a

move that is more challenging than what most businesses are ready to face. However, it does not need to be.

For a business to stay ahead of competition, it should focus

on improving the overall process from the point of the initial

sale to receiving the final payment for a completed project,

with minimal mistakes and defects.

One common mistake made by businesses is investing in different

technology separately, be it hardware or software, and adding

them to their existing operations. What is often not considered is

that these systems, processes and manufacturing methods are

created with different manufacturing processes in mind. They may

require a higher level of manual labour when added to an existing

operation or are not as compatible with the existing machines

and systems in their plants. The outcome? Available manpower

is taken up by the many manual processes that range from

costing, raw material list (BOM), cabinet list, part list, cut plan,

CAM programmes and 3D illustration which are often completed

in different spreadsheets and systems. These processes also

rely on a great amount of manual data entry, further upping the

chances of human error.

A BETTER APPROACH

An important first step to take is to conduct a comprehensive

review of the entire process in your business. Changes must be

considered holistically but approached systematically.

Starting with the end goal in mind, you should be thinking about

where you want to see your business in three years' time and

then work backwards.

For example, from reviewing your business, you may conclude

that you want to make an investment in updating your machinery

in a year's time. Leading up to this investment, you will need

to take steps to prepare your organisation and staff for the

changes ahead. It should be emphasised that the investment

needs to bring transformation and improvement to your

business, as no smart investor wants to invest money just to

have updated machinery in their factory. A greater return on

your investments should be anticipated and should be the aim

to work towards.

Utilising a system that allows your staff to start the digitalisation

process will allow for a smoother transition into the digital age
---
July / August 2020, Issue 4 | Panels & Furniture Asia FURNITURE MANUFACTURING | 39

Furthermore, when a piece needs to be reworked and 'jumps' the

queue as it is of higher priority, staff may be interrupted in their

production flow as they have to look for the information about

the part, size, location of holes to be reprogrammed by the cam

operator. Time is thus lost in production, further adding to the

production costs and delaying future projects. In contrast, a

concise system can easily be referenced and the required parts

for rework can be produced and added to the current production

run seamlessly.

COMMON CHALLENGES FACED BY BUSINESSES

When planning for business improvement, one common problem

to highlight is miscommunication. Miscommunication can waste

a huge amount of valuable time and it can happen anytime in the

sales, design or production process. Miscommunication can arise

due to a lack of concise information provided from the design

team to the production team. This is because many businesses

have not established a proper system to channel the information

flow to different departments, coupled with too much reliance on

the paperwork – a hindrance to smooth information flow.

WHY WAIT?

But my question is: Why wait until you update your machinery

to review your software? Utilising a system that allows your

staff to start the digitalisation process will allow for a smoother

transition into the digital age. One of the advantages is bringing

consistency to how the documentation, details, BOM and other

information are produced and presented. You can also consider

this as taking the first step towards entering into a system that

compile your common methods of construction. This will ready

your business for the next stage of automation. More importantly,

this will prepare your company for the changes and transitions

that need to happen to bring about the desired improvements.

How so? All it takes is a simple typing error and the error will

snowball and cause an issue further down the chain. The longer

it goes unnoticed, the greater the value the error will have on

the project.

Another common problem is that an increase in staff to keep up

with the workload does not necessarily generate a greater profit

margin. While a normal reaction to workload surges is to hire, in

hope that this will lead to an increase in the company's financial

turnover. However, the real story told is often one of increased

wages, working overtime, defects and rework but no improvement

seen in the profit margin.

Another issue is ensuring effective communication between the

designer and the production team. Often, designers may be using

a variety of software to clinch a project, but the production team

would have to work through the information to produce the work.

This proves to be a challenge and unless there is a good system

in place to collate all the information in a central location that

can be accessed by everyone involved, miscommunication may

continue to occur.

Also, when errors, reworks and delays happen, many businesses

do not have a system in place to allow these areas to work and

fix issues together. In such cases, software will allow staff to

systemise the process from design to production. Only with a

proper system, will the chances of error from misinterpreted plans

and details be substantially reduced. Additionally, by linking the

same system for the generation of machine files and production

details for all staff, the company will be able to drastically increase

throughput and save time, as data does not need to be re-entered

into the machine software multiple times.

Many businesses, over the years, invest in machinery and software

at the same time. Admittedly, one disadvantage is that some staff

may feel stressful and anxious due to the increased pressure

of adapting to a wave of new changes while coping with their

current workload.

One suggestion will be to invest in a software system, which is

compatible with the machinery you are planning to purchase

(most good software will work with majority of machines, if

not all, available in the market). This can be one way you can

start utilising the information: for example, you can consolidate

information from sales and production; the Panel Saw operator

can access panel optimisation data to find the optimised plans to

cut; staff from the logistics department can produce checklists

of items and products to be shipped… etc. All the information

will then be gathered and entered into a central software system

which everyone can access quickly and easily thereafter. This may

just be the change needed to get the transformation process

started for any business.

Of course, my point of view is biased, having been involved with

CAD/CAM software for more than 20 years. I have seen firsthand

the benefits reaped by businesses that are determined to take

the time to review their manufacturing process and adapt their

furniture construction methods to suit the current technology,

instead of sticking to outdated methods that were developed

many years ago.

Last but not least, I cannot stress enough the importance of a

wholistic approach to improving your business systematically. P

Shutterstock image provided by Cabinet Vision
---
40 | FURNITURE MANUFACTURING

July / August 2020, Issue 4 | Panels & Furniture Asia

An Insight into the Russian

Furniture Market: Today

and Beyond By Marina Khaibulina, Lesnaya Industriya Journal

Russian furniture manufacturer First Furniture Factory has been specialising in the production of

custom-made furniture for more than five decades before focusing on kitchen furniture production in early

2000s.

In the past two years, the company saw its sales double within two years. According to Alexander Shestakov,

chief executive officer of the company and president of the Association of Furniture and Woodworking

Enterprises of Russia, it is necessary to invest up to 10% of annual revenue in development of new furniture

collections to maintain growth.

Shestakov shared some of the recent developments in his company and his insights on some of the current

trends and challenges seen in the Russian furniture manufacturing industry.

INCREASING CORPORATE SALES

Alexander Shestakov (AS): In 2019, First Furniture Factory

saw a 12% increase in revenue to 2.2 billion rubles (US$31.6

million). This growth was largely attributed to the development

of corporate sales, which included an increase in the number

of contracts for the supply of furniture to state and municipal

customers, as well as expansion supplies to private companies.

For example, at the Russia-Africa Summit held in October 2019,

First Furniture Factory signed a series of large-scale contracts

totalling 218 million rubles (US$3.1 million), one of which was

with the Roscongress Foundation for the supply of chairs for

the summit worth 109.5 million rubles (US$1.6 million). First

Furniture Factory also made the furniture for the VIPs, as well as

two 70-seater round tables, each about 12 metres in diameter,

for the heads of state.

Also contributing to the company's growth was cooperation

with construction companies on the supply of furniture

to new apartments. In 2019, the company's furniture sales

to construction companies exceeded 500 million rubles

(US$7.2 million).

INVESTING IN NEW PRODUCT DEVELOPMENT

AS: To produce products that correspond with the latest trends

in furniture fashion, have an optimal price-quality ratio, and

at the same time are functional, ergonomic and demanded by

consumers, it is necessary to launch seven to 10 new collections

annually and invest up to 10% of revenue on these projects.

The experience of First Furniture Factory confirms the validity of

this theory. We also came up with another theory: if 80% of new

products are created by the company's in-house design bureau

and 20% are made by invited designers, including recognised

international entities, investments made in the development of

new products are returned in the shortest possible time.

TOP QUALITY EQUIPMENT

AS: In 2017, First Furniture Factory completed its final large-scale

modernisation project for its production equipment. At a cost of

about 50 million euros (US$56.7 million), the capacities of the

Swiss Piatti plant were transferred to St Petersburg. Currently,

these capacities are sufficient and we are not massively updating

the equipment park. Of course, there are expenses incurred for

the maintenance and repair of the lines, but they fall within just

1% of the revenue.

The project to transfer the capacity of the Piatti plant from

Switzerland to Russia sought to increase sales of kitchen

furniture in Russia by about two to three times. I believe

that this project has been very successful. Due to the launch

of the latest ultra-modern technological equipment, the

First Furniture Factory almost doubled its revenue from

1.3 billion rubles (US$18.6 million) in 2016 to 2.2 billion rubles

(US$31.5 million) in 2019 – most of which are sales of

kitchen sets. Since then, we have fully appreciated the

capabilities of the new lines through the diversification

of our product range. First Furniture Factory began

producing new types of products, such as cabinet, office and

hotel furniture.

The kitchen sets in the "medium" and "medium plus" segments

range from 70 thousand to 120 thousand rubles (US$1003 to

US$1720). The company's also has "economy" and "premium"

segments – the latter of which includes designer furniture

sets created by world-class craftsmen exclusively for First

Furniture Factory.

FURNITURE DEMAND WITHIN RUSSIA

AS: In Russia, the demand for furniture is growing slightly. The

greatest demand is for kitchen sets, and furniture for dining rooms

and living rooms, and the office.
---
July / August 2020, Issue 4 | Panels & Furniture Asia FURNITUR | 41
---
42 | FURNITURE MANUFACTURING

July / August 2020, Issue 4 | Panels & Furniture Asia

In 2019, the main growing trend was in furnishing new buildings.

This is beneficial to our industry, which receives a distribution

channel, as well as customers who purchase furniture at

wholesale prices and move into turnkey housing.

Unfortunately, however, there is little prospect of a sharp increase

in demand for furniture in Russia. Household incomes are not

increasing, borrowing is on the rise, and since furniture is not

considered a consumer good, many potential buyers put off

updating furniture to better times. Hence, there is demand but

this is not reflected in sales. The driver of growth in the demand

and sale of furniture could be the adjustment of standards for

housing under construction. This could mean the inclusion of preinstalled

wooden furniture in new apartments and a simultaneous

change in mortgage mechanisms, so that mortgage agreements

would not just include the cost of the house, but furniture as well.

All these initiatives have been discussed at the government level

for more than half a year, and the Association of Furniture and

Woodworking Enterprises of Russia is actively involved in this.

We hope that in the near future, the market will see the results

of their work.

In the past two years, due to state support, Russian furniture

makers have become a strong competitor to foreign manufacturers.

This was reflected in in 2018, where the share of sales of domestic

furniture rose to a record of 50.1%. Last year, the trend was

confirmed. Modern buyers are guided primarily by the pricequality

ratio. The leaders of the Russian furniture industry

are not inferior to, and even somewhat surpass, their foreign

counterparts.

We forecast that in 2020, the market growth will remain at 5% to

7%; we do not expect a sharp jump in demand in one direction

or another. Buyers will be more carefully prepared when making

purchases and will be even more patient in waiting for discounts

and promotions.

PROHIBITION OF PURCHASE OF FOREIGN

FURNITURE

AS: The entry of the well-known government decree number

1072, under State Law 44, on the prohibition of public

procurement of foreign-made furniture played a crucial role in

the development of the modern Russian furniture industry. It has

been two years since the decree was passed and many enterprises

have significantly increased production and sales. The volume

of furniture purchased by the state in 2018 and the first half of

2019 increased by 15% and exceeded 35 billion rubles ($501.9

million). Companies were able to invest in updating collections,

fixed assets, training and hiring personnel, expanding dealer

networks and developing new markets.

POTENTIAL UPCOMING CHALLENGES

AS: Furniture makers face similar problems to companies in

other sectors: expensive loans and the lack of "long" money; an

increase in tariffs of natural monopolists and domestic fuel prices;

unpredictability of legislative changes; a drop in real incomes of

households; and a small number of highly qualified personnel.

In addition, it is difficult to find reliable suppliers of high-quality

components inside the country, especially for furniture fittings.

In terms of online commerce or e-commerce, furniture –

especially large items such as beds and cabinets – is still not the

kind of product that is bought through the Internet. It is true that

consumers save time and effort by using Internet resources at

the stage of preparation for acquisition – they study the products

online, look for the most favourable offers and read reviews.

However, at the final stage, they would still visit the showroom of

their selected manufacturer. Especially for products with a long

lifespan, consumers would first want to evaluate their capacity

and convenience, compare selected models with others, and

select their preferred colours, shapes and details.

EXPORT PROSPECTS FOR RUSSIAN FURNITURE

AS: Currently, First Furniture Factory sells about 50% of products

to corporate customers, including export contracts. The volume

of the latter is constantly increasing but not as fast as we would

like. The process of penetrating foreign markets turned out to

be longer than we initially thought, but we are systematically

developing in this direction.

However, the export of Russian furniture has indeed been growing

since 2015. First, Russian manufacturers penetrated the markets

of countries in the Commonwealth of Independent States. By

2018, Western Europe accounted for up to 20% of Russian

furniture exports, and our products are especially popular in

Germany and Sweden. There is also a demand for our products

in the Middle East, India and South East Asia. In terms of quality

and design, our furniture is in no way inferior to the best world

standards, but at more democratic prices. Our entry into foreign

markets is mainly constrained by bureaucratic procedures. Many

permits and confirmations of our furniture's compliance with the

each country's standards are required and it takes a lot of time.

LOOKING AHEAD

AS: The plan is simple: grow, develop and improve. First Furniture

Factory is a rather ambitious company; it's not enough for us

to be a leader in the Russian market and we strive to become a

world leader in furniture manufacturing. P

This article was first published in Lesnaya Industriya Journal.
---
July / August 2020, Issue 4 | Panels & Furniture Asia FURNITUR | 43
---
44 | MATERIALS

July / August 2020, Issue 4 | Panels & Furniture Asia

Employee Safety First

Sawmill operations continue as forest

products industry deemed essential

during pandemic

As the COVID-19 pandemic spread, North American hardwood lumber sawmills needed to

act – fast. Baillie Lumber was no exception.

In March, the United States (US) Department of

Homeland Security and the US Department of Labor both

said that the forest products industry is an essential and

critical infrastructure workforce in the nation's response to

the pandemic. This meant that sawmills were allowed

to operate while other businesses closed or paused

operations.

The forest products industry was deemed essential because much

of what is produced in a sawmill is a critical part of the national

supply chain that keeps people safe and healthy. For example,

the hardwood sawmill industry helps provide:

• Lumber for pallets to move food, medical supplies and more

• Fuel pellets for energy production

• Ties for railroad transportation

• Sawdust that farmers need to maintain their livestock

• Packaging for the increasing amount of home deliveries

• Materials to keep essential construction projects going

• Wood chips that produce key paper products

Baillie Lumber took the approach to continue operations with

employee safety at the forefront of thinking. They adopted several

social distancing and sanitation practices to create the safest

workplace possible. Some of the measures they took included

creating six-foot interaction zones, redesigning employee

gathering places, revising trucker communication practices and

adopting other important social distancing techniques to keep

their employees safe.

It was measures like these that enabled Baillie Lumber to maintain

production at all of their facilities and supply their customers with

the lumber they need to keep their operations functioning. "The

safety of our employees is our number-one priority as we continue

operations during this pandemic," said Phil Fenwick, Director of

Asian Sales. "However, the fact that we are also able to keep our

operations open and supply our customers with the materials

they need to conduct their business is extremely important."

Baillie Lumber's hardwood manufacturing facilities are spread

north to south throughout the heart of the eastern US – the so

called Appalachian region – including facilities

in New York, Pennsylvania, Ohio, Virginia and

Kentucky. This provides them with access to

some of the finest hardwoods in the world.

As required, Baillie Lumber utilises an extensive

network of reputable partner mills who meet the

highest quality standards expected by Baillie.

These partner mills help Baillie Lumber provide

increased quantities of high-quality lumber and

expand their breadth of specie selection. This

select network of partner mills allows them to

position themselves as a customer's "one-stop

shop" for all their hardwood lumber needs. P

All images are credited to Baillie Lumber.

Baillie Lumber adopted several social distancing and sanitation practices to create the

safest workplace possible
---
July / August 2020, Issue 4 | Panels & Furniture Asia DESIGN | 45
---
46 | MATERIALS

July / August 2020, Issue 4 | Panels & Furniture Asia

STYLISH FURNITURE, WITH

SUSTAINABILITY TO MATCH

By Ken Hickson

Getting a sustainability stamp of approval – verifying the source and supply chain of timber used

to make furniture – can open many more doors for exporters, particularly to Europe and America.

That's why one Indonesian furniture maker has decided to be the first to come on-board

the Programme for the Endorsement of Forest Certification (PEFC) Chain of Custody (CoC)

certification scheme.

Furnilac Primaguna, PT is the first furniture manufacturer

in Indonesia that is certified against the PEFC, the leading

global alliance of national forest certification systems.

In Indonesia, the PEFC certification system is built and developed

by its National Governing Body, namely the Indonesian Forestry

Certification Cooperation (IFCC).

Besides being committed to the principles of design thinking and

styling, sustainability is uppermost in the minds of Furnilac, as

they make sure all the wood material used comes from legal and

sustainable sources, approved by Indonesia's timber legality

system, Sistem Verifikasi Legalitas Kayu (SVLK).

Since Furnilac Primaguna was established by designer

Dian S. Theosabrata in 1988, originality has been the driving

force behind his every creation. He has also made sure that his

exclusive furniture pieces are very competitively priced.

INNOVATIVE DESIGNS WITH A SUSTAINABLE EDGE

Located in Tangerang-Banten on the island of Java, the fine

furniture supplier says its achievements are made possible

by having a team of 21 skilled designers and craftsmen in its

research and development team, ensuring meticulous attention

to detail in the production of its innovative designs.

According to the Global Business Guide (GBG), Indonesia

has long been known as one of the world's leading furniture

manufacturers, as its teak and rattan products are sought

after in both the local and international markets. But despite

its natural advantages in terms of raw materials, Indonesia

continued to be ranked fourth in ASEAN in terms of export value,

despite its extensive timber resources.

While some Indonesian furniture manufacturers might see

challenges in having to provide proof that their wood supply is

harvested and sourced legally, Furnilac sees only advantages

in its commitment to the SVLK scheme.

Nesting tables using Furnilac is crafted from a combination of solid

wood and veneer (Image credit: Furnilac)

That's why Furnilac is the first to get on-board with the CoC

certification scheme offered by PEFC/IFCC. Getting an additional

sustainability stamp of approval - verifying the source and

supply chain of timber used to make furniture - opens many

more doors for exporters, particularly in Europe and America.

ADDING COMPETITIVE ADVANTAGE WITH TIMBER

CERTIFICATION SCHEME, CERTISOURCE

Another timber certification scheme, CertiSource, has also been

able to help Indonesian exporters of wood products, providing a

competitive advantage to access environmentally conscious and

regulated markets. Becoming certified is affordable and helps

improve a company's business processes as well as enhances

its marketing.

Singapore-based Double Helix Tracking Technologies has been

offering CertiSource certification in Indonesia since 2008. The

company is now even better placed to support the furniture
---
July / August 2020, Issue 4 | Panels & Furniture Asia MATERIALS | 47

industry in ASEAN as it is the first company to be accredited

to the PEFC scheme by the Singapore Accreditation Council,

which is part of Enterprise Singapore. DoubleHelix plans

to migrate CertiSource customers to PEFC over the next

6 months.

By offering PEFC CoC certification to companies here, and also

across the Asia-Pacific region, certification bodies can verify that

forest products like paper, wood flooring and furniture originate

from well-managed forests, and exclude material associated

with conflict or land-clearance. These factors are critical to

meet the increasing number of regulatory, public and private

sector procurement policies across the United States, Europe,

Australia, New Zealand, and now even China.

The furniture industry, for example, can avail itself of this

valuable tool to communicate the environmental credentials of

organisations that are bringing such products to the market. Far

from being a challenge, it is much more of an opportunity, as

more than 20,000 companies globally benefit from the market

access that PEFC CoC certification brings.

INDONESIA FOREST CERTIFICATION SYSTEM

RECEIVES TOP SCORE

Additional support for Indonesia's forest management – and its

certified furniture businesses at the same time – is coming from

even further afield. The Dutch Timber Procurement Assessment

Committee (TPAC), whose main job is to make sure Netherland

maintains its commitment to 100% sustainable timber, has

given Indonesia's forest certification system the top score,

thanks to the work of SVLK, IFCC and PEFC.

Referring to the aforementioned GBG report, while it pointed

out that there is "much work left for Indonesia to eradicate its

illegal logging issues", it also refers to the "positive government

policy changes, promising consumer reactions to more stringent

verification processes, an existing pool of competitively priced

labour and an abundance of natural resources".

There is little doubt that this is an ideal time to invest in

Indonesia's timber industry, as it maintains sustainability

standards, and at the same time helps its furniture trade adopt

certification standards to grow into a regional leader. P
---
ADVERTORIAL

48 | MATERIALS

July / August 2020, Issue 4 | Panels & Furniture Asia

GABON SPECIAL

ECONOMIC ZONE

A WORLD-CLASS INTEGRATED

WOODWORKING DESTINATION

In 2010, the government of Gabon

banned exports of raw timber and

promoted the processing of natural

resources within its territory to generate

employment and boost the economy.

Since then, the Gabonese government

has taken many initiatives to provide an

amenable ecosystem and infrastructure

to facilitate the secondary and tertiary

processing of timber and other natural

resources. The Gabon Special Economic

Zone (GSEZ) is the outcome of a shared

vision of the government of Gabon and

Singapore-based Olam International

Limited to effectively master the transition

towards the industrialisation of Gabon.

Spread over 1,126ha in Nkok (20km from

the capital city of Libreville), the GSEZ

is one of the largest industrial parks in

Sub-Saharan Africa aimed at promoting

sustainable production and processing

of timber and various other resources in

the country.

INDUSTRIAL ECOSYSTEM WITH

RELIABLE INFRASTRUCTURE AND

UTILITIES

GSEZ SA is the administrating and

managing agency for Nkok SEZ. The

executive team of GSEZ SA is headed

by a full-time chief executive officer

who is assisted by functional heads in

several departments, namely finance and

accounts; operation and maintenance;

and marketing and business development,

among others. The government of Gabon

is further represented on site by the Nkok

SEZ Administrative Authority, which

provides assistance on statutory public

administration approvals through their

single-window clearance office. The

single-window clearance was created by

article 20 of the SEZ Law 010/2011, and

its office based in Nkok SEZ is exclusively

responsible for completing all formalities
---
July / August 2020, Issue 4 | Panels & Furniture Asia MATERIALS | 49

and giving approvals to investors in

the SEZ.

GSEZ SA has developed all modern

infrastructure and utilities within Nkok

SEZ and the same is available to all

industrial units settling in the SEZ at

a reasonable tariff. Infrastructure and

utility provision at Nkok SEZ has been

done for the entire 1,126ha, however,

the operational area is currently only

650ha. Further land preparation for new

industrial units will be undertaken when

the requirements arise. The infrastructure

and utilities developed at Nkok SEZ

include:

• Dedicated water supply scheme

Seven bore wells are the source of

water within the SEZ. Water storage

tanks with a daily capacity of six

million litres have been constructed

and commissioned, and a five-hectare

artificial lake has also been developed.

Water is priced at US$0.86 per 1,000

litres.

• Sewerage and common effluent

treatment plant

A sewerage network has been

developed for the entire 650ha of

developed land, and a common

effluent treatment plant is also

available for treatment of effluent

disposed of by industrial units.

• Dedicated 70MW dual-engine power

plant

The source of power is a 70MW

dual-engine power plant which

can run both on gas and diesel. This

source is already operational and can

be augmented to 105MW. A connection

to a hydro-electric power plant

as second source of power is

being implemented. The laying and

commissioning of a 90KV electrical

transmission system and a 20KV

distribution system has been

completed. One main receiving

substation and five zonal substations

have already been constructed and

are operational. Electricity is priced

at US$0.09 per kWh. With good

reserves of petroleum, raw material

for the power station is also not an

issue in Gabon. Furthermore, another

high-tension line connecting SEZ

to a hydroelectric power plant is

also under construction. Both the

quality and quantity of power are

suitable for industries.

• Information technology

infrastructure

24/7 operational high-speed fibre

optic broadband Internet connectivity

is provided by GSEZ SA within

the SEZ.

• Roads and connectivity

Nkok SEZ has 45 kilometres of

metalled internal roads with ample

green areas and street lights, including

over 350 solar street lights. Nkok SEZ

enjoys all forms of connectivity:

Road: Nkok is located on RN 1

(national highway network).

Railway: GSEZ recently acquired

Somivab, a large sawmill adjoining

Nkok SEZ. Its railway siding on the

Trans-Gabonais railway line is now

part of common logistics facilities

available to industries at Nkok SEZ.

Waterway: A quay with a 200-metrelong

berth has been constructed at

the SEZ. It connects the SEZ to

Owendo Port and other parts of

Gabon.

The port is around 37km from Nkok

SEZ by road, 24km by rail and 18km

by waterway.
---
50 | MATERIALS

July / August 2020, Issue 4 | Panels & Furniture Asia

Nkok SEZ has ISO 14001,

ISO 9001 and ISO 18001

certified operation and

maintenance for

infrastructure and

utilities.

• Raw material supply chain

As part of its business facilitation role,

GSEZ operates a log supply chain for

units in Nkok SEZ and offers a longterm

contract to all wood processing

units for an assured and unhindered

supply of raw material (eg, logs).

FURNITURE MANUFACTURING

CLUSTER – AN INITIATIVE TO

PROMOTE "MADE IN GABON"

Nkok SEZ also has 60,000sqm of readyto-use

sheds in a Furniture Manufacturing

Cluster to promote manufacturing of

finished products in Gabon. As of now,

there are ten units working in this cluster.

FISCAL INCENTIVES TO

INVESTORS

Investors in GSEZ enjoy the following fiscal

incentives on their industrial investments:

• No income tax for first 10 years and

a preferential rate of 10% over the

next five years

• No customs duty on the import

of equipment and machinery for the

industry

• No VAT

• No property tax

• 100% foreign ownership permitted

• 100% exemption from capital

gains tax

• Other relaxations and waivers

o Relaxed labour laws and flexibility

in employing expatriates

o Reduced export duty for products

manufactured in the SEZ

o 100% repatriation of profits

o Up to 25% of domestic tariff area

sales permitted

FOREIGN INVESTMENT IN GABON

Gabon is a good investment destination

for all kinds of businesses as it has an

investor-friendly environment. Since

gaining its independence in 1960,

Gabon is one of Africa's most politically

and socially stable countries and has

a per capita gross domestic product

of US$19,200. Gabon has the best

assessment for country risk of the Central

African sub-region with a B rating and

is ranked second in Central Africa for

good governance in the Ibrahim Index

of African Governance. The country is

ranked second in Sub-Saharan Africa

as per the United Nations Development

Programme's 2018 Human Development

Reports. In the World Bank's 2017 "Ease

of Doing Business" ranking, Gabon ranks

above most of the African countries.

Some benefits of doing business in Gabon

include:

• Safest and most stable country in

Central and West Central Africa

• No currency devaluation risk –

currency is permanently pegged to

the euro [655.957 CFA franc = 1 euro]

• Easy application process for electronic

visas and work permits

• No natural calamity – earthquake-,

cyclone- and tsunami-free zone

• Foreign investors do not need a local

partner and can own 100% of shares

in a company, as well as own assets

in the country

• Among the least polluted countries of

the world – also can be called the

"oxygen cylinder" of the world

GSEZ SA facilitates its investors in availing

credit facilities for financing the initial

investment and working capital from

leading banking institutions like BGFIBank

Group, Union Gabonaise de Banque(UGB),

United Bank for Africa(UBA), Caisse

des Depots et Consignations(CDC),

African Export-Import Bank (Afriexim

Bank), among others.

SINGLE-WINDOW CLEARANCE – A

DIFFERENTIATOR

Through the single-window clearance

office, GSEZ assists to obtain all

necessary regulatory and statutory

GSEZ SA, through its

subsidiaries, has

developed mineral and

general cargo ports in

Owendo, where Nkok

SEZ industries have

preferential tariff and

services for inbound

and outbound

traffic.

clearances required for setting up

an industry in the SEZ from various

government departments, simplifying the

process in granting speedy approvals to

all units. To ensure that the investors do

not have to run from one office to another,

all 23 concerned 23 departments and

agencies from which approvals are

required are housed in a special building

within the SEZ. This has proved as a

clear differentiator for entrepreneurs in

choosing this location for establishing

their units.

SUSTAINABLE RAW MATERIAL

AVAILABILITY

Gabon follows a sustainable forest

management (SFM) system – the best

known system that will ensure the

natural regeneration of trees and that

the country's wood stock does not

deplete. Adhering to SFM rules, Gabon

will never face situations similar to those

of countries in South East Asia. Given the

reckless degradation of forests, many

countries in South East Asia have imposed

several full, partial or temporary logging

bans. Gabon's neighbouring countries

in the Congo Basin are also expected to

impose bans on the export of round logs

very soon (according to the International

Tropical Timber Organization). With all

these developments, combined with

China's decision to stop the harvesting of
---
July / August 2020, Issue 4 | Panels & Furniture Asia MATERIALS | 51

Since 2017, India's Greenply has already been

operating its unit in Nkok SEZ. Century Plyboard

from India also started their construction of its

veneer unit in 2019 and their plant is likely to be

operational later this year. This plant will cater to

both European and Asian markets.

natural forests, it makes immense sense

to invest in a manufacturing unit in a

country that is rich in timber resources.

Gabon is the best option available today.

Another aspect is use of wood certified

by the Forest Stewardship Council (FSC),

and with proper traceability and legal

certificates for furniture manufacturing.

Most of the big buying houses in the

United States and Europe have made a

resolution to ensure that by 2020, at least

30% of furniture sourced are made with

FSC-certified wood. FSC-certified wood

in this quantity has limited availability

but it is abundantly available in Gabon.

To further ensure legality and traceability

of logs entering Nkok SEZ, GSEZ SA

created TRACER-Nkok, an agency

independently run by two reputed entities,

namely FRM and Brainforest. TRACER-

Nkok ensures complete traceability of

logs from their entry into the SEZ to

delivery to the processing unit. TRACER-

Nkok issues a due diligence certificate

to log suppliers that authorises them

to supply logs to Nkok SEZ. TRACER-

Nkok aims to promote the progressive

certification of the wood sector in

Gabon.

NKOK SEZ TODAY

Nkok SEZ currently has 166 investors

from 17 nations, and the expected foreign

direct investment exceeds US$1.7

billion. Out of the 166 investors, 70 are

from China, India and South East Asia.

The industries making the SEZ their

base are mainly in wood transformation

(eg, sawmill, veneer and plywood);

ferro-alloys; construction materials;

pharmaceutical; food processing;

telecom equipment; waste and metal

recycling; and warehousing, among

others. Currently, 77 companies are

already under production and another

30 companies are in different stages

of construction. It is expected that

more than 100 companies will be under

commercial production by mid 2021.

In April 2016, Africa Finance Corporation

(AFC) made an investment of US$140

million in GSEZ SA. Established in

2007, AFC is a pan-African multilateral

financial institution aimed at being a

catalyst for private sector infrastructure

investment in Africa and in funding power,

industry, transportation and telecoms

infrastructure. This investment by AFC

is the independent validation of GSEZ's

business model, its future prospects and

the ability of its team to execute and

deliver. P
---
52 | DESIGN

July / August 2020, Issue 4 | Panels & Furniture Asia

Unfolding an origami

coup de maître

The roof frame is a breathtaking feature that takes after an origami,

transforming the interior into an expressive and expansive space with a

cascade of "folds" styled with cross-laminated timber (CLT) panels. This

is a building where the architects want people to look up and be awed.

As a structural screw manufacturer for wooden buildings,

SYNEGIC Co., Ltd envisioned an advanced architectural

design that can expand on the possibilities of modern

wooden structures when the company was planning for its new

office building, located in the Miyagi Prefecture of Japan.

Fumie Horikoshi and Yoshinori Hasegawa, the architects from

UENOAU, proposed a plan for several mixed spaces that are

open so that employees can see each other. The roof frame

is a breathtaking feature that takes after an origami, transforming

the interior into an expressive and expansive space with a cascade

of "folds" styled with cross-laminated timber (CLT) panels. This

is a building where the architects want people to look up and

be awed.

THE ROOF

With the roof frame touching the ground at four points, no pillar

is required, bestowing a largely unobstructed space to the ground

floor. Led by the topographical features of the dynamic roof frame,

the overall design relates closely to the roof – there are places in

the building where the roof is within reach and people can touch;

there are spots where the roof frame can be viewed in its fully

constructed glory and visitors can appreciate the beauty and

finesse of the design.

The three-dimensional roof shape is formed by connecting flat

trusses made of laminated timber with a width of 105 cm (the

most common dimension in Japanese houses) with triangular

CLT panels. By using CLT panels for fastening flat trusses,
---
July / August 2020, Issue 4 | Panels & Furniture Asia DESIGN | 53

A cascade of "folds" styled with crosslaminated

timber (CLT) panels

complicated processing of joints and joining by hardware

are avoided. It also allows for prefabrication where wood

materials can be pre-cut and screws joined on-site. The

CLT panels used for the building's walls and roof are

made from Japanese cedar while Japanese pine laminated

timber is used for the trusses and columns. The ceiling is

constructed using European red pine.

INNOVATIVE USE OF CLT

The architects have also applied the use of CLT innovatively.

CLT, commonly used in walls and floors, is used on the roof

in this case to demonstrate that CLT can look light too. The

heaviness of the commonly used mass timber material is

now contrasted with a possibility of lightness.

The new office building of SYNEGIC Co., Ltd resembles an origami box from the outside
---
54 | DESIGN

July / August 2020, Issue 4 | Panels & Furniture Asia

1

2

3

CLT is also used to build a partition wall that bears

a vertical load on the first floor. As the CLT surface

was textured to resemble marble, the architects had

to find ways to join the screws while considering the

design and workability rather than using typical CLT

hardware. Though these ambitious processes add to

the higher costs of working with CLT, the result was a

new innovation where a large CLT wall in the atrium

has been created with no modules and emphasis can

be focused on the unique wooden texture.

Photos 1-3: The overall design with several open mixed-spaces

relate closely with the roof
---
July / August 2020, Issue 4 | Panels & Furniture Asia DESIGN | 55

With the roof frame touching the ground at four points, no pillar is required in the building's interior space

By pushing the boundaries as exemplified

by the large CLT partition wall and the

elaborate roof frame, the architects hoped

that they have contributed to the progress

of CLT uses in buildings and design – one

small step at a time.

The building has a total floor area of

834 cubic metres and was completed in

December 2018. P

All images are credited to UENOAU and

Hiroyuki Hirai.
---
56 | DESIGN

July / August 2020, Issue 4 | Panels & Furniture Asia

The Hoa Mai Furniture

Design Competition 2020

The Handicraft and Wood Industry

Association of HCMC (HAWA) and

the American Hardwood Export

Council recently announced the

finalists and winners of the Hoa Mai

Furniture Design Competition.

The 17 th iteration of the competition continues to provide

young Vietnamese designers with the opportunity to

explore the creative possibilities provided by American

hardwood species and for business and industry to discover

and connect with emerging design talent.

Mr John Chan, executive director of The American Hardwood

Export Council, said of the competition "We are delighted

with the high quality of entries to the competition this year.

The creative talent that continues to grow in Vietnam and the

interest in the design and commercial possibilities that American

hardwood species present is hugely encouraging".

All entries this year were created from American red oak, the

most abundant species in the American hardwood forest.

There were over 331 entries, 269 of which were from University

students. The judging panel narrowed this down to a shortlist

of 23 from which nine eventual category winners were chosen.

The highlights and the quality of submissions can be seen below:

WINNER –

THE HONOURABLE PRIZE

SmartDesk

Nguyen Thi Kim Thoa

Hanoi Architectural University

Solid and thin, bar and block, black and white, push and pull.

The Smart desk is all about contrast. The intriguing design

cleverly integrates wireless charger and USB ports with

a concealed Hafele drawer. Designer Kim Thoa found the

combination of the compressive strength of American red oak

and ease with which it can be steam bent, a huge advantage in

the manufacturing process.

FB: https://www.facebook.com/people/Kim-Thoa/100006685065531
---
DESIGN | 57

WINNER

(OUTSTANDING CONCEPT)

Floating Market Bench

Lê Long Vĩnh and Huynh Thanh Quyen

Vang Lang University

This bench was inspired by the floating market of the Mekong

Delta. Designer Vinh was particularly struck by the beauty of

the grain and texture of the American red oak. The reliable and

consistent quality meant that the slender poles were easier to

achieve without splitting.

FB: @le.l.vi.7

WINNER

(INTERMEDIATE GROUP)

BÈO

Vũ Thành Nam

University of Industrial Fine Art

Contact with materials including rattan, rush and duckweed

whilst in the traditional trade villages of Thanh Hoa and Ninh

Binh combine here with a Scandinavian aesthetic to create a sofa

that harmonises modern and traditional simplicity.

FB: @M.i.r.vus

RUNNER UP

(INTERMEDIATE GROUP)

Minnaar Chair

Quach Minh Quan

Ton Duc Thang University

"Derived from the poetics of a wave" is how interior design

student Quach Minh Quan describes his softly curved creation

with a continuous line flowing form the front leg of the Minnaar

chair through the arm and from the armrest to the back. The

chair is fluid and rounded in character with soft points of

transition. "American red oak has some of the best qualities to

work with. It's easy to cut and machines well. It's a fine wood

in my opinion and I kind of like the colour too!" he said.

All images are credited to AHEC

FB: @bluevoids.1
---
58 | DESIGN

July / August 2020, Issue 4 | Panels & Furniture Asia

Framing the entrance of the

building, the form references the

Chinook cloud arches common to

the region
---
July / August 2020, Issue 4 | Panels & Furniture Asia DESIGN | 59

Calgary Central

Library – where Ice

and Timber meet

The Calgary Central Library is sited within a complex urban

condition, where a fully operational Light Rail Transit Line

crosses the site from above to below ground on a curved halfmoon

path, dividing Downtown and East Village.

In response, the design, led by Norwegian architectural firm Snøhetta, lifts the

main entry over the encapsulated train line. Gently terraced slopes rise up to the

heart of the building, welcoming people arriving from every direction to the library.

The dynamic, triple-glazed façade is composed of a modular, hexagonal pattern that

expresses the library's aims to provide a space that invites in all visitors. Aggregated

variations on the hexagon form scatter across the building's curved surface in

alternating panels of fritted glass and occasional iridescent aluminum.
---
60 | DESIGN

July / August 2020, Issue 4 | Panels & Furniture Asia

The dynamic, triple-glazed façade of the Calgary Central Library is

composed of a modular, hexagonal pattern

The rhythm of beams and columns are reminiscent of a stoa – the public,

open-air colonnades of ancient Greek architecture

From these shapes emerge familiar forms: Parts of the pattern

might resemble an open book, snowflake-like linework, or

interlocking houses, anchoring the ideas of the collective and

community. Above all, the entire building volume is enclosed in

the same pattern, allowing all sides to function as the "front" of

the building. This visual vocabulary continues inside, expressed

in the design of the library's new visual identity and wayfinding

signage in the building, unifying the library's goals of inclusivity.

ONE OF THE LARGEST FREEFORM TIMBER SHELLS

IN THE WORLD

The crystalline geometry of the façade peels away to reveal

an expansive wood archway that embraces visitors as they

approach. Framing the entrance of the building, the form

references the Chinook cloud arches common to the region.

Created entirely of planks of western red cedar from nearby

British Columbia, the double-curved shell is among one of the

largest freeform timber shells in the world. Its organic form and

texture bring the large building down to a tactile, intimate scale.

As the archway leads into the lobby and atrium, the wood spirals

upwards over 85 feet and towards a view of the sky through

the oculus. Wood slats line the perimeter of the open atrium,

shaped like a pointed ellipse, serving as an orientation device

for people to quickly grasp the circulation and organisational

logic of the library.

BEAMS AND COLUMNS REMINISCENT OF THE

ANCIENT GREEK STOA

Inside, the concrete structure is left exposed and unfinished,

hinting at the open-ended possibilities within. The rhythm of

beams and columns are reminiscent of a stoa – the public,

open-air colonnades of ancient Greek architecture that doubled

as spaces of gathering and intellectual exchange. The rawness

of the material palette is intended to give people the sense

that the library is a place of engagement, rather than a sacred

repository for books.

As the archway leads into the lobby and atrium, the wood spirals upwards

over 85 feet and towards a view of the sky through the oculus

Organised on a spectrum of 'Fun' to 'Serious,' the library

programme locates the livelier public activities on the lower

floors, gradually transitioning to quieter study areas on the

upper levels as one spirals upwards. At the street level, a series

of multi-purpose rooms line the perimeter of the building,
---
July / August 2020, Issue 4 | Panels & Furniture Asia DESIGN | 61

enhancing the connectivity between the inside

and outside. On the ground floor, a Children's

Library offers playhouses that provide space

for crafts and drawing-based activities, early

literacy programmes, and a full-body indoor

play experience.

A JEWEL BOX TUCKED WITHIN THE

LIBRARY

Throughout the six floors, a variety of spaces

provide for digital, analogue, group, and

individual interactions. At the

uppermost level is the Great Reading

Room, conceived as a jewel box

tucked within the library, which

provides a space for focused study and

inspiration. Readers enter through a

transitional space with softened

light and acoustics. Within, vertical

wood slats line the space to provide

both privacy and visibility, defining

an interior space without using solid

walls. Natural light illuminates the

space through the wood slats creating

glancing sightlines between the

atrium and western façade.

The Great Reading Room is conceived as a jewel box tucked within the library

At the northernmost point of the

library, the Living Room overlooks the

train line and the meeting point of the

two neighbourhoods. Filled with light

and activity, this prow of the building

will not only serve as a beacon to

those outside, inviting them to enter,

but also as a prospect for looking

back out – a fitting vantage point

to observe the impact of a building

that hopes to re-energise the spirit

of culture, learning, and community

in Calgary. P

All images are credited to Snøhetta.
---
62 | SHOW PREVIEW

July / August 2020, Issue 4 | Panels & Furniture Asia

A prelude to

industry recovery:

Triple-packed

CIFM-interzum

guangzhou 2020

returns this July

The event will showcase industry

verticals comprising finished furniture,

production equipment and raw and

auxiliary materials.

The China International Woodworking Machinery and

Furniture Raw Materials Fair (CIFM)-Interzum guangzhou

2020 is set to take place from 27-30 Jul 2020 at Pazhou

Complex, Guangzhou, China. As the trade exhibition for the

woodworking and upholstery machinery, furniture materials and

interior décor industry in Asia, this year's Interzum guangzhou

will coincide with the home installation of China Guangzhou

International Furniture Fair (CIFF), which features household

furniture.

"IN" LIVE STREAMING

Making its debut at Interzum guangzhou 2020 is the "in" Live

Streaming online business matching platform, which is aimed at

allowing buyers who are unable to visit the exhibition to connect

with exhibitors. The scheduled one-on-one sessions will be held at

the first three days of the show according to the four main product

categories – hardware, machinery, decorative materials and

upholstery accessories. All Interzum guangzhou 2020 exhibitors

are expected to have the opportunity to participate in the event.

Koelnmesse, organiser of Interzum guangzhou, is confident that

this live streaming component serves to provide industry players

with a more diversified procurement experience to meet the

various business needs and situations of buyers.

INDUSTRY RALLIES BEHIND INTERZUM gUANGZHOU

With China's Belt and Road Initiative and the rapid development

of the Guangdong-Hong Kong-Macau

Greater Bay Area, Interzum guangzhou

has continued to garner support

from exhibitors, while also ushering

in several new names. Area C of the

event venue will also be optimised and

integrated to present a more refined

and centralised layout to facilitate

procurement.

Some exhibitors slated to appear in

Interzum guangzhou 2020 include

Paolino Bacci, Linak, Latexco,

Ferramenta, Henkel, and Schattdecor.

Based on estimation from the

International Monetary Fund, China

is expected to contribute 28% of

global economic growth from 2019-

2024. In addition, the country has the

advantages of a huge market and the

presence of entire industry value chain,

which provide an internal driving force

for the overall economic recovery in the

post-pandemic era.

Woodworking machinery and furniture production will be showcased at Interzum guangzhou 2020, which

will be taking place from 27-30 Jul 2020 at Pazhou Complex in Guangzhou, China
---
July / August 2020, Issue 4 | Panels & Furniture Asia SHOW PREVIEW | 63

UNEXPECTED POSITIVE CHANGES

With more time spent staying home, the COVID-19 pandemic has

inadvertently brought about a newfound awareness by consumers

on their living space – new materials, personalised designs,

customisation and aesthetics are aspects that have become more

prominent than ever.

Riding on this wave, a spokesperson from Italian Ferramenta, said:

"Furniture manufacturers are constantly looking for better hardware

accessories, because well-made hardware accessories can enhance

the overall value of furniture, and, in turn, provide better products

for consumers. The current custom furniture in China has driven

production companies to continuously improve the flexibility of their

products and services."

1

Another exhibitor, Linak Transmission Systems, observed a more

market-oriented industry, as its spokesperson elaborated: "We are

seeing an increasing number of design studios and small-scale custom

production factories that provide customised services and furniture

products. Furniture customisation trends reflect the structural

upgrading of furniture consumption, especially in China. These trends

will cause new changes in the furniture industry, and the formation of

new supply chains to adapt to these market changes." P

2

Photo 1-2: Visitors to Interzum guangzhou 2020 will be able to

grasp the trade dynamics of the industry
---
64 | WOOD CLINIC

July / August 2020, Issue 4 | Panels & Furniture Asia

Hello Mr Shen,

I am a reader of Panels & Furniture Asia. Recently, I am responsible for the manufacturing of

solid wood furniture in an Indonesian carpenter's shop, and was tasked to handle a batch of oval

coffee tables made of Nyatoh wood which have been stored in the warehouse for a long time. After

continuous sampling and reinspection of the coffee tables, it was found that these solid wood

panel tables' glue lines have cracked, and can be easily broken by hand (see Figure 1).

I hope you can help analyse the potential causes, and provide suggestions for improvements and

remediation.

Mr Shim (Shen Yuxin)

Yours sincerely,

Mr Lin

Reasons for cracked glue lines

on coffee table made from

Nyatoh wood

(I) Analyse the cracks of the splicing glue line of the Nyatoh

wood oval coffee table and propose improvement plans:

1. Wood moisture disequilibrium: The moisture content of

Nyatoh wood is in the range of 12-25%, whereas the equilibrium

moisture content in the warehouse is around 10-14%. This

means that wood with high moisture content in the warehouse

continues to lose moisture and shrink, leading to the defect of

splice glue line cracks in Nyatoh wood furniture.

Below is the analysis of the causes and improvement plans for

wood moisture disequilibrium:

a) Irregular operation of the drying kiln: Inconsistent thickness

of different wood species are dried in the same drying kiln.

Due to the differences in wood species and timber thickness,

the timbers are susceptible to uneven moisture content.

b) Solution: When drying wood in a drying kiln, the timbers

should be stacked properly and separately with 1-inch

spacers. The thickness of the timber must be the same,

and, if possible, of the same wood species. Prior to the drying

operation in the kiln, ensure the boiler's steam supply is

stable, and the hot air circulation is uniform and free of

short circuit.

2. Quality inconstancy of panels: The use of four-sided planing

to prepare Nyatoh wood often results in unstable quality of solid

wood panels, and impacts the adhesive force.

Recommendations:

a) Rough cutter mark: When preparing material with

conventional four-sided planer at fast-feeding linear speed,

the number of cutter marks has only 5-6 tool marks per foot

inch, and the depth of the mark depth (arc depth) is

greater than 0.07mm. As a result, there are many gaps in

the splice plate's glue lines, leading to poor adhesive force.

It is recommended that the width of the cutter marks is kept

at or below 2.0mm. The feeding linear speed of the foursided

planer is set between 10-12m/min so that the number

of cutter marks are at 10-12 tool marks per foot inch,

thereby improving the rough cutter mark issue of the panel.

b) Snipping: There will be gaps in the glue line at snipping

sites of the panel material, resulting in poor adhesive force.

If the chip ring of the four-sided planer's planing tool is

higher than the outfeed table, snipping may appear at the

ends of the timber. It is recommended to check with a ruler

to confirm that the chip ring of the planing tool is at the

same horizontal plane with the outfeed table.

c) Hairy: When wood moisture content is too high, the foursided

planer is not sharp enough, and the sharpening angle

is greater than 30o. The planed surface of the timber may

be hairy because of cell damages, leading to defects such

as glue line cracks or false gluing as shown in Figure 2

and 3. It is recommended that the operator regularly inspect
---
July / August 2020, Issue 4 | Panels & Furniture Asia WOOD CLINIC | 65

Figure 1: Nyatoh wood oval coffee table, the solid wood panel of which

shows the cracked glue lines that can be easily broken

Figure 2: Magnified view of the hairy appearance defect cause by

inadequate sharpness of the four-sided planer

and replace the planing tool, and ensure the sharpening

angle and sharpener mounted on the tool holder is accurate

and the planing tool is sharp. Before the processing of dried

timber, check and confirm that the wood moisture content

is maintained at 10±2%.

d) Torn grain: Nyatoh wood has locally interlocked gain.

However, the defect of torn grain may occur if the planing

tool is not sharp enough, the set feeding linear speed is

too fast, or the chip breaker is worn out or not set in place.

If the torn grain is in the part of the spliced sheet material, it

will lead to poor adhesive strength of the glue line of the

spliced board. It is recommended to check that the chip

breaker is not worn, set the distance between the chip

breaker and the chip ring at 5.0mm, appropriately reduce

the liner speed setting, and ensure the planing tool is kept

sharp, which can improve torn grain defect. Panels with

severe tearing wood grain should be used for other purposes.

e) Skipping: In four-sided planers, when the planing tool's chip

ring is higher than planer table, the upper compression roll

and the chip breaker are damaged, or the wood panel

vibrates during the planing due to insufficient pressure,

the panel surface will present took marks of variant size and

depth, thus contributing to poor adhesive force of glue

lines in parts of the panel. It is recommended for operators

to check the pressure to ensure normal operation when

resetting the upper roller and chip breaker, and adjust the

chip ring of the planing tool appropriately to make it on the

same horizontal plane with the planer table.

f) Not square: The non-right angle of the panel material will

result in the gap of the glue lines of the panel. When the

planing tool spindle bearing is worn out or the pressure of

the upper compression roll is uneven, panels may not result

in a square. It is recommended that operators conduct

regular checks to ensure that the planing tool spindle

bearing is not worn out, and the upper compression roll

delivers sufficient pressure.

g) Hit and miss: Poor local adhesive force may arise from the

hit-and-miss defect of the glue lines of the solid wood

panel. It is recommended that the raw logs' specifications

are rigorously controlled so that their width and thickness

are stable. Operators of the four-sided planer and gumming

machine have to take note of periodical inspections, and

panels with hit-and-miss defects should be picked out and

used for other purposes.

3. Improper glue mixing ratio: The ratio of primary adhesive

to hardening agent should be 1:15 for emulsion polymer

isocyanate (EPI) dual-component water-based adhesive panels.

Excessive glue mixing ratio variance may result in unstable

adhesive force. If the ratio of the hardening agent is too low,

the expected adhesive force will not be achieved; if the ratio is

too high, the adhesive film will become fragile, resulting in poor

adhesive strength. Generally, the ratio of the hardening agent

is controlled at 14-15%. The ratio of glue mixing specified by

the supplier shall be taken as reference.

4. Improper amount of glue spread: If the amount of glue

spread is too low and uneven, the wood surface will not be

adequately wet, resulting in adhesive failure. If the amount of

glue spread is too high, the excess adhesive will be wasted and

the wood will absorb excessive moisture, thus leading to longer

curing time for panel assembly. It is ideal if the panel's glue line

is squeezed out, forming sesame-like glue beads.

5. The use of expired adhesive: Generally, the mixed EPI

adhesives have to be used within the specified period. The use

of expired adhesive will lead to loss of adhesive force. Therefore,

the amount of adhesive to be mixed and the ratio of glue mixing
---
66 | WOOD CLINIC

July / August 2020, Issue 4 | Panels & Furniture Asia

Figure 3: The cracked glue line of the panel under a magnifier, showing

the intact white adhesive film and the cracks on the planed surface of

wood at sites where the cells are damaged

Figure 4: Cracking of glue lines as a result of the inadequate pressure

caused by oil leakage arising from the wear of piston rubber ring inside

the hydraulic cylinder

should be controlled by a fixed operation staff in order to achieve

expected adhesive force.

6. Improper assembly time: If the gumming and assembly

time is too long and the pressing operation is carried out with

dried or skinning adhesive film, the adhesive force will be

adversely affected, and the expected adhesive force will not be

achieved. It is recommended that the gumming and assembly

time is properly controlled, and the pressing operation is carried

out when the adhesive film is not dried up or skinning.

7. Improper operation of the panel press:

a) Improper pressure settings: If the pressure settings of

the four-column hydraulic press are set too high and the

panel experiences compression deformation, adhesive

failure may occur as a result of the rebound of the panel

when the pressure is lifted. If the pressure is set too low,

the panels may not be in full contact, leading to false

adhesion or glue line cracks. It is recommended the pressure

of the hydraulic press setting is calculated with the following

pressure calculation formula:

i. Unit pressure (kg/cm²) = wood specific weight x 20

ii. Pressure gauge readings: P (kgf/cm²) = (AxDxC) ÷ R

iii. P: Pressure gauge readings

iv. A: Adhesive spread area

v. D: Wood specific weight

vi. C: 20 (constant)

vii. R: Total area of hydraulic cylinder

8. Pressure holding time: If the pressure holding time is set too

short, the pressure will be lifted before the adhesive film is dried,

hence resulting in poor adhesive force. It is recommended to

detect the glue line bead solidification time, and set as reference

for the pressure holding time.

9. Curing: When the pressure is lifted, the panel's glue line

will absorb the moisture in the water-based adhesive, and, as a

result, the glue line's moisture content will increase. If planing

is carried out immediately, the glue line could have collapse or

crack when the moisture in the glue line has evaporated. It is

recommended that the panels are piled up into stacks using

20mmx20mm spacers, and sent to curing room for curing.

The planing operation is ideally carried out when the moisture

content of the glue line is tested to be in the range of 10±2%.

(II) Remedial actions for repairing oval tables that have

cracked glue lines. The following improvement processes are

recommended:

1. Unpack, inspect and pick out all cracked tables, saw open

the glue lines that have adhesive failures using linear

trimming machine, then choose table panels that only have

slight adhesive failure for reassembling the tables.

2. The repairing of table panels that have severe adhesive

failures can be time consuming. There is no other option

better than using them for other purposes, and replenish

materials for manufacturing new tables.

b) Hydraulic cylinder oil leakage: When the pressure is

insufficient due to oil leakage as a result of the wear of

piston rubber inside the hydraulic cylinder, cracking of glue

lines as shown in Figure 4 may occur. It is recommended

that the hydraulic cylinder pressure of the hydraulic press

be regularly checked to ensure there is no oil leakage, and

the pressure is sufficient.

The above-mentioned brief descriptions and opinions are

proposed for reference based on the information provided. It is

hoped to identify the cause of the adhesive failure of the coffee

tables and solve the issue successfully. P
---
July / August 2020, Issue 4 | Panels & Furniture Asia WOOD CLINIC | 67

HANOIWOOD 2021

Pablo Shanghai

Contact: Rain Ma

Mobile: (86) 182 1755 3837

Email: 2229204646@qq.com

Venue:

International Centre of Exhibition

(I.C.E ), Hanoi

91 Tran Hung Dao Street, Hoan Kiem

District, Hanoi , Vietnam

QR Code to exhibition

location on Google Map

JOINTLY ORGANISED BY

BINH DUONG FURNITURE ASSOCIATION

NEW DATE:

9-11 JUNE 2021

PANELS & FURNITURE GROUP

VIETNAM TIMBER AND

FOREST PRODUCT ASSOCIATION

PLEASE CONTACT:

Pablo Publishing & Exhibition Pte Ltd

3 Ang Mo Kio Street 62 #01-23 Link@AMK

Singapore 569139

Tel: (65) 6266 5512 Mobile: (65) 9621 4283

Email: williampang@pabloasia.com
---
NEWSLETTER

JULY/AUGUST 2020

THE MALAYSIAN MDF MANUFACTURERS ASSOCIATION (MMMA)

Surviving the

Resurgent

Coronavirus Crisis

By Peter Fitch

MMMA Newsletter for PF Asia July/August 2020

Diagram 1

would like to start the article by quoting

I

directly from reports published by the

World Bank and the OECD in June 2020.

"Covid-19 has triggered a global

crisis like no other – a global health

crisis that, in addition to an enormous

human toll, is leading to the deepest

global recession since the second world

war. While the ultimate growth outcome is

still uncertain…. the pandemic will result

in output contractions across emerging

markets and developing economies.

Moreover, the pandemic will exert

lasting damage to fundamental longterm

growth prospects, further eroding

living standards for years to come." – World

Bank

"The global economy is now experiencing

the deepest recession since the

Great Depression in the 1930s, with

GDP declines of more than 20% and a

unprecedented surge in unemployment.

The economic outlook is exceptionally

uncertain." – OECD

Thinking about an 'after coronavirus world'

Selected images are credited to IKEA and Deutsche Messe

now is not an easy thing to do. Many economic hardship, complexity and volatility.

companies in Malaysia are understandably

eager for a quick return to normalcy The first step is to cut costs to a minimum,

when governments relax their Movement immediately. This is to buy time to adapt

Control Orders (MCO). But this could be and to adopt new business models.

a reoccurring global pandemic forcing The second step is to assess your business

companies to manage unprecedented

68
---
NEWSLETTER

THE MALAYSIAN MDF MANUFACTURERS ASSOCIATION (MMMA)

JULY/AUGUST 2020

The second step is to assess your business model. To help

you do this, you need to know where your current business is

in relation to the new world order. Refer to Diagram 1, which

will help you visualise it. Here I have made two axis – on the

x-axis is how the COVID-19 situation has impacted the business

model and on the y-axis is the impact on demand. This gives us

four quadrants:

1.Threatened

This is the most dangerous space on the map. The crisis is

exposing you to major weaknesses in your business model.

Examples are airlines, sporting events and large public

gatherings. In the timber business, this will adversely affect

trade shows and exhibitions. Companies here have little hope of

reaching another space on the map unless they totally reinvent

themselves.

2. Overweight

This space corresponds most closely to what companies witness

during conventional downturns, recessions or a crisis. This is

a classic case of an imbalance between supply and demand.

Demand has suddenly and dramatically reduced, reversing an

on-going trend of every greater demand and investment in supply.

Examples are what we see in most wood related businesses at

the moment, from furniture, panels, lumber to sawn timber.

Companies here can fall back on proven crisis responses,

but need to be aware that this recession could be prolonged.

Sensible and responsible action should be a controlled reduction

in capacity, as well as to avoid price wars and discounting.

Unfortunately, bankruptcies of inefficient or poorly managed

operations will occur.

3. Overwhelmed

Demand shifts have worked in your favour, but are straining

your operations which may not be sustainable in the current

environment. For example, grocery retailers are seeing huge

spikes in demand especially for PPE and health related products.

The downside of this favourable demand is that the capacity of

your business may not be able to absorb the increase whilst

maintaining, quality and costs. Customers are experiencing

long queues, stock outs, poor service and lack of choice, all of

which are negative experiences. In the timber industry, good

examples would be companies that supply hospitals or healthcare

services. If there was ever a time to make crucial investments

then this is the area to do so now. The mission here is to beat

your competitors to the "Thriving" space and avoid sliding down

into "Threatened".

4. Thriving

There are no safe spaces but this is the most desirable quadrant.

Demand shifts are working in your favour. The effects of social

distancing and other measures do not inhibit your company

from absorbing greater demand. Good examples here are

online retail platforms, companies such as IKEA are claiming

online sales increased by 95% during April/May whilst instore

purchases are down more than 75%. More companies will invest

to grow and strengthen their online presence very much at the

expense of physical sales models. This is well established in

the Business to Consumer (B2C) market, but relatively untried

and untested in the Business to Business (B2B) sales model. The

real challenge for traditional timber manufacturing companies

is how to expand their range of products and most importantly

increase sales channels, whilst rebalancing supply and

demand.

About the Author

Peter Fitch is the founder of Segamat

Panel Boards (Malaysia) and is

currently chairman of the Malaysian

MDF Manufacturers Association

(MMMA) and executive committee

member of the Malaysian Panel

Manufacturers Association (MPMA).

Prior to working in Malaysia he worked

for Plantation Timber Products (China)

and Takeuchi MDF (Malaysia). Peter

has been based in Asia for more than

25 years and in the wood panel

business for more than 20 years.

69
---
70 | ENVIRONMENT

Events Calendar 2020 / 2021

July / August 2020, Issue 4 | Panels & Furniture Asia

January / February 2020, Issue 1 | Panels & Furniture Asia

JULY 2020

MARCH 2021

18 JUL TO

21 JUL

CIFF Guangzhou - PART 1

Guangzhou, China

04 MAR TO

07 MAR

Delhiwood 2021

New Delhi, India

27 JUL TO

30 JUL

CIFF Guangzhou - PART 2

Guangzhou, China

11 MAR TO

13 MAR

BIFA Wood Vietnam 2021

Binh Duong, Vietnam

27 JUL TO

30 JUL

interzum guangzhou 2020

Guangzhou, China

AUGUST / SEPTEMBER 2020

31 AUG TO

02 SEP

Domotex Asia China Floor 2020

Shanghai, China

04 MAY TO

07 MAY

MAY / JUNE 2021

interzum cologne 2021

Cologne, Germany

07 SEP TO

10 SEP

CIFF Shanghai 2020

Shanghai, China

10 MAY TO

14 MAY

LIGNA 2021

Hannover, Germany

07 SEP TO

09 SEP

Dubai Wood Show 2020

Dubai, UAE

31 MAY TO

02 JUN

Index 2021

Dubai, United Arab Emirates

08 SEP TO

10 SEP

6 th Bangladesh Wood International

Expo 2020

Khaka, Bangladesh

28 JUN TO

30 JUN

Sylva Wood 2021

Shanghai, China

OCTOBER 2020

14 OCT TO

17 OCT

IFMAC & WOODMAC 2020

Jakarta, Indonesia

NOVEMBER 2020

10 NOV TO

13 NOV

Xylexpo 2020

Milan, Italy

DECEMBER 2020

03 DEC TO

06 DEC

Cairo Wood Show 2020

Cairo, Egypt

Scan to download eBook

PFA JULY / AUGUST 2020
---
ADVERTISERS'

INDEX

July / August 2020 • Issue 4 • PANELS & FURNITURE ASIA

COMPANY

PAGE

American Hardwood Export Council (AHEC)

OBC

Andritz (China) Ltd 5

Baillie Lumber 13

Baumer Inspecon GmbH 37

BIFA Wood Vietnam 2020 1

Dieffenbacher GmbH

IFC

Electronic Wood Systems GmbH 11

Forestry Innovaon Investment Ltd 15

Gabon Special Economic Zone GSEZ 41

Gabon Special Economic Zone GSEZ (Advertorial) 48

Gau Jing Machinery Co., Ltd 63

Hanoi Wood 2021 67

Homag Asia Pte Ltd

FC

Ifmac & Woodmac 2020 45

IMEAS spa 9

Innovator Machinery Co., Ltd 29

Jiangsu Baolong Electromechanical Mfg Co., Ltd 31

Kuang Yung Machinery Co., Ltd 61

Lesnaya Industriya Journal 43

Nanxing Machinery Co., Ltd 2 & 3

Northwest Hardwoods 7

Panels & Furniture Asia House Ad 21 & 47

PEFC Internaonal 55

Sichuan Hero Woodwork New Technology Co., Ltd 72

Sylvawood 2021 17

Technik Associates, Inc

IBC

Tong Fong Cuers Co., Ltd 71

Yalian Machinery Co., Ltd 25

Heavy Duty Helical Planer Cutter

Heads with Changeable Knives

Knife:

14 x 14 x 2 x 30º

14 x 14 x 2 x 37º

Heavy Duty Helical Planer Cutter

Heads with Changeable Knives

Knife:

30 x 12 x 1.5 x 35º

Helical Planer Cutter Heads

with Changeable Knives

Knife:

15 x 15 x 2.5 x 30º

15 x 15 x 2.5 x 37º

Adjustable Planer Cutter Heads

with HSS or TCT Knives

Safety Corrugate Cutter Heads

with HSS Knives

Spindle Shaper Planer Cutter

Heads with Changeable Knives

Knife:

30 x 12 x 1.5 x 35º

50 x 12 x 1.5 x 35º

60 x 12 x 1.5 x 35º

Changeable Knives

-TCT

Single/Double Surface Planers Helical Planer

Cutter Heads with Changeable Knives

Knife: 14 x 14 x 2.0 x 30º

15 x 15 x 2.5 x 30º

15 x 15 x 2.5 x 37º

30 x 12 x 1.5 x 35º

30 x 12 x 2.5 x 35º

14.6 x 14.6 x 2.5 x 30º

Scan to download eBook

PFA July/August 2020
---
THE MANY FACES OF AMERICAN RED OAK

Not only is American red oak the most abundant

species in the US hardwood forest, it is also the

most versatile. Beautiful, strong and stable with

excellent steam bending capabilities and easy

to finish and stain, it's a timber that lends

itself to a host of applications.

PICTURED: AMERICAN RED OAK DETAIL

FROM THE HOI MAI FURNITURE COMPETITION, VIETNAM 2020.

AMERICAN HARDWOOD EXPORT COUNCIL SOUTHEAST ASIA & GREATER CHINA

EMAIL

WEBSITE

INFO@AHEC-CHINA.ORG

WWW.AMERICANHARDWOOD.ORG

WWW.AHEC-CHINA.ORG

AMERICANHARDWOODSEA

AHEC_SEA